If you think any shade of gray is highly popular, you will be surprised to learn that there is one gray paint color that is rather underrated! This color is called Crushed Ice, and it's one of the gray colors by Sherwin-Williams.
Today, we will tell you more about this paint and explain what makes it so unique. You will learn what undertones and LRV it has, how it reacts to light, and in what rooms it's best to be used.
Also, you will discover the optimal colors to pair with it and learn how to coordinate this paint in your home successfully.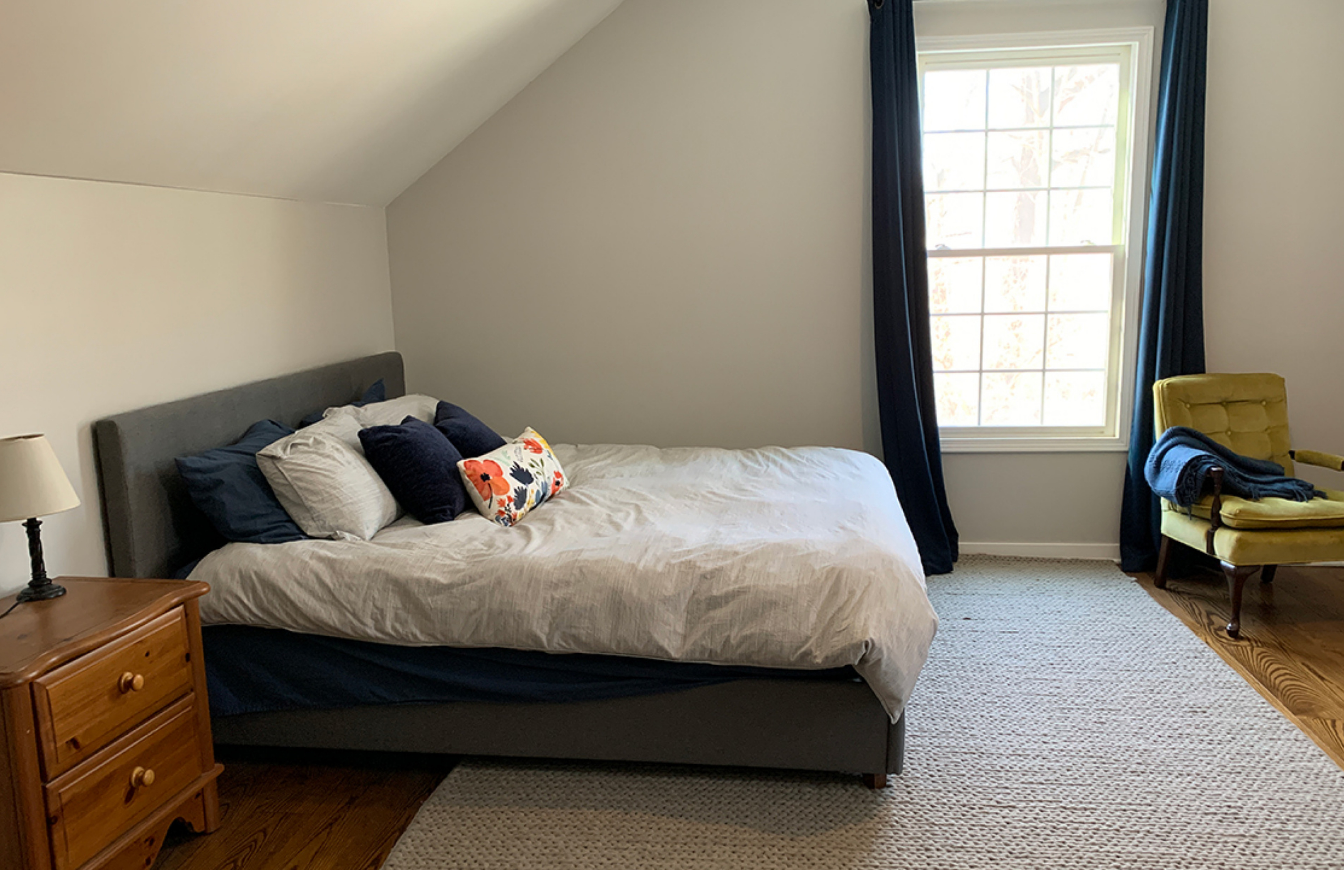 What Kind of Color Is Crushed Ice SW 7647?
If you take a look at the color swatch with SW Crushed Ice paint color, you will see that it's a clear and rather warm-toned gray. As Encycolorpedia says, despite its warmth, it doesn't read beige or creamy at all! Instead, SW Crushed Ice will still look bright and pleasantly refreshing on the walls.
You might think that due to such complex nature, this color might be challenging to use in your home, and it's true to a certain point. However, if you know how to coordinate it and how it may react to different types of light, you will be able to make use of it in quite many spaces!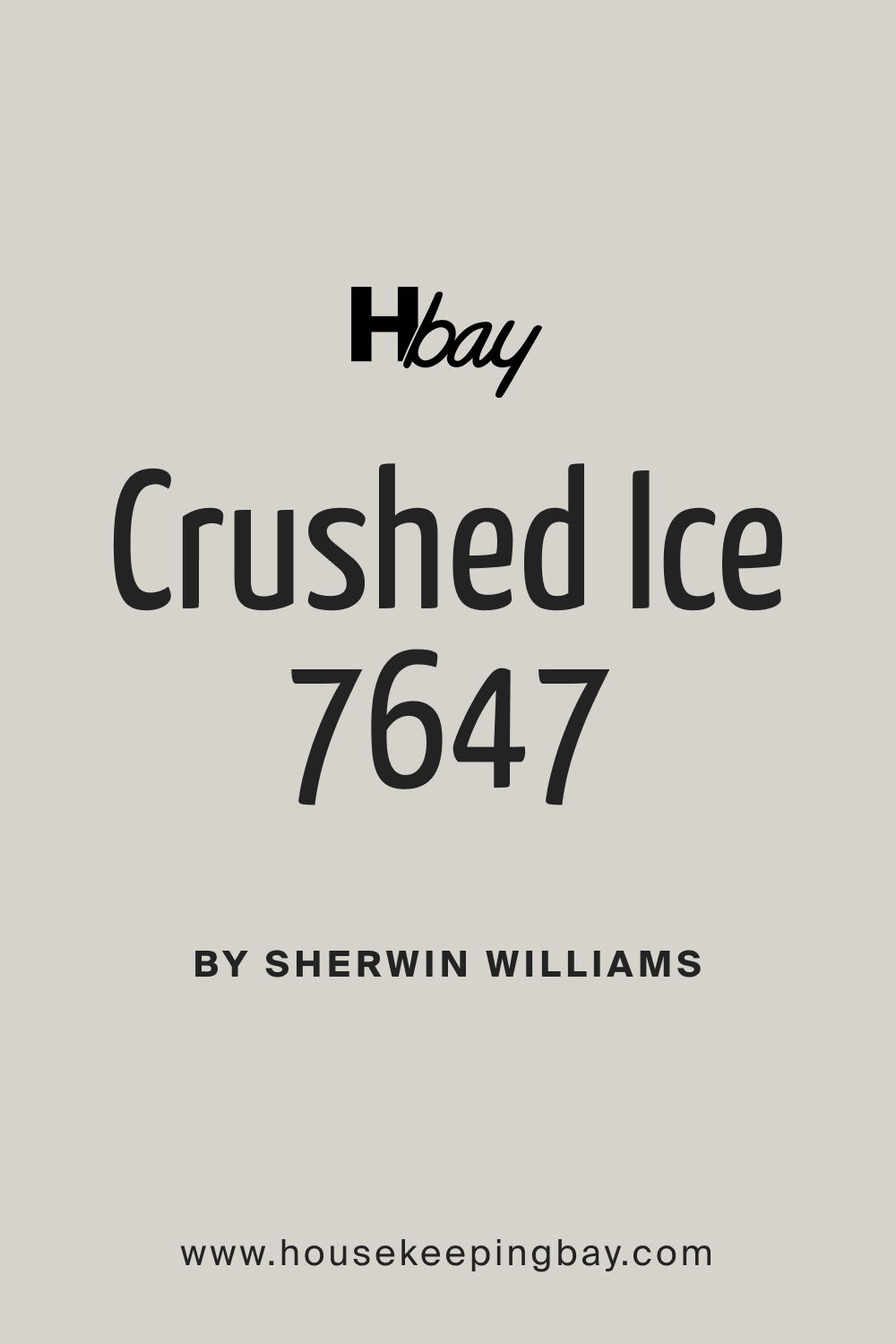 What Undertones Does Crushed Ice SW 7647 Have?
Undertones play an essential role in how colors read in your home. Some paint colors have multiple undertones that work in layers, showing up only in specific lighting conditions. With such paints, it's pretty hard to predict what color you will get on your walls in the end!
Speaking of SW Crushed Ice, it has cool gray undertones that are subtle enough. Thanks to this feature, this paint color can work successfully with a variety of palettes. Also, you can use it in many rooms and on various surfaces.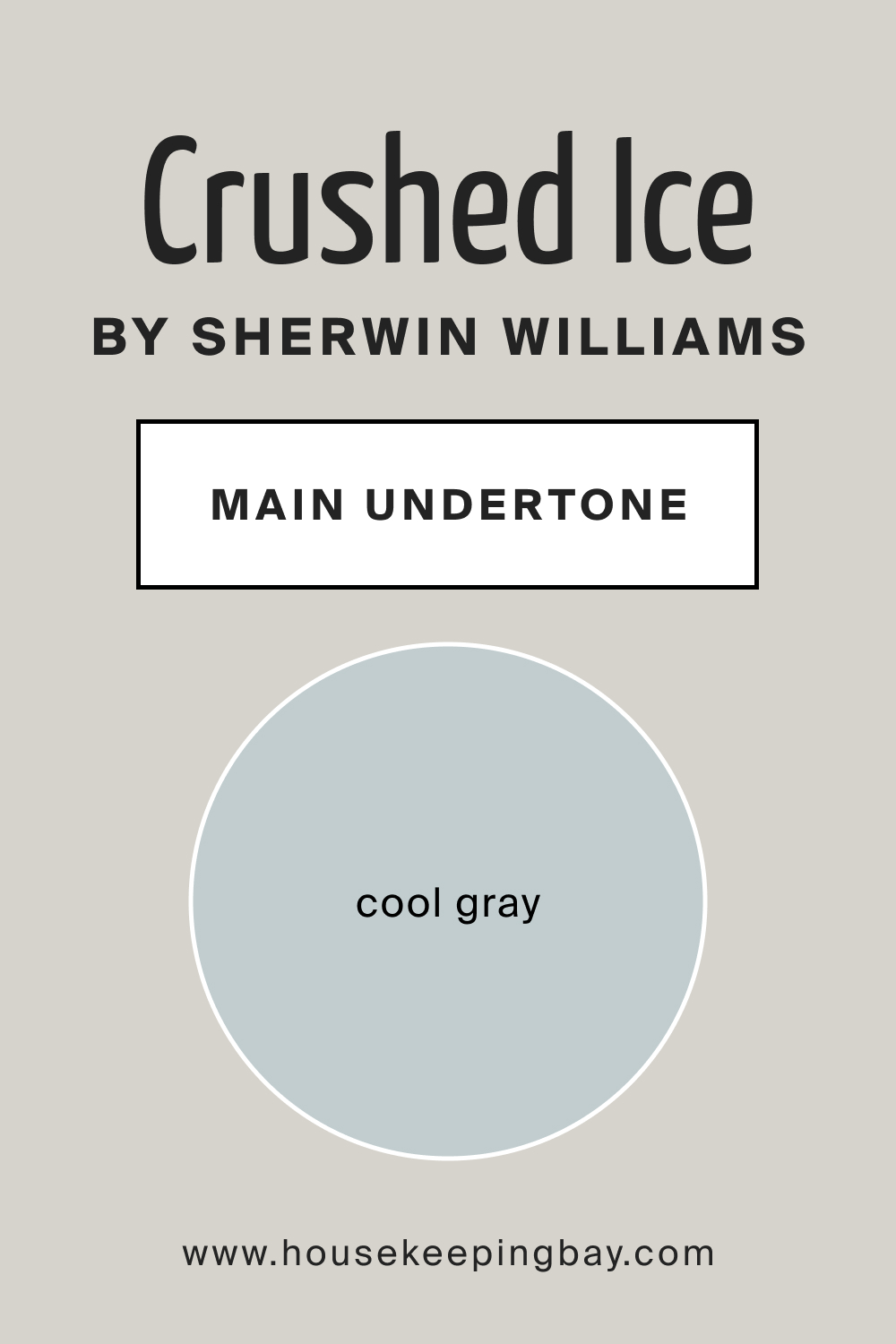 What LRV Does SW Crushed Ice Paint Color Have?
The LRV (light reflectance value) of SW Crushed Ice is 66, which places this color almost in the middle of the light reflectance scale. Simply speaking, SW Crushed Ice can reflect enough light from the wall, which is why it won't make your home look gloomy or dark.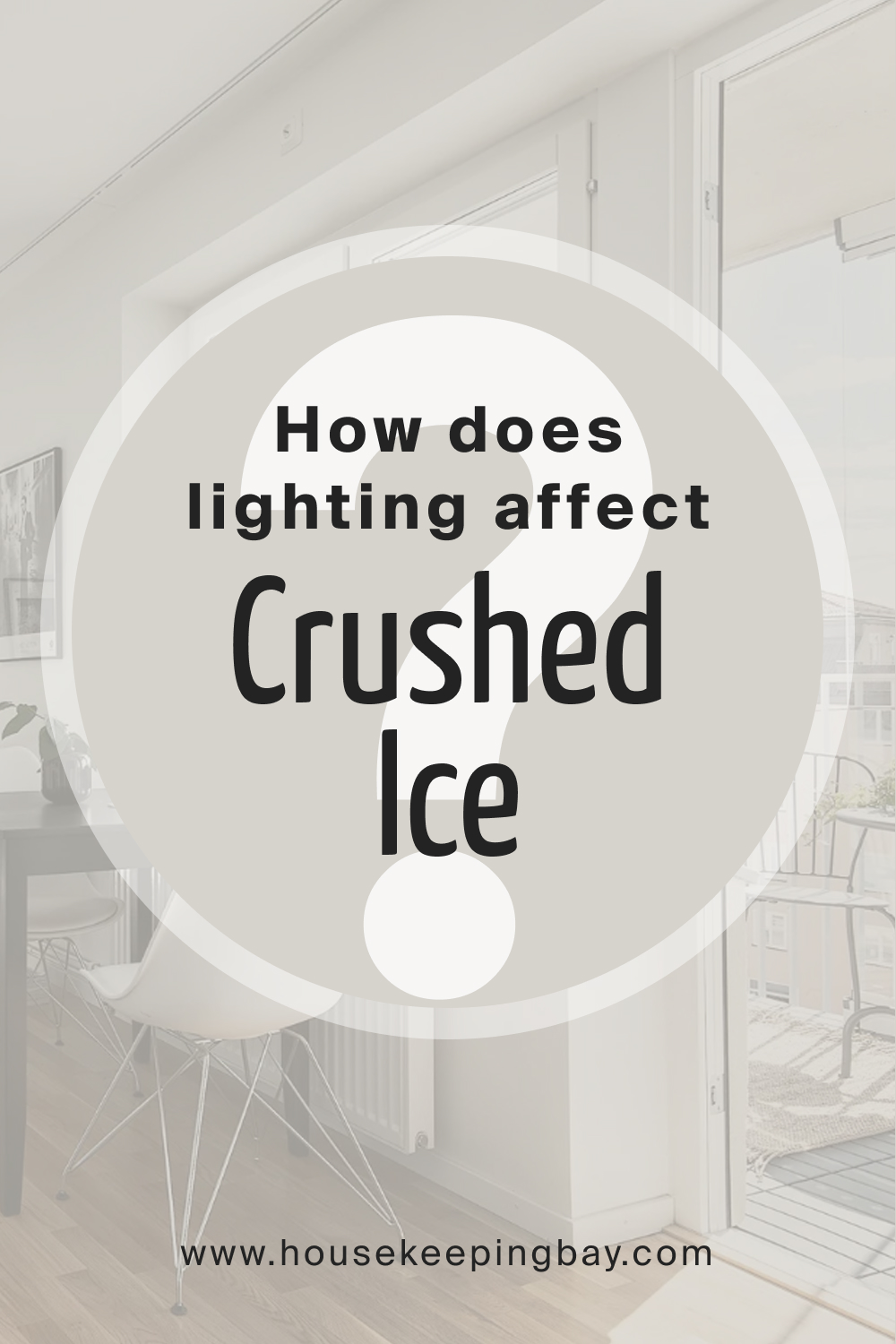 However, in different types of light, it may read slightly differently.
For example, in cool northern light, SW Crushed Ice can lean into its cool undertones a bit more. At the same time, in the southern sun or afternoon western light, you will see it soften up.
If you use it in a dark room, SW Crushed Ice can look a bit dingy just because it's a warm gray that doesn't read clean or fresh. Of course, it will not look warm but will definitely lean the warmer way.
Also, there is one more nuance to keep in mind. With this slightly higher LRV, this gray color will wash out on well-lit walls! This being said, remember to add more depth to any type of color so SW Crushed Ice does not wash out.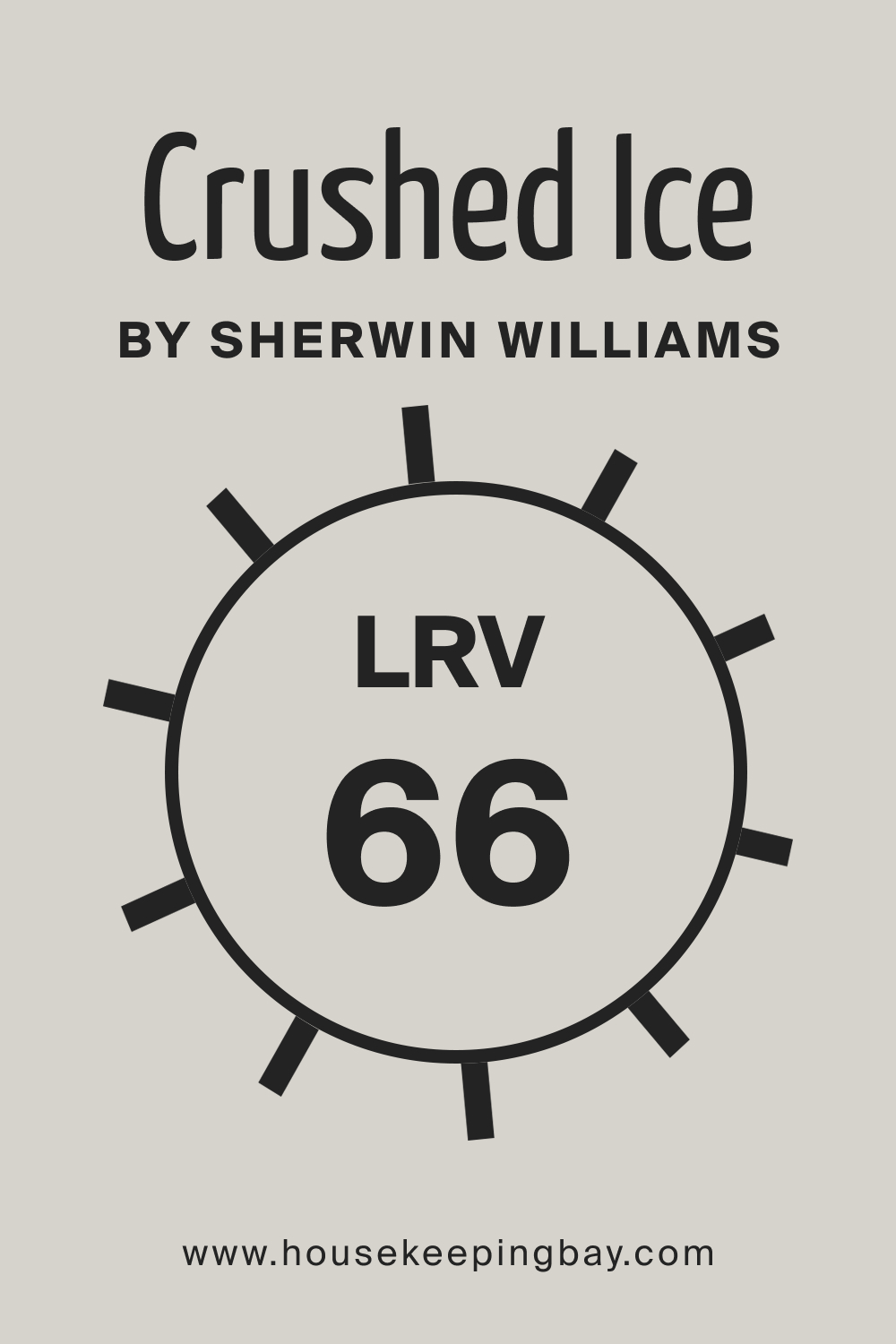 What is LRV? Read It Before You Choose Your Ideal Paint Color
Coordinating Colors For SW Crushed Ice
To achieve a well-balanced color palette in your home, you must be aware of how to coordinate colors correctly to make them all work together. For this purpose, picking the right coordinating colors to use with the wall color is a must. For SW Crushed Ice, we recommend the following color options:
SW Magnetic Gray
SW Mountain Road
SW Software
SW Intuitive
SW SW White Truffle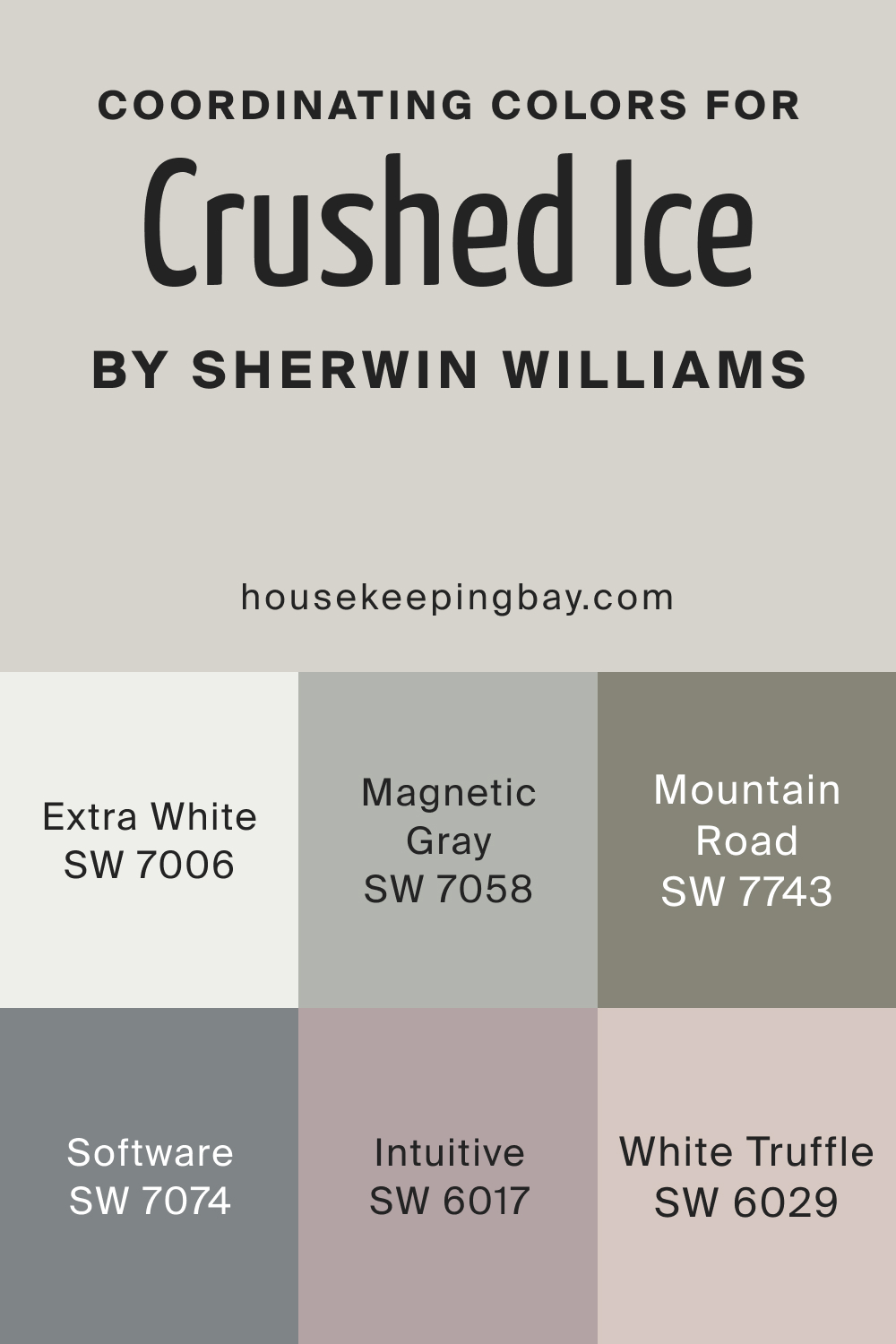 Colors That Go With SW Crushed Ice
When you know what paint colors work best with the paint you use on the interior walls, you can ensure your rooms look balanced in color and the palette is welcoming and pleasant to the eye. However, with certain colors, it might be challenging to figure out what paints will work best with them.
For instance, if you have SW Crushed Ice on your interior walls, you might want to use one of the following colors to pair with it for better effect:
muted off-whites with complimentary undertones
blue-green-gray blends
most white paints
If you need the specific color names, here are a few options you might find attractive and suitable for your interiors:
BM Nimbus Gray
Pratt&Lambert Cloud of Winter
BM Quiet Moments
SW Topsail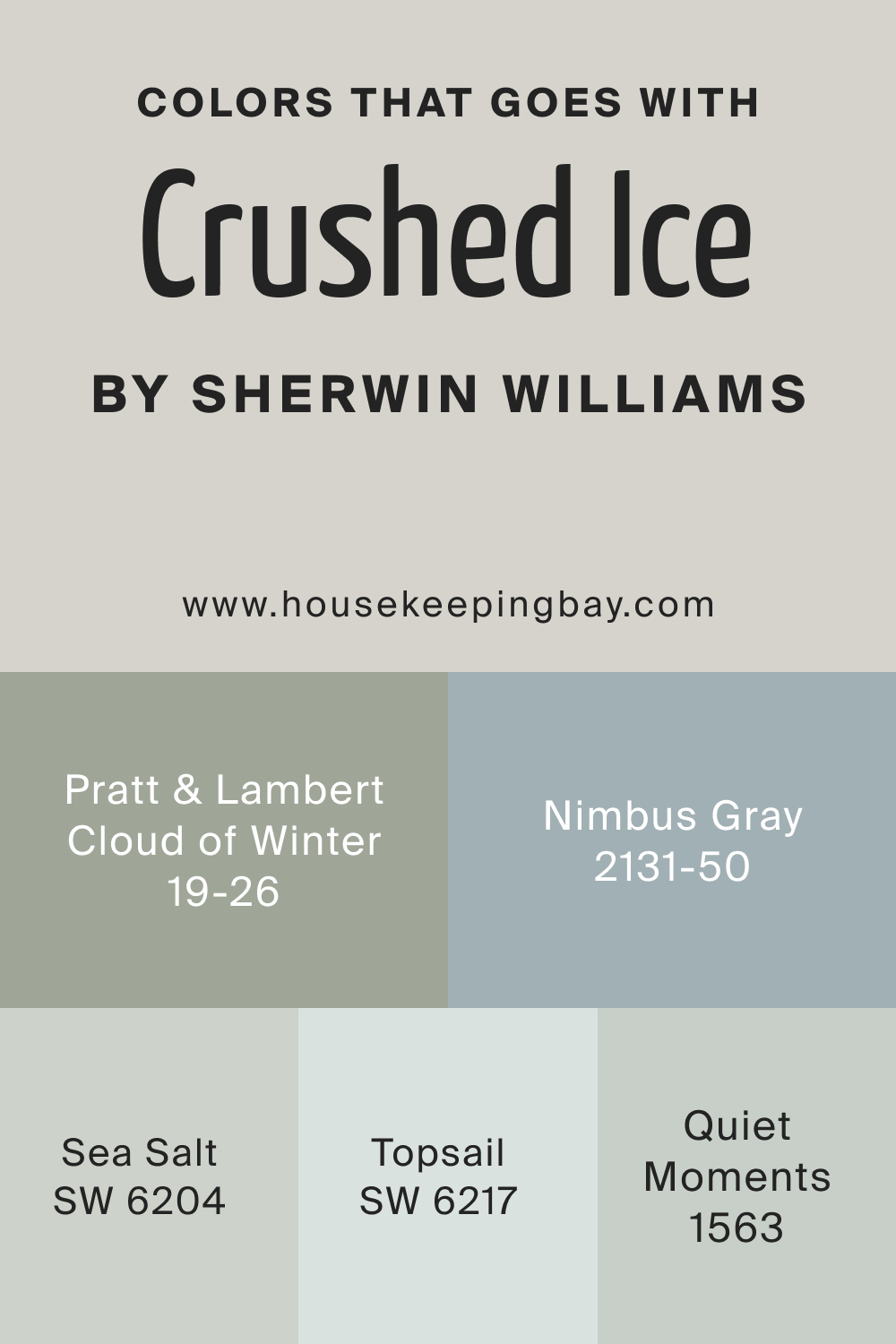 Trim Colors to Use With SW Crushed Ice
White is traditionally a universal trim color we use in our homes since it works with most other colors successfully. However, you should still know how to pick the correct shade of white, considering its undertones and how they work with the undertones of the wall color.
For SW Crushed Ice, we recommend the following trim colors that will work best with this shade of gray: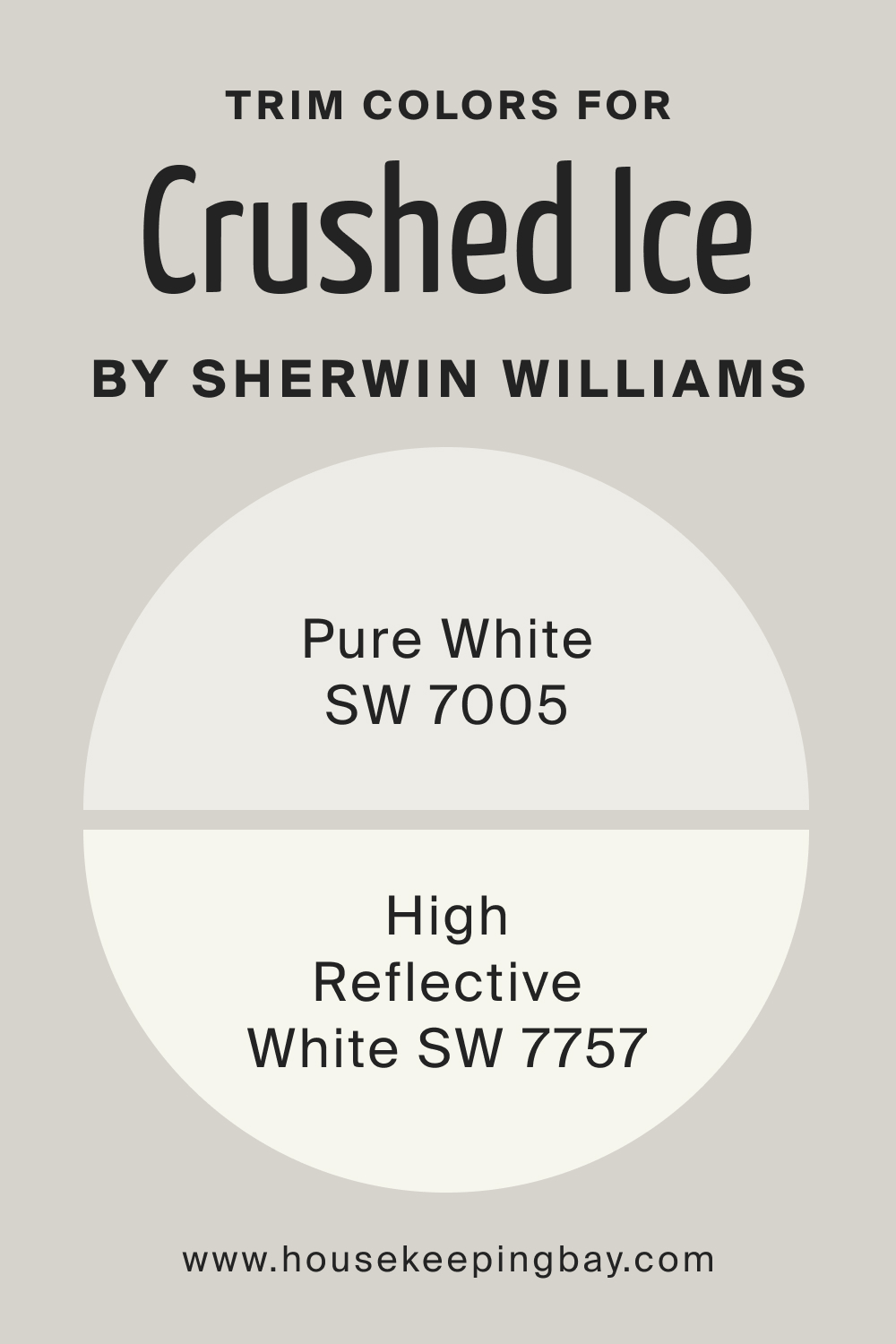 Paint Colors Similar to SW Crushed Ice
People often ask why it's recommended to have a few similar colors at hand when you start repainting your home interior or exterior. Well, the most common reason is that you might need to use a bit different shade of the color you initially chose.
Luckily, for SW Crushed Ice, there are quite many similar colors that can serve as substitutes! Below, we have listed several of them:
Benjamin Moore Classic Gray
Sherwin-Williams Big Chill
Sherwin-Williams Silverplate
Of course, you must realize that none of these colors is an ideal 100% match! Each paint on this list does have some minor distinctions in LRV and tone, but these differences are not dramatic.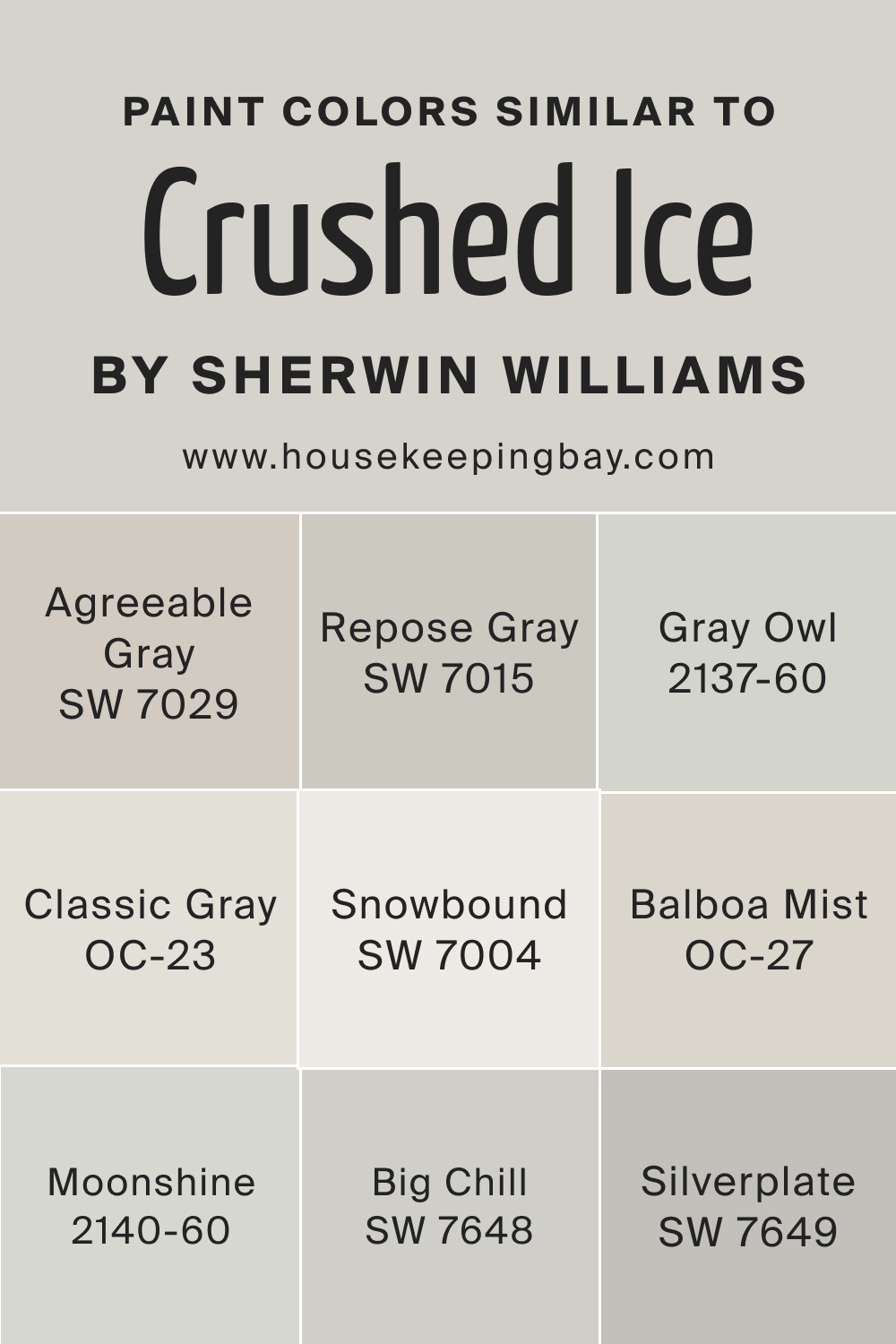 Comparing SW Crushed Ice With Other Colors
To help you better understand the unique features of the SW Crushed Ice color, we have compared it to several other paint colors. Thanks to this, you will better see what makes this shade of gray differ from other colors, and not only grays.
Crushed Ice vs Agreeable Gray
These two have different LRVs since SW Agreeable Gray has an LRV of 60, and SW Crushed Ice's LRV is 66. It means the Crushed Ice color is somewhat lighter. Also, their undertones vary. SW Agreeable Gray has a warm beige undertone that makes this paint lean more into its beige or gray side, depending on the light.
SW Crushed Ice has cool gray undertones that are very noticeable if you compare these colors side by side.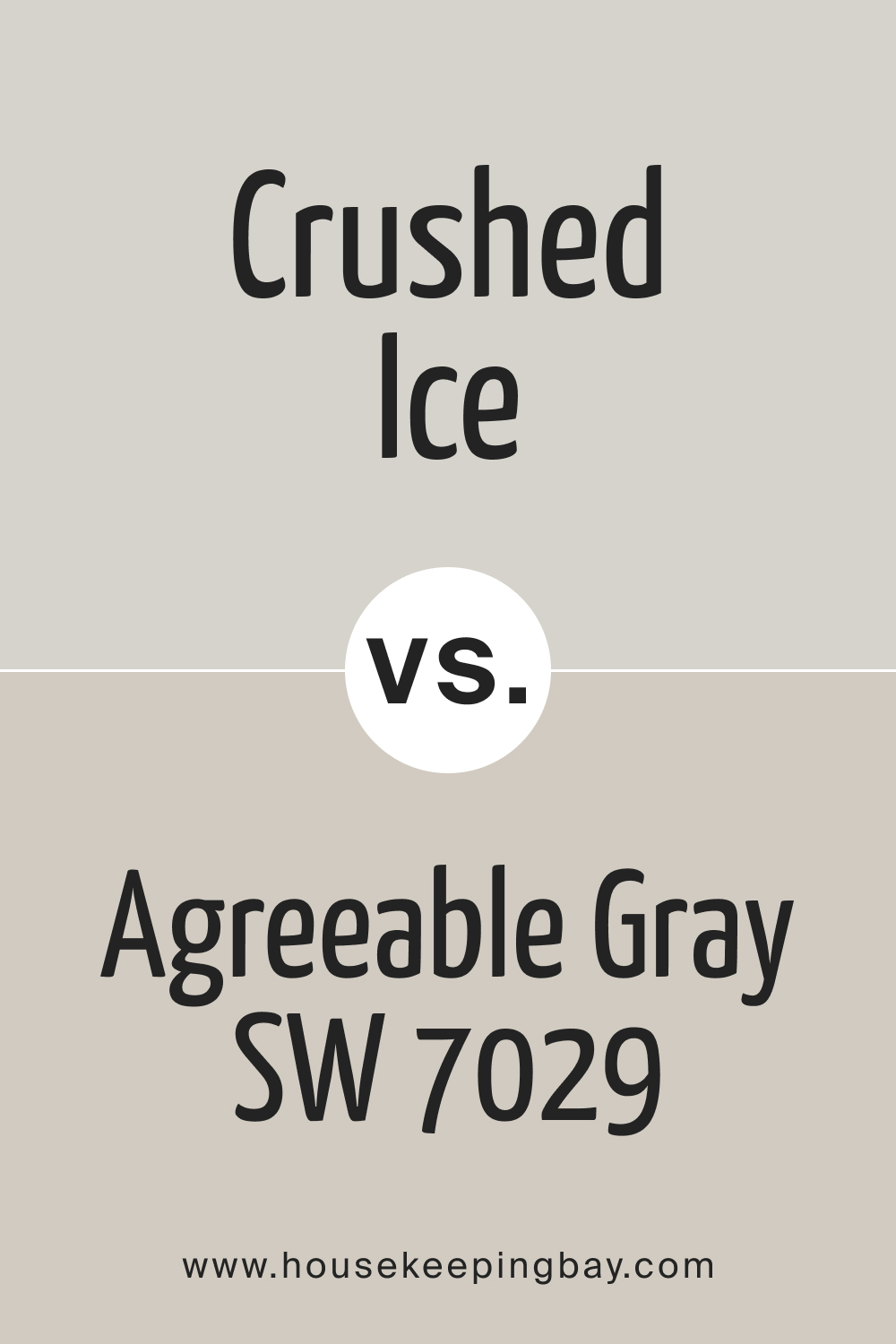 Crushed Ice vs Repose Gray
These colors have different undertones. SW Repose Gray has blue undertones and a slight violet undertone, but they are very minimal. SW Crushed Ice, in its turn, has gray undertones. Compared to SW Crushed Ice, Repose Gray reads warmer and a bit darker due to its LRV of 60, which is less than the LRV of 66 that SW Crushed Ice has.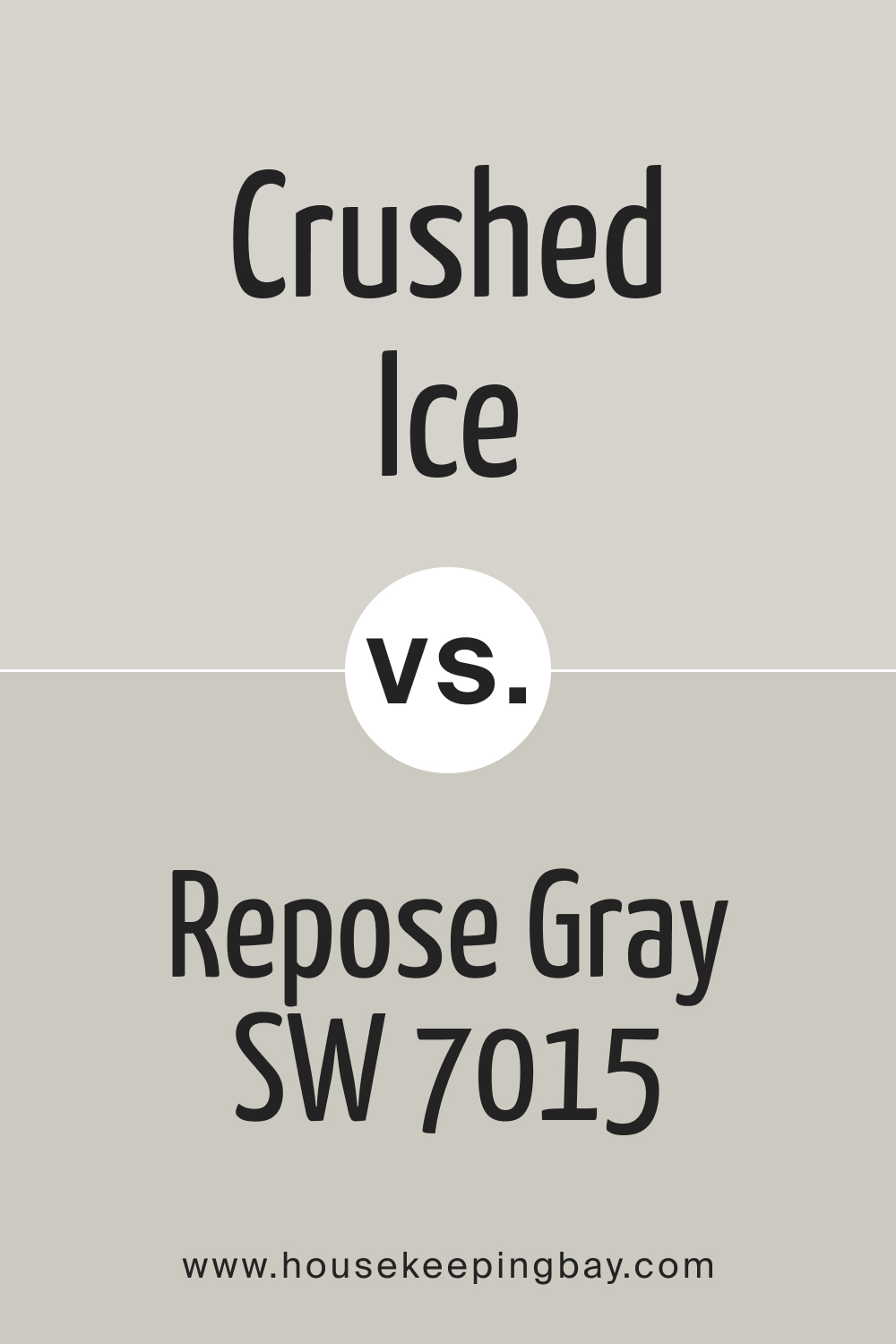 Crushed Ice vs Alabaster
These two create a nice color combination since SW Alabaster is white and SW Crushed Ice is gray. Also, SW Alabaster has an LRV of 82, which means it's much lighter than its gray counterpart. Nevertheless, both colors read similarly soft and warm, which is why they work so well together!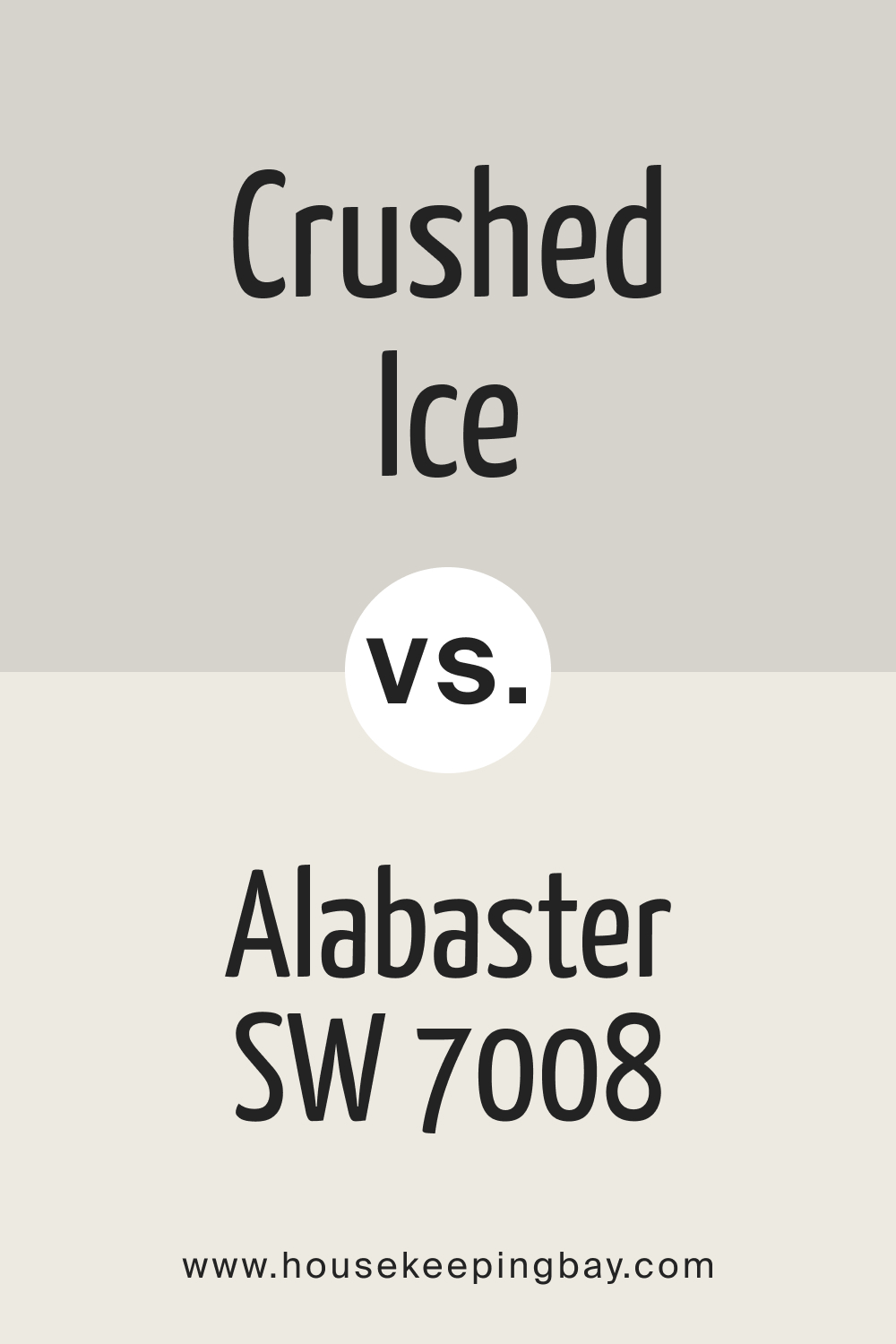 Crushed Ice vs Snowbound
This is another lovely gray-white pair of colors, but here SW Snowbound highlights the cool-toned gray side of SW Crushed Ice more. However, these colors are different! SW Snowbound has taupe undertones, whilst SW Crushed Ice has gray undertones. Also, SW Snowbound is lighter due to the LRV of 83. But in general, both work and look well together.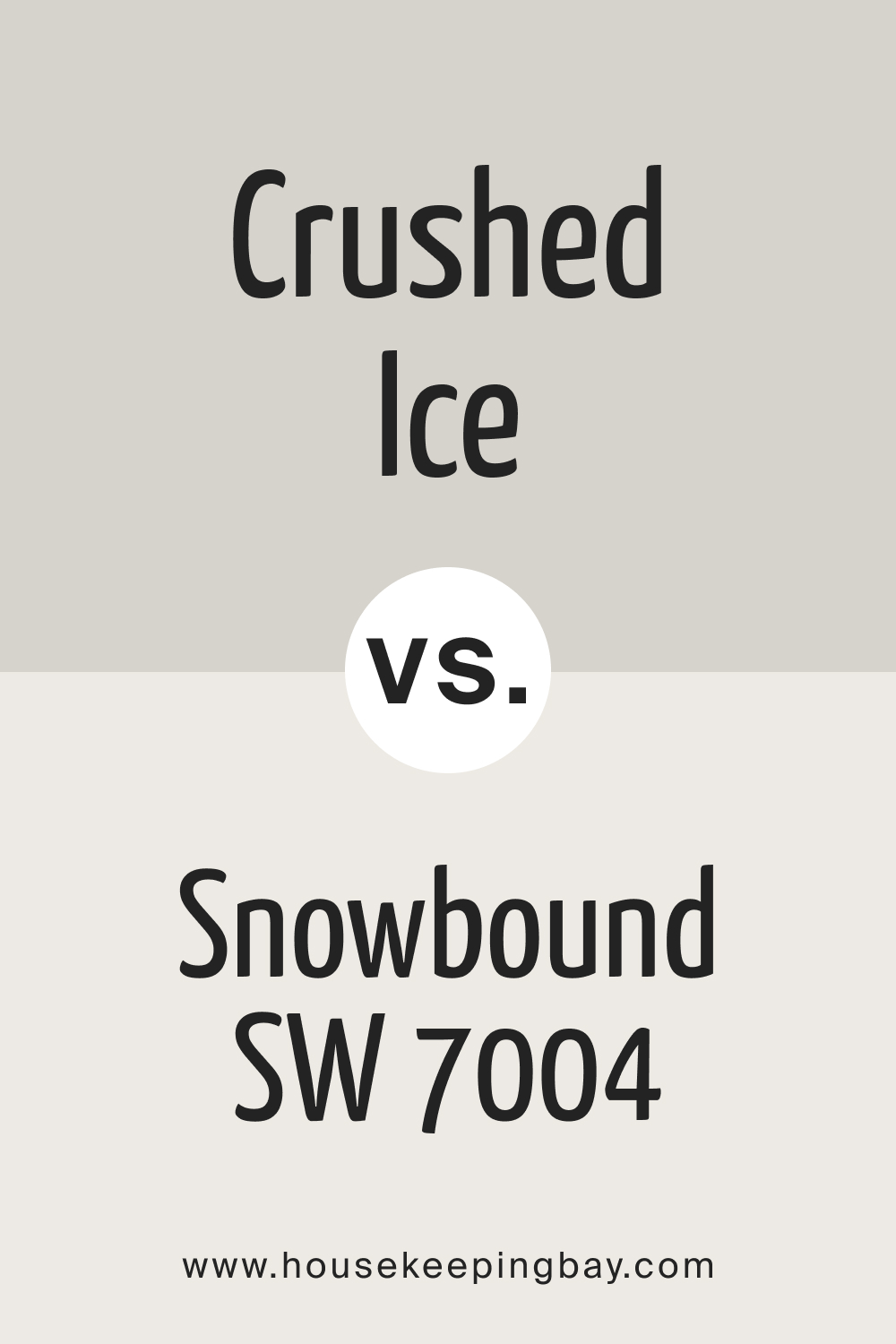 Crushed Ice vs Extra White
SW Extra White has a slight gray-yellow undertone and an LRV of 86, which makes it a pretty light color. Compared to SW Crushed Ice, it looks brighter and reveals its gray undertone more.
However, if you pair them, these two will create quite a cool-toned duo.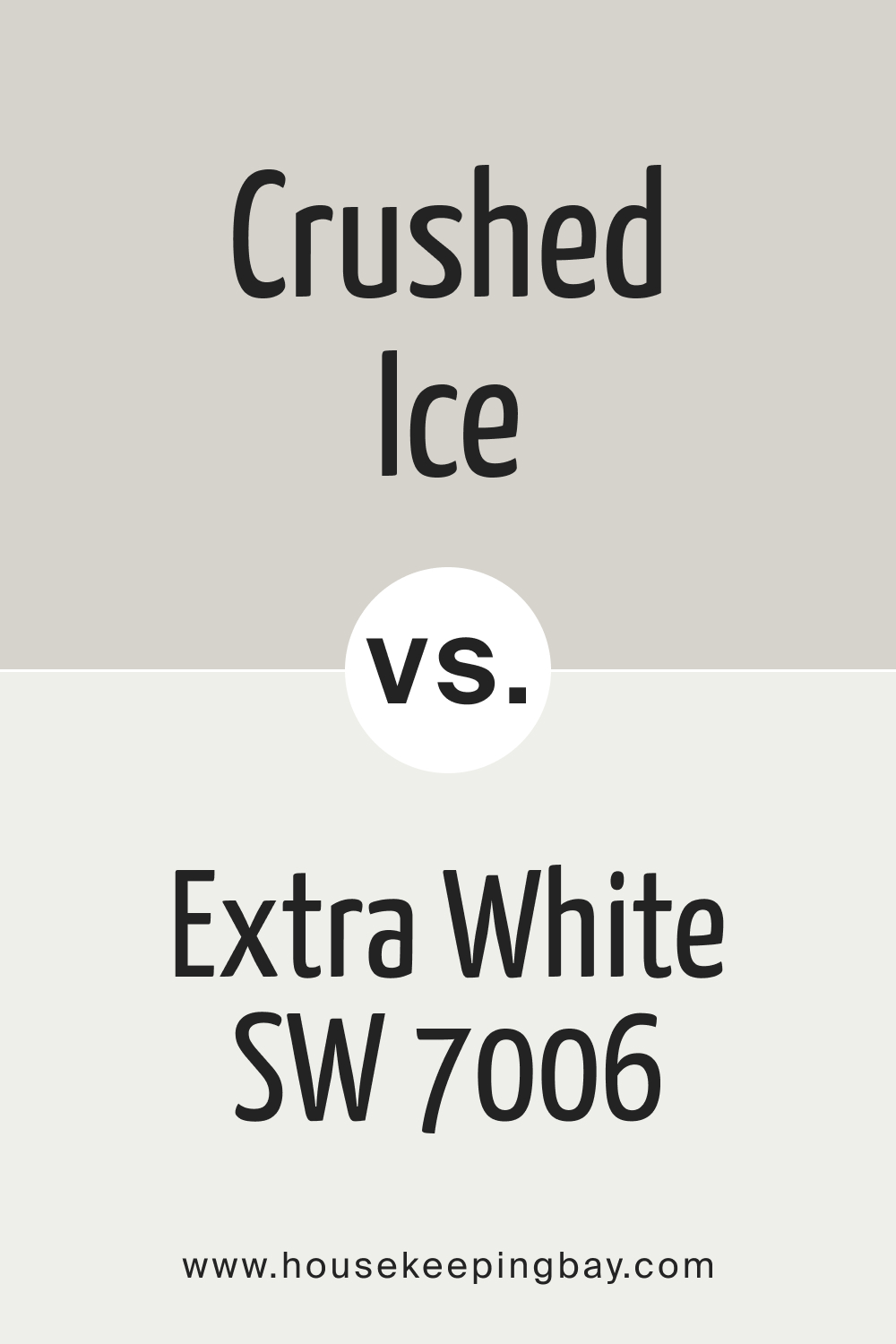 Crushed Ice vs Rhinestone
SW Rhinestone has an LRV of 75 and blue undertones that make this color different from SW Crushed Ice. Compared to SW Rhinestone, SW Crushed Ice looks warmer and a bit darker because of its lower LRV of 66.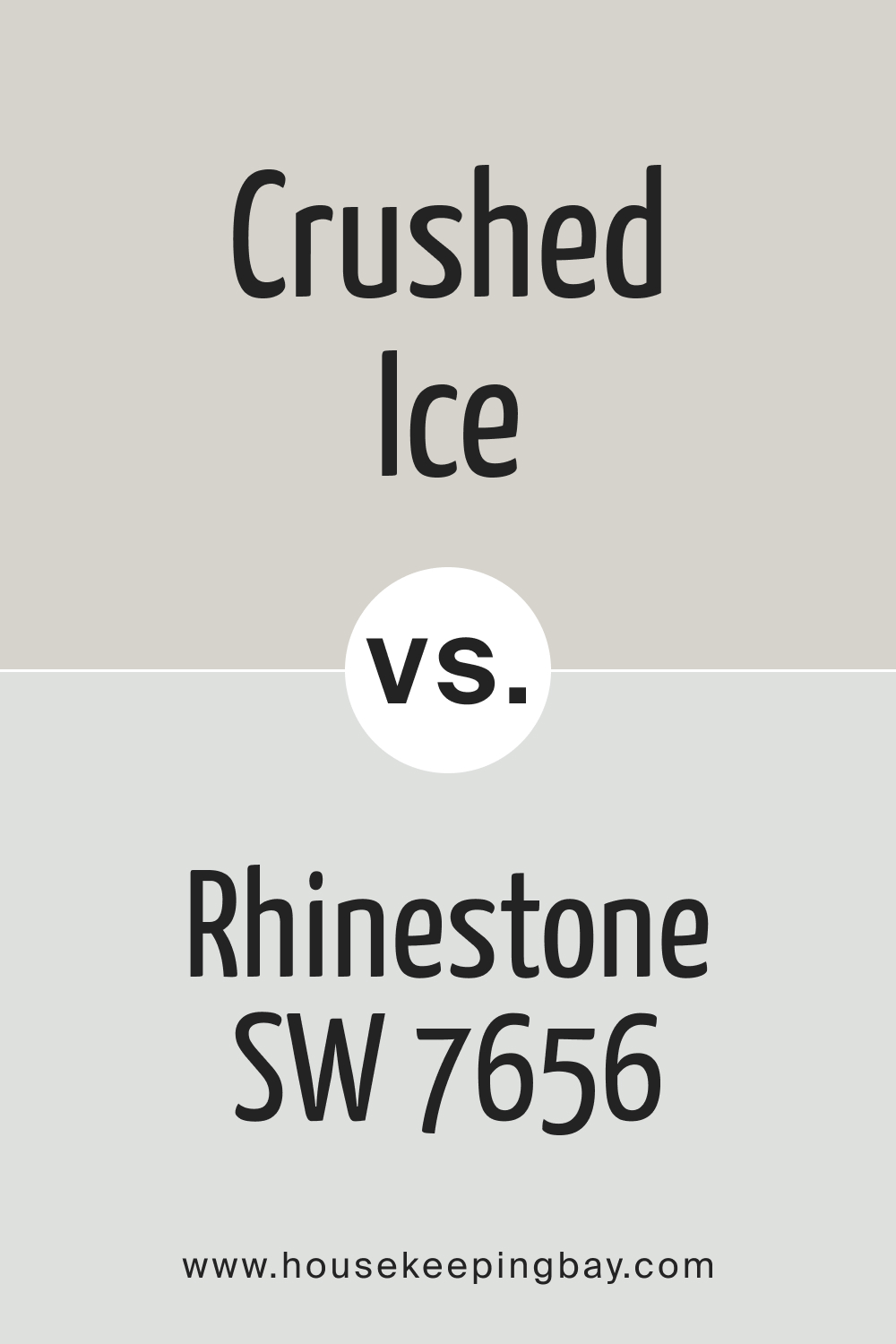 Where to Use This Color In Your Home
Despite quite a complex nature and the ability to change its appearance on the walls depending on the lighting conditions, SW Crushed Ice is pretty versatile! This color will work nicely in different rooms of your home, and below, you can see which ones exactly.
Crushed Ice SW 7647 in the Living Room
If you want your living room to look fresh and airy but not very cold at the same time, SW Crushed Ice might be your color option. It will work best in the living room with plenty of natural light, but even if your living room lacks it, you can make it work by using more white in it.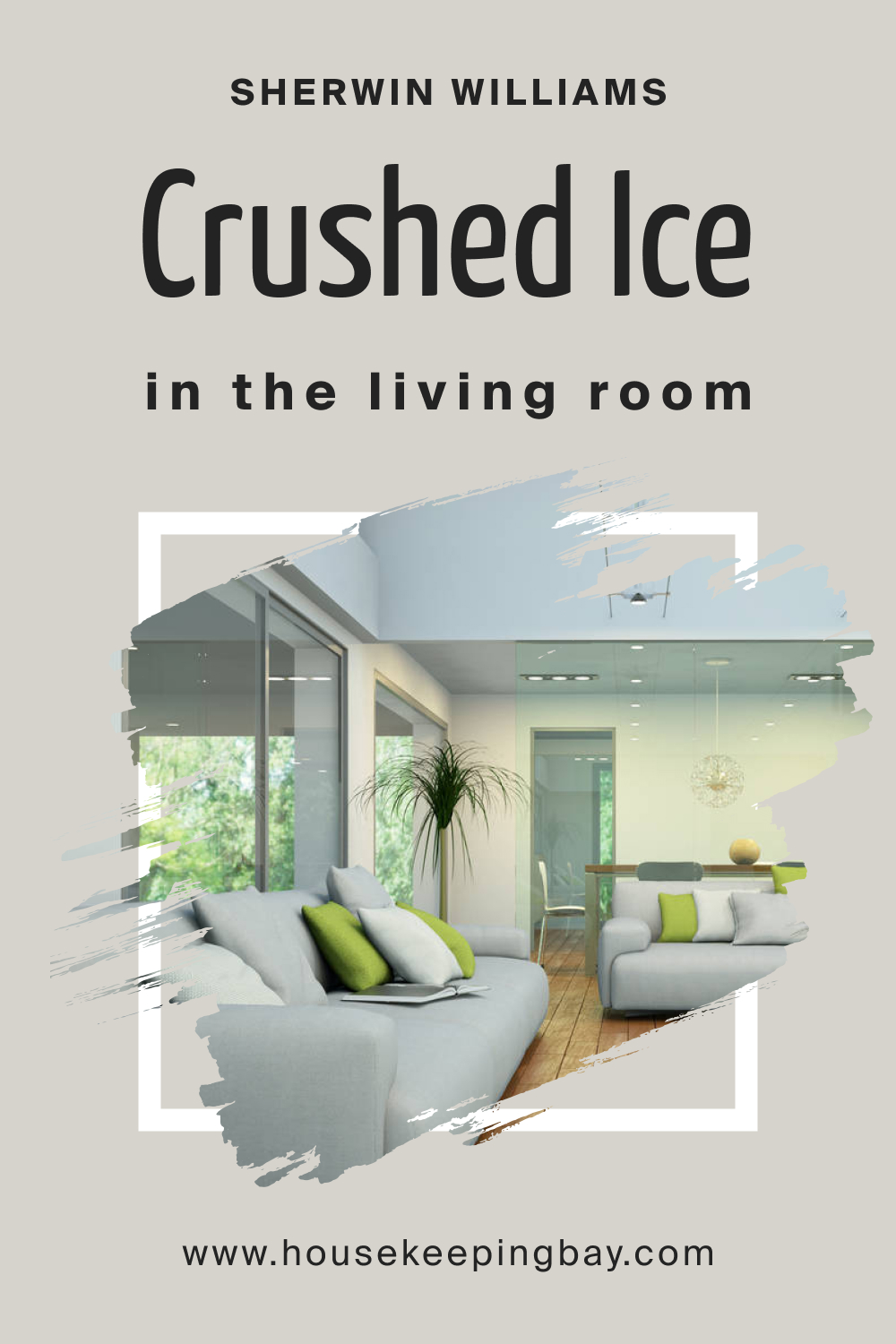 Crushed Ice SW 7647 in a Bedroom
SW Crushed Ice is a nice color choice for a bedroom since it adds the space this pleasant and delicate touch of freshness and a cool-toned vibe that creates a refreshing feeling.
With the white ceiling and trim, this gray will work especially great! Besides, it will pair well with wooden furniture and softer colors like beige on your upholstery or carpets.
Crushed Ice SW 7647 and Kitchen
In your kitchen, SW Crushed Ice will work either on the wall or the cabinets, lower and/or upper. This color is pretty versatile, so think about what atmosphere you want to get in the room and how much gray you want there. However, note that in the kitchen with less natural light, SW Crushed Ice may read a bit warmer!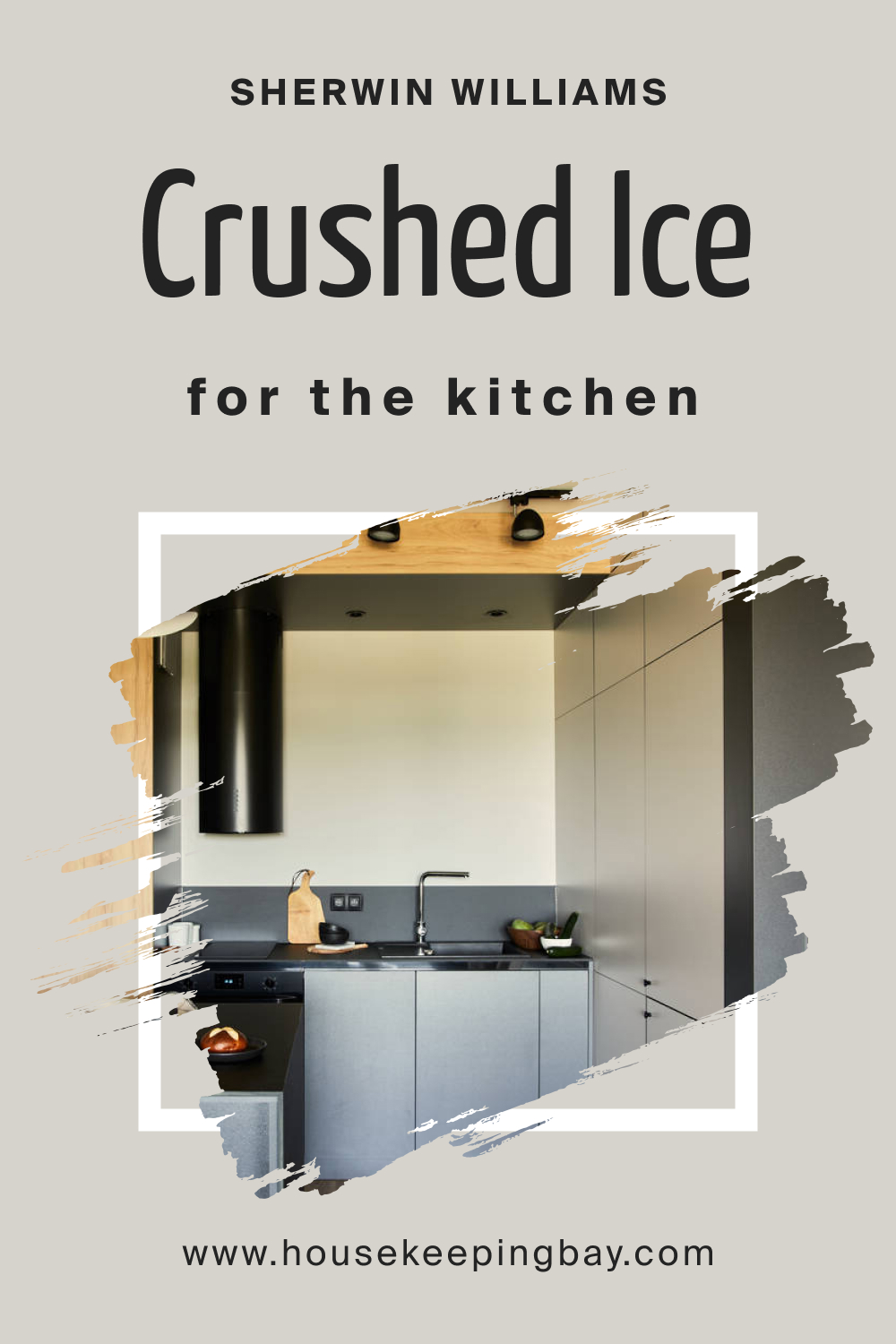 Crushed Ice SW 7647 for the Bathroom
It's quite a nice color for your bathroom, but only if it has enough light. In a poorly-lit space with no or little light, SW Crushed Ice may read much warmer, giving off the opposite effect you were expecting!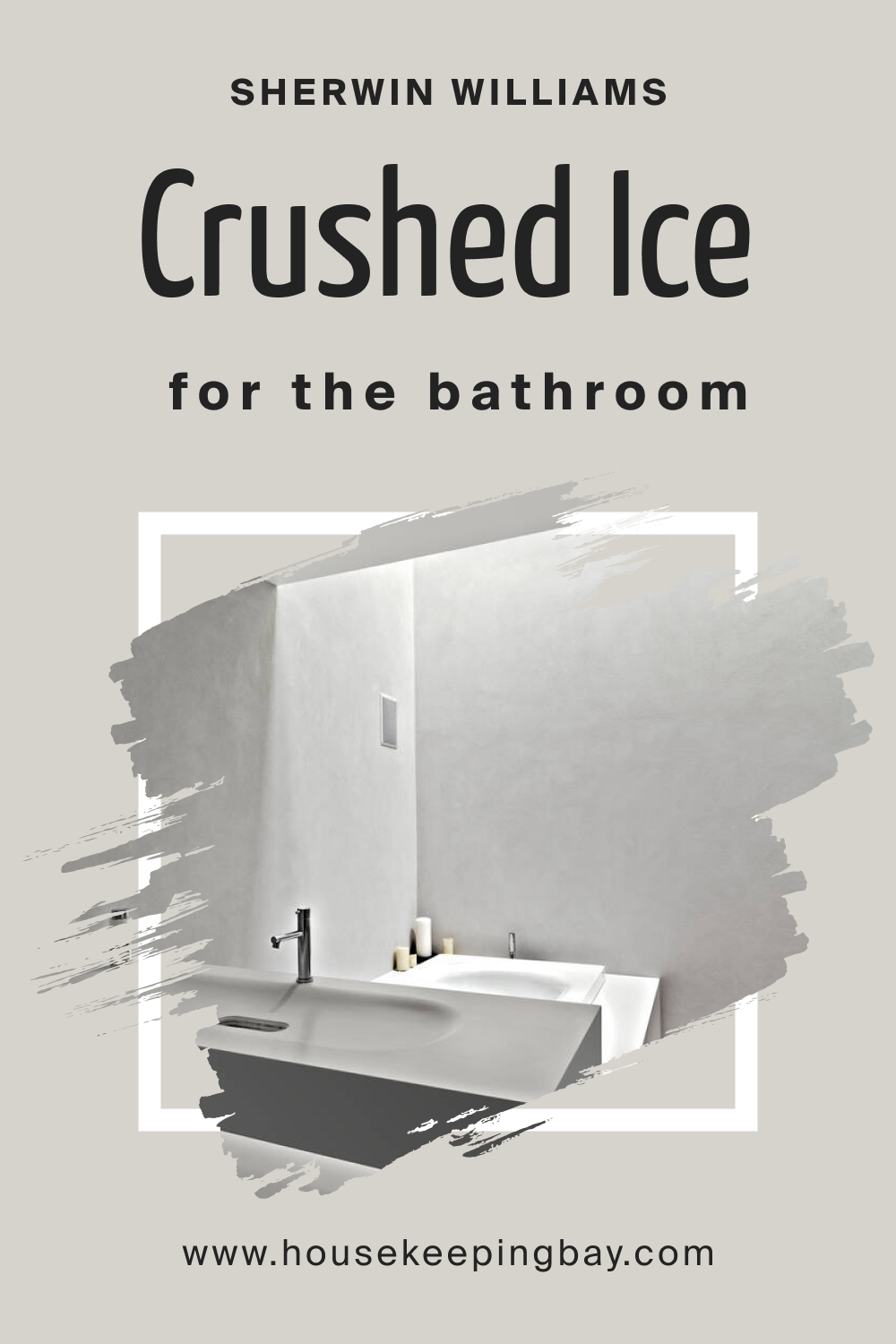 Crushed Ice SW 7647 for the Exterior Use
Generally speaking, we don't think SW Crushed Ice is the best exterior paint color. It doesn't mean it won't work for your home, but there are some considerations. For example, if you have a lot of sun shining on the front of your home, SW Crushed Ice can wash out quite a bit.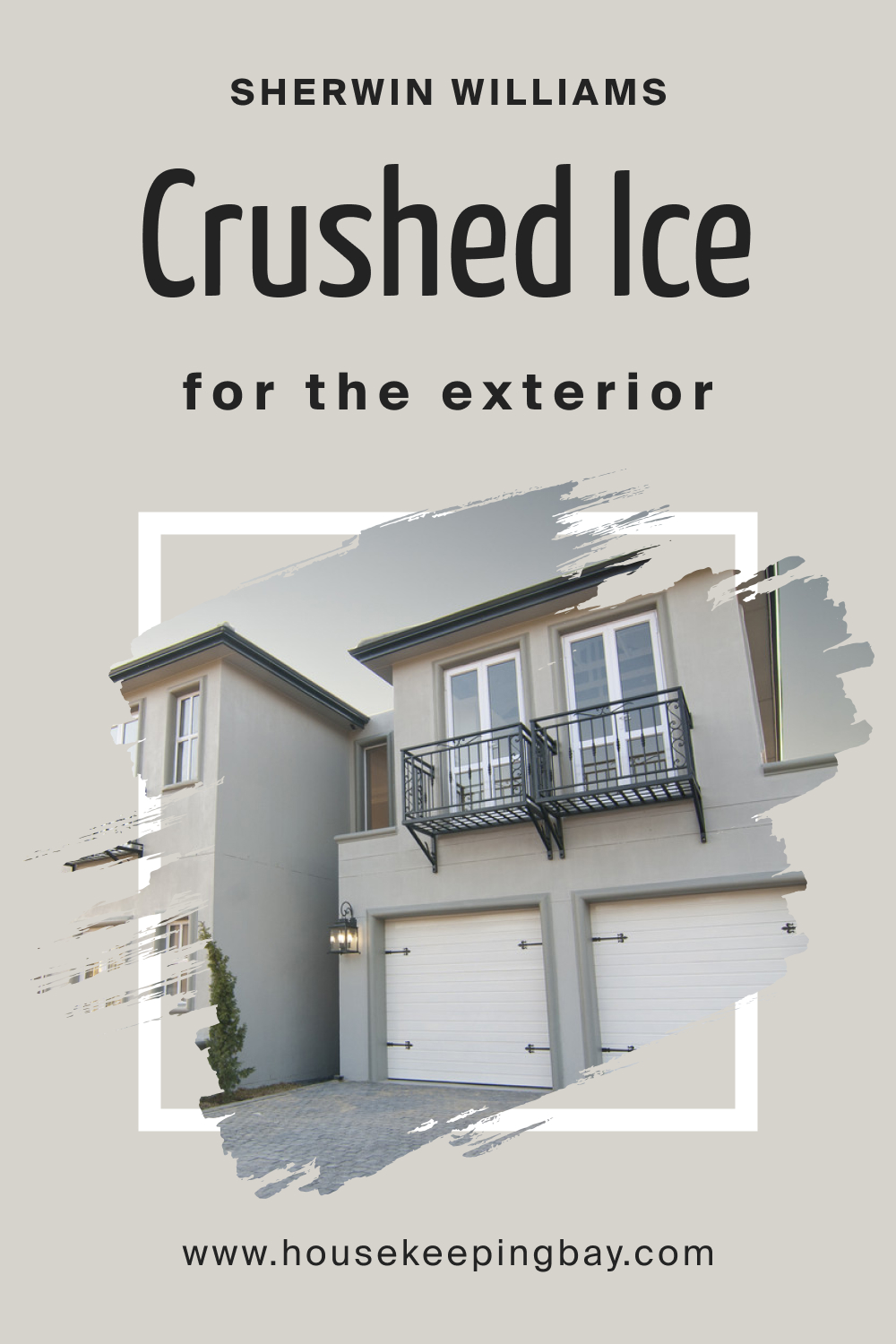 In this case, ensure you have clean white trim to contrast with it. Also, make sure your roof suits SW Crushed Ice. Besides, note that this gray color doesn't always look good with brick surfaces! Sven stone can sometimes be an issue.
Now you have a better understanding of this gray color by Sherwin-Williams. We told you what kind of gray SW Crushed Ice is, how it works, and how to coordinate it. Now you also know what colors work best with it and how it reacts to light.
With all this in mind, you can tell in advance how this gray might read in different rooms and thus choose the optimal space for it.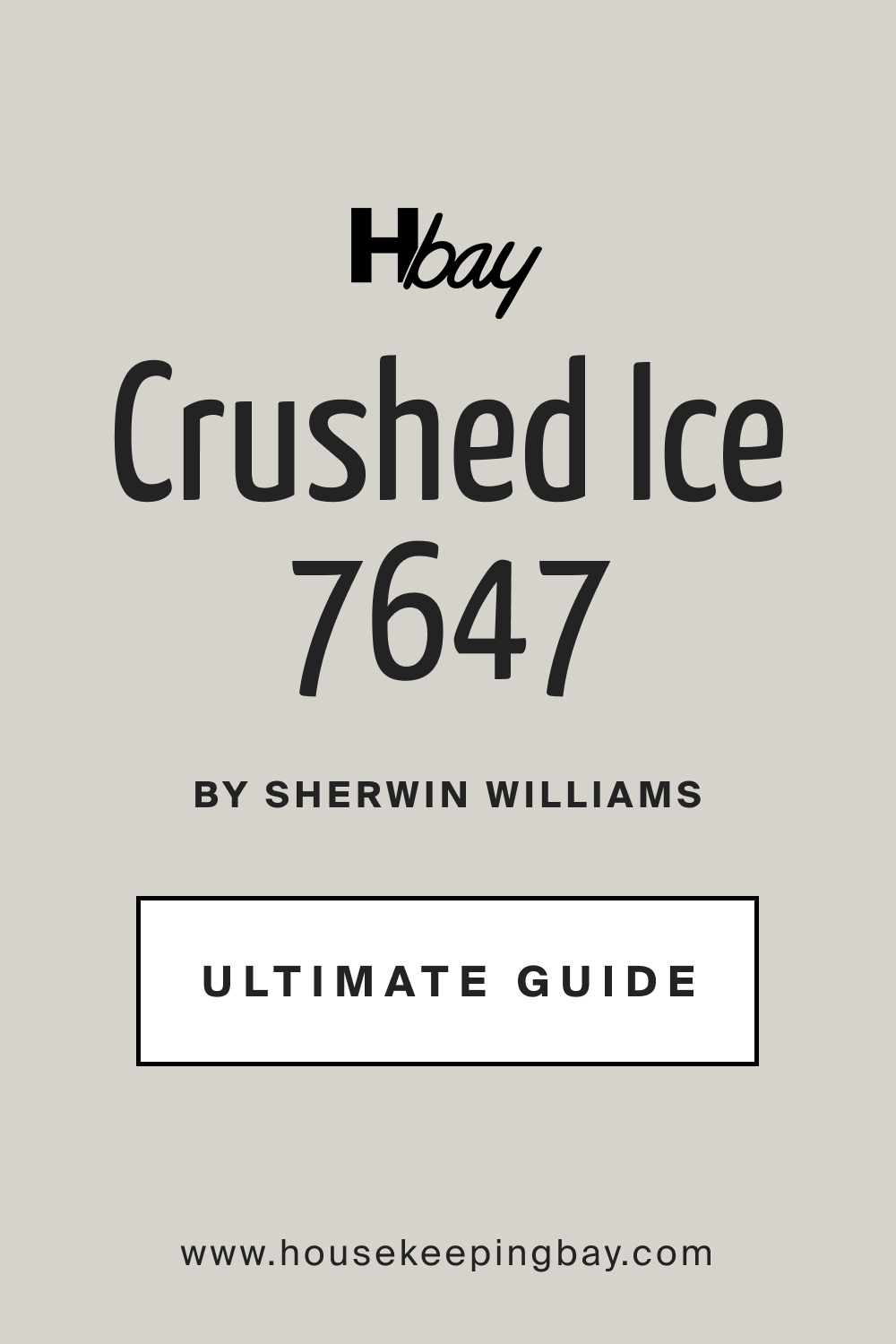 Frequently Asked Questions
⭐Does SW Crushed Ice read beige?
In artificial light and rooms with little or no natural light, this color may indeed seem like beige.
⭐Is SW Crushed Ice a neutral color?
No, it's a light gray color that can read either cooler or warmer.
⭐Is this gray popular?
Not quite. It's not often used in homes.