There are so many interior paint colors these days, that you may often find it complicated to pick the most optimal shade for your home walls. This is why it is important for every homeowner to understand the basics of how different paint colors can be used and how they work in a space.
We are going to tell you what type of color it is, what its undertones and coordinating colors are, and in addition, how this color reacts to different types of lighting.
In addition, you are going to learn what rooms it is best to be used in, and what similar paint colors can be taken into consideration instead of this particular one.
And today, we will tell you about a paint color called Natural Choice by Sherwin Williams brand. So if you are going to make use of this color, the following article will be very useful for you to read!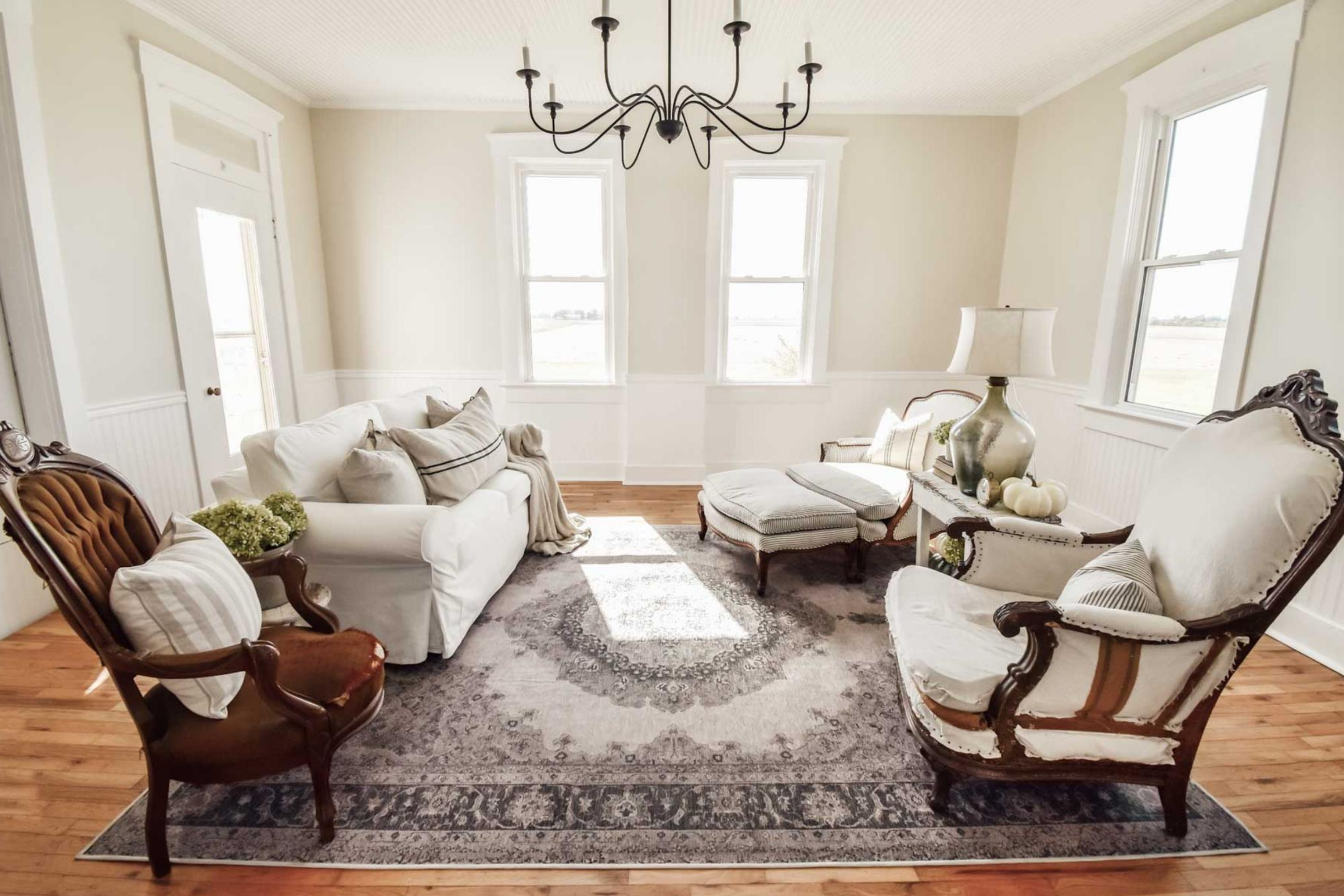 What Kind Of Color Is Natural Choice SW-7011?
When you decide to paint your interior walls, it is essential to figure out what color exactly you would like to see on them. However, some of you may find it rather complicated since the majority of interior paint colors is quite complicated today.
It means that they often have multiple undertones and various shades. This is why figuring out what type of color you deal with from the very beginning is a must.
If you take a closer look at the Sherwin Williams Natural Choice SW-7011, you will notice that it is a beautiful shade of creamy beige. However, it would not be quite correct to call it simply beige!
It doesn't have so much brown that it is completely beige, but it has a bit more brown in it than a cream paint color would.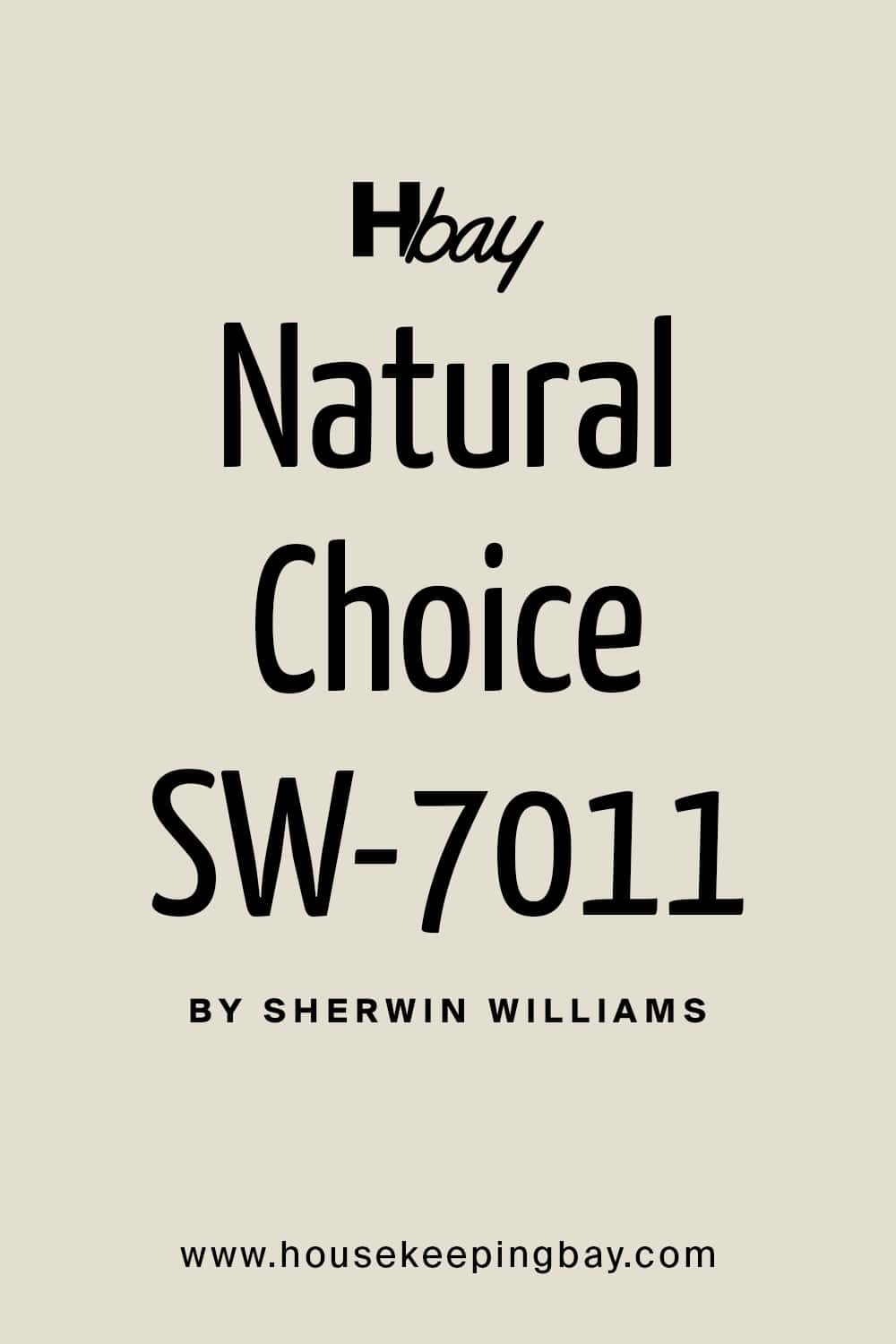 Is Natural Choice SW-7011a Warm Or a Cool Color?
Before you apply any paint color to your walls, you'd better figure out whether it is warm or cool-toned. Like this, you will avoid the scenario when you have a room that looks like it was painted with significantly distinct colors just because one is warm-toned and another one is cool-toned.
As for the Natural Choice paint color by Sherwin Williams, this creamy beige is definitely warm-toned. It is closer to neutral tones since the color has well-balanced brown, which makes it neither fully creamy nor totally brown.
SW Natural Choice Color Undertones
Before you buy the paint, you need to find out what undertones it has. Like that, when you know what undertone (or undertones) are in your paint, you will be able to tell in advance how exactly the particular color will reveal itself and look on your walls.
As for the Sherwin Williams Natural Choice paint color, even though it reads as a warm creamy beige, it also has other colors you should be aware of. Sherwin Williams Natural Choice has yellow and green undertones.
It also has a bit of gray in it, which is why this color stays away from being too bright. These undertones will be more or less pronounced depending on the lighting and what other shade you have in the room.
So before you buy this paint color, we recommend you double-check what types of lighting the room you want to apply it in.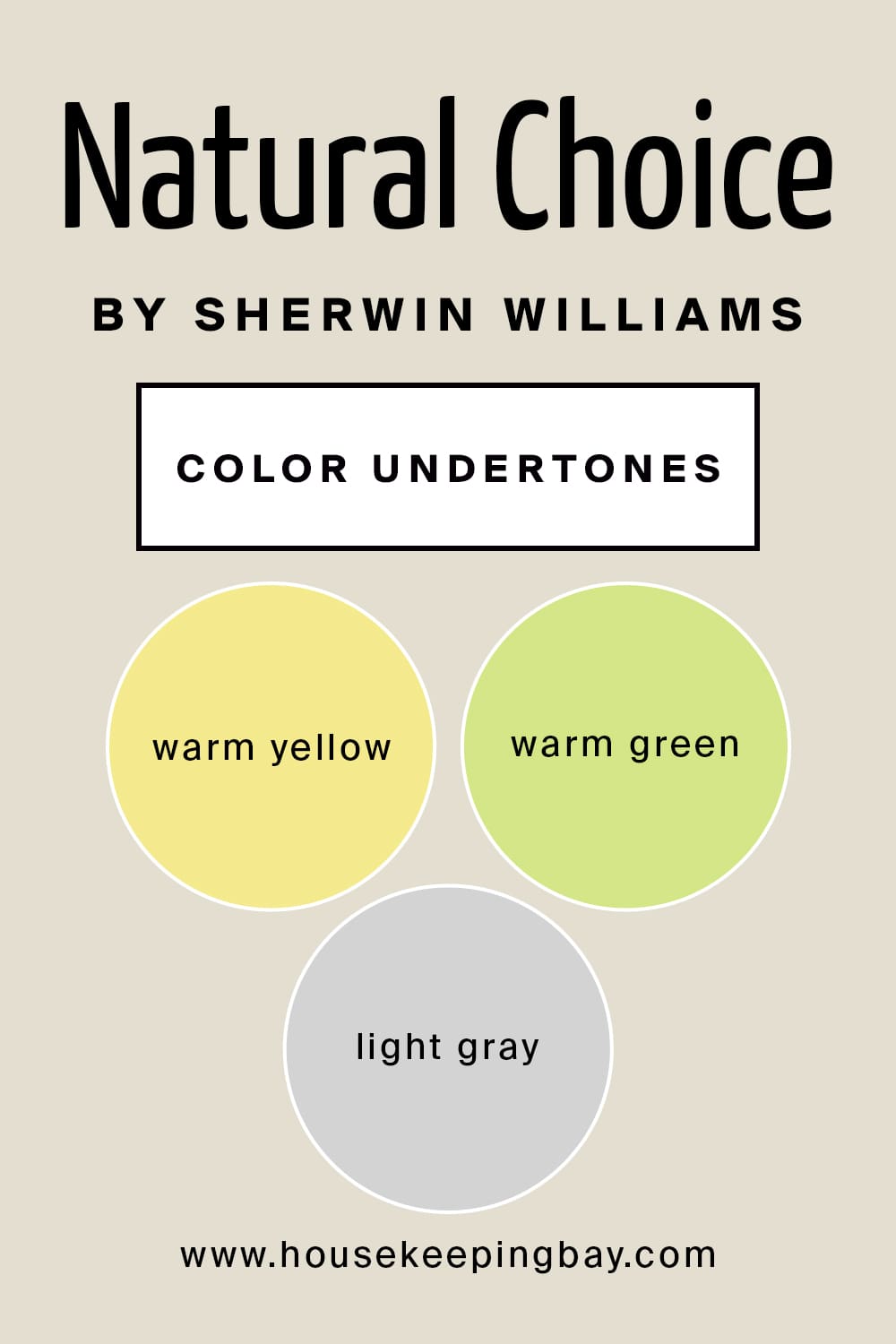 How Does Lighting Affect Natural Choice Color?
Before you apply the paint of any color onto your walls, you should double-check how it will react to different types of light. See, some colors remain almost the same no matter how well or how poorly they are lit. Others may react to light quite dramatically, being able to transform and reveal the most unexpected shades and undertones! So if you don't want to find a completely different color on your walls, make sure this nuance is checked in advance.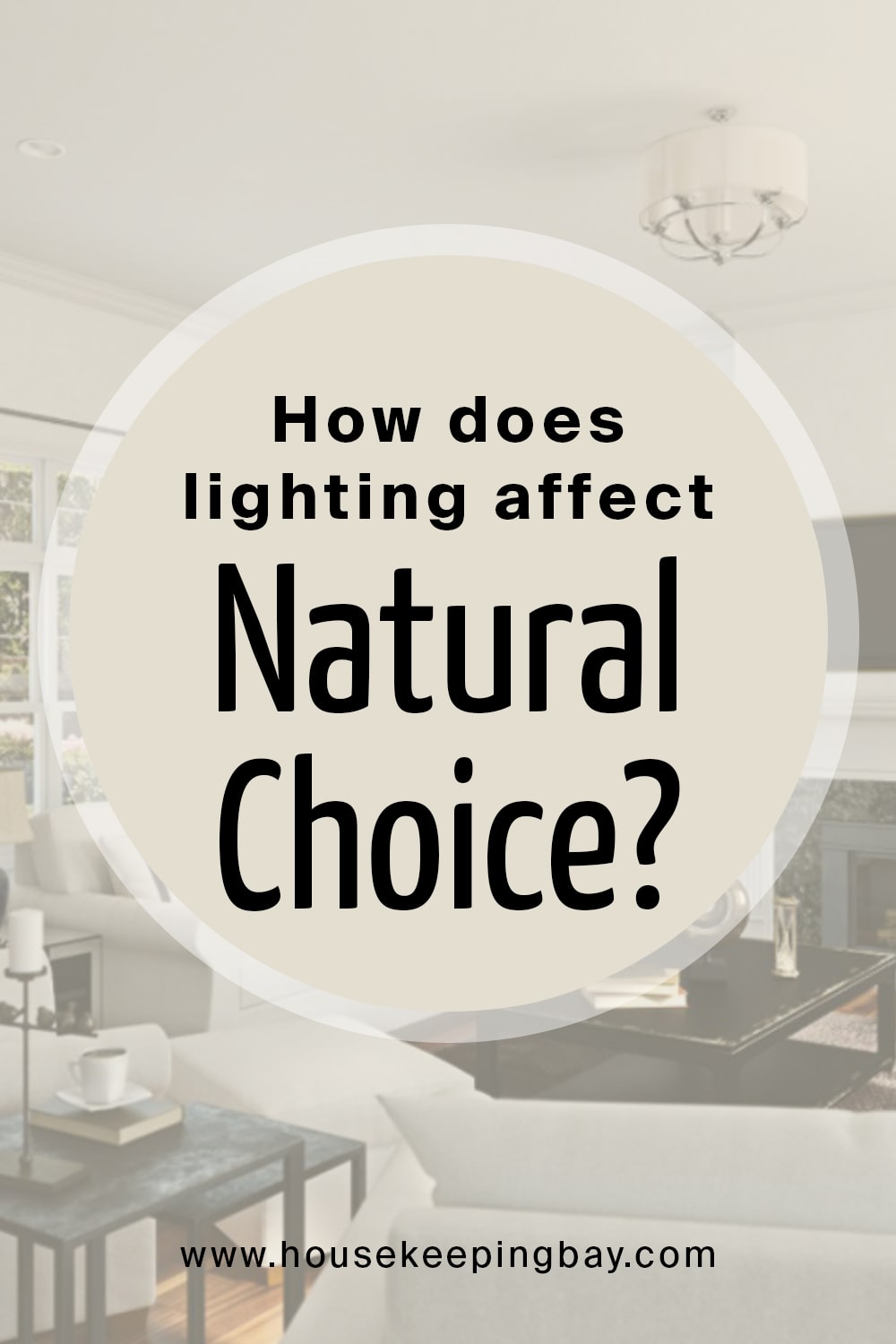 And the very first thing you should take into consideration is the LRV (light reflectance value) of the chosen color.
For Sherwin Williams Natural Choice, the LRV is 73. It means that Natural Choice is light enough to use in most spaces. However, it is not so light that it can be considered a white paint color.
It has a good body to it, and will show up on your walls and pop against white trim, but it isn't a dark paint color.
For example, in the south-facing afternoon light, you will probably see a lot more of Natural Choice's yellow undertones.
In the evening or in dim lighting, Natural Choice will be more muted, and perhaps look a bit grayer than in bright light. When put next to any accessories of creamy color, you may find that you see that green undertone peeking through.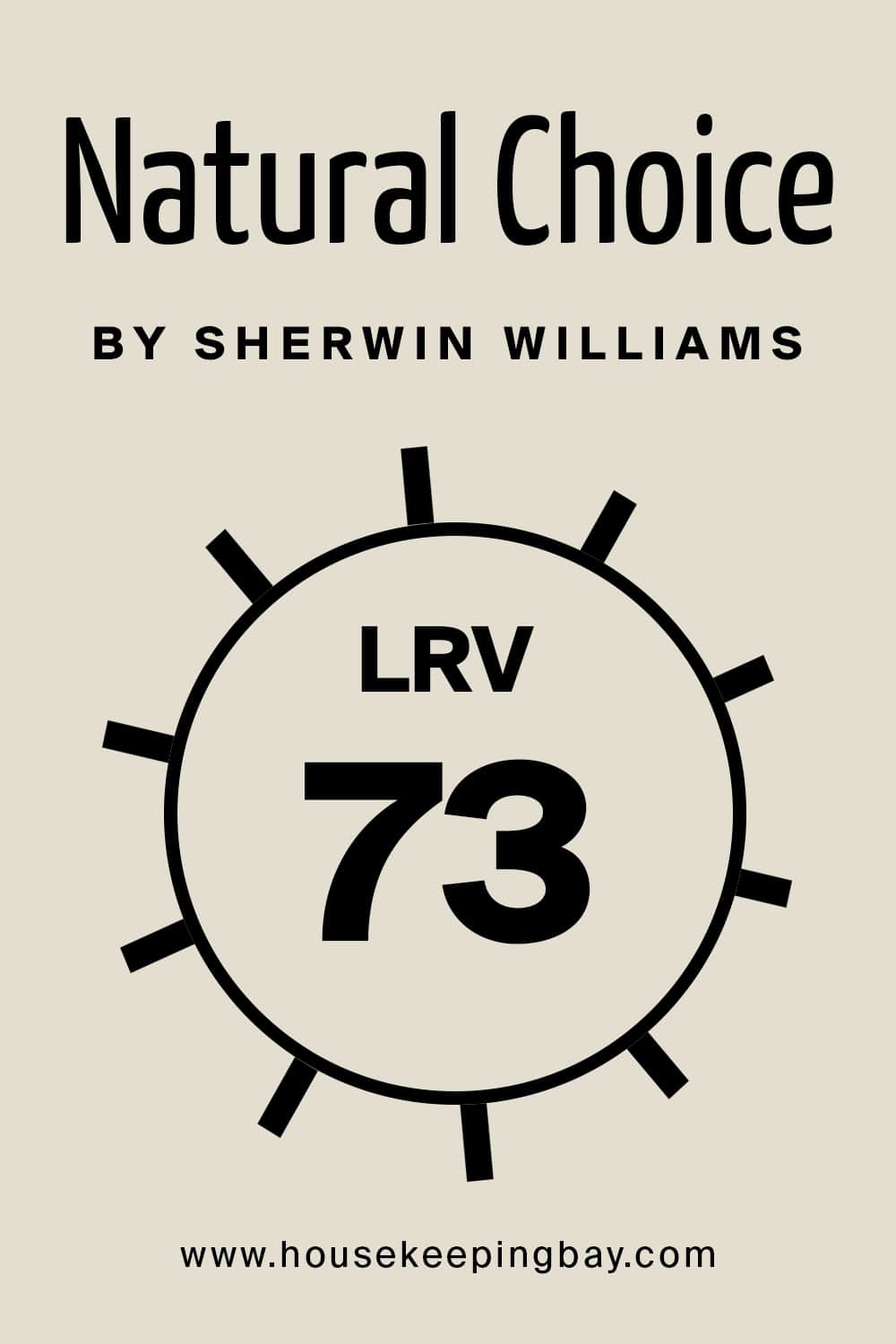 What is LRV? Read it Before You Choose Your Ideal Paint Color
What's the Best Trim Color For Natural Choice SW-7011?
It is a well-known fact that the best and the most multipurpose trim color is white since it can match almost any other paint color. And luckily, SW Natural Choice paint is not an exception.
You can pair this warm and creamy beige with certain whites and be sure that they work great together. Of course, this color is quite flexible when it comes to combining it with whites, but we would suggest you the following options to get the best combination:
Sherwin Williams High Reflective White
Nevertheless, note that Natural Choice goes just as well with very clean and bright trim paint colors as it does with more creamy trim paint colors.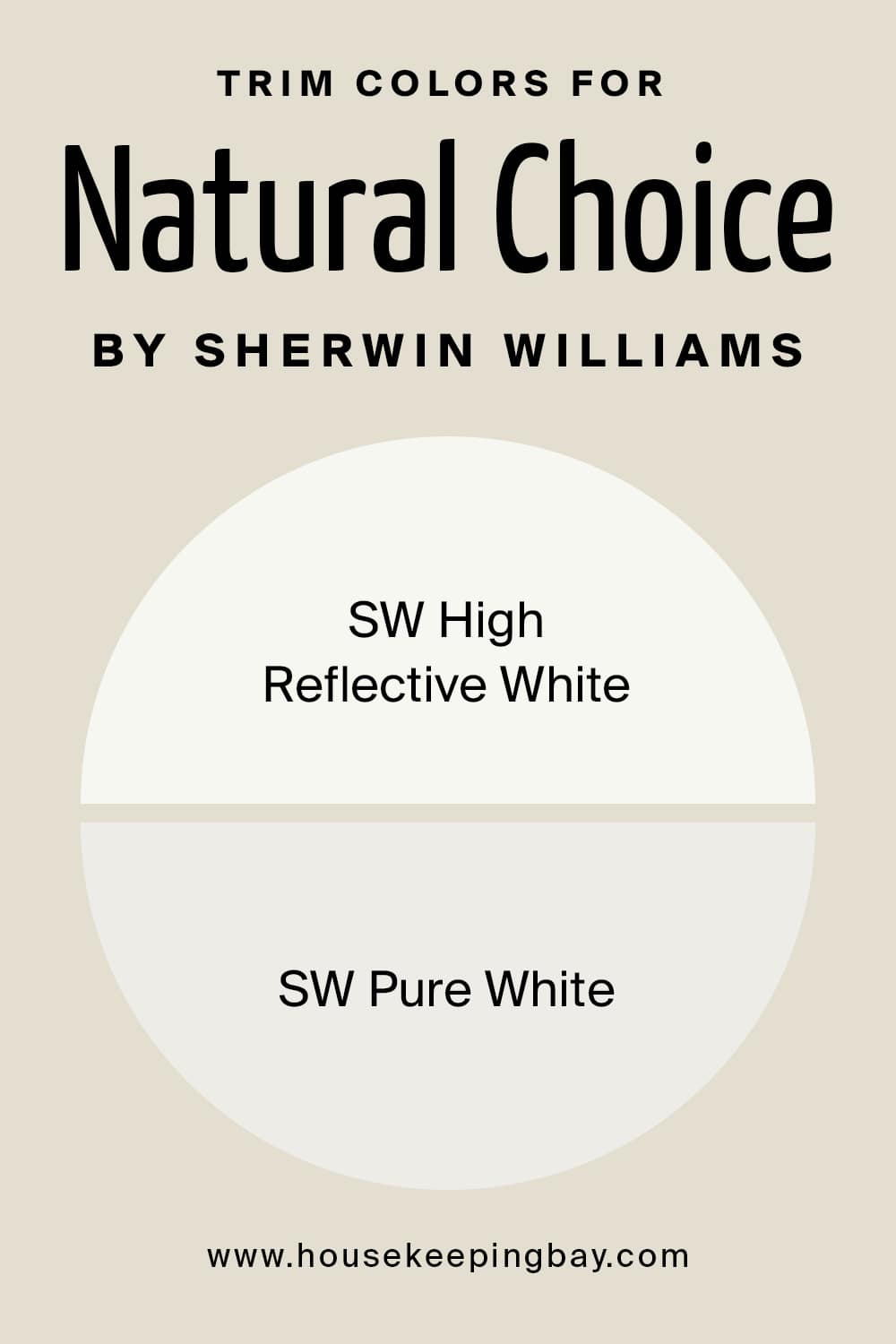 Paint Colors That Go With SW Natural Choice
When you are choosing the future color palette for your home, it is essential to pick the colors that will work together.
But when the major color is like SW Natural Choice with its complex undertones, you might find it hard to select the colors that will go well with it. This is why grab a few recommendations on what colors will go well with this creamy beige:
SW 6149 Relaxed Khaki
SW 6148 Wool Skein
SW 9117 Urban Jungle
These are great if you are looking for a monochromatic palette. For a contrasting color palette, you might want to use the following colors:
SW 6148 Wool Skein
SW 7664 Steely Gray
SW 6229 Tempe Star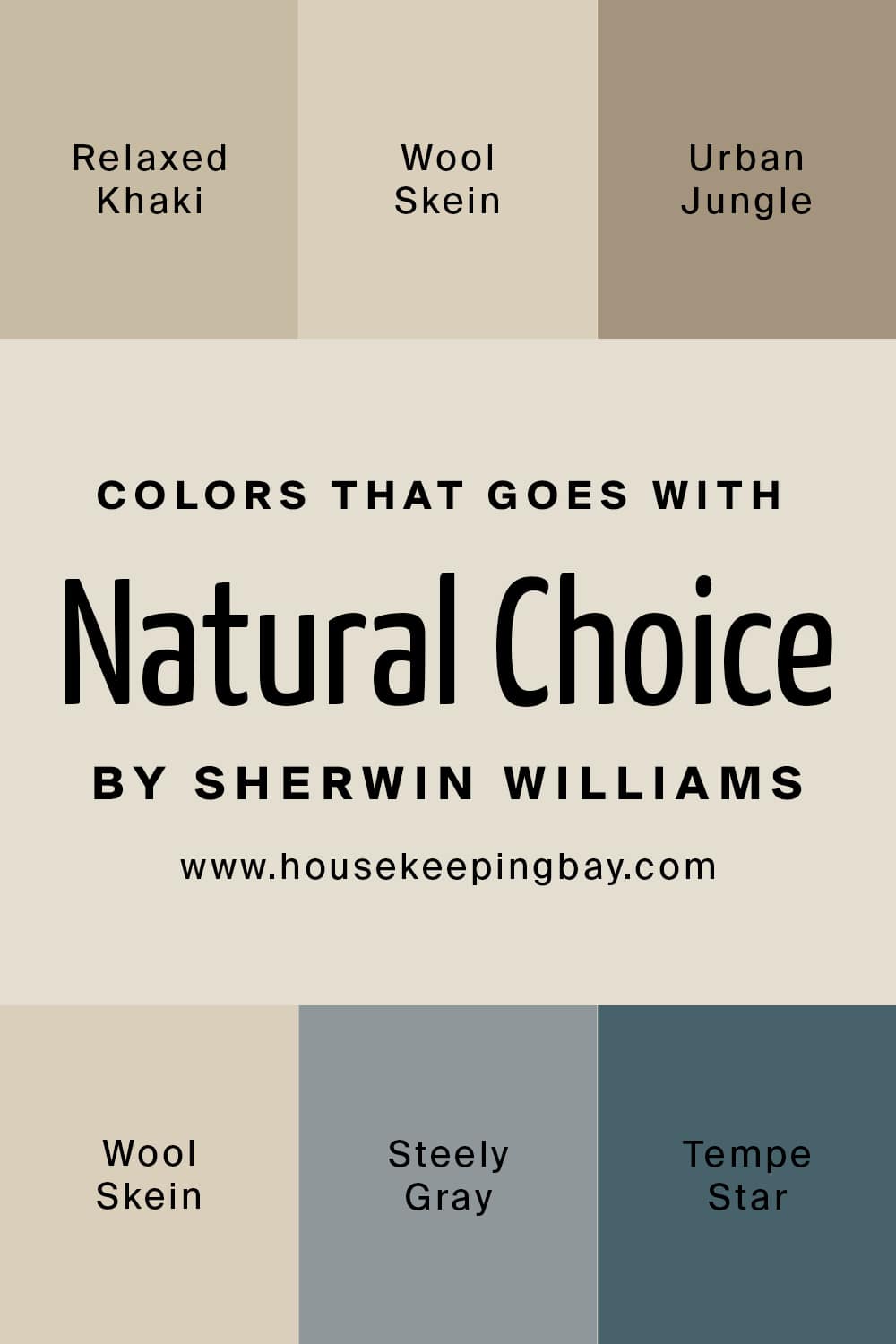 Where to Use SW Natural Choice In Your Home?
When we are choosing a paint color for our interior, it is good to know what rooms it will work better in.
Some colors look much better in brighter and more spacious spaces, for example, whilst other colors should never be used in small spaces. Such color as SW Natural Choice, for instance, is rather versatile.
However, even this color might not be a good option for certain spaces in your home. This is why read on to find out what rooms will benefit from being painted with it.
Natural Choice SW-7011 in the Living Room
If you want to apply this color to the walls of your living room, consider what type of light you have there.
If the living room is mostly lit with warm daylight, for instance, southern or western, the Natural Choice paint color will lean more into beige with a prominent brownish hue rather than creamy color.

Natural Choice SW-7011 in the Kitchen And Kitchen Cabinets
For the kitchen, this color is an absolute win-win choice! You can either paint the kitchen cabinets in this warm-toned beige or use golden oak or walnut wooden textured cabinetry.
Moreover, to further refine the look of your kitchen, you can make use of brown hexagonal backsplash tiles and off-white marble or granite countertop.
Natural Choice SW-7011 in the Bathroom
In a bathroom, this warm beige with creamy tones will look suitable if the room is large enough and if it is well lit.
If you don't have such conditions, expect this color to appear way too warm with more of its brownish undertones, which can make the space visually smaller.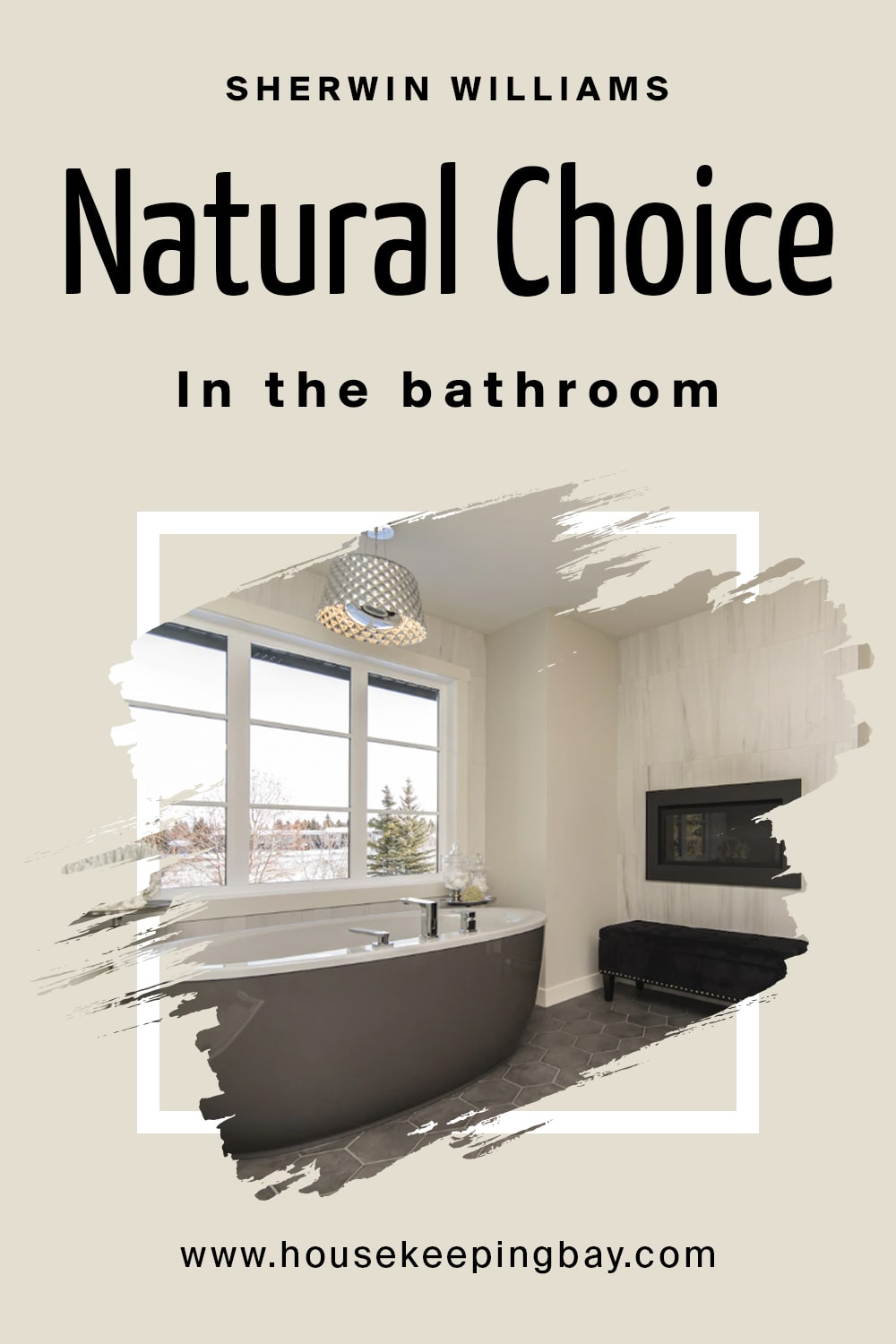 Natural Choice SW-7011 in the Bedroom
A bedroom is a space that should be soothing and tranquilizing. This is why this warm color is a great choice for this space. Besides, you can incorporate wooden textures and tones, as well as shades of brown and subtle beiges to make the room look cozier and more vivid.
You can also use a focal point accent wall paint to add depth to your room. Moreover, use neutral upholstery and bright decorative accents through throw pillows, blankets, and area rugs.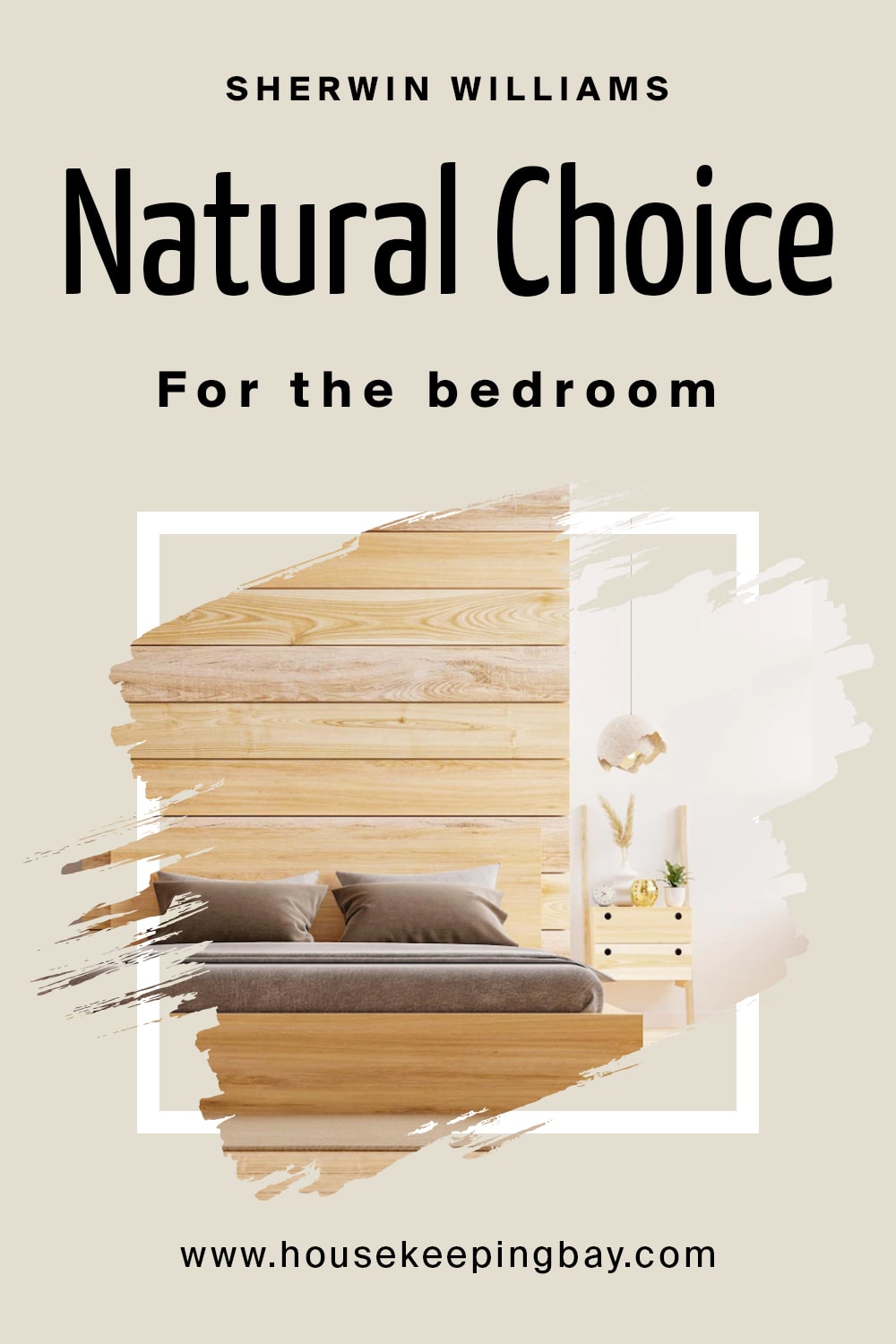 Natural Choice SW-7011 for the Exterior Use
Sherwin Williams Natural Choice paint color will always be a great choice for your home's facade no matter the style of the house.
This color creates a welcoming and warm vibe, creating an inviting character. You can also add brown color as an accent or go vice versa for the trims, moldings, and door, as well as window frames. Also, don't hold back from using brown roof tiles.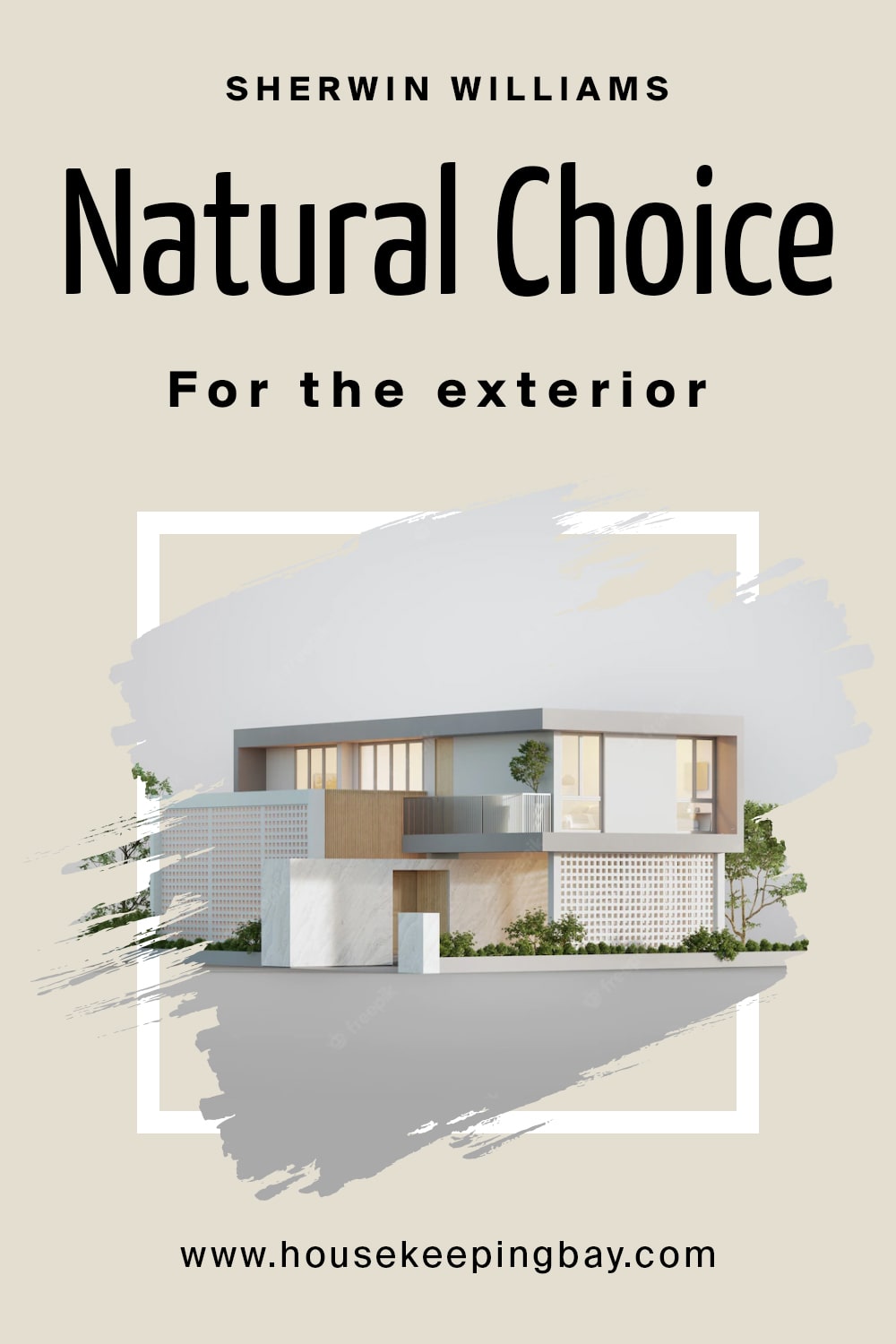 Comparing SW Natural Choice to Other Colors
To help you better understand the nuances of this wonderful and versatile warm beige by Sherwin Williams, we suggest you a comparative guide where you can see what makes it different from a few other colors. Like this, you will be able to see the distinctions clearly.
Natural Choice vs White Duck
SW White Duck has an LRV of 74 and it is another pastel and off-white color. Thanks to its LRV, it is considered an absolute warm-toned color for homes. In addition, it is also one of the most popular colors of the brand.
SW Natural Choice and SW White Duck look almost alike since both are warm-toned and have the same balanced amount of beige and brown in them. This is why these colors can be used interchangeably.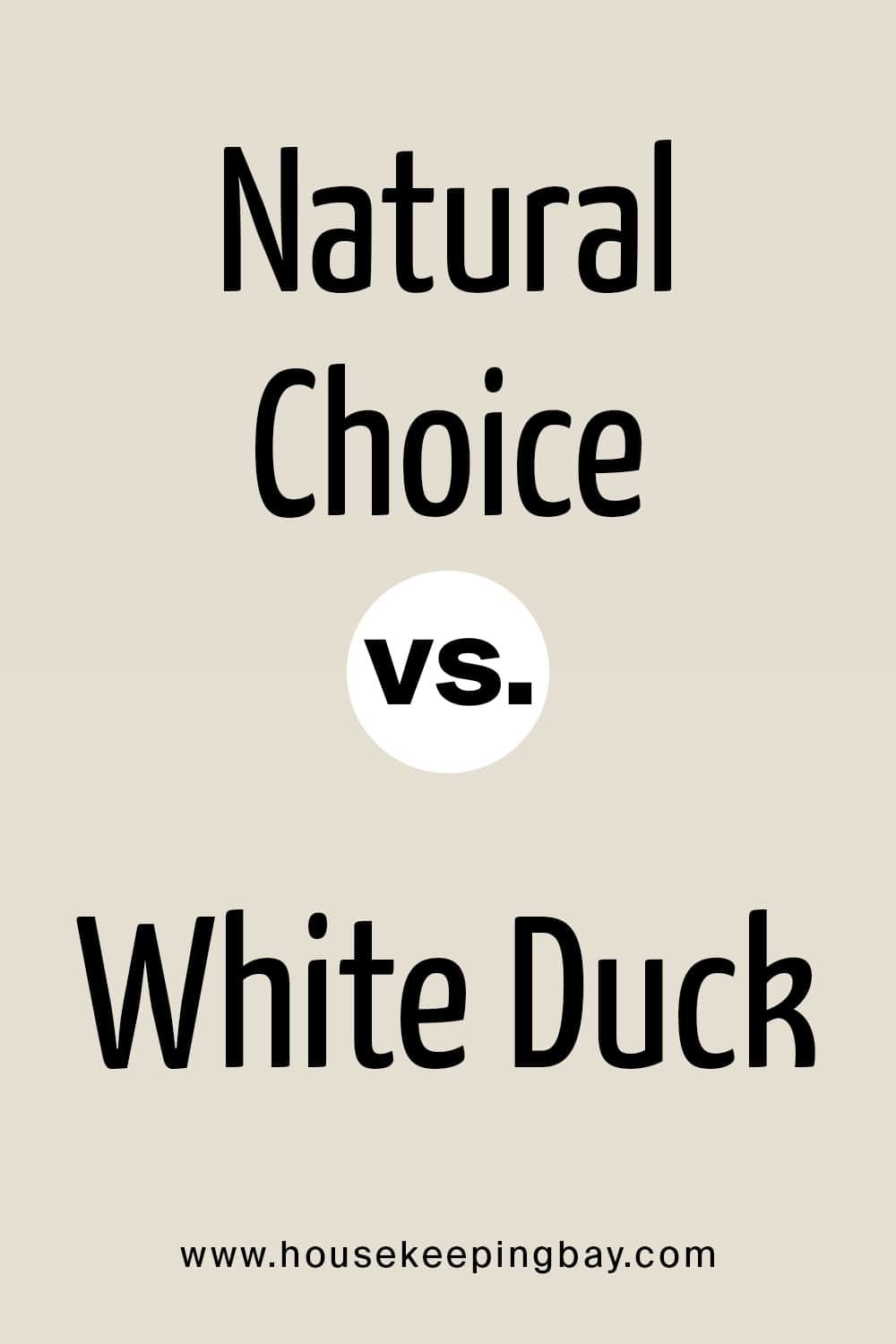 Natural Choice vs Alabaster
If we compare these two colors, we will notice that Alabaster is lighter and shows more gray undertones.
Natural Choice, on the contrary, reads more beige and we would even say brownish. Nevertheless, they create a harmonious combination, especially if you pair them with an off-white for a trim color.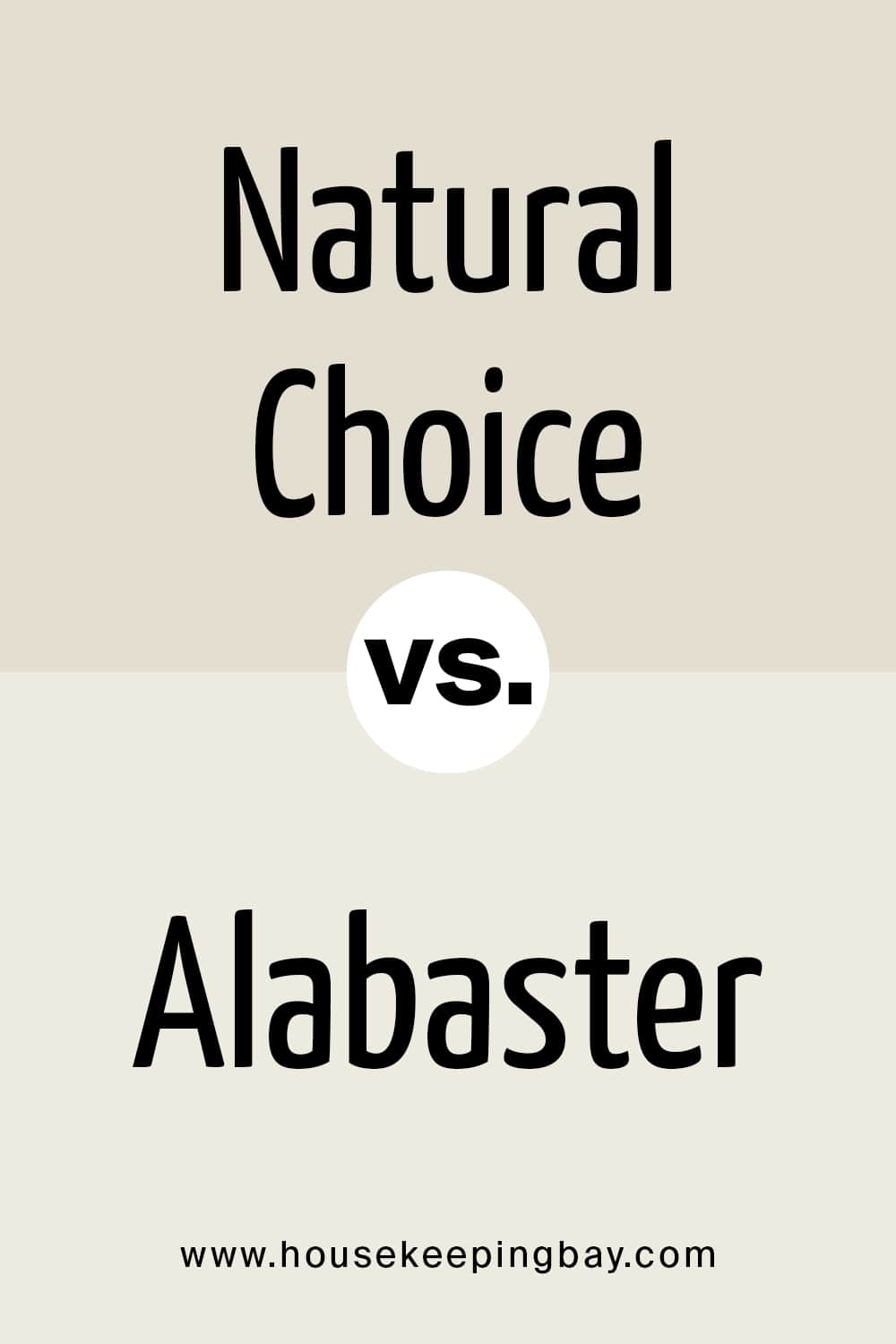 Natural Choice vs Oyster White
With an LRV of 72, the Oyster White shares many similarities with SW Natural Choice.
A beautiful off-white, it can definitely be used as a base and neutral in your home. However, you should note that this color may not appear as warm as Natural Choice! Nevertheless, you can absolutely use it anywhere in your home.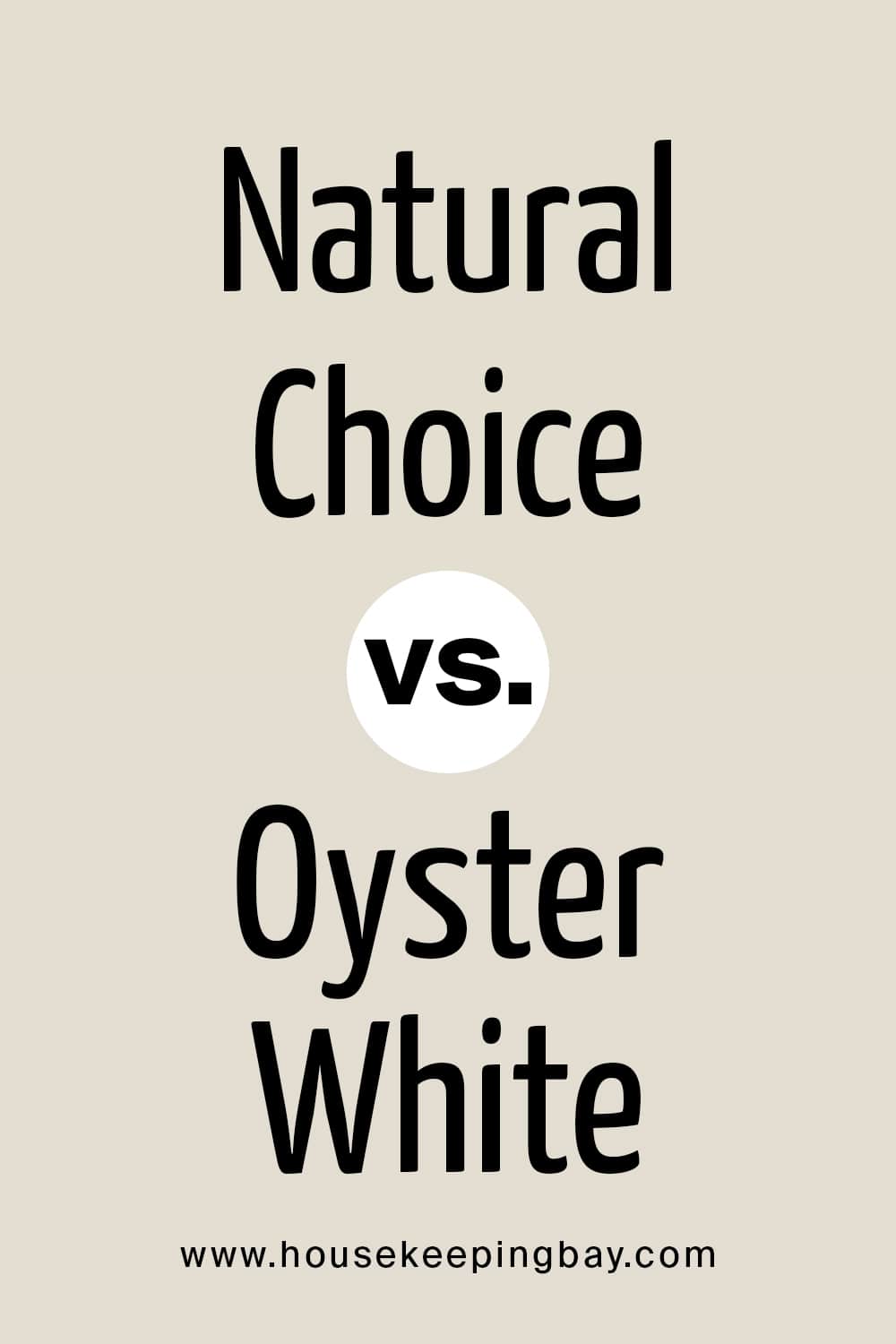 Natural Choice vs Natural Linen
SW Natural Linen is a warm neutral just like Natural Choice. However, even though Natural Linen is officially considered yellow, it has prominent pinkish undertones in comparison to its counterpart which reads creamy beige.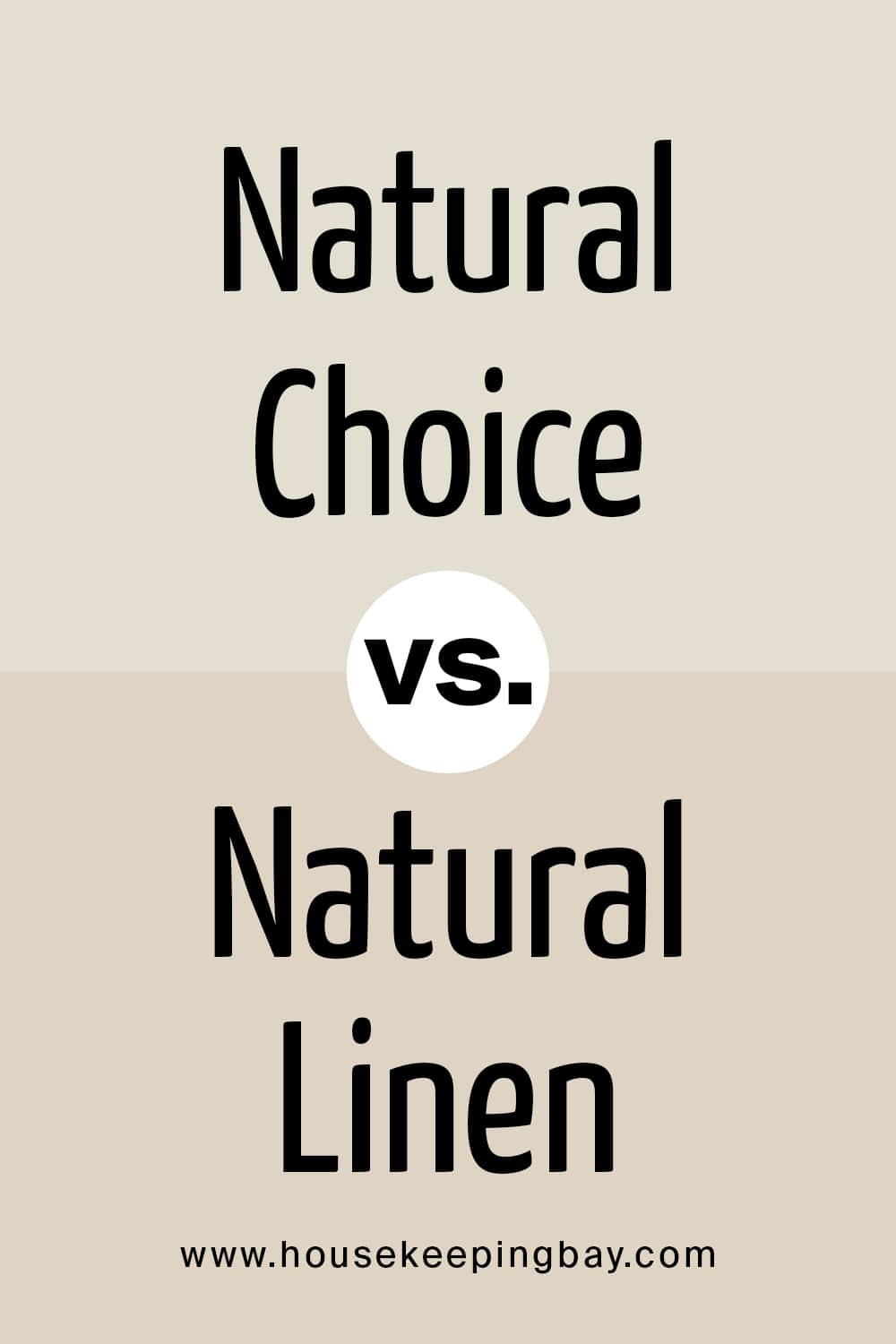 So, now you know almost everything about the Pavestone paint color by Sherwin Williams.
And since you are aware of its undertones, trim colors, colors that go well with it, as well as the way this paint reacts to light, you will be able to choose the most matching color palette for your interior if you decide to use this wonderful warm gray.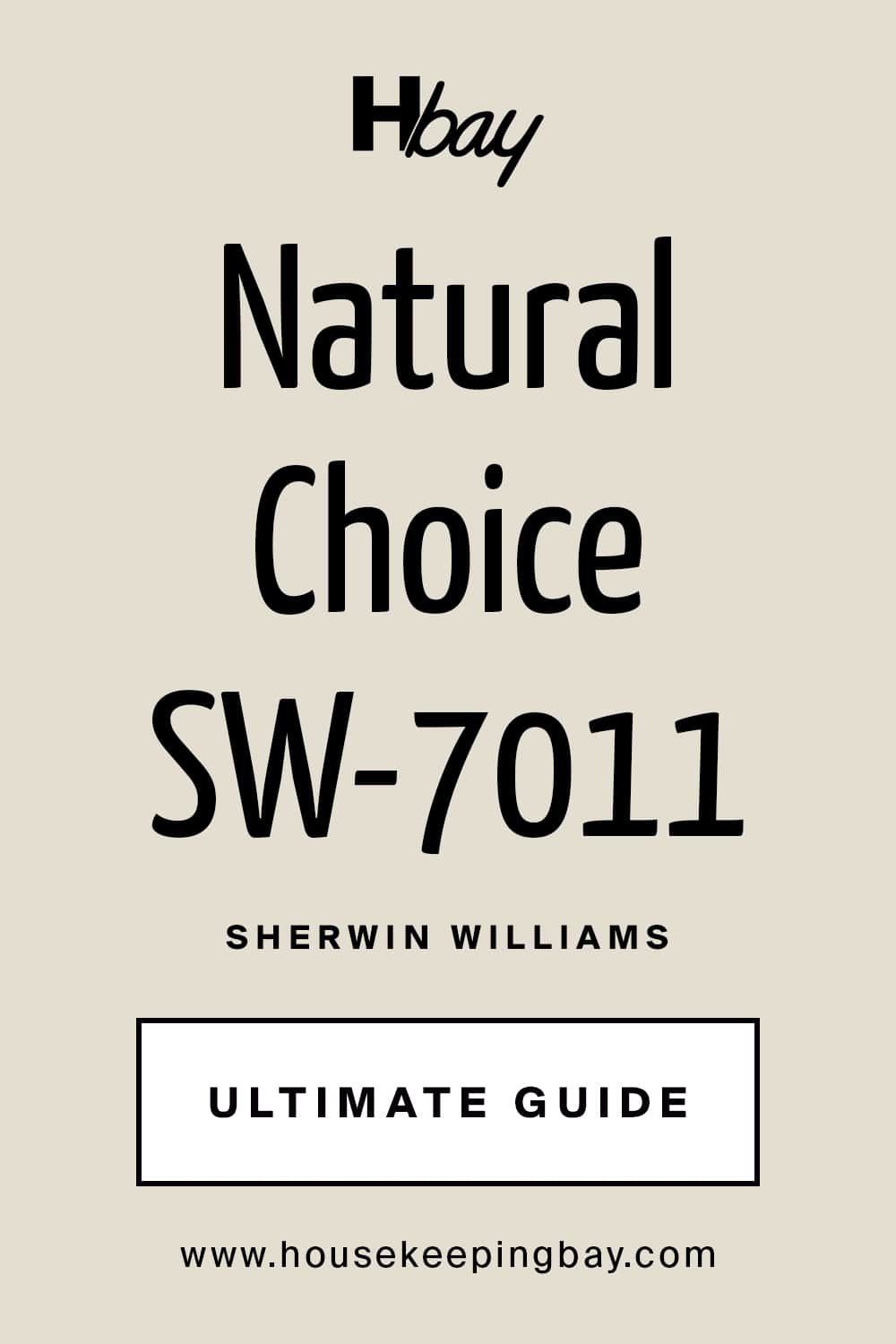 Frequently Asked Questions
⭐Does SW Natural Choice look yellow on the walls?
Basically it doesn't. But it may seem a bit yellowish in a room lit with warm light.
⭐Will SW Natural Choice pair well with black color?
Yes, it will, but the black accent should not be way too massive.
⭐Will SW Natural Choice match mustard-yellow and emerald-green well?
Yes, this neutral will look pretty good with such vibrant and rich colors! You can enhance the yellow by adding golden decor elements if the room is well-lit.