White is one of the most widely used colors in our homes. Thanks to its versatility and the ability to work well with most colors, white is very welcomed in any house or apartment. Also, it can brighten the space up, which is why brighter shades of white are often used in smaller rooms to make them seem larger.
But today, we would like to explore another kind of white with you. This color is called Pearly White and it does remind of a pearl a bit. We will explain what kind of white it is, how it works in different rooms, and how to coordinate it correctly.
And of course, from this article, you will get a lot more helpful information and tips that will allow you to use this beautiful hue in your home like a pro!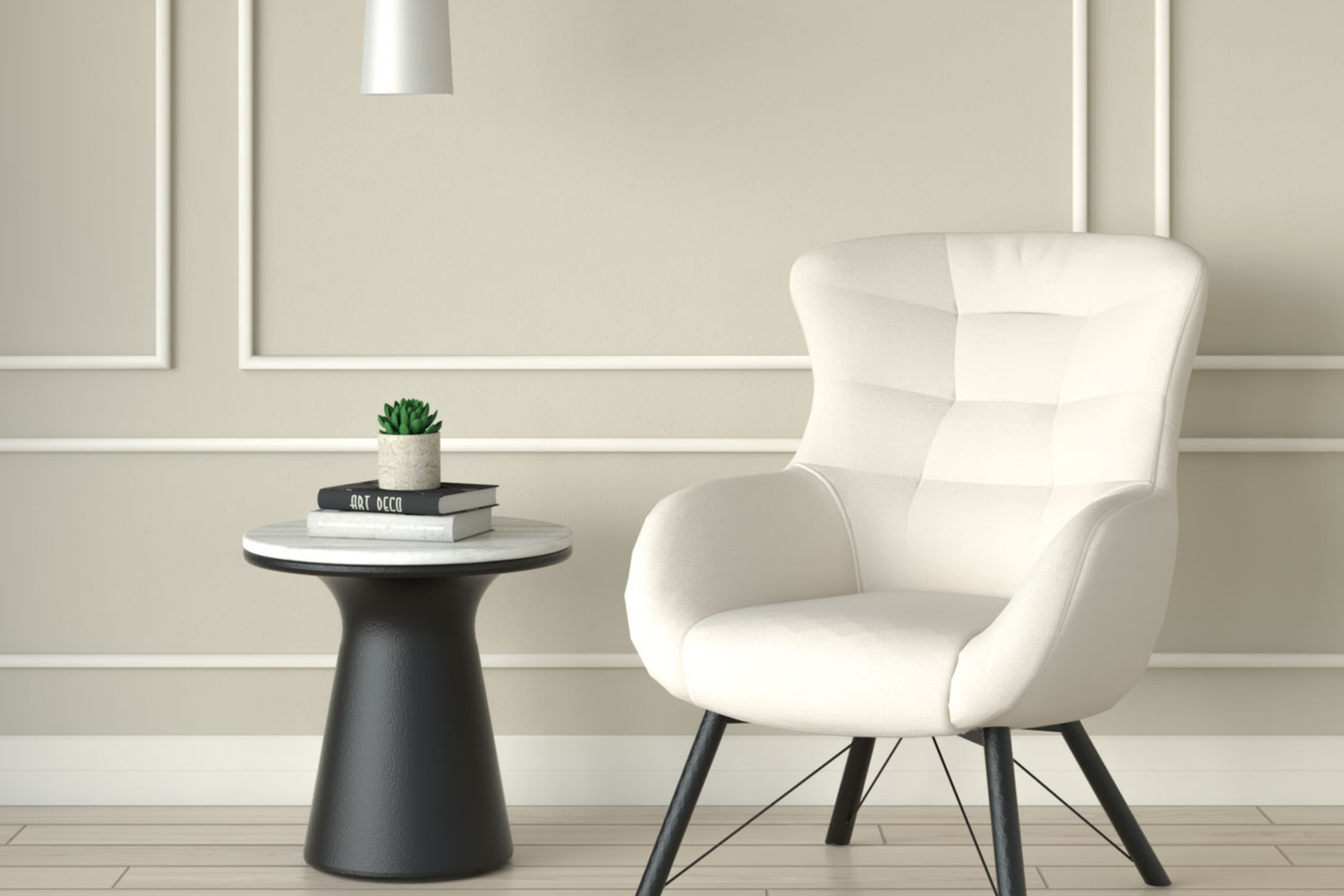 What Kind of Color Is SW Pearly White 7009?
SW Pearly White is the color that belongs to the white and pastel color family (hue). Thanks to its balanced hue and calm appearance, SW Pearly White is often considered neutral greige. However, it doesn't look like typical crisp white we are all used for.
SW Pearly White reads bright yet somewhat soft thanks to beige undertones. At the same time, this beige hue doesn't make the white seem warm because undertones of SW Pearly White are cool-toned.
As Encycolorpedia says, this color looks elegant on its own. But also, it can be a lovely way to help darker hues stand out in your home.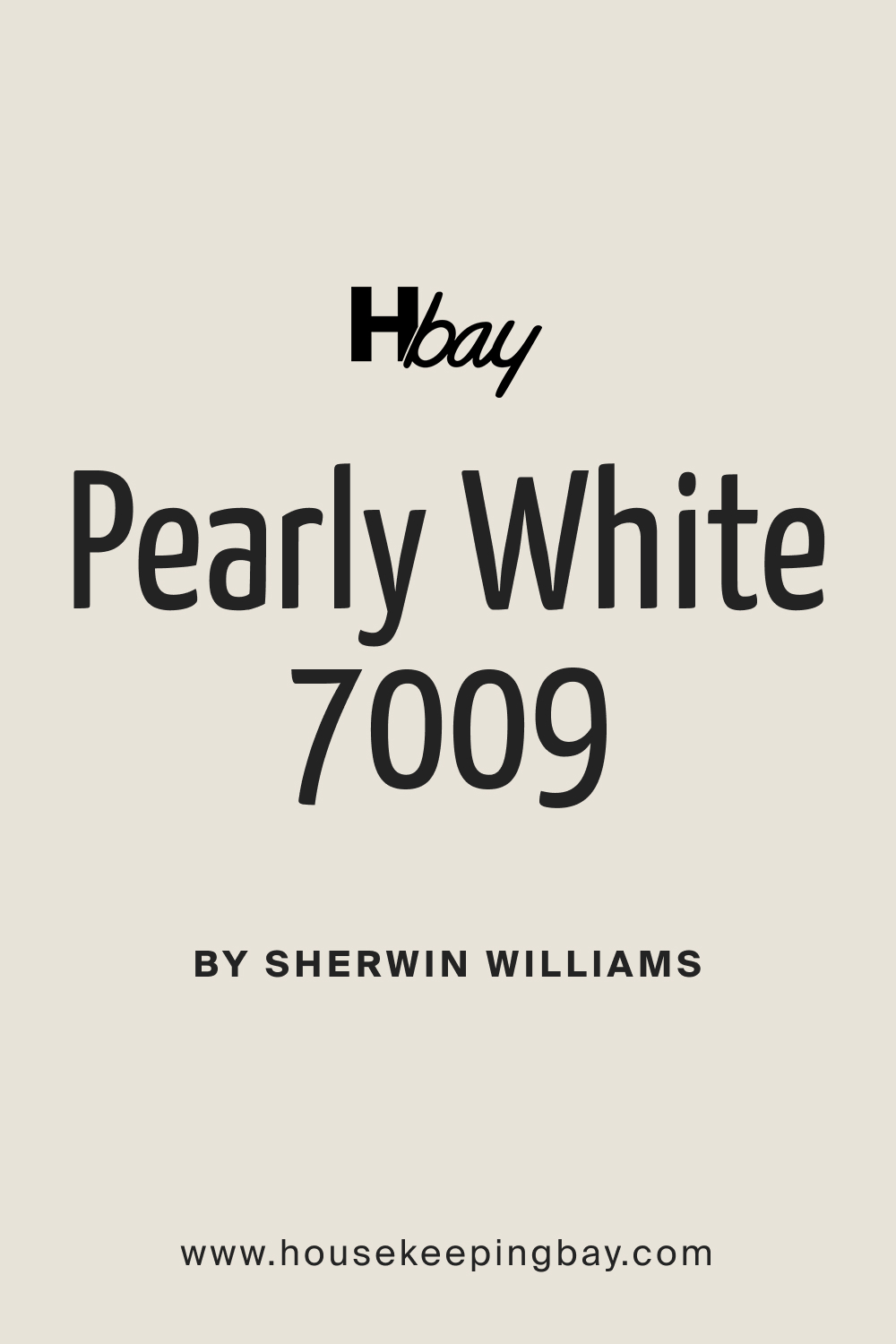 Is It a Warm or Cool Color?
In terms of tone, Pearly White (SW 7009) is considered a warm white color, but it has no prominent yellow undertones unlike most warm-toned colors. This is why this neutral paint color mostly reads neither too warm nor too cold. Thanks to such a balanced nature, you won't find it displaying that yellowish hue on your interior walls.
However, in terms of undertones, SW Pearly White may also read grey, depending on the lighting conditions in a room.
This color can be a nice option if you want to make a space feel cozier without forcing it to feel too warm. At the same time, due to the warmer tone, SW Pearly White might not work quite well in a cool-toned interior.
What Undertones Does SW Pearly White Paint Color Have?
Undertones play an essential role in how colors read in your home. Speaking of SW Pearly White, this color is pretty complex. Sherwin-Williams Pearly White is a muted cream paint color with soft beige undertones.
However, it may also occasionally show a hint of a green hue, as well as slight grayish undertones in specific lighting conditions. Because of such a tricky nature, this white must be always sampled before you use it in your home!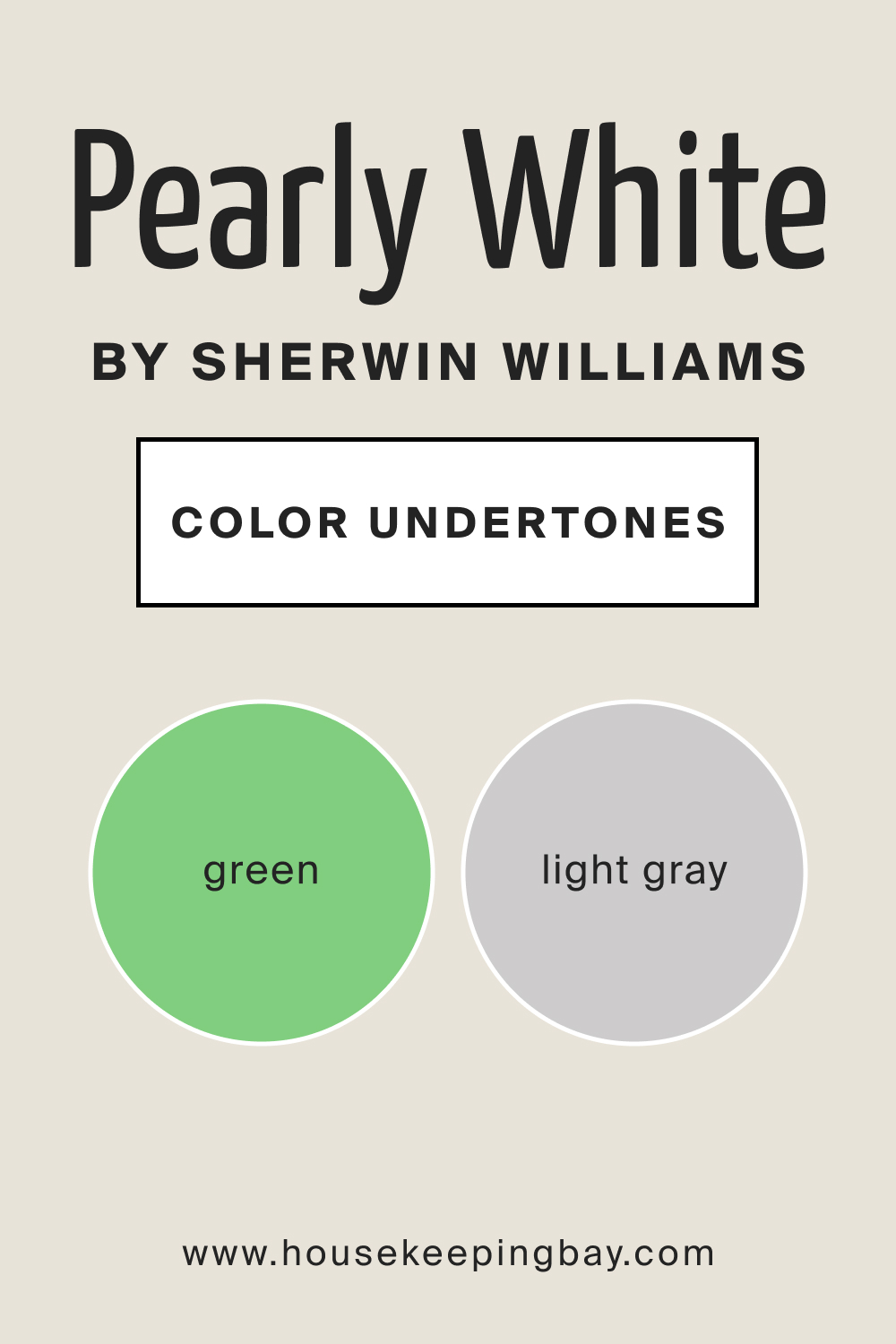 SW Pearly White 7009 Coordinating Colors
Choosing the best coordinating colors is the key if you want to achieve a balanced and good-looking palette in your home. But it can be challenging to pick up the optimal coordinating colors for such a tricky hue as SW Pearly White! This is why we have prepared a few color suggestions for yout o check out. The following ones are universal color options:
SW 7638 Jogging Path
SW 7629 Grapy
For a monochromatic palette, consider using the following paint colors:
On the other hand, here are a few of the colors you might want to consider for a contrasting color palette.
SW 6043 Unfussy Beige
SW 6045 Emerging Taupe
SW 6039 Poised Taupe
Anyway, you should select coordinating colors depending on the interior design style you have. Generally, since SW Pearly White may show slightly peachy/pink undertones, we recommend pairing it with taupes, mauves, dusty pinks, dusty reds, blush, and also charcoal blue and grays to achieve a contrasting look.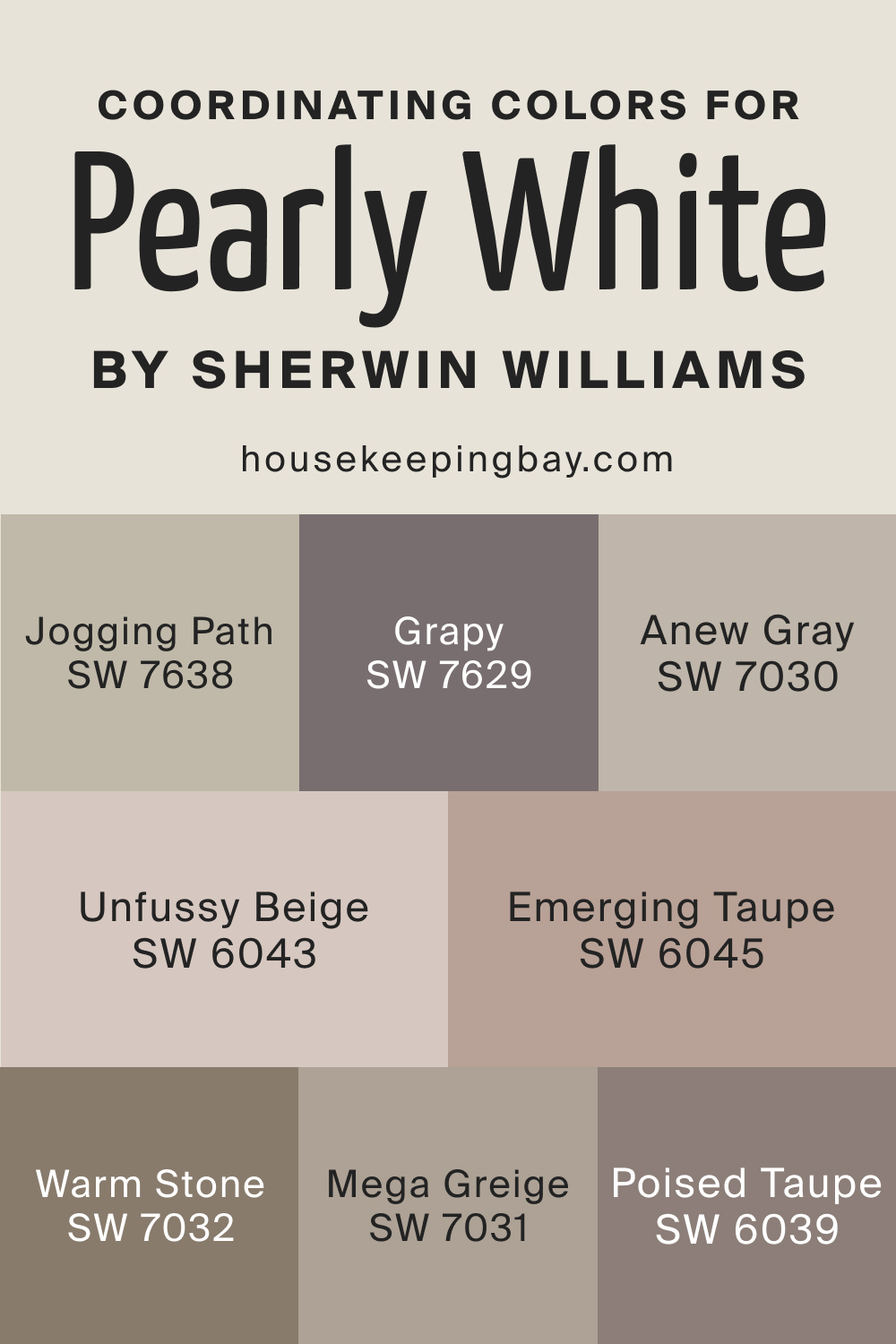 What LRV Does This Color Have and How It Reacts to Light
The LRV (light reflectance value) of SW Pearly White is 77, that means it is an extremely light-toned paint color! For those who don't know, LRV shows how much light colors can reflect from the wall. The closer the LRV value to 100, the lighter and more reflective the hue. Respectively, colors whose LRVs are reaching zero, read darker and reflect less light.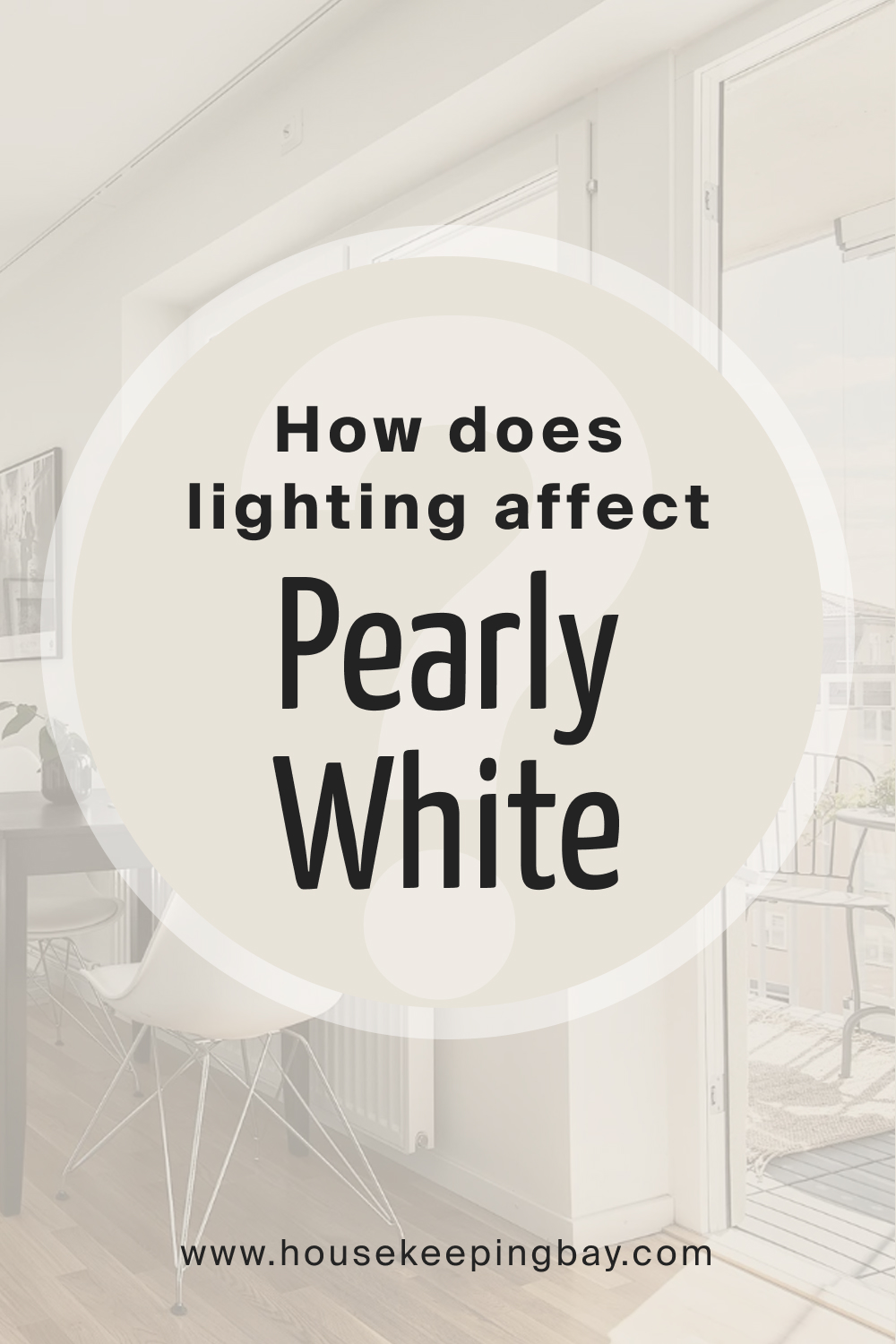 Since SW Pearly White is already pretty light, it will tend to read washed out when used in the east or west-facing rooms. Also, in a room with ample natural light, it will most likely look much lighter and brighter.
In east, west, and south-facing rooms, this paint will appear slightly warmer. However, this white hue can still be a good option to use even in the rooms with little to no natural light!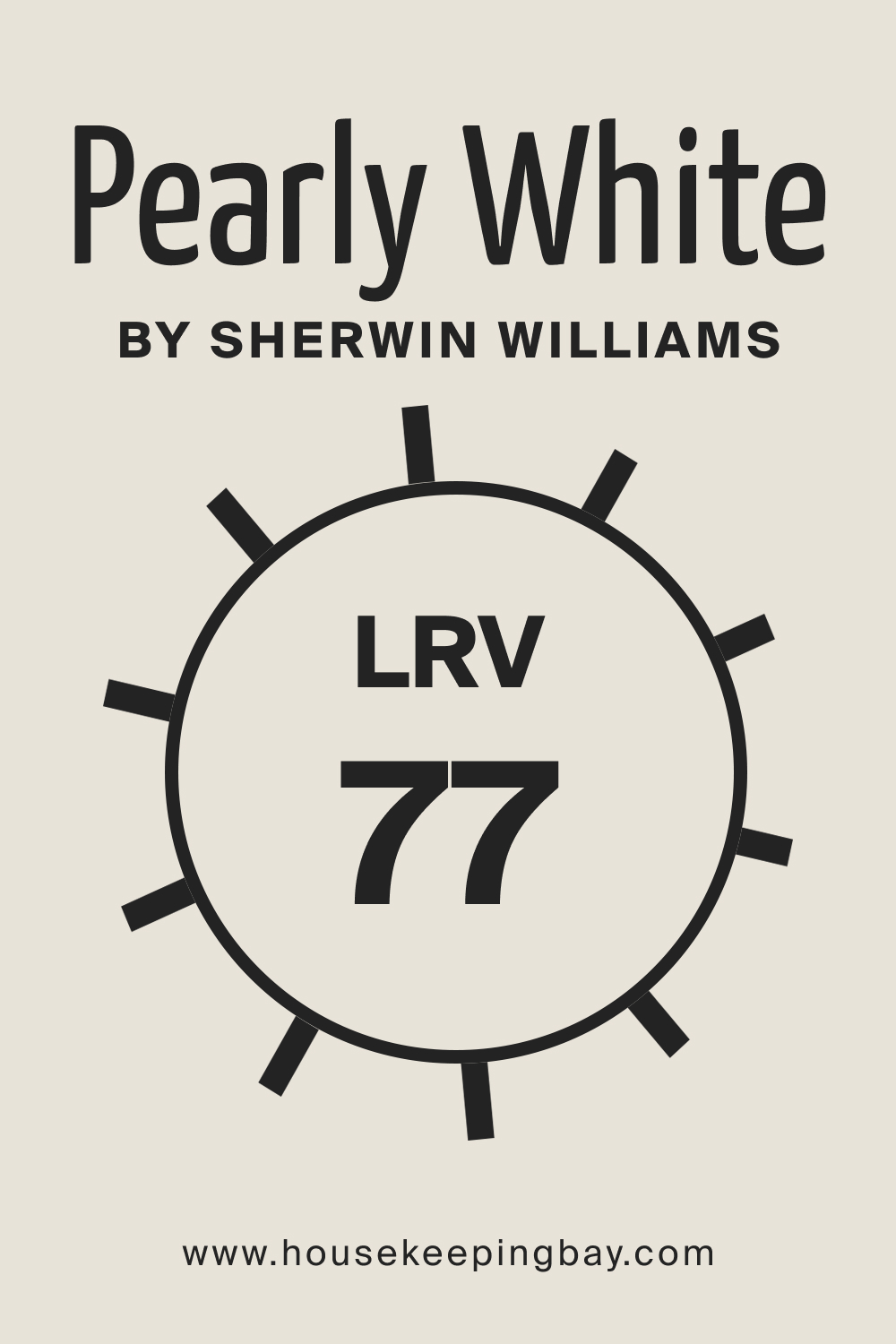 What is LRV? Read It Before You Choose Your Ideal Paint Color
What Is the Best Trim Color to Use With SW Pearly White 7009?
Since white is the most commonly used trim color, you might be wondering how to pair two different whites on the same space. Well, if you have SW Pearly White on your walls, you can use the same color on your trim and even the ceilings!
However, if you want a more clear contrast between the trim and the walls, you might want to consider a lighter and "whiter" white like SW Pure White.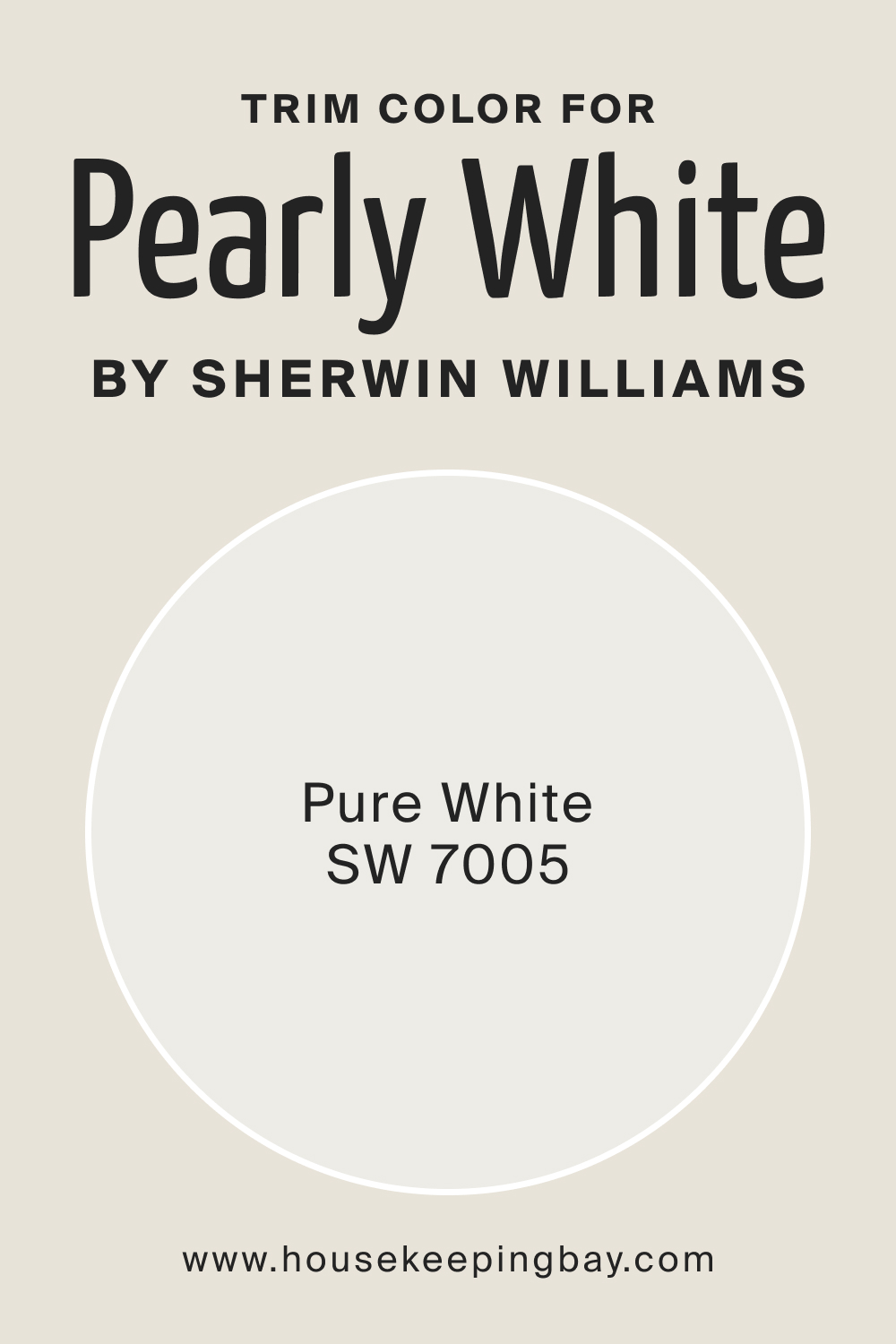 Colors Similar to SW Pearly White 7009
If you can't use the paint color you initially wanted in your home, you can always opt for one of the similar colors instead. This is why it is good to know what other hues can work as substitutes for the paint color you were going to apply.
Of course, note that you will not find an ideal color match! There are no two totally the same colors. Nevertheless, we can suggest you several alternative whites that read the most similarly to SW Pearly White.
BM Classic Gray OC-23
SW 6070 Heron Plume
SW 7013 Ivory Lace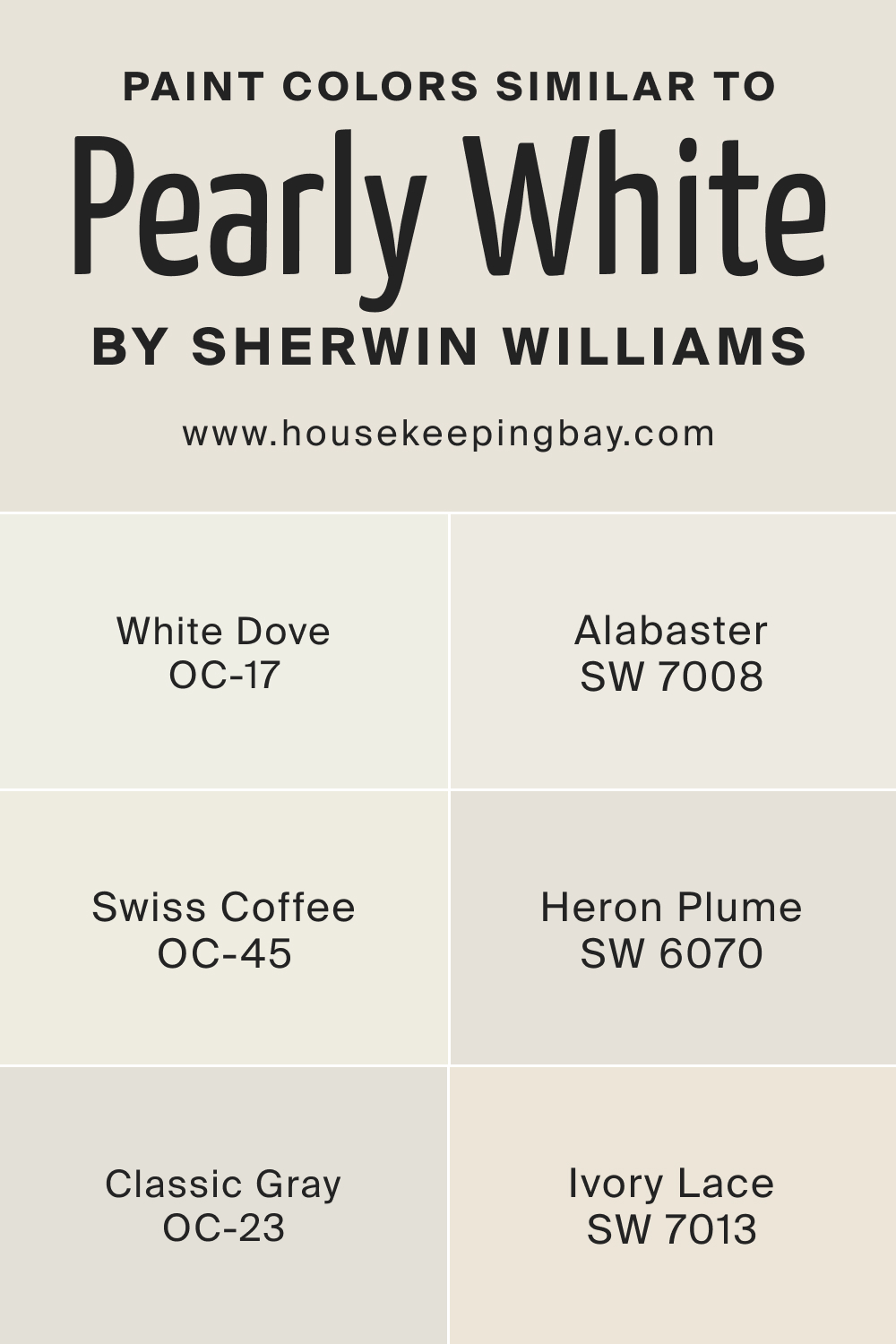 Colors That Go Well With Pearly White 7009 by Sherwin-Williams
Knowing what hues your paint color goes with will help you with making the entire space look balanced and welcoming. As for the SW Pearly White, this neutral can be paired with several colors. For example, it works well with warm gray paint colors with similar undertones, creams, off-whites, greens, and purples. Below, you can check out which ones exactly will work better:
SW 7047 Porpoise
SW 7622 Homburg Gray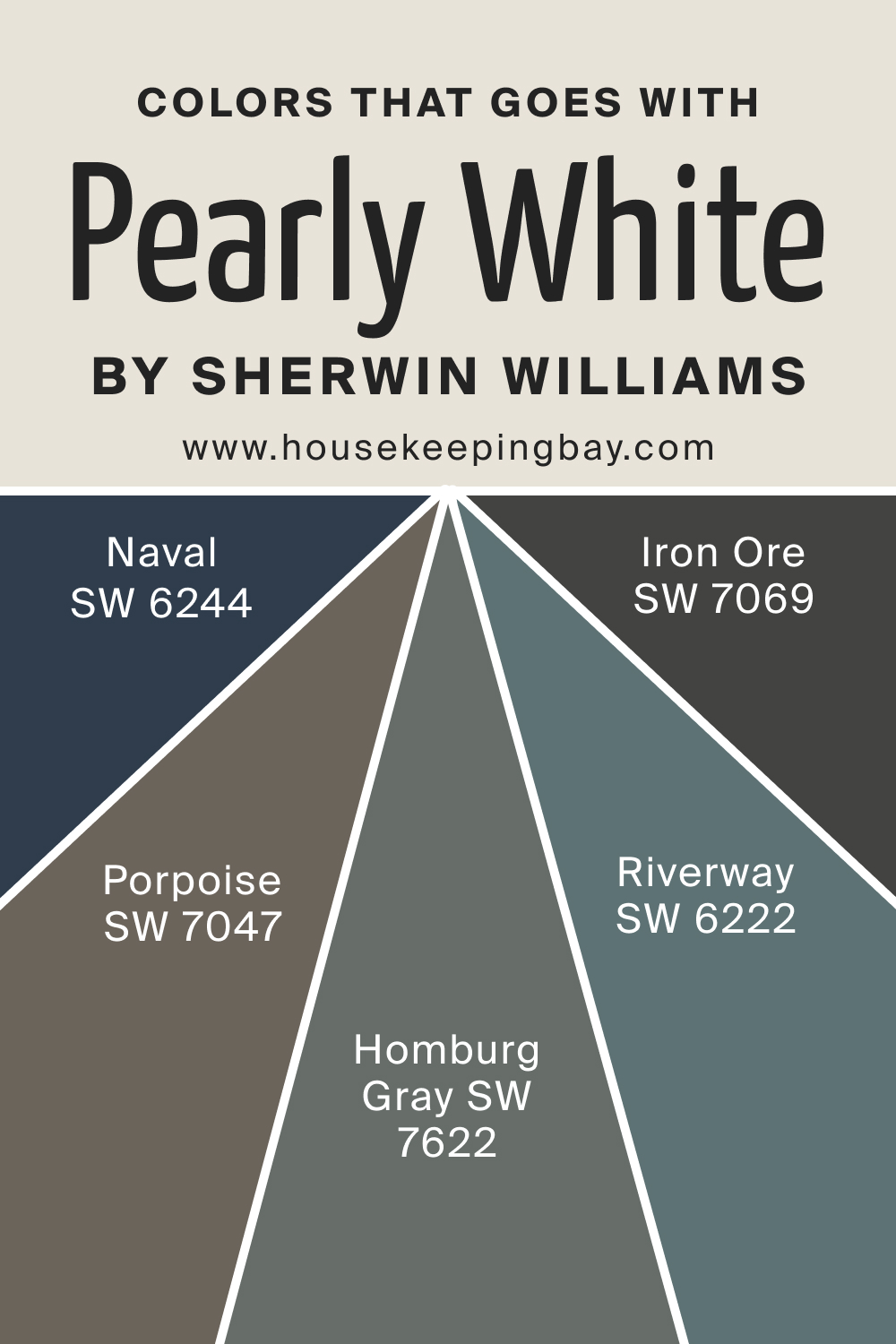 Where to Use SW Pearly White 7009 In Your Home?
The one great feature of SW Pearly White color is that it is easy to incorporate into your interior. This color can make a great statement in very small and even medium-sized homes. It will make a space seem and feel larger and enhanced.
Also, this white can be easily used in almost any room and on nearly any surface. Moreover, SW Pearly White can also be used as exterior paint. Below, you can find out more about how this calming neutral paint will work in different rooms of your home.
Pearly White 7009 in the Living Room
This white color can add a pleasant and relaxed vibe to your living room, making it feel cozy and welcoming. Also, since SW Pearly WHite reads balanced on the walls, the space won't feel too warm. You can add brighter whites to your living room through the trim to make it feel fresher and lighter. Also, don't hesitate to use this white along with hardwood floors and wooden furniture!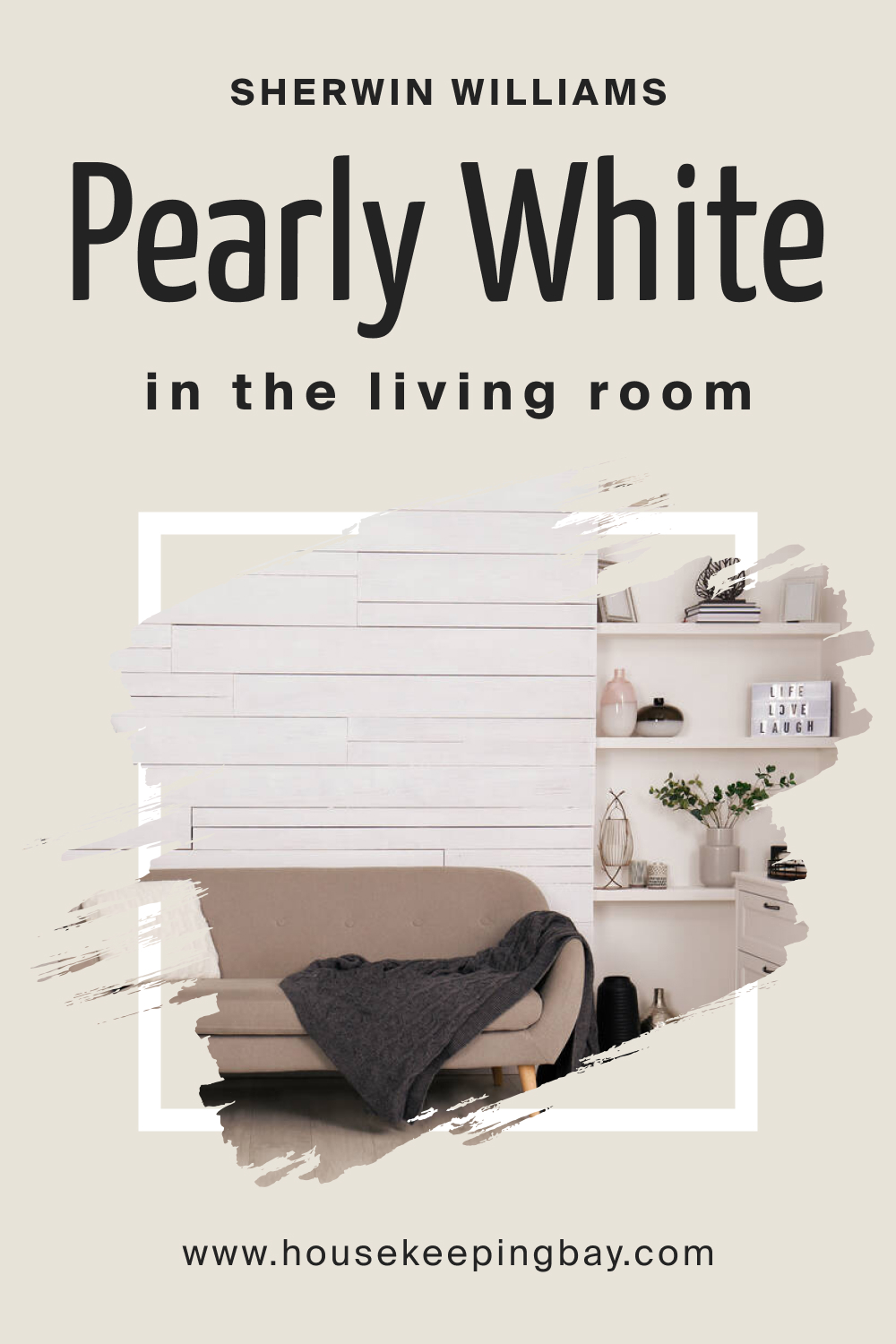 Pearly White 7009 in a Bedroom
SW Pearly White is a lovely hue for bedrooms! It makes your sleeping space feel tranquil and soothing with the help of a balanced warmth this color has. We recommend you use more brighter whites along with this delicate neutral. This will help you make your bedroom feel airier and lighter.
Aslo, SW Pearly White will read lovely in warm artificial lights, so don't hesitate to use warm bulbs there!
As an option, you might want to use this paint as the neutral or base in your bedroom and pair it with the darker paint for the accent wall. Also, blackout curtains with bold hues like beiges and taupes will add the statement to your bedroom.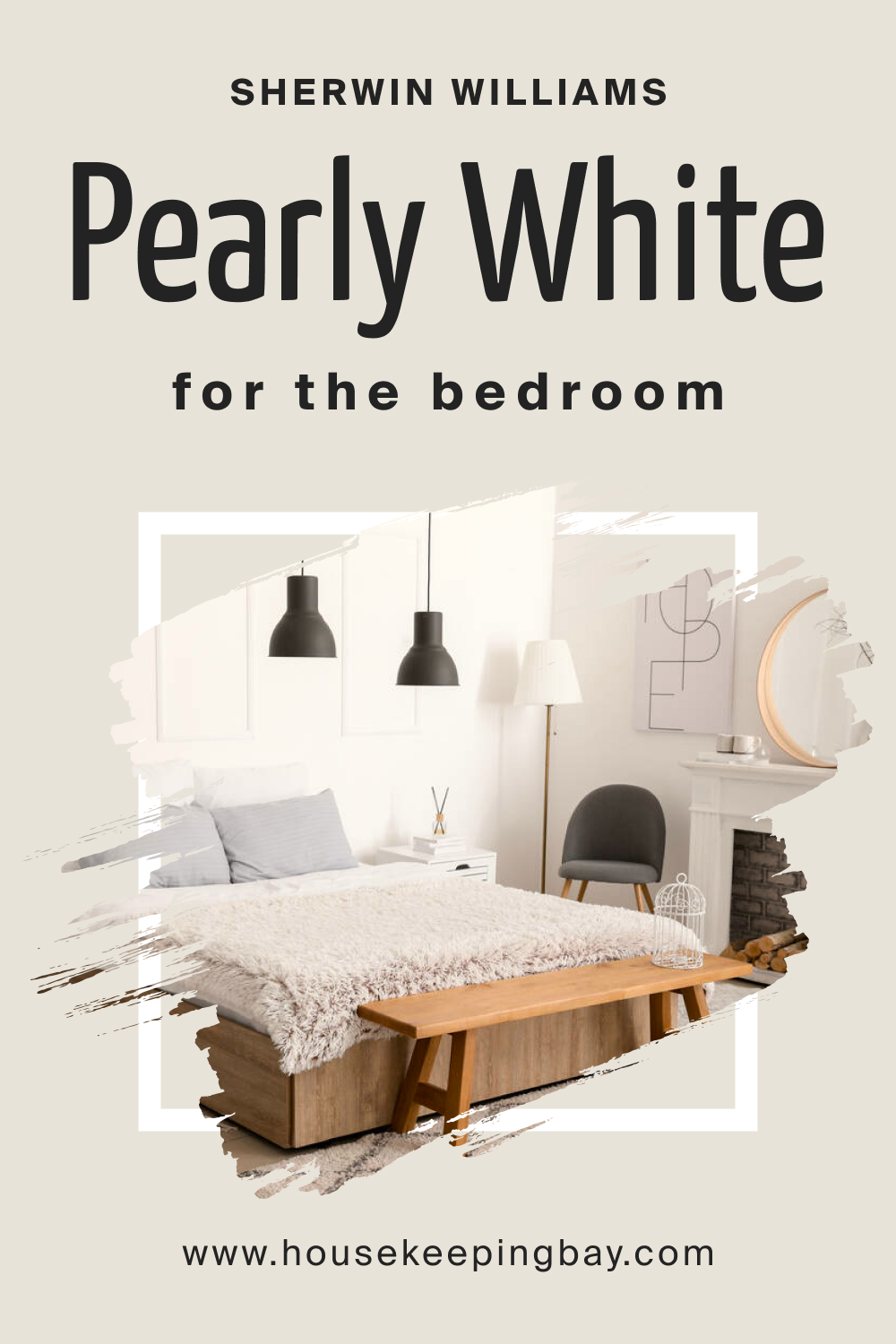 Pearly White 7009 and Bathroom
In a bathroom with enough natural light,SW Pearly White may read quite nicely, creating a relaxed feel. But it can also work in a smaller bathroom that lacks proper light! In this case, ensure there's enough brighter white there. For best results, we recommend you use this hue for the transitional style and pair it with brass or matte black light fixtures.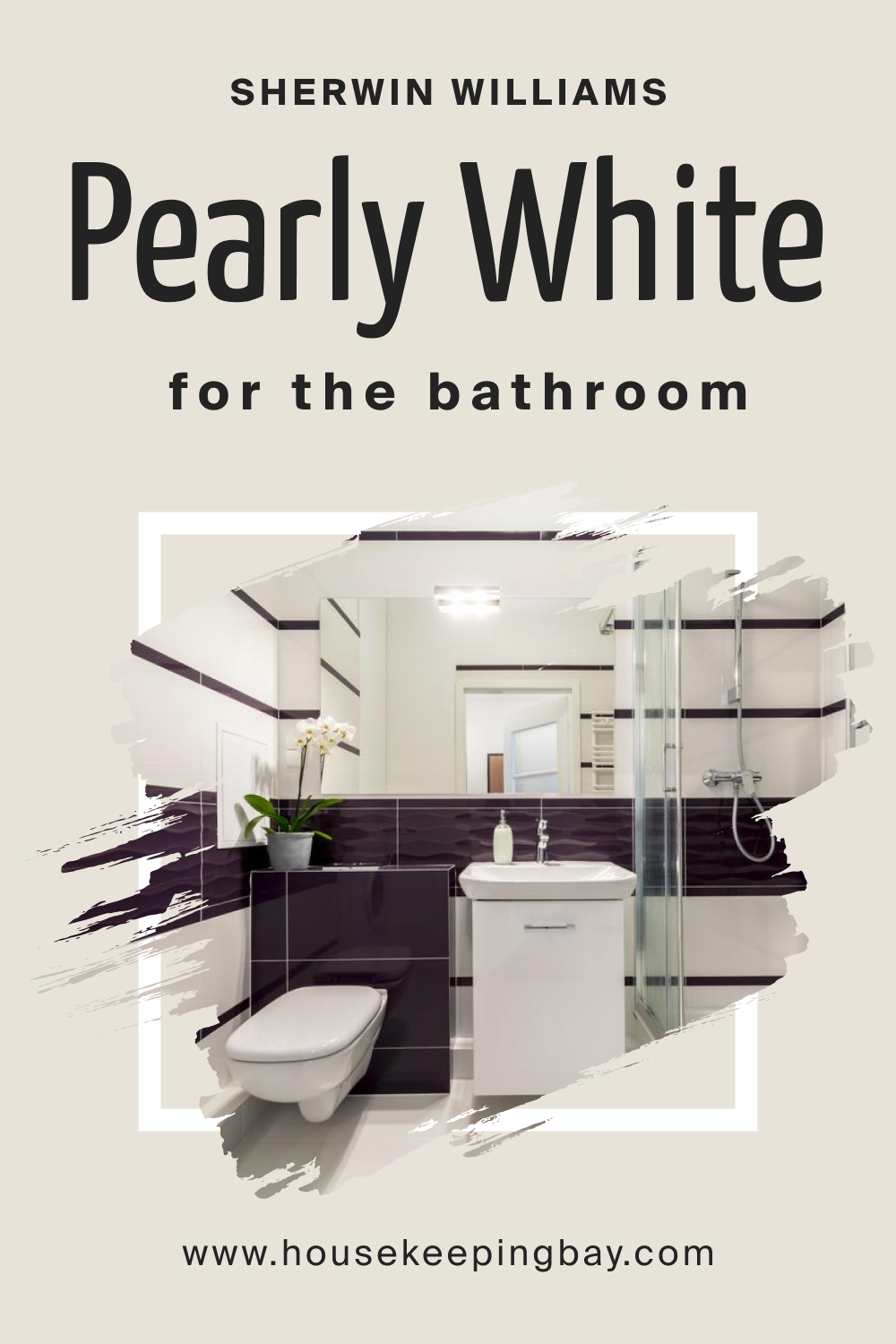 Pearly White 7009 on the Kitchen
In your kitchen, this neutral white can work on upper/lower cabinets, as well as on your kitchen island. But also, you can use it as a wall color and pair with more saturated hues on cabinetry and island (e.g, blues or charcoal). Anyway, this white hue pairs nicely with tiles and wooden surfaces, so it won't be a problem to make it work in your kitchen no matter where you use it!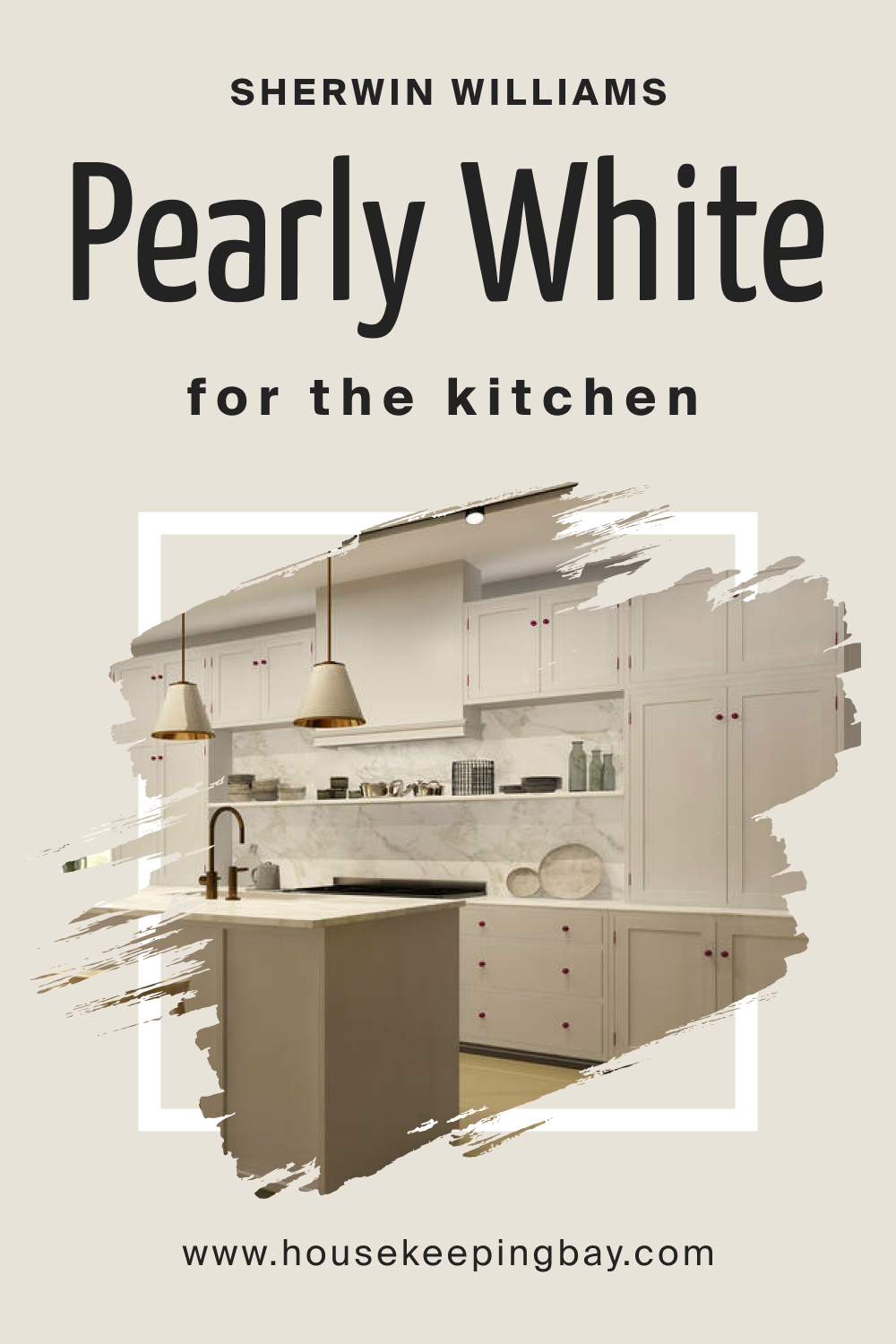 Pearly White 7009 for the Exterior Use
Thanks to its soft and balanced appearance, SW Pearly White works well on exterior walls. Nevertheless, note that in broad daylight, this white will read washed out, being hit by direct sun! But in any case, it won't look crisp or cold, of course.
SW Pearly White is timeless, which is why you can use it for most of the exterior designs. Besides, this white hue is a good color option to play with, pairing it with darker shutters and front door colors. For instance, you can either pair it with black or grey accents through trims, moldings, and door and window frames.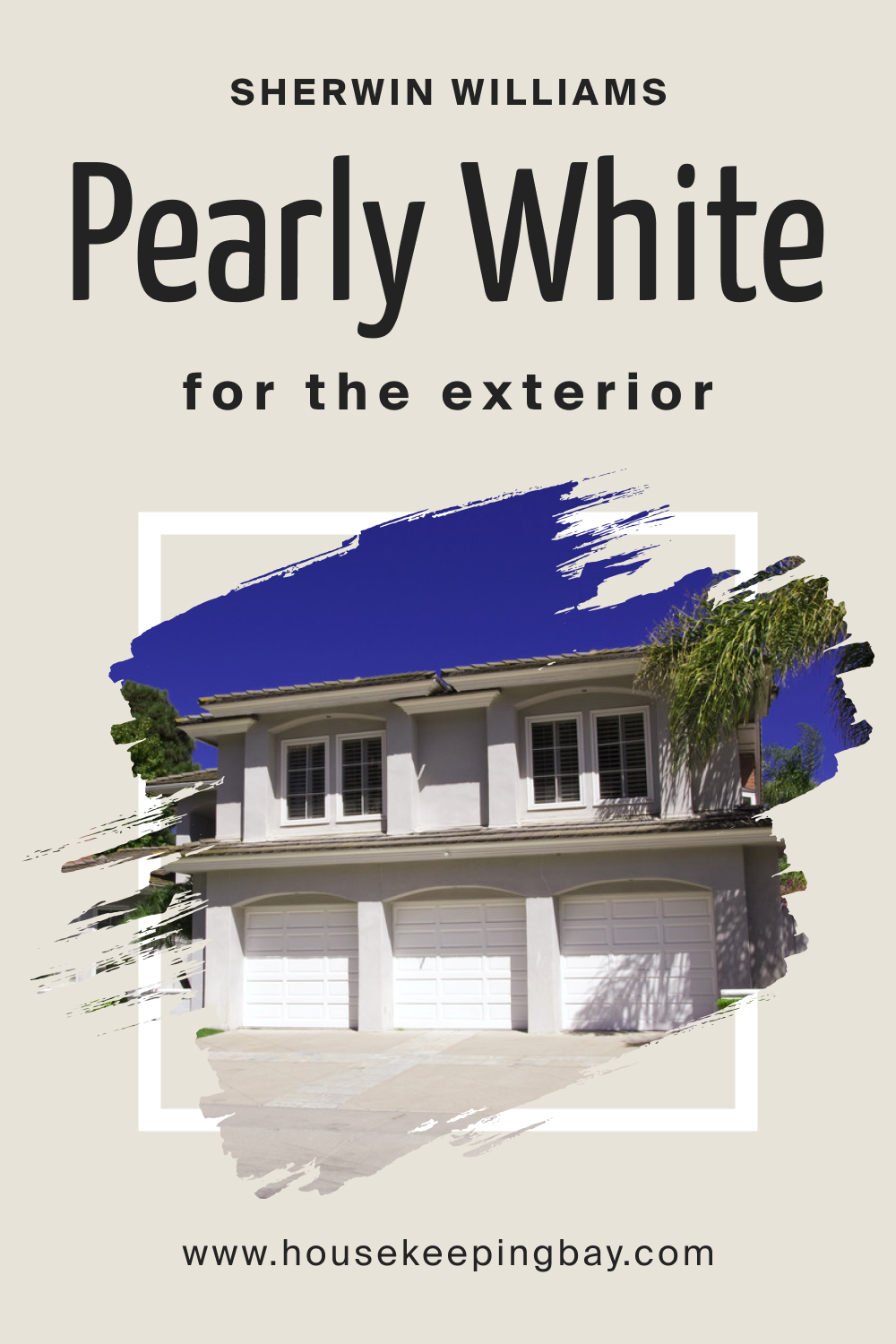 Comparing SW Pearly White 7009 With Other Colors
To help you see how distinct LRVs and undertones can make colors from the same hue family differ, we compared SW Pearly White with several related hues below. This will allow you to see the differences between similar hues better.
Pearly White vs. BM OC-17 White Dove
These colors may look pretty similar since both share slight green undertones, but they do have distinctions. One of them is LRV. SW Pearly White has an LRV of 77, whilst BM White Dove's LRV is 79, which means it is a bit lighter than the Pearly White color.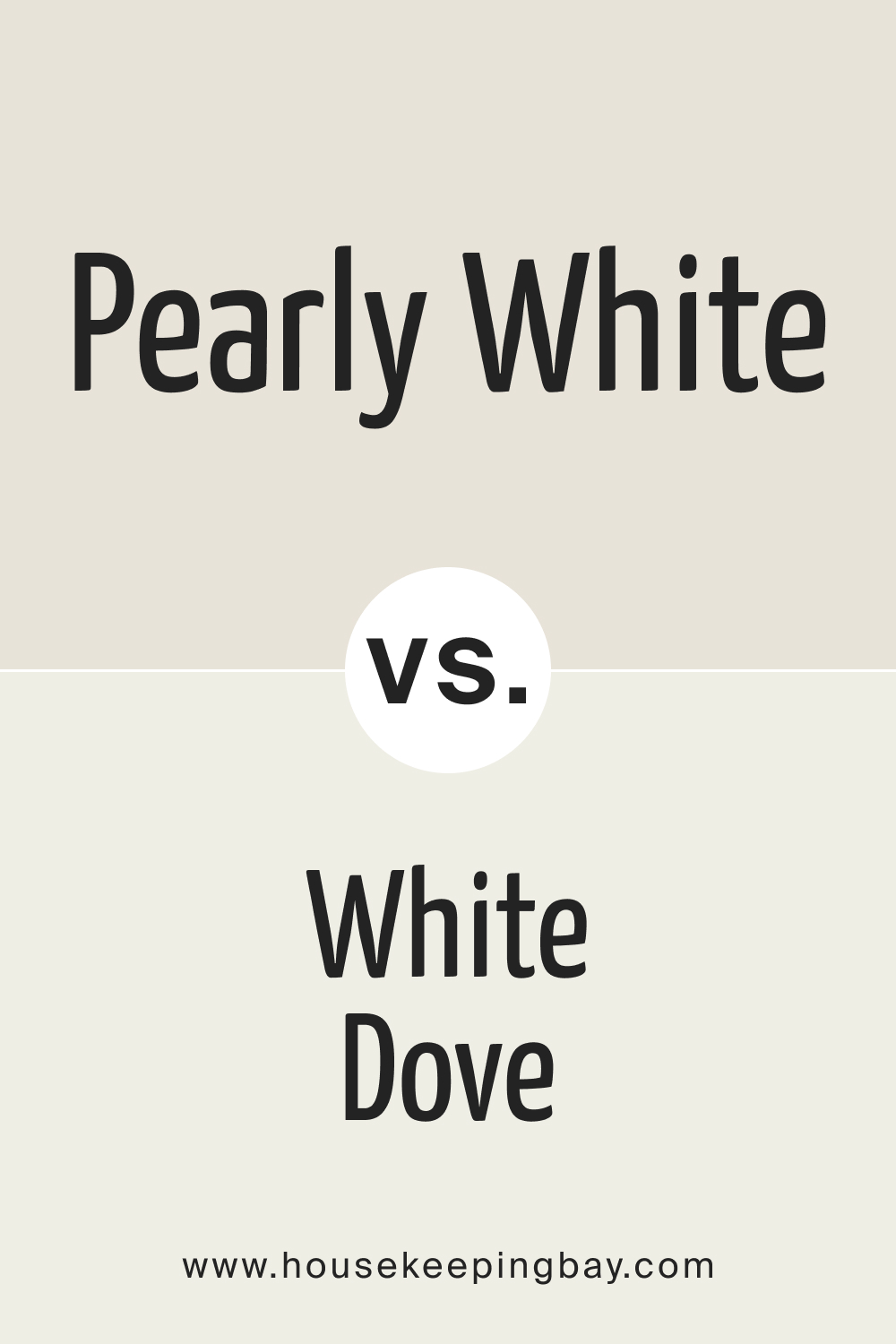 Pearly White vs. SW 7008 Alabaster
SW Alabaster is much lighter than SW Pearly White due to the higher LRV value of 82. Compared to SW Alabaster, the Pearly White color reads more muted and somewhat darker, revealing its greenish undertones more clearly. In comparison, SW Alabaster displays yellower undertones, reading lighter and brighter.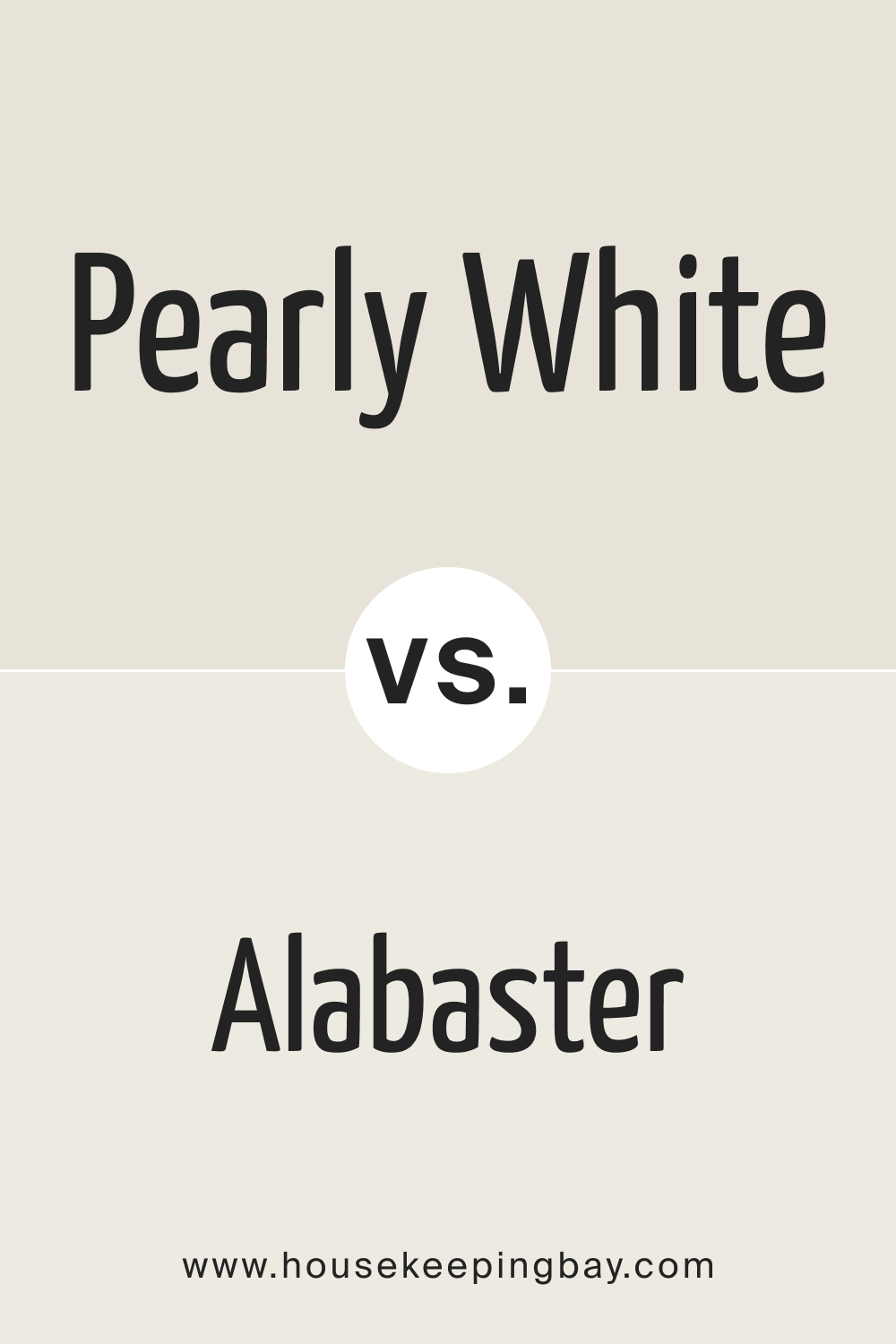 Pearly White vs. SW 7005 Pure White
SW Pure White has undertones that are very neutral and barely noticeable. This feature makes it different from SW Pearly White, whose undertones are clearly warmer and read like beige. Also, these colors have distinct LRVs.
The LRV value of SW Pure White is 84 and the LRV value of SW Pearly White is 77. As a result, SW Pure White looks much lighter and whiter compared to its warmer and beige-like counterpart.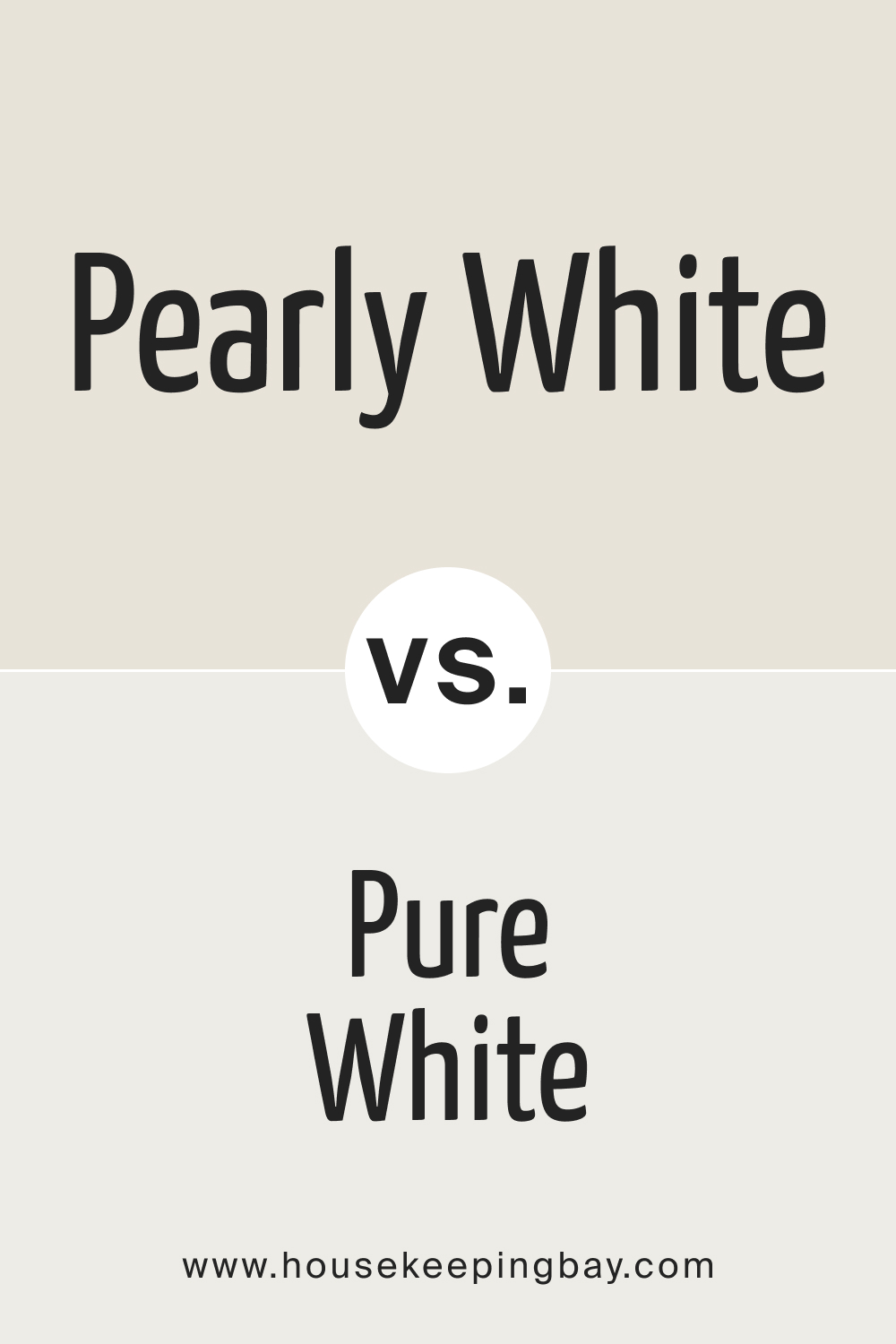 Pearly White vs. SW 7042 Shoji White
Both colors share subtle green undertones, but they differ in their LRVs. The LRV value of SW Shoji White is 74, which makes it a bit darker than SW Pearly White, whose LRV is 77. Nevertheless, these colors look pretty similar and the same soft and warm-toned. It's just SW Shoji White that reads slightly warmer and displays its greenish hue a bit more noticeably.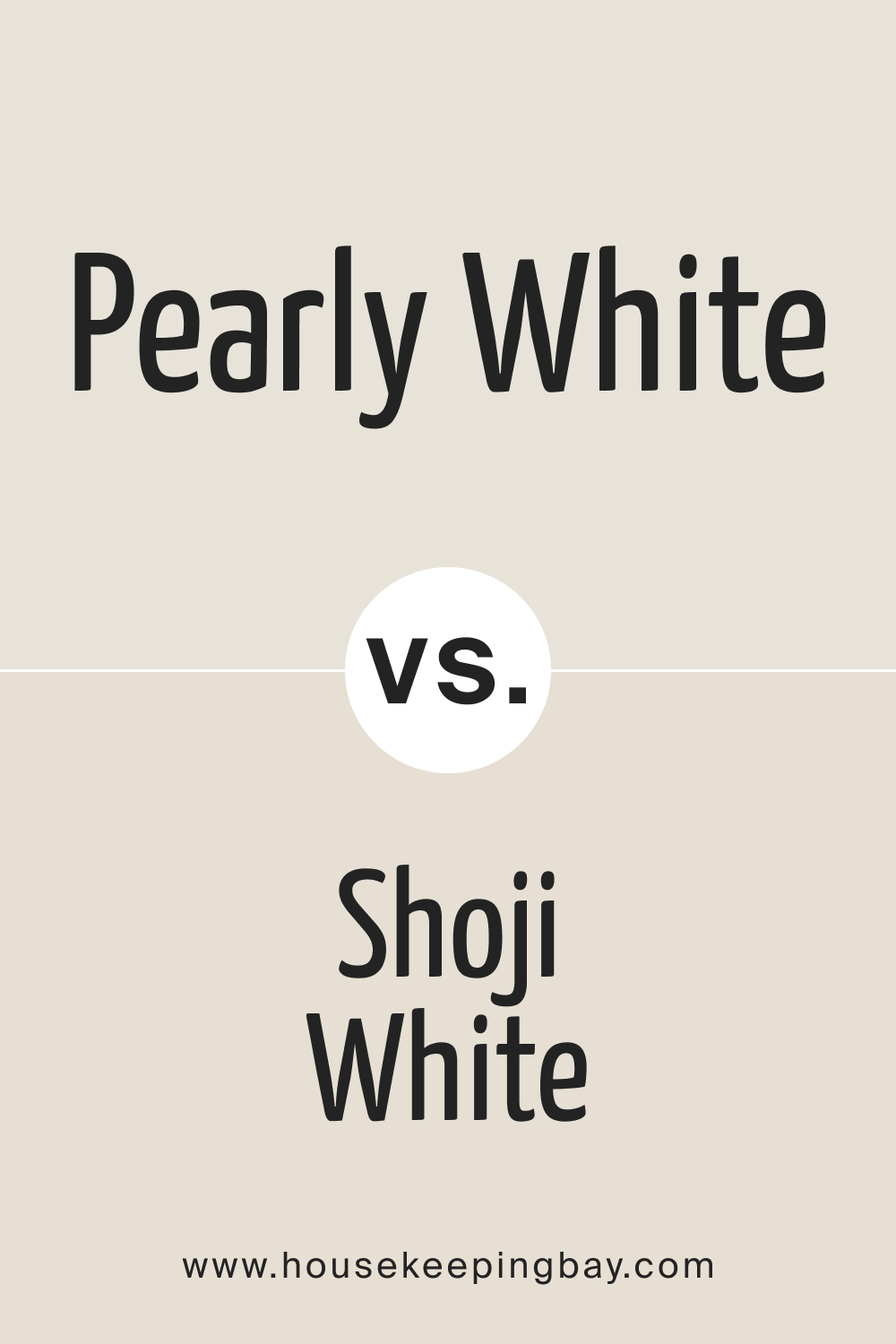 Pearly White vs. SW 7004 Snowbound
SW Snowbound has an LRV of 84, which makes it much lighter than SW Pearly White, whose LRV is 77. Also, these colors have different undertones. SW Snowbound has very slight taupe (violet-pink) undertones, whilst its counterpart has beige and green undertones with occasional hints of pinkish.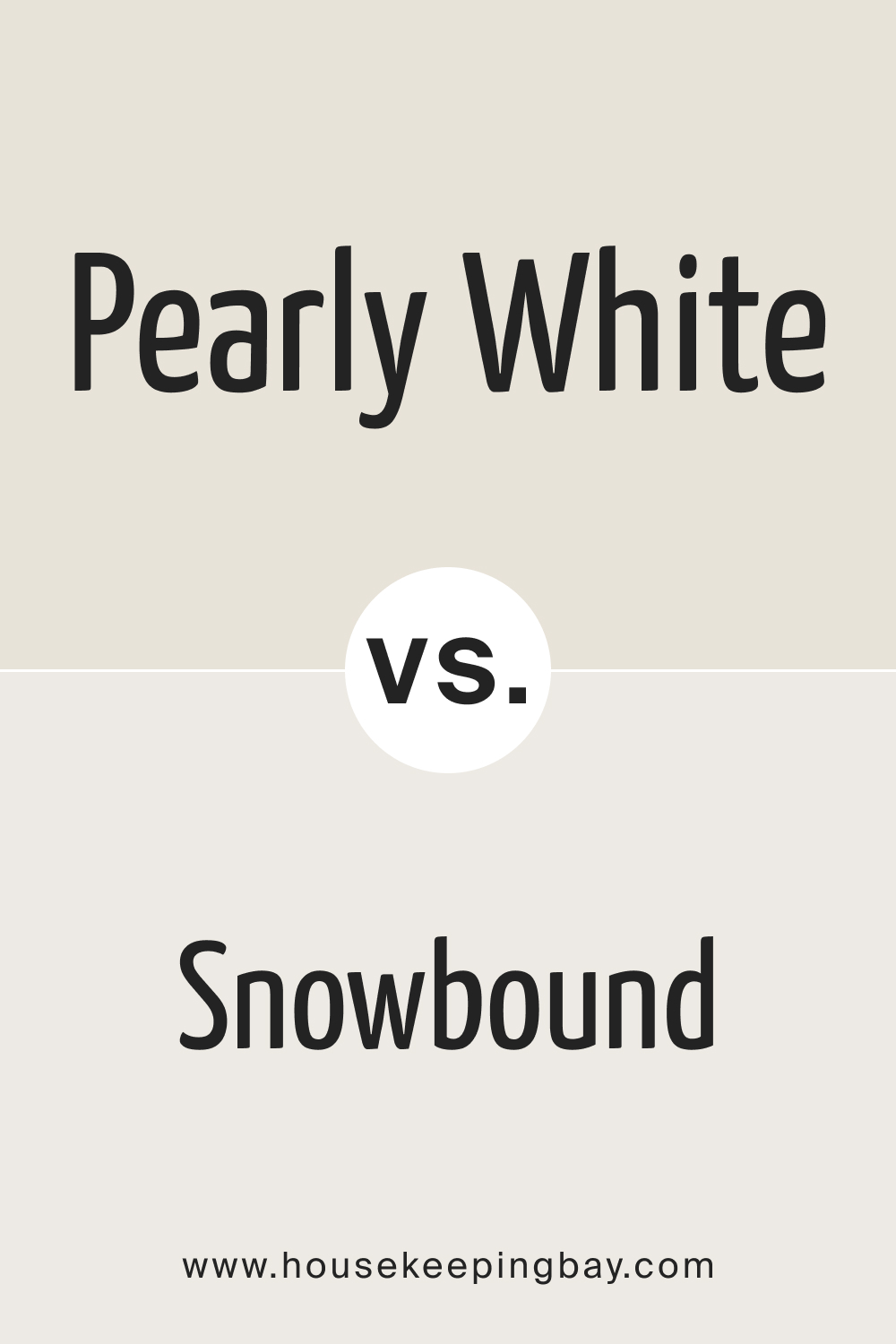 Pearly White vs. SW 7551 Greek Villa 
SW Greek Villa has mild yellowish-beige undertones and an LRV value of 84. All this makes this color read lighter than SW Pearly White. Also, SW Greek Villa looks somewhat yellower compared to its beige-like counterpart.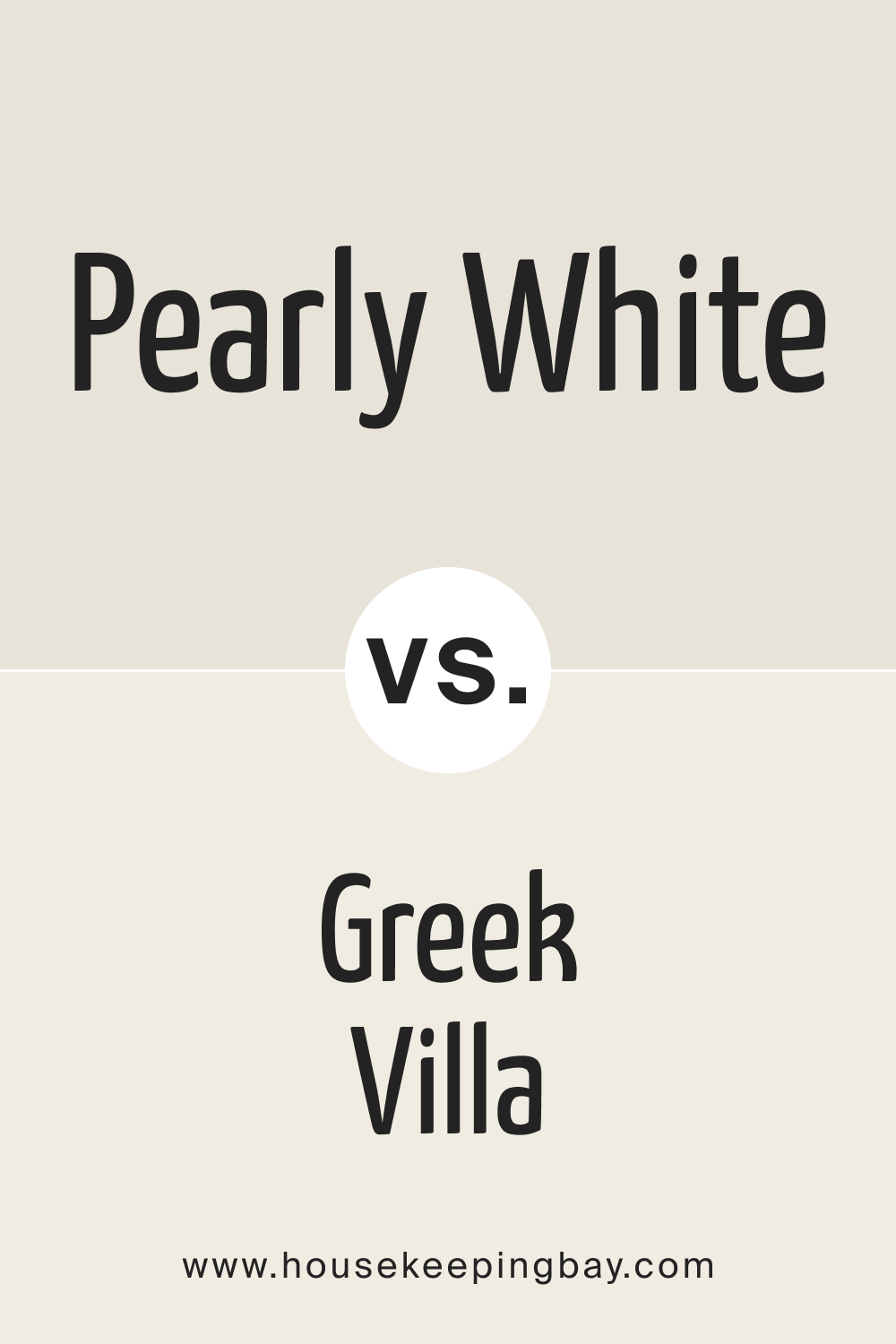 Now you know more about SW Pearly White paint color. We told you where it's best to be used in your home and how to coordinate this color correctly. Also, now you know what undertones and LRV it has, which means you can use it correctly. With this guide, you will easily make this beautiful white reveal its true hue in your home!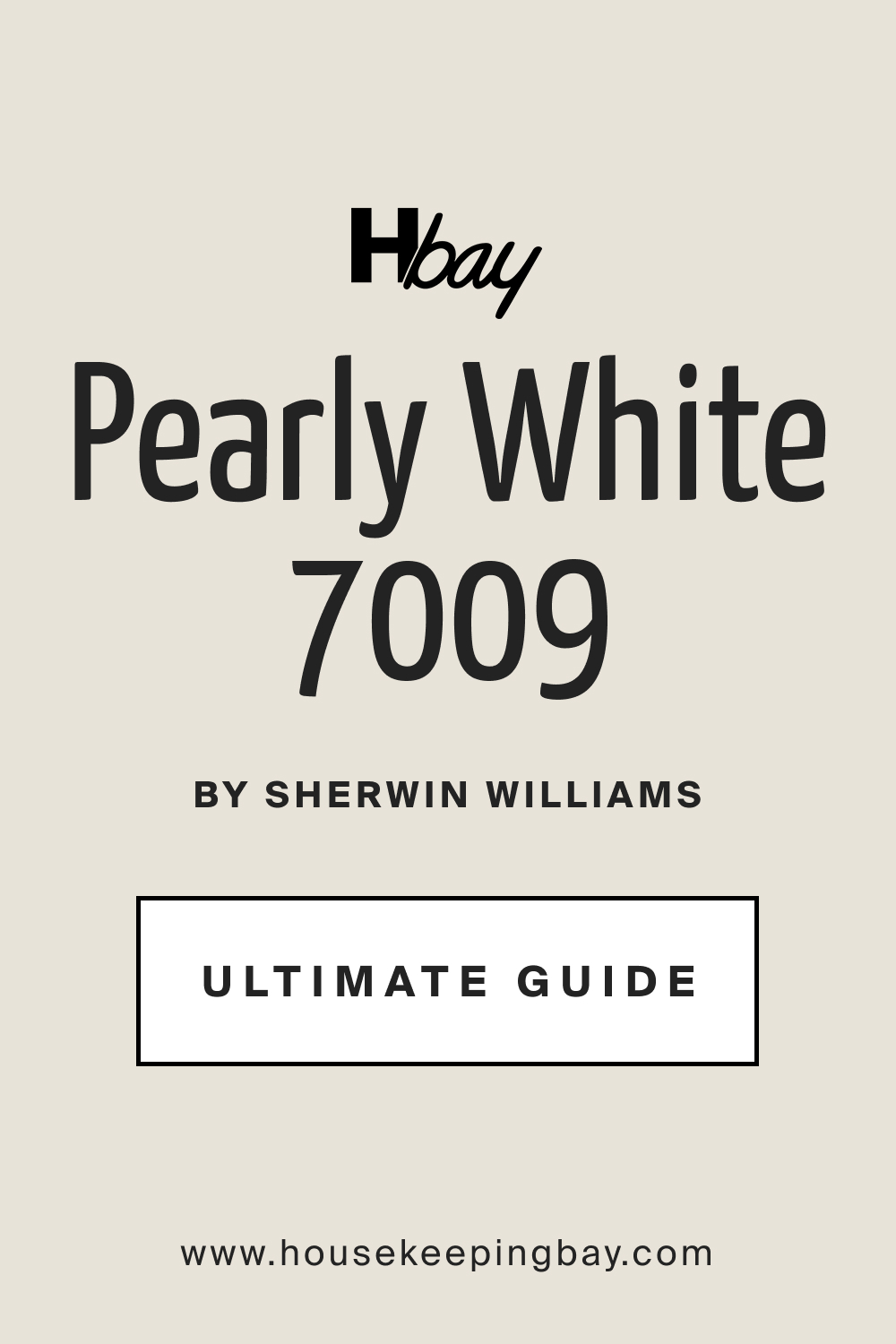 Frequently Asked Questions
⭐Does SW Pearly White read yellow?
Typically it doesn't. This neutral leans towards beige more.
⭐Will SW Pearly White work with dark emerald green?
It can work with this green, but this can bring out green undertones of the SW Pearly White!
⭐Does this white work with marble countertops?
Yes, it pairs nicely with marble surfaces.