Selecting paint colors for your home's interior is not an easy task, especially if you are not a professional designer or painter. This is why articles like this one can be very helpful for those who want to refresh their homes a bit but don't know what colors to choose.
Today we are going to introduce you to a magnificent and deep blue paint color called Naval. This is one of the Sherwin-Williams brand's colors and it is both an interior and exterior paint.
Today you will learn what color it is exactly, what undertones it has, and what colors can coordinate with it best of all. Also, we will tell you in what rooms it will work best and how this color reacts to light. With all this information, you will be able to make use of it correctly, turning your home into a cozy and stylish place!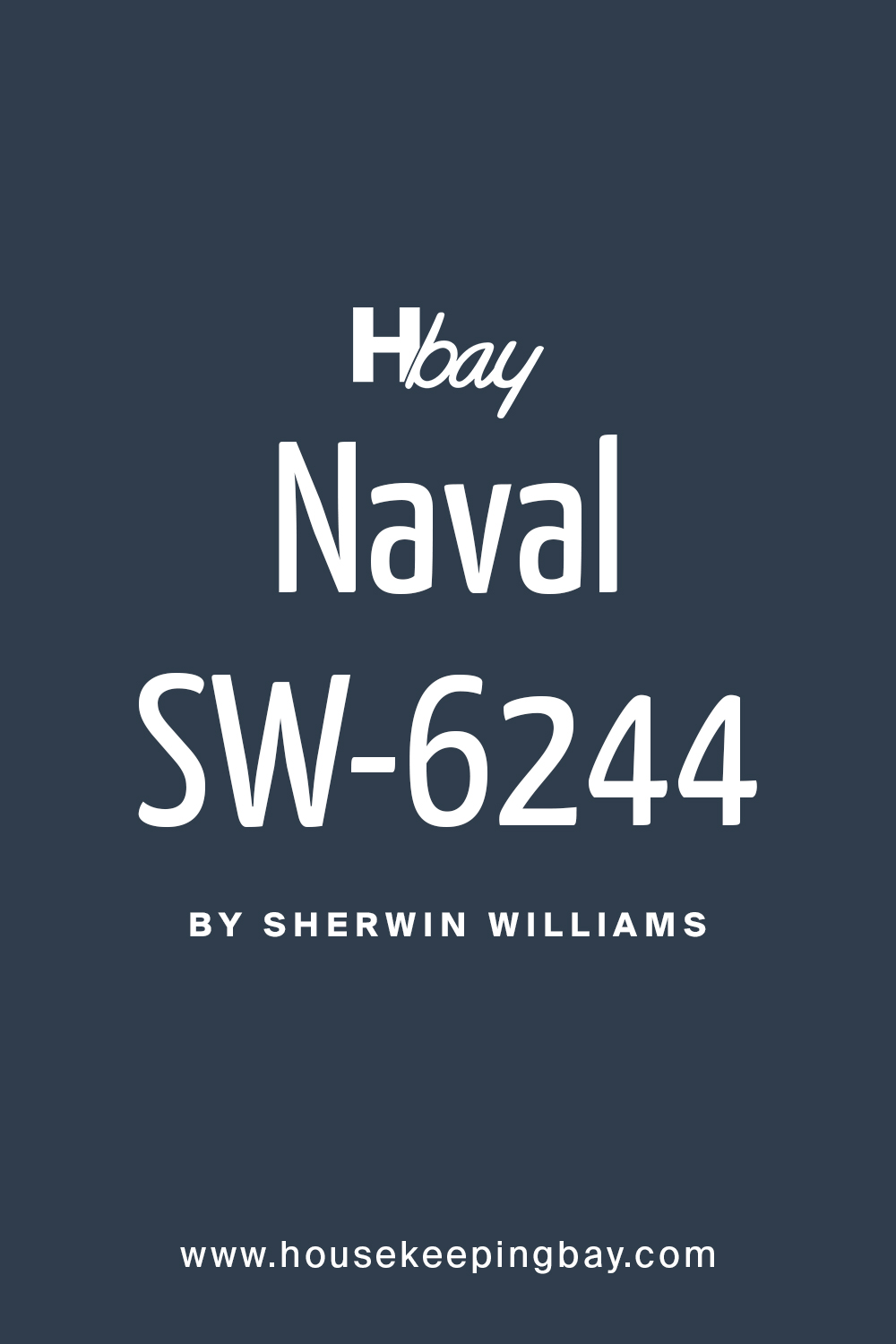 What Kind Of Color Is Naval Paint Color SW-6244?
First of all, it's impossible to not mention that Sherwin-Williams Naval SW-6244 is an absolutely lovely and magical shade of blue! You will hardly be able to pass it by even if deep and dark colors are not your priority.
SW Naval can be characterized as rich and sophisticated navy blue that reminds us of the midnight sky, as Encycolorpedia says. And since dark, moody paint colors are popular now despite the wide use of neutrals (e.g. beiges, greiges, etc.), you won't make a mistake if you decide to use this one. It will add a note of deep and dramatic color without taking away from the rest of the decor.
And if you prefer interiors that have a tranquil atmosphere, you should definitely consider this blue since it will help you create feelings of groundedness and tranquility. Besides, blue is a timeless color option that can instantly transform a room and add that perfect bold touch.
SW Naval Undertones
Being aware of undertones is a must if you want to be sure you get exactly the color you want on your walls after the paint application. Since not all paints have only one undertone, sometimes it can be rather complicated to figure out what exactly can pop out unexpectedly from under the main color.
Speaking of Naval by Sherwin Williams, we can say that it is a true blue color. It means that it doesn't have any green or purple undertones, which are common with different shades of blue. On the other hand, it does have just a tiny bit of a teal hue, but it rarely shows up.
However, you should note that Naval does have slight gray undertones that can come out quite often! It usually happens if the lighting changes in a room with Naval color on the walls. Luckily, those gray undertones only slightly mute the color, so it isn't too bright. You would never look at this color and think it's gray.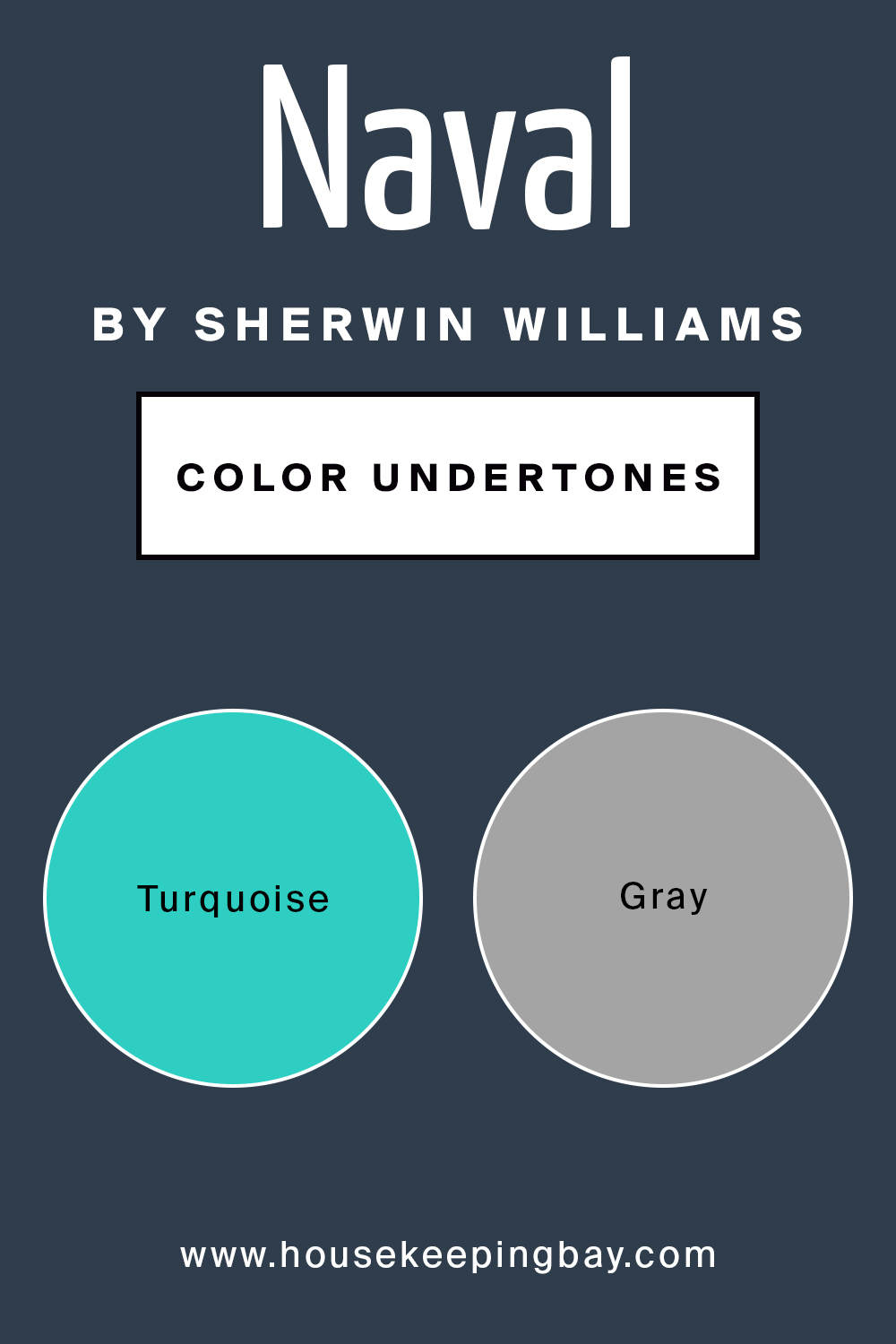 How Does Lighting Affect SW Naval Paint Color?
As we have already mentioned above, light can affect the way Naval reads in a room. However, it's not only the light that matters. In particular, this color can appear quite different depending on the surrounding decor as well. So consider the rest of the colors in a room before you paint its walls with SW Naval!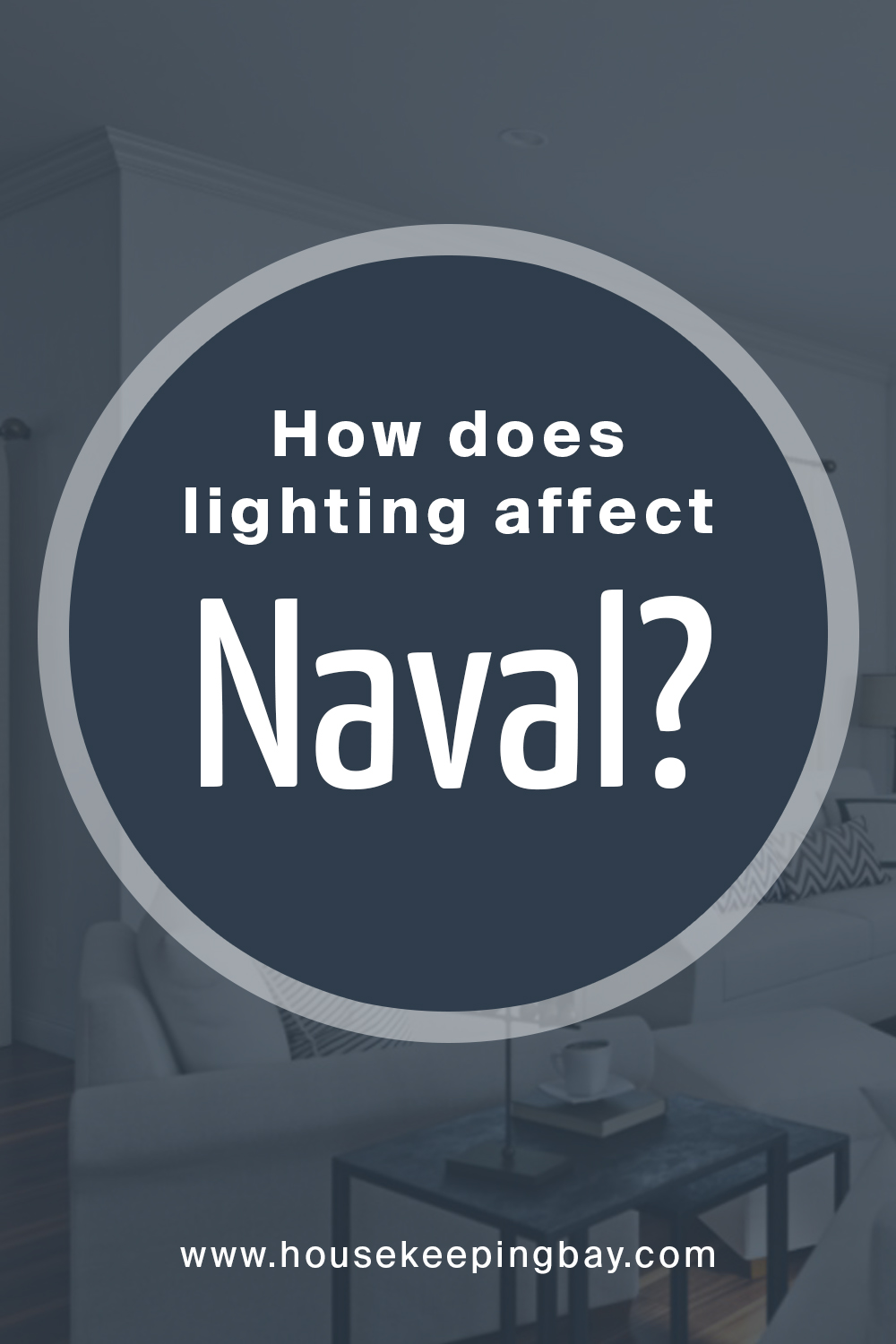 Regarding the type of light, if your room has a warm, yellow, west-facing, or south-facing light, Naval will appear brighter and bluer. In cooler, north-facing rooms, it will read as much more of a very dark blue that looks just a bit gray.
Speaking of the way the color reacts to light, you should always know the color's LRV (light reflectance value). The LRV of Naval is 4 which means that technically it is as dark as some black paint colors! It just has more actual color in it so it won't look literally black on the walls.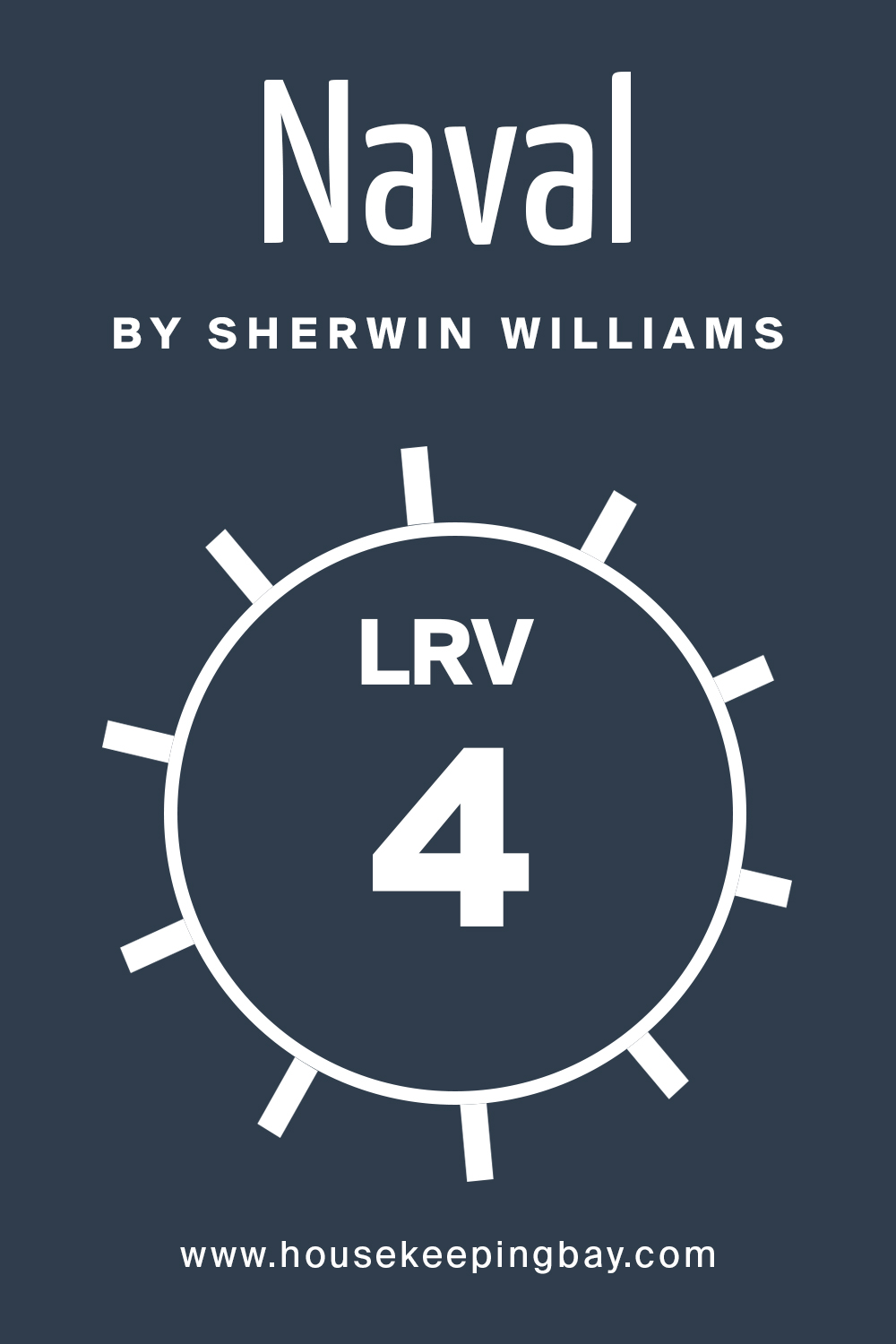 What is LRV? Read It Before You Choose Your Ideal Paint Color
SW Naval Coordinating Colors
If you can pick coordinating colors correctly, you will be able to create a harmonious color palette in your living space. And even though Naval is not a very complex color, it can be tricky to choose the colors that will work well with it.
So if you feel uncertain regarding this choice, here are a few options for you to consider:
SW-6156 Ramie
SW-2842 Roycroft Suede
SW-6238 Icicle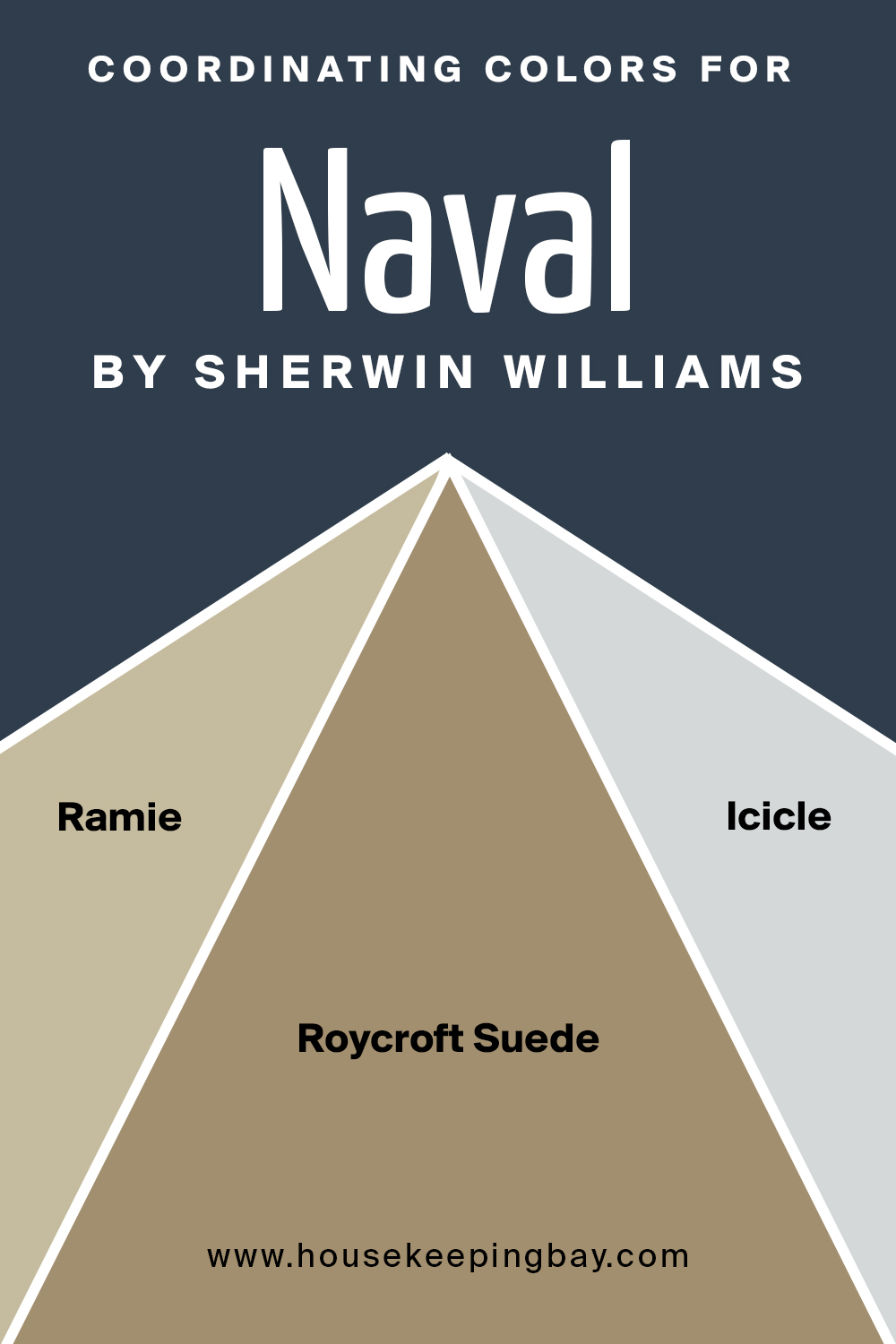 What's the Best Trim Color For SW Naval?
Traditionally, white is the universal trim color for the majority of interior paints. And Naval is not an exception. If you are hesitating about what trim color to choose – opt for whites. This deep blue will look especially stylish and elegant if used with warmer whites. Only make sure the white you are using has no yellow hue in it! For example, you can use of the following paint colors: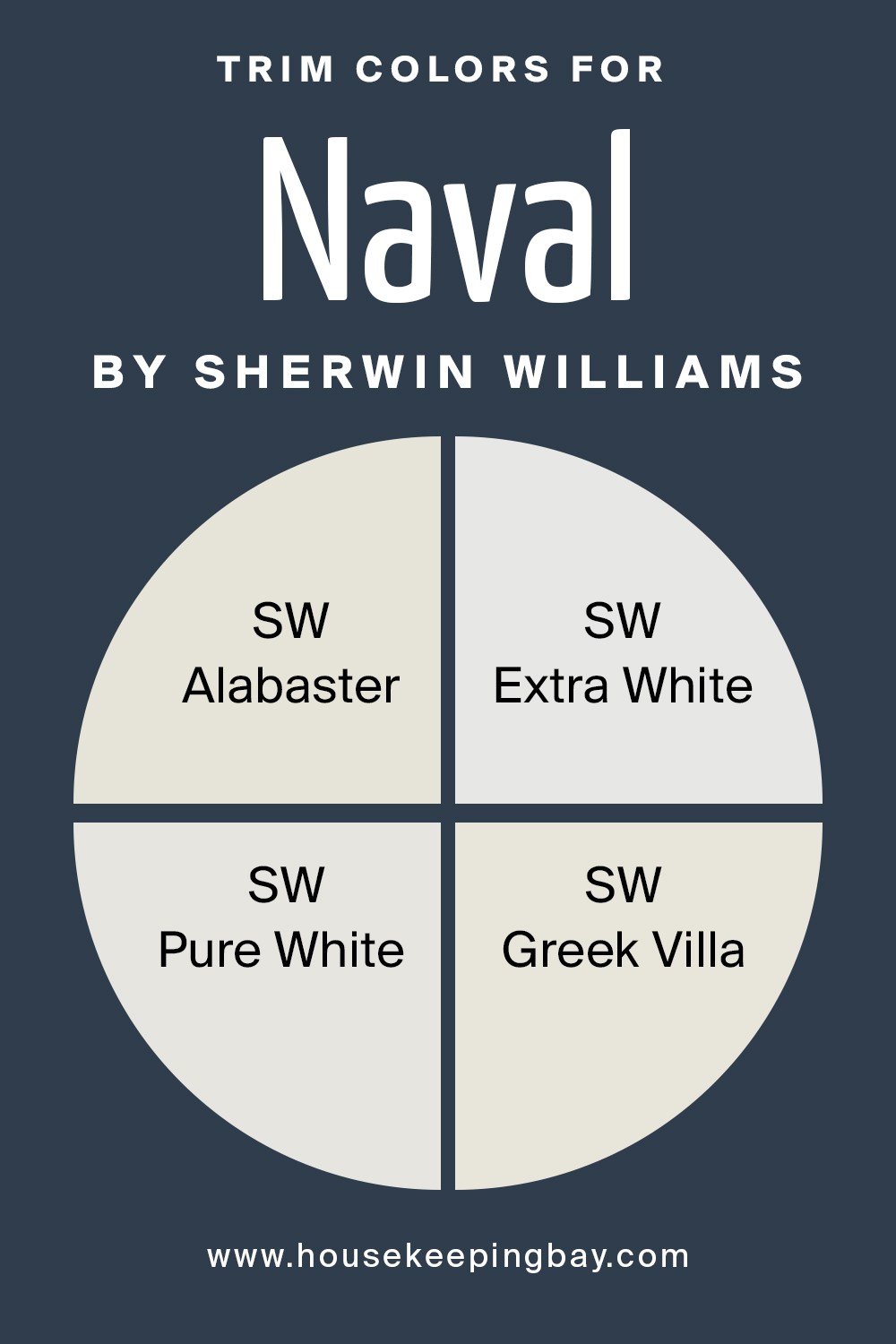 Paint Colors Similar to SW Naval
If you are not sure whether Naval will be an ideal color match for your interior, you might want to consider a few alternative color options just in case. The following list contains both lighter and darker versions of this blue, so you will surely find the color that will suit you.
SW Indigo Batik
SW In the Navy
SW Anchors Aweigh
SW Charcoal Blue
SW Salty Dog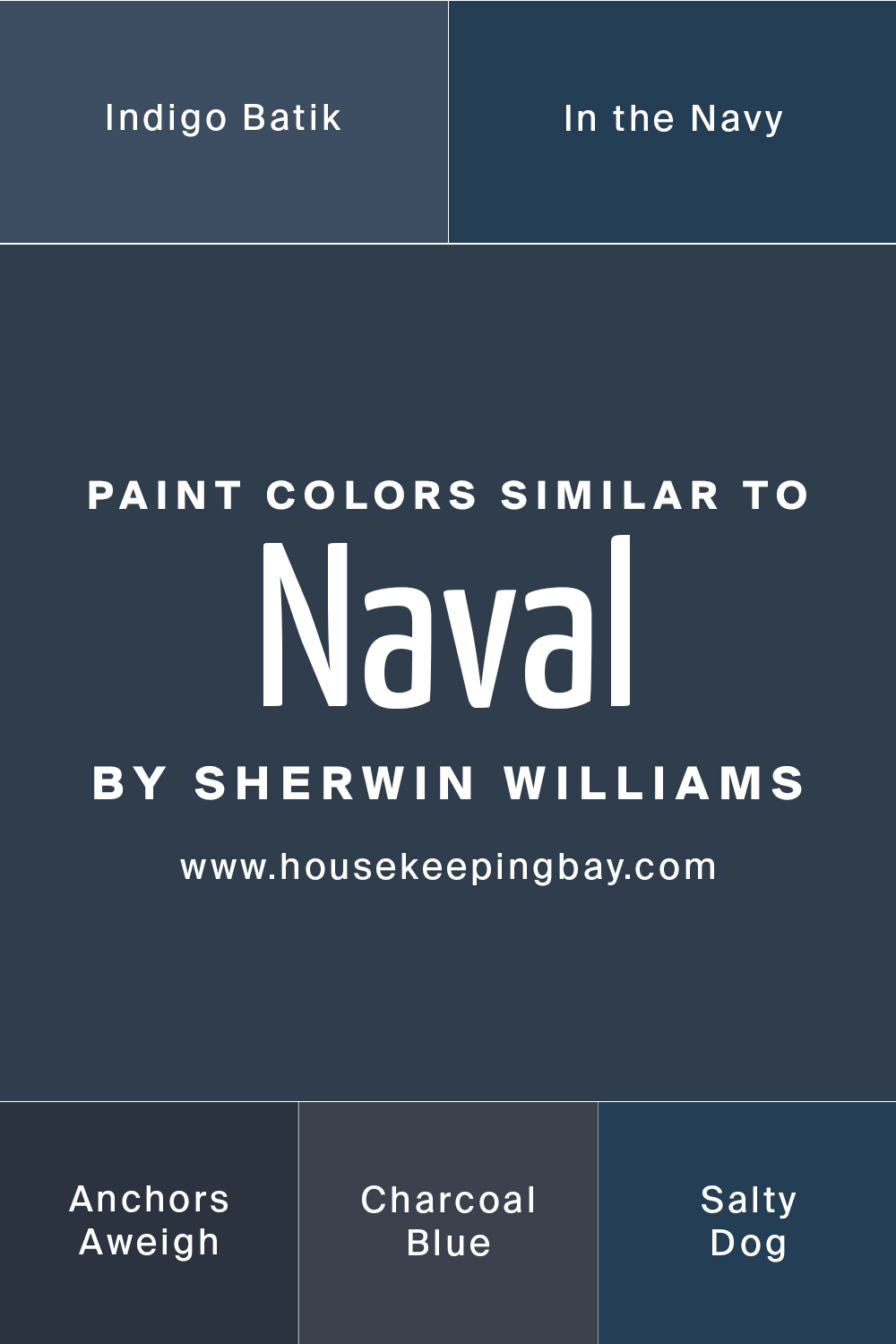 Сolors That Go With SW Naval
Sometimes it can be so hard to choose the colors that will go well with the color on the walls! Speaking of Naval, it's quite easy to pair with other colors though. This deep blue looks really awesome when you pair it with natural items such as greenery, woven rugs or blankets, warm leather, and stone.
Since Naval is a color that has a natural "marine" vibe, you will win if you use it with other nature-inspired colors: beige, brown, gold, cream, off-white, and white. Here are a few examples:
Tarnished Trumpet
Ripe Olive
Touch of Sand
Soothing White
Storm Gray
Ramie
Roycroft Suede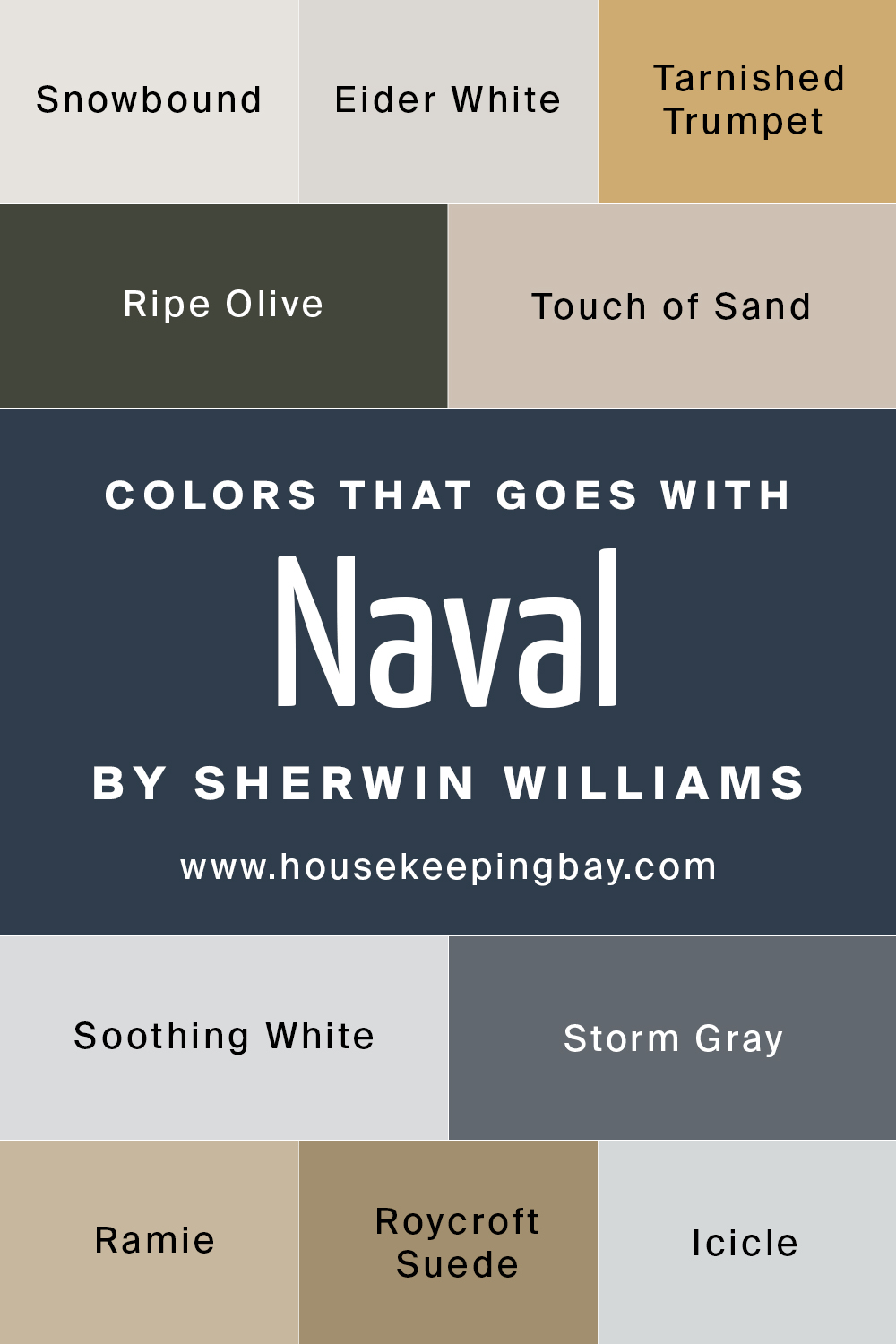 SW Naval Compared to Other Colors
To help you see the depth of this shade of blue, check out what distinctions it has in comparison to other colors. It will help you feel more confident when choosing a paint for your interior project.
Naval vs Hale Navy
Upon a closer examination, there will be no doubt that these two are quite different shades. Hale Navy by Benjamin Moore is more muted, with grayer undertones, and a little more subdued when compared to Naval. Naval, on the other hand, is a true blue.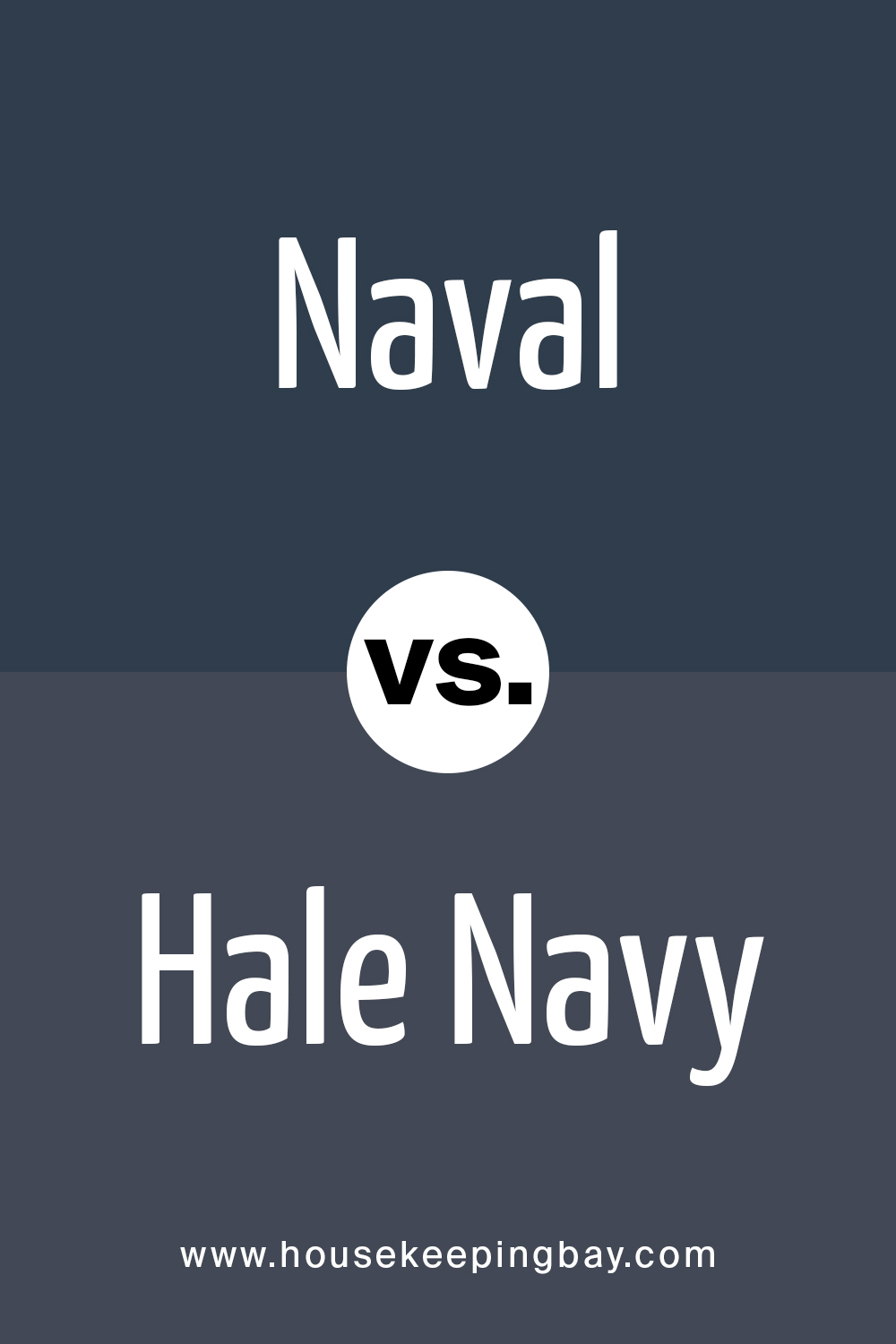 Naval vs Dark Night
If you put them side by side, you will see that Dark Night is noticeably darker than Naval.
The difference is about their undertones: Dark Night reveals greenish undertones whilst Naval reads true blue. However, both colors are muted and warm-toned.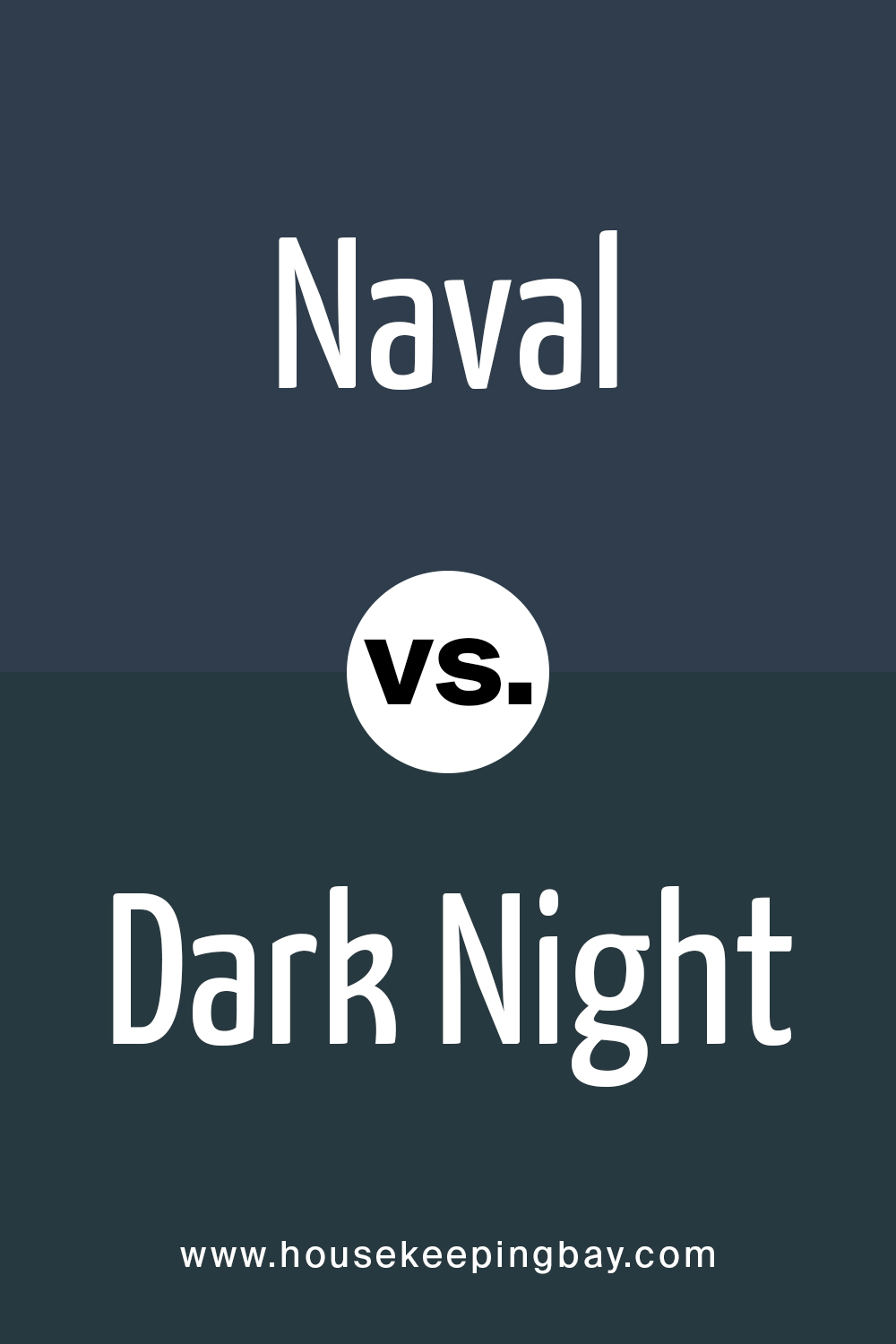 Naval vs Inkwell
Compared to Naval, Inkwell reads almost black! And it's no wonder since Inkwell is a blue-black color. Compared to a true blue that Naval is, it reads much darker. These two can't be used interchangeably even though they're both muted. But they might create a nice pair if you use one more color, preferably white.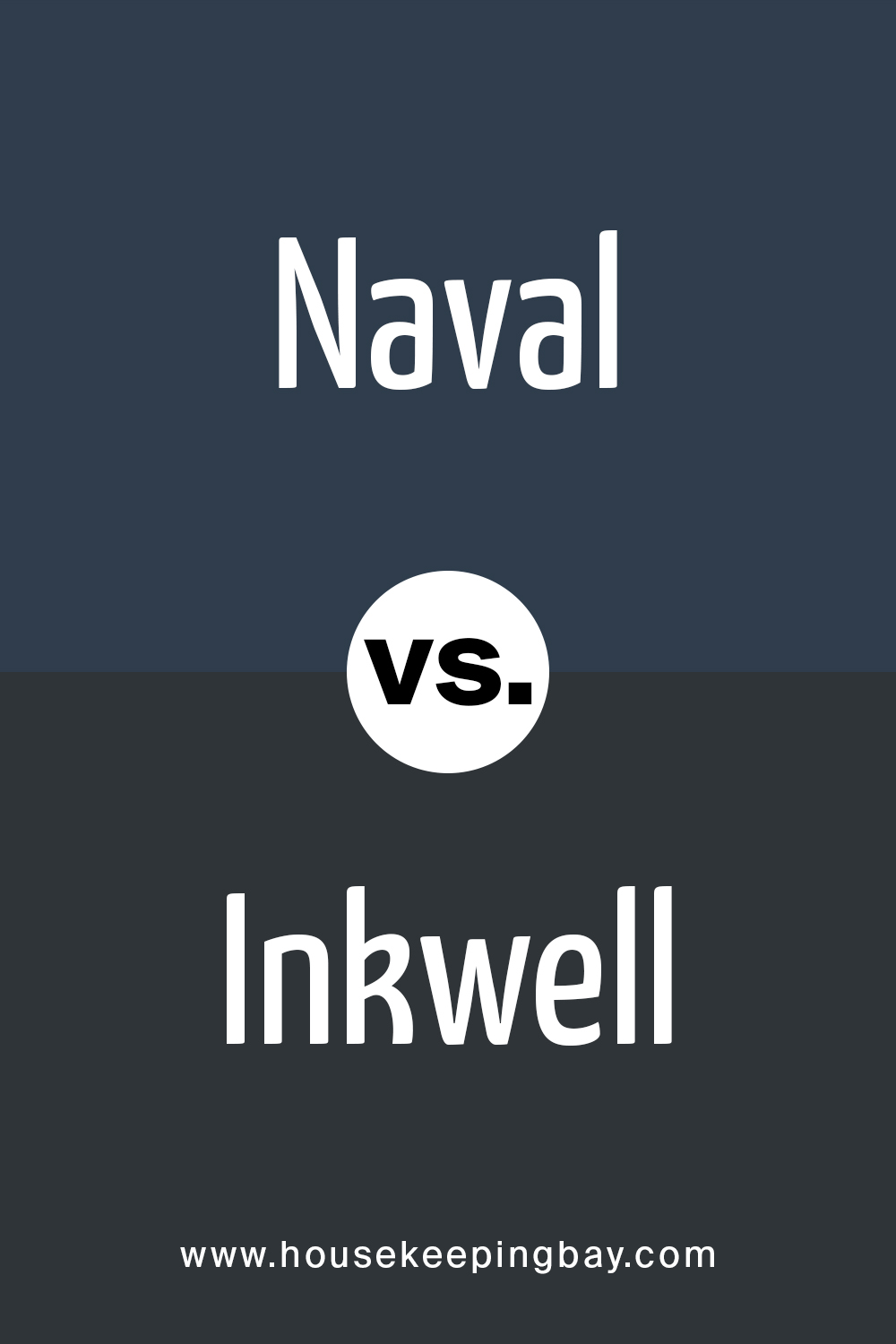 Naval vs Salty Dog
Salty Dog by Sherwin Williams is more of a bright, true blue that looks a bit different than Naval. Salty Dog has an LRV of 5, which is just a bit brighter than Naval, but its teal undertones and lack of gray make this color look bluer and brighter than Naval.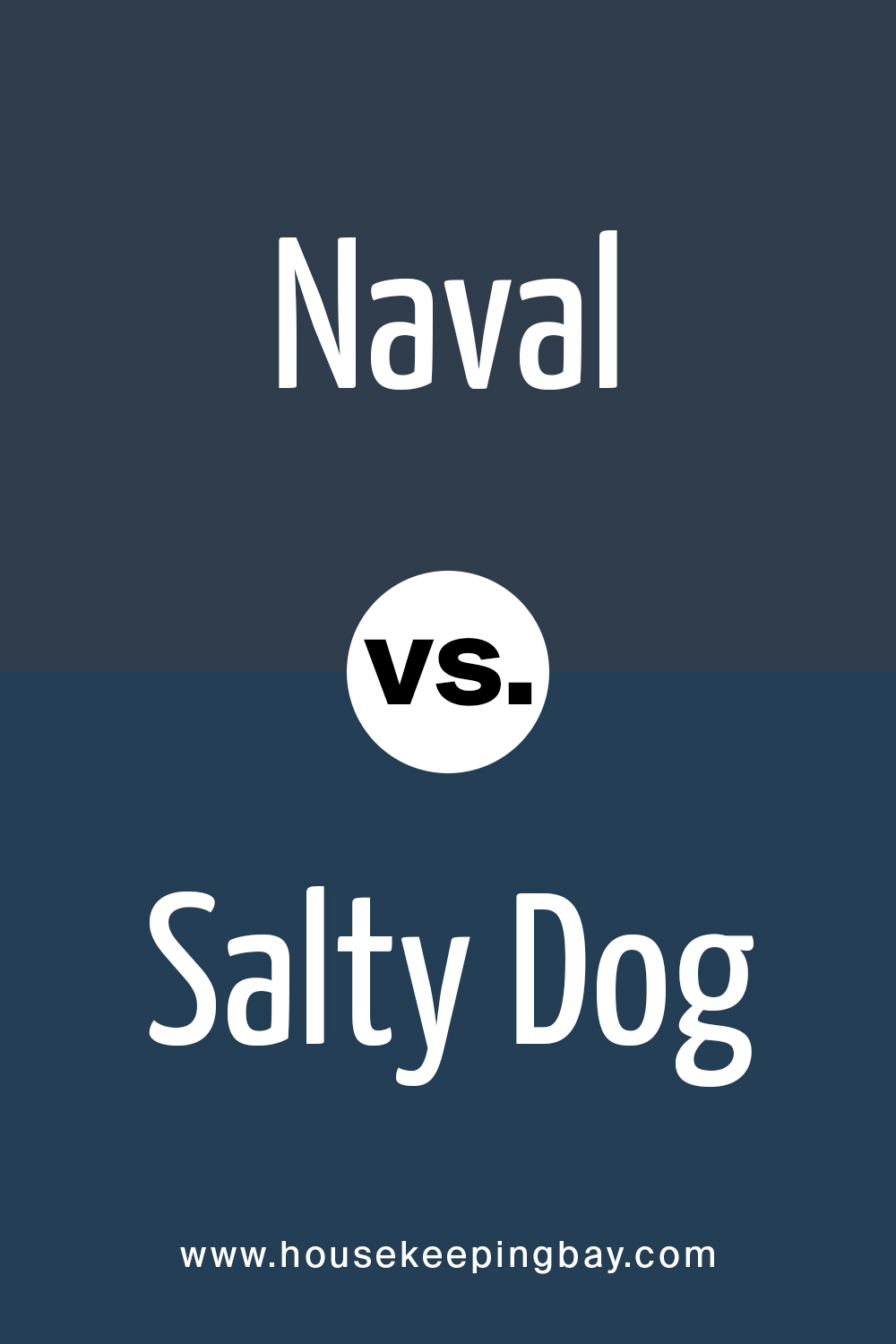 Naval vs Commodore
Commodore is much brighter than Naval being a mixture of cyan blue color from the Blue color family. It looks nice when paired with Naval but you still want to use one more color with them to make the space read less blue.
For this purpose, white could be the best option.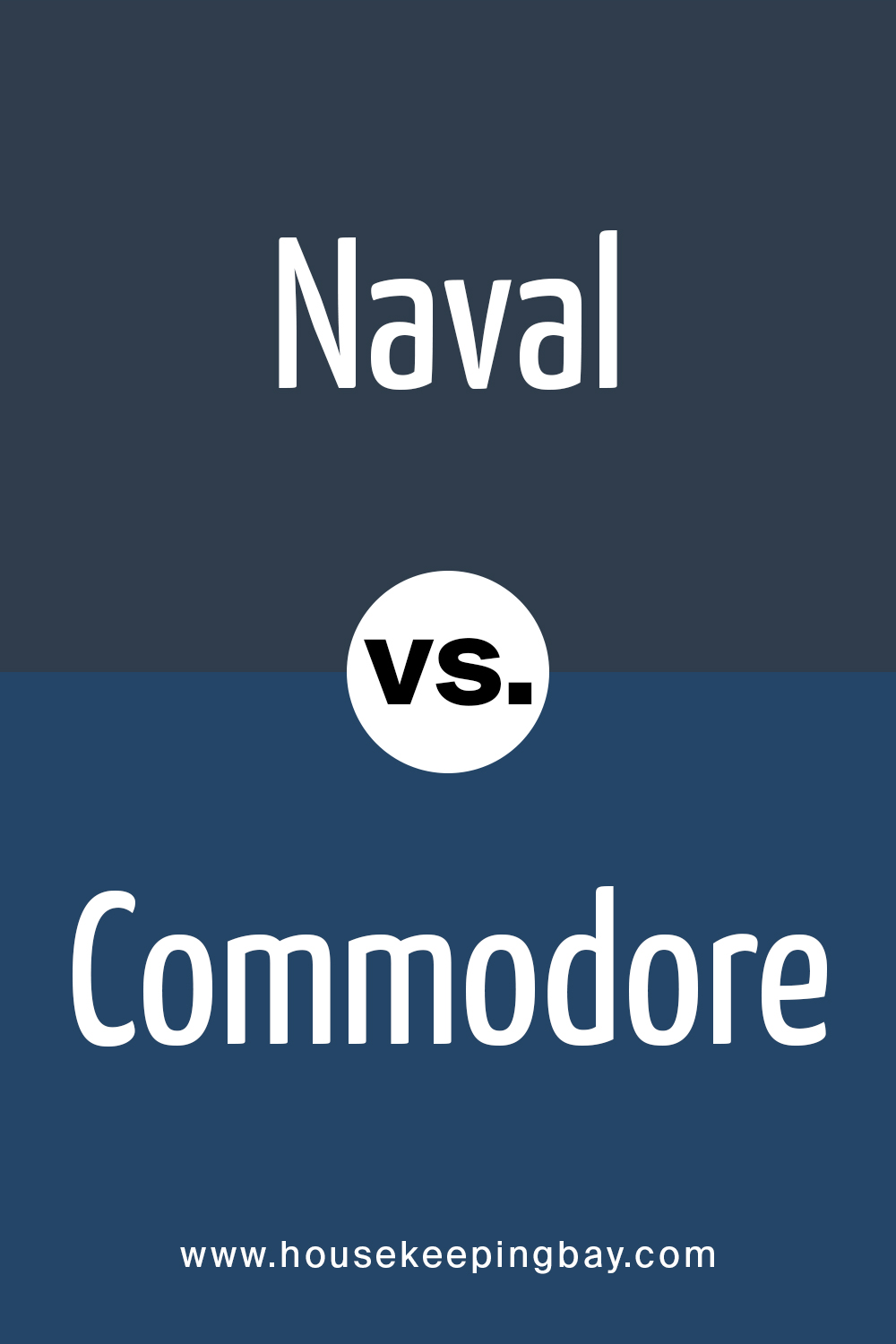 Where to Use SW Naval Color In Your Home?
This rich blue color looks incredible in many different areas of the home. You can use it on walls, ceilings, doors, kitchen islands, vanities, furniture, and even the exterior of the home! Below, we will explain how exactly it might work in certain spaces and on certain surfaces.
Naval Paint Color SW-6244 in the Living Room
In a living room, Naval will create a dramatic but also serene vibe. The living room will be dark but elegant with this color on the walls, especially if you have white and brown accents there. They will help to lighten the blue up.
If your living room has plenty of natural light during the day, the paint color will change as the brighter light wanes. As the day progresses, the color will shift from navy with a touch of gray to a bluer deep navy.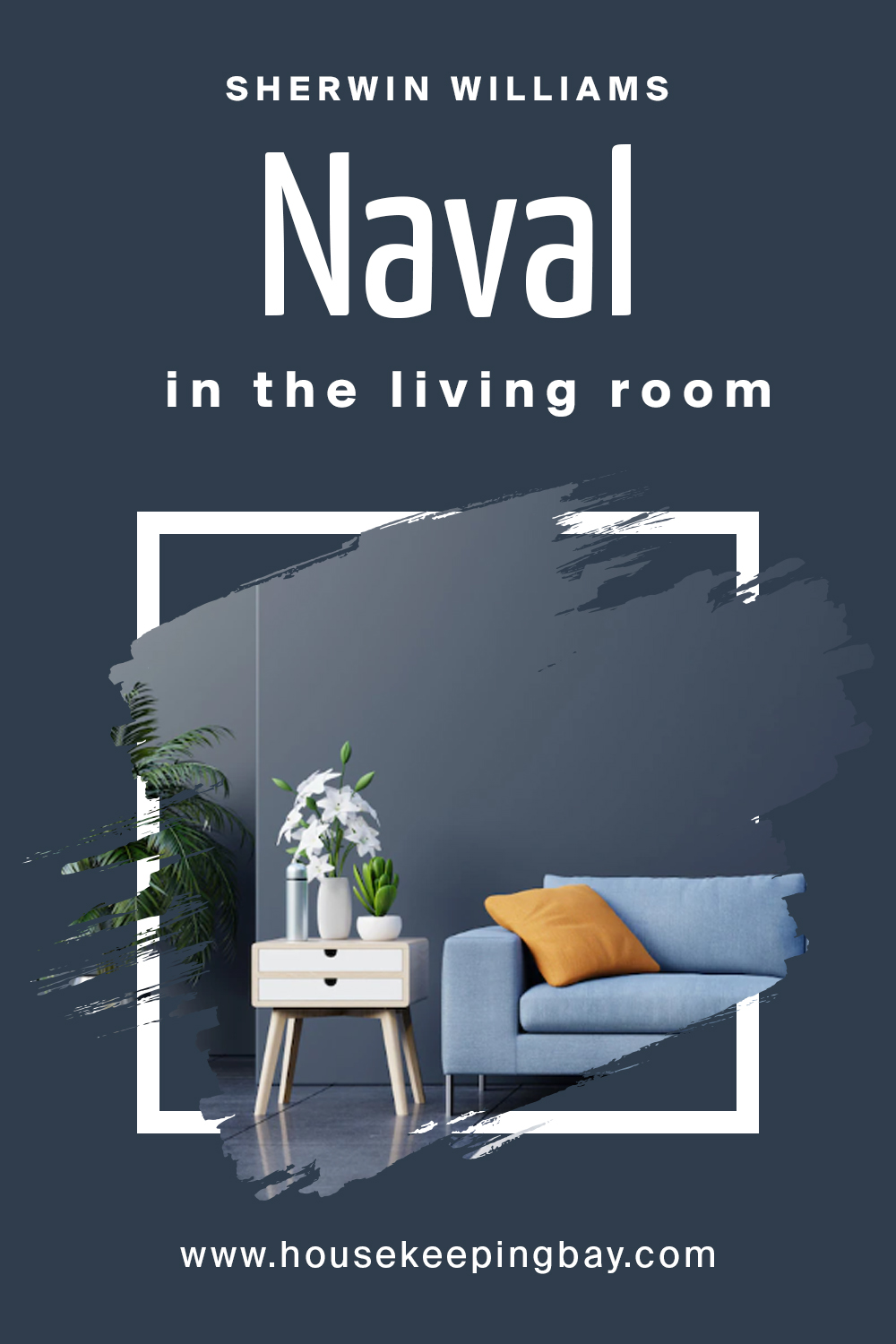 Naval Paint Color SW-6244 in the Cabinets And Kitchen Cabinets
In a brightly-lit kitchen, Naval looks bright and very blue. But if your kitchen lacks bright daylight, you can keep it light by painting your lower cabinets a bold color like Naval and leaving upper cabinets white. Gold hardware will always be a great combination with this dark blue as well.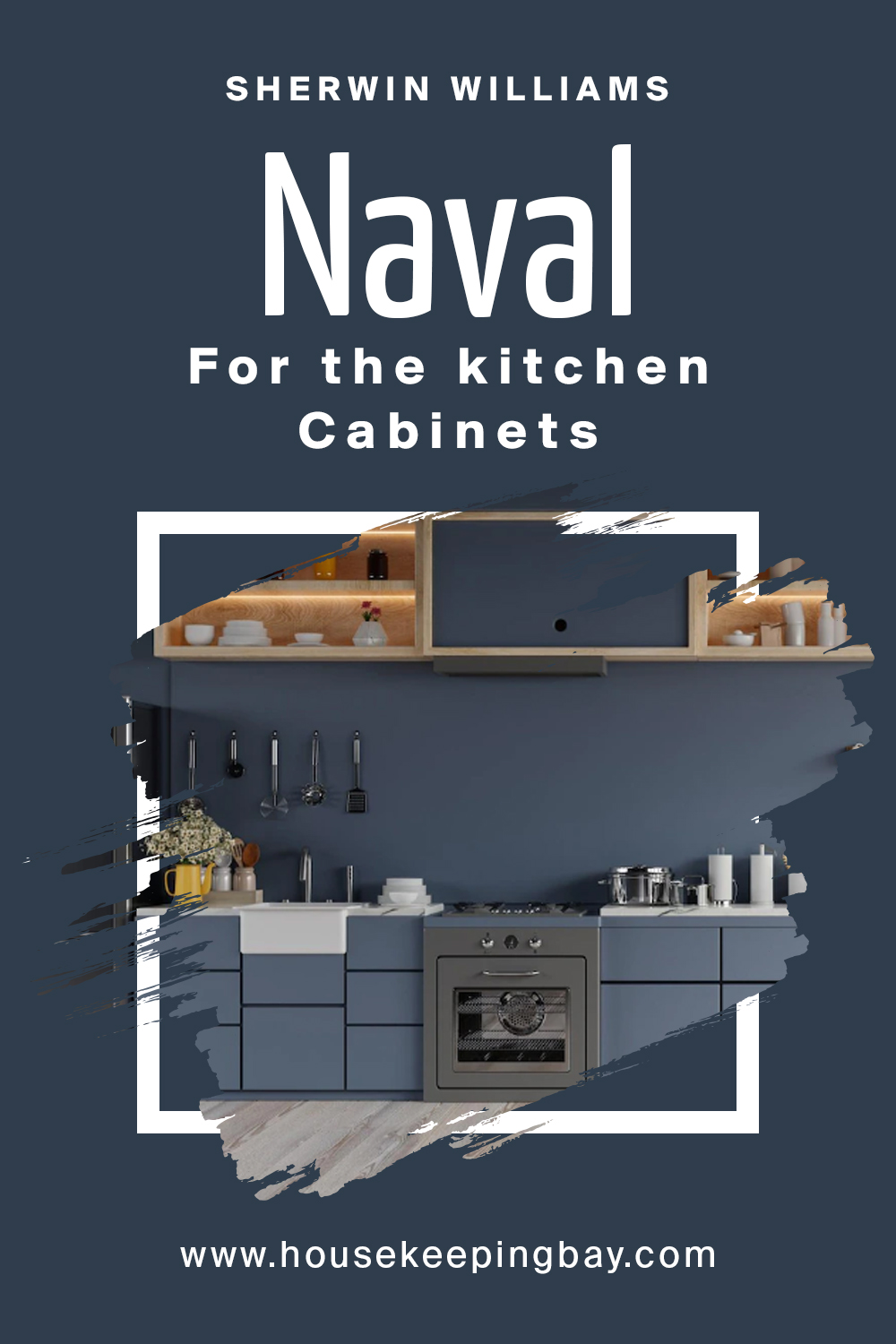 Naval Paint Color SW-6244 in the Kitchen
Naval can be a good choice for your kitchen but only if it's properly lit and has enough daylight. Also, it's advisable that the room is spacious enough. If the room is small and/or poorly lit, this blue will make it look even smaller unless you use it only for accents.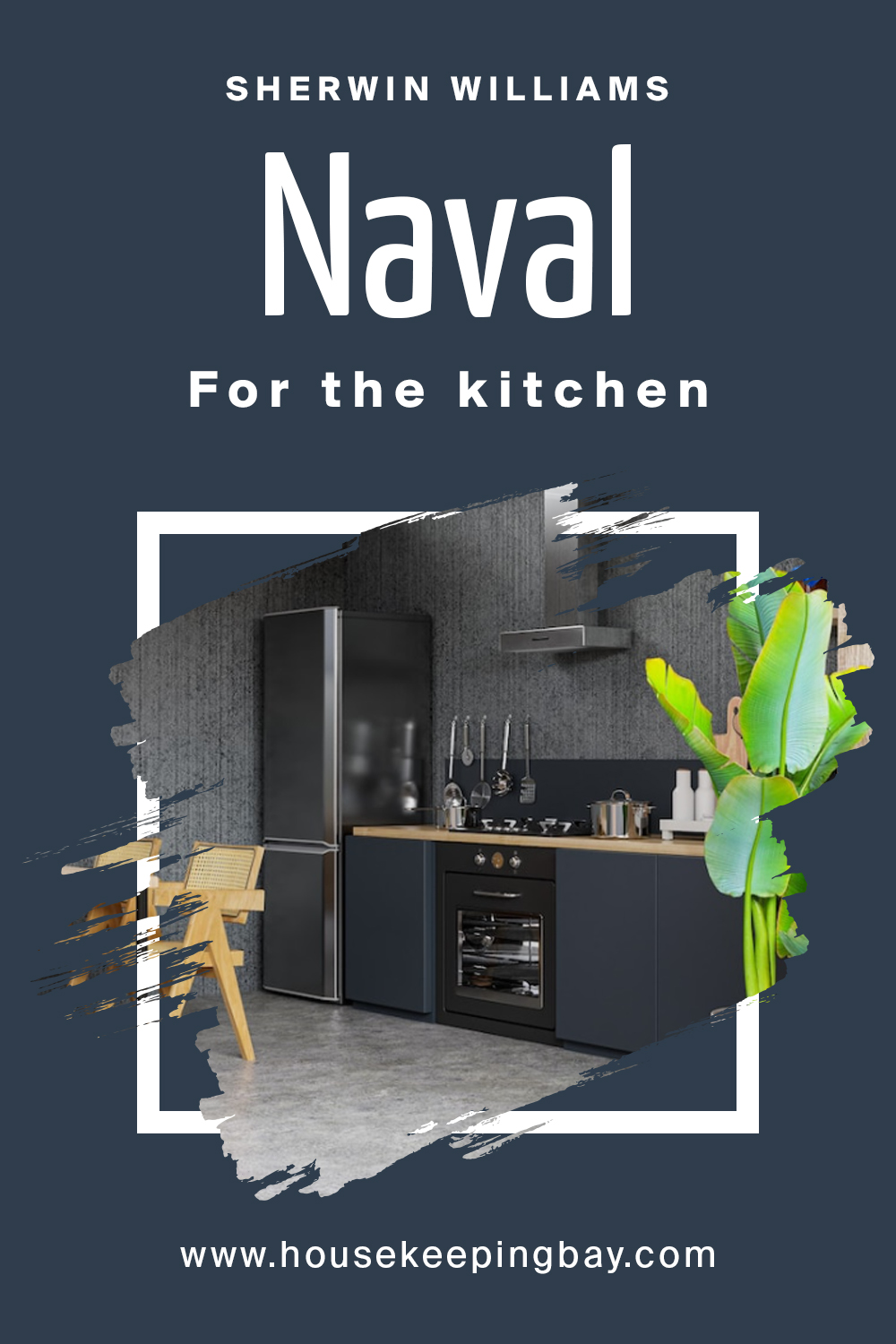 Naval Paint Color SW-6244 in the Bedroom
The dark accent wall painted with Naval will look lovely against the white furnishings and beige carpets or blankets in your bedroom. If your bedroom has low light, this blue will be a win-win option, especially along with the wood and greige accents.
Naval Paint Color SW-6244 for the Exterior Use
There are plenty of exterior house colors that we wouldn't recommend using, but Naval isn't one of them. This rich, neutral blue will work on almost any house when paired with white trims!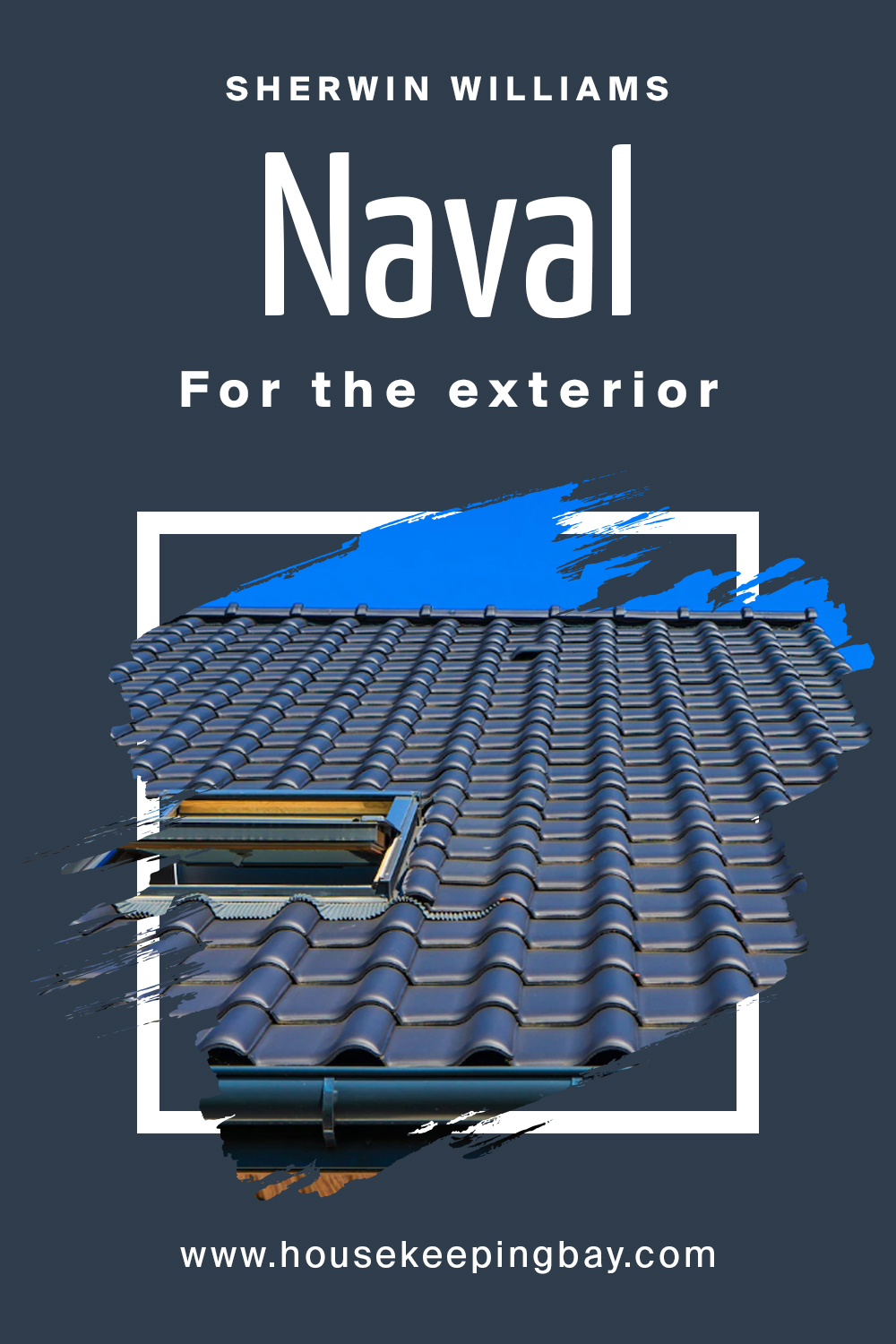 So, now you know a lot more about such a beautiful and very multipurpose color as Naval by Sherwin-Williams. You know how this paint color reacts to light, what LRV it has, and what other colors it can be used with. Also, you are now aware of its area of use in a house, and in addition, we shared a few handy tips with you on how to make fully use of its beauty!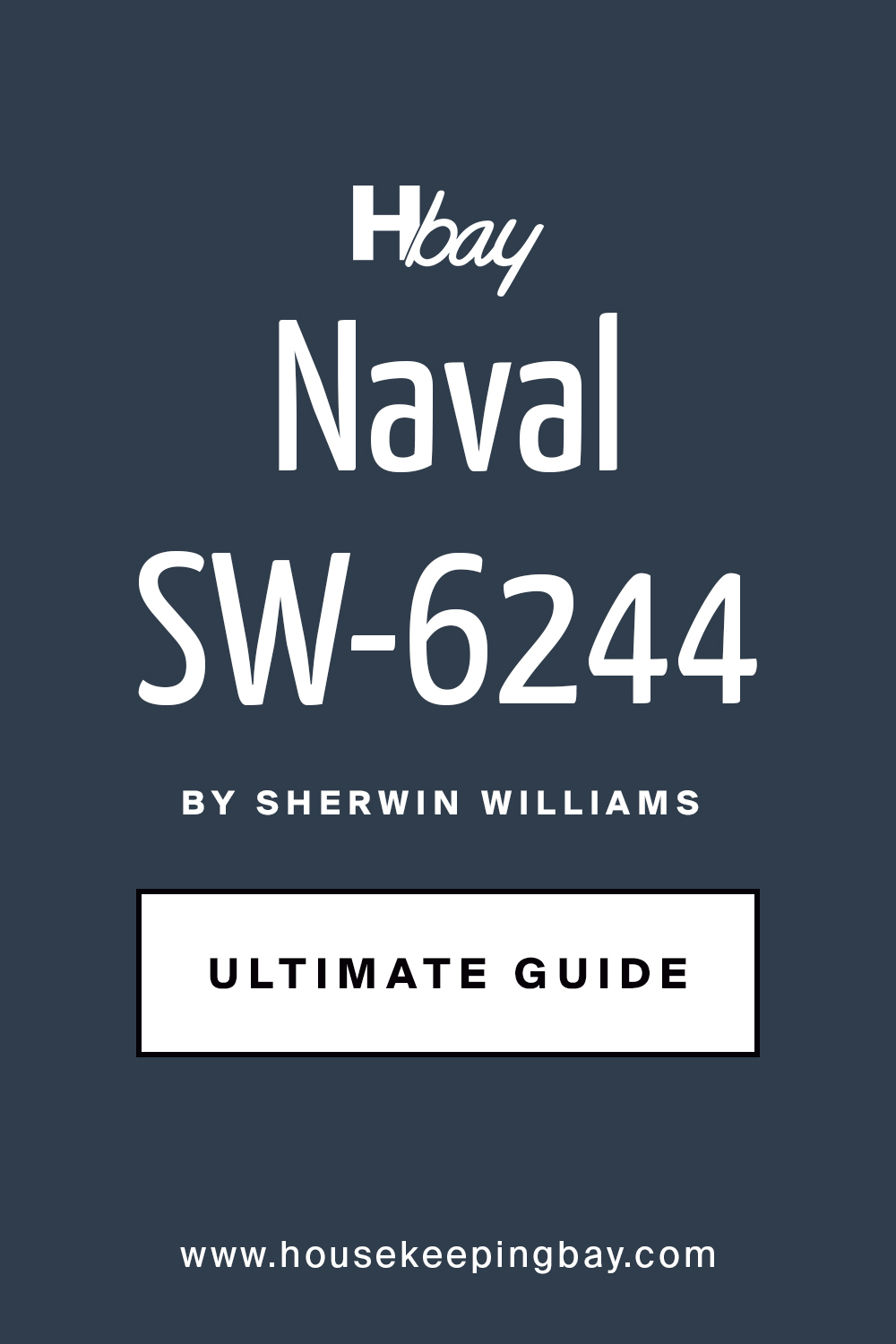 Frequently Asked Questions
⭐Will SW Naval work well with light gray colors?
Yes, it can work well with such colors, but only if the shades are pretty light.
⭐Can Naval color be used in a room with wooden furniture?
Absolutely! This deep blue looks awesome with wood, especially if the wood is light-colored.
⭐What are the lighter versions of Naval?
Try out Indigo, Indigo Batik, and Salty Dog paint colors, all by Sherwin-Williams.