When we are choosing what paint color to use in our homes, most of us prefer to use more universal colors. This is why greiges, light beige, and other similar colors are so popular. They are simpler to integrate into any interior design, so people usually have no complications with them.
And one of such versatile paint colors is Incredible White by Sherwin Williams. But even though this paint color is rather universal, it is still important to learn more about it and its specific features in order to make full use of it in your home.
In this article, we will explain what type of color the Incredible White is, what its undertones are, and what rooms it will look better in. In addition, you are going to find out more about this paint's light reflectance value (or LRV) and what it means when using this color on your walls. Finally, we will share a list of colors with you that can be used instead of the SW Incredible White paint.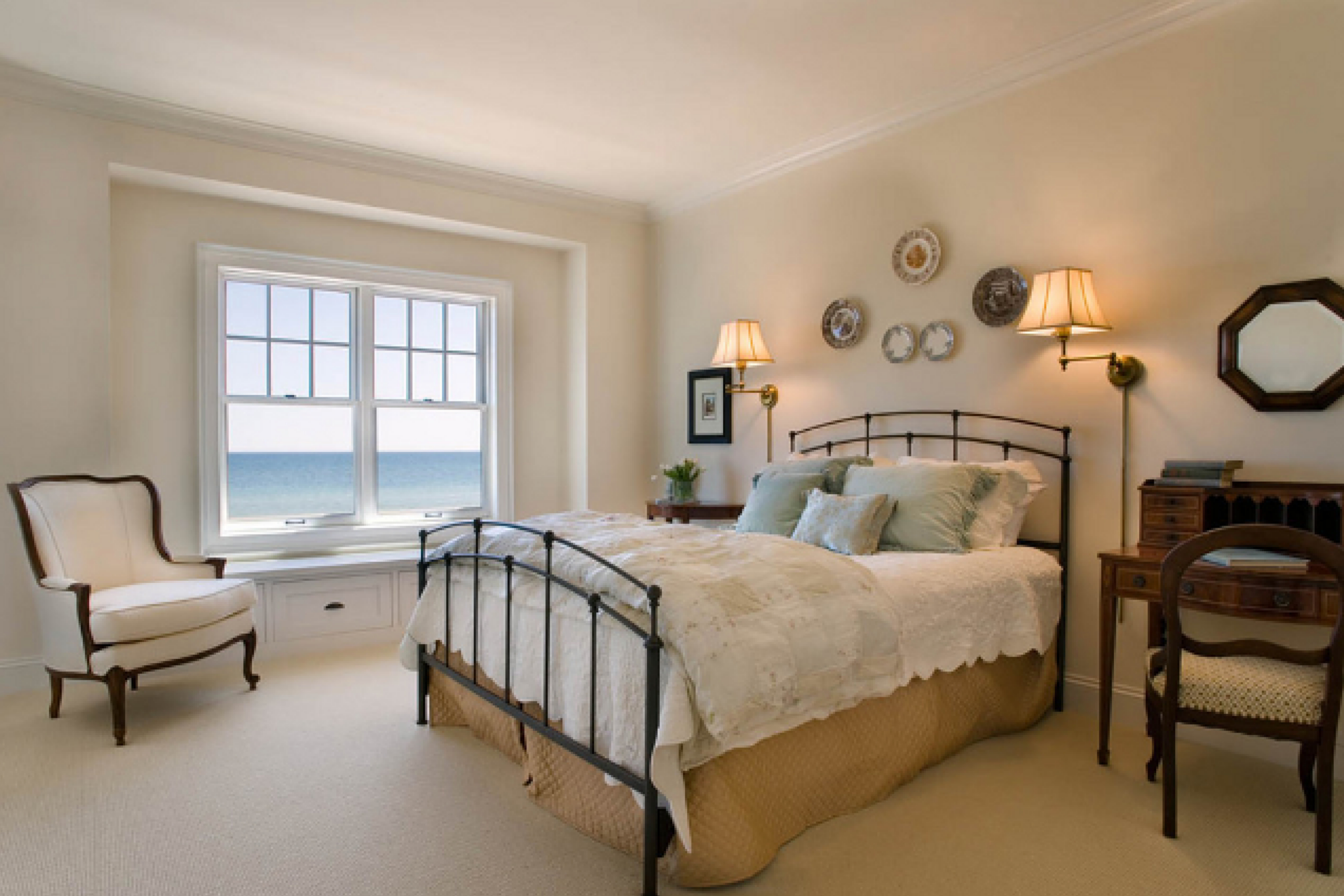 What Type Of Color Is Sherwin-Williams Incredible White?
Sherwin Williams brand has plenty of beautiful paint colors, both designed for interior and exterior use. This is why people usually choose this brand for buying paint for their home projects! And one of those paint colors is the Incredible White paint color.
As it comes from the name of this paint, it belongs to the white color palette. But if we take a closer look at this white, we will see that in fact it is quite a complex and even tricky shade of white. As Encycolorpedia says, it combines the features of several colors such as beige, taupe, greige and gray!
Perhaps this is the reason why it is called Incredible. This is why, to make it simpler for people, professional painters often refer to this paint color as a taupe-greige blend.
However, thanks to this complexity, Incredible White is surprisingly versatile! When stained on walls, it can literally do wonders! And in addition, you can play with it by changing the lighting in a room, often making the color look lighter or darker, showing different undertones.
There is another great feature of this paint color: thanks to its versatility, it can be used in different interior styles and combined with various colors and color schemes. Moreover, this paint can be successfully used for both indoor and outdoor painting projects.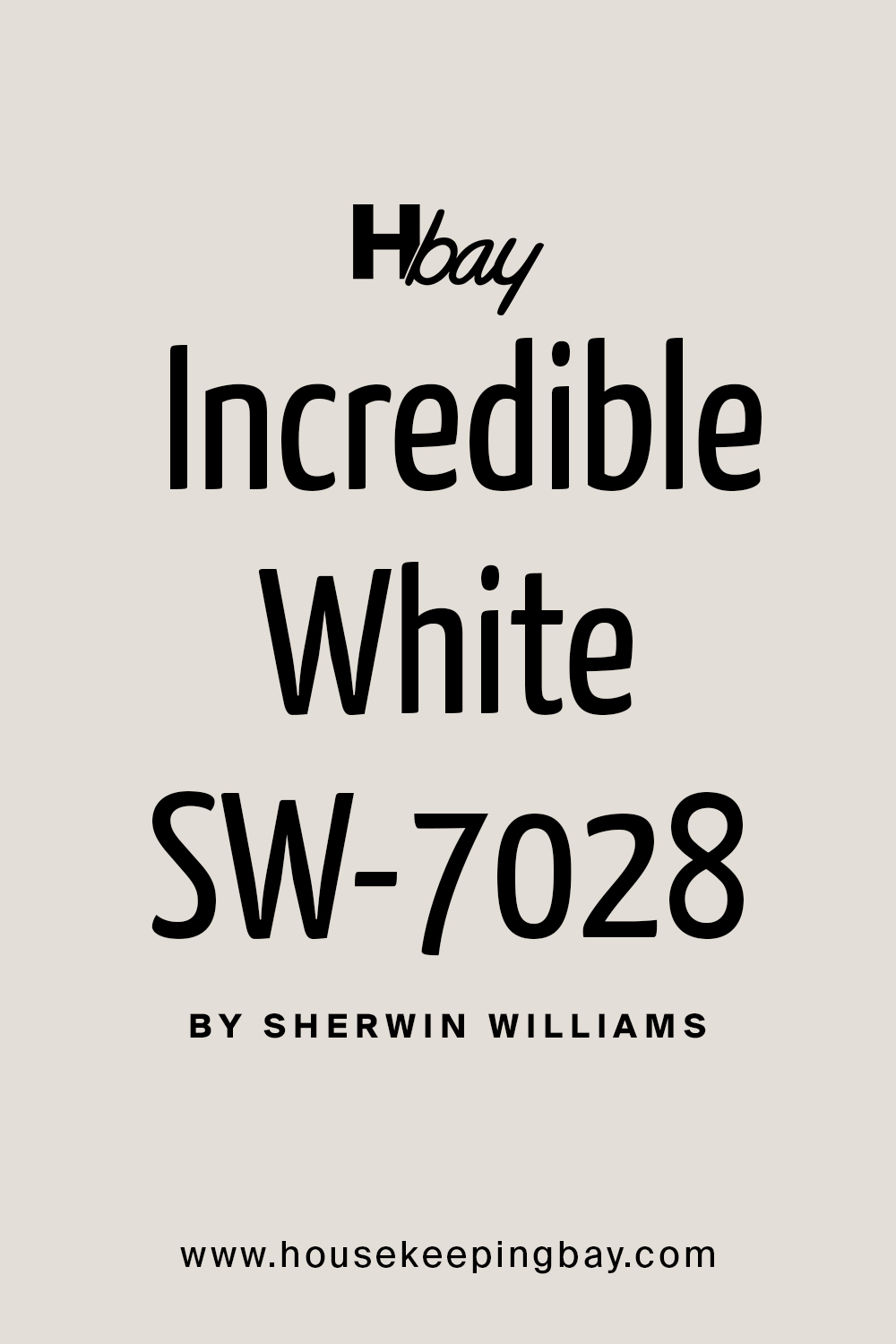 Undertones Of Sherwin-Williams Incredible White
Unless you have a really sharp eye for the color shades and tones, you will hardly notice that the smooth Incredible White color by Sherwin-Williams has typical taupe undertones, specifically, pink and purple.
At the first sight, this paint color looks simply like an ordinary shade of greige, being somewhere in between gray and beige. But upon a closer examination in certain types of lighting, it will reveal those undertones quite significantly! This is why this color is often considered to be taupe.
And also, this is why this specific feature of it should be considered when choosing this color for your home. This nuance becomes especially important if you don't want to see those pink or purple undertones on your walls.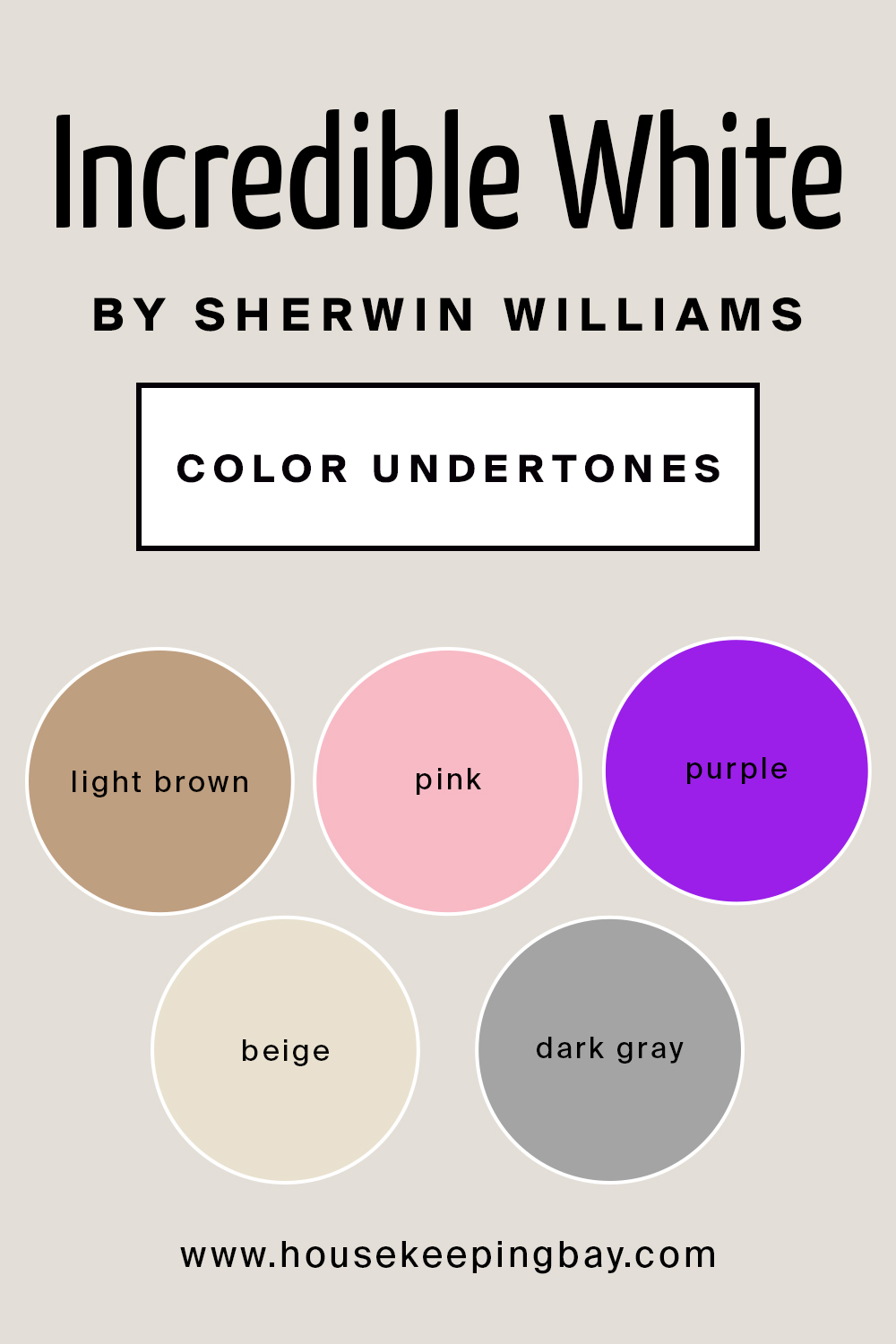 Sherwin-Williams Incredible White. Coordinating Colors
Choosing the correct coordinating colors is a must if you want your room to look harmonious. This could be a fun task, but not if you are not very knowledgeable in paint colors and their shades.
If you decide to use Sherwin-Williams Incredible White paint color on your walls, note that it pairs well with darker greige, bright white, and navy blue. You should avoid yellow though as it will bring out the pink undertones in Incredible White!
We can recommend you a few colors that this paint will best suit:
Sherwin Williams In the Navy
Sherwin Williams Extra White
Sherwin Williams Searching Blue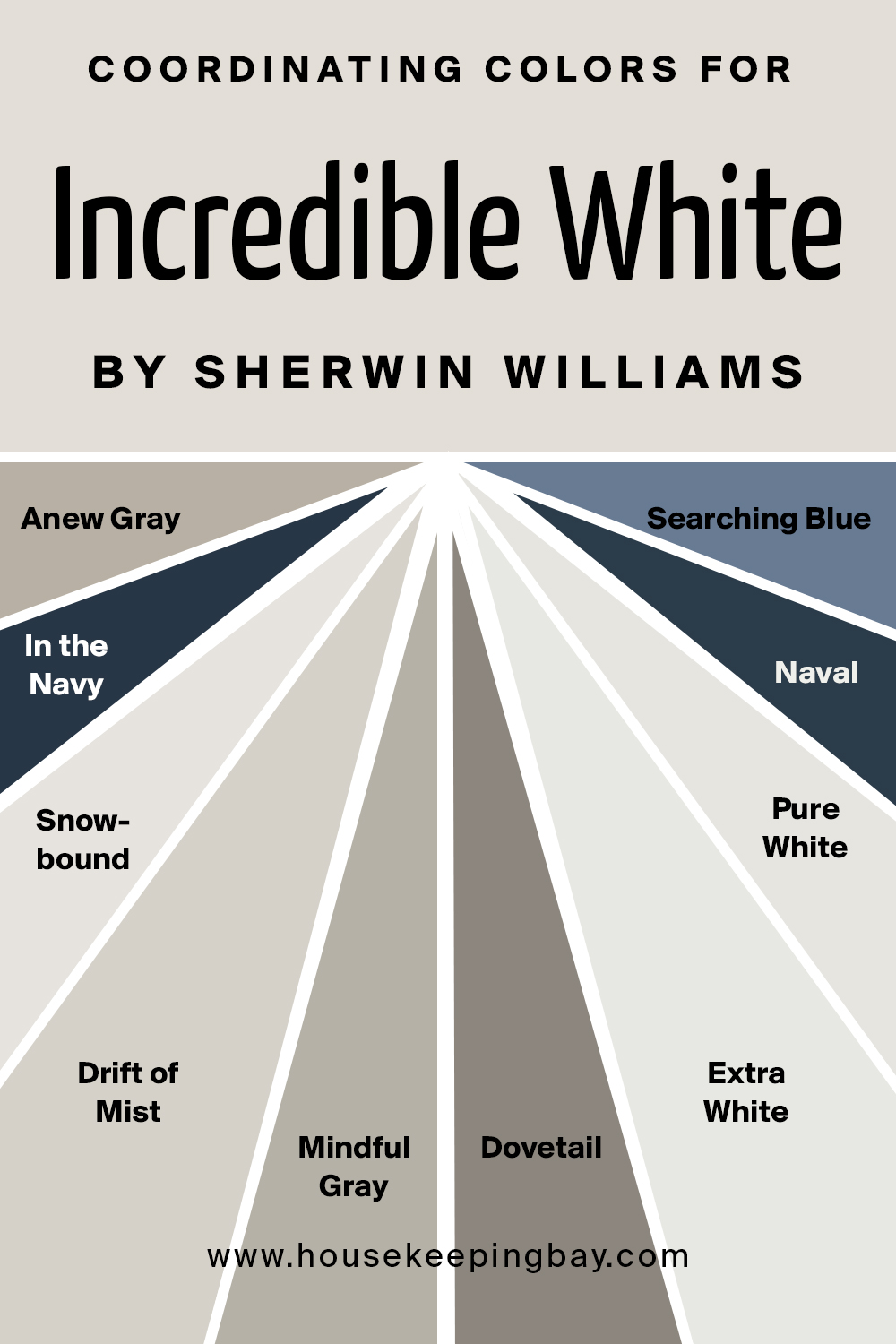 Sherwin-Williams Incredible White. LRV
LRV is the light reflectance value of paint color. It shows how much light the paint is able to reflect when it is applied to the wall. Like this, if the LRV is low, the paint is considered to be rather dark, and vice versa.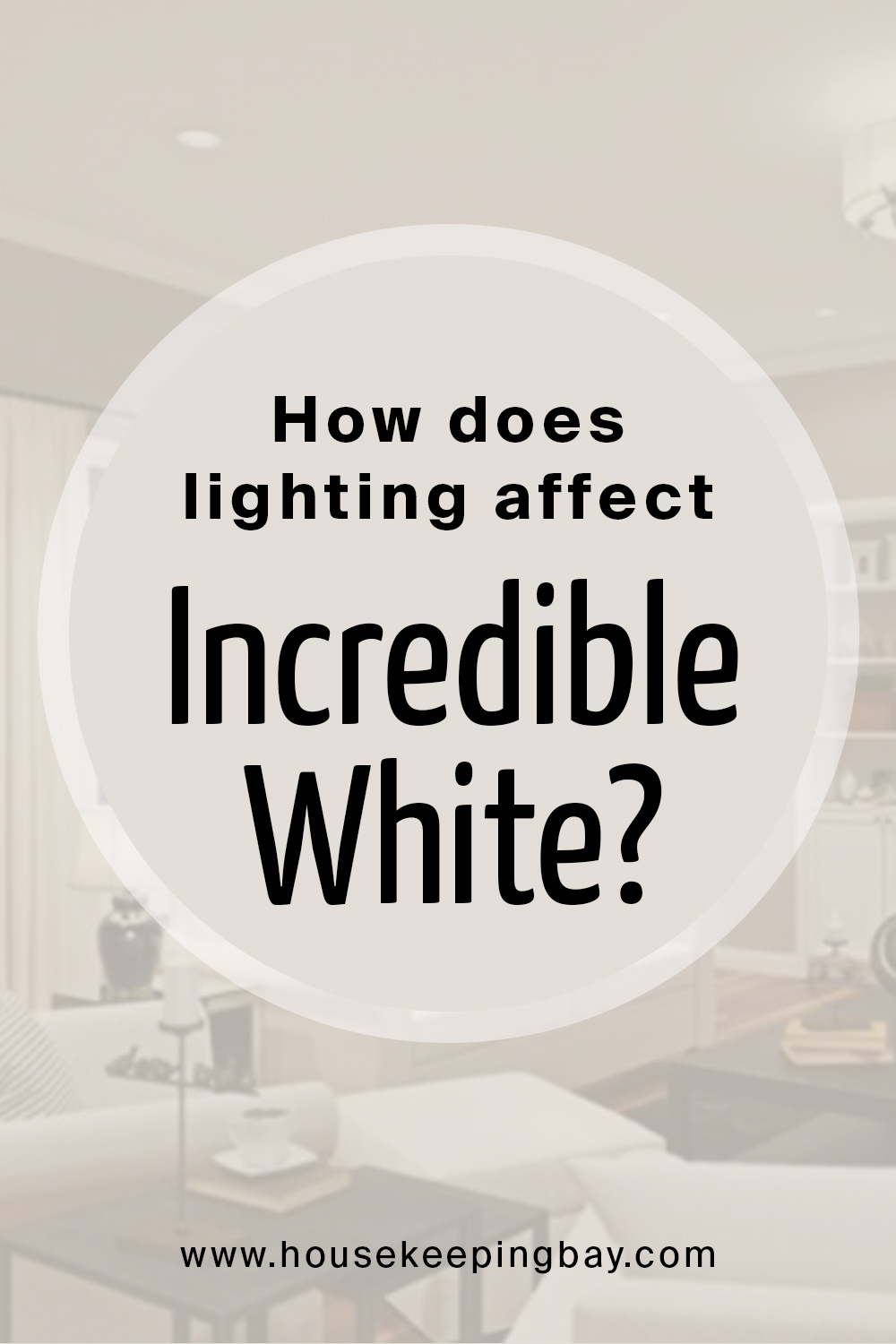 As for the SW Incredible White paint color, with an LRV of 74, it sits in the off-white range. It is not very far into the off-white range though, but if you have a room with plenty of light, it could really wash-out with an LRV of this depth!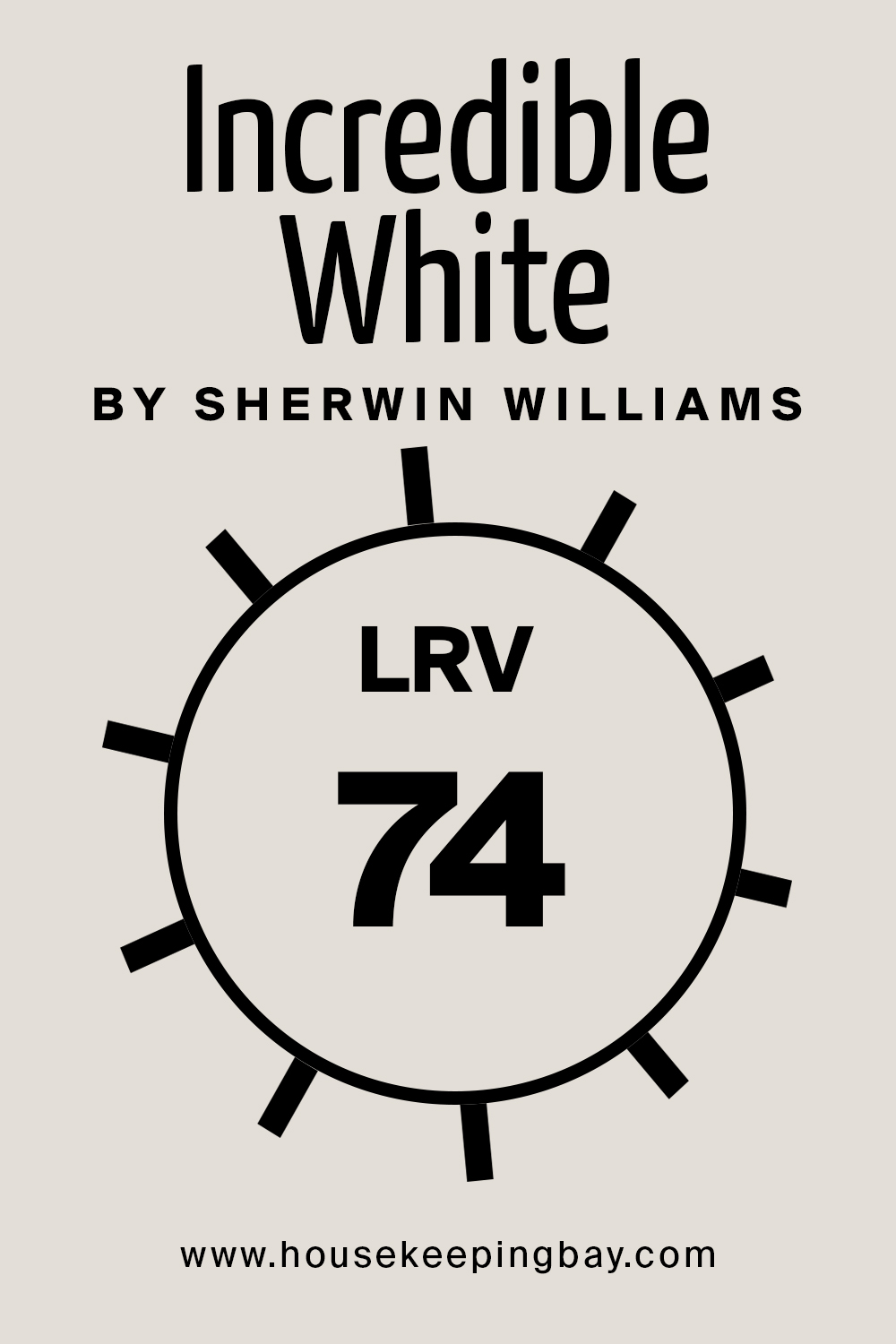 What is LRV? Read It Before You Choose Your Ideal Paint Color
The Best Trim Color To Use With SW Incredible White
There is a rule of thumb: if you are not sure what trim color to choose to match with your paint on the walls, stick to white. In any case, white is always going to be a win-win option. With SW Incredible White, this rule works the same way!
The very first option for white paint color is to actually paint the trim the same color as the walls, just use a semigloss finish on the trim. But if you want another white, you can use one of the following options for trim colors:
Benjamin Moore Simply White
Sherwin Williams Extra White
Behr Ultra Pure White
Stick to a crisp, bright white trim color if you want to get higher contrast, but avoid anything creamy since it will look dirty next to Incredible White!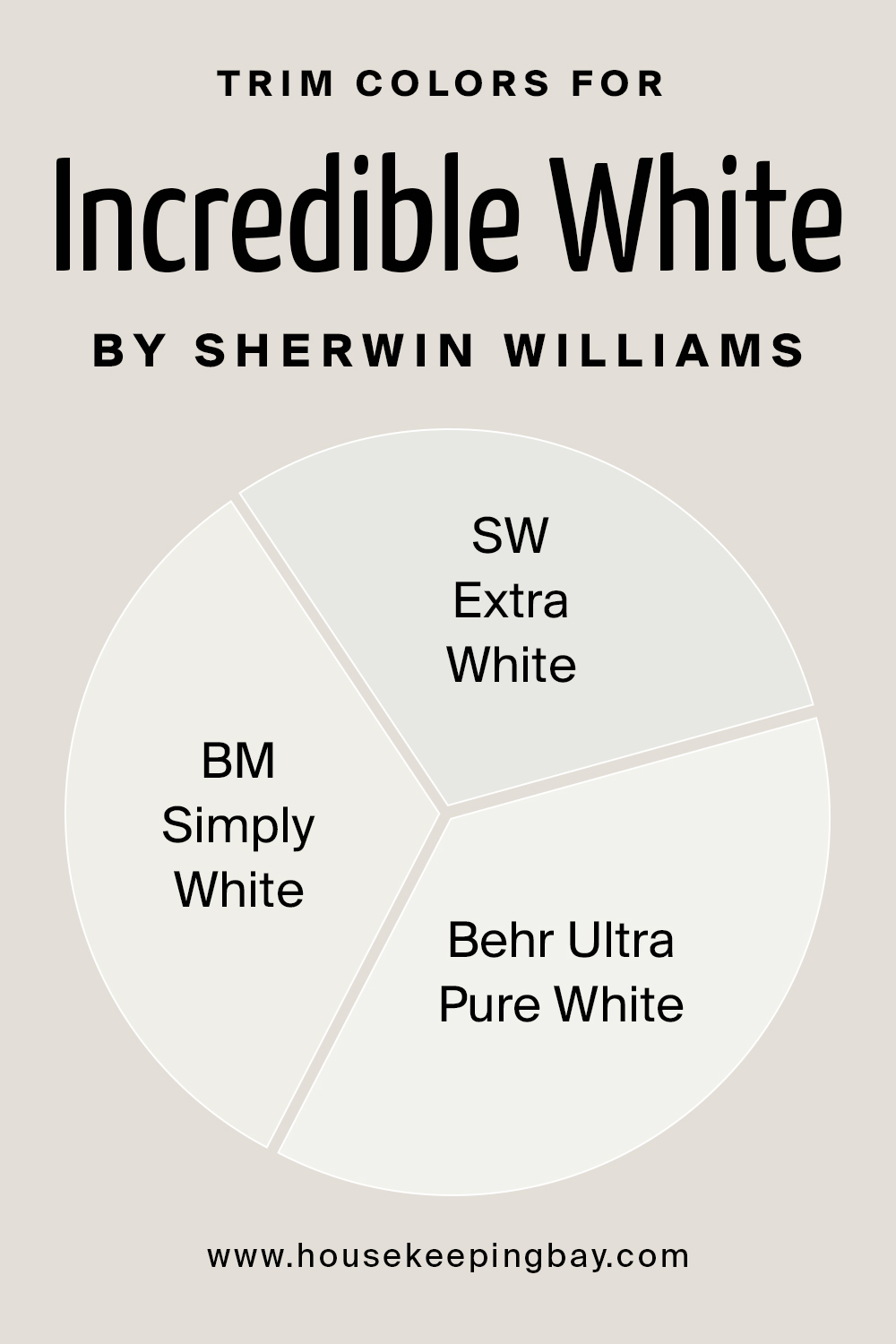 Paint Colors Similar to SW Incredible White
If for any reason you can't use exactly the paint color you initially wanted in your home, you can always opt for one of the similar colors instead. This is why it is good to know what other colors exist that can work as substitutes for the paint color you were going to apply first.
Of course, it is important to keep in mind that you will not be able to find an ideal match! There are no two totally the same colors. Nevertheless, we can suggest you a couple of alternative colors that are the most similar to the SW Incredible White:
SW Sunbleached
SW Everyday White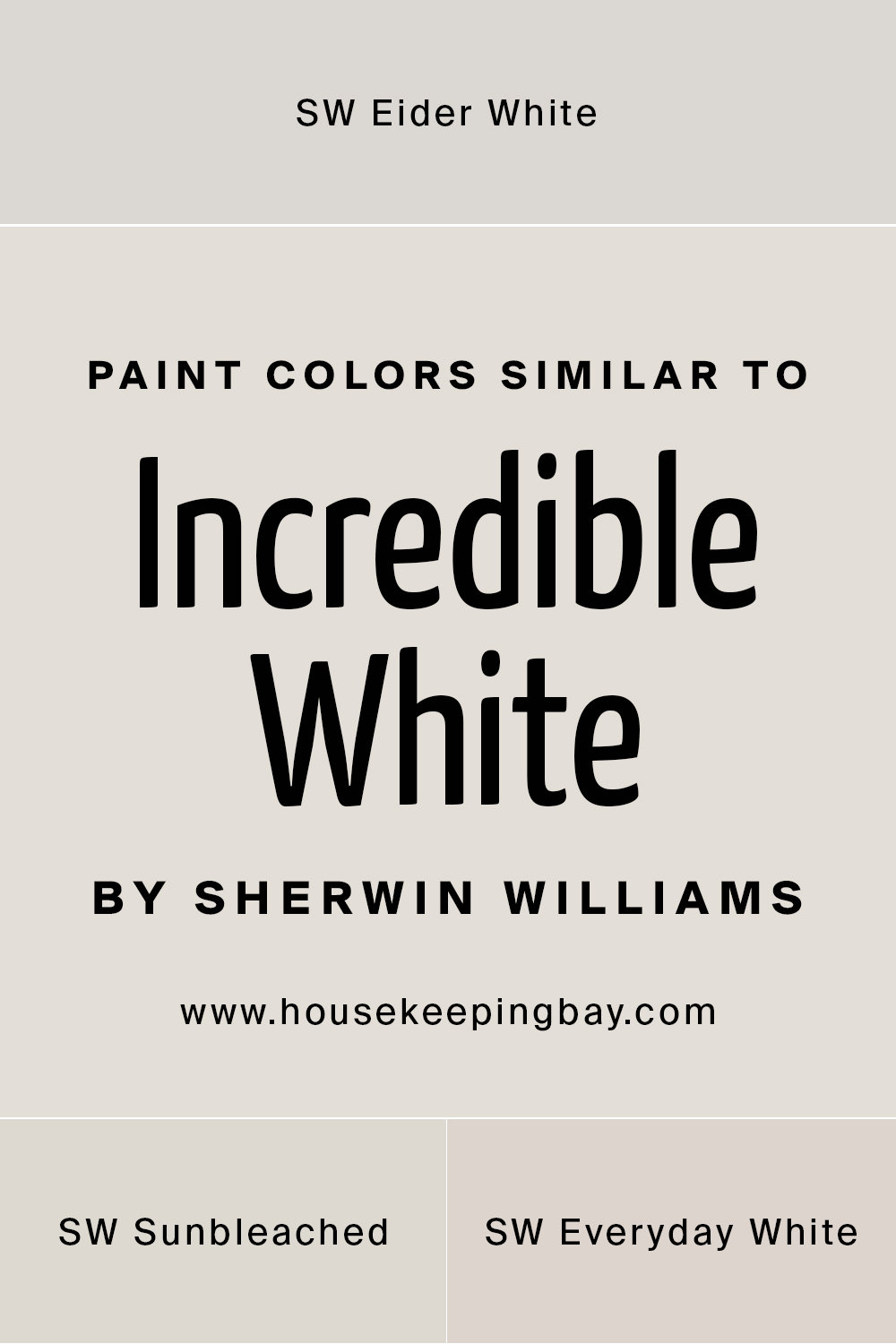 Where Incredible White SW-7028 Can Be Used In Your Home?
The one great feature of SW Incredible White color is that it is easy to incorporate into your interior. It can be easily used in almost any room and on nearly any surface. Below, you can find out more about how this calming neutral paint with cool blue undertones will work in different rooms of your home.
Incredible White SW-7028 in the Living Room
This color will be perfect on the walls of your living room if the room is light and bright, and you want a hint of light bright neutral color there. It can give your living room a very soothing and calming vibe in fact.
Also, this color pairs well with glossy black and darker shades of brown and gray! You can use it on your moldings and window frames, and add black (or gray) as an accent color. And note that this color also looks great with granite surfaces, so if you have a stone fireplace, consider this paint!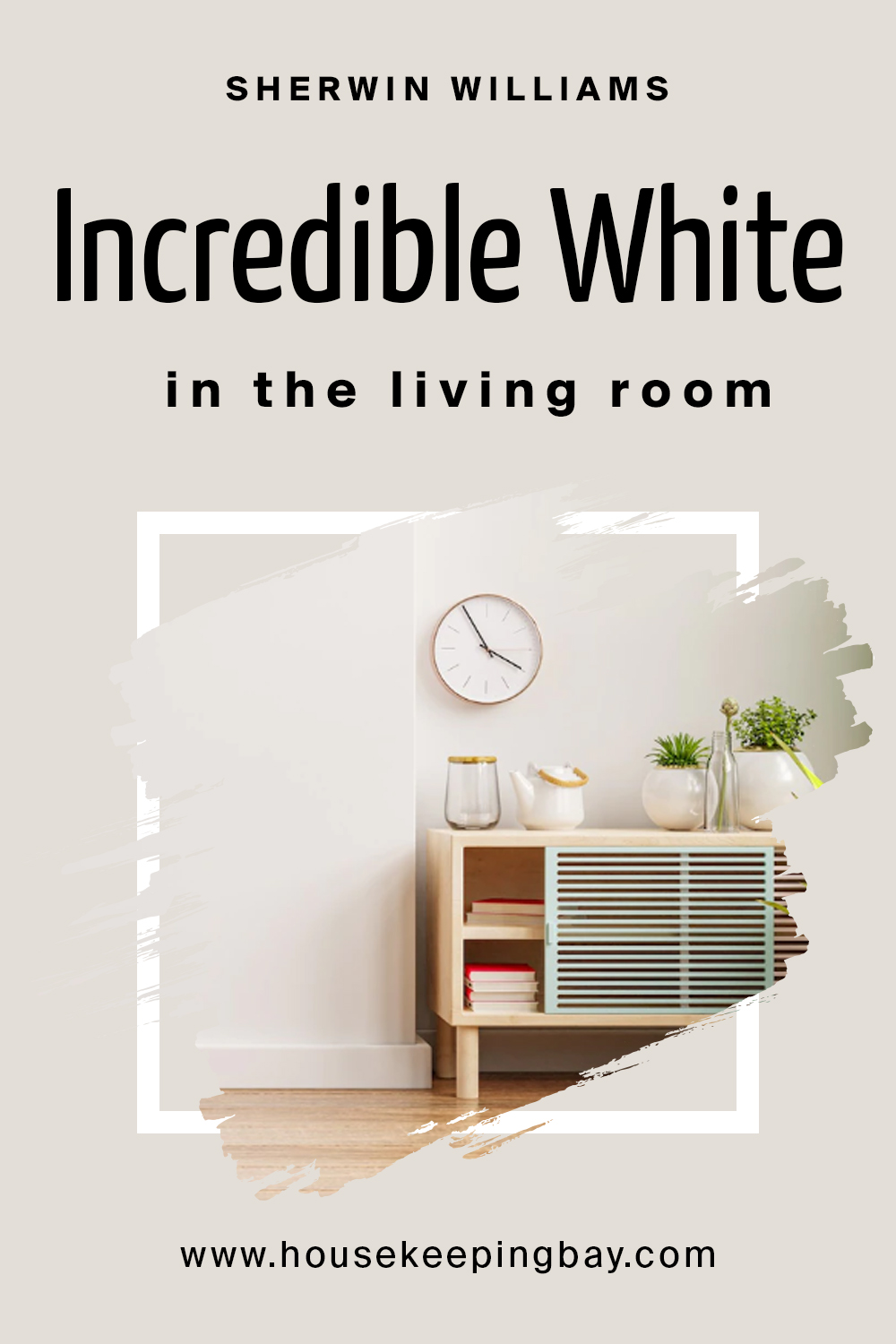 Incredible White SW-7028 in the Bedroom
For a bedroom, this tranquil taupe would be one of the best options. It is soft enough, besides, the color is warm-toned which will add the space a cozy atmosphere that is so welcome in bedrooms.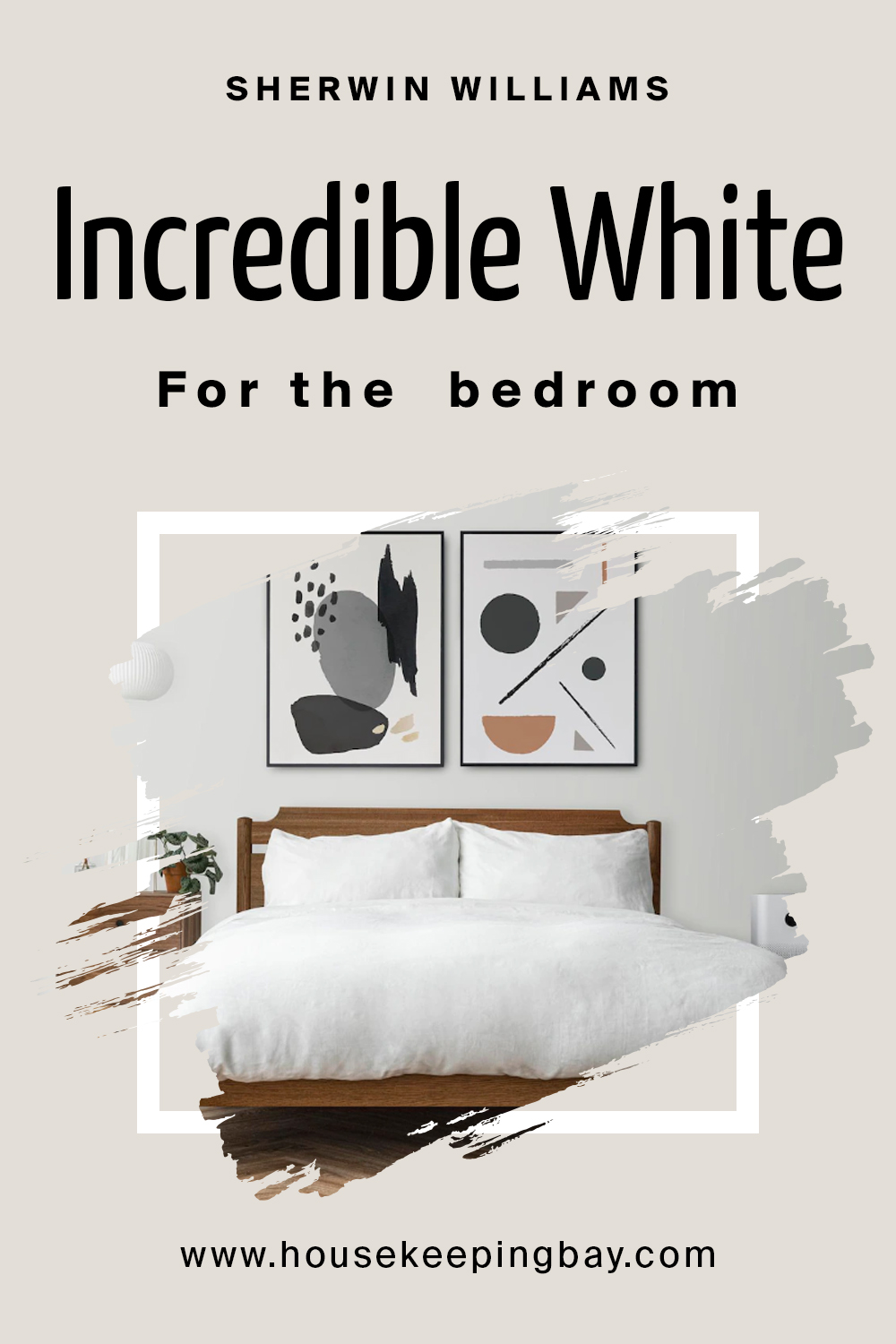 Incredible White SW-7028 in the Kitchen And Kitchen Cabinets
In case you decide to paint your kitchen walls with this paint, you will get a clean and fresh look, especially when paired with lighter cabinets. However, white or gray cabinets might also look nice with it! But for the best effect, consider using this color on your kitchen cabinets only.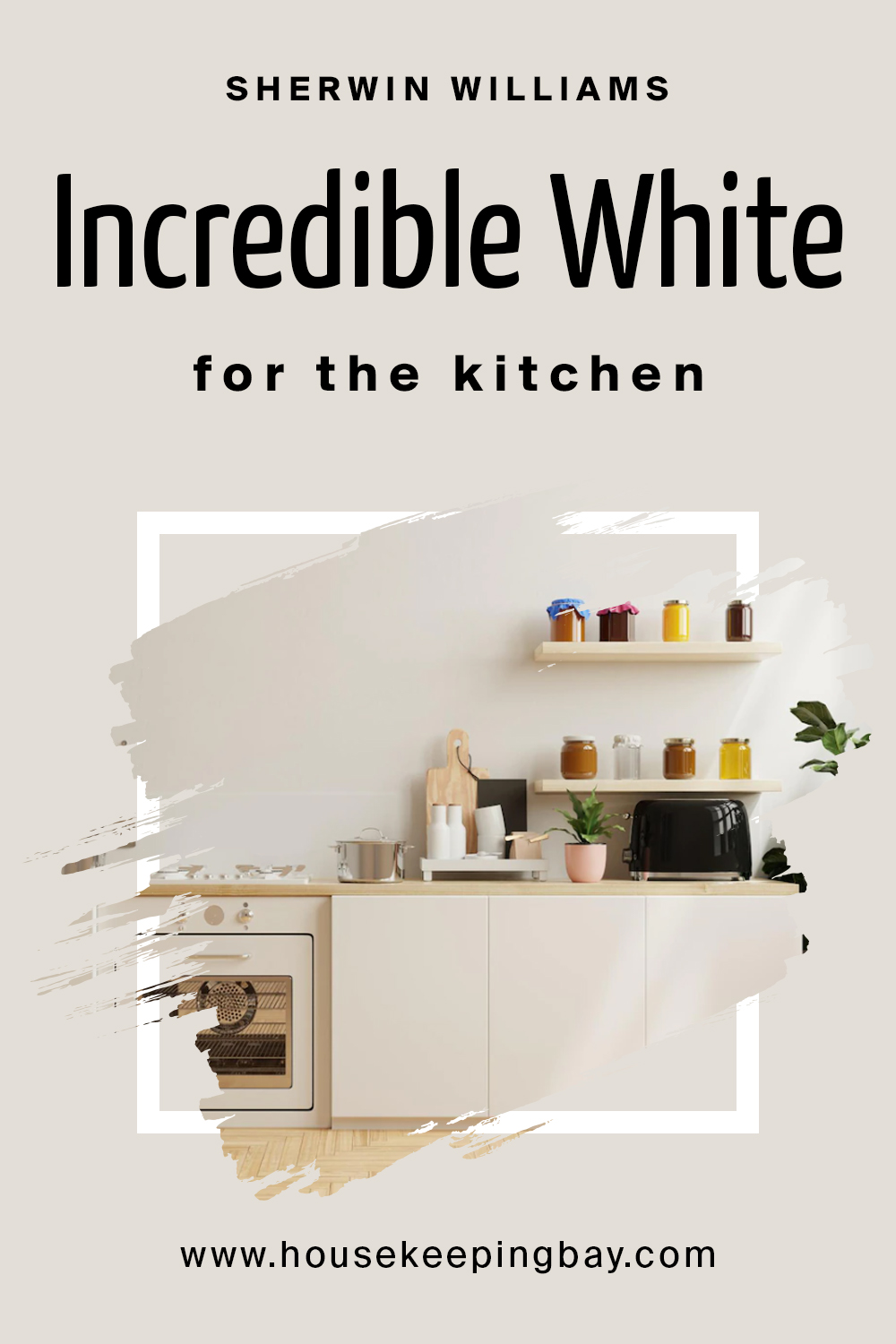 Incredible White SW-7028 in the Cabinets
SW Incredible White can be a nice color option for your cabinets as well. But before you paint them with it, check out the entire color palette of the room. Since this color has purple and pink undertones that may come out, you need to make sure the room has no yellow-toned colors! Otherwise, the entire space will look a bit "dirty".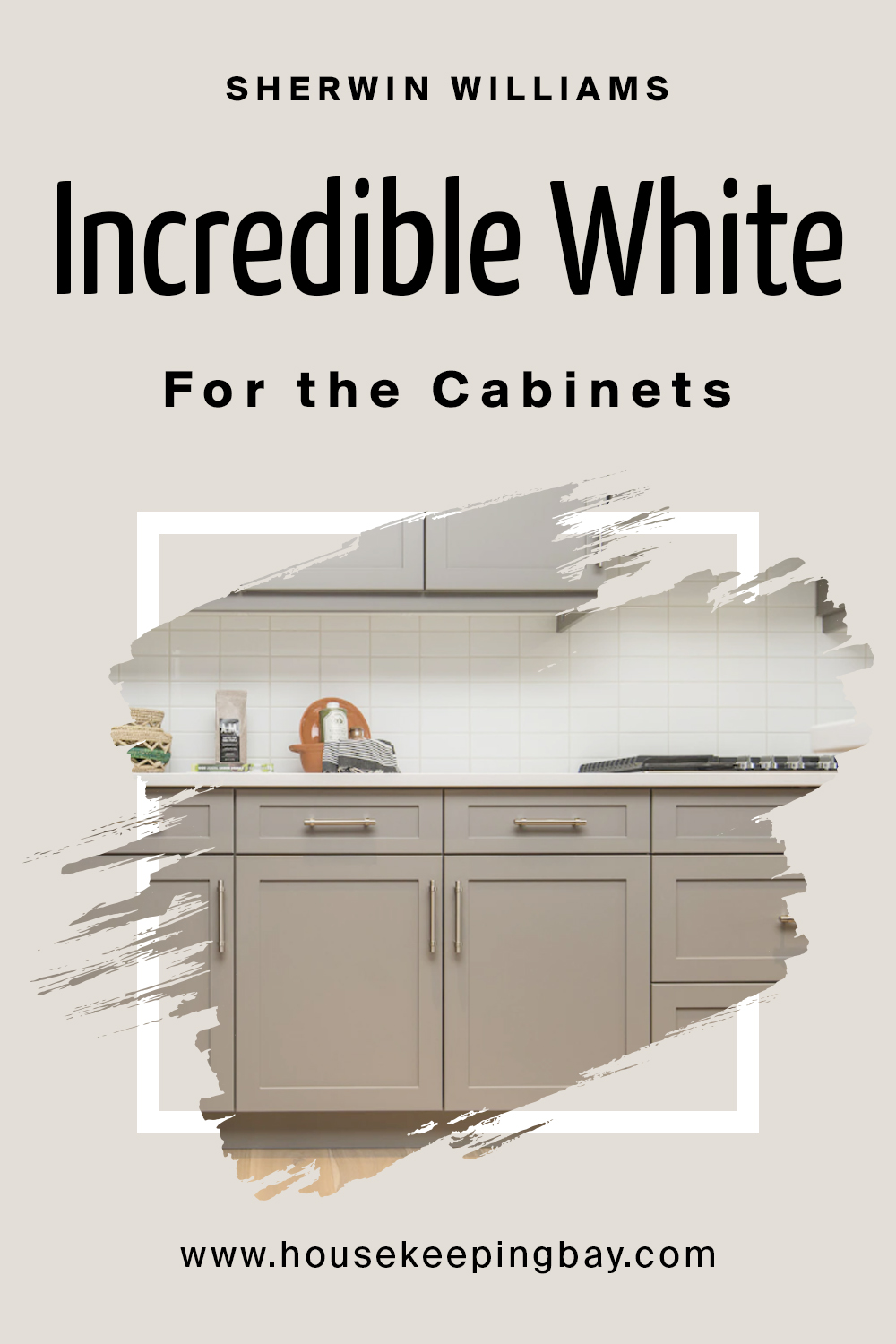 Incredible White SW-7028 for the Exterior
This color can hardly be considered an ideal option for exterior use. See, exterior light will most likely be very bright and as a result, it will wash colors out a bit. So, this particular color will look less off-white and more white-white outside.
With all these life hacks and tips in mind, you will now be able to make use of this tricky and complex but still very beautiful paint color and turn your home into a stylish and at the same time cozy masterpiece!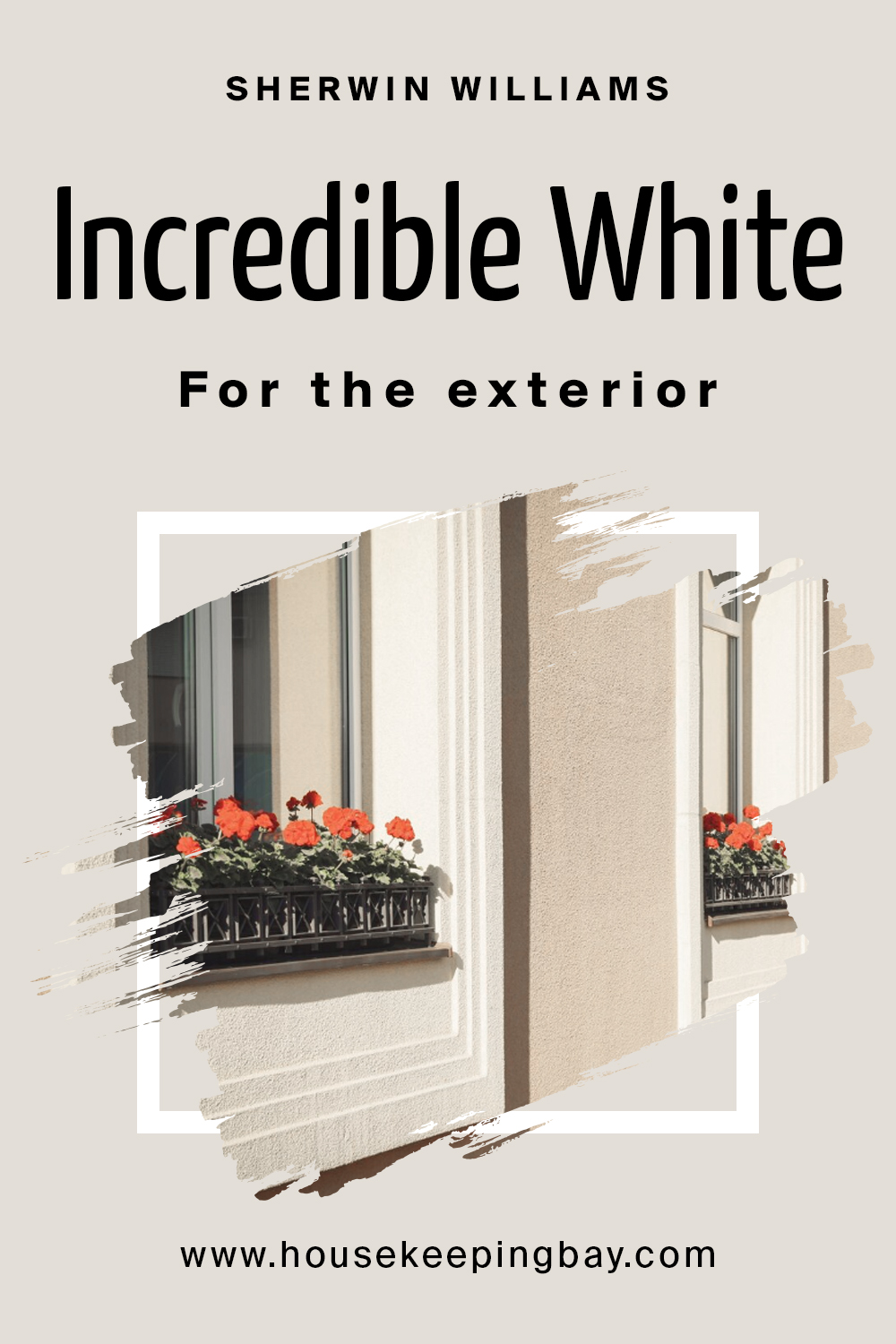 Colors That SW Incredible White Goes With
Incredible White is actually quite a flexible color and it can suit a wide variety of paint colours, such as the following:
Some gray and greige paint colors that have similar undertones
Some grays with blue or blue-green undertones
Blue-green-gray blend paint colors
However, note that it will not be paired well with cream closeby as the yellow will enhance the purple-pink undertones and they can spoil everything!
Color Comparison For SW Incredible White
Sometimes you just need to compare a color to other colors of the similar category (e.g. white with other whites, gray with other grays, etc.) just to be able to see its distinction. And this is exactly what we offer you to do right now!
Incredible White vs Eider White
They are so alike that almost look the same! Indeed, if you place the samples of each paint side by side, you will hardly be able to see the difference. Both colors are of a very close shade, plus, they have nearly the same LRV. So if you are looking for SW Incredible White alternative – you found it!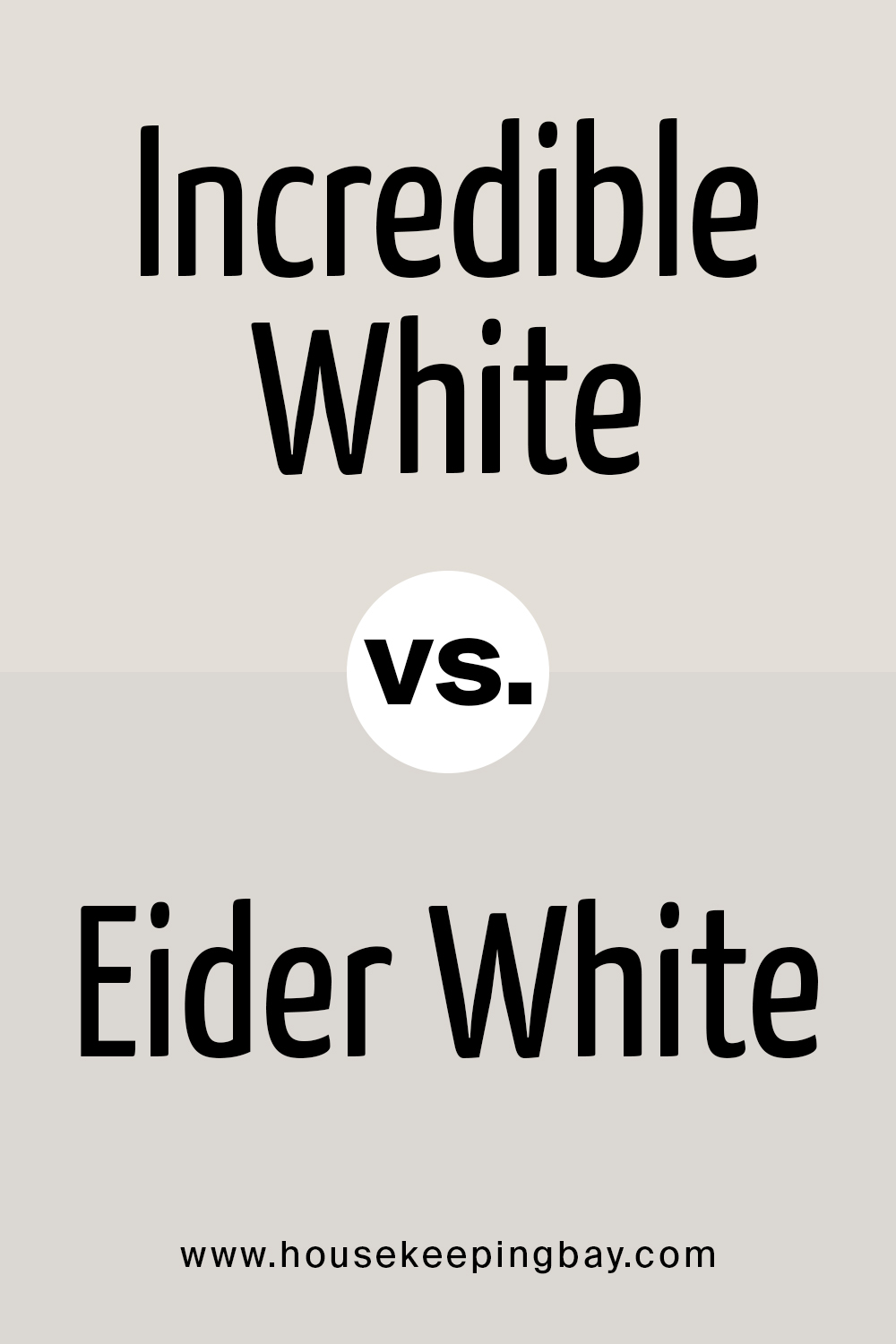 Incredible White vs Alabaster
Alabaster is much lighter compared to Incredible White. Also, since Alabaster has yellow and beige undertones, it reads yellower in comparison to its counterpart that reveals its purple and pink undertones really prominently!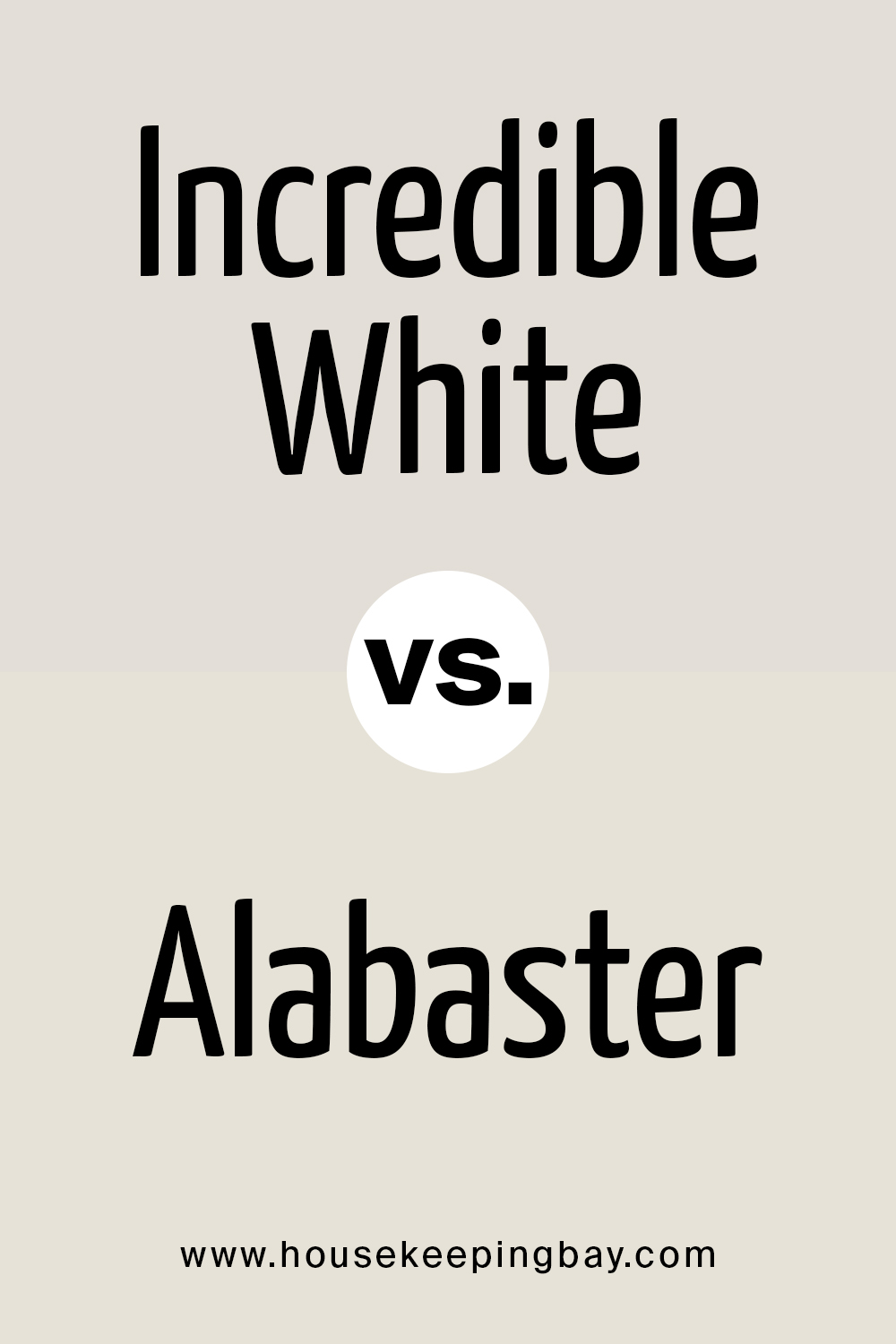 Incredible White vs Agreeable Gray
Agreeable Gray reads softer and warmer compared to Incredible White. Also, Agreeable Gray shows its gray undertones very clearly, looking noticeably deeper and darker. The good thing is that Incredible White also leans to its gray side more when used with Agreeable Gray so these colors can successfully work together!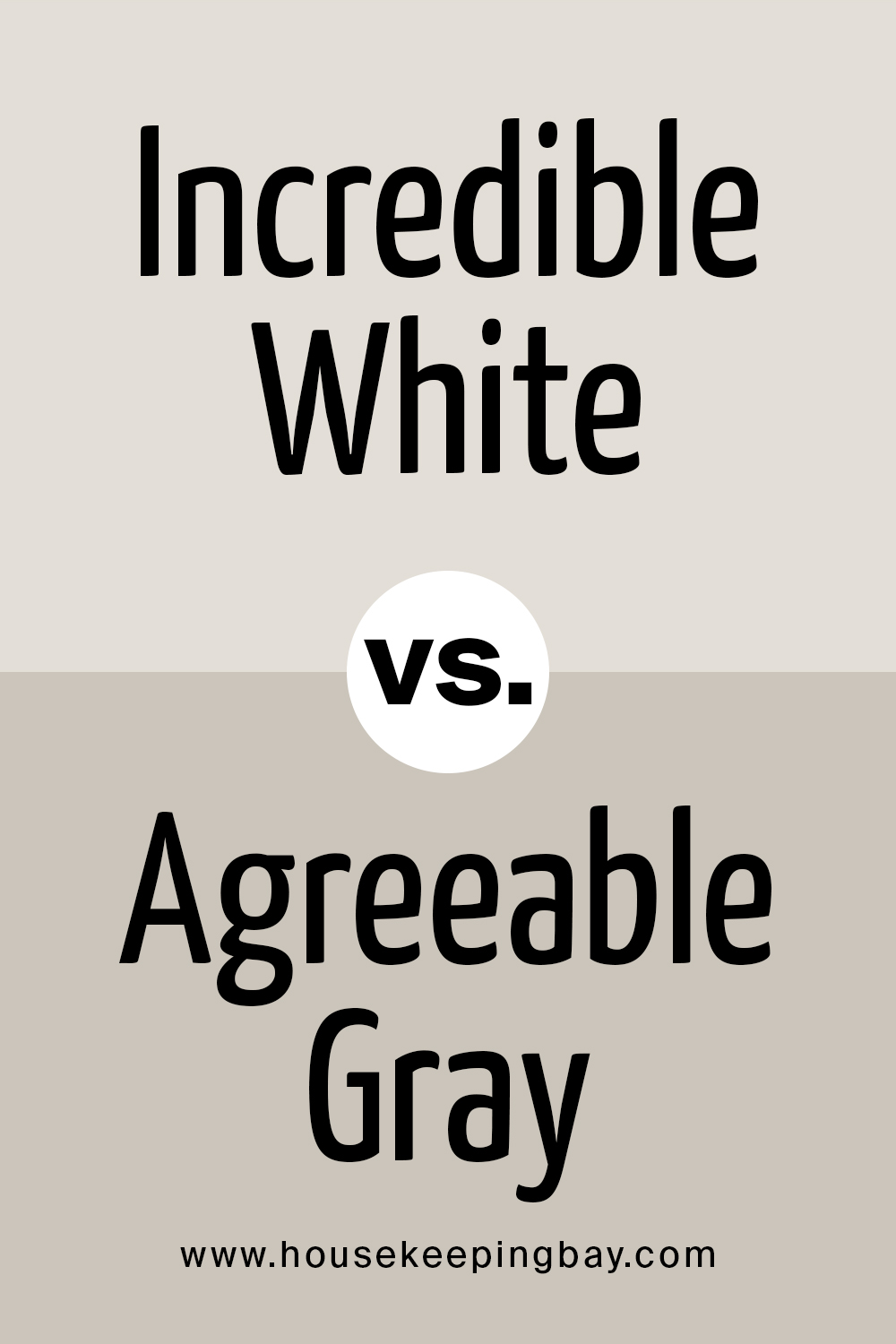 Incredible White vs Aesthetic White
Not a good option to use them together since they have no significant difference and they won't create a contrast. Both colors are the same muted. Aesthetic White reads yellower with some notes of a very light beige whilst Incredible White stays on its gray side more.
Incredible White vs White Dove
White Dove shows its yellowish undertones quite noticeably whilst Incredible White reads more like gray. And since White Dove is lighter, it makes its counterpart seem slightly darker if you may say so.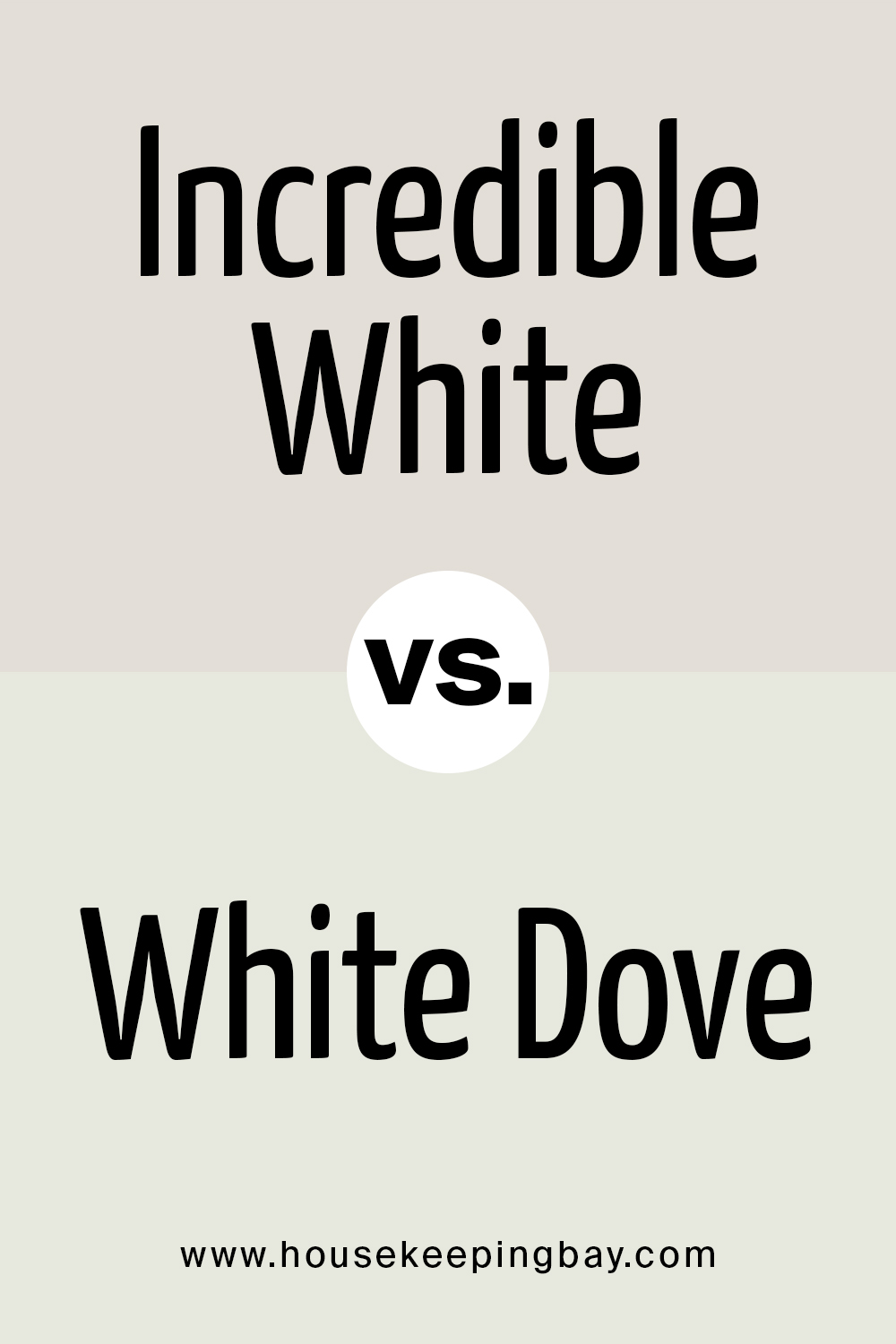 Now you know all about a beautiful and complex paint color called Incredible White. You know its undertones, coordinating and trim colors, and also, you figured out in what rooms it should be used in your home.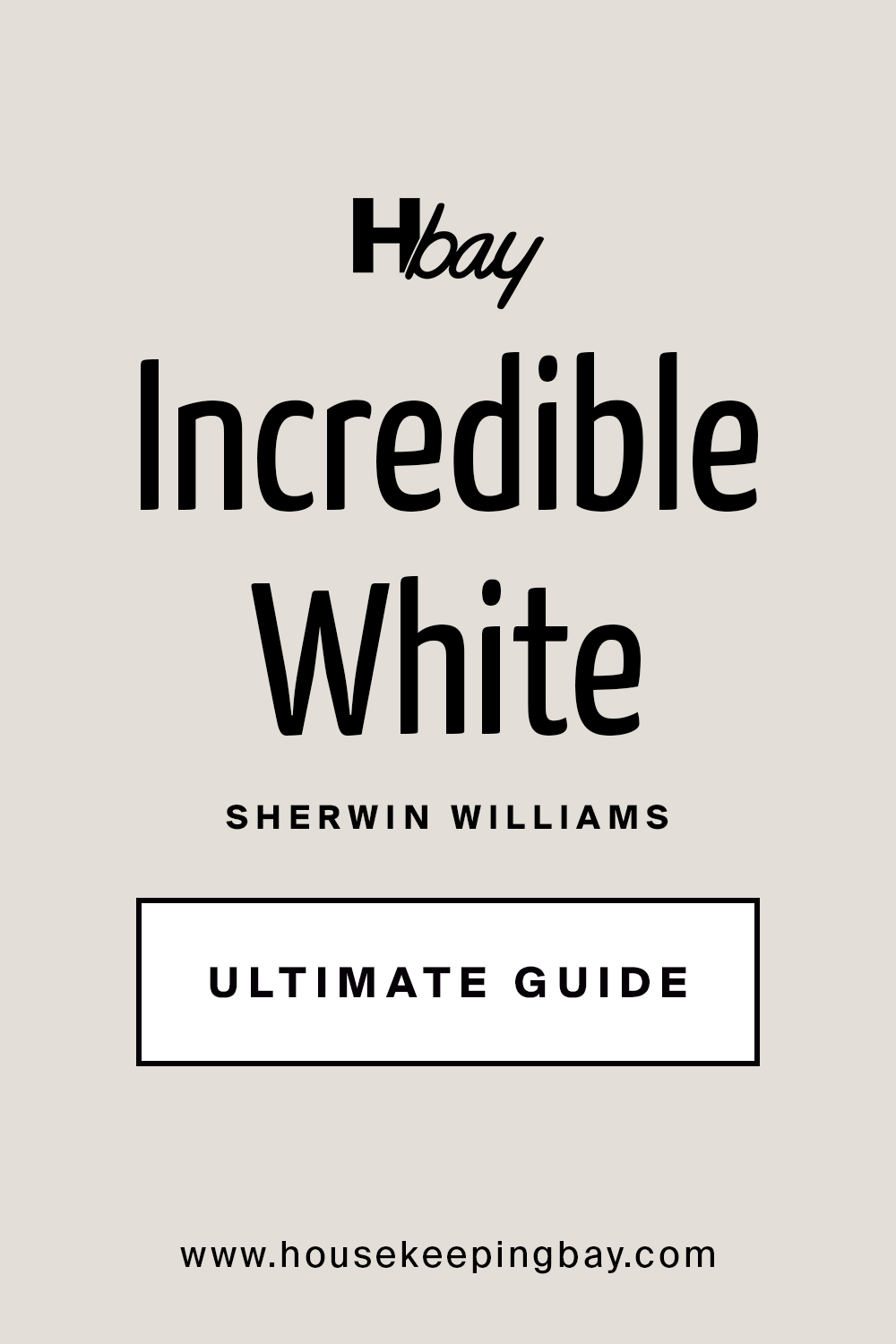 Frequently Asked Questions
⭐Is incredible white cool or warm?
Incredible White has warm, gray undertones. It is however very neutral and does not read as yellow at all.
⭐Is Incredible White good for an exterior?
Incredible White is OK for an exterior but not usually a top choice. Exterior light is going to be very bright and will wash colors out a bit. So, this color will look less off white and more white white outside.
⭐Is Incredible White a popular color right now?
While off-whites are popular, as are neutrals, because of its purple-pink undertone, Incredible White is only popular with people who like those undertones.