Picking up a proper and, what is even more important, suitable paint color for our home painting project often becomes quite a challenge for most of us.
Since not everyone is knowledgeable about color theory, and even fewer have heard of such a thing as a color wheel (what wheel?!), deciding on what paint you want to apply on your walls must be done very accurately.
Fortunately, you can always opt for a win-win solution and make use of one of the colors that belong to the wide family of neutrals. For instance, Evergreen Fog by Sherwin Williams is a great choice since this paint color has multiple areas of application.
First of all, it can be combined with quite many other colors, and second, it is itself a very pleasant neutral shade that will fit almost any home design.
So today we will tell you more about this paint color, its "anatomy" and areas of use in your home. Like this, you will be able to say for sure whether Evergreen Fog by Sherwin Williams is what you need or not.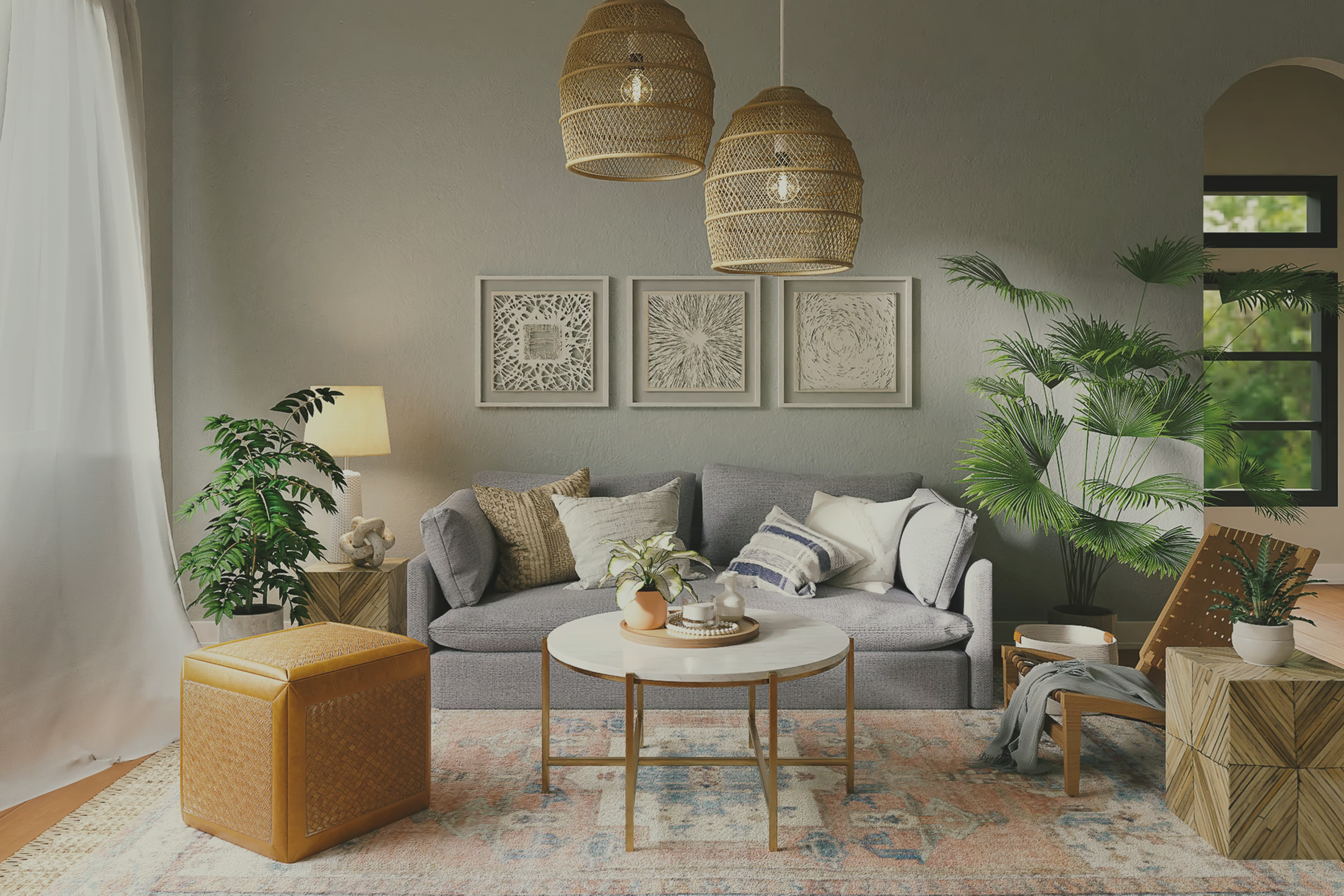 What Is Evergreen Fog By Sherwin Williams?
When you pick up a paint color to apply onto your interior walls, it is important to define the type of this color to be able to decide on other shades of paint that are going to be used in the same room.
As for the Evergreen Fog by Sherwin Williams brand, to most of you it may seem to be simply dark gray, as Encycolorpedia says. But in fact, this is a green hue. A green gray hue, as it is technically classified.
Since this color has greige undertones, it is a bit tricky in use since it can become dramatically different in different lighting conditions. Also, this paint color will look different if paired with distinct colors, decor, or fixed elements.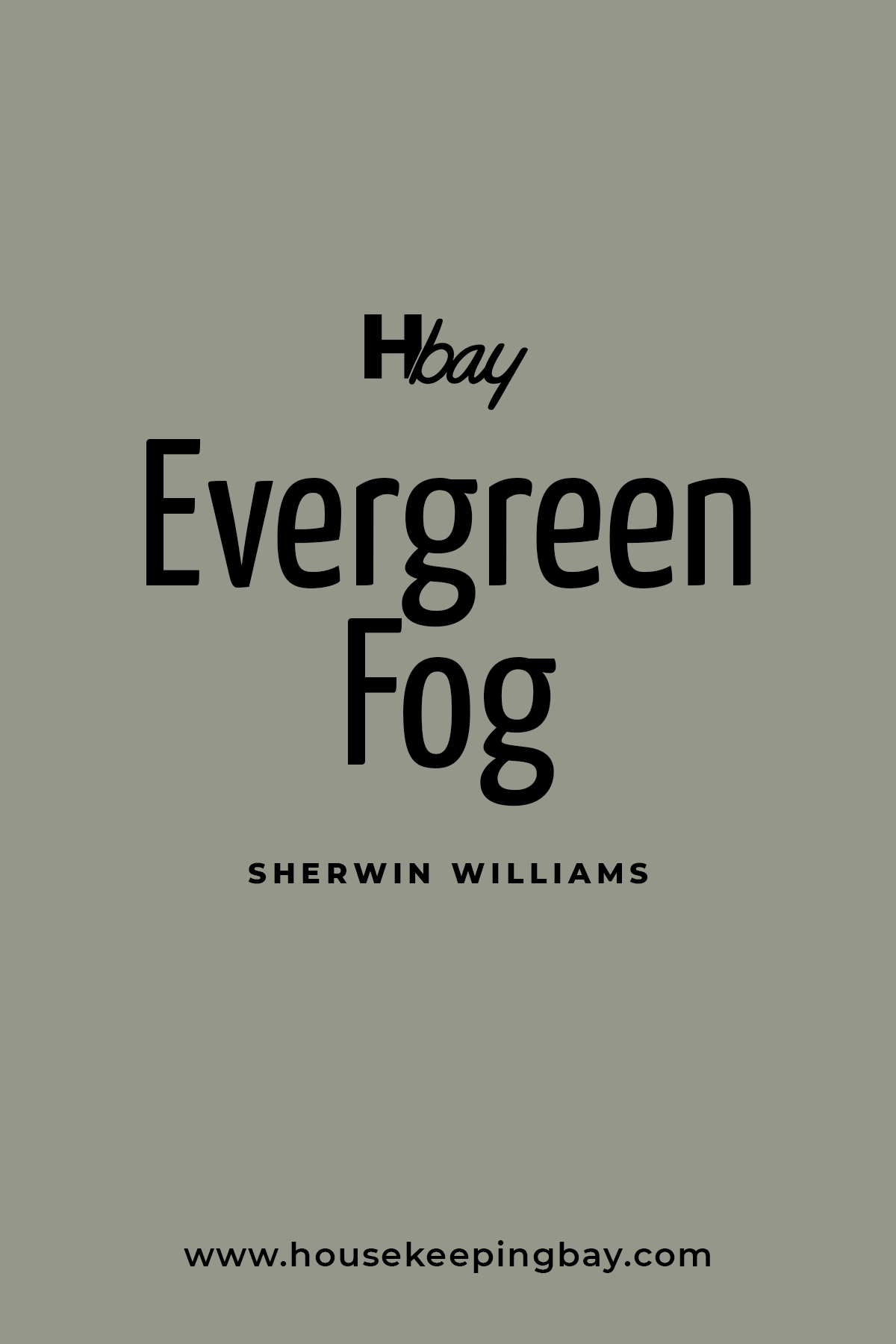 Get a sample of EVERGREEN FOG (get a sample from Samplize )
What Are Evergreen Fog Undertones?
Knowing what undertones your paint has means a lot since it will help you to define how your walls will look under different lighting conditions or when being paired with colorful pieces of furniture or decor elements in the room.
If we take a look at the Evergreen Fog paint color, we will see that it belongs to the family of neutrals which makes it quite a multipurpose shade. However, since it has greige undertones, this color is somewhat tricky. Greige means the blend of gray and beige, and with such undertones, Evergreen Fog may react in quite an unexpected way if being placed under certain types of lighting.
In addition, you need to make sure that the furniture and other elements of decor in the room have colors that fit Evergreen Fog well, otherwise, it may appear to be and look not quite what you expected!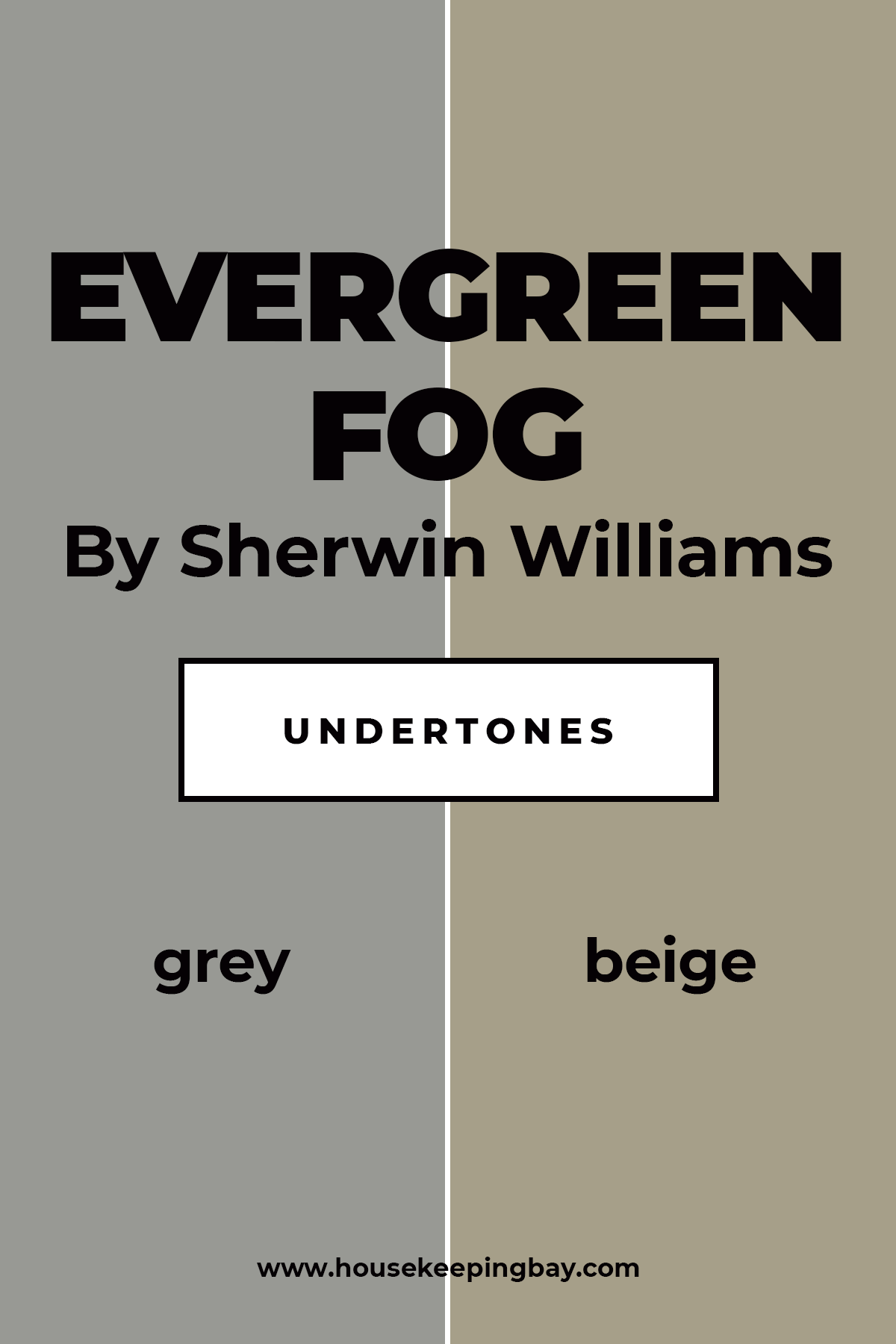 Is Evergreen Fog a Warm Or a Cool Color?
This question bothers those who have strong preferences regarding the warmth or coolness of their walls' color. And it makes sense in fact. Some of us prefer warmer tones of colors since they really make the space look cozy and comforting whilst others are more into cooler and more "strict" shades and hues.
So if you are thinking of applying Evergreen Fog in your home and you are hesitating whether it is a cool or a warm shade, be aware that it belongs to cool colors. When applied onto the walls, it evokes the calming and relaxing feeling in you thanks to its soothing and subtle shades.
This is also the reason why Sherwin Williams Evergreen Fog is pretty versatile and can be used on the walls both indoors and out.
Coordinating Colors For Evergreen Fog By Sherwin Williams
Having all your house painted in one color is the easiest way to deal with the painting task, however, living in a monochromatic surrounding is not fun at all! This is why we always make use of a few other colors to make our home interiors look more vivid and diverse.
However, picking the appropriate coordinating colors is not that easy as you might think! Especially if you have to deal with the paint color that has greige undertones in it, such as Evergreen Fog.
So to make it easier for you, we picked the best coordinating colors that Evergreen Fog goes well with. They are
Ethereal White  
Neutral Ground  
Dried Edamame  
Silver Song 
What are these colors in particular? Well, Ethereal White is a creamy paint color that has soft greige undertones. It can not be considered literally white, but still it pairs exceptionally well with Evergreen Fog since they both share the same undertones.
As for the Dried Edamame, it is a warm and neutral brown, and it creates a wonderful pair with Evergreen Fog since both are earthy colors. Finally, if you are looking for a good and balanced neutral as a coordinating color for your Evergreen Fog, consider using Neutral Ground which is a creamy off-white.
There is another paint color that can work as coordinating one for the Evergreen Fog, and it is a well-known warm greige. Yes, we are talking about Accessible Beige! However, we would say it will work with Evergreen Fog well only if used in a room that has plenty of natural light.
If you apply it in a shady room, Accessible Beige will reveal its muddy and dark shades.
Like with every paint colour, We highly recommend using SAMPLIZE.  Samplize is a peel & stick paint sample that you can easily move around your room for over HALF THE COST of traditional samples – and they deliver right to your front door!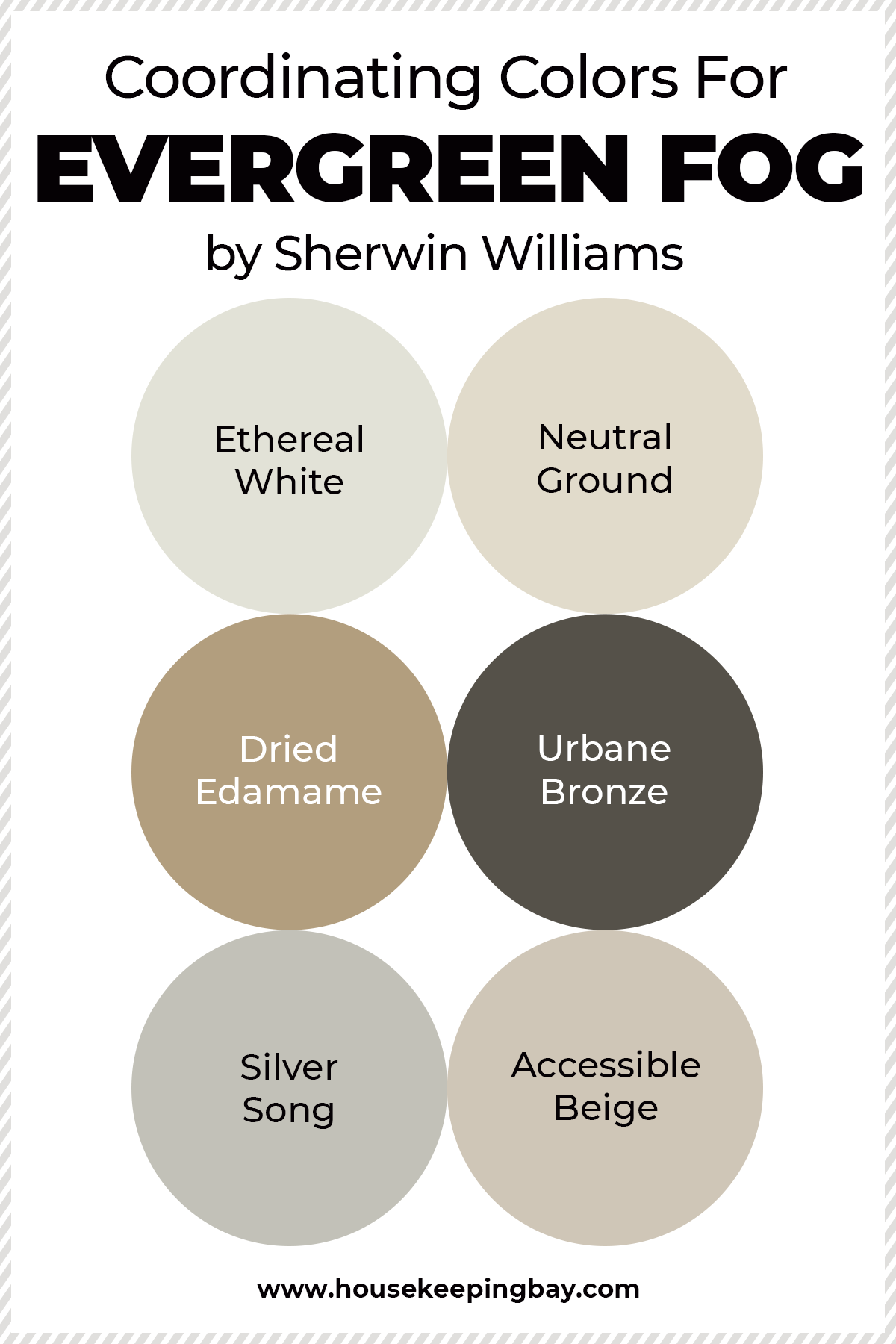 2021 COLOR TRENDS | SHERWIN WILLIAMS COLOR PALETTES | SANCTUARY
How Does Lighting Affect Evergreen Fog?
Lighting is an essential factor that must be taken into consideration when you are going to paint your interior walls with a neutral paint. See, neutrals can be rather sensitive to light which means that the same color will reveal itself differently in a well-lit and a poorly-lit space. Also, it matters whether the lighting is natural or not.
So to avoid any mistakes and not end up with the walls that will be constantly disappointing you, make sure you take into consideration a few handy tips regarding the Evergreen Fog application and lighting:
The color itself looks somewhat dark, but it will look much lighter in a room that has plenty of natural lighting!
If you apply this paint color in a south-facing room, it will reveal its grey green tones leaning towards sage green.
In case it is applied in a north-facing room, Evergreen Fog will look much darker, nearly as a deep muddy gray!
This is why we strongly recommend everyone test the paint you chose first before applying it all over the room. Like this, you will see how the color will work in this particular space and in this specific lighting.
What is LRV? Read It Before You Choose Your Ideal Paint Color
What Is the Best Trim Color of Evergreen Fog SW 9130?
Like any neutral color, Evergreen Fog by Sherwin Williams goes really well with trims. However, if you do decide on trimming, you will have to pick up the trimming color that your Evergreen will pop up with!
Depending on what effect you are planning to achieve, we can suggest a few alternative options of paint colors that will become excellent trim colors!
For creating a bold contrast, consider going with Alabaster which is a bright white with a greige undertone. Since it shares the same undertone with Evergreen Fog, these two will complement each other perfectly!
In case you are looking for a more muted combination, we would recommend you go with Shoji White which is another white with greige undertones. Only unlike the Alabaster, this one is way less bright having more creaminess in it.
With these trimming colors, Evergreen Fog will reveal itself to its best making your room look both stylish and cozy.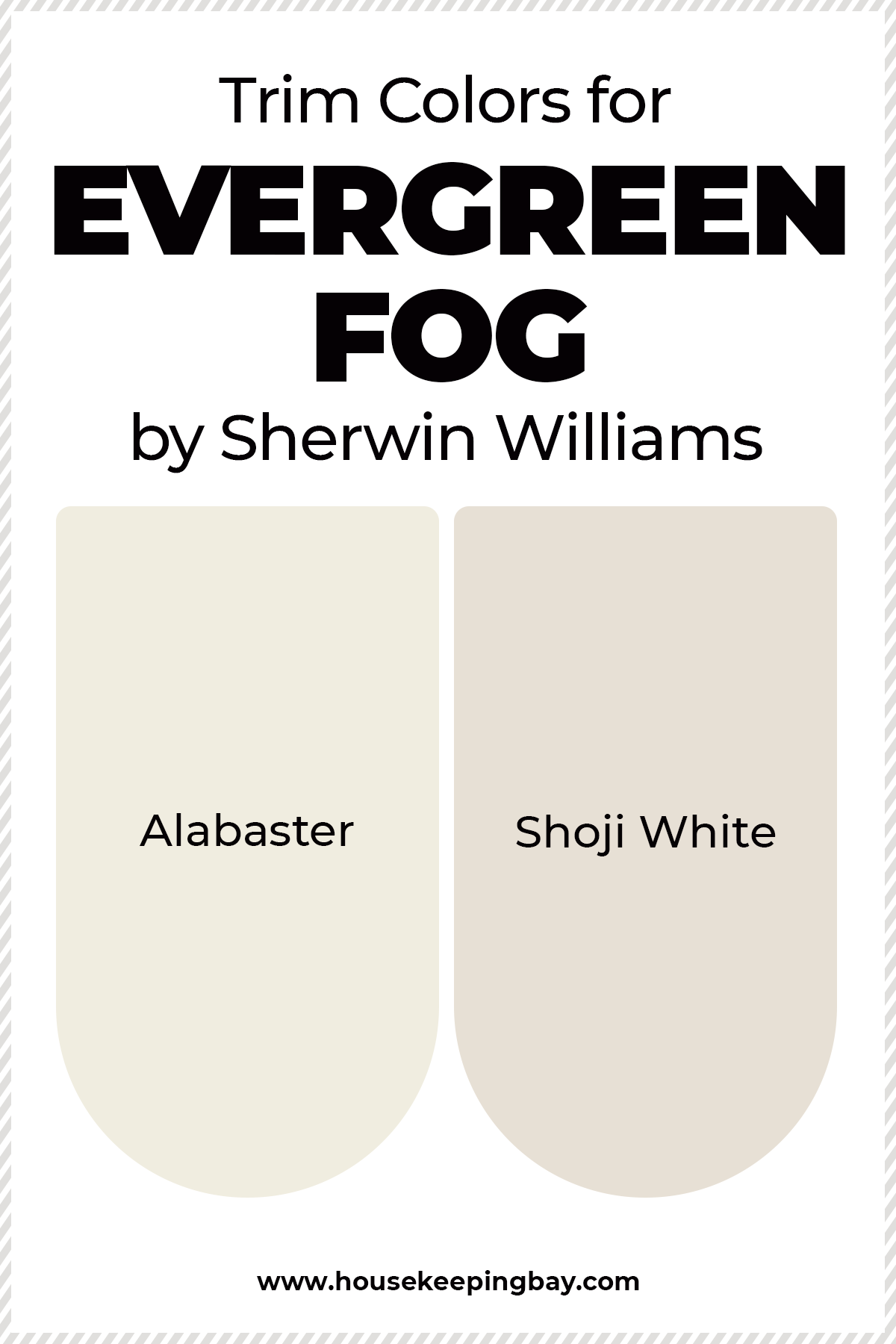 Where In Your House Is It Best to Apply of Evergreen Fog SW 9130?
Since Evergreen Fog belongs to neutral paint colors, it can be considered pretty versatile. It can be combined with quite many other colors, as well as used in many different rooms in the house. However, unlike greiges, this color must be used with extra care in terms of lighting of the space you are going to use it in!
And just to show you how versatile it is, check out what rooms will surely benefit from having their walls painted with Sherwin Williams Evergreen Fog:
living room
bedroom
bathroom
kitchen
It can even be used for painting your kitchen cabinets and – just imagine that! – for the exterior paint works!
Evergreen Fog In Your Living Room
When applied in the living room, SW Evergreen Fog can work really well as an accent color. It is dark enough but not too dark at the same time. And also, this green gray paint will work successfully with quite many other colors both on the walls and in the interior.
However, take the lighting in your living room into account before you start painting the walls! See, if your living room faces north, Evergreen Fog may look much darker than it looks in a south-faced space.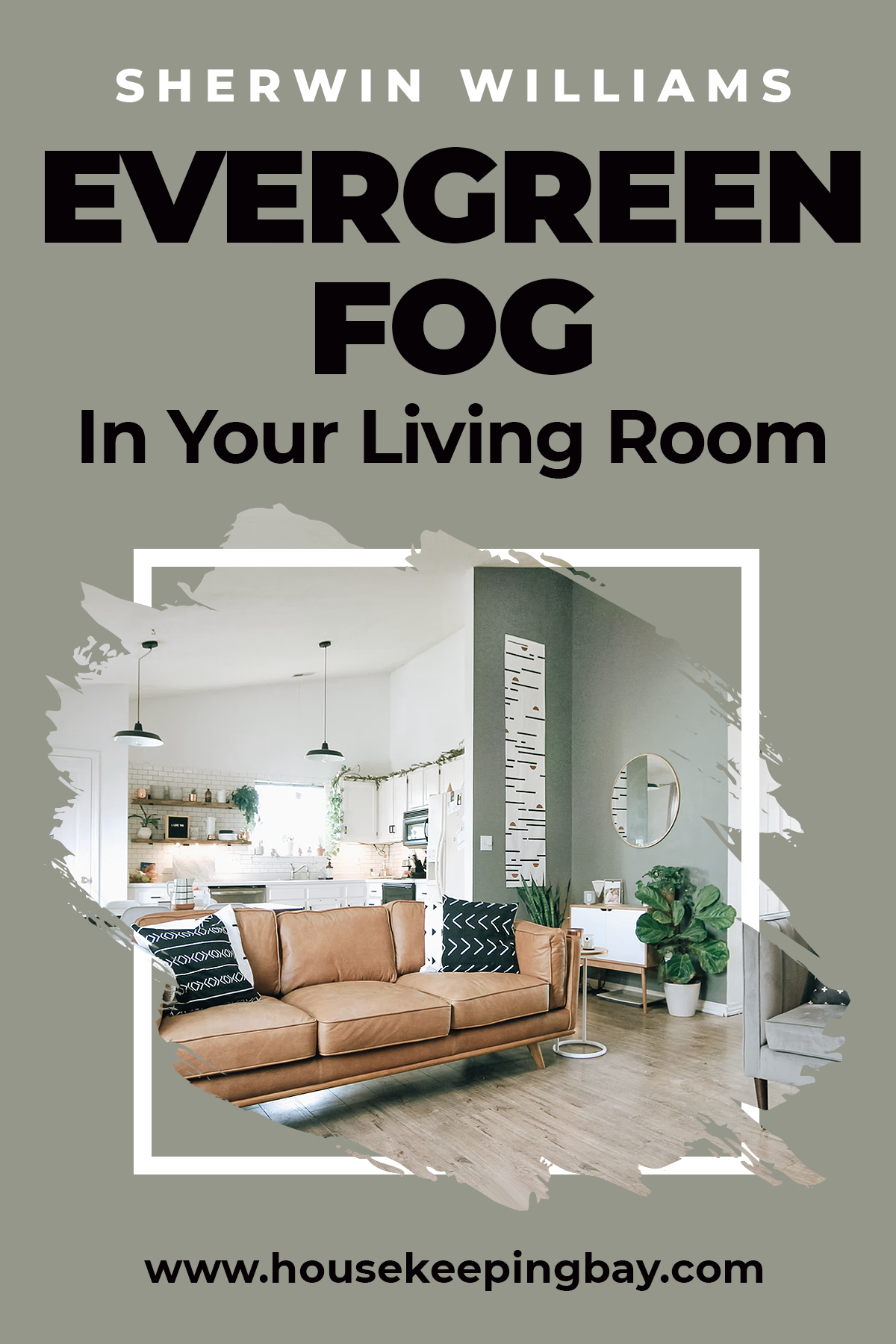 Evergreen Fog In the Bedroom
When thinking of this color used in a bedroom, most of you would probably feel somewhat puzzled. Isn't it too dark for this kind of space? However, if the lighting is proper and if you like such earthy greenish tones on your walls, you will find Evergreen Fog an ideal match for your sleeping space!
By the way, those who really enjoy this type of colors in their bedrooms say that this particular paint, if applied in a bedroom with plenty of daylight, does make it feel like you are sleeping in a forest!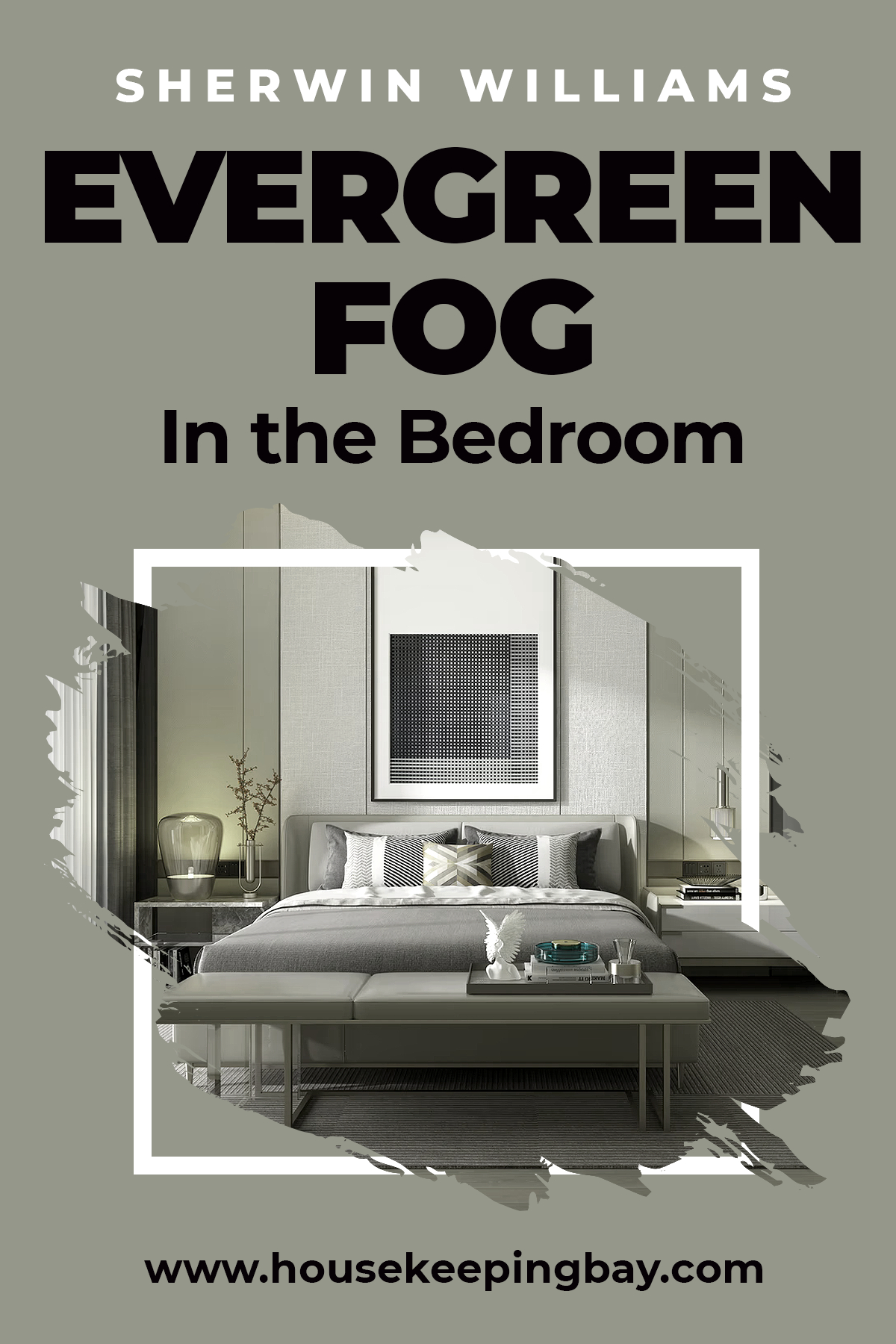 Is Evergreen Fog Suitable For the Bathroom?
The bathroom is another space that can win from being painted with Evergreen Fog. We are more used to painting bathrooms with much lighter colors, that's true, but this paint, if applied correctly with the proper lighting being used, can create quite an interesting effect on your bathroom walls!
Pair it with brassy decor elements, wooden items, and green plants, and your bathroom will transform into a bohemian-like space.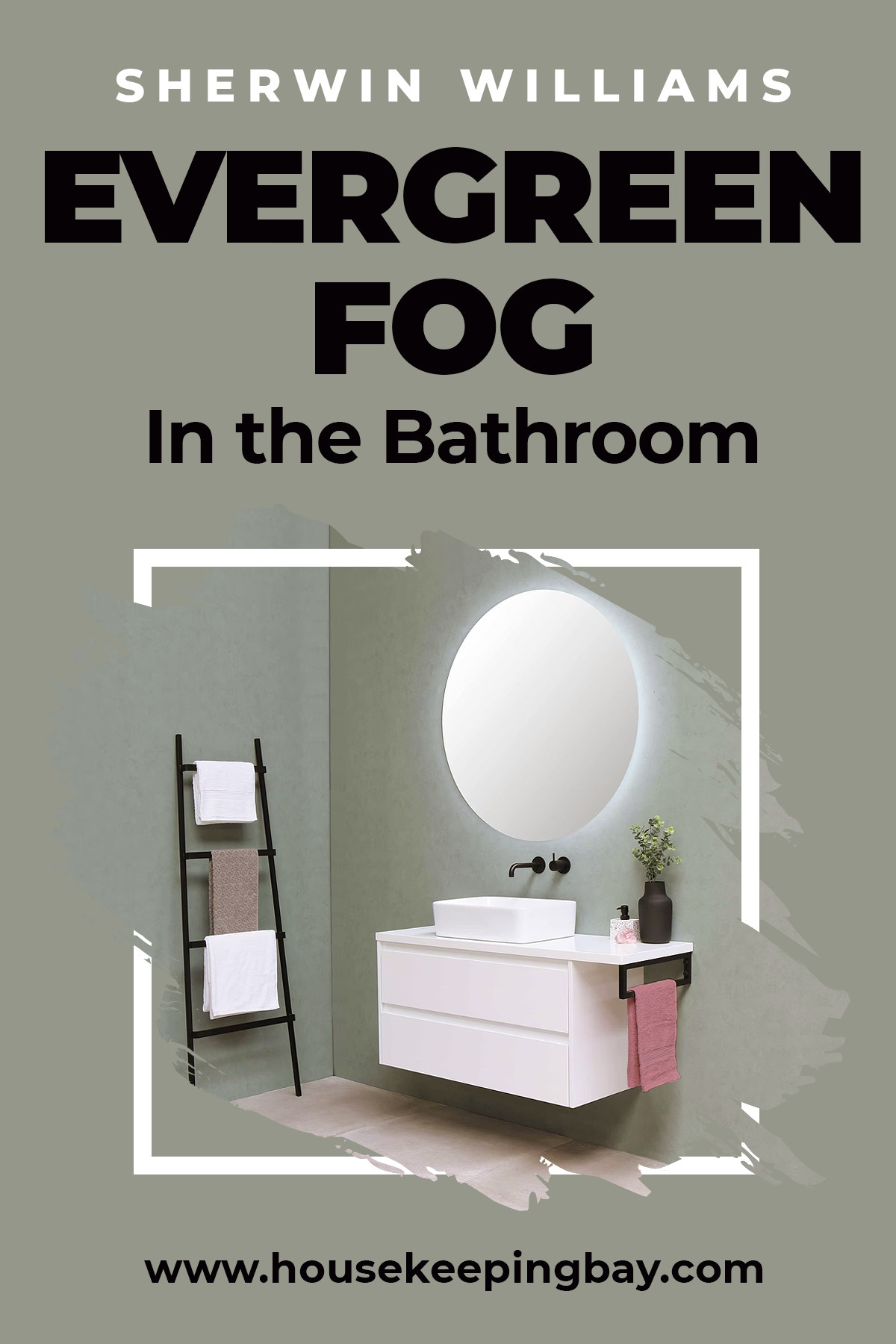 How Will Evergreen Fog Work On Kitchen Cabinets?
You may not want to paint all your kitchen this green-gray color, but you can touch your kitchen cabinets with it to create color accents here and there around the room. And if your kitchen walls are painted white, or any of greiges they will pair with this earthy greenish color exceptionally well!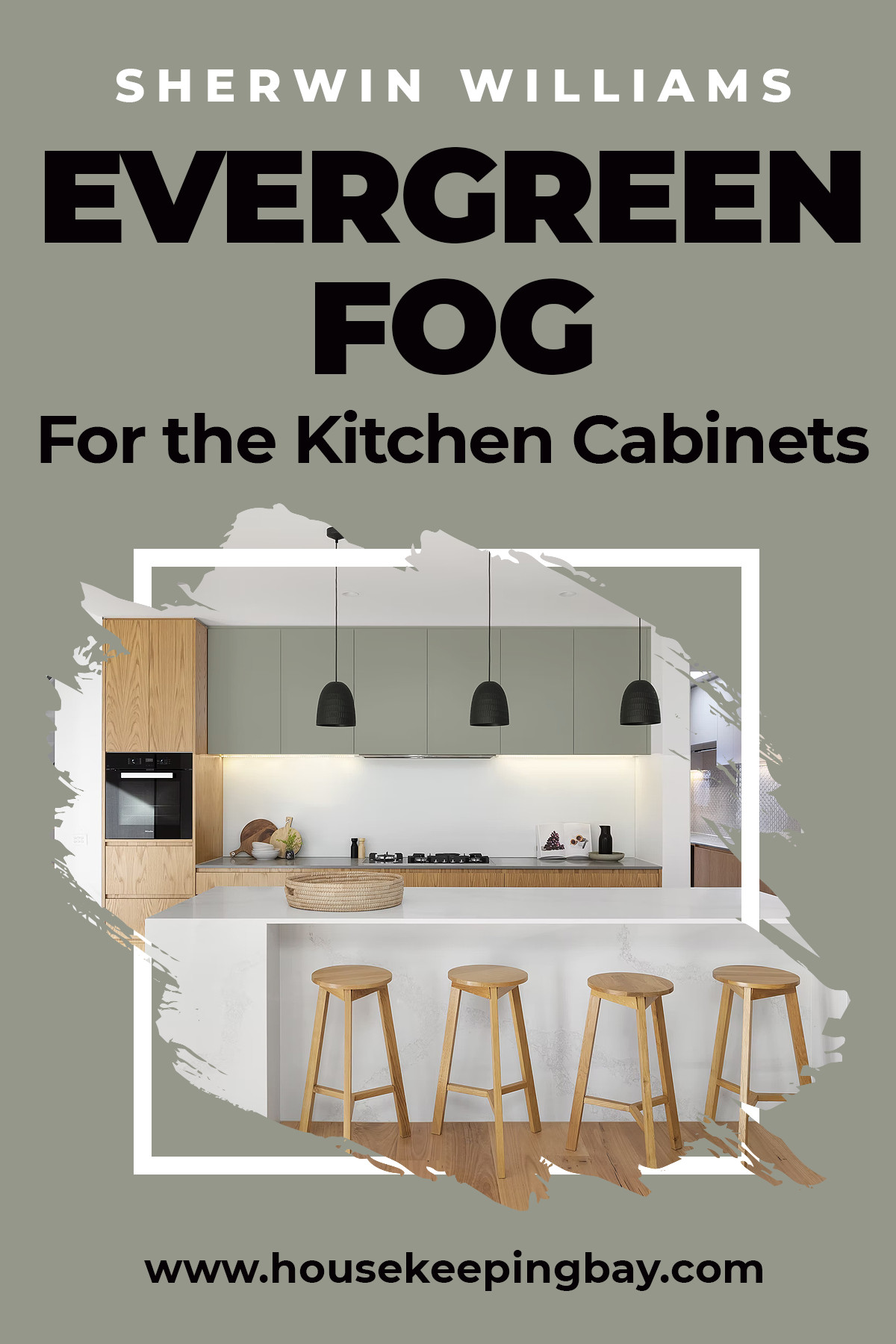 Exterior Use Of Evergreen Fog
This paint by Sherwin Williams is so beneficial also because it can be used on your house facade as well! Moreover, it will work both as a trim color and as an all-over color. However, do please take into consideration that, if you live in the area with mostly cloudy and dull days, a house painted with Evergreen Fog may look somewhat too dark.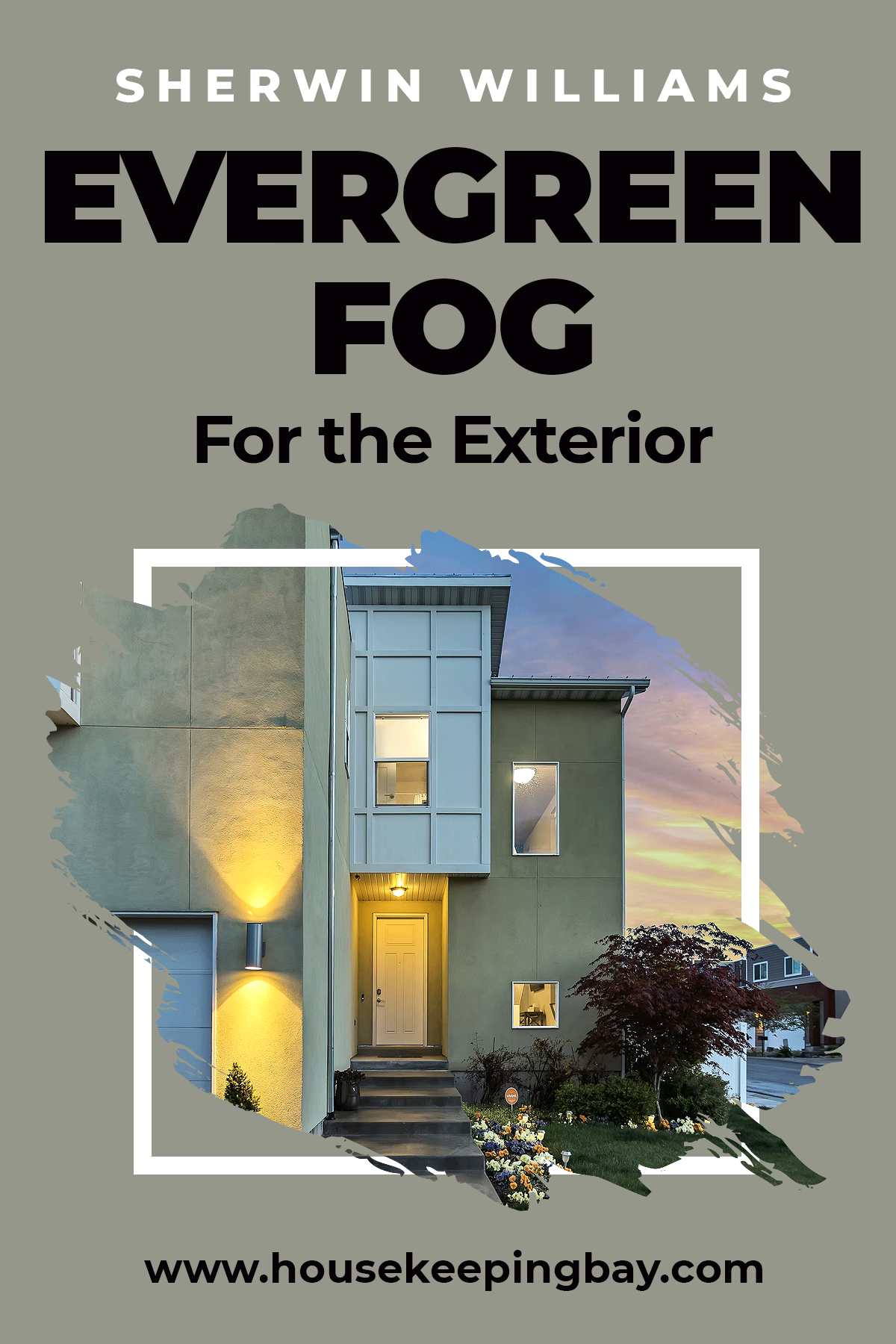 How Well Does Evergreen Fog Work With Other Colors By Sherwin Williams?
If you already have rooms in your house painted with other neutrals and/or greiges, picking up the color that will harmoniously pair with them will always be a challenge. To help you manage and create a balanced ensemble, we prepared descriptions for a few paint color pairs that have Evergreen Fog and that will work great with each other.
Like with every paint colour, We highly recommend using SAMPLIZE.  Samplize is a peel & stick paint sample that you can easily move around your room for over HALF THE COST of traditional samples – and they deliver right to your front door!
Evergreen Fog vs Acacia Haze
If we compare these two colors by putting them side by side, we will see that Acacia Haze (get a sample) looks somewhat more gray in comparison to its counterpart.
Evergreen Fog, on the contrary, shows more of green tones in it looking dustier, earthier, and warmer.
They can be used together, but only if applied on different surfaces.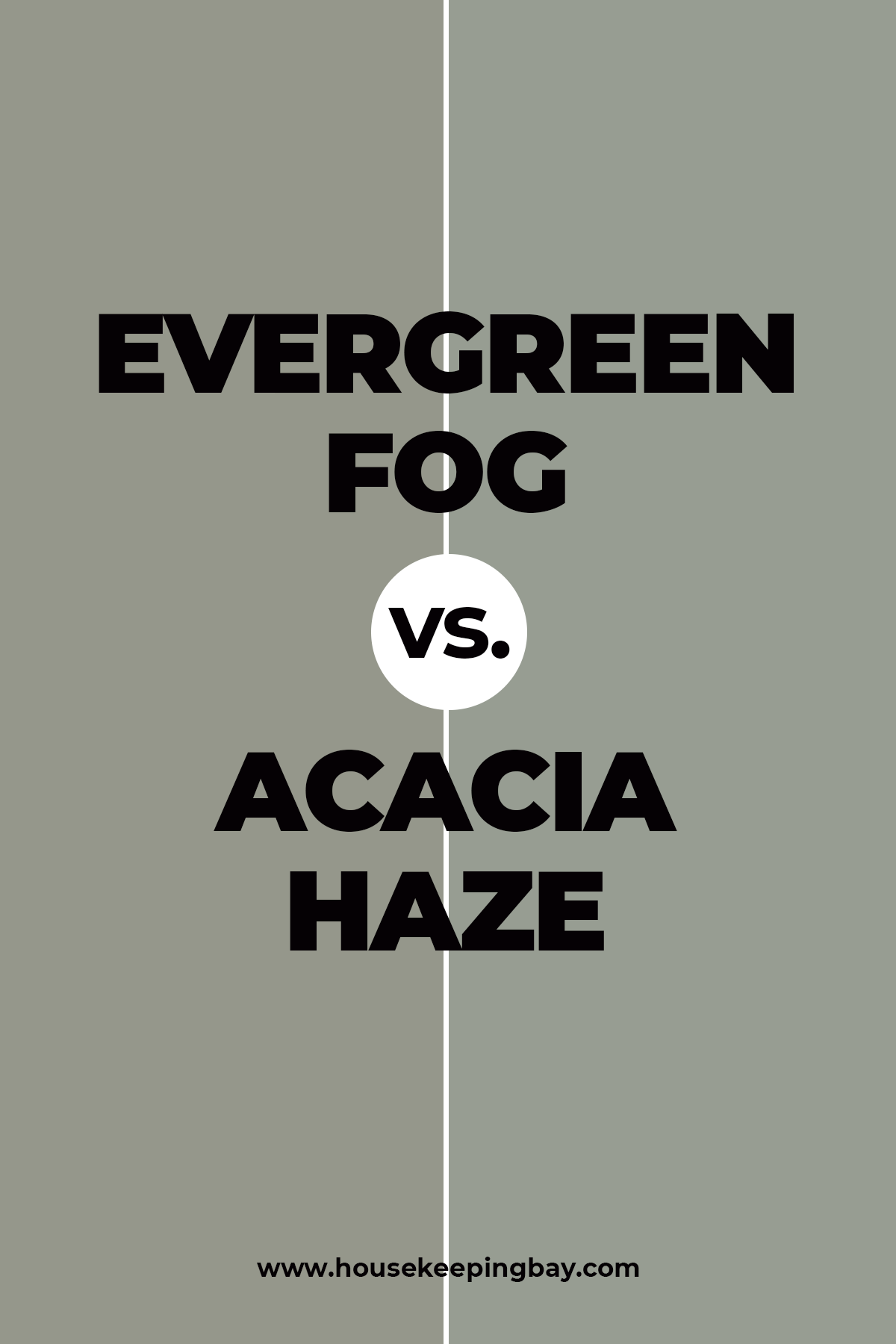 Evergreen Fog vs Oyster Bay
Oyster Bay contains more gray tones in it than Evergreen Fog which is significantly greener and earthier. In addition, Oyster Bay  looks much cooler than its more warm "colleague".
But in general, these two can be successfully used together and even on the same surface. (get a sample of Oyster Bay)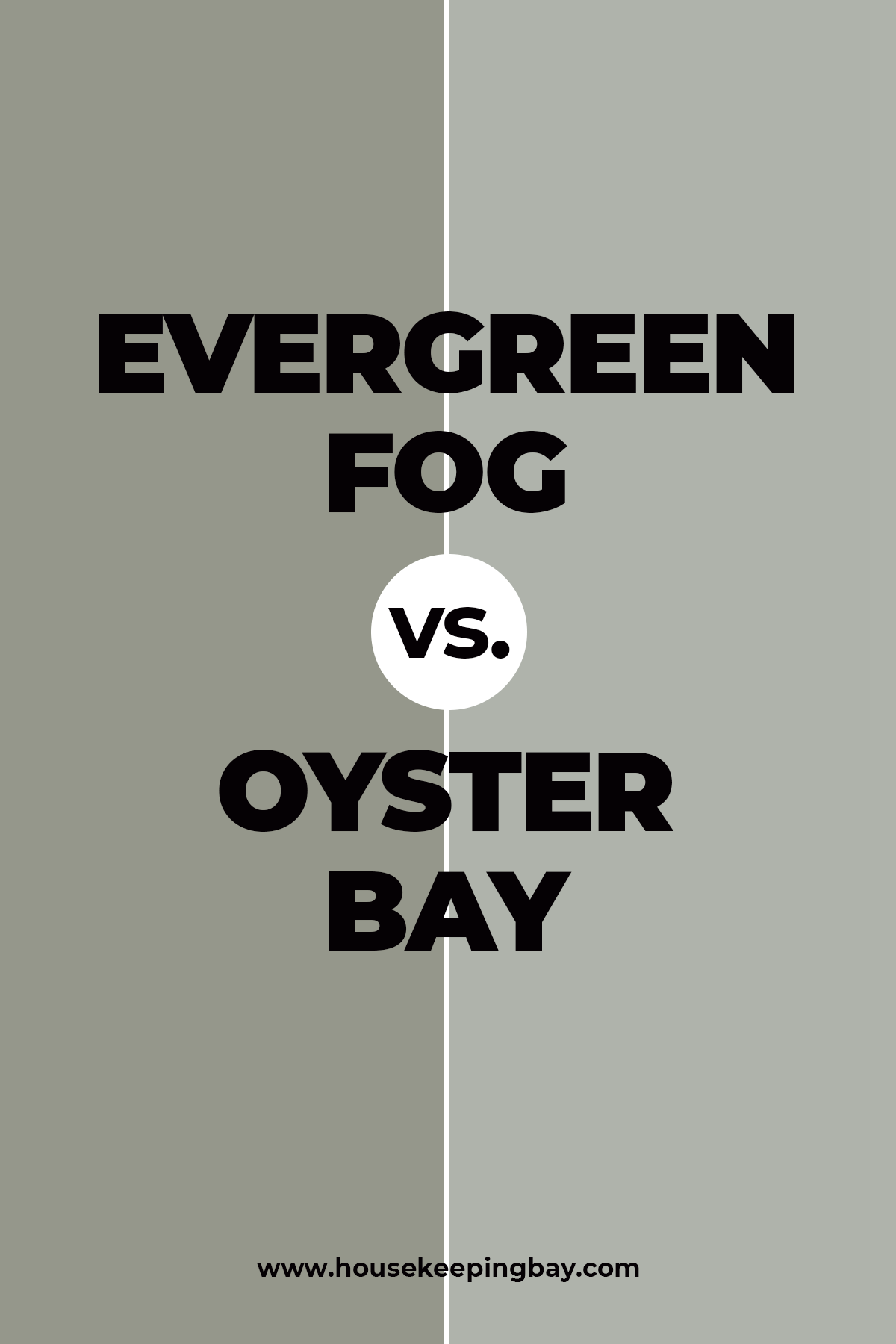 Evergreen Fog vs Retreat
Retreat by Sherwin Williams reminds of Evergreen Fog only being noticeably darker with much more pronounced green tones in it. Since they are pretty much alike, using them both in the same room makes no sense, but if you are looking for a warmer and deeper color for your walls that has leafy tones, consider taking Retreat into account! (get a sample of Retreat)
So, now you have learned almost everything about the Sherwin Williams Evergreen Fog paint color, its use, color "anatomy", and its strong and weak sides.
We told you what colors it can be paired with better than with others, and also, you are now aware of all the possible places this paint can be used in your home!
With that in mind, you will easily pick up matching paint colors to turn your house into a stylish, modern, and cozy space that you will always enjoy staying in.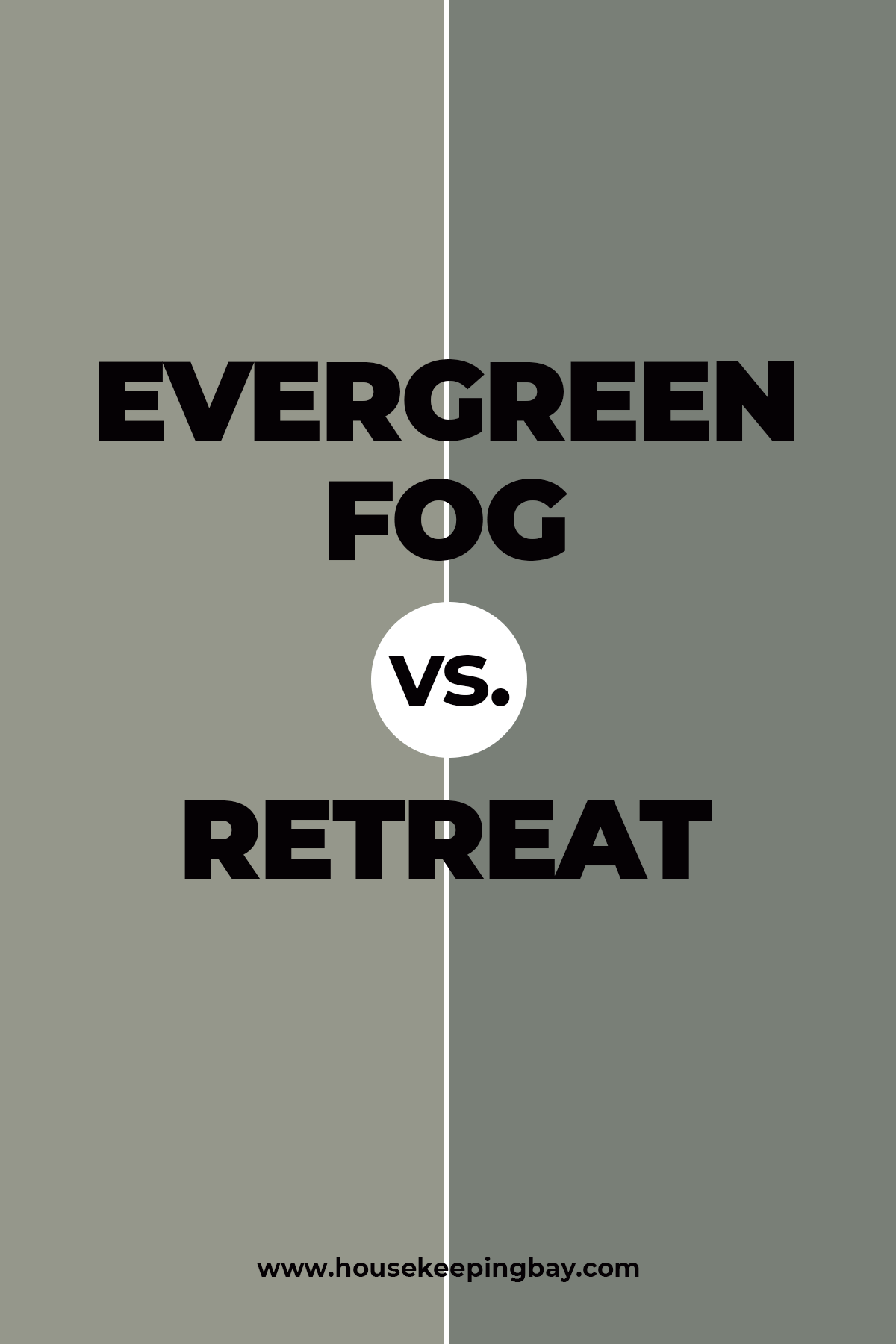 Frequently Asked Questions
⭐ Does SW Evergreen Fog belong to greiges?
No, it's neutral that has greige undertones.
⭐ Can SW Evergreen Fog be used in the toilet room to paint the walls?
Only if your toilet is rather spacious. Otherwise, the color will make a small space look even smaller.
⭐ Can I paint my garden furniture with Evergreen Fog?
Since this paint can be used on facades, we assume it's ok if you use it for what you have just said.