As probably all of you folks know here, starting a home renovation project that requires a paint job is, of course, exciting, but also, it is a very responsible and effort consuming stuff.
Not only because you need to calculate how much money will be needed for embodying all of your creative design ideas, or because you need to buy a lot of tools and other stuff you will use.
There is another essential concern which is the color that will be applied onto your walls!
And since most of us have a very slight idea (or no idea at all) about the paint colors and their "anatomy", today we are going to introduce you to one of the colors of a famous brand called Sherwin Williams. This color is called Natural Tan.
We will tell you what type of color it is, whether it belongs to cool or warm toned colors, what its undertones are, and many more useful information that you could use when choosing what paint color will be the most suitable for your interiors.
You will find out how this color reacts to light when being applied onto the walls, in what rooms it will look better than in others.
What Kind Of Color Is SW Natural Tan?
If you try to classify Natural Tan paint color by Encycolorpedia, the most correct category for it will be to call it a warm and beige-inspired paint color.
However, at the same time, you can't say that this color possesses the same warmth as many other beiges that we all know and that are so much popular these days.
In general, Natural Tan paint color by Sherwin Willaims also belongs to neutral colors which means that it is pretty versatile in terms of its use in your home and interiors.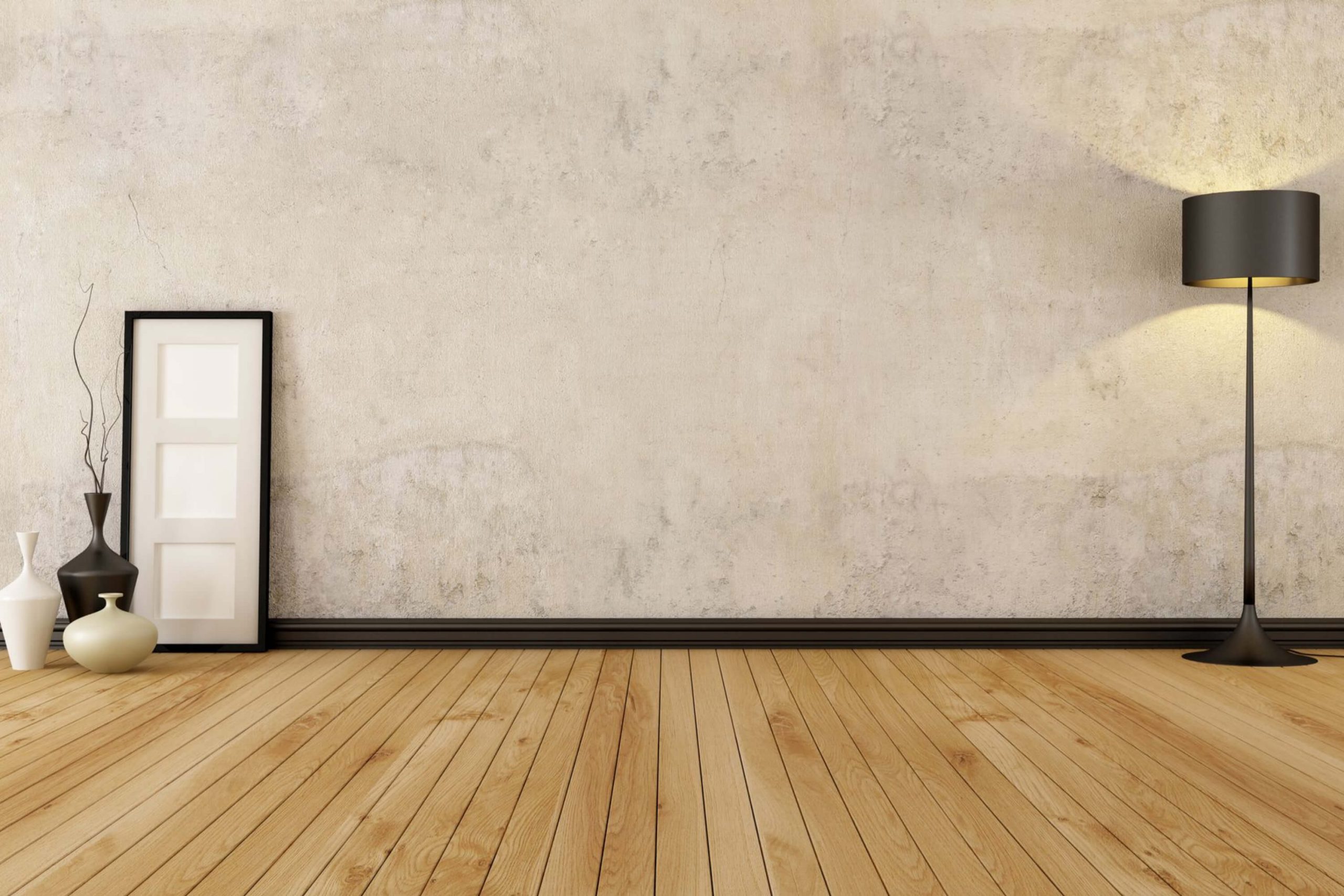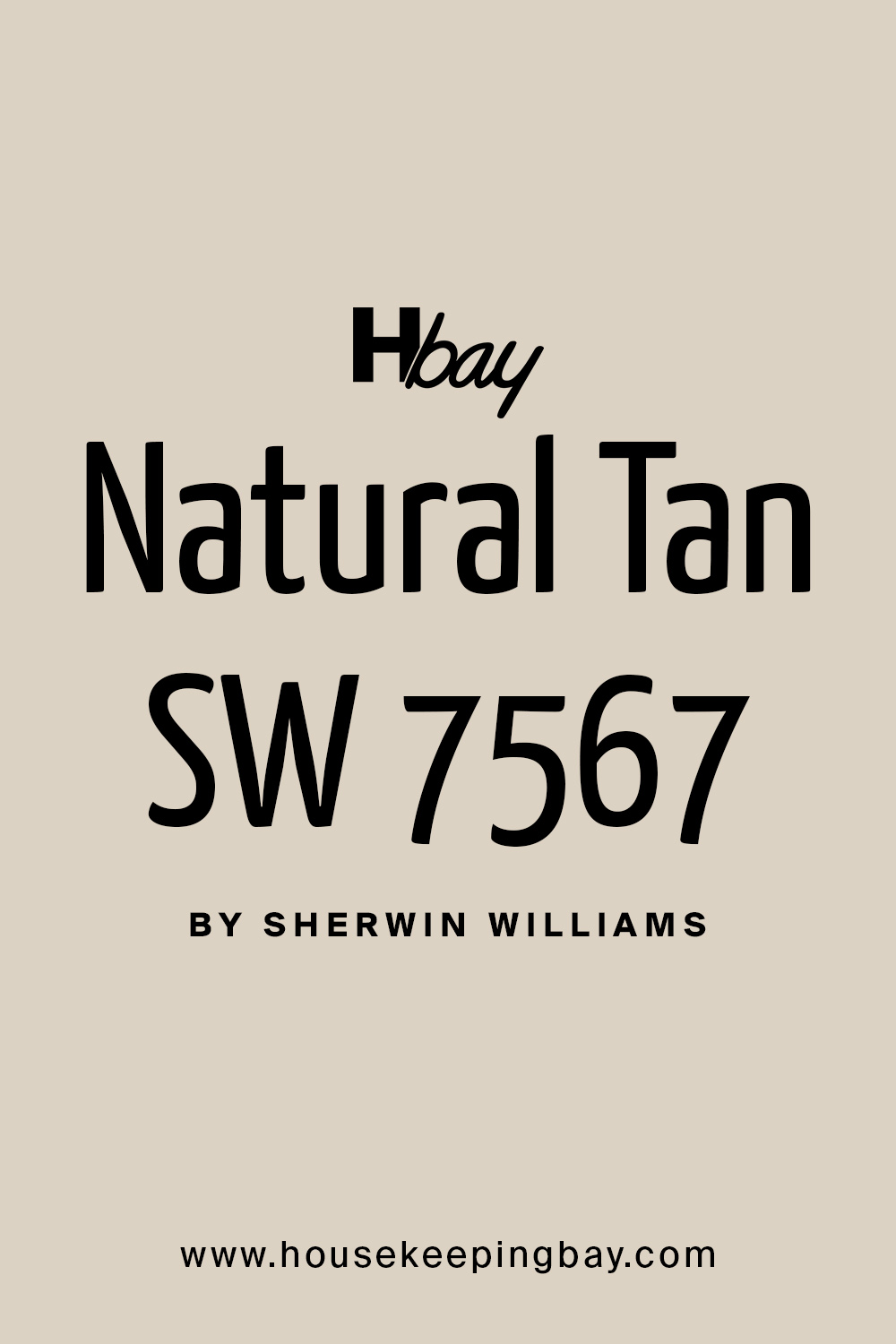 SW Natural Tan Undertones
Undertones is what shows up in a most inconvenient moment and what is a major headache of the most homeowners and home painters!
They are the tones that are sort of hidden deep in a paint color showing up under the certain circumstances, such as different types of light.
Some colors have one or two undertones whilst others may have several! Of course, it makes them way more difficult to use!
As for the SW Natural Tan paint color undertones, this color is very neutral and we would even say subtle in the way it looks.
It will rarely flash some light greenish undertones now and then which is not that bad. In comparison to some other colors, Natural Tan is a real find!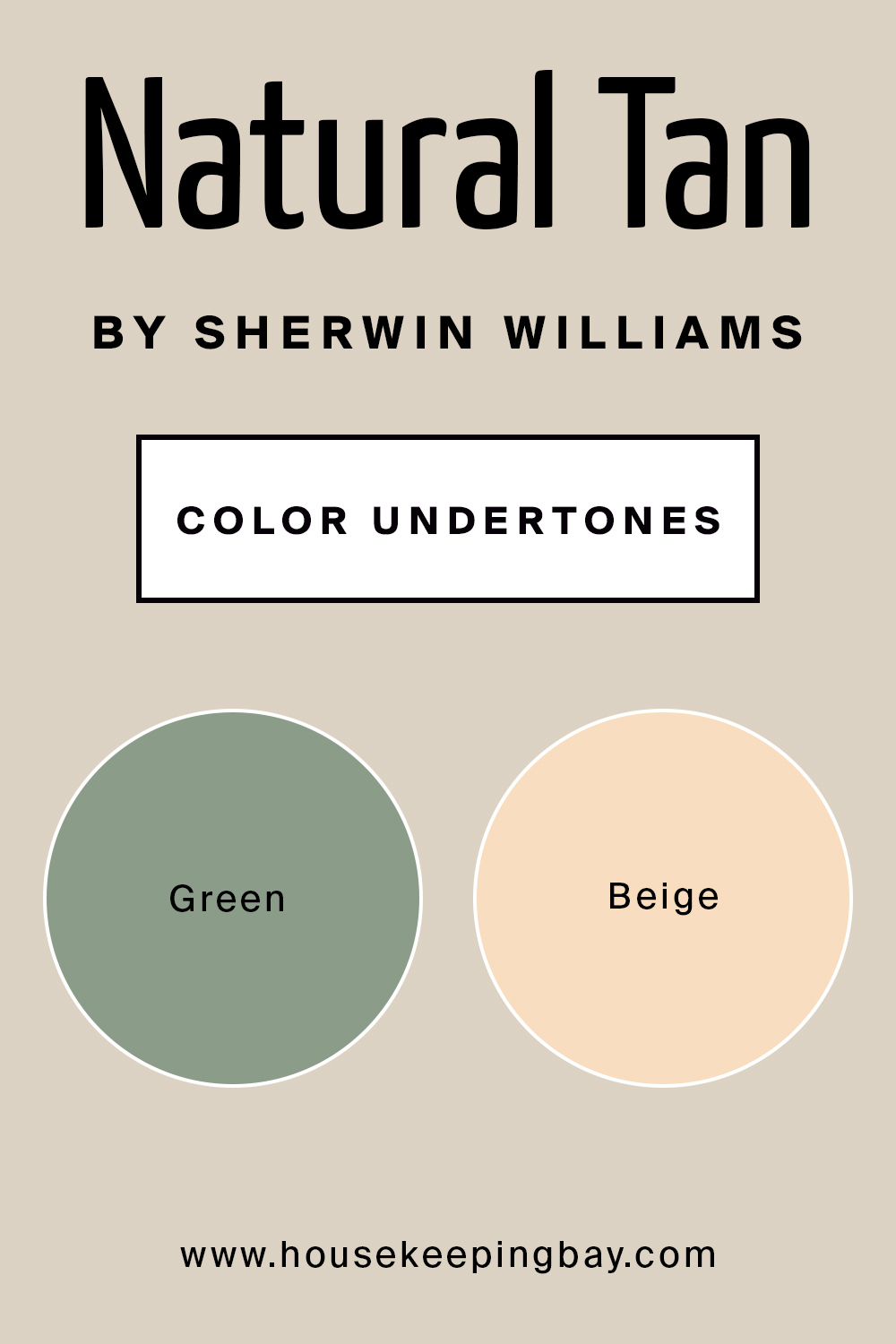 How Does Lighting Affect SW Natural Tan Paint Color?
An LRV (light reflectance value) of Sherwin Williams Natural Tan paint color is 65 which means it is higher than average.
It makes natural Tan a "light" depth paint color.
And since this color belongs to the family of neutrals, it has the same features and characteristics as other "relatives".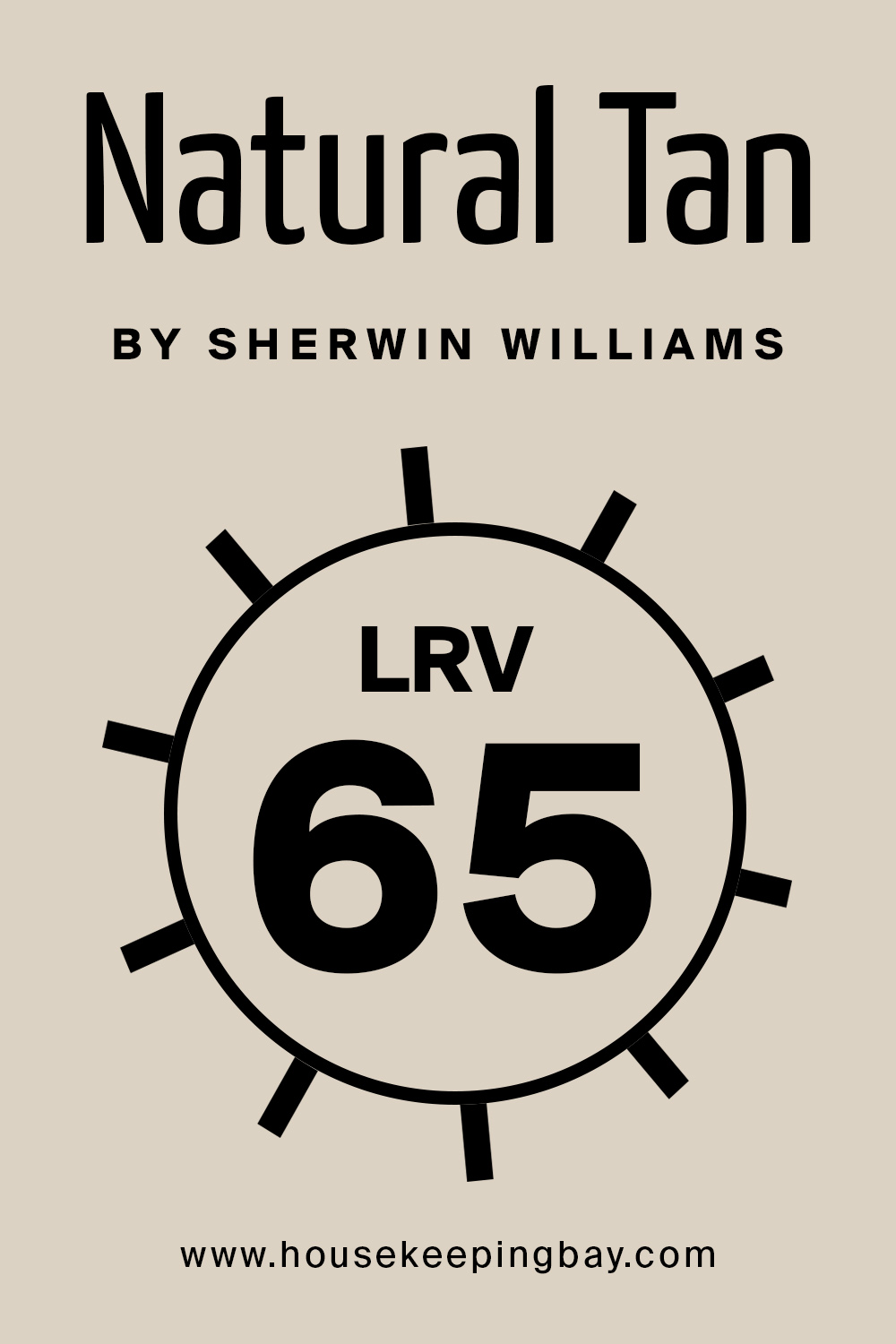 For example, if you have north-facing light, or afternoon eastern or morning western light in a room where you plan to apply this color, you may see Natural Tan lean that touch grayer or flatter looking.
However, being lit with a south-facing or afternoon western sunshine, this paint color offers a passive warmth to an already warm-looking room.
So, now you know a bit more about this paint color and some basic characteristics of it, for example, its light reflectance value and undertones.
And now we can move on to a more detailed description.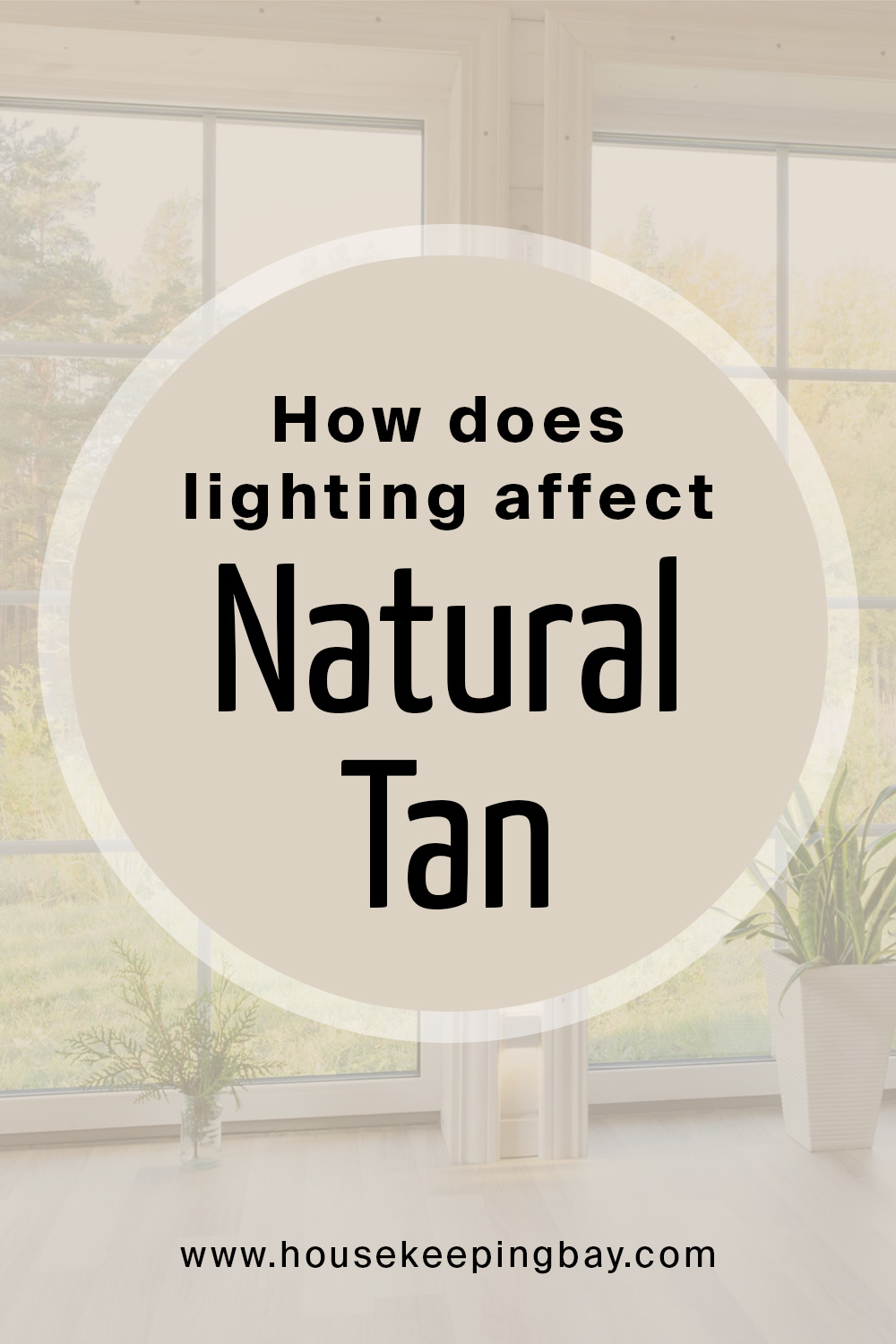 What is LRV? Detailed Guide
What About the Coordinating Colors of Natural Tan  SW-7567?
If you are looking for the best color to coordinate it with SW Natural Tan, we would recommend you take a closer look at the French Moire (SW-9056) color by Sherwin Williams.
Even though it is prominently blue, it creates a surprisingly harmonious pair with neutral Natural Tan!
Also, if you are looking for the similar colors that are within the same group of colors as Natural Tan, take the following suggestions into consideration:
SW Westhighland White SW-7566
SW Rare Gray SW-6199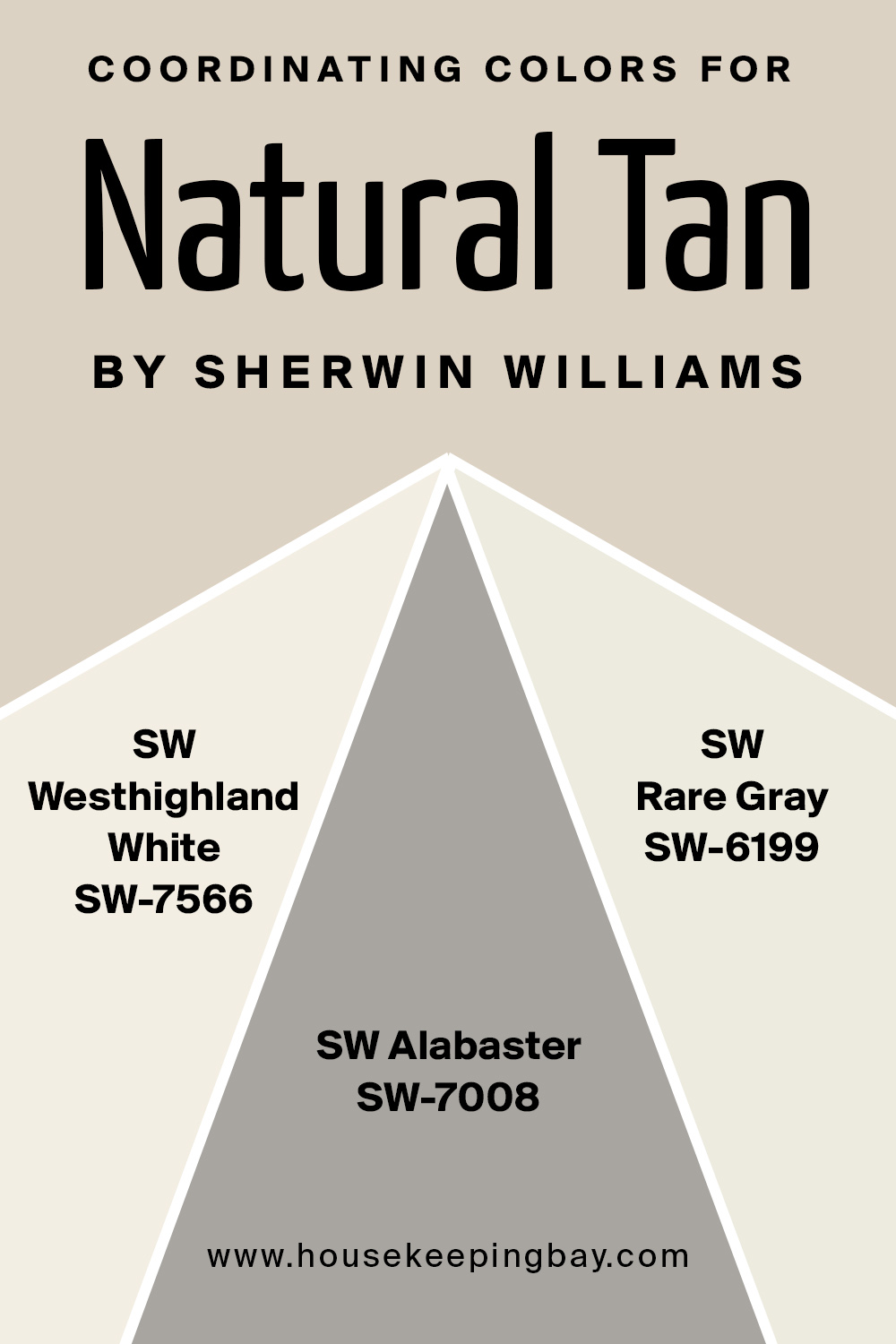 Is Natural Tan Paint Color SW-7567 a Warm Or a Cool Color?
If you have been wondering whether SW Natural Tan is a warm or a cool toned color, the answer is: it is definitely warm!
This color that is often considered to be one of the neutrals, and that also has a subtle beige-inspired palette looks like a warm and rather light beige.
But in certain types of lighting, it is able to reveal a slight hint of its greenish undertones that, nevertheless, don't ruin the cozy feeling this color gives.
What's the Best Trim Color of Natural Tan Paint Color SW-7567 ?
As with many other neutrals and even beiges, white is an ideal choice for a trim color, especially if you are not too good in choosing colors or switching between the shades.
So if you are looking for a proper and matching trim color for your Natural Tan walls, we would recommend you check out one of the following paints:
High Reflective White by Sherwin Williams
These two will create the most harmonious duo with this perfectly neutral beige with greenish undertones.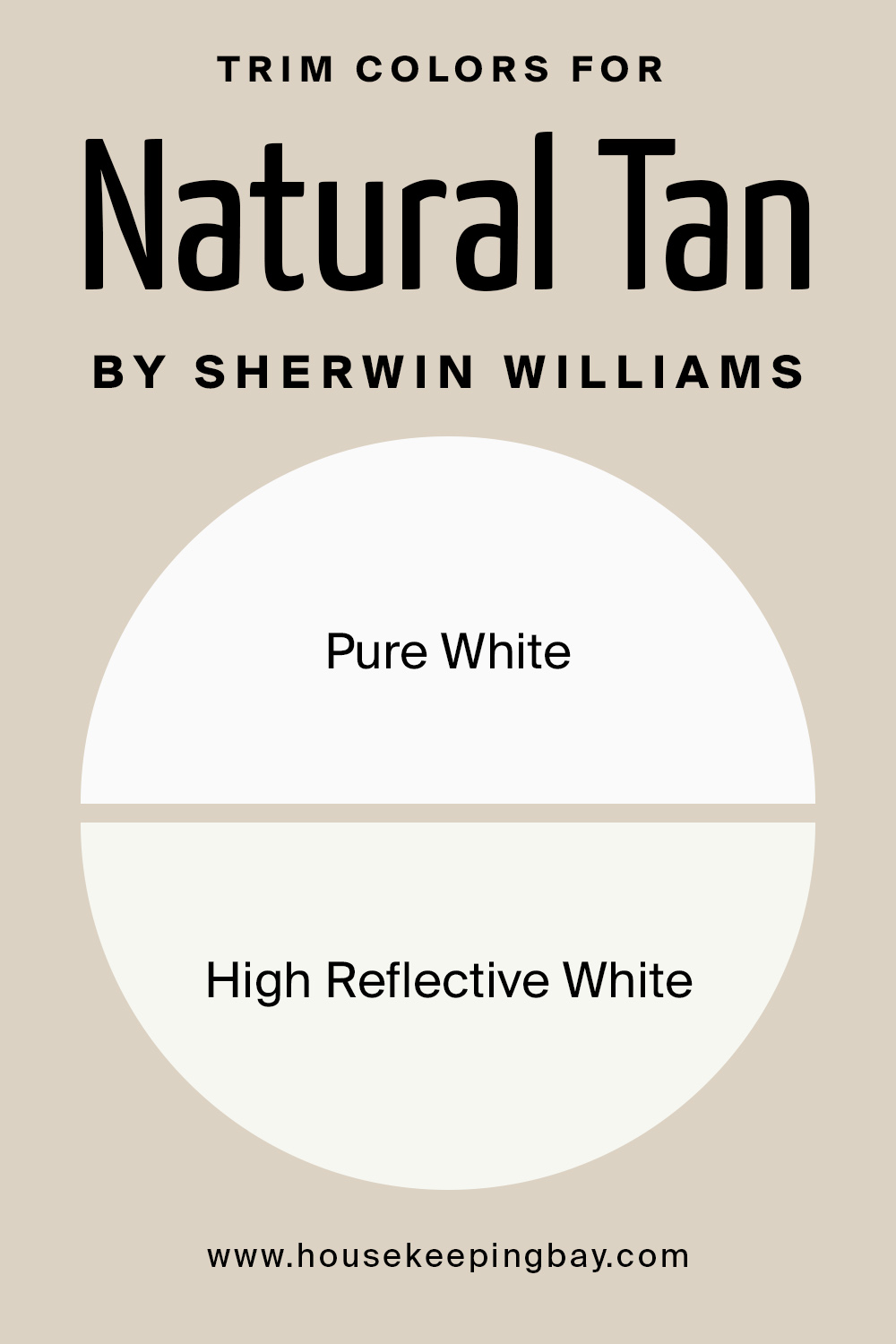 Related: Sherwin Williams White Paint Colors | Detailed Guide
Paint Colors Similar to Natural Tan
Sometimes we might want or even need to use another color, not the one that we chose initially.
The reasons for that could be different, from the paint being absent in a store and to the sudden change of mind.
No matter the reason, if you decide to use another color instead of Natural Tan but you want that color to still look as close to the Sherwin Willaims paint as possible, we would recommend you check out White Sand by Benjamin Moore.
This is going to be the closest match!
However, this is not the only paint color that is similsar to Natural Tan. You can also opt for one of the following alternatives:
Natural Linen SW-9109
Kestrel White SW-7516
Dumpling SW-9616
Taupe Of the Morning SW-9590
Rivers Edge SW-7517
Symmetry SW-9601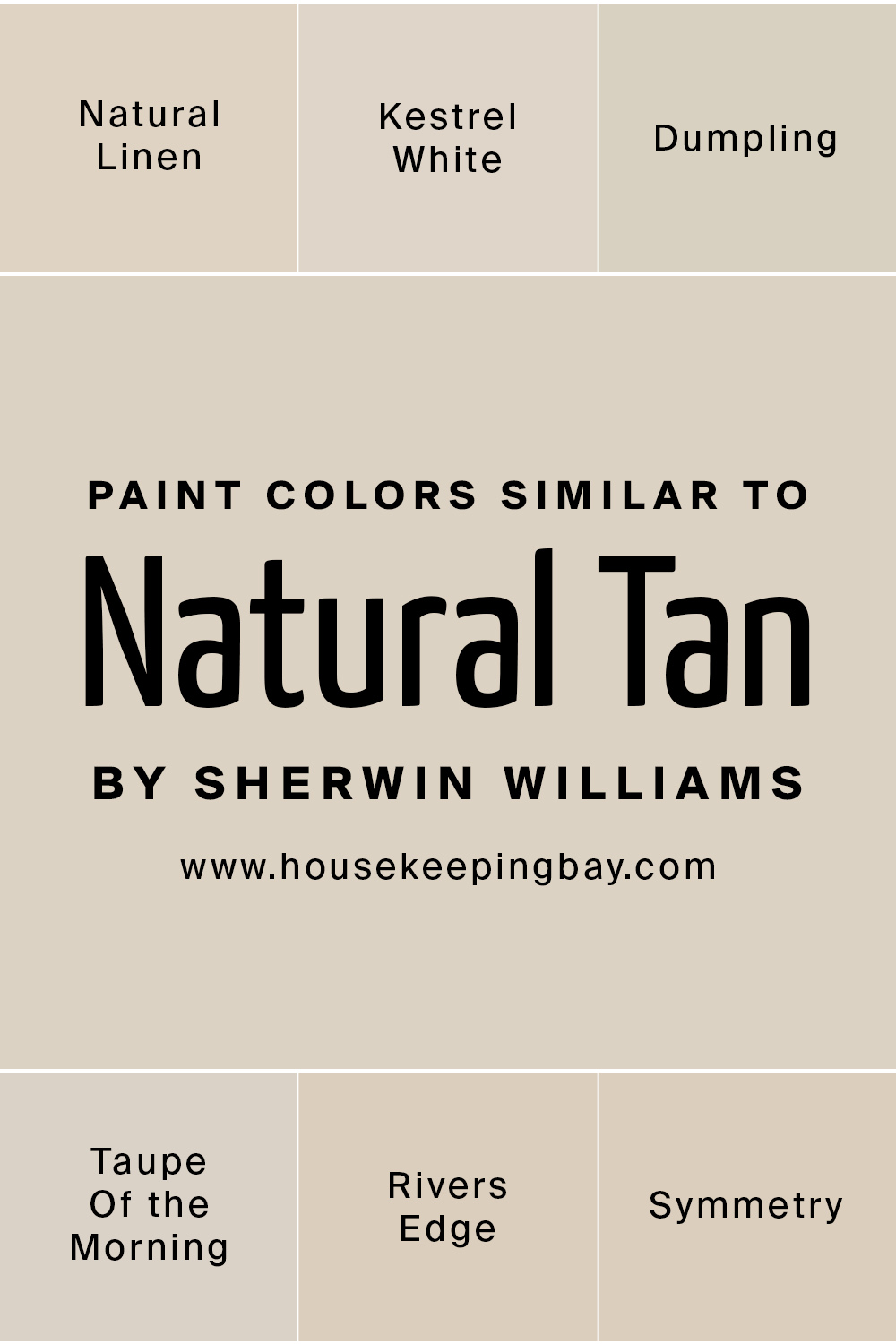 Where Natural Tan Paint Color SW-7567 Can Be Used In Our Homes?
When the time comes to define what room the paint color should be used in, many of us may feel puzzled and unsure. And the issue is often not in the color itself – we simply have no idea how well this or that shade will look, let's say, in a nursery or in the kitchen!
How suitable will it be in that particular space?
So if you have been hesitating about the same thing regarding the Natural Tan, we have something to tell you!
Natural Tan Paint Color SW-7567 in the Living Room
This color is one of the best colors to use in your living room! Its warm and delicate nature and subtle appearance make this room look cozier, and if your living room is initially very spacious and you'd like to make it visually look a bit less large, this color will be a great help!
Natural Tan Paint Color SW-7567 in the Cabinets
On cabinets, Natural tan also looks great, especially when paired with warm white trims and/or brass or golden elements (such as handlers). Of course, you should consider other colors in the same space, but in general, this neutral will suit most of them easily.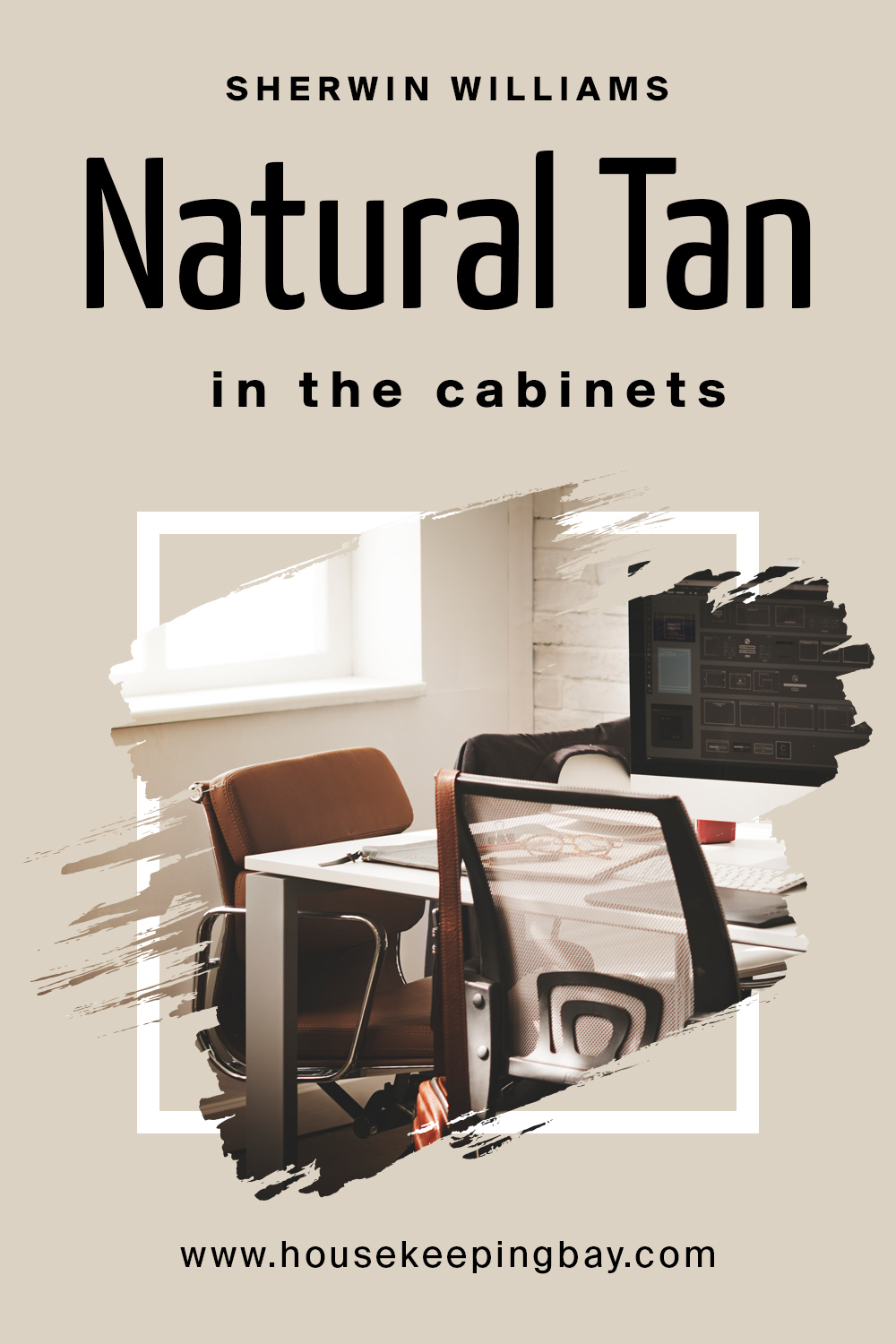 Natural Tan Paint Color SW-7567 in the Kitchen
As for the kitchen, this color is most often used for painting the cabinets rather than the walls.
But it does not mean that it's forbidden to apply it there!
If your kitchen has plenty of daylight, and its color palette allows you to use this neutral, go ahead and do it!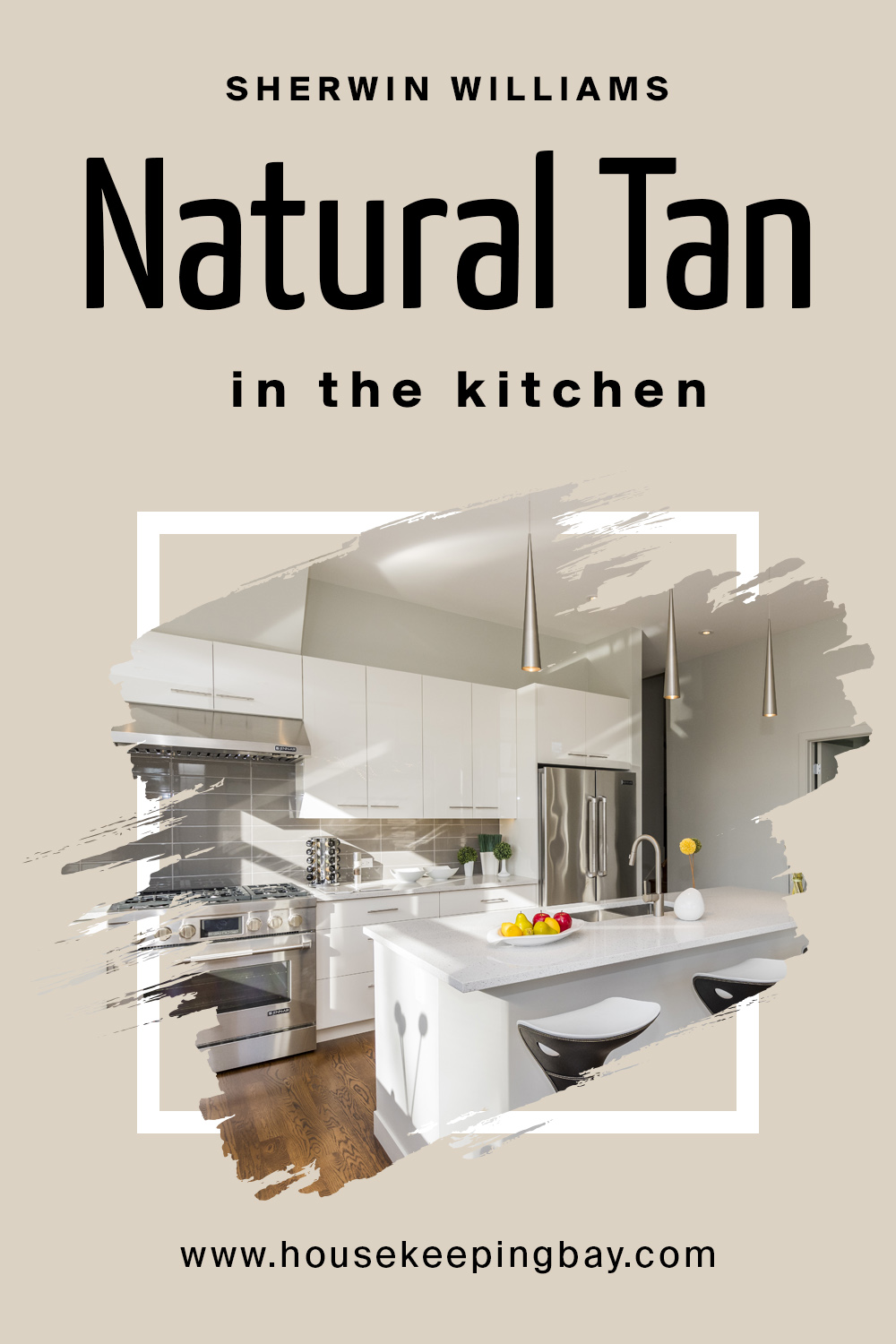 Natural Tan Paint Color SW-7567 in the Bedroom
For bedrooms, this warm and calm neutral with beige notes is an ideal choice.
It will look especially great with wooden furniture (dark wood would be the perfect match!) and golden decor elements.
Warm light from your bulbs and night lights will also look very harmonious in such a space to create a relaxing and soothing vibe.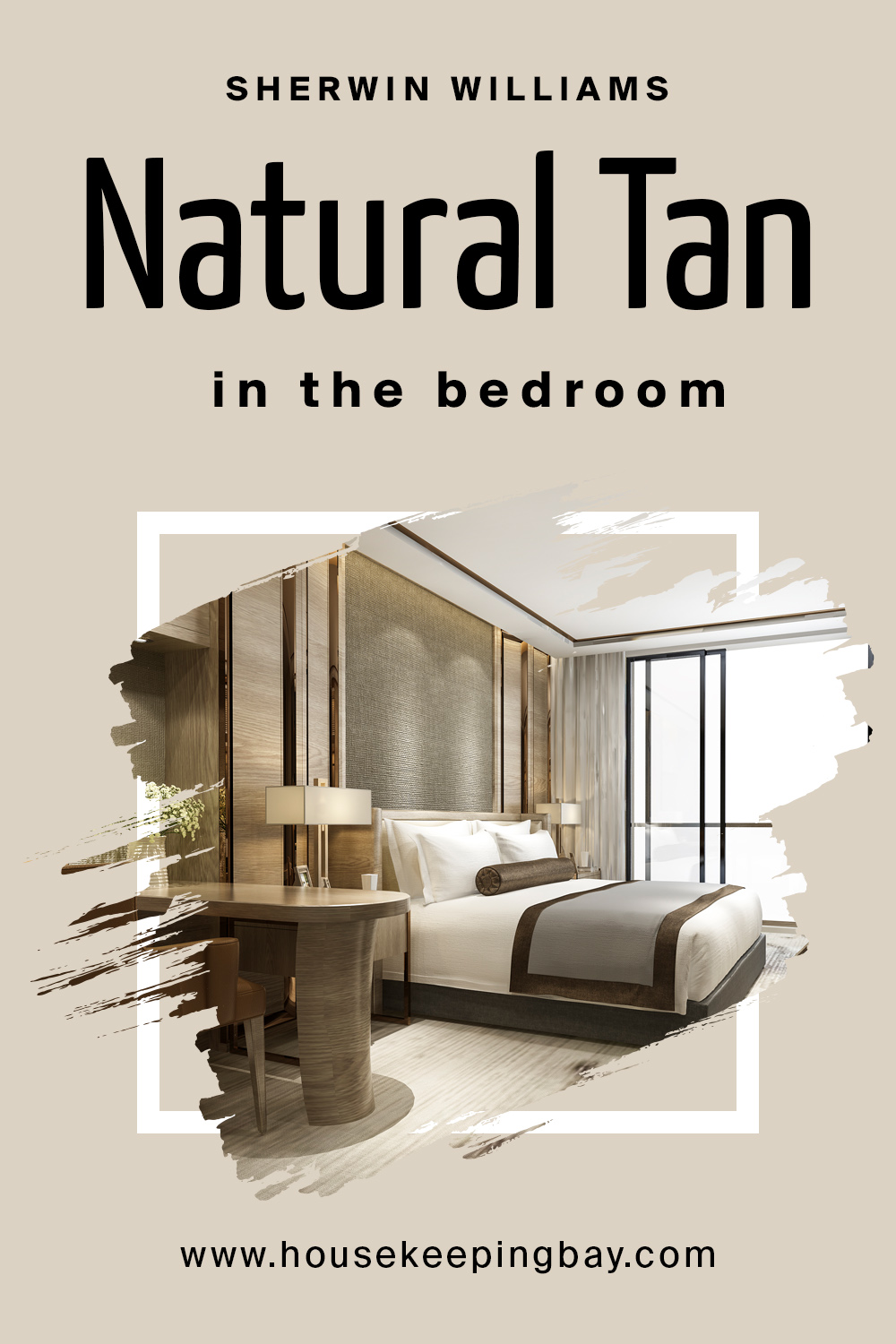 Natural Tan Paint Color SW-7567 for the Exterior 
If you wonder whether Sherwin Williams Natural Tan paint color can be used for the exterior walls, the answer is yes. It can. Moreover, with its subtle warmth, Natural Tan could be a nice exterior option!
You only need to keep in mind that it will look much lighter and more washed-out when natural light hits it since this color has a higher LRV. This is why you might want to choose a cleaner white paint color for the trim to amp up the contrast.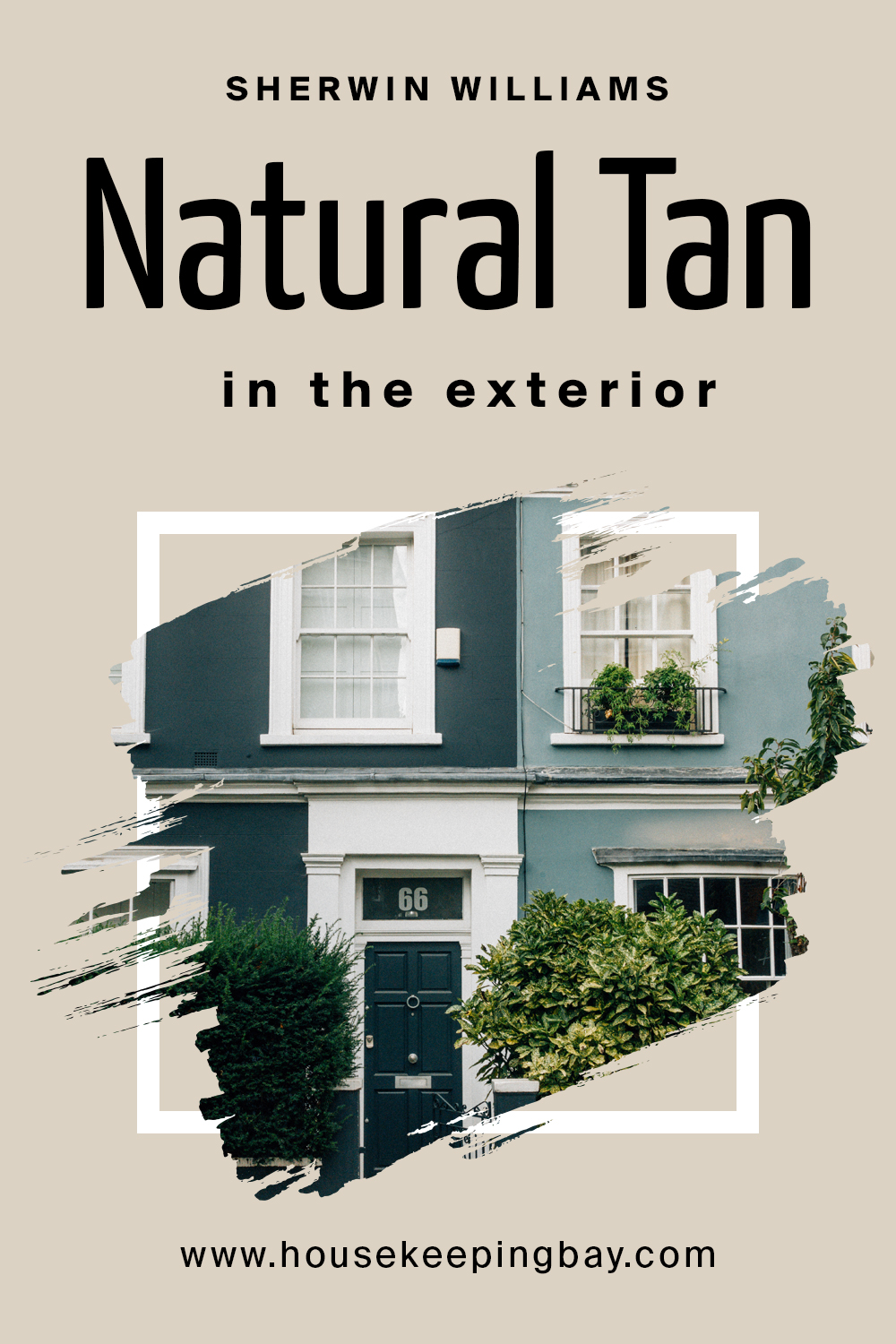 Colors That Natural Tan Goes Well With
As you already know, Natural tan belongs to the family of neutral colors which makes it rather flexible and versatile in terms of use and in terms of combination with other colors and shades. It will easily suit a wide variety of colors, but the best match will still be with the following ones:
Gray colors with the same depth or darker than Natural Tan
Soft White colors
Blue-gray shades
Blue-green color blends
These colors will create the best combinations with SW Natural Tan.
Natural Tan vs Accessible Beige Sherwin Williams
These two look almost the same with Accessible Beige being a tiny little bit darker and warmer. This is why you should not use them together in the same space, otherwise, the location will look way too homogeneous!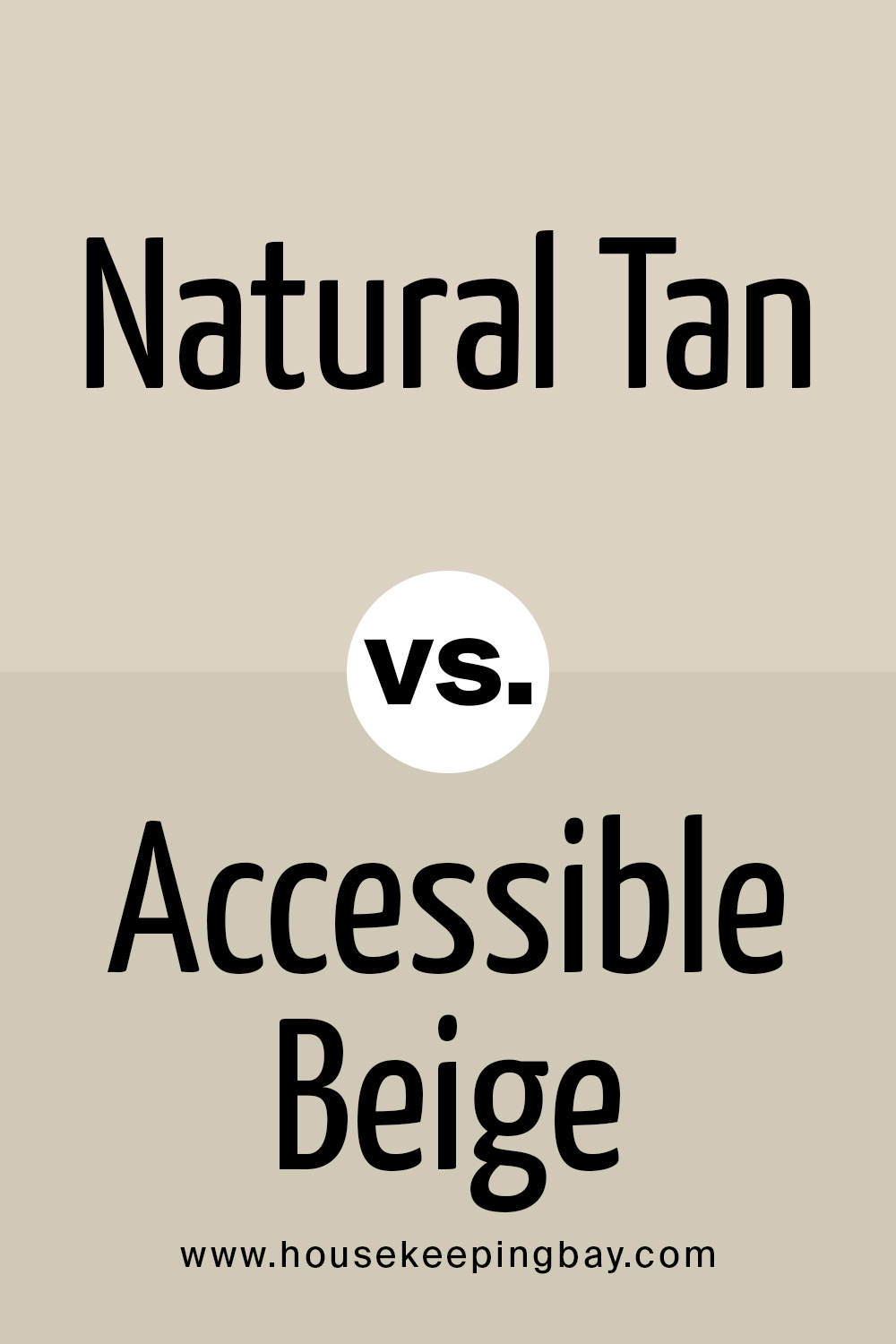 Related: Accessible Beige SW 7036 By Sherwin Williams
Natural Tan vs Natural Linen
Natural Linen has somewhat more prominent beige undertones that make this color look more intense and warmer than Natural Tan.
It will also look great with white trims, but these two colors are better to not be combined together since they are too much alike.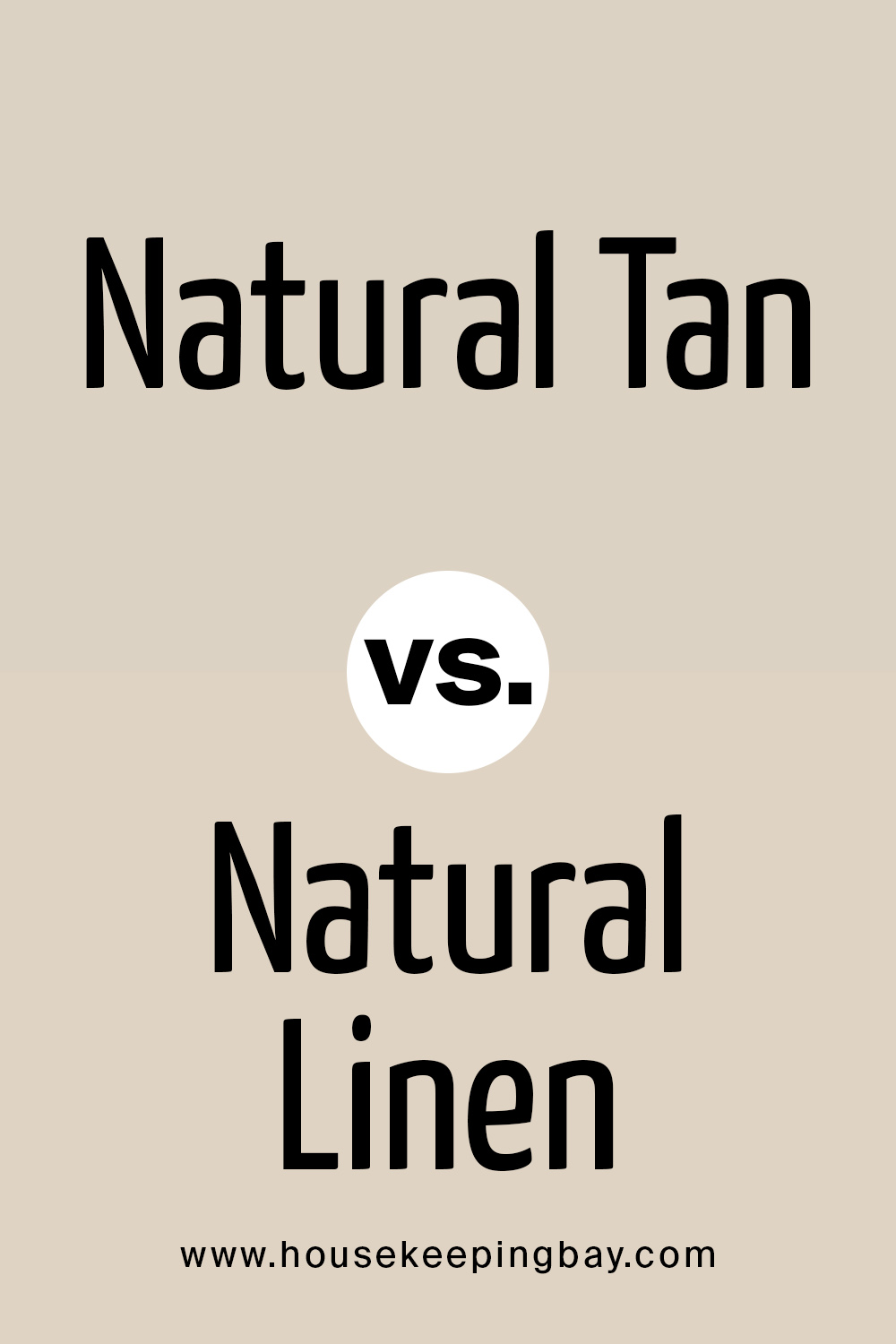 Natural Tan vs Natural Choice Sherwin Williams
In comparison to Natural tan, Natural Choice looks lighter and somewhat cooler.
Some of you would even say it has rather noticeable grayish undertones that come out more prominently when compared to warmer natural Tan with its beige background.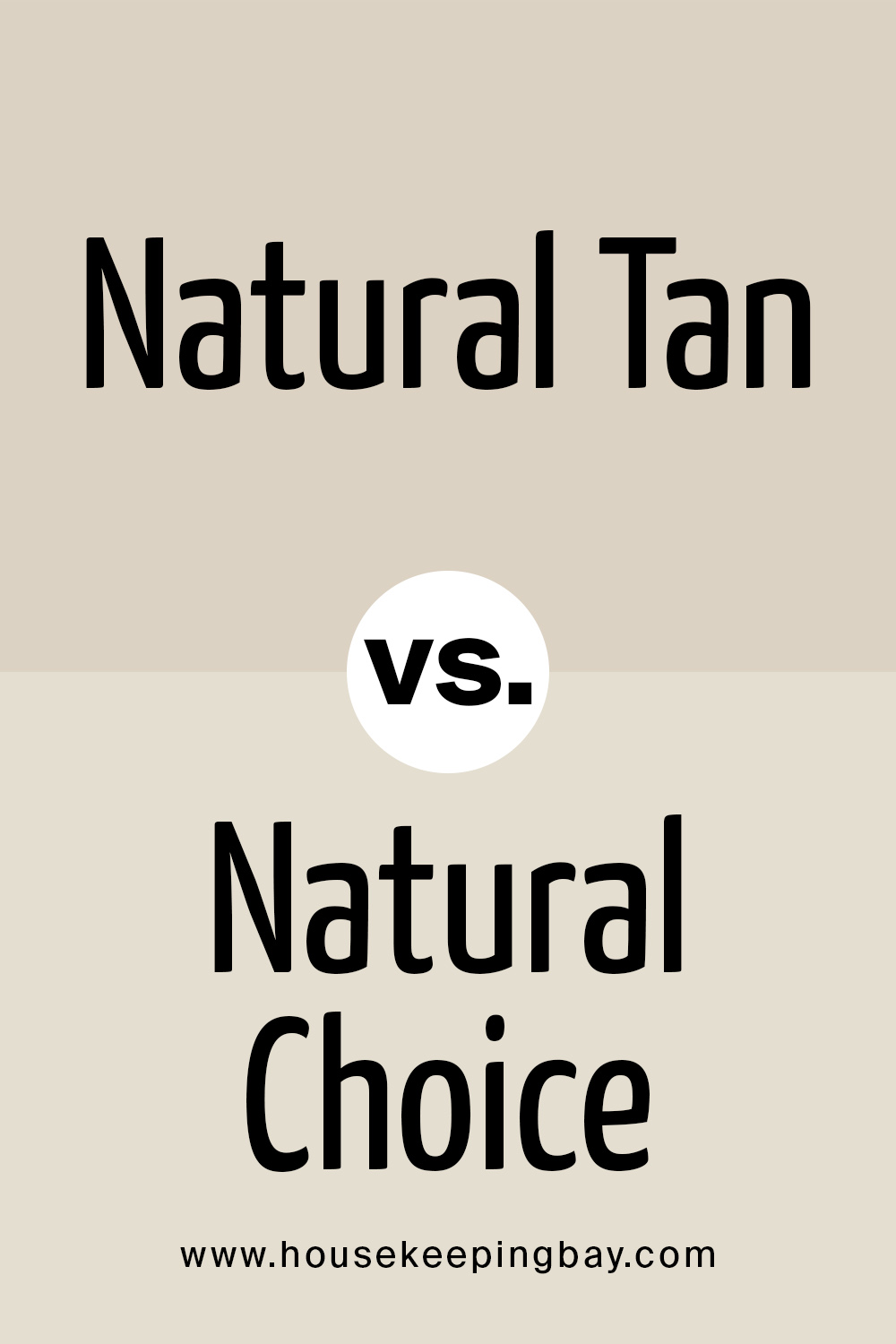 Well, this was all the information one should know about the use of a paint color in different rooms in a house or apartment.
Like that, it will be easier for you to figure out how well Natural Tan by Sherwin Williams will look in your kitchen or in your bedroom.
But anyway, we would say that with this color, there is no need to worry! Since Natural Tan belongs to the color family of neutrals, it will match the majority of other colors and their shades pretty well and easily.
Nevertheless, when thinking of painting your interior walls with it, please compare it with other colors that you already have there using color samples! It will help you to better understand how this particular neutral will work with the rest of the space.
So, like this, you are now aware of all the basics about the Natural tan paint color by Sherwin Williams.
With all this in mind, you will be able to choose the most suitable colors to use with it, and also, you will know for sure where in your home this wonderful neutral will reveal its beautiful nature to the fullest.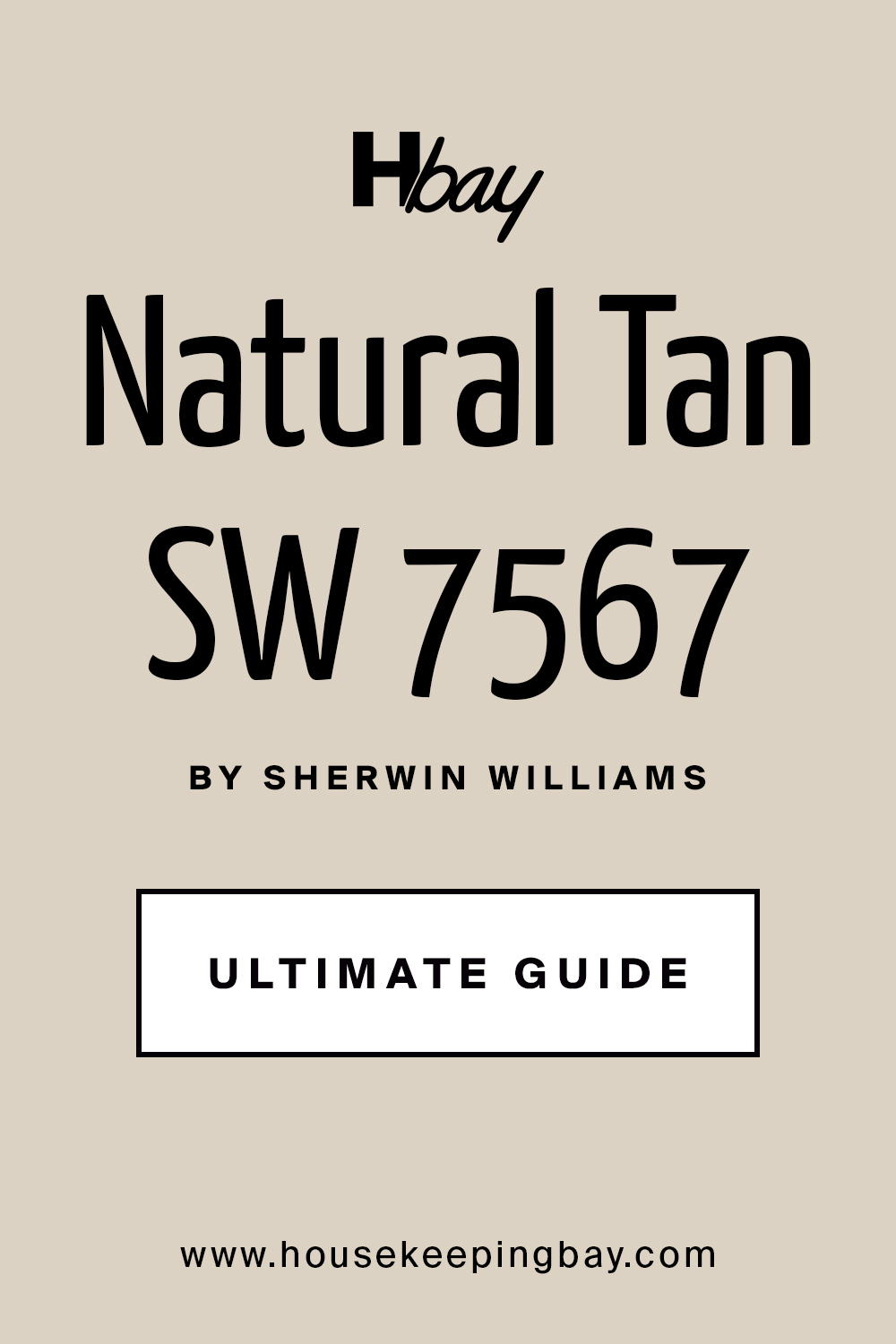 Frequently Asked Questions
⭐Is SW Natural Tan a greige color?
⭐Will Natural Tan work with cold whites?
It works better with warmer whites.
⭐Does Natural Tan Combine well with blue colors?
Basically yes, but not with all of them.