Most people think white is a very simple color. However, white also has different undertones and may read on your walls differently depending on lighting and other colors used in the space. This is why you should know all the specifics of the white color you want to utilize in your home to use it correctly and get the desired effect.
Today, we will tell you about the white color called Cloud White by the Benjamin Moore Brand. You will learn what undertones it has, how it reacts to light, and how this white will work with other colors in your home.
Also, we will tell you what colors should be used to coordinate it and in what rooms BM Cloud White will look best.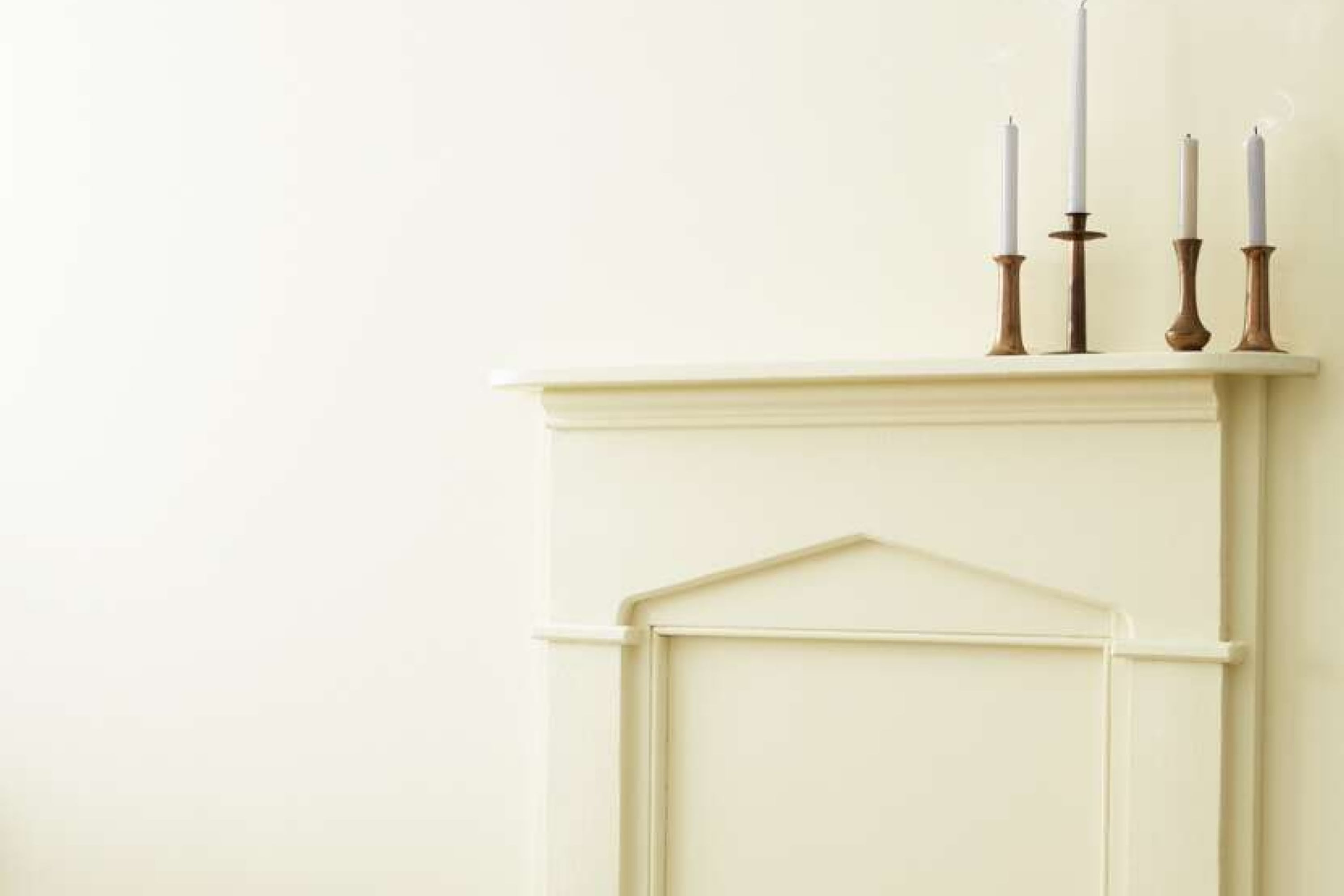 What Color Is Benjamin Moore Cloud White OC-130?
Benjamin Moore Cloud White is a subtle off-white that gives any space a soft touch. This paint color is the perfect neutral white to create a warm and welcoming atmosphere in your home. You can call it the perfect creamy color since it isn't too stark or too yellow.
Thanks to its creamy undertones, it is a warm and cozy white with a classic and expensive feel. People love this white for the depth that it adds to their homes, making them feel warm and cozy, as well as bright and airy. But be careful not to confuse it with BM White Cloud (2159-70)! This one is a different color with a very similar name.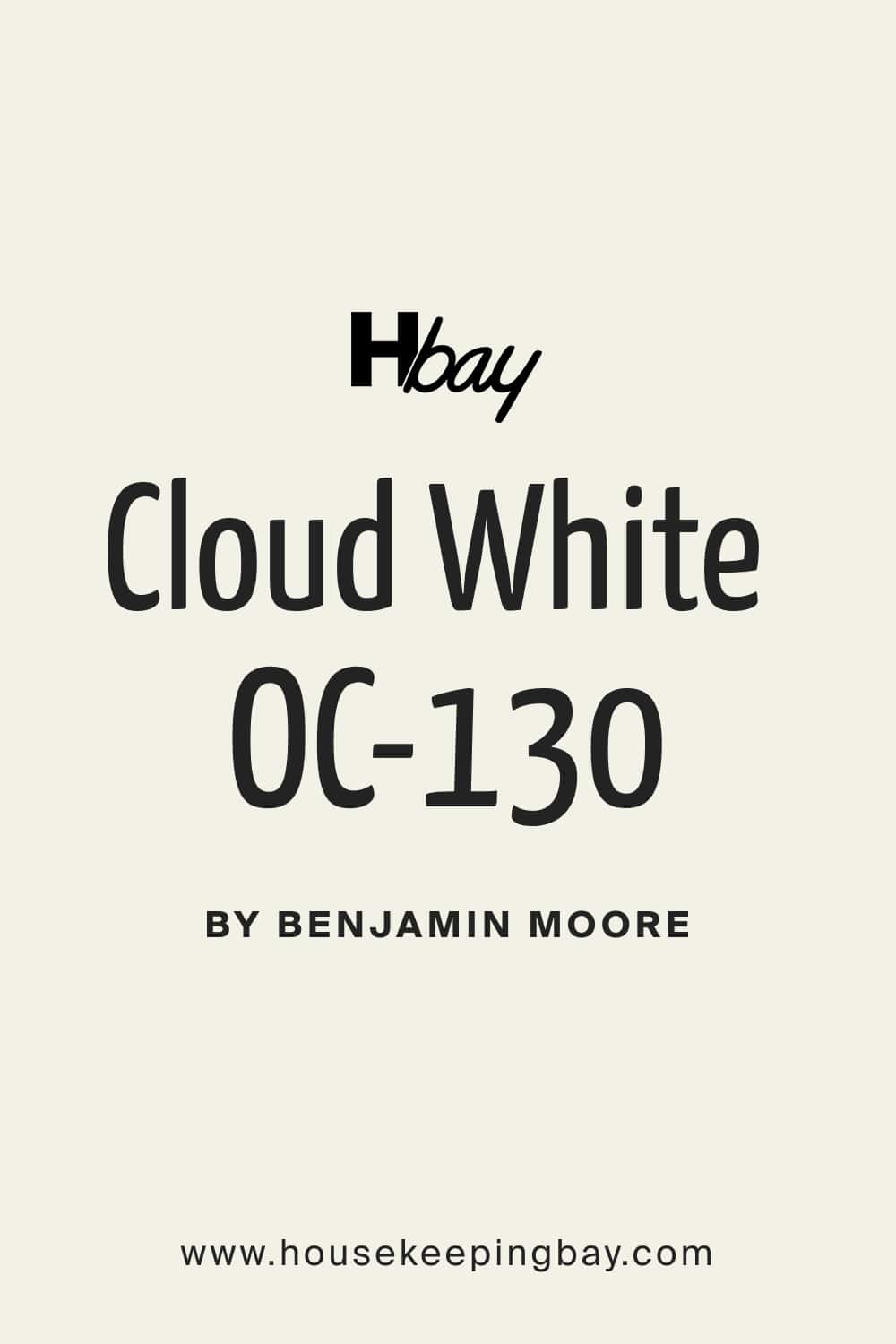 What Undertones Does Benjamin Moore Cloud White OC-130 Have?
Since BM Cloud White is a warm white, it means this color has creamy undertones. Depending on the type of light in your home or in a particular room, it can appear a bit more yellow sometimes.
For example, in rooms with south-facing natural light, BM Cloud White will look warmer. On the other hand, in north-facing light, which is typically cooler, the touch of warmth in Cloud White will keep the color from reading too cool.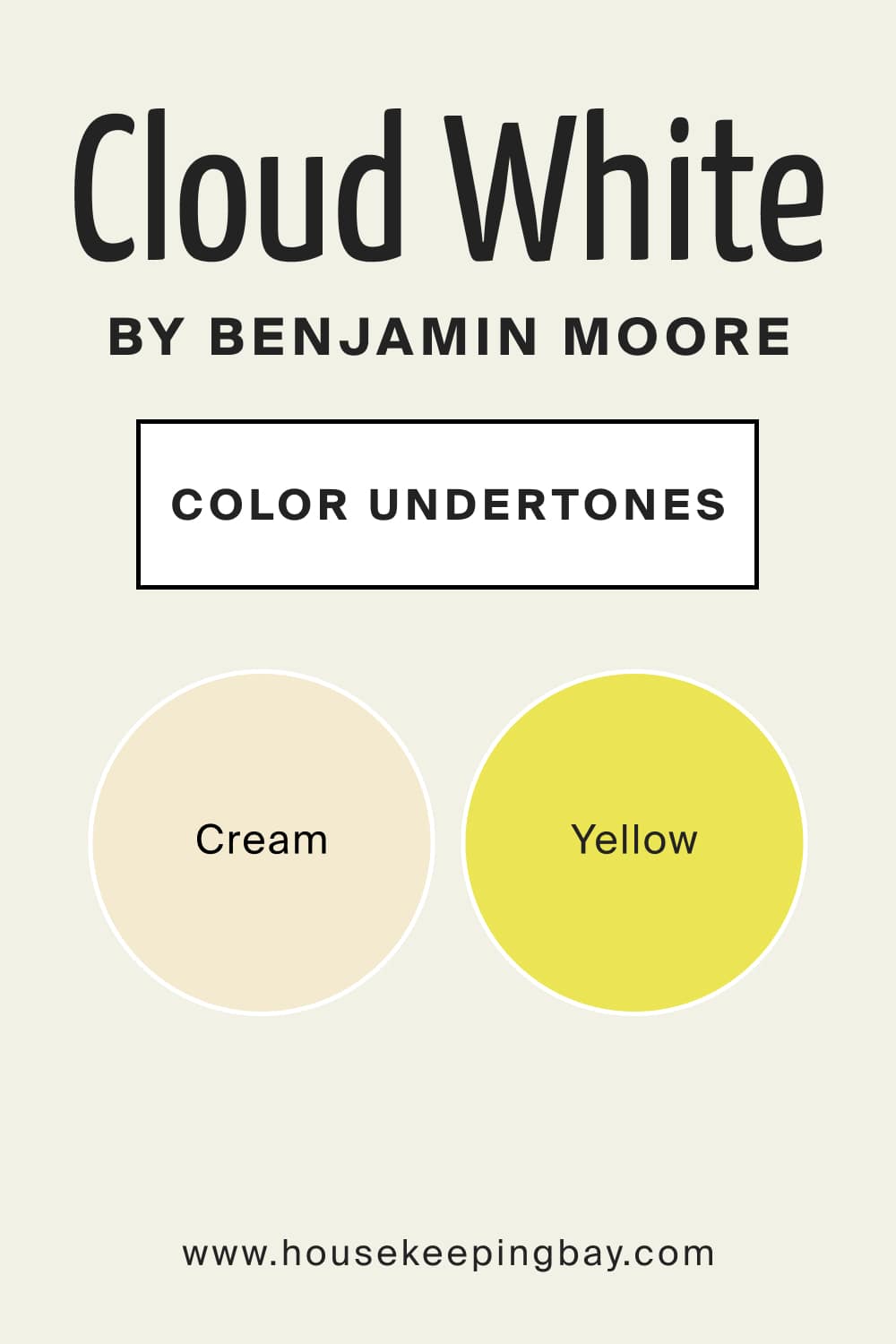 LRV of Cloud White OC-130
Benjamin Moore Cloud White has an LRV (light reflectance value) of nearly 85. Just to remind you, the LRV is the percentage of light that color reflects when it is applied to the wall or another surface. Its value ranges from 0 to 100, where zero stands for black, and 100 is true white.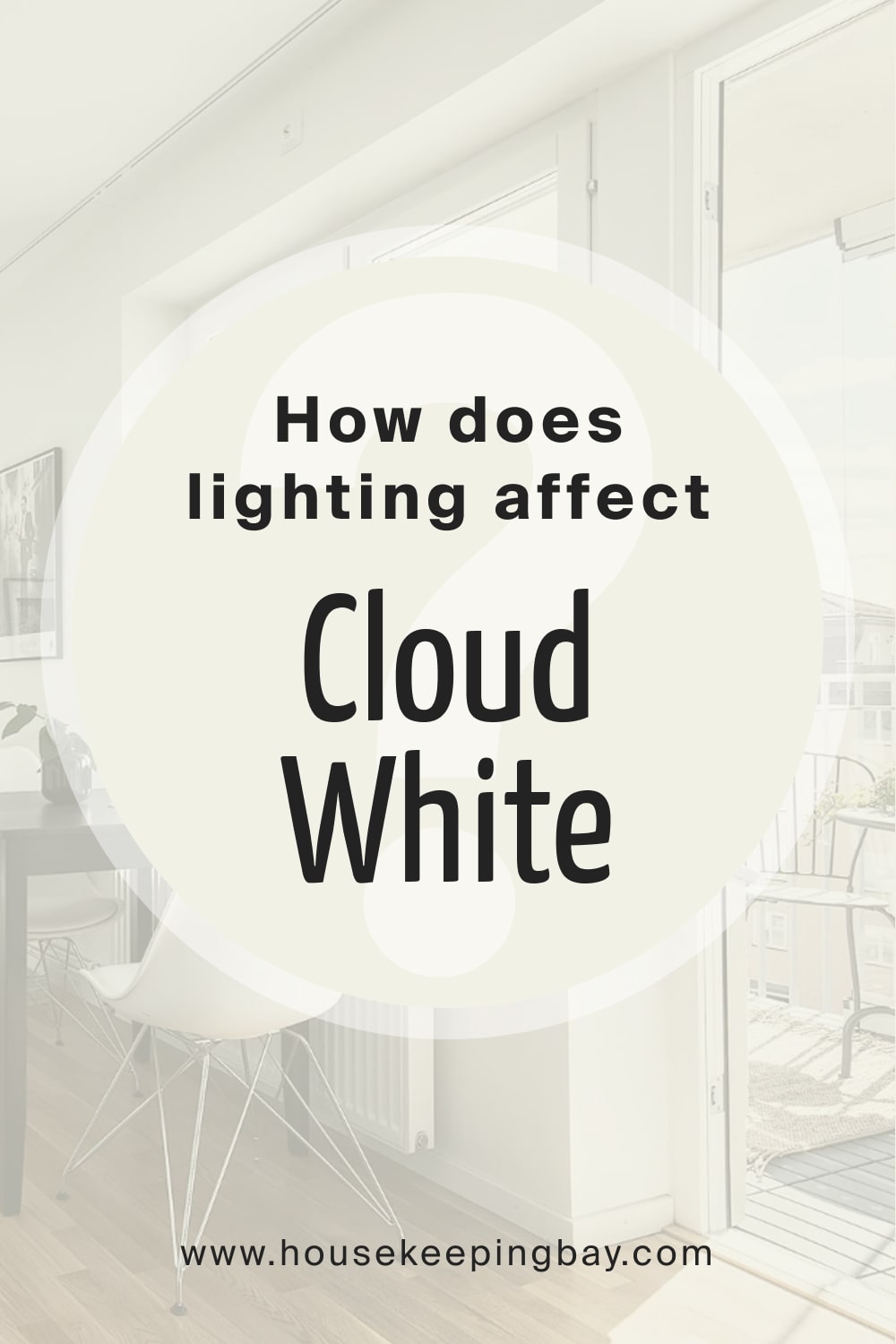 To make it even simpler for you, the higher the LRV value, the brighter the color and the more light it will reflect.
With an LRV of 85, BM Cloud White is a light and bright white color. When you paint your walls with it, it will bounce plenty of that light around a room! This is why this color is an ideal choice if you need help adding light to a room and making a small room look bigger and airier.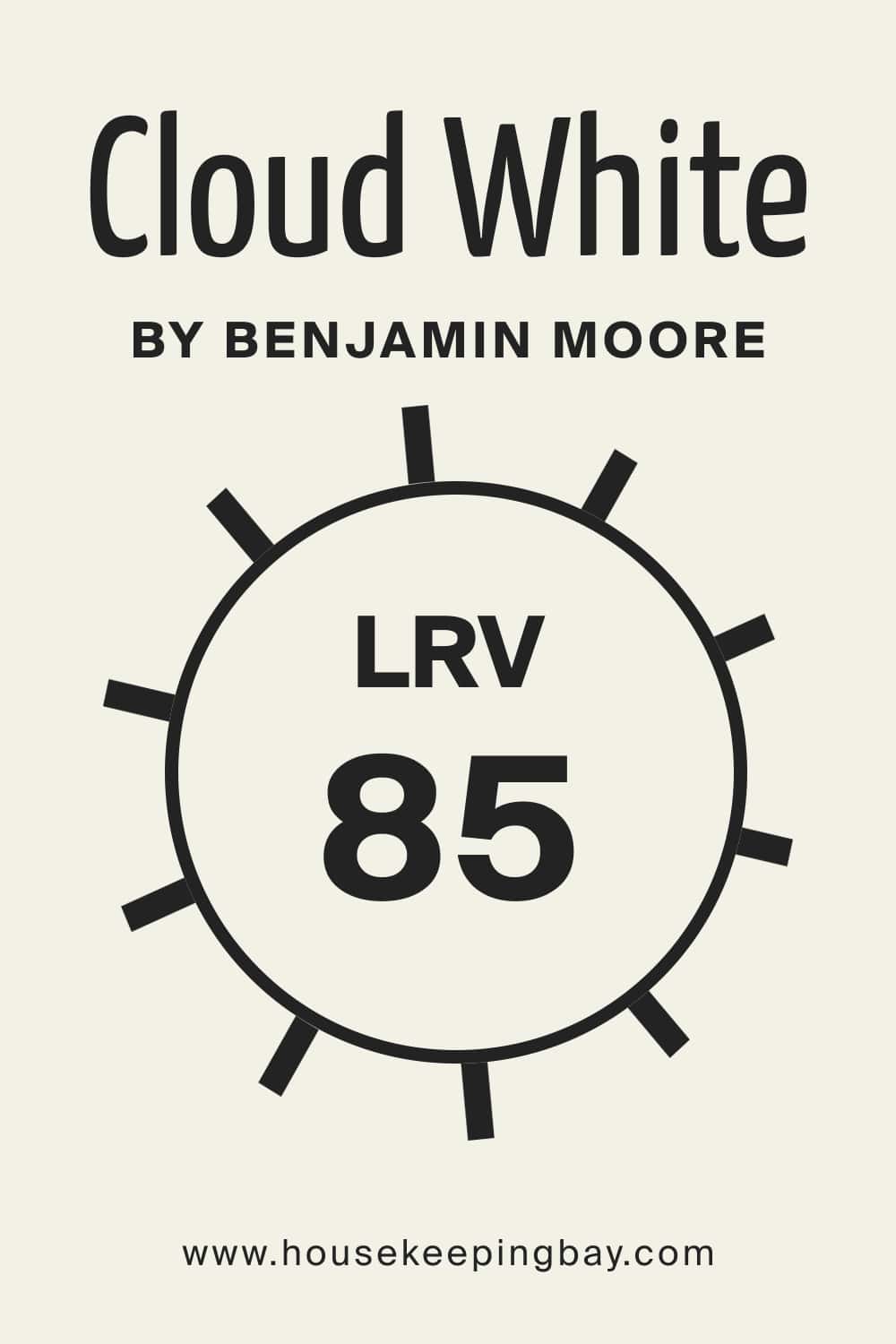 What is LRV? Read It Before You Choose Your Ideal Paint Color
Colors That Go With Benjamin Moore Cloud White Paint
White is traditionally a versatile color, but Benjamin Moore Cloud White is one of the most versatile shades of white! This paint color can look great with almost anything in a room! This is why it can be a great color choice for those homeowners who don't feel confident enough about combining different colors but would like to experiment with the space's palette.
Since it is a warm and neutral white, it looks incredibly stunning with other warm colors and earth tones, for example:
You may also want to try it with colors like
They are all warm enough to pair well with a creamy white. But if you want more color in your space, consider some earthy greens or blues. Benjamin Moore's Cloud White also pairs excellently with dark navy tones like Benjamin Moore Hale Navy.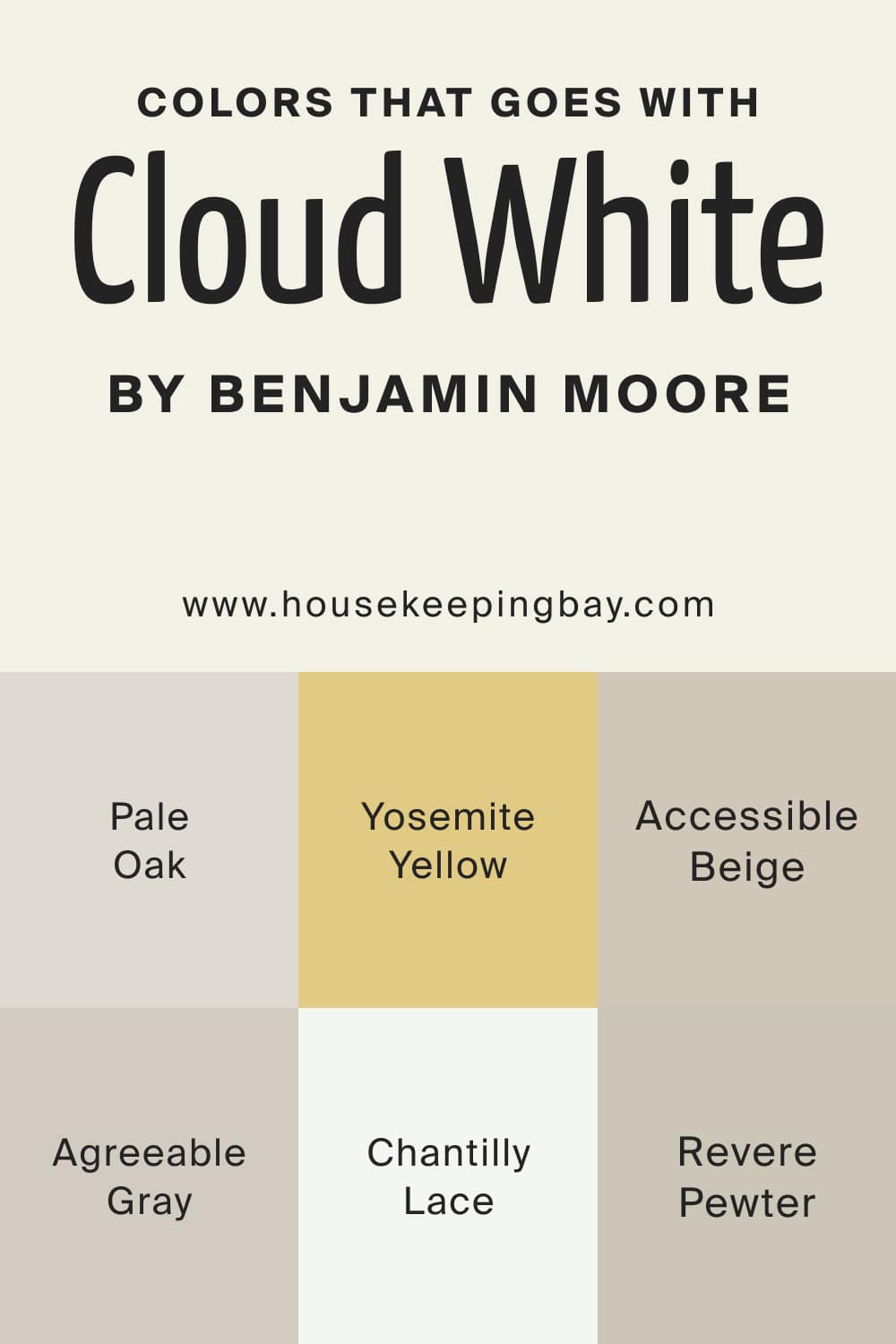 Coordinating Colors For BM Cloud White
Knowing coordinating colors for your wall paint color allows you to create a well-balanced and harmoniously looking interior almost without effort. But since it can be difficult to figure out what colors will work best for you, here is a hint. For BM Cloud White, use these colors to coordinate it:
BM Westcott Navy
BM Gentle Gray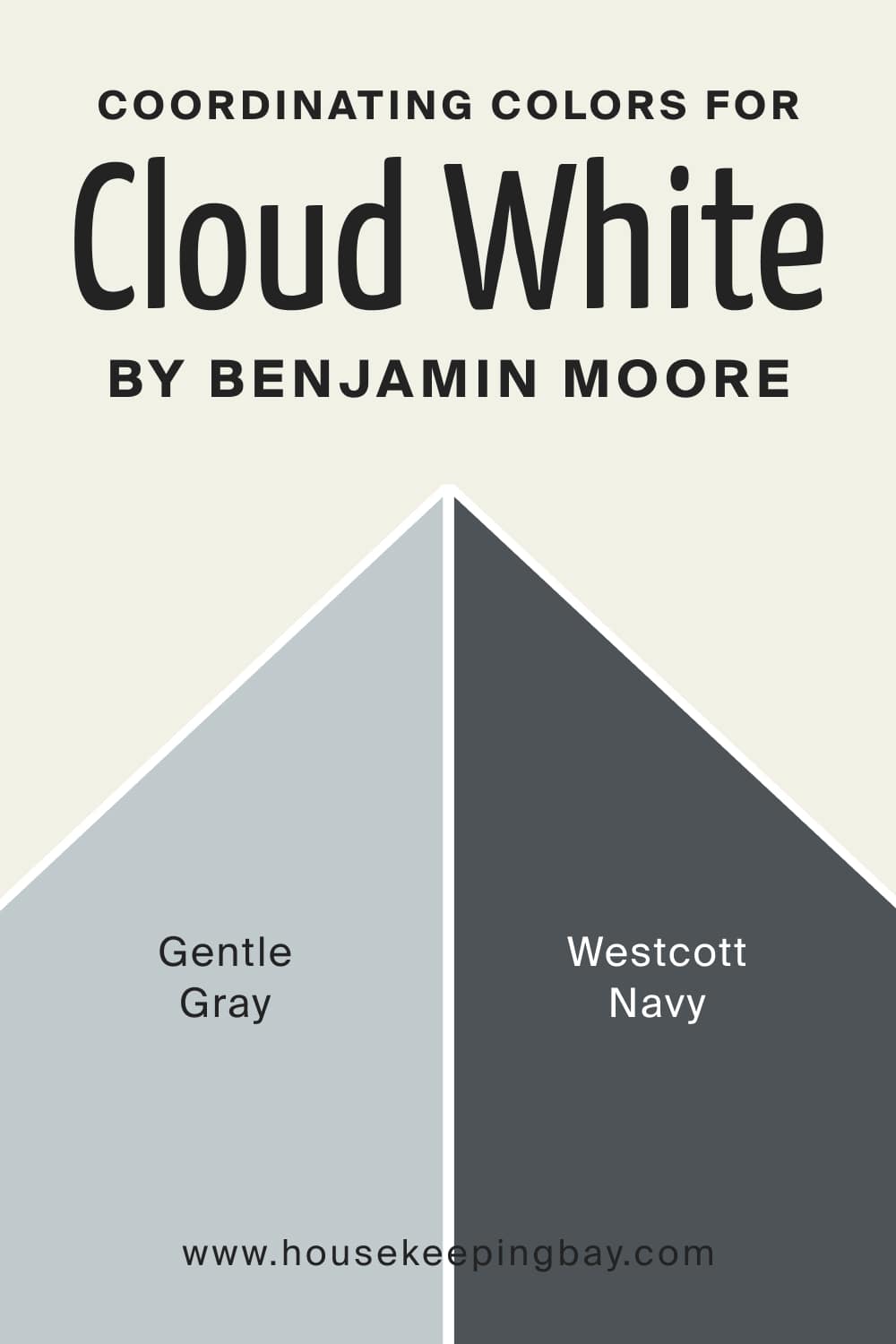 What Is the Best Trim Color of Cloud White OC-130?
If you need to decide what color to use on your trim when you have a creamy white color like Cloud White on the walls, you can opt for two methods. First, you can paint your trim a brighter white to stand out against the creamy-toned walls.
For BM Cloud White, try Sherwin-Williams Everyday White or Benjamin Moore White Dove on the trim. Both are warm whites but are a bit crisper than Cloud White so they would create a nice contrast.
The second method is to paint your trim Cloud White. Yes, we mean it! Painting walls and trim the same color is a big trend right now. You will surely love how this trick opens up a space and makes the room feel more cohesive.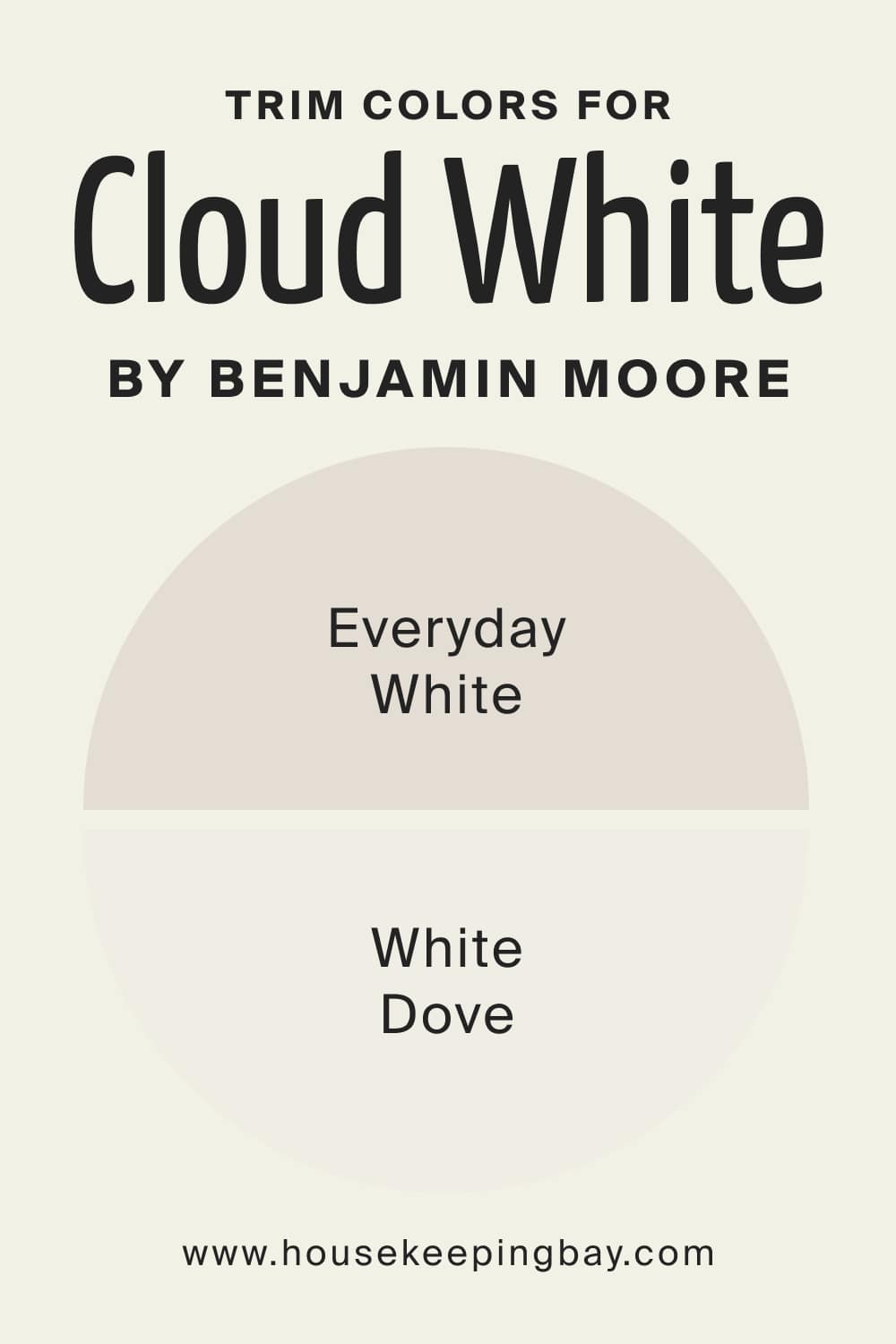 Similar Colors of Cloud White OC-130
If you are still not sure whether the color you choose for the walls will match other colors in a room, it's good to keep a few alternative colors at hand. This way, you can always substitute the initial color with another one that won't make a big difference or make no difference at all. For BM Cloud White, the following whites can be used as substitute colors that look very similar: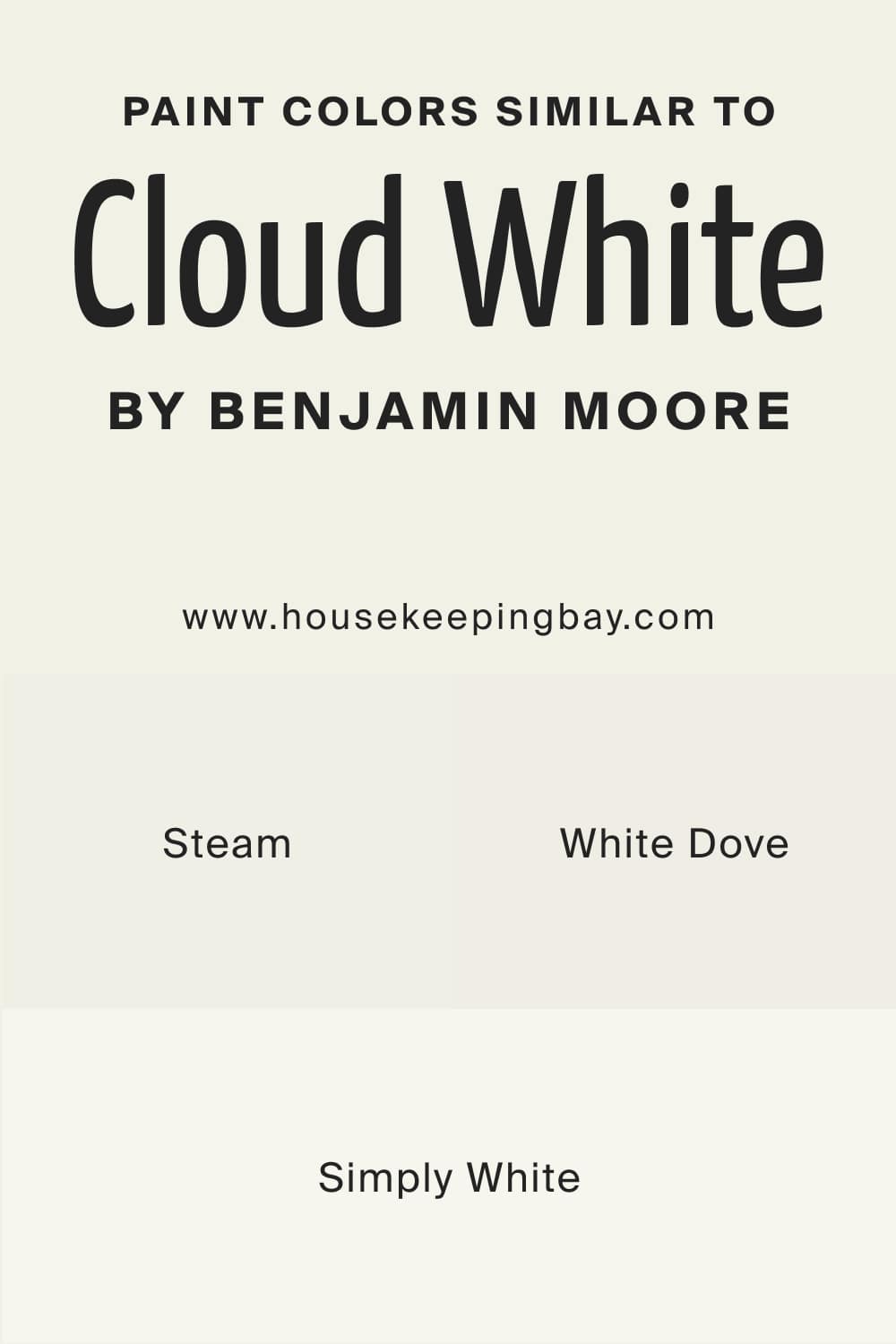 Benjamin Moore Cloud White OC-130 and Other Colors
Most of us are not experienced in color theory, so we can't define what undertones specific colors have until we see them in our living space. However, being able to see such distinctions is a must because it helps you define what colors would work better in your home! We recommend you check out what makes BM Cloud White differ from other whites to understand this color's specifics better.
Cloud White vs. Alabaster
If you compare these two, you will see that SW Alabaster is a soft and almost off-white paint color with neutral beige undertones. BM Cloud White has very slight yellowish undertones instead. This difference in undertones is clearly seen when you put the colors side by side. BM Cloud White reveals a soft and subtle yellow hue, whilst its counterpart reads a soft and light beige.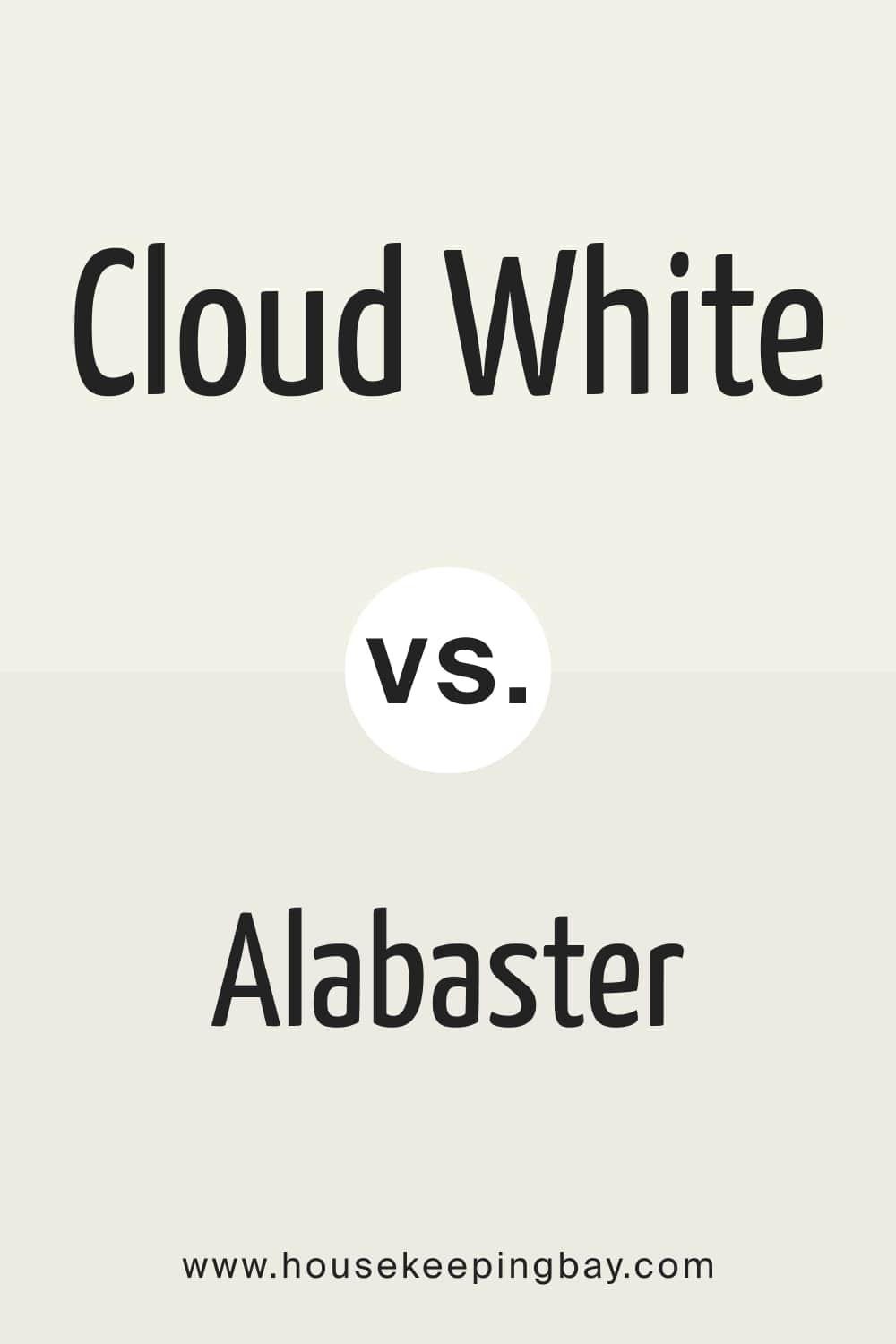 Cloud White vs. Chantilly Lace
Compared to BM Cloud White, Chantilly Lace is almost invisible! It's because the Chantilly lace color has very little undertone meaning it mostly acts like white. BM Cloud White, on the other hand, reveals its subtle yellowish tone in a pronounced way.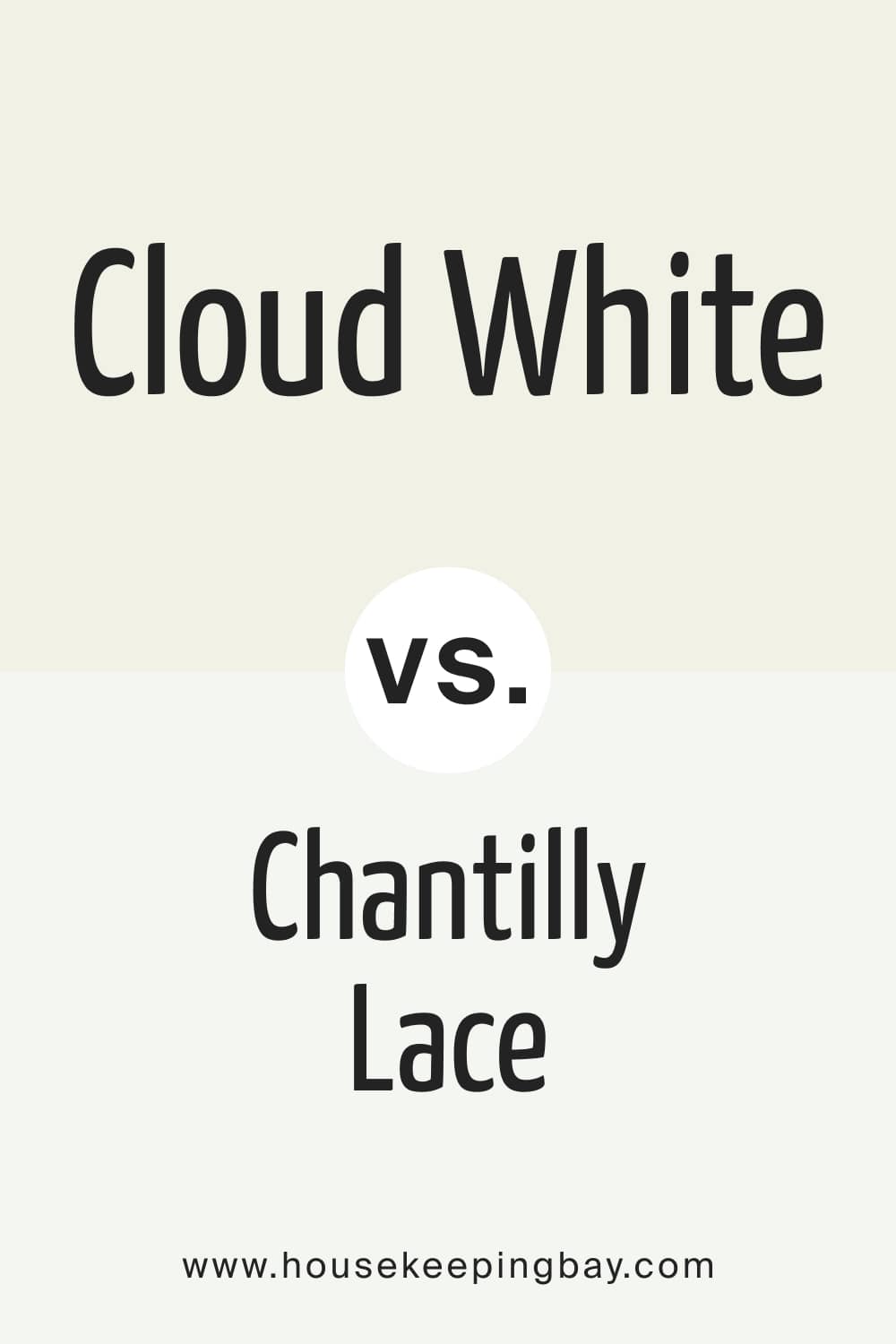 Cloud White vs. Swiss Coffee
Both colors are from the Benjamin Moore Brand, and both have one similarity, their undertones. To be precise, both whites have that subtle yellowish hue that makes them read creamy. However, you can't call them similar. BM Swiss Coffee reads yellower and thus more pronounced compared to BM Cloud White.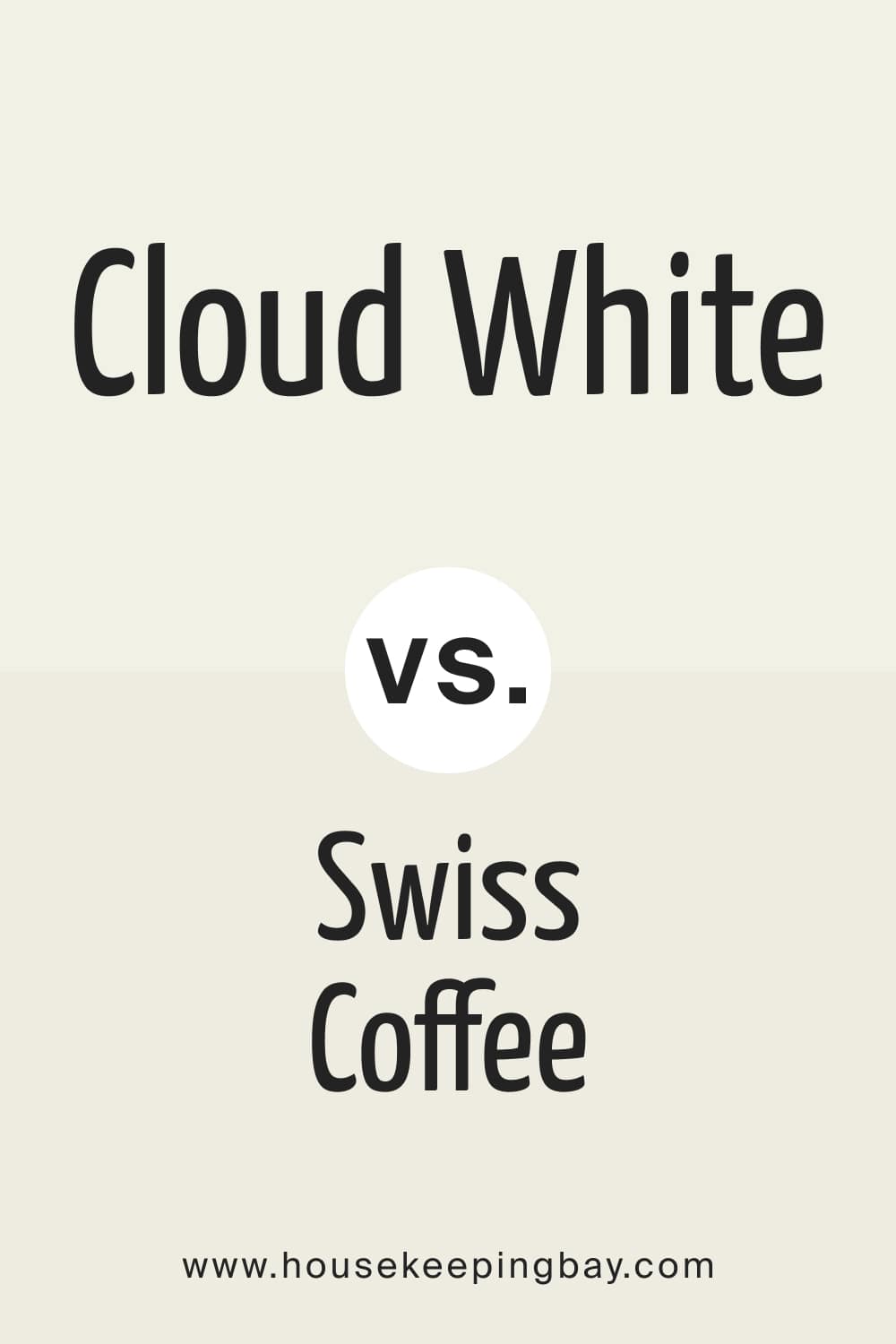 Cloud White vs. Simply White
Simply White color has a touch of warmth, but it still remains light and bright. The most significant difference between Simply White and Cloud White colors is that Simply White has an LRV of 91.7 and reads brighter, whilst BM Cloud White has an LRV of 87.35.
Another difference is that while both whites are warm and feature a yellow hue, Simply White is closer to revealing the green hues than BM Cloud White. Because of this, Simply White can unexpectedly show some green undertones sometimes.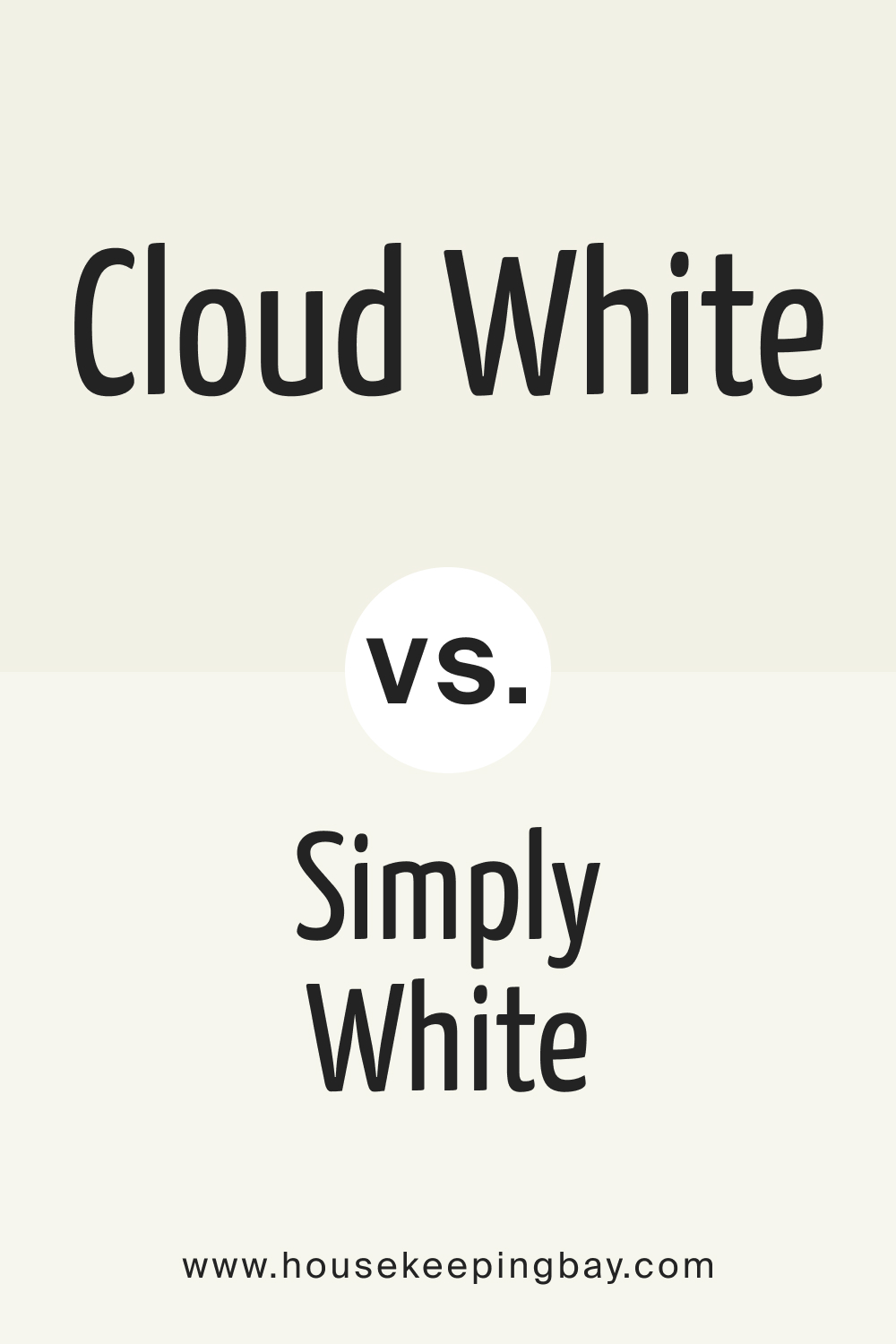 Where to Use Cloud White OC-130 In Your Home?
With whites, it can be tricky to find a room where they can be used successfully, although this color is considered one of the most versatile colors that exist. So here is a list of rooms for you to check where you can use BM Cloud White.
Living Room in the Cloud White OC-130
This white color will be a warm and inviting neutral for your living room. It will pair nicely with different textures, as well as with metals and accent colors. For sure, it's the best color to make a room feel airy and bright without making it look cold and crisp!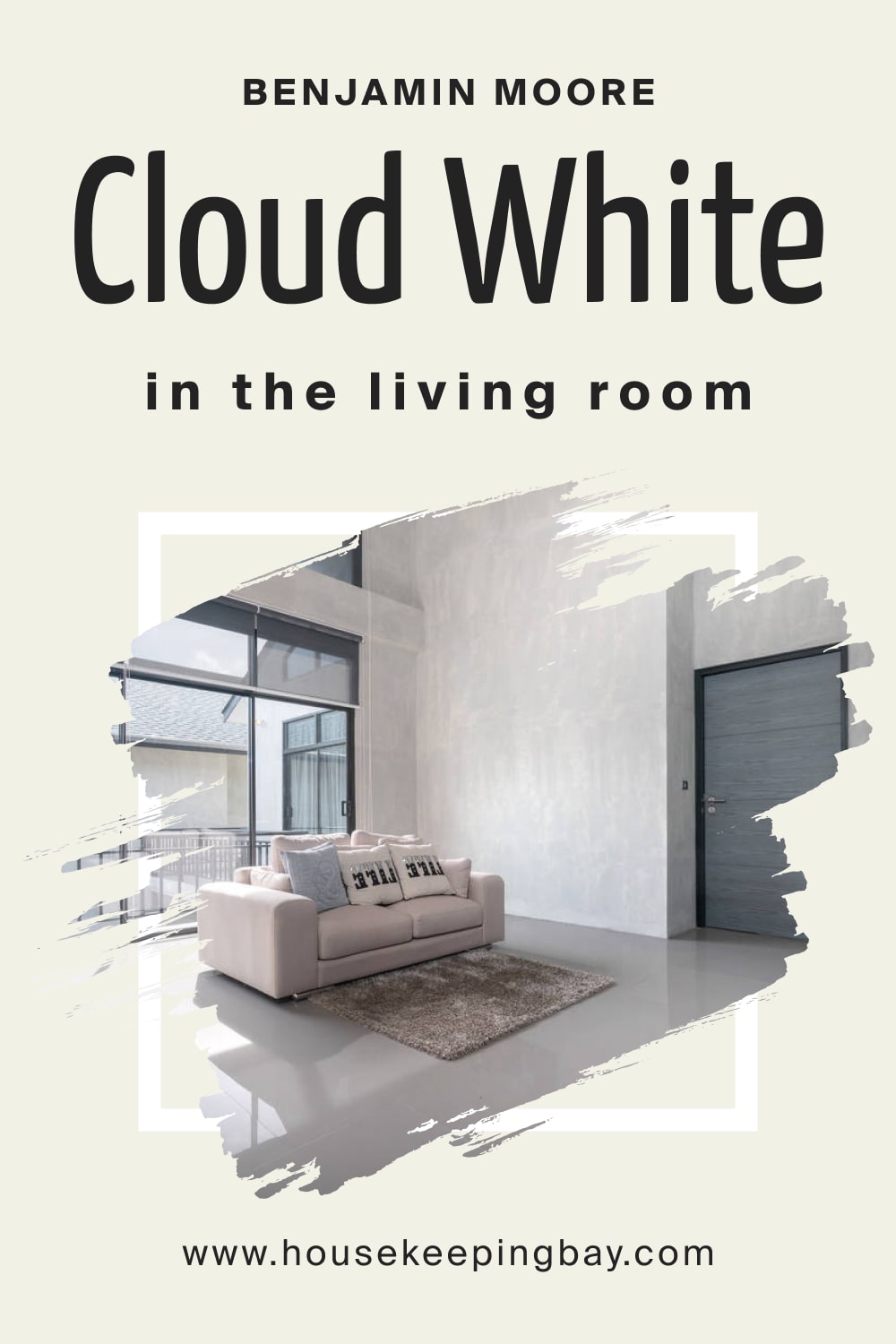 Cloud White OC-130 and Bedroom
BM Cloud White is perfect for making your bedroom feel light and airy. Besides, this white will be a neutral backdrop for your bedding, rugs, and artwork. With its creamy nature, BM Cloud White will easily create a homey and cozy atmosphere in your sleeping room.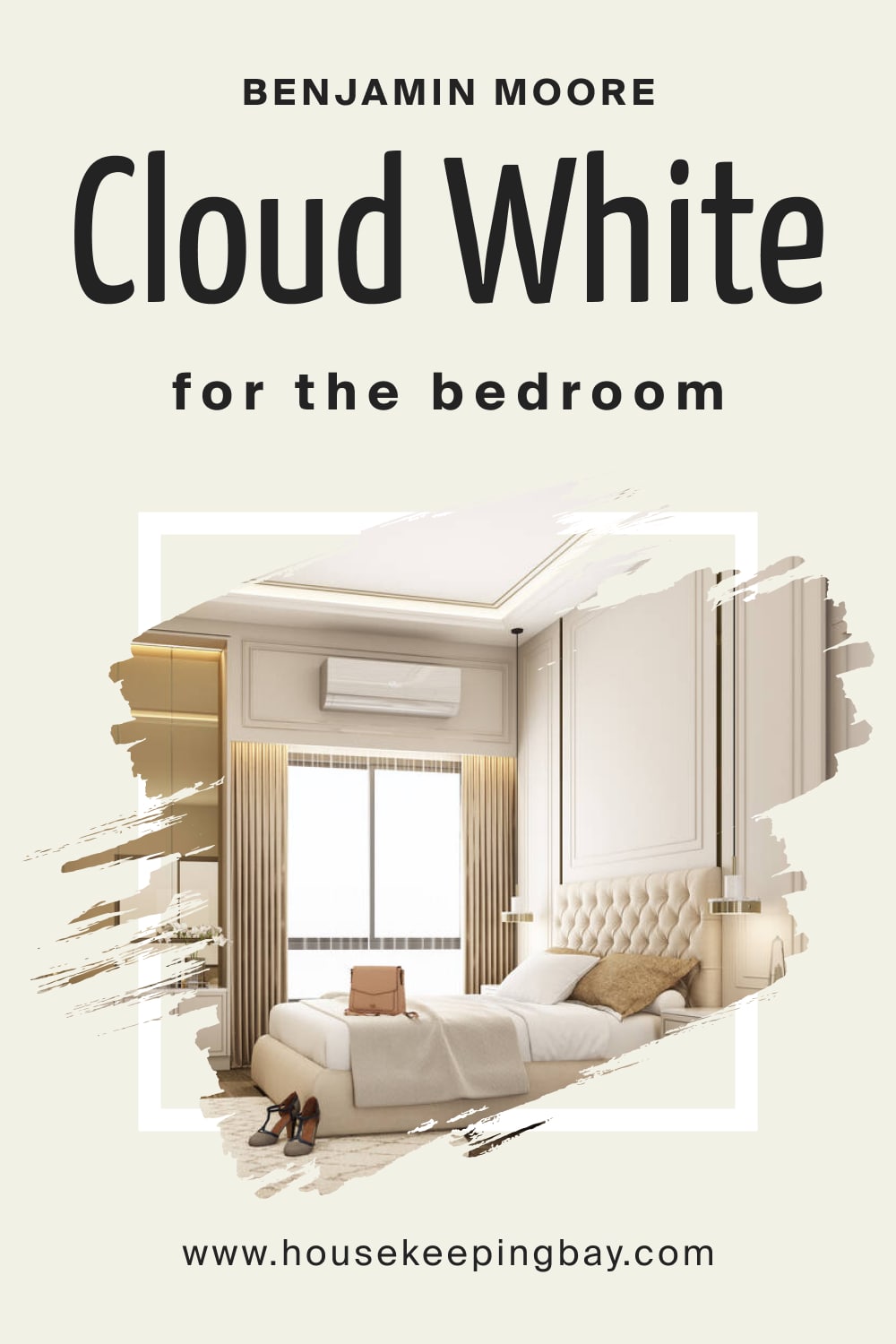 Bathroom of Cloud White OC-130 
You can use this white in bathrooms too. It will look great on the walls and cabinets (in case you have the walls painted with another color). Since the color is light, it will add space to the room, which can be very helpful should you have a small bathroom.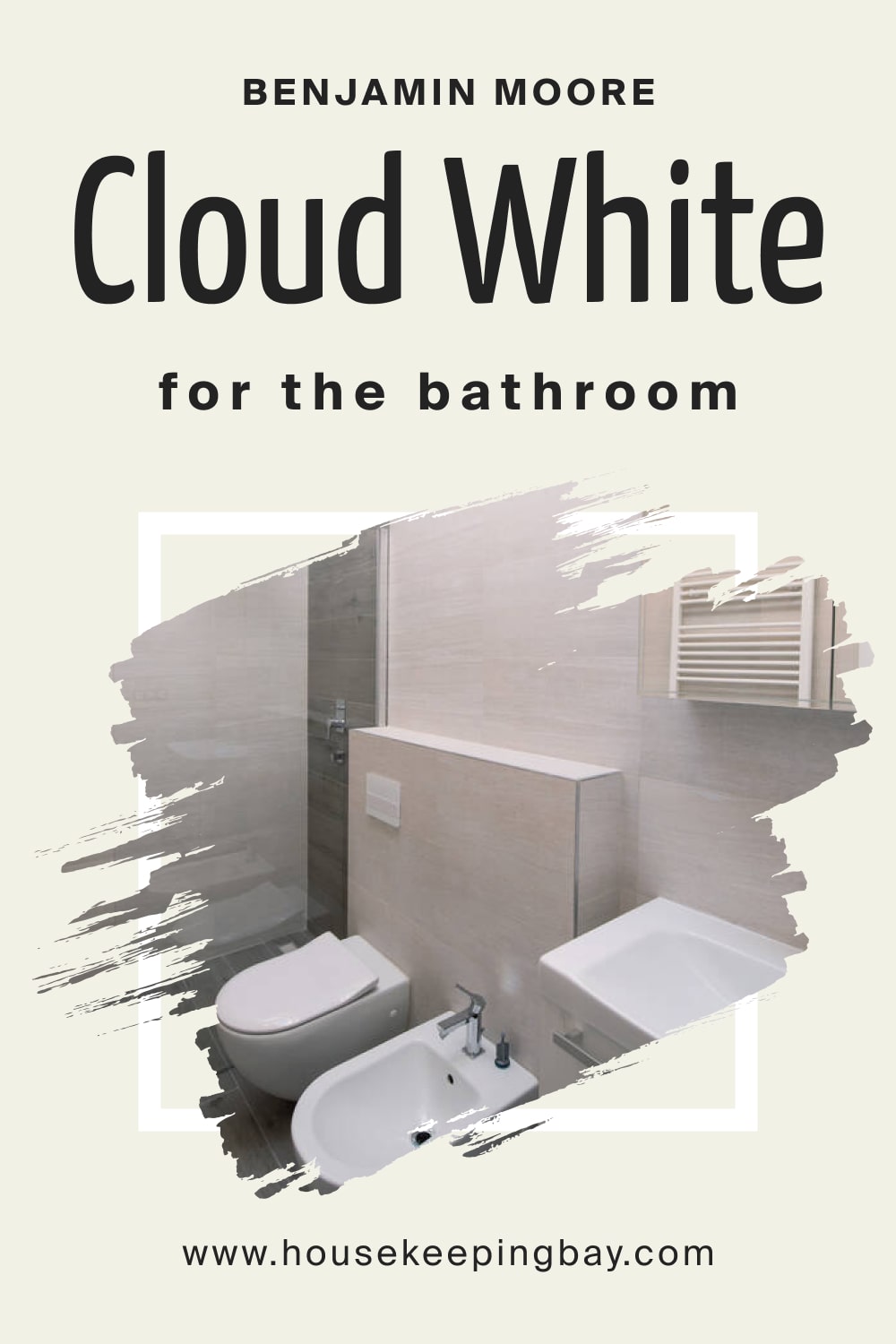 Cloud White OC-130 and Kitchen
This white will match any kitchen, be it small or large! You can use it on the walls of paint your kitchen furniture, it's up to you. But on the walls, BM Cloud White will do its best! It pairs well with brass and metal hardware and wooden textures, so you can use it for a country-style kitchen with great success! But for a more classic space, it will also be suitable.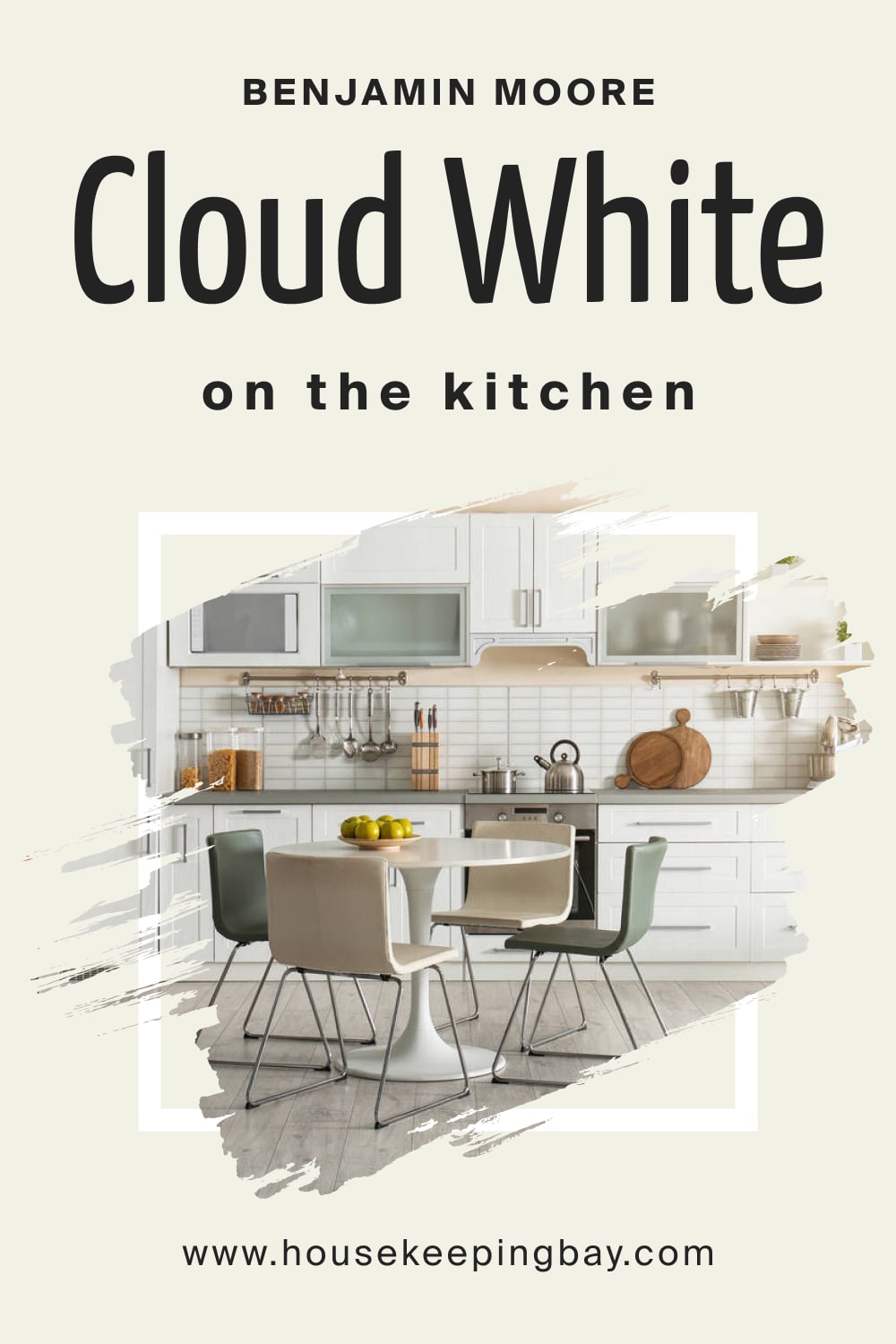 Cloud White OC-130 for the Exterior Use
BM Cloud White is a tried neutral white for your whole house or just a small outdoor room. It is light enough to make the building look stylish and modern, but it's not too stark to make your house shine from a distance in the dark!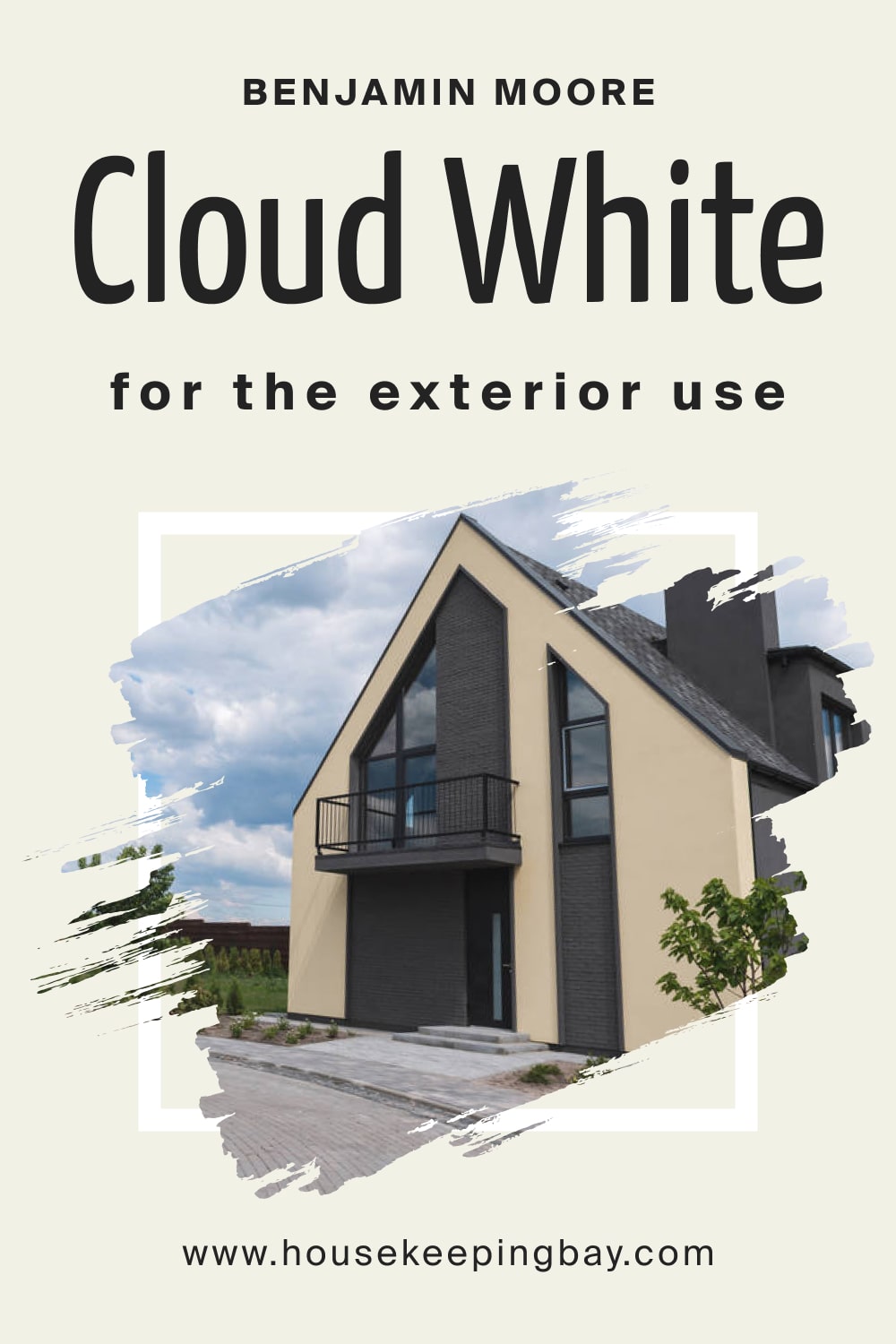 Now you know all about the Cloud White color by Benjamin Moore. You know its undertones, its LRV, as well as trim and coordinating colors. We also explained how this soft white would work in different rooms and in different lighting. With all that, you should have no trouble using it in your home.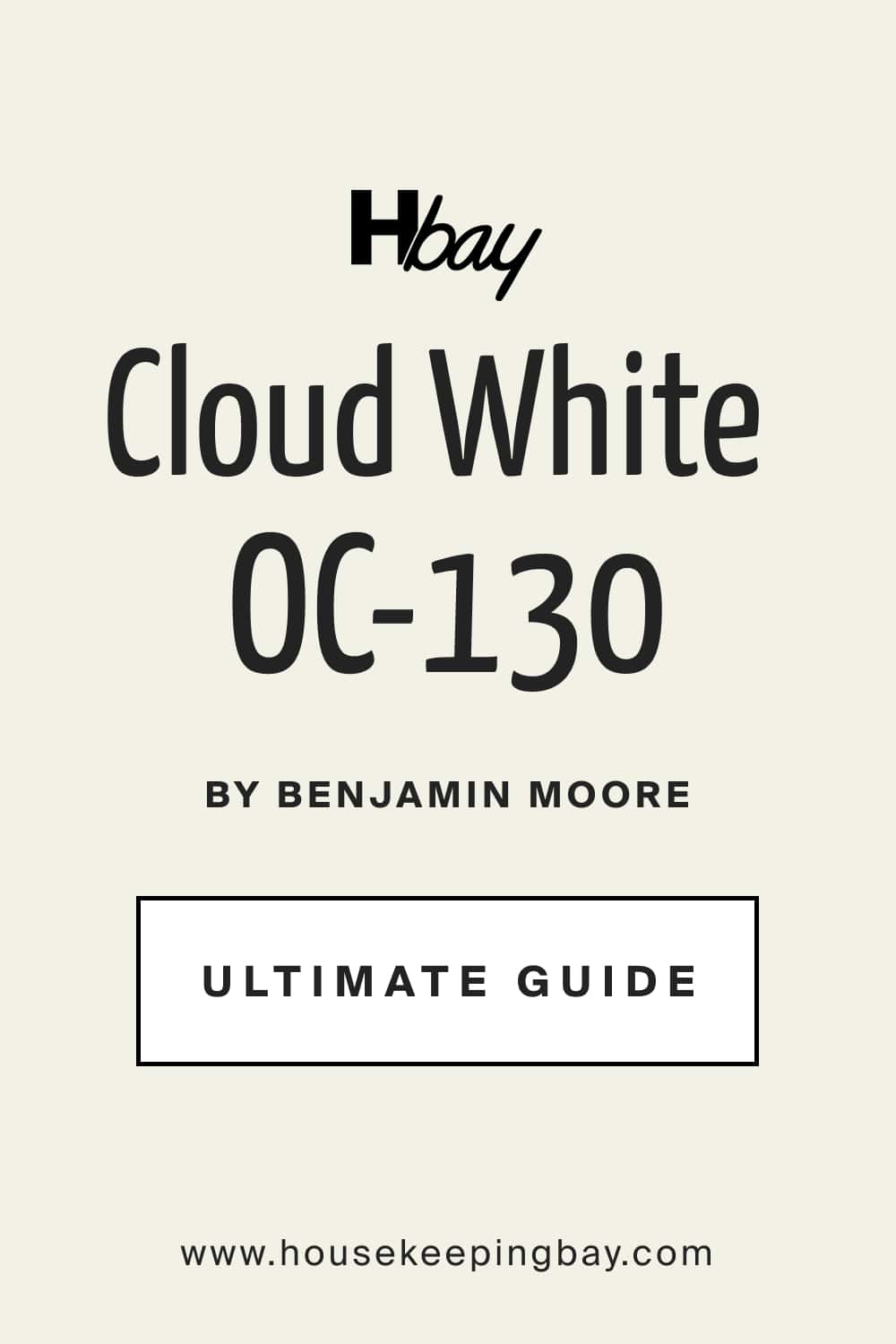 Frequently Asked Questions
⭐Is Benjamin Moore Cloud White warm or cool?
Cloud White is a warm white, soft and subtle. It gives off a touch of glow, especially in warm south-facing light.
⭐Is BM Cloud White a good color?
You can use it for your walls and trim, as well as cabinets, ceilings, etc. It looks best in rooms with plenty of light but can also work well if you have some shadows. So yes, it's a good color.
⭐Is BM Cloud White lighter than the White Dove color?
BM Cloud White is a touch lighter than the White Dove paint color.