Sometimes, when you are up to any painting project in your home, you might want a color for your walls that will fit literally any room. Because, let's be honest, it is so exhausting sometimes to look through all those endless color palette paint chips in order to finally choose those colors that will suit you!
And if you were wondering whether such a universal paint color exists at all, we are here today to bring you good news! Because we found the color that can be applied onto any room's walls and it will still reveal itself wonderfully – in any space, in any type of lighting!
Still think we are cheating on you? No way! Today we will introduce you to one of the best greige paint colors from Benjamin Moore –  Thunder! Believe us, this is going to be your number one staple for a long time ahead.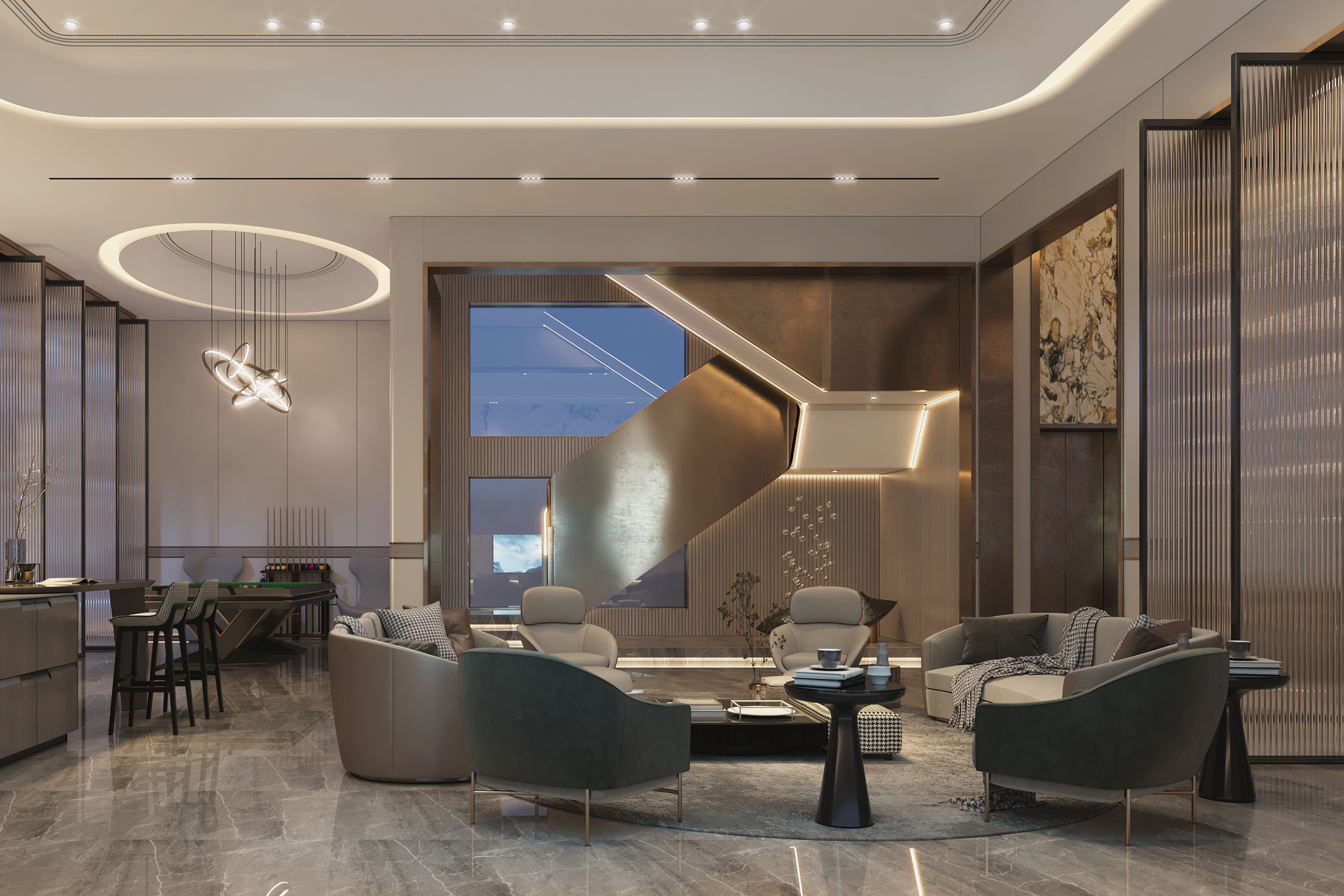 What Color Is Benjamin Moore AF-685 Thunder?
First of all, we need to figure out what color it actually is since for many people, this paint may seem to be one of the greige color family. However, it is not true. Benjamin Moore Thunder is a soft and very sophisticated gray. It is not too dark, but it is also not too light. Just perfect being in the middle of the road!
Also, there is another extremely beneficial (in our opinion) feature about this paint color which is the undertones it has. As Encycolorpedia says, such colors as this gray, it is always tricky when you have to deal with their undertones. Simply because they may be rather unpredictable pretty often.
However, with Thunder, you can relax since this color has no incredibly strong undertones that would suddenly emerge and pull it one way or another turning your walls into something completely different from what you expected them to be.
Of course, some undertones will anyway show up in certain types of lighting, but in general, we can call this gray a very well-balanced neutral that remains versatile and more or less the same under any circumstances.
However, we would like to draw your attention to one tiny nuance about this color undertones: despite being so neutral and so versatile, Benjamin Moore Thunder still tends to look much better in a well lit room. Simply speaking, the more light the better.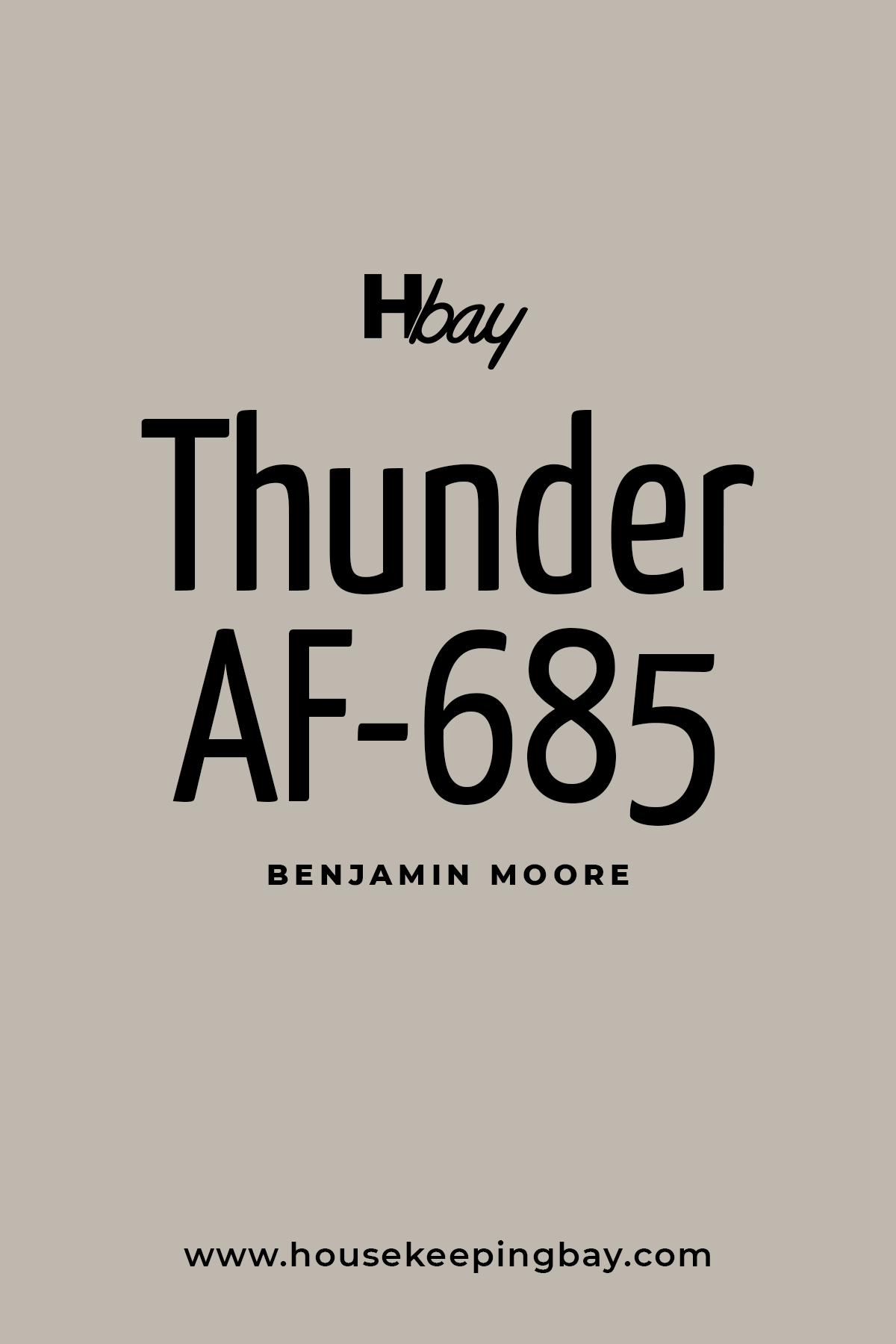 Is Thunder AF-685 Warm Or Cool?
Well, things are a bit tricky with Thunder in terms of warmth or coolness since the way we see it will depend on whether we are viewing it alone or beside other colors. See, if we , for example, put BM Thunder side by side with other grays of the same brand, we will see that in some cases, it looks much warmer (for instance, when compared to BM Metropolitan).
Nevertheless, if we take Thunder on its own, we will see that it is actually not that warm! Well, of course, there is a certain warmth in it, but we would not call this color overwhelming for sure. All because of its undertones, of course. So we can make a conclusion that this color is somewhere in between warm and cool sides being perfectly balanced.
BM Thunder Undertones
Speaking of this color's undertones, we can see that, on the one hand, BM Thunder has subtle greige undertones, but on the other hand, very slight purple hints can also be seen upon closer inspection.
Since the undertones are not too cool, yet not too warm, the color can be considered perfectly balanced.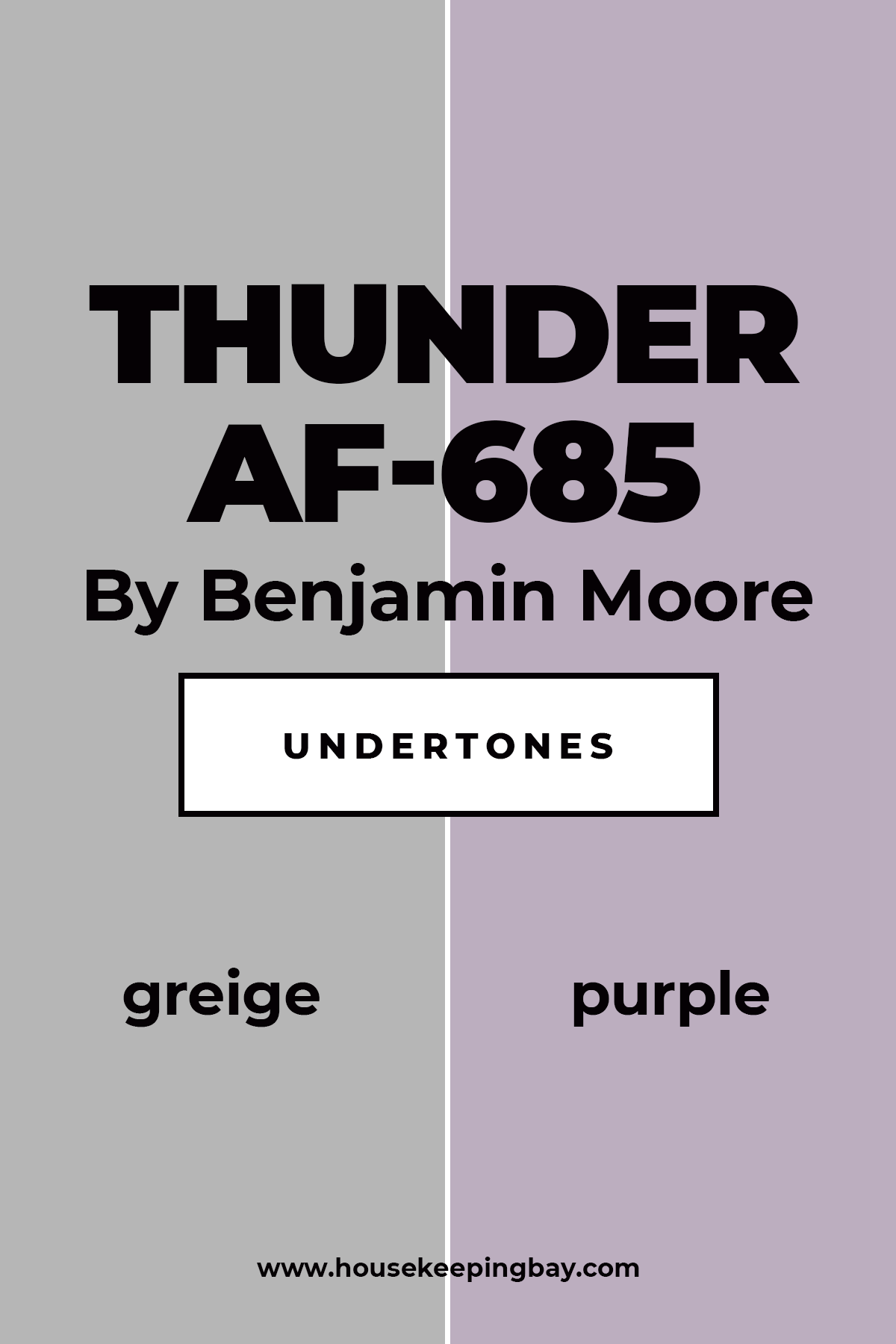 BM Thunder Coordinating Colors
Since Thunder is a perfect neutral and rather warm gray, it can be coordinated with quite many other colors nicely thanks to its versatility. By the way, it will be especially harmoniously paired with the colors from the same Benjamin Moore Affinity paint collection!
So what colors can be considered coordinating for BM Thunder?
Dragonfly AF-510
Serenata AF-535
Mascarpone AF-20
Of course, this is not a complete list, but these colors will coordinate even better than others. You can also combine it successfully with such colors as First Light, White Heron, or Buxton Blue – all by Benjamin Moore.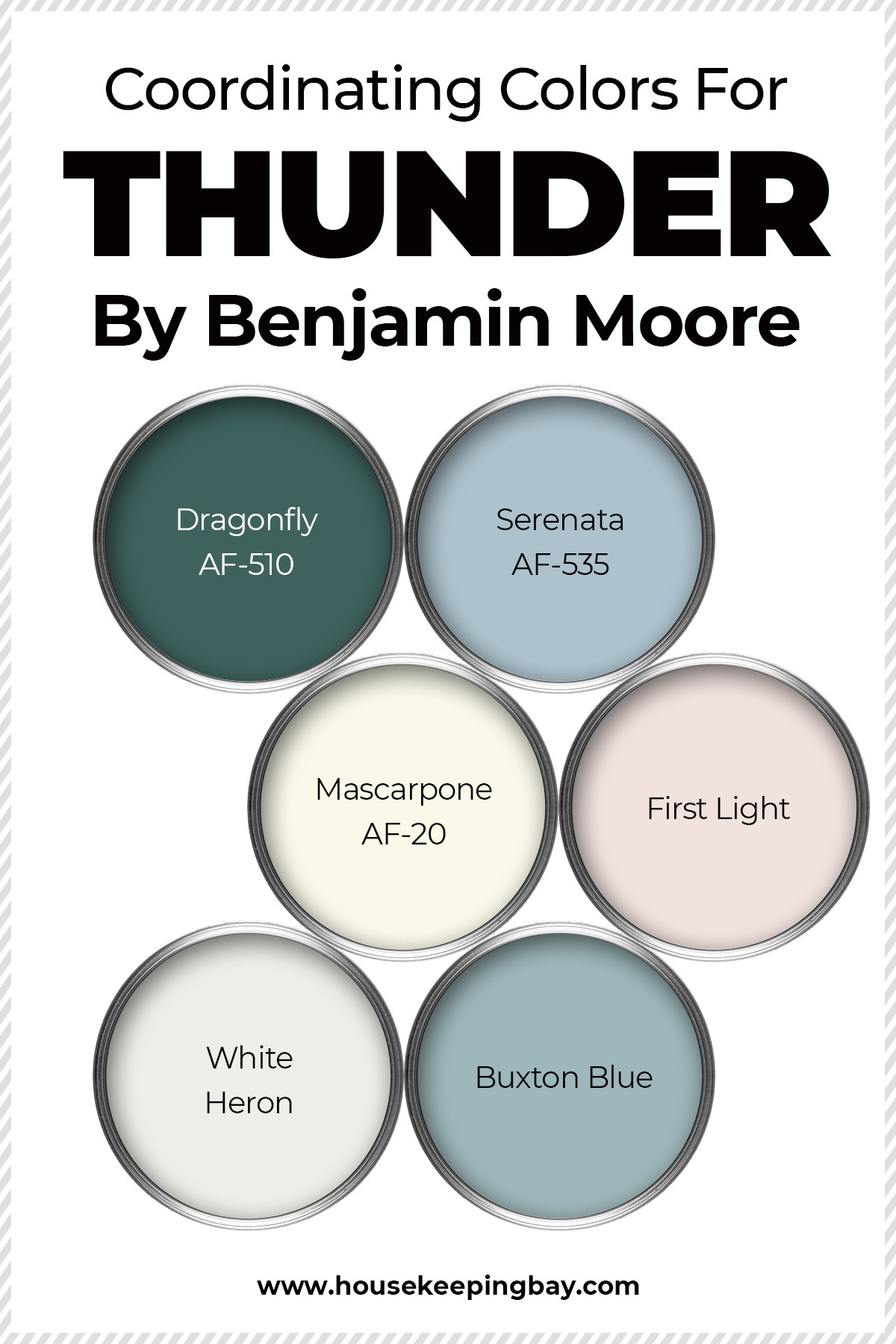 MY FAVORITE GRAY FOR WALLS | Benjamin Moore Thunder AF-685
What Is the Best Trim Color For BM Thunder Paint?
Finding a proper trim color that will combine harmoniously with gray (even such a versatile one as Thunder) is always a tricky task. As a rule of thumb, the optimal color choice for trims is white, but it doesn't make things simpler! Since there are lots of shades of white, choosing the only one that will suit your basic color may appear to be challenging. Especially if you don't have an eye for colors and shades.
This is why we decided to make your life easier and picked up eight different whites that will make an ideal trim for nearly any color.
Extra White SW-7006
Benjamin Moore Cloud White OC-130
Benjamin Moore Decorator's White OC-149
BM Super White OC-152
All of them are highly light-reflective having their light reflectance values over 80, which means that they will hardly look dull or dark on your trims.
Besides, since all of these whites are considered versatile, you can combine each of them with the universal BM Thunder to get an ideal trim for it.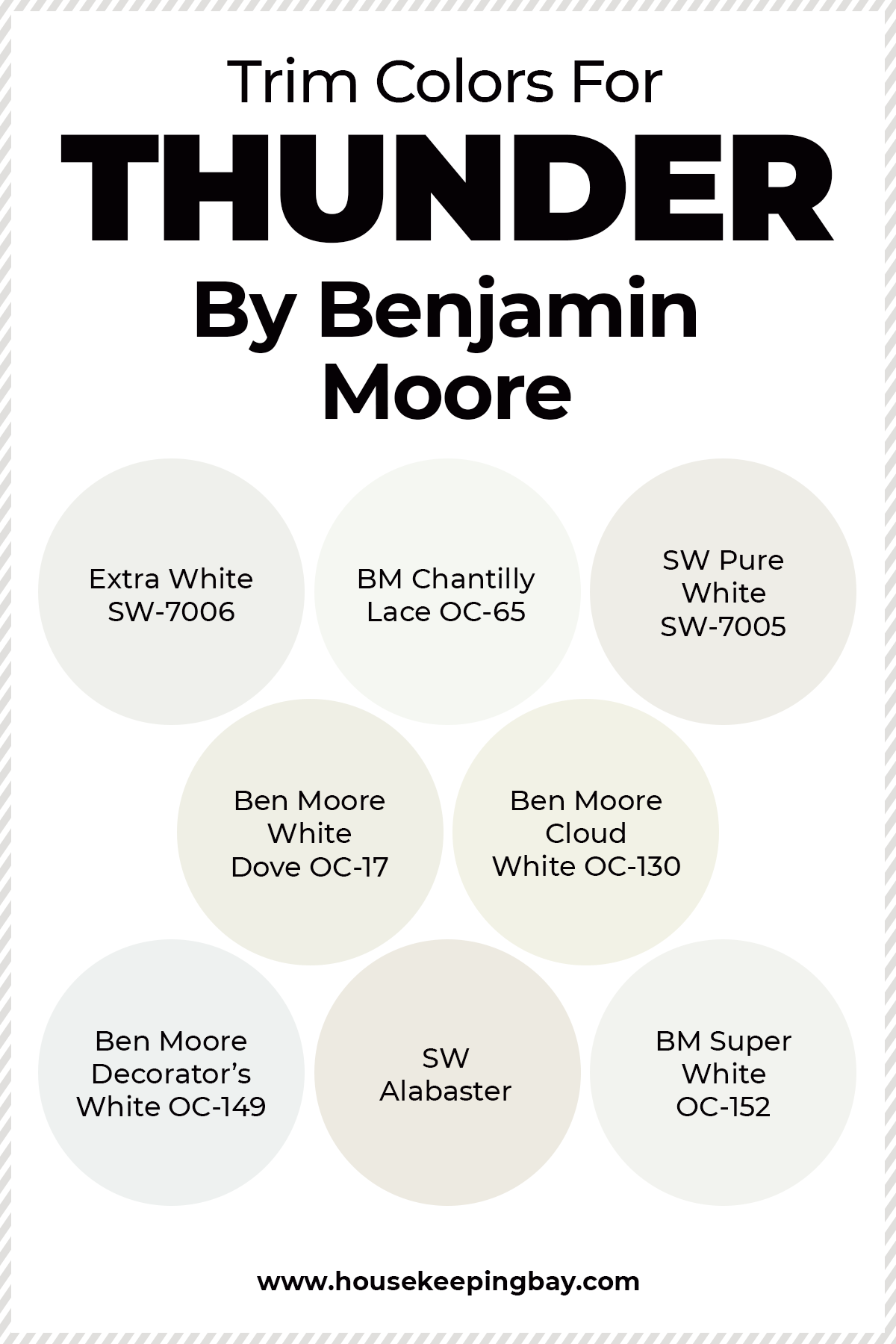 Impact That Lighting Has On Benjamin Moore Thunder Paint Color
Lighting matters a lot when it comes to how we see the paint after it is applied onto the wall. Some colors tend to look darker in a room that lacks natural light, others will look more or less the same no matter the light. This is why you must be sure how the color you choose will behave when being differently lit.
What about BM Thunder? This color is just great because no matter how your room is lit, it will reveal itself perfectly. However, certain nuances must still be taken into consideration, of course.
In a north-facing room where light is cooler and a bit blueish, Thunder will appear cooler and may even reveal that purplish undertone it has.
In a south-facing room where there is bright light throughout the day, this color will look its best being that perfect neutral and well-balanced warm gray.
If you apply it in the east-facing room where the light is the brightest in the morning, the warmer tones of Thunder may come out more.
In a room that faces West having the best light early in the evening, BM Thunder will look warmer because of the red orange light.
With that in mind, you will be able to decide what room or rooms you would prefer to apply this paint in depending on what impression you want to get from the space.
What is LRV? Read It Before You Choose Your Ideal Paint Color
What Rooms Is Thunder AF-685 Best to Apply This Paint Color In?
When it comes to neutral paint colors, we usually meet no complications with their application since they can fit any room with quite few exceptions being known about. And since BM Thunder is such a versatile paint color, we can confidently state that it can be applied anywhere – in any room, it will reveal itself to its best!
Thunder AF-685 in the Living Room
When using this color in your living room, consider the amount of light it receives during the day, as well as the type of lighting (natural or not). But in general, Thunder will look gorgeous in any case.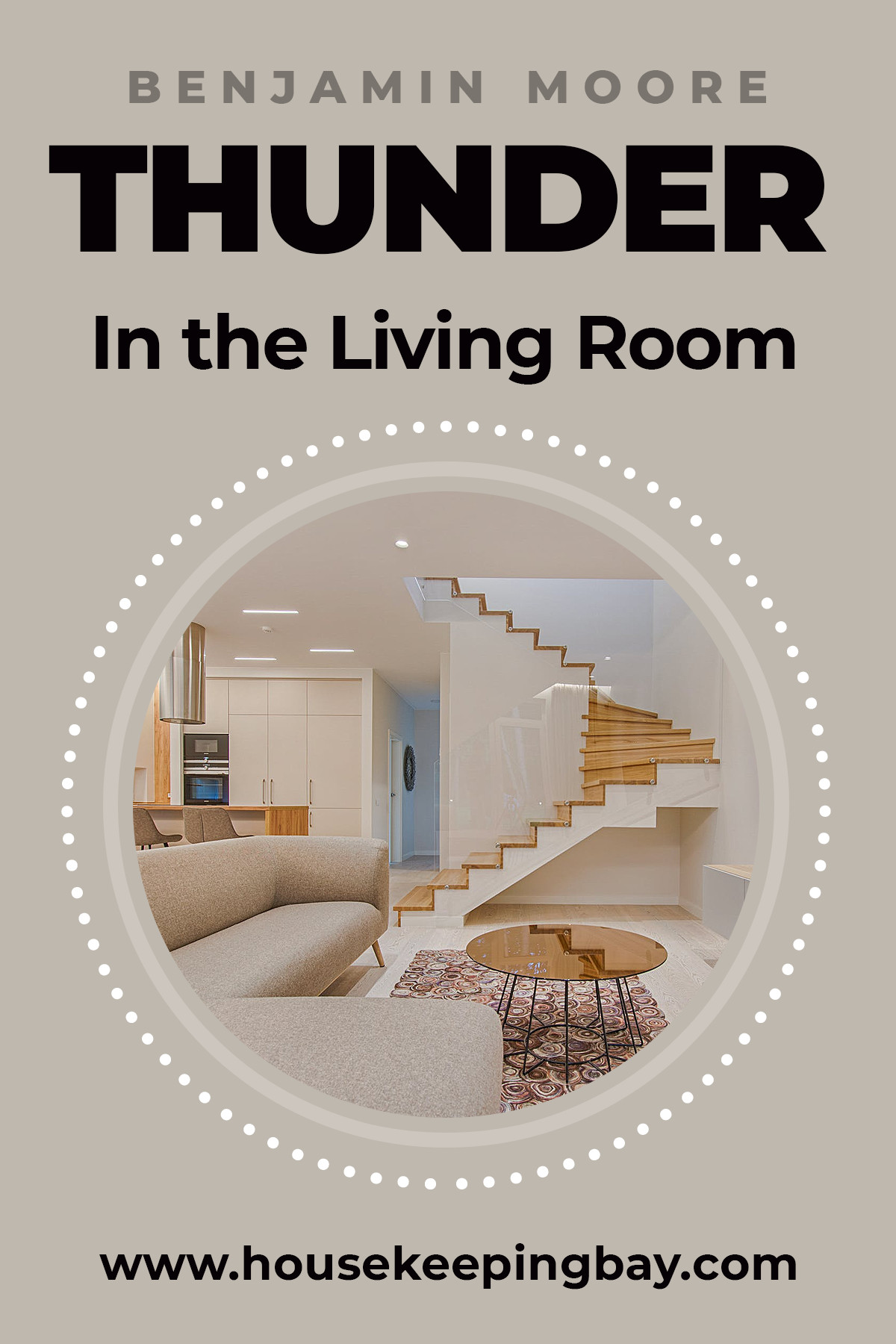 Thunder AF-685 in the Bedroom
This warm and balanced gray is perfect for bedrooms since it creates that calming and relaxed feeling that is so much needed in your sleeping space! Only make sure that the room has enough warm daylight, otherwise, the paint may reveal its coolness that might not always be welcomed.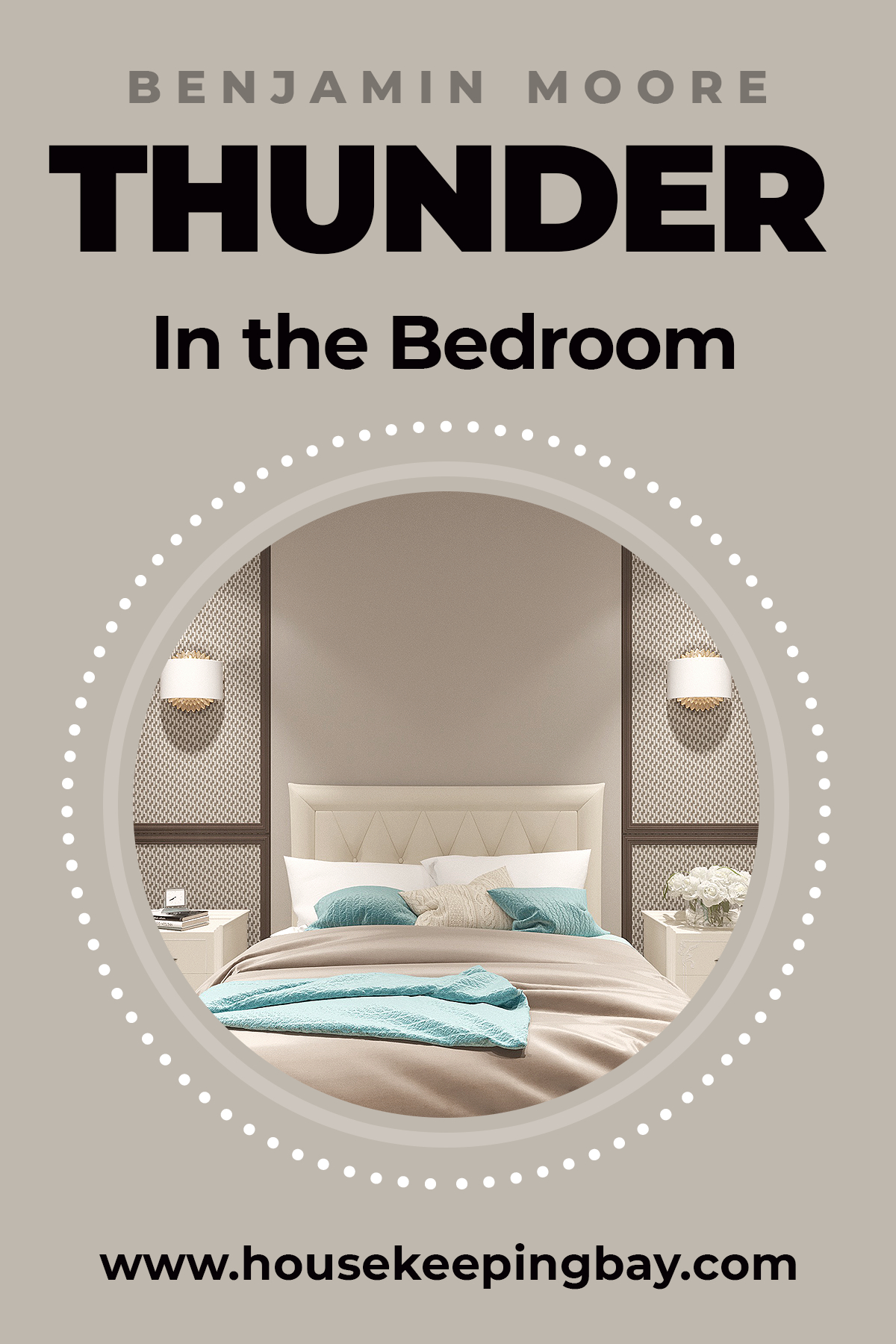 Thunder AF-685  in the Bathroom
Even if your bathroom has little to no daylight, feel free to apply Thunder on its walls. This color is so versatile that it will look great even in quite small spaces with just artificial lighting.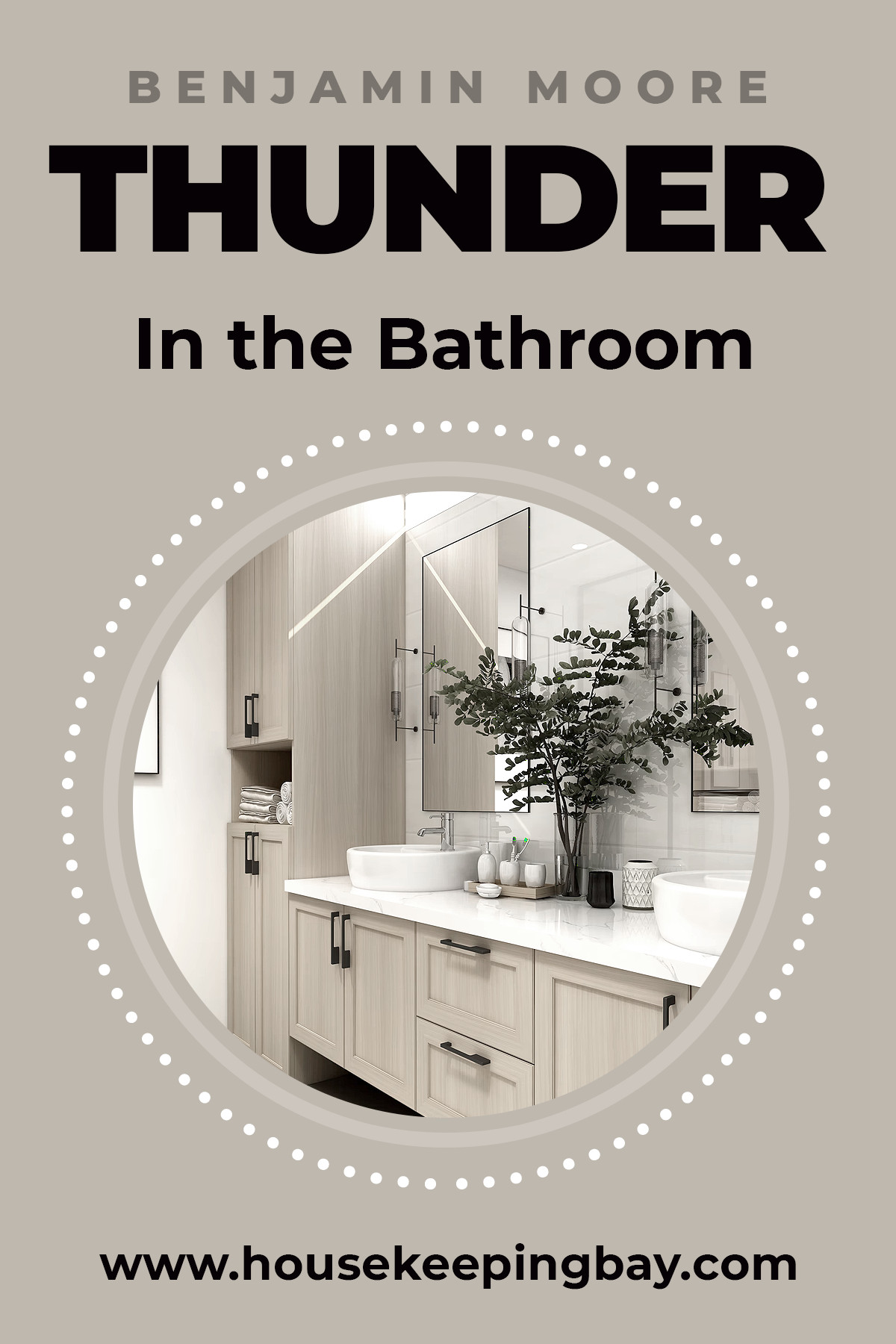 Thunder AF-685 in the Kitchen Cabinets
Using it on kitchen cabinets is a fantastic opportunity to make this color work. Gray cabinets will add character to your kitchen standing out in a stylish way.
Related: Greige In the Kitchen. Detailed Guide
Thunder AF-685 in the Exterior
BM Thunder can even be used as an exterior paint! Besides, house facades are just perfect for this color since it will look absolutely stunning. However, be ready that it will look somewhat lighter when applied outdoors due to the full exposure to daylight!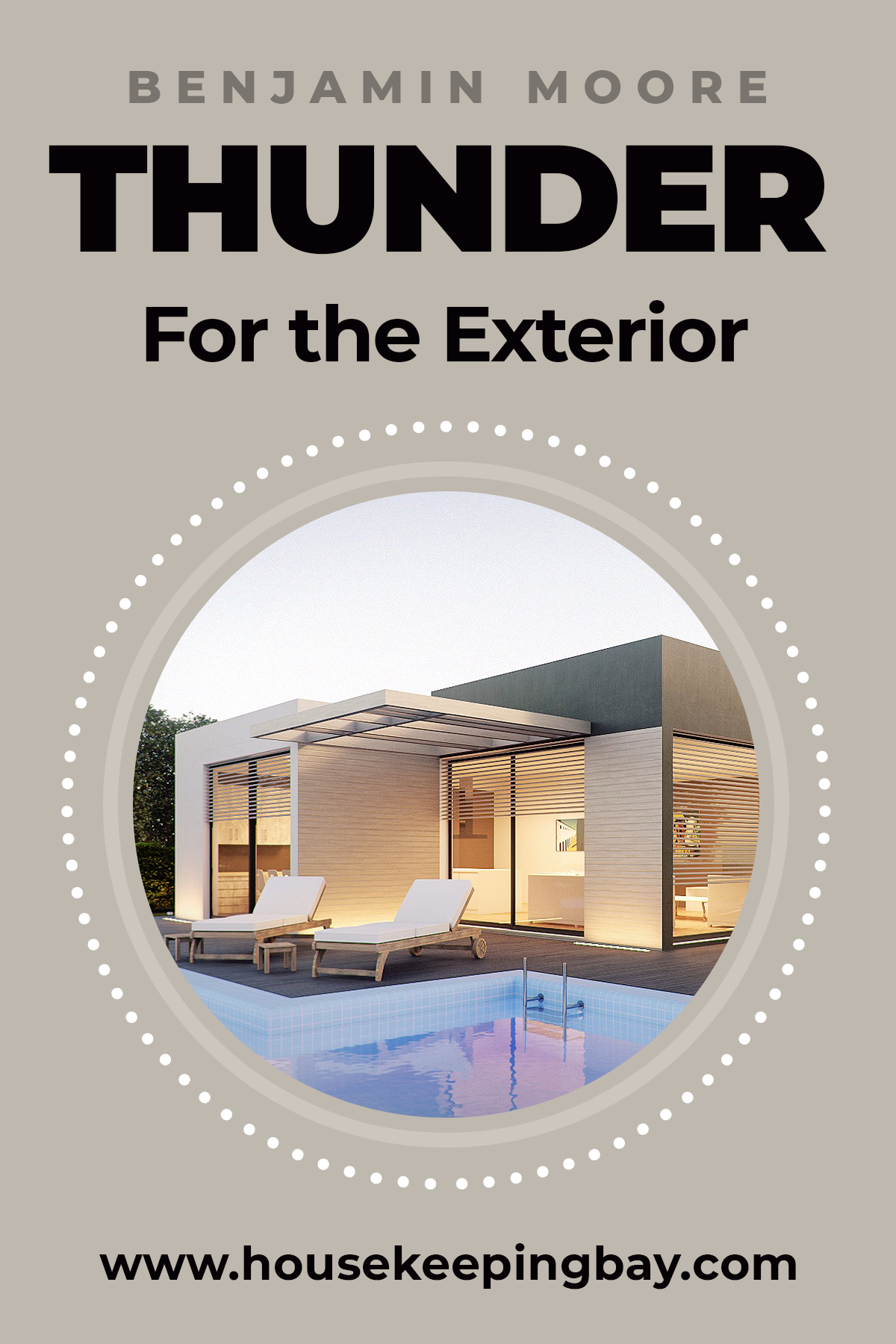 Benjamin Moore Thunder And Other Paint Colors
Combining gray, even though it is so versatile, might be quite a tricky task. This is why we picked up a few gray shades for you to show how BM Thunder will pair with each of them. Who knows, maybe, you will find one of these suggestions useful for yourself?
Thunder vs. Agreeable Gray
Agreeable is lighter than Thunder and it has more of beige and even light earthy undertones whilst Thunder shows more of its grayness being at the same time somewhat darker. So even they look great on their own, combining them will not be a great idea.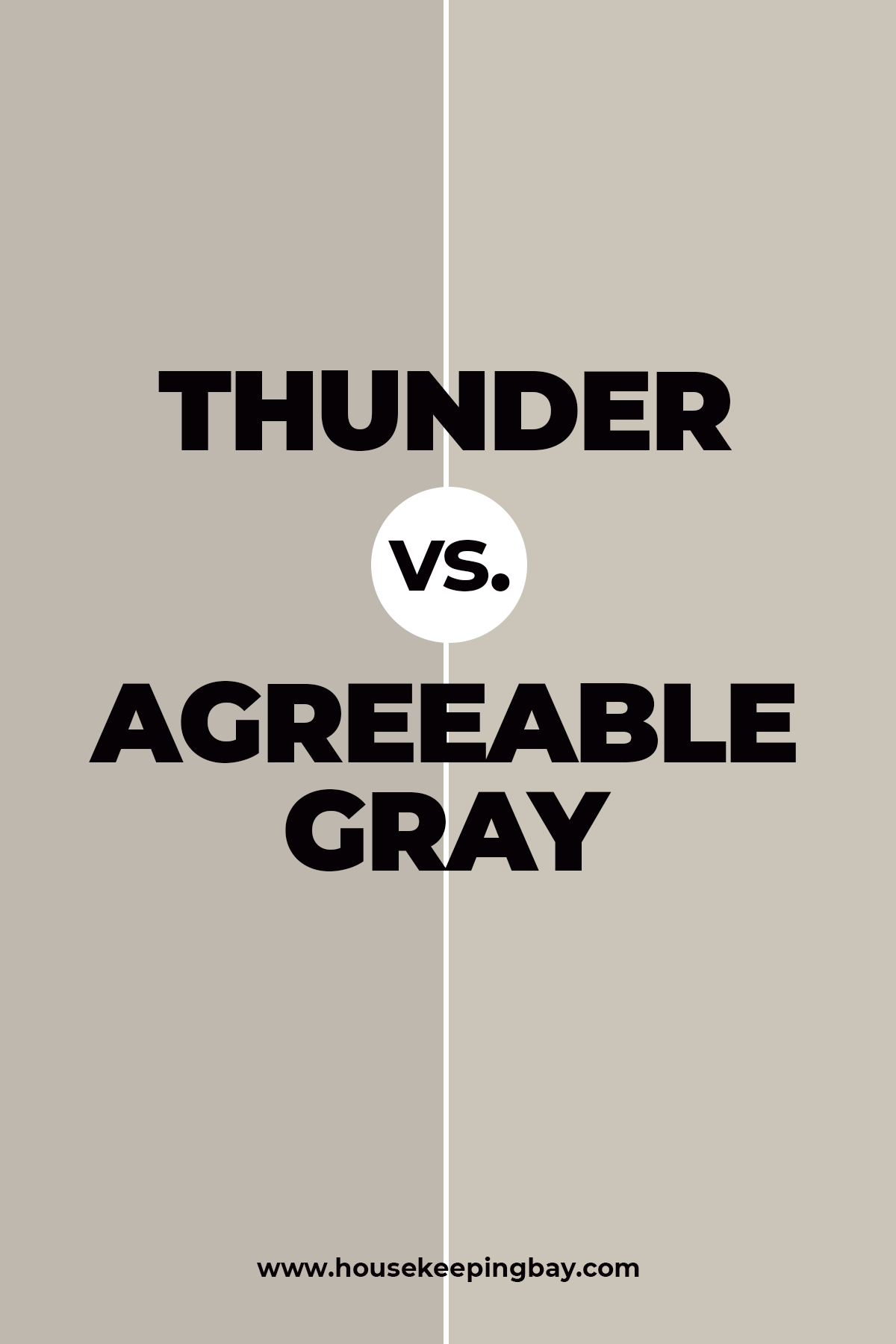 Related: Agreeable Gray In Living Room
Thunder vs. Revere Pewter
These two are both fantastic grays, but Thunder is more neutral whereas Revere Pewter leans more towards greige. Also, Revere Pewter can sometimes look a bit muddy or earthy since it has warm tones in it. Additionally, Thunder has purplish undertone whilst Revere Pewter has green. So, if you are looking for a warmer gray, stick to Revere, but if you need something balanced, choose Thunder.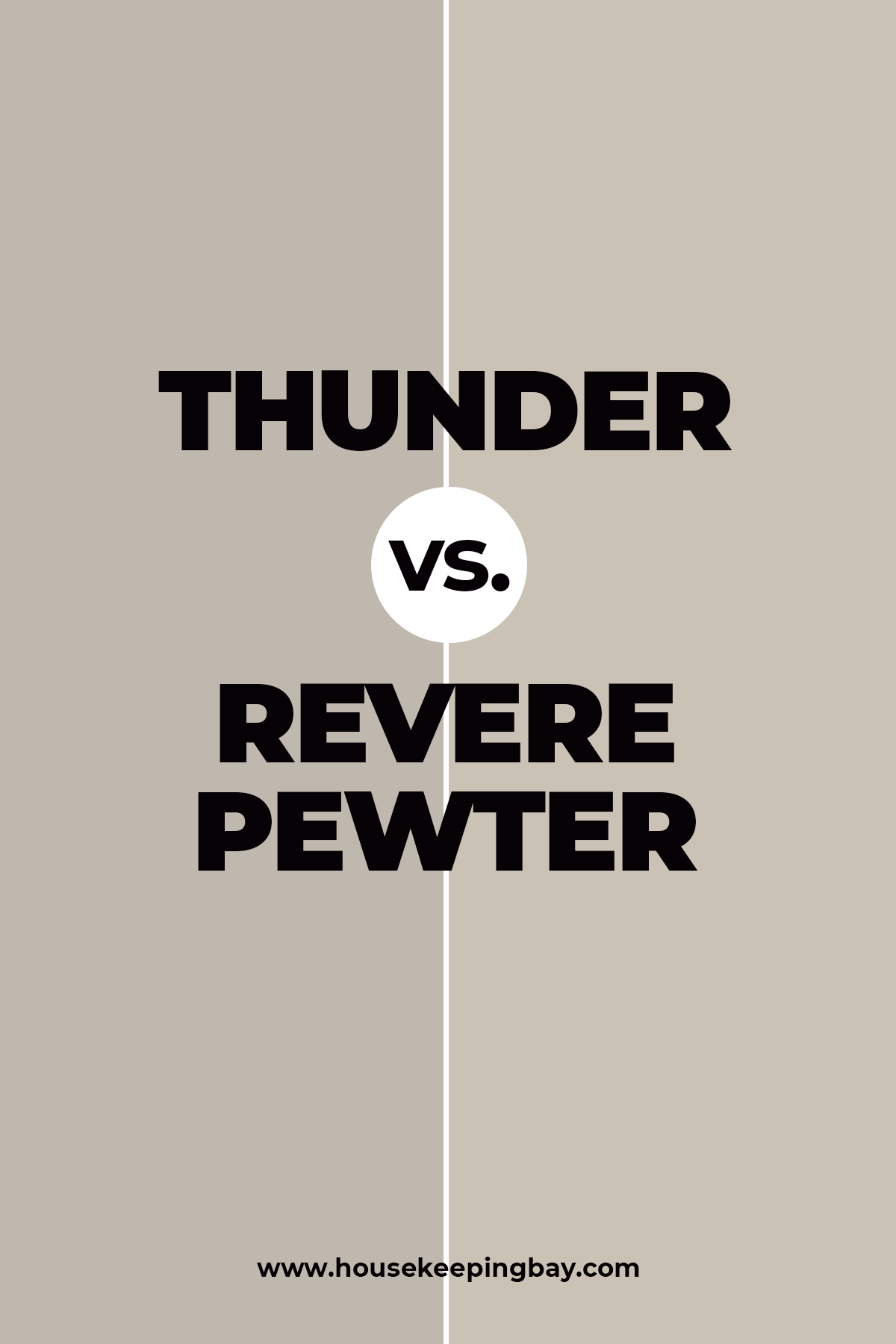 Related: Revere Pewter For the Living Room
Thunder vs. Wish
Wish is somewhat lighter with a more prominent beige hue whereas Thunder leans way more to gray. Though both are warm, they will not look harmoniously together in the same room.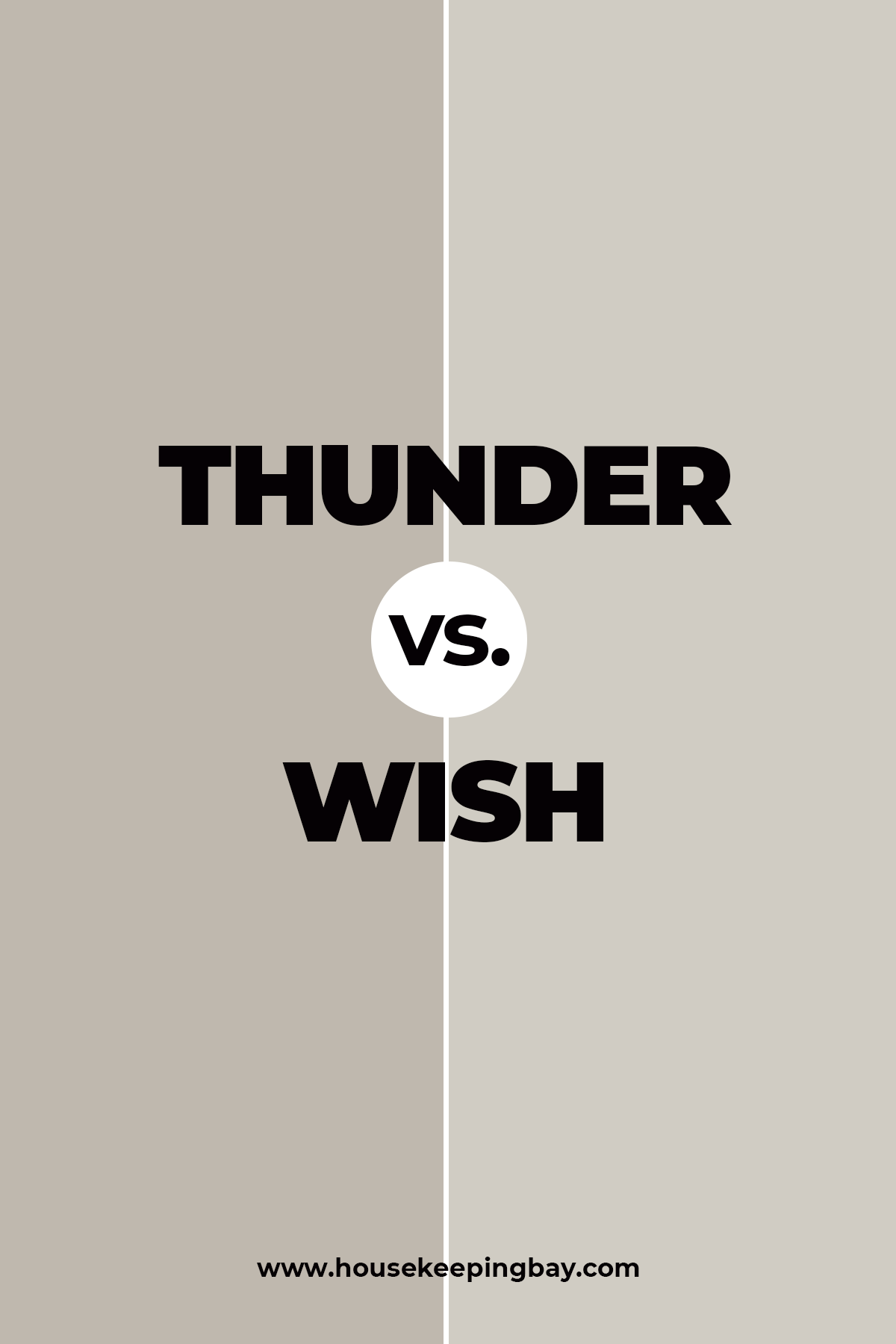 Related: Benjamin Moore Wish AF-680 Paint Color
So, today you have learned quite a lot about the Benjamin Moore Thunder paint color. We told you what coordinating and trim colors are suitable for this gorgeous gray, and also, you are now aware of all the rooms this versatile paint can be used in your home!
Finally, knowing what other colors it can be successfully paired with, you will easily pick up matching paint colors to turn your home into a cozy space that you will enjoy staying in. And since Thunder is really multipurpose, you can easily paint your whole house with it and be sure it will make each room look unique!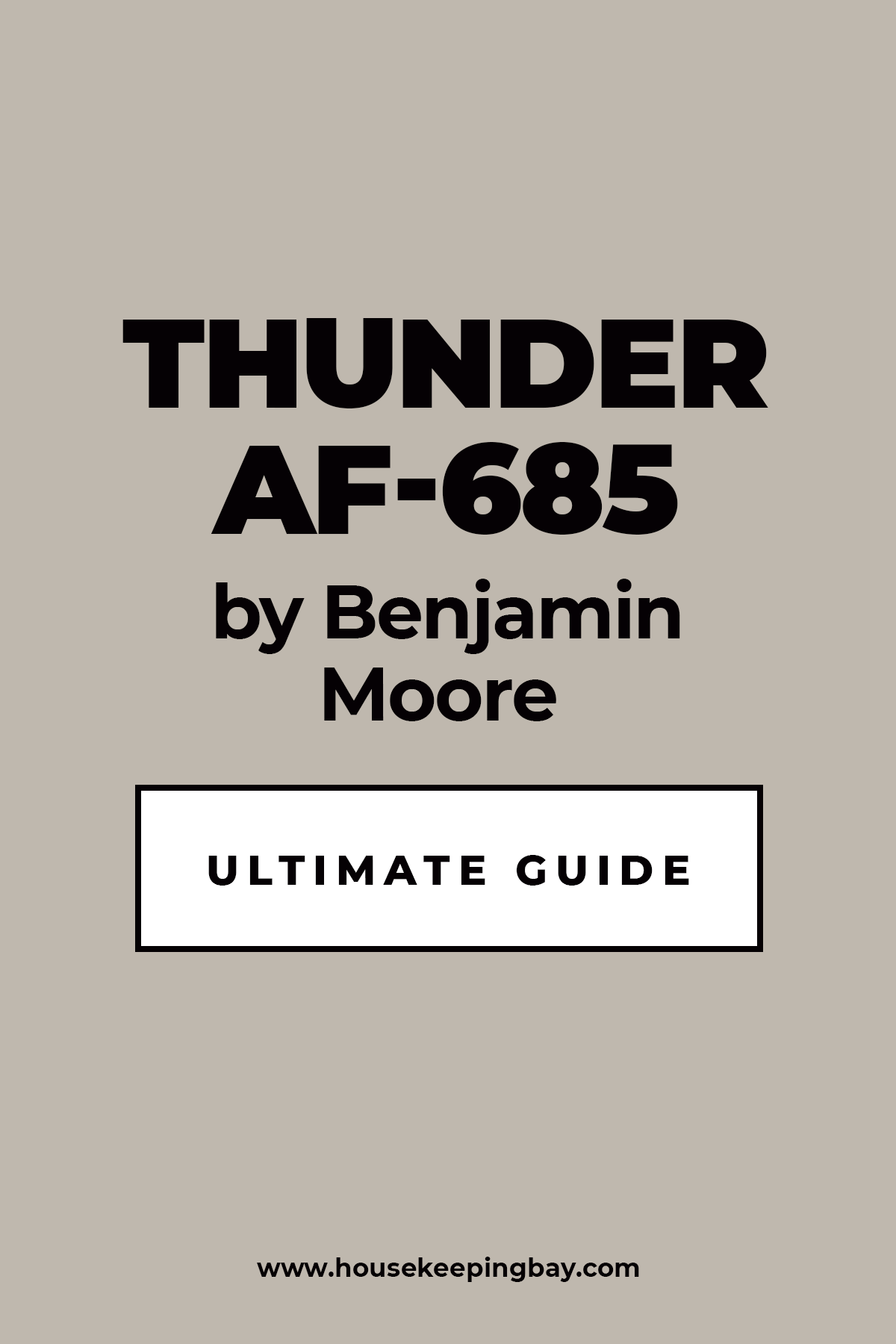 Frequently Asked Questions
⭐ Is BM Thunder a greige color?
⭐ Is Ben Moore Thunder a light color?
It's a balanced shade of gray, neither too light nor too dark.
⭐ What's darker than BM Thunder?