White is one of the most popular and widely used paint colors in our homes due to its versatility. Whites go well with most colors, and they can easily be incorporated into any interior style and design! However, some shades of white require more attention and caution if you want to use them in your home.
One such white is the Oxford White paint color by Benjamin Moore. Today, we will tell you more about it to help you better understand this color. You will learn what kind of white it is and how it reads in a space.
Also, we will explain how to coordinate BM Oxford White and what colors can be used instead of it. You will learn what colors go well with this white and in what rooms it will work best.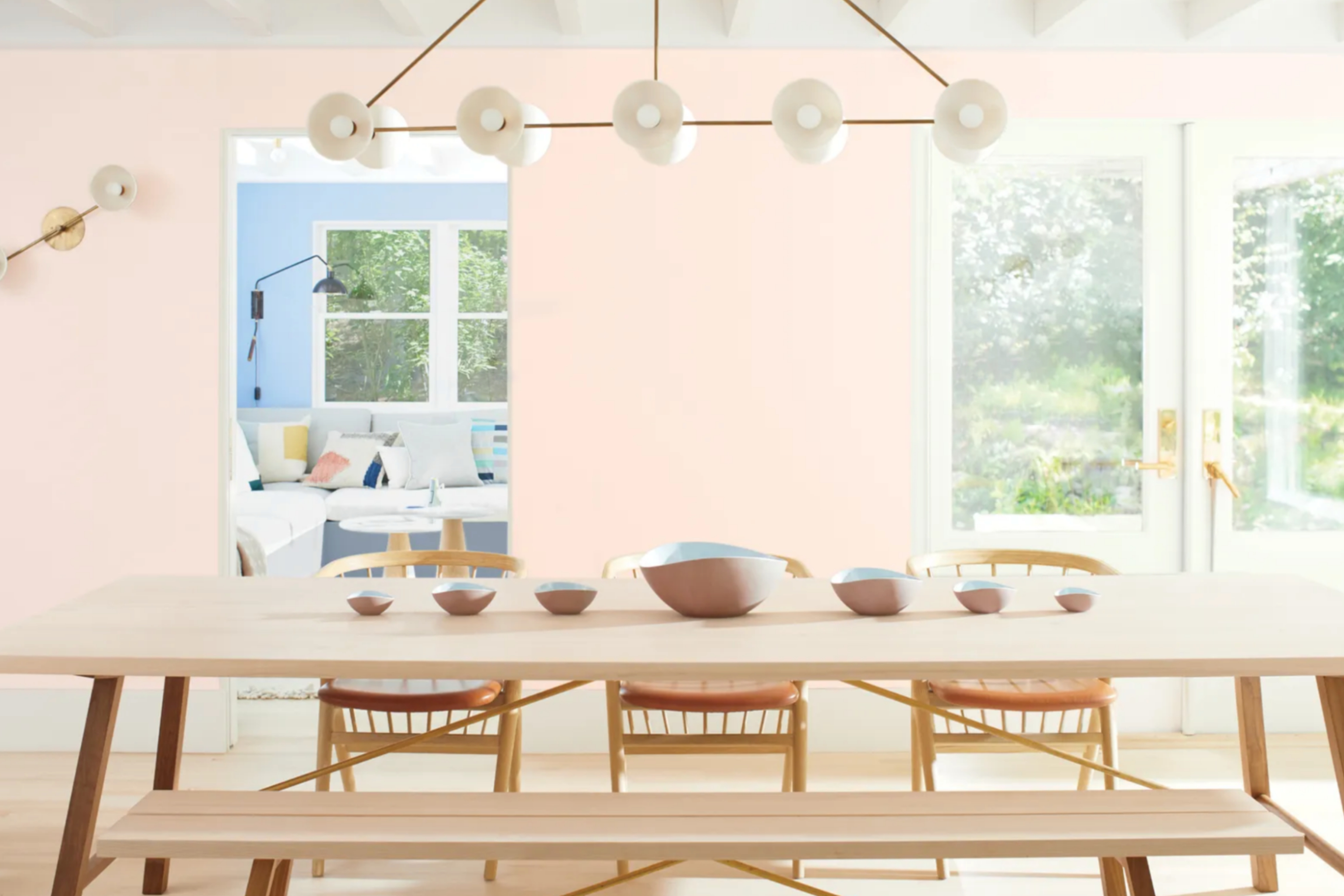 What Kind of Color Is Oxford White CC-30 by Benjamin Moore?
As it comes from the color's name, it is white. However, whites can also be different, and BM Oxford White is no exception! This color is a classic and timeless bright white with the slightest cool-toned cast. This white is a part of the Designer Classics color collection by the Benjamin Moore brand, and you may also know it under the White Heron name.
However, you can't call this color simple. Due to its undertones, which we will talk about a bit later, BM Oxford White can work rather tricky on the walls! There can be a slight dash of gray sometimes, depending on the lighting in the room. This can make the color read a bit cooler than it actually is.
As Hextoral says, BM Oxford White is a lovely white color to use in rooms with cool-toned color palettes or as a subtle contrast to warmer neutrals. Also, it will work nicely with silver metalwork.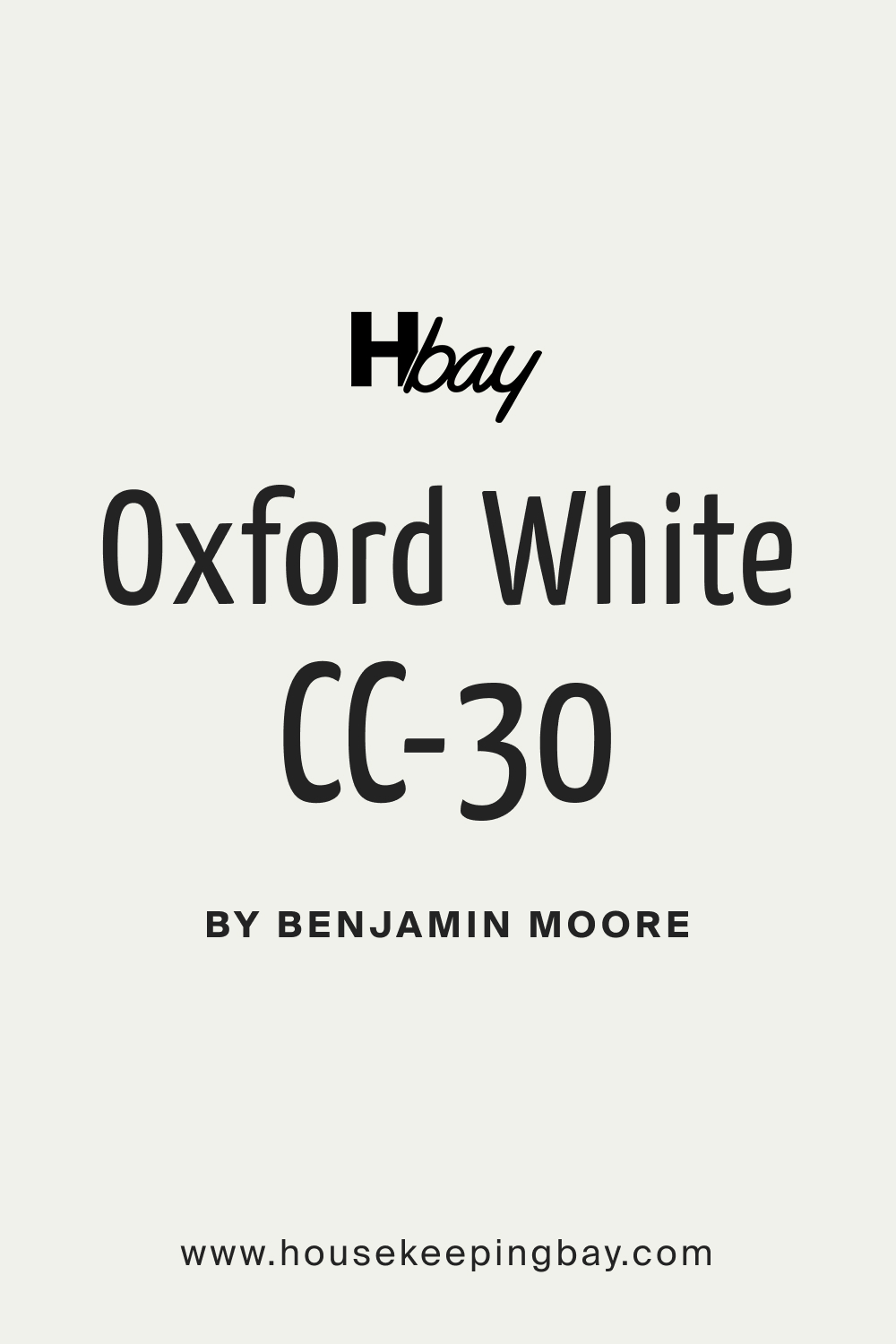 Is BM Oxford White Paint a Warm or a Cool Color?
As we have already said, BM Oxford White is a tricky color. The trick is about its tone since this white may read both warm and cool-toned. For example, it might look like a simple white, but in fact, it's a slightly warm white. This warmth can be enhanced if you use this color in a room with southern light and western afternoon sunshine.
On the other hand, BM Oxford White may read somewhat more cool-toned, revealing its grayish undertone if you use it in a room with cold northern light. This is why, before you use it in your home, ensure you sample the color to see how exactly it will read on your walls!
What Undertones Does Oxford White CC-30 Have?
Undertones are essential in how paint colors read on the walls and other surfaces. Quite often, a color that seems very simple appears to be pretty complex when you apply it to the surface. This is why you must always check out what undertones the color has before using the paint in your home!
Speaking of BM Oxford White, this color also has complex undertones. The color reads a very subtle warm, being able to pick up a yellow undertone sometimes barely. But also, there is a touch of green in there, which can be seen under specific lighting conditions.
Finally, this color may also show a very slight hint of grayish hue. But generally speaking, BM Oxford White is a relatively soft, muted white.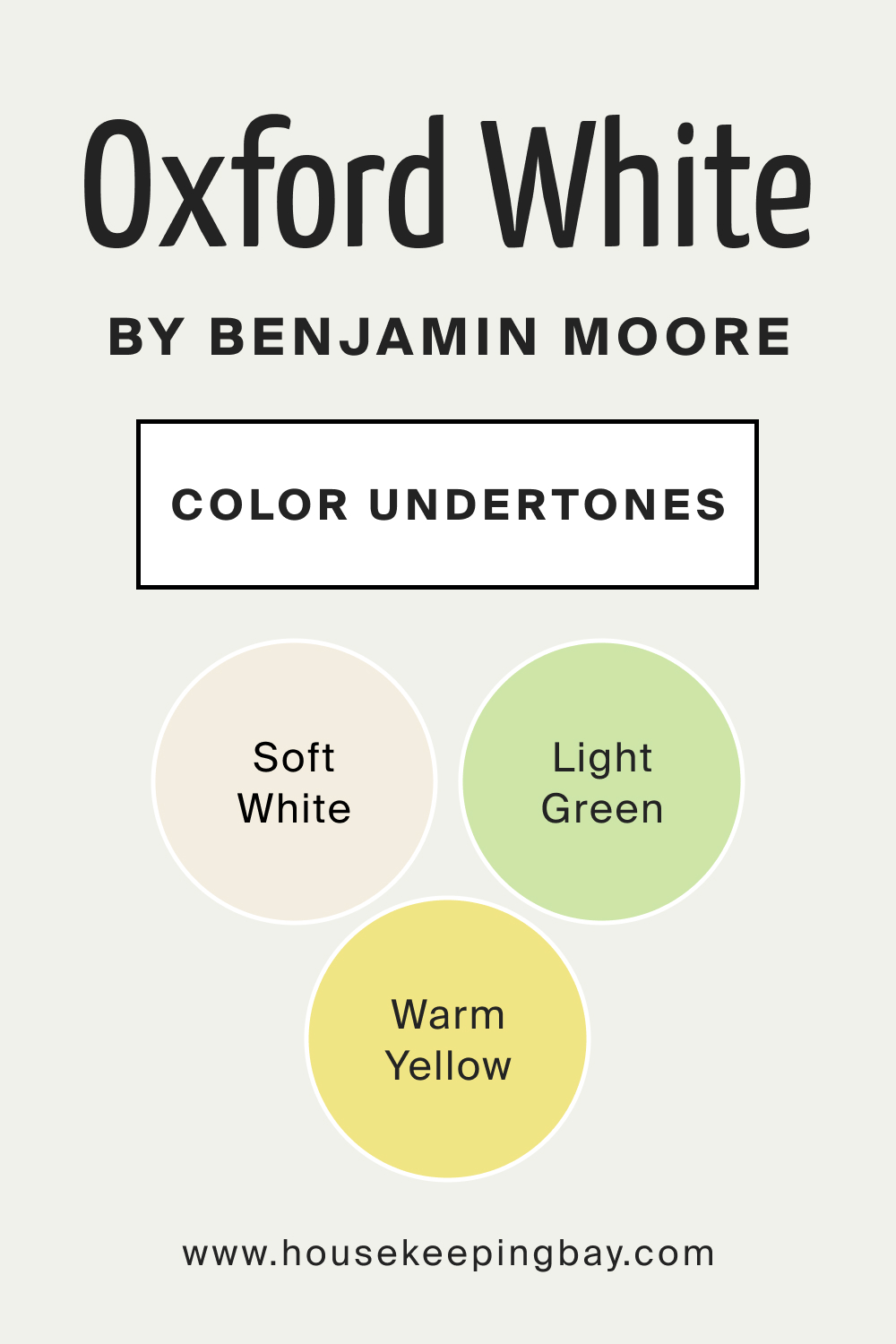 What Coordinating Colors BM Oxford White Has
Why is it essential to know what colors to use to coordinate the paint color on the walls? If you know coordinating colors, you can create a harmonious and well-balanced color palette in a room, as well as highlight the "leading" color used on the walls.
For BM Oxford White, two paint colors are best to use as coordinating ones:
BM Silver Lining
These colors will make your space look more varied and also, and they will emphasize the warmth and beauty of BM Oxford White on the walls.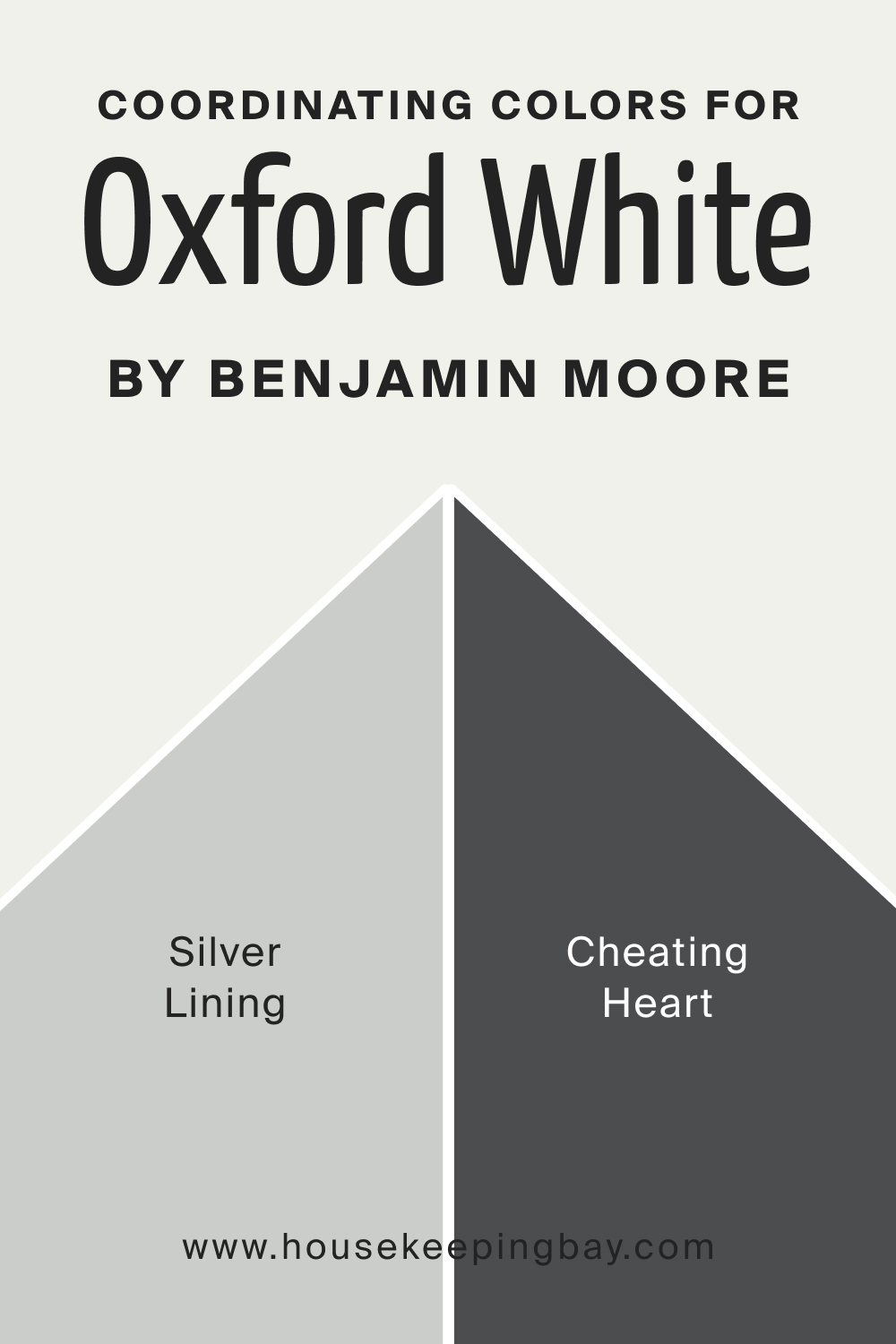 What's the LRV of BM Oxford White Paint Color?
BM Oxford White has an LRV of 86.69, which means it is a white paint color. However, if you compare this white with other whites, for example, with Chantilly Lace or Sherwin Williams High Reflective White, you will see that the Oxford White color is not as white as they are. Also, BM Oxford White is not as soft or warm as Benjamin Moore White Dove or Swiss Coffee. In terms of its light reflectance value, this white sits somewhere in the middle.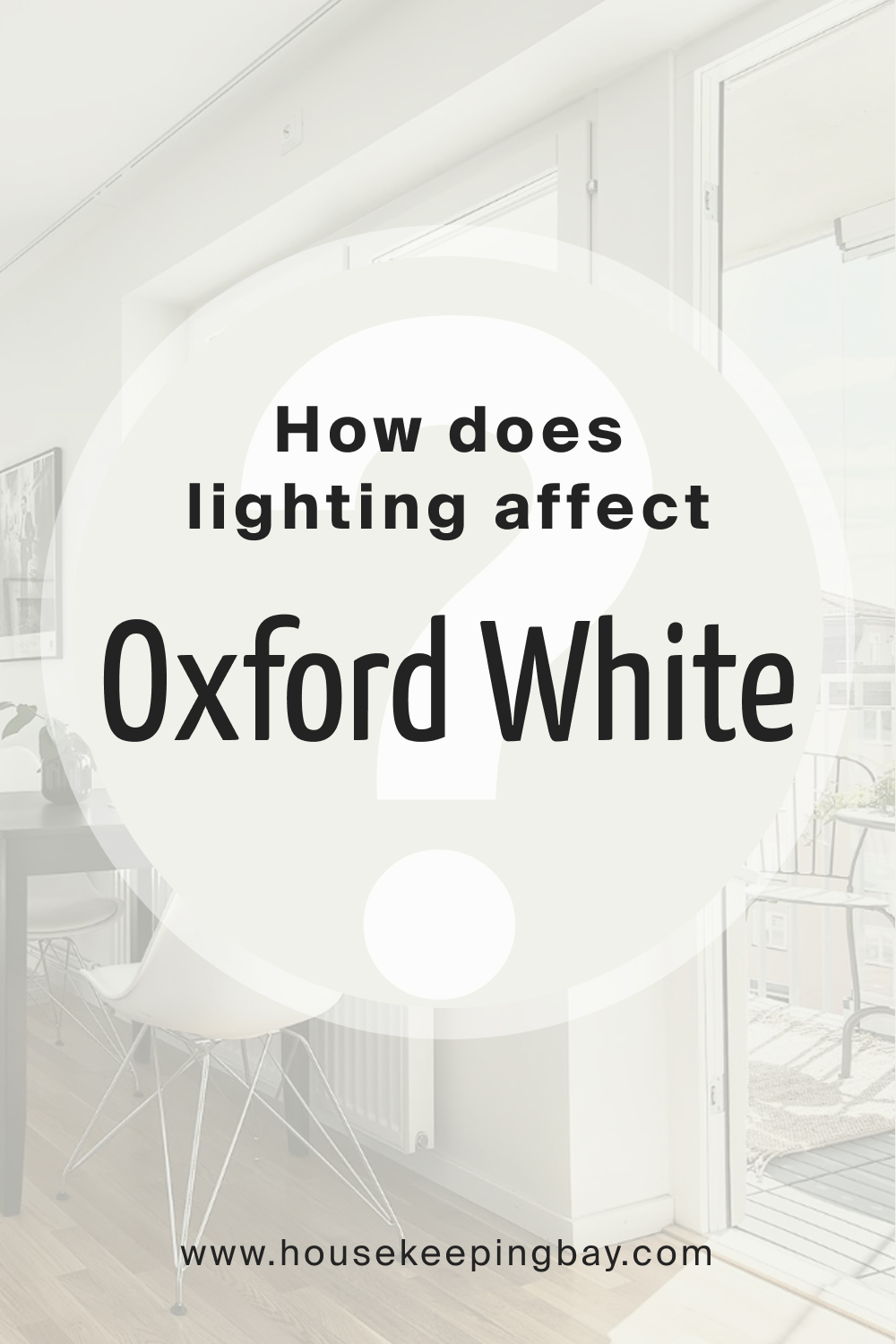 Just to remind you, LRV stands for Light Reflectance Value. This measurement shows how much light paint color can reflect when it is applied to the wall. The LRV scale ranges from zero to 100, where zero is the darkest black, and 100 is pure white.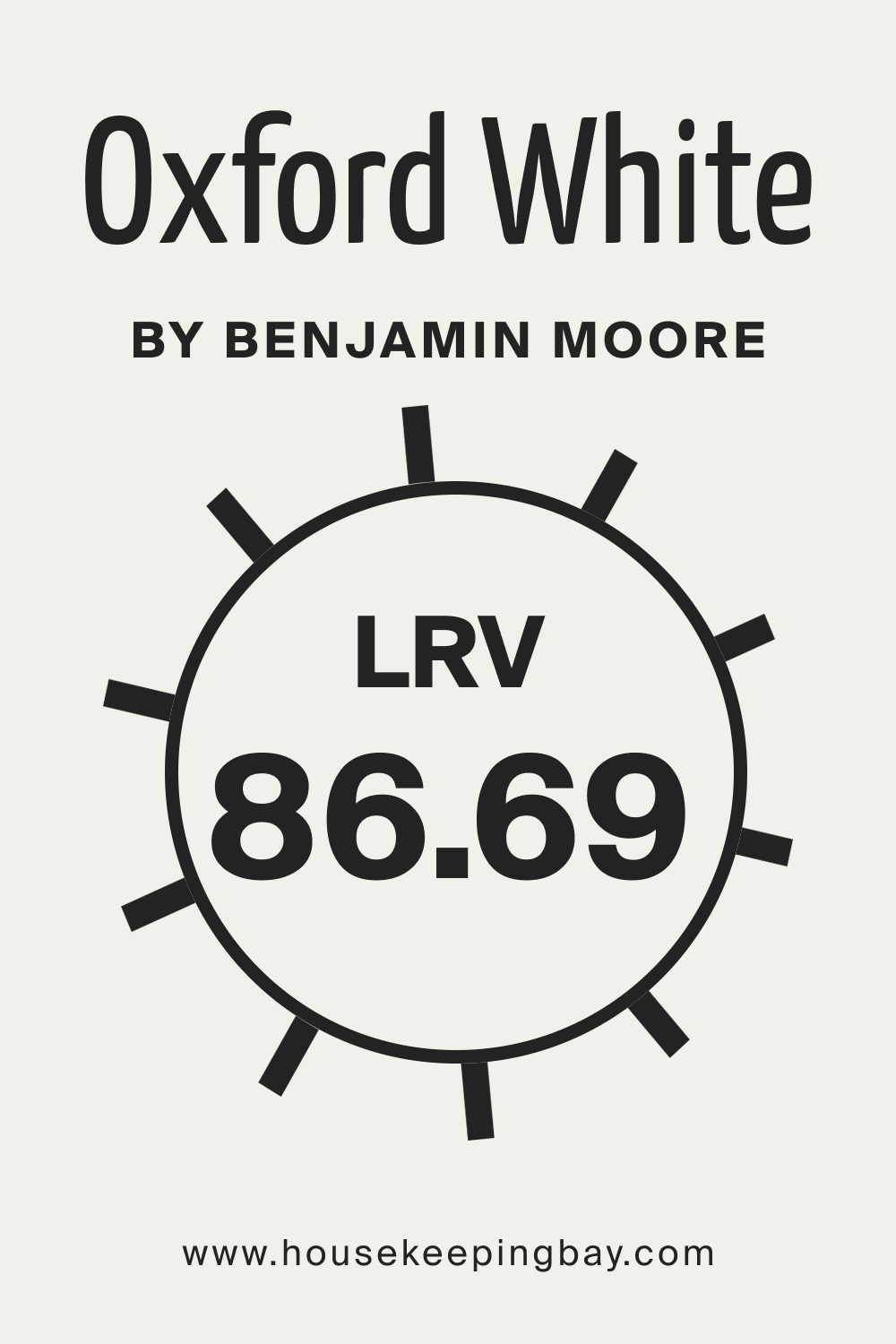 Trim Colors For Oxford White CC-30 by Benjamin Moore
BM Oxford White is a complicated color for your home because of its trim colors. See, this white belongs to those colors that can be used both on the walls and trim! Yes, you got it right: the best trim color for BM Oxford White is…BM Oxford White.
You can simply paint the walls and trim in the same white paint color. However, to differentiate them, we recommend you use paints with different sheens. For example, you can paint the walls in Oxford White in a satin sheen and the trim in Oxford White in a semi-gloss sheen.
Thanks to the sheen difference, the light will reflect off the trim more. This will make the trim look brighter than the walls.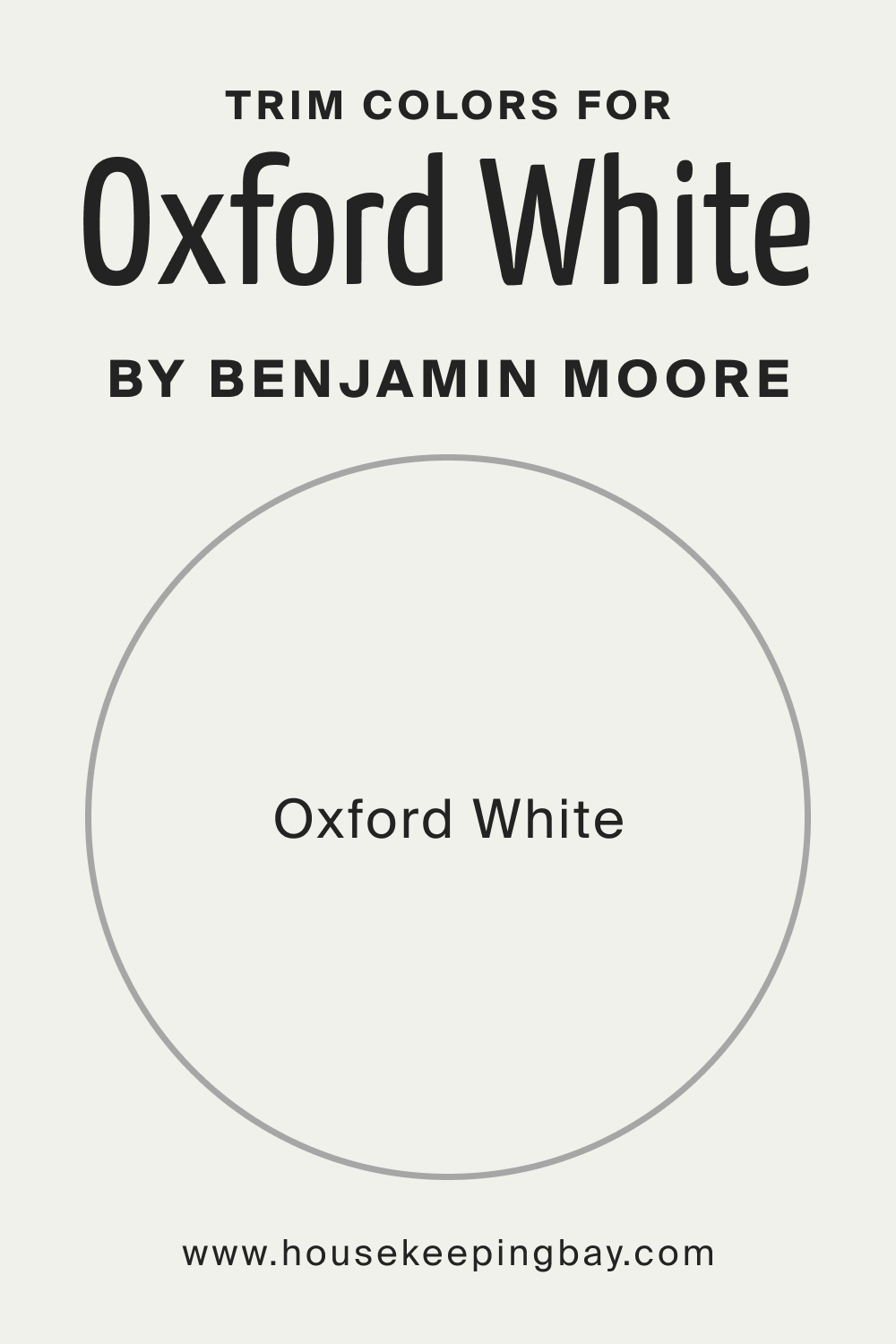 Oxford White CC-30 Similar Colors
Sometimes, you might want to use a paint color on the walls that reads nearly the same as the color you were initially going to apply. However, the hardest part of the task is to pick the color that will look as similar as possible!
If you need to find substitute colors for BM Oxford White, it's going to be hard to do because of its particular blend of undertones! There is no exact color match. However, some other colors may work well as substitute colors.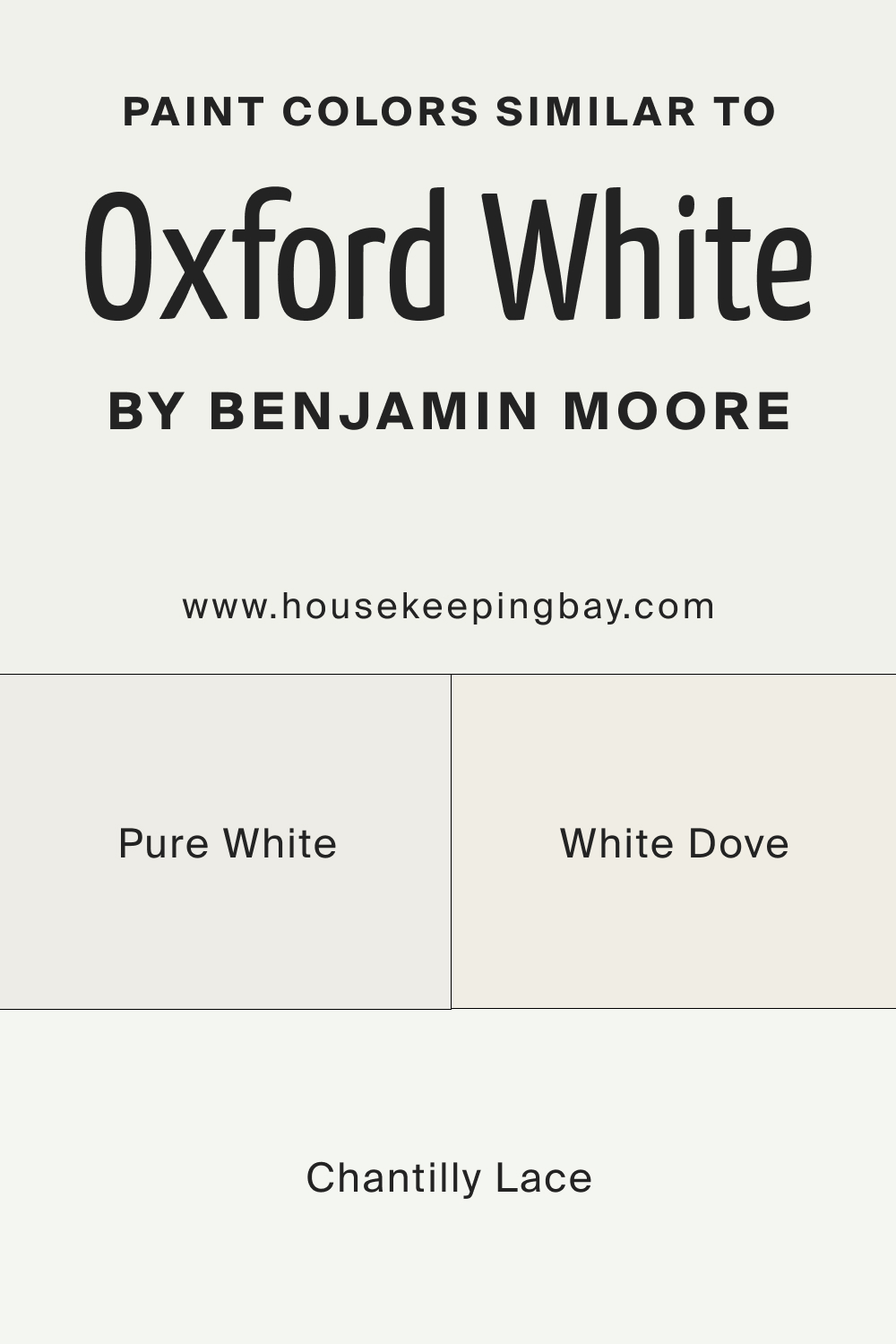 Colors That Go With BM Oxford White
If you want to have a balanced color palette in your room, you should know what colors will go well with the paint color you use on the walls. If you have BM Oxford White on your interior walls, consider the following colors as the most suitable ones to pair with it:
BM Van Deusen Blue
BM Secret
BM Stonington Gray
BM Metropolitan
BM Raintree Green
Generally, you can use BM Oxford White with brighter and lighter shades of blue, as well as with navy blue and similar deep shades of this color. Shades of green and gray will also pair nicely with this white. For a more delicate palette, try soft and powder pink.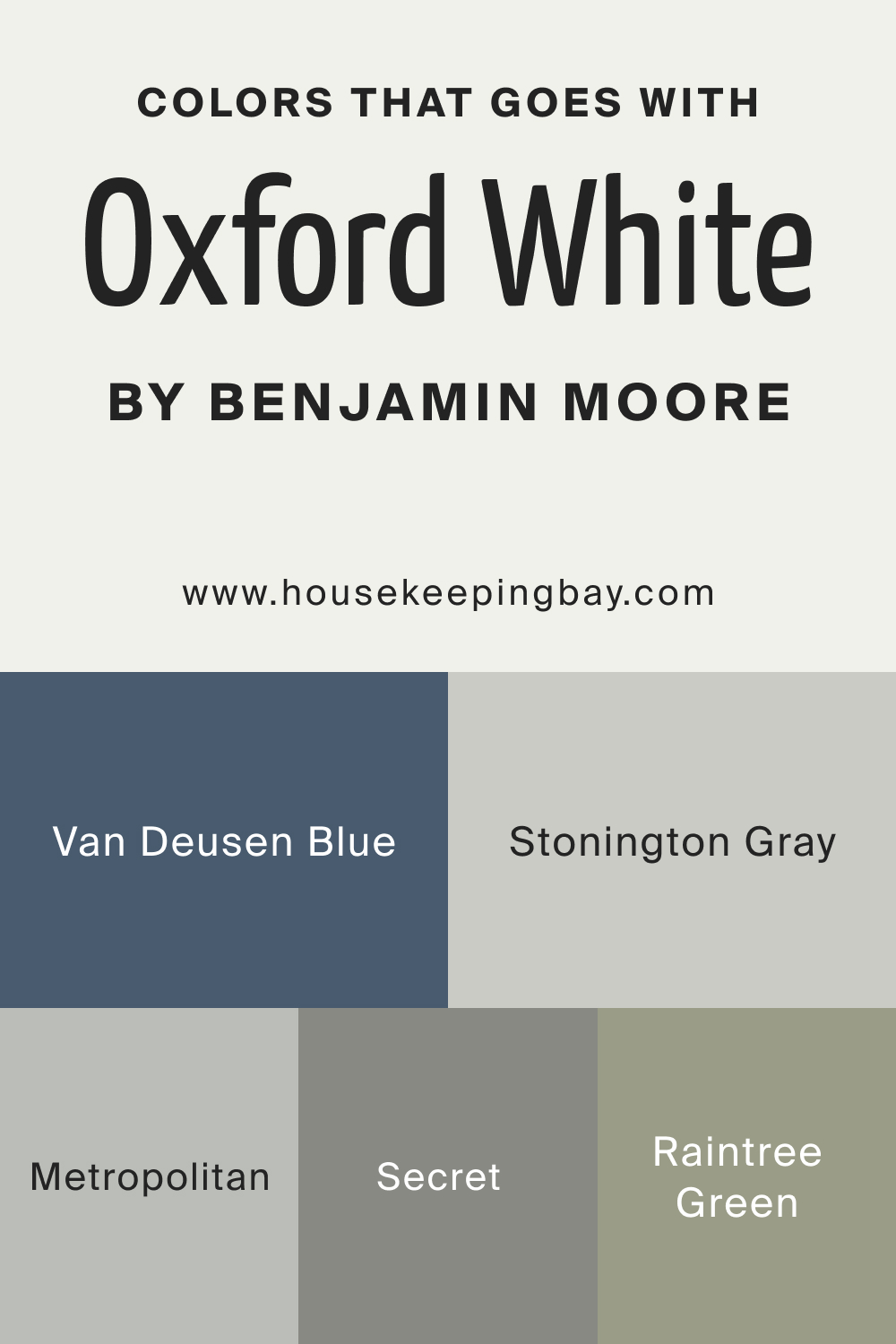 Comparing BM Oxford White With Other Colors
To help you choose between paint colors you may be considering, we suggest you compare the Oxford White paint color to other popular colors that are either in the same color family or have the same uses. In particular, we suggest you compare BM Oxford White to a couple of popular Benjamin Moore white paint colors, Chantilly Lace and Simply White. Also, we will compare Oxford White to several other colors.
Oxford White vs. Chantilly Lace
BM Chantilly Lace has a hint of yellow, which makes it a very clean white that barely reads warm. BM Oxford White, on the other hand, is a little warmer because it has more yellow.
The LRVs of these colors are also different. Chantilly Lace has an LRV of 90, which makes it one of the brightest and lightest whites of the Benjamin Moore brand. Oxford White has an LRV of 86.69. Also, it has more gray than Chantilly Lace, which makes Oxford White a more muted color. As a result, Chantilly Lace will read somewhat brighter and lighter.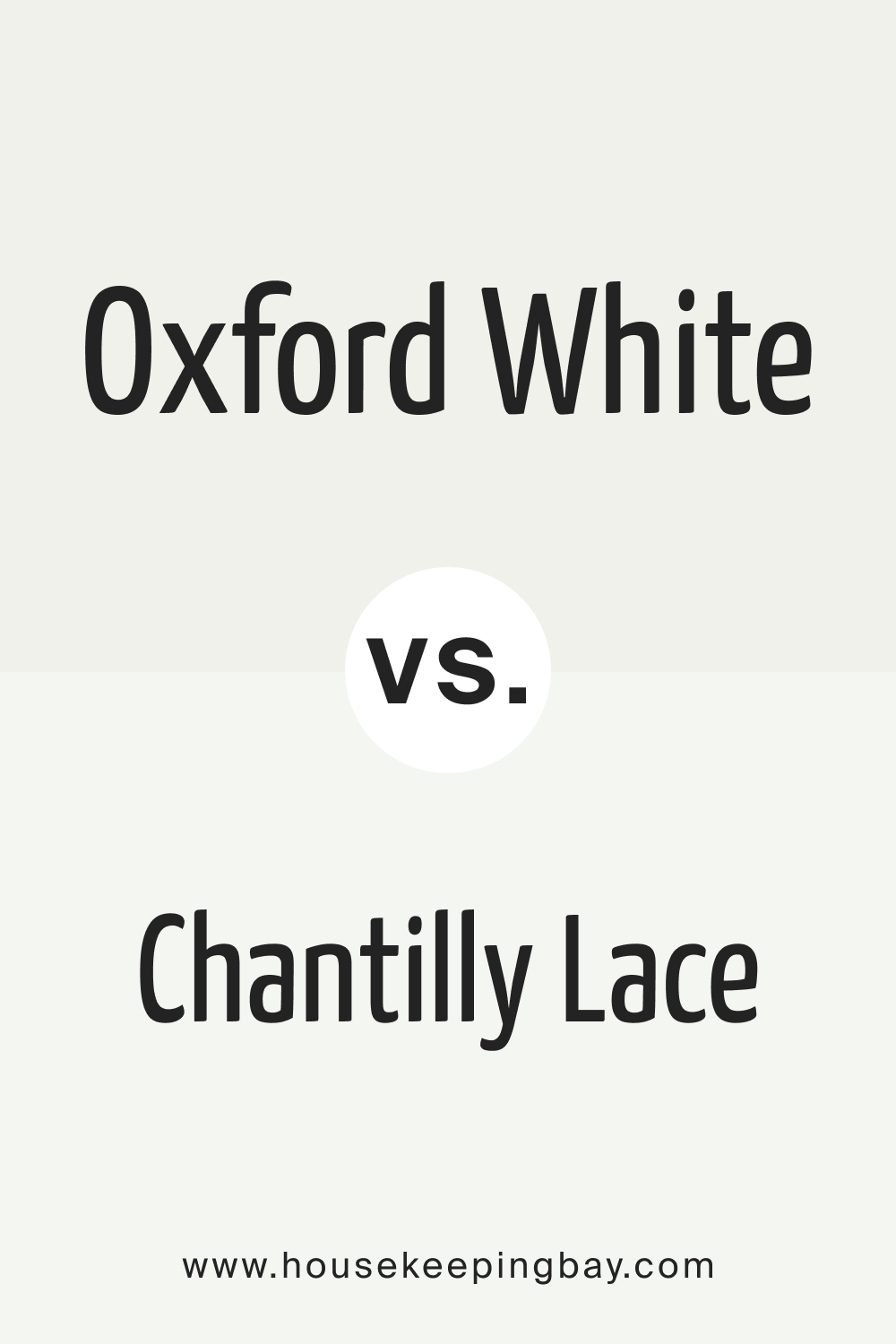 Oxford White vs. Simply White
Simply White has soft yellow and gray undertones, which makes it similar to Oxford White. However, Simply White has more yellow and less gray. As a result, it reads warmer than Oxford White. Both Simply White and Oxford White are versatile whites, but Simply White looks a little brighter.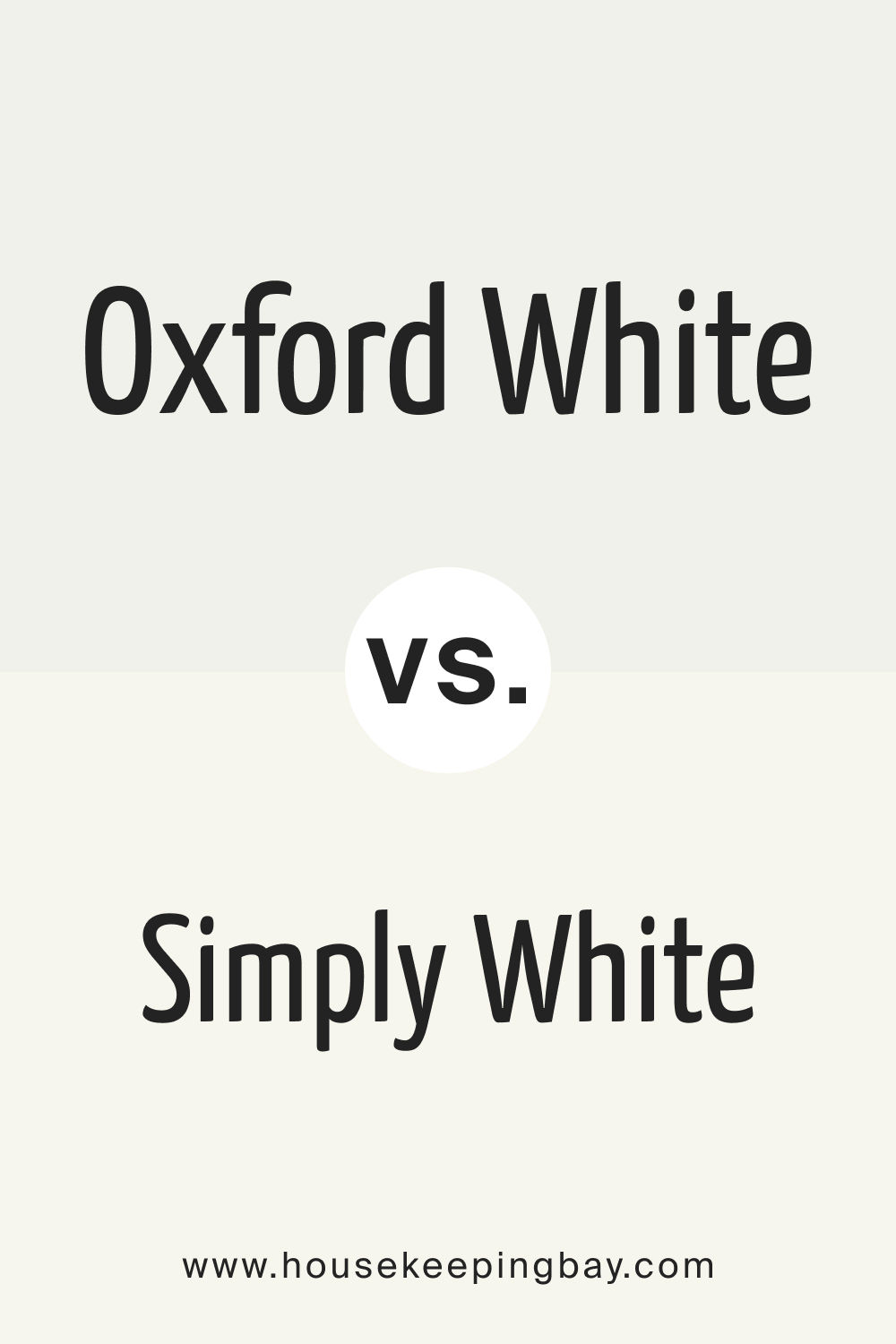 Oxford White vs. White Dove
BM White Dove has an LRV of 83, which is a bit lower than the LRV of Oxford White, which is 86. This means BM White Dove reads a bit more muted and shaded than its counterpart.
Speaking of undertones, both colors have gray and yellow undertones. However, BM White Dove's yellow undertones are mixed with a slight gray. This creates a soft creamy off-white color that looks warmer and softer than BM Oxford White.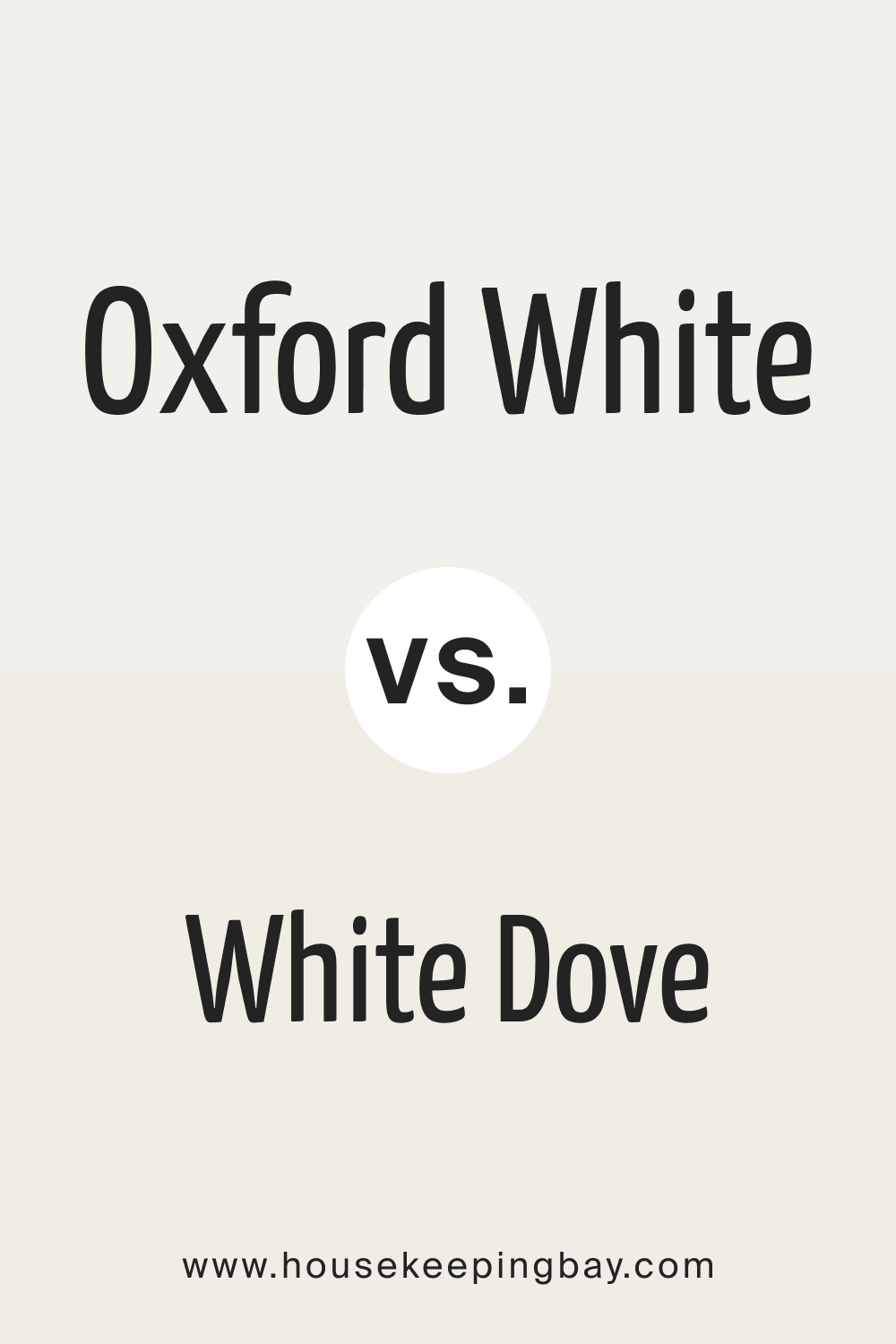 Oxford White vs. Cloud White
BM Cloud White has soft yellow undertones making this color read warmer and yellower than BM Oxford White. Compared to BM Cloud White, Oxford White reads grayer and a bit more cool-toned.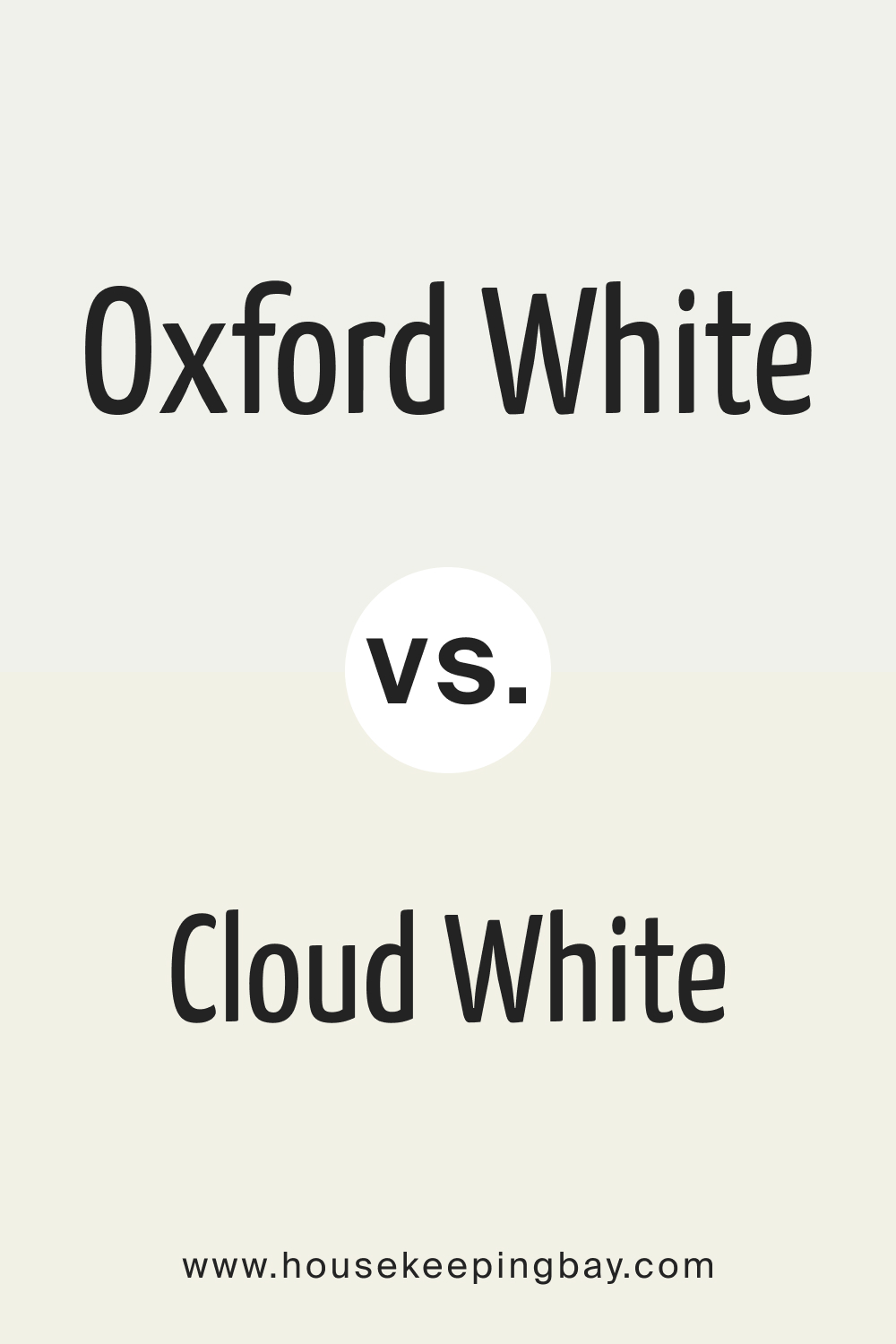 Oxford White vs. Decorator's White
These colors look different because of the undertones they have. BM Decorator's White has subtle gray and purple undertones with a barely seen hint of gray, which makes it a slightly cool white. BM Oxford White, on the other hand, reads grayer, revealing its slight greenish undertones more clearly.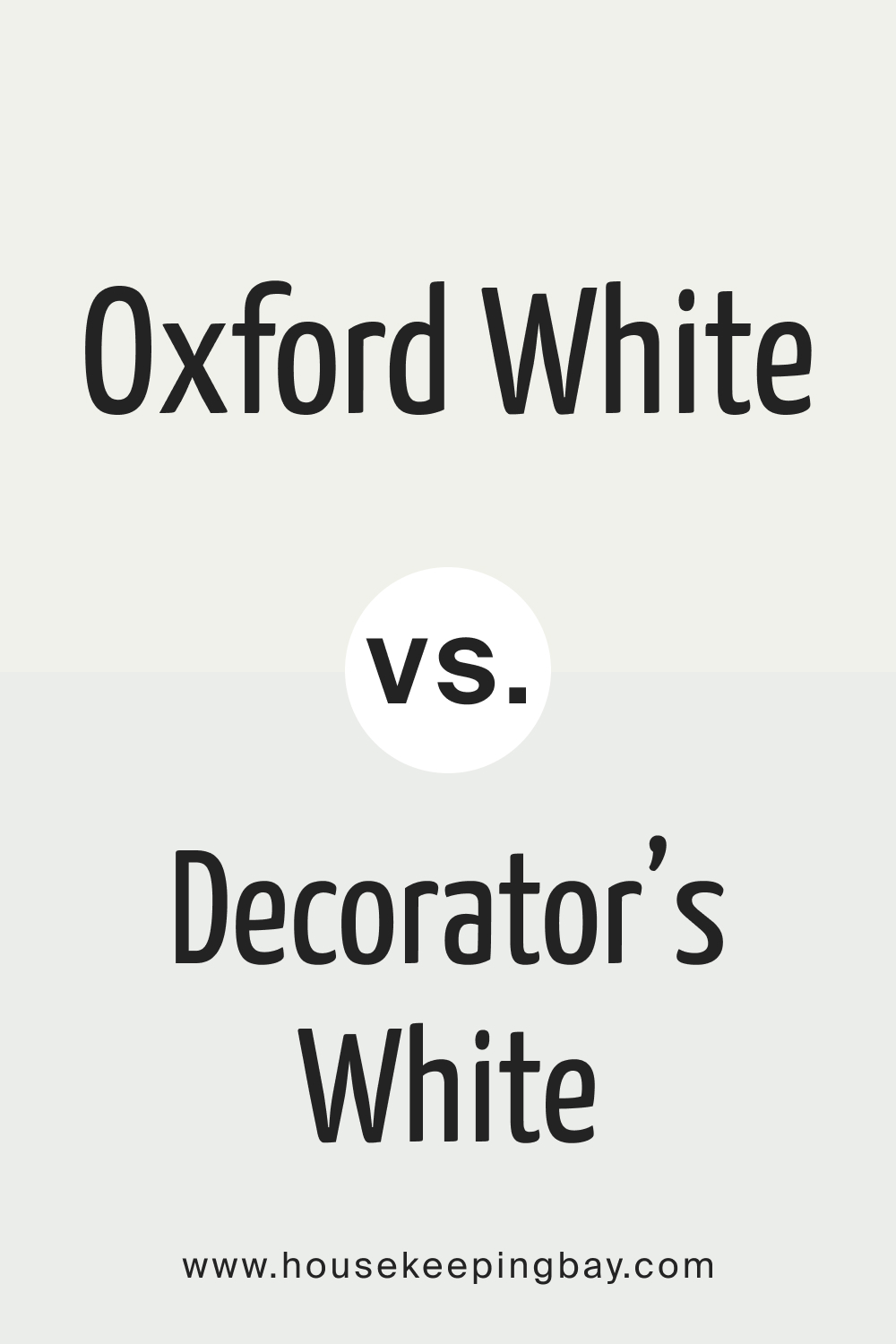 Where to Use Oxford White CC-30 Paint Color In Your Home?
Since BM Oxford White is a tricky white color with complex undertones, you should know how it may read in different rooms and spaces, as well as on different surfaces. This will help you better understand how it works indoors and outdoors, making it more straightforward for you to decide where to use this color in your home.
Oxford White CC-30 in the Living Room
For your living room, this white can be an excellent color choice if you want a classic and elegant look that doesn't make the room read too crisp or sterile. BM Oxford White will add that soft and delicate whiteness that makes rooms read spacious and airy. Besides, you can easily combine this color with different textures and styles!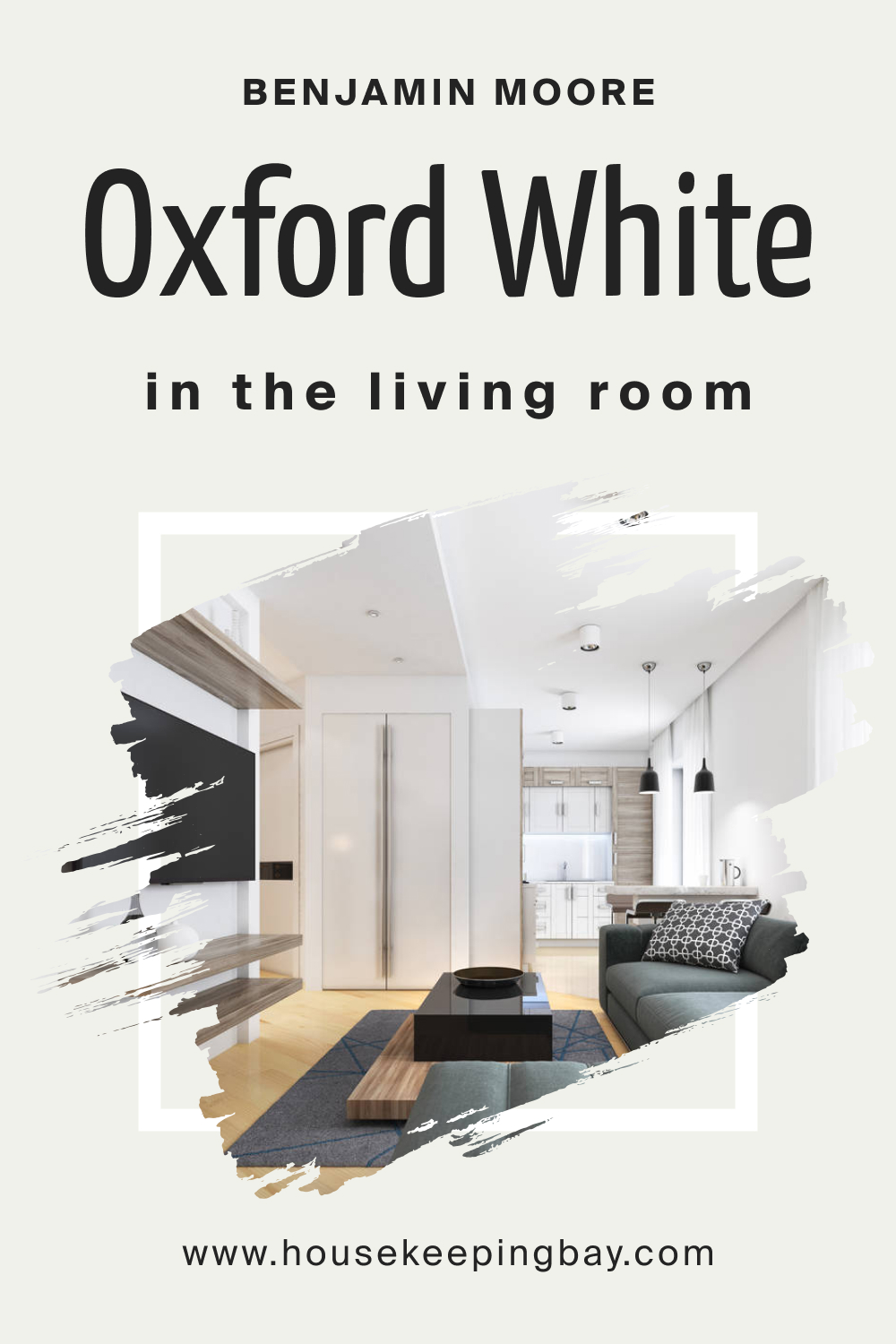 Oxford White CC-30 in a Bedroom
For bedrooms, this white is also a good color choice. Since it works nicely with natural fabrics and materials, as well as with different textures, you can use rattan furniture or decor elements in your bedroom (e.g., lampshades) to highlight the warmth of this white and make your space look cozier.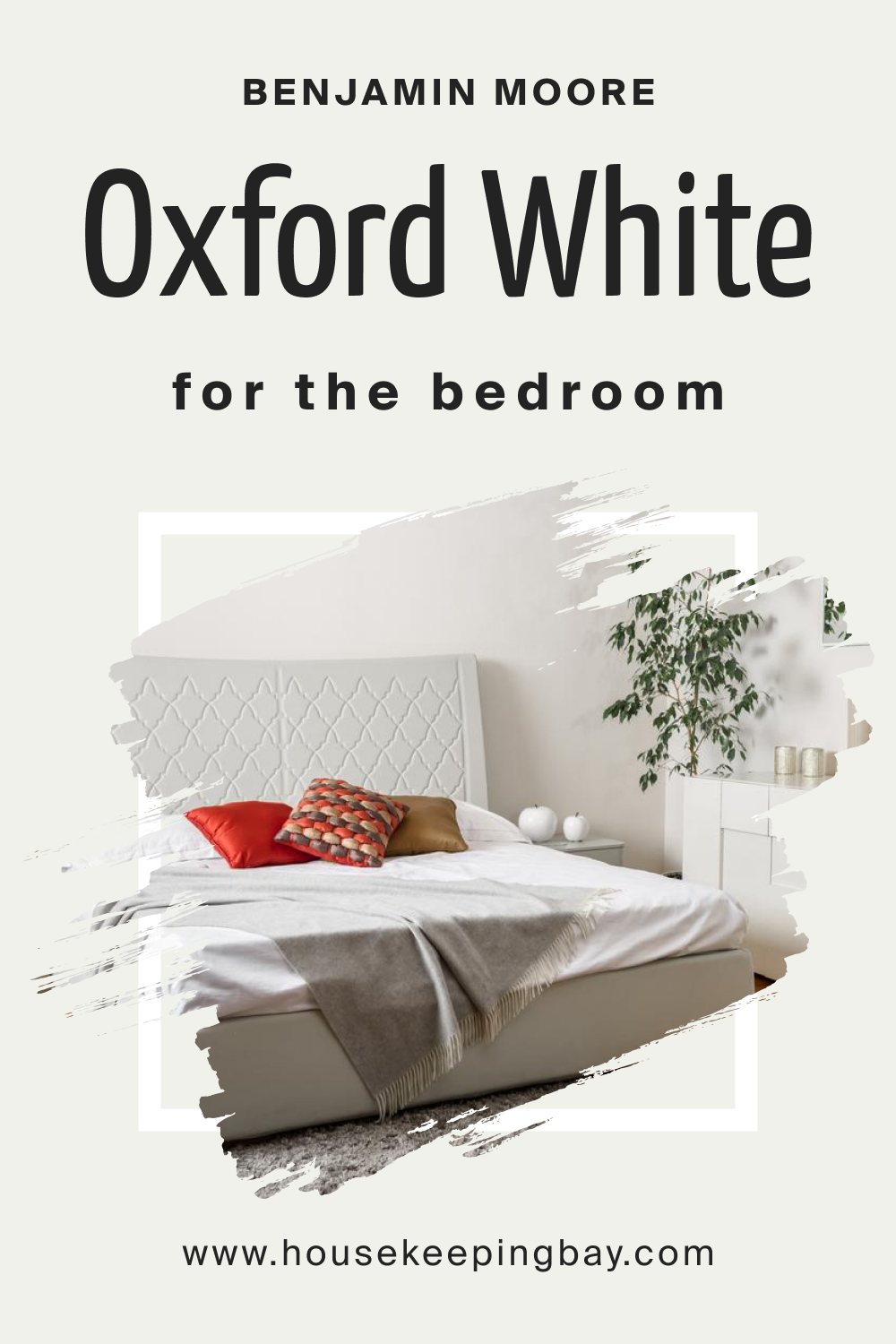 Oxford White CC-30 and Kitchen
If you want to make your kitchen look fresh and airy, BM Oxford White is definitely your color! It works great with tiles and metal kitchen hardware. But it will also look good with brass elements. Also, this white works nicely with wood and stone. Should you have marble countertops, don't hesitate to paint your kitchen walls this white too!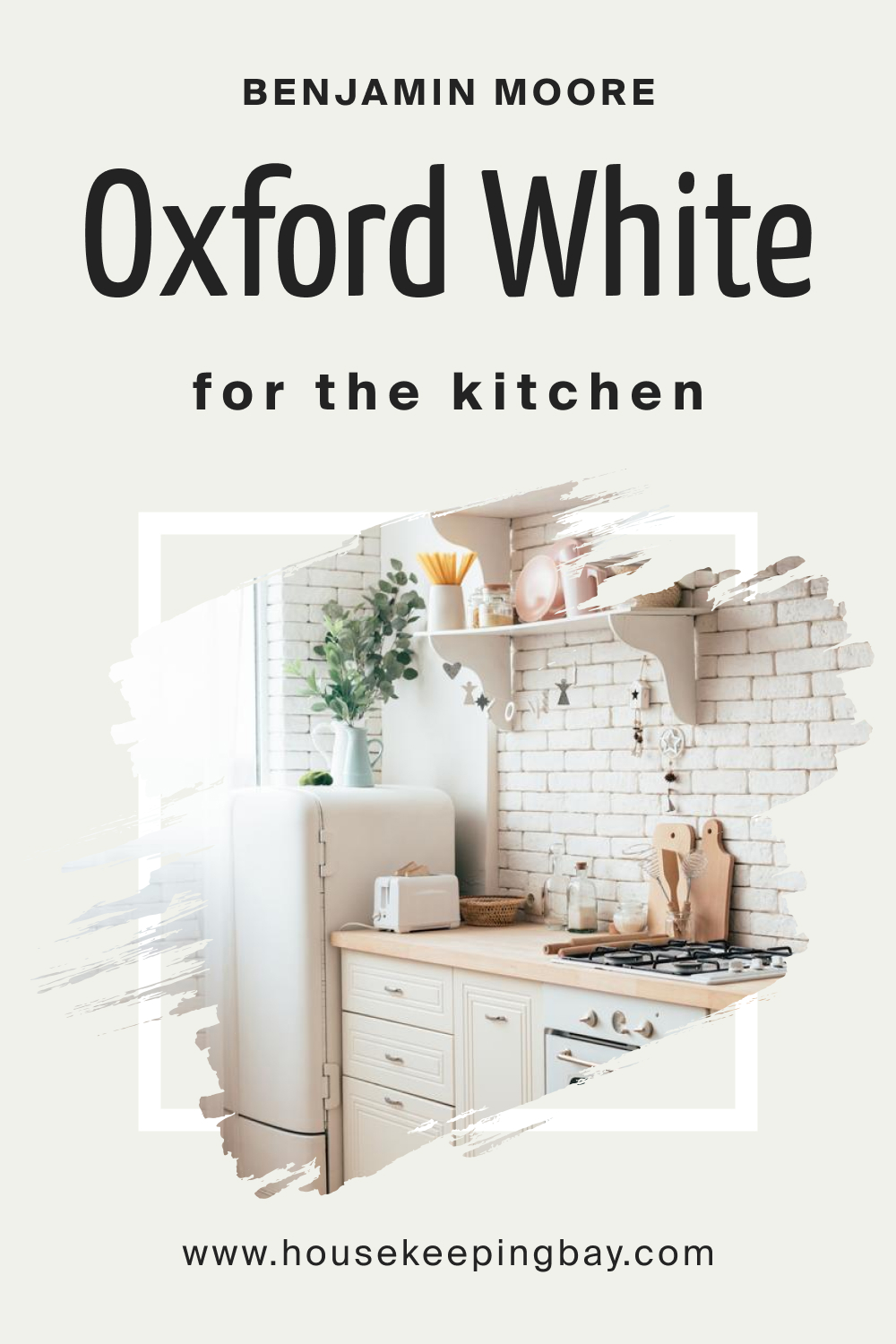 Oxford White CC-30 for Cabinets/Kitchen Cabinets
To refresh your kitchen or another room, use this white color on cabinets. BM oxford White is bright enough to add a refreshing vibe to a room, creating eye-pleasing color accents.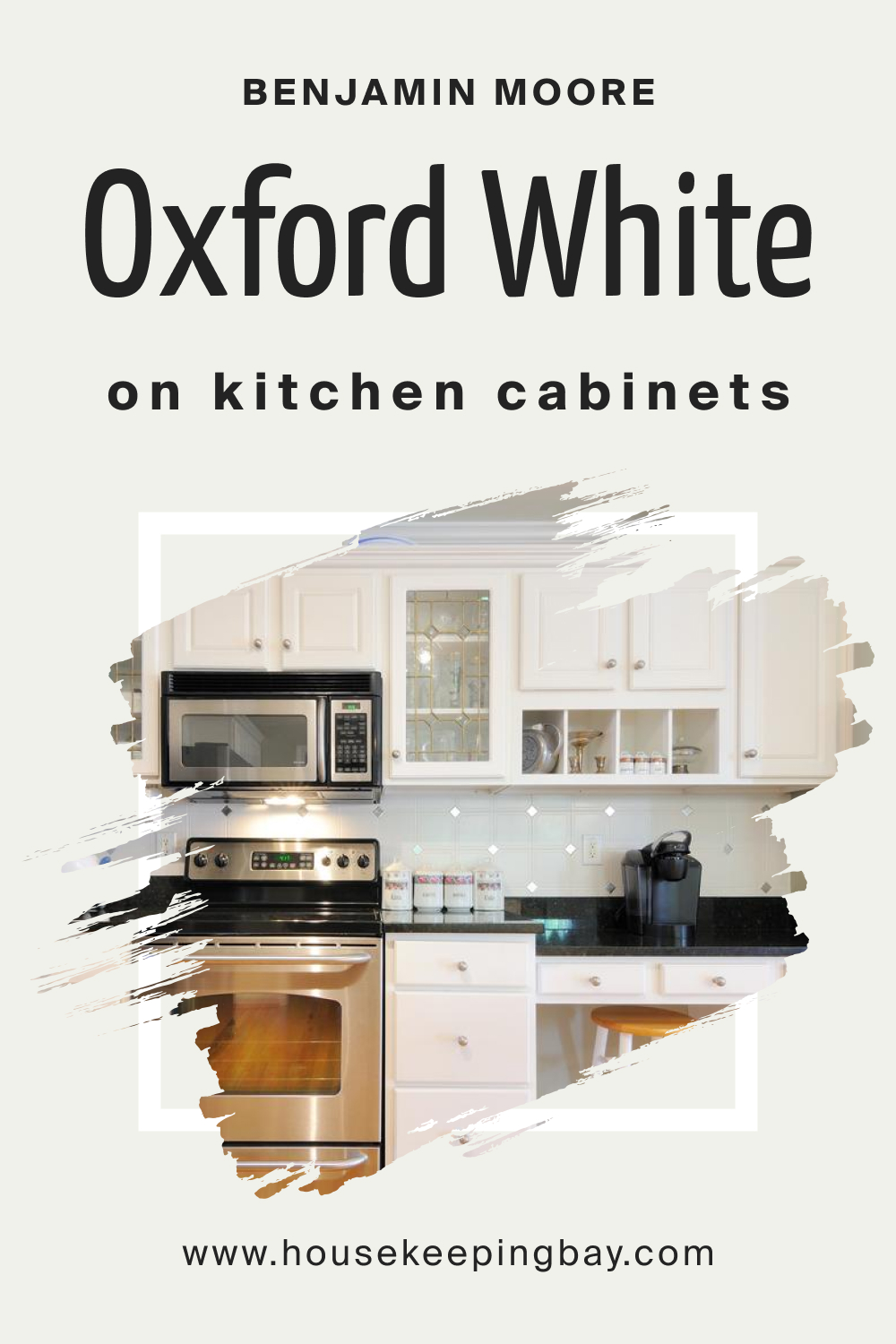 Oxford White CC-30 for Exterior Use
BM Oxford White is an ideal choice if you're looking for a timeless look on the exterior of your home. The fresh and crisp tones of this white can easily fit any design style. With its classic soft look, BM Oxford White is an excellent choice, no matter what kind of exterior you're going to paint.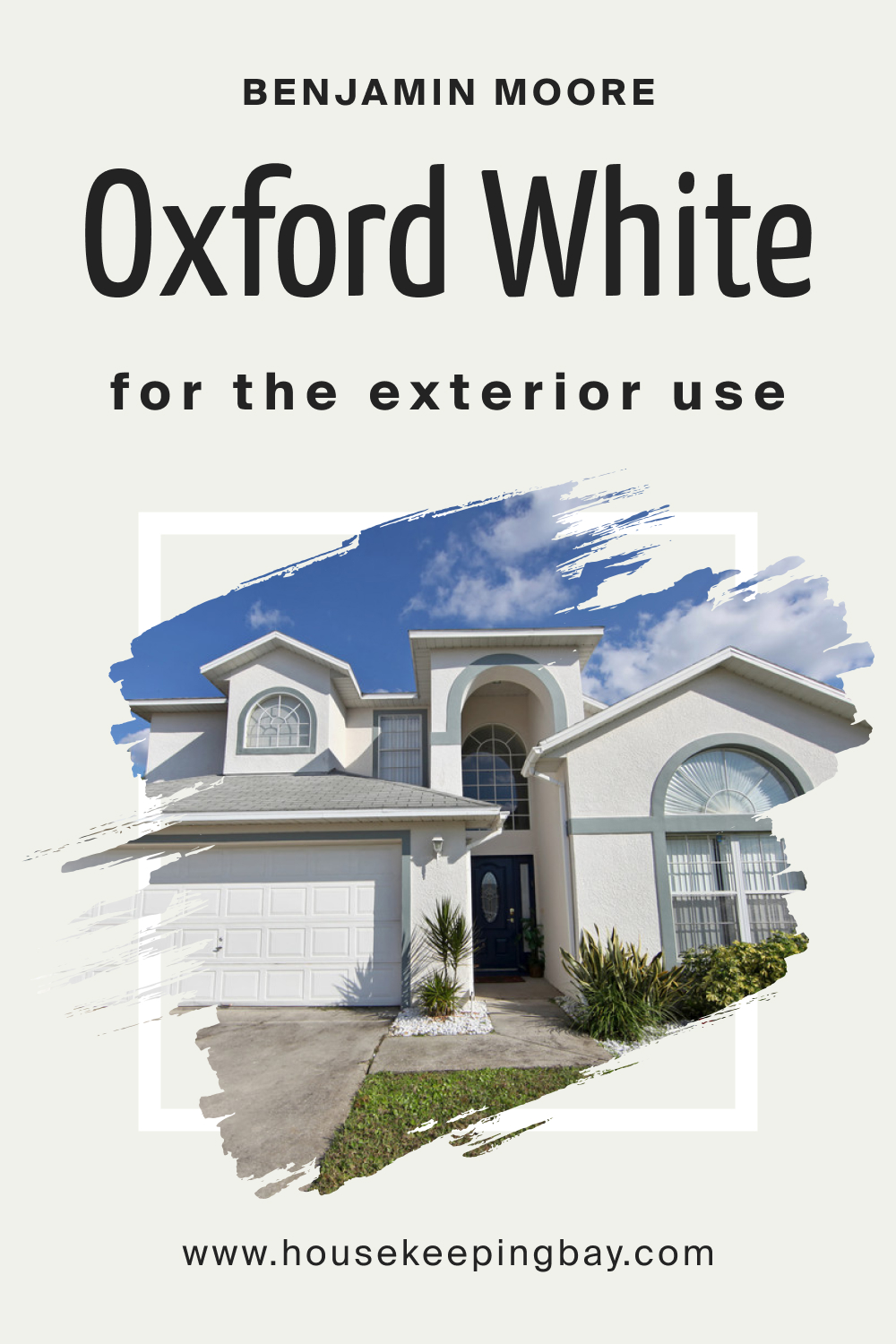 Conclusion
Now you know more about the white paint color called Oxford White. You know its undertones and LRV, as well as trim colors and coordinating colors. Also, you know in what rooms it will work best and what colors to pair it with. This way, you can incorporate this tricky white into your home interior.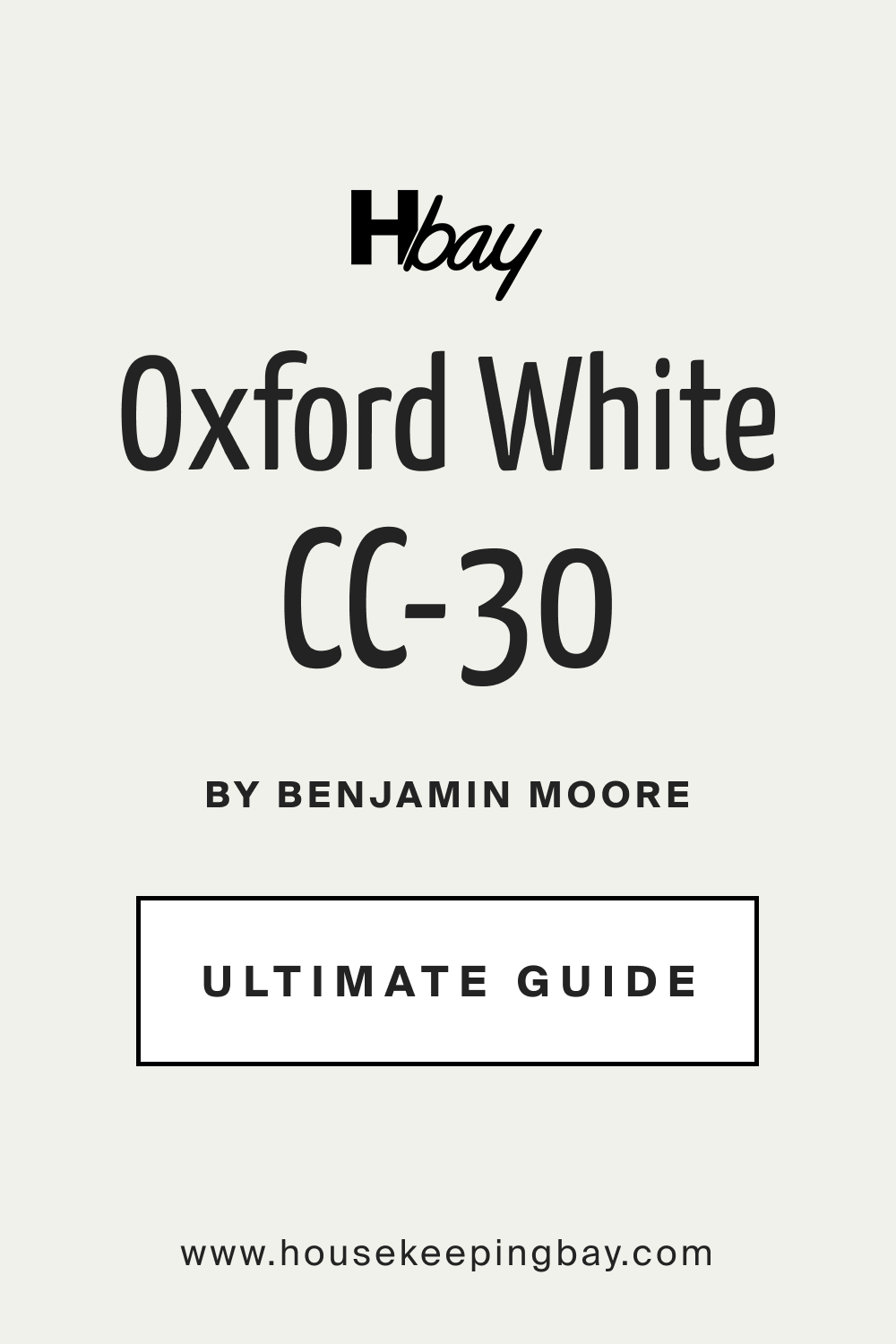 Frequently Asked Questions
⭐Does Oxford white read too white?
That depends on one's preference and color perception, but generally, BM Oxford White reads balanced and bright enough.
⭐Does BM Oxford White look gray on the walls?
BM Oxford White is a clean, crisp white, but it does have a slight grey undertone. When used with specific colors, it can show a tone of grey. But overall, it is pure white, and it won't read grey.
⭐Can BM Oxford White look green?
Although there is a slight green undertone to Oxford White, this color reads as a pure, bright white.