Choosing a proper paint color for your home painting projects is essential. If you pick up the wrong color or colors, you may end up with your interior walls looking completely different from what you wanted and expected.
However, since most of us are not well aware of paint colors and the nuances of their application and combinations, you may also feel a bit frustrated when seeing all those endless rows of cans with paint in a store!
So today we will introduce you to the paint color from a famous brand Sherwin Williams.
This paint is called Pewter Green, and if you are fond of natural and green colors, you will definitely like this one! From this article, you will learn what this color is, what its undertones are, how it will look on the walls of different rooms in your house, and many more.
Finally, we will see whether or not this paint is suitable for the exterior use.
Sherwin Williams Pewter Green by Sherwin Williams
The paint color known as Sherwin Williams Pewter Green is a cool and sage-like green color.
As Encycolorpedia says, it can be considered as a dark, cool-leaning muted green and its pine green hue blends with grays for turning into a lovely deeper green that still plays on the neutral side.
This shade is a little sage-like, but at the same time, certain types of light can bring out its hidden olive side. It's dark but not too dark and has a soft quality that many dark shades don't possess.
Visually, this paint color is a true chameleon because it doesn't look the same every time you see it.
Lighting and surrounding decor influence how it reads pretty much! The light reflectance value of this color is twelve which puts this hue firmly in the dark category.
It absorbs way more light than it reflects, although, in rooms with bright natural light, it does wash out a little.
As you all probably know, green has a strong association with nature.
Its connection with nature evokes rest, stability, balance, and growth. Pewter Green gives us wintery and festive vibes with this piney color.
And this is also why this paint color pairs with natural oak and other natural woods for a restorative and warm feel.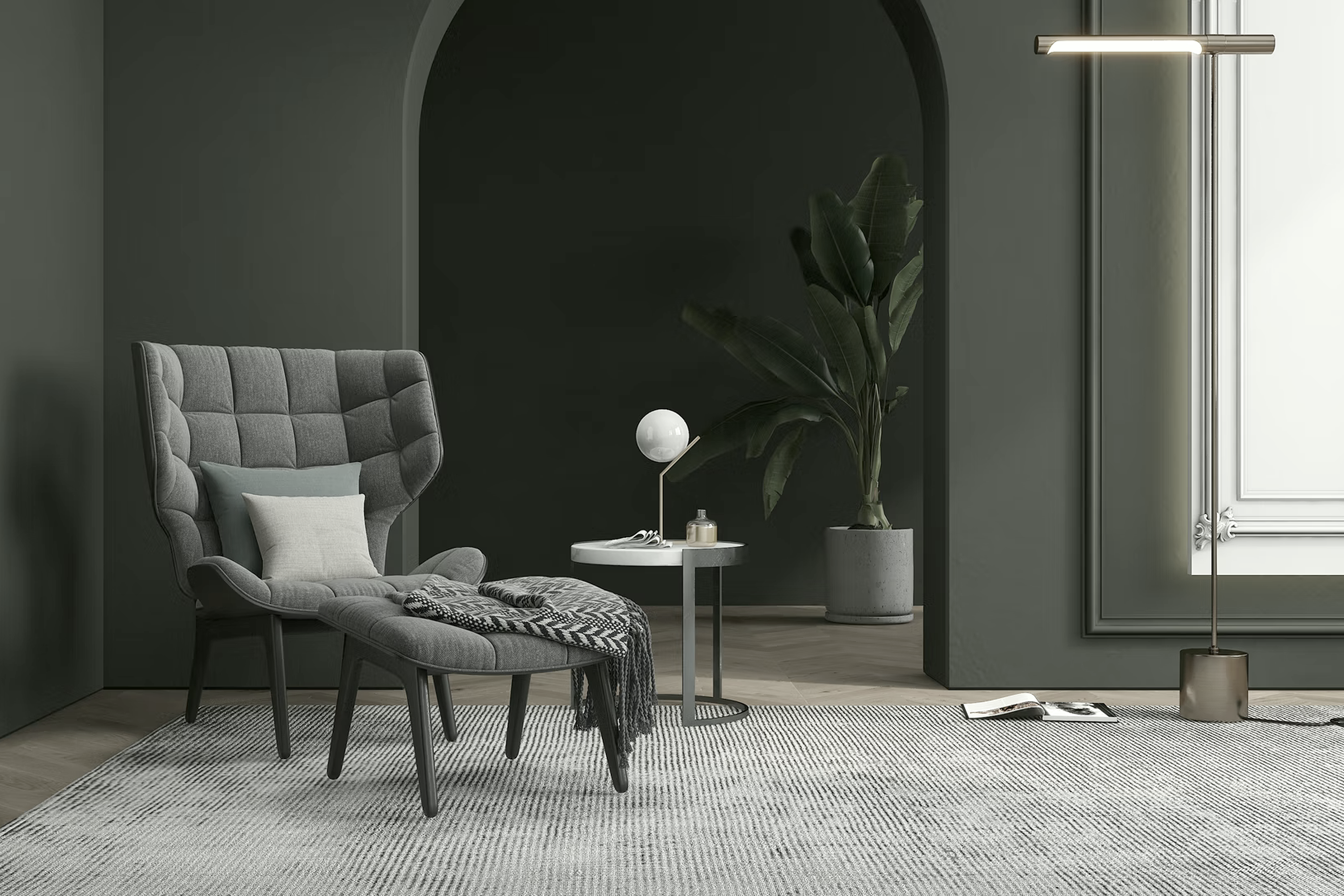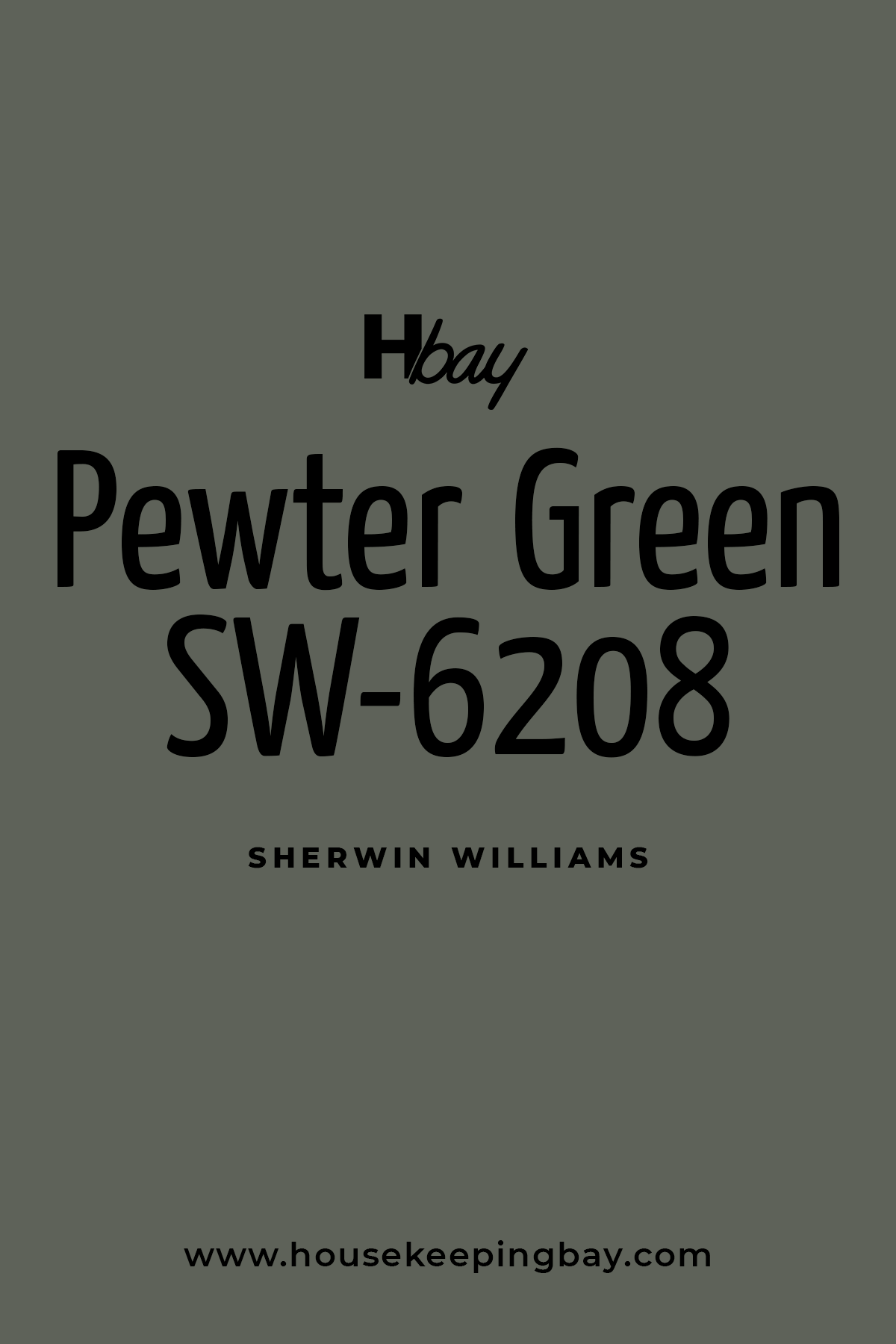 Get a sample of PEWTER GREEN (get a sample from Samplize )
SW Pewter Green Undertones
The paint color by Sherwin Williams that is called Pewter Green has mostly moderate undertones.
In particular, it has some gray undertones, which help to make this dark green an unexpected neutral.
While it works well in many spaces, it is not neutral-colored enough to look irresistible anywhere.
This is why we suggest you always pay attention to the type of lighting in a room where you are planning to use this color!
The very last thing you want is to paint the walls with what you think is gray-green only to find it being olive!
And as many neutrals, Pewter Green will look somewhat differently on the walls in different types of lighting.
West-facing rooms will bring out a bit of the muddiness in the color but also add some lovely blue warm tones to this shade especially in the late afternoon.
East-facing rooms, alternatively, will have their warm-tones early in the morning as the sun rises. Then, the light will cool down and you'll start to see the gray tones peek out a bit more in this shade.
North rooms will see a lot more crispness to this green. This is because this room gets the least natural light, typically.
Southern rooms get steady filtered warmth all day. Here's where a muddy and blue-gray hint might come out a bit as well.
This is why the best way to check how this paint will look on your walls exactly is to get the actual little cans and apply some color in the area.
Only then you will be able to see how exactly this paint will work. Also, make sure to observe it throughout the day and in different lighting scenarios.
It's a pain, but it's oh-so-worth it, particularly with bold colors like this.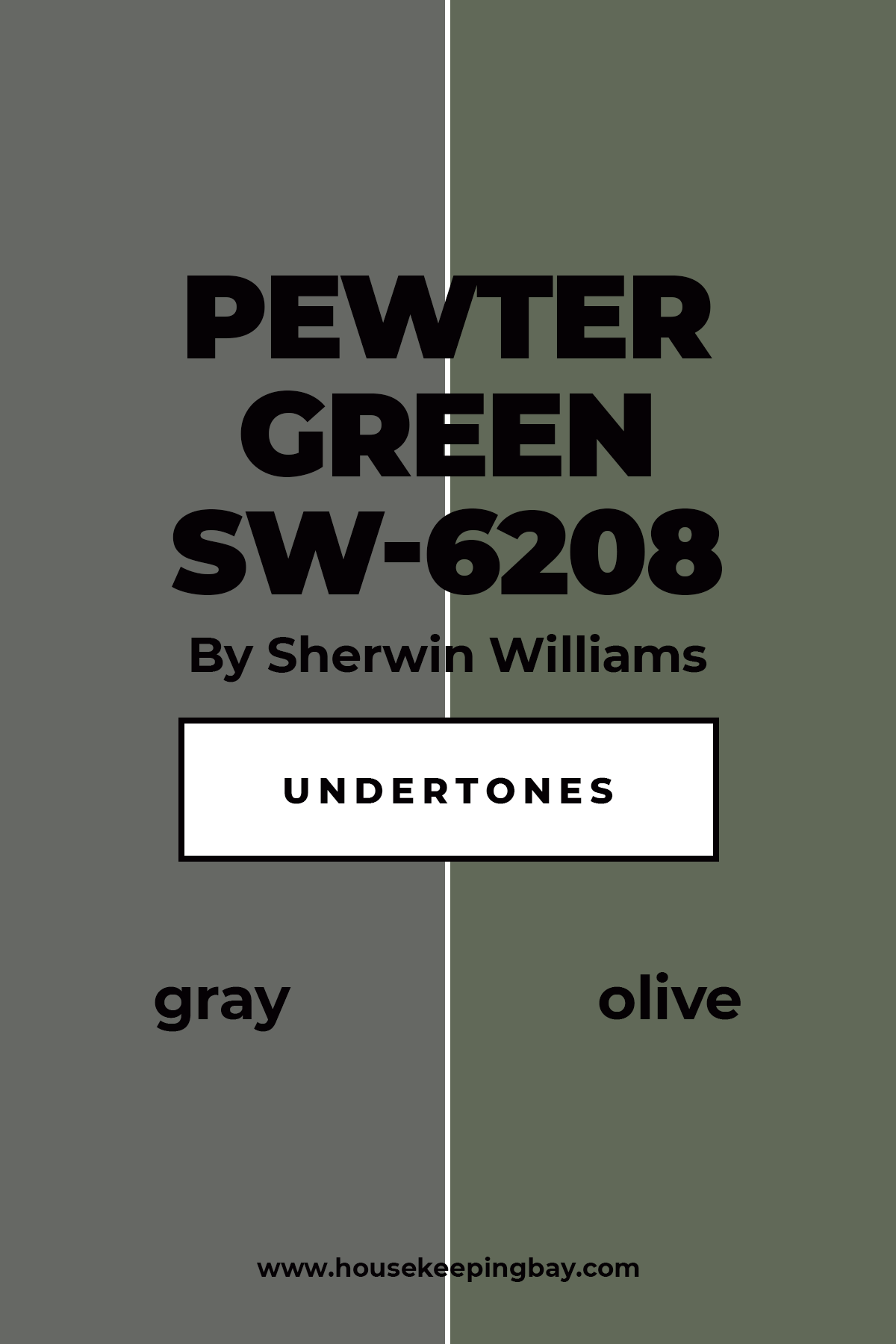 Light Reflectance Value of

 Pewter Green by Sherwin Williams

SW Pewter Green's Light Reflectance Value is 12 which means that the color sits in the dark color range on the scale.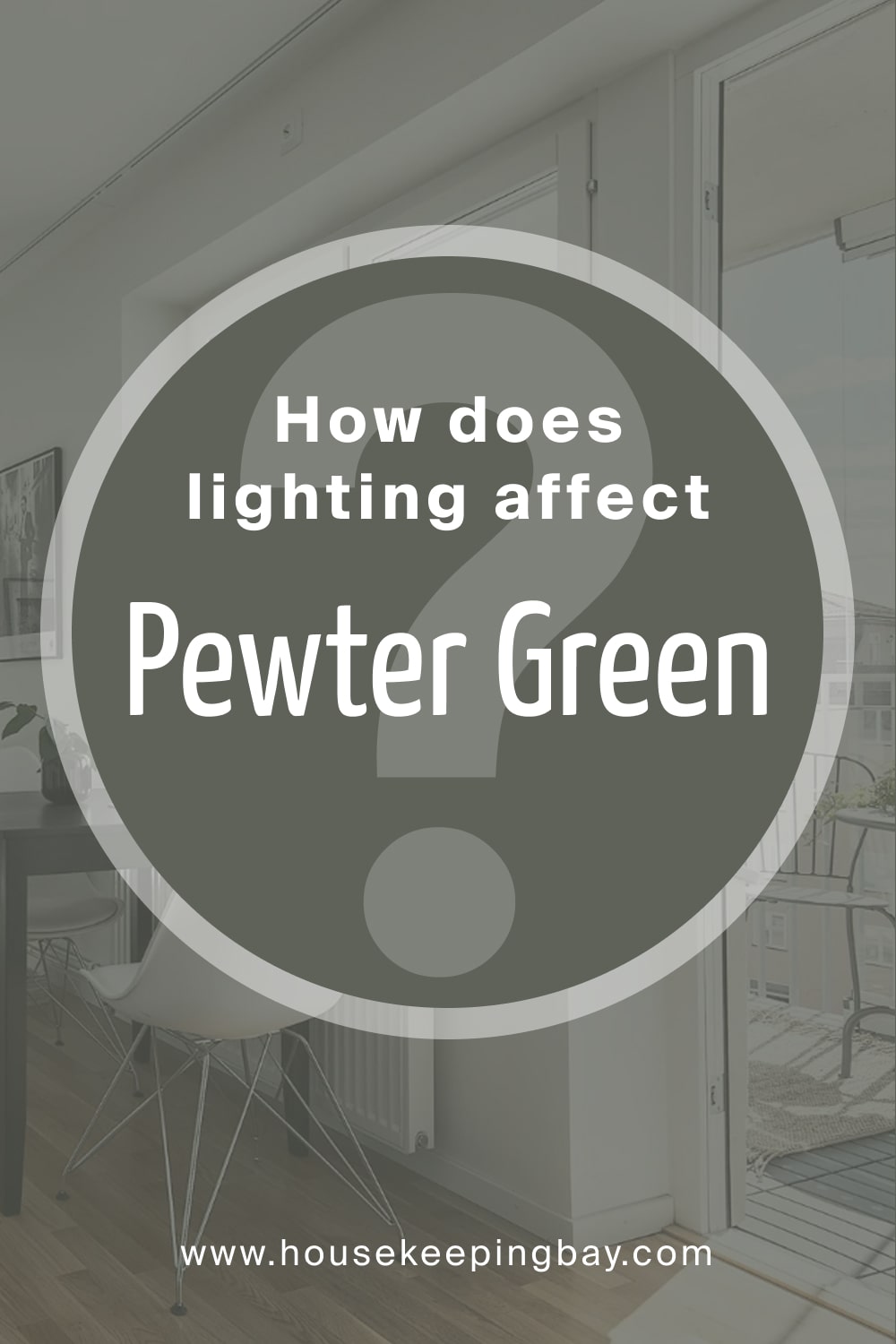 This paint color has that deep and rich saturation that tends to look rather dark in the rooms with not enough light.
But with enough daylight around, this color will become brighter and read as an eye-catching color!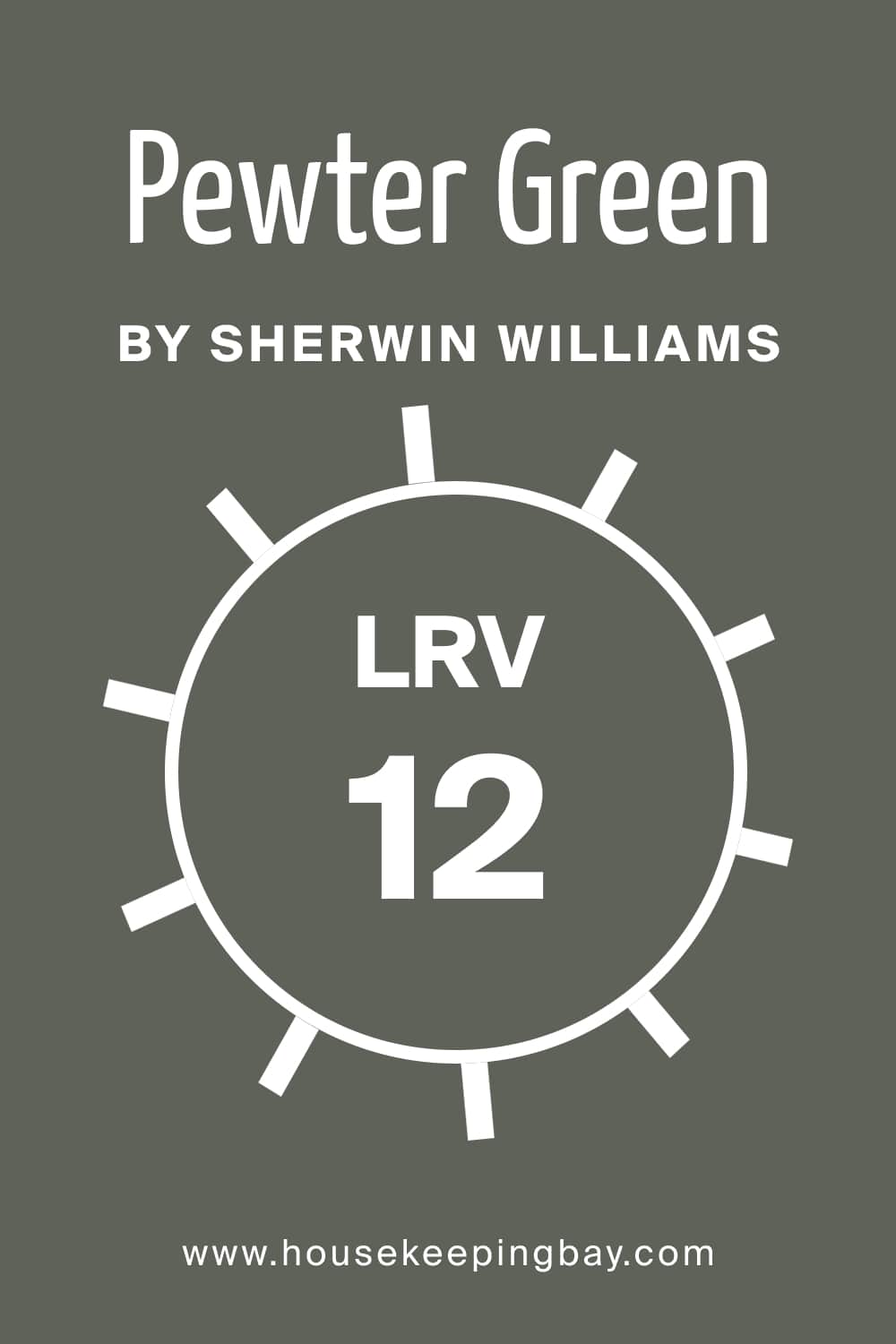 What is LRV? Read it Before You Choose Your Ideal Paint Color
SW Pewter Green Coordinating Colors
It is always complicated to pick up proper colors to pair them with the main one. And Pewter Green color by Sherwin Williams is not an exception.
This cool green with gray undertones means that while this color is more neutral than a true green, it is still slightly fussy about the colors that it will pair well with.
It particularly will work pretty well with soft, creamy whites, gray-blues, taupes, and rich golds.
And if you are looking for the exact paint color names to choose the one or the ones that Pewter Green can be paired with, we have prepared such a list for you!
Spare White
Winsome Gray
Rare Gray
Sierra Redwood
Rockweed
Silver Strand
Silver Mist
Neutral Ground
Casa Blanca
Like with every paint colour, We highly recommend using SAMPLIZE.  Samplize is a peel & stick paint sample that you can easily move around your room for over HALF THE COST of traditional samples – and they deliver right to your front door!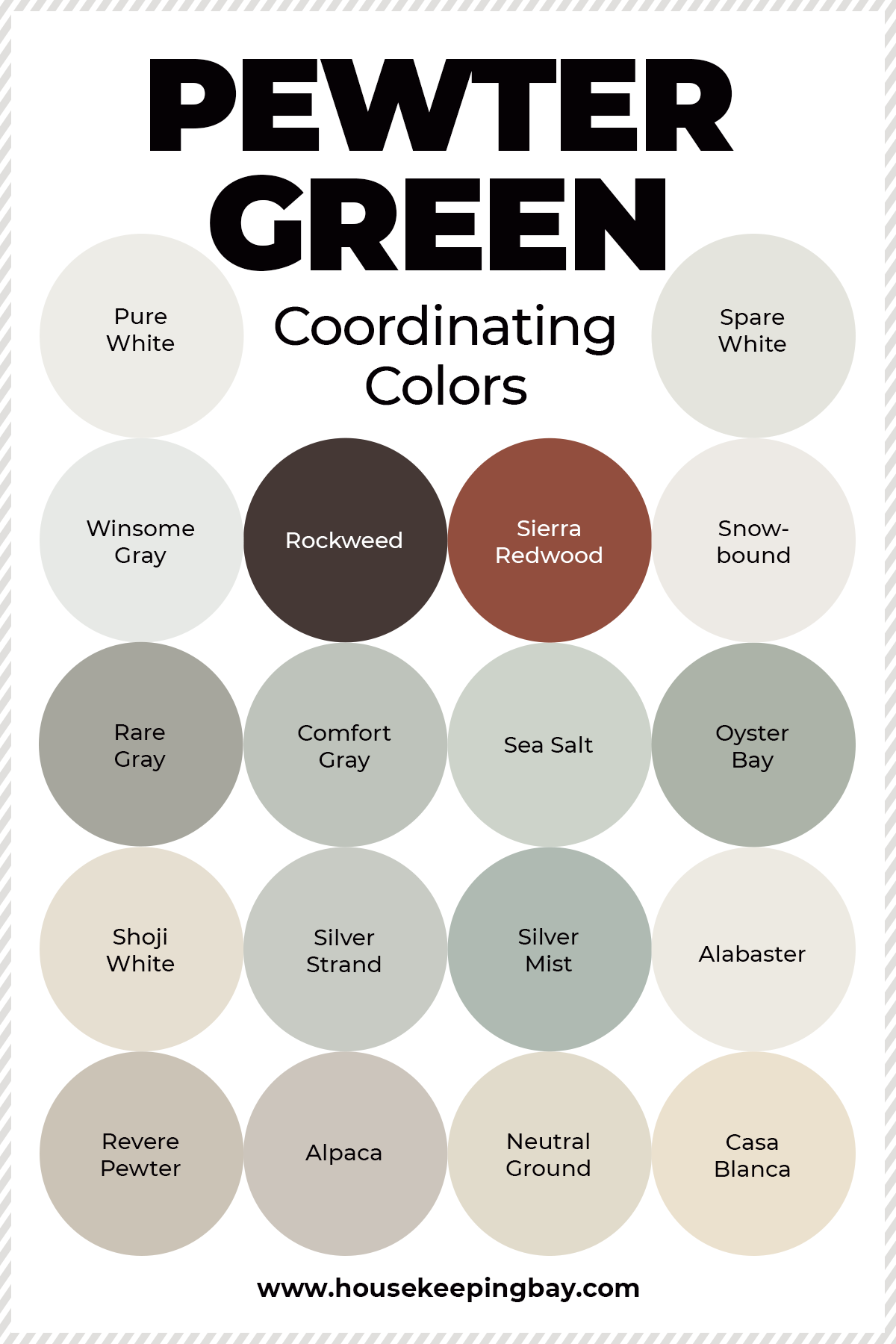 What Is the Best Trim Color of Pewter Green?
Most people believe that white is the only one universal trim color that will suit any other color. But is it the same with Sherwin Williams Pewter Green?
Well, basically, yes. Whites look especially great when used for trims along with this neutral grayish green.
And since the color itself leans more to cool-toned ones, you should stick to warmer shades of white for trimming.
If you apply a cool-toned white, the entire space might look a bit too "cold".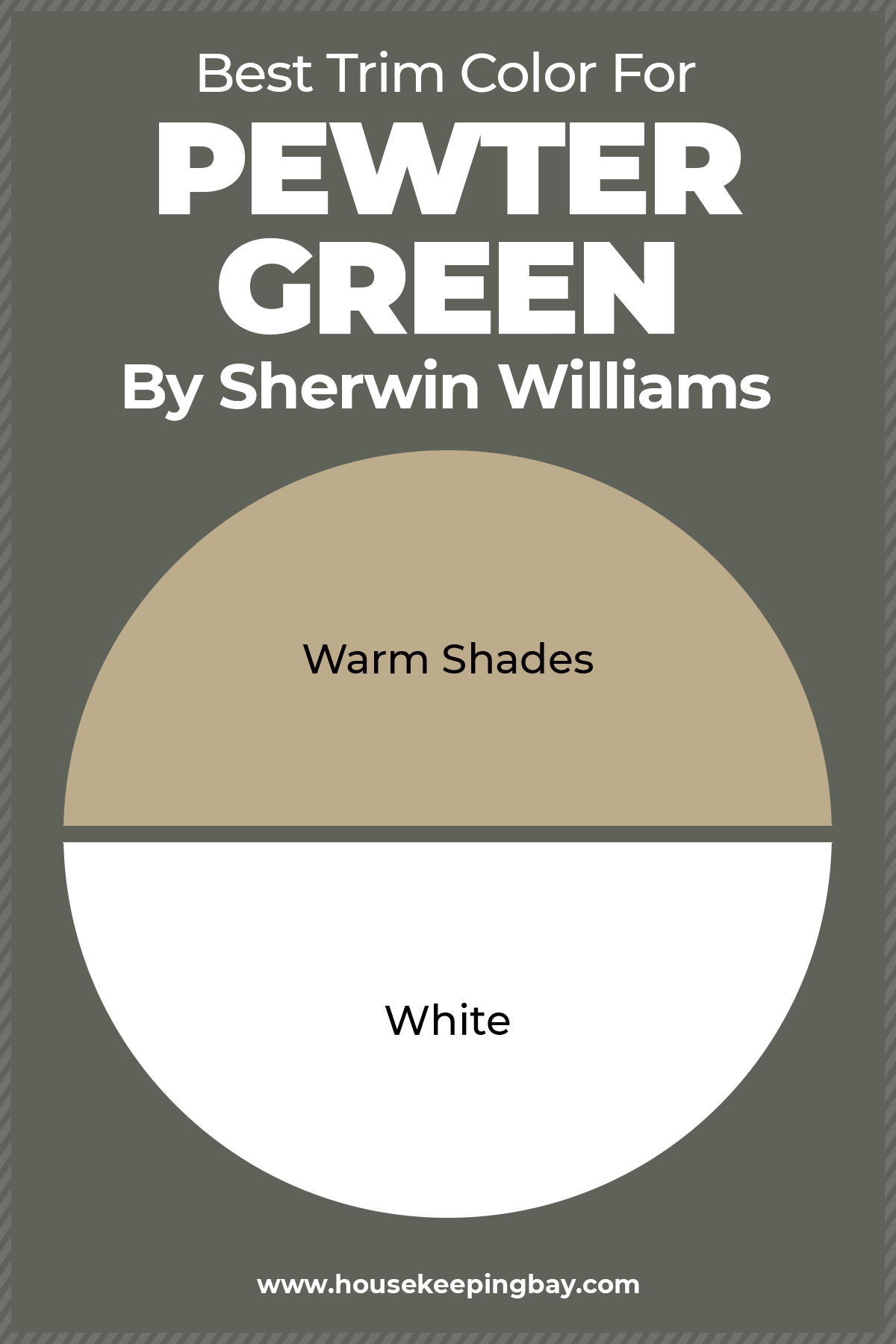 December 2020 Color of the Month: Pewter Green – Sherwin-Williams
What Paint Colors Are Similar to Pewter Green?
You might want to look for another color instead of Pewter Green for many reasons. maybe, you find it a bit too tricky for you. Or your interior color scheme is not quite fitting to welcome this shade.
No matter the reason, it is always good to keep a few alternatives in mind.
This is why, if for any reason you are not ready to use this paint color in your home, feel free to consider a few others:
Benjamin Moore Chelsea Gray
Wrought Iron by Benjamin Moore
These might look better and way more suitable in your interior!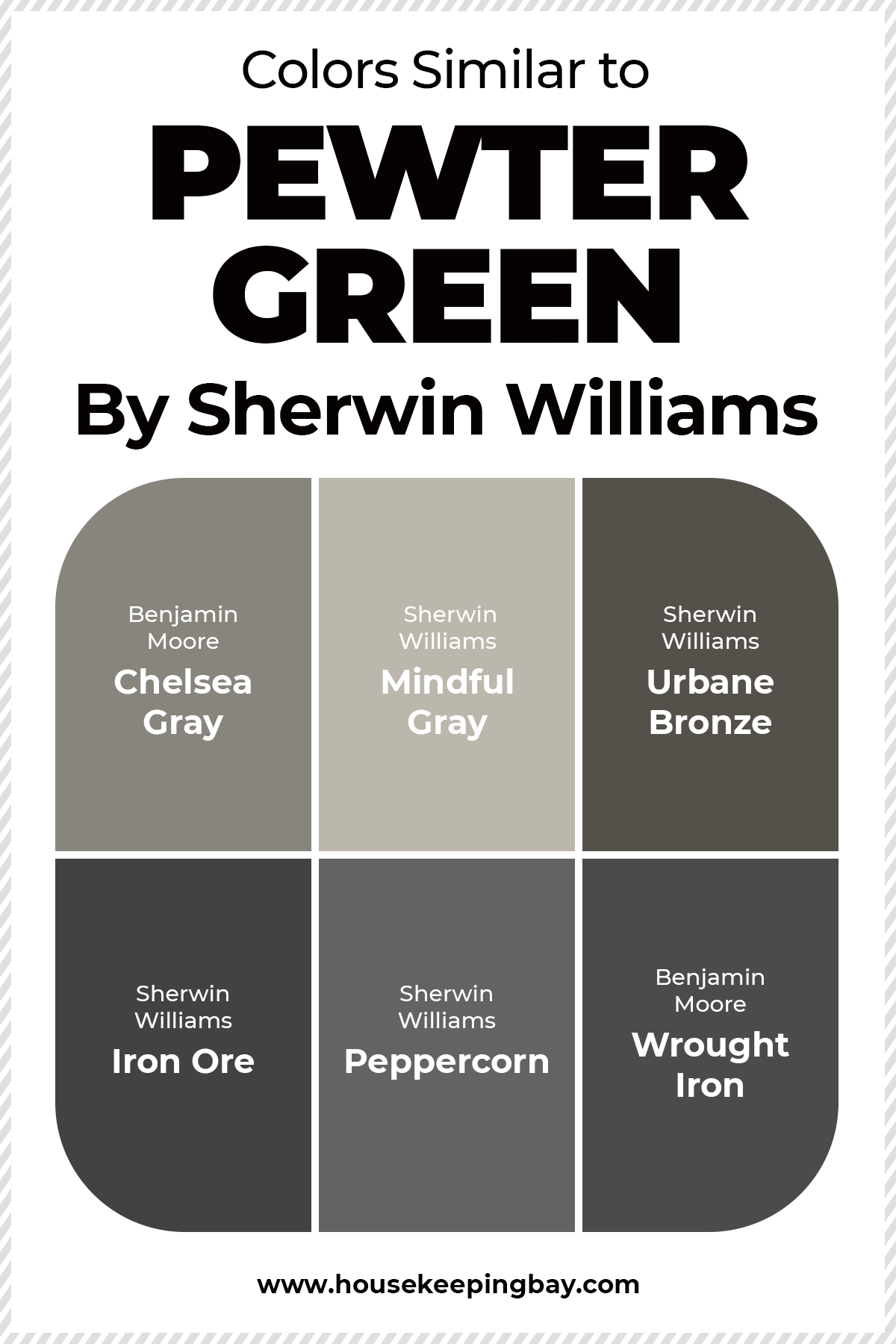 Where to Use Pewter Green Color In Your Home?
Even though Pewter Green is quite a tricky color, it is still rather versatile. You can successfully use it in quite many rooms and on quite many surfaces in your home.
The only thing you should always keep in mind is how this color will work when paired with other colors in the room.
Well, and of course, let's not forget about the lighting!
But in general, the area of application for SW Pewter Green is pretty vast.
Pewter Green in the Living Room
This color will look amazing in your living room, but only if it has enough daylight and that light is warm!
Or, as an option, if your artificial lighting is also warm-toned. In this case, the color reveals its warm side and looks way less "cold" on the walls creating a cozy vibe.
And if you have wooden furniture in your living room, especially the one that is made of oak, it will pair with this paint color exceptionally well.
Cool-toned lighting will, on the contrary, will make this paint reveal its cooler undertones thus turning the room into a "chilly" space that will not feel that comfortable.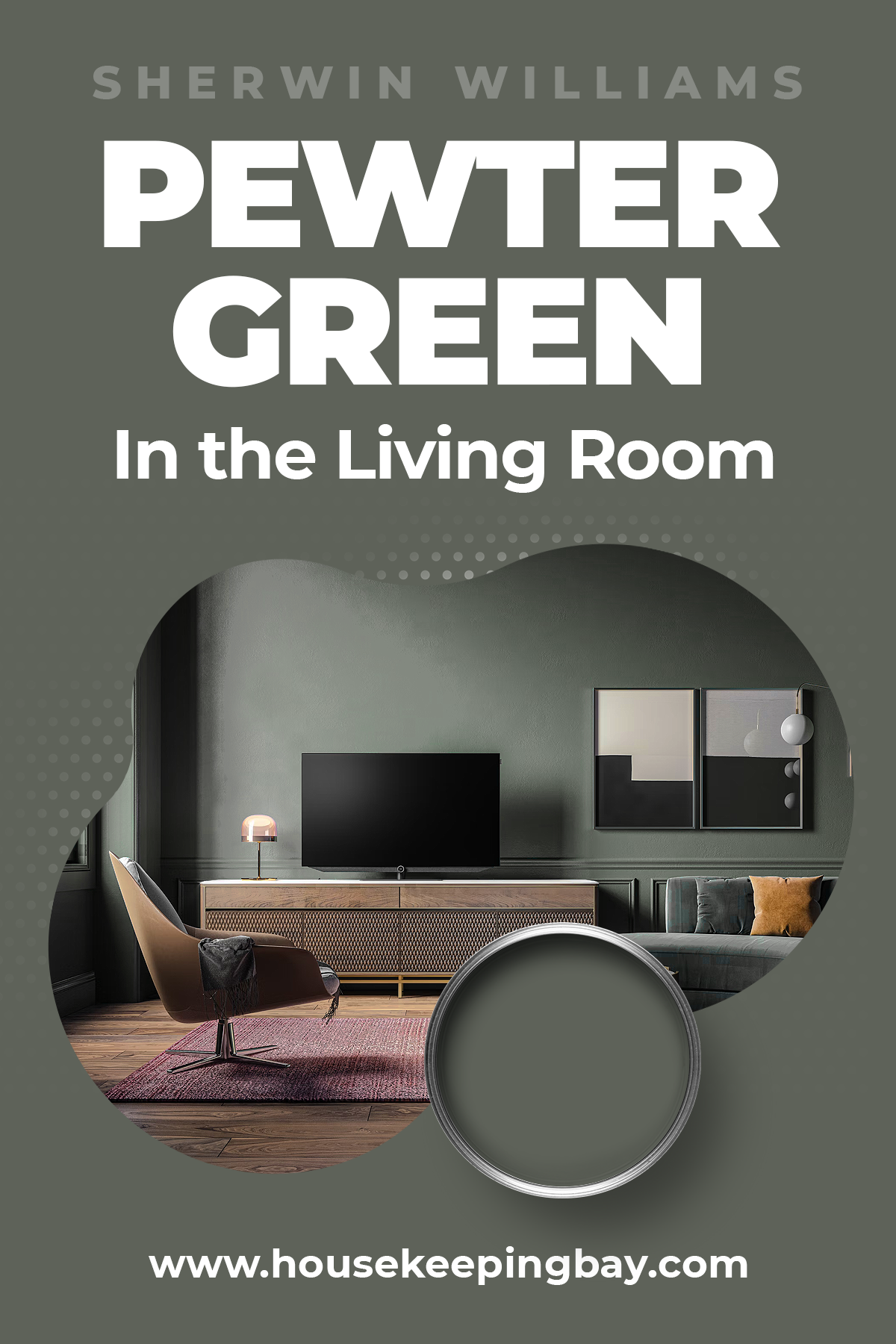 Pewter Green in the Cabinets And Kitchen Cabinets
Can Pewter Green by Sherwin Williams be used on cabinets? Some might say no, but in fact, this color looks great on cabinets.
The contrast will be even more stylish if the walls of the room are painted warm-toned white and there is wooden furniture in the room.
However, be careful with lighting: if it is cool, the color may look colder thus adding more "chilly" vibes into the area!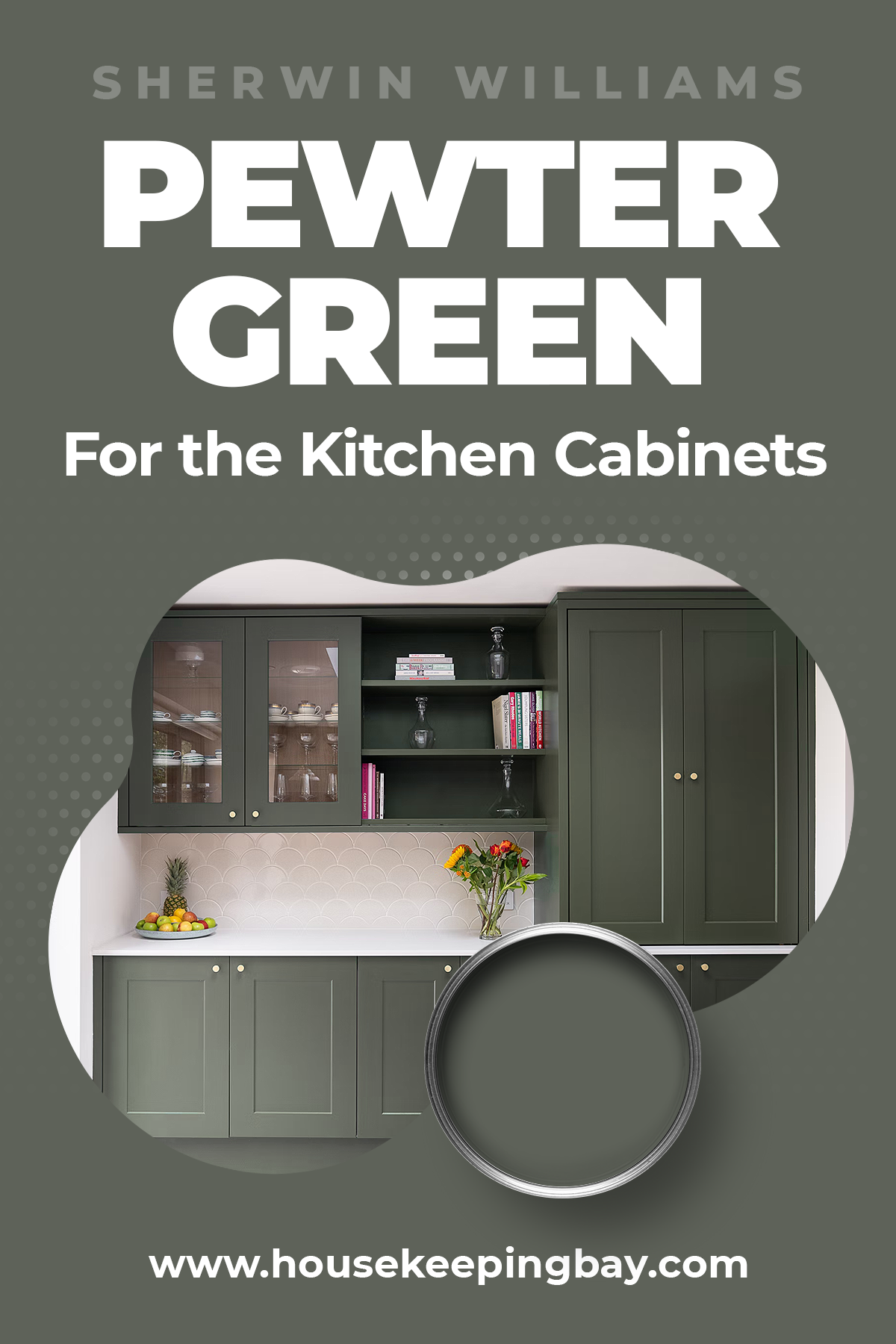 Pewter Green in the Bedrooms
You probably think that Sherwin Williams Pewter Green is way too dark for being used in a bedroom. Well, not if you like these natural neutrals – that's what our answer will be!
Of course, you can paint all the walls in your bedroom with this color, but in this case, you need to have a lot of light colors there as well: a white ceiling, light-colored furniture or curtains.
Like this, the room will not look too dark and gloomy.
But usually, folks prefer using this color for accent walls.
Like that, the bedroom won't look too dark, but at the same time, the green-gray wall will add more coziness and natural vibes into the space creating a calming atmosphere.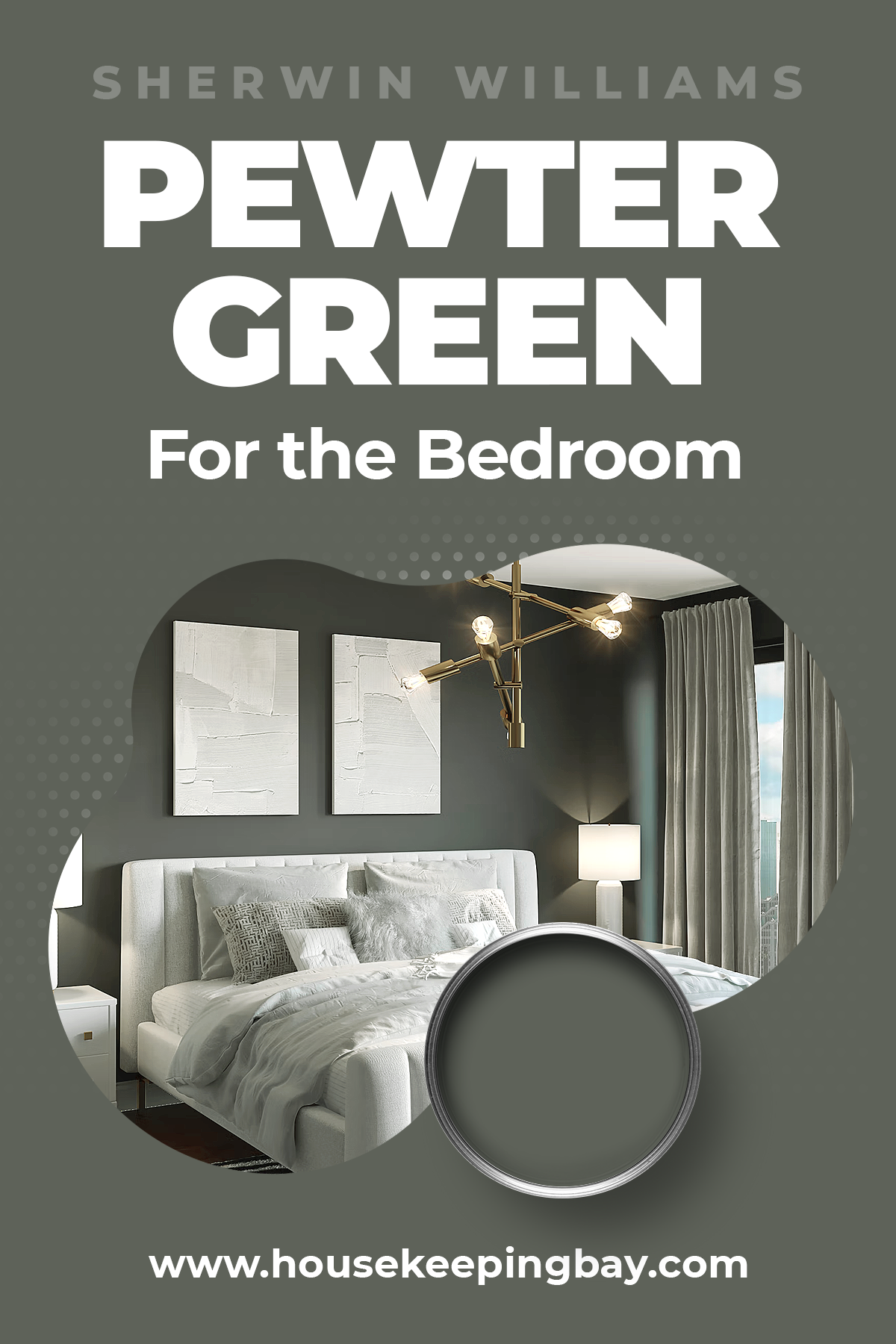 Pewter Green for the Kitchens
Is it ok to apply Sherwin Williams Pewter Green on your kitchen walls? Well, it's optional, we would say.
See, if your kitchen is spacious enough, it has plenty of daylight, and you adore such deep and natural neutrals, you can take a chance and paint it entirely.
However, make sure that you still have some light-colored items there to avoid making the room too dark!
White accents here and there will "dilute" the basic color well enough.
But in most homes, the owners use this color as an accent color to paint the cabinets or to emphasize only one wall.
This will work also if your kitchen lacks natural light and it's rather dark itself.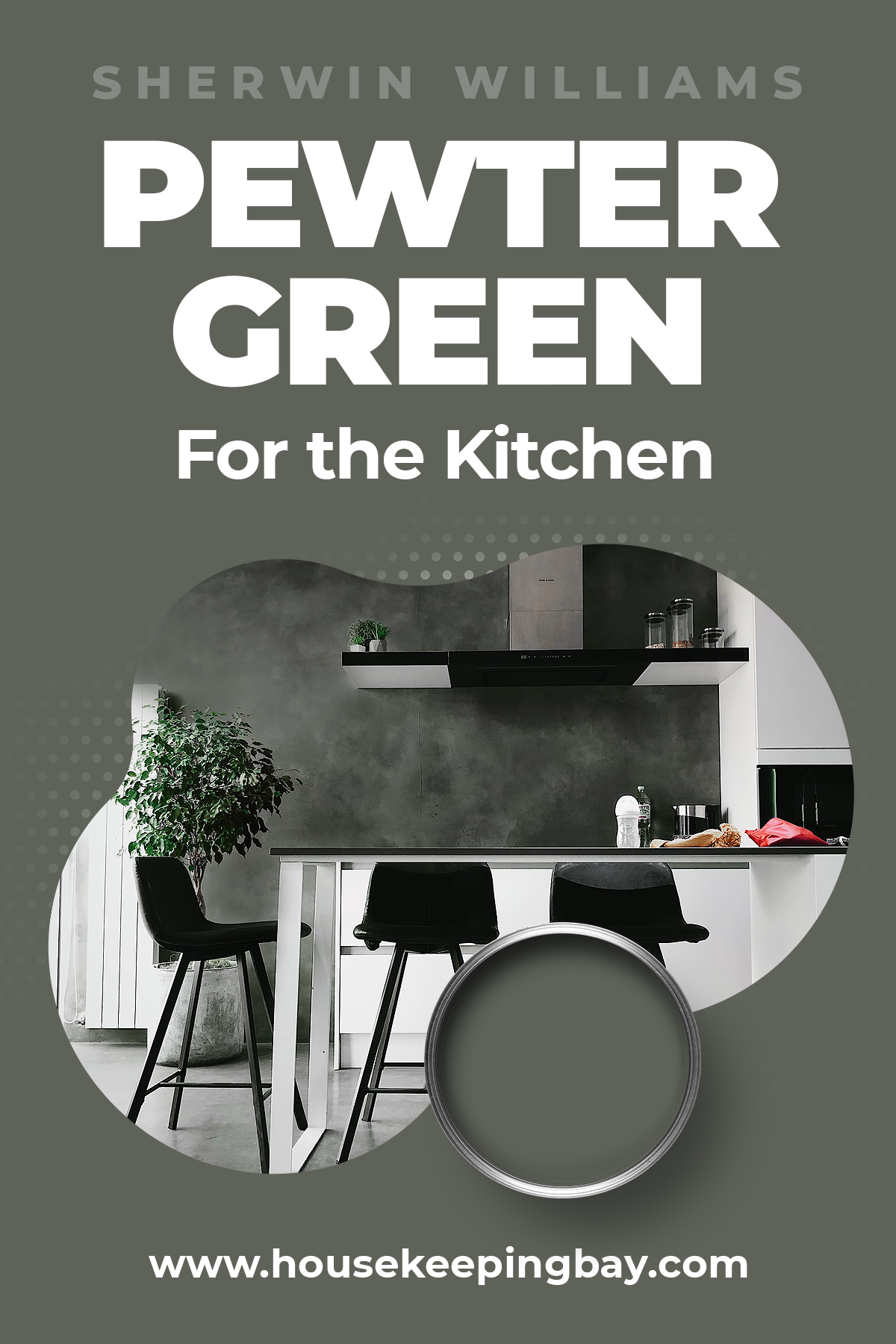 Exterior Use Of SW Pewter Green
Another great feature of Pewter Green by Sherwin Williams is that it can be used for exterior paint works. Yes, quite many people paint their facades with this color, and it works surprisingly well!
Of course, if you decide to do it as well, you must consider the lighting in your area!
If you mostly have cloudy weather and not enough daylight during the year, your Pewter Green facade might appear to be somewhat dark and gloomy.
However, if the weather in your area is mostly sunny and bright, feel free to paint your entire house with it!
The color will show more of its warm undertones and look amazing if you also add white trims on the windows and the porch.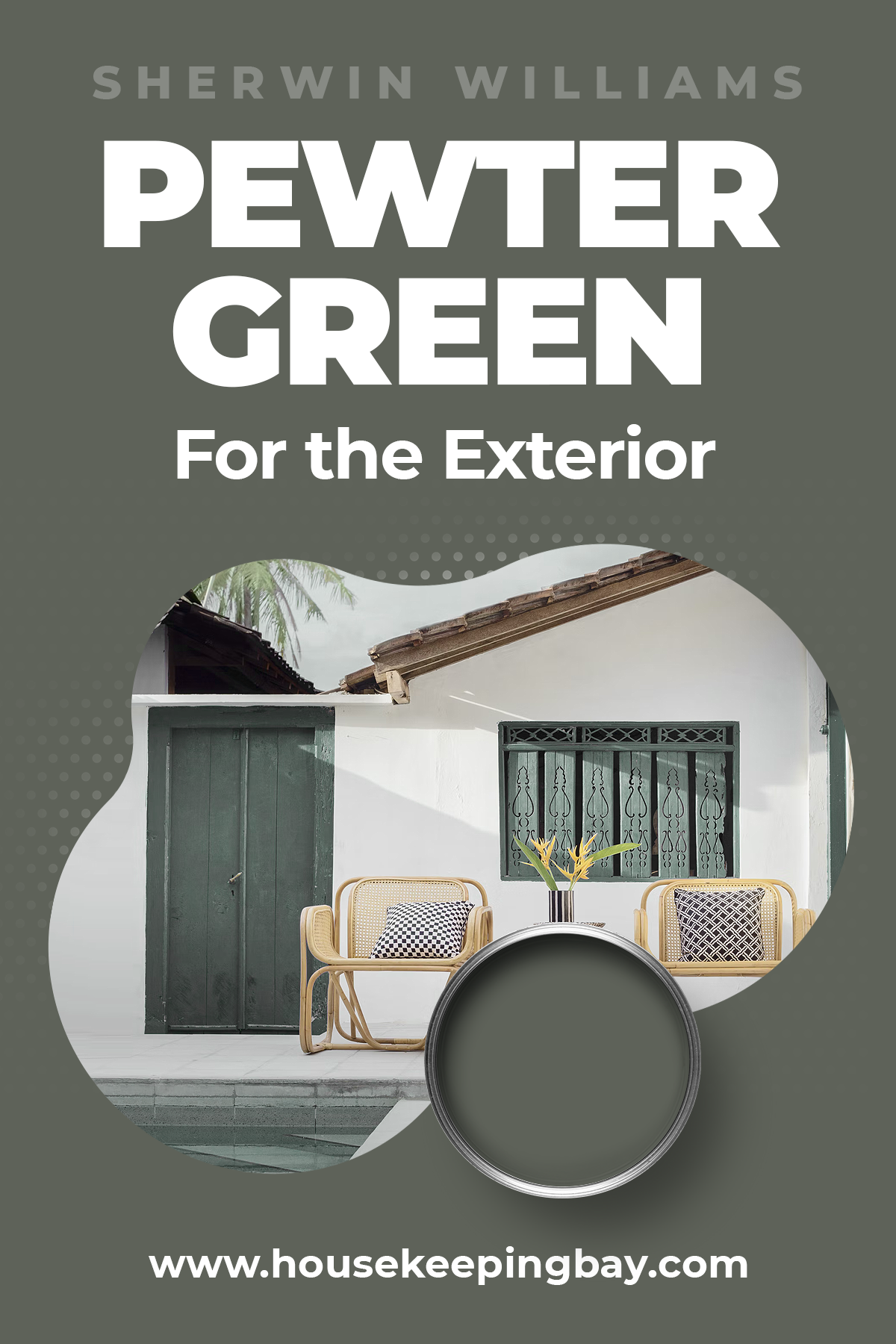 Colors That Pewter Green Goes With
When starting a painting project, you need to make sure that the color you choose will pair and work well with other colors.
This is why we suggest you check out what colors pewter Green can go with.
Like this, you will avoid a common mistake of combining the colors that can't go together.
Pewter Green vs. Retreat
SW Retreat has an LRV of 21, making it quite a bit brighter than Pewter Green.
Its gray undertones are much more prominent than those in Pewter Green. (get a sample of SW Retreat)
Both colors look incredible in their respective ideal circumstances.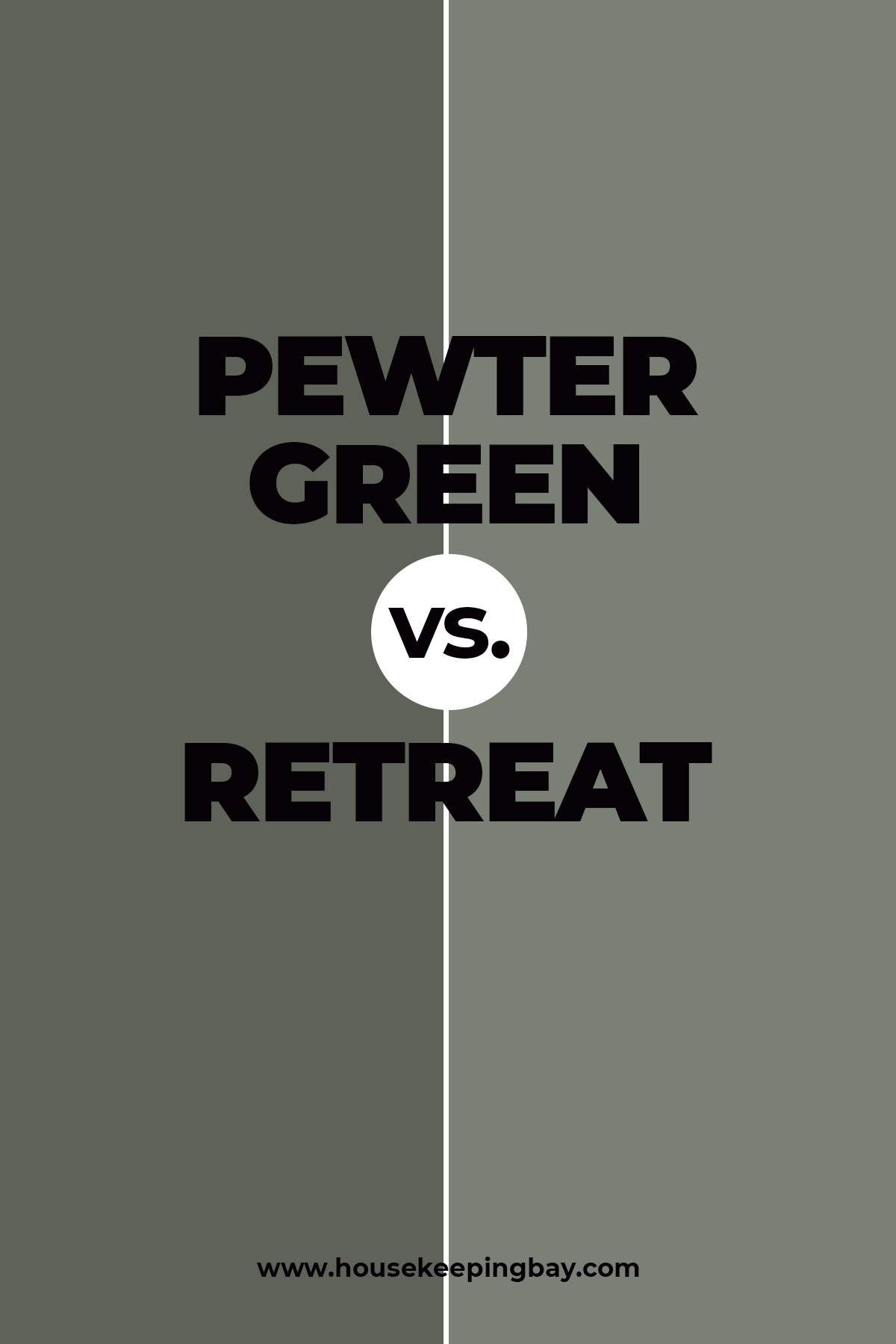 Pewter Green vs. Evergreen Fog
These two are quite contrasting since Evergreen Fog is much lighter. (get a sample of Evergreen Fog)
However, since both has gray undertones, they look harmonious together – the only nuance is that you should also use one more color, preferably warm white, to "dilute" these two and balance them better.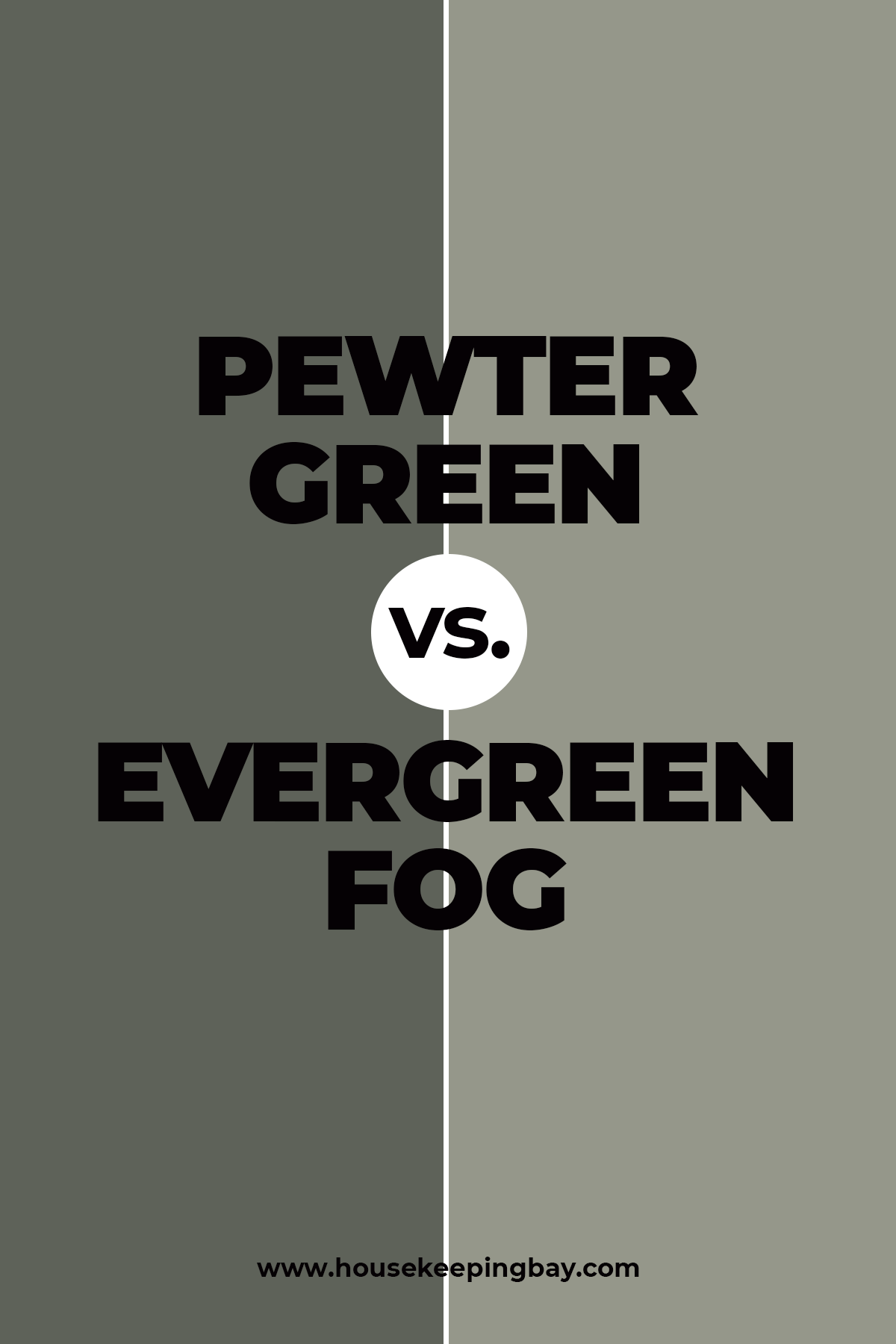 Pewter Green vs. Rosemary
With an LRV of 14, Rosemary is brighter than Pewter Green's LRV of 12. At a quick glance, these two colors look very close to each other. (get a sample of Rosemary)
Although, if you look deeper, Rosemary is a little less gray and a little more olive than Pewter Green.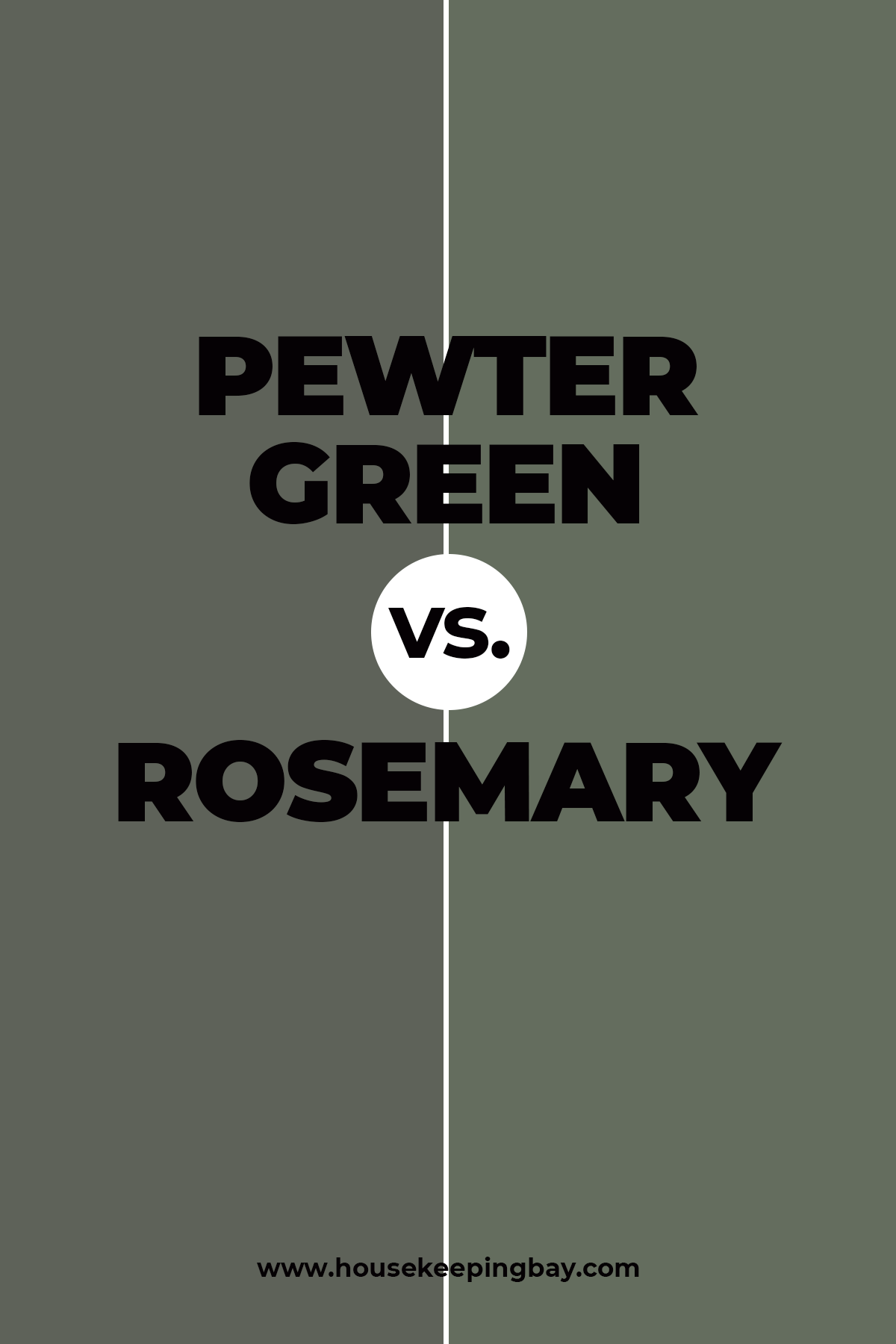 Pewter Green vs Caldwell Green
Caldwell Green looks cooler with more prominent green undertones whilst Pewter Green reads more like a grayish green color. (get a sample of Caldwell Green)
Also, Pewter Green visually displays itself as a warmer color in comparison to its counterpart. But as for using them together, we would not call these colors a good combo.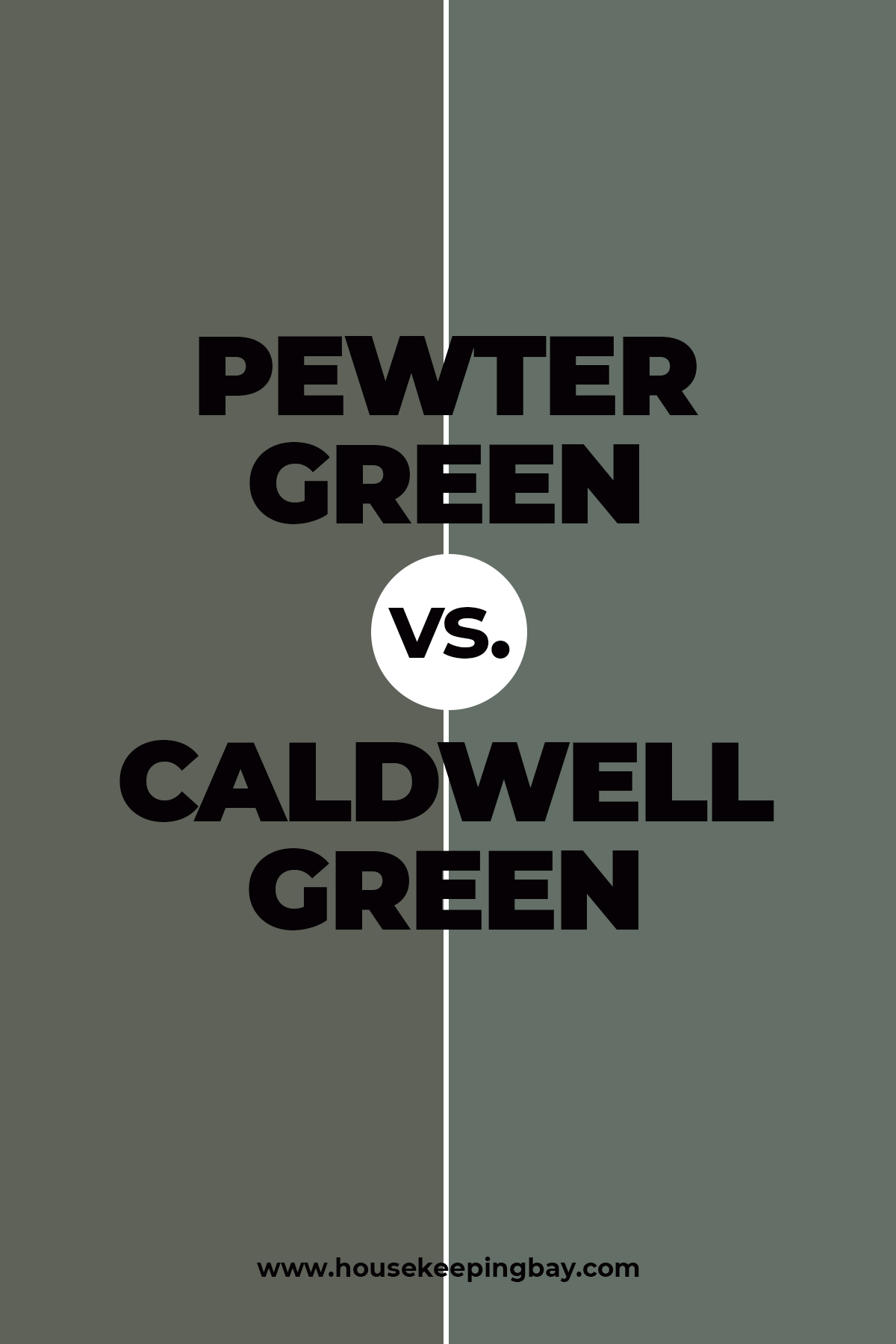 Pewter Green vs Succulent
Both of these colors are muted neutrals with Succulent being greener and Pewter Green showing more of its gray undertones.
But since they look pretty much alike except for that undertones nuance, these colors can't be used together in the same room.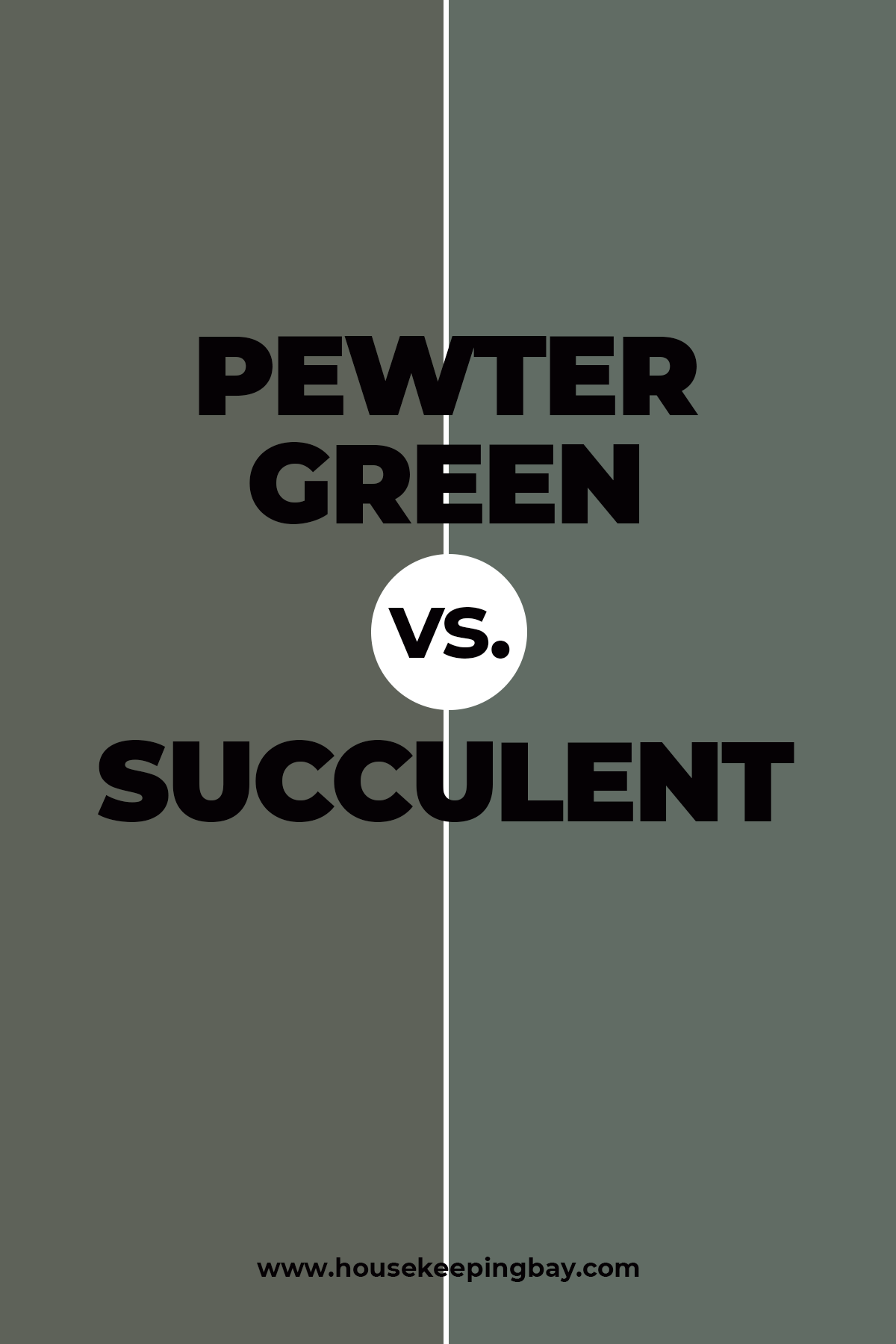 So, here you have all the information about Pewter Green paint color by Sherwin Williams.
Now you know what this color is and where it's best to be used. So if you apply it correctly, it can bring that natural and relaxing vibe to your home that so many people enjoy.
Get a sample of PEWTER GREEN (get a sample from Samplize )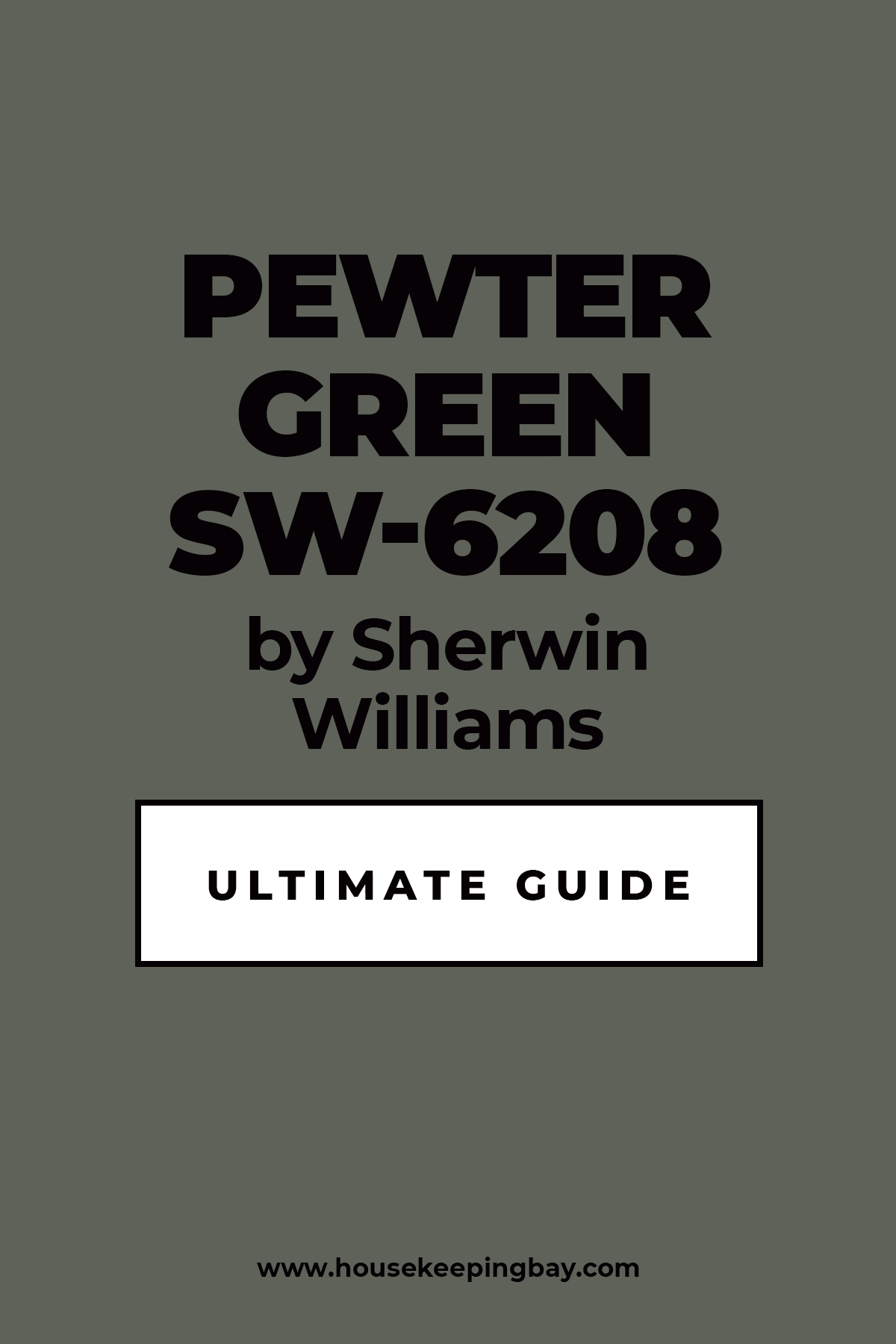 Frequently Asked Questions
⭐ What are Sherwin-Williams pewter green complementary colors?
Its complementary colors are creamy whites, steel gray-blue colors, taupe, and rich gold ones.
⭐ Is Pewter Green ok for the bathroom?
Yes, but it's better to be used as an accent color or on the cabinets.
⭐ What undertones does Pewter Green show under the cool natural light?
It shows blue-gray undertones.