Selecting a paint color can be an exciting yet daunting task, given the seemingly endless choices available. However, some hues rise above the rest due to their versatility and timeless appeal. One such color is Sherwin-Williams' SW 7568 Neutral Ground, a favorite amongst homeowners and interior designers alike.
This article aims to provide an in-depth analysis of SW Neutral Ground, exploring its undertones, its behavior under different lighting, and suitable coordinating colors. We will also provide tips on how to use this versatile hue in different rooms and its comparison with similar colors.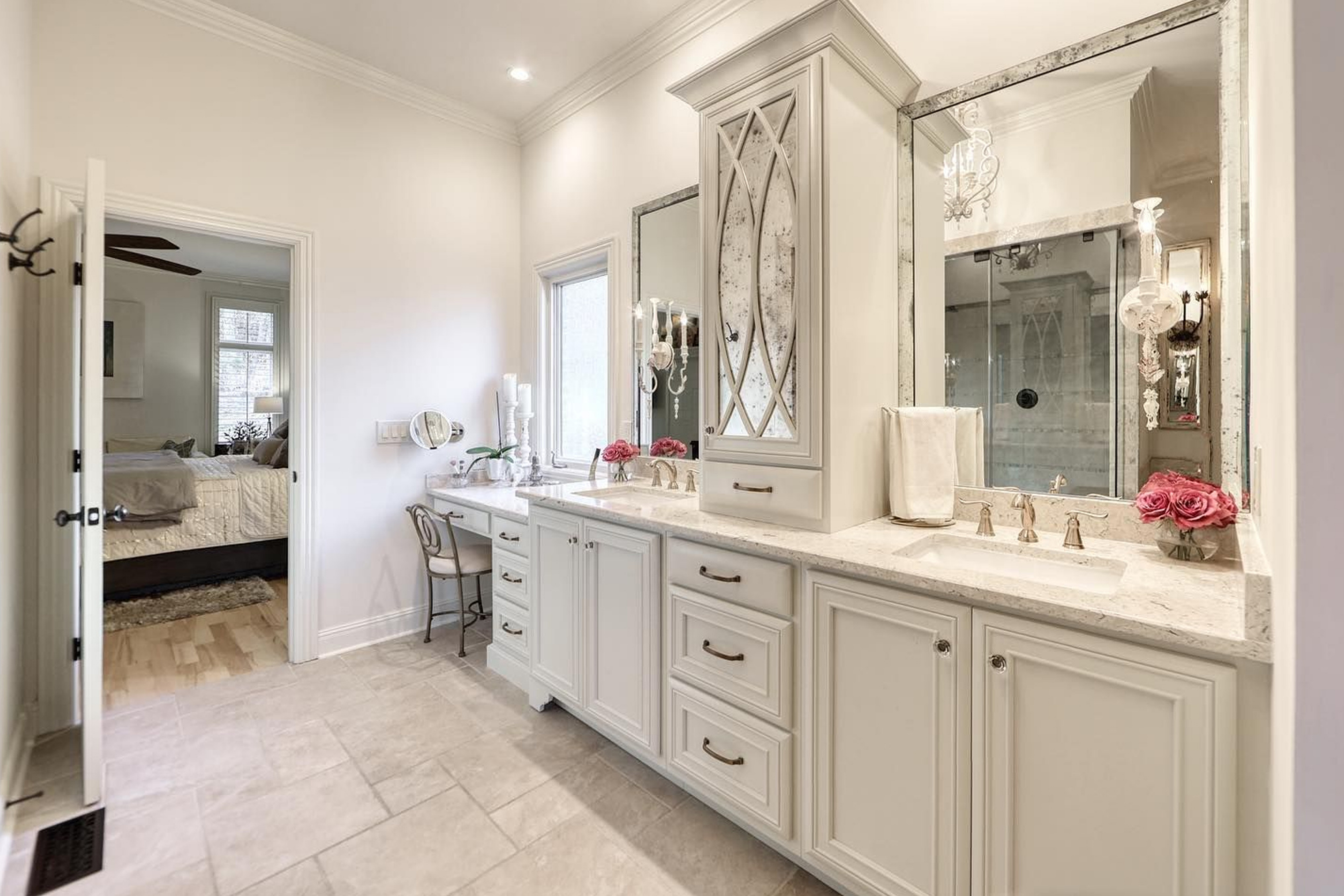 What Color Is SW 7568 Neutral Ground? Is It a Warm Or Cool Color?
SW 7568 Neutral Ground is a warm, medium-light beige paint color with strong taupe undertones. It strikes a delicate balance between a creamy beige and a soft, light brown, evoking a sense of calm and comfort. Its warmth is well appreciated in a variety of spaces and styles owing to its adaptability and neutral characteristics.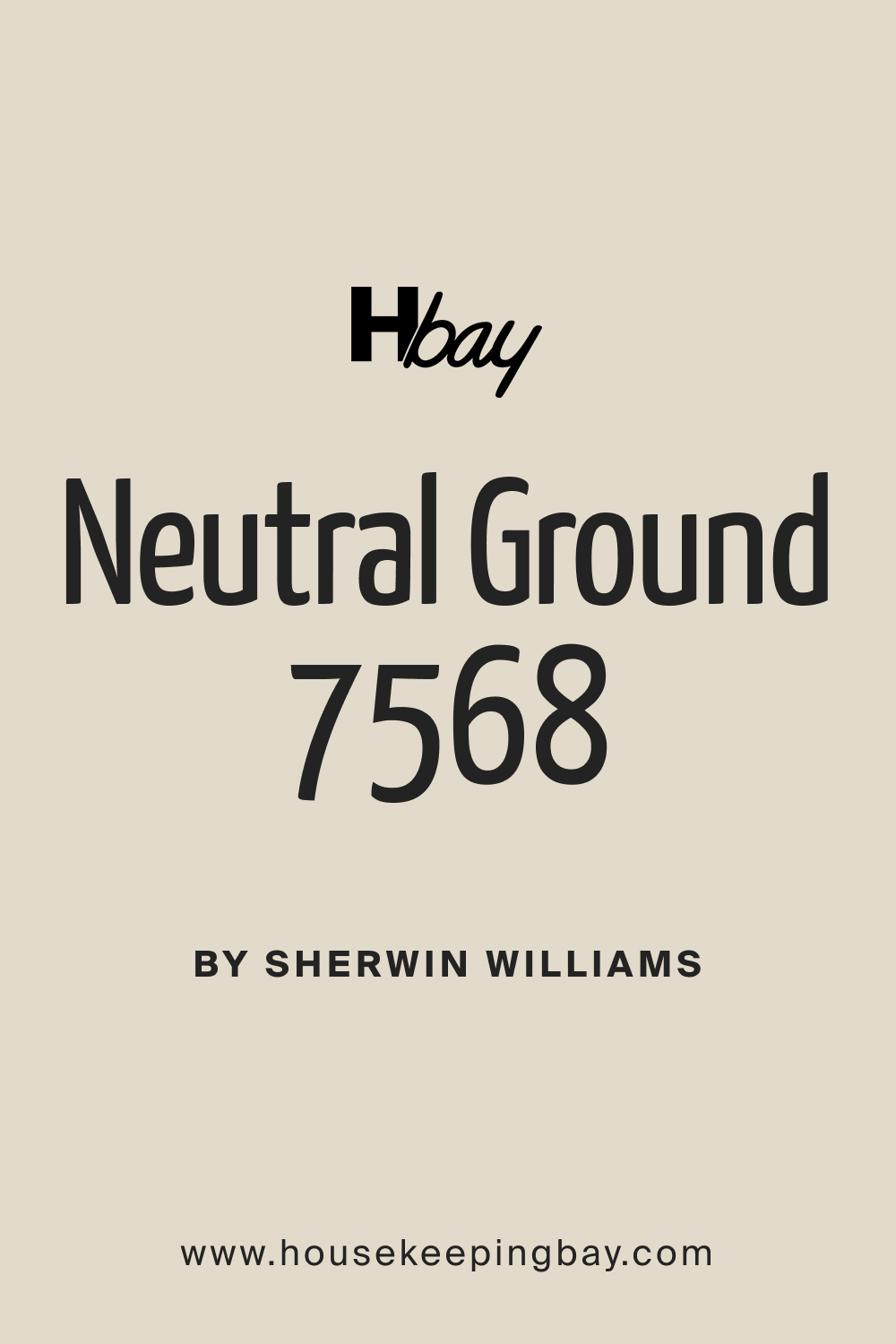 Undertones of SW 7568 Neutral Ground
Just like any other color, SW Neutral Ground has undertones. And to be able to use this color correctly in your home, you should be aware of the undertones it has.
Beige: The primary undertone of Neutral Ground is beige, which gives the color its warm and inviting appearance.
Taupe: This color also carries subtle taupe undertones, a blend of brown and gray that adds depth to the color.
Cream: In certain light conditions, Neutral Ground can present with a creamy undertone, adding to its versatility and adaptability.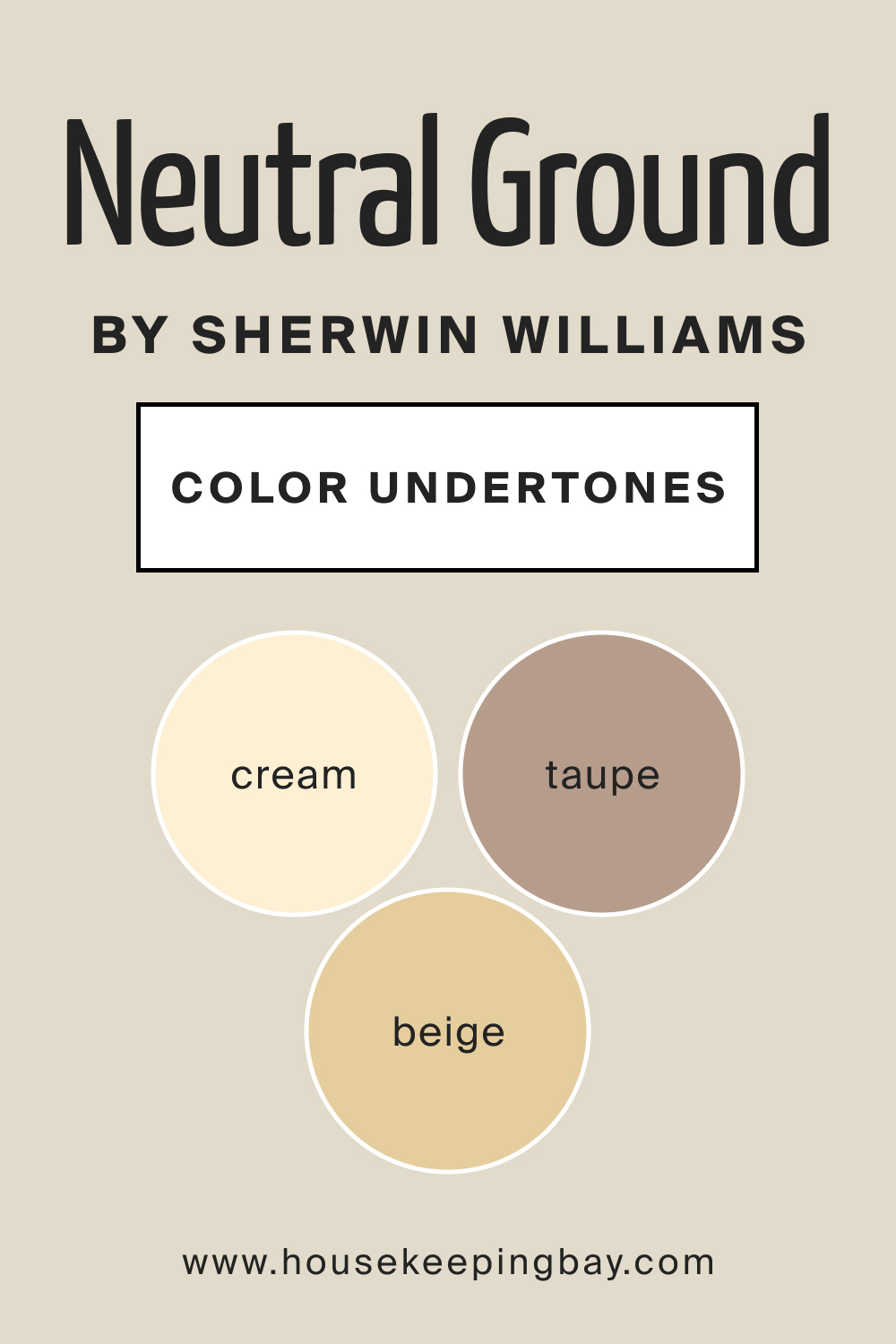 Coordinating Colors of SW 7568 Neutral Ground
Choosing the correct coordinating colors can be fun, but only if you know color theory. Without at least minimal awareness of how colors work and pair, it will be hard for you to coordinate them correctly.
SW Neutral Ground is pretty complex in terms of undertones (you definitely remember it has three of them!), so we recommend you check out a few color suggestions to know how to coordinate this hue:
Additionally, here are three more coordinating colors you might want to check out: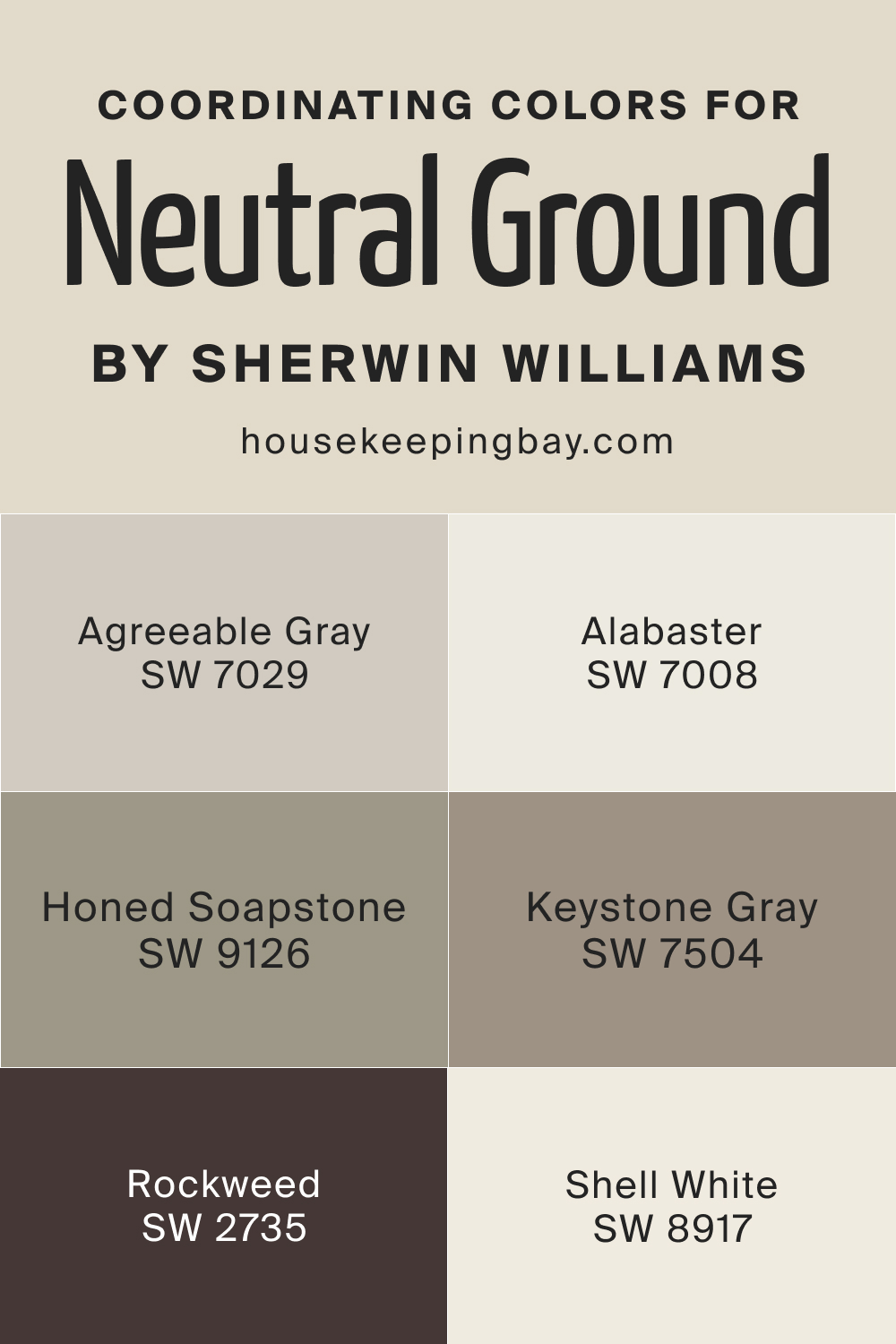 How Does Lighting Affect SW 7568 Neutral Ground Paint Color?
The effects of lighting on paint colors cannot be overstated, and SW Neutral Ground is no exception. In spaces with ample natural light, Neutral Ground will appear lighter, and its creamy undertones may become more apparent.
However, in spaces with less natural light, the color might appear darker, and its taupe undertones might be more pronounced, giving it a slightly grayer appearance.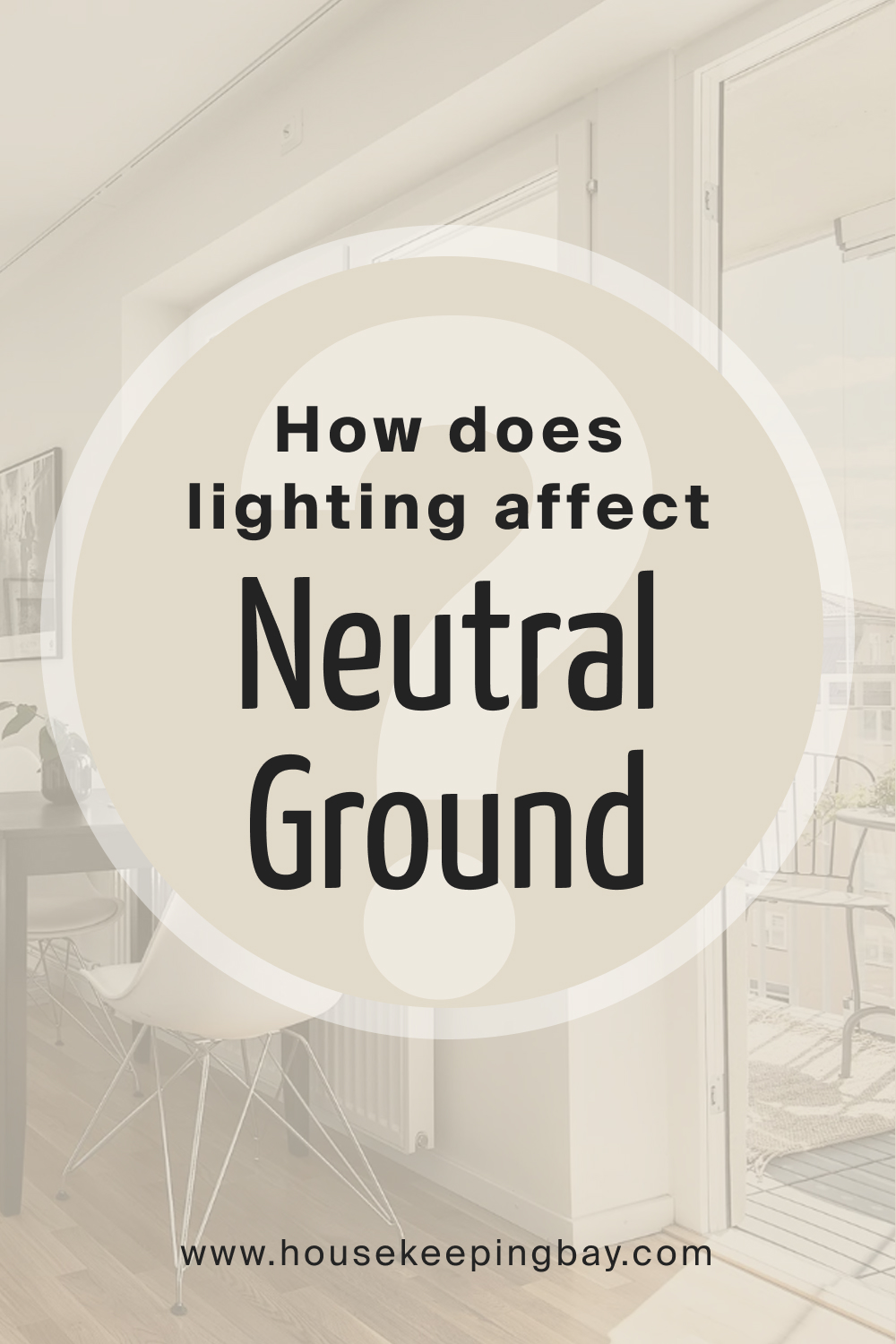 LRV of SW 7568 Neutral Ground Paint Color
Light Reflectance Value (LRV) measures the percentage of light a paint color reflects. The higher the LRV, the more light it reflects, and vice versa. SW Neutral Ground has an LRV of 71, making it a fairly light color that reflects a significant amount of light.
This high LRV allows SW Neutral Ground to make smaller spaces feel more open and larger than they are, as well as provide a feeling of brightness to spaces with limited natural light. It's also worth noting that the high LRV enhances the versatility of SW Neutral Ground, allowing it to interact wonderfully with a broad range of other colors.
However, despite its high LRV, SW Neutral Ground still possesses a certain depth due to its taupe undertones. This means that while it can brighten up a space, it does not run the risk of looking washed out or overly stark.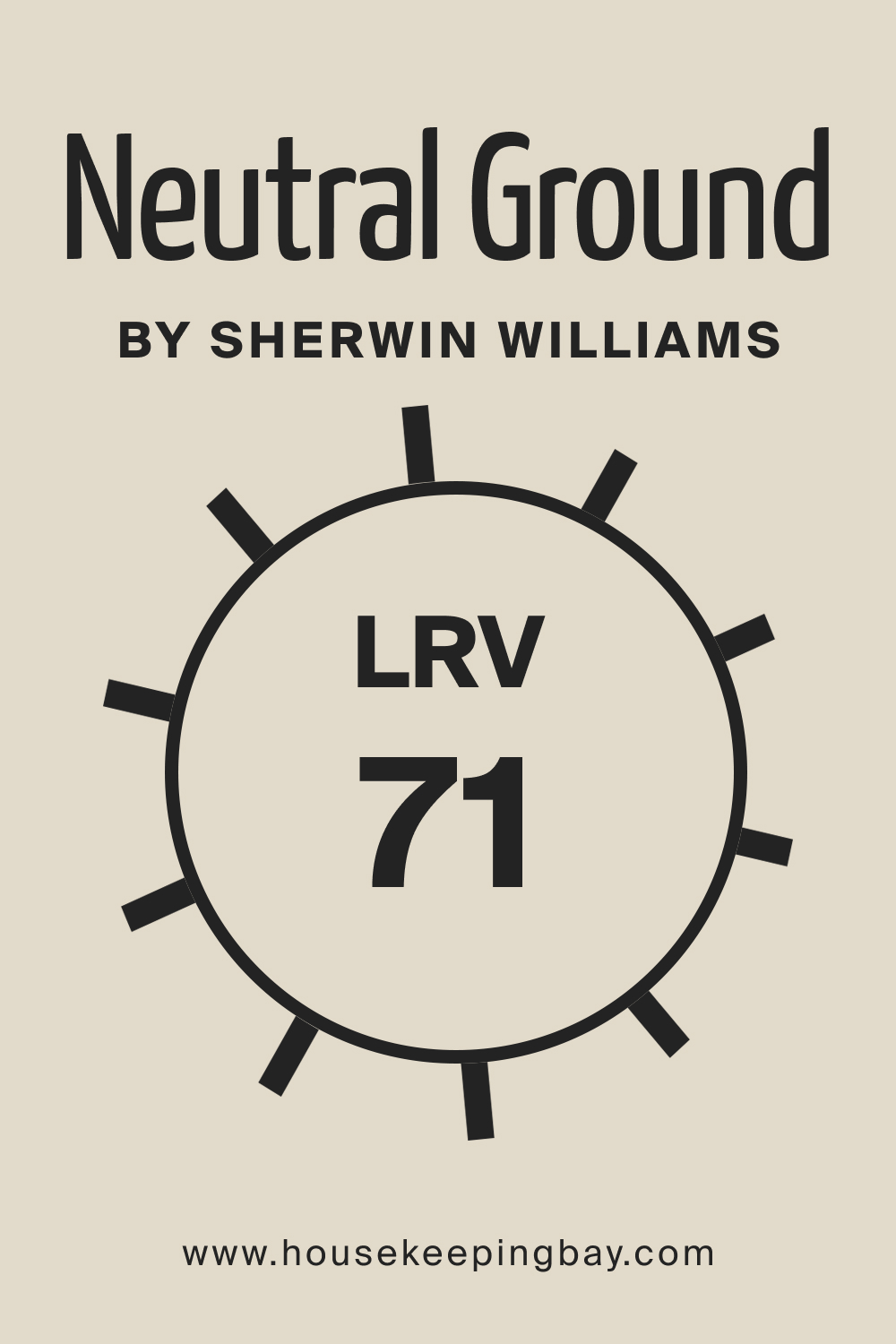 What is LRV? Read It Before You Choose Your Ideal Paint Color
Trim Colors of SW 7568 Neutral Ground
For trim colors that can be used with SW Neutral Ground, here are some excellent choices: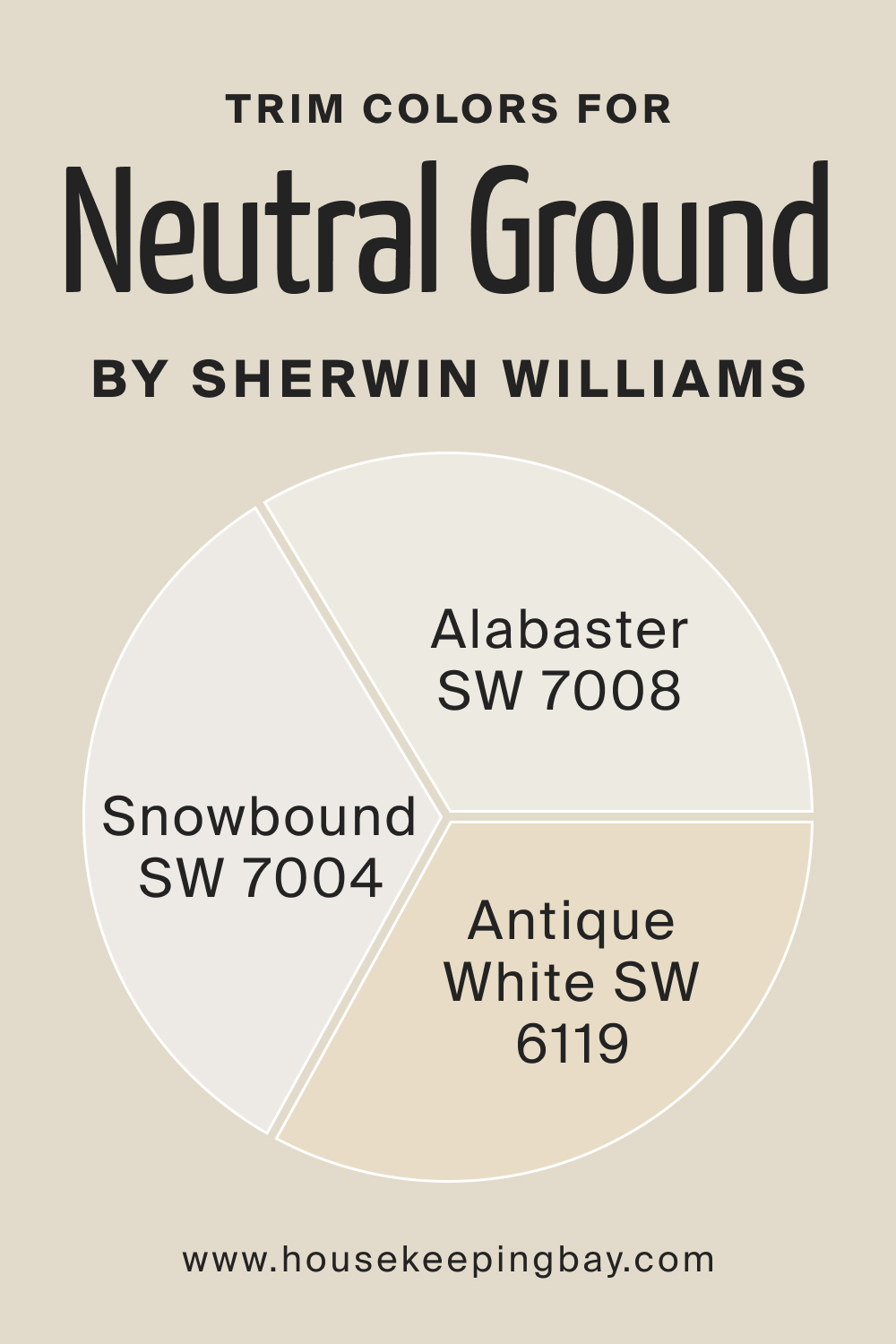 Colors Similar to SW 7568 Neutral Ground
If you are unsatisfied with how SW Neutral Ground works in your home, you might benefit from using other colors instead. For this purpose, it's a good idea to have a few alternative hues at hand that read nearly the same. Below, we have prepared several color options for you to check out: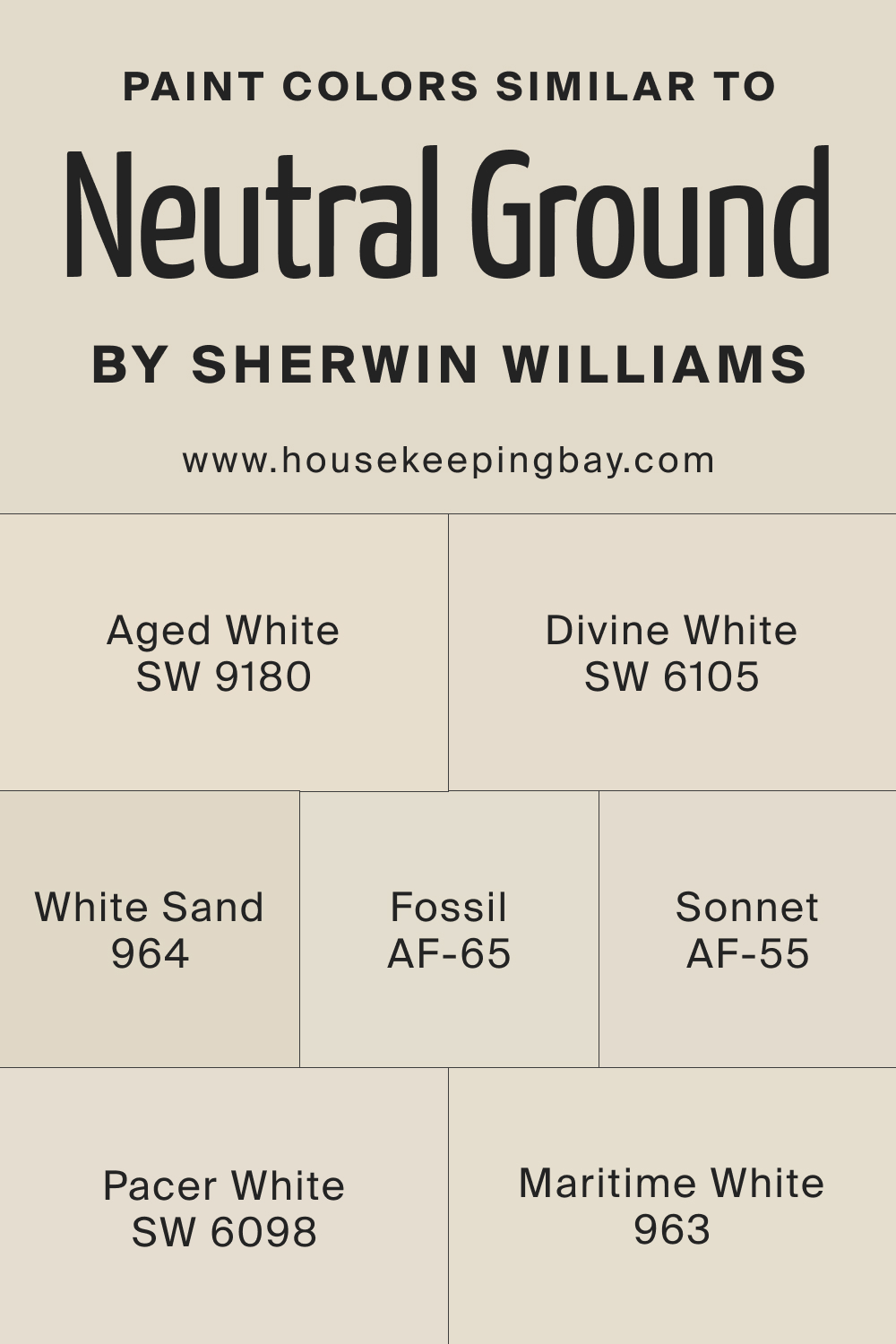 Colors That Go With SW 7568 Neutral Ground
To achieve a balanced and harmonious palette in your home, you should know what colors go well with the hue on your walls. For SW Neutral Ground, we recommend you the following colors:
Also, you might want to try one of the following colors to make your interior palette more varied: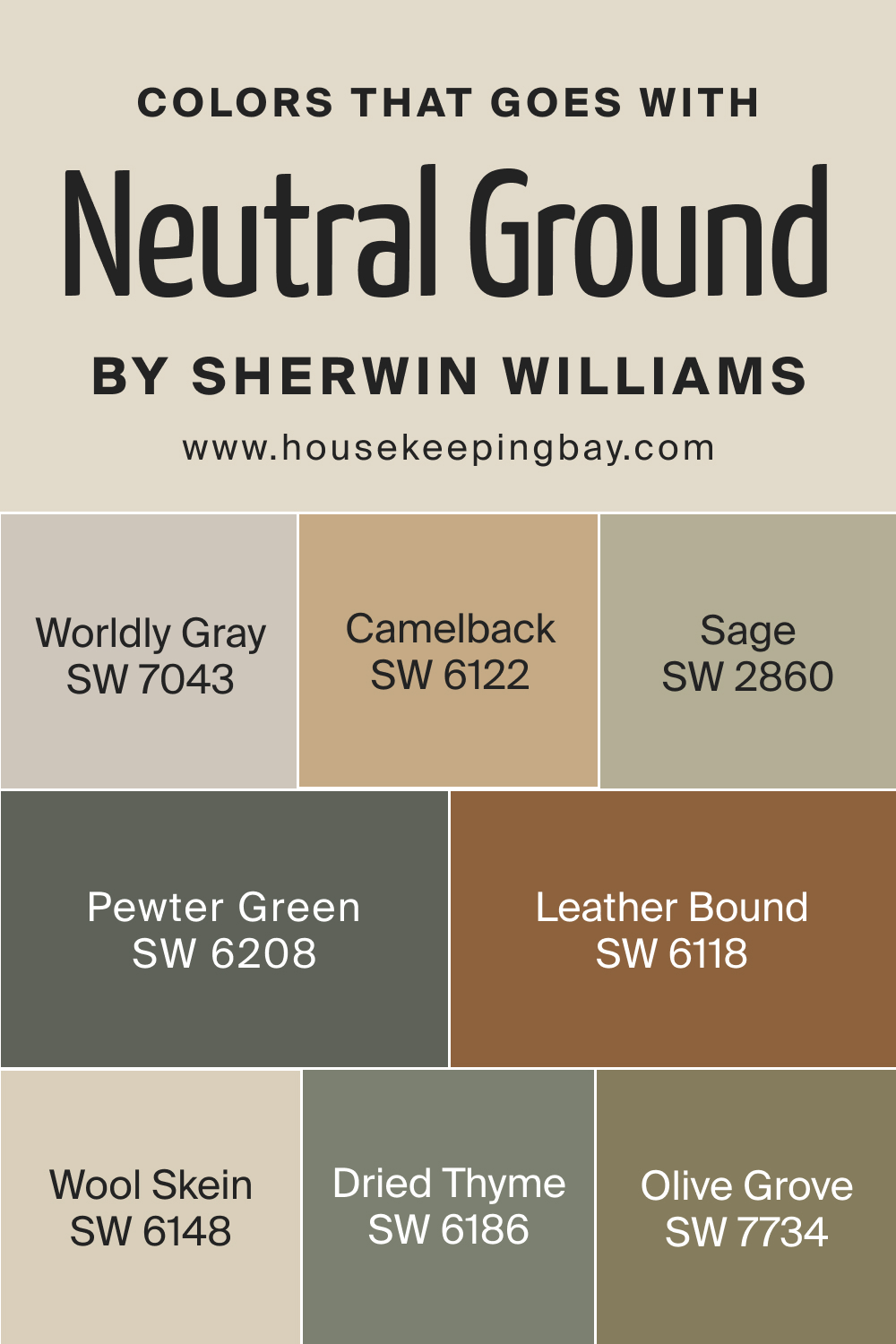 How to Use This Color In Your Home?
SW Neutral Ground is pretty versatile and can be used in many spaces of your home. Below we describe how exactly this soft hue may read in different rooms of a house or apartment.
How to Use SW 7568 Neutral Ground in the Bedroom?
Neutral Ground's warm undertones make it a perfect choice for bedrooms, creating a restful and serene ambiance. Using it as the primary color on the walls can lend a feeling of warmth and coziness to the room. To add depth and interest, consider pairing it with darker colors such as Honed Soapstone for the furniture and accents.
For a more contemporary look, you can combine SW Neutral Ground with crisp whites, like Alabaster, for the trim and ceiling. This will create a beautiful contrast while maintaining a warm, calming feel. Add touches of color through textiles and decor to personalize the space to your liking.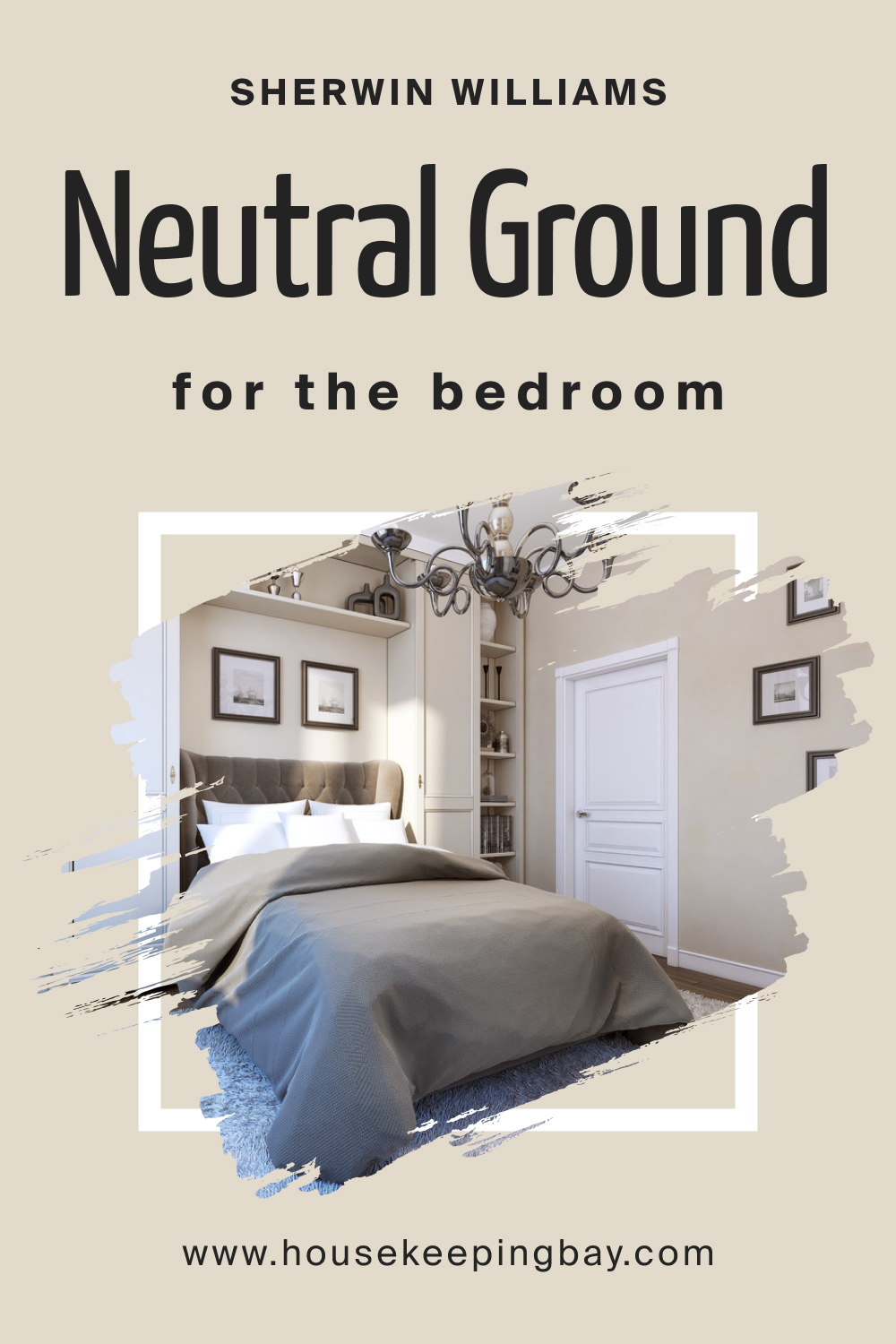 How to Use SW 7568 Neutral Ground in the Bathroom?
In a bathroom setting, SW Neutral Ground can create a clean, refreshing environment. Paired with white tiles or marble, it can evoke a spa-like atmosphere. Bright whites on the ceiling, trim, and sanitary ware can keep the space feeling light and airy.
If you prefer a more traditional or vintage-style bathroom, SW Neutral Ground can pair wonderfully with warmer tones like Ivoire or Latte. Adding brushed bronze or gold fixtures could complement the warm undertones of Neutral Ground, enhancing the overall cozy and inviting aesthetic.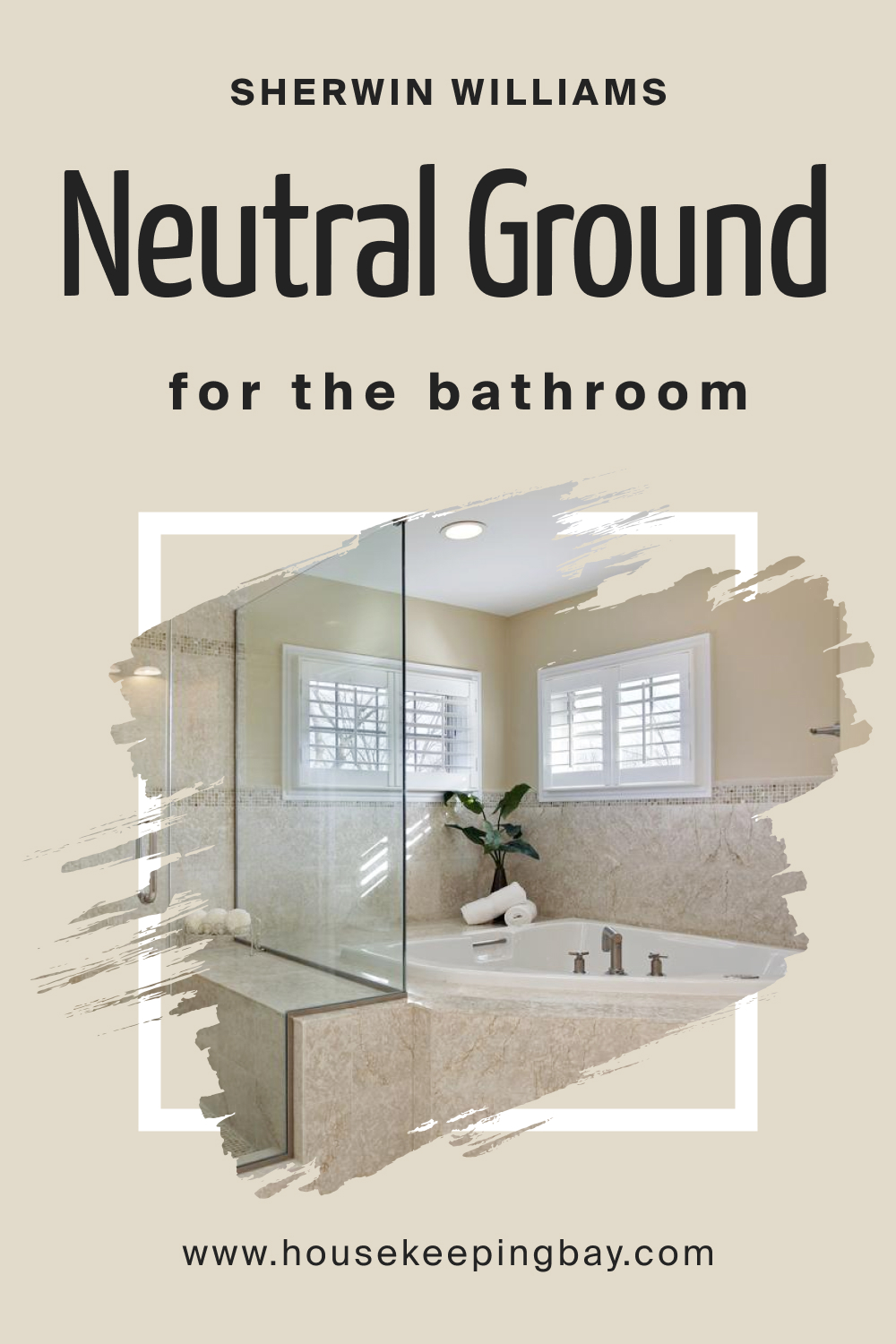 How to Use SW 7568 Neutral Ground in the Living Room?
SW Neutral Ground's adaptable nature makes it a great fit for living rooms of all styles. It can be a calm backdrop for a more modern living room paired with cool-toned furniture and accents. The use of metal accents in silver or chrome can provide a contemporary feel.
For a more traditional or rustic style, pair SW Neutral Ground with darker colors like Universal Khaki for the furniture, or use natural wood elements. The warm undertones of these colors and materials will enhance the cozy, inviting ambiance that Neutral Ground naturally provides.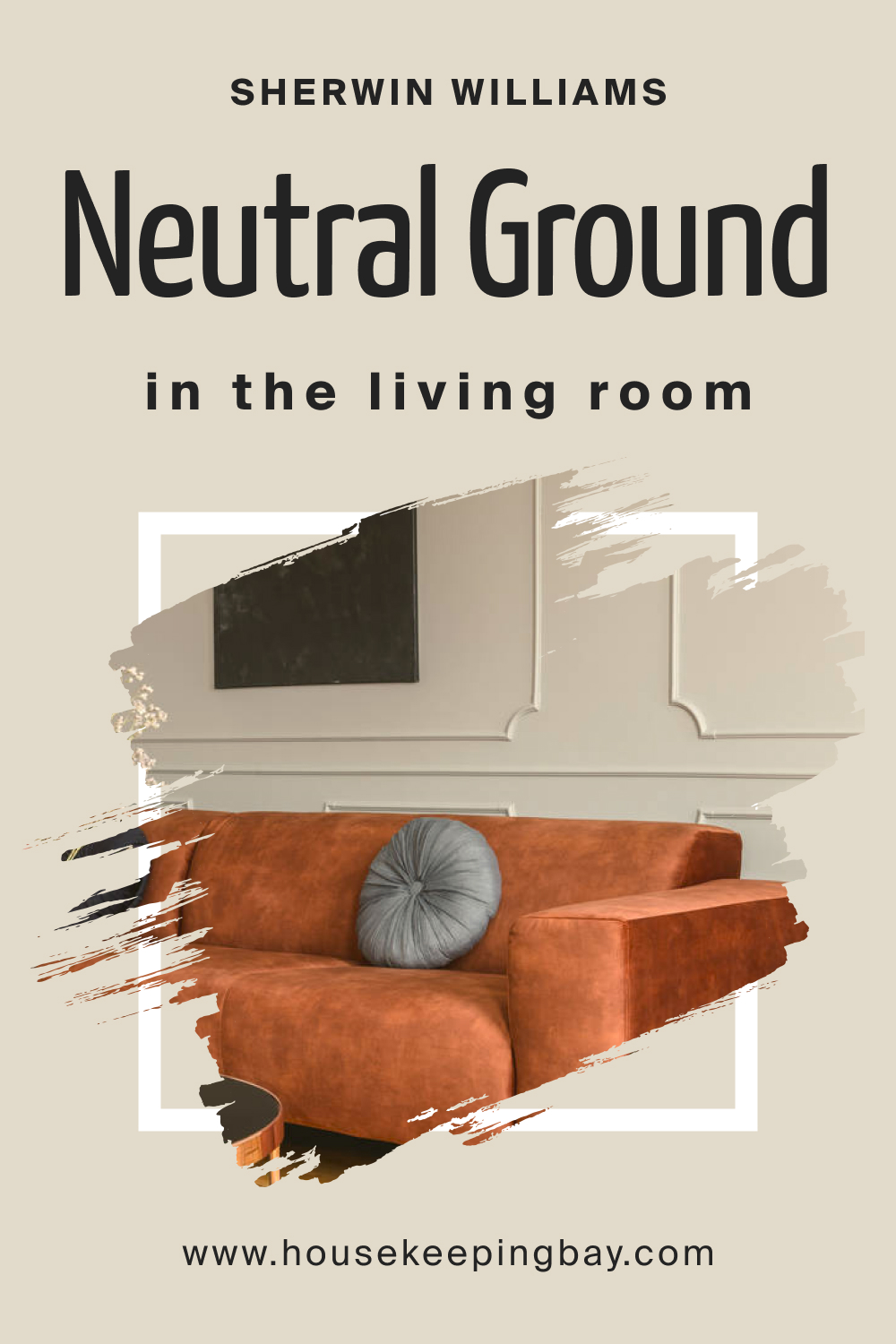 How to Use SW 7568 Neutral Ground in the Kitchen?
In a kitchen setting, Neutral Ground can bring timeless elegance. For a bright, open feel, pair it with white cabinetry. If you have wooden or colored cabinets, SW Neutral Ground will complement them nicely due to its versatility.
For a more dramatic look, consider using dark grays like Honed Soapstone for your countertops or kitchen island. The contrast with Neutral Ground will add depth and visual interest to the space. With stainless steel appliances, the space can achieve a balanced, modern aesthetic.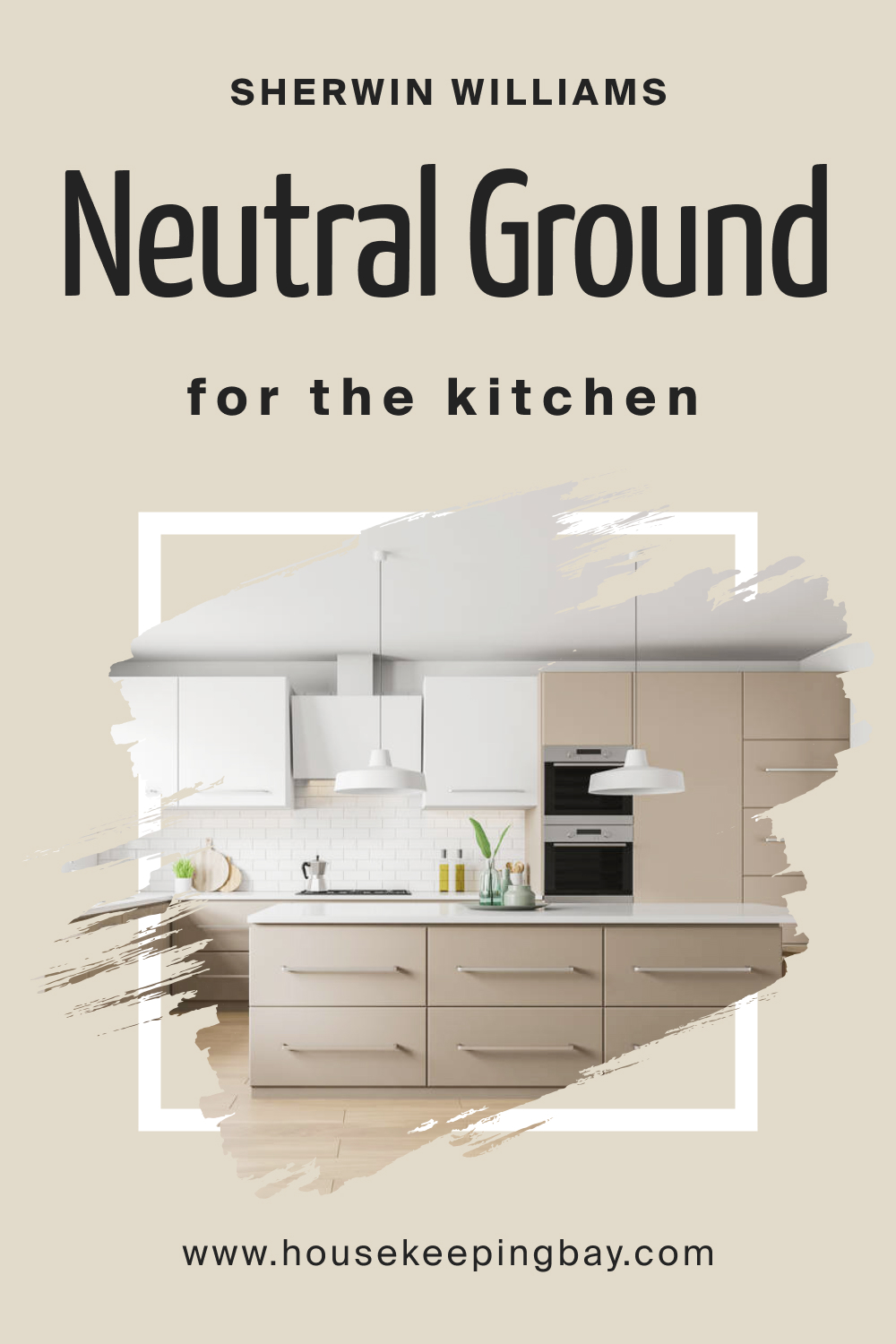 How to Use SW 7568 Neutral Ground for an Exterior?
When used on exterior walls, SW Neutral Ground presents a welcoming façade. It pairs beautifully with crisp white trims like Alabaster or Snowbound for a classic look. For the front door, consider bolder colors like deep greens or blues for a pop of color against the warm beige backdrop.
Alternatively, use darker shades like Universal Khaki for the trim to create a harmonious, earthy color scheme. Such a palette is ideal for homes surrounded by nature, as it can help the structure blend seamlessly with its environment.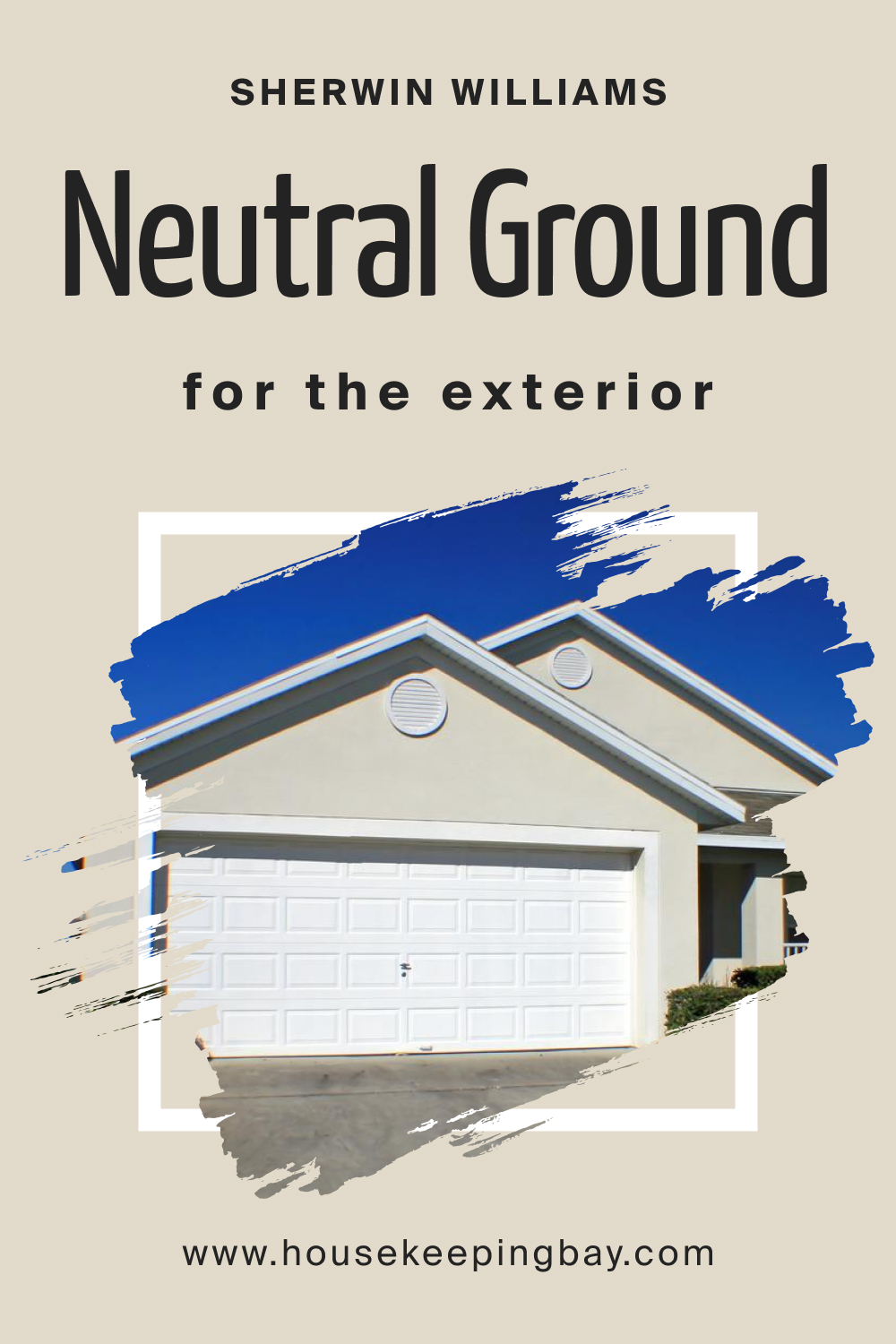 Comparing This Color With Other Colors
In this section, we compare SW Neutral Ground with several colors that read similarly. This will help you see how distinct LRVs and undertones can make related hues differ and be unique.
SW 7568 Neutral Ground vs SW 7546 Bittersweet Stem
While both these colors have a similar level of lightness, SW Bittersweet Stem has a slightly more greenish undertone, which can make spaces feel more earthy and grounded. In contrast, SW Neutral Ground leans more towards taupe and beige, creating a universal neutral palette that can adapt to a wide variety of color schemes.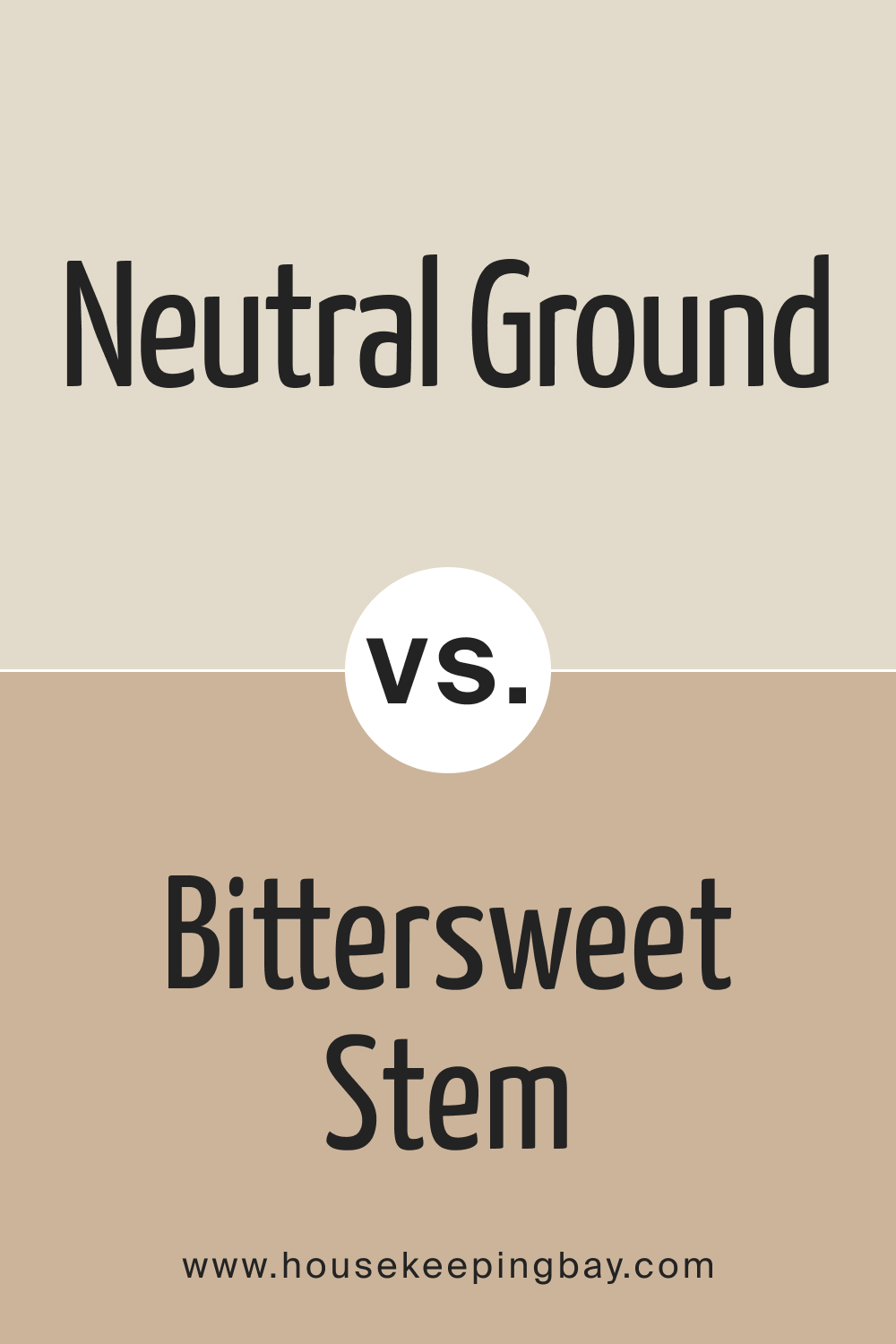 SW 7568 Neutral Ground vs SW 7037 Balanced Beige
Balanced Beige is a medium-tone beige with gray undertones. It's a bit darker than SW Neutral Ground, which can make it a better choice for larger spaces or rooms with a lot of natural light. However, both colors share a warm undertone, making them equally inviting and cozy.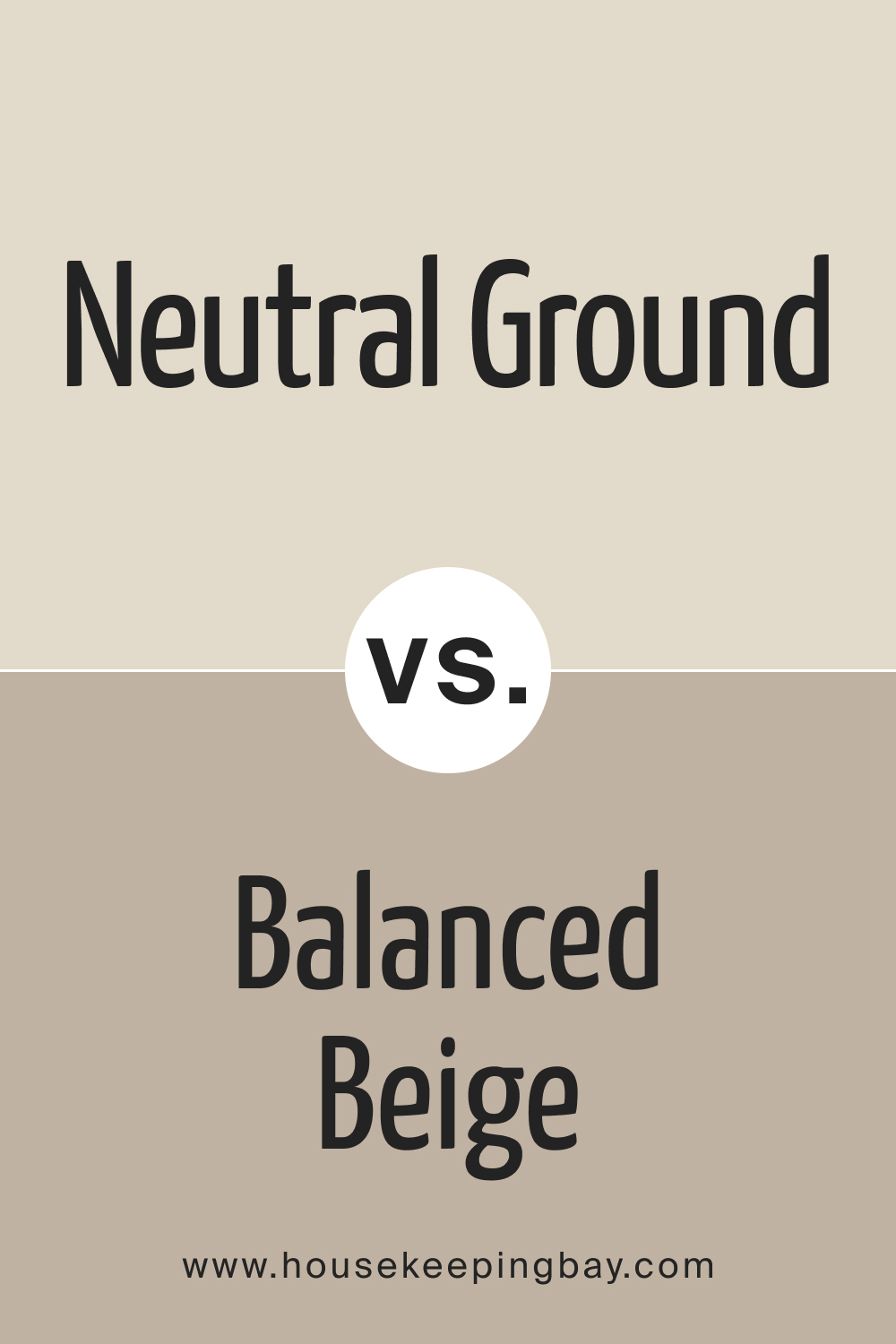 SW 7568 Neutral Ground vs SW 6127 Ivoire
SW Ivoire is a warm, creamy color that could be compared to SW Neutral Ground. However, Ivoire is slightly more yellow, giving it a sunnier and brighter look. On the other hand, SW Neutral Ground, with its taupe undertones, creates a more subtle and versatile palette.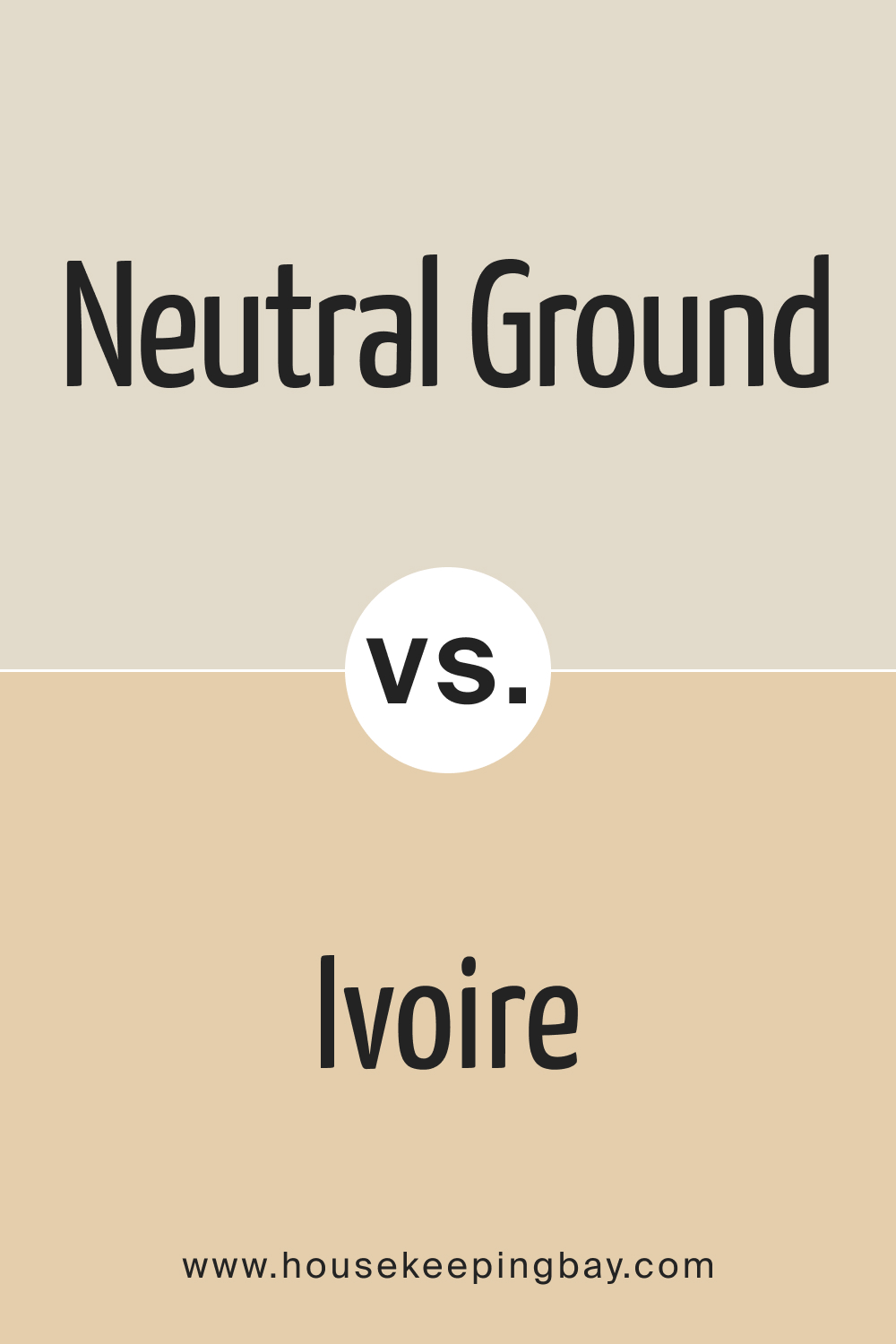 SW 7568 Neutral Ground vs SW 7036 Accessible Beige
SW Accessible Beige is similar to SW Neutral Ground in its warm undertones but leans more towards gray, making it a cooler neutral. Its lightness is comparable to Neutral Ground, but its gray leanings can make it seem a touch cooler and more contemporary.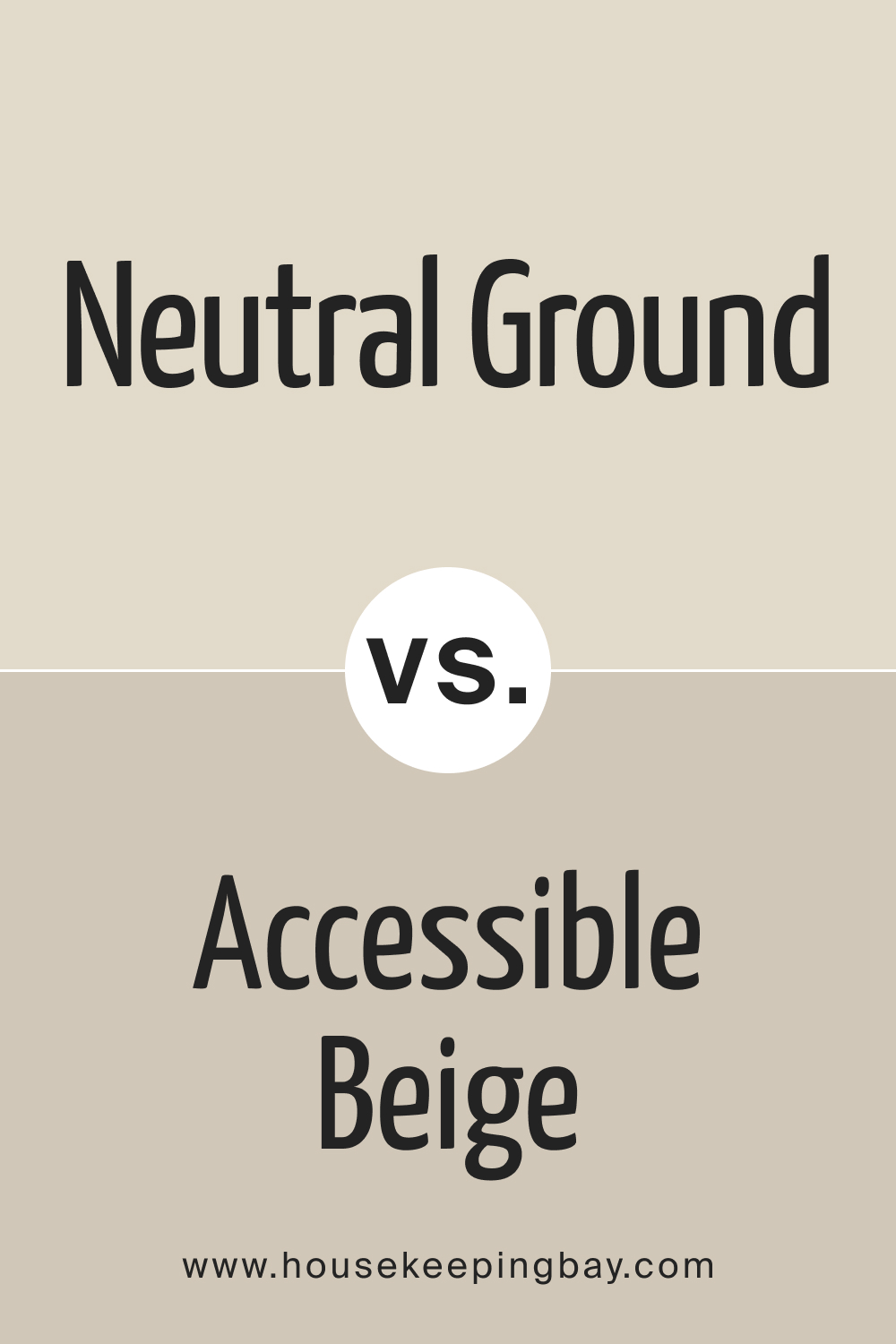 SW 7568 Neutral Ground vs SW 6150 Universal Khaki
SW Universal Khaki is a deeper, more saturated neutral than SW Neutral Ground. While both colors share warm undertones, Universal Khaki's higher saturation and depth can make it a good choice for accents or for rooms that could benefit from a stronger color statement.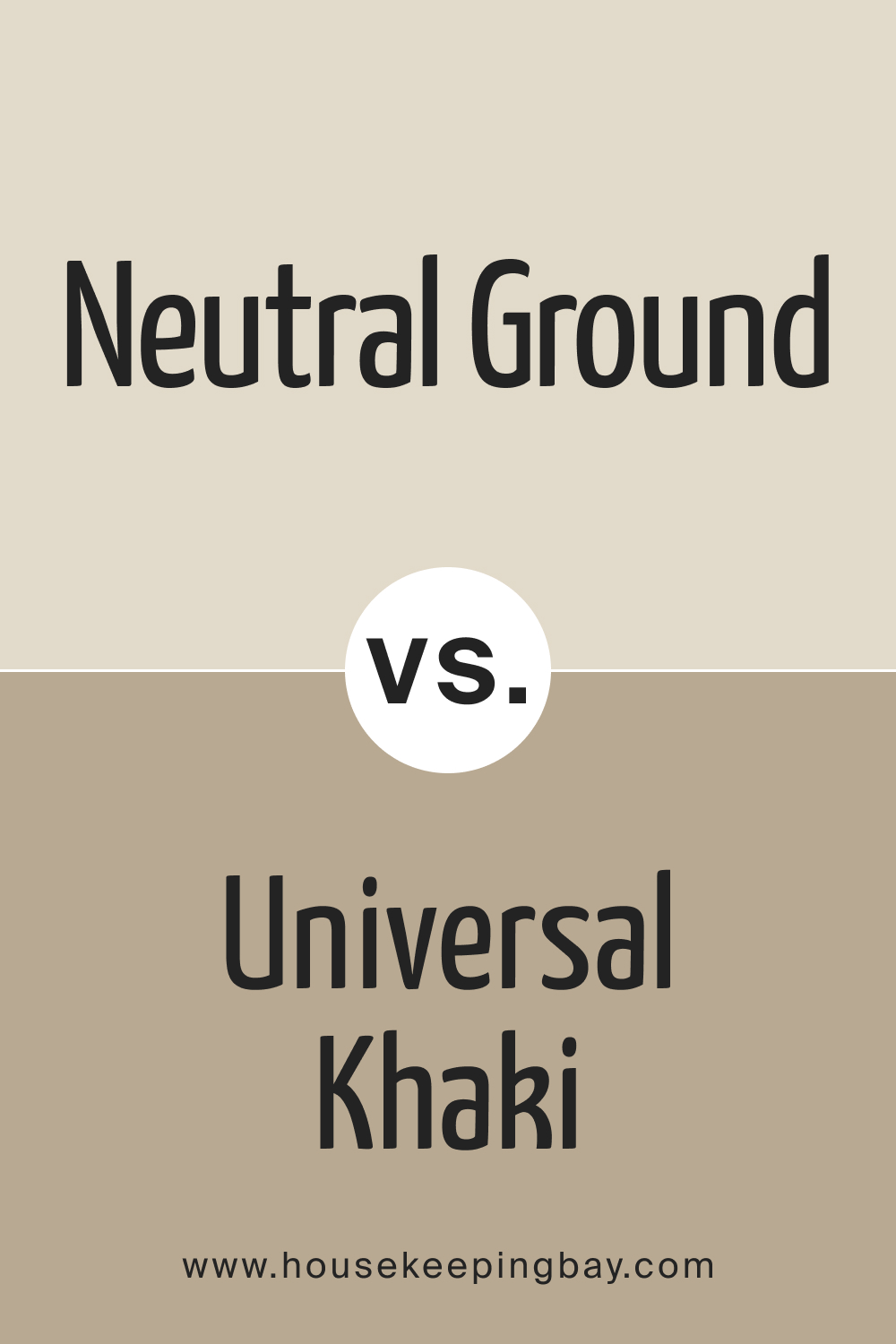 SW 7568 Neutral Ground vs SW 7551 Greek Villa
SW Greek Villa is a lighter, slightly warmer color than SW Neutral Ground. This can give rooms painted in Greek Villa a brighter and more airy feel. However, Neutral Ground, with its taupe undertones, can provide a touch more depth and sophistication.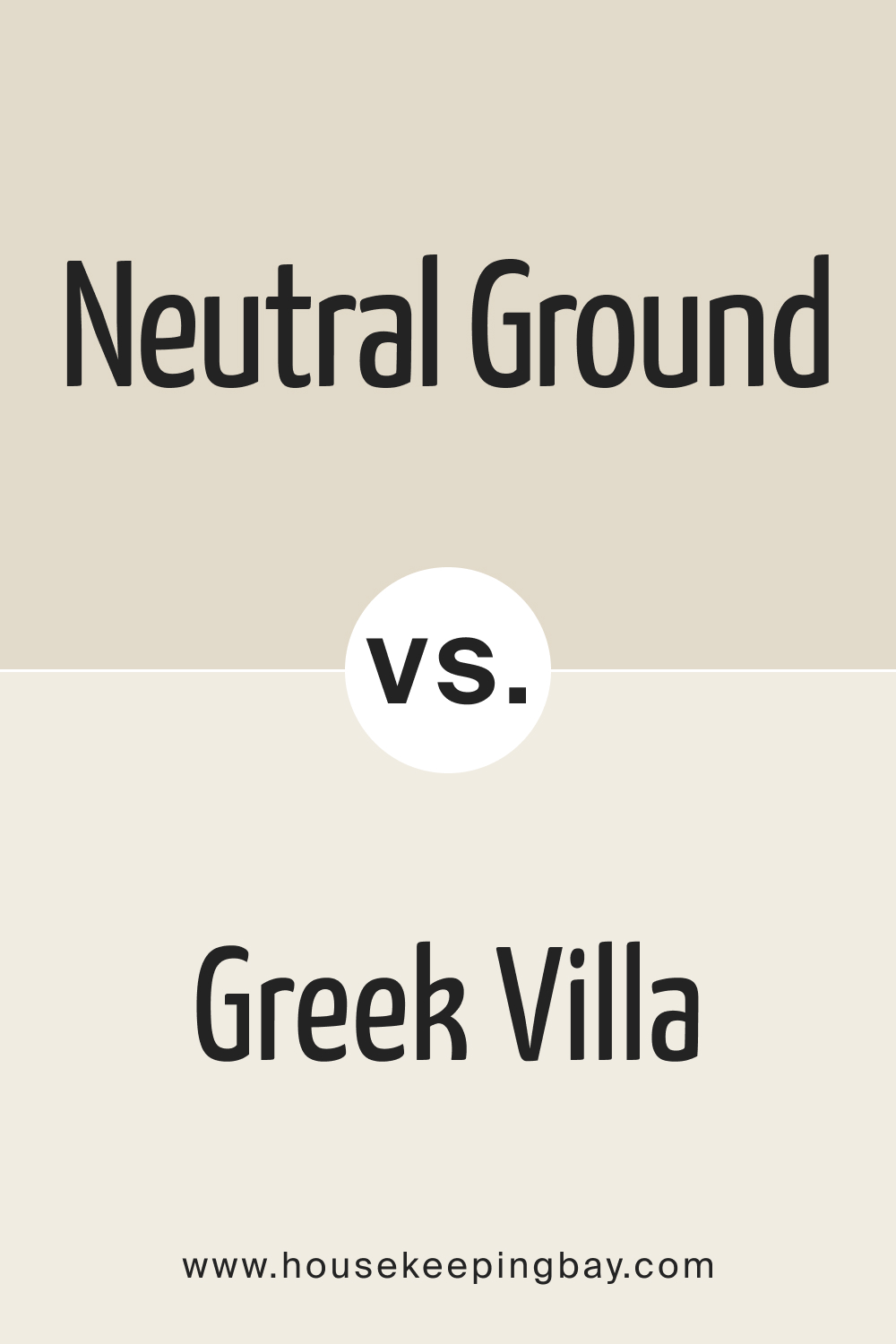 Conclusion
In conclusion, SW 7568 Neutral Ground is a versatile, warm, and welcoming paint color that can enhance any space. Its adaptability and neutral characteristics make it suitable for virtually any room, style, and lighting condition.
Remember that the final look of SW Neutral Ground can be influenced by its surroundings, including the lighting and other colors in the room. With the right combination, this color can help create a beautiful, calming, and inviting space you'll be proud to call home.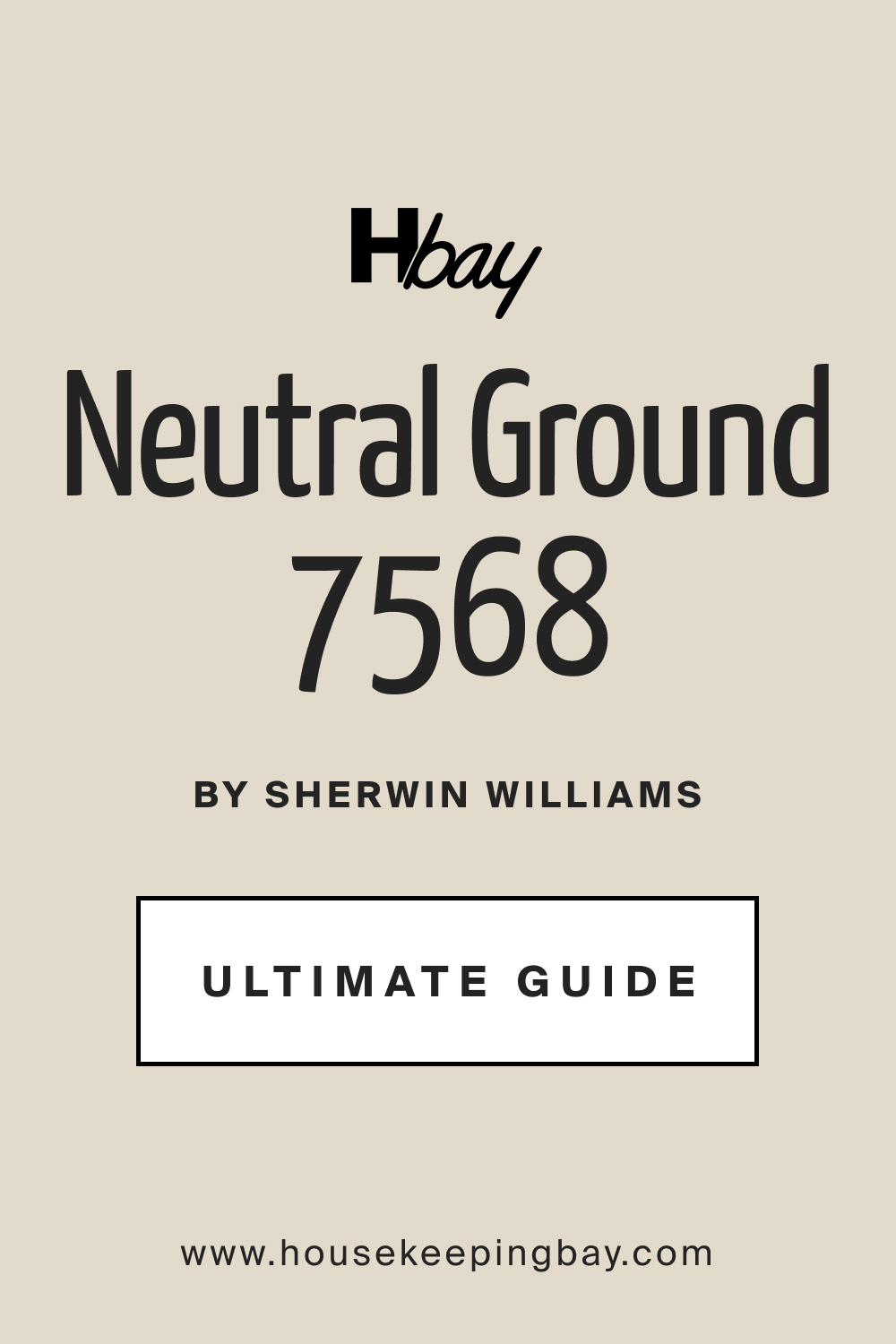 Frequently Asked Questions
⭐What kind of undertones does SW 7568 Neutral Ground have?
SW Neutral Ground is a warm beige color with subtle taupe undertones. Depending on the lighting and surrounding colors, it may also exhibit very faint green or gray undertones.
⭐Can SW 7568 Neutral Ground be used as a trim color?
While Neutral Ground can technically be used as a trim color, it's usually best suited for walls. For trim, you might want to consider a brighter or contrasting color like SW 7008 Alabaster or SW 7004 Snowbound to highlight architectural details.
⭐Is SW 7568 Neutral Ground a good choice for a bedroom?
Yes, Neutral Ground is an excellent choice for a bedroom. Its warm undertones create a cozy and calming atmosphere, which is perfect for promoting relaxation and restful sleep.
⭐How does lighting affect the appearance of SW 7568 Neutral Ground?
Like any color, Neutral Ground's appearance can change under different lighting conditions. In natural light, its warm beige nature comes through, while artificial light might bring out its taupe undertones. Always test a sample in your specific lighting conditions before making a final decision.
⭐Which colors coordinate well with SW 7568 Neutral Ground?
Neutral Ground is a versatile color that pairs well with a variety of colors. It looks great with whites like SW 7008 Alabaster for a clean, contrasting look. For a harmonious color scheme, consider pairing it with SW 7008 Alabaster, SW 8917 Shell White, and SW 9126 Honed Soapstone.