The recent trends seem to be leaning into the warmer end of things when it comes to choosing paint colors for interior painting projects. And in fact, it's no surprise that you can see more warm grays, taupes, greiges and even beige interior paint colors being used in people's homes.
This is why today we are going to tell you more about one of the best warm neutrals on the market. This paint color is called Egret White and is a part of the Sherwin-Williams brand.
You will learn what kind of white it is, how it works in different rooms and lighting, and how to coordinate it correctly.
Also, we will explain what makes it distinct from similar colors and other helpful nuances that will allow you to use this white correctly.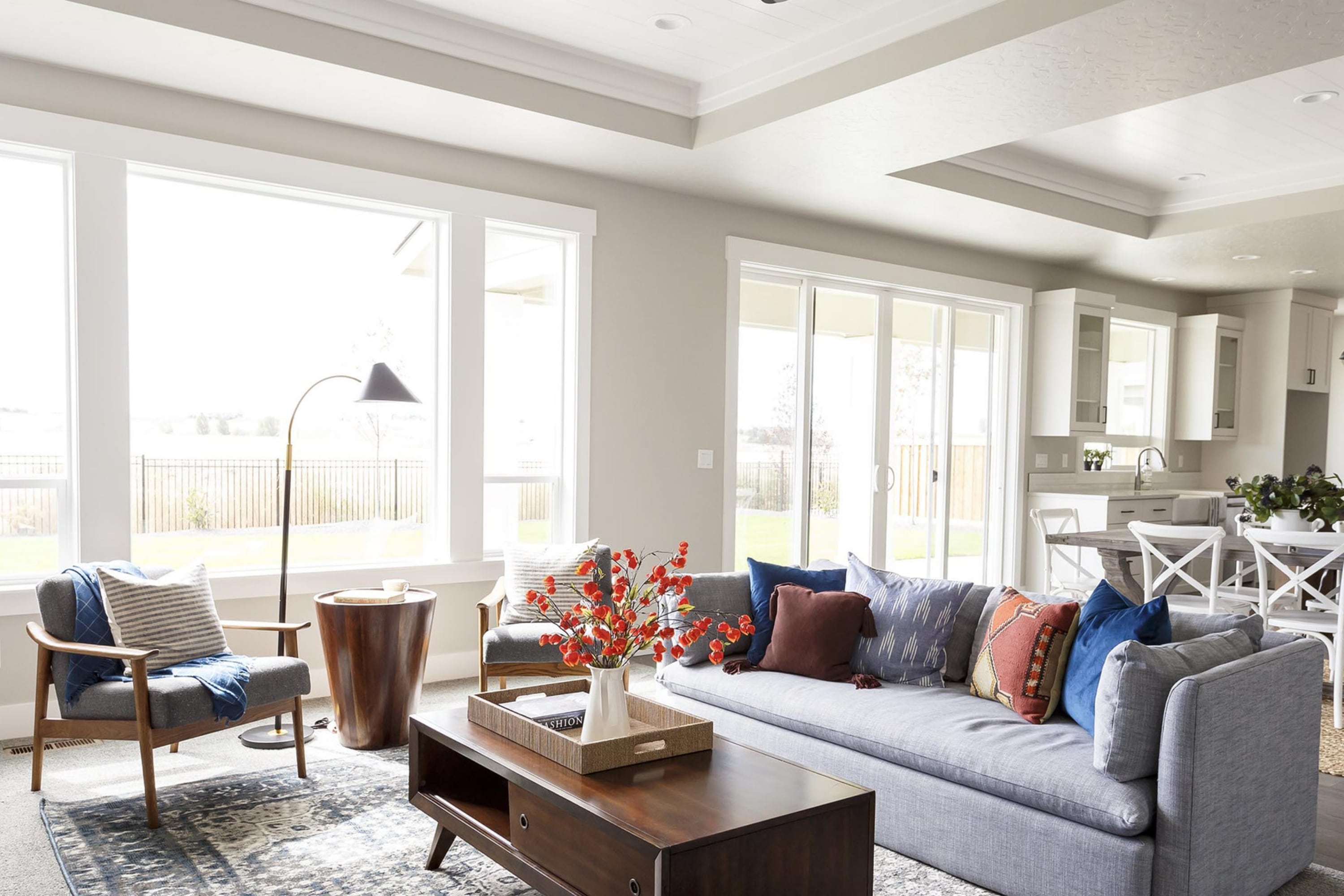 What Kind of Color Is SW Egret White?
Speaking of SW Egret White color, it can be considered a warm gray or taupe.
However, it is not a greige color for sure. As Encycolorpedia says, Greige paint colors tend to have a green undertone, but this is the hue that you will never find in SW Egret White.
Instead, its stone undertones add depth to this bright and versatile white, making it a lovely color for any home.
This white is so multipurpose that you can use it in different rooms and even on exterior walls with equal success. Read on to learn how it will work in different lighting conditions and what nuances to consider if you want to make this paint work in your home.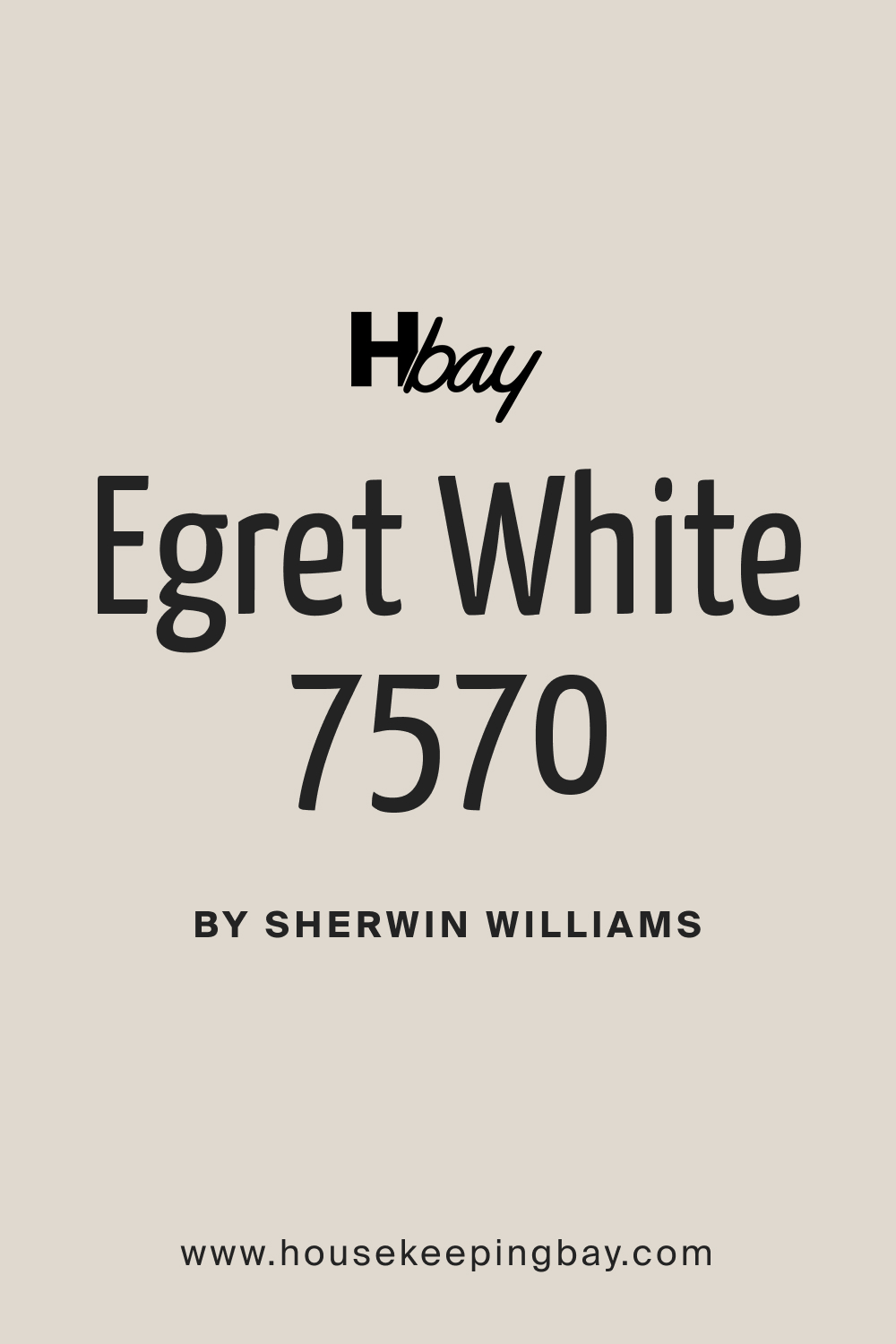 What Undertones Does SW Egret White Have?
SW Egret White has subtle undertones that are leaning towards a warm violet just a bit. As a result, this paint color may read with a slight violet wink in it. But you should not freak out and banish this paint color if you are not a violet-pink fan!
Luckily, the violet undertones it has are quite passive, so most of the time they won't show up on the walls. But under specific conditions, they are likely to show up more (for example, if you partner them with a surface with green hues).
On the other hand, in the right situation and with proper lighting in a room, you may even see SW Egret White leaning just a tiny bit into beige!
Yep, as you can see, this color is quite the chameleon! But at the same time, it is so subtle that the way it works in your home can be left up to your personal color perception.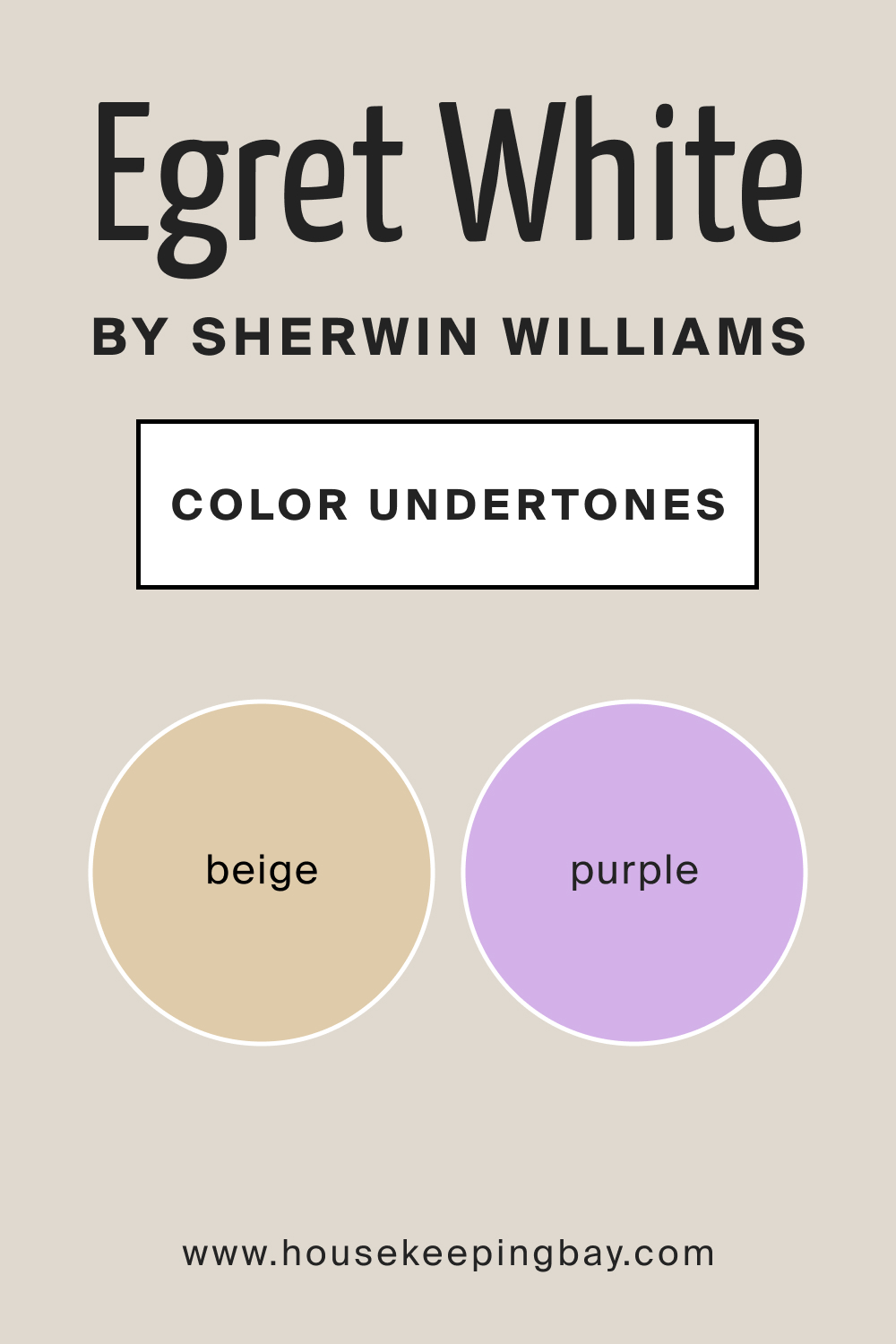 LRV Egret White SW-7570
The LRV (light reflectance value) of SW Egret White is 70, which places this white in between the light and off-white range. Due to such a position, this color may read differently.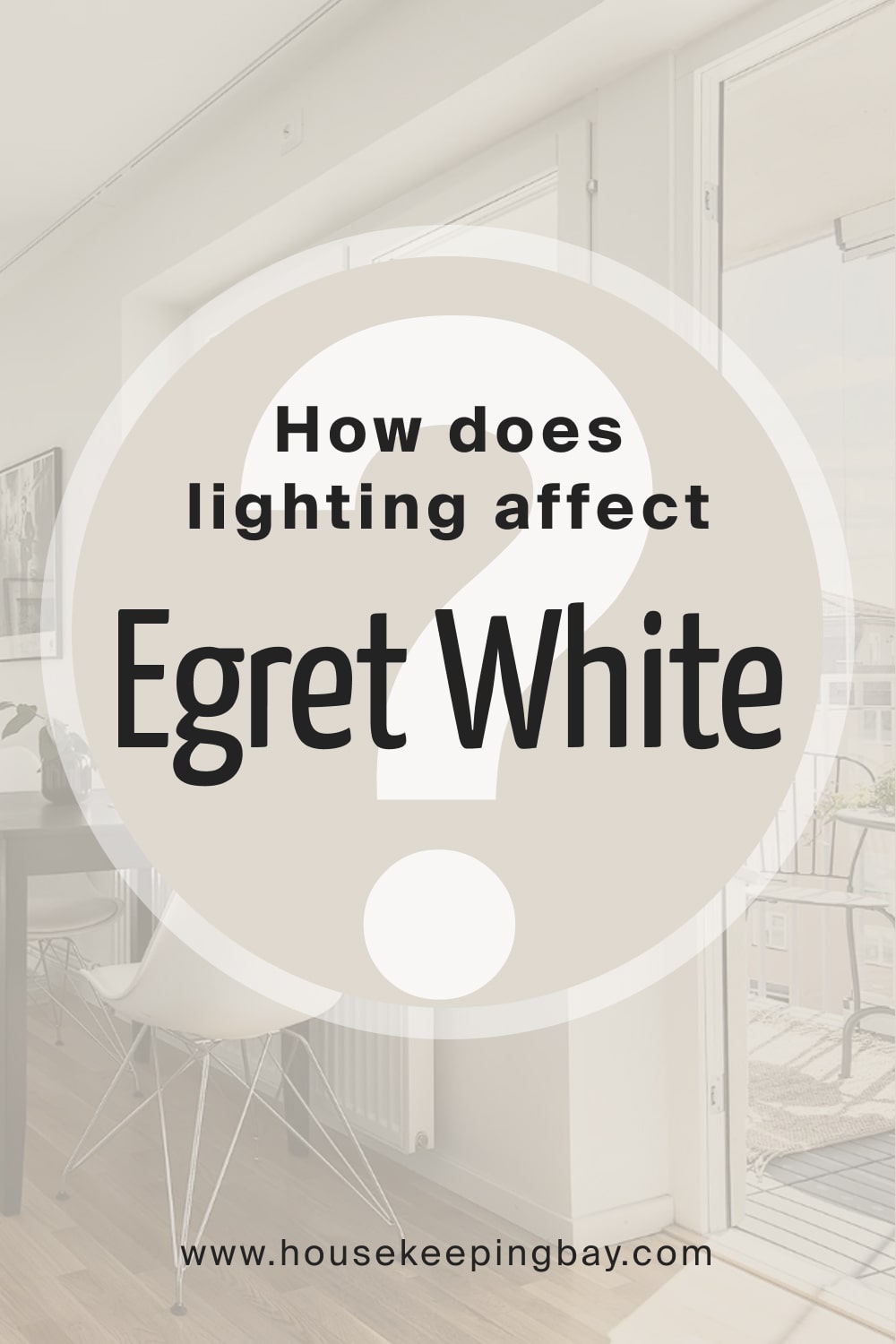 In a dark room or in a room with not enough interior lighting or natural light, SW Egret White might look a bit dingy. On the other hand, in a very bright room, SW Egret White can wash out quite a bit due to the higher LRV like this!
If you use this white in a north-facing room, you can expect SW Egret White to lean a bit more into its gray side. But at the same time, it will retain some passive warmth due to the degree of gray in the space.
Instead, in a south-facing room or a room with a lot of western afternoon sunshine, SW Egret White will lean into its warmer side. However, it will not go fully beige.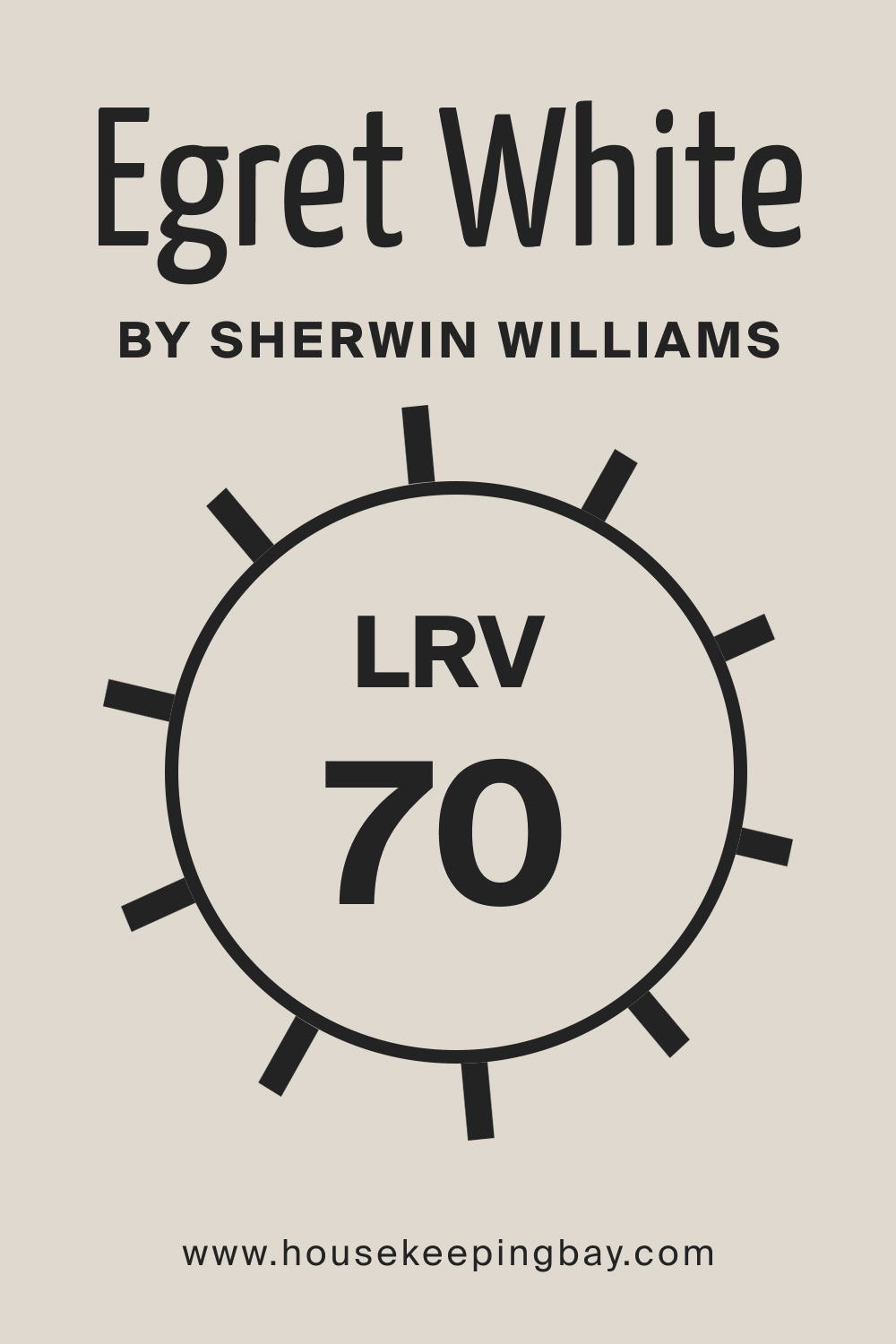 What is LRV? Read It Before You Choose Your Ideal Paint Color
SW Egret White Coordinating Colors
If you want to get a balanced and harmoniously looking color palette in your home, you must use the correct coordinating colors along with the wall color you choose. For SW Egret White, you'd better opt for the following coordinating colors for the best effect:
Sw Rocky River
SW Tin Lizzie
SW Silken Peacock
For a monochromatic palette, we recommend you use one of these colors instead:
SW 7044 Amazing Gray
SW 7045 Intellectual Gray
Here a few of the colors we would strongly recommend for a contrasting color palette to use with SW Egret White on the walls:
SW 9129 Jade Dragon
SW 2848 Roycroft Pewter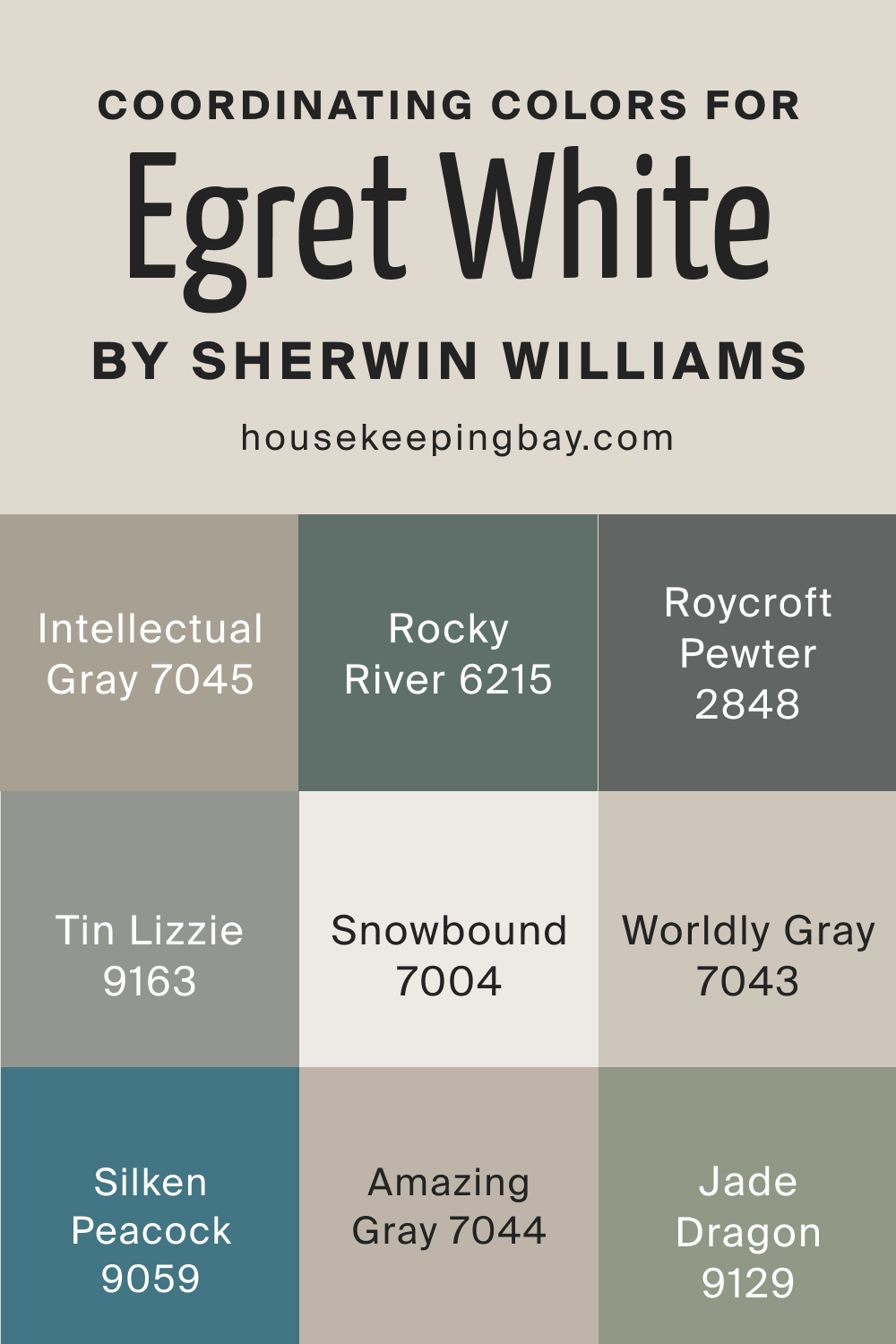 What's the Best Trim Color for Egret White SW-7570?
Since SW Egret White is a white color, you might think that it is hard to pick the correct trim color to use with it. That's because, typically, white is an ideal color to use on trim due to its versatility and ability to work with most colors.
However, SW Egret White is the type of white that will successfully work with another white on the trim! In particular, we suggest you take a closer look at these two whites:
SW High Reflectance White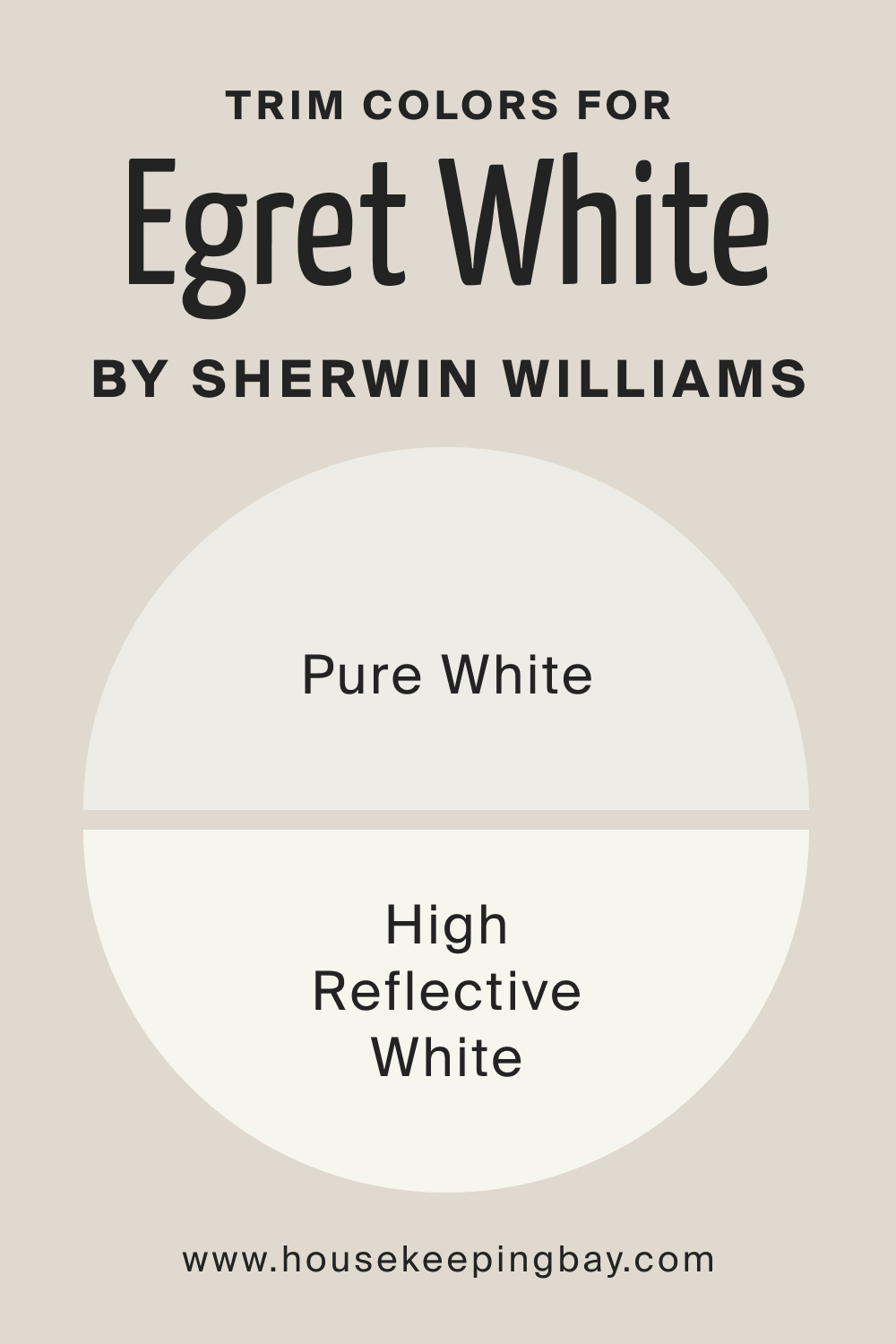 Paint Color Similar to SW Egret White
Why would you need to know what similar colors exist that look almost like SW Egret White? One of the most common reasons is to use them as substitute colors if you need to change the wall color (e.g. if you need a slightly lighter/darker or cooler/warmer shade of white).
In particular, these two colors might work best as alternatives to SW Egret White:
Benjamin Moore Classic Gray
Benjamin Moore Winds Breath
Benjamin Moore Fog Mist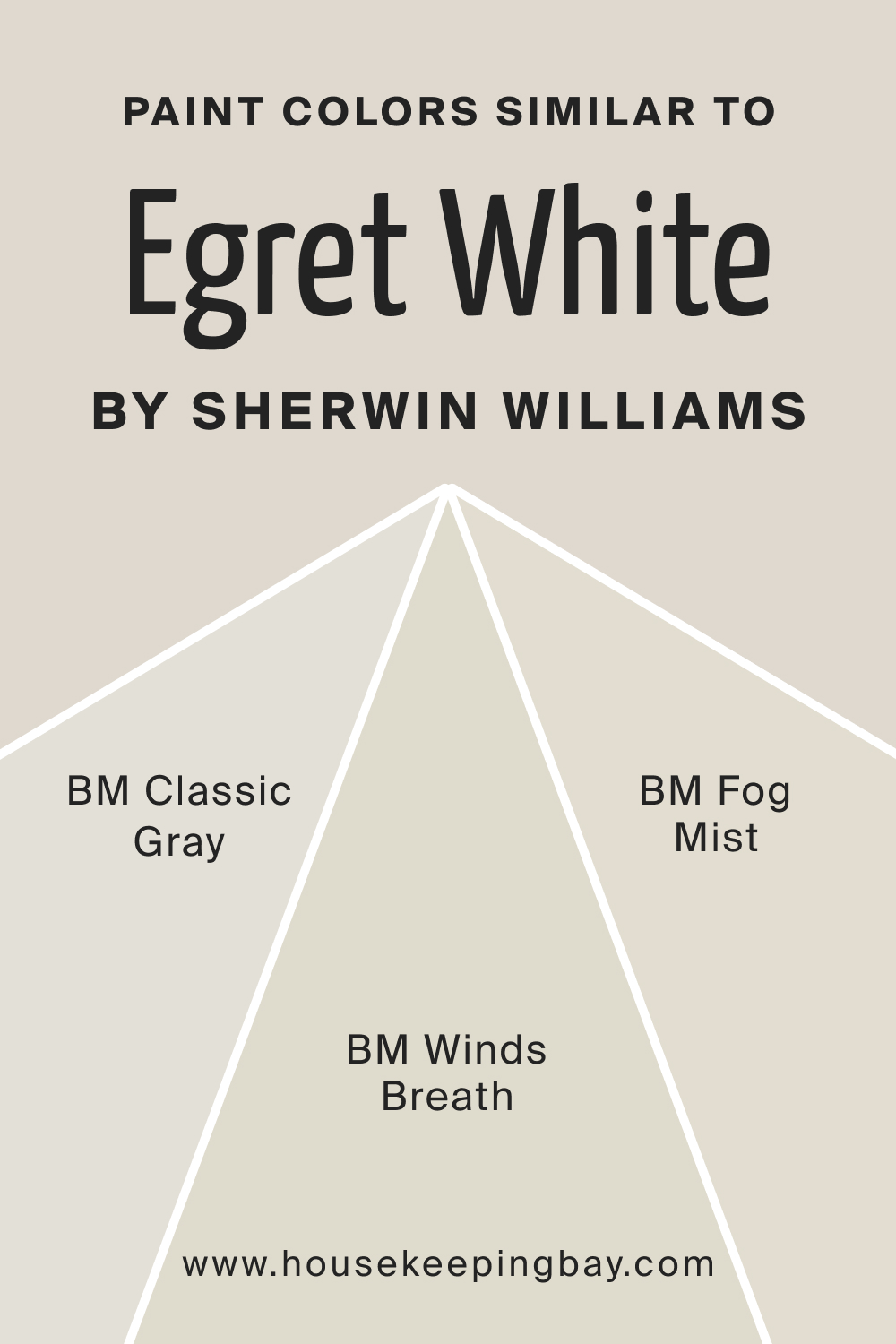 Colors That Go With SW Egret White
As we have already mentioned above, SW Egret White is quite a versatile color that pairs nicely with many other colors. However, we want to share a few paint colors that will work best of all with this white:
gray paint colors with the same LRV of lower
gray colors with blue or blue-green undertones
warm grays and taupes with similar undertones
green-grays with a bit of depth
Comparing SW Egret White With Other Colors
We strongly recommend you read the following comparative descriptions of SW Egret White and a few similar colors. This way, you will see what makes them distinct and learn to see deeper when it comes to comparing similar colors to choose the right one for your home.
Egret White vs Alabaster
SW Alabaster looks whiter than SW Egret White, but not a crisp white though. To be precise, SW Egret White reads much warmer and darker since it reveals its beige side much better in this pair of colors. However, the contrast these two create looks very lovely!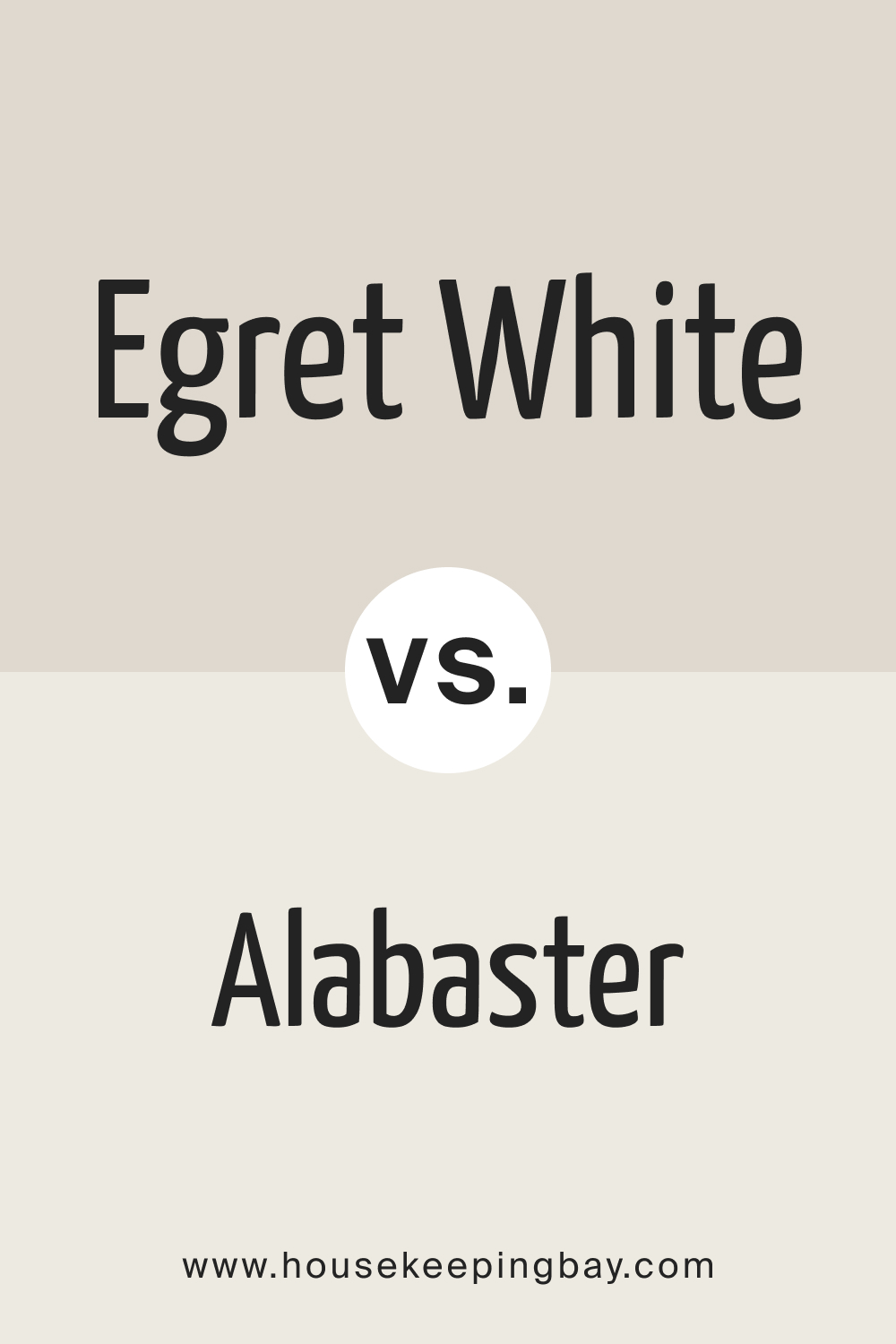 Egret White vs Pale Oak
Compared to SW Egret White, the Pale Oak color by Benjamin Moore reveals a quite strong purple undertone, which is the biggest difference between these colors. Compared to BM Pale Oak, SW Egret White looks softer and warmer with its beige hue.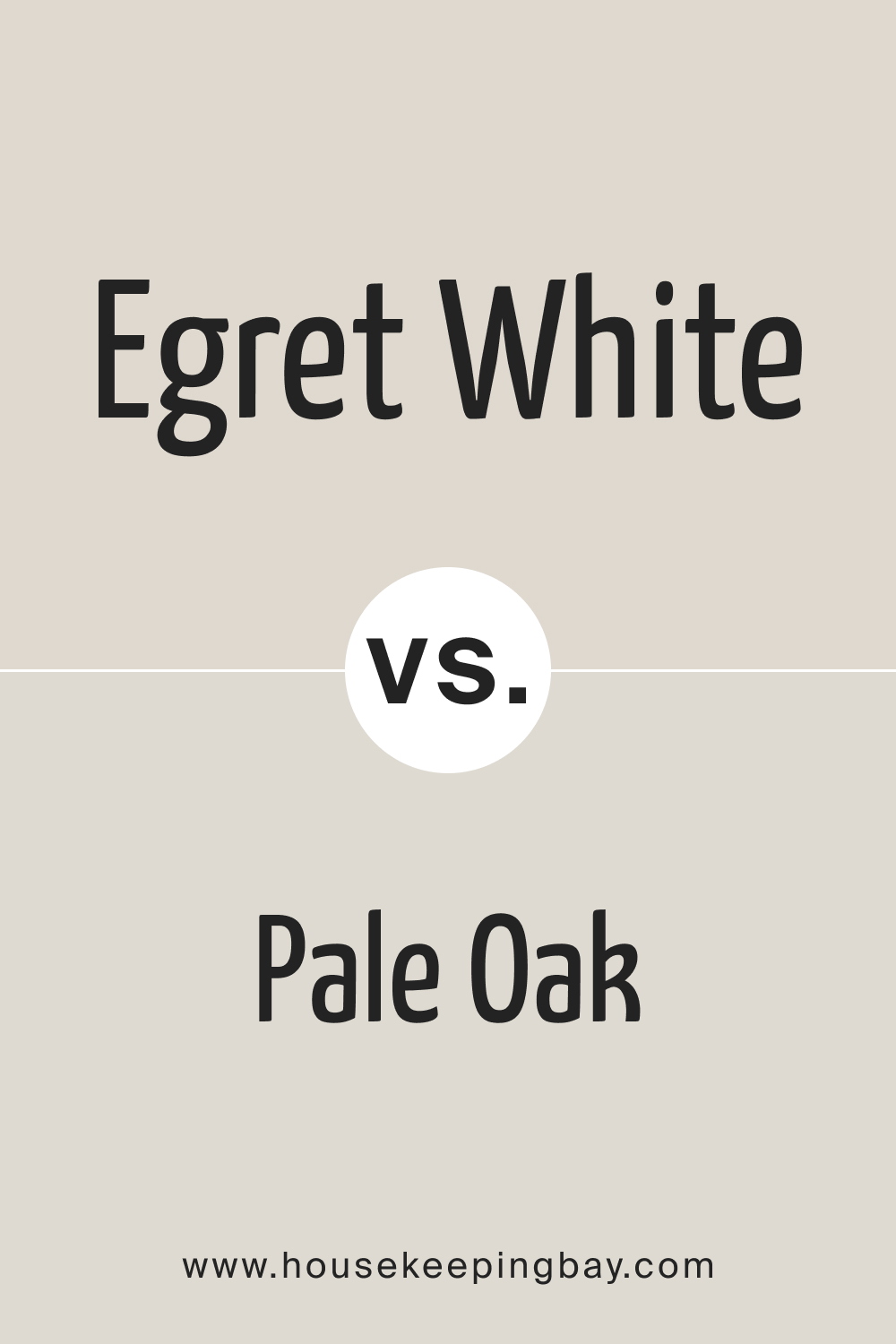 Egret White vs Agreeable Grey
SW Agreeable Grey has barely seen green undertones, which makes it different from SW Egret White, which has no such undertones. Also, their LRVs have a difference in ten points, with the LRV of SW Egret White being 70 and the LRV of Agreeable Grey being 60.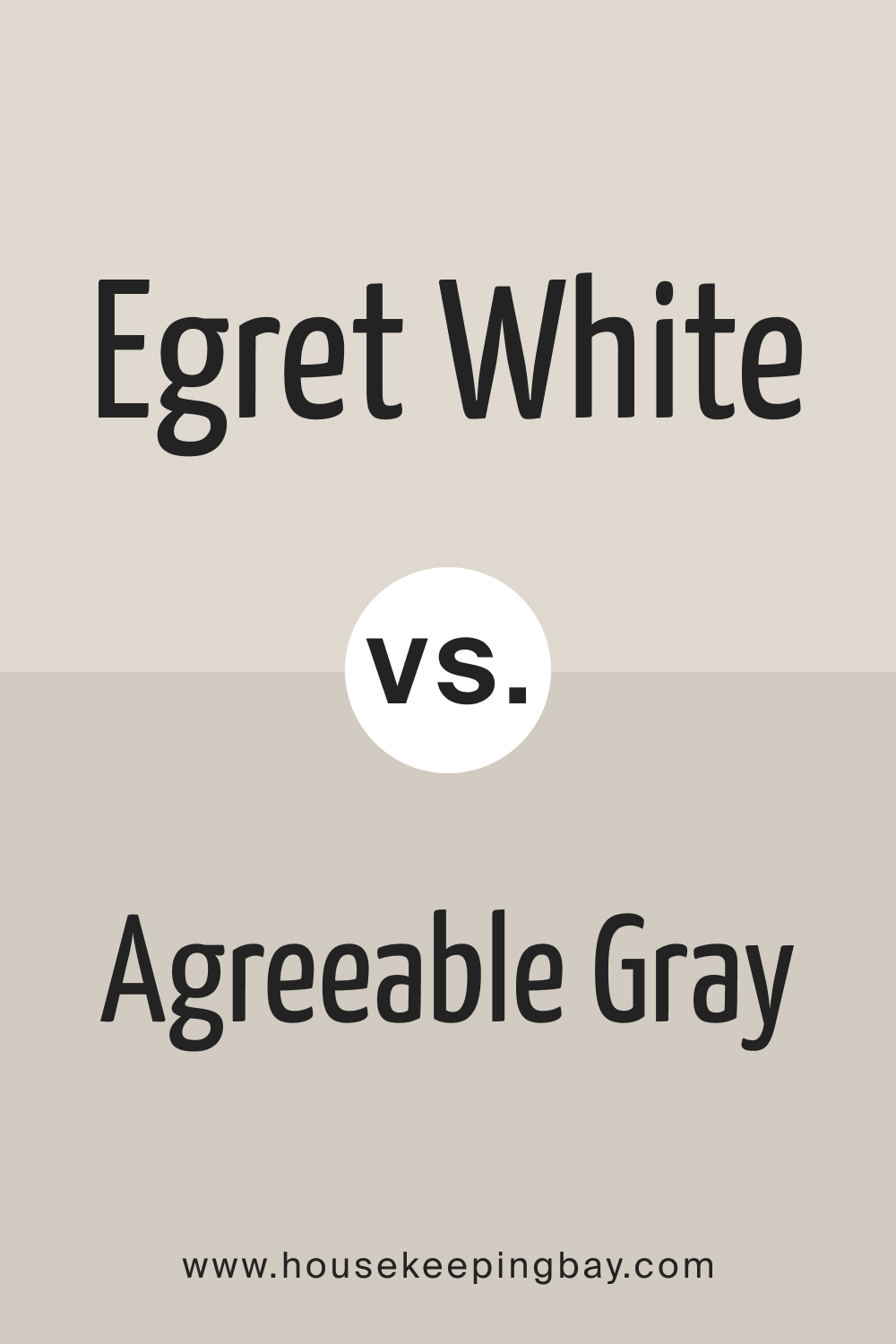 Egret White vs Shoji White
The LRV of SW Shoji White is 66, which is four points less than the LRV of SW Egret White. And this difference is clearly seen when you place these colors side by side.
However, in terms of undertones, these colors are pretty close since they share a greige hue.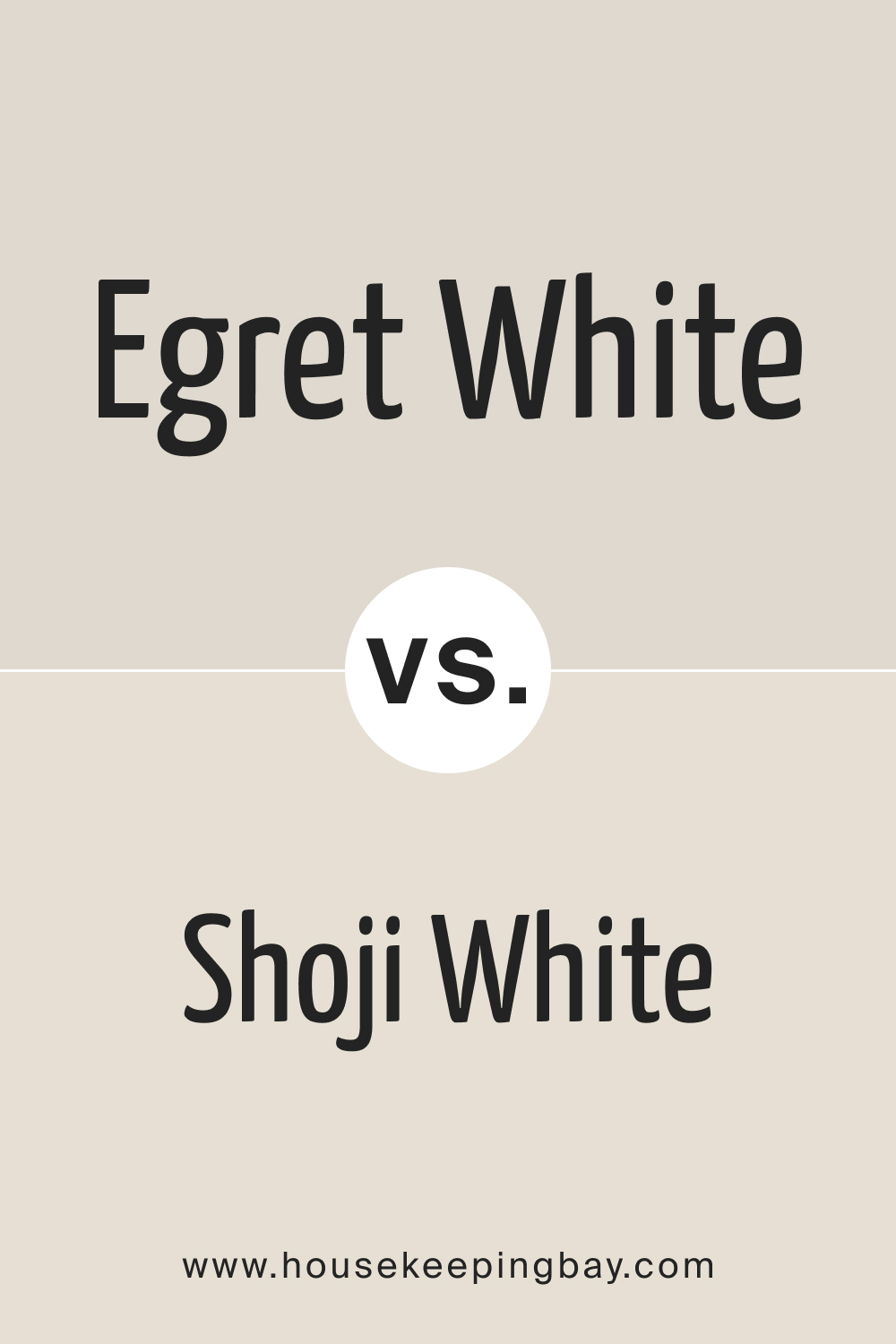 Egret White vs Oxford White
SW Oxford White reads a slightly warm white with barely seen yellowish undertones. Also, its LRV is 88, which means it's much lighter than SW Egret White. In general, SW Oxford White looks much lighter and whiter compared to its counterpart, which strongly reveals its beige side.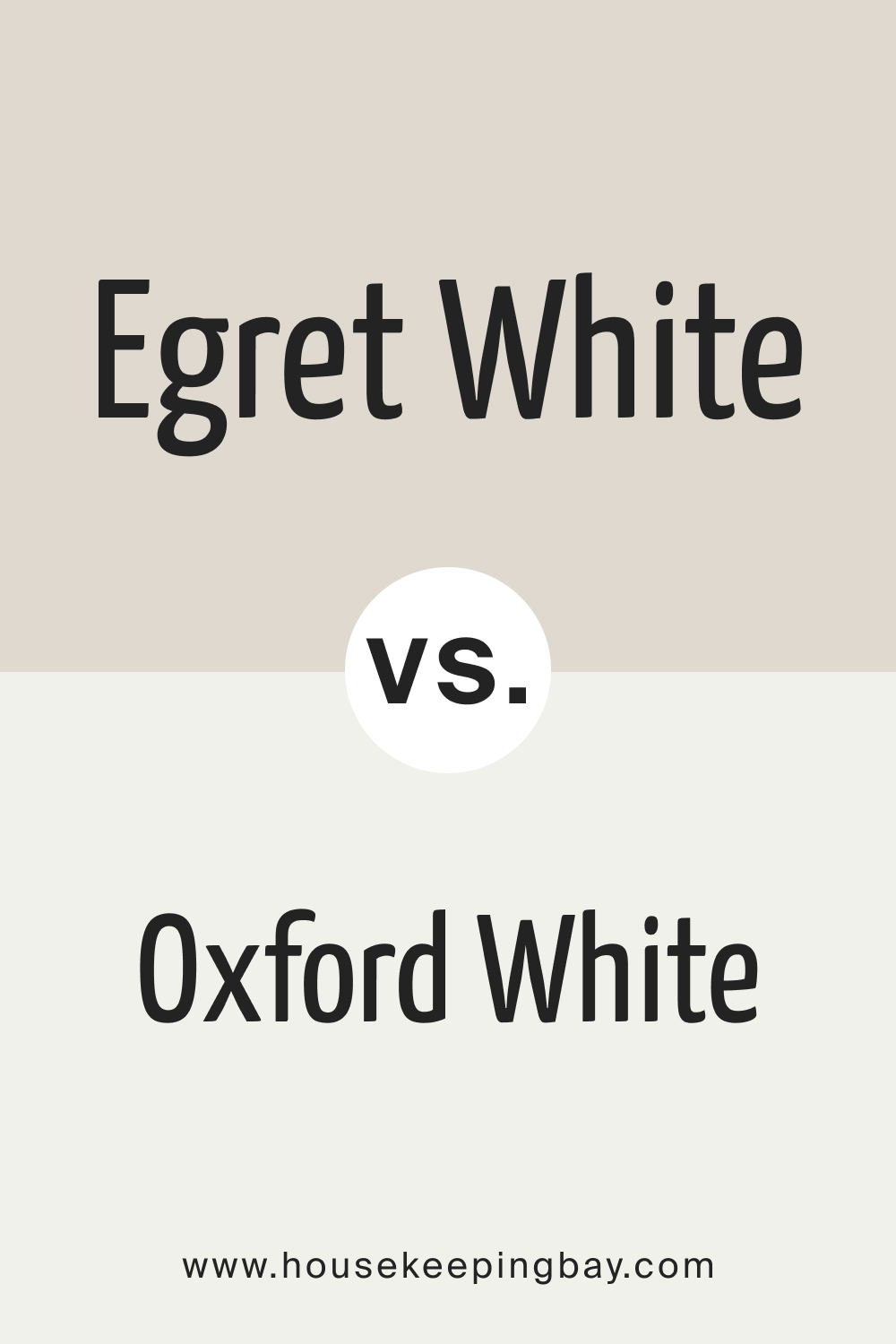 Egret White vs City Loft
SW City Loft has green-gray-greige undertones, meaning it's a more complex color than SW Egert White. However, these two colors look pretty much alike if you compare them on color swatches.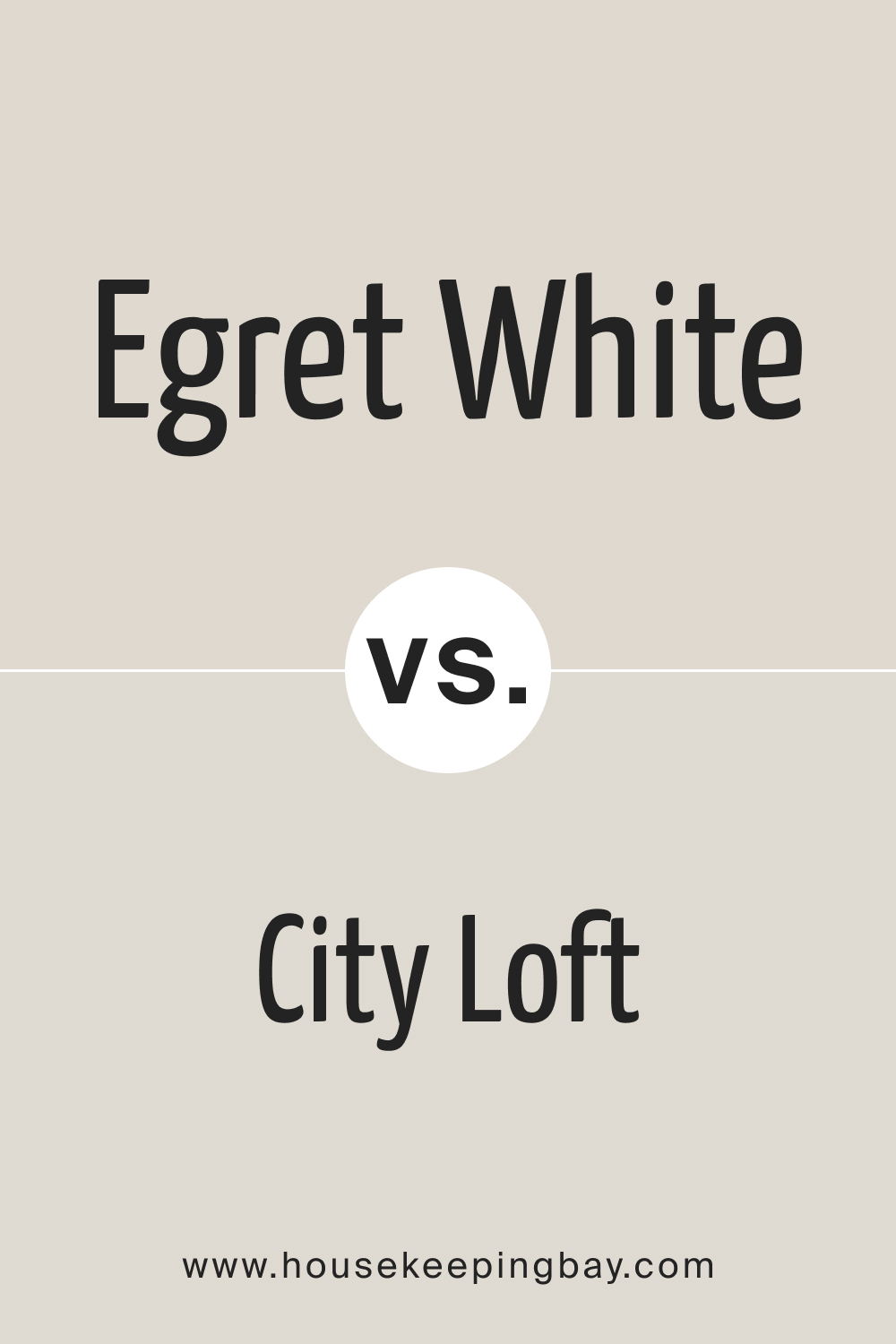 Where to Use This Egret White SW-7570 Color In Your Home?
As we already said, SW Egret White is a pretty versatile white that can work in different rooms and even on the exterior walls of your home successfully. We suggest you read a more detailed description of how this color looks in various spaces.
Egret White SW-7570 in the Living Room
If you're planning to use SW Egret White in the living room, consider using a bold color like SW Peppercorn on the accent wall. This trick will offer a dramatic atmosphere and add a sense of reasonable contrast.
Furthermore, feel free to pair this white with metallic textures like brass, matte black, or chrome on the lighting fixtures.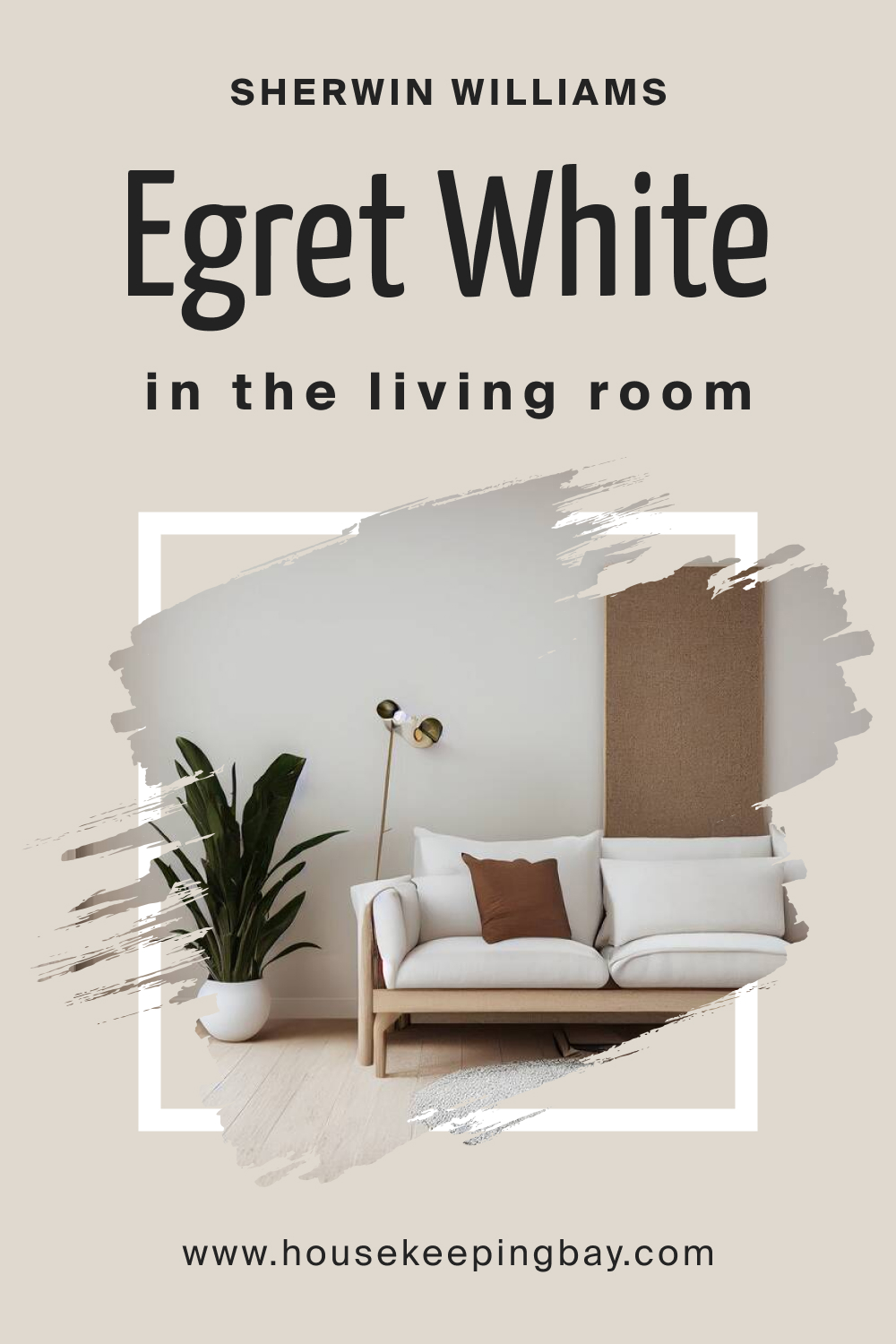 Egret White SW-7570 in a Bedroom
In the bedrooms, use this white color on all the walls since it will allow you to achieve a calm and subtle atmosphere. Add whites on the door and window frames and some black accents on the furniture frames, and your bedroom will look both cozy and stylish!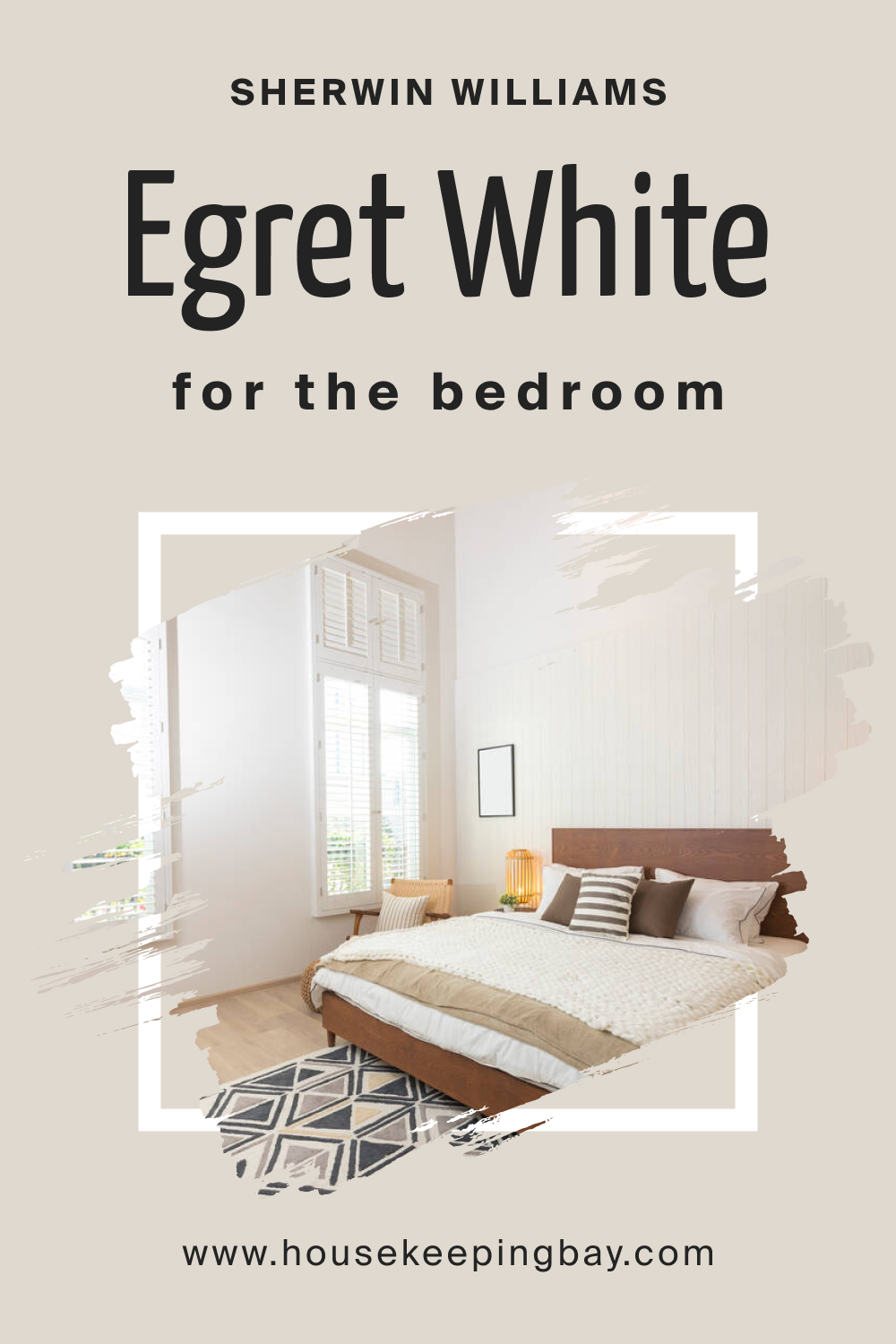 Egret White SW-7570 and Kitchen
On the one hand, SW Egret White could be used on kitchen cabinets successfully, but because of its depth, it might be tricky to pair with the wall color.
Should you decide to use SW Egret White in your kitchen, you either need white walls or interior paint with an LRV approximately 15-20 points lower than the Egret White color.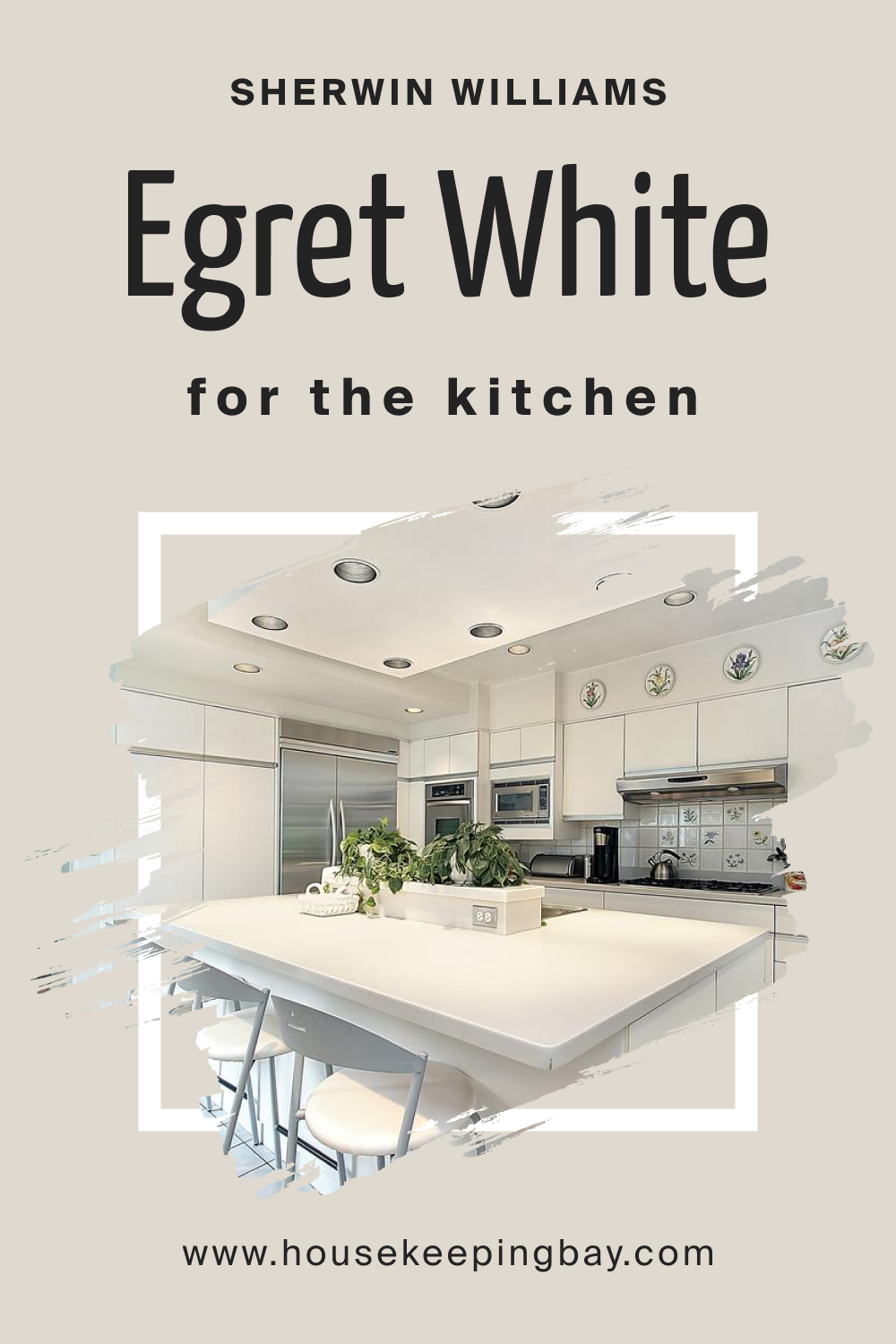 Egret White SW-7570 for the Exterior
As an exterior color, SW Egret White can suit some roofs, especially those that are more inclined towards an orange hue. It also works nicely with stonework. However, you must note that on exterior walls, SW Egret White often looks warmer than you might expect!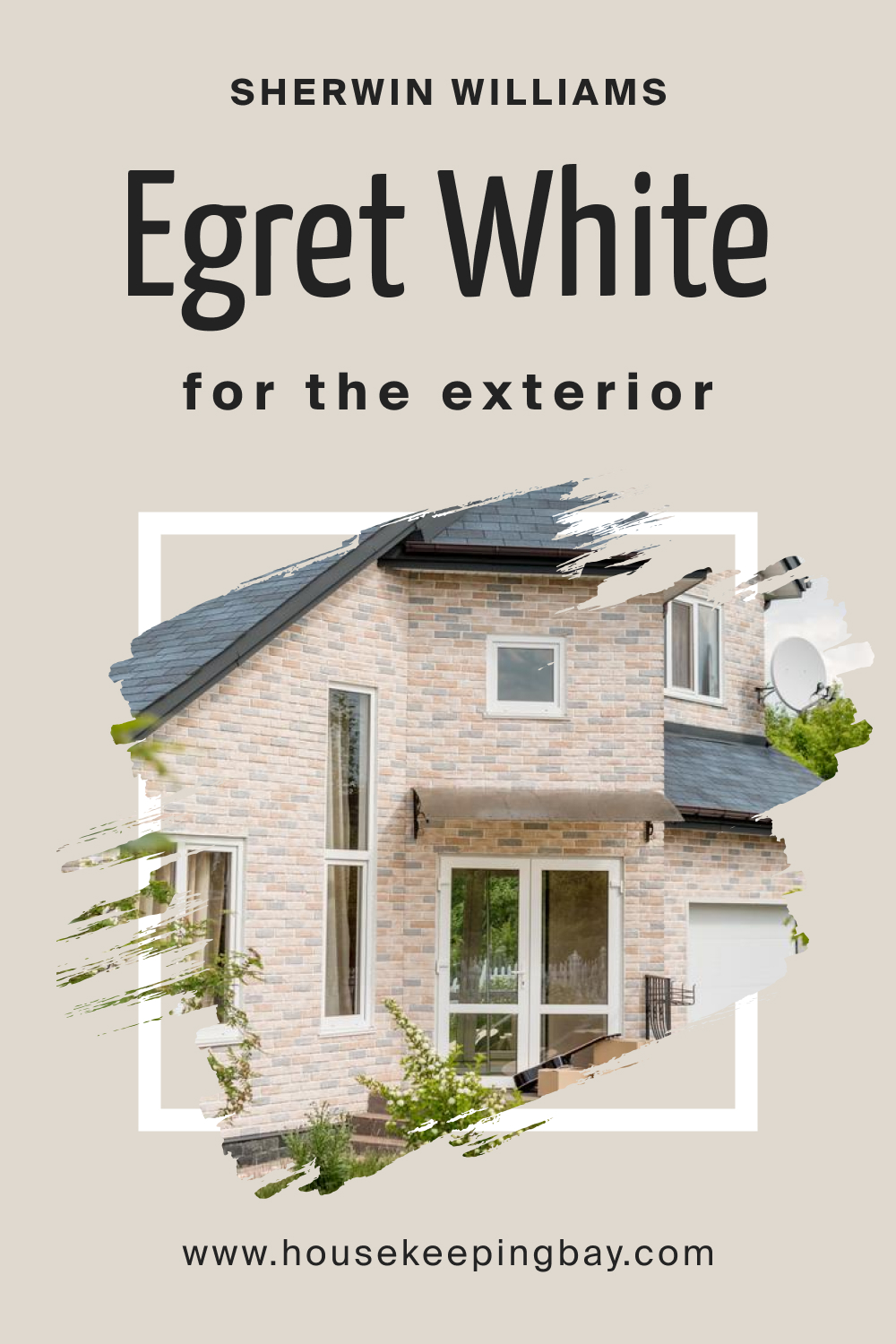 Now you know more about this color from its LRV and undertones to the best places in your home to use it.
With this information and a few helpful tips we also shared, you can easily find the most suitable place in your home where this white will work beautifully and reveal its natural beauty!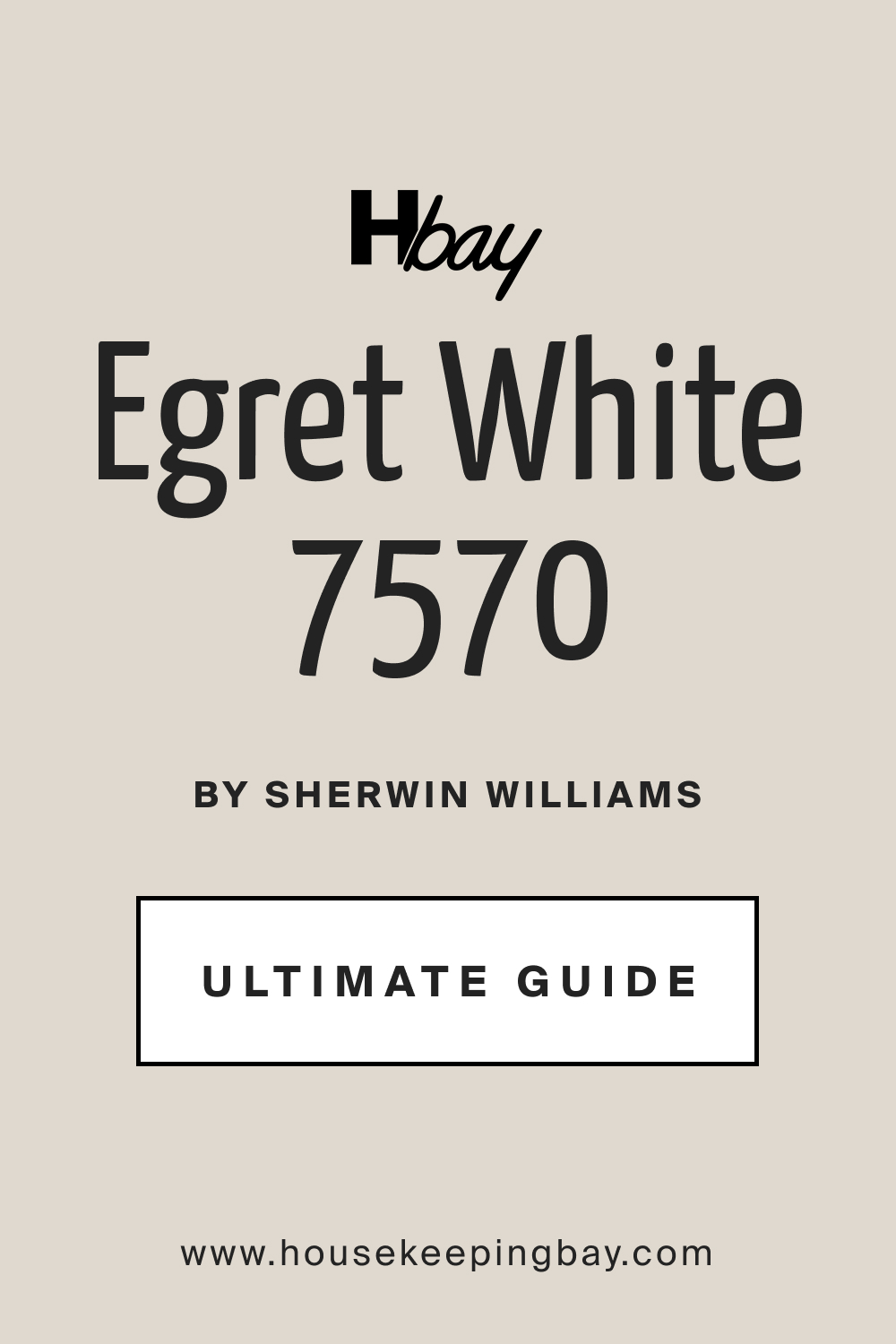 Frequently Asked Questions
⭐Is SW Egret White a popular color for exterior walls?
No, it's not because it can read warmer on exterior walls.
⭐Does SW Egret White work with black?
Yes, it can work with black since SW Egret White is a white color.
⭐Will this white work in a bathroom with cool-toned light?
If the light is moderately cold, then it's ok to use this white in your bathroom.