Picking the paint color that will fit your interior palette and match it with the rest of the colors can be a tricky task. And since not all of us are professional painters and designers, many homeowners will find such articles as this one very useful!
Today, we are going to tell you more about the color called Retreat by the Sherwin-Williams brand. In particular, you will learn what kind of color it is, what undertones it has, and how it reacts to light.
In addition, we will explain what rooms it is best to be used in. Finally, you will get plenty of other useful tips and life hacks regarding this color use in your home, for example, the paint's coordinating and trim colors, paint colors that go well with Retreat, and many more.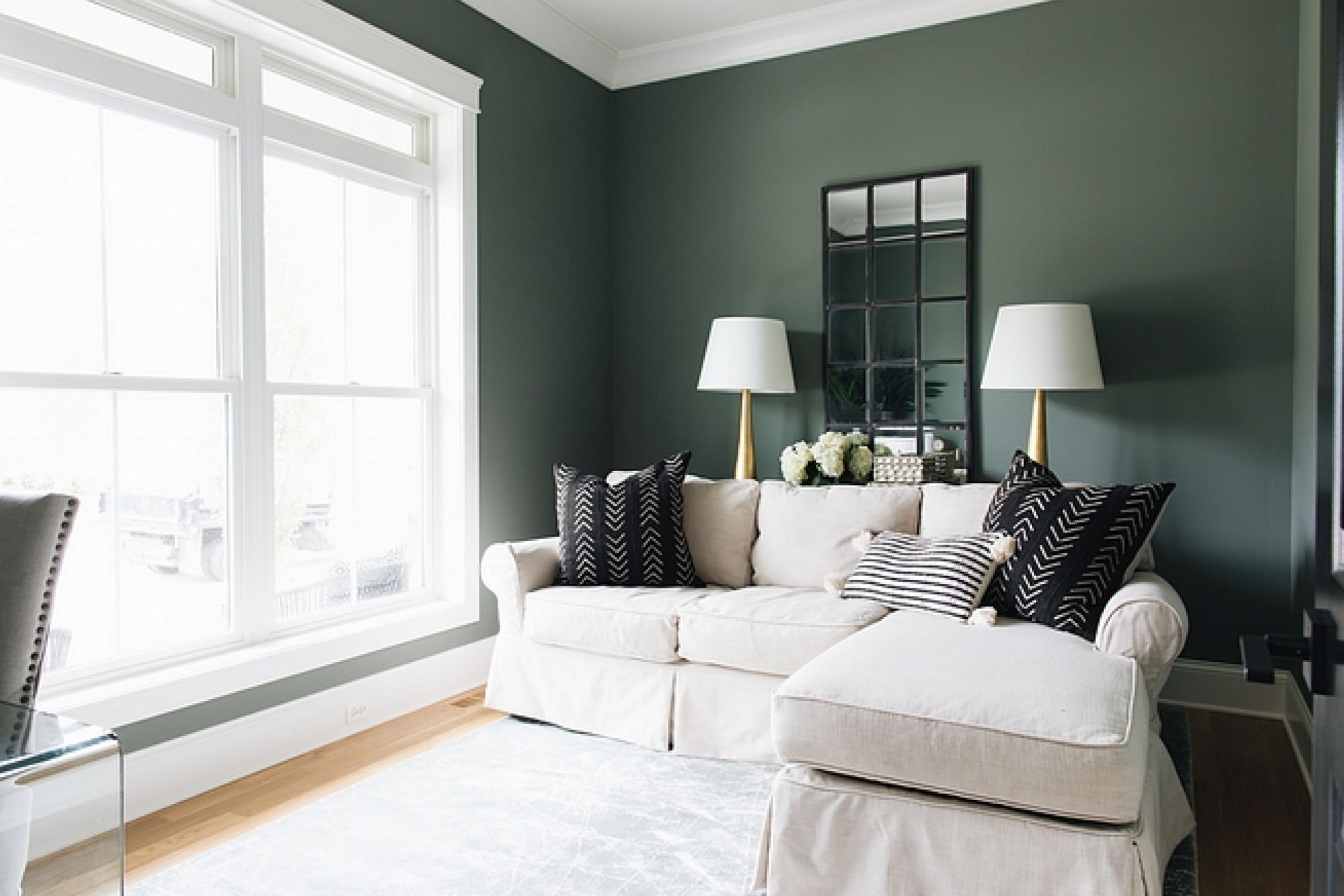 What Kind Of Color Is Retreat SW-6207?
Generally speaking, Retreat is one of the green colors on the Sherwin-Williams brand. But it's neither the green that resembles the fresh greenness of grass or leaves, nor is it the green that is cool-toned like an emerald.
It is calm and relaxing, being a perfect balance between comfort, practicality, and style. Sherwin Williams Retreat is a mid to darker-toned green paint color that has deep green-gray undertones. It makes this color more subtle and muted as compared to brighter shades of green, as Encycolorpedia says.
Sherwin Williams Retreat feels calming, soothing, and at the same time rather bold when used on the walls. You can use this green in larger areas to make them feel smaller and closer. Besides, this color has one more benefit: you can use it in any and every climate, especially in warmer and tropical regions.
So if you are in love with natural colors or you'd like to add a foresty vibe to your interior in the middle of the city, this paint color might be exactly what you need! Besides, this green can be used in any corner of your home – whether it is the hallways, kids' rooms, nursery, bedrooms, living rooms or the bathroom.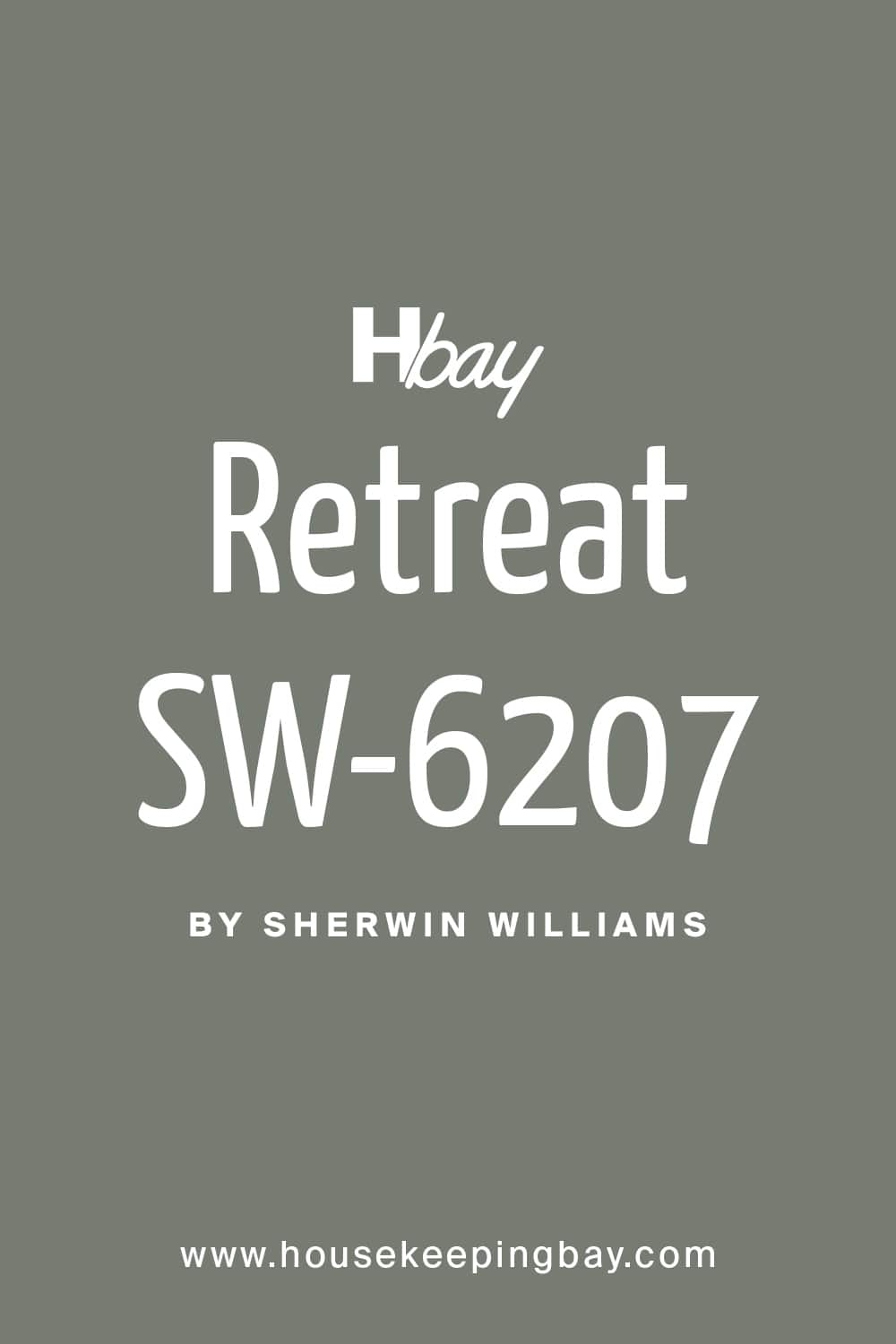 Undertones of Retreat SW-6207
Being aware of the paint color's undertones is a must if you want to use it successfully in your home. Undertones are often hard to distinguish, and they can be revealed only under certain conditions such as lighting. So before you start painting your walls, we recommend you find out what undertones are hidden under that color finish!
SW Retreat is a green paint color that has deep green-gray undertones. Depending on how well your room is lit and what kind of lighting there is (natural or artificial), these undertones may come out in a distinct manner. As a result, you might have slightly different shades of green on your walls, which should be considered.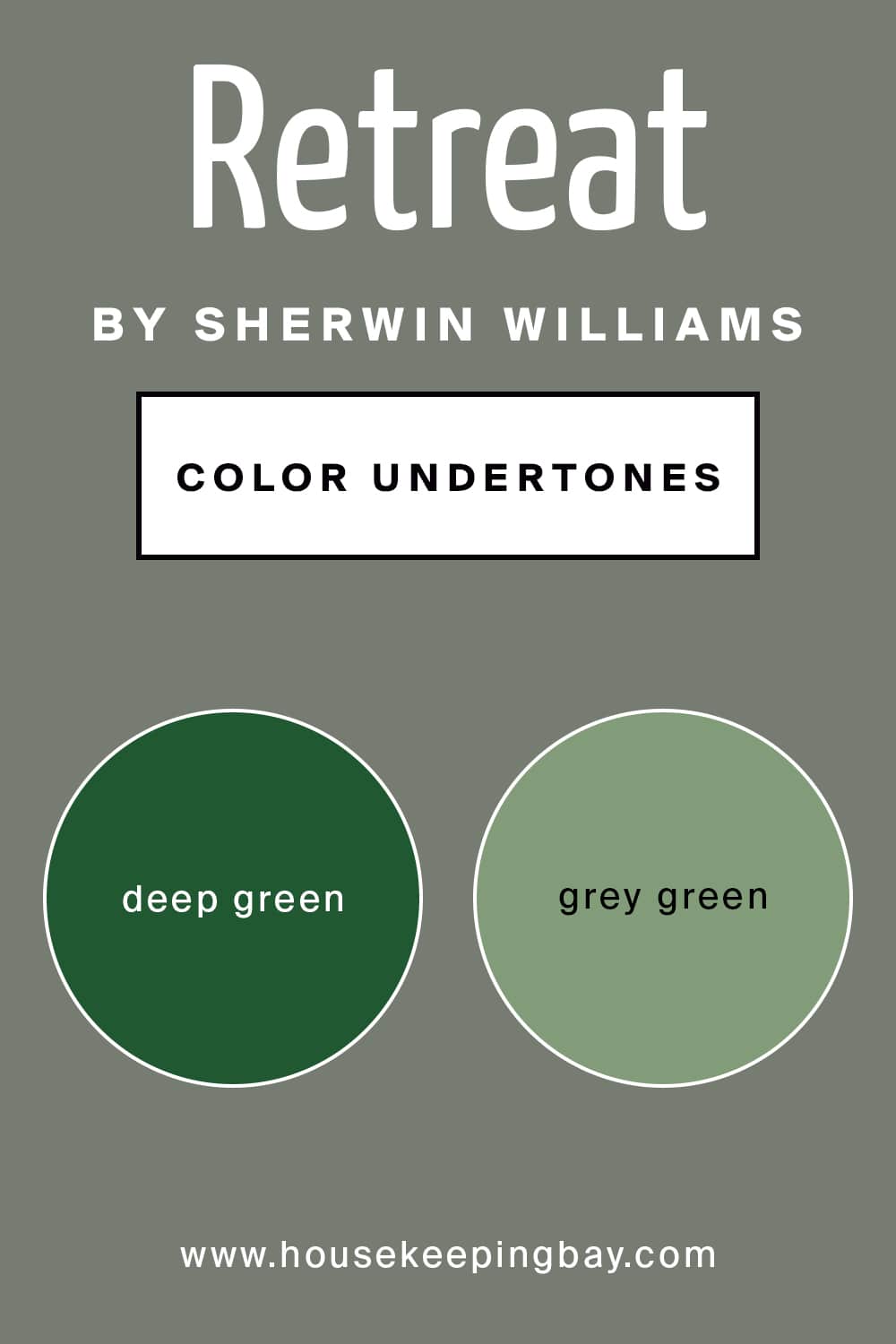 How Retreat SW-6207 Reacts to Light?
Since this color has several undertones, it might be a bit tricky to use on your walls. See, depending on the light in a room, as well as how well the color is lit, it can read differently.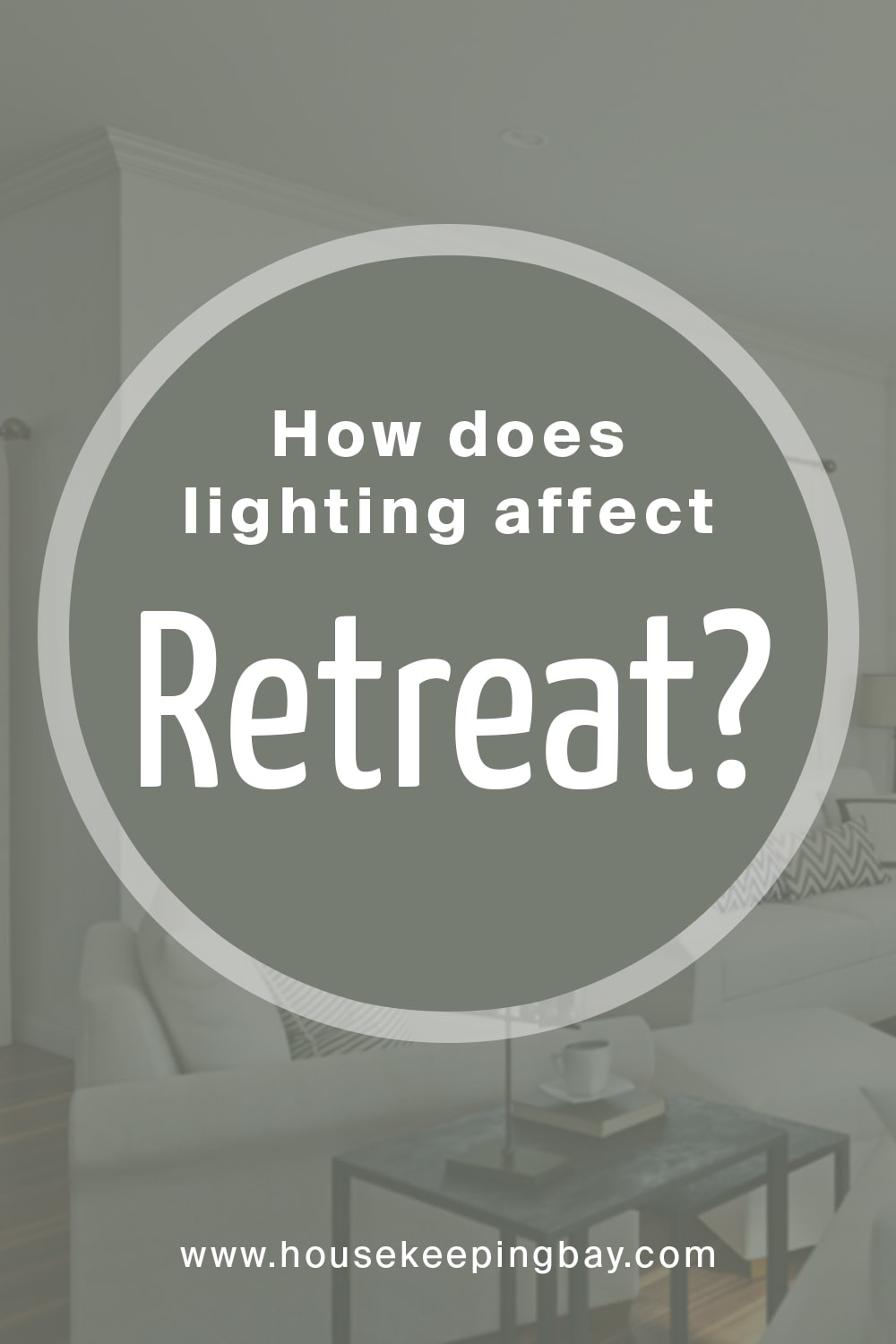 The LRV also matters. In the case of SW Retreat, its LRV is 21. That means the color is in the middle to the darker end of the scale.
Respectively, it will read differently in different lighting. If there is ample natural light – it will neutralize the boldness with the refreshing light. And you can always play with artificial lighting to create the desired vibe and atmosphere in a room.
But you should also know that this paint will feel cool-toned in the north and south-facing rooms whereas a little warmer in the east and west-facing rooms.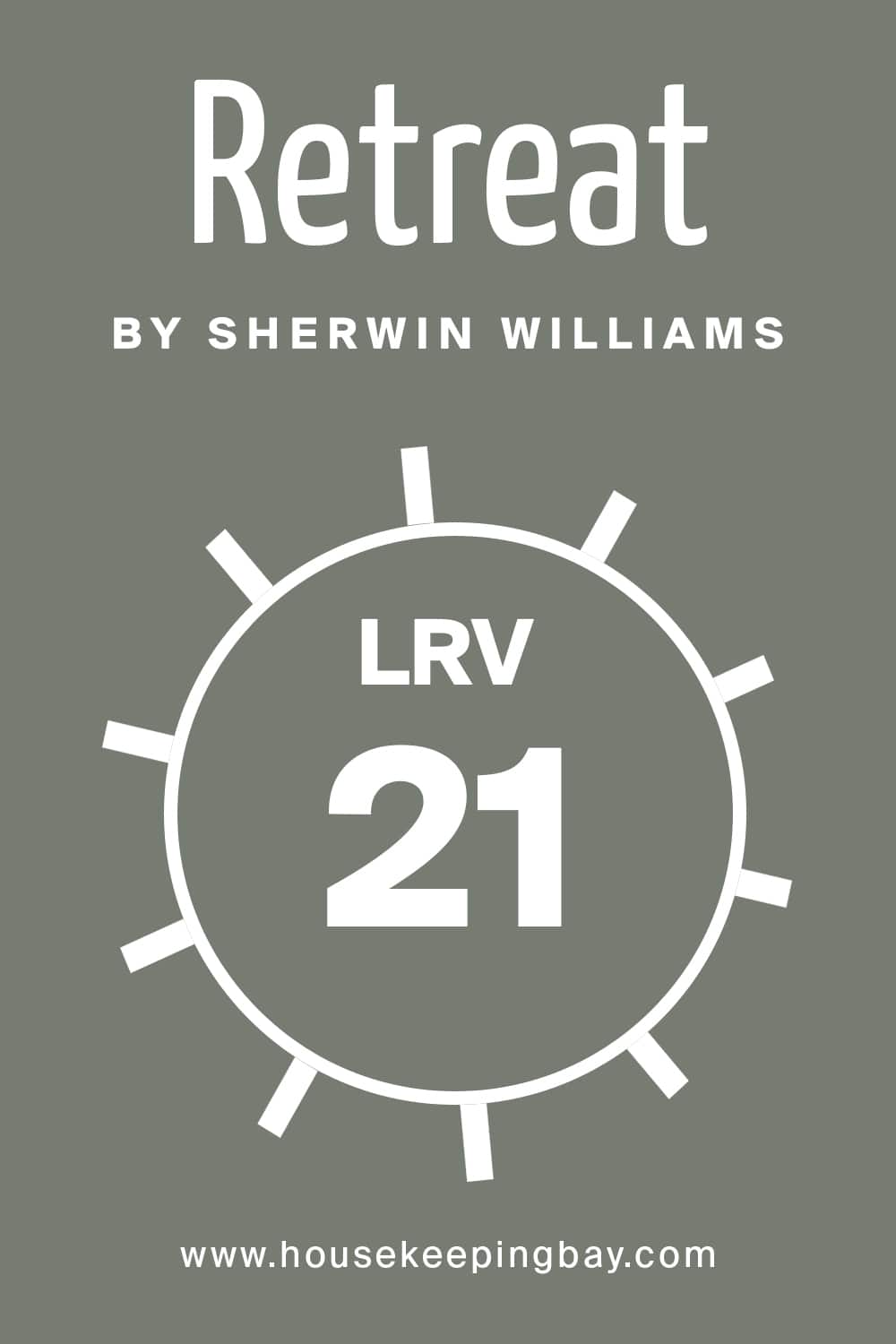 What is LRV? Read It Before You Choose Your Ideal Paint Color
Coordinating Colors of Retreat SW-6207
Picking the right coordinating colors is important since it helps you create an eye-catching and harmonious color scheme in your living space. You can either choose a contrasting or a monochromatic color palette – depending on your interior design style.
With such a soothing green as SW Retreat, either darker or lighter greys, creamy or crisp whites, black, greiges, burnt oranges, and lighter and brighter yellows will work really well.
In particular, you might want to use the following colors for a monochromatic palette:
For a contrasting color palette, we'd recommend the following options:
SW-0395 Alchemy
SW-7604 Passive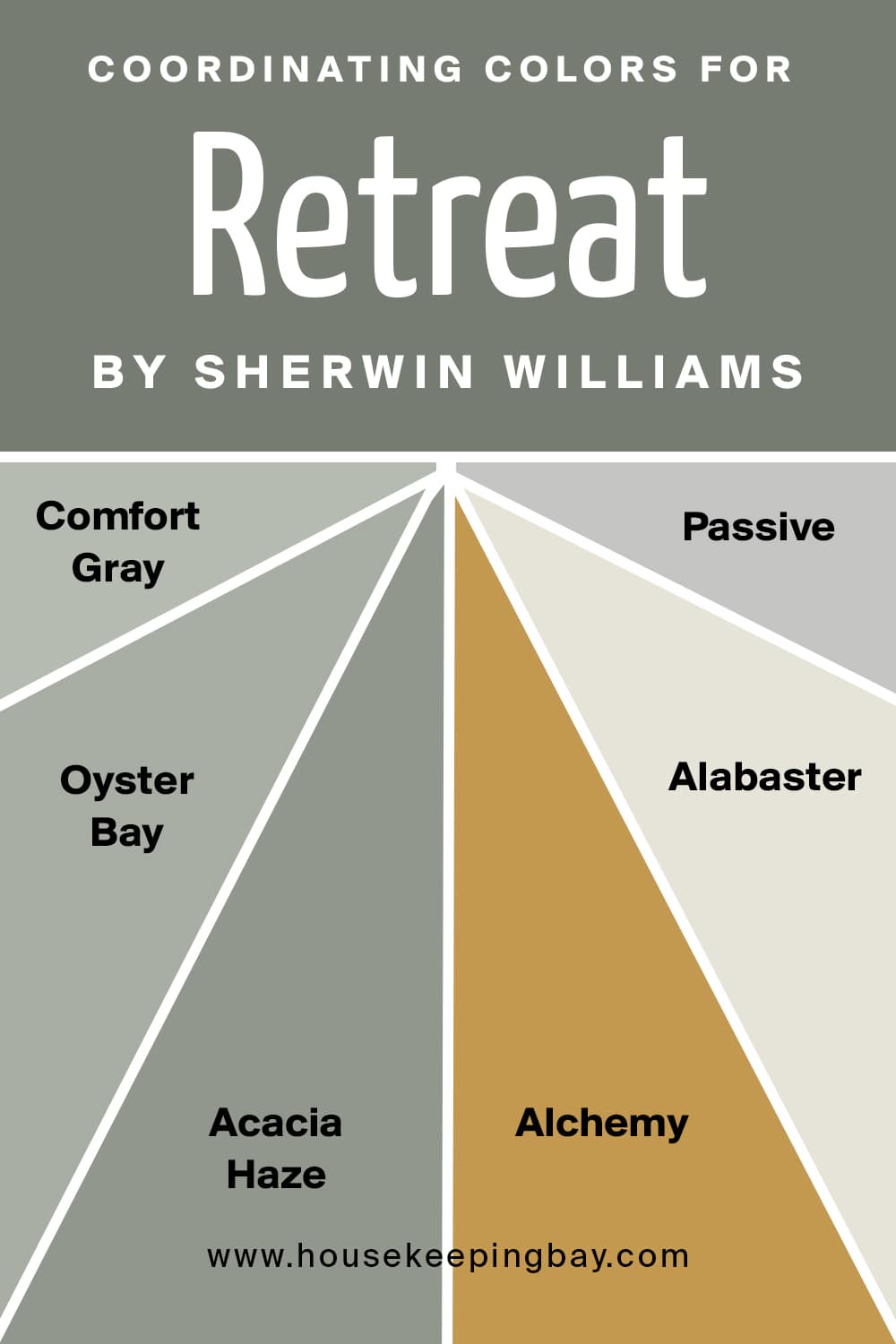 Is Retreat a Warm Or Cool Color?
It's 50/50 in fact. Since it can change a bit depending on the type of light, this paint will feel cool-toned if used in the north and south-facing rooms whereas in the east and west-facing rooms, it will read a little warmer.
Trim Colors of Retreat SW-6207
For trims, as well as for moldings and ceilings, we would recommend using either SW Pure White if you want to further achieve a creamy look or, if you strive for a crisp look instead, you might want to choose SW Extra White or SW High Reflectance White.
So, now you know more about this awesome sage green color that Sherwin Williams has in their color catalog. After all that you have learned about this paint and its specifics, you can better imagine how it might work in your interio.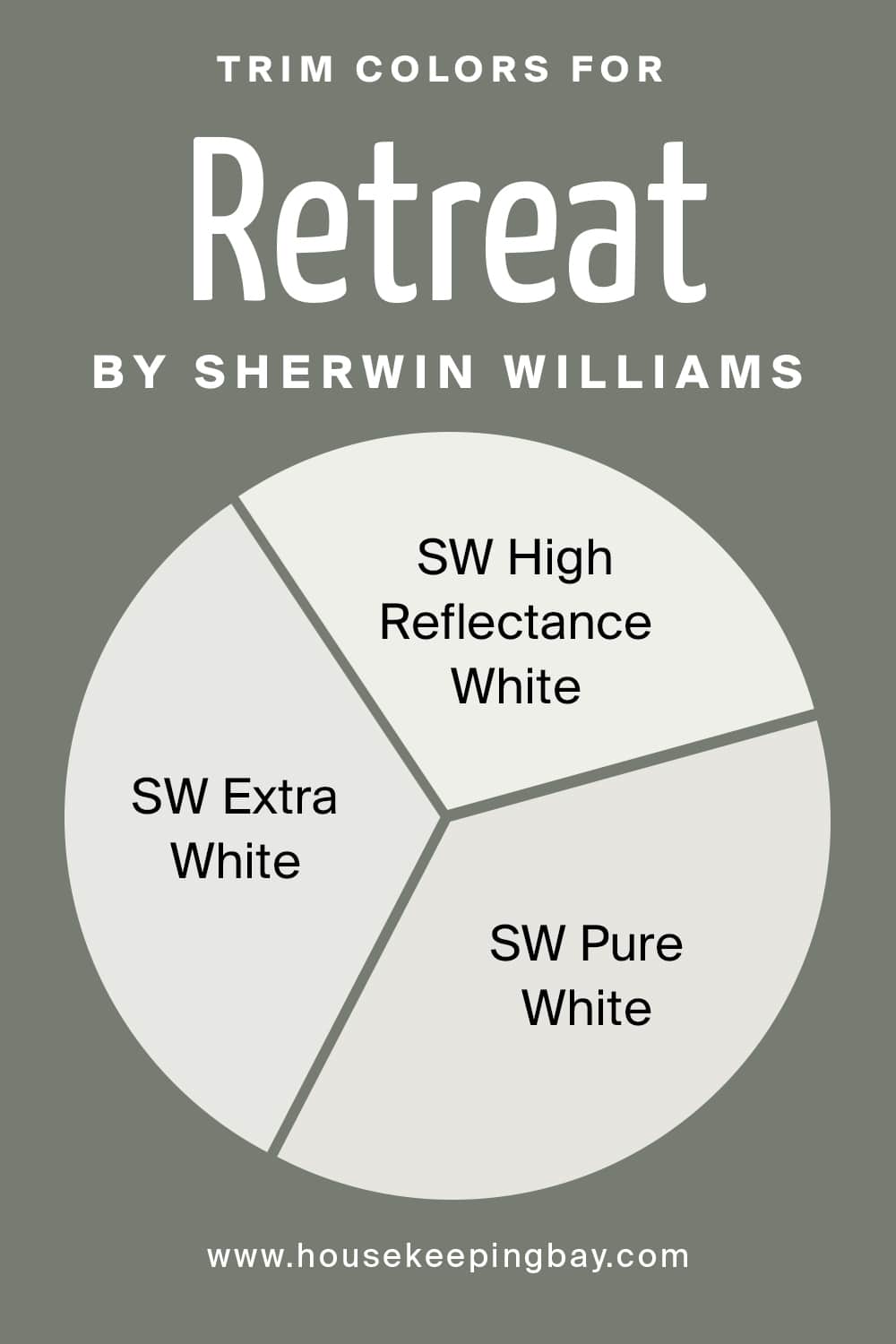 Paint Colors Similar to SW Retreat
There is another thing that is good to know before you start applying the paint color. It often happens that you might want to change the initial paint and shift it for another one that reads and looks almost the same.
This is why we suggest you check out what alternative green colors you may find nearly the same as SW Retreat:
SW-7060 Attitude Gray
SW-6200 Link Gray
Attitude Gray is a greenish-gray that will feel very natural and organic in any home. With an LRV of 20, this shade of green color is situated closer to the darker end of the scale. This is why, in order to create a balanced color scheme, you should pair it with lighter and creamier whites.
Sherwin Williams Link Gray has an LRV of 21 and is a dark-toned color with a slightly crisp texture. Because of its LRV, you need to be careful when using it in smaller spaces. Also, remember to pair it with lighter and warmer off-white colors for a perfect backdrop.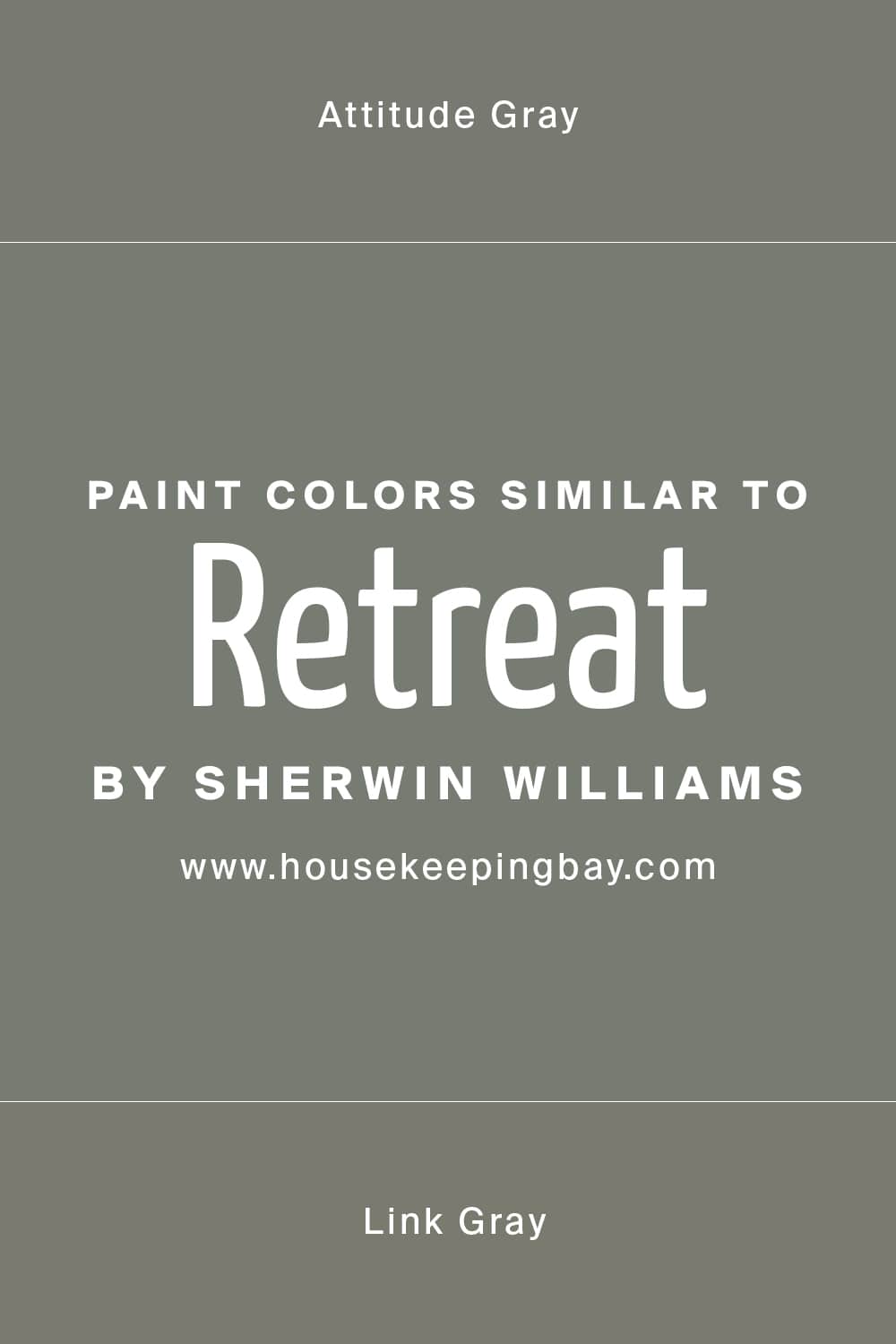 Where to Use Retreat SW-6207?
The biggest benefit of this green color is that it can literally be used anywhere in your home! Be it a nursery, a bedroom, a living room, this green will be a win-win option. And since this dark sage green will easily neutralize the yellow incoming sunshine, feel free to use it in the south or west-facing rooms.
It will be especially suitable for interior design styles such as traditional, transitional, coastal, Bohemian, and contemporary.
Retreat SW-6207 in the Living Room
SW Retreat is a great shade of green to be used in the living room! But since it makes a great color accent, so we would recommend using it on the accent walls mostly. You should avoid painting all the walls in this paint. And if you want to create contrast while maintaining a sense of harmony, don't hesitate to pair it with beautiful creamy whites.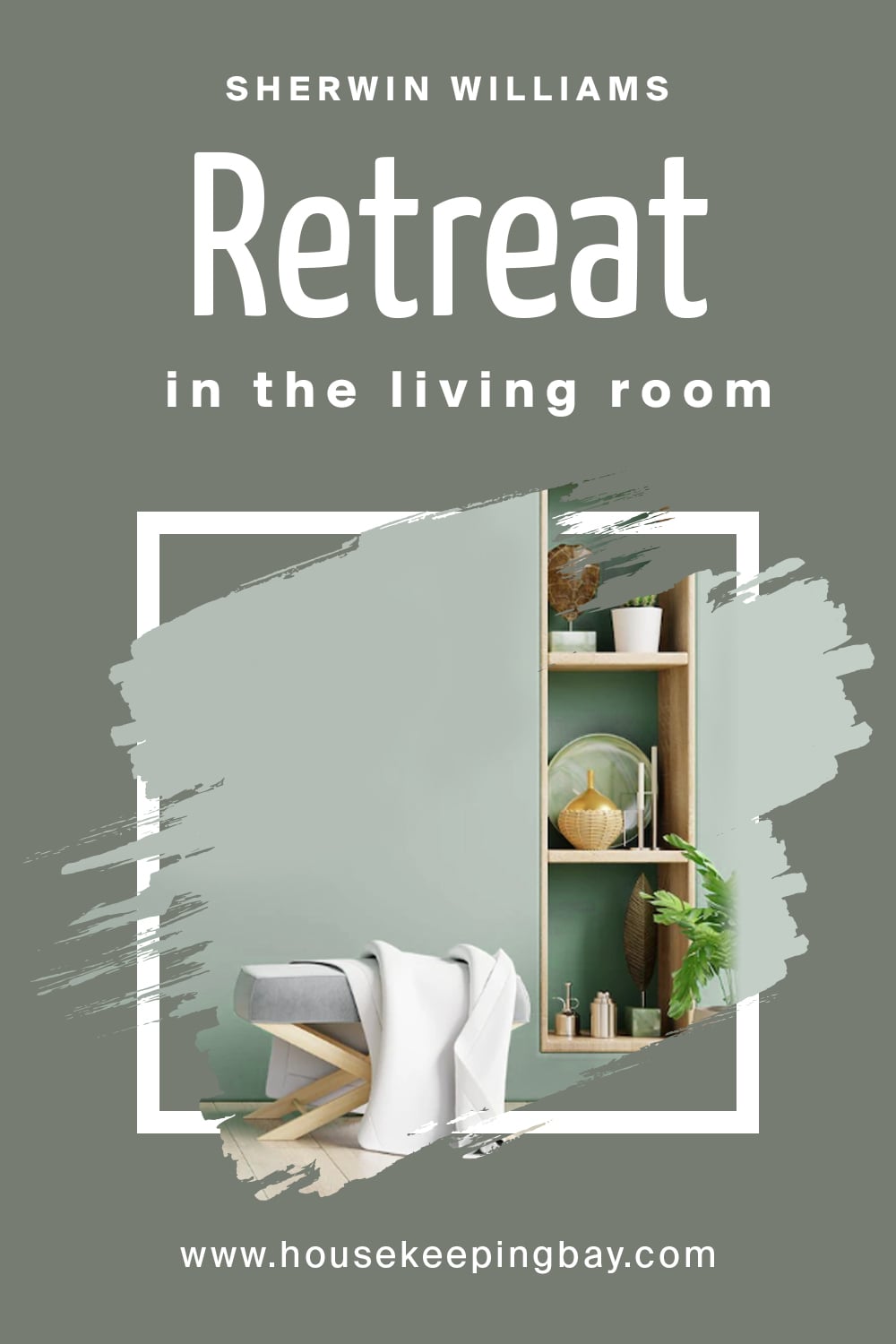 Retreat SW-6207 in the Bedroom
Is it a good color for your bedroom? Absolutely! You should definitely use SW Retreat as the color of the accent wall behind the headboard. You can also pair it with mustard yellow hues and burnt oranges on the throw pillows and blankets, for example, to add more color.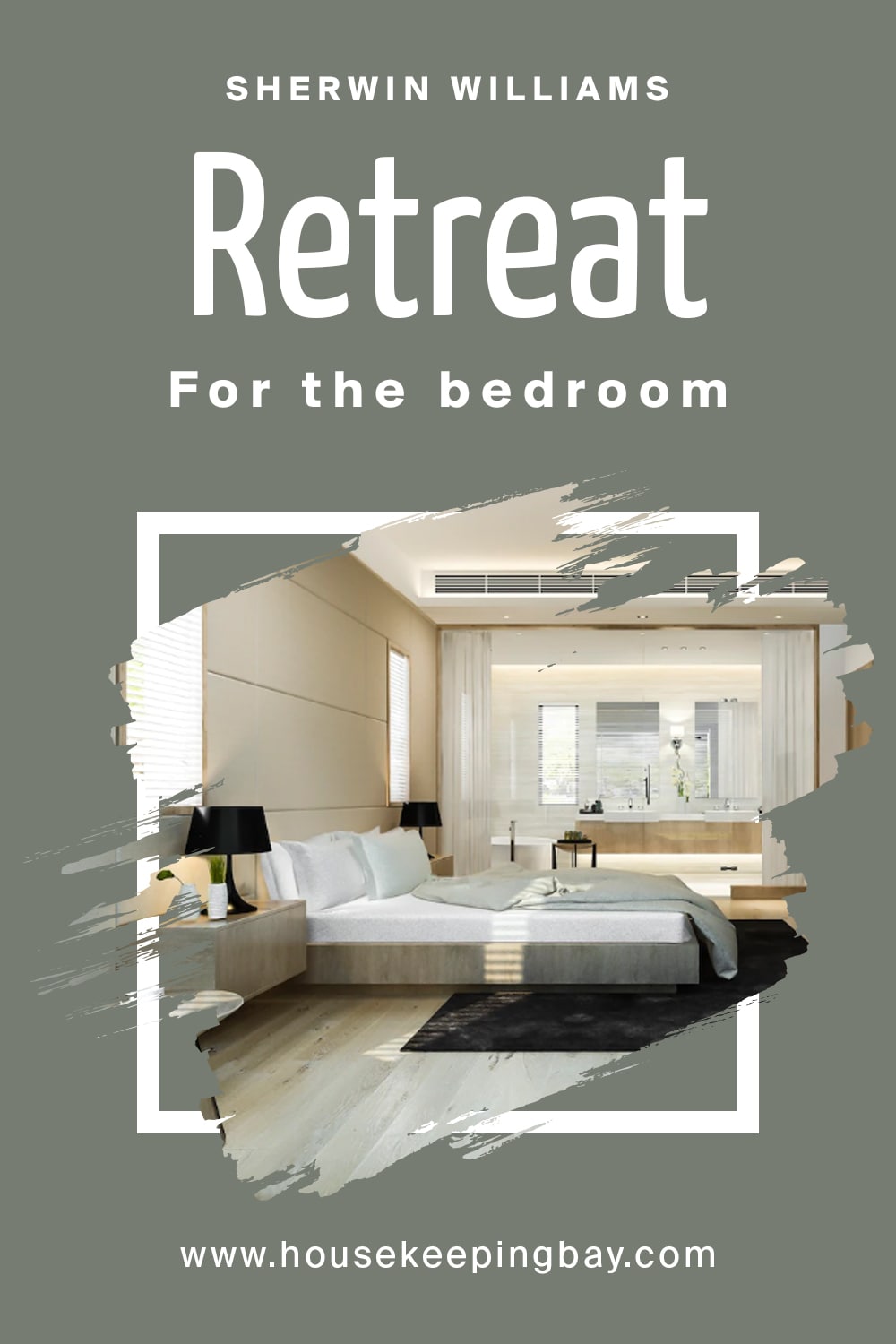 Retreat SW-6207 in the Cabinets/Kitchen Cabinets
Don't avoid this color when painting your kitchen walls or cabinets. It will add a calming vibe to this busy room, besides, if you pair it with brass fixtures in the form of pull handles, it will add a stark contrast in your kitchen! Also, this sage green can be successfully paired with a white marble countertop and white backsplash.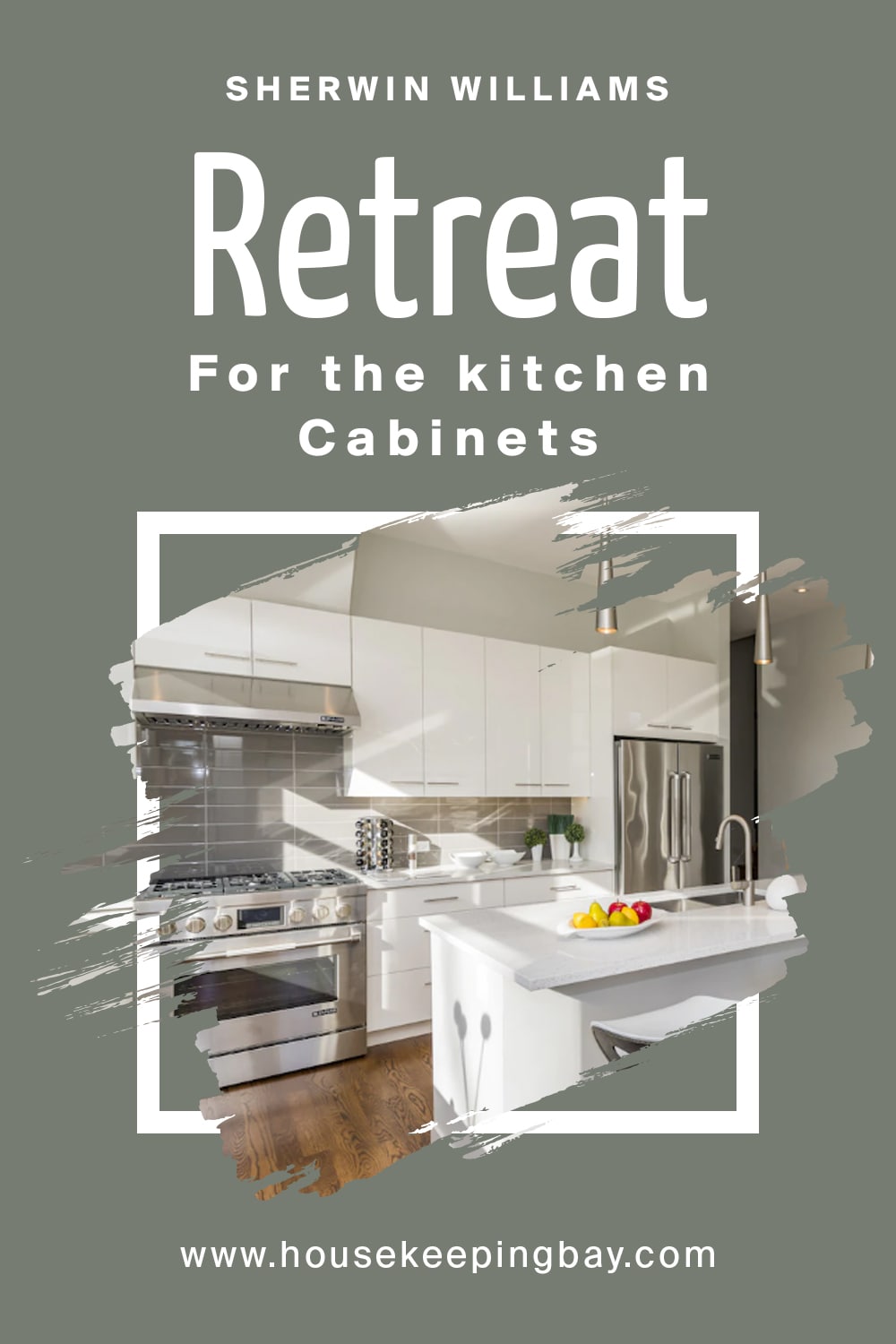 Retreat SW-6207 for the Exterior
This green is one of the best colors for your home's exterior walls! It will look especially great on Cape Cod, Craftsman, and Caribbean-styled homes! Besides, SW Retreat tends to look lighter than it already is when used on exteriors. Pair it with creamy or crisp white, gray, or off-white shaded trim and moldings, and you will get an ideal exterior house design!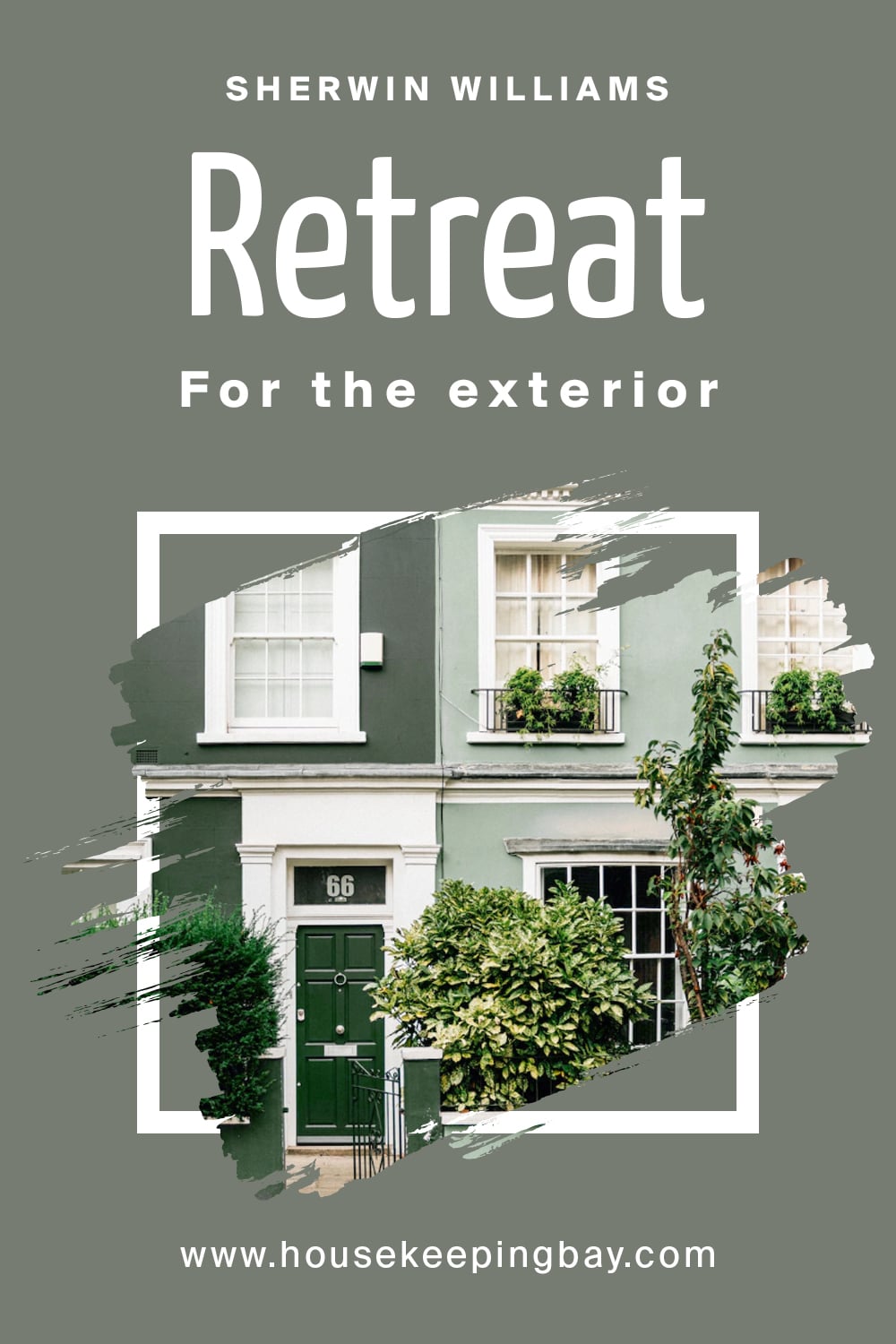 Сolors That Go With SW Retreat
If you want to use other colors in the same room where the SW Retreat is already used, you need to know what colors can go well with this green. At this point, we want to note that we are not talking about coordinating colors! We mean colors that can be paired with this shade of green well enough to create a harmonious palette.
Among such colors, we can name a few good options that can be used interchangeably in any combinations where SW Retreat color is the leading one:
SW-6395 Alchemy
SW-7605 Passive
SW-6209 Ripe Olive
SW-6468 Hunt Club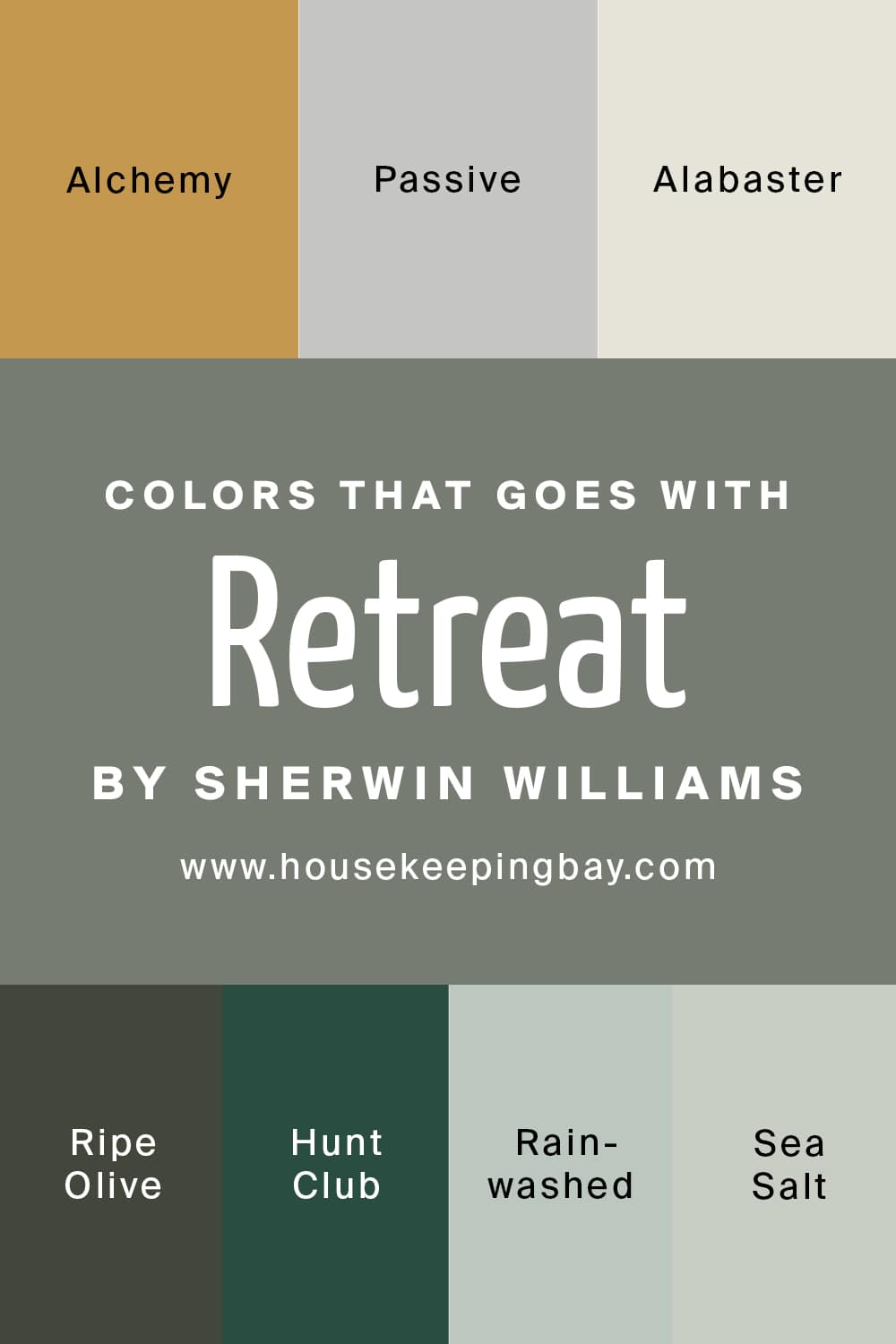 Comparison Retreat SW-6207 With Other Colors
It is very important to be able to see the difference between the paint colors since it helps you to understand whether or not they can be paired in the same space. So just for you to see how it works, we suggest you read about SW Retreat in comparison to a few other popular Sherwin Williams colors.
Retreat vs Oyster Bay
Oyster Bay is a cool green color with blue undertones. It reads much lighter in comparison to Retreat. Plus, Oyster Bay reveals more gray undertones whilst Retreat shows its green side quite strongly.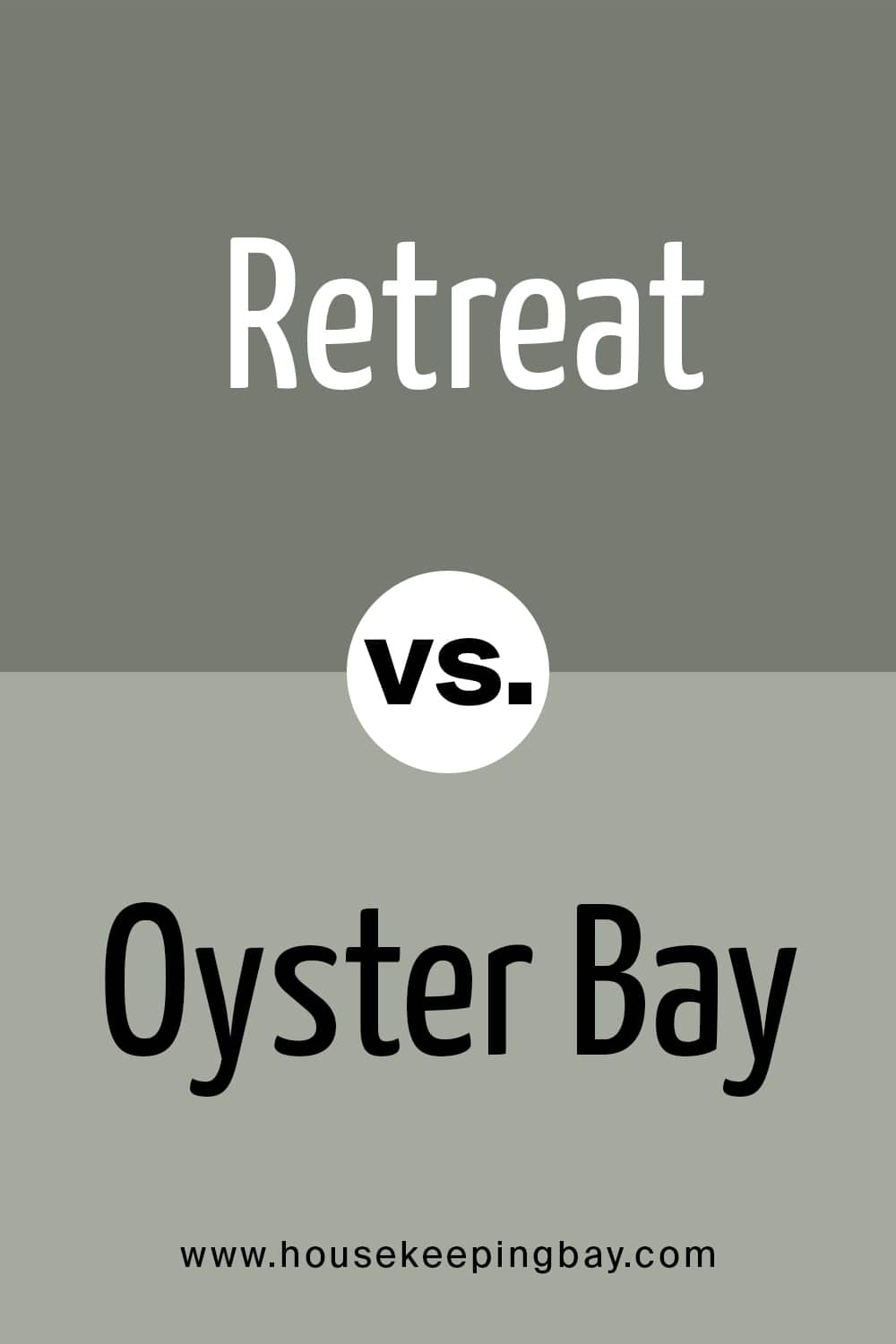 Retreat vs Succulent
These two are so much alike that some people easily mistake them! Indeed, the colors have similar undertones and LRVs, which is why they can be used interchangeably very successfully.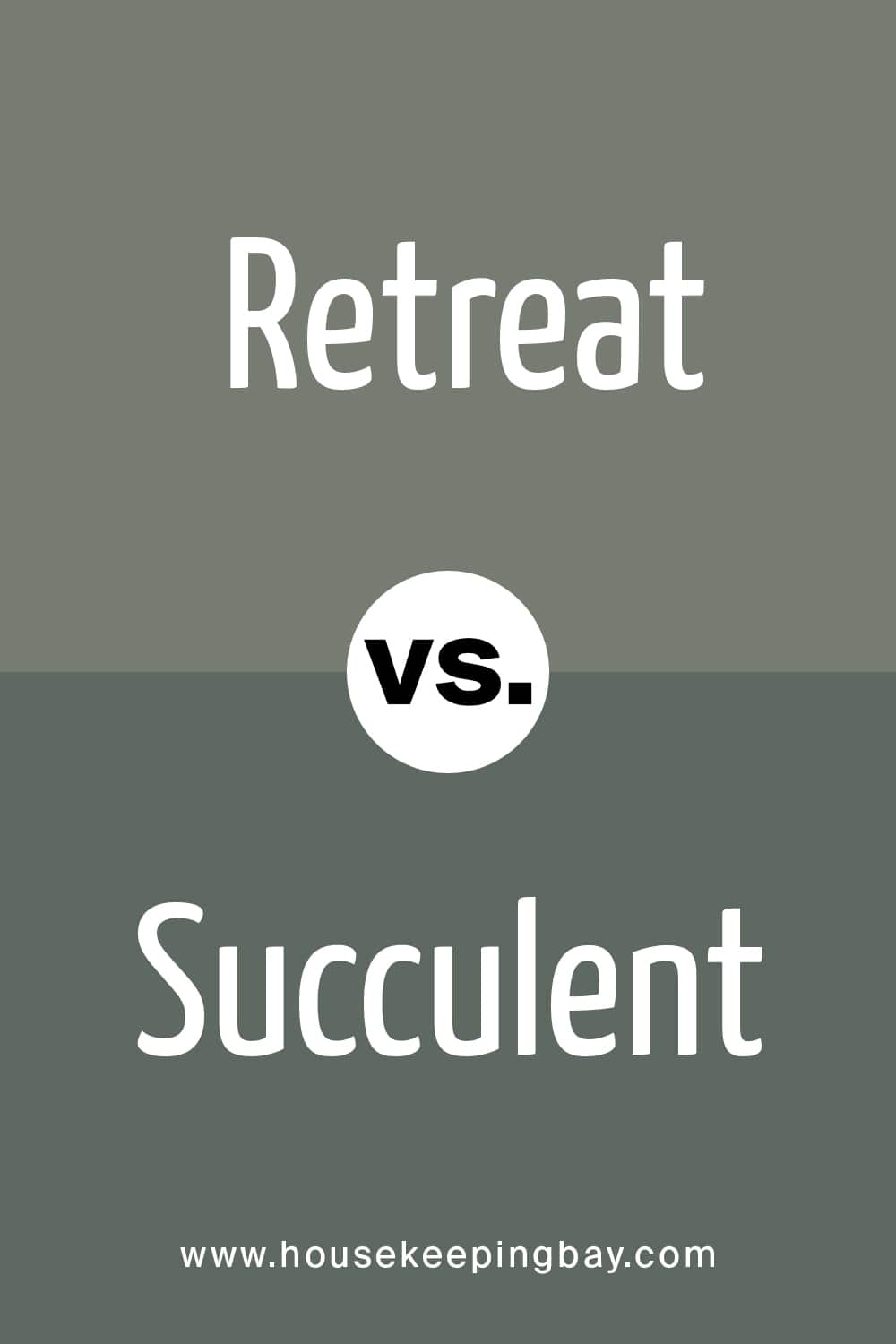 Retreat vs Illusive Green
Illusive Green has a bit more gray undertones whilst Retreat has more green undertones showing out if we compare these two colors side by side. In addition, Retreat is a bit darker. This is why Illusive Green can be used as an alternative color if you're looking for a lighter version of SW Retreat paint.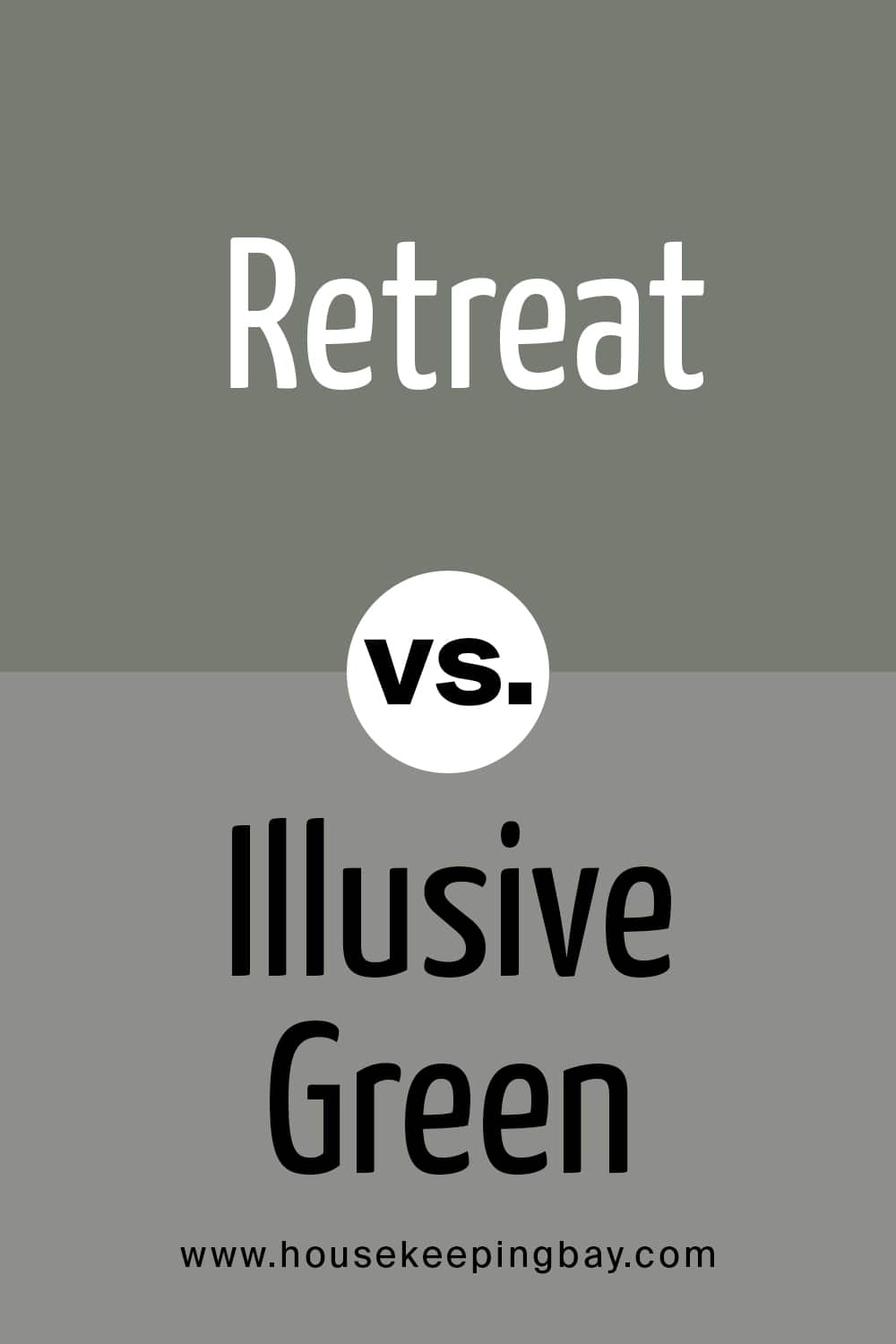 Retreat vs Rosemary
Both are green but Rosemary is much greener. Both colors are muted but Retreat shows more gray undertones whilst Rosemary reveals its pine green hue much stronger. They can be used interchangeably if you need a color that's a bit brighter than Retreat.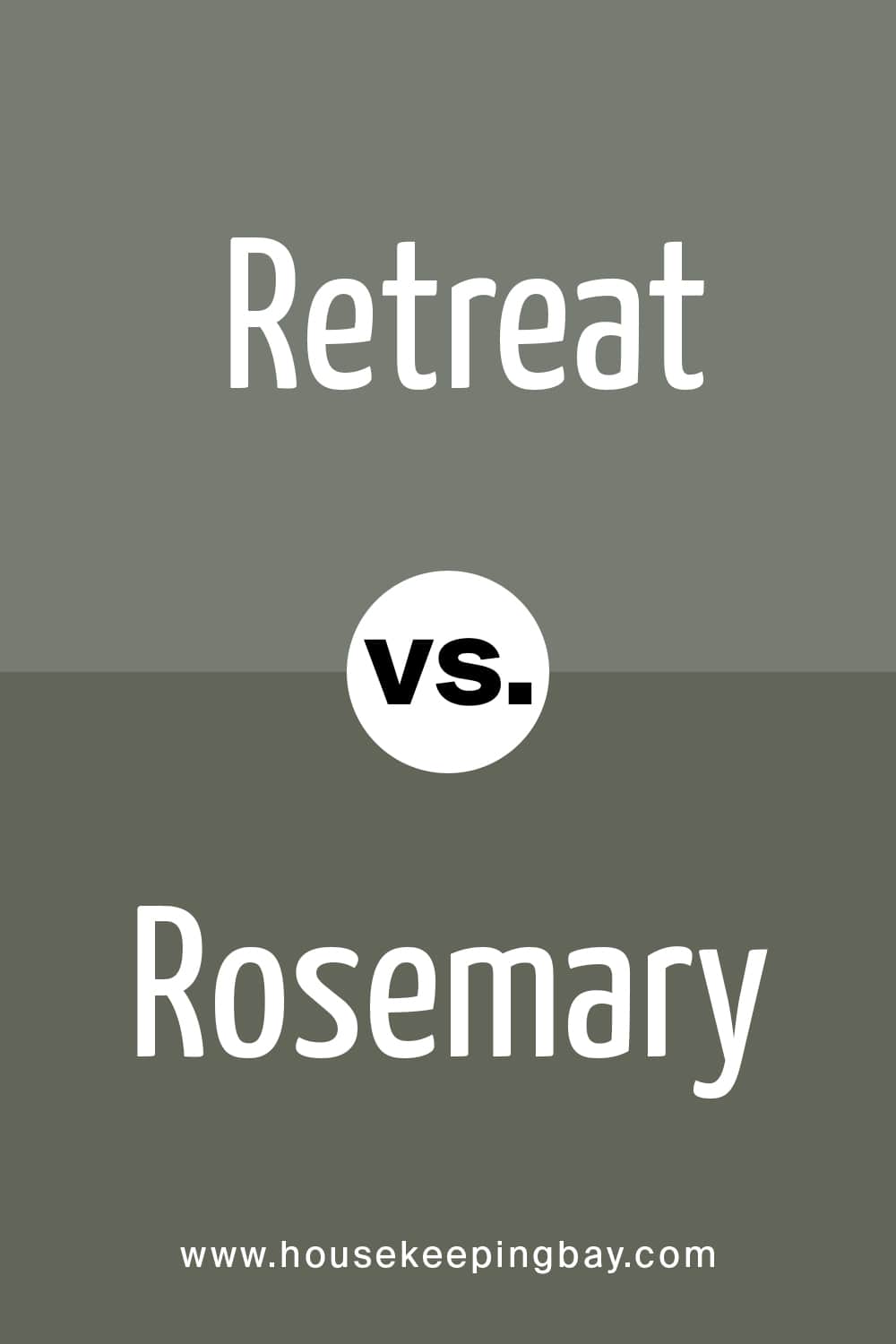 So, now you know a lot about the beautiful green color called Retreat by the Sherwin-Williams brand. With all the information regarding its undertones, LRV, trim colors, as well as the rooms it's best to be used in, you can make use of this awesome and muted green to make it work in your home or outside of it.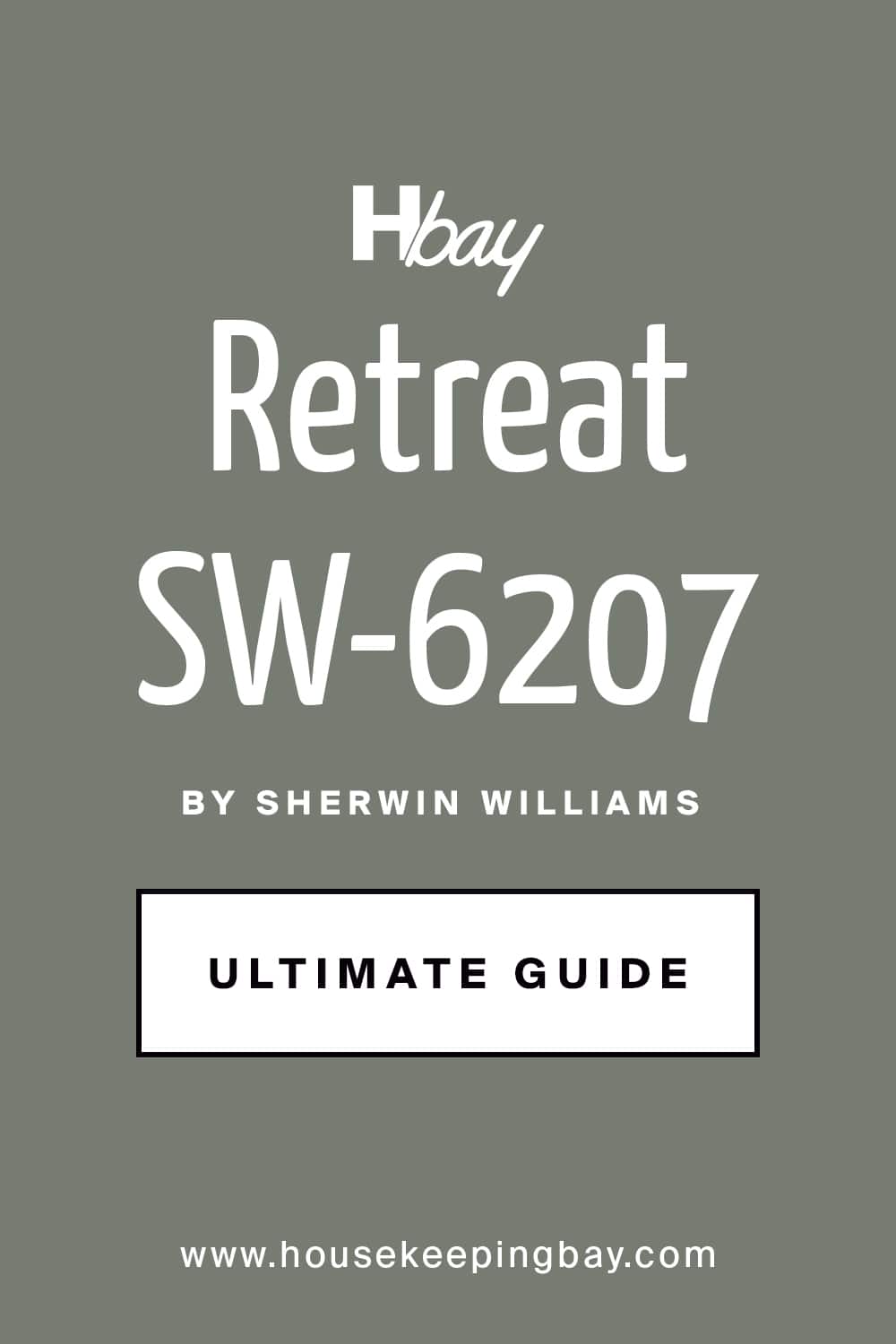 Frequently Asked Questions
⭐Is SW Retreat too dark?
No, it's not. But you must consider the light in a room where it wiill be applied since the color may change a bit.
⭐Will Retreat work with black color?
Yes, it will. You just need to choose darker shades of black to create a proper contrast.
⭐Can Retreat be used for a dustroom?
basically, it can if the room is big enough and has enough light.