In the world of interior design, neutral colors reign supreme, and Sherwin-Williams SW 6203 Spare White is no exception. This soft, understated hue offers a beautiful backdrop for any design aesthetic, from contemporary to rustic and everything in between.
In this comprehensive guide, we'll explore everything you need to know about this versatile color, including its undertones, how it interacts with light, and how to use it in various spaces in your home.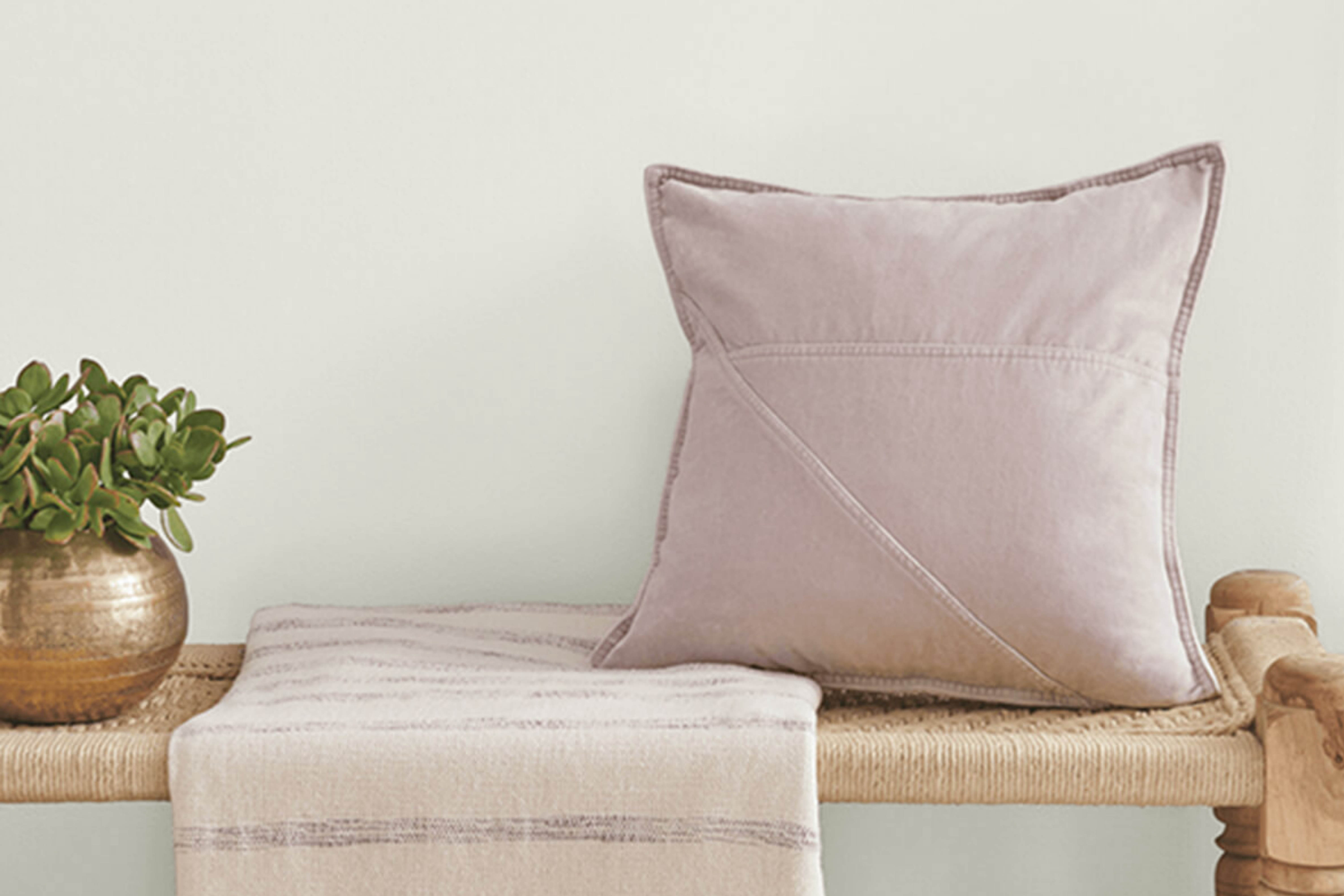 What Color Is SW 6203 Spare White?
SW 6203 Spare White is a light and airy off-white color. It's a delicate hue that falls between white and the faintest hint of grey. This subtlety allows it to maintain a fresh and clean appearance, while its muted nature keeps it from feeling too stark or sterile.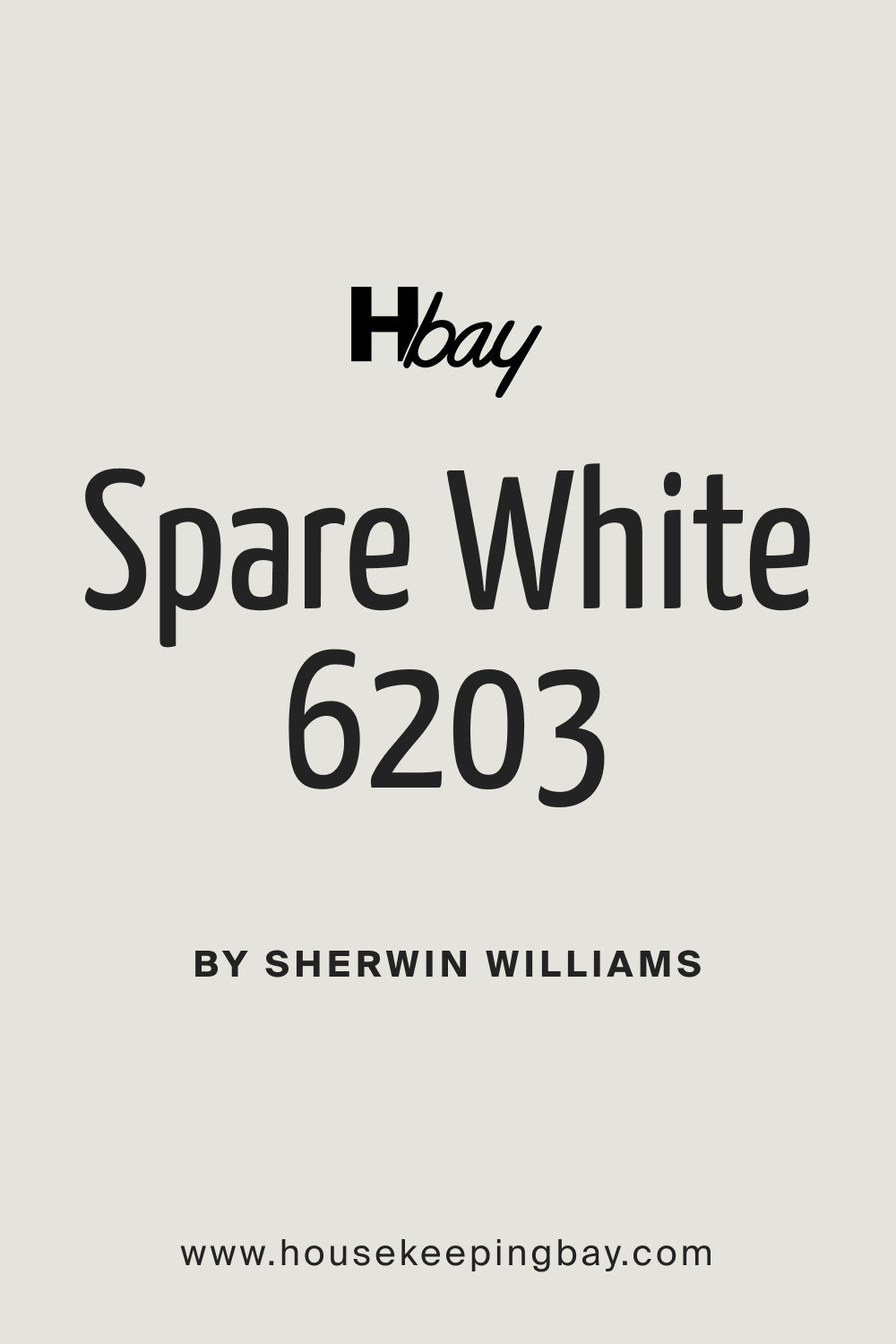 Is It a Warm Or Cool Color?
SW Spare White falls into the category of cool colors due to its slight gray undertones. However, it's a soft cool color, which means it still has a touch of warmth to it. This balance makes it an incredibly versatile shade that can work in various color schemes.
Undertones of SW 6203 Spare White
SW Spare White exhibits several undertones, primarily gray, but also slight undertones of blue and green. These undertones give it a cool, soothing effect. The gray undertone is what allows it to remain a neutral color, whereas the subtle blue and green undertones provide it with a unique character that sets it apart from pure white.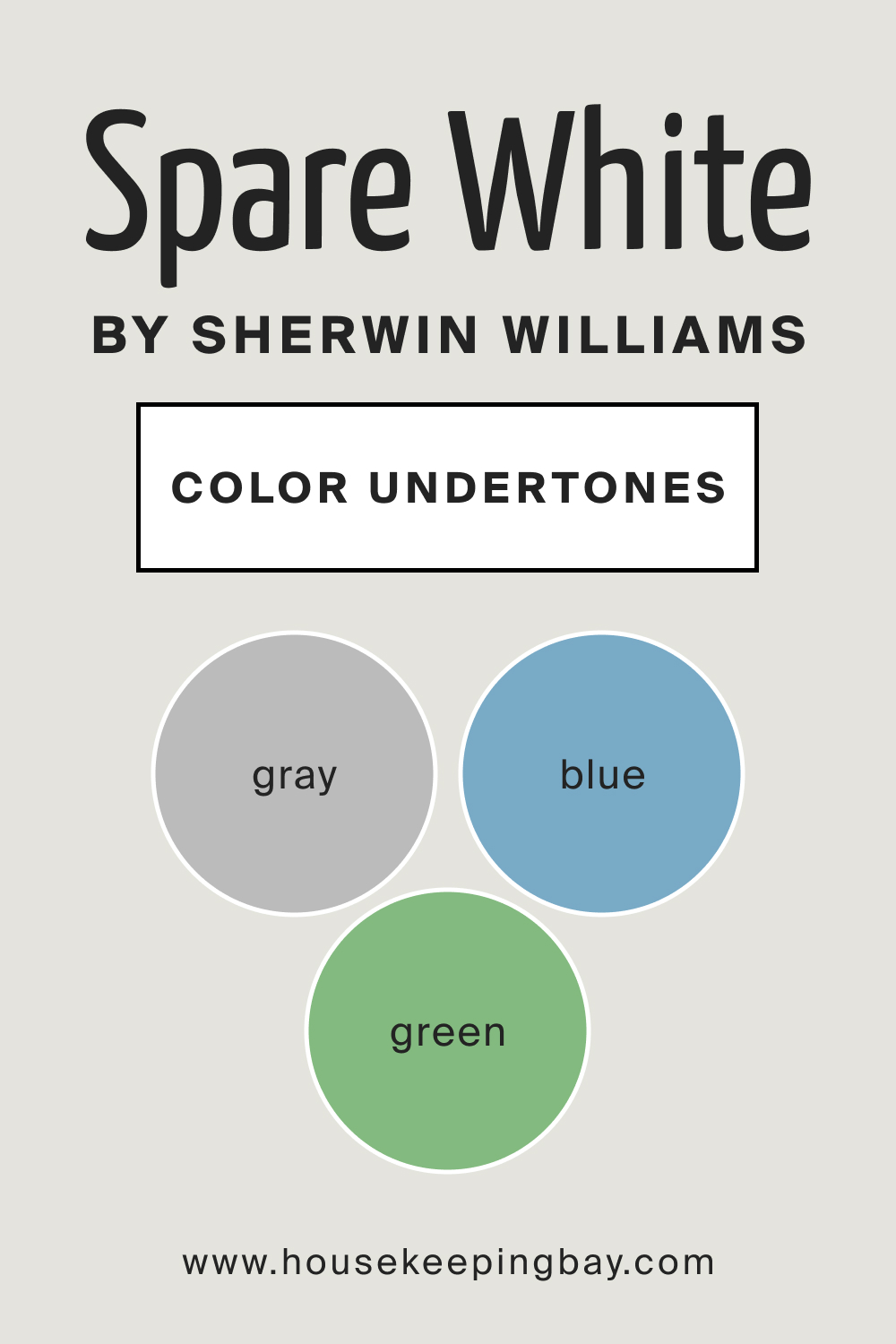 Coordinating Colors of SW 6203 Spare White
Due to its neutral nature, SW Spare White pairs well with a wide range of colors. Here are the hues that work particularly well with it:
SW 7044 Amazing Gray
SW 9133 Jasper Stone
For the analogous color palette, we recommend you try out the following coordinating colors that will work with SW Spare White:
SW 6441 White Mint
SW 7104 Cotton White
SW 7627 White Heron
Should you prefer monochromatic interiors, you might want to check out this list of coordinating colors:
SW 6201 Thunderous
SW 6198 Sensible Hue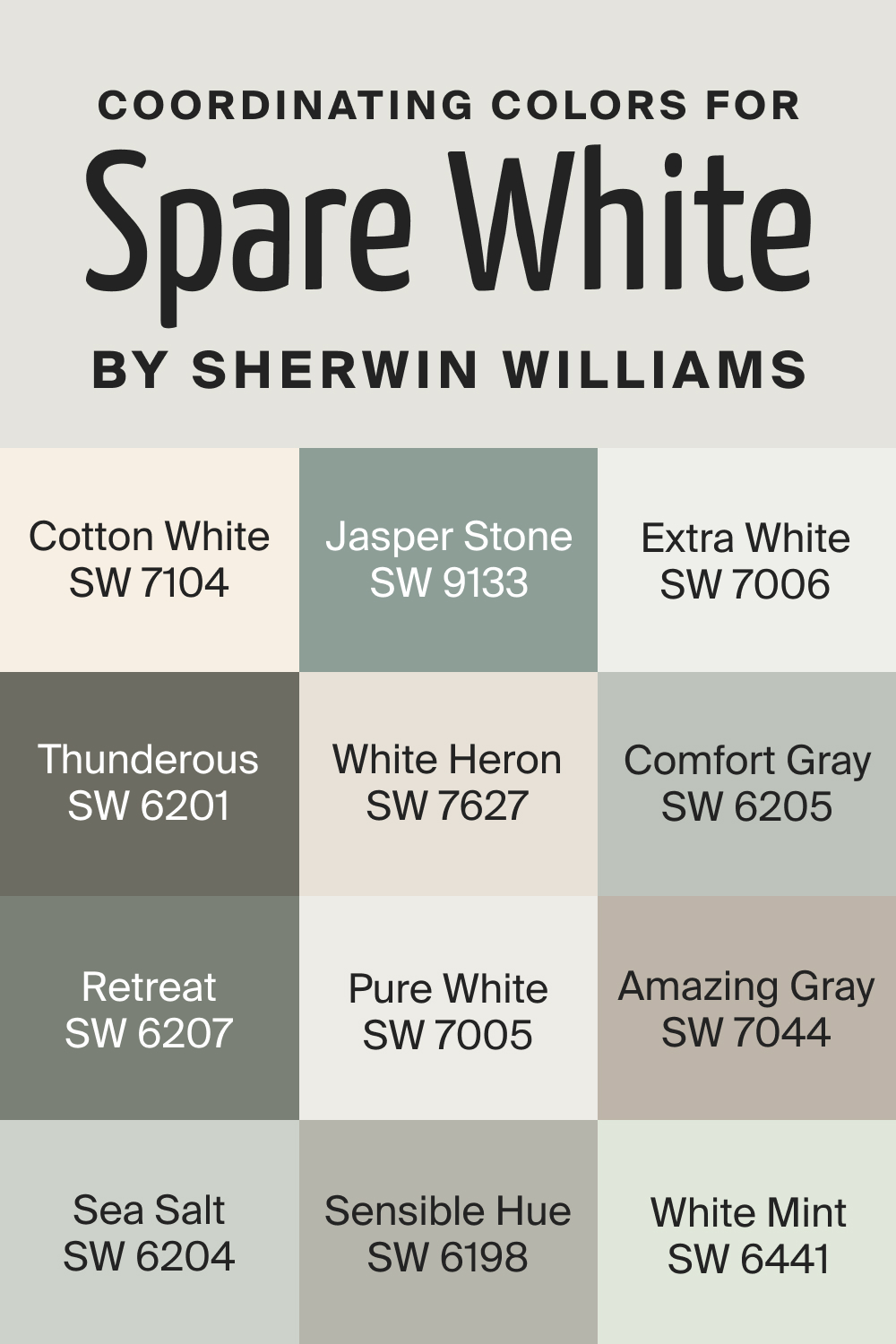 How Does Lighting Affect SW 6203 Spare White?
The lighting in a room can significantly impact how Spare White appears. In spaces with lots of natural light, SW Spare White will look brighter and more white. The gray undertones may also become slightly more noticeable.
In rooms with less natural light, as well as in rooms with dim light, SW Spare White may take on a slightly cooler tone, and the gray undertones may deepen. Because of this nuance, always consider the lighting in your space when choosing paint colors. Otherwise, the color you choose may read differently on your walls!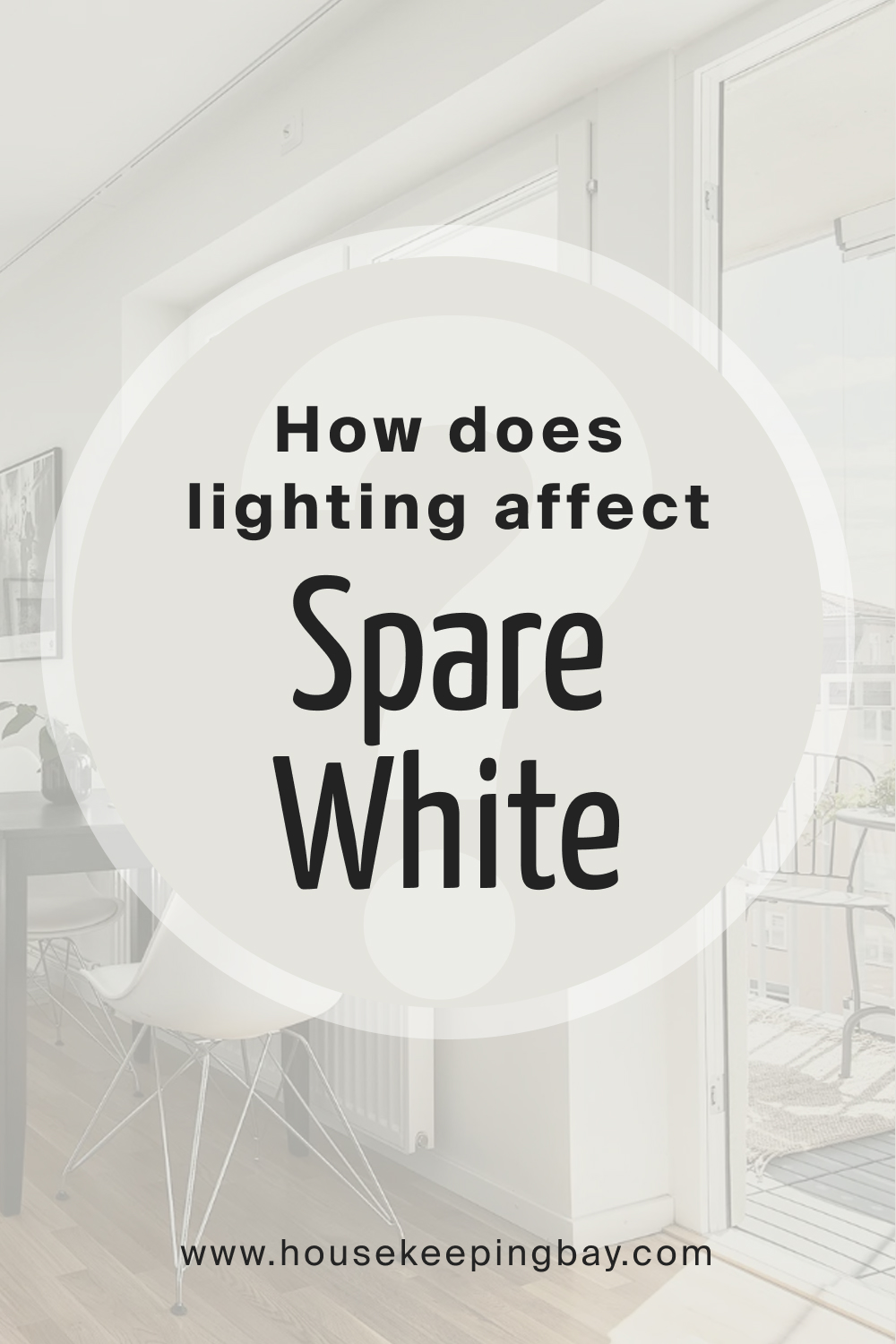 LRV of SW 6203 Spare White
Spare White has a Light Reflectance Value (LRV) of nearly 77, which is quite high. This means it reflects a significant amount of light and will help make a room feel brighter and more open. Because of this, it's an excellent choice for small rooms or rooms with minimal natural light.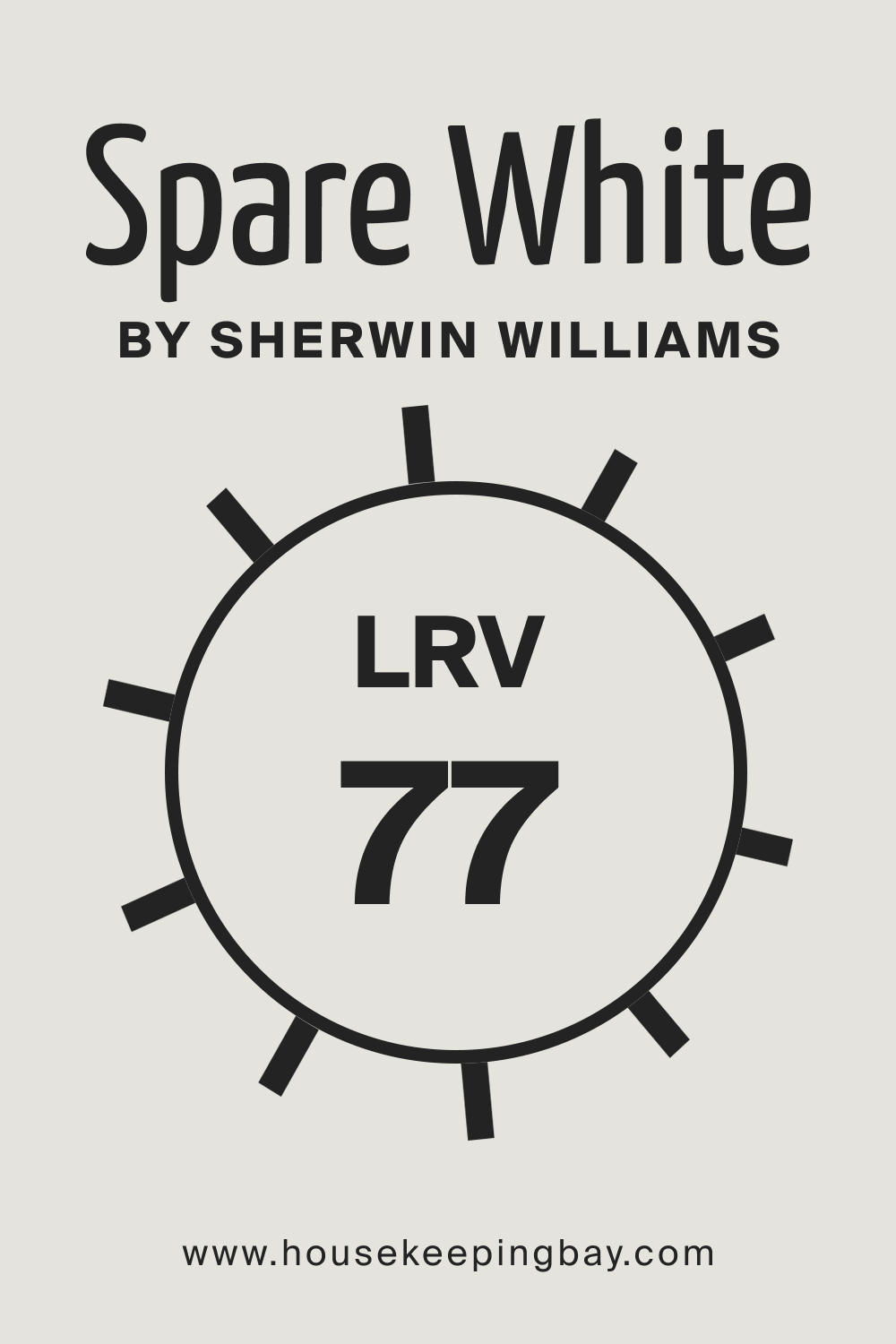 What is LRV? Read It Before You Choose Your Ideal Paint Color
Trim Colors of SW 6203 Spare White
Choosing the right trim color can enhance the beauty of SW Spare White in your space. Here are three great options you might want to check out: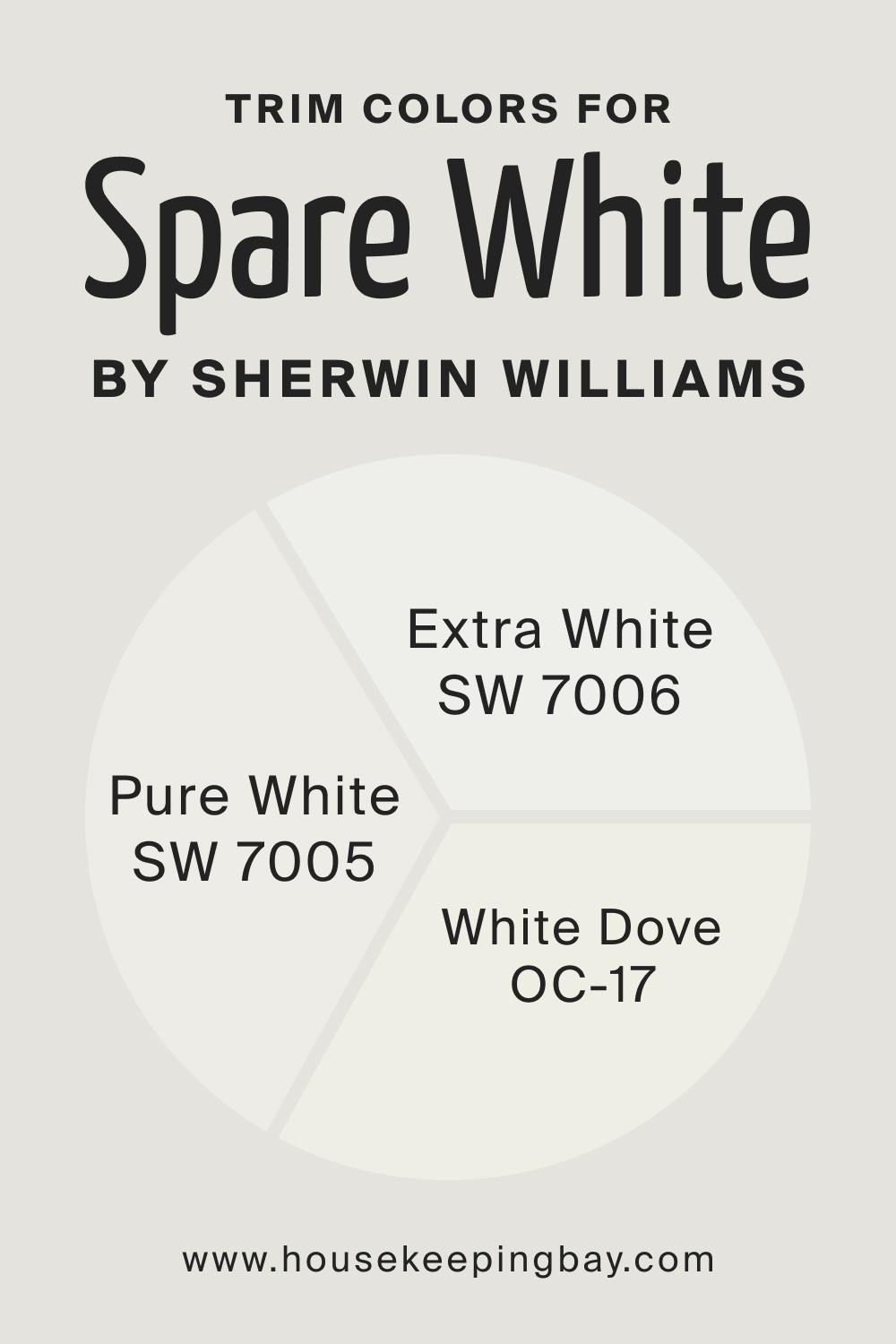 Colors Similar to SW 6203 Spare White
If you find SW Spare White a bit unsuitable for your living space, here are several similar colors to consider:
Sherwin-Williams Snowfall (SW 6000): This bright white has a touch of cool gray, much like Spare White.
Sherwin-Williams Greek Villa (SW 7551): A soft off-white with a subtle warmth.
Sherwin-Williams Shoji White (SW 7042): This off-white has a hint of warm beige.
Benjamin Moore White Heron (OC-57): A bright, clean white with a slight gray undertone.
Benjamin Moore Seapearl (OC-19): A soft, cool white similar to Spare White.
Benjamin Moore Classic Gray (OC-23): This light gray has cool undertones that echo those in Spare White.
Benjamin Moore Gray Owl
However, take into account that each of these substitute colors will anyway differ a bit due to the distinct LRV values and undertones!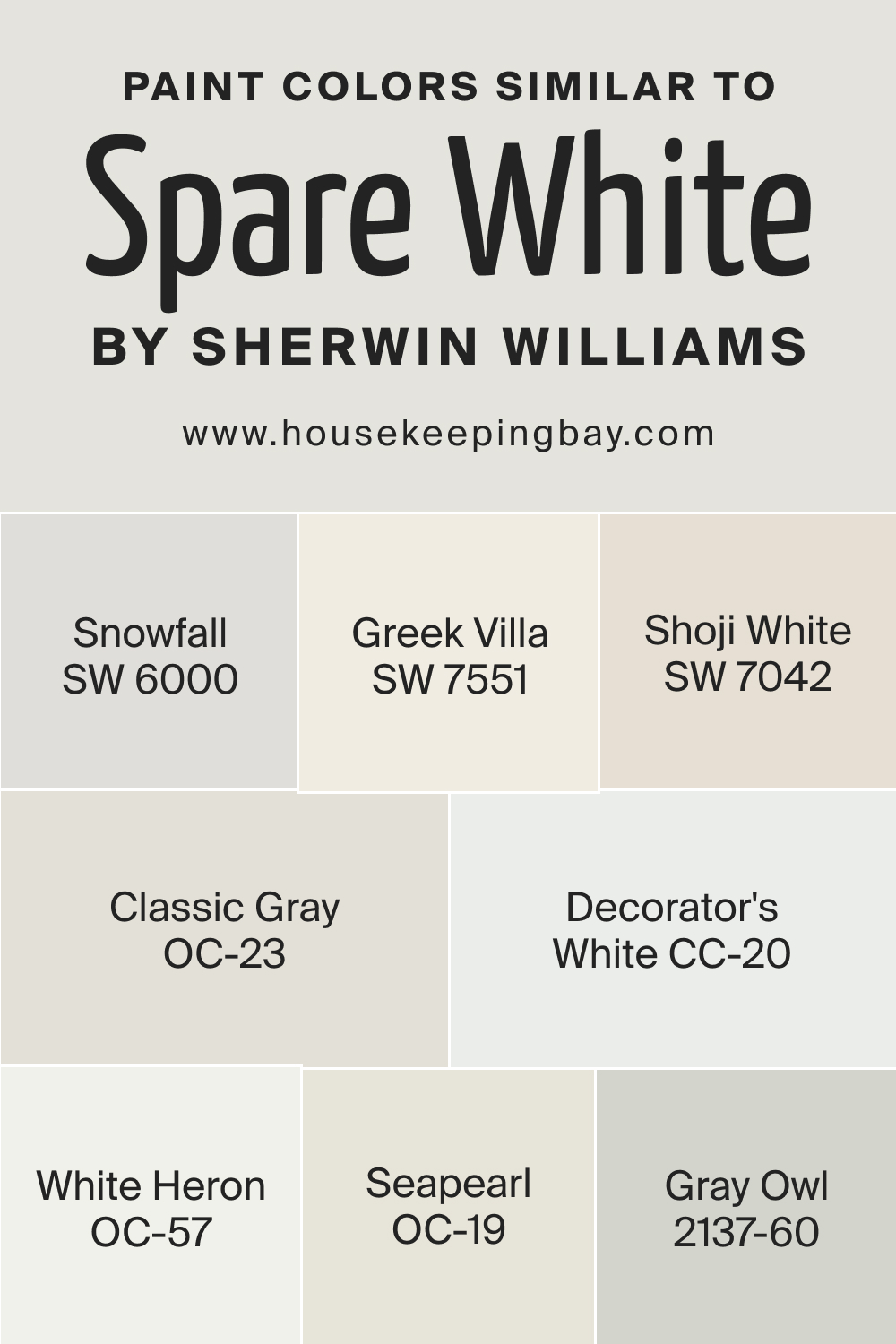 Colors That Go With SW 6203 Spare White
SW Spare White's versatility allows it to complement a wide array of colors. Here are six colors that go particularly well with Spare White:
Sherwin-Williams Peppercorn (SW 7674)

: A medium to dark gray that offers a striking contrast.
Sherwin-Williams Agreeable Gray (SW 7029): This warm gray pairs beautifully with the coolness of Spare White.
Sherwin-Williams Gauntlet Gray (SW 7019): A deeper gray that provides a stunning contrast.
Benjamin Moore Chelsea Gray (HC-168): A rich gray that pairs well with Spare White.
Benjamin Moore Kendall Charcoal (HC-166): A deep, rich gray that offers a striking contrast.
Benjamin Moore Stonington Gray (HC-170): A light gray with blue undertones that complement Spare White.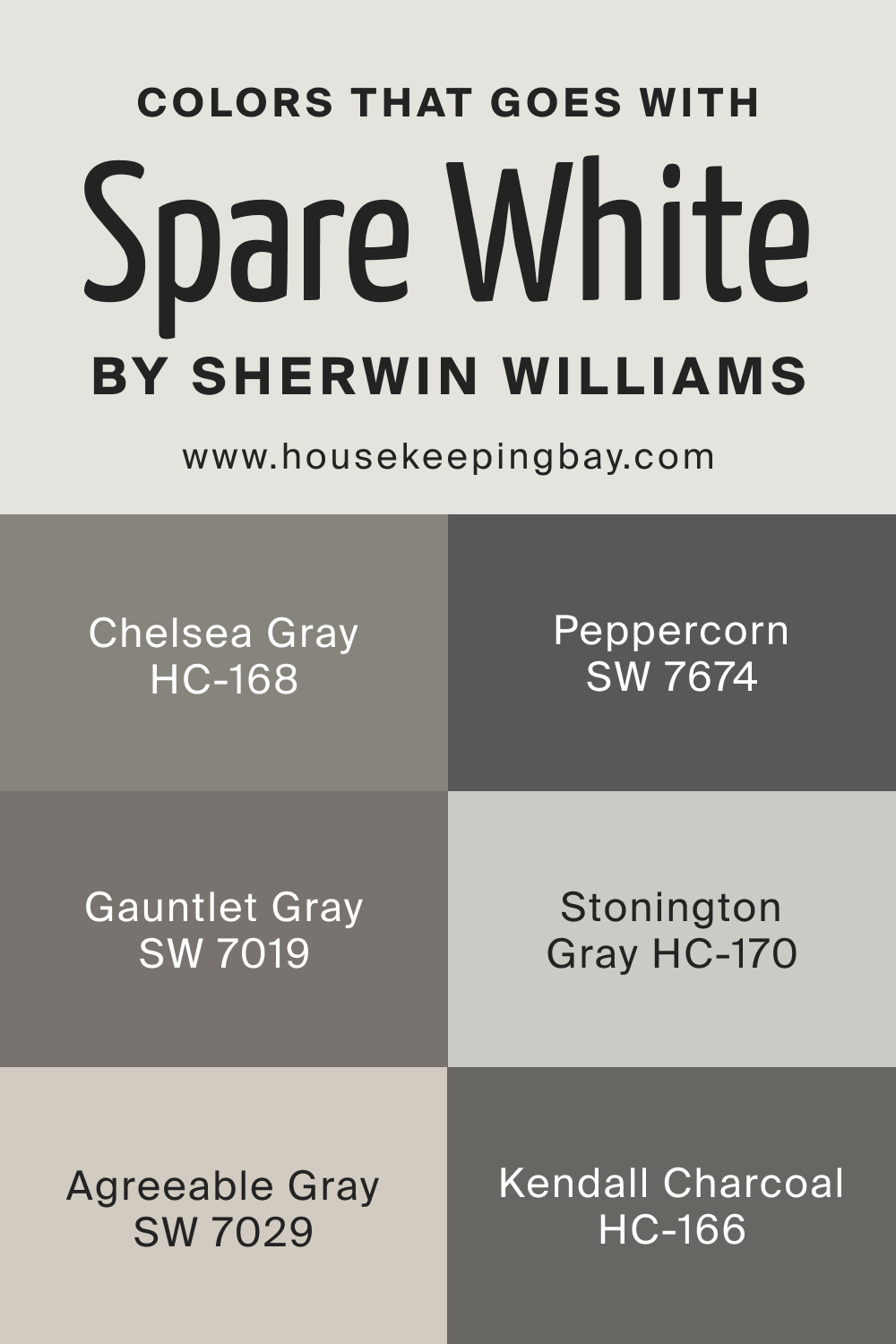 How to Use SW Spare White In Your Home?
Below, we describe how this soft white color may work in different rooms of your home. This will help you get a better idea of where to use it.
How to Use SW 6203 Spare White In the Bedroom?
Spare White creates a calm and serene atmosphere in a bedroom. Its light, soft hue makes it an excellent choice for creating a relaxing space for rest and rejuvenation. Pair it with soft, pastel textiles for a light, airy look, or use richer, deeper shades for your bedding and accessories to create contrast. In addition to the walls, consider using SW Spare White on your bedroom furniture for a cohesive, tranquil look.
Adding SW Spare White to the ceiling can elevate the room's appearance, making it feel larger and more open. To add depth and interest, consider pairing this color with a more vibrant color on a feature wall or in your accessories and decor. Soft, textured fabrics in a rich, contrasting hue can complement the coolness of SW Spare White, adding a sense of luxury and comfort to the space.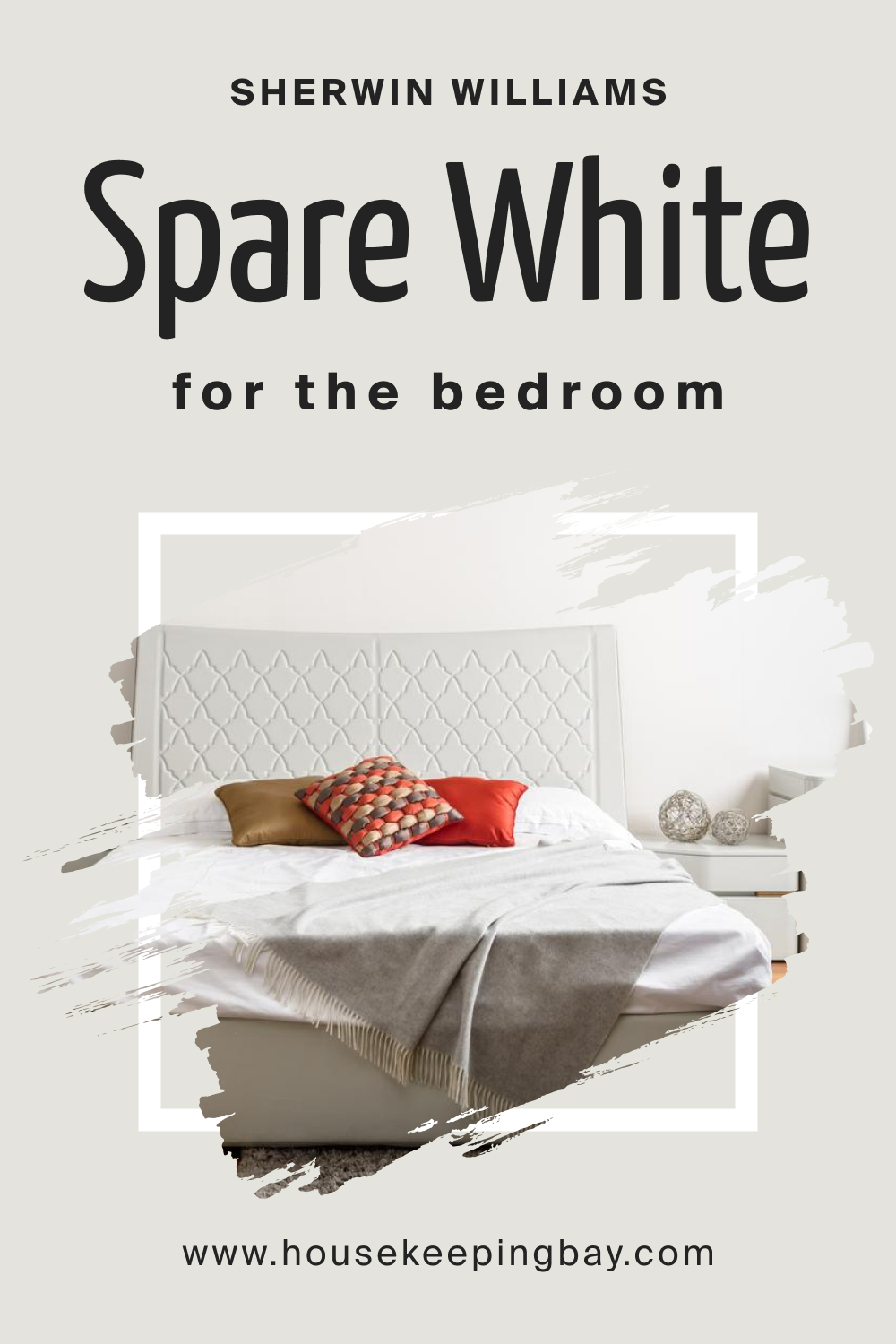 How to Use SW 6203 Spare White In the Bathroom?
In bathrooms, SW Spare White creates a clean, bright atmosphere. The color pairs exceptionally well with chrome or stainless steel fixtures, offering a modern, fresh look. For a more traditional style, consider using Spare White with brass or gold fixtures. The contrast between the cool Spare White and the warm metal tones adds a sophisticated touch.
SW Spare White can also help small bathrooms or powder rooms appear larger and brighter due to its high LRV. For a harmonious look, consider pairing Spare White with marble or other natural stone elements. The cool undertones in Spare White complement the veins often found in these materials, creating a cohesive and elegant aesthetic.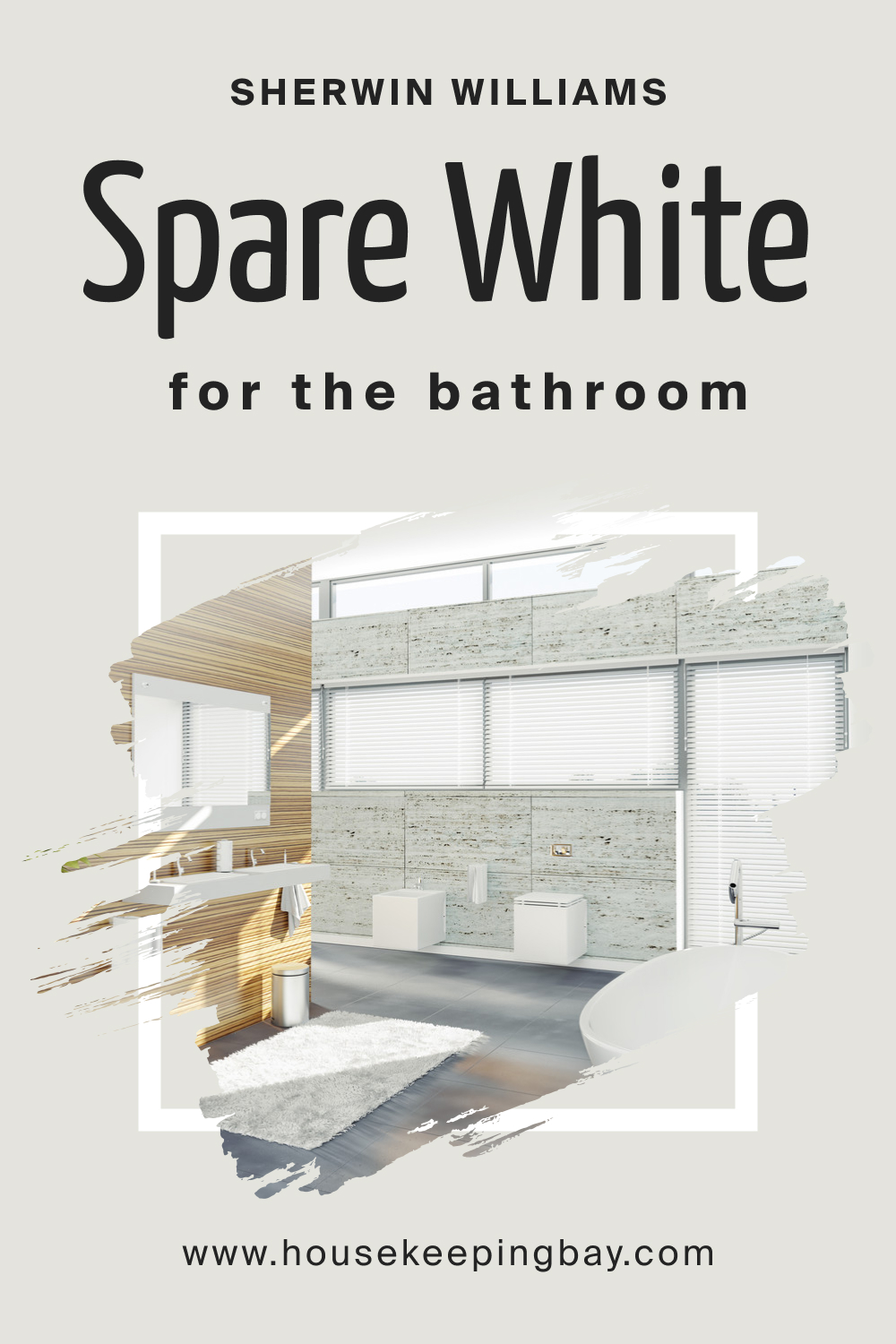 How to Use SW 6203 Spare White In the Living Room?
SW Spare White offers a neutral canvas that allows your furniture and decor to take center stage in a living room. The color works well in various design styles, from rustic to contemporary. Use warm wood tones for a cozy, natural look or sleek black and metal accents for a more modern vibe.
In a living room with architectural features, such as built-in bookcases or a fireplace, painting these features Spare White can highlight their details and craftsmanship. Similarly, SW Spare White on wainscoting or paneling adds a touch of elegance and charm to a living room. For a contemporary twist, consider pairing SW Spare White walls with a bold, contrasting color on the ceiling.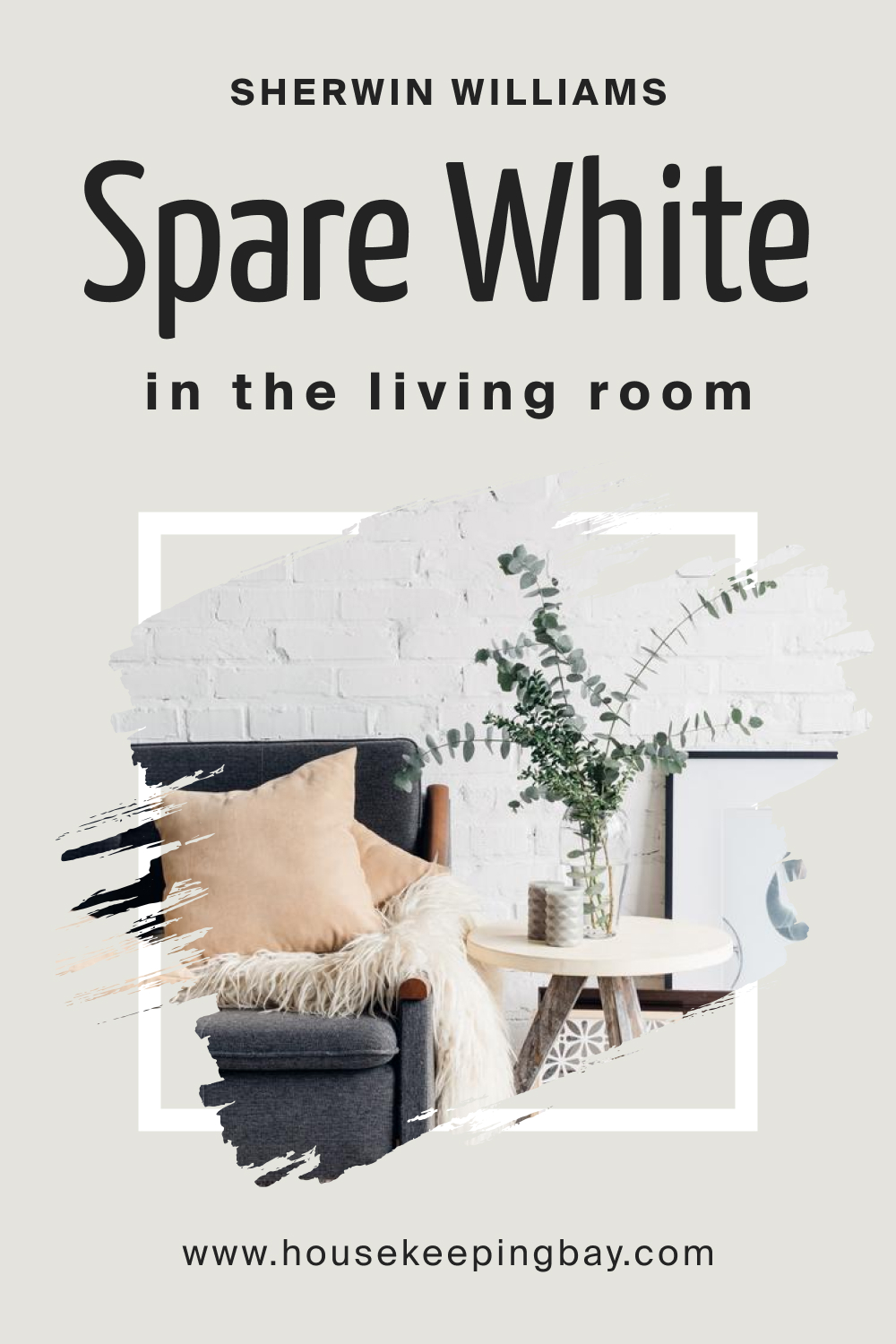 How to Use SW 6203 Spare White for an Exterior?
For exteriors, SW Spare White offers a crisp, clean look that stands the test of time. The color pairs beautifully with darker hues, such as navy or charcoal, for a striking contrast. Spare White also works well with softer, lighter tones for a monochromatic, harmonious look.
Painting your home's exterior SW Spare White can give it a fresh, updated look. The color reflects sunlight beautifully, creating a stunning visual effect during different times of the day. Spare White also pairs well with natural elements, such as stone or wood, enhancing their natural beauty.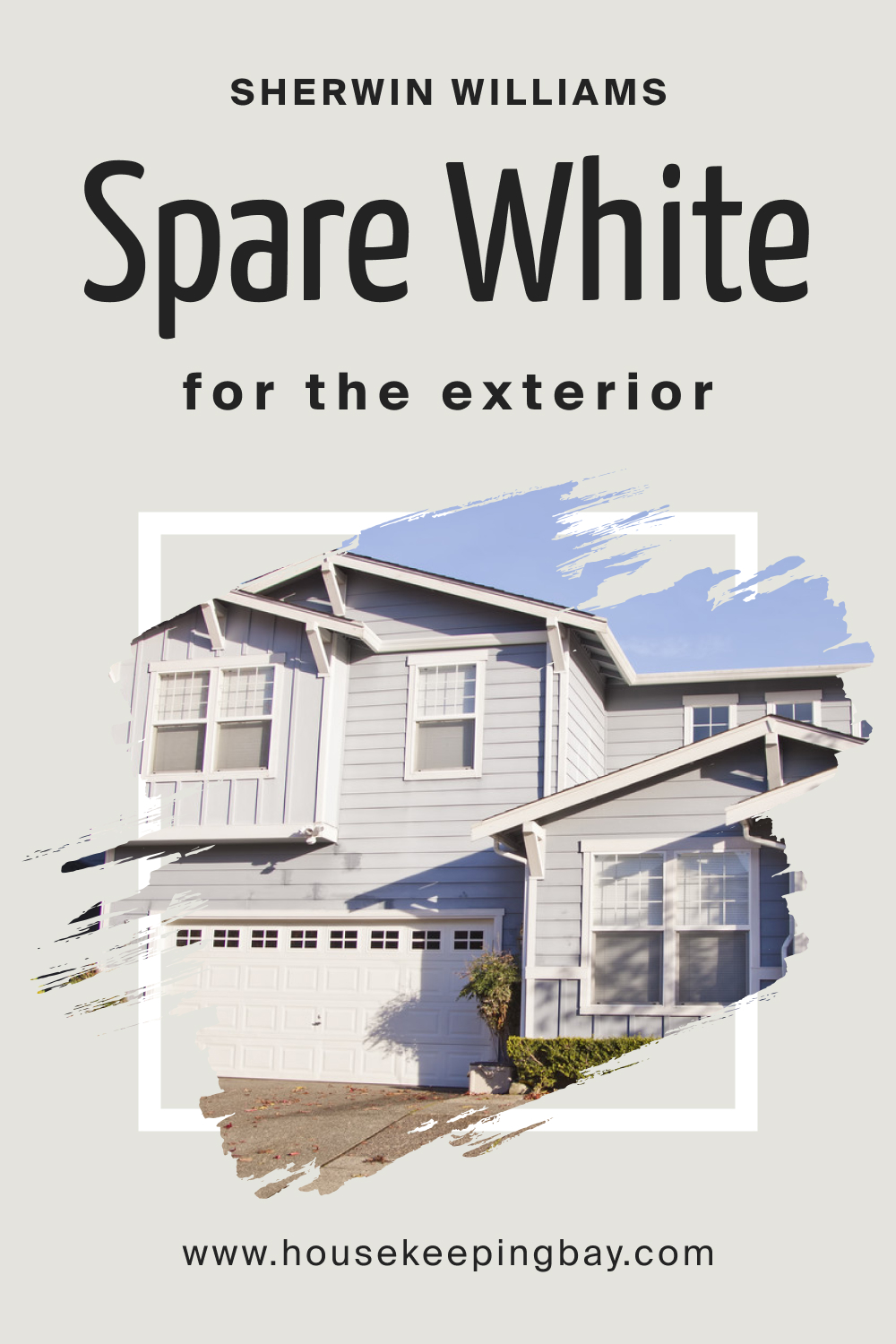 Comparing SW Spare White With Other Colors
To help you better see the difference between SW Spare White and other colors that read very close to it, we compared this beautiful white with several related hues.
Spare White vs SW 7008 Alabaster
When compared to Alabaster, Spare White is cooler and has more grey undertones, while Alabaster has warmer, beige undertones. However, both are versatile colors that work well in a variety of spaces.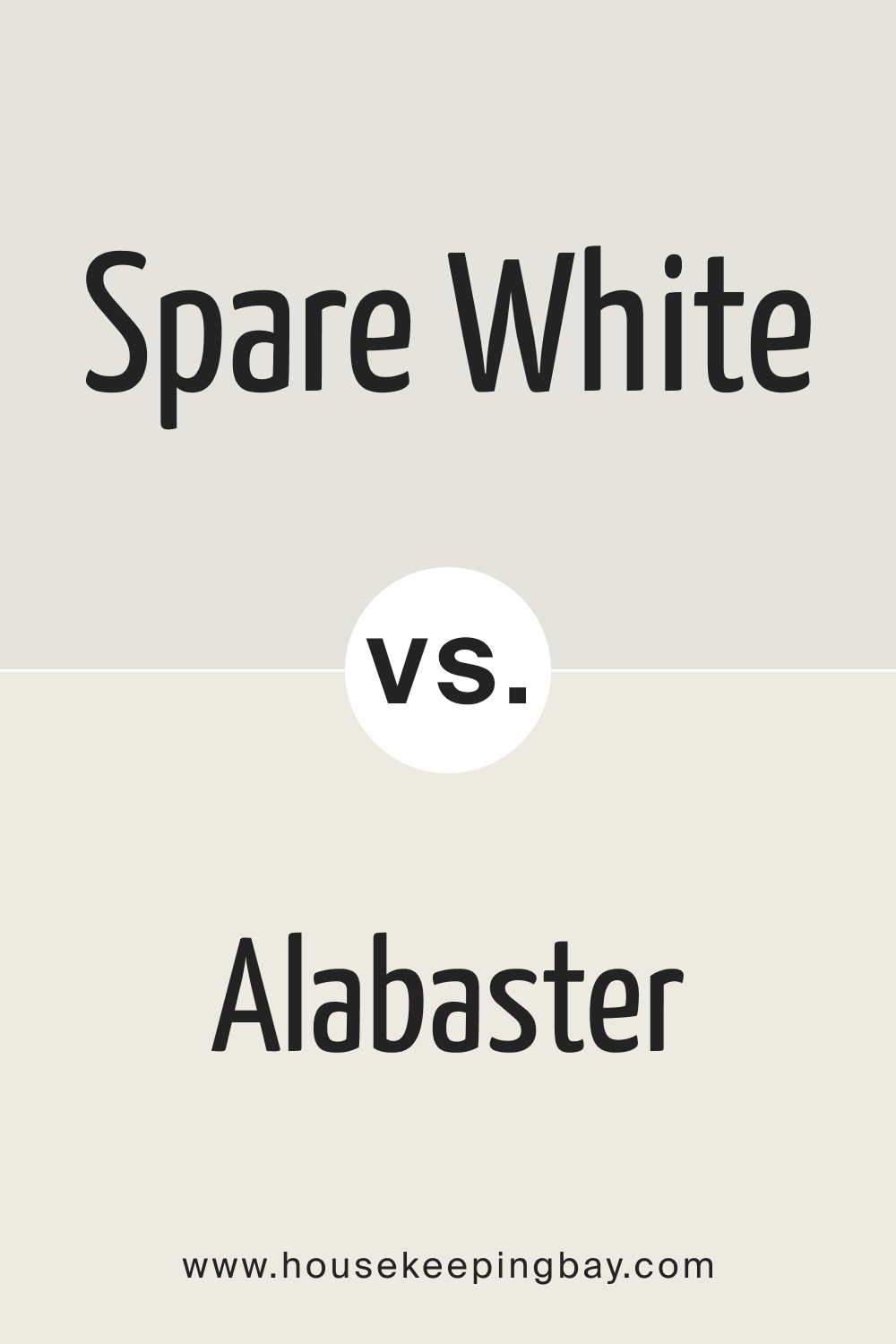 Spare White vs SW 7012 Creamy
Creamy, as the name suggests, has a creamier, more yellow undertone than Spare White. It's warmer and richer, providing a cozy, inviting atmosphere. Spare White, on the other hand, has a cooler, crisper feel to it.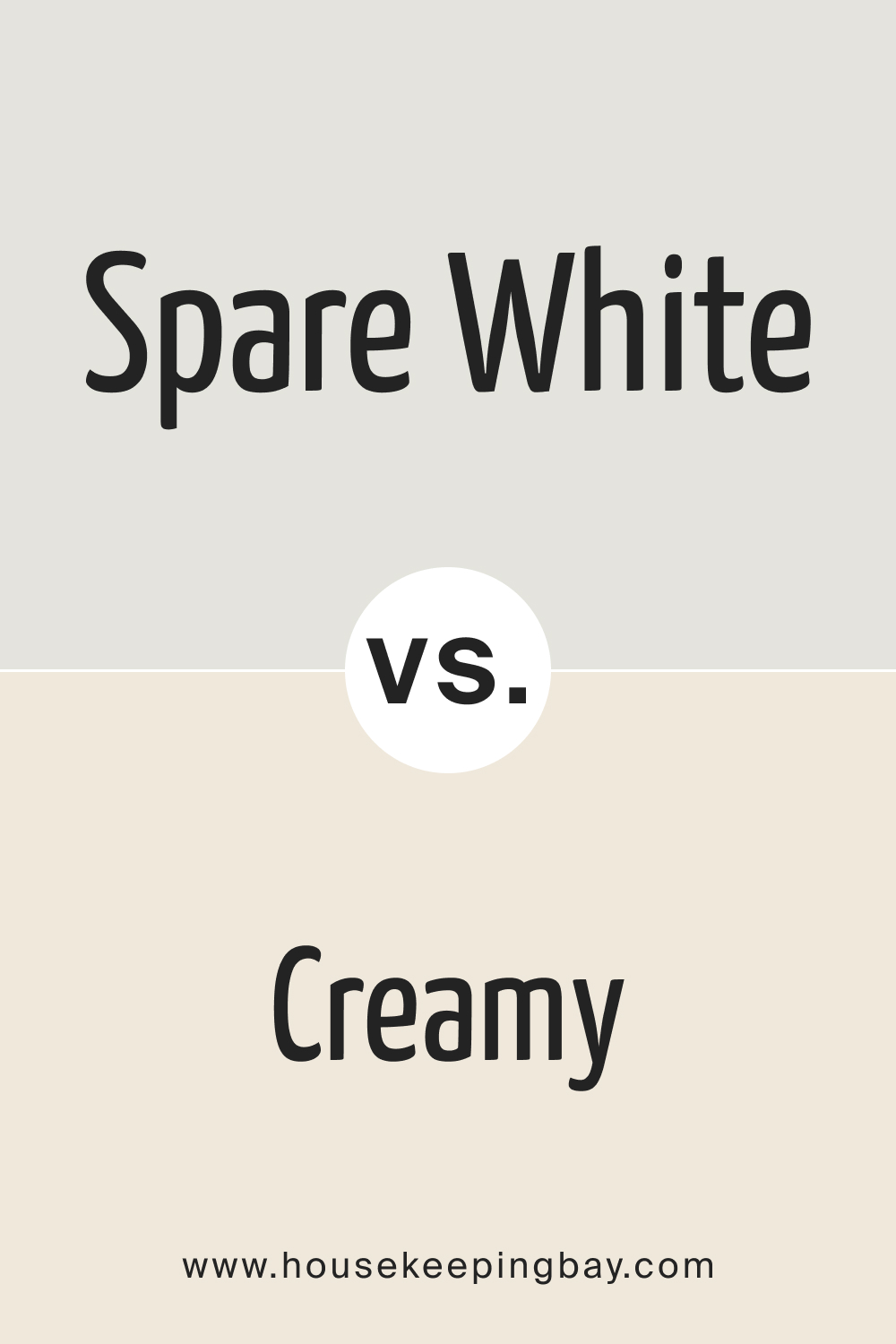 Spare White vs SW 6385 Dover White
Dover White is a warm, creamy white with yellow undertones, making it noticeably warmer than Spare White. While Dover White provides a sunny, cheerful vibe, Spare White offers a calm, serene atmosphere.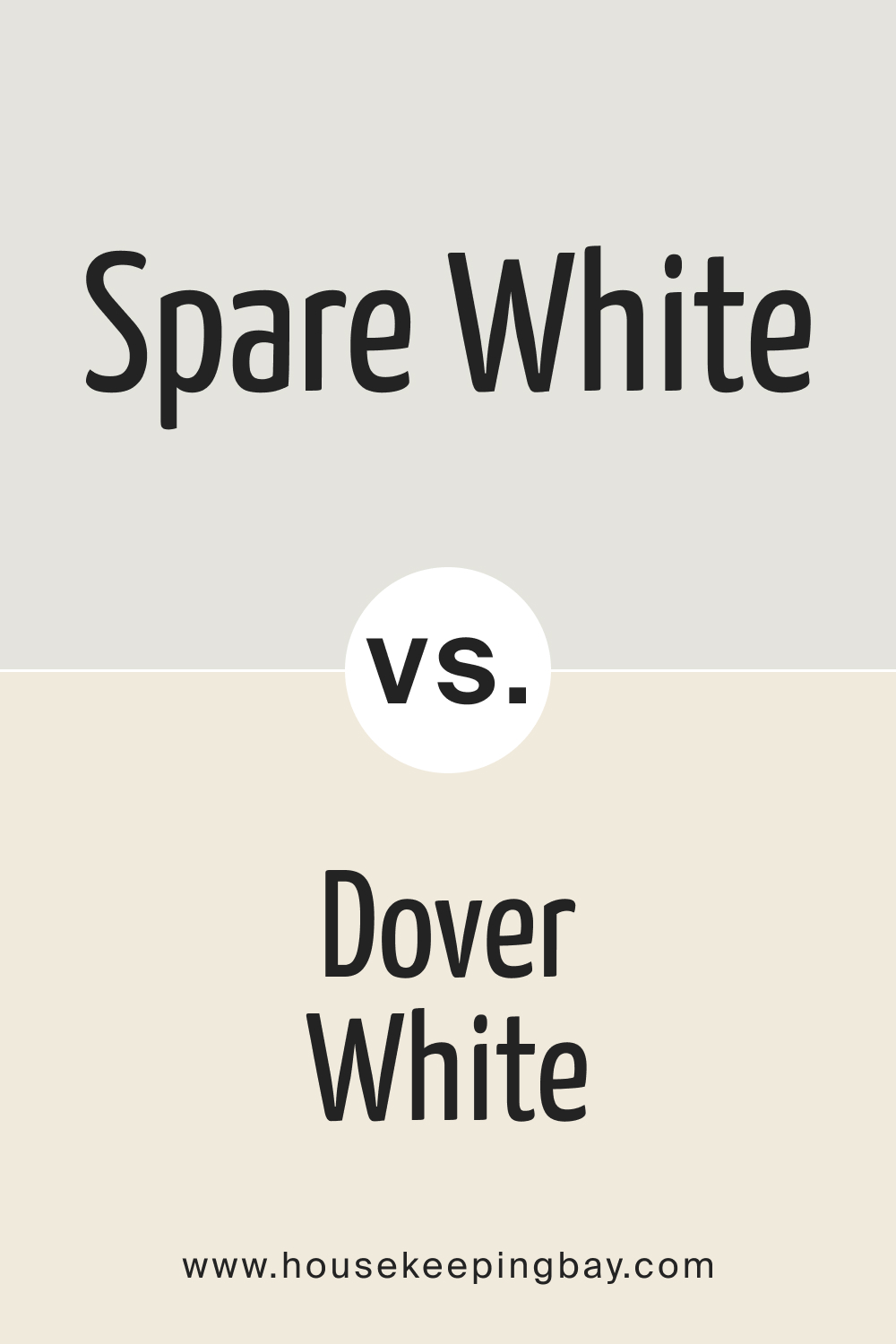 Spare White vs SW 7530 Barcelona Beige
Barcelona Beige is a warm beige with subtle taupe undertones. It's darker and warmer than Spare White, making it a good choice for those who want a richer, more enveloping color.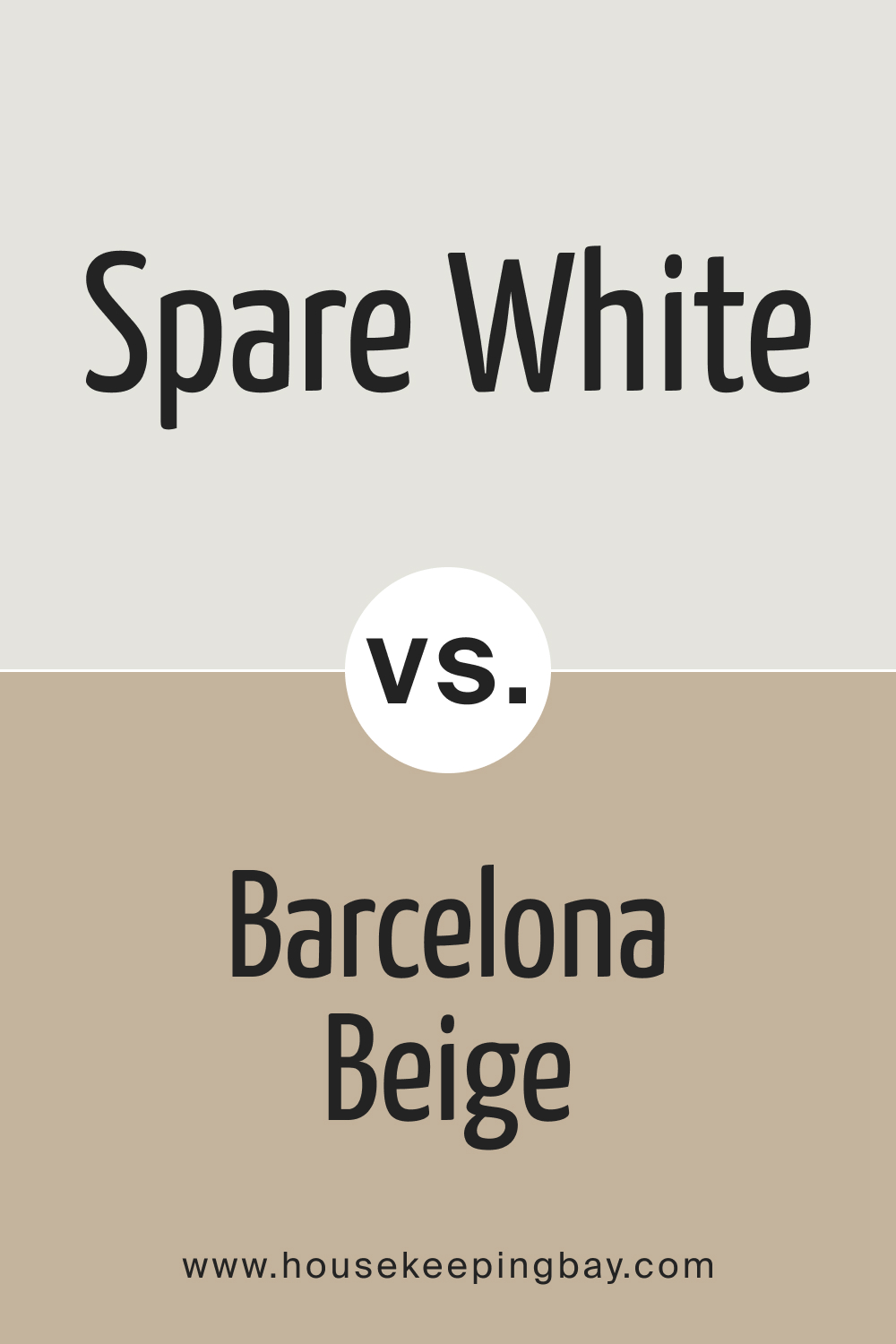 Spare White vs SW 6000 Snowfall
Snowfall is a clean, bright white with only a hint of gray undertone, making it appear cooler and brighter compared to Spare White.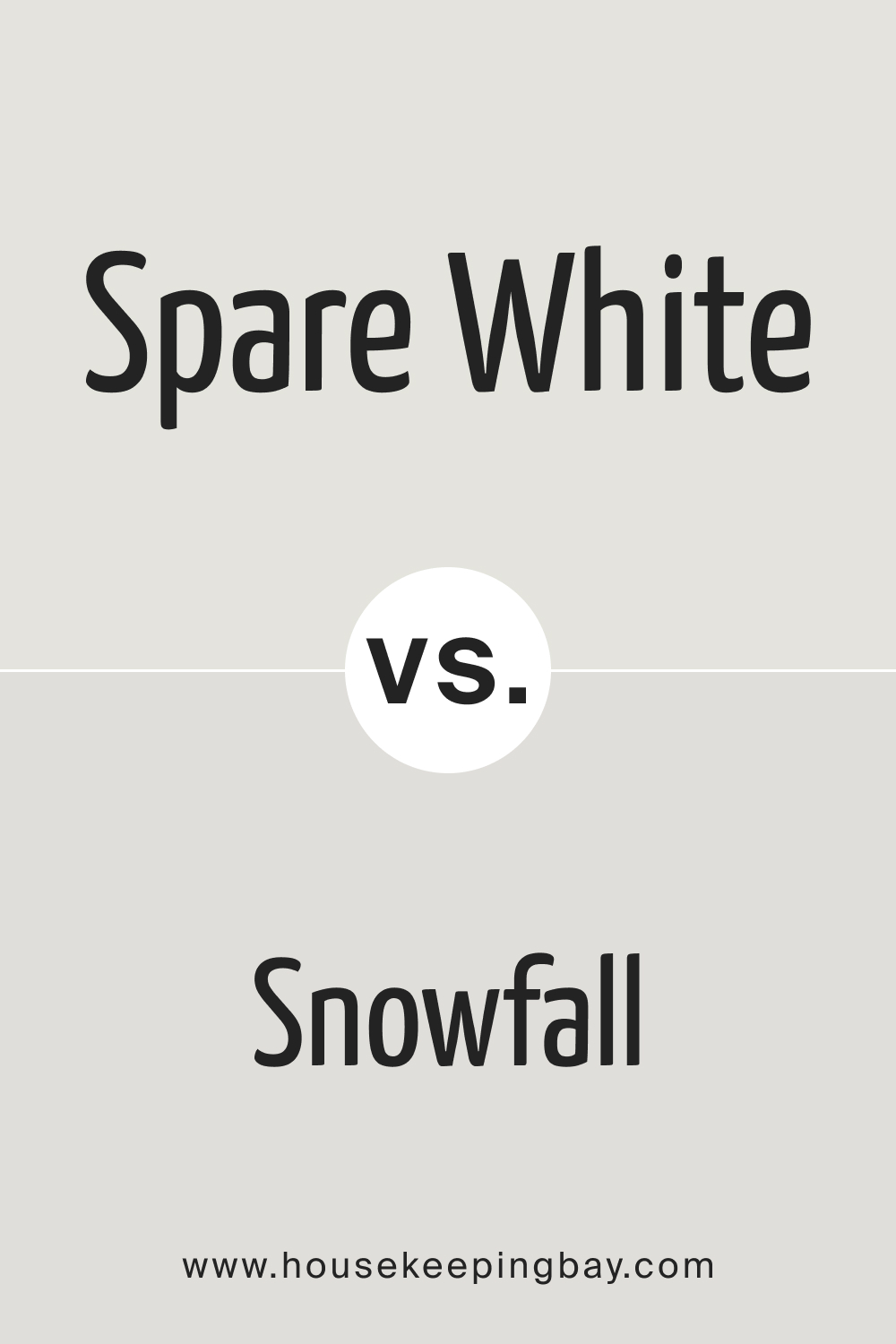 Spare White vs SW 6140 Moderate White
Moderate White is a warm, beige white. It's significantly warmer and deeper than Spare White, making it a good choice for those who want a warm, cozy ambiance.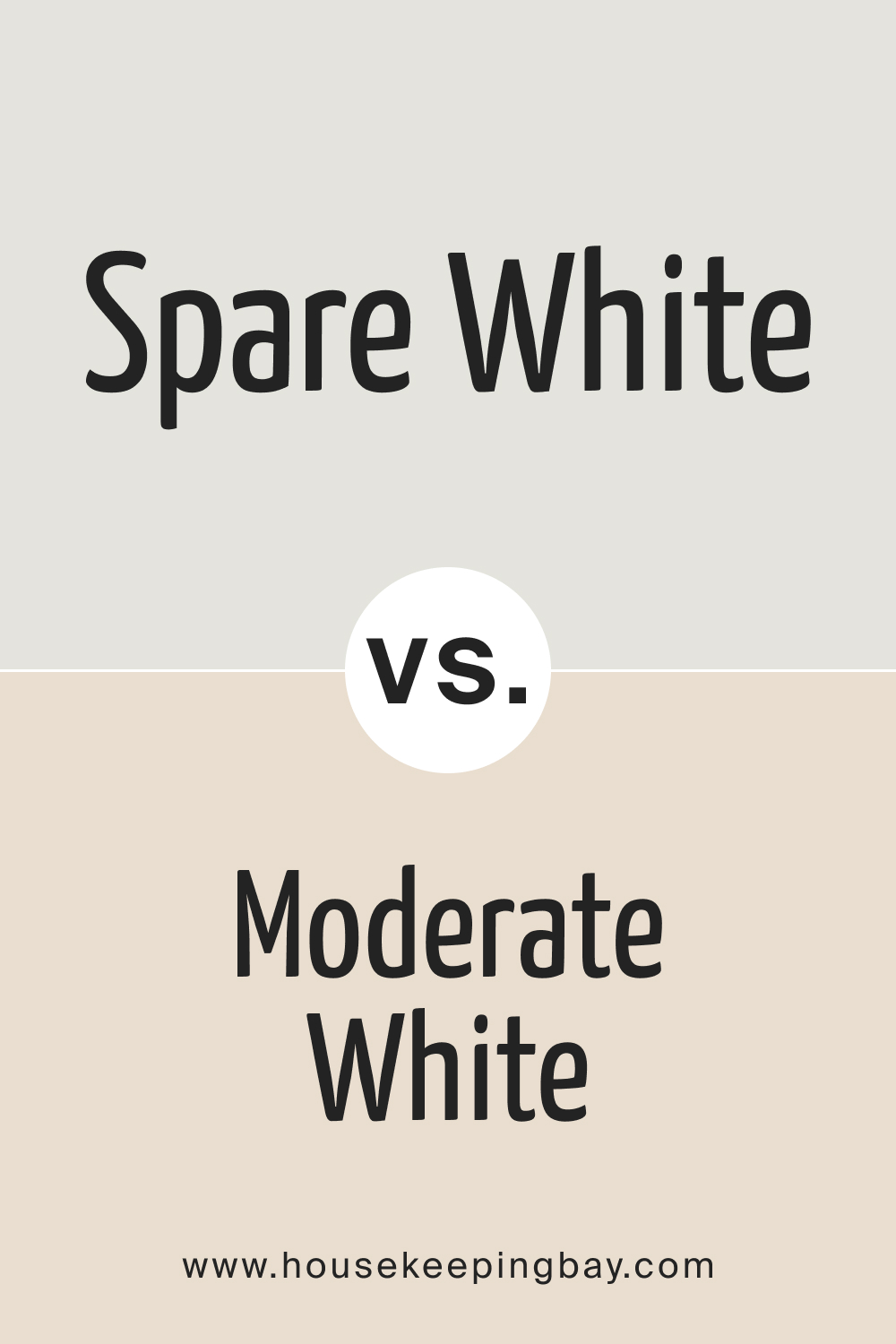 Conclusion
Sherwin-Williams SW 6203 Spare White is a versatile, soft off-white that can work beautifully in virtually any space. Its subtle gray undertones give it a cool, soothing effect, while its high LRV helps make spaces appear larger and brighter. Whether you're painting an interior room or an exterior facade, Spare White is a reliable choice that can enhance the beauty of your home.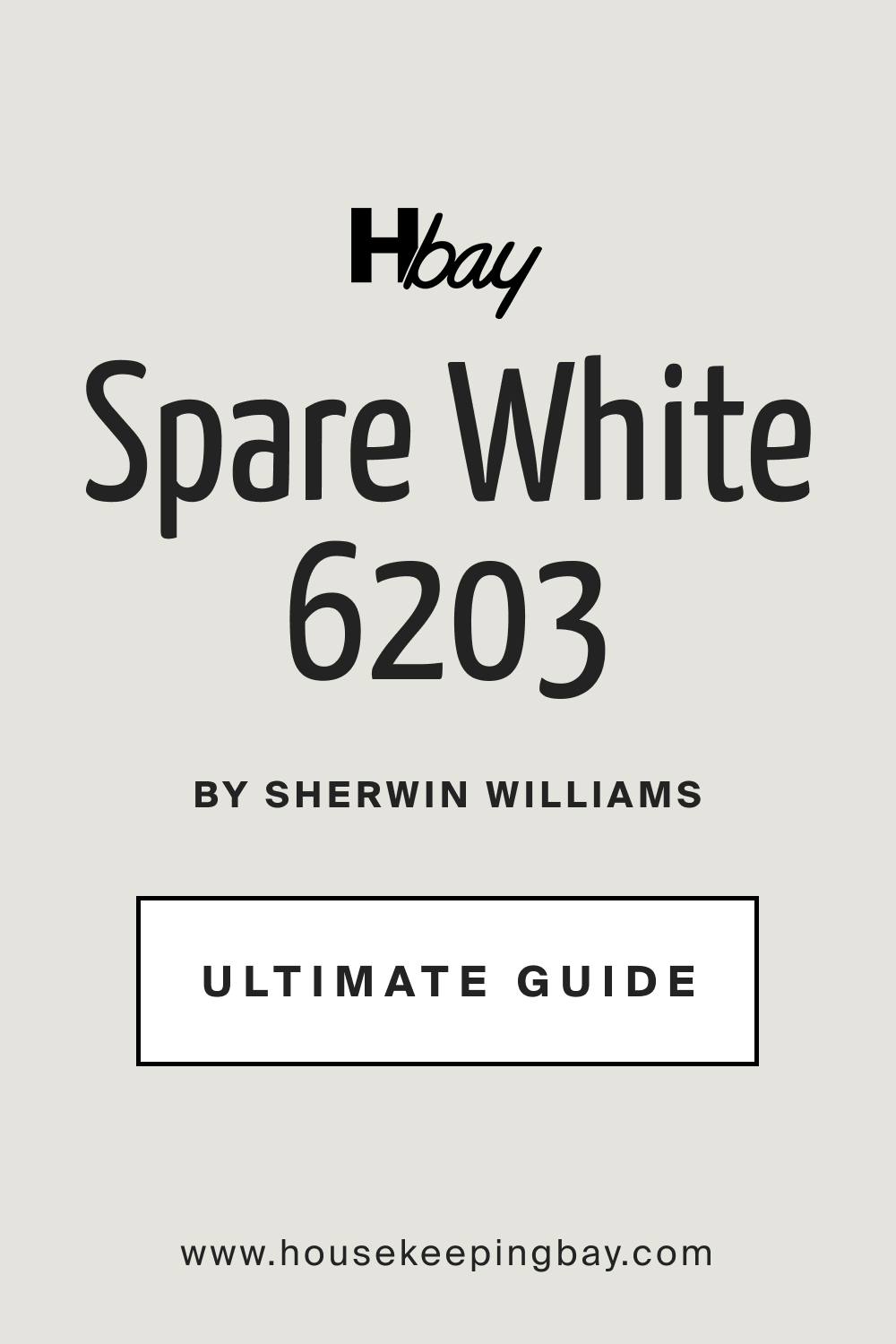 Frequently Asked Questions
⭐What is the undertone of SW 6203 Spare White?
Understanding the undertone of a paint color is crucial as it can influence how the color appears in different settings and how it pairs with other colors.
⭐What is the ideal type of finish for SW 6203 Spare White?
Different finishes (like matte, eggshell, semi-gloss, etc.) can have an impact on the appearance of a paint color. Customers might be interested in knowing what type of finish would be best suited for this specific color.
⭐How many coats of SW 6203 Spare White are typically needed for full coverage?
It's important for customers to know the number of coats required to get the true color and full coverage.
⭐How does SW 6203 Spare White look in different lighting conditions?
The appearance of a paint color can significantly change depending on the lighting. Customers would be interested to know how this color performs in natural daylight, under artificial light, or at night.
⭐Which colors coordinate well with SW 6203 Spare White?
Color coordination is essential in interior design. This question helps users determine the best color palette to use alongside SW 6203 Spare White for their painting project.