The decision to repaint our home interior walls is always followed by quite a complicated task of choosing what color exactly is supposed to be applied onto those surfaces. If you are an experienced painting veteran, this will not be an issue for you. However, since most of us are newbies, deciding on the wall paint color turns into a real quiz!
Luckily, as a home painting freshman, you can always opt for a neutral paint color and win. For instance, Benjamin Moore brand has a gorgeous Pale Oak paint that can become your painting staple since it is very versatile and can be used in almost any room.
This is why we decided to tell you more about this color today. You will learn what kind of paint color it is, what other colors it can be combined with, and what rooms it is best to apply it onto the walls in your home.
What Is Pale Oak Paint By Benjamin Moore?
Everyone (or at least most of us) knows that, when you are about to pick up a paint color to apply it onto your interior walls, it is essential to figure out what type of color it is. Like this, you will know for sure what other colors will go well with it, and what colors are better to avoid.
So if we take a closer look at Benjamin Moore Pale Oak, at the Encycolorpedia we will see that this paint color can be considered a light neutral. It does tend to look a bit warmer than typical greige colors, and if you, for instance, take a look at it in a bright natural light, it will even look like a warm off-white! However, when applied in the rooms that have less natural lighting, this color might even read as a soft light greige.
Because of this nuance, it may be somewhat tricky to make use of it for interior painting projects since you will have to take the lighting in each particular room into consideration. This is why we suggest you read on and learn more about this color structure, undertones, and coordinating colors to better understand what you might be dealing with.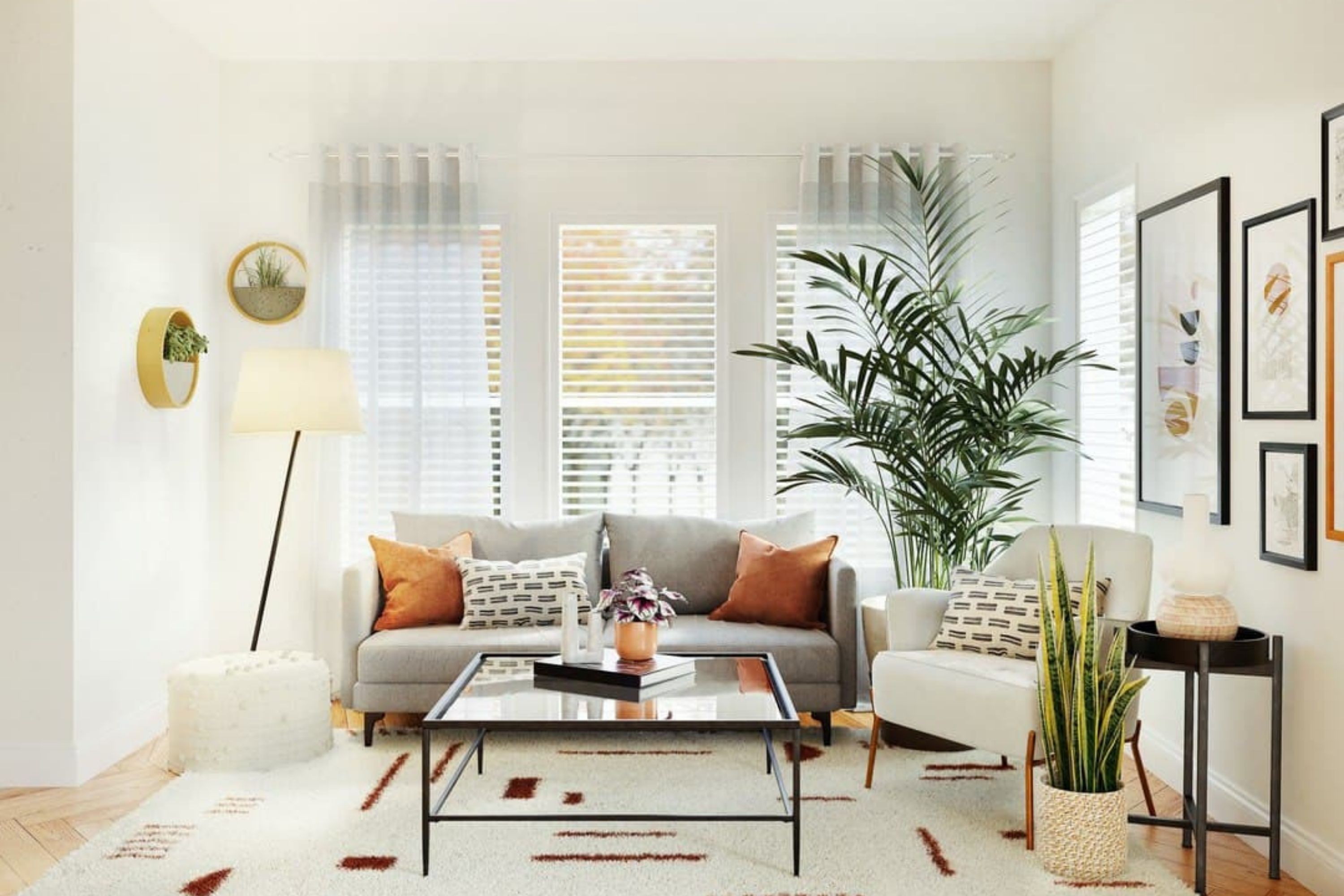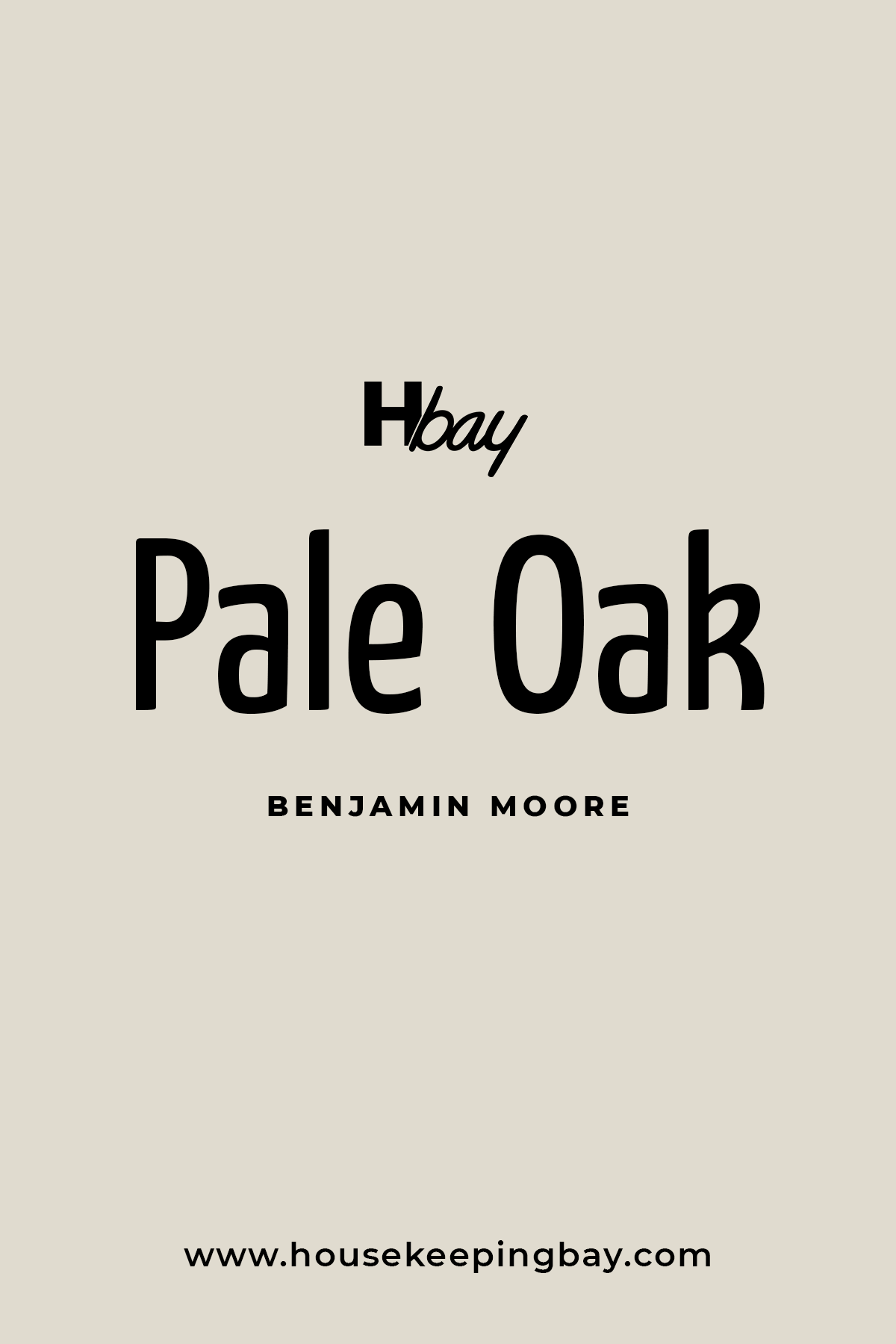 Get a sample of Pale Oak (get a sample from Samplize )
What Are Pale Oak Undertones?
When you know exactly what undertones your paint has, it means a lot since this information will help you to define how your walls will look under different lighting conditions or when being paired with colored pieces of furniture or decor elements around the area.
If we take a look at Pale Oak paint color by Benjamin Moore, we will see that it belongs to a neutral family of colors which makes it quite a tricky and multipurpose paint. In terms of its undertones, this color becomes even more complex!
See, BM Pale Oak looks warm and soft neutral at the first sight. However, this color can sometimes exhibit slight yet still visible pink-purple undertones! So if you try to stay away from that purpleness, you should probably be more careful with this color. Nevertheless, try not to branch it at once since Pale Oak is still worth checking (only remember having a backup just in case).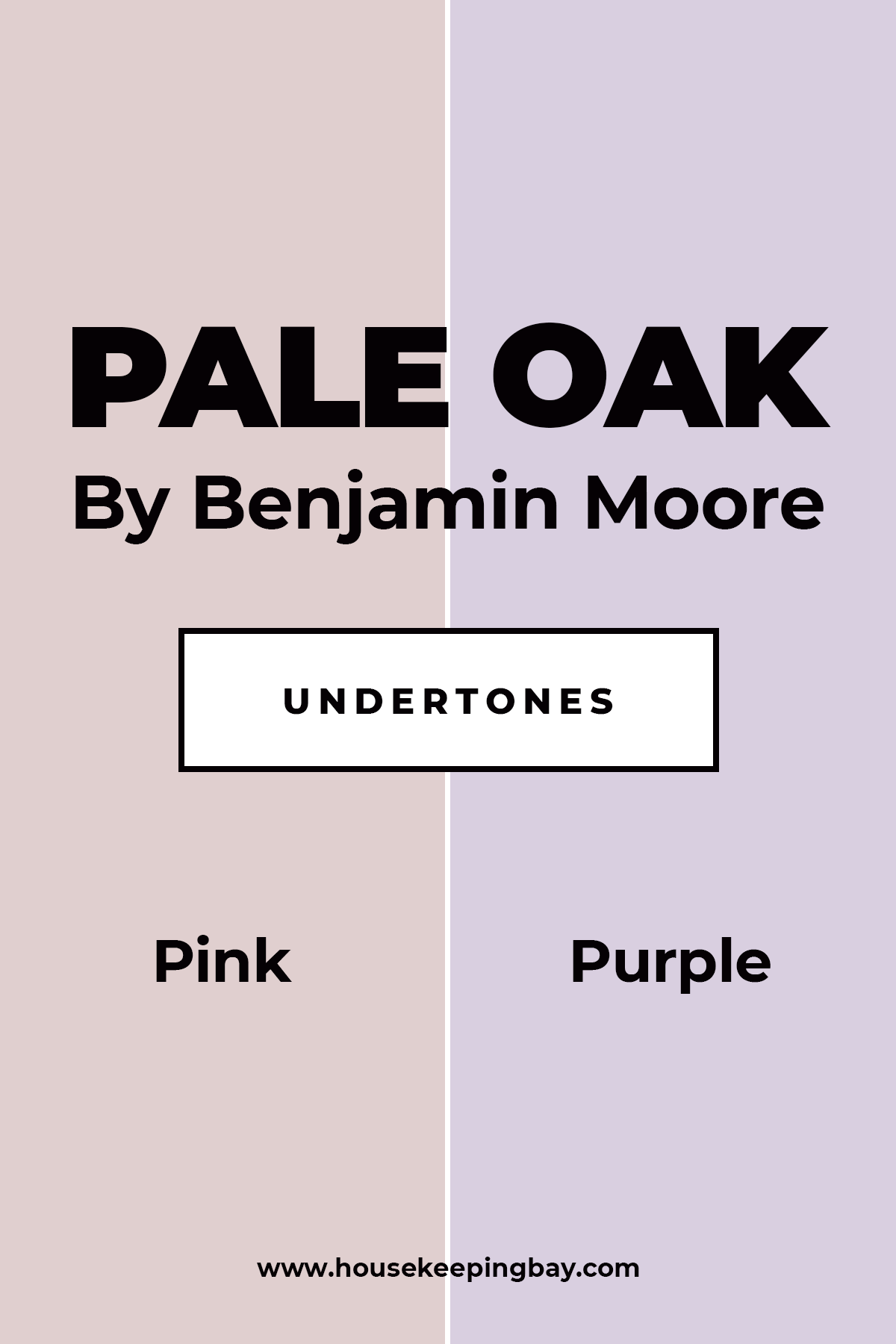 Is Pale Oak a Warm Or a Cool Color?
This question may become your number one point of concern, especially if you have strong preferences regarding the warmth or coolness of your living space! You have definitely noticed many times that in a room painted with cool colors, you feel kind of "colder" than, for instance, in a space painted beige or similar warm colors.
So if this is really important for you, and you are hesitating whether to paint your interior walls with Pale Oak or not, our answer is yes if you are looking for a warm paint color. This is because Pale Oak belongs to warm neutrals or even neutral greiges as it is sometimes referred to.
When you use this color in a room that has a lot of natural light, you will see that Pale Oak transforms into a more warm off-white. But in a room with little natural lighting, it will show way more of its warm light greige notes.
Benjamin Moore Pale Oak
Coordinating Colors For Pale Oak By Benjamin Moore
Since painting all the rooms in your house the same color is way too boring, we choose to make use of several paint colors, preferably choosing coordinating colors so that they could match each other well.
However, if you are using neutral or greige, it may turn out to be quite complicated to pick up proper coordinating shades to create a harmonious ensemble! The colors of this group look mostly quite similar which makes us stumble not knowing what shades to choose.
This is why, if you decided to apply Pale Oak in your home, grab the list of its optimal coordinating colors that will surely look great together:
Cloud White
Ivory White
Healing Aloe
Smoky Green
Newburg Green
Chelsea Gray
Each of these colors will pair with all the rest of the list ideally creating well-balanced color combinations that any interior will win from. And since you can find both dark and light colors on the list, it enables you to play with them and create your own combinations of two or more paints.
Like with every paint colour, We highly recommend using SAMPLIZE.  Samplize is a peel & stick paint sample that you can easily move around your room for over HALF THE COST of traditional samples – and they deliver right to your front door!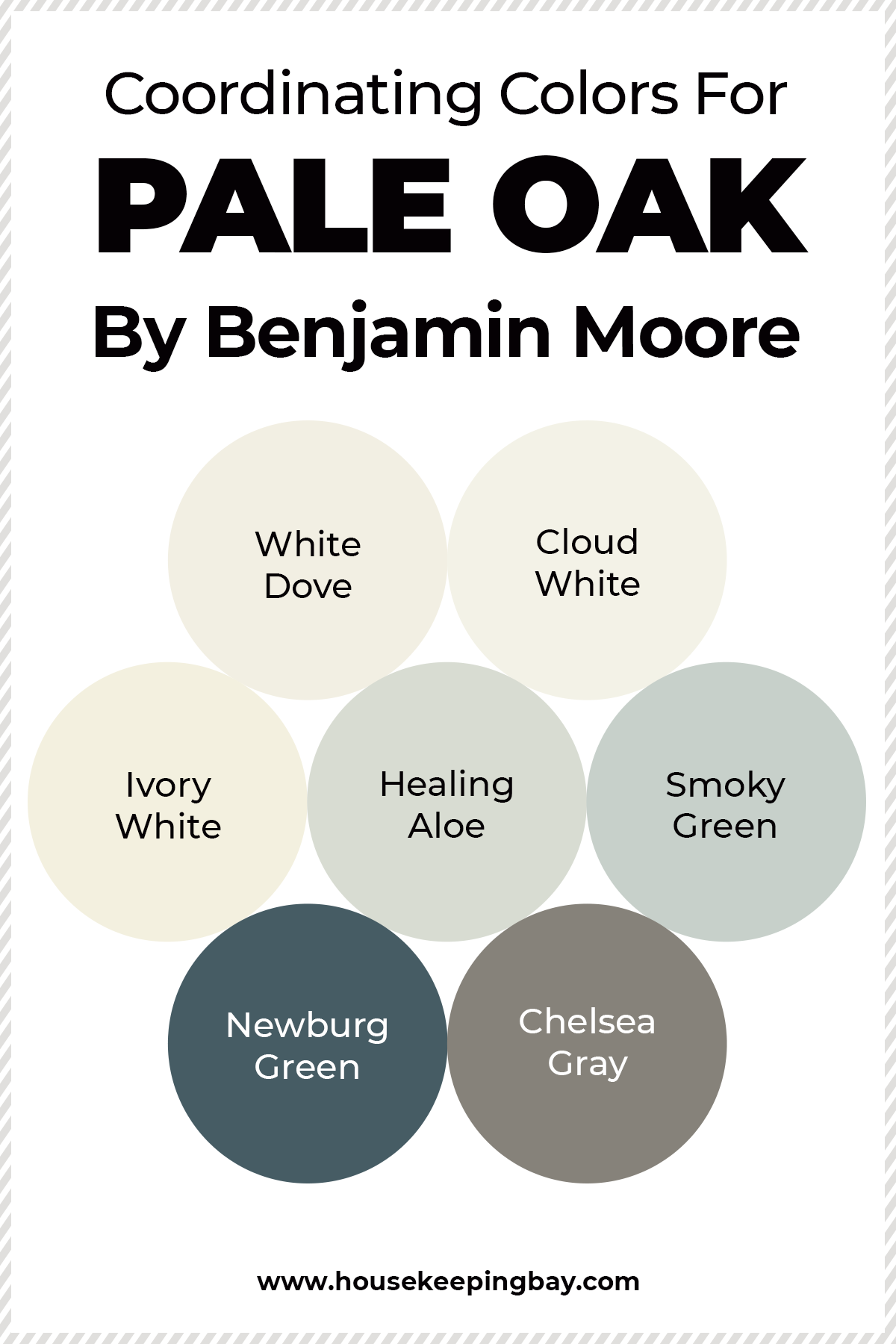 Trim Colors For BM Pale Oak Paint
Trim color is as important as coordinating colors when you decide to repaint your interior walls. Depending on how harmoniously the trim color you choose match the main color on the walls, the entire impression of the room may differ.
They say that neutral colors and those that are similar to them (e.g. greiges, light beige and light gray shades, etc.) are easier to pick trim colors for. However, homeowners often find it rather difficult to find the color or colors that would work well with the paint they apply to their walls.
So if you have your interior walls painted with Benjamin Moore Pale Oak paint color and now you are looking for a suitable trim color, we can recommend you a couple of really nice ones:
Chantilly Lace would be suitable if you are looking for a white trim color that will create a contrasting combination with the Pale Oak. Whilst Pure White leans more to the  undertones of Pale Oak, reading lighter and resulting in a less prominent (and less contrasting) yet balanced color combination.
How Does Lighting Affect Pale Oak?
The way your room is lit during the day and in the evenings means a lot when you are choosing what paint color to apply on the walls there. See, since Pale Oak paint color belongs to the family of neutral greiges, it means that this color is rather tricky when being differently lit.
And since it has pink and purple undertones that most of us do not welcome (even though they are not that prominent), wrong lighting may destroy the atmosphere in your room completely!
This is why, to help you avoid even the smallest flaw, we recommend you take into account a few handy reminds regarding the Benjamin Moore Pale Oak paint color:
This color tends to transform in different lighting. In a room with a lot of bright natural light, it will look more like a warm off-white.
In a room with little natural lighting or in artificial light, it will show way more of its warm light greige nature.
Take that into consideration when thinking of which room you should paint with this color. Depending on what atmosphere you want to have there, you might want to look for another neutral or greige that will be less sensitive to light.
What is LRV? Read It Before You Choose Your Ideal Paint Color
What Is the Best Trim Color of Pale Oak?
Since Pale Oak is neutral or even neutral greige, it will go very well with trims! However, it is important to pick up the correct paint combination so that both colors could reveal themselves to their best.
Depending on what your home general color palette is, you might want to pick up a trim color from one of the following alternatives:
Cloud White
Ivory White
Healing Aloe
Smoky Green
Newburg Green
Chelsea Gray
Here you can find both darker and lighter colors which means that you can experiment with the contrast and intensity of color combining darks with lights or only dark colors.
Where In Your House Is It Best to Apply of Pale Oak?
Benjamin Moore Pale Oak is a neutral paint color with prominent greige notes in it which means that it is the same versatile as other greiges and neutrals. As a result, this paint can be used in almost any room in your house. Why almost? Well, because unlike most of its neutral "relatives" on a Benjamin Moore color palette, this guy is quite sensitive to lighting which puts certain limitations on the area of its use.
Nevertheless, this paint color can be used in quite many areas in your home, from living room or bedroom to kitchen and even a hallway! This paint is even getting more and more popular as a neutral and warm exterior color!
Pale Oak In the Living Room
When applied in the living room, Benjamin Moore Pale Oak creates a very soft and nice warm look, especially if the room has plenty of bright natural light in it. In this case, the paint reveals its warm off-white notes that add extra coziness to the space making it look even lighter and more spacious and airy.
However, if your living room lacks natural light and you have to use mostly bulbs and lamps to keep it lit, be prepared that this paint will look more like greige yet still soft and warm.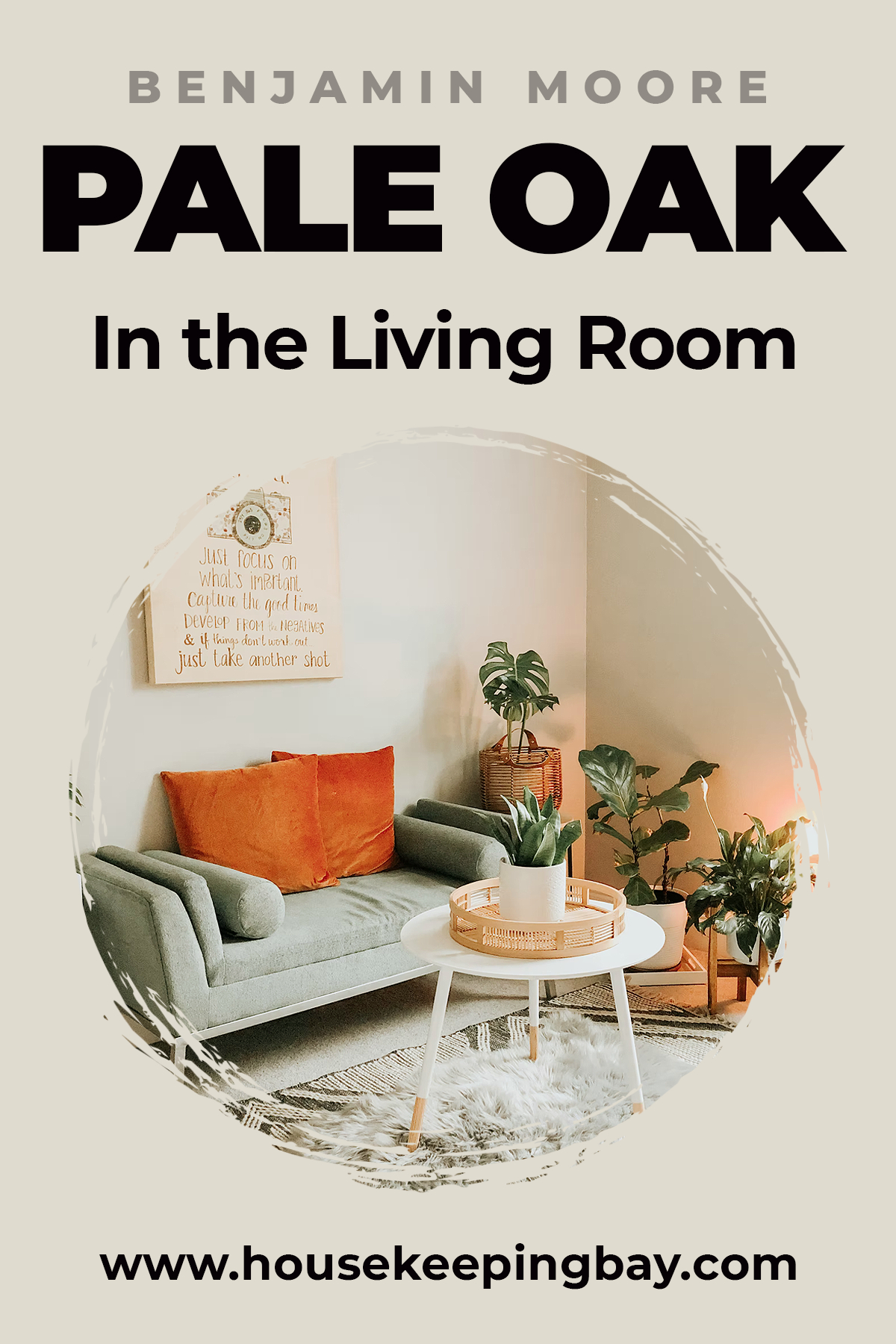 Is Pale Oak a Good Pick For Your Kitchen?
Basically, yes, this paint color can be used in the kitchen as well. But again, consider the lighting.
If your kitchen has small windows or it lacks natural light all the time, this paint will look pretty greige. Some homeowners who painted their kitchens greige, with Pale Oak even reported that the walls seemed almost like beige!
However, if your kitchen is filled with sunlight most of the day, you will see how refreshing Pale Oak will look on its walls revealing its warm off-white notes!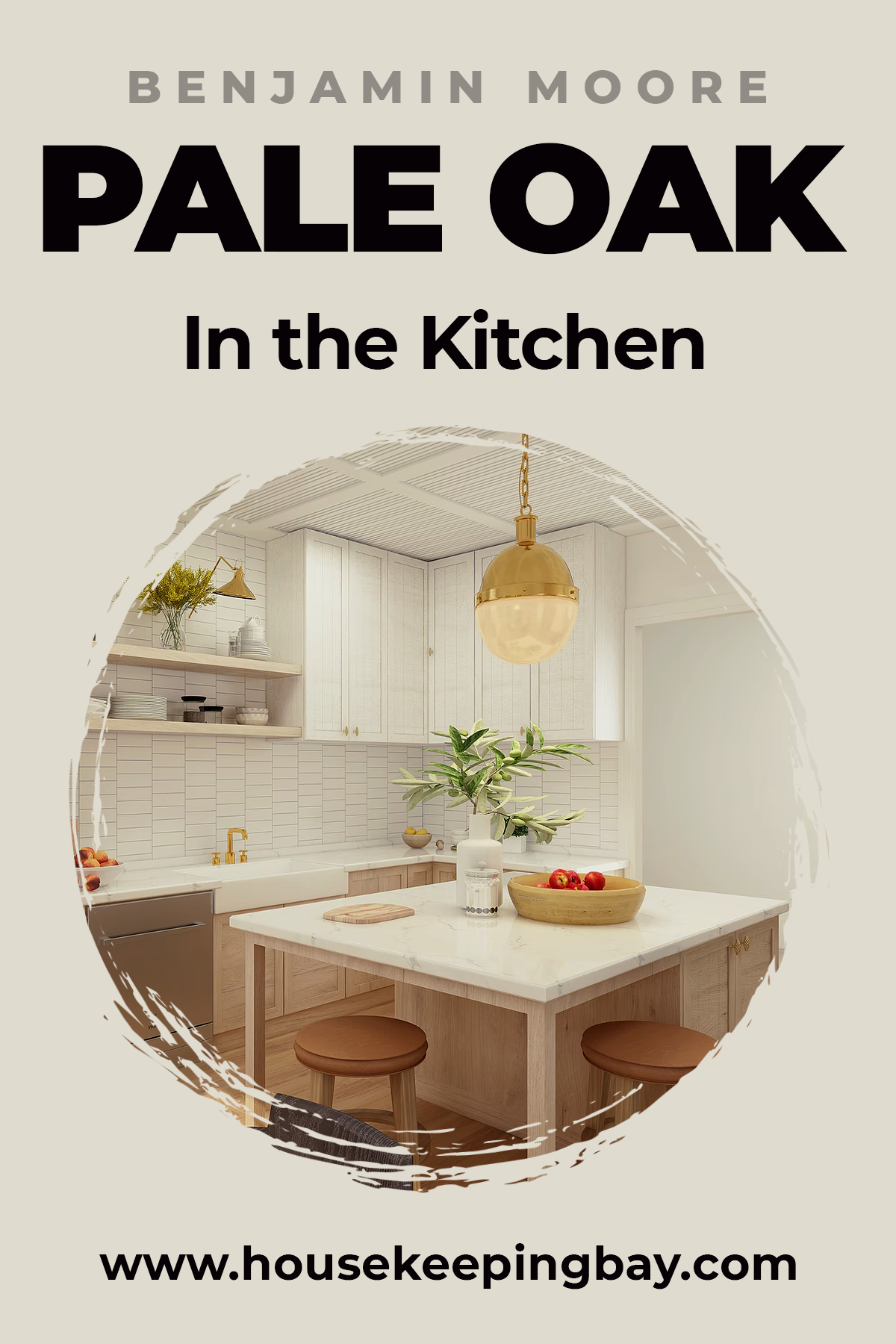 How Will Pale Oak Work On Kitchen Cabinets?
If you just touch your kitchen cabinets with this paint color, you will get nice neutral greige color accents around the room.
This can be a good choice if your kitchen walls are white or, for instance, if they are painted another neutral or greige that combines with Pale Oak well.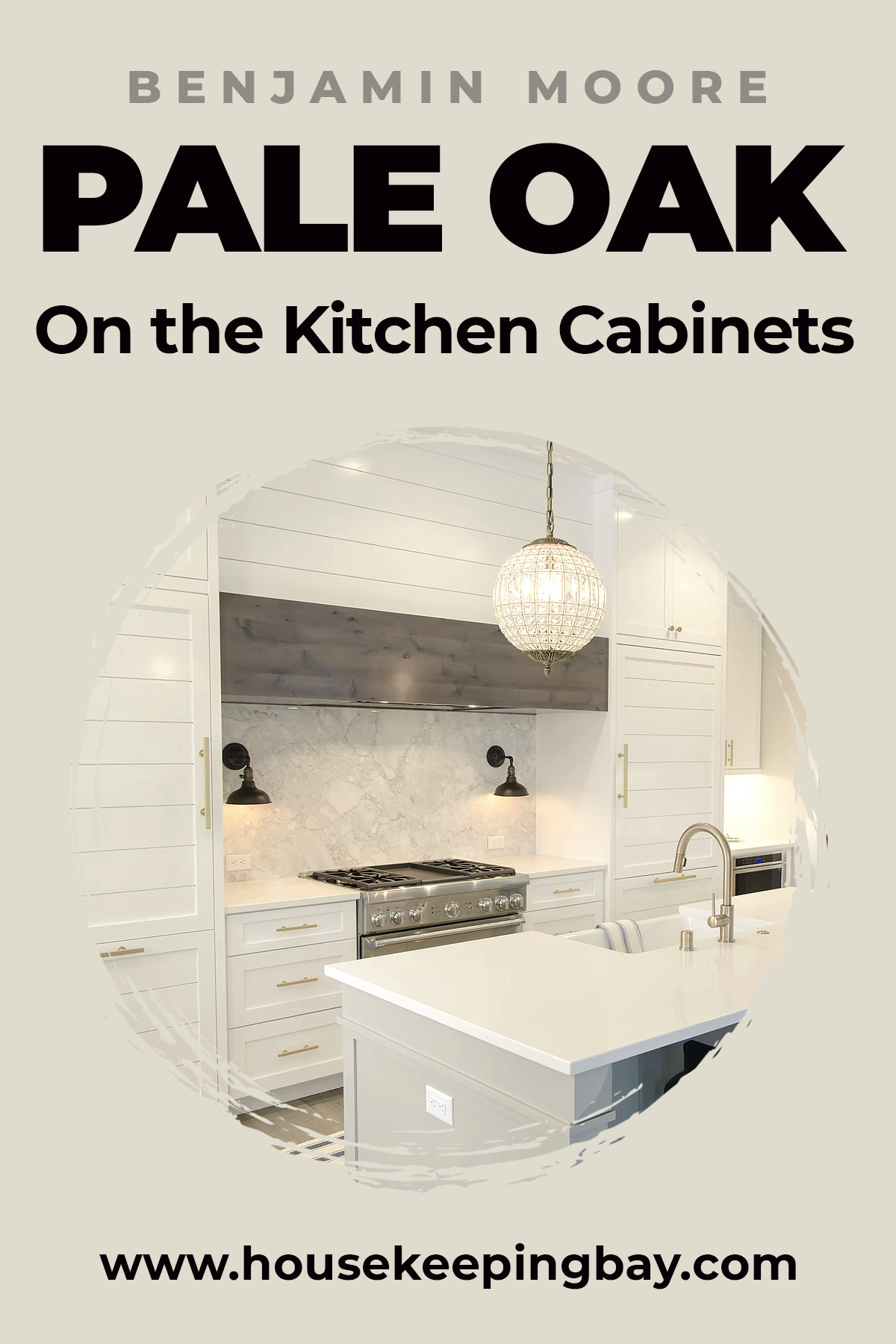 How Well Will Pale Oak Work With Other Colors By Benjamin Moore?
If you already have rooms in your house painted with other neutrals and/or greiges, picking up the new color that pairs with them well will always be a challenge. However, it is not an impossible task, and to help you and turn your whole house into a balanced color ensemble, we prepared descriptions for a few paint color pairs that have Pale Oak by Benjamin Moore and that will work great with each other.
Pale Oak vs. Edgecomb Gray
If you put these two colors side by side, you will notice that Edgecombe Gray looks way more beige in comparison to Pale Oak that is almost gray beside its color companion. (get a sample of Edgecomb gray)
However, they do create a nice pair of a cooler and a warmer color, so if this is what you are looking for, consider using this pair of colors.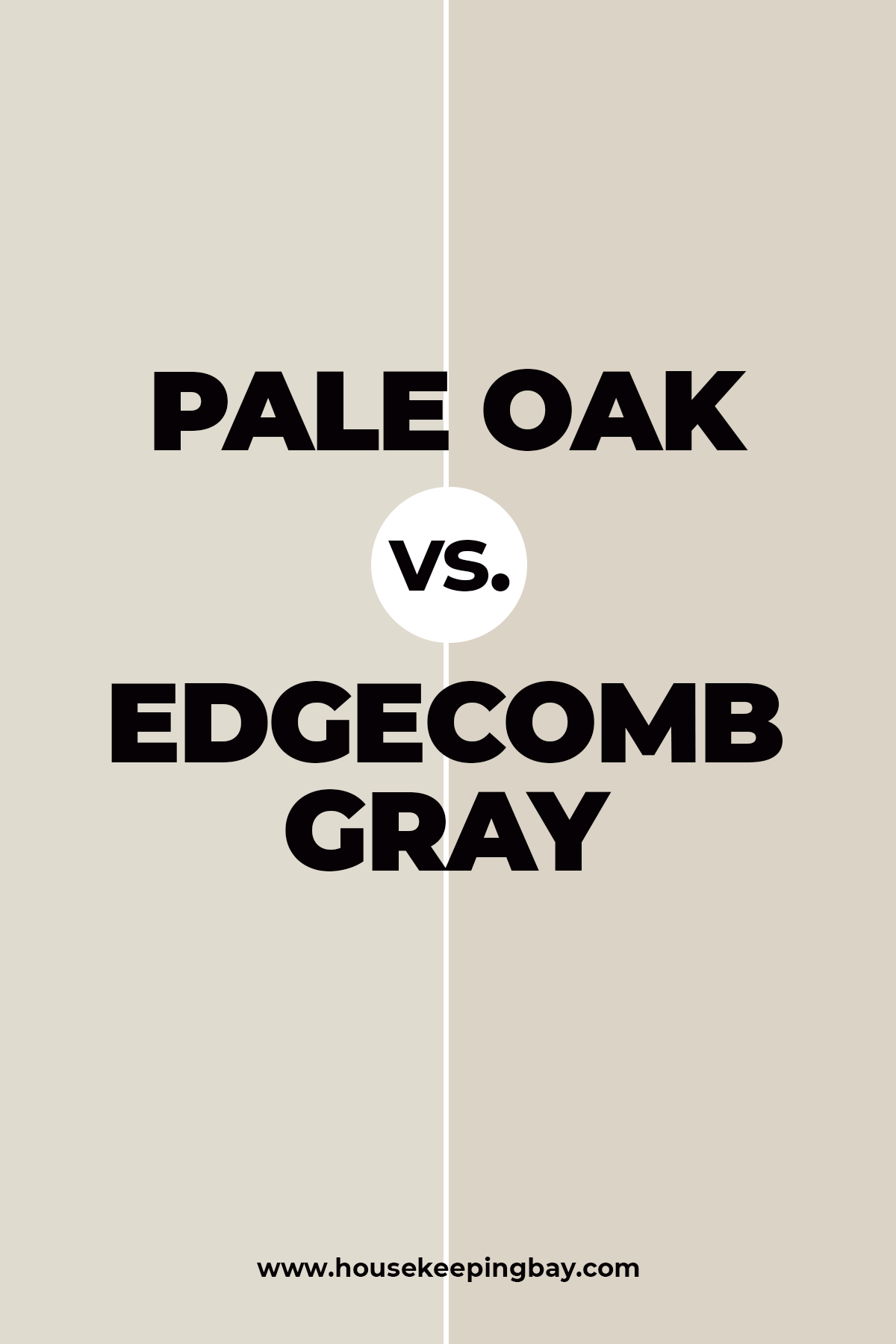 Pale Oak vs. Agreeable Gray
At the first sight, they may seem to be almost the same, but if you take a closer look, you will notice that Agreeable Gray by Sherwin Williams looks somewhat darker revealing purplish undertones. Pale Oak, on the contrary, looks much lighter and closer to grayish beige. (get a sample of Agreeable Gray)
Nevertheless, since Pale Oak contains a bit of purple and pink undertones, these two colors look nice if used together, so feel free to combine them in the same room. They will create a well-balanced and harmonious tandem!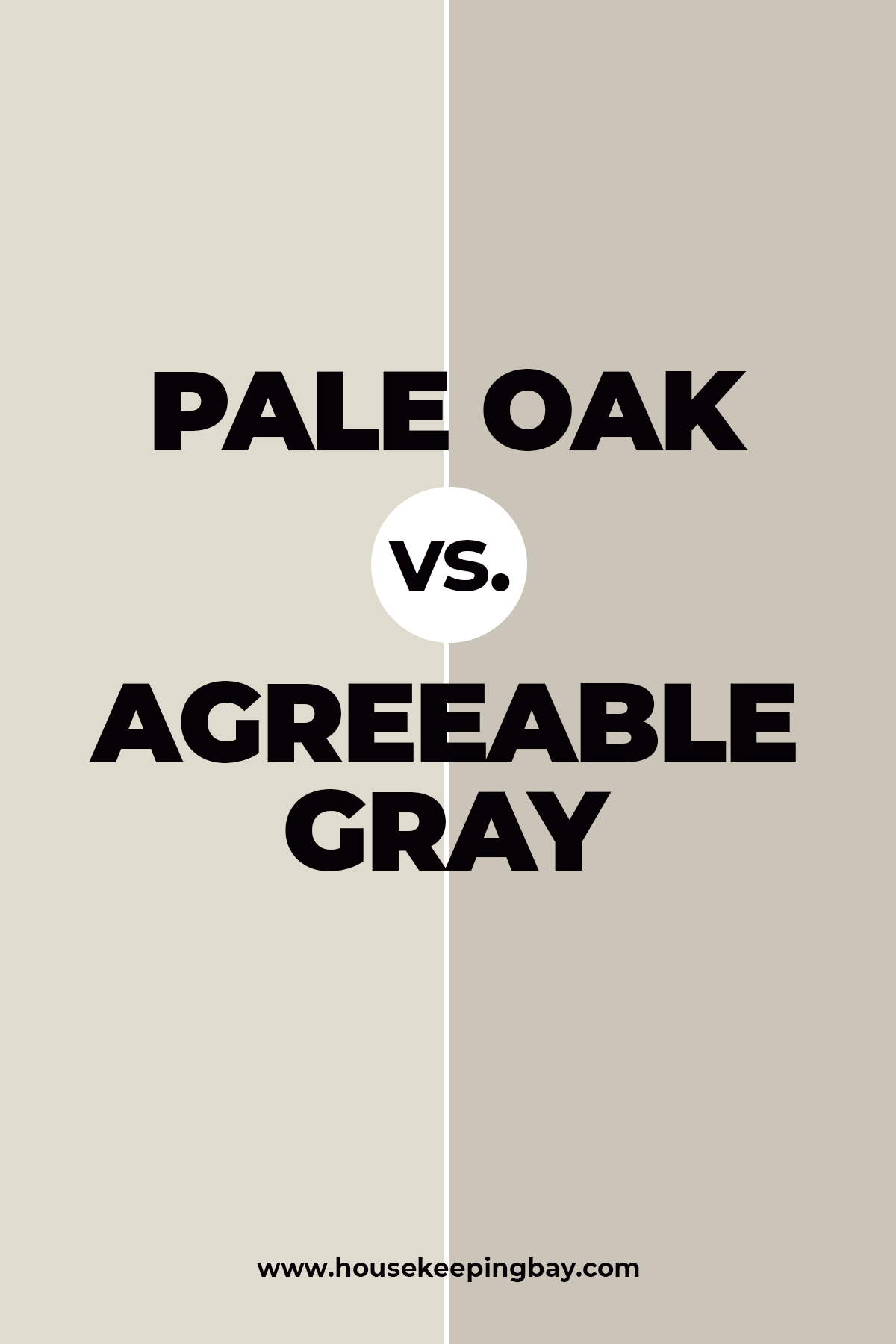 Pale Oak vs. Balboa Mist
These two really look almost the same if we put them side by side!
You will have to take a really close look to be able to see that Balboa Mist is a little bit darker and cooler. And since these colors do not create a noticeable contrast, using them together is probably not the best idea. (get a sample of Balboa Mist)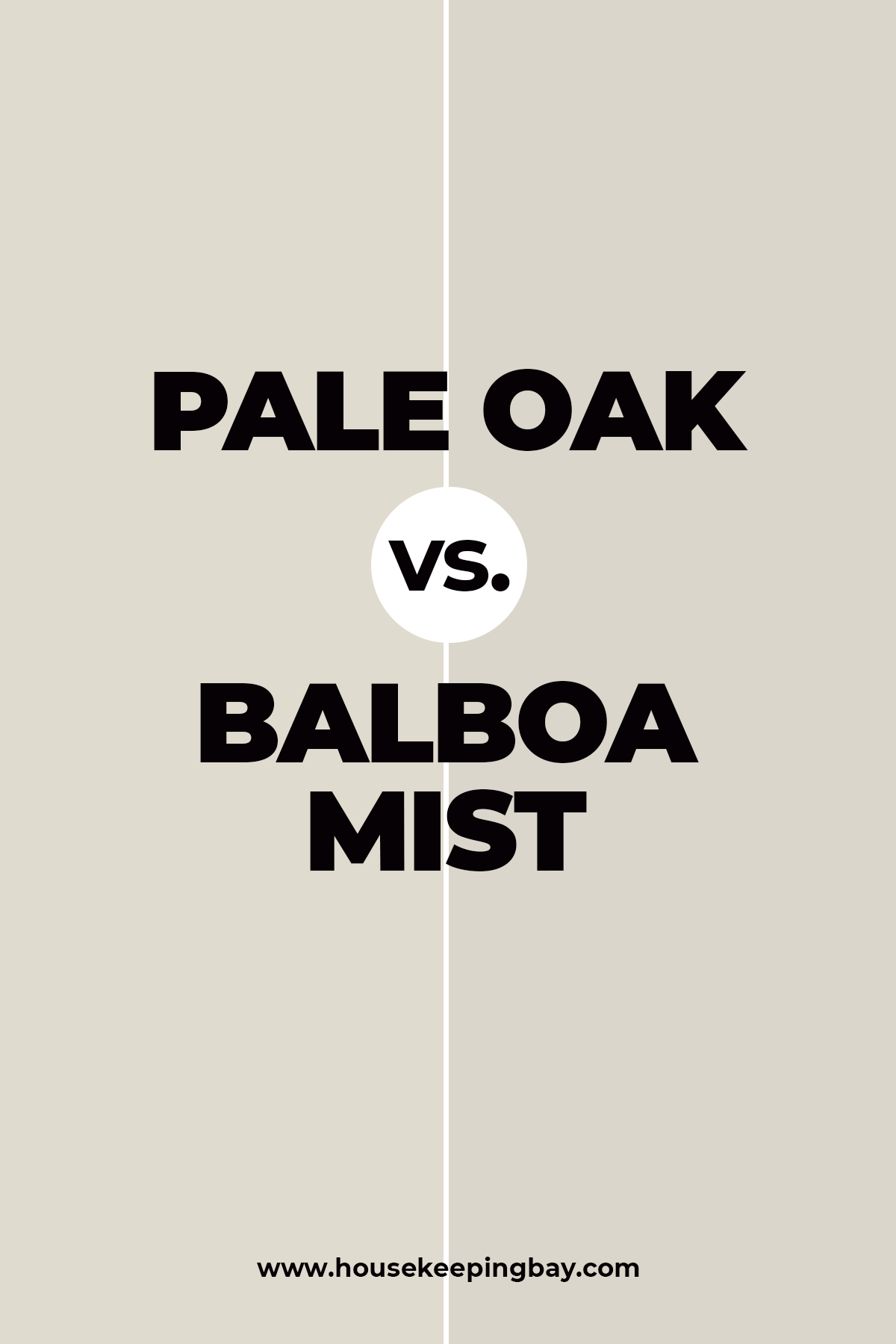 Pale Oak vs Classic Gray
Classic Gray is lighter with a somewhat more prominent greige tone in it if compared to Pale Oak.
If we put them side by side, they will, however, create a very well-balanced combo of warmer and cooler colors. (get a sample of Classic Gray)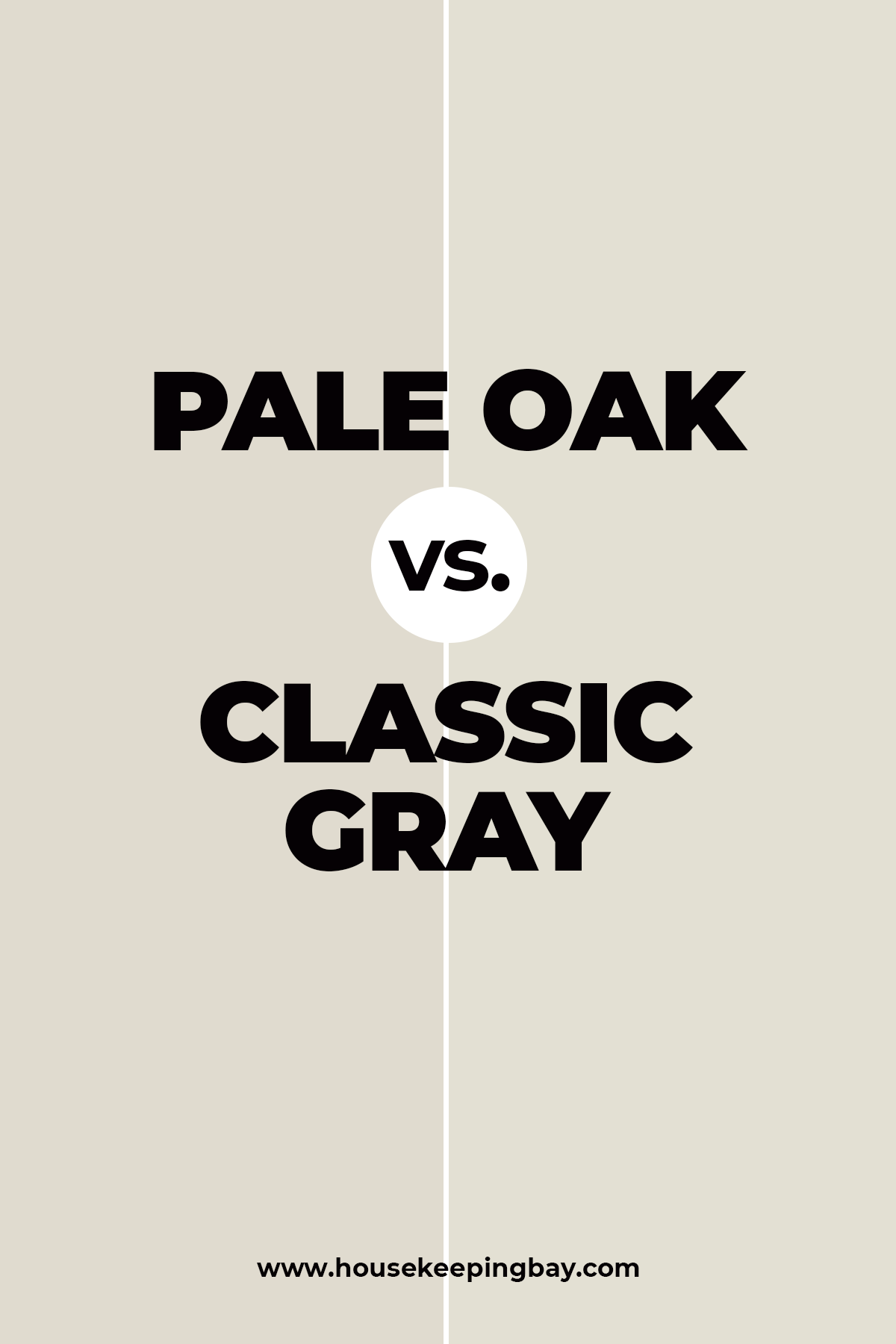 Pale Oak vs Revere Pewter
This is an absolutely great color combination!
Pale Oak leans more to cooler gray when being put next to the way darker and beige-like Revere Pewter.
In this pair, Pale Oak can be used as a trim color, and Revere will work greatly if used as an accent paint color. (get a sample of Revere Pewter)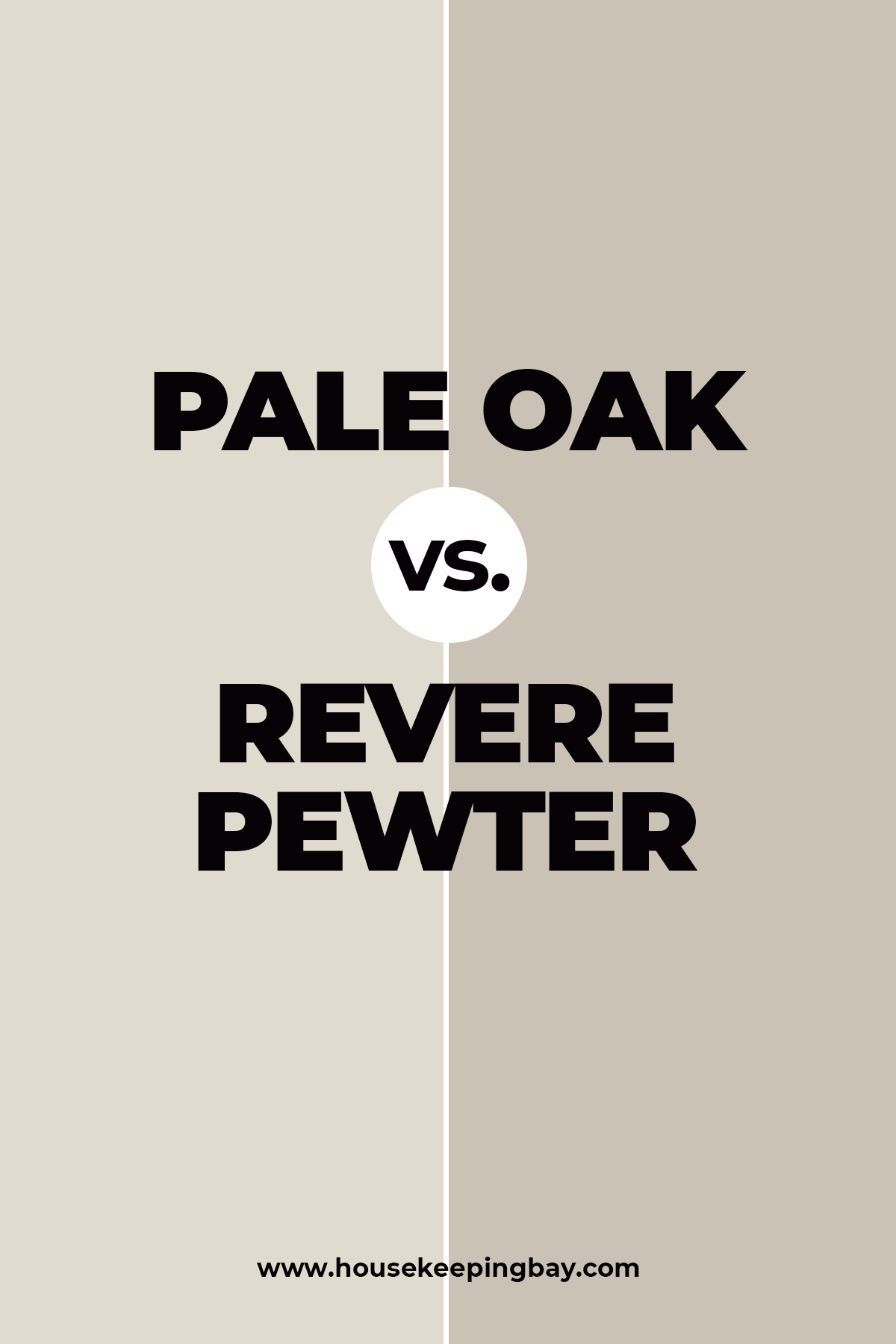 Pale Oak vs Accessible Beige
We do not recommend you combine these two since they are almost the same, nearly like twins! You need to really have an eye for colors to be able to notice that Pale Oak is somewhat more gray and Accessible is closer to beige.
This is why, if you thought of using them in the same room, consider picking another color to pair with Pale Oak since Accessible will not stand out at all. (get a sample of Accessible Beige)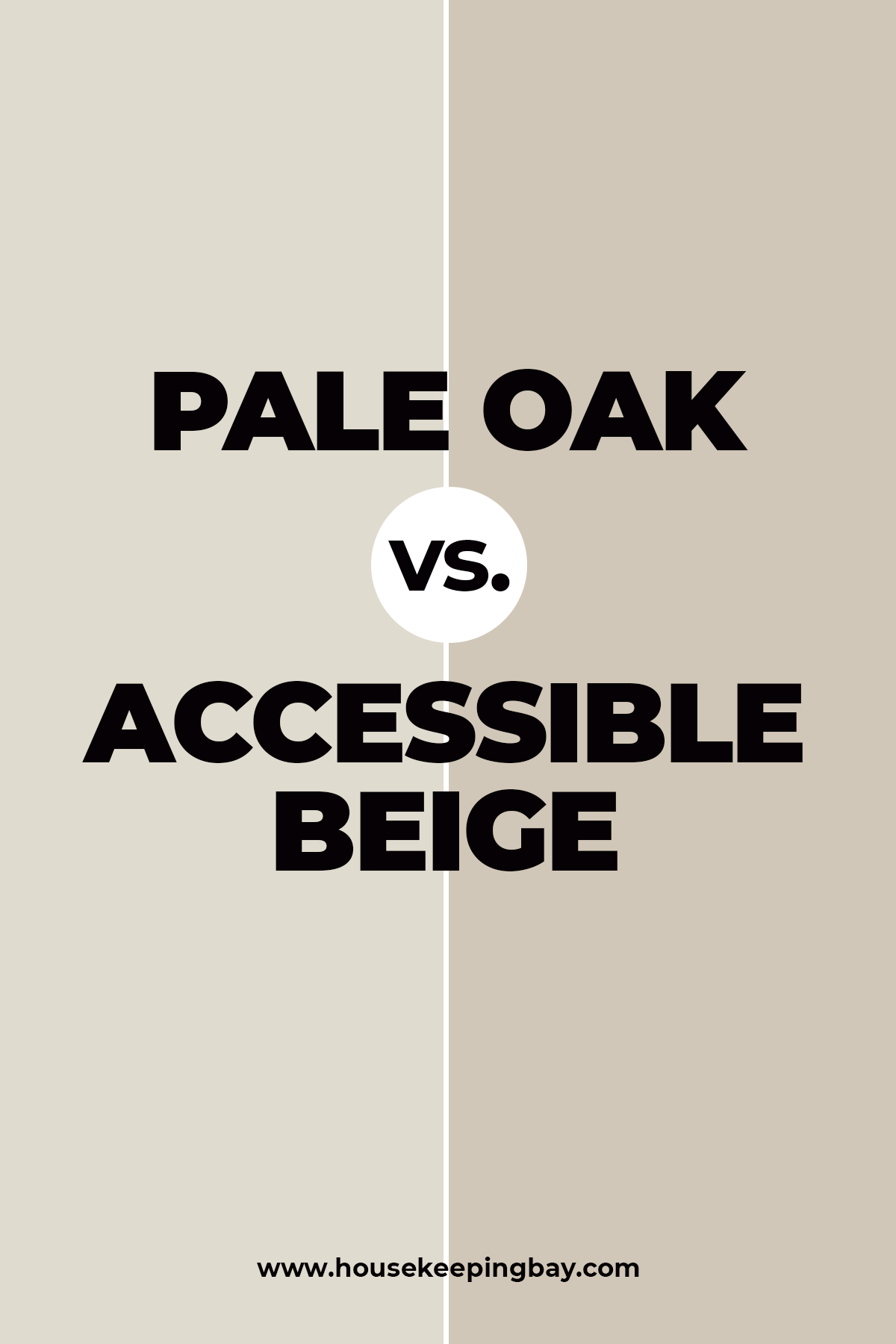 Pale Oak vs Repose Gray
Pale Oak has more noticeable beige undertones in comparison to a cooler Repose Gray that shows more of gray.
This is why they will not create an astonishing contrast, however, if you want to have a homogeneous space that only has a slight difference in shades, thinks of these two colors as an option. (get a sample of Repose Gray)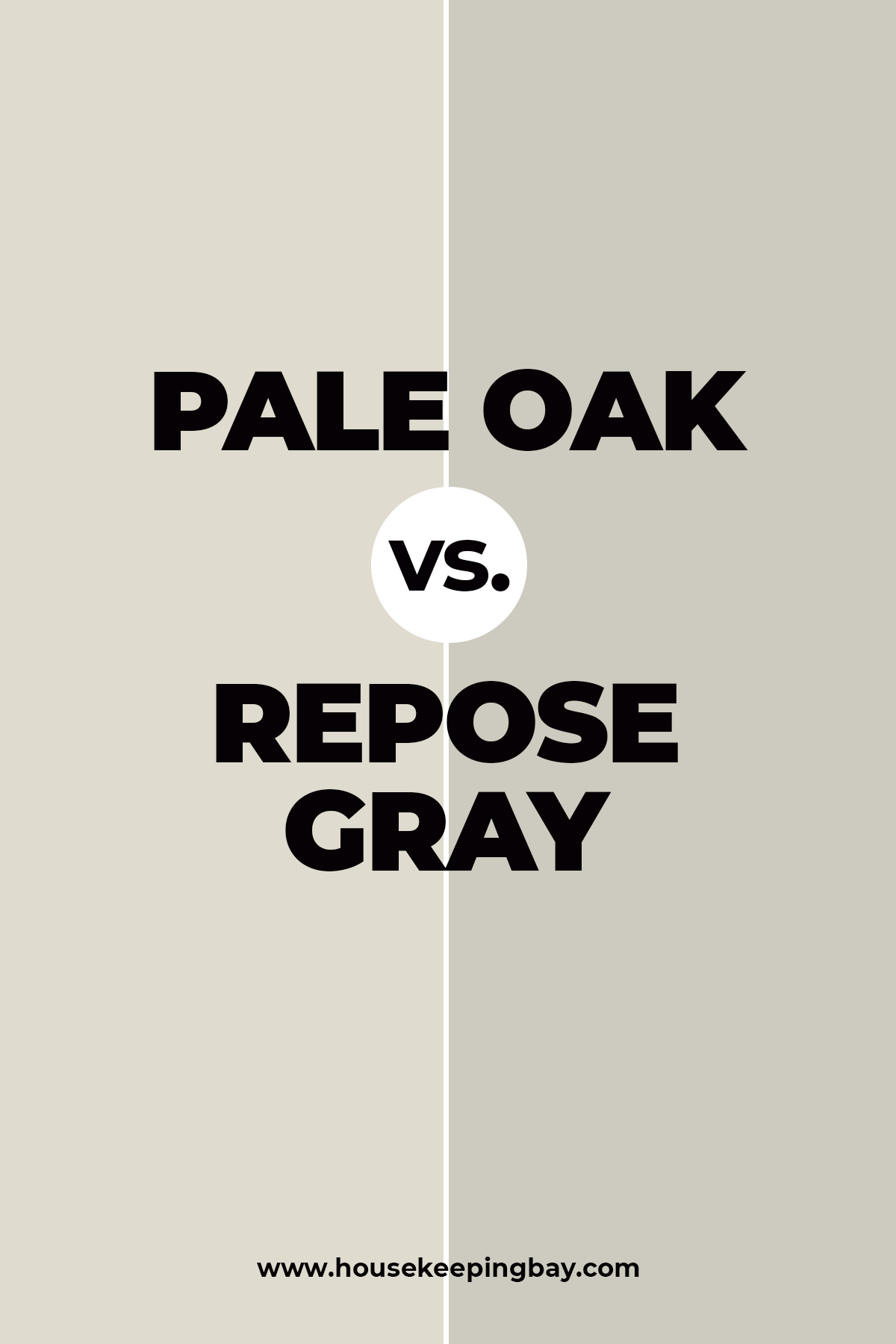 So, now you have learned almost everything about the Benjamin Moore Pale Oak paint color, its areas of use, color structure, and its strong and weak points. We shared a few tips with you on what colors it can be paired with better than with others, and moreover, you are now aware of all the possible places this paint can be used in your home to reveal itself to its best!
With all that in mind, you will easily pick up matching paint colors to turn your house into a stylish, modern, and very cozy space that you and your family or guests will always enjoy staying in.
Get a sample of Pale Oak (get a sample from Samplize )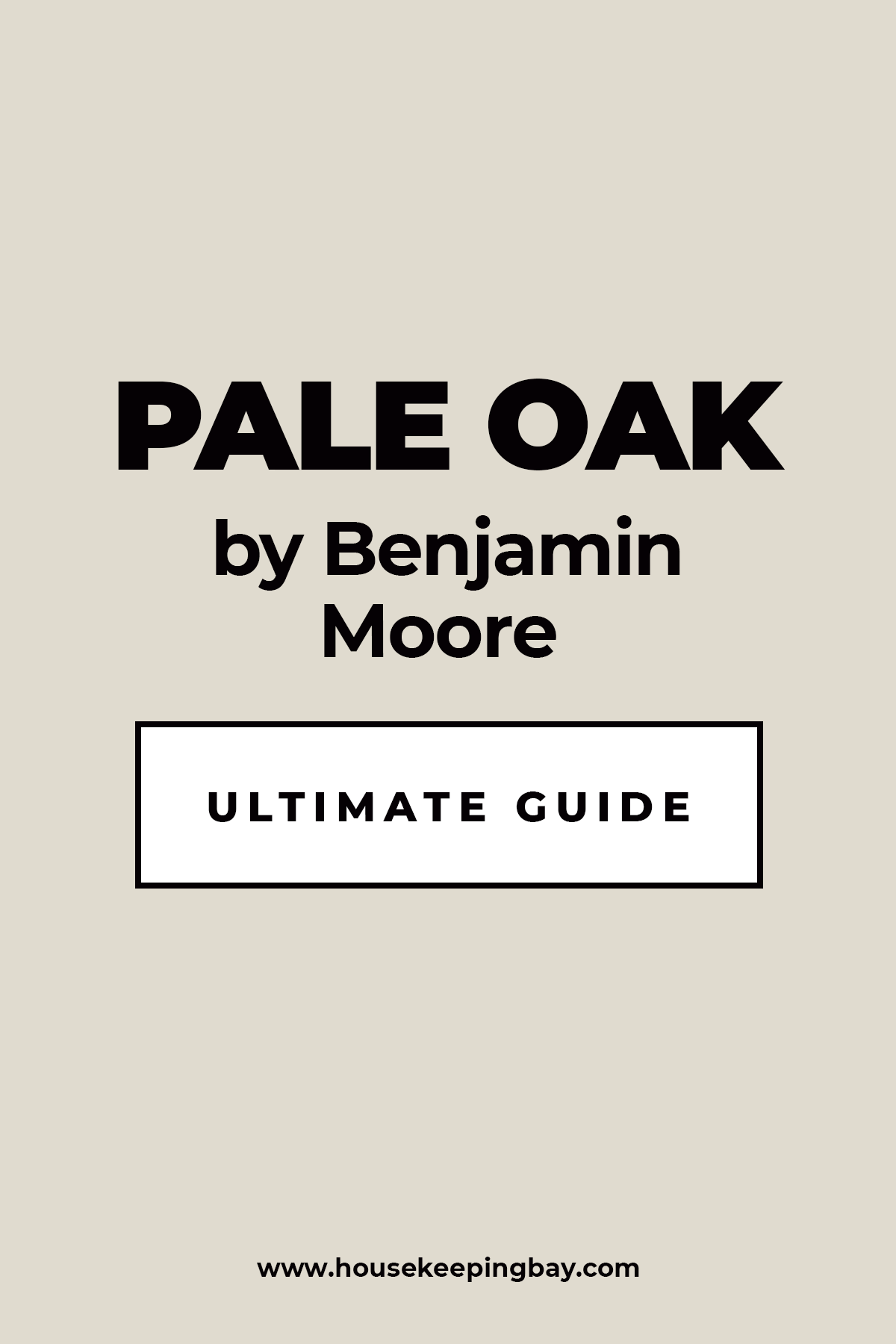 Frequently Asked Questions
⭐ Is Pale Oak by Benjamin Moore a gray color?
No, it's warm neutral greige.
⭐ What is the most similar paint color to Pale Oak?
⭐ Can Chantilly Lace be used as a trim color for Pale Oak?
Yes, they create a nice contrast.