Gray is one of the most popular paint colors people use in their homes, both indoors and outdoors, on exterior walls. Homeowners love this color because of its versatility and wide range of shades that make gray suitable for most rooms and spaces in your house or apartment.
Besides, gray can work well with quite many other colors. As a result, you can incorporate it into many interior styles and color schemes!
However, those who don't have a sharp eye for colors and their shades often wonder which shade of gray it is best to use. Today, we will introduce one of the best gray colors to you! It's called Gray Owl, and this gray is a part of the Benjamin Moore color palette.
You will learn what kind of gray it is, what undertones it has, and how it reacts to light. Also, we will explain how this color works with other colors and what paint colors are best to use on trim with this gray on the walls.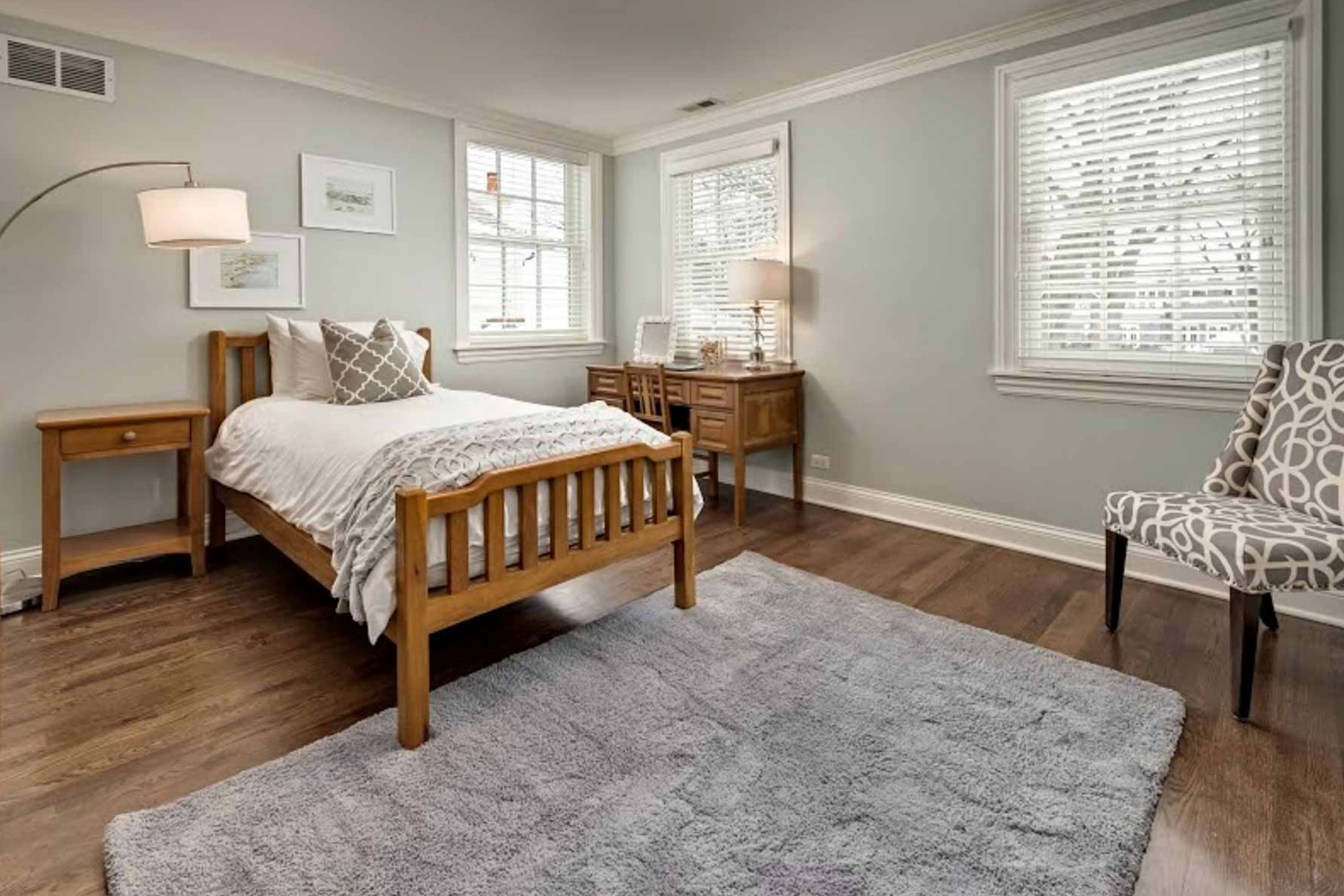 What Kind of Color Is Gray Owl 2137-60?
So, what kind of gray is BM Gray Owl exactly? The Gray Owl paint color is a part of Benjamin Moore's Color Preview Collection, which consists of bold, saturated colors. As Encycolorpedia says, this gray color is one of the best-selling neutral paint colors.
Unlike many grays that may read differently (and not quite gray) on the walls, BM Gray Owl is what you expect to see when you think of a gray color. It is more of a mid to light neutral gray, to be precise. In a room with balanced light, this paint color can be described as a clean and crisp mid-tone gray with flashes of green.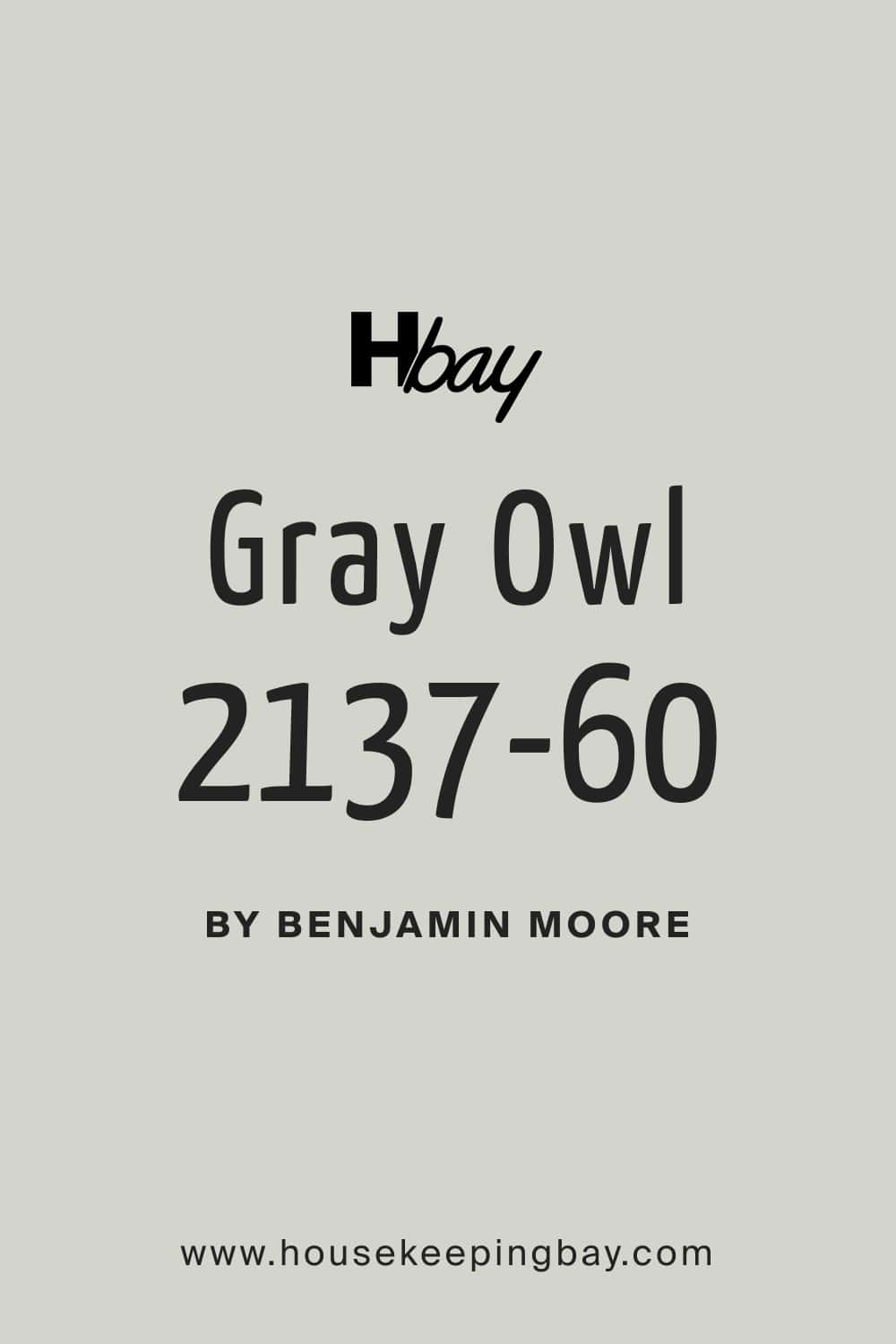 Is BM Gray Owl a Warm Or Cool Color?
Some people prefer warm-toned colors whilst others cling to cooler tones that make a room read crisp and fresh. However, with the Gray Owl paint color, it's not easy to figure out what tones it has.
At first sight, this gray reads balanced with equally warm and cool tones (e.g., if you look at it in the Benjamin Moore Paint Deck). This is why many people see it as a neutral color. However, if you apply it to the walls, you may see things change. In specific lighting, BM Gray Owl may read cooler gray with a slightly bluish hue coming through.
BM Gray Owl Undertones
Undertones often make paint colors tricky and complicated to use in your home. Homeowners often face the same issue when they buy paint that appears to read differently in a catalog and on their walls. All because they didn't sample it before buying, and undertones showed up unexpectedly.
Speaking of BM Gray Owl paint color, this mid-tone gray has a slight flash of green undertone. But also, in certain types of light, this gray color may show bluish undertones as well. This is why it is essential to consider other colors in a room, as well as lighting there.
This way, you can predict how exactly BM Gray Owl will read on the walls and what undertones exactly you will see.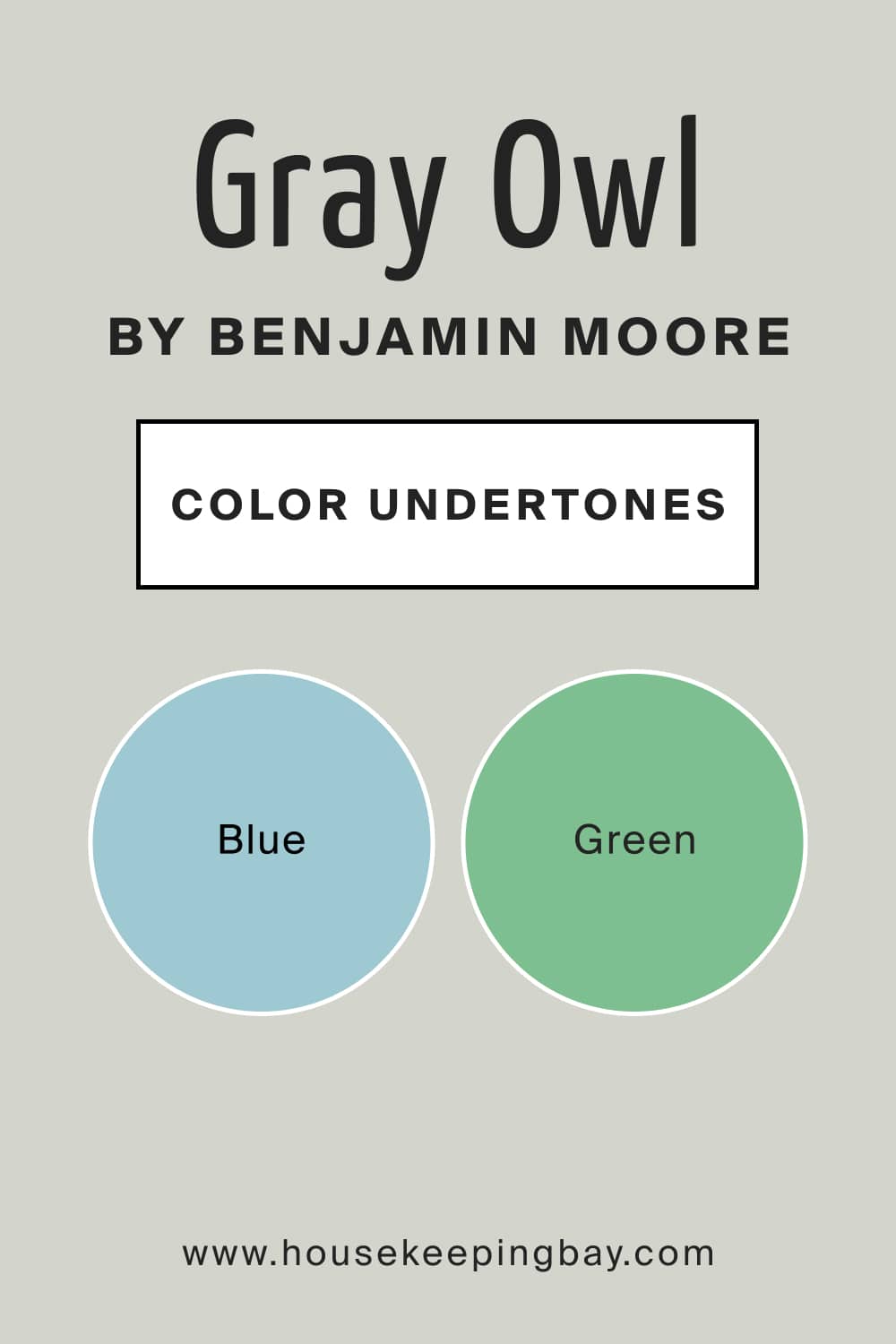 Gray Owl 2137-60 Coordinating Colors
If you know what colors are best to use as coordinating ones with your wall color, you know how to make your space work! Correct coordinating colors help to highlight the color used on the walls. Besides, coordinating colors help you make the room read more varied due to the use of different colors.
Speaking of BM Gray Owl, this color works well with shades of white, green, and blue. In particular, you may want to try out the following colors to coordinate it:
BM Coventry Gray
BM Providence Blue
BM Desert Twilight
BM Regent Green
BM Paradiso 717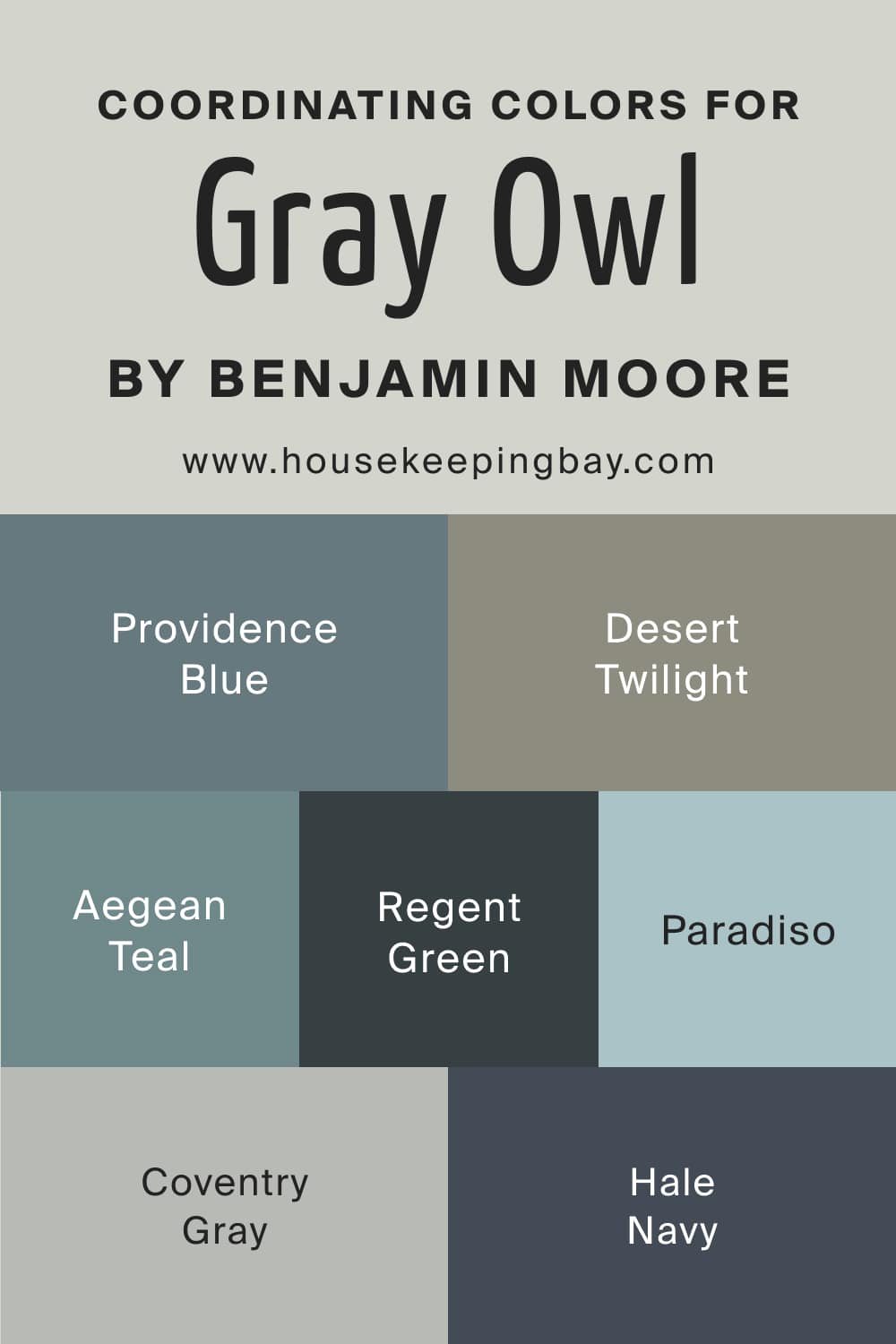 What Is the Best Trim Color to Use With BM Gray Owl?
Few people know about this, but choosing the right trim color is no less essential than choosing the right wall color for your home. With a proper trim, you will make the wall color show all of its beauty! And also, with the correctly chosen trim color, you can make your wall color read better highlighted. For BM Gray Owl, the optimal trim color will be white. In particular, we recommend you use a crisp, white trim color like Benjamin Moore Super White or Benjamin Moore Chantilly Lace.
BM Gray Owl Color's LRV
Benjamin Moore Gray Owl has an LRV of 65.77, which means this color can reflect a decent amount of light. As a result, you can be sure that the room you use it in won't look dark or gloomy. At the same time, with the Gray Owl color on your walls, the room will not read too bright and washed out.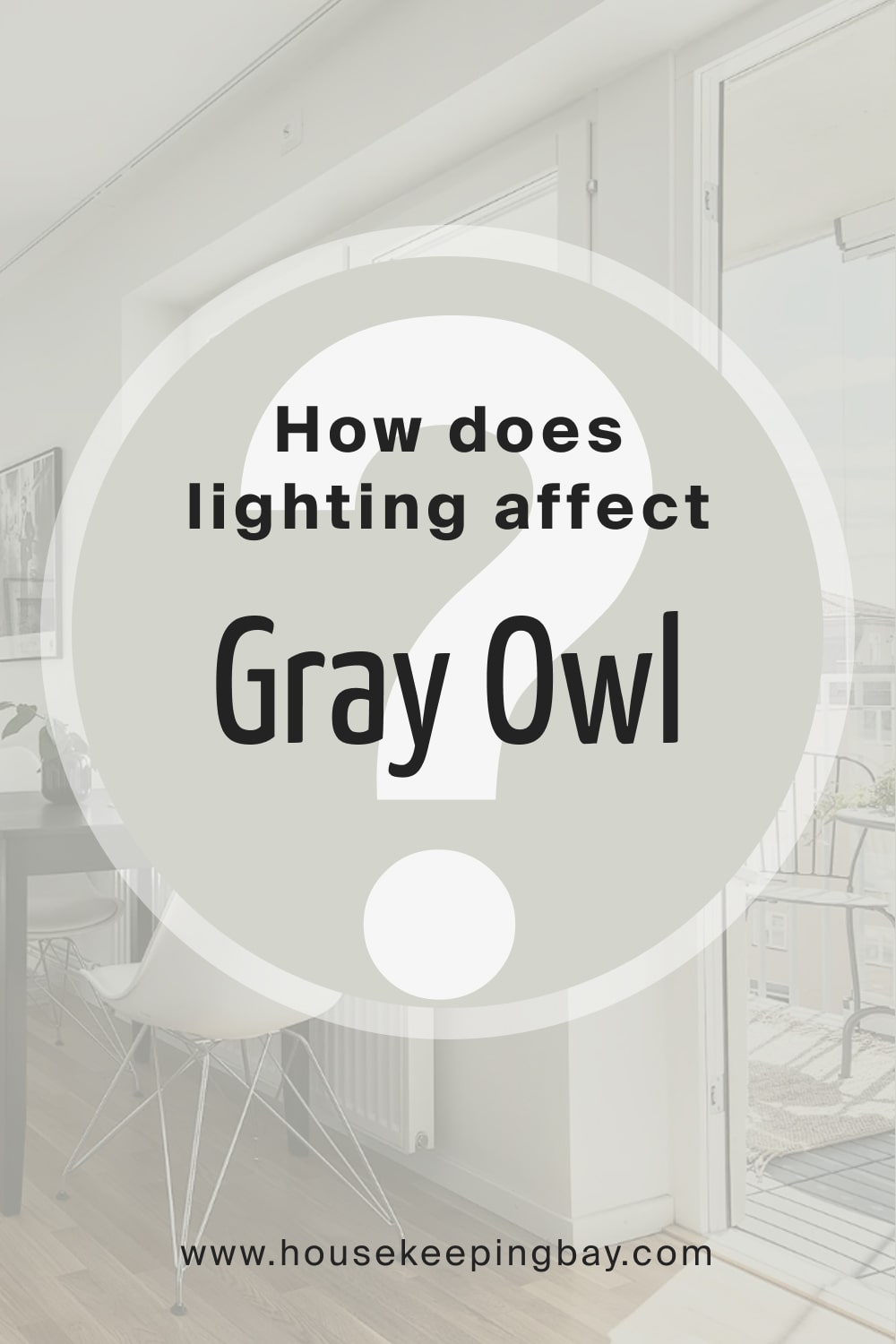 For those of you who don't know what LRV is, LRV is a measurement used by professional interior designers, and it stands for Light Reflectance Value. LRV shows the amount of light the color can reflect and absorb when it is applied to the surface, be it a wall or anything else. LRV ranges from 0 -100, with 100 being pure white and 0 being absolute black.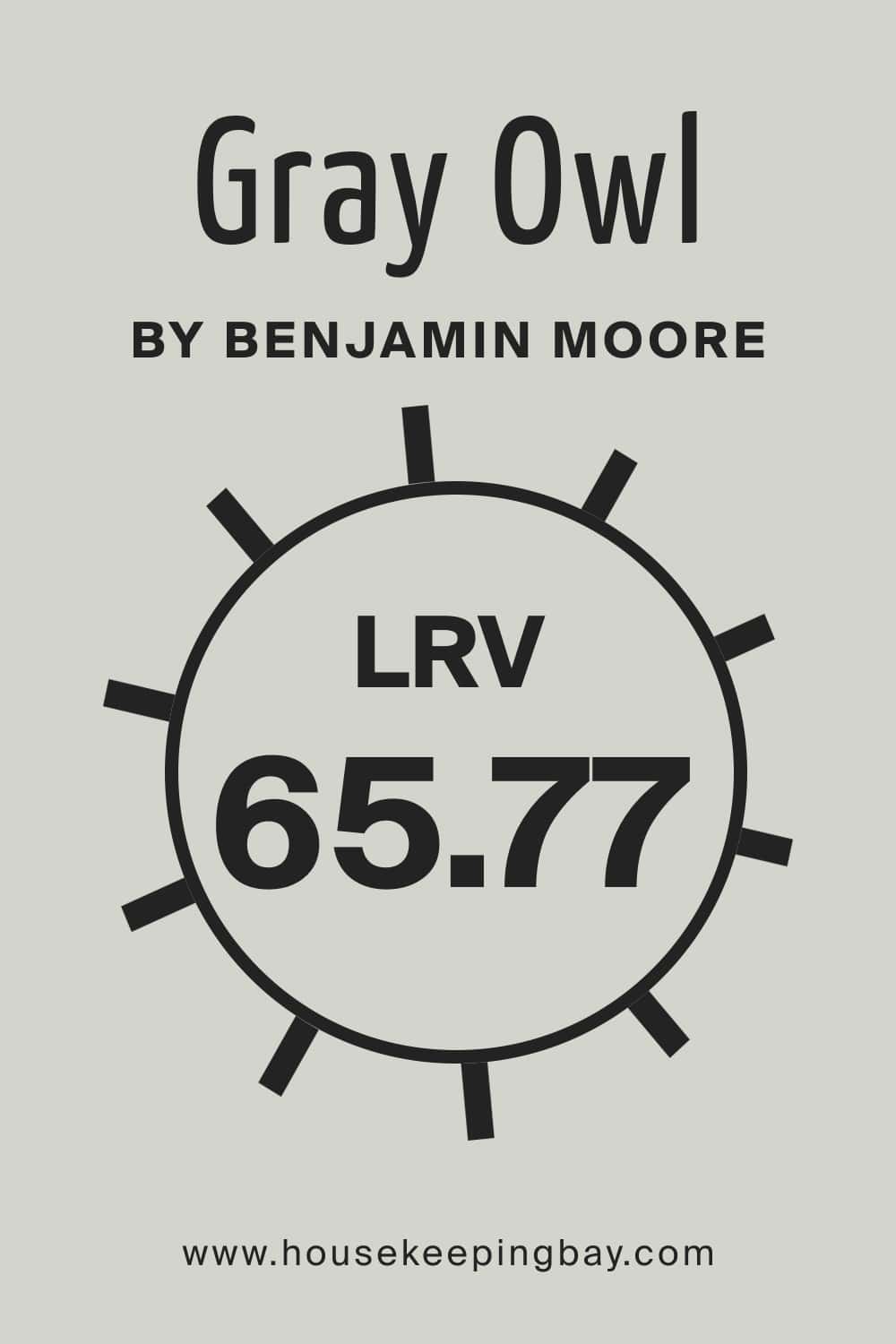 What is LRV? Read It Before You Choose Your Ideal Paint Color
Paint Colors Similar to Gray Owl 2137-60 by Benjamin Moore
Why would you need to know alternative colors to BM Gray Owl? This is a reasonable question. But knowing what paint colors can be used instead of the one you want to use on your walls can be very helpful.
For example, you might suddenly decide to use a darker or lighter version of the initial color. Or you might want to try a color with somewhat other undertones. Also, it often happens that homeowners realize the color they want doesn't read well with other colors in the room. In all these situations, you will have to search for equivalents.
For BM Gray Owl, several paint colors read very similar to it and can be used as substitute colors:
Sherwin-Williams Big Chill
BM Moonshine
BM Vapor Trails
BM Alaskan Husky
Oystershell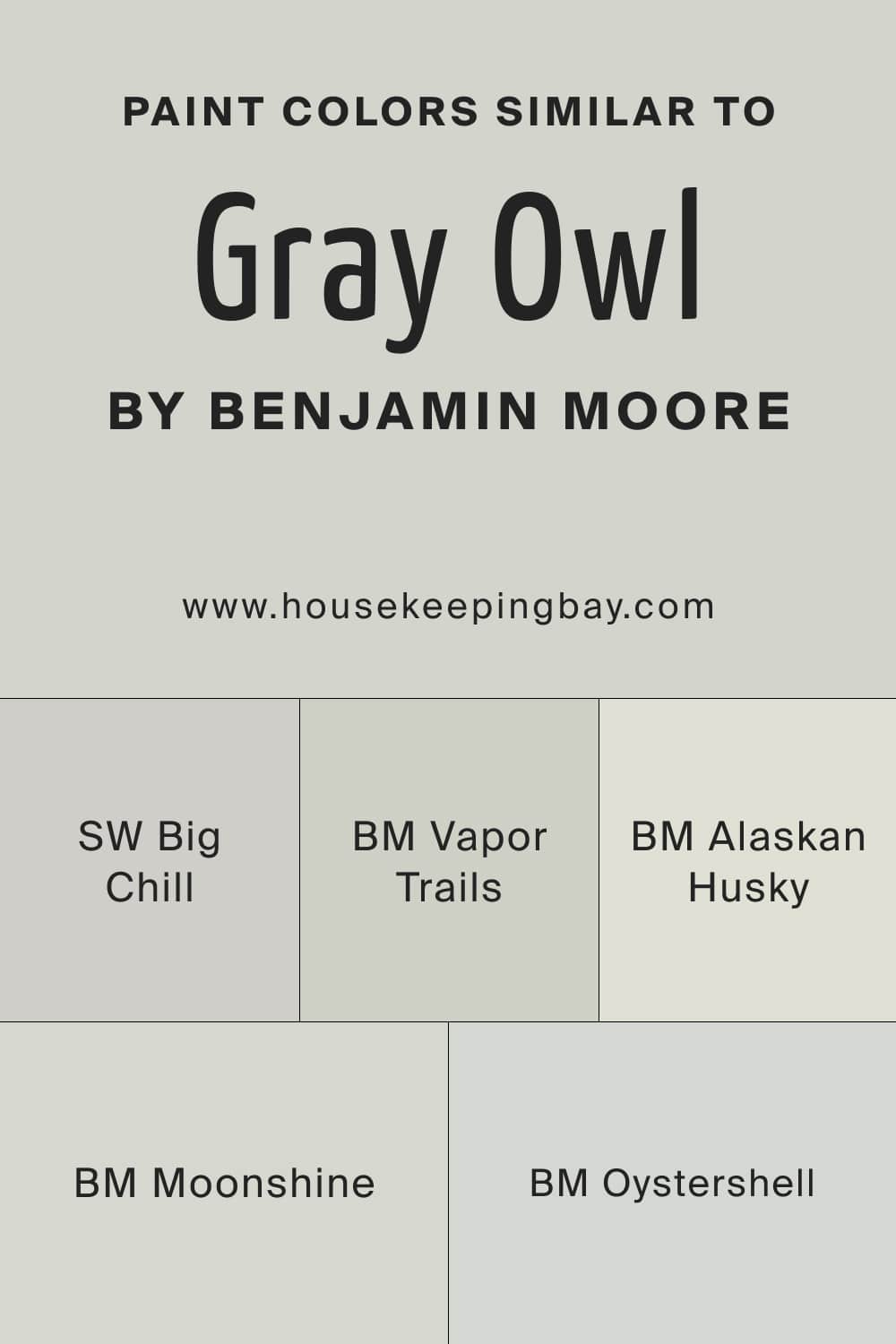 Сolors That Go With Gray Owl 2137-60
When you are looking for paint colors that will go well with the color of your walls, you always have to keep in mind the undertones in the paint colors to get an ideal match. This is why neutral colors (especially grays) tend to be the easiest to find suitable paint colors that go with them.
However, speaking of Benjamin Moore's Gray Owl, this color has blue and green undertones. So the paint colors you choose to use with it should either enhance those undertones or not. The following color options would be the best ones to use:
White Heron OC-57
Boothbay Gray HC-165
Lush AF-475
Amherst Gray HC-167
Cushing Green HC-125
Coventry Gray HC-169
Beach Glass 1564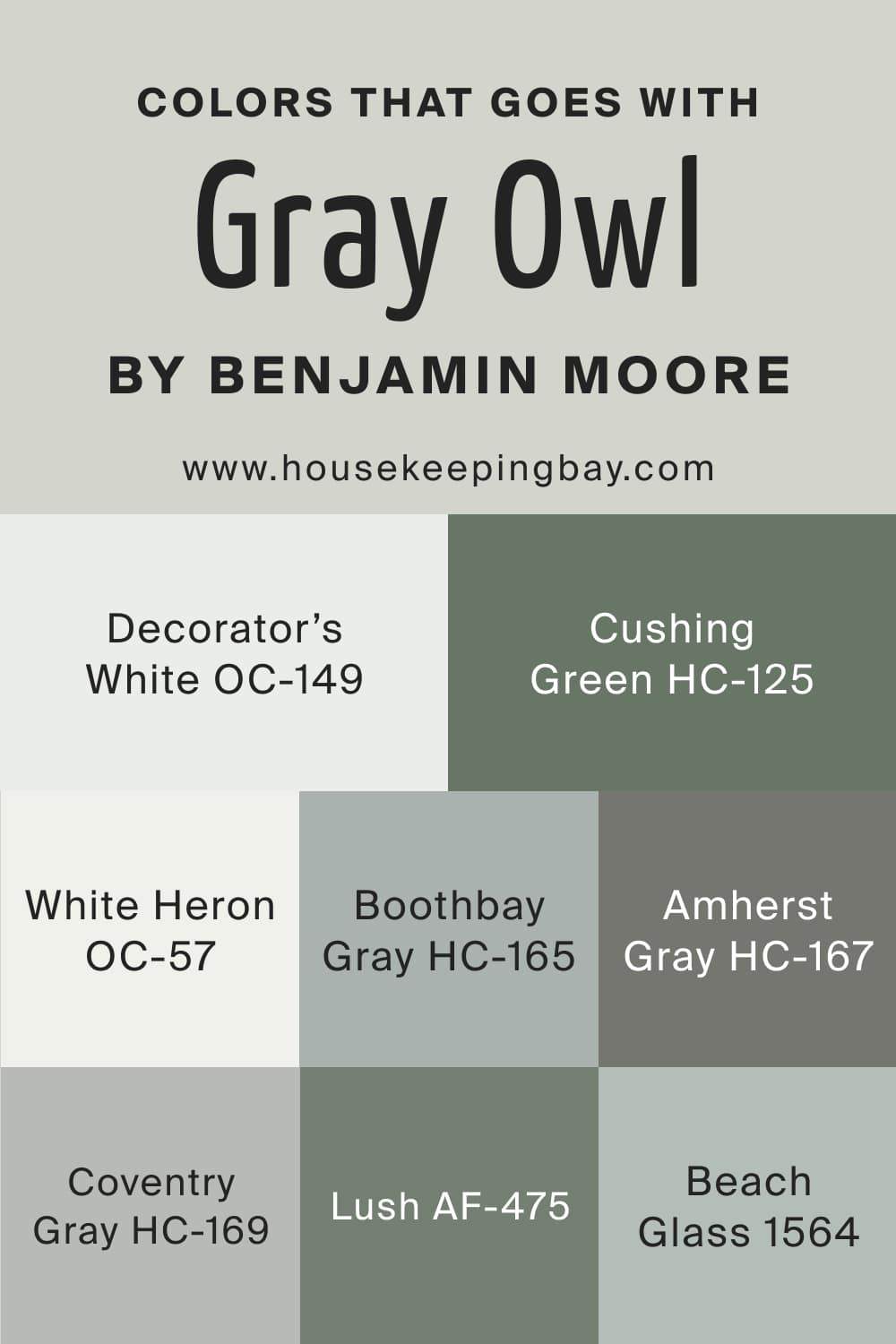 Comparing BM Gray Owl Color With Other Colors
We recommend you always compare the color you want to use on your home walls with other colors. This may seem to be a useless thing to do, but comparing paint colors is an excellent way to help you see undertones better. Also, such a color comparison will help you see whether it's a warm or cool color.
Below, you can read the comparison of BM Gray Owl with several other grays.
Gray Owl vs. Repose Gray
The trick with these two colors is that they read nearly identically on the wall, although on the color swatch, they will read distinctly. At the same time, BM Gray Owl is slightly lighter than SW Repose Gray. Also, Repose Gray has a bit more warmth than BM Gray Owl.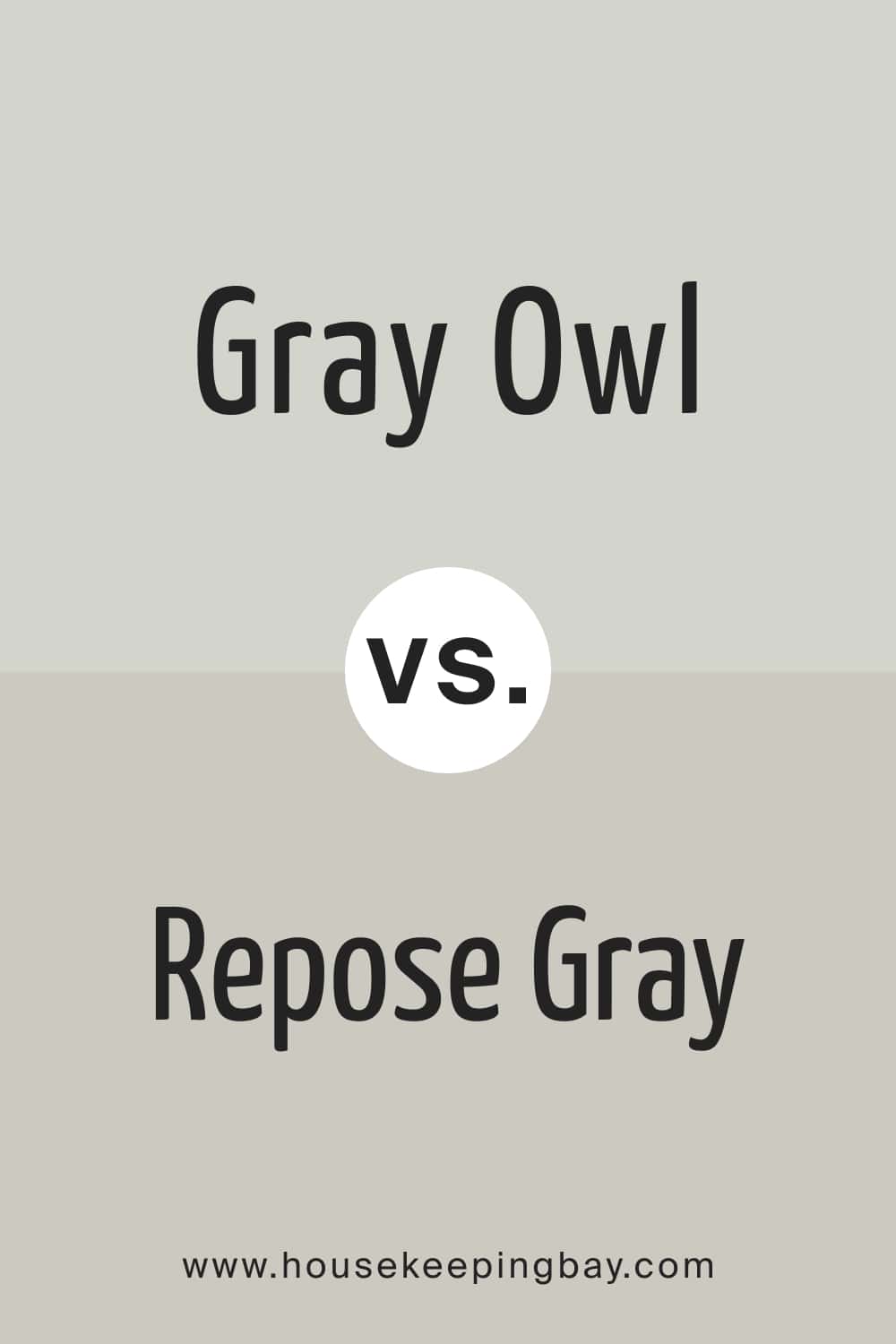 Gray Owl vs. Agreeable Gray
Sherwin-Williams Agreeable GrayAgreeable Gray SW 7029 by Sherwin-Williams has an LRV of 60, which is a bit lower than BM Gray Owl with its LRV of 65.77. Also, of the two colors, BM Gray Owl reads cooler-toned. SW Agreeable Gray, on the contrary, is a very versatile warm gray/greige paint color that has a green undertone. However, this greenish hue can only be seen in certain types of light and surroundings.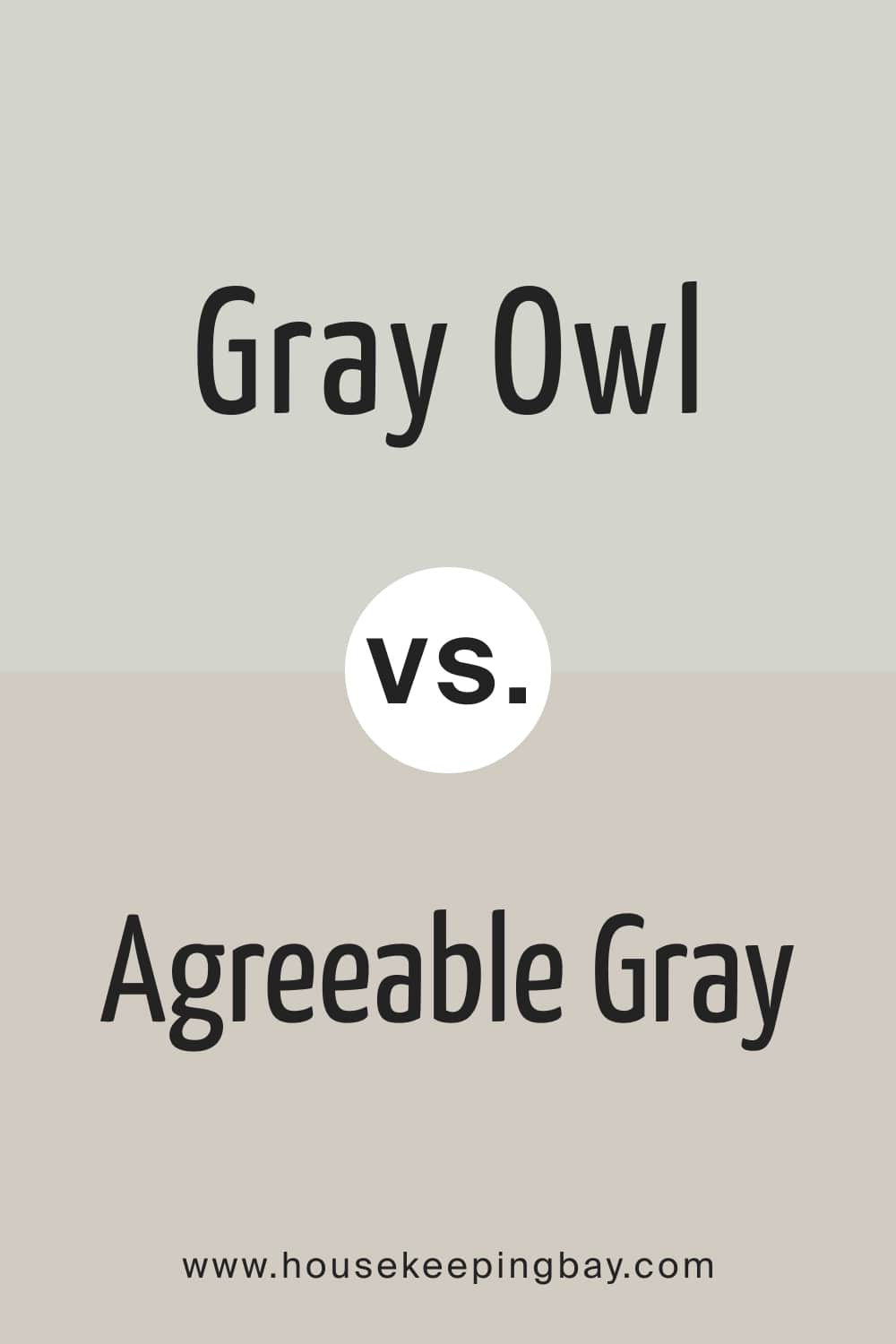 Gray Owl vs. Revere Pewter
First of all, the LRVs of these colors are different. Benjamin Moore Revere Pewter has an LRV of 55.51 compared to BM Gray Owl, whose LRV of 65.77. Also, BM Revere Pewter is the warm-toned gray/greige color, whilst BM Gray Owl reads more of a clean and crisp gray.
At the same time, these colors have similarities! Both have a green undertone that can show up under specific circumstances.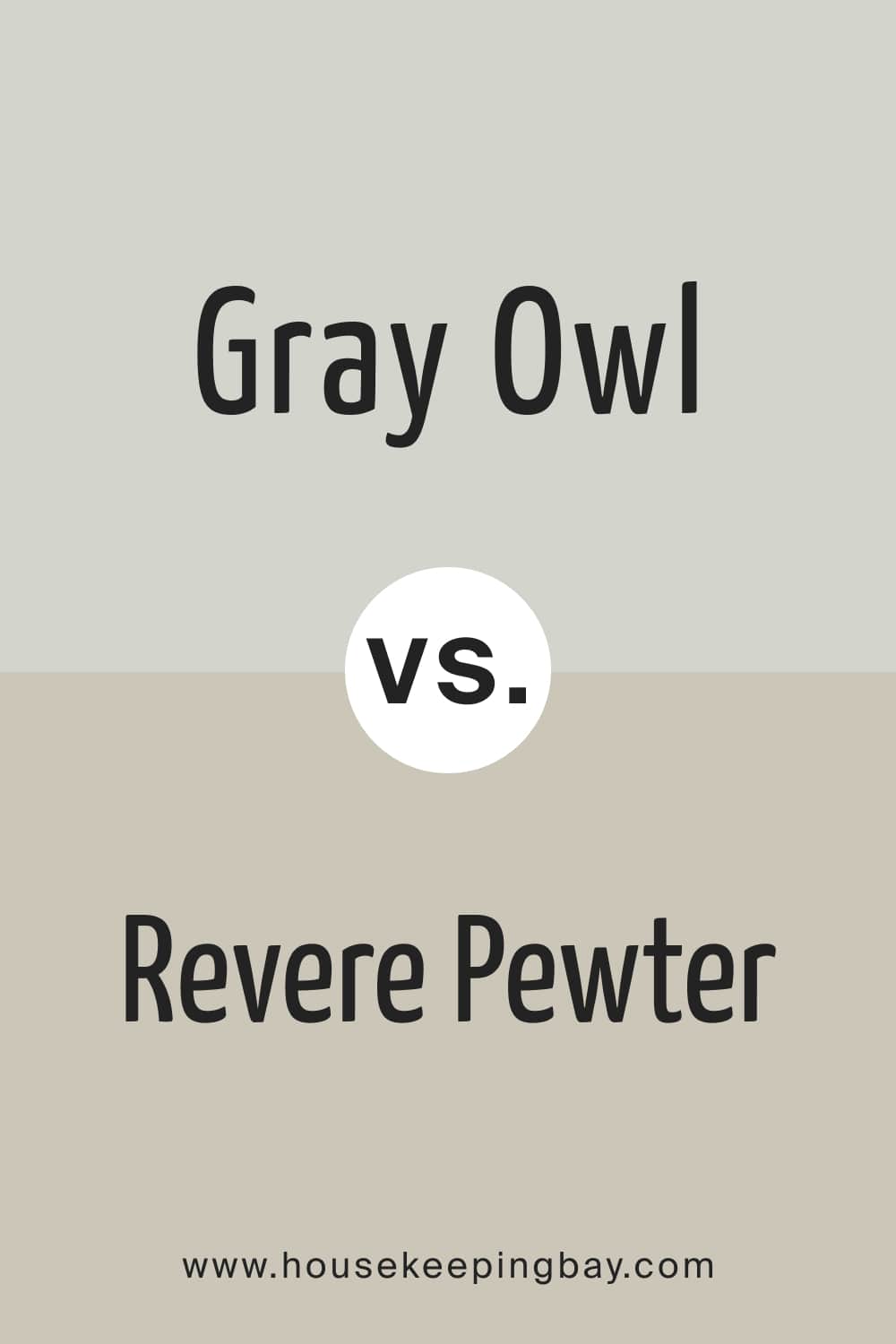 Gray Owl vs. Classic Gray
These two have distinct LRVs (74.78 for BM Classic Gray and 65.77 for BM Gray Owl.). Also, Gray Owl is darker, whilst BM Classic Gray reads a very light warm gray. The Classic Gray color also has green undertones. However, they are barely seen.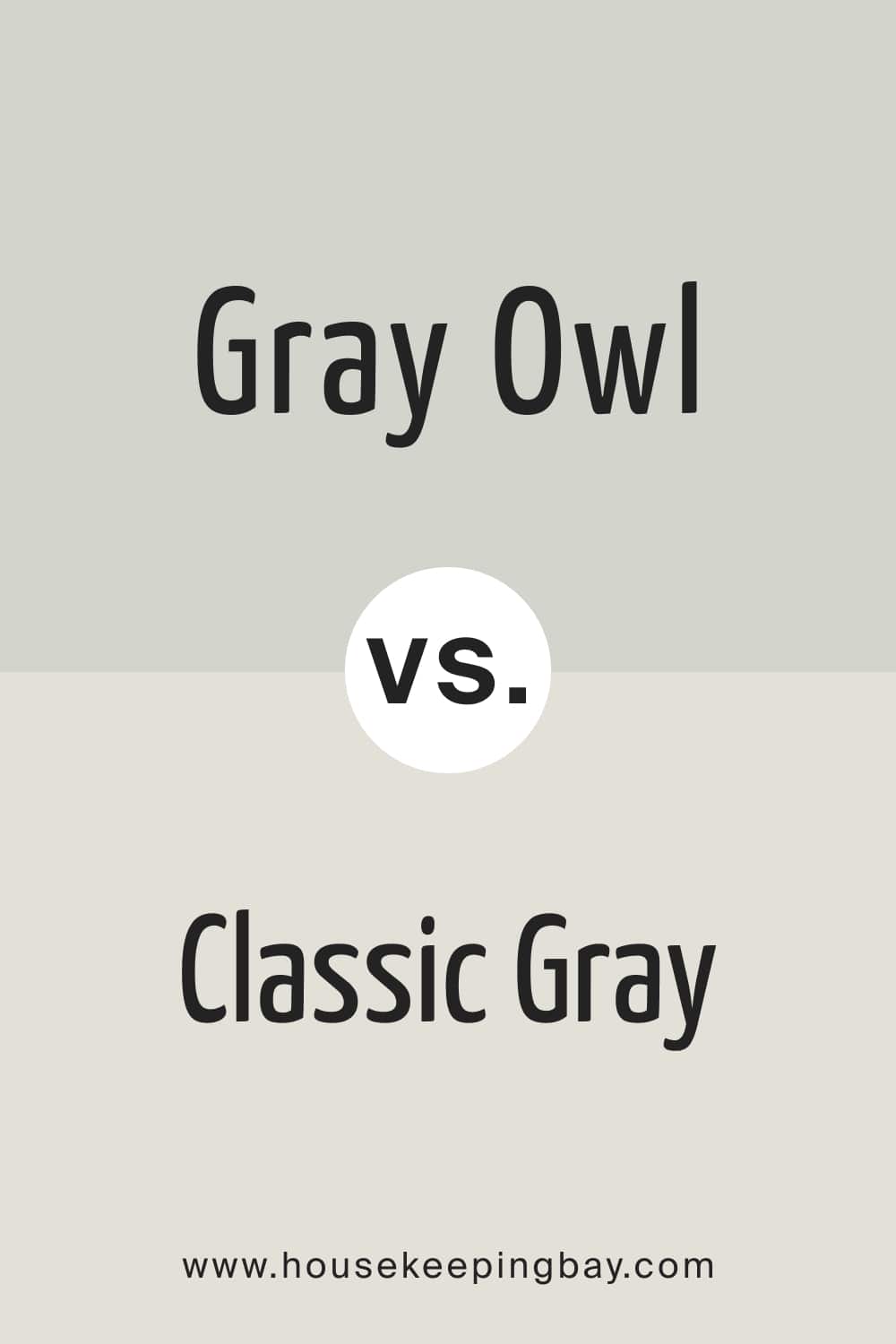 Gray Owl vs. Stonington Gray
Comparing these two, you can see that BM Gray Owl reads a bit lighter than BM Stonington Gray. Their LRVs also differ. The Stonington Gray color has an LRV of 59.75, and BM Gray Owl has an LRV of 65.77
Speaking of undertones, these colors also vary. BM Gray Owl has a predominant green undertone, whilst its counterpart is a bit cooler with its blue undertone. Nevertheless, both are gorgeous light gray paint colors that read very clean!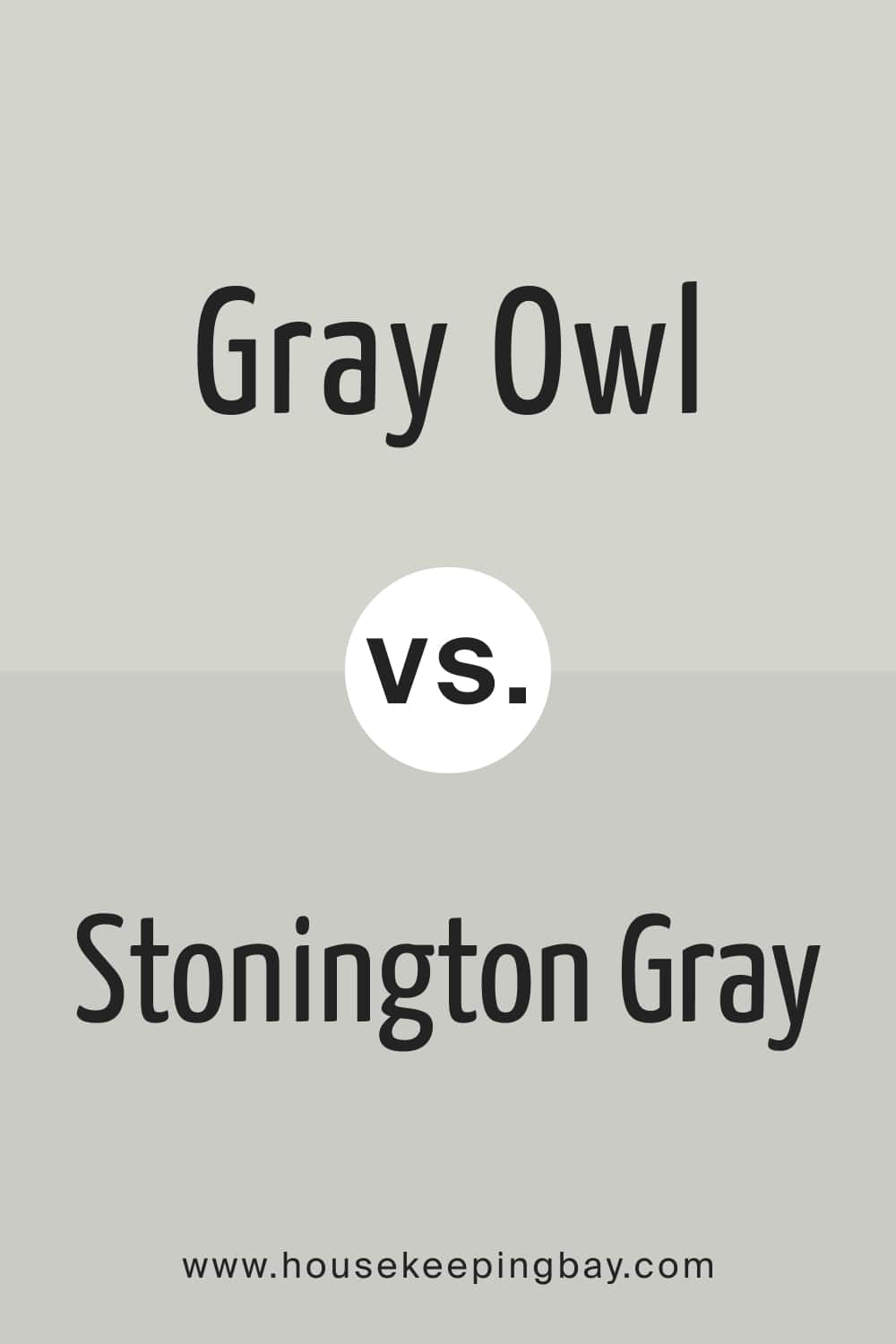 Where to Use BM Gray Owl In Your Home?
The good thing about BM Gray Owl is that this color is very versatile. You can use it in almost any room of your house or apartment! However, it is still essential not to forget about its undertones. Otherwise, you may not get what you expected. Below, you can read how this gray color may work in different spaces of your home.
Gray Owl 2137-60 in the Living Room
BM Gray Owl is a fabulous gray to use on your living room walls! The color mostly reads balanced and neutral, which allows it to be paired with many other colors and textures/materials. It will work specifically well with wood and stone. And besides, you can use it in many interior styles!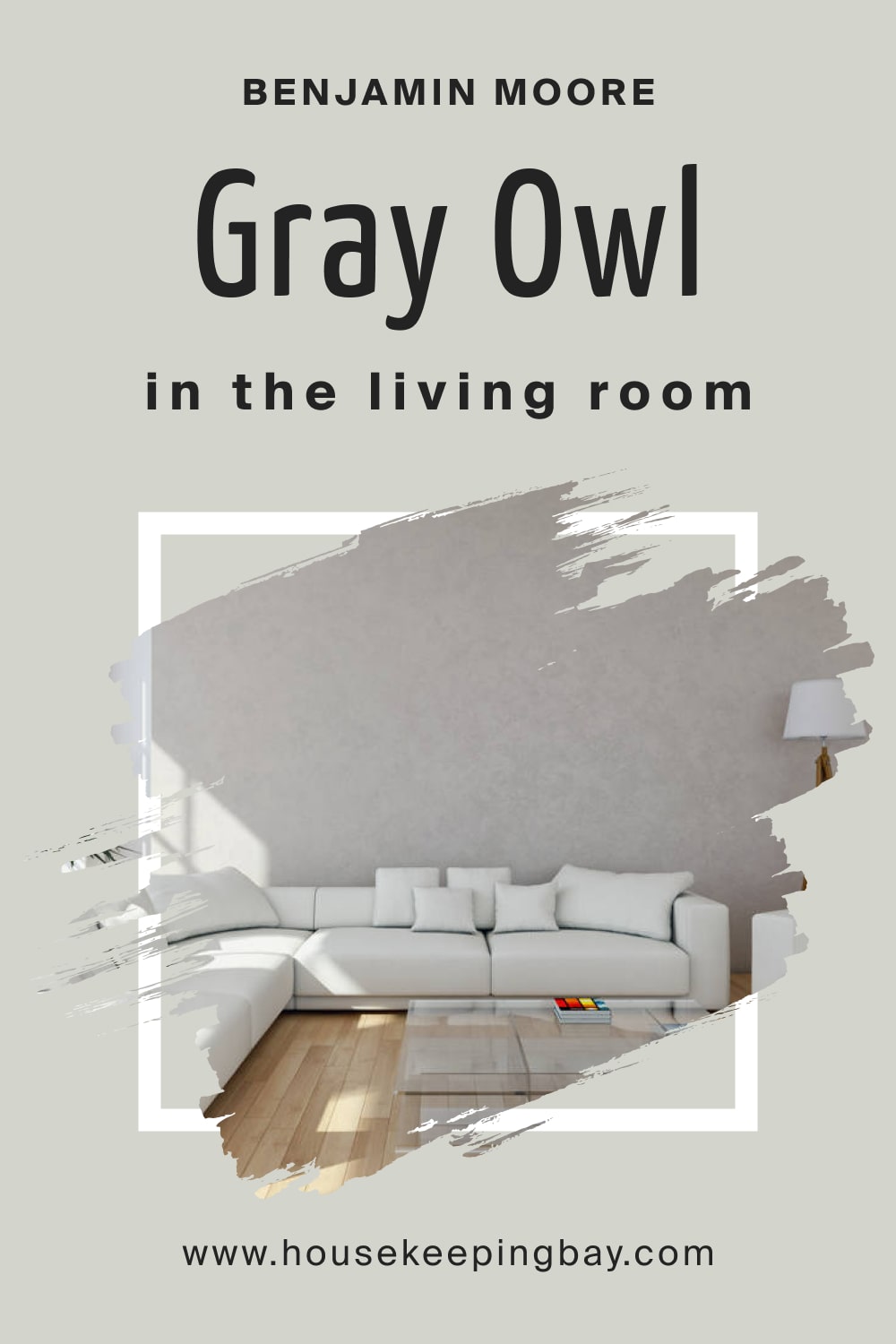 Gray Owl 2137-60  in a Bedroom
BM Gray Owl is a great paint color for a bedroom. The blue/green undertones give a bedroom a calm, relaxing feel. At the same time, this gray reads pleasantly balanced and muted. As a result, the bedroom won't look too crisp or sterile.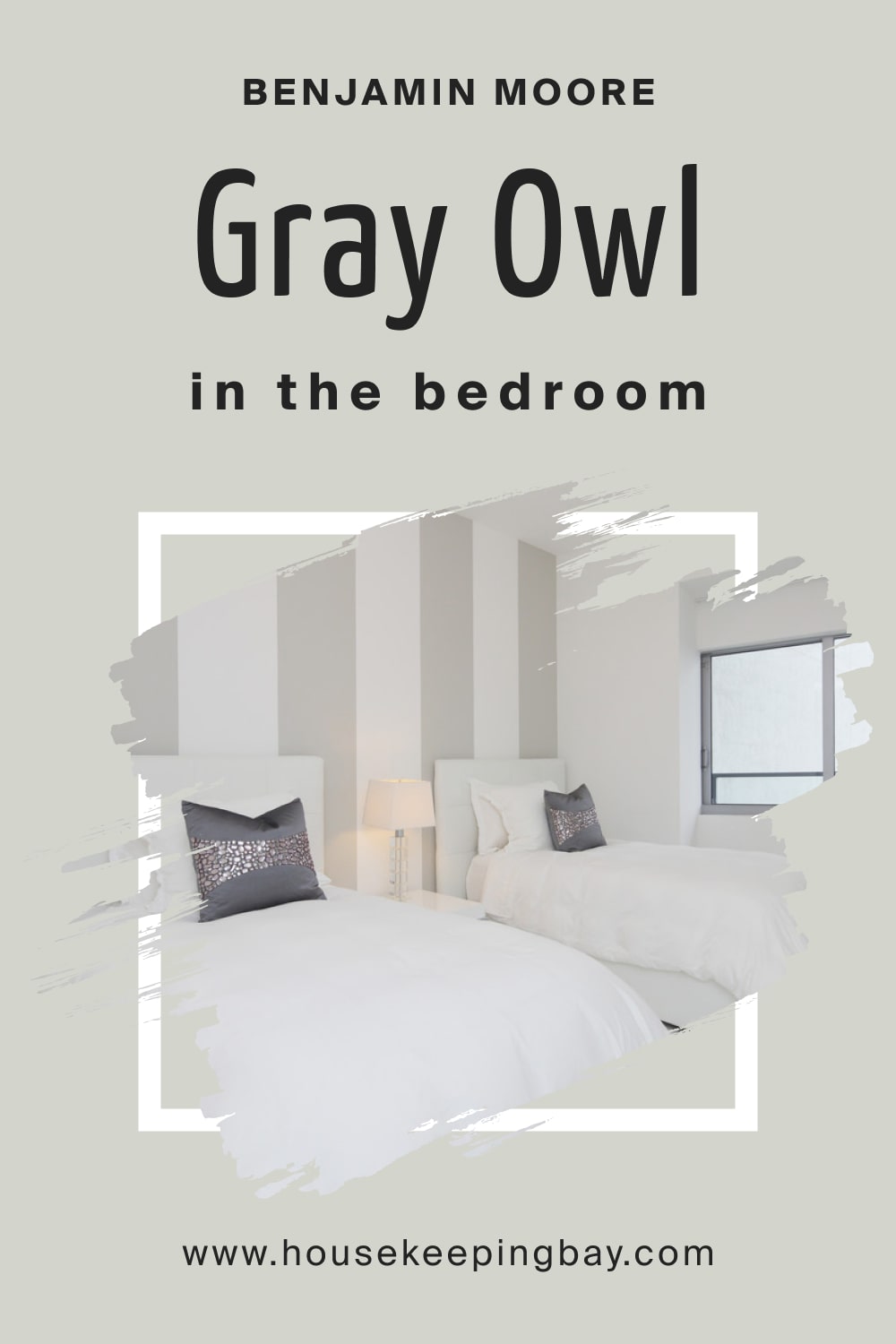 Gray Owl 2137-60 and Cabinets/Kitchen Cabinets
If you are looking for a paint color to use on your kitchen cabinets, don't skip BM Gray Owl! Your kitchen cabinets can be a fantastic place to use this balanced gray. It will give your kitchen a beautiful wash of color without being too bold.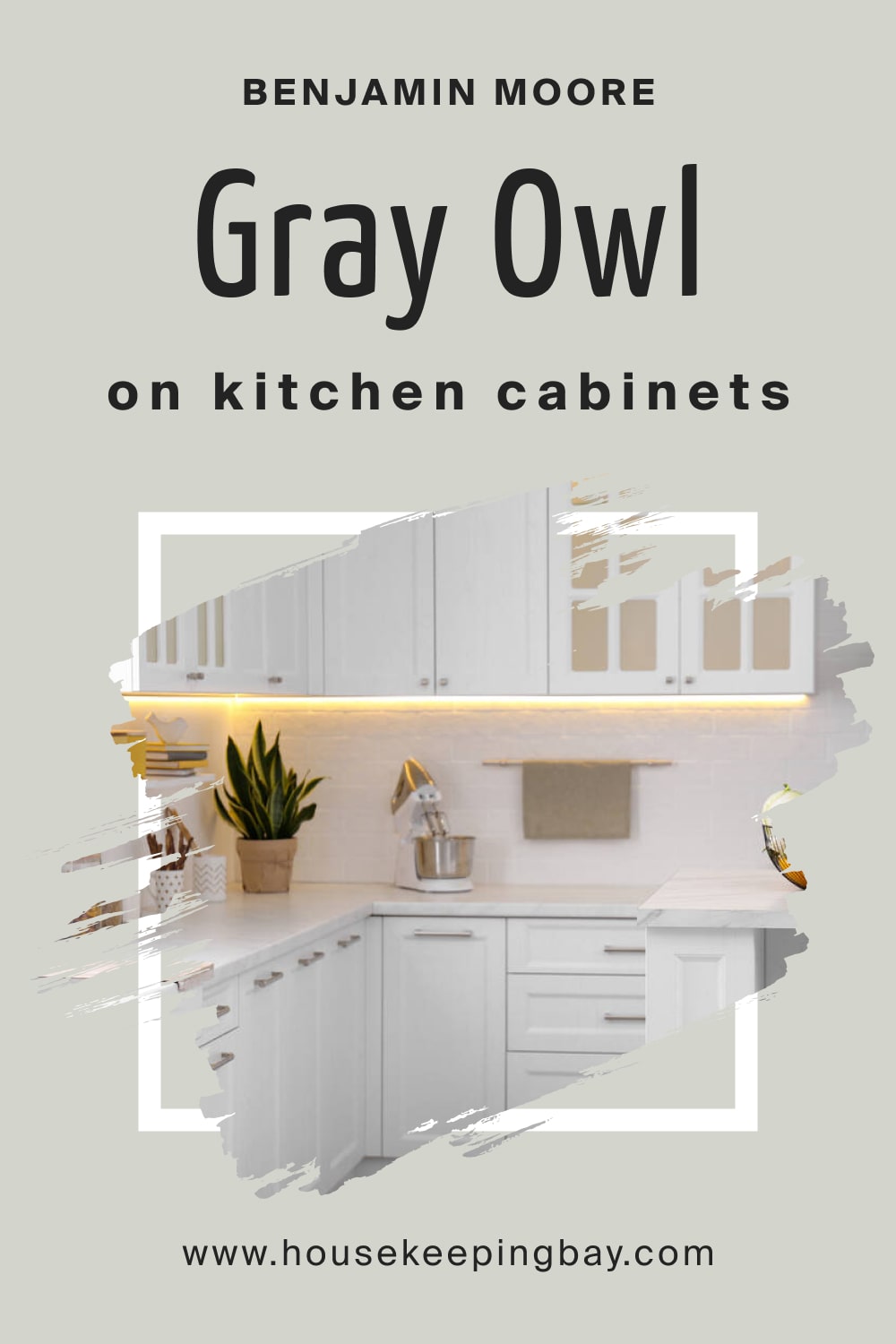 Gray Owl 2137-60 for Kitchen
As a color for your kitchen walls, BM Gray Owl is also a good choice. However, we recommend it for larger kitchens with plenty of natural light. This way, the room won't read smaller. In smaller kitchens, this color may work great on cabinets or to create color accents.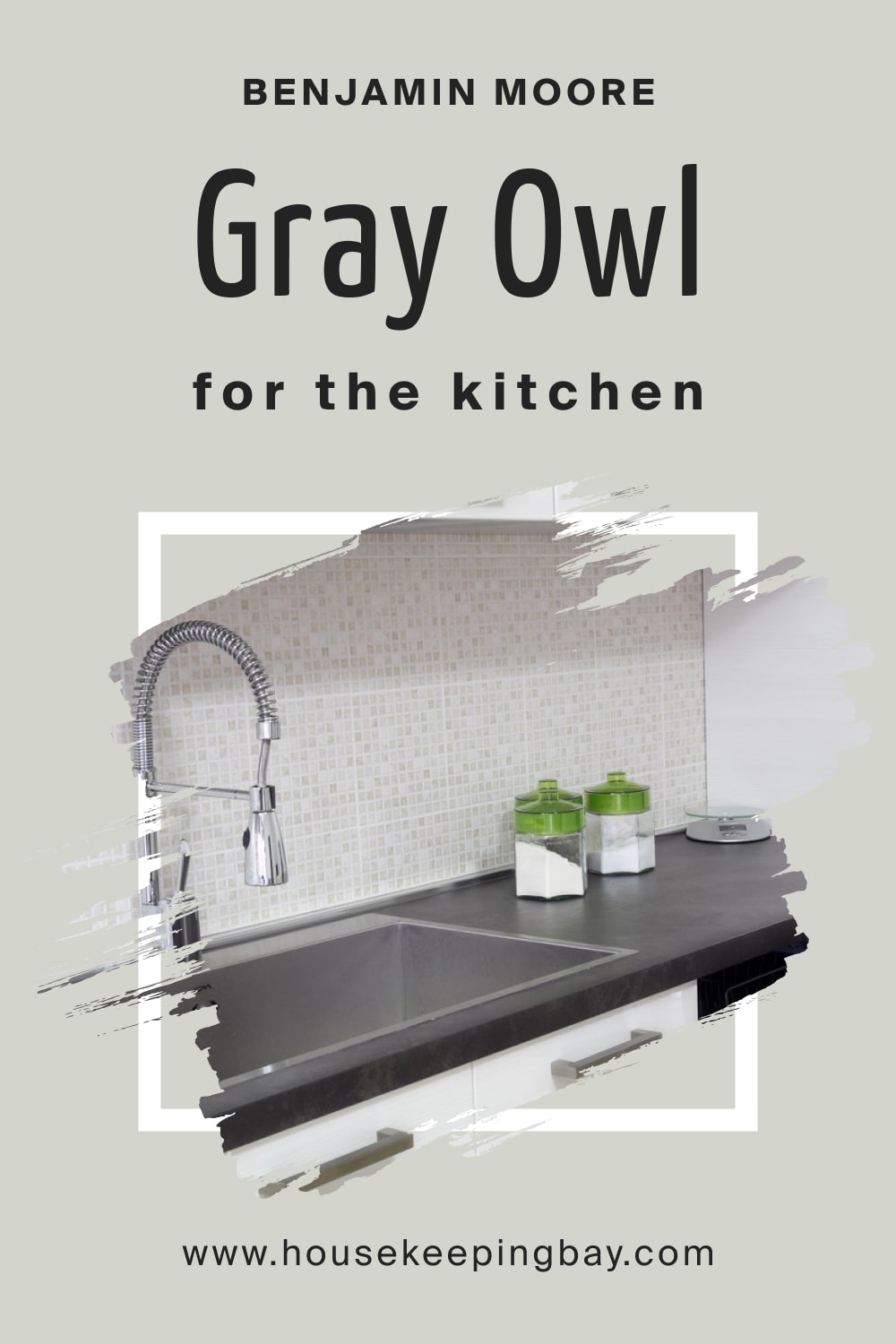 Gray Owl 2137-60 for Exterior Use
BM Gray Owl certainly can be an option for the exterior walls! However, you must remember that this paint color may wash out or look a bit lighter in the sun! Also, make sure you take other color elements of your exterior into consideration to make them all work with the wall color.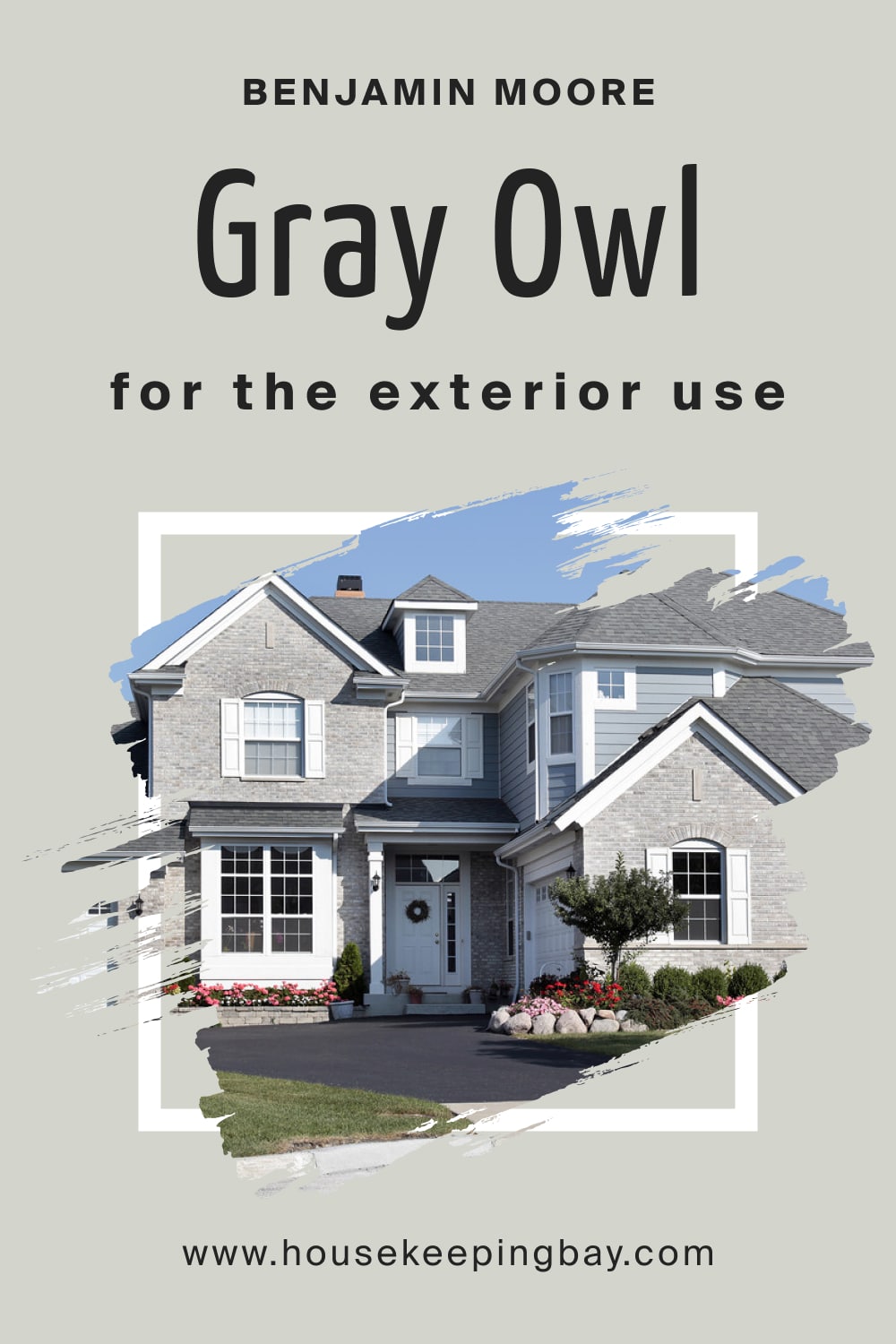 Conclusion
Now you know more about a fabulous gray paint color by Benjamin Moore called Gray Owl. You know its LRV and undertones, which means you can tell in advance how this color will read on your walls in different lighting.
Also, you know how this paint color will read in different spaces and rooms of your home and what colors will pair best with it.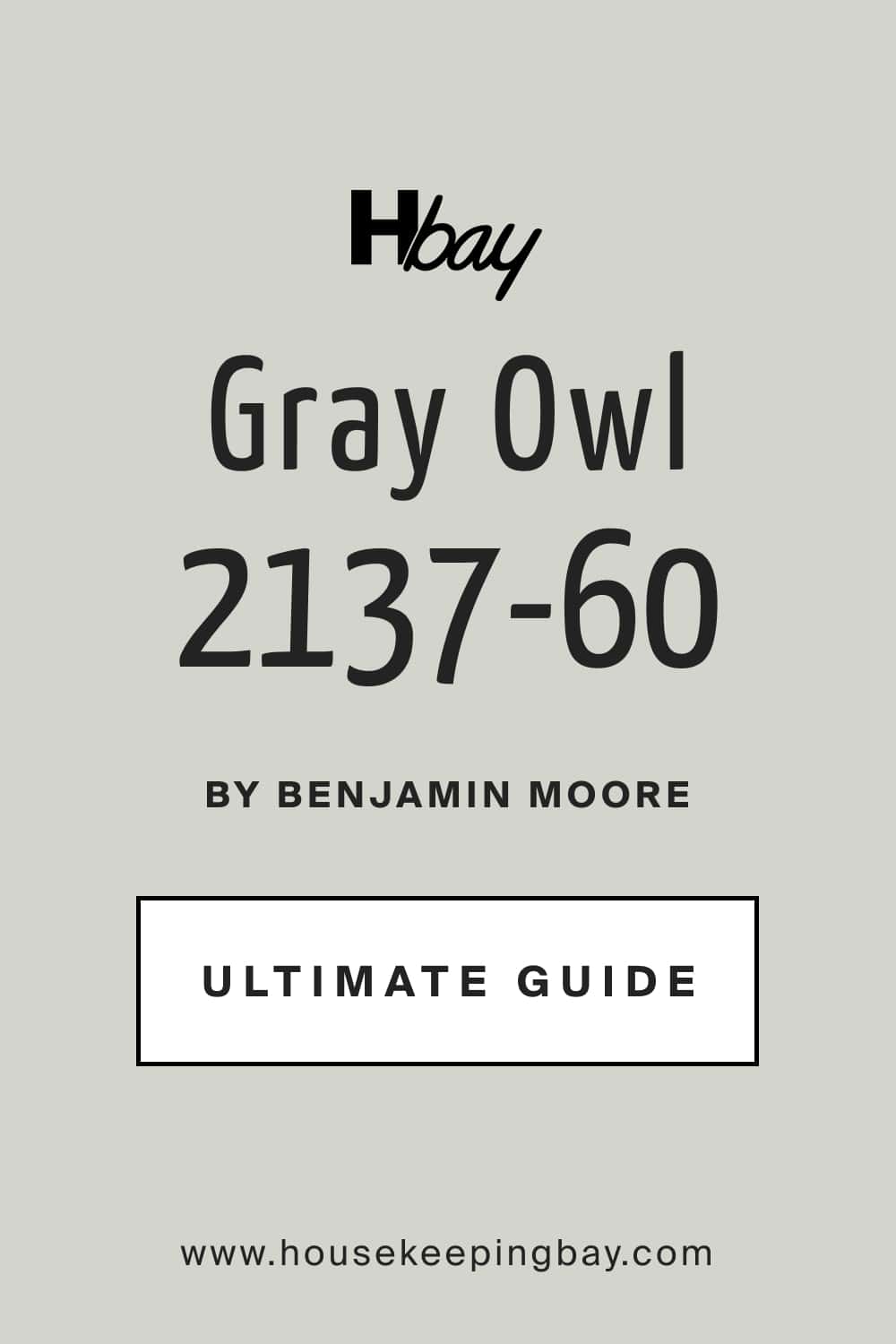 Frequently Asked Questions
⭐Is BM Gray Owl a neutral color?
Technically, it's considered neutral, but the way it reads on the walls will depend on light.
⭐Does BM Gray Owl work with whites?
Yes, white colors are one of the best colors to use with this gray.
⭐Can you say BM Gray Owl is a popular color?
Yes, this gray is widely used due to its versatility.