Choosing a paint color for your home decor might be tricky, especially if you need to pick up a proper shade for the living room.
Since the living room is the area where all the family spends most of its time every day, it is important to pick up the gray tint that will please everyone and will work well with other colors in the room.
Fortunately, Agreeable Gray from Sherwin Williams is exactly the one!
This greige tint belongs to warm grays being an amazing neutral. It pairs well with almost any other color in any space so you can easily apply it in your living room.
The color will harmoniously fit any space no matter the furnishing or decor color palette.
 SW Agreeable Gray Brief Review
A paint color that we know as Sherwin Williams Agreeable Gray belongs to so-called greige colors which means it possesses both features of gray and beige tints.
Such characteristics makes this neutral paint color rather universal since we can make use of it for different purposes.
It has perfectly balanced parts of gray and beige, besides, its undertones are brown and taupe with a slight hint of violet. In total, it gives a perfect combination that results in a warm and pleasant greige tint.
This color LRV (light reflectance value) is sixty which means that Agreeable Gray is able to reflect pretty much light when being applied onto the surface.
Thanks to this, such paint will not look too dark or too light being an optimal choice for any room in your house or apartment no matter of its lighting.
Also, Agreeable Gray combines with other colors well (especially with other neutrals and grays or beiges), besides, it can be applied in almost any space in the house from living rooms to kitchens and even bathrooms.
Moreover, due to its light-reflecting characteristics, this shade looks warm both in daylight and under artificial lighting.
In any case, the color will look advantageous anywhere in your living space. This paint can even be used for exterior purposes!
Agreeable Gray Living Room Decor
If you decide to use Sherwin Williams Agreeable Gray in your living room, you will surely receive a win-win result!
Since this color is neutral, and moreover, as long as it is greige, it is possible to combine it with various decor elements which gives you a wide area for experimenting.
In particular, Sherwin Williams Agreeable Gray will look especially good when paired with wooden elements like shelves, window frames or mirrors frames, coffee tables, etc.
Also, any white decor elements, such as fretwork, will look nice when combined with this paint color. White furniture will also look nice in a room painted with Agreeable Gray.
Any gray decorations, as well as other neutral and pastel colors will also create a win-win stylish appearance of your living space when combined with some Agreeable Gray color.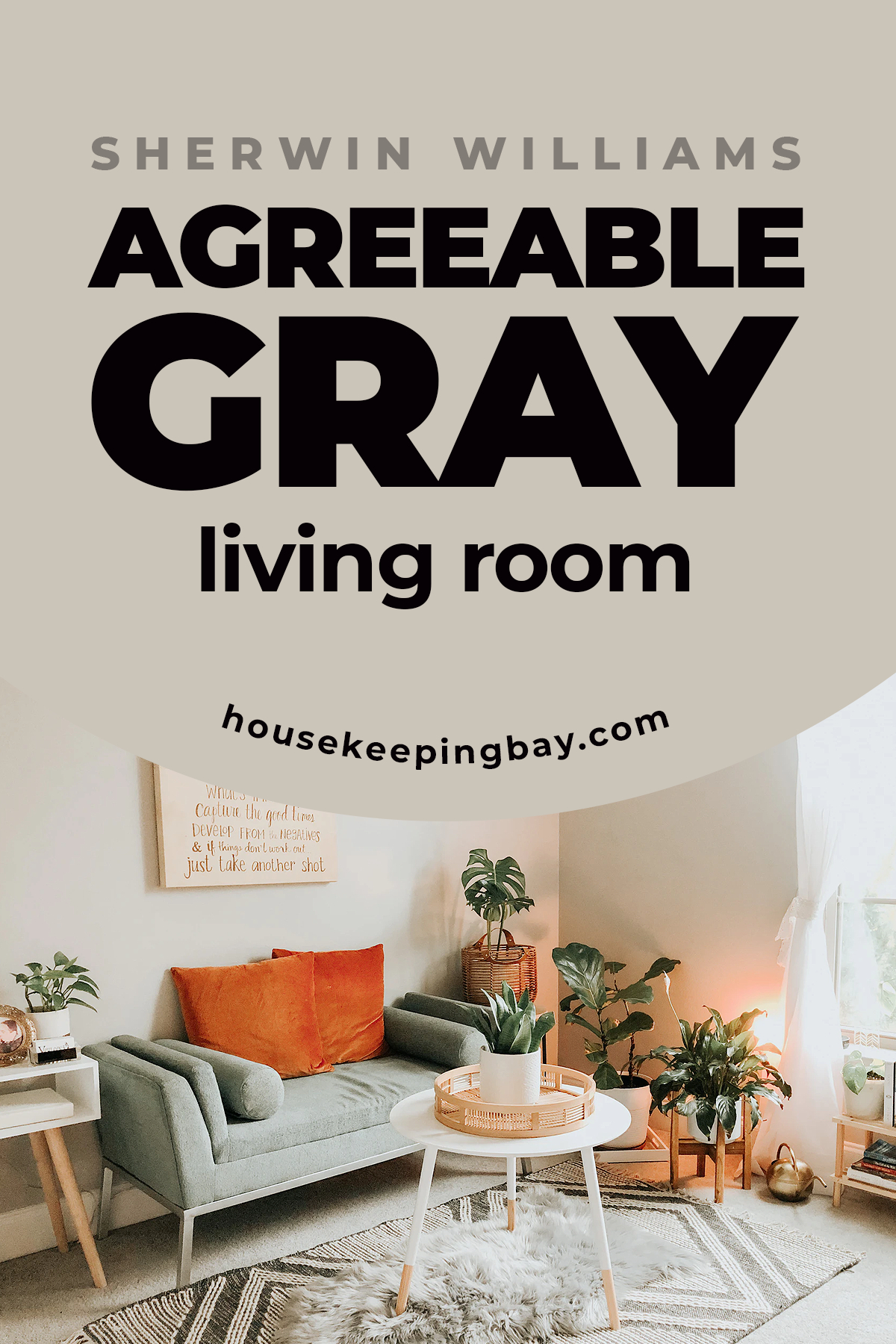 Agreeable Gray Ideas
In general, colors like Agreeable Gray are best of all combined with other greiges and/or neutrals.
However, such an interior may look a bit too dull, so if you are looking for the ideas of how to liven it up, think of the following options:
Add more browns. Dark brown and light brown, as well as beige, will look very harmoniously along with Agreeable Gray.
Don't be afraid of adding bright colors into the room painted with this greige hue! Orange, yellow, green, red, pink – such colors will add warmth to your room.
Combining Agreeable Gray with blue of various shades may also be a good solution. Only consider that in this case, the overall appearance of the room will be somewhat cooler.
Basically, this neutral shade is pretty universal when it comes to combining it with other colors. However, always pay attention to the lighting in a room if you plan to add some unexpected or unusual color combinations!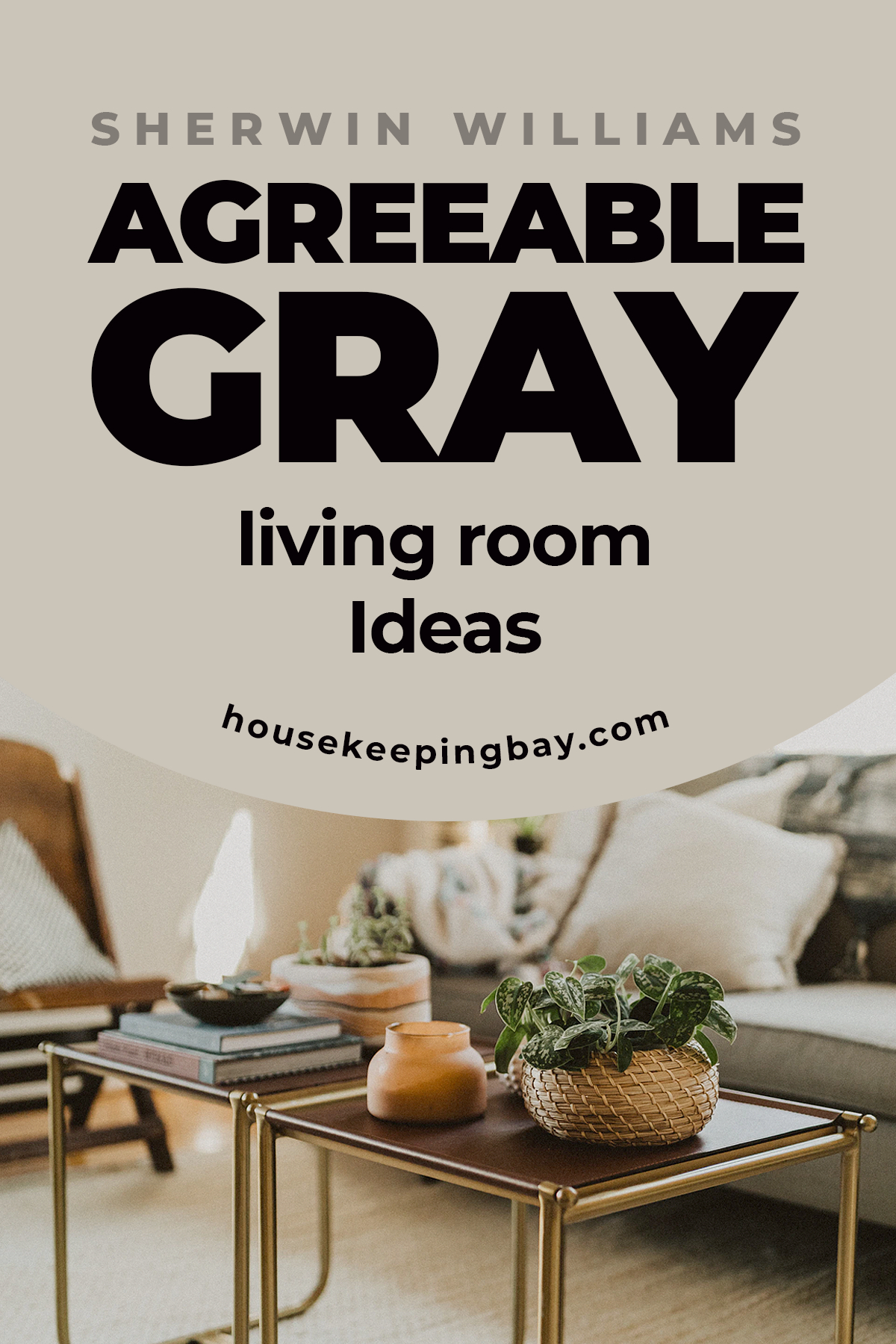 Agreeable Gray Living Room Paint Colors
If you decide to apply Agreeable Gray on your living room walls, it's better to refresh once again what type of color it is.
So, basically, Sherwin Williams Agreeable Gray belongs to the group of greige colors, even though you can hear of it as of warm gray. It means that it has features of both gray and beige paints which makes this color universal in terms of application.
Agreeable Gray is known for having rather warm undertones that have brown notes and a slight dab of violet.
Also, its balance of warm and cool tones is pretty well-balanced thanks to which the paint looks perfectly neutral.
Another great feature of this color is its Light Reflectance Value (LRV). Its rate is 60 which means that SW Agreeable Gray reflects pretty much light when being applied onto the surface. As a result, this paint is suitable for any room from kitchen to the living room.
You can even paint your corridor with it!
And besides, Agreeable Gray from Sherwin Williams can also be used as an exterior paint.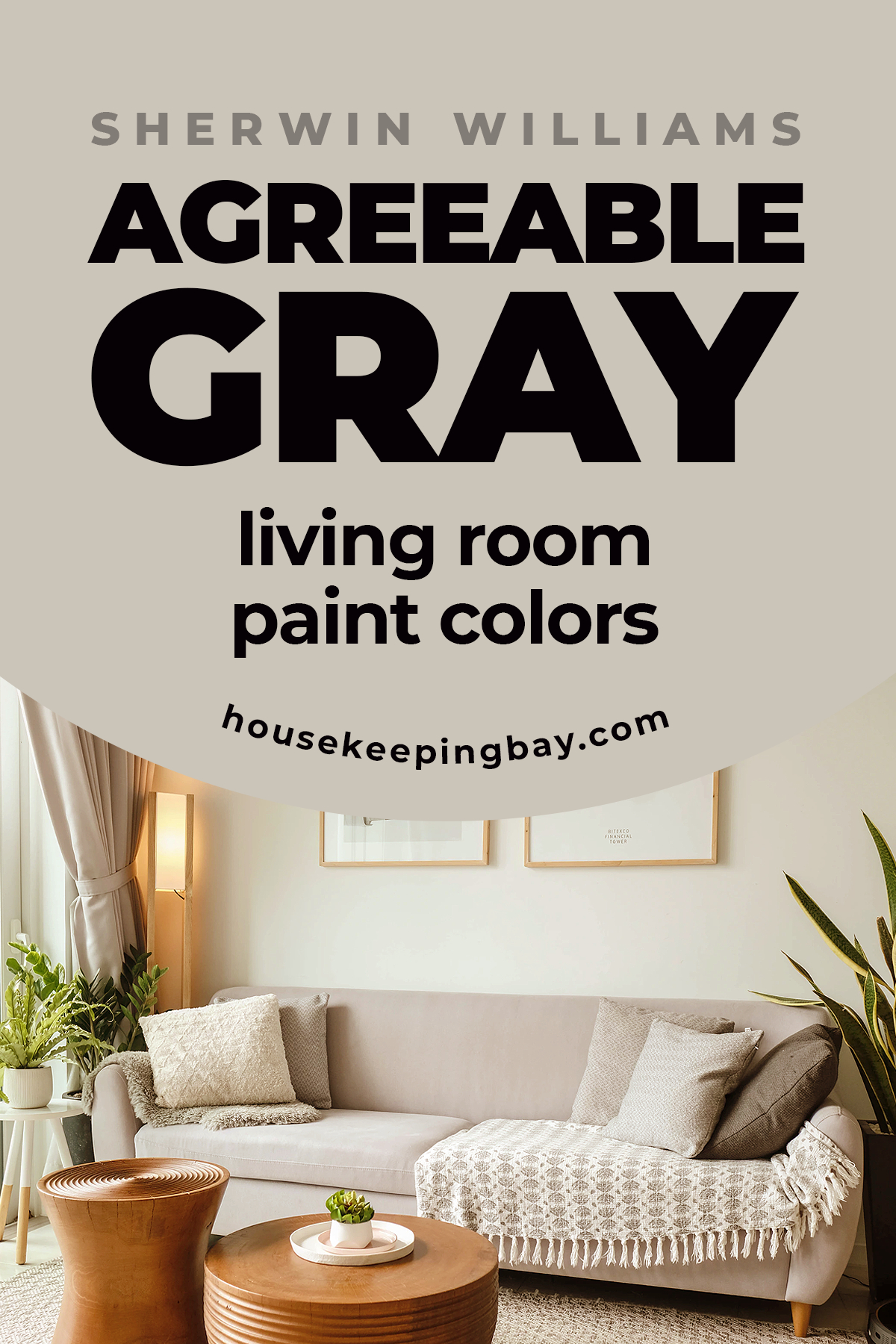 Agreeable Gray Living Room Furniture
When we decide to use SW Agreeable Gray in our living room, the first point of concern we face is whether or not this color will fit our furniture.
Well, the good thing about this neutral paint color is that it can be easily combined with almost any decor elements and colors! However, do keep in mind several handy life hacks to make your living room look even better than it is now!
Agreeable Gray is best of all combined with brown shades since they reveal the color's warm undertones better. This is why stick to wooden or simply brown furniture if you want to make your space cozier.
This color will also look nice with almost all tones of blue from deep to light ones. However, such an interior will look rather cool so consider this prior to shifting your upholstery to the navy-blue tones.
To create a calming and balanced atmosphere, stick to warm beiges and grey tones in upholstery to mix them with SW Agreeable Gray. If you find such an interior too boring, feel free to add some bright accents by incorporating colorful cushions, curtains, or other decor elements.
In general, this paint color gives plenty of space for experimenting, so don't be afraid to try!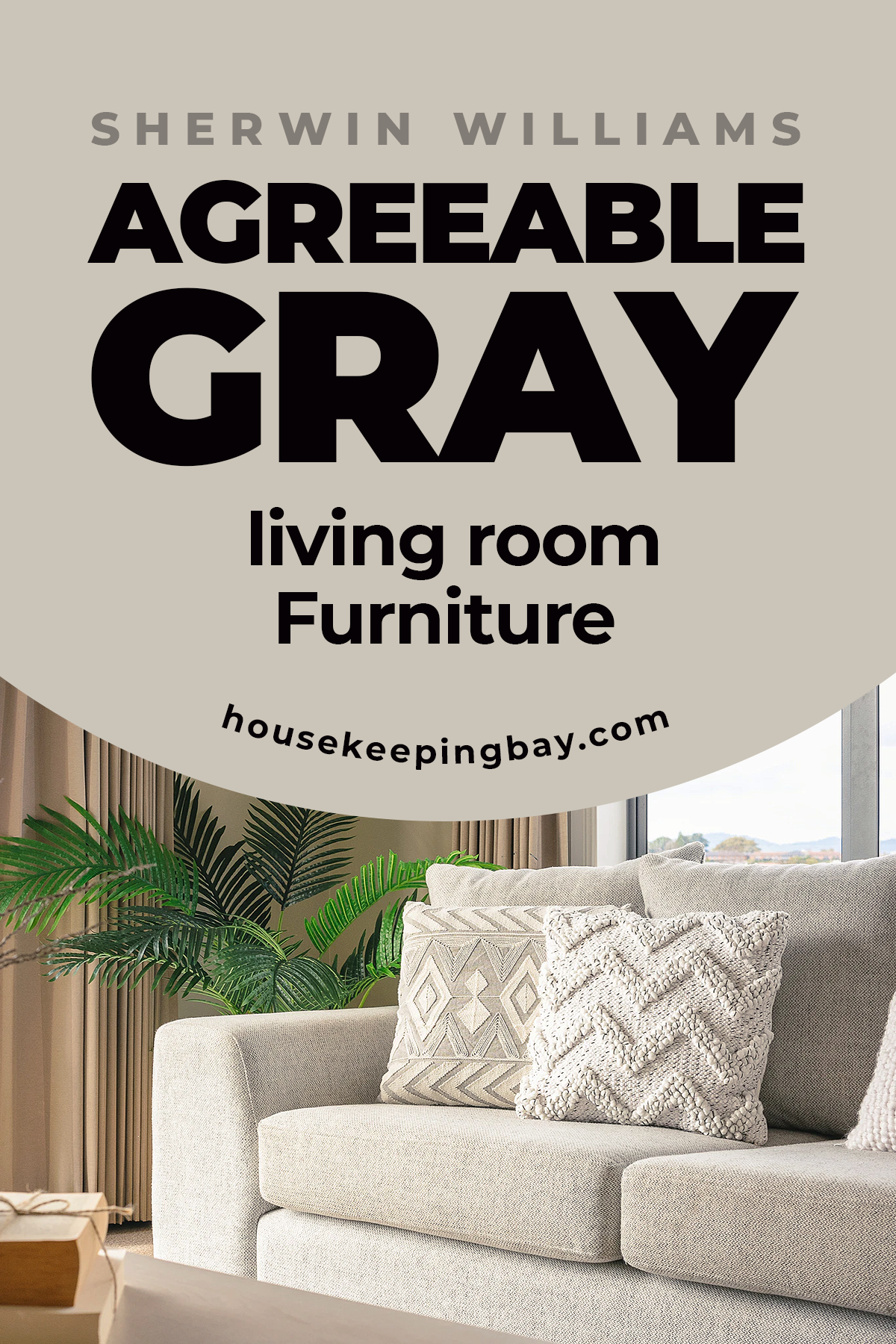 Agreeable Gray Living Room Sofas
Some people are worried whether or not their sofa will look nice in front of the walls painted with SW Agreeable Gray. In terms of this issue, this neural warm greige is a perfect choice for any interior!
It pairs well with leather brown massive sofas.
It will also look nice with a sofa of a modern design.
Fabric sofas can also look great in front of neutral greige walls.
In terms of your sofa's color, Agreeable Gray will only win from being combined with any brown shades, as well as beige and/or other greige colors. Blue colors can also be an option, only remember that this hue can make the overall room look cooler.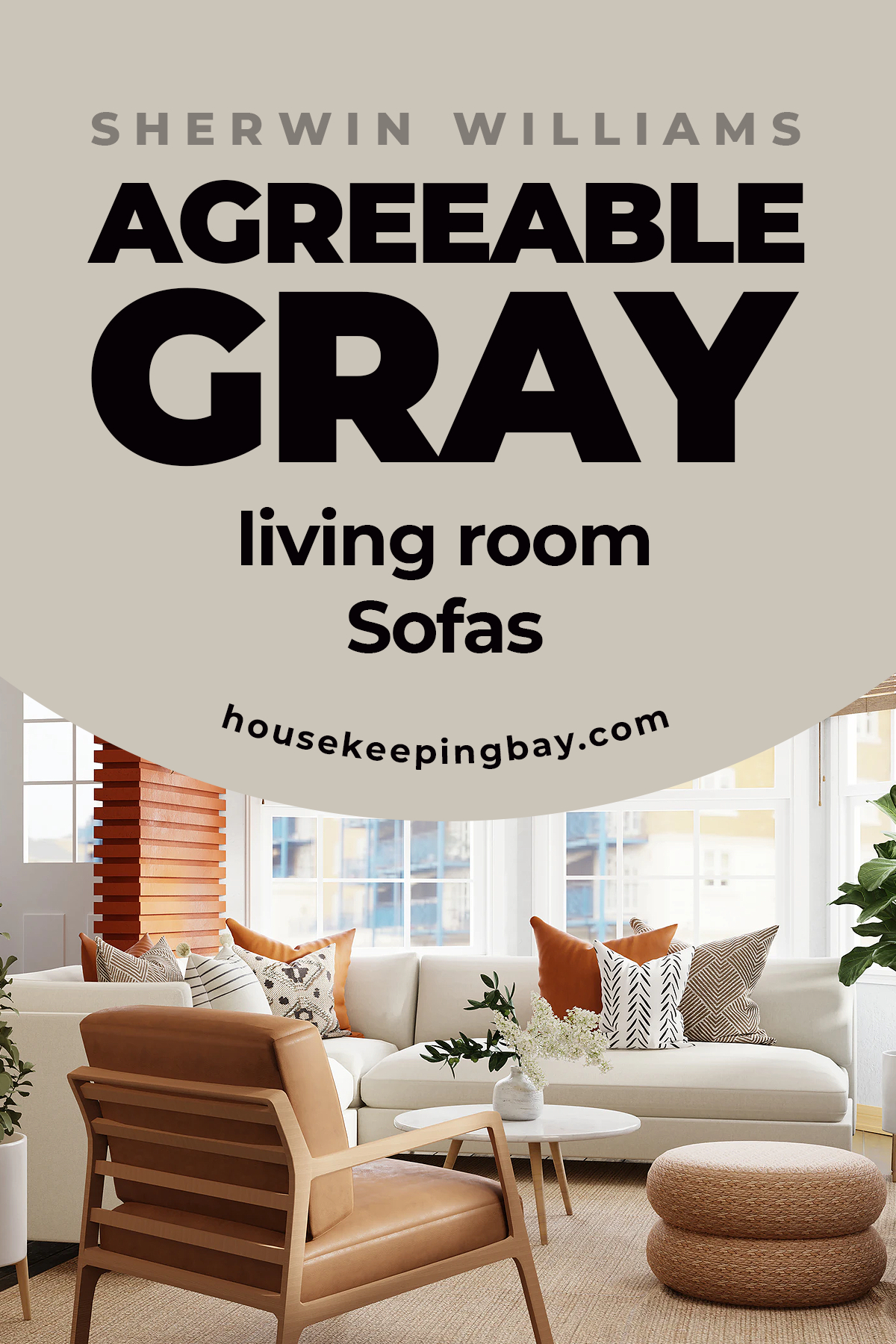 Agreeable Gray Living Room And Brown Couch
Will Agreeable Gray in my living room and brown leather couch pair well?
This is the most frequent question from the owners of leather sofas! Fortunately, the answer is positive since this paint color is rather universal and combines well with many different colors and shades.
Moreover, since Agreeable Gray has brown undertones, using it in a room with a brown couch will only help the paint to reveal that brownish warmth better, making the space look cozier.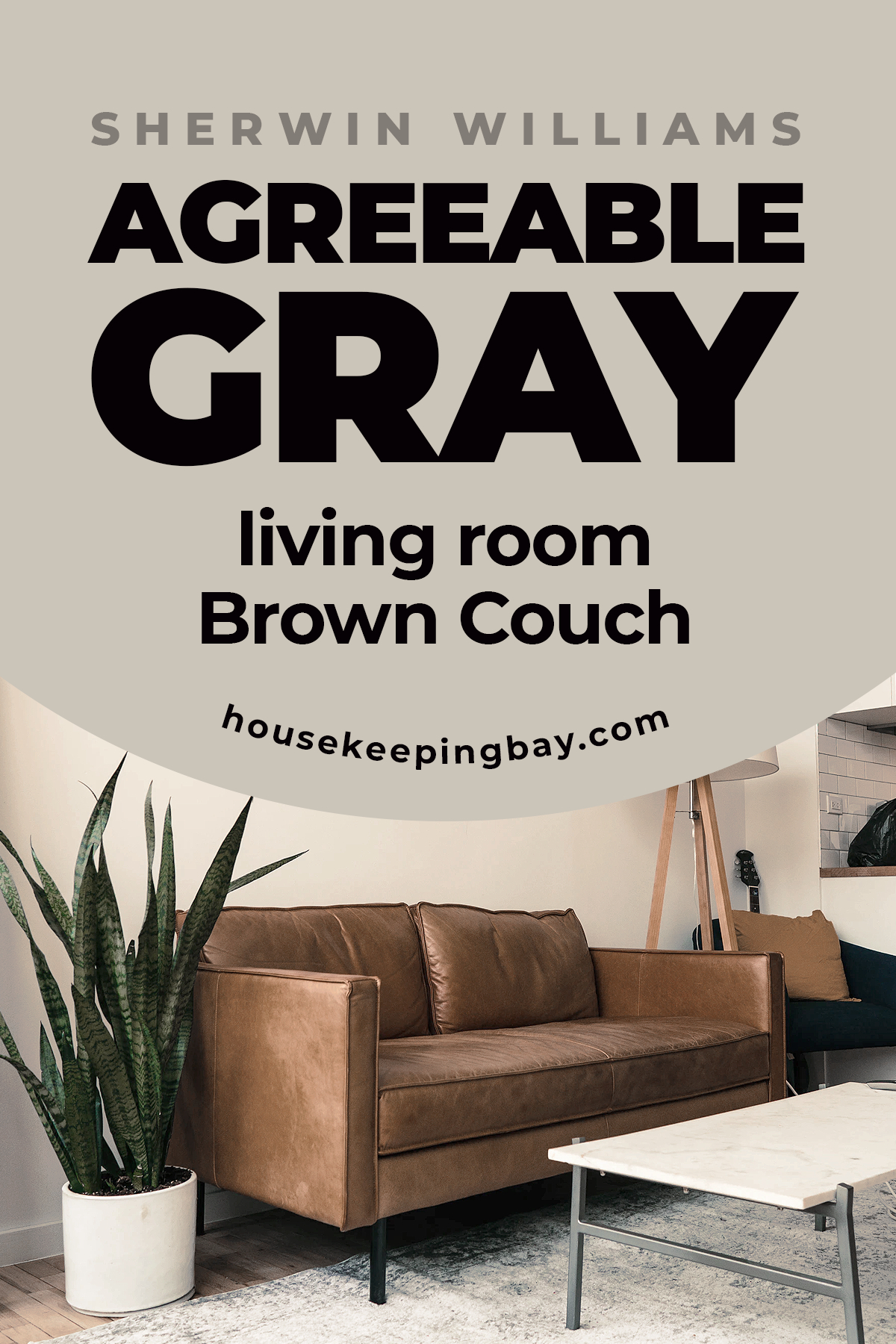 Agreeable Gray Living Room And Curtains
What curtains color to choose to create a good-looking interior in a room painted with Agreeable Gray?
Well, the best option will be to buy beige or gray curtains.
Warm beige shade will complement the brown undertones of the paint making the walls look warmer.
As for the gray curtains, they can either make the room look cooler (if you choose a cold gray hue) or warmer (if you pick up the warmer tone).
However, if you want to step aside from the traditional ways, feel free to experiment. Agreeable Gray is rather universal in terms of use, so don't hesitate to combine it with blue or azure curtains, for instance. Patterned ones will also look nice, by the way!
SW Agreeable Gray is amazing color! It can be used for both interior and exterior paint works, besides, you can combine it with so many other colors! So if you are looking for a color that will complement your interior, this one can definitely become your number one choice.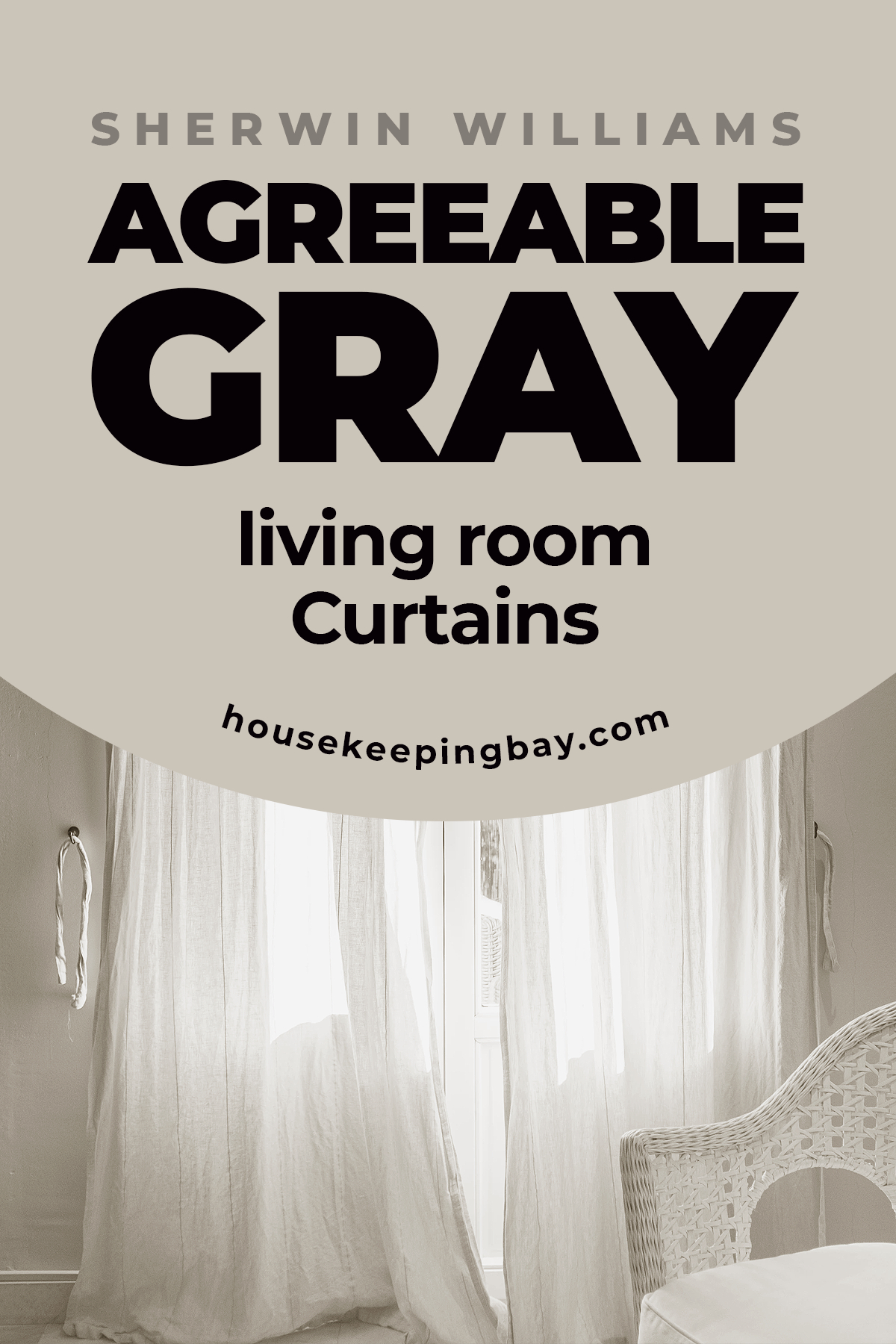 Frequently Asked Questions
⭐ Who makes agreeable gray?
This paint color is made by Sherwin Williams brand.
⭐ What are the undertones of agreeable gray?
The undertones of this color are brown, velvet, and taupe.
⭐ What color is a drop darker than agreeable gray by sherwin williams?
It's Sherwin Williams Anew Gray SW 7030.
⭐ What colors pair well with Agreeable Gray?
Whites, blues, greens, neutral colors, and turquoises.
⭐ Is Agreeable Gray still popular?