Modern interior styles provide designers and homeowners with an opportunity to use different shades and colors to create a unique feeling in the house.
Whether these are plain or bold tones, everyone can design an apartment of their dreams.
Current trends of interior colors offer monochrome, sophisticated styles in plain and nude palettes.
Natural combinations of beige, creamy, white, gray, and black colors are basics for creating a stylish design of your house.
Some people complement them with bright and vivid details, some prefer to keep it clean and use go-to shades.
Today, we're going to talk about one of the most iconic shades in 2021-2022. It's called October Mist and it's unbelievably beautiful.
What Color is Benjamin Moore October Mist 1495
If you open the Benjamin Moore official web site to see what color is Benjamin Moore October Mist, you'll see that it has a smoky, light green shade. How can we describe it? Well, imagine yourself in a morning jungle.
You are surrounded by amazing and picturesque nature that is embraced with a light, grayish morning fog. Looks cool, ain't it?
The Benjamin Moore October Mist 1495 isn't just a simple khaki color.
It's complicated, interesting and exciting. Because it's a shade from the natural palette, it goes well with other natural tones: sand, yellow, brown, mustard, orange, black, white, peachy.
The October Mist color is a whole palette from greenish-brown, greenish-gray, dirty yellow to dusty gray shades with greenish notes in different lighting and decoration, as Encycolorpedia says.
It can change the emotional coloring depending on the color companion.
This is what sometimes determines the choice of interior style. For example, together with gold, it will make an excellent duet in a classic design, if there is no gold, it seems modest, in need of bright accents.
This shade of the walls in the interior is typical for modern styles.
Especially it is often found in the loft style.
Depending on the temperature and saturation of the undertone, the olive color can tune in to inner peace and harmony, soothe, distract from everything, showing indifference.
At the same time, it can create an aura of mystery and understatement.
Therefore, the choice of tone must be approached thoroughly. At the same time, the color of olive can be combined with bright colors of the color palette.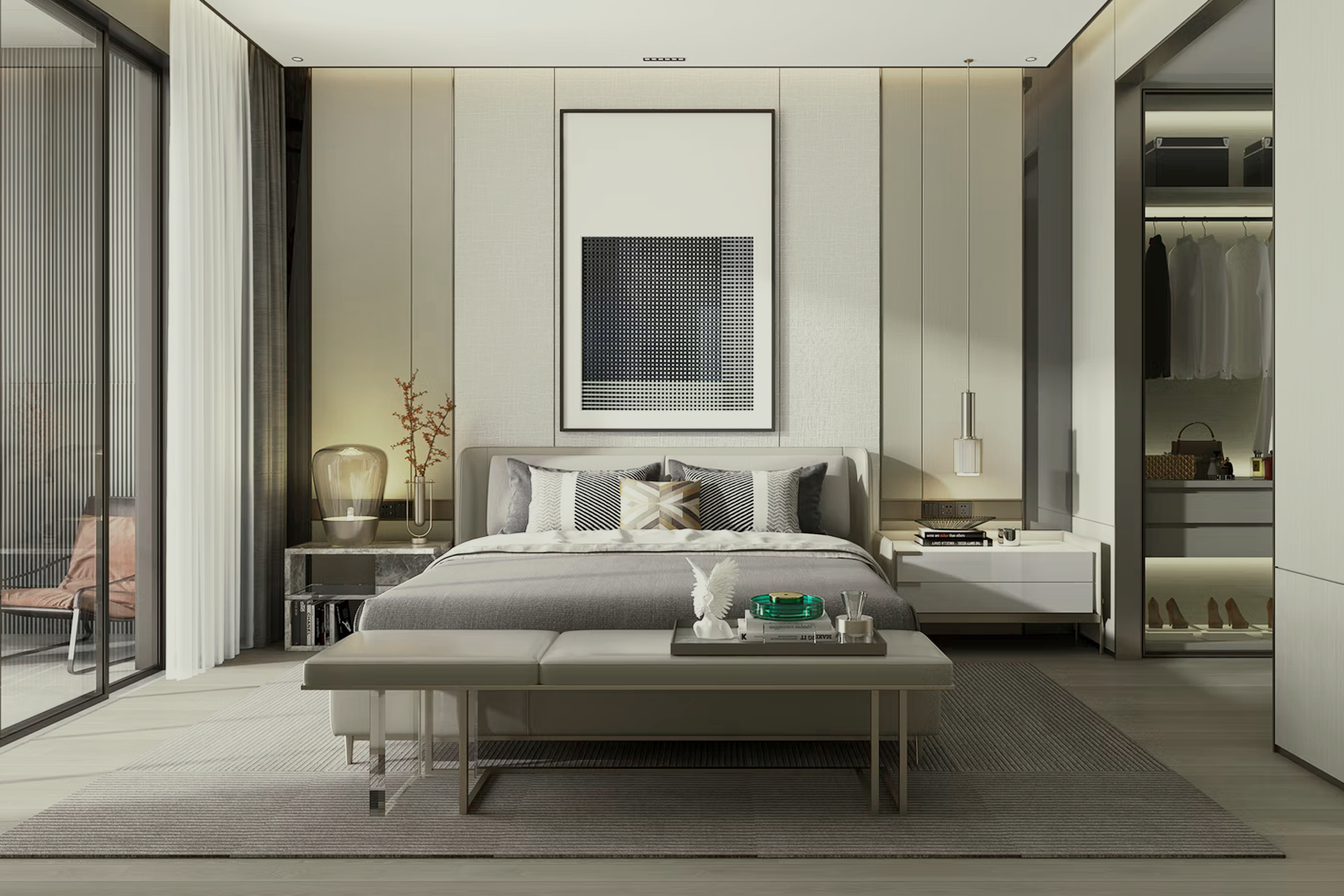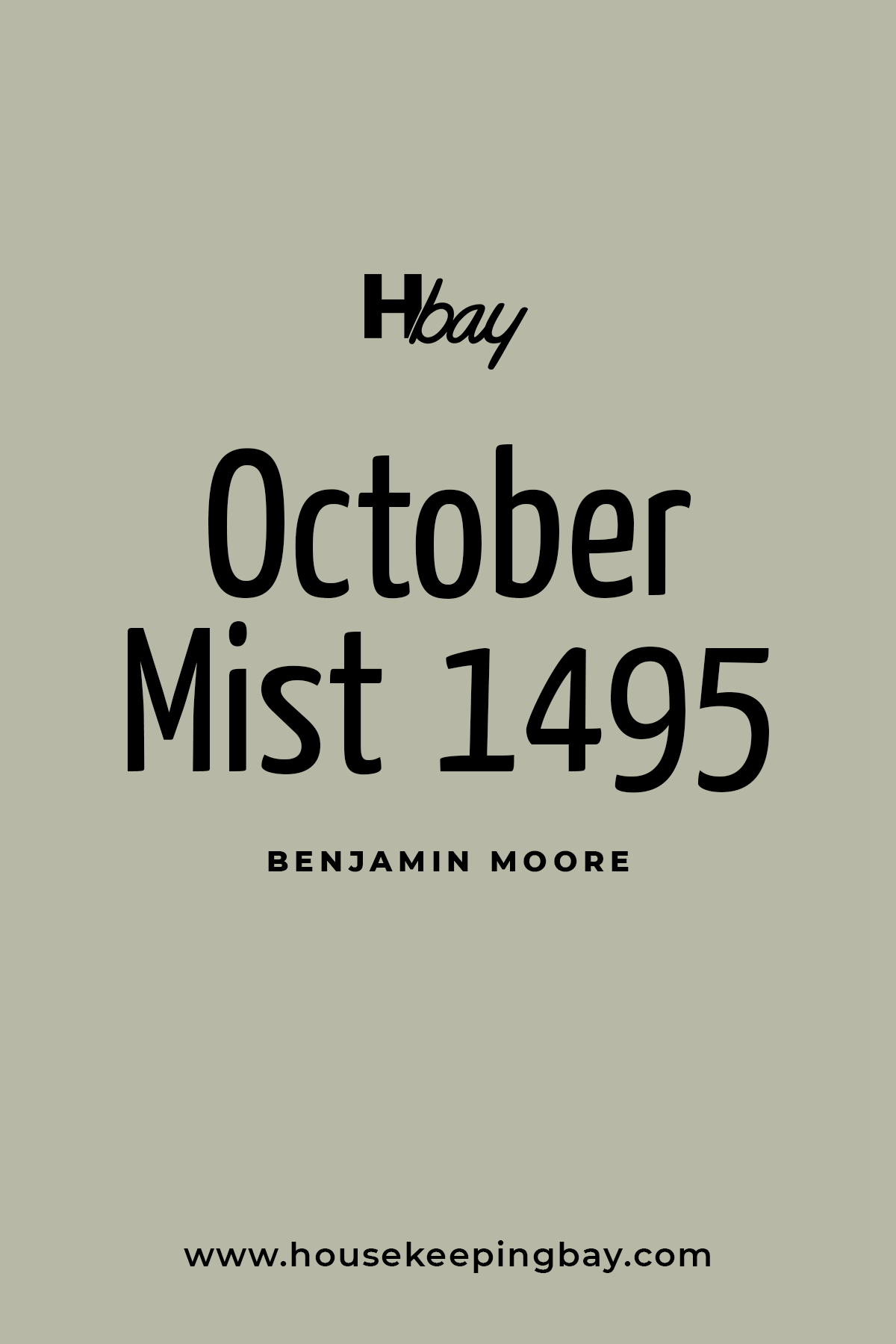 Is October Mist a Warm or a Cool Color?
October Mist is a rather warm-toned color since its LRV is 46.33. It is difficult to define this color unambiguously. It is a shade that oscillates somewhere between gray, green, brown, hazy and earthy.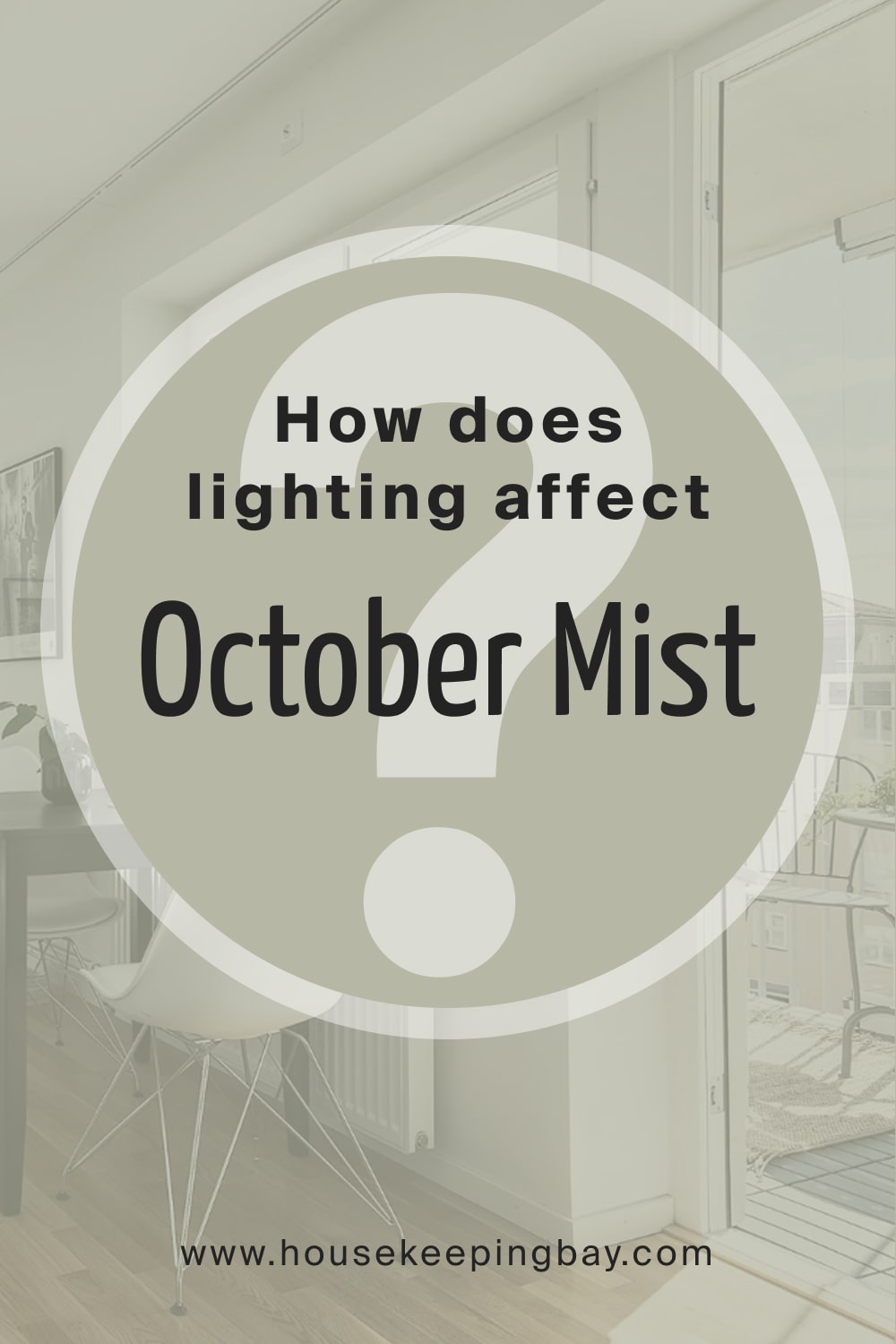 Based on this, the October Mist color can be used in interior design in combination with a huge number of shades, but it is important to choose their shades correctly in order to get a harmonious picture and atmosphere.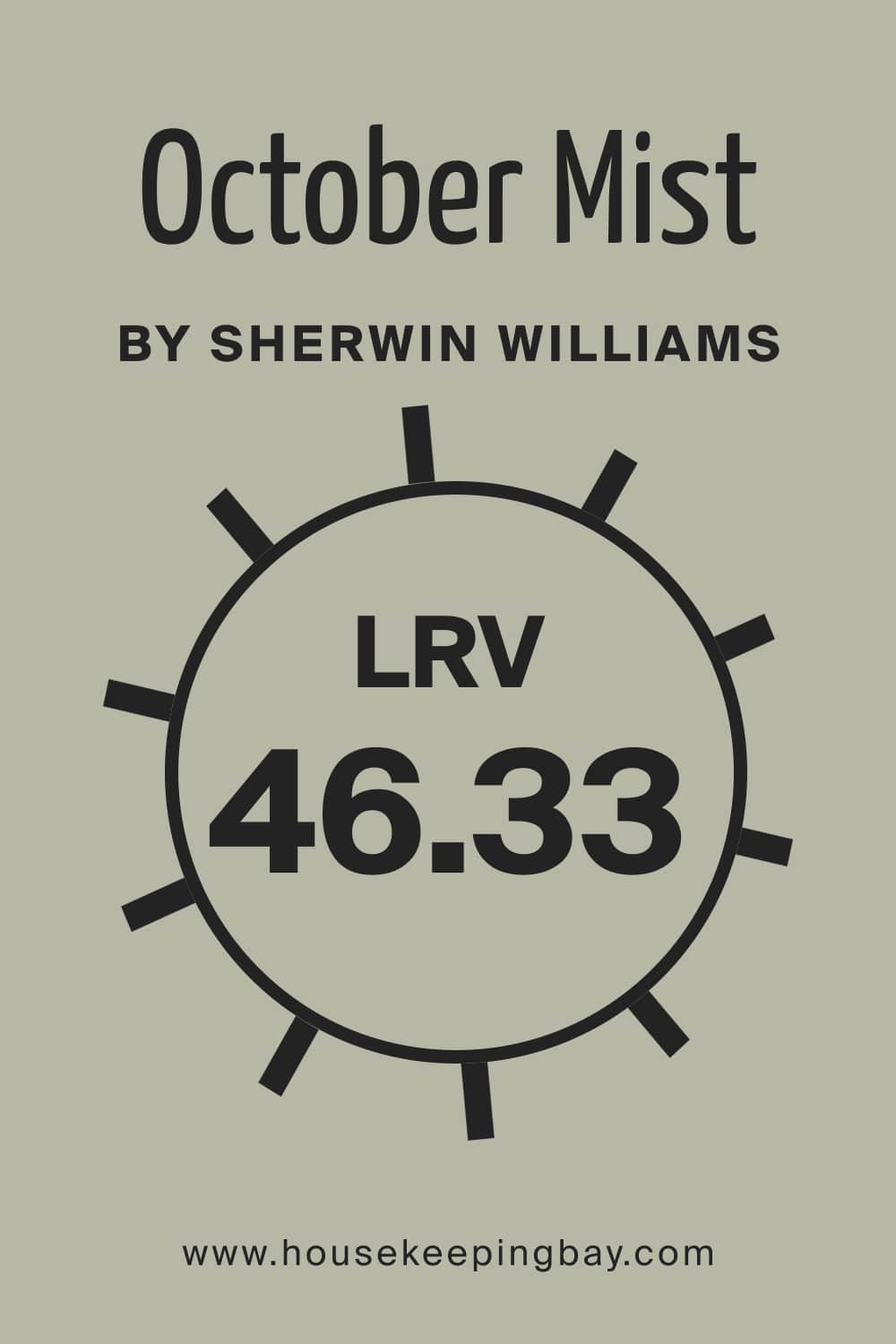 What is LRV? Read It Before You Choose Your Ideal Paint Color
How does lighting affect October Mist?
Morning natural light is a cold light that adds coolness and shifts to richer color pigments. It's the time, when your room with October Mist as a background color, will look the best.
Midday light is very bright direct sunlight, washes out colors, brightens and whitens them. While evening lightning is mixed, it cancels both warm and cold colors, the colors become "duller" and more neutral.
Artificial lights usually absorb warmth, shifting the original color to cool pigments.
Undertones of October Mist
Benjamin Moore October Mist paint color has many shades of green, beige, sand, yellow and taupe. Different lightning can bring out its sandy-beige shades, dark green tones, or marsh and pale green shades.
The color looks very impressive: moderately bright, original, stylish. In addition, what is important, it is comfortable for the eyes. It's versatile in terms of using it in rooms.
You can design an amazing kitchen, bedroom, living room and even bathroom by using October Mist as background or major color.
Depending on the temperature and saturation of the undertone, the paint can contribute to inner peace and harmony, soothe, distract from everything, showing indifference.
At the same time, it can create an aura of mystery and understatement.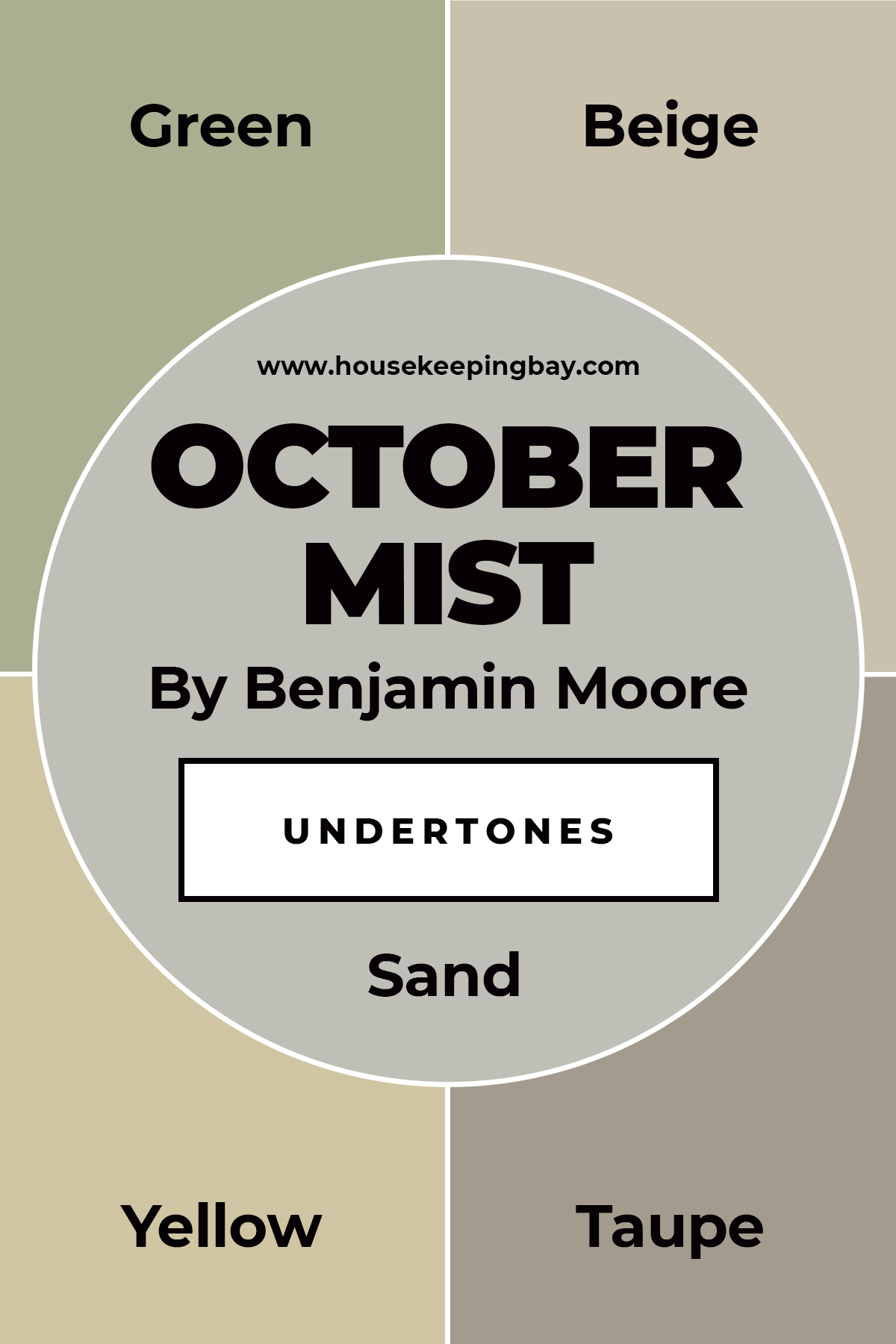 Coordinating Colors
Squirrel Tail 1476
Home on the Range 483
Squirrel Tail is a great base color that will make October Mist stand out, giving it elegance and sophistication.
This combination looks simple and at the same time very impressive, which is why this combination is one of the most beloved by designers around the world.
Chrome-plated interior elements look especially advantageous against a green-grayish tone.
This is especially true in high-tech or minimalist styles.
This is a very simple and successful combination of cold and warm shades.
In addition, gray and khaki are two trendy shades. Therefore, living rooms and bedrooms decorated in this range will look very stylish.
Home on the Range is a bright green color, and mixing it in a room with October Mist will make your apartment look fresh and monochromatic.
Cold and warm shades of green tones are appropriate in many interior styles. They organically fit into the popular eco style, minimalism, classic and Mediterranean style.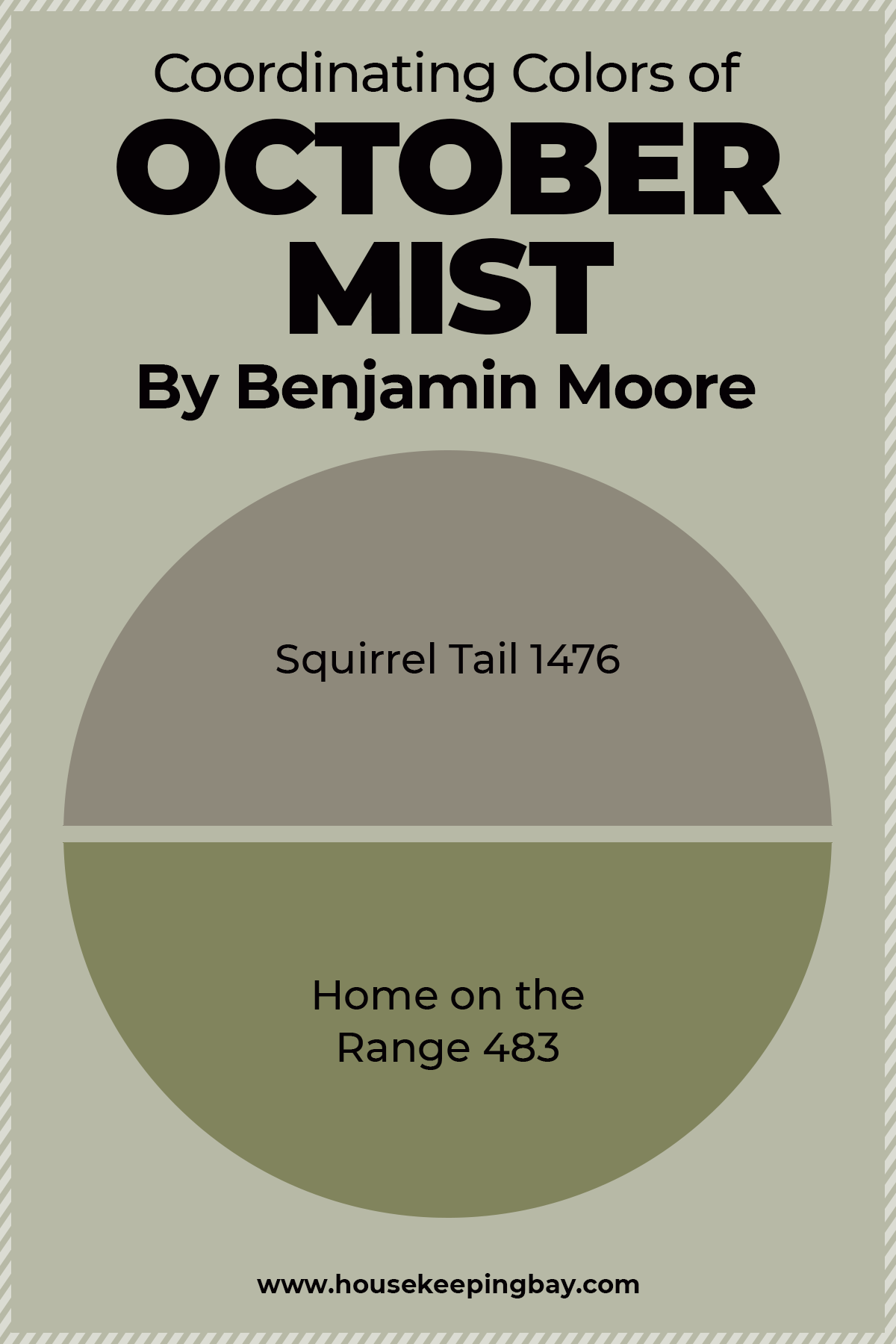 Benjamin Moore's Color of the Year 2022 – October Mist
Contrasting Colors
Caponata AF-650
Mineral Ice 2132-70
Mixing the Caponata and October Mist, you'll get one of the most appetizing and delicious combinations. It creates a sense of fundamentality and freedom, looks luxurious, charming, expensive and solid.
For example, painting walls with Benjamin Moore October Mist makes a great backdrop for chocolate-hued contrasts of Caponata paint.
Add accessories in green tones and the interior is transformed into an oasis of calm. In such an atmosphere, it is easier to think, or just sit in a cozy chair with a cup of coffee.
Mineral Ice is a cold white undertone that perfectly highlights the gloomy shades of October Mist shade, so the combination of such colors will never make the room dark.
A noble symbiosis tuned to a peaceful wave, not devoid of fashionable innovations.
Simple and elegant, that's how you can define this pair.
Benjamin Moore Paint Color Similar to October Mist
There are some options to choose from if you like monochrome interiors. Make sure to check out the following products by Benjamin Moore:
Croquet AF-455
Saybrook Sage HC-114
Tree Moss 508
Aganthus Green 472
All of these colors are beautiful shades of Benjamin Moore October Mist Palette.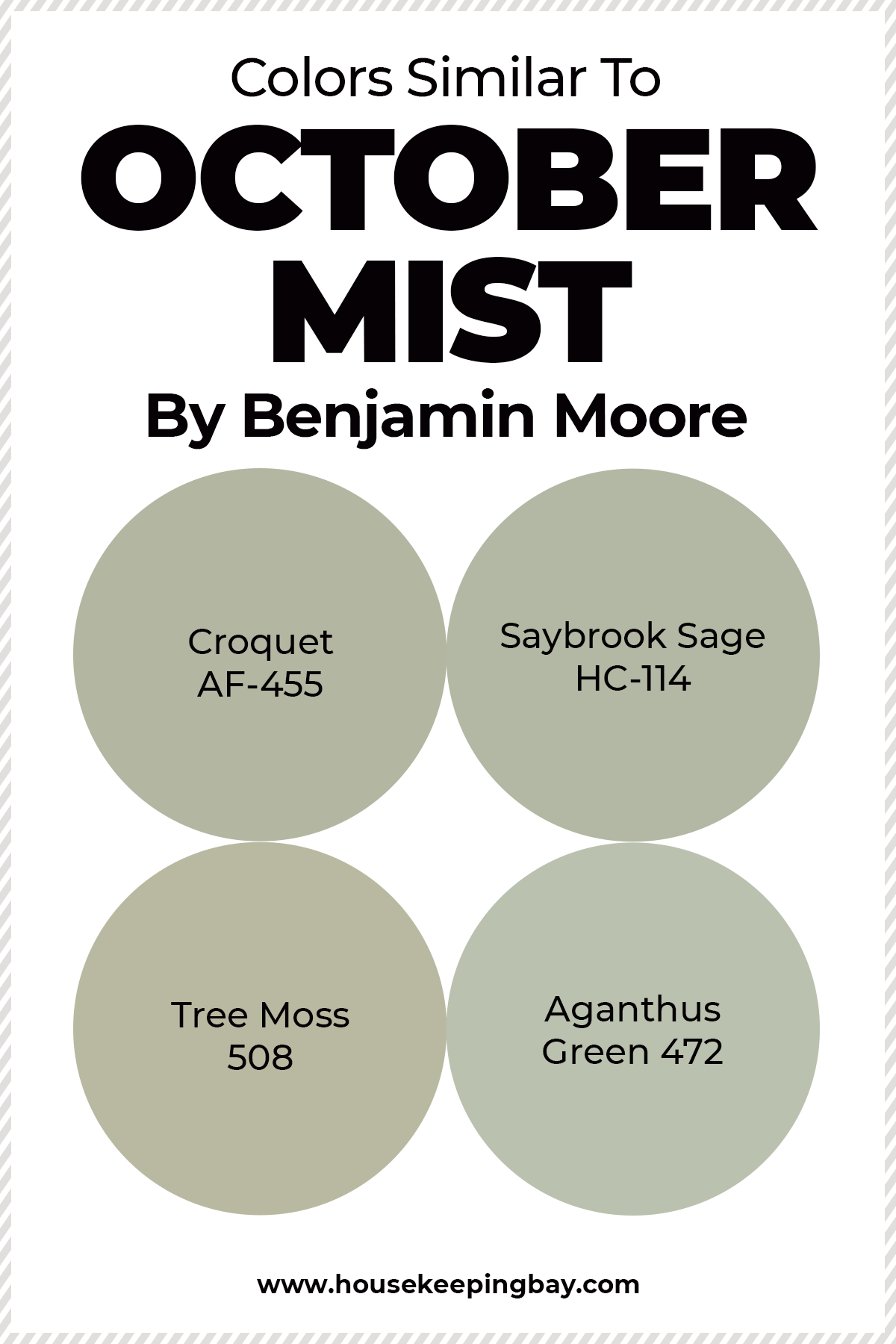 Where can You Use October Mist Shade?
Since the undertone and major shade of the paint color is quite versatile, you can use October Mist by Benjamin Moore in almost all rooms of your apartment or house.
Try to make a beautiful bedroom with Benjamin Moore October Mist paint. You can also design an amazing kitchen, bathroom, or children's bedroom and develop a sophisticated, smart-looking design.
October Mist in a bedroom
It is so nice to see sunrises in the sun-drenched olive-gold bedroom. And the dark tone of the October Mist walls, close to swamp green, helps to find spiritual comfort, relaxes, and improves sleep.
A bedroom designed with this color is a bright solution that can give relaxation and rest, or energize you for the whole day.
This natural, beautiful shade has a calming effect, and goes well with most styles in the interior.
A solid light color of October Mist by Benjamin Moore will look very harmonious with white furniture, dark rich brown floor and a white ceiling.
The natural belonging of the olive shade can be emphasized by the artificial stone in the decoration of the bedroom walls.
The stone will look very harmonious at the head of the bed.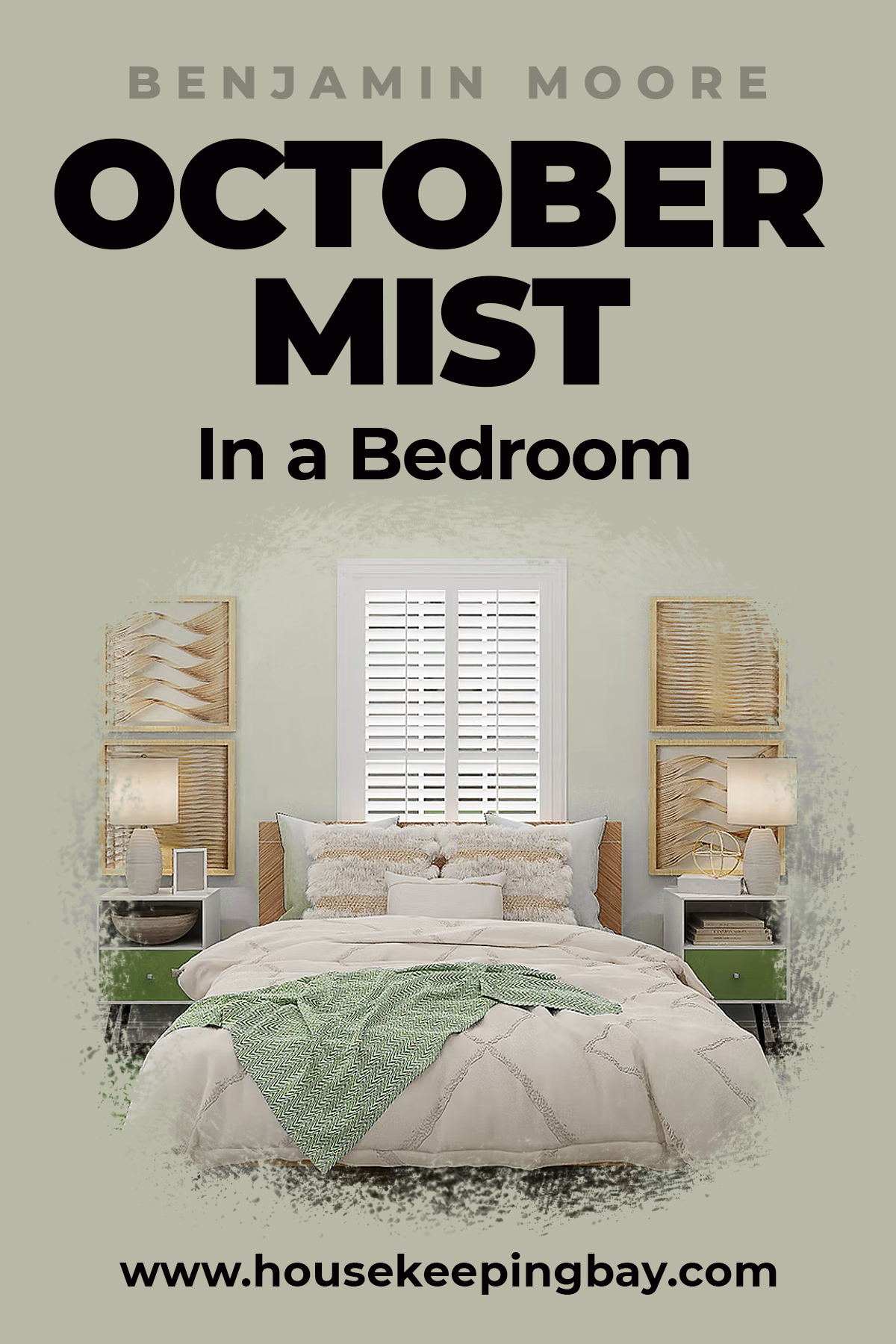 October Mist in a living room
A classic-style living room can safely classify olive and khaki shades of Benjamin Moore October Mist color as one of its standard color options.
It maintains a muted range of palette, and doesn't require bright contrasts.
Because the elegance of the classics does not tolerate impudence, the living room made with Benjamin Moore October Mist 1495 color looks rich and sophisticated.
On the contrary, the volumetric structure of the wallpaper, the patterned ornament of the color of baked milk, and soft white accessories are welcome. Everything should play as a team and not distract from the general atmosphere.
The aesthetic side of the classic living room confidently comes first.
The living room in olive tones, with the main shade of the walls made in October Mist, can be complemented by sofas and armchairs in the following colors: brown, black, beige, gray or white.
We have already mentioned above that this color is able to visually darken rooms, so there are two fundamental directions when using it: thoughtful excellent lighting of the room or the active use of accompanying tones.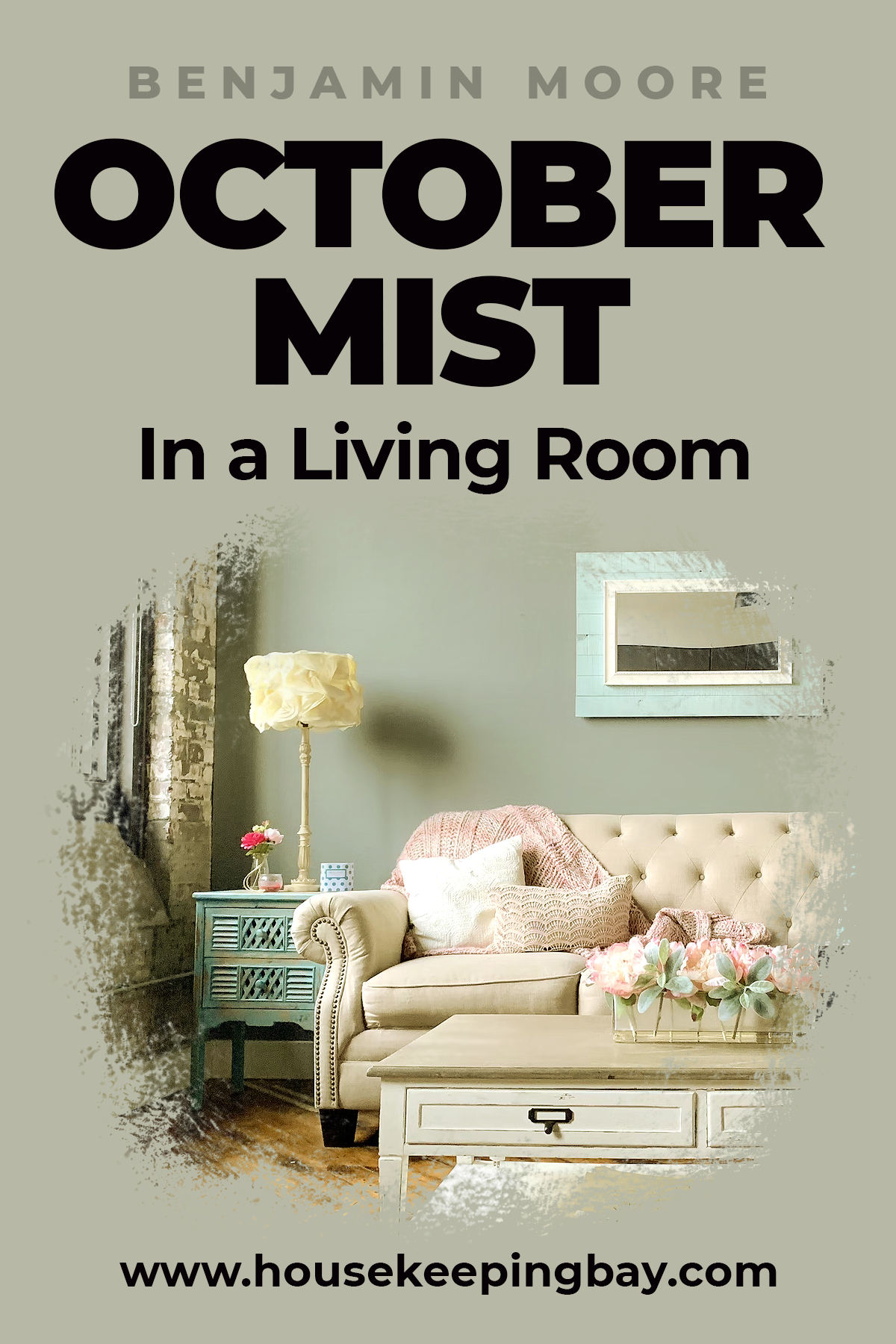 October Mist in a kitchen
An extremely original design option is to use Benjamin Moore October Mist paint in the kitchen, as it is a non-staining color.
This is important in conditions of high humidity and exposure to various gasses.
The best combination is a brown-green palette with shading inserts. This style is very fashionable as of today.
Also, if you don't want to use the paint on the walls, you can compliment the kitchen with Benjamin Moore October Mist by painting the cabinets of the furniture.
But consider light colors of the palette to process the walls or choose a shade of wallpaper that goes with Benjamin Moore October Mist.
If the kitchen space is relatively modest in size, then it is recommended to use light decor options and natural plants.
Designing a kitchen with October Mist and its contrasting or coordinating colors will not only look stylish, but also affect the mood positively. Remember that originally green is associated with spring, nature and youth.
The kitchen of soft olive and khaki tones is in harmony with the light sand shade. Most often, such a symbiosis can be found in classic-style kitchens, when the cabinets and facades are green, and the walls in the kitchen and other details are beige.
To realize the design of the kitchen in the October Mist palette, consider the lighting and the side of the windows.
The more daylight in the kitchen, the better.
October Mist for the bathroom
People are usually not used to decorating bathrooms with such a tone. But this is due only to the inexperience of beginners who cannot make out with the right lighting.
To create a good design of bathroom with Benjamin Moore October Mist, avoid contrasts as they can visually reduce the volume of the room.
The most interesting option is the decor, where plumbing or furniture is made in olive color. The background can be any warm tone that is combined with olive.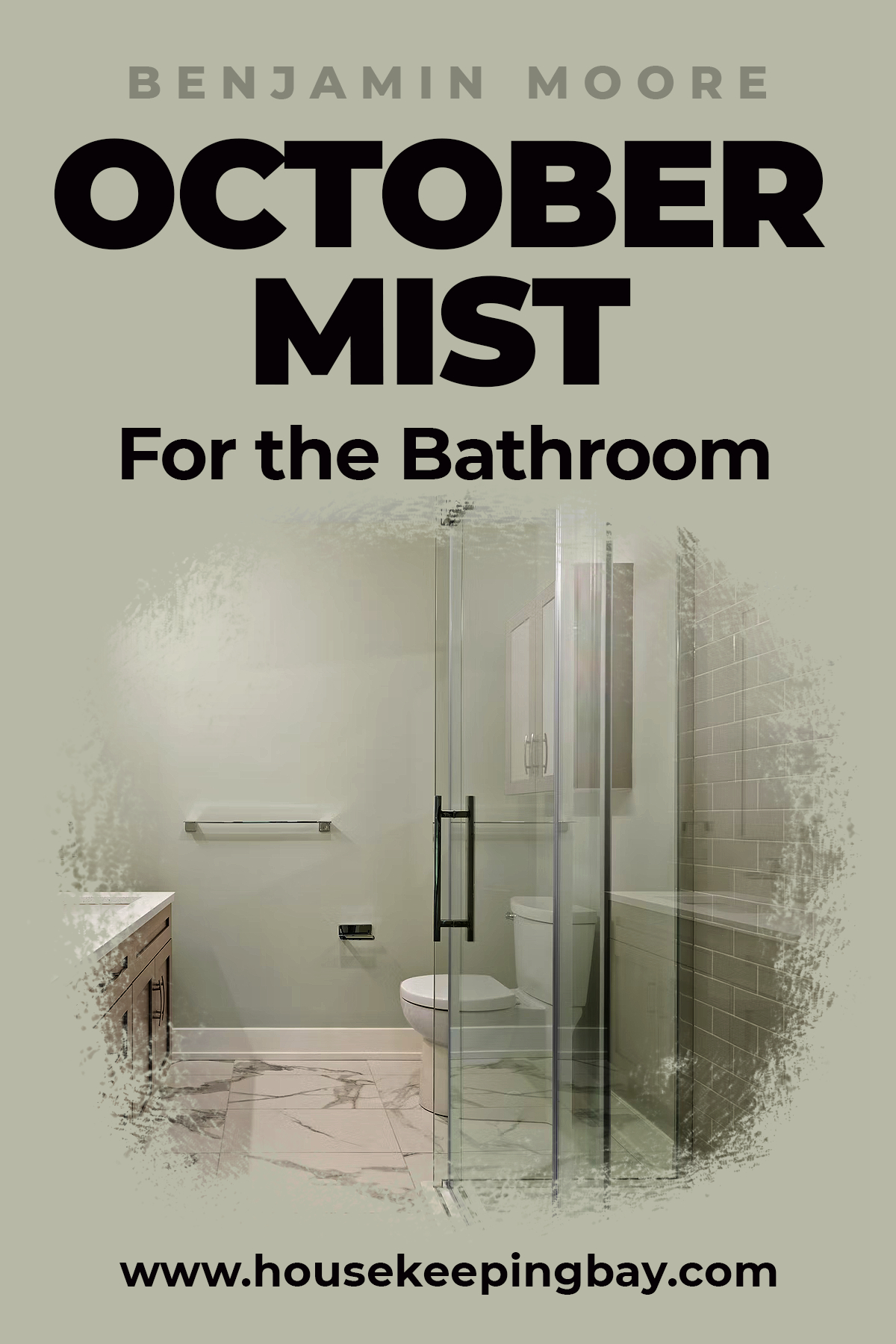 October Mist in exterior design
The choice of color palette for the design of the facade gives the appearance of the building an aesthetic value and a certain sense of significance.
Color is able to enlarge and reduce an object, to bring it closer and further away, to make it look up or down to earth, to bring together disparate parts or completely destroy integrity.
If you choose to use Benjamin Moore October Mist in your exterior, then you must first learn how to work with this color correctly, because it is original and mysterious, and has its own nuances.
It is not advisable to create a plain wall surface from the outside, as a private house made in this style will have a dull and pale look.
You need to choose the right companion color. For example, the facade of a private house, in which an olive shade is combined with beige, brown or blue, will look attractive and unusual.
No need to choose too bright colors to combine with olive color.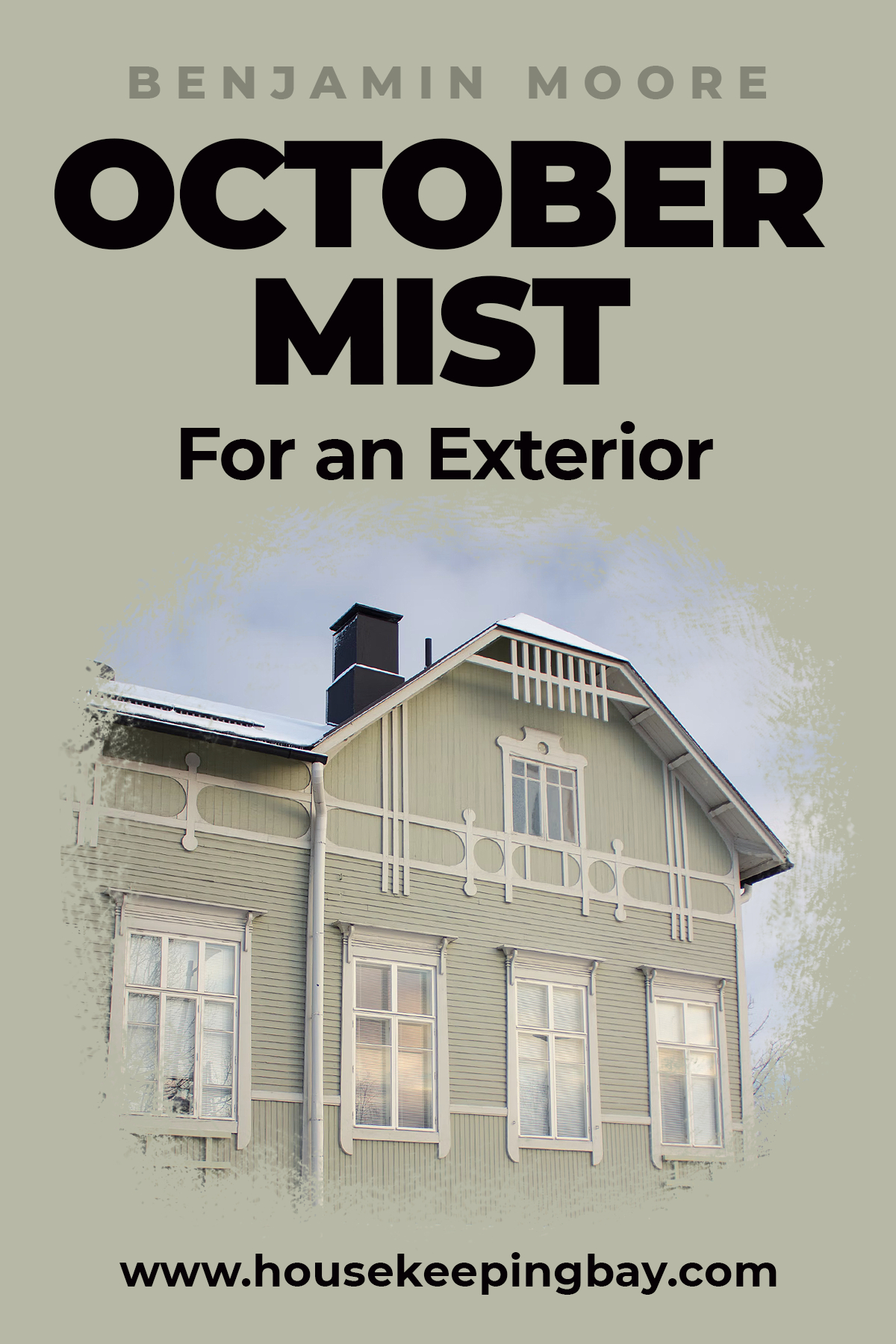 Сolors that go with October Mist palette
If you're looking for more color options to complement the Benjamin Moore October Mist undertones, check out these Benjamin Moore October Mist palette series.
October Mist vs. Evergreen Fog
Timeless and elegant, Evergreen Fog will be a great addition to any room design. It has cool toned shades and can update an image of the dining room painted in benjamin moore October Mist.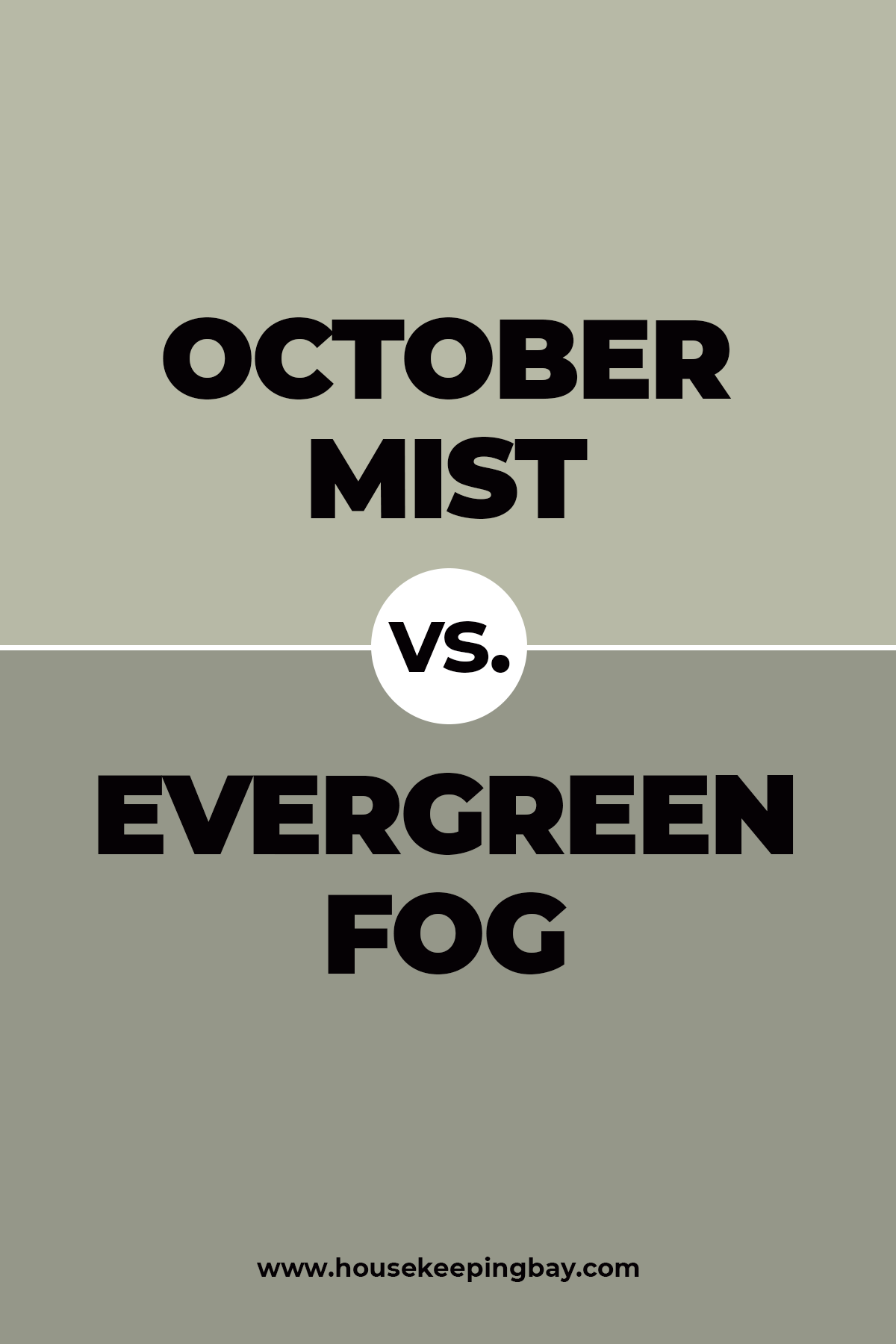 October Mist vs. Saybrook Sage
This contemporary shade of green is an amazing option for monochromatic designs using the October Mist.
It has a warmer undertone and provides freshness and a feeling of eco-lifestyle.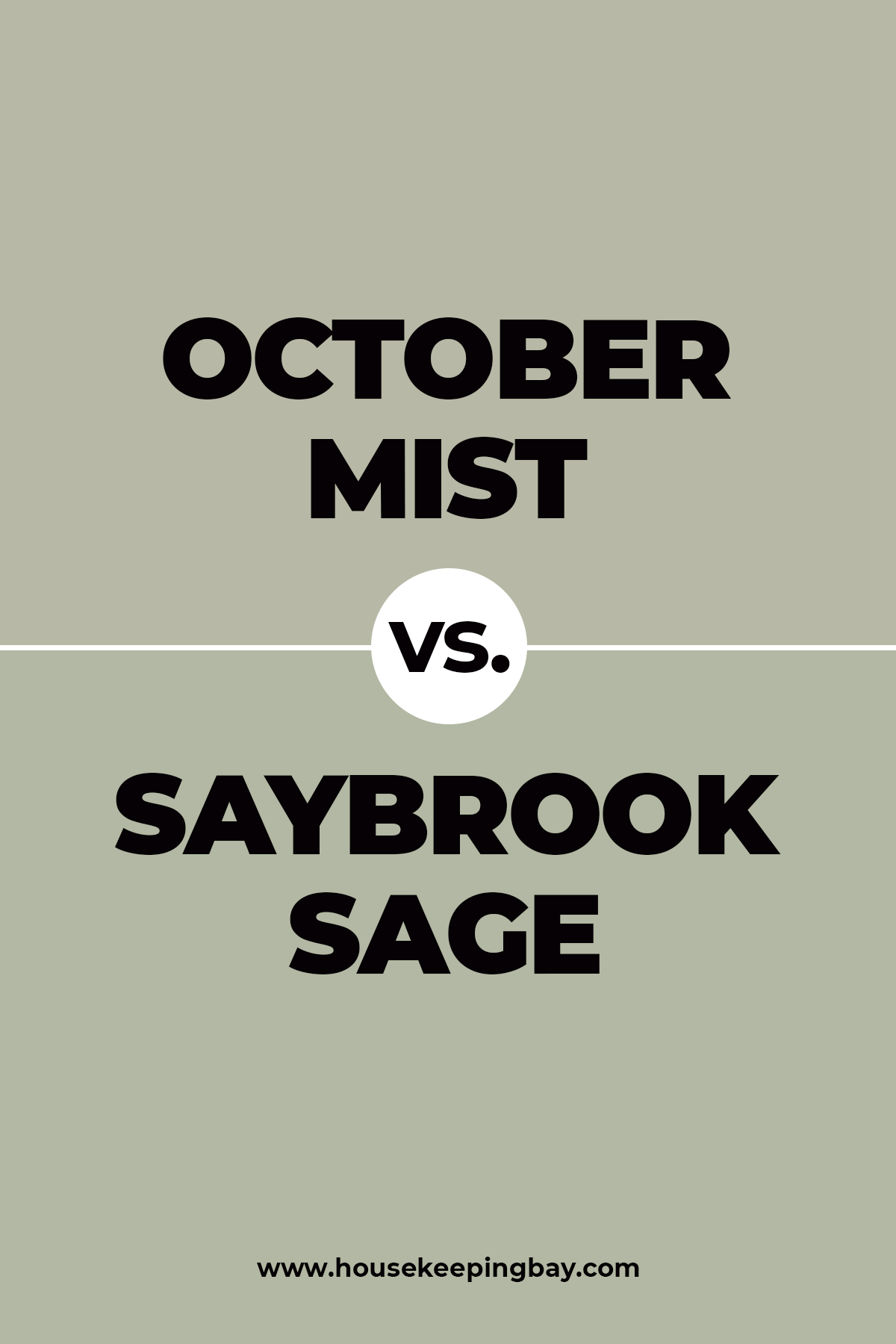 October Mist vs Sea Salt
Sea Salt by Sherwin Williams is a grayish color with a warm undertone, that will compliment any interior. It's a nice, very sophisticated light color that is also versatile and has a neutral effect.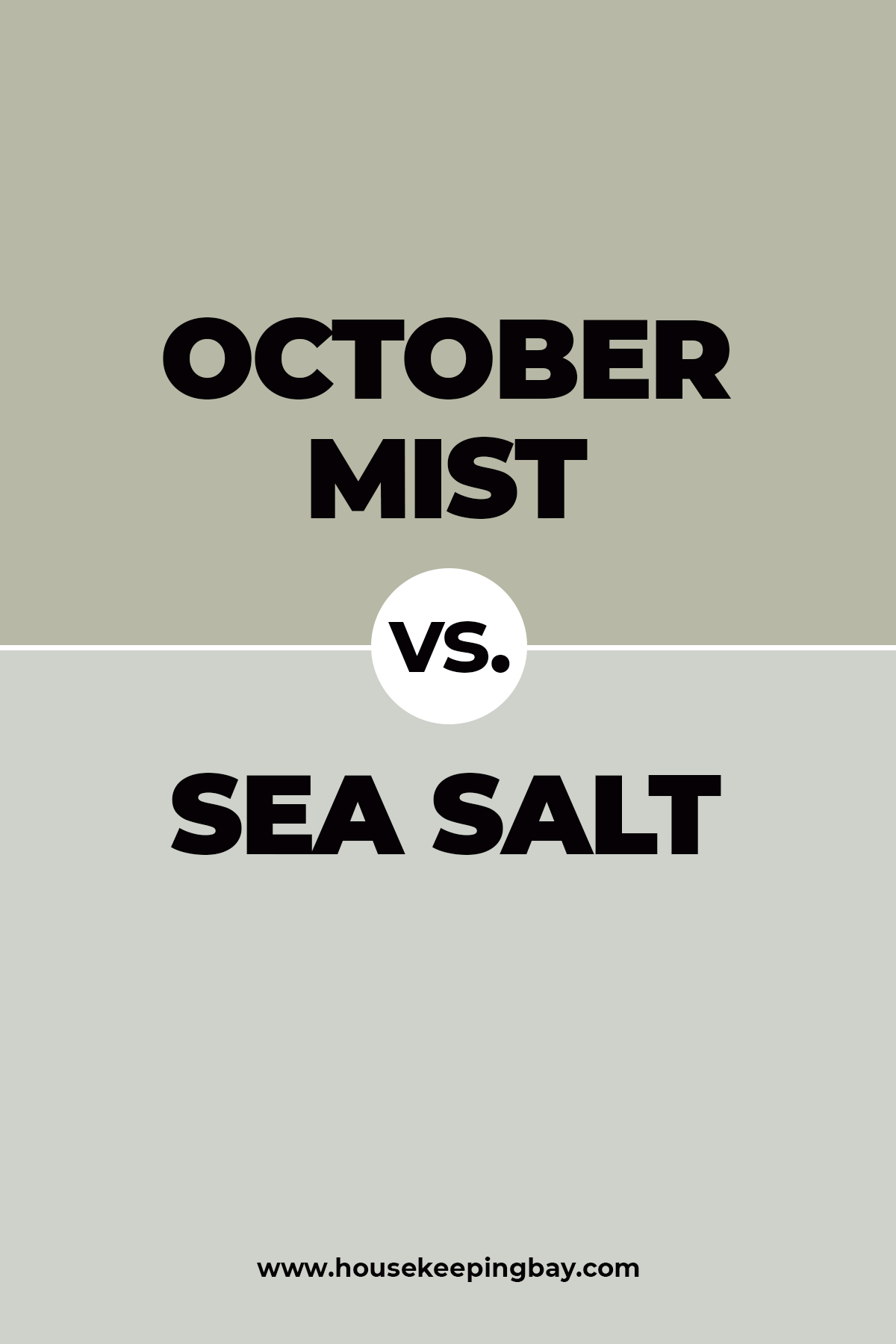 October Mist vs Agreeable Gray
The combination of green and gray shades is an Agreeable Gray iconic classic. Choose this mix to give your interior a unique look. It can be a great idea for a modern, spacious bedroom in minimalistic style.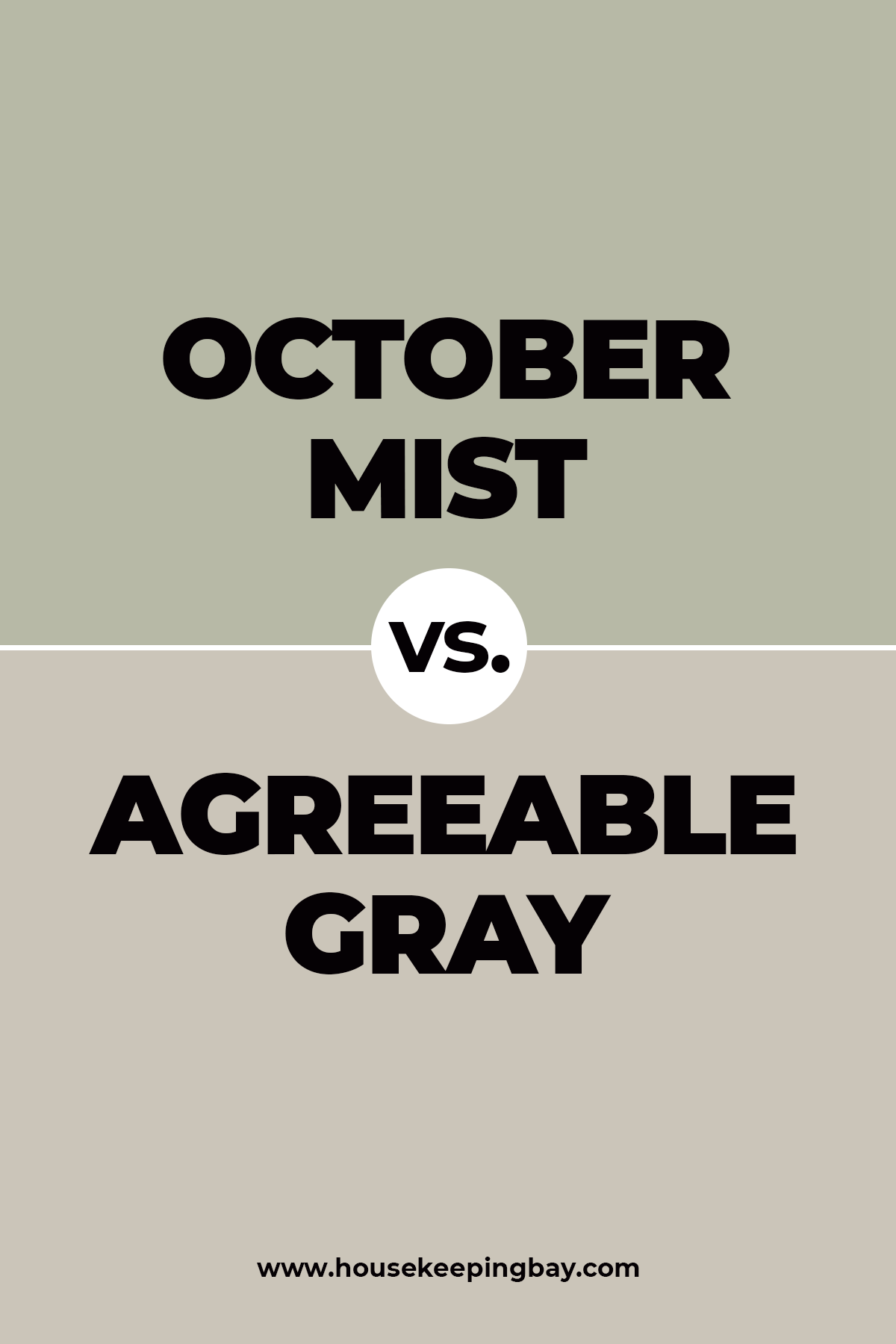 October Mist vs Revere Pewter
This is a beautiful Revere Pewter, pearl gray shade of color that can be used as a background.
You can use this pair of paints to define zones in your open apartment design. It will look stylish and smart.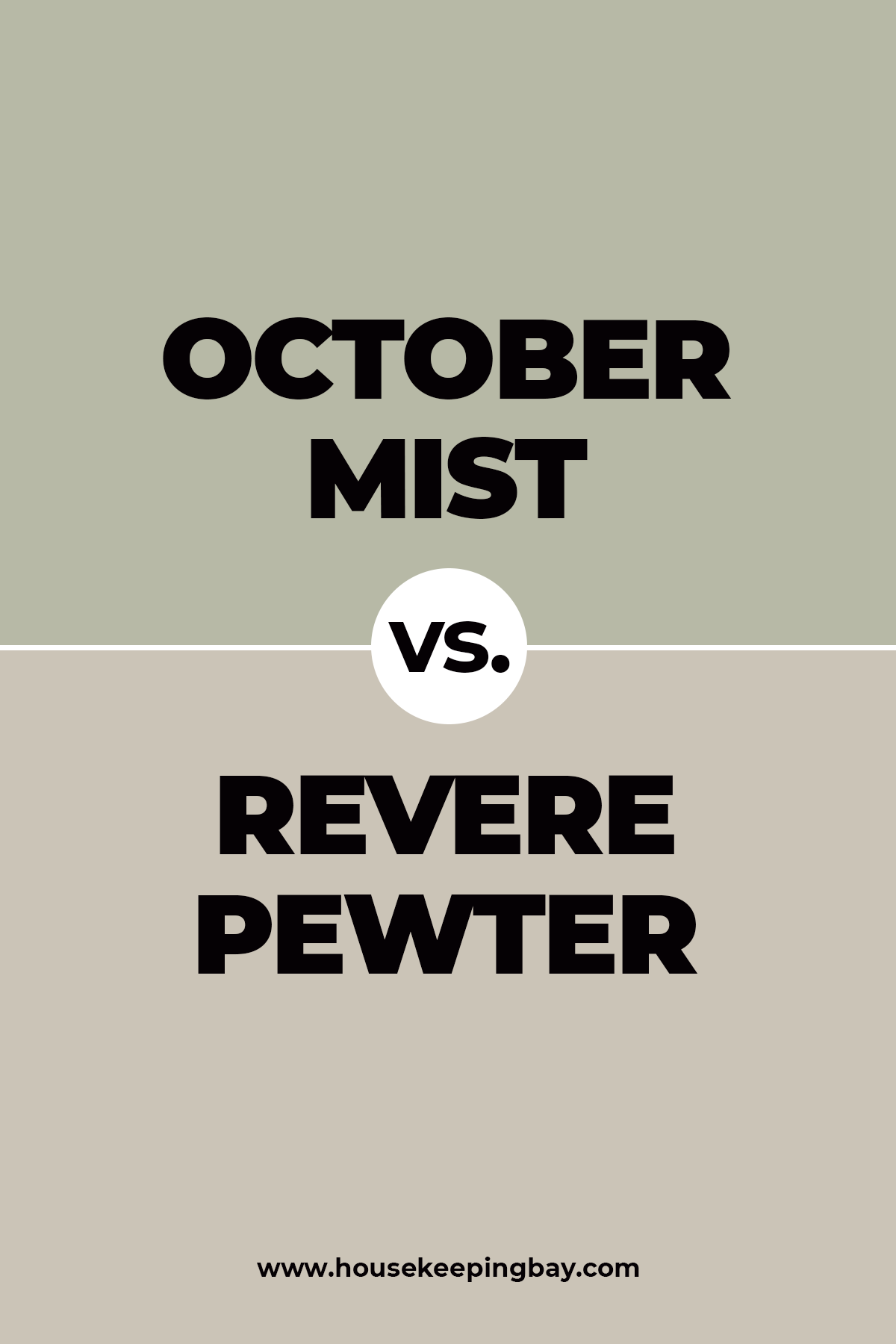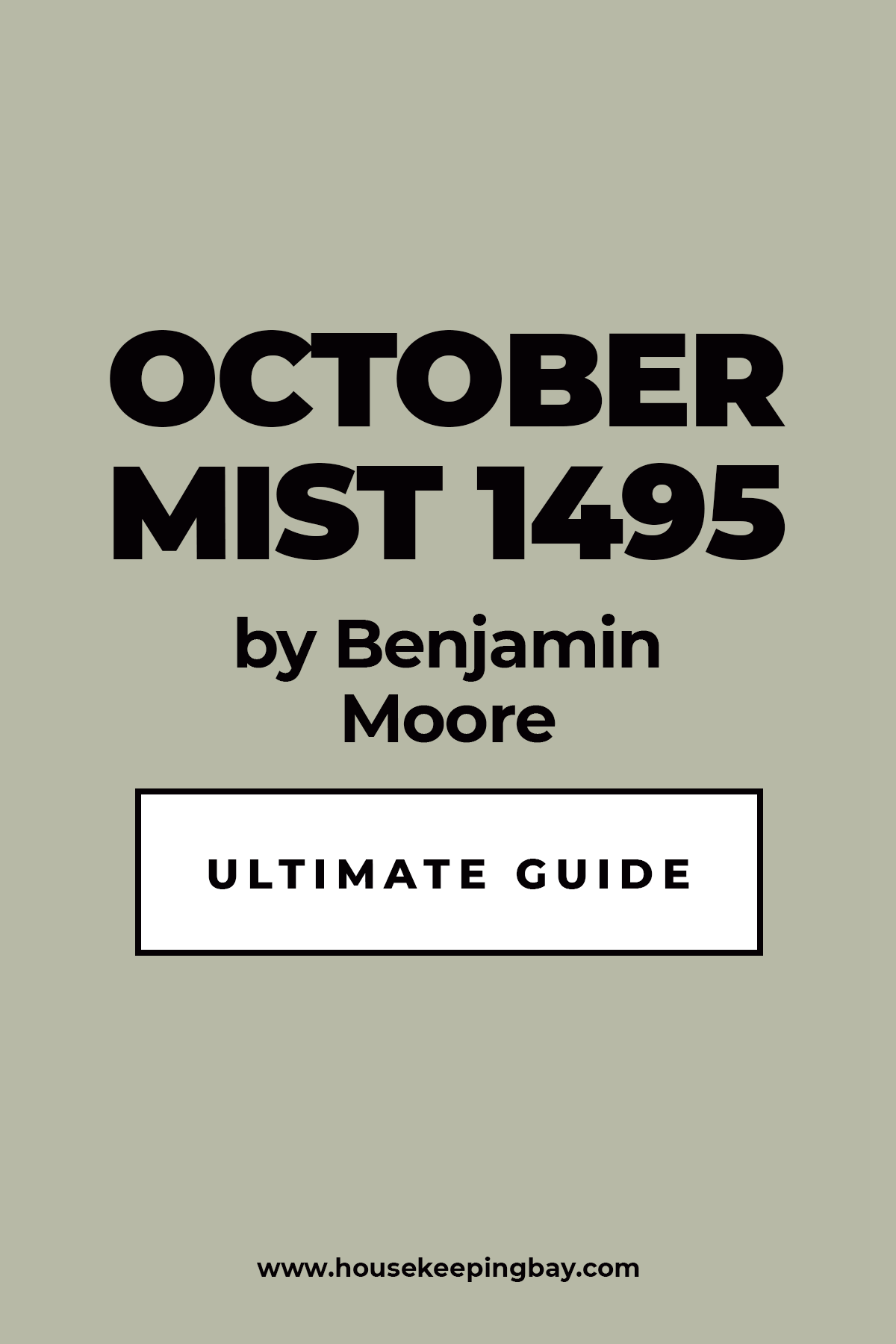 Frequently Asked Questions
⭐ Can you use Benjamin Moore October mist for the bedroom?
Definitely! It will create a relaxing atmosphere and unique feeling.
⭐ Where can I find Benjamin Moore October mist 1495 color swatch?
Try to Google or go directly to the web site of the manufacturer.
⭐ What color is Benjamin Moore October mist with a lot of natural light?
It will lose its saturation a bit, but it will still look cool.