We love greiges because they read so warm and homey! And since the greige family of colors have multiple shades of this warm and soft paint color, you can easily pick the most suitable variant of greige for your home's interiors.
In this article, we will tell you about the lovely greige paint color called Baby Fawn (also known as Edgecomb Gray) by Benjamin Moore. You will learn what makes this greige so unique and how it may read in different rooms of your home.
Also, we will tell you what undertones and LRV it has and what colors should be used to coordinate it correctly.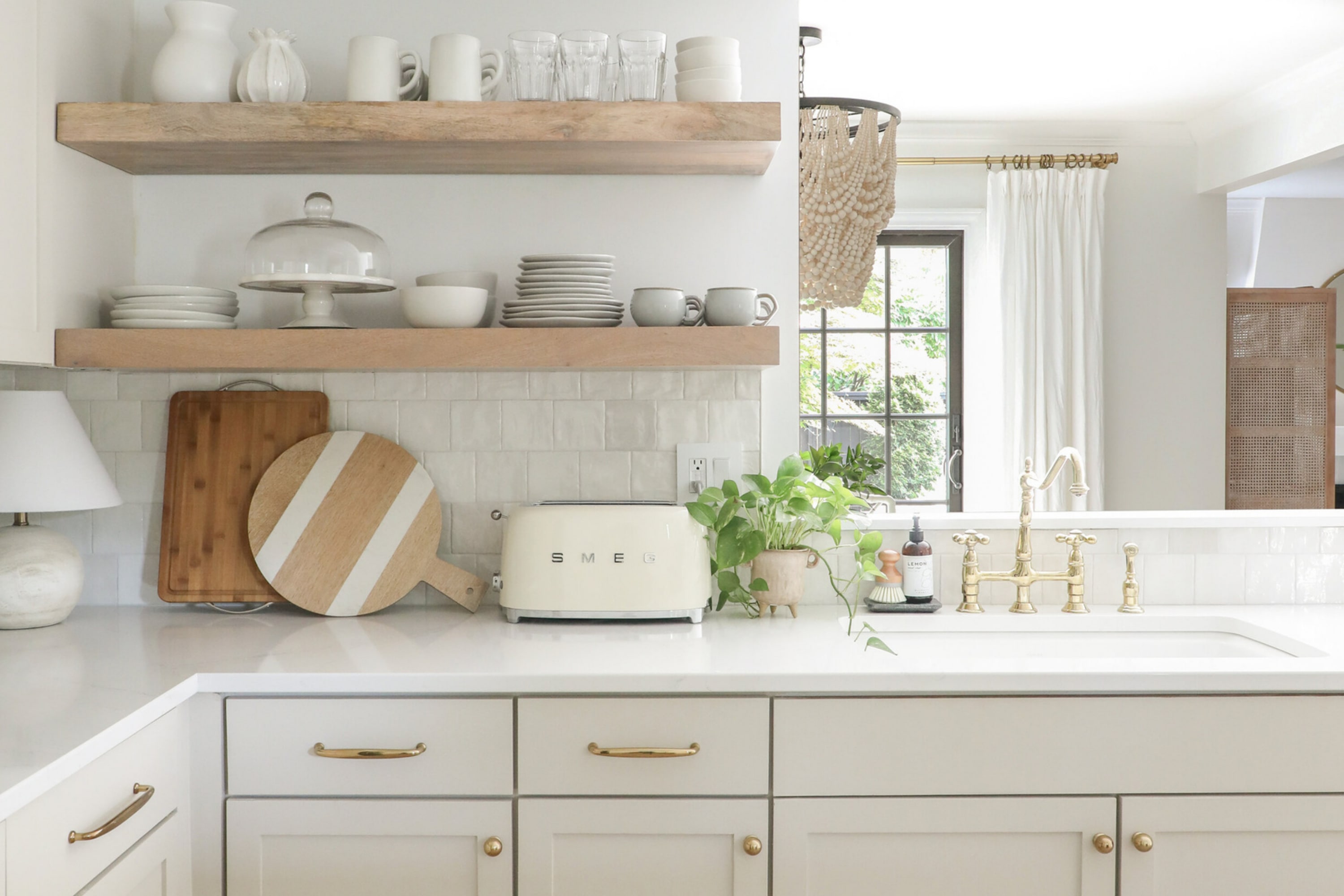 What Kind of Color Is Baby Fawn OC-15 by Benjamin Moore?
To begin with, we should admit that the Baby Fawn color by Benjamin Moore is pretty complex! First of all, it can be considered both greige and taupe due to its undertones (we will talk about them later).
Also, this color can read differently on the walls, which means you should use it carefully to get the desired effect in your home.
As Encycolorpedia says, Baby Fawn OC-15 reads a warm and neutral shade of greige with a slight hint of taupe. It is well-balanced in tone, which means it sits somewhere in between gray and beige, leaning neither to the beige nor to the gray side more.
As a result, this color is very versatile and can perfectly fit a soft, warm, and organic look in your home.
It will work specifically well when partnered up with other colors!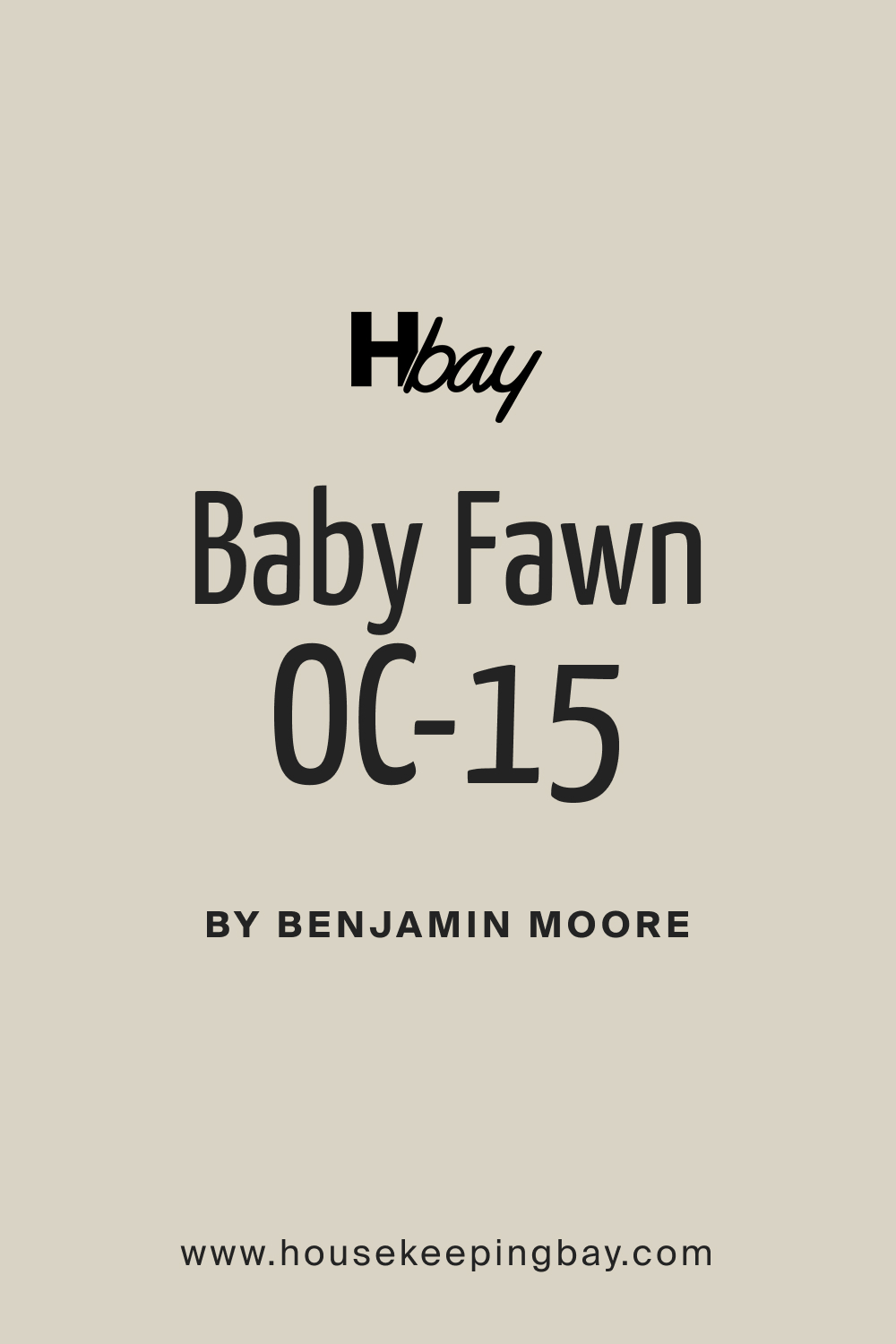 What Undertones Does Baby Fawn OC-15 Paint Color Have?
Knowing the undertones of the paint color is essential since it allows you to tell in advance how it may read in your home. However, some colors can be rather tricky to define due to complex or hidden undertones that show up in specific lighting conditions only!
The Baby Fawn color by Benjamin Moore, however, won't cause you trouble. See, unlike most greiges that pick up a green undertone and taupes with their tendency for violet-pink, this paint color is one of the most neutral greiges/taupes!
It has minimal undertones, which allows it to shift its look depending on its surroundings and the perception of who's looking at it.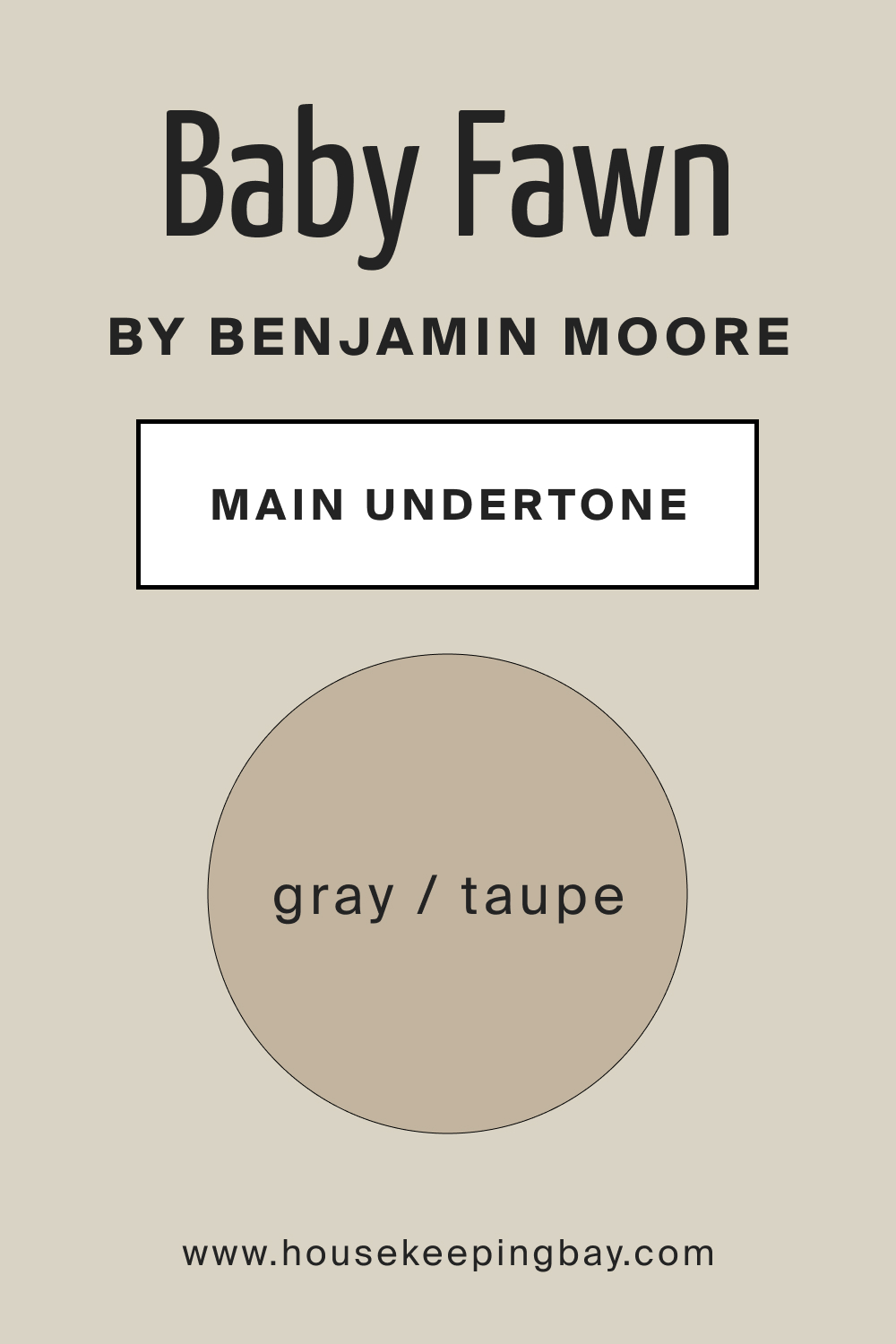 LRV of the Baby Fawn Color
The LRV (light reflectance value) of the Baby Fawn color is 63, which makes this greige a fairly light color. Also, with such an LRV rate, this paint reads significantly lighter and fresher than most greiges and taupes we know!
Considering its LRV and undertones, be ready for this color reading differently in distinct lighting conditions.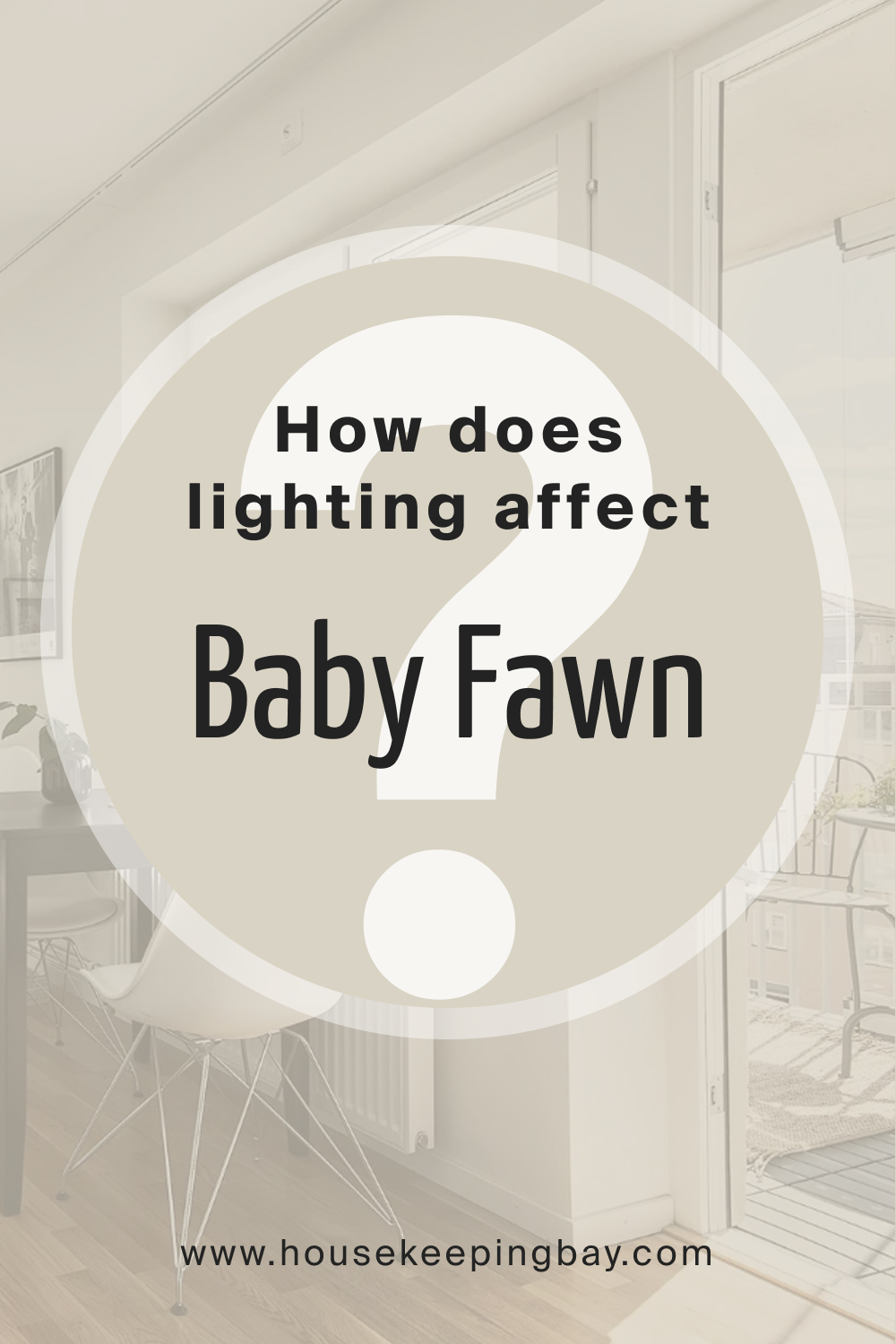 For example, in rooms with north-facing light, you can expect Baby Fawn OC-15 to lean a bit more into its gray side.
In south-facing rooms or rooms with warm afternoon western light, this neutral greige will read slightly warmer instead, showing a bit more of its beige hue.
Finally, you should note that, without enough light, it can look somewhat dingy (especially in dark rooms, hallways, and basements). On the other hand, with an LRV of 63, Baby Fawn OC-15 works well in considerably bright rooms without washing out.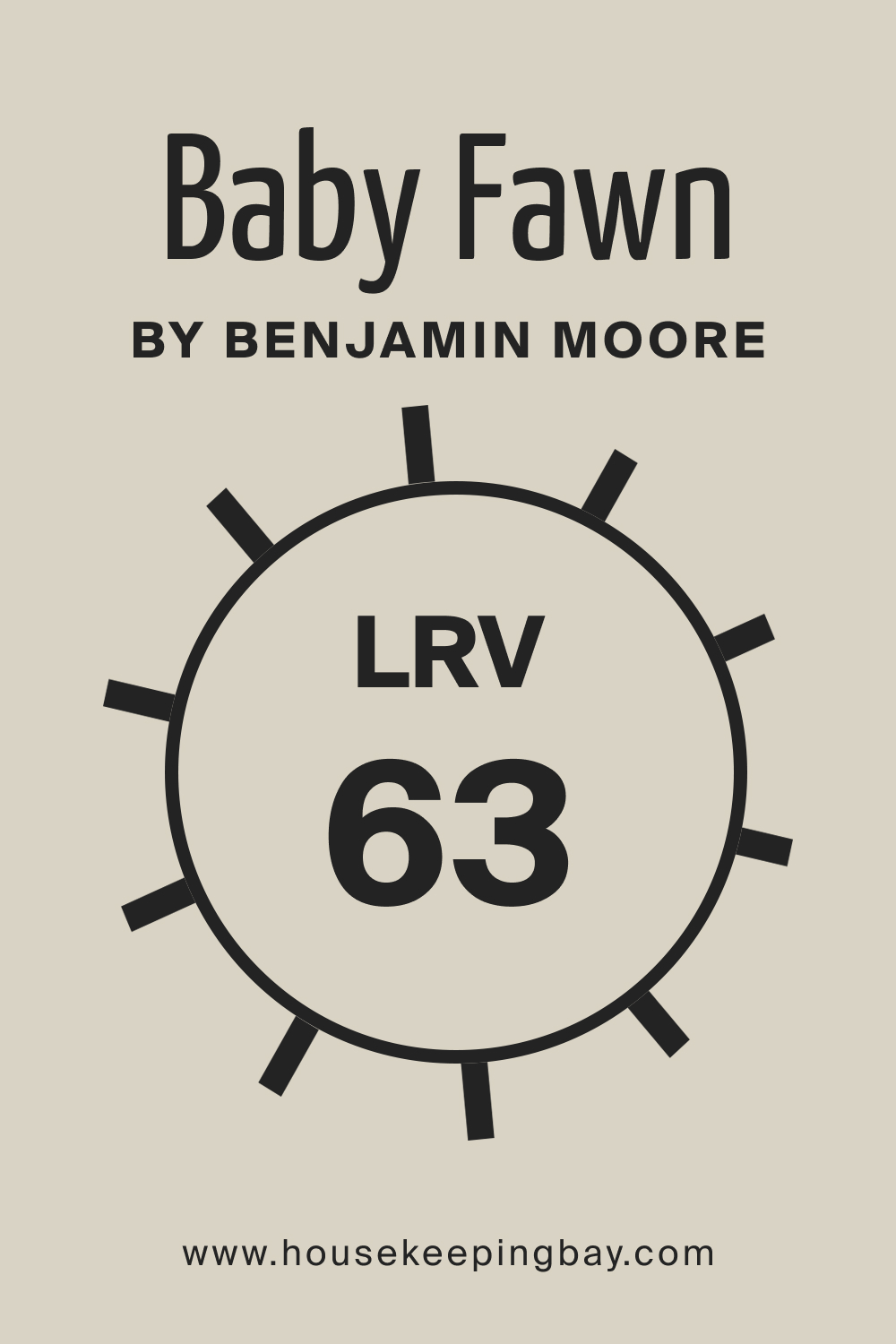 What is LRV? Read It Before You Choose Your Ideal Paint Color
Colors That Go With Baby Fawn OC-15 Paint Color
When you know what colors go well with the color used on the walls, you can select the palette for each room more professionally and make the space read balanced in color.
For Baby Fawn OC-15, we would recommend the following paints to pair with this neutral greige:
BM Cape May Cobblestone
OC-12 Muslin
1563 Quiet Moments
2140-50 Gray Horse
2163-40 Metallic Gold
1245 Sequoia
1470 Bear Creek
2164-60 Soft Satin
2154-40 York Harbor Yellow
HC-66 Garrison Red
Generally, the colors that go best with Baby Fawn OC-15 would be slightly darker grays with a blue, green or blue-green undertone, as well as considerably darker grays with a green undertone.
Also, this warm-toned and soft greige will pair nicely with subtle and muted warm off-whites and mid-toned blue-green-gray blends.
However, should you feel like adding more vividness and color to your living space, there are also several paint options on this list to make use of (e.g. yellow, red or pink).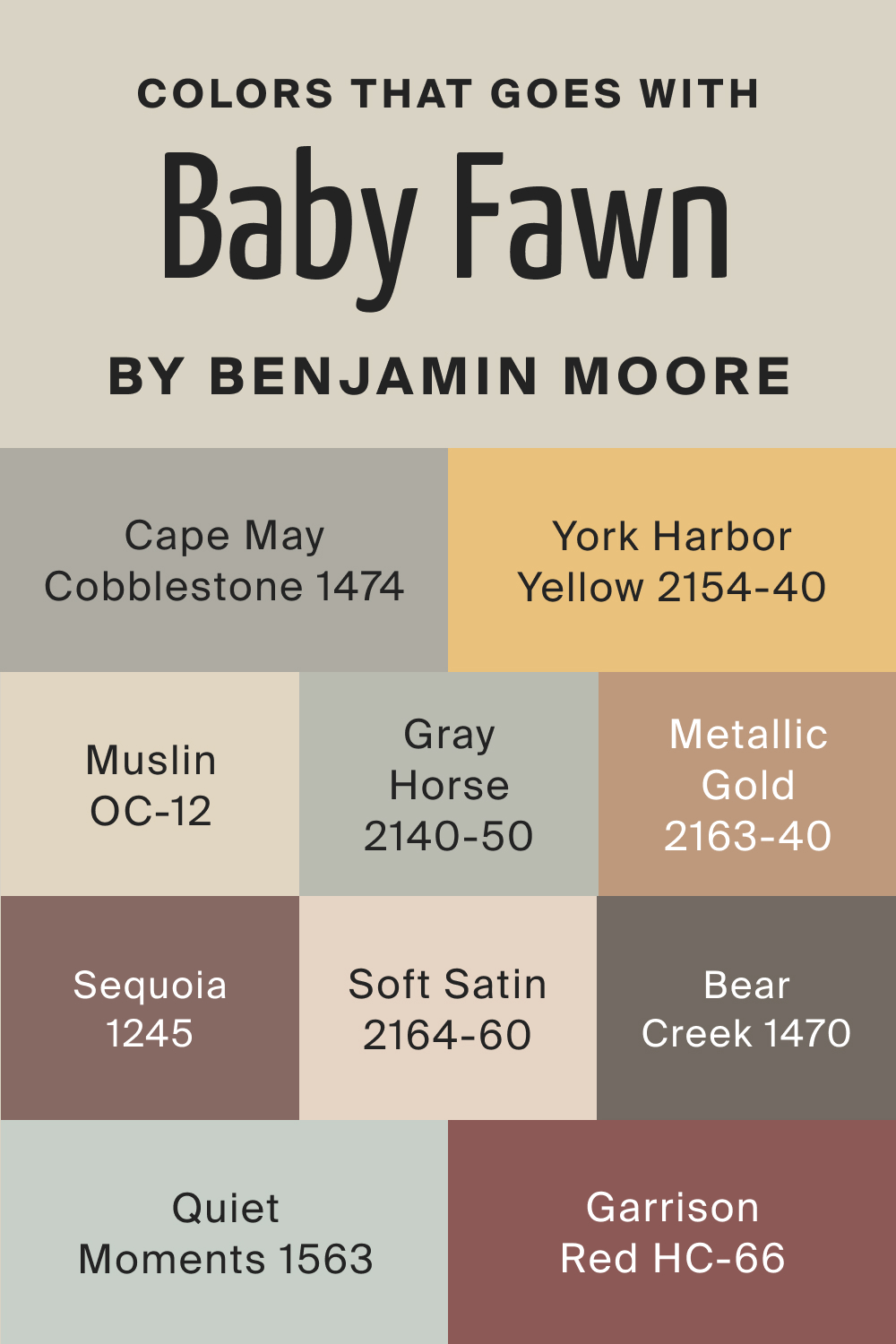 Baby Fawn OC-15 Coordinating Colors
Coordinating colors allow you to highlight the natural beauty of the wall color and make it sho wits true self! However, to achieve this effect, you must know what colors to use. Otherwise, the result might be completely the opposite and way less satisfying.
If you have Baby Fawn OC-15 on your walls, consider using these colors to coordinate it:
OC-47 Ashwood
HC-162 Brewster Gray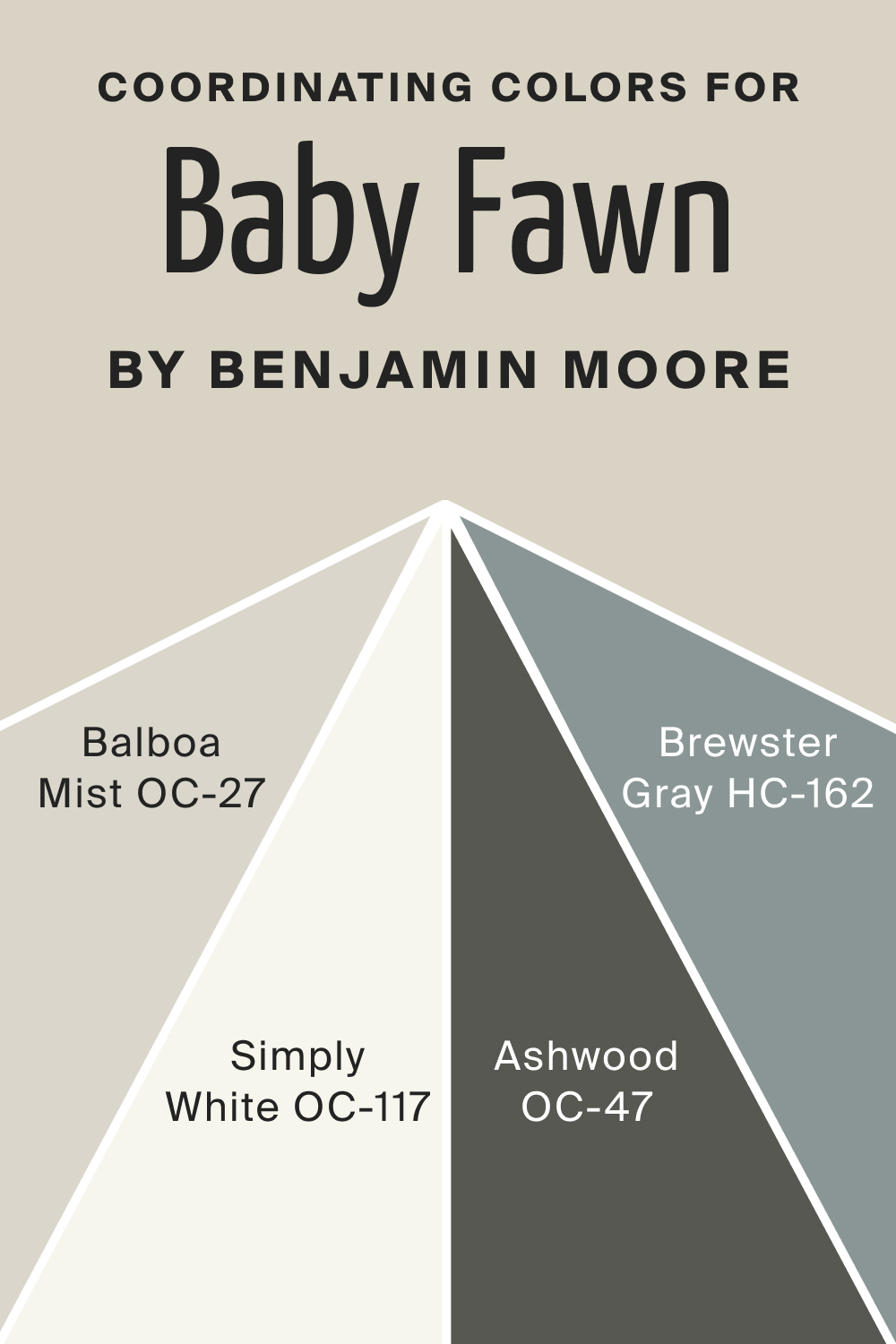 What Is the Best trim Color For Baby Fawn OC-15?
White is traditionally considered the optimal trim color due to its versatility and ability to work well with most other colors. But if you need to choose white for your trim that will pair nicely with a warm greige like Baby Fawn OC-15, you should select carefully!
Otherwise, if you choose white that reads too warm or creamy, it will clash when paired with the Baby Fawn color on the walls.
To avoid such issues, we recommend you the following whites to get the best effect:
OC-25 Cloud Cover
OC-145 Atrium White
These whites will help you to create either a slightly softer look or give a clean contrast, depending on your goal.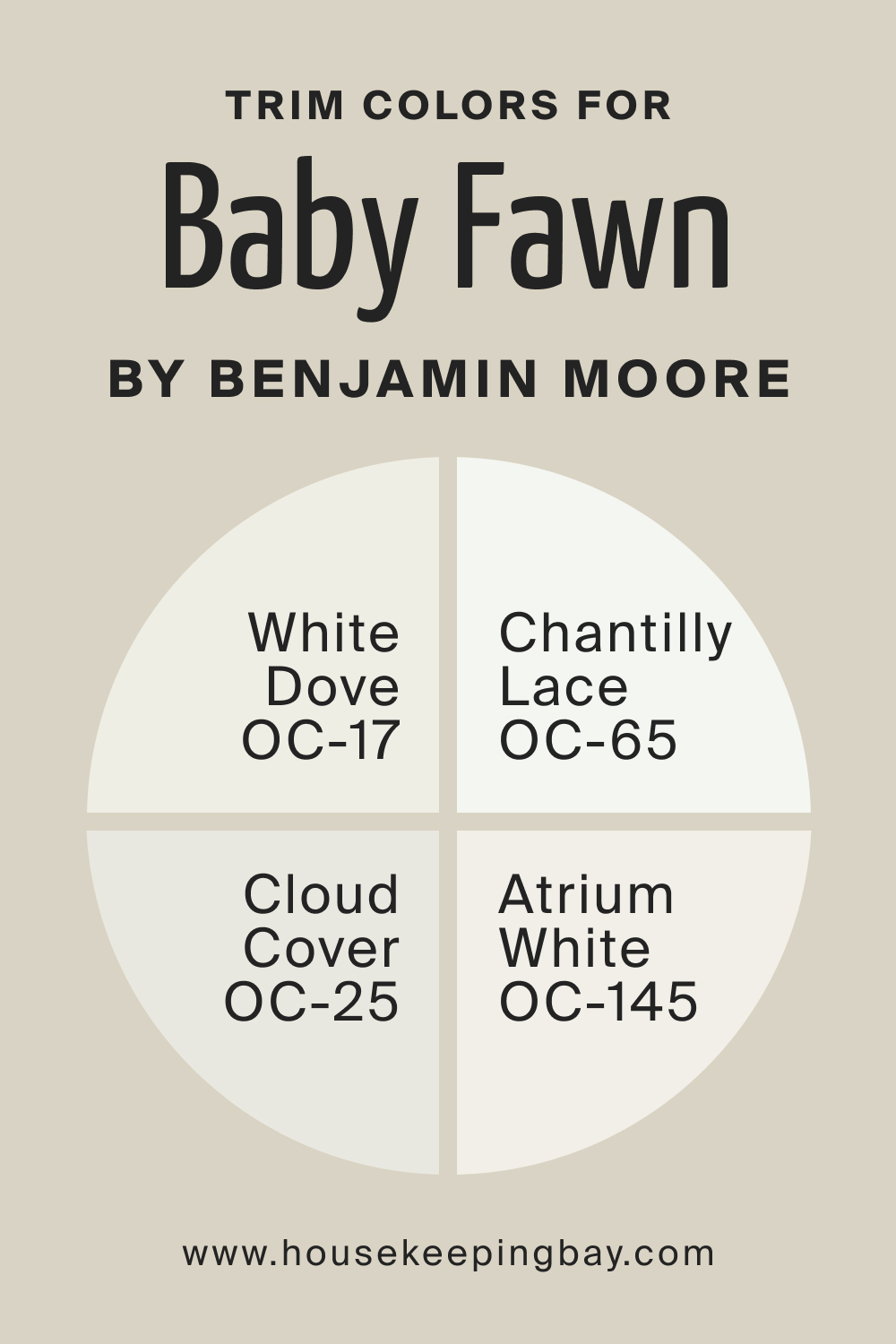 Paint Colors Similar to Baby Fawn OC-15
Should you decide to use greige that reads slightly different on the walls, it's good to keep a few alternative colors in mind. However, it might be complicated to choose the closest color match to a greige like Baby Fawn OC-15 due to its complex undertones.
Below, we have selected several greiges that look very similar to baby Fawn OC-15. You can use any of them in case you need a substitute color:
However, you must realize that none of these alternative colors can work as a 100% substitute! Each of them differs a bit, either in LRV or undertones.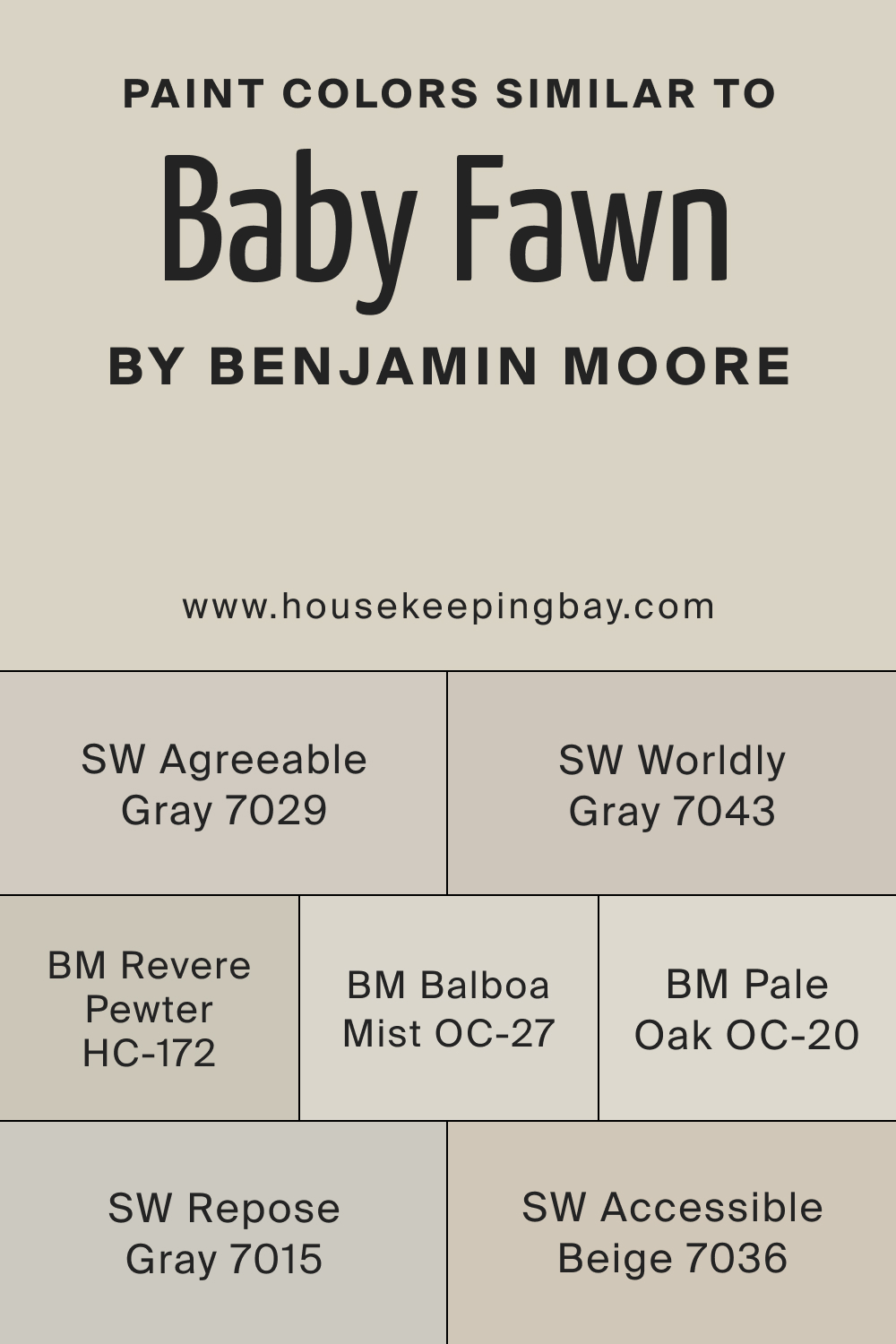 Comparing Baby Fawn OC-15 With Other Colors
Greige can be quite a complicated and even tricky color to incorporate into your home interiors! This is why, if you want to use greige in your home successfully, we recommend you learn what makes different shades of this color distinct.
This way, you will be able to see the difference between seemingly the same paints better.
Baby Fawn vs Balboa Mist
BM Balboa Mist has mostly beige undertones, but it may also shift to a violet/ lavender hue in specific lighting. Baby Fawn OC-15, on the other hand, reads neutral and balanced in tone, although it also has violet undertones that make it read taupe sometimes.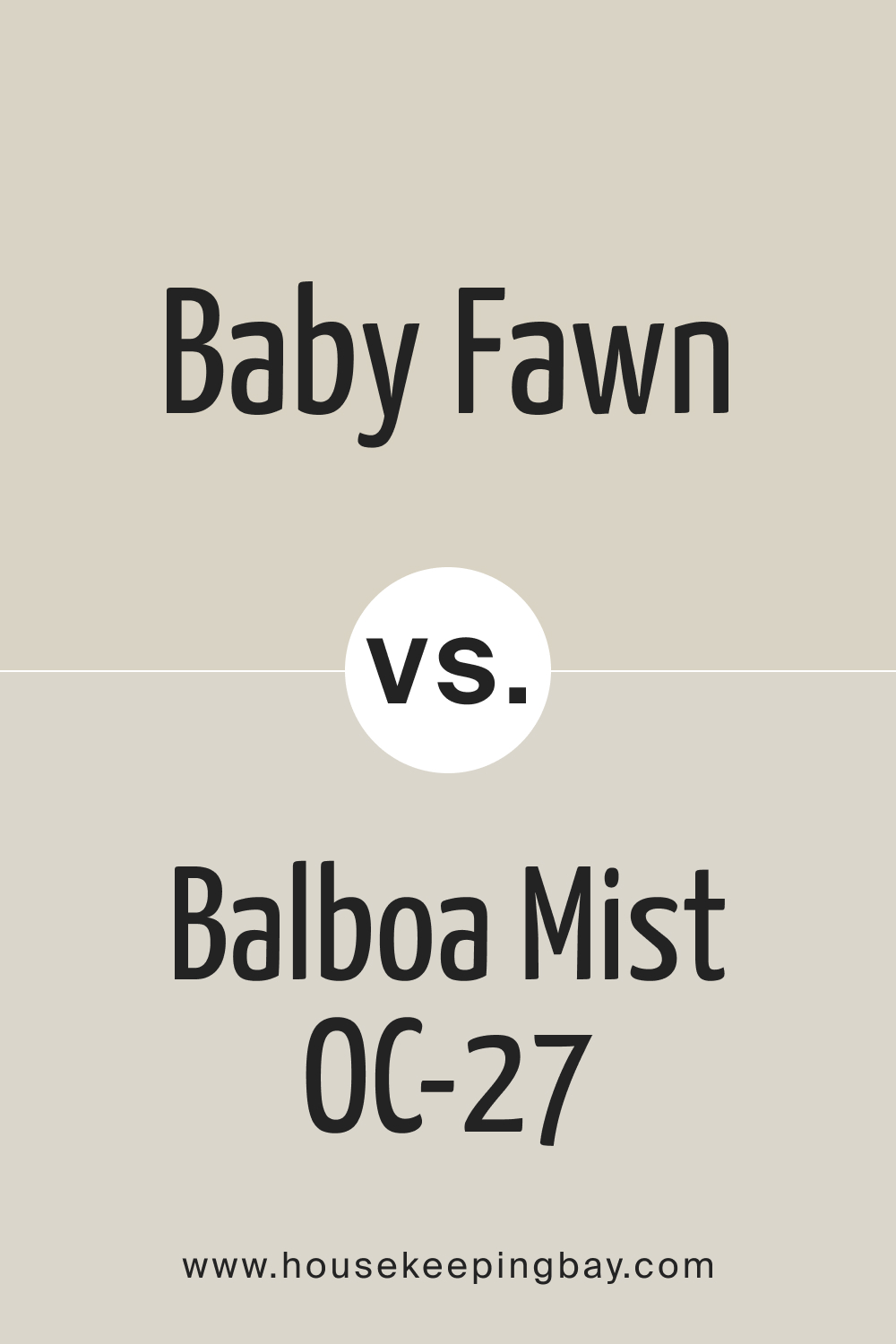 Baby Fawn vs Collingwood
Collingwood OC-28 has a soft, slightly violet/purple undertone that is rather noticeable compared to Baby Fawn OC-15. However, the LRVs of these colors are very similar. The Collingwood has an LRV of 62, and the Baby Fawn has an LRV of 63. As a result, these colors look pretty much alike on the walls.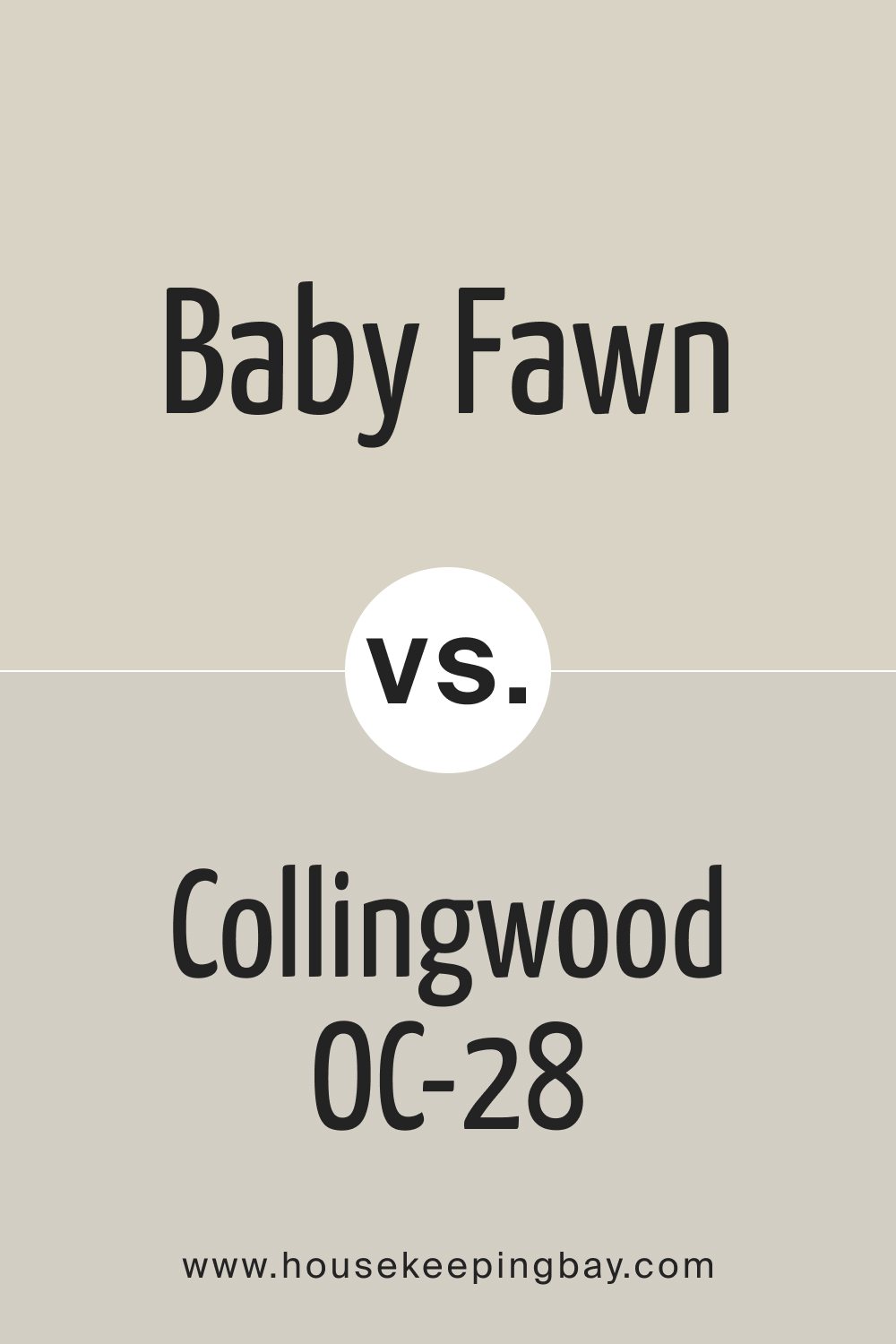 Baby Fawn vs Alabaster
Alabaster is a soft and warm white that has subtle beige undertones. Compared to Baby Fawn OC-15, it looks lighter and creates a lovely contrast that does not look too stark.
Despite being different colors, Alabaster white and Baby Fawn greige are both warm and soft, they can work nicely in the same space!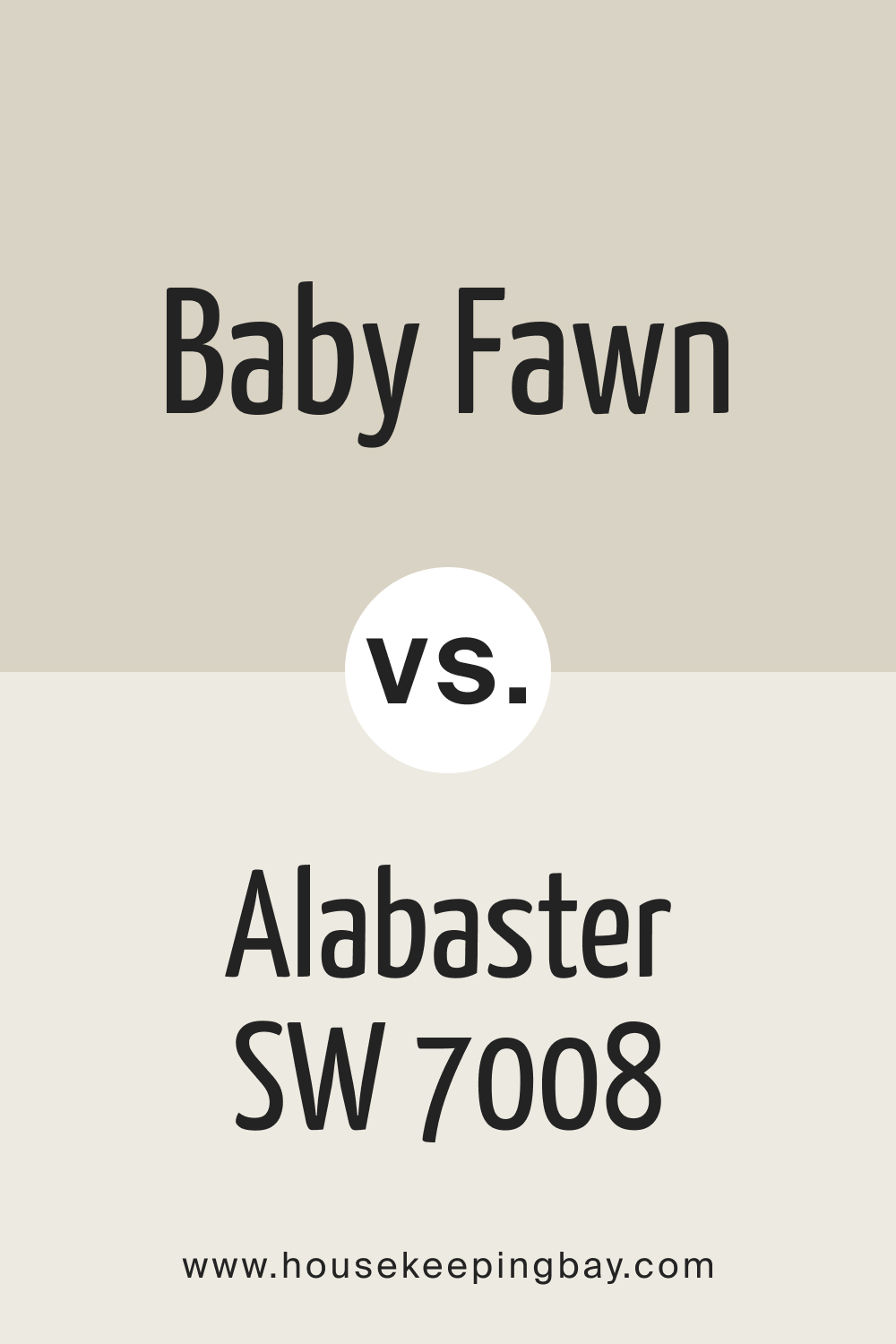 Baby Fawn vs Greek Villa
Greek Villa has mild yellowish-beige undertones, whilst Baby Fawn OC-15 has purple-pink undertones that are very subtle and are barely seen. These colors may seem to be similar, but in fact, the Greek Villa color is somewhat deeper in tone, leaning more beige.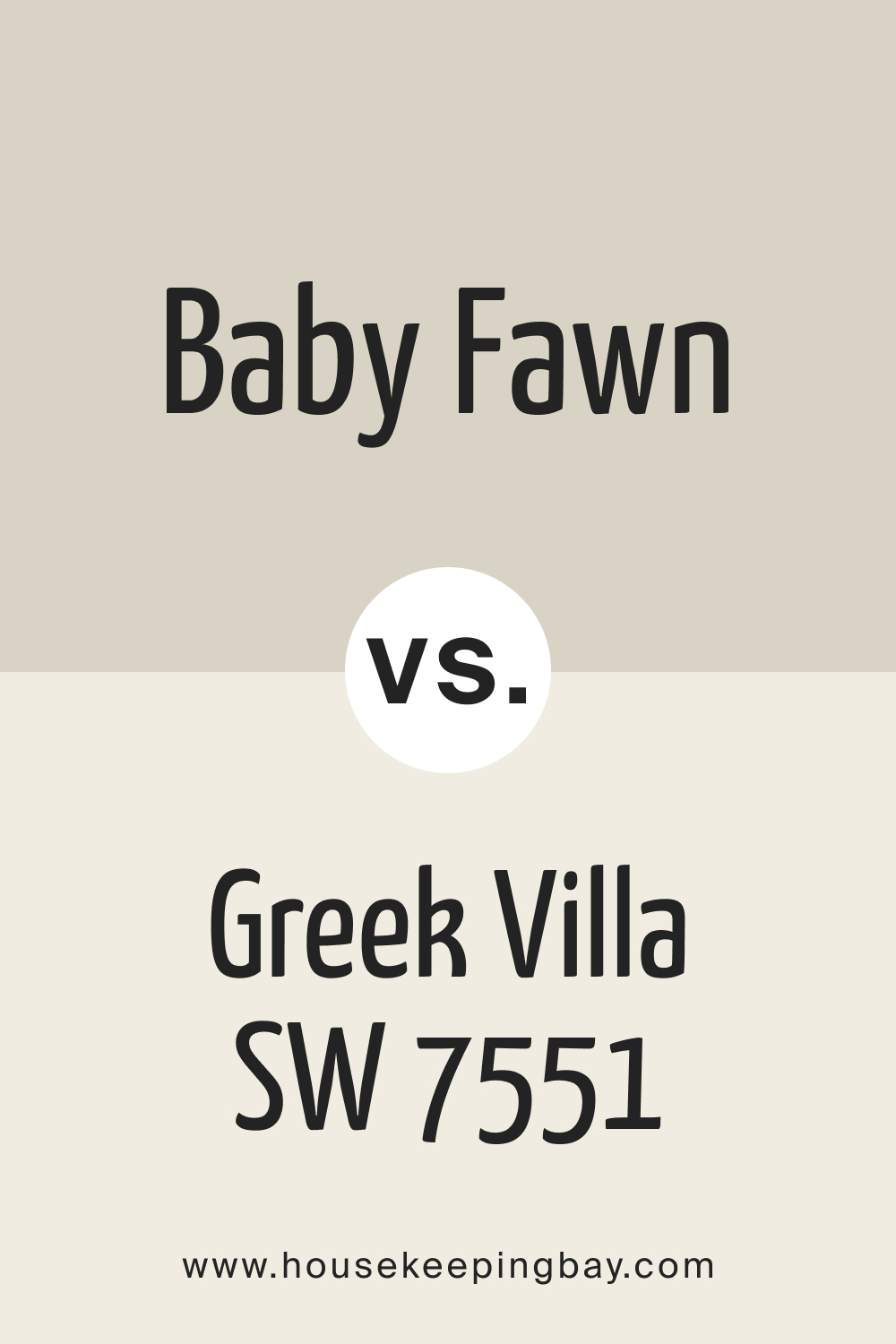 Where to Use This Color In Your Home
Despite its somewhat tricky nature and undertones, Baby Fawn greige is very versatile. This is because of its perfectly balanced and neutral appearance. Below, you can see how it might work in different rooms to ensure you can use it almost anywhere in your home!
Baby Fawn OC-15 in the Living Room
In a living room, this neutral greige will work great! Just note that sometimes, it may lean into its warmer side more, reading softer and more greige on the walls. This is why we suggest you use more whites there and double-check that the living room has plenty of natural light.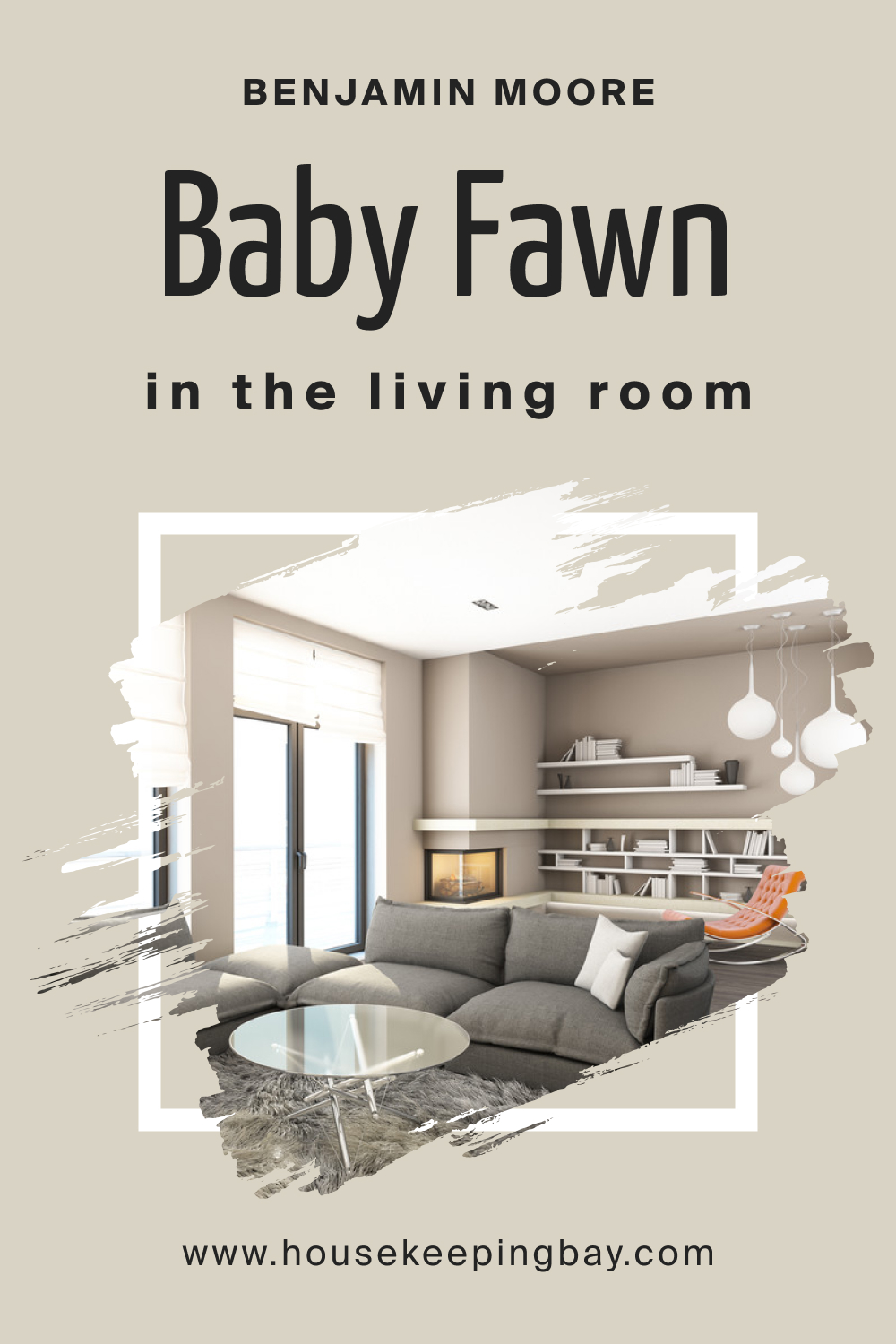 Baby Fawn OC-15 in a Bedroom
Since this greige reads soft and pleasantly warm, it is an ideal color for your bedroom if you prefer cozy interiors. Pair it with natural fabrics and textures like linen, wood, rattan, etc., and ensure the room has enough light. This will help you see how beautiful this neutral can be!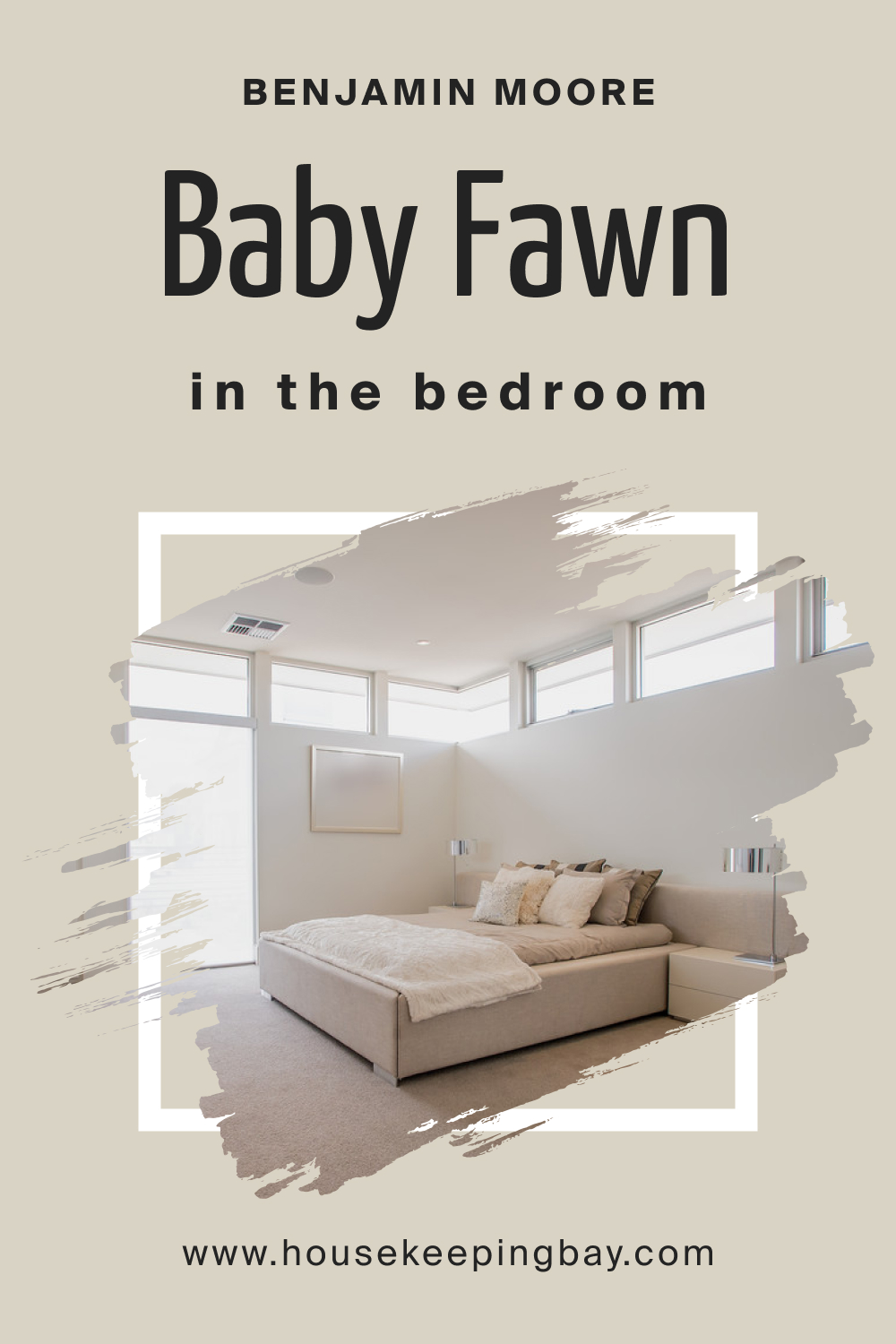 Baby Fawn OC-15 and Kitchen
Baby Fawn OC-15 could be a good color choice for kitchen cabinets, but only if it suits the backsplash and countertops. The tricky thing is that on cabinets, this greige often looks a bit lighter and warmer than you might expect.
This is why we recommend you sample it very carefully!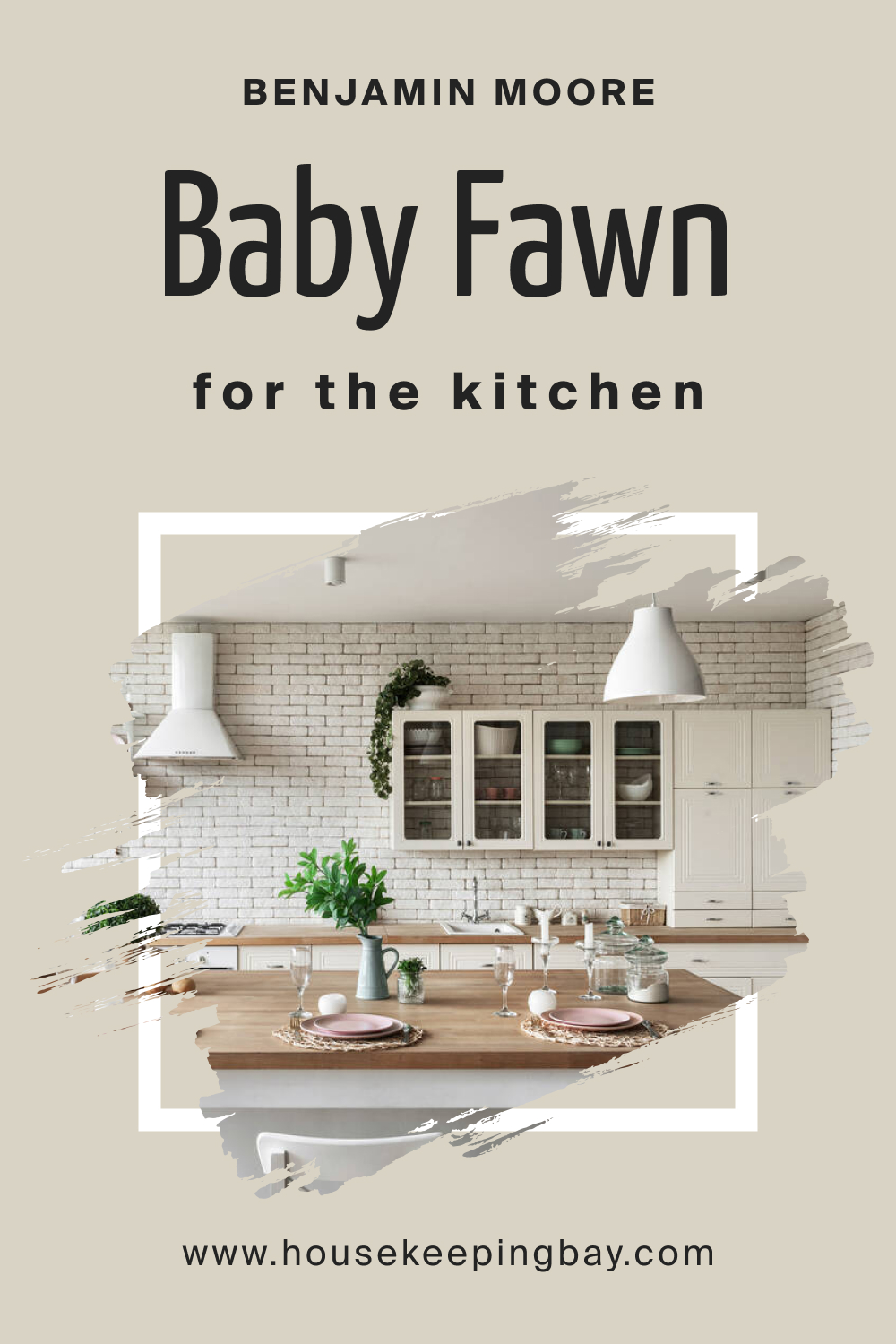 Baby Fawn OC-15 for the Bathroom
If your bathroom is spacious and well-lit (e.g., if it has a window), it's ok to paint it all with the Baby Fawn greige. Considering there is also enough white, this neutral will work lovely and soft on your bathroom walls, being refreshed by the lighter white accents on the trim and ceiling.
But in smaller bathrooms (and in bathrooms with dim light), you'd better use this greige moderately, e.g., on an accent wall or the vanity sink.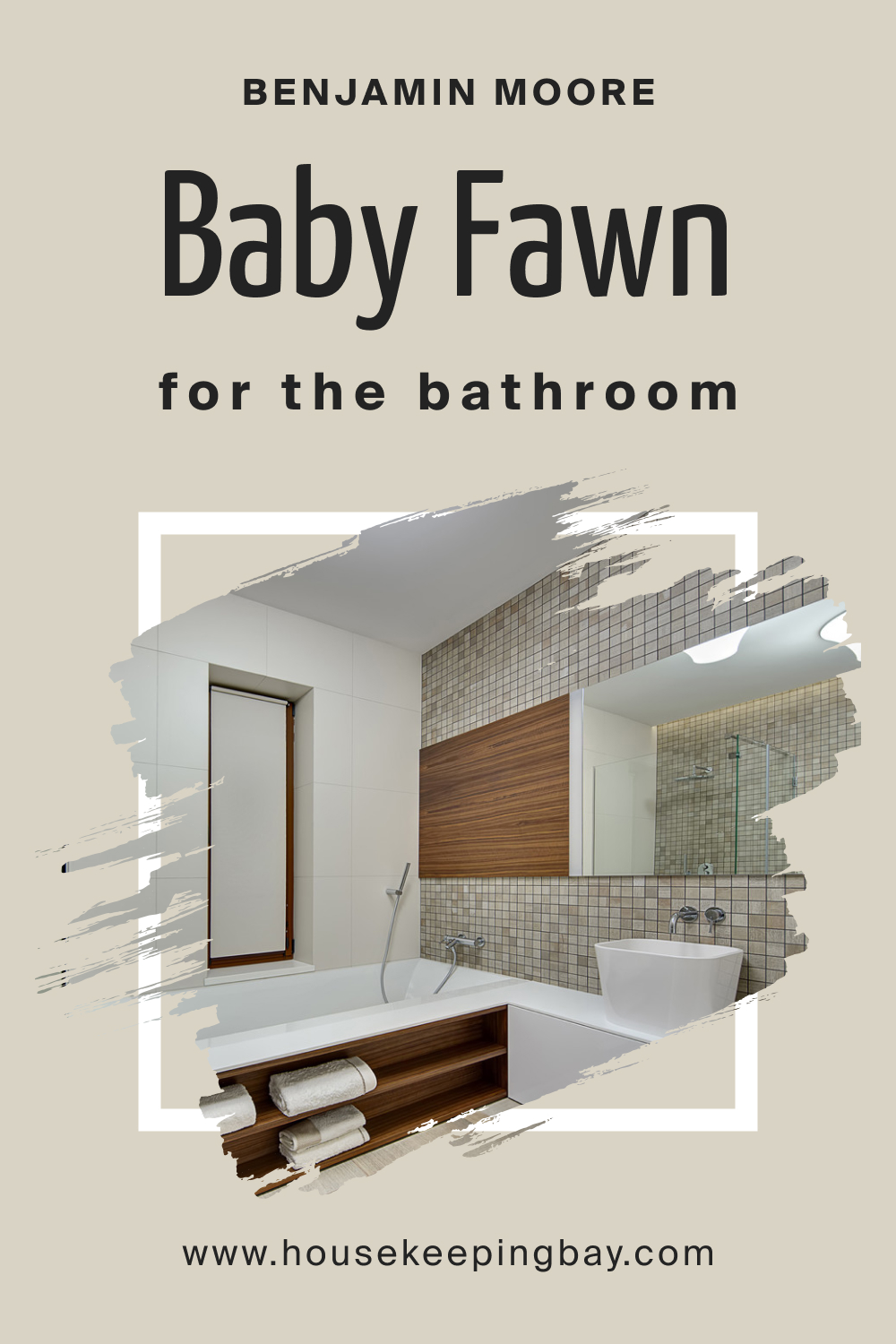 Baby Fawn OC-15 for the Exterior Use
Baby Fawn OC-15 can be a beautiful exterior paint color! The only thing you must be sure about is that it suits the stone/brick/roof it is paired with. However, if you use this color on exterior walls, be ready it can look lighter and warmer than expected! At times, it may even read a touch creamy.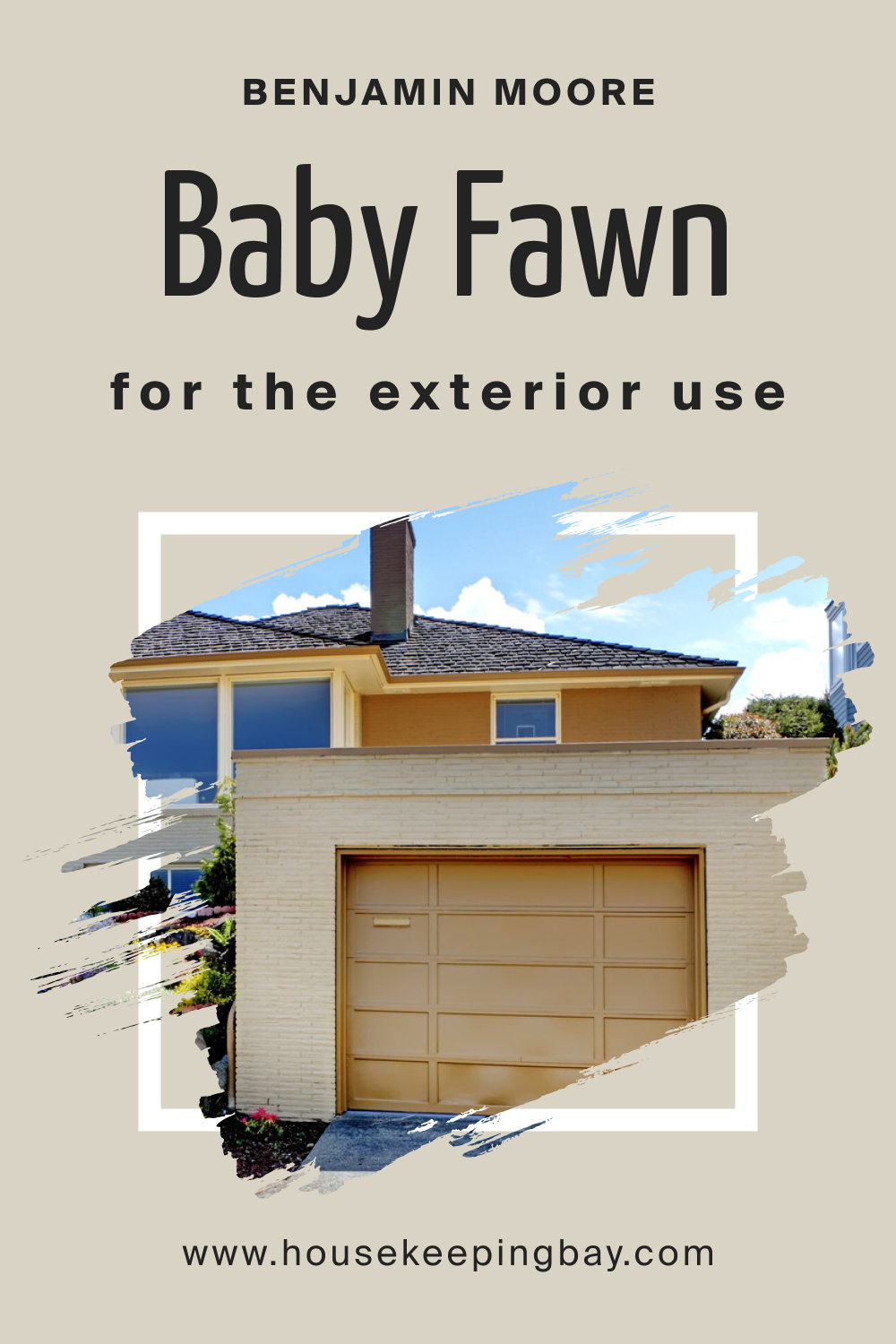 Now you know what kind of greige this color is. On the one hand, it may seem a bit tricky to use, but with the help of the information we shared today, you will quickly find the best place in your home for this neutral greige!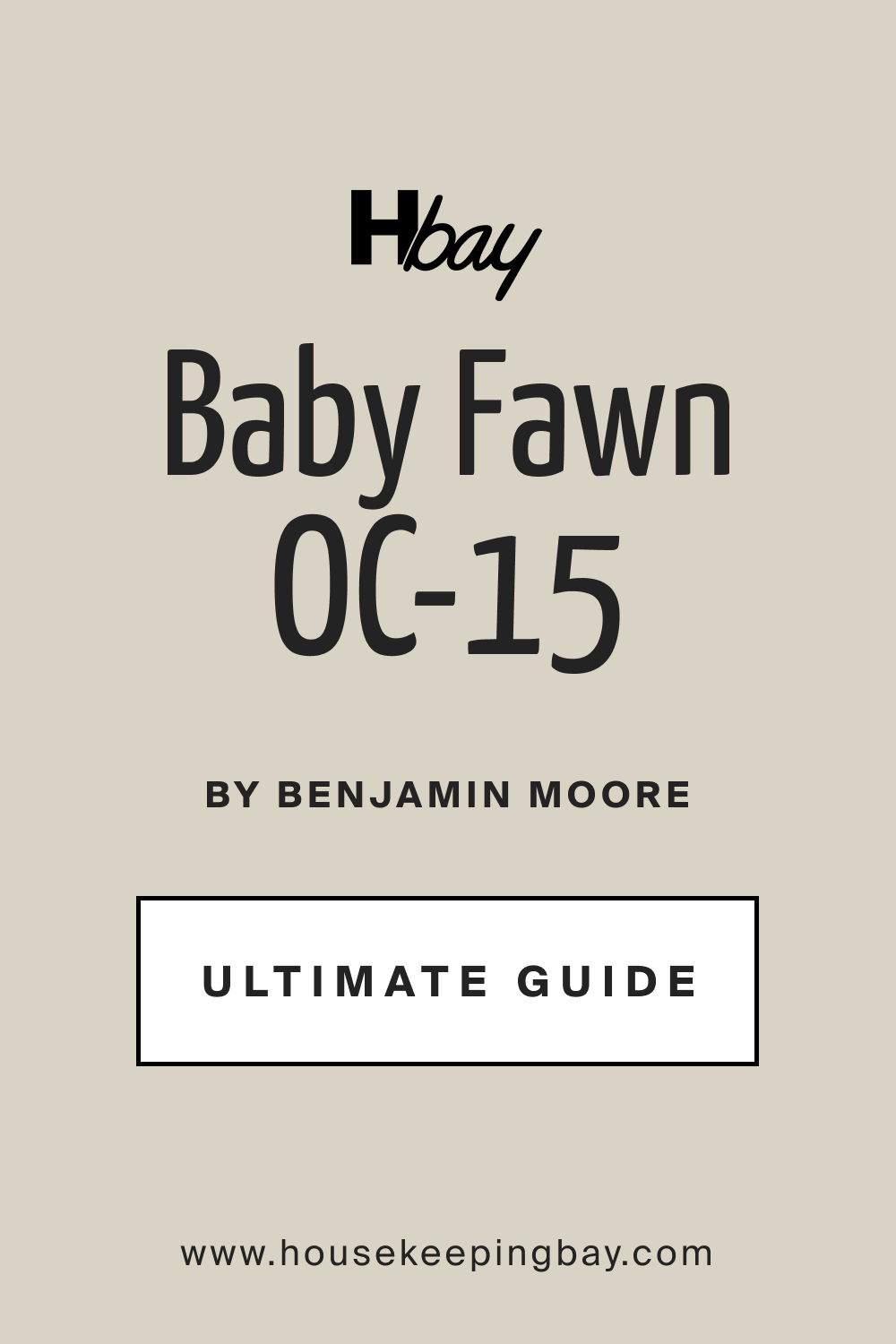 Frequently Asked Questions
⭐What color collection does Baby Fawn paint belong to?
This color is part of the Off-White Collection by Benjamin Moore.
⭐Does this color have other names?
Yes, Baby Fawn OC-15 is also known as HC-173, 972.
⭐Does Baby Fawn OC-15 read yellow?
Yes, in certain lighting, it may read yellowish.