When you think of a gray color, you imagine a typical "foggy" shade of gray. However, this color is far more complex than you could think! There is plenty of shades of gray out there, and some of them might not look gray at all.
Today, we will tell you about one of these beautiful and soft grays called Stone Hearth by Benjamin Moore. You will learn what undertones the color has, how it reacts to light, and what LRV it has.
Also, we will tell you more about its coordinating and trim colors and explain where in your home it's best to use this shade of gray.
What Kind of Color Is Stone Hearth 984?
As we have already said, the Stone Hearth color belongs to the family of gray colors. But unlike most grays, this one possesses a hint of warmth, which adds a stony hue to the color.
Thanks to this stone-like appearance, this paint color can bring surprising depth and texture to a space!
As Encycolorpedia says, this color is also referred to as a mushroom color, which means it reads somewhere between a greige and a true taupe. Generally, this color will not look boring or dull in your home!
Thanks to its undertones, the Stone hearth color will read warm and neutral, going from light to dark, depending on where you use it in the room.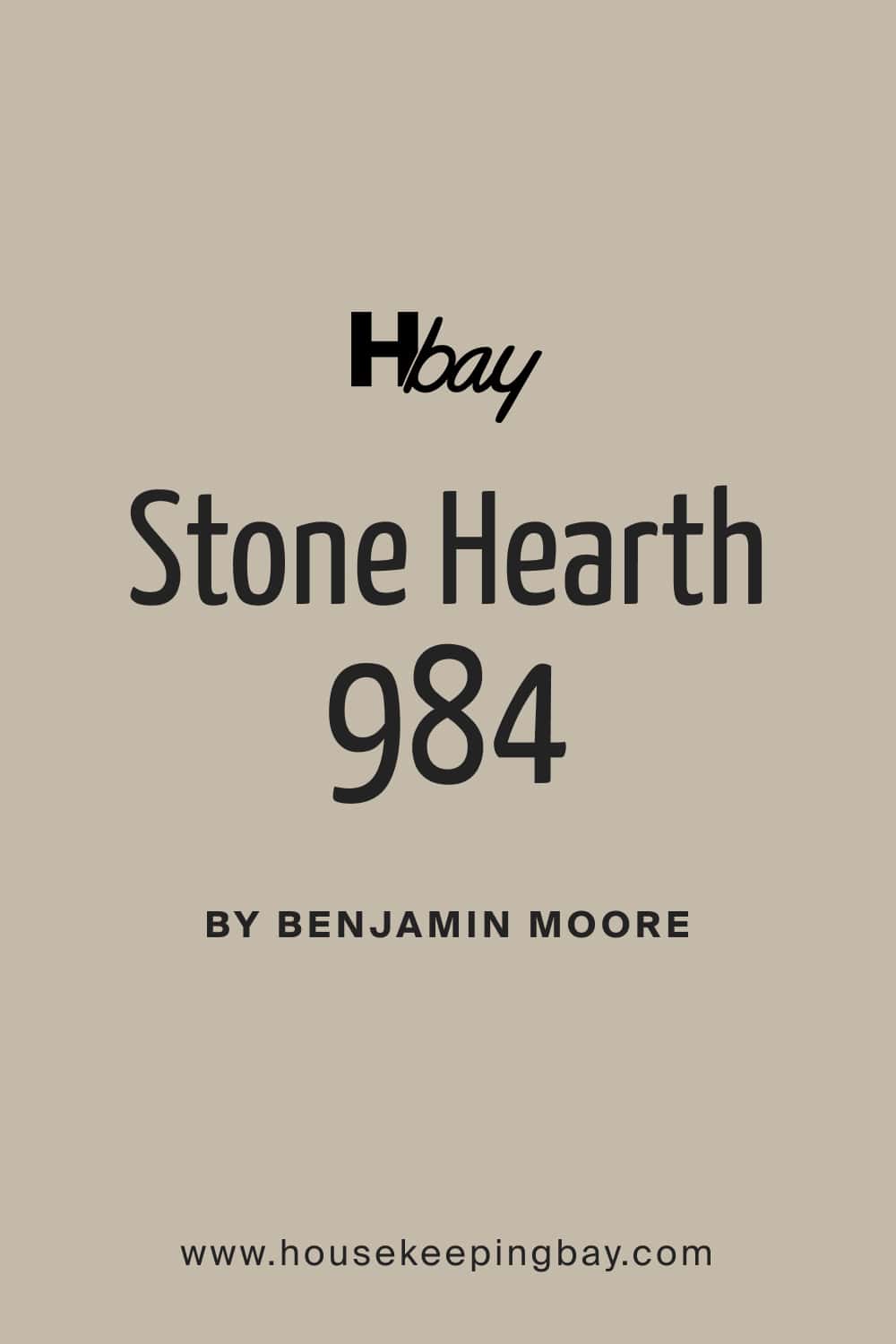 What Undertones Does Stone Hearth Paint Color Have?
Since we have mentioned undertones, let's dig deeper and see what they are and how they affect the way this gray color works. The Stone Hearth paint color definitely has some purple undertones! Due to this feature, this gray will often lean toward working as a cool-toned color.
However, it also has brown undertones! And because of its brown side, the color feels warmer when you use it on your walls. This warmth may disappear only if you have a lot of direct sunlight in a room with south-facing windows.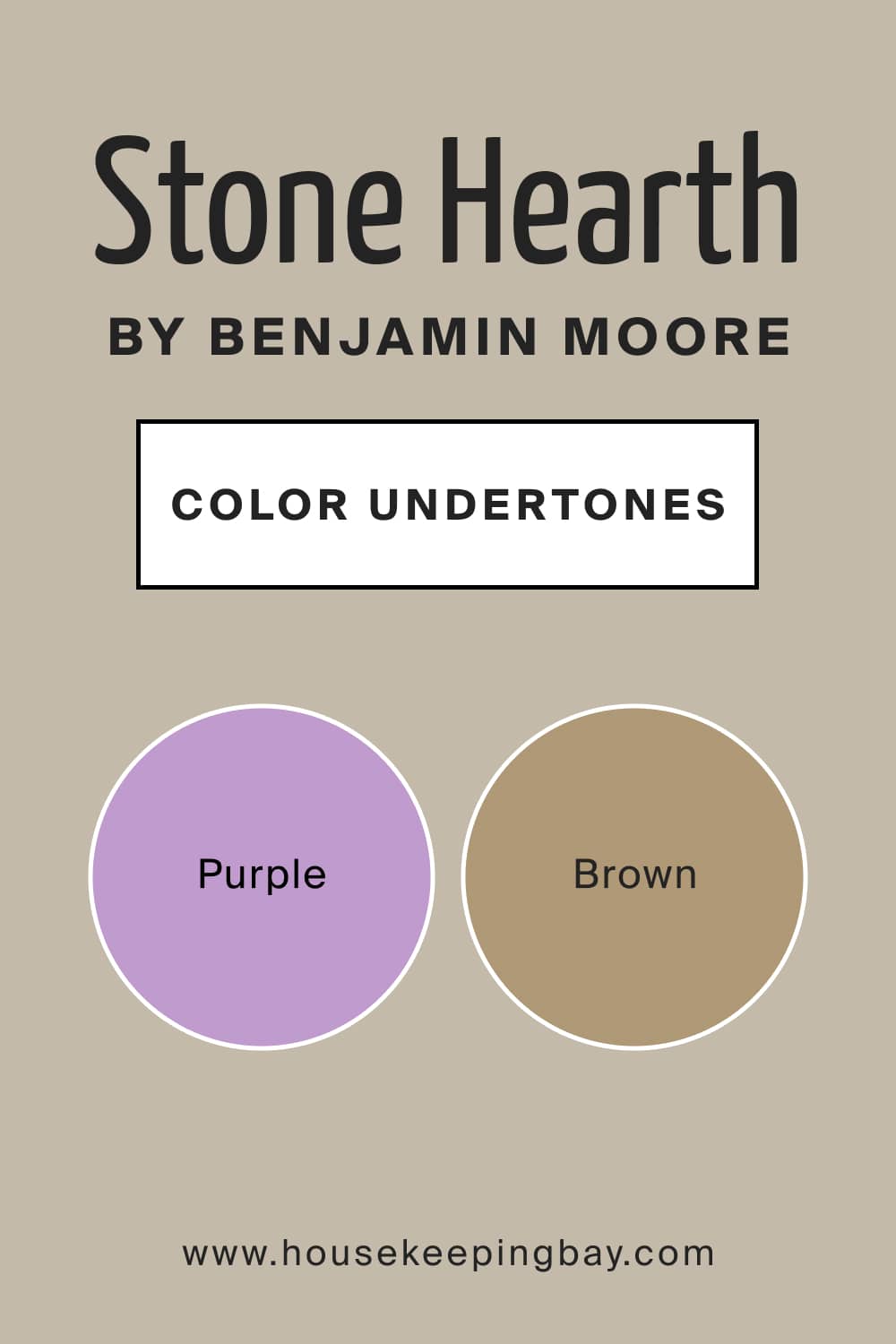 Is It a Warm Or Cool Color?
Basically, the Stone Hearth paint color by Benjamin Moore reads pleasantly balanced in tone. In other words, you can't call it only warm or cool-toned since both these sides are harmonised.
In certain lighting conditions (e.g., in warmer light), this mushroom gray may read slightly warmer. However, it will never read cool due to keeping its warmth anyway.
LRV of Stone Hearth 984 Paint Color
The LRV (light reflectance value) of the Stone Hearth color is 48. It means this stoney gray reads neither too dark nor very bright on the walls. In rooms with less natural light, it will show its mid-toned, taupe side more clearly.
However, in rooms with plenty of natural light, this mushroom gray will read like a warm neutral color.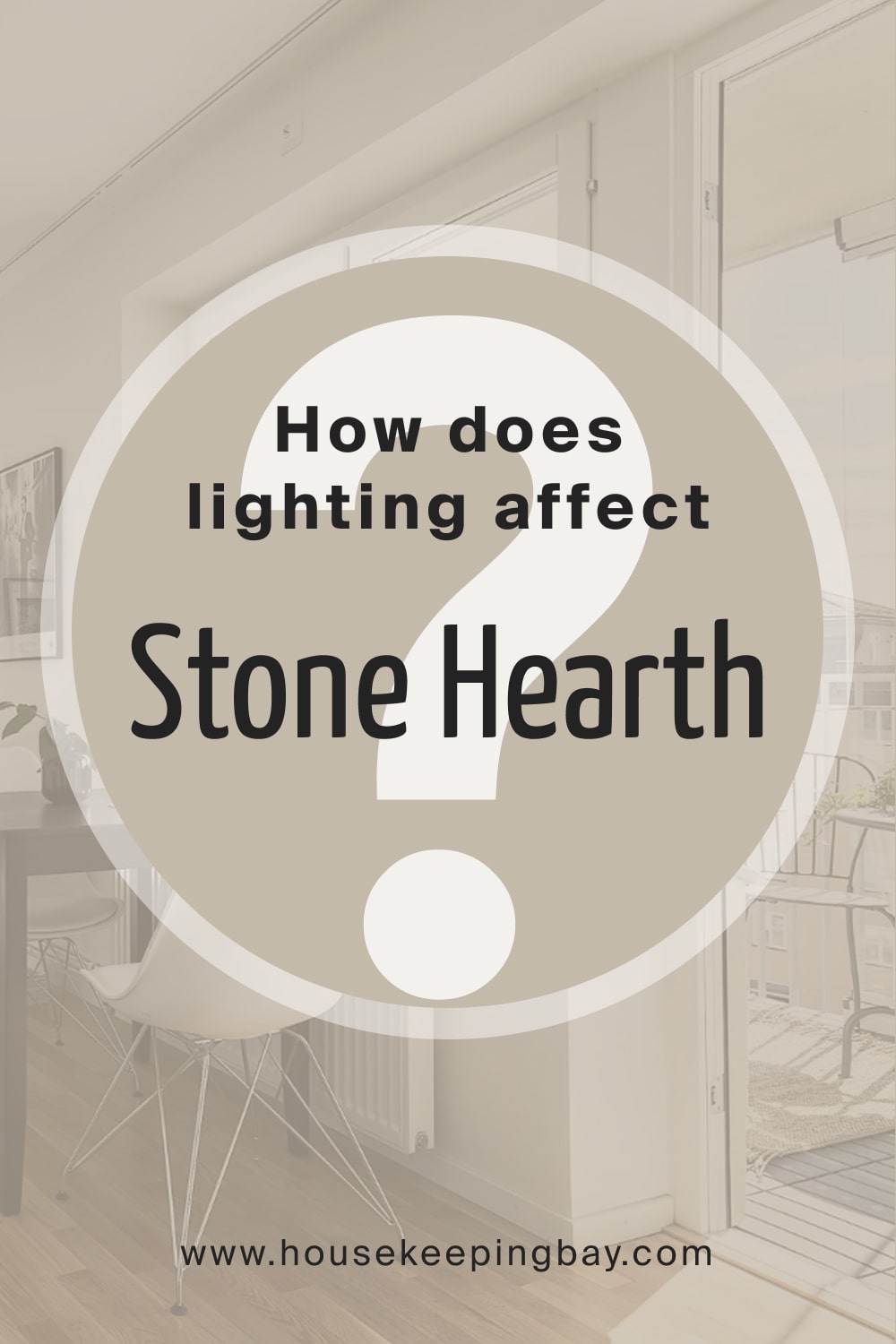 By the way, let's remind you of the meaning of LRV! LRV stands for the light reflectance value and shows the amount of light the color reflects from the wall.
The LRV scale ranges from zero to 100, where zero is black, and 100 is pure white. The higher the percentage of LRV, the brighter the color, and vice versa!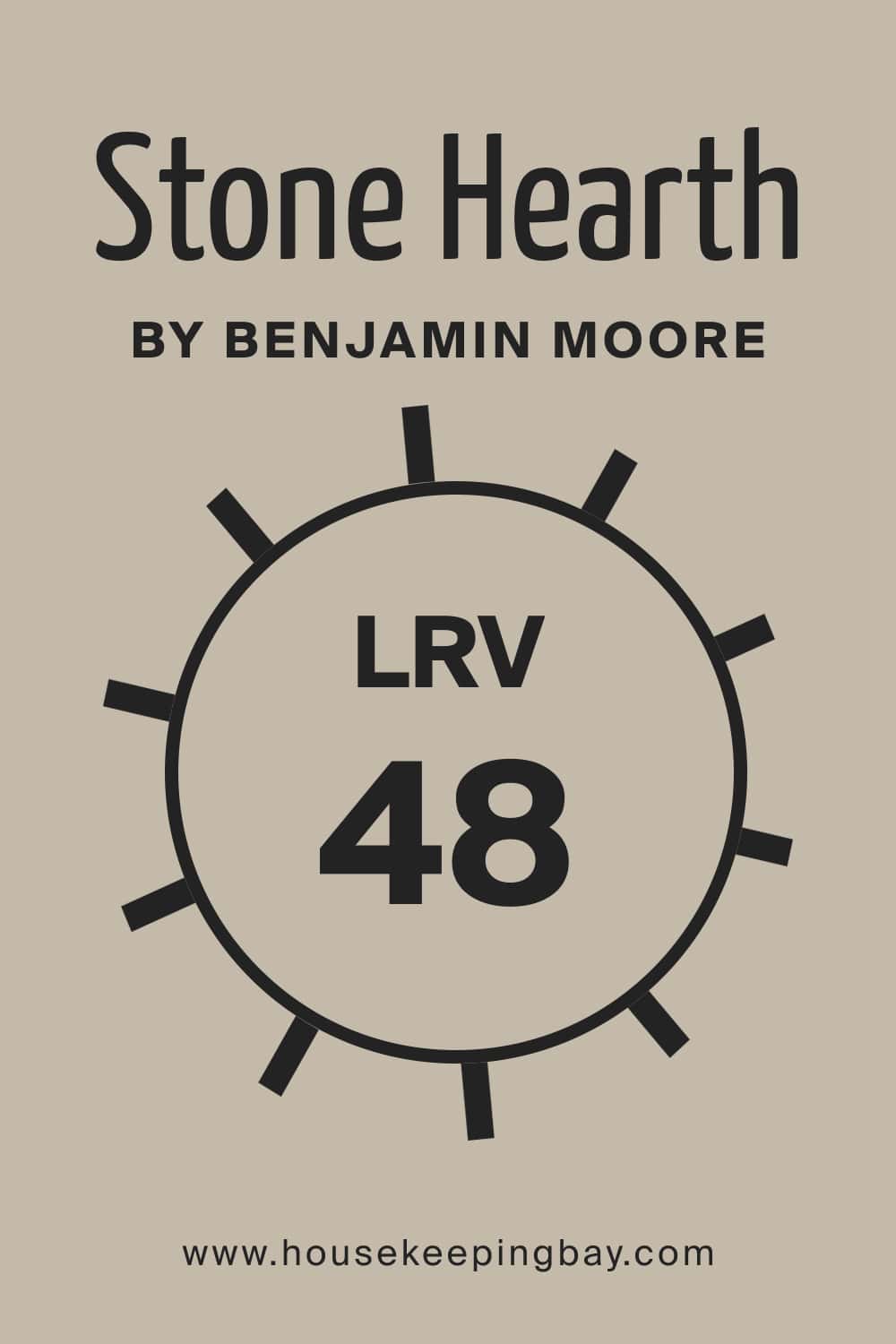 What is LRV? Read It Before You Choose Your Ideal Paint Color
Stone Hearth 984 Coordinating Colors
To achieve a balanced color palette in your interiors, it's essential to pair the wall color with colors that coordinate it best of all. With proper coordinating colors, you can highlight the natural beauty of the main color in the room, making it work better and read more pronounced.
For the Stone Hearth paint color by Benjamin Moore, we would recommend the following colors as coordinating ones:
OC-141 China White
2132-60 Metallic Silver
2133-30 Day's End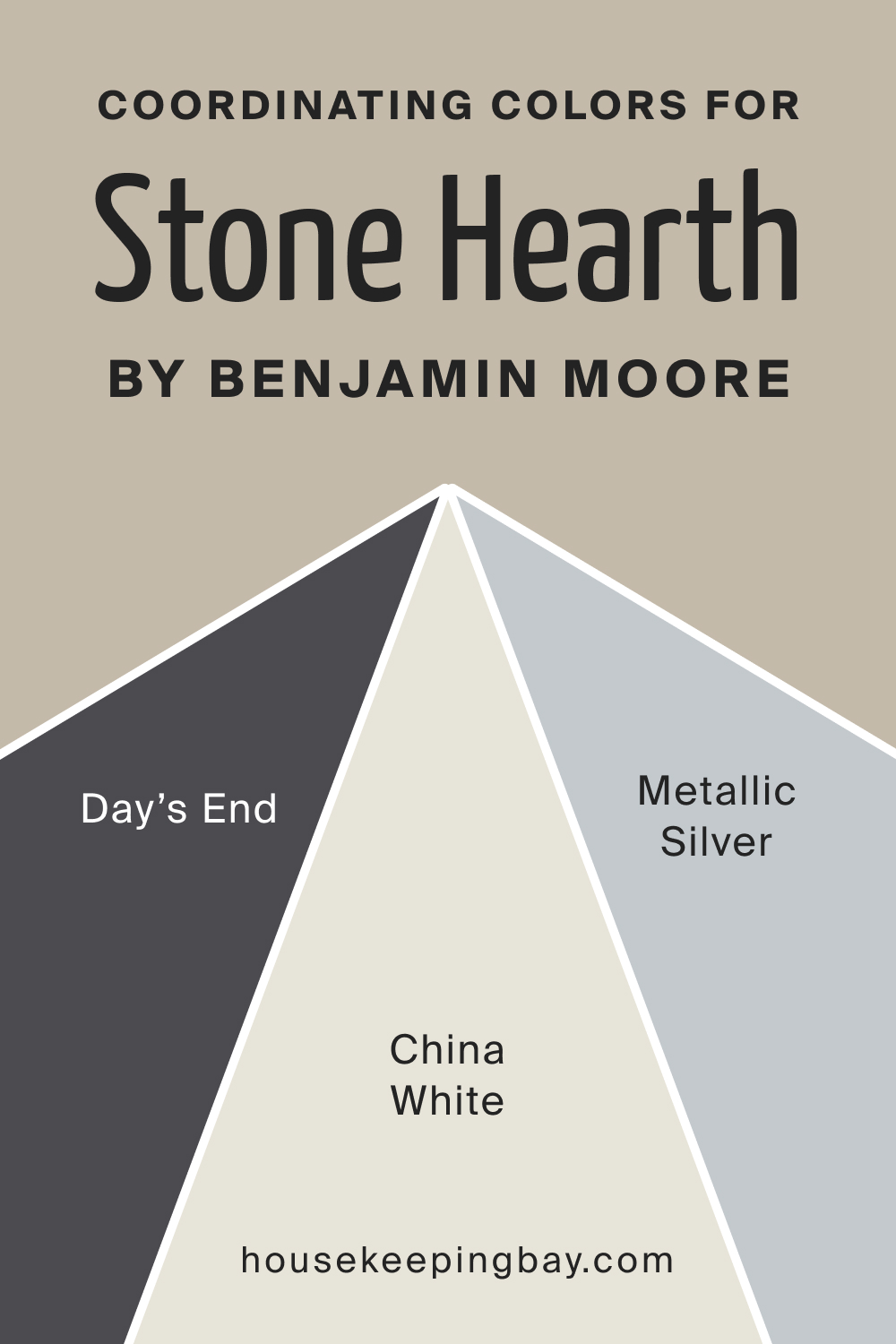 Similar Colors to Use Instead of the Stone Hearth Paint Color
It can sometimes be challenging to pick the most similar-looking colors to use instead of the paint you initially chose for your home painting project. The trickiest part is to define what colors have similar undertones and read almost the same as the initial color.
For the Stone Hearth color with its purple and brown undertones, it's not an easy task to pick the most suitable substitute colors! This is why we have prepared a list of the best color matches:
996 Ashen Tan
861 Shale
Behr Creamy Mushroom
Of course, you must realize that none of them is a 100% match! Some minor distinctions in tone will be present anyway, making the substitute colors read warmer or cooler, lighter or deeper.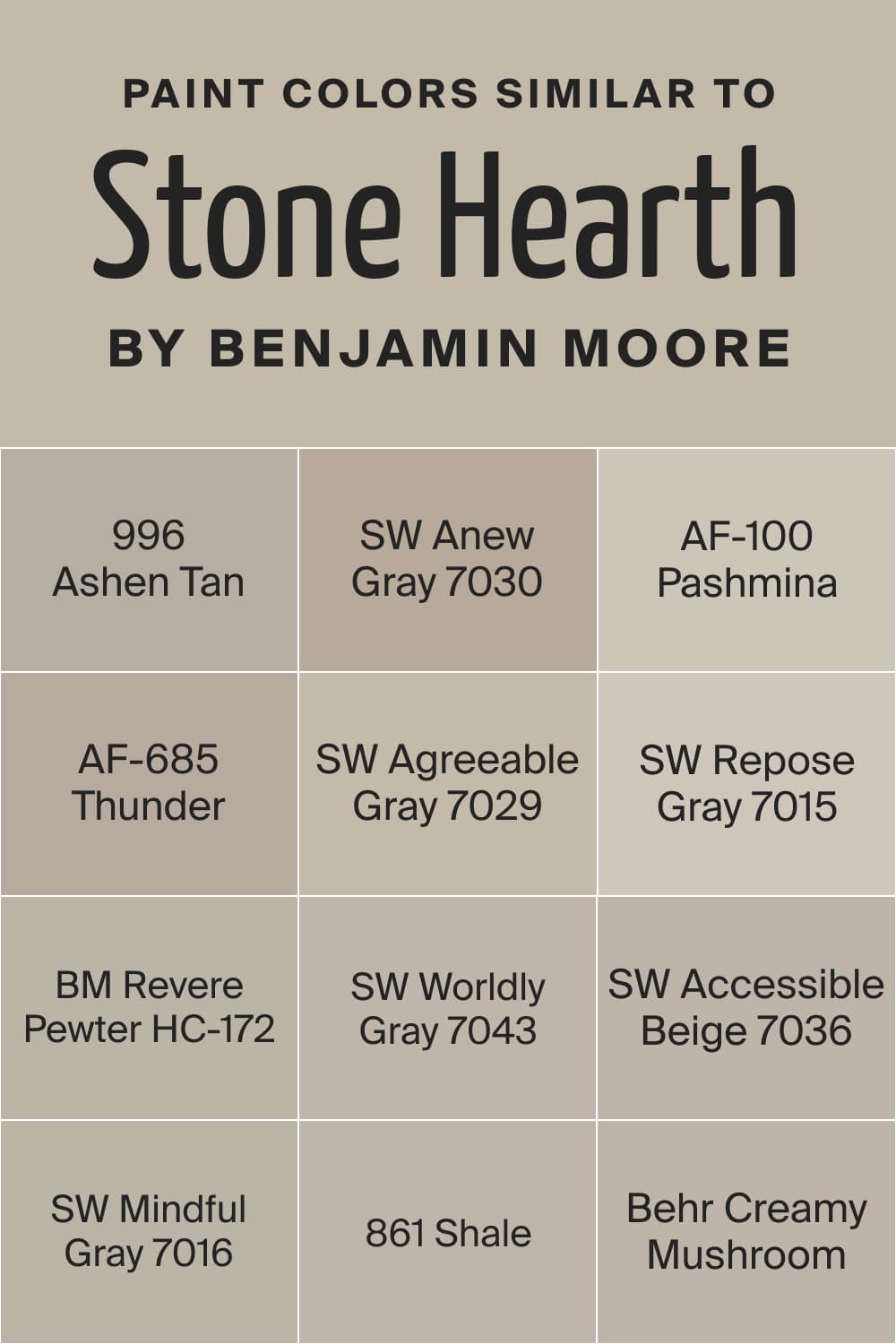 Colors That Go With Stone Hearth Paint Color
To achieve a good-looking and eye-pleasing color palette in your home, you must select the colors correctly. All of them must work well with each other to create a harmonious and cooperative palette.
We recommend the following paint color to use them with the Stone Hearth gray for the best effect:
1520 Hushed Hue
1635 Water's Edge
AF-70 Battenberg
AF-225 Firenze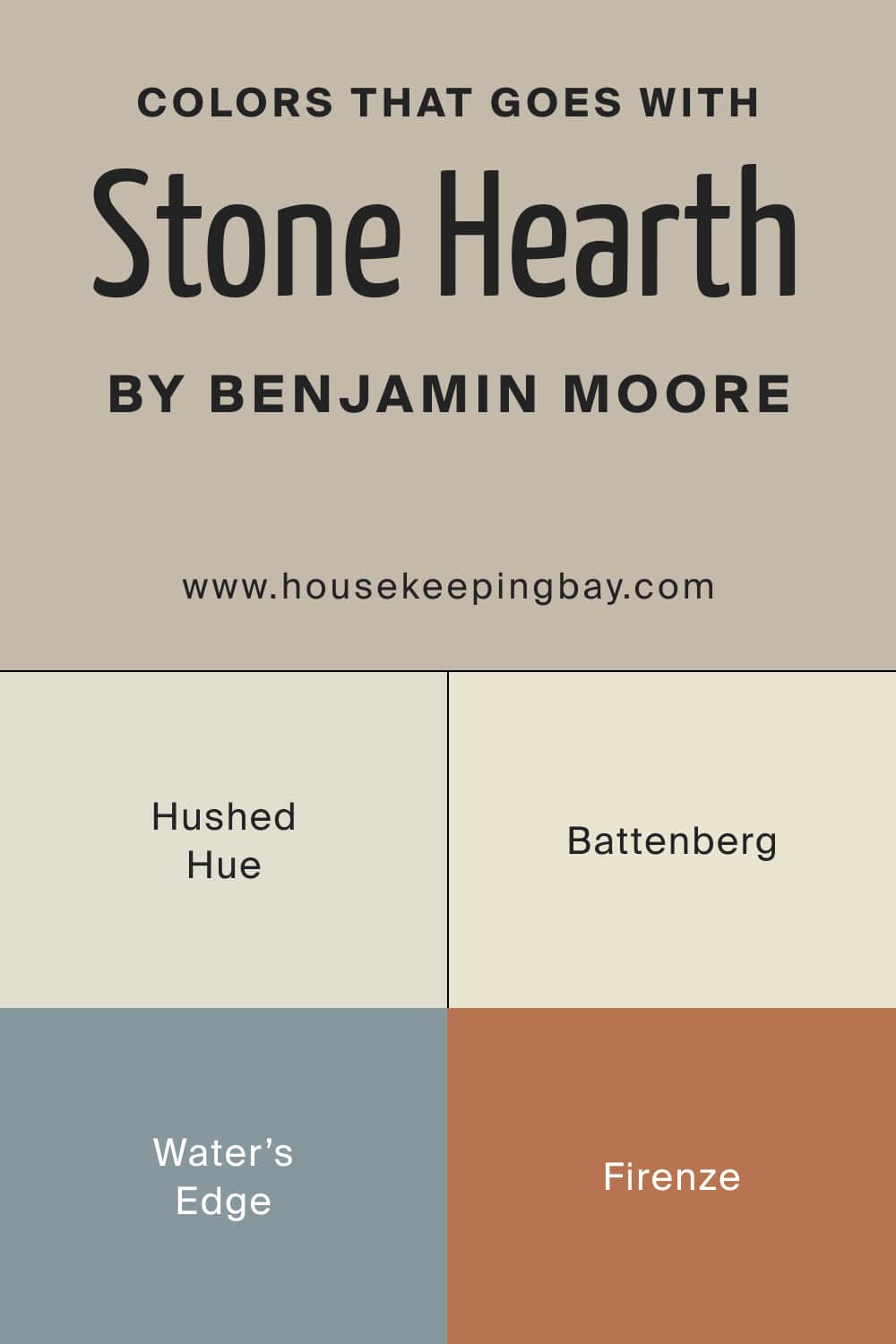 What Is the Best Trim Color to Use With the Stone Hearth Paint?
White is an optimal paint color to use on trim due to its versatility and a wide selection of shades and tone options. You can easily pick the white that will work best with the color used on the walls!
For the Stone Hearth as a wall color, we recommend you use the following white colors on your trim: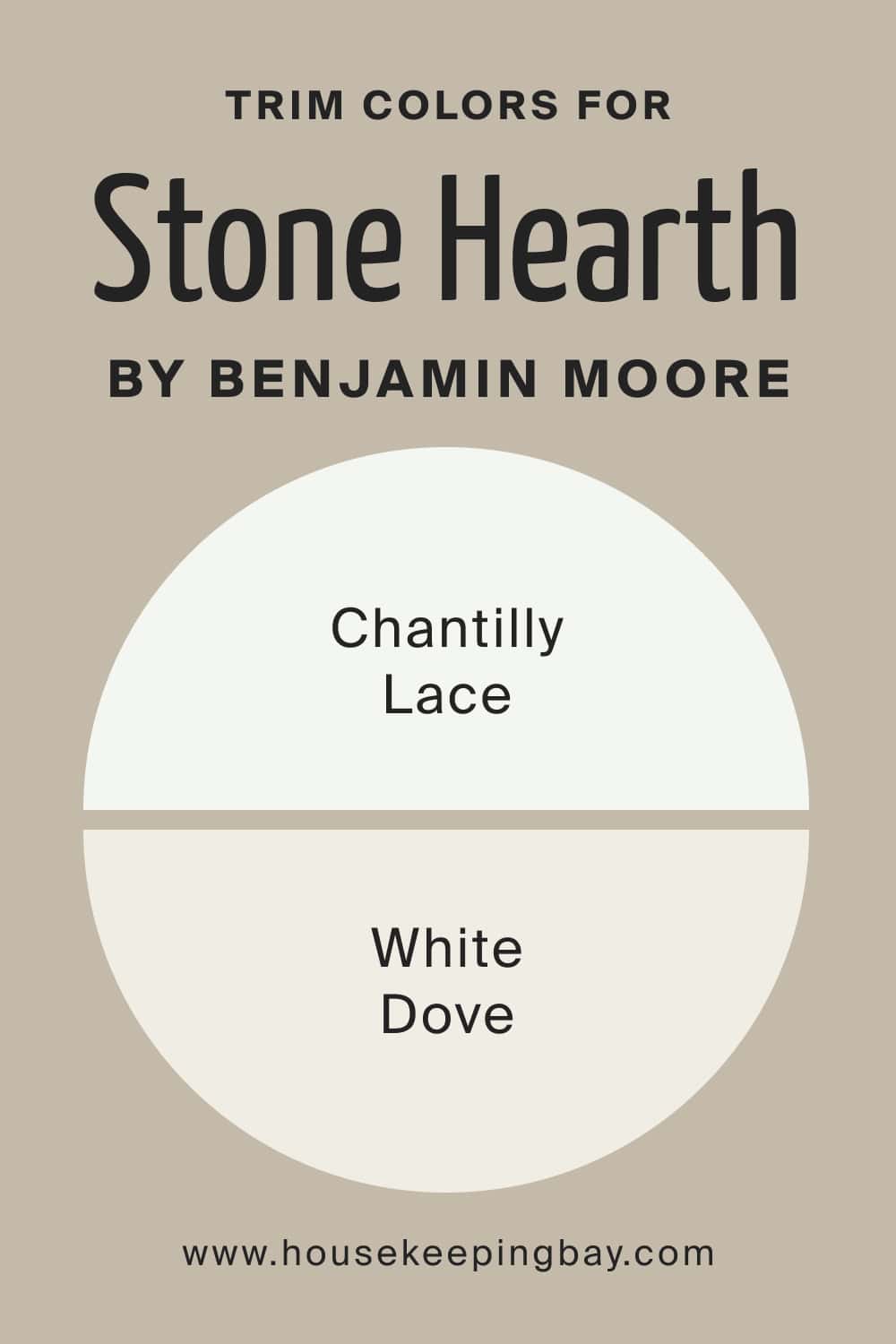 Comparing Stone Hearth Paint Color With Other Colors
When you can compare the color you chose for your walls with other paints that look nearly the same, you can better see the distinctions between similar shades of the same color.
Below, you can find several pairs of colors that look almost the same, but they still have specific differences. This way, you will understand what makes the Stone Hearth gray color unique.
Stone Hearth vs. Revere Pewter
BM Revere Pewter has yellow and beige undertones, unlike the Stone Hearth with its purple and brown undertones. If you compare these colors closely, you will see that Stone Hearth reads much warmer with a more prominent brown hue, whilst its counterpart looks grayish.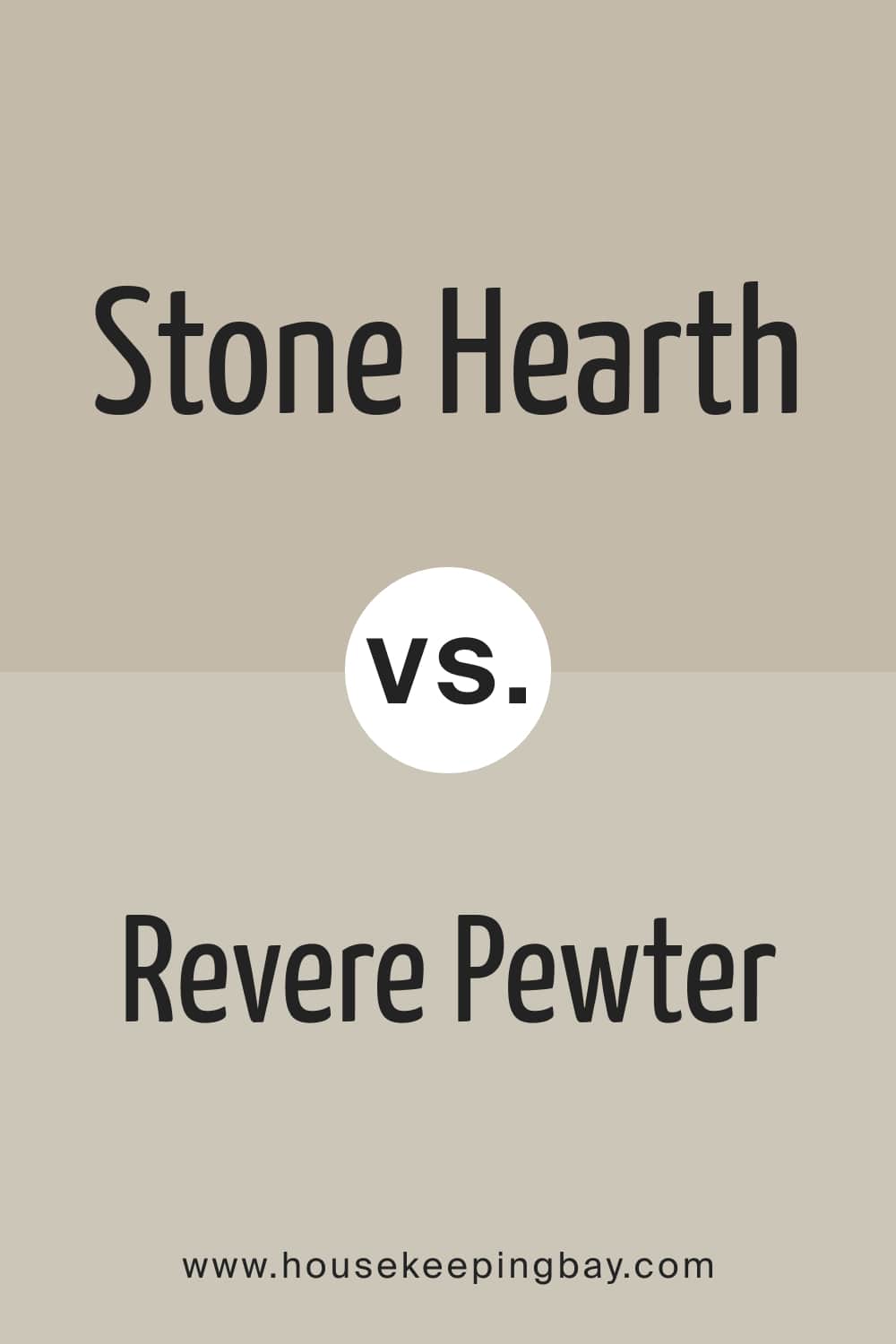 Stone Hearth vs. Pashmina
The undertones of these colors are different. BM Pashmina has a very slight and barely seen green undertone, whilst BM Stone Hearth has purple and brown undertones. This is why, if you put them side by side, you will see the Pashmina color reading noticeably greener!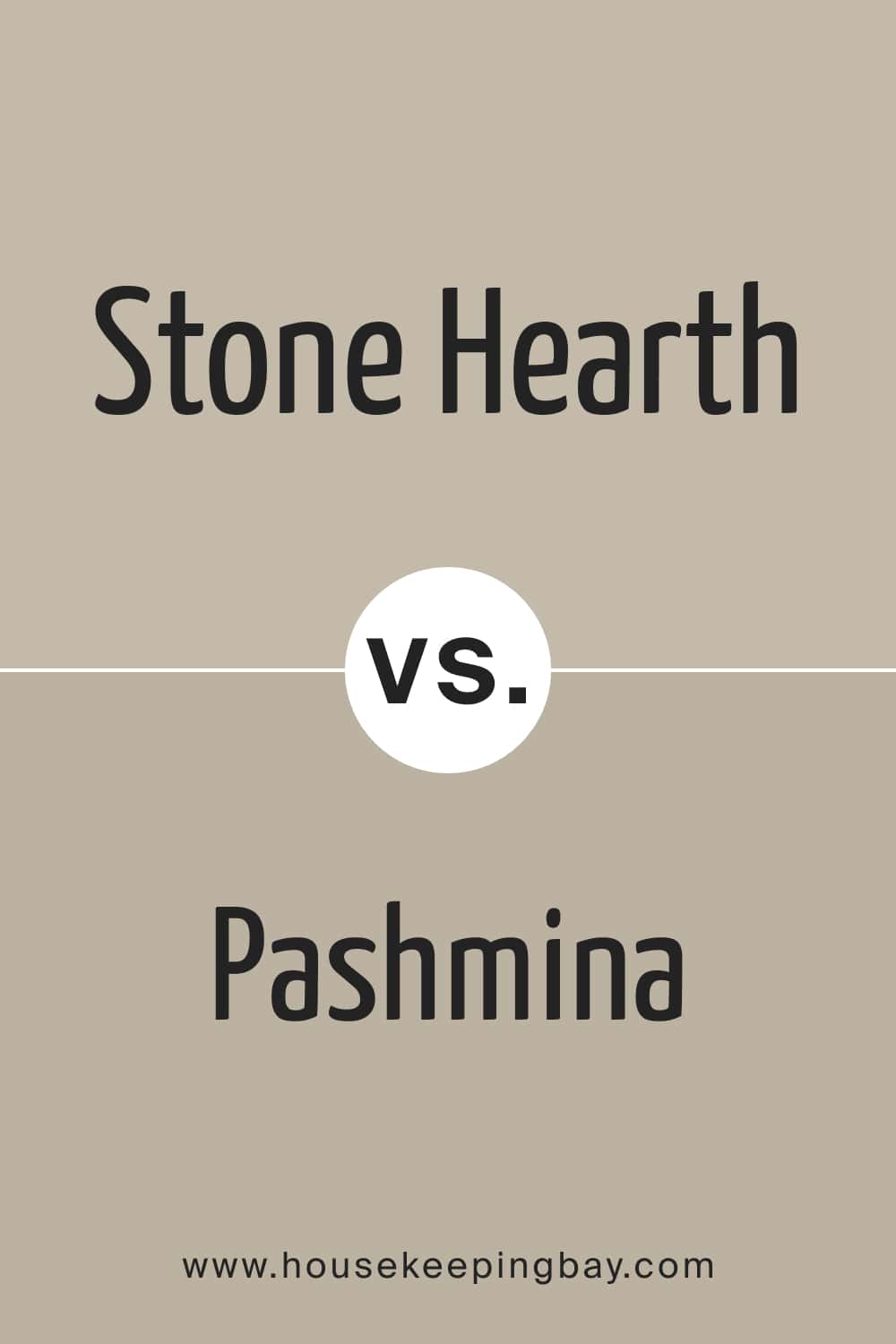 Stone Hearth vs Pale Oak
BM Pale Oak is a light greige with warm taupe and yellow undertones, which makes it distinct from the Stone Hearth with a noticeable brown hue. Also, their LRVs differ.
BM Pale Oak has an LRV of 69, and BM Stone Hearth has an LRV of 48. As a result, the Pale Oak color reads noticeably lighter.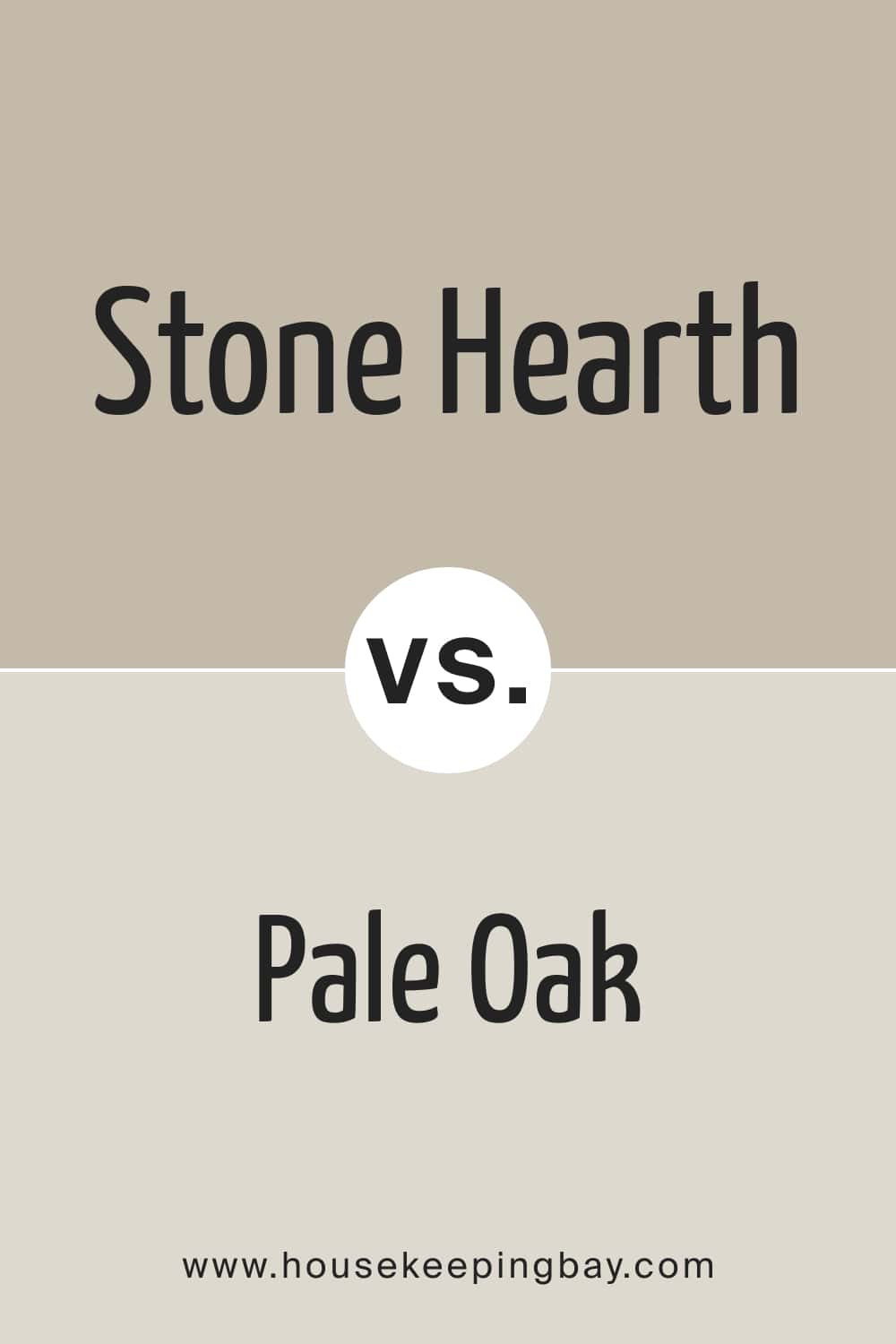 Stone Hearth vs Himalayan Trek
BM Himalayan Trek is a mid-tone neutral with warm gray undertones. It does read much grayer than Stone Hearth, which looks clearly brownish compared to it. But there is also a couple of similarities. First, the neutral tone is what makes these colors related. Also, the LRVs of these colors are very close (47 for the Himalayan Trek and 48 for the Stone Hearth).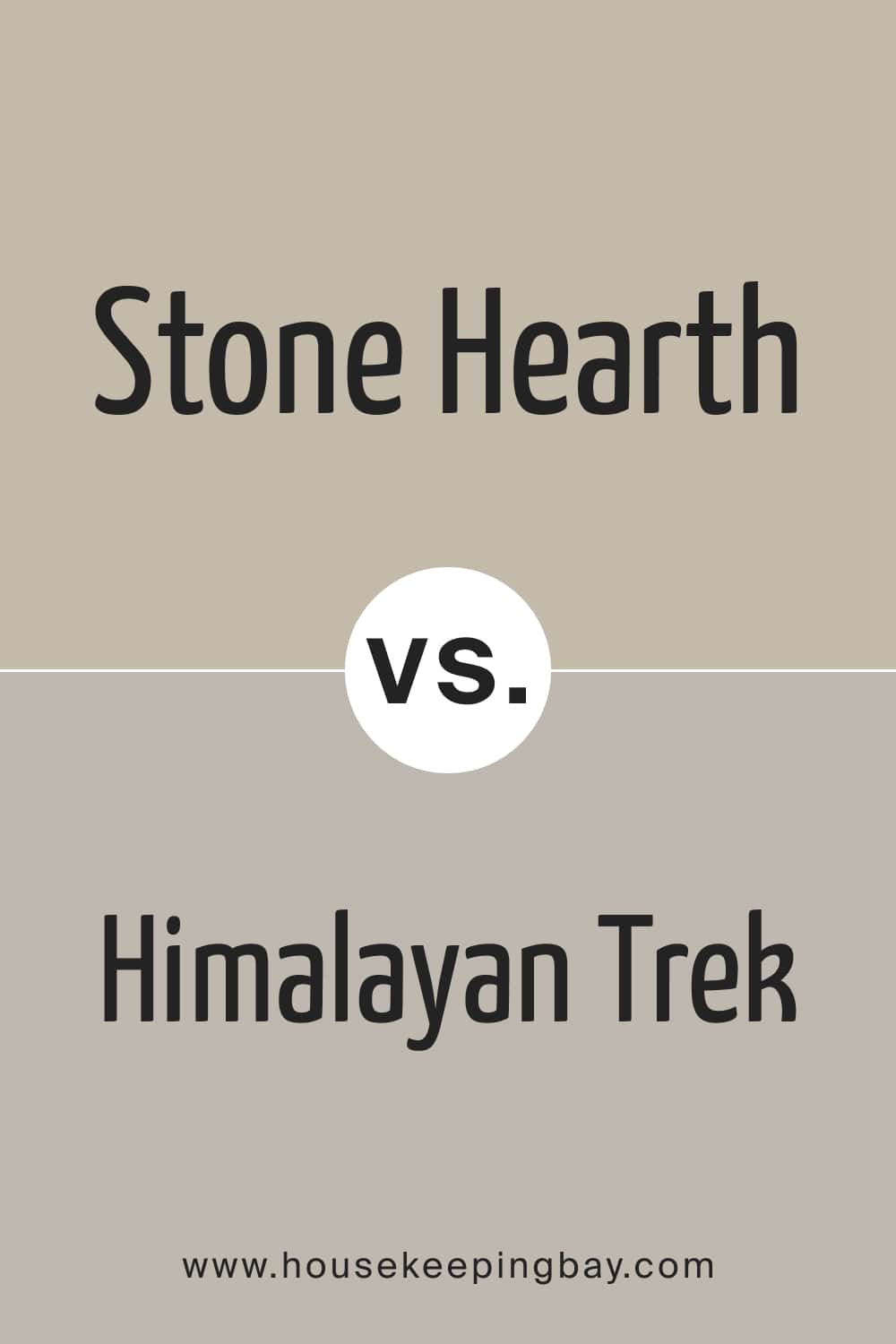 Stone Hearth vs Natural Cream
BM Natural Cream is a warm, soft neutral between a warm white and a mushroom color. It is greige, with soft undertones. Since these colors share the mushroom hue, they look rather similar.
It's the LRV that makes them different. The Stone Hearth color has an LRV of 48, and BM Natural Cream has an LRV of 70, which makes it a lighter one of the two.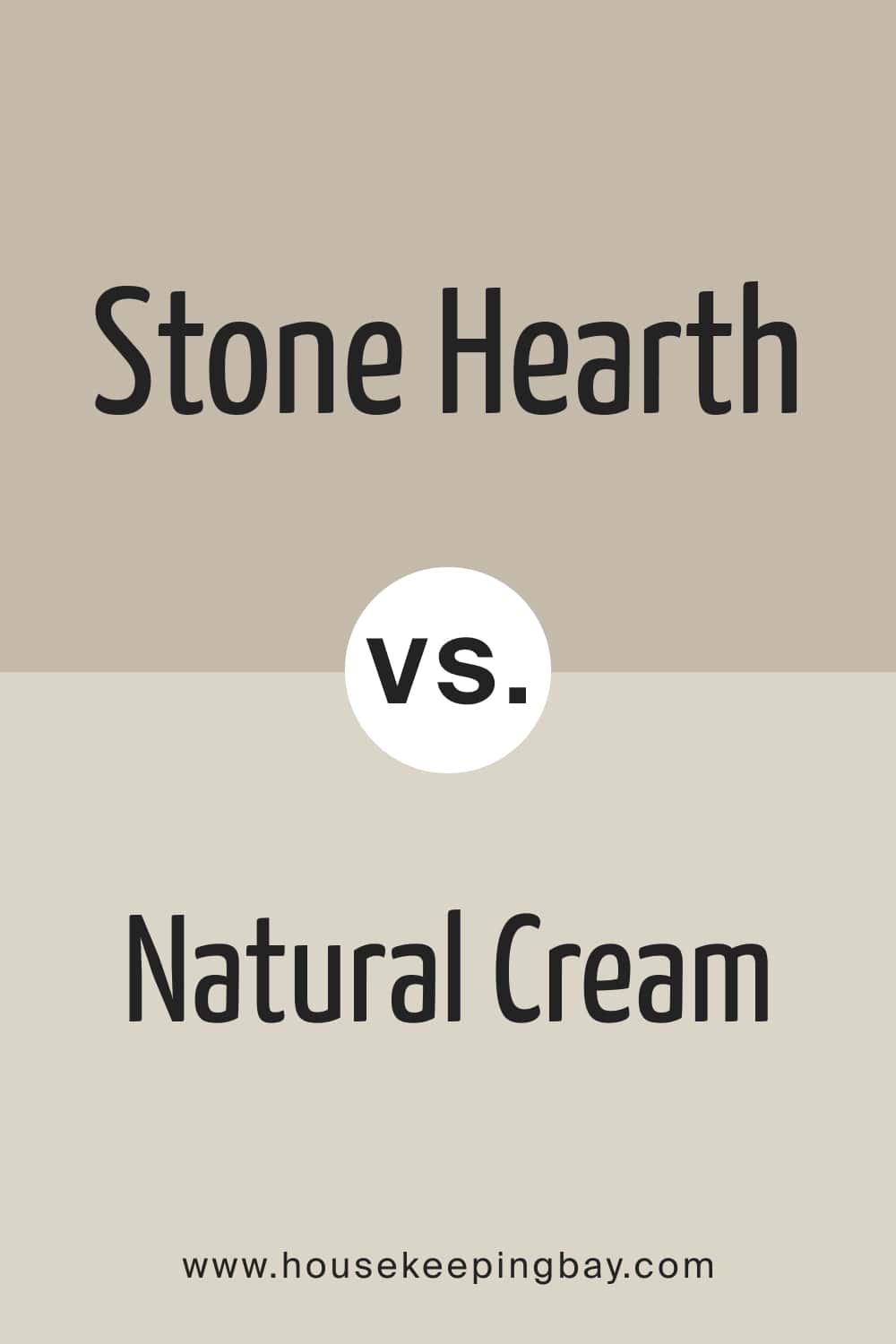 Where In Your Home Stone Hearth 984 Color Can Be Used?
Despite rather tricky undertones, BM Stone Hearth is a versatile color that will work in many spaces in your home. Besides, this mushroom gray will be a nice color option to use on exterior walls too! Below you can get more detailed information on how it works in different rooms.
Stone Hearth 984 and Living Room
This neutral gray with brown undertones can be a nice color for the living room walls if you crave a soft and cozy vibe there. With its balanced softness, the Stone Hearth paint will add enough warmth to the space without making it overwhelmed.
Pair it with brighter whites on trim, and the color will make your living room look elegant, modern, and very homey!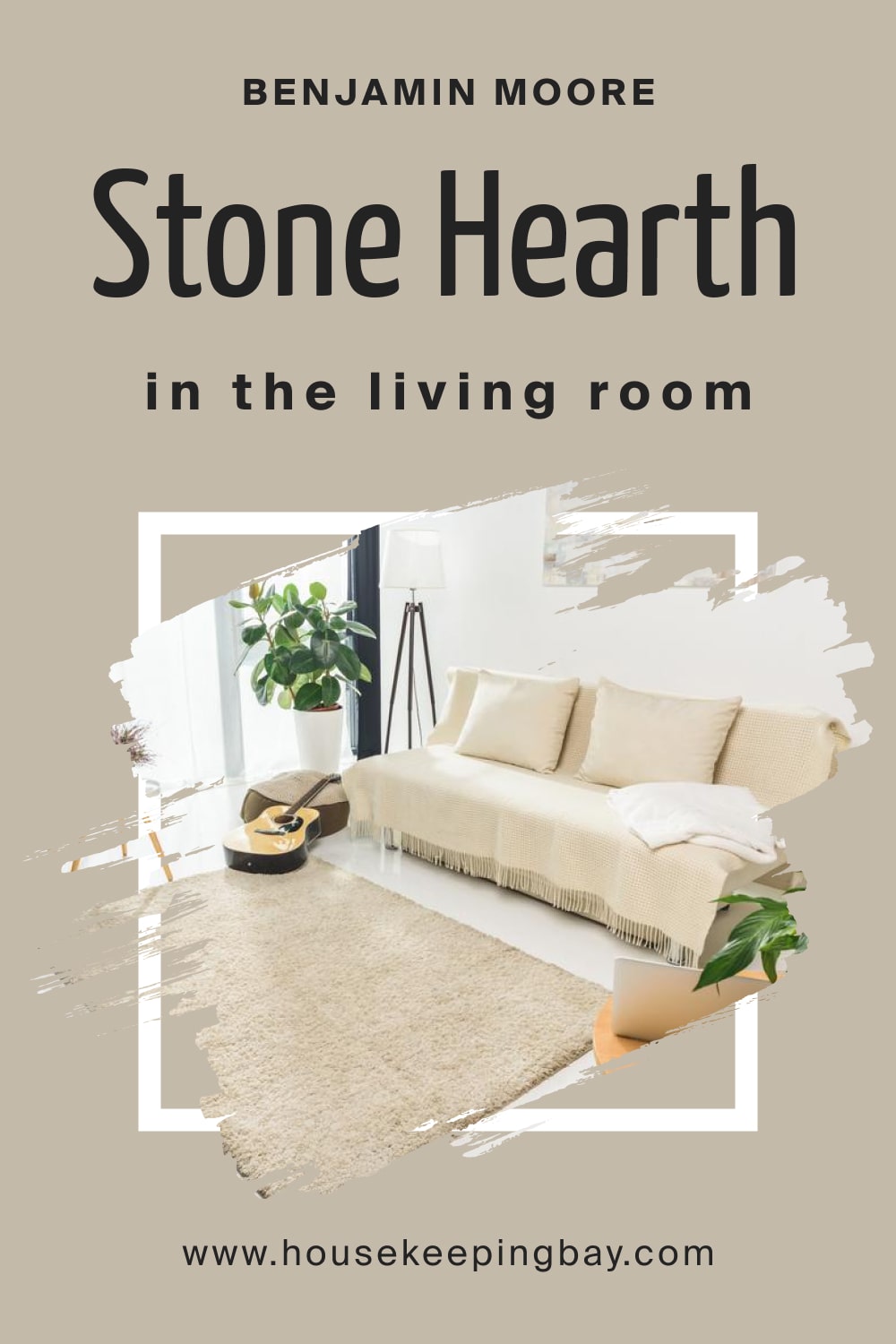 Stone Hearth 984 in a Bedroom
This is one of the best colors to use on bedroom walls! Due to the softness and pleasant warmth, BM Stone Hearth will easily create a relaxing and soothing atmosphere there, which is exactly what you need to sleep well!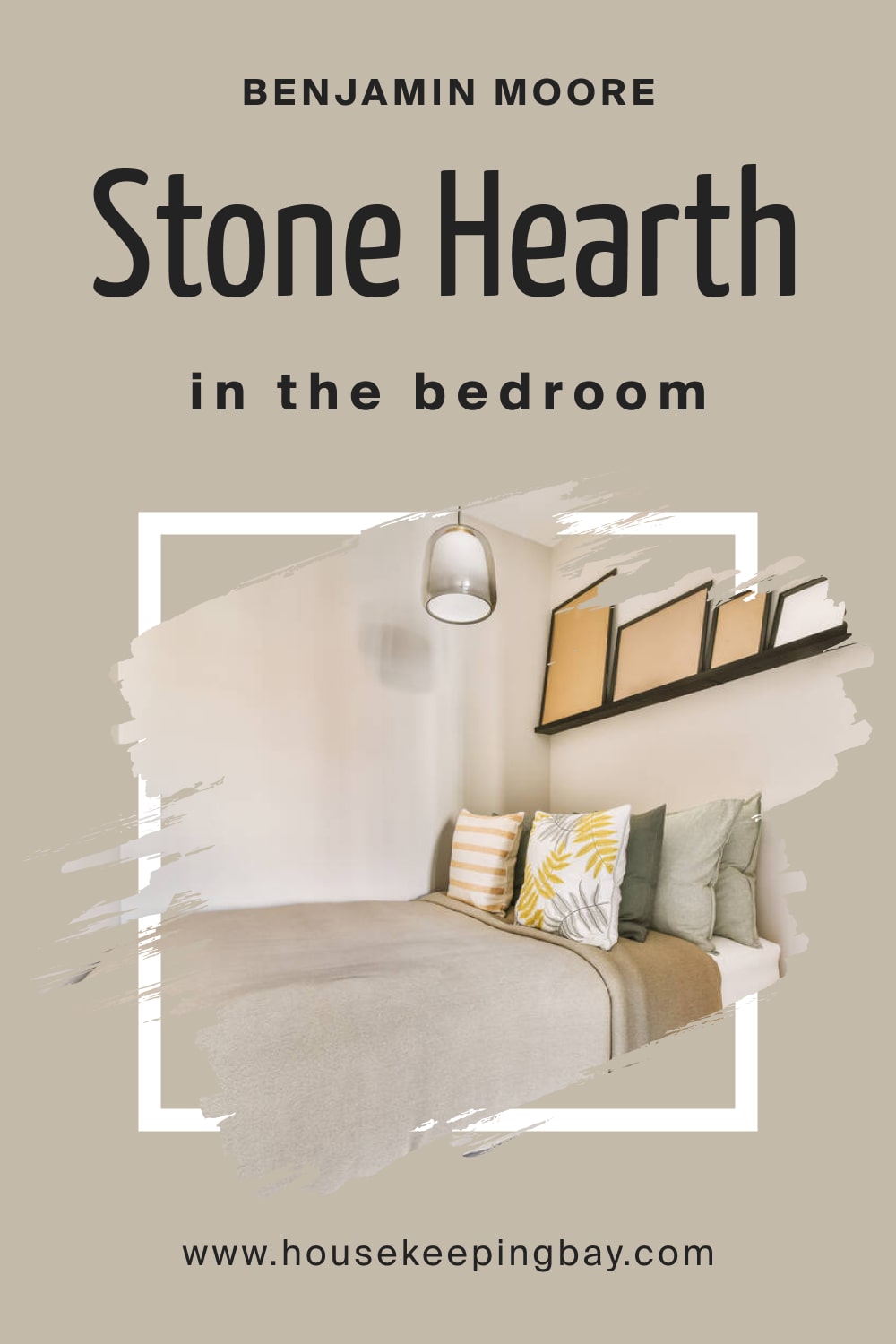 Stone Hearth 984 for the Bathroom
Note that this warmer gray might not work on all bathroom walls, but you can still make it work for you! Paint an accent wall with it, or use it for color accents (e.g., on your vanity sink or cabinets).
But if your bathroom is spacious and well-lit, don't hesitate to paint it all with BM Stone Hearth! Just ensure there's also enough white there.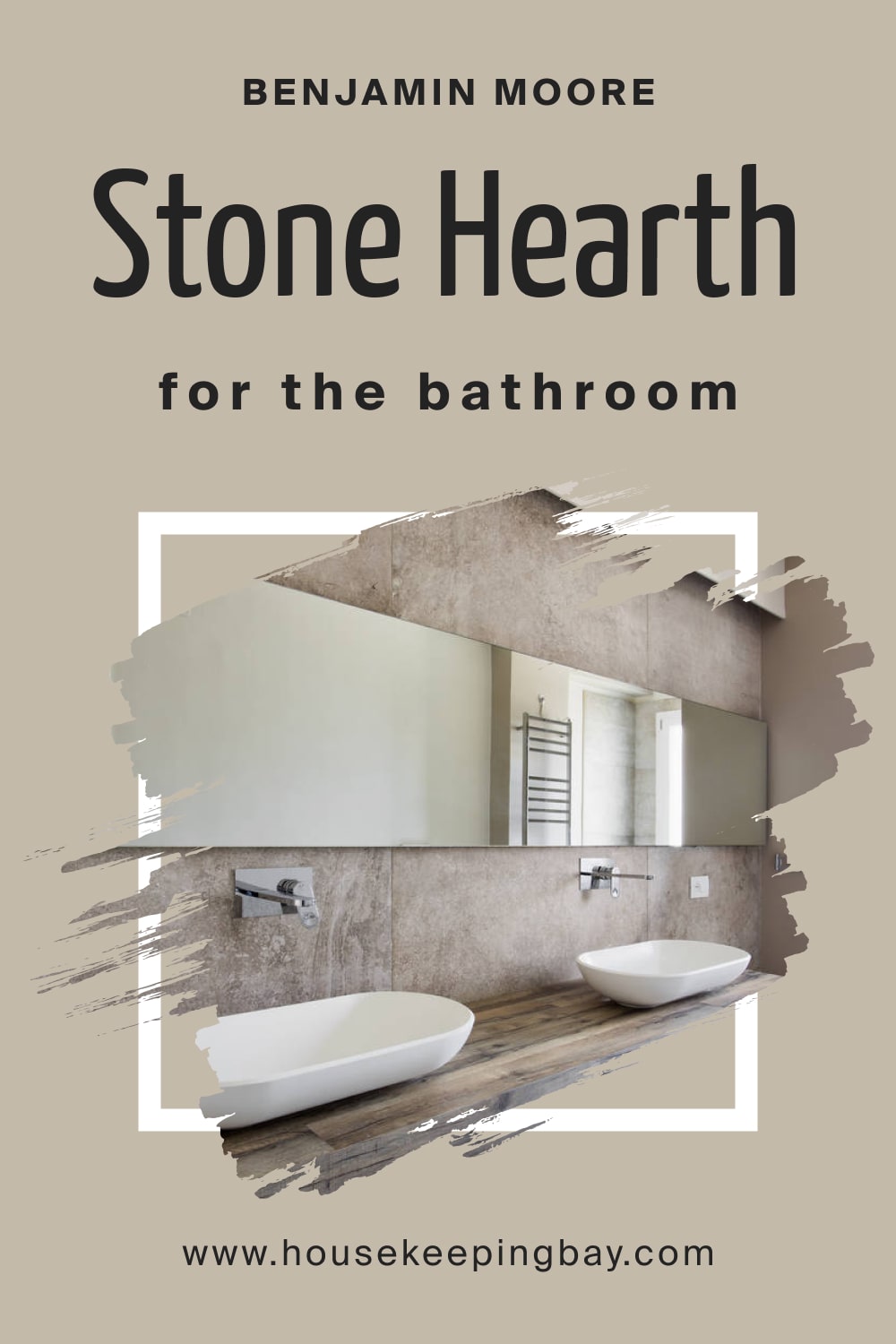 Stone Hearth 984 on the Kitchen
This color will work successfully on your kitchen walls, but it will also look great on cabinets only with the walls being white. It depends on how big the kitchen is and how well it is lit.
For a smaller space with poor/dim light, we'd recommend you limit this color to the cabinets to avoid making the room read smaller.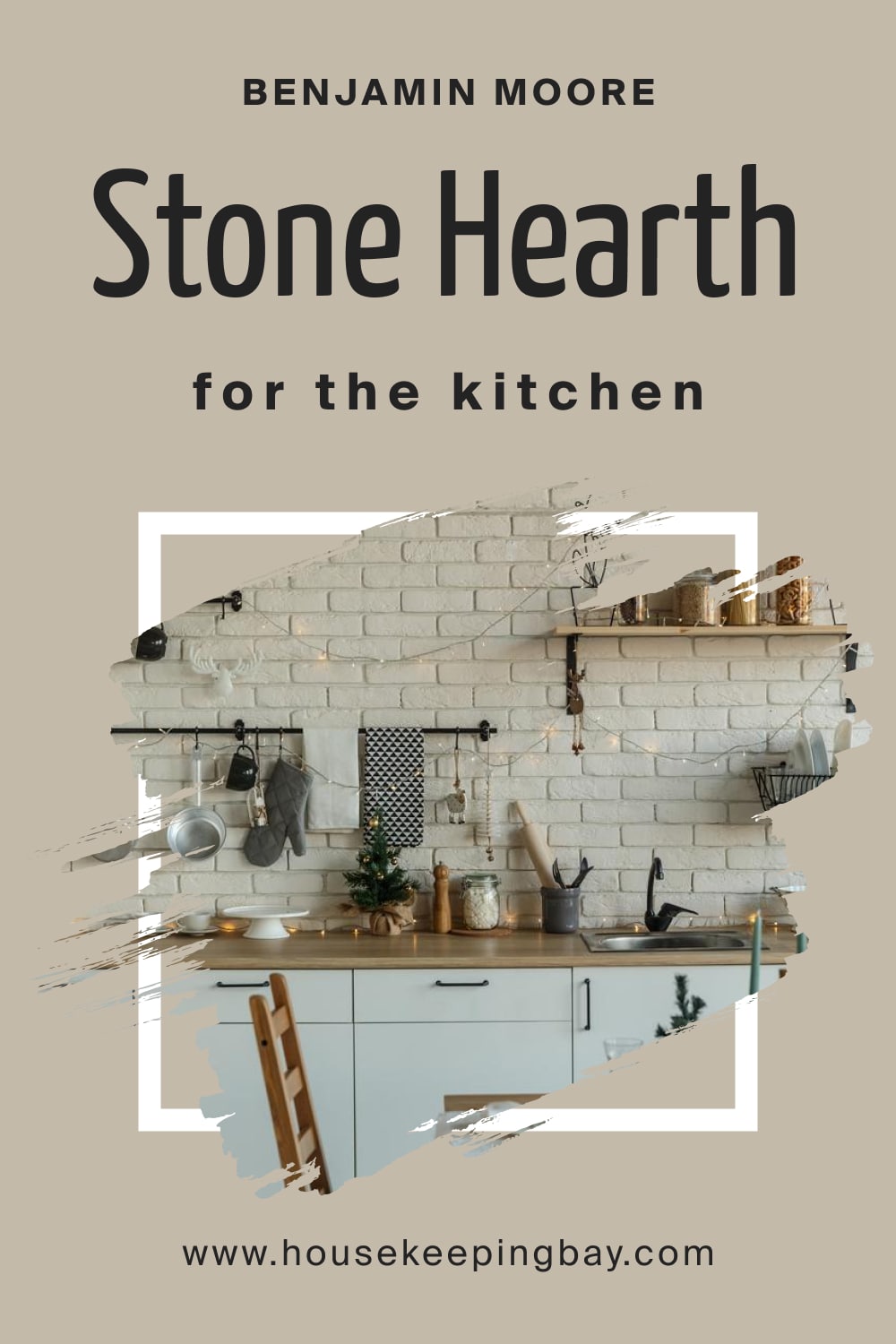 Stone Hearth 984 for the Exterior use
On exterior walls, BM Stone Hearth works surprisingly well! It will make your house look stylish and modern, adding a warm and welcoming vibe.
Pair this wall color with white trim and shutters (if you have them), and paint your front door white too. This will add a pinch of crispness to the facade and refresh the warmth of the Stone Hearth.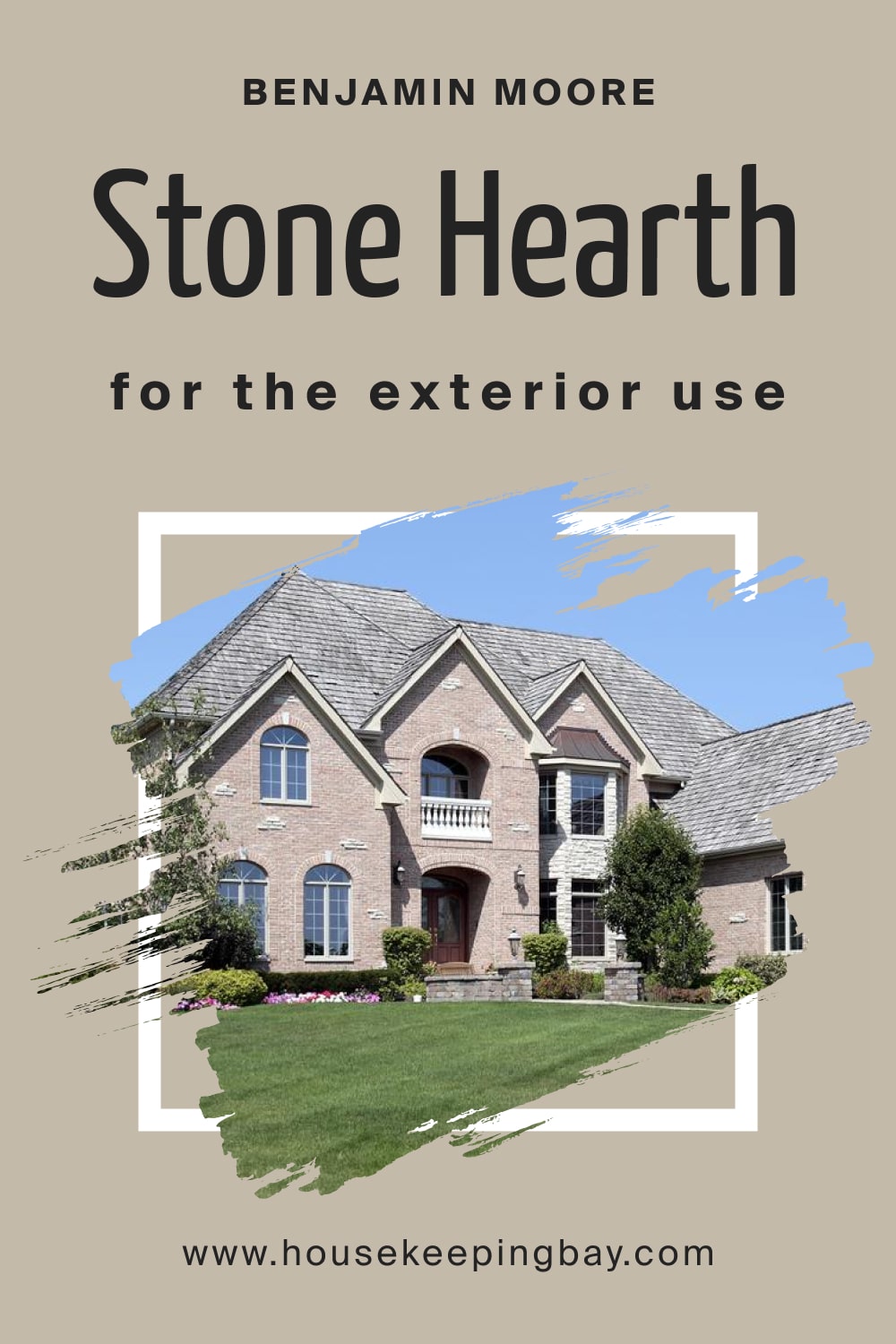 Now you know what kind of color BM Stone Hearth is and how it works in different spaces. You know its undertones, LRV, trim colors, and more.
With all this, you will easily find the best place in your home to use this stoney gray with warmer brown undertones and a hidden pinch of purple!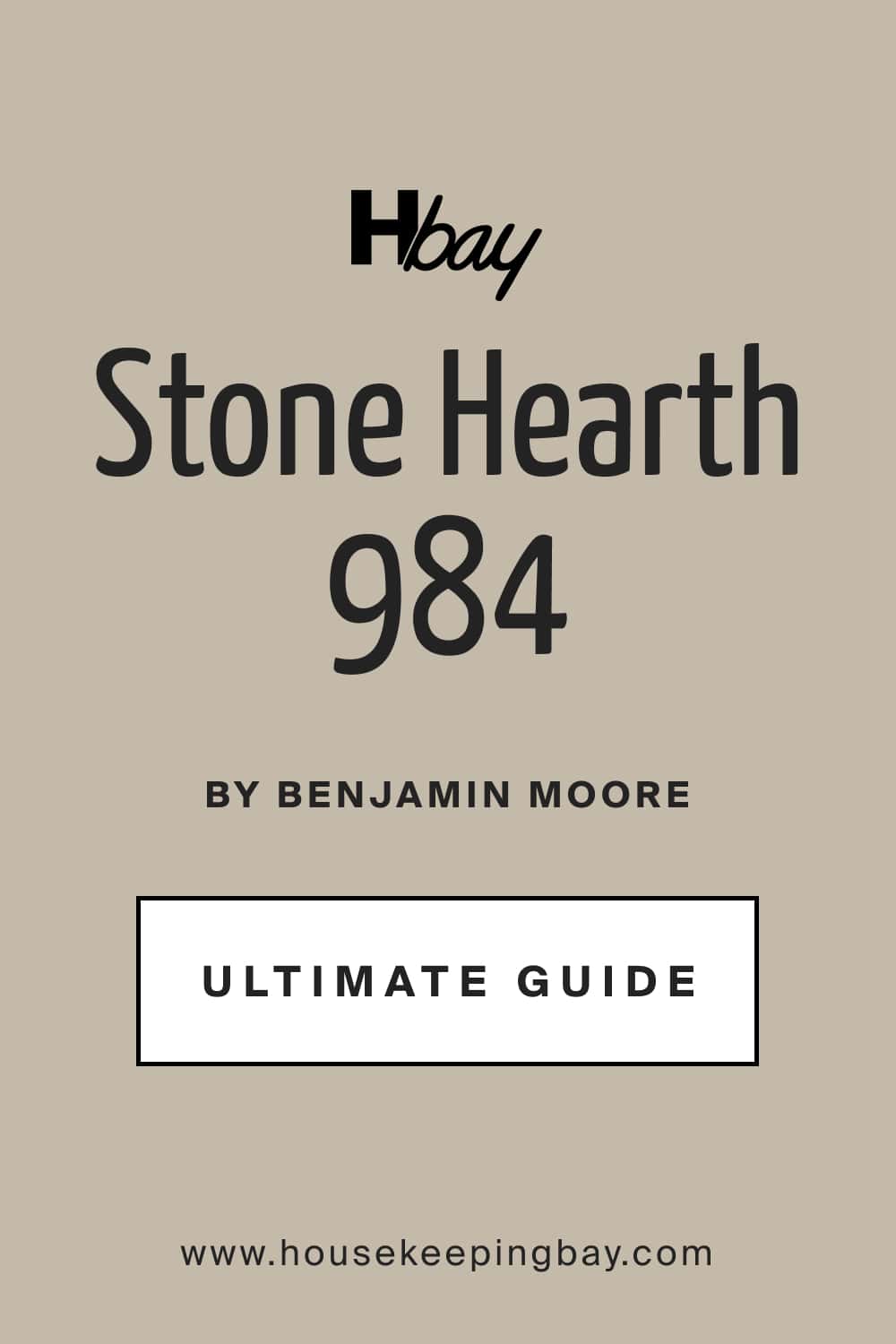 Frequently Asked Questions
⭐What color collection does the Stone Hearth color belong to?
The Stone Hearth color is part of the Benjamin Moore Classics color collection.
⭐Does this color only have one color code?
The Stone Hearth paint color has a code 984, but it is also known as CC-490.
⭐Does this color read the same in any lighting?
No, the Stone Hearth color may read differently depending on the lighting conditions.