Agreeable Grey is one of the greige shades distributed by Sherwin Williams brand. This color is very universal and can be used in almost any room or on any surface. This is why people often combine it with more contrast colors and even with other greiges that have more expressed beige undertones.
Today we will tell you how SW Agreeable Grey can be used in your kitchen to improve and refresh its look. You will learn a few handy tips and get recommendations on where to apply this paint color, as well as what other greiges it is best to be paired with for getting the astonishing result!
We are also going to tell you why this greige shade is considered one of the best from this brand and what makes greige as a color so universal and multipurpose in terms of use.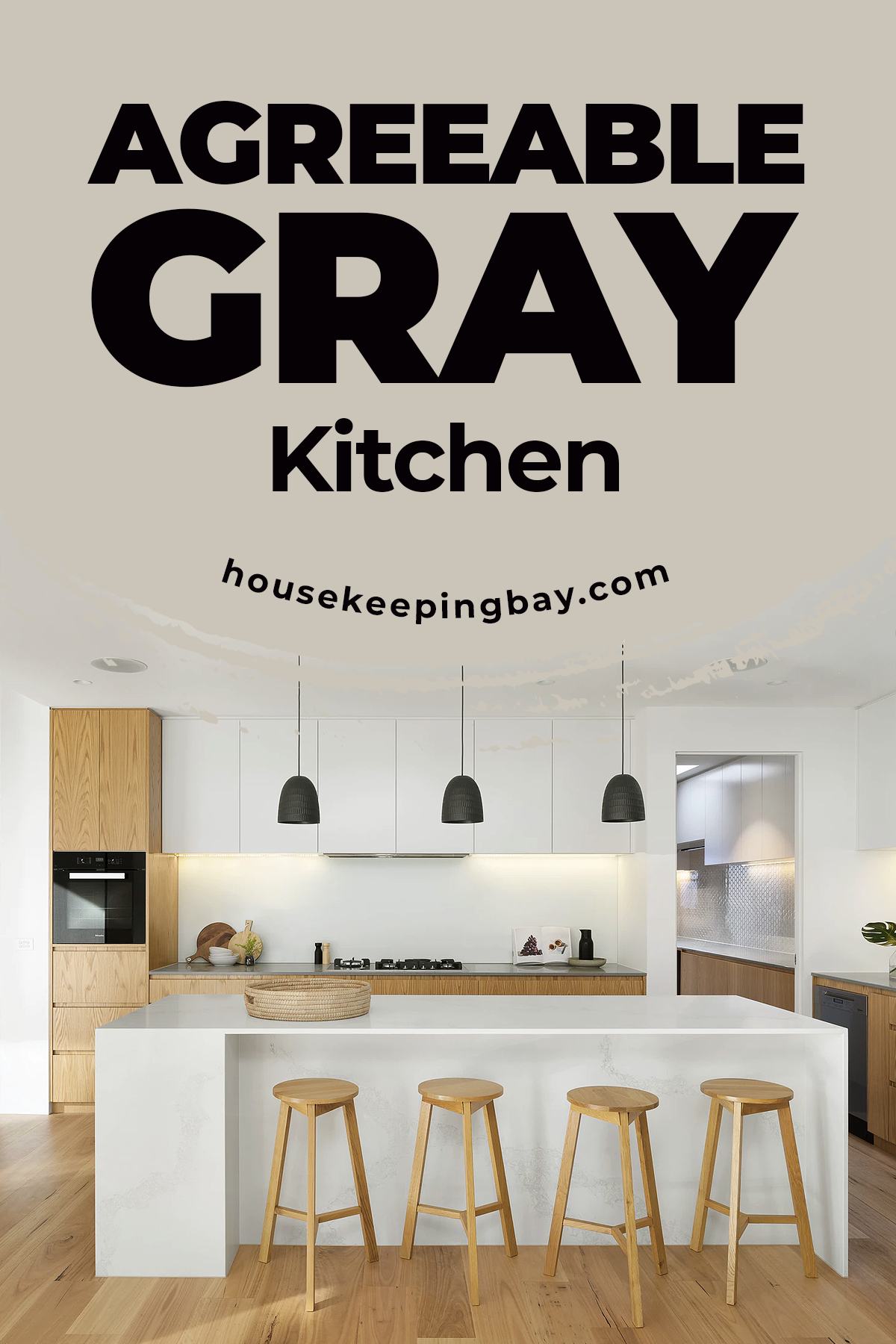 Can Agreeable Gray Be Used For Painting Kitchen Cabinets?
The short answer is yes! This amazing greige is so multipurpose and versatile that it can in fact be applied on a great variety of kitchen surfaces, from cabinets to doors and even trim!
Another benefit of using it is that Agreeable Grey will complement any room style and design. So no matter whether your kitchen is in country house style, or its style is modern or traditional, if you choose to paint it this greige, you will surely not miss!
Since Agreeable Grey by Sherwin Williams belongs to the waste family of greige paint colors, it means that this paint is very flexible. It pairs well with other greige shades, as well as with completely different colors, both dark and light. So combining, let's say, Agreeable Grey with dark blues or black is completely normal.
However, even though this color can be used to paint any surface, people mostly choose painting their cabinets with Agreeable Grey in the kitchen. Why choose this particular color, you may ask?
Well, first of all, it is so versatile! You can safely pair it with any other and get astonishing results. Second, this greige always tends to add instant warmth and elegance to a space. This is why it is a great way to refresh your living space easily even if you are on a budget.
Agreeable Grey is especially good in the kitchen with white cabinets! This color combination creates a very fresh and at the same time cozy and calming atmosphere. However, there are a few more colors that you can pair Agreeable Grey with if you decide to repaint your kitchen cabinets:
greens
blues
whites
other greiges
black
neutrals
Depending on what atmosphere you want to create in your kitchen, stick to one of these paint schemes, and you can be sure your kitchen will always be trendy!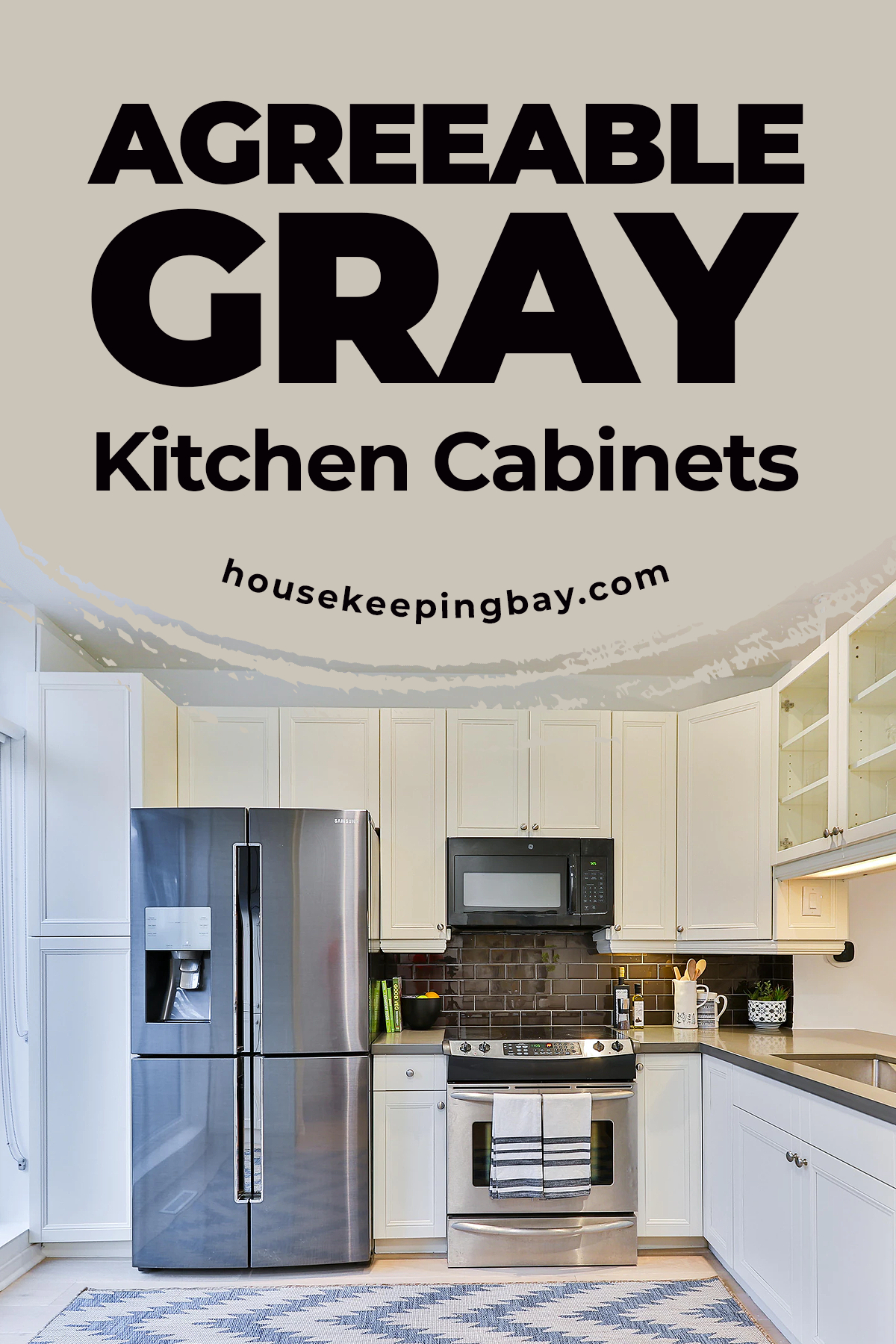 How Will Agreeable Gray Show Itself On Kitchen Walls?
The use of SW Agreeable Grey color in the kitchen is not only limited by the cabinets. This greige can also be successfully applied on the walls! Of course, prior to painting the whole room greige, you should take into consideration a few important nuances:
the lighting in your kitchen
the general color scheme of the room
the effect you want to achieve
Let us explain what each of these factors mean. So first comes lighting. See, Agreeable Grey can express itself very nicely if applied on the walls in a room with a lot of natural warm daylight. In this case, its warm beige undertones will come out making the space look cozier.On the other hand, if your kitchen lacks daylight, the paint color might look a bit cooler on the walls.
AGREEABLE GRAY VS EDGECOMB GRAY | Which One Is Best? (The Paint People)
Also, other colors matter. Look around your kitchen and note what other colors you see. Yes, Agreeable Grey can be paired with quite many colors, but it doesn't mean you can pair it with anything! It will create the best matches with whites and neutrals, as well as other greige shades. Black is another successful color "partner" for this greige. But if you want something completely different, stick to the different shades of blue or green.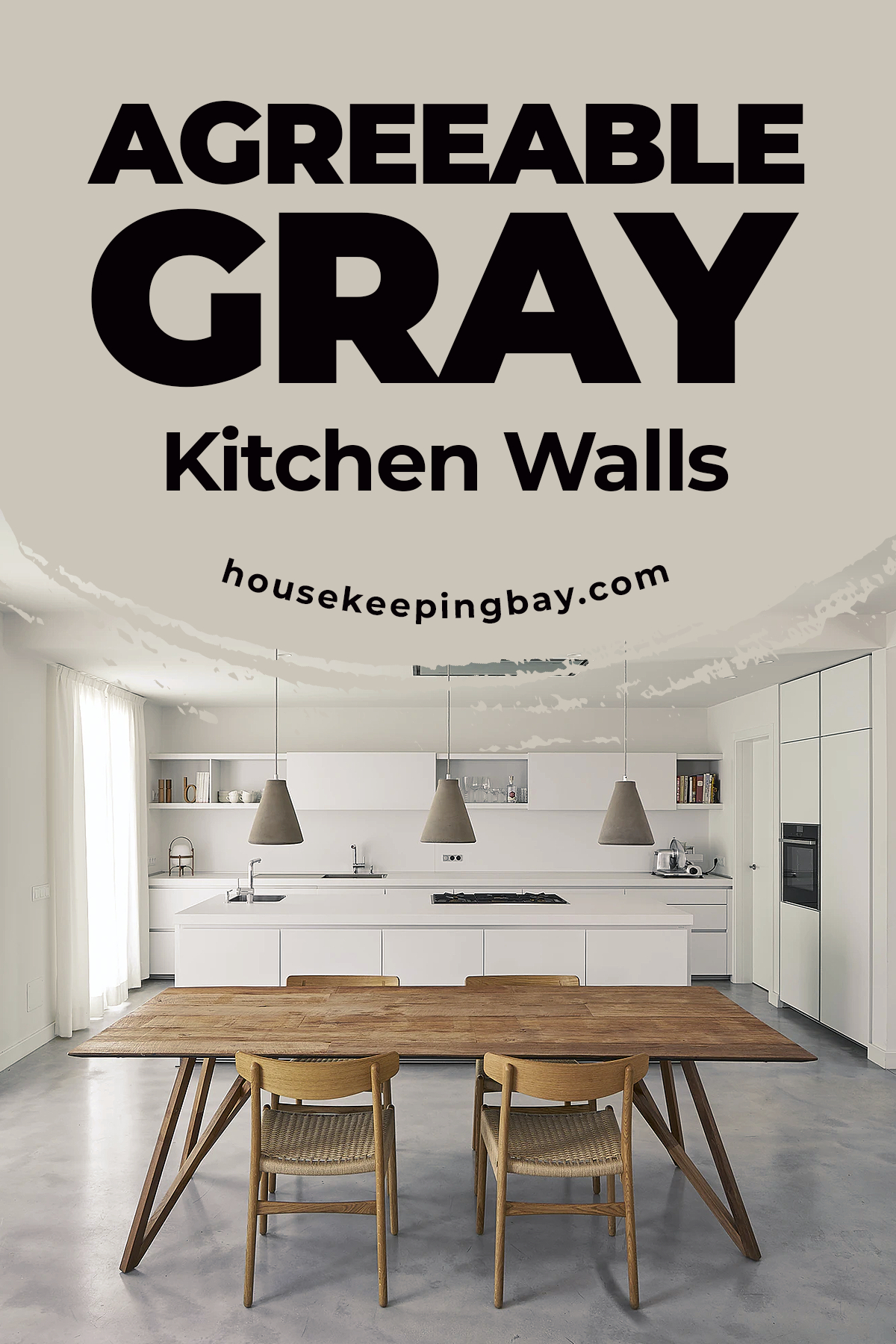 Best Agreeable Gray Matches With the Kitchen Wall Colors
Not all of us have an eye for colors and their combinations. And those who do have it way simpler to choose colors for repainting their kitchen! But what if it's not you?
In this case, we recommend you use the ready-made color palettes that present the coordinating colors that fit this particular greige best of all. Like this, you will not have to waste time on choosing the perfect matching colors.
So if you decide to repaint something in your kitchen with Agreeable Grey, and you want to find the most fitting color combinations for this greige, consider the following options:
Sea Salt
Mega Greige
Steamed Milk
Extra White
Incredible White
These colors complement each other perfectly, and they will not create a too significant contrast at the same time making the whole room look balanced and harmonious.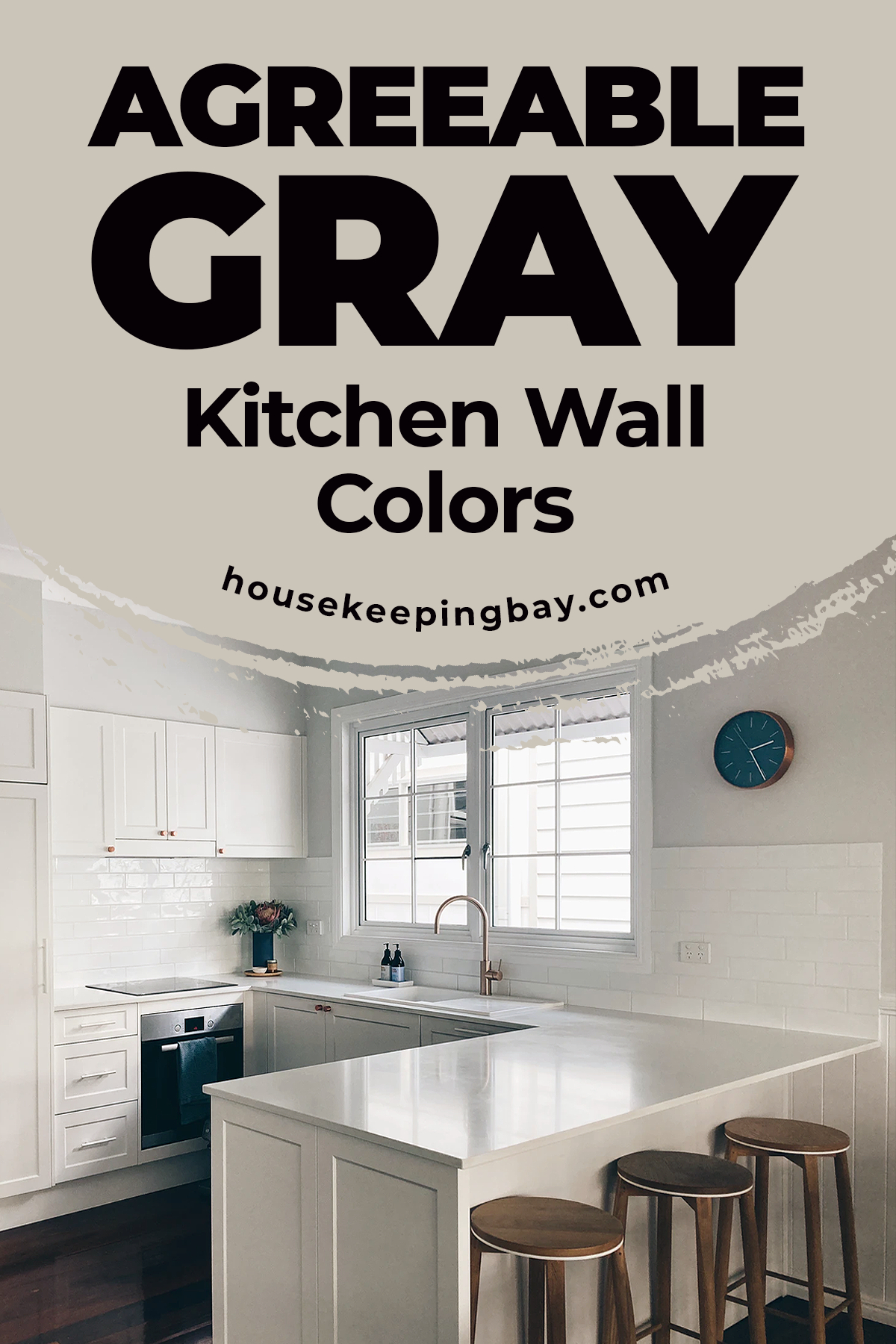 Will Agreeable Gray Fit the Kitchen With White Cabinets?
You might want to create the farmhouse look in your kitchen, or you may just love white. It doesn't matter. But now you have your kitchen cabinets painted white and you want to apply Agreeable Grey (which is half-grey and half-beige) onto the walls or some kitchen furniture or appliances.
The reasonable question is: will they fit? And the answer is yes! Only we would recommend you also make use of a darker shade of either grey or greige to create the visual accent in your kitchen. Otherwise, if you don't do this, the room will look a bit too pale.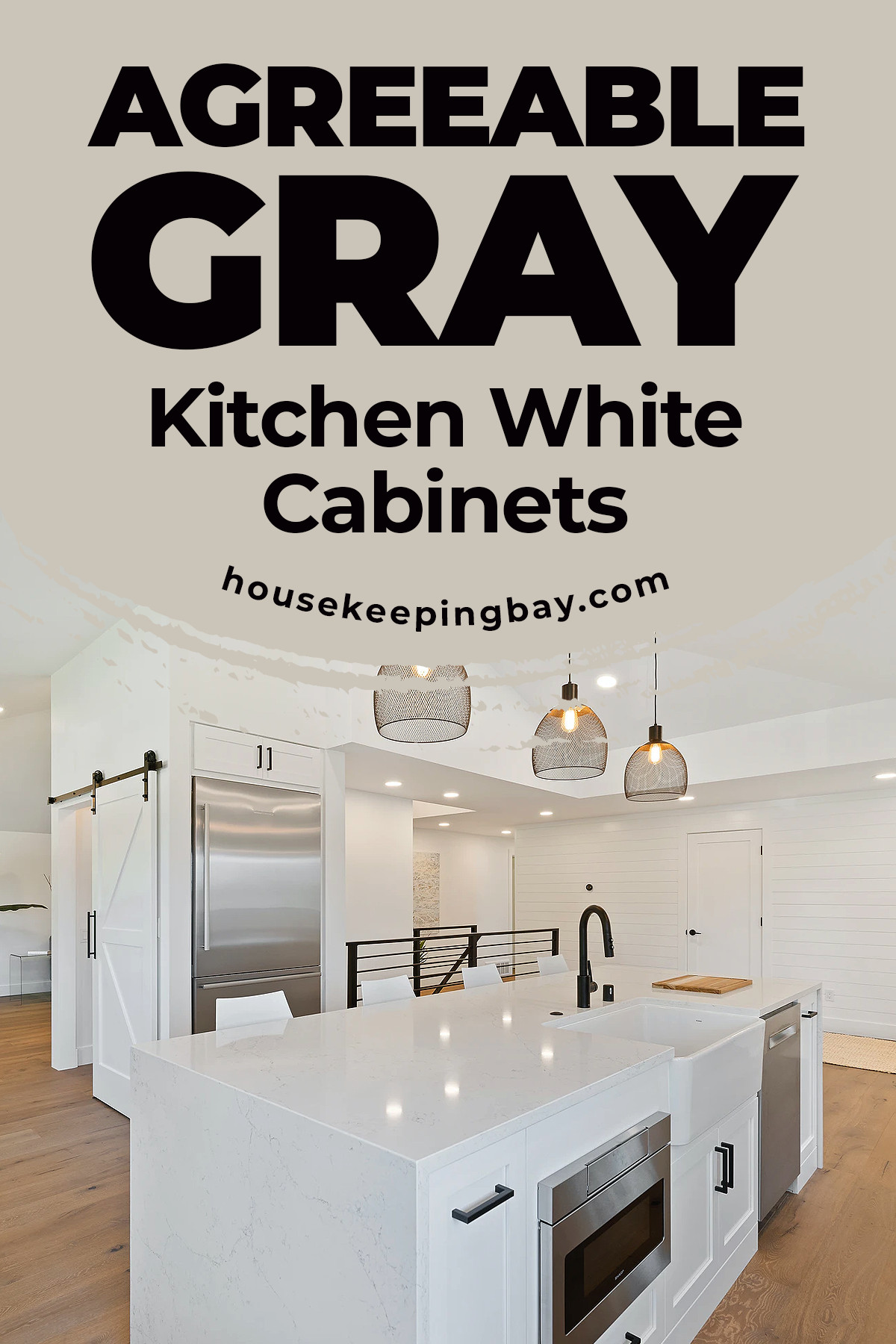 Agreeable Gray And Kitchen Island Color Matching Ideas
Your kitchen may already be painted Agreeable Grey when you decide to change the color of the island. or you might need to repaint the kitchen walls with Agreeable Grey so that they still match the color of the island. In both cases, the only issue is what color shall the kitchen island be to pair well with this greige.
Since Agreeable Grey is a pretty versatile and flexible color, it can be combined with many other colors. However, we can name you several most complementing color variants this greige will win from:
black
SW Gauntlet Grey
SW Darkroom
SW Stunning Shade
SW Grizzle Grey
SW Sealskin
SW Greybridge
SW Shipyard Grey
SW Indigo Batik
SW Naval
SW GAle Force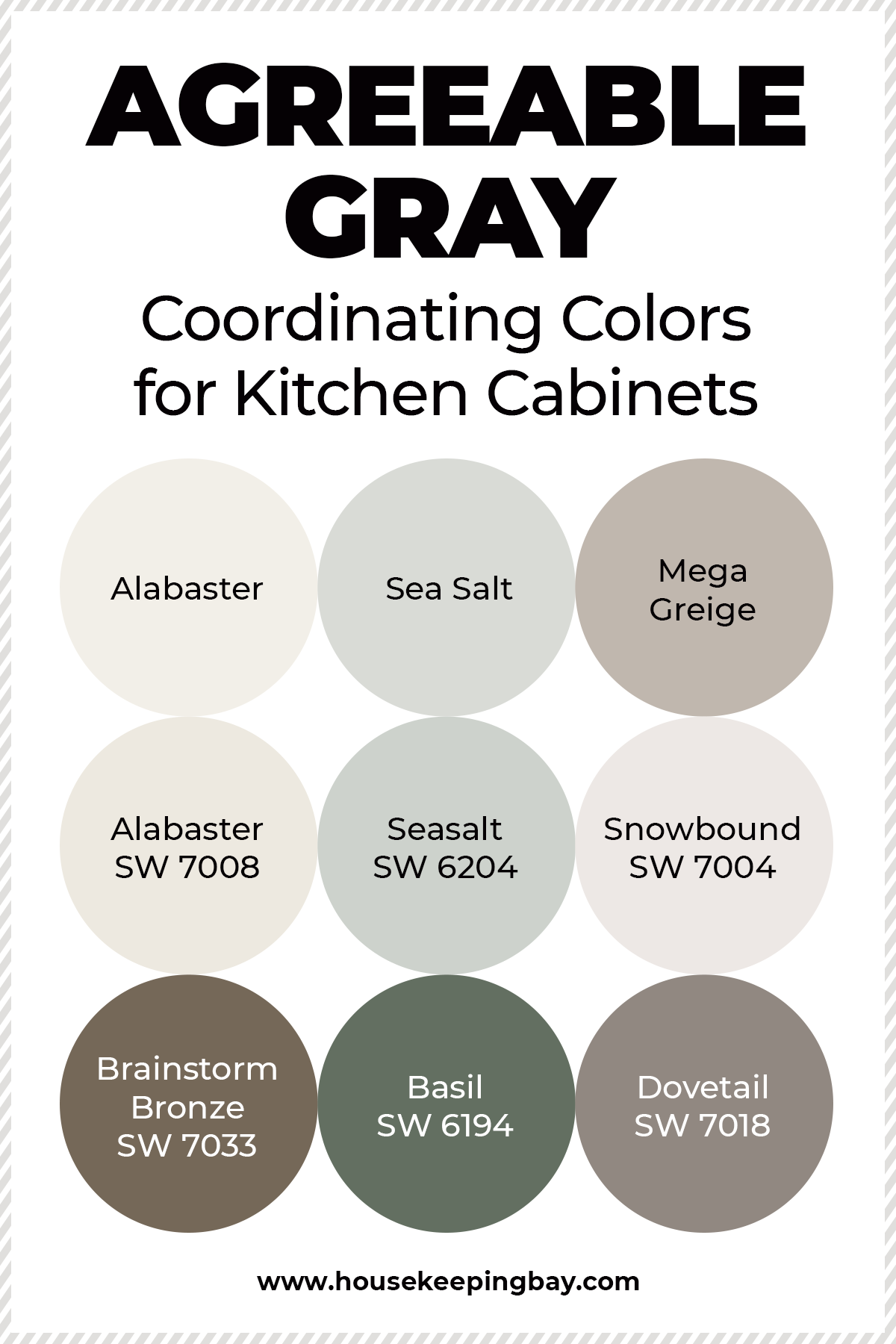 All of them are pretty dark greys and blues, but Agreeable Grey will complement them easily.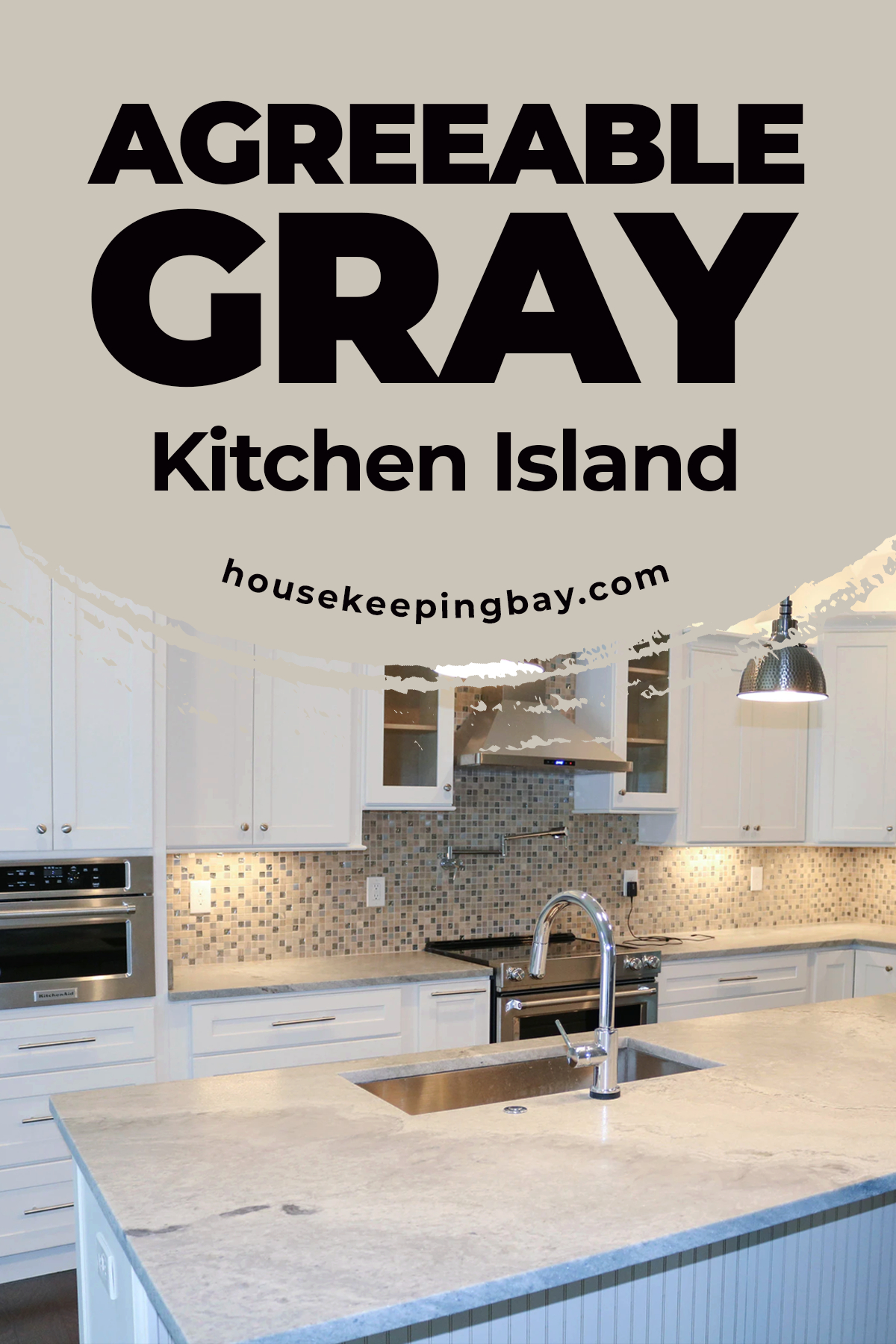 Will Agreeable Gray Fit the Kitchen With Oak Cabinets?
Do you have wooden cabinets that you'd prefer not to paint? Then, if you one day decide to repaint your kitchen greige and choose Agreeable Grey for this purpose, you might stumble upon quite a common question: will oak cabinets fit greige walls?
Fortunately, this paint color allows you to do such experiments easily. Wooden cabinets will not only look nice when paired with greige walls. Oak will also add warmth to the space making it feel and look cozier and homey.
However, if you are fond of crisp and light spaces, you'd better not opt for this wood-and-greige combination. Oak cabinets look rather "heavy" which can make your kitchen look not so spacious as it actually is.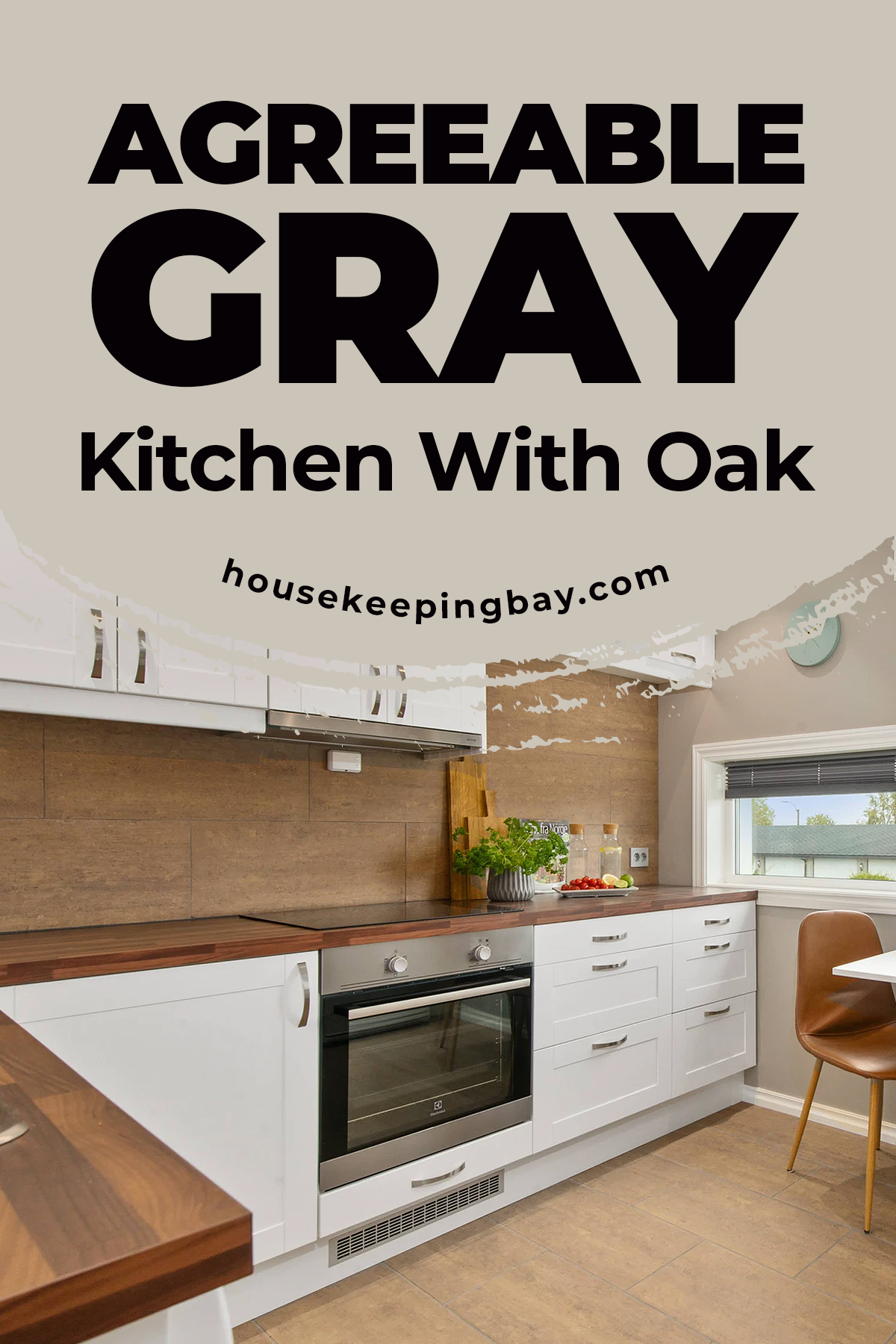 Agreeable Gray And Your Kitchen Backsplash
Some of you often ask whether Agreeable Grey is fine for painting the kitchen backsplash. Will it not look excessively cool-toned in this case? Will this greige make the cooking area look gloomier or darker?
Those are absolutely pointless fears! The only thing you must take into consideration before painting your backsplash is whether its color complements the colors of cabinets and the walls.
But if you pick the color combinations correctly, your kitchen will never look either gloomy or dark!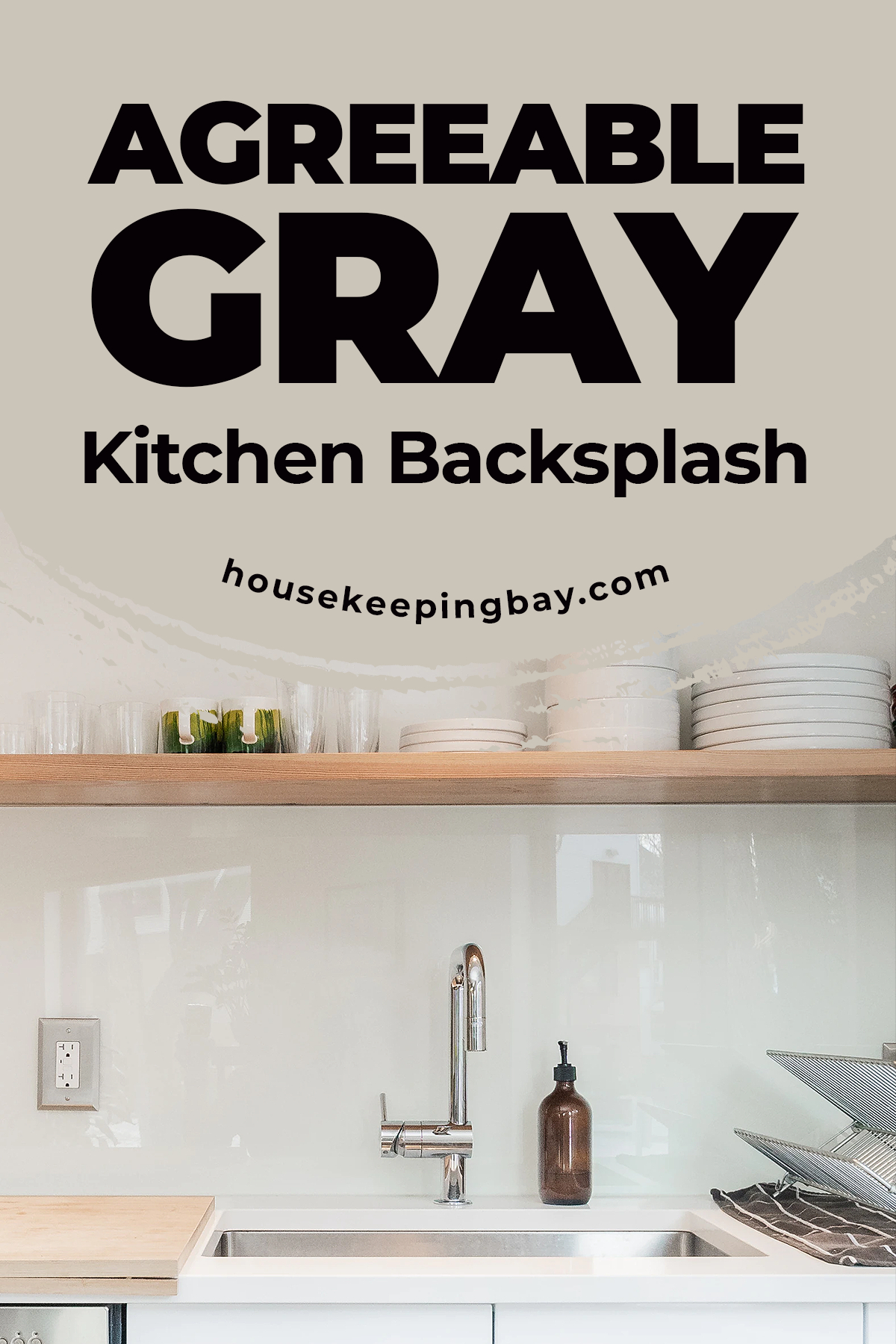 Frequently Asked Questions
⭐ What color is more popular? Agreeable Gray or Canvas Tan in a kitchen?
Both are equally popular since they are pretty much alike.
⭐ What color shall I paint my kitchen cabinets to accent Agreeable Gray walls?
Try white or black. Warmer greiges will also work well.
⭐ Is Agreeable Grey still trendy?
Yes, this greige is very popular again in 2021.