Living room is a space that is usually filled with many different decor elements and objects, such as furniture, cushions, tables, book shelves, etc. It all makes this room look somewhat stuffed, and of course, picking up a proper wall paint color might be complicated in such a case!
This is the reason why so many people prefer choosing neutral colors, for instance, greige shades, and Benjamin Moore Edgecomb Gray  is one of the best sellers on the market.
This shade is a perfect choice if you are looking for the paint color that will complement any interior and can be combined with almost any other color or colors, both neutral and bright.
Benjamin Moore Living Room Edgecomb Gray. Color Description
According to the official color description, Benjamin Moore Edgecomb Gray belongs to what we call greige colors (by Encycolorpedia) since it possesses both features of gray and beige tints. In general, it looks as a soft and airy gray color with a slight dab of beige.
Thanks to such a color scheme, Edgecomb Gray can be called an ideal neutral color. Hanging upon the lighting in a particular room, this color can lean more either to beige or to gray. Some can even consider it to be putty with a slight touch of creamy notes!
This paint color has a light reflectance value equal to 63.88 which means it is able to reflect light pretty well.
As a result, if you apply it onto your living room walls, this color will not look too dull or dark. However, in natural light, it tends to look somewhat grayer in contrast to rooms with artificial lighting where this wall paint color will gain more of its warm tones.
Also, what you must take into consideration when buying this paint color for refreshing your living room walls is its undertones. See, Edgecomb Gray has green and gray undertones, and so depending on the lighting in your living room, on the furniture you have in it, as well as on the colors of the fixed elements located there, either gray or green undertone will come out more.
This is why the best way to ensure you are buying exactly what you need is to check how the paint looks while you are still at the store. Luckily, every paint store has plenty of samples that can help you make the right choice!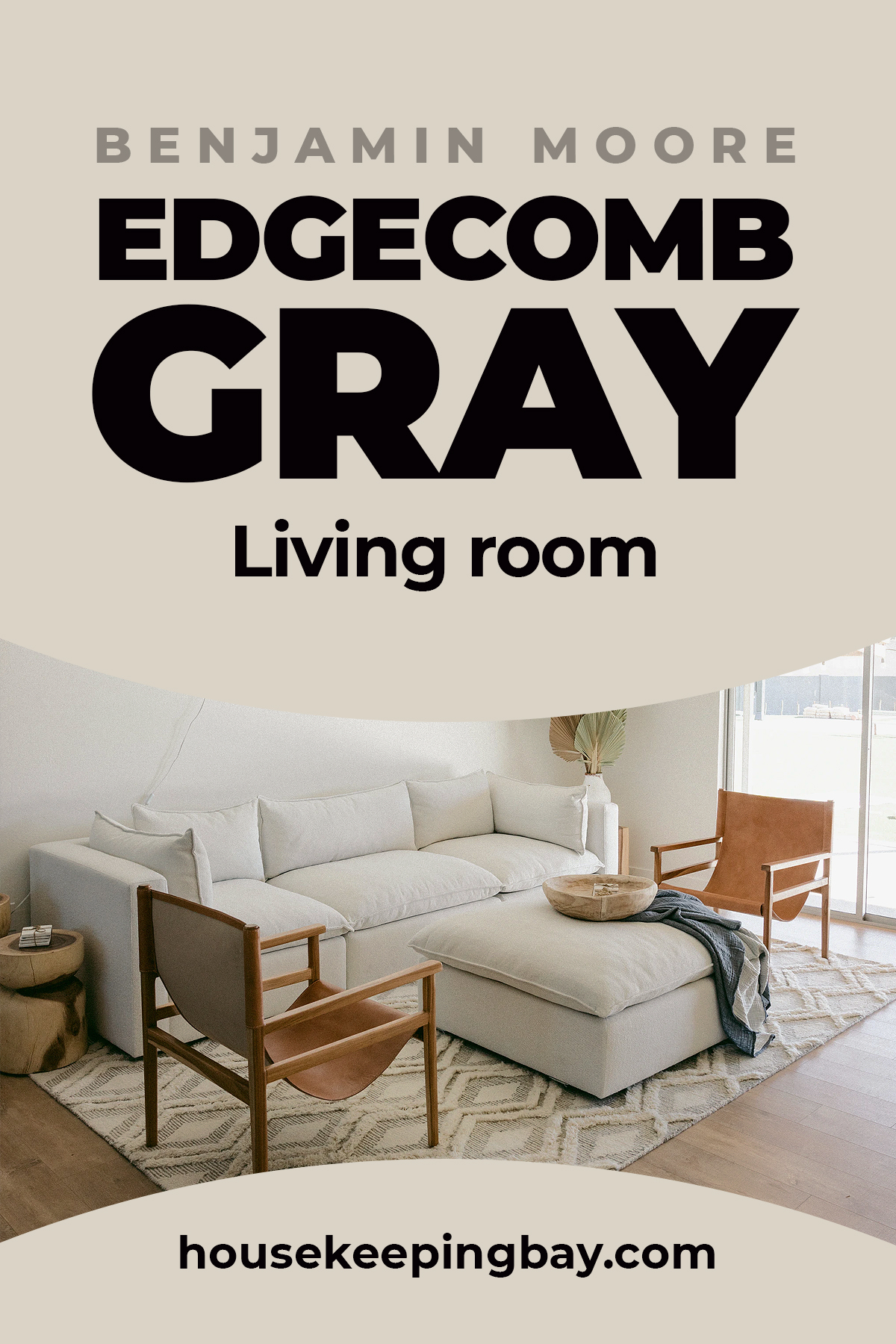 Edgecomb Gray And Living Room Decor
Since this paint color can be referred to as a neutral shade, it means that you will have no problems when trying to combine it with other colors in your living space. In particular, people are mostly worried about mixing this greige with bright and juicy colors, such as orange, red, yellow, and others of that kind.
However, there is nothing to be worried about at all! Since Benjamin Moore Edgecomb Gray is greige (meaning it is neutral), it is able to combine successfully with almost any color palette, both greige/neutral and colorful and bright.
For instance, if you used Edgecomb Gray to paint your living room walls, feel free to place an oriental rug on the floor there. Bright and vivid colors of the carpeting will only look brighter in contrast with the neutral and reserved walls color.
Edgecomb Gray Benjamin Moore
Also, this neutral greige can be easily paired with other neutrals and greiges (for instance, cushions, tapestry, curtains, etc), however, such an interior might look a bit too dull and monochromatic. By the way, gray shades, as well as white decor elements will complement Edgecomb Gray perfectly.
If you are more into something unusual, why not try metal decor items, let's say, brass, golden metal, or steel? They will add an elegant look to your living room, and besides, warm brassy, and golden colors will reveal the warmer undertones of the paint, too.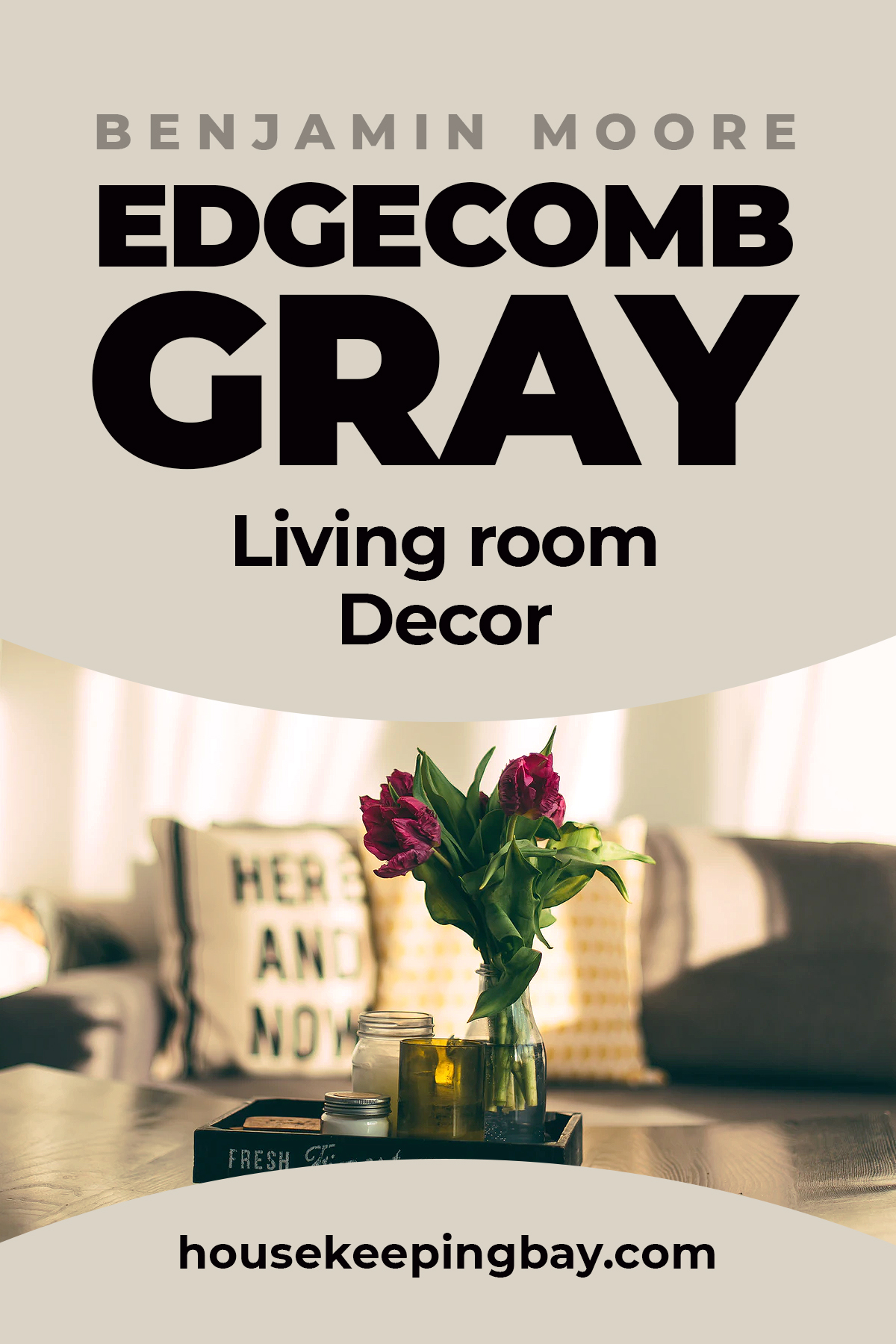 How to Combine Edgecomb Gray In a Living Room With Accent Walls
Accent wall is a common way of a room decor when one of the walls is painted in color that is completely different from the color of the rest of the walls. Such a wall can also have a distinct design and be decorated or made of other material than the rest of the walls.
Naturally, those whose living room walls are painted with neutral Edgecomb Gray may wonder what accent walls would look harmonious with this shade of greige. In terms of this, we would recommend taking into consideration one of the following colors:
Nickel
White Dove
Kendall Charcoal
Hale Navy
Chelsea Gray
Tranquility
But if we step aside from the Benjamin Moore color palette, you can combine this greige with different shades of deep blue, gray, brown, azur, and several other colors including white, by the way.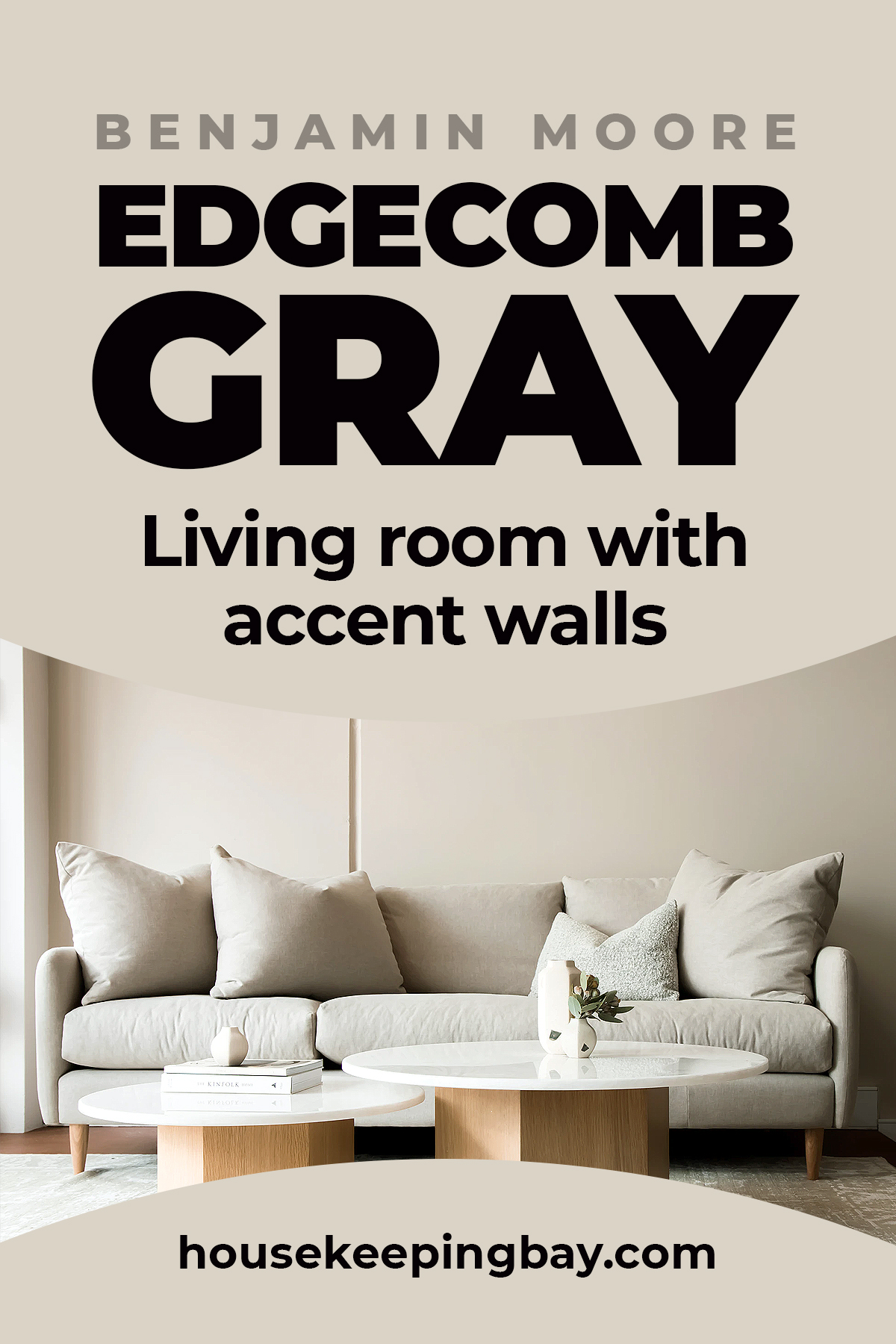 Edgecomb Gray & Living Room Ideas
When choosing Edgecomb Gray as a wall paint color, people tend to stick to the same neutral color scheme for the rest of the room decor. However, when you have it all neutral and tranquil, in all possible shades of greige, such a room might look somewhat too boring.
If that's what you would like to avoid by all means, consider incorporating several easy yet always working tips regarding your living room decor:
try to add metal elements of the golden or copper color
incorporate blue decor items like sofa cushions or curtains
wooden items, for instance, figurines, vases, statues, bookshelves, etc. will complement Edgecomb Gray walls, too
wicker decorations can also be a win-win combination with such greige walls
In any case, try to experiment since this paint color is possible to combine with plenty of other shades and tints, both neutral and not.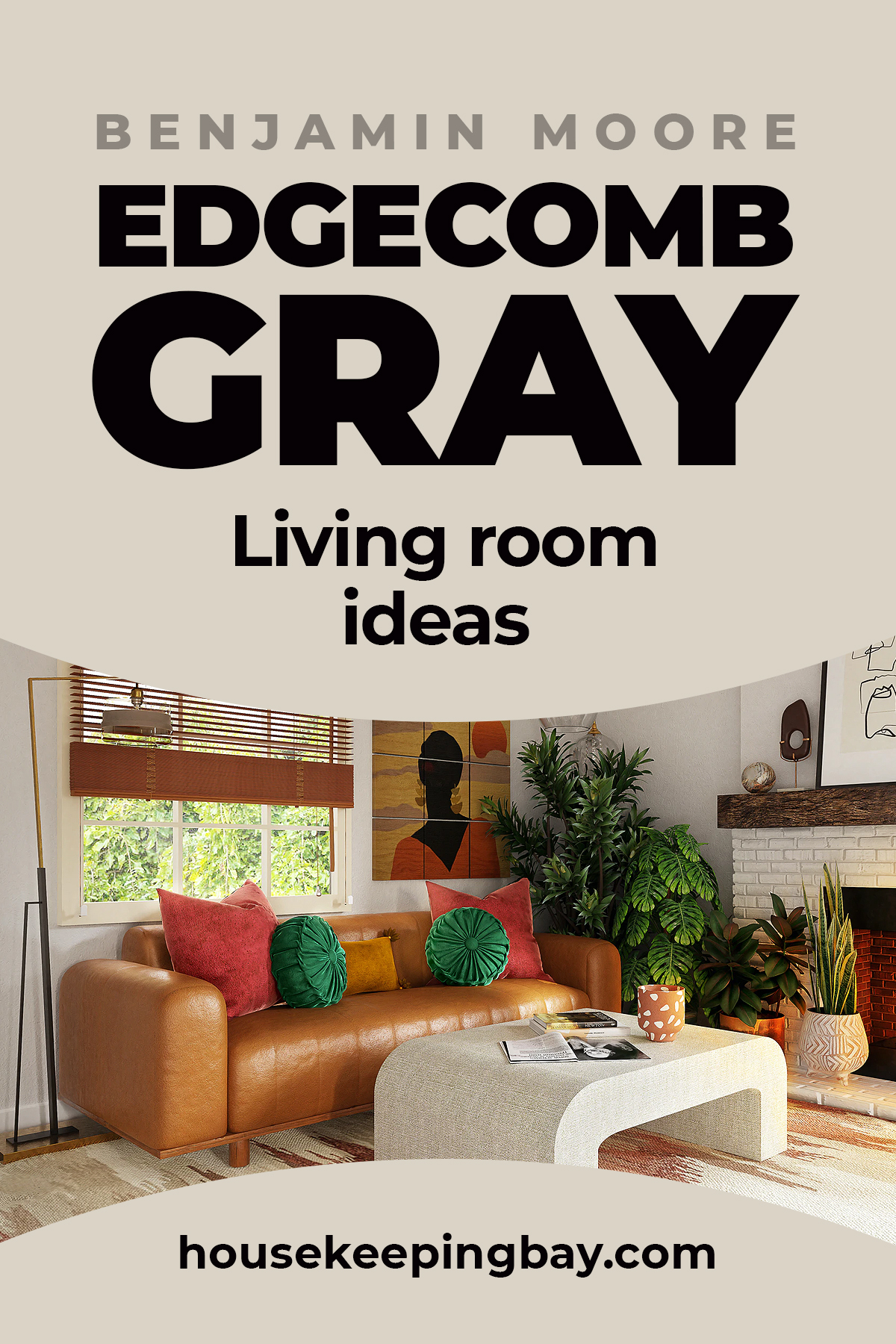 BM Edgecomb Gray And Furniture Combinations
When it comes to combining your living room wall color with the furniture you already have in the room, it might be tricky to find the ideal match. Fortunately, due to its universal nature, Edgecomb Gray can be combined with almost any type and style of furniture.
It pairs well with massive leather couches, with modern textile sofas and armchairs, and even with the wooden furnishing. In addition, wicker furniture that is so popular nowadays can create a successful combo with this paint color applied on the walls. But in case you are looking for something more eye-catching, try out golden metal furniture items (e.g. chairs).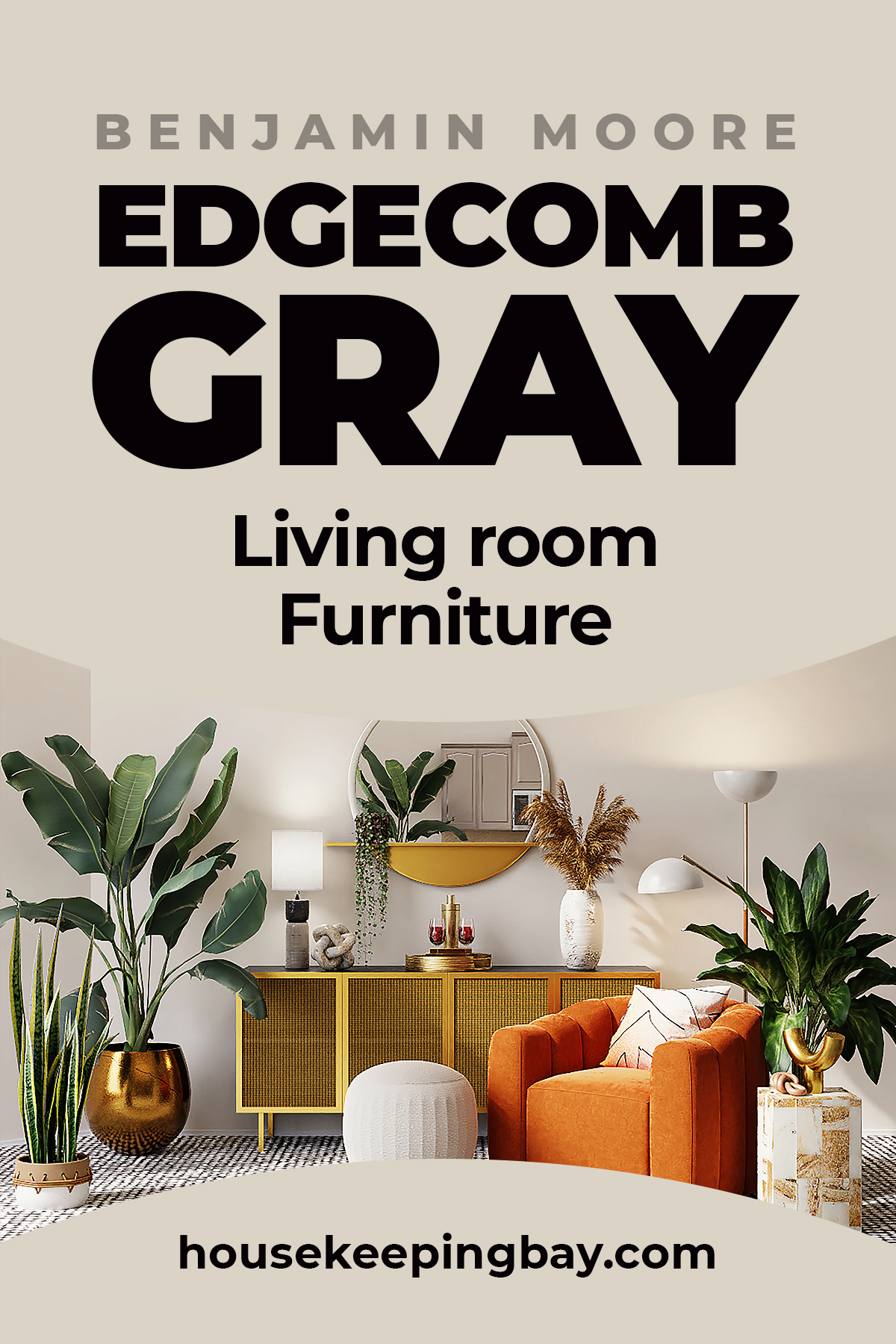 How to Combine Edgecomb Gray With the Couch
As for the couches, Edgecomb Gray color gives you almost an endless range of opportunities to experiment! The best match will be to combine it with a couch made of leather. Nevertheless, sofas and couches with textile upholstery will also look harmonious with such walls in the background.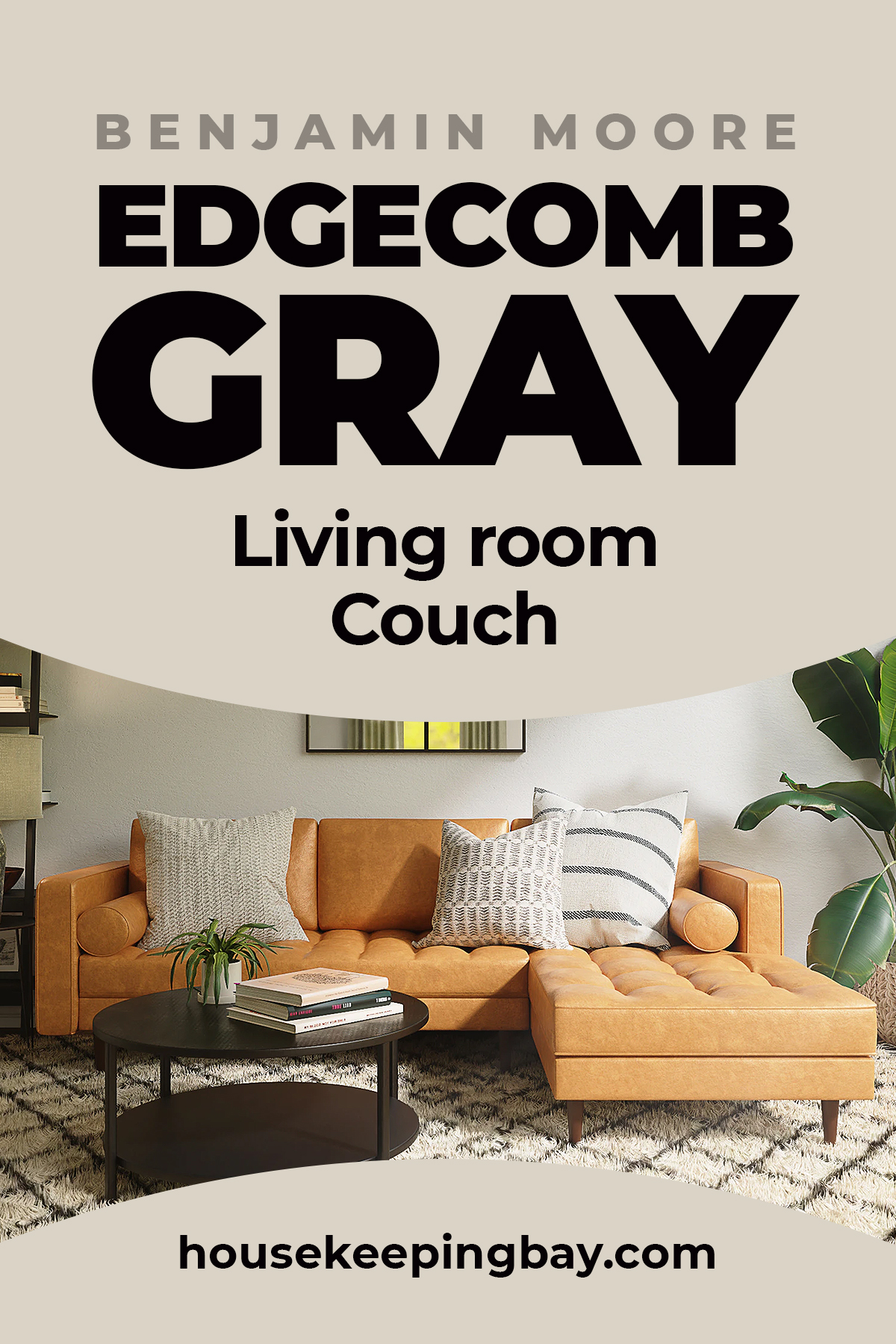 BM Edgecomb Gray And Curtains Variants
Curtains can also become a great point of concern if you want to pick up a perfect match to combine it with Edgecomb Gray Walls. Luckily, since this color belongs to neutral greiges, it can create a winning match with quite many curtain color and pattern combinations.
For instance, except for beige and gray (or greige) curtains, Edgecomb Gray will look nice if combined with white ones. Also, most shades of blue, both dark and light, will complement this wall color. Azur will also be a suitable option, by the way. And finally, don't forget about the patterned curtains: large floral patterns or ornaments will look amazing if combined with this shade of greige.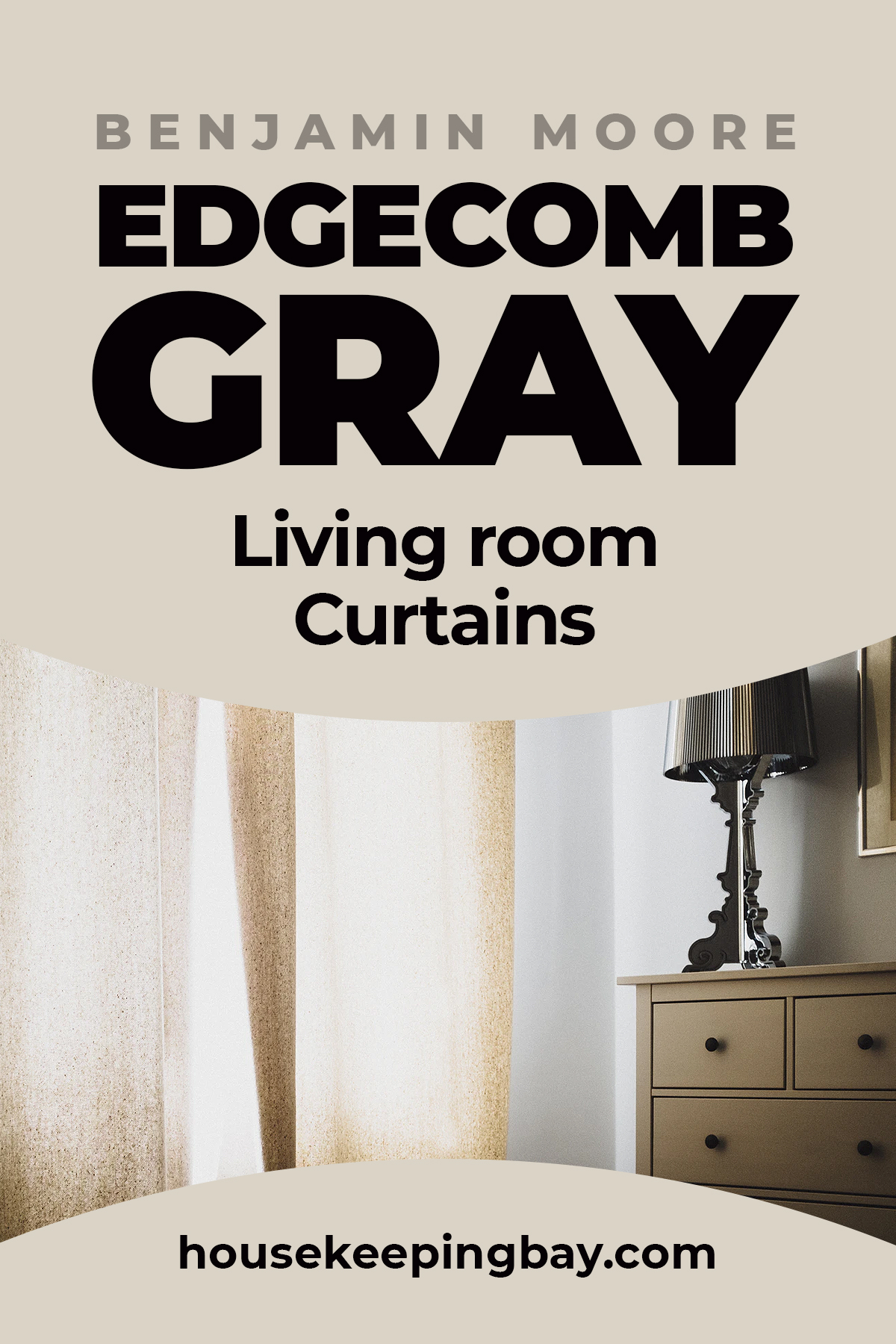 BM Edgecomb Gray And a White Trim
White wall trims create that elegant impression that gives any room a somewhat exquisite appearance. And when it comes to using neutral colors on the walls of your living room, people start getting nervous about whether Edgecomb Gray will look fine in a living room with a white wall trim.
If you recognize yourself, don't panic! This greige shade will fit white trim perfectly. Moreover, Edgecomb Gray, when combined with white trims, will often look warmer, but of course, it depends on the overall lighting in a room.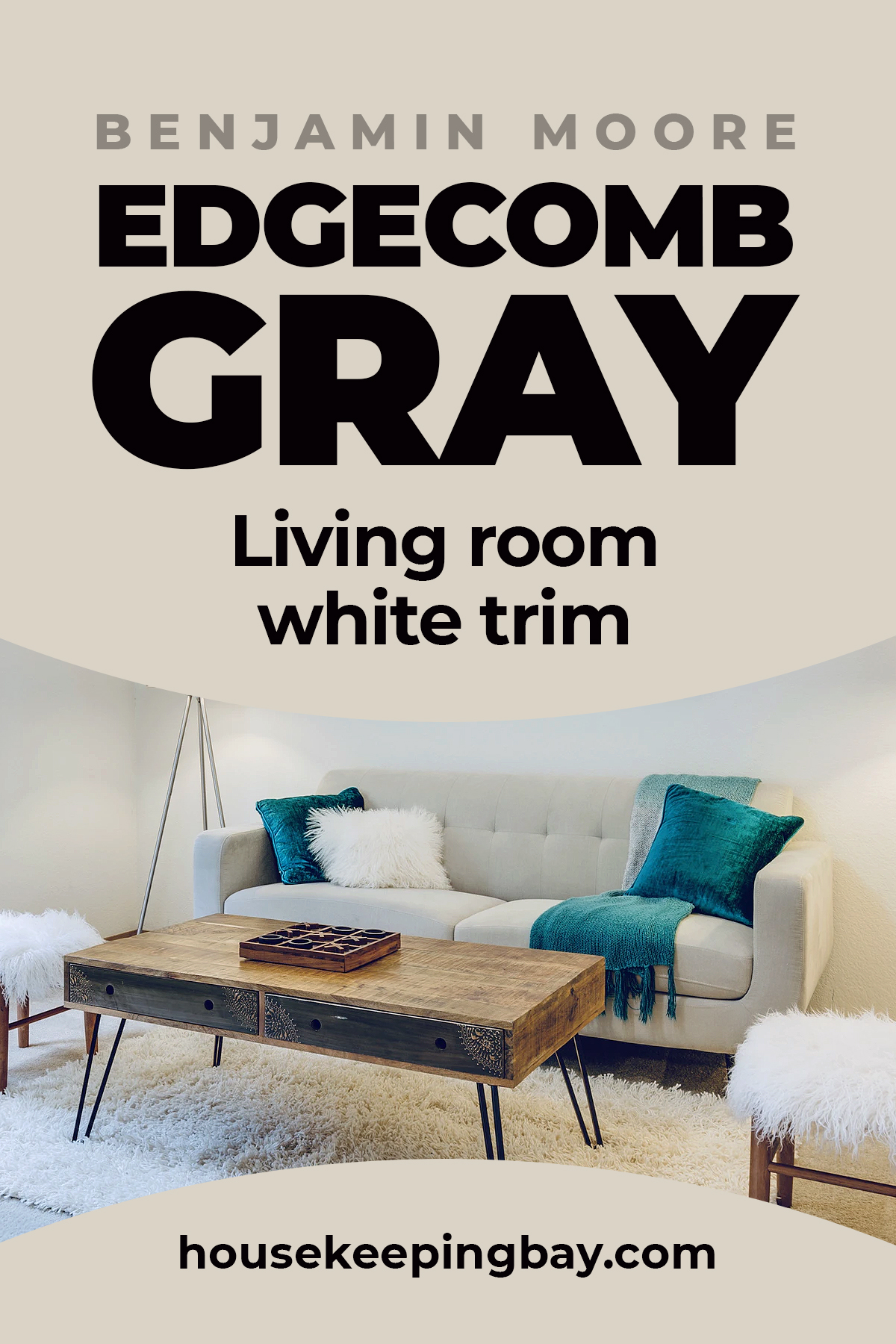 How Does Edgecomb Gray Combine With Revere Pewter?
If we compare these two colors, we will see that Edgecomb is lighter yet somewhat warmer in comparison to its counterpart. Revere Pewter, on the contrary, is darker having more gray tones in it whilst Edgecomb reminds of beige more. This is also why Revere Pewter looks colder.
In addition, Revere Pewter reflects light less effectively than Edgecomb Gray which makes it a darker color. Nevertheless, despite certain distinctions, these two colors complement one another perfectly (perhaps, because they have the same green-gray undertones).
Now you're aware of what makes Edgecomb Gray different from other neutral greiges, and where it can be used in your house to make the living space look cozy. With the handy tips regarding the decor elements that complement this color, you will be able to create a stylish and modern-looking home easily.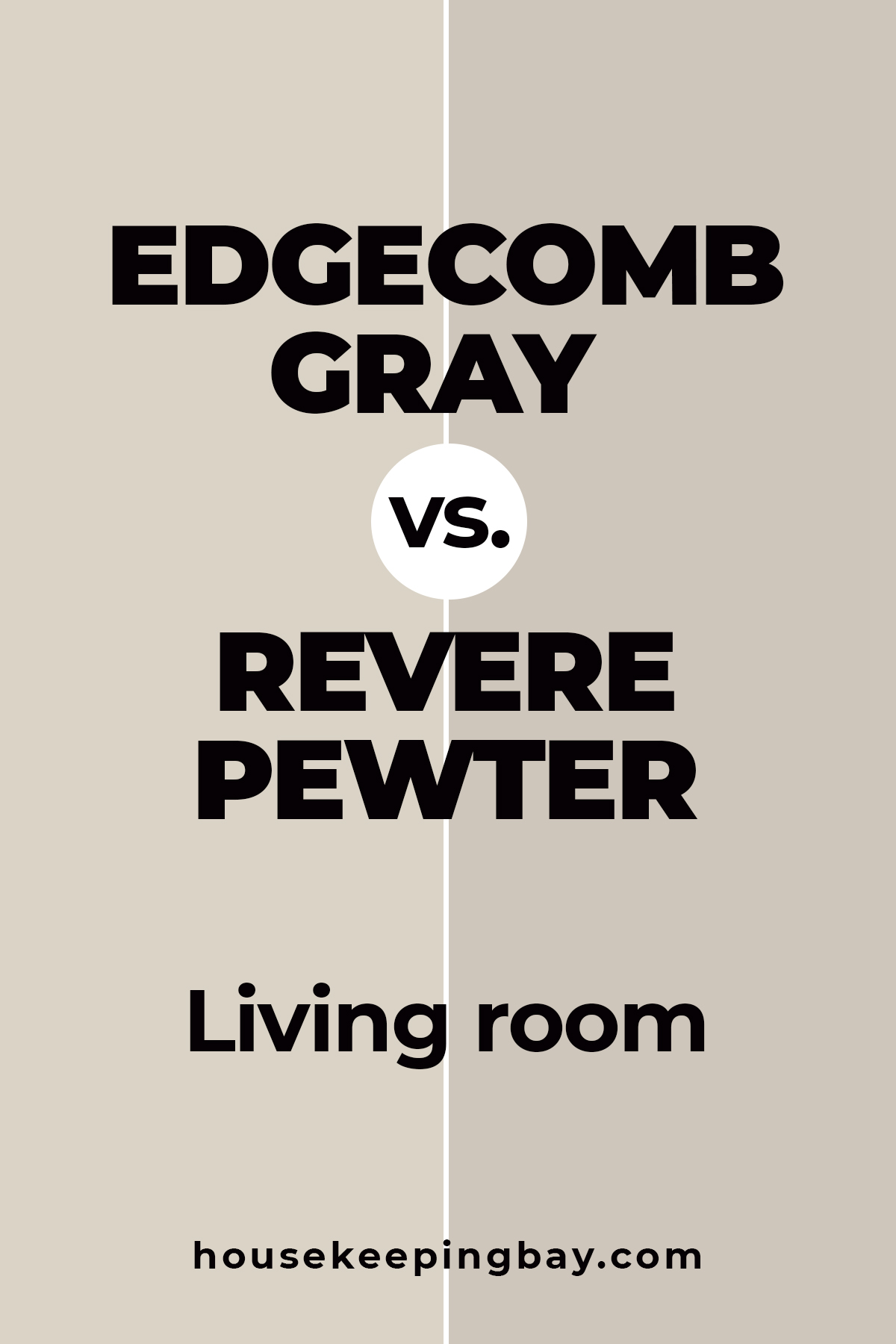 Frequently Asked Questions
⭐What warm color matches Edgecomb gray?
Kendall Charcoal, Coral Bronze, Coral Essence, and Mountain Gray will match Edgecomb Gray.
⭐What Sherwin Williams paint is similar to edgecomb gray?
Baby Fawn looks almost the same as Edgecomb Gray.
⭐Why does Edgecomb Gray look purple on my walls?
Mostly it's because you chose the wrong color or the wrong neutral undertone.