Choosing a wall paint color for the living room can be quite a challenging task since we need to take into account too many aspects, such as the color of the furniture, carpeting, decor elements, etc. This is why so many people prefer neutral shades, for instance, Revere Pewter from Benjamin Moore brand.
This universal color matches perfectly with almost any other color, besides, it creates an ideal background for your design experiments which means there are no limits for you with using various decor items or types of furniture in the living room.
Moreover, Benjamin Moore Revere Pewter paint color can be used not only in living rooms, but it will also fit your kitchen, bedroom, or even hall or staircase/corridor perfectly. And now let's take a closer look at this color and its characteristics.
Revere Pewter Color Palettes
So what kind of paint color is Benjamin Moore Revere Pewter?
Revere Pewter belongs to classical gray neutrals. It can be categorized as a light to mid-toned gray that has warm undertones. Because of this specific feature, Revere Pewter is so universal and can be used in many spaces in the house.
But even despite those warm undertones, we would not say it will turn beige that so many people are afraid of. More likely, the color will show itself as pleasant greige. For instance, in warm lighting, it can even look closer to earthy and rustic greige.
This paint color has an LRV of 55.51, and if you are wondering what that LRV means, it is simply the light reflectance value. It shows how well a certain color is able to reflect light when being applied onto the surface.
As for the Revere Pewter, its LRV rate is somewhere in the middle of the scale (which includes 100 points).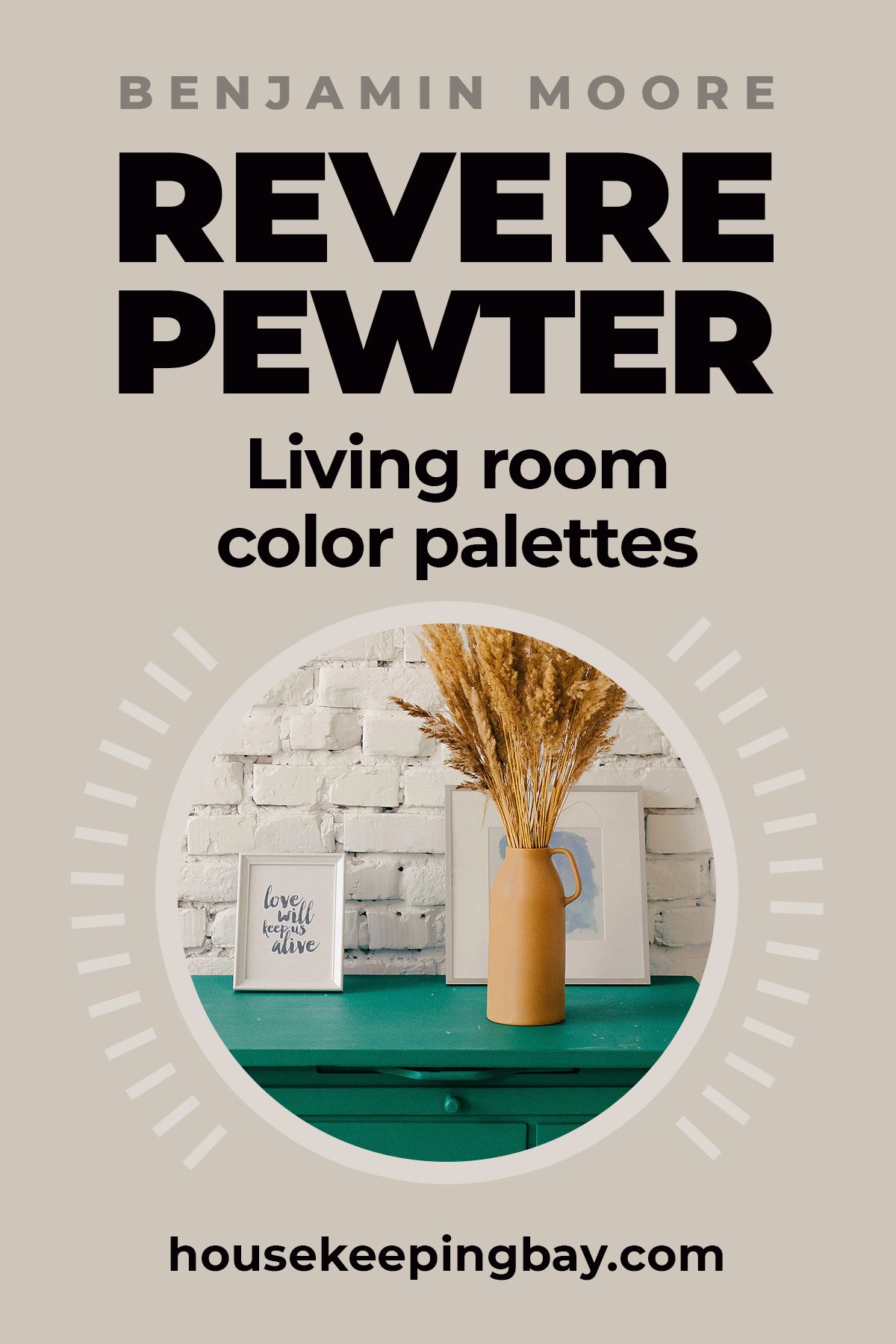 Naturally, when it comes to lighting, it matters a lot how well the room is lit. Depending on that, the paint color will reveal certain undertones it has. For instance, if we apply Revere Pewter on the walls of a room that faces North, the color will appear to be fair gray with notable greenish undertones. In most other cases, it will look almost taupe.
What colors go with Revere Pewter? As for the complementing colors, Revere is a great choice since it can be matched with so many of them, both warm and cool! In particular, it goes well with such neutrals as BM Edgecomb Gray, Mysterious, Chelsea Gray, and White Dove. In addition, it will create a win-win combination with brighter colors like different shades of pink and coral, or with more soothing tones, for example, teal or green.
How to Combine Revere Pewter And Living Room Decor
Since Revere is a perfect choice for large rooms, such as a living room, no wonder people often pick it up for painting the walls there. However, then an issue arrives of how to combine this color with a living room decor so that the whole space looks harmoniously.
To enhance this neutral greige, try to make use of a neutral-colored rug. It will create a visual anchor for the whole room. Also, if you have a sofa in a warmer tone, it will bring the whole neutral palette together.
If, on the contrary, your goal is to pop the color, we would recommend you using curtains of any bold and bright color. They will stand out against this elegant greige and highlight its warmth better. And like that, you will have no problems with deciding what color of the curtains to use with Revere Pewter!
As for the decor elements, Revere matches well with metal items of golden and silver colors. So if you have lamps, door handlers, or other minor pieces like that, feel free to incorporate them into the interior, the living room will only win from their presence!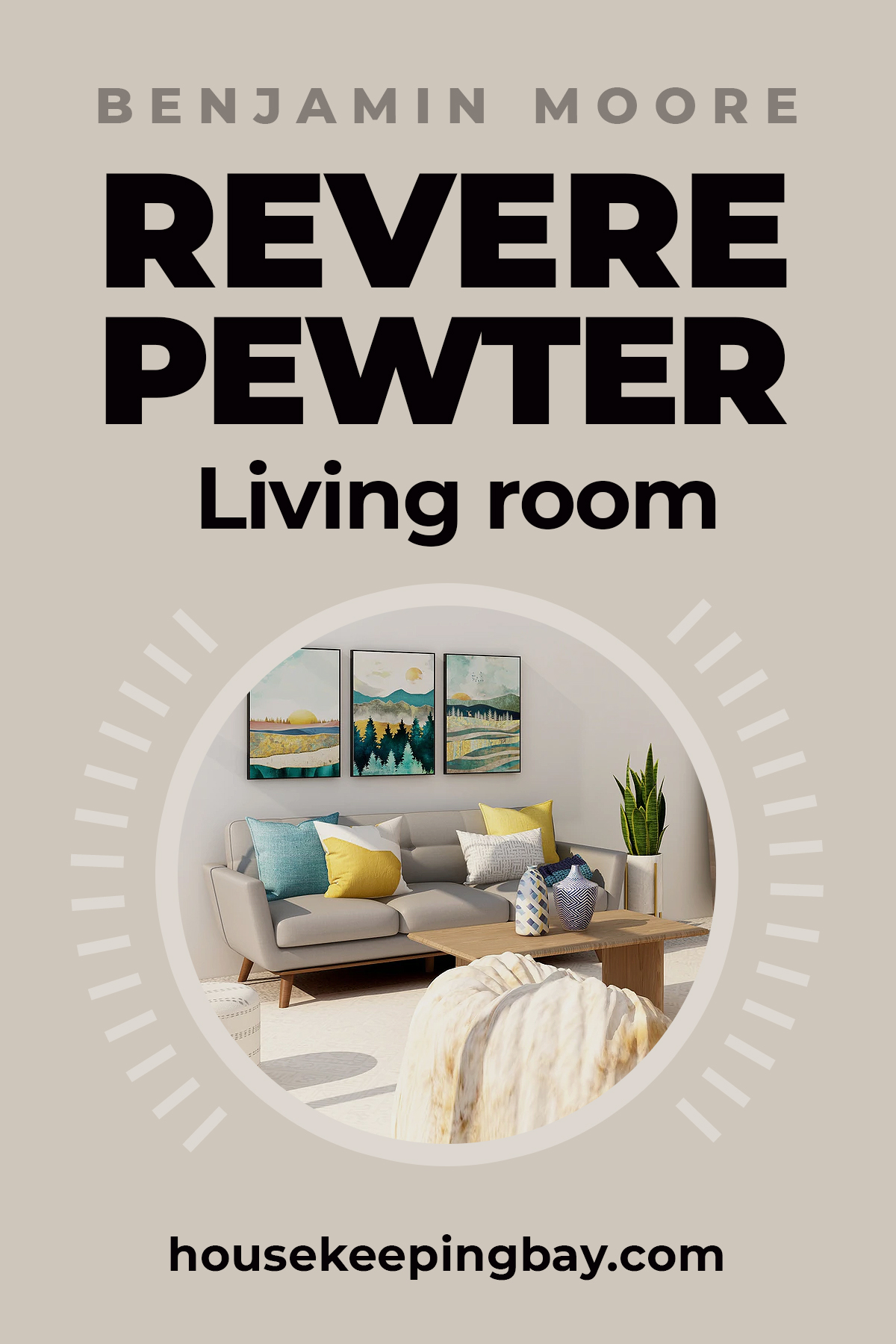 What to Consider When Matching Revere Pewter With Living Room Furniture
The color of your living room furniture also matters a lot if you want Rever on its walls to reveal itself to the best. What color of furniture goes well with Revere Pewter?
Well, first of all, almost all the neutral colors and tones will create a winning combination with this calm greige. However, grays can also be a good option, especially if you are more into cool-toned interiors.
However, don't limit yourself with only these colors! Revere can be successfully combined with many more others, including bold and bright. For instance, different tones of blue and azur will look great on this greige background, as well as brown colors from light-brown to dark chocolate-brown shade.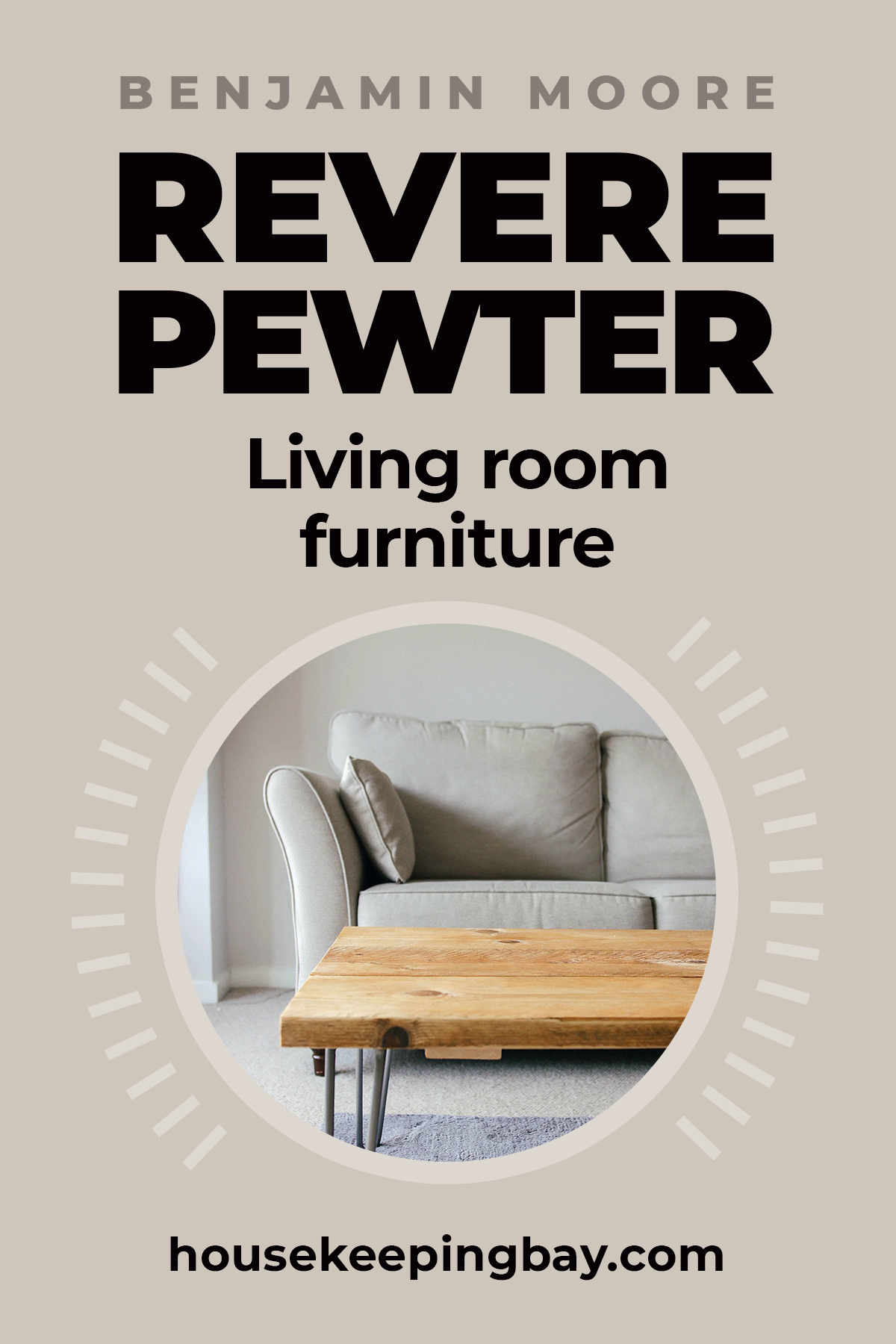 Is Revere Pewter Compatible With Brown Couch?
Naturally, those who have brown (and especially leather) couches tend to wonder whether a piece of furniture of this color will complement neutral greige walls. Fortunately, since Revere is a universal shade, it can be easily combined with your brown couch!
Moreover, brown furnishing, such as wooden tables, chairs, or leather pieces of furniture, will create a perfect match with this wall paint color, too.
What Colors Does Revere Pewter Pair Well On the Walls?
Since Revere is often used as a basic wall paint color, people often ask what other colors it can be paired with successfully. In terms of this, we can highlight several especially harmonious combinations:
White Dove
Simply White
Hale Navy
Chelsea Gray
Edgecomb Gray
shades of green
teal colors
shades of pink
coral tones
In particular, the best trim color option will be to make use of either White Dove or Simply White since they create an elegant contrast to the Revere.
Chelsea Gray can be used for painting pieces of furniture (e.g. kitchen cabinets) in a room that has walls painted with Revere.
Finally, a combination of Edgecomb and Revere will create an elegant ensemble on your walls, especially in warm lighting.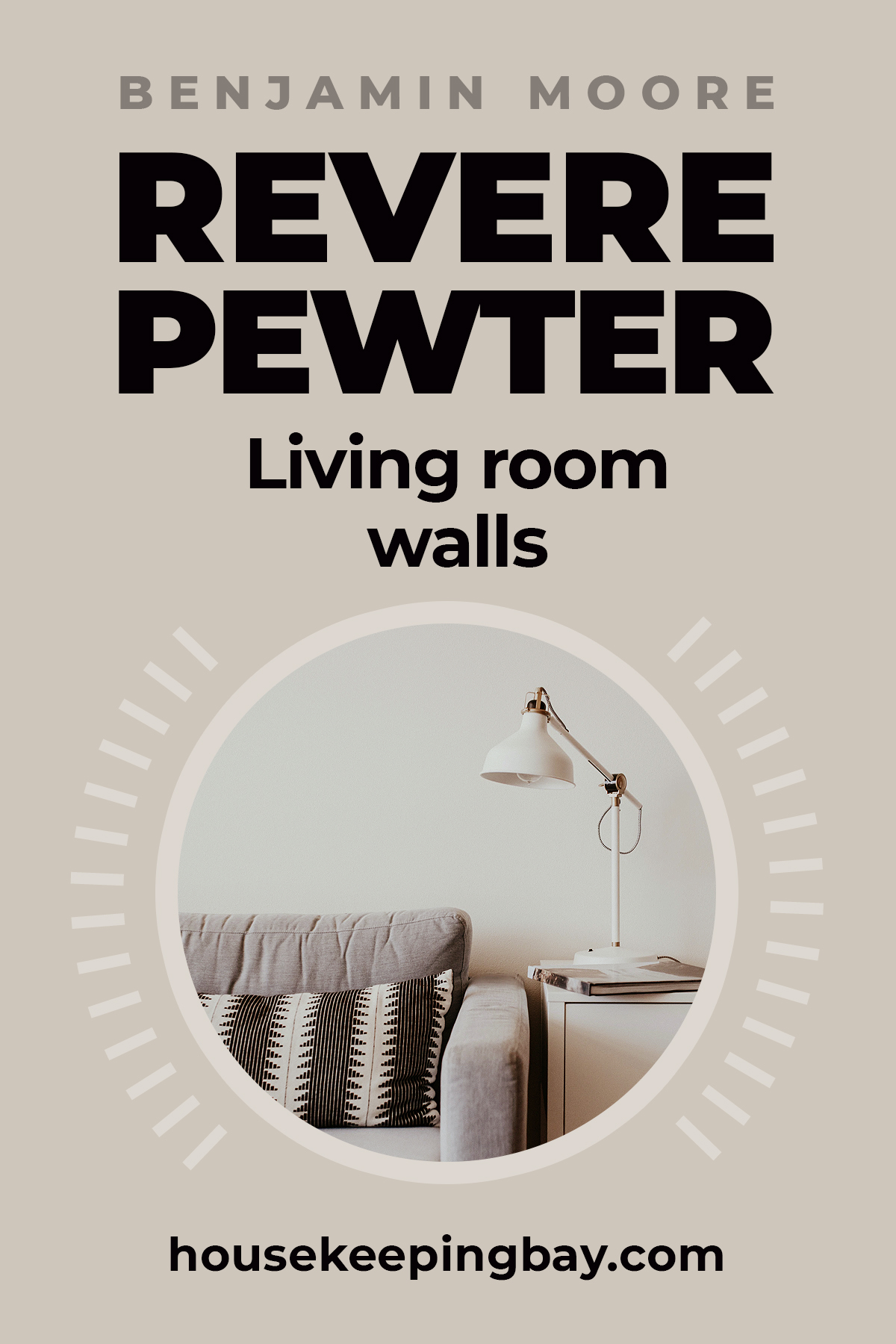 Perfect Revere And Curtains Matches
The color of your curtains also matters when it comes to finding an ideal combo with the Revere Pewter paint. Luckily, there are plenty of options available. Everything depends only on your own color preferences.
For instance, if you like cooler interiors, then stick to the shades of blue, such as navy, or greens when choosing curtains. White or cool gray shades will also look nice when combined with BM Revere Pewter on the walls.
But in case you are more into warm and bright tones, we'd recommend you stick to something like brown, pink, coral, yellow, or red.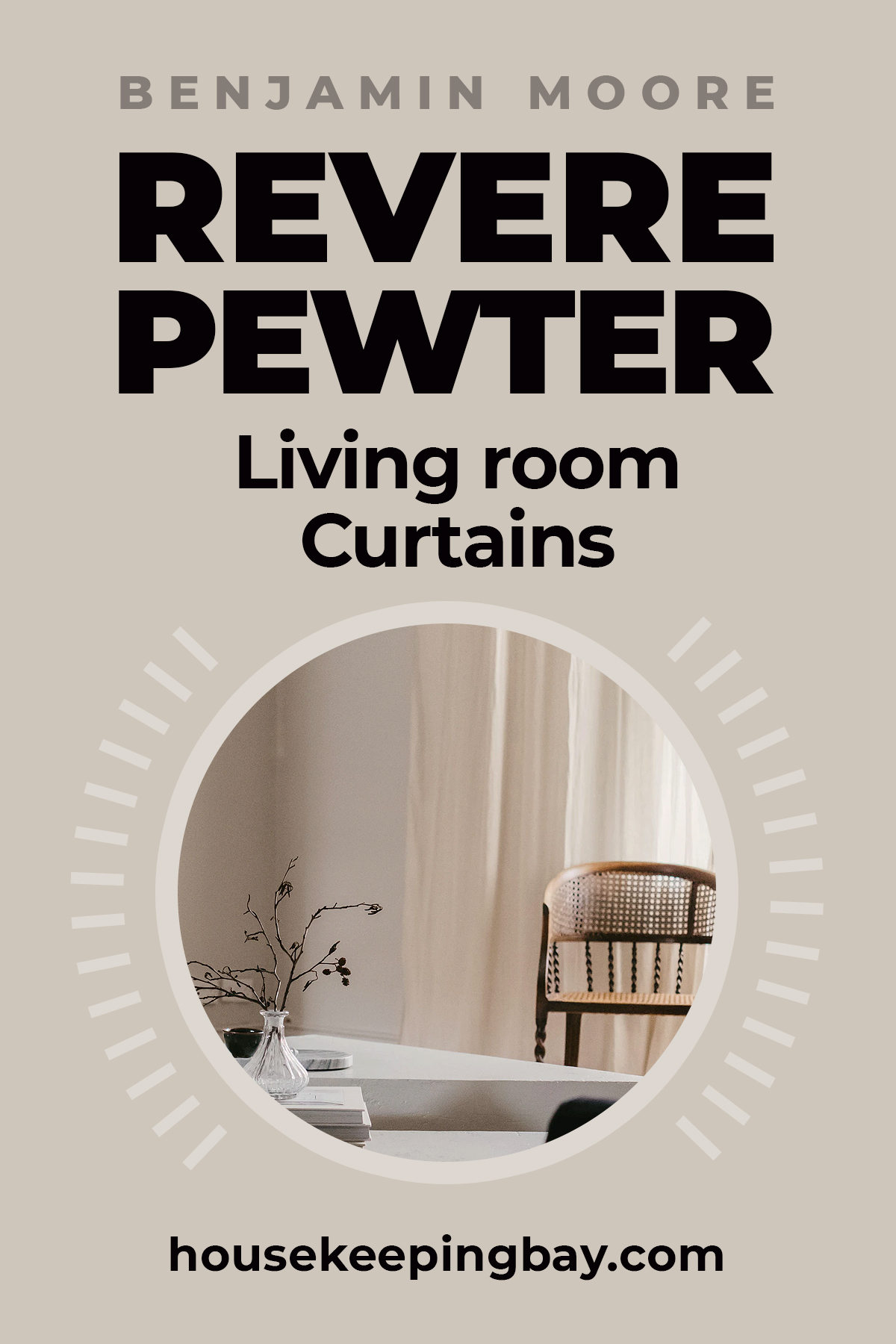 Revere Pewter As a Farmhouse Exterior Paint Color
The great thing about Rever is that it can be used both as an interior and exterior paint. However, if you decide to paint your house from outside with it, you will have to take several nuances into consideration:
This paint color looks best of all on brick and siding.
When being painted on the facade, the color will always appear somewhat earthy with a slight greenish undertone.
Depending on natural lighting, this color may look more like beige (in the areas with few sunlight) or closer to gray (in the areas with lots of sun).
But anyway, Revere is a great exterior paint color to choose if you want something simple yet elegant and universal.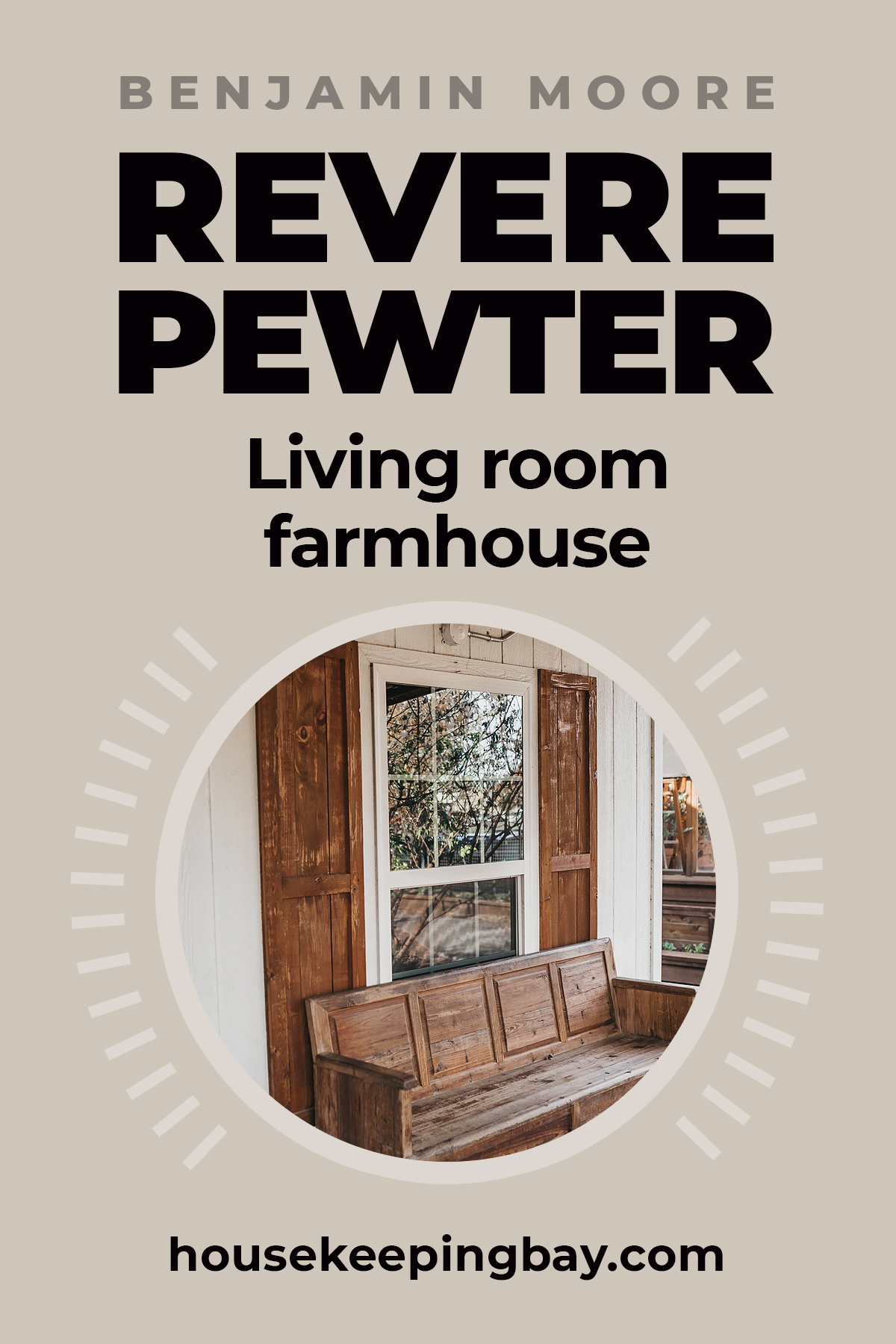 Frequently Asked Questions
⭐What white goes with BM Revere Pewter?
Simply White and White Dove create the best match with Revere Pewter.
⭐What number is Benjamin Moore Revere Pewter?
⭐What color is Revere Pewter?
This color is considered to be greige.