There are colors that look one way and are technically completely different. SW Popular Gray is one of those shapeshifters. Today, we will tell you whether it is actually gray or not, as well as how to use this tricky color in your home.
You will learn its undertones and LRV, learn how to coordinate it correctly, and what colors will work best with this beautiful and cozy paint by Sherwin-Williams.
What Kind of Color Is Popular Gray SW 6071?
Although it is called gray, SW Popular Gray is actually light greige. As Encycolorpedia says, it looks pretty warm thanks to its clay undertones, feeling incredibly soft and subtle on the walls. With this timeless neutral, you can easily elevate your living space!
However, it doesn't mean Sherwin-Williams Popular Gray has no gray to it. This is a paint color that has a perfect blend of warm beige and grays, exhibiting a true warm undertone.
So, if you are looking for a lighter-toned greige that reads more like taupes but still has a subtle crisp texture, this color is definitely worth trying!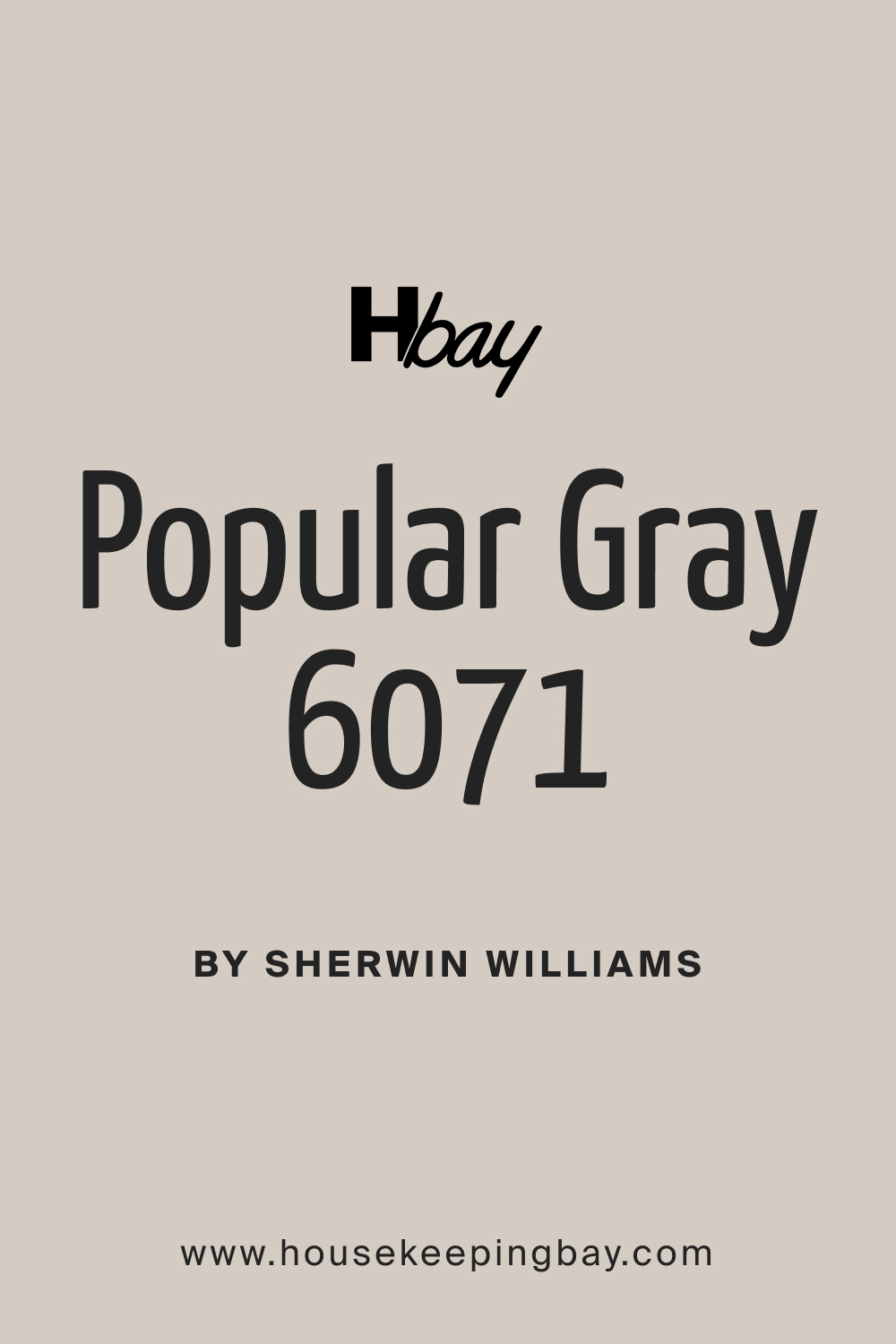 Is It a Warm or Cool Color?
As we have just said above, SW Popular Gray is a warm-toned greige. However, this color won't read creamy or yellow on your walls (which is what most homeowners freak out about!). Its pleasant and cozy warmth comes from the perfect mix of gray and beige undertones.
As a result, the color reads balanced and warm enough to infuse the space with a homey feel.
What Undertones Does Popular Gray SW 6071 Color Have?
Since technically this paint color is greige, it means there are gray and beige undertones in it. Due to such a tricky nature, SW Popular Gray should be treated with caution! In some lighting conditions, its beige hue may show up more prominently, making the color read much warmer. This is the reason why we recommend you sample it in advance.
This way, you will see how SW Popular Gray reads in a specific room and lighting.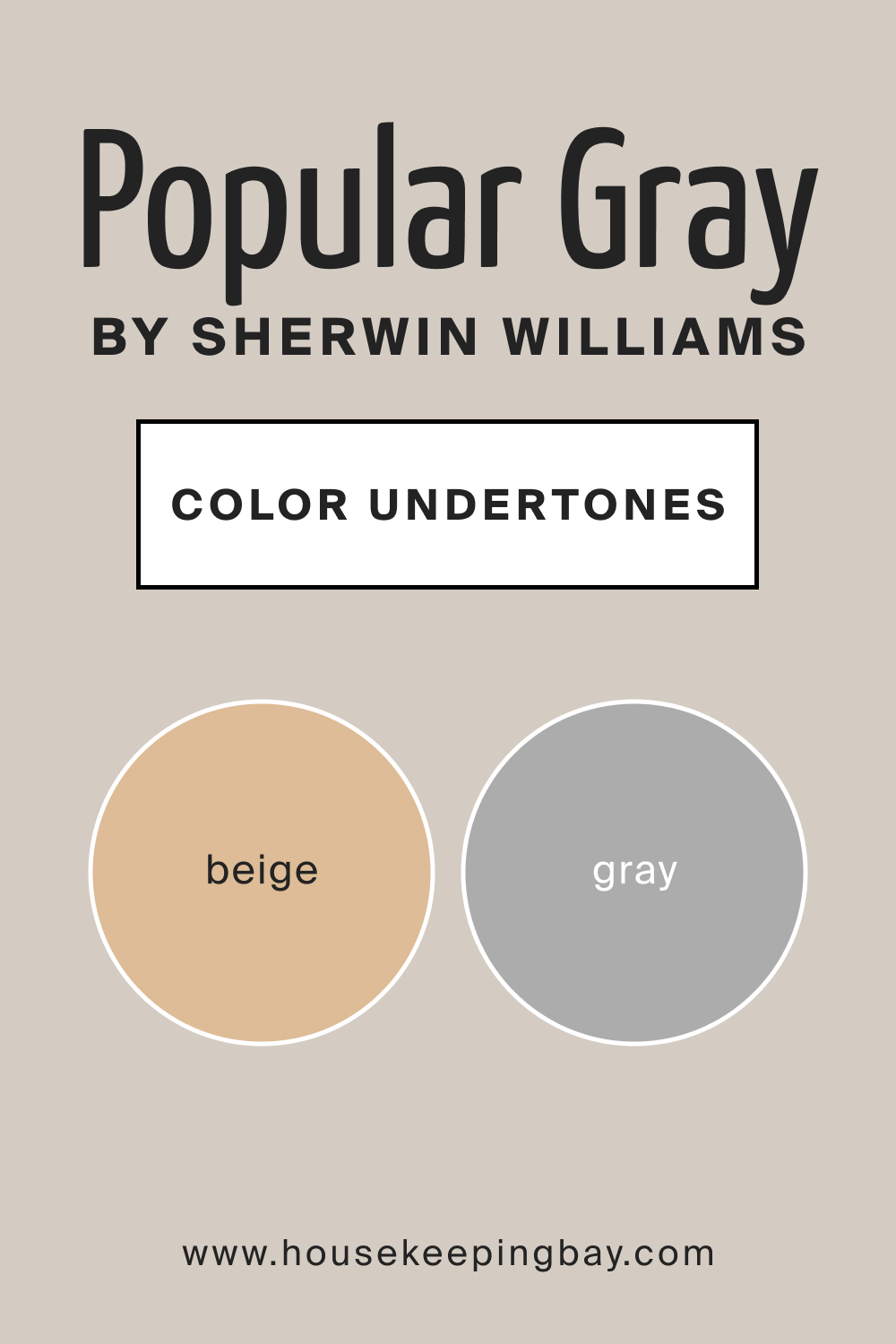 SW Popular Gray Coordinating Colors
When choosing coordinating colors for SW Popular Gray, you could either choose from a contrasting or a monochromatic color palette, depending on the climate and/or the interior design style. For example, you might want to try these popular coordinating colors:
SW 6070 Heron Plume
SW 6074 Spalding Gray
SW 6263 Exclusive Plum
As an option, here are a few of the colors we would recommend for a monochromatic palette:
SW 6072 Versatile Gray
SW 9169 Chatura Gray
For a contrasting color palette, try the following colors instead:
SW 7048 Urbane Bronze
SW 6074 Spalding Gray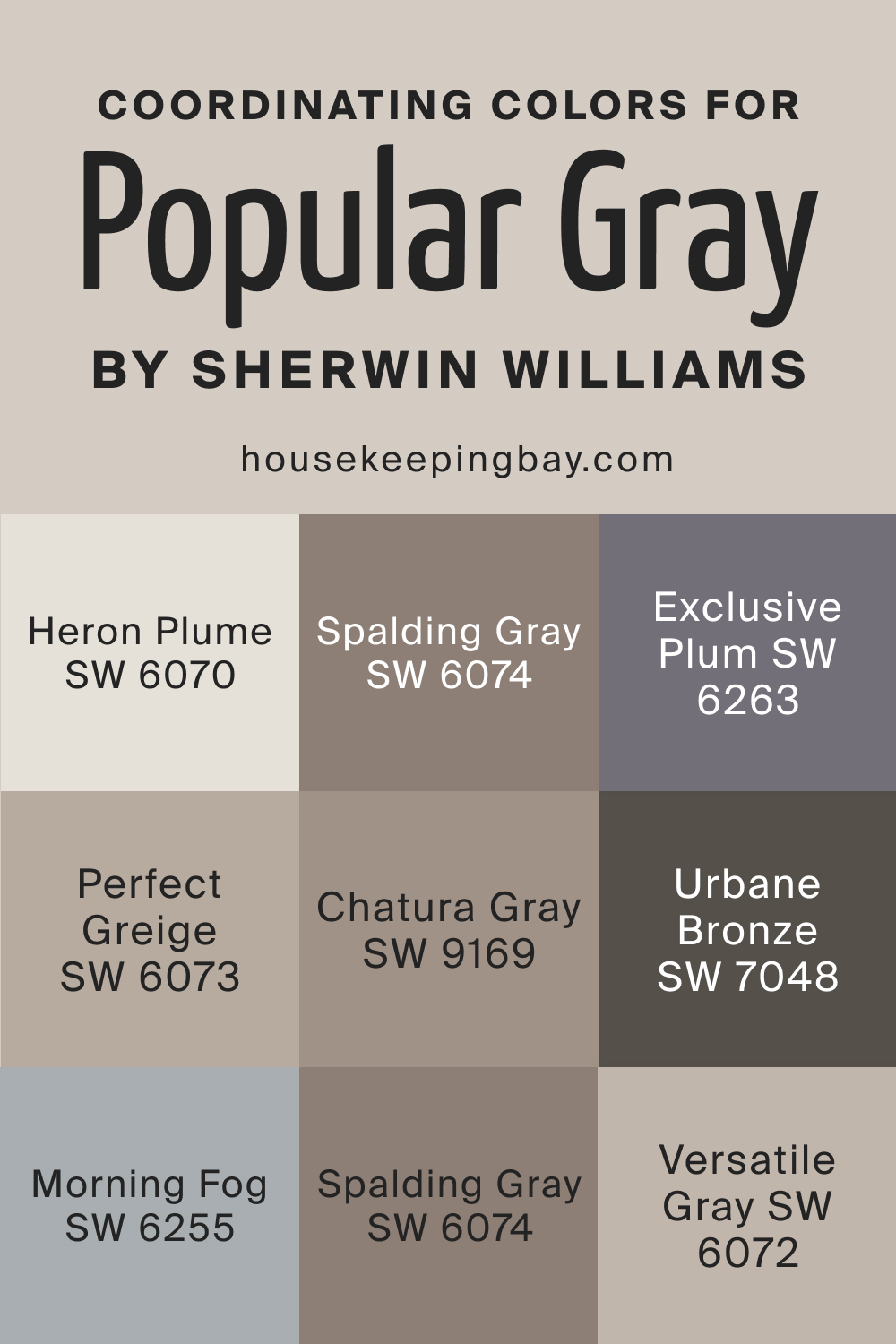 What LRV Does SW Popular Gray Paint Color Have?
To choose the right color for your home, always check its LRV (light reflectance value). This measurement shows how much light the color can reflect from the walls. The closer the LRV value is to zero, the darker the color. Respectively, the higher the LRV value is (and thus closer to 100), the lighter and more reflective the color.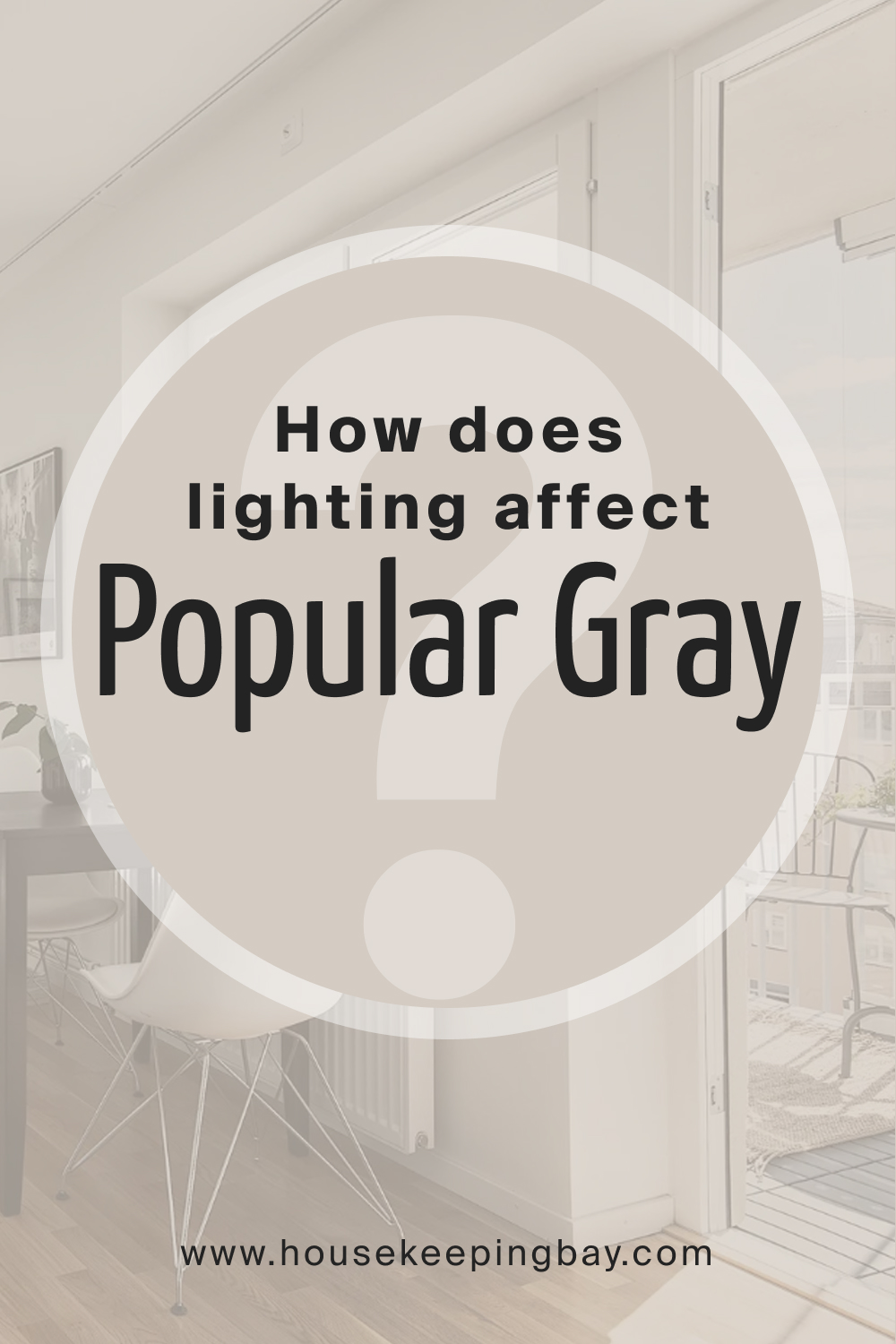 The LRV of Sherwin-Williams Popular Gray is 61. That means this greige falls in the mid to light-toned shades. However, it reacts to light quite significantly! Typically, it looks like greiges, but in some lighting conditions, this color can incline more toward the taupes or beiges.
In excessive light, SW Popular Gray may appear even lighter. In the absence of light, it may appear darker.
Due to the high LRV value, this color feels airy and light, although it may still look weighted. It means you can easily see this greige on the walls even though they are lighter in tone.
Plus, you can use this color in colder climates where homes crave a warm touch or simply in rooms that are small in size. But it doesn't mean it can't be used in warmer regions as well!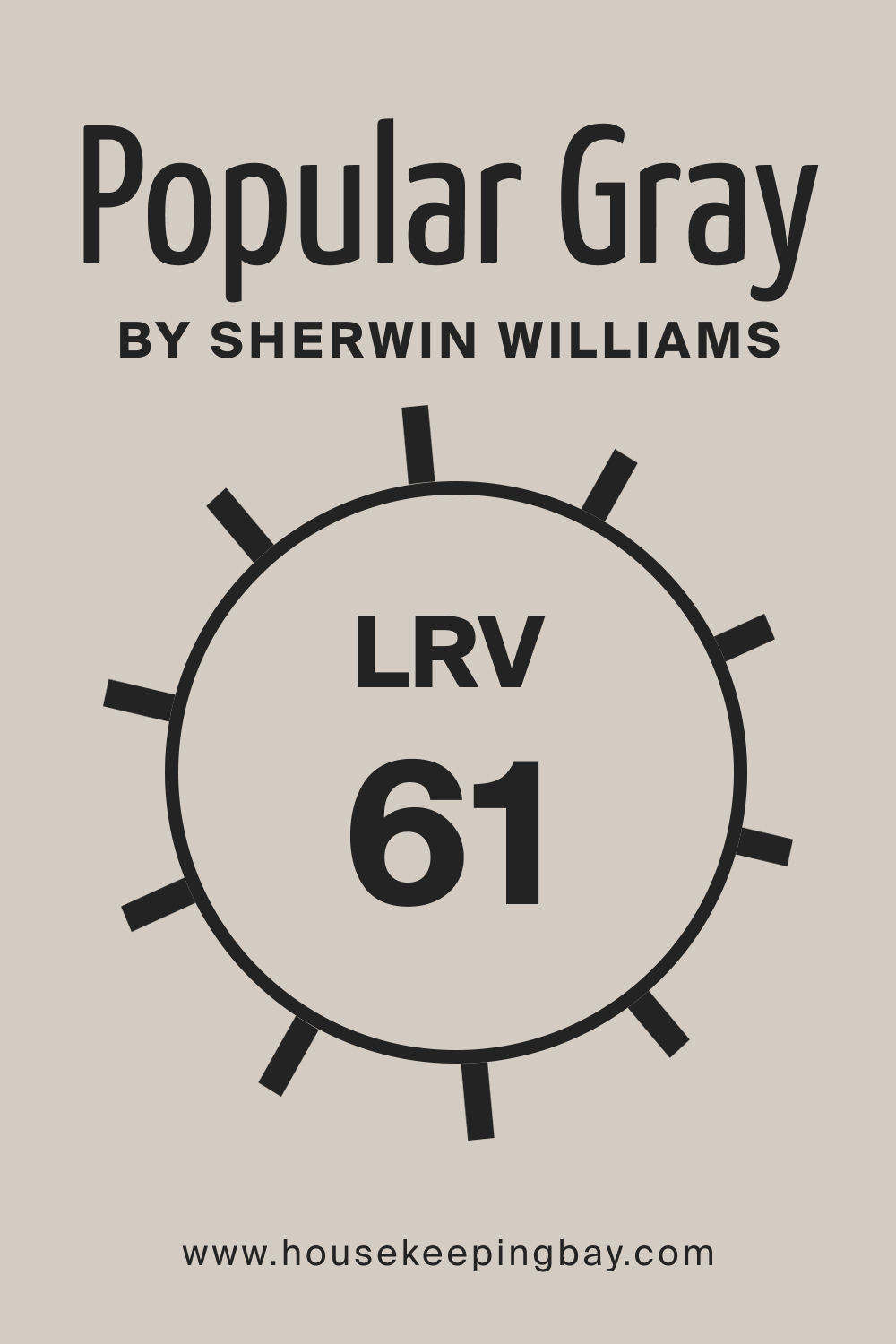 What is LRV? Read It Before You Choose Your Ideal Paint Color
Trim Colors to Use With Popular Gray SW 6071
Since white traditionally works well for most colors, you can use it on your trim, ceilings, and moldings if you have SW Popular Gray on the walls. In particular, we would recommend using SW Pure White to achieve a creamier look, or else stick with SW High Reflectance White if you want a crisper look.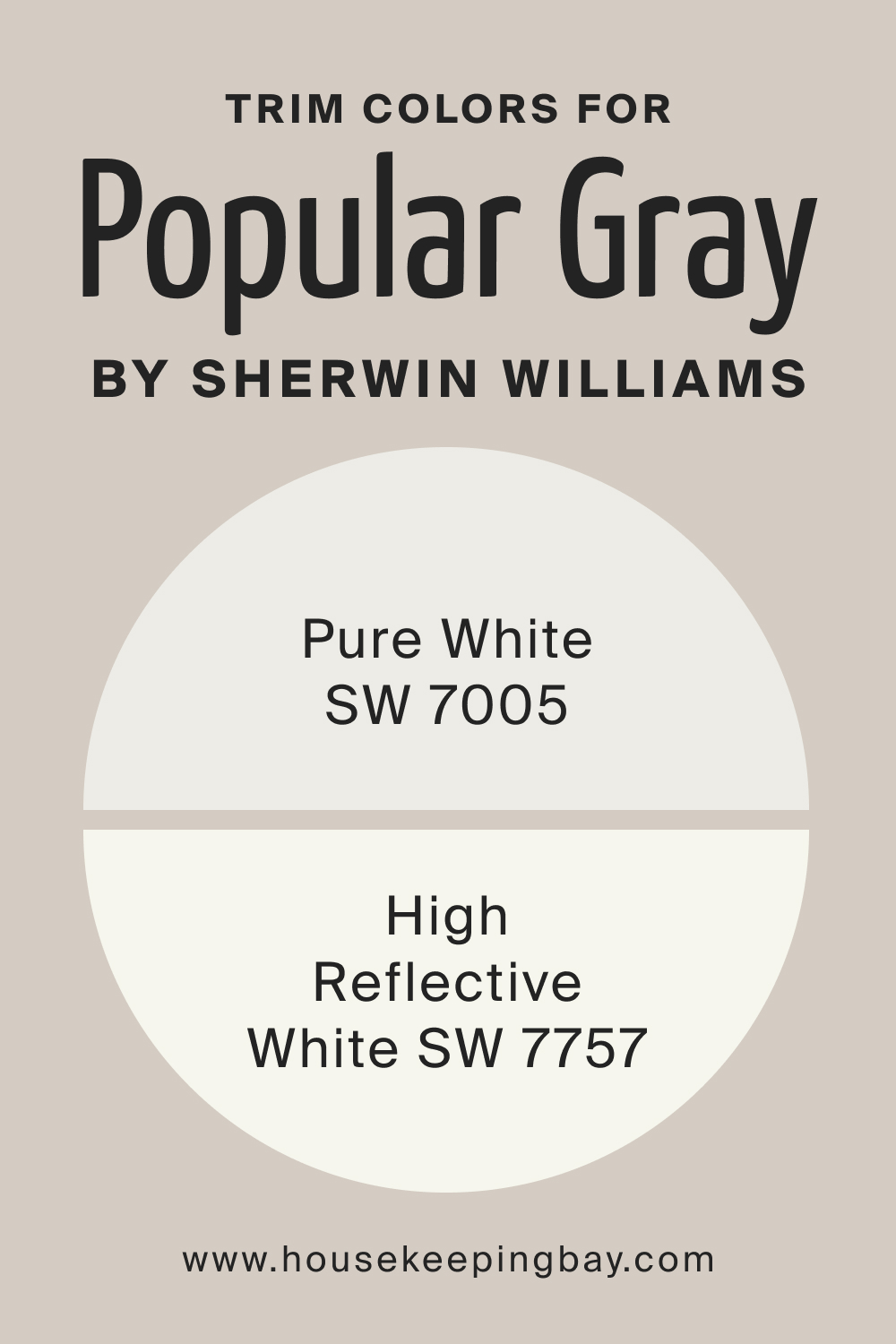 Colors Similar to SW Popular Gray
It might happen that you are not completely satisfied with how SW Popular Gray works in your home. In this case, we have prepared a few color options that will work instead of this paint successfully. However, remember that no two colors are exactly the same, even if they tend to look similar.
The two colors that read almost like SW Popular Gray are SW 7634 Pediment and SW 7632 Modern Gray. Speaking of SW Pediment, it has almost the same LRV as SW Popular Gray.
Also, these two colors have a tinge of warmth that makes them look similar. However, there is also a difference between them. E.g. the latter seems to be a pastel that is more subtle and soothing for rooms. But generally, with red-brown undertones, both colors tend to prove a perfect neutral base when used in homes.
As for SW Modern Gray, it appears more like a greige than a gray, which relates it to SW Popular Gray. Also, it has a similar LRV value and is also warm-toned. This is why these colors can be used interchangeably.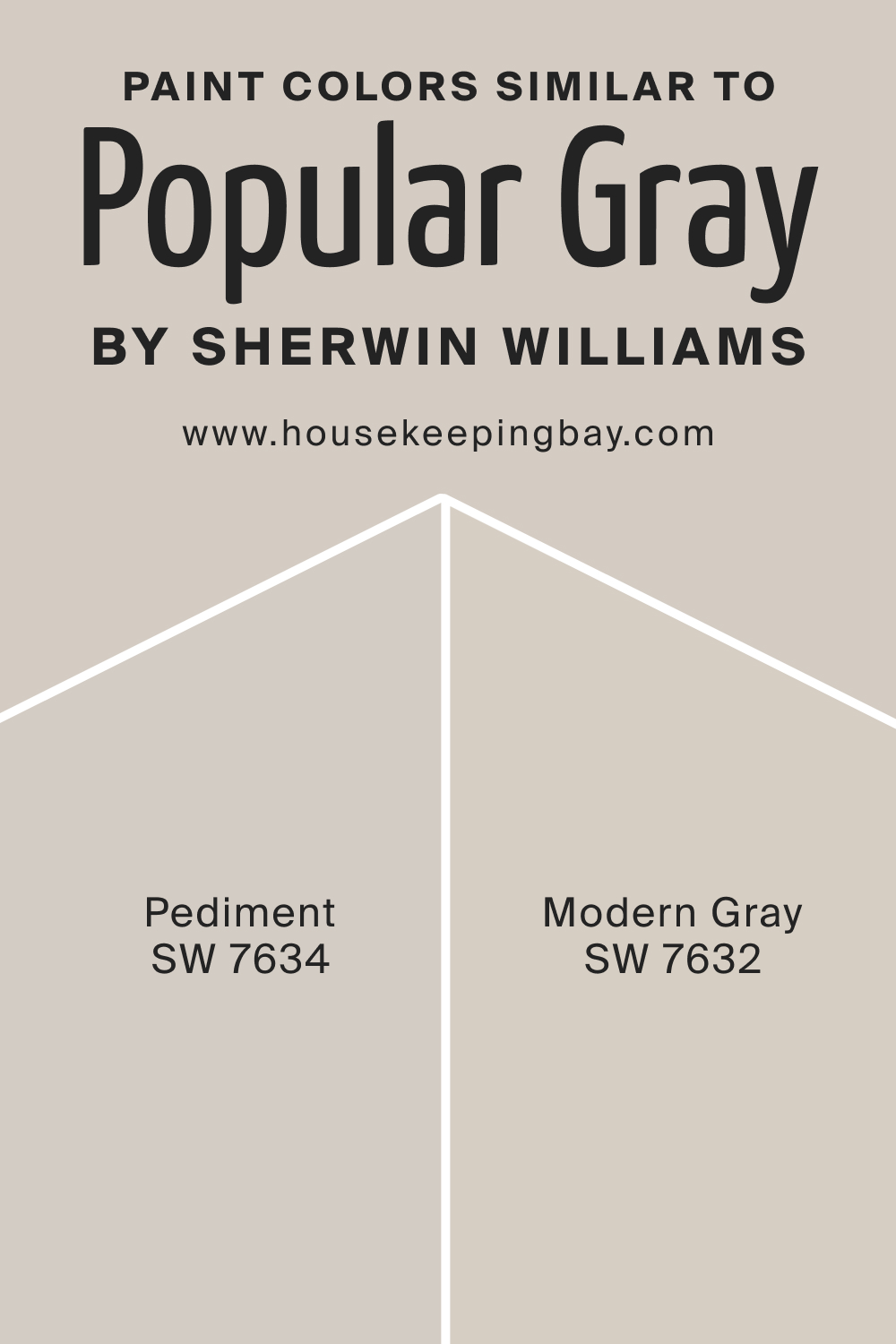 Colors That Go Well With Popular Gray SW 6071
To achieve a good-looking palette in your home, you should know what colors can be used along with the paint color on your interior walls. For SW Popular Gray (with its tricky gray-beige undertones), we recommend the following color options:
SW 7046 Anonymous
SW 6248 Jubilee
SW 6249 Storm Cloud
SW 7678 Cottage Cream
SW 7058 Magnetic Gray
BM AF-235 Warmed Cognac
SW 6107 Nomadic Desert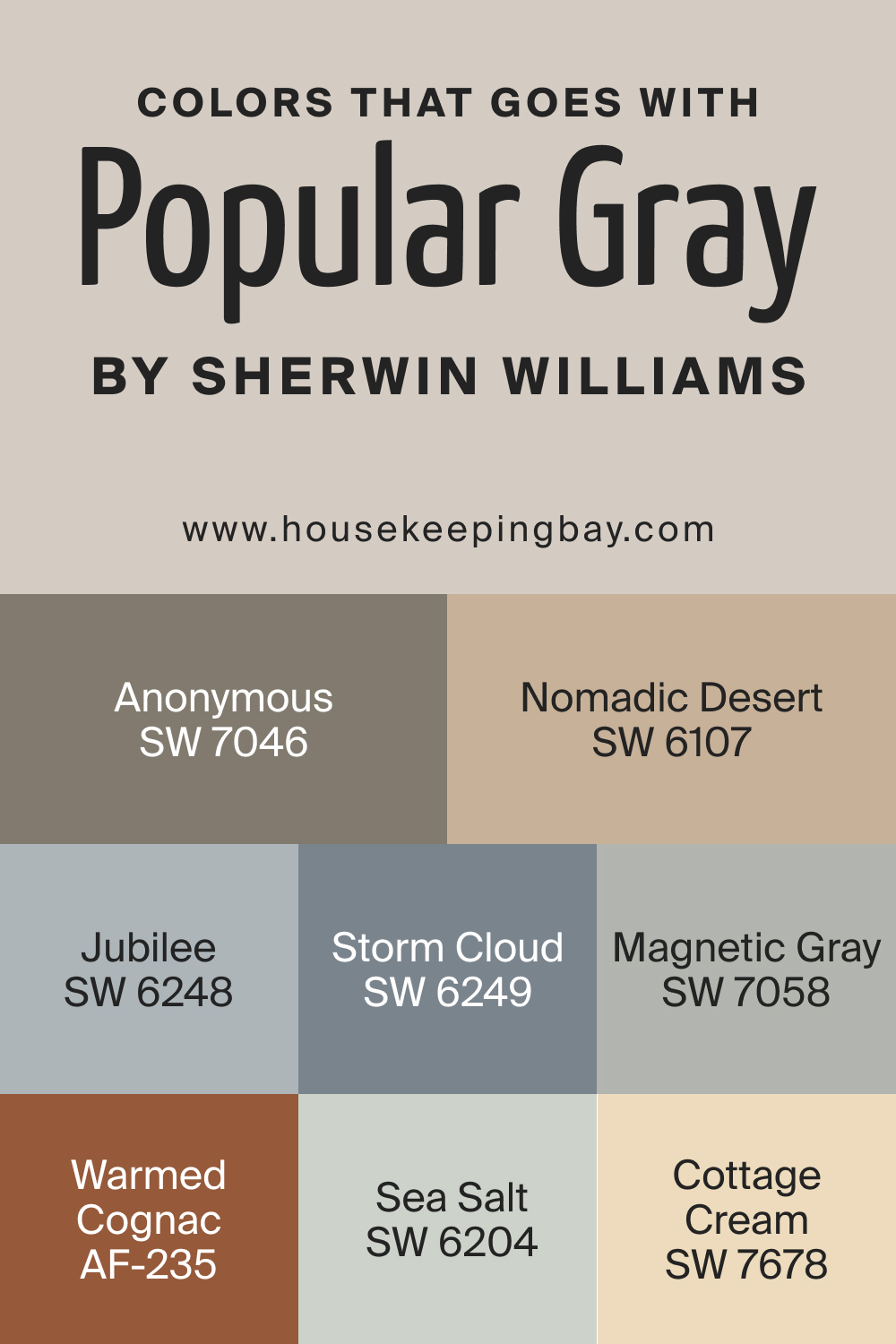 Where to Use Popular Gray SW 6071 Color In Your Home?
Since this color is light enough, you can use it as a base or a neutral in your home. SW Popular Gray will work in hallways, living rooms, bathrooms, bedrooms, and kitchens. Also, don't forget the exterior walls.
Speaking of interior styles, this greige is an optimal color choice for interior design styles like Mid-Century Modern, Traditional, Transitional, eclectic, and Modern Farmhouse. Below, you can read how it works in different rooms.
Popular Gray SW 6071 in the Living Room
This greige color will add a welcoming experience to your living room. However, it can be tricky using it since it combines both features of gray and beige! Hence, we would recommend choosing this color as a neutral or base. As an option, you can simply paint only a focal wall in SW Popular Gray and let the rest of the space in off-white.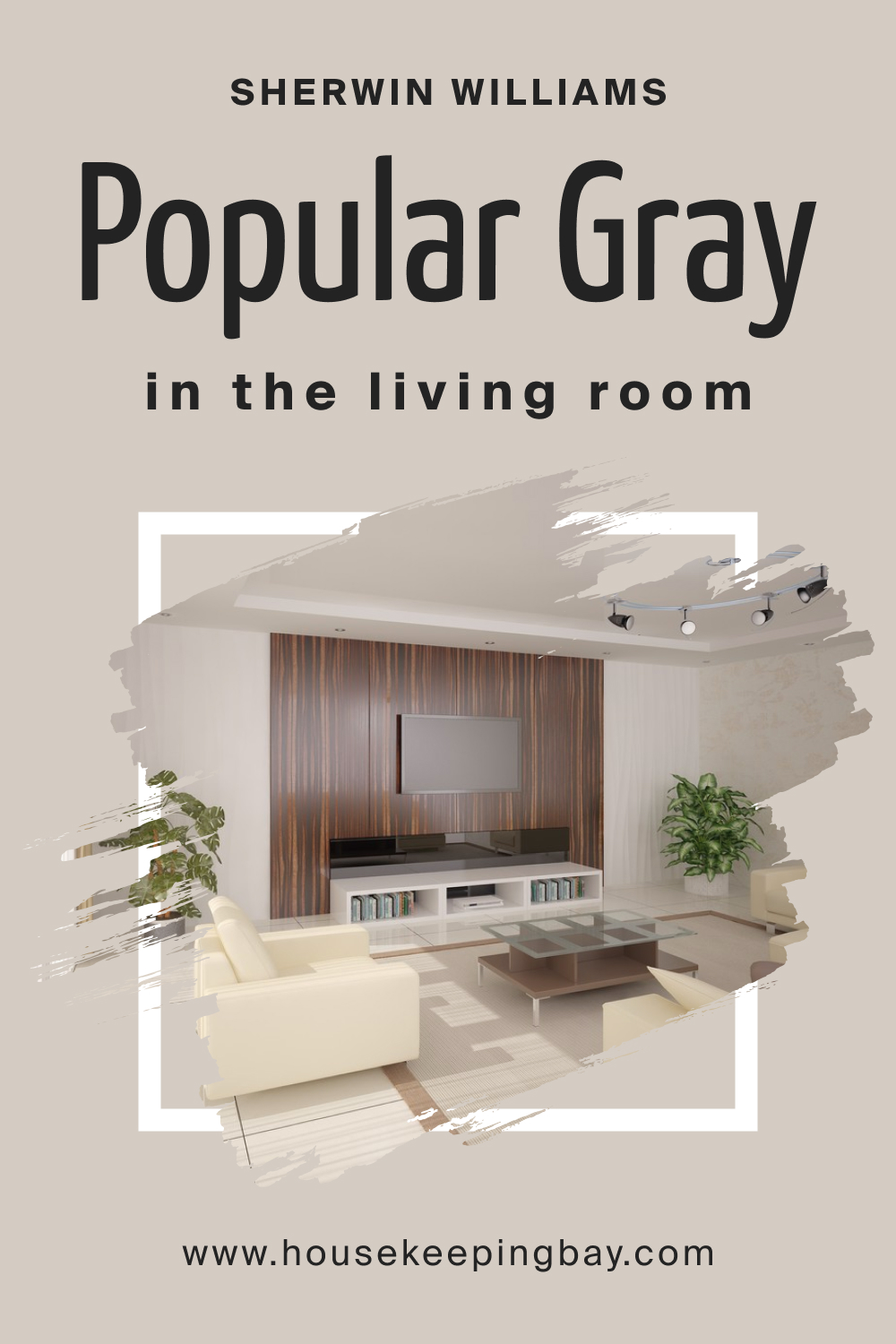 Popular Gray SW 6071 in a Bedroom
This color is a good option for bedrooms as it has a lovely soothing appearance. You can pair it with neutral upholstery, sheer white curtains, and sheepskin rugs to make your bedroom look refined. Moreover, try to paint all the walls this color or simply let it work as an accent.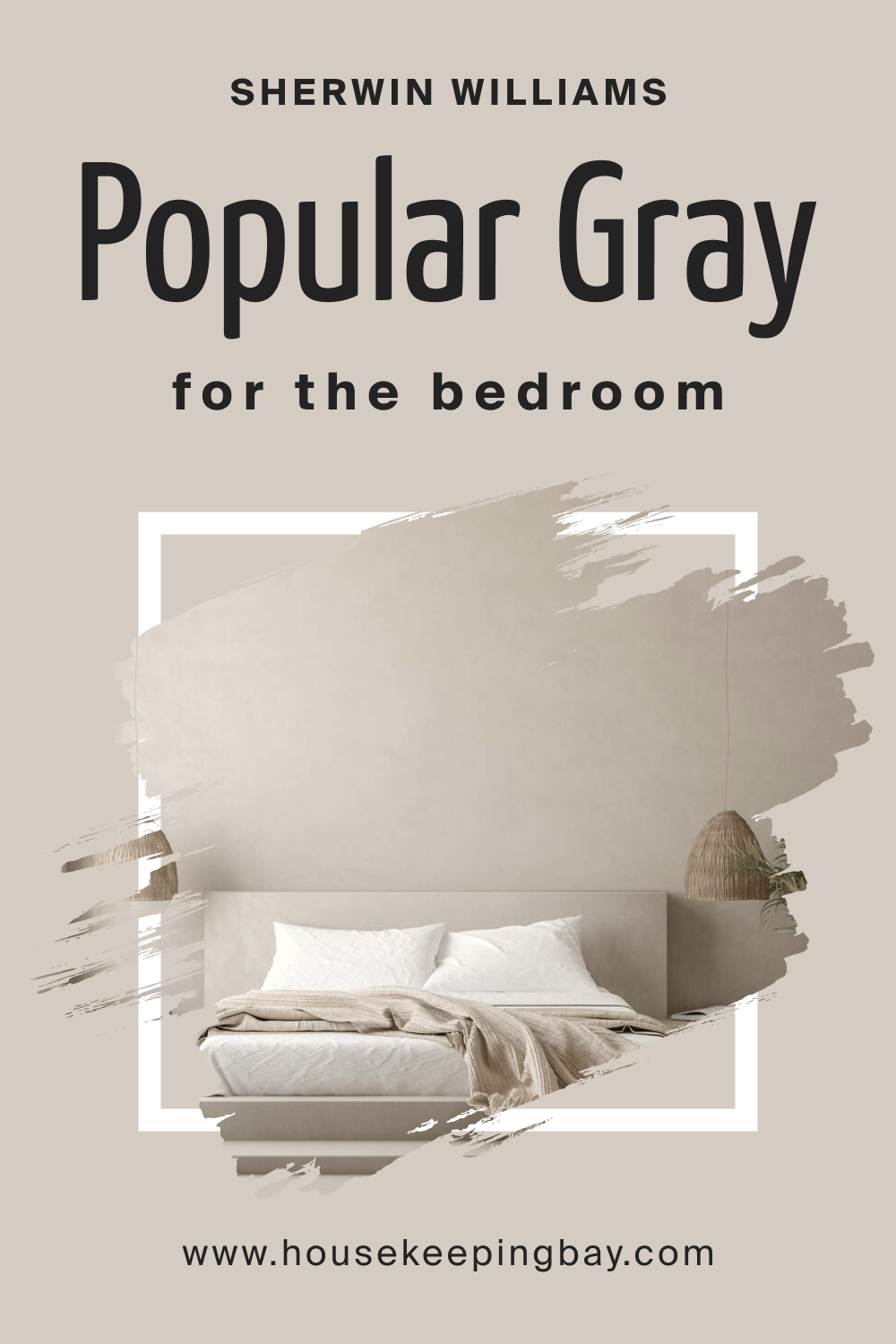 Popular Gray SW 6071 and Bathroom
This greige may seem to be too warm for your bathroom, but only if the space is small and doesn't have enough natural light. In a spacious and well-lit bathroom, SW Popular Gray can work well enough on the walls. As an option, you can always use it on the vanity sink and drawers to add warmth to the space, leaving the walls white for more crispness.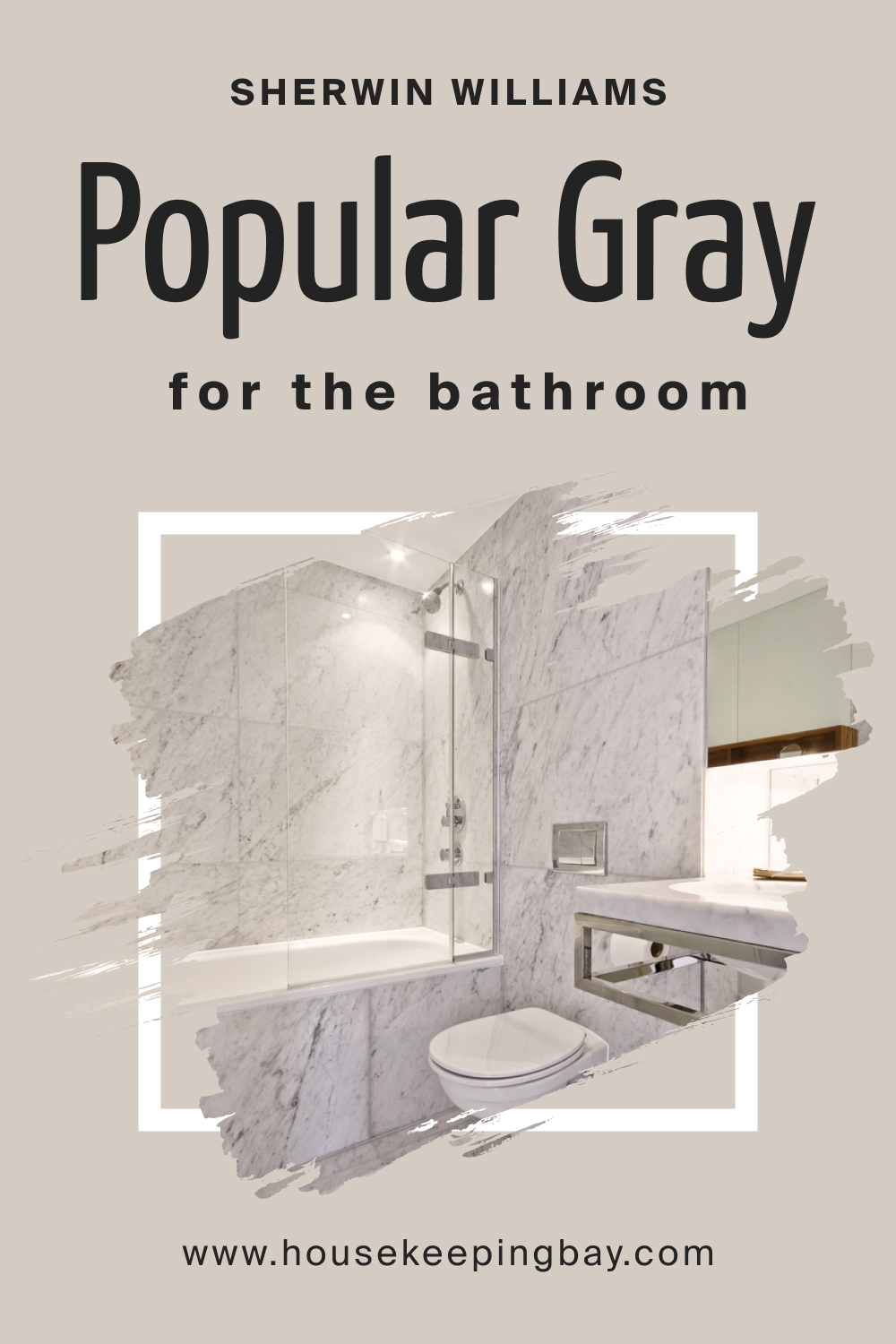 Popular Gray SW 6071 on the Kitchen
In your kitchen, this greige can either work on the cabinets or the backdrop wall. In both cases, we recommend you opt for a black or white marble or granite countertop, white backsplash tiles, and gold-tinted pull handles.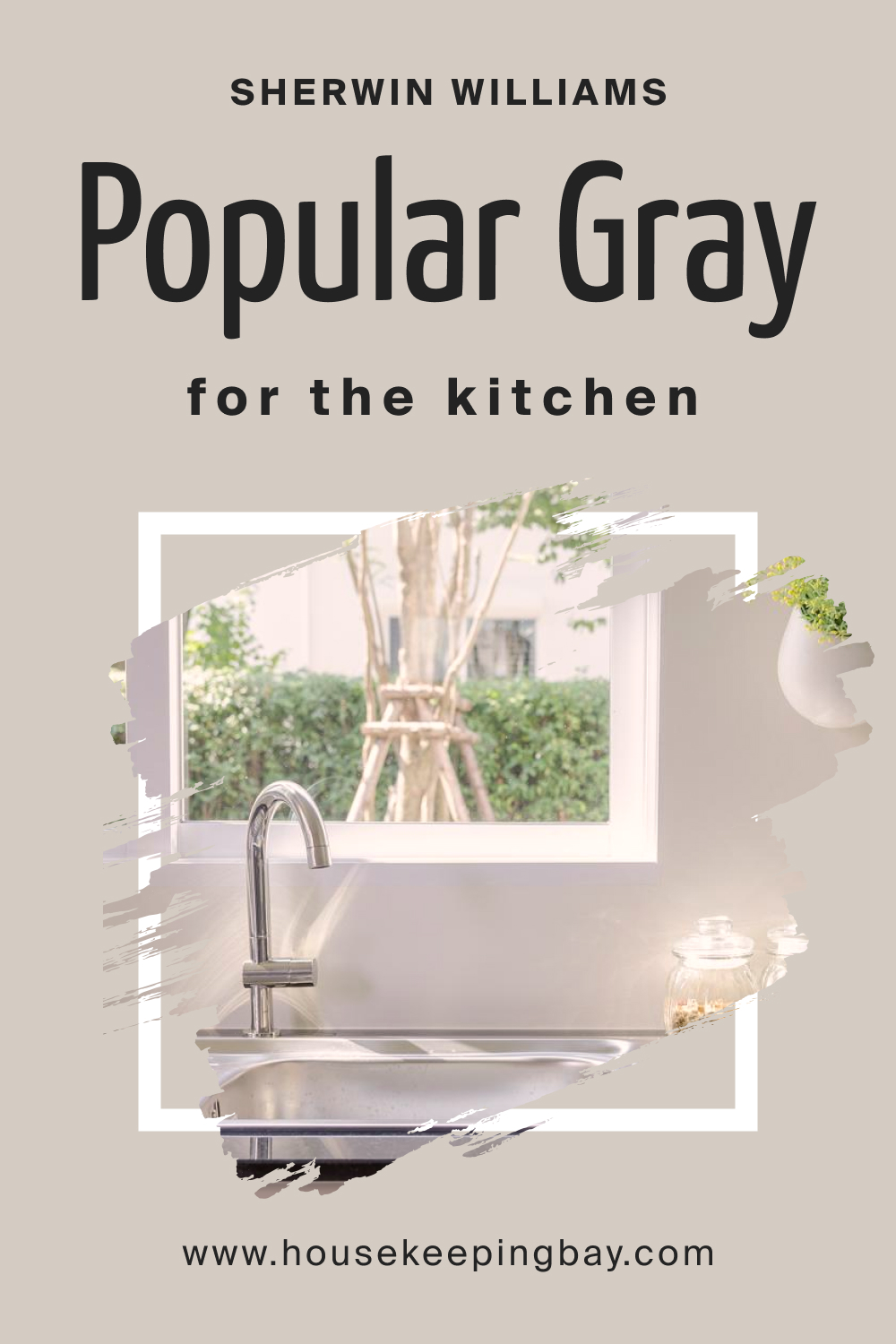 Popular Gray SW 6071 for the Exterior use
SW Popular Gray can work exceptionally well on the Mediterranean style, Mid-century style, or Spanish Villa style homes. On exterior walls, this warm color will add an authentic touch to the building.
You can pair it with white trims, moldings, and door, as well as window frames, or choose lighter gray. Finally, consider painting your front door black for a great accent with this paint.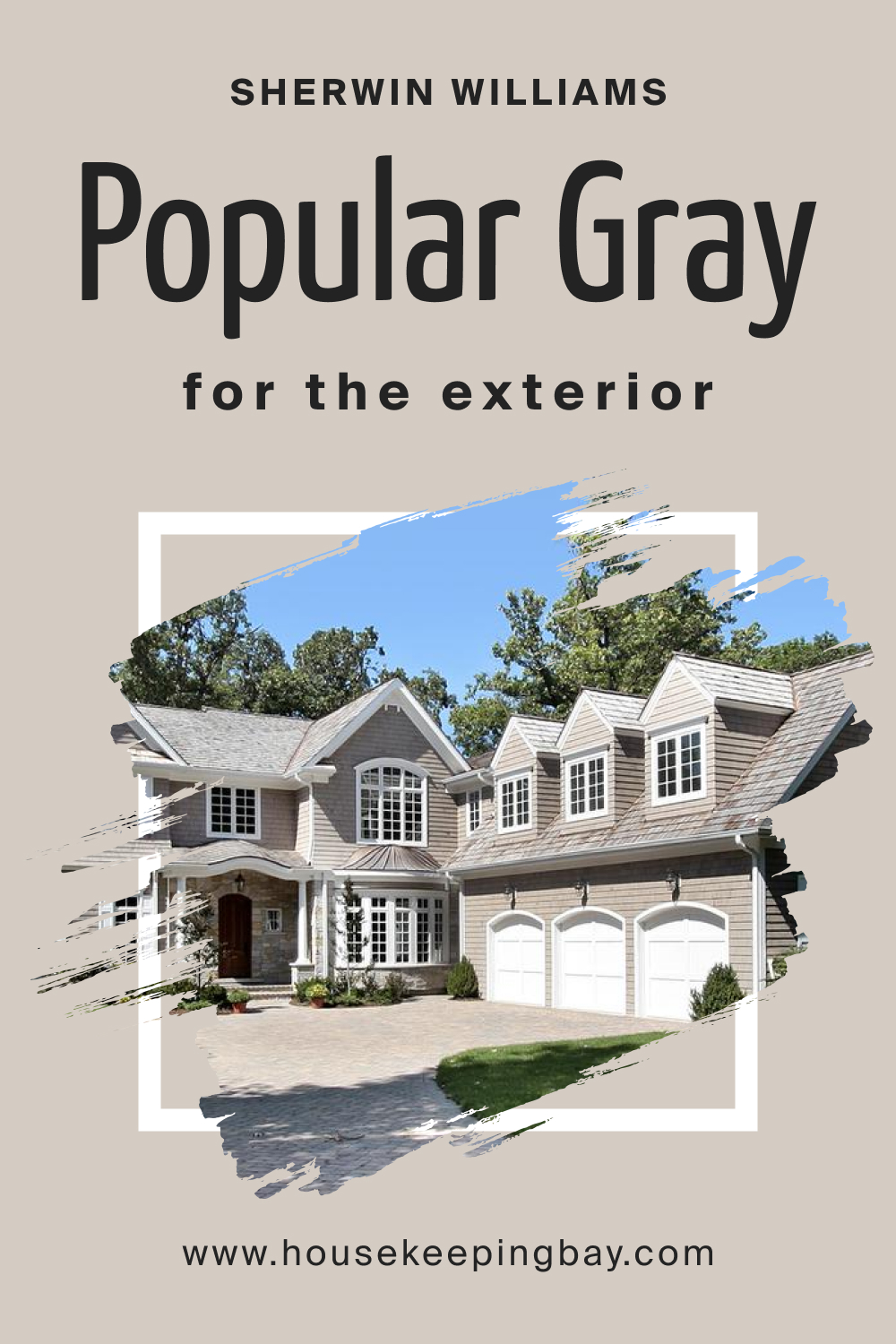 Comparing Popular Gray SW 6071 With Other Colors
Here we want to show you how SW Popular Gray can read if you compare it to other similar-looking colors. This will help you better see the smallest distinctions between the related colors.
Popular Gray vs. Modern Gray
These two look so alike that can be used interchangeably. SW Modern Gray looks more like a greige than gray, which is a common feature it shares with SW Popular Gray. Also, SW Modern Gray has an LRV value similar to the LRV of SW Popular Gray. Finally, both colors are warm-toned.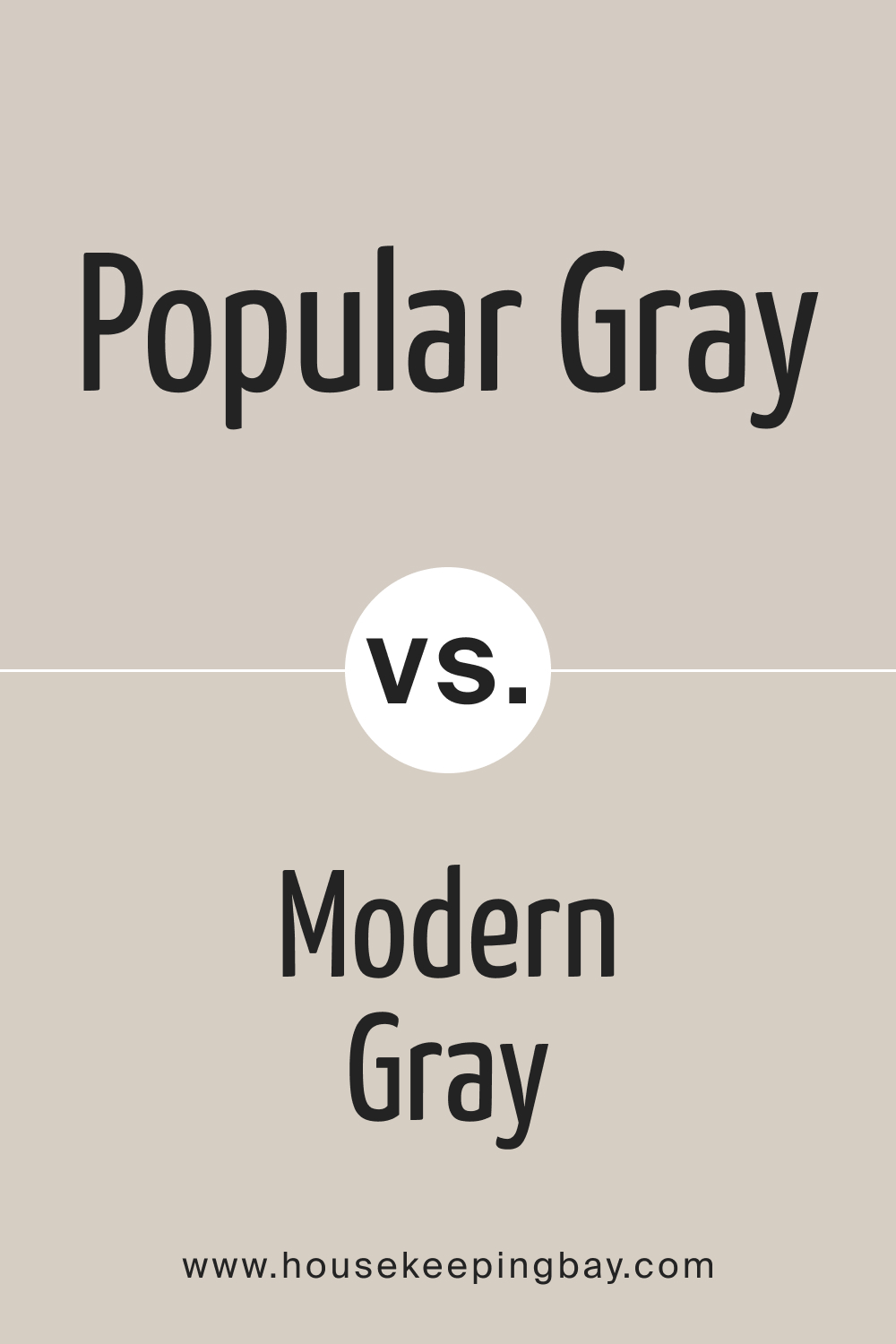 Popular Gray vs. Agreeable Gray
These colors are also very similar! SW Agreeable Gray also reads more like greige than gray, which relates it to SW Popular Gray. Besides, the LRV value of SW Agreeable Gray is 60, which is very close to the LRV value of 61 that SW Popular Gray has.
The only distinction that's hardly noticed is that SW Agreeable Gray looks a tiny bit grayer than its counterpart.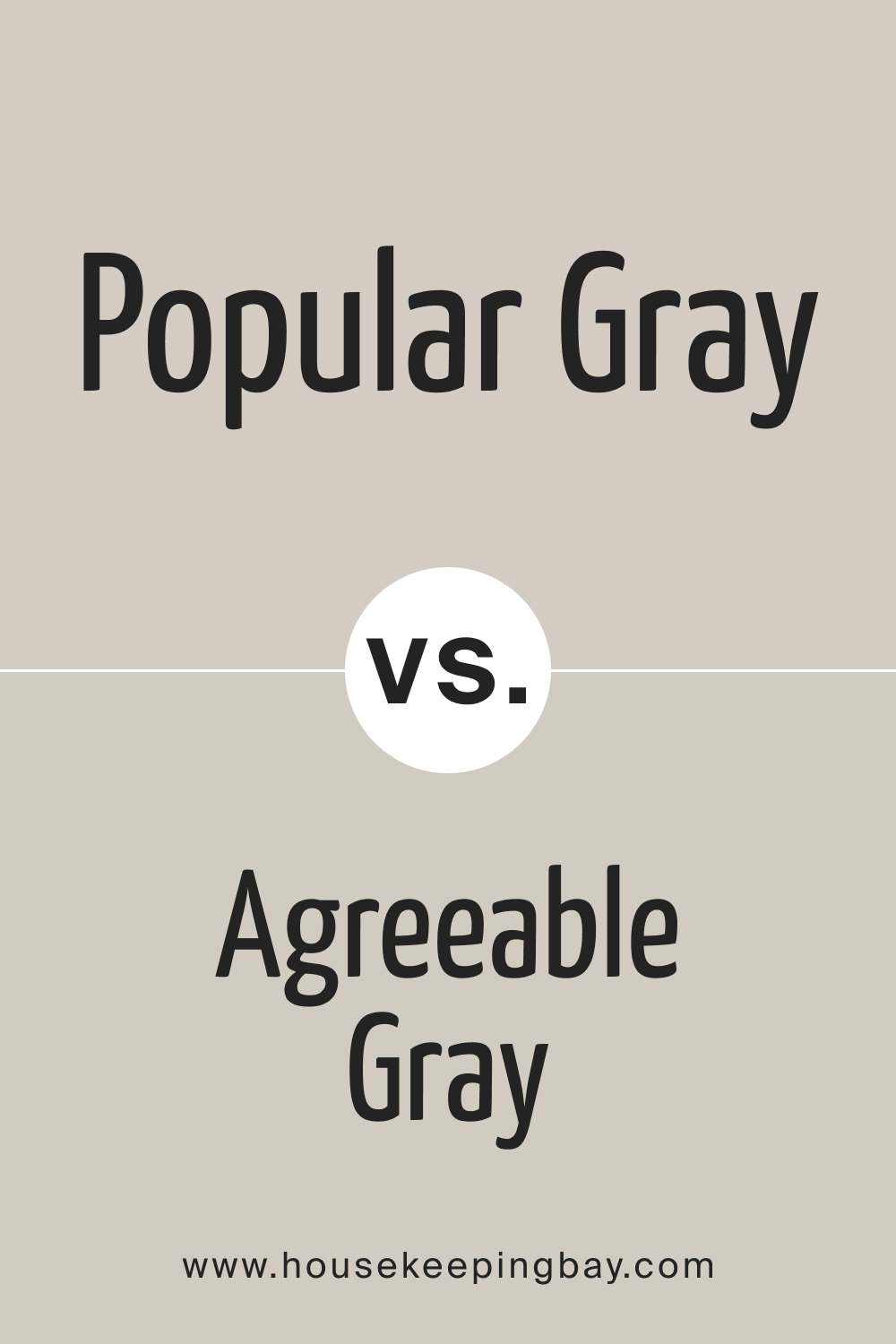 Popular Gray vs. Accessible Beige
SW Accessible Beige reads warmer and shows more clay undertones, leaning toward beige more noticeably than its counterpart. SW Popular Gray, on the other hand, looks significantly grayer. Also, their LRVs are different.
The LRV value of SW Accessible Beige is 58, whilst its partner has an LRV of 61. This means SW Accessible Beige is somewhat darker.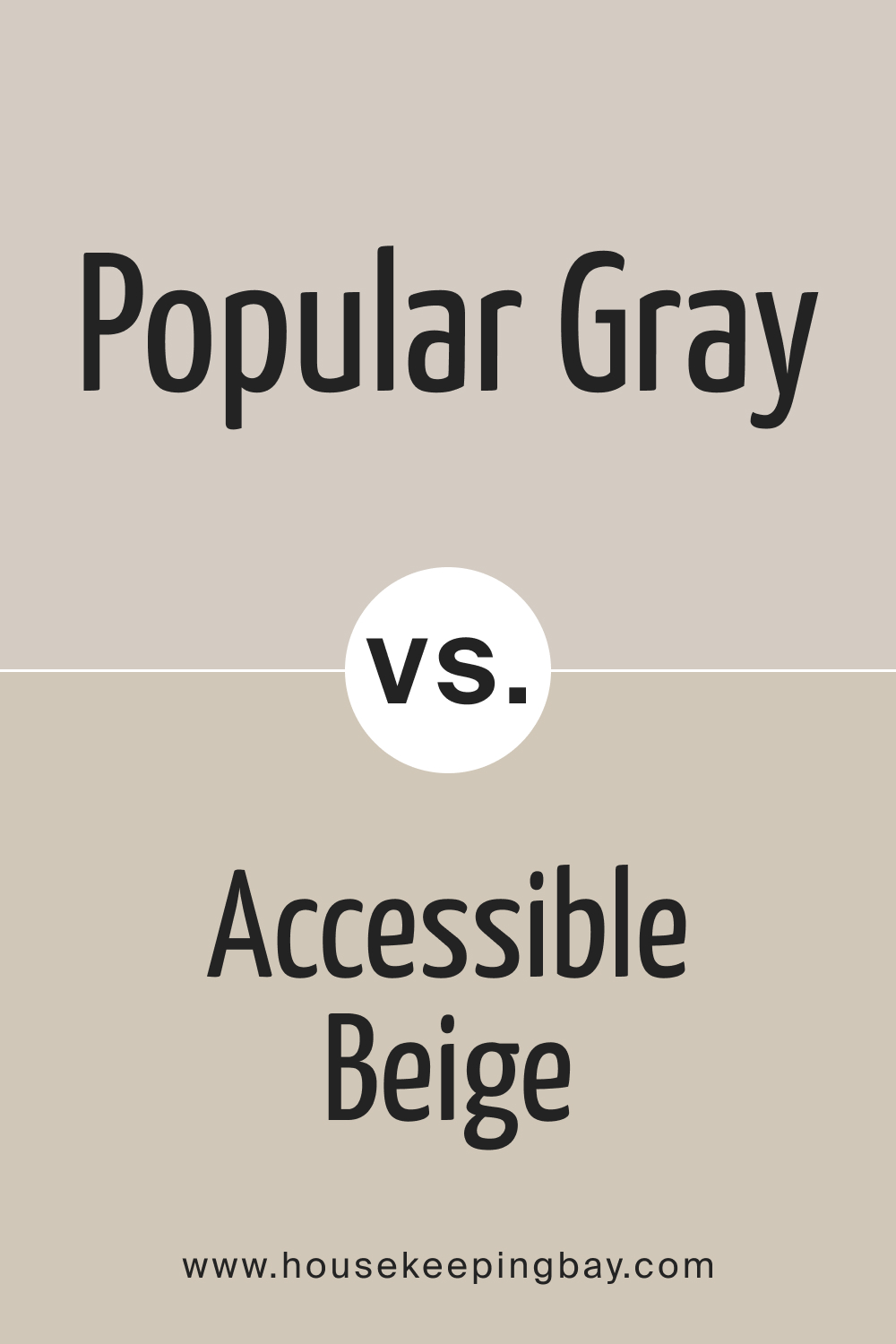 Popular Gray vs. Worldly Gray
SW Worldly Gray is a neutral color with an LRV of 57. Due to the lower LRV value, it is less reflective than SW Popular Gray, whose LRV is 61. However, since both colors look greige and have a very similar appearance, the difference in their LRVs is barely noticeable.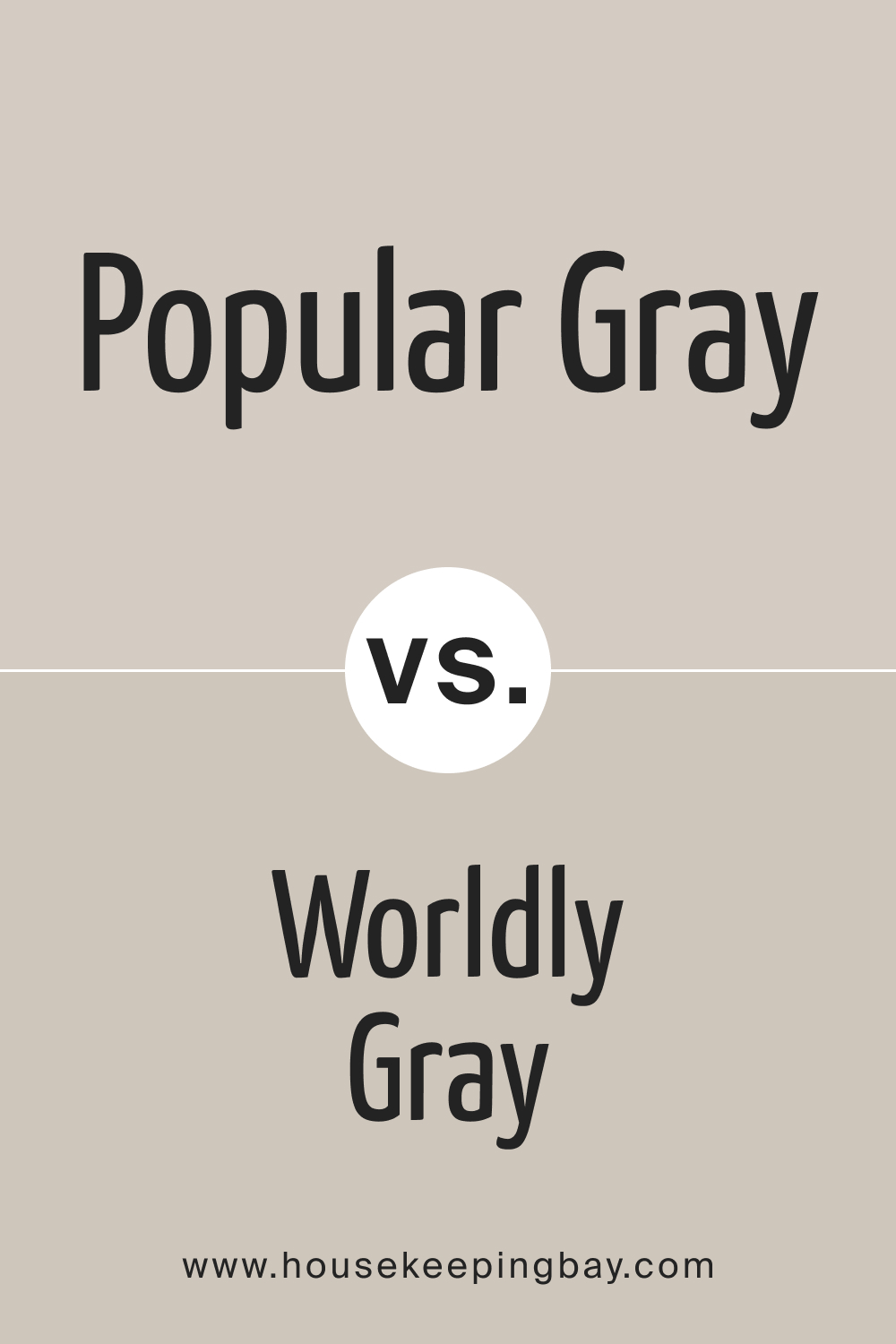 Popular Gray vs. Revere Pewter
The LRV value of BM Revere Pewter is 55, which is lower than the LRV value of 61 that SW Popular Gray has. Also, BM Revere Pewter has warm greenish undertones, which makes it distinct from SW Popular Gray with its beige-gray undertones.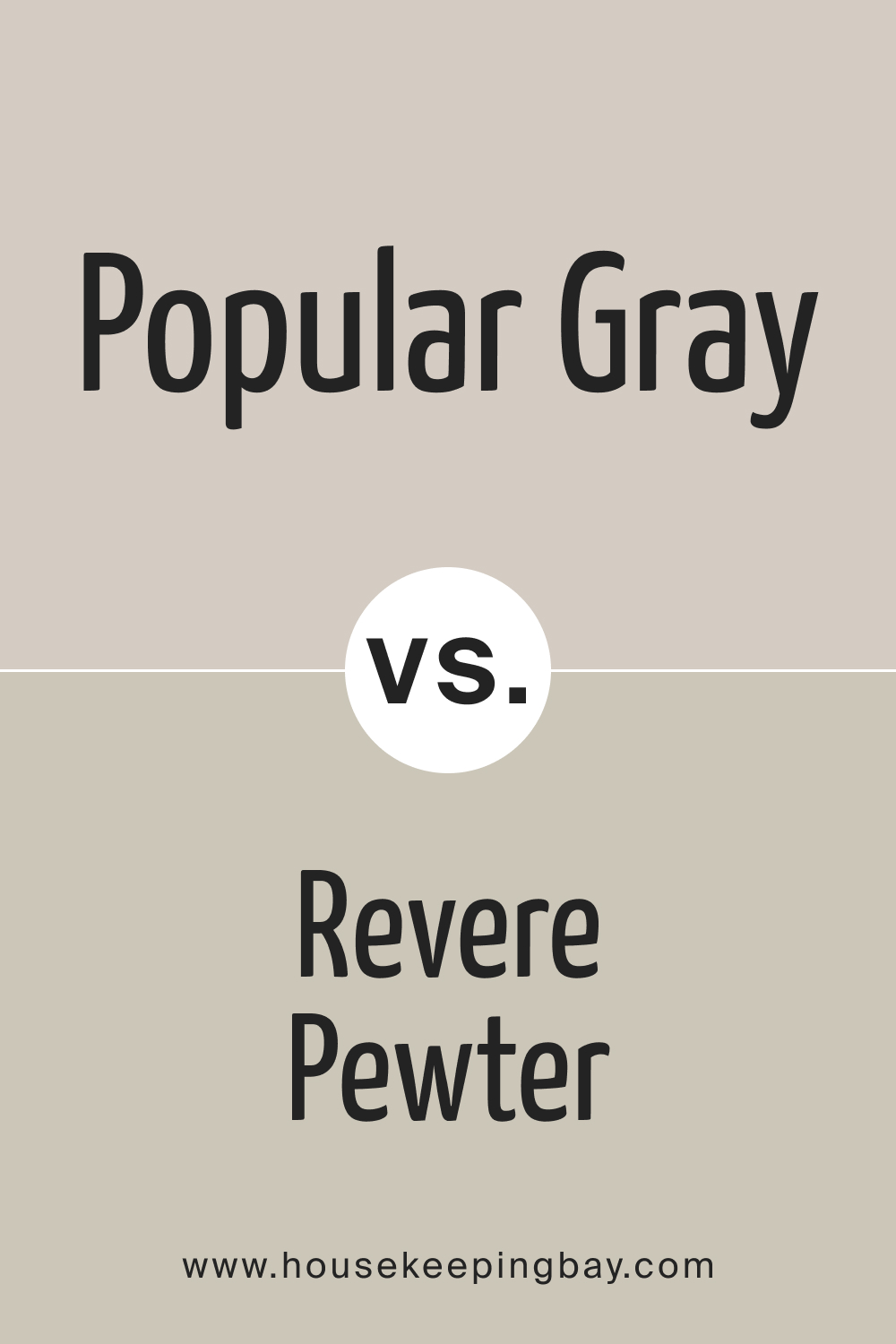 Popular Gray vs. Repose Gray
SW Repose Gray has blue and slight violet undertones, but they are very minimal. This is the major reason why this color reads distinctly from SW Popular Gray. However, their LRVs are pretty close. The LRV value of SW Repose Gray is 60, and its counterpart has an LRV of 61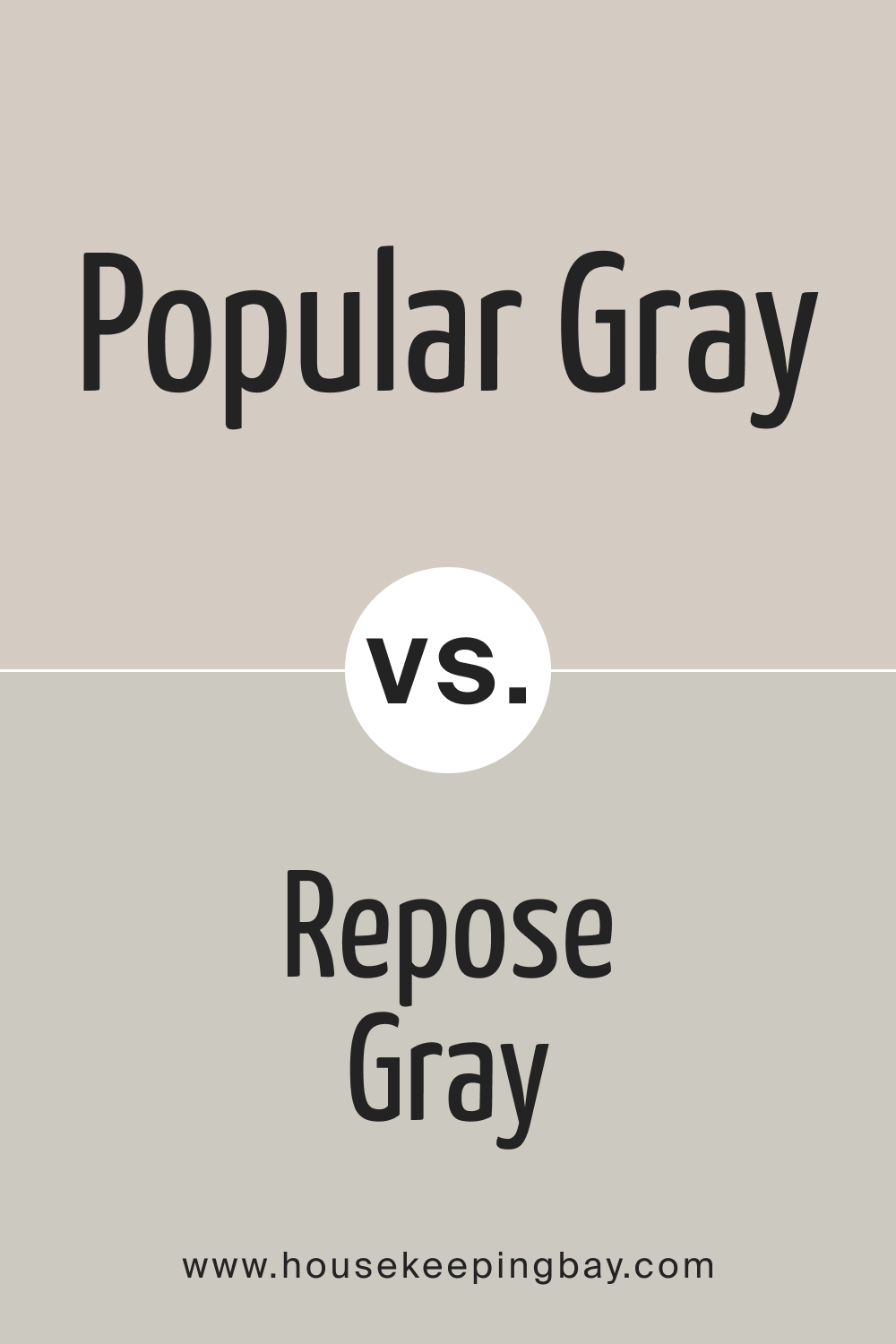 Now you know what kind of greige SW Popular Gray is, so the word "gray" won't distract you from now! You learned what undertones it has and how they can affect the appearance of this color. Also, now you know how to coordinate this greige correctly and what colors it will work with.
With all that in mind, it will be easy for you to find the best spot in your home to apply this soft and cozy color, making it reveal its true beauty.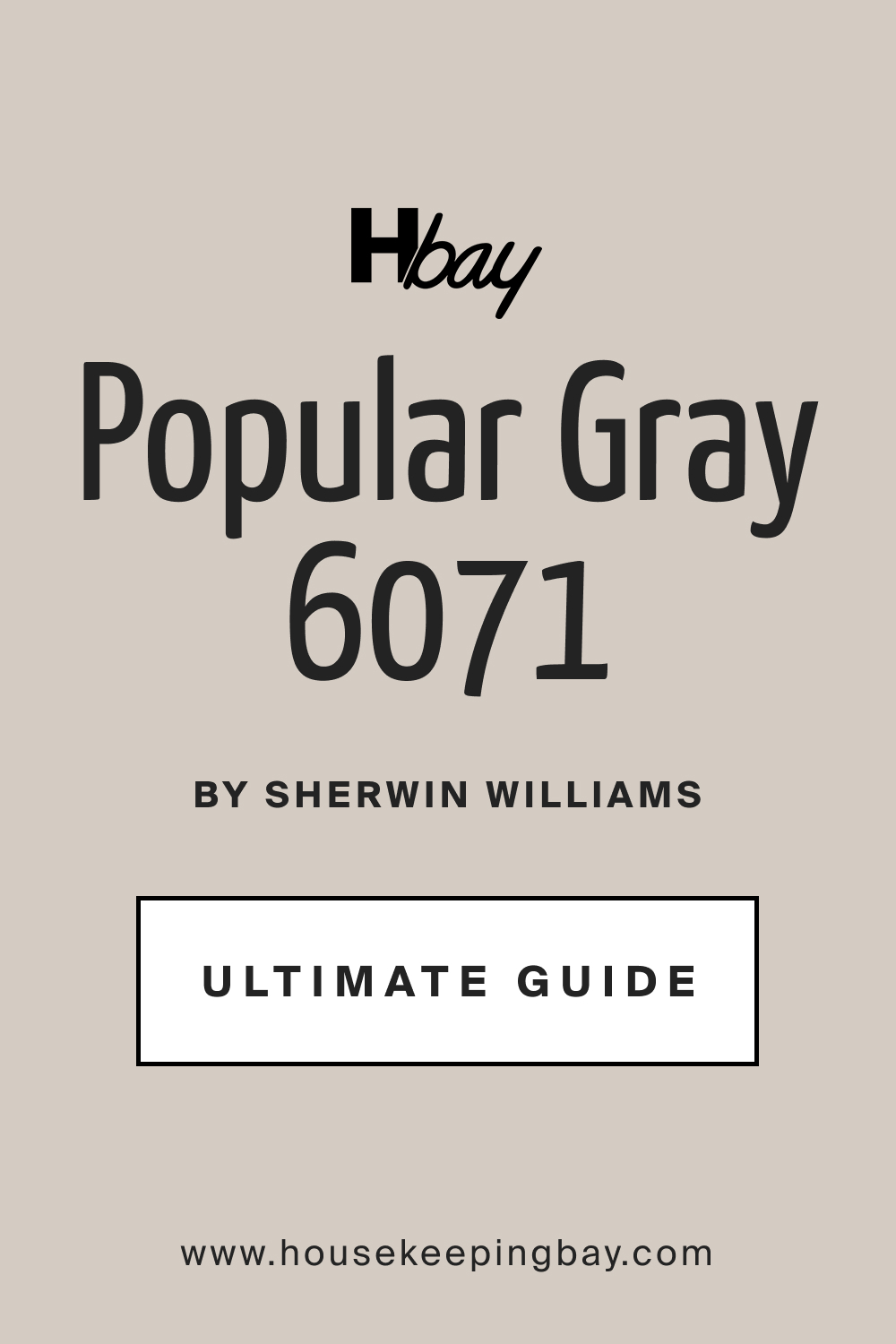 Frequently Asked Questions
⭐Does SW Popular Gray have a creamy hue?
No, this greige doesn't show any creamy hue at all.
⭐Can SW Popular Gray be paired with darker browns?
Yes, you can use this greige with darker browns, e.g., chestnut brown color.
⭐Is it possible this color reads gray on the walls?
It's hardly possible since SW Popular Gray has balanced gray and beige undertones that result in a warm and grease appearance with no protruding grayness.