There are so many interior paint colors that we often find it rather complicated to pick the best and the most optimal shade to match our home walls. This is why it is important for every homeowner to understand at least the basics of how different paint colors can be used and how they work on the walls.
Being aware of such nuances becomes especially important if you are going to use complicated shades of paint for your interior projects. For example, such paint color as Mega Greige SW-7031 by Sherwin-Williams brand.
Since this paint color is rather popular, we recommend you read on since we are going to tell you what type of color the Mega Greige is exactly, what its undertones and coordinating colors are, and how this paint color reacts to different types of lighting. In addition, you are going to learn what rooms it is best to be used in, and what similar paint colors can be taken into consideration instead of this particular one.
Finally, we will explain what colors go with Mega Greige so that you could make a harmonious color palette in your home.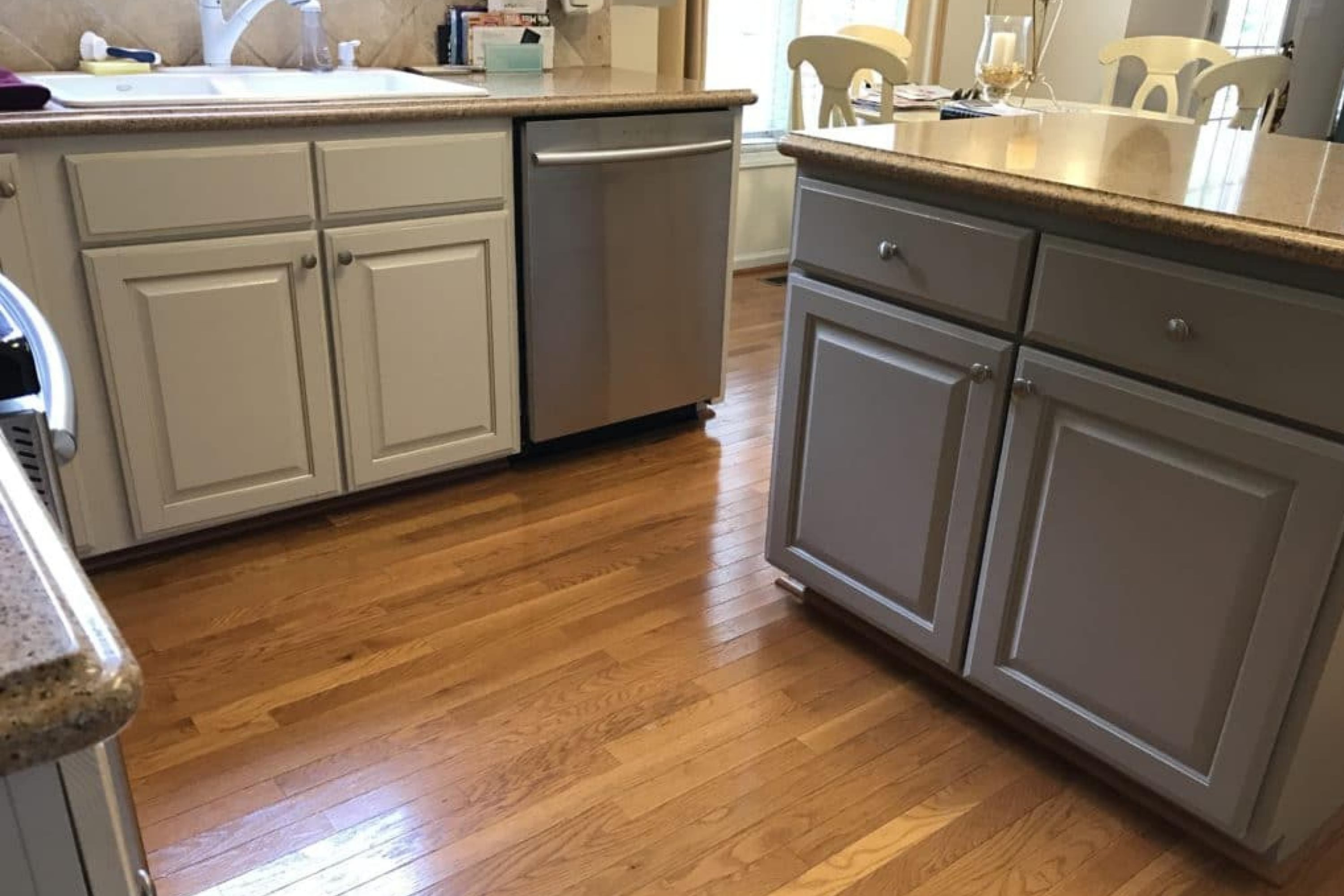 What Kind Of Color Is Mega Greige SW-7031?
When you decide to paint your interior walls with a new color instead of the old one, it is essential to figure out what color exactly you would like to see on them. And since today the majority of interior paint colors are quite complicated, meaning that they have multiple undertones and various shades united in one color, figuring out what type of color you deal with from the very beginning is a must.
If you take a closer look at Mega Greige paint color by Sherwin-Williams brand, you will see that it is a greige paint color. However, depending on your personal perception, you may also read it as a taupe. As Encycolorpedia says, SW Mega Greige sits in between gray and beige, which also makes it a warm paint color.
This color will read differently depending on the type of lighting in a room. For example, if you have cool northern light, you will find Mega Greige holding its warm color without getting cold. In a south-facing room or room with western afternoon light, you can expect Mega Greige to lean into its warm side a bit more.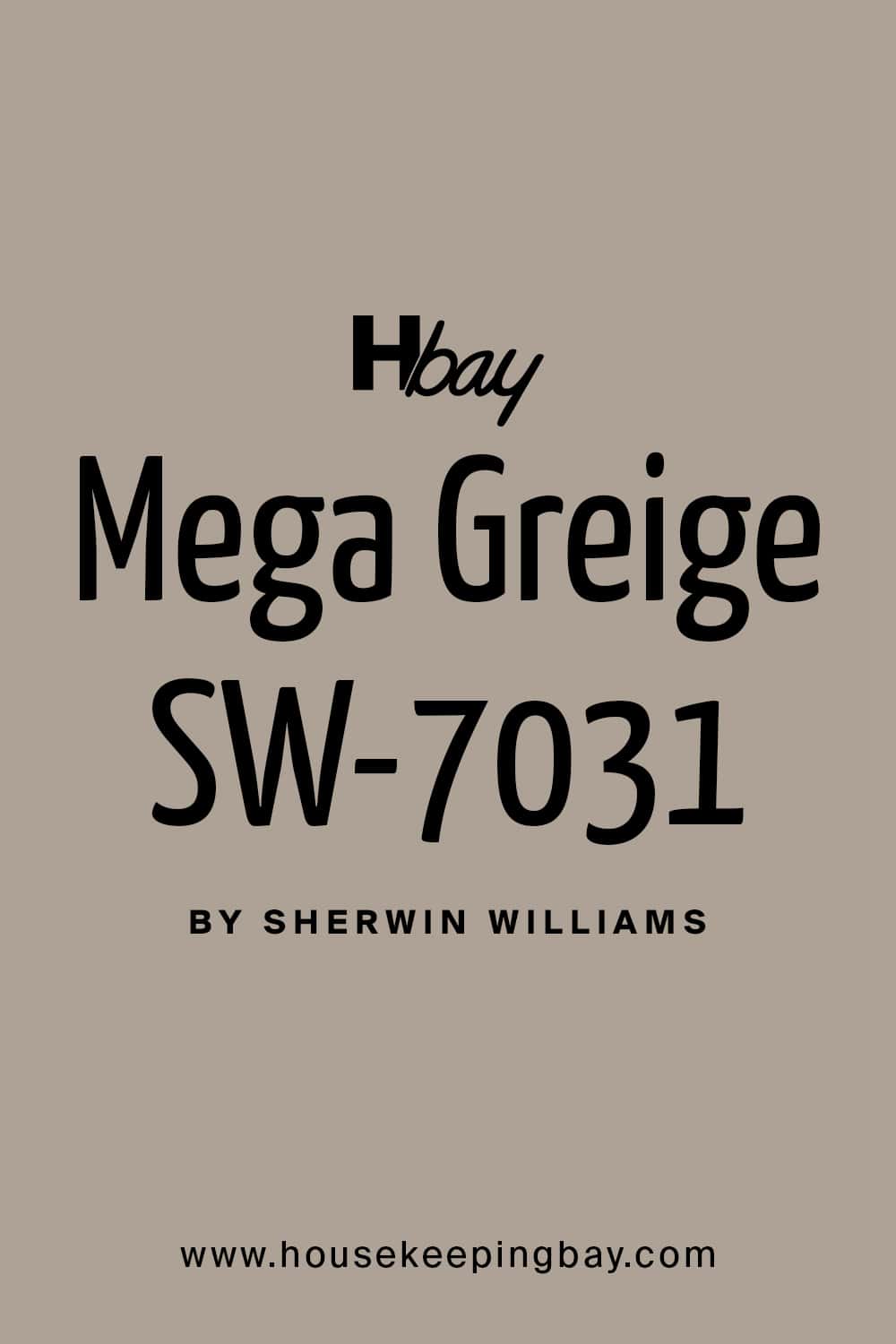 Mega Greige Undertones
Even before you buy the paint, you need to become fully aware of the paint color undertones. Keep that in mind since it is a very important nuance! Like that, when you know what undertone (or undertones) your paint has, you will be able to tell in advance how exactly the particular paint color will reveal itself and look on your walls after you apply it.
Speaking of the undertones that SW Mega Greige has, this paint is so praised by homeowners because it has very little undertone. At one point, there's a tiny green hue hiding deep inside the Mega Greige color, but it rarely shows up. Also, this color can even look slightly taupe (violet undertone) in some situations.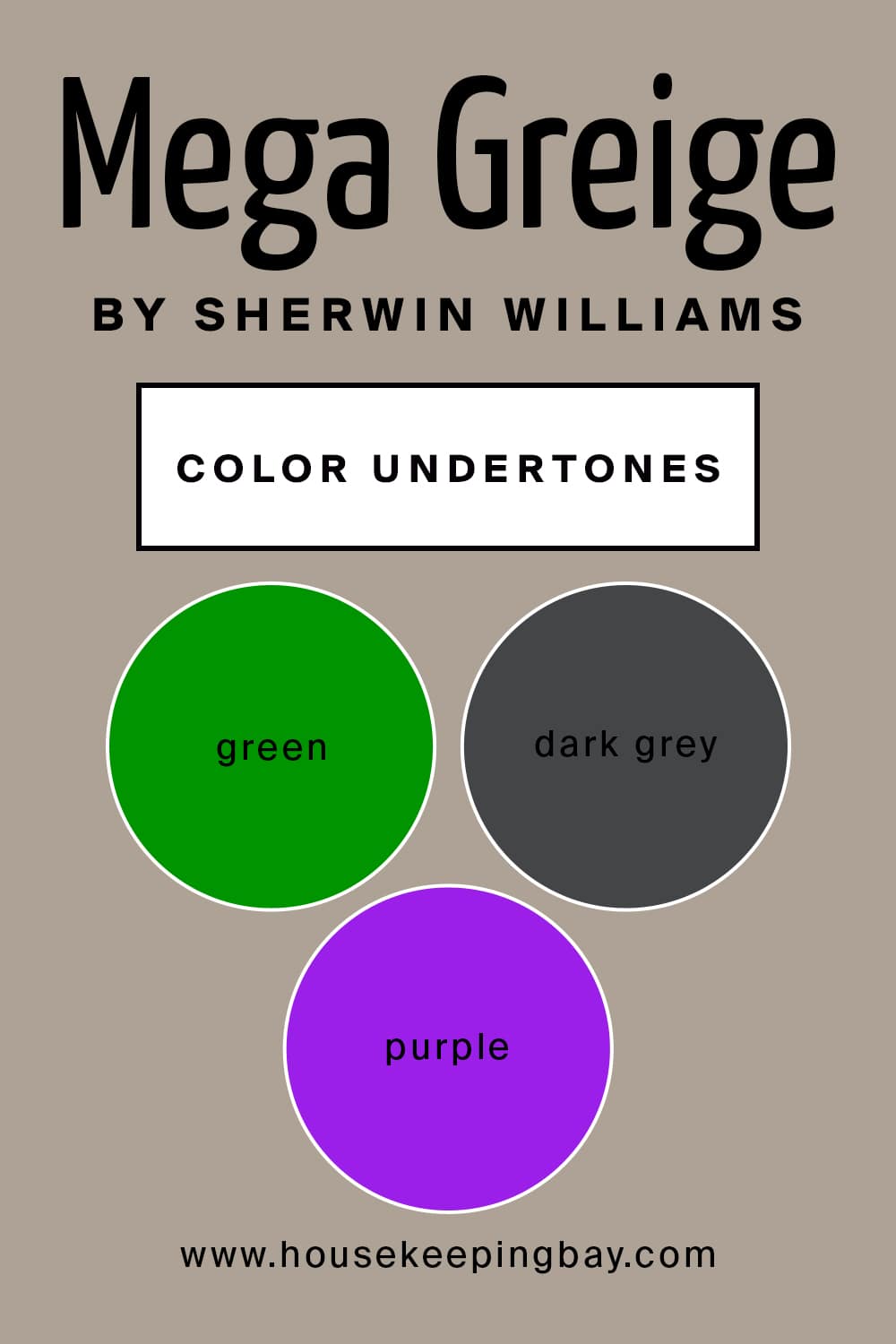 LRV Mega Greige SW-7031
Before you apply the paint of any color onto your walls, you should double-check how it will react to different types of light. Some colors remain almost unchanged no matter how well they are lit. Others may react to light quite dramatically, being able to transform and reveal the most unexpected shades and undertones that you didn't even guess about! So if you don't want to find completely different colors on your walls, make sure this nuance is checked in advance.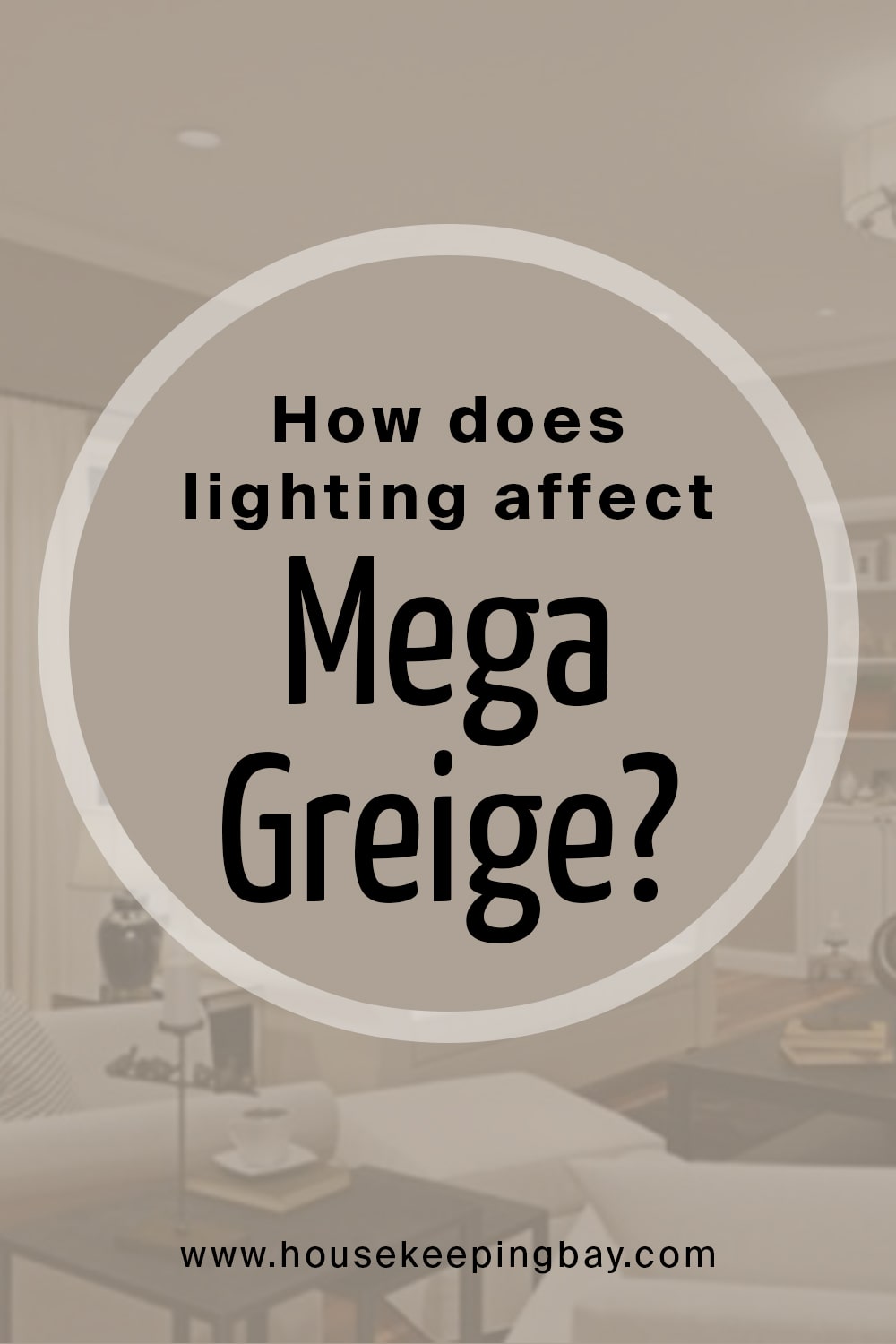 Mega Greige has an LRV of 37, which makes it a medium-depth paint color. Nevertheless, Mega Greige remains on the lighter, softer side of the scale. Just for you to remeber, LRV ranges from zero to 100 where zero stands for the darkest black and 100 stands for the lightest pure white.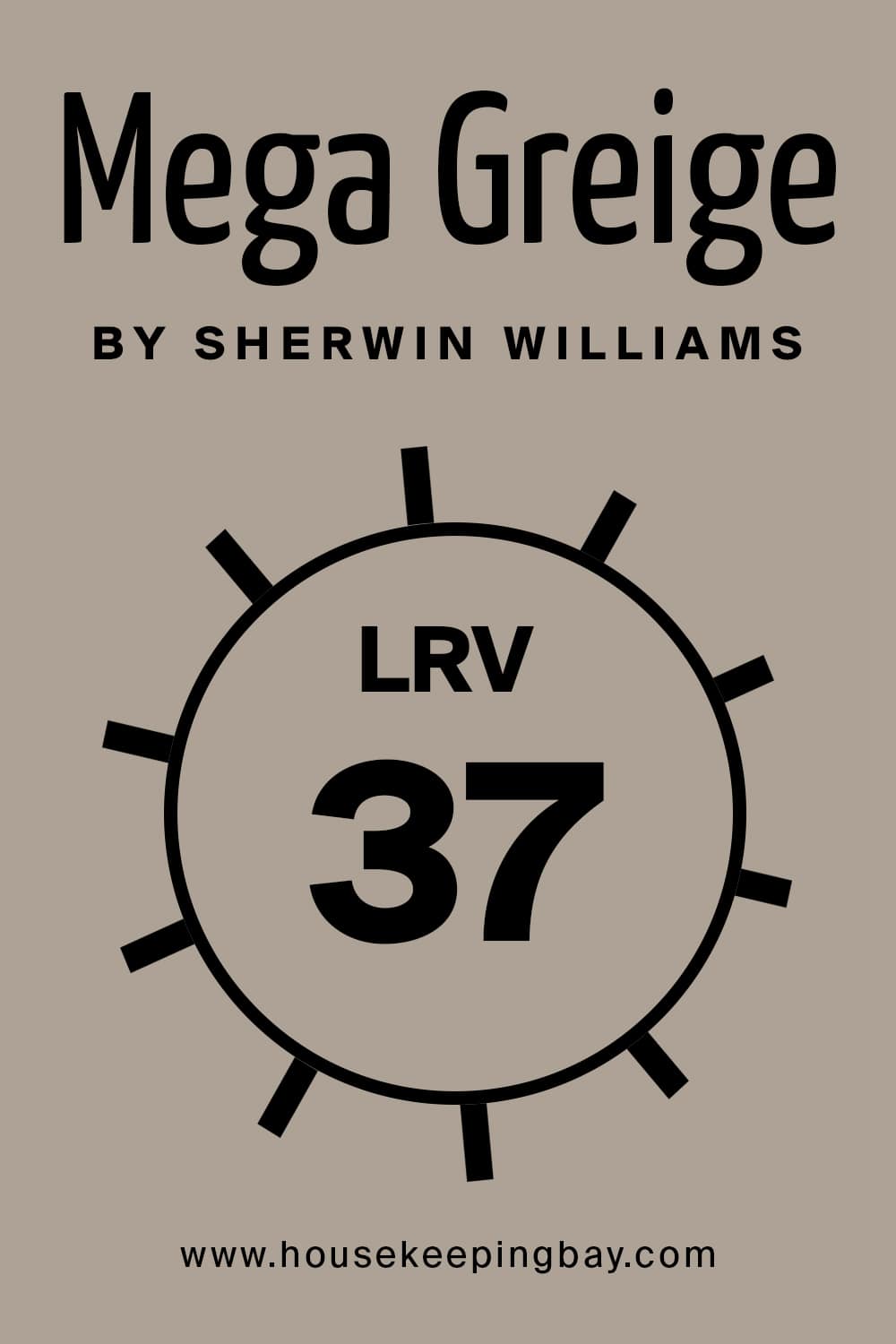 Of course, this LRV has certain nuances. For example, Mega Greige may look a bit flat or dull in a room where there's not enough natural or interior lighting. However, with this slightly lower LRV, this color is a great choice for you if your goal is to give a bit of depth to your well-lit room.
What's the Best Trim Color For Mega Greige SW-7031?
Everyone knows that the best and the most universal trim color is white since it can match almost any other paint color. And luckily, SW Mega Greige paint is not an exception. You can pair this warm gray with certain whites and be sure that they work great together.
Of course, Mega Greige is quite a flexible color when it comes to combining it with white paint colors, but we would suggest you the following options to get the best combination:
Sherwin-Williams High Reflective White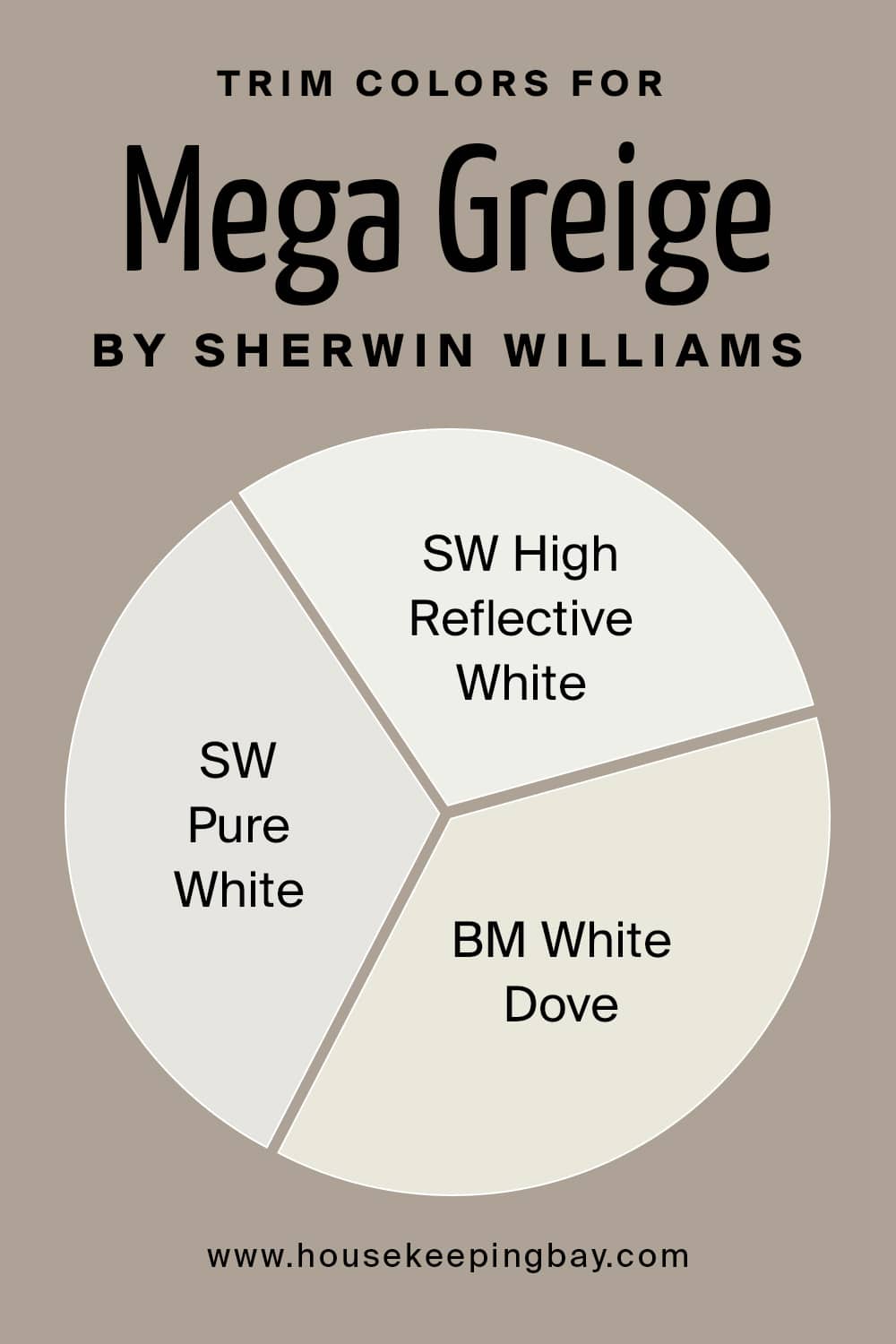 Coordinating Colors For SW Mega Greige Color
Picking the correct coordinating colors is a must if you want to create a harmonious and balanced color palette in your home. However, for most of us, it's pretty hard to choose the colors that will coordinate the main paint color on the walls perfectly.
To coordinate Mega Greige with other colors correctly, check out a few most fitting colors to use it with:
SW Windfresh White
SW Attitude Gray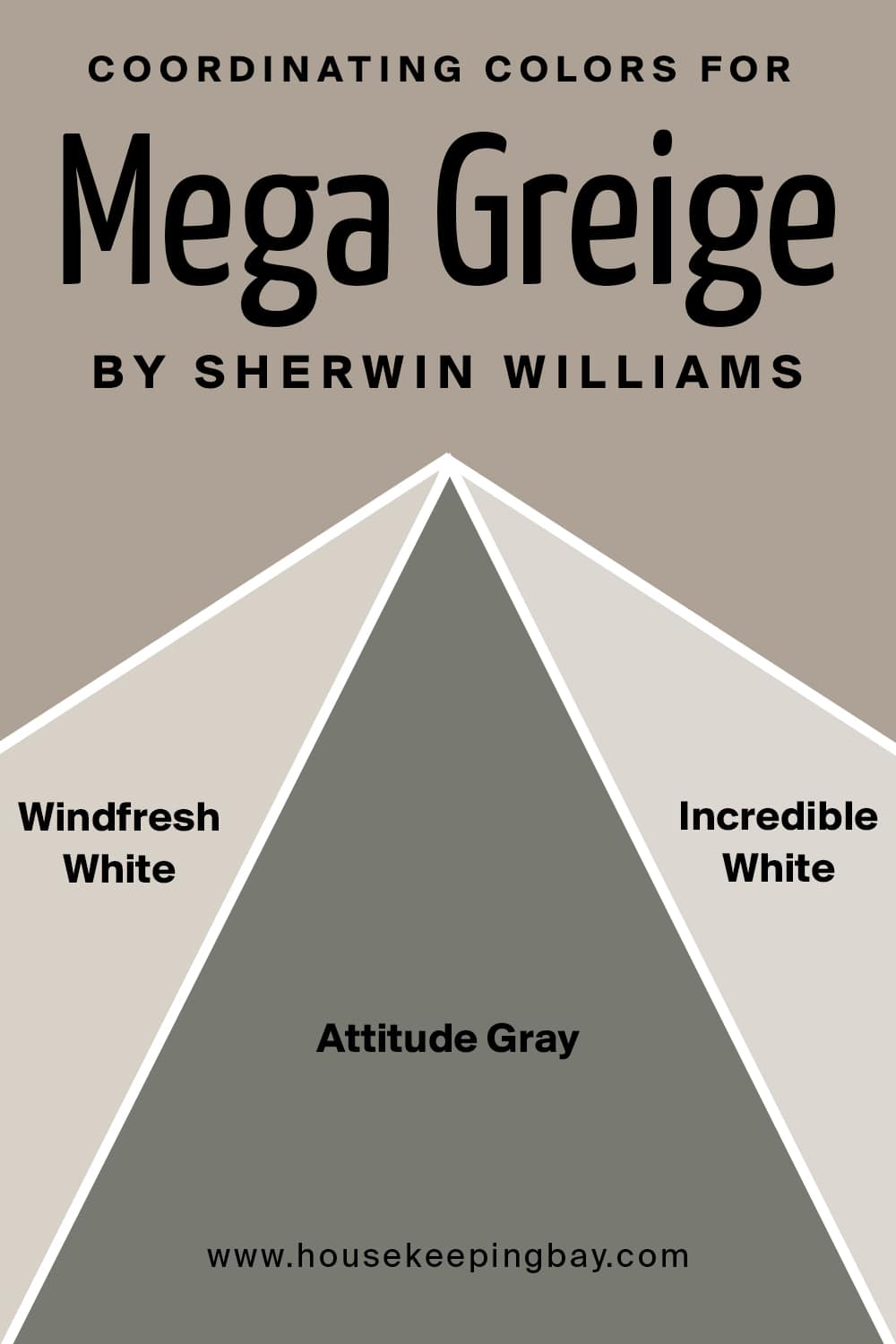 Paint Colors Similar to Mega Greige
Sometimes, it is good to keep a few alternative colors in mind that you can use instead of the paint color that you are planning to apply to your walls. This might be handy, for example, if you can't find exactly the color you thought of at the very beginning. Or if you decide to go for another, lighter or darker, alternative of the initial paint.
Anyway, being aware of similar paint colors is a good idea. In particular, even though these colors look similar, they might still differ in the undertones or reflectivity more or less. Thus, you will be able to find the most matching option for your interior color palette.
For the SW Mega Greige, you can try the following colors as similar ones:
SW Restoration
SW Taupe Tone
SW Perfect Khaki
SW Intellectual Gray
SW Gray Area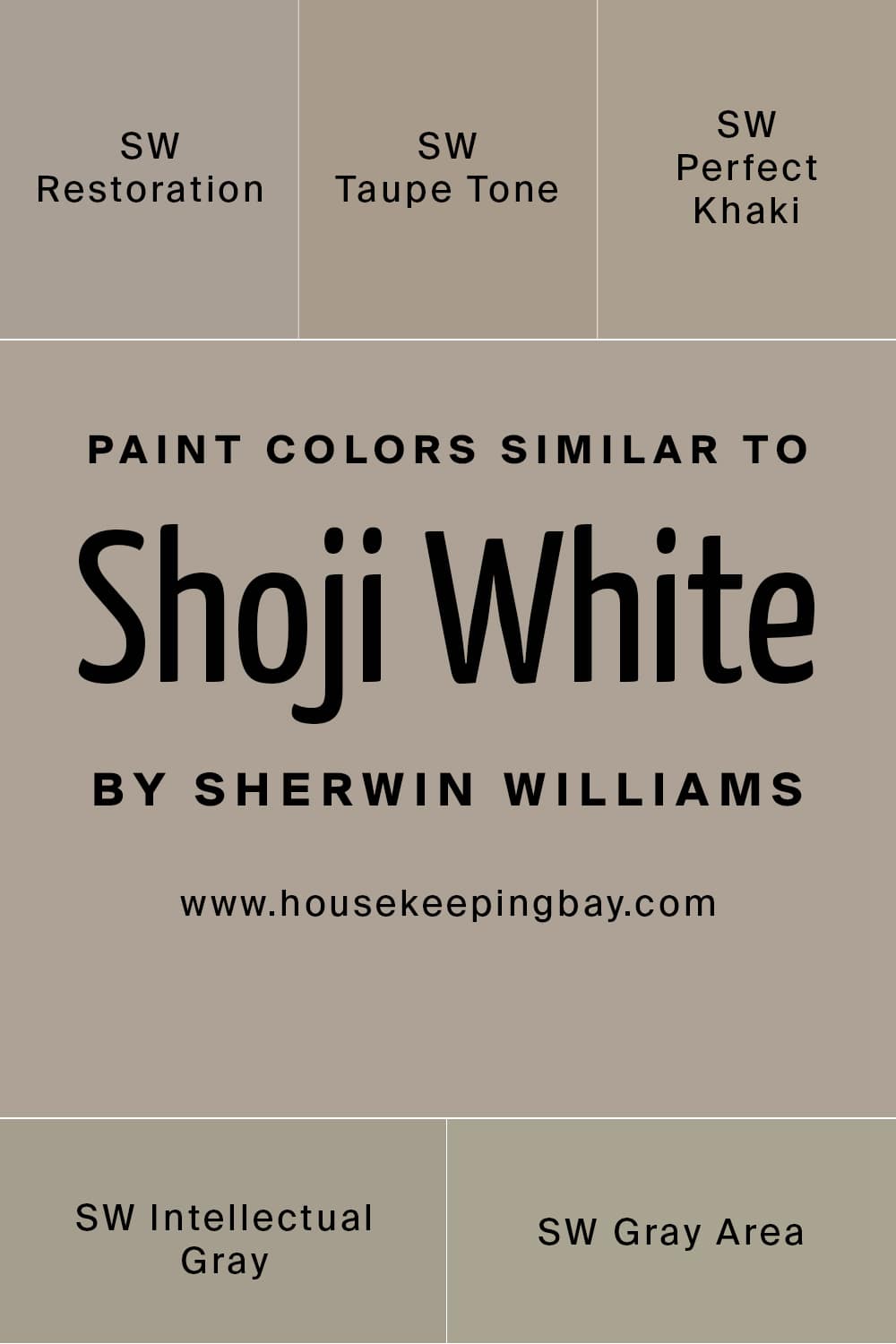 Colors That Go With SW Mega Greige
When you know what colors go well with the color of your walls, you can choose the suitable color palette for your interior. But if you are dealing with such a complex color as Mega Greige, you might need some help! So what colors will work and pair well with this warm and cozy greige?
SW Rookwood Dark Brown
SW Steamed Milk
SW Storm Cloud
SW Jubilee
SW Anonymous
SW Popular Gray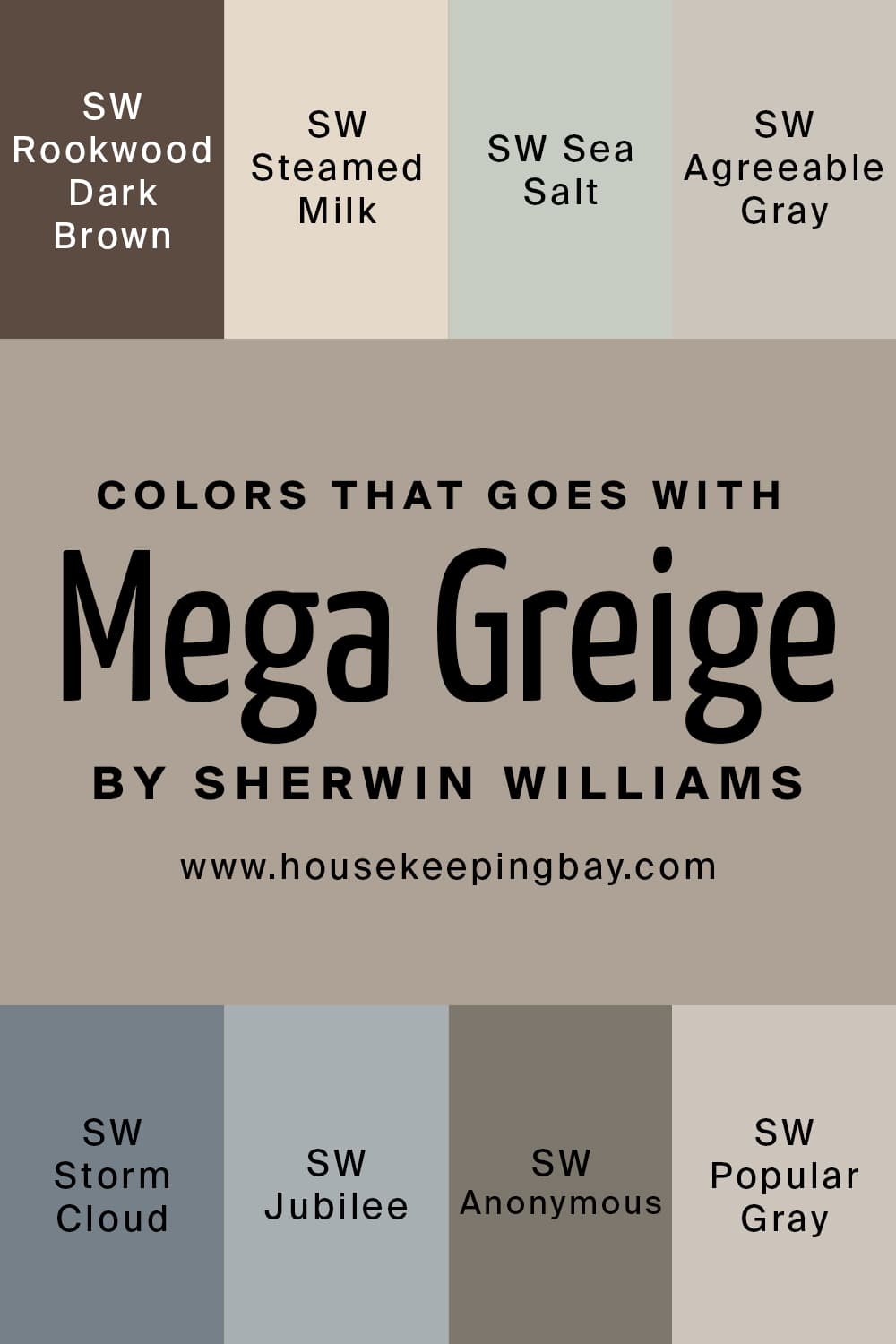 Comparing SW Mega Greige to Other Colors
To help you better understand and see the peculiarities and nuances of this wonderful and versatile color, we are going to compare it to a few other colors. Like this, you will be able to see the distinctions clearly. And of course, the best way to do it is by comparing the samples in a store!
Mega Greige vs Perfect Greige
These colors are so alike that you can use them interchangeably and nobody will even see the difference. But if you place them side by side, you will notice that Perfect Greige is somewhat lighter and it has more noticeable purplish undertones. Mega Greige, on the other hand, reads darker and deeper with more brown hue in it.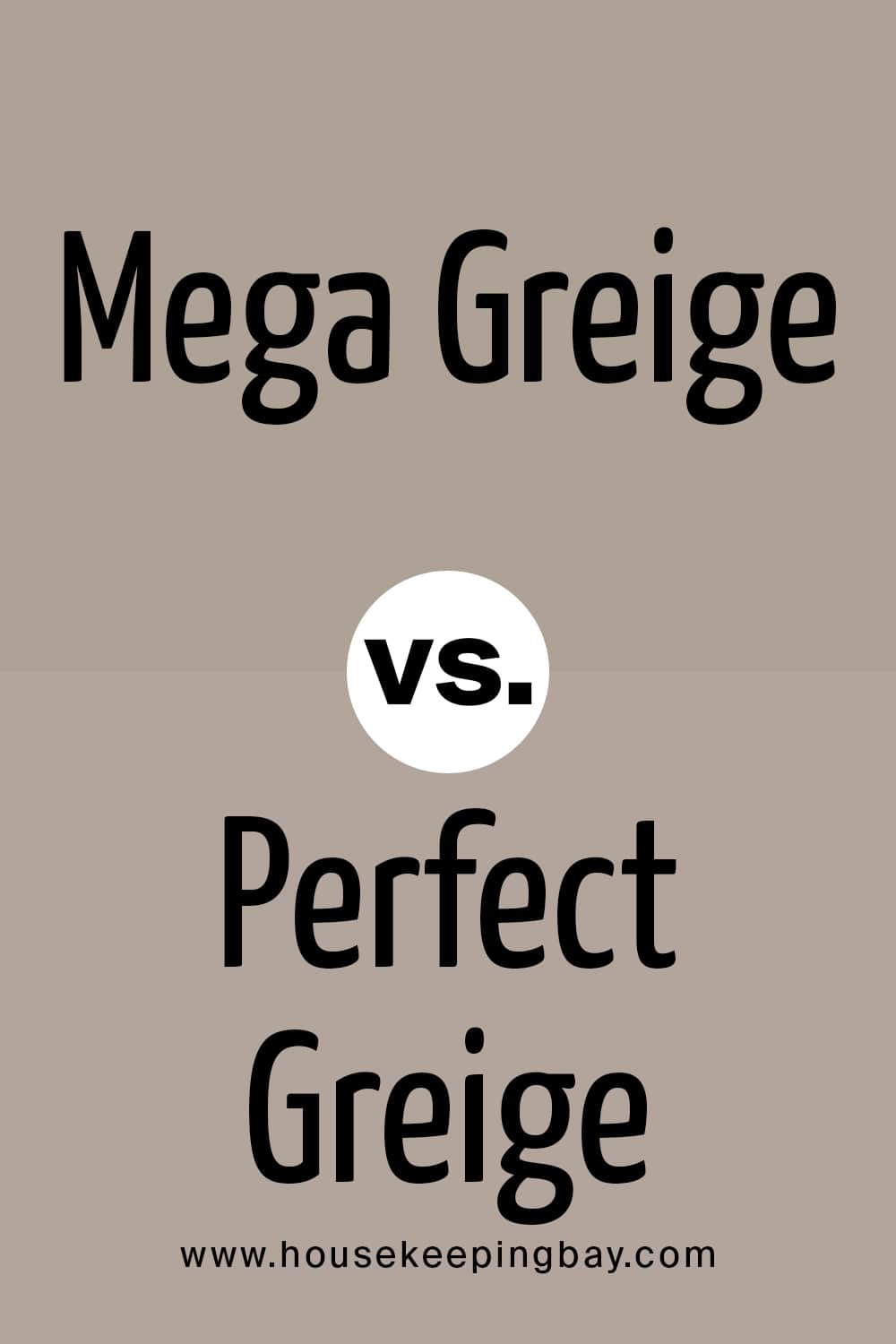 Mega Greige vs Agreeable Gray
These two look really nice together since they create a proper contrast. Mega Greige is darker with more brown in it whilst Agreeable Gray reads much lighter, revealing its gray side and a very slight, hardly noticeable greenish hue.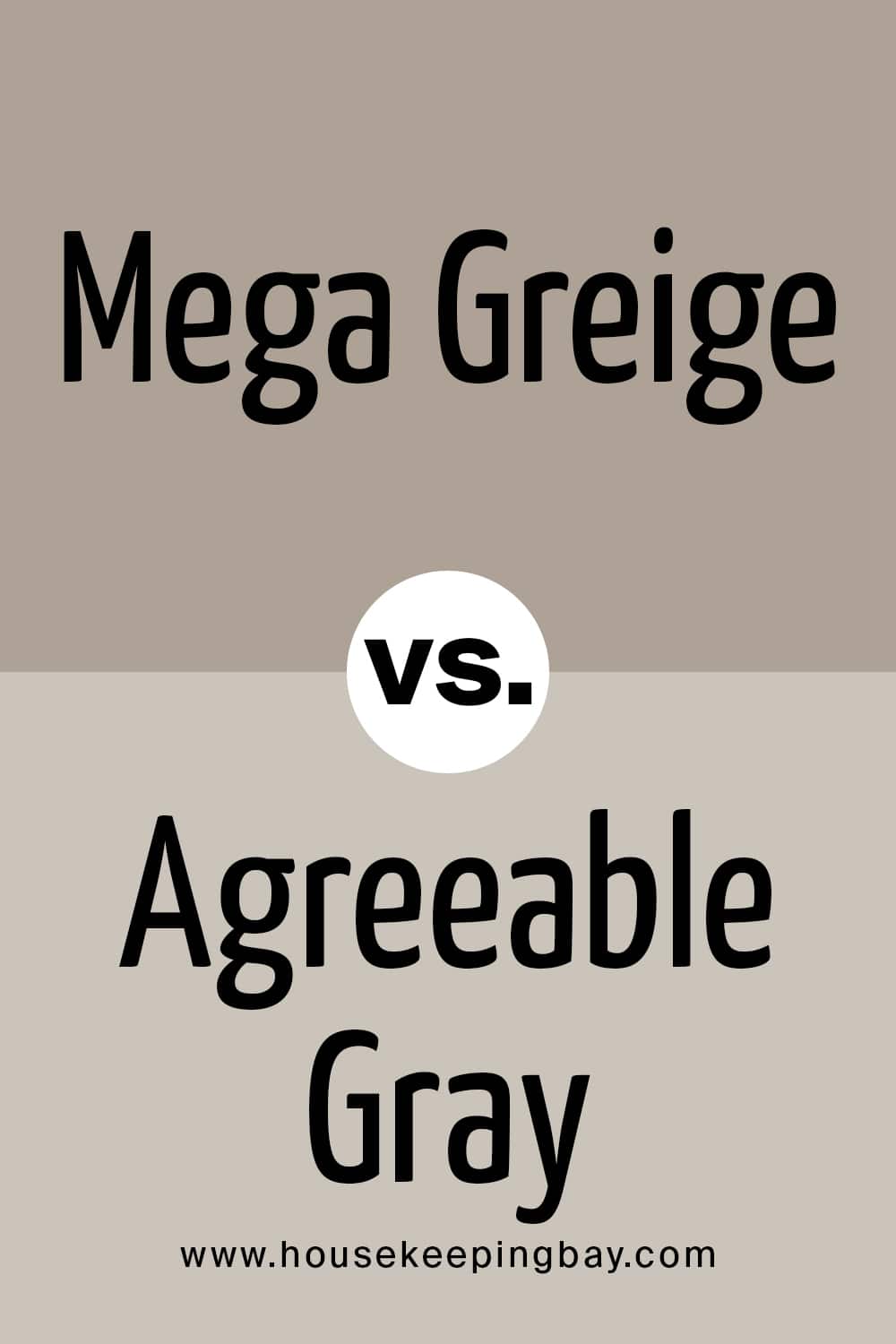 Mega Greige vs Dovetail
Dovetail is much darker than Mega Greige showing its gray undertones very prominently. In comparison with it, Mega Greige reads warm beige, ervealing a very slight hint of purpleness.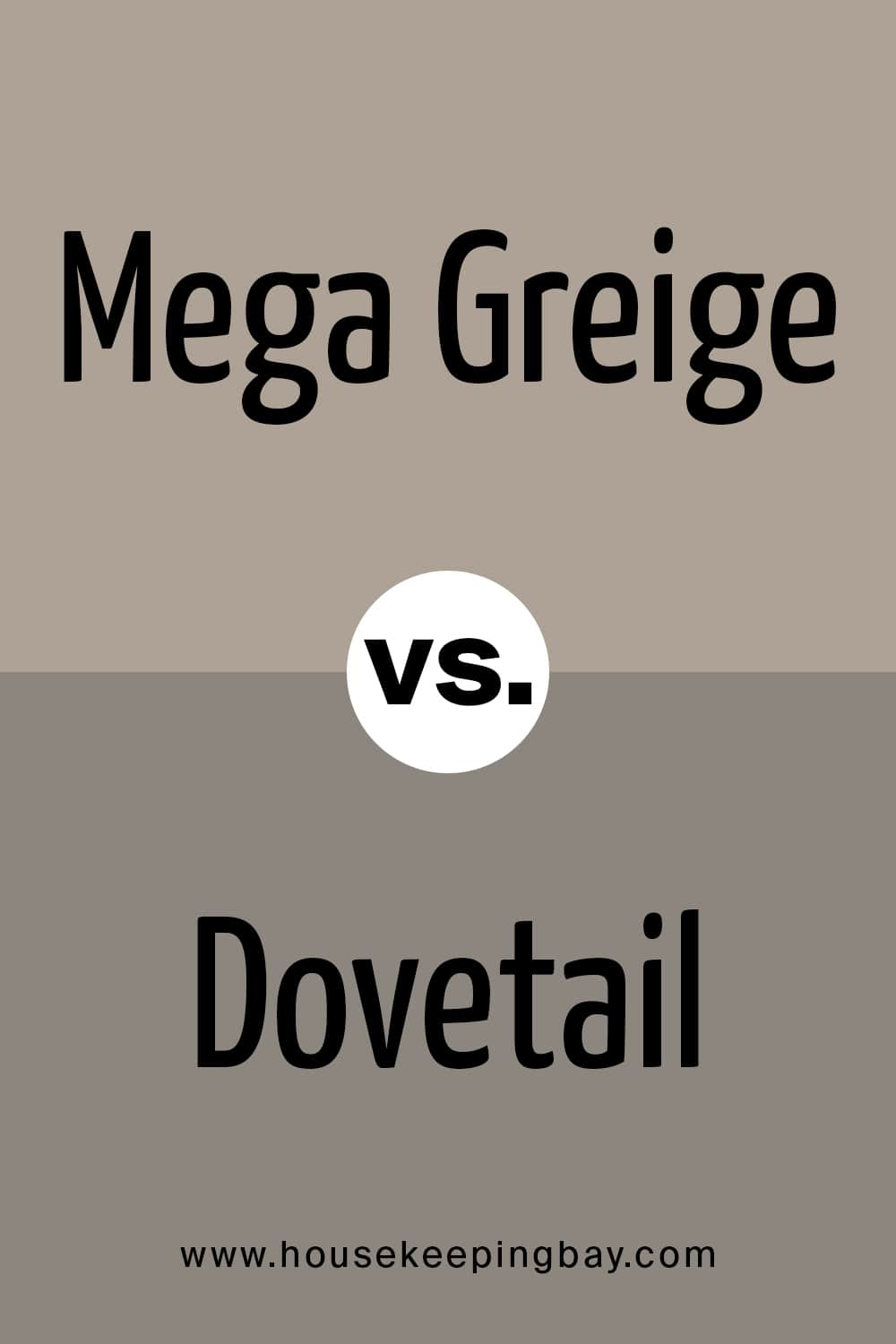 Mega Greige vs Revere Pewter
Revere Pewter has yellow and beige undertones though this color doesn't read literally yellow of course. But in comparison with Mega Greige, it does show a slight yelloness. But since both colors have beige in them and both are warm-toned, they create a harmonious tandem and can be used in the same space.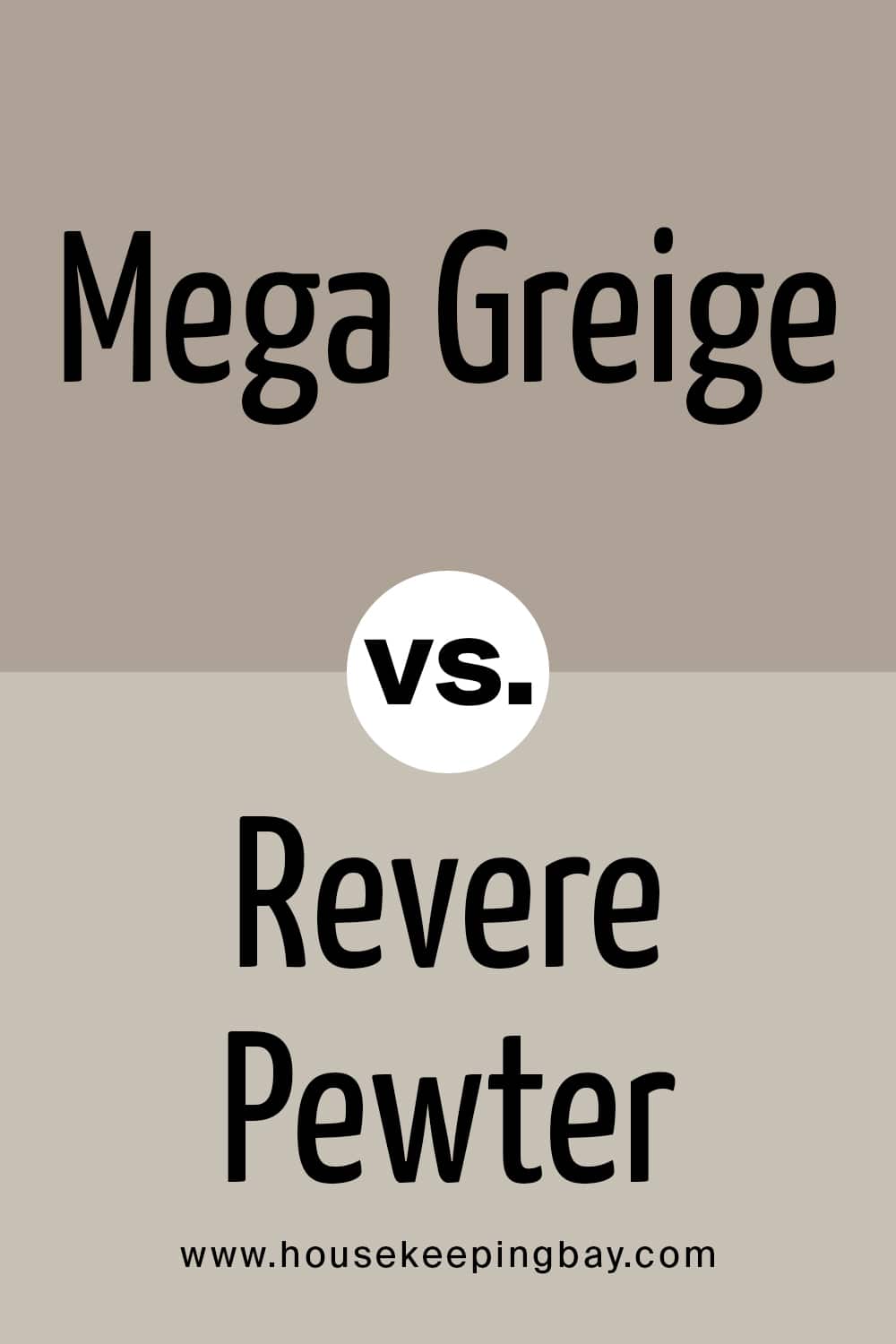 Mega Greige vs Anew Gray
Both colors are greige which makes them pretty close to each other. Also, they have similar undertones: Anew Gray has beige and gray undertones and Mega Greige has very little undertone in it that makes it pretty neutral. What also makes them related is that slight hint of purple that both have.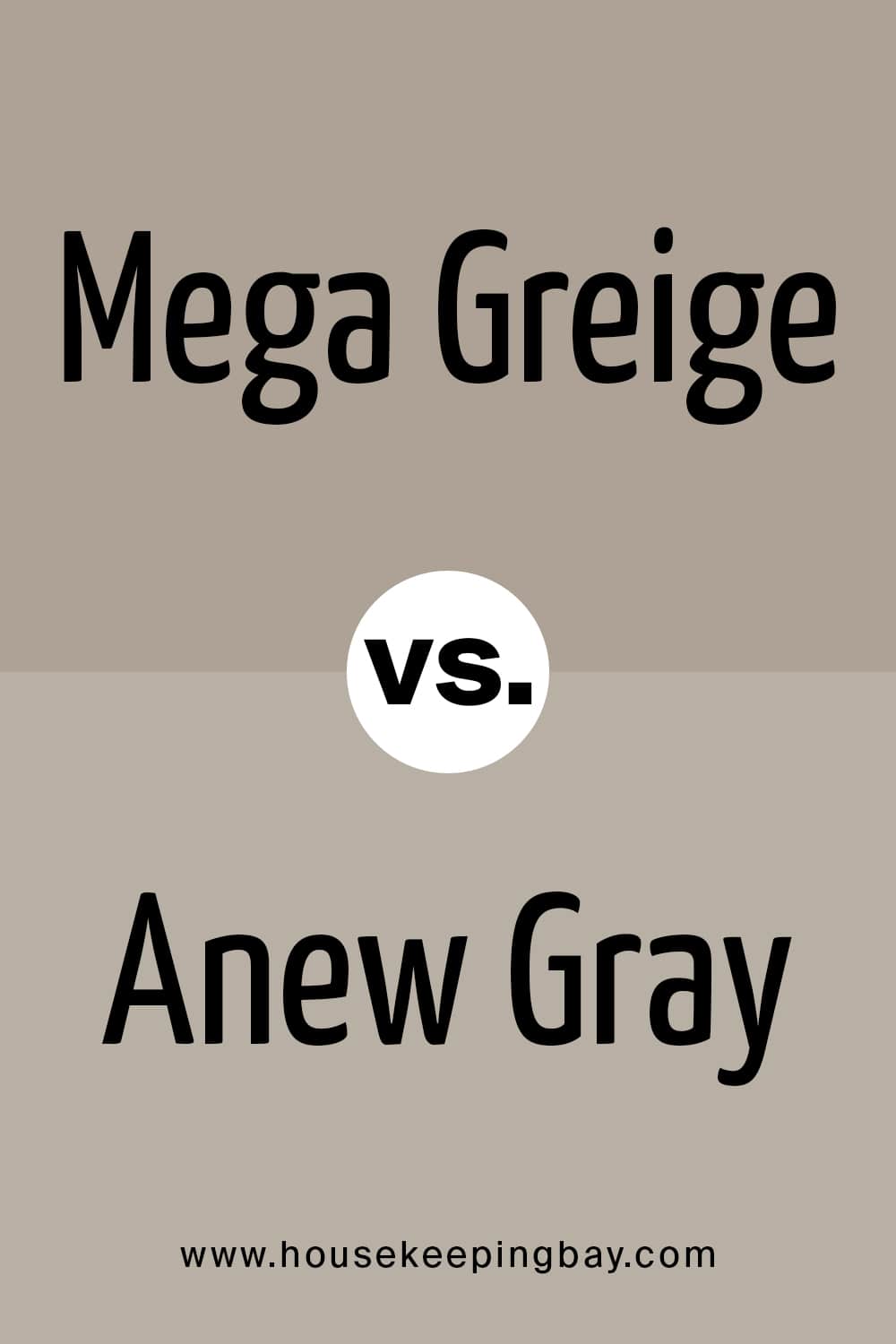 Mega Greige vs Tony Taupe
These colros are rather different. Tony Taupe has deep red undertones that are perfectly seen if you place this color sample side by side with the sample of Mega Greige. In its turn, Mega Greige reveals its purple side more noticeably.
Well, now you know all the basics regarding the Mega Greige color "anatomy". You know its undertones, its LRV, coordinating colors and more. You also learned how this color may react to light in different rooms and how it reads when paired with other similar colors.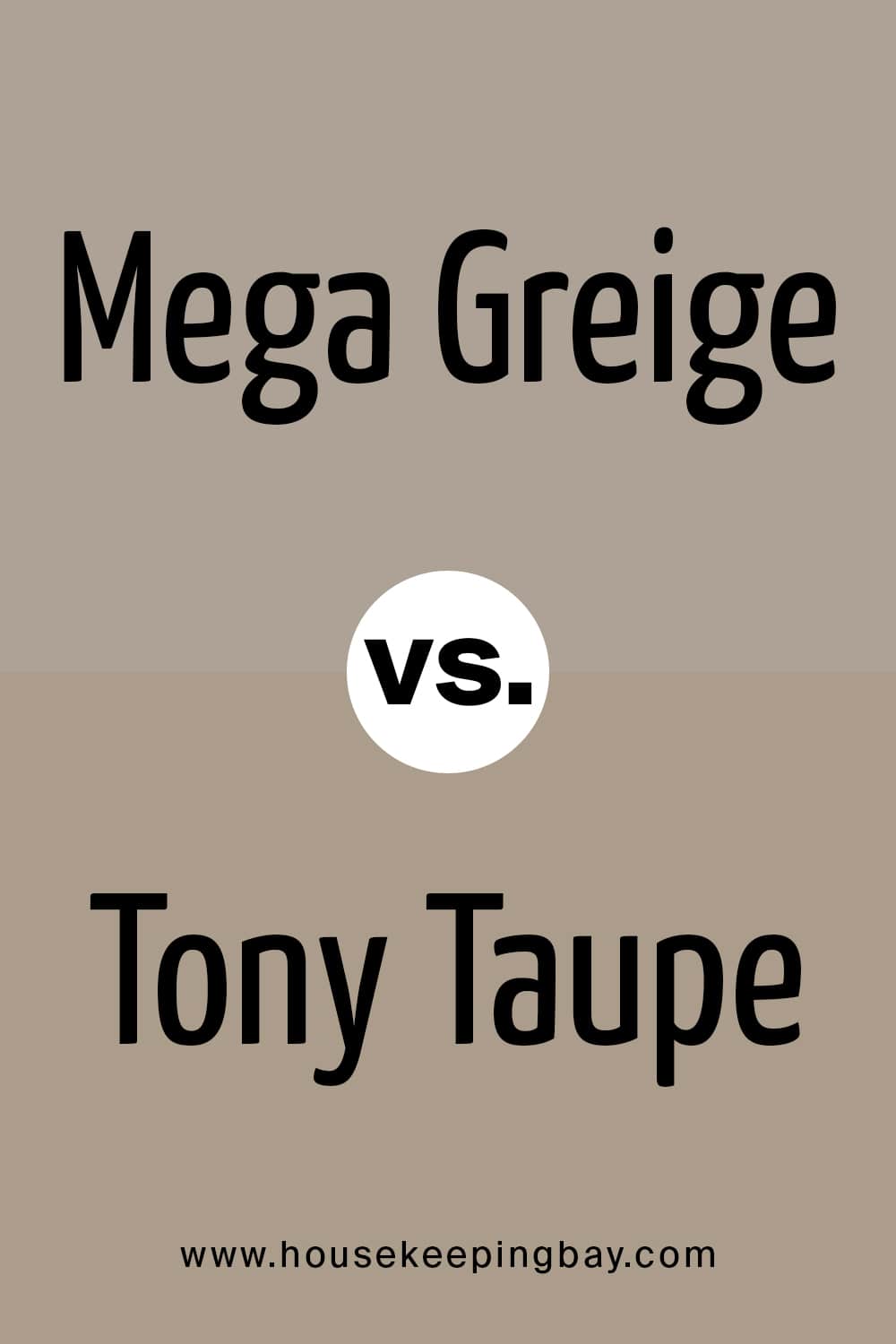 Where to Use Mega Greige Color In Your Home?
Despite being rather complex and even tricky sometimes, Mega Greige is surprisingly versatile! It can be used in different areas of your home, and we suggest you learn more about each of them.
Mega Greige in the Living Room
This color can read beautifully in your living room if you consider the lighting there. See, this color will read differently depending on the type of lighting in a room.
For example, if you have cool northern light in your living room, Mega Greige will still read warm color without getting cold. In a south-facing room or room with western afternoon light, Mega Greige can, however, lean into its warm side a bit more.
But if the light is very cool-toned in your living room, you should expect this greige to show its greenish undertones more prominently, which may not be what you'd like to see!
If the room is very small and has very poor light, this color can even read almost green! In a living room with warm bulb light, it will look warmer, leaning more to its beige side though.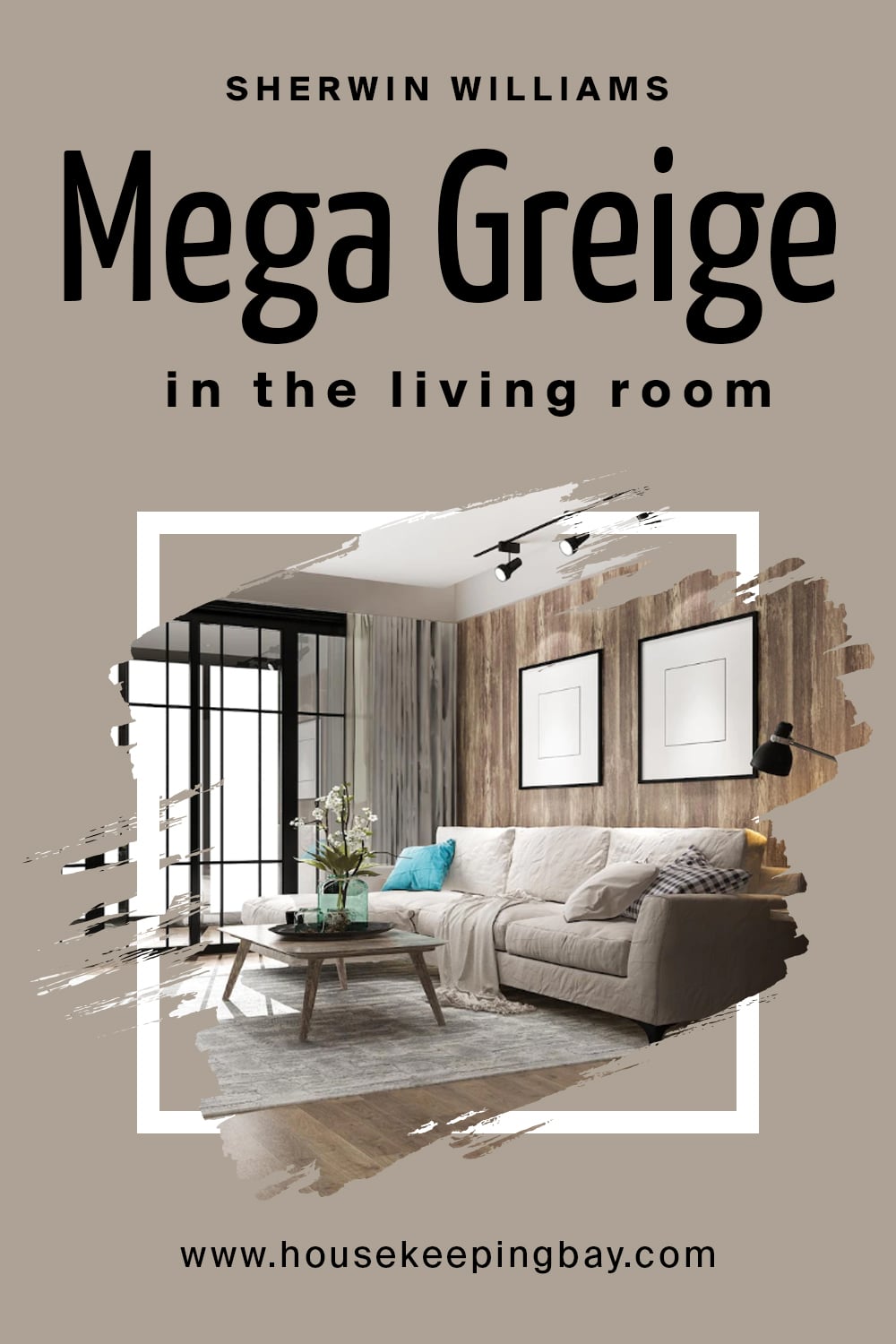 Mega Greige in the Bedroom
This color is quite nice for bedrooms, but only if the room has plenty of natural light and is well-lit in the evening too. Otherwise, you should expect the color's undertones to pop up suddenly, leaving you with the most unexpected color effect on your walls!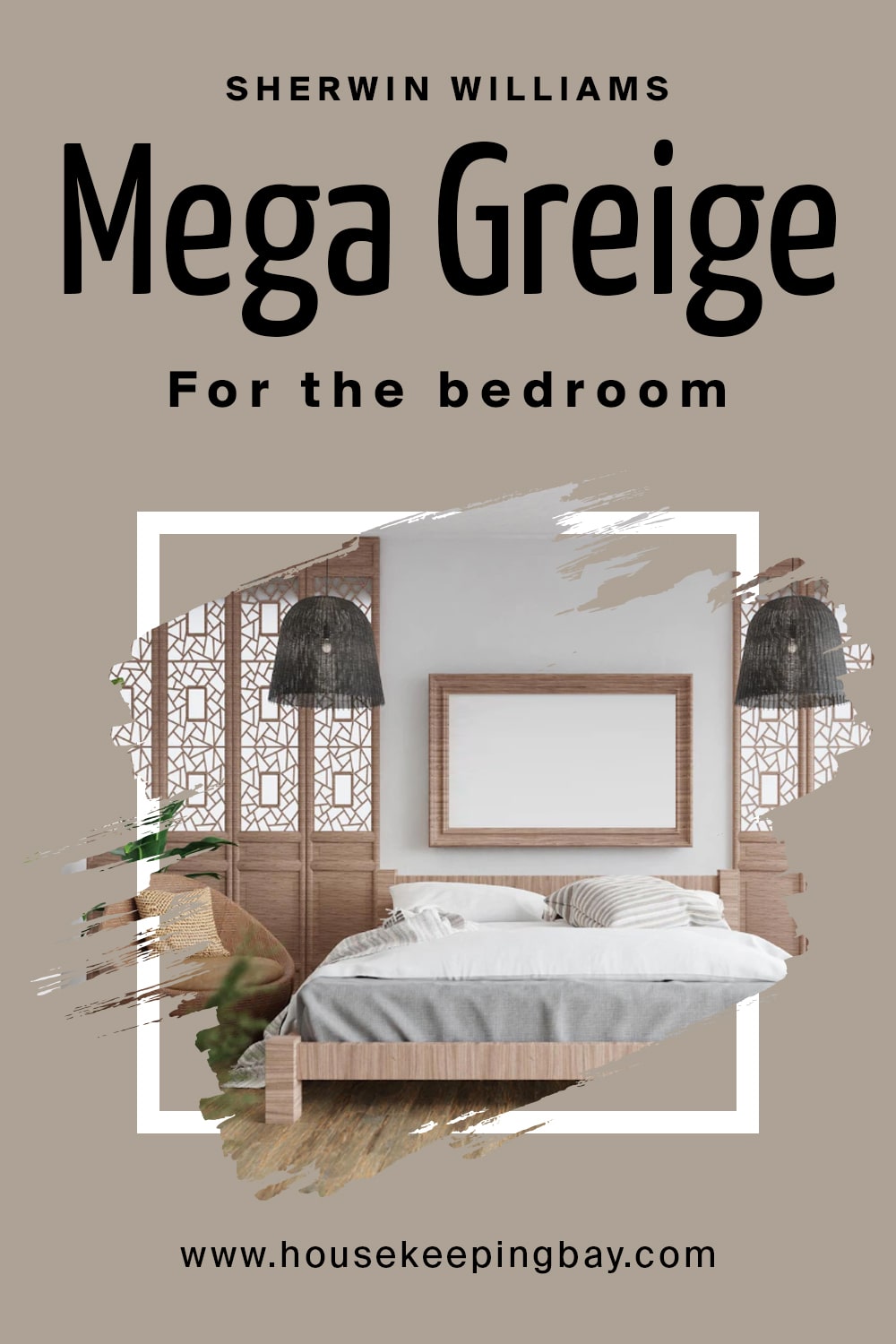 Mega Greige in the Kitchen
Can you use Mega Greige in your kitchen? Of course you can! The good news is that it can be used anywhere in this room, even on all the walls. However, if your plan is to paint your entire kitchen with it, make sure it's properly lit!
Otherwise, you can always use Mega Greige on kitchen cabinets and drawers, or paint an accent wall with this color.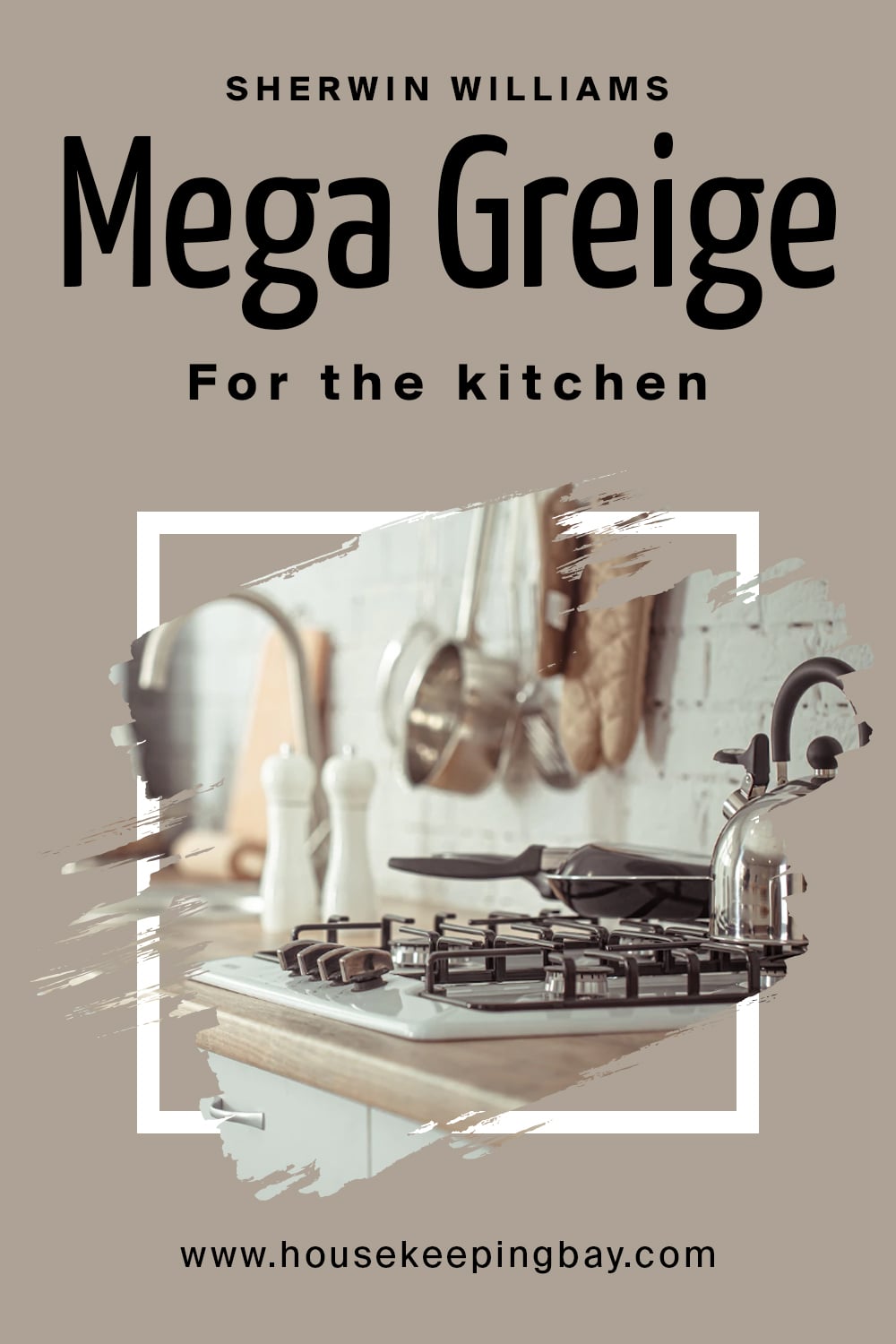 Bathroom
Your bathroom can win or loose with Mega Greige paint color on its walls. See, everything depends on how well it's lit. If your bathroom is spacious enough and has plenty of daylight, feel free to use Mega Greige on its walls. But if the space is small and/or has poor lighting, you'd better search for a lighter color option instead.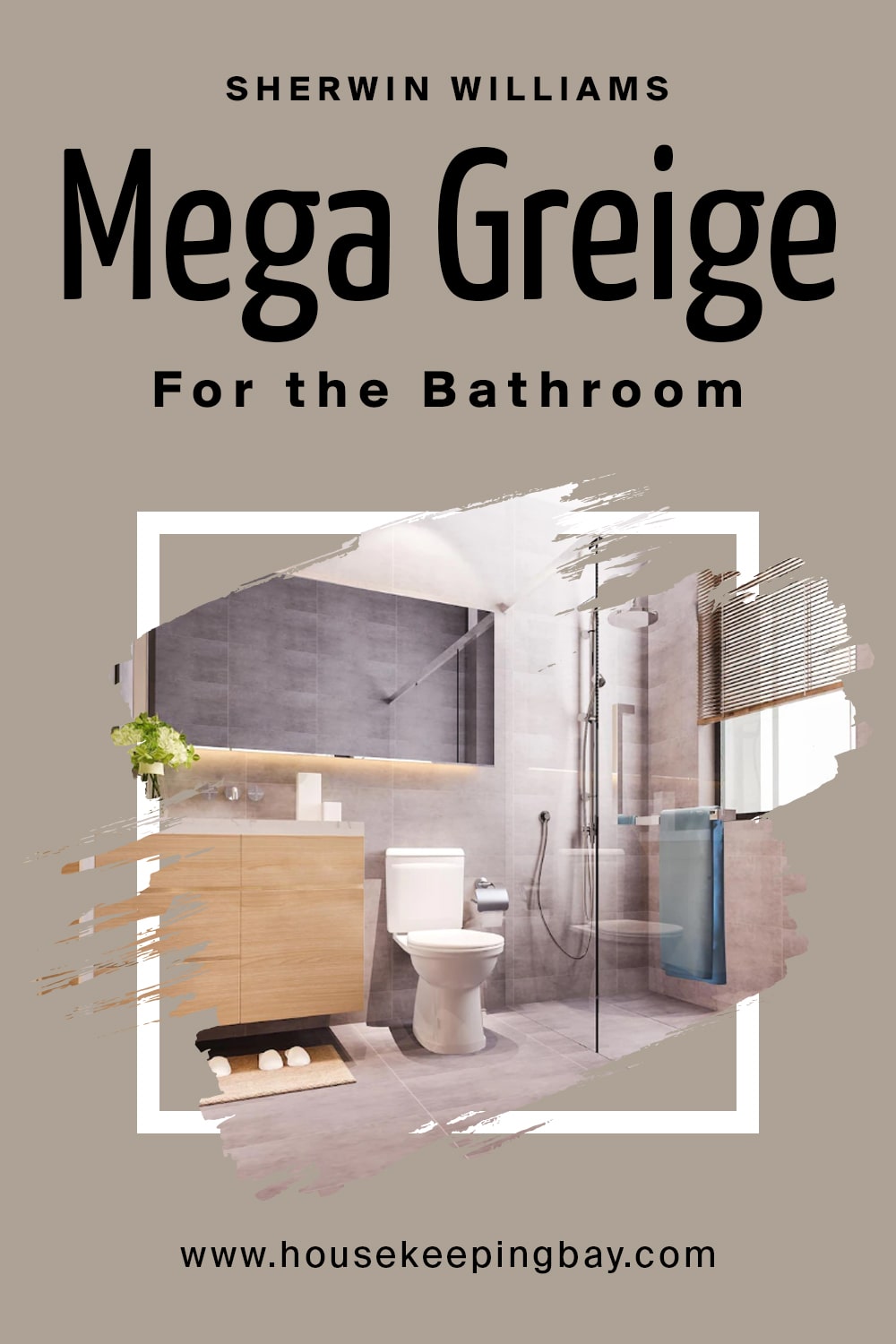 Mega Greige for the Exterior Use
Mega Greige will always be a good option for exterior use. Of course, depending on the amount of light, it may read lighter or darker, showing more beige or green undertone, but in general, you should not expect anything surreal from this color!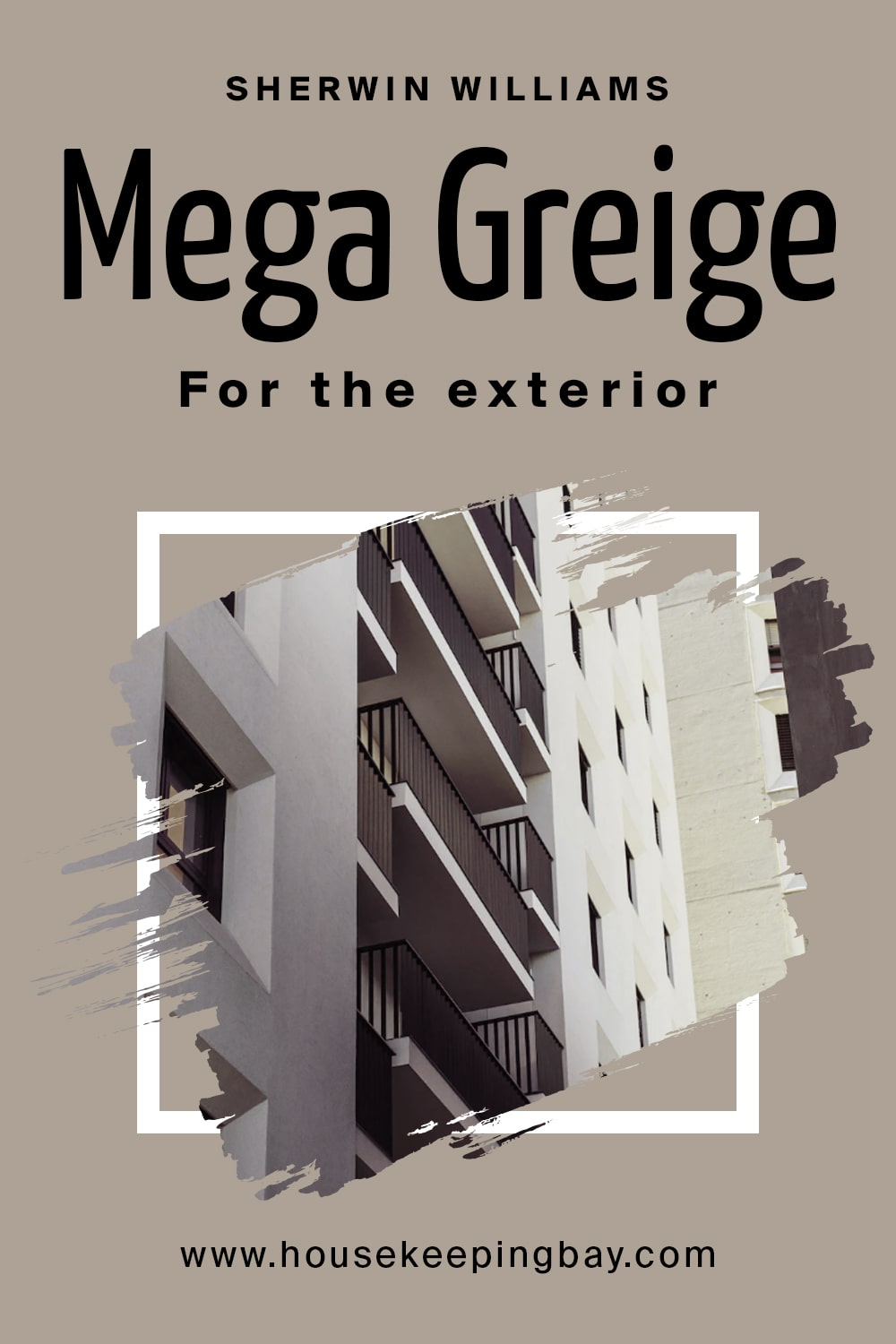 So, now you know almost everything about the Mega Greige paint color by Sherwin-Williams. And since you are aware of its undertones, trim colors, colors that go well with it, as well as the way this paint reacts to light, you will be able to choose the most matching color palette for your interior if you decide to use this wonderful warm gray.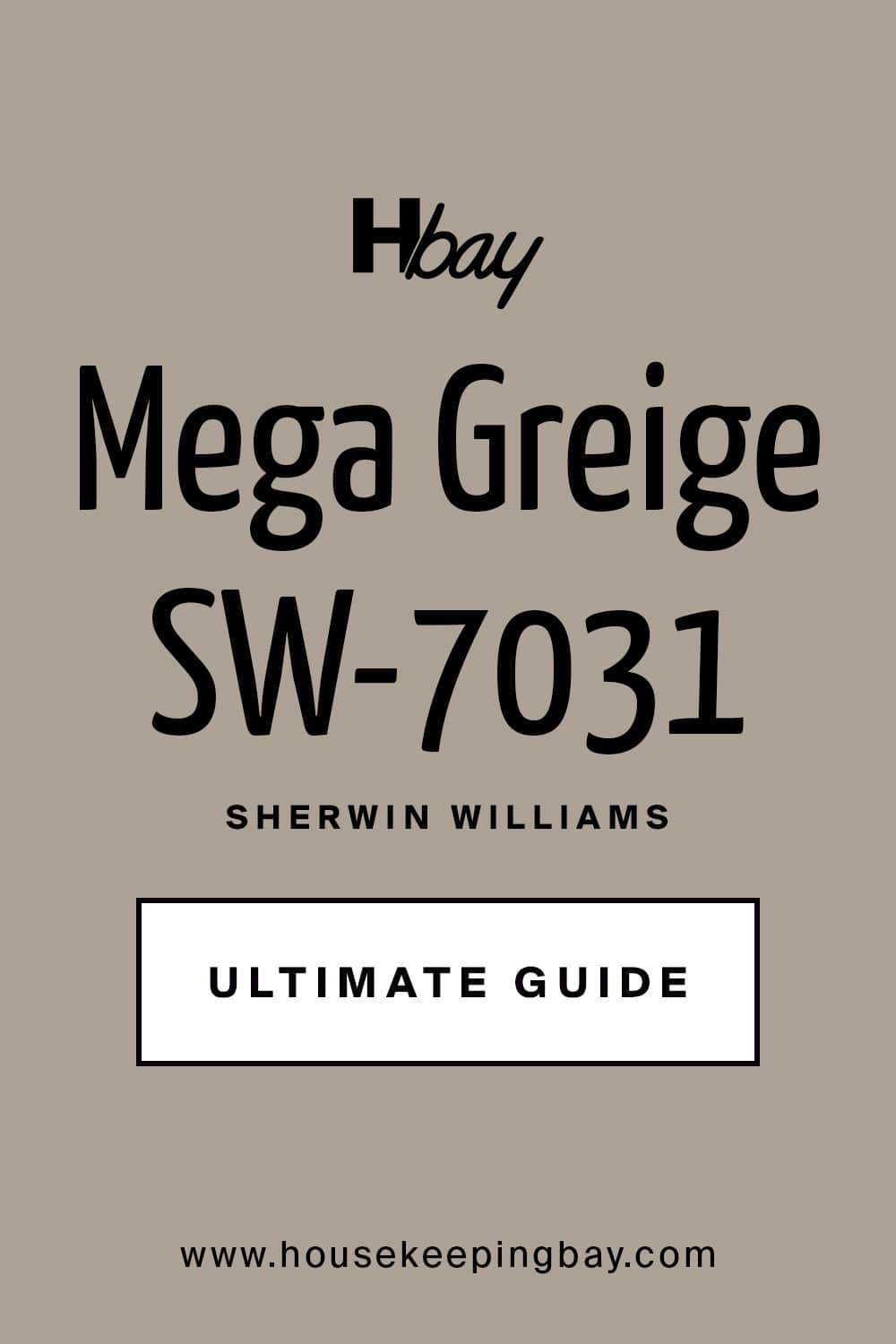 Frequently Asked Questions
⭐Will this color look good on kitchen cabinets?
Absolutely! Especially if your kitchen is well-lit and there is white color in it as well.
⭐Could Mega Greige read purple on the walls?
No, it can't read purple. This color has a very slight hunt of purple which is rarely seen.
⭐Is it possible that this color read green on my exterior walls?
It will hardly read green but it can reveal its greenish undertones quite significantly!