Working with paint colors is not that easy as it may seem at first sight. To be able to correctly pick up and use colors, you need to be aware of quite many things regarding how different colors work together, what to consider before combining them in the same room, and others.
This is why the majority of us, being quite far from even the basic understanding if such things, find it quite complicated and even challenging to deal with paints.
Fortunately, there is a group of colors that can become your beacon of salvation if you start feeling way too frustrated when in need of choosing what color to apply onto your walls.
Yes, we are talking about greiges! For instance, Perfect Greige by Sherwin Williams. Just like the rest of such colors, this one is pretty versatile in use which makes it a homeowners' staple and favorite for many years already.
However, like most of the greige colors, SW Perfect Greige also has its secrets and tricks! And today we are going to unveil some of them for you to make it easier to decide whether this color is exactly what you are looking for, or not.
What Color Is Perfect Greige By Sherwin Williams?
Before we dive into the mysterious and extremely interesting (and complicated) world of paint colors, and into the Perfect Greige in particular, let us provide you with a bit more detailed information on this color by Sherwin Williams brand. Like this, you will be able to better understand certain nuances of this paint.
So, Sherwin Williams Perfect Greige belongs to the group of greige paint colors as you could already guess from its name. What are those greiges, you may wonder? As Encycolorpedia says, they are the paint colors that combine the features of both grey and beige colors which makes almost each greige a very universal color with quite a vast area of application.
Perfect Greige is not an exception. It can become your number one choice in case you are looking for a paint color that is a warmer version of gray. Or if you need the gray paint color that has rather bright red and pink undertones.
That's because Perfect Greige has them all!
No wonder this color got such a name since it is really an ideal and perfect version of greige that is literally timeless and that looks beautiful and stylish in each and every interior design and style.
SW Perfect Greige is a mid-toned paint that exhibits a pure clean and creamy texture. It has that cozy yet bold touch with an ideal amalgamation of cool gray tones in it, as well as red-based beiges, that looks astonishingly perfect on almost any wall!
This is actually the reason why so many homeowners become true and devoted fans of this paint color after they try it once on their walls.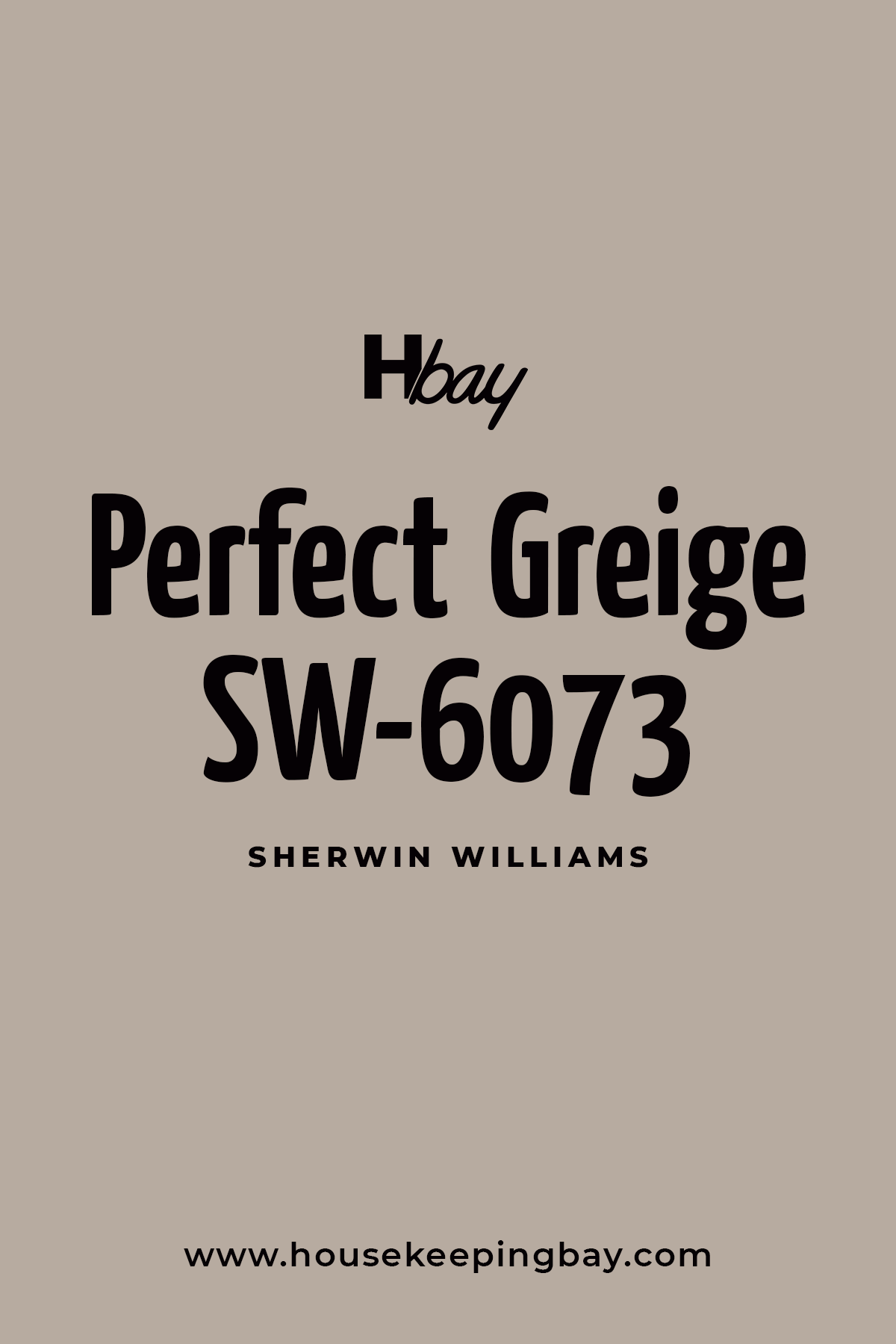 Is Perfect Greige SW-6073 Warm Or Is It Cool?
Deciding on whether the paint color you are going to apply in your rooms will be warm or cool matters a lot since it will influence the future look of the living space greatly. So if the surrounding atmosphere matters a lot for you, you might be pretty concerned about the coolness or the warmth of certain paint colors.
As for the Sherwin Williams Perfect Greige, it is surely a warm color. A warmer version of gray, to be more precise. This becomes possible thanks to its creamy texture and red-toned beiges it contains. Because of this, the paint is able to look very cozy and warm on the walls even though it displays its basic tone which is still gray.
What Are the Undertones Of Perfect Greige By Sherwin Williams?
Not all of us know about this tricky feature of greiges, but when dealing with any color that belongs to this color family, you must always remember of its undertones! See, greiges normally contain several of them, and those hidden tones may show up rather unexpectedly turning your room into a completely different thing than you expected it to be!
And since some paints have rather clear undertones that can be seen from the very beginning, others are way less "human-friendly" and they reveal their true nature only in certain types of lighting, for example.
As for the SW Perfect Greige, this paint color has slightly mauve undertones that may look a bit pinky with a very delicate purpleish hint in certain lighting. But don't be afraid of such a description! This color will reveal itself wonderfully anyway!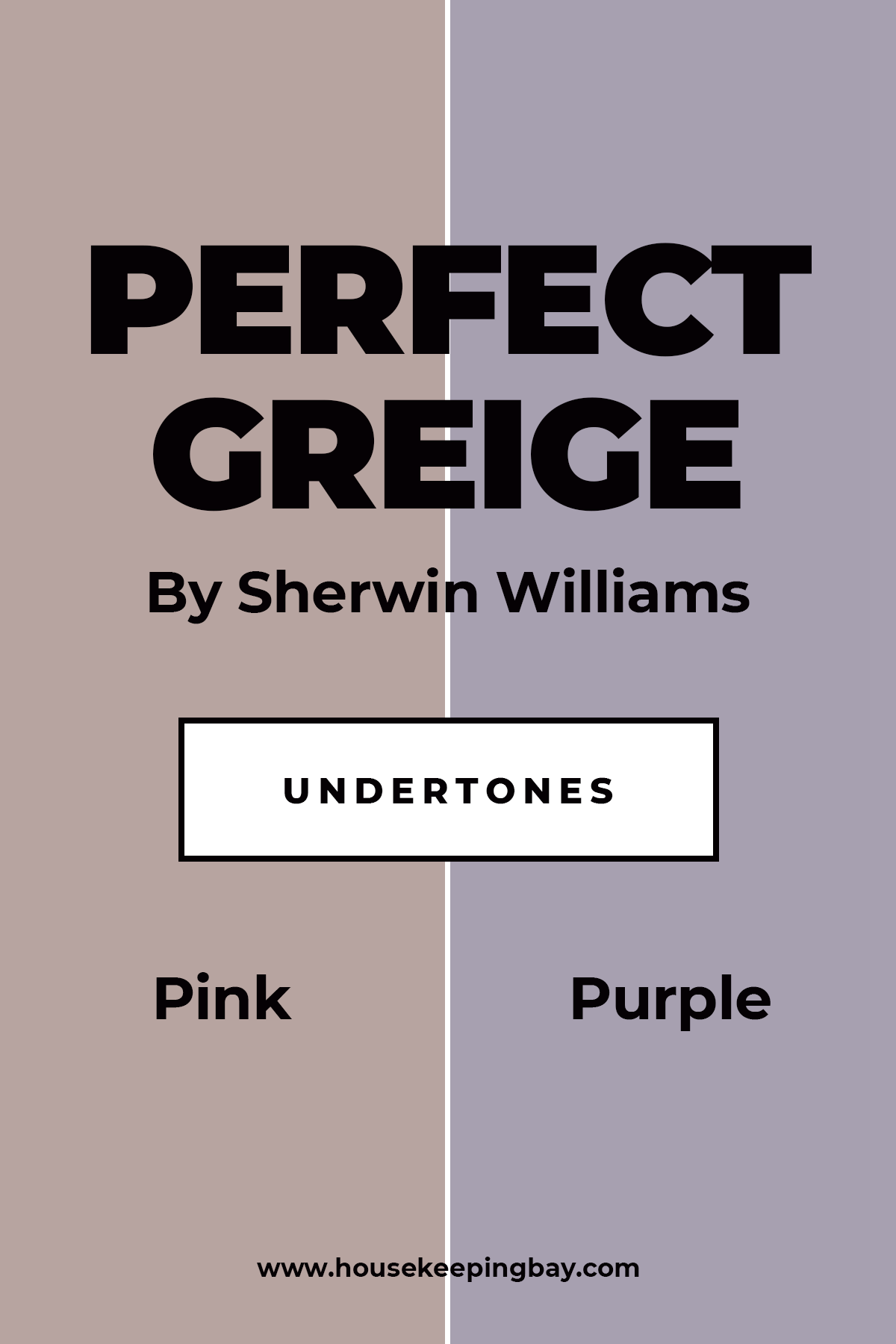 How Does Lighting Affect Perfect Greige SW-6073 On the Walls?
If you decide to apply greige onto your walls, you will have to take the lighting into consideration anyway. Since these colors have tricky undertones that tend to turn a seemingly simple color into a chameleon in disguise, knowing for sure what it will look like in daylight or in artificial light will allow you to predict what the whole room of yours will be under the different conditions.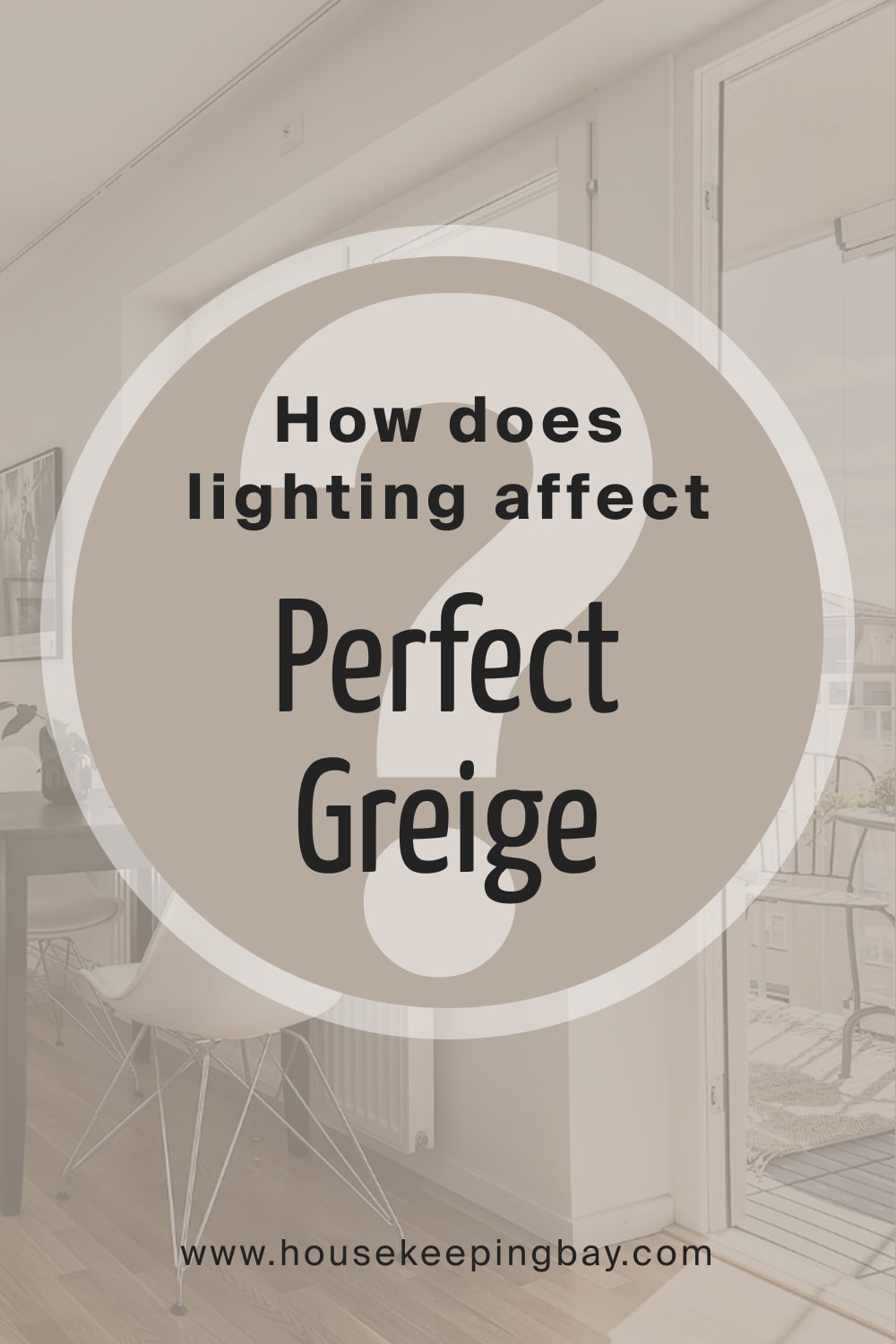 So what about the Perfect Greige, you may be wondering? Well, this color's light reflectance value (LRV) is 53 which means that it is neither too reflective nor too perceptive being somewhere in the middle of the scale. In simple words, it is neither too dark nor too light.
This is why in a room that lacks natural light, SW Perfect Greige will look more like a darker paint color.
So if you were thinking of painting a small space with it, you'd better opt for a lighter shade to be honest.
However, in a room that has enough daylight or even artificial light, SW Perfect Greige will look just…well, perfect! Meaning that it will not make the space look more spacious or lighter. It will just enhance the room's appearance. So if you are looking for a paint color to make the space look and feel just how it is, SW Perfect Greige is an ideal choice for this purpose.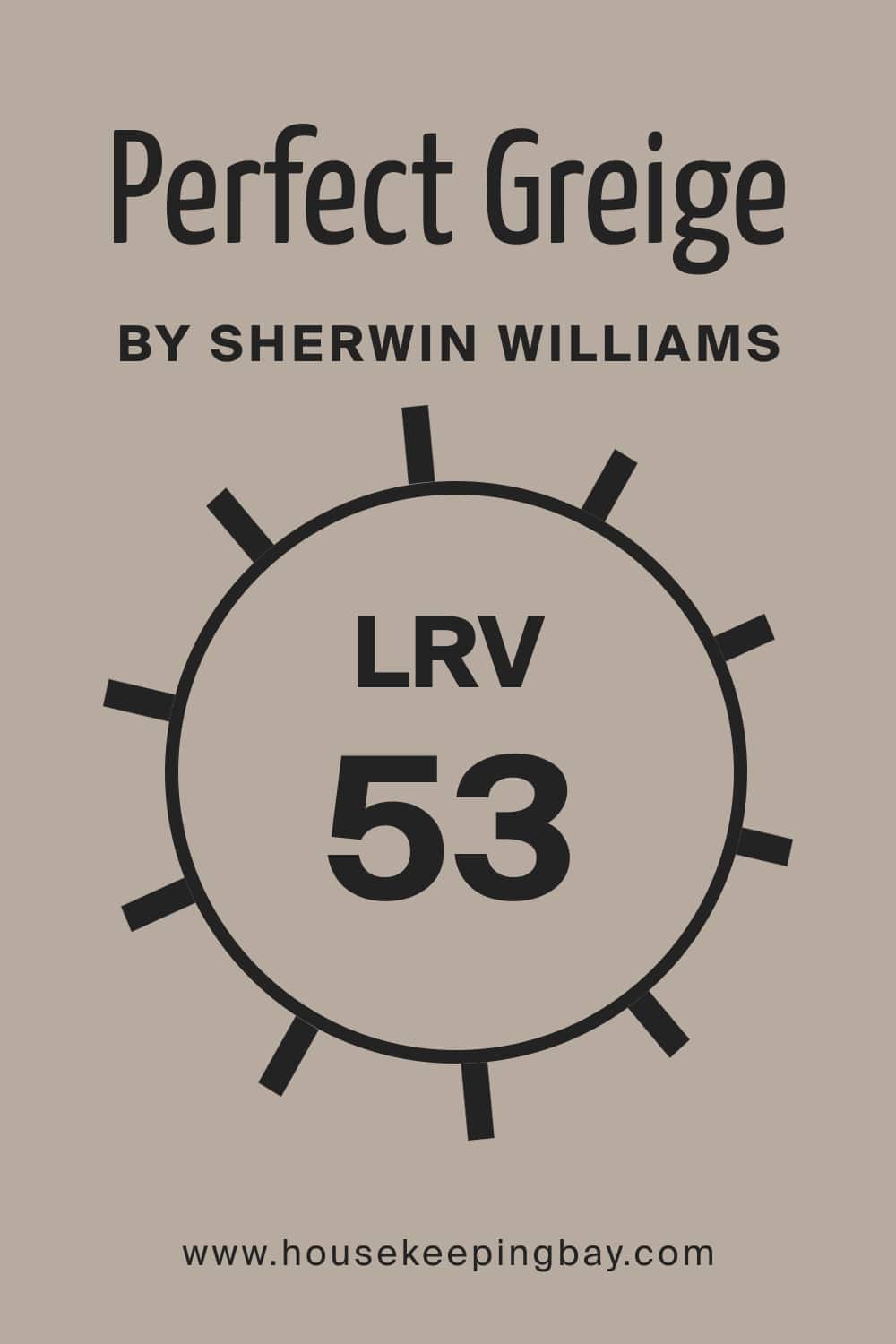 What is LRV? Read It Before You Choose Your Ideal Paint Color
What Are the Best Coordinating Colors For SW Perfect Greige?
Coordinating colors help you to make your living space look more varied and vivid by combining several paint colors in one room. This is why, if you know you don't have an eye for colors and shades, we recommend you learn what coordinating colors your paint has to make the right choice.
In general, you can choose coordinating colors either from a monochromatic or from a contrasting color palette. It depends on the interior design style of your living space.
Taking the saturation and undertones in consideration, the best colors to coordinate might be off-whites, lighter beiges, mauves, blushes, and also warmer whites.
So what paint colors will suit SW Perfect Greige better than others? For a monochromatic palette, we would recommend you the following color options:
SW 6071 Popular Gray
SW 6072 Versatile Gray
SW 9169 Chatura Gray
As for the contrasting color palette, your room could win from the use of such coordinating colors as:
SW 6242 Bracing Blue
SW 6070 Heron Plume
SW 6044 Doeskin
And if you are also looking for an ideal paint color to trim or to paint your ceilings or moldings, stick to SW Pure White since it is a truly universal solution for those who want to get a creamier look! But for a crisp look, you will like SW High Reflectance White much more.
Perfect Greige SW 6073 Painting Walls Sherwin-Williams Paint Colors
The Optimal Trim Color To Use With SW Perfect Greige
Trims go exceptionally well with greiges (or, well, greiges go exceptionally well with trims). Anyway, when it comes to choosing a paint color for trims, white paint is always the optimal choice. In case of using SW Perfect Greige, we can recommend you SW Pure White as a trimming color. It will create that creamy and soft look perfectly.
But in case you need a white color that will provide you with a crispier look, better stick to SW High Reflectance White!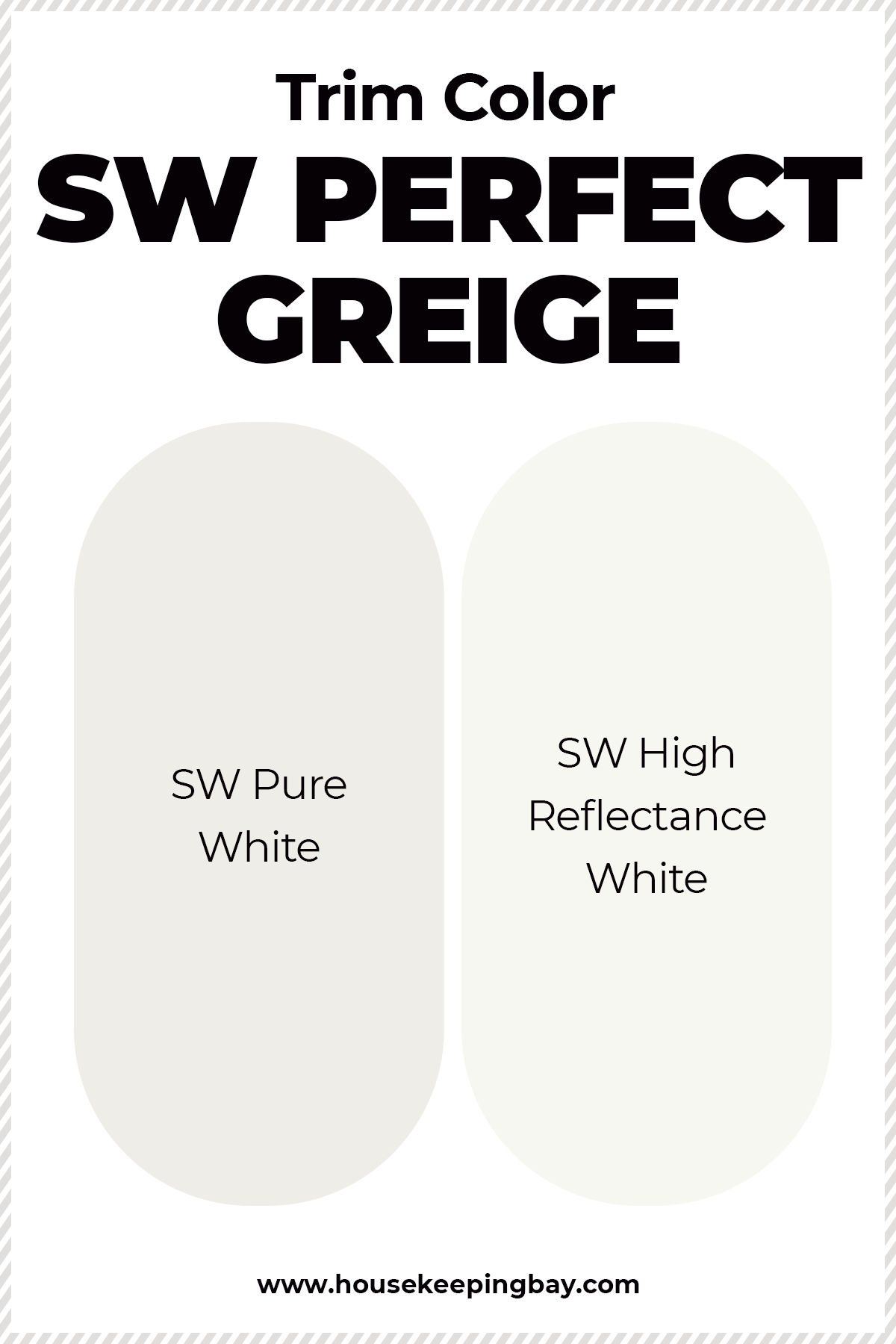 Are There Any Similar Paint Colors to Sherwin Williams Perfect Greige?
Similar-looking paint colors usually differ from each other either in undertones or in their lightness. And if you are looking for a color that is as similar to SW Perfect Greige as it is only possible, you can undoubtedly choose from one of these:
SW 6080 Utterly Beige
SW 7037 Balanced Beige
Of course, you shall realize that none of them is completely the same as Perfect Greige, but at least they will look very much similar to it on your walls.
For instance, if you compare Perfect Greige and Utterly Beige, you will see that the LRV of Utterly Beige is 39 which is less than LRV of the Perfect Greige which is 42. Also, Utterly is a perfect beige with that wonderful orange-toned hue!
What makes these two different is their undertones. Perfect Greige has quite a noticeable touch or gray and beige in it whilst Utterly has orange and beige undertones.
As for the Balanced Beige whose LRV is 46, this neutral is basically an ideal alternative to Perfect Greige.
It has deep red-brown undertones that give it a bold and feminine touch. In addition, it is a very soothing paint color that makes a room look wonderfully cozy.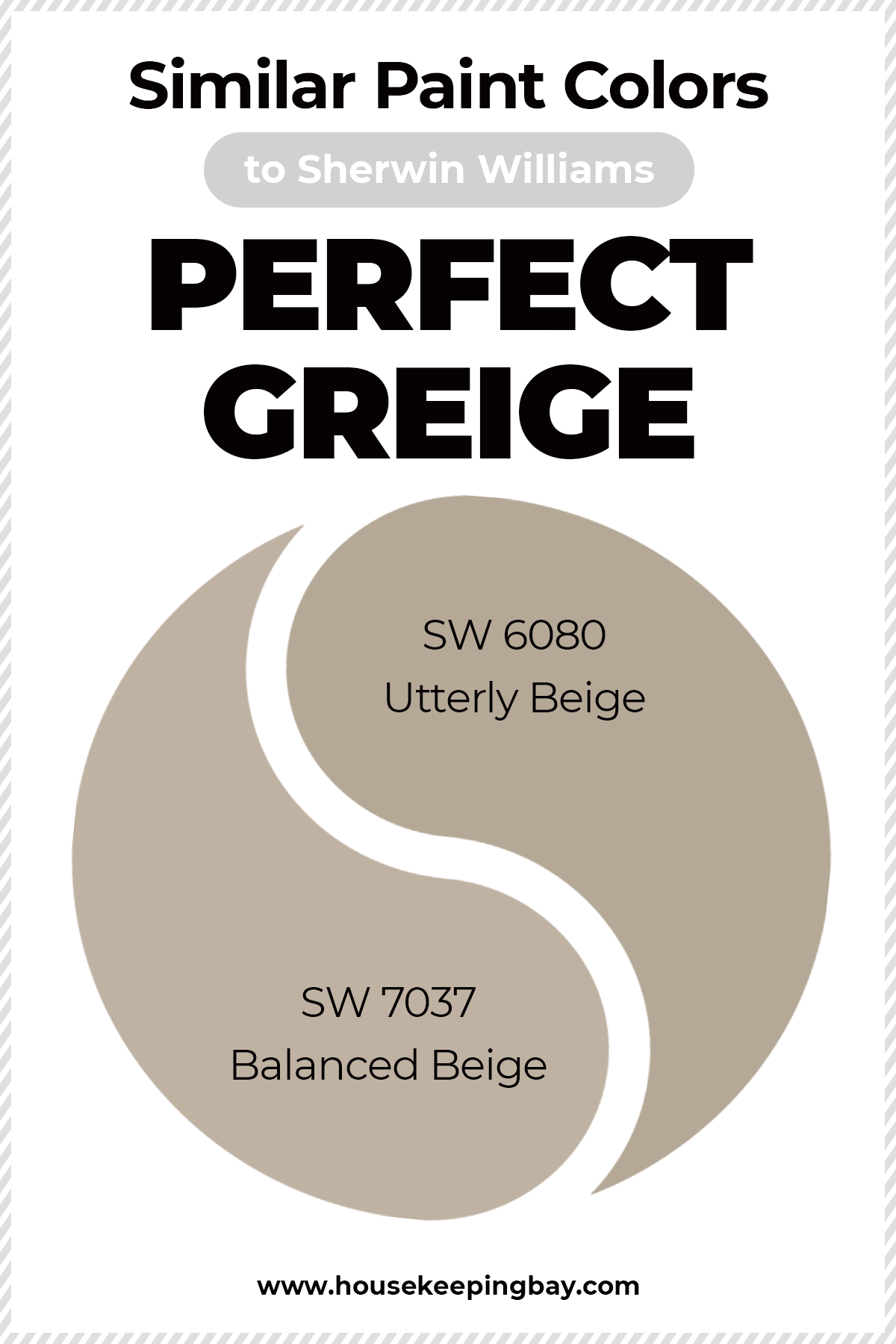 Where In My Home Can This Color Be Used Especially Successfully?
Deciding what rooms it is best to apply certain greige is always a Russian roulette for most of us since you must always consider the color's undertones and thus its reaction to lighting to be able to predict the resulting effect on the walls.
Luckily, if you choose SW Perfect Greige, you can stop worrying since this color can literally like not any greige, be used anywhere! Hallways, dining rooms, kitchens, bathrooms, staircases – this color will suit any of them just perfectly.
The Use Of SW Perfect Greige In a Living Room
In your living room, this timeless and classic greige color with utter warm pink undertones will make the space look further enclosed and characteristic.
You can easily pair it with shades of blush using pillows or rugs, by the way. In addition, if you add white sheer curtains, it will let in more natural light making the color and thus the room look airier and more spacious.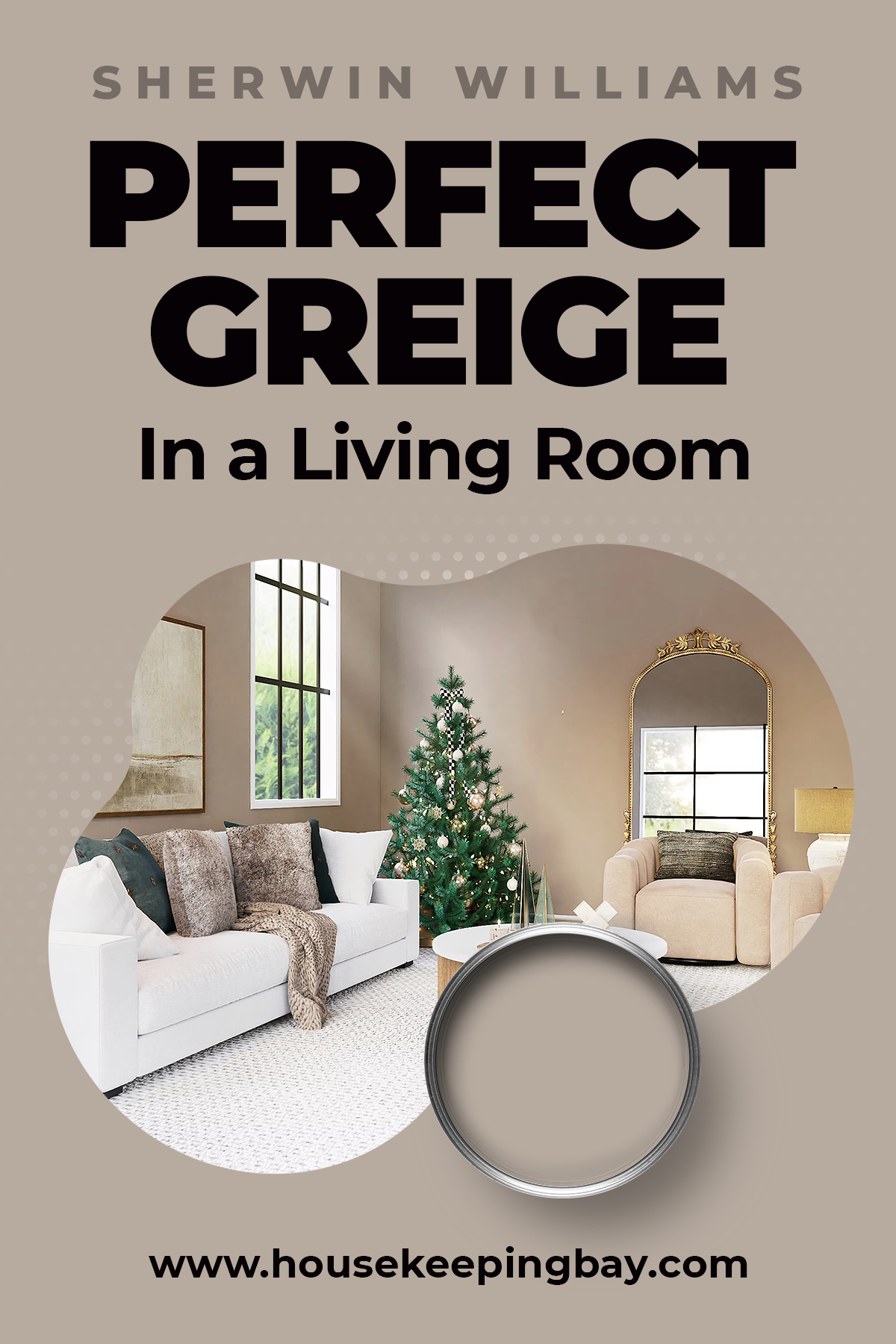 The Use Of This Color In Your Bedroom
In your sleeping space, try to pair this color with a metal-body nightstand or headboard to make the paint feel lighter.
As for the upholstery, better stick to cooler grays and whites since these colors will complement the overall color scheme of the room much better.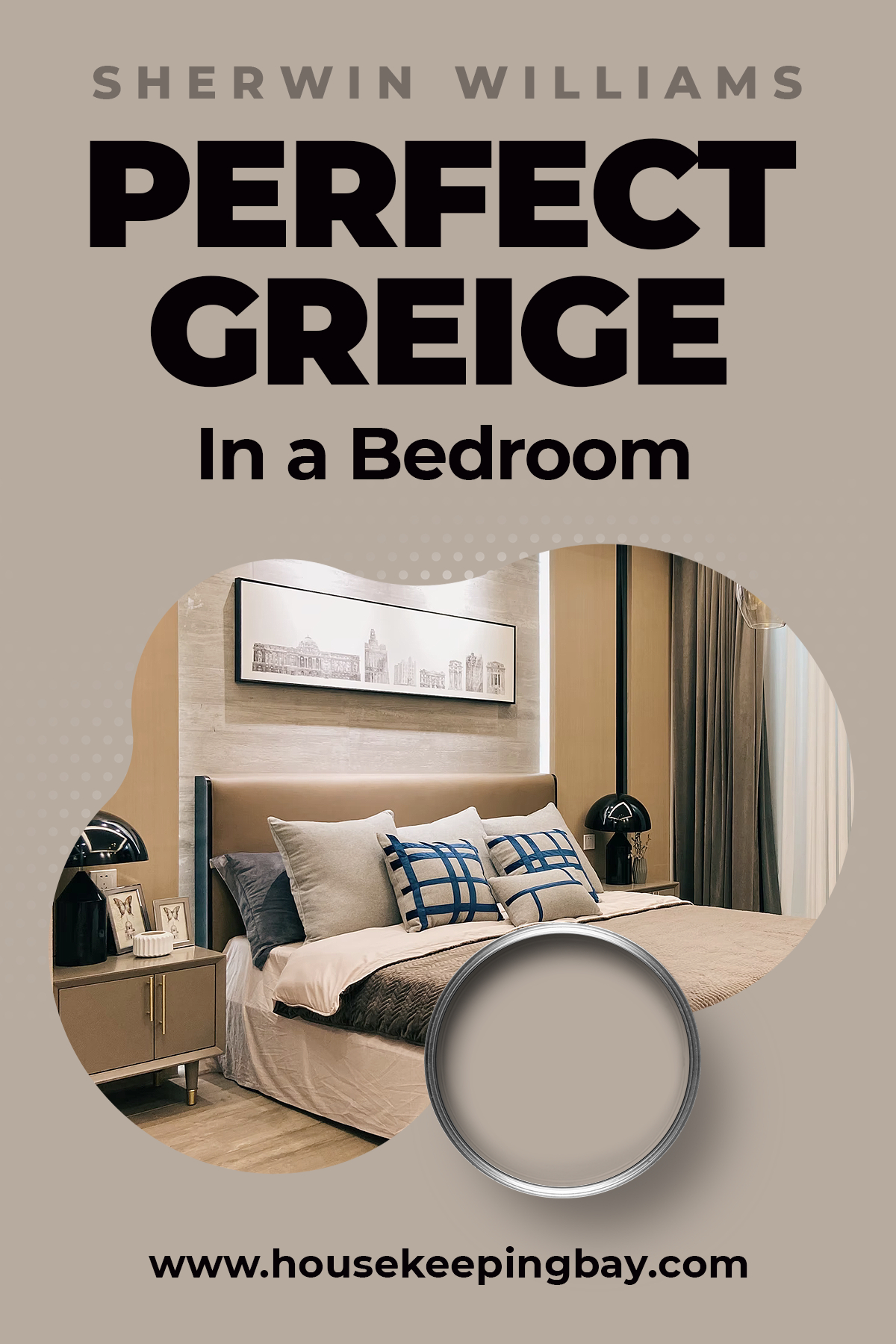 How Will SW Perfect Greige Look In Your Bathroom?
For bathrooms, this paint is also a good option. Especially if the room is large enough and has access to natural light (or at least enough artificial lighting).
However, we would not recommend you apply it in a bathroom that is way too small and/or dark since this greige will make it look even darker!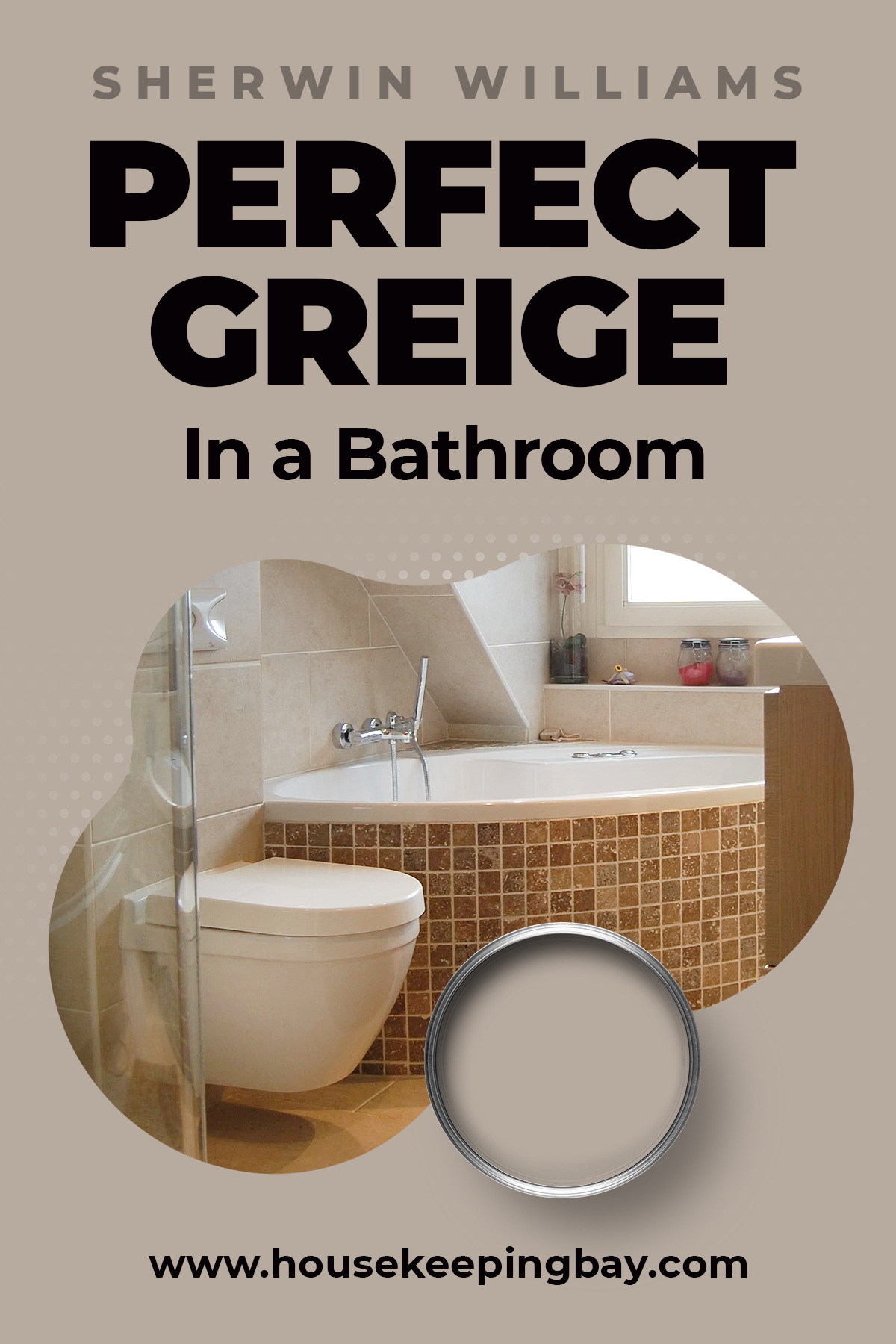 Is Perfect Greige Compatible With Kitchen Cabinets?
You may find this color not quite suitable for the whole kitchen, especially if it's a traditional-style interior or there are cabinets of golden oak there. But for painting your kitchen cabinets, it is a good choice! Especially if you pair this color with stark whites or warm whites on the walls, e.g. on the backdrop wall.
Golden-tinted handles and fixtures will also complement this greige perfectly.
Related: Best Greige For The Kitchen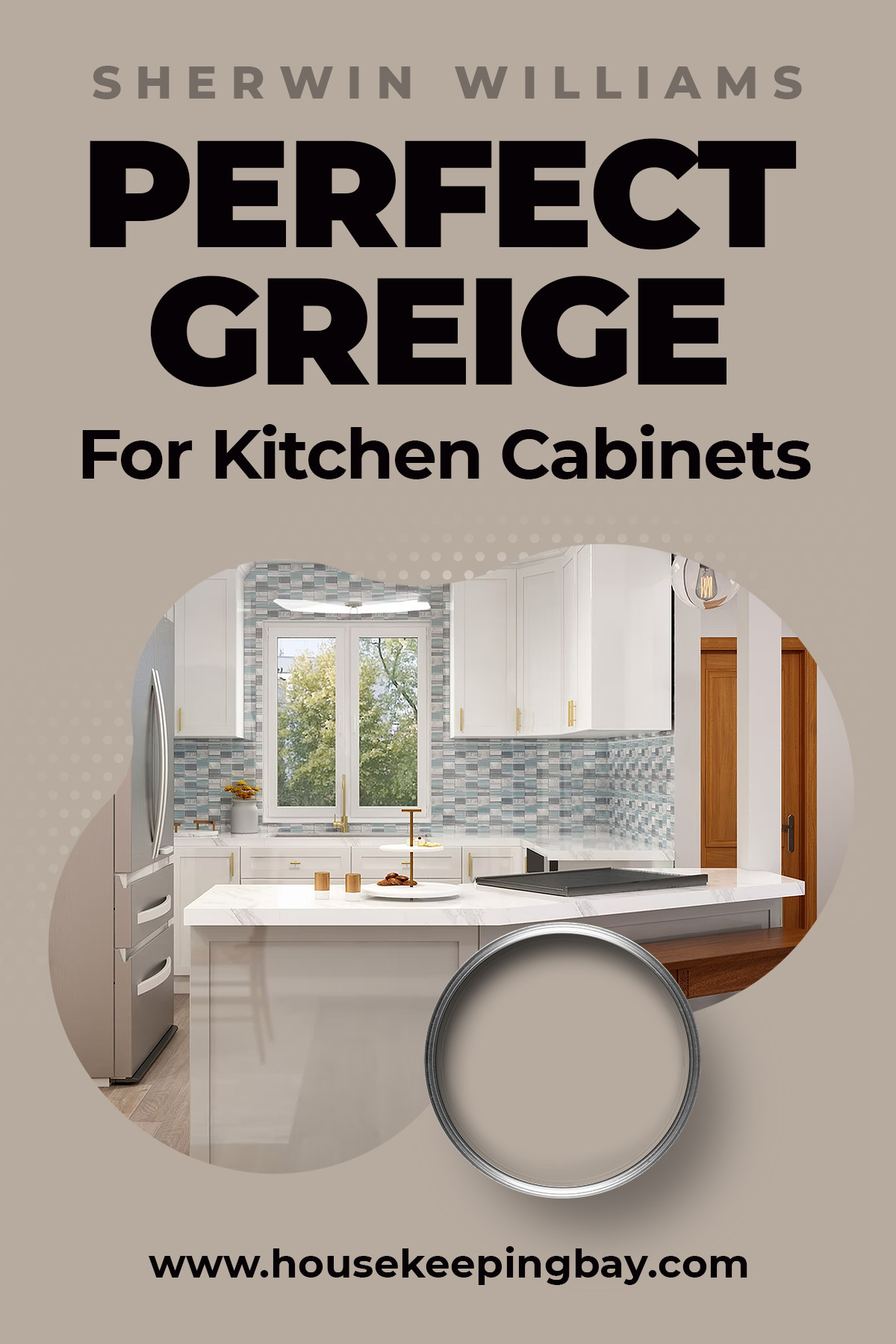 Does It Work Well As An Exterior Color?
Quite many greiges can be used both indoors and outdoors, but SW Perfect Greige is not the best choice for that unless you really want it on your facade.
Since this color is too bold, you will have to be very careful when pairing it with the lighter colors to be able to balance the complementary color scheme!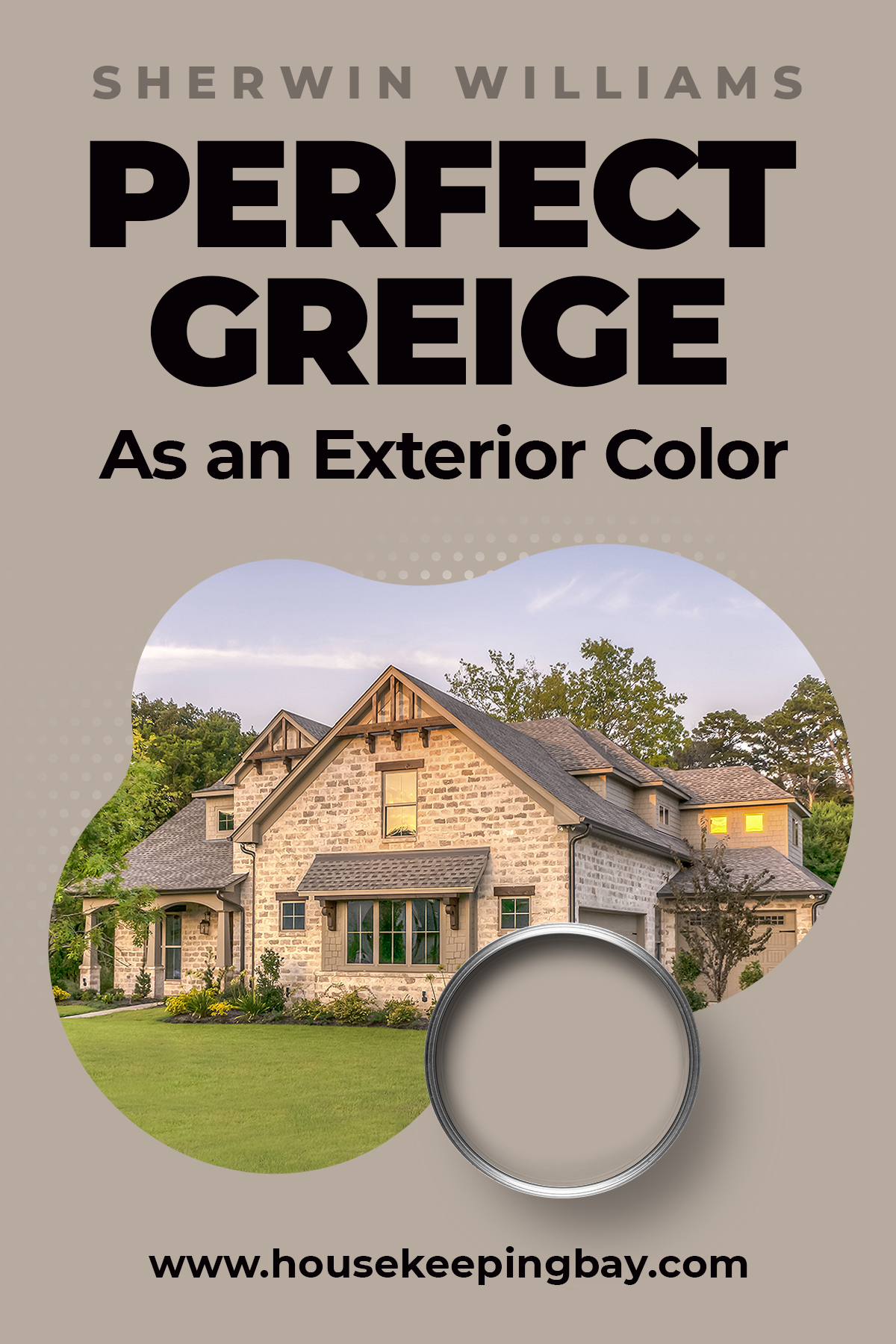 How Well Does SW Perfect Greige Work With Other Paint Colors?
If you want your interior to look more vivid, you might think of adding other colors to it. However, if your basic color is greige, you need to be very careful with the choice of the additional colors. In case your basic interior color is Perfect Greige, check out how it will work with a few other colors to pick the optimal color combination for your home.
Perfect Greige vs. Agreeable Gray
These two may look quite good if used together since Agreeable Gray is much darker being closer to brownish beige, and Perfect Greige is way lighter looking even somewhat cooler. So as a pair, they create a nice balanced combo with the overall warm impression.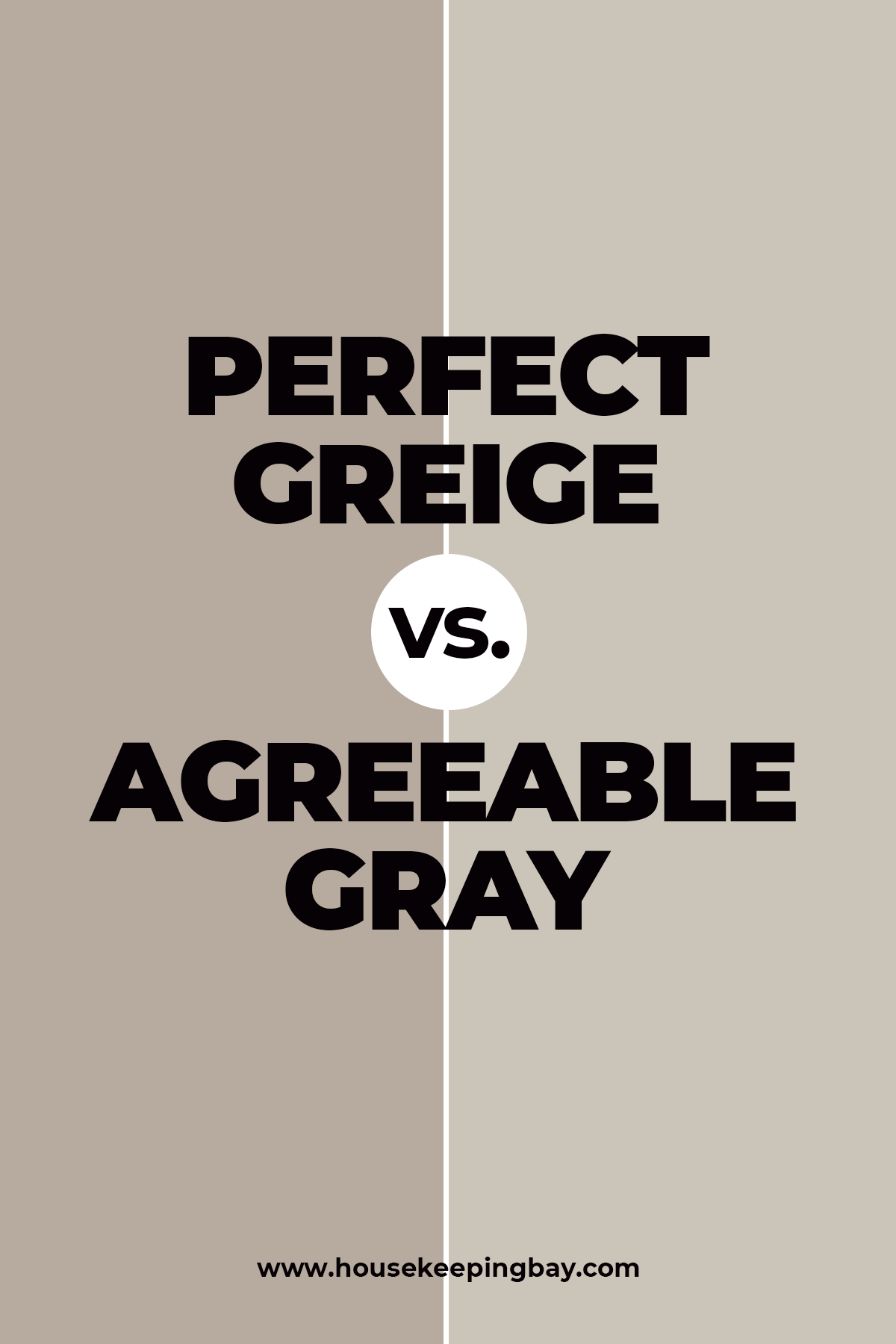 Perfect Greige vs. Revere Pewter
These colors are good to be combined together since Revere Pewter is much lighter than Perfect Greige. It means that you can use it to highlight the contrast and give the room a more vivid look. And since both are rather warm, the space will still have a balanced, calm, and homogeneous impression.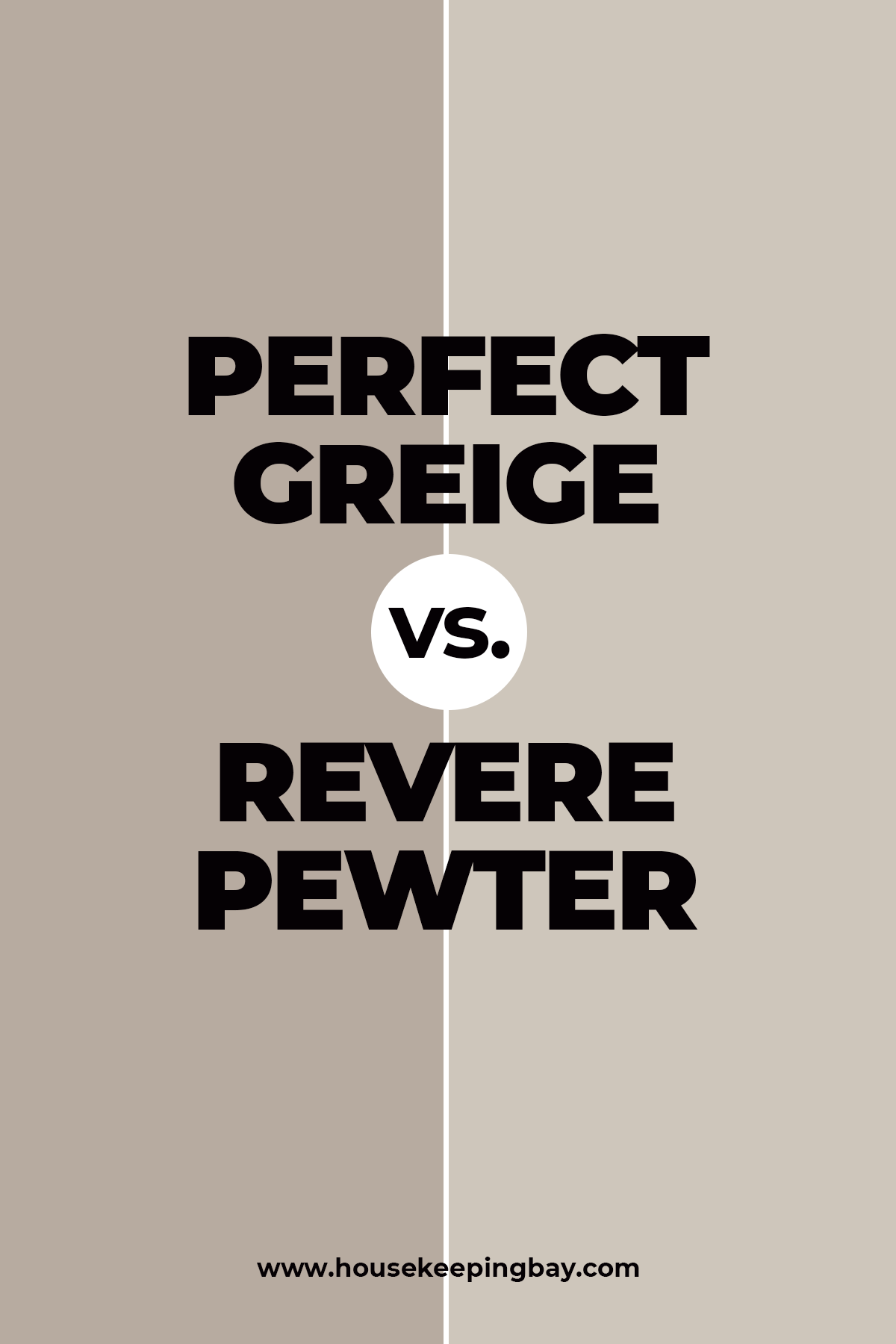 Perfect Greige vs. Mega Greige
These greiges are pretty much alike with Mega being somewhat warmer and, well, deeper in tones with more prominent beige (some would even say brownish) undertones. However, due to such a similarity, they are not a good color choice for being used in a pair.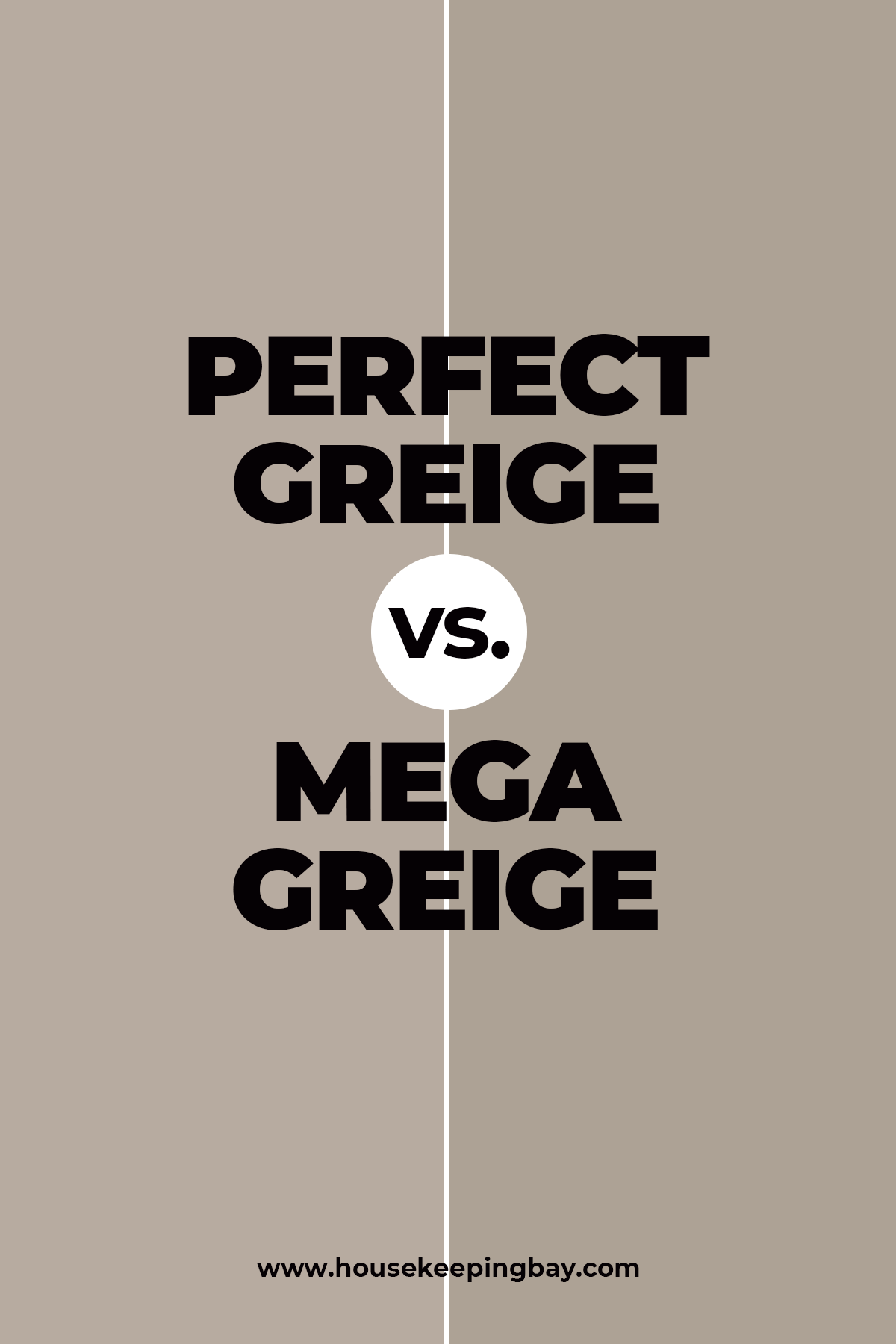 Perfect Greige vs. Mindful Gray
Using them together is definitely not the best idea! Mindful Gray is way cooler with the significant gray tones whilst Perfect Greige is a warm-toned color with beige notes in it. So if you are thinking of using Mindful Gray, better put it aside until you get to a room that uses a cooler color scheme.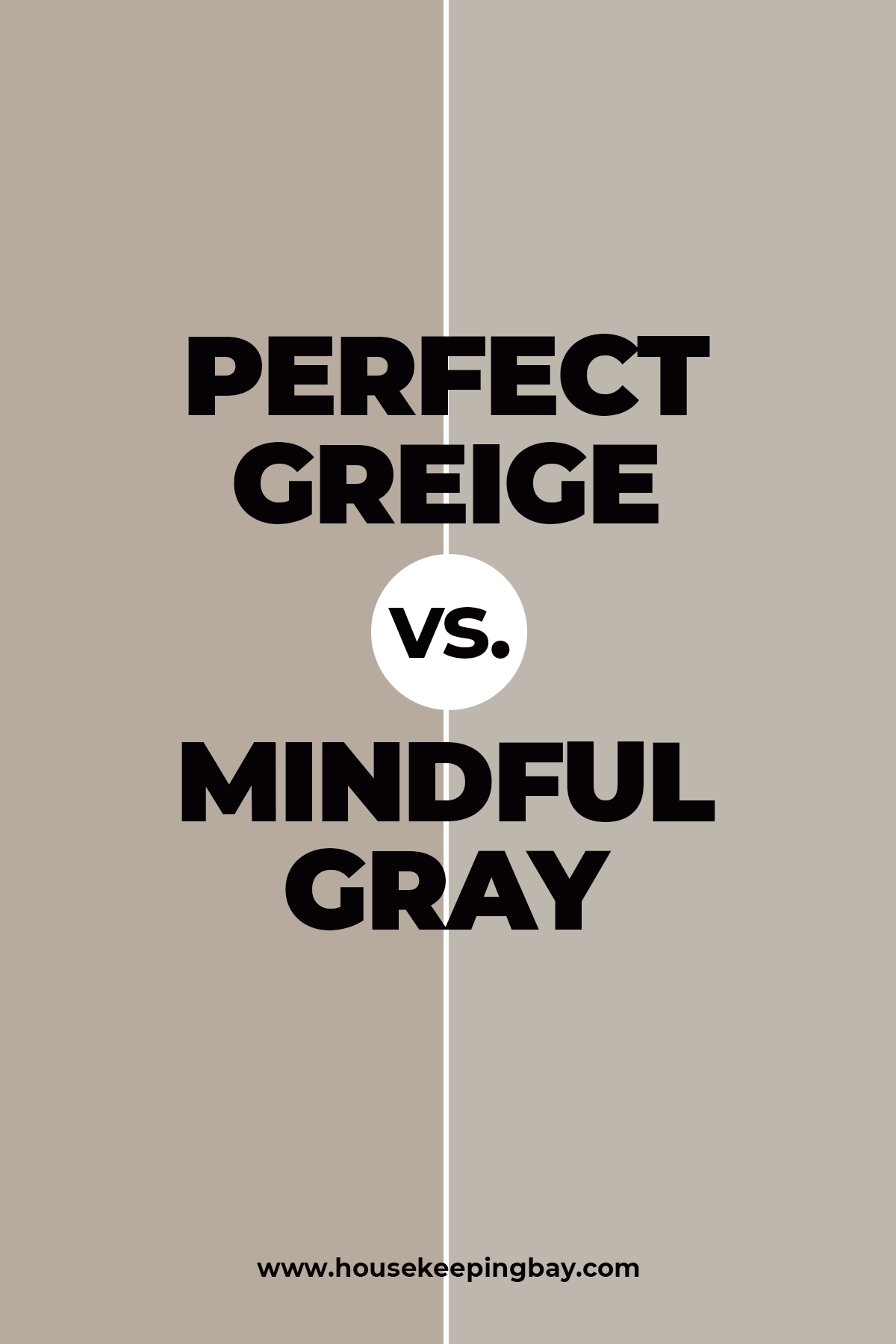 Perfect Greige vs. Accessible Beige
These two can create a great combo if you use Accessible Beige as a trim color, for example. Since it is significantly lighter itself, it will look quite contrasting if put beside the Perfect Greige. And since both colors have warm undertones, they will look harmoniously together.
Perfect Greige vs. Repose Gray
This pair of colors is not the best choice for the same room! Yes, both are warm, and yes, both have beige undertones. But even though Repose Gray is somewhat lighter, if we put them both side by side, we will see that they create quite a "muddy" look. Let's agree, not quite what you might be looking for!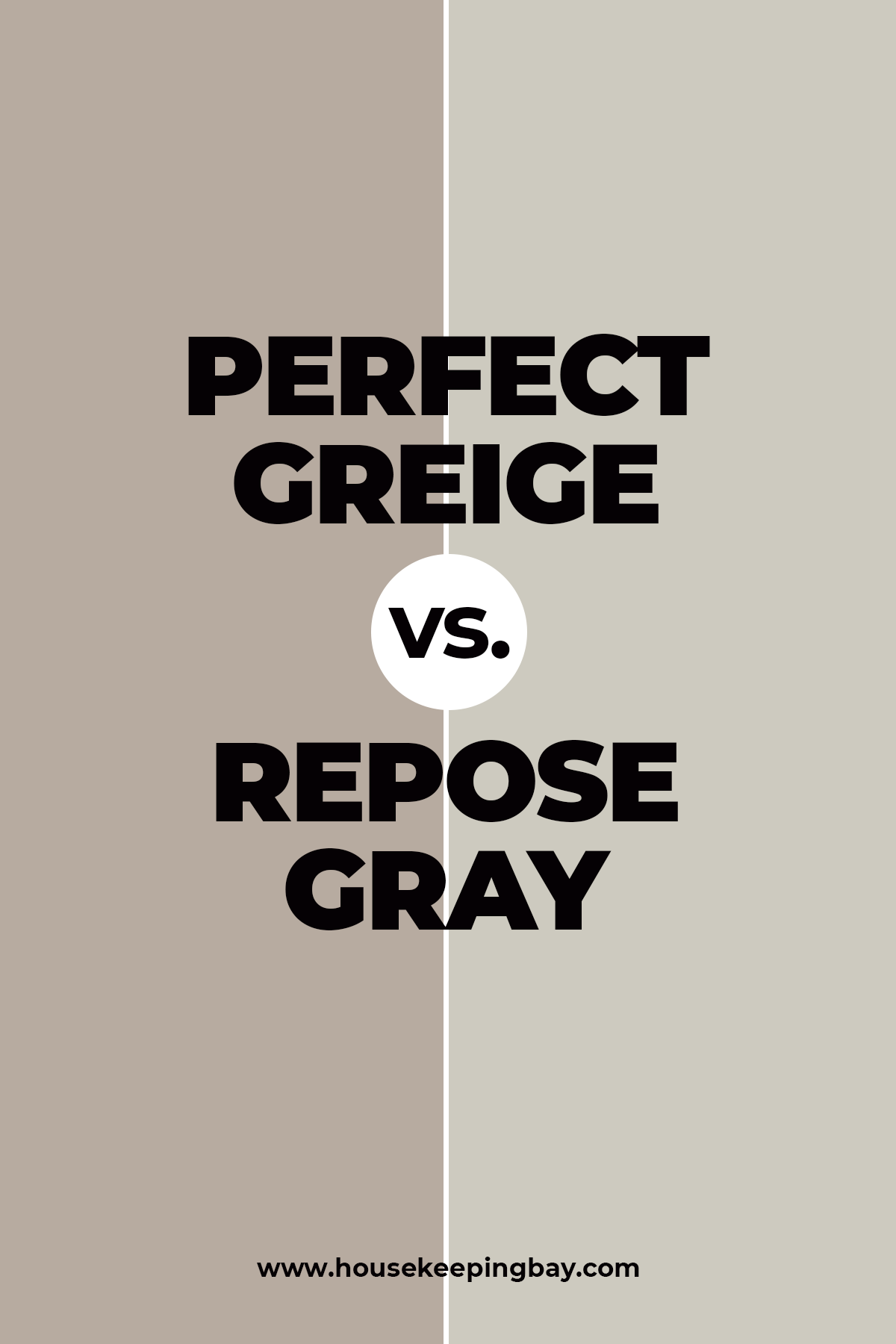 Perfect Greige vs. Balanced Beige
Balanced Beige can be successfully used as a Perfect Greige alternative color, but definitely not for being combined with it! Since these two are almost the same on the walls, you will hardly see any difference unless you really have an eye for tones and shades!
Well, friends, now you know almost everything about Perfect Greige paint color by Sherwin Williams! You learned about its use, color nuances, its strong and weak sides.
We told you what colors and shades it can be paired with better than with others, and also, you are now aware of all the possible places this paint can be used in your home! With that in mind, you will easily turn your home into a stylish, modern, and cozy space.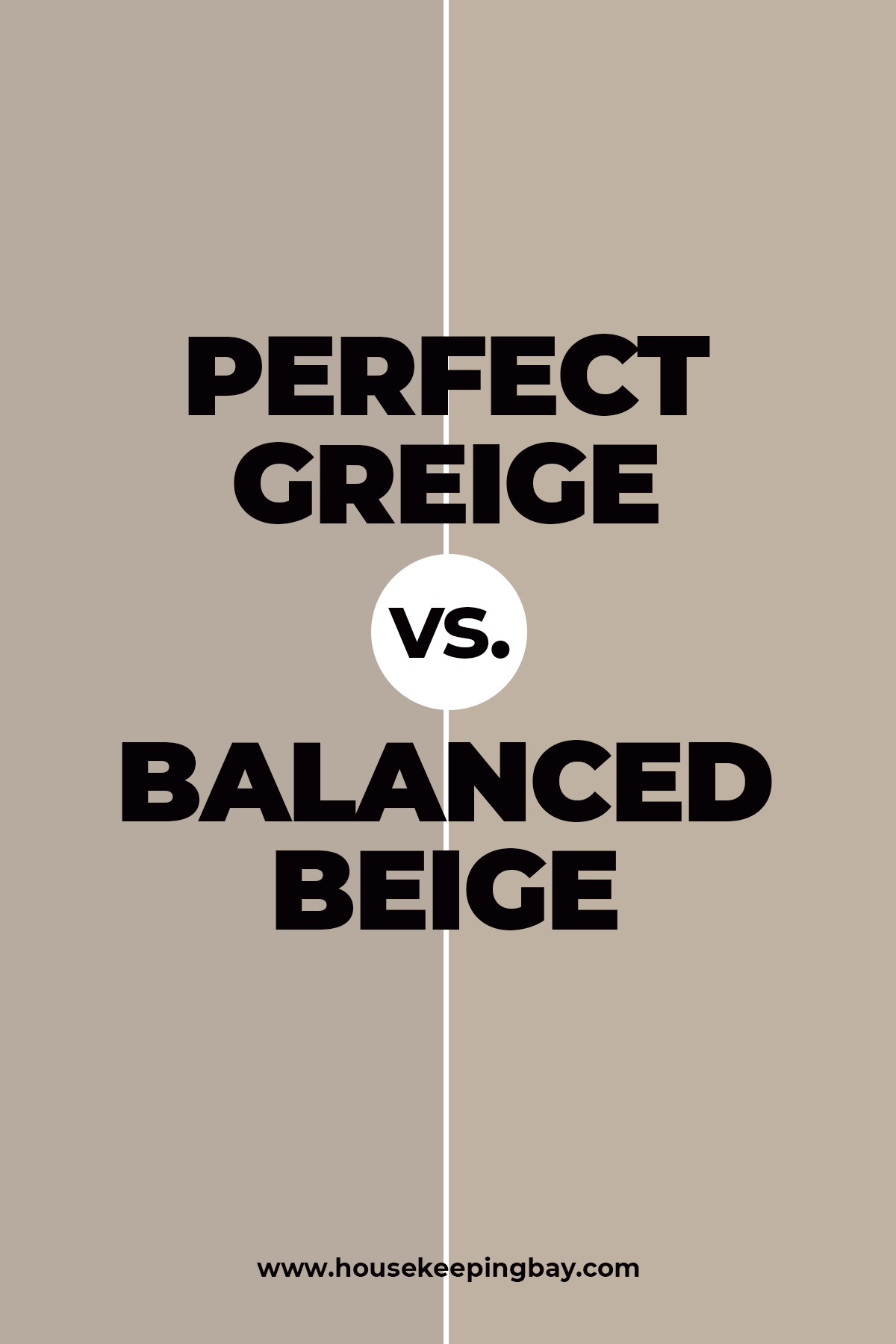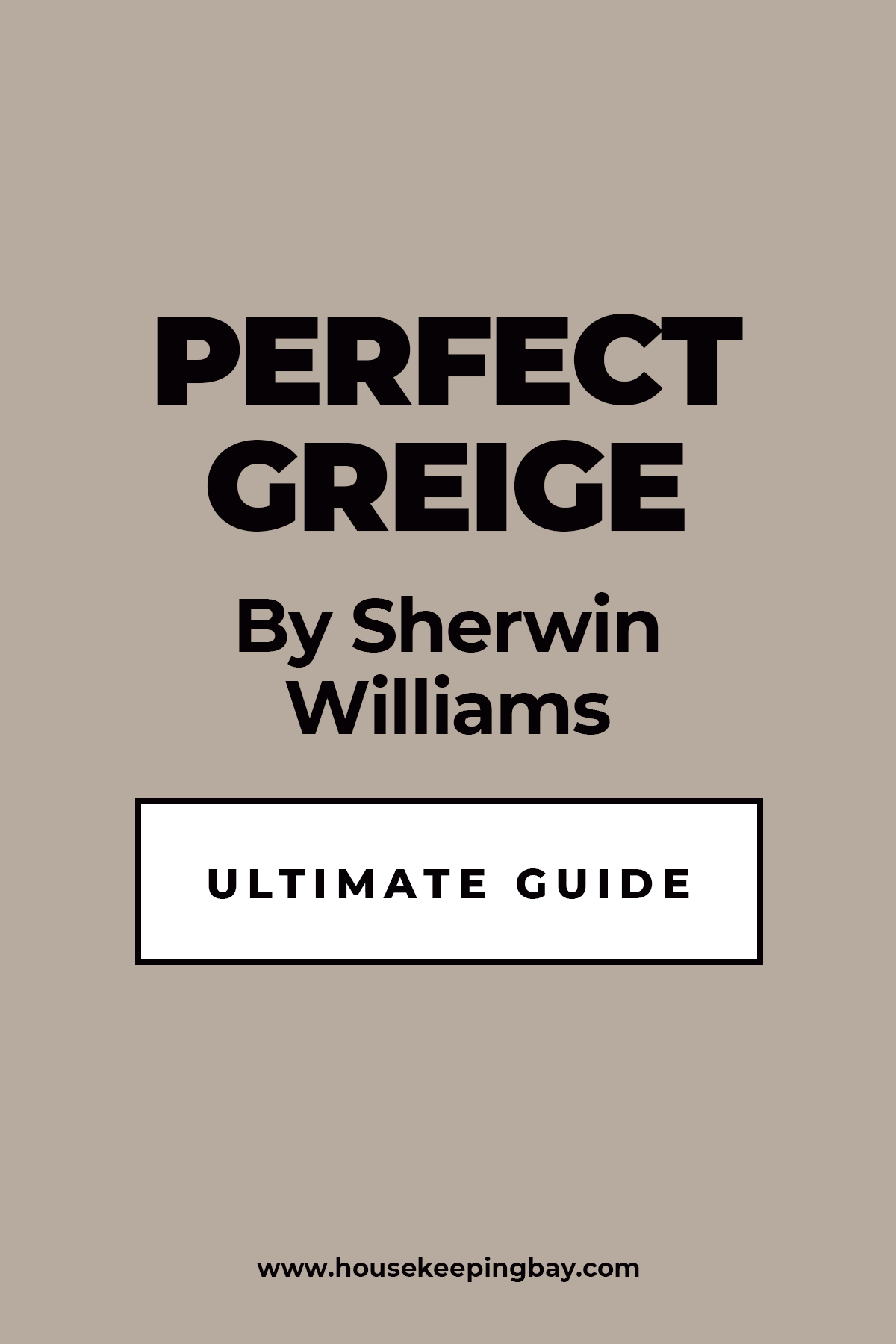 Frequently Asked Questions
⭐ Why is greige perfect for the interior walls?
It's a warm gray color with some brown in it which means it can suit any lighting and design.
⭐ Can greige be combined with bright colors?
Yes, it will look great with yellow, rusts, greens, and many other colors.
⭐ Will any greige make your room look darker in artificial light?
No, only those that have low LRV.