We are used to the idea that white color always looks clean and crisp, reminding us of fresh snow or showing that softer "milky" whiteness. However, whites can be very different depending on their undertones! As a result, this color may not read quite like traditional white on the walls.
Today, we will tell you more about one of such unusual whites called Origami White. This is one of the whites by Sherwin-Williams, and this article will show you why it is so unique.
You will learn this color's undertones and LRV, discover what colors should be used to coordinate this white, and figure out how this white paint color may work in different rooms.
As a result, you will be able to incorporate SW Origami White into your home's interior easily.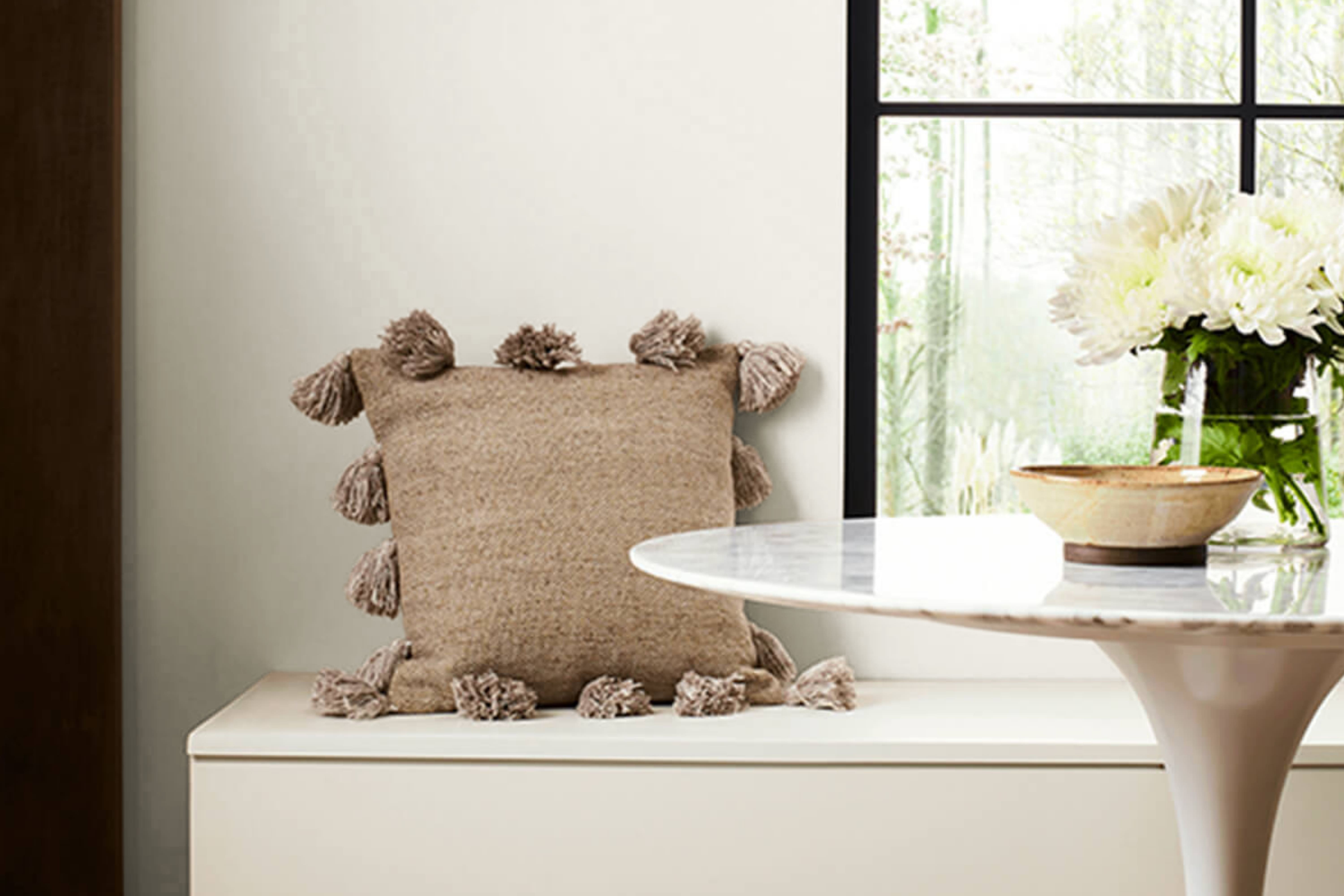 What Kind of Color Is Origami White SW 7636?
If you look at SW Origami White paint color , you will see why it is far from being called a traditional white. As Encycolorpedia says, paint color is a clean, delicate white, but it has cool violet undertones. Because of this violet base, SW Origami White gives off a significant violet hue when it's used on the walls.
Nevertheless, SW Origami White is perfect for making your interior walls look freshened up. Also, you can use this white color for making a crisp contrast with more saturated paints. However, don't forget to sample it prior to use in your home!
This way, you will ensure the color reads exactly as you want.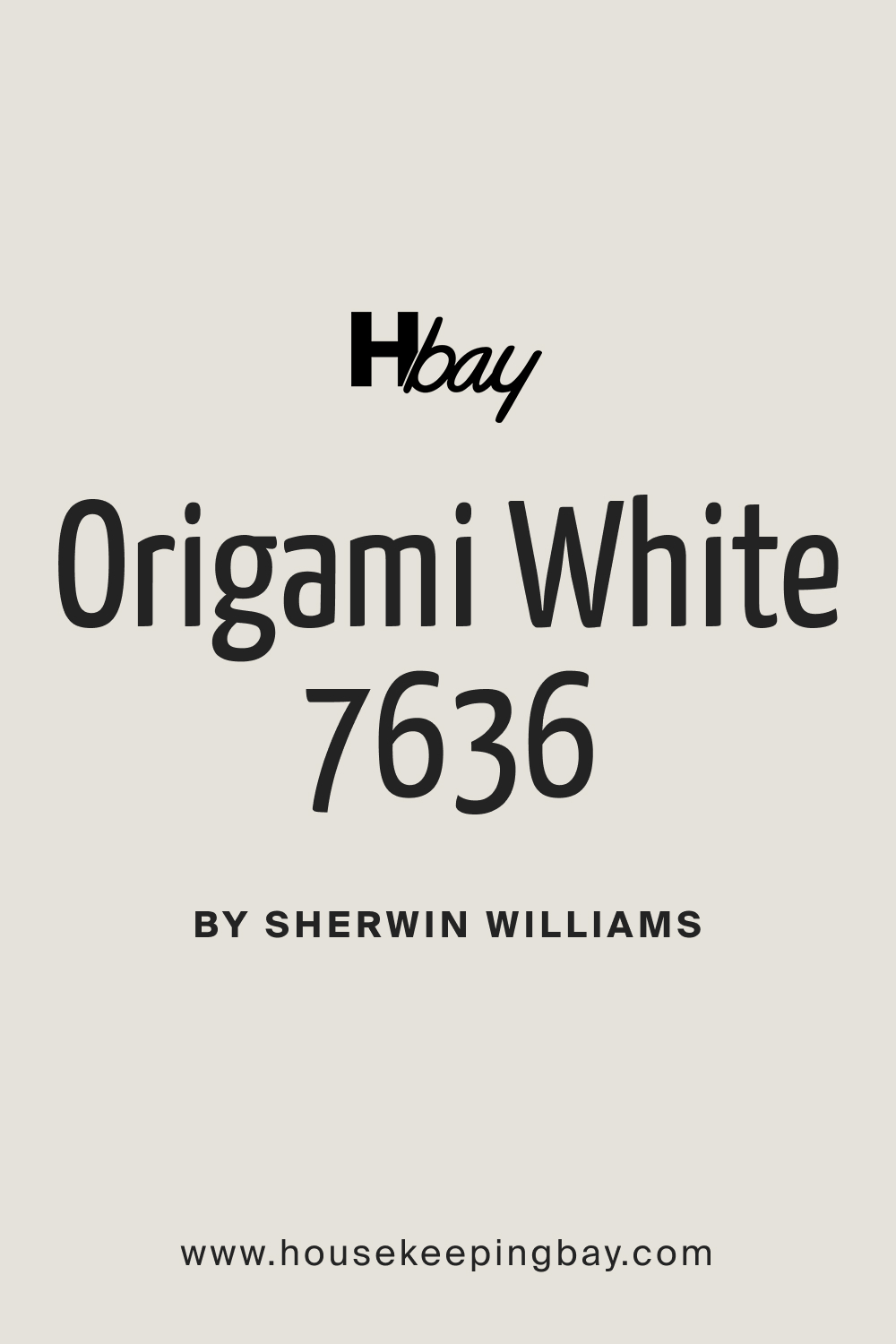 Is It a Warm or Cool Color?
SW Origami White is technically a cool-toned color since it has cool violet undertones. This is why you should not expect it to read creamy or yellowish on your walls. On the other hand, this white will also never looks cold and crisp.
But when you see it on the wall or another surface, it's easy to notice that SW Origami White doesn't look cold at all. It is somewhere in between the warm and cold edges of the scale.
So, if you are looking for a white paint color that gives off a sterile feel, SW Origami White is definitely not your choice. Neither it's a good color option for those who need softer and creamier whites.
But if you want white that looks neither too cold nor too warm, SW Origami White might be your color of choice!
What Undertones Does Origami White SW 7636 Have?
As we have already mentioned above, SW Origami White has cool violet undertones that are pretty well visible when this paint is used on the walls. This violet base makes SW Origami White stand out among other whites, especially if you compare it with crisper and more pure shades of this color.
However, with violet undertones, this color should be used carefully! Depending on lighting conditions, its violet base may come out more prominently.
Of course, it doesn't mean SW Origami White will read violet or purple, but it will definitely change its appearance!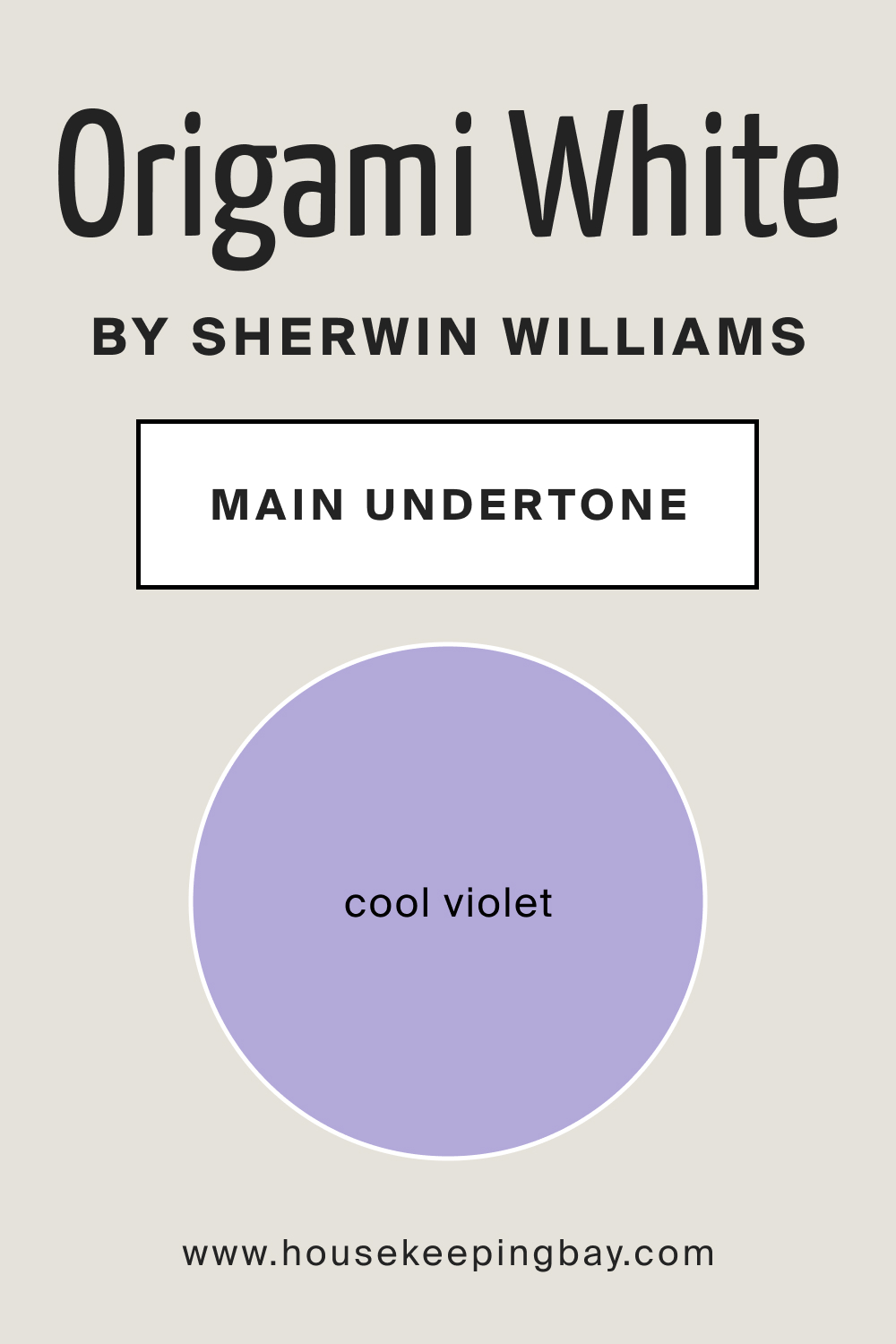 Coordinating Colors for SW Origami White SW 7636
To coordinate such a tricky white color, you must be aware of the correct colors that will cope with the task. Below, there is a couple of paint colors that will surely coordinate SW Origami White:
If you use any of them, you can be sure that your space will look balanced and pleasing to the eye.
For a monochromatic palette, use these colors as coordinating ones for SW Origami White:
SW 7638 Jogging Path
SW 7639 Ethereal Mood
SW 7640 Fawn Brindle
For a contrasting palette, we recommend the following colors instead:
SW 9162 African Gray
SW 6142 Macadamia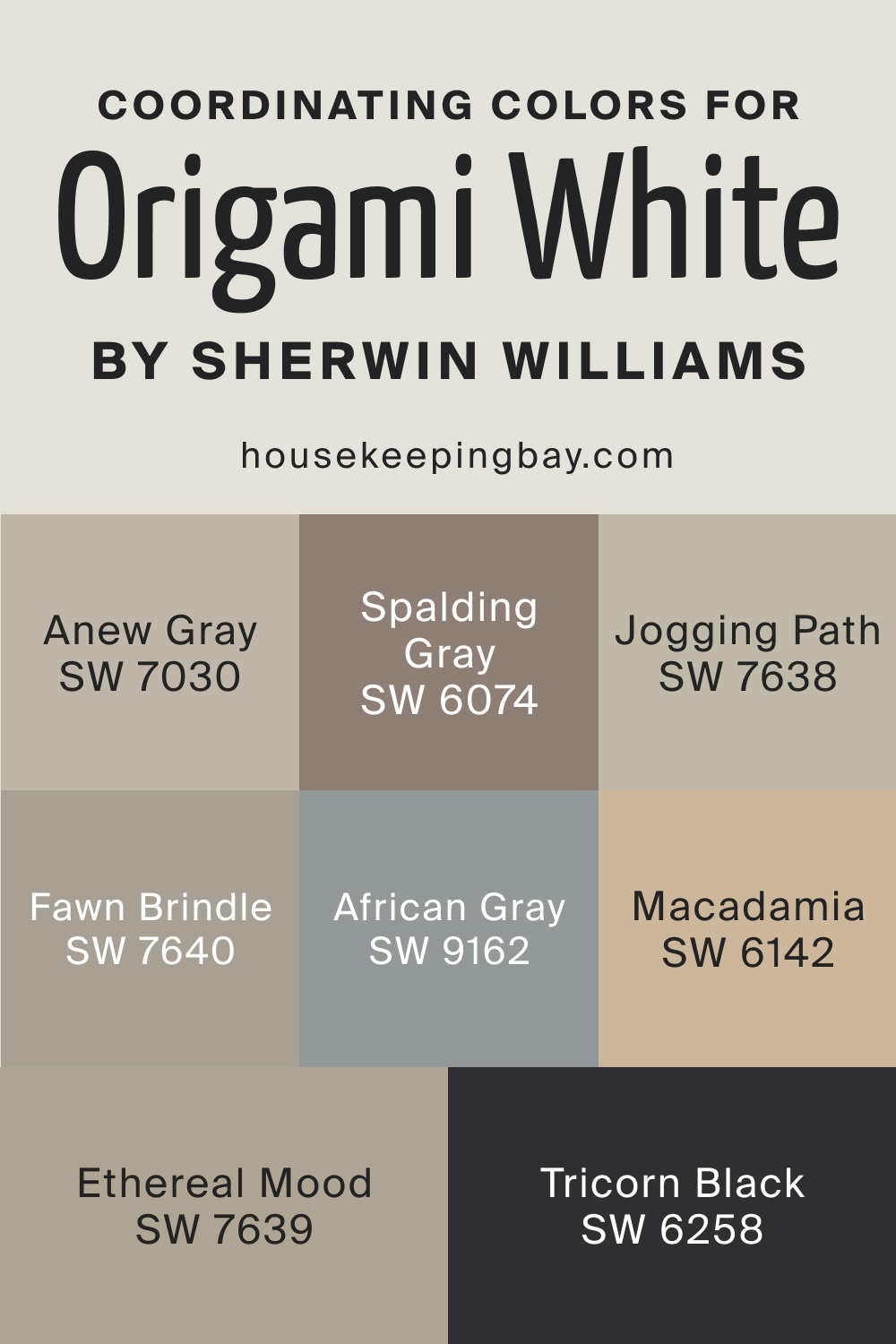 SW Origami White LRV
LRV stands for light reflectance value. This measurement shows how much light colors can reflect from the wall or another surface. The higher the LRV value, the lighter the color, and vice versa. And since the LRV scale ranges from zero to 100, it's easy to understand that zero stands for black, and 100 stands for the purest white.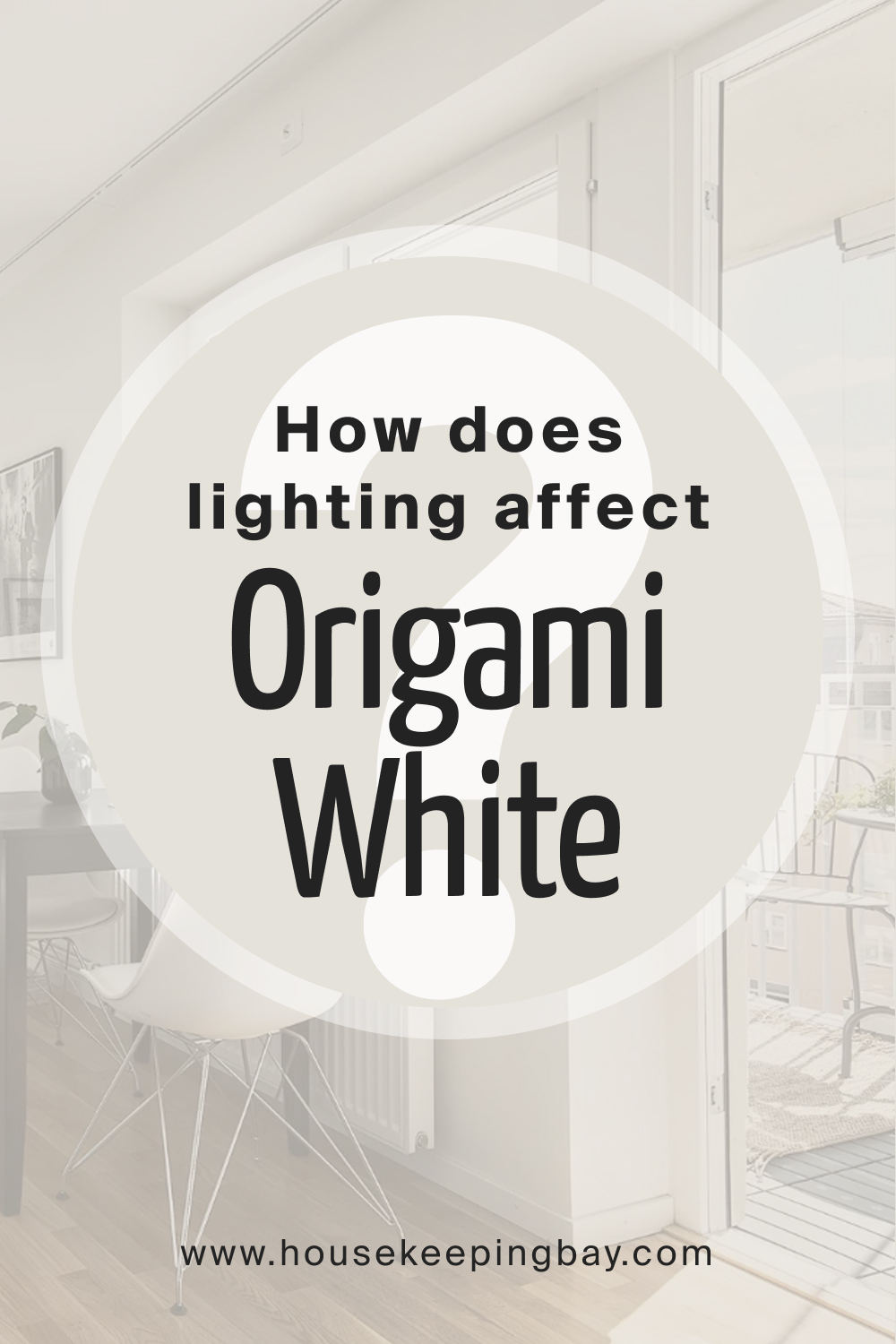 The LRV of SW Origami White is 76, which means this white color falls on the lighter end of the LRV scale. This is also the reason why you can use it as a neutral or base successfully.
However, despite being rather reflective, SW Origami White might not work in all the rooms equally well! This color might not be the best choice if you need white that will brighten up the small space.
At the same time, it will readily create an illusion of a larger space in a city apartment or a loft.
Also, note that SW Origami White is dependent on the lighting in a room. For instance, in the north-facing rooms, this white color will look neutral and sometimes a bit grayish. At the same time, in the south and west-facing rooms, this white will feel creamy and warm.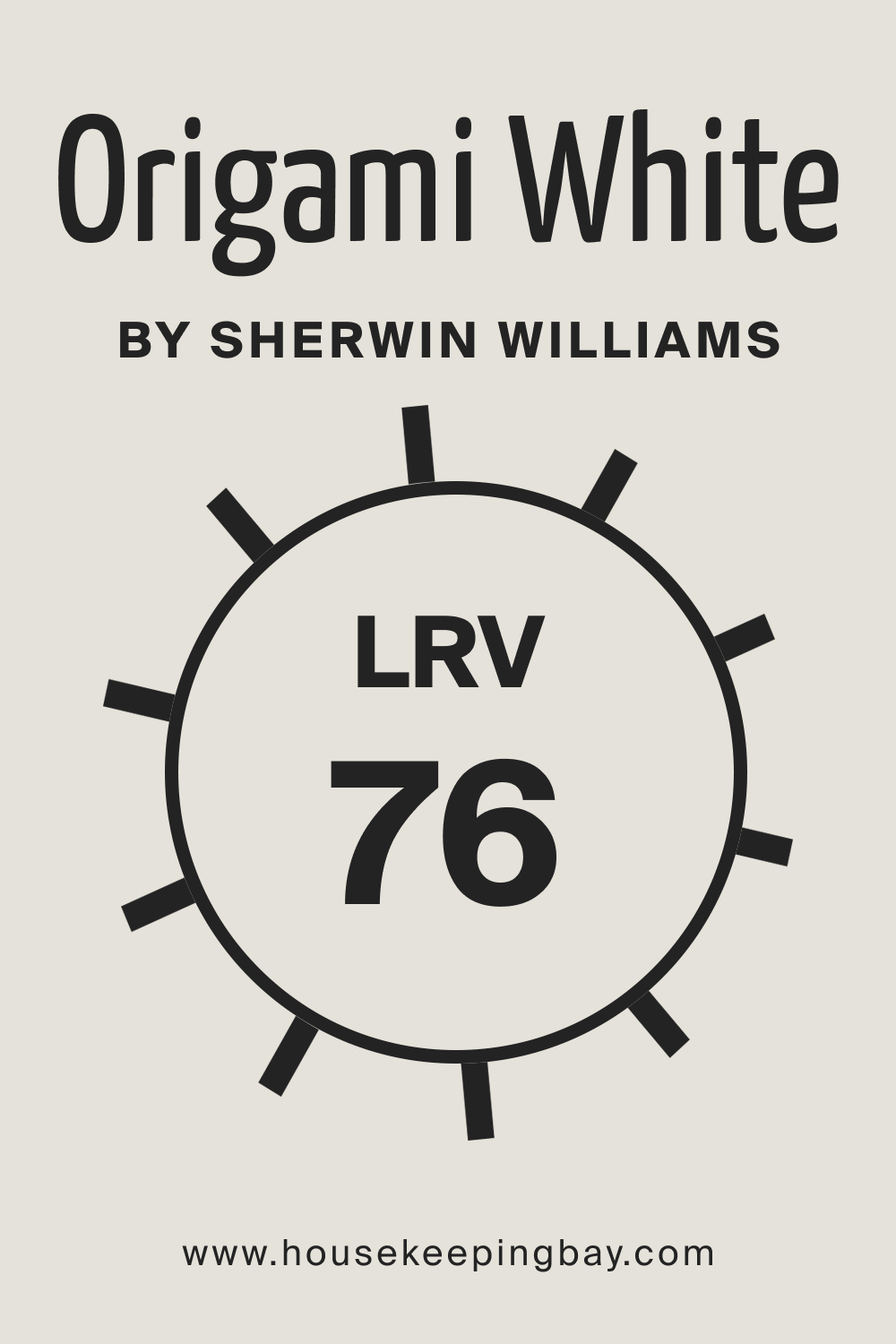 What is LRV? Read It Before You Choose Your Ideal Paint Color
What Is the Best Trim Color to Use With SW Origami White Paint Color?
White is typically the optimal trim color to use since it is versatile and works well with most colors. But what if you already have another white on your walls? How do you pair it with the white trim? In this case, you can sometimes paint the trim with the same white as on the walls.
However, speaking of SW Origami White, painting both trim and walls with it might not be the best idea.
Instead, better use another white color on your trim and moldings. In particular, we recommend you consider one of the following options: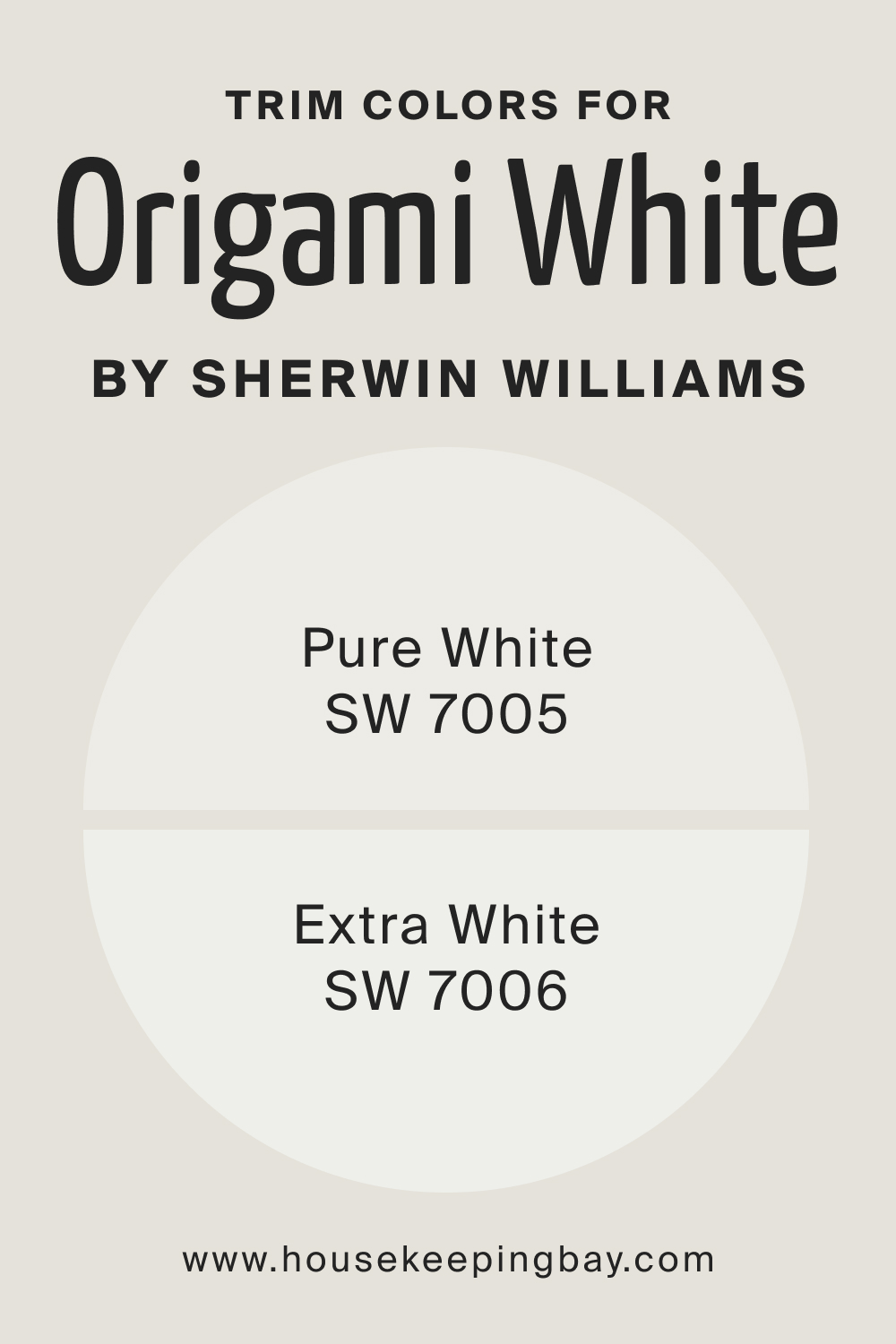 Origami White SW 7636 Similar Colors
Sometimes, you might need to use another color on your walls. Depending on the overall color palette of the space, you might need a lighter/darker color, or a color with slightly distinct undertones or LRV value.
In the case of SW Origami White, with its violet undertones and tricky nature, we recommend you use one of the closely related colors:
SW 7009 Pearly White
BM 960 Dove Wing.
SW Pearly White is a creamy and soft off-white with deep yellow undertones. Its LRV value is 77, which is almost similar to SW Origami White. You just need to note is that SW Pearly White can show a deep undertone, so be careful when using it in west and south-facing rooms!
Speaking of SW Dove Wing, it is an off-white that gives off a warmer feel with a deep yellow undertone. It has an LRV of 77.5, which means it's lighter than SW Origami White.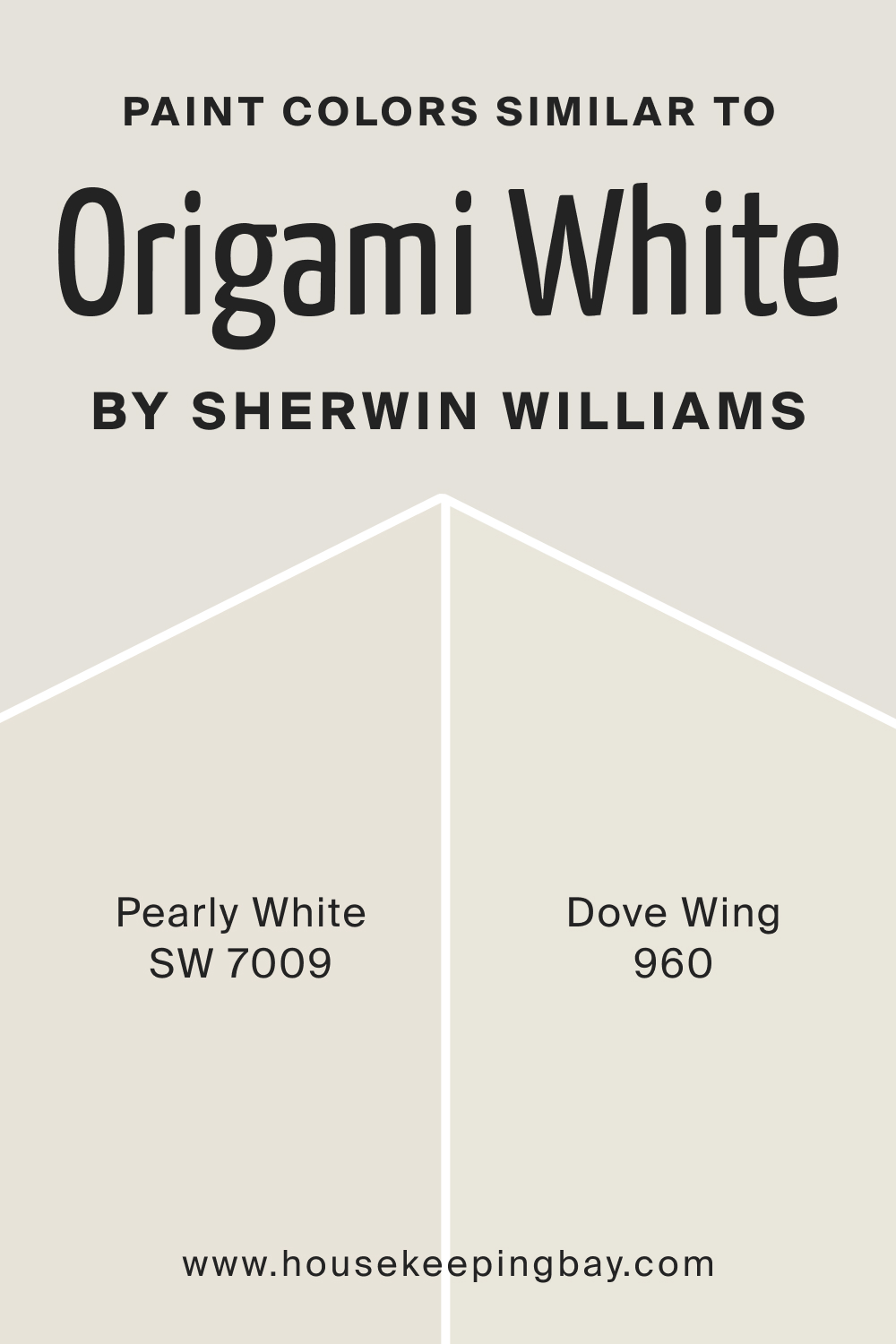 Colors That Go Well With SW Origami White Paint Color
Although having a rather tricky appearance, SW Origami White is pretty versatile and can be used with equal success in either very warm palettes or semi-cool palettes.
SW Origami White can be best paired with browns, taupes, greiges, warm grays, bronze, and beiges. You can also pair it with grayish-blue colors and sage green colors! For instance, consider the following color options:
SW Analytical Gray
SW Brassy
SW Midnight Moscow
SW Distance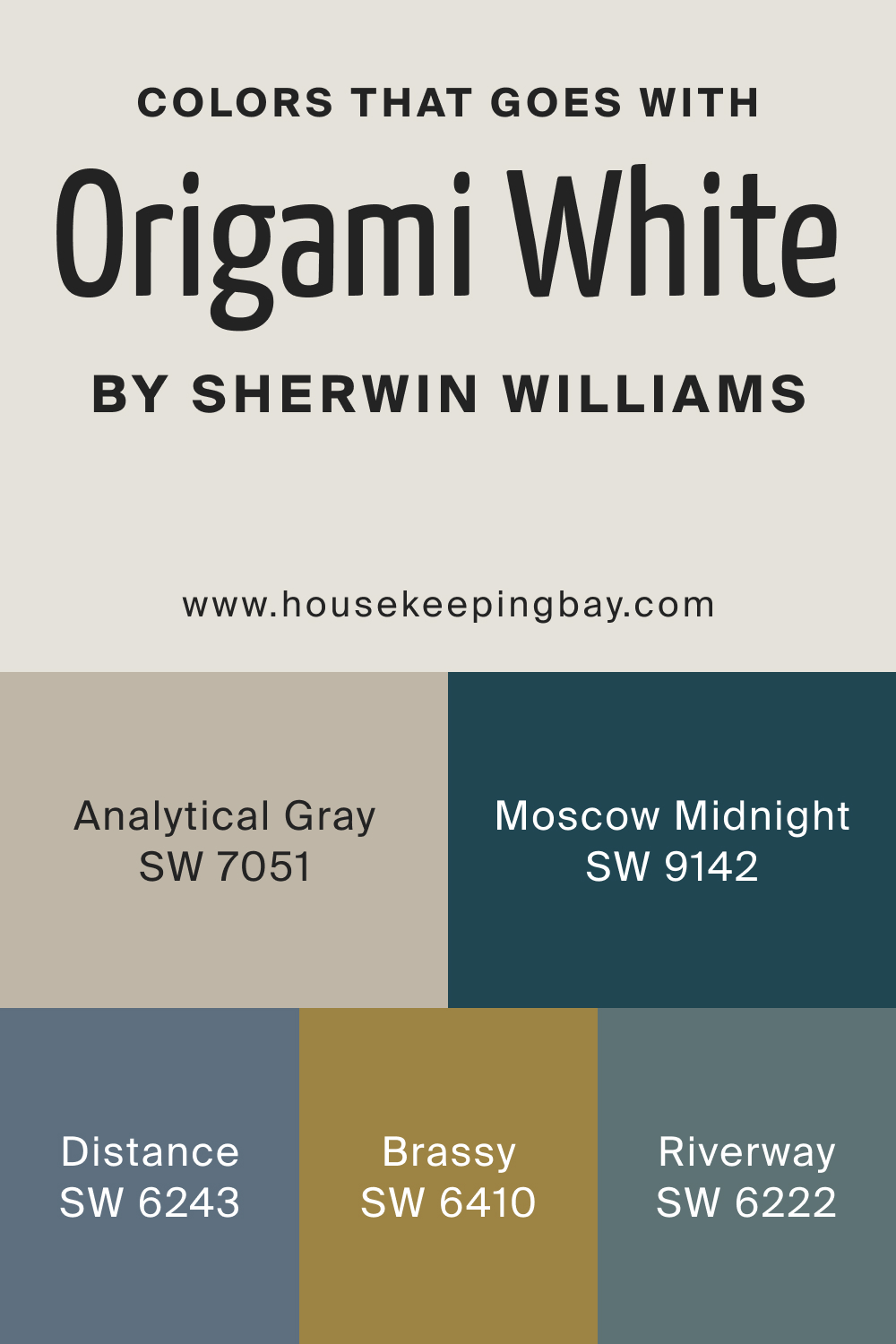 Where to Use Origami White SW 7636 In Your Home?
Speaking of the best areas of use in your home, Sherwin-Williams Origami White is surprisingly versatile! This subtle white paint can actually be used in any corner of your home. However, it will work especially great in interior design styles like transitional, Shabby Chic, contemporary, bohemian, traditional, and modern farmhouse. Below, you can read how it may work in different rooms in particular.
Origami White SW 7636 in the Living Room
Use SW Origami White on all the walls of your living room to add a touch of a monochromatic vibe. Also, you can add either deep gray or deep blue on the accent wall should you want more contrast in the space. It might also be a good idea to paint your window frames and doors black!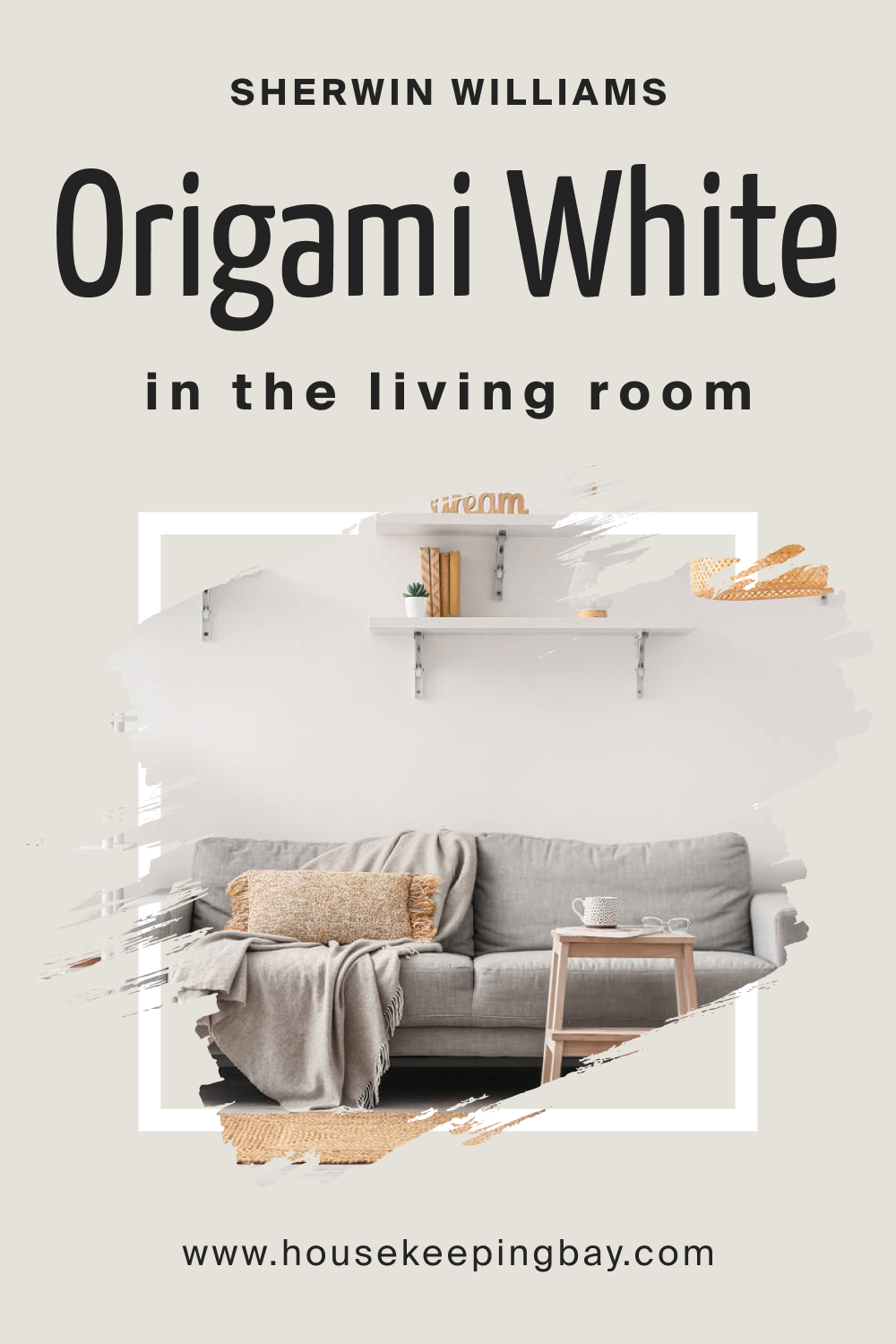 Origami White SW 7636  in a Bedroom
Since SW Origami White is rather reflective, don't hesitate painting all bedroom walls in this color. For the furniture frame and nightstands, matte black would be a good color choice. As an option, you can use wooden textures. Finally, to create a sense of visual contrast, use some hue on the throw pillows, rugs, or curtains.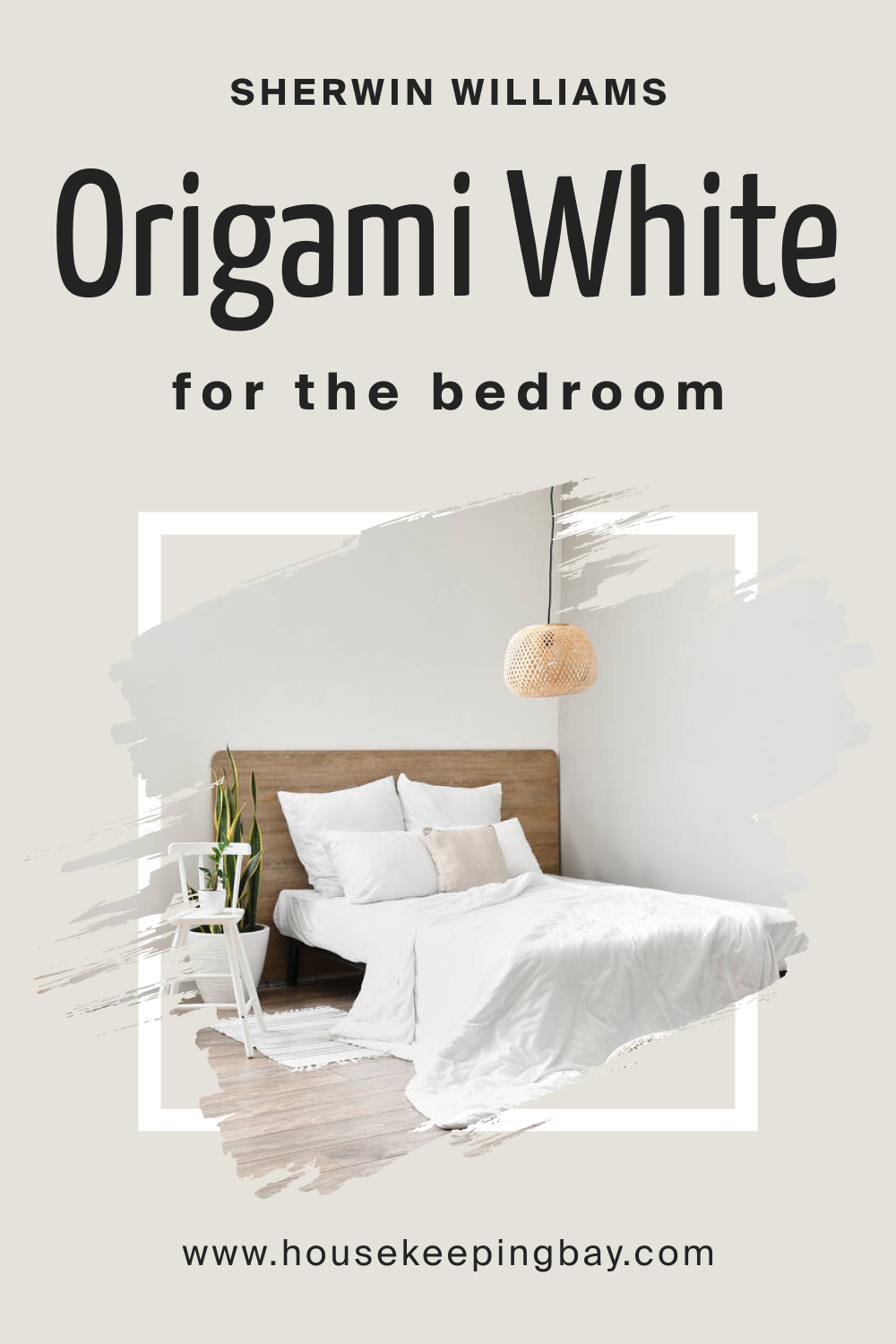 Origami White SW 7636  in the Bathroom
If you want to create a cozy and relaxing atmosphere in your bathroom, this white can do it pretty well. However, note that in a room with little or no natural light, it might read warmer, making the bathroom seem smaller.
At the same time, even a small window can help this white show its pleasant warmth and not look enclosing!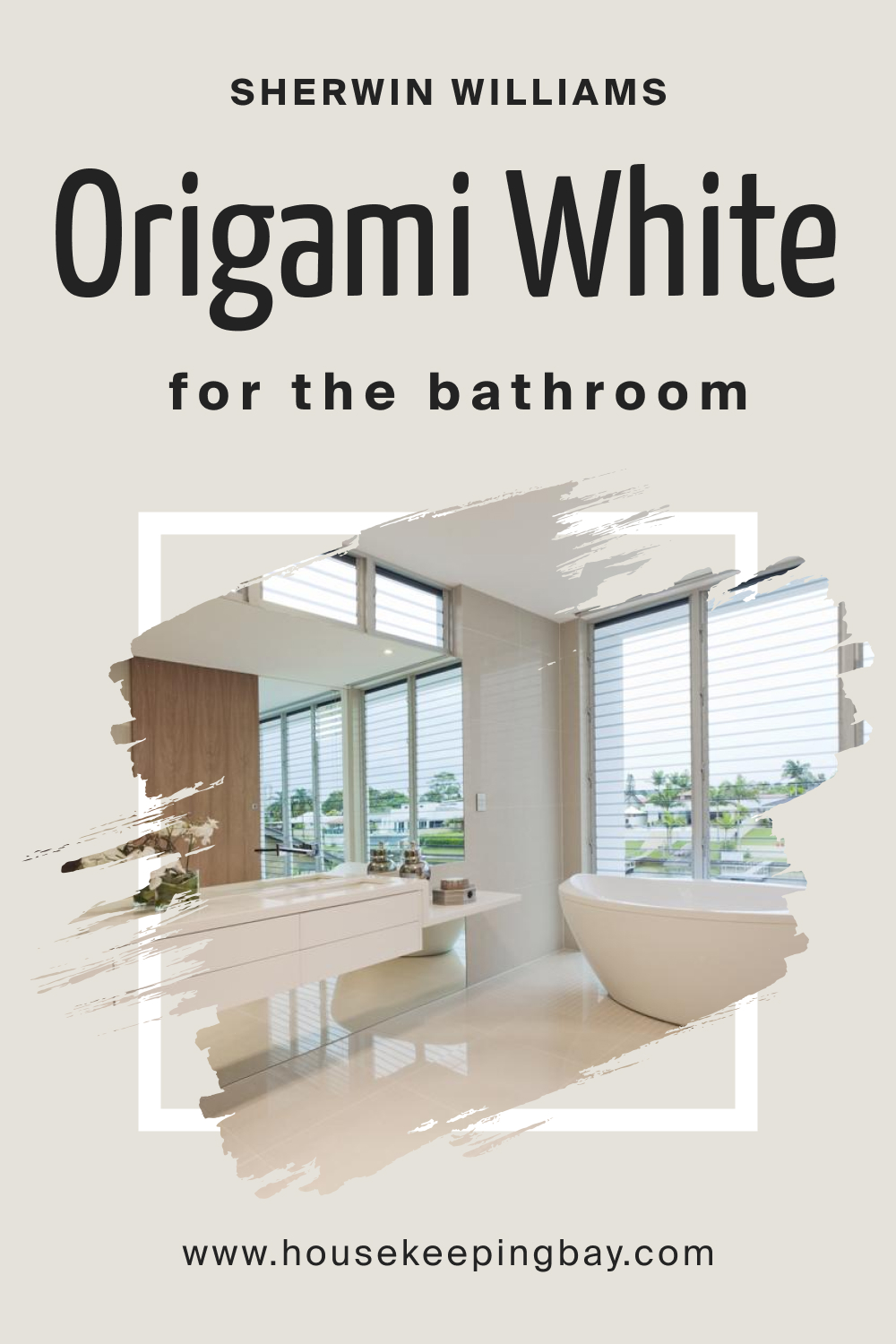 Origami White SW 7636 and Kitchen
This color will work exceptionally great on your kitchen cabinets, especially when paired with satin brass pull handles. If you want to create a crisp and refined feel, consider using a clean white on the backdrop wall.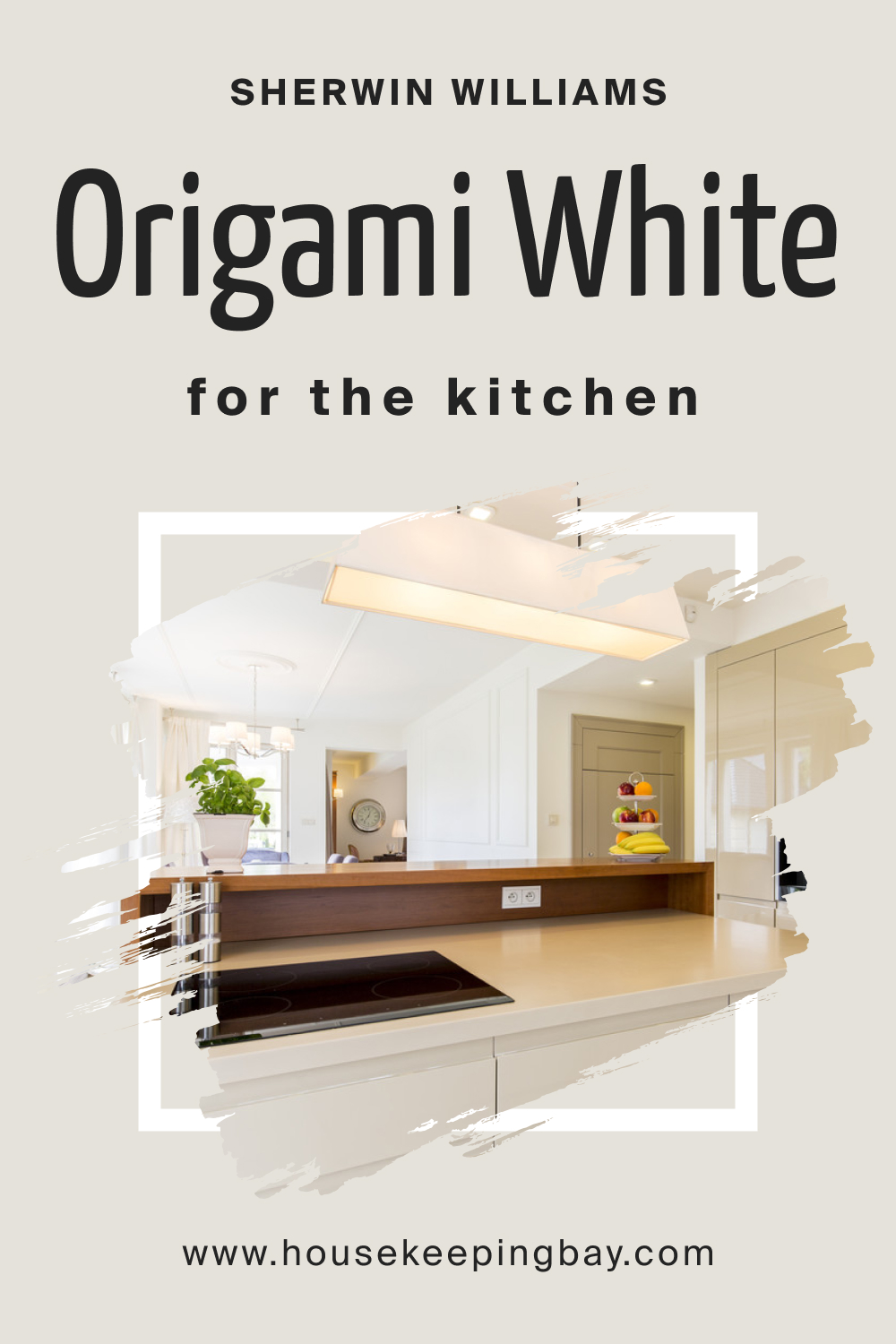 Origami White SW 7636  for the Exterior
Sherwin-Williams Origami White will also work as an exterior color with the trims and moldings in SW Urbane Bronze or vice versa. In particular, SW Origami White will look astounding and timeless on exterior walls of traditional style or Craftsman, Mid-Century Modern, Ranch, or transitional homes.
Also, this off-white works really great with exposed red brick or natural stone.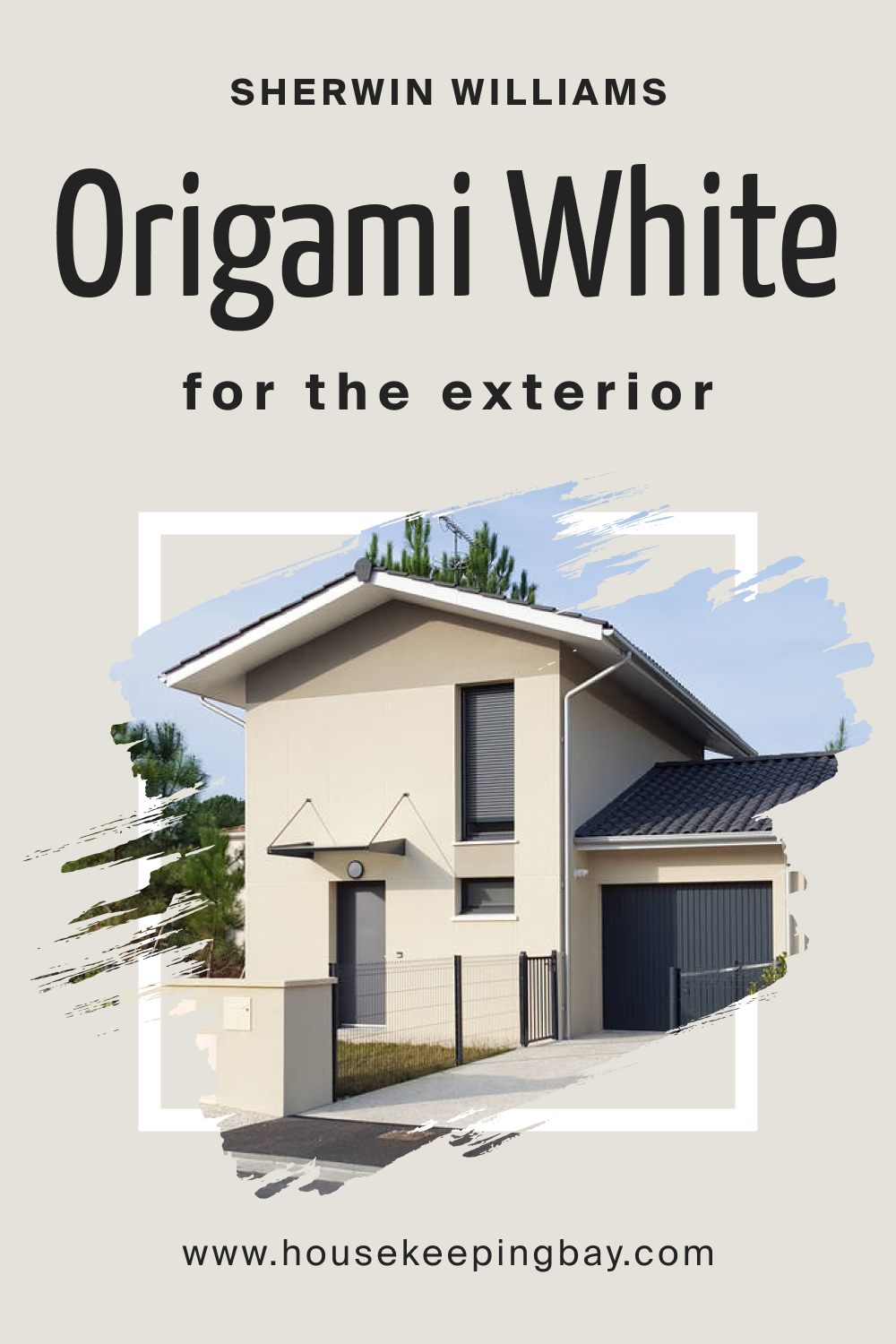 Comparing Origami White SW 7636 With Other Colors
To help you see what makes SW Origami White unique and not like other whites, read how it differs from similar colors. You will understand how undertones and LRVs of paint colors make them read distinctly.
Origami White vs Shoji White
Compared to SW Shoji White with its warm and greige hue, SW Origami White shows its violet undertones more prominently. However, since their LRVs are not very distinct (74 for SW Shoji White and 76 for SW Origami White), these colors look nearly the same in terms of reflectivity.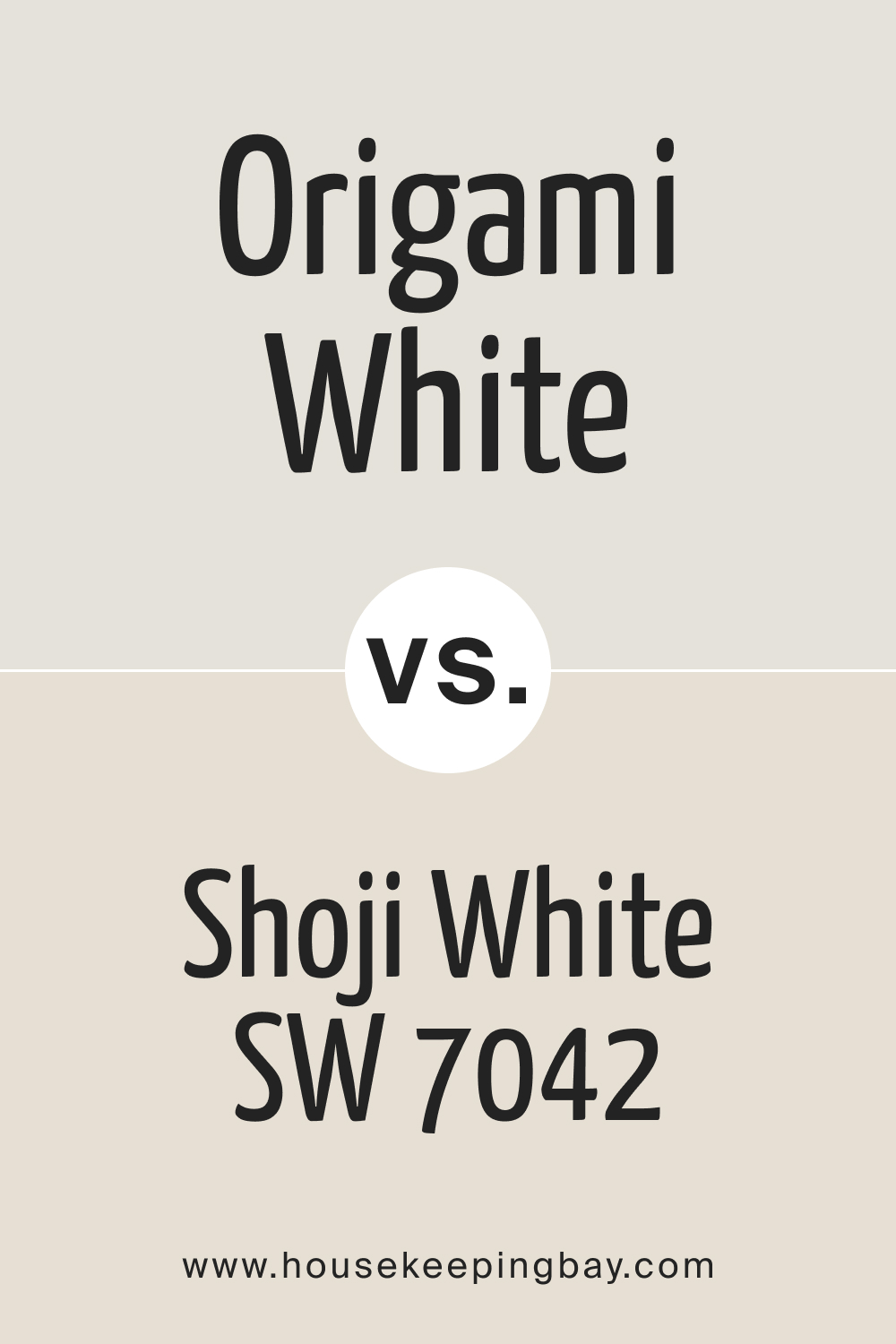 Origami White vs Alabaster
SW Alabaster has subtle beige undertones. They are neither too cool nor too warm, making this color read perfectly balanced. SW Origami White has cool violet undertones instead. But undertones are not the only thing that makes these colors distinct. The LRV of SW Alabaster is 86, which means it's much lighter than SW Origami White, whose LRV is 76.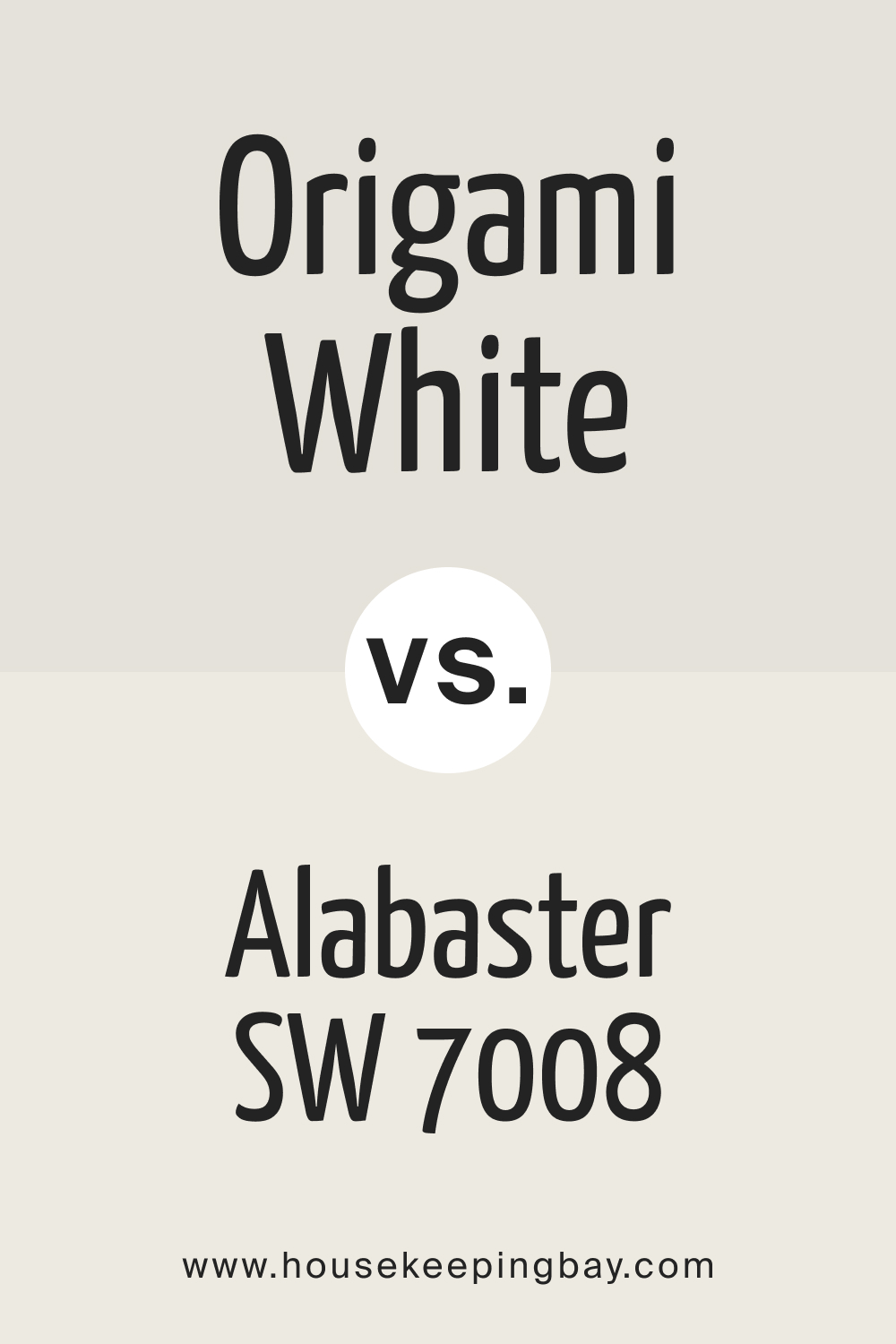 Origami White vs Agreeable Gray
SW Agreeable Gray has a warm beige undertone, which may lean more into its beige or gray side, depending on the light. The LRV of this color is 60. And then there is SW Origami White with its cool violet undertones and an LRV of 76. That means SW Origami White is lighter and more reflective. Also, compared to it, SW Agreeable Gray reads deeper and more beige.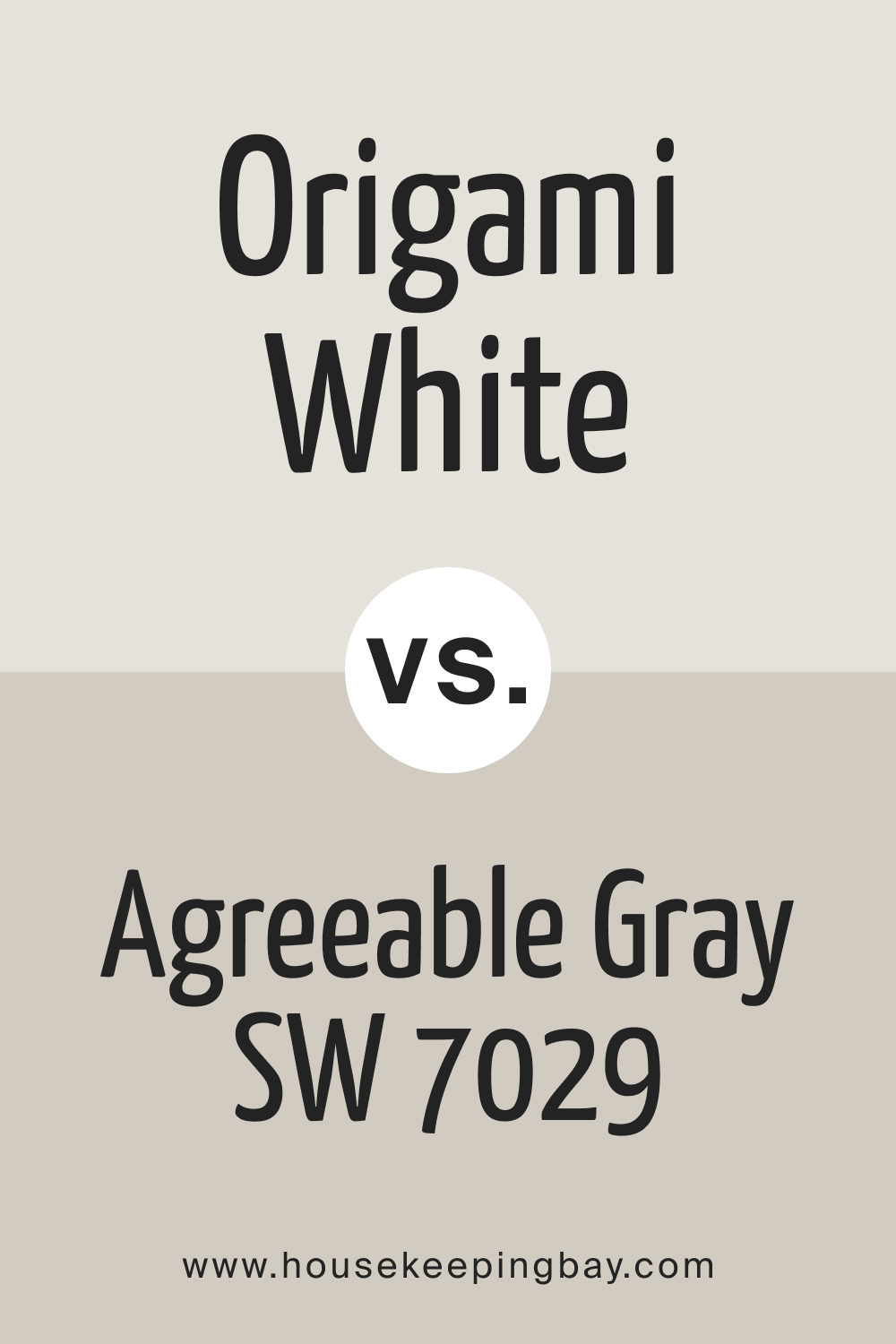 Origami White vs Pure White
Unlike SW Origami White, SW Pure White looks lighter and whiter, with its LRV of 84 and barely noticed and very neutral undertones. The contrast between these two is not very sharp though, so you can use them together in the same space.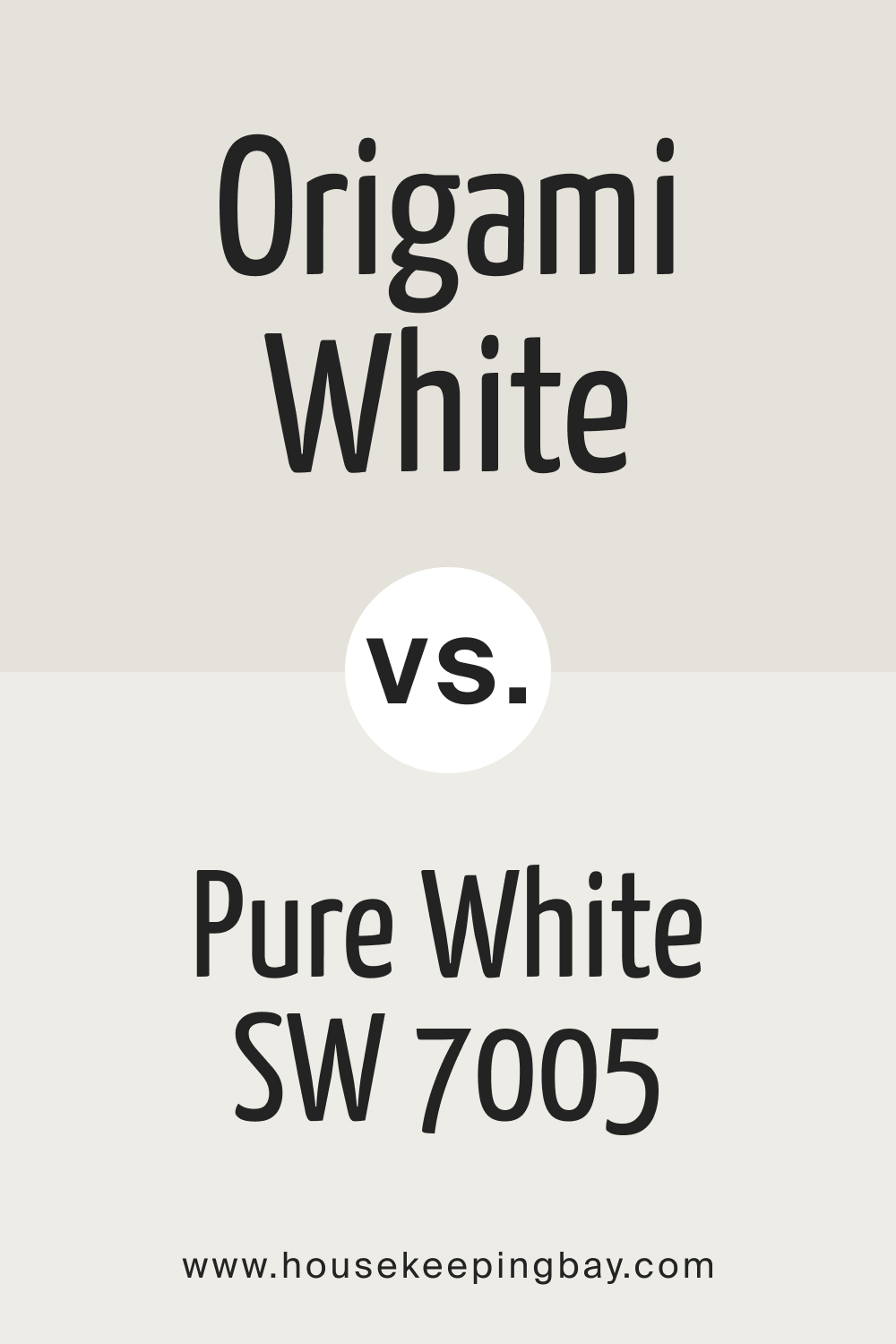 Origami White vs Snowbound
If you compare these two, you will see that SW Snowbound is lighter than SW Origami White, with an LRV of 83. But there is also a similar feature these colors share. SW Snowbound has violet and pink undertones that relate this color to SW Origami White (whose undertone is violet).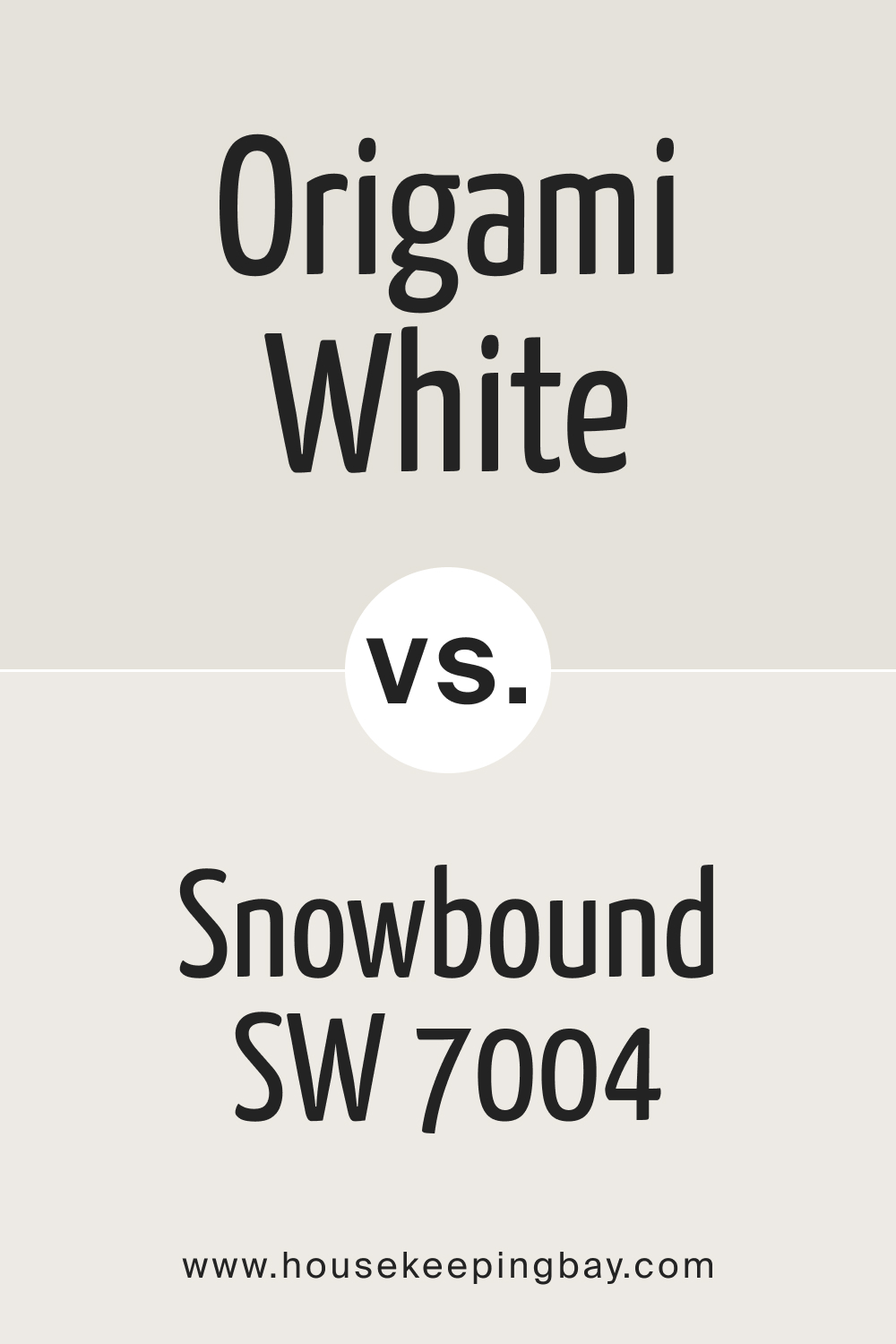 Origami White vs Swiss Coffee
These two don't work well together because of the warm creamy/yellow undertones of SW Swiss Coffee. Also, SW Swiss Coffee has an LRV of nearly 84, which makes it much lighter than SW Origami White.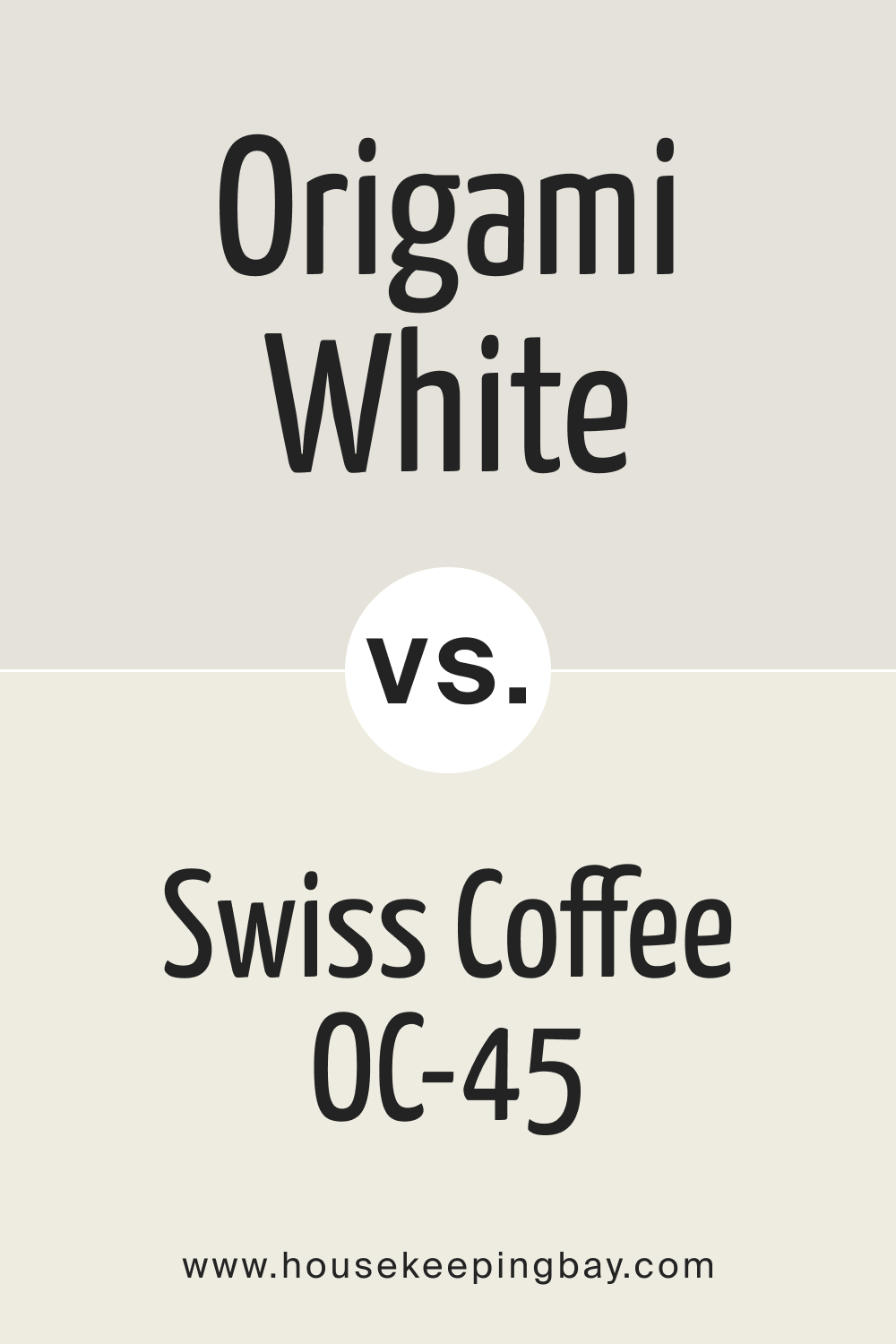 Now you can see what kind of color SW Origami White is. Although it's white, it doesn't give off a crisp or sterile look. Instead, this white has clearly seen violet undertones, which is why sampling it is a must!
But since now you know its LRV and undertones, as well as how this white may read in different rooms in your home, you should not have trouble using it correctly.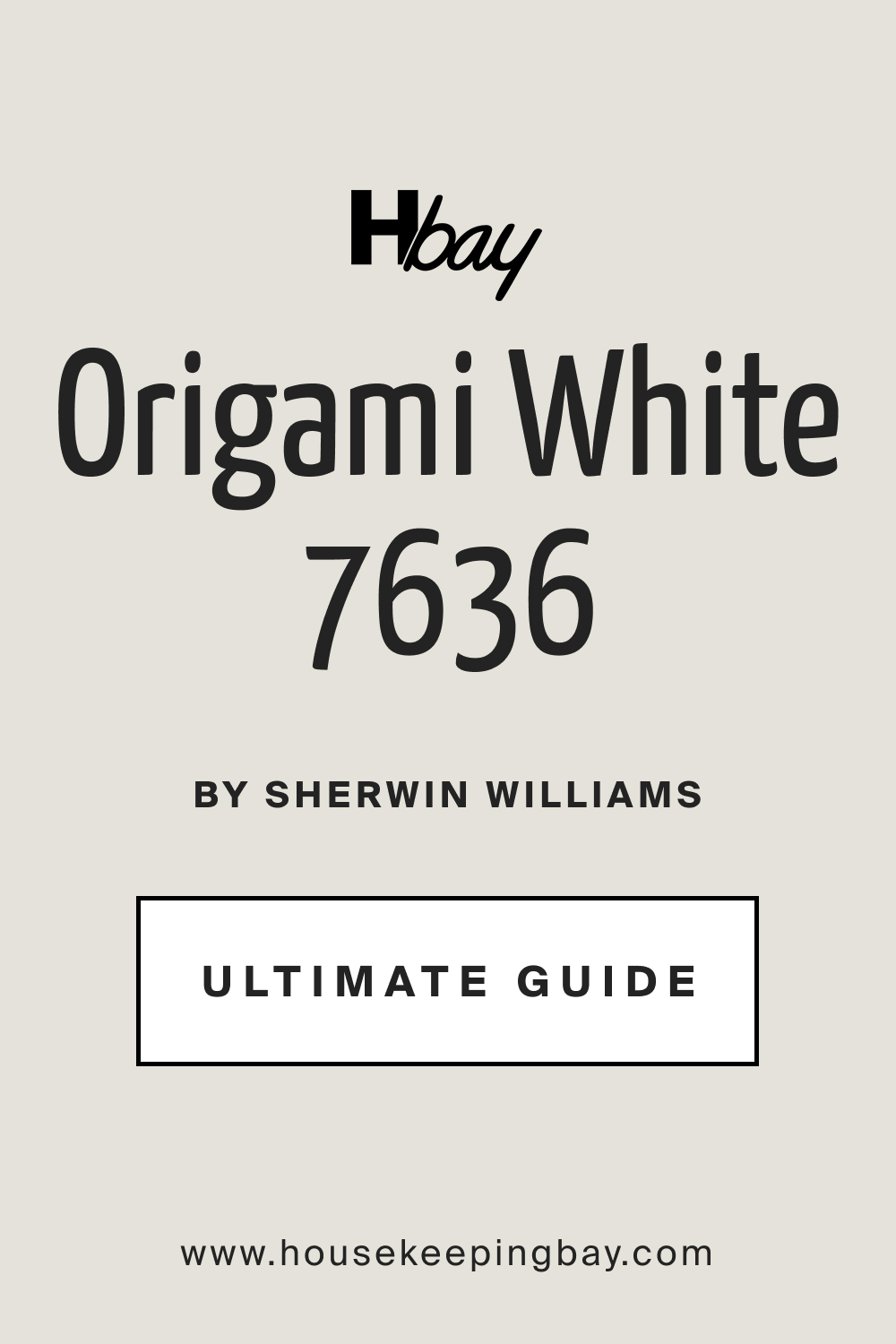 Frequently Asked Questions
⭐Is SW Origami White a popular color?
Yes, this white is pretty commonly used in people's homes due to its versatility.
⭐Is it correct to call SW Origami White an off-white?
Yes, this color can be considered off-white.
⭐Does SW Origami White read creamy?
No, it doesn't, since it has cool violet undertones.