Why do we love using beiges in our homes? Mostly because beige is associated with a homey and cozy vibe and a calm, tranquil atmosphere or a safe and relaxing space. However, there are so many shades of beige out there that it can be quite challenging to choose the one that will suit your home!
Today, we offer you a detailed guide on one of the most popular beiges by Sherwin-Williams. This color is called Kilim Beige.
You will learn what kind of beige it is and how it reads on the walls. Also, we will explain how to coordinate it correctly and what colors will work best with it. And, of course, this article will share much more helpful information with you!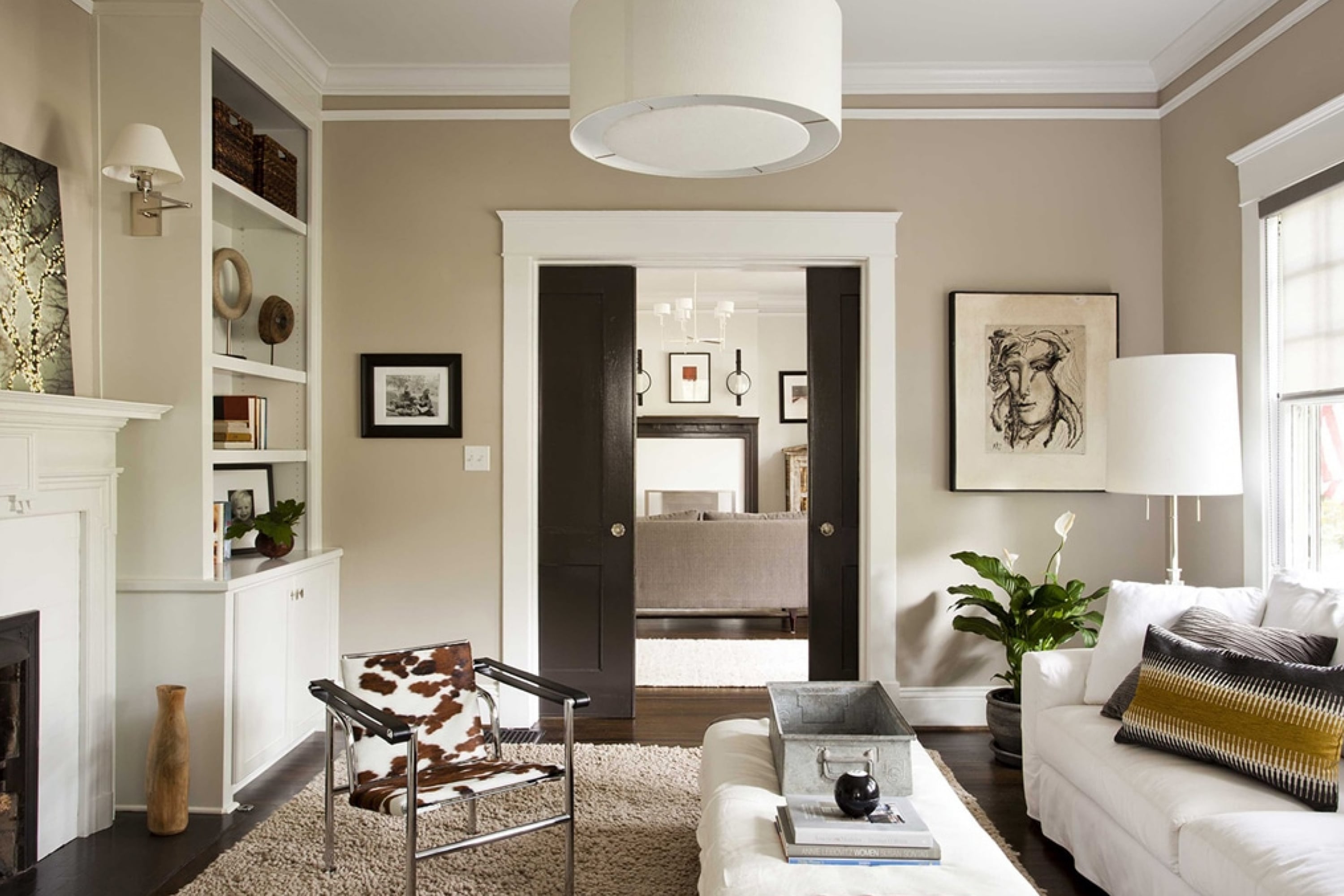 Sherwin-Williams Kilim Beige SW-6106. What Kind of Color Is It?
Kilim Beige SW-6106 by Sherwin-Williams  is a neutral and light beige paint color. As Encycolorpedia says, this soft creamy beige is very versatile and can become an excellent background to just about any decor style!
This color may seem to be pretty warm-toned at first, but in fact, SW Kilim Beige is neutral, which means its undertones are balanced and don't usually protrude too much when the color is used on the wall. Thanks to this, you can use this beige in many rooms of your home with equal success.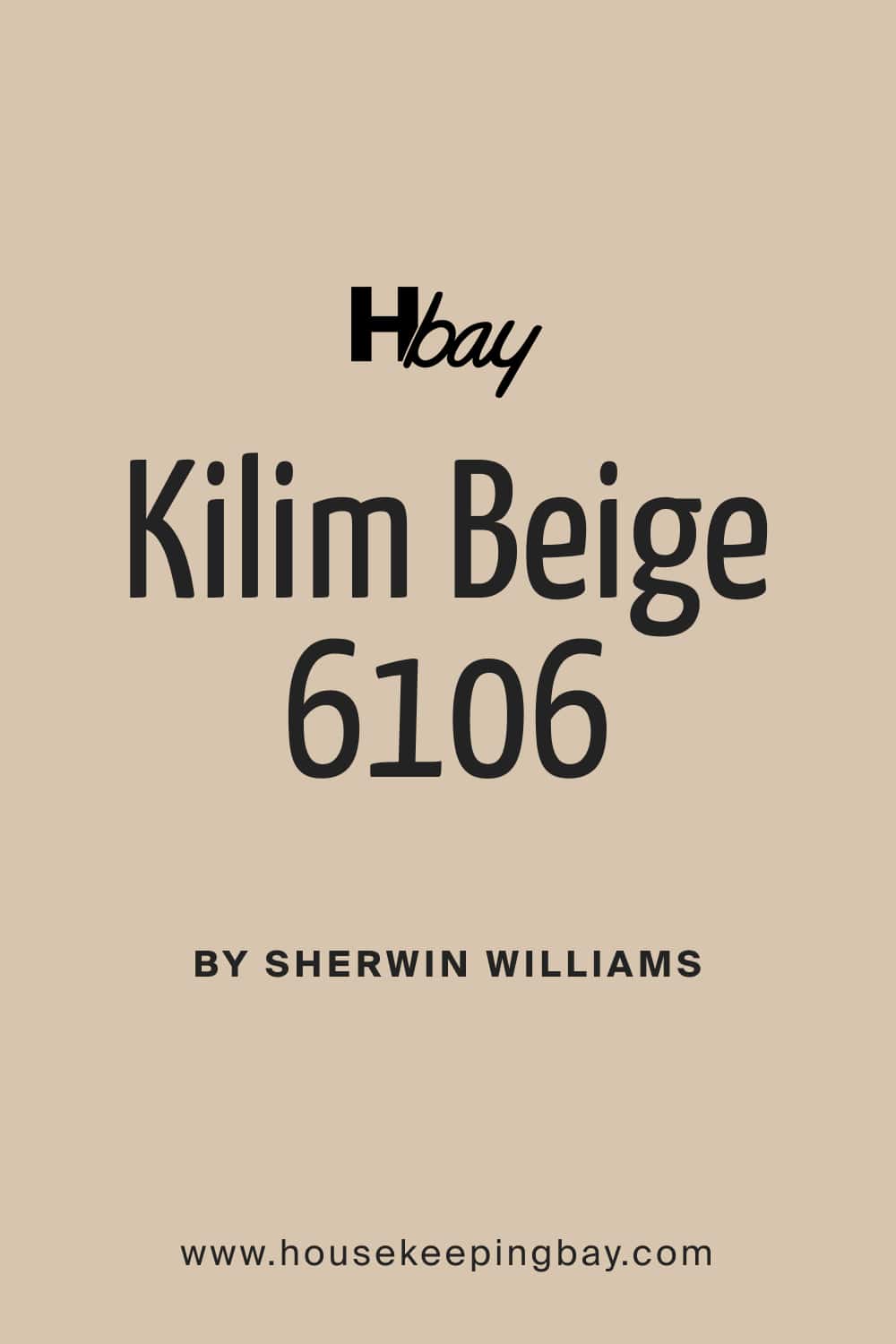 What Undertones Does Sherwin-Williams Kilim Beige SW-6106 Have?
Before you apply paint to the walls, consider checking its undertones. Undertones make paint colors tricky to use sometimes due to the ability to change the paint's appearance quite significantly.
Speaking of SW Kilim Beige, it tends to stay neutral most of the time. However, in unbalanced lighting conditions, you can see a brief hint of peachiness. This effect is highly dependent on the lighting and timing of the day, though, so don't expect to see it often.
Also, people often say they notice a yellow hue in it, but this color is definitely not going to read pumpkin on your walls! But this is what you should expect from this beige since it's part of the yellow hue family!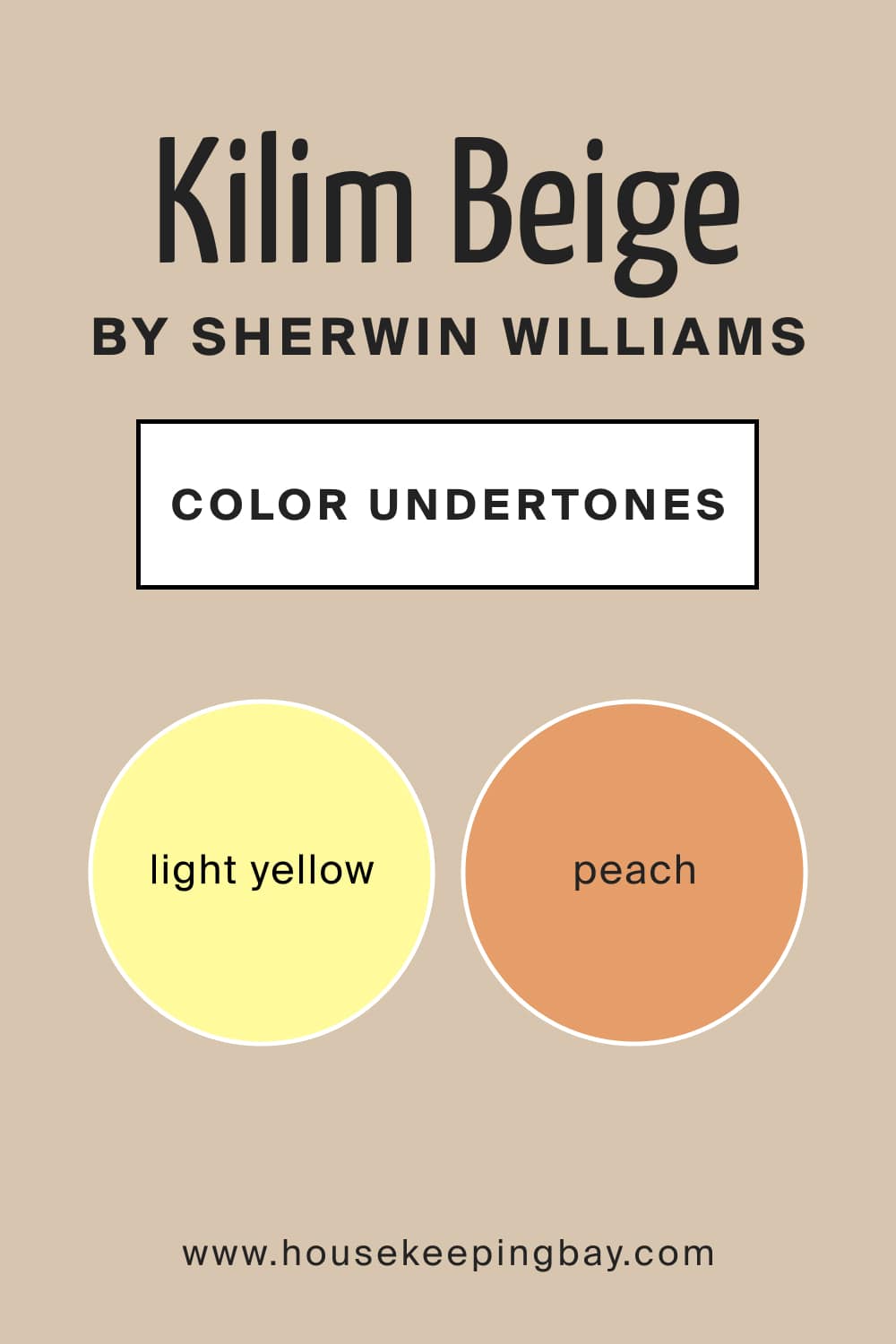 LRV of SW Kilim Beige
LRV (Light Reflectance Value) is a measurement used for measuring the amount of light that the paint reflects from and absorbs when it's applied to the surface of the wall. LRV ranges from zero to 100, with 100 being pure white and zero being absolute black.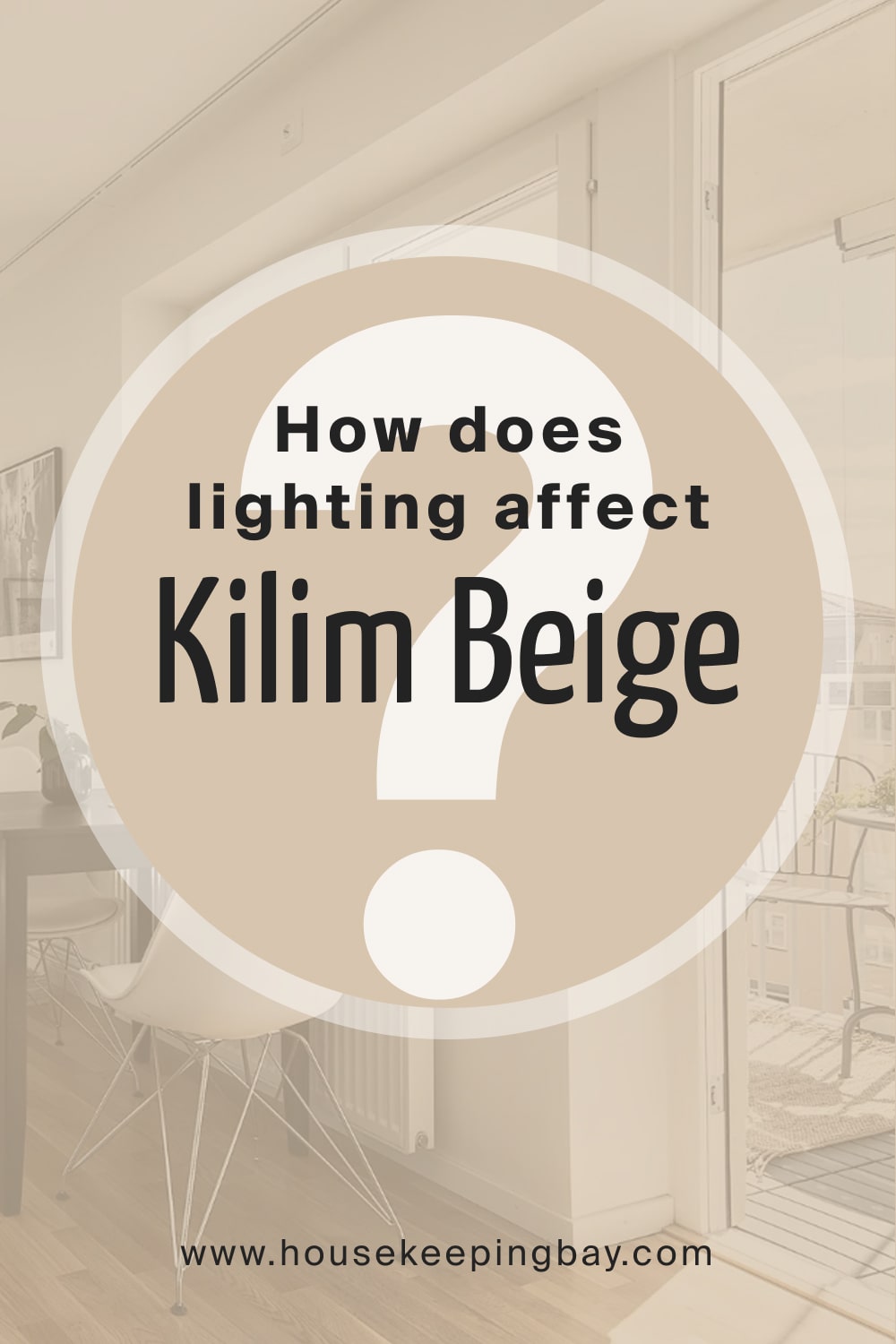 SW Kilim Beige has an LRV of 57, which places this color almost right in the middle of the LRV scale. As a result, you can expect this beige to reflect a decent amount of light! So usually, this paint won't make your rooms read dark or gloomy.
It is light enough to add enough airiness to the space, yet this color also possesses a good amount of depth, which allows it to create a warm and cozy atmosphere.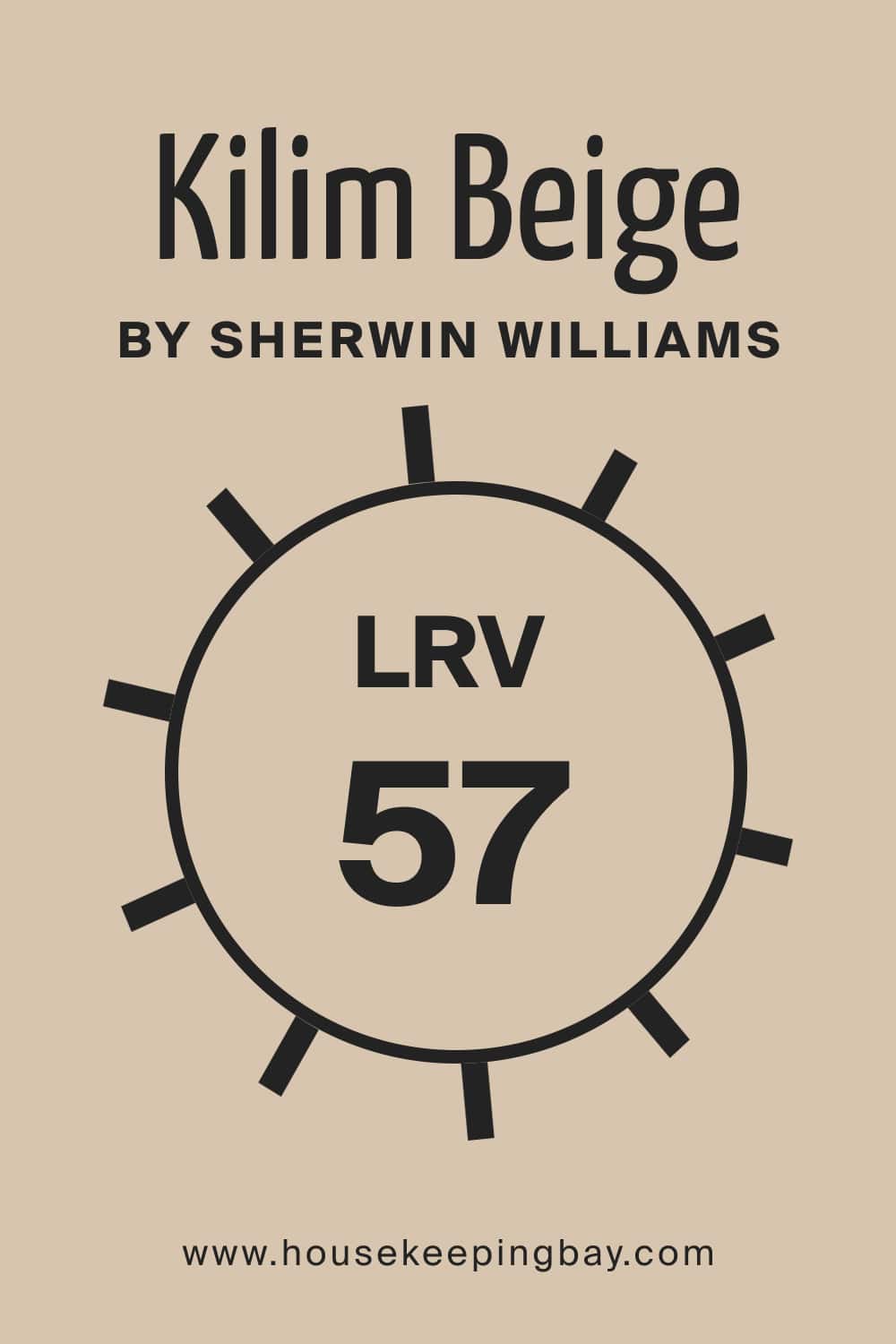 What is LRV? Read It Before You Choose Your Ideal Paint Color
Coordinating Colors to Use With SW Kilim Beige
To create a balanced and well-working color palette in your home, you must coordinate the colors in each room correctly. With SW Kilim Beige on the walls, consider using one of the following coordinating colors:
SW Divine White
SW Latte
SW Storm Cloud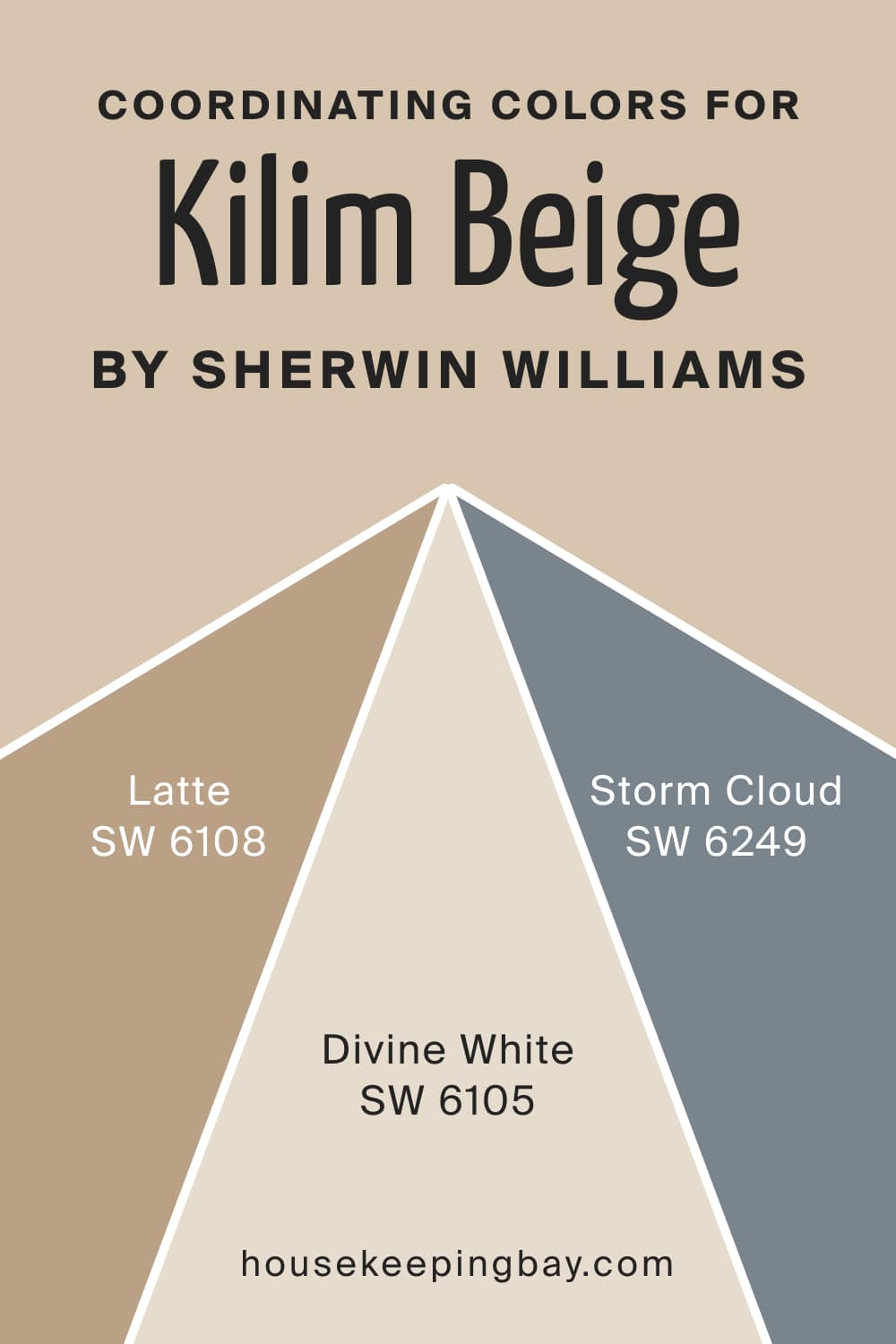 Colors That Go With Sherwin-Williams Kilim Beige SW-6106
Sometimes, it can be challenging to pick the most suitable paint colors to use along with the color on the walls. And even such a versatile neutral as SW Kilim Beige may often leave you puzzled about what colors might work with it better.
To help you out, grab a list of paint colors that will always work with this neutral beige! Since this palette is pretty versatile and varied, you will easily find the color/colors that will suit your home interiors!
Bracing Blue SW 6242
Gauntlet Gray SW 7019
Malabar SW 9110
Oakmoss SW 6180
SW Latte
SW Coconut Husk
What Is the Best Trim Color to Use With SW Kilim Beige?
Picking a suitable trim color to make it work with a wall color sometimes leaves homeowners frustrated and puzzled. It can be tricky and quite challenging, especially if you don't have an eye for colors and their shades! But fortunately, that is not the case with SW Kilim Beige.
As for many wall colors, white is going to be the most suitable trim color choice for this neutral beige.
In particular, we recommend you use SW Alabaster. It is slightly off-white with a hint of warmth in it, which makes it complement SW Kilim Beige perfectly. SW Divine White is another amazing warmer-toned white trim color that looks fabulous with SW Kilim Beige.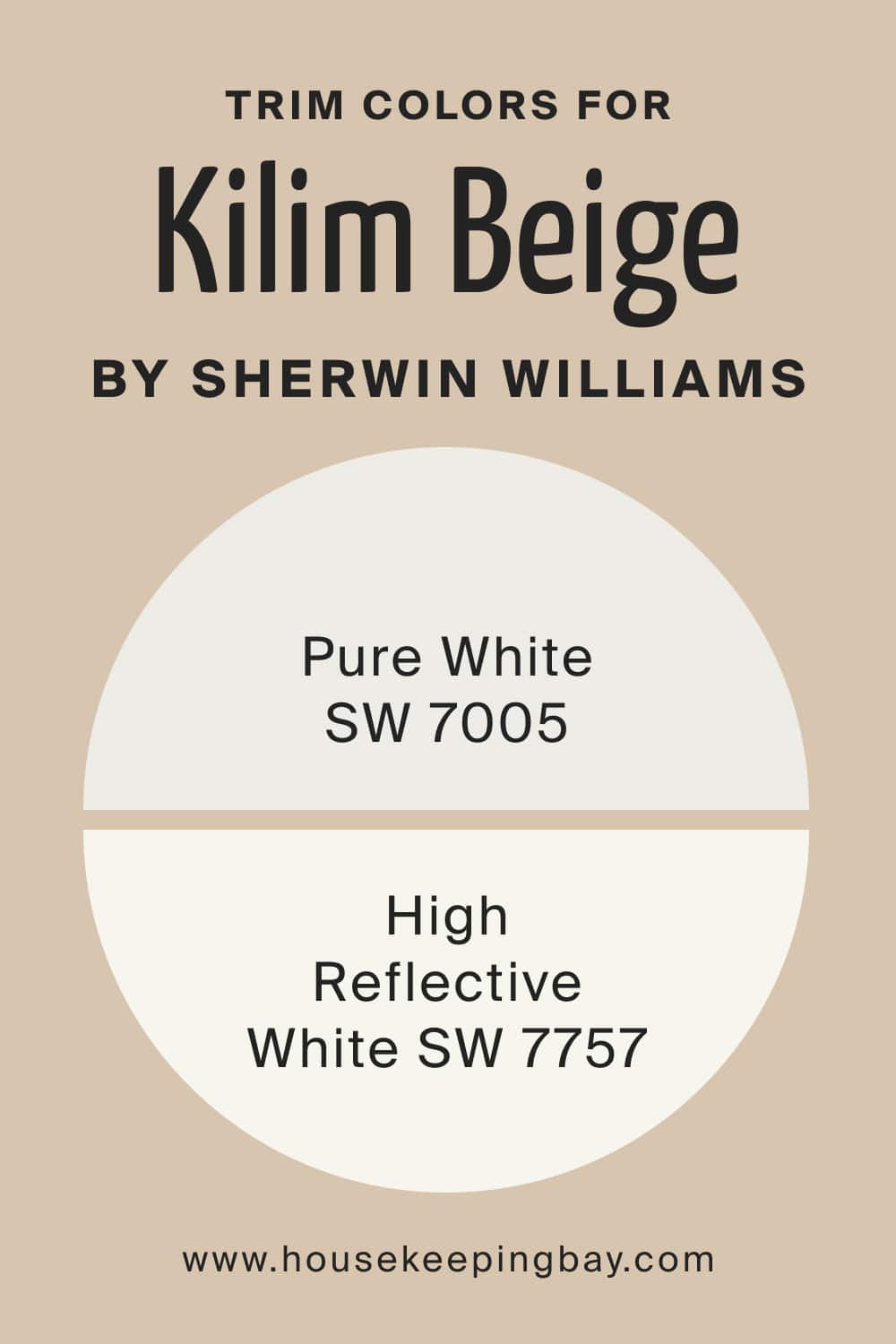 Sherwin-Williams Kilim Beige SW-6106 Similar Colors
Should you need to use a slightly lighter or darker shade of SW Kilim Beige, or you realize you need a color with somewhat distinct undertones, having a few alternatives at hand is always a good idea!
Below, you can find a list of colors that read almost the same as SW Kilim Beige.
Benjamin Moore Manchester Tan
Sherwin-Williams Natural Linen
Sherwin-Williams Neutral Ground
Sherwin-Williams Canvas Tan
Sherwin-Williams Oyster White
Of course, you must note that none of them is a 100% match! Each color will anyway look a bit different due to the distinctions in their LRVs and undertones.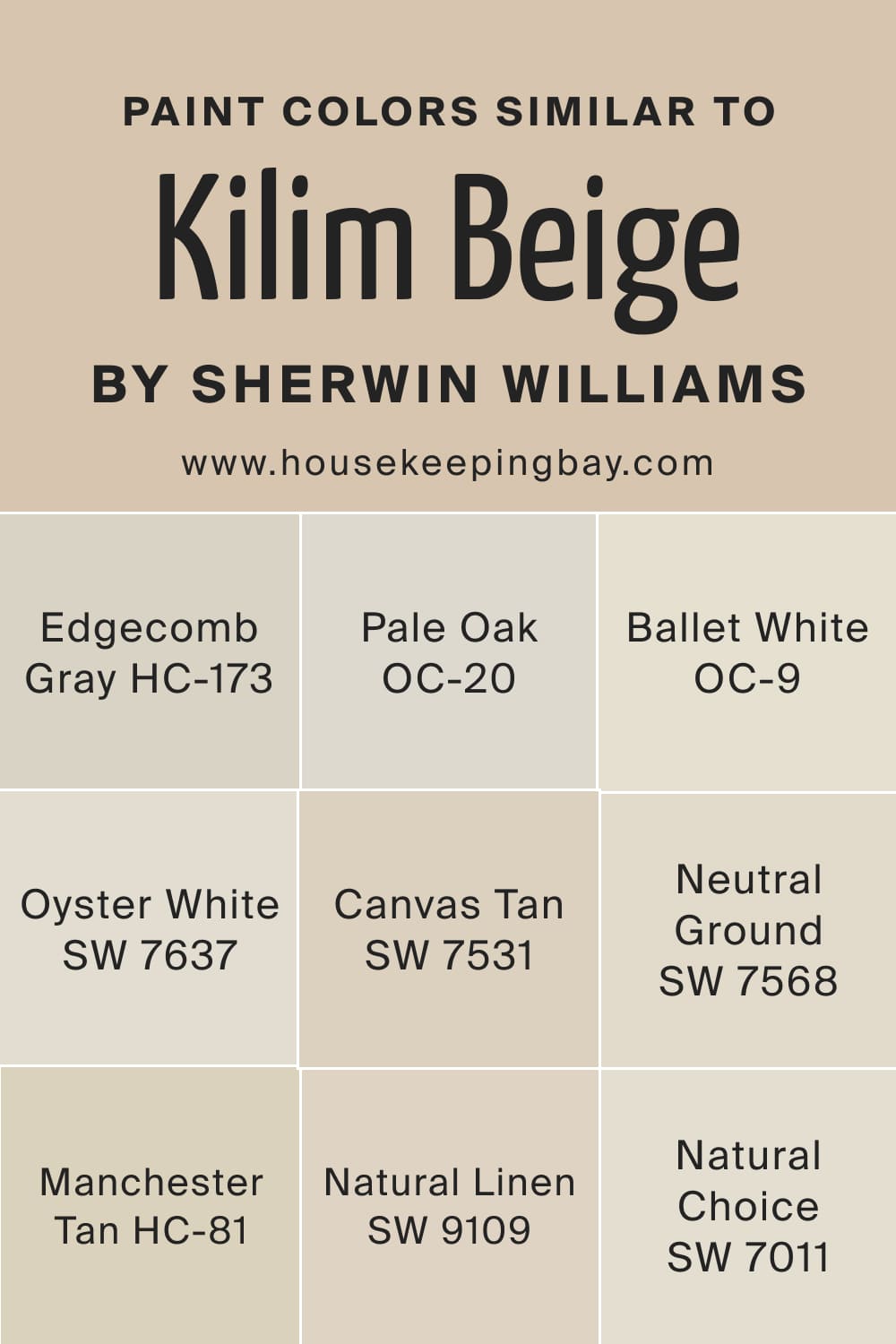 Comparing Sherwin-Williams Kilim Beige SW-6106 With Other Colors
To those who don't work with paint colors professionally (e.g. interior designers), defining differences in colors' undertones and hues might be rather challenging. Also, two paint colors can sometimes look so similar that you need an eye of an eagle to notice any distinctions between them! Below, we suggest you several pairs of colors that compare SW Kilim Beige to other similar colors. This will help you learn to see the differences better.
Kilim Beige vs Accessible Beige
First of all, these colors have slightly different LRVs. SW Accessible Beige has an LRV of 58, which is a bit higher than the LRV of SW Kilim Beige (which is 57).
Although both paint colors have the same lightness value, Accessible Beige is technically the darker one.
Another difference is that SW Kilim Beige has more saturation. Besides, SW Accessible Beige reads a bit more gray.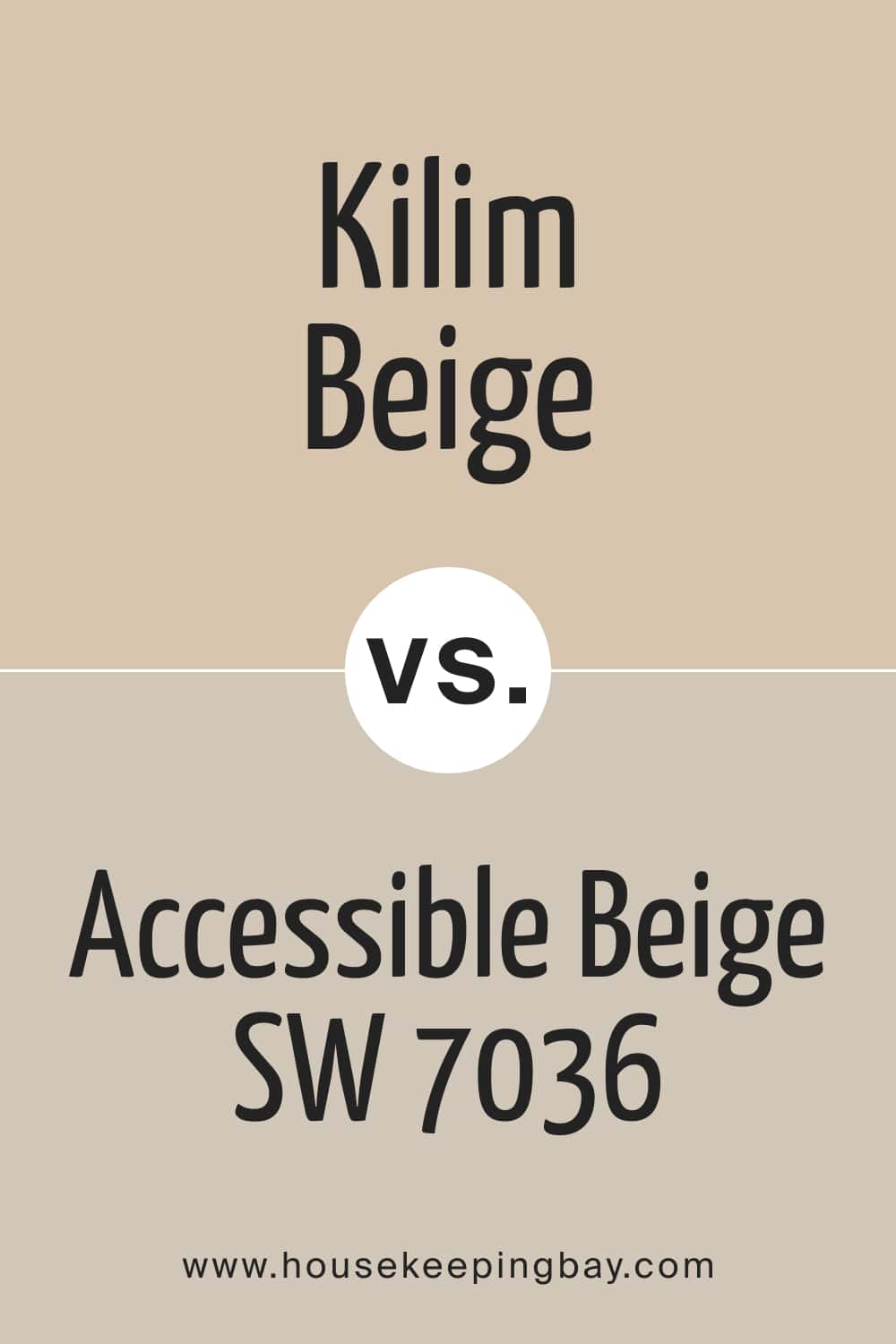 Kilim Beige vs Natural Linen
These colors also different LRVs, but this time, the gap between them is more significant. SW Natural Linen has an LRV of 66, and SW Kilim Beige has an LRV of 57, which makes it a darker color. Also, SW Kilim Beige has a bit more saturation to it.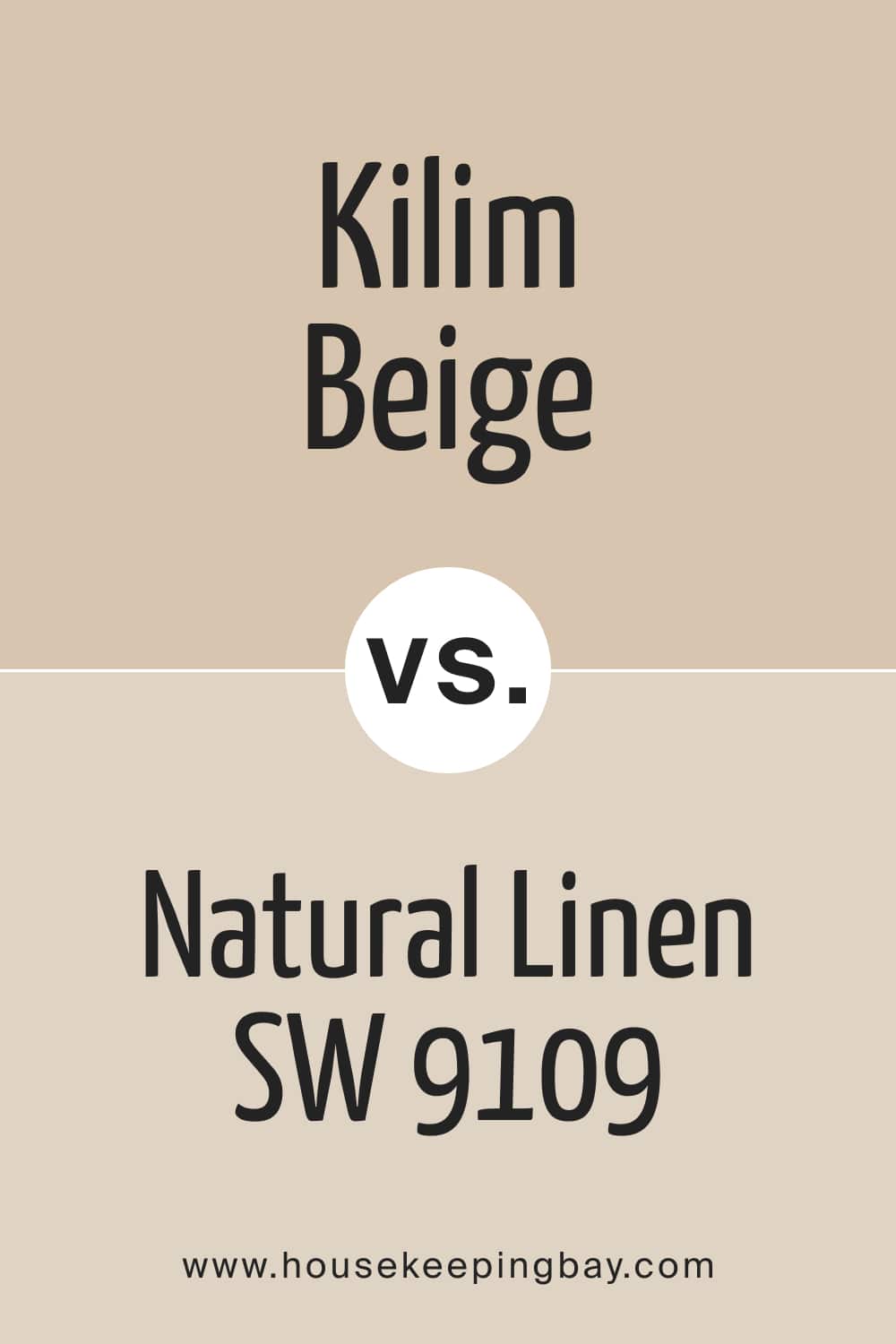 Kilim Beige vs Balanced Beige
SW Balanced Beige has an LRV of 46, which is significantly lower than Kilim Beige's LRV of 57. Simply speaking, SW Balanced Beige is darker than its counterpart. Both colors are from the same hue family, but SW Balanced Beige reads darker in shade and is not as saturated as SW Kilim Beige.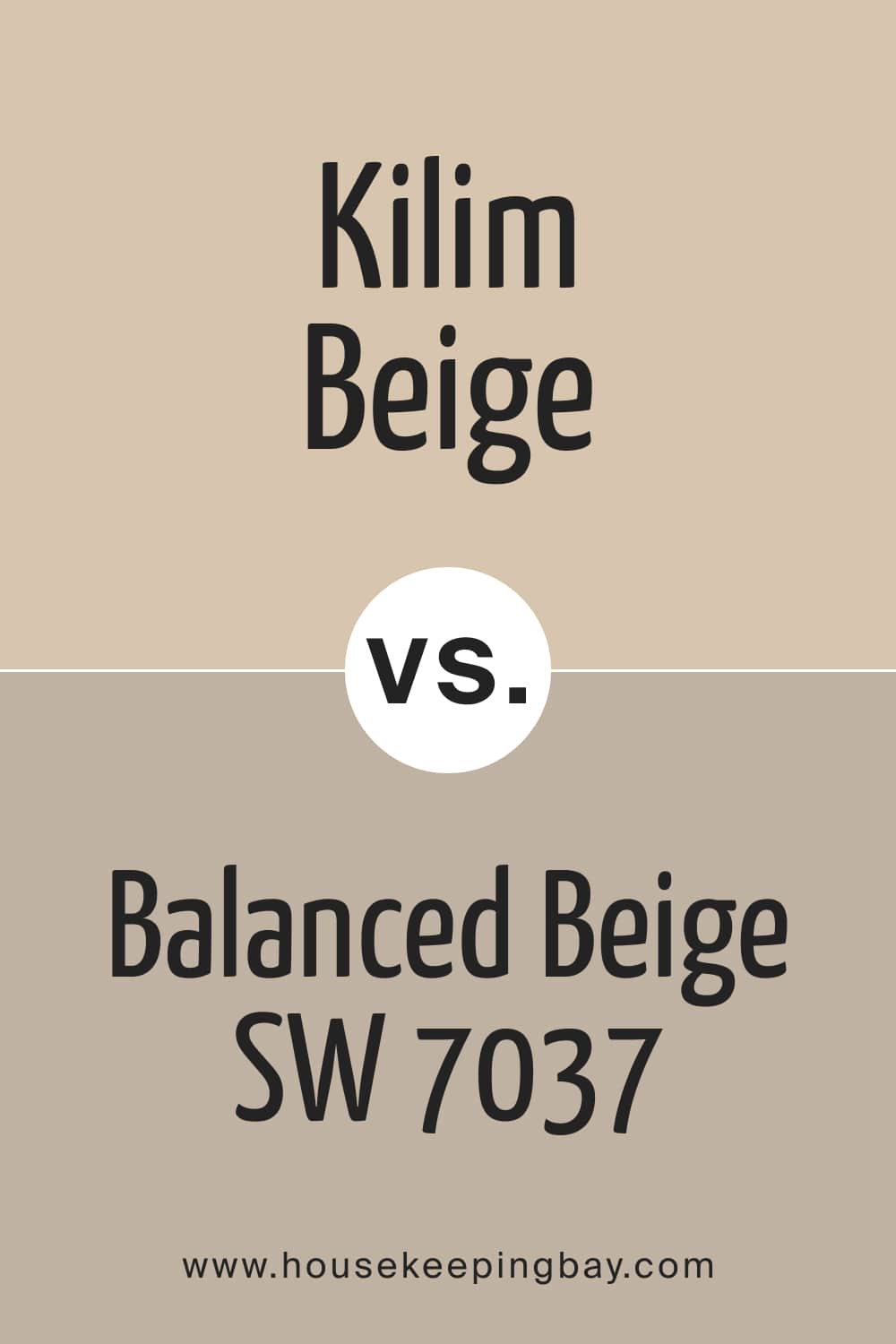 Kilim Beige vs Agreeable Gray
SW Agreeable Gray has an LRV of 60, which is a bit higher than the LRV of SW Kilim Beige (that is 57). This means SW Agreeable Gray is lighter. Also, SW Kilim Beige reads a beige paint color, whilst SW Agreeable Gray reads greige.
Another distinction between these two is that SW Agreeable Gray is more gray in hue down, and also, it's less saturated. Finally, compared to the Agreeable Gray color, SW Kilim Beige reads warmer.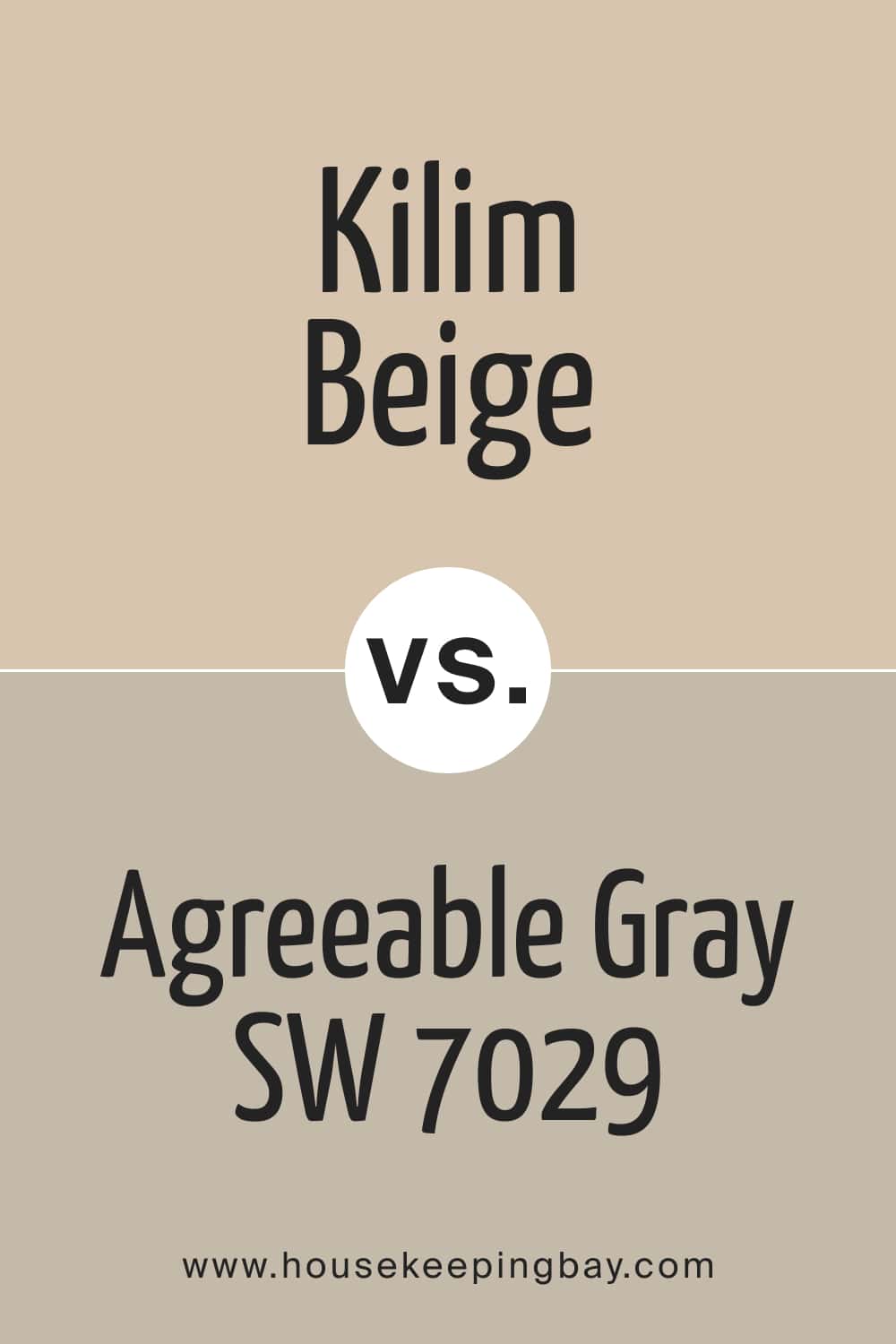 Kilim Beige vs Canvas Tan
These colors have distinct LRVs since SW Canvas Tan has an LRV of 64, and SW Kilim Beige has an LRV of 57. That means SW Canvas Tan is the lighter paint color of the two.
Also, SW Kilim Beige is a bit more saturated, although both come from the yellow-red hue family. There is one more difference. SW Canvas Tan sometimes shows a very subtle pink tone.
Now that you know all the basic information about this neutral beige by Sherwin-Williams let's see how it may work in different spaces of your home. It will help you to choose the best place for this paint color.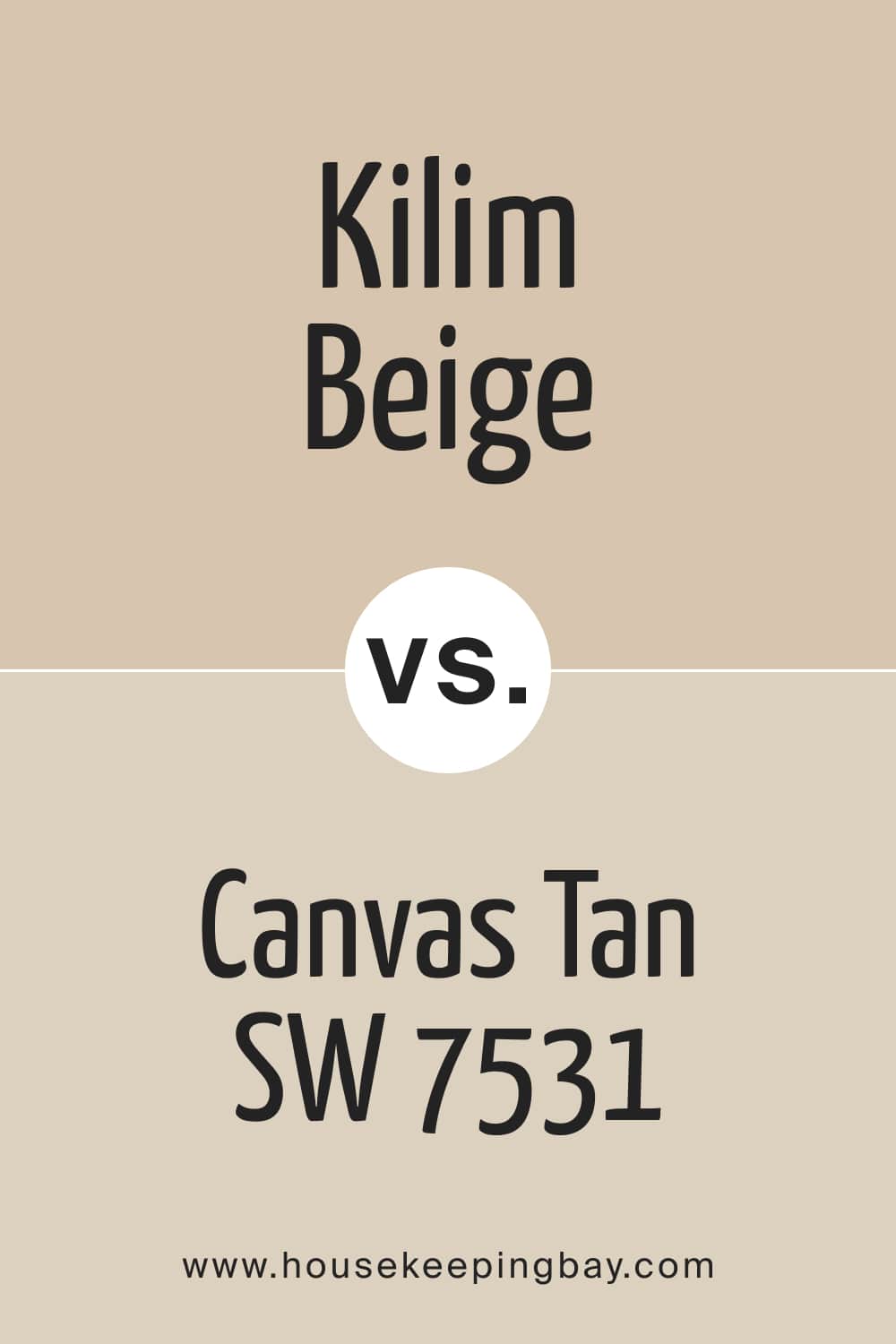 Where to Use This Kilim Beige SW-6106 Color In Your Home?
This soft and warm beige is pretty versatile and can be used successfully in many rooms of your house or apartment. You just need to consider the lighting there, which will help you make this color work much better and reveal its true beauty! Below, you can read how SW Kilim Beige may work in different spaces.
Kilim Beige SW-6106 in the Living Room
Your living room will turn into a cozy and relaxing place if you paint its walls with SW Kilim Beige! This soft and pleasantly warm neutral beige gives off a welcoming feeling that will make a room read perfectly homey.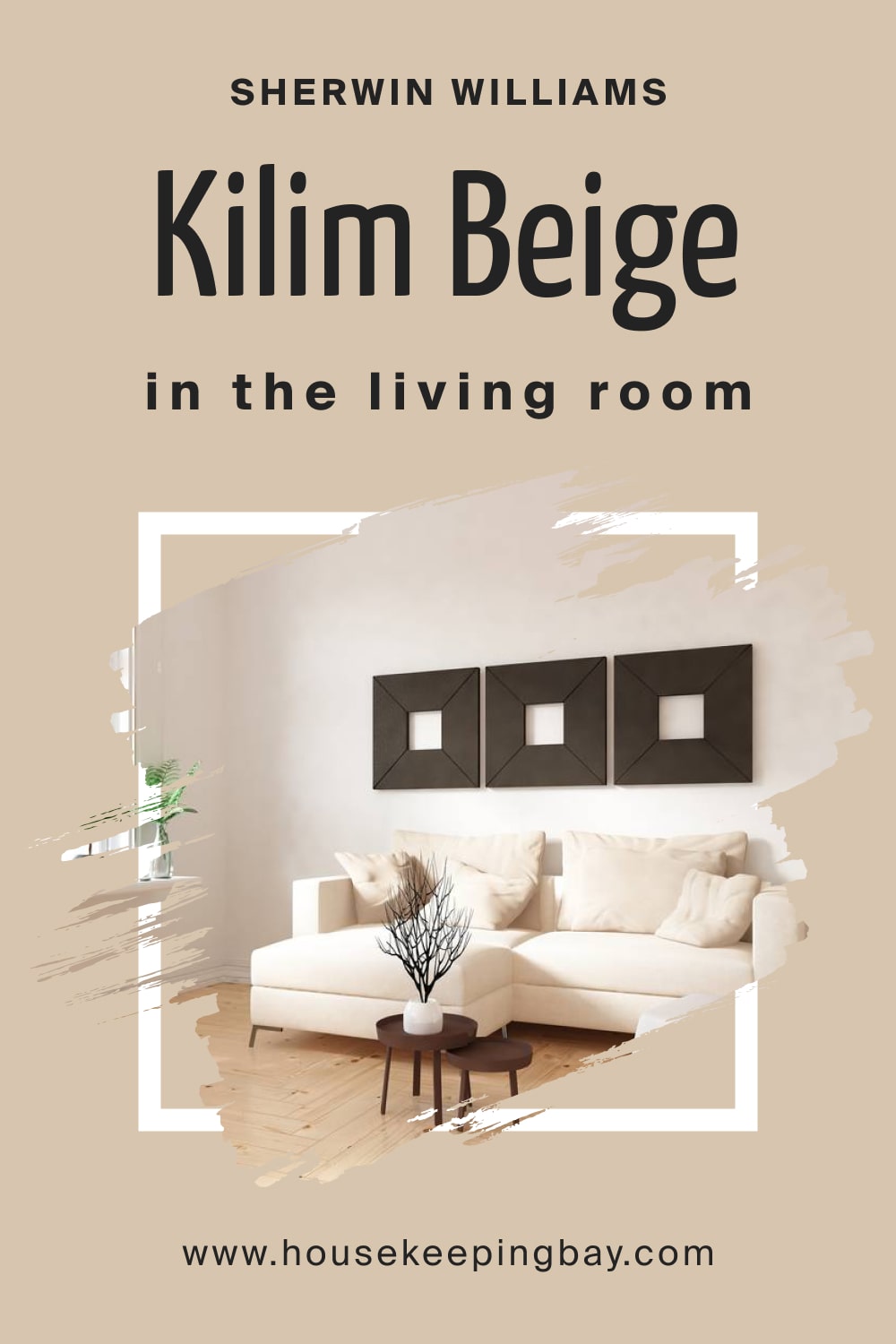 Kilim Beige SW-6106 in a Bedroom
Some of you may see this color to be too warm for bedroom walls, but if the room has plenty of natural light, don't be afraid to paint it with SW Kilim Beige! Paired with white ceilings and trim, this beige will make your sleeping space feel relaxing and tranquil.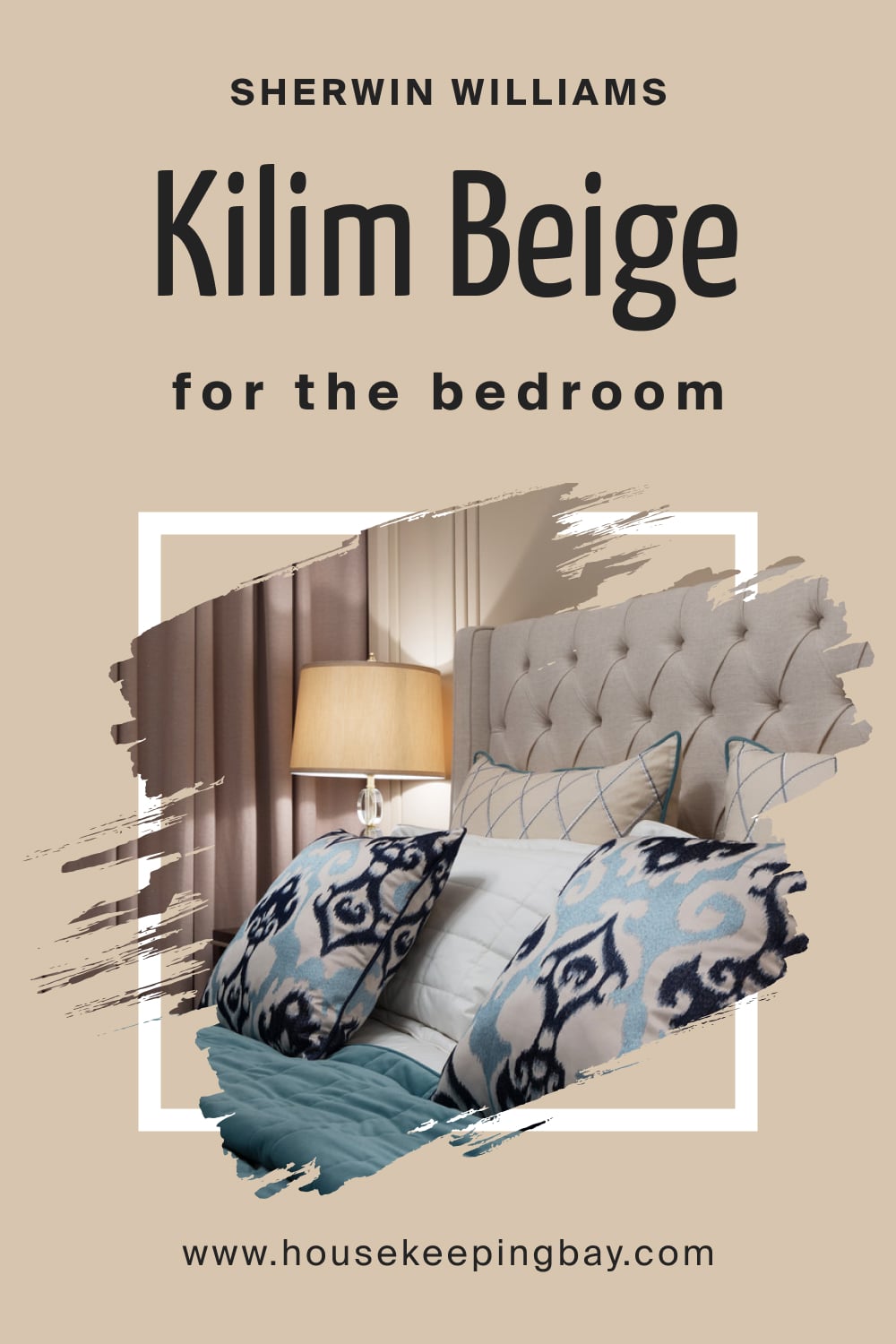 Kilim Beige SW-6106 on the Bathroom
Unless your bathroom is very spacious and has plenty of daylight, we would not recommend you paint it all with SW Kilim Beige. However, as an accent color, it can work perfectly well! Leave your bathroom walls white and paint your vanity sink with this neutral beige, and your bathroom will look much warmer!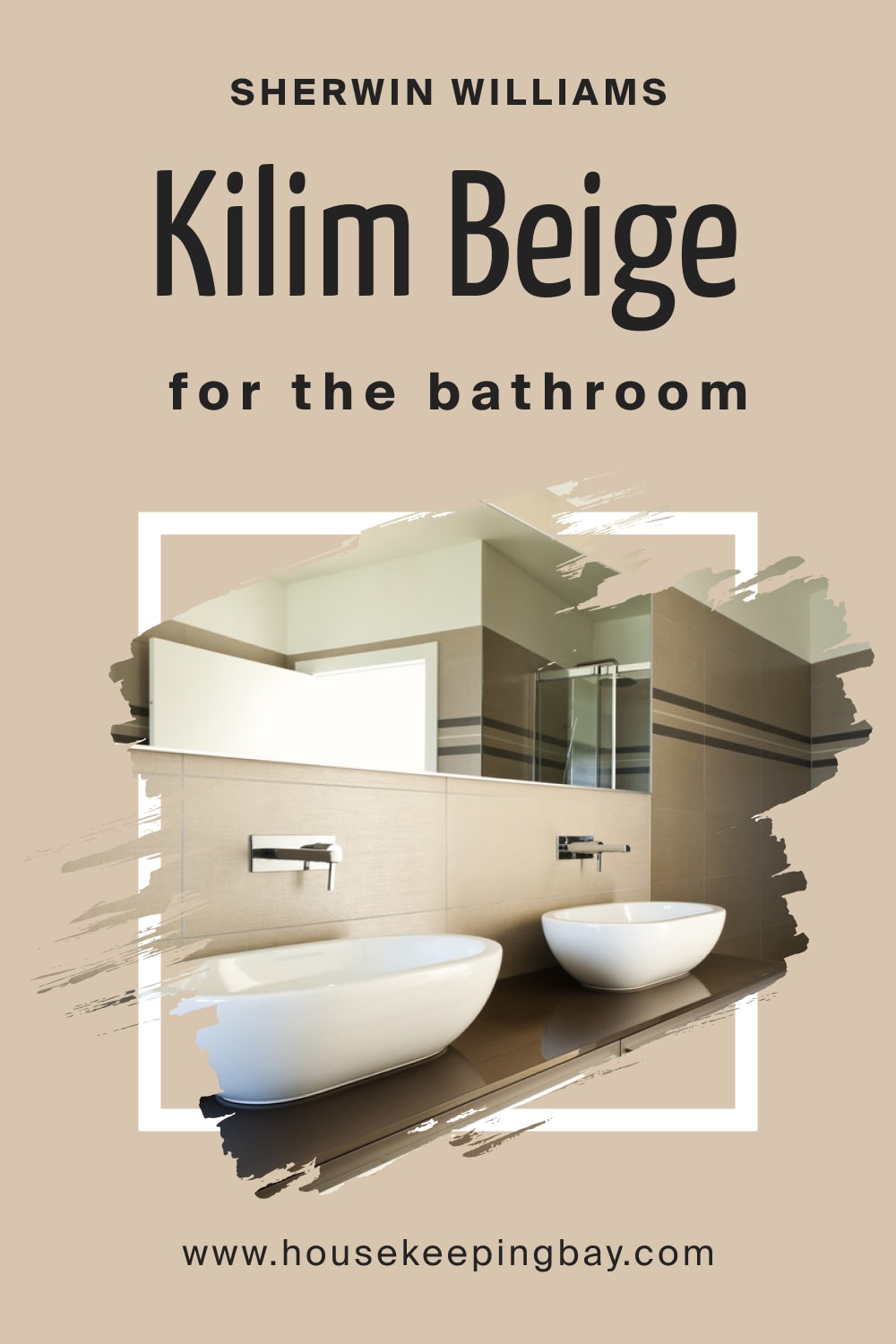 Kilim Beige SW-6106 and Kitchen
In your kitchen, this beige can work on lower or upper cabinets or both. Also, it can be used as a paint color for the kitchen island successfully. As an option, paint an accent wall with it, leaving the rest white. This will create a cozy color accent and make the room read less washed-out.
Kilim Beige SW-6106 for the Exterior Use
If you still hesitate about using SW Kilim Beige on exterior walls, there's nothing to worry about! This neutral beige will work on the exterior of the home as well. But you should keep one thing in mind! Since colors tend to look brighter in direct sunlight, SW Kilim Beige will look lighter and possibly wash out a bit if you use it on exterior walls!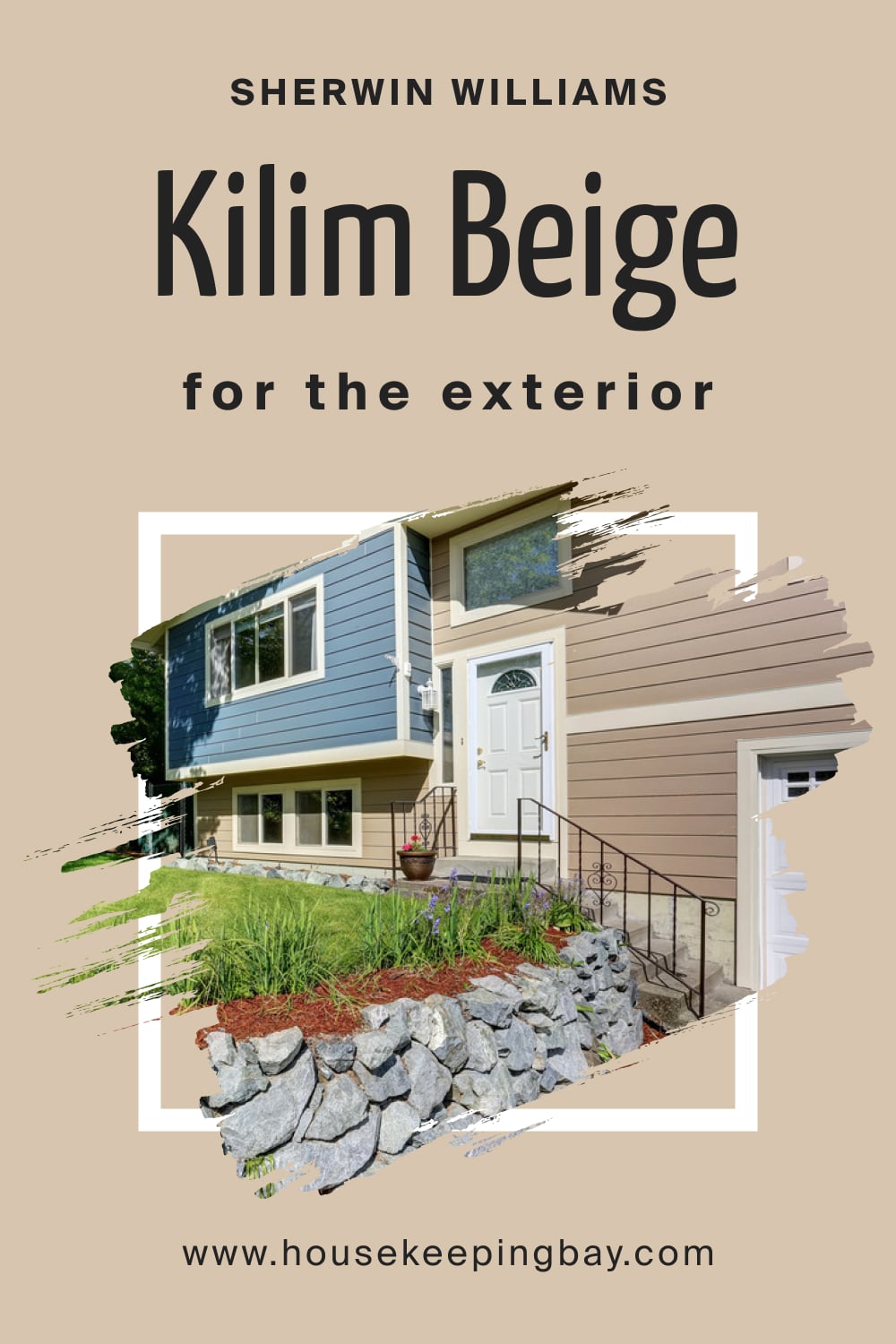 Well, now you know what kind of beige it is! As you can see now, SW Kilim Beige is pretty versatile, although it may seem to be a bit too warm at first. This beige is neutral, so you can use it on many surfaces and in many rooms of your home with equal success. Besides, it will work with many interior designs and color palettes.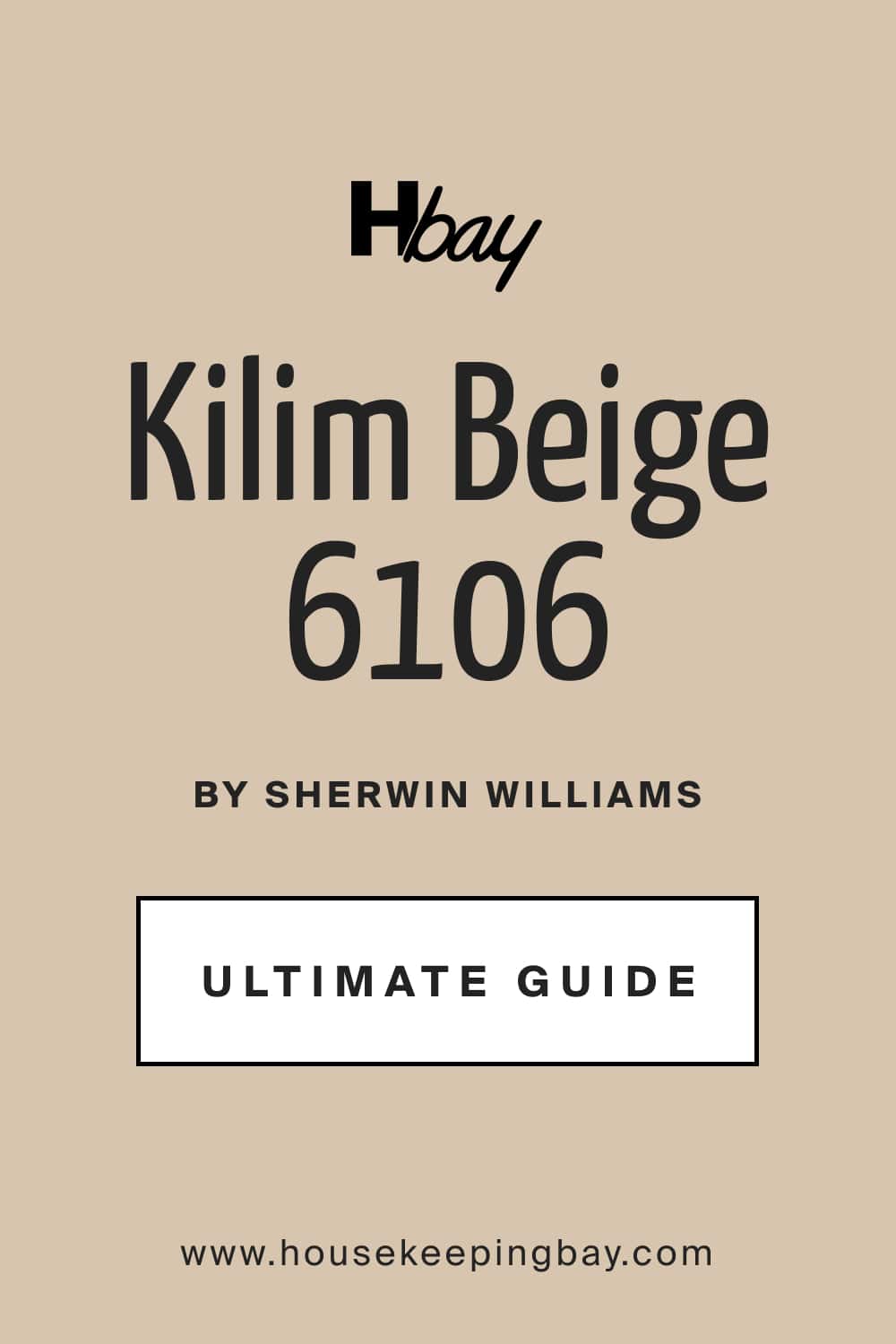 Frequently Asked Questions
⭐Is SW Kilim Beige a popular color?
Yes, it's a part of Sherwin-Williams's top 50 paint colors.
⭐Does SW Kilim Beige read yellow?
SW Kilim Beige is definitely not yellow. Sometimes it may read "beige", so people can automatically think it looks yellowish.
⭐What hue family does SW Kilim Beige belong to?
This color belongs to the yellow hue family, leaning towards yellow-red.