If you strive for a cozy and relaxing vibe in your home, you probably want to see warmer colors on your interior walls. This is why beiges and greiges will most likely be among your favorites. If so, we would like to introduce you to a lovely paint color called Mushroom by Sherwin-Williams.
Despite looking greige, this hue is way more complicated! And today, we will teach you how to make it work in your home. You will learn what LRV and undertones SW Mushroom paint color has, how it reacts to light, and how to coordinate it correctly.
Also, you will discover in what rooms this hue will work best and what colors it will pair with.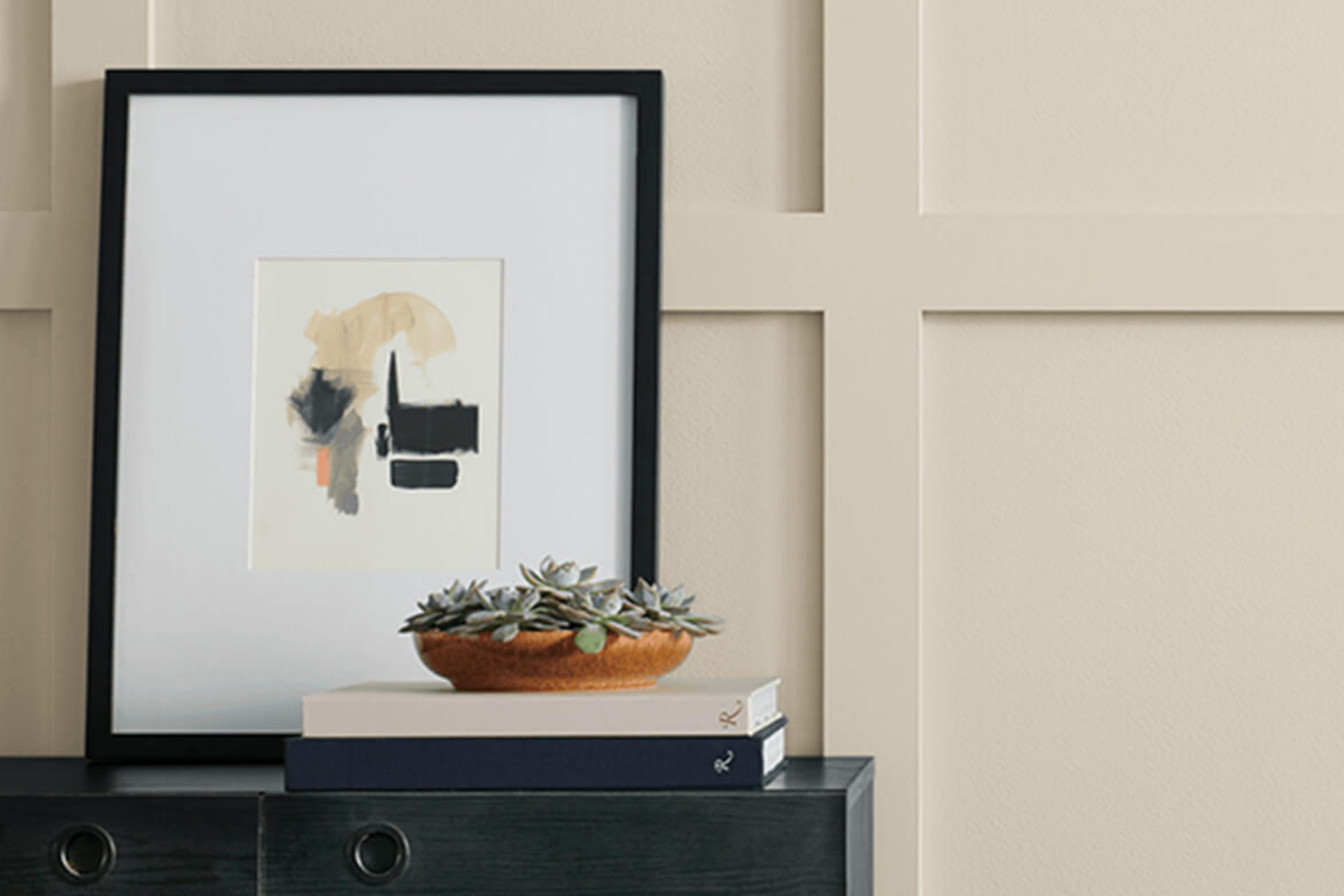 What Kind of Color Is SW 9587 Mushroom by Sherwin-Williams?
If you look at the SW Mushroom color, you may think that it is a beige hue. However, it's only partially true. As Encycolorpedia says, a mushroom is a color that is neither beige nor greige, being somewhere in between these hues.
SW Mushroom is technically brown-beige, with a slight gray hue hidden in it.
However, the brown-beige hue is dominant here, and gray is a step-down. Also, SW Mushroom paint color is warmer than greige because it has more brown in it and less purple than taupe.
SW Mushroom 9587 reads pleasantly neutral, being neither too warm nor too cool. Thanks to its flexible nature, its most appealing thing is the ability to work in a variety of design styles.
You can use SW Mushroom in Scandinavian, minimalist, farmhouse, modern, and many other interior styles, and this hue will always do the best.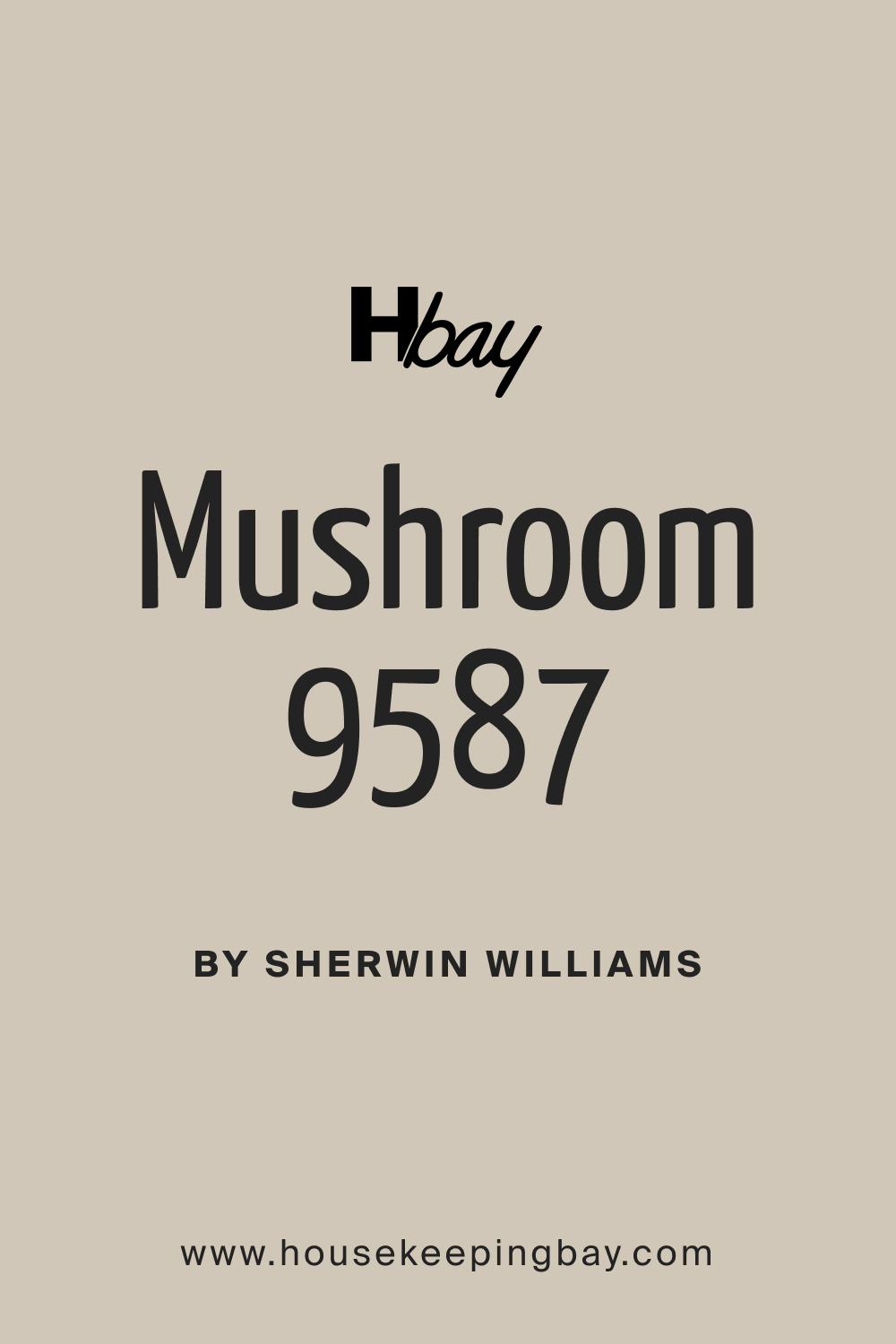 Is It a Warm or Cool Color?
The good thing about this delicate color is that it is neither warm nor cool. Thanks to being balanced, this soft and delicate hue can work in almost any space with equal success. However, such flexibility often poses challenges for homeowners since it can be rather hard to figure out where exactly in your home this paint color will work best!
What Undertones Does SW Mushroom Paint Color Have?
Speaking of undertones, this particular color is a tricky one! See, it has a mix of brown, beige, and gray in it, which means its undertones are pretty complex and unpredictable. In some spaces, SW Mushroom may read grayer, whilst, in other spaces, this hue will display its brownish base more prominently.
This is why we strongly recommend you sample it to ensure the color reads as you want!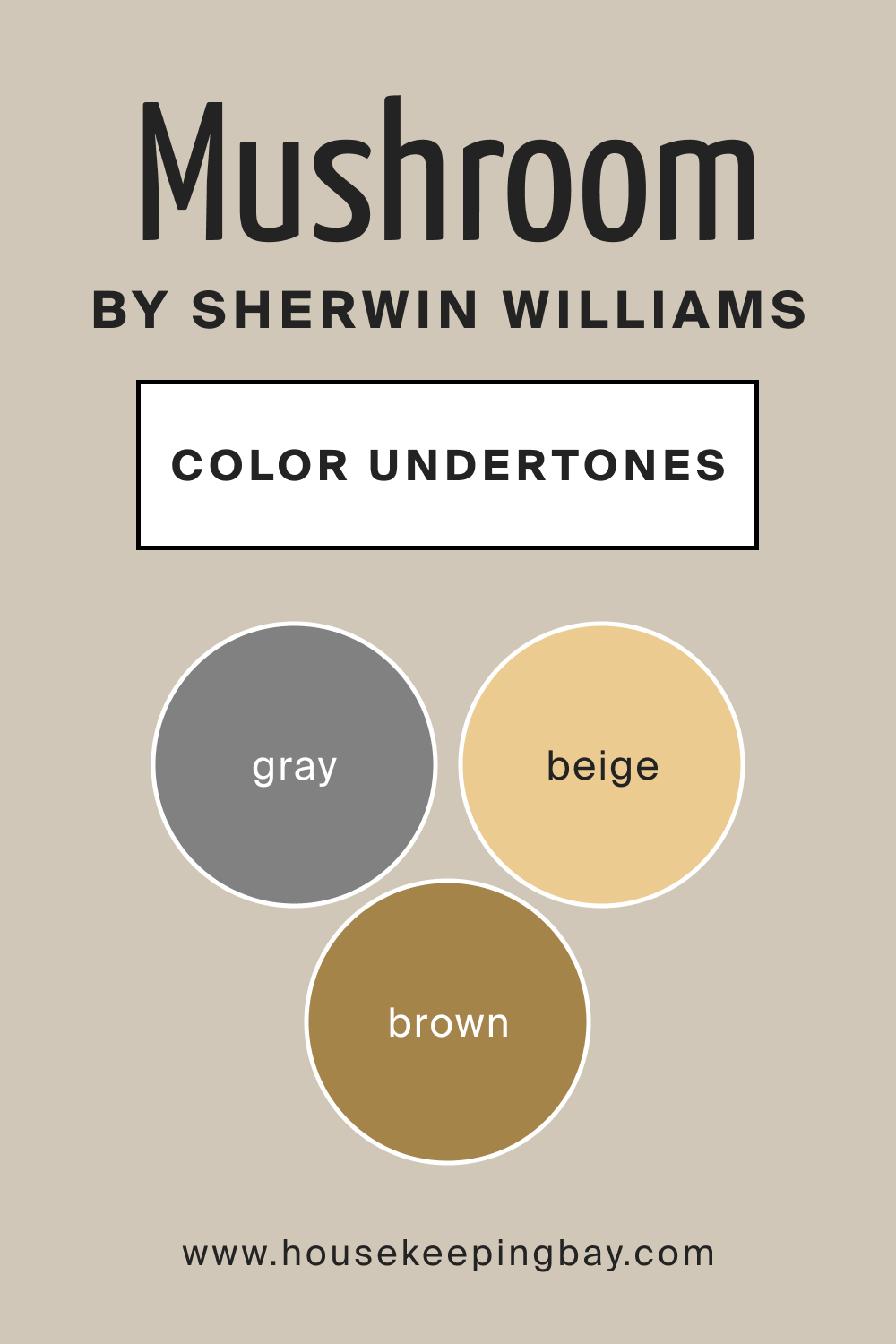 SW Mushroom Coordinating Colors
Choosing the best-coordinating colors is key if you want to achieve a balanced and good-looking palette in your home. But it can be rather challenging for an amateur to pick up the optimal coordinating colors for such a tricky hue as SW Mushroom with its half-beige half-greige appearance! This is why we have selected a few paint colors that can coordinate this soft yet challenging hue best.
SW 9143 Cadet
SW 7513 Sanderling
SW 9141 Waterloo
SW 9174 Moth Wing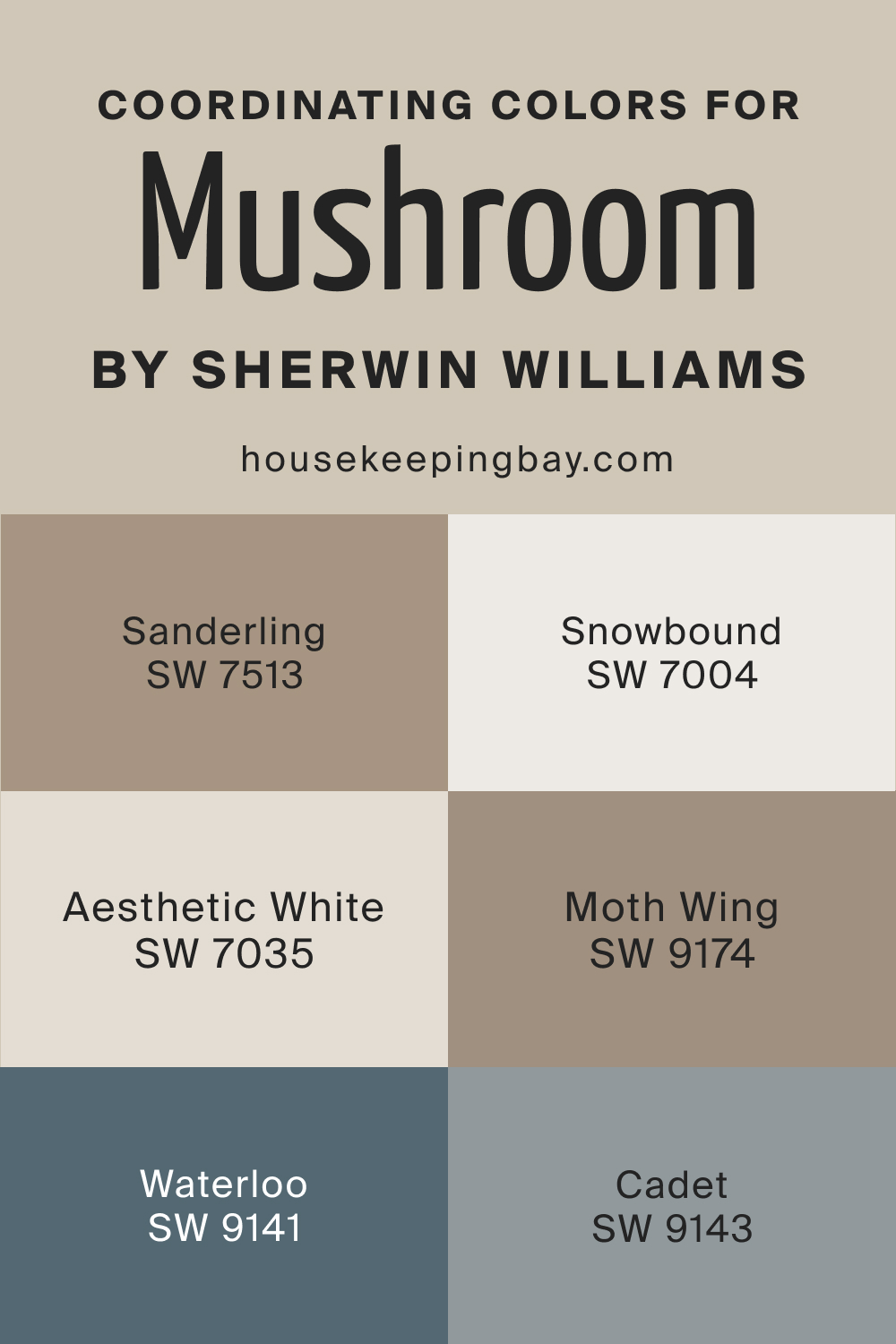 What LRV SW Mushroom Paint Color Has And How It Reacts to Light?
LRV (Light Reflectance Value) shows how much light colors can reflect from the wall. The closer the LRV value to 100, the lighter and more reflective the hue. Respectively, colors whose LRVs are reaching zero read darker and reflect less light.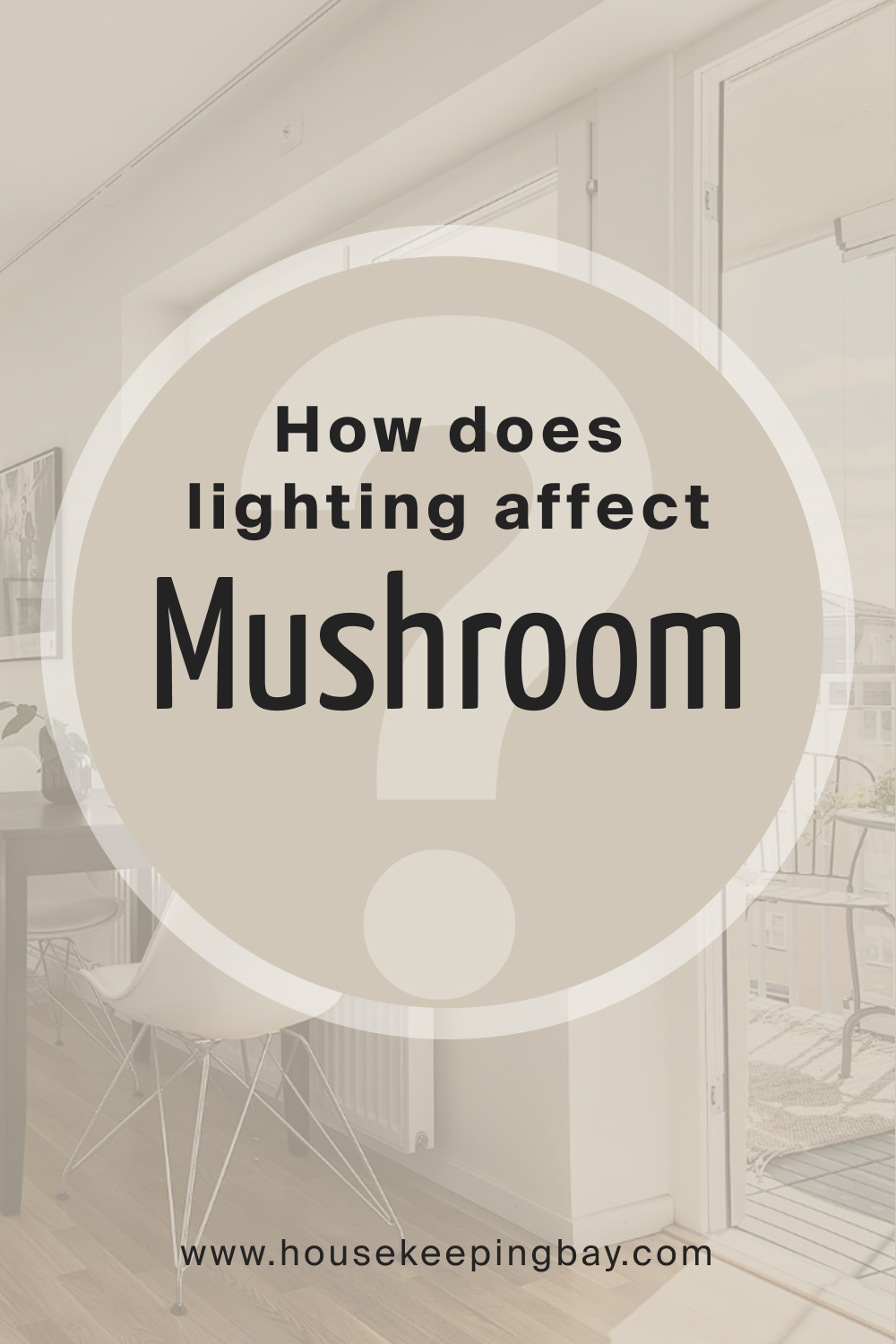 With its balanced light reflectivity and an LRV 57, SW Mushroom still reads differently in distinct lighting conditions. In south-facing rooms that have a warmer light, this color generally works pretty well. It will warm up a bit, of course, but generally, this hue will keep a basic balanced look.
In the north-facing room, SW Mushroom will behave differently, In such spaces, it may read closer to greige due to the slightly gray-blue light. Also, note that in north-facing spaces, this paint color may lose its warmth.
Using SW Mushroom in east and west-facing rooms is a bit trickier as the light changes a lot throughout the day. We recommend you avoid SW Mushroom in east-facing rooms as it wouldn't warm up enough and look like it should.
In a west-facing room, it might look flat in the morning, but in the afternoon, this color will warm up and come to life a bit.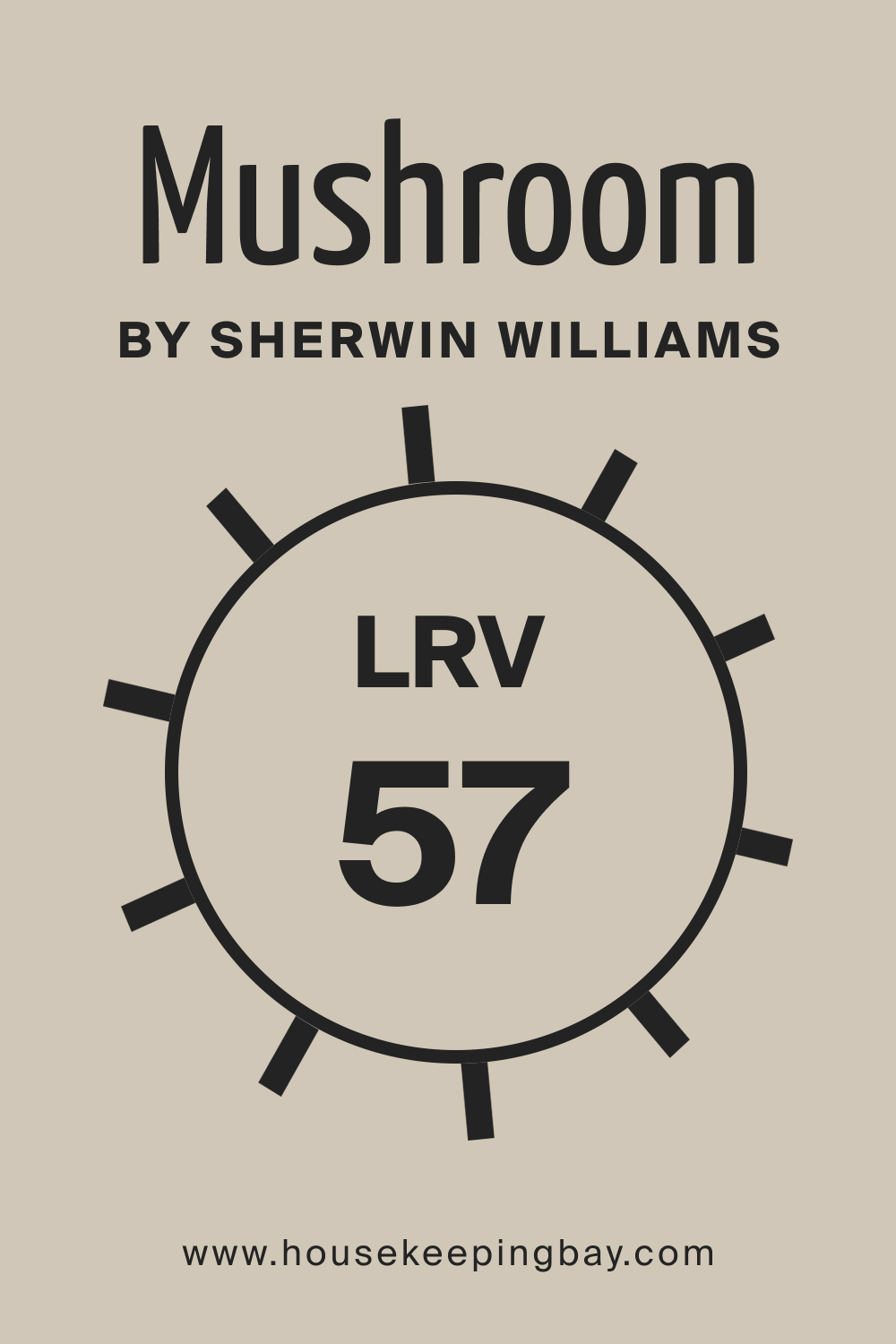 What is LRV? Read It Before You Choose Your Ideal Paint Color
What Is the Best Trim Color to Use With SW Mushroom Paint Color?
White is the optimal trim color since it mostly pairs well with most hues you might want to use on the walls. However, it is still essential to pick up the correct white hue to make it work with the paint color on the walls.
For SW Mushroom, you can use either softer or cooler whites since this neutral hue works great with both.
The color choice depends on your personal preferences. For example, you might want to try BM White Dove, SW Pure White, SW Alabaster, or SW High Reflective White.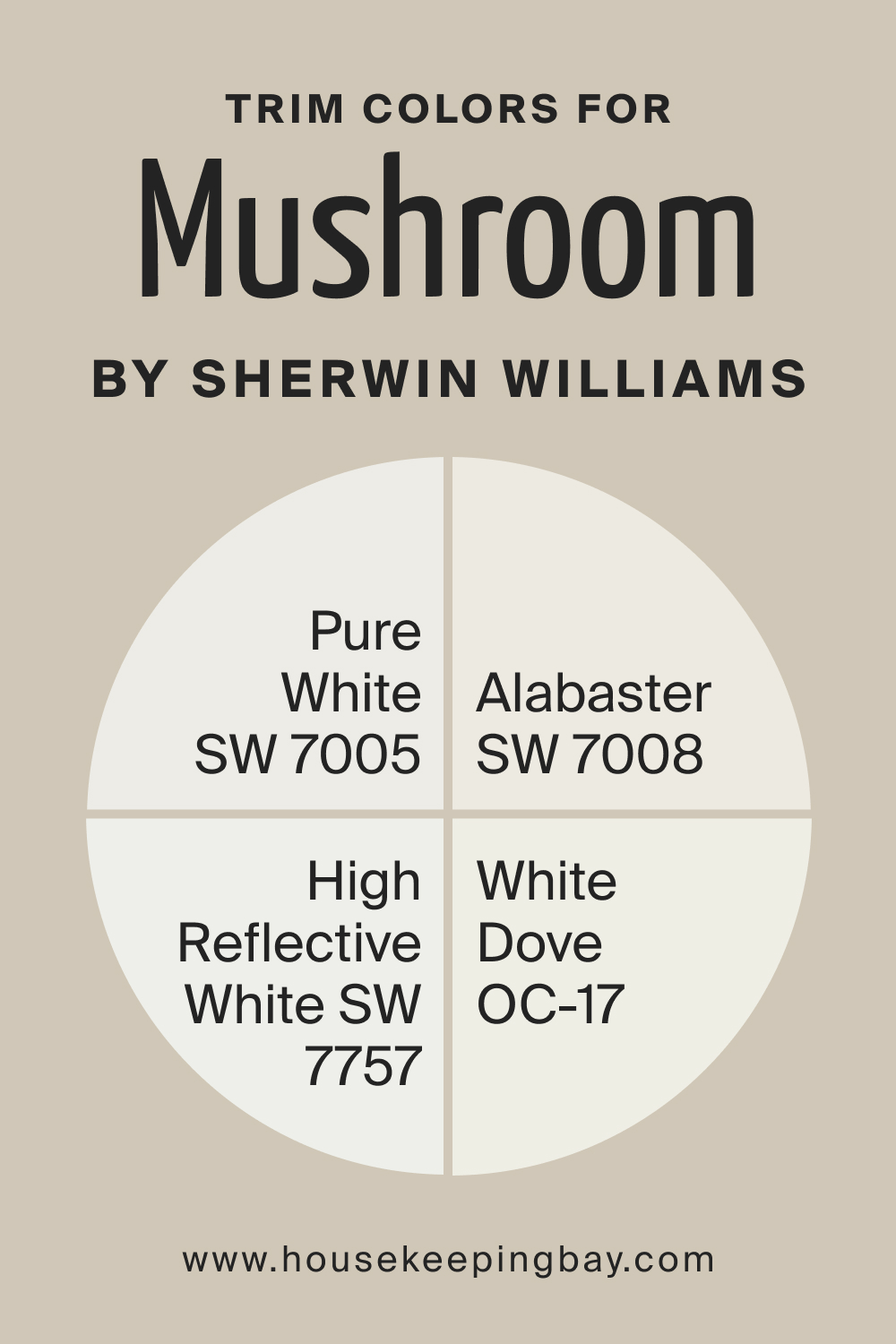 SW 9587 Mushroom Similar Colors
If you can't use the paint color you initially wanted in your home, or if you don't like how it works there, you can always opt for one of the similar colors instead. This is why it is good to know what other hues can work as substitutes for the paint color you were going to apply.
However, with such a complicated hue as SW Mushroom, it might be hard for you to figure out what paint colors can work as its alternatives. This is why we have prepared a list of similar colors that you can opt for in case SW Mushroom doesn't meet your requirements:
SW 9521 Simple Stone
SW 9606 Slumber Sloth
SW 9577 Soft Suede
Behr Gallery Taupe
BM Alphano Beige
Farrow & Ball Elephant's Breath
PPG Ostrich Feather
Of course, note that none of these colors will be an ideal match! There are no two totally the same hues, but these ones look nearly the same as SW Mushroom, having minimal distinctions.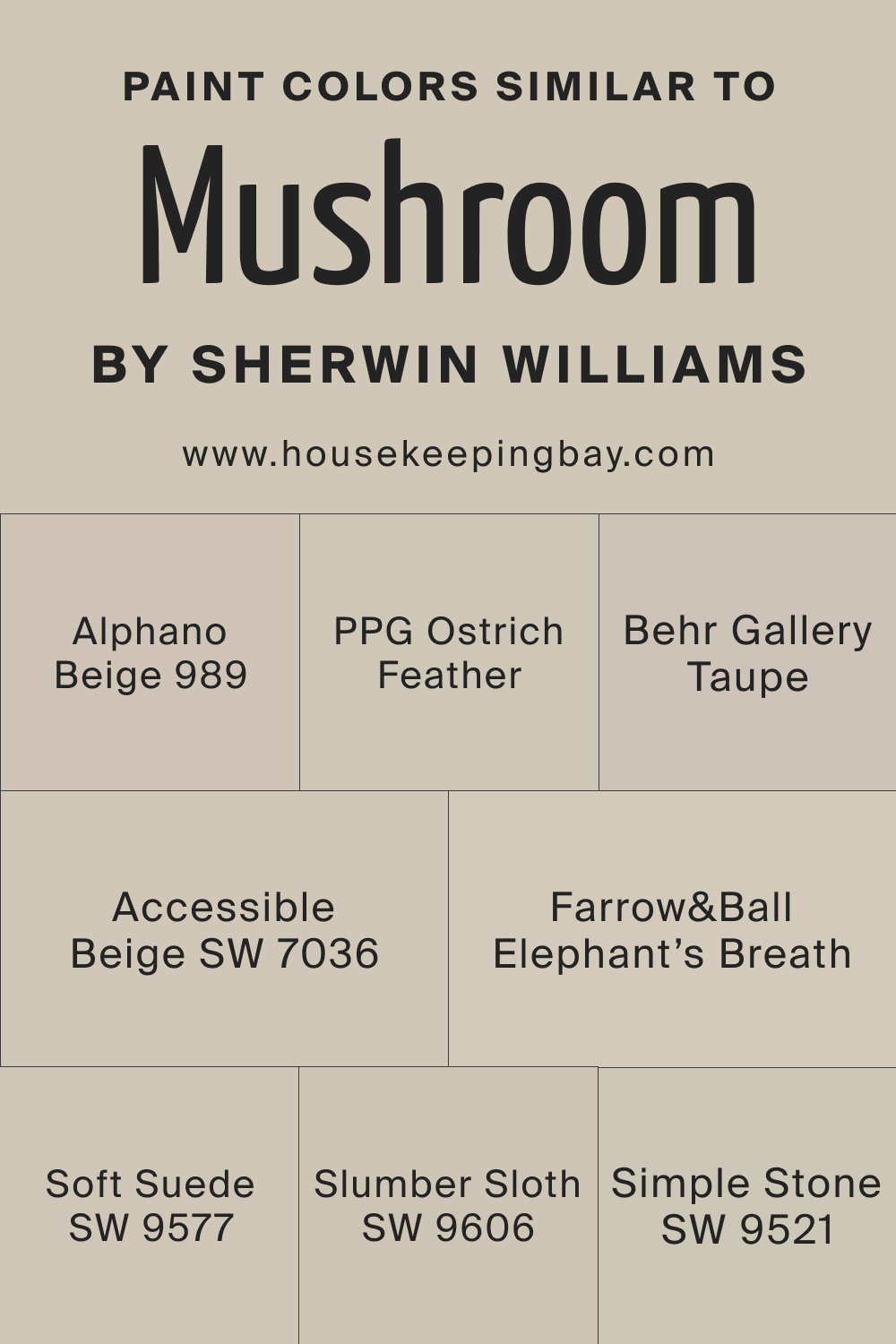 Colors That Go Well With SW Mushroom
Knowing what hues your paint color goes with will help you with making the entire space look balanced and welcoming. For SW Mushroom, we recommend you opt for shades of blue, creams, and warm whites. Also, don't refuse to try shades of greens and deeper browns or grays!
Where This Paint Color Can Be Used In Your Home?
SW Mushroom is very versatile, which means you can basically paint your entire home with it! This balanced and delicate hue will work equally well in your living room, bedroom, kitchen, and even bathroom! Below, you can read how this color can express itself in different rooms of your home.
 SW Mushroom 9587 in the Living Room
SW Mushroom is one of the best colors for living rooms! It gives that homey and, at the same time, elegant feel, which makes the space look cozy and welcoming. Due to the balanced tone, this color will work on all the walls. Pair it with whites and grays, as well as different materials like wood or even stone, to add character to your living room!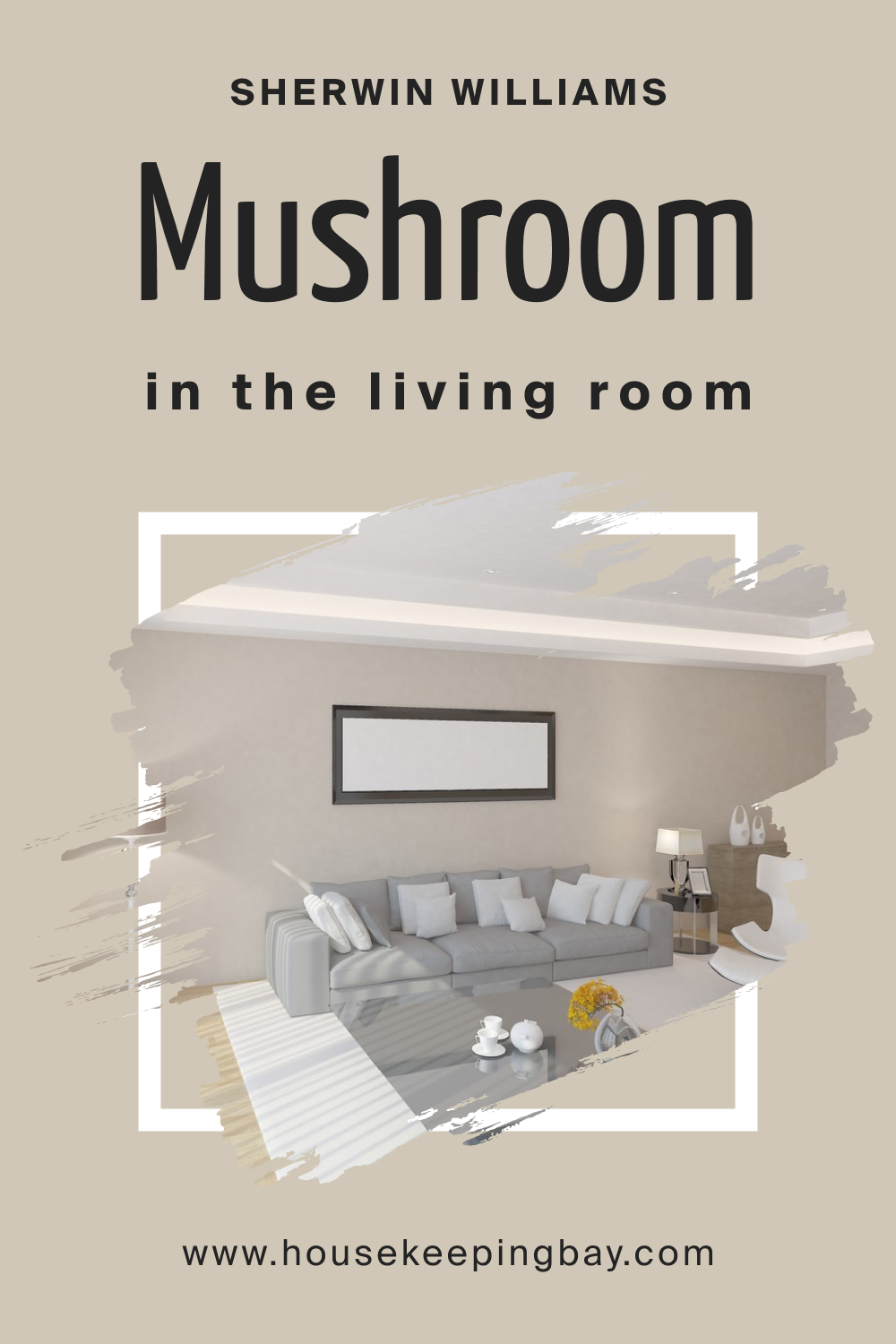 SW Mushroom 9587 in a Bedroom
If you strive for a cozy and cuddling vibe in your bedroom, you should try SW Mushroom on its walls! This soft hue will make the room feel calm and relaxed. You can add more whites if you want the room to look fresher or opt for warmer hues to enhance the cozy feel.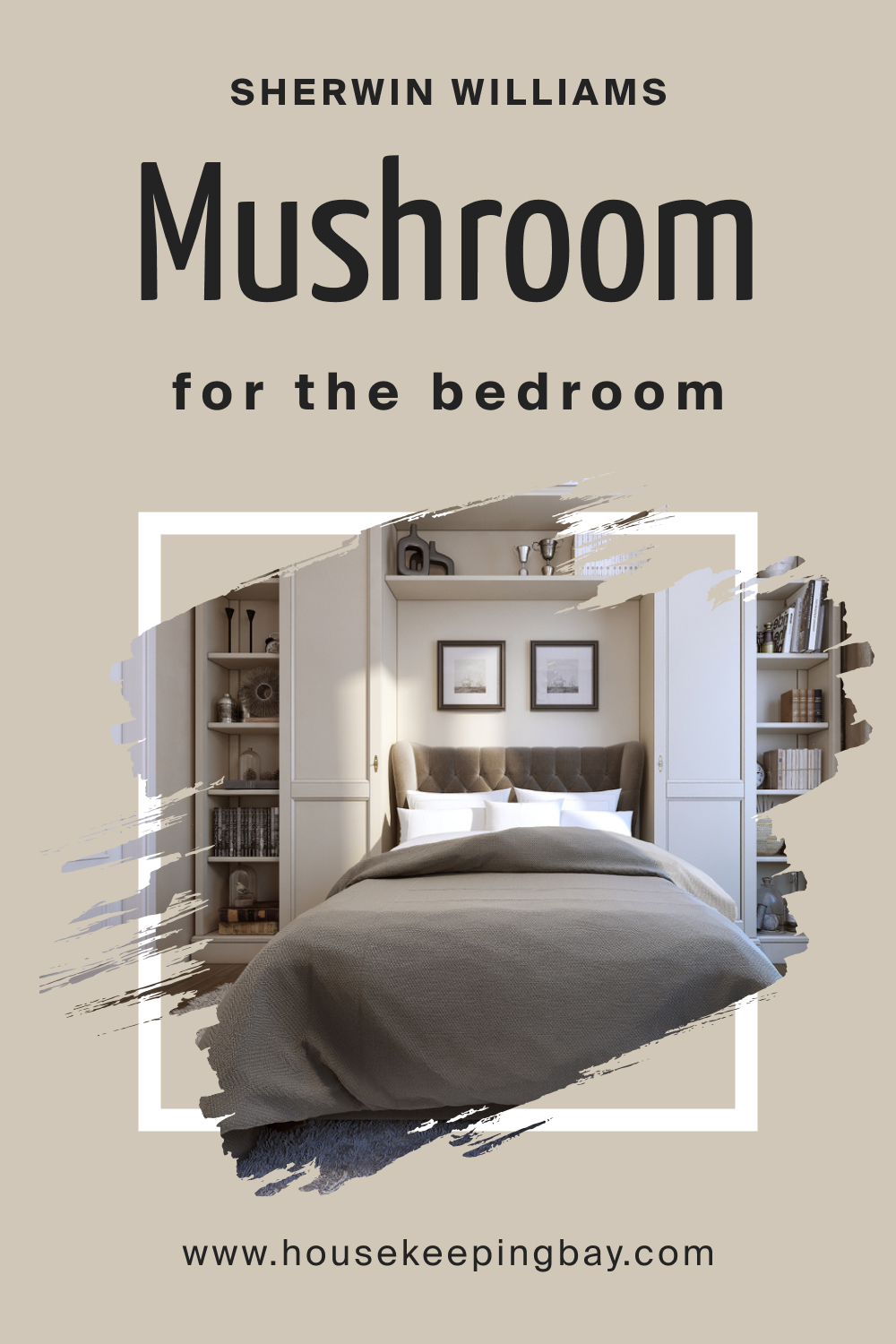 SW Mushroom 9587 and Bathroom
We don't recommend this color on all bathroom walls, but as an accent color, SW Mushroom can work pretty well! This hue pairs lovely with white tiles and porcelain, as well as with golden or brass elements.
If you use it on one of the walls or paint your vanity sink with it, leaving the walls white, SW Mushroom will make your bathroom feel cozier.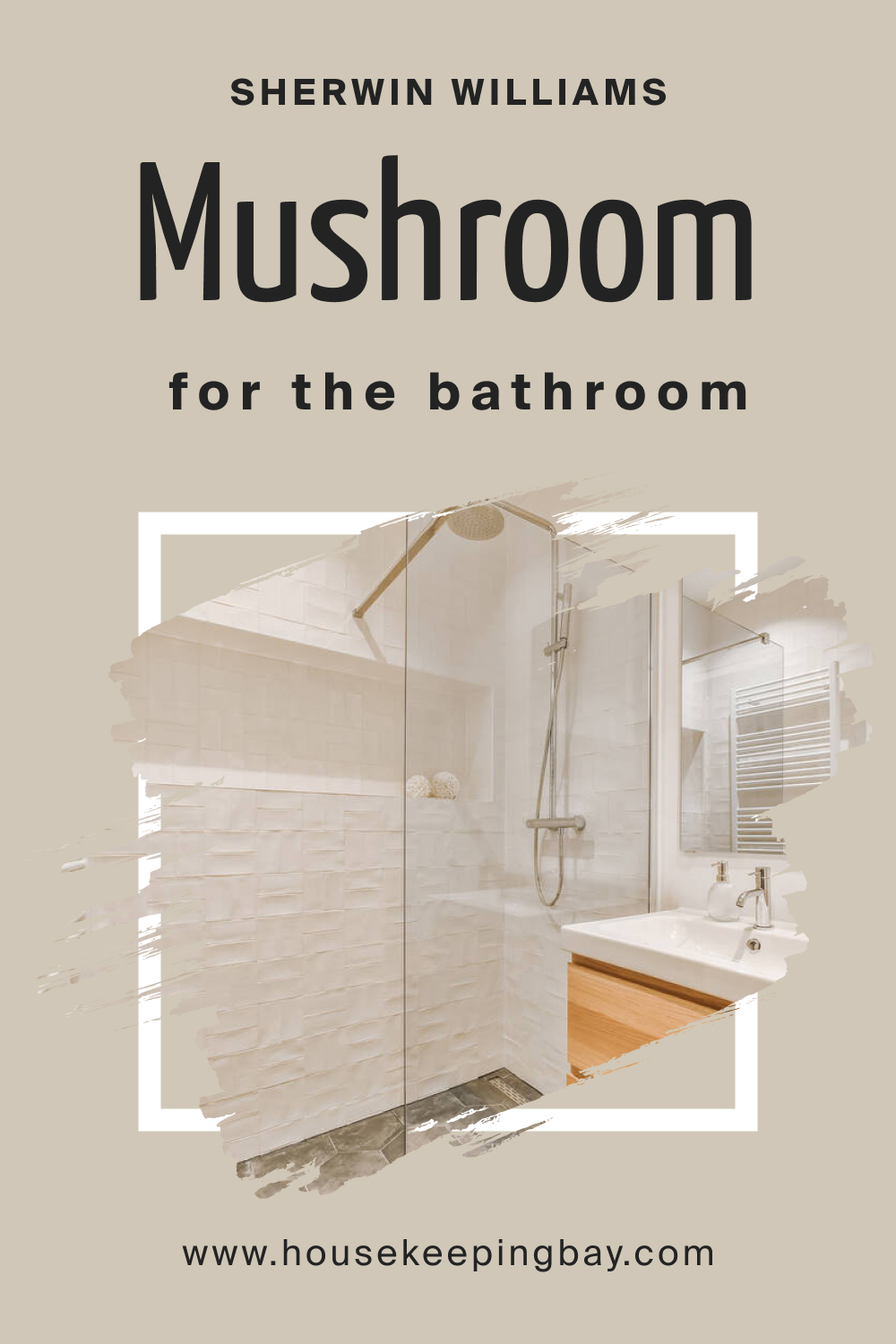 SW Mushroom 9587 in the Kitchen
Use SW Mushroom on upper and lower cabinets, and paint the walls white, or try it vice versa. In any case, this color will add a homey and relaxed vibe to the busiest place of your home!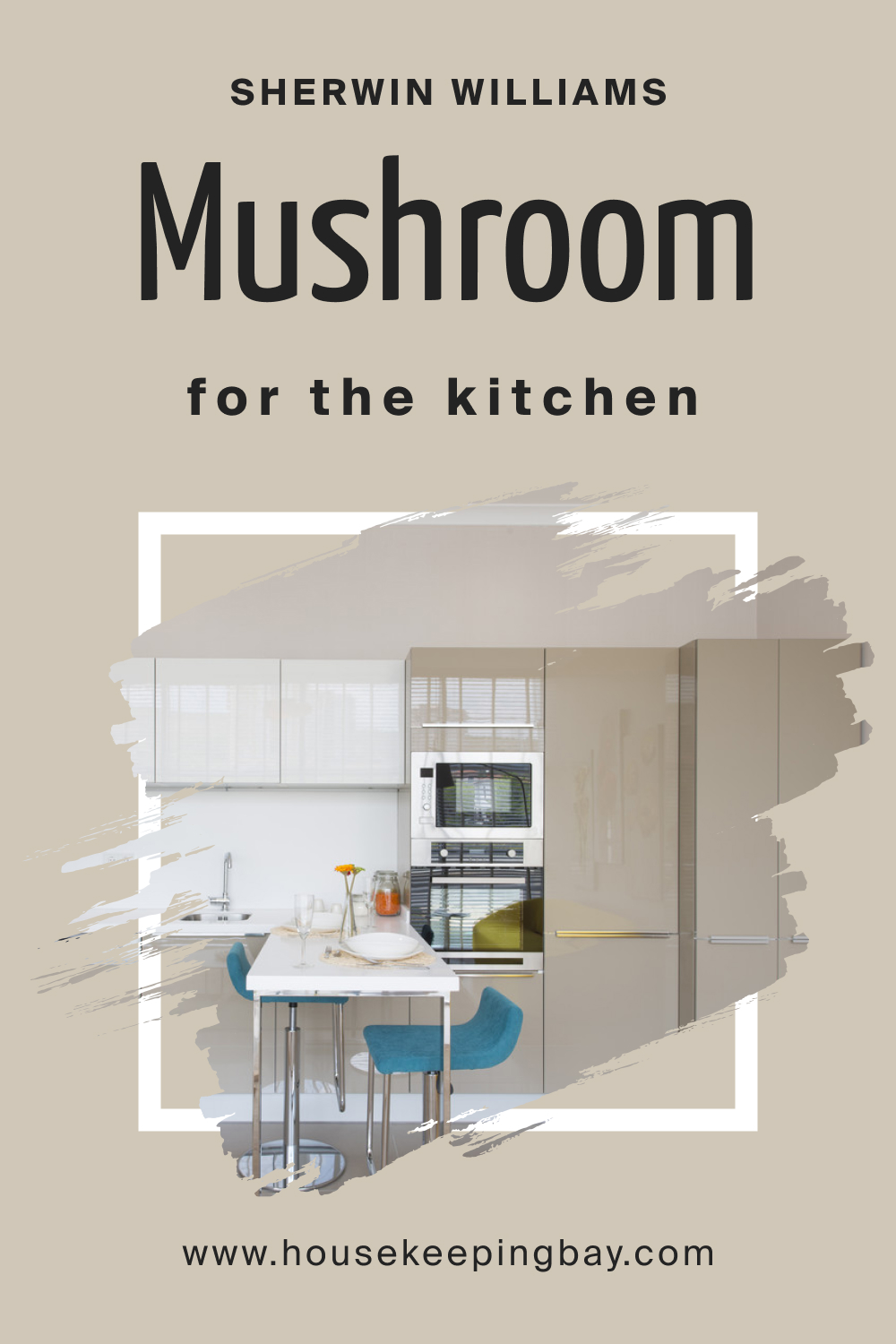 SW Mushroom 9587 for the Exterior Use
SW Mushroom is a color that can bring a classic touch to a home's exterior. You can incorporate this neutral paint color through well-worn brick, sun-washed barn wood, and even shingles. If you want more contrast, add colors like navy, rust, and brown.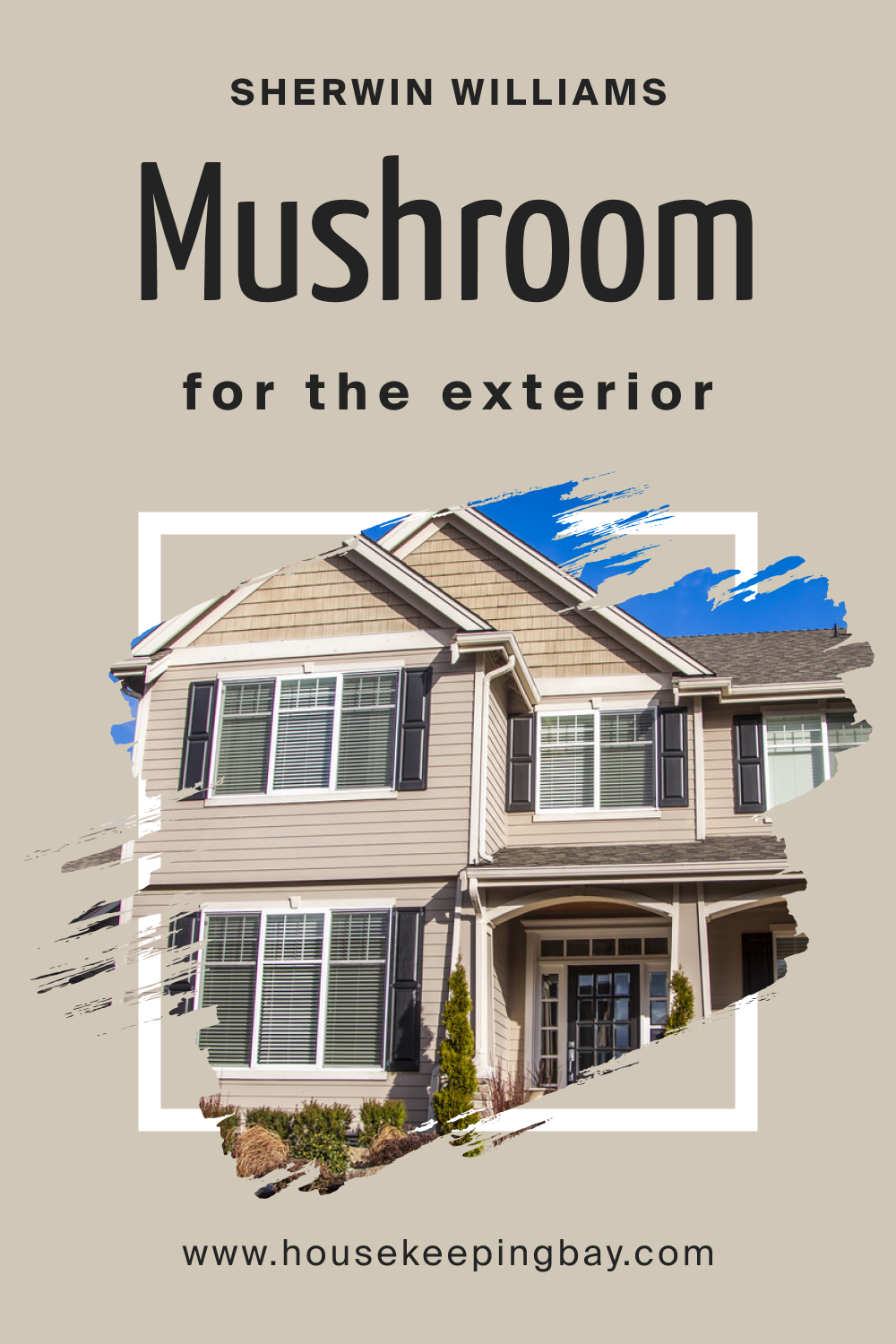 Comparing SW Mushroom With Other Colors
To help you see how distinct LRVs and undertones can make colors from the same hue family differ, we compared SW Mushroom with several related hues below. This comparison will allow you to see the differences between very similar hues much better.
Mushroom vs. SW 9173 Shiitake
Compared to SW Mushroom, SW Shiitake displays a noticeable reddish hue due to the red undertones it has. Also, SW Shiitake looks more beige. SW Mushroom, on the contrary, reads grayer.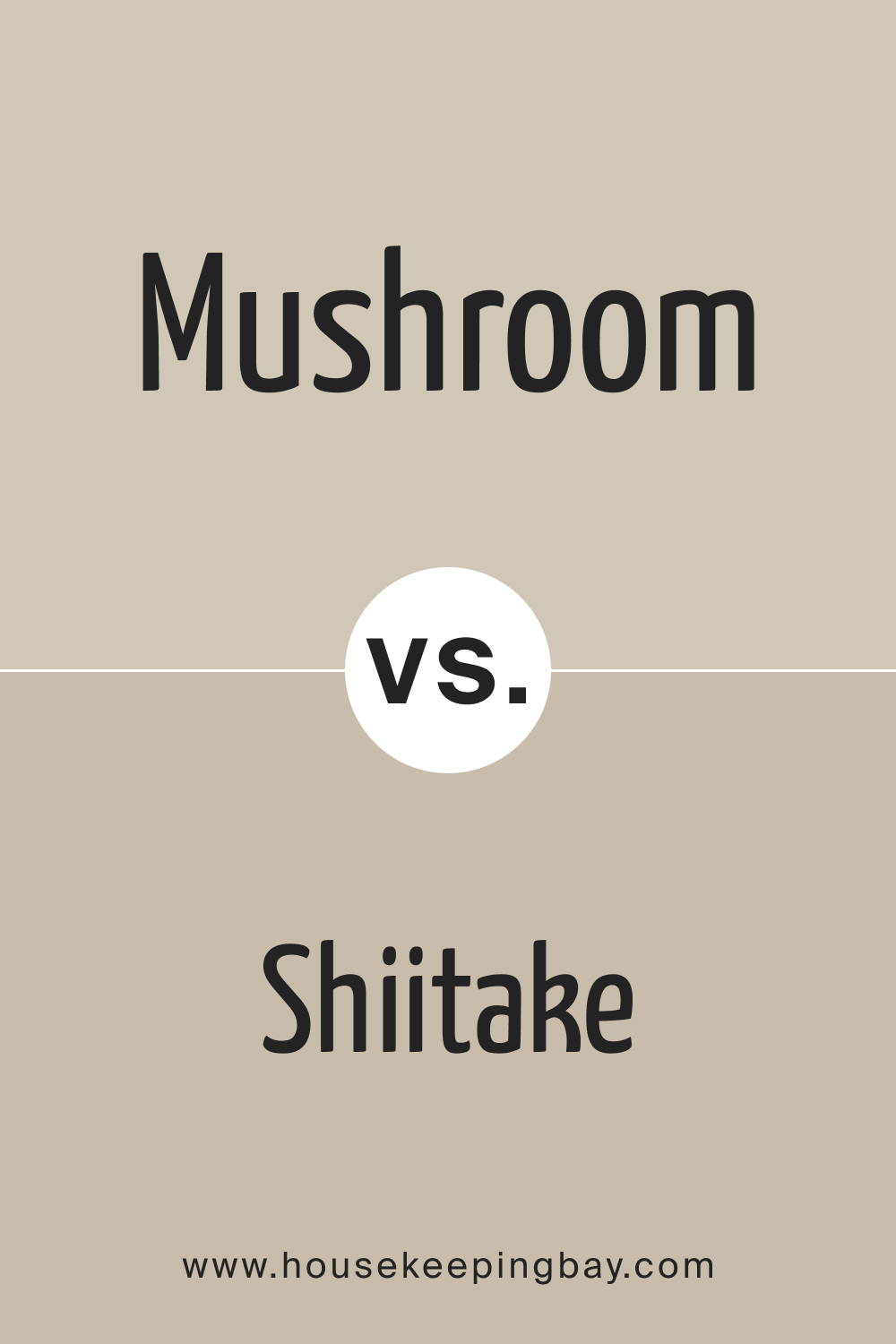 Mushroom vs. SW 9611 Minimalist 
Compared to SW Minimalist, which reveals a prominent beige hue with a hint of red, SW Mushroom reads gray-green. However, there is also a similarity. Both colors have similar reflectivity, which is why none of them looks brighter.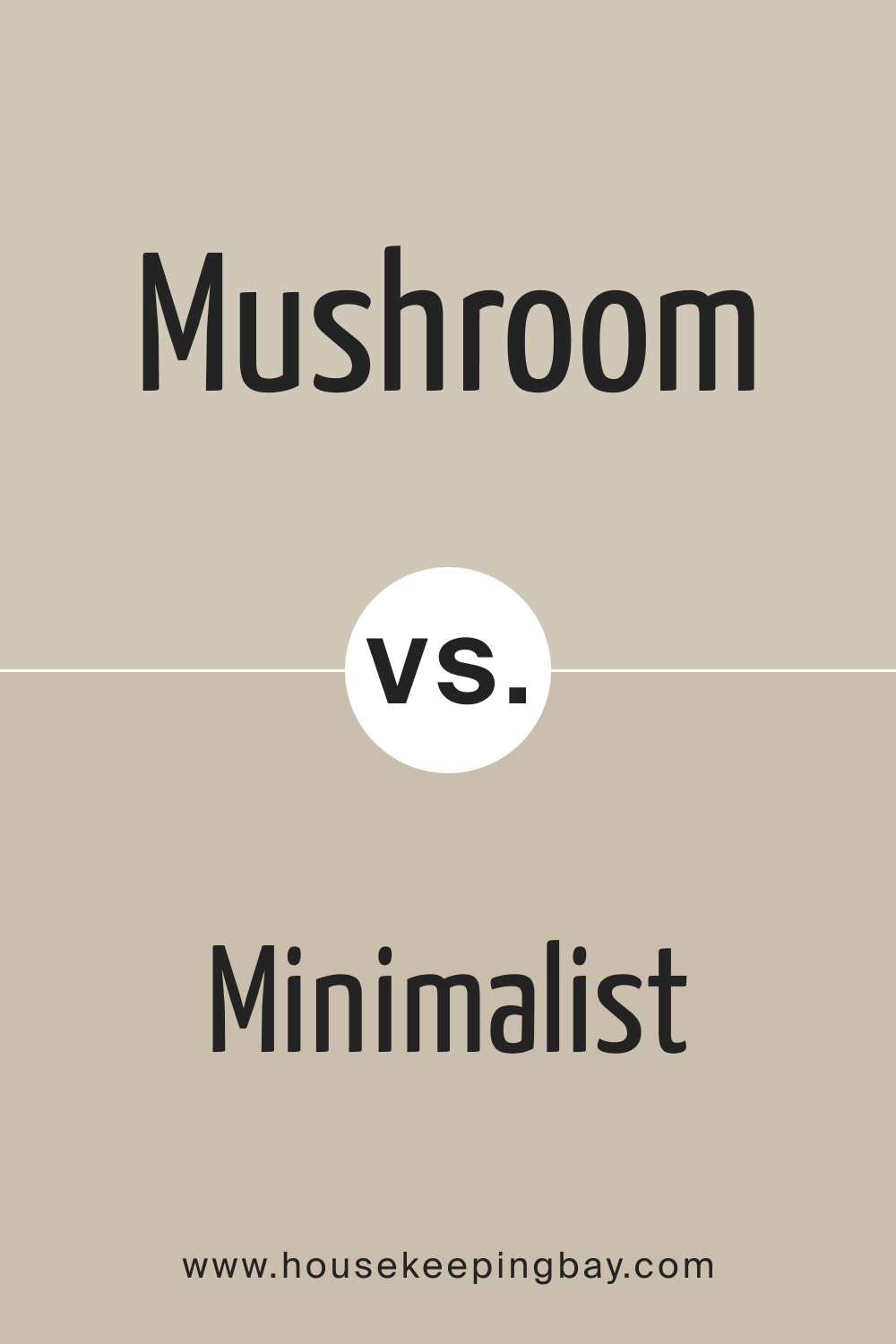 Mushroom vs SW 9521 Simple Stone 
If you compare SW Simple Stone and SW Mushroom, they may seem very similar. However, SW Simple Stone has a bit more pronounced gray hue than its counterpart, whose undertones are closer to beige.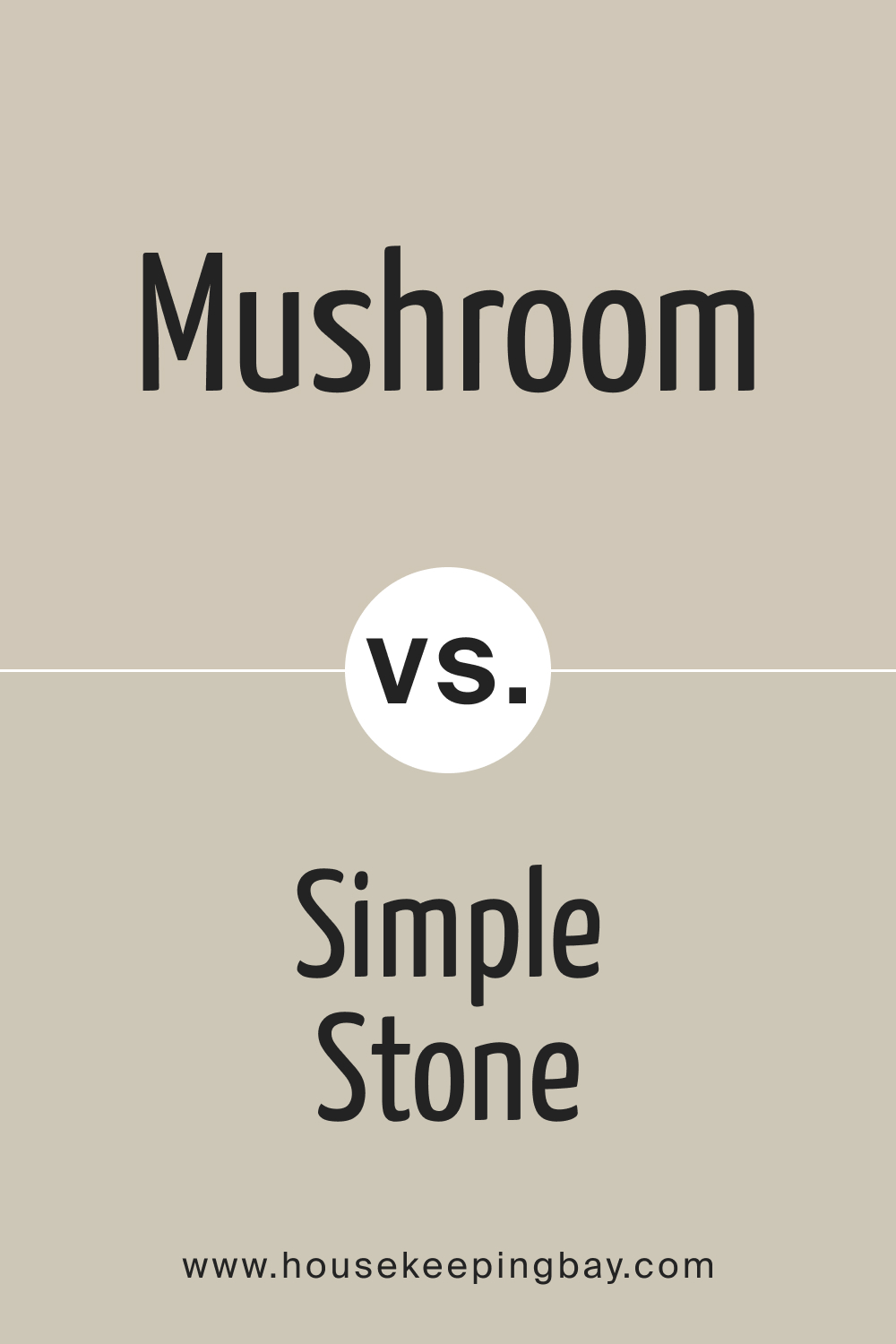 Mushroom vs. SW 7542 Naturel 
SW Naturel belongs to the yellow color family, which makes it read warmer than SW Mushroom. Also, compared to SW Naturel, SW Mushroom displays a more prominent greenish-gray hue.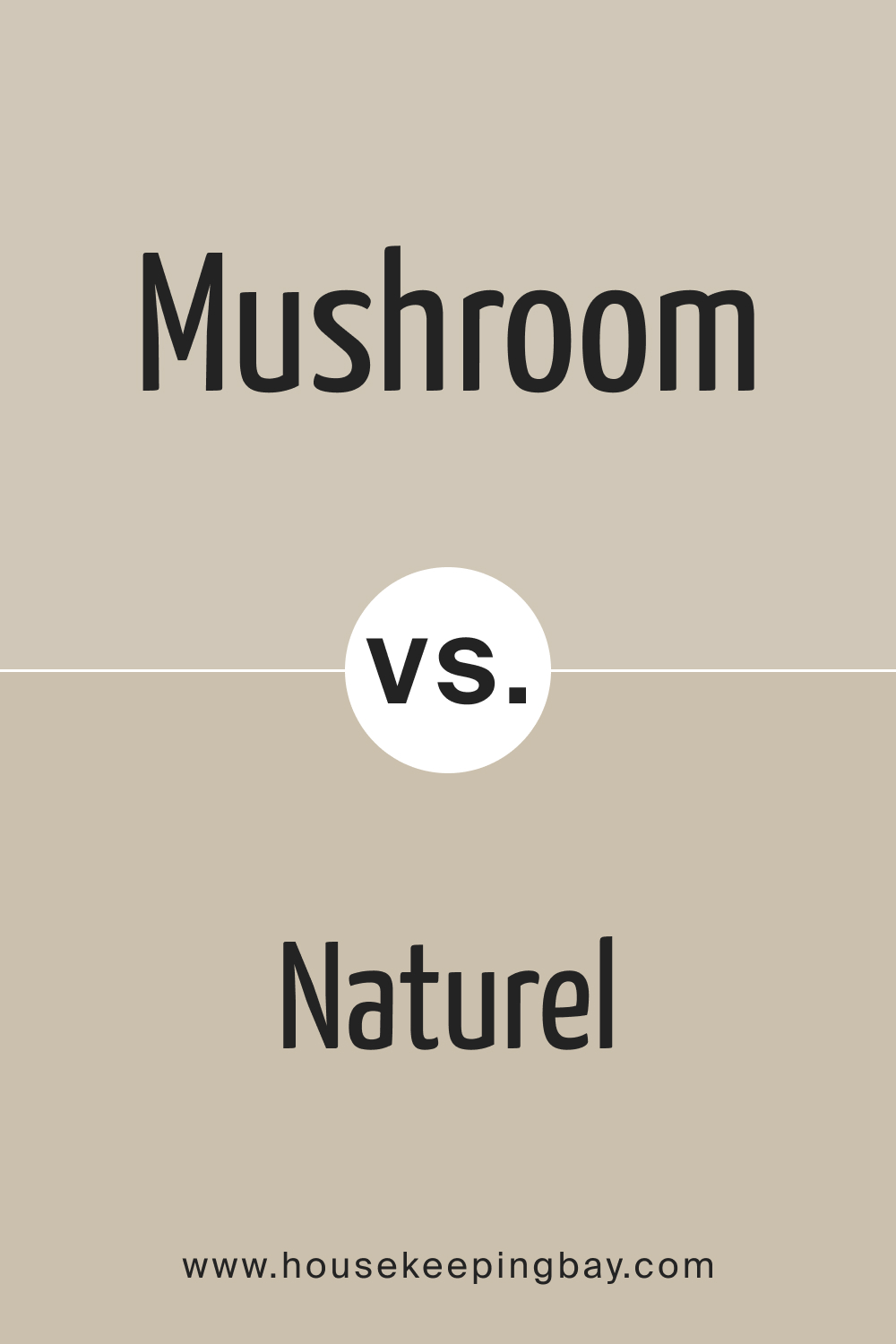 Mushroom vs. SW 7551 Greek Villa
SW Greek Villa reads lighter and brighter than SW Mushroom. Also, unlike SW Mushroom, it has yellow-beige undertones that add softness to this color. Compared to SW Greek Villa, SW Mushroom seems more muted and grayish-green.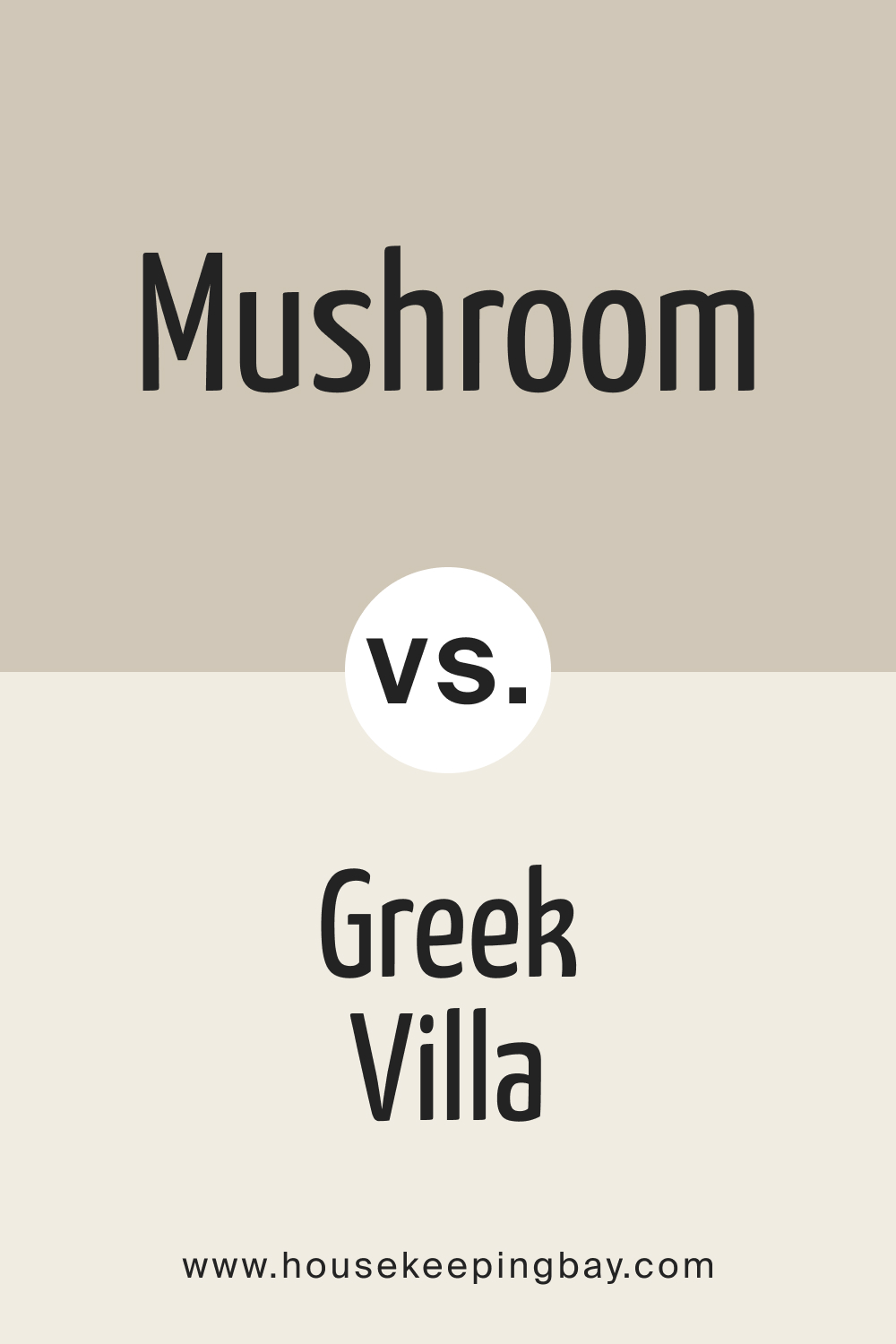 Mushroom vs. SW 7566 Westhighland White
What makes SW Westhighland White different from SW Mushroom is its soft yellow undertone. Also, this color is lighter than SW Mushroom. SW Mushroom reads more muted and displays a noticeable greenish hue if you palace it side by side with its brighter counterpart.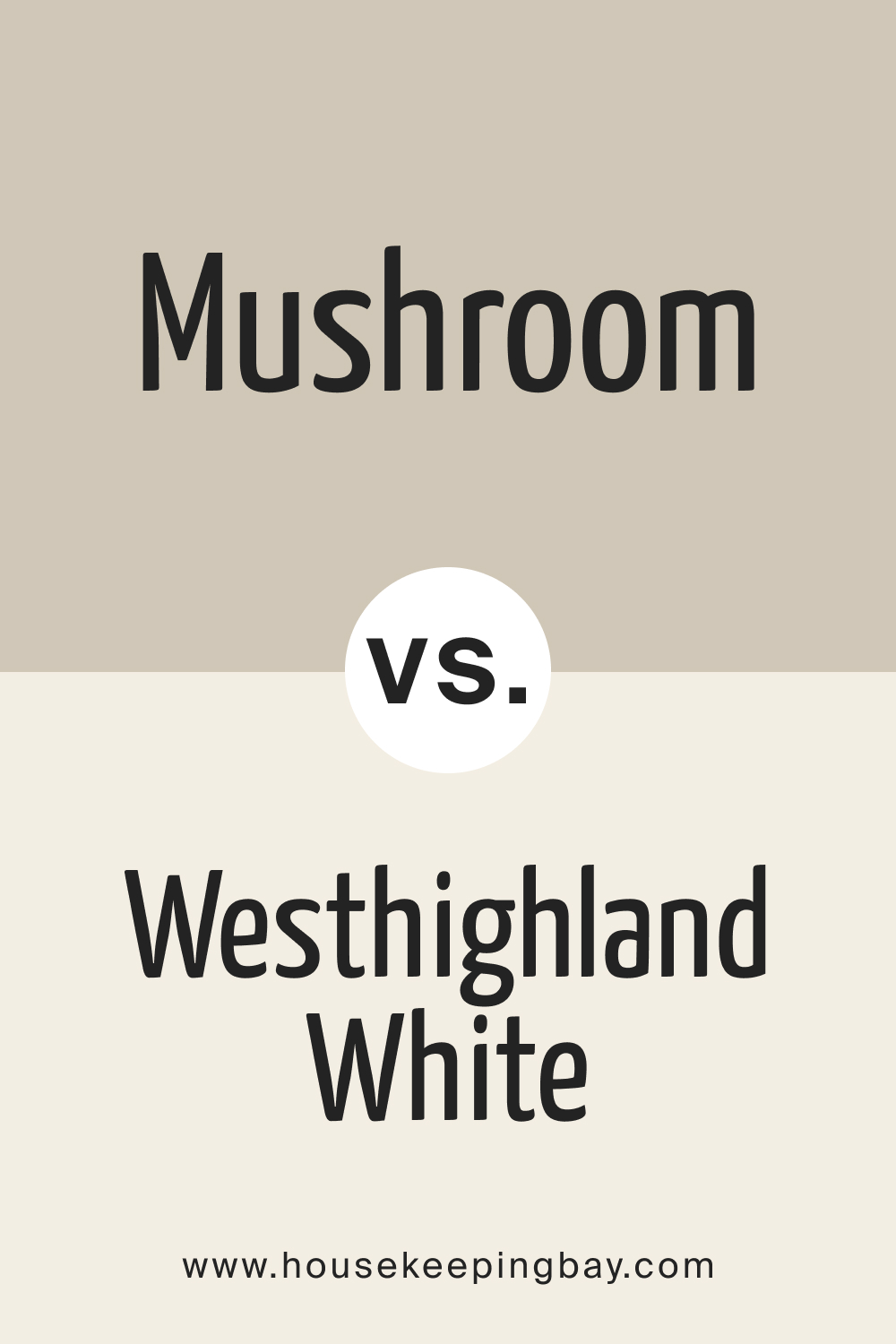 Now you know SW Mushroom better. This color seems easy, but in fact, it can be rather challenging to use due to the complex undertones. But now that you have all the tips and recommendations we shared, making this neutral work won't be a big deal for you!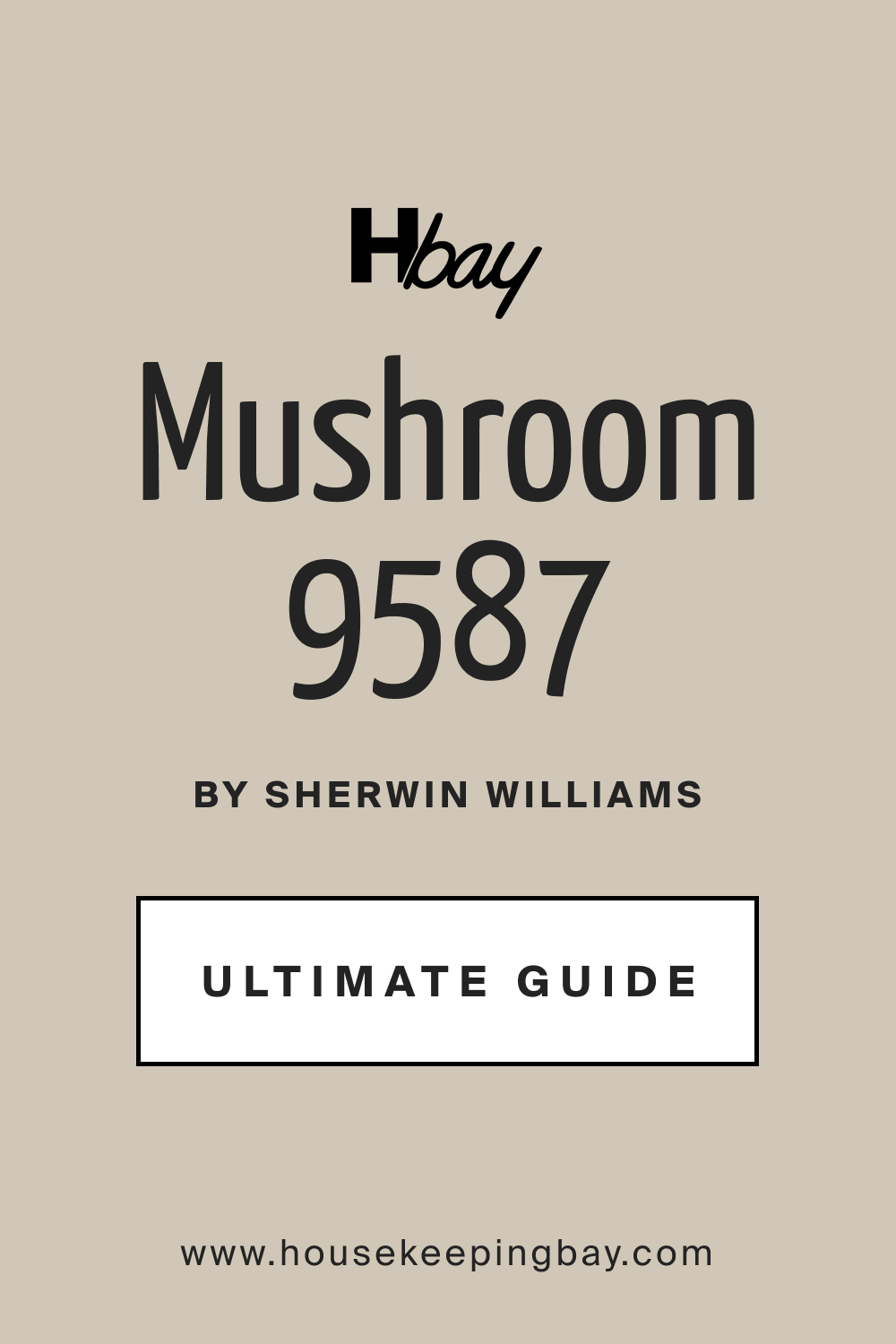 Frequently Asked Questions
⭐What kind of color is mushroom hue?
The mushroom hue is brown or beige, with gray in it. The brown-beige is the dominant color in it.
⭐What mushroom color will look warm in the north-facing room?
Choose a subdued beige color, something like SW Barcelona Beige.
⭐Can mushroom colors be used on doors?
Yes, you can use this soft hue on either interior or exterior doors.