When we want to refresh our interior, it is important to choose the color we want correctly while getting ready for the upcoming paintwork.
It is not enough to just make sure that it will match the rest of the colors we have in our home. You need to be aware of certain color nuances in order to pick the right shade.
This is why quite many homeowners prefer choosing universal and easy-to-use colors like neutrals, for example, since they are much less troublesome in terms of use and combination with other colors.
However, today we would like to step aside from the muted and neutral palette and introduce another type of color to you.
In this article, we will describe and discuss one of the most beautiful green colors of the Benjamin Moore brand – Backwoods paint color. You will find out what kind of color it is and what undertones it has.
Also, we will tell you more about its light reflectance value and the way this shade of green reacts to lighting.
Finally, we will provide you with coordinating colors and trim colors so that you know how to create the most harmonious color palette in your home.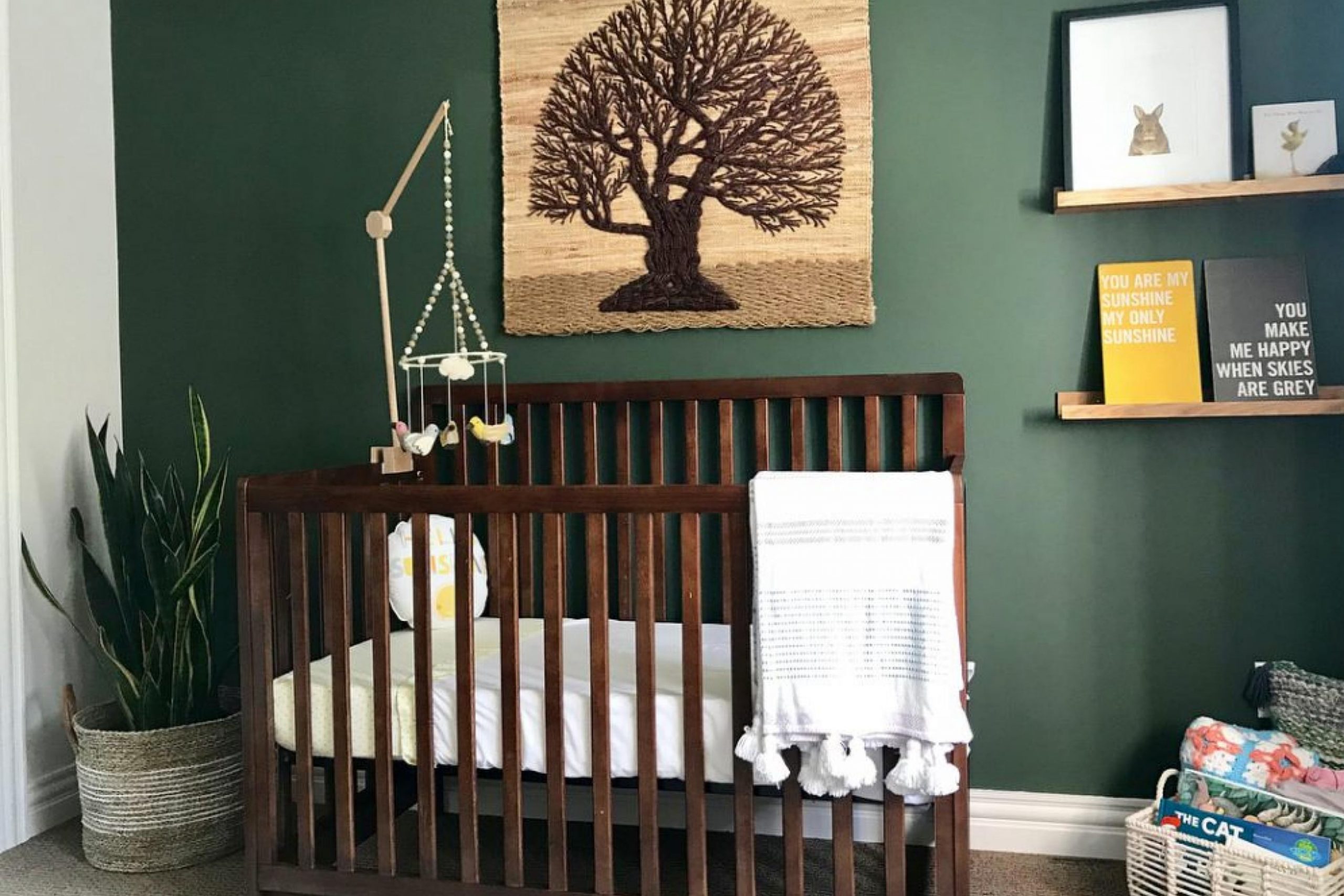 What Kind Of Color Is BM Backwoods?
If you are fond of colors that look natural and have a muted palette, you will definitely enjoy the absolutely gorgeous green color by the Benjamin Moore brand. This saturated green is considered dark, but don't expect to see a very dark shade on your walls!
This color rather reminds you of green trees in a misty forest, giving the feeling of tranquility and calmness.
For more accurate color information, please see Encycolorpedia.
This classic green is literally timeless and is very versatile. You can pair it with quite many colors and textures, which makes it quite easy to incorporate into your interiors.
This color can bring depth and unique charm to a wide variety of interior spaces and exterior facades, as well as doors and other spaces in your home and around it.
For instance, this green is so versatile that you can use it even in your mudroom! By the way, for a bathroom, it can also be a good option. It would also look nice with white colors (e.g. white backsplash tiles or white trim), and black, gold, or brass metallic accents.
Wood finishes will also make a harmonious combo with it.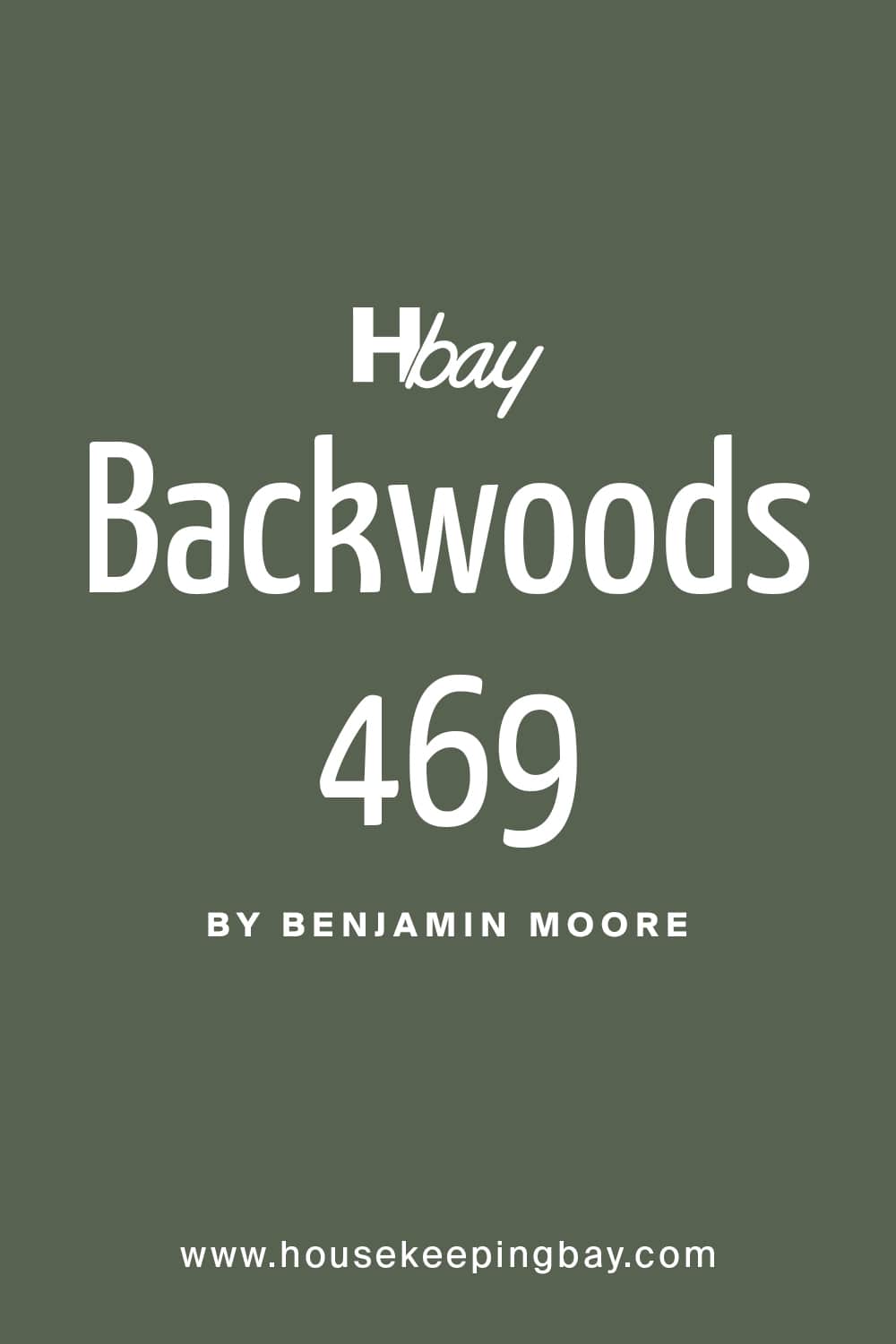 Undertones Of BM Backwoods Paint Color
Even though this paint color seems very simple, you should still learn more about its undertones. As you probably know, undertones tend to "hide" unless they get caught by the right lighting.
In this case, some very unexpected shades may pop out, turning the initial color into something completely unexpected and sometimes unwanted!
As for the BM Backwoods, this natural dark green is deprived of the gray and bluish undertones that are so popular today.
In fact, this color is excellent in terms of the minimum amount of undertones since it only has a bit of brown in it!
This makes this shade of green somewhat straightforward and more natural, but not boring at all! The presence of the brown hue is also the reason why this paint color is considered one of the warmest dark green colors, cozy and deep.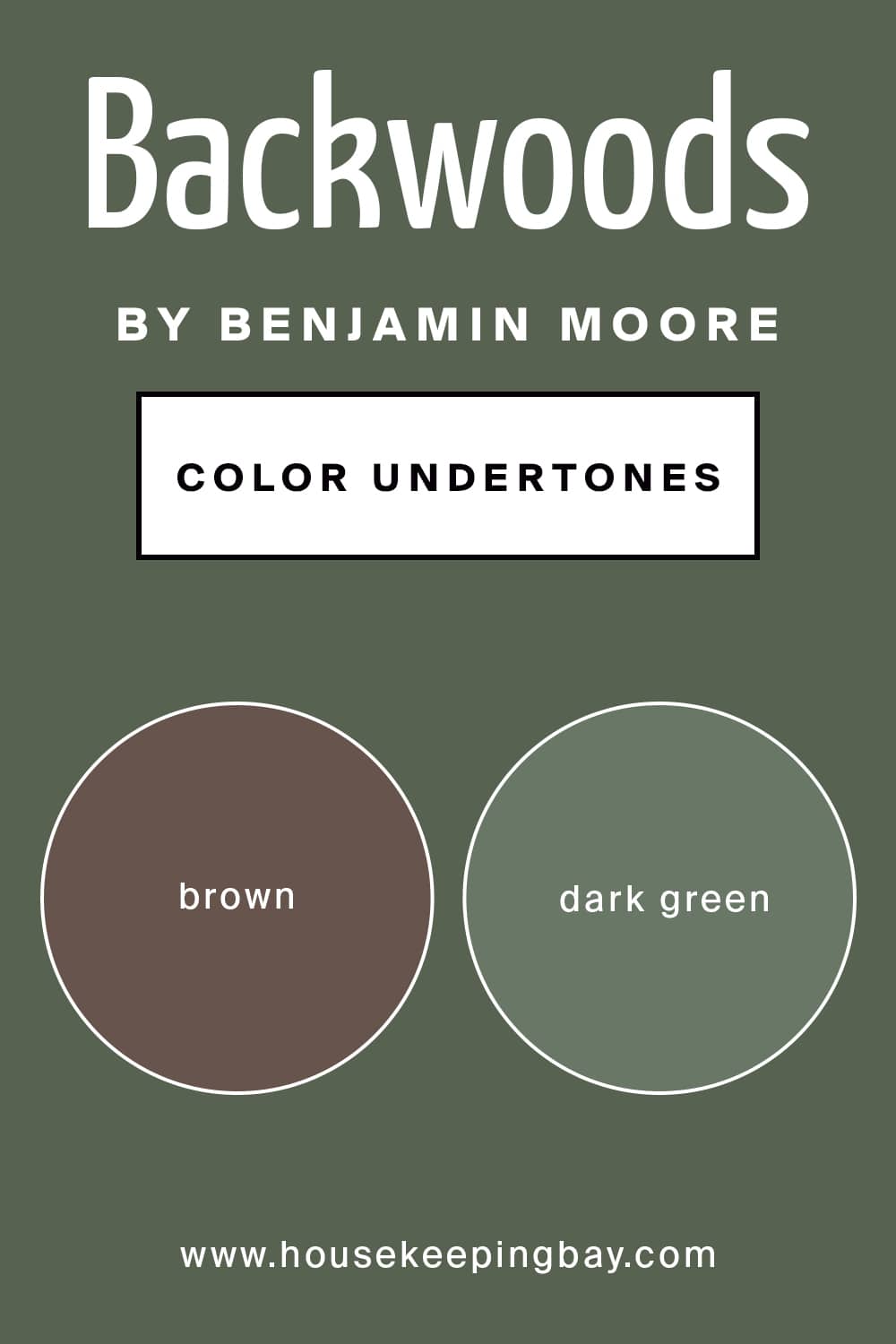 How Backwoods 469 by Benjamin Moore Reacts to Light?
The way the paint color reacts to light can help you figure out what rooms it will be best to use it in. When speaking of the way certain paint colors react to lighting, we need to consider what is called a light reflectance value, or LRV.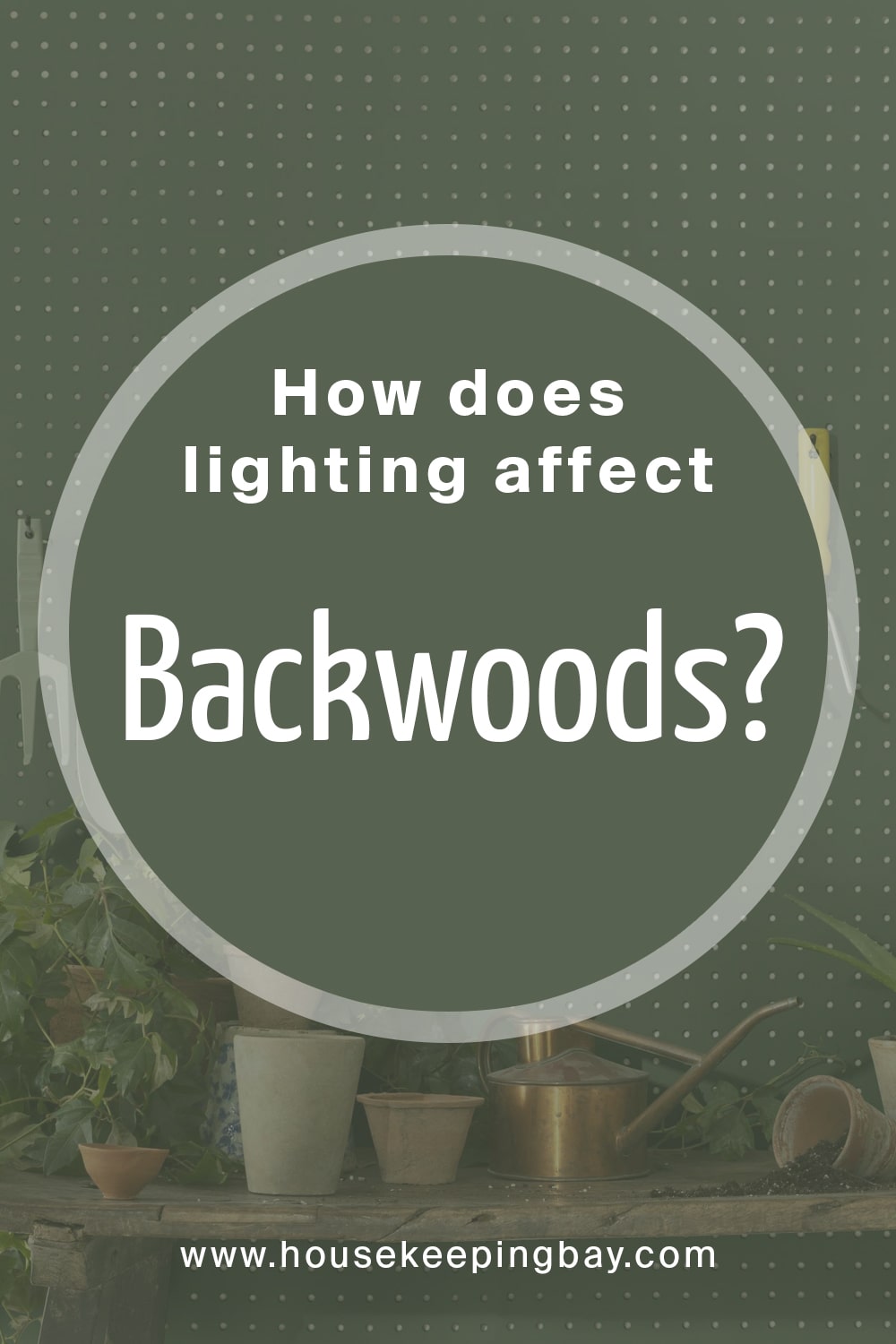 The LRV is the ability of the color to reflect light which affects the final shade we will see on the walls.
The LRV of BM Backwoods is 10.81 which makes it rather deep and rich, as well as a pretty dark green color.
This also makes it a bit difficult to reveal all its richness, naturalness, and warmth, since you need enough lighting for that. However, even in dim light, Backwoods looks very noble and cozy.
If you want to use it in your home, you can be sure that this green will not offer any surprises under the influence of different nature and intensity of lighting. But of course, it doesn't mean that it will not change at all!
In a room with even and sufficient daylight or artificial lighting, it will read as a delightfully natural and quite rich green.
In bright light, including sunshine, Backwoods will reveal its brown tones and look lighter and especially warm. However, you should note that, with a lack of light, it will go into a very dark shade!
This is the very basic description of the color, of course, but even with this little information, you will be able to better understand what you should expect from this awesome and rich leafy green.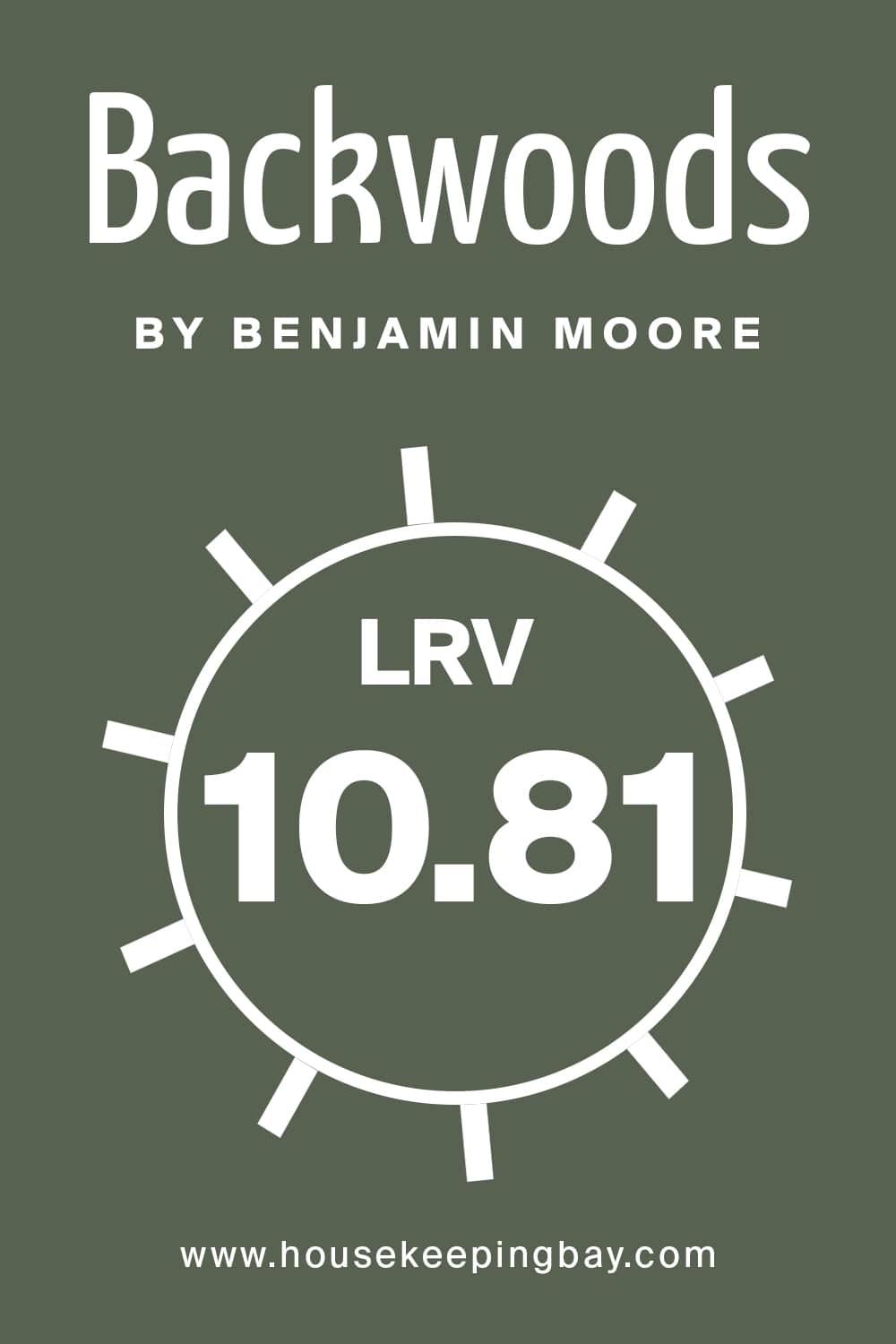 What is LRV? Read It Before You Choose Your Ideal Paint Color
What Is the Best Trim Color For Backwoods 469 by Benjamin Moore?
As you probably know, white is typically considered the optimal color used for the trims in home interiors. Depending on the major color, you might also want to use either cooler tones of white, or stick to the off-whites instead.
With the natural and rich green, such as Benjamin Moore Backwoods color, white would also be the optimal trim color, both warm-toned and cool-toned.
You only need to note that, when you use warm shades of white, they will highlight the warmer side of this magnificent green. Cooler shades of white, on the contrary, will make this green also read somewhat "cooler".
Except for white colors, BM Backwoods will also work well with very light shades of gray as a trim color.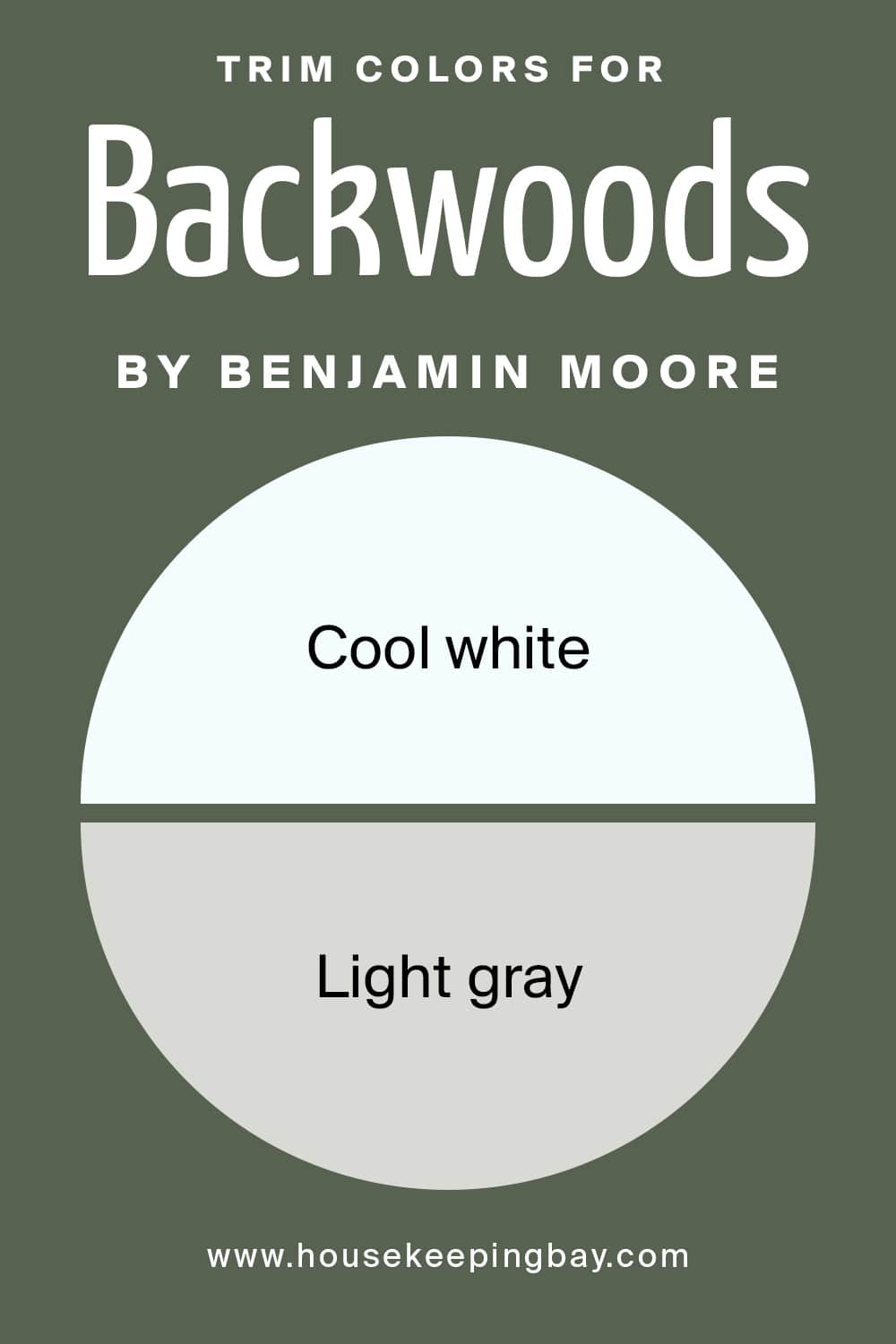 Coordinating Colors of Backwoods 469 by Benjamin Moore
If you want the overall color palette in a room to look balanced, consider that it makes sense to pay attention to the coordinating colors of the major paint color you use. For Benjamin Moore Backwoods green paint color, you will want to use one of the following colors that are considered coordinating:
Brown
Burnt orange
Light orange
Navy
Blush/Pink
Tan
Mustard yellow
Speaking of the specific paint colors, you can opt for one of the following ones:
Silver Lining 2119-60
Golden Straw 2152-50
Vanilla Ice Cream 2154-70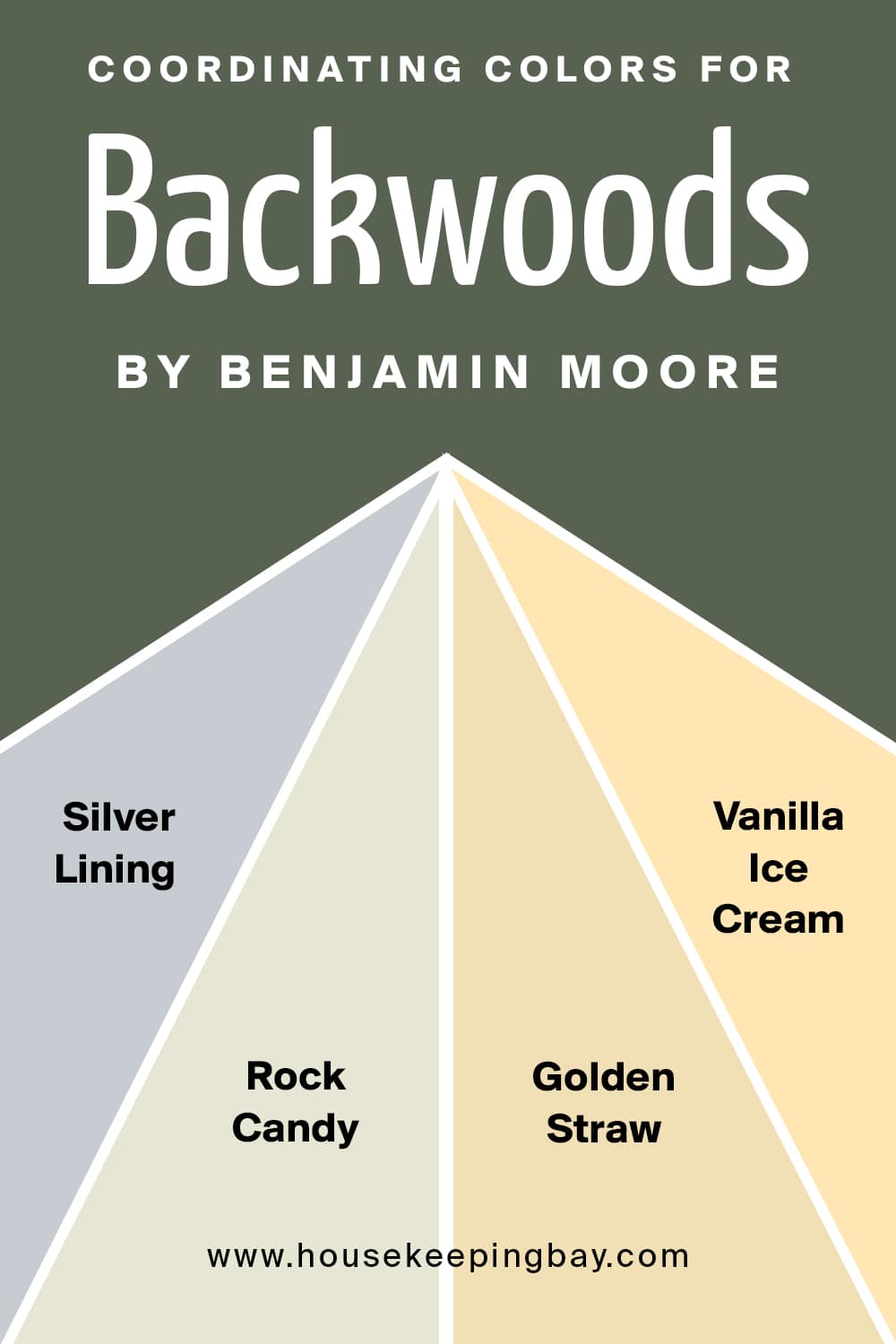 Paint Colors Similar to Backwoods 469 by Benjamin Moore
Of course, when you choose the paint color to use in your home, you consider using this particular shade. However, you might want to consider using other, similar colors instead.
If you are looking for the color or colors of interior paint that can be successfully used instead of the BM Backwoods green, there are a few of them we can suggest to you.
Some of these colors look almost like Backwoods, with just some minor distinctions, whilst others differ quite a lot.
Vintage Vogue 462

Dakota Shadow 448

Jade Romanesque 476

Pantone 18-0317 Bronze Green

Deep Emerald HDC-WR15-11 by Behr

Forest Shade by Dulux

Rosemary SW 6187 by Sherwin-Williams
Since these colors are slightly varied, you will be able to choose the one that fits your interior best of all quite easily.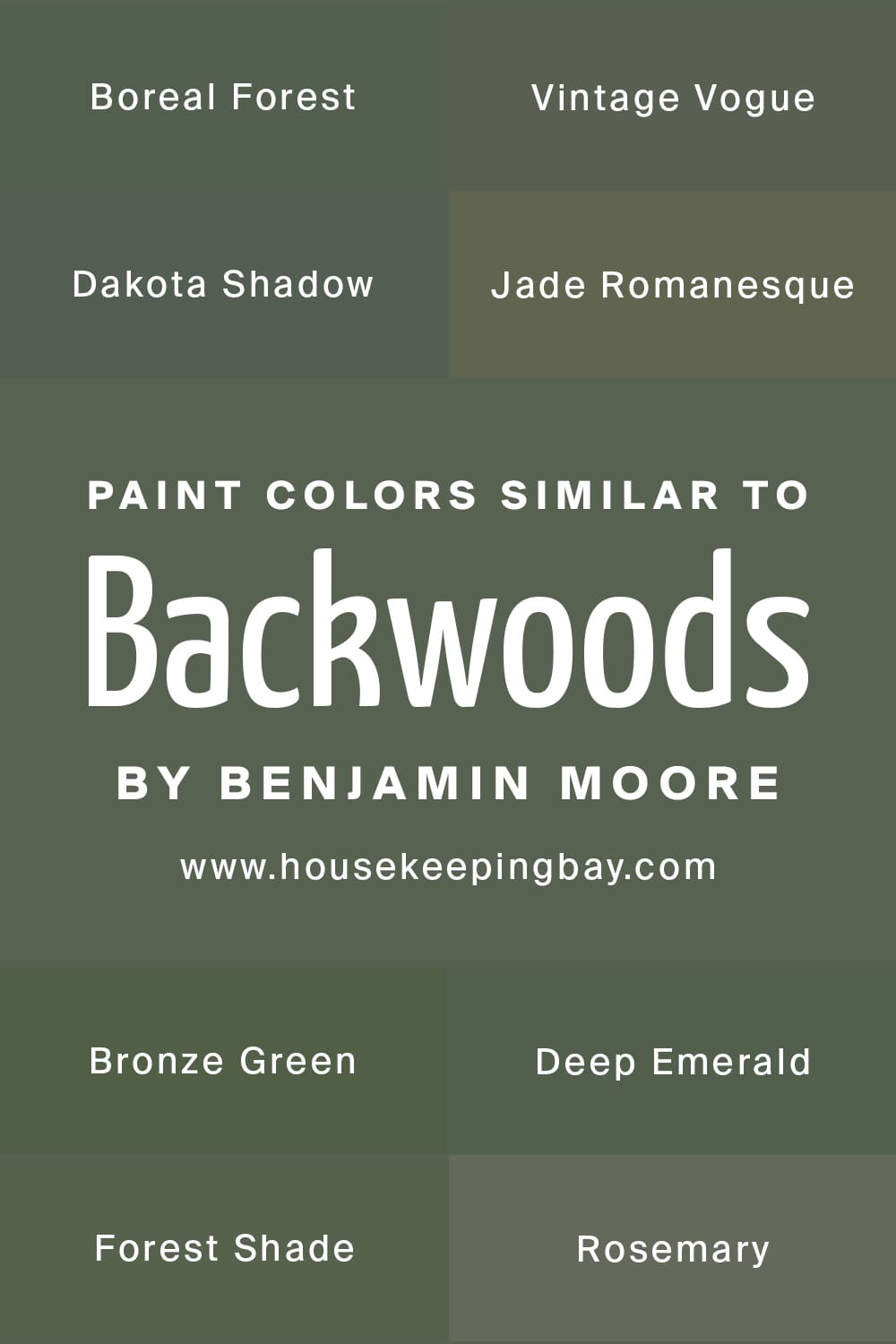 Colors That Backwoods 469 by Benjamin Moore Goes With
Sometimes it might be difficult to find the most suitable paint color to pair with such a natural shade of green as BM Backwoods.
However, thanks to this color being versatile, you can combine it successfully with different shades of white (for example, White Dove) and/or gray, as well as brown shades.
Just note that, if you use cool-toned colors, they will make this green also look somewhat "cooler" on the walls.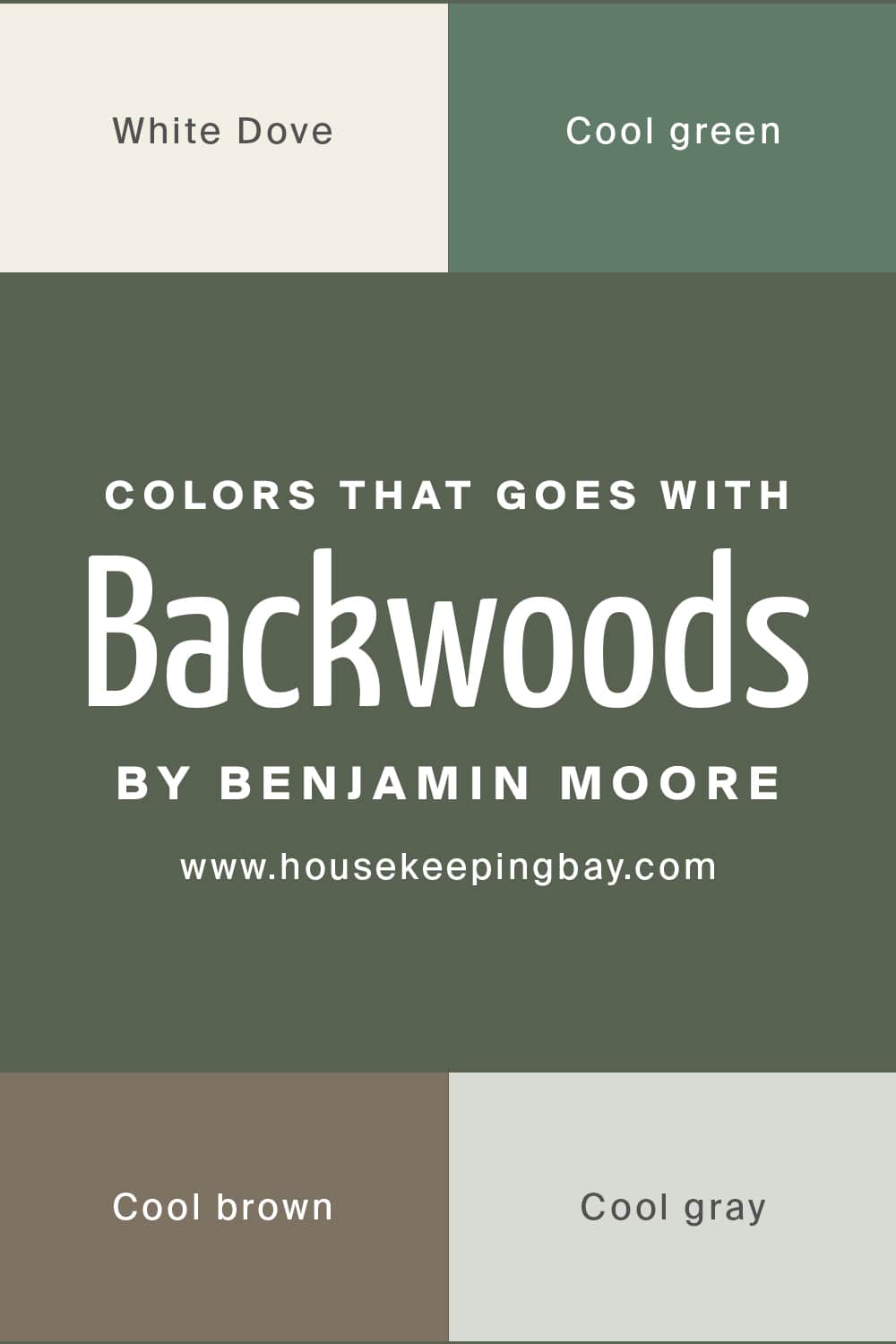 Rooms It Is Best to Use In 
A great thing about this shade of green is that it is surprisingly versatile! You might think that it is hard to find a suitable space in your home to use it in, but this is not like that.
Benjamin Moore Backwoods can be successfully used in almost any room no matter the overall style of your home. You only need to pay attention to the lighting there in order to tell in advance how this green will show itself on the walls.
Backwoods 469 by Benjamin Moore in the Living Room
This beautiful dark green color suits living rooms just perfectly. For example, you can paint this green on your walls entirely, or use it as an accent wall color, and pair it with white trim and doors or cabinets for creating a bold, crisp look.
The color pairs well with wooden furniture, as well as with many different textures. Besides, it will fit quite many interior designs.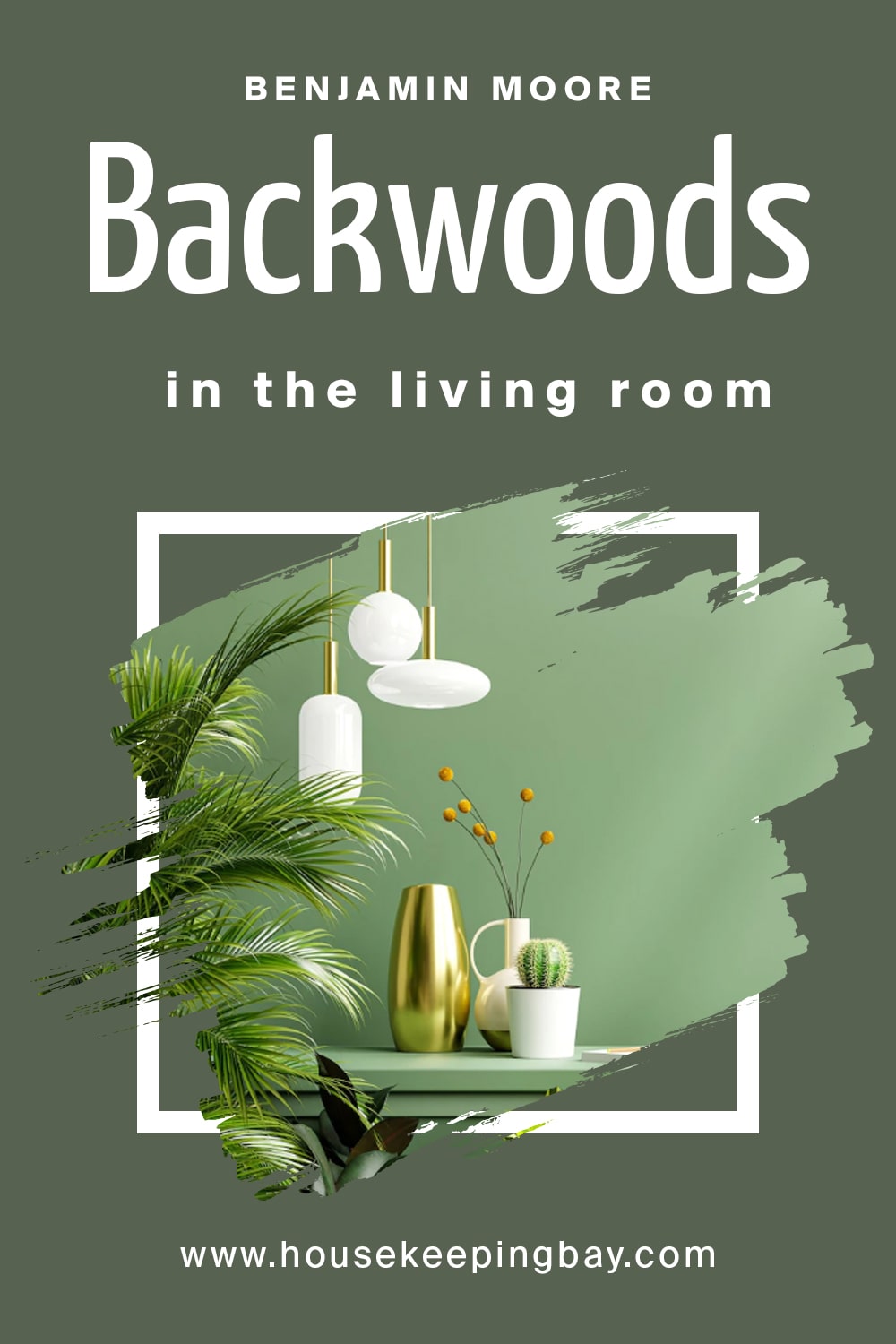 Backwoods 469 by Benjamin Moore for the Bedroom
Painting your bedroom walls green might seem weird, but if you are looking for a way to create a calming and tranquil atmosphere there, you should definitely consider using BM Backwoods!
This rich and saturated green is well balanced without being too cold or too warm, so it will suit the room with any type of lighting.
Only, if your bedroom has more cool light during the day, you should perhaps consider adding warm bulbs and warm-colored items there.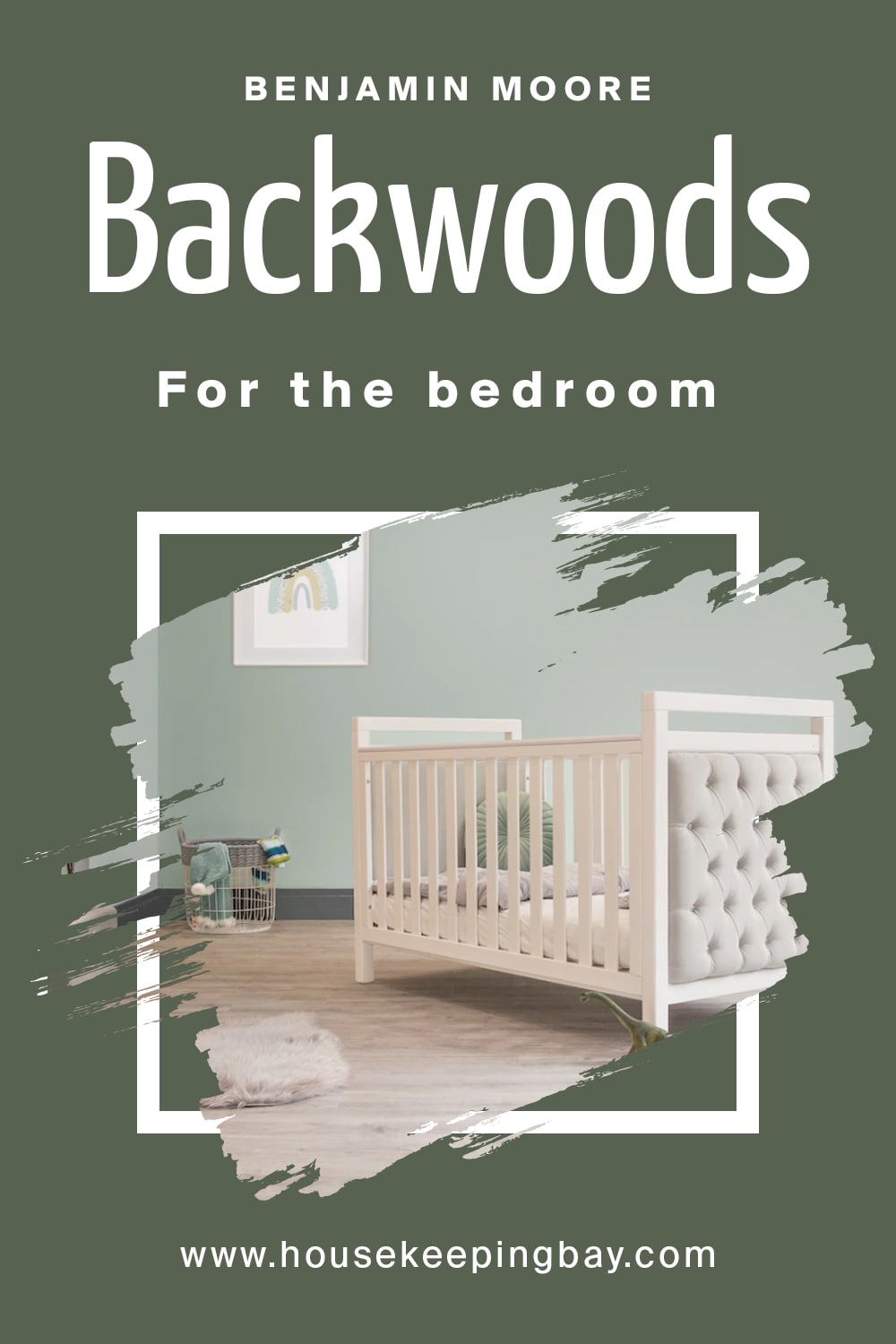 Backwoods 469 by Benjamin Moore for the Kitchen
Green kitchen? Why not?! You can assume that there are only two possible ways of using dark green in the kitchen – either painting of the walls or kitchen cabinets.
However, we would still recommend you the second option, since in this case, you have the opportunity to collect a richer color palette.
Backwoods will look great on cabinets paired with gold-tone hardware and a calm white base, as well as unpainted wood in honey tones. If you also combine it with living plants, you will make the space look more vivid and less serious.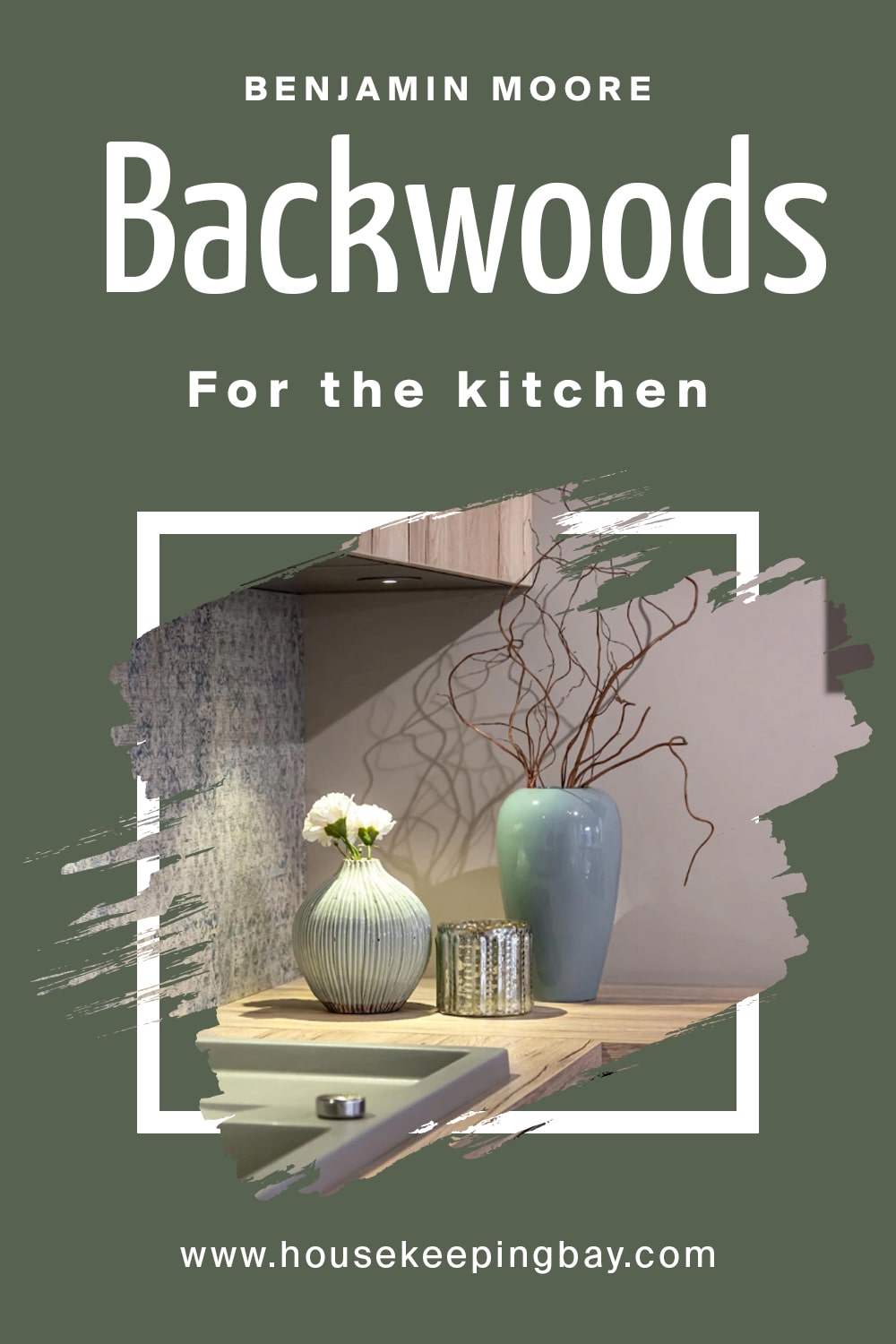 Backwoods 469 by Benjamin Moore in the Bathroom
Not everyone finds green a good color for bathrooms. But if you have an opposite opinion, feel free to use this natural shade of green on your bathroom walls to give it a retro touch.
At least, even if your bathroom is way too small to "host" this color, you can apply it on drawers (or the accent wall) to create brighter color accents.
And don't be afraid of making the room way too dark! The whiteness of the bath and sink, especially paired with the snow-white window frame and brass or bronze plumbing will help you avoid that.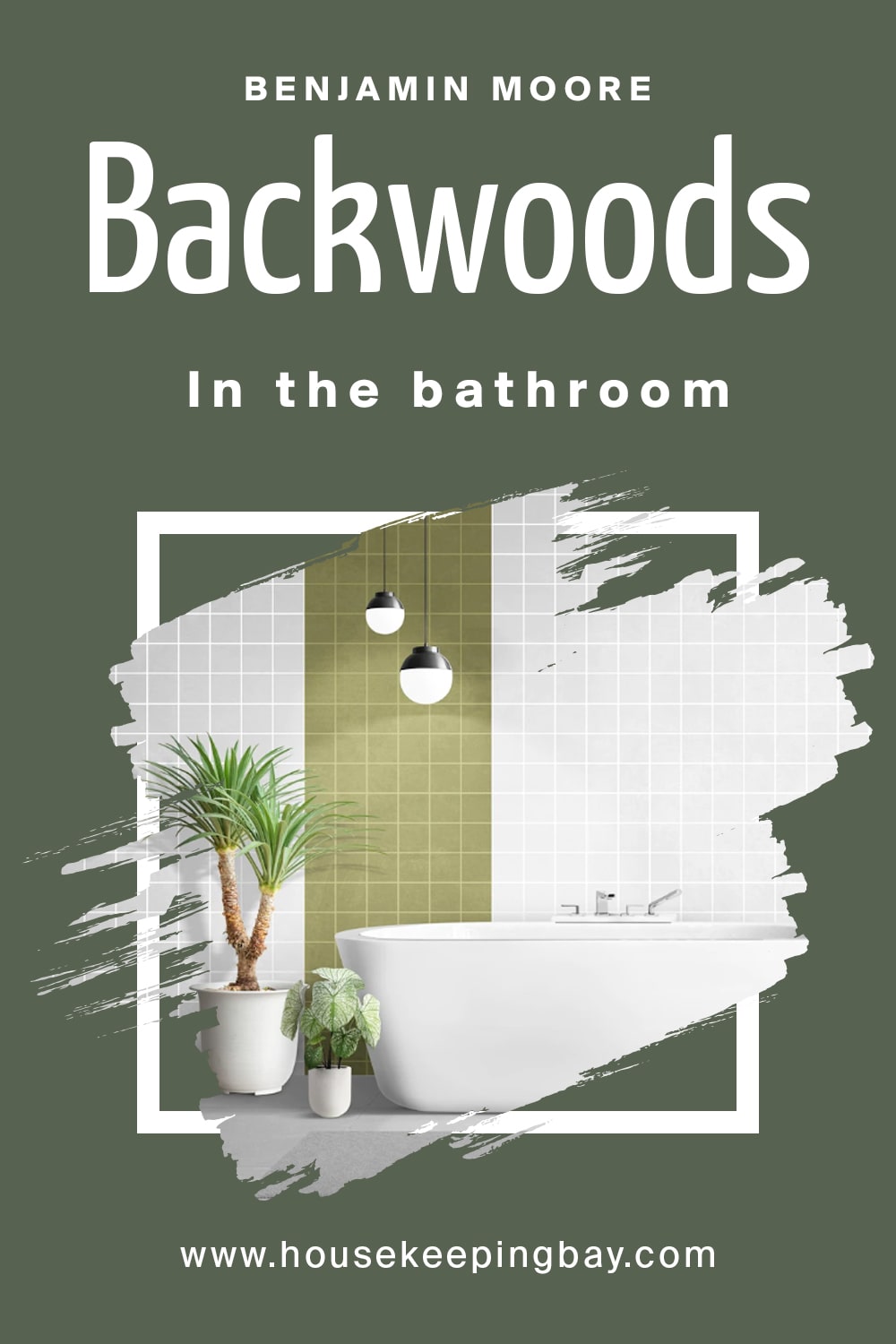 Backwoods 469 by Benjamin Moore for the Exterior
As an exterior paint, BM Backwoods doesn't have many options to be used. However, You can still paint the door and window frames this mysterious green color, and they will look lovely against white or stone walls.
If your home is made of bricks, consider a roofing idea in the same color. So you will give the facade an unusual, elegant, and at the same time very aristocratic look.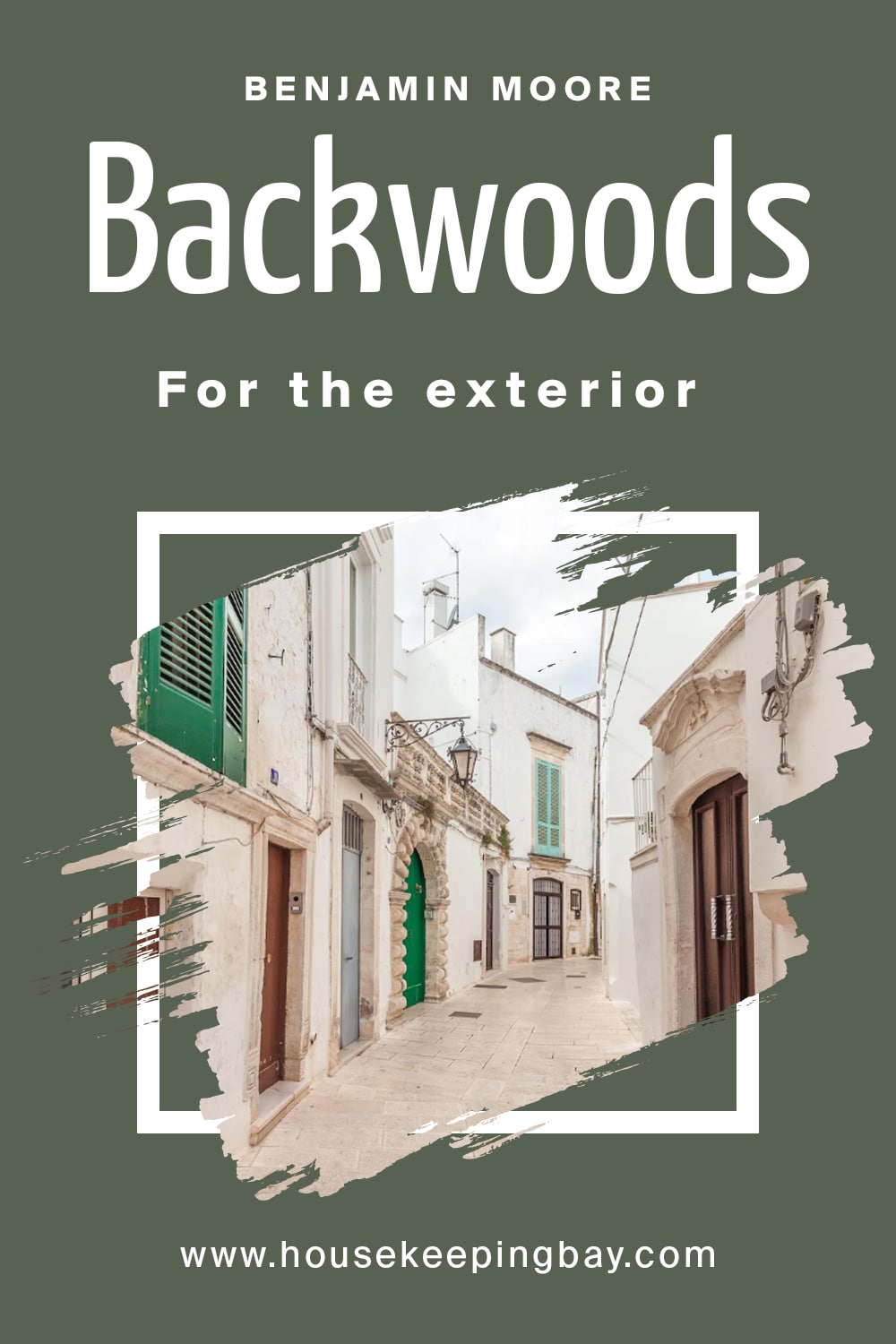 Backwoods Color Comparison
Even within one brand, there are plenty of shades of one color. Of course, when you need to pick the right shade of green, for example, you may find it very difficult and frustrating to look through all those color samples!
This is why we recommend you check out the comparative description of BM Hunter Green and a few other greens of different brands. Like that, it will be easier for you to make the right choice.
Backwoods vs Vintage Vogue
Vintage Vogue is somewhat darker than Backwoods, looking more earthy. In comparison with it, Backwoods reads greener and a bit "fresher". Since both are warm-toned, they can be used interchangeably if you need, let's say, a darker shade of green on your walls.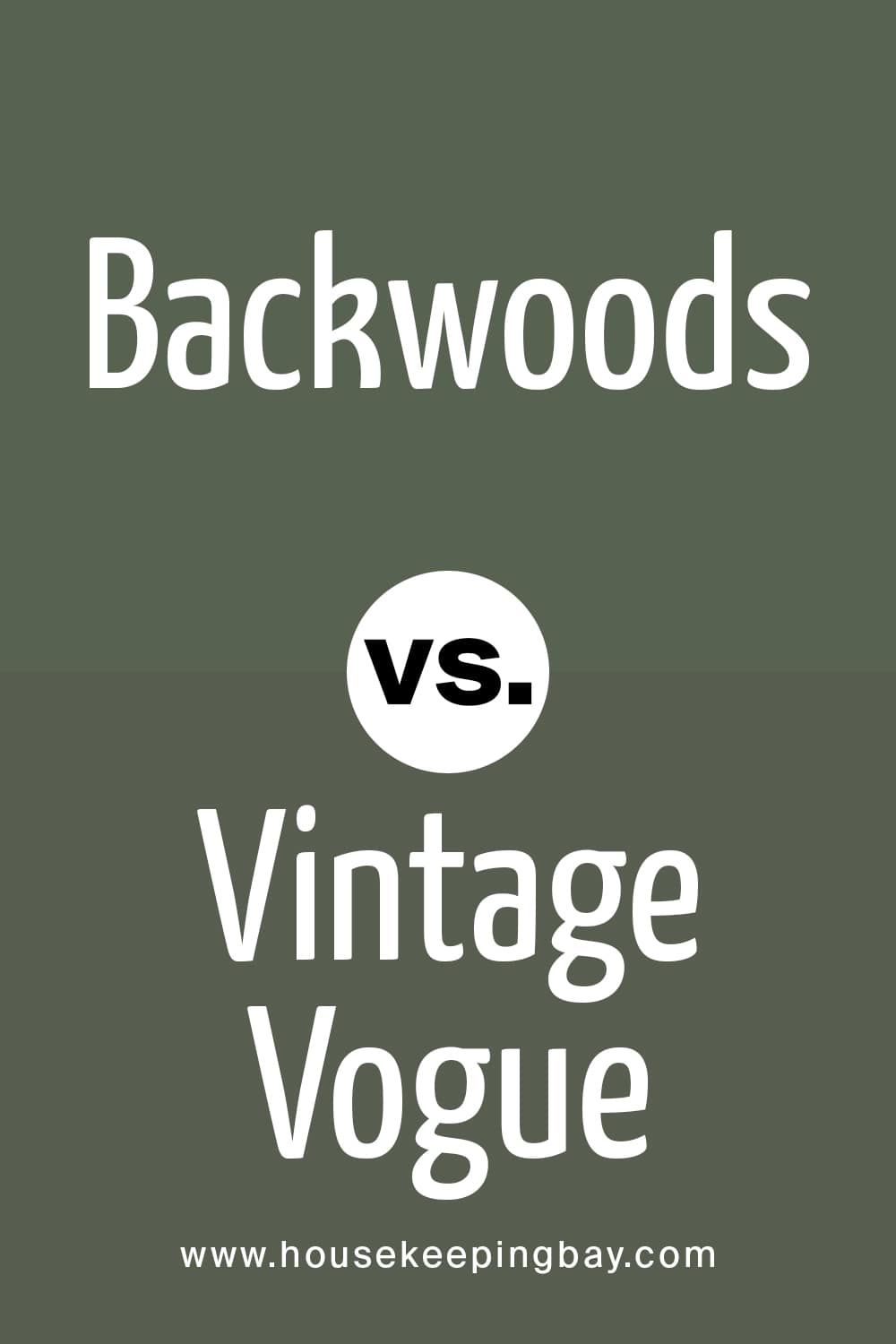 Backwoods vs Cushing Green
Cushing Green reads lighter than Backwoods since it also has very few undertones.
In comparison to Backwoods, Cushing Green seems somewhat duller, so if you're looking for a less intense green, this could be your option.
With this guide, you will better understand what color BM Backwoods is and where in your home it will work best of all.
Like this, you will be able to make the most out of this timeless and classic green that looks natural and refreshing.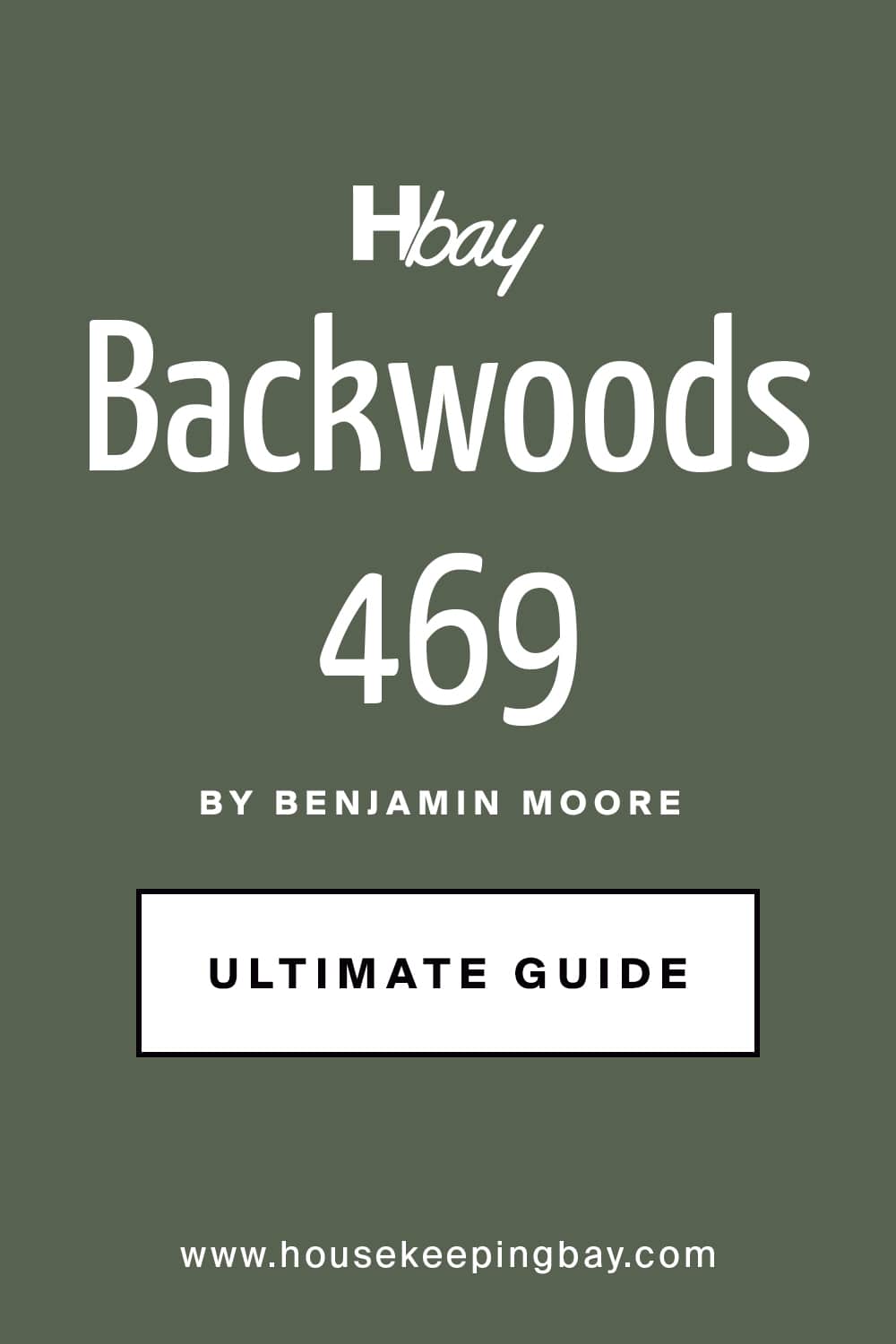 Frequently Asked Questions
⭐Can BM Backwoods be used with creamy whites?
Yes, it can. These shades of white will make it look warmer, revealing its brownish undertones, so keep that in mind!
⭐What color collection does Backwoods belong to?
This green color is a part of the Classic collection of the Benjamin Moore brand.
⭐Is Backwoods a good color for a nursery?
Absolutely! It is rather warm and looks cozy on the walls, creating a calming atmosphere.