So, you decided to repaint a room or two in your home, and now you are looking for a proper interior paint color to use.
We suggest you take a shift from all those beiges, greiges, and other neutrals and look closer to something bold, more authentic, dark, and we would even say striking – something like Benjamin Moore Cheating Heart.
This navy blue-inspired hue is quite dark and daring, that's true.
We can almost say that it very closely relates to a dark gray or even black!
However, there is still a rather prominent hint of a very deep blue in it, which is why this type of color might remind you of dark and deep oceans.
So, want to see how you could introduce a touch of BM Cheating Heart to your home's palette? Then keep on reading!
In this article, we will tell you more about this color, its undertones and coordinating and trim colors.
Also, you will learn what paint colors BM Cheating Heart is similar to, and where in your home it's best to be used.
Finally, we will compare it with a few other paint colors of the same brand to help you see the difference.
Cheating Heart BM-1617 By Benjamin Moore
When choosing a paint color for your interior wall painting projects, you surely want to know more about the colors that you are going to use.
Like this, you will be able to tell in advance how they will look on your walls and how well they will work together with other colors in the room. So what sort of paint color is Benjamin Moore Cheating Heart
If you look at the Cheating Heart by Benjamin Moore, you will see that this color is very dark gray that looks almost black in certain types of lighting.
As Encycolorpedia says, this color belongs to cold toned colors as well. However, if enough daylight falls onto it, this hue will show more of its deep blue undertones.
The color is rather bold and you could even call it striking to a certain point. It's a perfect example of an authentic natural-looking hue that looks very vivid on the walls.
However, if you think that BM Cheating Heart is a simple color, you are wrong. Go back to its name again, it says "cheating" – and that's true!
If you decide to make use of this paint color on your walls, you need to be ready to follow certain rules and restrictions. And this is exactly what we are going to tell you more about below.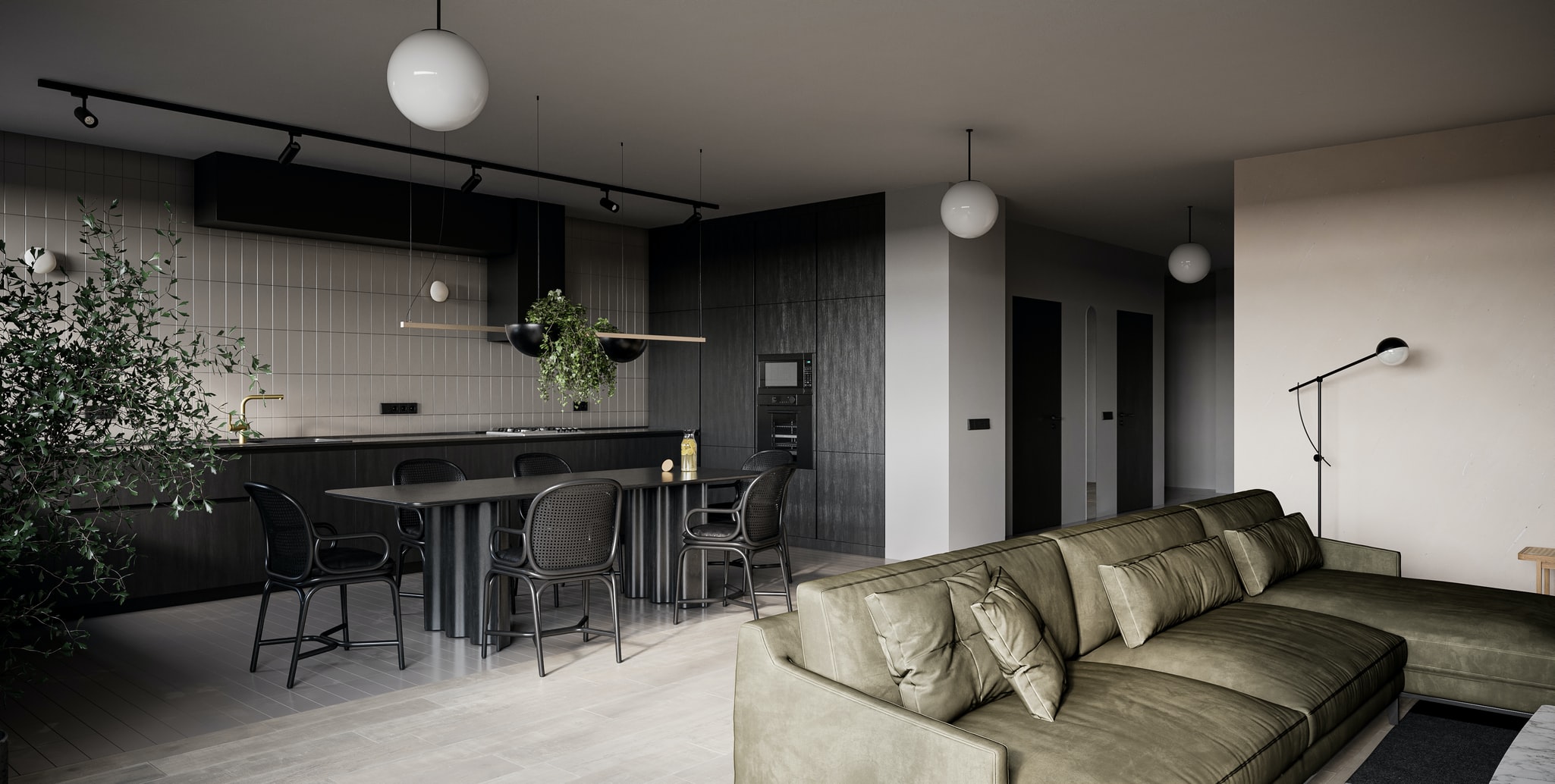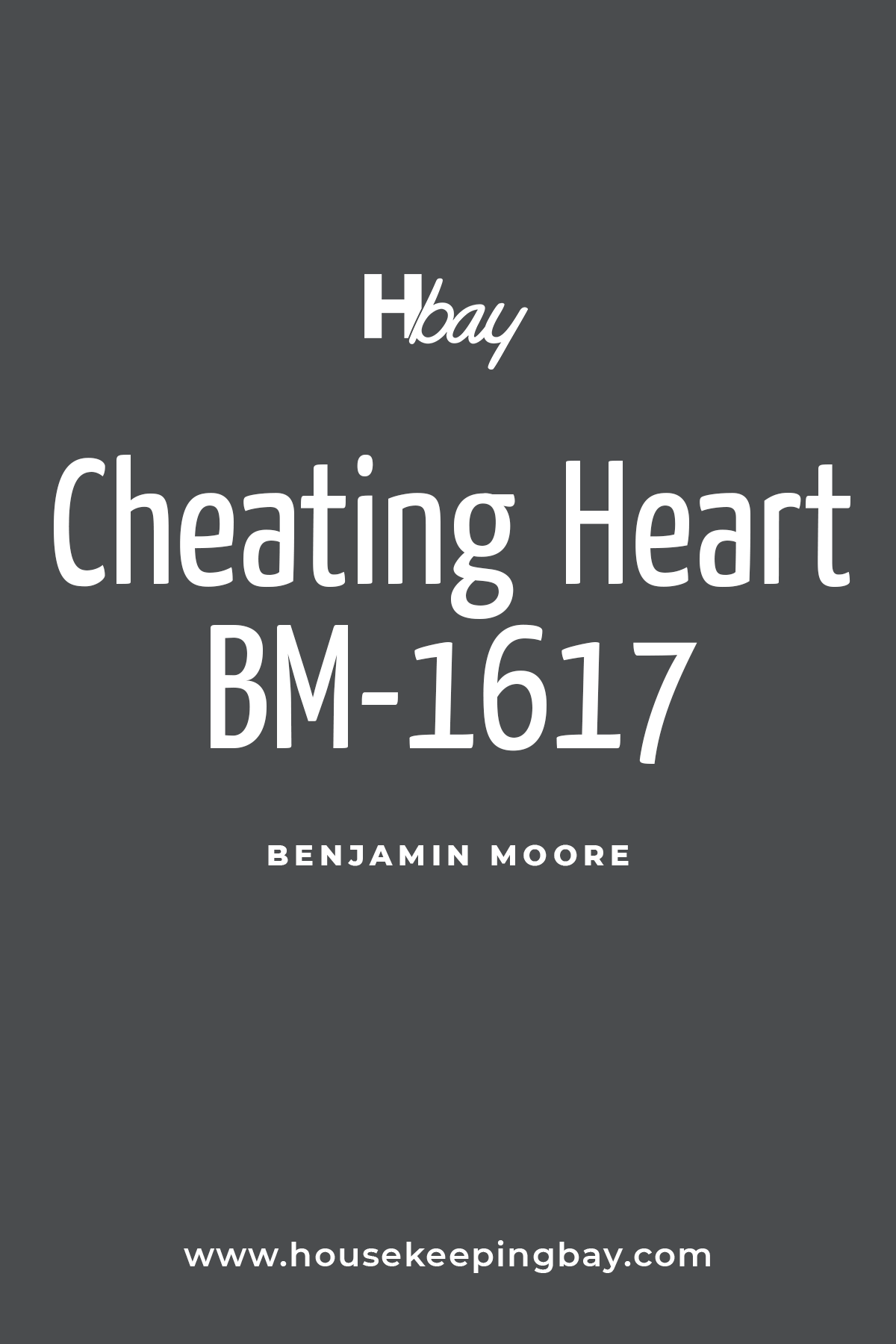 How Does Lighting Affect of Cheating Heart Color?
Depending on what light conditions it's in, this color may look completely different.
If, for example, there is not enough light in the room, and this can happen both with the onset of dusk, with feeble natural light, and with very dim lamplight, Cheating heart will appear almost black with a relatively soft graphite sheen.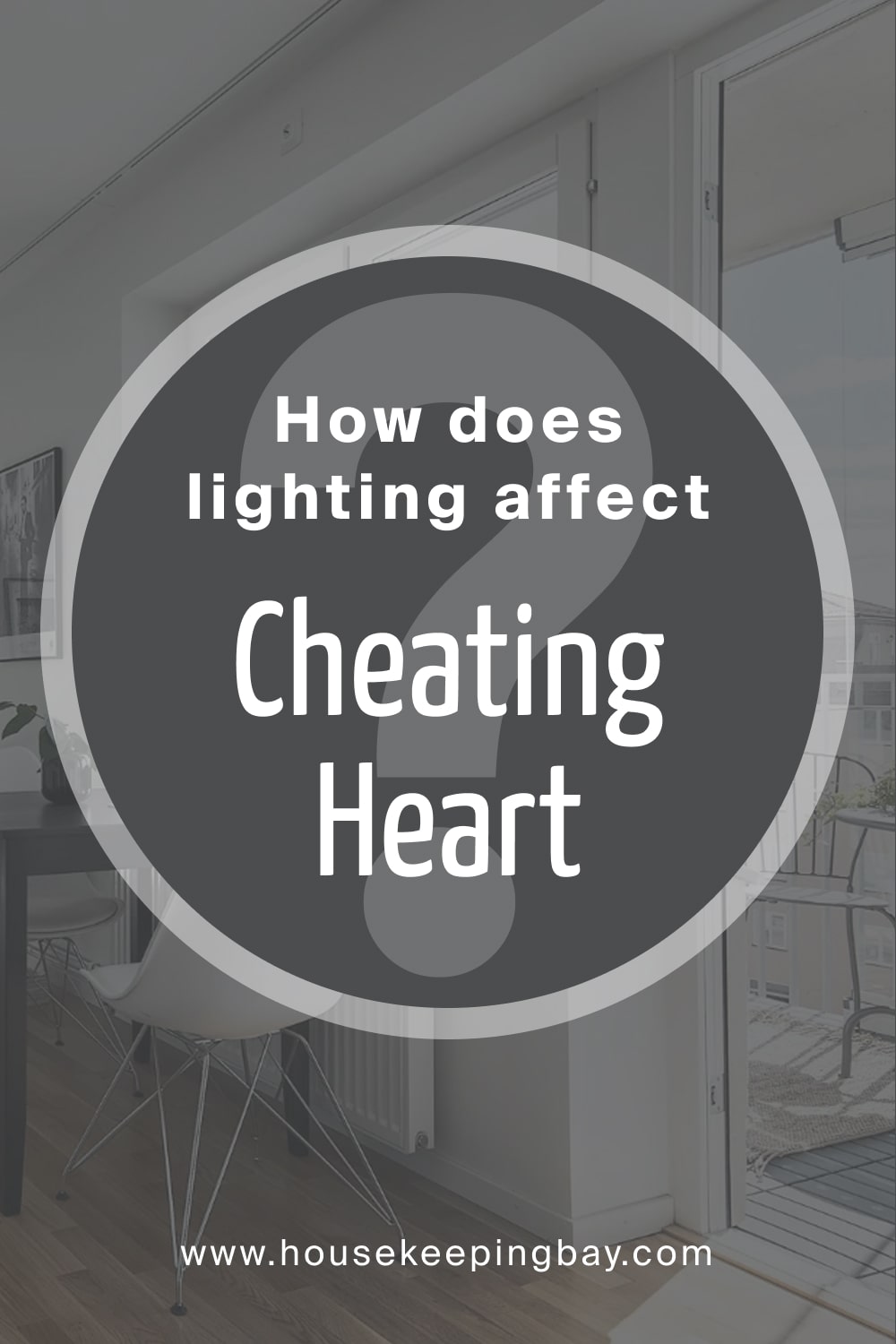 It will seem rather a very dark gray-blue in dim daylight or sufficient artificial light, closer to the stunning and beloved by many, navy blue shade.
Also, Benjamin Moore's Cheating Heart paint color has an extremely low light reflectance of 6.89. This indicator unambiguously places it in the category of dark shades, which practically do not reflect light.
This is the reason why the tone 1617 needs good enough lighting to fully reveal its individuality, depth, and richness of the dark blue undertone. Otherwise, it will go into a fairly simple and very dark gray.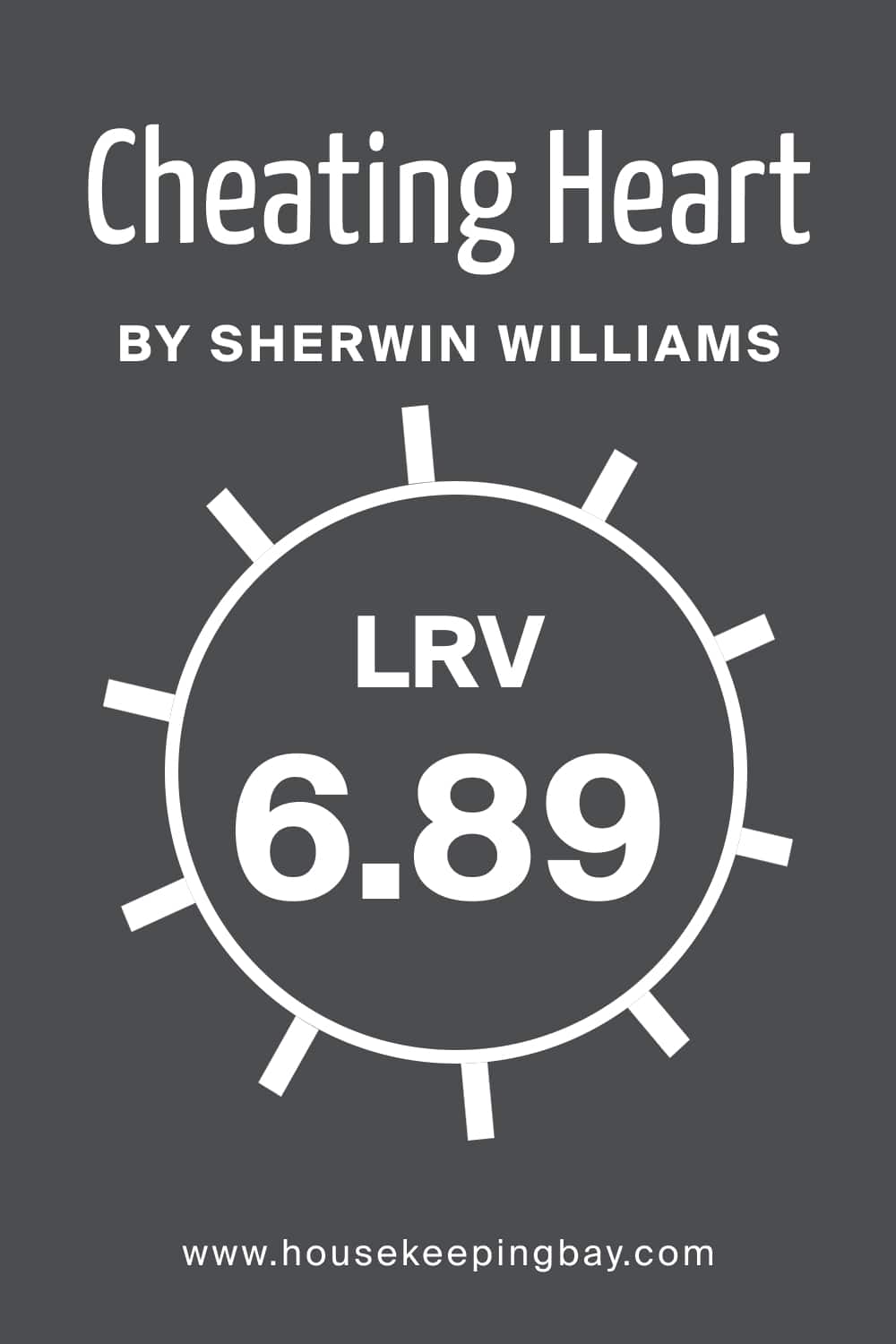 What is LRV? Read It Before You Choose Your Ideal Paint Color
Undertones Of Cheating Heart By Benjamin Moore Paint
If you try to define Benjamin Moore Cheating Heart paint color, you might find it a difficult task. And there is no wonder!
This color is rather complicated being a perfect and well balanced mix of black, sea blue, and gray.
And depending on the type of lighting in a room where this color is applied, these undertones may come out to light in a different manner making the entire color look completely different!
Also, BM Cheating Heart has rather pronounced chrome and navy blue nautical undertones that make it look absolutely gorgeous on the walls.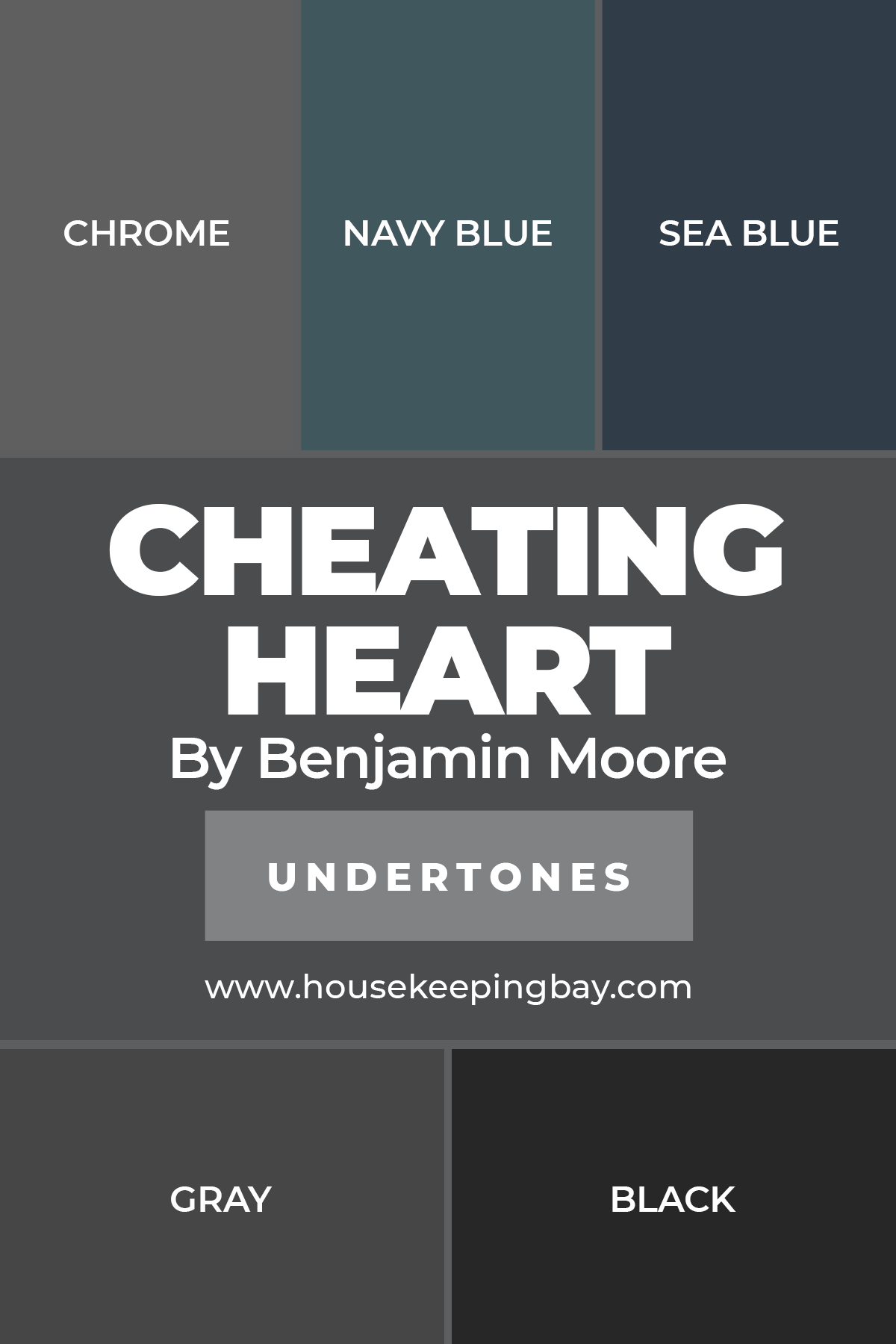 Related: Balboa Mist OC-27 By Benjamin Moore. Ultimate Guide
Coordinating Colors of BM Cheating Heart
It is always complicated to pick up proper colors to pair them with the main one. And Cheating Heart by Benjamin Moore with its complicated nature is not an exception.
Designers suggest combining Benjamin Moore's Cheating Heart with relatively complex and light tones, from pure whites and gray-beige to light gray with purple undertones, cream, and blue-gray.
The manufacturer offers its own options for a harmonious interior palette:
Aganthus Green 472 which is a sophisticated gray-green color, reminiscent of sage in many ways
Ancient Oak 940 – calm and natural gray-beige shade with light cream undertones
Brunswick Beige 1061 – very warm creamy shade, cozy and sophisticated at the same time
Pebble Rock 945 – pale and attractive gray, not devoid of a warming beige undertone
With the versatility of this deep and dark navy blue paint, you can pair almost any tone with it. You can best pair this dark paint color with off-whites, lighter blues, mustards, beige, mauves, and even pinks.
You can also incorporate any of the metallic tints as accents here – like nickel, gold, rose-gold, or chrome!
Furthermore, you can either choose from a monochromatic or a contrasting color palette – depending upon the interior design style and your preference. Just check out a few suggestions we have!
1615 Rock Gray
1614 Delray Gray
1613 Silent Night
And if you need a more contrasting color palette, feel free to use any of the following:
AC-8 Butte Rock
939 Royal Silk
1611 Graytint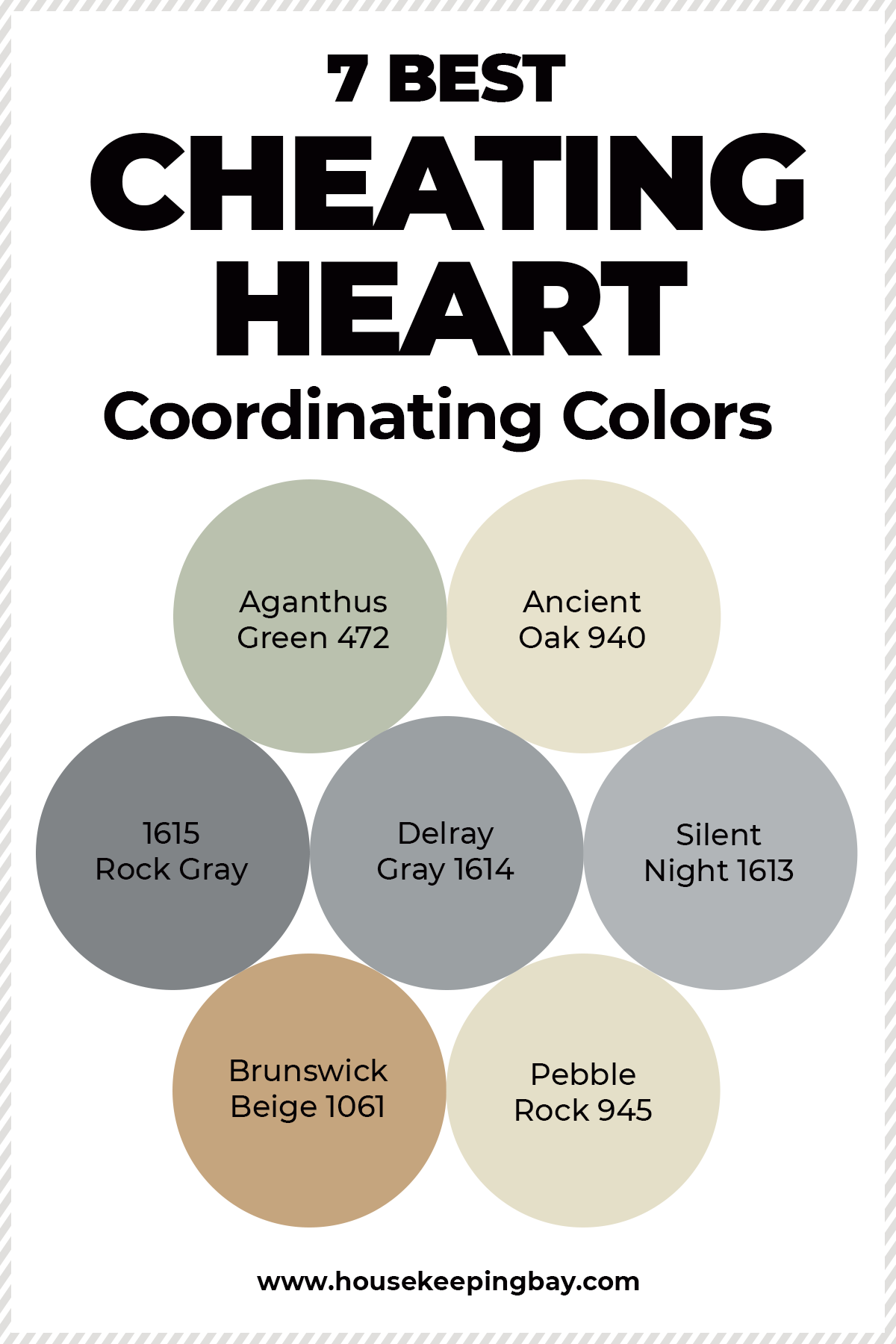 What's the Best Trim Color of Cheating Heart BM-1617?
Most people believe that white is the only one universal trim color that will suit any other color.
But is it the same with BM Cheating Heart?
Well, basically, yes. Whites look especially great when used for trims along with this cold and dark bold color.
And since the color itself leans more to cold-toned ones, you should stick to warmer shades of white for trimming.
If you apply a cool-toned white, the entire space might look a bit too "cold".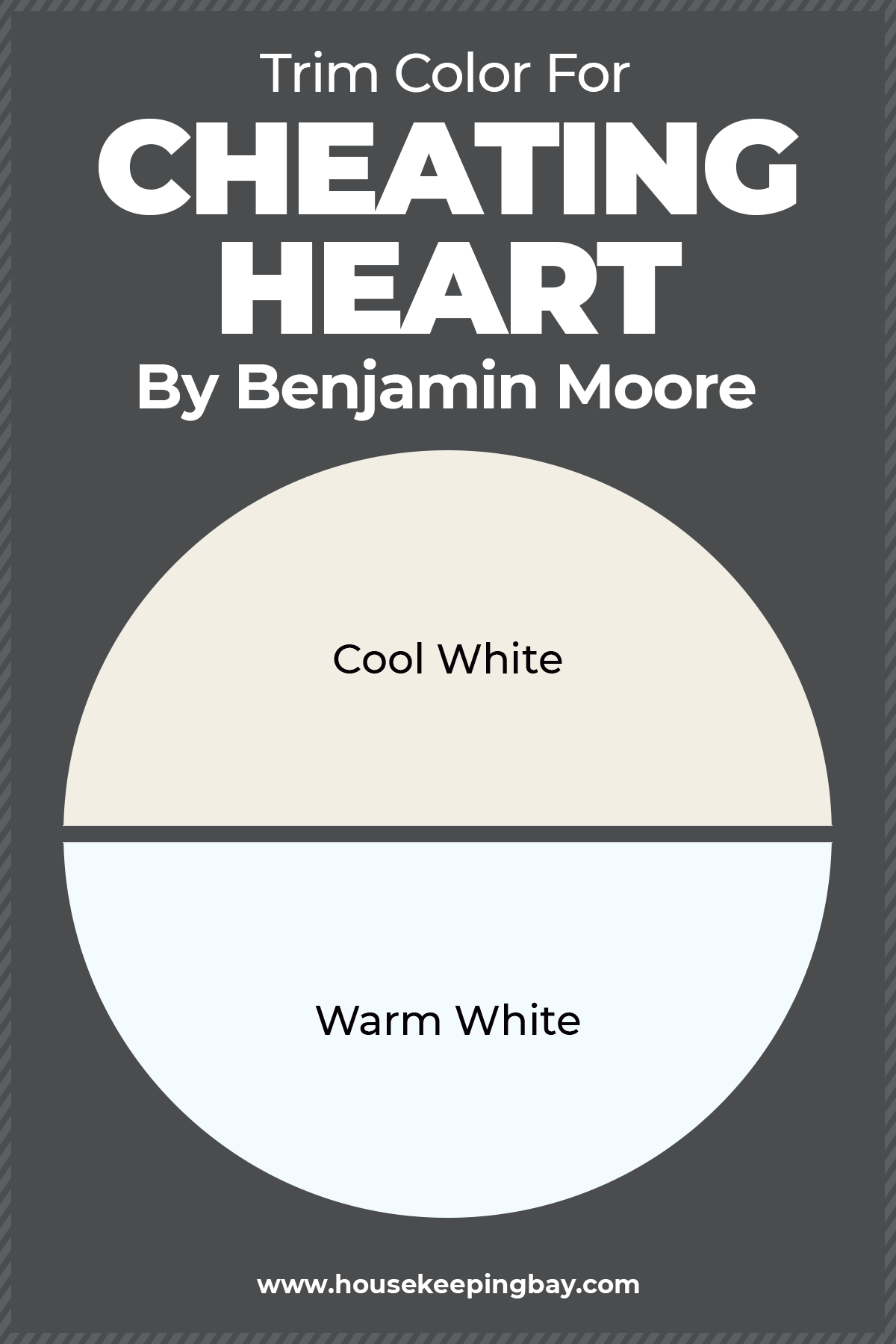 Painted Cabinets colors Simply White and Cheating Heart bids 206-431-3606
What Paint Colors Are Similar to Cheating Heart?
You might want to look for another color instead of Cheating Heart for many reasons. Perhaps, you find it a bit too tricky or too dark for you.
Or your interior color scheme is not quite suitable for welcoming this complex color. No matter the reason, it is always good to keep a few alternatives in mind.
This is why, if for any reason you are not ready to use this paint color in your home, feel free to consider a few others. And since this beautiful gray-blue-black has various similar alternatives.
Some may incline towards a blue base and some purple – but the major idea is for the hue to have a daring and authentic look.
To name a few, consider two closely related colors: BM 2124-10 Wrought Iron and Sherwin Williams 7083 Darkroom.
Even though the two colors share quite a few similarities, the major difference is the undertones. BM Wrought Iron feels a little more navy blue than the former. With an LRV of 6.16 – this hue feels equally dark and daring!
As for the SW Darkroom, it is a product of deep purple and plum, this dark color can make a playful alternative.
The major difference is the undertones here!
With an LRV of only 5 – this paint is the darkest of them all! (Hence, a great recommendation for the accent wall). It's also best to pair this color with whites and lighter mauves.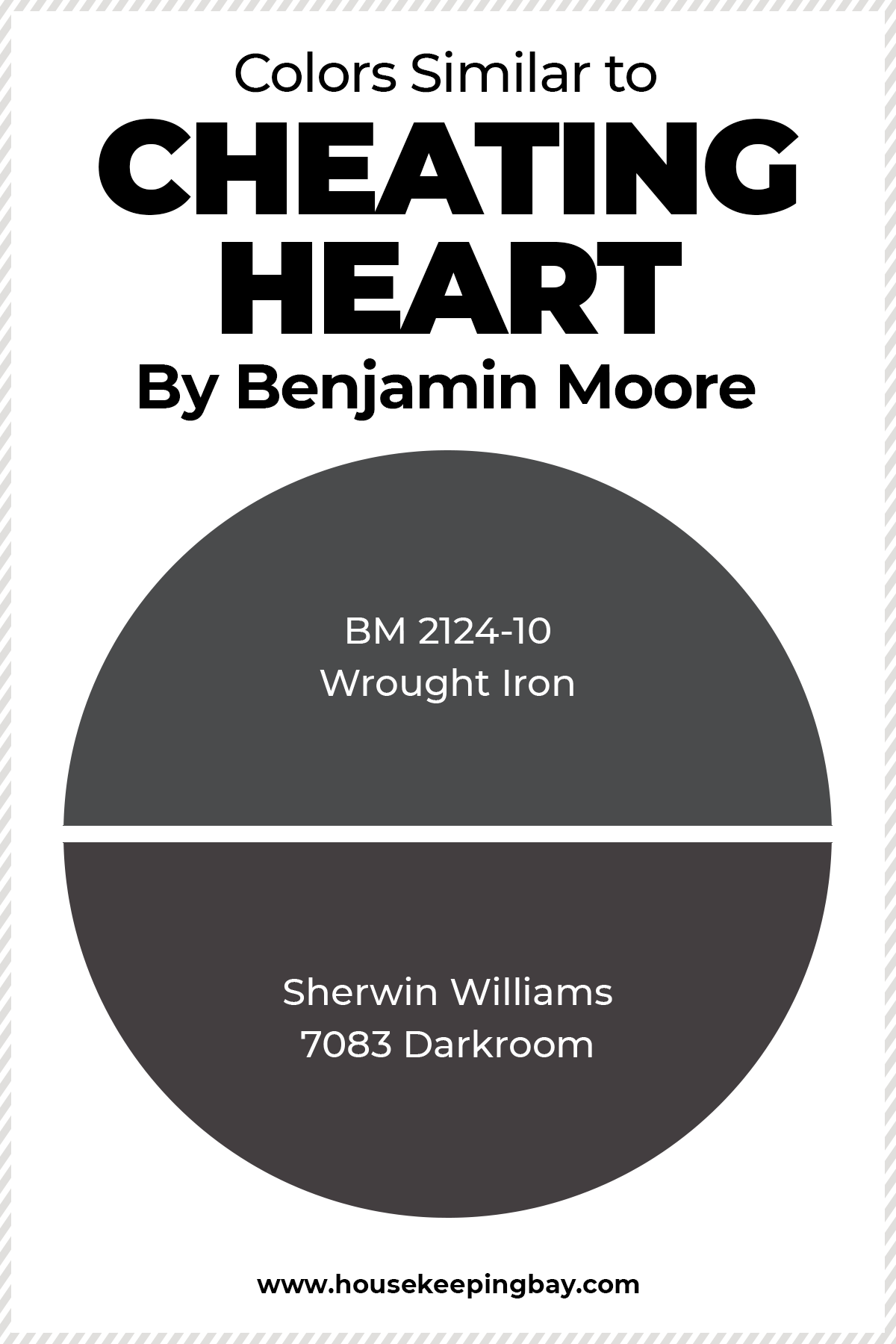 Where to Use This Paint Color In Your Home?
Even though this color is quite a tricky one, it is still rather versatile. You can successfully use it in quite many rooms and on quite many surfaces in your home.
The only thing you should always keep in mind is how this color will work when paired with other colors in the room.
Well, and of course, let's not forget about the lighting!
Cheating Heart BM-1617 for the Cabinets And Kitchen Cabinets
Benjamin Moore Cheating Heart looks really great on cabinets. The contrast will be even more stylish if the walls of the room are painted warm-toned white and there is wooden furniture in the room.
Whether you have a Scandinavian style, modern, farmhouse, contemporary, or transitional interior design style – this color is a must to look forward to!
However, be careful with lighting: if it is cool, the color may look colder thus adding more "chilly" vibes into the area!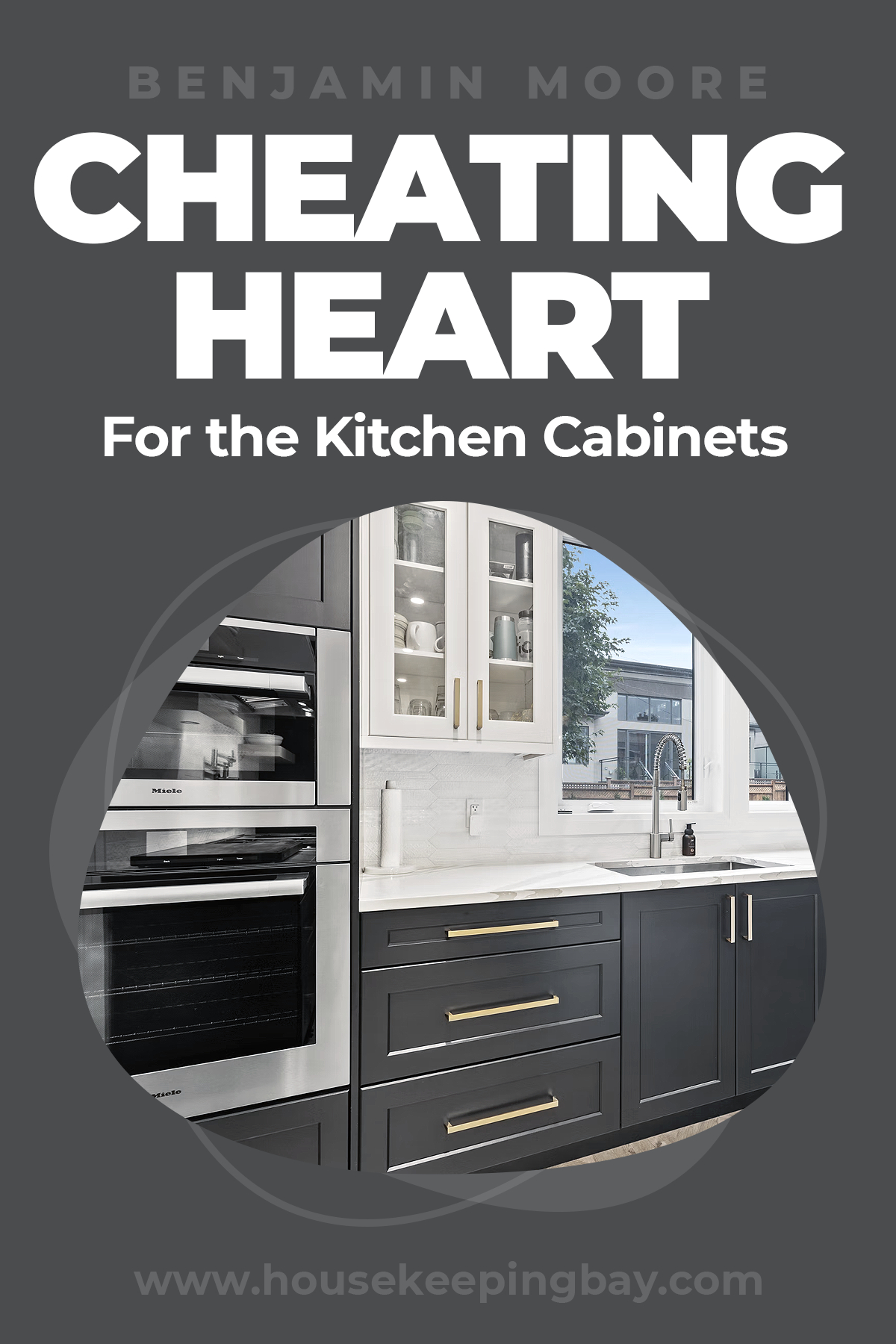 Cheating Heart BM-1617 in the Bedrooms
Your bedroom accent walls deserve a pretty paint like this!
However, ensure not to paint all the walls in this color – unless you receive ample natural light, have lighter-toned upholstery, and spread-out furniture!
Use a white base for the decorative accents such as your table lamps, artwork, rugs, and bedding. Lastly, in the case of renovation, hardwood floors in herringbone or chevron pattern are quite good to go!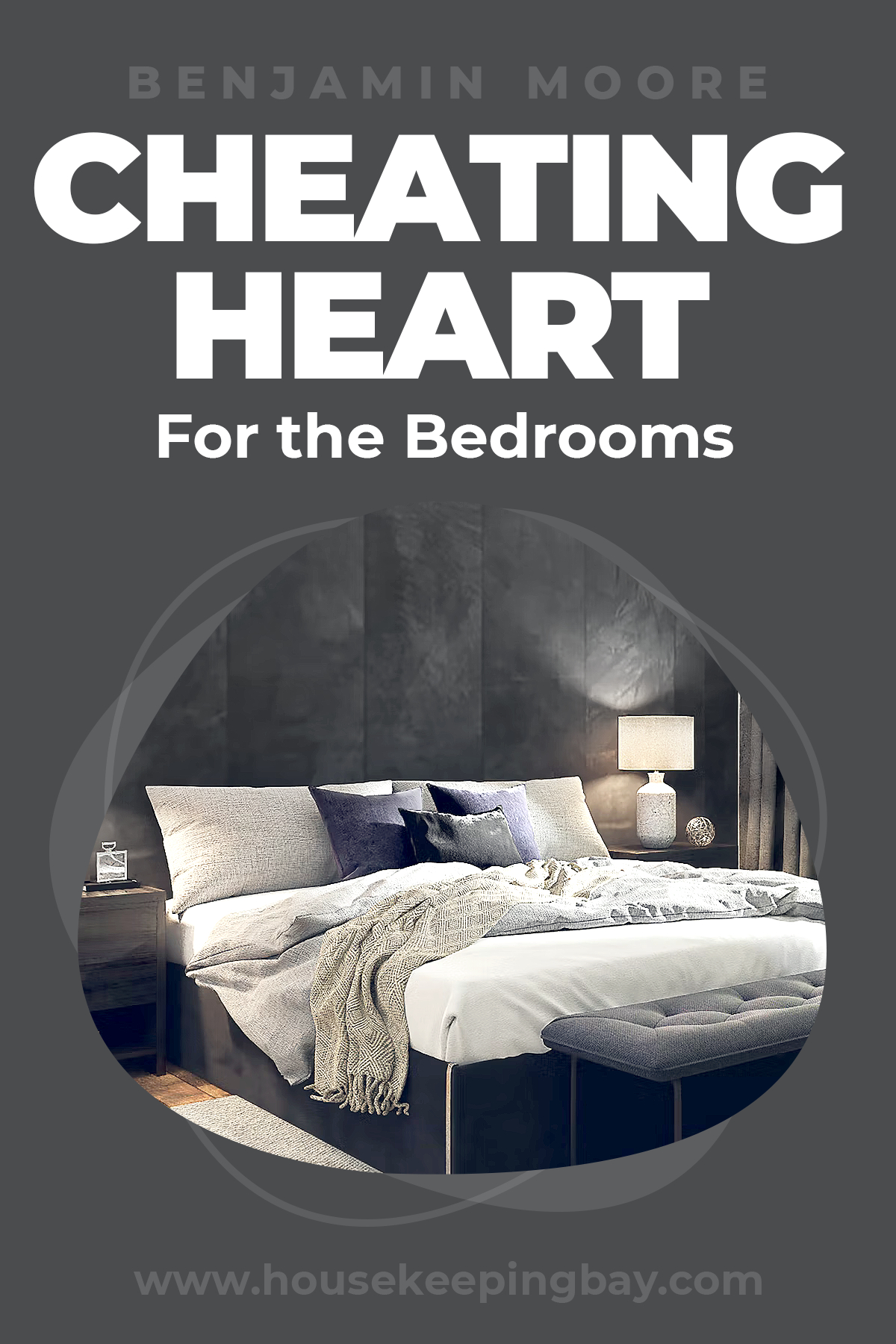 Cheating Heart BM-1617 in the Kitchens
Benjamin Moore Cheating Heart is totally flawless on the kitchens. We highly recommend you paint your kitchen cabinets in this color and further pair it with brass pull handles and drawers!
Use the same tone on the pendant lights and other displayed fancy china as well. Lastly, you must choose white backsplash tiles and gray or white marble countertop to complete your palette.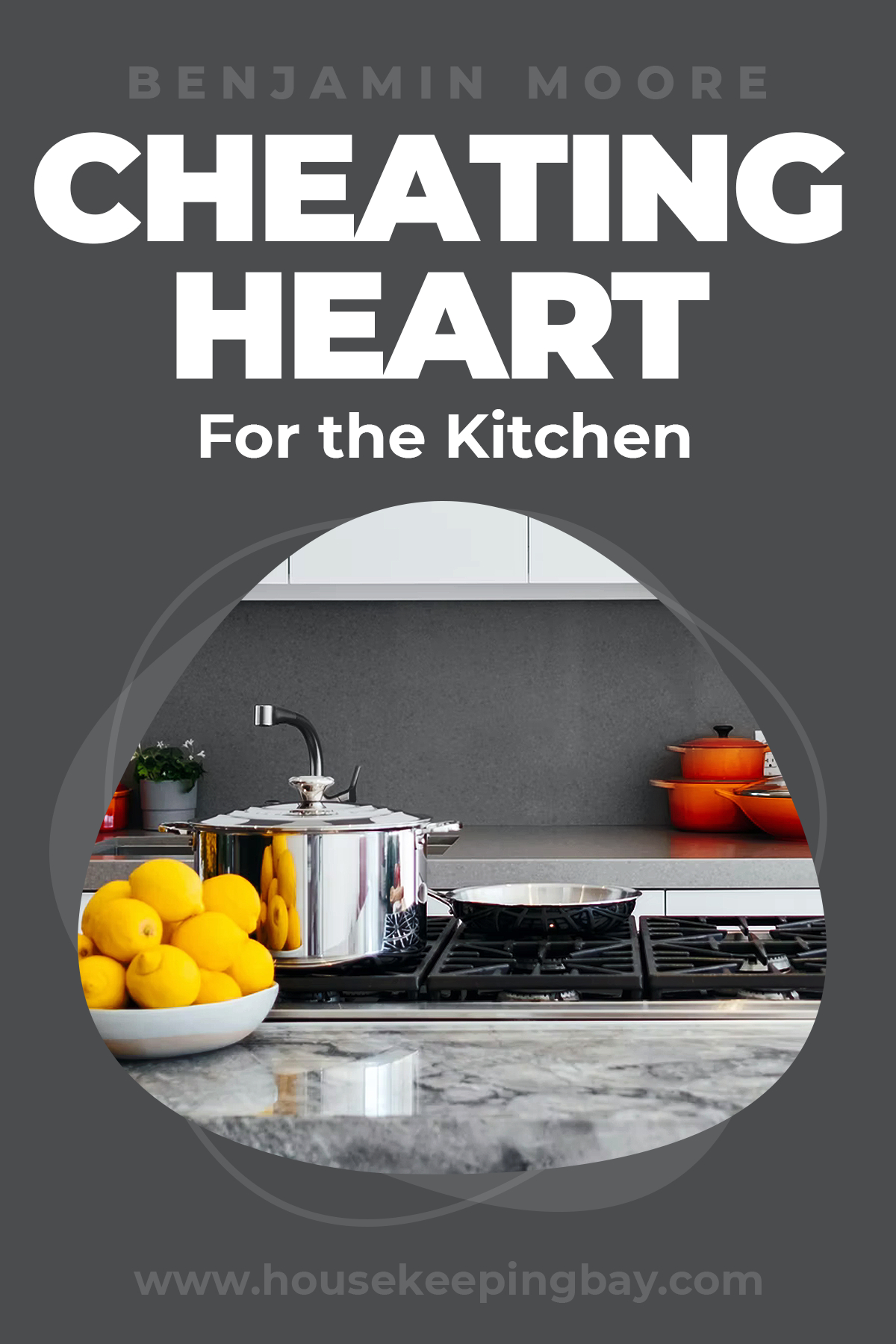 Exterior Use Of BM Cheating Heart
Benjamin Moore Cheating Heart can also be used as an exterior paint. This is actually another great feature of this paint color.
Quite many people paint their facades with this hue, and it works surprisingly well!
You can hardly imagine any other color that would be as successful as Cheating Heart for front doors and window frames and shutters. Indeed, it is truly magnificent both against the background of brick walls and in contact with wood, painted in light or pastel colors.
Of course, if you decide to do it as well, you must consider the lighting in your area!
If you mostly have cloudy weather and not enough daylight during the year, your Cheating Heart facade might appear to be somewhat dark and gloomy.
However, if the weather in your area is mostly sunny and bright, feel free to paint your entire house with it!
The color will show more of its warm undertones and look amazing if you also add white trims on the windows and the porch.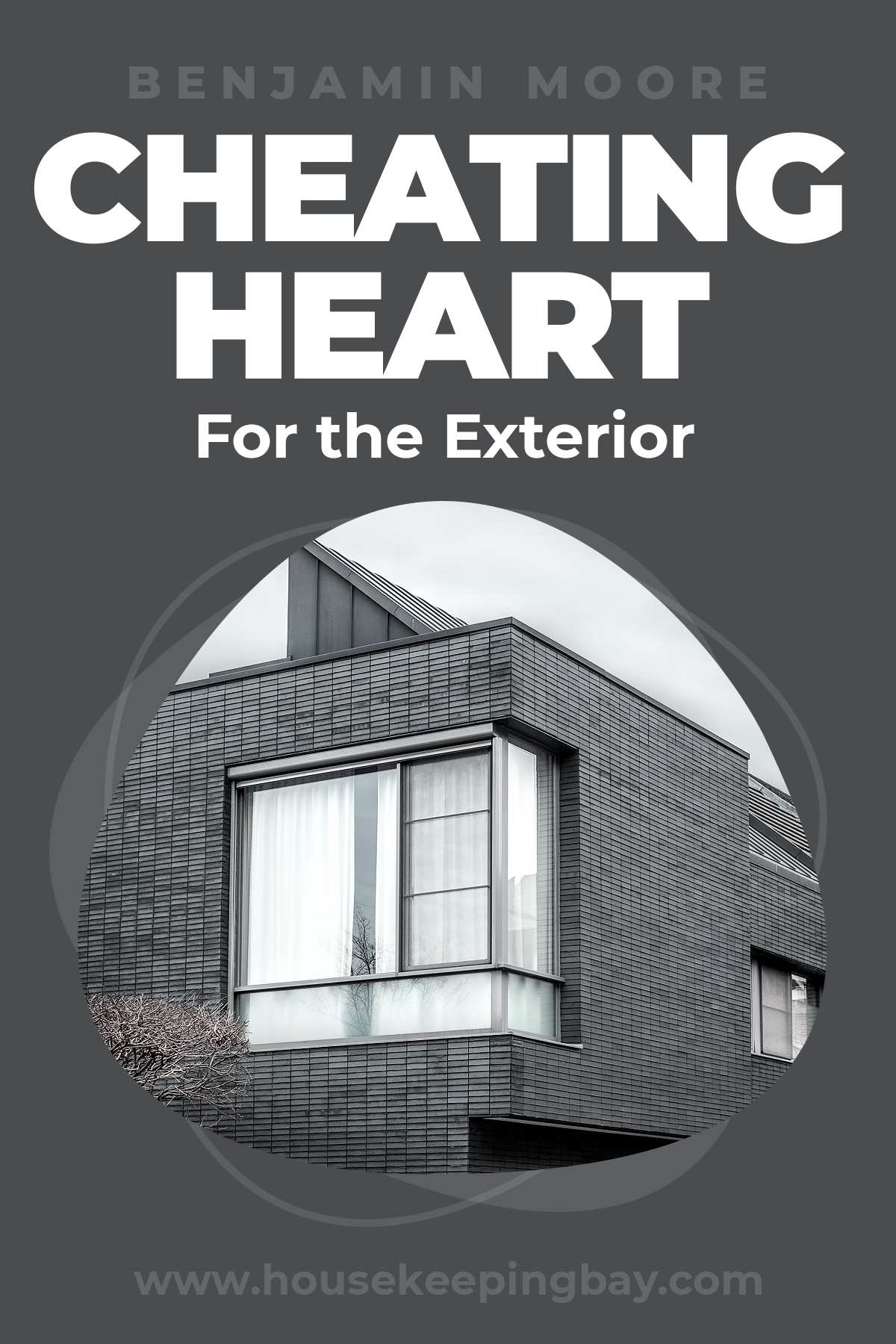 Colors That Cheating Heart Goes With
When starting a painting project, you need to make sure that the color you choose will pair and work well with other colors.
This is why we suggest you check out what colors Cheating Heart can go with. Like this, you will avoid a common mistake of combining the colors that can't go together.
Сheating Heart vs. Wrought Iron
Benjamin Moore Cheating Heart paint color and Wrought Iron color look pretty much alike.
However, even though the two colors share quite a few similarities, the major difference is the undertones.
BM Wrought Iron feels a little more navy blue than its counterpart. With an LRV of 6.16, this hue feels equally dark and daring!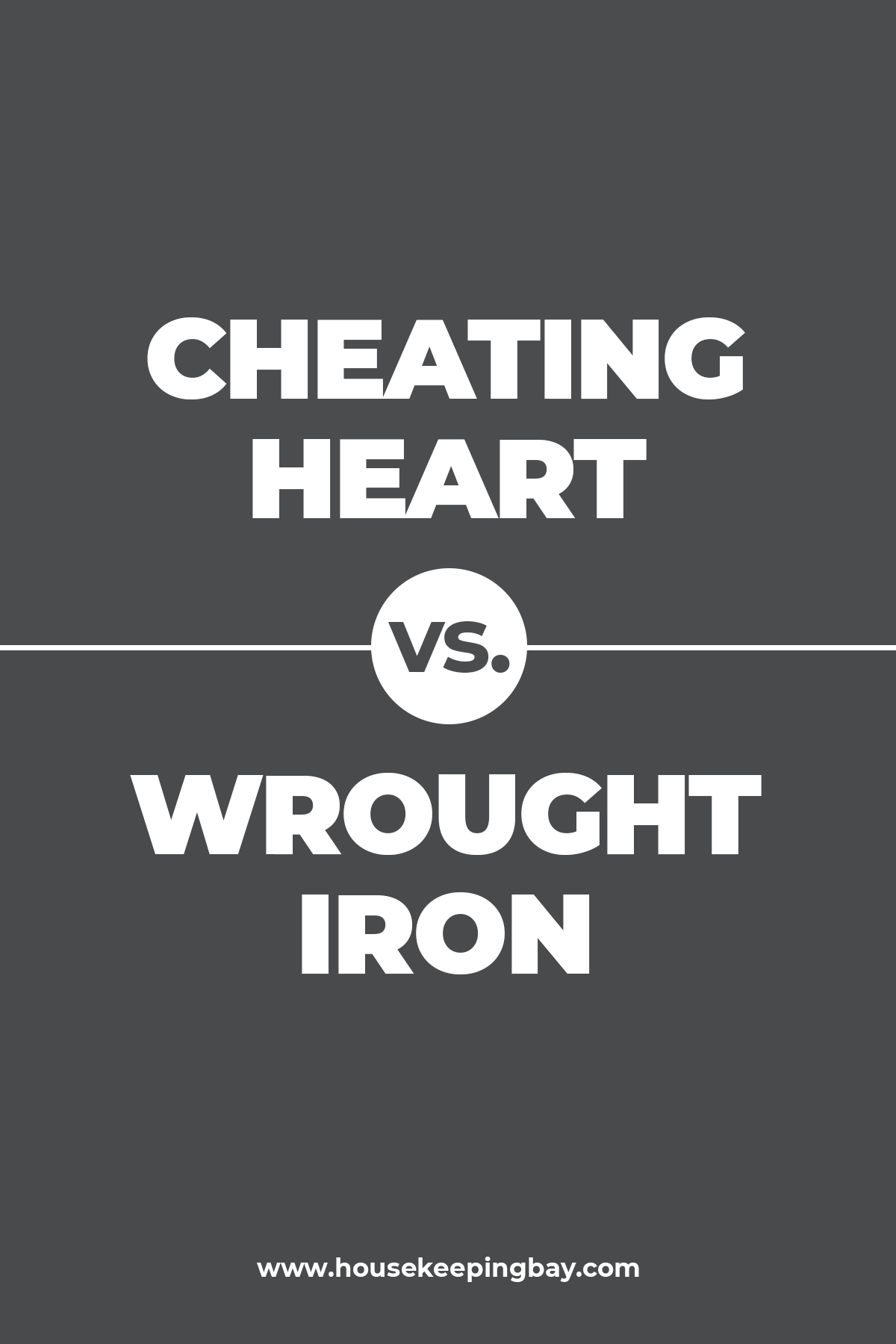 Сheating Heart vs. Bavarian Cream
Bavarian Cream and Cheating Heart by Benjamin Moore can create a good and cool-looking pair of colors!
Bavarian Cream is white, but not too cold-toned, which allows it to pair with Cheating Heart harmoniously. A great pick if you are looking for a trim color!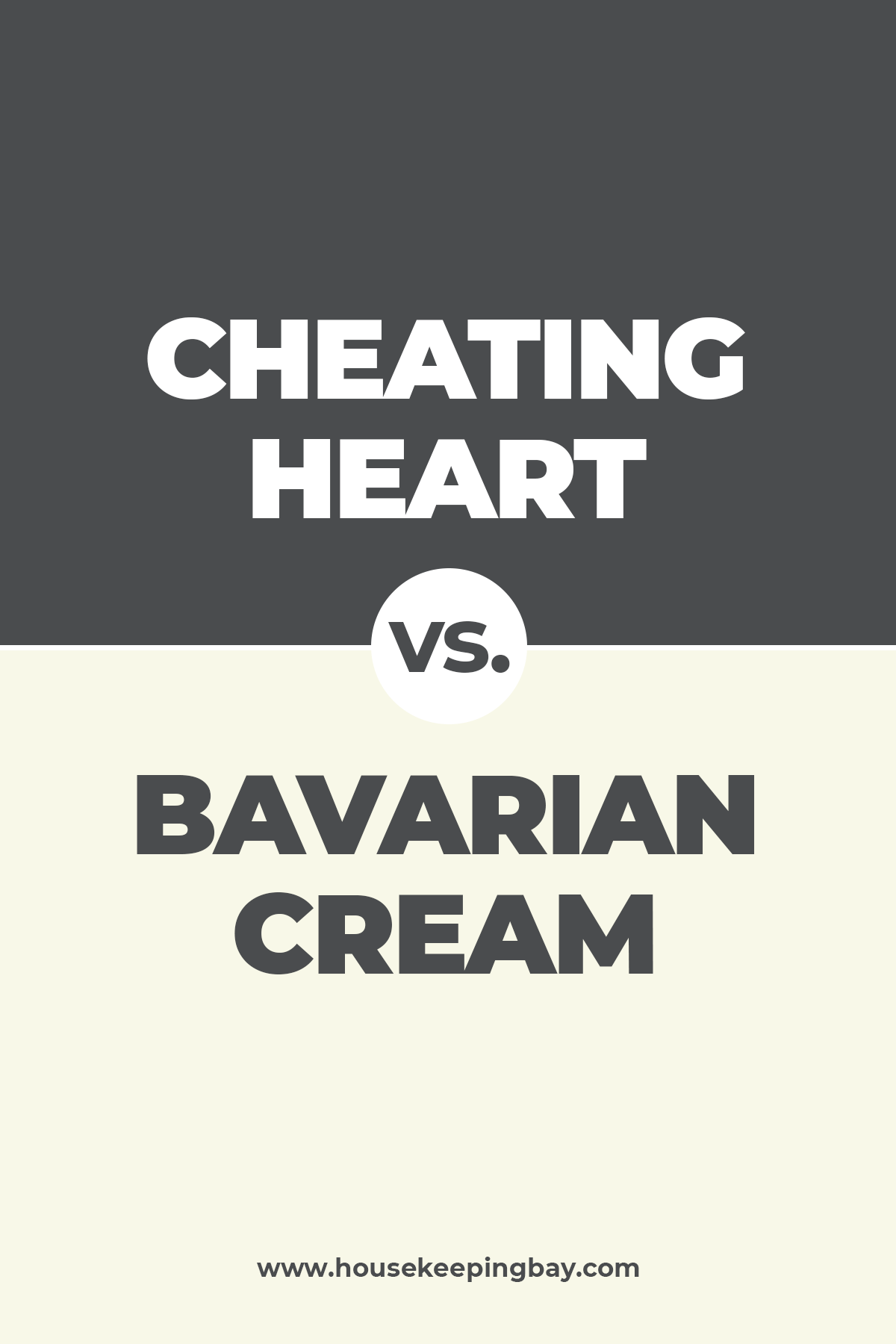 Сheating Heart vs. Cyberspace
Cyberspace looks colder if we compare it with Cheating Heart. Also, even though both can be considered gray colors,
Cyberspace shows way more of its deep blue undertones.
This is why, as a coordinating or complementary color, Cyberspace can not be used along with BM Cheating Heart.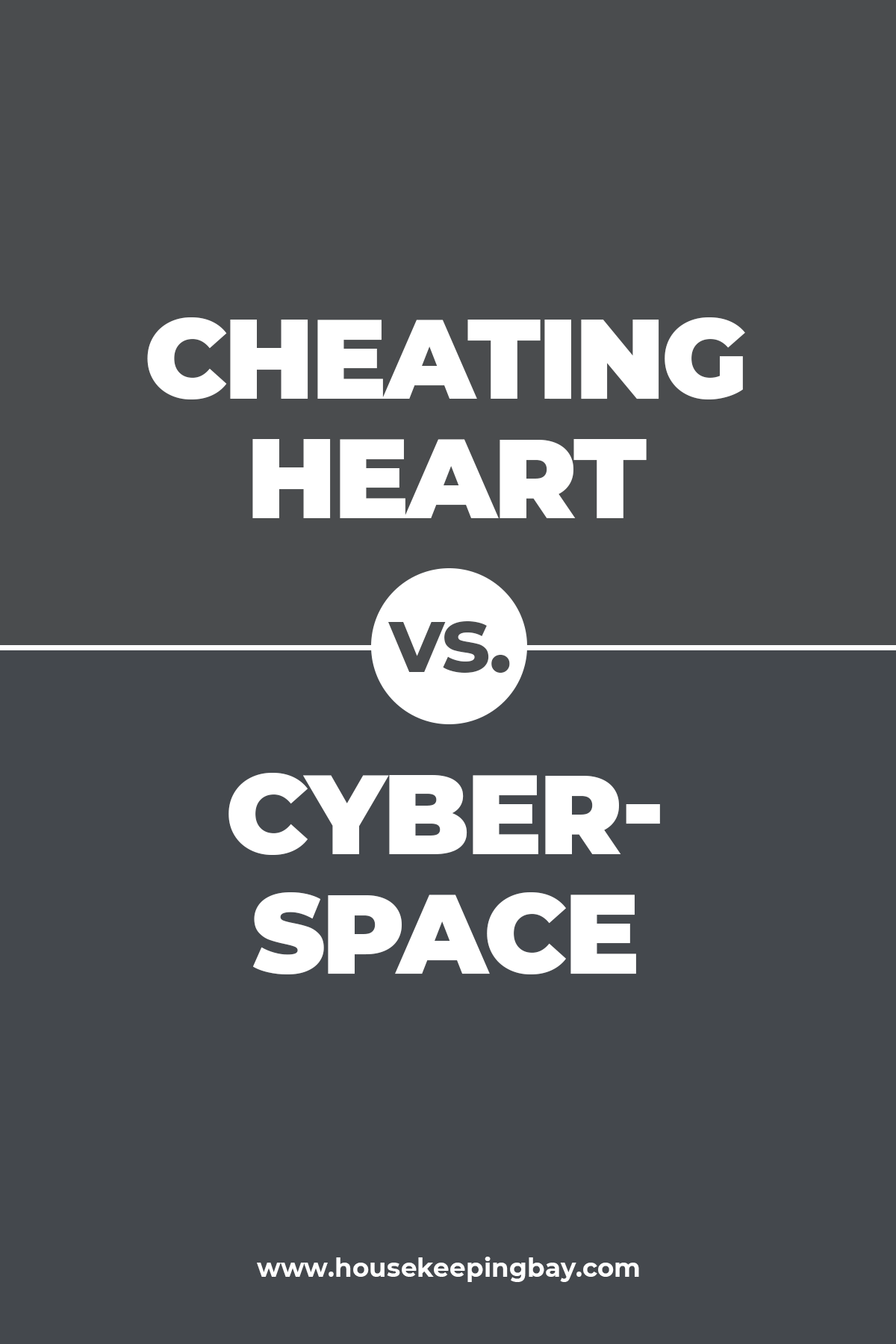 Сheating Heart vs Navy Blue
Both have deep blue undertones, however, Navy Blue shows them way more prominently. In fact, this paint color looks deep blue even without comparing it to Cheating Heart.
And since both these colors are rather dark, we would not recommend using them in the same room even if you "dilute" them with a light paint color.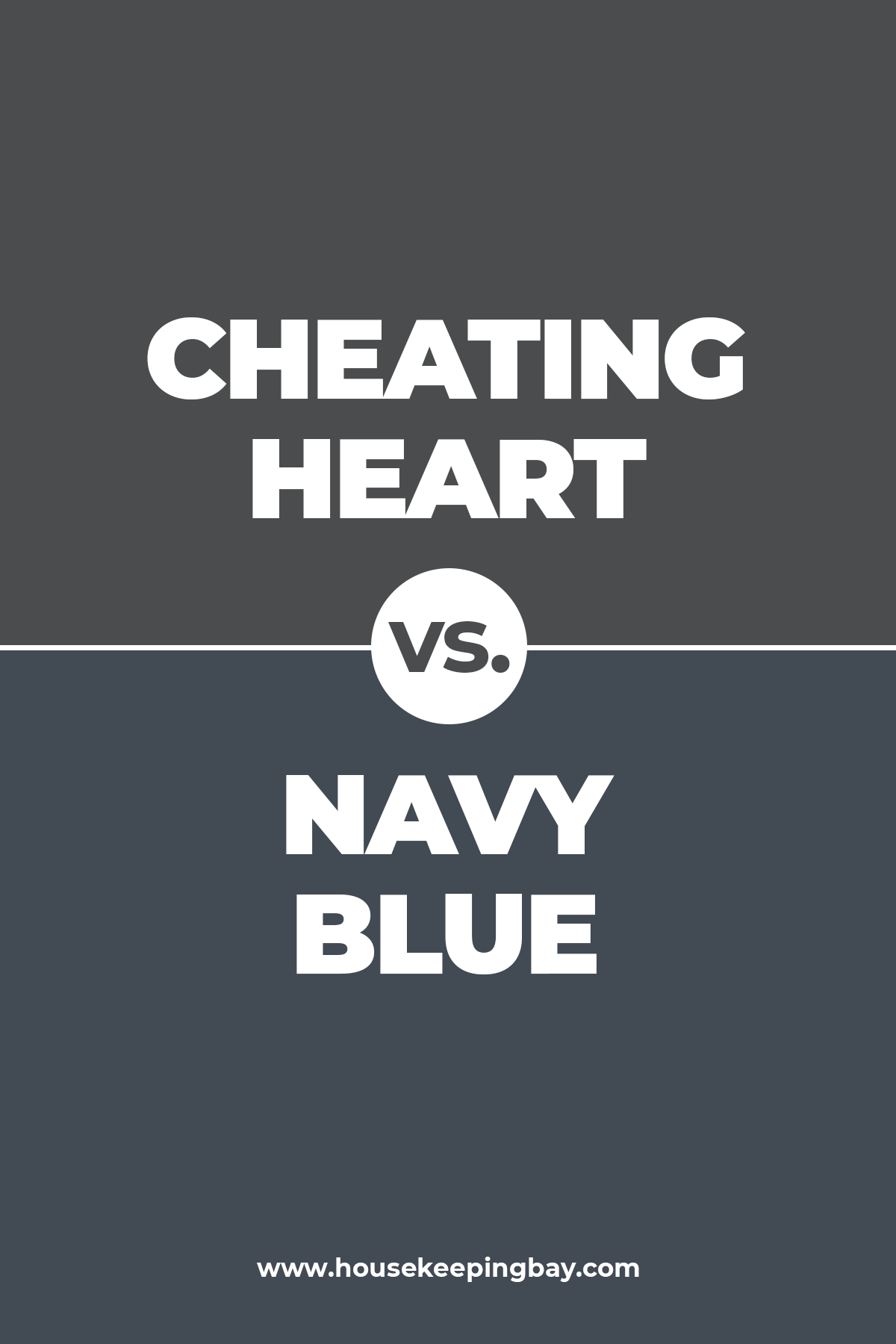 So, here you have all the information about Cheating Heart paint color by Benjamin Moore.
Now you know what this color is and where it's best to be used. So if you apply it correctly, it can bring that exquisite and even luxurious vibe to your home that so many people strive for.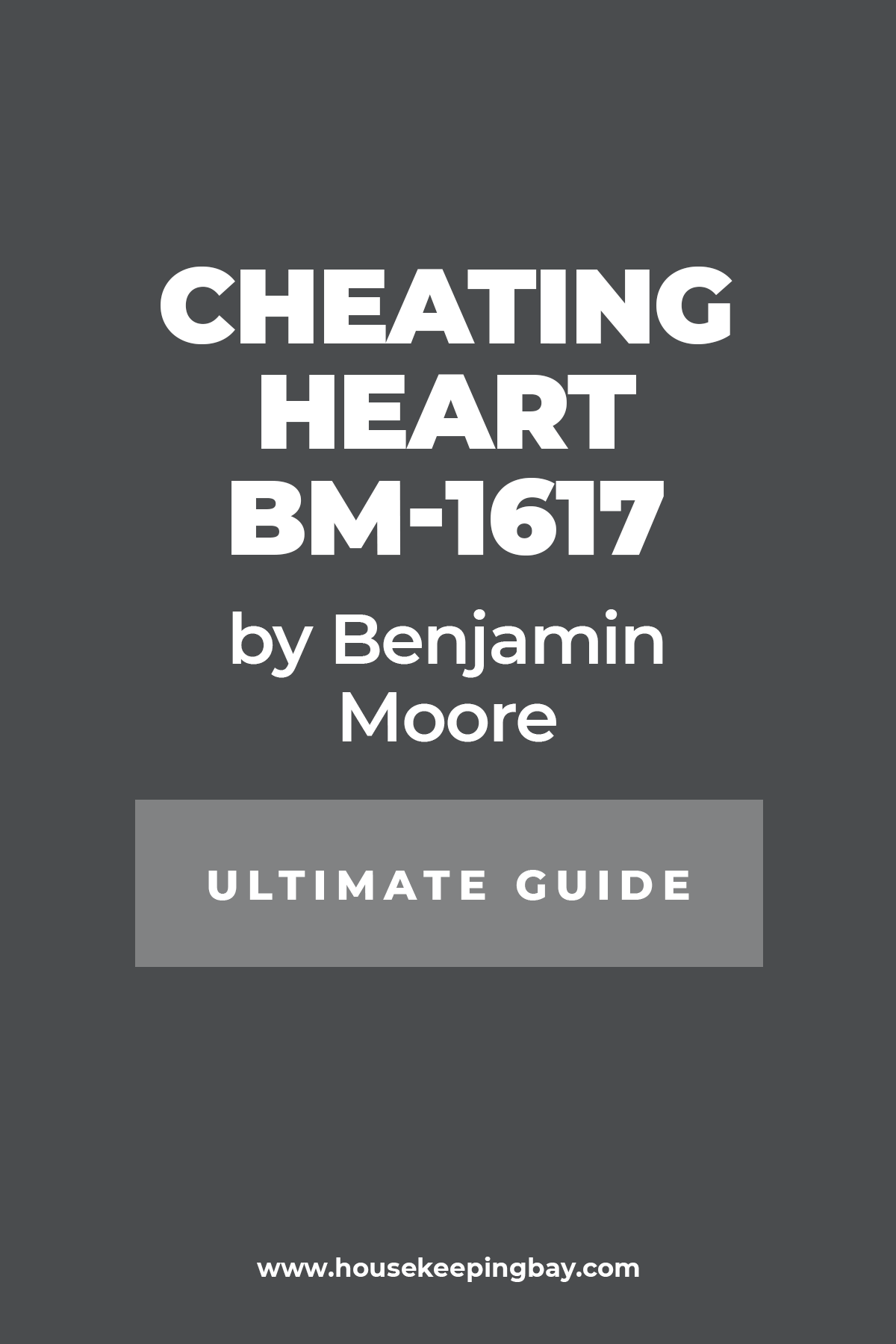 Frequently Asked Questions
⭐ Is BM Cheating Heart a gray color?
⭐ Can BM Cheating Heart be used for a bedroom?
Yes, but you'd better use it as an accent wall color.
⭐ Does BM Cheating Heart go well with gold?
Definitely! This is a great combination of colors!