We often use white color in our homes because it is versatile and easy to pair with other colors. however, there are so many shades of white out there that sometimes, you may feel a bit frustrated trying to choose the one that will suit your home best!
Today, we will introduce you to one of the most beautiful whites that Benjamin Moore has. This paint color is called Seapearl, and it does remind you of this precious gift of seas!
You will learn what kind of white it is and how to use it in your home correctly. We will explain how to coordinate it and what trim colors work best with this shade of white.
Moreover, you will learn in what rooms the Seapearl color might work best of all!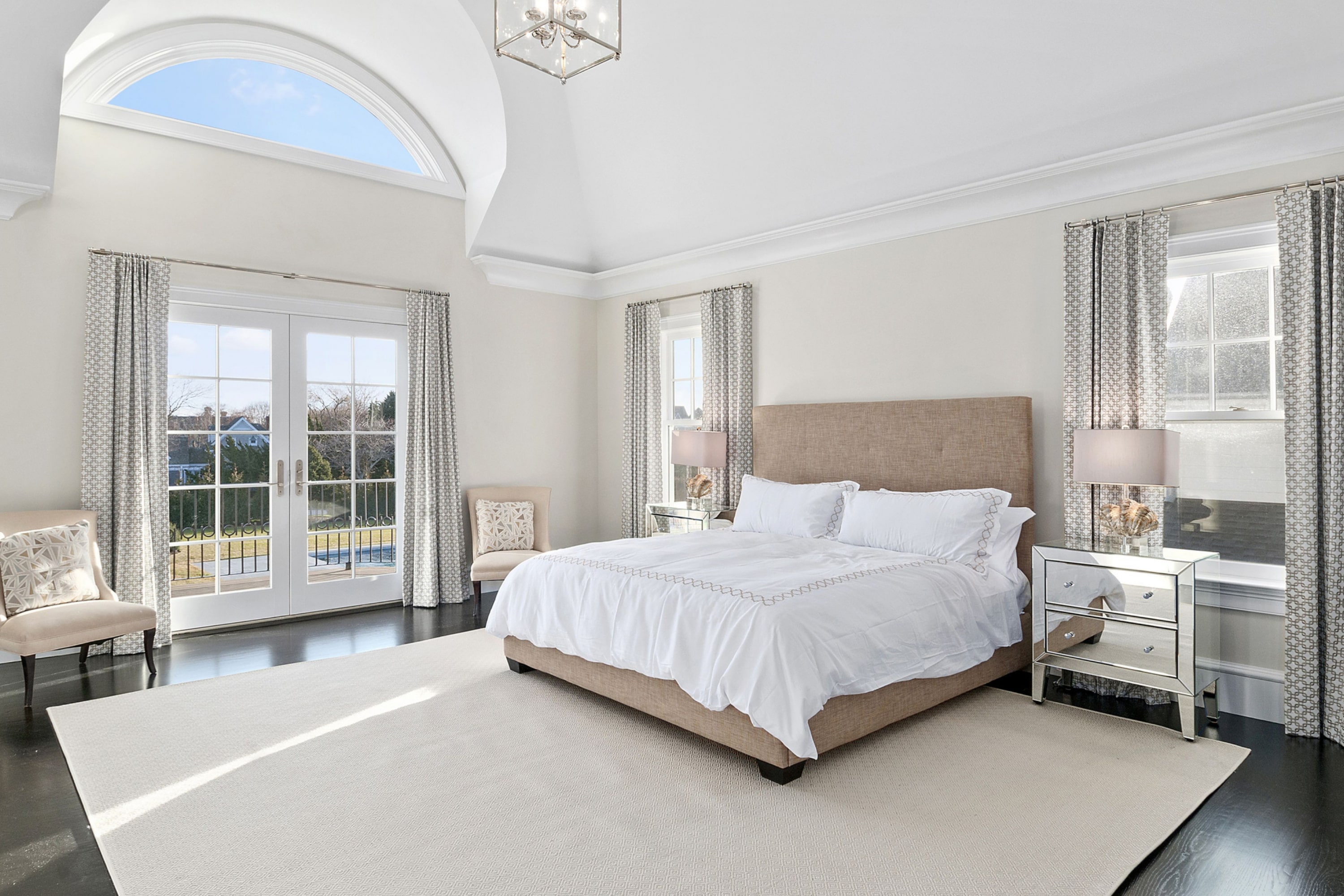 What Kind of Color Is Seapearl OC-19 by Benjamin Moore?
Seapearl OC-19 paint color is a warm-toned off-white that has slight greige undertones. As Encycolorpedia says, is a beautiful shade of white that will look pleasantly creamy in your home, keeping away from leaning too creamy though.
This off-white reads soft and inviting, which is why it is a lovely color choice for homes where you want to achieve a cozy and welcoming atmosphere.
Since it is a white color, it will work well with most other colors, so feel free to add more vivid and saturated accents should you strive to make your home's interior look appealing and daring!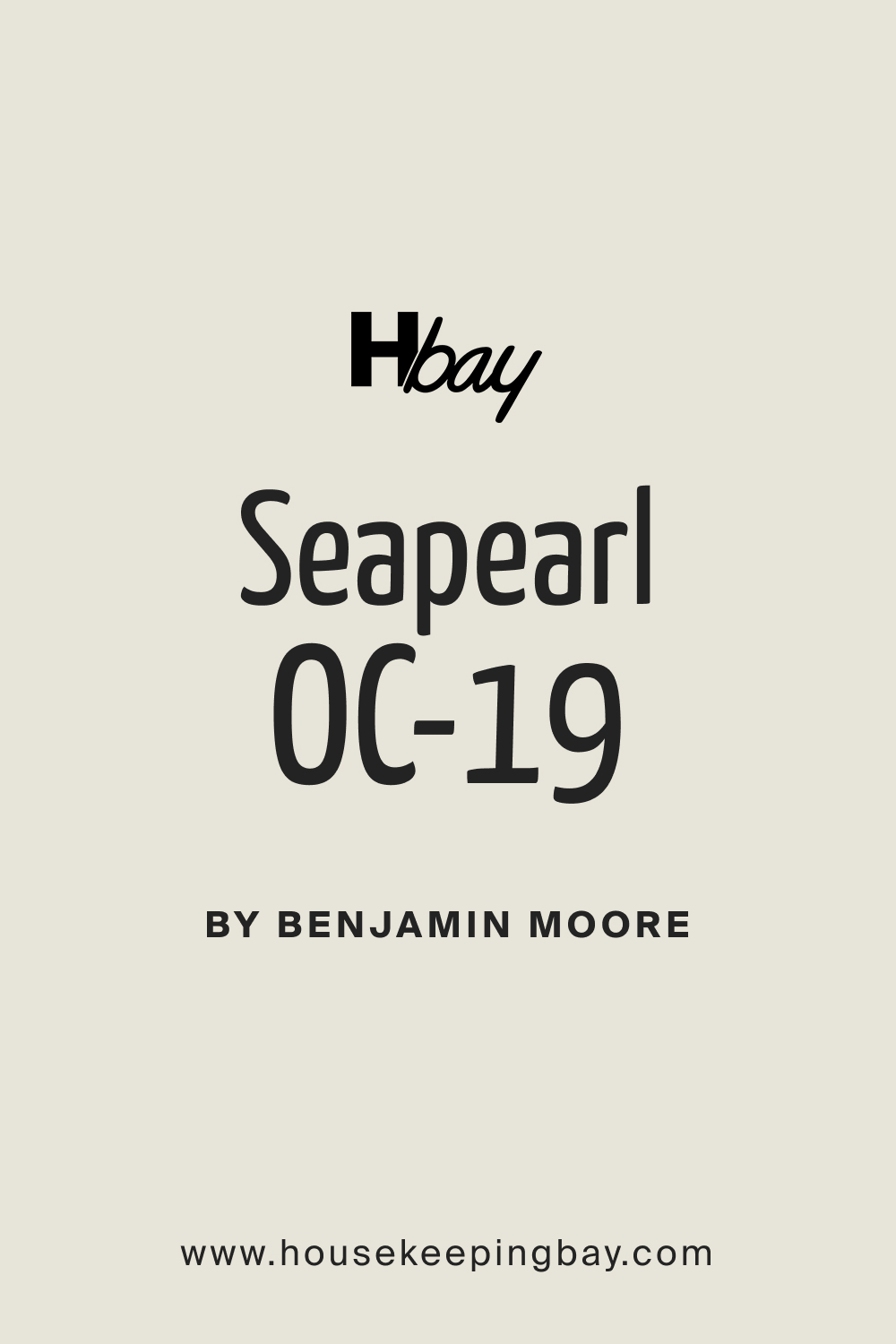 What Undertones Does Seapearl OC-19 Color Have?
The Seapearl paint color by Benjamin Moore has slight gray undertones that make it read softer and warmer. Also, like many off-whites, this off-white color has some yellowish undertones too, which gives it a creamy warmth.
However, unlike many warm-toned colors, the undertones of this white are well-balanced. Thanks to this, Seapearl OC-19 shows a lovely warmth without leaning too warm or revealing a "muddy" or yellowish hue on the walls.
Another great feature of this color is that its gray undertones don't make it hard to use in your home. On the contrary, this light off-white is so versatile that it will play well with many other colors, looking incredible anywhere you use it.
This is why Seapearl OC-19 is a great color to opt for if you are looking for paint to refresh the appearance of your home a bit and not go too dramatic.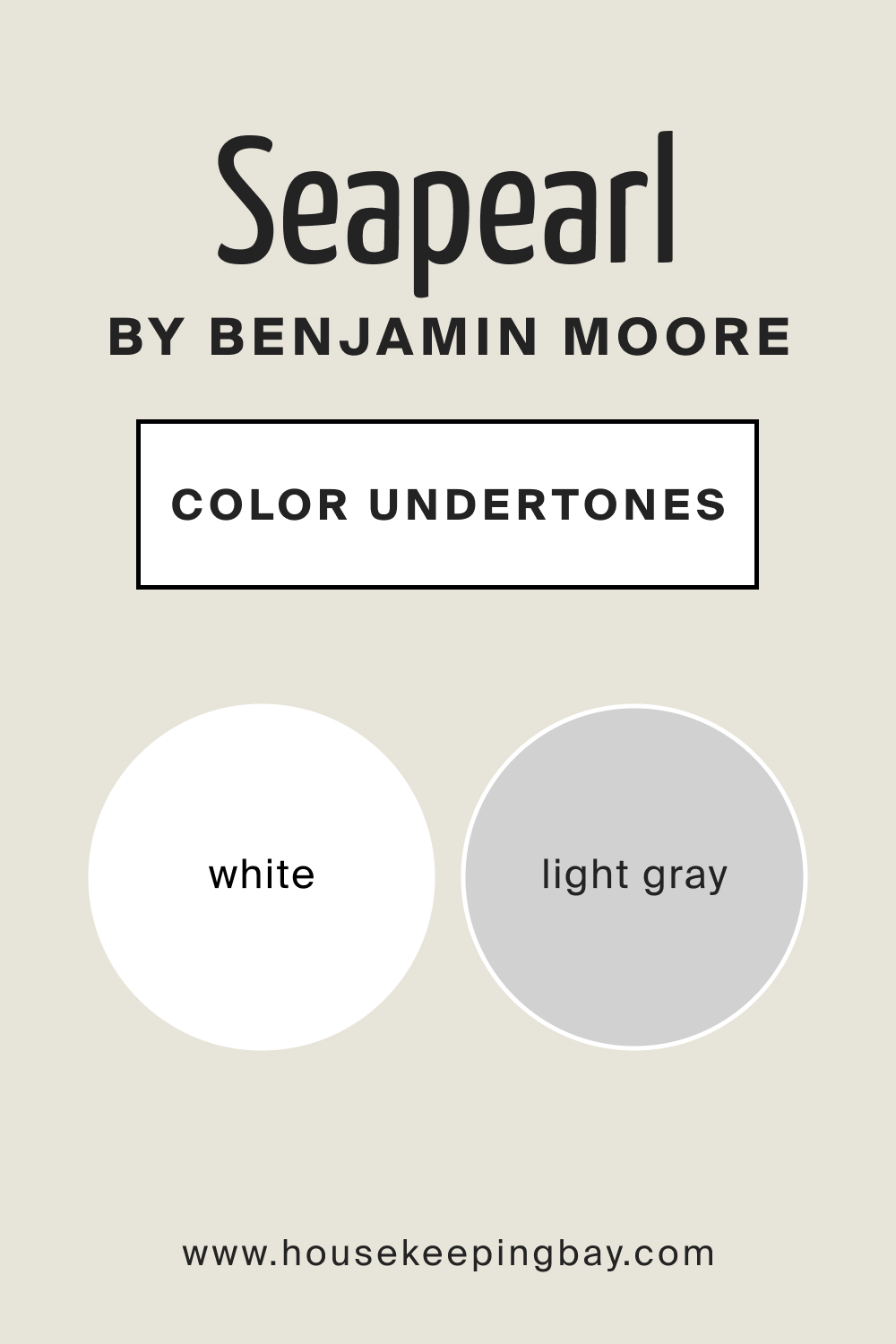 LRV Seapearl OC-19
LRV describes the light reflectance value of the color. In other words, this is the measurement that shows how much light the color can reflect when it is used on the wall. The LRV scale ranges from zero to 100, where zero stands for black and 100 is pure white. As you can already guess, the higher the LRV, the lighter the color, and vice versa.
The LRV of Seapearl off-white is 76, which means this color is pretty reflective. When you apply it to the wall, it will bounce off enough light to not make the room read smaller or gloomier.
At the same time, we would not say this white is crisp and bright. So, if you are looking for a sterile white color for your home, the Seapearl paint is not your option for sure.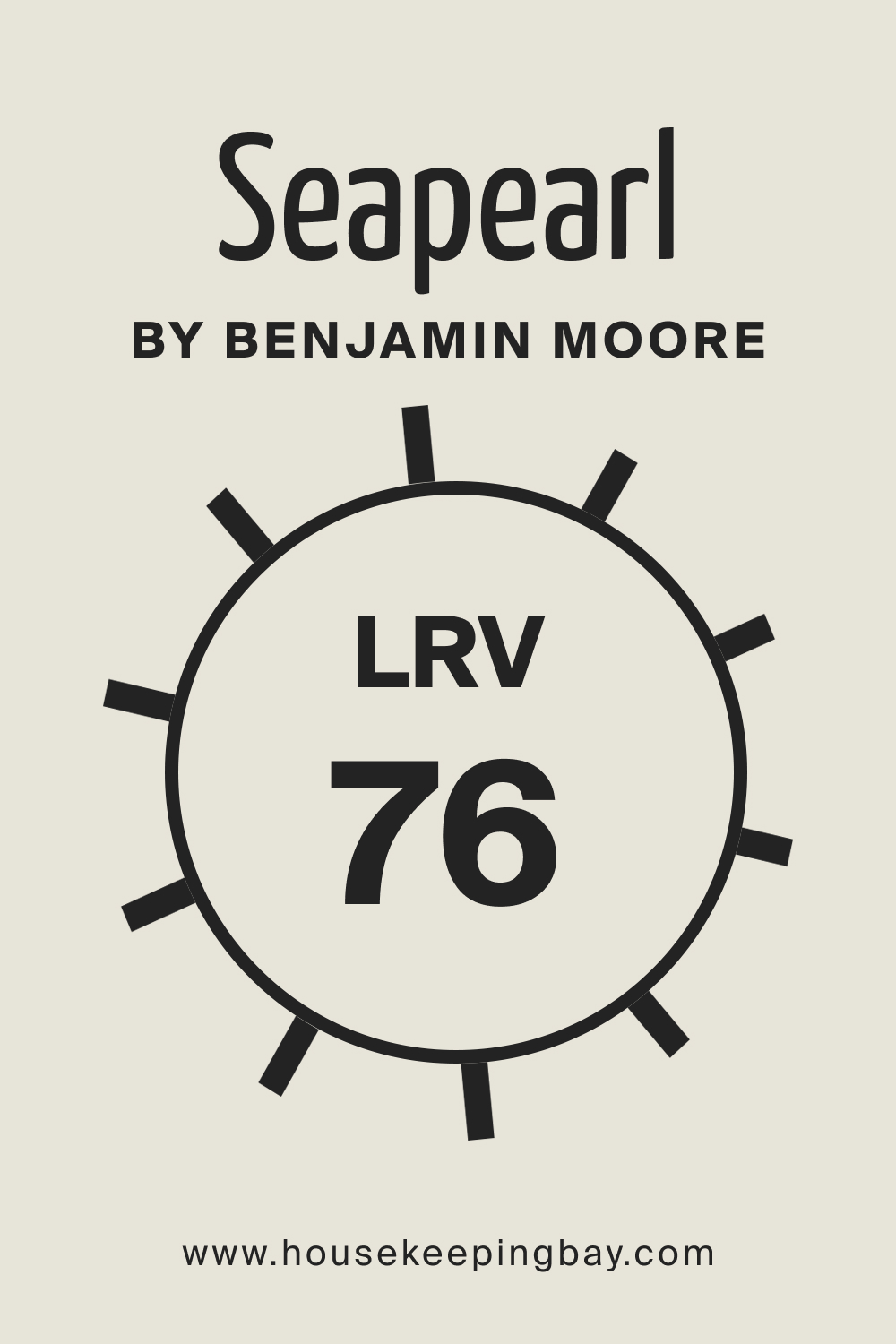 What is LRV? Read It Before You Choose Your Ideal Paint Color
How Does Lighting Affect This Paint Color?
Dues to slight and balanced yellow undertones, this off-white may sometimes read somewhat warmer and creamier in space. At the same time, in certain lighting conditions, Seapearl by Benjamin Moore may reveal its gray hue more prominently.
For example, in rooms with warmer lighting, this white will look creamier and closer to light beige. In rooms with cold lighting (e.g., in north-facing rooms), it may reveal its gray side more instead, reading quite crisp.
In east-facing rooms, Seapearl white will read differently due to the changing tone of the lighting. It will read more beige and warm in the morning and shift to a cooler light gray later.
Finally, in west-facing spaces, this off-white will read cool-toned and gray in the early part of the day and turn warmer beige later in the day.
Such mixed undertones may also result in this paint color seeming closer to greiges, by the way. But in any case, Seapearl by Benjamin Moore will look perfectly timeless, soft, and inviting!
Is Seapearl OC-19 a Warm Or a Cool Color?
Considering its yellow-gray undertones, the Seapearl white color is more warm-toned than the opposite. At the same time, its warmth is well-balanced, which is why this off-white doesn't read too warm on the walls.
However, you should note that in certain types of light, this paint may seem a bit crisp due to the presence of gray undertones!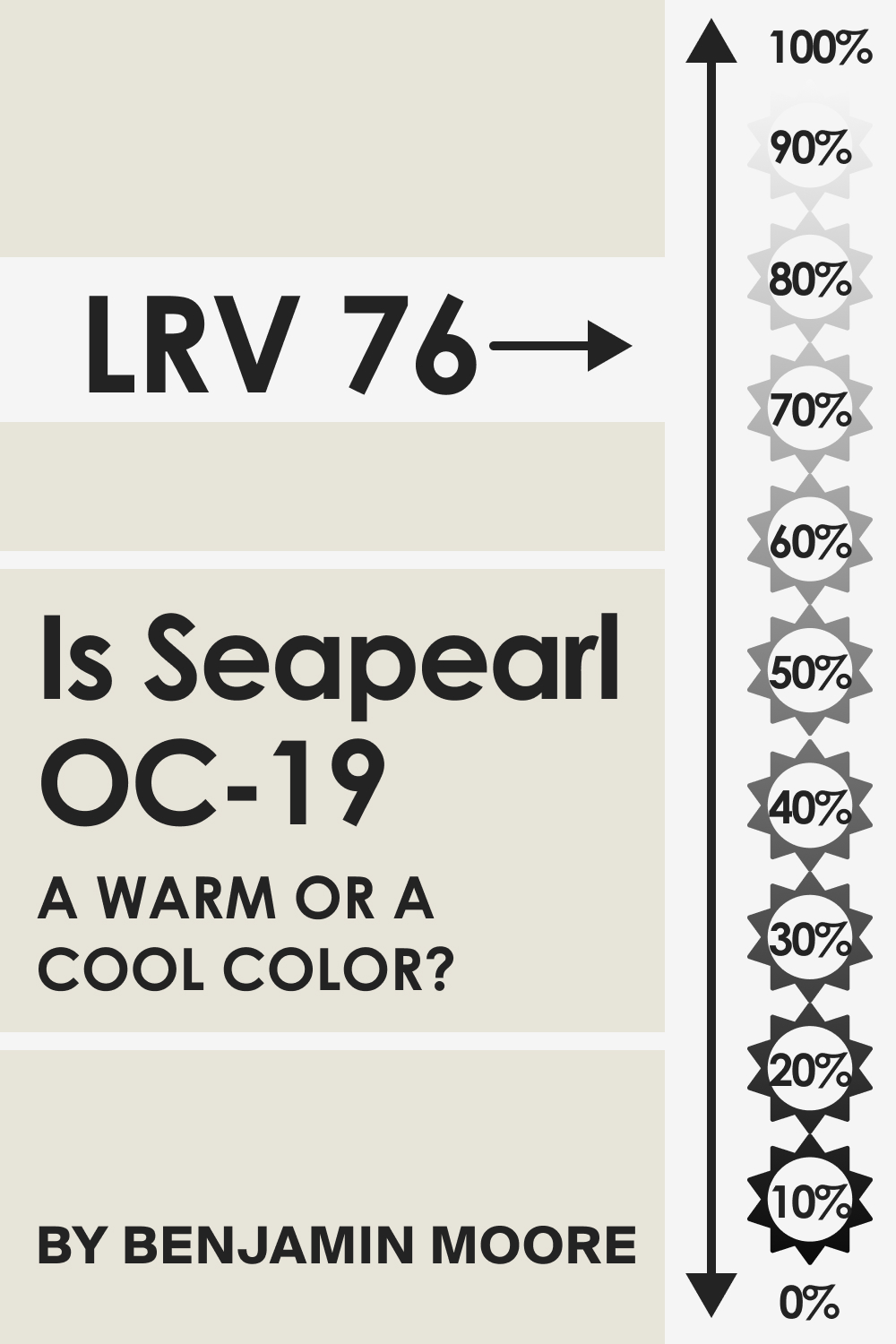 What Coordinating Colors Does Seapearl OC-19 Have?
To achieve a balanced color palette in your home, you must know what colors will coordinate the wall color better. Luckily, for such a versatile off-white as Seapearl by Benjamin Moore, it's pretty easy to choose the best-fitting coordinating colors!
Since this white reads neutral and pairs well with most colors. For example, you might want to try one of these:
Maritime White
Manchester Tan
Amaryllis
Alexandria Beige
Golden Straw
Dusty Mauve
Baja Dunes
Evening Dove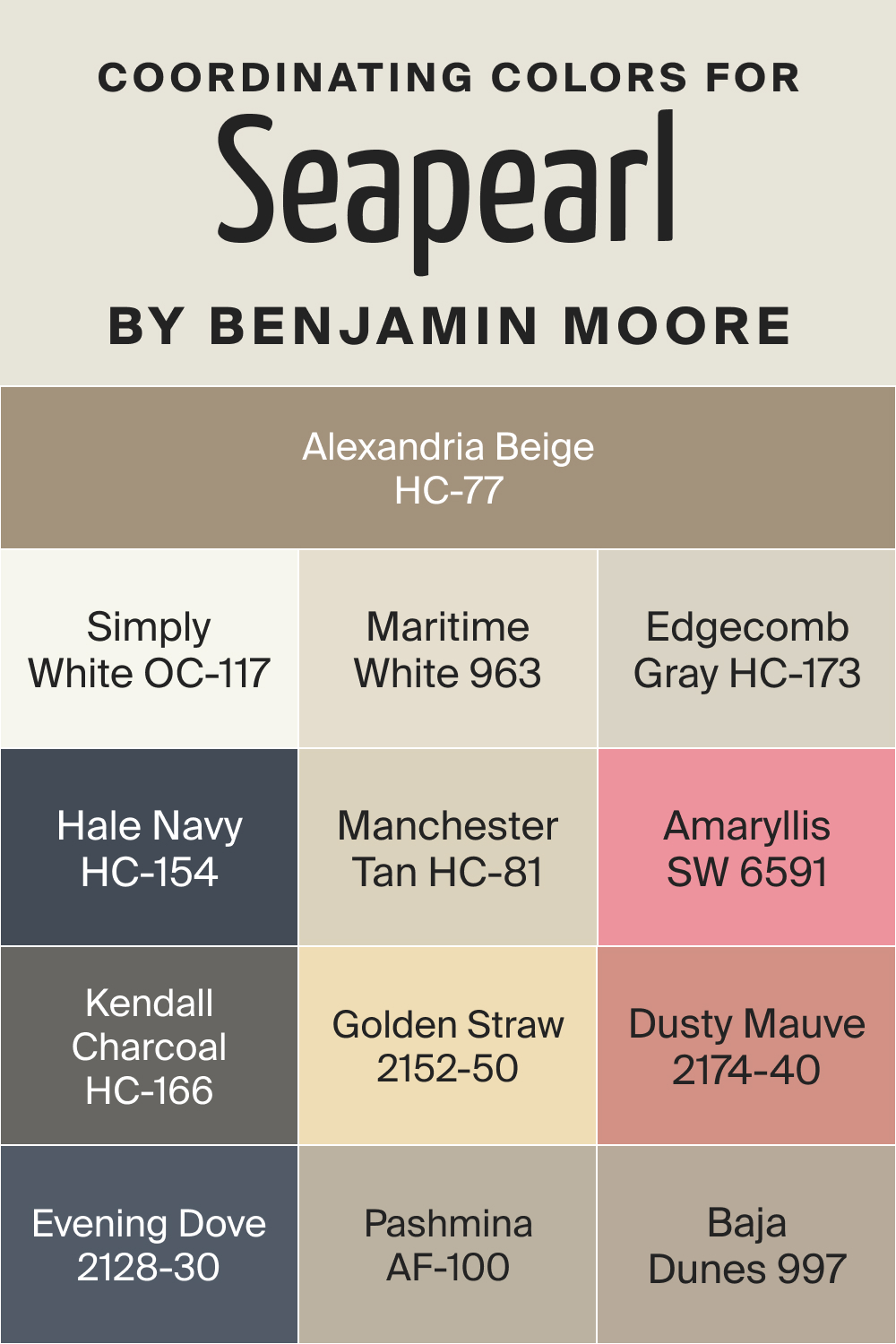 What's the Best Trim Color to Use With Seapearl OC-19 Paint?
Typically, white is a universal trim color used in our homes since it works well with most colors. But how do you pair white on the walls and white on the trim? Easily! You just need to opt for a brighter white for the trim.
For example, if you have walls painted with Seapearl OC-19, you might want to paint the trim with Chantilly Lace. It is whiter and lighter, but at the same time, it is also balanced in tone.
As a result, these colors will work well together without creating an imbalanced contrast.
There is only one warning for you: avoid too cold and crisp whites, as well as whites that read sterile in the space! Those will not look nice with the Seapearl off-white.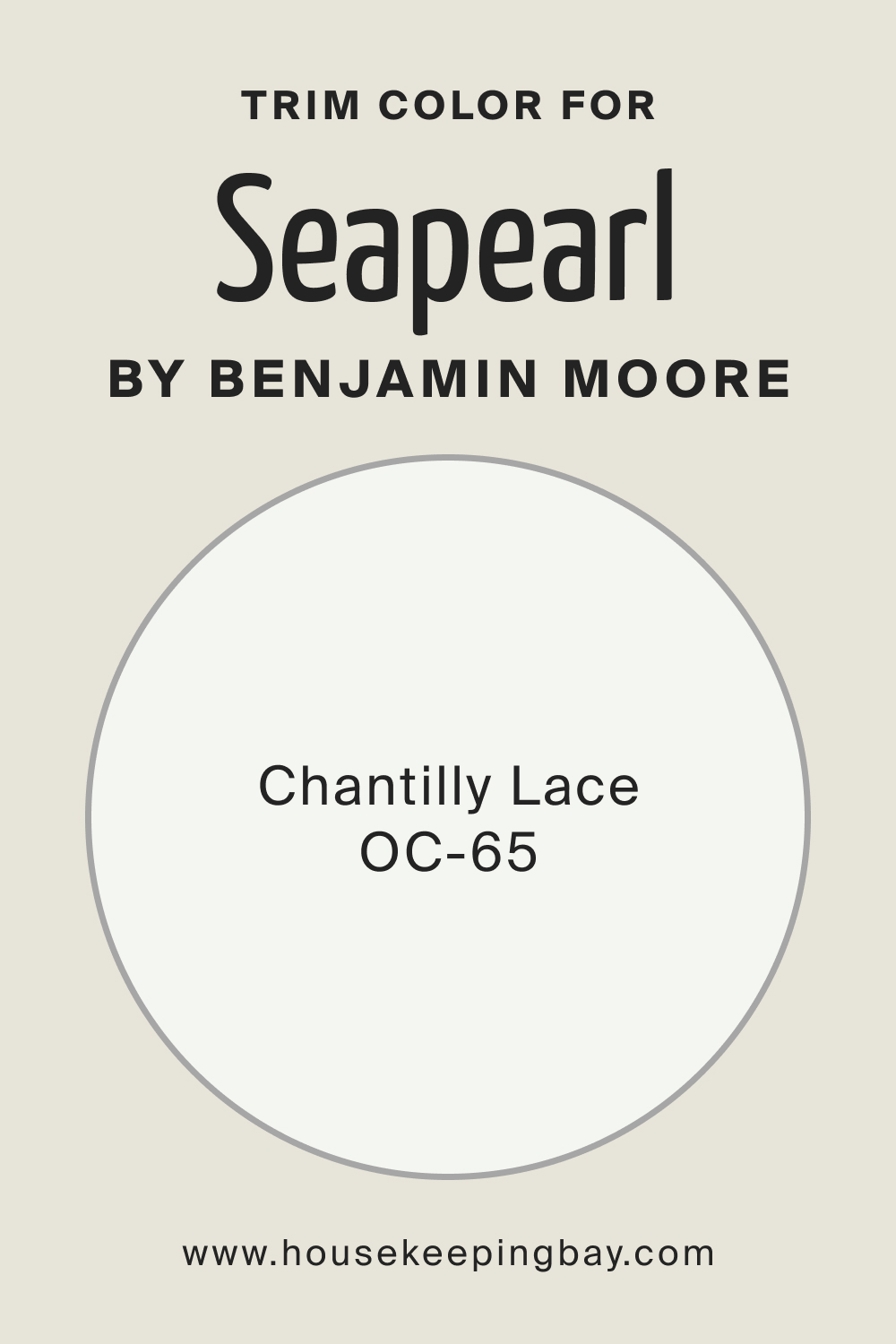 Similar Colors to Use Instead of Seapearl OC-19
If you need another shade of white for your home's interior walls, you should know what alternative colors exist. However, it might be challenging to pick the most suitable colors since you should consider their undertones and LRV to ensure the substitutes read as close to the initial color as possible.
For Seapearl OC-19, we suggest you one of the following whites as substitute colors.
Benjamin Moore Classic Gray
With each of them, you will get a successful result in your living space, but note that there won't be an ideal 100% match anyway!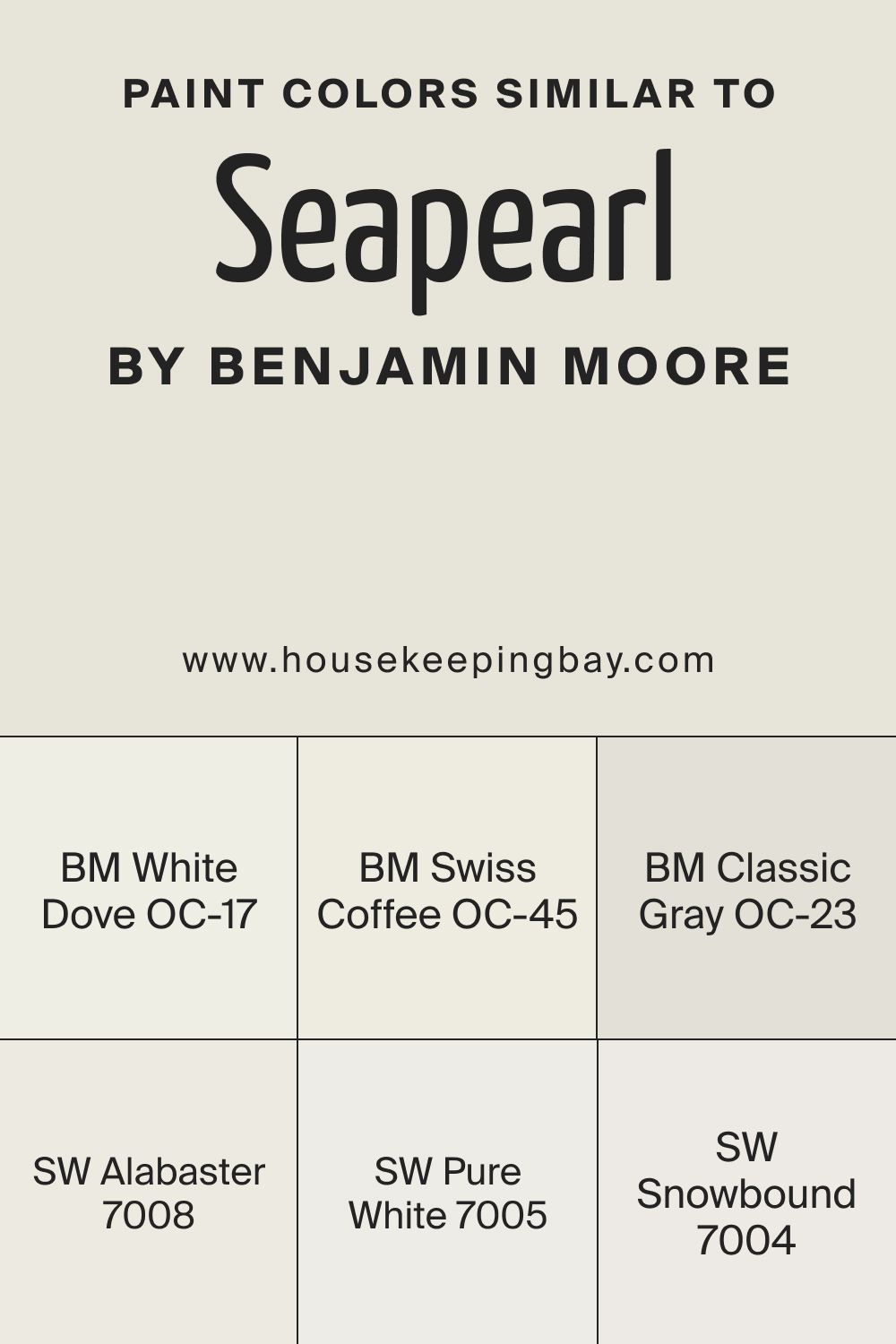 Colors That Go With Seapearl OC-19
Some people like monochromatic palettes in their homes, which is why they prefer using only a couple of similar colors. But if you are fond of more vivid and appealing interiors, you might want to add a bit of color to your home! For Seapearl OC-19 off-white, we recommend using these colors as those that go well with it:
Feather Down OC-6
Arctic Shadows 1559
Sleigh Bells 1480
Knoxville Gray HC-160
They will make the space look more colorful and keep it balanced and calm at the same time.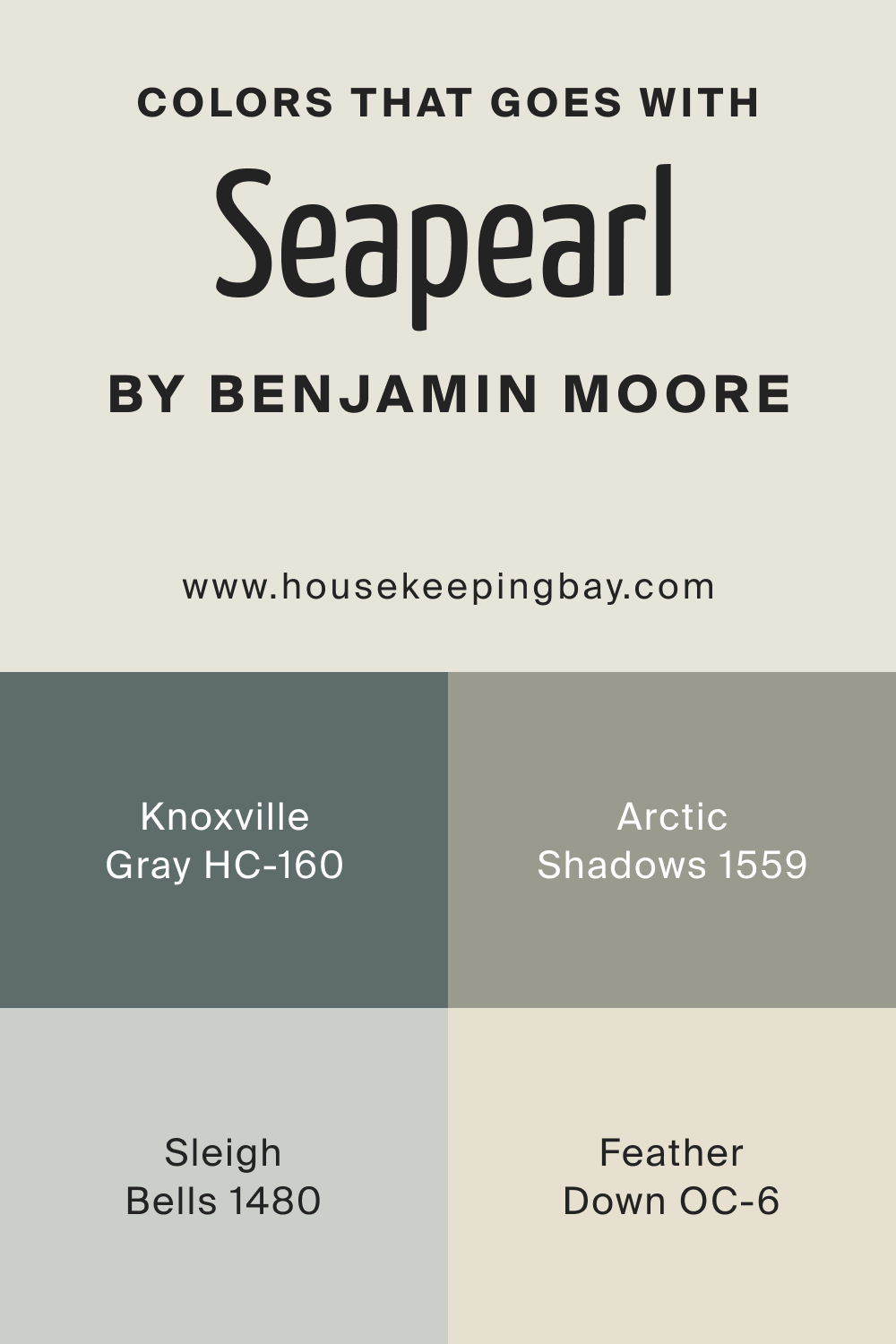 Comparing Seapearl OC-19 With Other Colors
If you want to learn how to see better the difference between distinct shades of the same color, you should read this comparative guide below. It describes the basic distinctions between Seapearl OC-19 and a few other similar colors. This way, you will understand why two whites that look almost the same still vary.
Seapearl vs Swiss Coffee
These colors may seem to be alike, but they do have differences. BM Swiss Coffee is complicated because of its undertones. It has slight gray, yellow, and green undertones, whilst its counterpart only has very slight yellow and gray undertones.
The LRVs of these colors are also different. BM Swiss Coffee has an LRV of 84, and Seapearl OC-19 has an LRV of 76. This is why the Seapearl color looks slightly deeper and darker.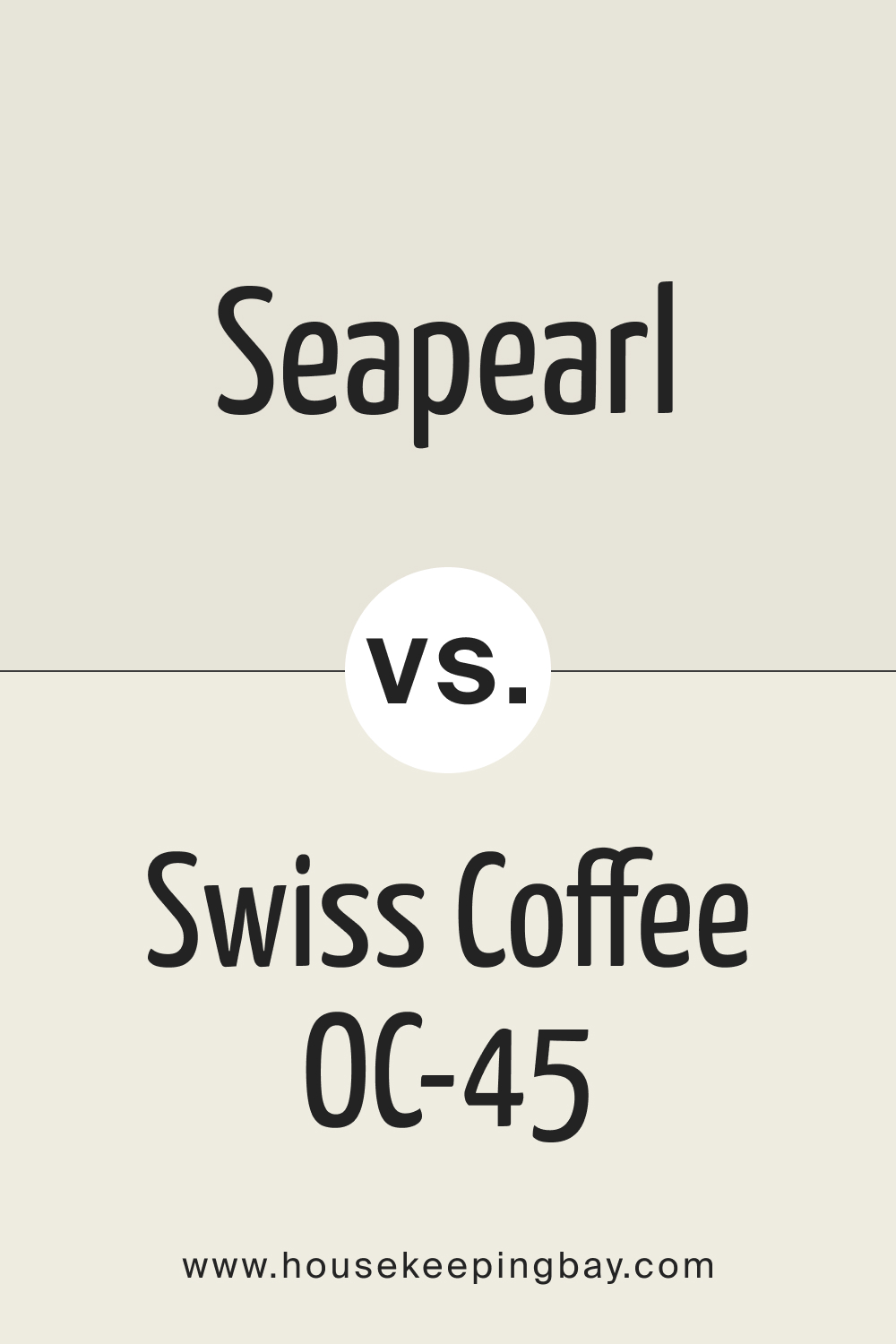 Seapearl vs White Dove
Both colors read relatively warm, but with an LRV of 85, the White Dove color reads noticeably lighter than Seapearl OC-19. Also, White Dove tends to read whiter than Seapearl OC-19 because of its lighter LRV value.
Seapearl vs Pale Oak
Benjamin Moore Pale Oak has an LRV of 69, which makes it quite a bit darker than Seapearl OC-19. In addition, BM Pale Oak is a greige paint color that often shows prominent pink-purple undertones. By the way, this purple-pink hue is pretty well noticed if you place this color side by side with the Seapearl by Benjamin Moore!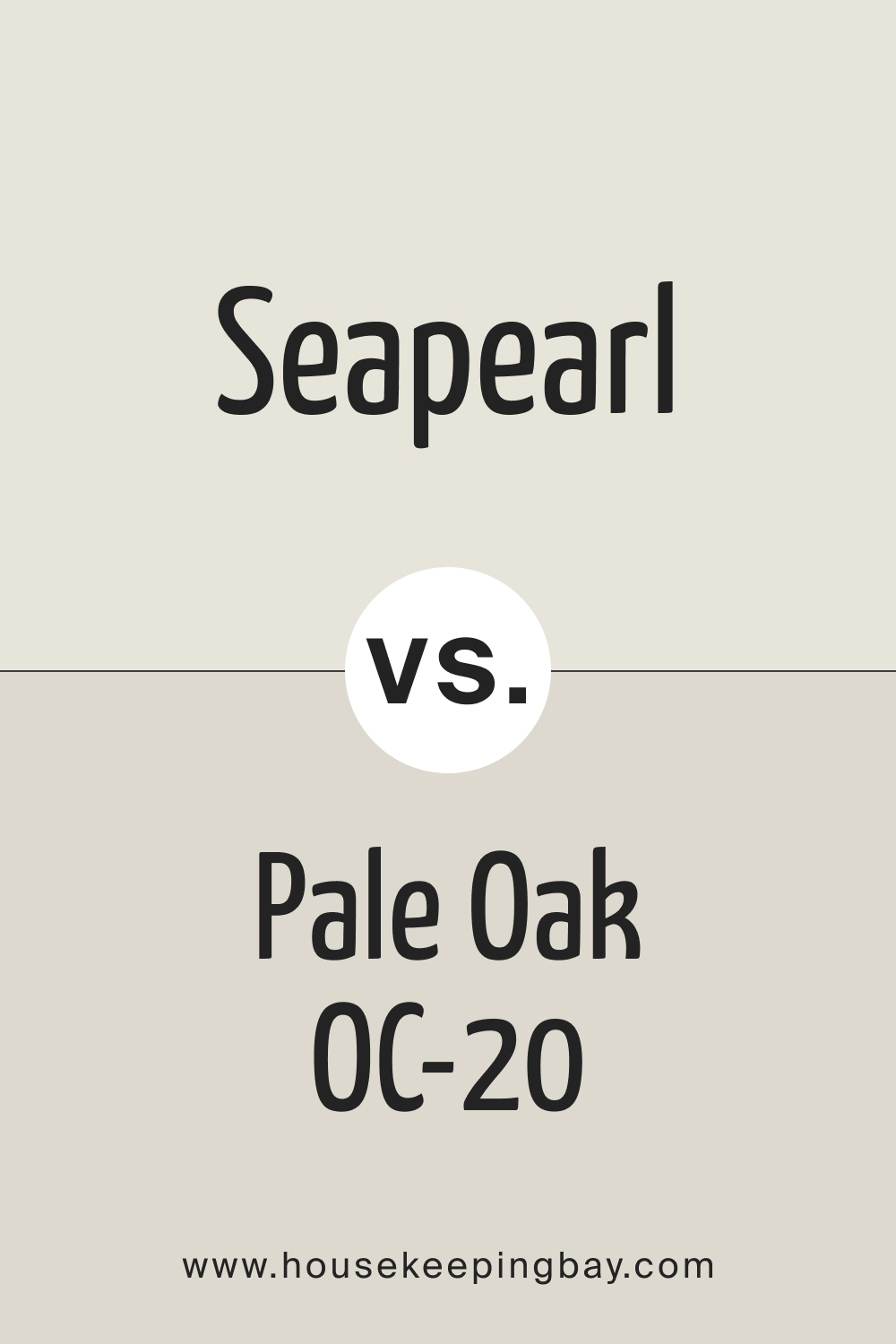 Seapearl vs Alabaster
Alabaster has an LRV of 82, which is much higher than the LRV of 76 that Seapearl white has. This makes it look a bit pale in comparison to Seapearl. However, if you need a warmer counterpart to Seapearl, Alabaster might be a good option due to the slight hints of greige.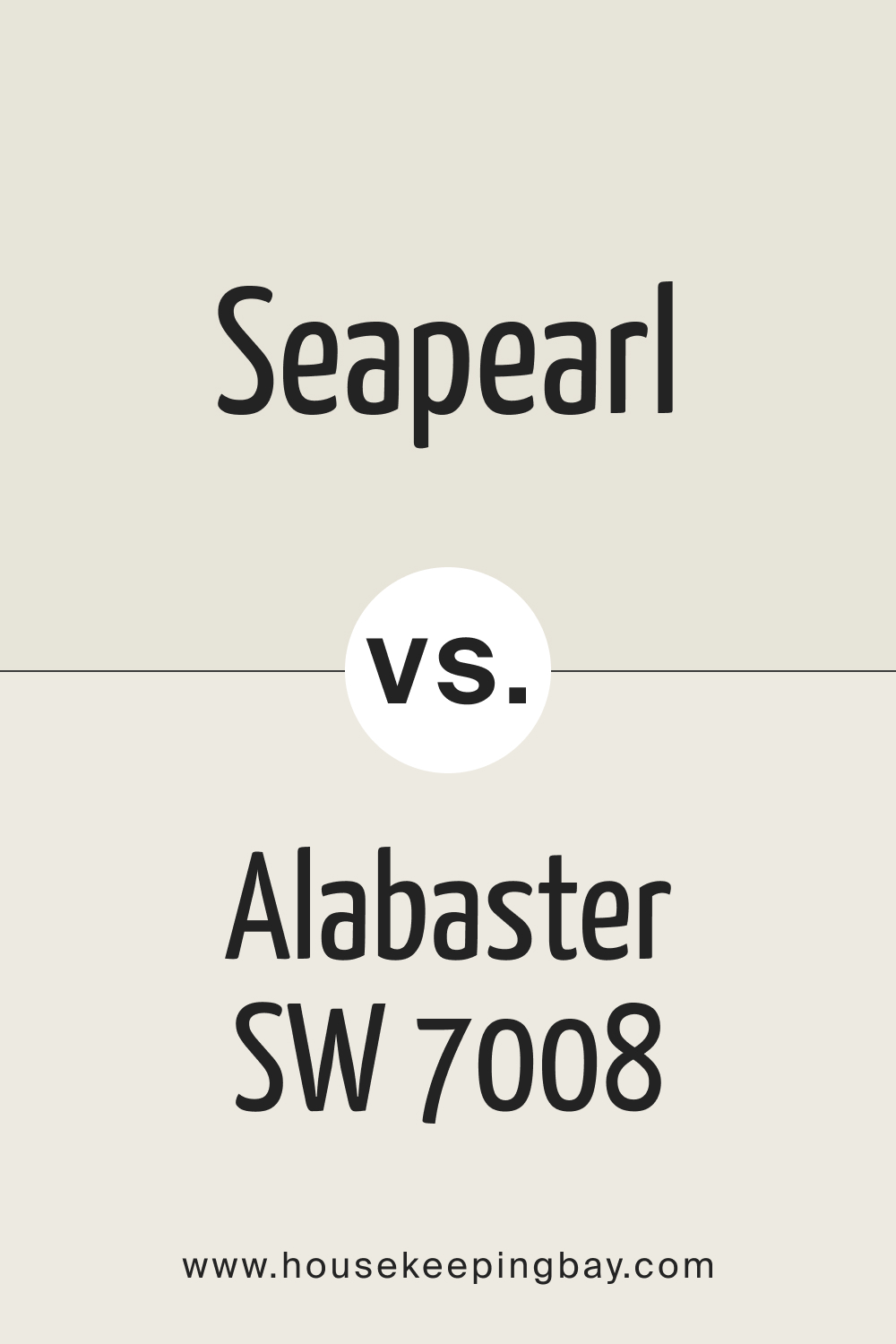 Seapearl vs Classic Gray
These colors are often used interchangeably because they look very similar. First of all, both are off-whites. Also, their LRVs are fairly close (73 for Classic Gray and 76 for Seapearl).
However, there is also one difference. BM Classic Gray has slight green undertones, whilst Seapearl OC-19 has yellow and gray undertones.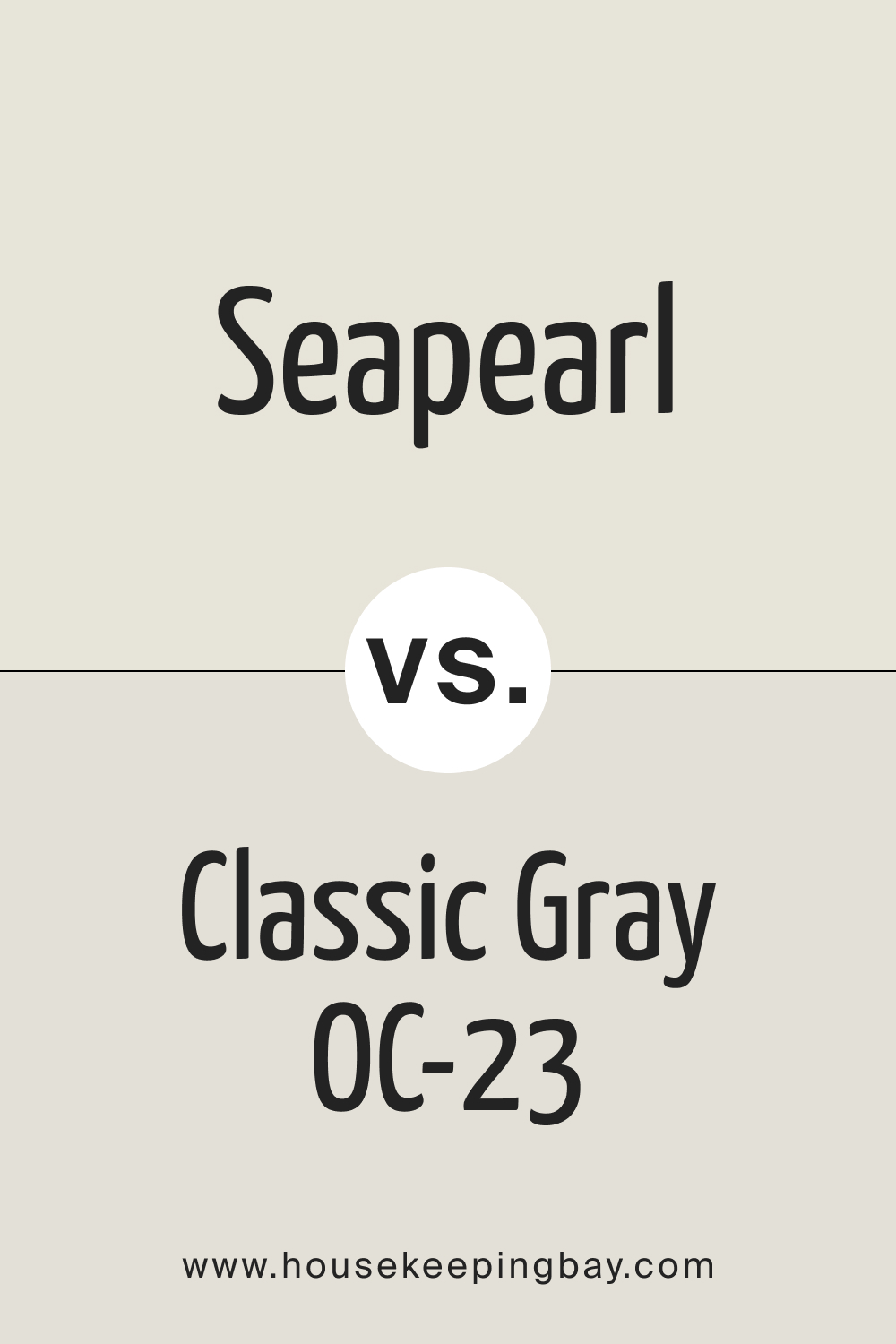 Where to Use Seapearl OC-19 Paint Color In Your Home?
Despite its tricky undertones that can make this off-white read greige sometimes, the Seapearl color is very versatile and can perfectly fit modern, traditional, modern farmhouse, and contemporary-style homes! Below, you can see how exactly it might work in different rooms.
Seapearl OC-19 in the Living Room
This off-white is a great color option for living rooms! It makes this space look cozy and welcoming, thanks to its warmer undertones. Also, it will anyway add a homey vibe to your living room no matter the light! Just note that in artificial lighting, this off-white may read greige.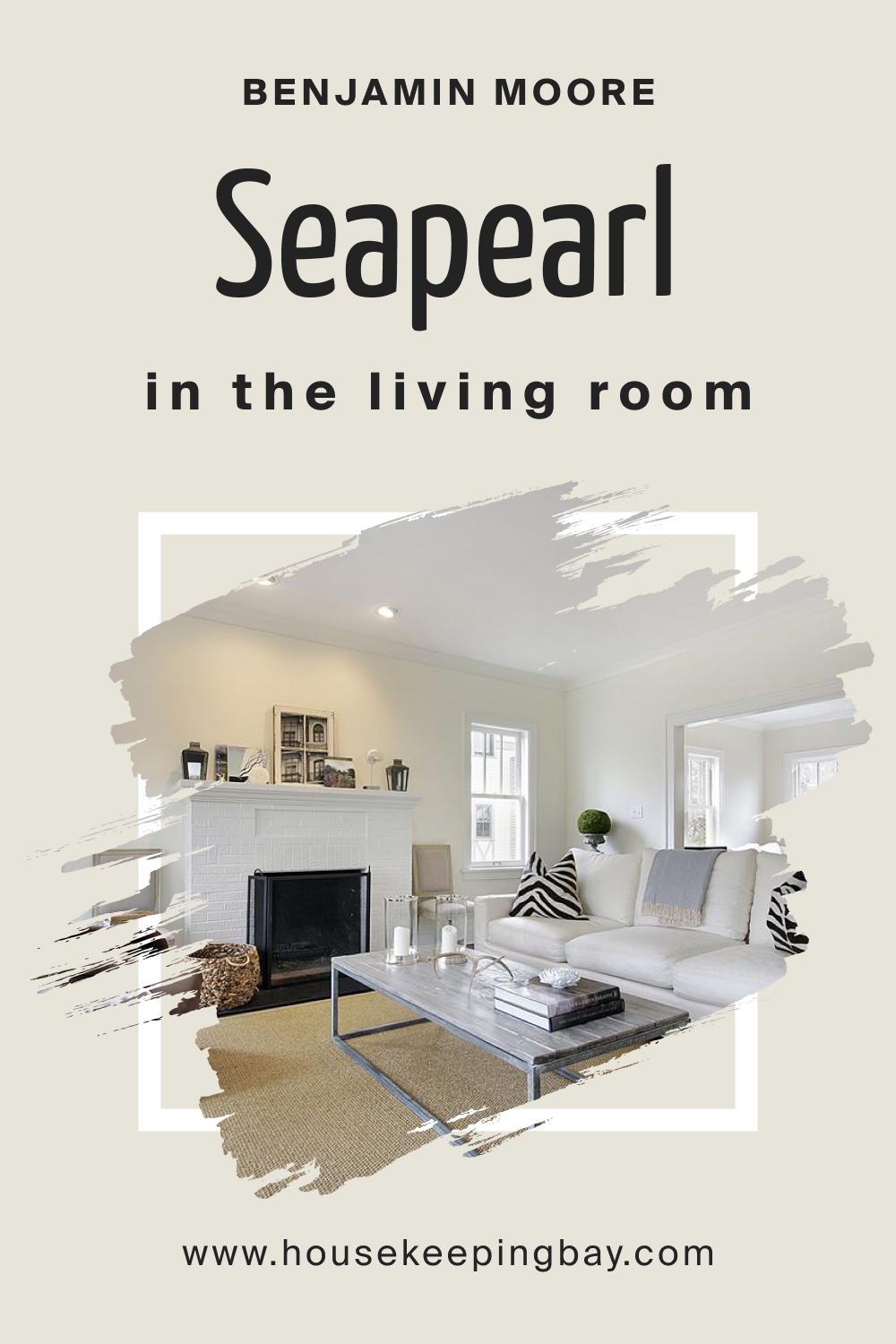 Seapearl OC-19 for the Bedroom
If you prefer calming and cozy bedrooms, Seapearl OC-19 is an ideal color for you to use in this room. It works well with wooden textures and surfaces, as well as with natural fabrics.
You can pair it with equal success with dark-colored hardwood floors and bed and with rattan chairs and light-colored bedding.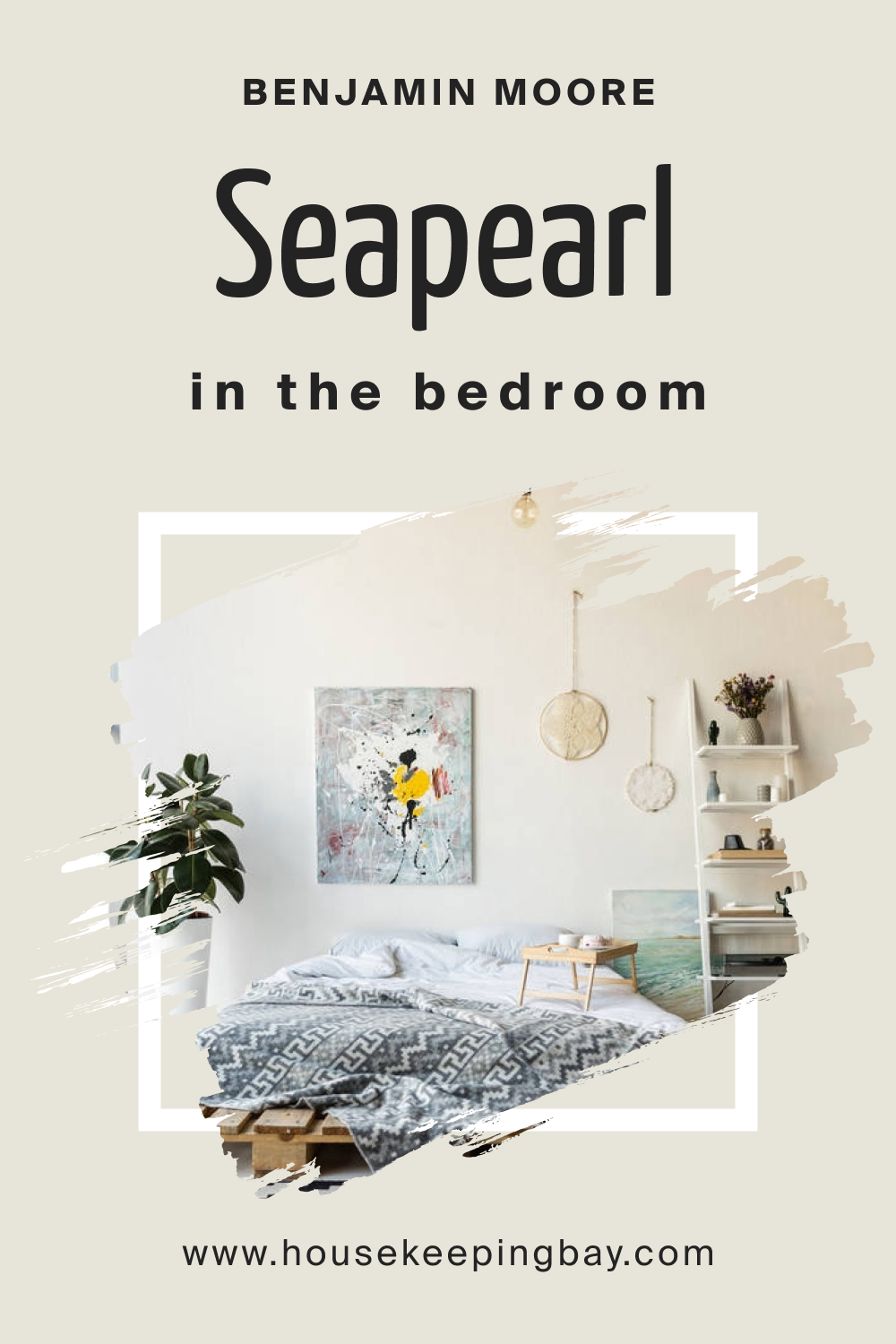 Seapearl OC-19 for Kitchen Cabinets
Since Seapearl is off-white, it will add a pinch of warmth to your kitchen when used on cabinets. Due to its versatility, feel free to use it either on upper or lower cabinets. It works great with metal and/or brass hardware, as well as with tiles on backsplash and marble countertops.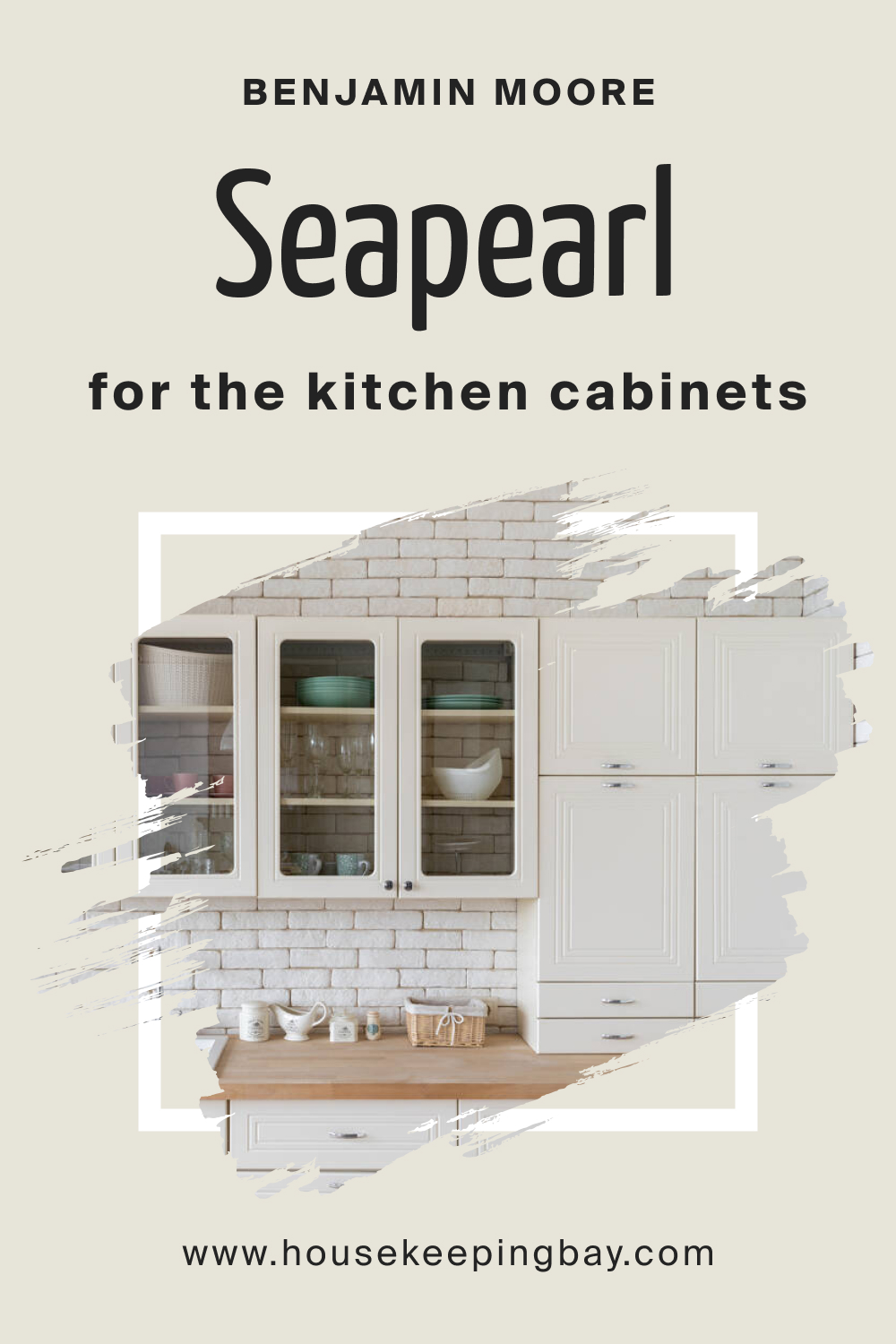 Seapearl OC-19 and Bathroom
Do you want to repaint your entire bathroom? Then wy not try the Seapearl color? This neutral off-white will perfectly suit bathrooms of any size. The only nuance you must keep in mind is that in artificial lighting (and in spaces with little light), this white will read warmer!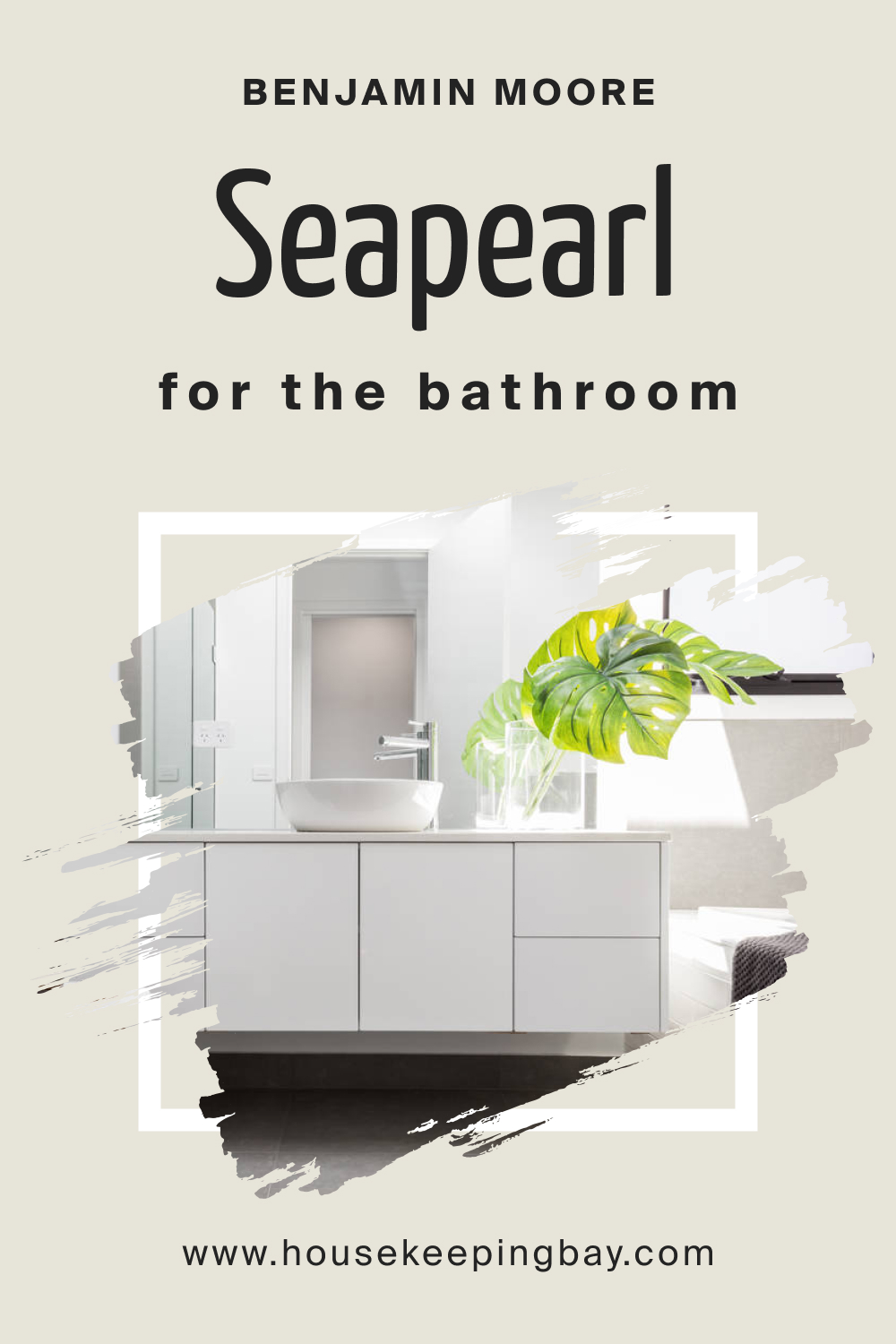 Seapearl OC-19 for the Exterior Use
This off-white looks elegant and absolutely gorgeous on exterior walls! It will make your house look classy and timeless, especially if you pair the white walls with black shutters and the roof.
However, gray tile roofs will also work well with this soft white. Finally, this color is so versatile that you can use it on different homes (e.g., ranch-type or modern).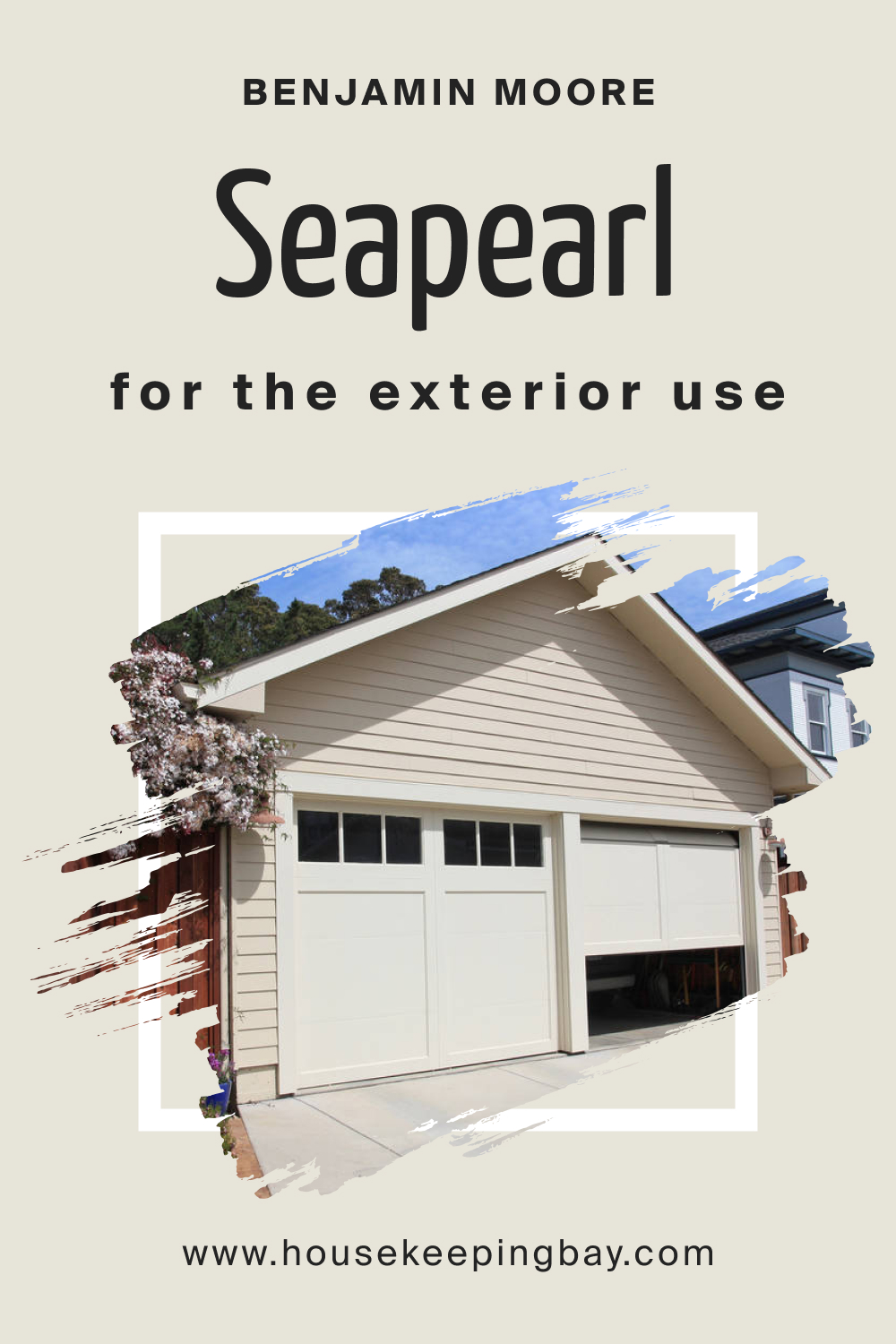 Now you know how versatile and beautiful the Seapearl color is! This off-white has gray and yellowish undertones, but they don't spoil it. Instead, they contribute to a lovely and timeless look of the neutral color.
And since now you know how to coordinate it, how it reacts to light, and in what rooms it should be used, you can make this white work for your home!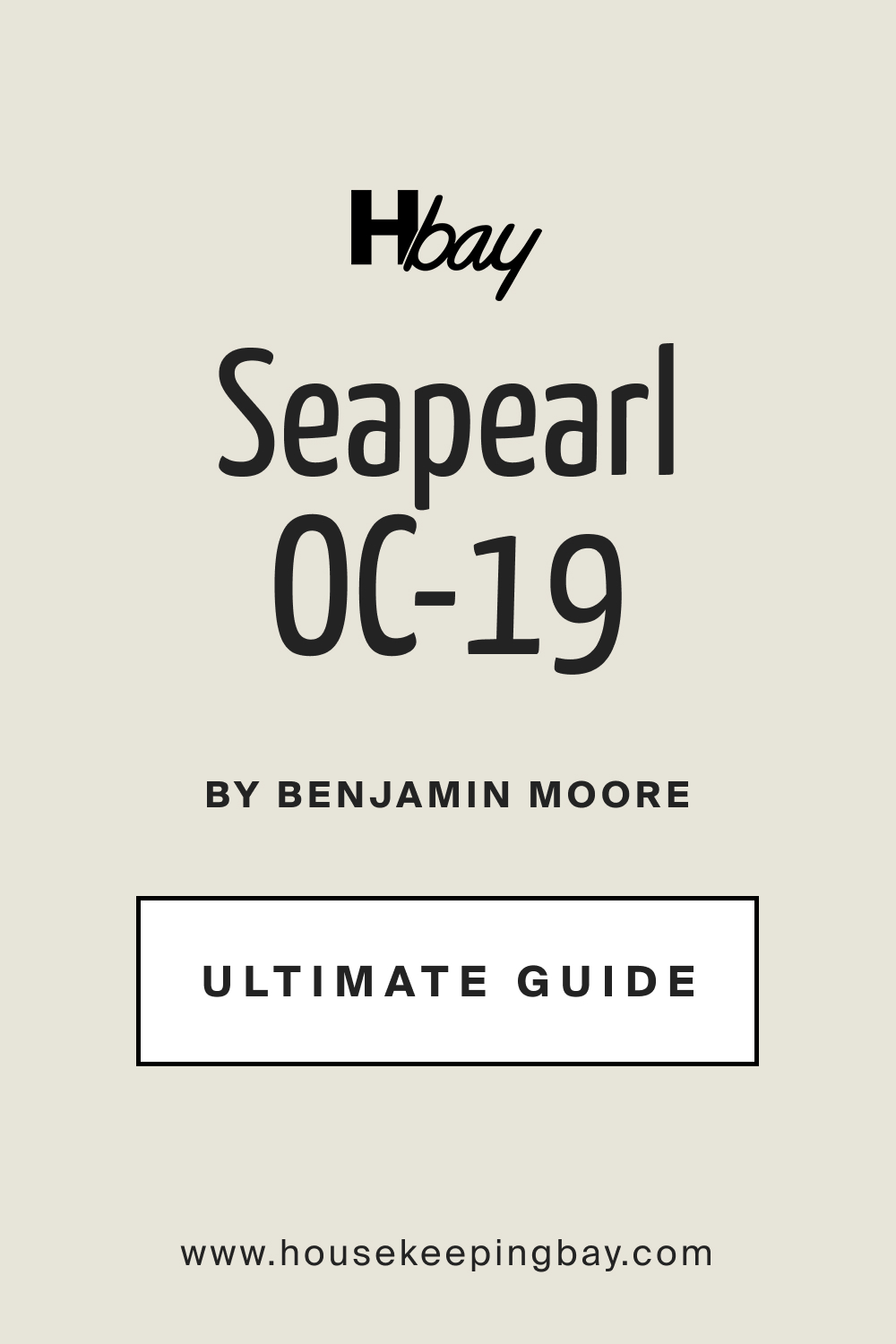 Frequently Asked Questions
⭐What color collection does Seapearl OC-19 belong to?
This white belongs to the Off-White Color Collection by Benjamin Moore.
⭐Are there any other codes this color has?
Yes, Seapearl OC-19 is also known as 961, PM-20, OC-141.
⭐Does this color read yellow on the walls?
No, there's no yellow hue. Instead, this white reads pleasantly creamy and soft.