When we are up to any home renovation projects, and especially painting projects, we are focused on choosing the best and the most optimal color solutions and combinations to make our living space look cozy, calming, and relaxing.
Of course, pretty much depends on your personal color preferences here, and also, you must not forget the other colors present in your home, such as upholstery, curtains, carpets, decor elements, etc.
But today we would like to introduce you to the color that will hardly ever leave anyone careless! And it does not matter what is the general color scheme of your home – you will surely fall in love with this guy!
So meet Aegean Teal by the famous Benjamin Moore brand! This astonishing mixed wall paint color is a true miracle for those who are tired of those ordinary pale shades on their walls.
As Encycolorpedia says, this color is very soothing, and at the same time, it is rather eye-catching. In addition, thanks to its calm yet deep palette, it will easily balance your stress level and create harmony and a sense of calmness in the space.
So today we are going to tell you more about the Benjamin Moore Aegean Teal paint color. You will learn its basic technical characteristics, such as its LRV (light reflectance value) and undertones.
Also, we will tell you what type of color it is and how it might react to different types of light in your home. Finally, you will find out what rooms it is best to be used in.
With all that in mind, you will feel way more confident and knowledgeable about this wall paint color, and if you decide to use it, you will know for sure where and how to do it right.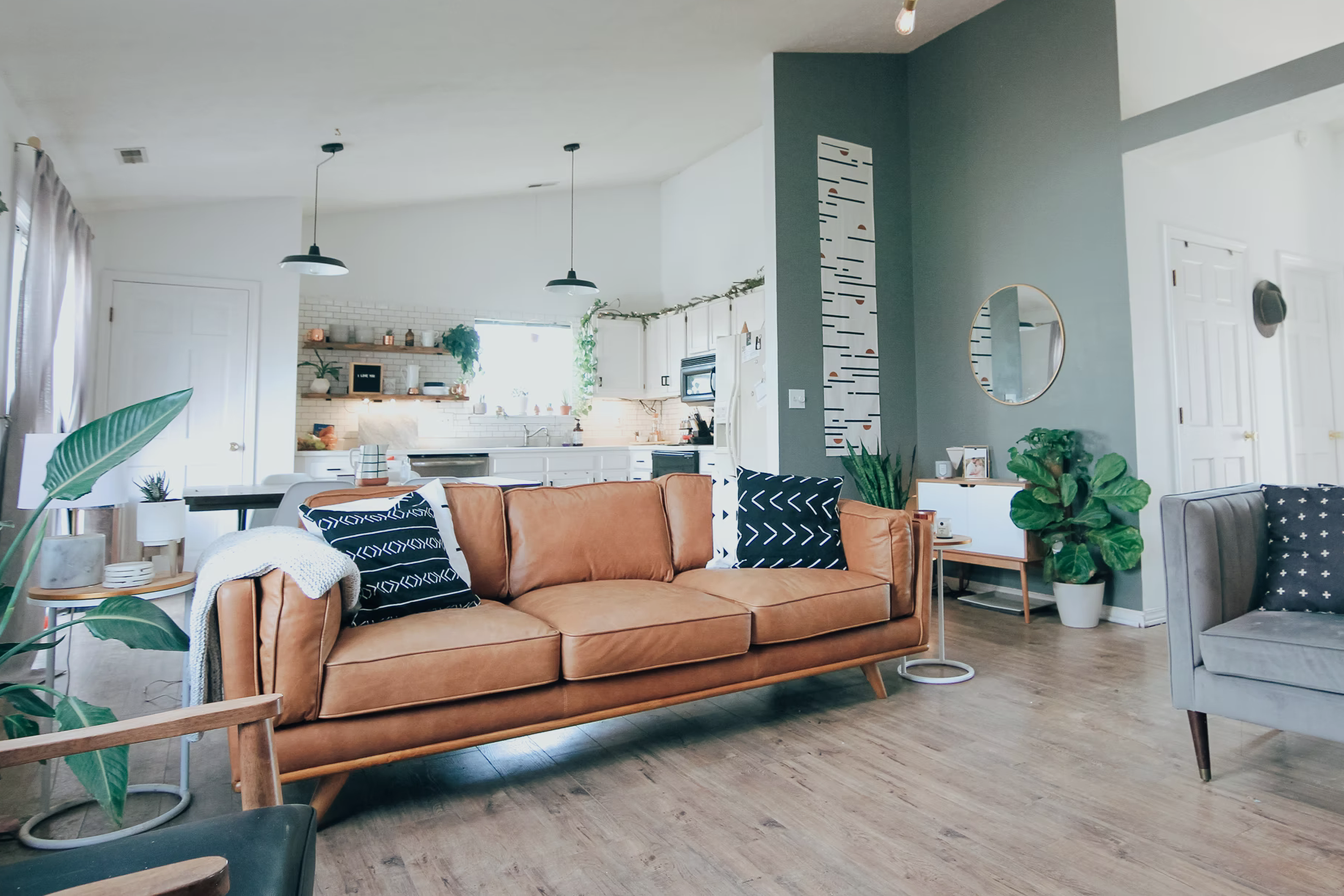 Meet Aegean Teal Paint Color By Benjamin Moore! Characteristics, Nuances, And Handy Tips
So, before we proceed to a more detailed description of Aegean Teal paint color, we would like to tell you a brief information regarding its basic characteristics and nuances.
Like this, you will be aware of what type of color it is, how it reacts to different types of lighting in a home, and what undertones it has that can be revealed.
With all this information in your mind, you will easily pick up the best coordinating colors and trim colors for this wall paint, and besides, you will learn how this paint color reacts to light. And this is one of the most important aspects when choosing a wall paint color!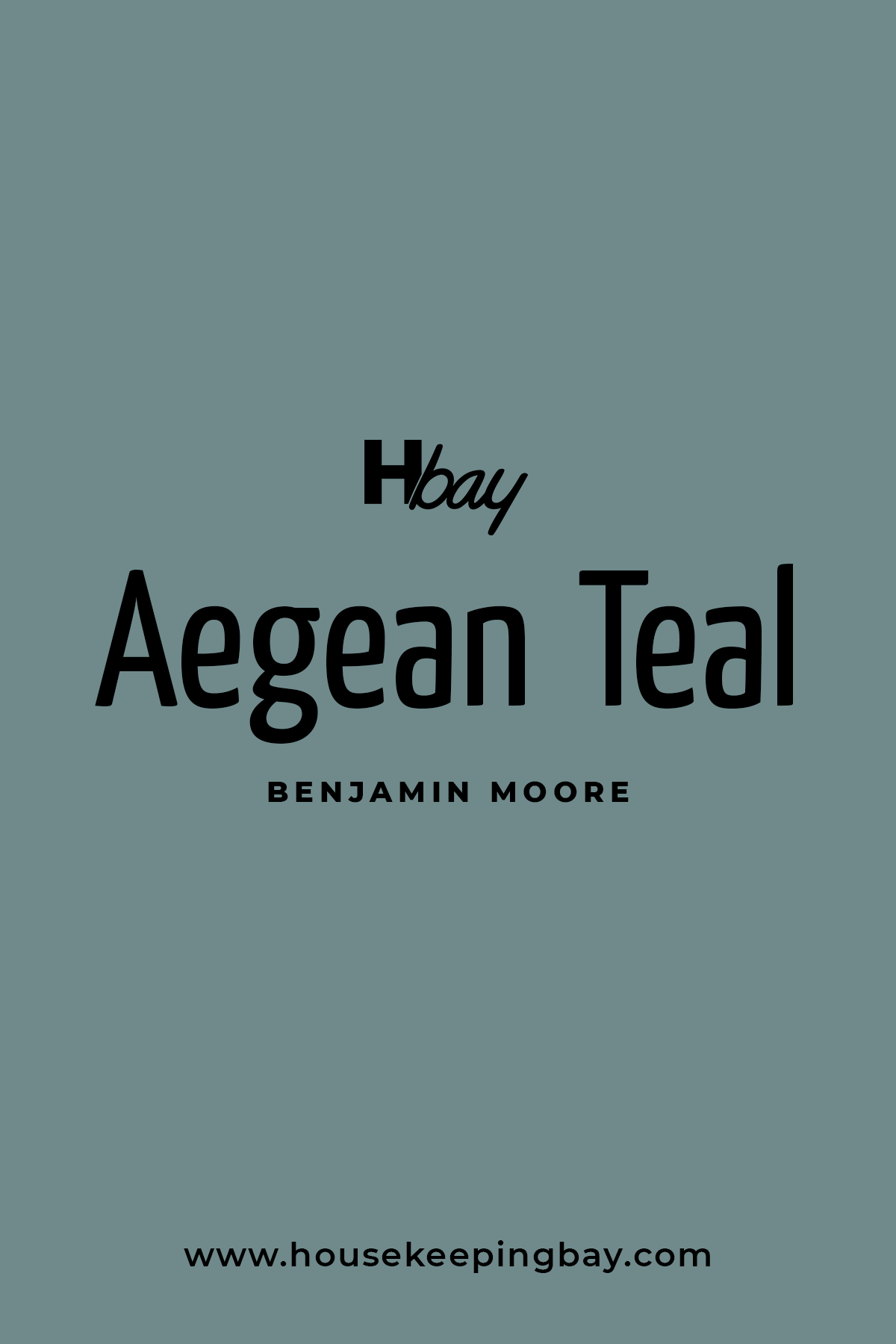 Aegean Teal Color Palette
So, Aegean Teal by Benjamin Moore is a teal color as you could already guess from its name. It combines green, blue, and gray notes in it which makes this color look natural and bring calmness and tranquility to your home.
However, Aegean Teal does have certain tricky sides! For instance, in certain spaces it may seem somewhat darker than it is in fact, which means that you will need to take care of that nuance when choosing wall paint colors to pair with this guy.
Another nuance that you have to be aware of is the light reflectance value of this wall paint color. The light reflectance value (also known as LRV) is the amount of light that the color reflects once being applied onto the wall.
If we take a look at the LRV scale, we will see that, the lesser the value, the darker the paint. And since Aegean Teal has an LRV of 23.96, you may conclude that this color is considered rather dark.
In general, this paint color looks and feels restful, quiet, and serene on the walls. However, with a slightly darker tone, it is quite likely to make your home feel bolder and stronger!
Furthermore, this wall paint color has a tinge of warmth in it, too. This is why you will not feel too cold or unwelcomed when entering the space painted with Aegean Teal.
How Aegean Teal 2136-40 Color Reacts to Light?
Light matters greatly when using Aegean Teal!
You need to always keep in mind that this color will look and feel differently when used in different directions. Hence, you need to be extremely careful when picking the coordinating shades!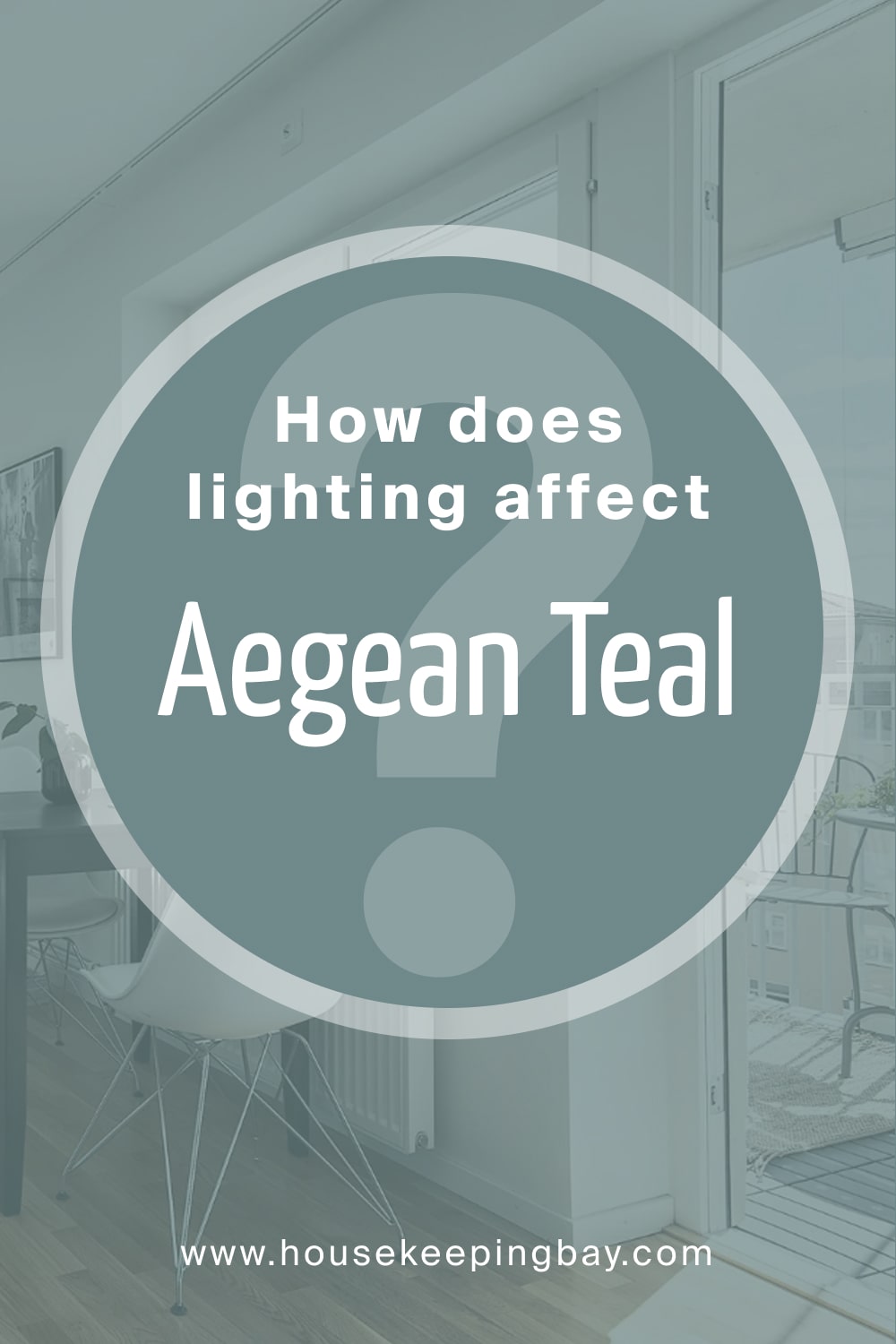 For example, if you paint the walls in your west or east-facing room with this color, it will appear somewhat warmer as compared to the room that faces north.
But even if you don't guess right with the natural lighting, the situation can always be fixed with the help of artificial light – pendant light, wall sconces, or chandeliers!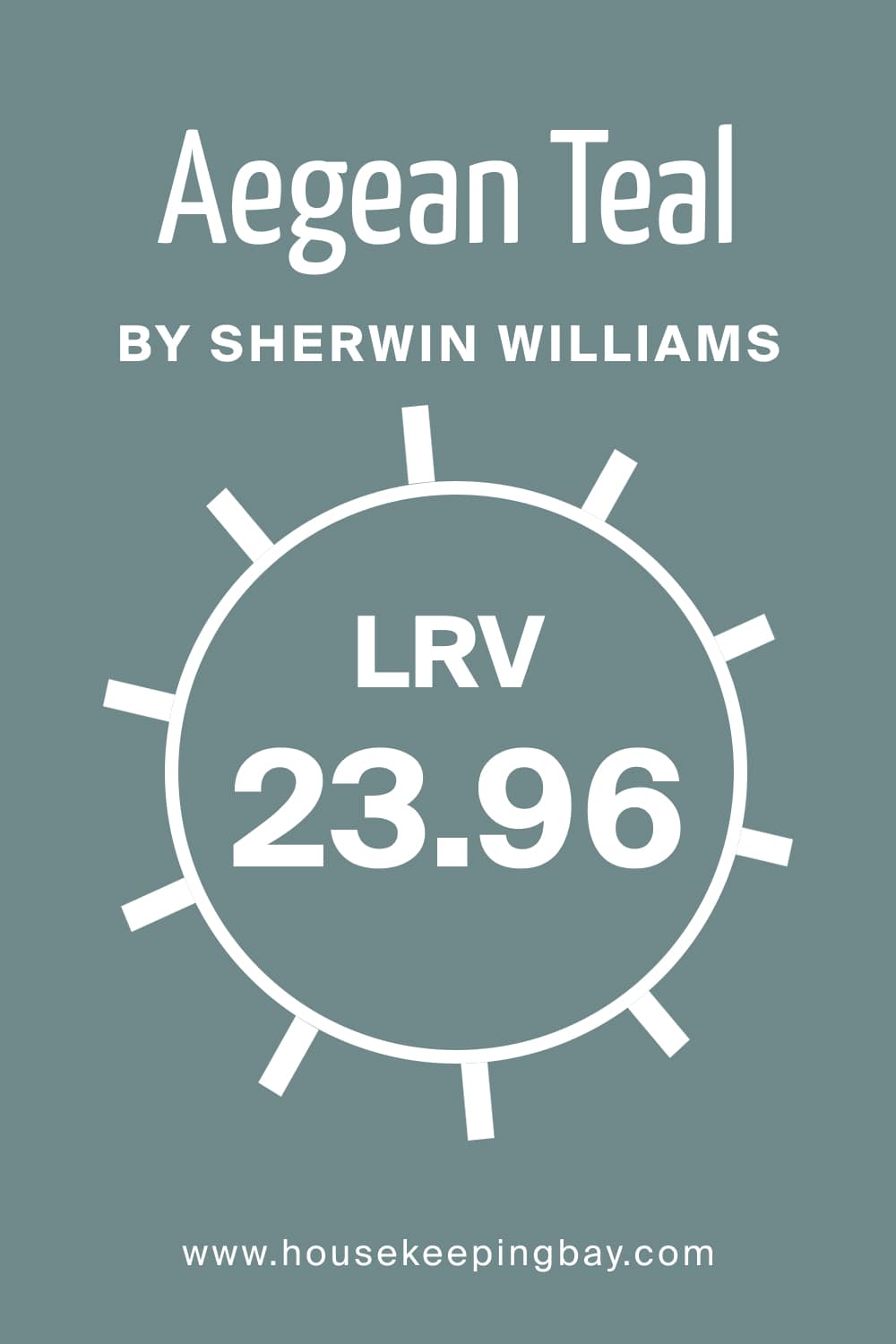 What is LRV? Read It Before You Choose Your Ideal Paint Color
Aegean Teal Coordinating Colors
Aegean Teal is a rather tricky paint color, and so you must be very careful when choosing the coordinating shades for it! We recommend you opt for true whites, wooden textures, as well as yellows, blacks, and gray shades.
You can even use such colors as greiges, other taupes, and browns!
Depending upon the interior design, as well as your personal color preferences, you might want to choose either from a monochromatic or a contrasting color palette.
For a monochromatic palette, we would recommend the following colors:
2136-60 Harbor Haze
2136-50 Colorado Gray
2136-30 Amazon Green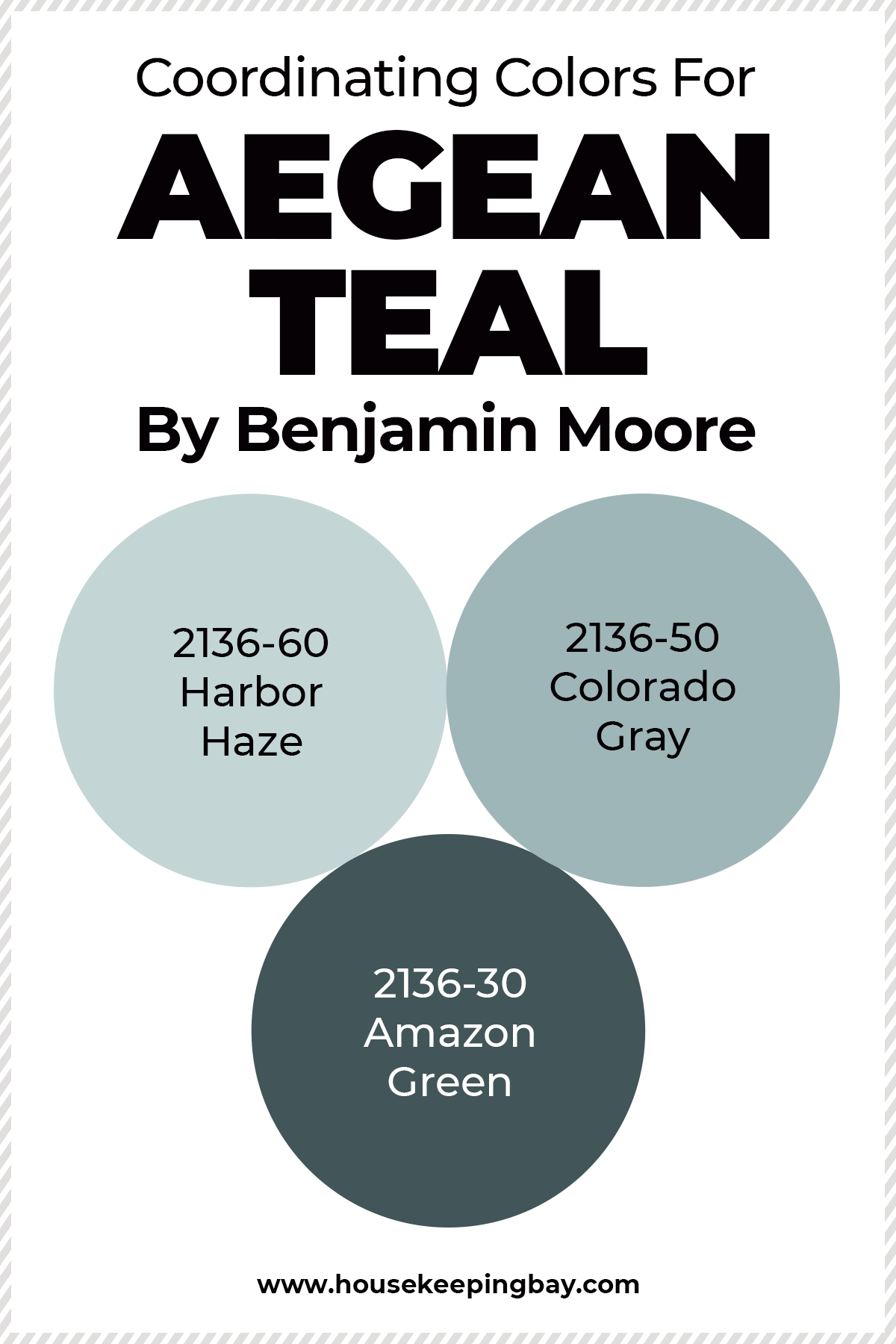 As for the contrasting color palette, you should opt for the colors like these:
2143-70 Simply White
2153-50 Desert Tan
2140-40 Storm Cloud Gray
For your ceilings, trims, and moldings it would be best to use Benjamin Moore Chantilly Lace as it is a true white color and will further protrude the original adjacent hue.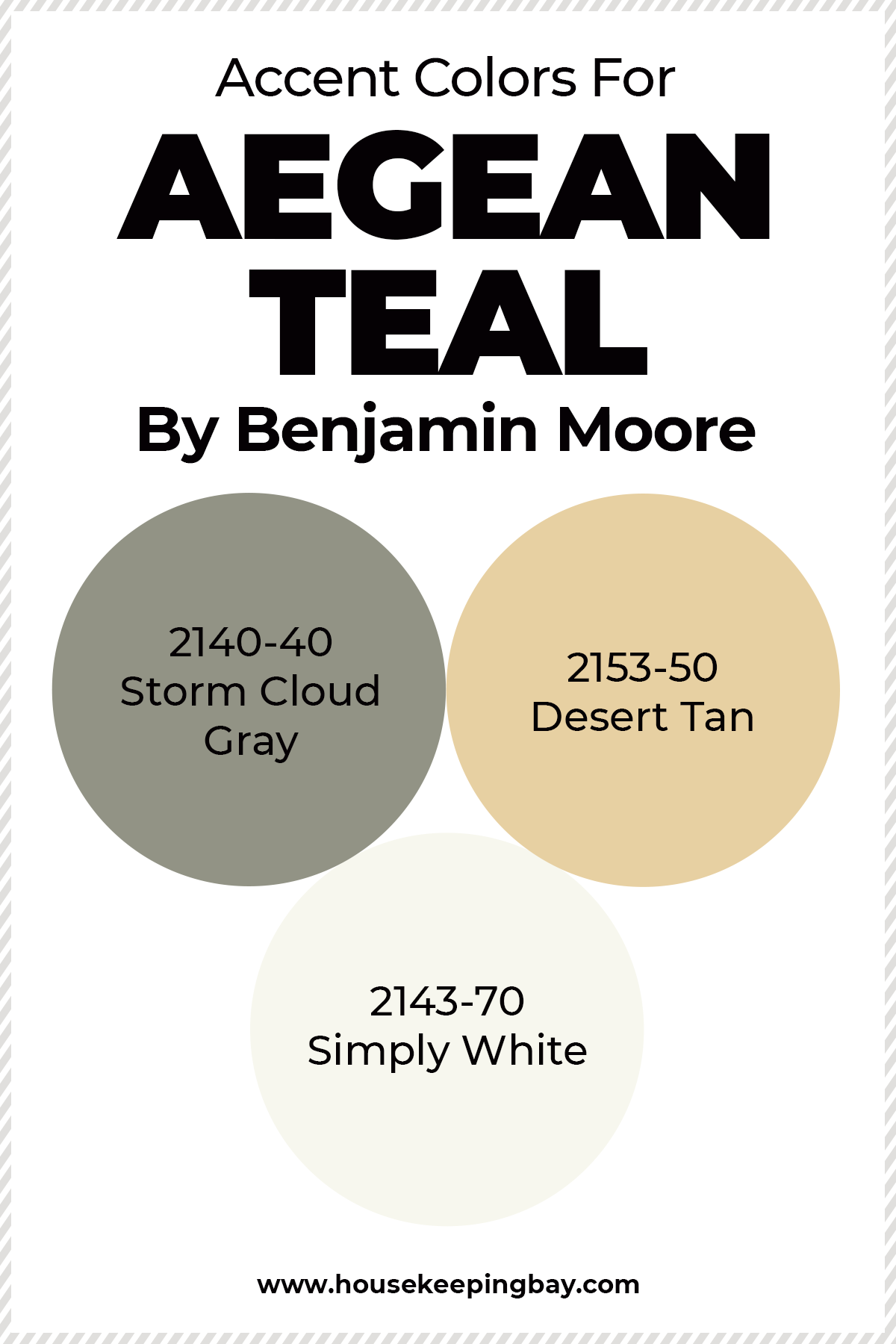 And now we would like to give you more information on what rooms this color can be used in.
We hope it will help you to better understand whether or not you should apply it in the space that you are going to renovate in your home.
2136-40 Aegean Teal — 2021 Color Of The Year From Benjamin Moore
Where Aegean Teal Color Can Be Used?
Can I Use Aegean Teal In a Nursery Room?
We are all used to thinking that the walls of a nursery room must always be painted with a very subtle and muted color. Something creamy, pale yellowish, warm white, or a very delicate greige.
This is why Aegean Teal is usually passed by, but you should not do so! Since the major purpose of the nursery walls' color is to create a peaceful and calming atmosphere in the room where a baby lives, Aegean Teal can be an ideal candidate.
This color looks and feels very soothing, tranquil, calming, and relaxing – a perfect combination of features for a perfect nursery.
And if you consider the lighting in your baby's room and make sure that the color of the walls does not look too dark, you can be sure that Aegean Teal will do its best!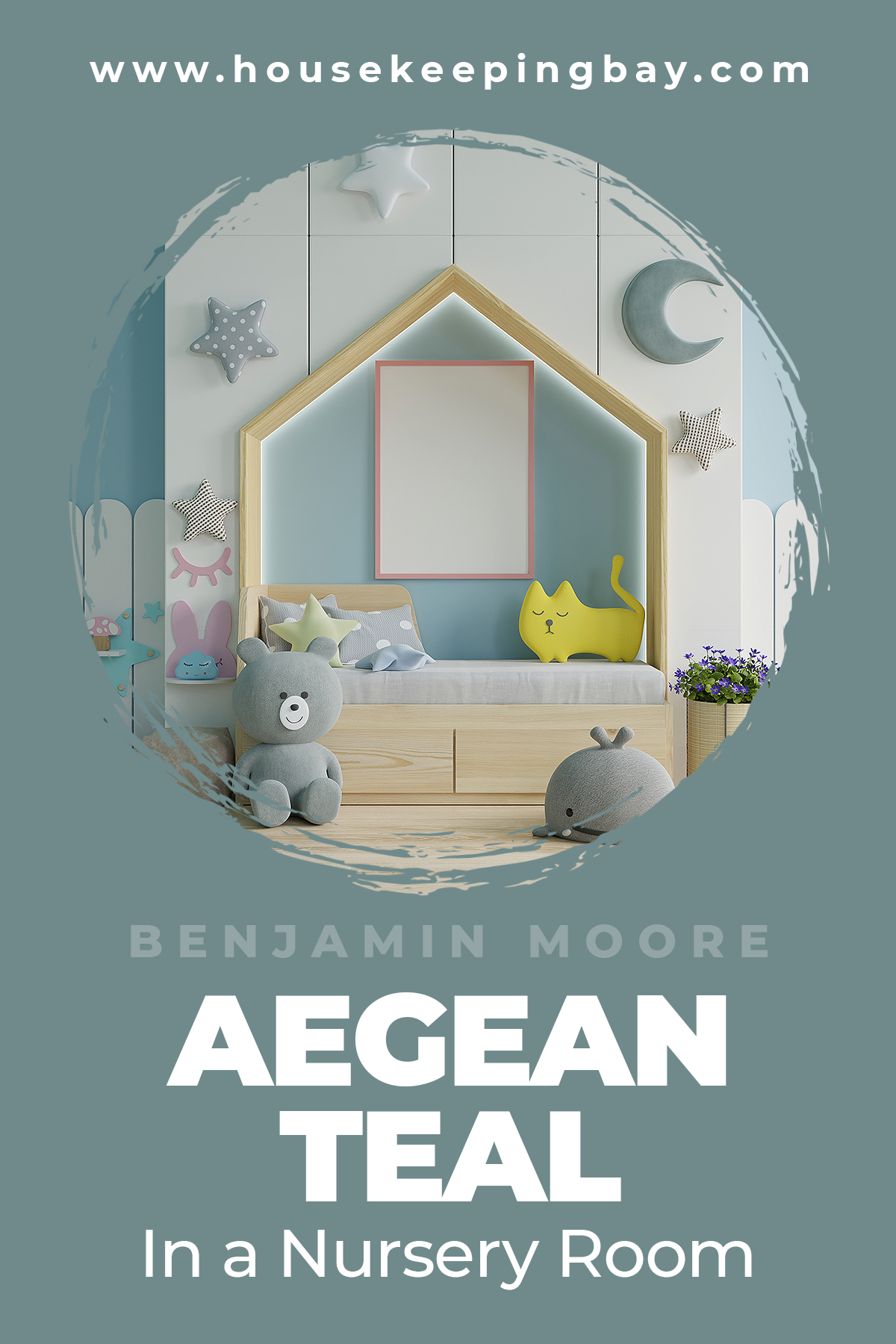 Is Aegean Teal a Suitable Color For the Accent Wall?
Definitely it is! Aegean Teal by Benjamin Moore is a perfect color choice if you want to add a dash of color to any small room (for instance, to a breakfast nook).
In addition, due to its versatility, this paint color can be successfully combined with other bold colors.
As an option, try to experiment and combine Aegean Teal with mustard-yellow paint color of the furniture upholstery or another similar color on your walls or trims.
Aegean Teal For the Living Room Decor
Aegean Teal can become a perfect color for your living room as well. It will look great both if applied onto the walls and if used as an accent color on your furniture, upholstery, curtains, or other decor elements.
For example, it will look especially harmonious when used along with white and camel paint colors in a spacious and well-lit room with rugs and green pot plants.
Gold or brass decorations and chandeliers will also fit this color scheme, by the way!
Aegean Teal For Your Kitchen Island
If you are thinking about using Aegean Teal in your kitchen, consider painting your kitchen island with it. Especially if your cooking space has white walls.
However, in case you have many wooden objects in your kitchen, and they are not painted (meaning they are of their natural color), be careful when applying Aegean Teal!
Any massive object painted with this color might make the space look less spacious!
The same is true for the kitchens that have not enough natural light or have walls painted with rather dark colors.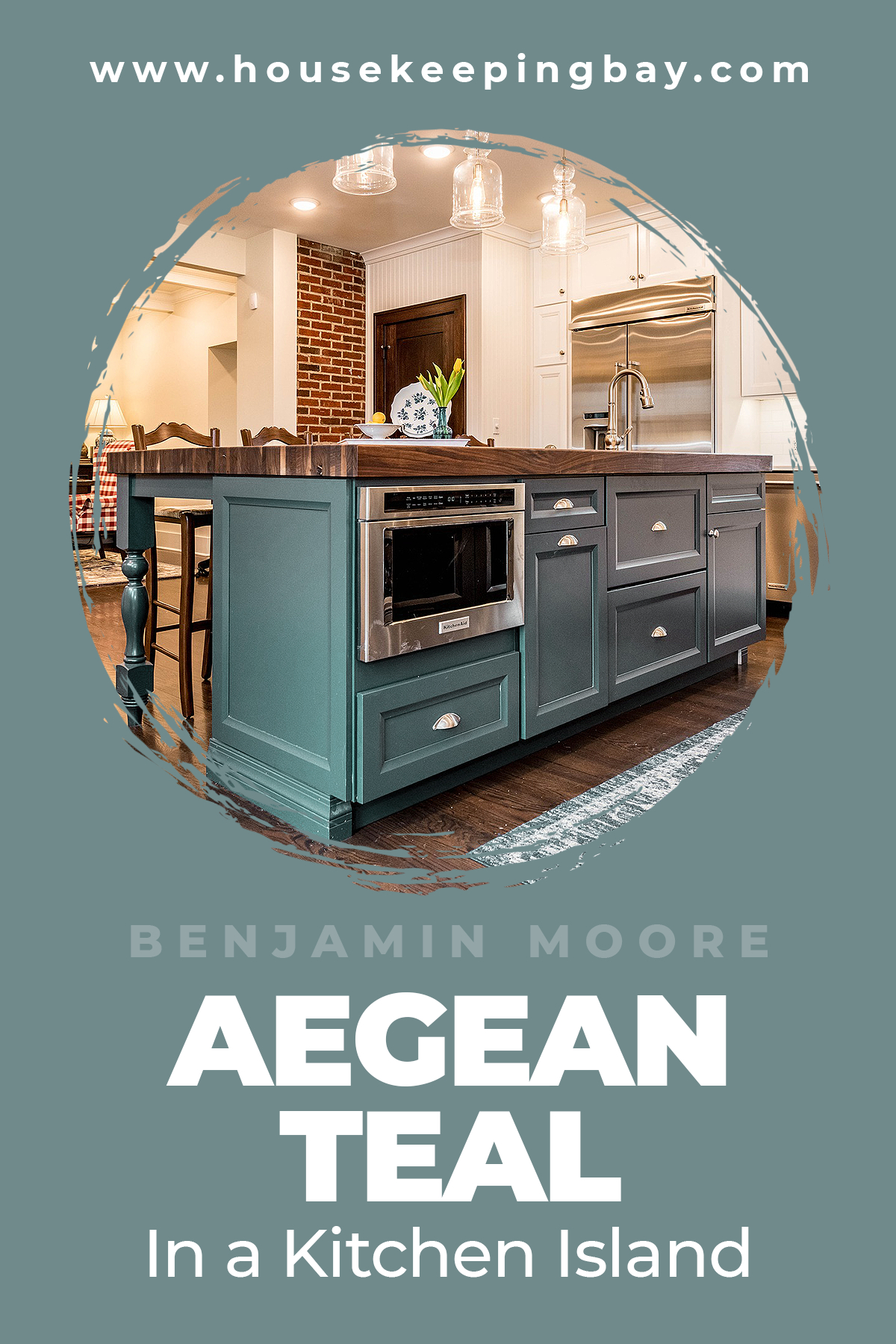 How Suitable Is Aegean Teal By Benjamin Moore For Your Bathroom?
Aegean Teal is absolutely suitable for any bathroom! This color has a blue tint in it that can come out more prominently if you use the proper lighting. But even if the bathroom in your home does not allow Aegean Teal to reveal its "watery" side, it's fine.
This paint color will be perfectly suitable for this room.
By the way, Aegean Teal will look especially good if paired with tile on the floor and brassy or gold decor elements, such as hangers for the towels, etc.
Also, any wooden or wicker objects (e.g. shelves, laundry baskets, etc.) will look very harmonious if used in such a room.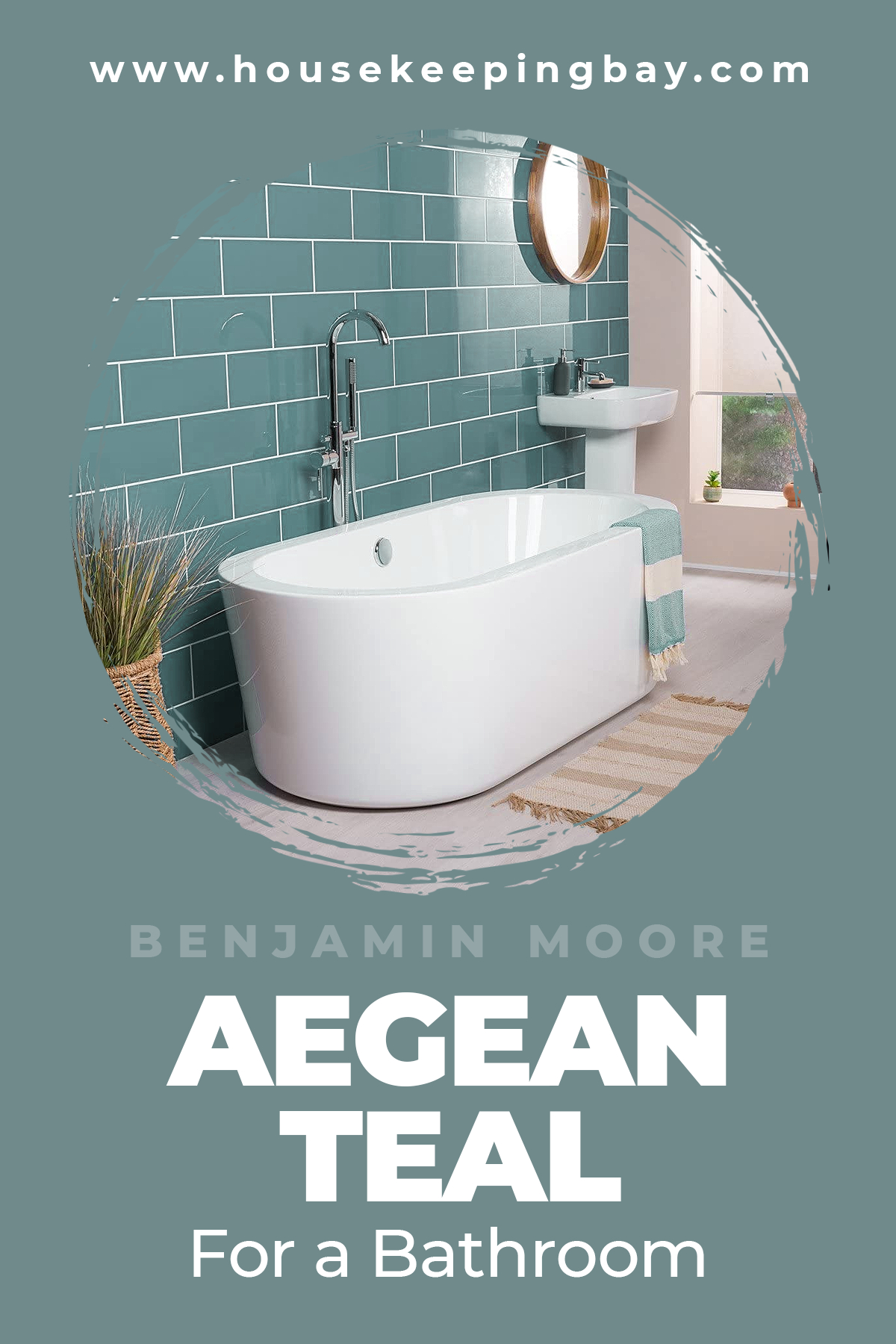 Does Aegean Teal Pair Well With Tile?
You might be surprised, but this color can be used with tile very successfully!
Of course, you need to be very careful when picking the color of your tile though, but in general, there are no restrictions regarding the use of Aegean Teal along with tile in your home.
And since this paint color looks rather watery, it will look especially good in your bathroom or even in a shower cabin!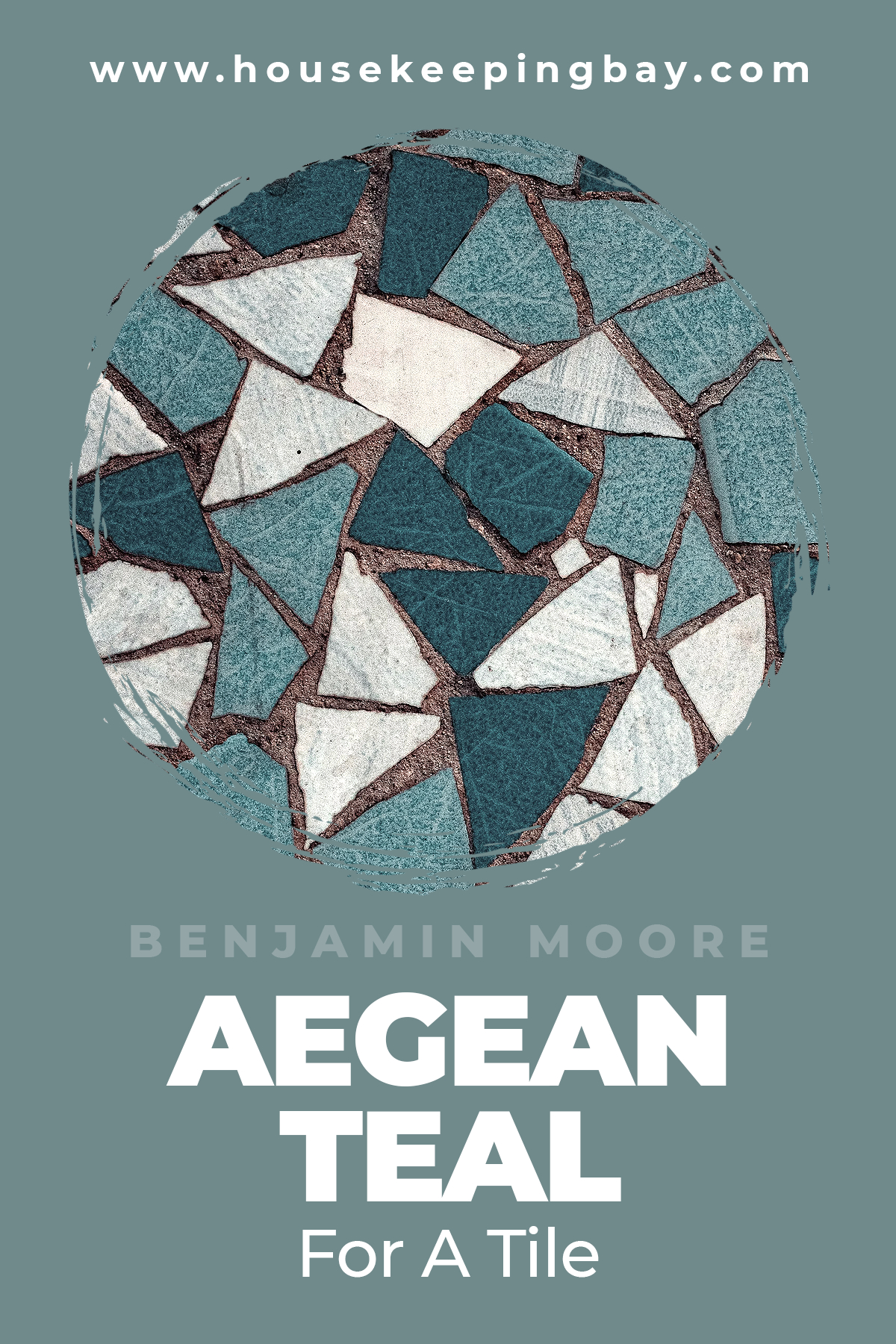 Is Aegean Teal a Proper Paint Color For Cabinets?
If you are not too adventurous to paint the entire room with Aegean Teal, you can always try it on smaller surfaces.
For example, Benjamin Moore Aegean Teal will look just fine on your kitchen cabinets!
Like this, you will incorporate this bold color into the space and you will not feel overwhelmed with the color at the same time. An easy way to escape a costly mistake!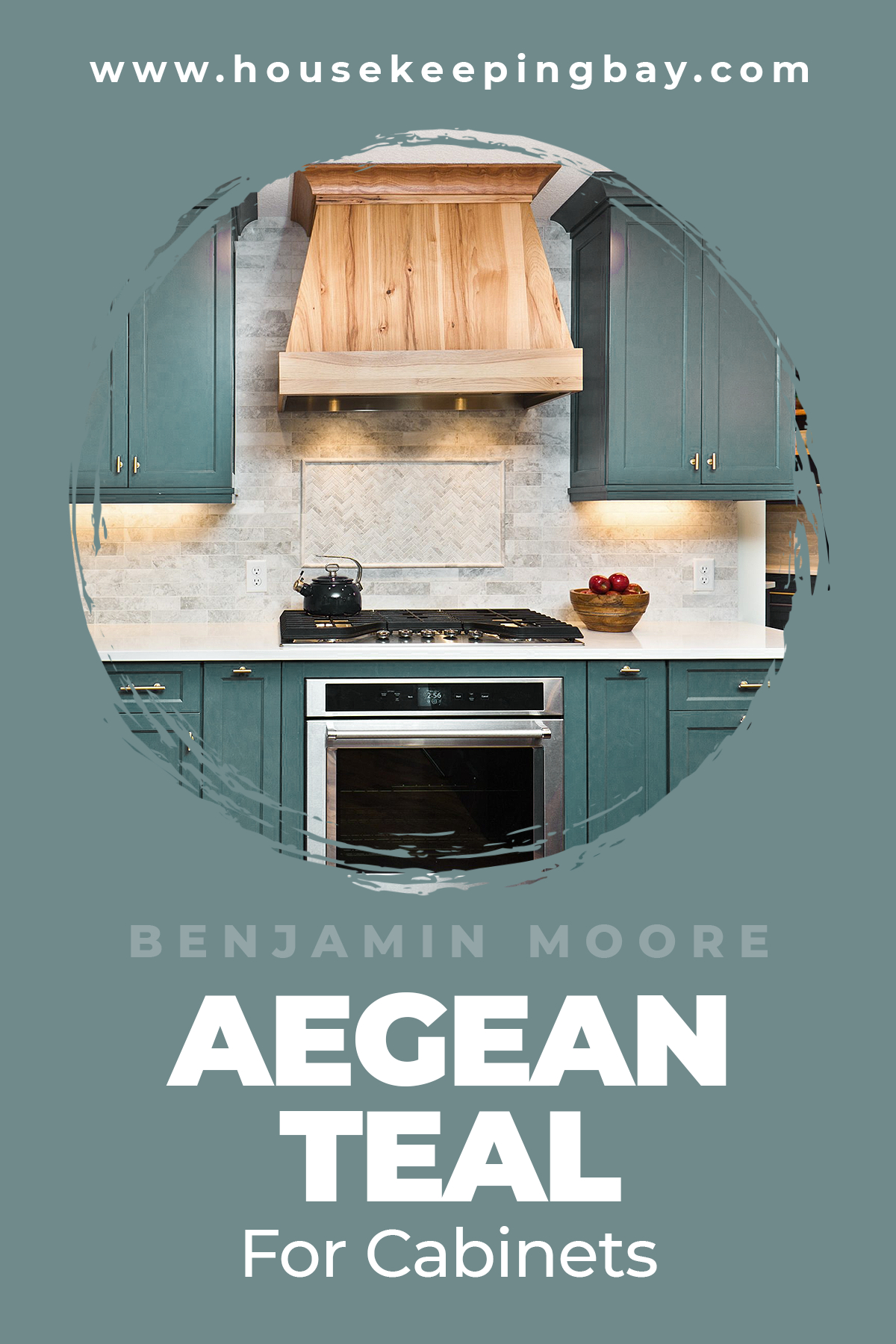 Can Aegean Teal Be Used In an Office?
Well, technically, it can. Of course, this marine color is not something common that you can see on the office walls, but for your home office, it can become quite a nice color solution.
And if you have any wooden objects there, for instance, wooden furniture, bookshelves, or pther items, they will pair harmoniously with the walls painted with Aegean Teal by Benajmin Moore.
The only nuance that you should pay attention to if using this color for the office walls is that you'd rather use white trim to make the space more defined.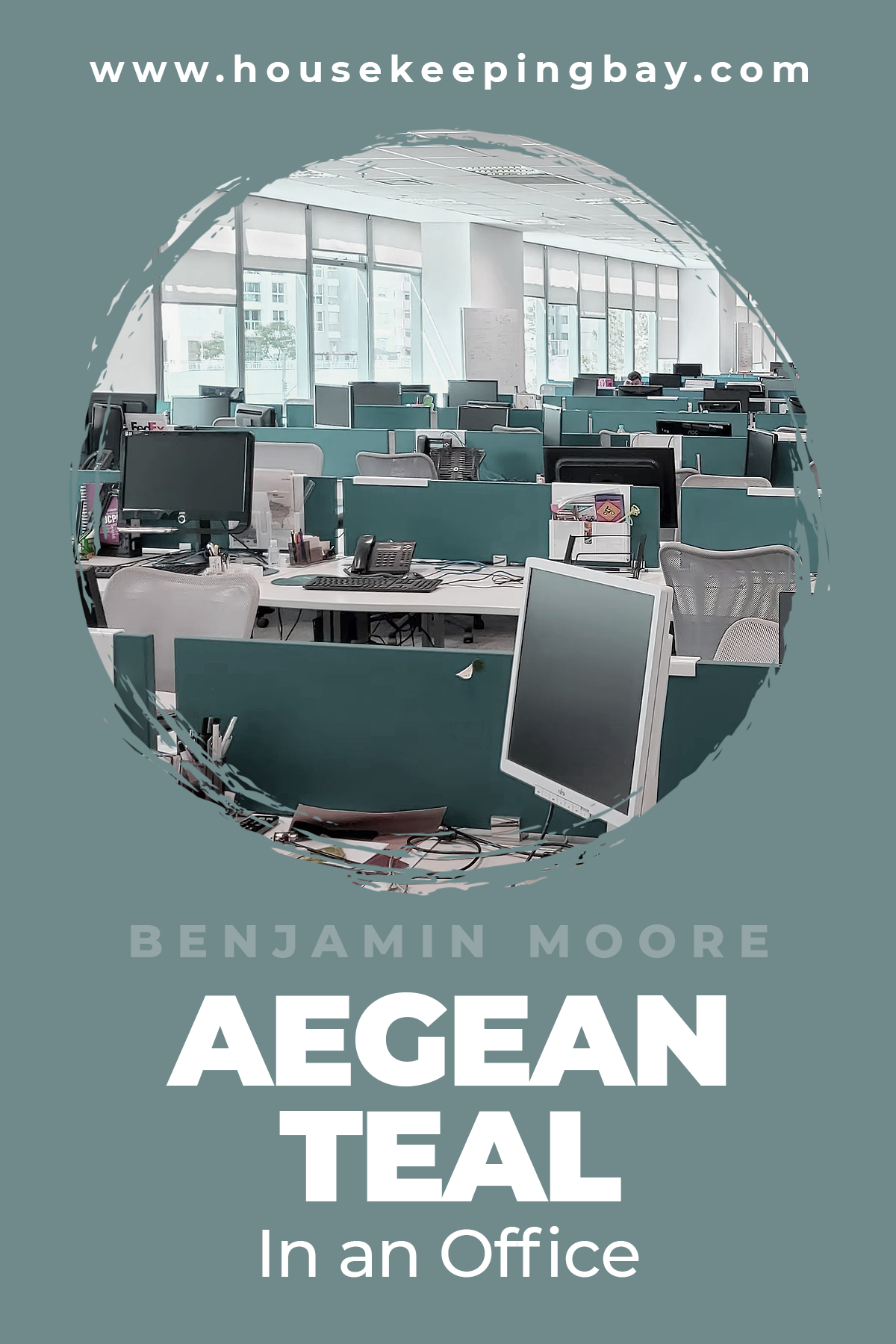 Aegean Teal And a Dining Room
This is what we call a perfect match! Bold Aegean Teal pairs exceptionally well with wooden textures in the form of hardwood floors, for example, or exposed beams, or rafters, as well as furniture frames.
In addition, if you have leather pieces of furniture (such as armchairs or sofas), they will pair nicely with this color on the walls as well!
You can even further blend various tones of off-white, yellow, and even gray with it on your rugs, curtains, and throw cushions.
And in case of wall molding and paneling, you should definitely consider using Aegean Teal in amalgamation with whites!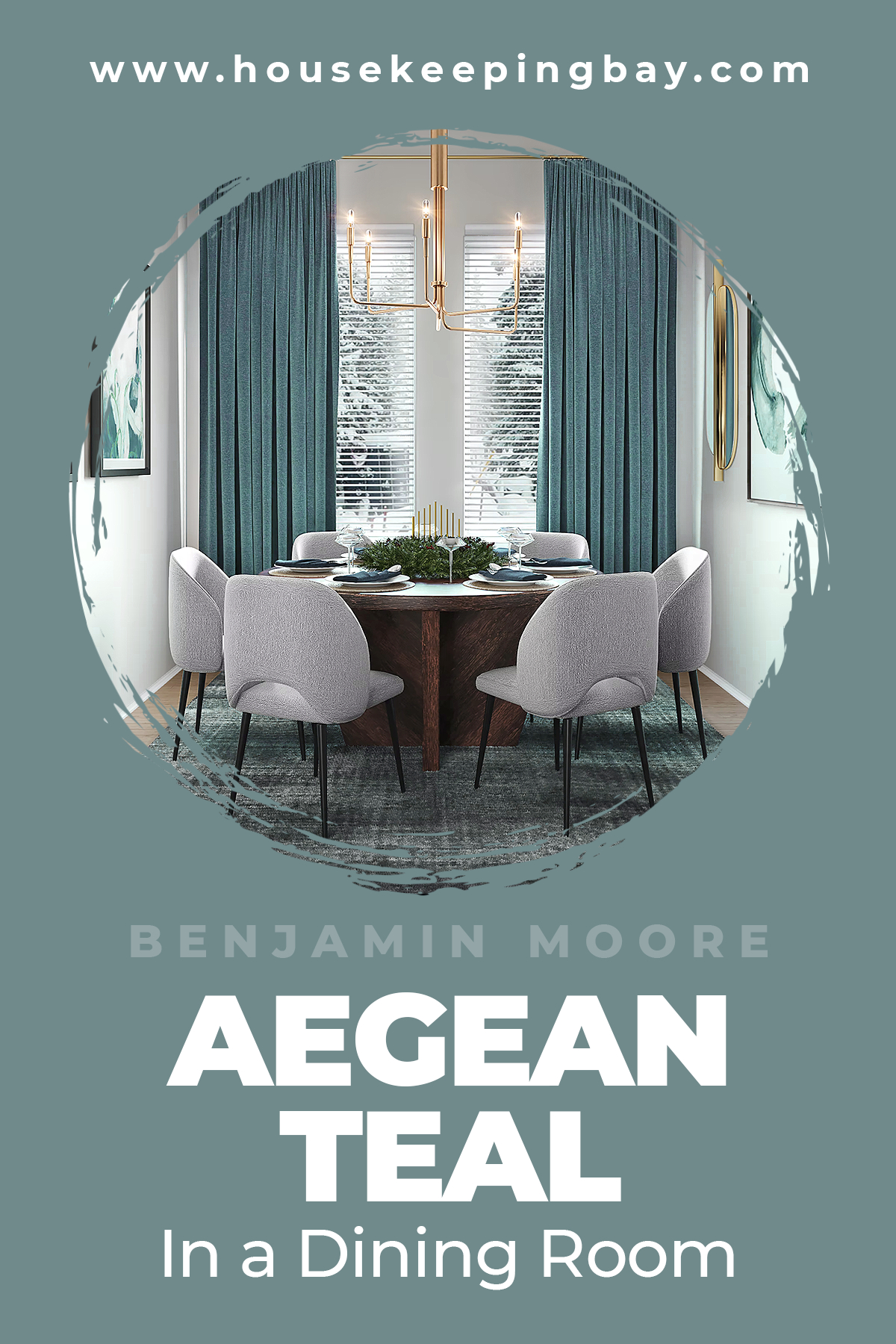 How Well Does Aegean Teal Look With the Fireplace?
Not every home has a fireplace, but those who do definitely want to know how well Aegean Teal will look on the walls with a fireplace in the same space.
And if you are one of those who are worried about this issue, let us assure you: fireplaces pair really nicely with this wall paint color by Benjamin Moore!
The effect will be even better if your fireplace is made of a light beige, gray, or white stone, and you have any gold decor elements or furnishings around.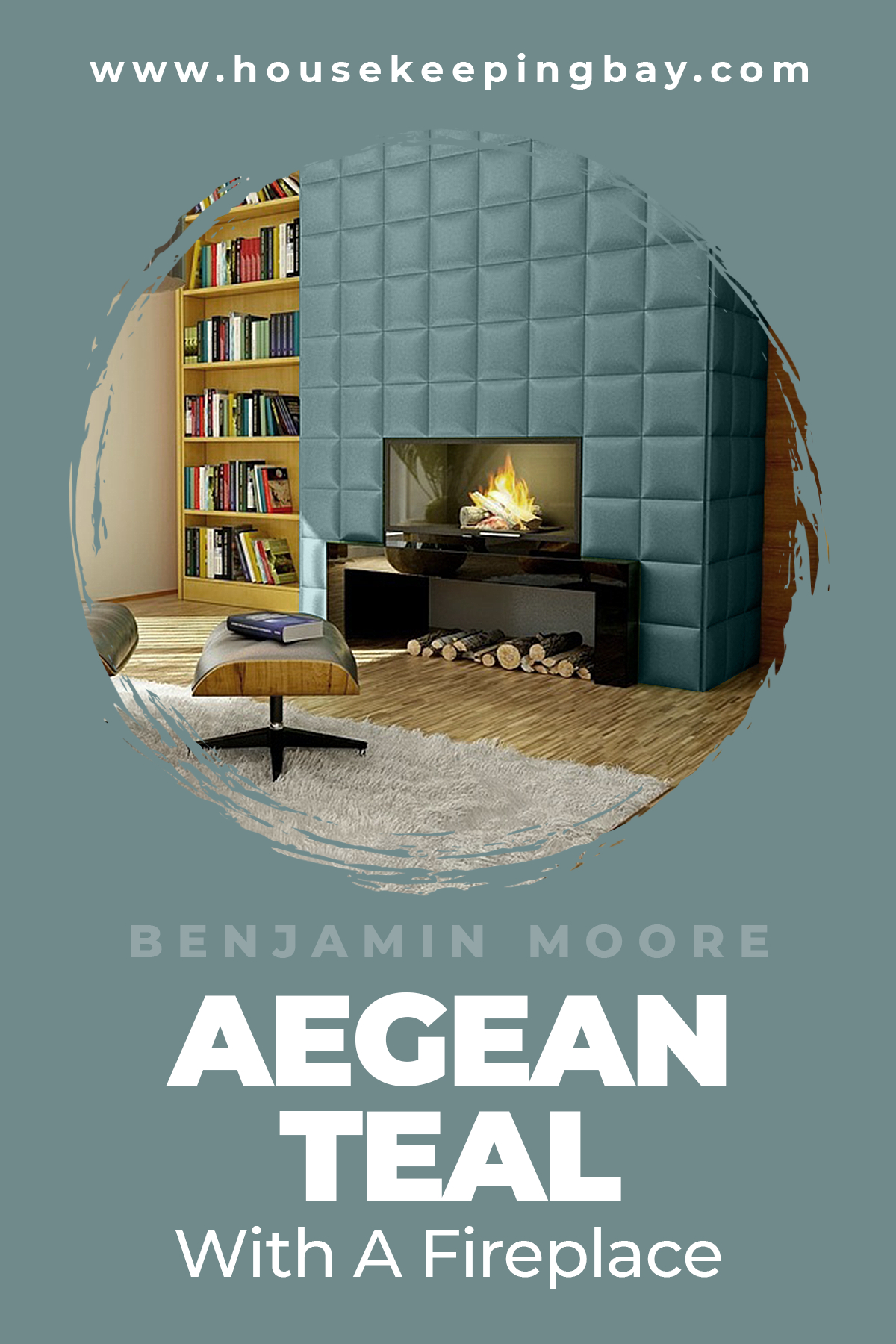 Aegean Teal For the Laundry Room. Is It OK?
Absolutely yes! Aegean Teal by Benjamin Moore is, in fact, a very versatile paint color. It can be successfully used in almost any room in your home, including your laundry room. The only aspect that you must take into close consideration is the lighting in this space.
If the room is small and you only have artificial light there, you might want to use another paint color on its walls rather than applying Aegean Teal.
That's because under such conditions, this paint might look rather dark and make the room look gloomy and even smaller than it is!
And since now you know what rooms this wonderful paint color can be used in your home, let's move on and see, what other paint colors can it go with, and how well each of these color combinations might be.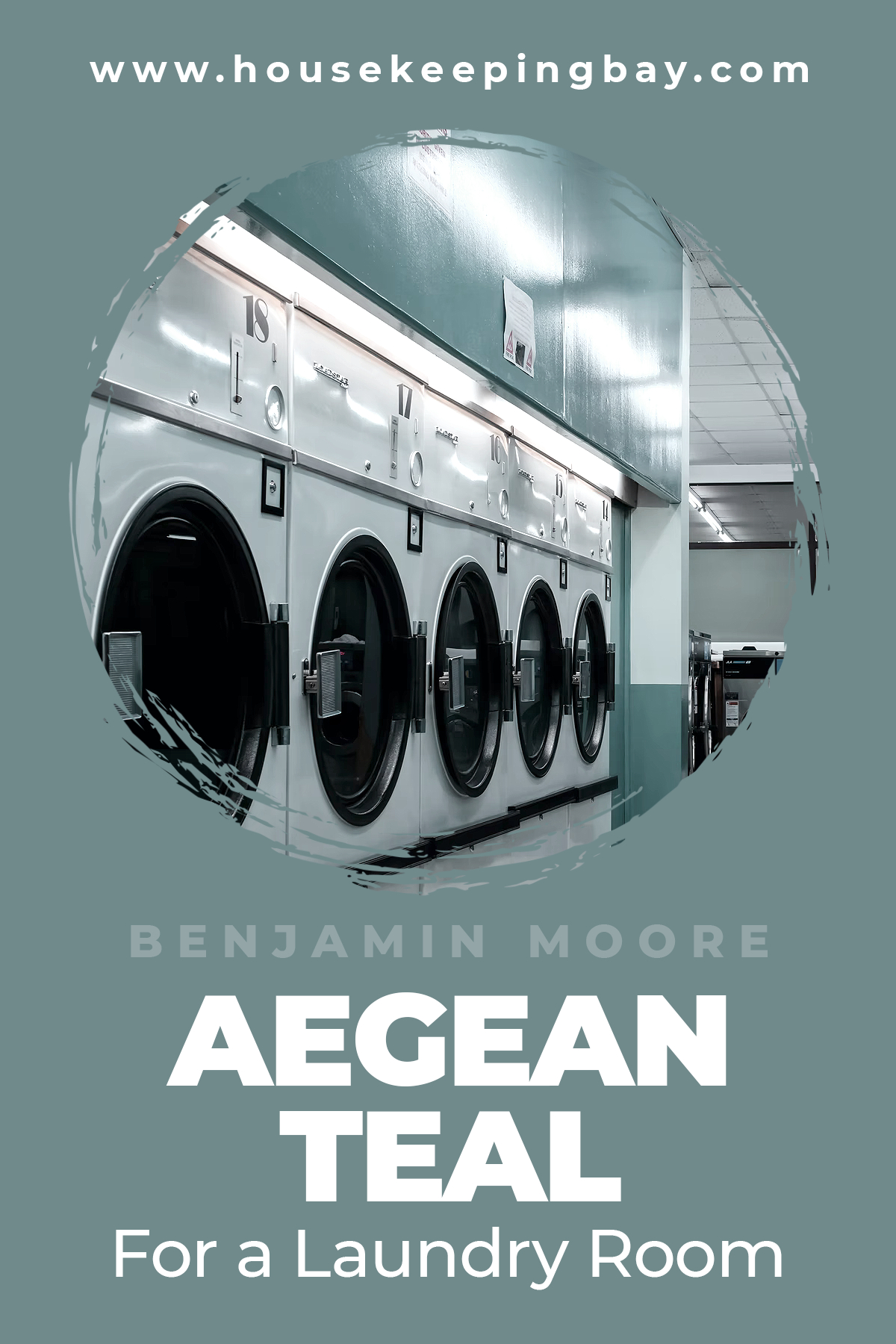 Can Aegean Teal Be Used As a Trim Color?
Choosing trim colors is always tricky and often even complicated, mostly because of the complicated structure of the major paint color used in a room. So in the majority of cases, we stick to whites when going to paint the trims.
However, with Aegean Teal, it is very easy to break this rule! Even though this color is primarily designed and meant for being applied on the walls, you will be surprised to learn that it will work the same good on the trims as well!
This blue-green shade looks so crisp with white trim, but if you paint the entire walls with it only, your room will feel and look even more serene!
Your eye won't have an "ending" spot like it does when the walls are one color and the trim is another. Like this, your eyesight will flow around the room gently.
Colors That Aegean Teal Can Be Used With
Aegean Teal vs Urbane Bronze
Aegean Teal creates a very elegant and nice color combination with Urbane Bronze.
See, Urbane Bronze has a warm brown undertone. It means that paint colors with the same warm undertones, as well as the colors that are on the warmer side of the color spectrum will pair with it better than others.
And since Aegean Teal also has warm undertones in it, these two create a nicely contrasting combination. Especially if you use Urbane Bronze as a trim color.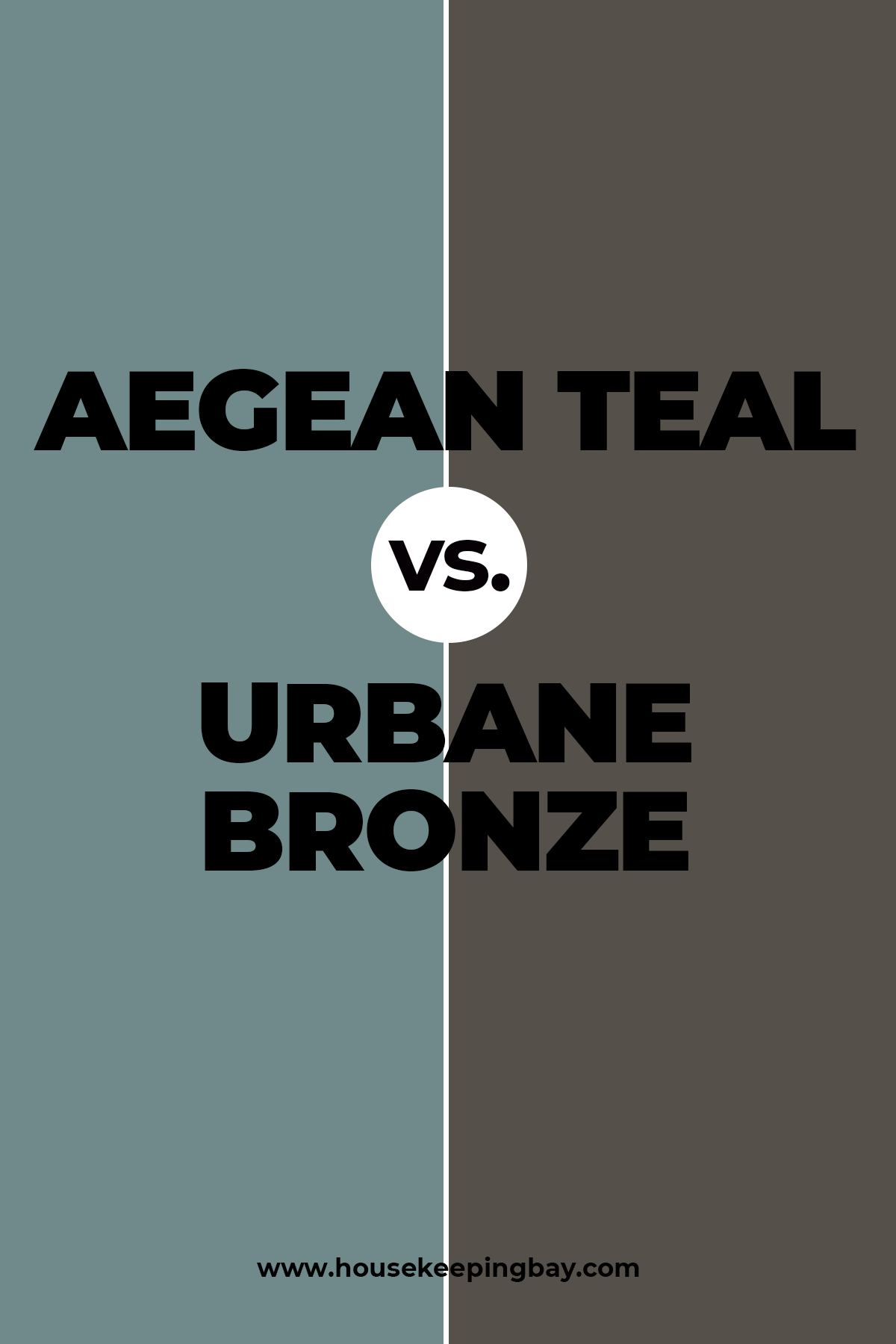 Aegean Teal vs Moody Blue
Moody Blue paint color is a perfect blue color that contains slightly blue and green undertones. And as we already know, Aegean Teal also has blue and green undertones in it.
This is why these two look almost the same. The only distinction is that Moody Blue is slightly lighter in comparison to Aegean Teal.
But their similarity is also the reason why you won't be able to use these colors at the same time in one space!
Simply because the room will look monochromatic!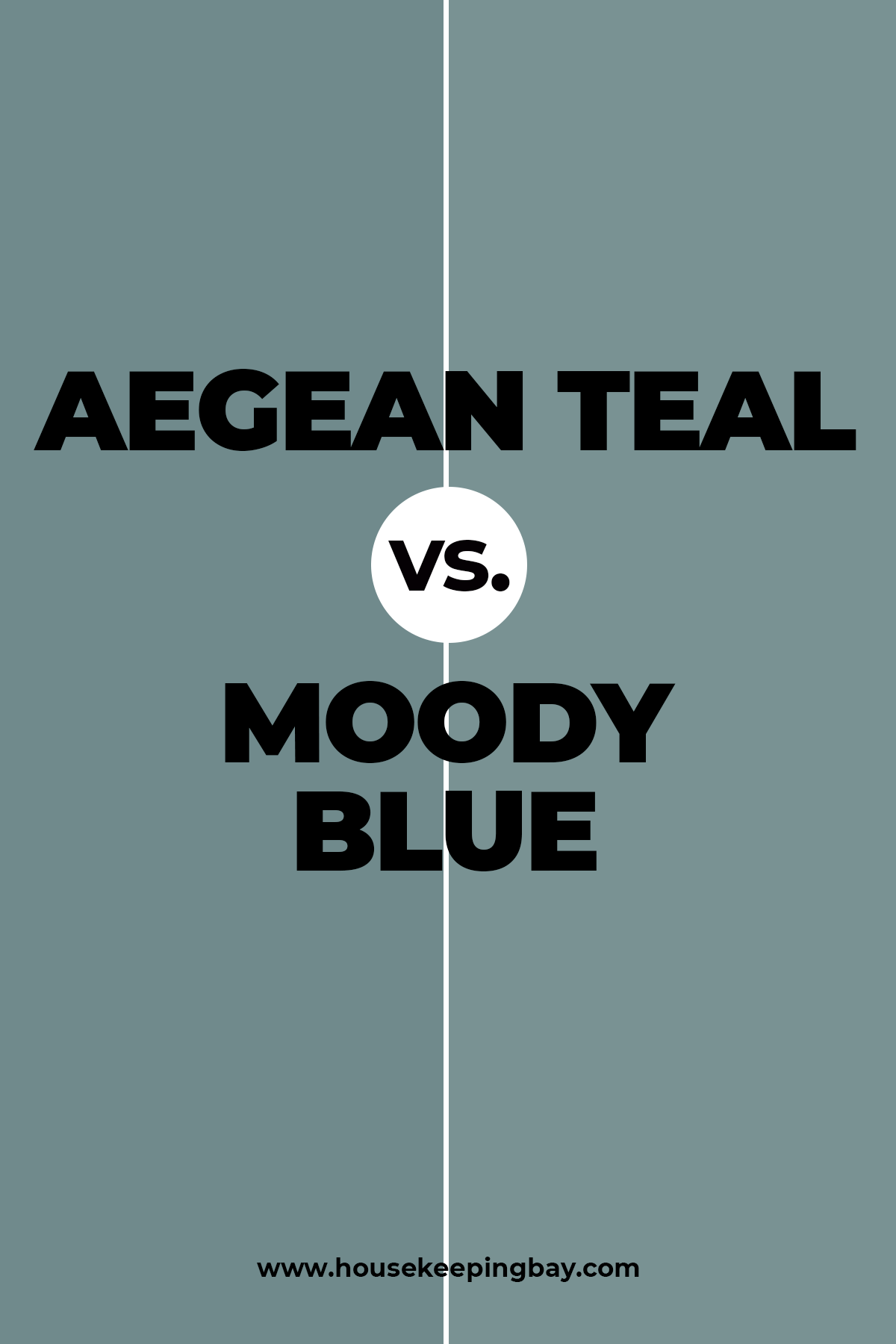 Aegean Teal vs Dragonfly
Dragonfly by Behr is a subtle and soothing paint color with prominent greenish turquoise notes and a hint of soft blue.
This is what makes it stand so close to Benjamin Moore Aegean Teal, and this is also what makes these two paint colors so alike!
The only difference that can be noticed upon a very close examination is that Behr's Dragonfly is slightly more green in comparison to Aegean Teal.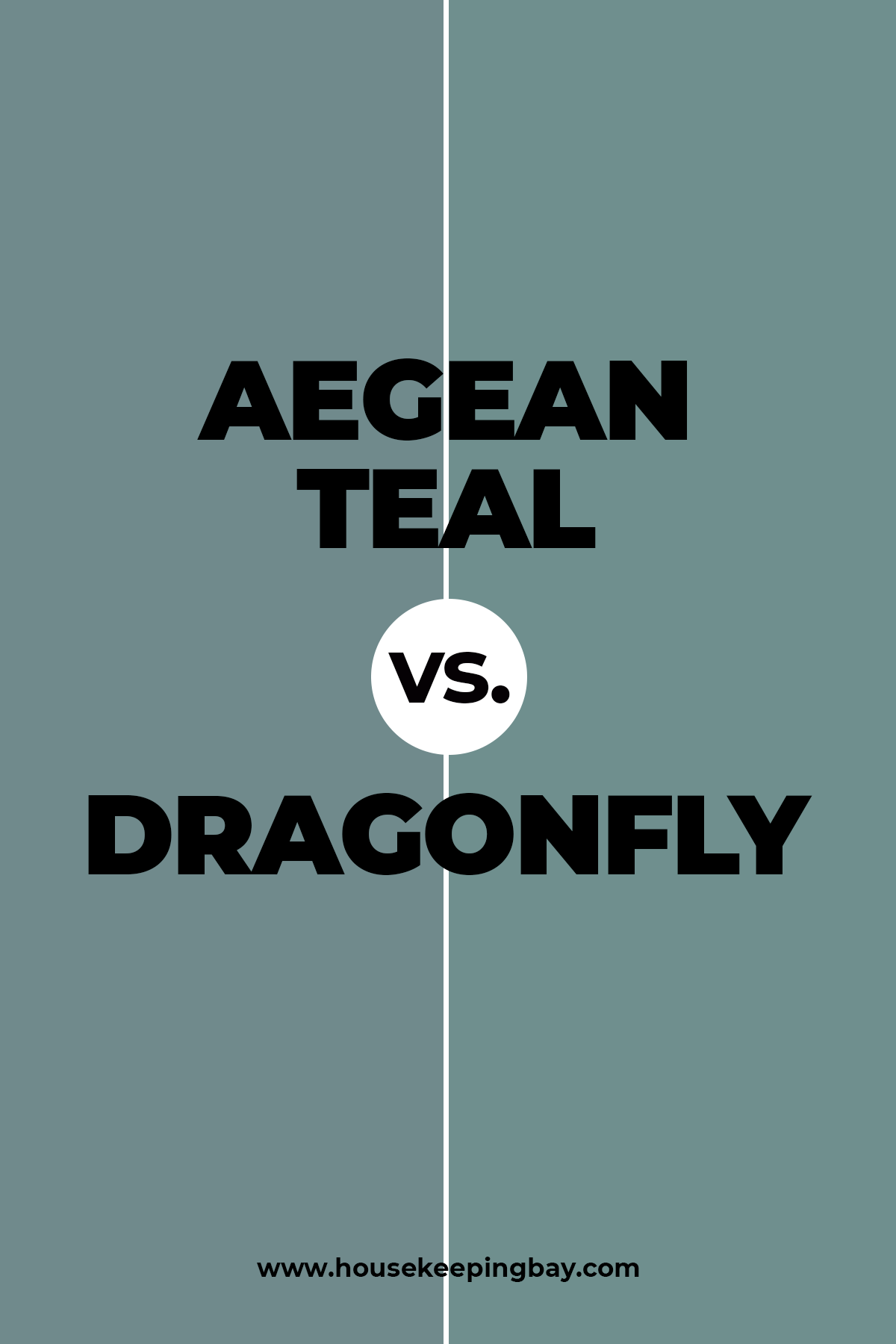 Aegean Teal vs Riverway
If we put Riverway by Sherwin Williams and Aegean Teal by Benjamin Moore side by side, we will see that even though they do have quite many similarities, in general, these paint colors are quite easy to tell the difference between.
It's all very simple: Riverway is significantly darker in comparison to Aegean Teal.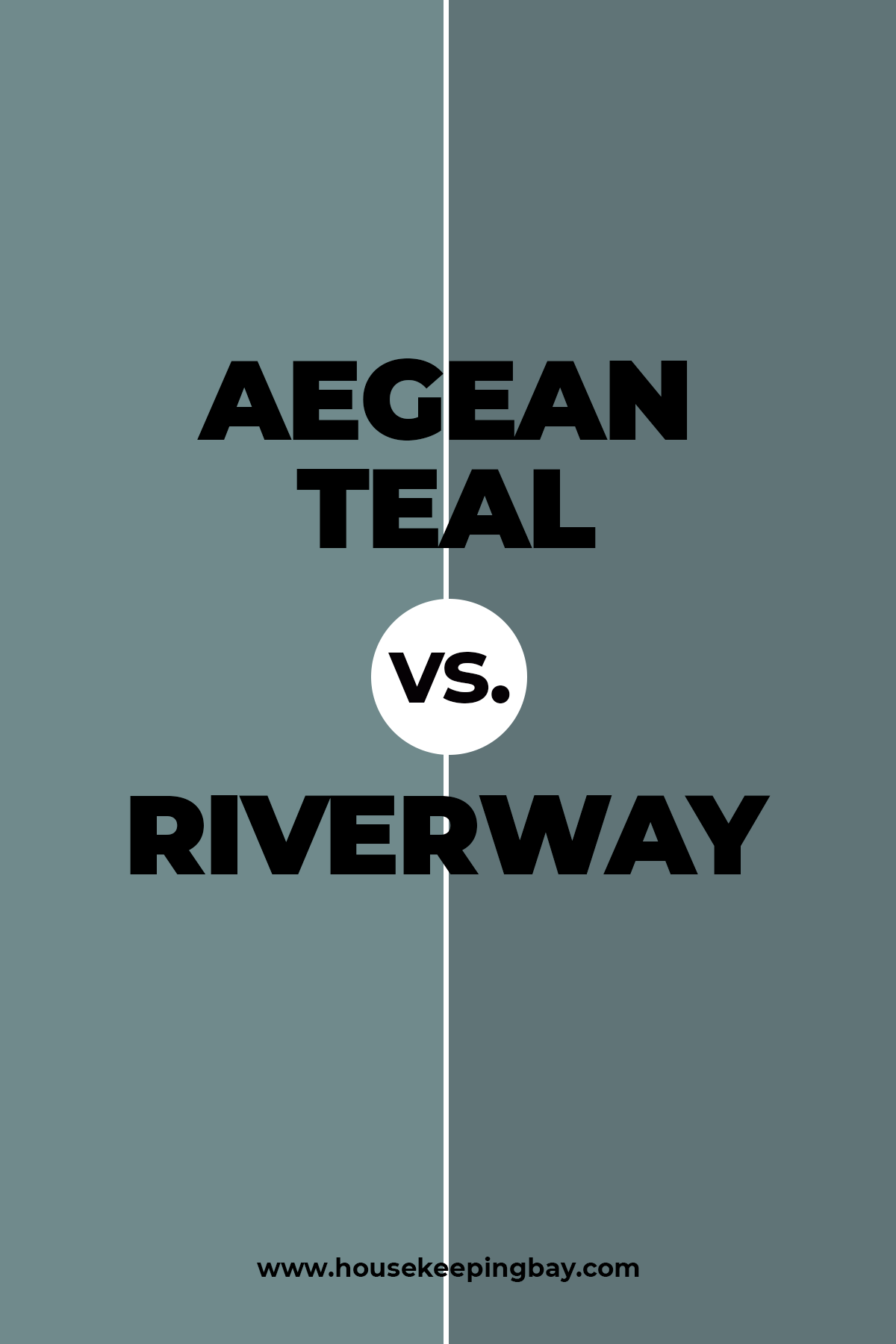 And this is not a surprise since Riverway is considered a dark color whilst Aegean Teal is way more soothing and soft though also being rather intense.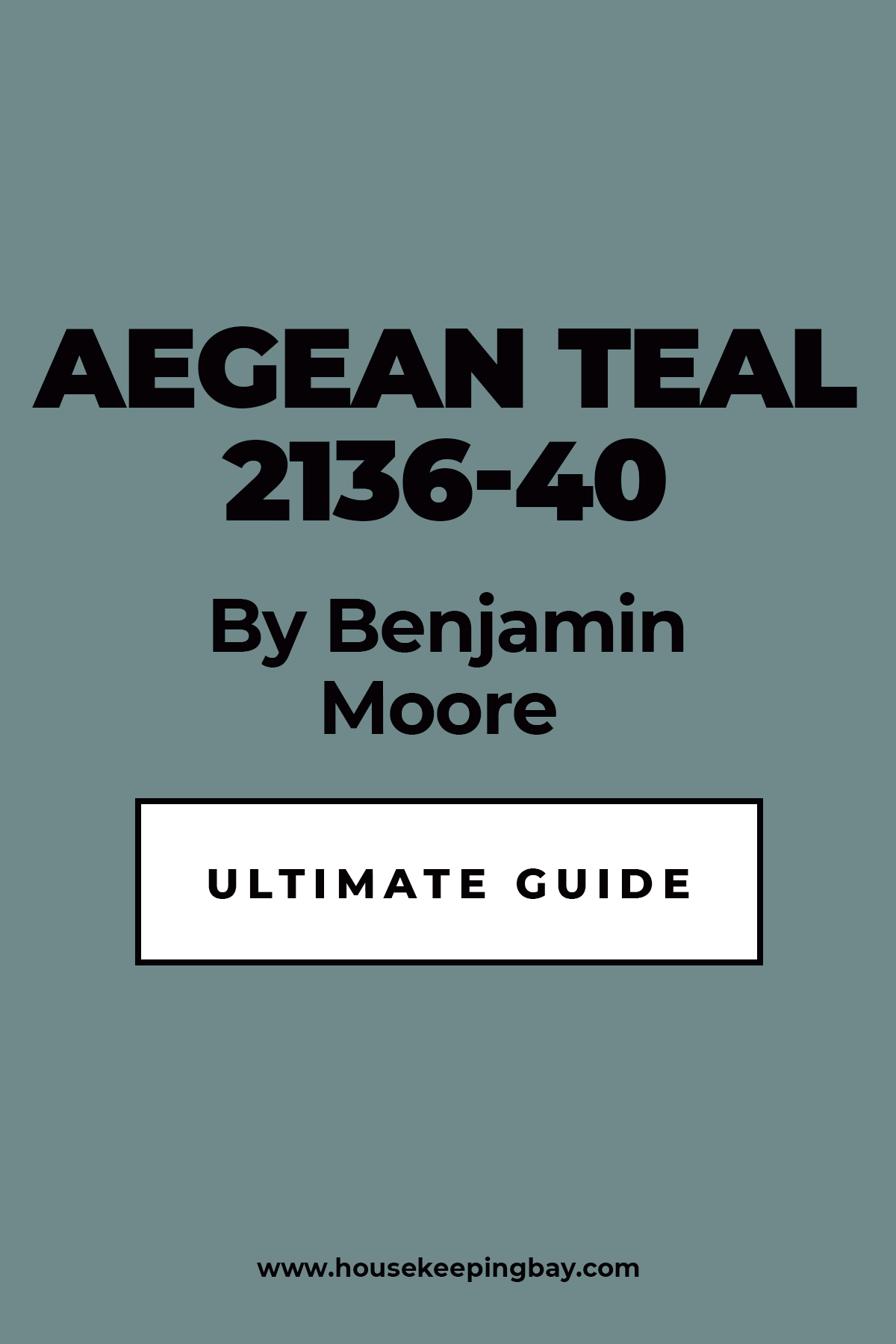 With all this information, you will now be able to pick the most optimal color combinations for Aegean Teal wall paint, and you can now see how beautifully versatile this color is!
Frequently Asked Questions
⭐ Is Aegean Teal a color by Sherwin Williams?
No, this paint color is by the Benjamin Moore brand.
⭐ Can Benjamin Moore Aegean Teal be applied on the front door?
⭐ Is Aegean Teal suitable for exterior walls?
Yes, Aegean Teal by Benjamin Moore can be used as an exterior paint.