Light paint colors remain popular among homeowners because of the versatility these colors offer. Usually, if you decide to paint your interior walls white or another versatile light color, you don't have to bother much about its possible match with the rest of the colors in a room. However, even whites have specifics that can make them tricky to use!
Today, we will introduce a wonderful and balanced white called Vanilla Milkshake 2141-70 by Benjamin Moore to you. You will learn what kind of white it is, how it reacts to light, what undertones this color has, and more.
Also, we will tell you in what rooms this paint color may work best of all. Except for the theoretical part, you will also learn what colors it can coordinate with and what colors can be used as trim colors with it.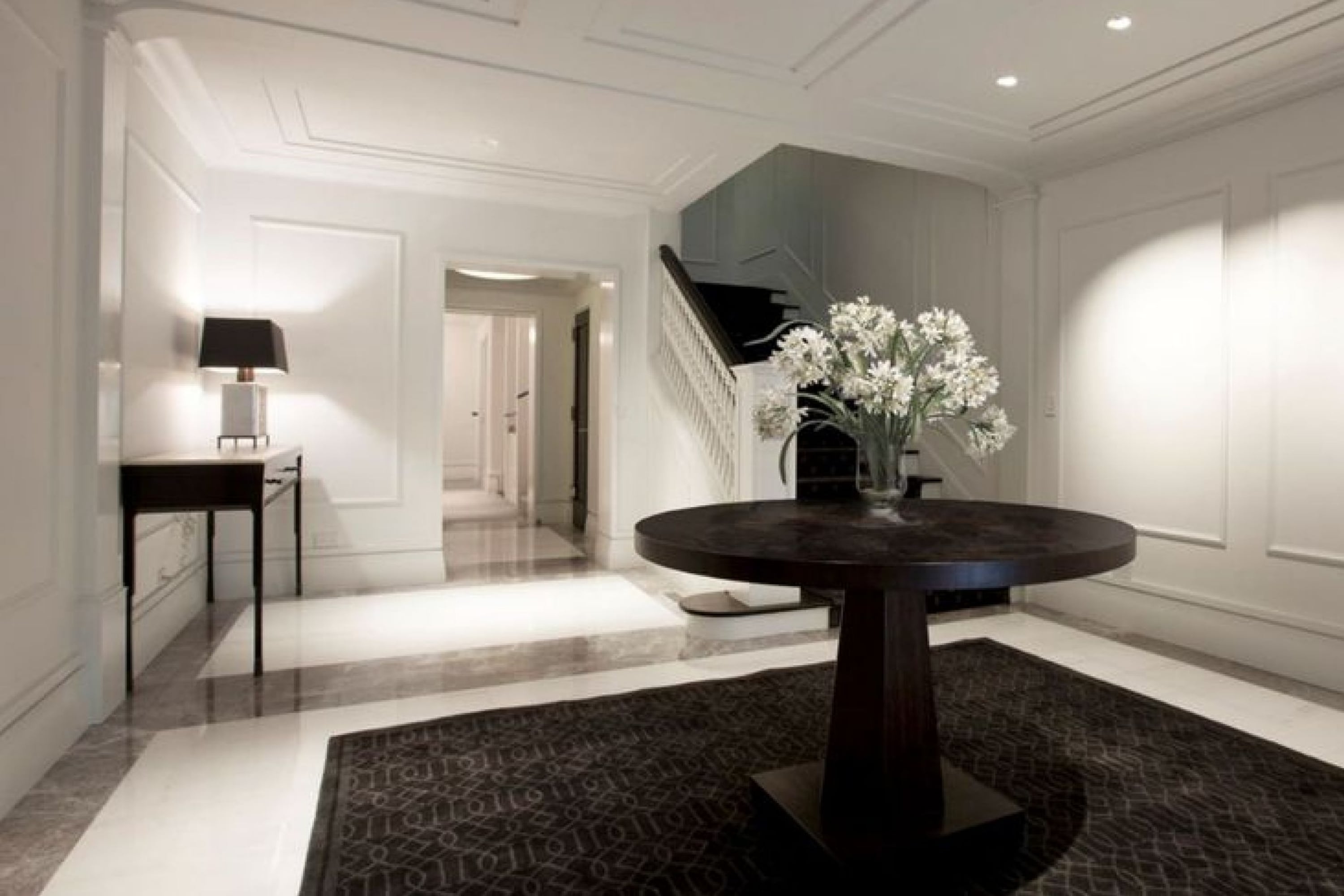 What Kind Of Color Is Vanilla Milkshake 2141-70 by Benjamin Moore?
Vanilla Milkshake 2141-70 by Benjamin Moore belongs to the group of white colors, but it's not just some bold white! This color is considered to be a soft white with muted gray tones. This feature makes the Vanilla Milkshake paint a very versatile shade of white, as Encycolorpedia says..
In fact, this color is often considered neutral which means you can incorporate it into your interior, using the paint on different surfaces and with different colors. In general, if we try to describe an overall vibe this white gives to a space, it would be sophisticated, calming, and balanced.
BM Vanilla Milkshake paint color will add reserved warmth to any room it is used in.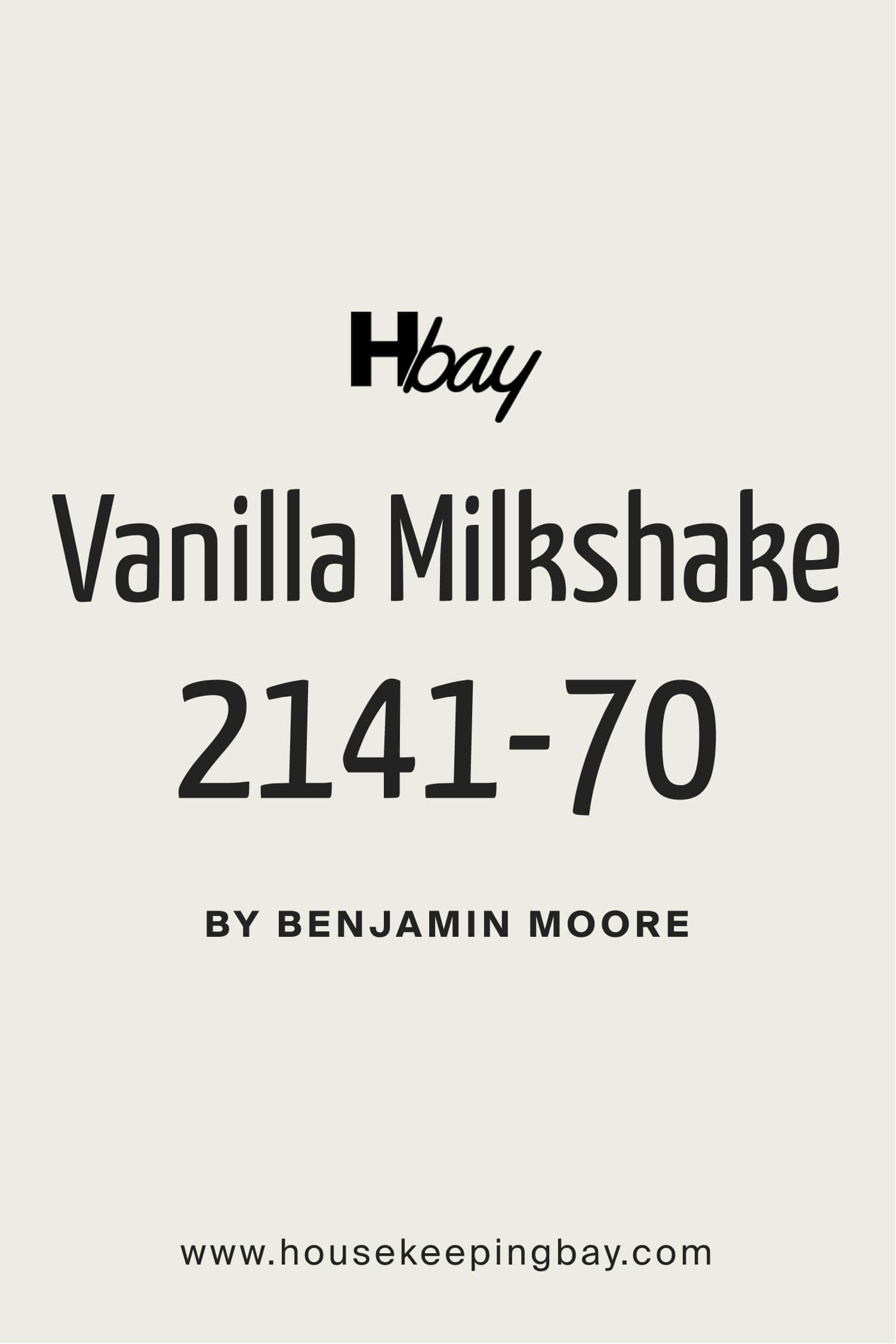 Vanilla Milkshake 2141-70 Undertones
Being aware of the paint's undertones is essential when you are choosing the proper colors for your home. See, undertones play a crucial role in how your entire space will look and how it will feel.
Moreover, it is often rather difficult to figure out precise undertones of color since they are often concealed and only come out in certain types of light or surrounded by certain colors.
Speaking of Benjamin Moore Vanilla Milkshake paint, we would call it a complex neutral white color that has greige undertones with a slight touch of yellow, gray, and green. It may sound like a super complex palette, but in fact, the color reads very well-balanced! It will not burst out with green tones or read yellow on your walls!
However, since the paint has multiple undertones, we recommend you use it carefully. In different types of light, it may read quite distinctly! So you'd better be prepared in advance and sample it before you buy the paint.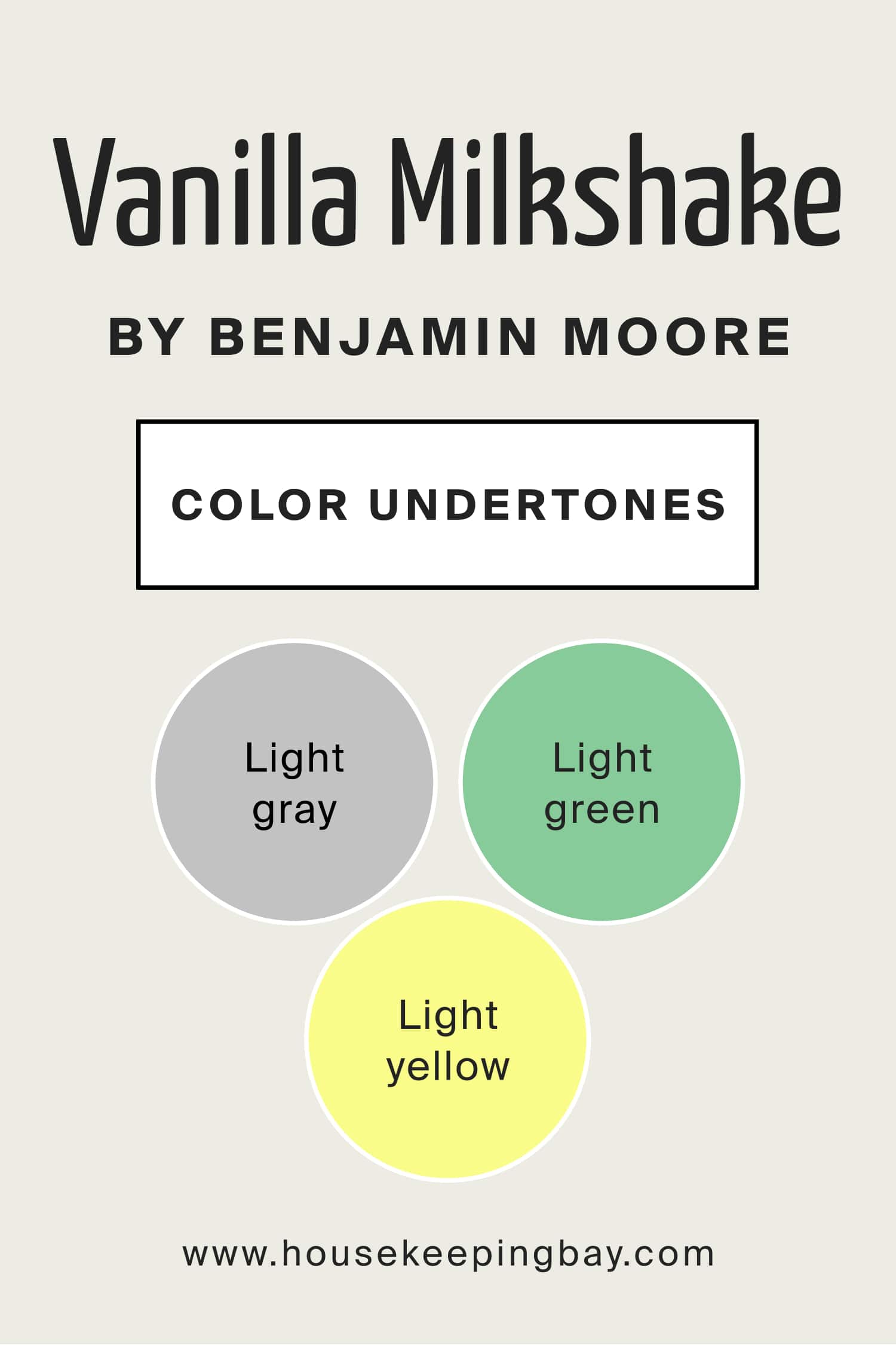 LRV of Vanilla Milkshake 2141-70 by Benjamin Moore
LRV is another important significative of a paint color that you should be aware of before you buy this paint and use it. LRV stands for Light Reflectance Value and shows how much light certain paint color is able to reflect when it is used on the wall or another surface.
The LRV scale ranges from zero (which stands for black) and up to 100 (which is pure white), so as you can guess, the higher the LRV the lighter the color.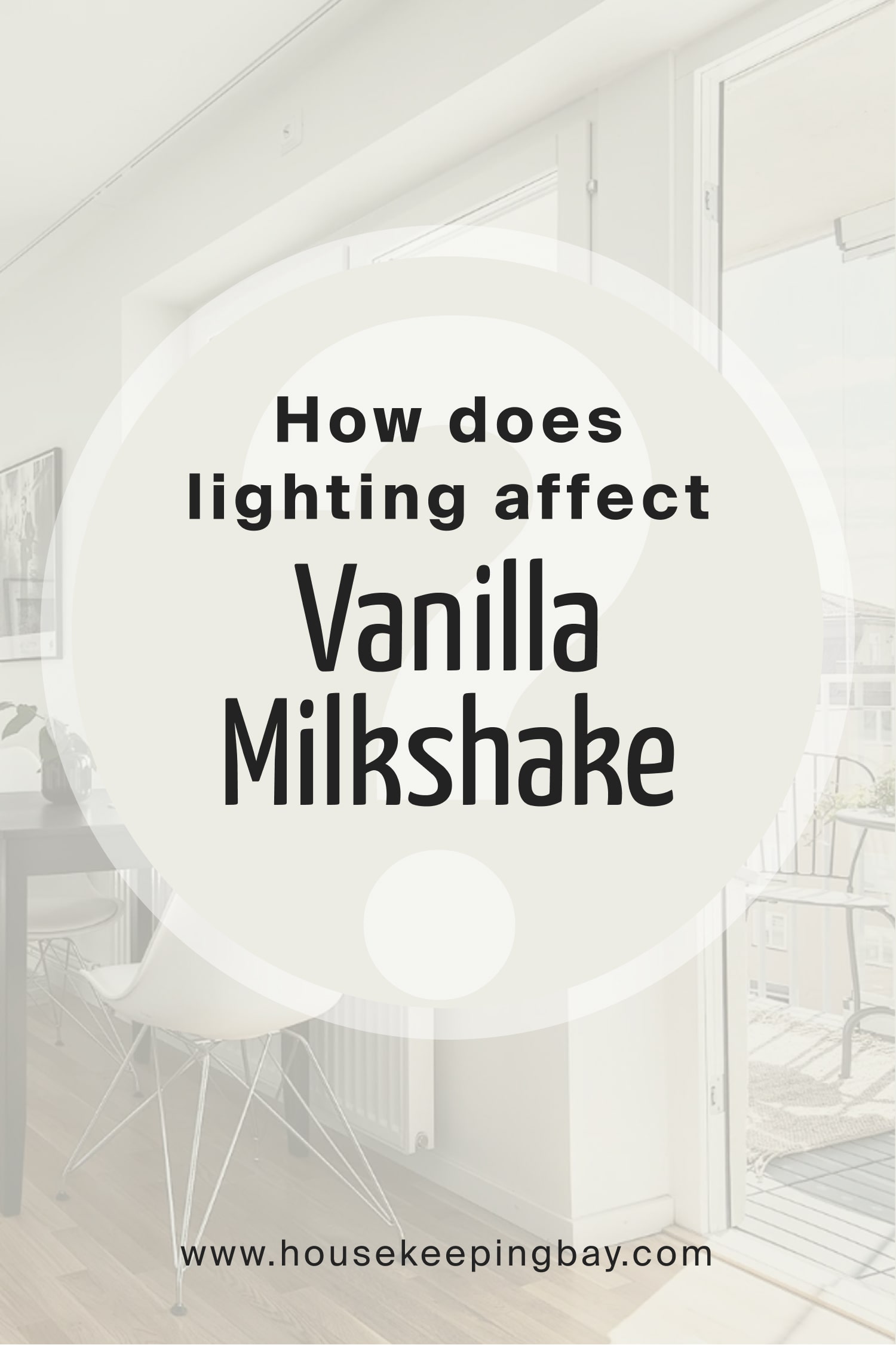 As for the LRV of BM Vanilla Milkshake, it is 82 which means this white is rather light and reflects plenty of light. This is why you can use this color without any doubt if you need to make your room more spacious or add airiness to it.
For small spaces, this color can also be a nice choice. Besides, you can use this color in both south-facing and north-facing rooms, it will work great in both types of light.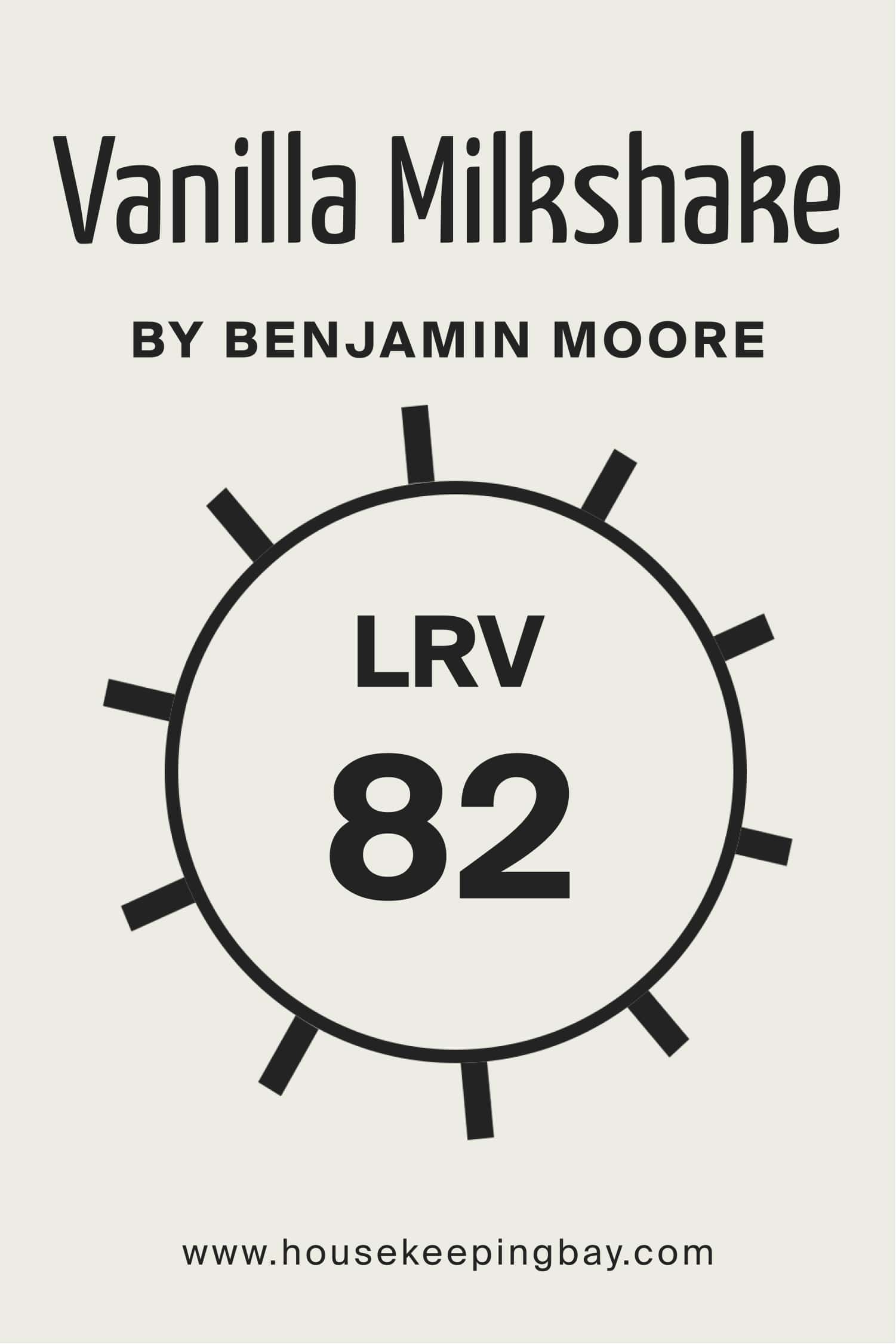 What is LRV? Read It Before You Choose Your Ideal Paint Color
Colors That Go With Vanilla Milkshake by Benjamin Moore
It is obvious that not all of us have a sharp eye for colors, their undertones, and color shades since we are not professional artists and painters. However, sometimes it's good to know what colors you can use together, and what colors should not be put in pairs.
Although white is considered a universal color that can match almost any other color on the color wheel, there are certain colors that it will go with better. Since Vanilla Milkshake 2141-70 by Benjamin Moore is white and also very versatile, it will go really well with such colors as:
black
gray
off-white
cream
Of course, it is still necessary to sample it before you use the paint, but you will hardly fail if you use the Vanilla Milkshake paint color with one of the colors listed above! With any of them, this balanced and neutral white will create an elegant yet pronounced contrast that will be pleasing to your eyes.
Speaking of the particular paint colors that can be used with the BM Vanilla Milkshake paint, you may want to consider the following options:
BM White Heron OC-57
BM Gray Timber Wolf 2126-50
BM Imperial Gray 1571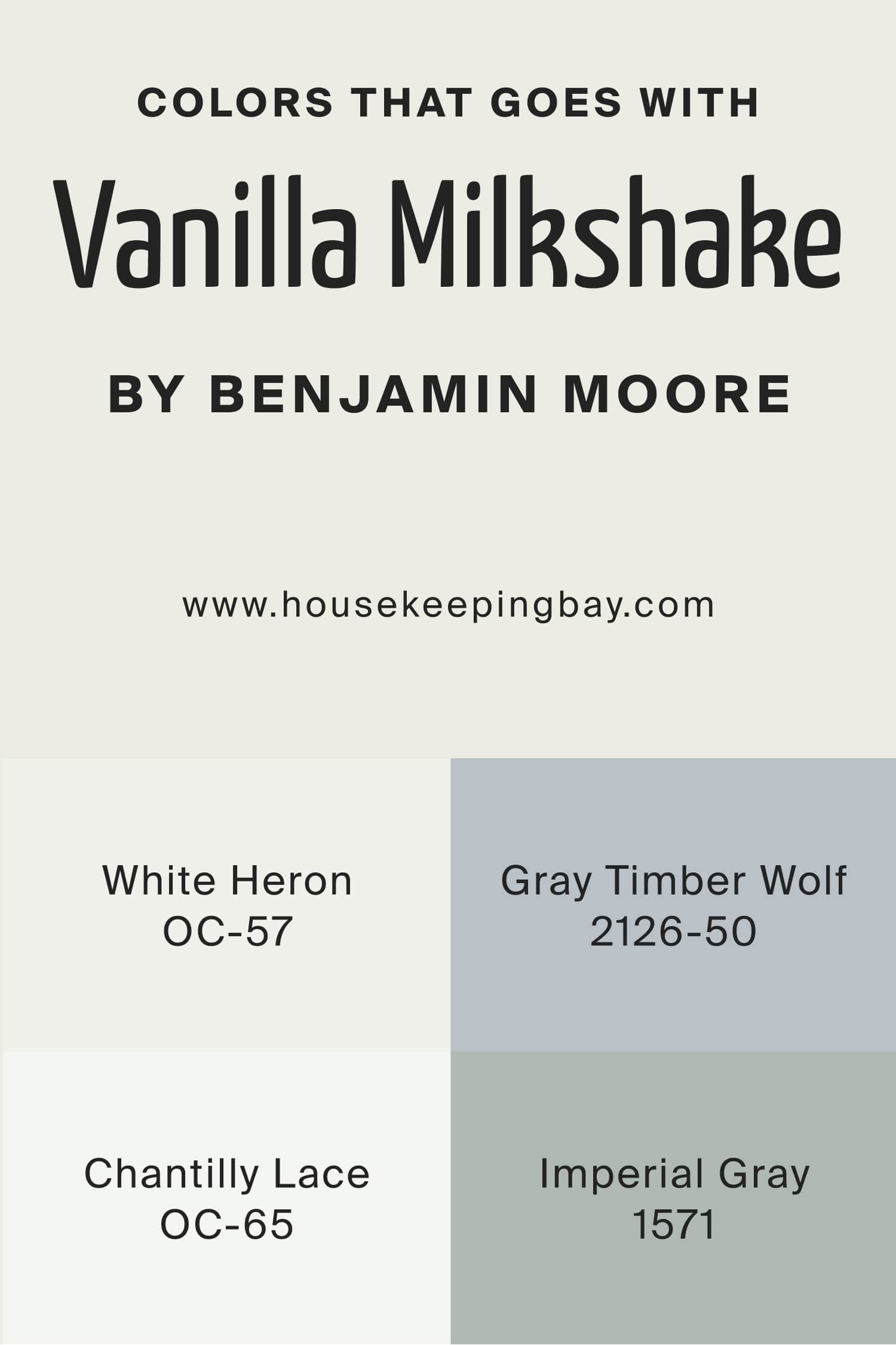 What Is the Best Trim Color For Vanilla Milkshake 2141-70 by Benjamin Moore?
If you don't know what color to use on your trim, use white, this is the rule of thumb. But what if the wall color is also white? In this case, it depends on the color you have. Some whites can use other shades of white to paint the trim.
For example, this will work for BM Vanilla Milkshake. For this color, use the following shades of white on your trim:
BM Decorator's White
BM Cloud White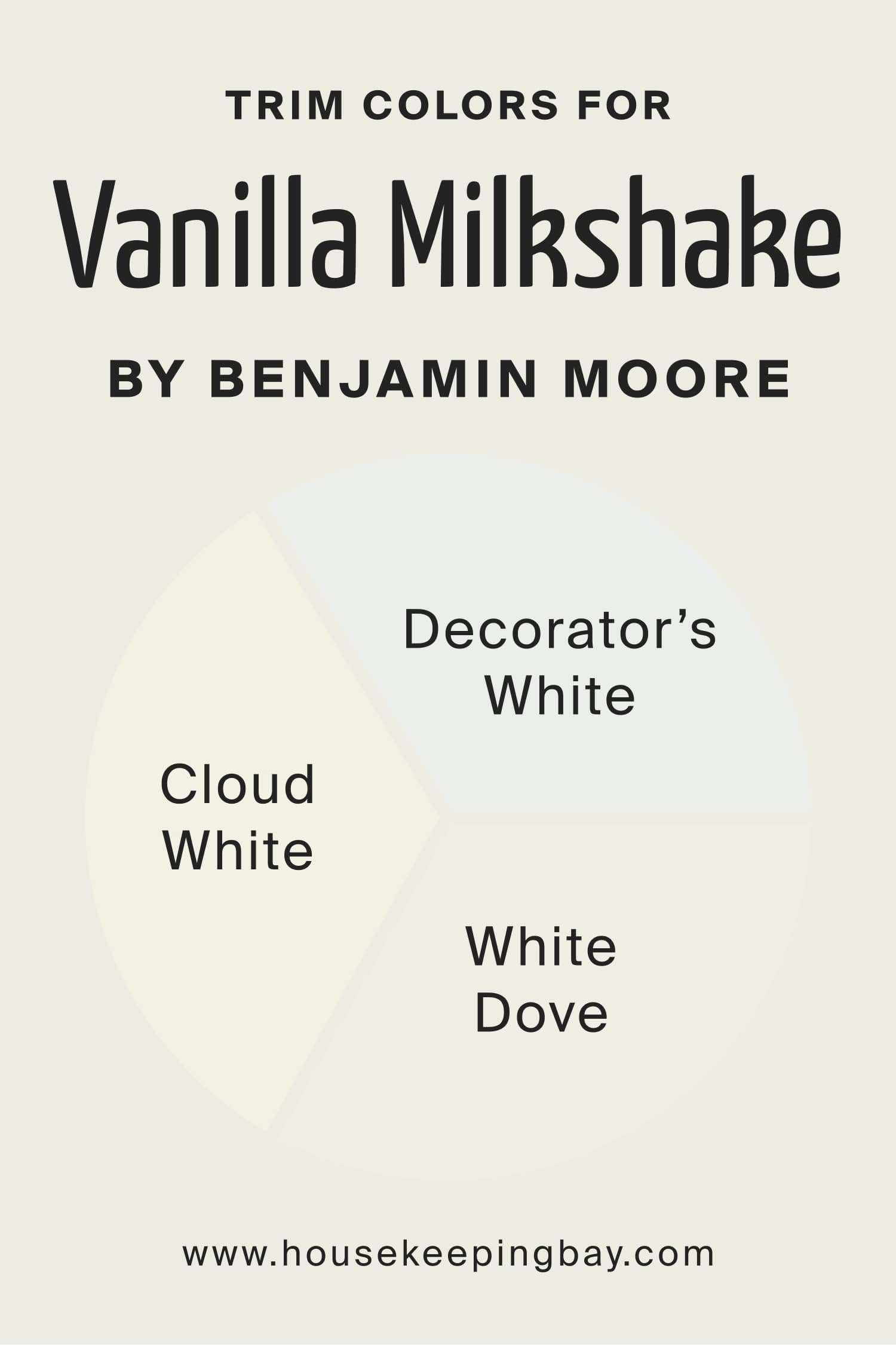 Coordinating Colors For Vanilla Milkshake 2141-70 by Benjamin Moore
When you know what coordinating colors can be used with the wall color in your home, you can select a much better and more balanced color palette for the space. However, depending on the wall color, it may be complicated for you to figure out what colors to use to coordinate with it.
If you have BM Vanilla Milkshake paint color on your walls, you might want to consider the following color options as coordinating ones:
BM Black Beauty
BM Pink Swirl
BM Celtic Green
BM Poolside Blue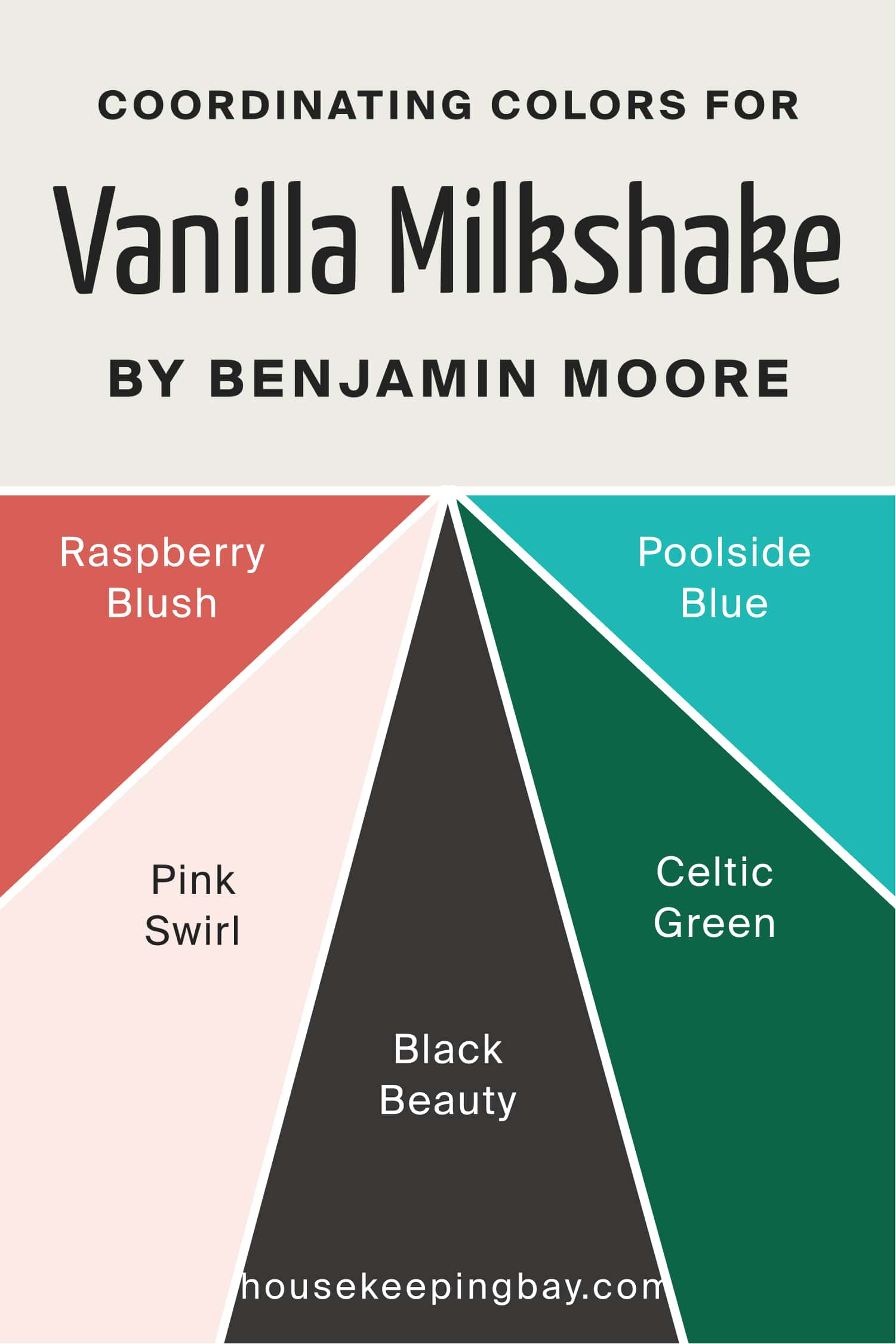 Paint Colors Similar to the Vanilla Milkshake Color by Benjamin Moore
You may ask why anyone would need to be aware of similar paint colors if the wall color is already chosen. Well, there can be different reasons. For example, you might change your mind and decide you need a lighter or a darker variant of the initial color. Or you may realize that the color you pick does not match the rest of the colors in a space well enough.
Either way, knowing what similar colors can be used to replace the color you initially chose will help you not postpone your painting process. So if you are looking for color alternatives to use instead of Vanilla Milkshake 2141-70 by Benjamin Moore, opt for these ones: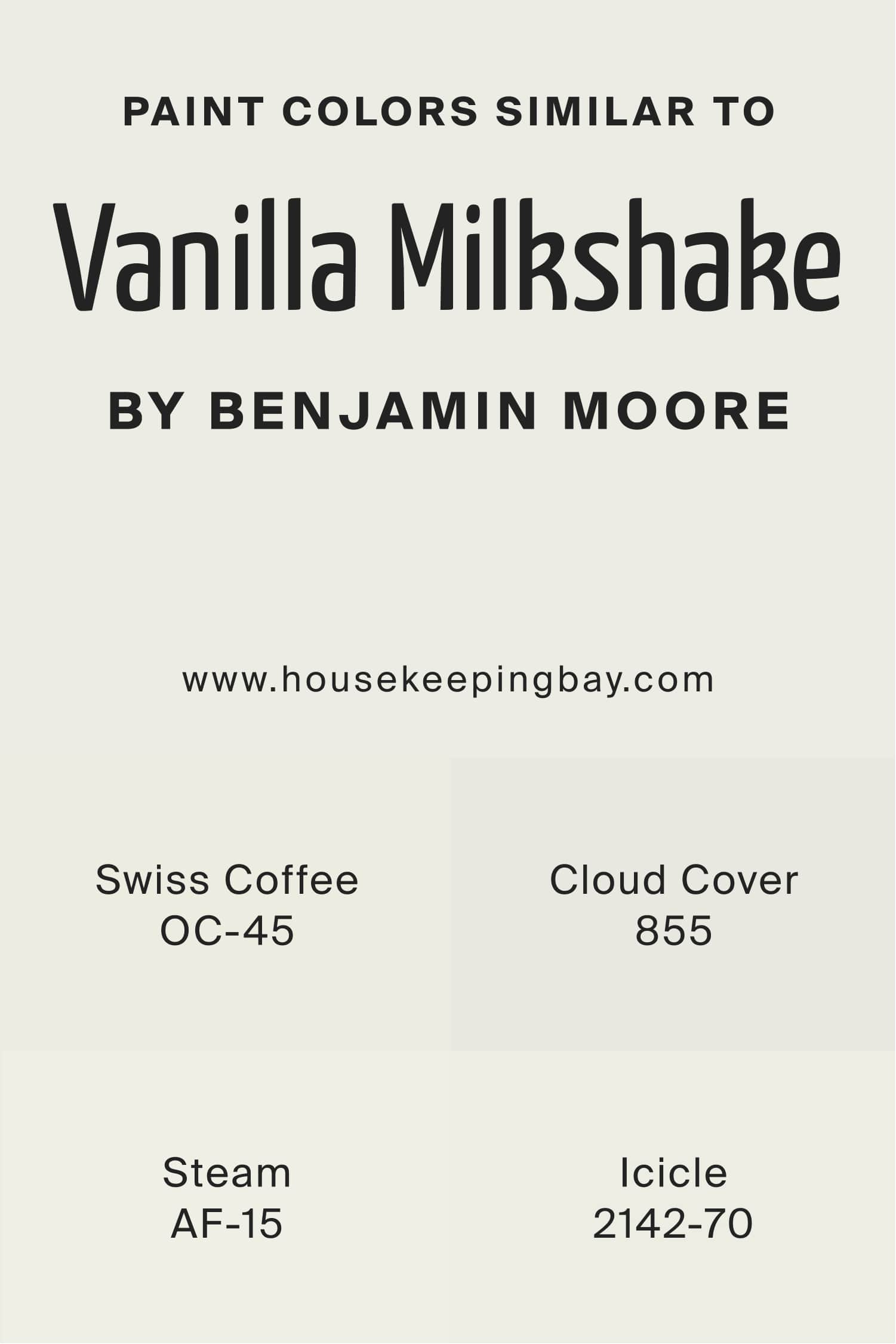 Where Vanilla Milkshake 2141-70 Can Be Used In Your Home?
Although Vanilla Milkshake 2141-70 by Benjamin Moore has multiple undertones and the color itself is rather complex and we would even say tricky a bit, it is surprisingly versatile! You can use it almost anywhere in your home, from your kitchen to your bedrooms, from cabinets to bathroom walls.
Vanilla Milkshake 2141-70 in the Living Room
This white is an excellent color choice for a living room if you want the space to look airy and spacious. And since the Vanilla Milkshake paint color will work well in both north-facing and south-facing rooms, you should not worry about the lighting you have in your living room.
Just note that this white may read slightly differently, sometimes leaning toward cooler tones and sometimes reading a bit warmer, but with no pronounced contrast!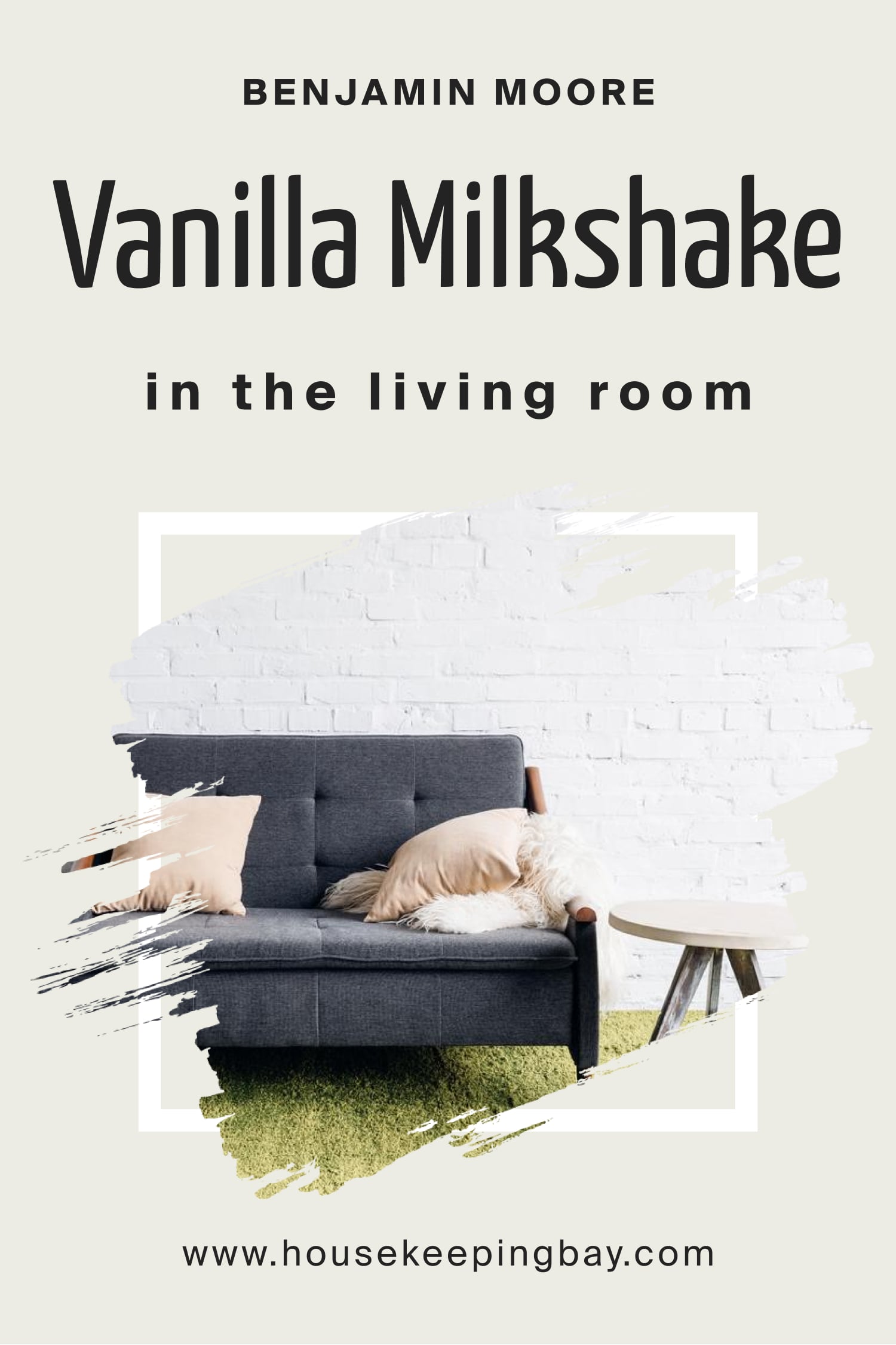 Vanilla Milkshake 2141-70 in a Bedroom
Your bedroom is another ideal place to use this warm white! Vanilla Milkshake 2141-70 by Benjamin Moore will add to the room the calming and tranquil vibe that is so appreciated in bedrooms!
Besides, this color pairs nicely with wood and natural fabrics, as well as with other lighter colors, so you will have no problem with creating a cozy sleeping space.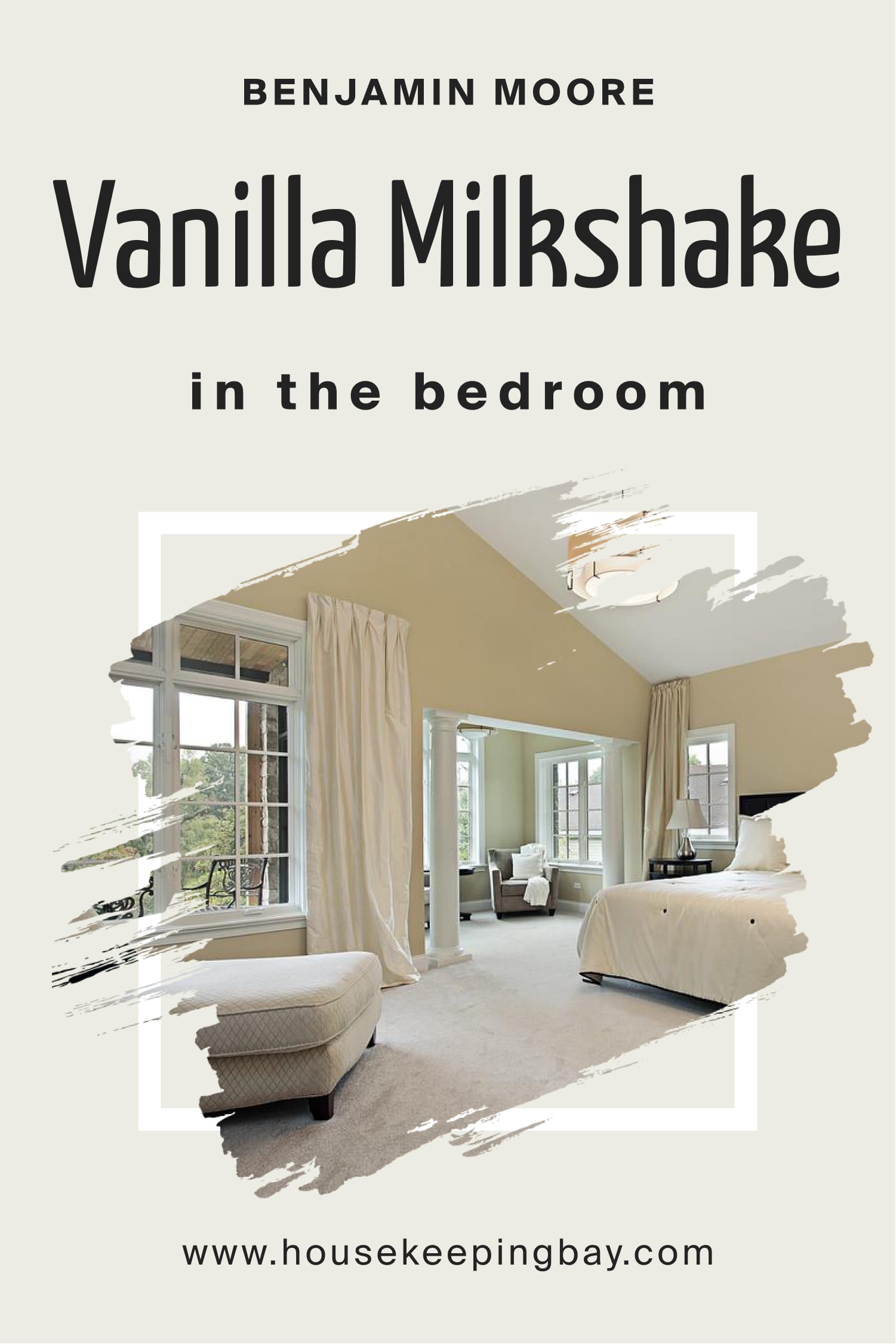 Vanilla Milkshake 2141-70 in the Bathroom
Bathrooms are typically painted white or other light colors, often rather cool-toned. But if you'd like to add a spark of warmth to your bathroom instead, opt for Vanilla Milkshake 2141-70 by Benjamin Moore! This white will not read yellow on your bathroom walls, but it will make the entire space read a bit warmer and cozier.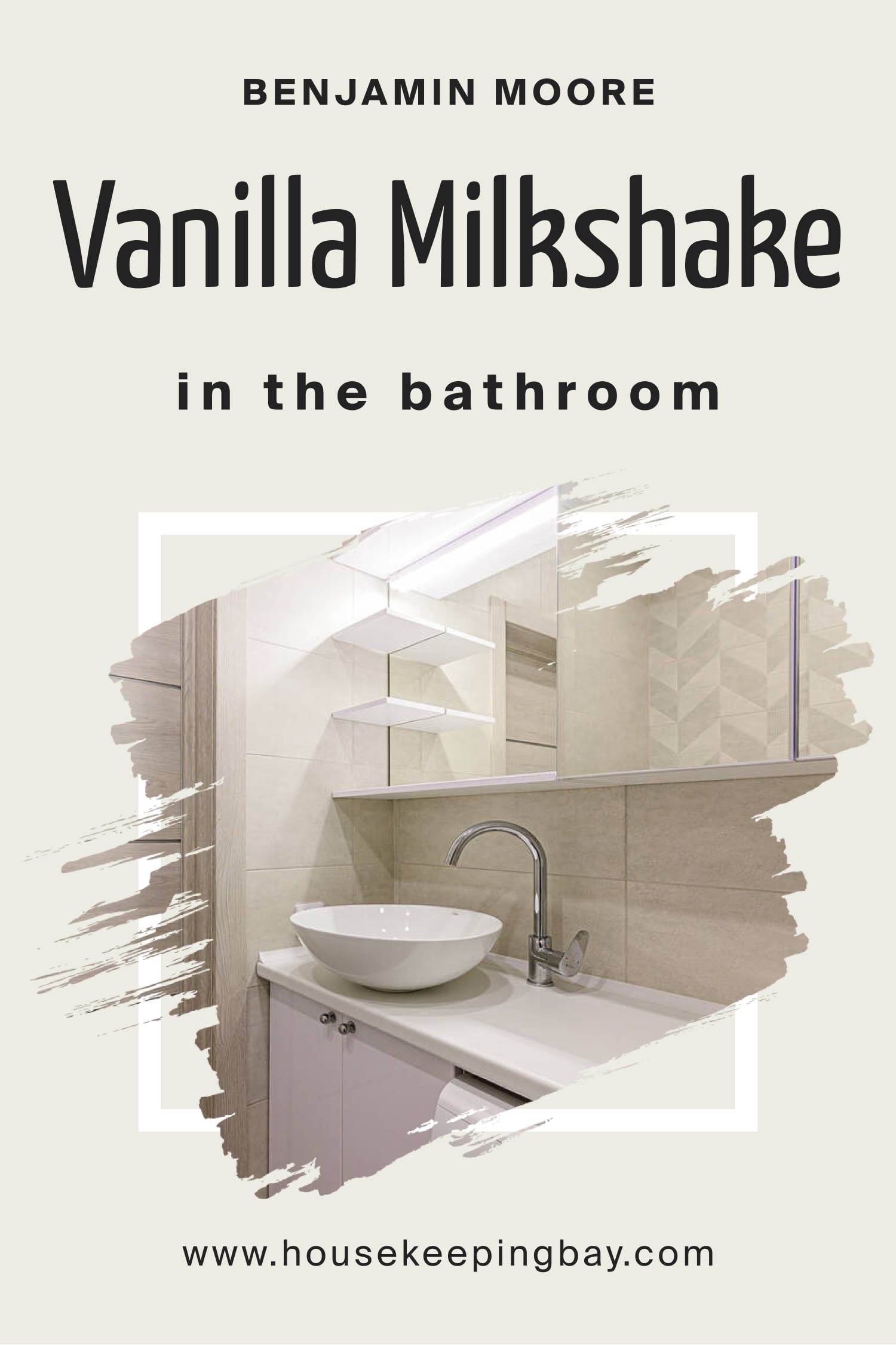 Vanilla Milkshake 2141-70 in the Kitchen
If you want to use Vanilla Milkshake by Benjamin Moore in your kitchen, you have plenty of options where this white can work for you! You may paint your walls this color, or use it only on your kitchen cabinets.
You can paint your backsplash white and paint the walls another color. You decide! But since this color will incorporate into a kitchen interior really well, feel free to experiment with it as you wish!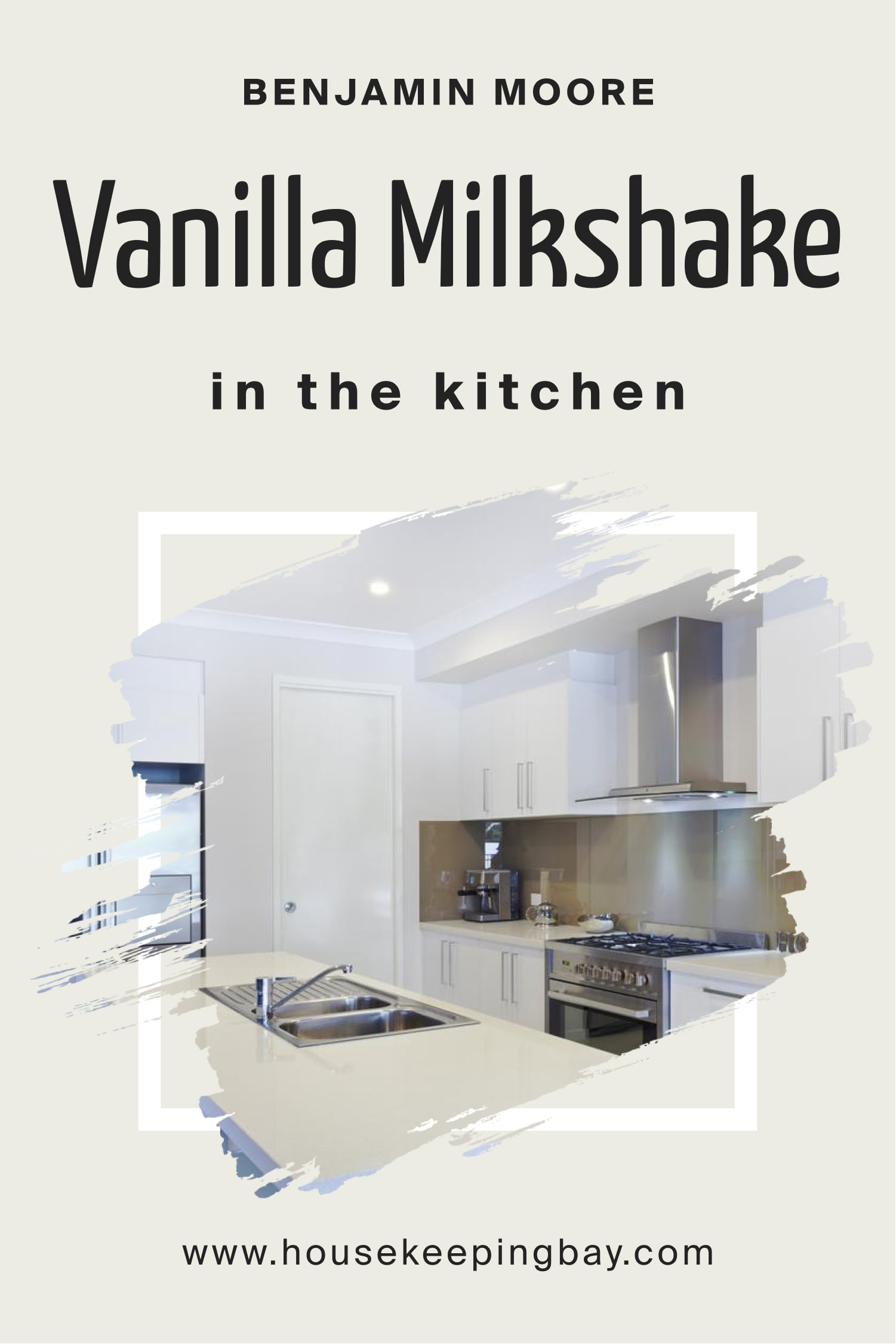 Vanilla Milkshake 2141-70  for the Exterior Use
Not all paints are suitable for exterior use, and you should figure out in advance whether the color you are going to buy is suitable for this kind of paint job. However, if you pick BM Vanilla Milkshake, use it on your exterior walls with no hesitation!
The only thing you should keep in mind is the undertone this white has. In warmer daylight, the color will read slightly warmer whilst cool lighting will drag its cold undertones out instead, making the white read somewhat grayish-green.
Well, now you know all the basics about the paint color called Vanilla Milkshake by the Benjamin Moore brand. With all this information in mind, you will be able to find the optimal space in your home for this paint, as well as use it smartly.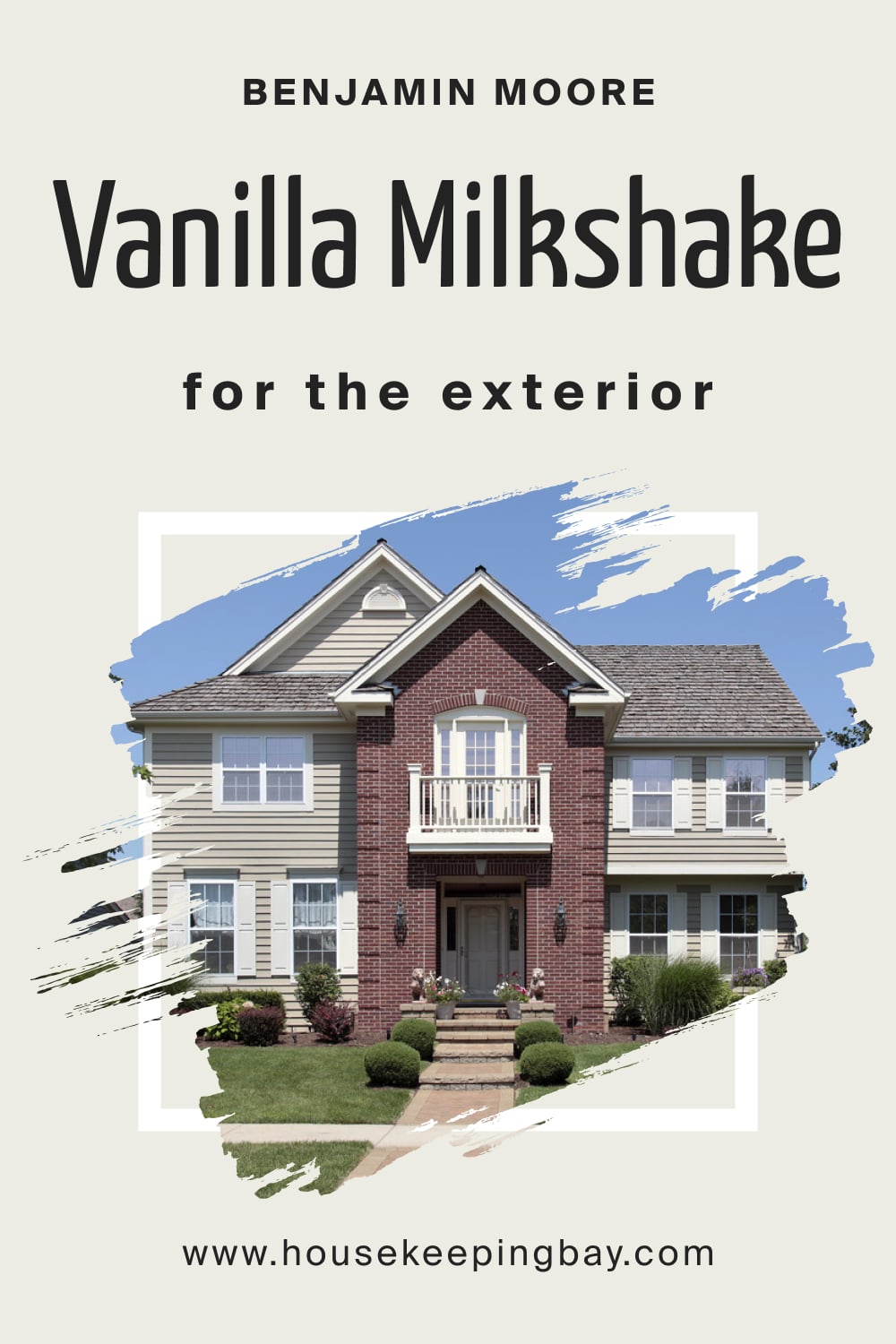 Comparing Vanilla Milkshake 2141-70 by Benjamin Moore With Other Colors
BM Vanilla Milkshake vs BM White Dove
These colors are so alike that you can use one instead of another. Both are warm-toned whites with a slight note of greige in them. Besides, they have very similar LRVs which means that both colors reflect more or less the same amount of light.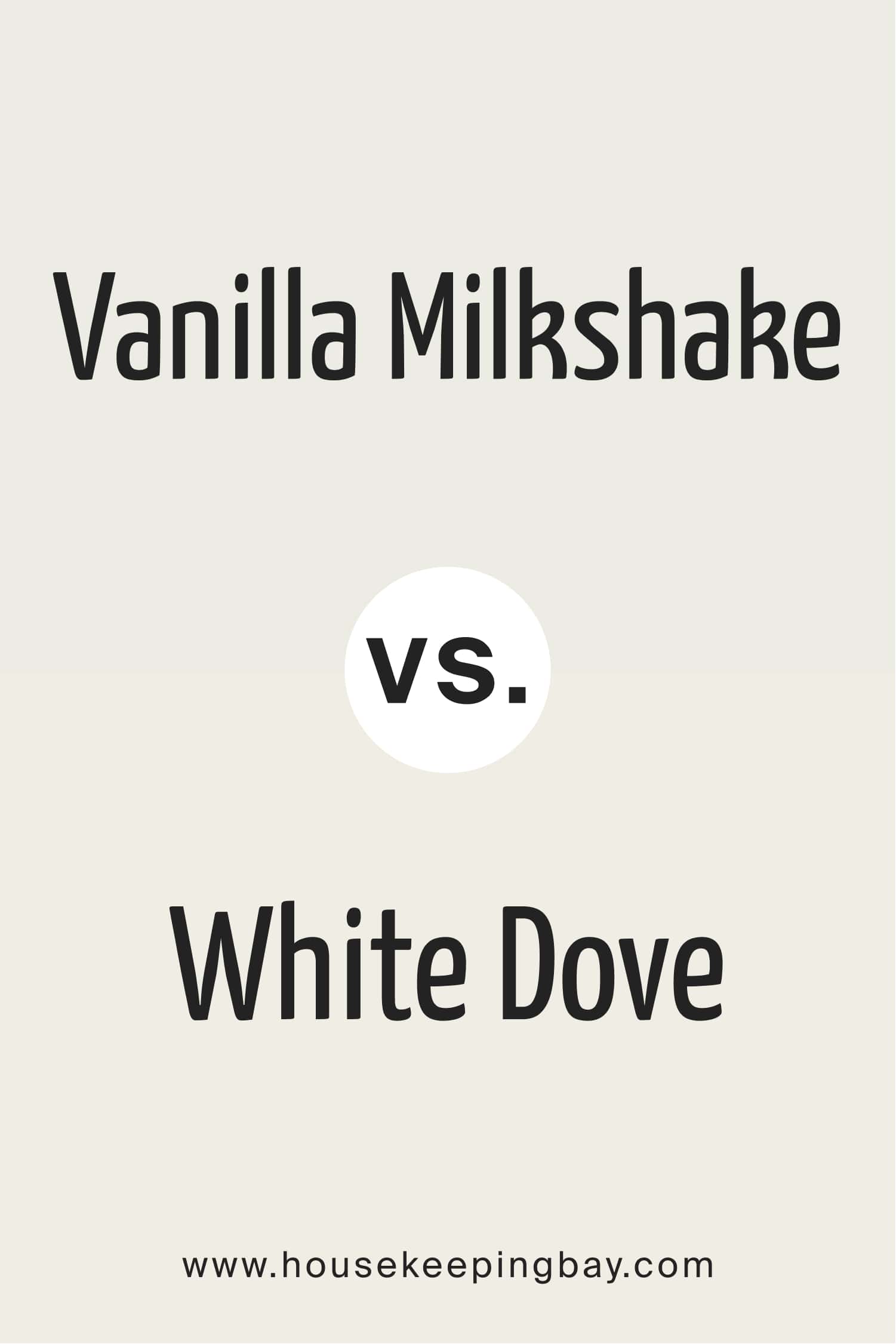 Vanilla Milkshake vs White Heron
These whites are also rather similar since they have similar undertones. BM White Heron color has yellow and gray undertones and BM Vanilla Milkshake has gray, green, and yellow undertones with a hint of beige.
The only difference you can find is that the White Heron color is a little bit cooler than its counterpart, but that's because BM Vanilla Milkshake has a greige tone as well.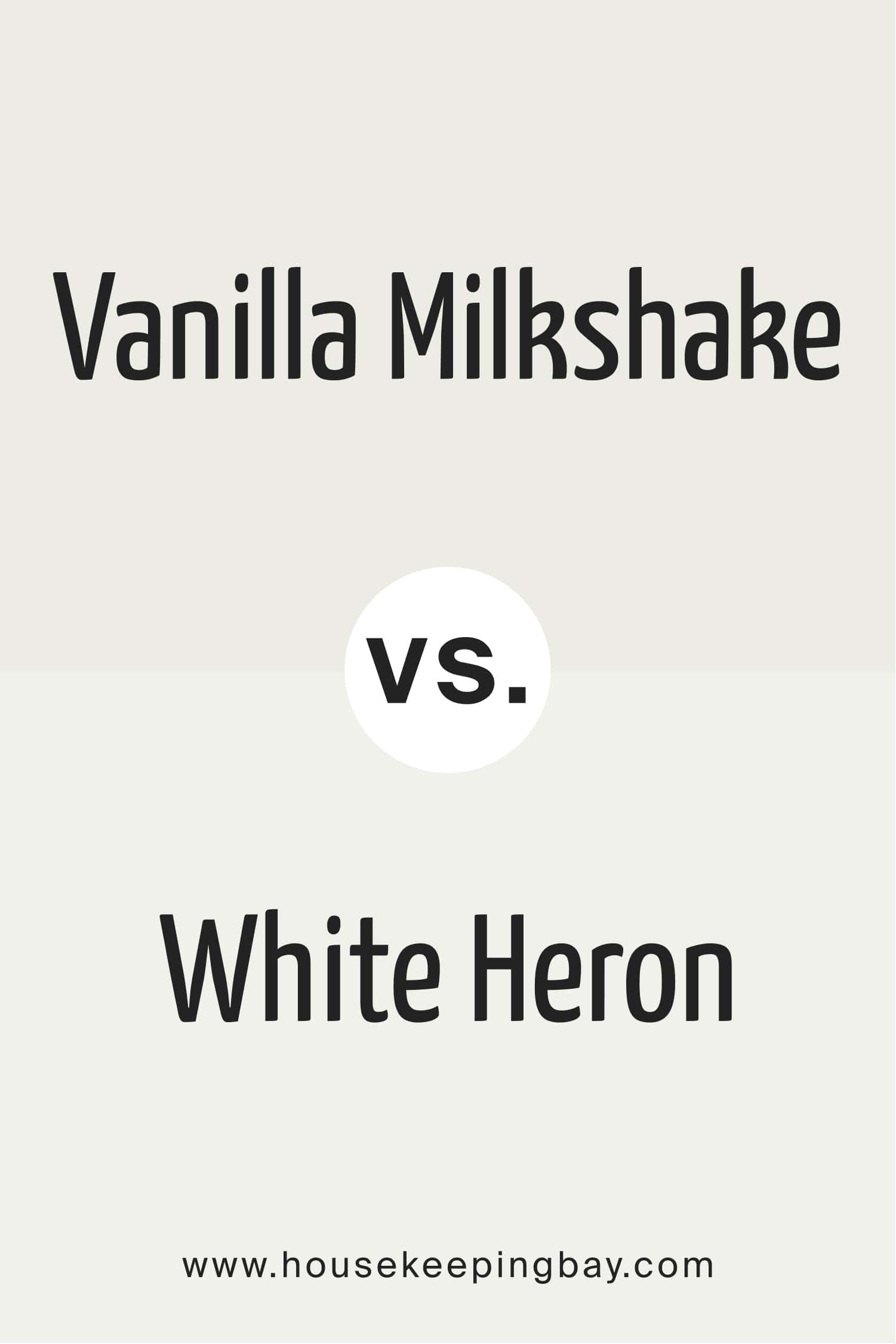 Vanilla Milkshake vs Chantilly Lace
The specific feature of BM Chantilly Lace is that this white has very little undertone which makes it work like true white. Compared to BM Vanilla Milkshake, the Chantilly Lace paint color read whiter and clearer with a slightly cooler tone. Its counterpart, on the contrary, shows its warm greige side rather noticeably.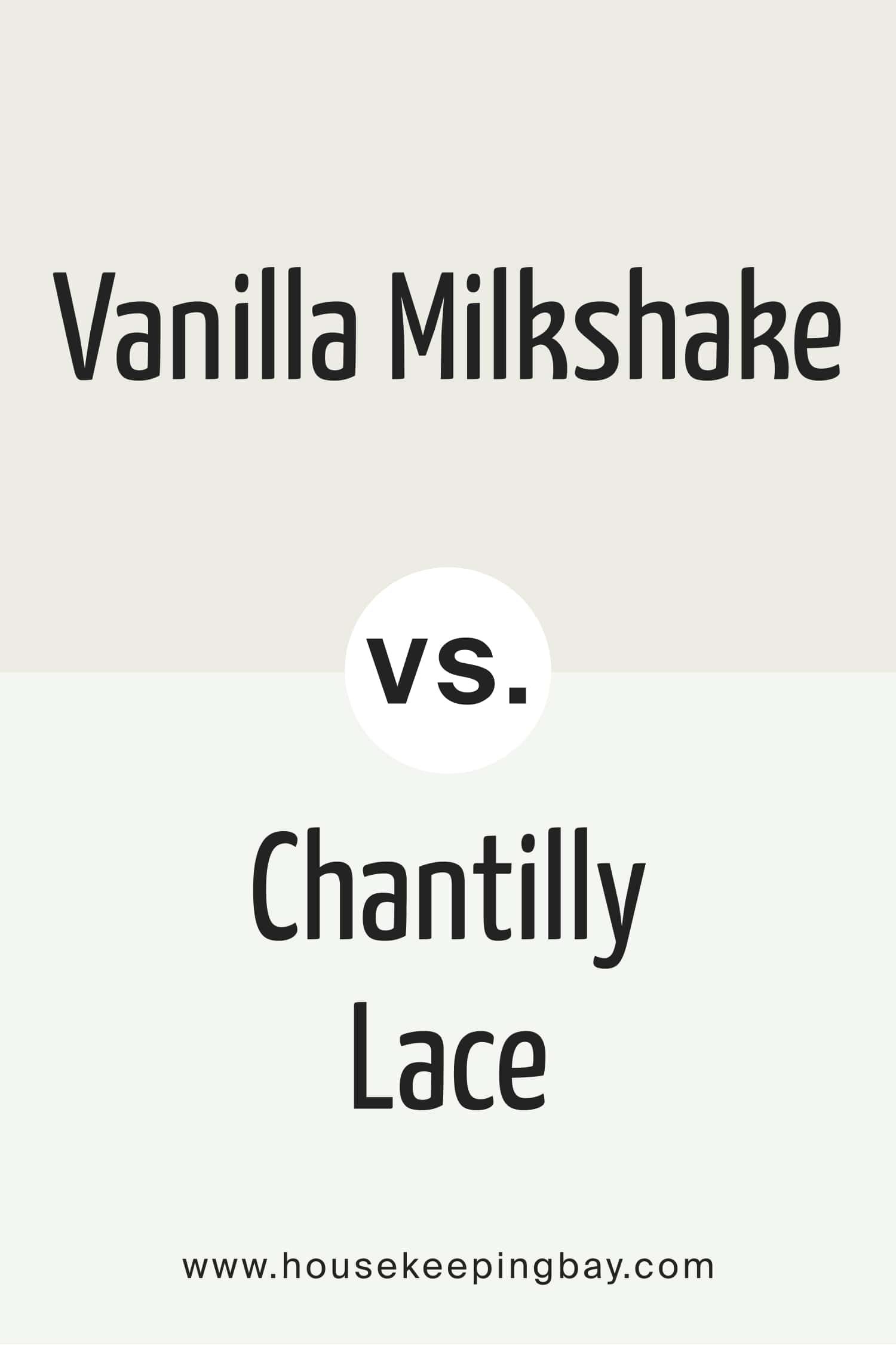 BM Vanilla Milkshake vs BM Titanium
These two are different enough because the Titanium paint color is a pale gray with blue-green undertones, whilst BM Vanilla Milkshake is white. This difference in undertones can be clearly seen because BM Titanium reads grayer than its counterpart.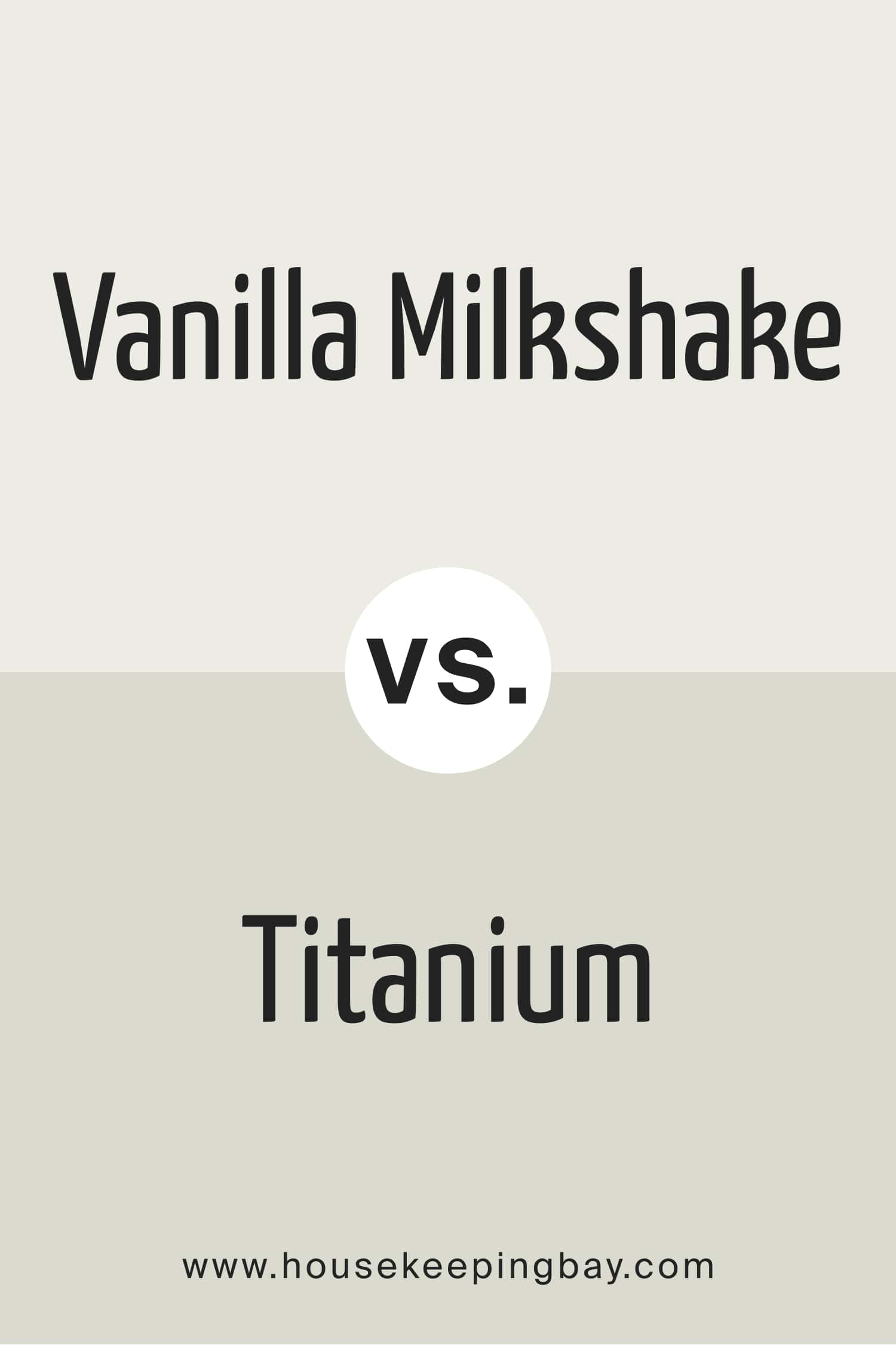 Vanilla Milkshake vs Horizon Gray
The Horizon Gray paint color is literally what it is – gray. It's a medium gray with a sage undertone that adds depth and softness to it. Of course, it reads distinctly compared to BM Vanilla Milkshake! However, the two may create quite a nice combination if used together.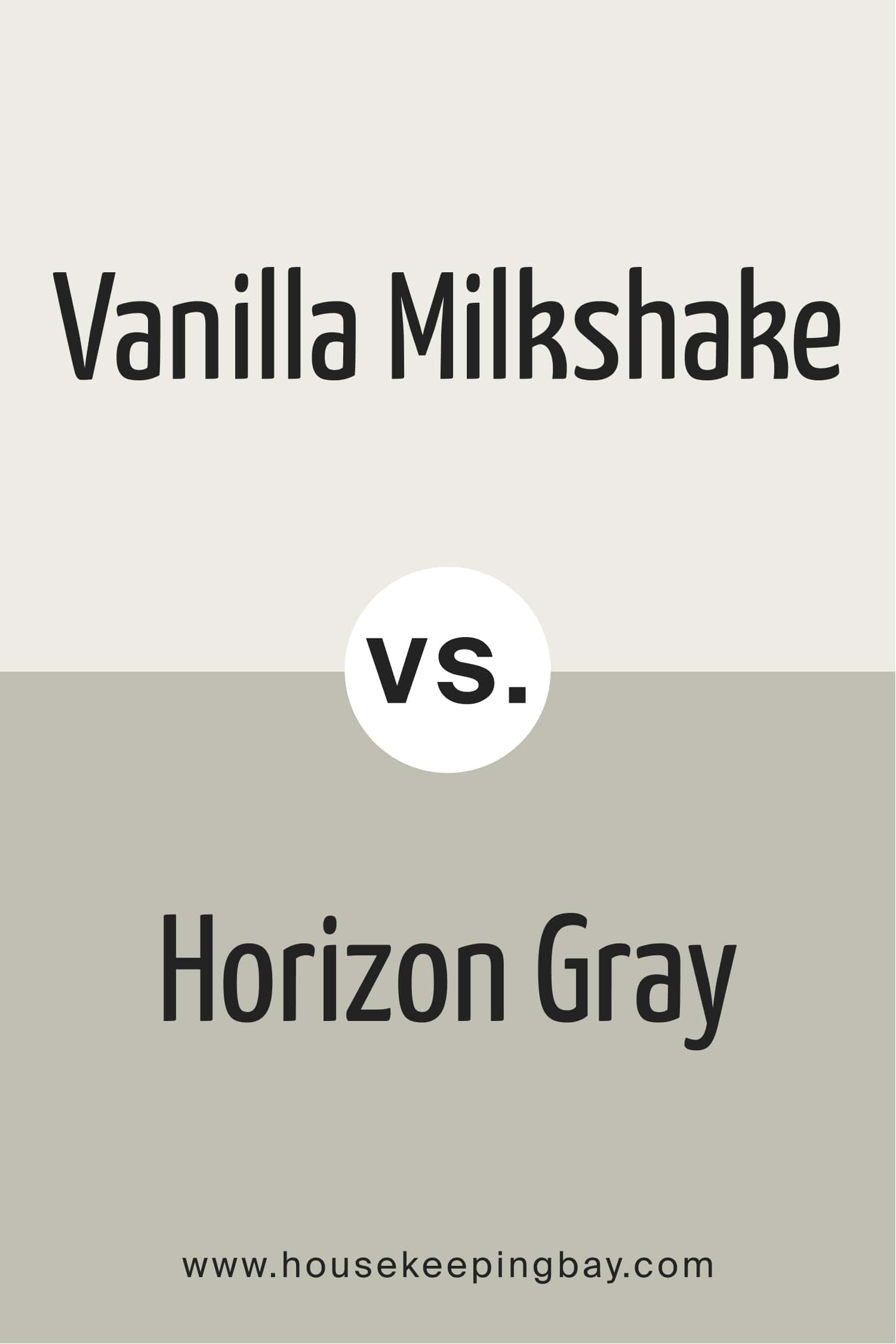 Now you know all that you may find helpful when getting ready for using the Vanilla Milkshake white paint color in your home. You know what kind of white it is, what undertones it has, and how they can affect the way the color reads on the walls.
Also, you know its LRV and similar colors, as well as the colors this white goes well with. Finally, now you can tell in advance how it may work in different rooms in your home.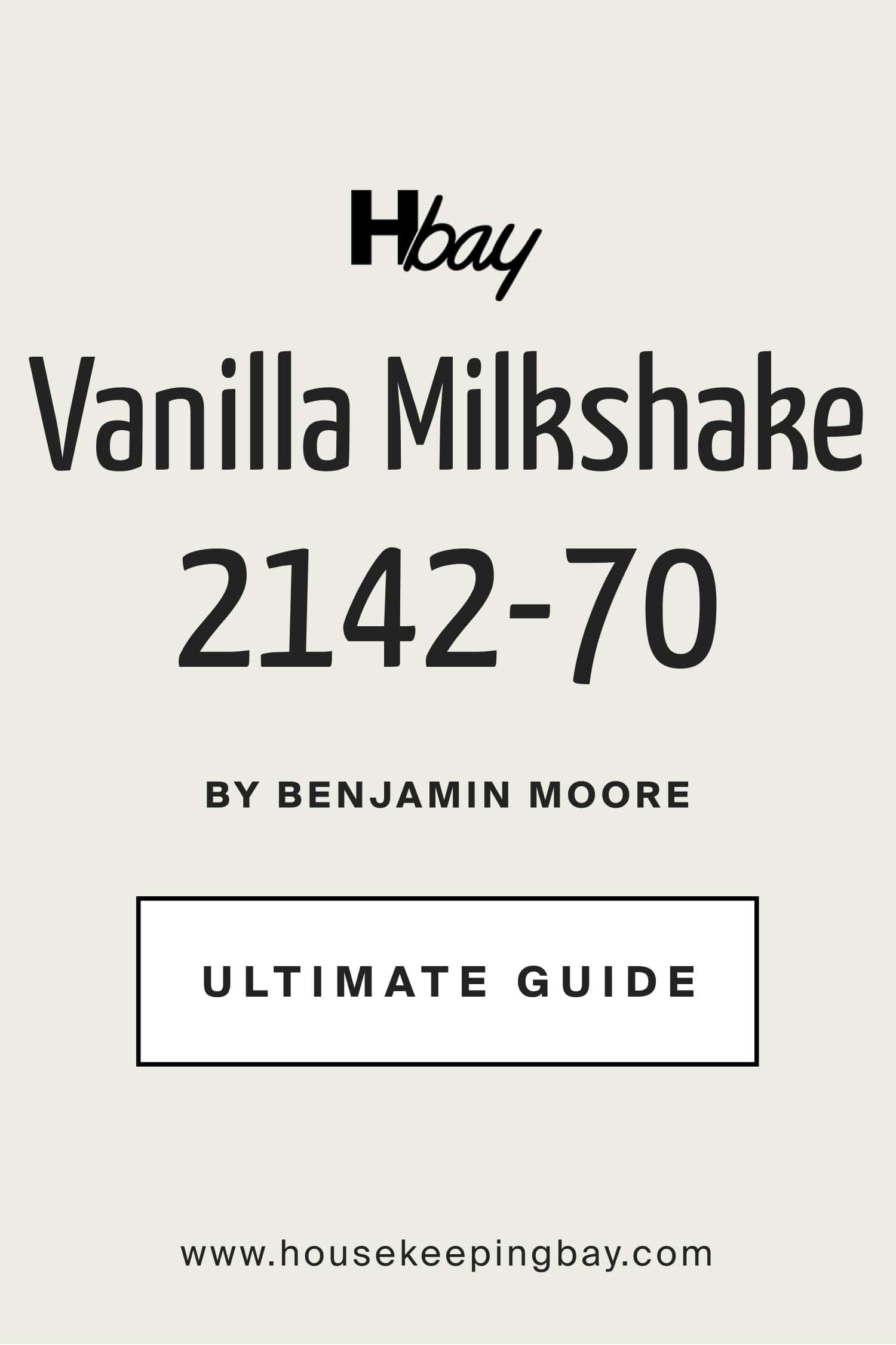 Frequently Asked Questions
⭐Is BM Vanilla Milkshake greige?
No, it's not, although the color does have greige undertones. This is a white paint color.
⭐Can BM Vanilla Milkshake be used with black marble countertops?
Yes, absolutely! Since it's white, it will pair really nicely with black!
⭐Will BM Vanilla Milkshake read well in artificial light?
Yes, this white color can read well in both daylight and artificial light, both cold and warm.