Designing a new apartment or renovating your flat is always an exciting experience.
Especially, when you choose the color palette and decorations to give your house a unique vibe and fresh look.
The contemporary trends in interior design are quite minimalistic.
People tend to use more and more of white and grey shades in their homes. Have you seen those amazing aesthetic photos on Pinterest? Yeah, it bursts with smart designs with greyish colors.
Today, we want to introduce you to one of the most famous brands in the world of repair and house design.
Sherwin Williams paints has achieved a great reputation and disposes of an amazing color selection for both interior and exterior designs.
If you're planning to give your apartment a new look, we recommend you to stay on this review to learn more about the trendy Sherwin Williams Morning fog paint.
Sherwin Williams Morning Fog Paint Color
Imagine that you live in a beautiful, picturesque area in the mountains.
You wake up early in the morning, open your curtains and see a thin, hazy veil outside your house that covers the peaks that you can see through your window.
That's how you can describe the morning fog Sherwin Williams paints.
It's a very subtle grey shade that can become the game changer for your apartment.
Morning Fog by Sherwin Williams isn't very light, or very dark. It's a perfect combination of cold undertone and beautiful hazy finish that creates an absolutely amazing coating for your bedroom, living room, or the whole house.
Sherwin Williams paint belongs to the premium class, so it is very often used for interior work.
The reflective ability of the coating is quite high, almost 92 percent, and the painting characteristics meet all the requirements, as Encycolorpedia says.
If you want to give your apartment minimalist touch, consider painting your room with Sherwin Williams morning fog color.
It will look great in Scandinavian, Loft, or Eco interior designs.
Many consider grey paints to be gloomy, and don't want to use it when decorating a home.
But there is hardly an equally neutral, restrained and versatile tone in the palette that can be easily combined with any other color.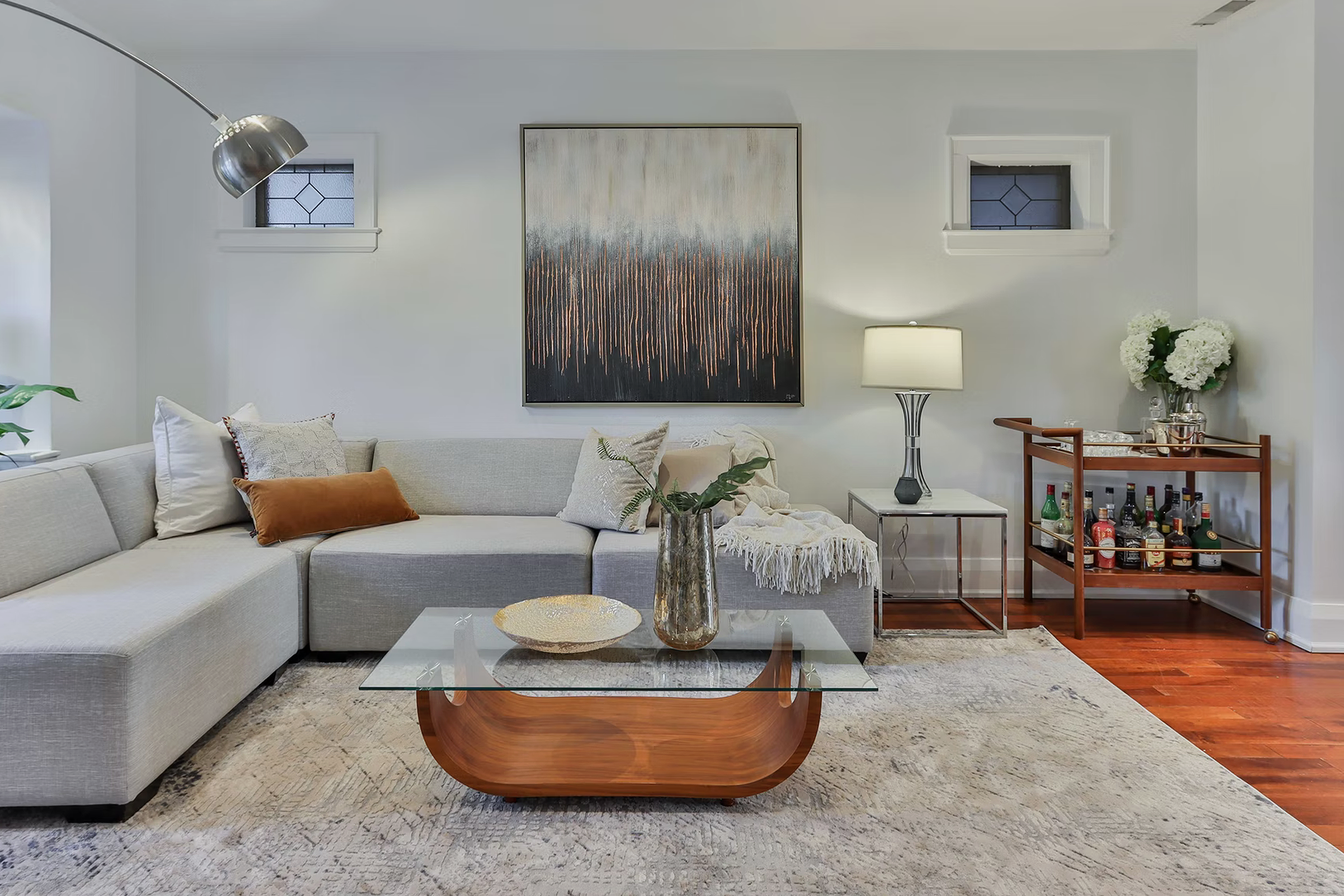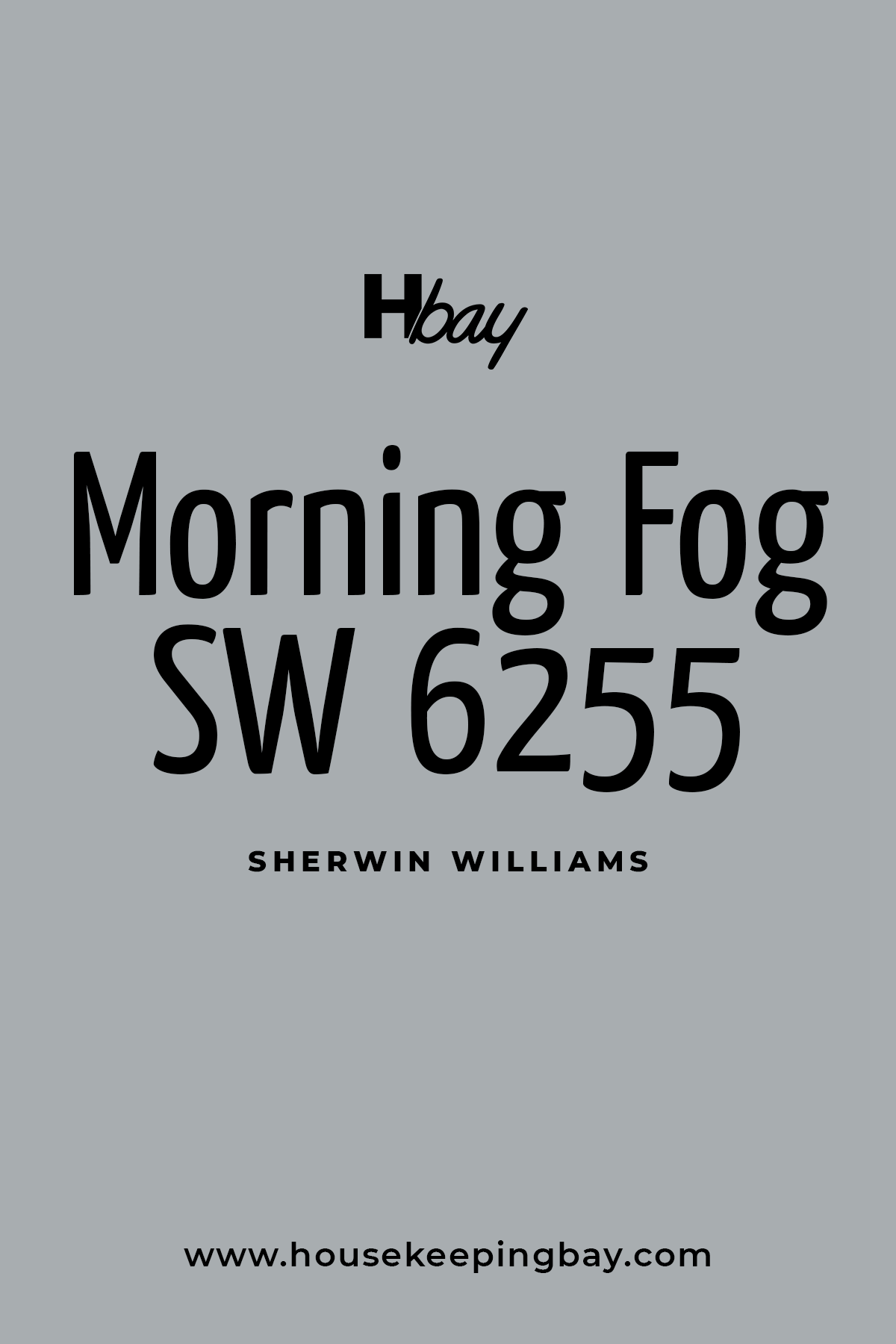 Morning Fog Undertones
Johannes Itten, in his famous book "The Art of Color", which has become a desktop for artists and designers around the world, wrote that "medium grey color corresponds to the state of equilibrium necessary for our vision", that "the eye and brain require medium grey, otherwise, with in its absence, they lose their calm."
That is why grey is so often used in interior design. It brings harmony and comfort to our lives.
Morning Fog by Sherwin Williams can be described as a really calm and versatile color.
It has cold and neutral undertones that are slightly bluish and bright.
Noble and unobtrusive, but at the same time diverse, Sherwin Williams morning fog in the interior is a perfect basis for placing bright accents, emphasizing the beauty and originality of shapes and textures of all interior details.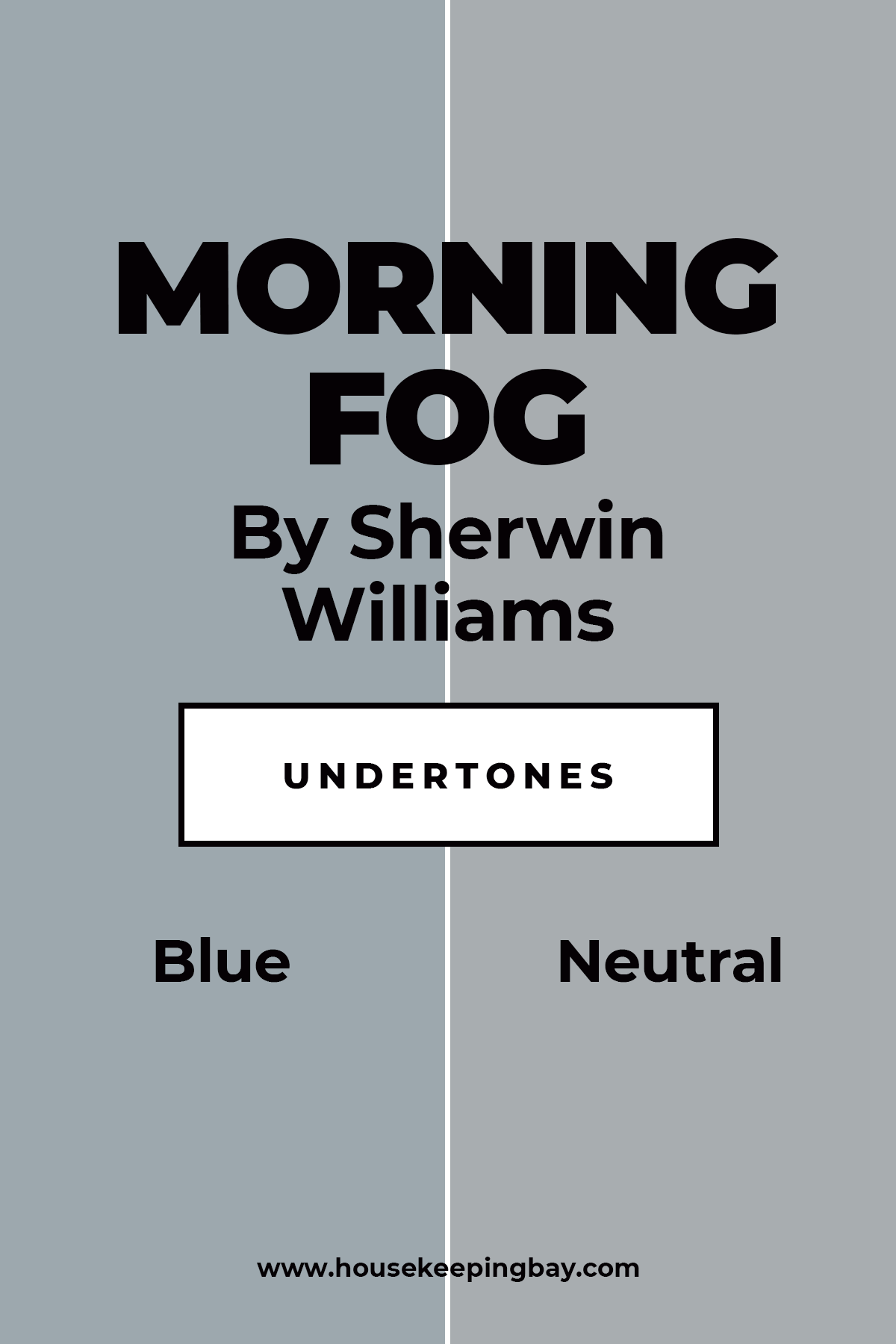 How Does Lighting Affect Morning Fog in the Interior?
Sherwin Williams 6255 morning fog has an LRV of 42, which is a great option for rooms with a lot of natural light.
Since morning fog is a cold type of color, it requires a cold lightning effect to provide the best result.
Natural light plays an important role in how paint colors are perceived in an interior.
Here, the orientation of the window to the cardinal points is the main character.
After all, it is the windows that are the "source" of daylight in the room. And their position cannot be changed.
So, if the windows in a particular room, where you want to paint the walls in morning fog, face north, then you'll have a soft light and warm effect.
In simpler words, it may dull the interior with light colors like Sherwin Williams morning fog.
On the other hand, if light enters the room through a south-facing window, it will be more intense.
Light colors may lose their hue and become almost white.
Rooms on the west side of the house will receive beautiful warm light in the evenings and be in shade in the mornings, while rooms facing the east will be illuminated with bright warm light from morning until noon, and a much calmer bluish light in the evenings.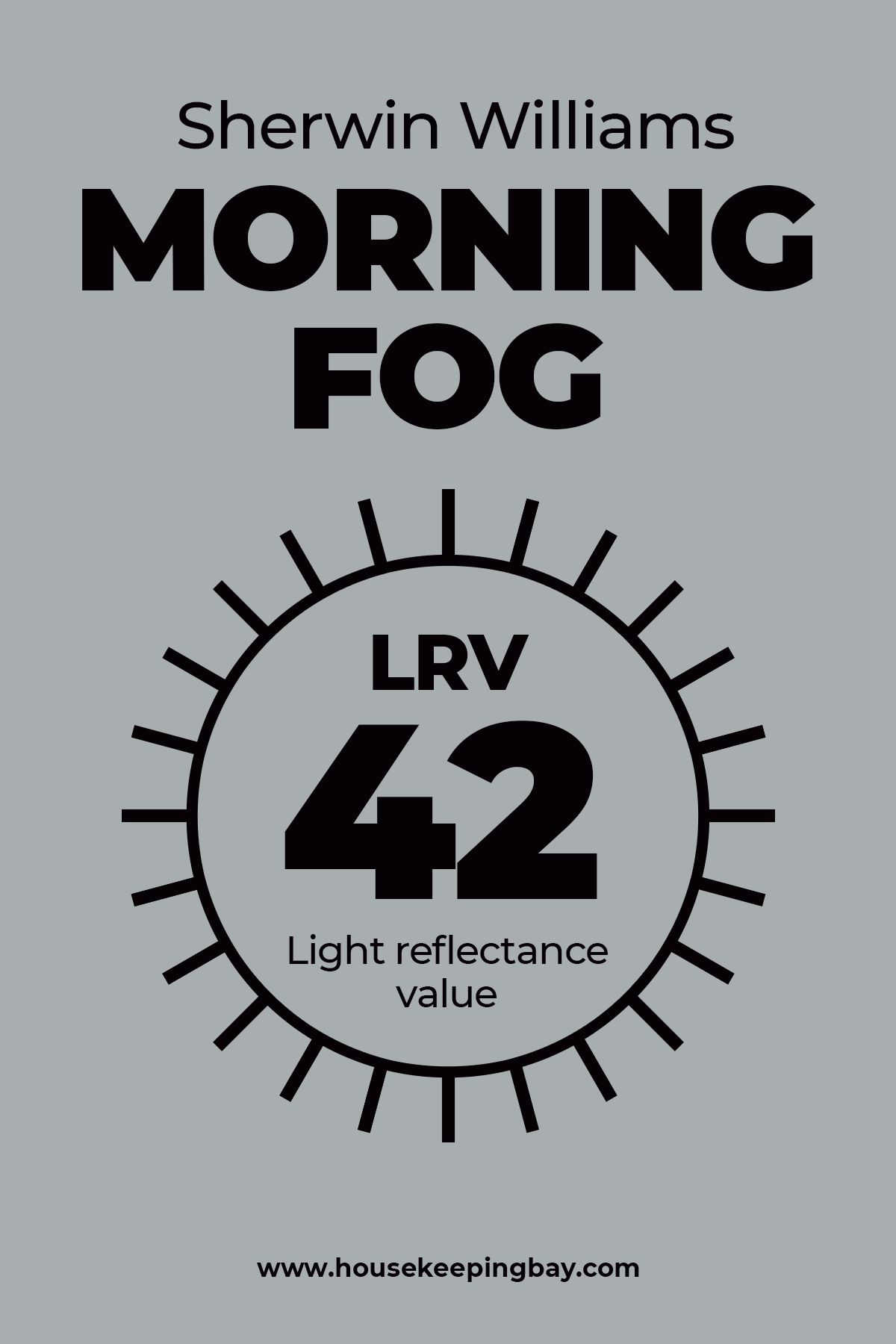 What is LRV? Read It Before You Choose Your Ideal Paint Color
My 4 Favorite Gray Paint Colors
Coordinating Colors for the Morning Fog
We all know that you can't really use only one paint shade through the whole house or apartment to give it a smart and neat look.
Combining colors is not always a simple process, so we're here to help. What are the Sherwin Williams morning fog coordinating colors?
Using the Sherwin Williams morning fog in the living room helps to create a pleasant atmosphere.
And to make the interior look more interesting, you can use bright color accents. For example, bright blue, green or raspberry shades.
If you want to add a pop of color, you can take a look at:
Commodore SW 6524
Irresistible SW 6562
Cool Avocado SW 9029
These are amazing variants of trim colors to use along the morning fog.
A high-tech kitchen is a great option to apply a beautiful shade of morning fog.
Metallic kitchen appliances will look favourably against the background of light grey walls.
And you can complement the technological design with work surfaces of glass or stone.
The official resource of the manufacturer states that you combine the morning fog with these beautiful shades to create a cool design:
Extra White SW 7006
Sedate Gray SW 6169
Ice Cube SW 6252
These are amazing options for creating a minimalist and simple design.
Grey color creates an atmosphere of calm and tranquillity, helps you to fall asleep faster and recover better during sleep.
The Sherwin Williams morning fog bedroom is suitable for those who spend the whole day in tension, and in the evening want to abstract themselves from worries.
With Sherwin Williams paint, you no longer have to choose between superior performance and design. Looking for paint for the hallway, kitchen or bathroom?
The ultra-deep Morning fog shade is a perfect idea to complement your house inside and outside.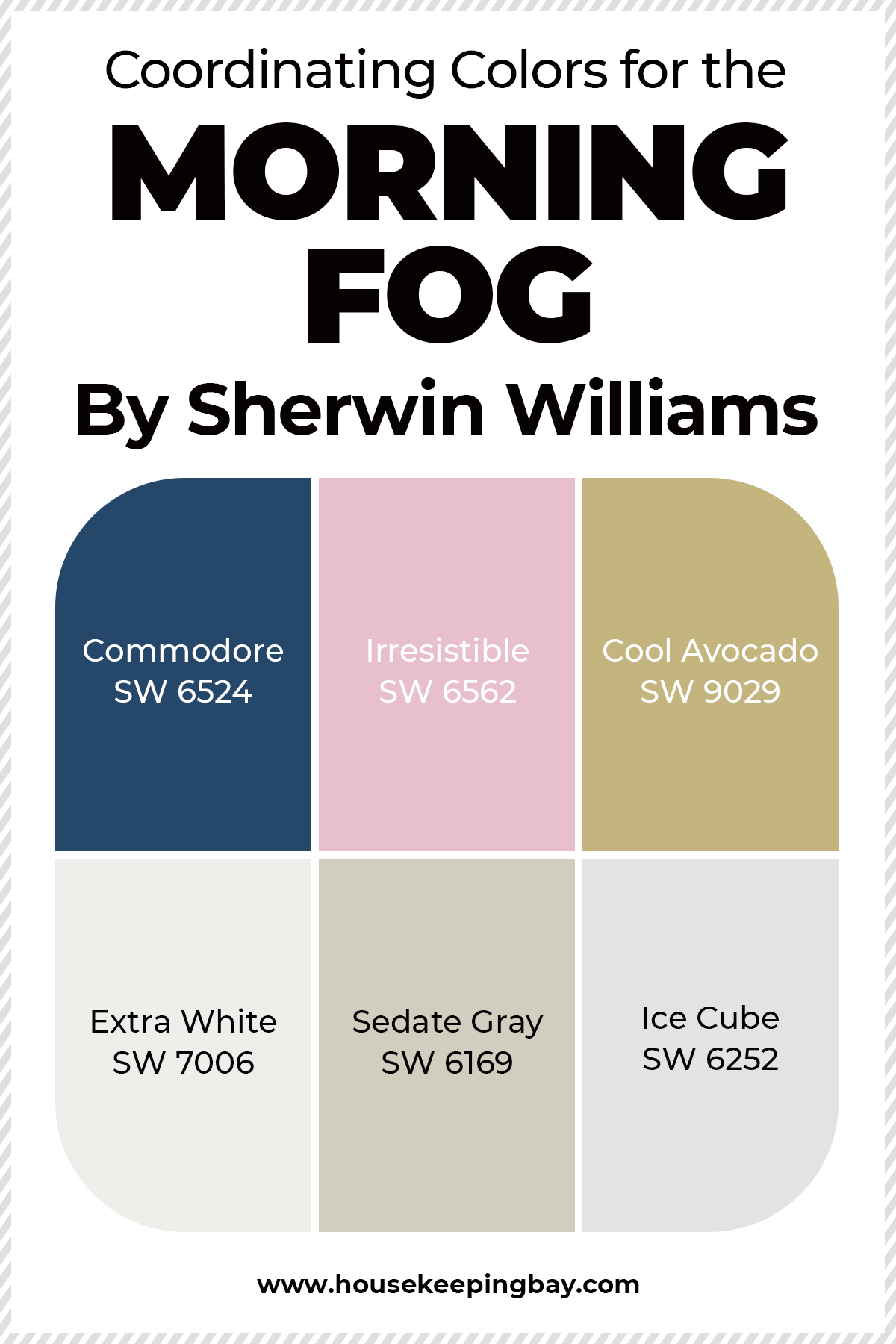 Where You can Use Morning Fog by Sherwin Williams?
Thinking about painting the walls with Sherwin Williams Morning fog paint color, you should also consider the purpose of the room.
Using Sherwin Williams Morning fog for Kitchen
In the kitchen, walls of this shade can be perfectly combined with a variety of kitchen appliances and metal surfaces.
You can add coziness to the room by introducing a bright color contrast if you want.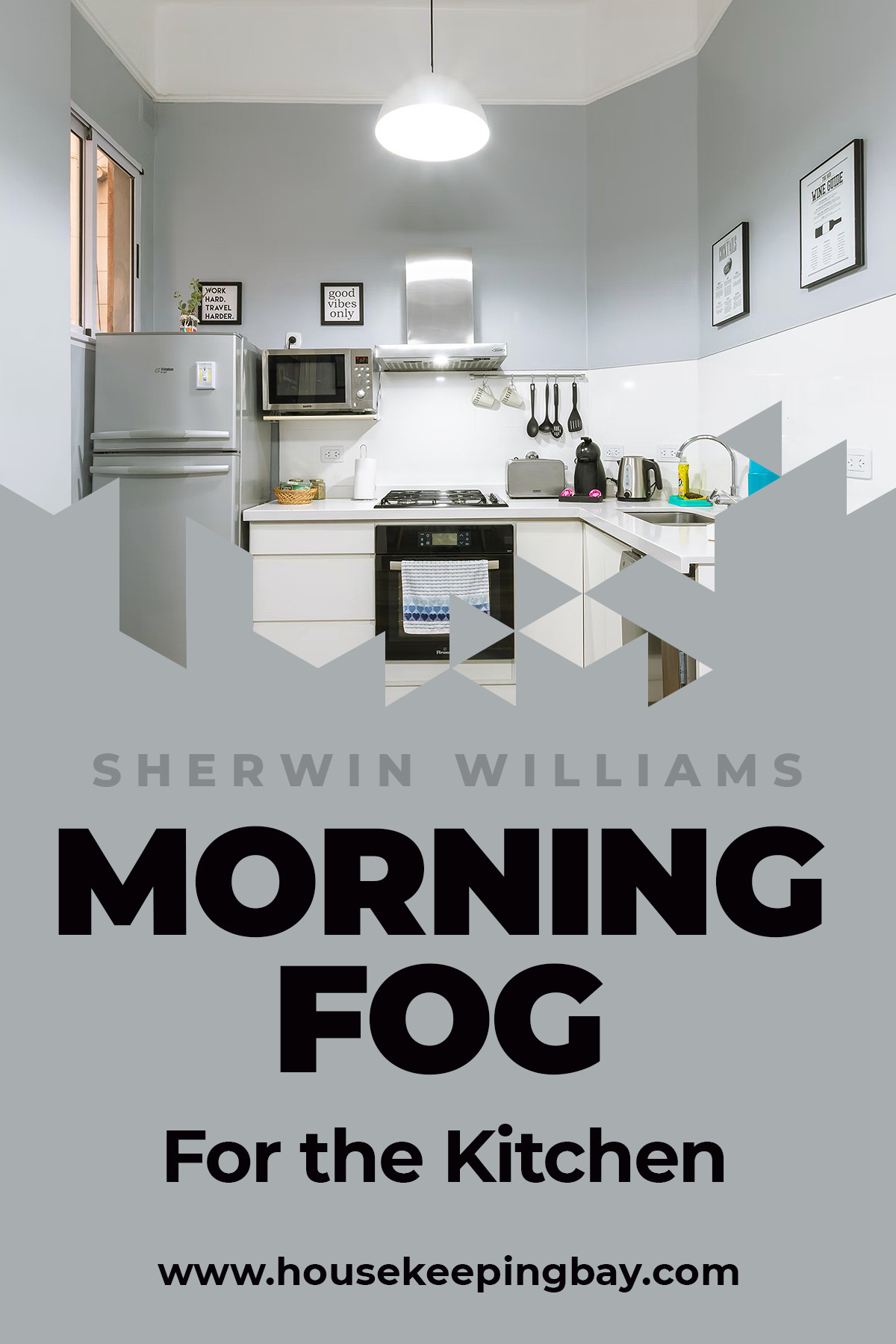 Using Sherwin Williams Morning fog for Bedroom
In the bedroom, Morning fog will create a nice and calm atmosphere. You can beat the walls with an abundance of textiles, airy white tulle, or add white furniture.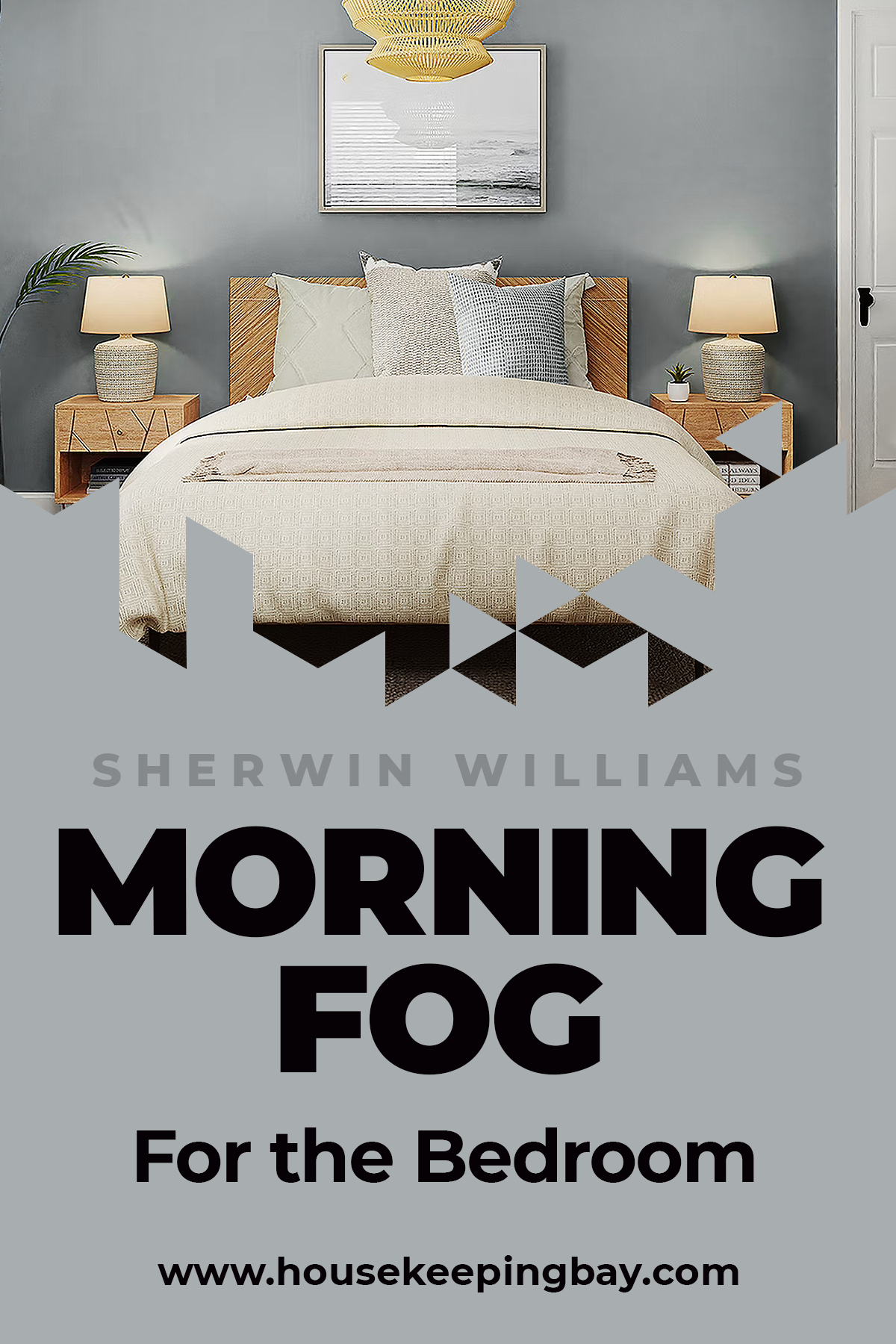 Using Sherwin Williams Morning fog for Living Room
A living room with Sherwin Williams Morning fog color can be easily combined with both bright and more calm shades.
This will create a comfortable room for meetings with guests and family evenings.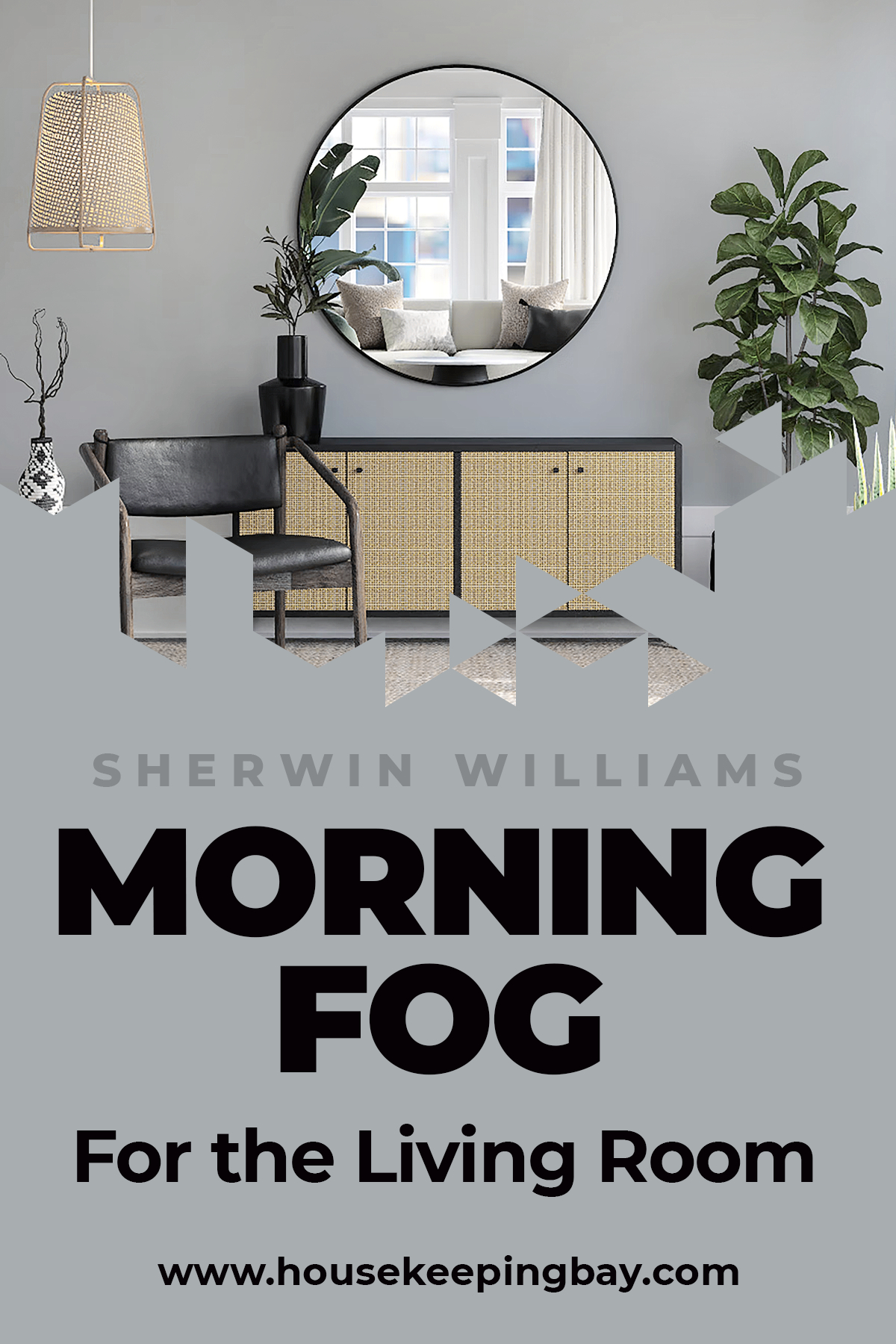 Using Sherwin Williams Morning fog for Entrance Hall
The entrance hall is a very good place to add the Morning fog shade.
You can create both a minimalist interior and dilute the greyness with natural shades of brown, beige or green.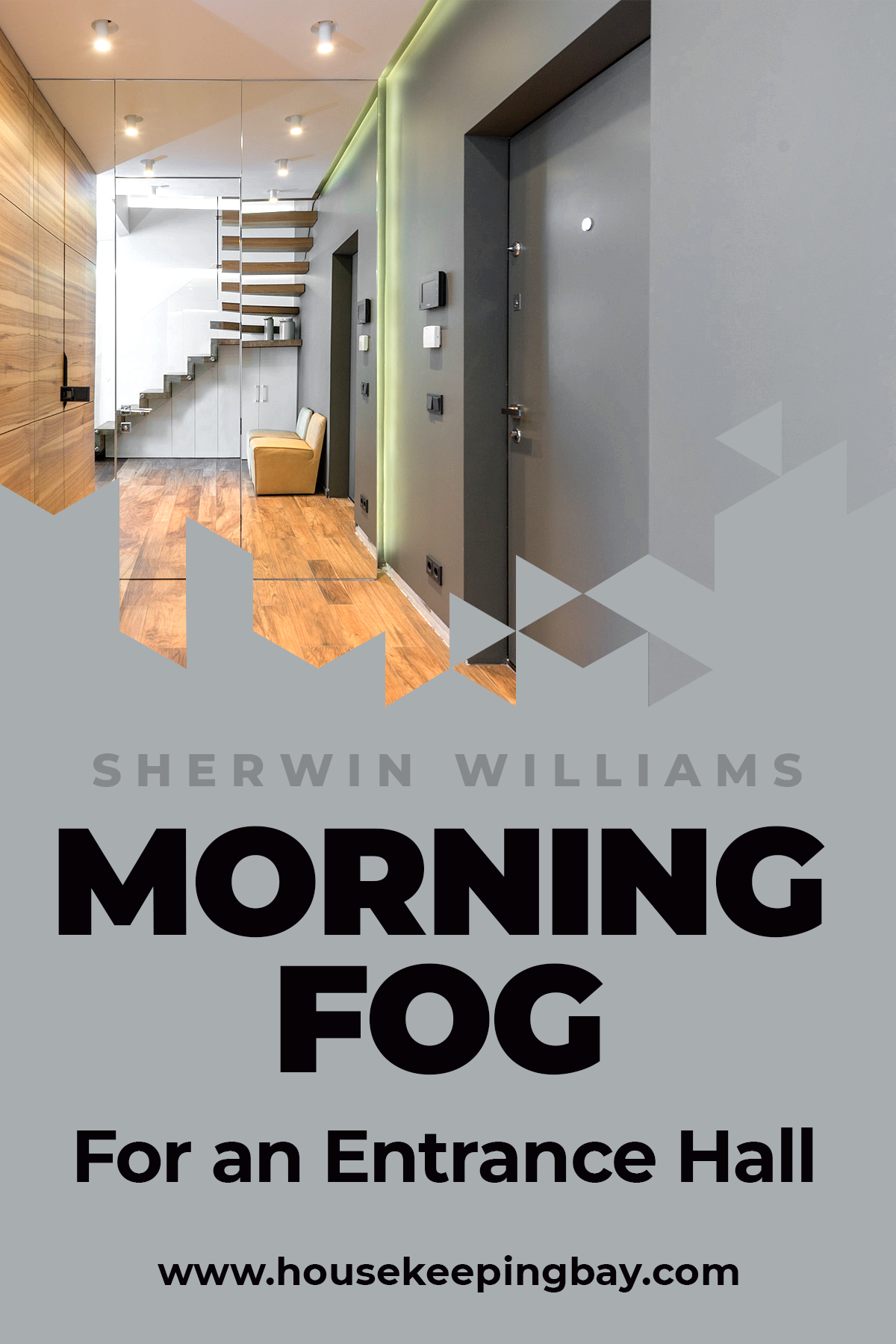 Using Sherwin Williams Morning fog for Bathroom
A Sherwin Williams morning fog bathroom is a bold solution for loft or high-tech interiors.
The abundance of plumbing, faience, tiles and greyish tones can create the impression of a cold and chilly space that is not very conducive to water treatments.
The interior can be complemented by introducing elements of wood, artificial or living plants and, if possible, providing natural daylight in the room.
Can you paint a house exterior with Sherwin Williams Morning fog?
If you're wondering whether you can use Morning fog on the inside of your house, you should consider the outside surface of it and the location.
Shades like Morning fog require a lot of natural light and a perfectly made facing.
Whether you have panels or a smooth coating, the greyish tone of Morning fog will look good on it.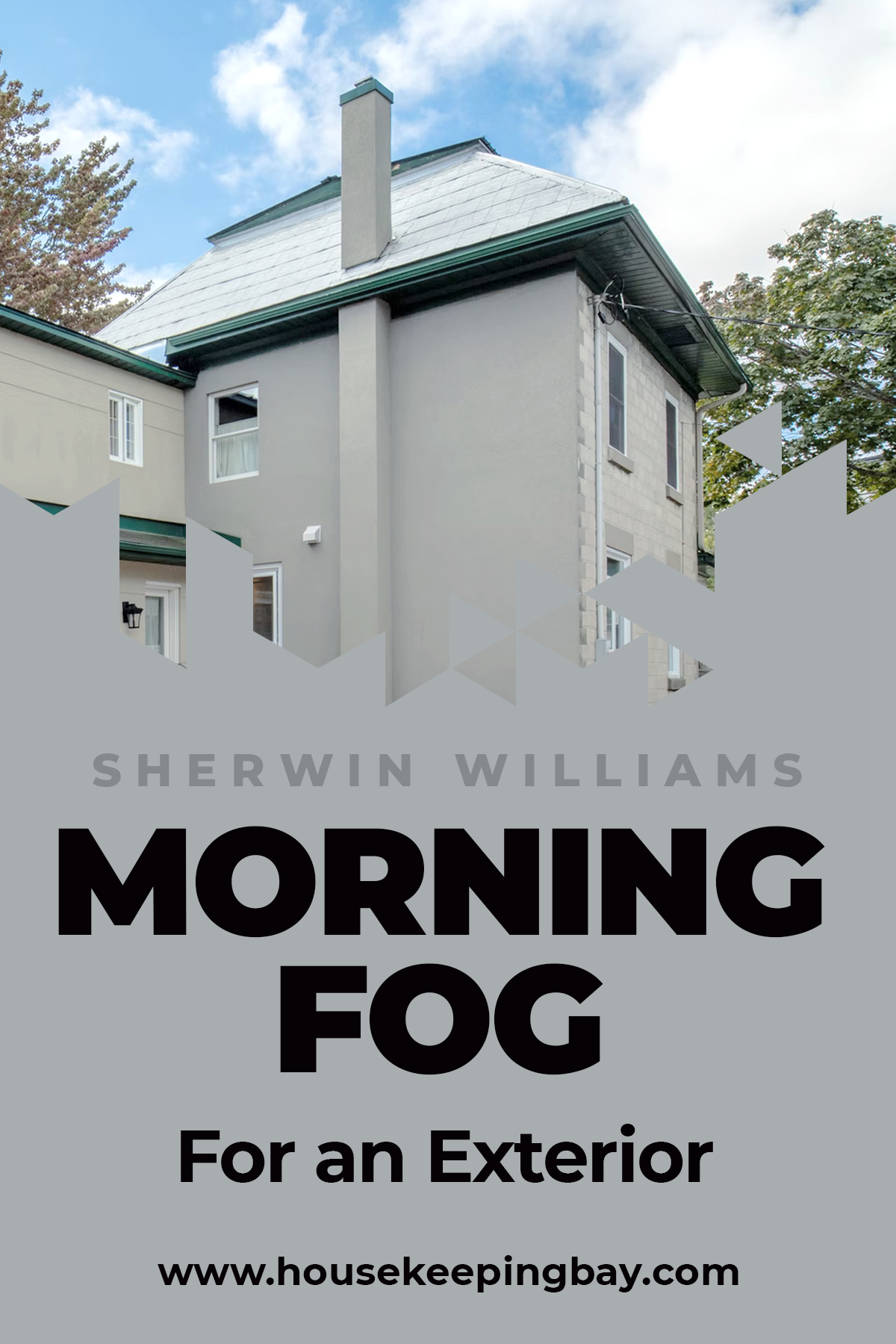 Morning fog vs Lazy gray
Can't choose between the two amazing colors of Sherwin Williams manufacturer? We will help you to make the right choice.
Lazy gray is a slightly lighter color that has an LRV of 53 with a warmer undertone, which means that it requires even more light inside the room.
If you want to use the Lazy gray tone by Sherwin Williams in your interior, consider combining it with beige and similar nude shades.
If we consider Morning fog once again, it is more of a cold tone, that has a fashionable finish and gives your interior a smart, well-designed look.
Using Morning fog, you can add both bright and more natural pops of color and create an amazing design in any room of your apartment.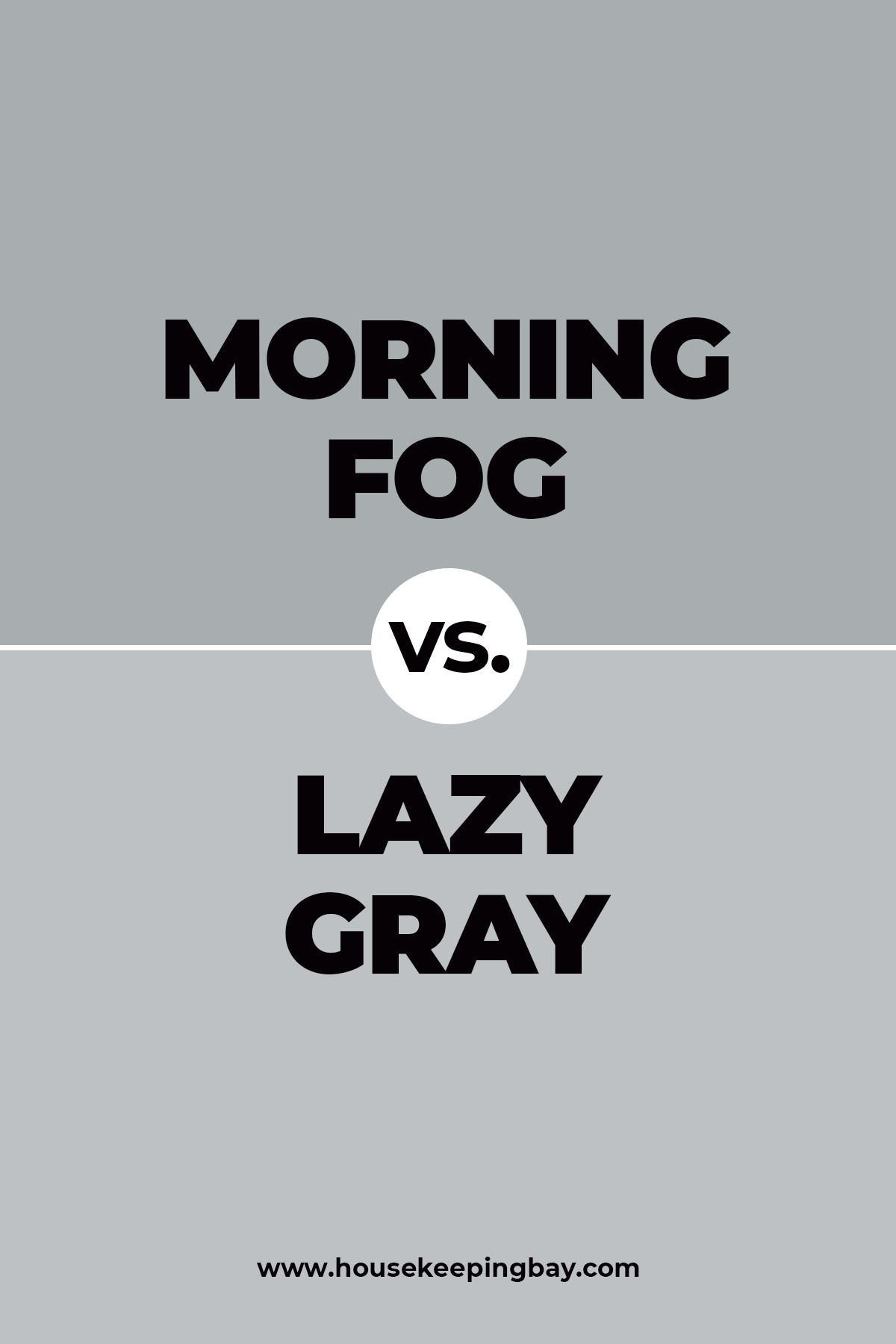 Benefits of using Morning fog paint
The Sherwin Williams paints are one of the most reliable and durable coatings produced today by the modern paint and varnish industry.
If you decided to apply the Morning fog shade, here are some benefits you will get along:
Environmental-friendly
Sherwin Williams paints meet the highest US environmental standards and are almost odourless.
The paints produced by the company are recommended for use in hospitals and children's institutions.
The Sherwin Williams product line includes zero VOC paints.
Some interior paints (for example, Harmony) are specially designed for offices and administrative buildings and allow them to be used in operated premises.
Easy to apply
Sherwin Williams Morning fog creates perfect coating even if you paint the surface yourself.
You don't need to have super skills to achieve the desired result.
In addition, the paints have the "self-smoothing" effect.
The paint produces film during the drying process, due to which the surface has a more sustainable appearance, looks smooth and does not crack.
High wear resistance
Surfaces painted with Sherwin Williams paint can be washed and brushed using chemicals.
You don't have to worry, because your Morning fog walls will maintain the color and perfect finishing.
Durability
Sherwin-Williams Morning fog has a guarantee of 20 years.
And they also give 6 years for exterior Sherwin Williams paints.
Hygroscopicity
Sherwin Williams painted walls still "breathe".
Even in rooms where the humidity reaches 100%, thanks to this paint, the development of fungi stops.
Frequently Asked Questions
⭐ Can I paint my house with Sherwin Williams morning fog exterior paint?
Morning fog by Sherwin Williams is a versatile product that can be used on both inside and outside house surfaces.
⭐ Is it possible to mix Sherwin Williams 6255 morning fog gray with yellow?
Yes, you can complement the beautiful design of your room with a yellow shade. Take a look at They call it Mellow SW 9015.
⭐ What is Sherwin Williams morning fog color code?
The color code for Sherwin Williams Morning fog is 168:174:177.