If you want to use a white paint color in your home but you'd like to try something other than the traditional crisp and "snowy" whites, you might want to try SW Divine White color. Despite the word "white" in its name, this color reads rather unique!
In this article, we will explain how to use it correctly and how it may react to different types of light in your home.
Also, you will learn how to coordinate this unusual white and what colors should be used with it to achieve the best color effect in your interiors!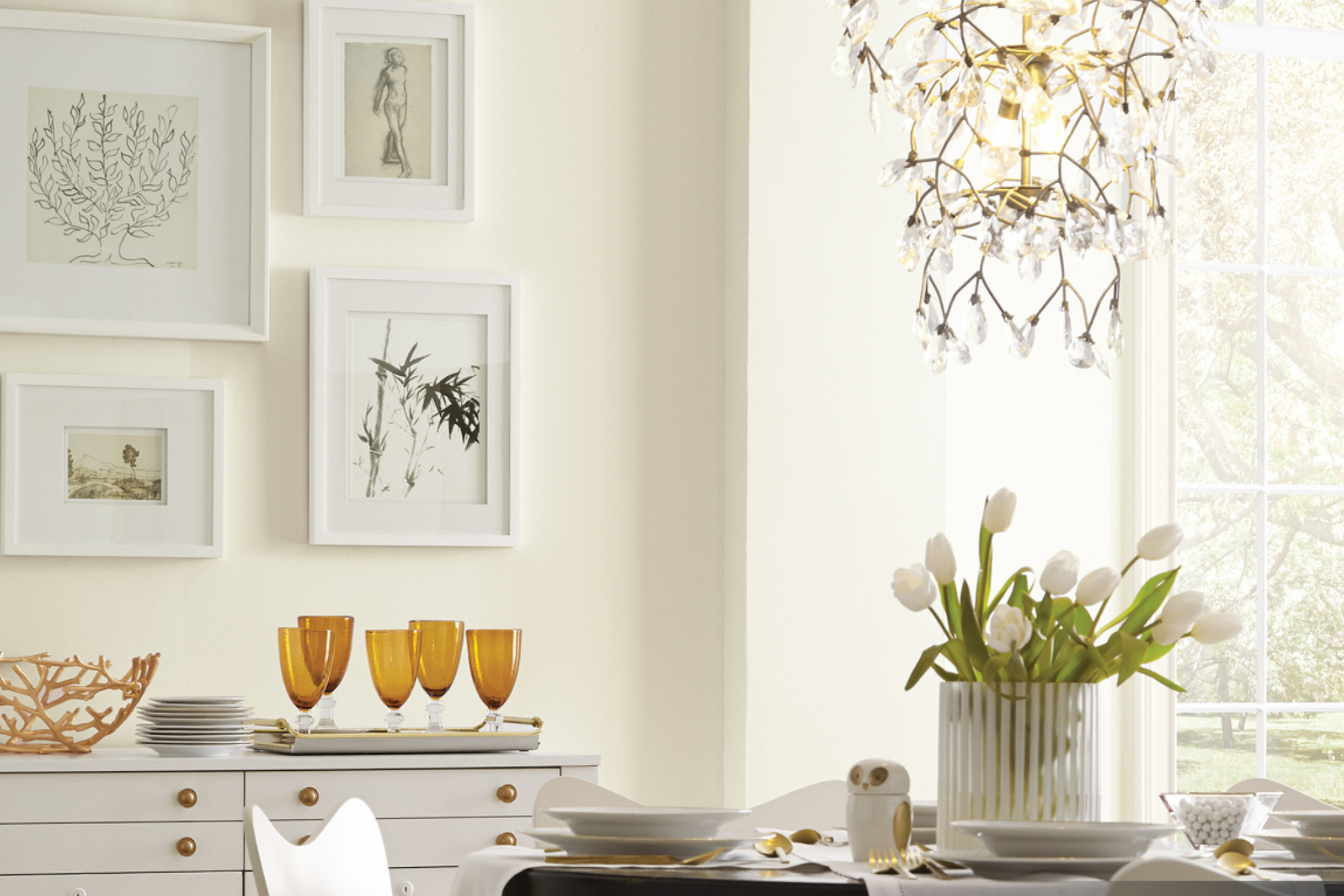 What Kind of Color Is SW 6105 Divine White?
SW Divine White  is hardly a simple color! Despite being considered white, it belongs to the yellow hue family and doesn't look much white, to be honest. As Encycolorpedia says, it is a color with prominent beige undertones. This beige hue is what brings the glow to this otherwise bright and clean white.
With this color, you can add delicate warmth to any space in your home.
However, it is one of the favorite colors among homeowners because it's a very light, almost white-neutral paint color. This neutral looks quite elegant while having a warm, welcoming vibe.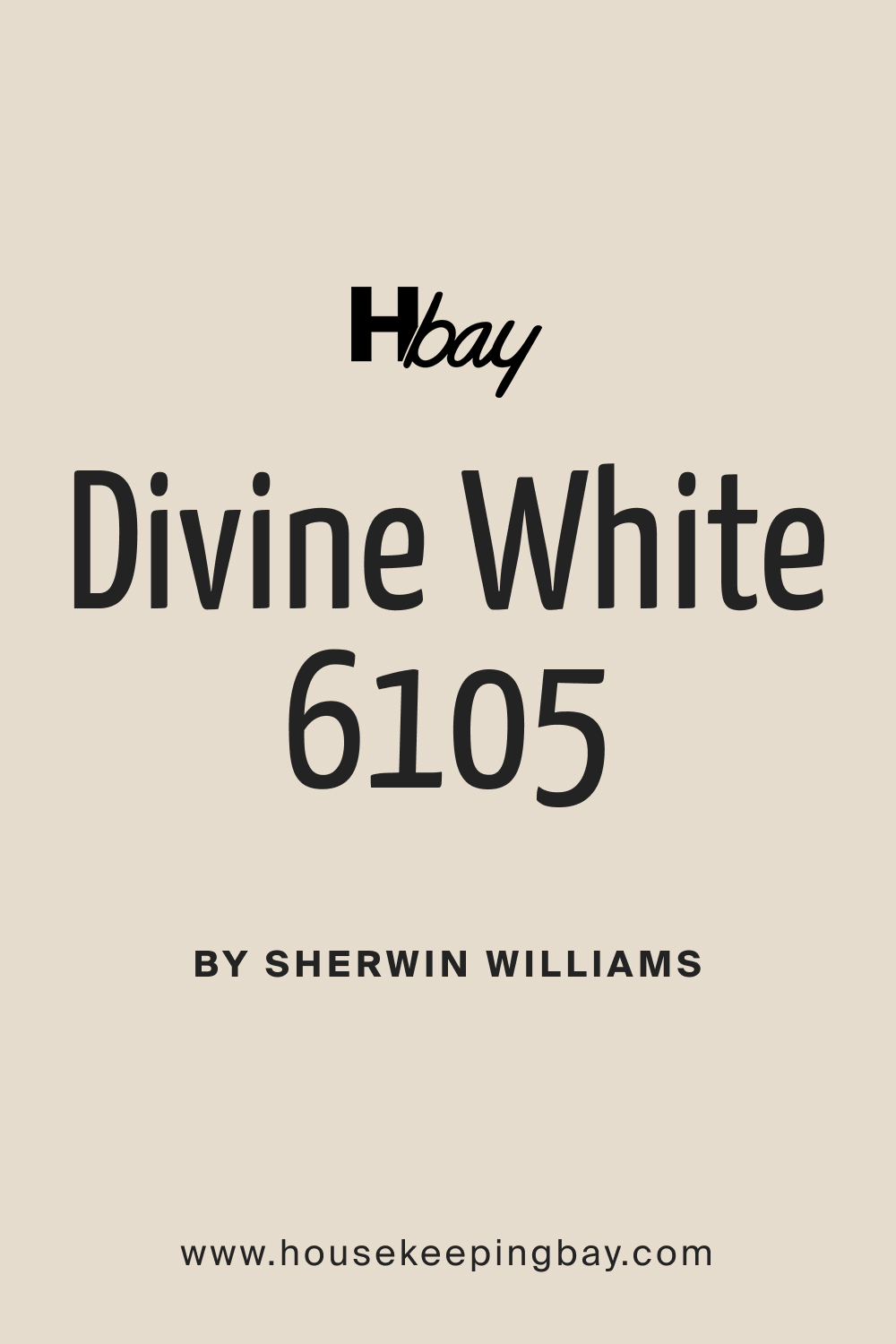 Is It a Warm or Cool Color?
SW Divine White is definitely on the warmer end of the tone scale. Thanks to its soft beige undertones, this paint color reads very soft and pleasantly warm. However, don't be afraid of the possible butter-like warmth and yellowness!
Although SW Divine White is indeed a member of the yellow hue family, it doesn't look creamy or yellow at all.
What Undertones Does SW Divine White Paint Color Have?
This white has prominent beige undertones that add balanced warmth to this hue. But it's not only undertones that help this white feel so cozy and homey in a room. This color belongs to the yellow hue family.
To be precise, SW Divine White is even leaning towards the yellow-red hue family. As a result, you can see that it does show a slight hint of redness that might be mistaken for purplish undertones by some people.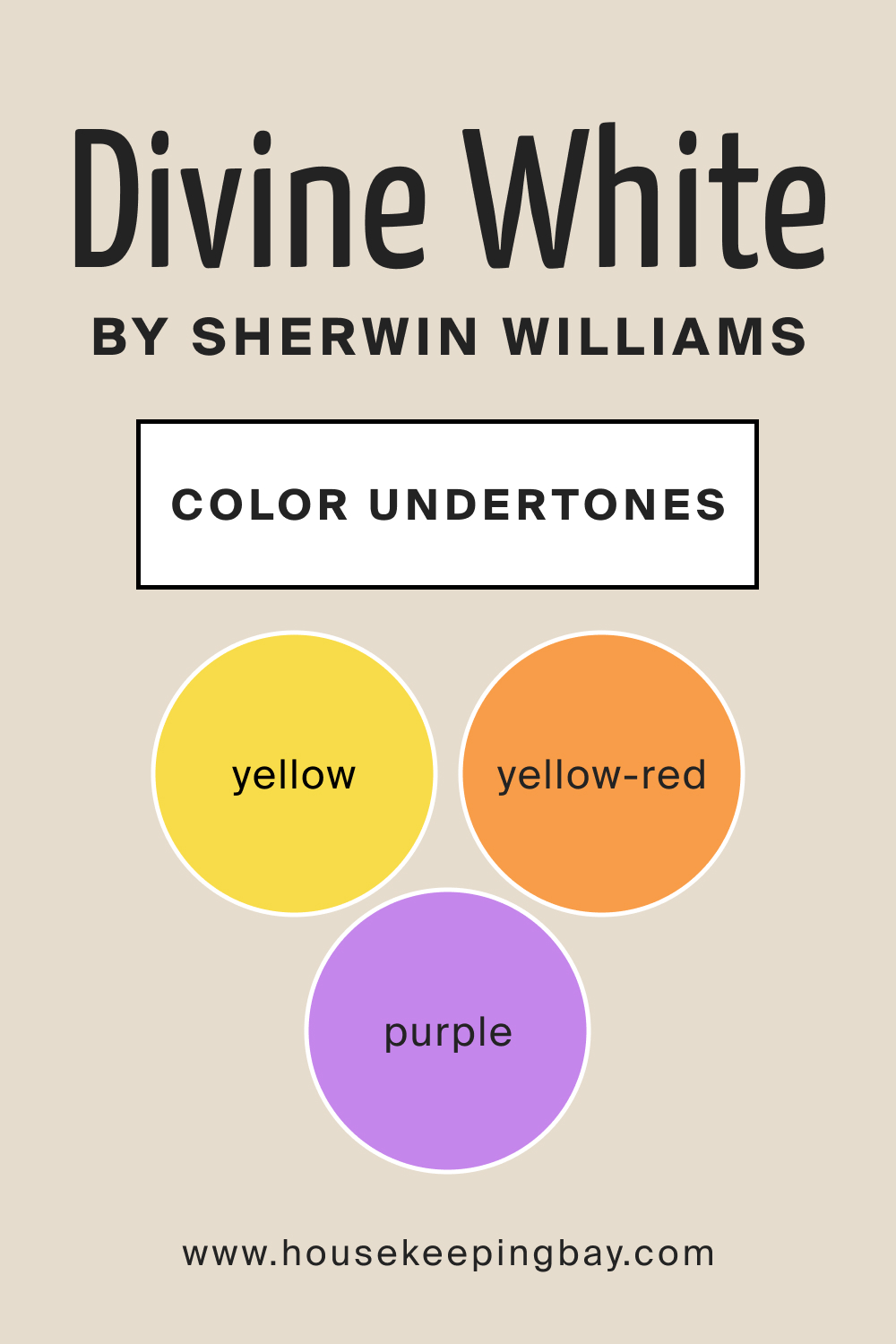 Coordinating Colors to Use With SW 6105 Divine White
Creating color palettes can be challenging, especially if you try to find the best match for such a tricky color as SW Divine White! That's we have thrown out a few color ideas that will work with this white.
SW 9169 Chatura Gray
SW 2740 Mineral Gray
SW 7702 Spiced Cedar
SW 6004 Mink
SW 9177 Salty Dog
SW 7675 Sealskin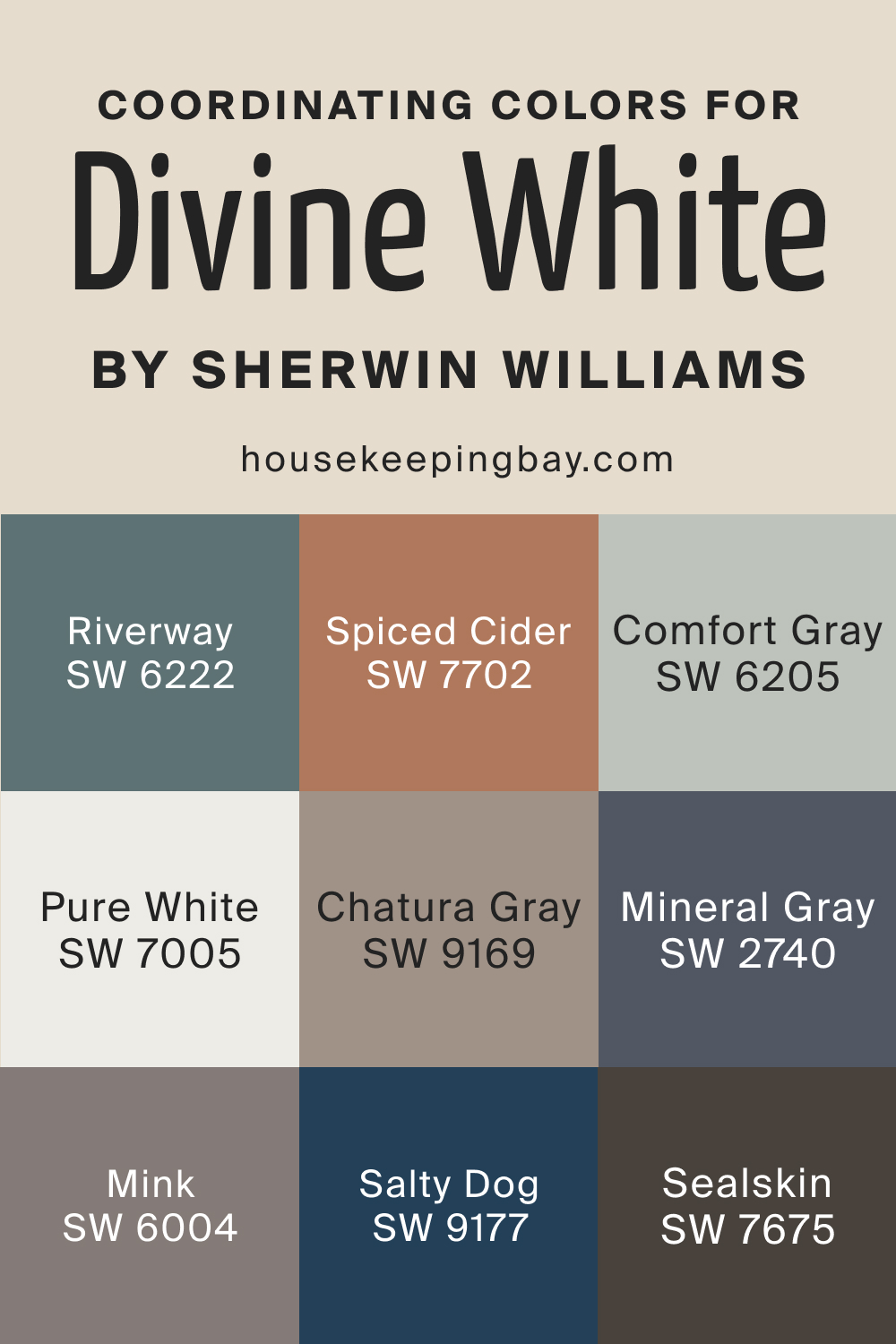 What LRV Does Divine White SW 6105 Color Have?
LRV (Light Reflectance Value) is a measurement that measures the amount of light reflected from and absorbed by a surface. LRVs range from 0 (absolute black) to 100 (pure white). The lRV value of SW Divine White is 72, which is pretty high. It's not the highest LRV possible but it will certainly reflect enough light.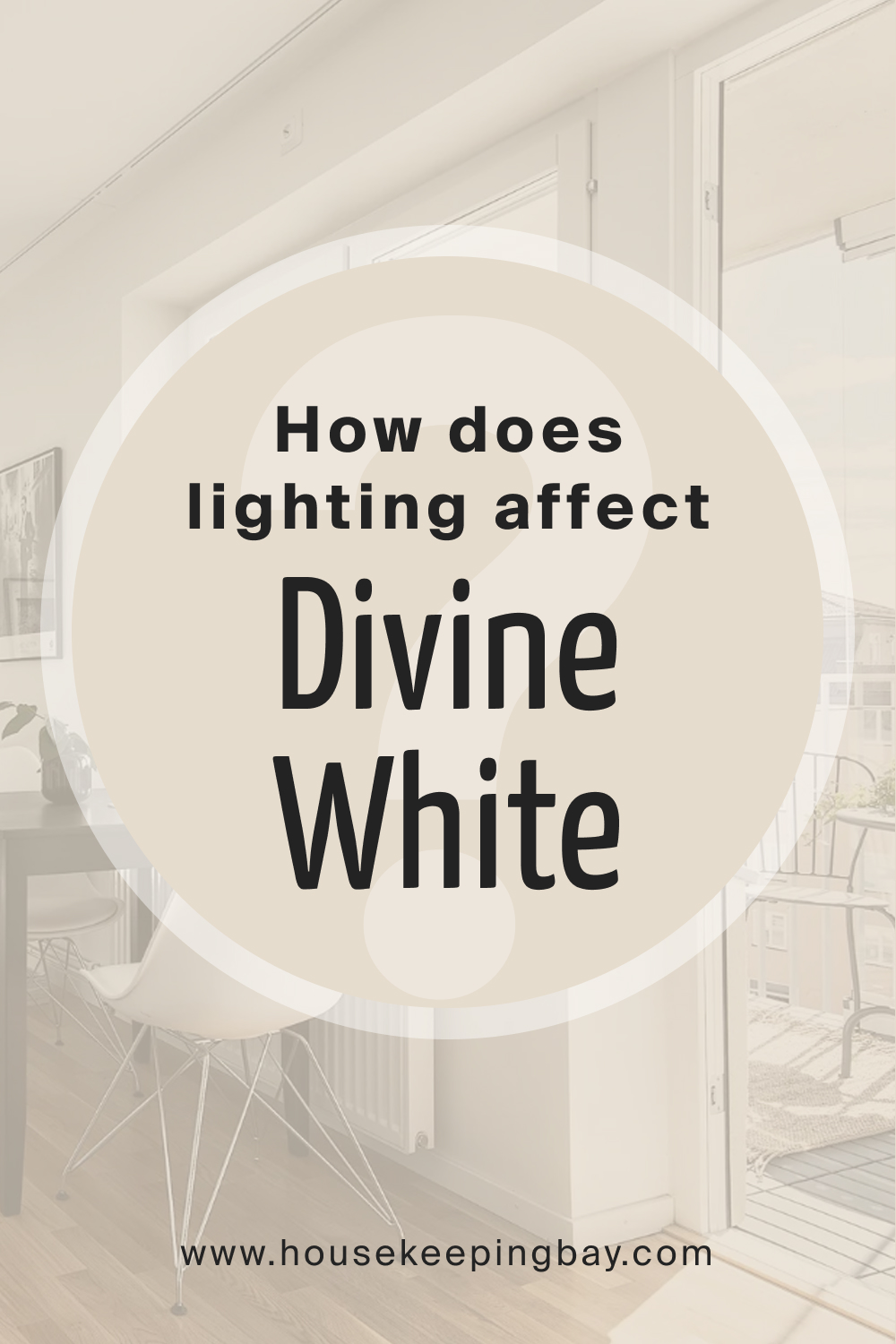 Also, this color is pretty dependent on the lighting in a room. In balanced lighting, SW Divine White reads as a light warm neutral beige or tan. It's definitely not white. It has too much color to it to be white, additionally, it's too dark.
In unbalanced lighting, SW Divine White can sometimes look slightly peach, pink-peach, or even a flesh tone. If the lighting is not balanced properly in a room, you may see SW Divine White read more like a peach color.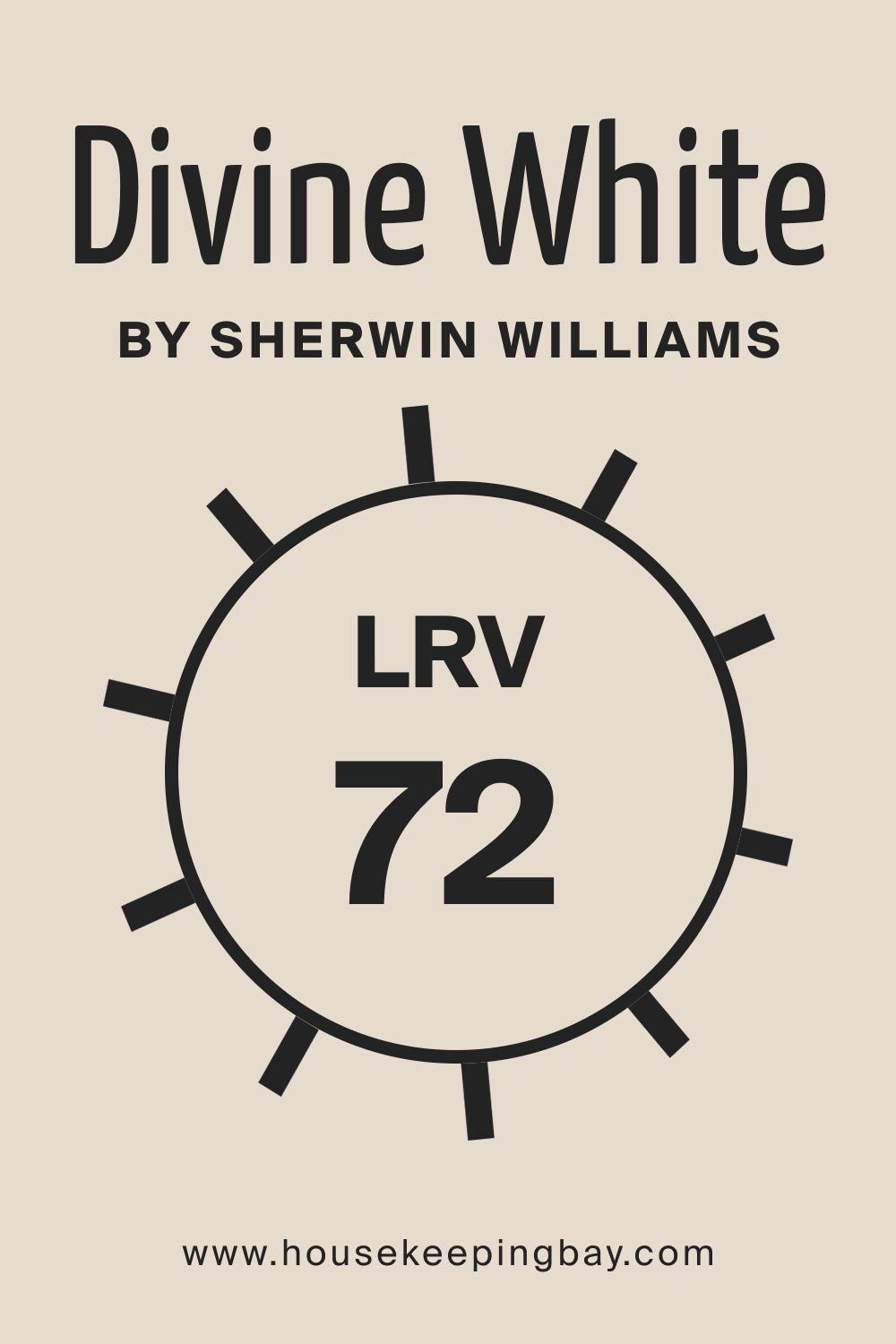 What is LRV? Read It Before You Choose Your Ideal Paint Color
What Are the Best Trim Colors to Use With SW 6105 Divine White?
The most popular paint color for trim is white because white goes with literally anything. To choose the best trim color for SW Divine White, consider the tone of the white you select. Also, note that SW Divine White is not really a white paint color. It has too much color to it.
That being said SW Divine White can work with quite a few shades of white. For the best effect, we recommend you opt for the two white paint colors in particular. They are Sherwin-Willimas Extra White and Sherwin-Williams Alabaster.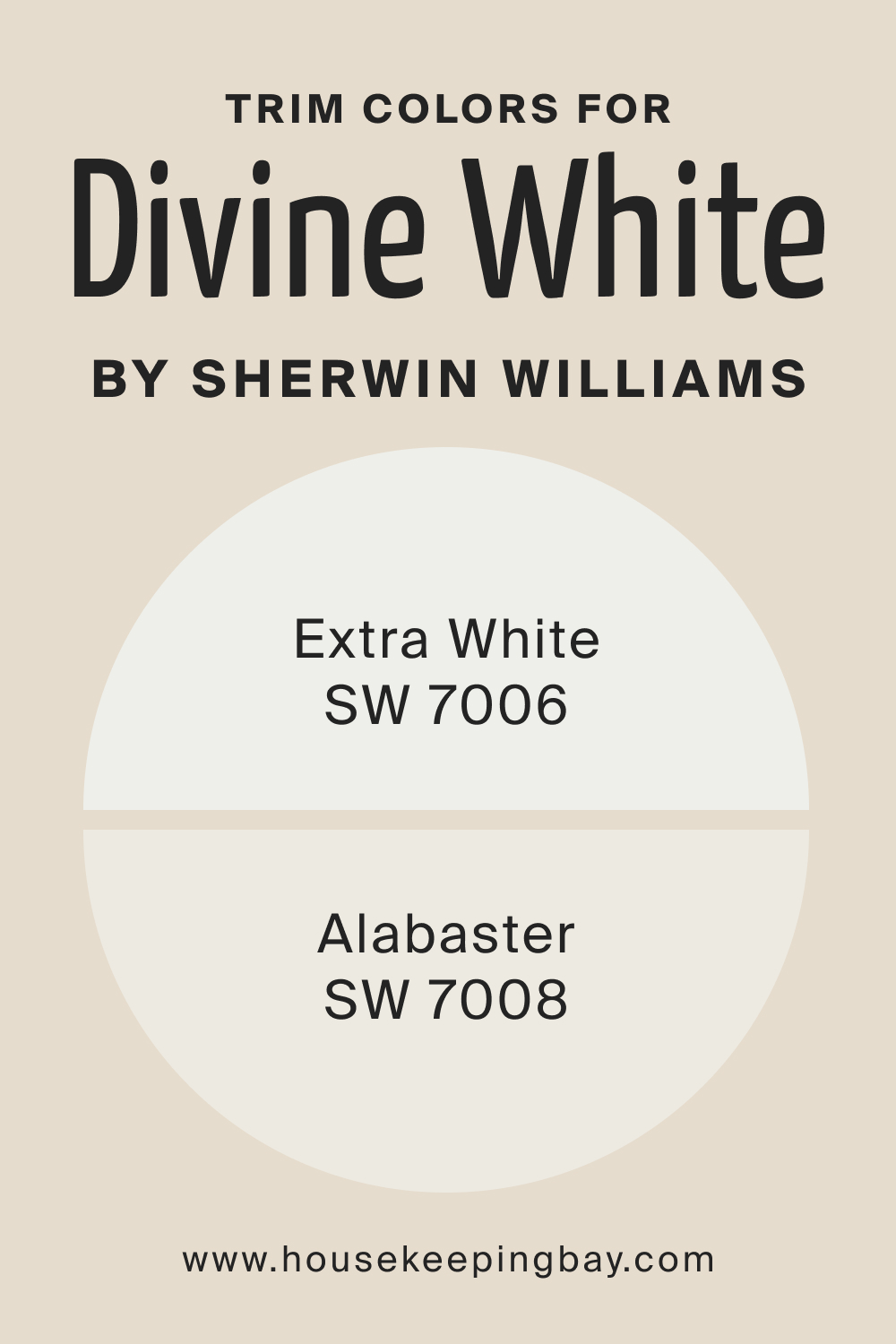 Colors Similar to SW Divine White
If you don't like how this color reads in your living space, you might want to choose another shade that reads almost the same. However, this might be rather challenging to do, which is why we have prepared a few color suggestions for you to check out.
Behr White Mocha
BM Cocoa Butter
Farrow&Ball Lime White
Valspar Foxtrot
Although they come from different brands, they look very similar to SW Divine White. However, each color will still differ a bit due to the unique LRV and undertones!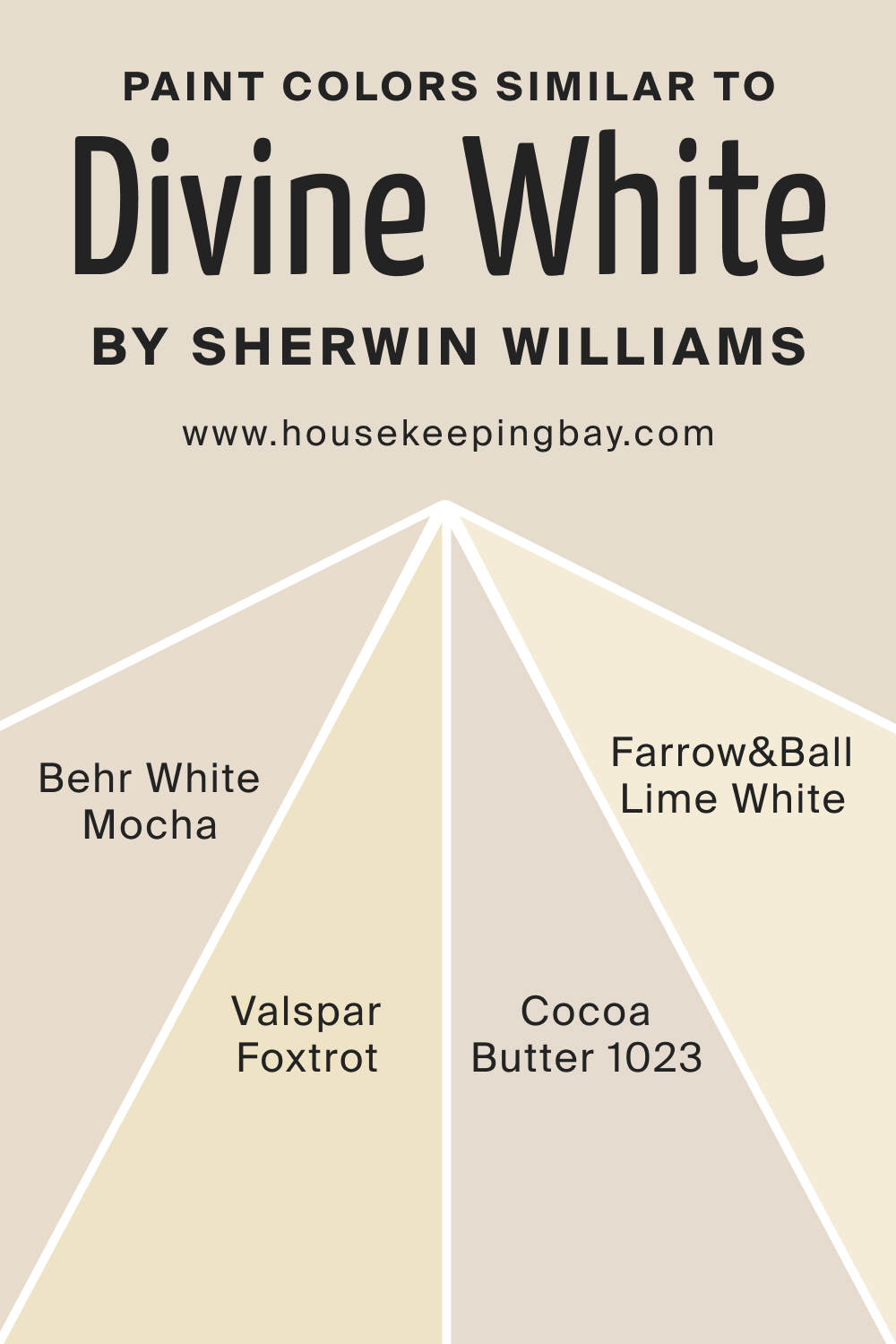 Colors That Go Well With SW 6105 Divine White
To achieve a good-looking and welcoming palette in your home, you should know what colors will work well with the paint you use on the walls. For SW Divine White with its soft and beige appearance, we recommend you pay attention to the following color ideas:
SW 6079 Diverse Beige
SW 7032 Warm Stone
SW 6314 Luxurious Red
SW 9133 Jasper Stone
SW 6348 Reynard
SW 9095 Ginger Root
SW 2739 Charcoal Blue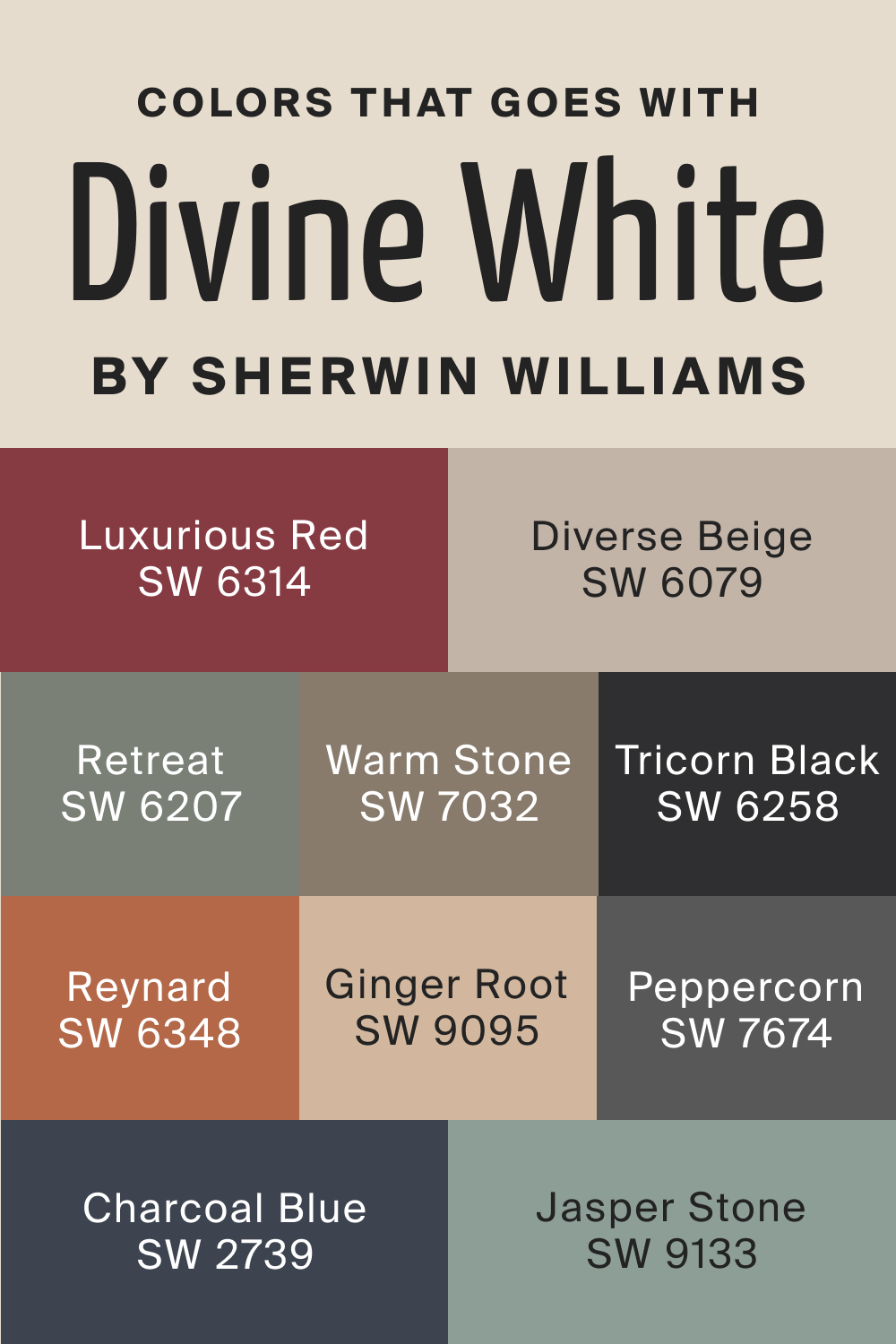 Where to Use This Divine White SW 6105 Color In Your Home?
SW Divine White is so versatile that you can use it anywhere, especially in dimly lit rooms. There are no rules that forbid you from using this color in specific areas. If you sample it and you like how it works, go for it! Below, you can read how exactly SW Divine White may read in different rooms.
Divine White SW 6105 in the Living Room
This can be a lovely and very fitting color for your living room! SW Divine White will add a warm and welcoming vibe to the space, making the room look cozy and, at the same time, light enough. Pair this color with wooden furniture and white trim, and you will get a traditional, homey look!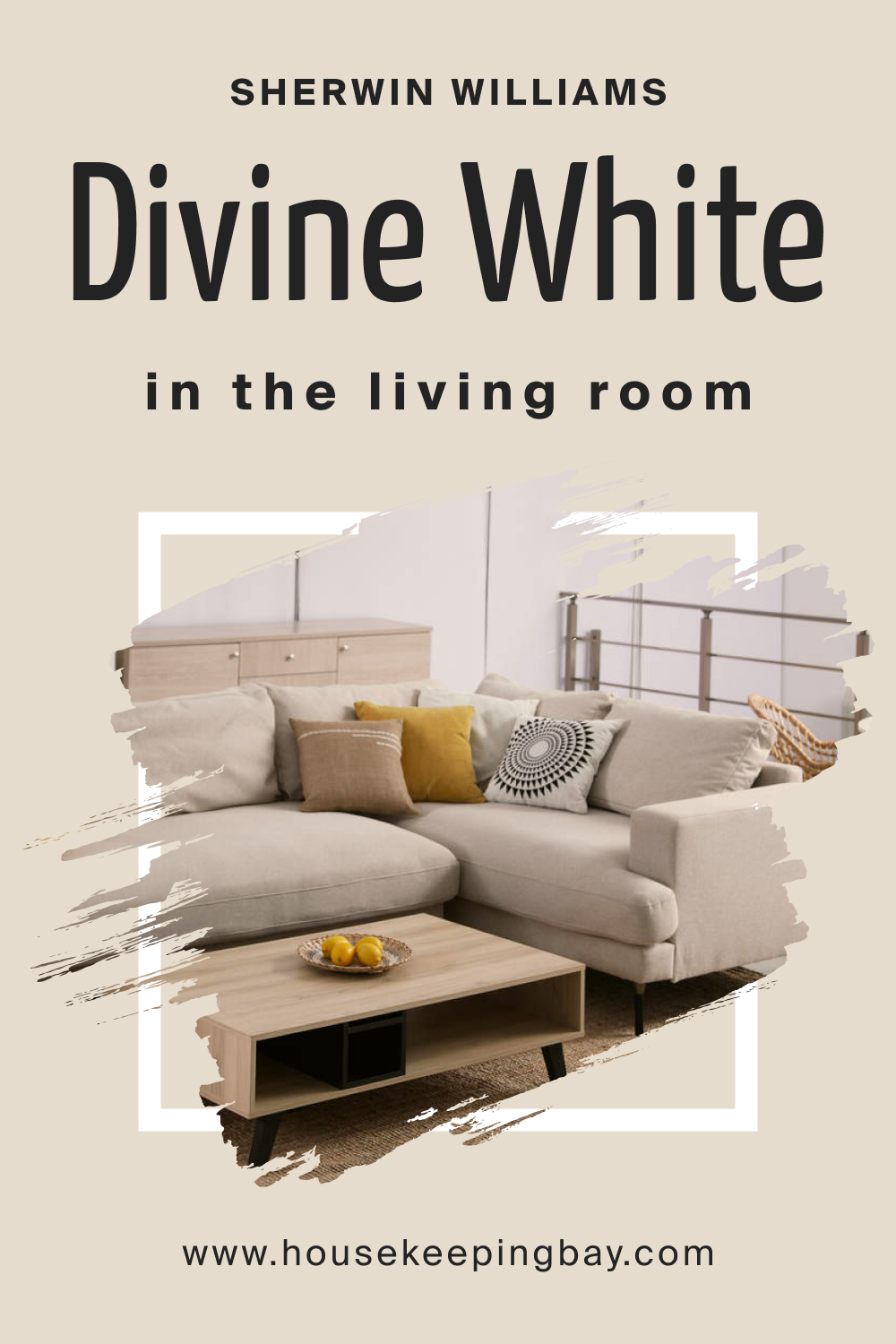 Divine White SW 6105  in a Bedroom
The bedroom walls are a great spot to host SW Divine White. You can pair this warm color with a dramatic dark accent color on one of the walls to make the room look elegant yet absolutely inviting. Or you might use it on all the walls if the size and lighting in your bedroom allow that.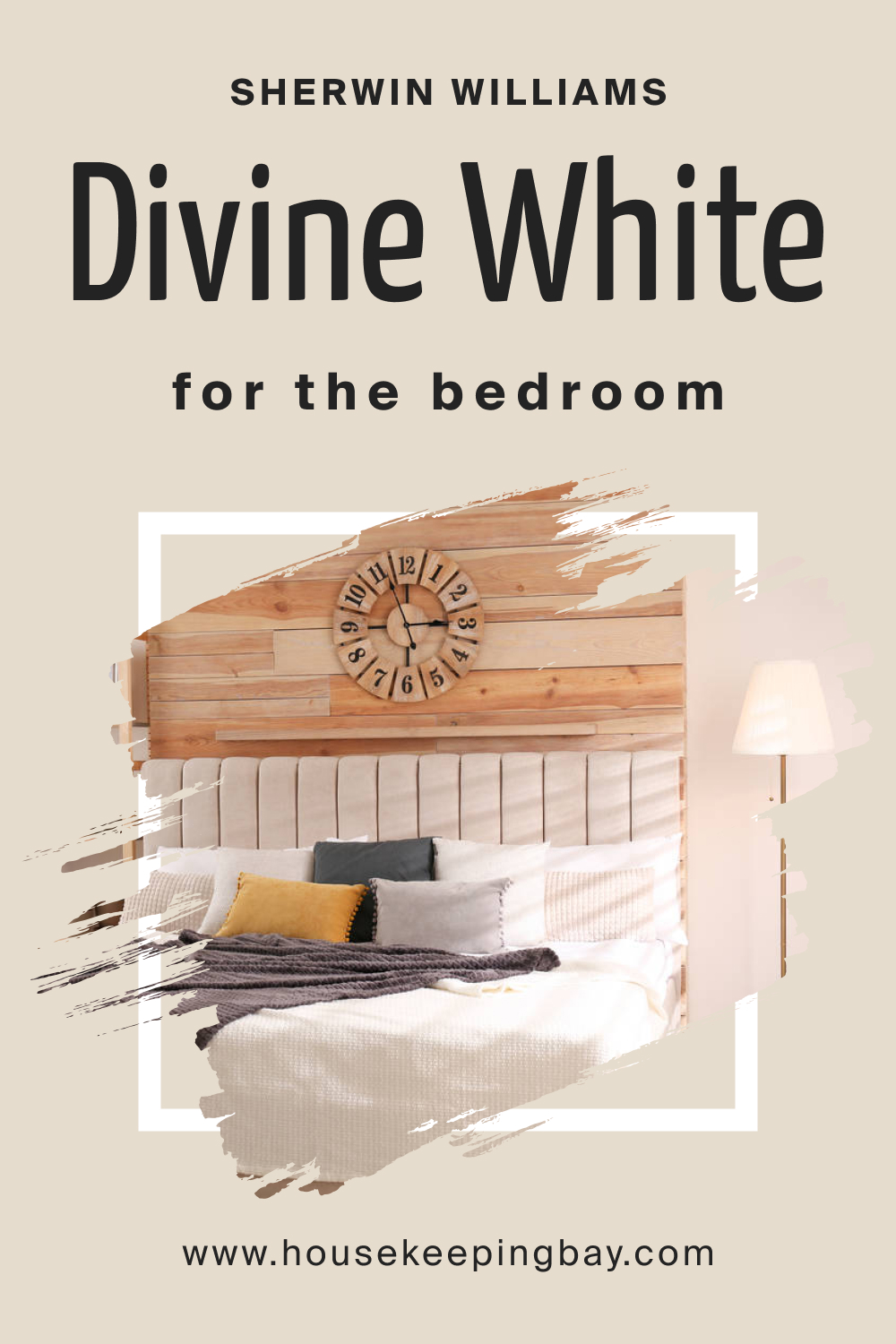 Divine White SW 6105  and Bathroom
Since bathrooms are typically pretty small and enclosed, lacking enough light, we recommend you limit the use of SW Divine White to the drawers and vanity sink only. With the white walls and ceiling, this softer accent will make the space feel cozier and less cold. However, in a spacious and well-lit bathroom with ample light, this color can be used on an accent wall or even all the walls.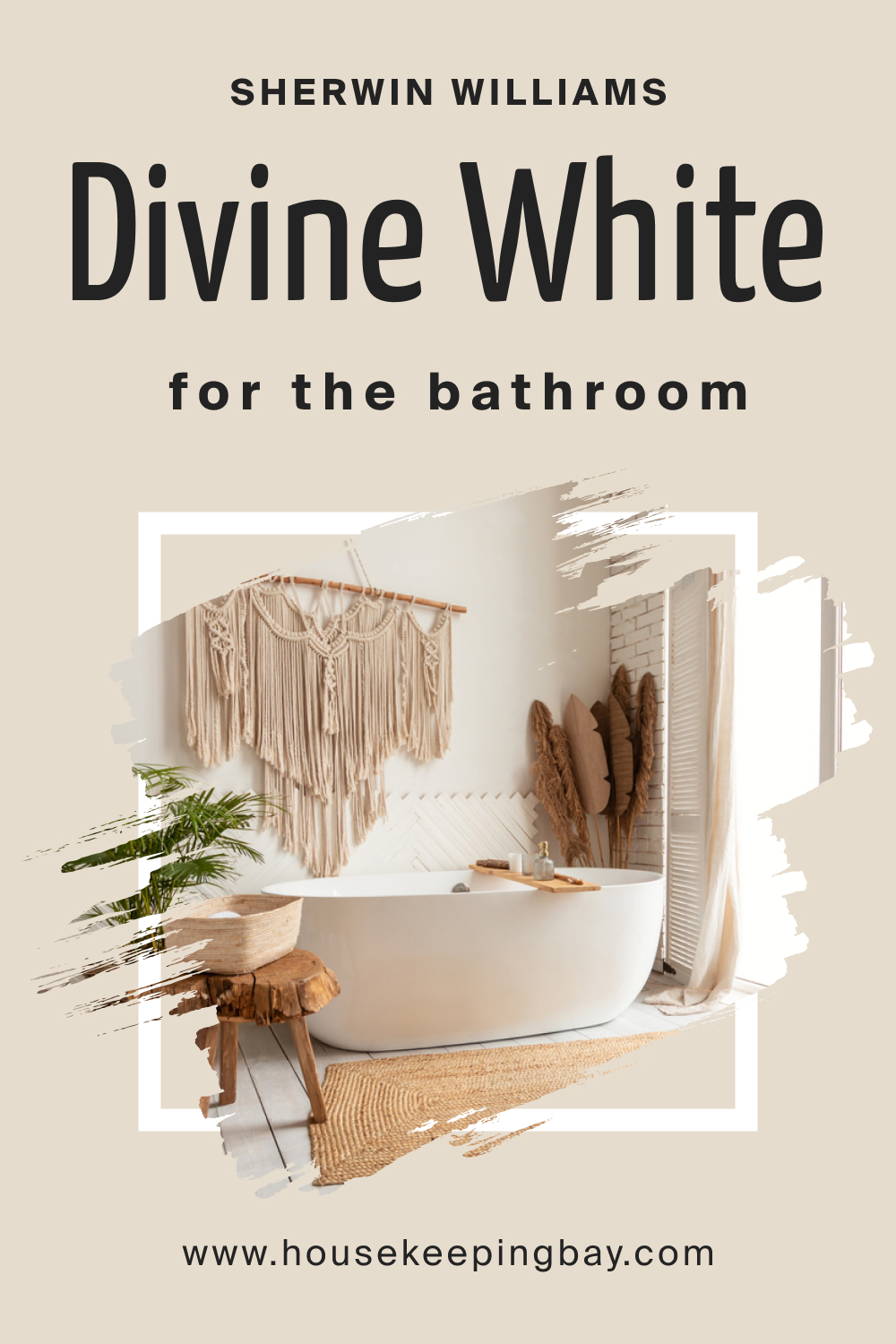 Divine White SW 6105  on the Kitchen
SW Divine White will add a bit of color to your kitchen, but it will not make the space look "heavy" at all. In particular, this beautiful neutral will work great on your kitchen cabinets.
However, the way it looks on your cabinets will depend on the light, as well as your countertops, floors, and wall color. SW Divine White has that slightly fleshy/peachy tone that can show up unexpectedly. If you have anything greenish in the kitchen, it may highlight the fleshy tone as well.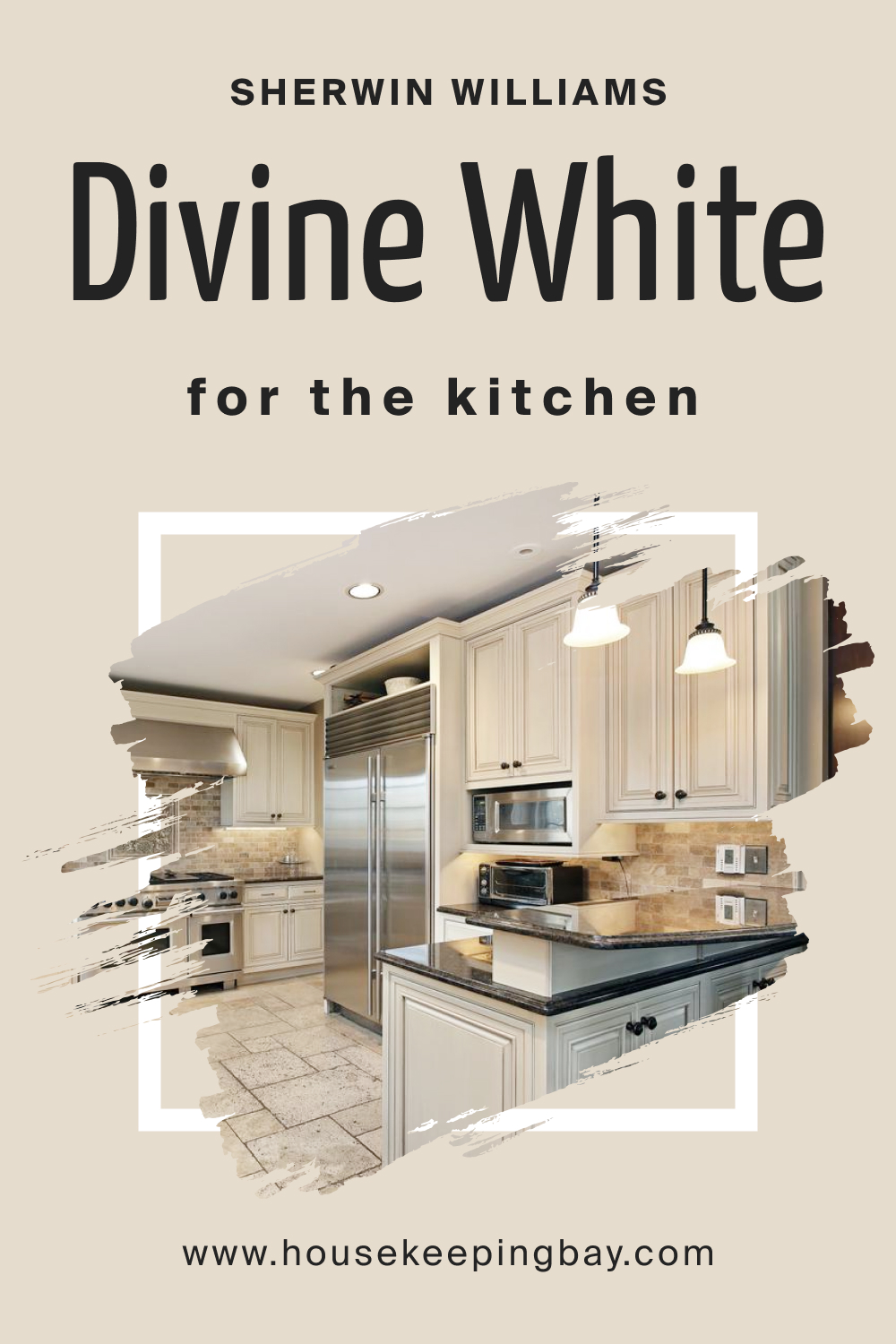 Divine White SW 6105  for the Exterior Use
This color will also work on exterior walls, but you have to evaluate the look you want to achieve. Light paint colors will always look even lighter in direct sunlight. So if you aren't looking for a super light facade, you might want to skip SW Divine White.
It doesn't have enough depth to hold up to the sun. But if your house is mostly shaded, SW Divine White will look like a creamy neutral tan-ish beige. It'll definitely be very pretty!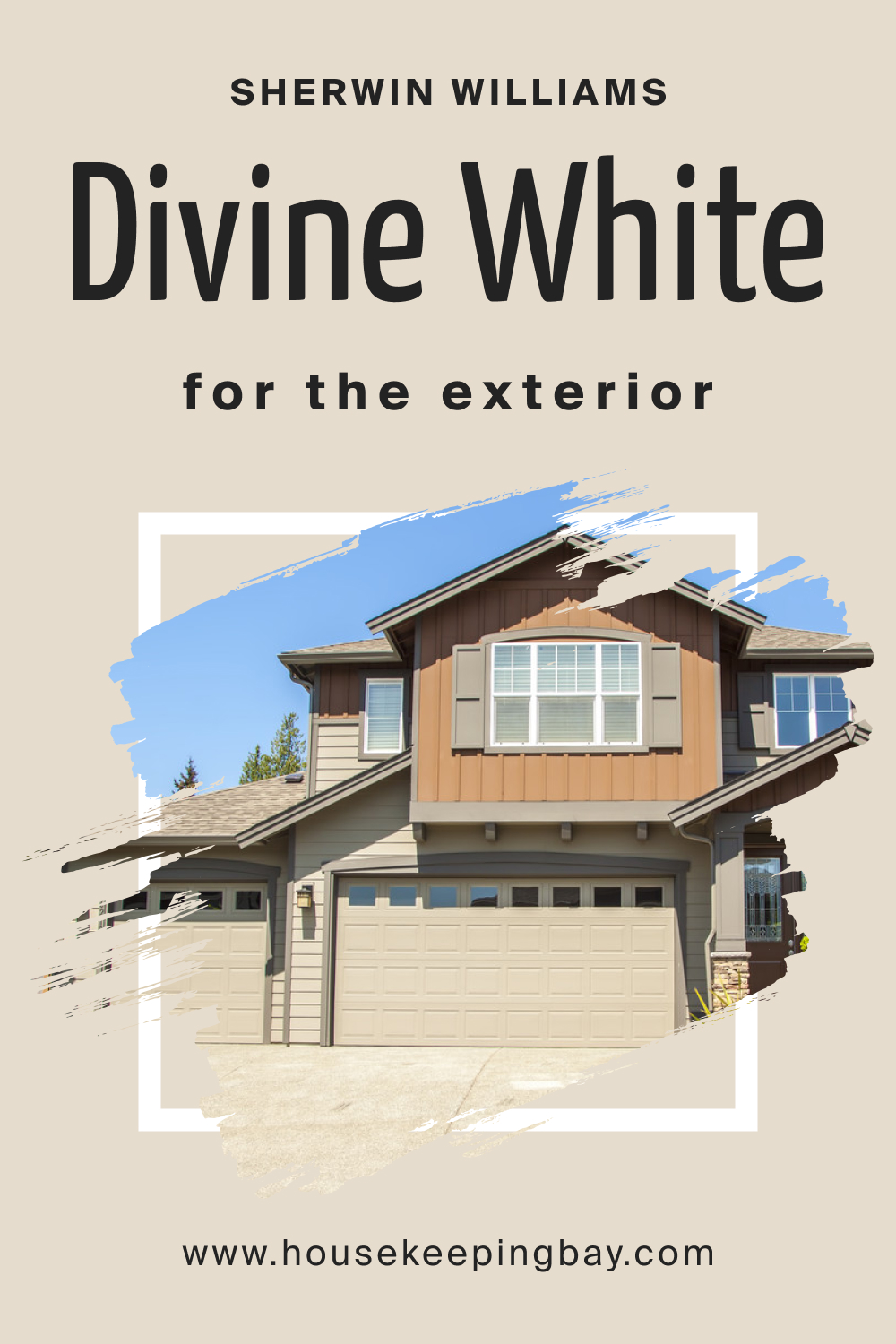 Comparing SW 6105 Divine White With Other Colors
To help you better see the unique features of this tricky color, we compared it to several colors that read nearly the same or close enough to SW Divine White. This way, you can see how LRVs and undertones affect the hue of the walls.
Divine White vs. Dover White
Both paint colors come from the yellow hue family, but their LRVs are distinct. Dover White has an LRV of 83, which is higher than SW Divine's LRV of 72. This means that Dover White is the lighter of the two colors. Also, it has more color to it. Finally, you can notice that Dover White reads creamier with some subtle yellowness to it.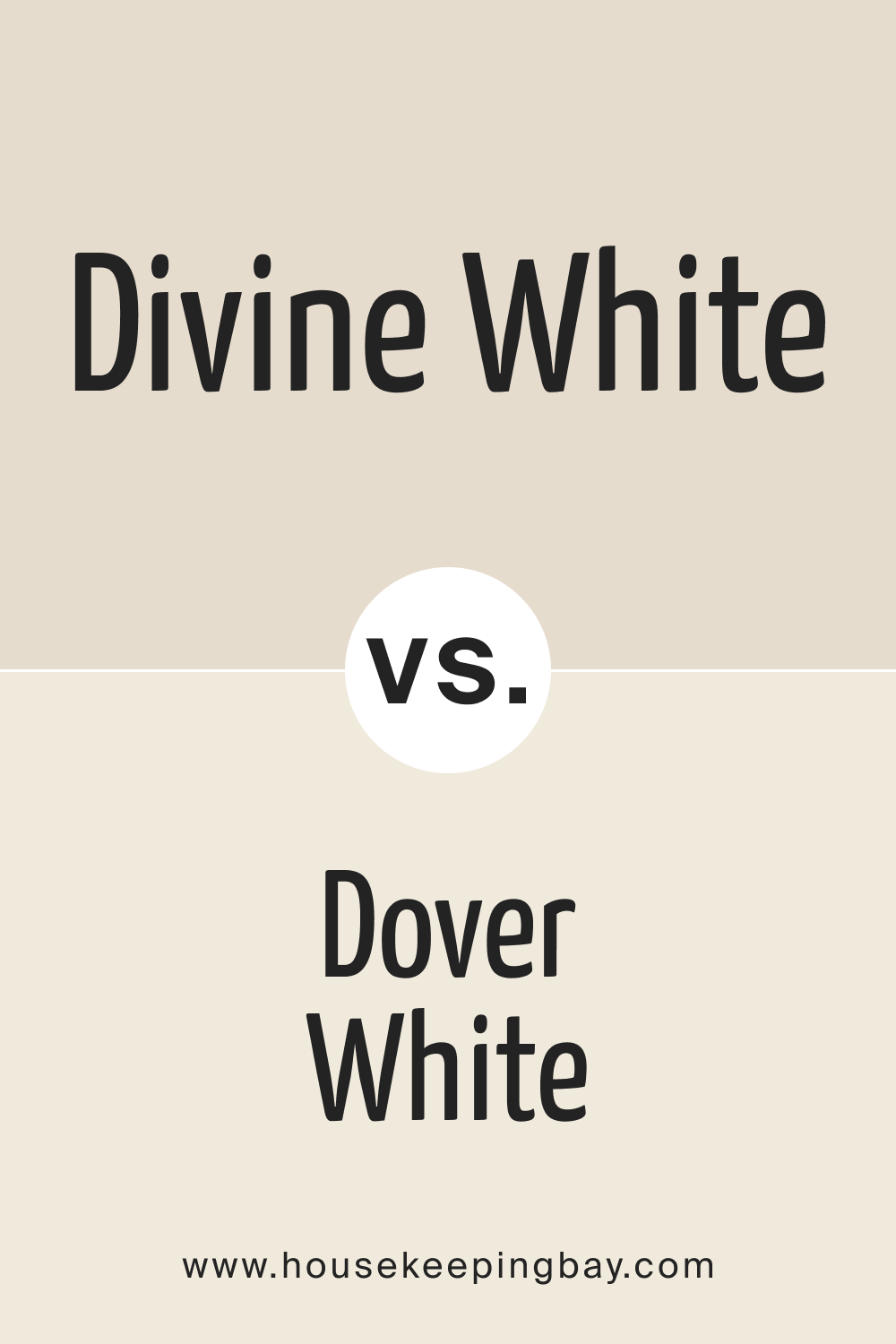 Divine White vs. White Dove
Although both colors are called white, they look completely different. Compared to BM White Dove, its counterpart reads much warmer and is typically beige. The White Dove color is, on the contrary, clean and classic white.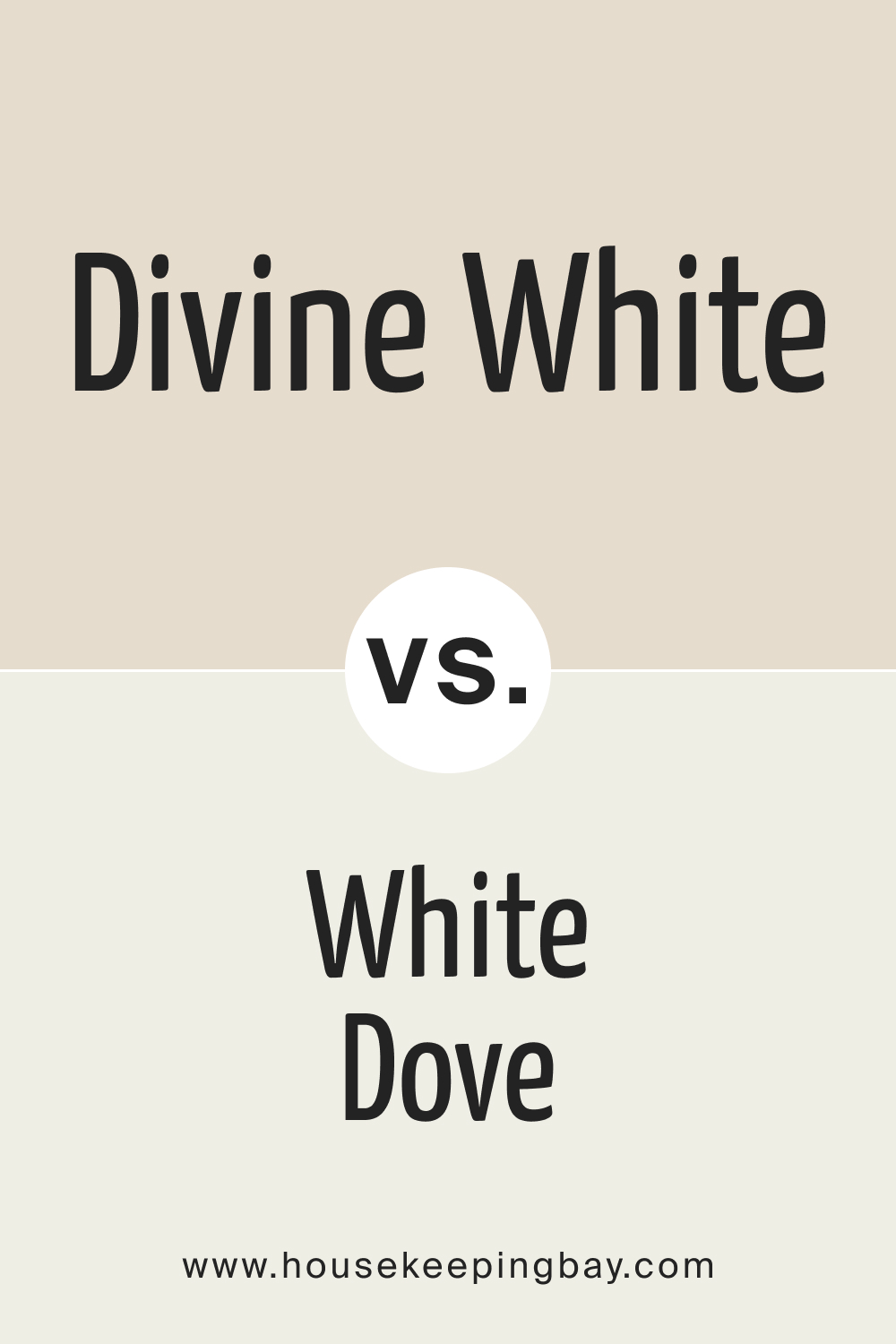 Divine White vs. Extra White
SW Extra White has very slight greenish-yellow undertones, whilst its counterpart has beige undertones instead. Also, the LRV value of SW Extra White is 86, which is pretty higher than the LRV value of 72 for the Divine White color.
It means that SW Extra White is significantly lighter. Generally, SW Extra White looks more cool-toned with a hardly noticeable greenish hue compared to warmer SW Divine White.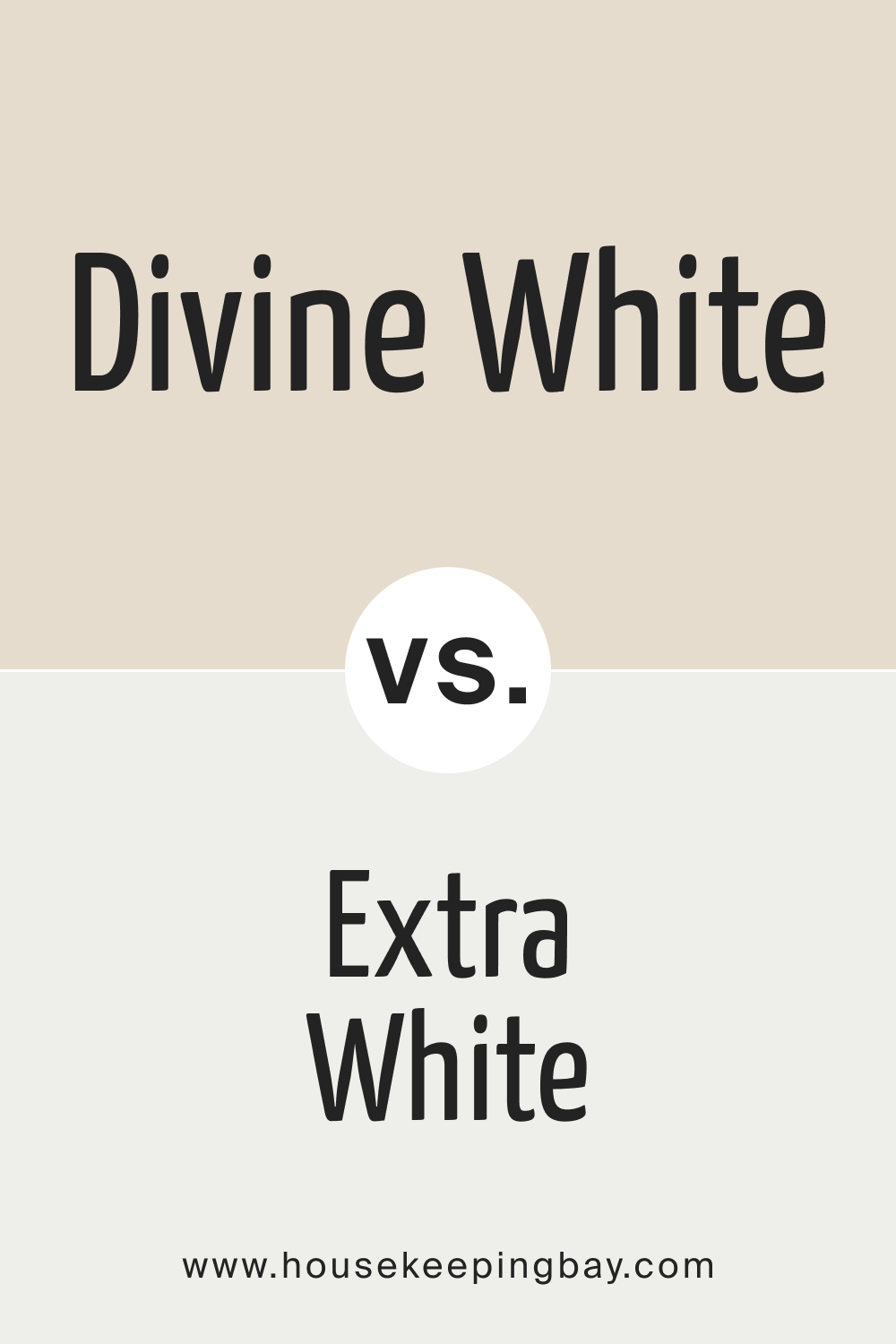 Divine White vs. Pure White
SW Pure White has an LRV of 84. Also, the undertones of SW Pure White are almost invisible, though the formula does include a pinch of yellow and a touch of black. Compared to SW Pure White, SW Divine White looks beige and warm, as well as less reflective due to the lower LRV of 72.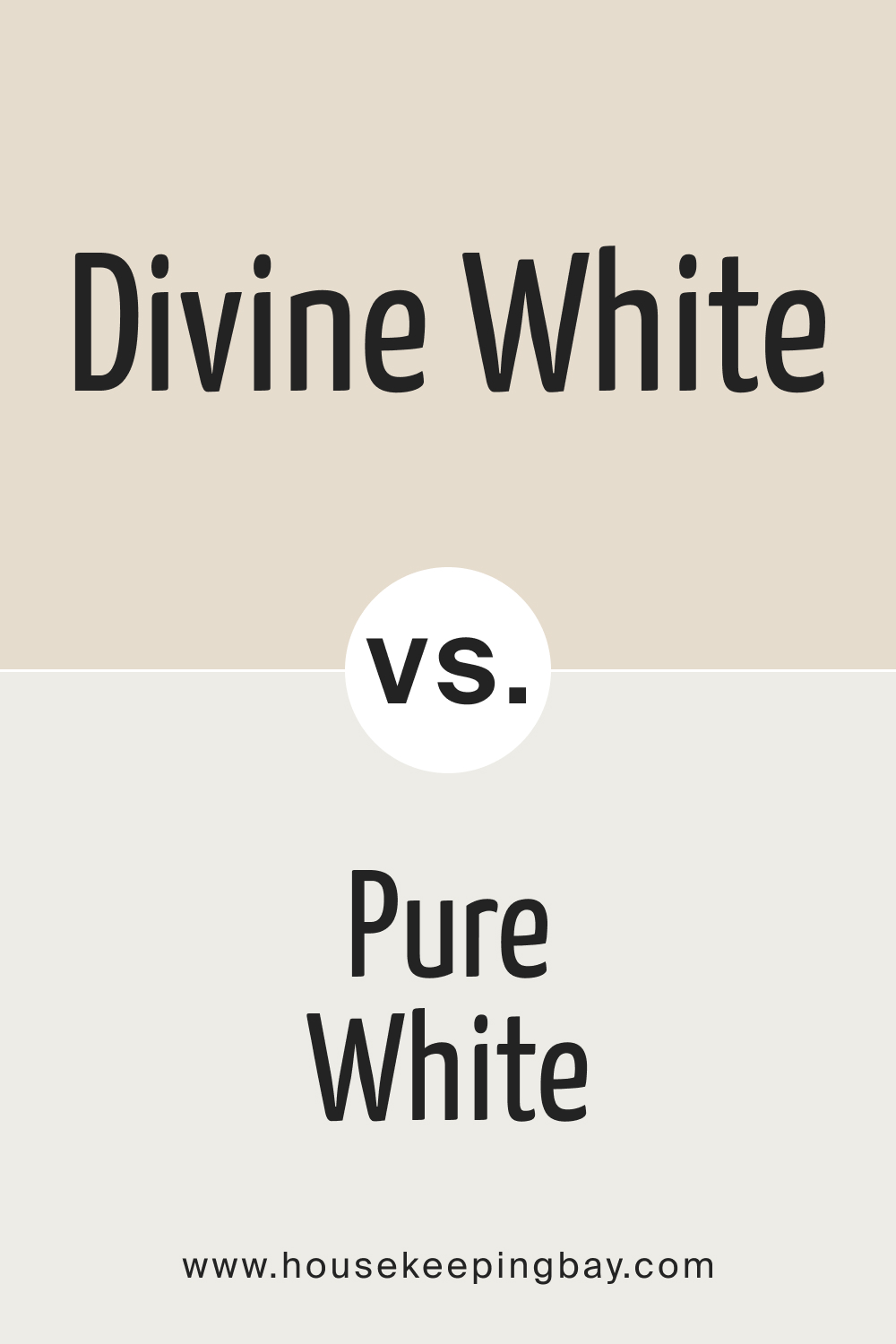 Divine White vs. Chantilly Lace
BM Chantilly Lace has very few undertones, which means it works like white. And with an LRV value of 90, this white looks bright and crispy, reflecting plenty of light.
Compared to it, SW Divine White reads more muted and less reflective, with an LRV of 72. Besides, its beige undertones make this color read beige.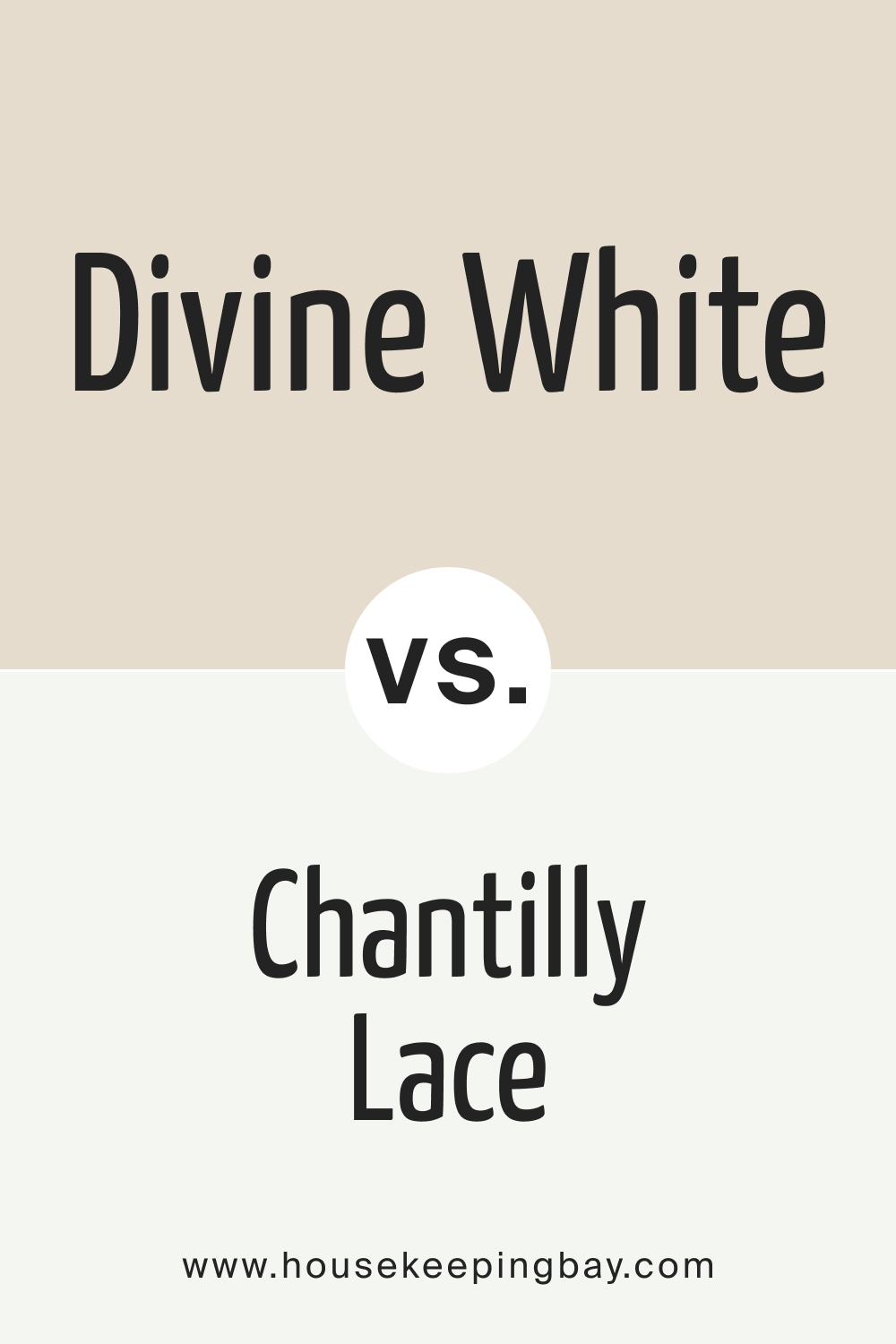 Divine White vs. Simply White
These two look pretty well together. BM Simply White is a clean and crisp white with an LRV of 91 that has a slight hint of warmth. Thanks to this warm hue, this color complements its warmer partner (SW Divine White) and doesn't look too bright. Also, BM Simply White has a very slight yellowish undertone, which also helps it pair nicely with the much warmer Divine White color.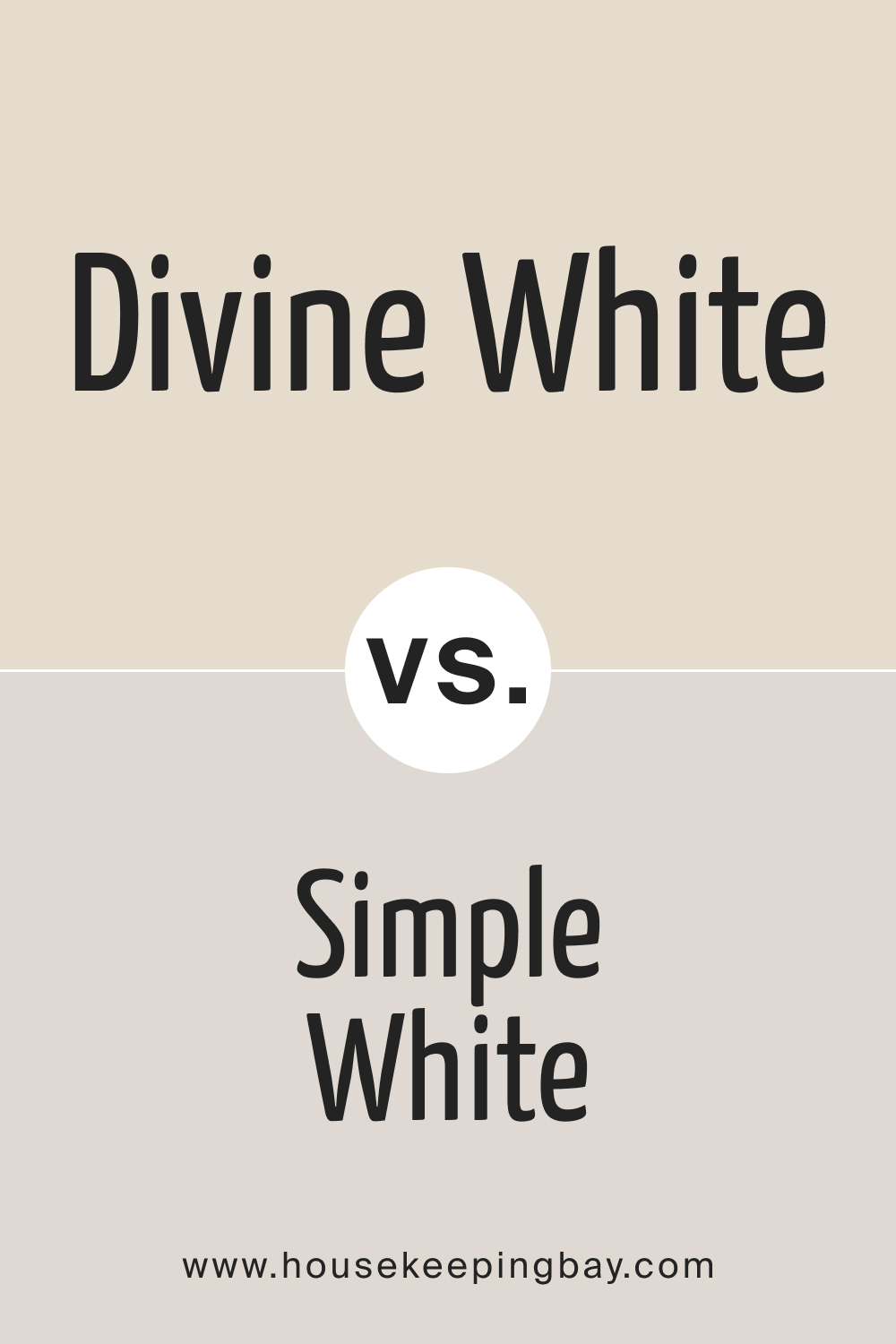 Now you can see that SW Divine White is not an easy color! With its beige undertones, it is much closer to beige than white. However, now you know how it works and how to coordinate it! Also, you learned in what rooms it can be used and what to consider when using this tricky white/beige in your home.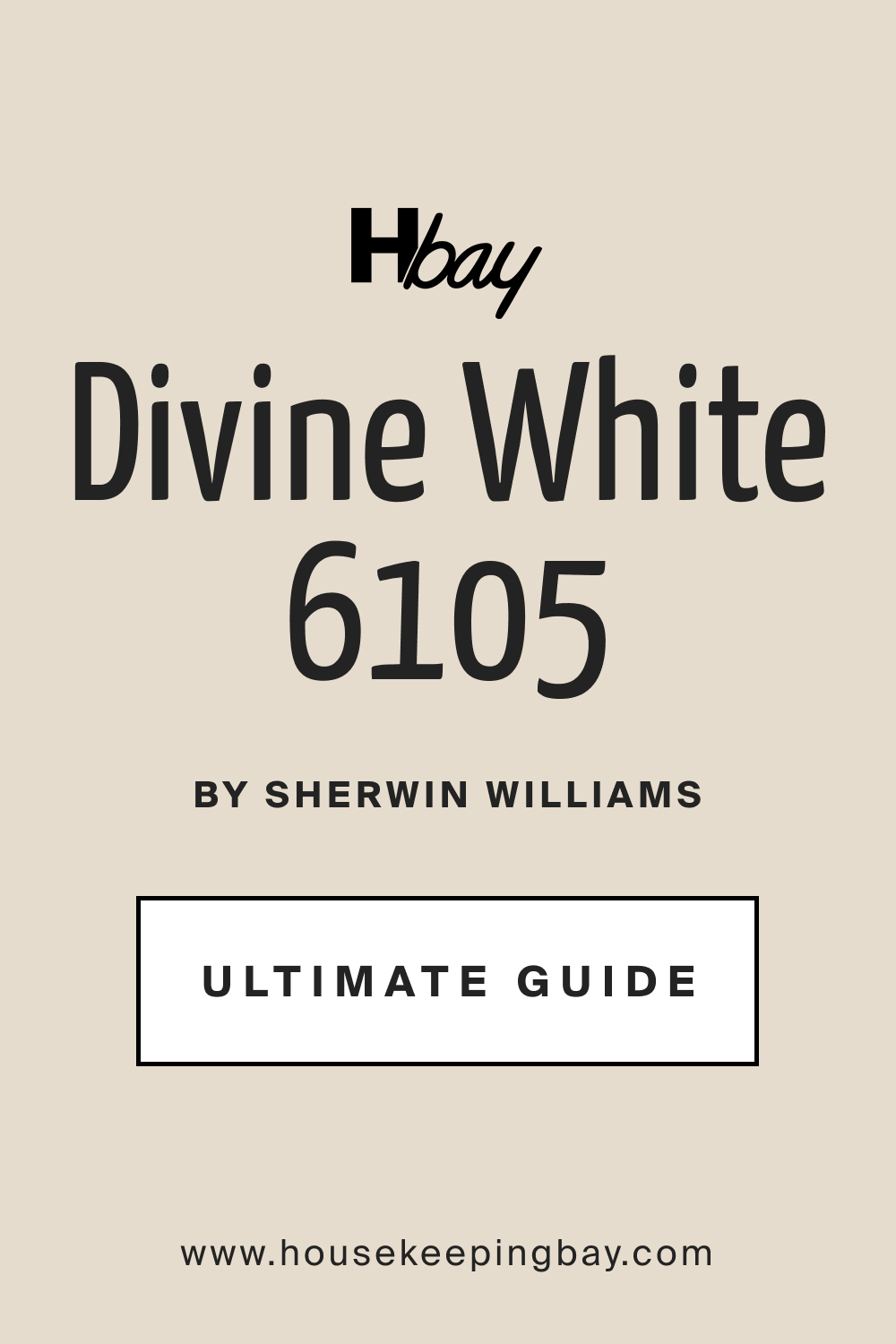 Frequently Asked Questions
⭐What color collection(s) does SW Divine White belong to?
This color is part of Dreamer, Precious Baby, Living Well, Top 50 Colors, Warm White, Finest Whites, and Warm Neutrals color collections.
⭐What is the best way to sample this color?
Use peel-and-stick color samples to try this color in your home easily.
⭐In what type of light does this color work best?
SW Divine White works well in rooms with low light.