A pivotal aspect of interior design and home decor is the right selection of paint colors. Paint can be a transformative medium that can make or break the ambiance of a space. One such color that has been capturing attention is the SW 6252 Ice Cube.
This guide will delve deep into the intricacies and charm of this shade, providing insight into its undertones, coordinating colors, how to use it, and much more.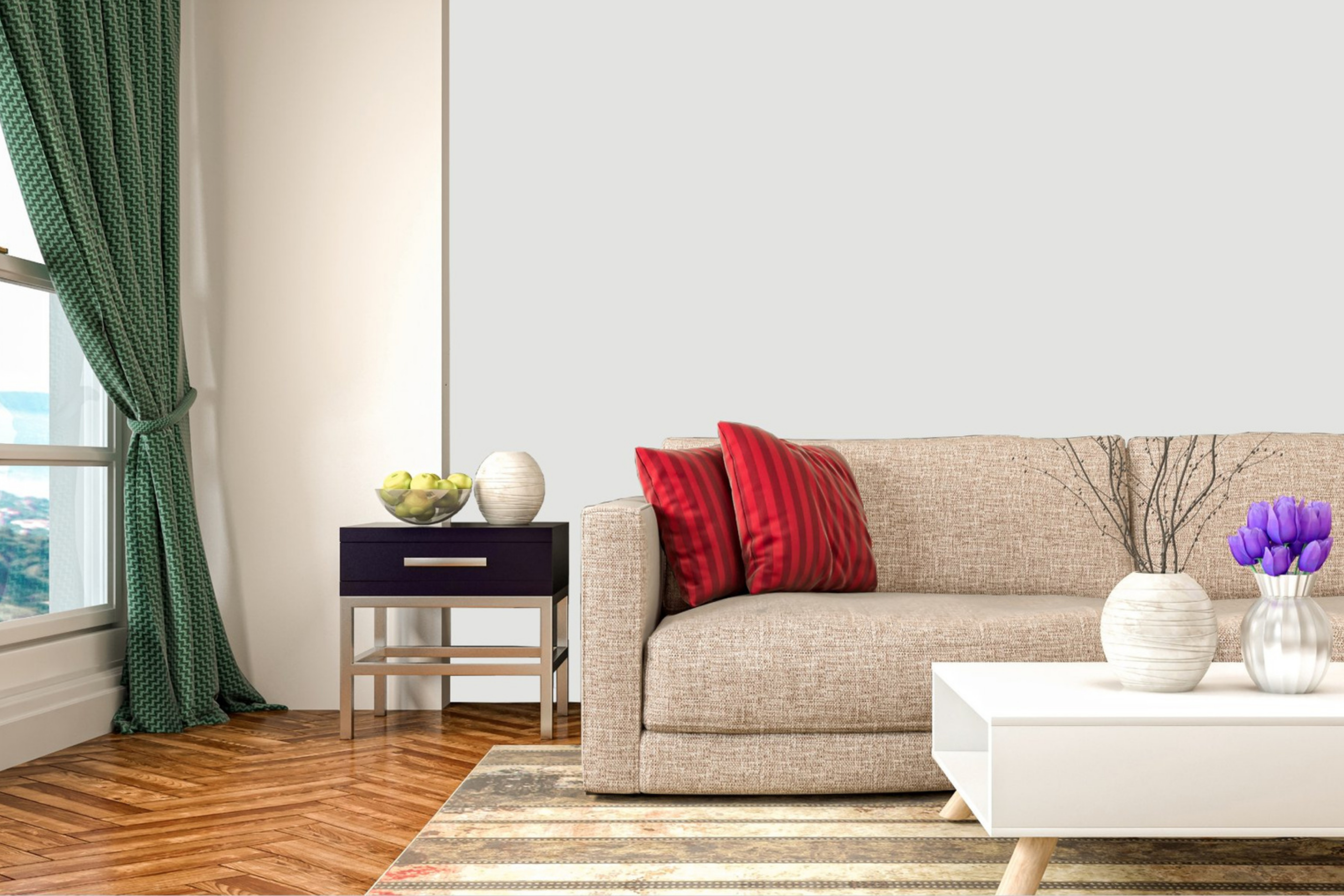 What Color Is SW 6252 Ice Cube?
SW 6252 Ice Cube is a soft, muted shade that is reminiscent of a gentle winter sky. It's not overtly blue, but it isn't stark white either. This color manages to strike a perfect balance, lending itself to a variety of spaces and creating a calming, serene ambiance.
Its versatile nature allows it to be used in a myriad of settings, from modern homes to classic spaces, adding a touch of freshness and refinement.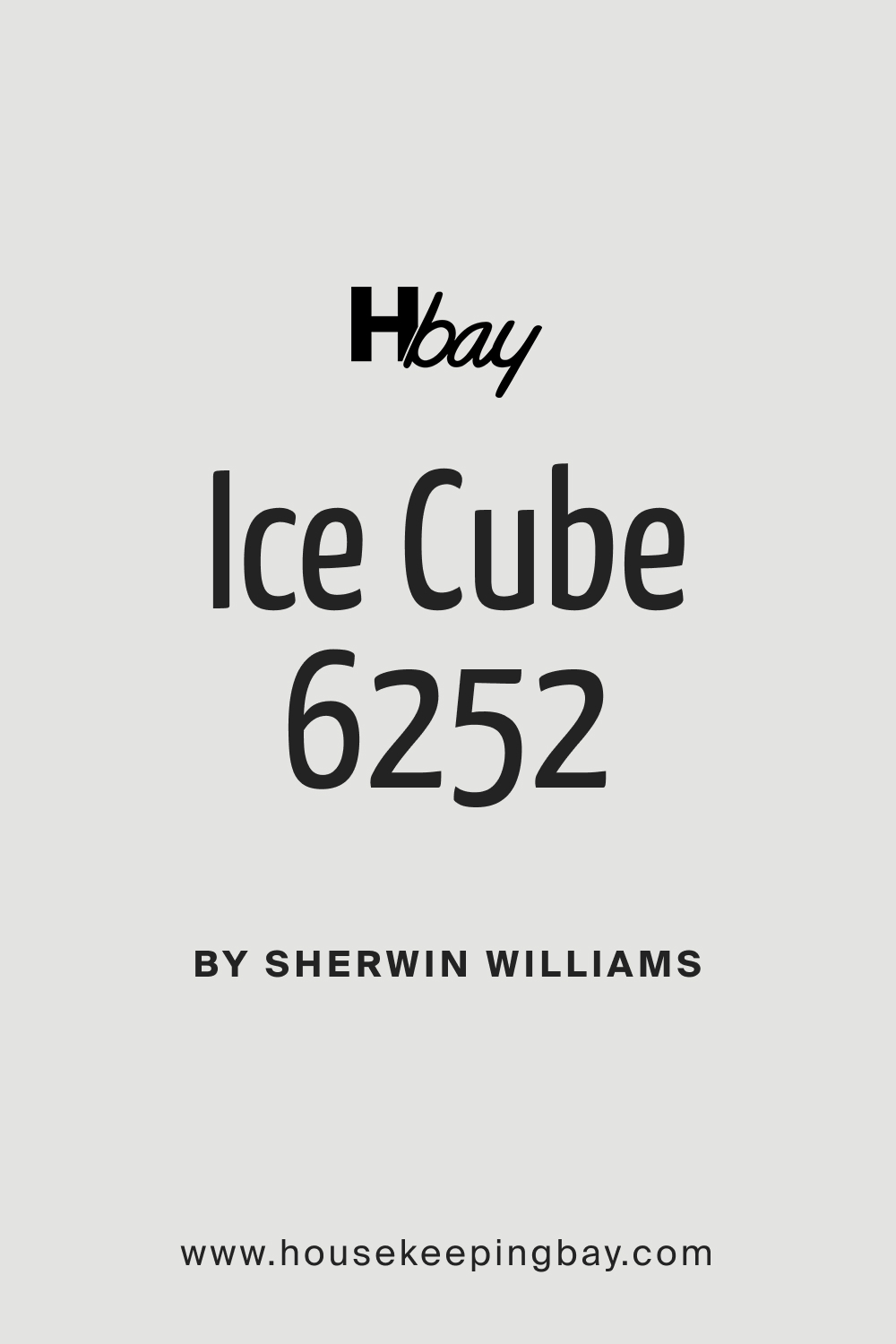 Is It a Warm Or Cool Color?
SW 6252 Ice Cube leans towards the cooler spectrum of colors. Its subtle hints of blue give it a cool undertone, making it a perfect choice for spaces that aim for a calming and refreshing aura.
Undertones of SW 6252 Ice Cube
As highlighted, SW 6252 Ice Cube carries light blue undertones. Undertones play a critical role in how we perceive and interact with colors. They can either intensify or soften the primary color and in the case of Ice Cube, the light blue undertones soften its presence, making it more adaptable and appealing in various settings.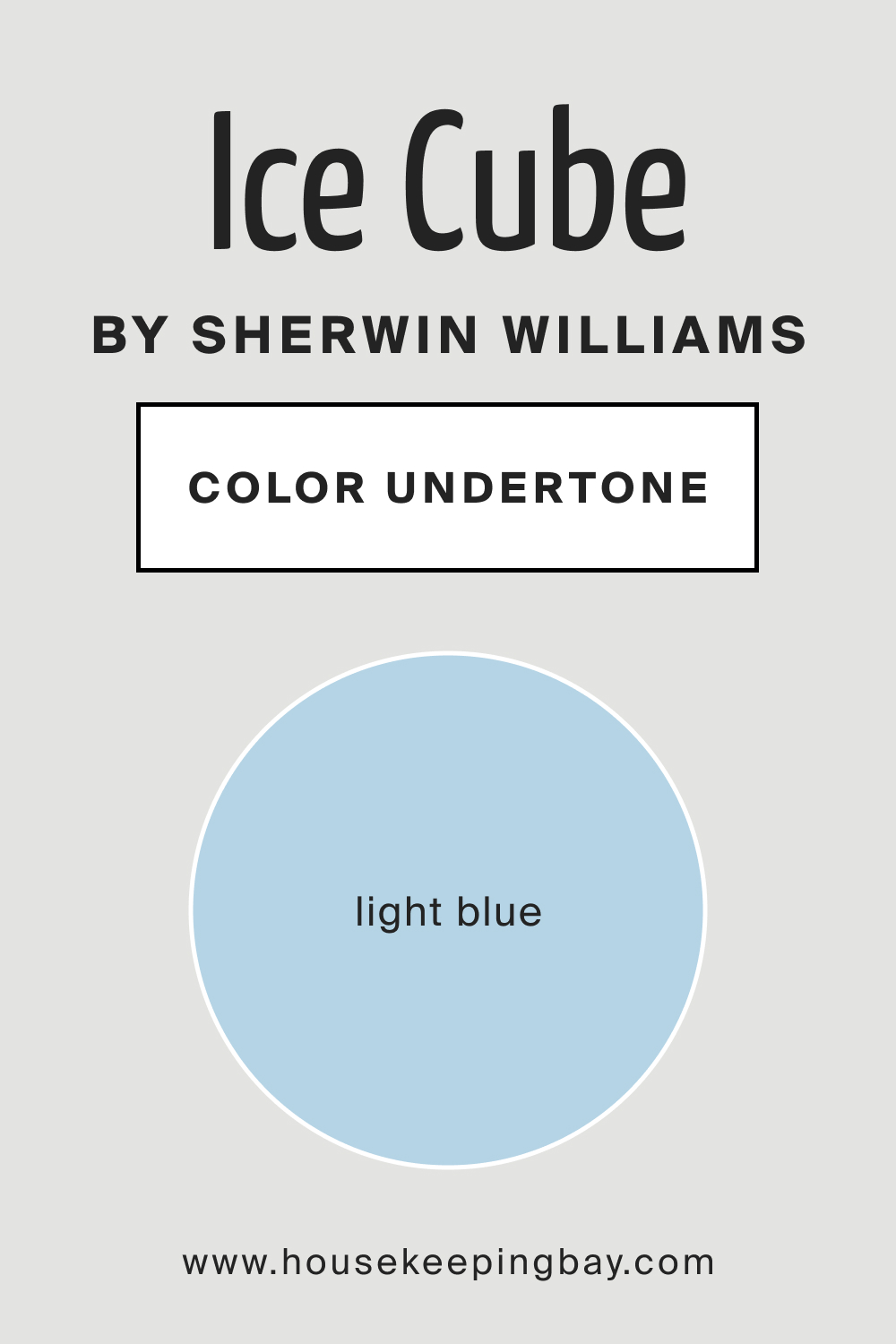 Coordinating Colors of SW 6252 Ice Cube
Coordinating colors are those that complement and harmonize with a primary shade. They can enhance and accentuate the primary color, making spaces look cohesive and well-thought-out.
SW Lazy Gray: A neutral gray that beautifully complements the cooler undertones of Ice Cube, adding depth to spaces.
SW Green Onyx: This subtle green shade can infuse life and vitality in spaces when paired with Ice Cube.
SW Malabar: A muted beige, Malabar introduces warmth and earthiness when juxtaposed with Ice Cube.SW Copper Mountain: A bolder choice, this shade introduces a rustic charm that contrasts yet complements Ice Cube.
SW Pearl Gray: Slightly cooler, this shade mirrors the serene vibes of Ice Cube.
SW Tradewind: A breezy blue, Tradewind can enhance the aquatic undertones of Ice Cube, making spaces feel airy.
SW Misty: A harmonious blend of blue and gray, it seamlessly pairs with Ice Cube for a cohesive look.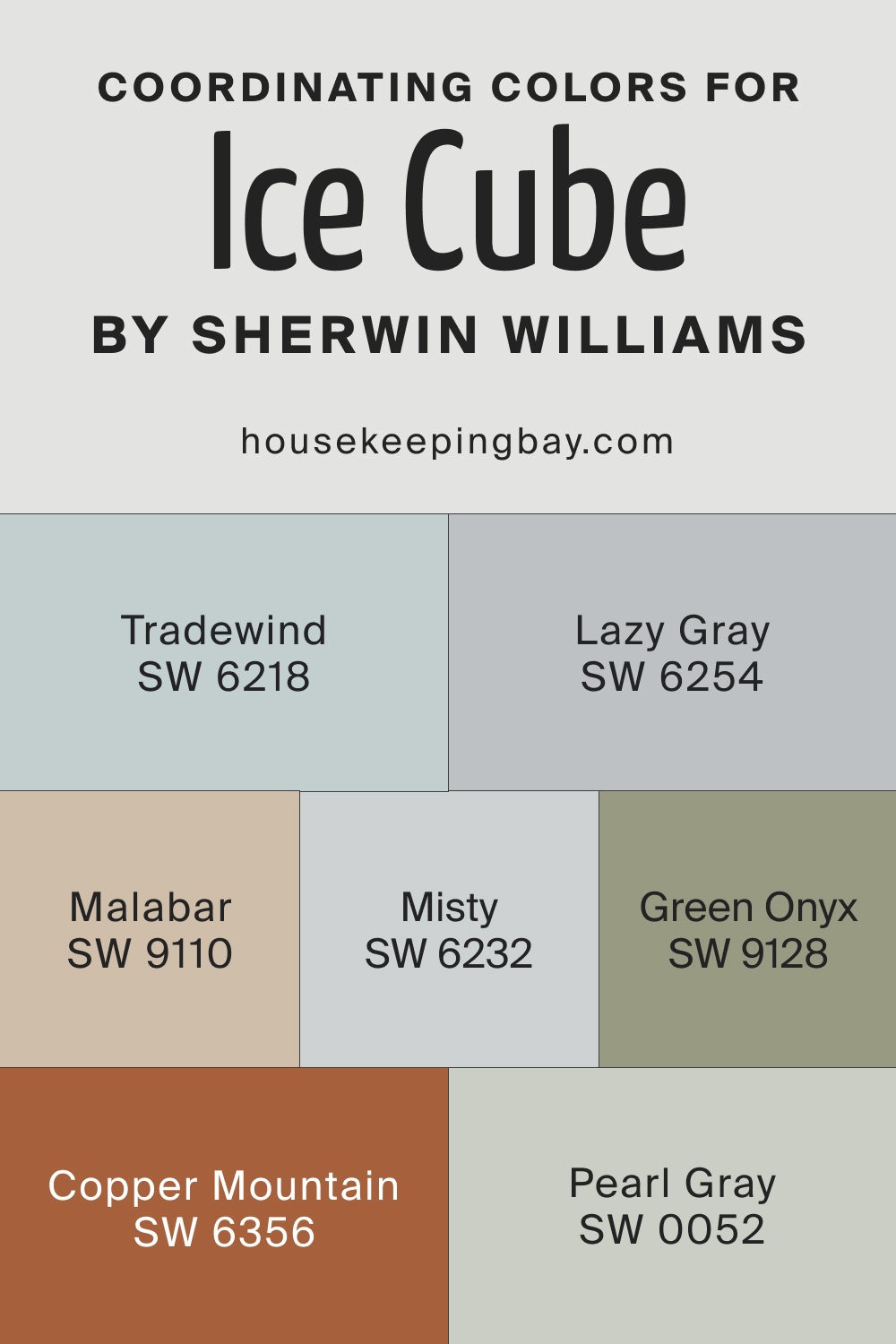 How Does Lighting Affect SW 6252 Ice Cube?
Light plays a pivotal role in determining how wall paint color is perceived in a room. Natural daylight can accentuate the true essence of a color, revealing its undertones and depth, while the type and warmth of artificial lighting can either amplify or diminish its hue.
The direction of natural light—north-facing versus south-facing—can also influence the paint's appearance; north-facing light tends to be cooler, potentially intensifying blues and greens, while south-facing light is warmer, highlighting reds and yellows.
Moreover, as daylight transitions from morning to evening, the paint color can seemingly shift from vibrant to muted, underlining the importance of observing a paint color at different times of the day before making a final selection.
Lighting can dramatically impact how SW 6252 Ice Cube appears in space. Natural light can amplify its cool undertones, making it appear more blue, while artificial lighting, especially warm-toned bulbs, can make it appear more muted or neutral.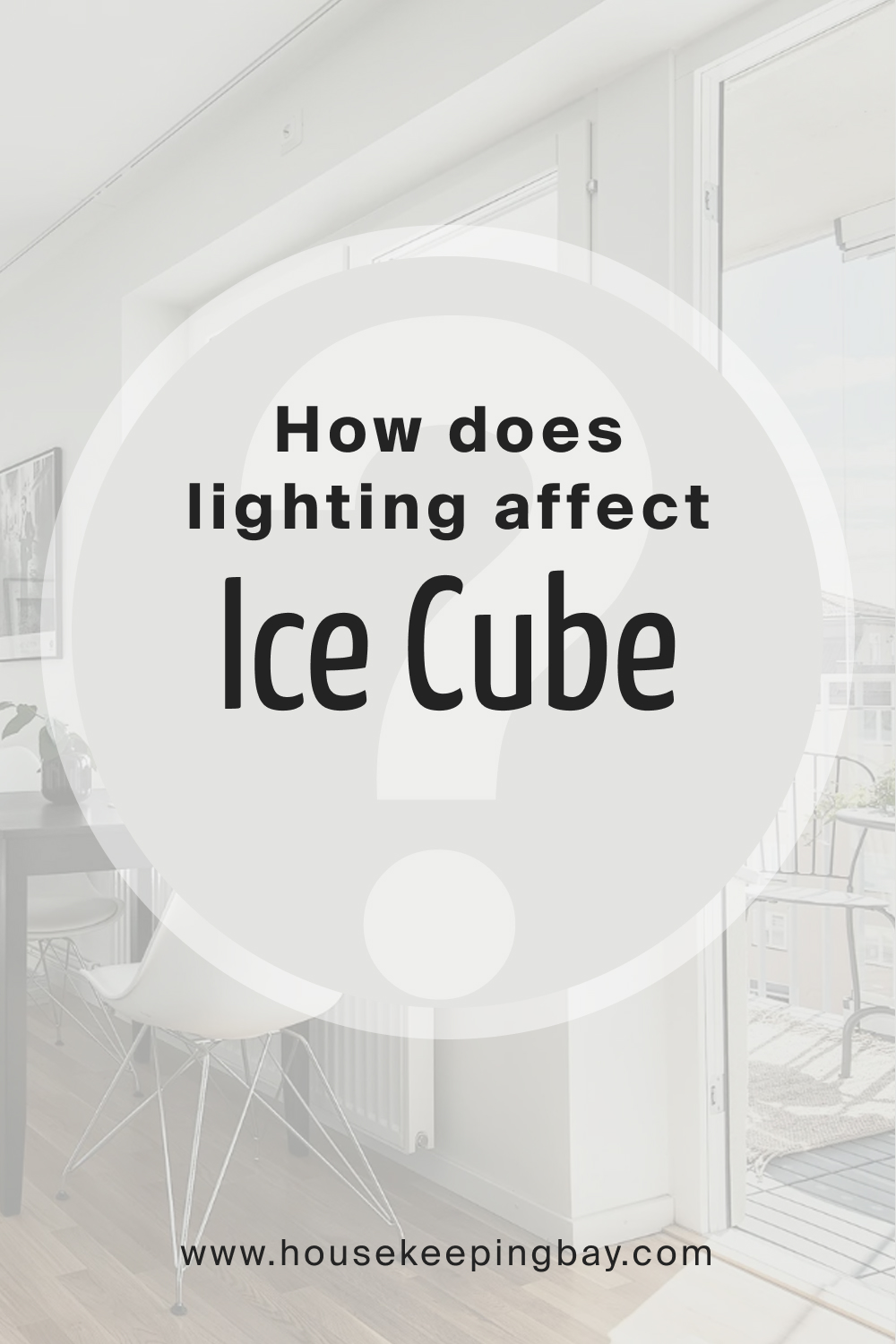 LRV of SW 6252 Ice Cube
The LRV or Light Reflectance Value of color denotes how much light it reflects. SW 6252 Ice Cube has an LRV of 77, which means it's fairly reflective but not stark or blinding. A higher LRV indicates that the color can make spaces appear brighter and more open.
With an LRV of 77, Ice Cube can brighten up spaces, making them feel airy and spacious without being too overwhelming.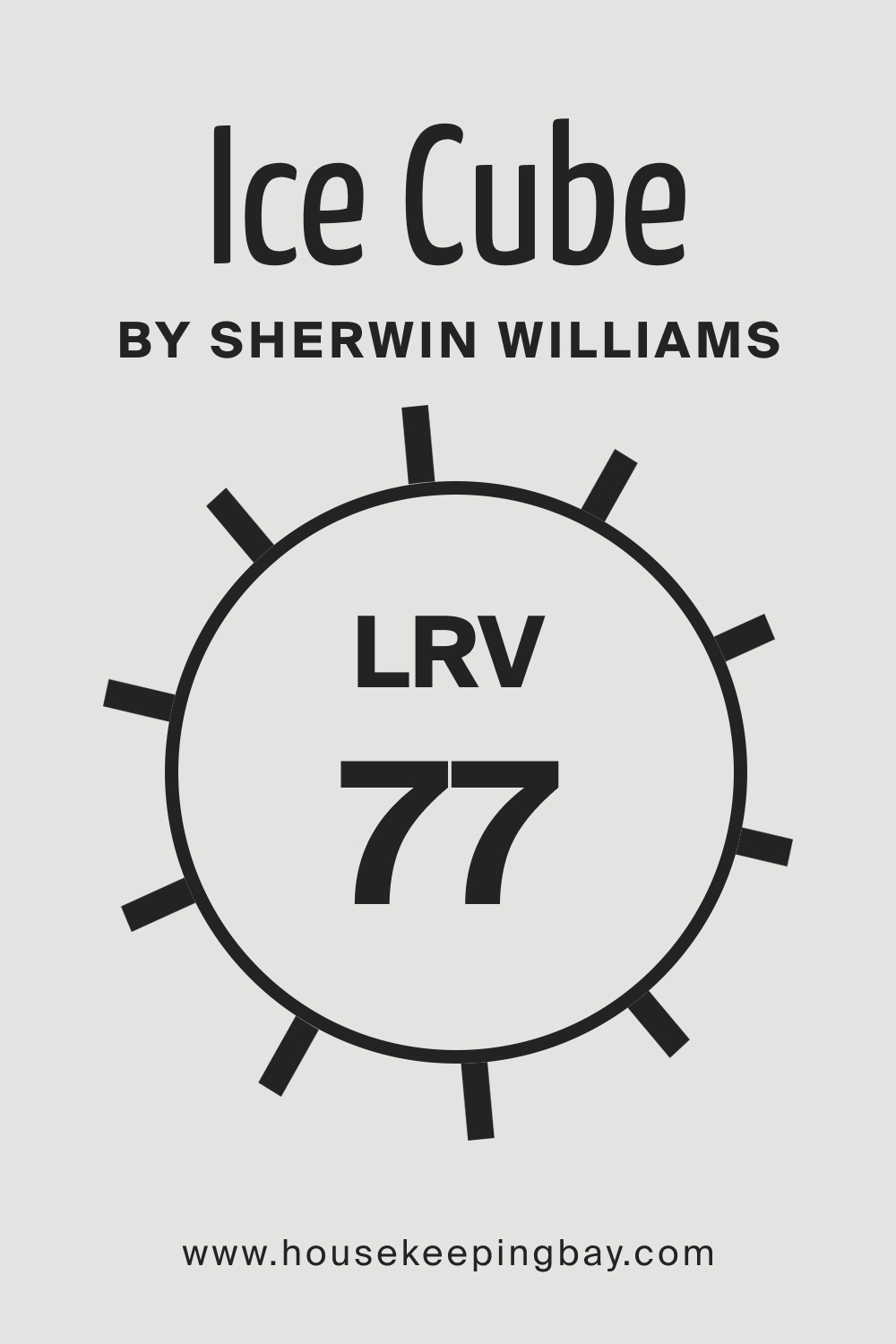 What is LRV? Read It Before You Choose Your Ideal Paint Color
Trim Colors of SW 6252 Ice Cube
Trim colors are crucial as they frame and accentuate spaces. For Ice Cube, the best trim colors would be shades of white that complement its cool undertones:
SW Pure White: A neutral white, it neither adds warmth nor cools down Ice Cube, making it a perfect trim choice.
SW Alabaster: With a touch of warmth, Alabaster can provide a subtle contrast, highlighting the coolness of Ice Cube.
SW Snowbound: A cooler shade of white, it can enhance and reinforce the blue undertones of Ice Cube.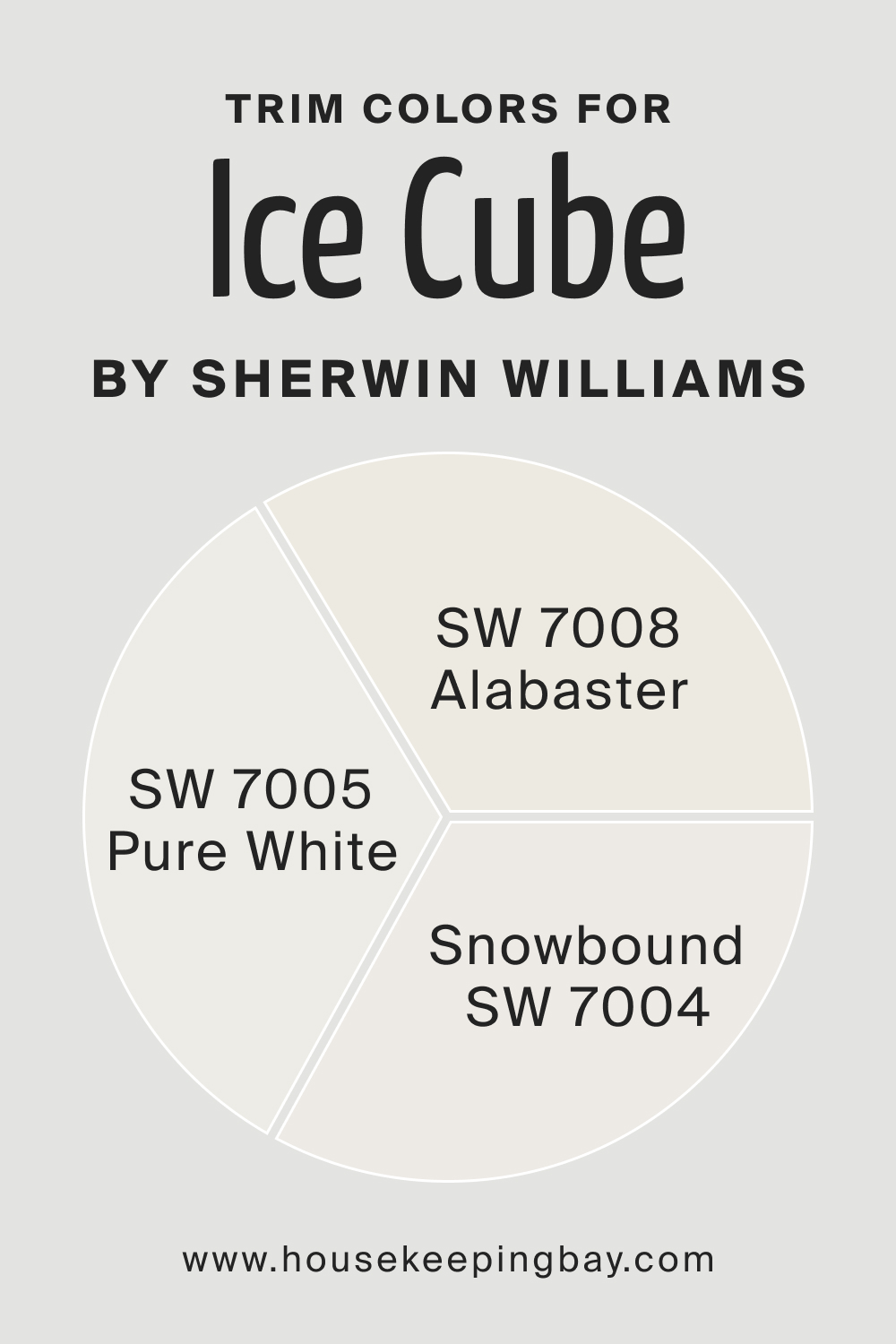 Colors Similar to SW 6252 Ice Cube
Knowing similar colors is important because it offers options and alternatives that might be better suited for specific spaces or design aesthetics.
SW Rock Candy: Slightly lighter and more airy, Rock Candy carries a hint of cool undertones similar to Ice Cube.
SW Rhinestone: More pronounced in its blue undertones, Rhinestone can be an option for those wanting a deeper shade.
SW Nebulous White: Striking a balance between gray and blue, Nebulous White is muted yet sophisticated.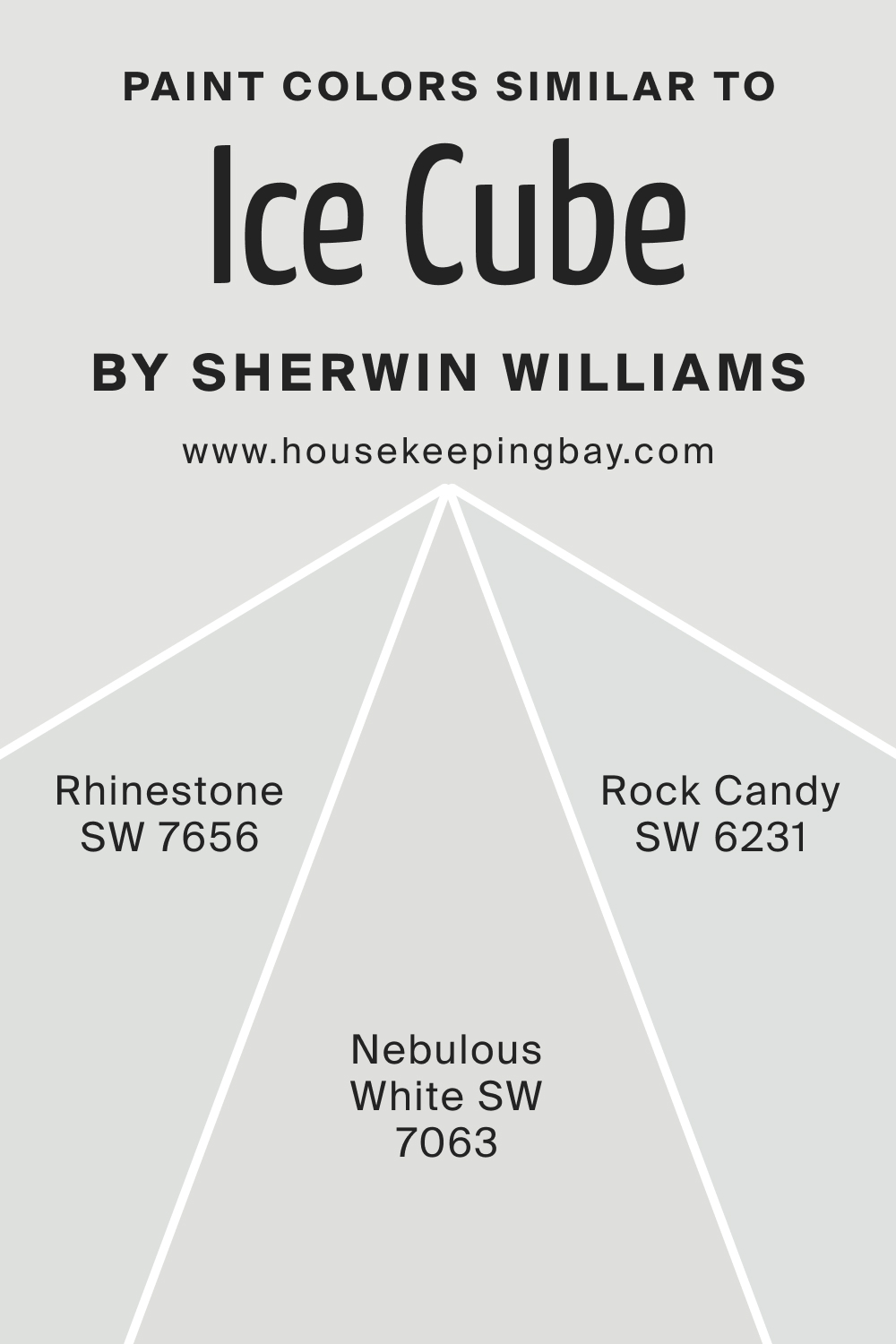 Colors That Go With SW 6252 Ice Cube
Pairing Ice Cube with complementary colors can create a cohesive design palette that enhances the overall ambiance. Some ideal partners for Ice Cube include SW Bateau Brown, SW Sand Beach, SW Atmospheric, SW Sea Serpent, and SW Lucent Yellow.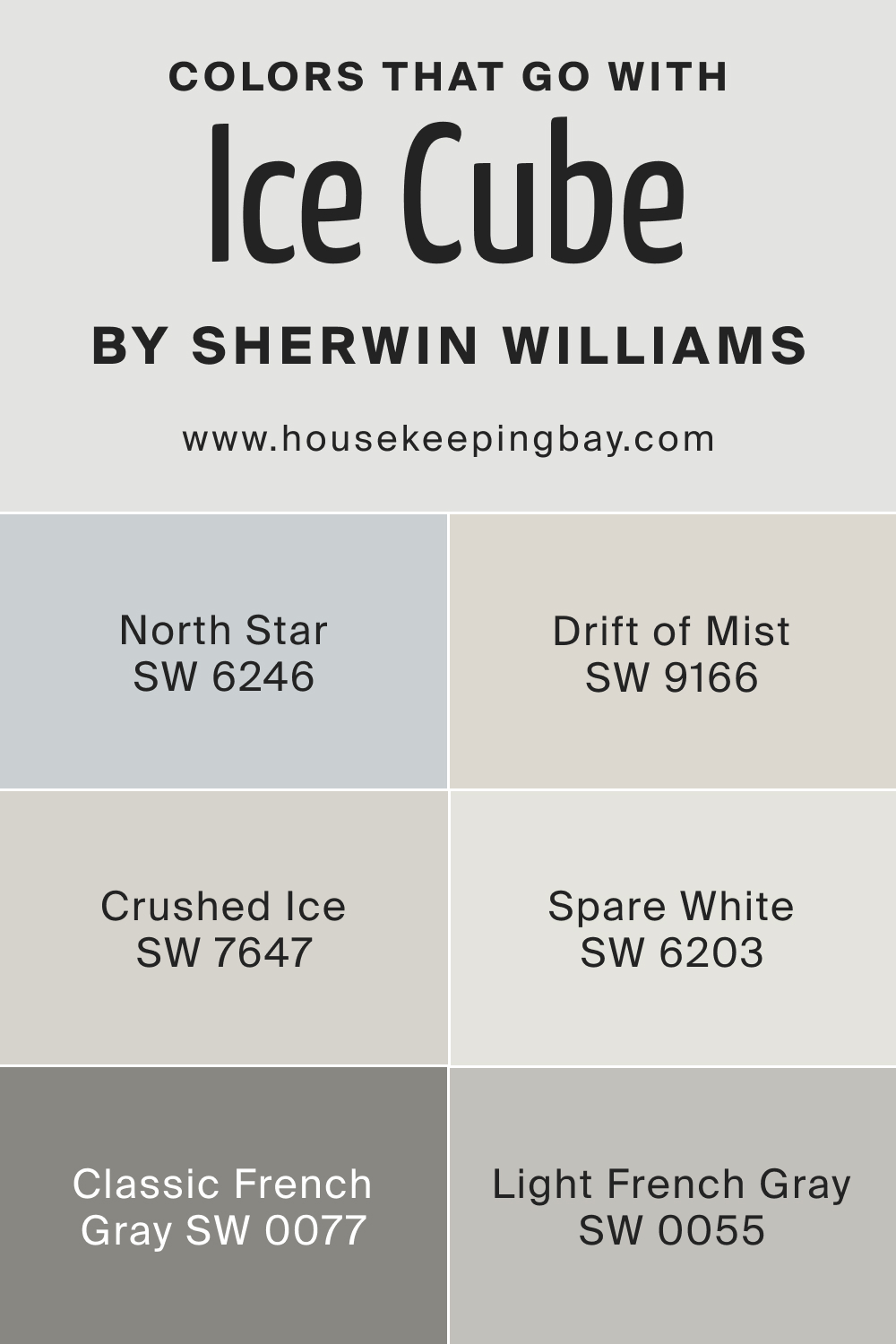 SW Ice Cube vs  SW 6033 Bateau Brown
The deep, rich tones of SW Bateau Brown beautifully contrast with the muted and airy nuances of SW Ice Cube. This earthy brown, reminiscent of well-worn leather or the bark of a tree, grounds spaces, adding warmth and sophistication.
When paired with the cooler and more delicate tones of Ice Cube, rooms take on a balanced, harmonious look that marries depth with serenity.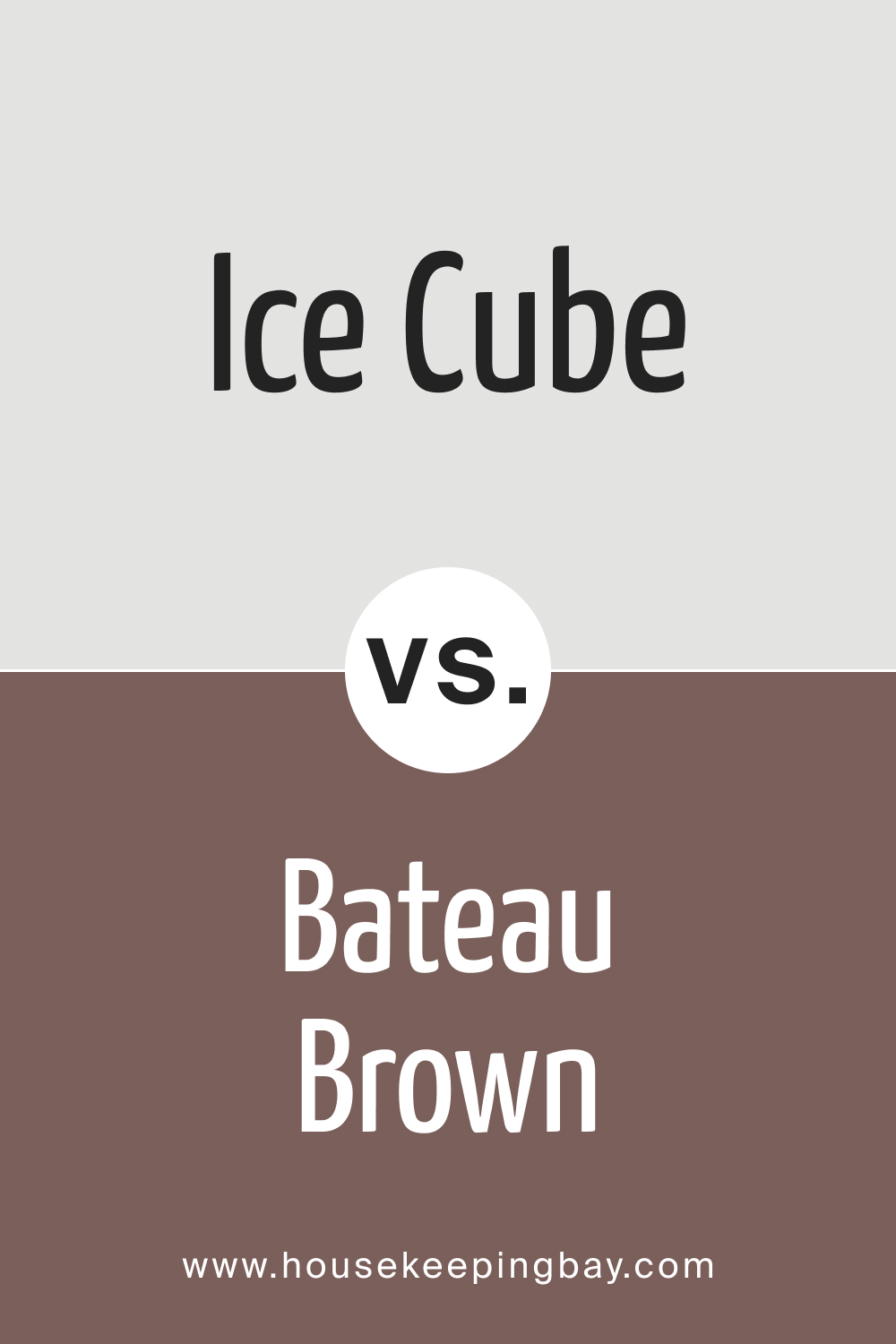 SW Ice Cube vs SW 7529 Sand Beach
SW Sand Beach is a gentle beige with hints of warmth, echoing the soft caress of sunlit sands. When juxtaposed with the cool undertones of SW Ice Cube, it creates a coastal, breezy ambiance, perfect for spaces aiming for a relaxed, beachy feel. The resulting palette is both welcoming and refreshing, evoking feelings of seaside retreats.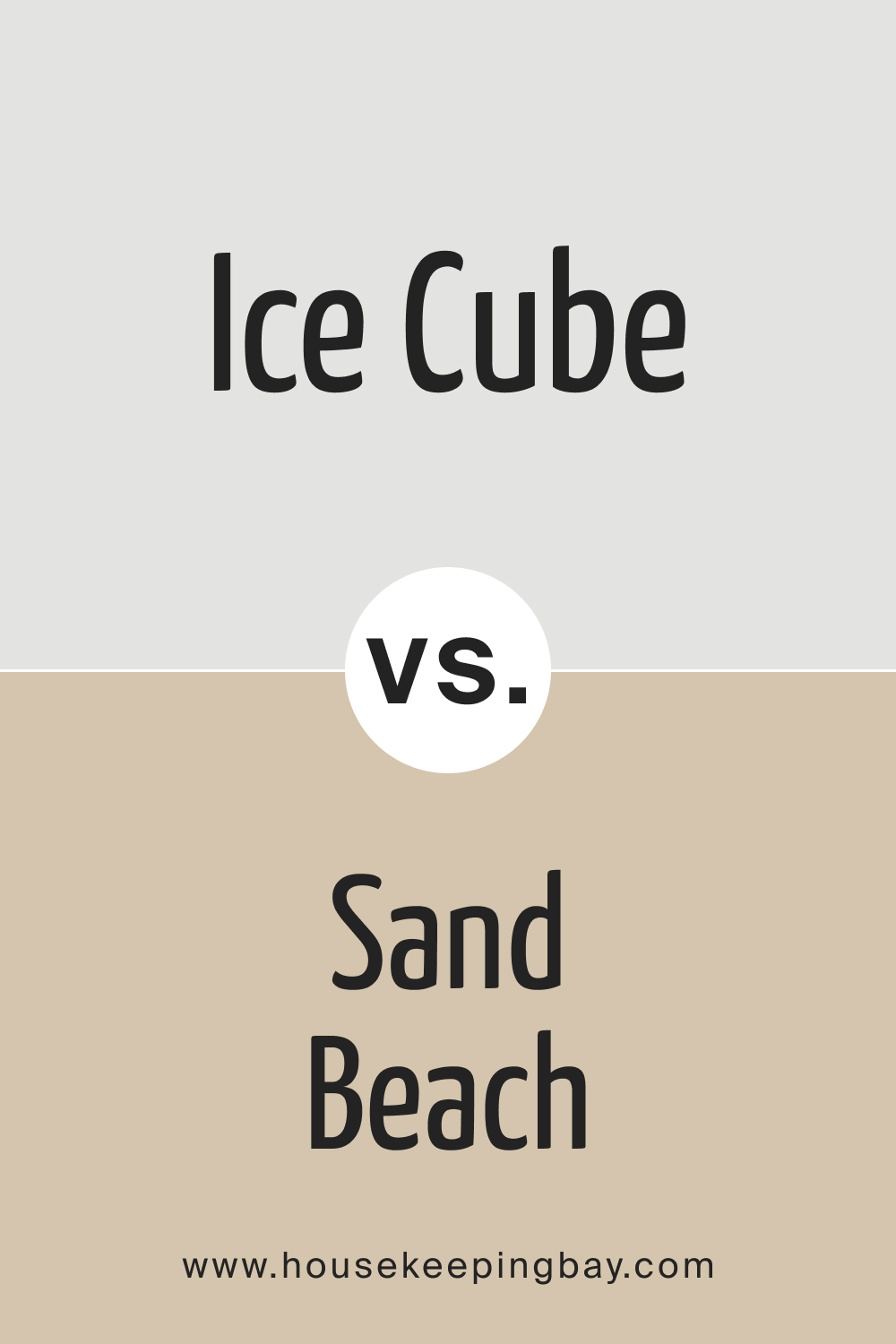 SW Ice Cube vs SW 6505 Atmospheric 
True to its name, SW Atmospheric carries a serene and airy feel, a blend of blue and gray that captures the essence of a misty morning sky. Paired with SW Ice Cube, the duo emphasizes cool, calm vibes. This combination is ideal for creating tranquil spaces that serve as an escape from the daily hustle, reminiscent of clear skies after rain.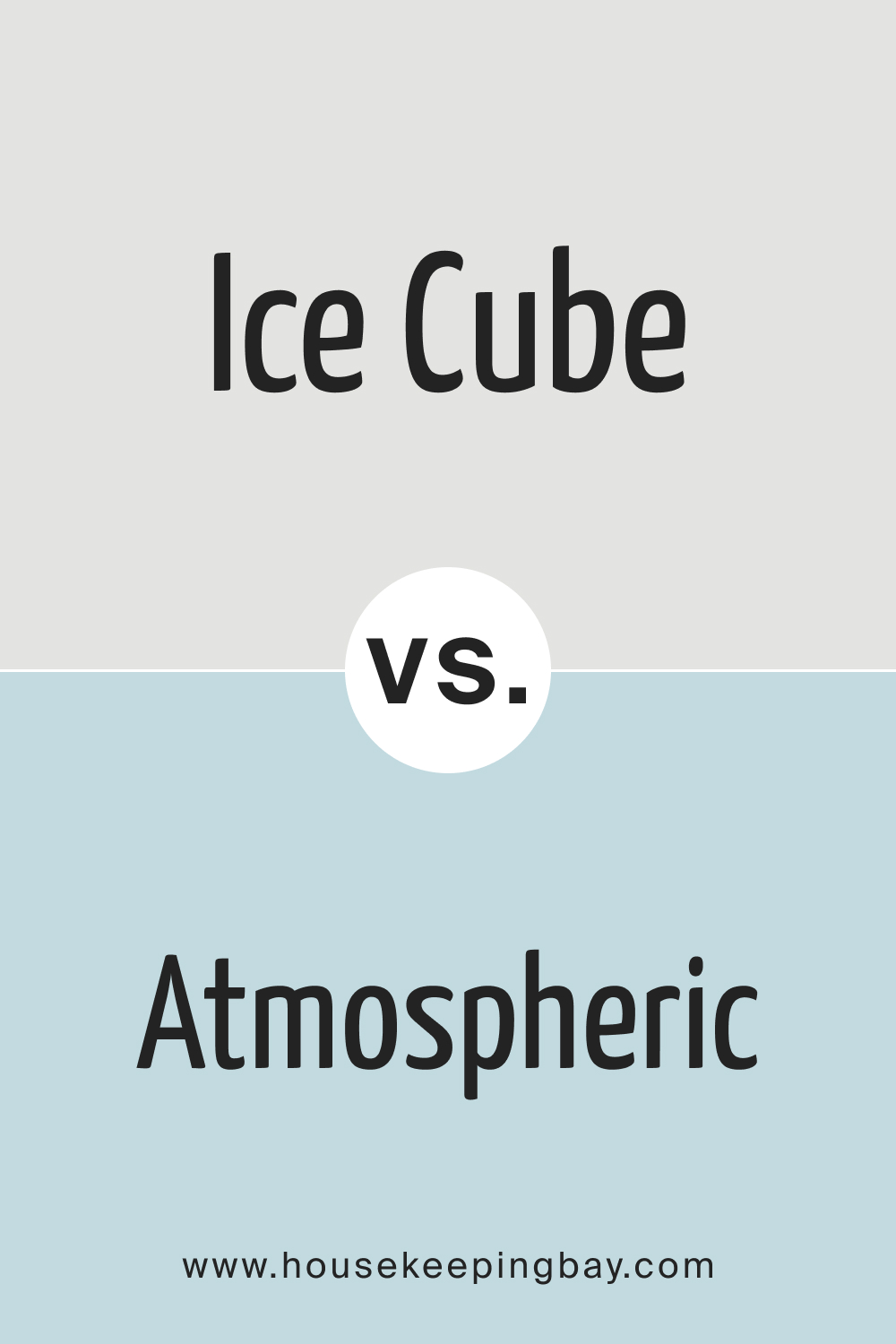 SW Ice Cube vs SW 7615 Sea Serpent
SW Sea Serpent is a deep, enchanting blue-gray that mirrors the mysteries of ocean depths. This shade, when placed alongside SW Ice Cube, introduces a bold contrast that's both dramatic and harmonious. The striking depth of Sea Serpent balances the lightness of SW Ice Cube, creating a dynamic interplay between dark and light, making spaces feel contemporary and elegant.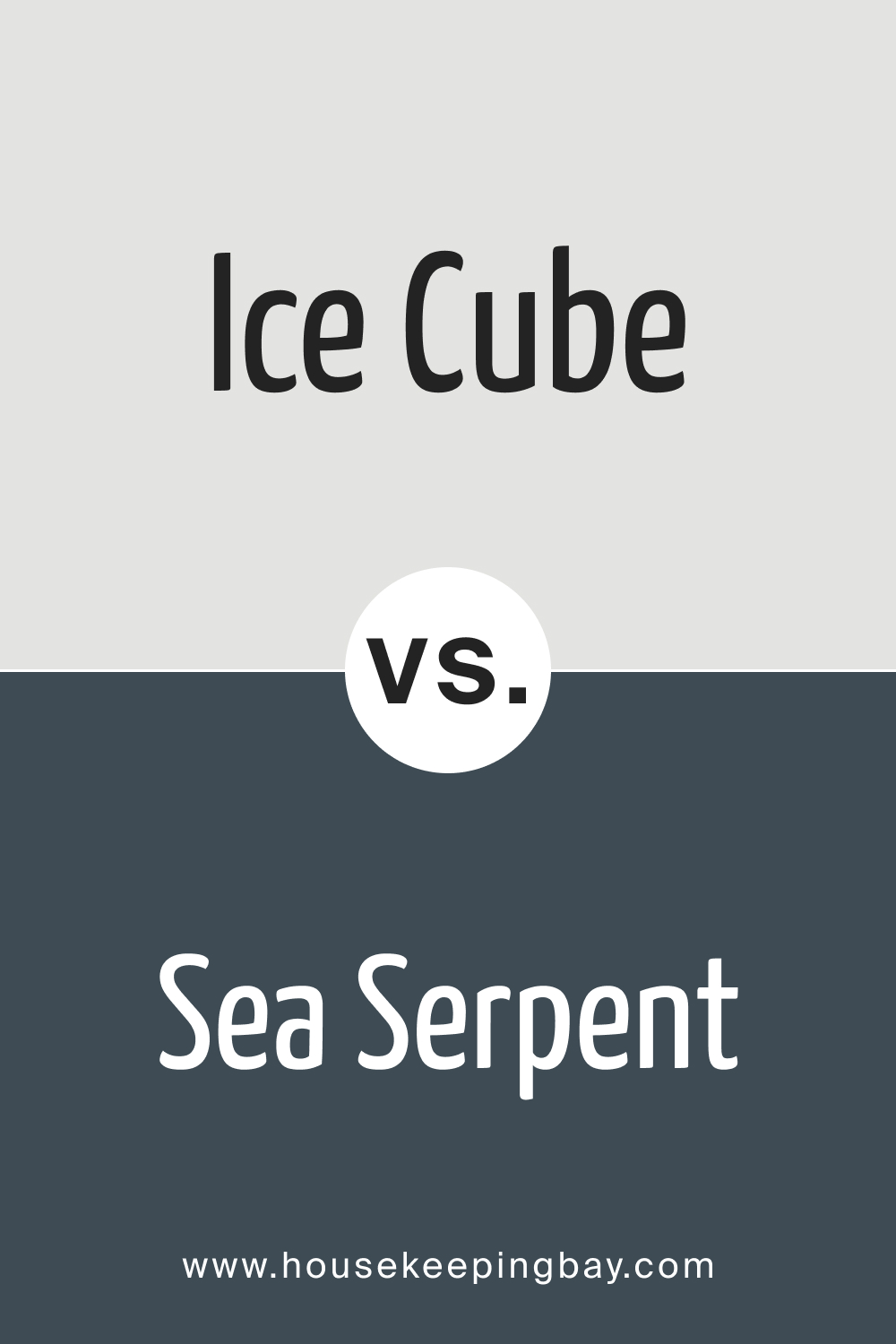 SW Ice Cube vs SW 6400 Lucent Yellow
SW Lucent Yellow is vibrant and sunny, carrying the optimism of a bright summer day. Its cheerful hue, when combined with the muted SW Ice Cube, introduces a burst of energy and positivity. The contrast here is of temperature; the warmth of Lucent Yellow perfectly offsets the coolness of Ice Cube, creating a lively and balanced visual experience.
Selecting the right color palette is crucial because colors play a significant role in influencing our emotions, perceptions, and overall experience of a space. Colors can either enhance or disrupt the cohesion of a room, making it either inviting or unsettling.
By thoughtfully choosing a palette that complements SW Ice Cube, designers and homeowners can ensure that spaces not only look aesthetically pleasing but also evoke the desired mood and ambiance.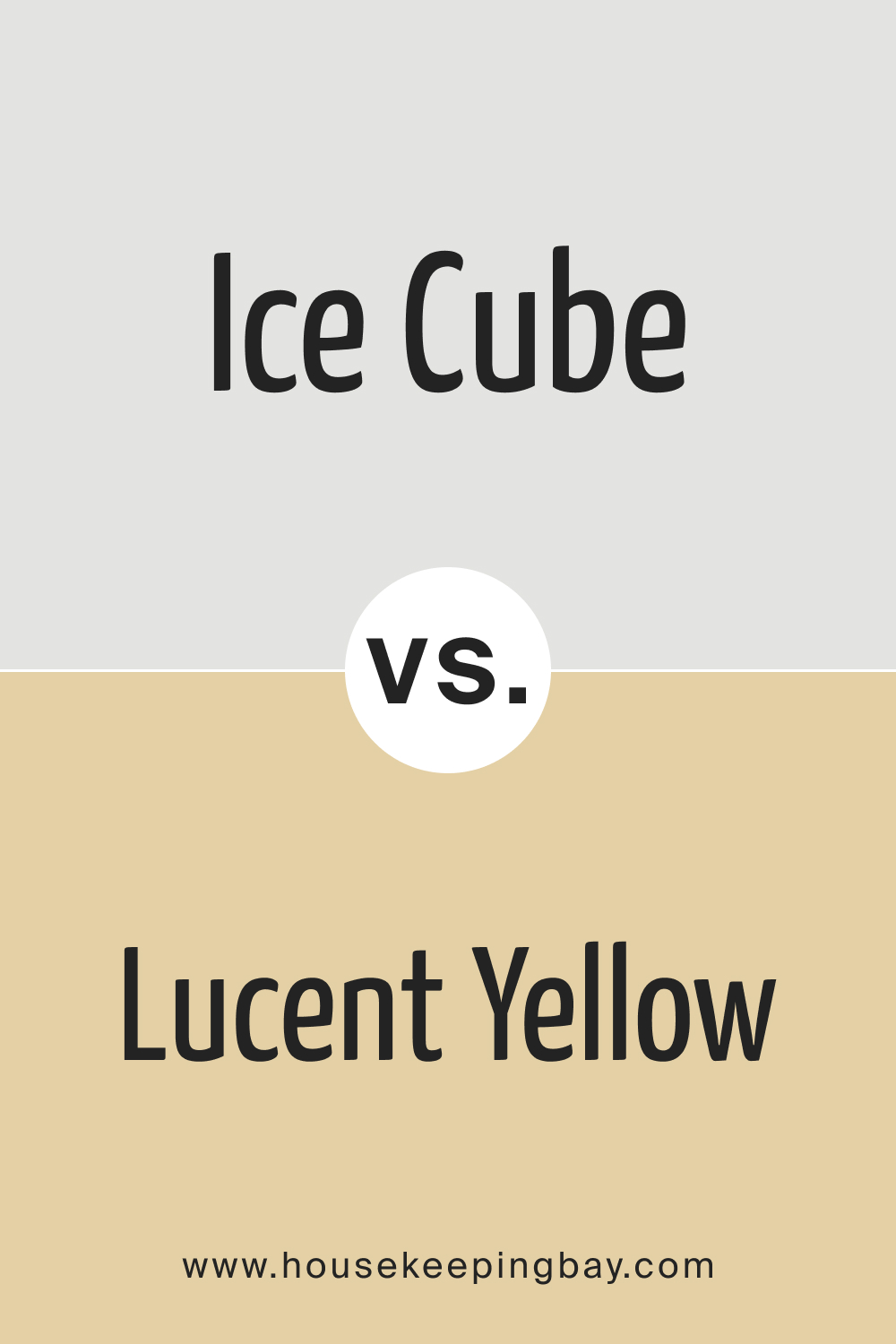 How to Use SW 6252 Ice Cube In Your Home?
SW 6252 Ice Cube's versatility makes it suitable for various rooms and design aesthetics, be it minimalist, coastal, or Scandinavian. Its cool undertones can introduce a refreshing ambiance to spaces, making them feel airy and open.
How to Use SW 6252 Ice Cube in the Bedroom?
In the bedroom, Ice Cube can evoke a serene and calming environment conducive to relaxation. Pairing it with soft, muted textiles and wooden accents can create a harmonious setting, making the room feel like a tranquil retreat.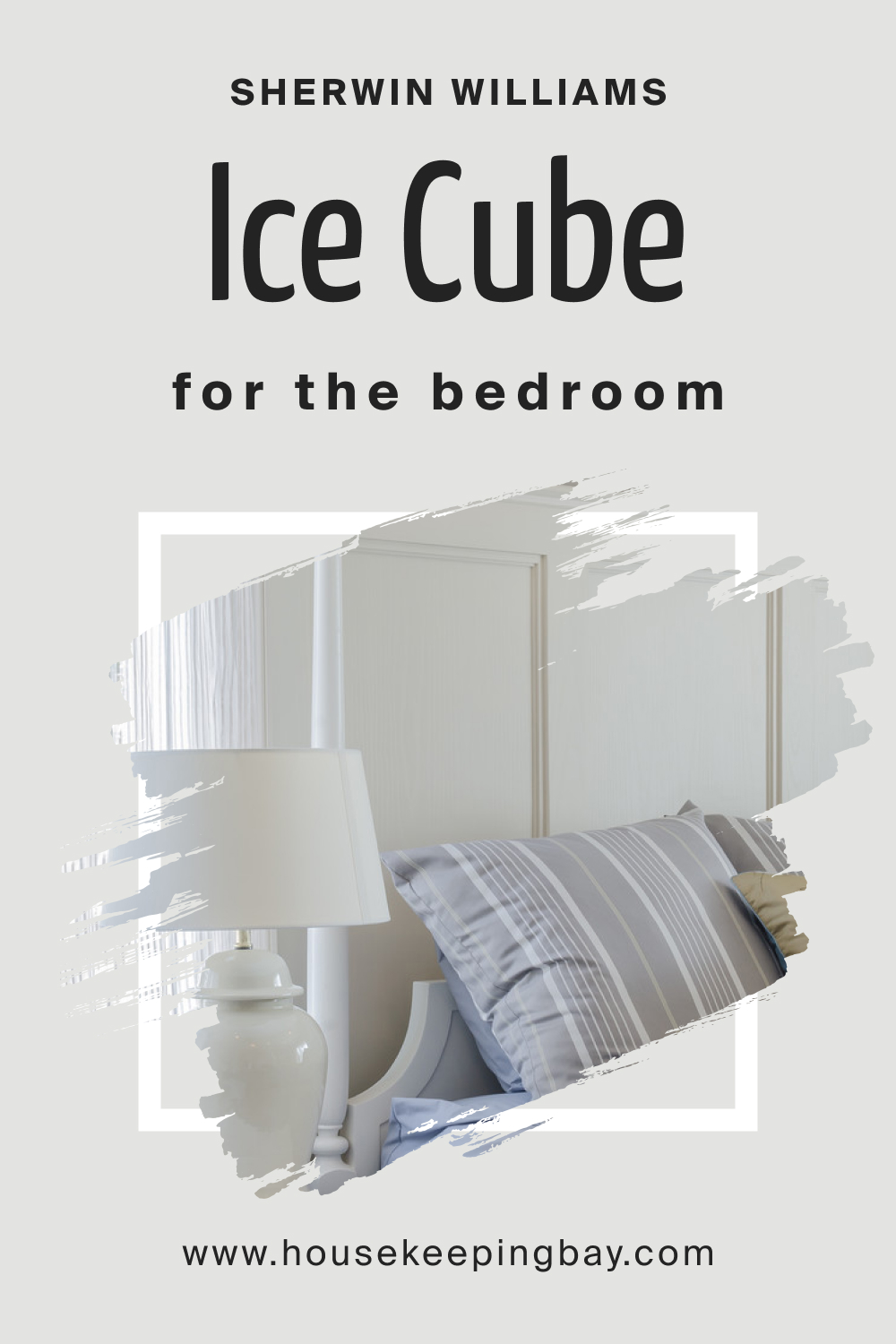 How to Use SW 6252 Ice Cube in the Bathroom?
In bathrooms, Ice Cube can make the space feel clean and spa-like. Paired with chrome fixtures and white tiles, it can create a minimalist and modern look, emphasizing the cool and refreshing ambiance.
How to Use SW 6252 Ice Cube in the Living Room?
For the living room, Ice Cube can serve as a neutral backdrop, allowing for bolder accents and decor pieces. Pairing it with deeper shades, like navy or forest green, can add depth, making the room feel cozy yet sophisticated.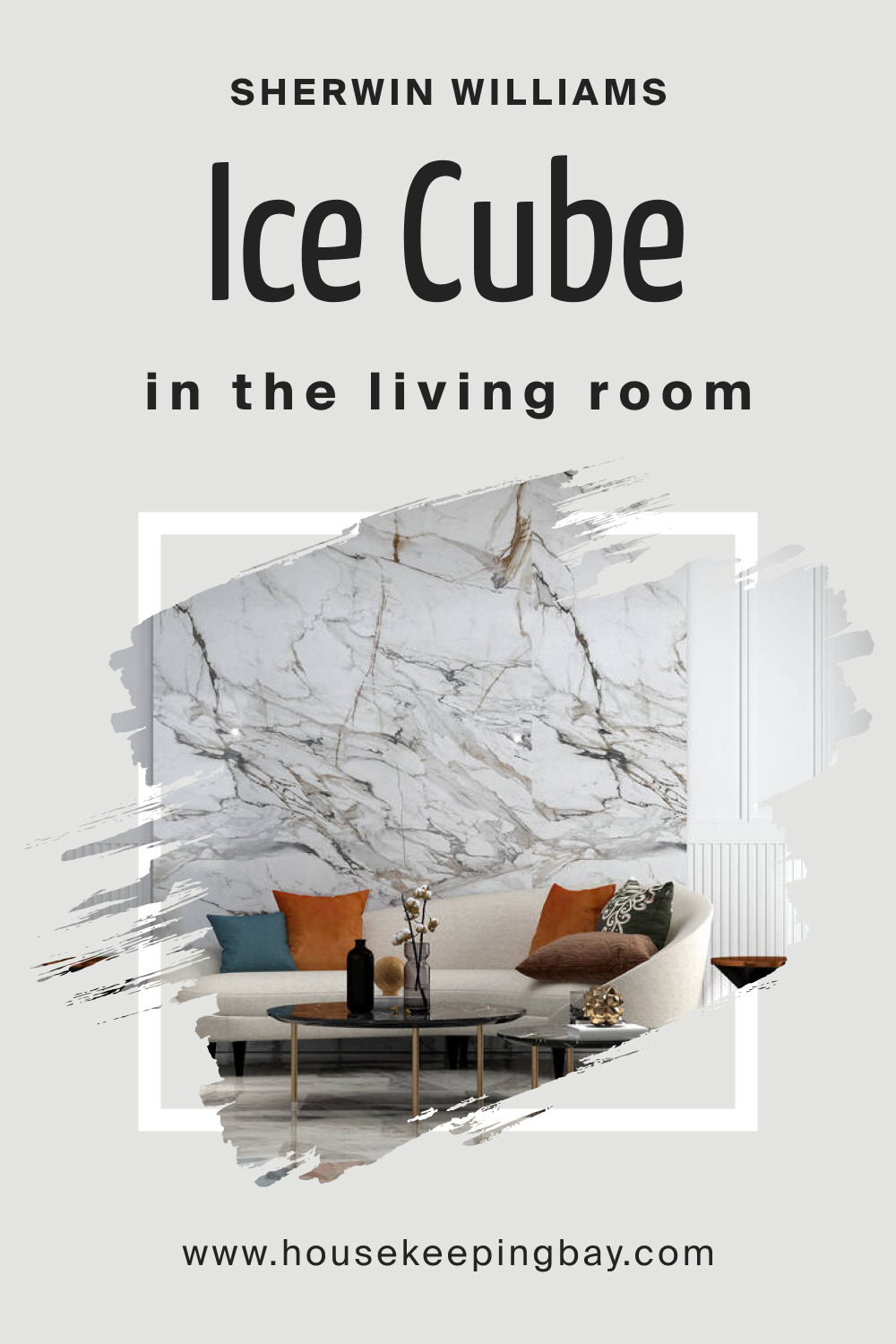 How to Use SW 6252 Ice Cube for an Exterior?
As an exterior color, Ice Cube can lend a contemporary touch to homes. It can be paired with darker trims and wooden accents to create a balanced look.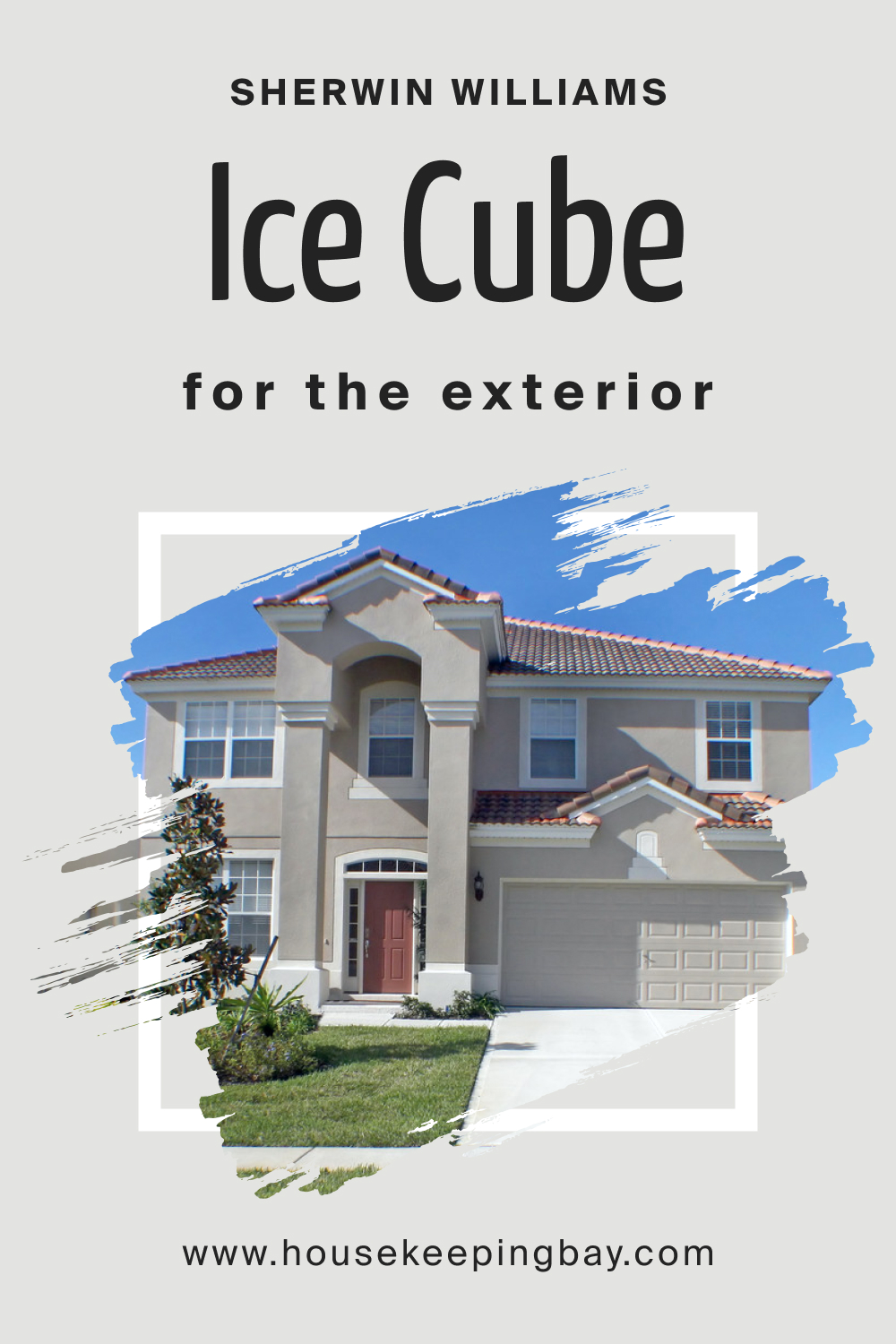 How to Use SW 6252 Ice Cube for the Kitchen
In kitchens, Ice Cube can make spaces feel clean and open. It works well with stainless steel appliances, white cabinetry, and marble or granite countertops, creating a sophisticated and modern kitchen space.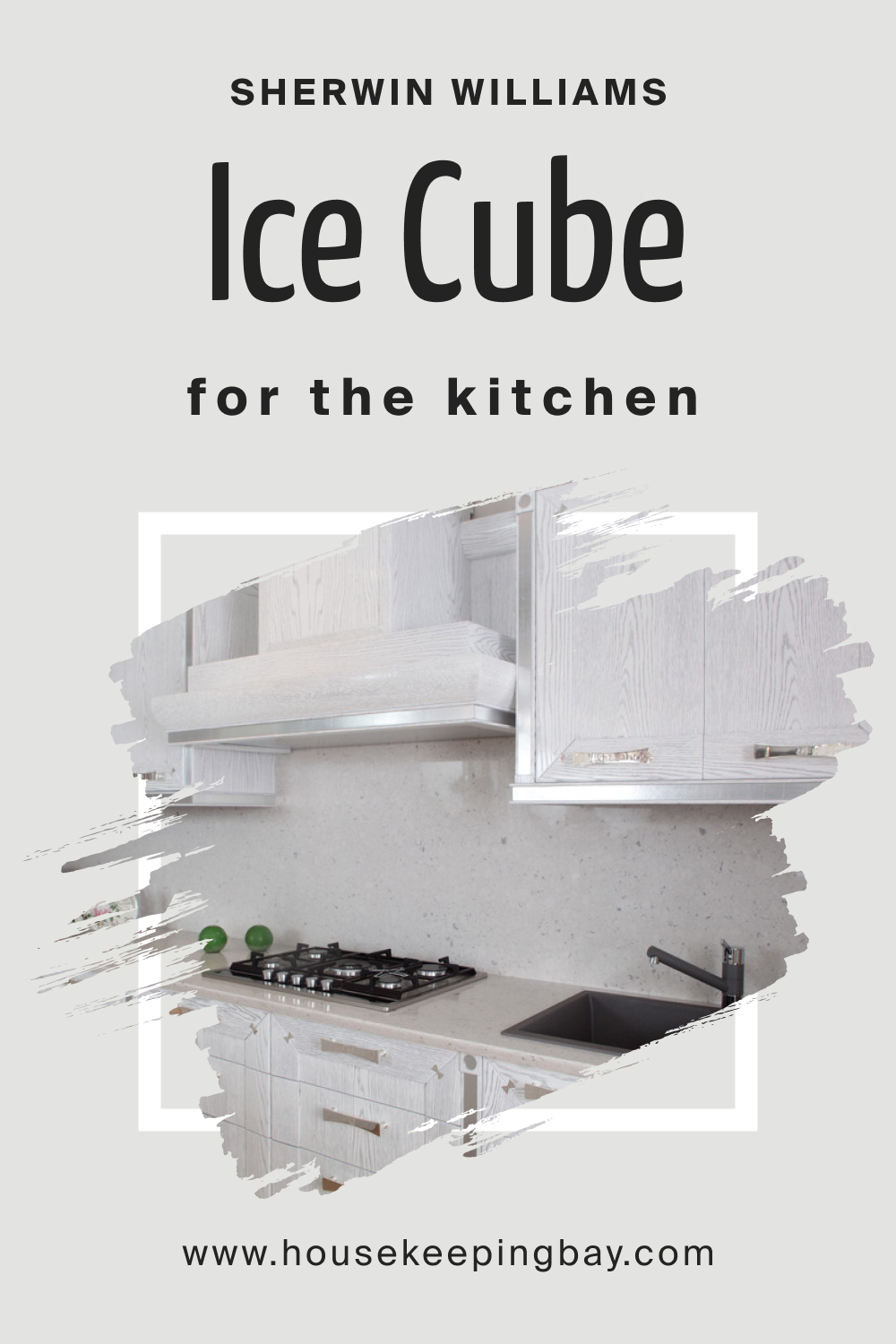 How to Use SW 6252 Ice Cube for the Kitchen Cabinets?
Using Ice Cube for kitchen cabinets can introduce a muted yet fresh touch. Paired with a contrasting countertop and backsplash, it can make the kitchen look cohesive and well-thought-out.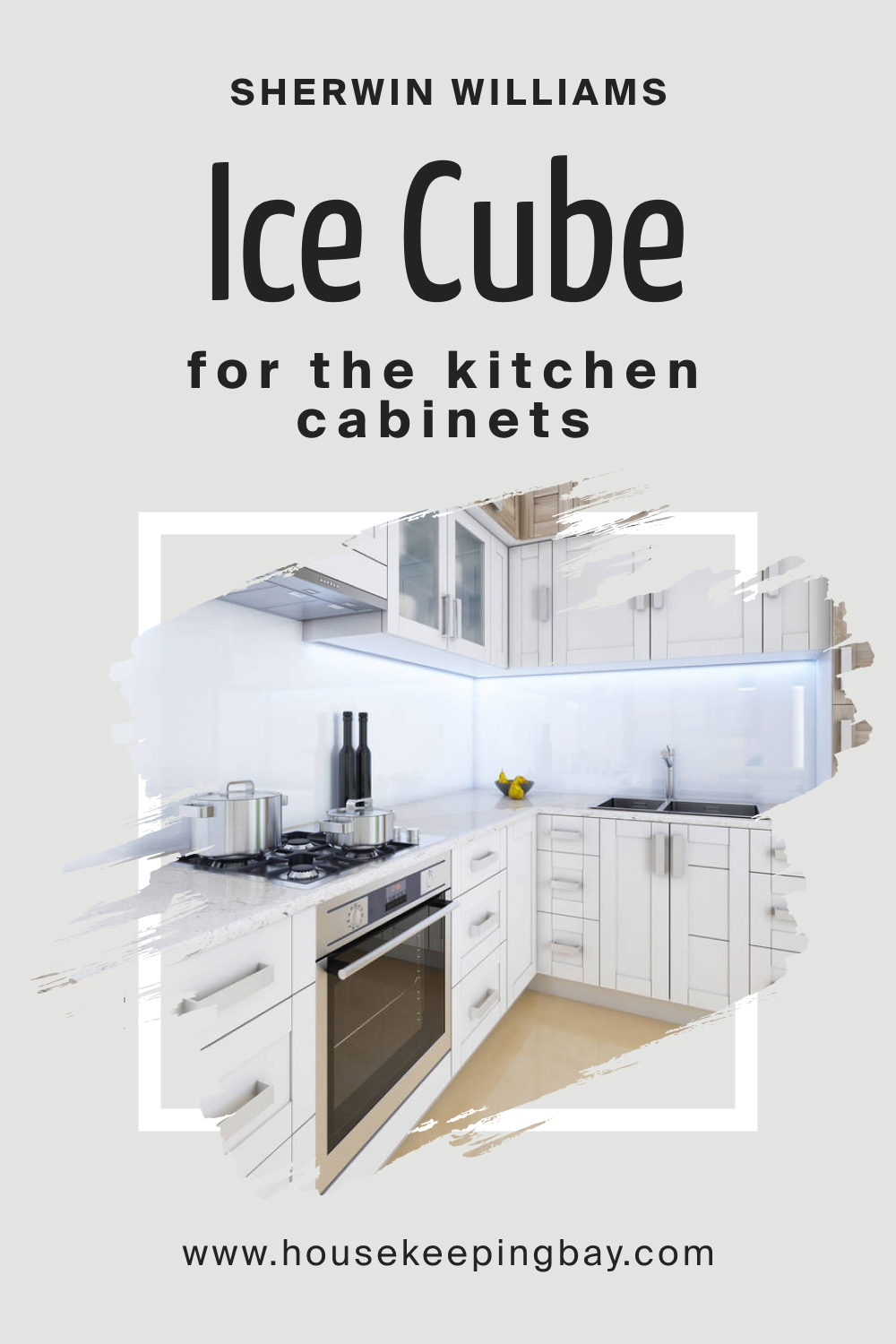 Comparing SW 6252 Ice Cube With Other Colors
Comparing different shades can provide clarity on what works best for a particular space or design vision.
SW 6252 Ice Cube vs. SW Spare White: While both are muted, Spare White leans more towards a pure white shade, lacking the blue undertones of Ice Cube.
SW 6252 Ice Cube vs. SW Drift of Mist: Drift of Mist carries more gray undertones compared to the blue hints in Ice Cube, making it a tad more neutral.
SW 6252 Ice Cube vs. SW Light French Gray: Light French Gray, true to its name, is a more pronounced gray shade with subtle blue undertones, whereas Ice Cube is softer and more muted.
SW 6252 Ice Cube vs. SW Classic French Gray: Classic French Gray is deeper and bolder compared to Ice Cube, making it suitable for accent walls and contrast.
SW 6252 Ice Cube vs. SW Crushed Ice: Crushed Ice is more neutral than Ice Cube, with lesser blue undertones, making it a perfect shade for those seeking a middle ground between gray and white.
SW 6252 Ice Cube vs. SW North Star: North Star carries a distinct blue undertone, which is more pronounced than the subtle hints in Ice Cube, making it cooler and more aquatic in feel.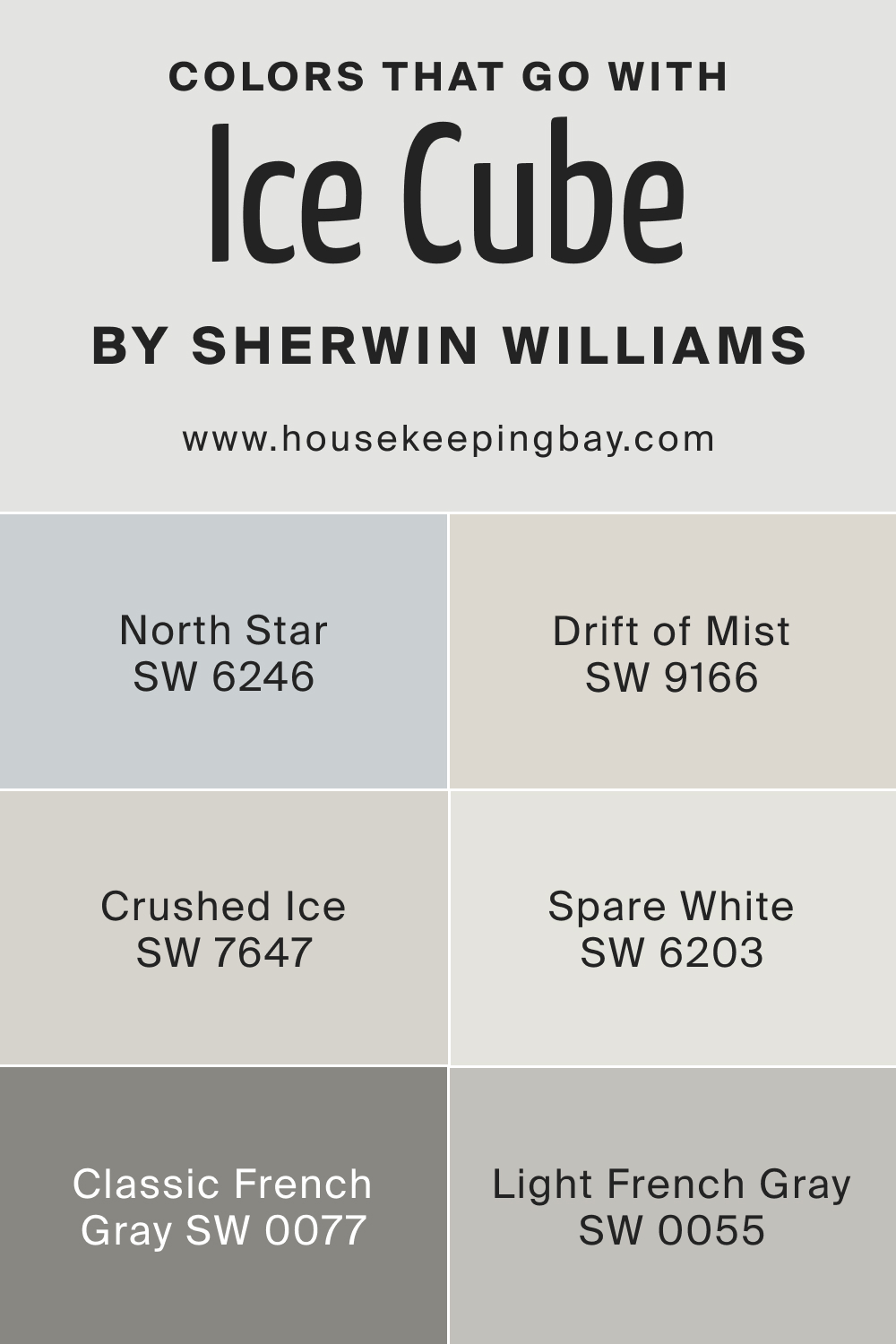 Conclusion
SW 6252 Ice Cube is a versatile, refreshing shade that can transform spaces, making them feel open, airy, and sophisticated. By understanding its undertones, coordinating colors, and how to use it in different settings, homeowners and designers can make informed decisions, ensuring spaces feel harmonious and well-curated.
Whether you're painting an entire home or a single room, Ice Cube is a shade that promises refinement and timeless beauty.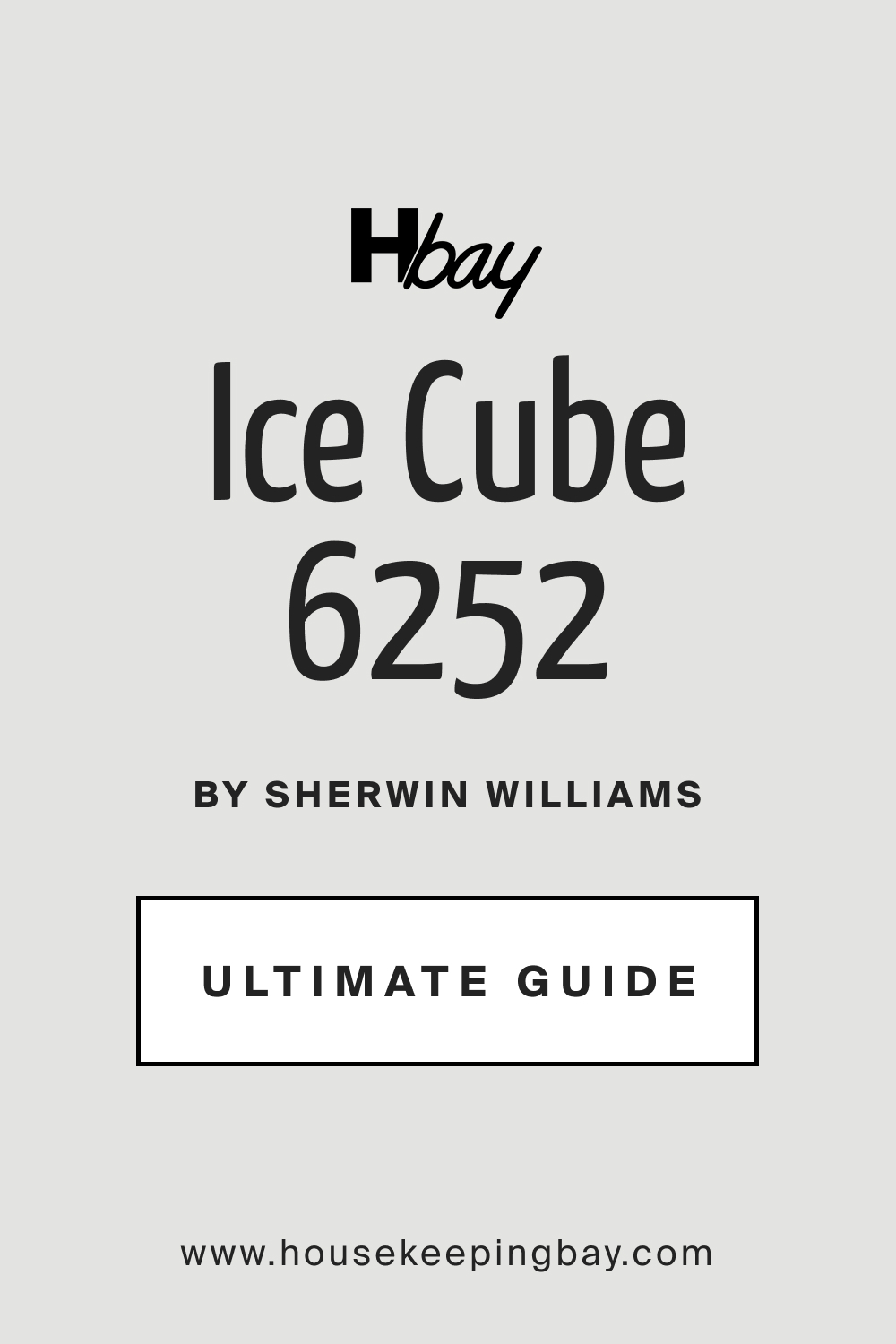 Frequently Asked Questions
⭐Does Guild Grey change significantly under different lighting conditions?
Like any paint color, Guild Grey can appear differently depending on the lighting. Under natural light, its cool undertones come forward, creating a serene atmosphere. Under artificial light, it may appear darker and more muted. Therefore, it's always recommended to observe the paint at different times of the day under varying light conditions.
⭐What color trim works best with Guild Grey?
Guild Grey pairs beautifully with crisp white trims like Sherwin Williams' Extra White. The contrast between the cool mid-tone grey and the bright white enhances the architectural details of your space, creating a clean, modern look.
⭐Is Guild Grey a good choice for a transitional style interior?
Absolutely! Guild Grey's versatility makes it an excellent choice for transitional style interiors, which blend traditional and contemporary elements. Its sophistication and subtlety can harmonize the different elements and unify the overall design.
⭐How can I accentuate the cool tones of Guild Grey?
To bring out the cool tones of Guild Grey, consider pairing it with other colors with cool undertones, such as blues, greens, or cool neutrals. Metallic finishes like chrome or silver can also accentuate its coolness.
⭐Can Guild Grey work as a kitchen cabinet color?
Yes, Guild Grey can make for a sophisticated and trendy kitchen cabinet color. It adds depth and character without being overwhelming and pairs well with a variety of countertop materials and finishes, from marble to butcher block. It can also accommodate both brass and silver hardware beautifully.