White is considered a universal paint color that will match any interior and any space design. You can use whites in classic interiors, as well as countryside, loft, and others. However, since there are plenty of shades this color has, people often feel puzzled about which one exactly they should choose for their home.
In this article, we will talk about one of the most delicate and soft white colors called Icicle by the Benjamin Moore brand. You will learn what kind of white it is, what undertones it has, and what colors it coordinates with. Also, you are going to find out what colors are similar to this white.
In addition, we will explain in what rooms this white might be the most suitable color and what makes it different compared to other similar whites. As a result, you will be able to use BM Icicle paint color like a pro!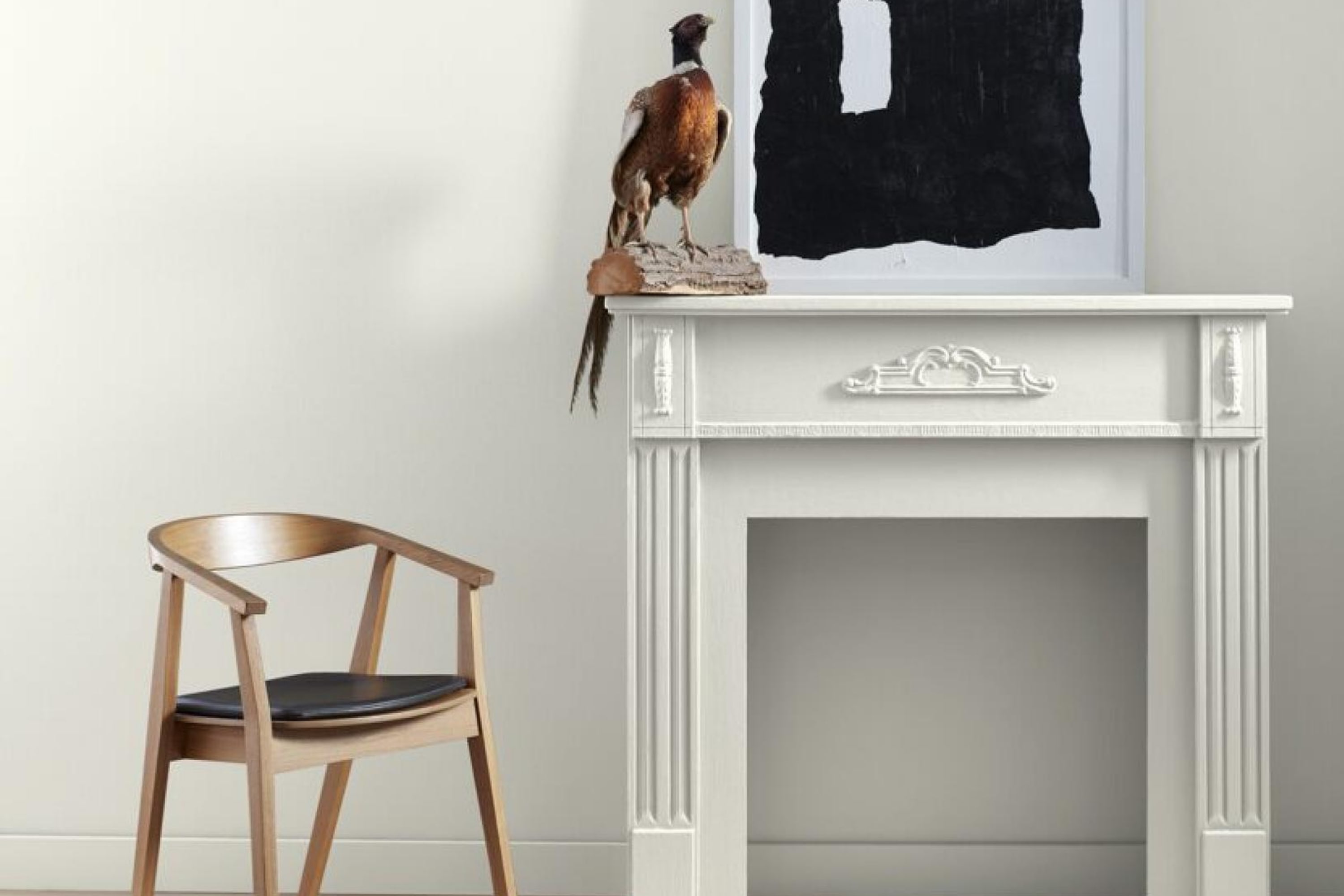 What Color Is Icicle 2142-70 by Benjamin Moore?
Shortly speaking, BM Icicle belongs to white colors. To be precise, it is a soft white that is rather versatile and allows you a wide area for creativity. 
As Encycolorpedia says, this paint color is warm-toned, however, you will not find that yellowish hue in it that always freaks homeowners out! Instead, this soft white reads quite muted and calm, creating a tranquil and harmonious vibe in the room where it is used.
Although BM Icicle paint color has several undertones (which we will talk about below), it doesn't make it difficult to use in a living space. On the contrary, you can incorporate this white into many interiors and home designs. In any case, it will create a cozy and homey atmosphere whenever it is used.
Undertones Of the Icicle Paint Color by Benjamin Moore
As we have already mentioned, Icicle paint color by Benjamin Moore has rather complex undertones. To be precise, this soft white has muted gray and green undertones. Don't be scared though! It doesn't mean the color will read greenish or gray on the walls!
But you should keep in mind that in certain types of light, this white may show a very slight hint of grayness or an almost unnoticeable greenish hue.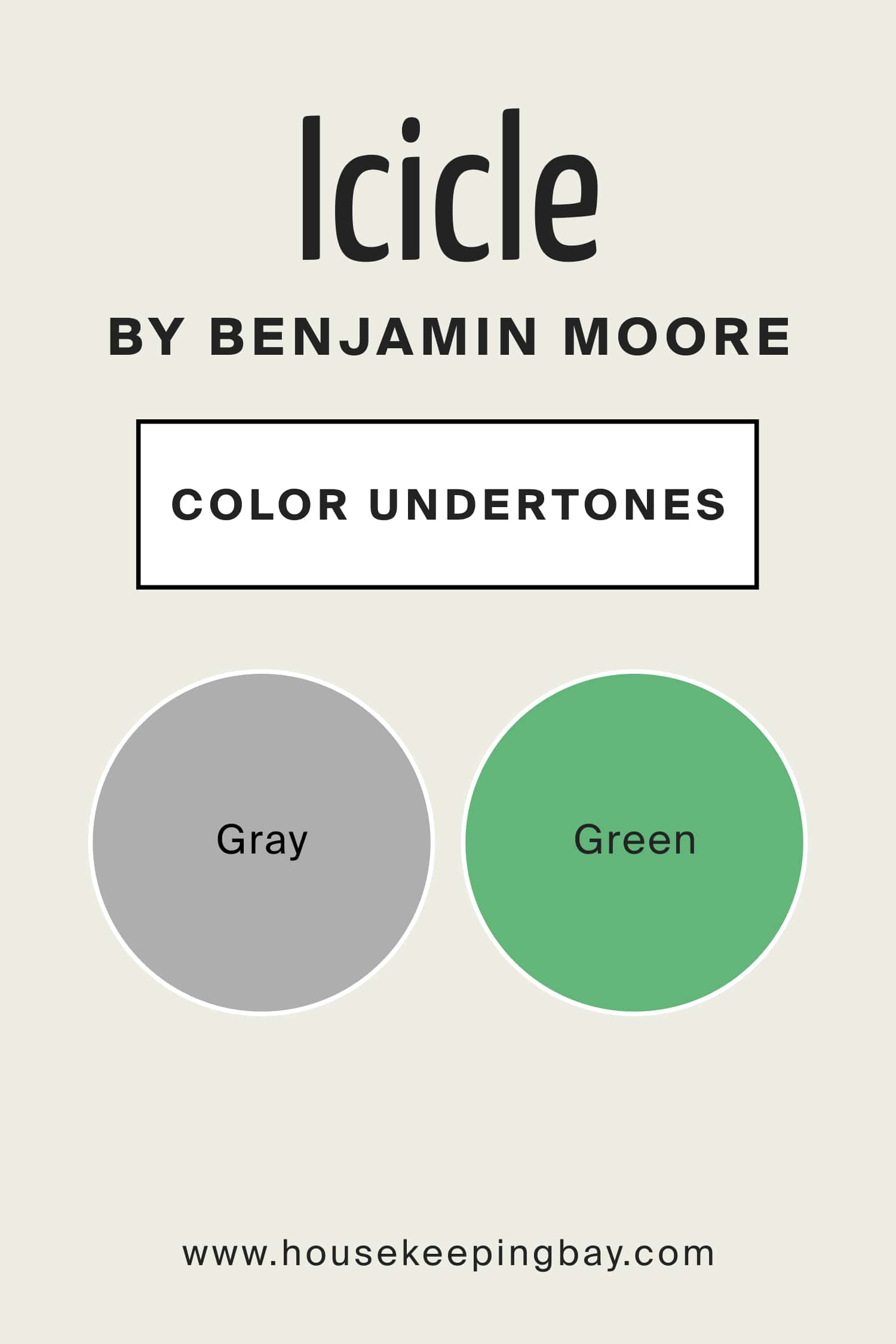 LRV And How Icicle 2142-70 Reacts to Light?
First of all, we would like to remind you what LRV is just in case you forgot or maybe didn't know about it at all. So, LRV stands for Light Reflectance Value. It shows how much light color can reflect when it is applied to the wall.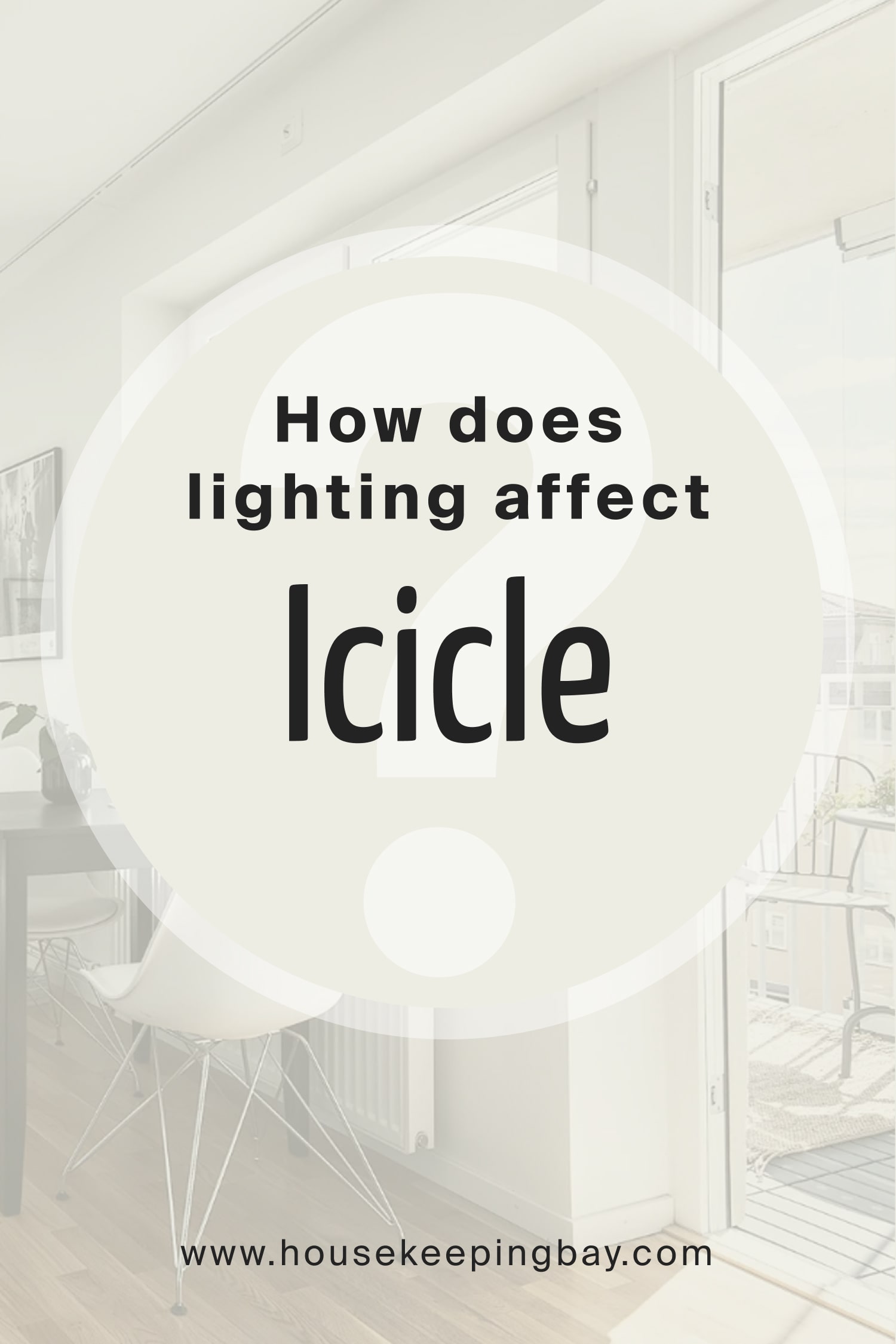 The LRV scale ranges from zero to 100 where zero stands for true black and 100 is pure white. So the higher the LRV number, the lighter the color is.
Speaking of BM Icicle, its LRV is 82 which means this white is pretty light. This is why it is recommended to use it in rooms that should be made visually bigger. Also, don't hesitate to use Icicle 2142-70 paint color if you need to make a room feel more spacious than it is.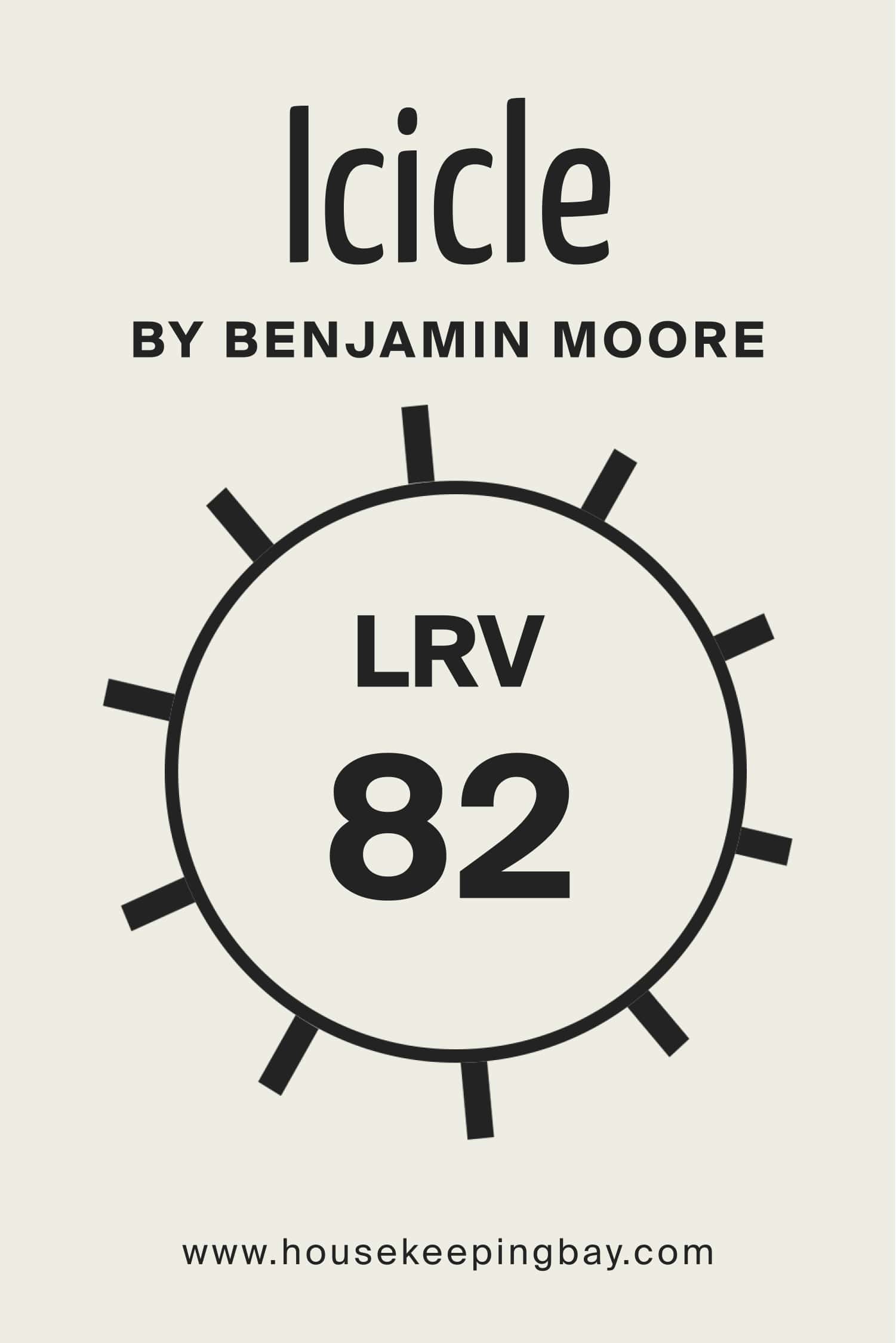 What is LRV? Detailed Guide
Colors That Go With Icicle 2142-70 Paint Color
When you choose the color that will be used on your interior walls, it is essential to select the matching colors carefully. If you fail with this task, you will end up with a space that reads way too motley!
However, choosing the colors that go well with the leading paint color is often difficult, especially for those who are not experienced in color theory.
So if you need to pick a few colors to use with BM Icicle, we would recommend you pay attention to the following options:
BM Simply White
BM Silver Gray
BM Halo
BM Soot
BM Gray Cashmere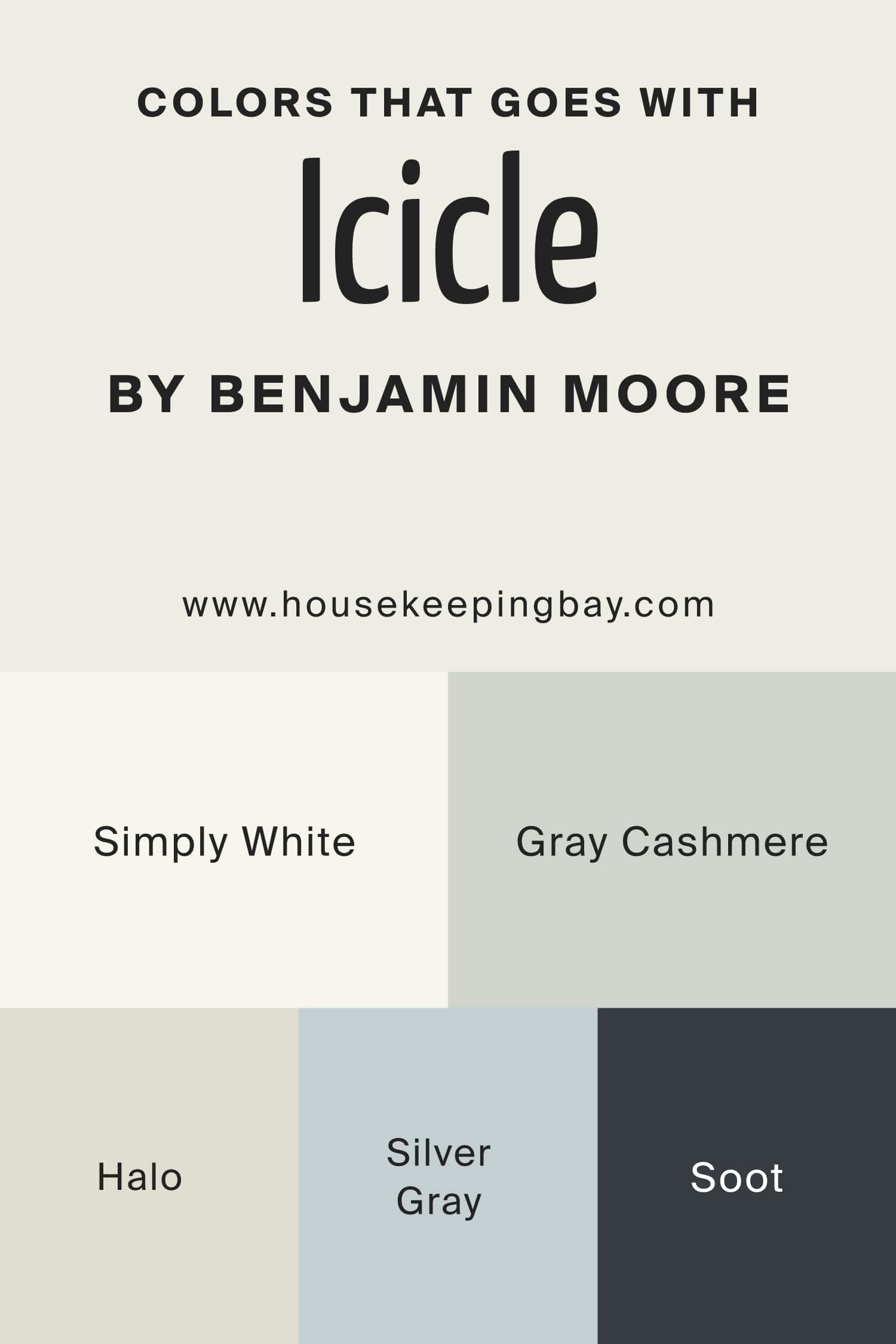 Coordinating Colors of Icicle 2142-70
If you don't have a sharp eye for colors, it will be most likely complicated for you to select colors that will coordinate with BM Icicle well. However, being aware of them is important since it helps you combine colors in your home in a balanced way.
So if you are not sure what colors you can coordinate BM Icicle with, here are a few options for you to take into consideration:
SW Whole Wheat
SW Gris Morado
SW Icicle 6238
BM Puritan Gray HC-164
BM Rockpot Gray HC-105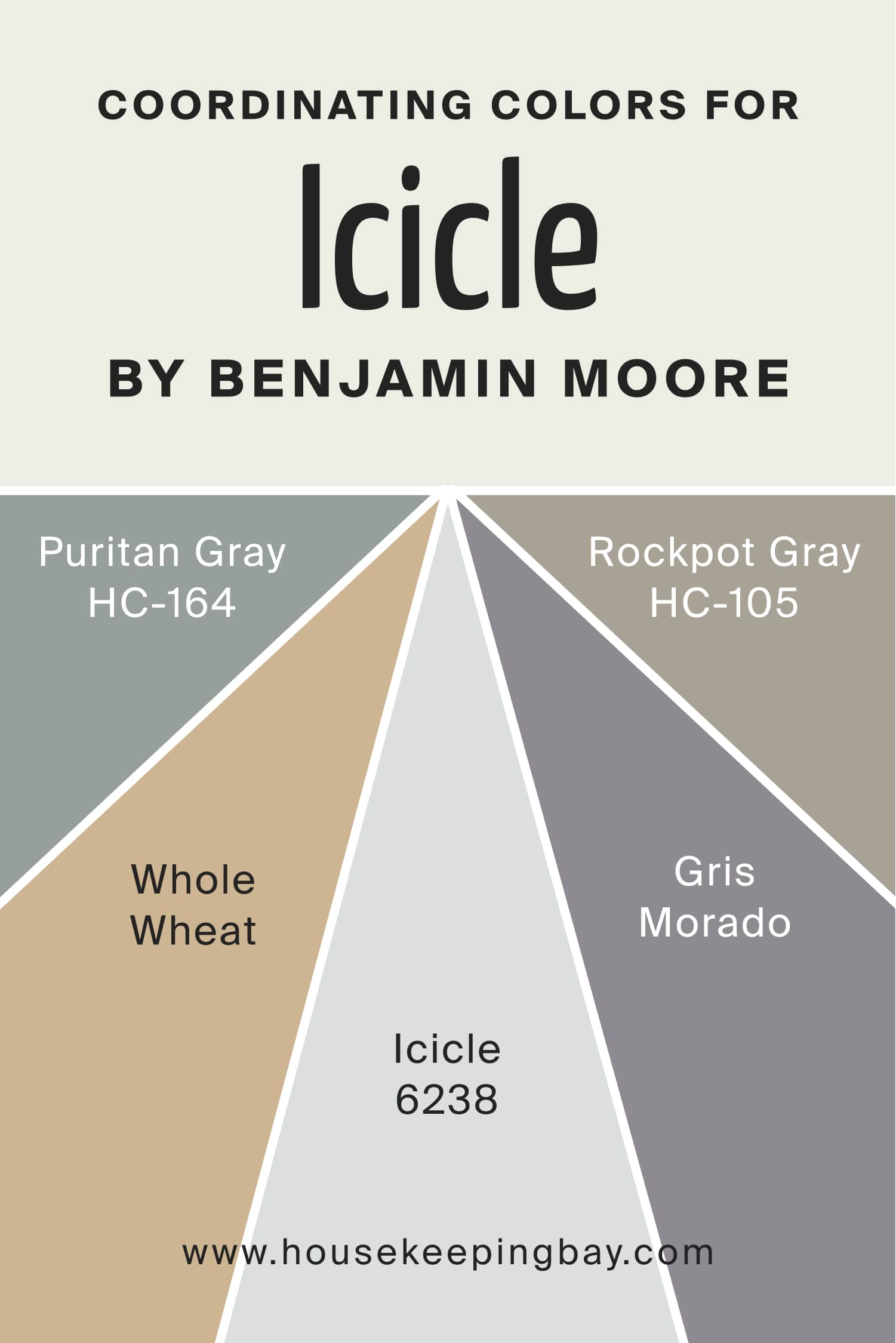 What's the Best Trim Colors of Icicle 2142-70?
For those of you who don't know what trim color is, trim color is a color that is used in order to highlight the color on the walls. People tend to think that trim color must always be contrasting with the color of the walls, but it's not true!
You can use complementary and/or similar colors to paint your trim as well. The color selection depends on the effect you want to get. And of course, if you like contrasting color pairs, feel free to use them!
Since white is traditionally considered an ideal trim color, you may be wondering whether it can be used as a trim color for another white. And the answer is yes, you can. But you may also want to consider more contrasting colors:
BM Newburg Green
BM Puritan Gray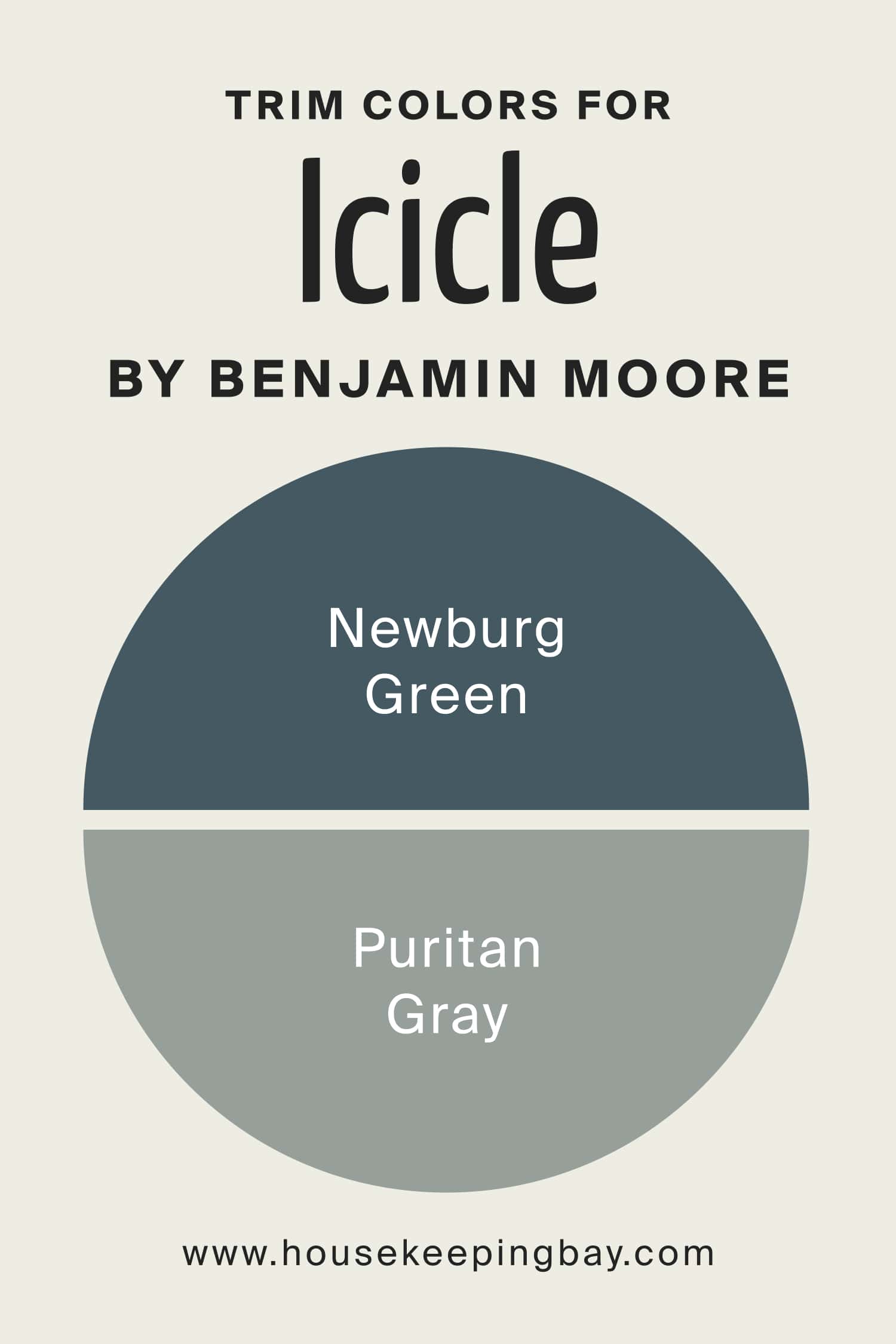 Paint Colors Similar to BM Icicle
Why would you need to know what similar colors exist that reads the same or almost the same as BM Icicle paint? Well, there can be different reasons for this. For example, you may need a slightly different color tone.
Or you might realize that you need a lighter/darker white in a room. No matter the reason, having at least a couple of alternative options of white color at hand is a good idea! For instance, you may want to try these ones instead of the Icicle paint color by Benjamin Moore:
Of course, you should realize that there will be no 100% match! But they are the closest matches which means there will be no significant and eye-catching difference. As a result, you will not have to redo the whole concept of the room design just to match the new color on the walls.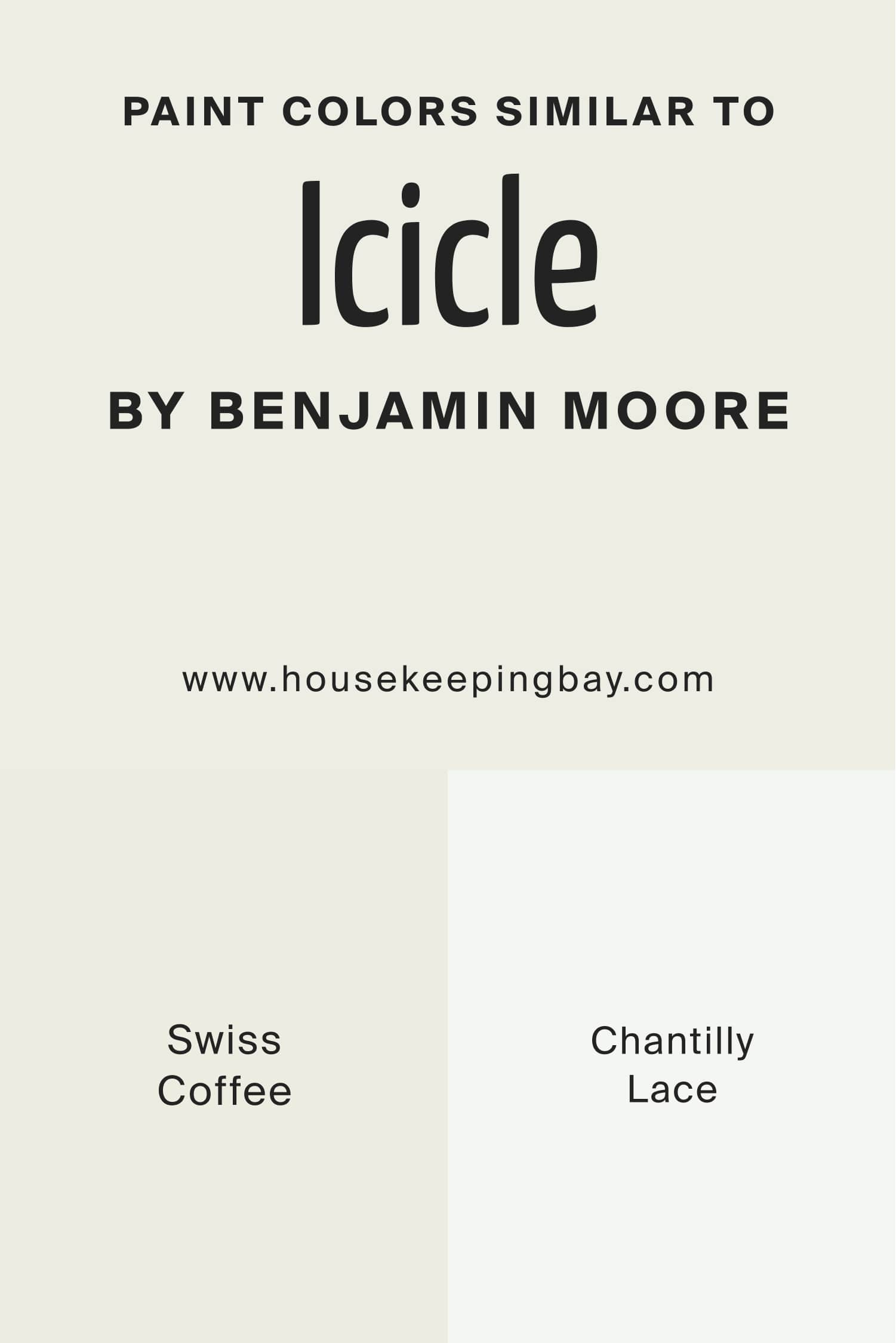 Where You Can Use Icicle 2142-70 In Your Home?
When you need to choose the room where you will use the selected paint color, you may become uncertain and frustrated. See, the trick is that different colors may not work the same way in different rooms.
Besides, there are paint colors that should not be used in certain rooms under any conditions. At the same time, there are quite many paint colors that are considered versatile and can be used literally anywhere from your closets and laundry rooms to bedrooms and even exterior!
Speaking of BM Icicle, this warm white is rather versatile. You will be surprised to learn that it can be used not only indoors but also outdoors! For more detail, read on to find out how it may work in different rooms.
Icicle 2142-70 in the Living Room
This soft white is a nice choice of color for your living room. It will give the space a sophisticated and calm yet not very cold look. But you should keep in mind that it may reveal different undertones depending on the light.
In the areas with colder lights like northern, BM Icicle will read grayer with a very slight blue hue. And in a room lit with warm light (both artificial and natural), this white will read somewhat warmer too.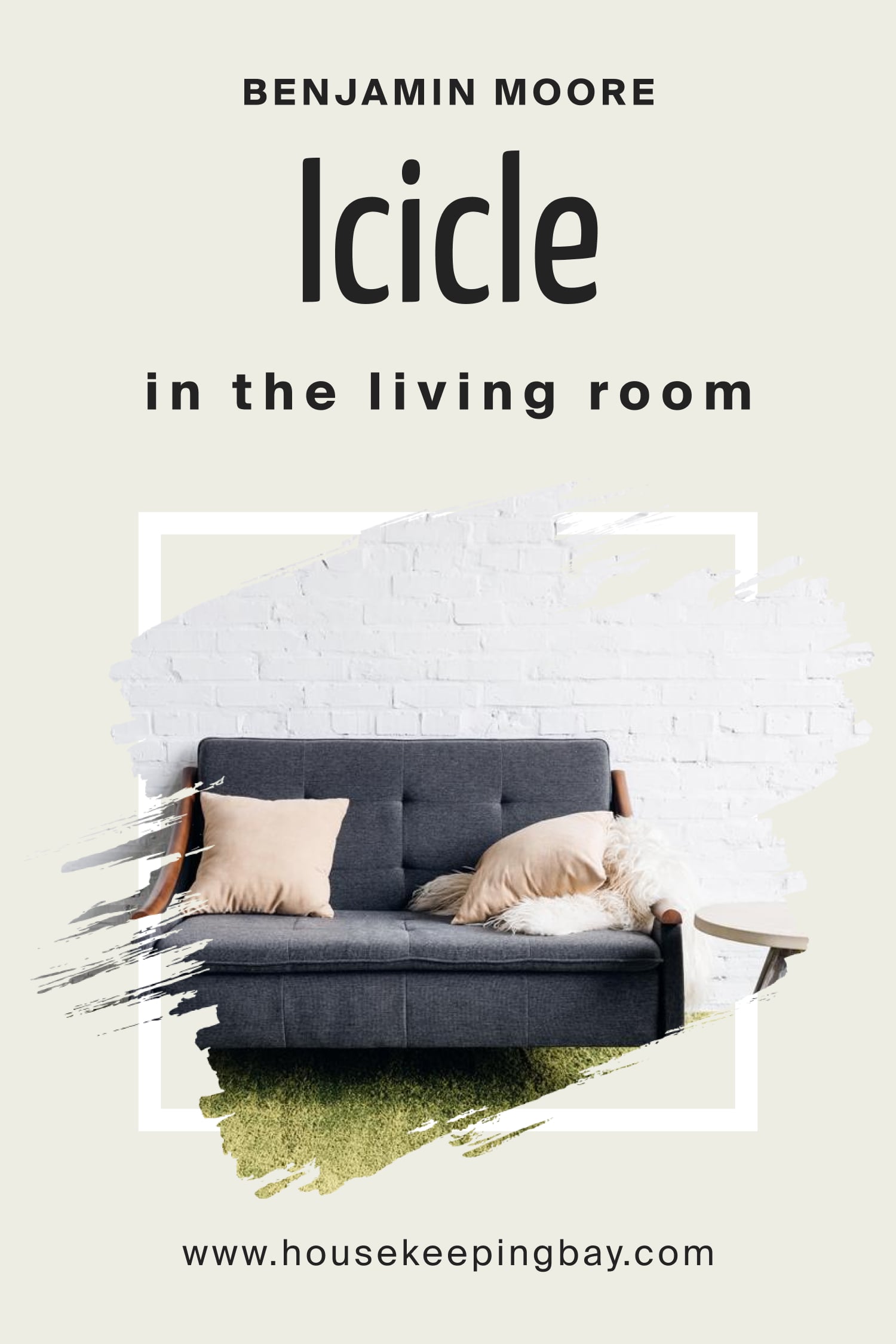 Icicle 2142-70 in the Bedroom
This soft white is quite a nice choice of color for your bedroom since it pairs really well with many textures and materials. You can combine it with wood, natural fibers, as well as patterned fabrics. But in a reserved design, it will look great too! In each case, the BM Icicle color will make your bedroom feel cozy and calming.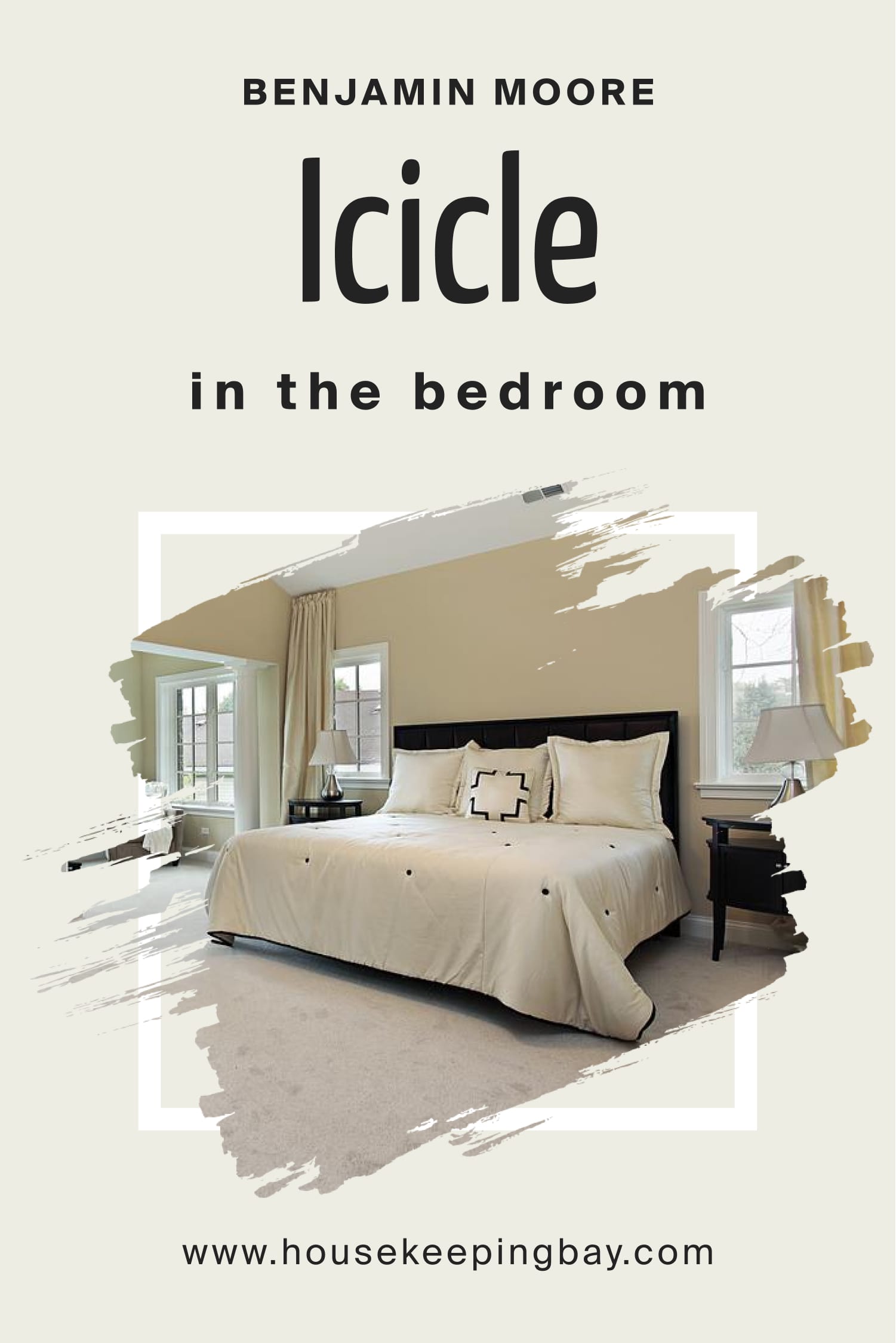 Icicle 2142-70 in the Bathroom
White is so universal that even in your bathroom, this color can find its place. And BM Icicle white is not an exception. Due to its versatile nature, this soft color with gray and green undertones can read well in a bathroom, besides, you can easily combine it with brass or metal hardware like faucets and shower.
It will create a balanced look in any case. You just need to note that in a small and poorly lit room, this white may read grayer and somewhat "darker"!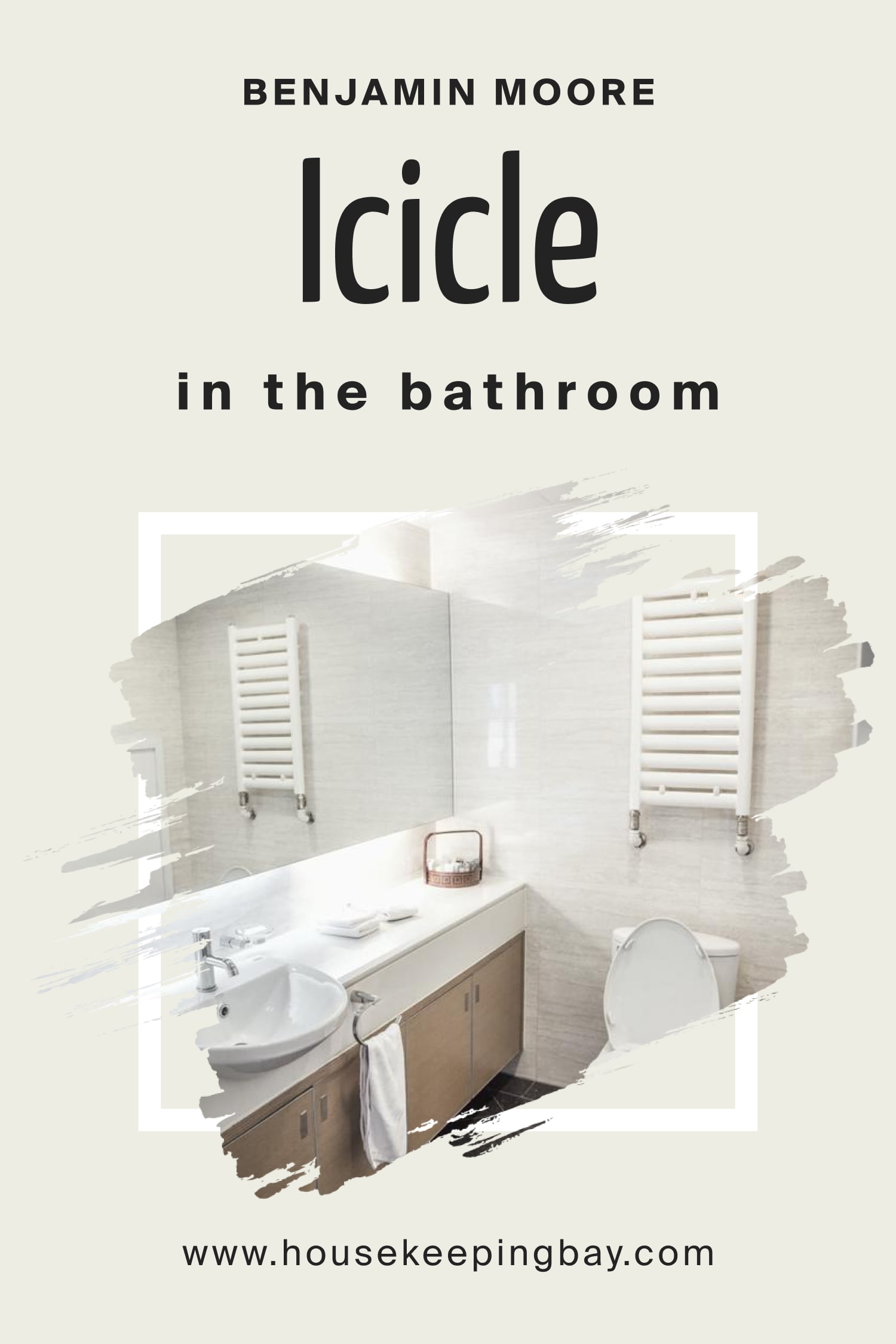 Icicle 2142-70 in the Kitchen
In your kitchen, feel free to use this soft white either on the walls or on your kitchen cabinets. It pairs really well with kitchen hardware and other typical kitchen surfaces and textures like wood (furniture or counters), stone (floor or countertops), brass, etc.
Besides, since the color is pretty light, it will add more space to the room and make it airier!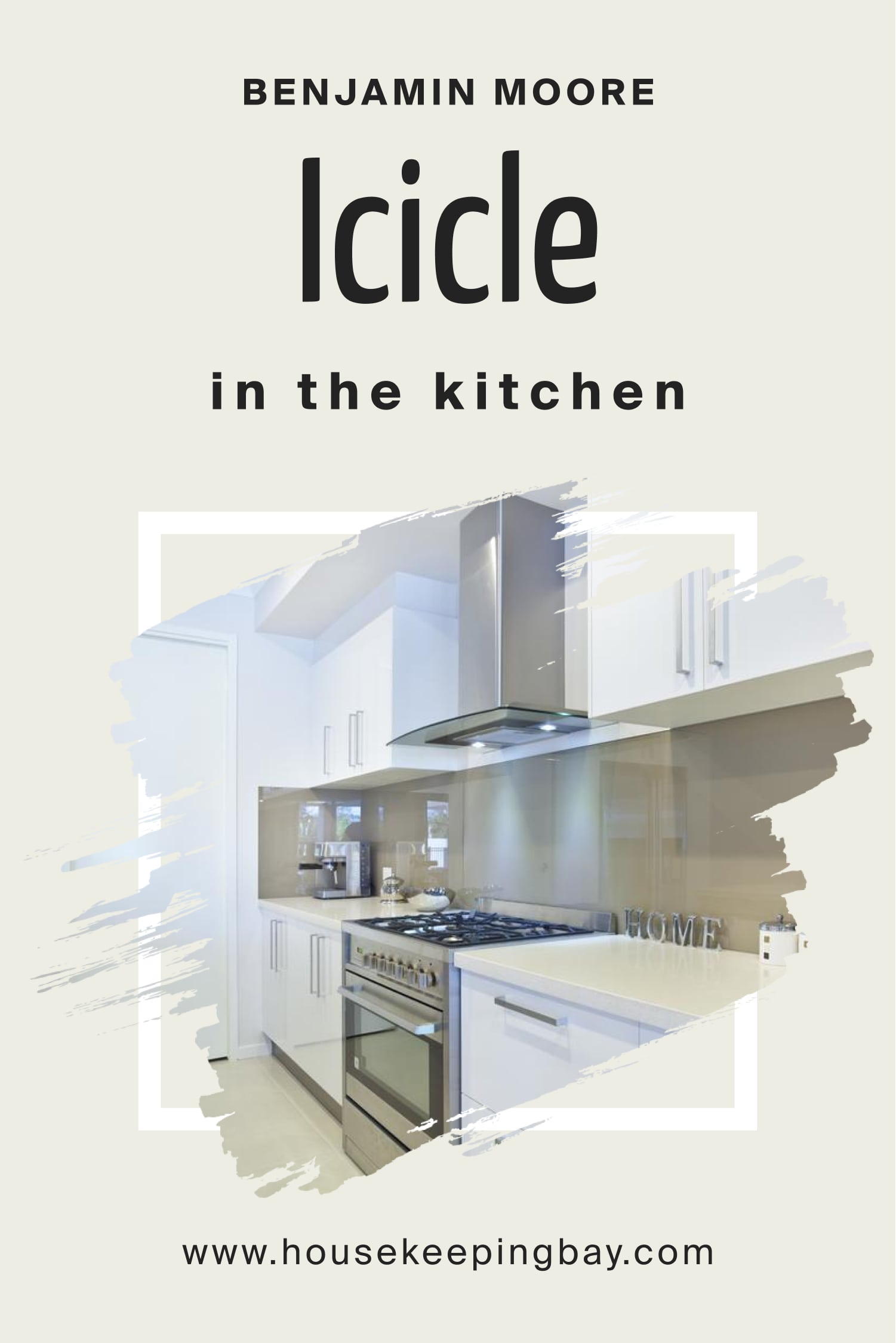 Icicle 2142-70 for the Exterior Use
Not all paints can work successfully on the exterior walls but this is not about this white! BM Icicle can read very attractive on the exterior walls of your home! With this white, the walls will read neither too cold nor too warm, keeping an ideal balance somewhere in between.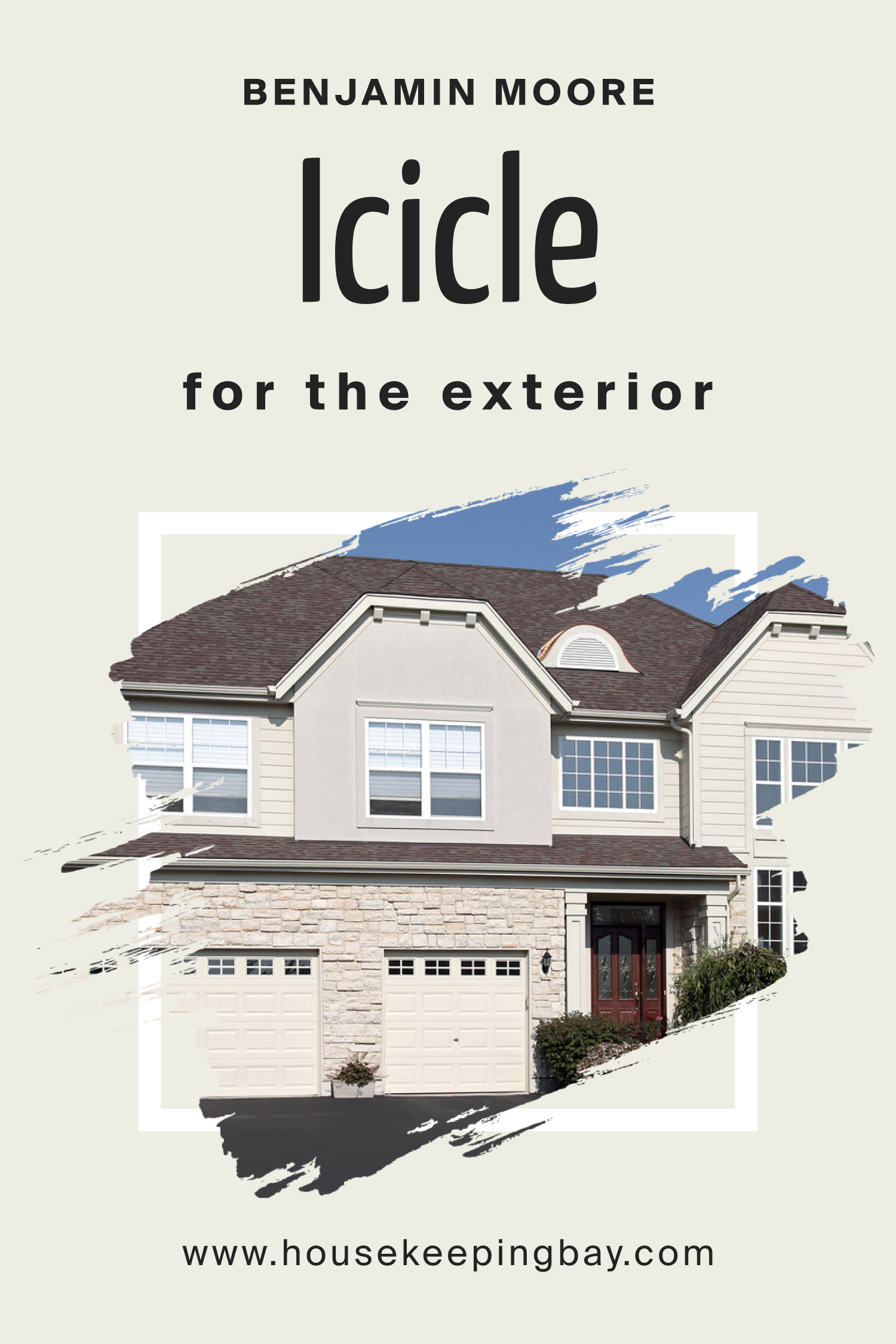 Comparing BM Icicle Paint Color With Other White Colors
There are so many paint colors of different brands that it is very easy to get lost and feel quite puzzled, trying to figure out which one suits your needs better. With whites, it can be even more complicated since to most of us, all whites are always the same! So here is a helping hand for you: we have made a comparison of BM Icicle paint color with a few similar whites to see what makes them distinct.
BM Icicle vs SW Rock Candy
These colors read significantly differently although both are white. However, if you take a really closer look at them, you will see that the Rock Candy color reads noticeably cooler, showing blue undertones, whilst BM Icicle is much warmer.
Also, they have different undertones. SW Rock Candy has deep soft blue undertones, falling on the cooler and lighter end of the scale. And BM Icicle has gray and green undertones but those are very slight, being almost unseen.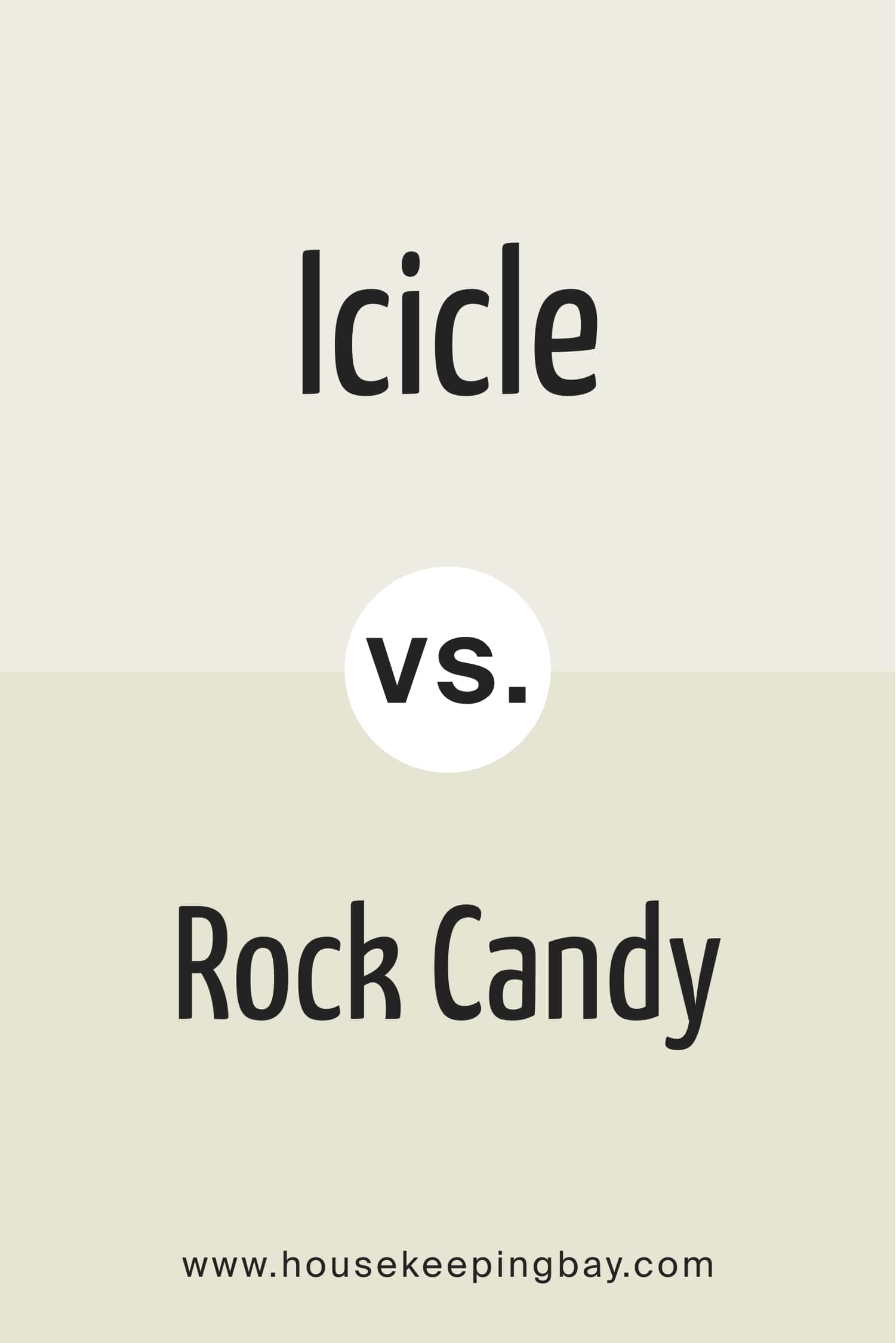 BM Icicle vs Chantilly Lace
These colors are both white with the Icicle color being soft and earthy white, whilst Chantilly Lace is described as clean and crisp white. Also, Chantilly Lace has very little undertone which means that this color will act and read very much like white rather than like another color on the walls.
Simply speaking, you should not expect any unpredictable changes in the way it reads.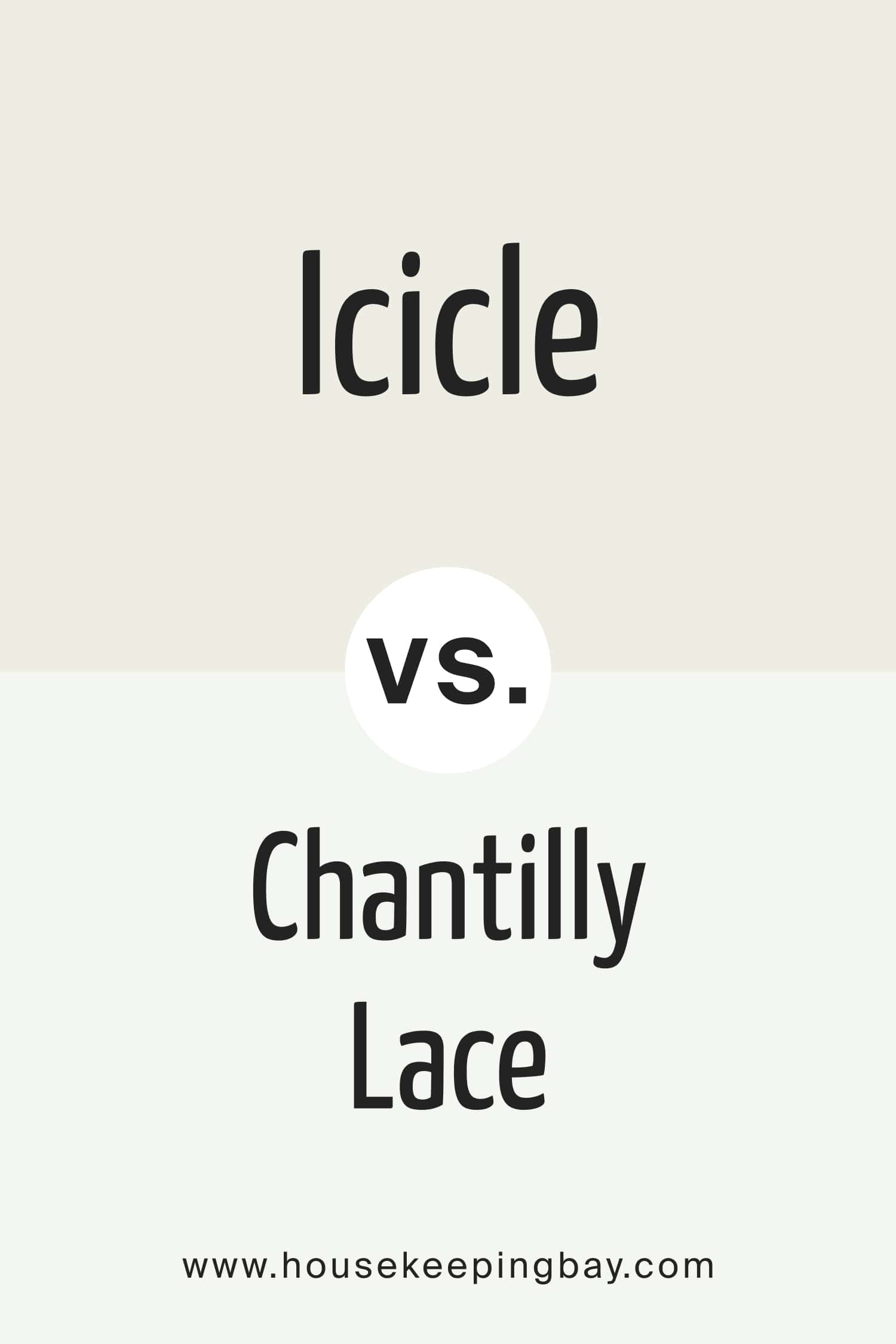 BM Icicle vs Simply White
Both colors are of the same brand but they are different. Simply White has strong yellow undertones that usually vanish in a bright, naturally-lit space. However, that yellowness will peek through in the light is darker.
BM Icicle has very slight gray and green undertones. However, both colors read warm although the distinction can be easily seen: BM Chantilly Lace reads lighter and yellower whilst BM Icicle is somewhat deeper.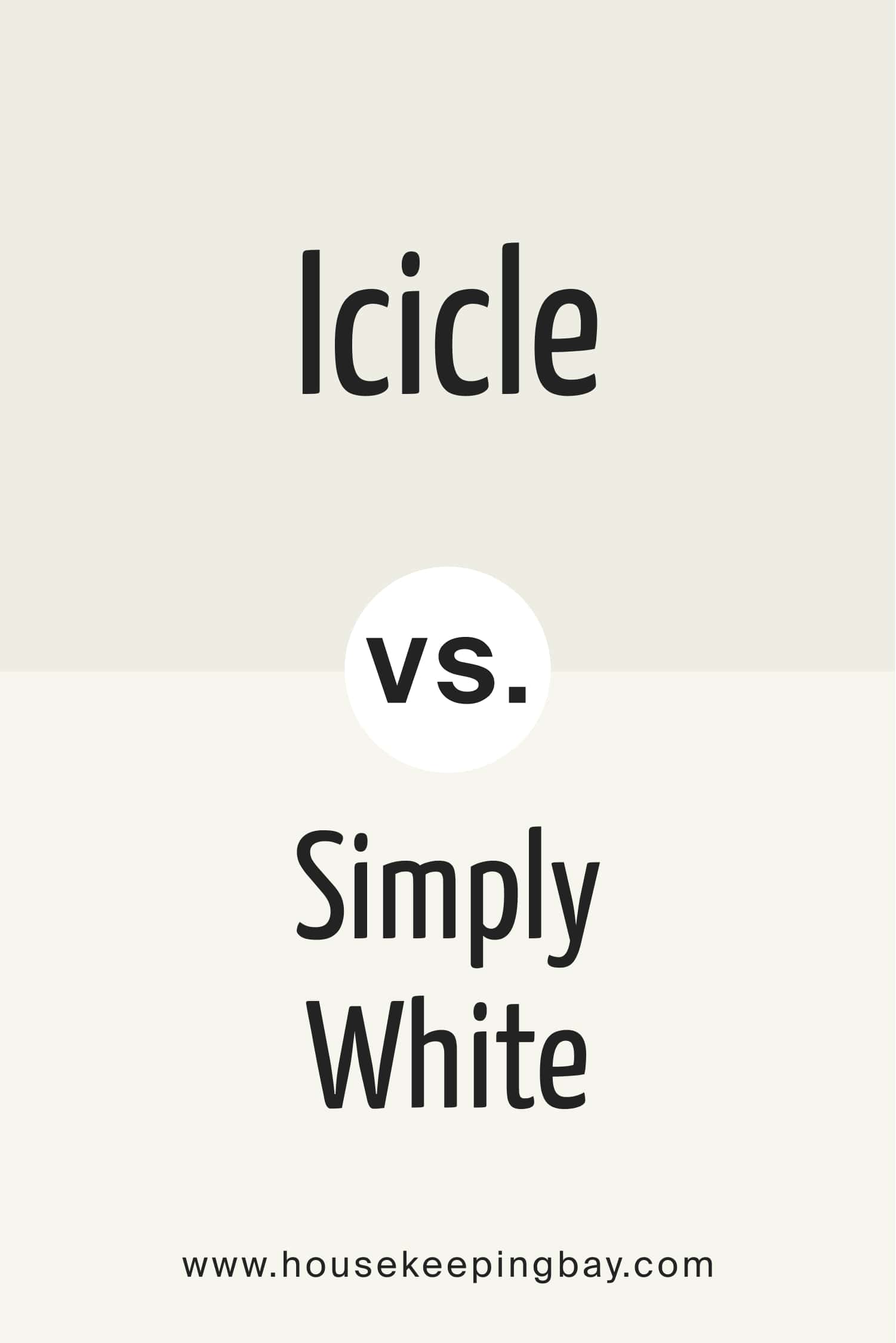 BM Icicle vs Halo
BM Halo is an off-white neutral color that has subtle green undertones. Depending on the lighting in a room, it can read very greige. Compared to BM Icicle, the Halo color reads warmer (although both are warm-toned) and reveals its greige side noticeably. The two may not work together in the same space but they can be used interchangeably.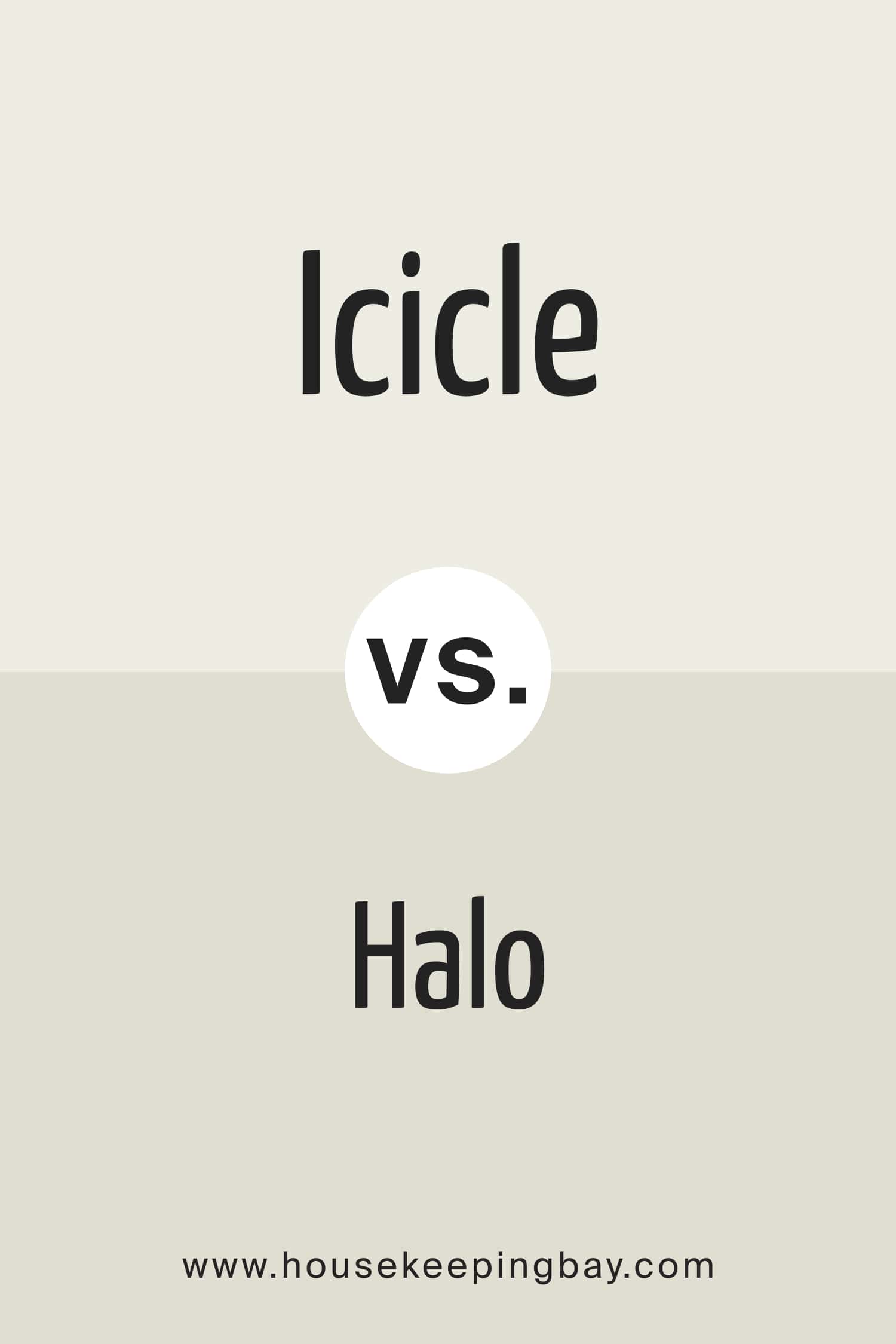 Now you know all about the white paint color called Icicle by the Benjamin Moore Brand. You know what undertones this white has, how it may work with other colors, and what colors can coordinate it. Also, we told you what colors can be used for trim with this white.
Except for that, you got a few handy tips on how and where this soft white can be used in your home to make the space look cozy.
Frequently Asked Questions
⭐Is BM Icicle a warm or cold color?
It is a warm-toned soft white color.
⭐What color reads the same as BM Icicle?
There is no 100% match, but you can try Swiss Coffee as the closest match.
⭐What similar whites are there that can be used instead of BM Icicle?
You can use such whites of Benjamin Moore as White Dove, Swiss Coffee, China White, and Cloud White.