White is one of the few colors that we use in our homes always. It is versatile and quite easy to use in terms of its cooperation with other colors. So even if you have no idea of what color theory is, using white will always be a win-win option for you.
But today we would like to introduce you to a white color called Dune White by the Benjamin Moore brand to show you how versatile and complex this seemingly simple color can be.
You will learn what undertones this particular white has, how it reacts to light, and how this color may work in different rooms of a house.
Also, we will explain what colors are best to be sued to coordinate it and what shades of white you should consider as similar colors.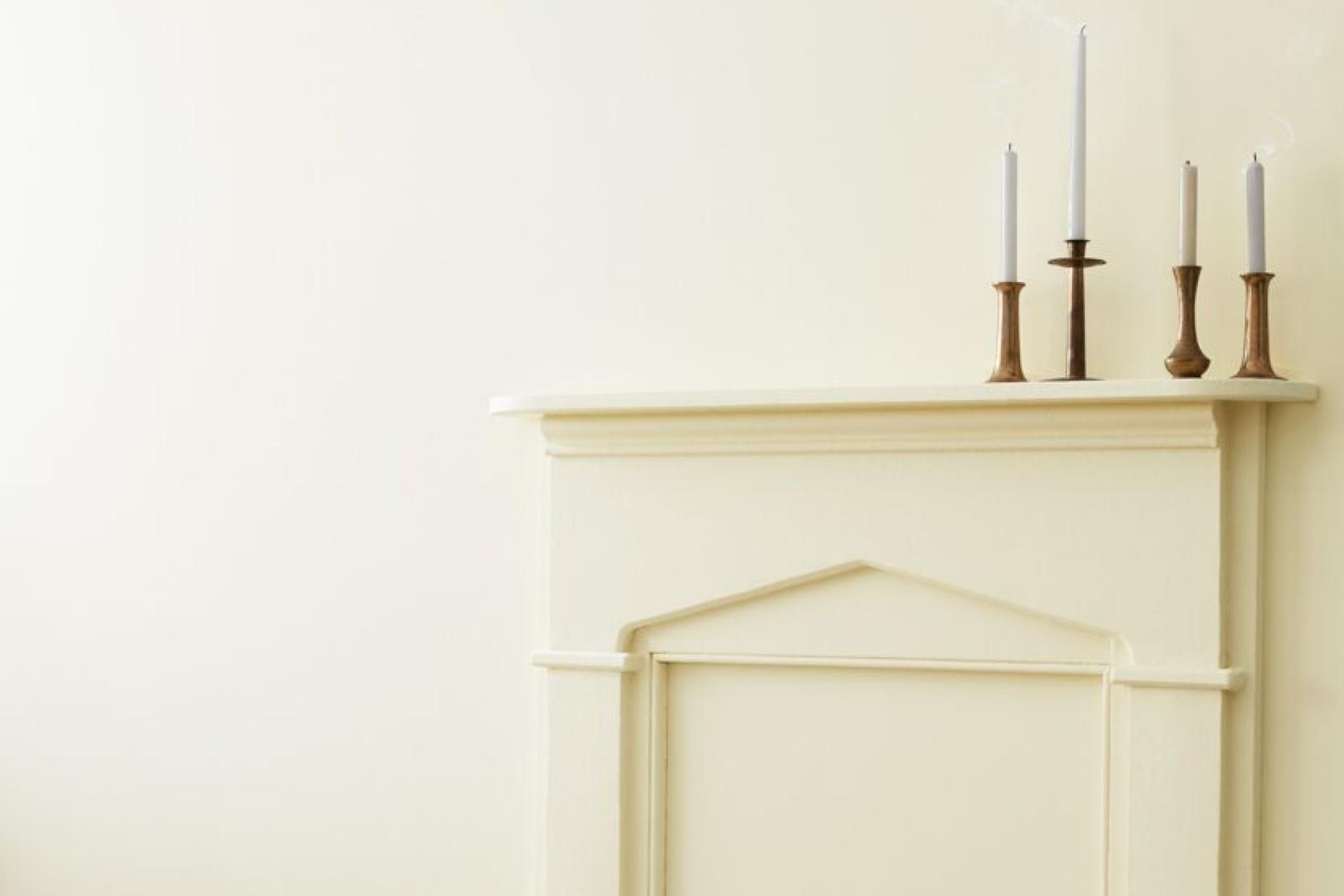 What Kind Of White Is Dune White 968 by Benjamin Moore?
In order to be able to use paint color correctly, you need to know what kind of color it is exactly. And it's not only about calling it green or blue, it's more than that! For example, Encycolorpedia says that BM Dune White is a white color and to a certain point, it's true.
But if we take a closer look at this paint color, we will see that Benjamin Moore Dune White is a warm off-white.
However, unlike most warm off-whites, it has no soft yellow undertones that homeowners often complain about. We would say it is the perfect warm off-white for those who find every white paint color either too cold or too warm.
Why is Dune White so unique, you may ask?
See, on the one hand, it's not a bright warm off-white, and on the other hand, it doesn't have the yellow warmth that is typical for many of the warm off-whites.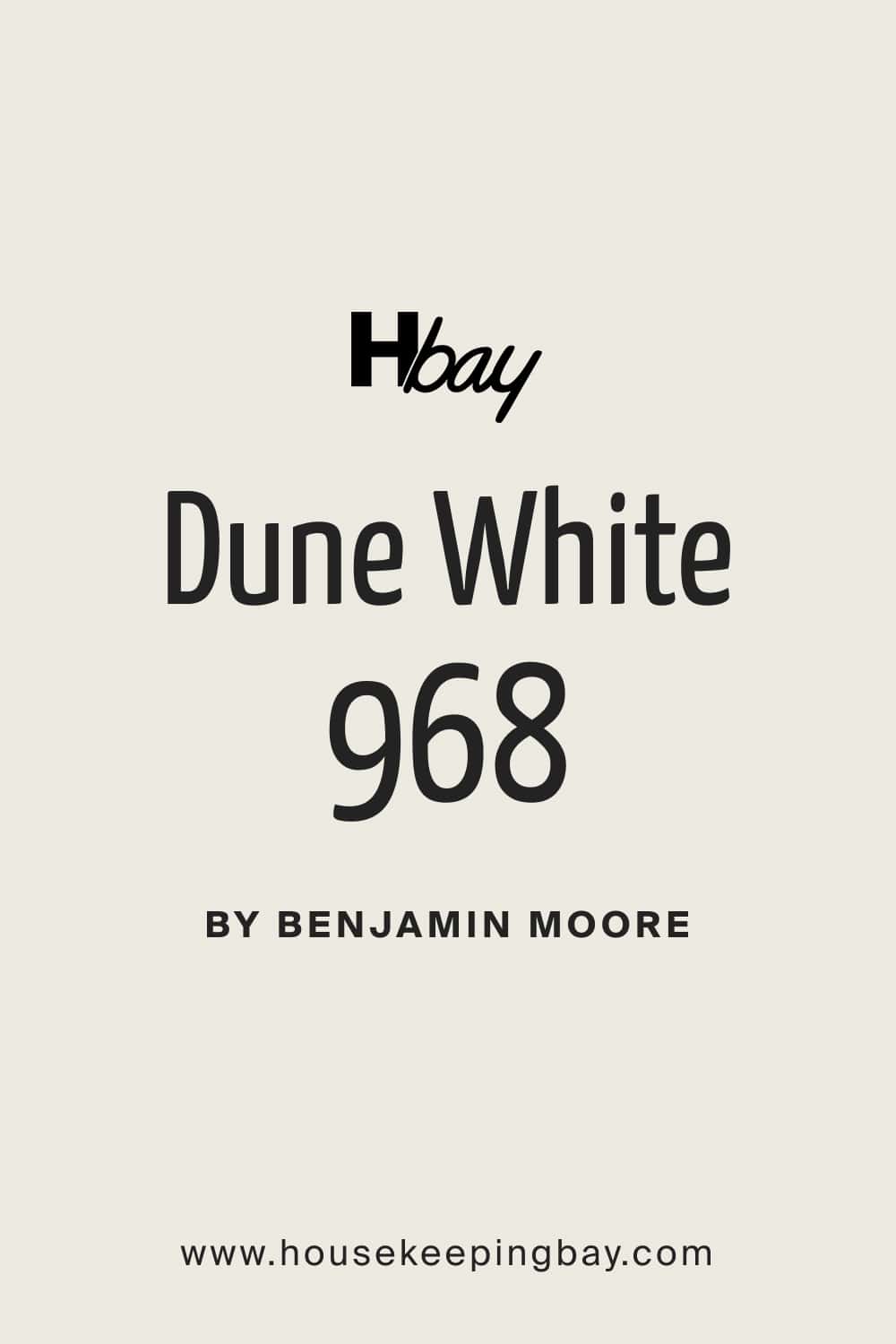 Undertone Of Dune White 968 by Benjamin Moore
It is essential to know what undertones paint color has when you are about to choose the proper color for your home. See, undertones play a crucial role in how you perceive the paint and how your entire space will look and feel.
Moreover, it is often rather difficult to figure out precise undertones of a particular color because they are often not seen at the first sight and only come out in certain types of light or surrounded by certain colors.
As for the Dune White paint color, this white doesn't have the yellowish undertones that most off-whites are known for. Thus, this color reads clearer and whiter on the walls while still being warm enough.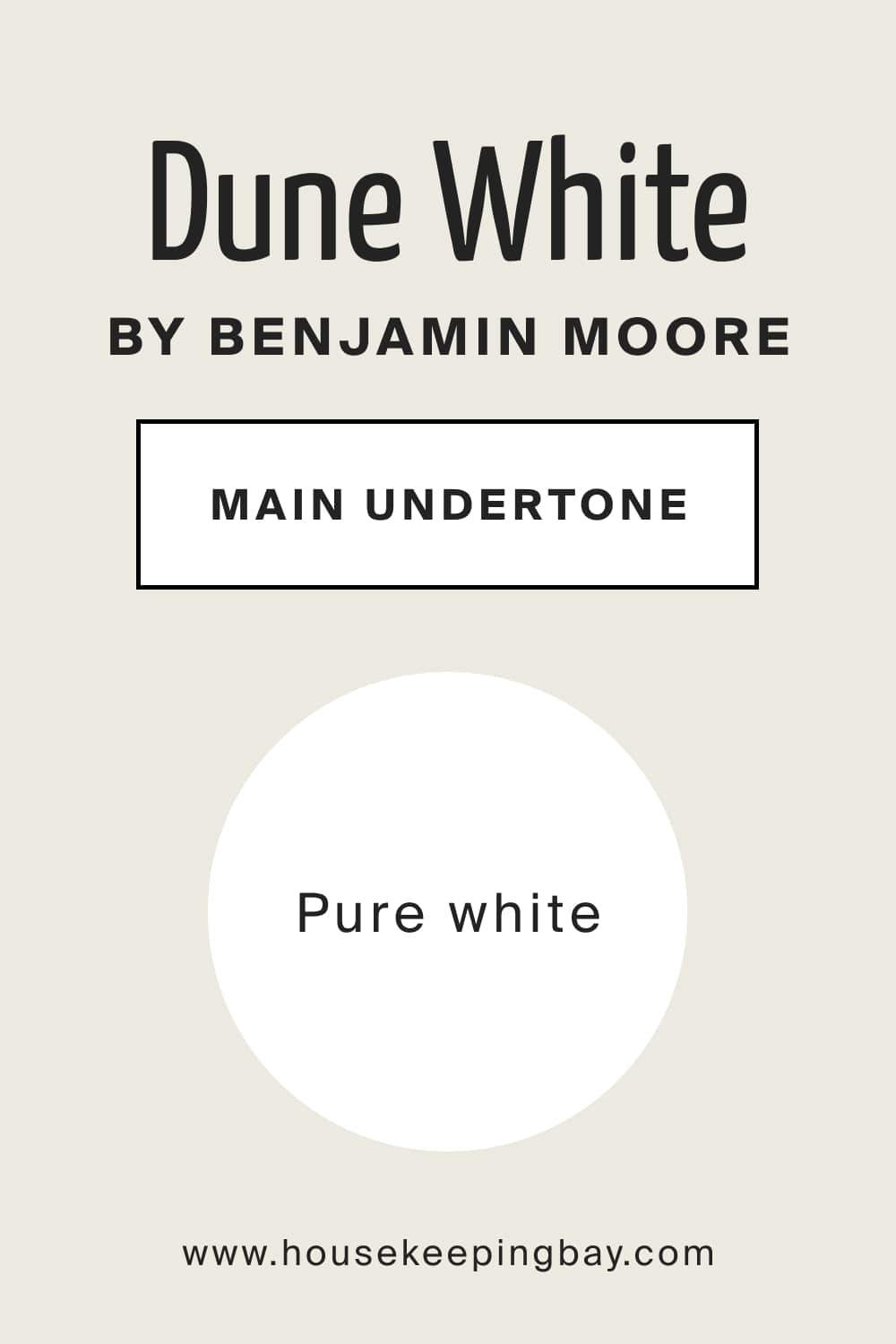 Dune White 968 Coordinating Colors
Why is it so important to know what colors can be used to coordinate the color on the walls? Well, it's pretty easy: being aware of proper coordinating colors, you can create a more harmonious color palette in your space.
If you are planning to paint your interior walls with BM Dune White, consider the following colors as coordinating ones to get the best results:
BM Witching Hour
BM Winterwood
BM Delray Gray
BM White Water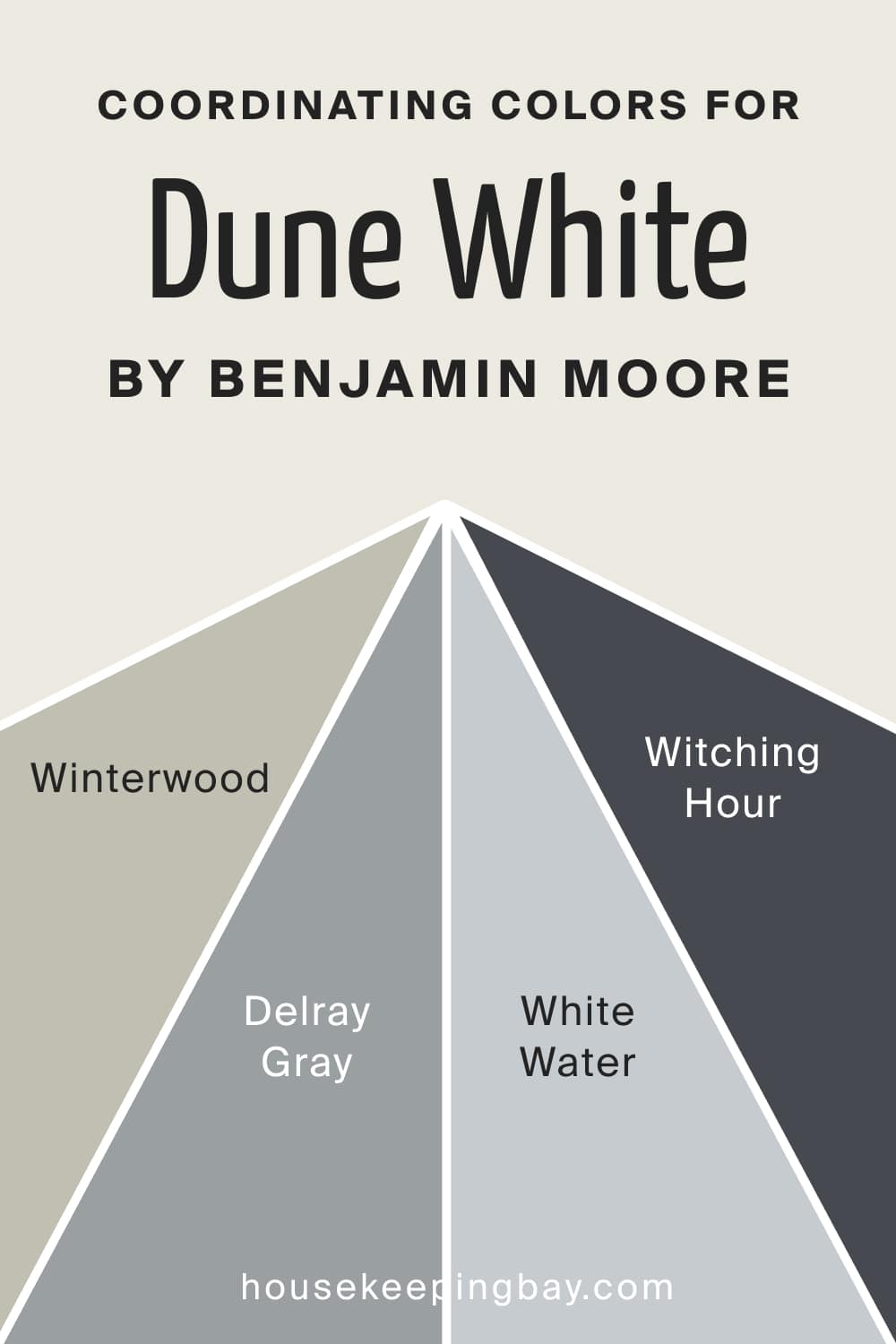 What Is the Best Trim Color For Dune White 968 by Benjamin Moore?
People often think that trim colors should only be contrasting to the color used on the walls, however, it's not like that at all. See, you can use similar colors as well on your trim, just make sure they highlight the paint you use on your interior walls. For the Dune White color, the following paint colors may work well as trim colors:
Westhighland White
Simply White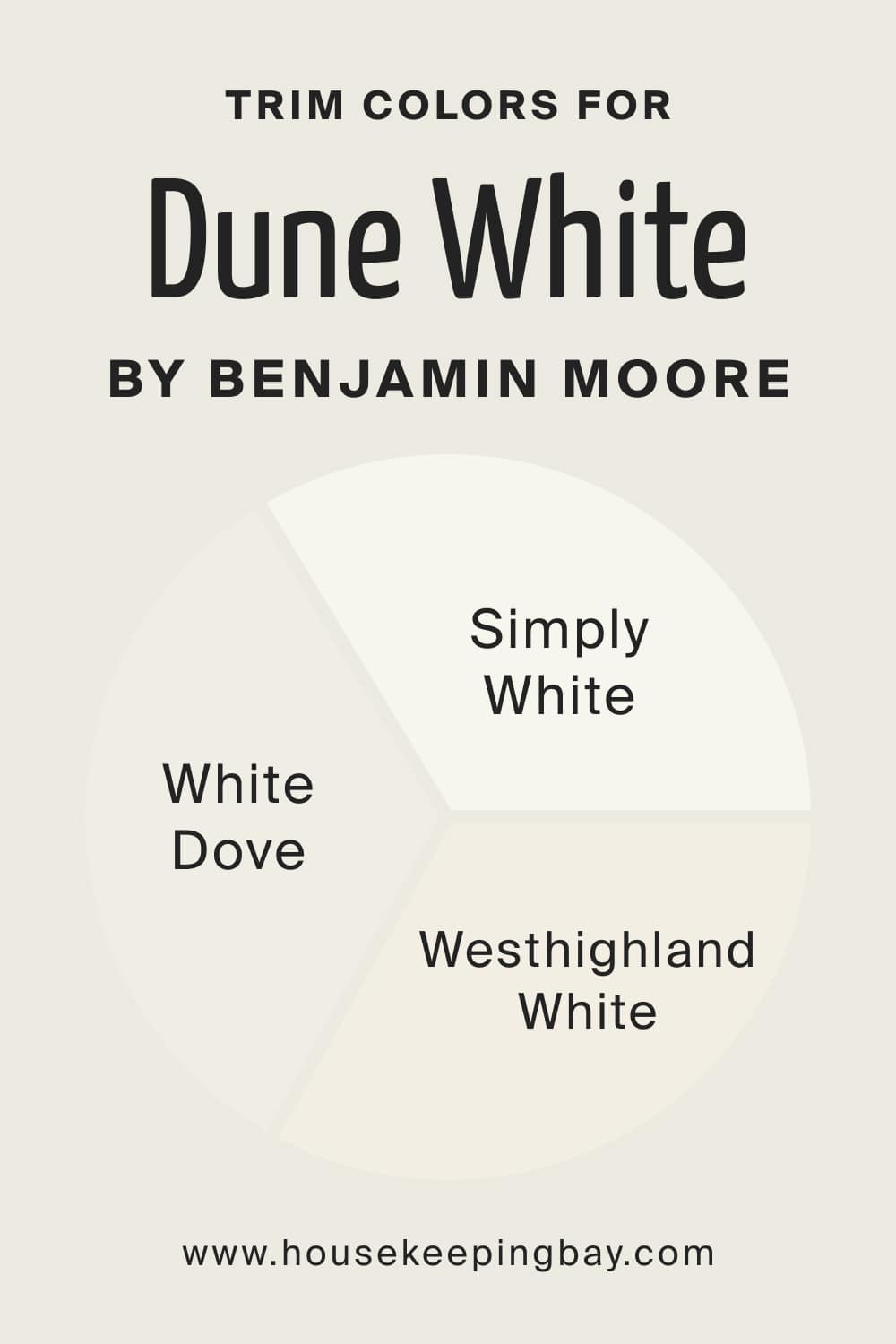 Color's LRV of Dune White 968 
LRV is another important significative of a paint color that you should take into consideration before you buy this paint and use it. For those who don't know, LRV stands for Light Reflectance Value.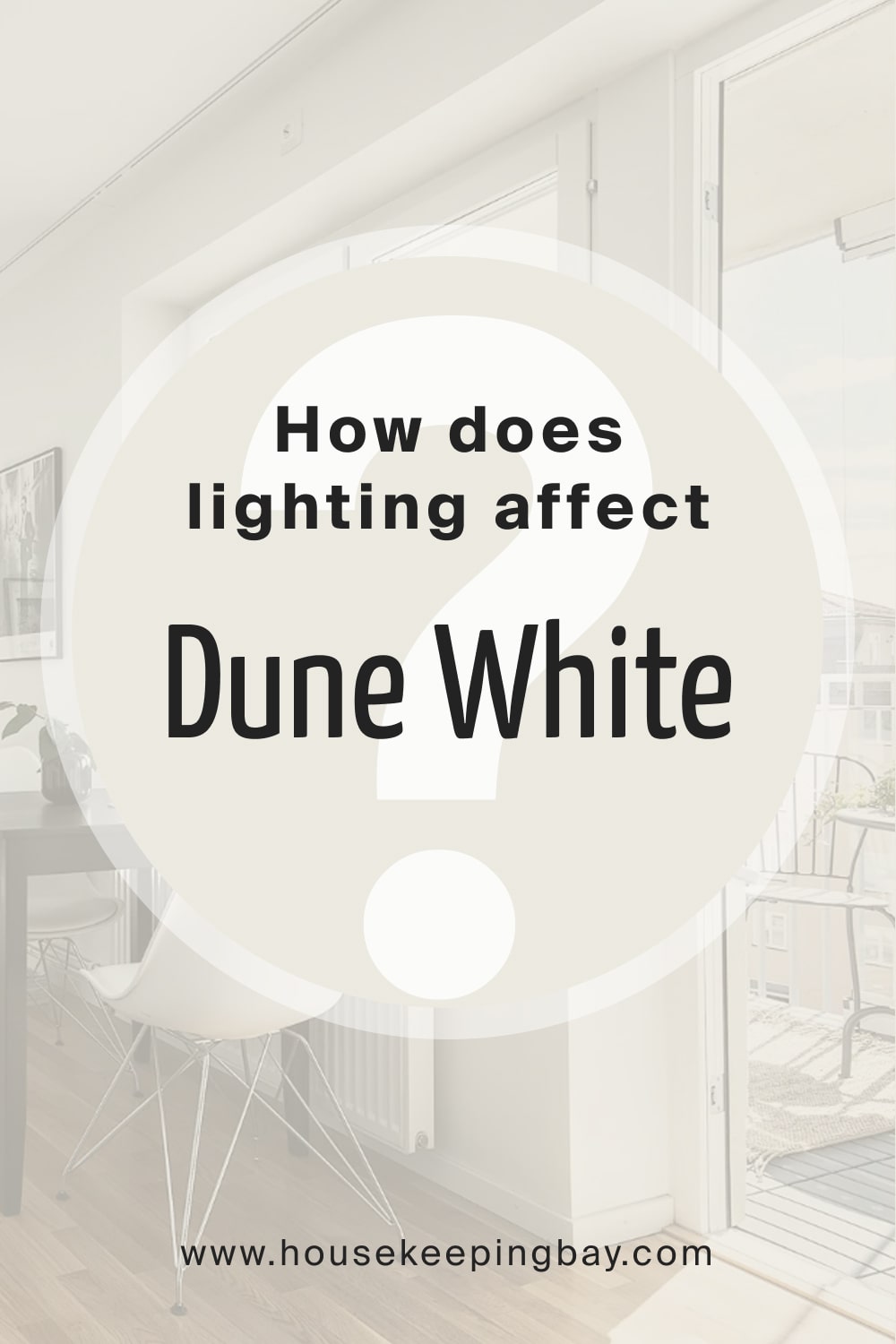 It shows how much light certain paint color is able to reflect when it is used on the wall or another surface. The LRV scale ranges from zero (which stands for black) and up to 100 (which is pure white), so as you can guess, the higher the LRV the lighter the color.
Speaking of BM dune White, the LRV of this color is 82 which makes this paint rather light. That means this white will reflect quite a lot of light, which is why it is handy for making rooms look airier and larger.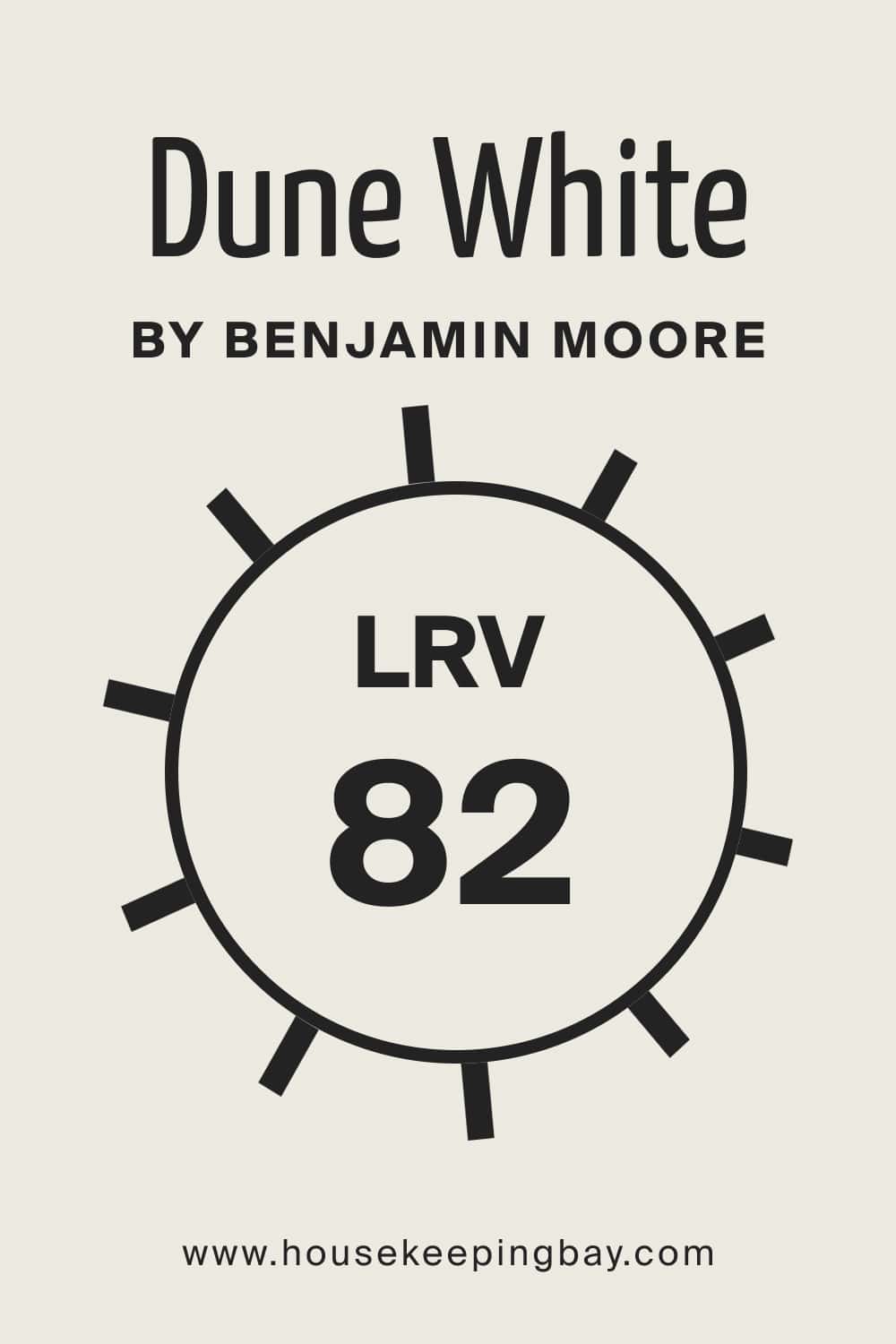 What is LRV? Read It Before You Choose Your Ideal Paint Color
Paint Colors Similar to Dune White 968 by Benjamin Moore
Why would anyone need to know what similar paint colors exist that read the same as the wall color? Well, there can be different reasons. For example, you might change your mind and decide you need a lighter or a darker variant of the existing color. Or you may realize that the color you pick does not match the rest of the palette in a room.
No matter why knowing what similar colors can be used to replace the color you initially chose will help you not postpone your painting process. So if you are looking for color alternatives to use instead of the Dune White color, take the following variants into consideration:
BM Cloud White 967
BM Meadow Mist 936
BM Chantilly Lace 2121-70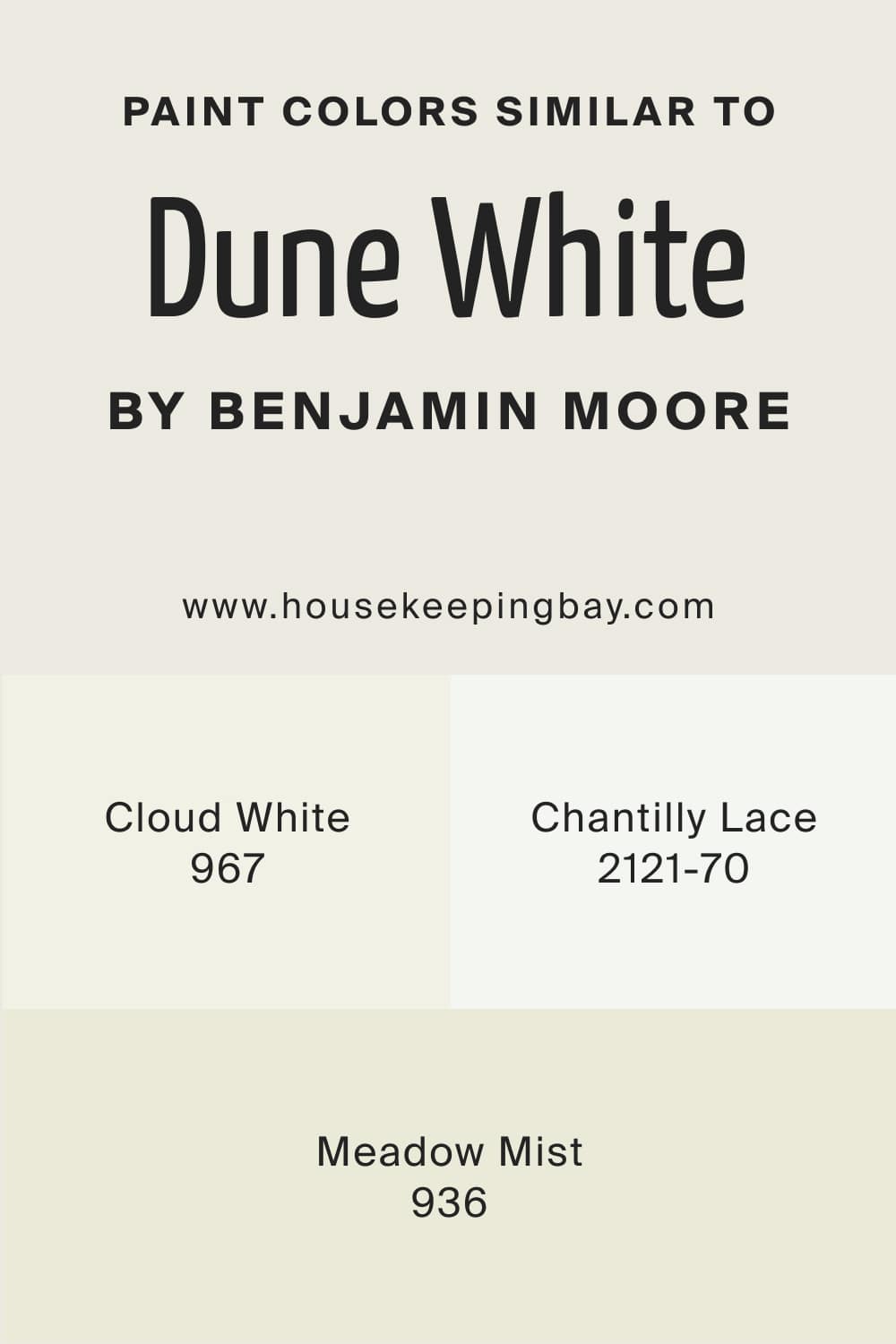 Colors That Go With Dune White by Benjamin Moore
Not all of us have a sharp eye for colors, their undertones, and color shades since we are not professional painters. People often have no idea of the color theory basics! However, sometimes it's good to know what colors you can use together, and what colors should never be paired.
Although white is considered a universal color that can work well with almost any other paint, there are certain colors that it will go with better.
Speaking of the BM Dune White paint, you may want to take a closer look at the following colors to use with it:
BM Iron Mountain
BM London Fog
BM Cotswold
BM Woodcliff Lake
BM Province Blue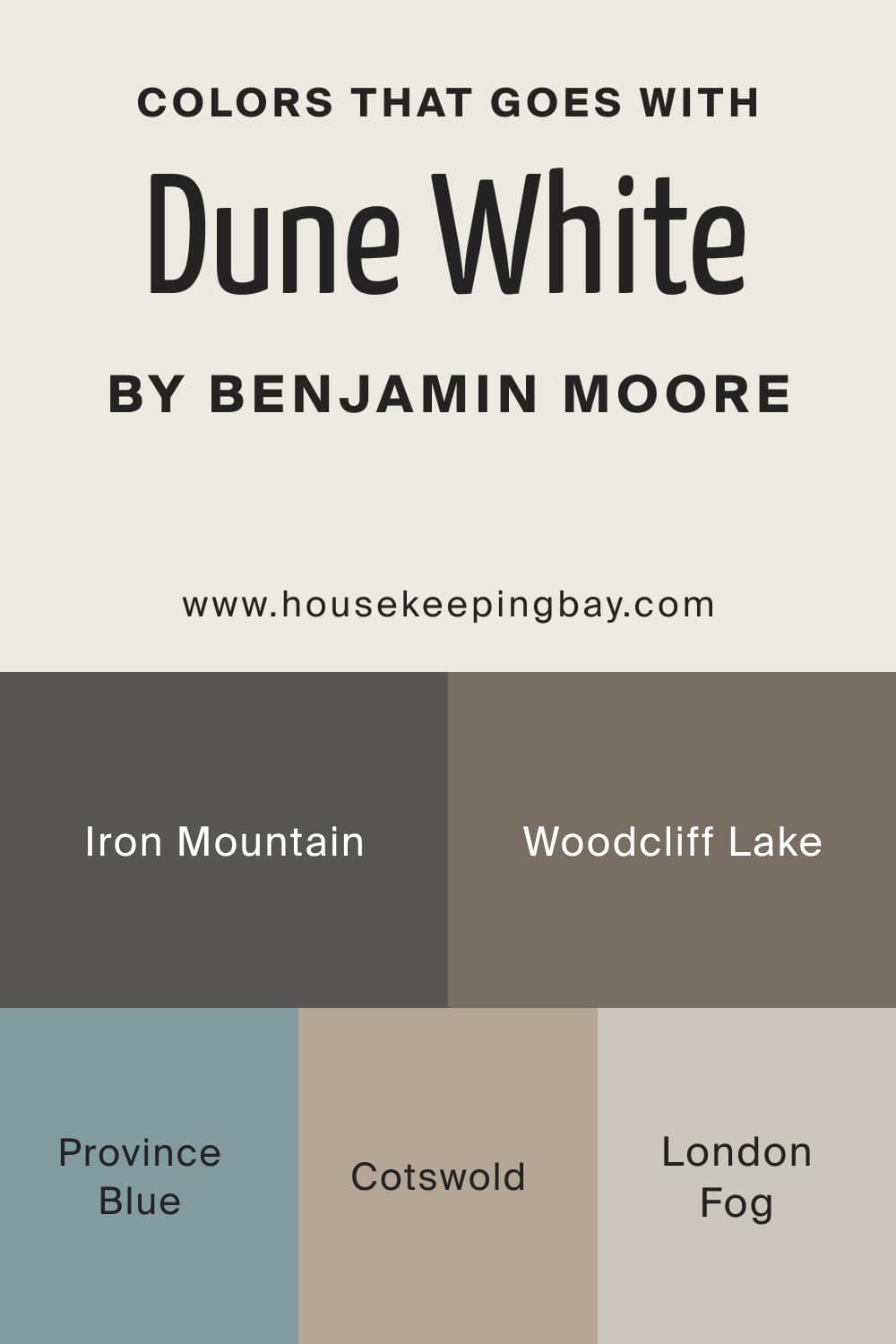 Where to Use This White Color In Your Home?
Since the Dune White color by Benjamin Moore is rather versatile, it is easy to find a suitable palace for it in your home almost anywhere! You can use in your kitchen or your bedrooms, paint cabinets or bathroom walls, or you might want to use it in a nursery. Below, we will explain how it may read in different rooms.
 Dune White 968 in the Living Room
This color can be a good choice for your living room if it has plenty of light. Also, it's important that the lighting is not too warm, otherwise, the color may read quite yellowish! But except for this nuance, BM Dune White reads softly and delicately on the walls.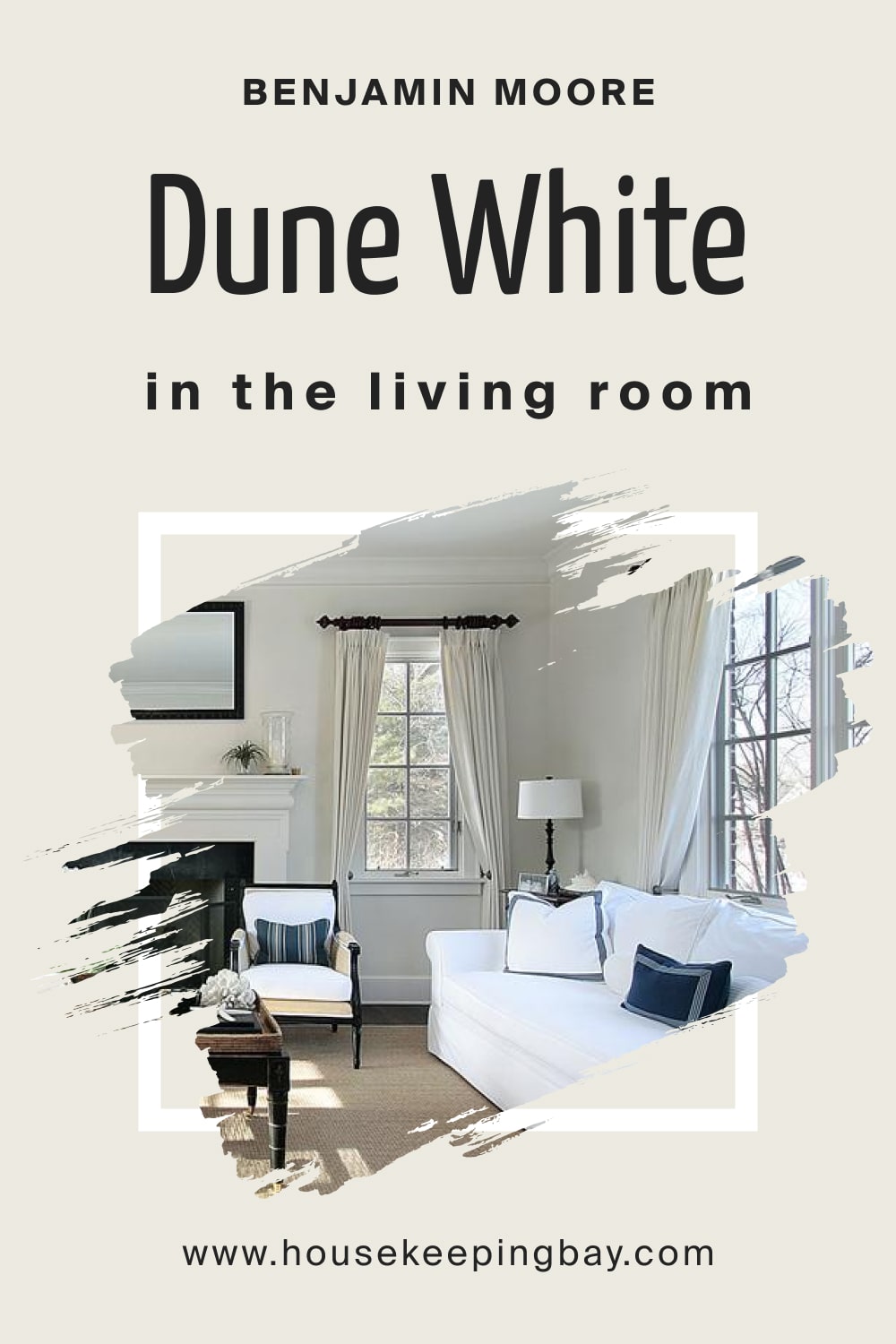 Dune White 968 in a Bedroom
This white is one of the best color selections for your bedroom since it creates a cozy and calming vibe there. Besides, this white works really great with different textures like wool, wood, rattan, and others. So you can easily use it if you have wooden furniture in your bedroom, or if you use a lot of natural fabrics there.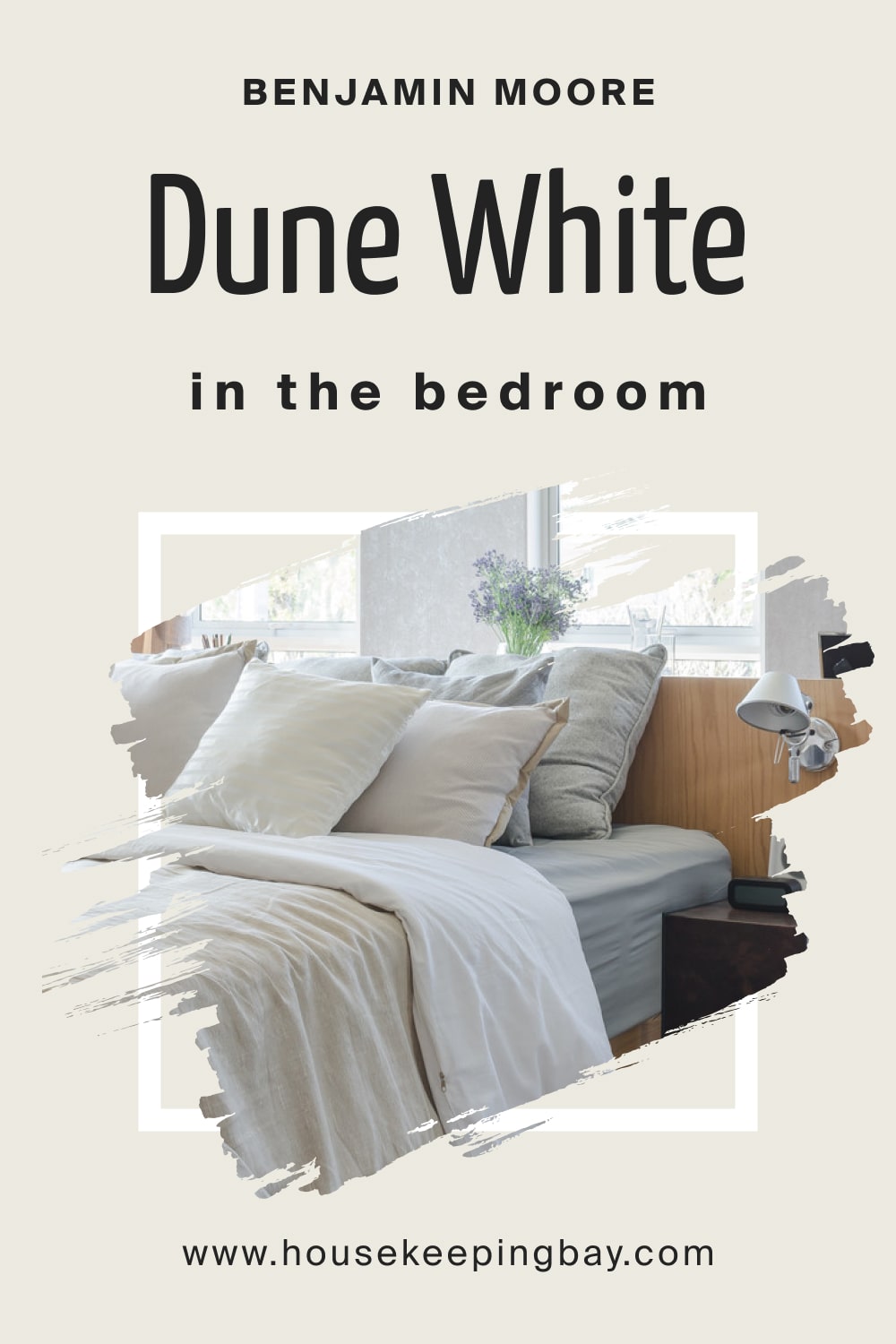 Dune White 968 on the Kitchen And Kitchen Cabinets
For kitchens, this color is a good solution since it will work well both on cabinets and on walls. You just need to decide what you prefer. But in general, BM Dune White pairs great with the kitchen hardware, as well as marble surfaces and tiles.
So if you have stone/marble countertops and/or a tile backsplash, feel free to paint your kitchen walls the Dune White color.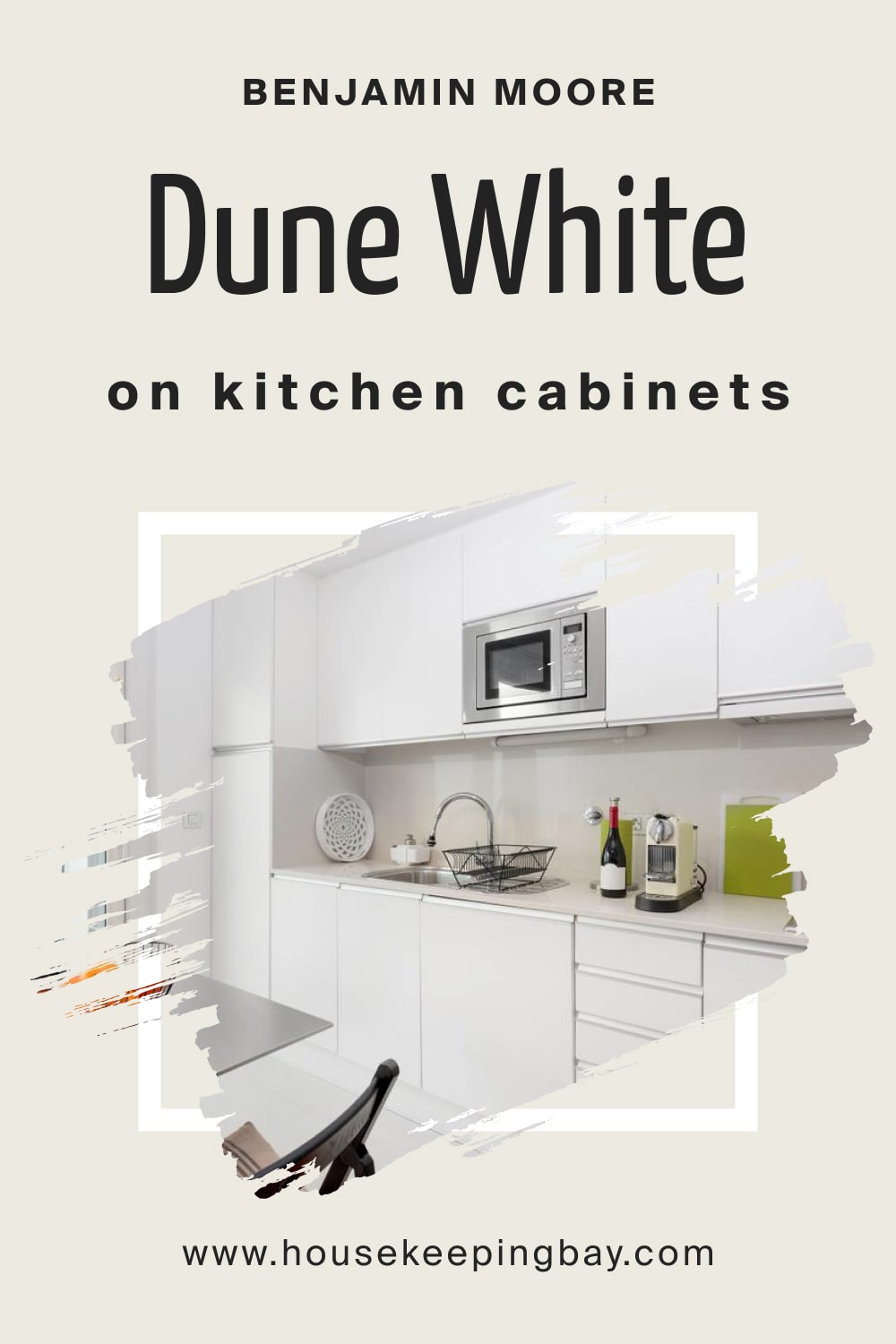 Dune White 968 for the Exterior Use
Some colors can be used on exterior walls whilst some can't. As for the Dune White color, it can be used as an exterior paint color. Since it is not too crisp but also not too warm, it will give your house an elegant and homey look.
Well, now you know the basic facts about the Dune White paint color by the Benjamin Moore brand. With the help of this information, you will be able to tell in advance how this white color will work in different rooms of your home and how it may read in different lighting.
Also, you are now aware of the colors that coordinate it and the colors that can be used on the trim.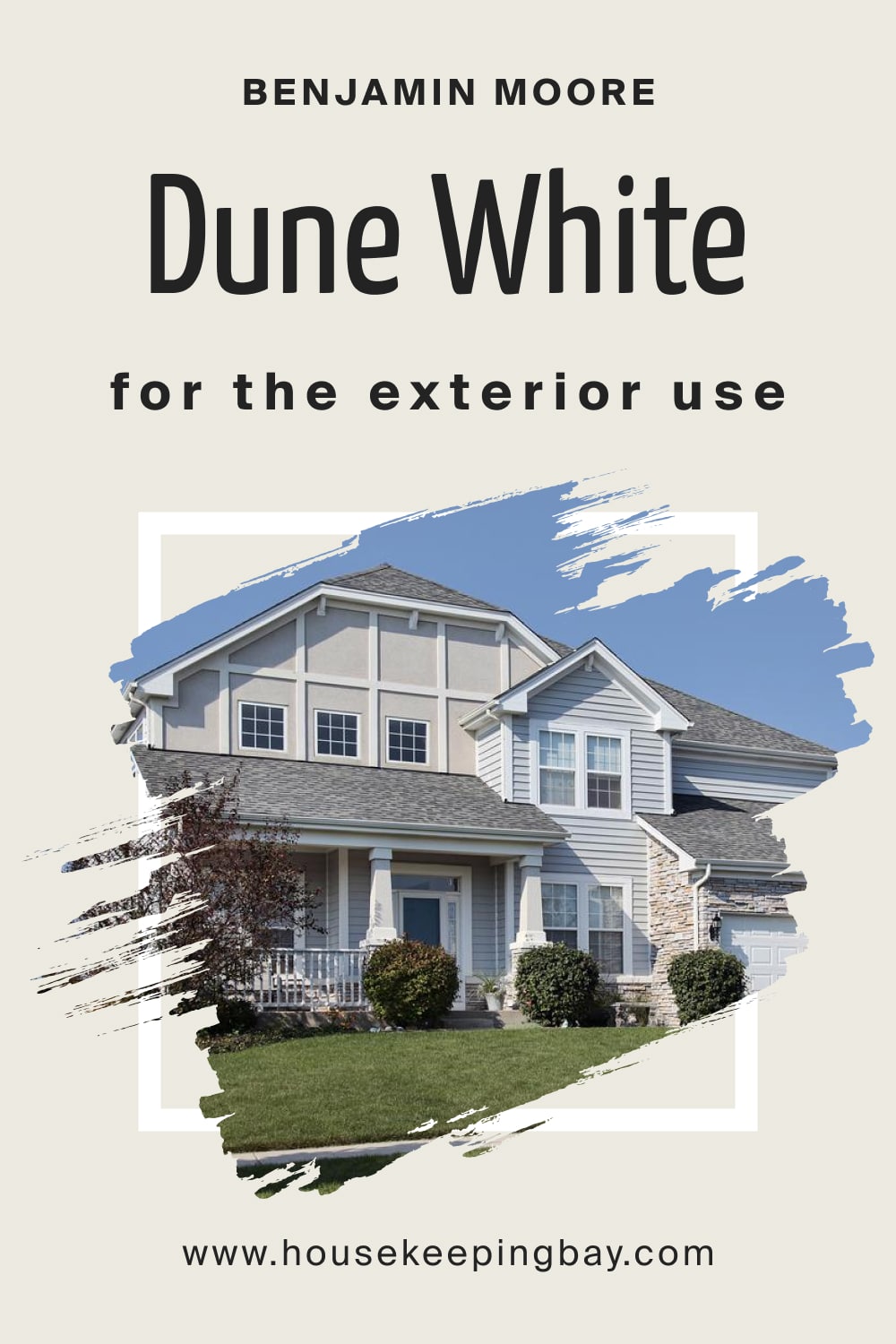 Comparing BM Dune White With Other Whites
To help you better see the difference between various shades of white, here is a comparison of the Dune White color with a few similar whites. It will help you figure out how seemingly the same colors may vary.
BM Dune White vs SW Alabaster
Alabaster has subtle beige undertones whilst Dune White doesn't have prominent undertones. But if you put them close together, you will see that Alabaster reads somewhat warmer and slightly beige compared to the Dune White color. These two can't be used together but they may be used interchangeably if you need a slightly distinct shade.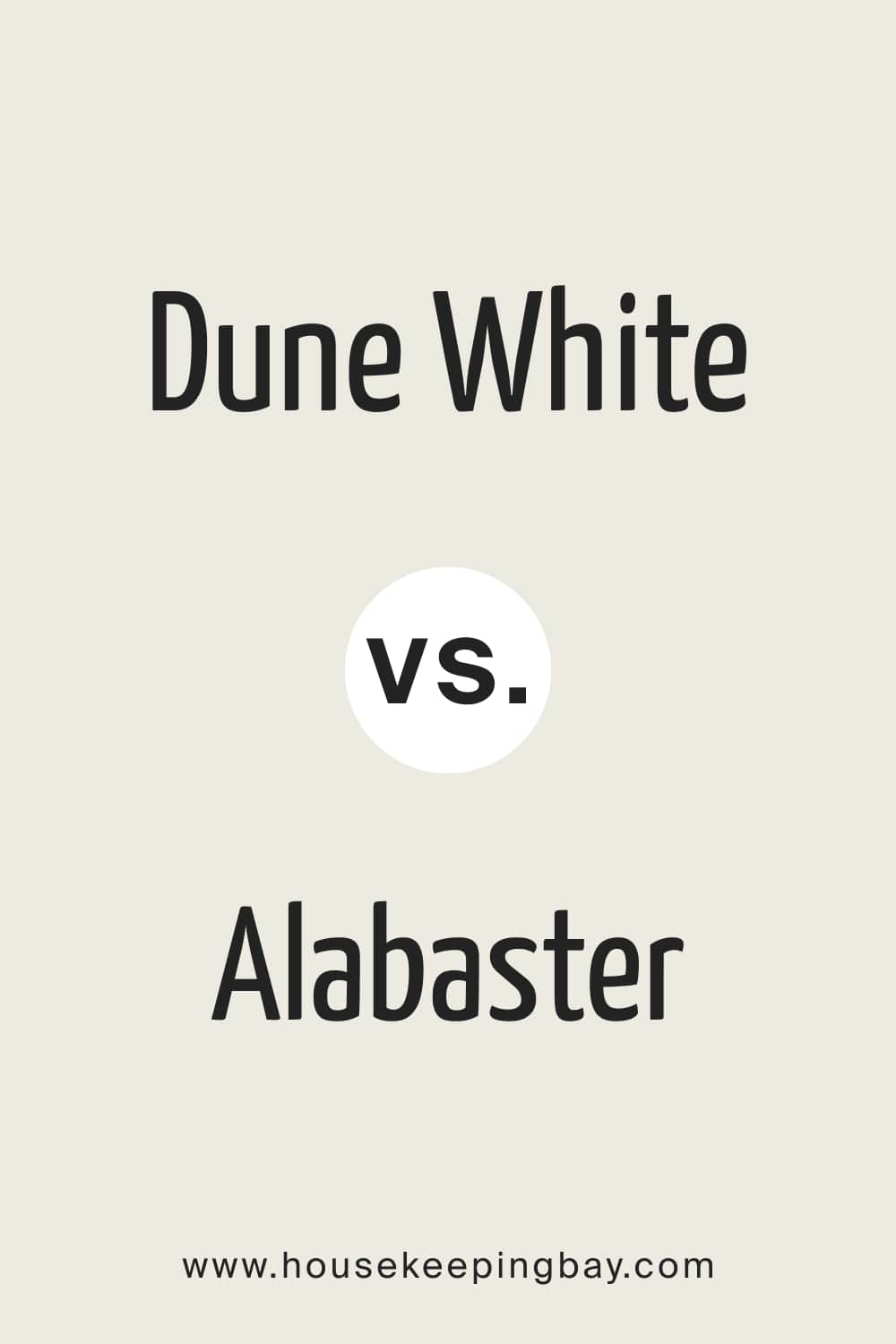 Dune White vs White Dove
White Dove has yellow undertones combined with a very slight gray, which makes this color a beautiful soft creamy off-white. Compared to the Dune White paint, White Dove reads a bit warmer and reveals more beige than its balanced counterpart. But since both colors are warm-toned, you can successfully use them interchangeably!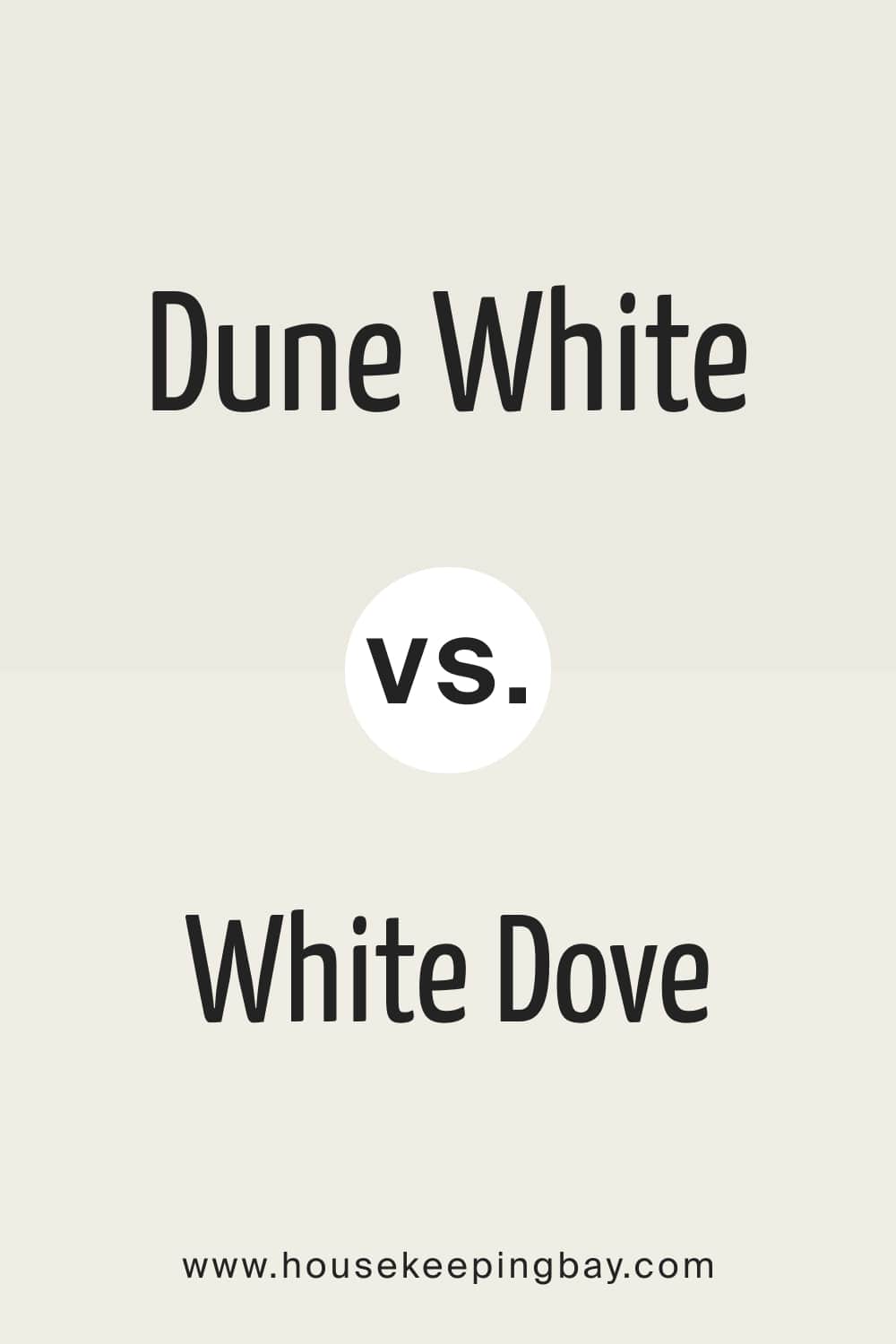 Dune White vs Swiss Coffee
As an off-white, BM Swiss Coffee has yellowish undertones, however, they are not very pronounced. These whites read almost the same so you can use them as substitute colors for each other with almost no difference.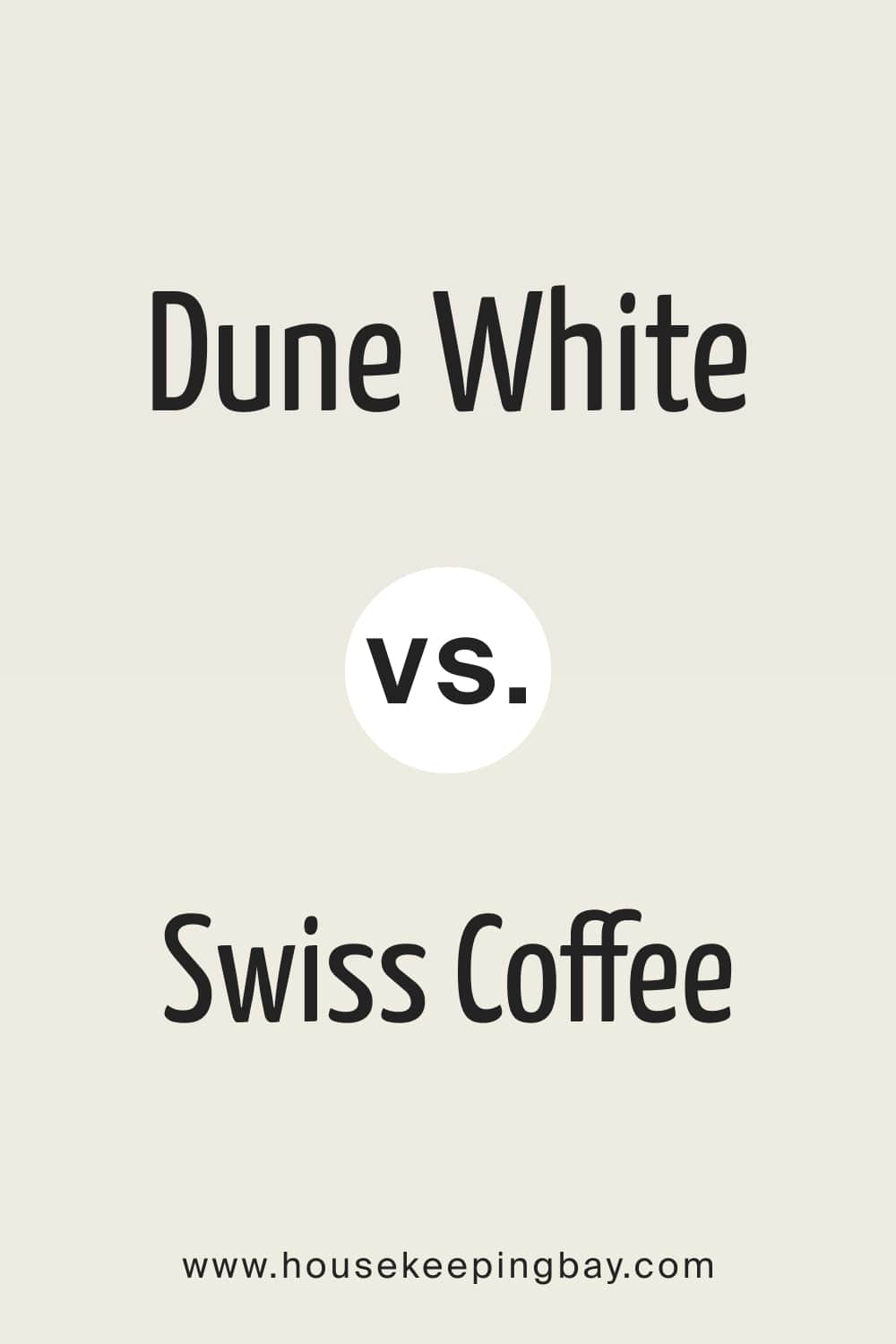 Dune White vs Icicle
The Icicle color has gray-green undertones whilst the Dune White almost doesn't show its warm tones. However, if you compare them, you will see that BM Icicle reads cooler and slightly greenish-gray, and Dune White reads warmer.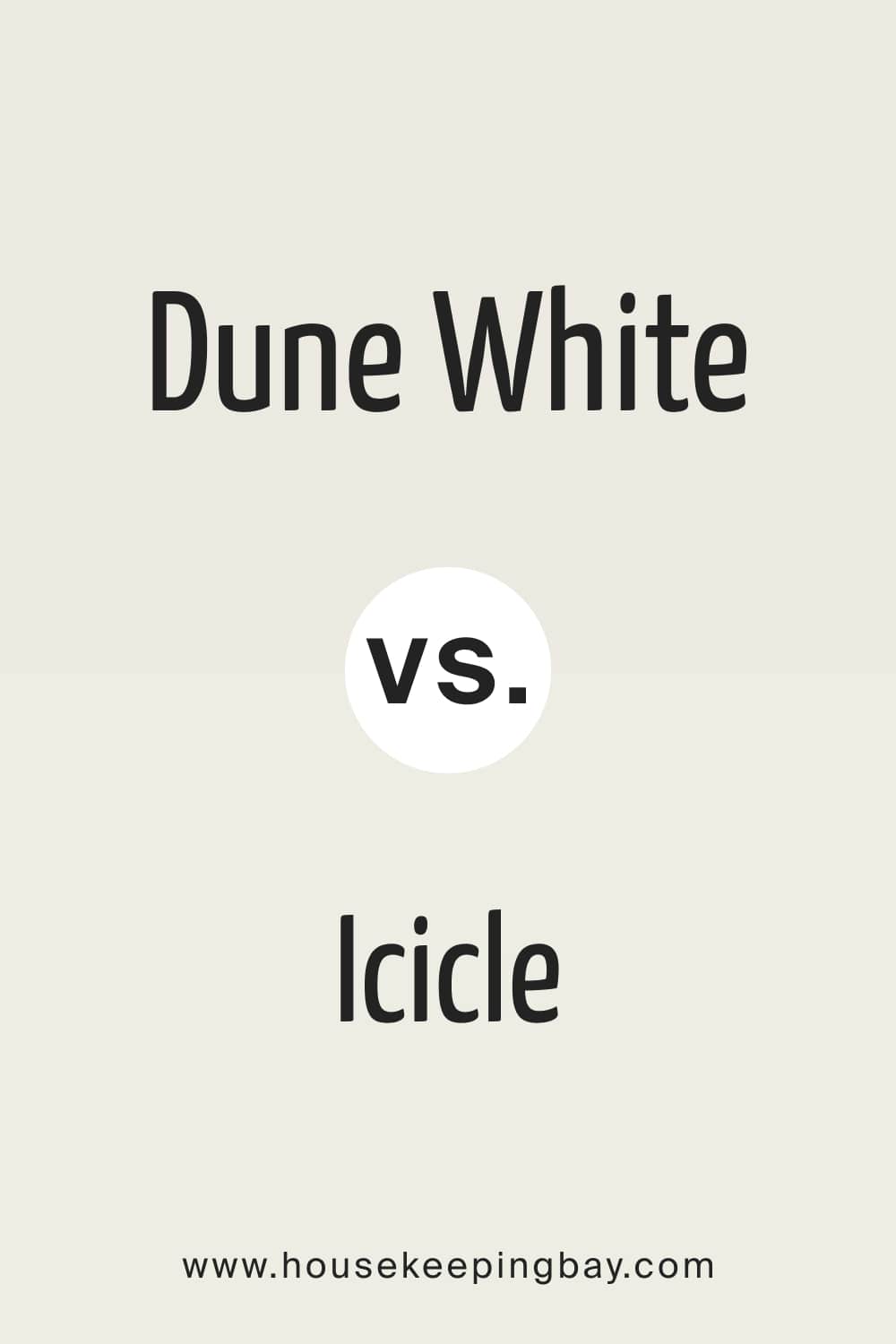 So, now you have complete information about the paint color called Dune White by the Benjamin Moore brand. You learned what undertones it has, what coordinating colors this color has, and how it may react to light.
Also, we explained how this white can read in different rooms of your home and what colors it is best to pair it with in order to get the most winning combinations.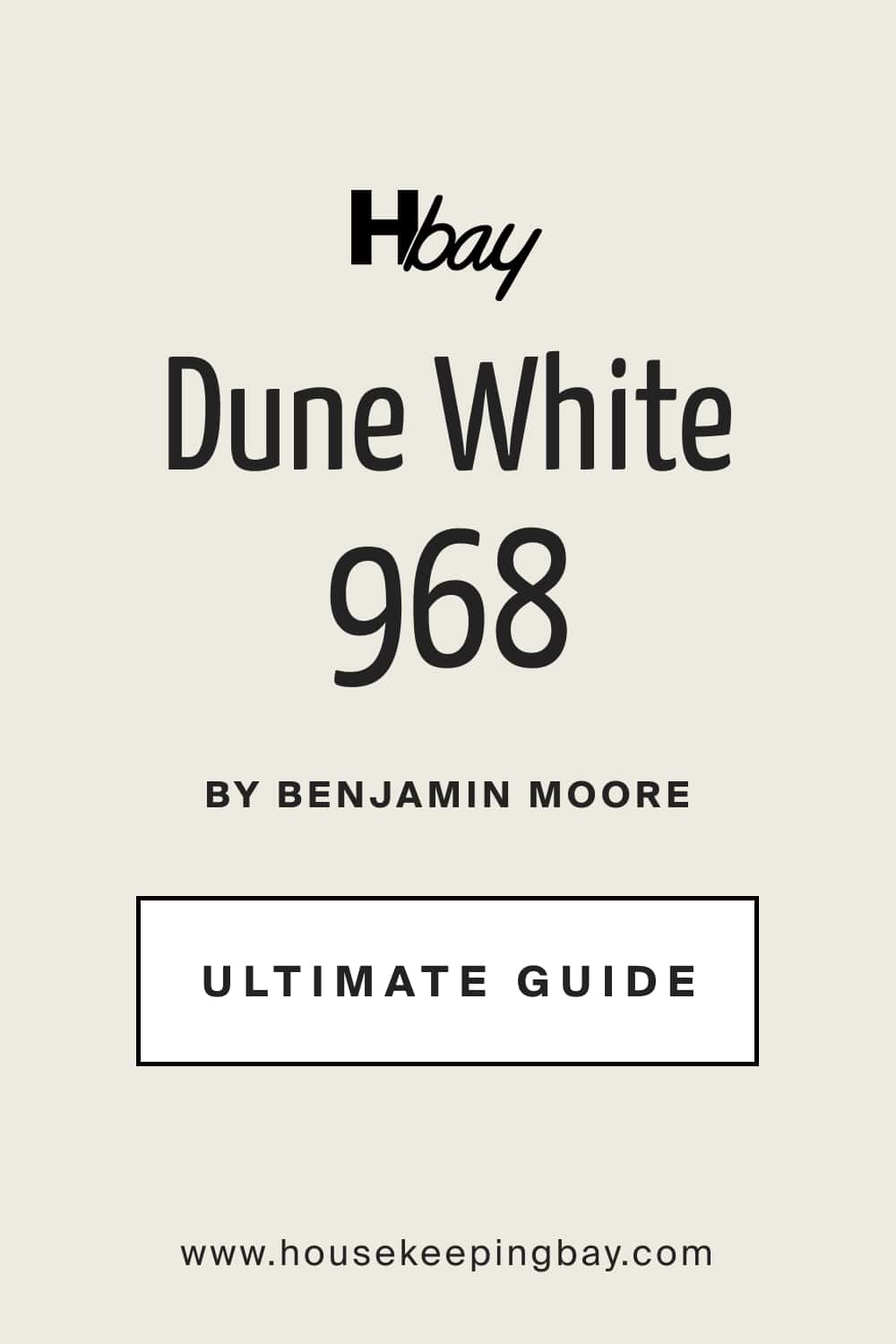 Frequently Asked Questions
⭐Is BM Dune White an off-white?
Yes, Dune White is a warm off-white without the soft yellow undertones.
⭐What colro family does Dune White belong to?
The color Dune belongs to the White color family, a part of the Classic Color collection.
⭐Is BM Dune White the same as Glacier White AC-40?
Yes, this white color is also known as Glacier White AC-40.