We are used to the idea that what must be crisp-clear and bright. However, except for sterile and glowing whites, there are also other shades of this color that may not quite looks like white! Today, we would like to introduce one of such whites to you.
Meet SW Antique White paint color! This soft and warm hue may not read like white, so we will explain why it looks like that and how to use it.
You will learn what kind of hue it is, what undertones it has, and how it reacts to light. Also, we will tell you how to coordinate it correctly and what colors it will work with.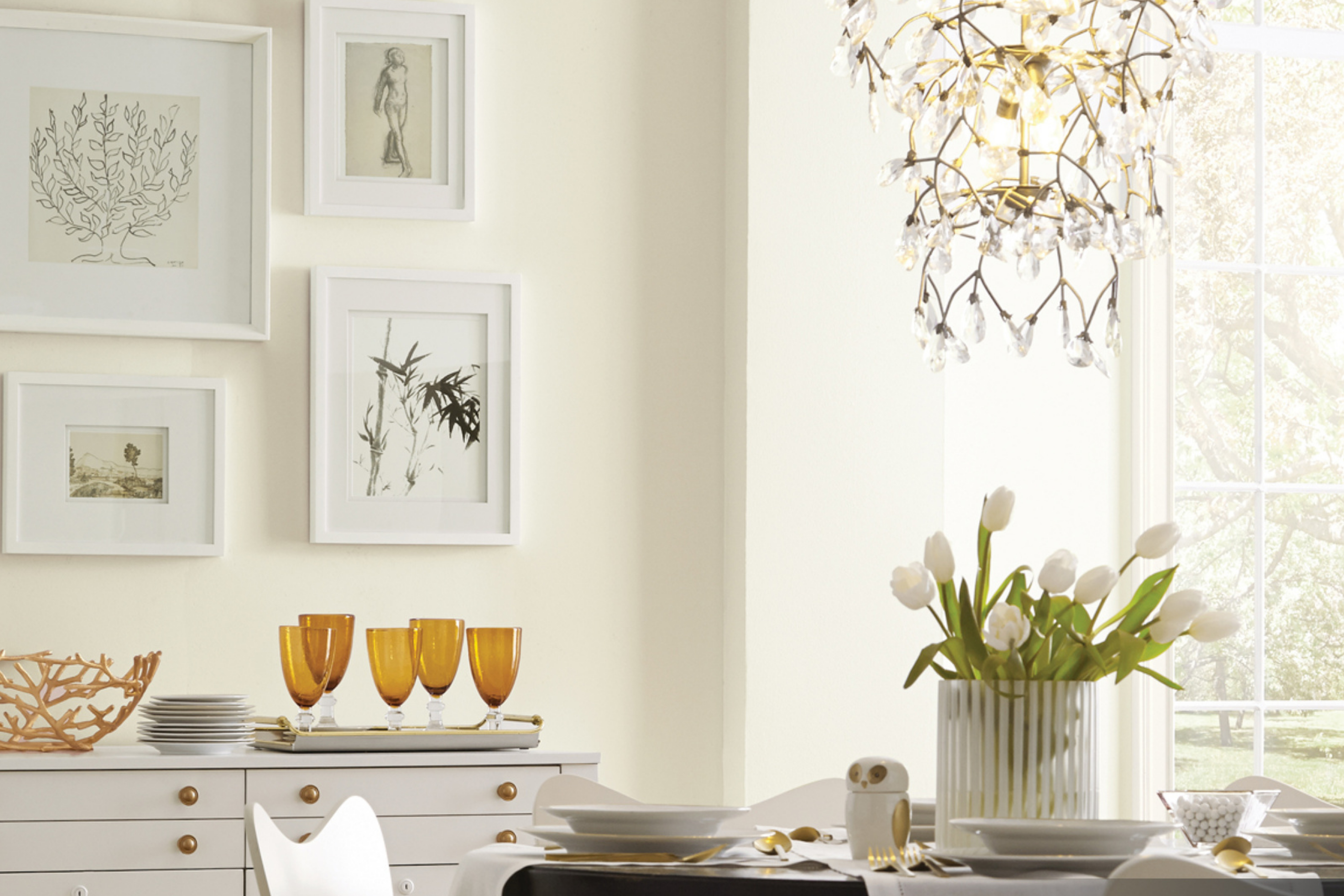 What Kind of Color Is Antique White SW 6119?
As Encycolorpedia says, SW Antique White is technically a white paint color. However, it doesn't look like a traditional bright white at all. Instead, this hue reads so warm that people often mistake it for beiges! In fact, such a warm appearance is a result of the yellow and beige undertones this creamy white has. Thanks to this yellow-beige base, the color reads so wonderfully deep!
Thanks to its balanced warmth, SW Antique White is pretty versatile when it comes to using this hue in your home.
It can work well in most rooms, creating a homey and relaxed atmosphere in the space. Thanks to its cozy appearance and moderate warmth, this white won't show off excessively yellow undertones.
As a result, it can be paired nicely with most colors.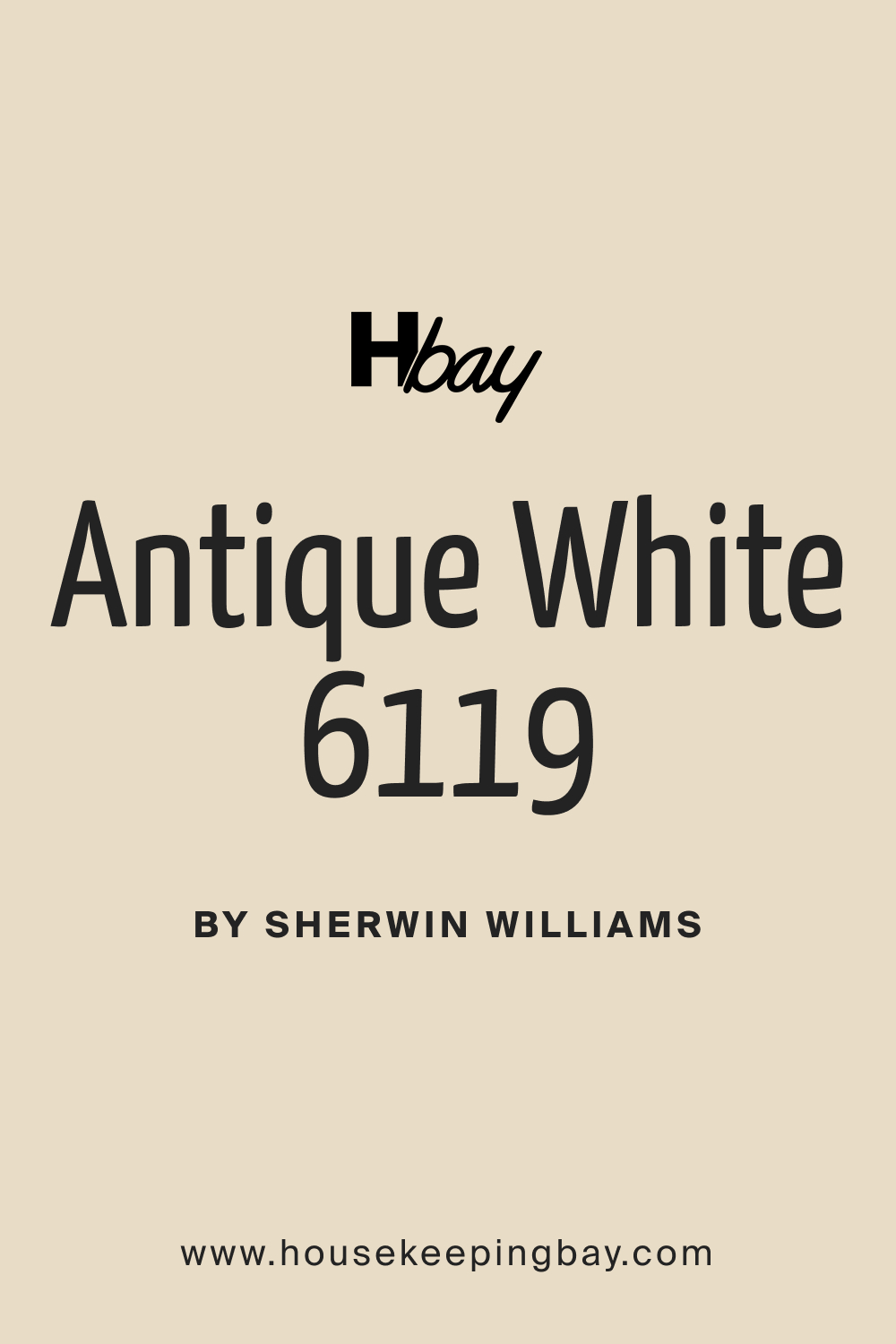 Is It a Warm or Cool Color?
SW Antique White is definitely warm-toned! However, unlike many warmer colors that tend to read butter-like on the walls or look way too creamy, this soft and creamy white keeps its balance pretty well. Thanks to the neutral base it has, this hue will hardly read yellow on your walls.
Nevertheless, remember that this creamy white is rather tricky! It may read warmer if used in warmer lighting, so be careful when using it.
What Undertones Does Antique White SW 6119 Have?
Oh, this color is a tricky one for sure! See, although SW Antique White is technically considered white, it is actually a cream color. And like any cream color, there is actually a shade of yellow in it with a neutral base added to calm it down. Along with this neutral base, this color can sometimes pick up undertones of orange, red/pink, or even a wink of green!
This is why you must always sample it before using this color on your walls or other surfaces! This is the only way you can figure out how exactly SW Antique White will read in a room depending on the lighting conditions!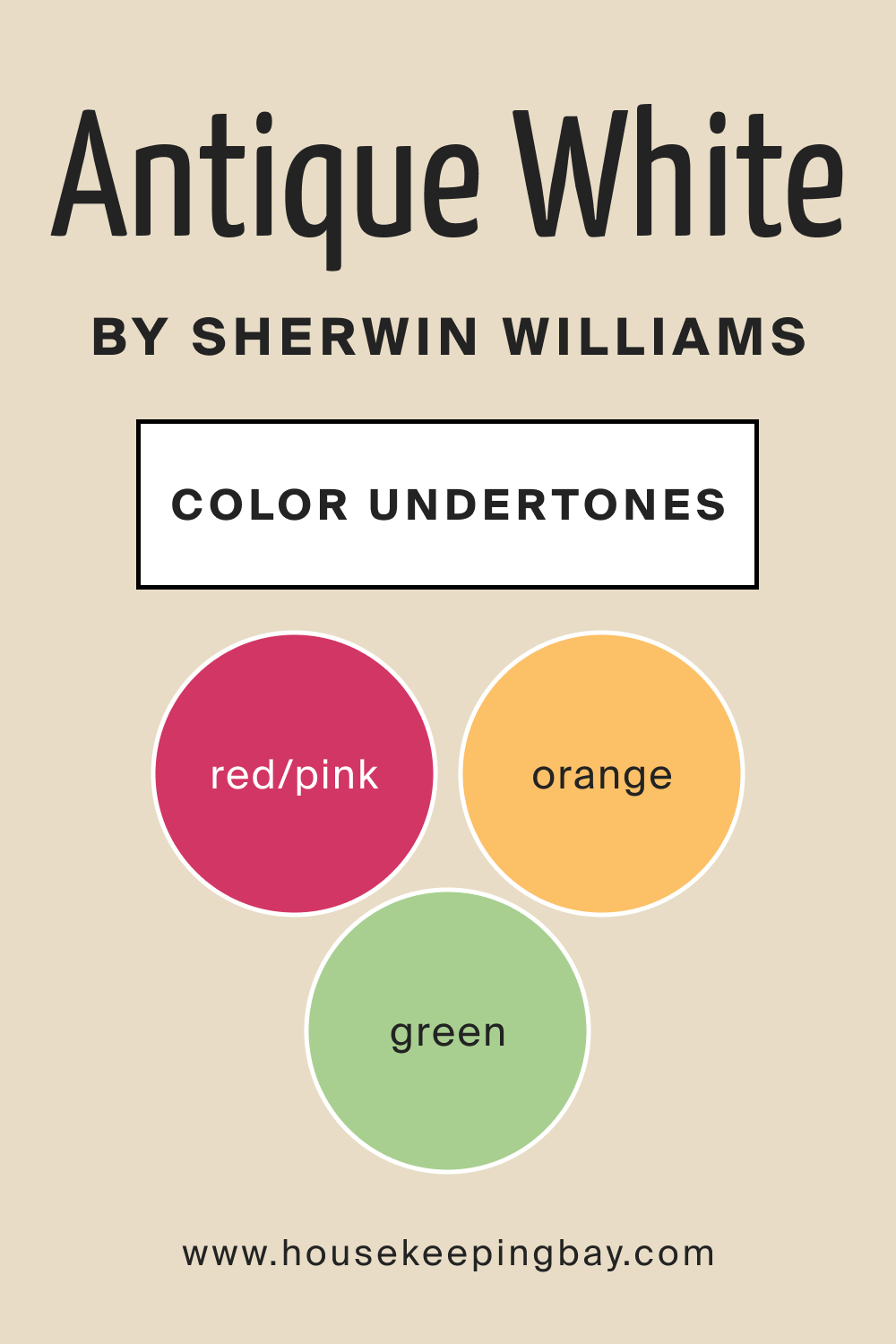 Antique White SW 6119 Coordinating Colors
With such a complex paint color, it will be difficult and challenging for you to choose the correct coordinating colors! Since SW Antique White has complicated undertones, picking the right color that will work with it is a tough task. This is why you might benefit from our helpful list of coordinating colors that can be used with SW Antique White:
SW 6121 Whole Wheat
SW 9114 Fallen Leaves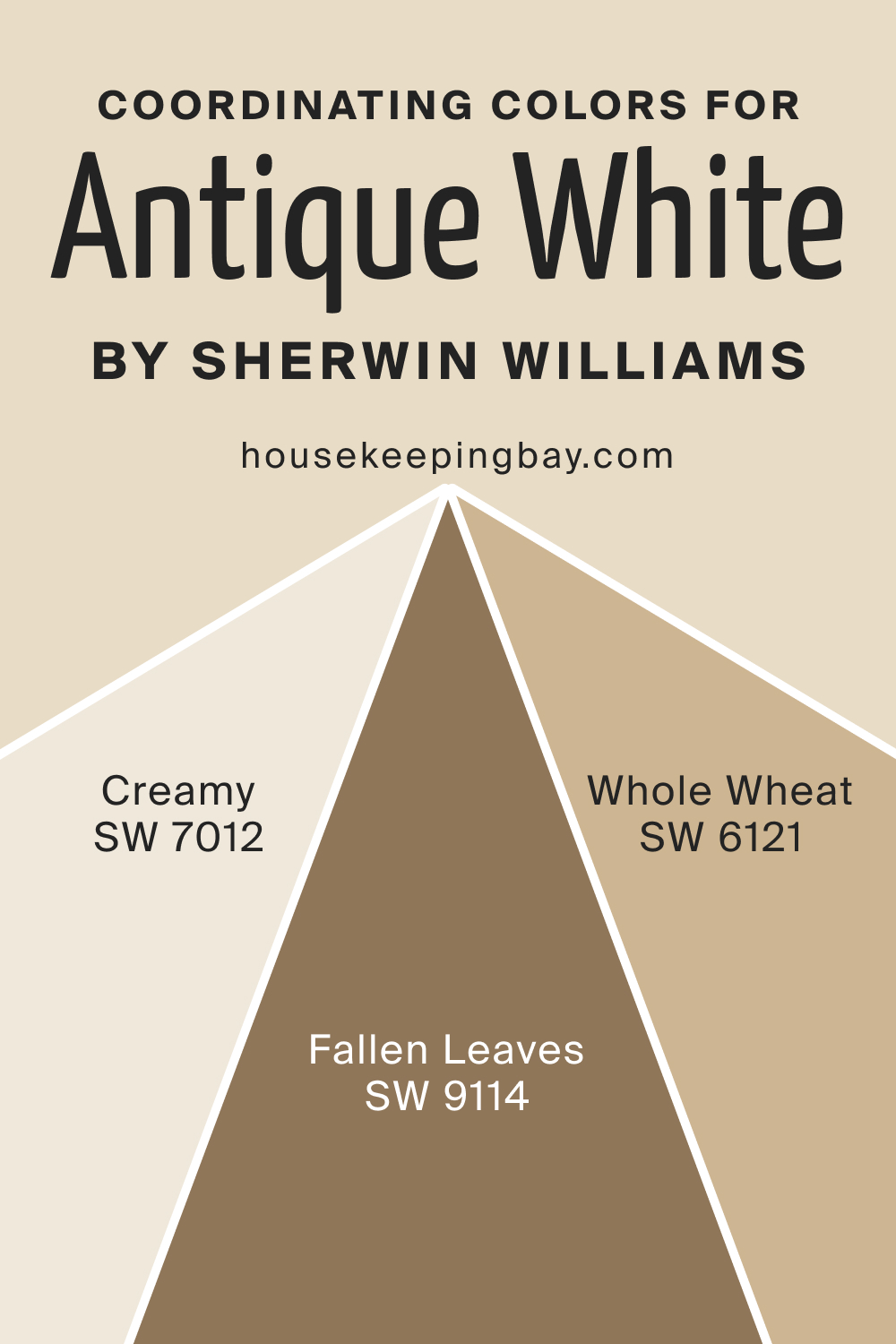 What LRV Antique White SW 6119 Has and How It Reacts to Light
LRV (light reflectance value) is a measurement that shows how much light colors can reflect from the walls. The LRV value ranges from zero to 100, where zero is black, and 100 is white. Respectively, the lighter the color, the higher the LRV value it has, and vice versa.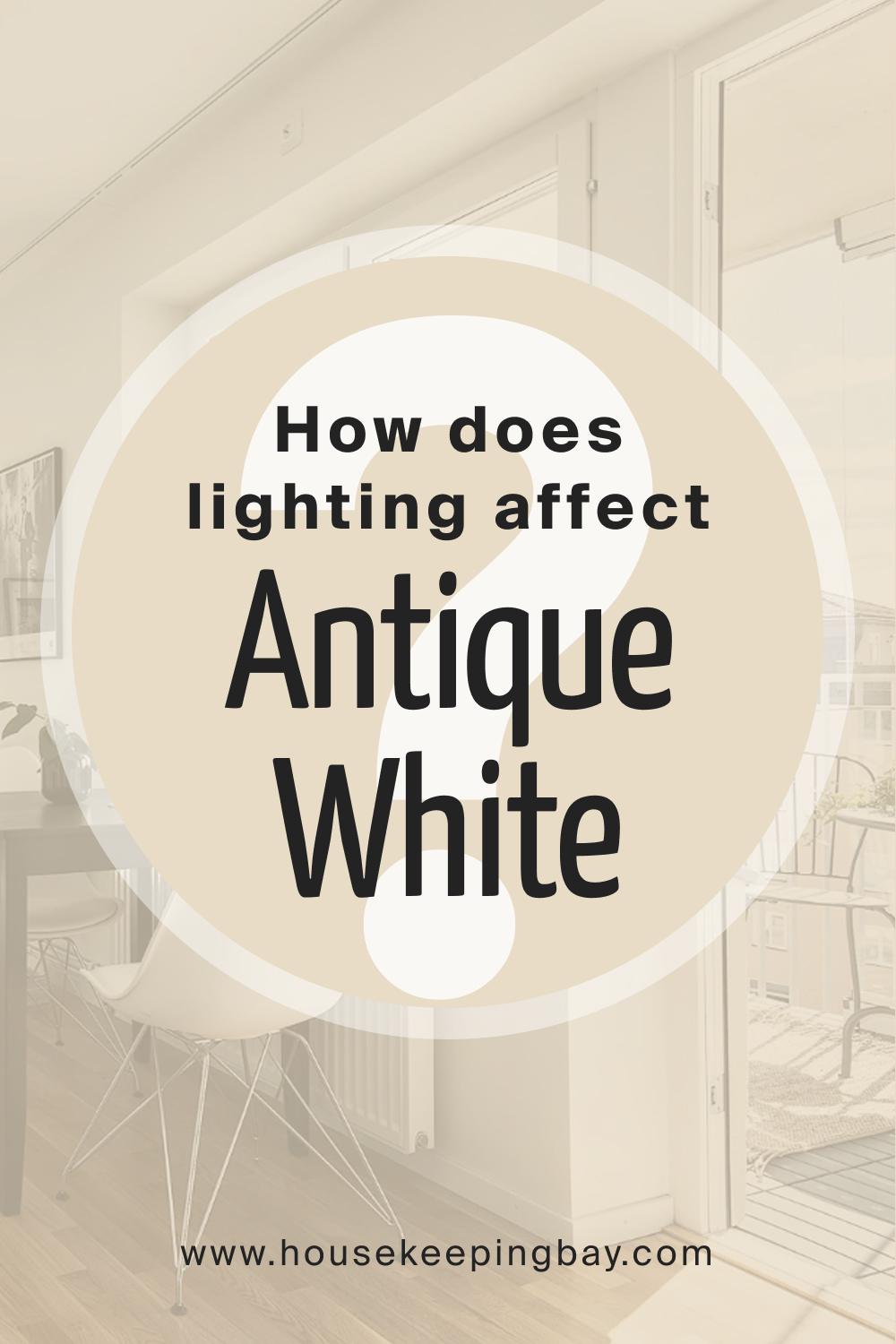 The LRV value of SW Antique White is 72, which makes it a light and fairly reflective creamy color. With this high LRV value, SW Antique White can be an ideal color if you want a creamy hue that is deep enough to add some depth to your space. At the same time, with an LRV of 72, this hue will not look dirty or heavy on the walls.
If you have a north-facing room, SW Antique White can help you balance some of that cool natural light. By the way, this hue will work well for east-facing rooms as well. However, in a room that is south-faced or has afternoon western sunshine, SW Antique White will lean into its warmth even more! Nevertheless, it will not look overly warm anyway.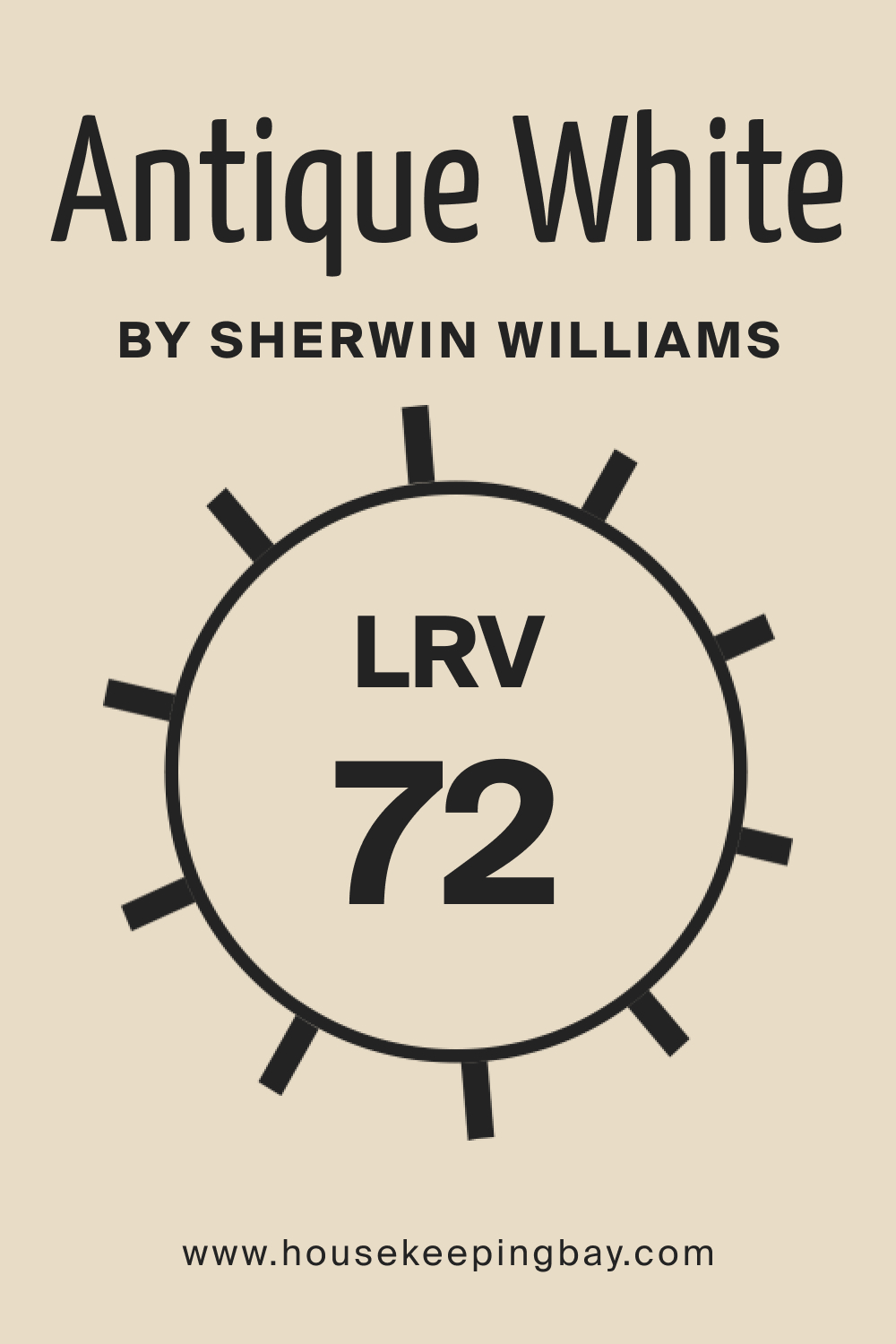 What is LRV? Read It Before You Choose Your Ideal Paint Color
What Is the Best Trim Color to Use With SW Antique White?
White is a traditional trim color that works with most hues and palettes successfully. But how do you choose the white trim color if your walls are already painted white? Well, there is no need to worry since SW Antique White is one of those white paint colors that pair nicely with the white trim!
If you consider using SW Antique White as your wall color, note it will partner best with warm-toned trim whites like SW Creamy or SW Alabaster. Also, SW Dover White can work well on the trim.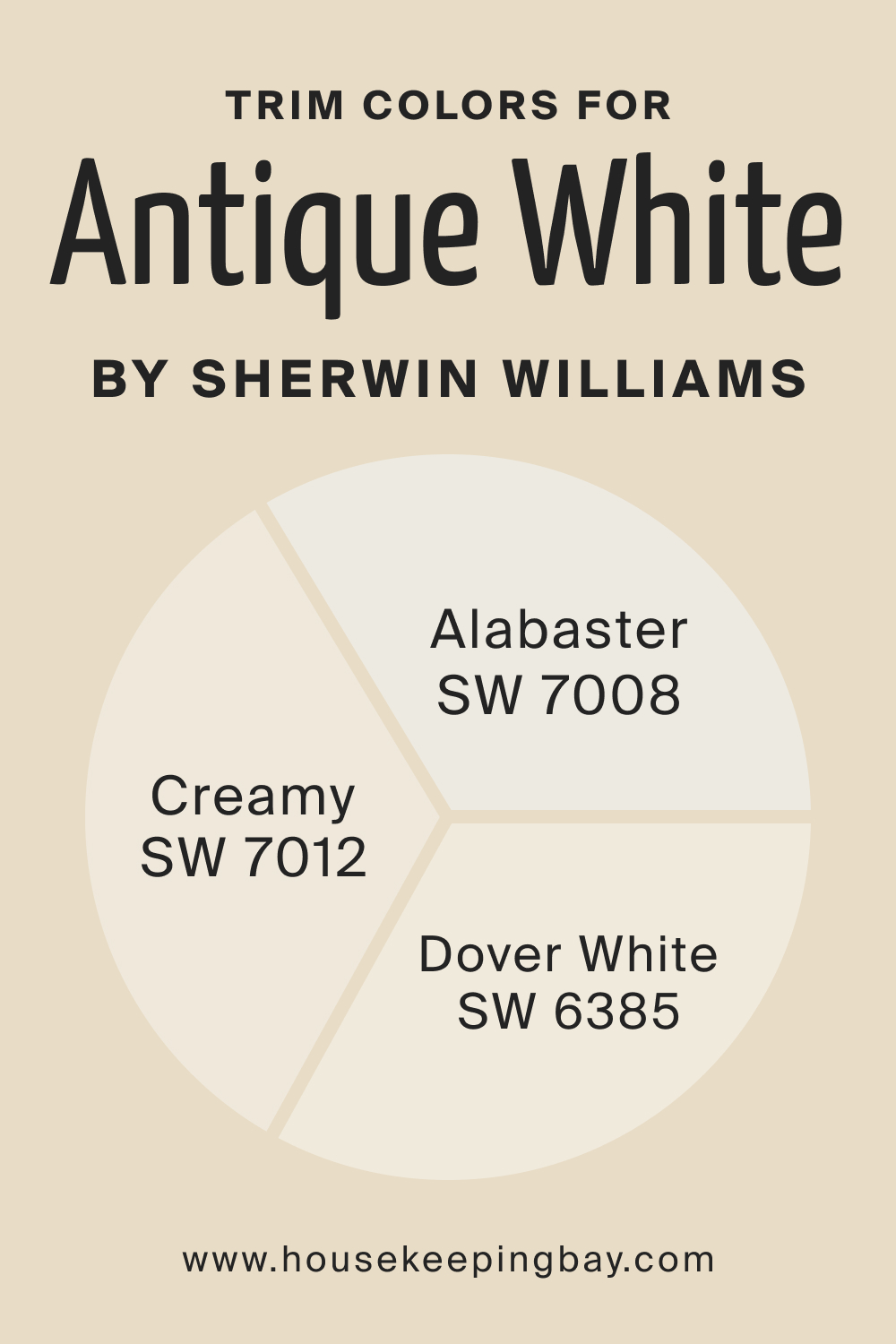 What Similar Colors Can Be Used Instead of SW Antique White?
If you want to try such a complex and tricky creamy white as SW Antique White in your home, you might want to have a few alternative hues at hand. They can become handy should you decide to use a bit of distinct white on your walls. Below, we have collected the closest color matches that read nearly the same as SW Antique White:
SW 6133 Muslin
SW 7564 Polar Bear
BM Indian White OC-88
Of course, you should realize that each of these whites will differ a bit anyway since they have different LRVs and undertones.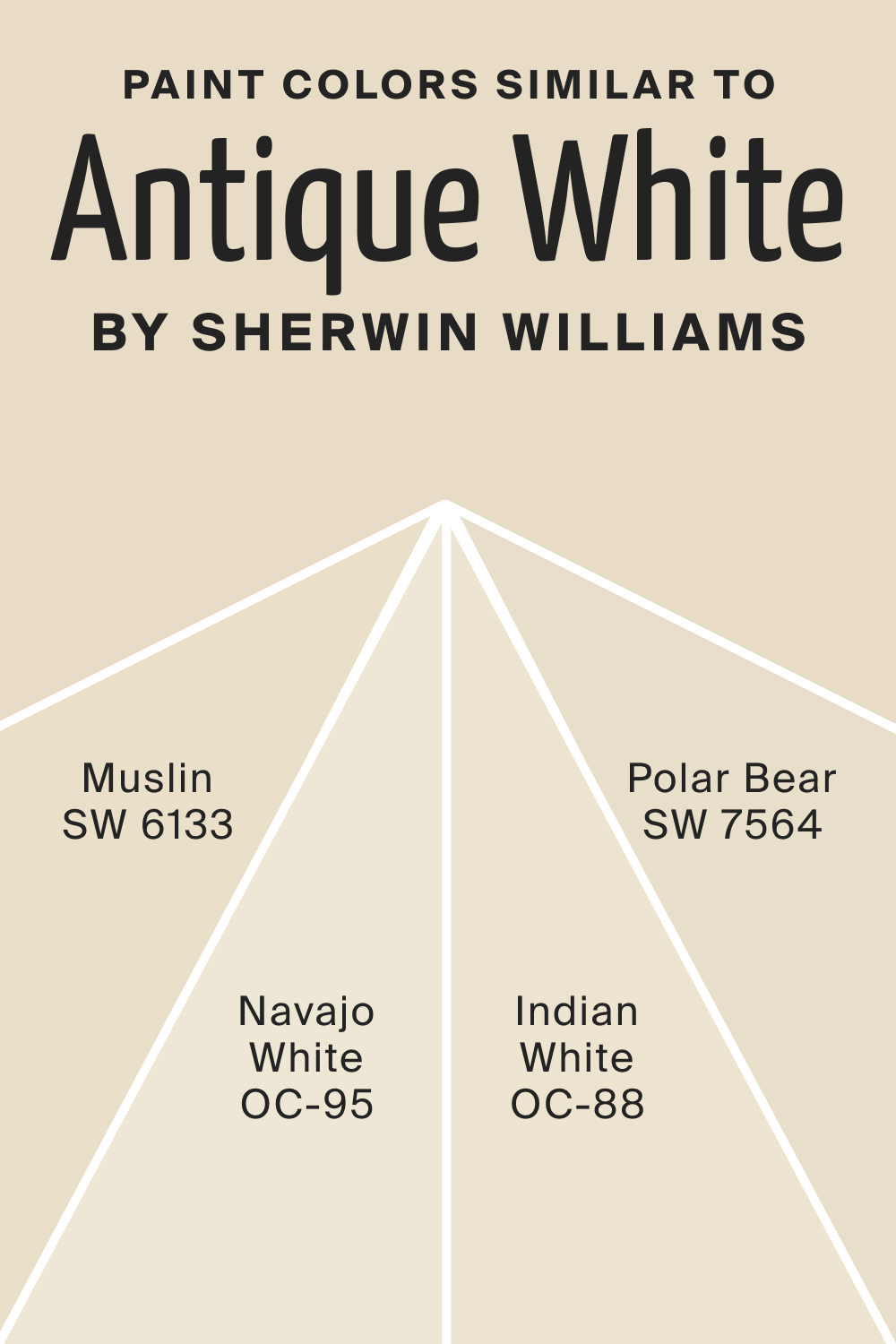 Colors That Go Well With Antique White SW 6119
To choose the best colors that will pair nicely with SW Antique White, first, you need to decide what palette you want to get in the end. Also, consider what effect you want to see in your living space.
For example, if you pair SW Antique White with cool-toned paint colors, they will accent the Antique White hue. This can enhance the warmth, as well as the yellowness of this creamy white, making it appear a bit stronger.
For the best results, we recommend you stick with colors that have LRVs of 50 or lower. Also, try to avoid lighter colors except for those beige/cream hues that have the same undertones as SW Antique White. Generally, SW Antique White will pair with beiges, warmer greens, darker shades of blue, and blue-green blends.
Also, it can work nicely with grays with blue-green undertones that are a tone or two darker than SW Antique White.
Where to Use SW Antique White In Your Home?
Since this creamy white looks very cozy and welcoming, it can work in many spaces in your home. However, we still remind you of the importance of sampling this white in advance! This will help you see how it reads in a specific room and lighting. Below, you can read how SW Antique White may work in different rooms.
Antique White SW 6119 in the Living Room
In a living room with ample light, SW Antique White will read pleasantly warm and creamy, creating a lovely and homey feel. This color pairs nicely with wooden floors and surfaces, as well as with natural fabrics on upholstery, so you can easily make your living room look welcoming and relaxing.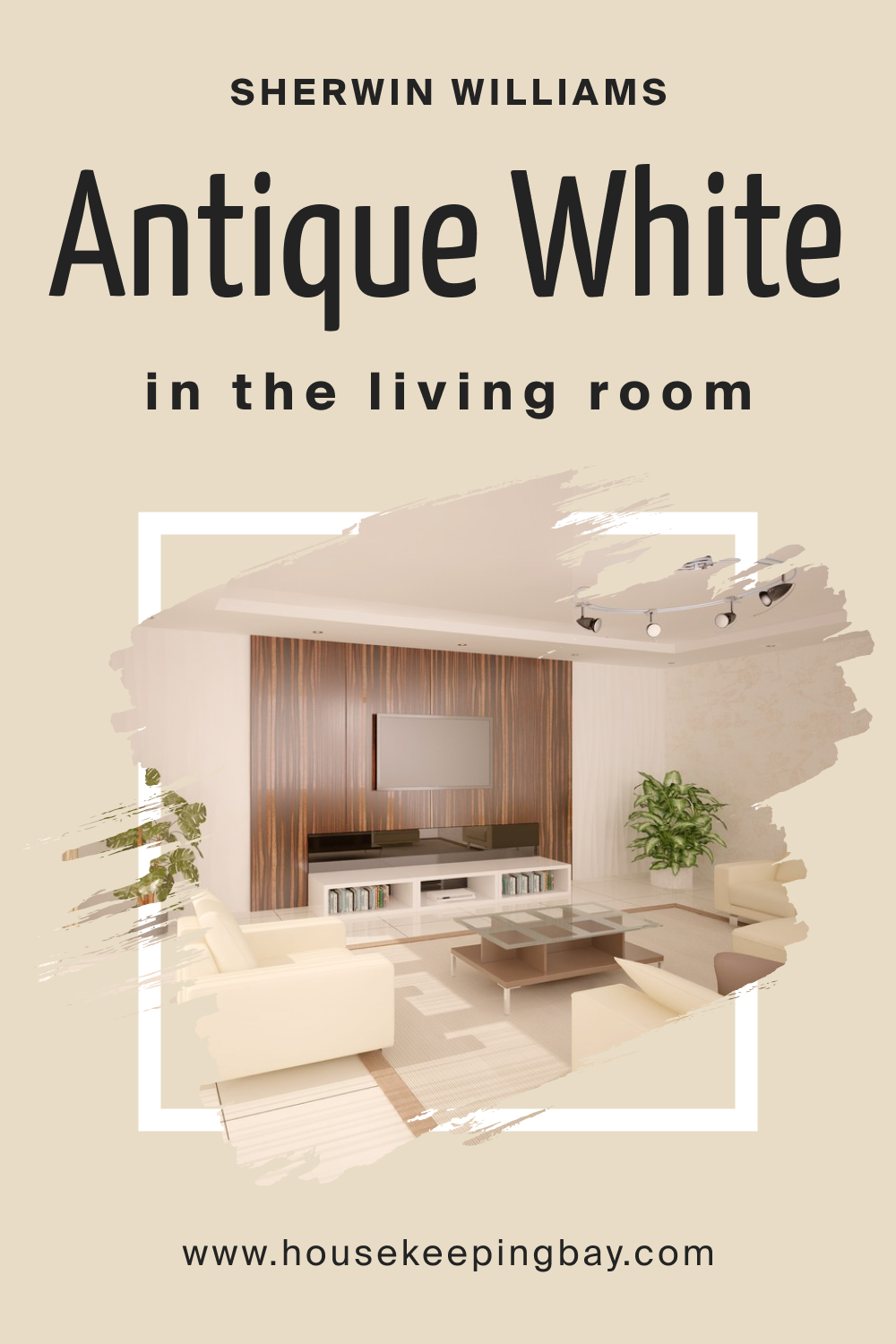 Antique White SW 6119 and Bedroom
You can also use this color in your bedroom if you crave a relaxing and soothing atmosphere there. However, we would recommend you opt for SW Antique White if your bedroom is well-lit and spacious enough. In smaller and/or poorly-lit spaces, this creamy white might read yellower and be much warmer.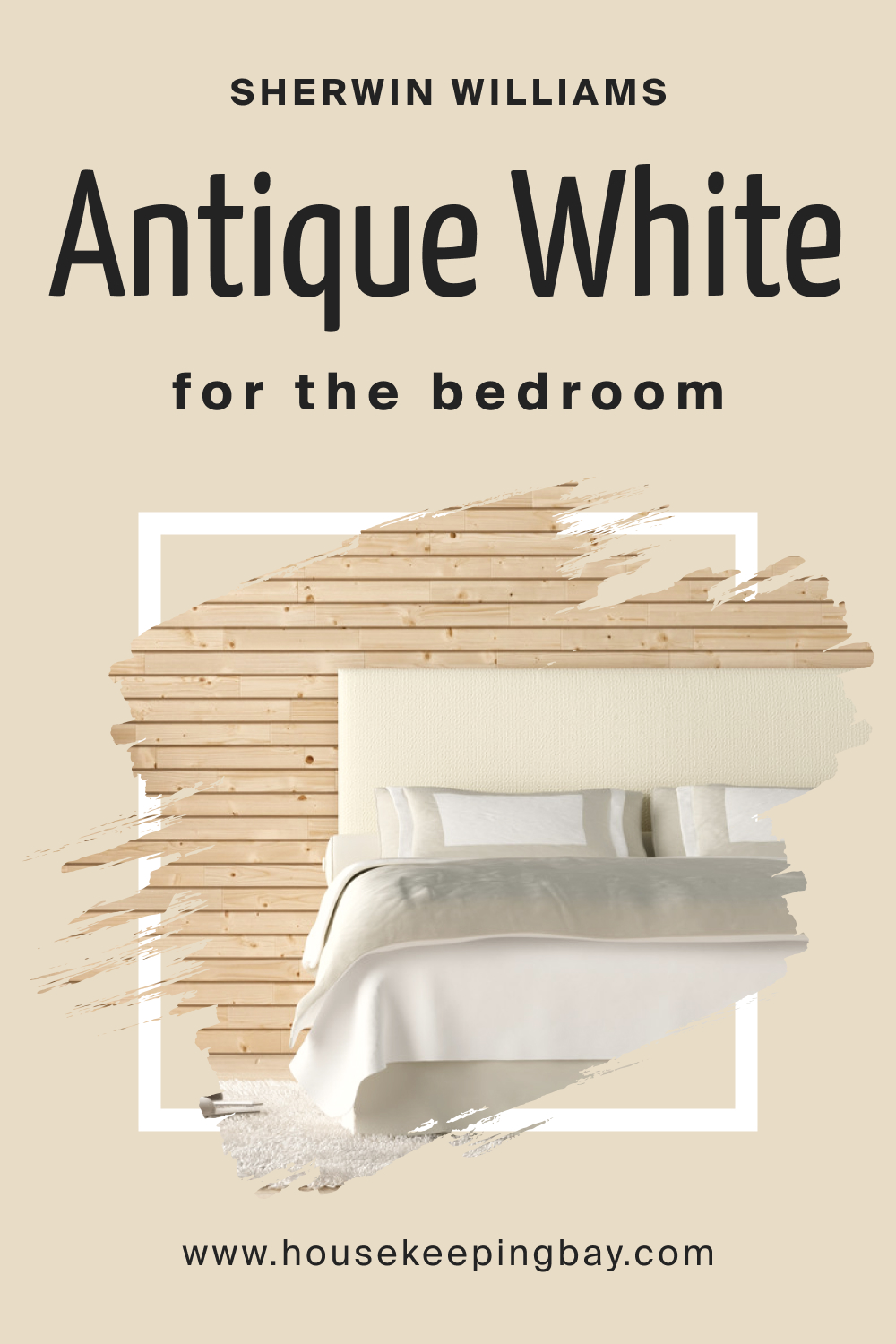 Antique White SW 6119 on the Bathroom
This color might not seem an ideal option for bathrooms, but you can still use it if your bathroom has plenty of natural light. In this case, SW Antique White can work well on an accent wall, for example. But no matter where you use it, make sure there is enough white in your bathroom to make this creamy read more balanced.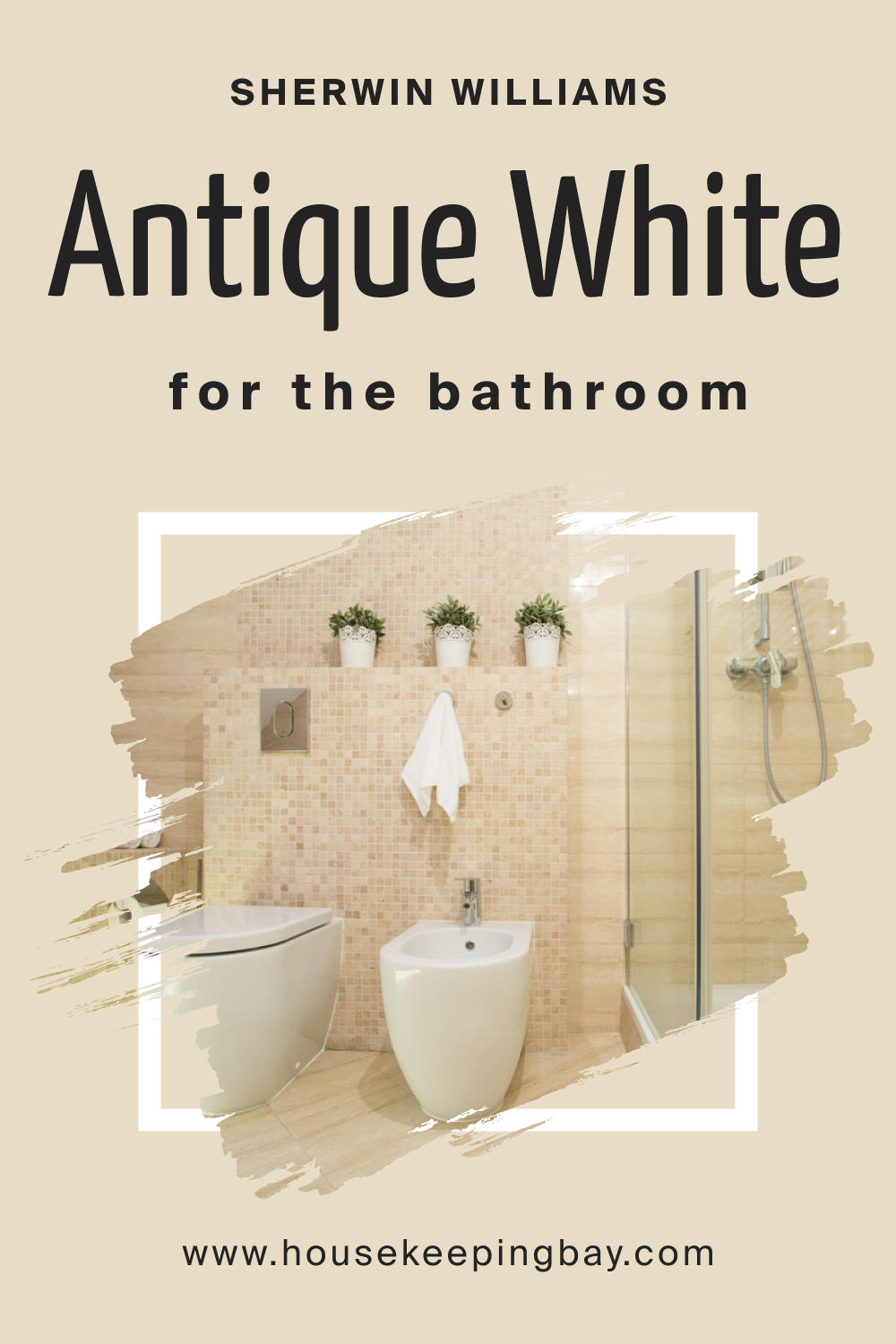 Antique White SW 6119 and Kitchen
SW Antique White can work well for the cabinets in your kitchen, but it will also work as a wall color. For example, you can use this creamy white on the walls and paint your cabinets a lighter off-white. In a kitchen that has more of a yellow-beige palette, SW Antique White could reveal itself perfectly well, making the space feel welcoming and warm!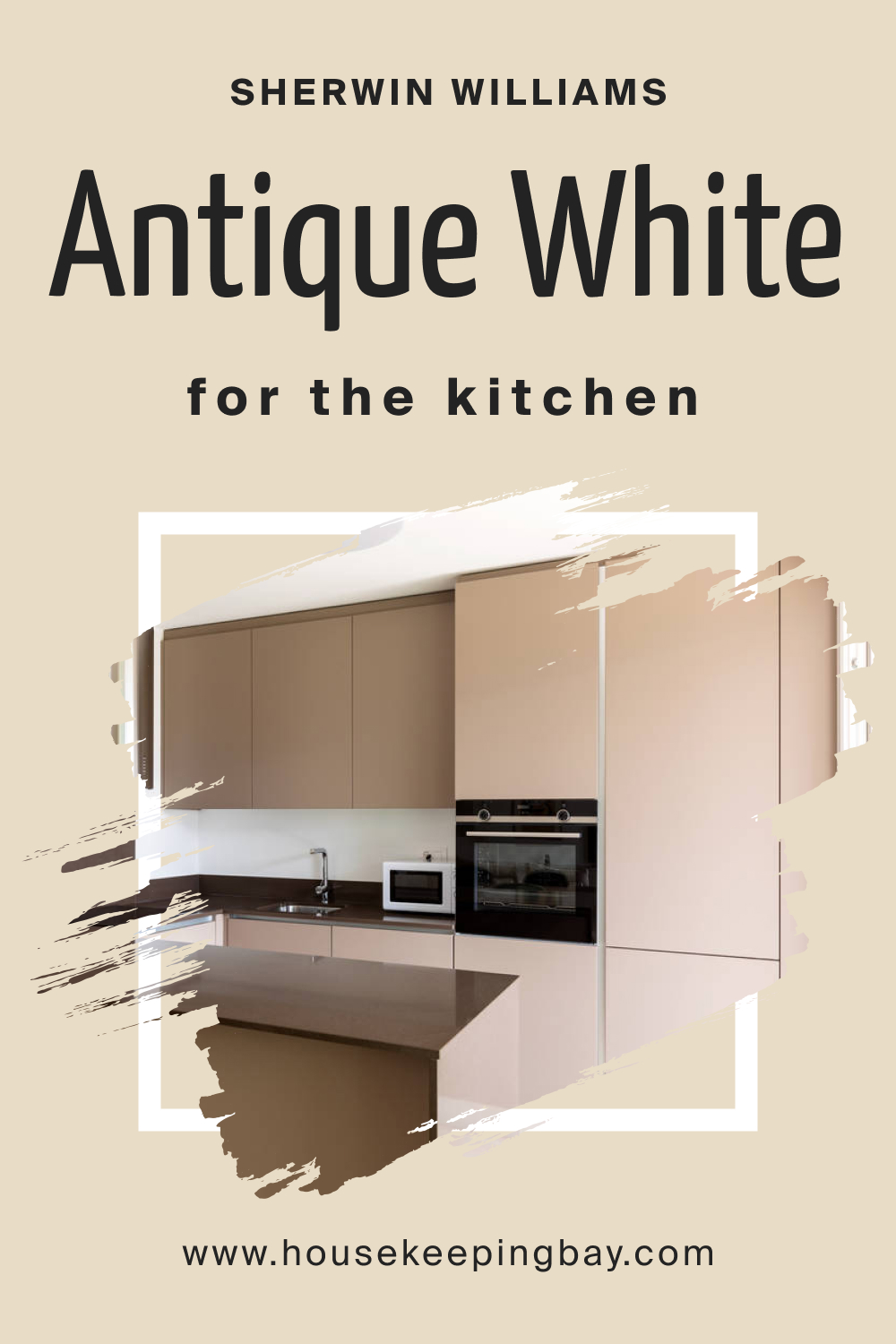 Antique White SW 6119 for the Exterior Use
Despite being warm, SW Antique White can work on exterior walls too. It is your choice if you're looking for a creamy paint color that has a reasonable amount of yellow in it while still being neutral. For this purpose, SW Antique White could be a gorgeous color choice for your exterior walls.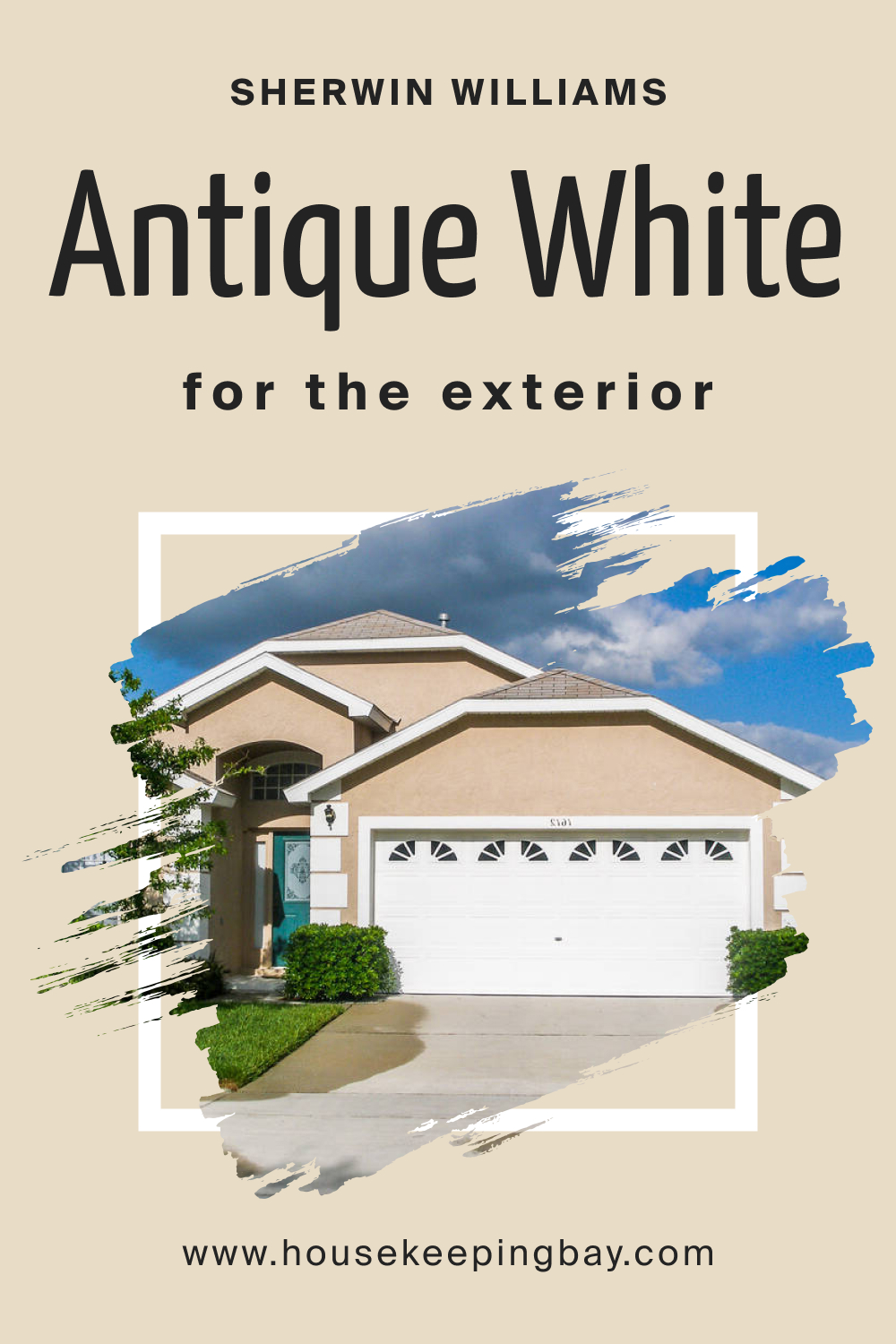 Comparing SW Antique White With Other Colors
To help you see how different colors from the same hue family can be, we compared SW Antique White with a few other whites that look very similar. This way, you can understand how LRVs and undertones may affect the color and how it reads in the living space.
Antique White vs. Alabaster SW 7008
Compared to SW Antique White, SW Alabaster looks whiter. In addition, it reveals slightly grayish undertones compared to its warm and beige-like counterpart. However, both colors read soft and warm enough.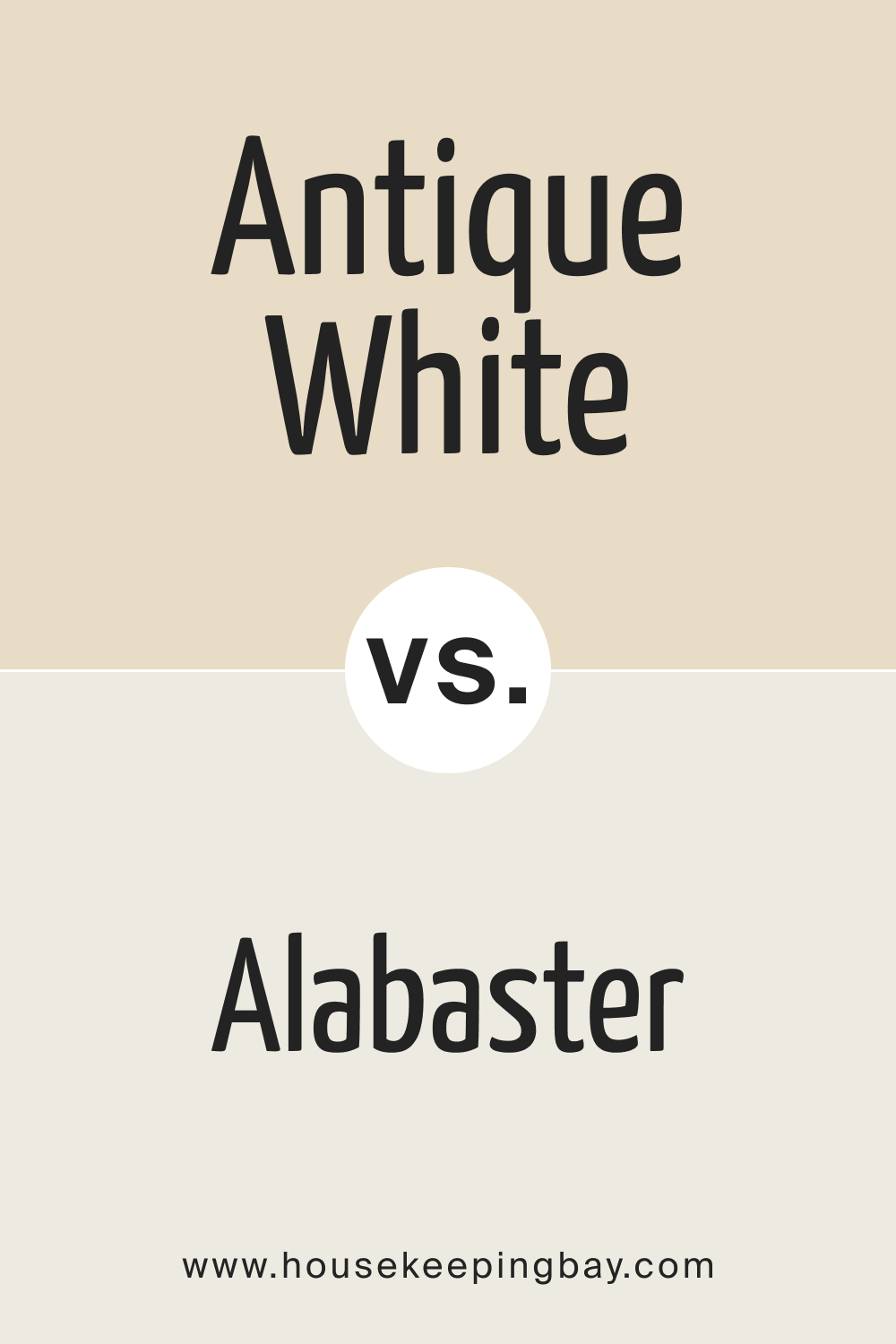 Antique White vs. BM OC-45 Swiss Coffee 
BM Swiss Coffee is a soft, warm white with slightly pinkish undertones and an LRV of 84. By its LRV value, it is much lighter than SW Antique White, whose LRV is 72. Also, the undertones of these colors differ since SW Antique White has yellow and occasionally orange undertones, whilst BM Swiss Coffe has them pinkish.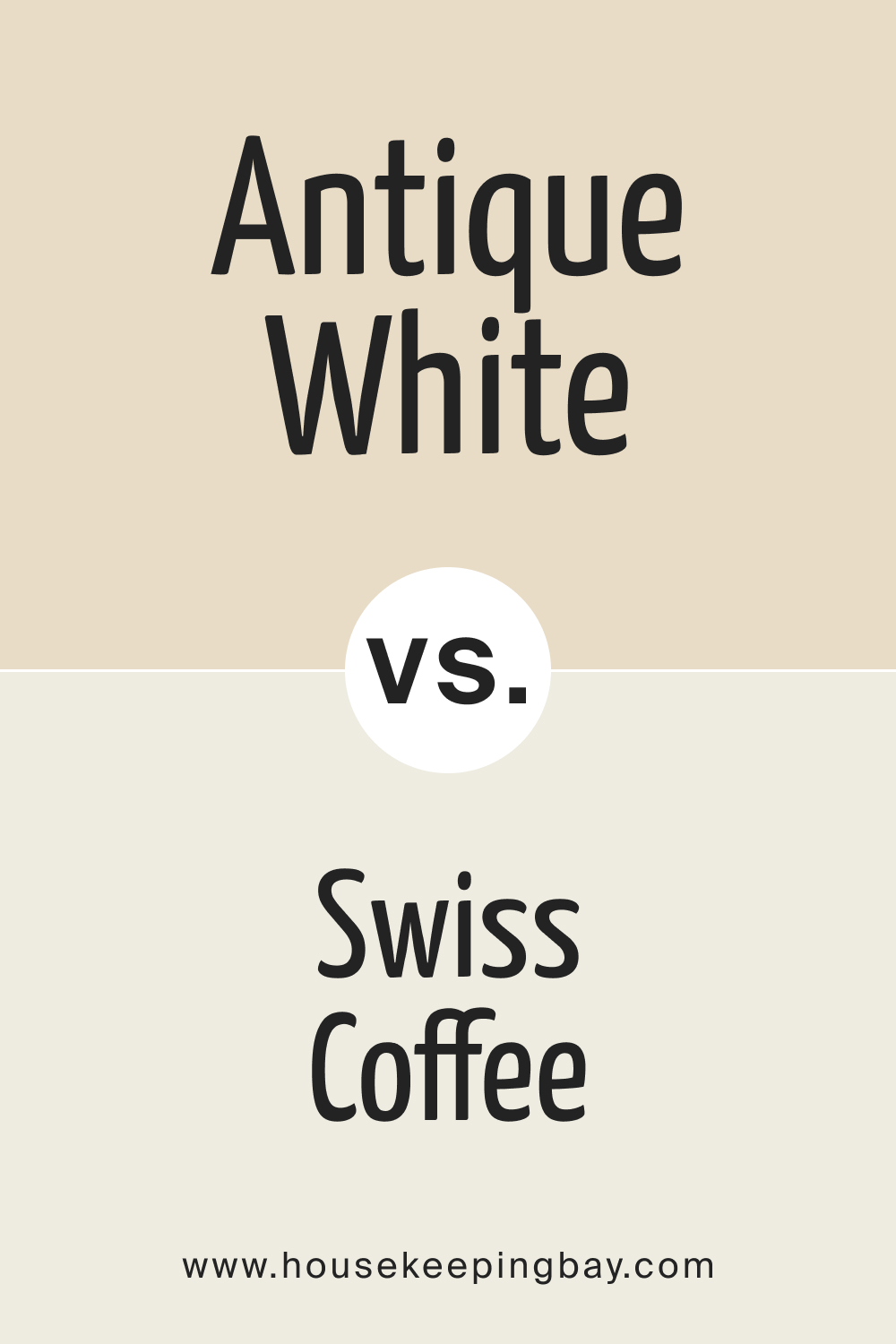 Antique White vs. BM OC-95 Navajo White 
BM Navajo White is a soft off-white with an LRV of 78 and yellow undertones. It reads somewhat lighter than SW Antique White, whose LRV is 72. Also, BM Navajo White looks less warm and saturated compared to its counterpart, which seems nearly beige.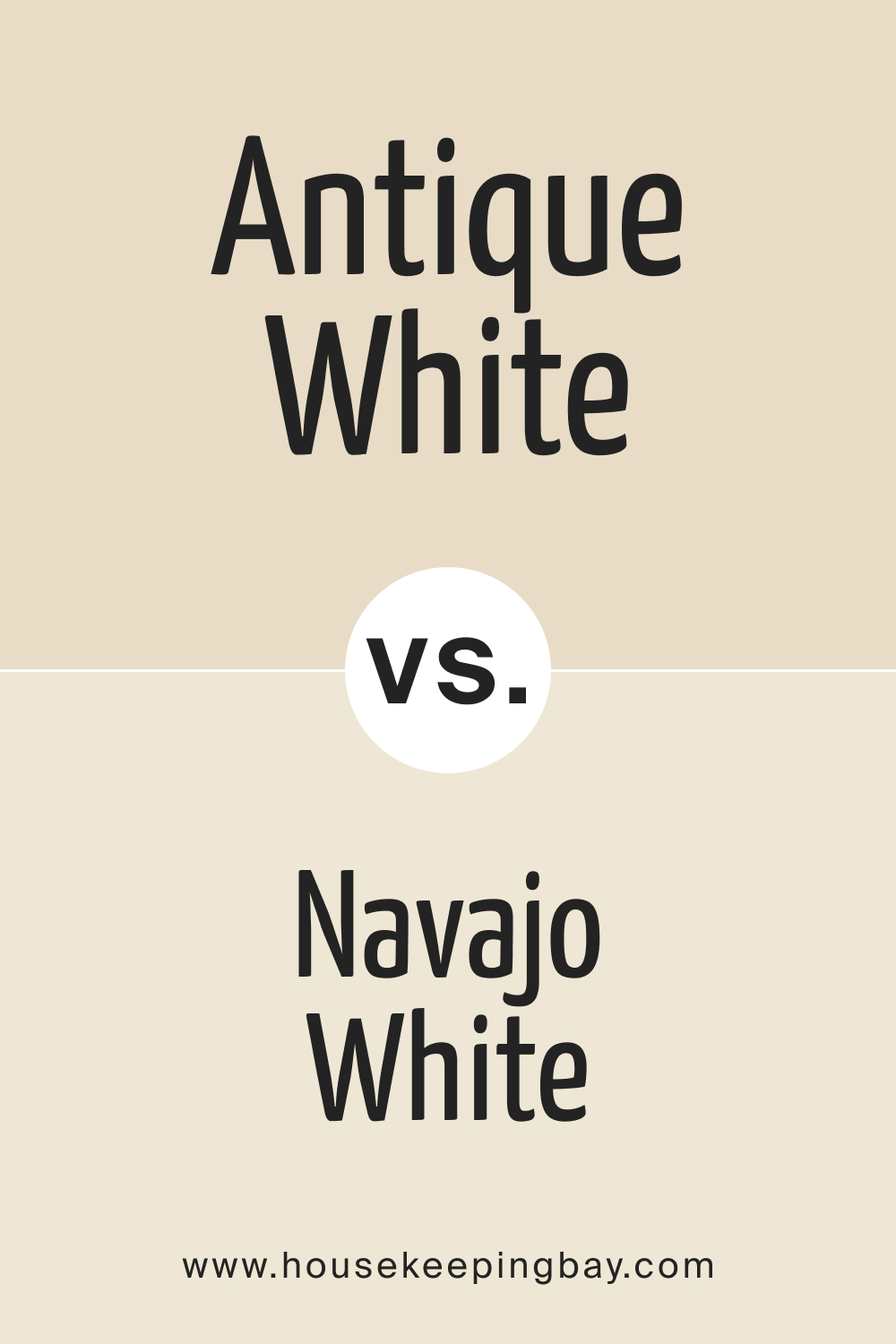 Antique White vs. SW 7012 Creamy
SW Creamy is a white color with neutral undertones that give off a slight yellowish hue. In fact, this white has the softest of yellow undertones. As a result, it reads subtle and warm. With an LRV of 81, SW Creamy is lighter than SW Antique White, and it definitely looks less saturated than its beige-like partner!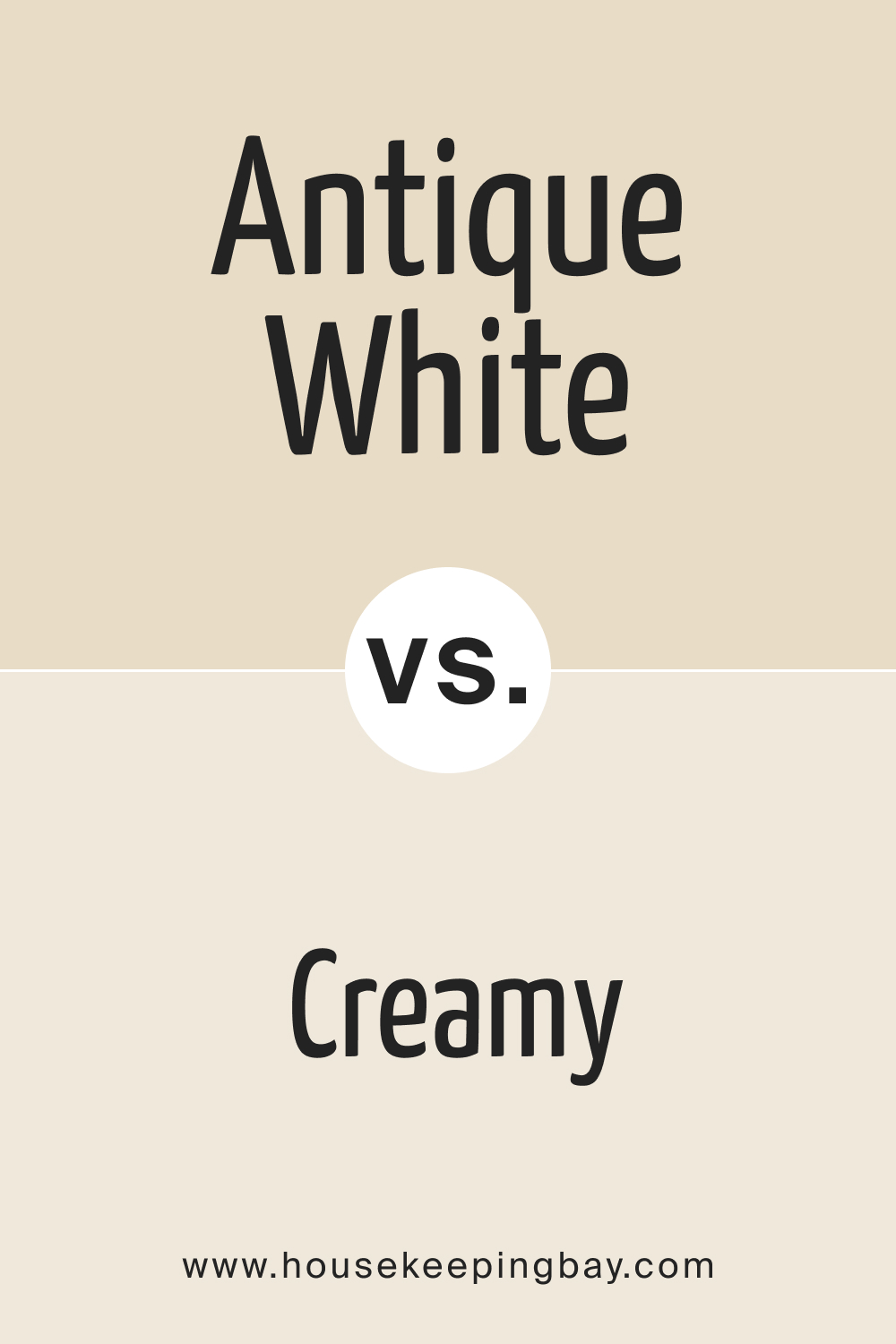 Antique White vs. Aesthetic White SW 7035
SW Aesthetic White doesn't display any obvious undertones. However, if you look closer at it, you may notice just a slight wink of pink and green. This is what makes it different from a much warmer SW Antique White with its yellow undertones.
At the same time, the LRVs of these colors are nearly the same, 72 for SW Antique White and 73 for its counterpart. This is why these whites look very similar in terms of light reflectivity.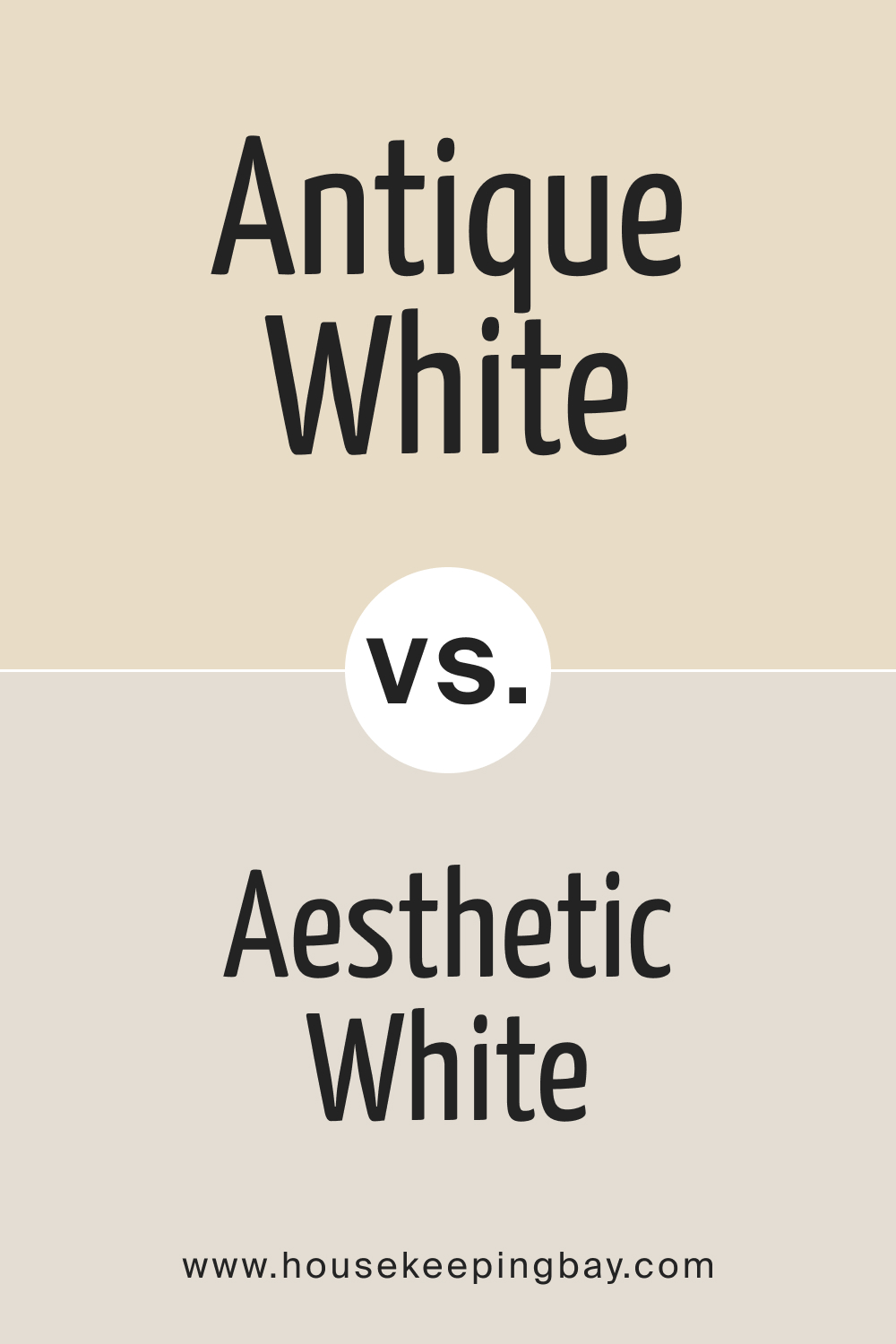 Antique White vs. BM OC-20 Pale Oak
BM Pale Oak is a light greige with soft yellow undertones that make this hue read soft. With an LRV of nearly 70, this greige color reflects almost the same amount of light as SW Antique White. However, due to the distinct undertones, BM Pale Oak reads almost light gray compared to SW Antique White.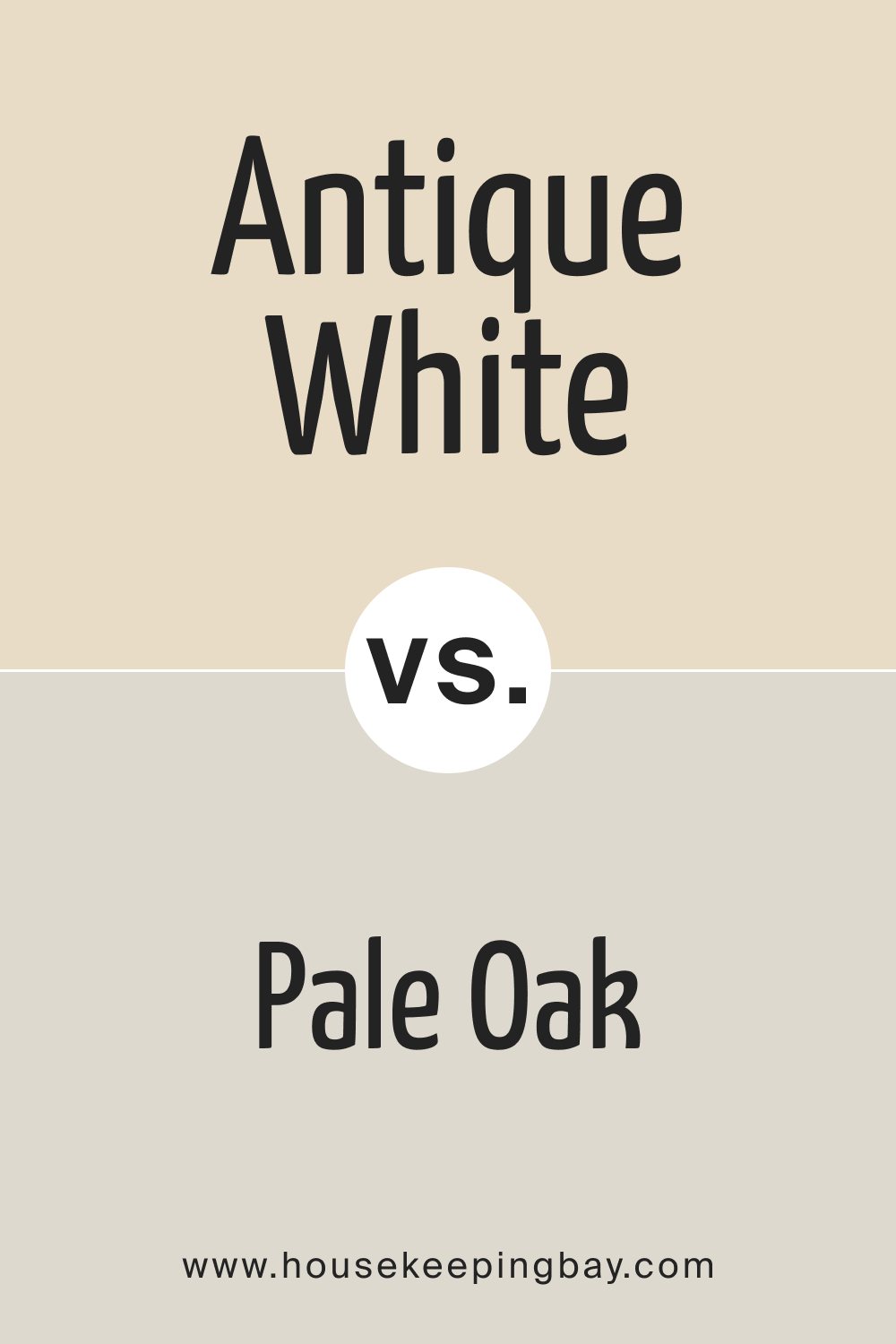 Now you know how tricky, challenging, and beautiful SW Antique White is! This color can be a tough one to use for a homeowner, but with the information you have now, making this creamy white work should be easier.
You know its undertones and LRV, and also, you know how this color works in different spaces. This will help you to incorporate it into your interior successfully.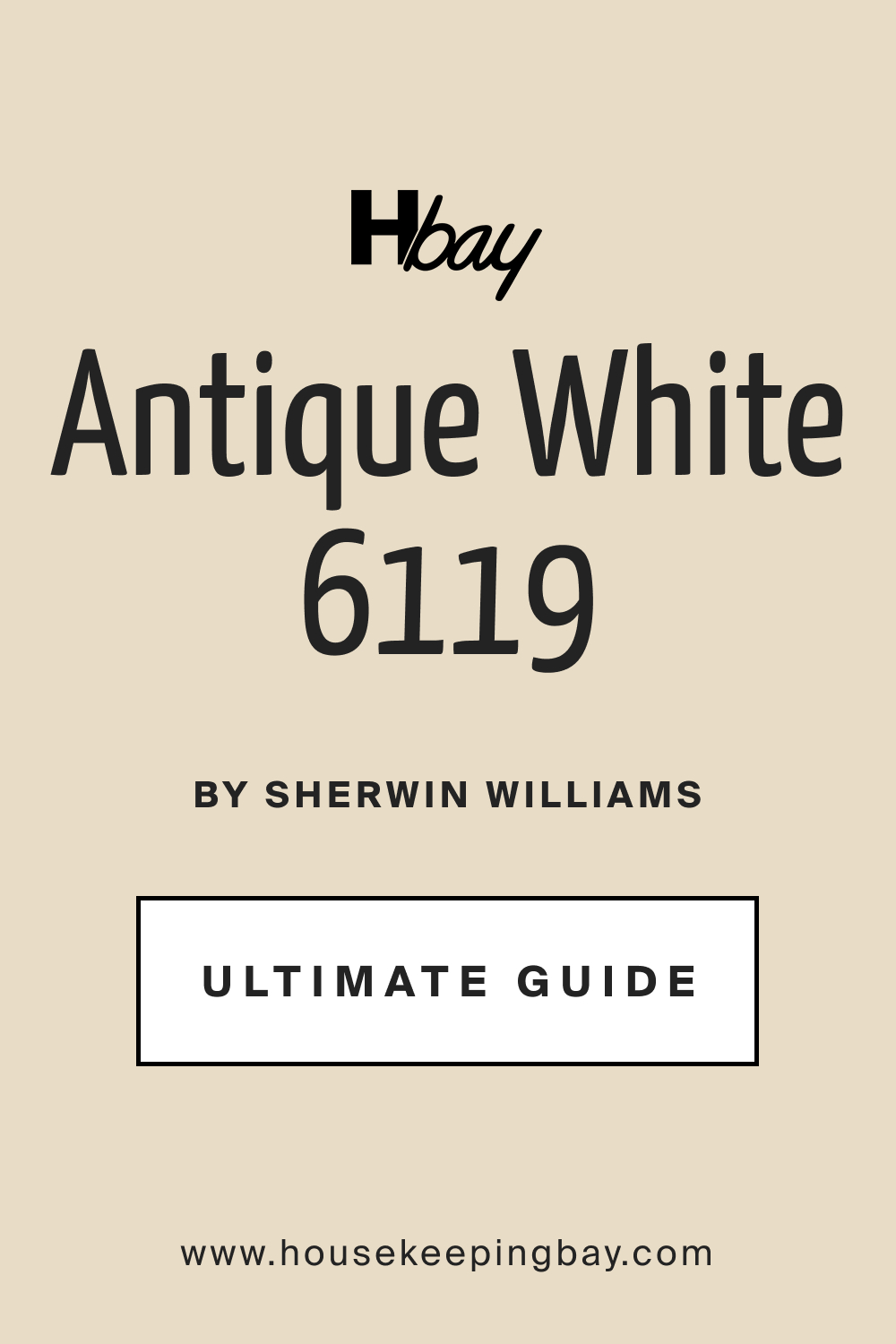 Frequently Asked Questions
⭐Does SW Antique White look yellow?
This color will definitely read yellowish and creamy, but it typically doesn't look yellow.
⭐How can I tone down the yellow hue in SW Antique White?
To tone down the yellow of SW Antique White, you can apply a darker, muted brown or gray glaze.
⭐Will SW Antique White make a room feel larger?
No, it won't. Although it's rather reflective and light, this creamy white lacks the brightness that creates such a space-enlarging effect.