People tend to mistake greige and tan colors, believing that they are actually the same. However, tan hues are different and today you will see what exactly makes them so unique. In this article, we will tell you more about a lovely tan color called Softer Tan by the Sherwin-Williams brand.
You will learn what kind of paint color it is, how it works in different rooms, and what colors to use to coordinate it correctly.
Also, we will explain what undertones and LRV this color has, and how they affect its appearance. With this guide, you will easily make this beautiful color work in your home!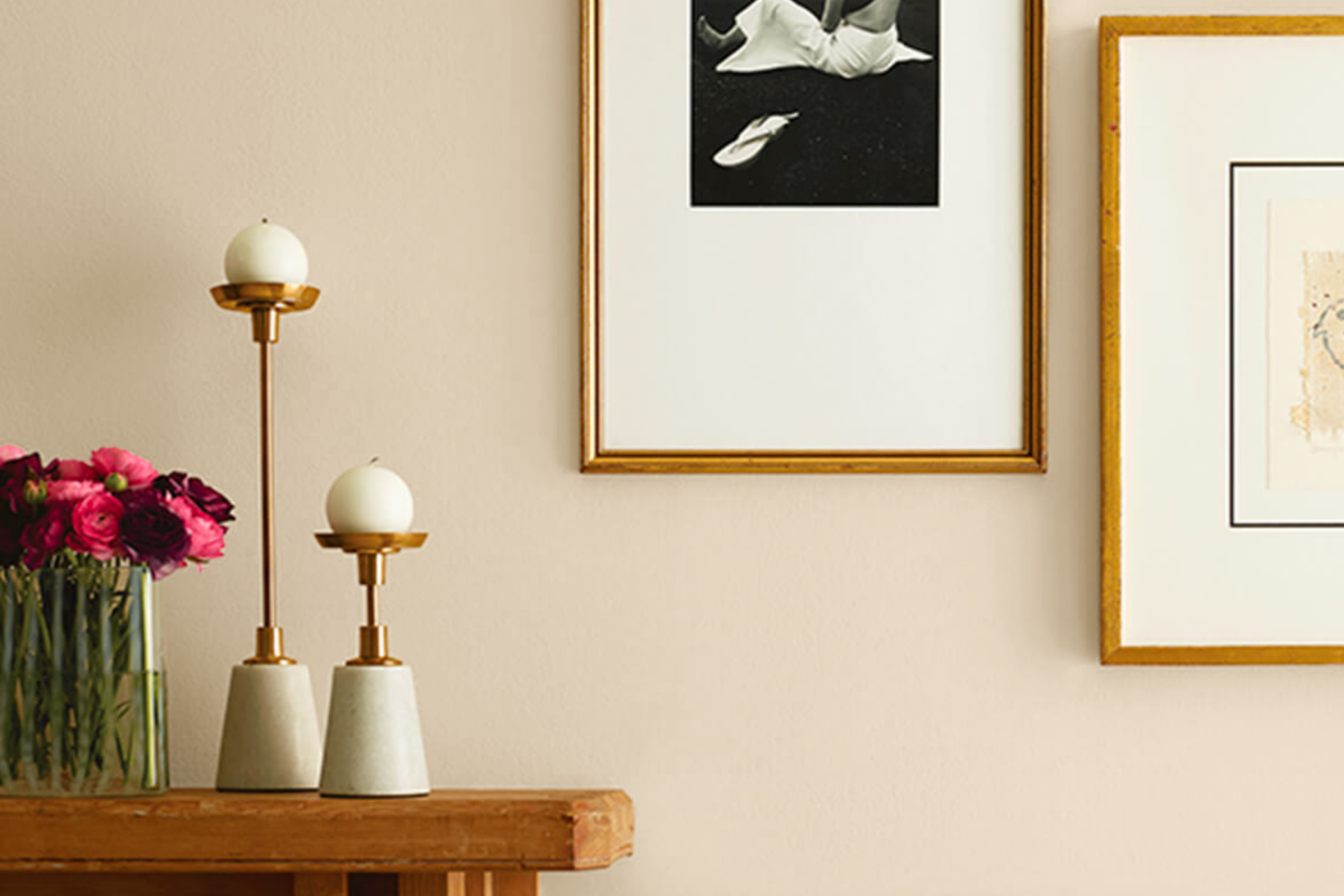 What Kind of Color Is Softer Tan SW 6141?
If you take a look at SW Softer Tan , you will probably say it's greige. In fact, this is a common mistake since people believe greige and tan are the same thing. As Encycolorpedia says, these colors do the same thing indeed, by looking like warm neutrals. However, they do it in a different way!
Speaking of SW Softer Tan, unlike beiges, it reads more subdued and neutral. It has undertones of wheat and a tinge of green that result in a soft warm body to this neutral.
With its balanced warmth and delicate softness, this color spreads a sense of well-being in your space. Also, like most tan hues, SW Softer Tan won't have an overly rich look to it.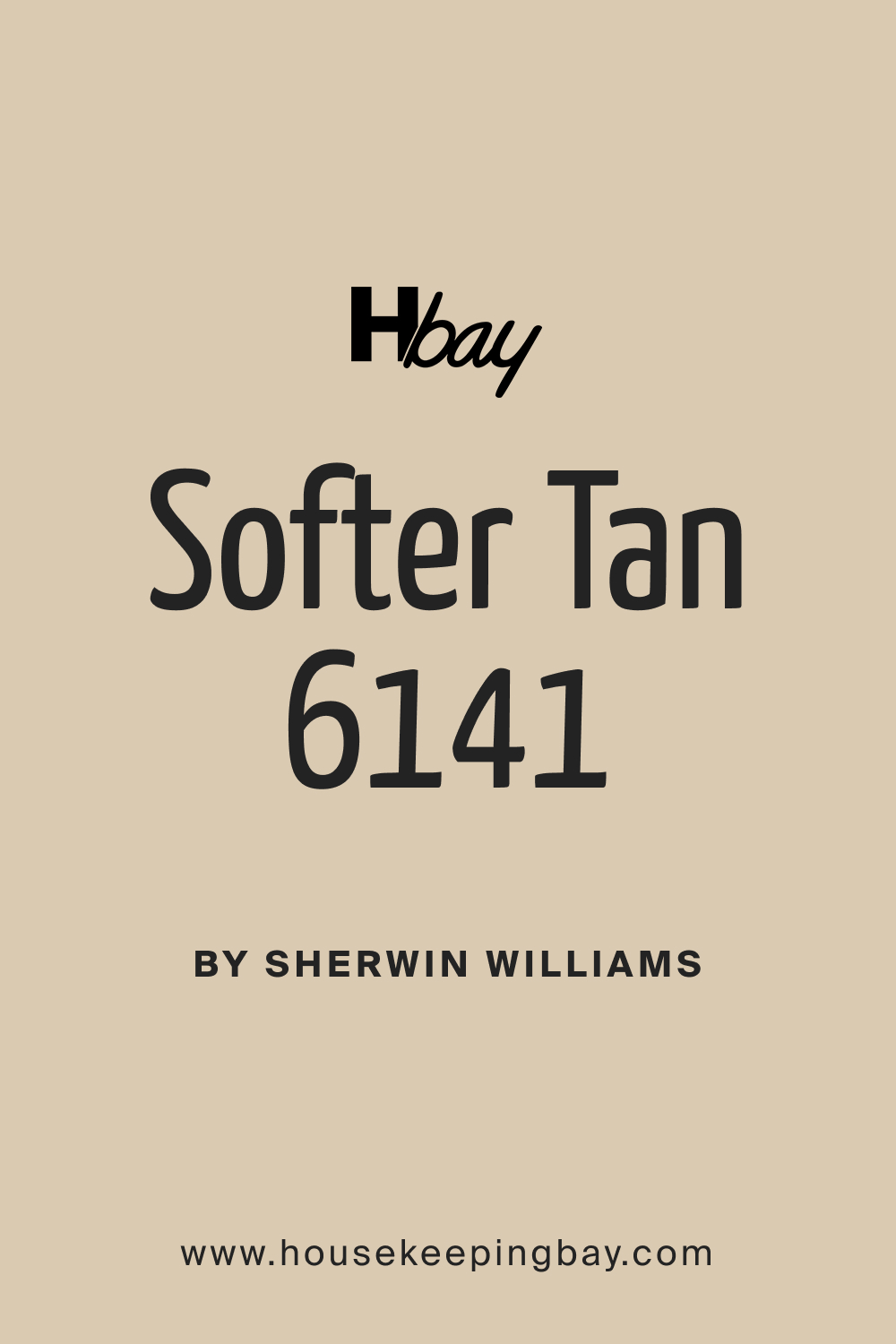 Is It a Warm or Cool Color?
SW Softer Tan is definitely a warm-toned paint color. In fact, most tans are warm-toned, but with no "dirty" or "muddy" appearance (unless you use them wrong). Speaking of this hue, it makes a room feel cozy and pleasantly warm, especially when used in ample daylight or with artificial warm lights.
However, since SW Softer Tan is pretty dependant on lighting conditions in a room, you must always sample it before using this color on the walls! In a room with little to no light, this tan hue may show that unwanted "muddy" look that most of us try to avoid.
Besides, being poorly lit, this paint color tends to read significantly greener.
What Undertones Does Softer Tan SW 6141 Have?
This color is pretty tricky when it comes to undertones! You can find yellow and green undertones in it with an occasional tinge of orange. Also, there is a tinge of a wheat hue in this color. Altogether, these undertones result in a warm and pretty balanced soft look. Like most tan hues, it doesn't show any red undertones.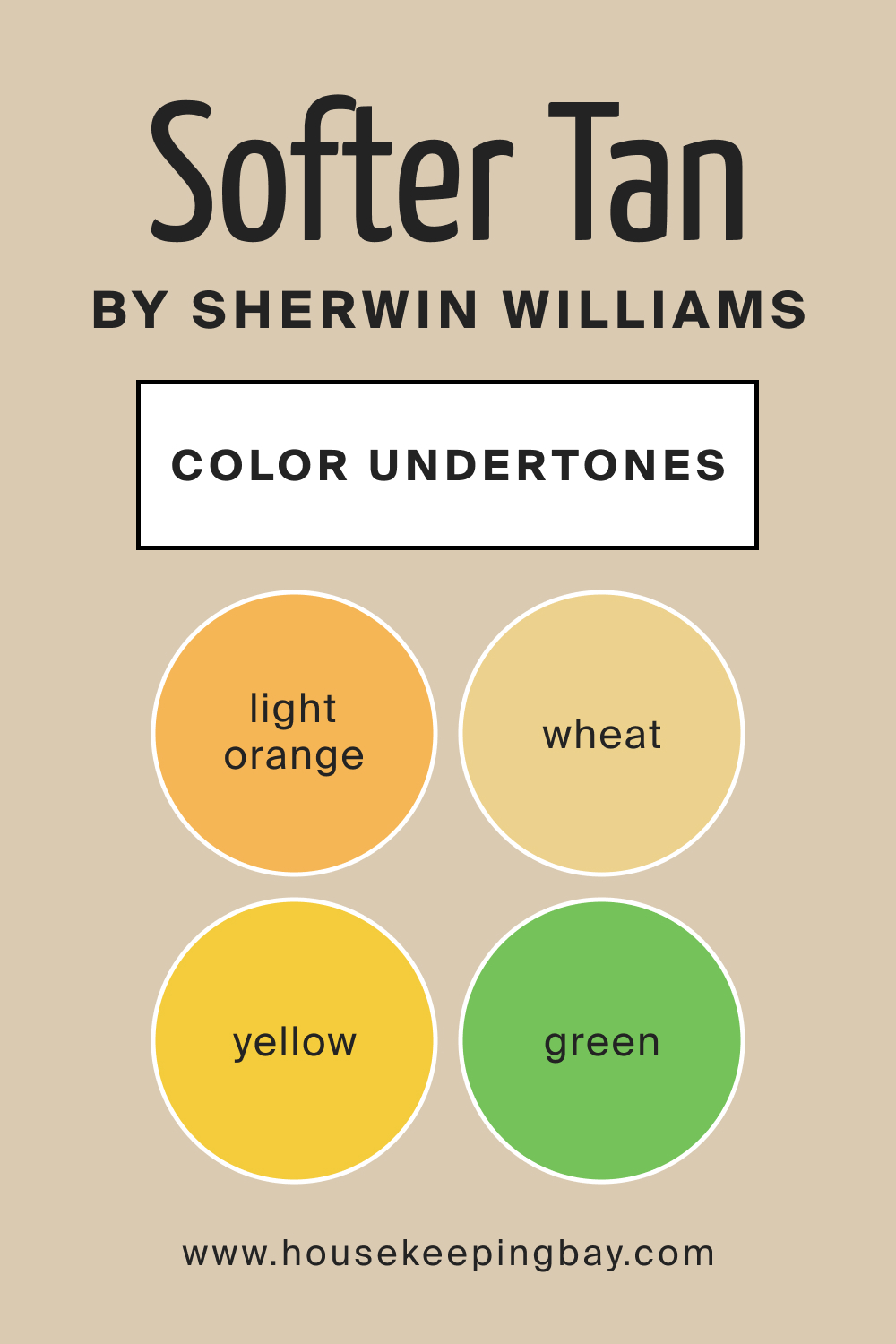 Softer Tan SW 6141 Coordinating Colors
With some paint hues, choosing coordinating colors for them can be a fun task! But not if you deal with a tricky color like SW Softer Tan. This warm tan hue can be a headache with its complex undertones! This is why we have prepared a list of coordinating colors that will work with this paint color best of all.
SW 6140 Moderate White
SW Prairie Grass 7546
For the analogous color scheme, we recommend you the following colors:
SW6155 Rice Grain
SW 6148 Wool Skein
SW 6134 Netsuke
SW 6134 Believable Buff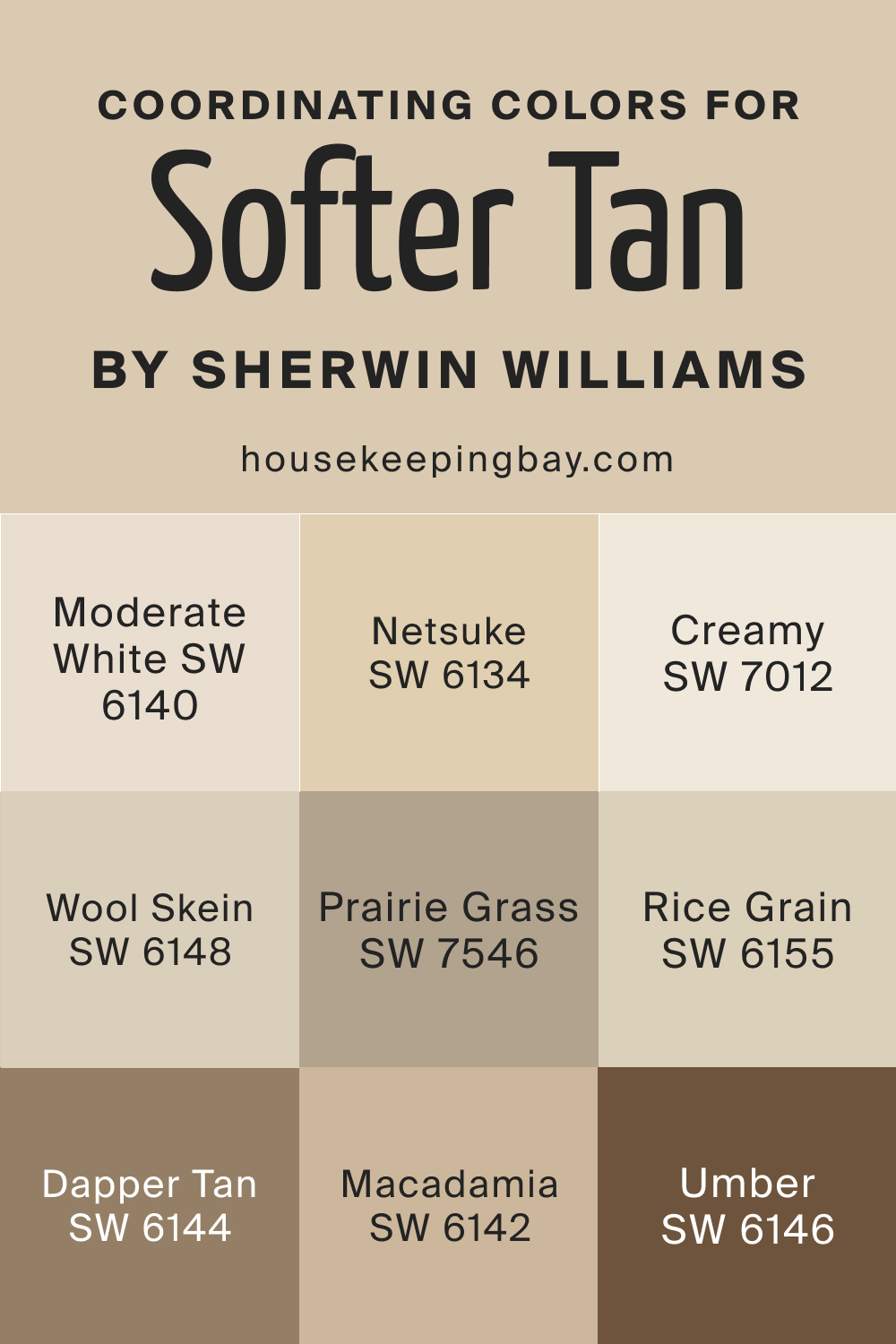 If you prefer monochromatic palettes in your home, you might want to try these colors instead:
SW 6144 Dapper Tan
SW 6142 Macadamia
SW 6146 Umber
SW 6143 Basket Beige
Finally, if you crave for a more vivid and varied color palette in your home, consider using one of the following coordinating colors along with SW Softer Tan:
SW 6177 Softened Green
SW 6263 Exclusive Plum
SW 6261 Swanky Gray
SW 6150 Universal Khaki
SW 6236 Grays Harbor
SW 6235 Foggy Day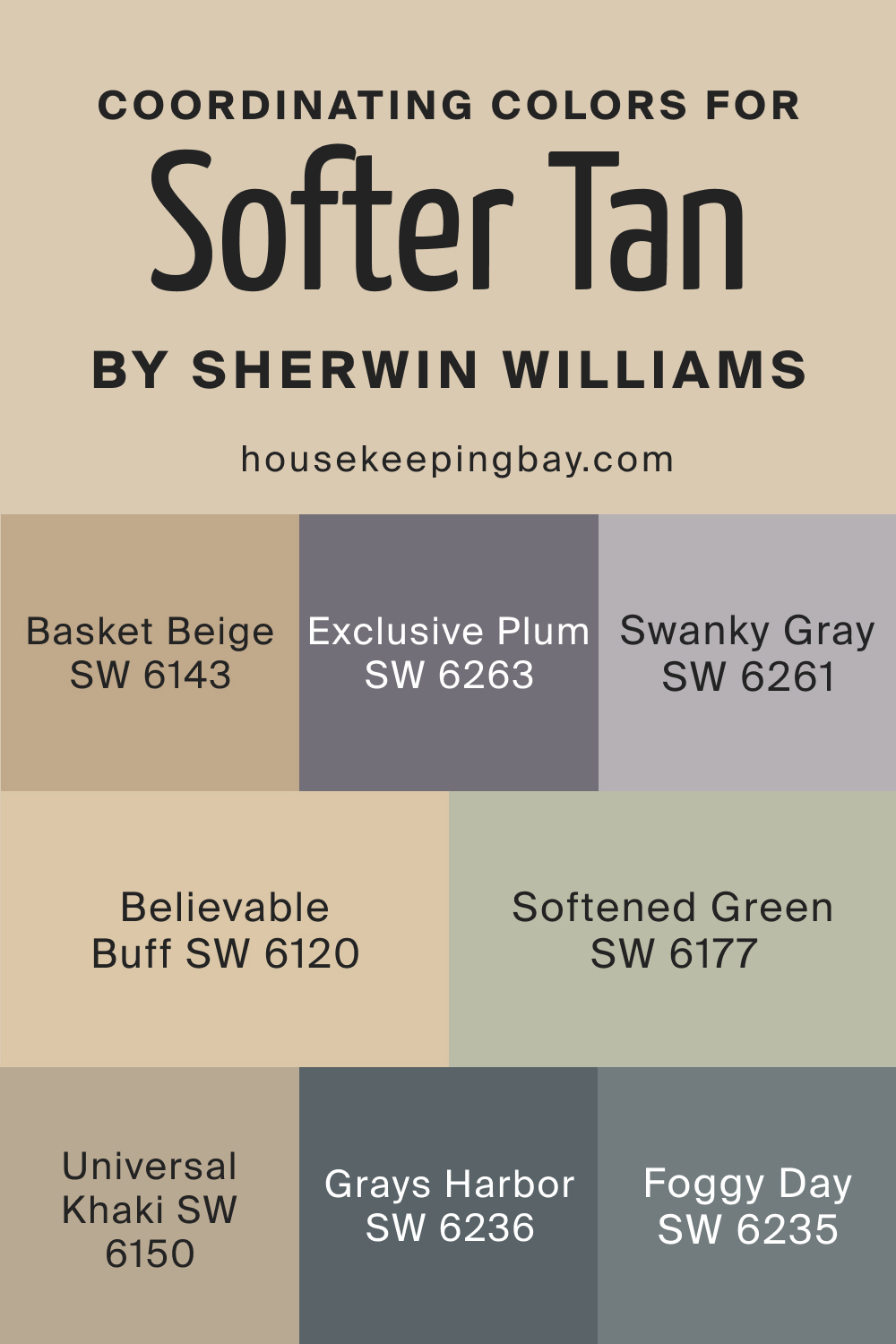 What LRV Softer Tan SW 6141 Has and How It Reacts to Light?
For those who don't know, LRV stands for the Light Reflectance Value. This measurement shows in percent how much light paint colors can reflect and/or absorb. The LRV scale ranges from zero (black) to 100 (white). As you can guess, the higher the LRV value, the lighter and more reflective the color. Respectively, colors that have lower LRVs tend to reflect less light and thus read darker on the walls.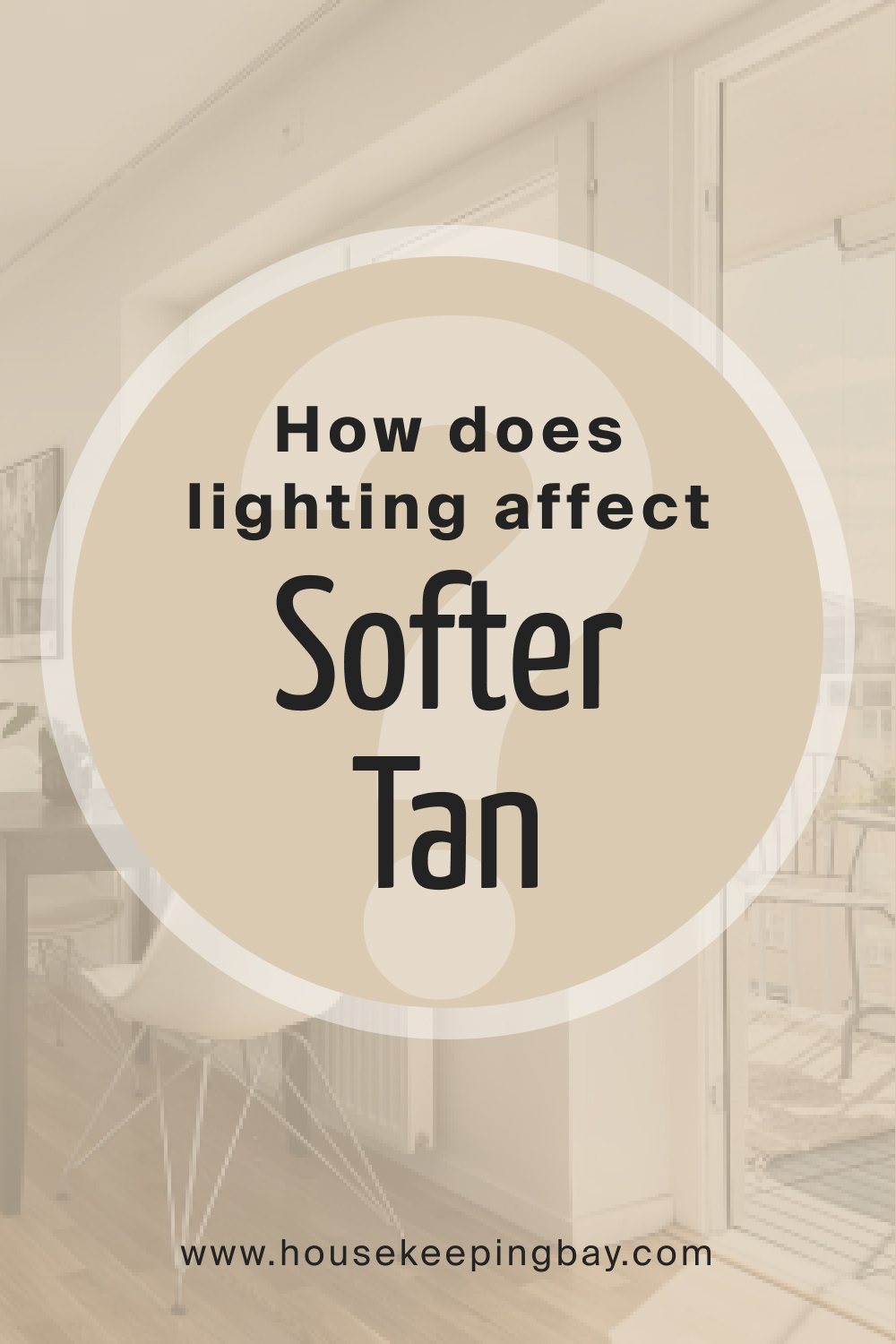 The LRV value of SW Softer Tan is 62, which means this color is pretty light and reflects a good deal of light. However, it is still not light enough to push the walls away, making the space feel larger and airier. Also, this tan hue won't read bright on your walls. So, if you are looking for a color that will add a fresh vibe to your home, SW Softer Tan is definitely the wrong choice.
With an LRV of 62 (and complex undertones), this paint color is also pretty dependent on light. Depending on the lighting conditions in a room, SW Softer Tan may read differently. For example, in a room with ample natural light, it will reveal its soft and warm side in a very pleasant manner.
In such lighting conditions, this color may even seem greige! The same effect can be seen if there are many warm-toned objects in the room (e.g., wooden furniture, floors, etc.).
However, in a room with little or no light (as well as in rooms with the dim light), this hue may read greener and less warm, looking somewhat "dusty".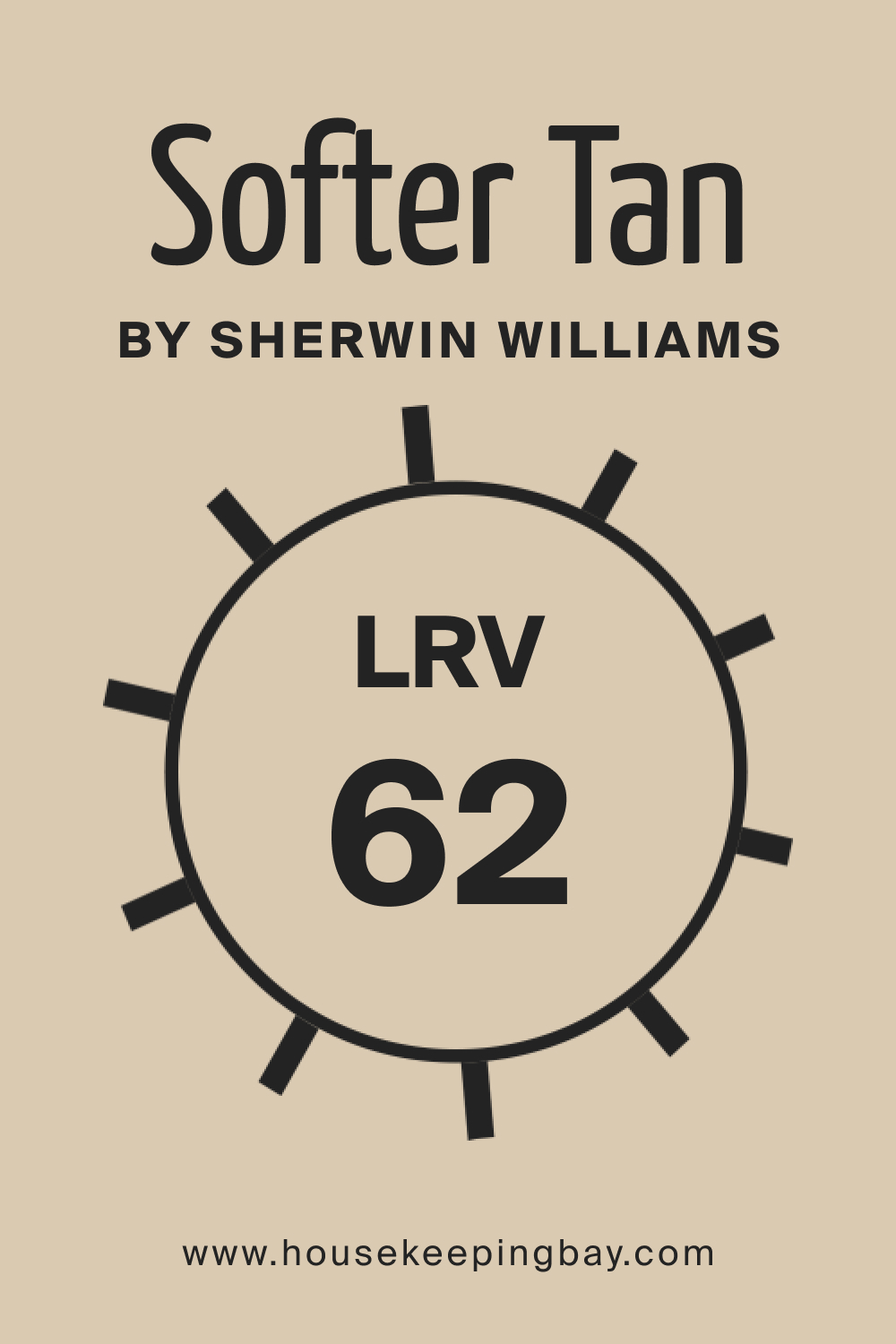 What is LRV? Read It Before You Choose Your Ideal Paint Color
What Is the Best Trim Color to Use With SW Softer Tan?
If you are looking for an optimal trim color, white is the best one to use. It is versatile and pairs nicely with most other colors. However, it is still essential to pick up the shade of white that will work best with the paint you use on the walls.
For SW Softer Tan, white will also be an ideal trim color option. In particular, we recommend you pay attention to BM Simply White. It will work not only on all your trim, but also on doors, windows and some ceilings! It is a bright white, but not stark.
As an option, you might want to consider SW Alabaster or SW Dover White (it's going to be a bit yellower than SW Alabaster, though).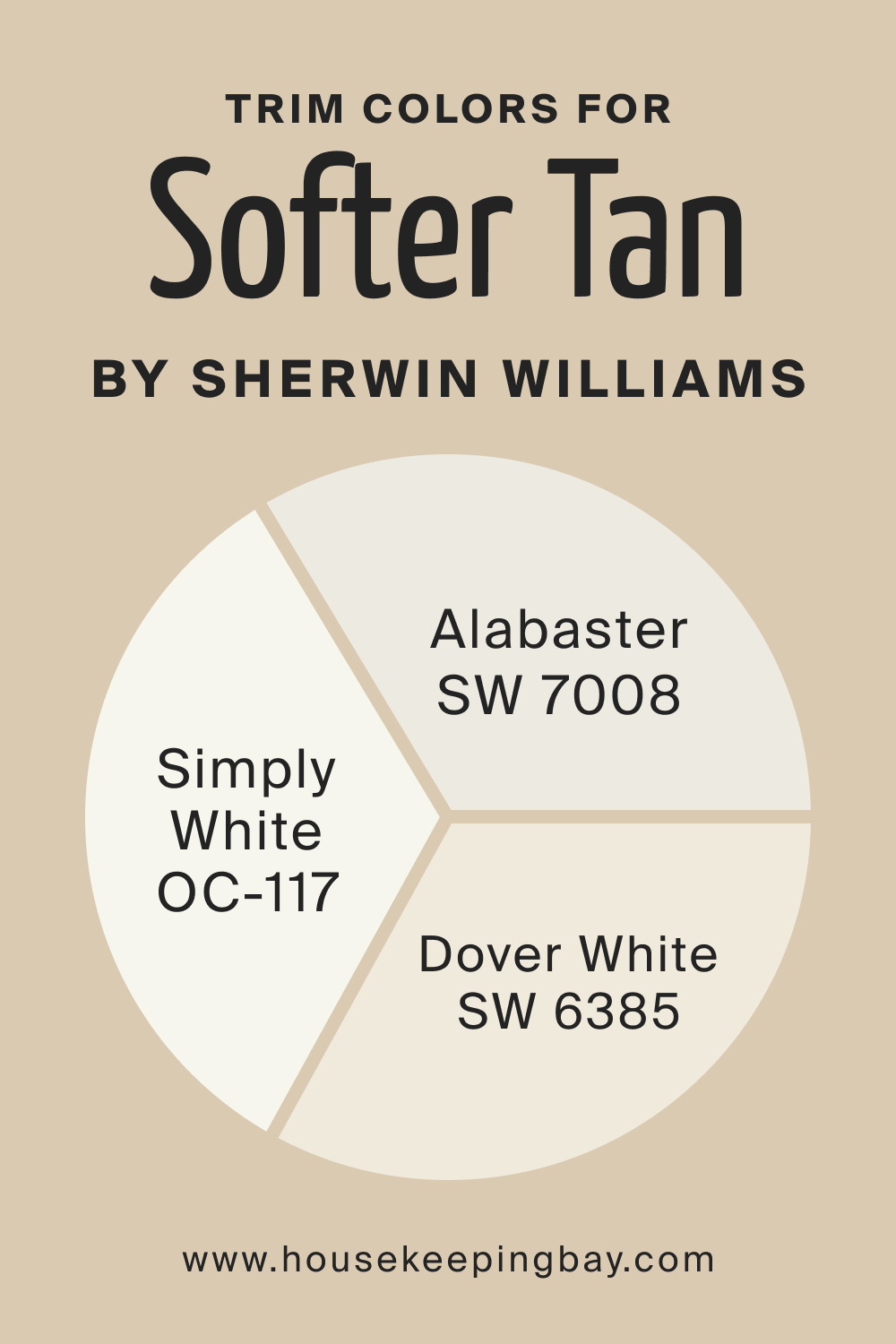 Colors Similar to SW Softer Tan Paint Color
Should you need a slightly lighter or darker color than SW Softer Tan, or you realize you need a hue with somewhat distinct undertones or LRV, having a few alternatives at hand is always a good idea. Below, you can find a list of colors that read almost the same as SW Softer Tan:
Behr Lentil
BM 1038 Everlasting
Farrow & Ball String
Valspar Dakota Trail
Of course, you must note that none of them is a 100% match. Each color will anyway look a bit different due to the distinctions in their LRVs and undertones.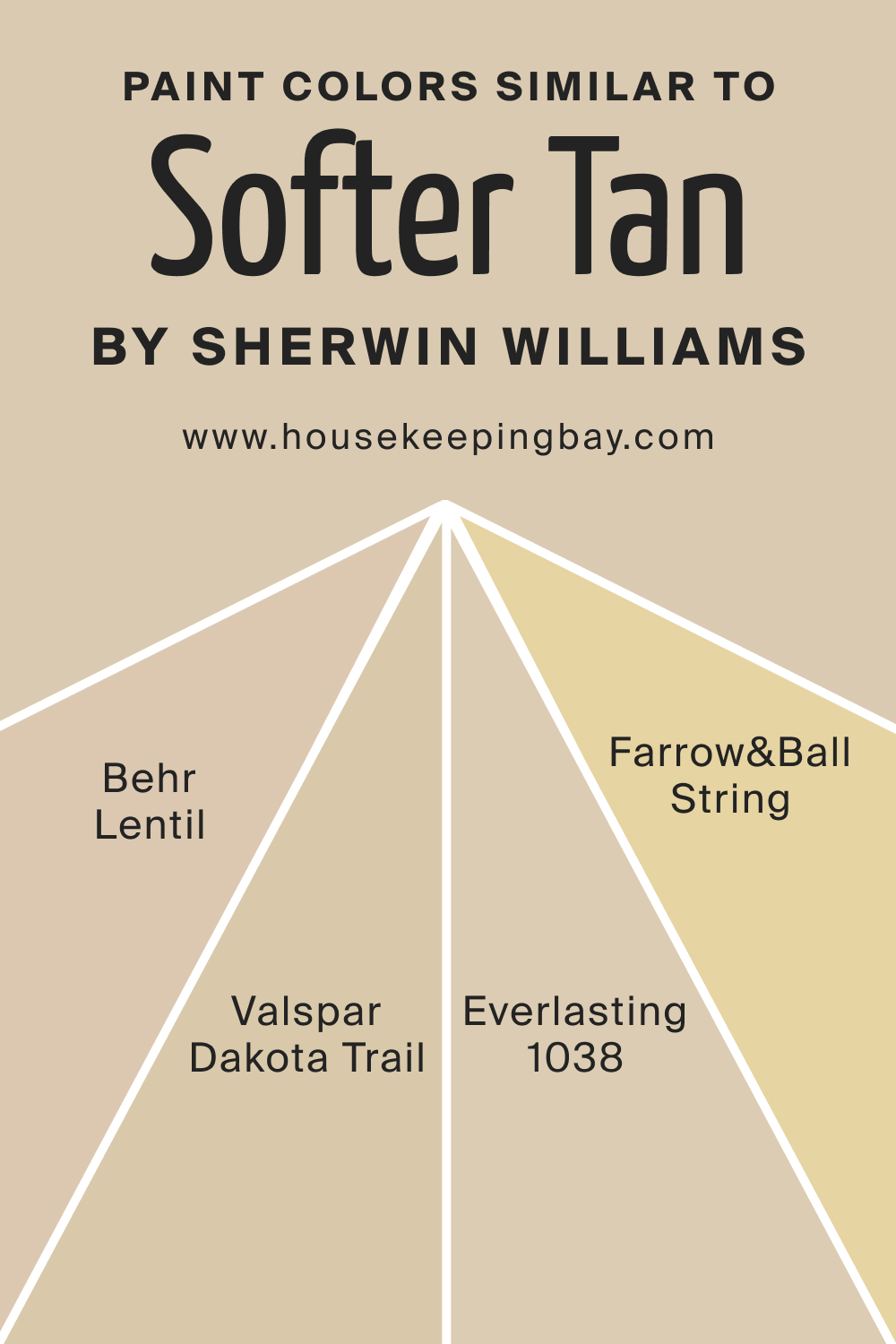 Colors That Go Well With Softer Tan SW 6141
Sometimes, it can be challenging to pick the most suitable paint colors to use along with the color on the walls. Especially if deal with such a tricky hue as SW Softer Tan, which may leave you puzzled about what colors might work with it! To help yourself out, check out a list of paint colors that will work with this soft tan hue perfectly well.
SW 6250 Foggy Day
SW 7680 Lanyard
SW 6151 Quiver Tan
SW 7000 Iris White
SW 6249 Storm Cloud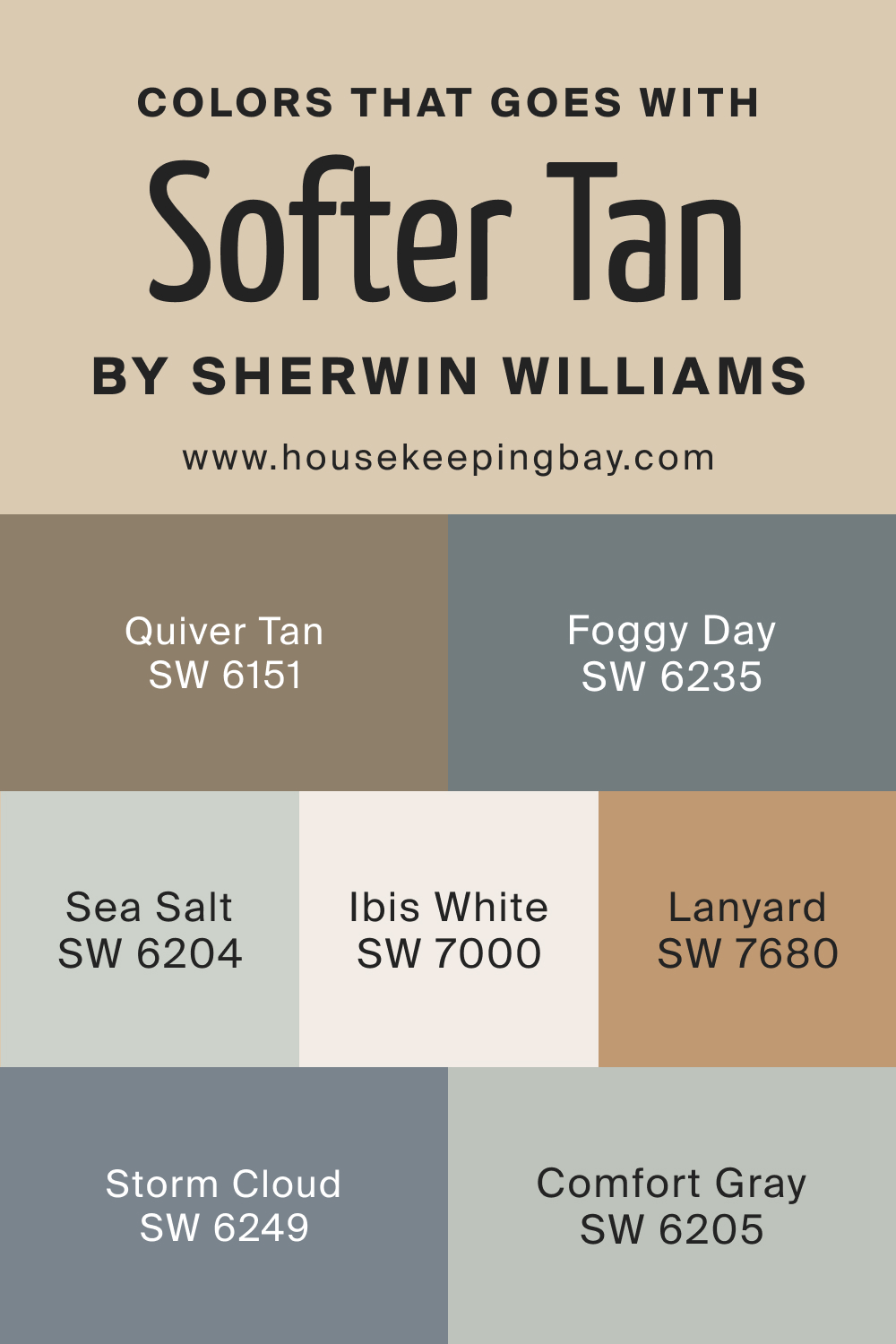 Where to Use Softer Tan SW 6141 In Your Home?
This soft and warm tan is pretty versatile despite its warmth. As a result, it can be used successfully in many rooms of your house or apartment. You just need to consider the lighting there, as well as other colors used in the space, which will help you make this soft and cozy hue work much better and reveal its true beauty.
Softer Tan SW 6141 in the Living Room
In your living room, this color may create a very welcoming and homey atmosphere if you use it, considering the lighting conditions. For example, ensure your living room is well-lit with ample light. Also, it will help a lot if there're enough lighter colors in it. Altogether, it will help you make SW Softer Tan read more balanced in tone.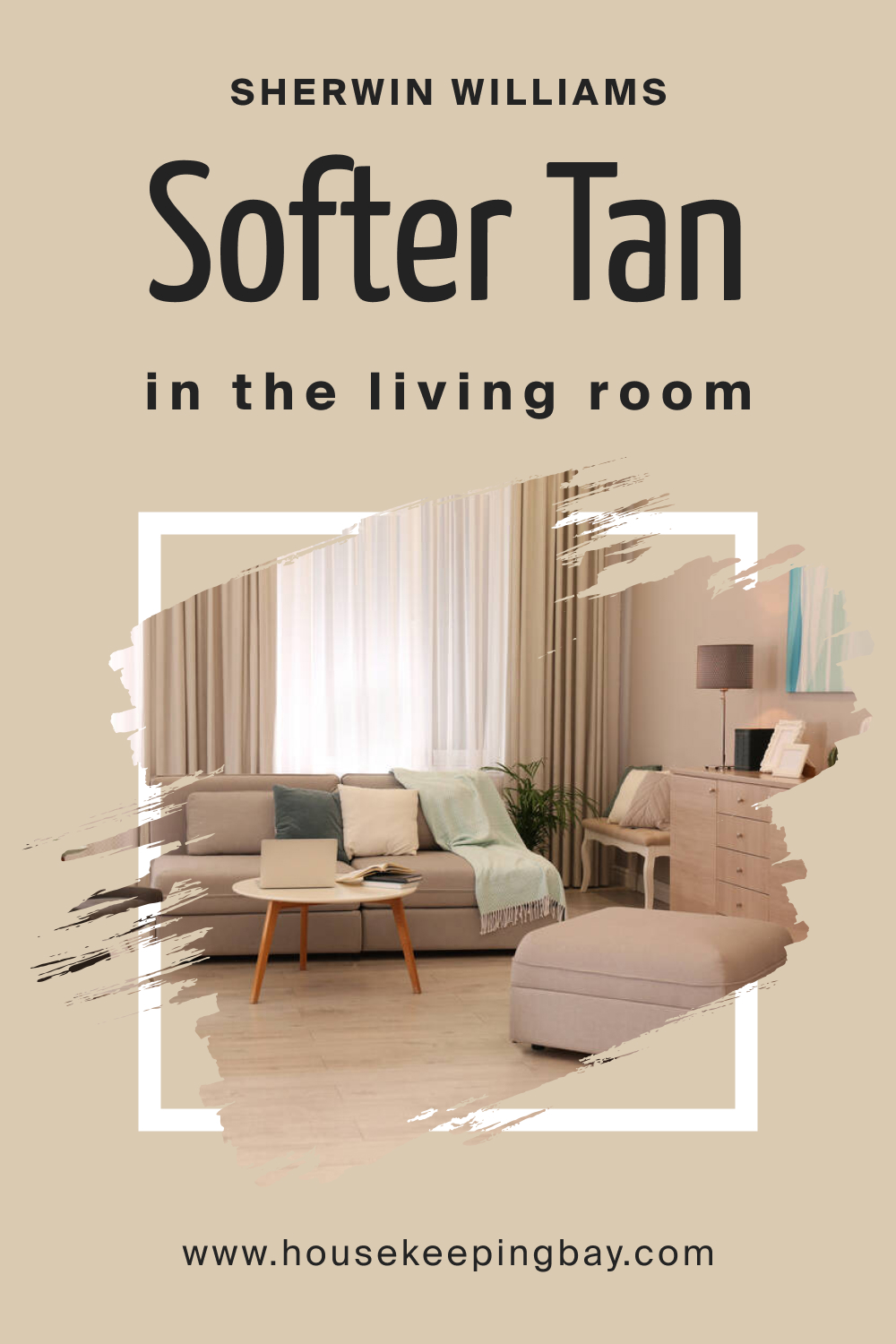 Softer Tan SW 6141 in a Bedroom
SW Softer Tan can work perfectly for bedrooms as well. This soft and warm-toned color is perfect for your bedroom if you crave for a cozy and cuddling vibe! Pair it with wooden textures and natural fabrics on your bedding, and add some white to "dilute" the warmth of this tan hue a bit.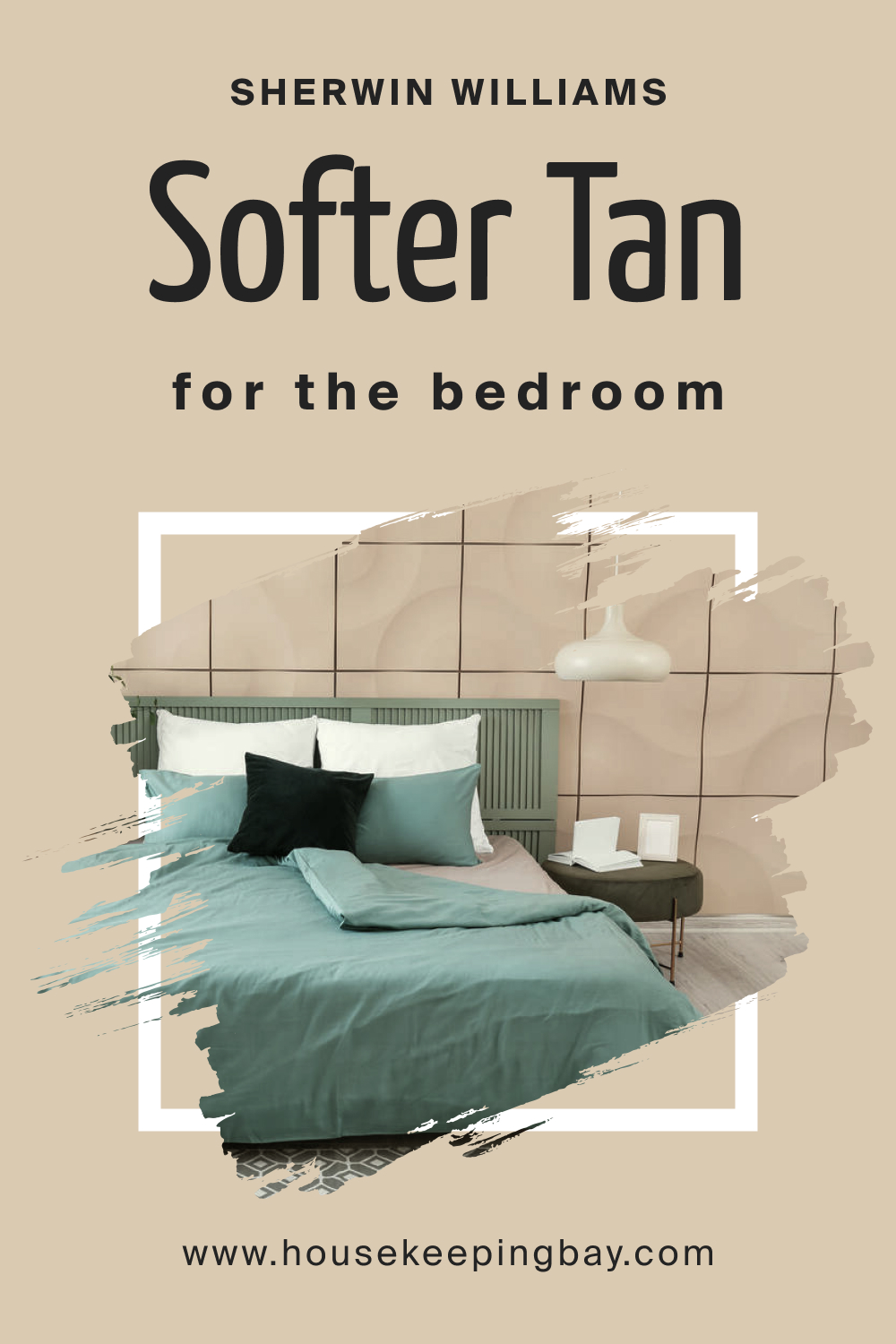 Softer Tan SW 6141 and Kitchen
Use this color carefully in your kitchen if it lacks proper light. In the dim light, SW Softer Tan may read warmer, but also, it may reveal greenish undertones much more! This is why you should always sample it before using in your kitchen. But generally, SW Softer Tan will look well on the kitchen walls painted with the white trim rather than on lower and upper cabinets with the white walls.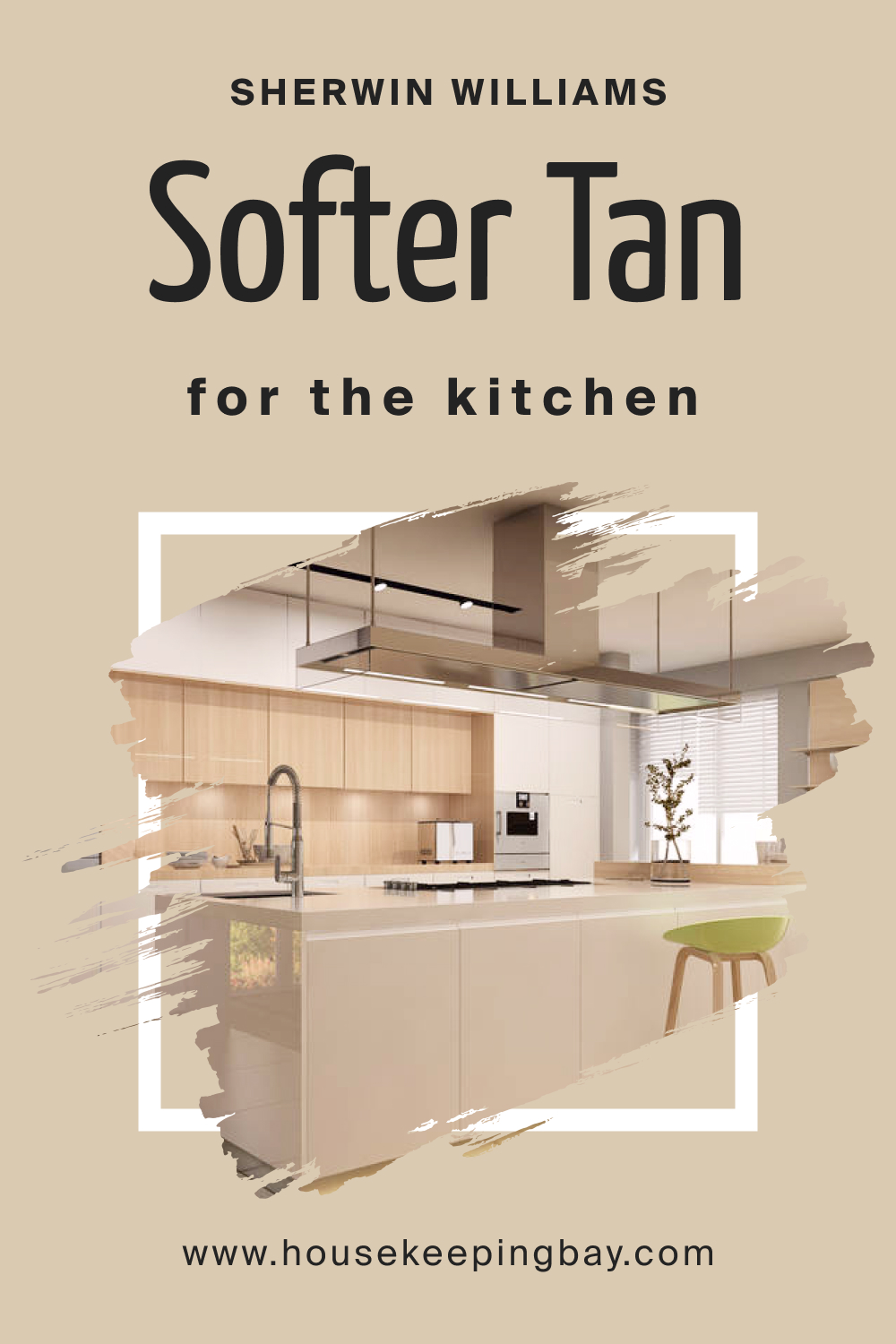 Softer Tan SW 6141 on the Bathroom
Since bathrooms often lack proper light, you must be cautious with this soft and warm color! If there is no window in your bathroom, you might want to try another, lighter, paint color on your bathroom walls or leave them white. But in a bathroom with enough natural light, SW Softer Tan may read pretty nicely!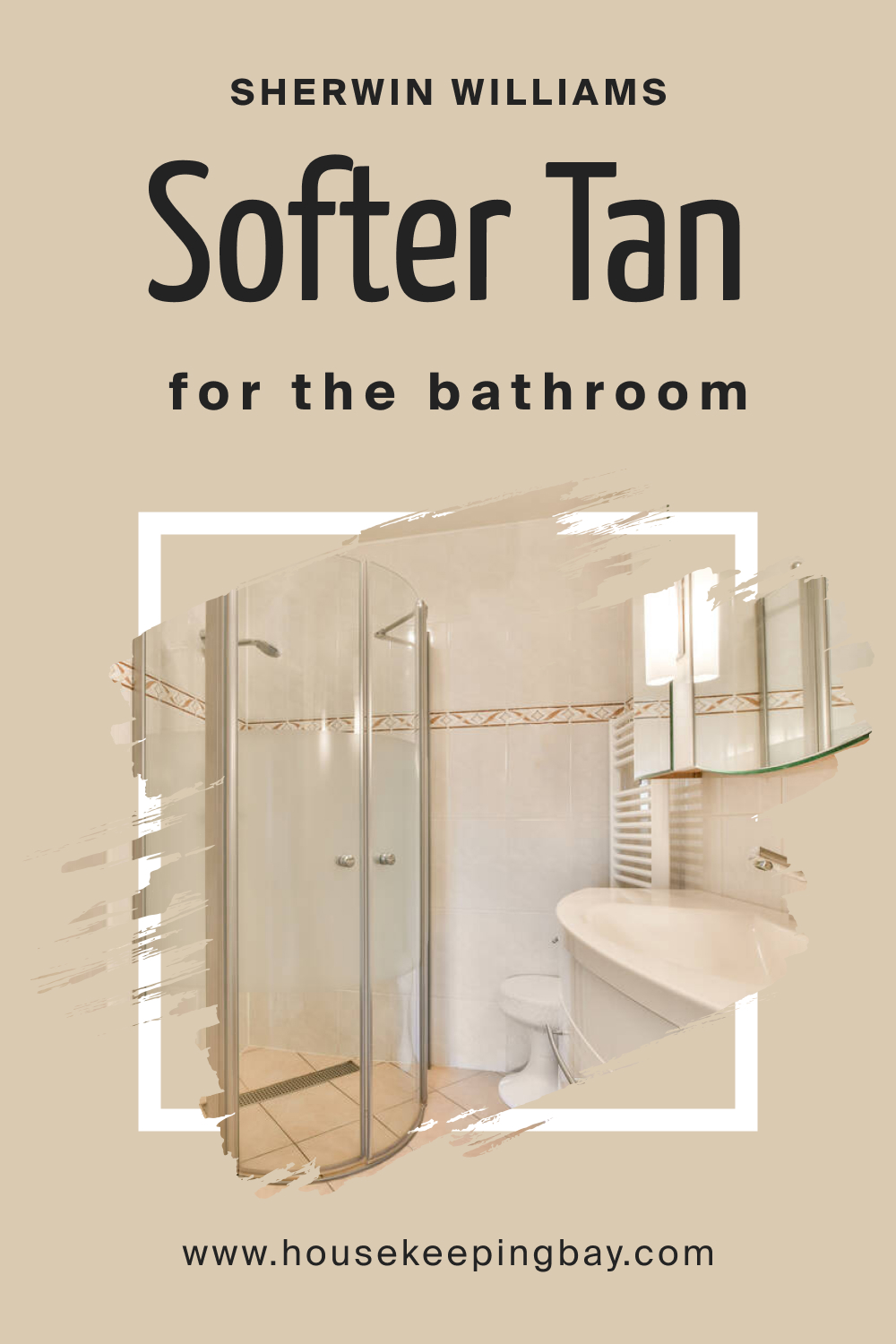 Softer Tan SW 6141 for the Exterior Use
On exterior walls, this color may read differently depending on the lighting conditions. On cloudy days, SW Softer Tan may read less warm and show more of its greenish hue. But in broad daylight, being hit by direct sun, this soft hue will look much more welcoming! However, it may often look almost greige.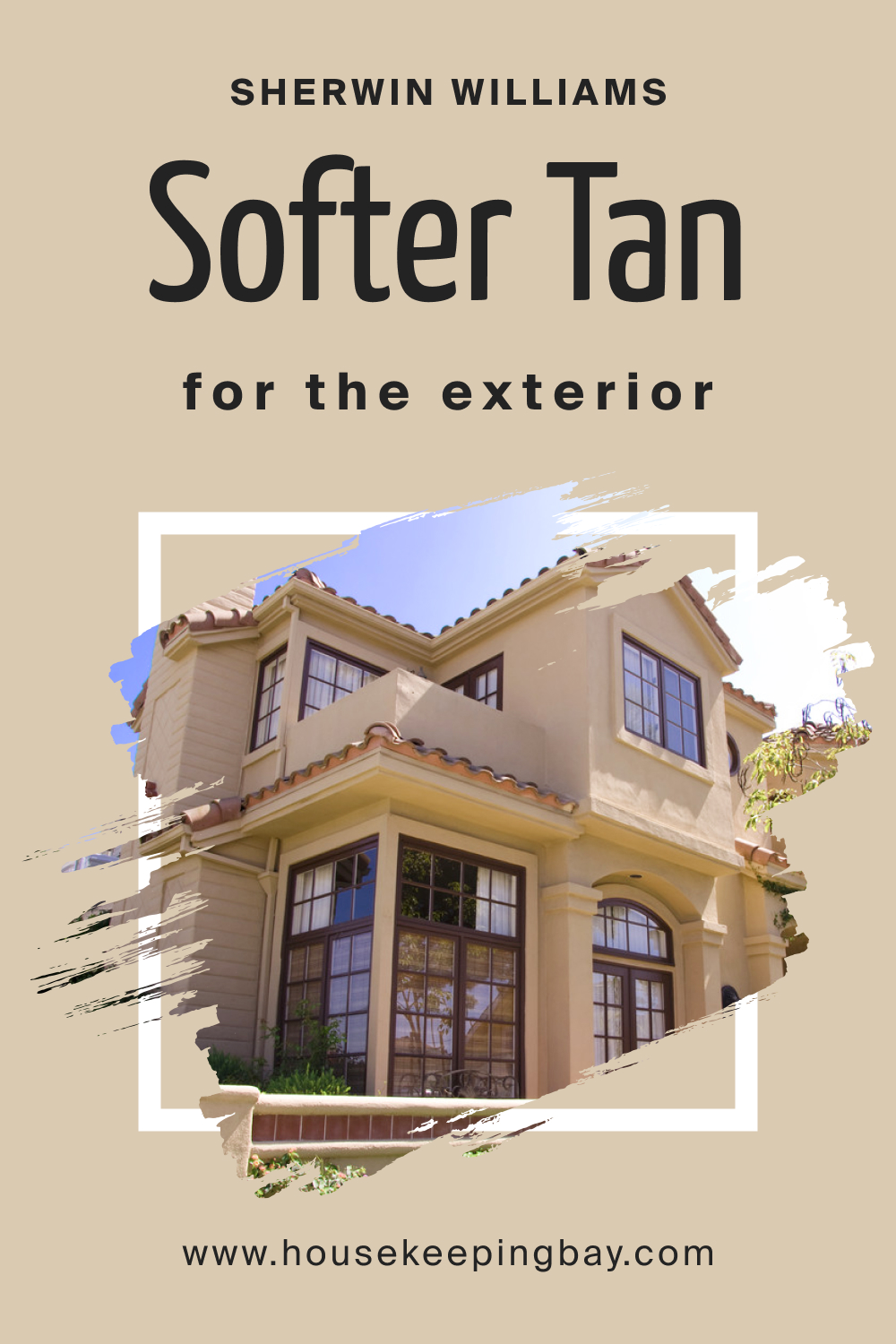 Comparing SW Softer Tan With Other Colors
To those who don't work with paint colors professionally, defining differences in colors' hues might be challenging. Also, two paint colors can sometimes look so similar that you need a sharp eye to notice any distinctions between them! Below, we suggest you several pairs of colors that compare SW Softer Tan to other similar colors. This will help you learn to see the differences better.
Softer Tan vs. SW 7036 Accessible Beige 
SW Accessible Beige has an LRV of 58, which means it's less light than SW Softer Tan, whose LRV is 62. Also, these colors look very different. SW Softer Tan reads warmer and almost looks like beige, whilst its counterpart seems nearly light gray.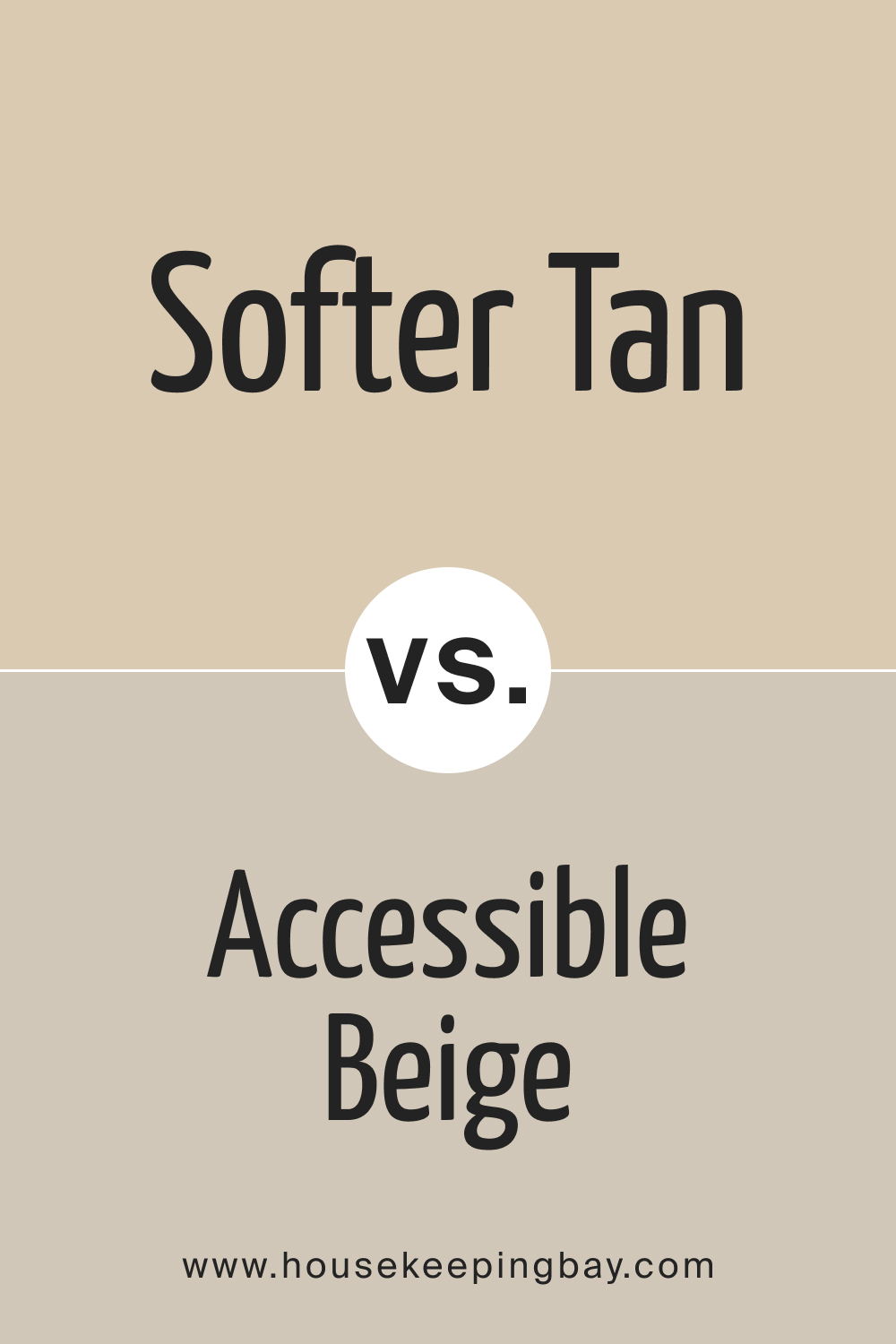 Softer Tan vs SW 7531 Canvas Tan 
SW Canvas Tan has an LRV of 64, which makes it a bit lighter than SW Softer Tan with an LRV of 62. Also, SW Canvas Tan comes from the yellow-red hue family and this reddish hue is pretty well seen in it. Compared to the Canvas Tan color, SW Softer Tan looks closer to greige.
There is one more difference between them. SW Canvas Tan sometimes shows a very subtle pink tone which becomes more visible if you place these two colors side by side.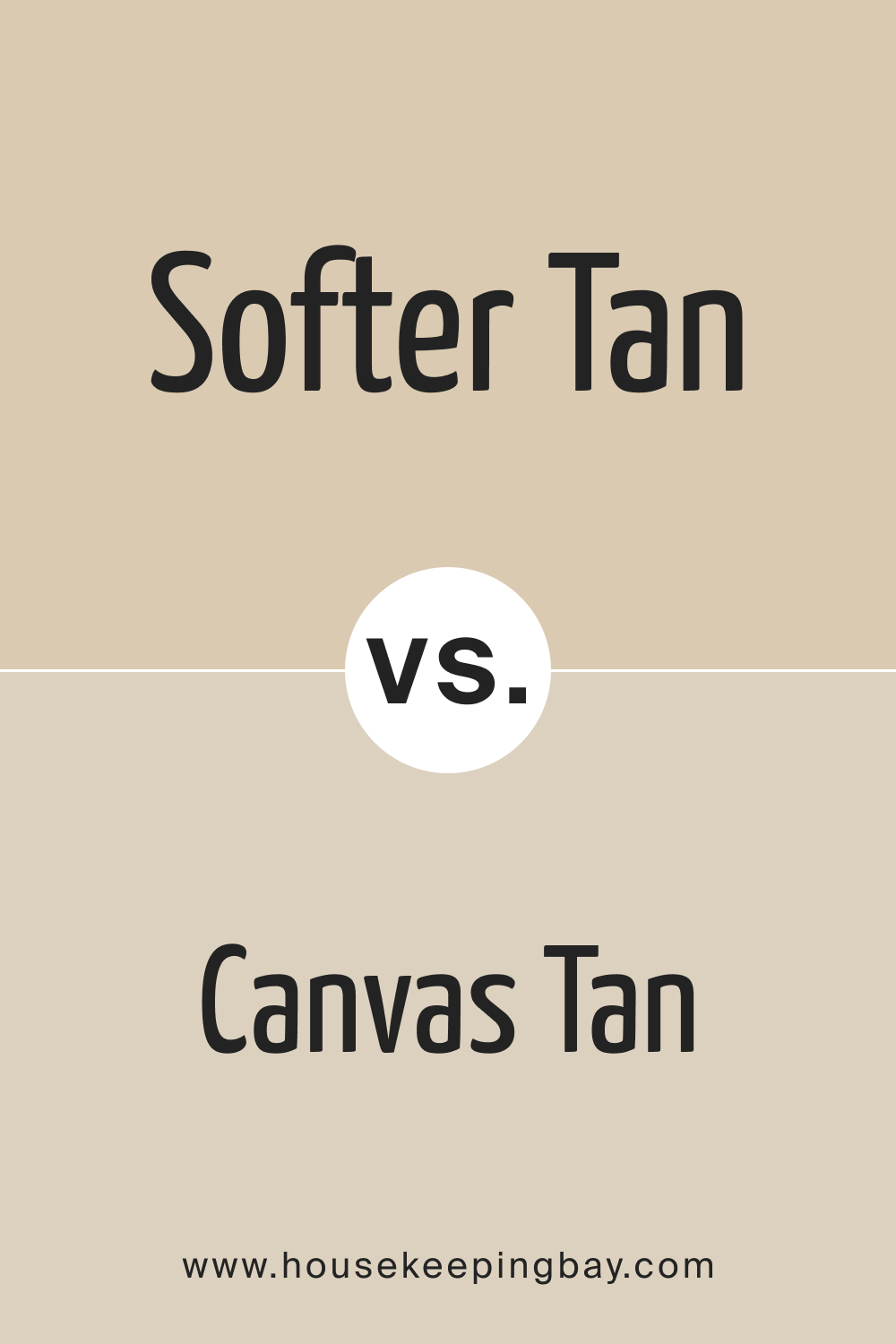 Softer Tan vs. SW 7012 Creamy
Since these colors are rather contrasting, they create a lovely pair. SW Creamy is much lighter (due to an LRV of 81) and way less saturated than SW Softer Tan. But since both SW Creamy and its counterpart share yellow undertones, these colors work pretty well together!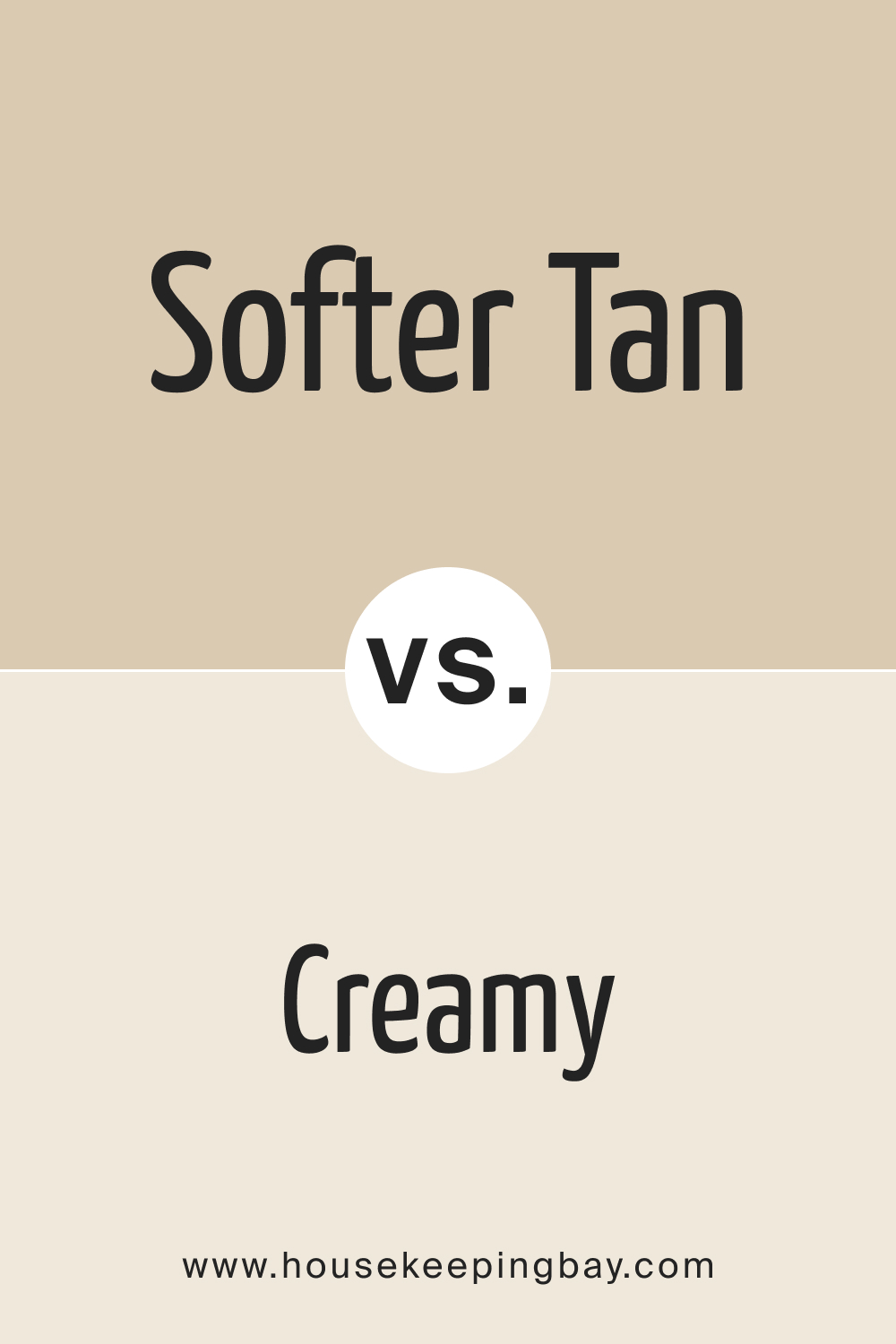 Softer Tan vs. SW 9116 Serengeti Grass
SW Serengeti Grass is much more saturated and definitely darker than SW Softer Tan. The LRV of SW Serengeti Grass is 32, which is much lower than the LRV of 62 of SW Softer Tan. Also, SW Serengeti Grass has yellow-brown undertones that result in a very warm and earthy look. But both colors are warm-toned, which is their common feature.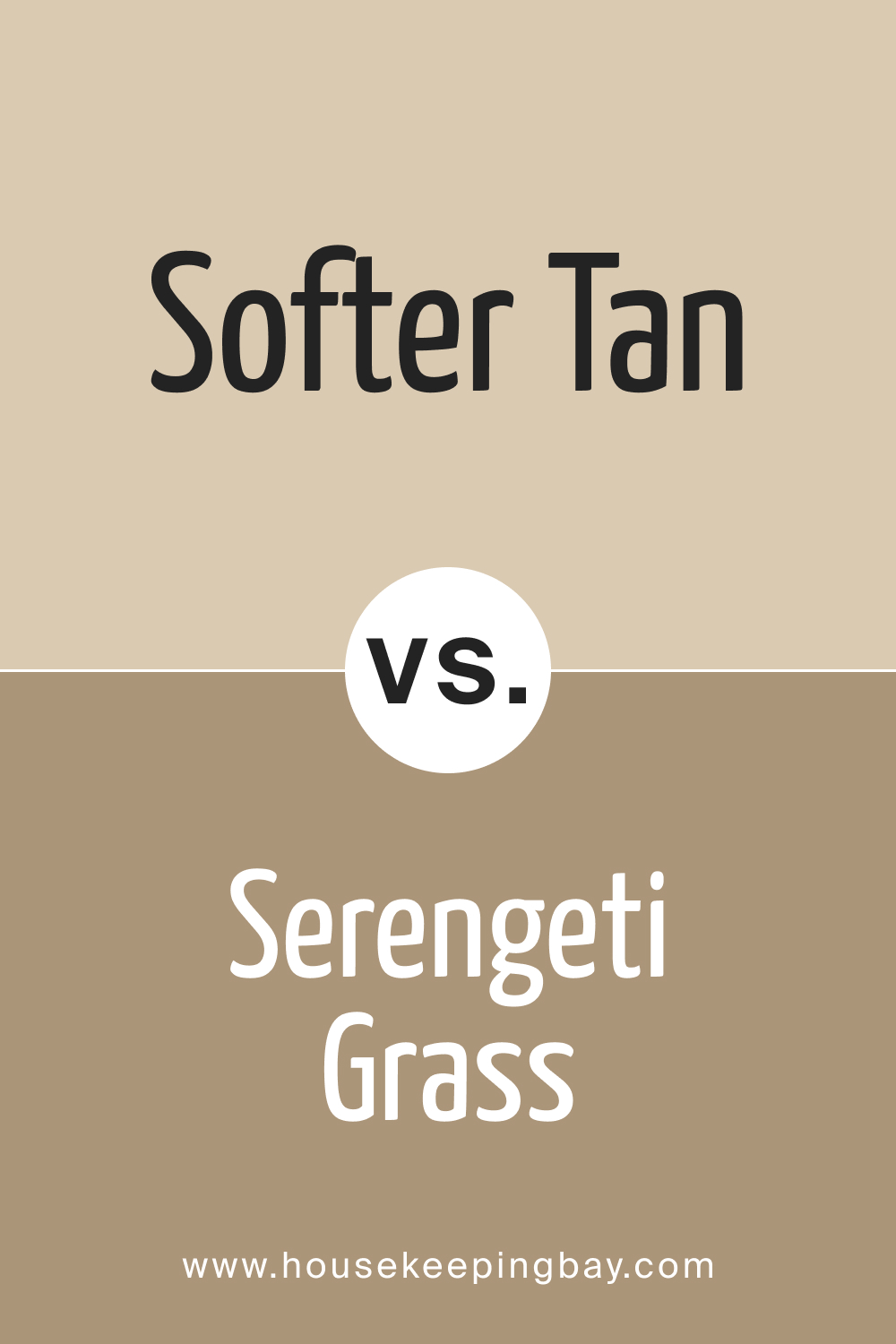 Softer Tan vs. SW 7035 Aesthetic White 
SW Aesthetic White doesn't show any noticeable undertones, but deep inside, this color has slight pinkish and greenish undertones indeed. Compared to SW Softer Tan, this color reads lighter due to the LRV of 73. Also, SW Aesthetic White looks significantly less warm.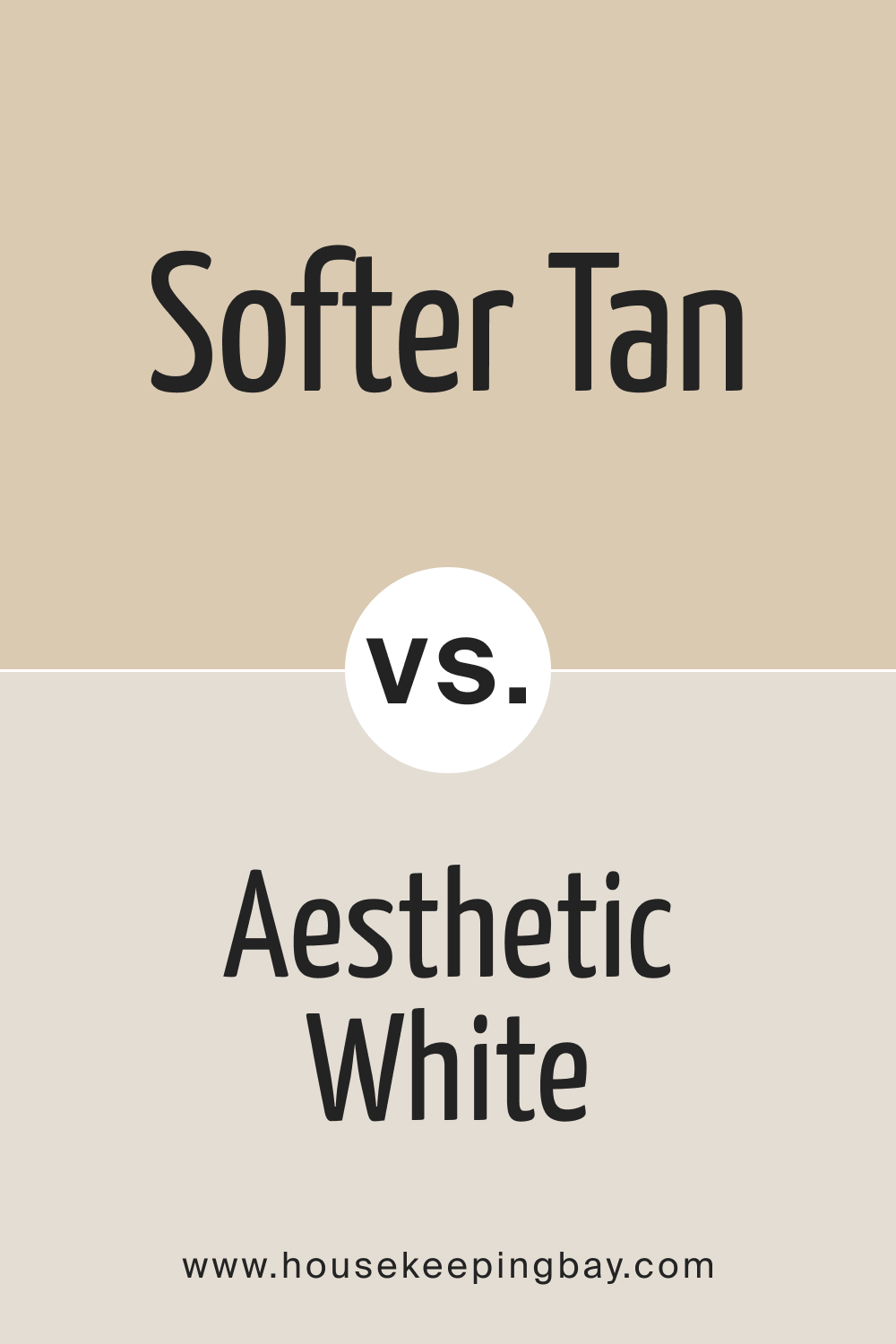 Softer Tan vs. BM OC-20 Pale Oak
Occasionally, it may show a wink of purple. It has an LRV of 69, which is somewhat higher than the LRV value of 62 of the Softer Tan color.
That means Pale Oak is somewhat lighter. Generally, Pale Oak looks less saturated and less warm than SW Softer Tan. Besides, the Pale Oak color seems grayish compared to its warmer greige-like partner.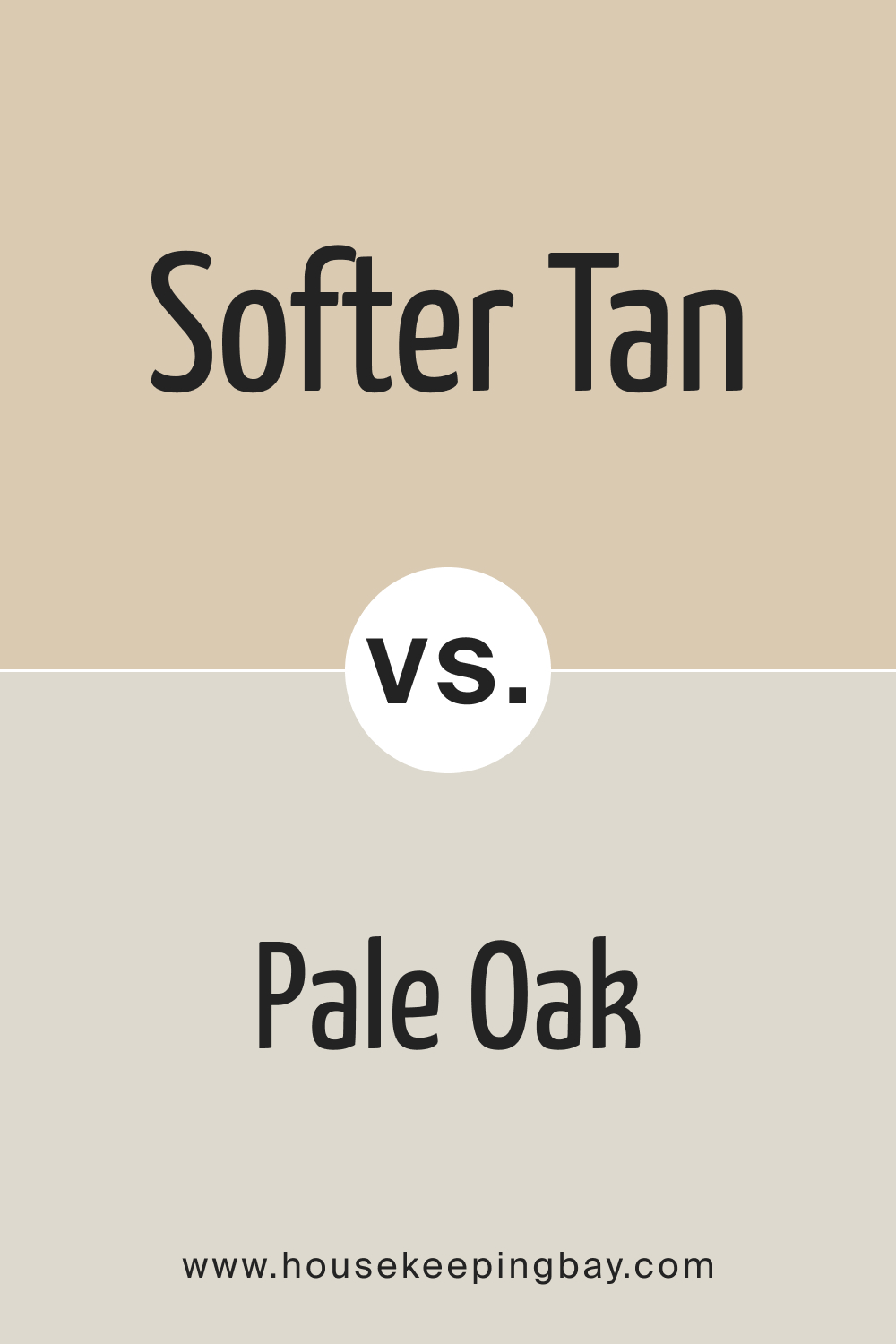 Well, this is what SW Softer Tan is! Now you know all the specific features of this color, as well as all the nuances you should consider when using it in your home.
With this guide, you can coordinate it correctly and pick up the most suitable trim colors. Also, now you know in what rooms this tan hue will work best.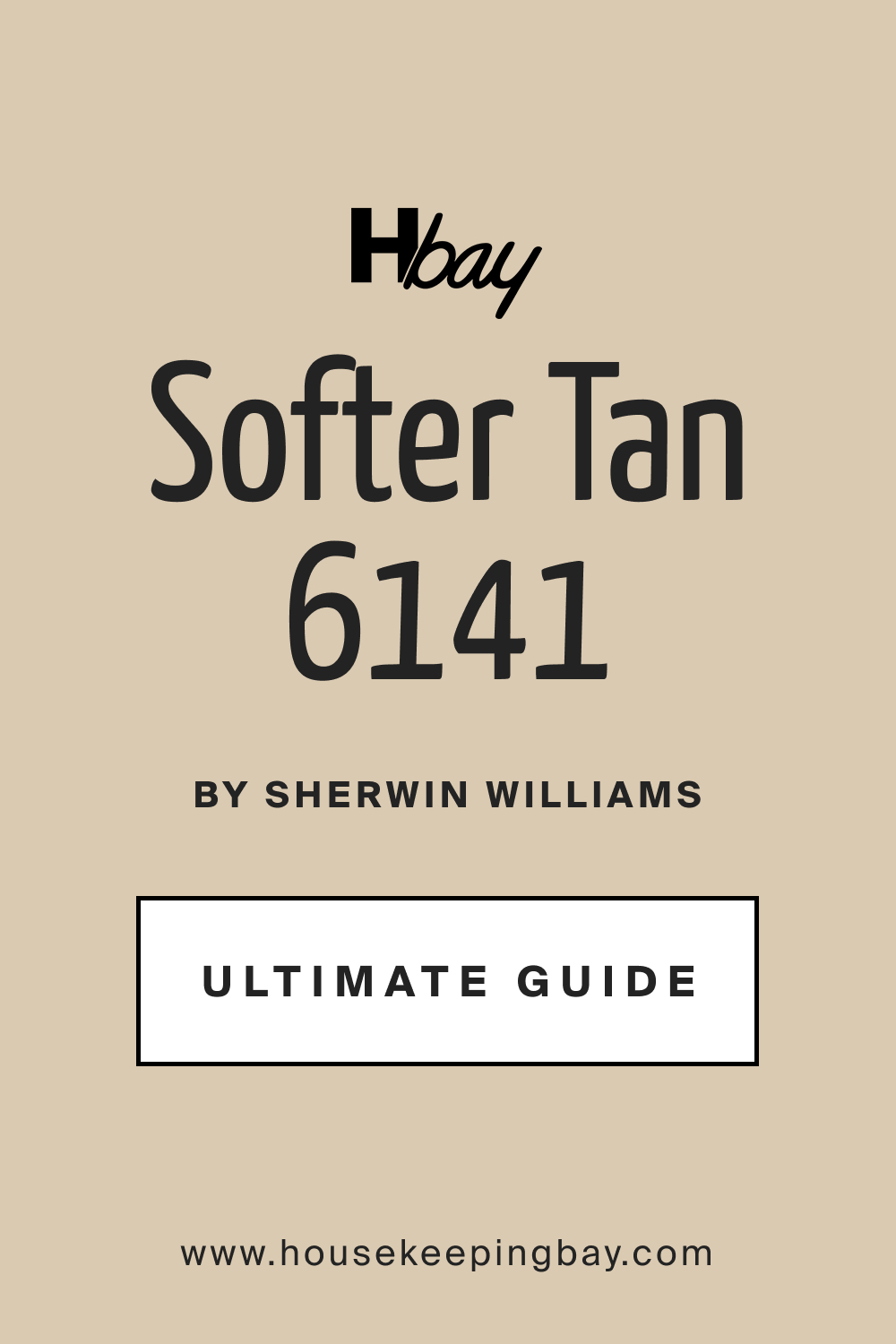 Frequently Asked Questions
⭐Does SW Softer Tan look yellow?
This color won't read yellow, but it may reveal more of its yellowish hue in warm lights.
⭐Does this hue have red undertones?
No, SW Softer Tan has no red in it.
⭐Can I use this color in my hallway?
You can, but only if there's ample light. Otherwise, this color will read somewhat dull.