Choosing a suitable interior paint color for your home painting or renovation projects may seem to be easy to some of you. However, deciding on what color to use exactly on your walls will most likely become quite an issue for you! Especially if you are not knowledgeable about paint colors and you don't have an eye for colors and shades.
Choosing a proper color becomes even more difficult if you have to deal with complicated colors that may have multiple undertones. And one of the paints that you may feel uncertain about is called First Star by Sherwin Williams brand.
At the first sight, this color may seem to be very simple since it is so nice and pleasant to the eye! But if you take a closer look at it, you will see that it is a bit tricky!
This is why, if you are thinking about using this color in your home, we suggest you read this article first. Here we will tell you more about what type of color it is and also, you will find out what undertones this shade of white has, as well as how this paint color may react to different types of light.
Finally, we are going to compare the First Star paint color with a few other similar paints. Like that, you will be able to better understand their distinctions and choose what color exactly might suit your interior better.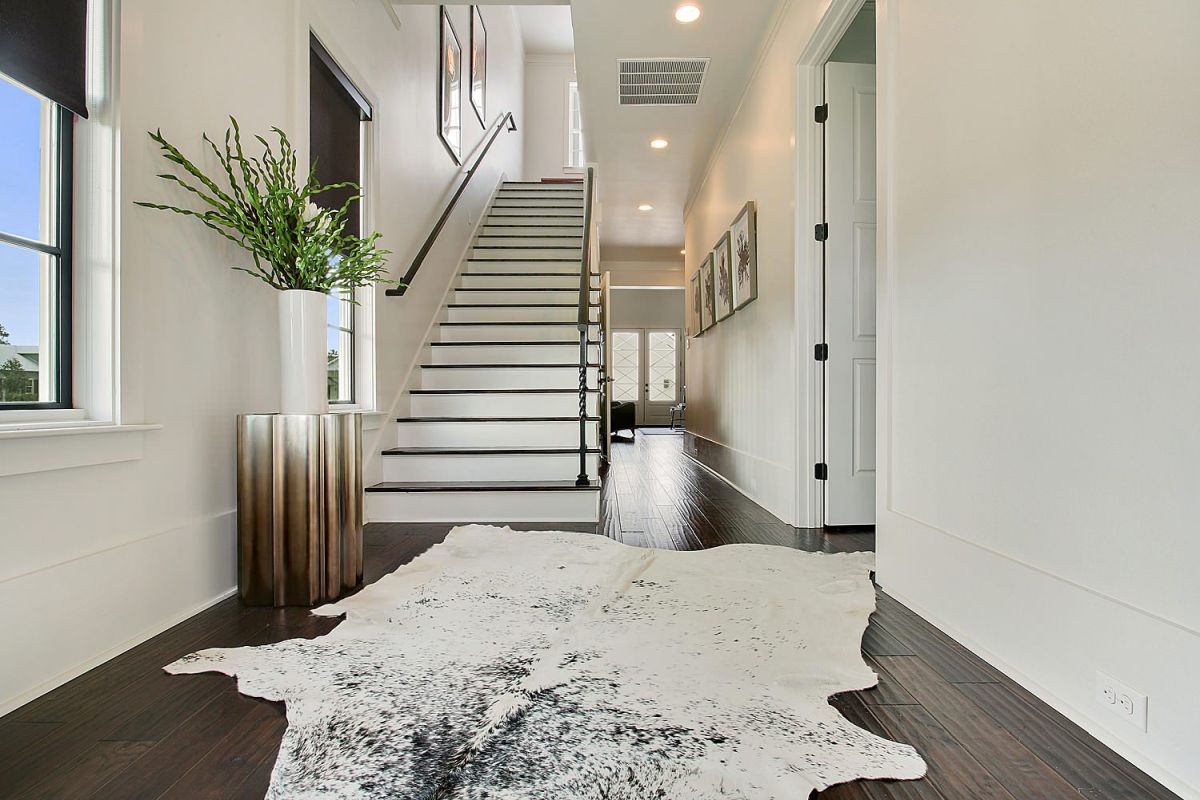 What Color Is First Star SW-7646?
If you have never seen this color in real life, you might think that it is some kind of blue or even black. However, everything is completely vice versa! See, First Star paint color by Sherwin Williams is actually a wonderful light and cool-toned shade of gray paint color that has deep blue undertones.
Although this color is more like gray, you can often hear about it as a cool white as well. But don't be distracted! If you take a closer look at it, you will easily notice that slight yet rather noticeable bluish undertone, especially if the paint is placed in different lighting and/or spacing conditions.
So those of you who are wondering what type of color it is here is the answer: SW First Star is a shade of gray, as Encycolorpedia says.
This color is very delicate and sophisticated even though it is a cool-toned one on the walls. It is also rather light, so if you are not a big fan of dark or deep paint colors, and you are more into a reserved and calm palette, this paint will definitely be the one that you might want to consider.
Also, this cool gray would be a good option for those of you who do your best to avoid using white colors on their walls, both exterior and interior. All because of that annoying yellowish tint that some white shades tend to reveal after you apply the paint onto the walls.
Moreover, SW First Star is quite a light and versatile paint color, this is why it will be comparatively easy for you to incorporate and pair it with other complementary colors in your interior.
And here is another great benefit of this cool-toned gray for you: it is very versatile! You can easily and equally successfully use it on your interior and exterior walls, as well as in different rooms, from bedrooms to your kitchen!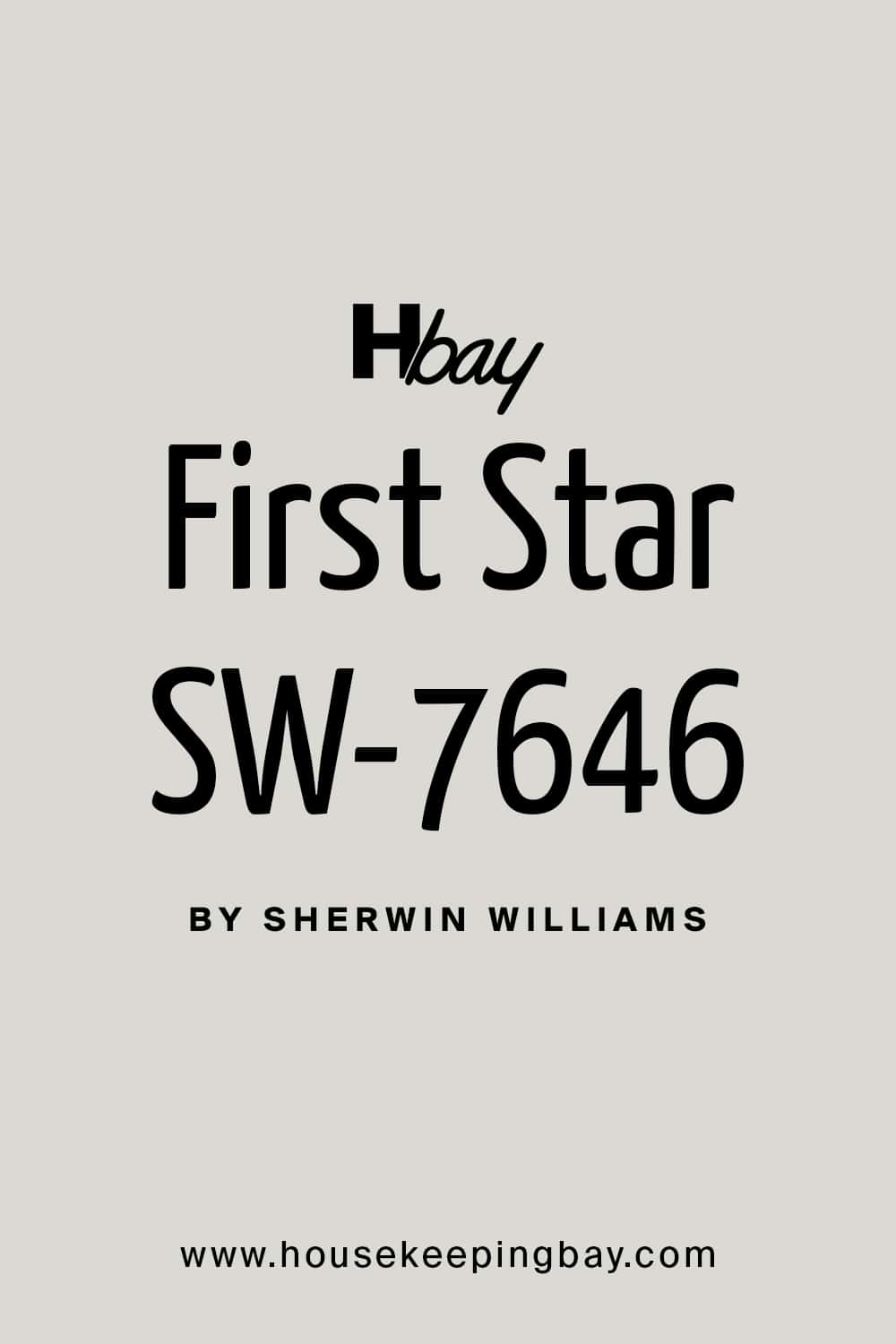 Undertones Of Sherwin Williams First Star
When you are choosing paint for your interior walls, undertones always play an important role. It is undertones that decide how exactly this or that paint color will look on your home interior walls! This is why you should always remember this nuance when deciding on the paint you need for your home projects.
As for the undertones of the First Star paint color by Sherwin Williams, they are deep and cool blue. They can look and read differently in a different light, this is why this paint color tends to read rather light when applied to the wall. So we recommend you always make sure that you test a swatch on your walls before buying a whole can of this paint.
And since we have mentioned the undertones of this paint color, as well as the way this color may look in different types of light, let's take a closer look at this side of SW First Star paint color.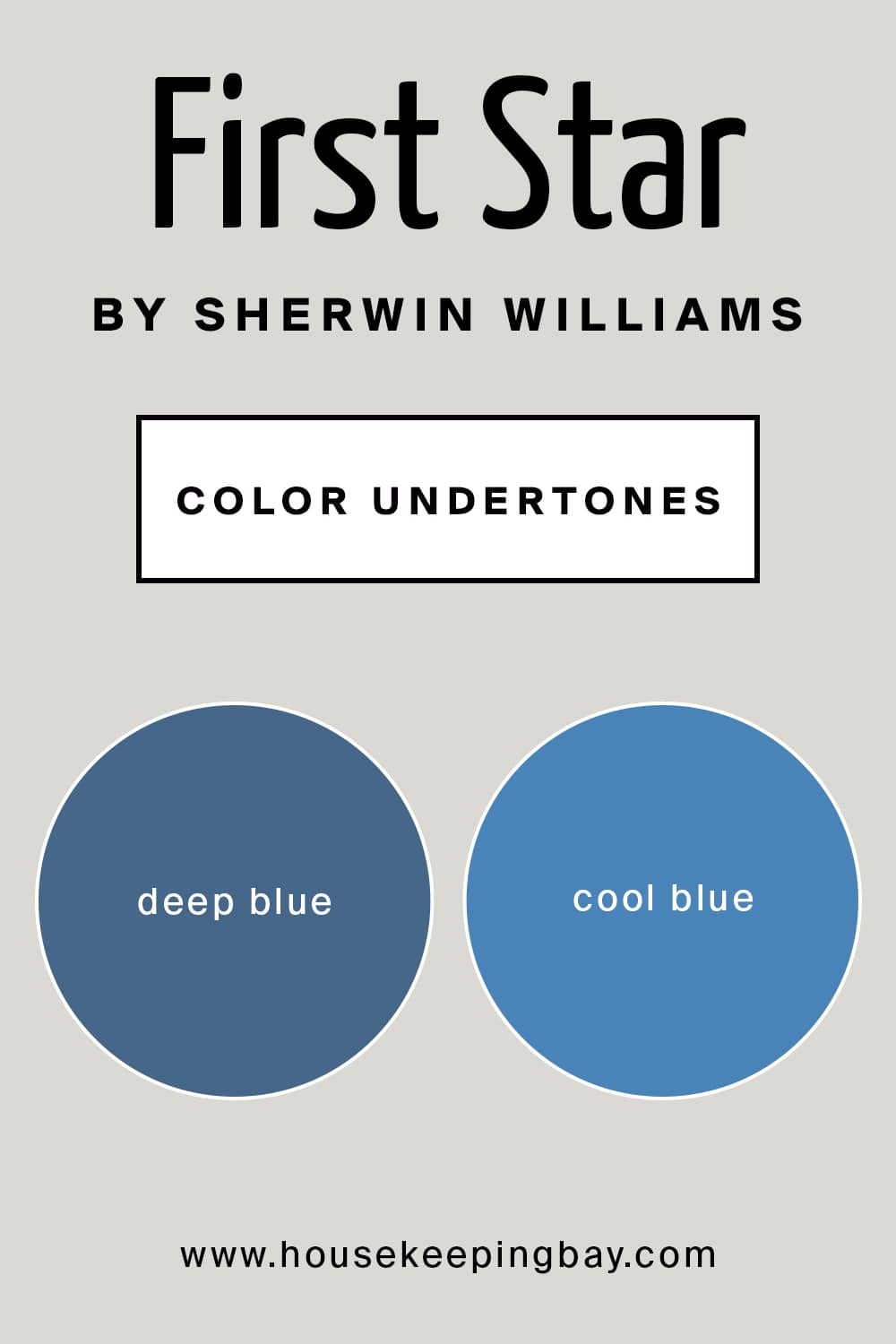 How Does First Star SW-7646 React to Light?
When you decide on what paint color you want to see on your interior (or exterior) walls, it is important to keep one thing in mind: the same color can look different depending on what lighting it is affected with. Such a "shapeshifting" becomes possible because of the LRV rate of the paint color.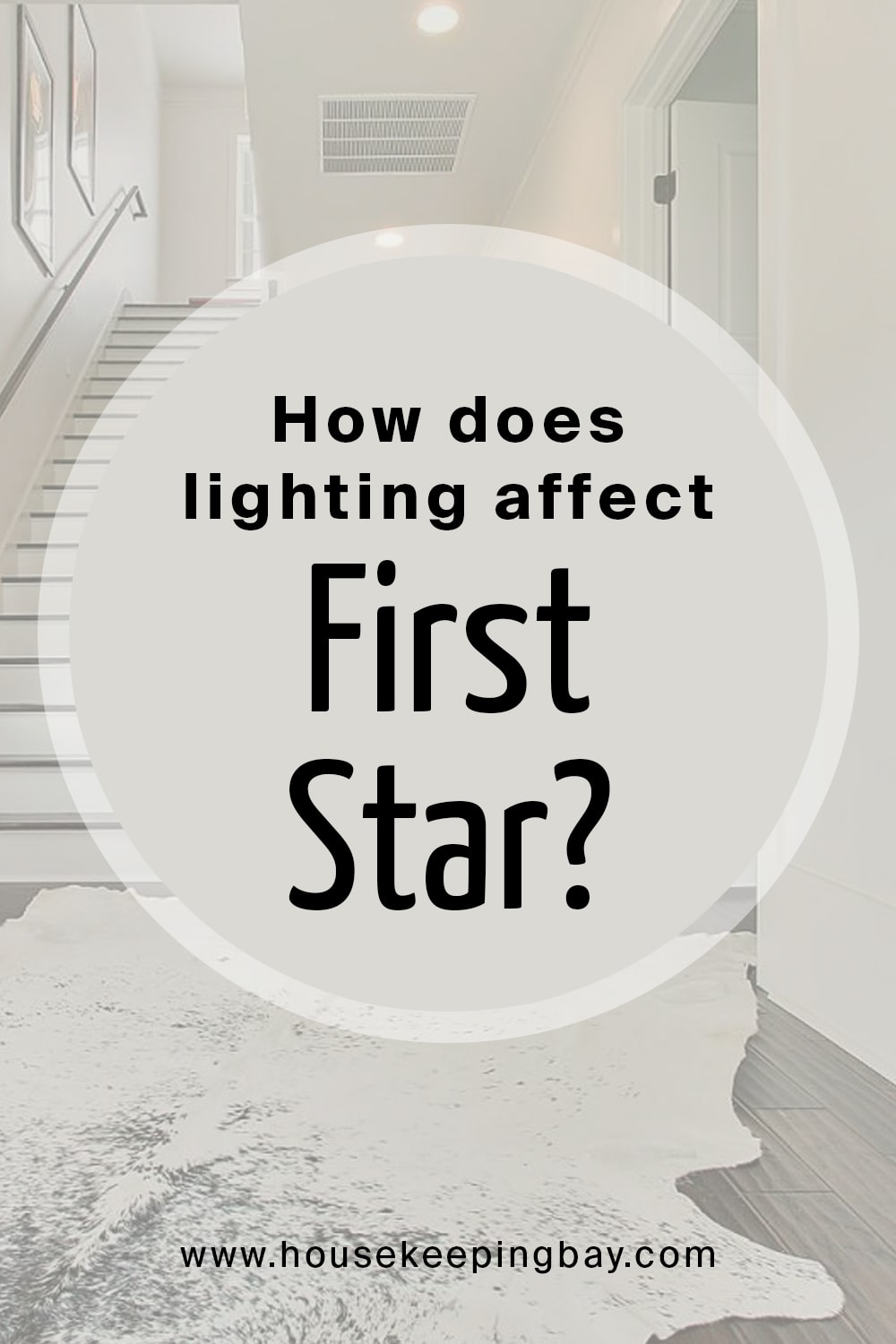 Just to remind you folks, LRV, (also known as Light Reflectance Value) is the percentage of light that the paint reflects. It is also a scale that is used by design professionals. Basically, if you take a look at this scale, you will see that zero goes for the darkest black and 100 is true white paint color.
First Star paint color by Sherwin Williams has an LRV of 69, which puts it at the high end of the LRV scale. It means that this paint color, when applied to your walls, will be able to reflect nearly 69 percent of light. Thus it will be making a room look lighter.
However, even though it is considered light, it is not very light to almost look like a true white.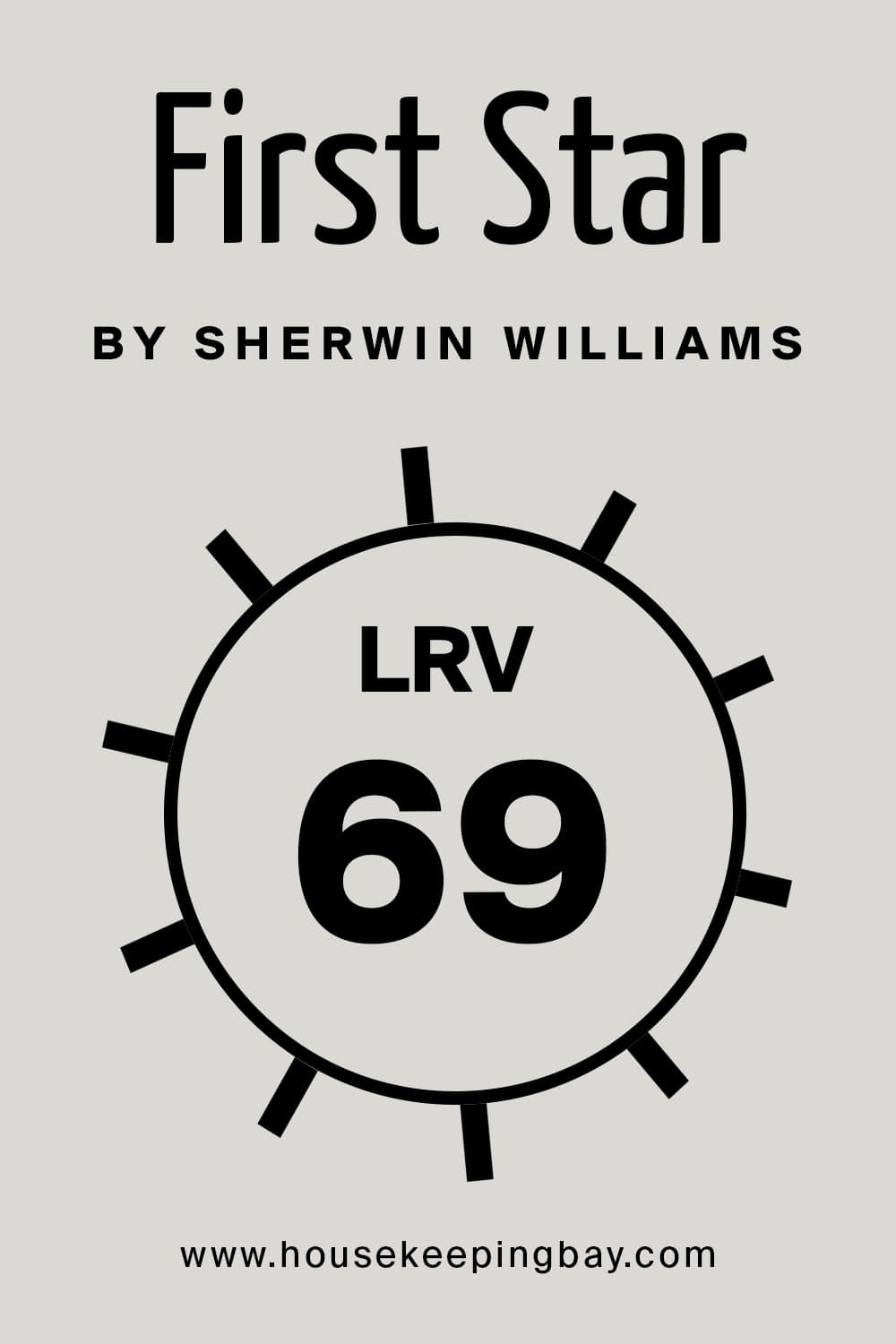 What is LRV? Read It Before You Choose Your Ideal Paint Color
The Best Coordinating Colors of First Star SW-7646
Picking the correct coordinating color or colors to match with the main paint color in a room is a difficult task, especially for those of you who don't have a sharp eye for colors and shades! This is why so many homeowners feel a bit puzzled when they need to figure out what coordinating colors would suit the paint they choose to apply to the walls.
As for the First Star paint color, in general, it can look amazing with darker blues, sage greens, cool dark grays, and crisp whites.
However, we want to warn you to be careful with this paint! Always consider what vibe you want to have in your space when you are choosing coordinating colors for the First Star. Like this, you will be able to pick a perfect color combination.
Below, you can find a few color suggestions that will become a perfect match for this cool gray paint. They will create a rather calming and reserved, yet very delicate and stylish color palette:
SW 7657 Tinsmith
SW 7659 Gris
SW 7660 Earl Grey
If you want a contrasting color palette, take a look at the following color recommendations:
SW 7006 Extra White
SW 9148 Smoky Azurite
SW 7672 Knitting Needles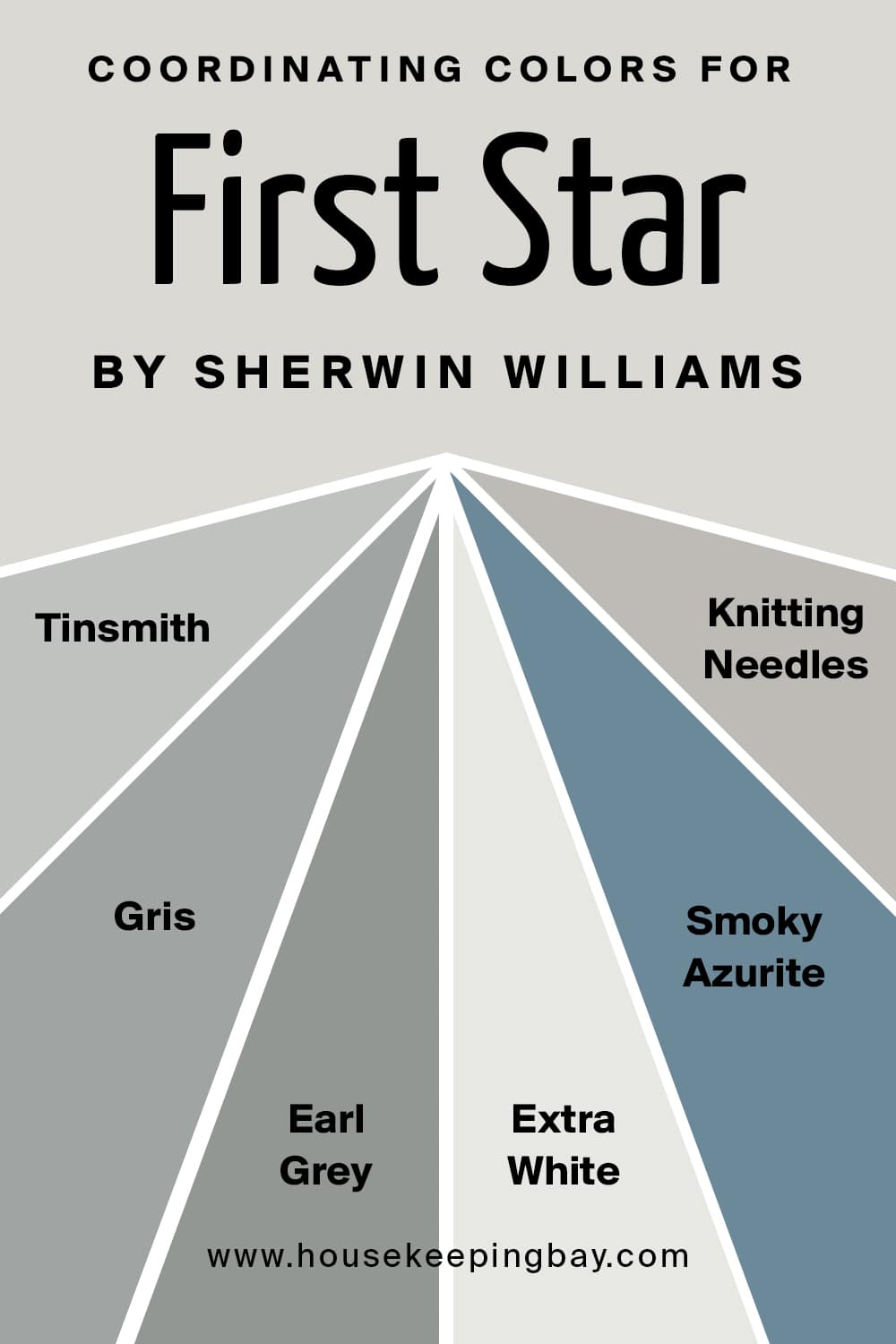 Colors That First Star SW-7646 Color Goes With
When you are going to use a certain paint color in your home (let's call it a leading color), it is good to keep a few other shades in mind. They will help in case you need some alternatives that look good when paired with the leading color. And it does not matter whether that paint color will be applied on the walls or other interior surfaces. When having several other colors at hand, you will be able to create a more versatile color palette.
For the SW First Star paint, folks often find it difficult to pick the colors that will go well with this paint. Luckily, we have a few ideas for you to use! If you are going to apply First Star color in your home, consider these options as those it will go well with:
SW-7064 Passive
SW-6183 Conservative Gray
SW-7647 Crushed Ice
SW-7672 Knitted Needles
SW-6259 Spatial White
SW-7651 Front Porch
Thanks to their versatility, you will easily find the color or colors that will highlight the significant features of your living space and make it look unique and personalized.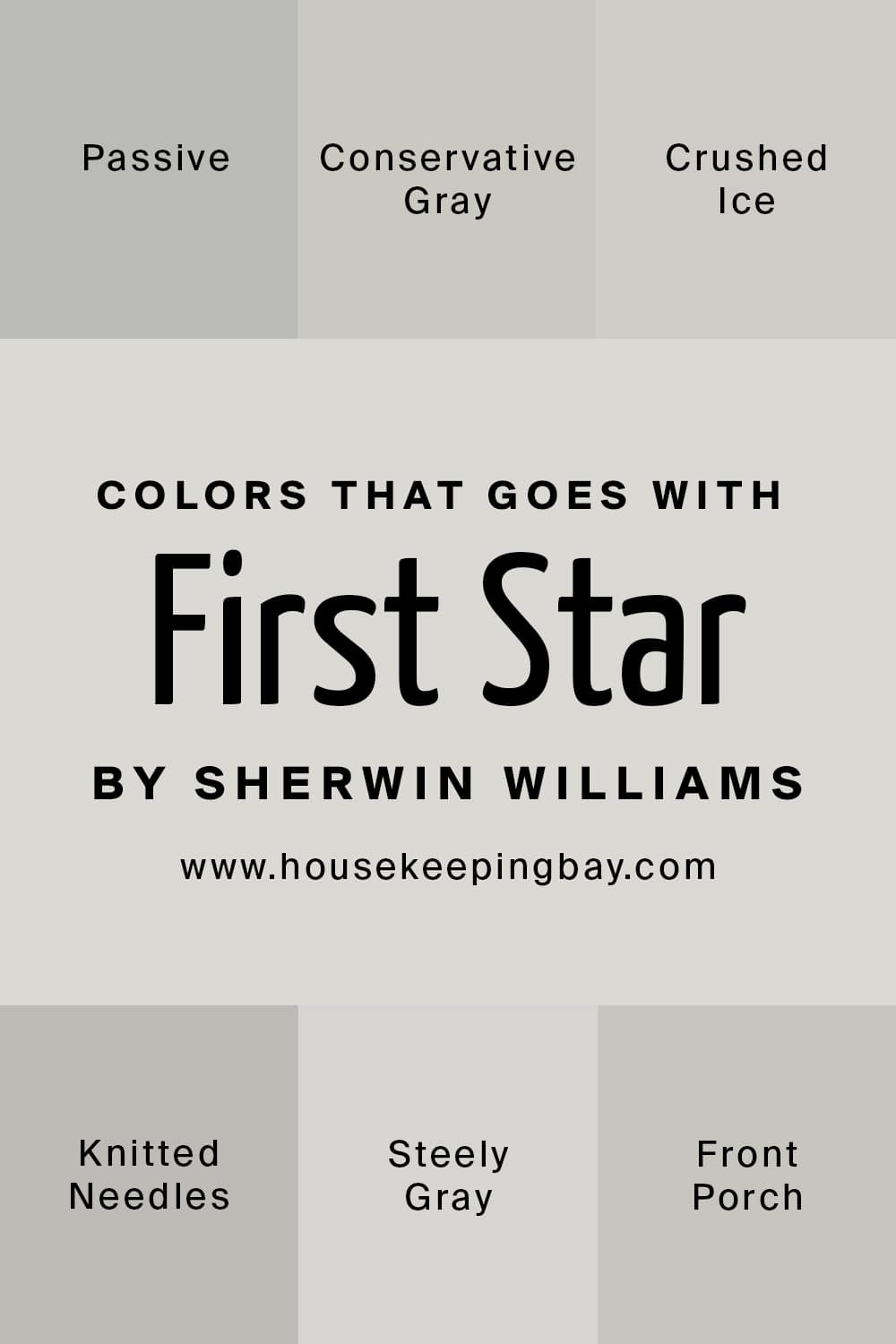 What Is the Best Trim Color of First Star Color?
When you decide to refresh your home's interiors, you might need not only to change the basic color you have on the walls. Picking a suitable trim color is also essential. As for the First Star color by Sherwin Williams, the best trim colors for it would be:
SW Extra White
These colors can also be used on your ceilings and/or moldings, and they will help you to protrude the true hue of SW First Star's cool gray.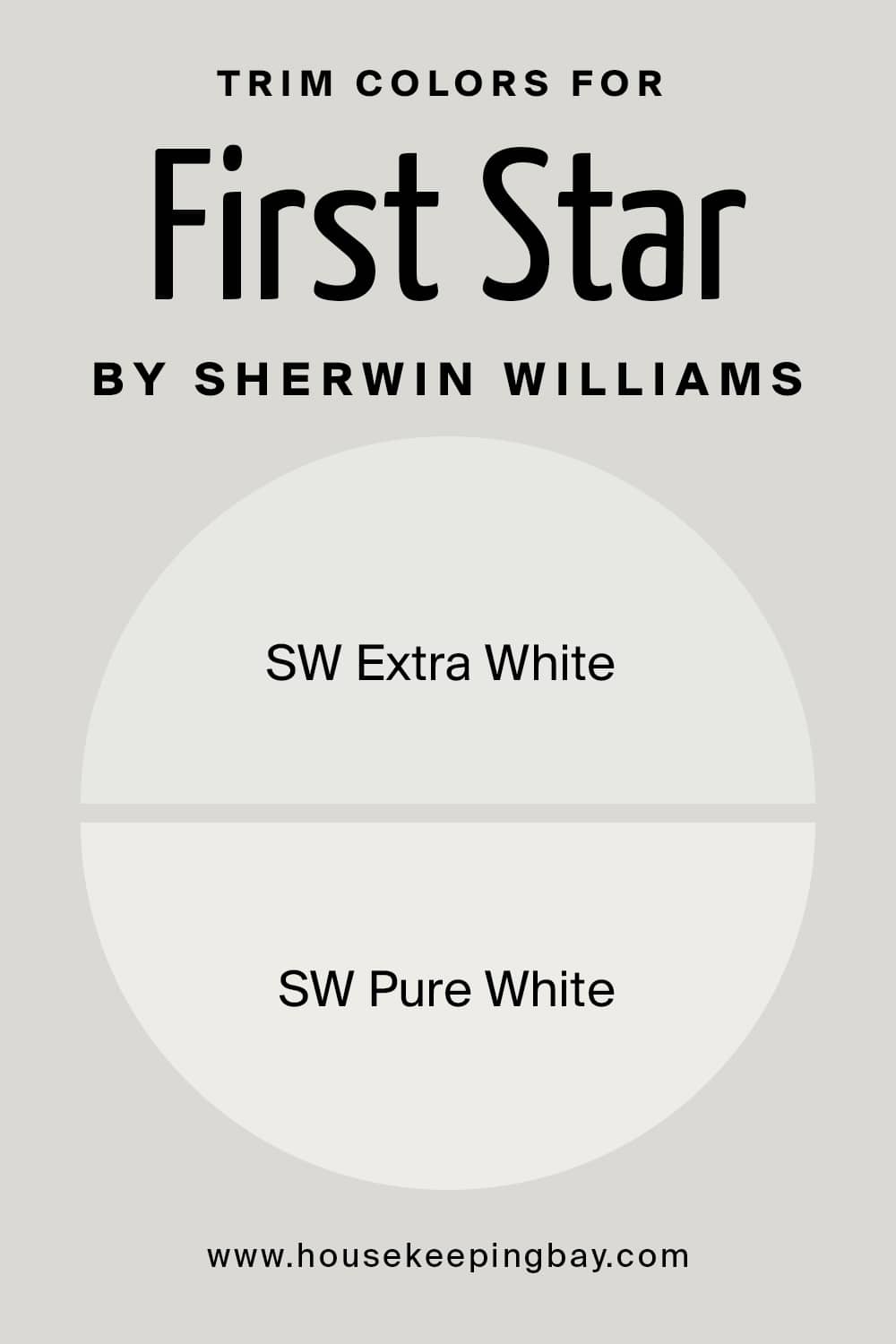 Paint Colors Similar to SW First Star
Sometimes you might need to look for other paint colors instead of the one that you were initially going to use. This could happen because you might not find the color you need in a local store, or you suddenly realized that the color you choose would work on your walls not quite the way you'd want to.
No matter the reason, it is always good to have a few similar colors at your disposal. And if you want to know what paint colors you can think of instead of the SW First Star, grab the following ideas:
SW-9571 Solstice
SW-7666 Fleur De Sel
SW-9546 Lunar Lite
SW-9545 Ghosted
If you put them all side by side, sometimes it will be hard for you to notice any significant distinction unless you really have a sharp eye for color distinctions!
However, these colors may indeed react to light somewhat differently, so consider these options in case you might need more alternatives.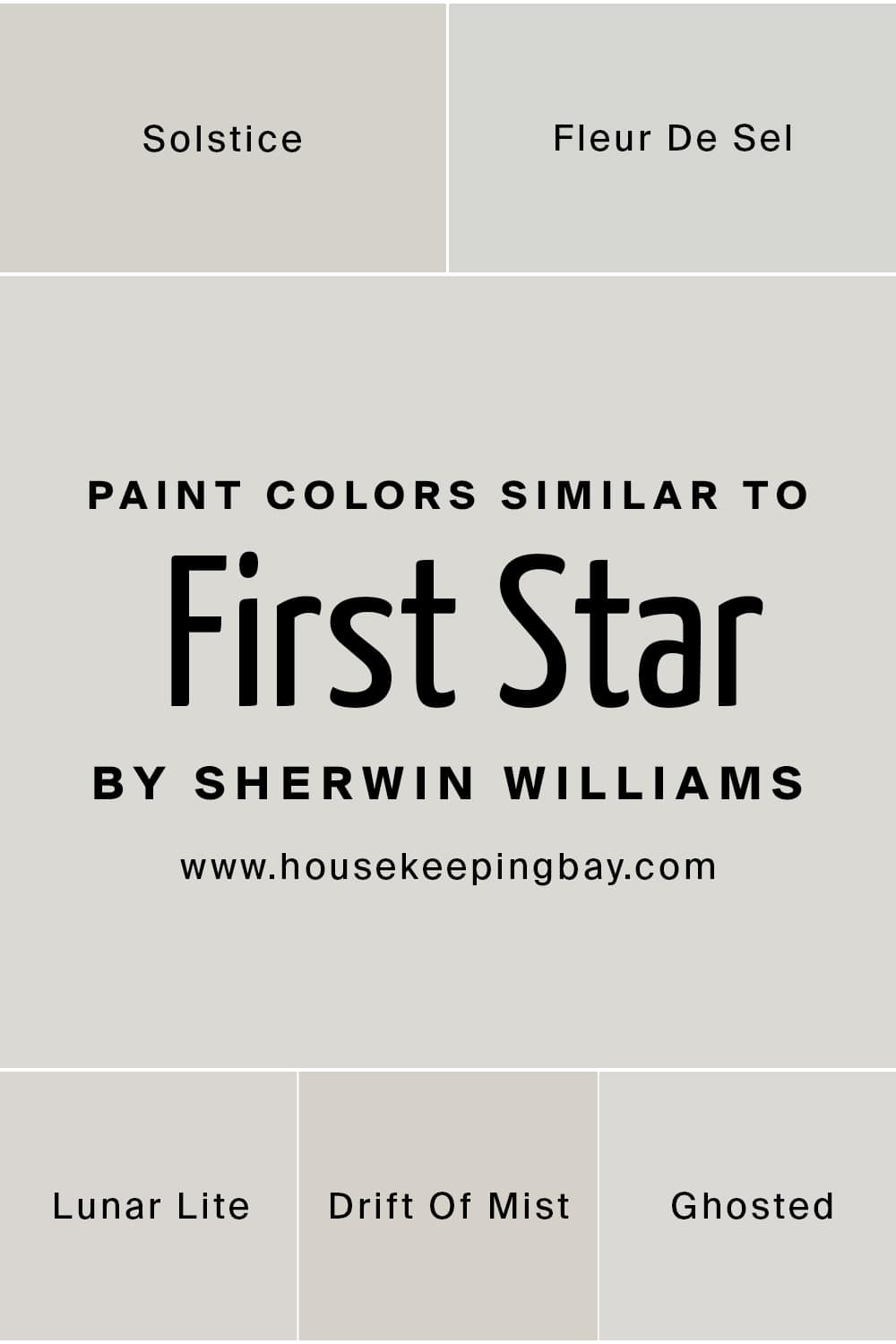 Where First Star by Sherwin Williams Can Be Used?
In order to make the most out of paint color in your home, you need to pay attention to what rooms and spaces will work better than others. This is why we are going to tell you where SW First Star paint color will look awesome and perfectly harmonious in your living space.
First Star SW-7646  in the Bedroom
SW First Star is quite a matching color to be used on your bedroom walls. This cool-toned gray will add more of that calming and tranquil atmosphere to the space, but you need to be careful with the lighting. If the room has cool light, the paint may reveal its cool undertones thus making the space look uncozy.
However, if you combine it with wooden decor or furniture, as well as with warm lighting and carpets, or throw blankets of earthy and beige tones, they will help to warm up the atmosphere in your bedroom.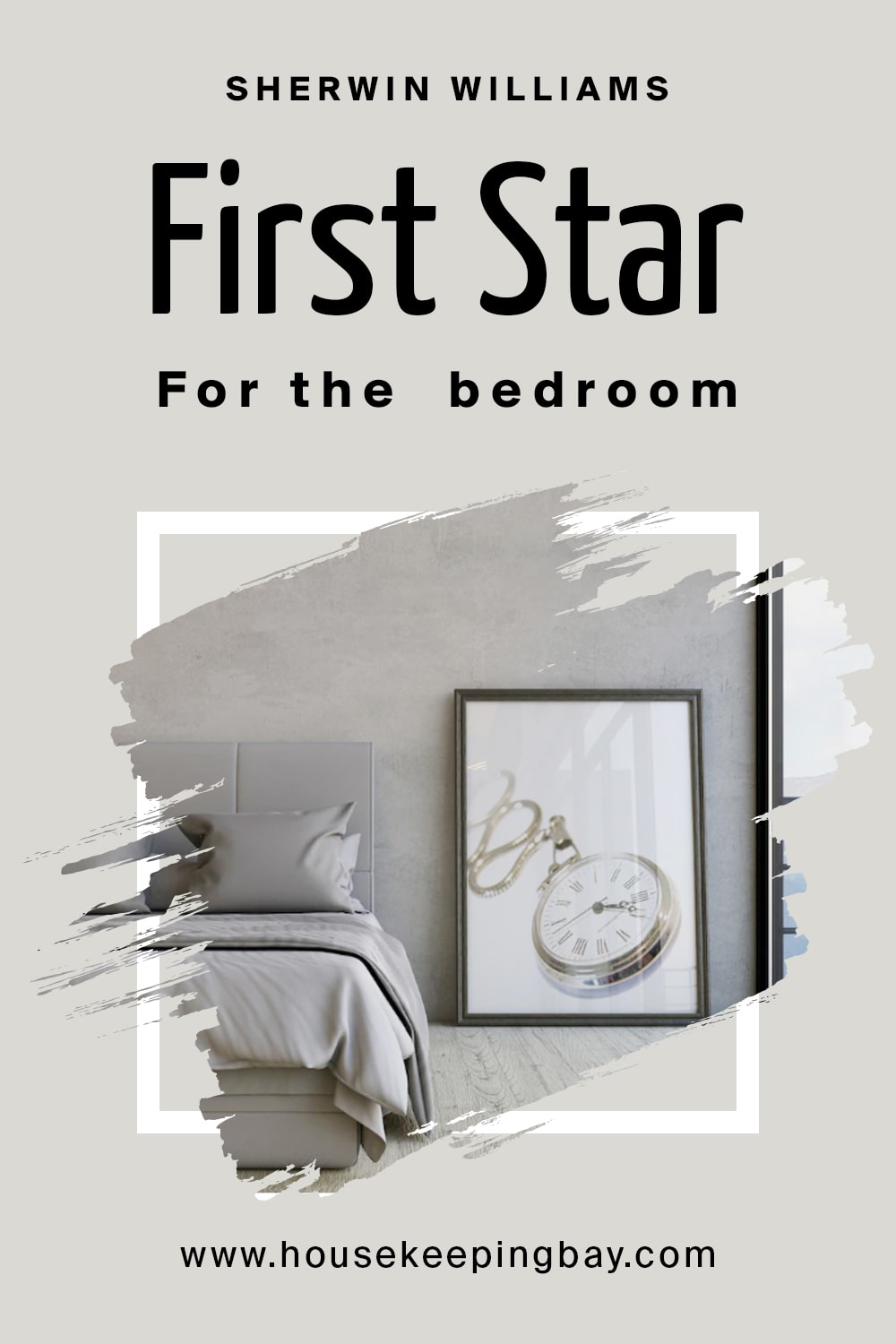 First Star SW-7646  for the Kitchen and Kitchen Cabinets
If you prefer light-colored kitchens, consider using this cool gray in yours. It can be paired with many other light-toned colors, as well as with darker and more intense ones (e.g. with black, dark brown, etc.).
So as a basic color on the walls, SW First Star will definitely fit any kitchen. Only make sure that you use this paint on either the cabinets or on the backdrop wall if you want to make your kitchen seem larger and enhanced!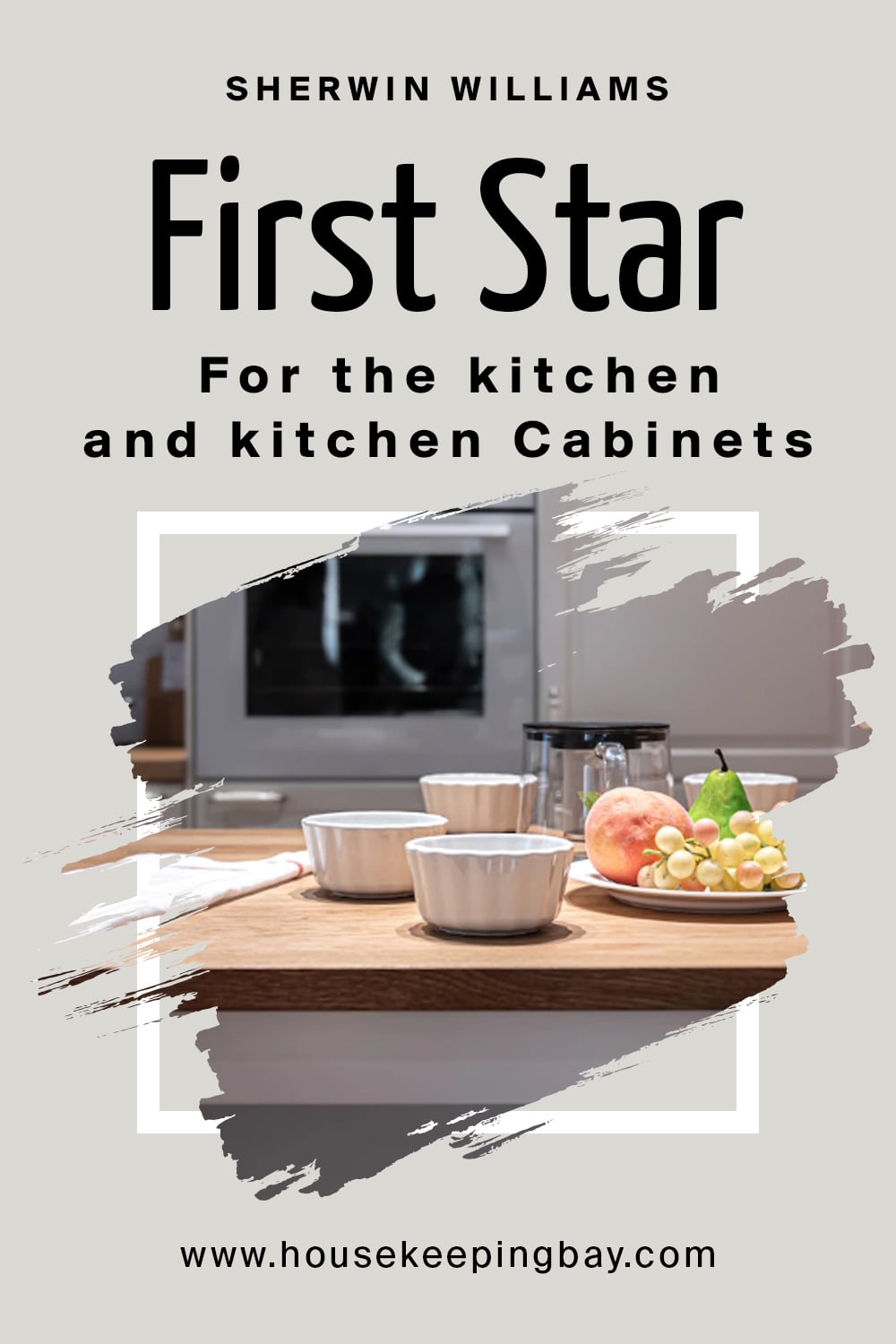 First Star SW-7646 in the Cabinets
As a paint for your cabinetry, SW First Star can be a good option if the walls are not white. In order to make this cool-toned gray look nice and don't fall into its cool side, the walls should be of a slightly warmer shade.
This can be a light beige or light-greige shade, or even something minty! And also, remember to add some contrasting elements of more intense and brighter colors! They will create color accents that will help to make the entire space less monochromatic!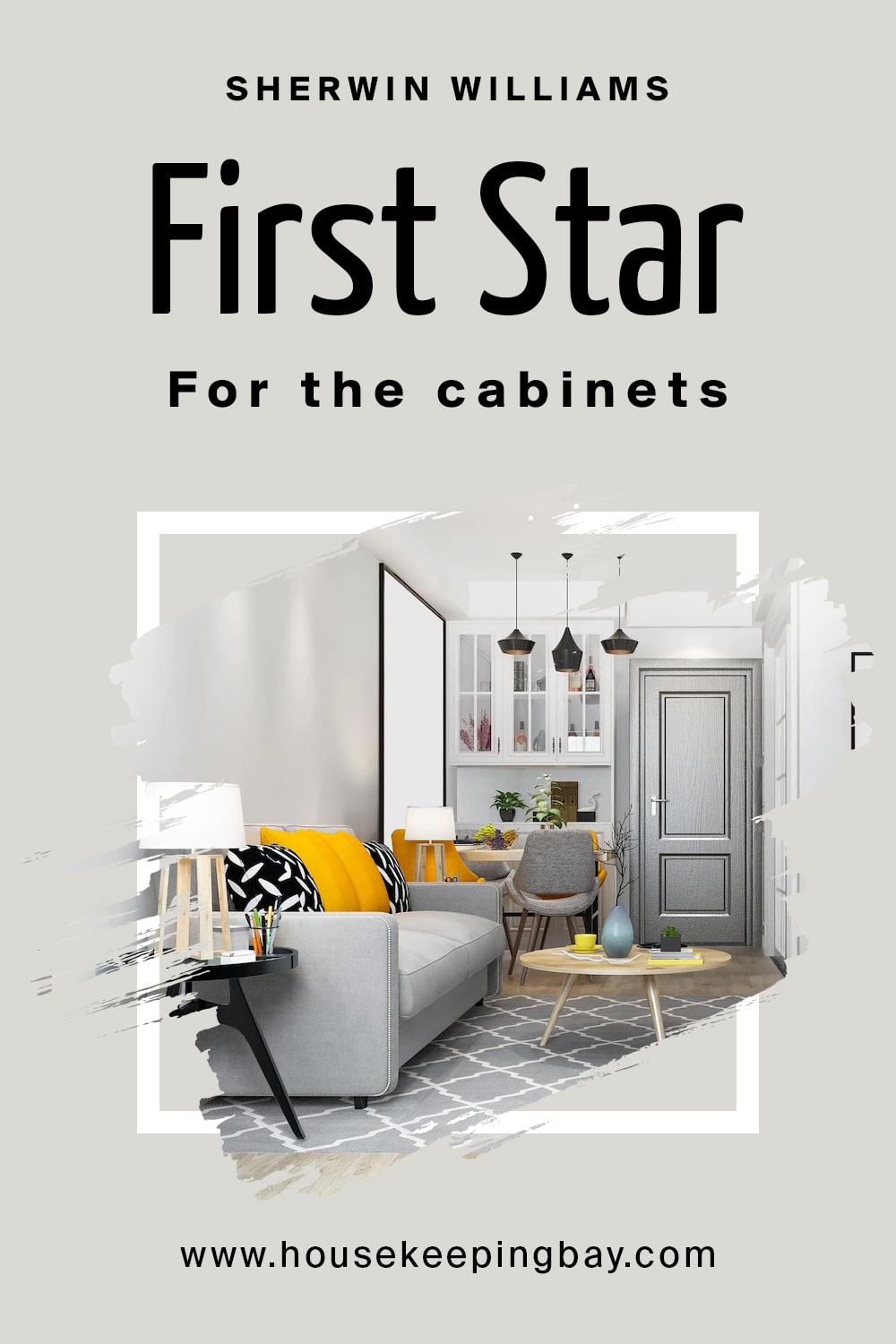 First Star SW-7646 for the Exterior Use
Sherwin Williams First Star is so versatile that it can be used as an exterior paint as well! And since this color does not change much depending on the type of light, you can use it both for the house that is located in an area with plenty of warm and bright daylight (if you live in a sunny area) and in the areas with more gloomy lighting.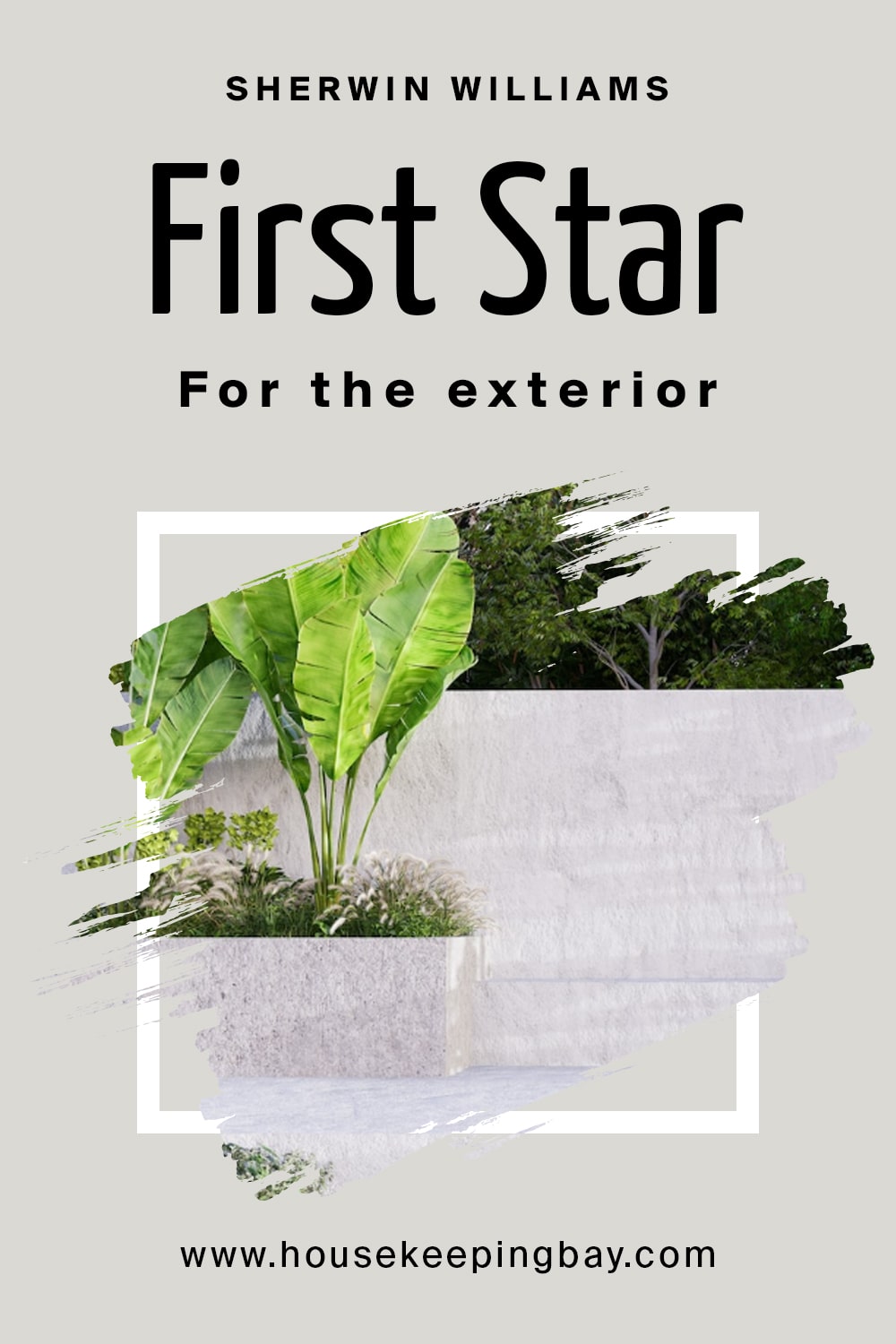 Comparing First Star With Other Colors
In order to make it easier for you to see the true nature of this paint color in your home, as well as in order to help you realize what makes it different from other similar colors, we suggest you check out a brief comparison of this cool-toned gray with bluish undertones with a few other paint colors of the similar shade.
First Star vs. Repose Gray
Repose Gray looks much warmer in comparison to the First Star. In addition, if you put Repose
Gray paint side by side with the First Star, you will see that it shows quite noticeable warm gray undertones (however, you won't notice its slight violet and bluish undertones!).
First Star, on the contrary, looks cooler with the prominent blue tone in it. In any case, the two paints don't make a balanced and harmonious combo if used together in the same space.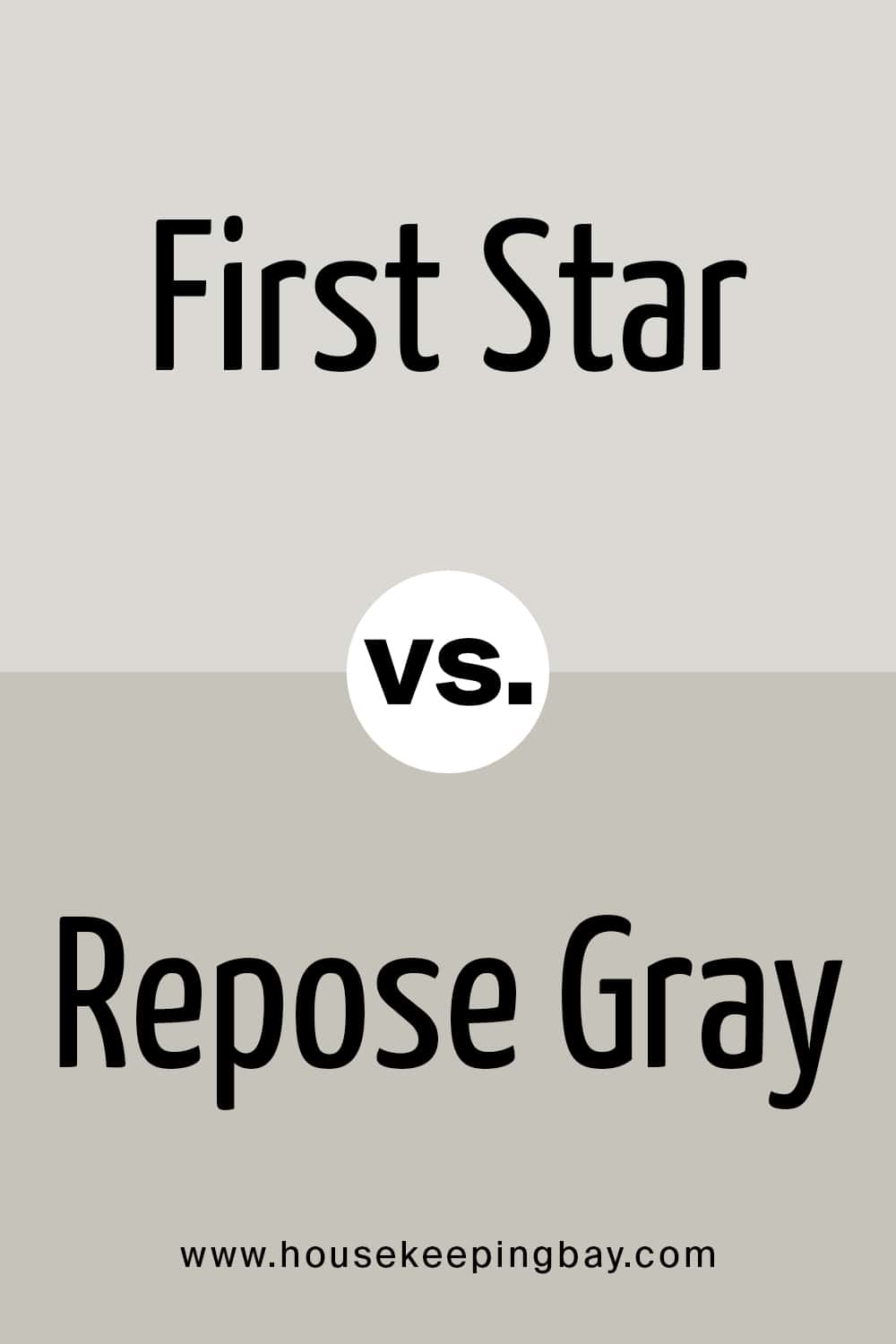 First Star vs. Agreeable Gray
If you compare these two, you will see that Agreeable Gray looks almost beige (or greige?) which is not a surprise since those are its undertones. At the same time, First Star reveals all of its blue side completely when placed beside this color. This is why these two paints don't pair well.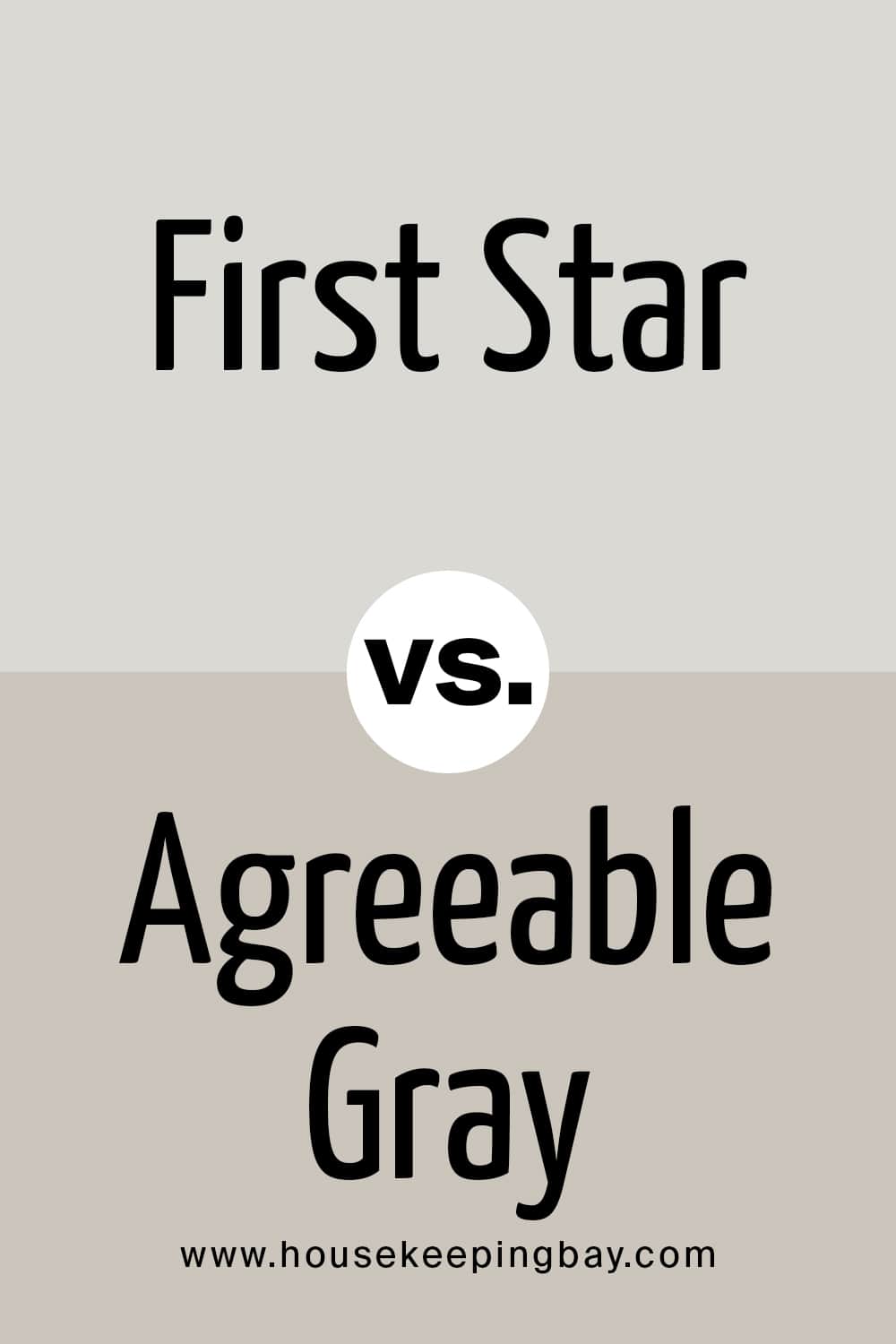 First Star vs.Eider White
Eider White is a warm-toned off-white paint color with a nod to gray in it. In addition, it definitely has gray undertones. This is why it looks quite harmonious with the cooler First Star.
However, when used along with it, Eider White also reveals its pinkish and purple undertones quite noticeably. If this is not what you want, avoid using them together.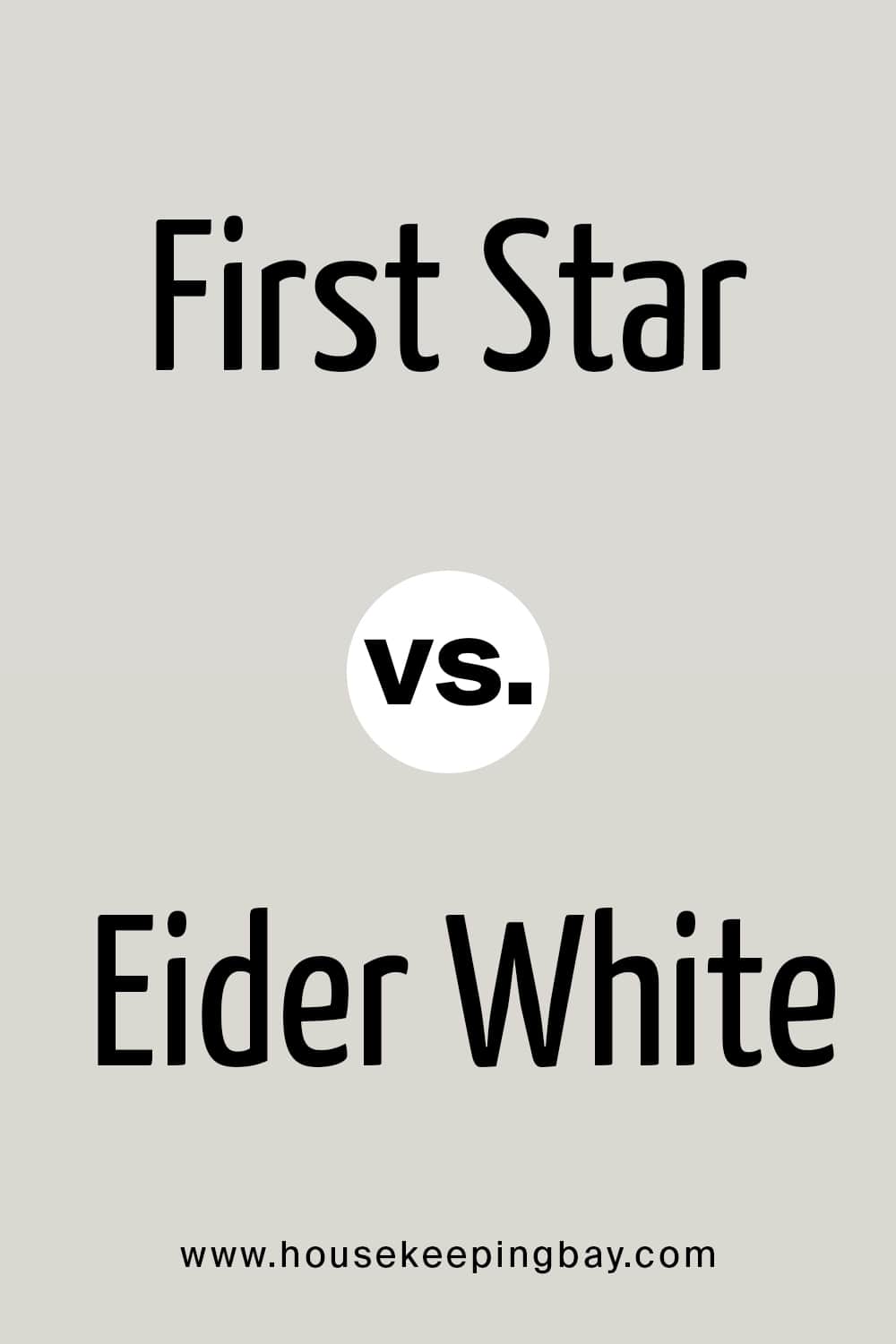 First Star vs Alabaster
Alabaster with its soft beige undertones looks much warmer in comparison to a cool-toned First Star which reveals its blue coolness perfectly when placed beside that warm white. In fact, First Star almost looks blue! So we would not recommend you use these two together since they don't create a matching combination at all.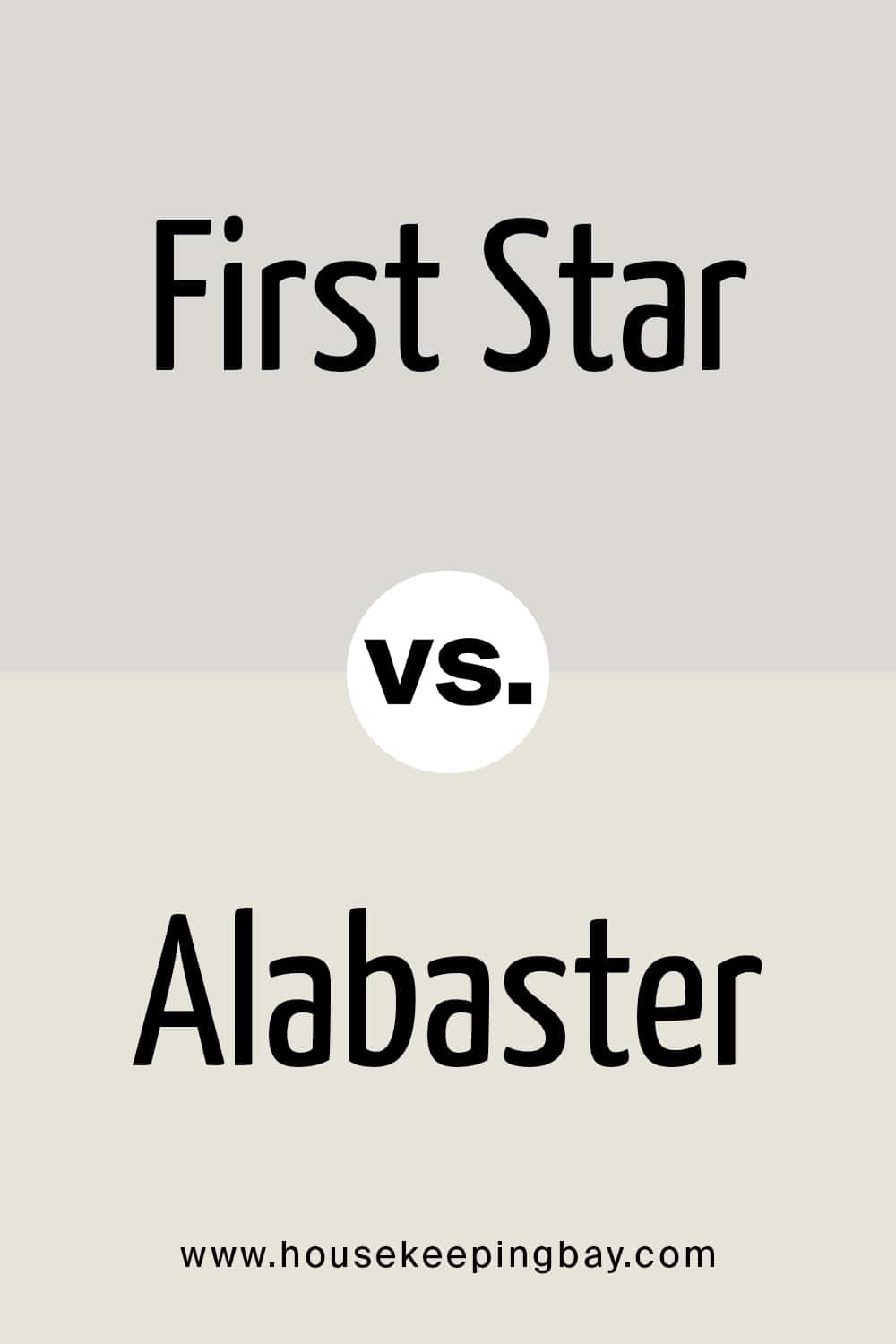 First Star vs Snowbound
Snowbound has gray undertones mostly, with some hint of pink and purple, and maybe a very faint hint of beige as well. In comparison to the cool-toned First Star with its bluish undertones, this warm white looks, well, much warmer. However, these two create a very pleasing and harmonious color combination though!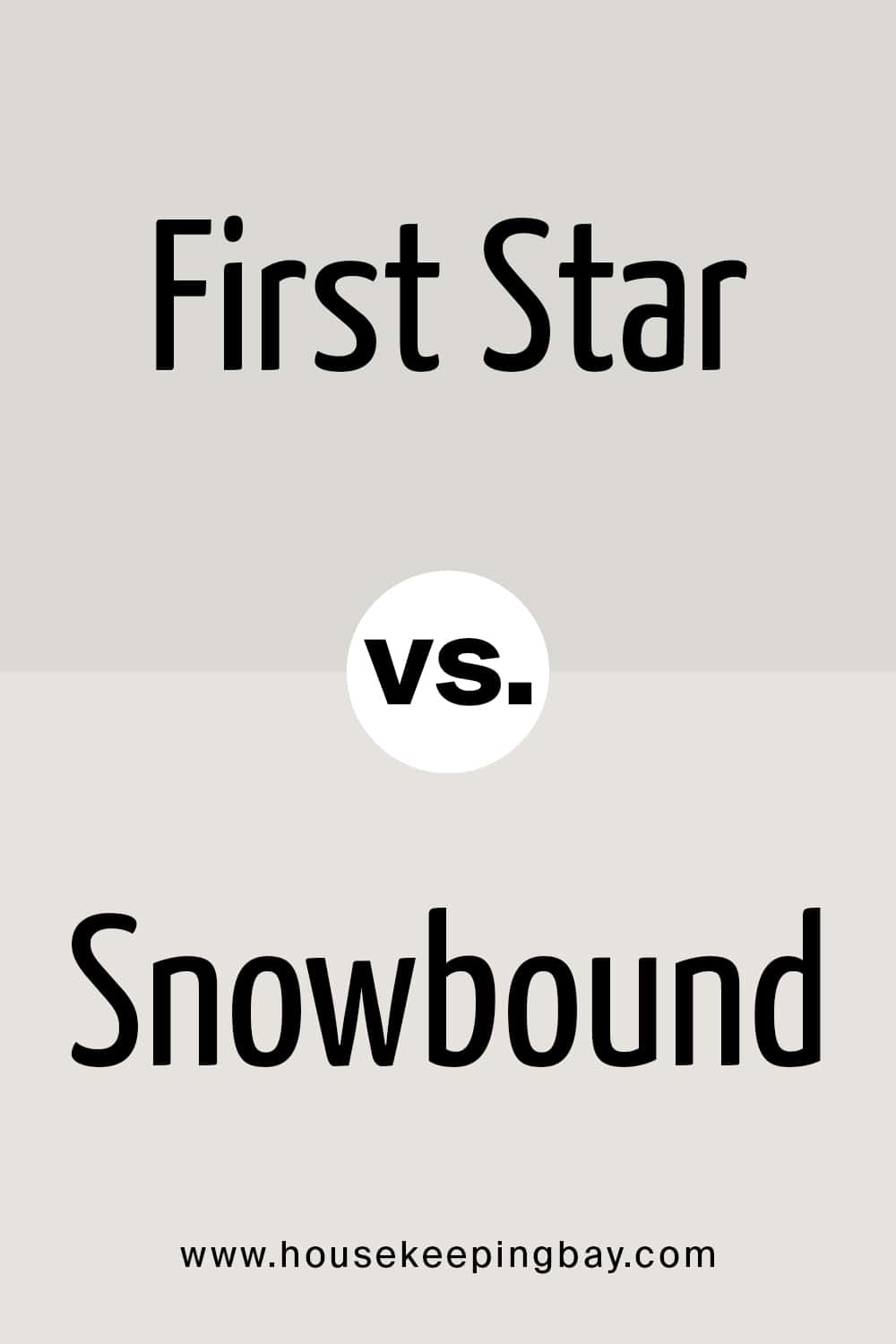 Now you know all the secrets of the First Star paint color by Sherwin Williams. You learned about its undertones, trim colors, and coordinating colors.
Also, we told you what rooms it is best to be used in, and how this color will react to light. And many other useful tips and life hacks! With all that, you can now use this paint freely without being afraid that it won't match your interior.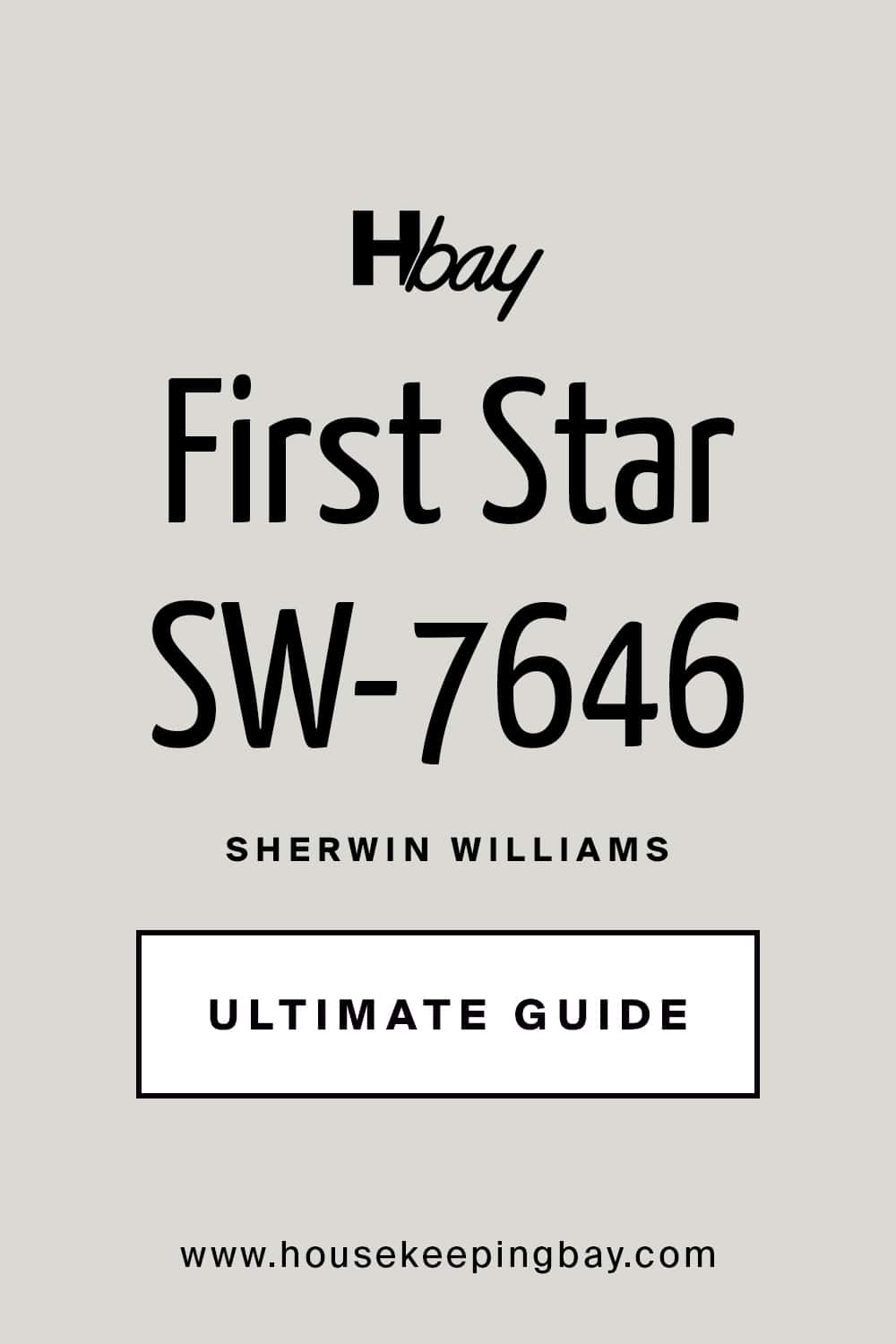 Frequently Asked Questions
⭐Can SW First Star beused with black paint?
Yes, it can. However, we would recommend you use other colors as well to make the space look more vivid.
⭐Can SW First Star be used in large and spacious rooms with high ceilings?
Of course! But depending on light, this color can make the room look even bigger, consider this.
⭐Will First Sar paint color pair well with green? I have live plants indoors.
Basically yes, it will. Try to add some light beiges or greige colors as well, they will make the room look cozier and warmer.