If you have ever had to repaint your interior walls, you know how hard it can be to choose the right colo A complete guide that will lead you through all the nuances of this colorr. And if it is more or less easy to work with simple colors, such ones as Sherwin-Williams Drift of Mist paint color may cause you certain discomfort.
Today we are going to tell you more about this color and its specifics. In particular, you will learn what kind of color it is, what LRV and undertones it has, and how it reacts to light. You will also find out how this color may read on your home walls and whether it can be used on both exterior and interior surfaces or not.
We will also explain how it reads in different rooms and compare SW Drift of Mist with a few other similar colors to help you see its features better. After you read this article, you will be able to make use of this paint color perfectly like a pro!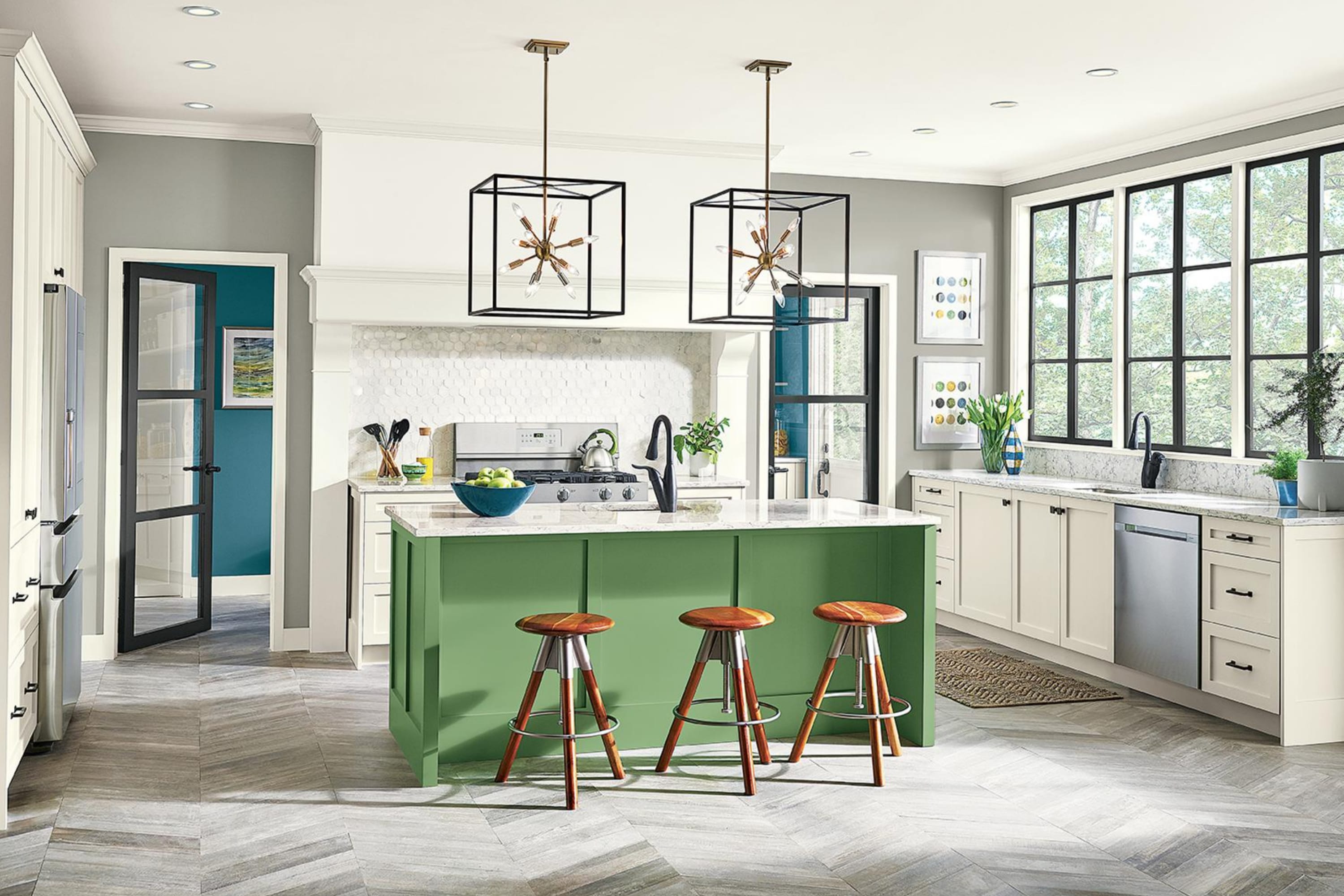 What Kind Of Color Is Drift Of Mist SW-9166 By Sherwin-Williams?
What color is Drift Of Mist by Sherwin-Williams? This color is typically considered soft warm gray with a very delicate hint of undertone in it, as Encycolorpedia says. So if you don't want anything bold or too unpredictable in terms of possible undertones, you should definitely take a closer look at this color!
However, you can't say that Drift Of Mist SW-9166 is a simple color! First of all, it can be categorized as an off-white and neutral paint color which has a very pure and calm hue. Also, this delicate off-white is often referred to as a pastel color thanks to its warm and muted tone.
At the same time, this wonderful paint color is very versatile so you won't have any problems incorporating it into your interior. It has the ability to work as a great complementary color to most of the other hues on the color swatch, both cool-toned and warm-toned.
However, this off-white may read somewhat differently depending on the undertones and actual appearances. So we recommend you read on to learn how SW Drift of Mist may work in your space in particular.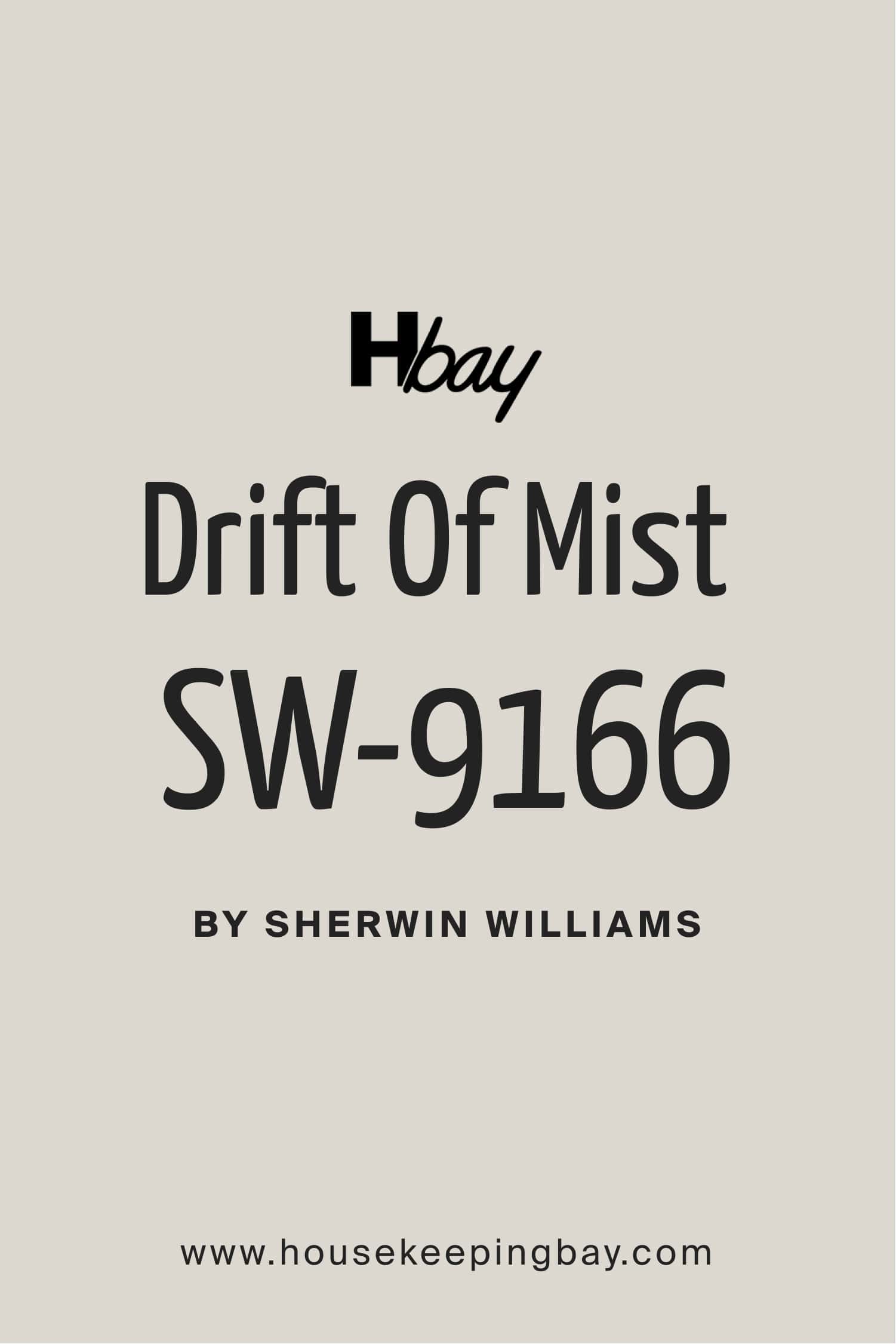 Drift Of Mist SW-9166 Undertone
In general, SW Drift of Mist has a very delicate and light undertone that doesn't tend to pop up. However, this off-white should be treated with caution since it does have a very slight hint of green undertone in it!
This is why we recommend you use this delicate and basically neutral color carefully after previously sampling it in a space where it's going to be used on the walls.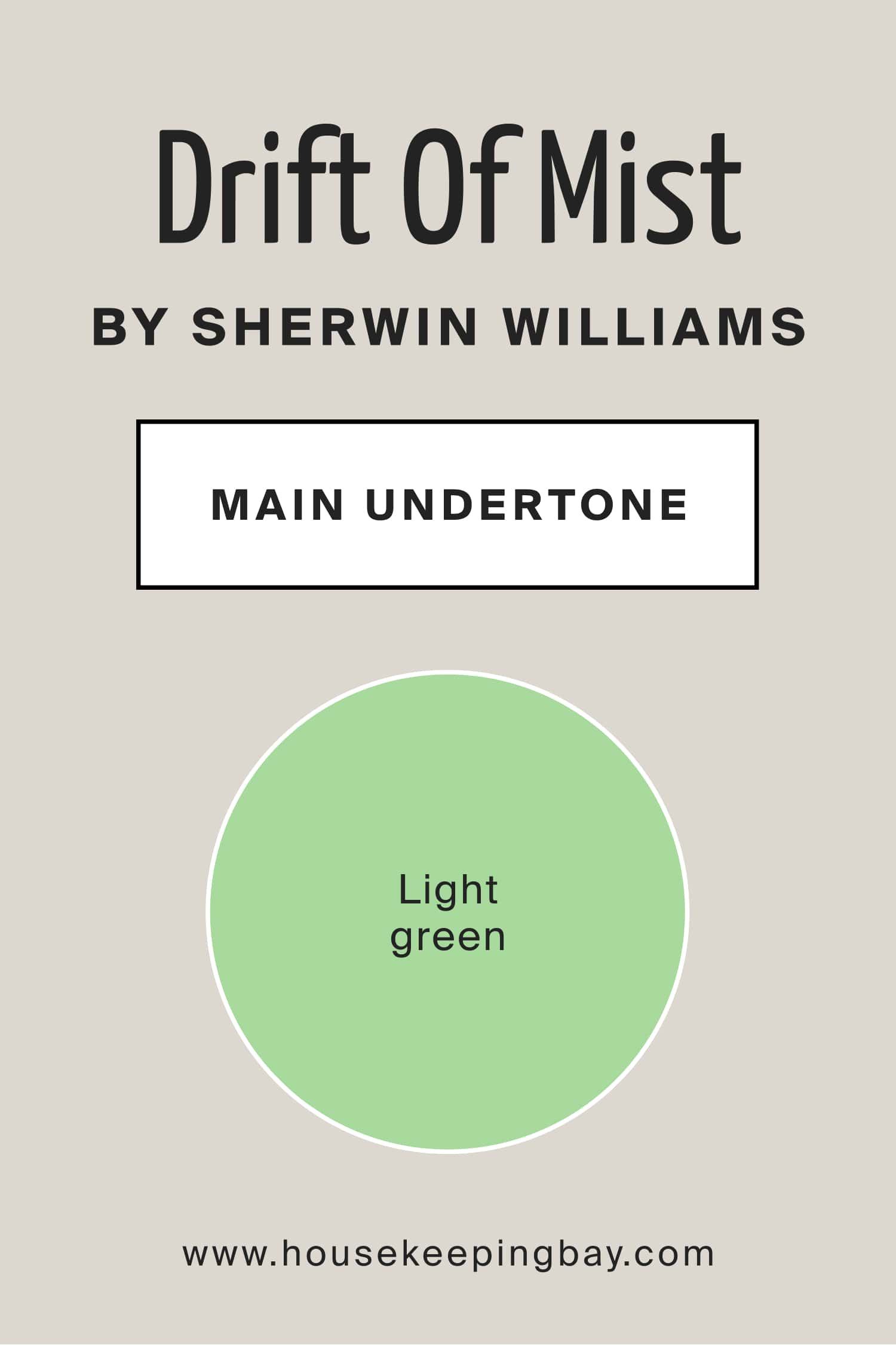 How Does Lighting AffectDrift Of Mist by Sherwin Williams?
The way light in your home may affect the color of the walls is the trickiest thing when it comes to choosing the paint color for your home projects. See, there are quite many paint colors that read one way on a color swatch and may read completely differently when you apply a stroke of paint to the surface. This is why you should remember to figure out in advance how a certain color will work on the wall and how well it will cooperate with the other colors in a space.
Speaking of SW Drift of Mist color, you already know it is a warm-toned paint but it definitely doesn't feel too creamy! It is a rather calm off-white shade that nevertheless feels balanced. Furthermore, thanks to its lighter tone and slightly creamy appearance, it tends to make your space seem larger but at the same time, cozy.
In north-facing light, it can read considerably cooler because of losing most of the warmth it has. However, in a room with south-facing or western afternoon light, you are more likely to notice that warmth back again, making the color lean almost into greige.
We recommend using this paint in your north-facing and south-facing rooms due to its obvious balance. You can also use this off-white in the east and west-facing rooms since the paint is not too warm to make your home look uncomfortable!
Also, this color allows you to play with artificial light, for example, try to use pendant lights and/or wall sconces.
Like that, you will be able to further create the desired atmosphere and cozy vibe in your home. In addition, with SW Drift of Mist on your walls, you can use warm whites and cooler saturated yellow tones as well to highlight the warmth of this off-white.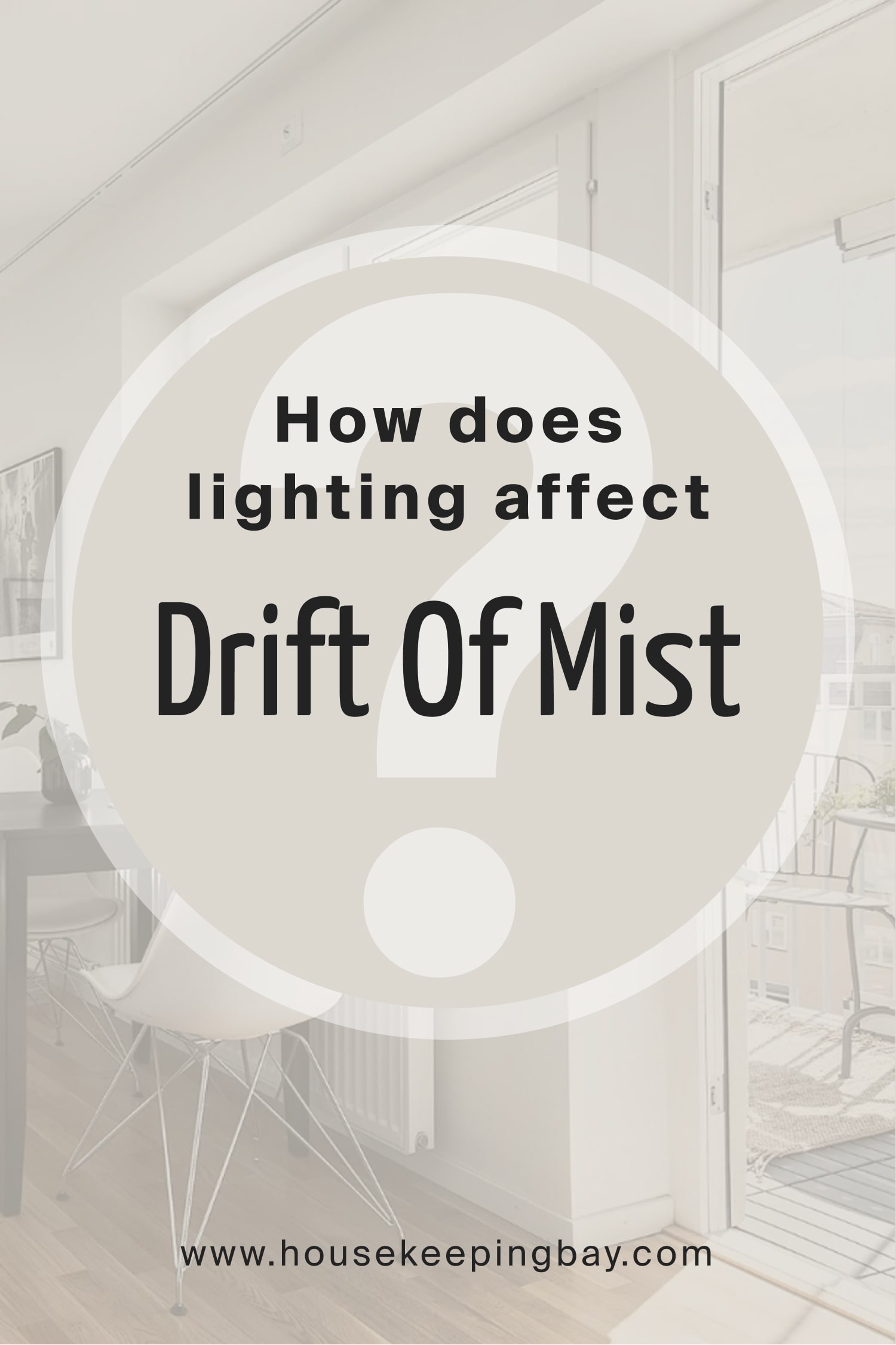 What LRV Does SW Drift Of Mist Have?
Why is it important to be aware of Sherwin-Williams Drift of Mist LRV? See, LRV (light reflectance value) shows how much light a paint reflects when it is applied to the surface. So when you know the LRV, you can tell how the color will read on the wall.
It is important to not make a small space seem even smaller, for example. SW Drift of Mist paint color has an LRV of 69. This puts this off-white in the light end of the LRV scale, getting it a bit close to the off-white range.
If you have a very bright room, the color with this LRV could wash out quite a bit. However, in a dark room, this kind of color and this type of depth could read a bit dingy.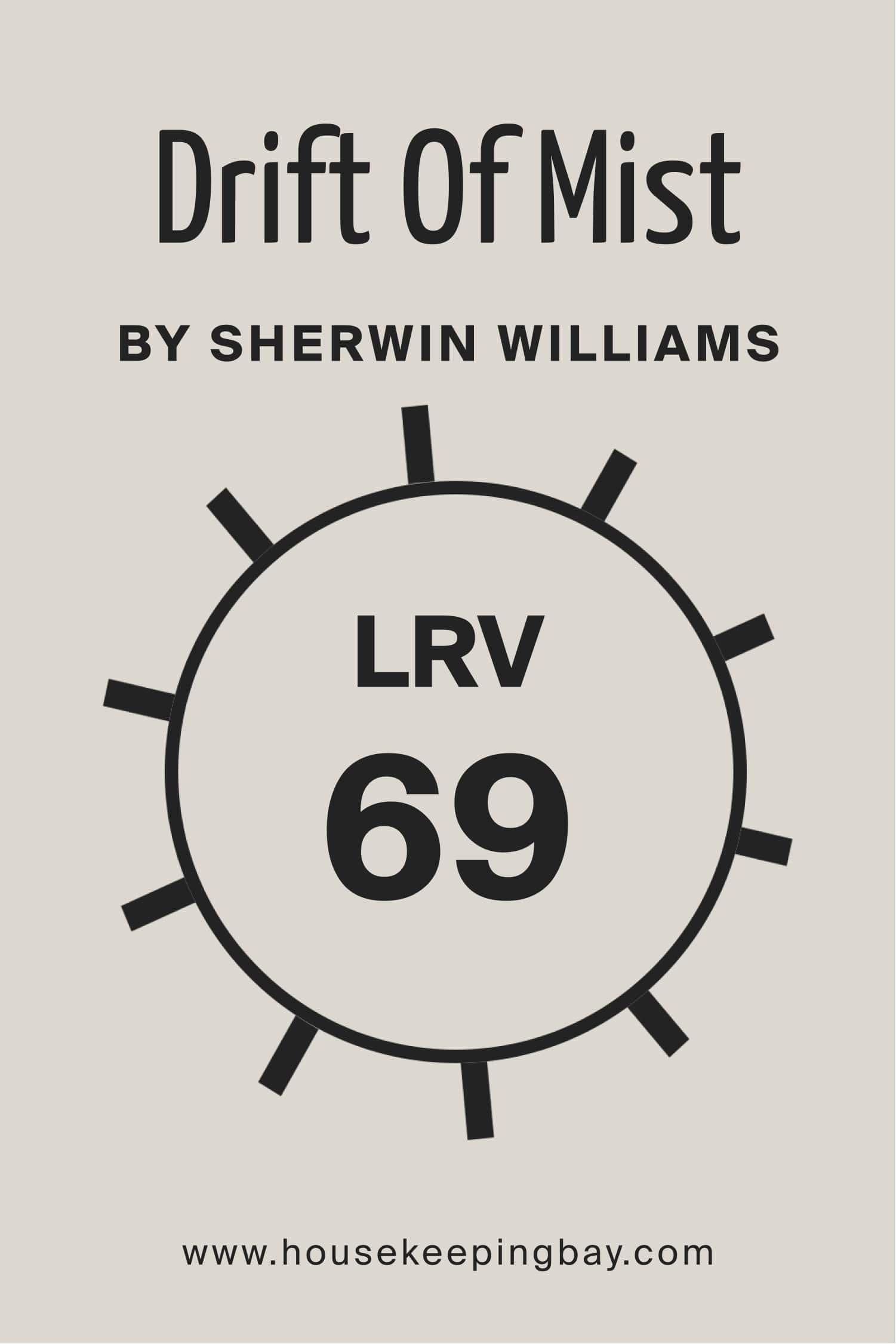 What is LRV? Read It Before You Choose Your Ideal Paint Color
Is SW Drift Of Mist a Warm Or Cool Color?
The Drift of Mist wall color by Sherwin-Williams is definitely a warm-toned paint color. However, it definitely doesn't feel too creamy like SW Greek Villa or SW Alabaster, for example. We would say it is a very calm off-white that feels perfectly balanced.
Also, thanks to its light tone and creamy appearance, SW Drift of Mist tends to make a space feel larger and more spacious, but at the same time, still keeps it cozy. In general, due to its delicate warmth, SW Drift of Mist feels cozy, warm, airy, and light when used in the home.
Colors Similar to Sherwin-Williams Drift of Mist
Being aware of similar colors that read nearly the same as the leading color is important. You need to be aware of this because you might need to change the initial color. For example, homeowners often realize they need a slightly warmer or cooler color on their walls.
Anyway, we suggest you a pool of alternative paint colors that can be used instead of SW Drift of Mist. Only note that there will be no 100% color match!
SW City Loft
SW Windfresh White
SW Solstice
SW Winter Walk
SW Crushed Ice
SW Gray Heron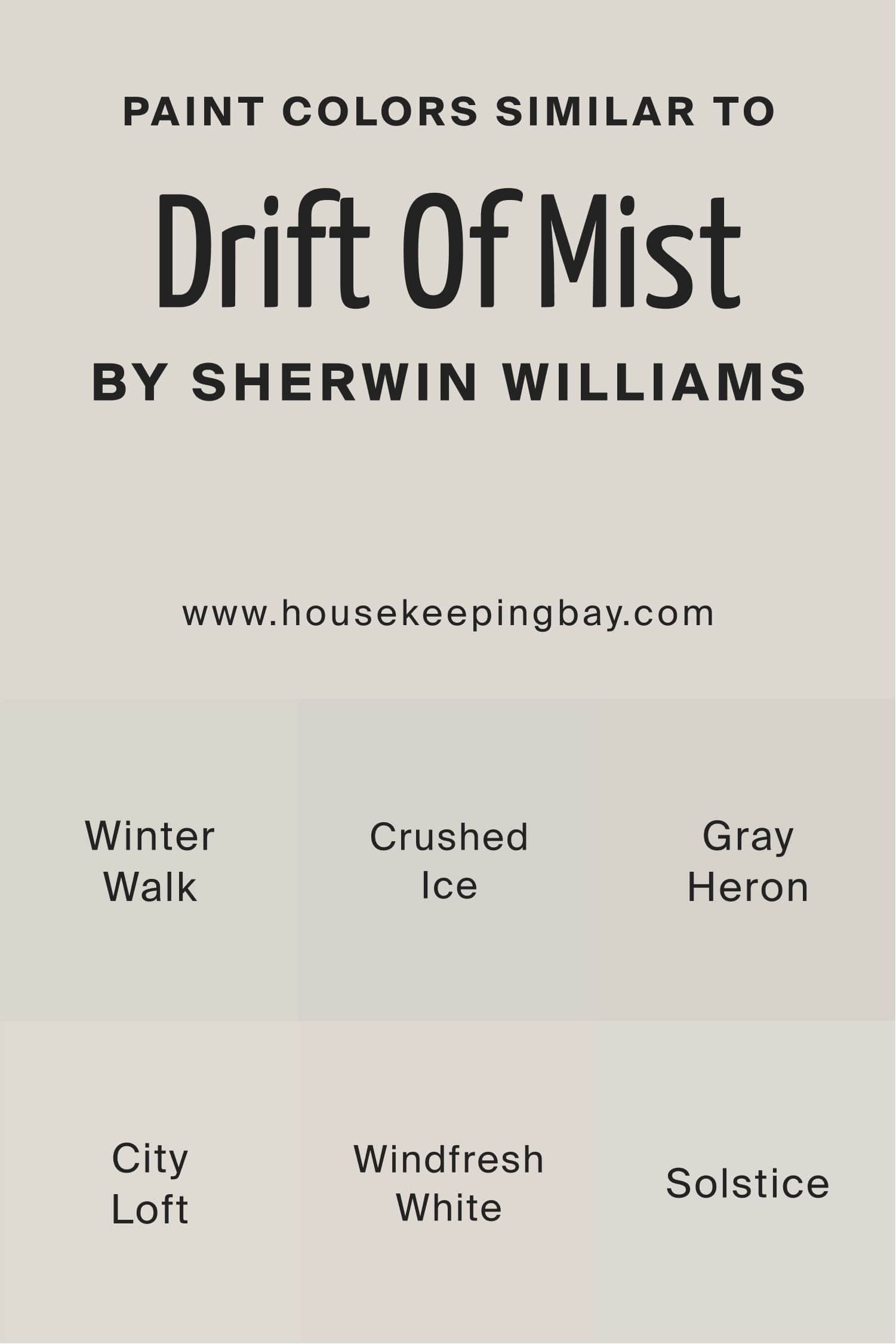 What Coordinating Colors Does Drift Of Mist By Sherwin-Williams Have?
If you want to use this paint color in your home, keep in mind that it is a true chameleon! It often tends to appear warmer, however, in certain lighting conditions, it may also come out as a cool gray color!
This is the reason why you may find it rather difficult to pick the right coordinating colors for it. Choosing suitable shades requires not only attention and an eye for colors, but also enough expertise in this kind of job.
So here is a tip for you: Sherwin-Williams Drift of Mist can be best paired with the following groups of colors:
true white
medium to darker beige
greige
gray
midnight blues
navy blues
taupes
If you want to make a few metallic accents in your space, we would recommend you choose matte black, antique copper, or oil-rubbed bronze for that purpose. Below, you can also check out a few useful color palette suggestions – monochromatic and coordinating.
For a monochromatic color palette, opt for the following colors:
SW 9167 Polished Concrete
SW 9168 Elephant Ear
SW 9169 Chatura Gray
This palette is best to be used in cold weather spaces since it is calm, serene, and extremely warm.
For contrasting color palette in cool tones, you may want to consider the following hues:
SW 9171 Felted Wool
SW 7605 Gale Force
SW 9173 Shiitake
Although this color palette is not way too cool, for creating a warmer atmosphere, you can include shades of beige. They will create a sense of balance and harmony in the room.
For contrasting color palette in warm tones, you may want to consider the following colors:
SW 7543 Avenue Tan
SW 9147 Favorite Jeans
These colors will work great with matte black, oil-rubbed bronze, or satin brass, as well as with various fresh elements to help your room look and feel more rejuvenated.
Finally, here are a few of the colors we would recommend for a contrasting color palette!
SW 9167 Polished Concrete
SW 7663 Monorail Silver
SW 6990 Caviar
Now that you know what colors SW Drift of Mist is best to be paired with, let's move on and learn more about the colors it goes best with, its trim colors, and rooms in which this off-white will work best of all.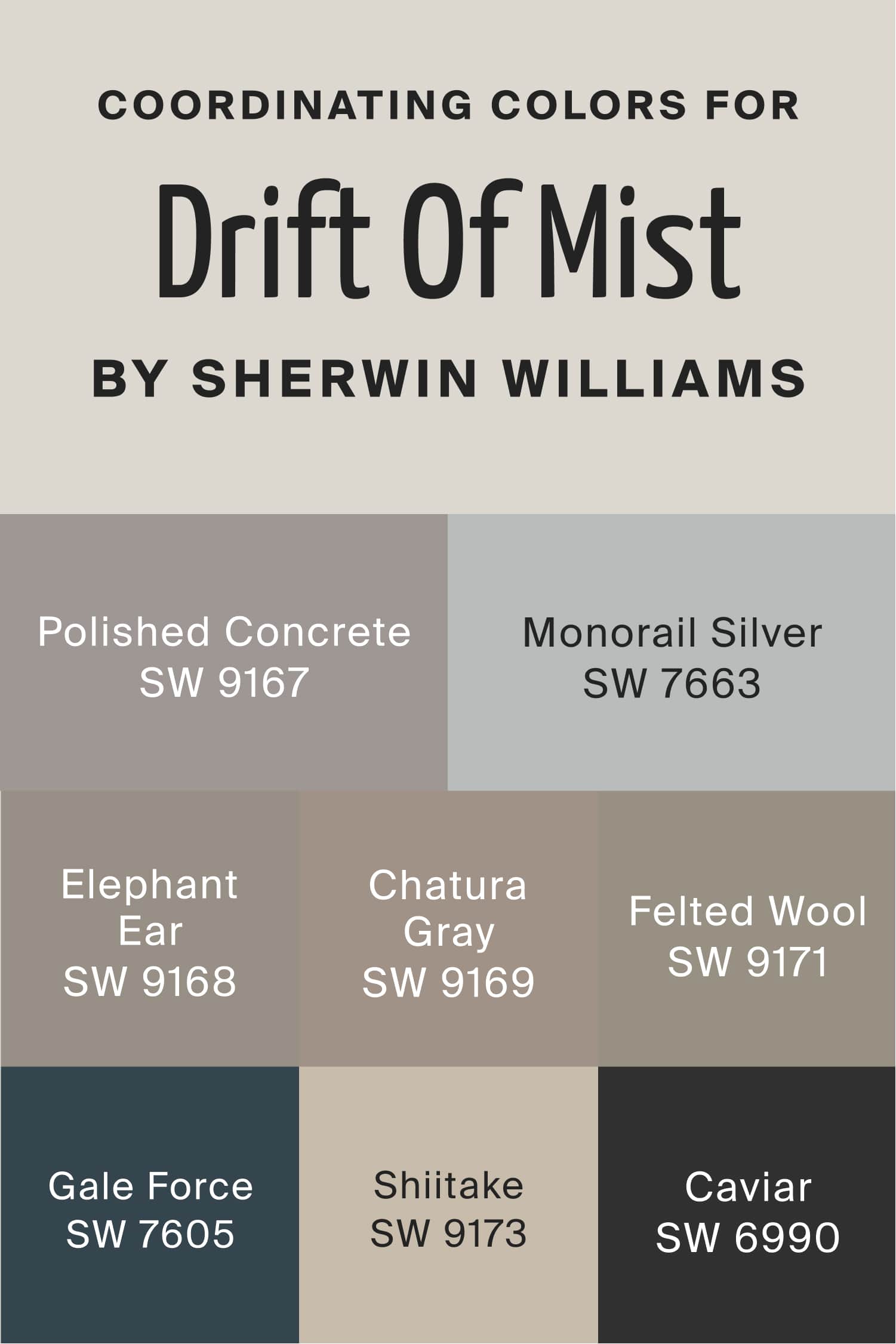 Trim Colors For SW Drift Of Mist SW-9166
Perhaps everyone knows that white is the universal trim color for the majority of other paint colors. And this rule of thumb works for SW Drift of Mist as well. For your ceilings, trims, and moldings, go for such whites as:
SW Extra White
SW High Reflective White
Any of them will be a great option for trims in your living space since there are both warmer and cooler hues, which will help you create the desired look in a room.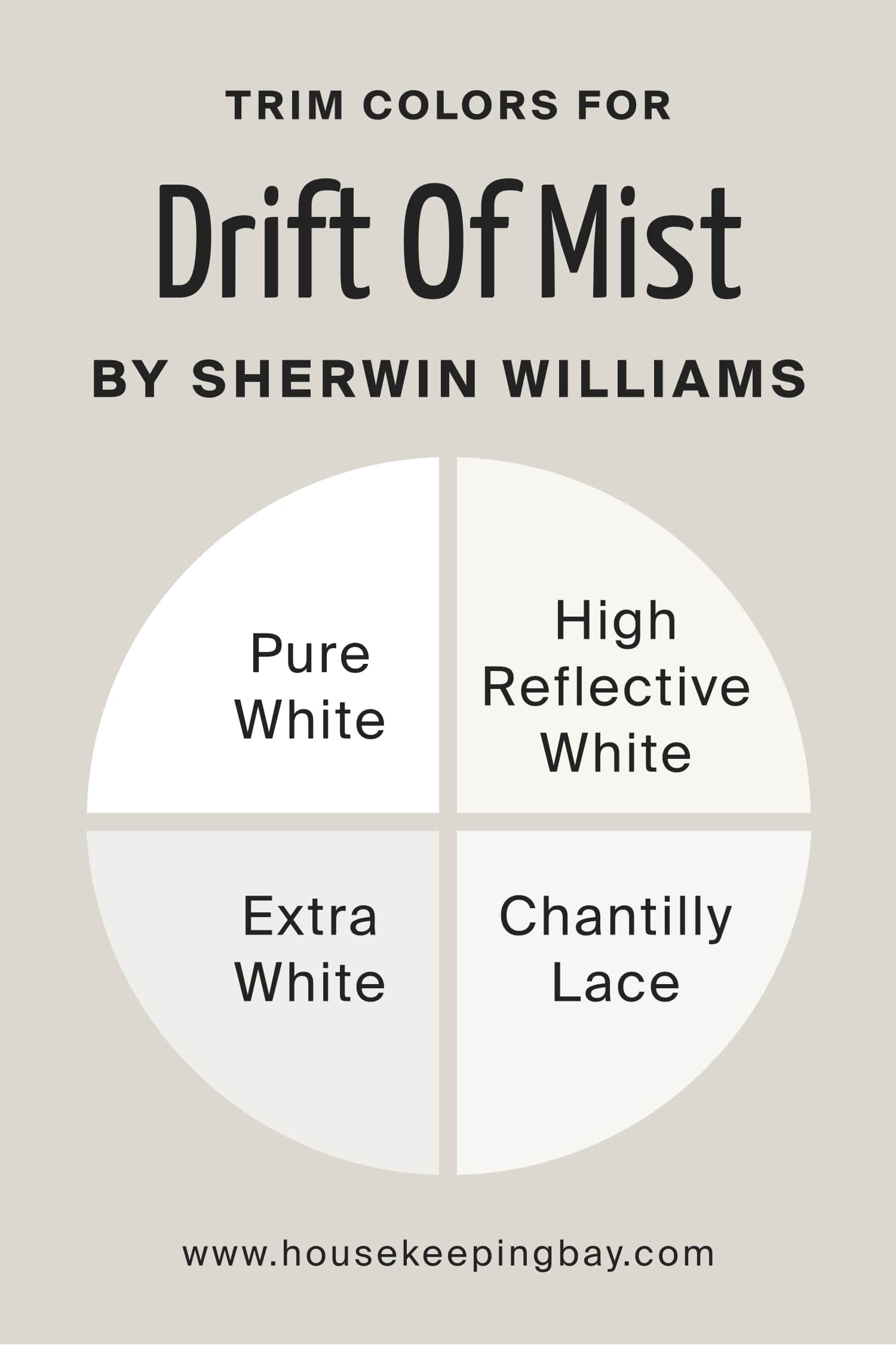 Colors That Go With Drift Of Mist By Sherwin-Williams
Since this off-white is rather delicate and soft, the best colors it will work with are also muted and soft-looking. So if you want to create a harmonious and balanced color palette in your home, you might want to consider the following color ideas:
SW Downing Slate
SW Aesthetic White
SW Tony Taupe
All of them will work well together, creating a calm and pastel palette.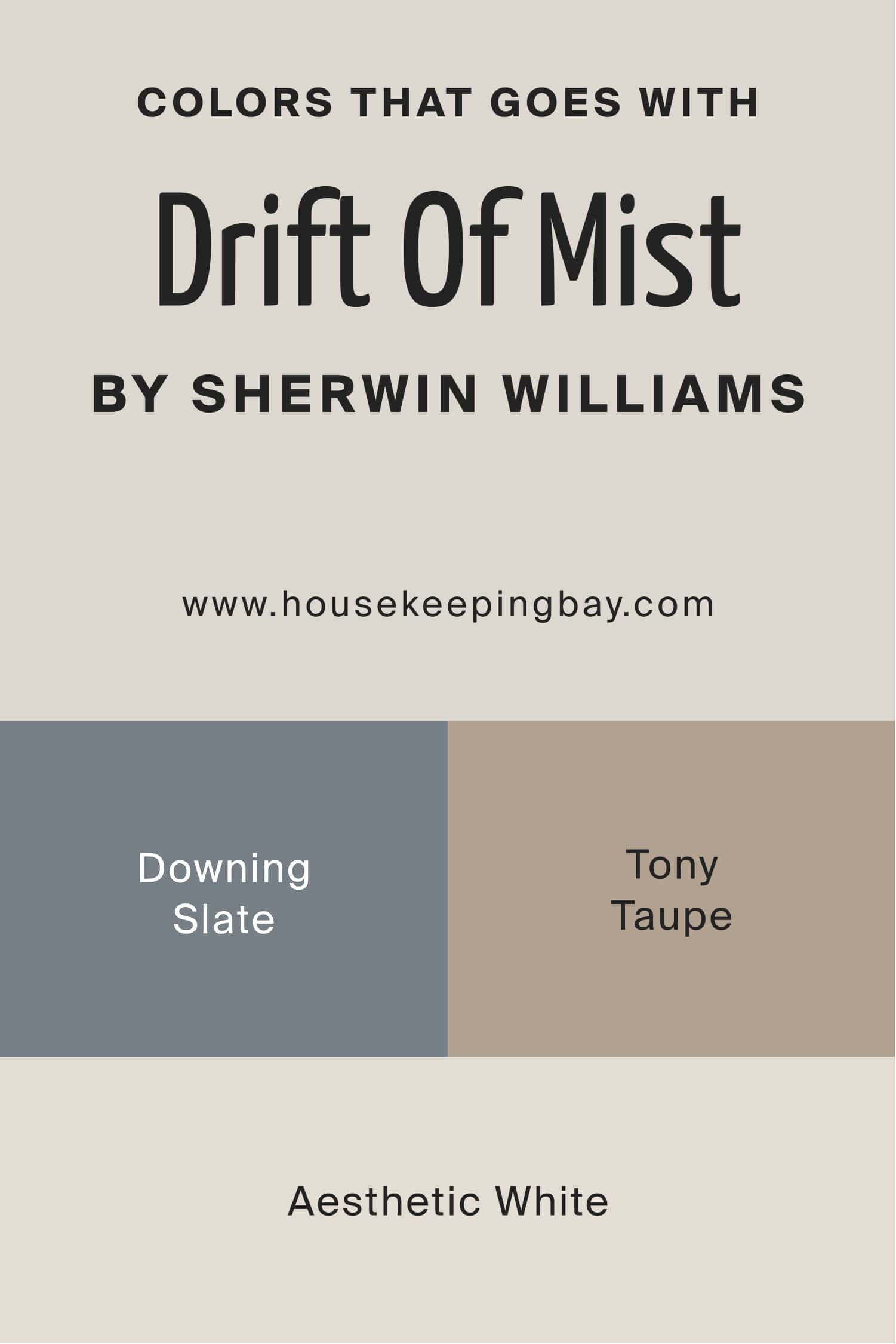 Where Drift of Mist Color Can Be Used?
Figuring out in what rooms a certain color will work best of all can be complicated, especially if you don't have enough experience in this kind of work. This is why we have prepared a brief description of the way SW Drift of Mist might look in different rooms of your home.
How Drift Of Mist By Sherwin-Williams Works In Bedrooms?
This color is perfect for bedrooms thanks to its warmth and balanced nature. SW Drift of Mist will make your bedroom feel airier and more spacious if it is small and it will make the room look lighter if it is already big enough. At the same time, you should not expect this paint to make your room feel enormously large!
You can pair this off-white color with natural textures and fabrics, as well as with wooden surfaces and objects. In addition, this soft neutral works perfectly with gold decor elements.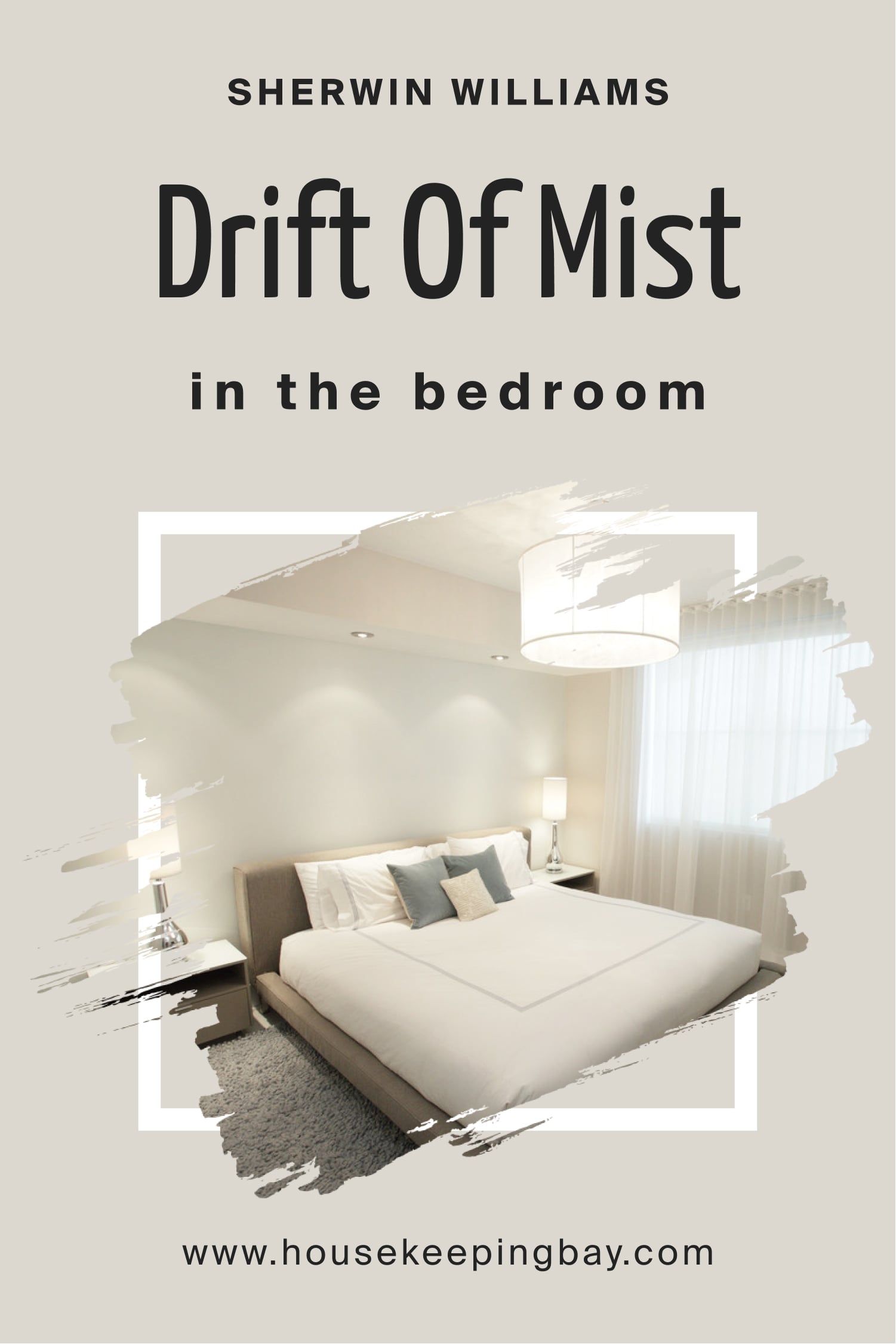 How to Use This Color In Your Bathroom?
For bathrooms, this color choice might not be the most common. However, you should definitely try it if you want your bathroom look warmer. Just make sure your bathroom is properly lit, otherwise, this paint color may read grayer, making the space darker.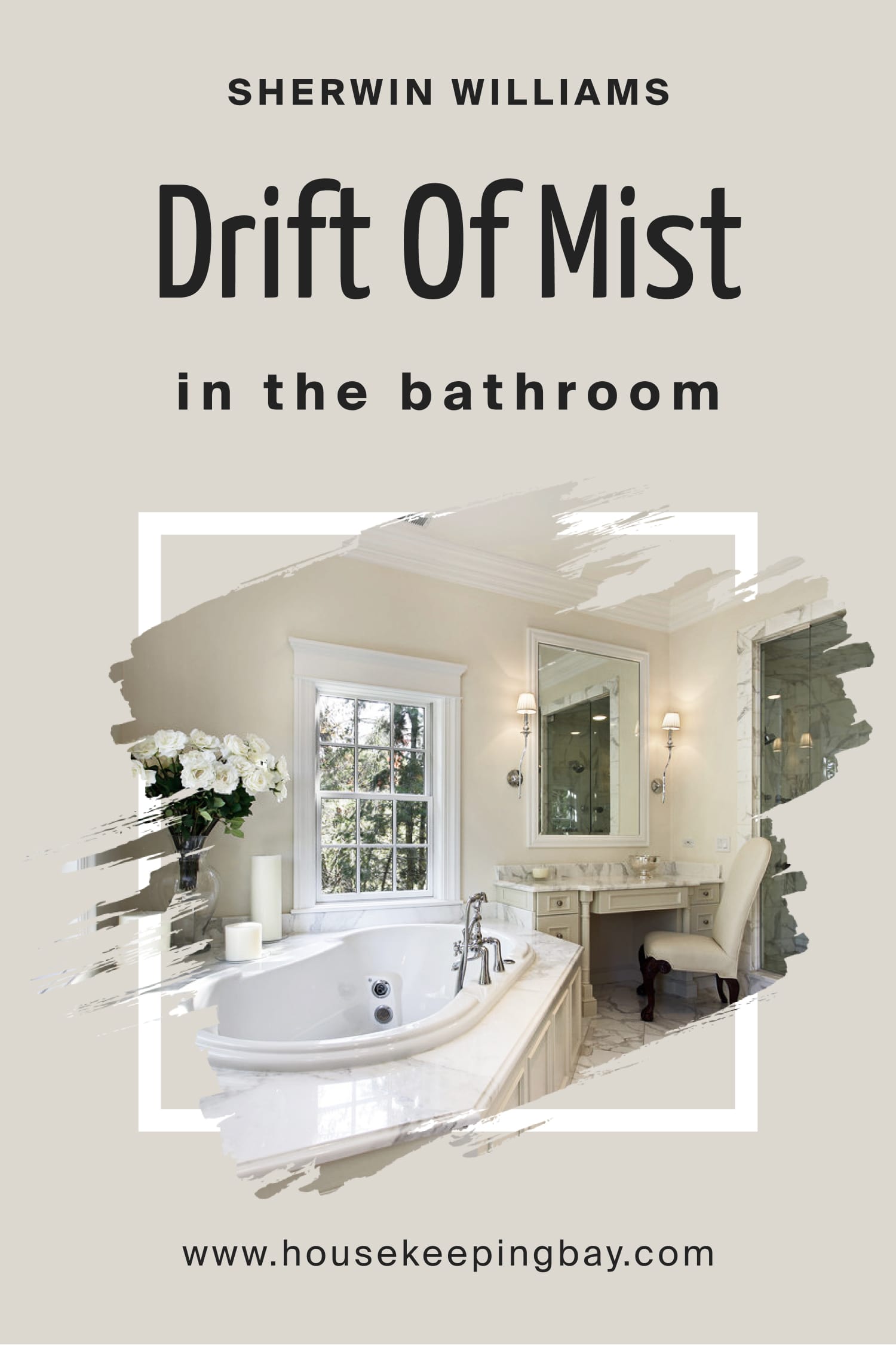 SW Drift Of Mist In the Kitchen 
This color can work magic in your kitchen, as well as on your kitchen cabinets if you use it in a thoroughly lit space. If your kitchen has poor lighting, SW Drift Of Mist can read almost gray or show its warm side, turning almost into beige!
Except for this nuance, this neutral works wonderfully well with wooden surfaces and tiles, as well as with metal or brass kitchen hardware. It is so versatile that you can use it in a kitchen with either cold light or with warm light!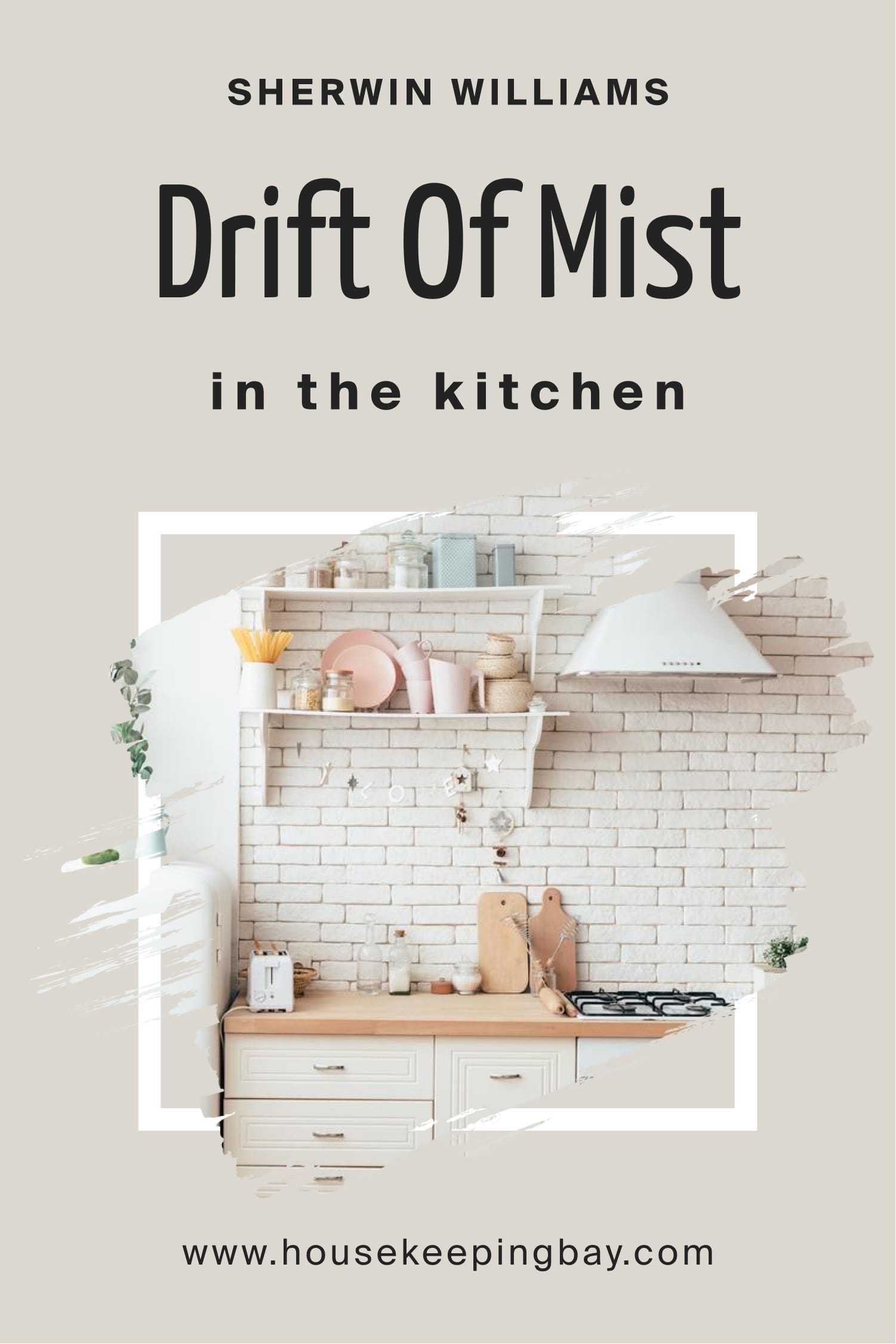 How to Use Drift Of Mist SW-9166 In a Living Room?
For your living room, SW Drift Of Mist is a perfect color choice. Since this color is versatile, it works great with most other colors, as well as with different textures and materials. This is why this soft and warm neutral is amazingly suitable for quite many interior designs.
The only thing you need to keep in mind is that this paint color may read grayer in poor lighting. This is why if your living room is not lit well enough, you might want to try another, brighter white for its walls.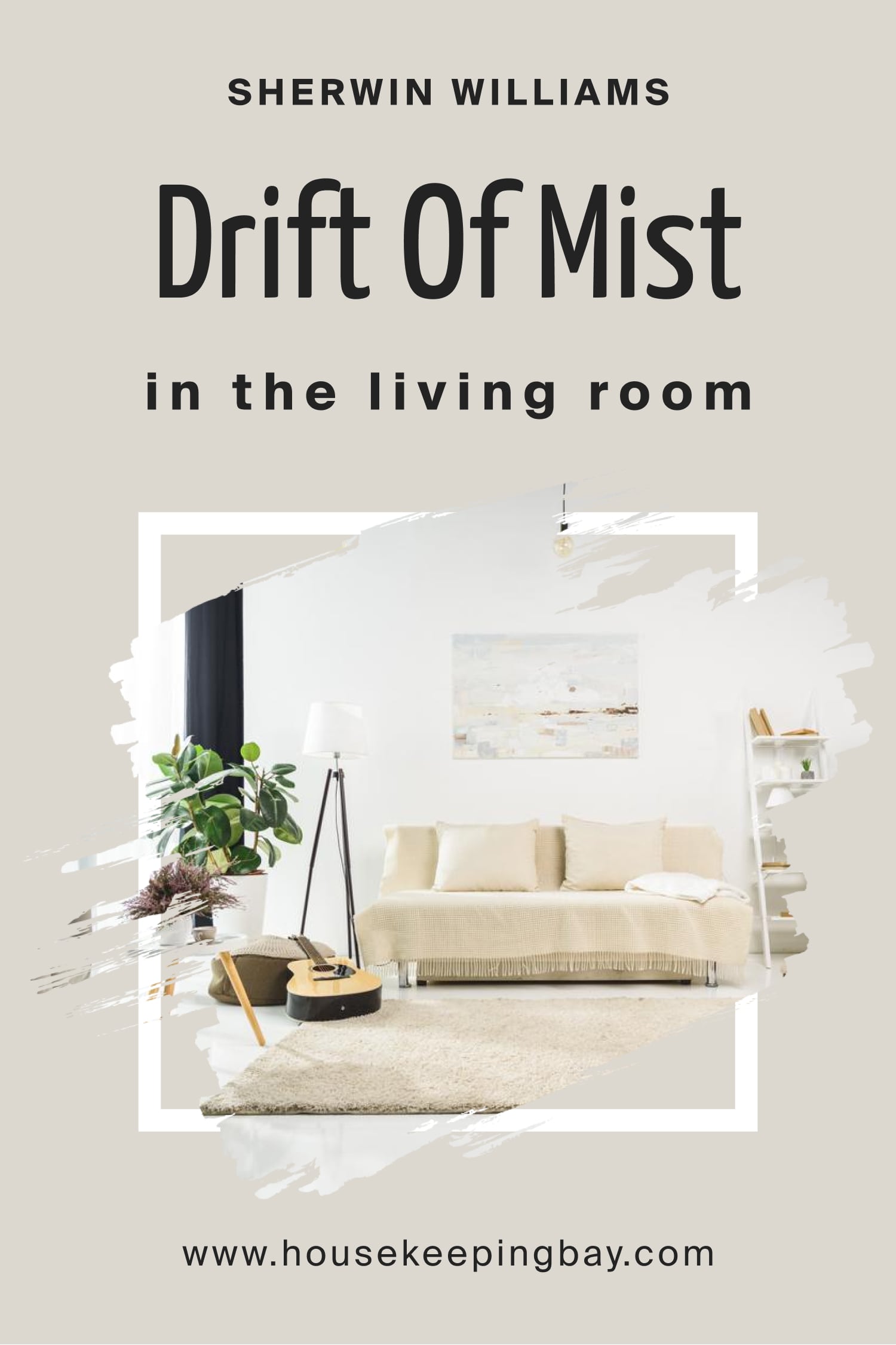 Can Drift Of Mist By Sherwin-Williams Be Used For the Exterior?
Although quite tricky, SW Drift Of Mist can be used for painting exterior walls. It can work well on many facade types and in many areas. But you should keep in mind the light in your area. In broad sunlight, this color will read brightly white whilst on a cloudy day, you should expect it to look warmer and creamier.
Now that you know almost everything about this paint color, there is only one thing left to tell you. Let's see how SW Drift Of Mist looks when compared to other similar colors.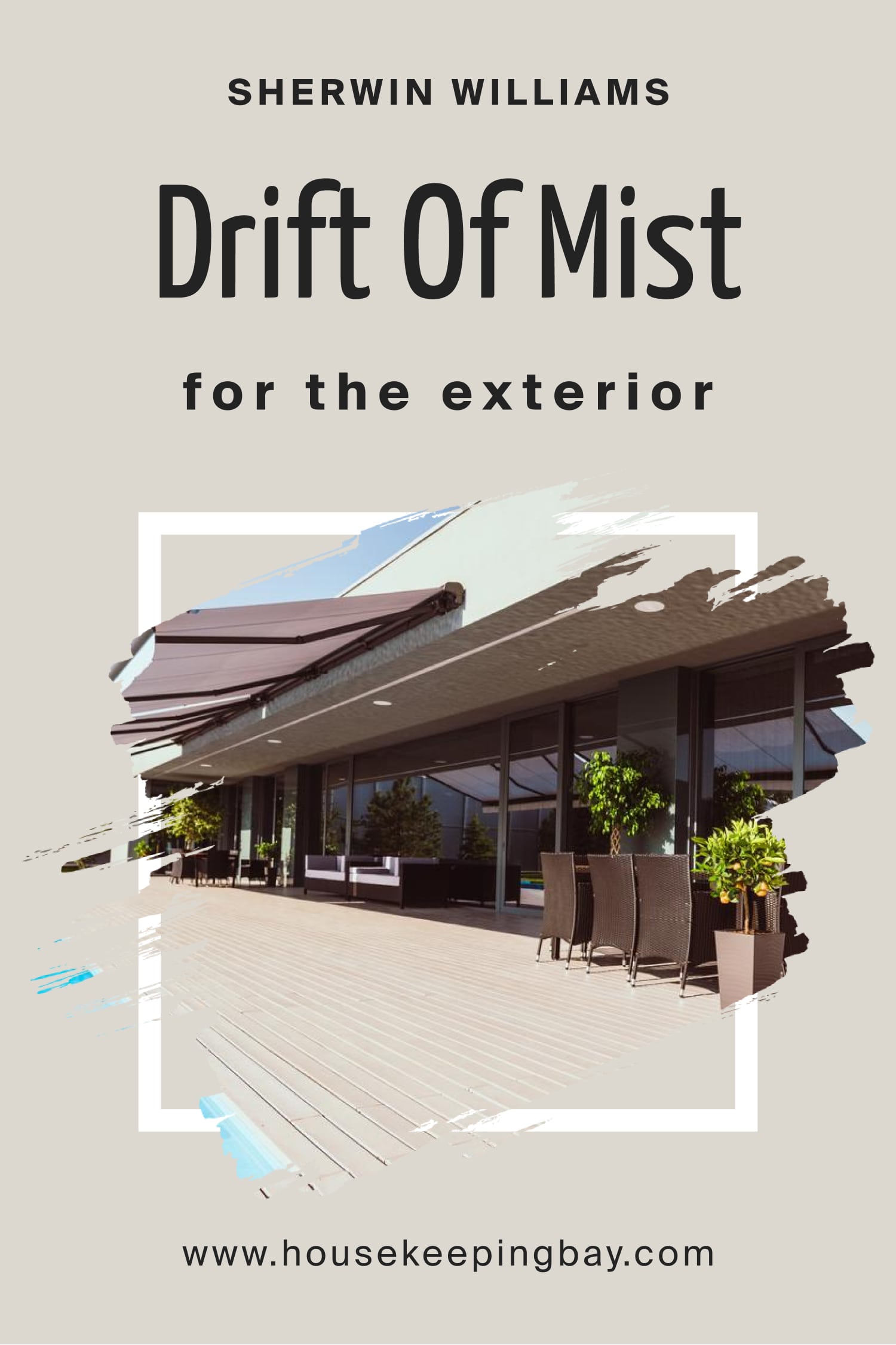 Color Comparison of Drift of Mist Color
Why would you need to compare it to other colors? See, being able to notice the slightest distinctions in tone and color allows you to see and understand the basic difference between similar paint colors better. Like that, you will be able to better understand what color you might need for your home.
Sherwin-Williams Drift of Mist vs Agreeable Gray
If we compare these two colors, we will see that Agreeable Gray reads darker and more intense if you can say so about such muted shades. The reason why it's like that is Agreeable Gray undertones, which are beige.
What makes these two similar is that both may lean more into their beige or gray side depending on the lighting. Nevertheless, SW Drift of Mist still reads grayer in comparison with its counterpart.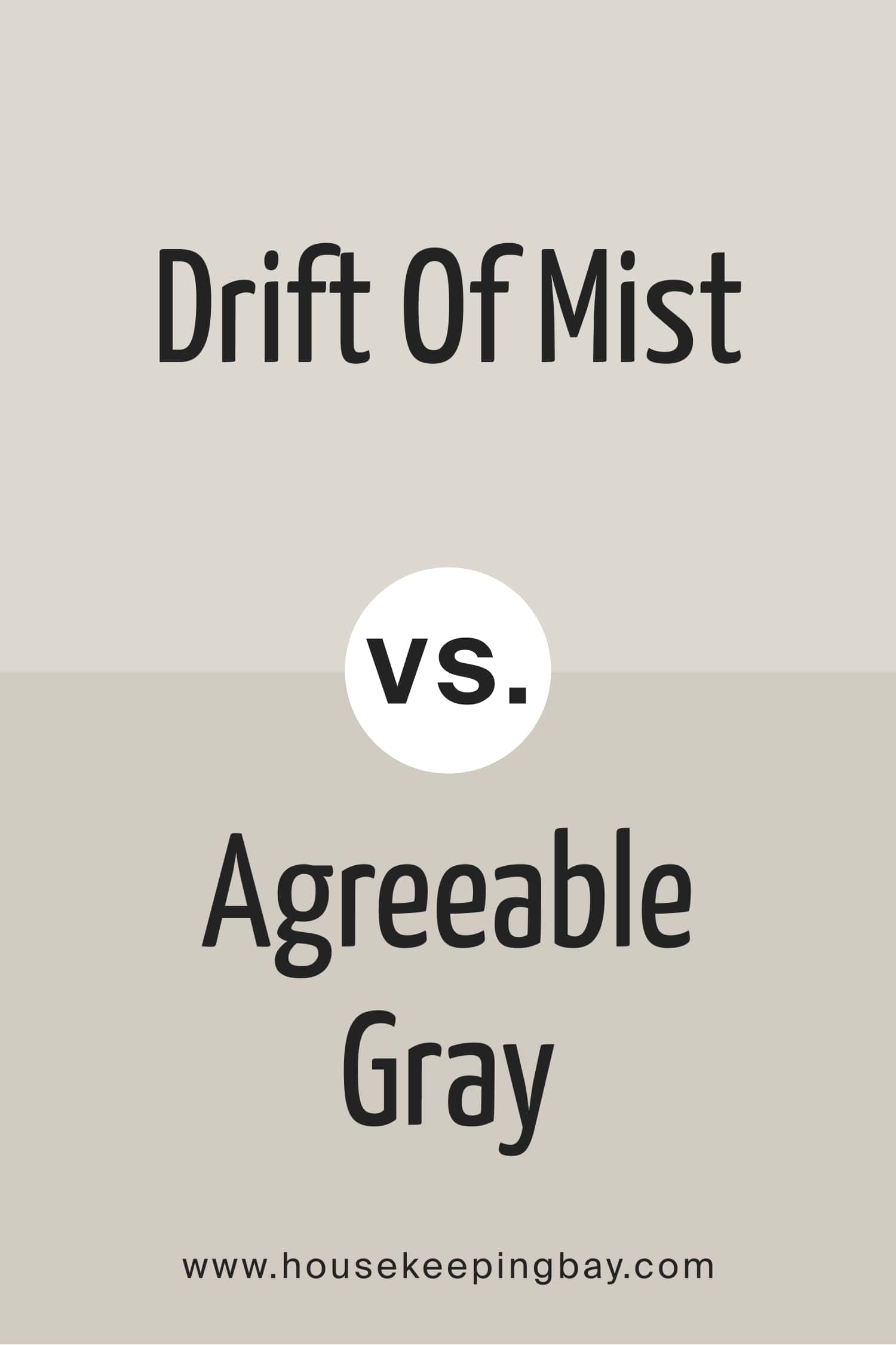 Drift of Mist vs City Loft
Both of these colors are tricky in terms of undertone because SW City Loft has a green-gray-greige undertone whilst SW Drift of Mist has a tendency to show a very slight greenish hue in certain types of lighting. Except for that nuance, these colors look pretty much alike with Drift of Mist color reading a tiny bit grayer than its counterpart. In fact, they are so similar that you can use them interchangeably!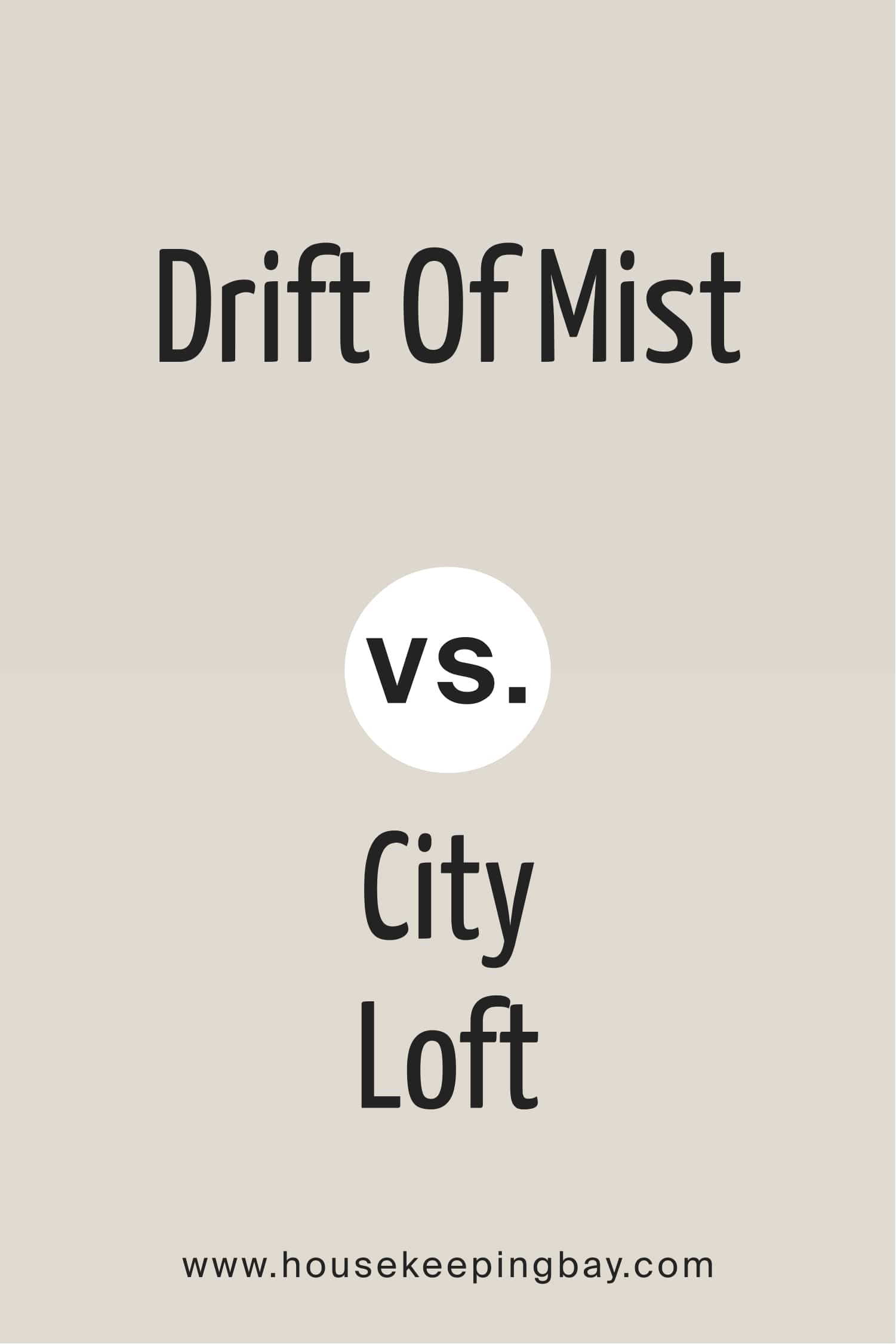 Drift of Mist vs Alabaster
SW Alabaster is a warm white with a very slight beige undertone. SW Drift of Mist is off-white that reads noticeably grayer compared to the Alabaster paint color. However, both colors are warm-toned and rather muted which makes them work nicely together.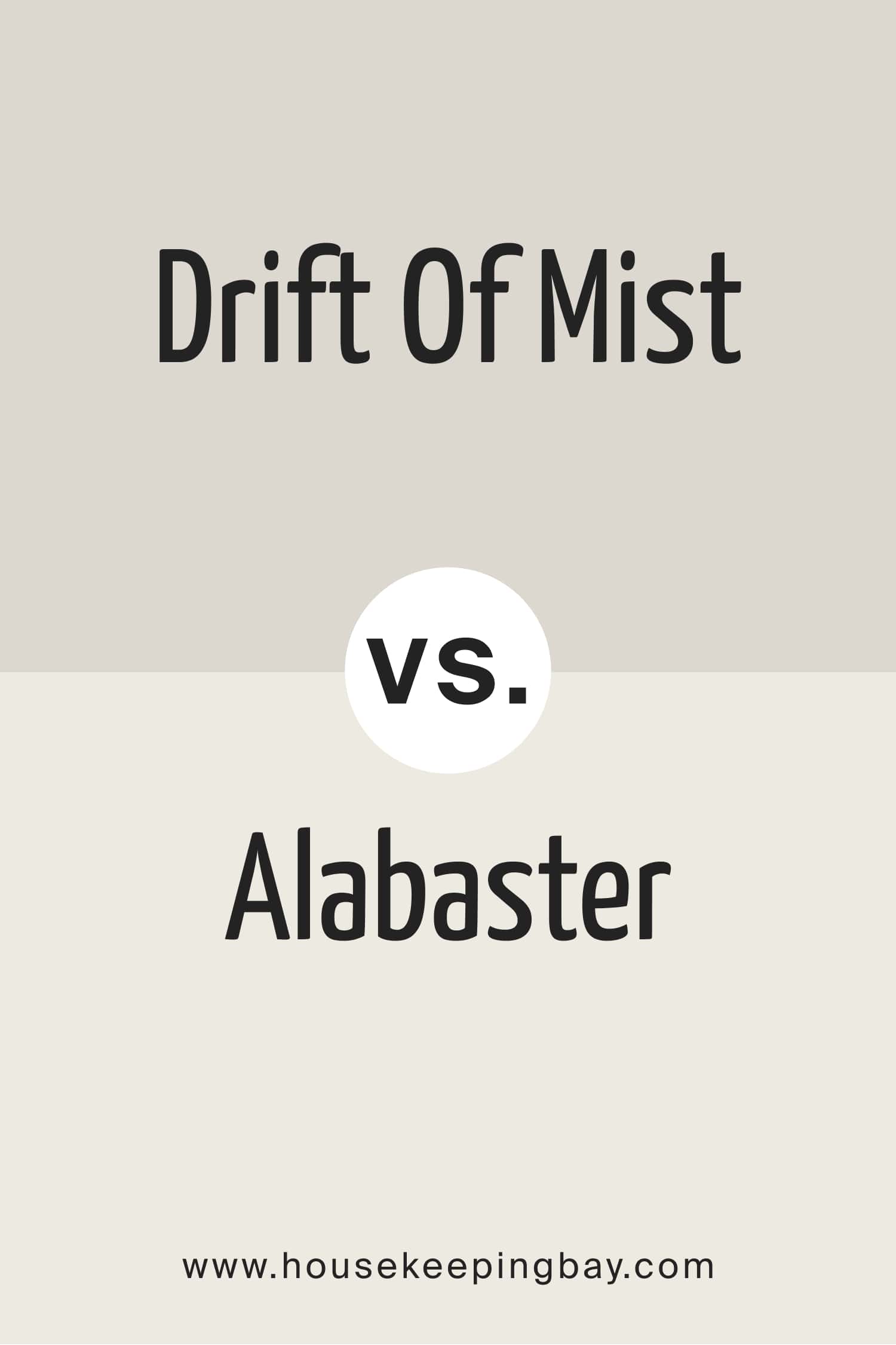 Drift of Mist vs Pale Oak
SW Pale Oak is a taupe which means that it belongs to neutral paint colors, being in between gray and beige. This is why it's also sometimes considered a light greige. It has slight pink and purple undertones that make this color a little warm.
Since both SW Drift of Mist and SW Pale Oak are warm-toned and neutral, they look pretty much alike. In fact, if you can't notice the slight pinky note in SW Pale Oak, you'd think these colors are the same!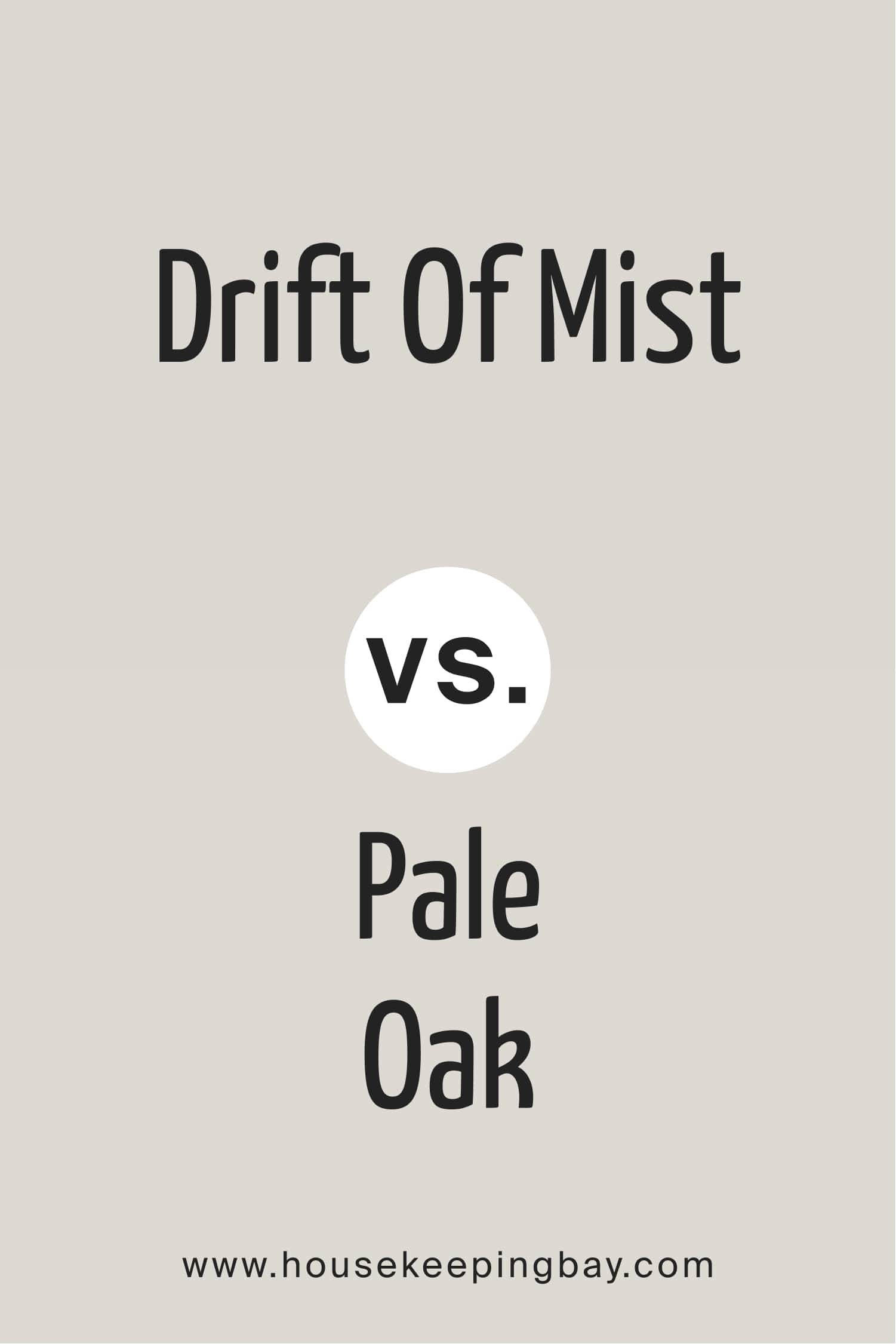 Drift of Mist vs Repose Gray
Repose Gray has blue undertones, as well as a slight violet and purplish undertone but all of them are very minimal. Those undertones make this color significantly darker than SW Drift of Mist with its very slight green undertone that's hardly visible. In general, Drift of Mist paint color reads lighter and warmer than Repose Gray color, although both work well, creating a harmonious color combination.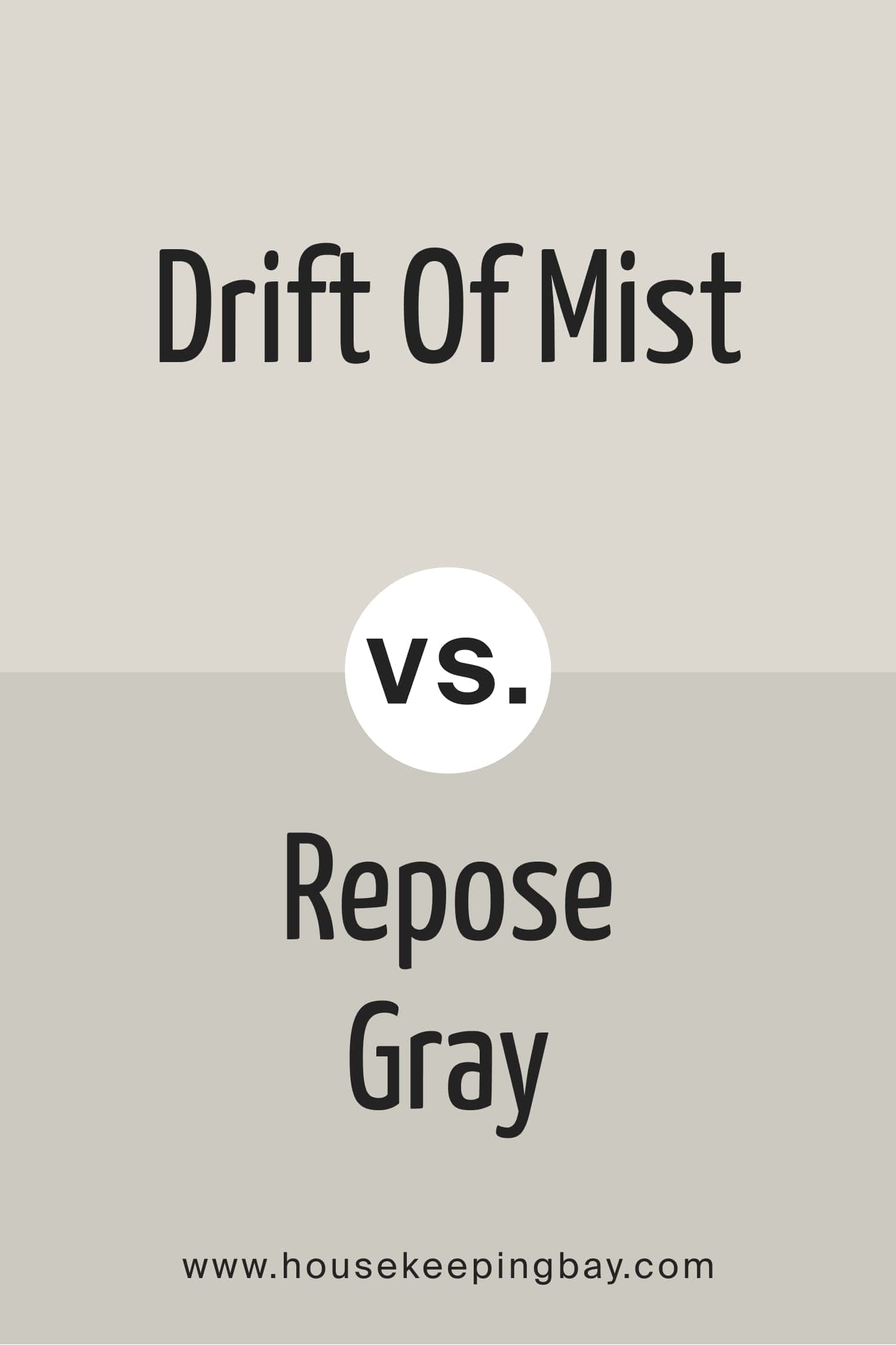 Well, this is all that you need to know about SW Drift of Mist paint color. Now you know what kind of color it is and also, you learned that this paint color is rather tricky. We also explained how it may work in your home in pair with other colors and lighting.
You learned about its Lrv and trim colors, figured out what colors to use to coordinate with it, and found out what rooms this off-white is best to be used in.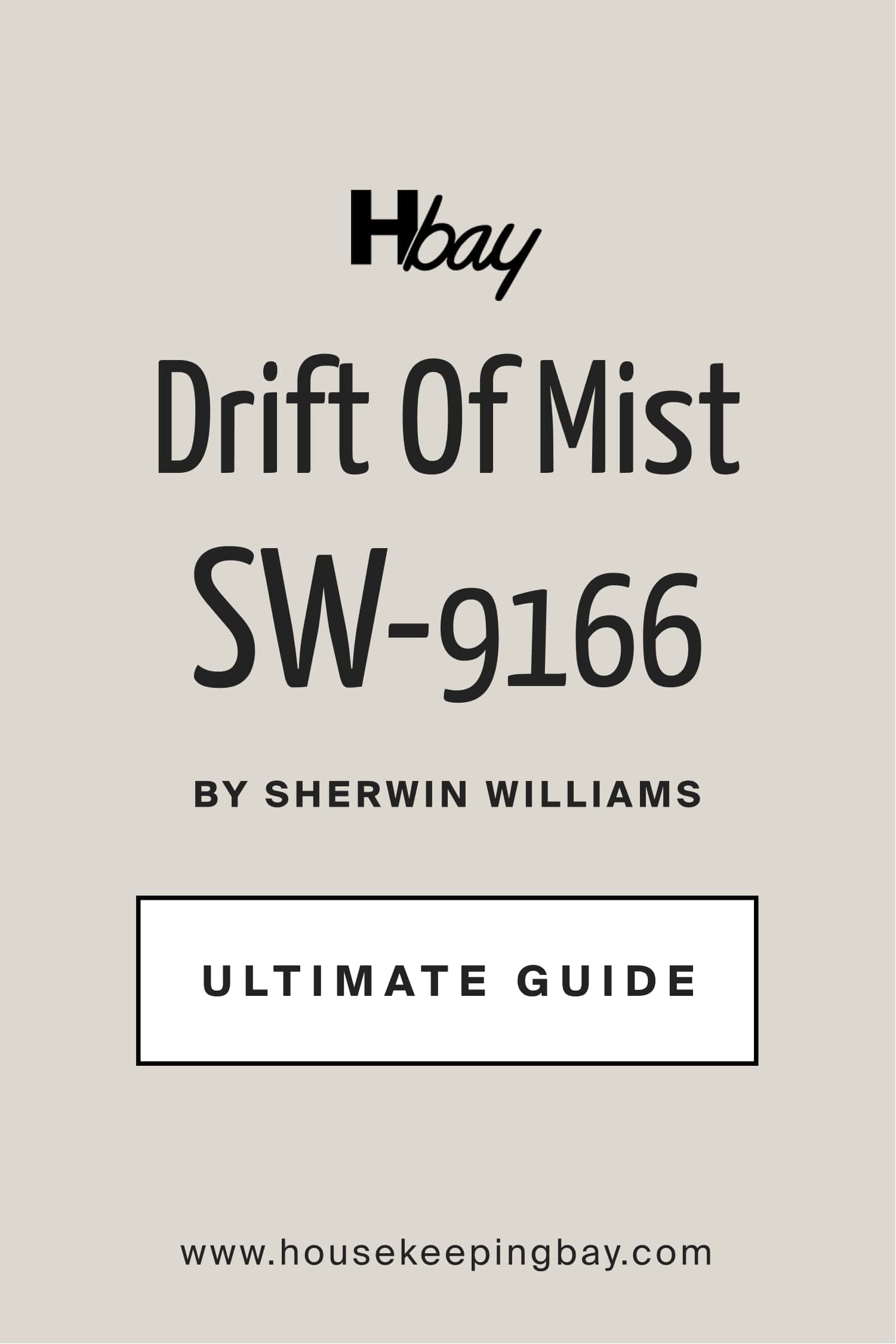 Frequently Asked Questions
⭐Does SW Drift of Mist look yellow?
No, this color doesn't read yellow, although it does have warmth in it.
⭐Is green undertone very noticeable in SW Drift of Mist?
No, it's not. In fact, it only appears in certain types of light very seldom.
⭐Is SW Drift of Mist a gray color?
It is a warm gray that is often present in off-white color collections, as well as neutral ones.