Choosing paint color for your home walls is a responsible task since you are going to see that color for quite a while.
And since repainting your home interiors is quite a dirty (and time-consuming) business, most homeowners prefer to figure it out at once: what paint color do I need?
It is much easier to find matching paint than messing around with cans of paint and brushes each time you don't like your new wall tint.
This is why this article will be handy for those who think of using a paint color called Navajo White OC-95 by the Benjamin Moore brand.
We will tell you what kind of color it is, what undertones it has, and how this paint will react to light. Also, you are going to learn what rooms this paint color will look best in, and more useful information.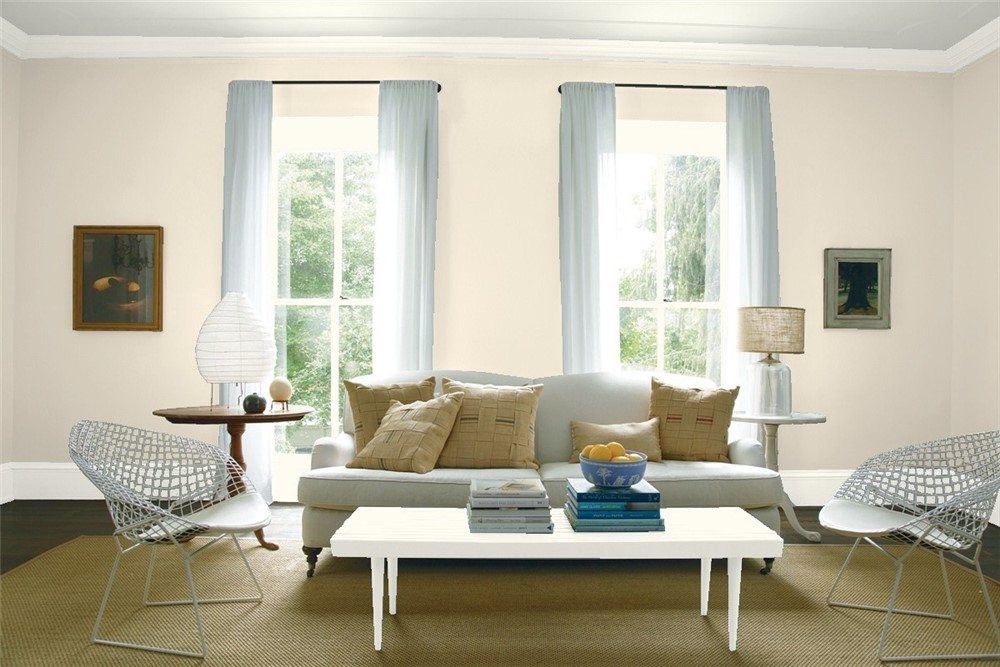 What Kind Of Color Is Navajo White OC-95?
Navajo White OC-95 paint color by Benjamin Moore brand is regarded as a beautiful and creamy white, as Encycolorpedia says.
Because this shade of white has creamy notes in it, some homeowners often prefer avoiding it, being afraid that it may reveal a significant yellowish tint or yellow undertones.
It does have a very slight hint of creamy yellowness, but that hue is so delicate and subtle that it only makes this white pleasantly warm!
However, if you are looking for a crisp and clear white or any other shade of true white, this paint color is not your option! Don't be tricked by the word "white" in the paint name.
Since this color is creamy, it does have a yellowish hue in it. You will not be able to escape it, all you can do is to use this color in a space where its yellow side will be the least noticeable.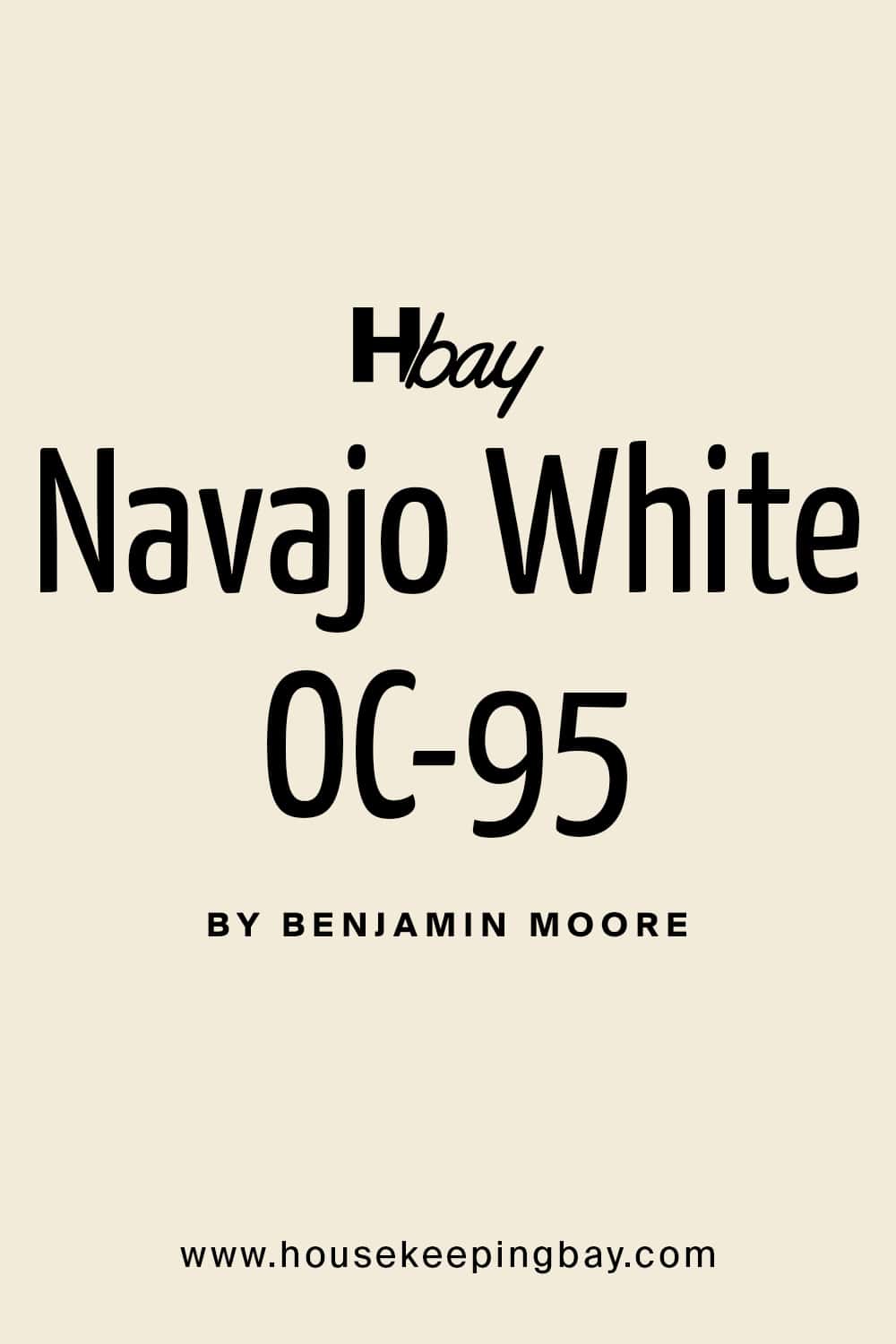 Navajo White Undertones
Undertones always make paint colors a bit tricky in terms of how they might look on the walls. This is why it is important to consider the undertones of the paint you choose before you start applying it to the walls.
As for the Navajo White paint color by Benjamin Moore, it has a light and rather noticeable yellowness in it.
However, this yellowness doesn't make the paint read yellow. It only makes the color look pleasantly warm on the wall.
Also, you should note that creamy colors like this typically have yellow undertones that either lean toward the yellow-green or yellow-orange side.
Speaking of Navajo White, its undertones are on the yellow-orange side, but not too much. Just enough for calming down the yellowness and keeping it at bay.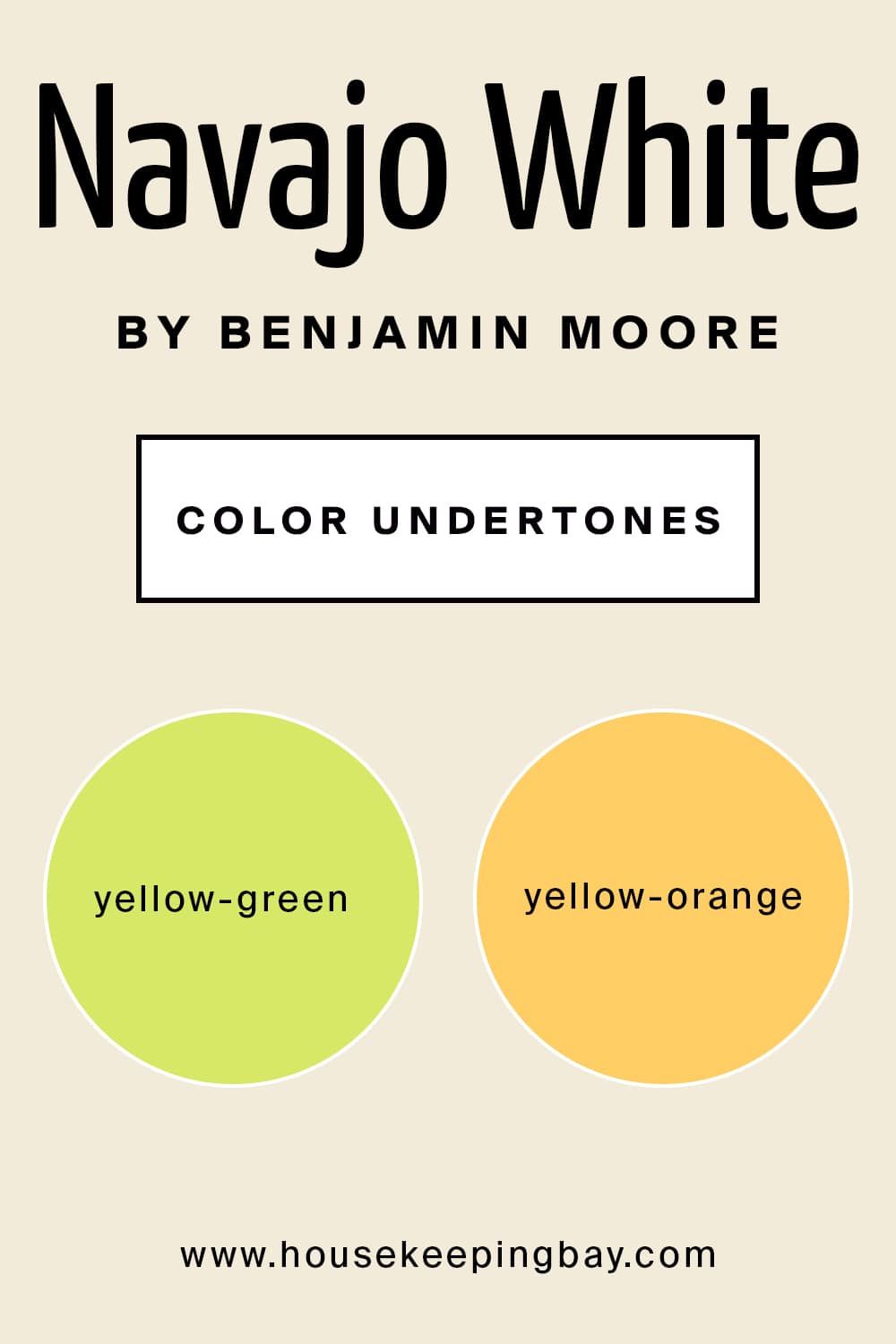 How Navajo White OC-95 Color Reacts to Light?
Being aware of how certain paint colors might react to light can be very helpful. Like this, you can tell in advance how the color you choose will read on your walls. But to be able to do that, you need to know what LRV the paint color has.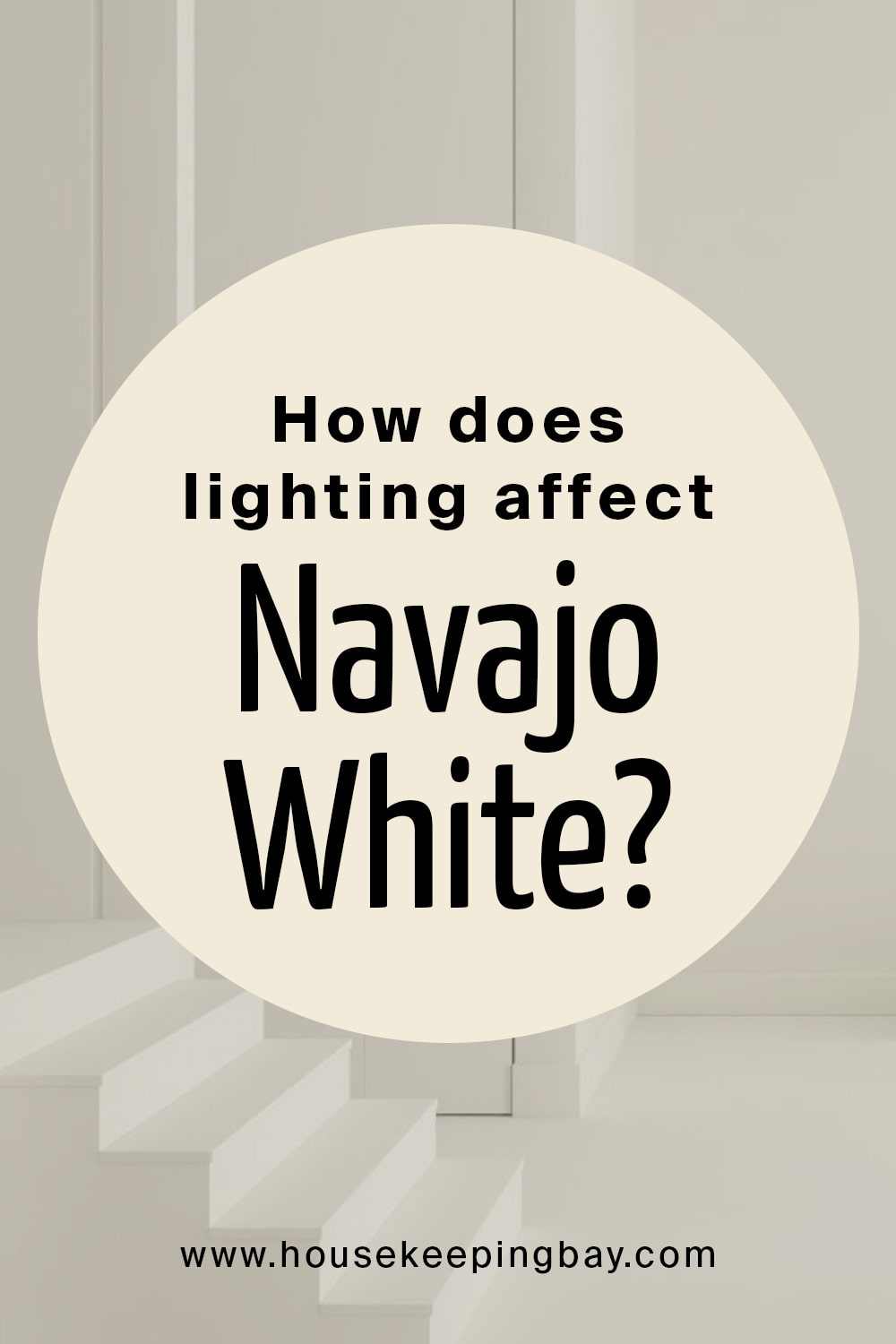 For those of you who don't know, LRV is an abbreviation for Light Reflectance Value. It shows how much light paint color is able to reflect.
LRV runs on a scale from 0% – 100%, and 50% is a mid-value paint color.
The higher the LRV, the more light a color reflects back into the room. On the LRV scale, zero means the darkest black, and 100 means pure white. The BM Navajo White paint color has an LRV of 78 (in some sources, you can find information saying it is 79).
What does this mean, exactly? It simply means that this creamy white is what is called an off-white paint color.
Thanks to the undertones and softness of this color, it can be used both in rather dark rooms and in rooms that have enough light. And don't worry, Navajo White will not wash out as you might have thought of it!
Navajo White paint color will work great in a cool north-facing room due to its creamy and yellow undertones. But in a room with flat eastern afternoon light, this paint will also look great!
Like this, now you have a better understanding of this white paint color by the Benjamin Moore brand. And to help you make it clear what other colors it might look good with, we recommend you check out the section below.
Of course, this is not the only information you are going to get.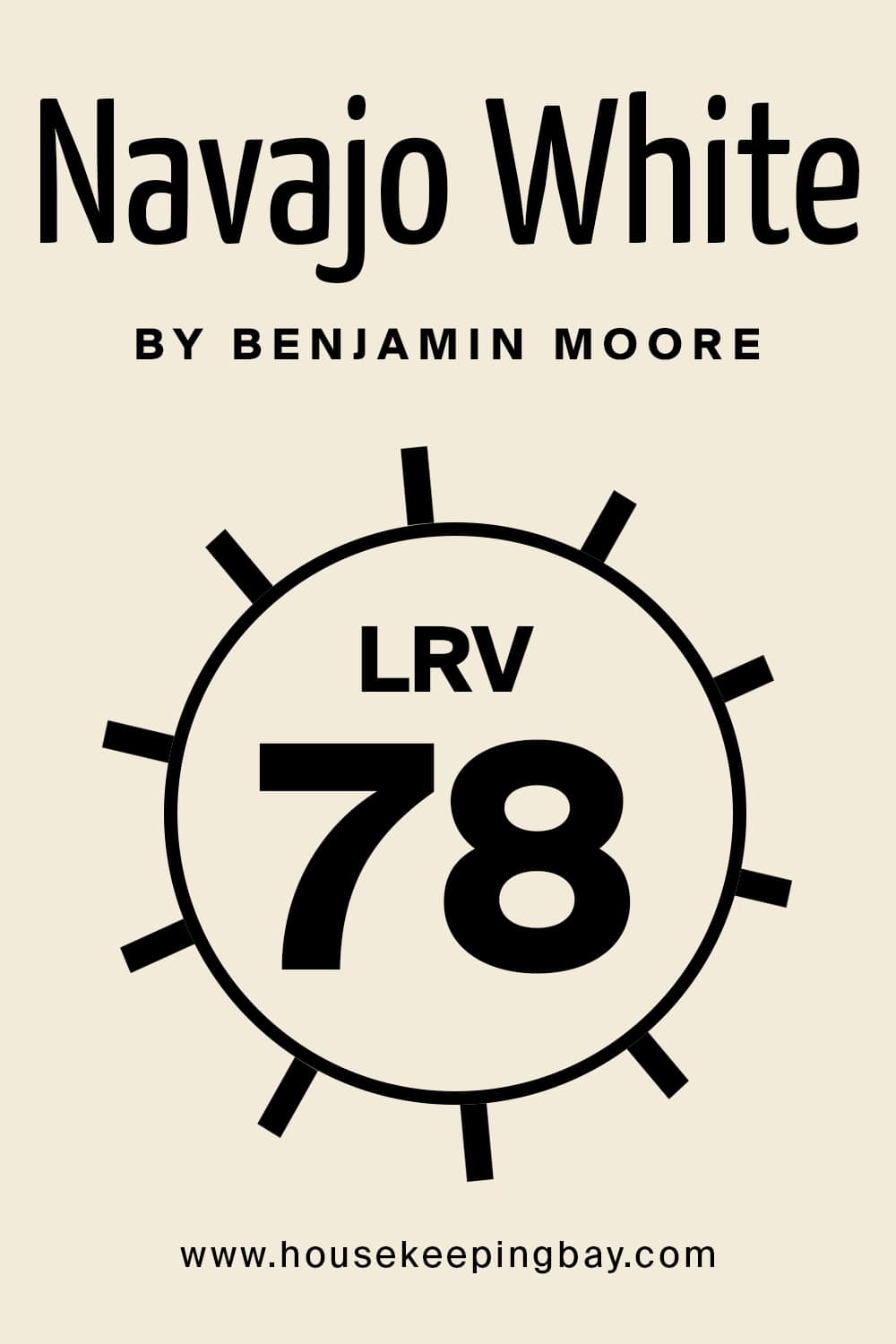 Colors That Go With BM Navajo White Paint Color
If you are looking for a suitable color that will look good with Navajo White on your cabinets or trim, you should take a few tips into consideration:
Use gray paint colors, including stormy shades of gray, as well as warmer earthy shades. Just make sure the gray is darker than Navajo White
Opt for darker beige paint colors with similar undertones
Some shades of blue-green or earth-toned green paint colors will work well as well
Don't forget about warm white paint colors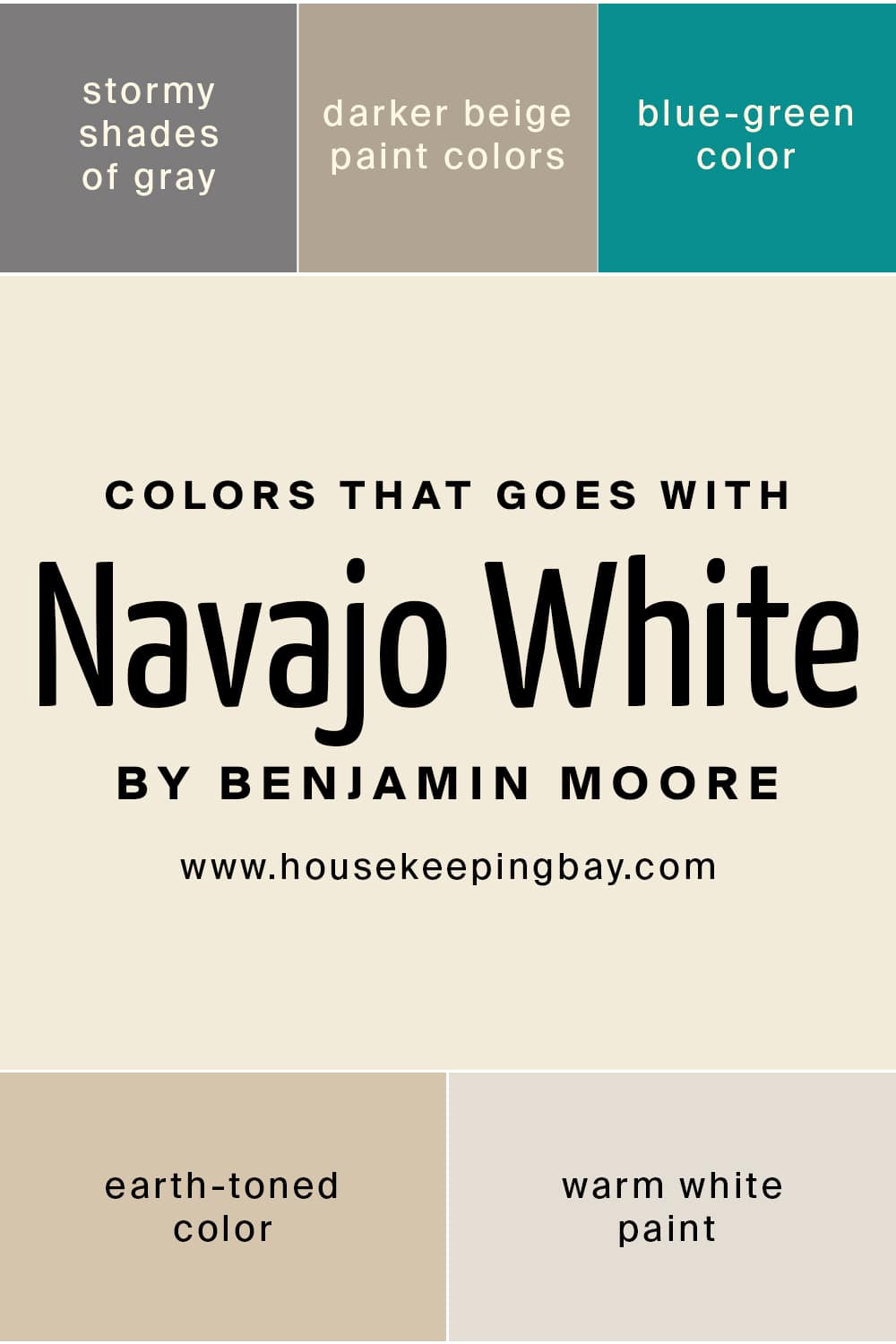 The Best Trim Colors For Navajo White Paint
You might be surprised, but the best trim color for Navajo White is…white. Yes, it may sound ridiculous, but that's how it is.  White with another white. Just make sure that the two don't look too different in terms of undertones and coolness or warmth.
Otherwise, the entire surface will not have a harmonious and balanced look.
For Navajo White, in particular, you can opt for these two colors:
Benjamin Moore Cloud White
Benjamin Moore Simply White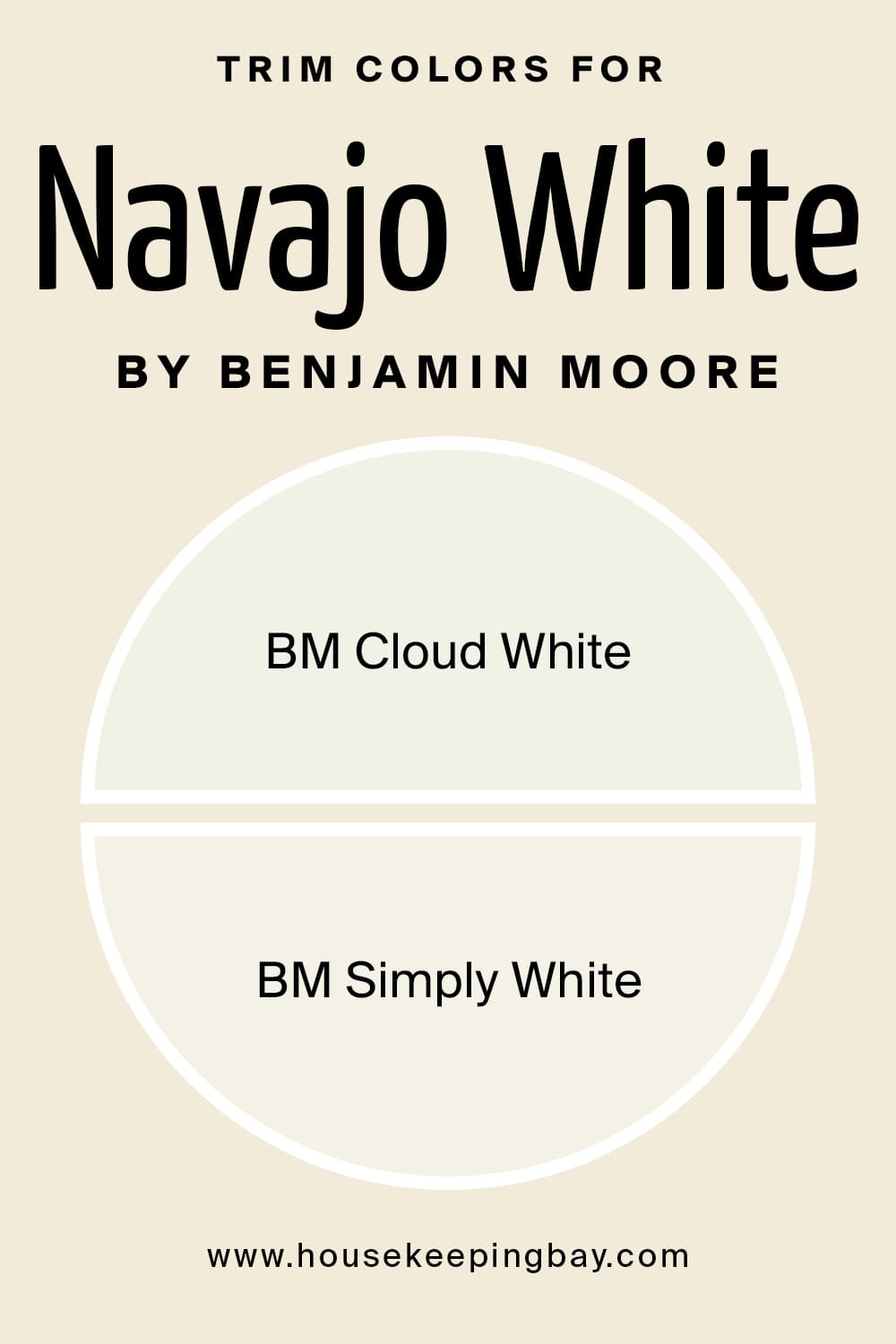 Coordinating Colors For BM Navajo White
To pick more colors that look harmonious with the leading color on the walls, you need to know how to select coordinating shades. As for the coordinating colors that look well balanced with Benjamin Moore Navajo White paint, we can suggest you the following ones:
Silver Fox 2108-50
Sierra Spruce 2108-20
Lacey Pearl 2108-70
No matter whether you use all of them in the same space, or you pick only one or two of the list, the resulting color palette will be perfectly balanced in terms of tones and color saturation.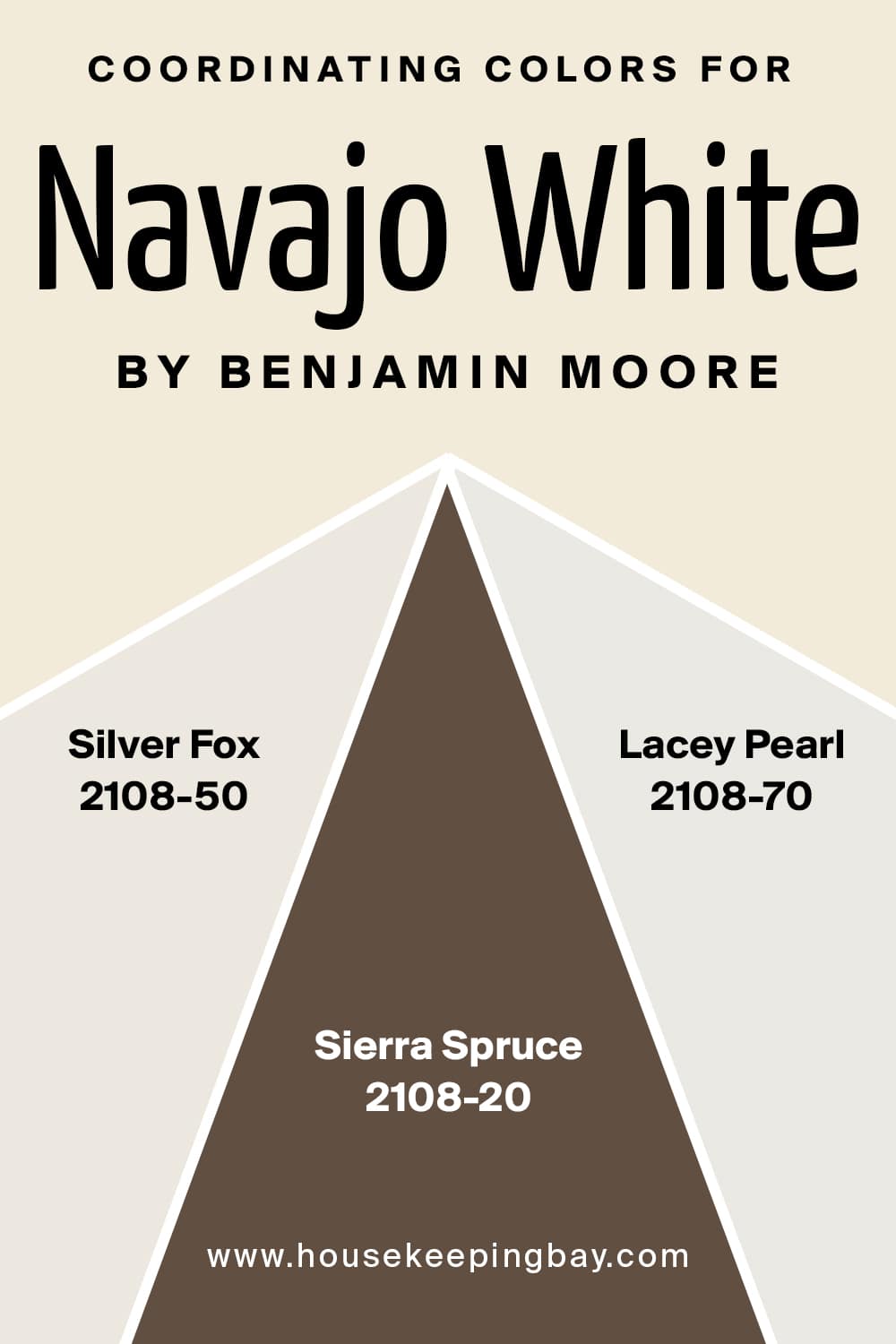 Where This Color Can Be Used?
Like many white paint colors, Chantilly Lace is rather versatile. You can basically apply it in almost any room in your home. But still, we would recommend you check out the descriptions below in order to see how exactly this white can show itself in different spaces.
Navajo White OC-95 in the Living Room
This creamy white will look very nice in a living room if the space is well lit and has plenty of daylight. However, note that, if the light is warm (for example, southern), the color may read more yellowish due to its undertones!
And since it is white (which means it is versatile), this color can be a great background for any interior design and decor. In particular, it looks great with wooden furniture and elements of decor, stone fireplaces, and natural fabrics like linen, etc.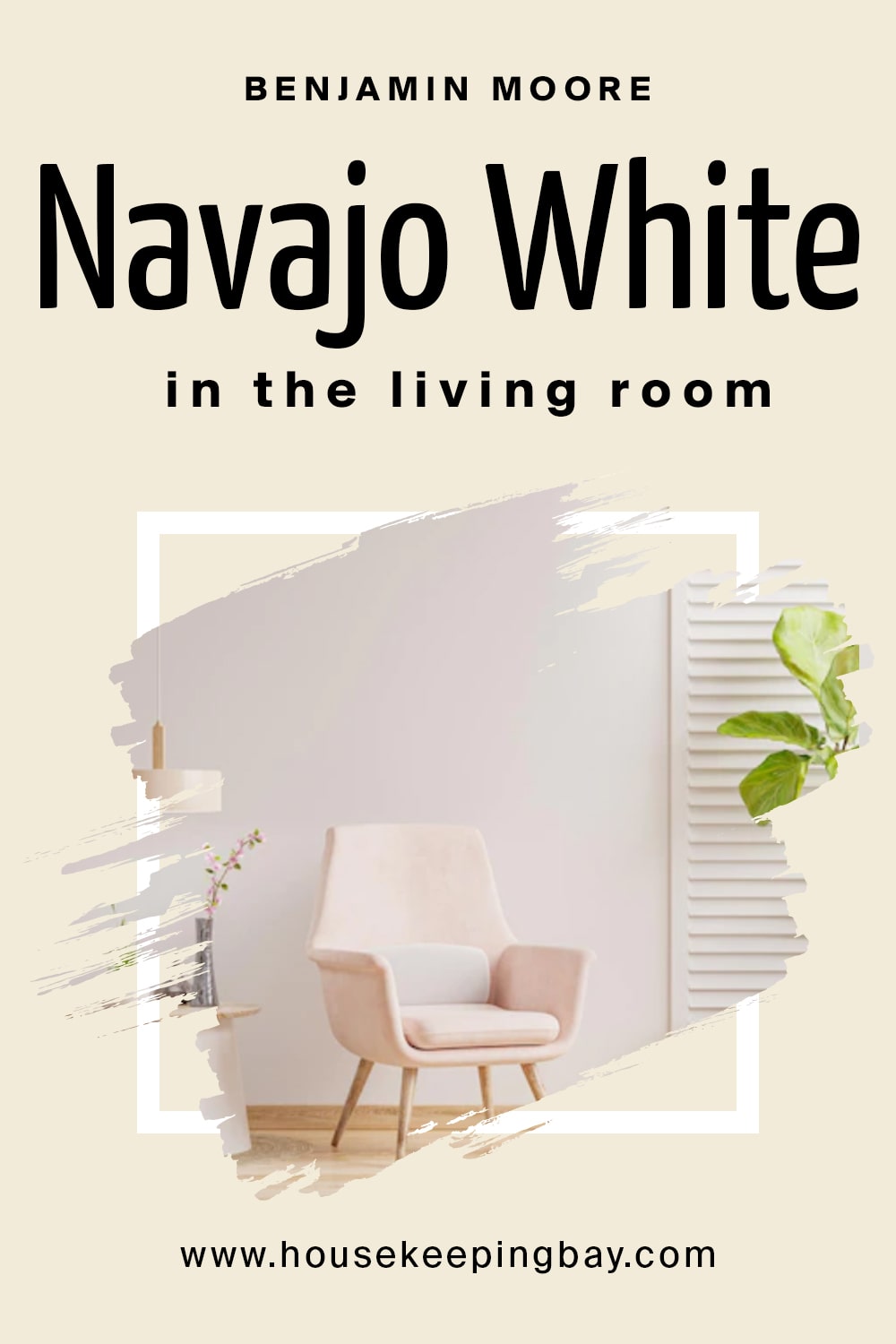 Navajo White OC-95 in the Bedroom
To create a cozy and warming atmosphere in your bedroom, try painting its walls with Navajo White color. This creamy white will help the room remain more spacious visually and at the same time, stay airy and bright.
And since this white is warm-toned, you will not feel the "coldness" that cool-toned colors give.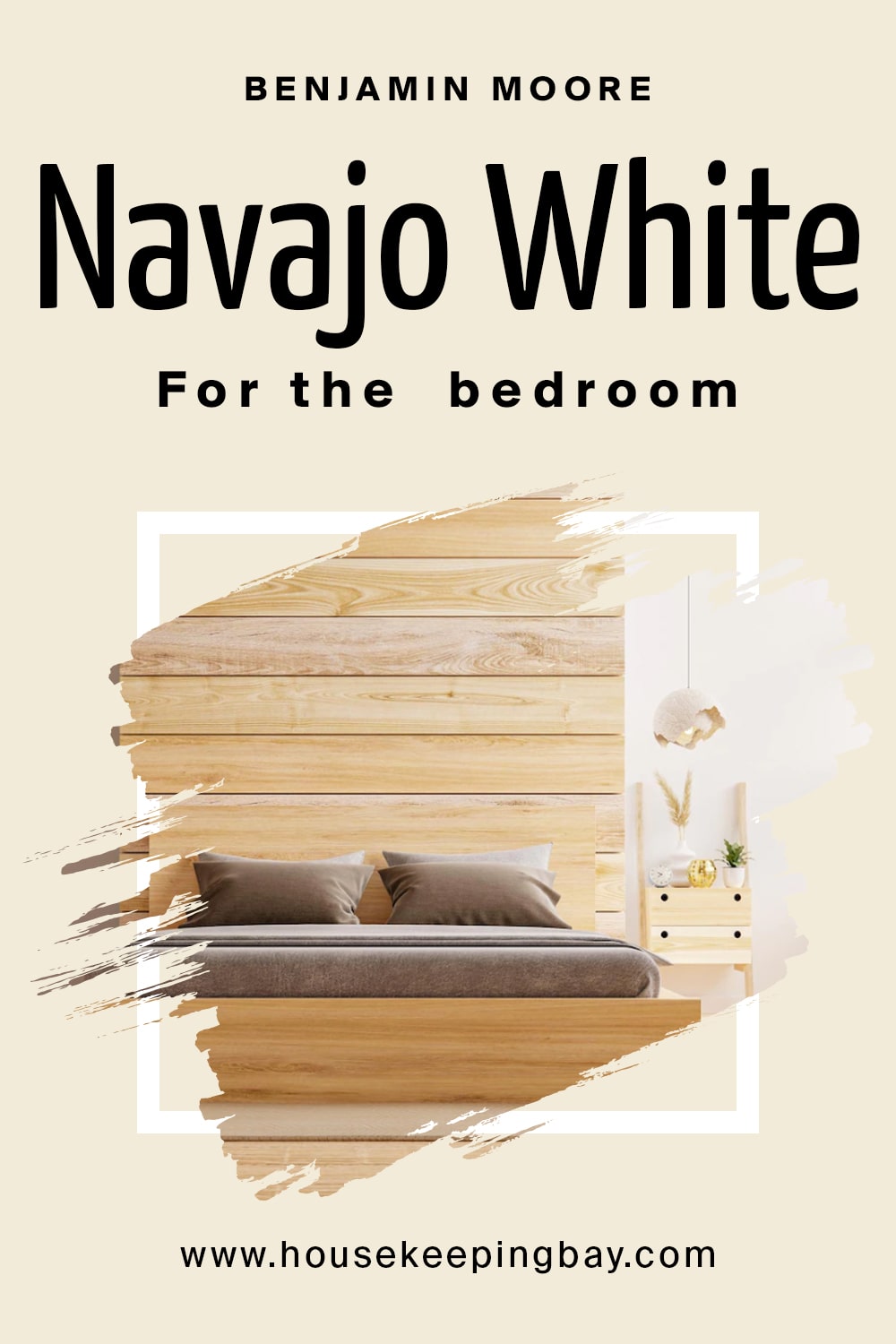 Navajo White OC-95 in the Kitchen And Kitchen Cabinets
Even for the kitchen, this paint color is a good choice. It pairs well with brass or golden hardware, metal and/or wooden elements (e.g. dishes), as well as wooden furniture.
As a white color, Navajo White will create a harmonious combo with contrasting colors, such as black or even red (if it is not too bright)! So don't hesitate if you feel like experimenting!
However, speaking of kitchen cabinets, you may find this creamy white somewhat hard to deal with. See, even though it is a quite popular color to use on kitchen cabinets, people often have trouble finding coordinating paint colors.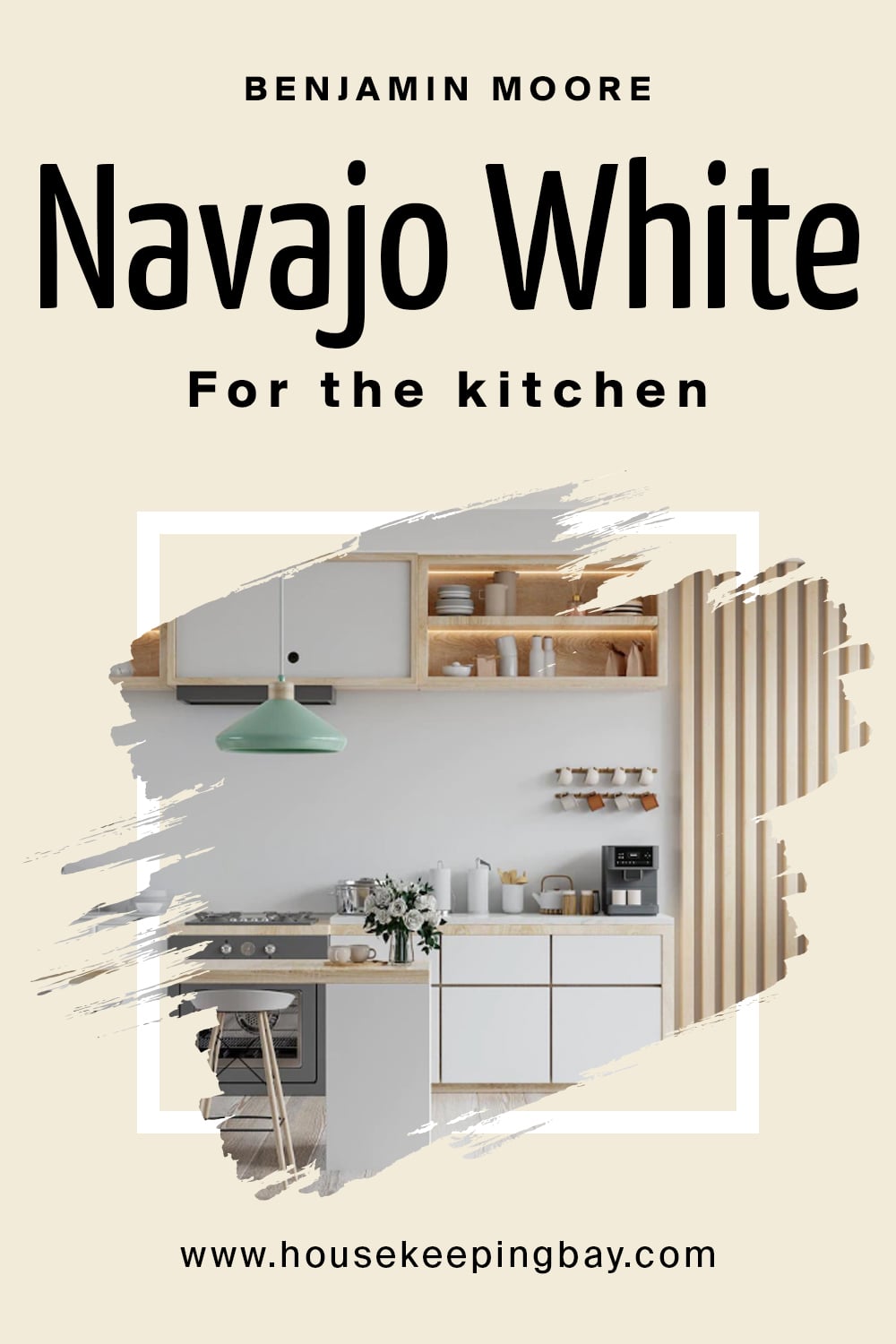 Navajo White OC-95 for the Exterior
While some whites don't work well outdoors, Navajo White is an exception. You just need to consider that it may often read much warmer than it is on the sample! If you live in an area with lots of warm daylight, be ready that your house will read almost light-greige, especially on a sunny day!
So, as you can see now, the Navajo White paint color by Benjamin Moore is quite a versatile color even though it is white (well, creamy white, to be precise).
So if you decide to refresh your home interior next time, don't skip this color as one of the options!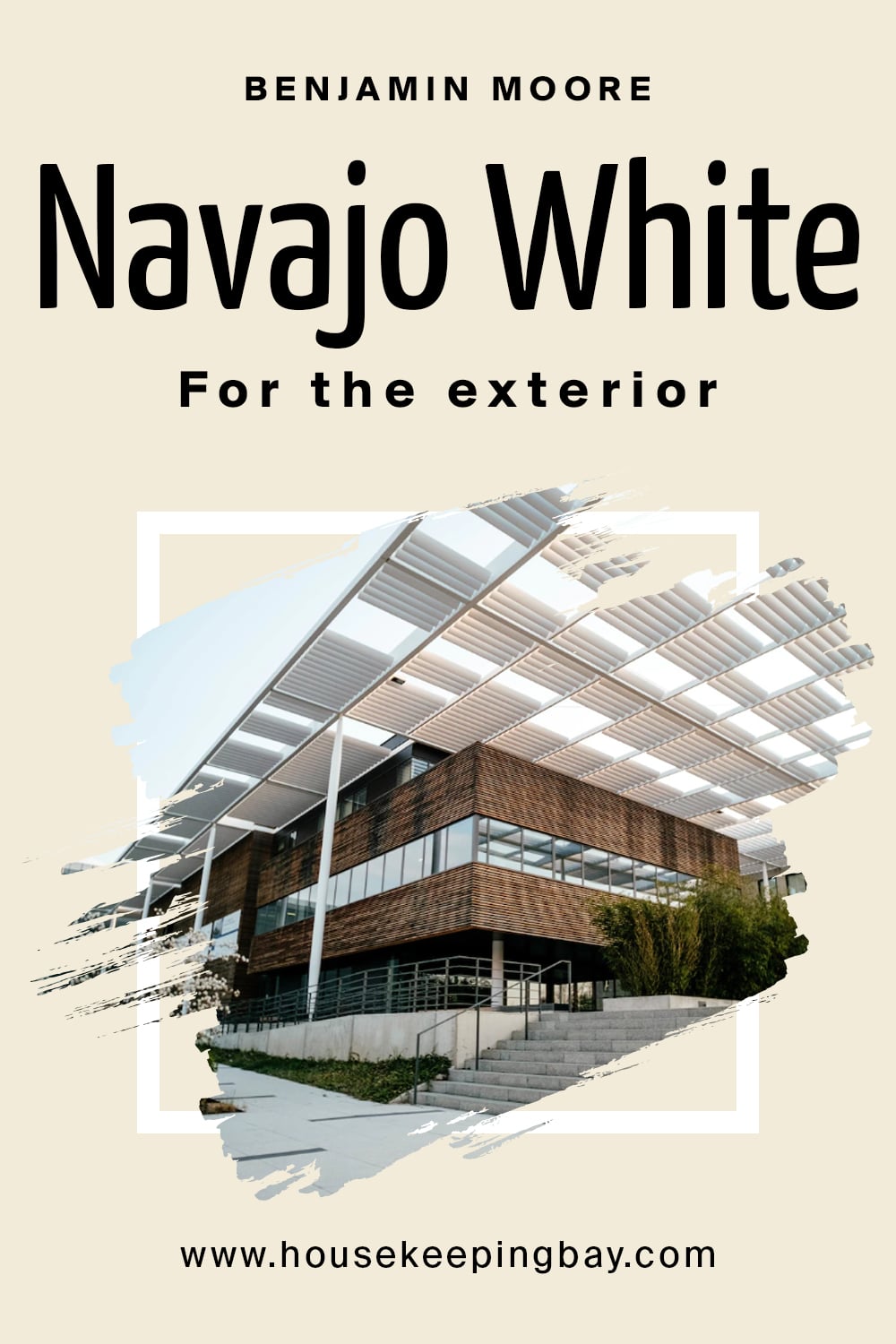 Paint Colors Similar to Navajo White
If you happen to change your mind and decide that you need a slightly different shade of white than BM Navajo White, you will want to know what other whites can be used as substitute colors. Below, you can check a few such colors.
Sherwin Williams Navajo White (it has more orange mixed in)
Benjamin Moore Gentle Cream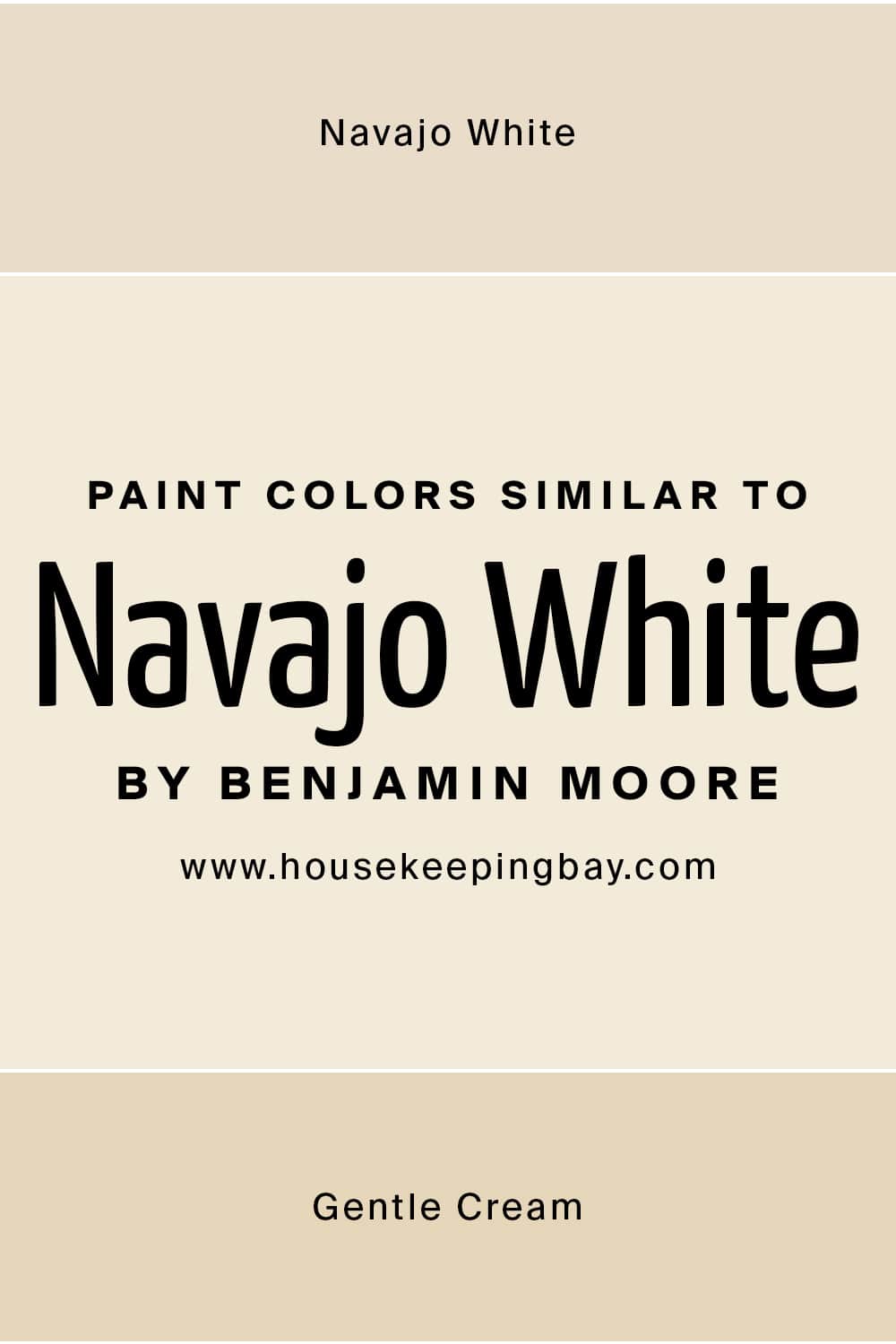 Comparing BM Navajo White With Other Colors
White colors often seem nearly the same to quite many of us. But they are still different because there are warmer whites and cooler whites, as well as brighter and duller ones. In addition, even white colors may have different undertones.
Below, you can read and compare Navajo White paint color by Benjamin Moore with a few other white shades so that you could have a better understanding of the subject.
Navajo White vs Alabaster
Navajo White reads almost peachy along with Alabaster! In comparison, Alabaster shows more of its subtle beige undertones. Even though both colors are warm-toned, they look way too different so they're not recommended to be used together.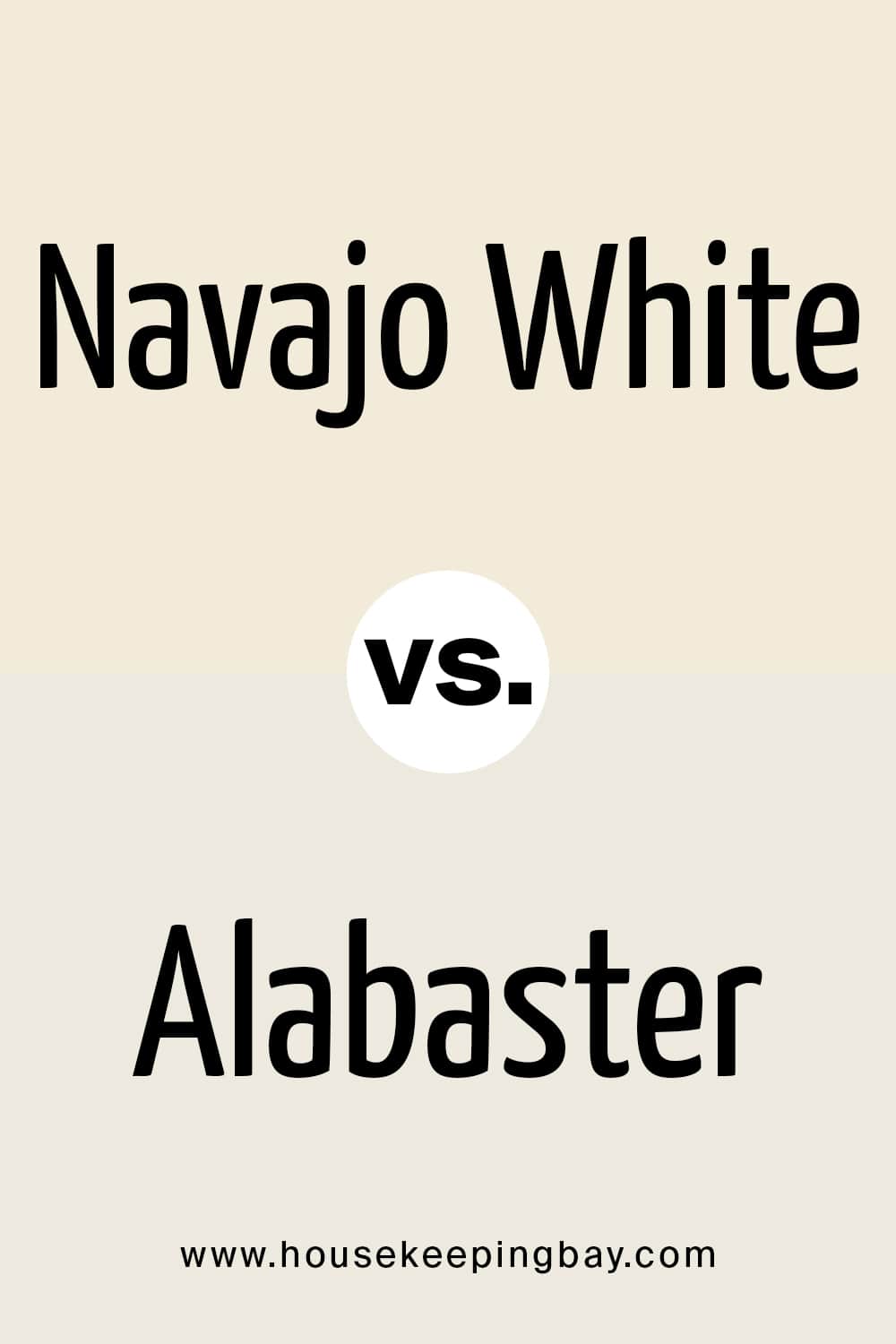 Navajo White vs Swiss Coffee
Navajo White reads warmer and reveals more of its yellow-orange undertones in comparison with Swiss Coffee color. But even though the colors are both warm-toned, we would not call them an ideal match to be used in the same space.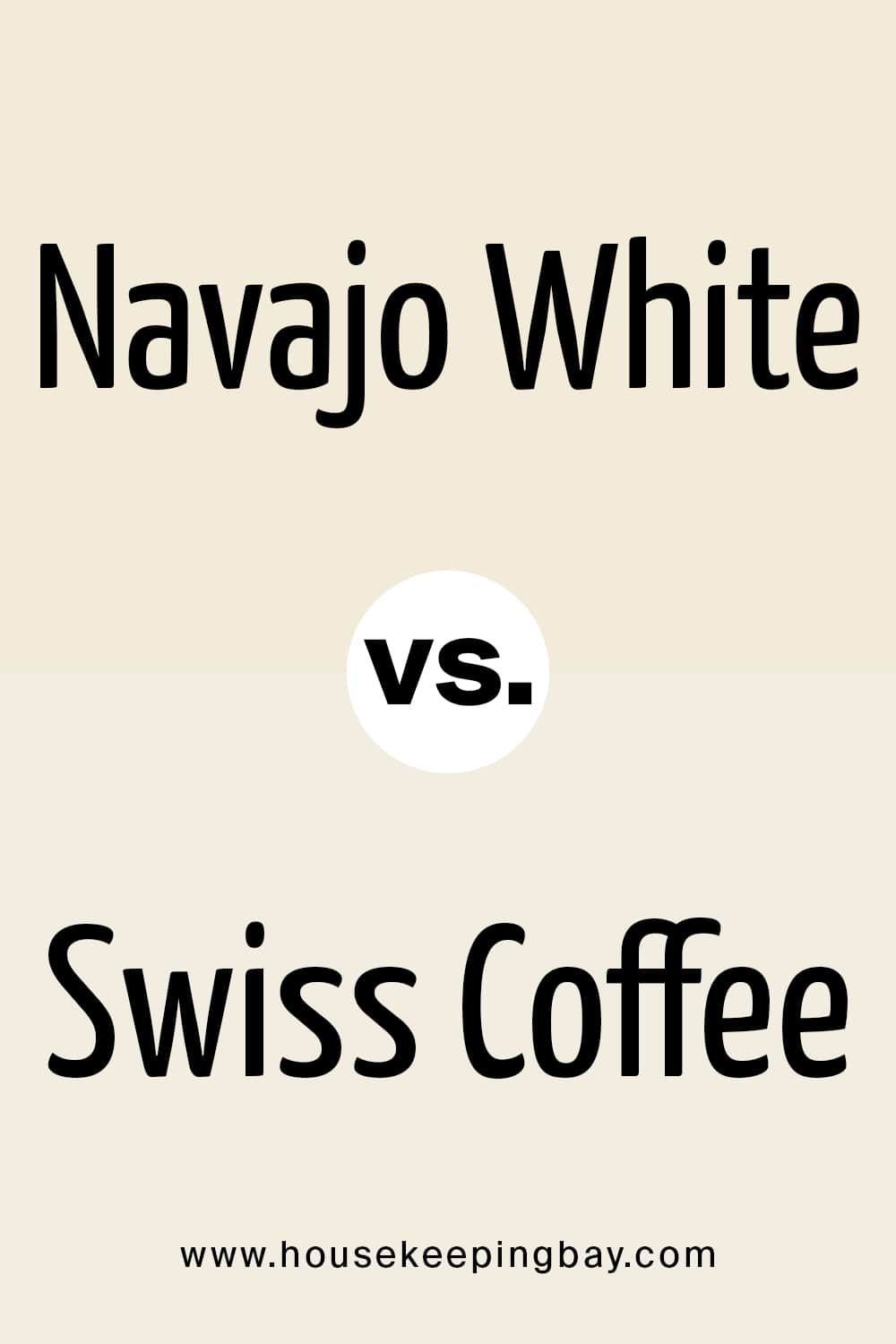 Navajo White vs Simply White
Simply White paint color reads almost like pure white if we compare it to the Navajo White, which prominently shows its yellowish side in this pair of colors. However, since both are warm-toned and one is much lighter than another, these colors can be successfully used in tandem.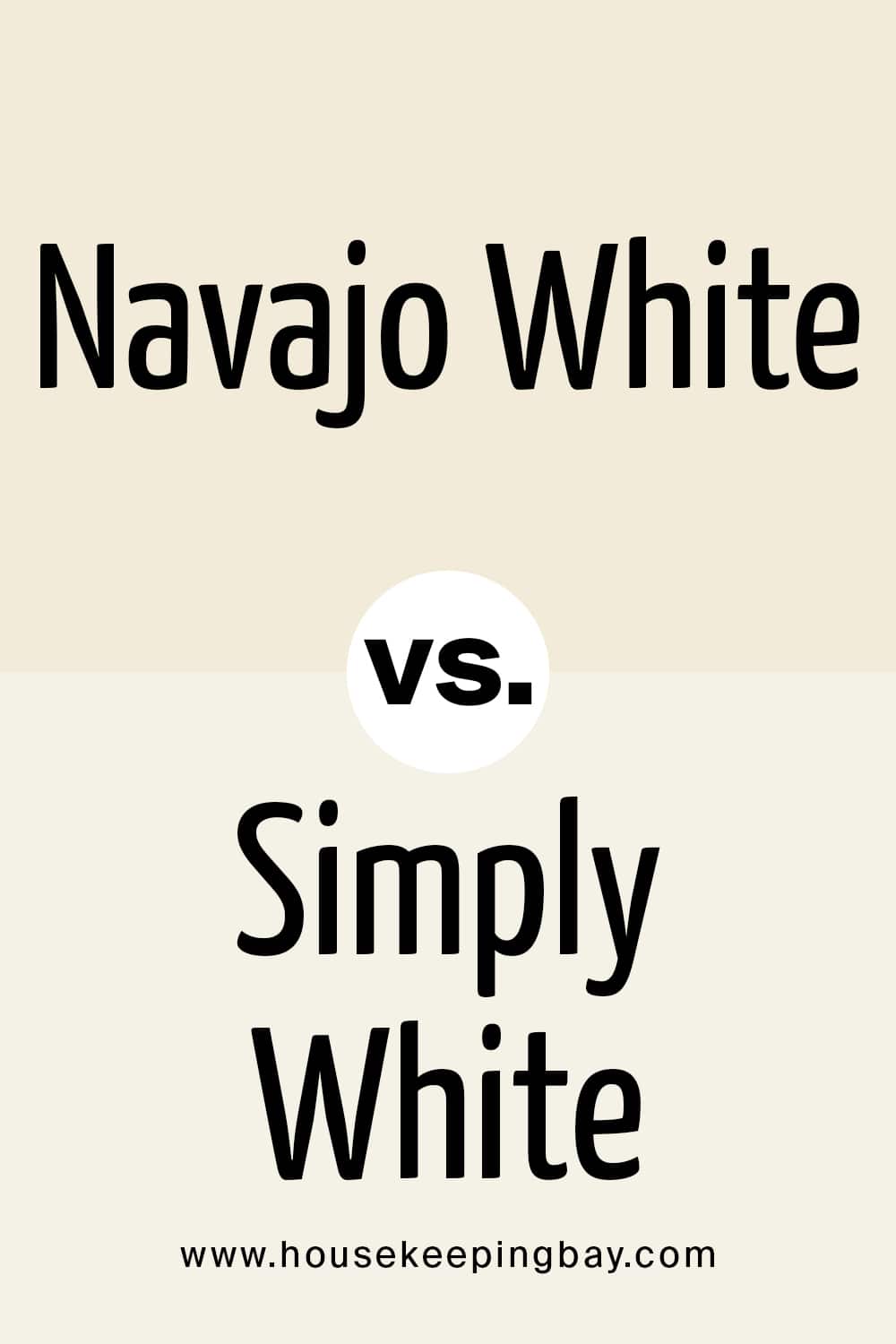 Navajo White vs Antique White
These two colors are pretty much alike: both are warm-toned, and both have prominent yellow undertones with a hint of yellow and creamy. It's just that Navajo White reads a bit yellower. This is why you can successfully use them interchangeably!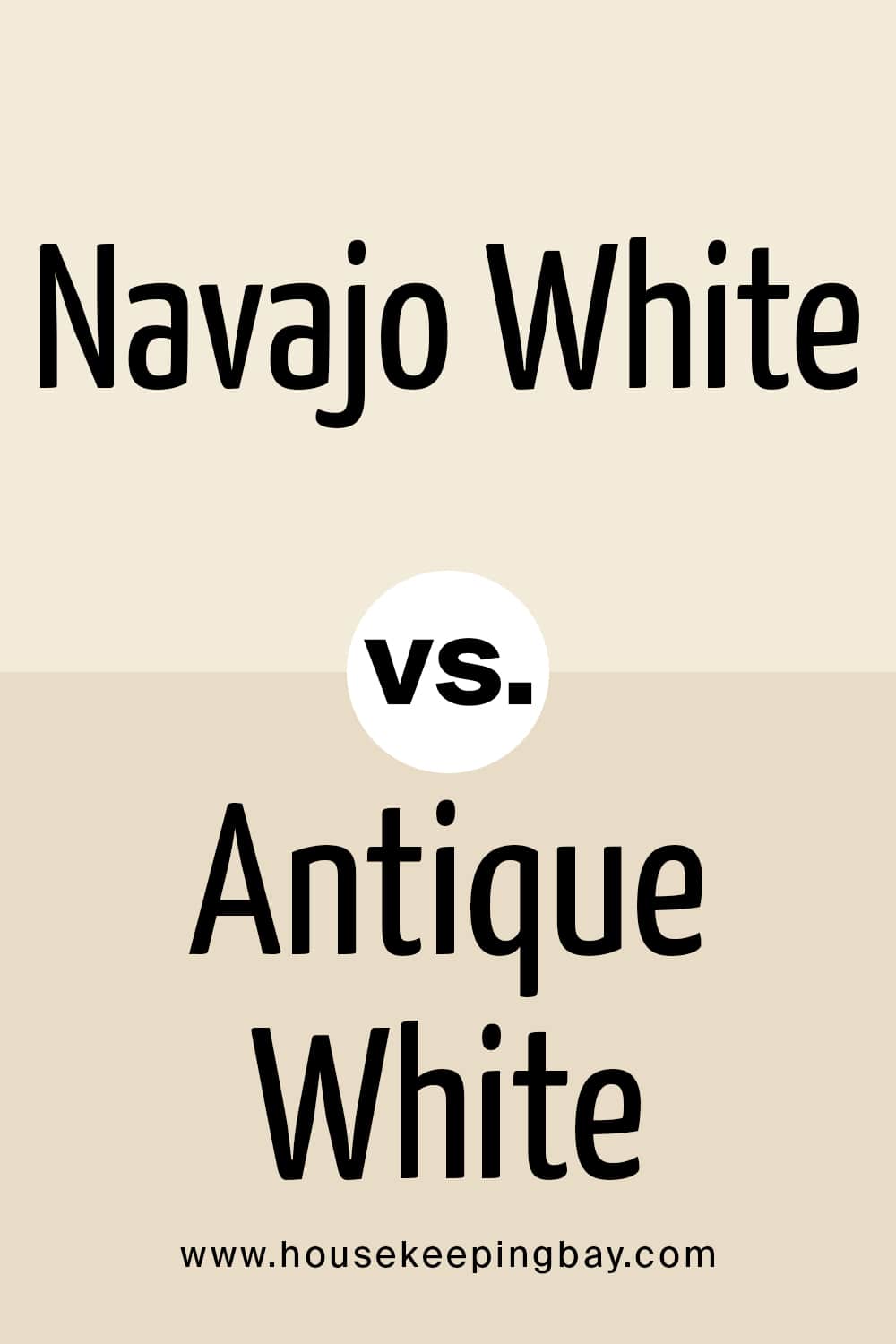 Now you know how Navajo White paint color by Benjamin Moore looks. Also, you know that it may somewhat change its appearance depending on the lighting. You are now aware of its undertones, its LRV, and a few other nuances and peculiarities.
With that in mind, you can figure out what room it will look better and why, and how this color may react to light on your walls.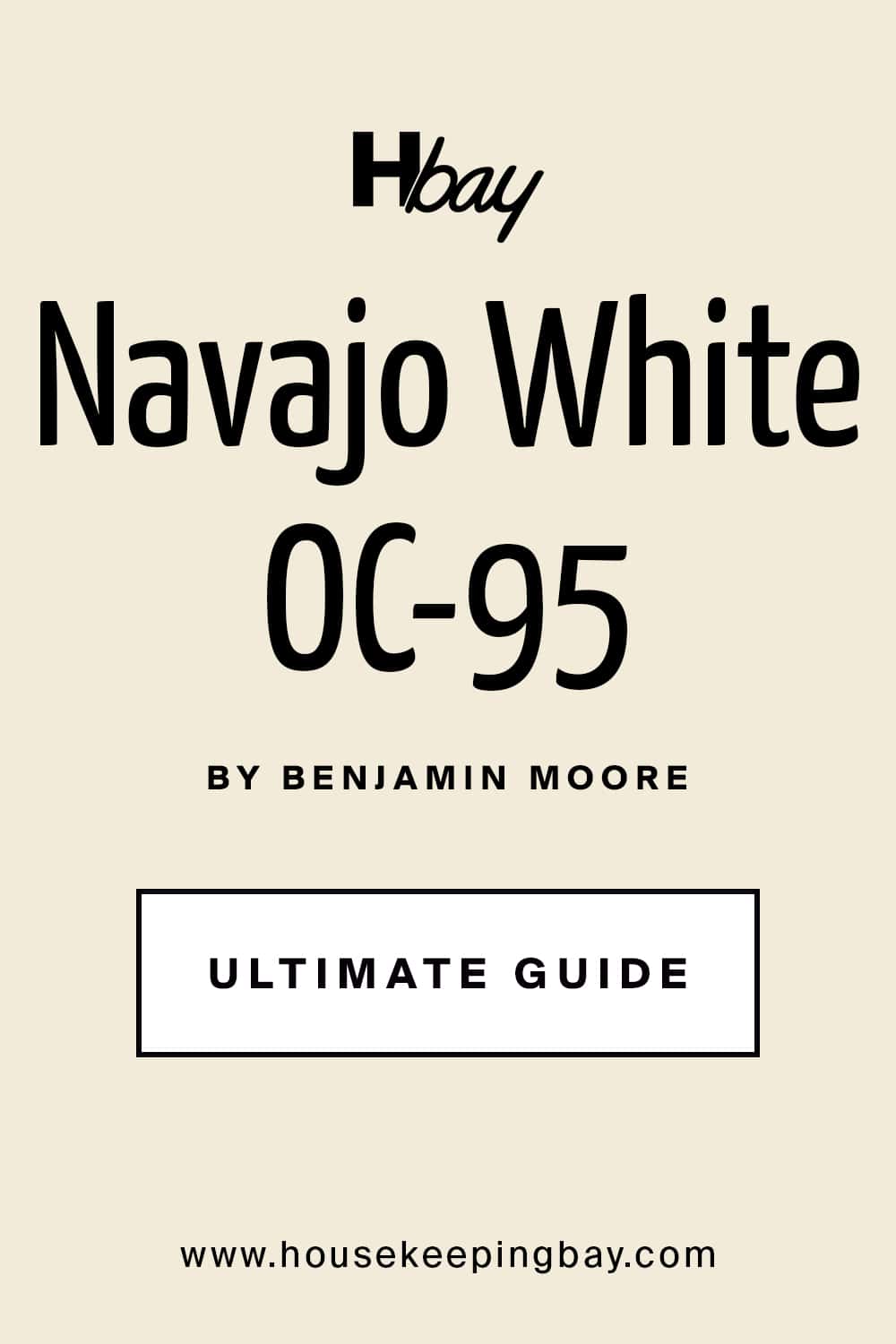 Frequently Asked Questions
⭐What paint has Navajo White paint color?
Sherwin-Williams has Navajo White color (SW 6126, White & Pastel Paint Color). Also, Benjamin Moore has this color.
⭐Is Benjamin Moore Navajo White the same as Sherwin Williams Navajo White?
No, Benjamin Moore Navajo White is not the same as Sherwin Williams Navajo White. SW Navajo White has yellow undertones, and BM Navajo White has orange undertones.
⭐What colors compliment Navajo White?
Navajo White is a creamy warm yellow that is amazingly paired with bright white trim. Since Navajo White has a yellow undertone it pairs well with cooler colors like blues.