White is a traditionally popular paint color to use in our homes. It is very versatile and can work with most other colors equally well. Besides, white works great both indoors and outdoors, so you can use most whites as interior and exterior colors.
However, such versatility doesn't mean you should not learn more about the white paint you are going to use in your home!
Today, we will tell you more about one of the off-whites by Sherwin-Williams. This color is called Westhighland White, and you will find out all its unique features.
We will tell you about its LRV and undertones, teach you how to use it in different rooms, and explain how it should be coordinated.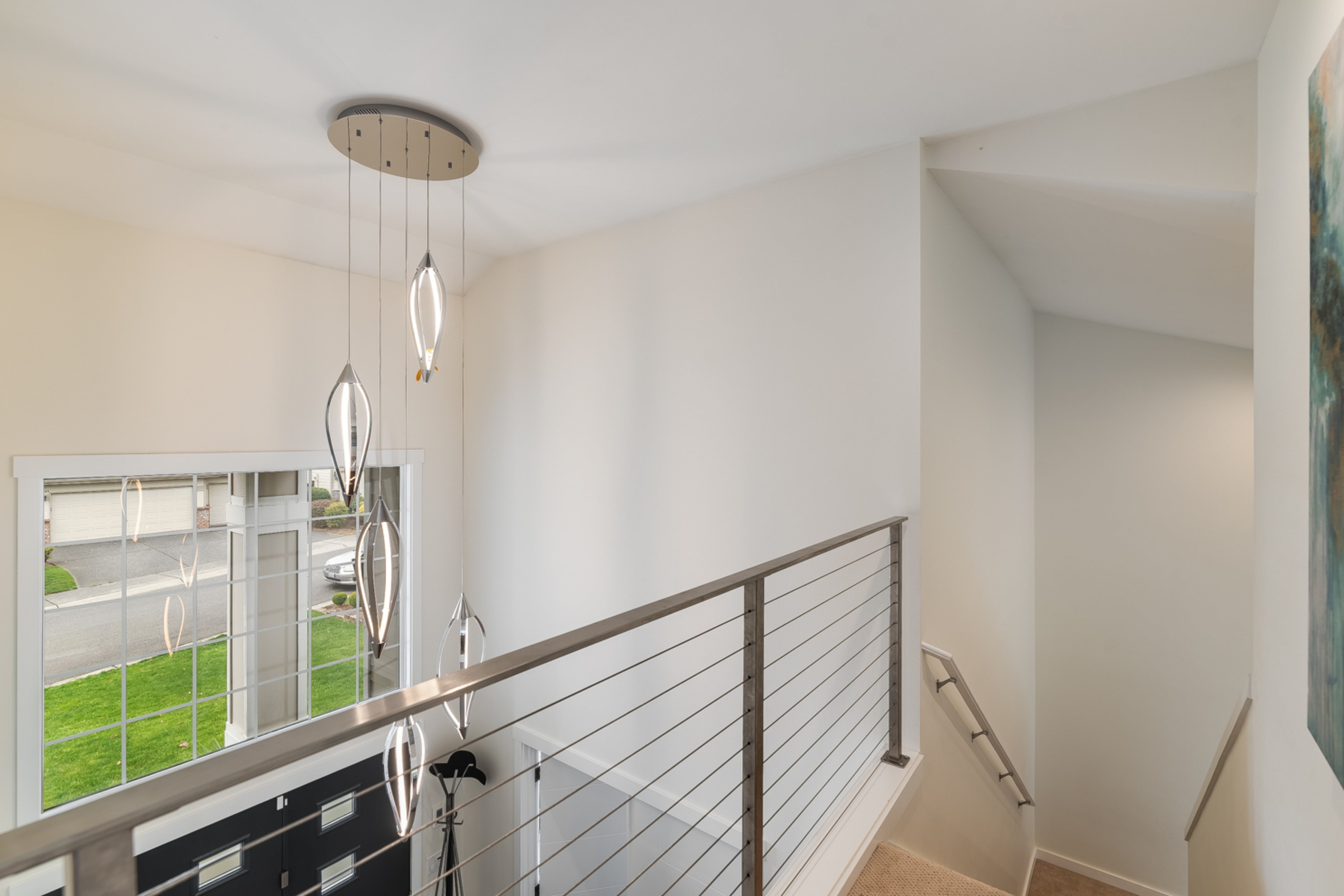 What Kind of Color Is Westhighland White SW 7566?
Sherwin-Williams Westhighland White SW 7566  is a beautiful creamy white with a slightly warm and very delicate undertone. As Encycolorpedia says, this white is considered one of the most off-white colors of this brand.
Thanks to a hint of gray, SW Westhighland White keeps from looking yellow. However, if you take a closer look at it, you will see that this bright, clear white has a slight hint of creaminess.
But thanks to this creamy hue, this paint color coordinates so well with just about any color!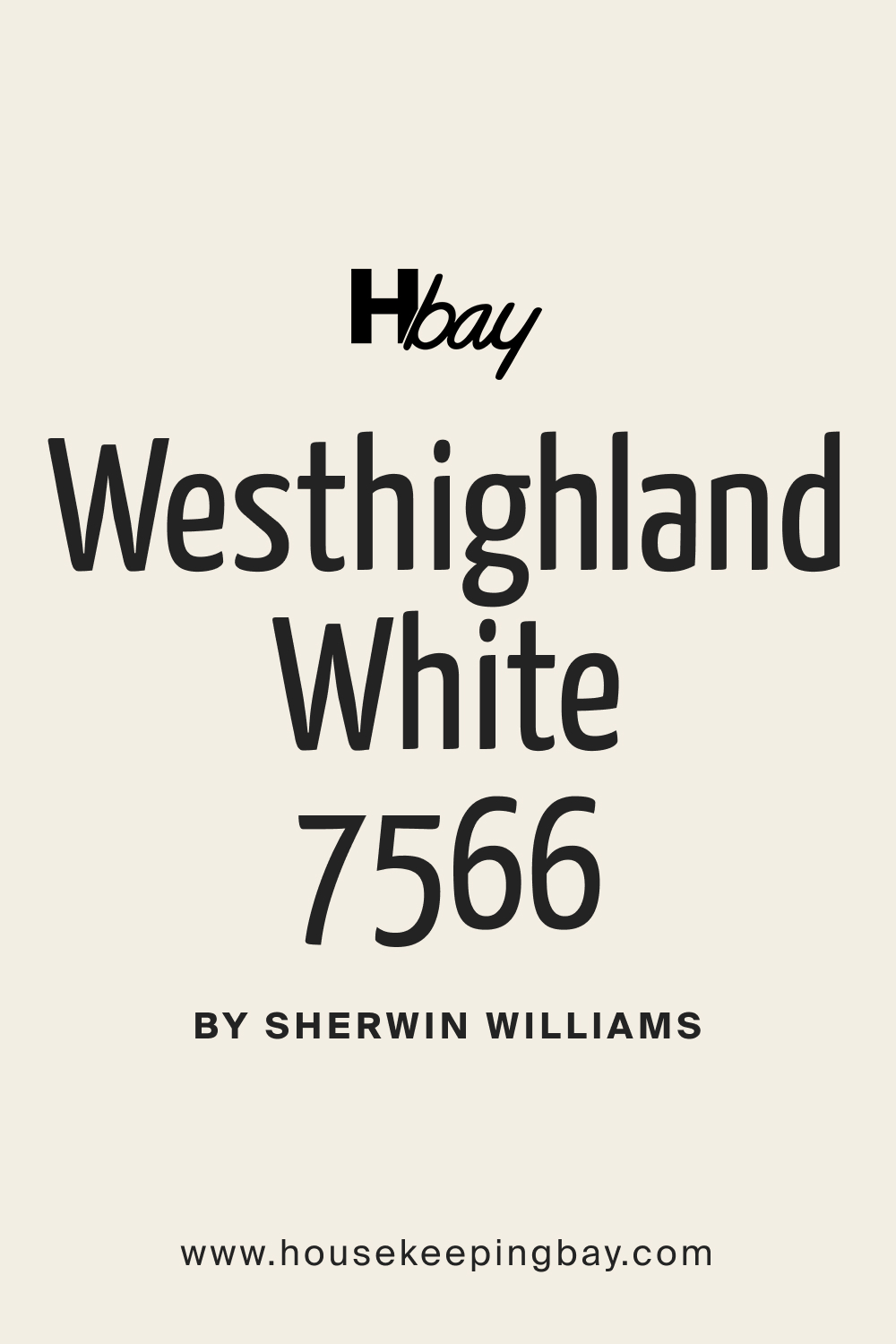 What Undertones Does Westhighland White SW 7566 Have?
SW Westhighland White is a popular paint color that is commonly used in people's homes, and undertones play a leading role in its popularity. This white has warm undertones, but still, the color does not give off yellow or beige undertones when it is used on the walls.
Thanks to this nuance, SW Westhighland White reads pleasantly warm and welcoming in any room without leaning too warm and yellow.
Now you can see why it is so essential to learn what undertones a color has prior to using the paint in your home! Some colors may have rather tricky undertones that show up only in specific lighting conditions. As a result, there is a high risk of discovering a completely different color on your walls!
But when you are aware of its undertones, you can tell in advance how the paint will read in your living space.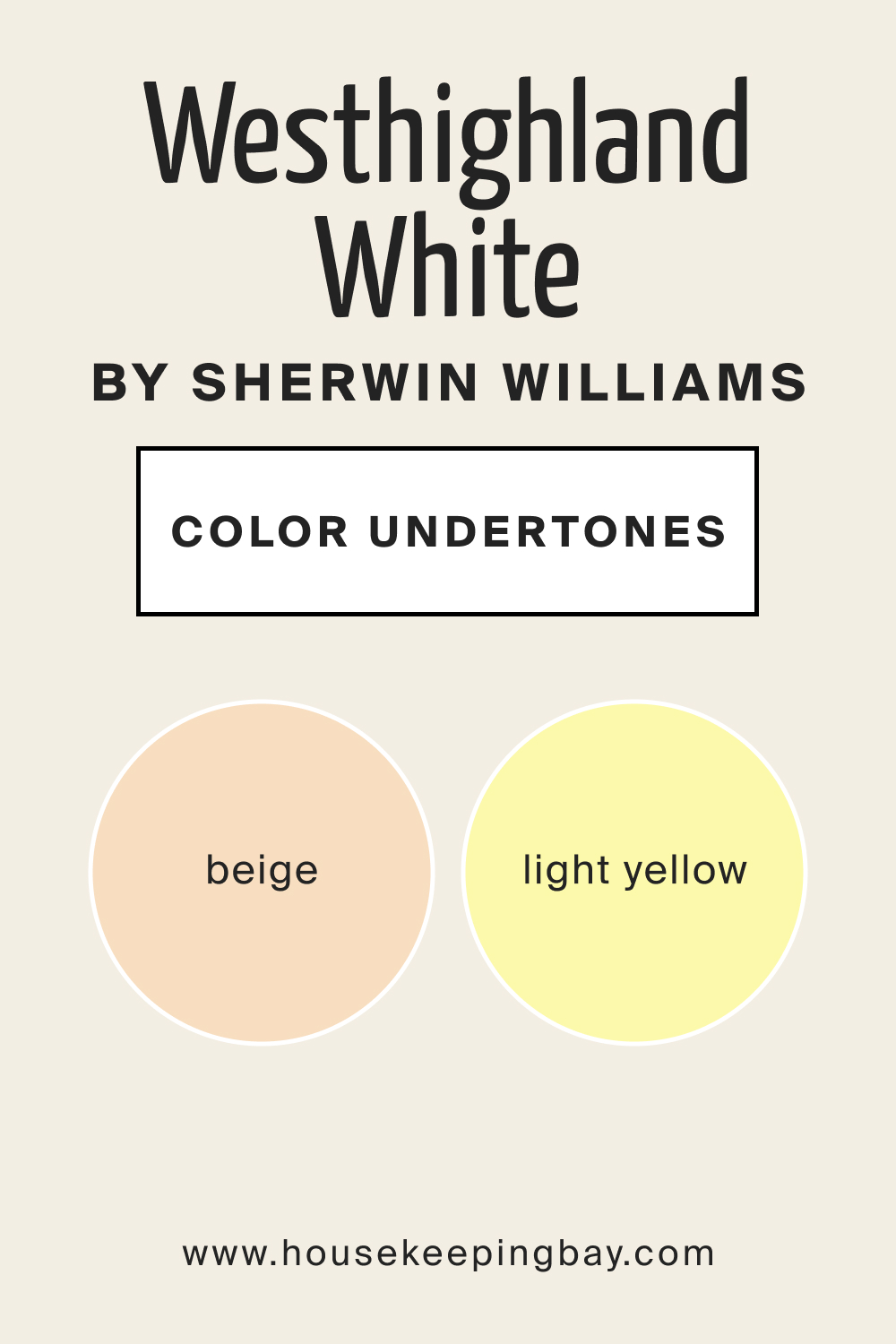 LRV of SW Westhighland White Paint Color
The LRV (light reflectance value) of SW Westhighland White is 86, which makes this color a very bright and highly reflective white. As you probably know, the closer the LRV value to 100, the lighter the color.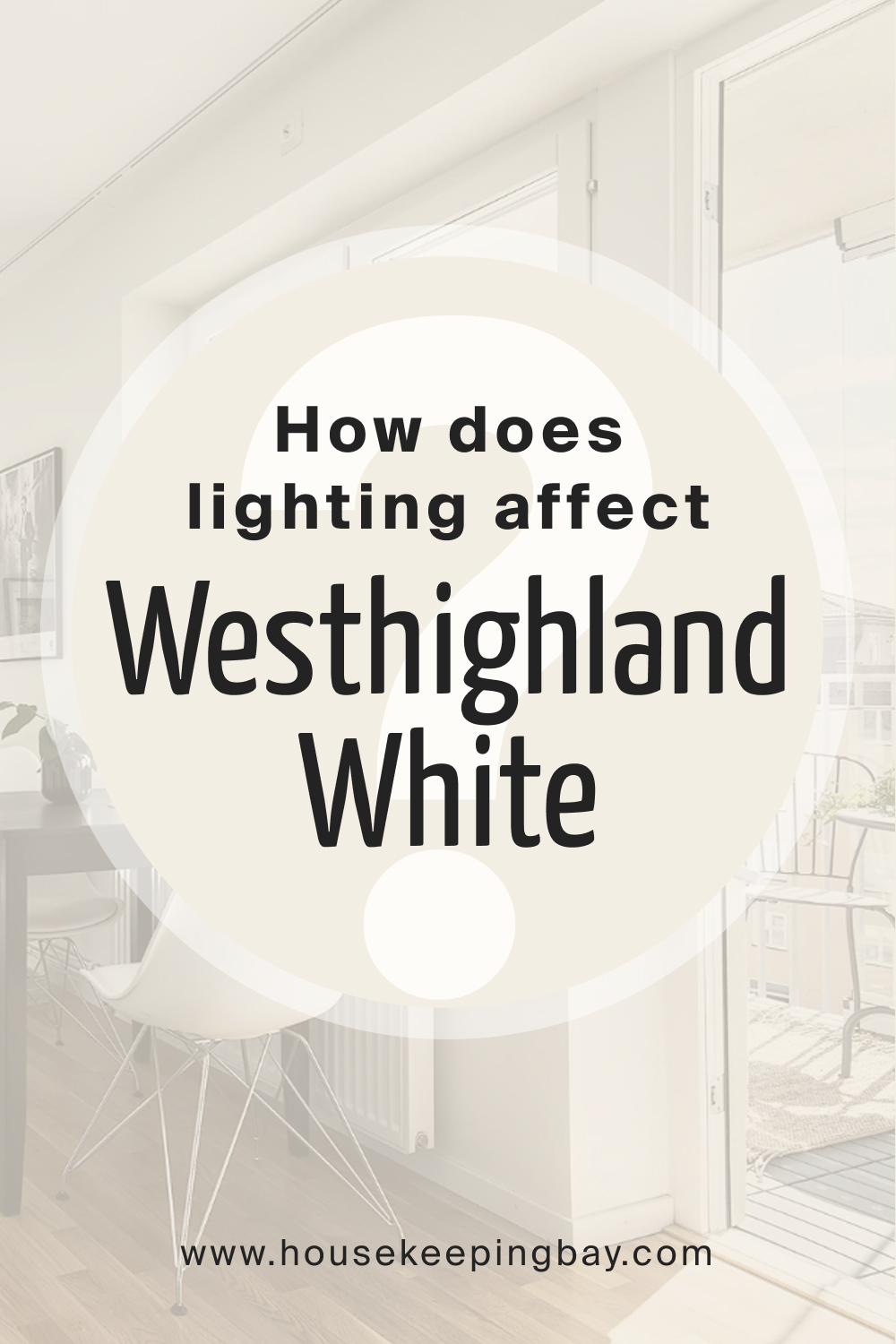 The closer the LRV value to zero, the darker the color and the less light it can reflect from the surface.
With such a high LRV, SW Westhighland White will make any room feel brighter and more spacious. At the same time, this white will not create a crispy and icy look in your home since it's not that cool-toned. So, if you strive for a cooler atmosphere and stark contrasts, we suggest you use other, more cool-toned whites instead.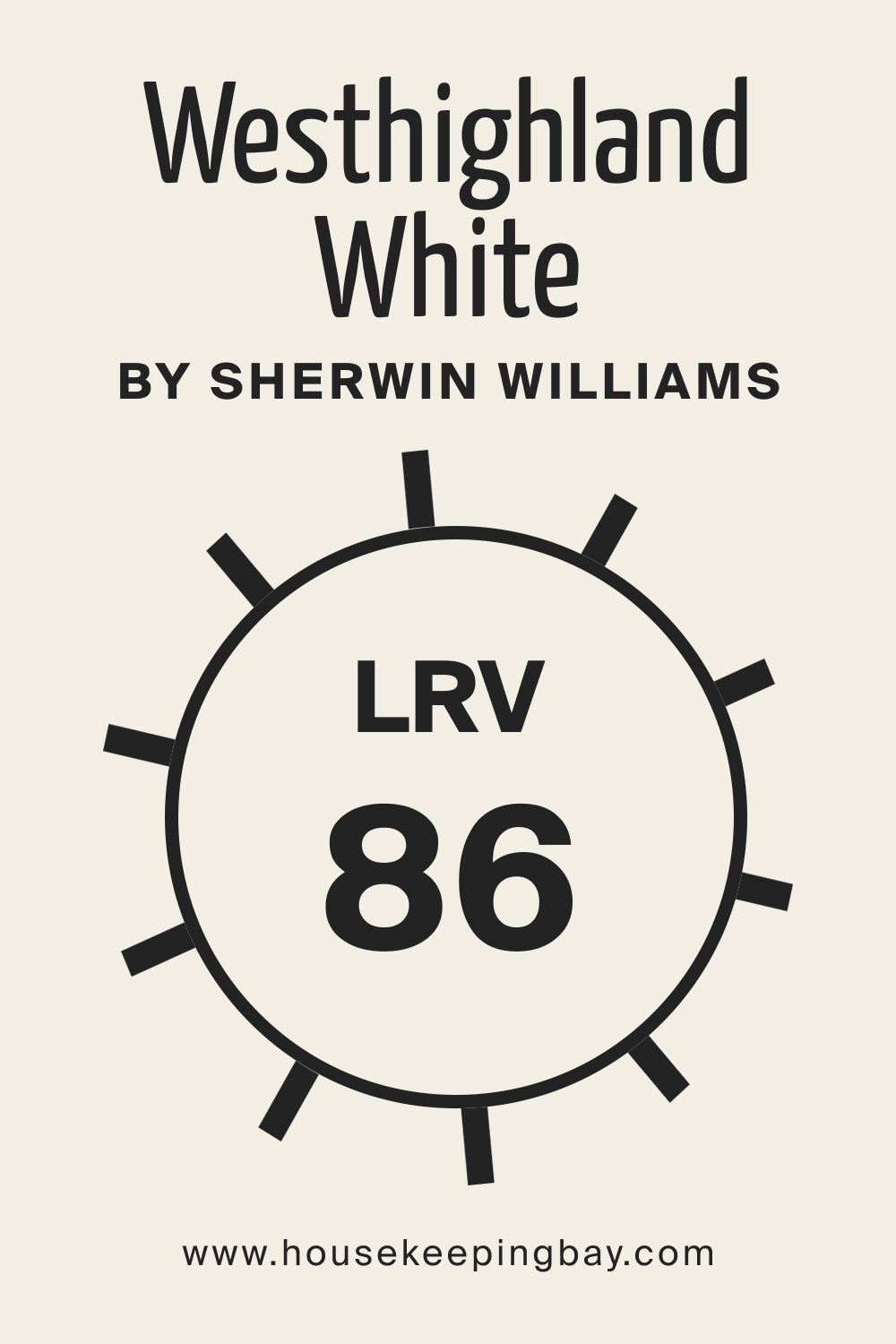 What is LRV? Detailed Guide
Westhighland White SW 7566 Coordinating Colors
Coordinating colors help to highlight the natural beauty of the wall color and reveal its hue better. However, people typically can't choose proper coordinating colors due to the lack of knowledge of color theory.
Exactly for this case, we have prepared a few coordinating color ideas for you to check out. For example, the most commonly used coordinating colors for SW Westhighland White are the following:
SW French Moire
For the monochromatic color palette, we recommend using the following coordinating colors:
SW Gauntlet Gray
SW Amazing Gray
SW Porpoise
SW Roycroft Mist Gray
Should you prefer more contrasting and varied color combinations, you might want to try this tried color palette instead:
SW Enigma
SW Vaguely Mauve
As an option, the following complementary colors will also work well to coordinate SW Westhighland White:
SW Moody Blue
SW Tradewind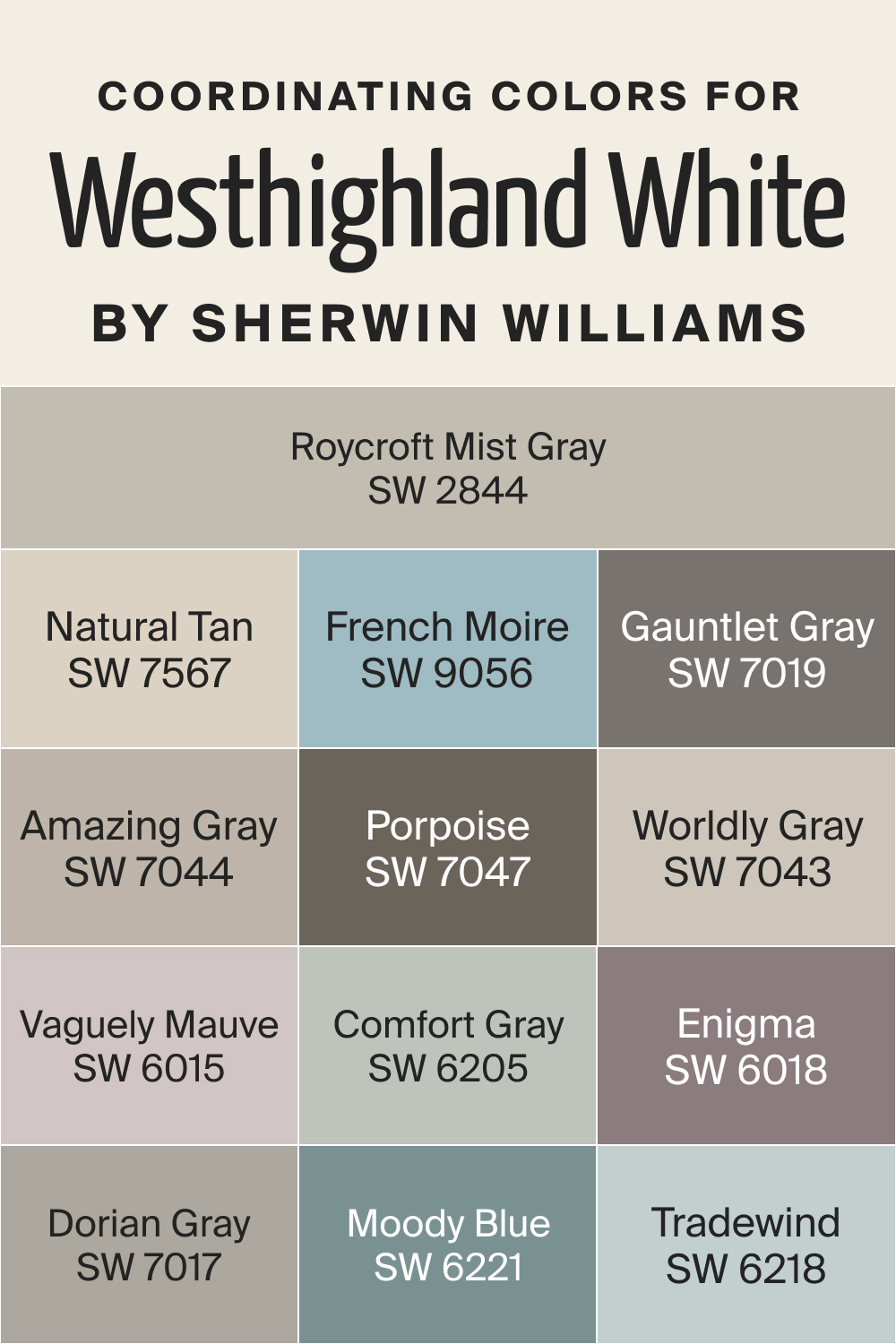 Colors That Go With Westhighland White SW 7566
Since SW Westhighland White is a white paint color, it will work perfectly well with different blacks. However, you will surely want a more varied color palette for your home than just black-and-white, so grab a few more color ideas to use with this beautiful and delicate white:
SW Wall Street
SW Tempe Star
SW Online
SW Billowly Breeze
SW Baby Bok Choy
SW Pussywillow
SW Drizzle
SW Canyon Clay
SW Black Swan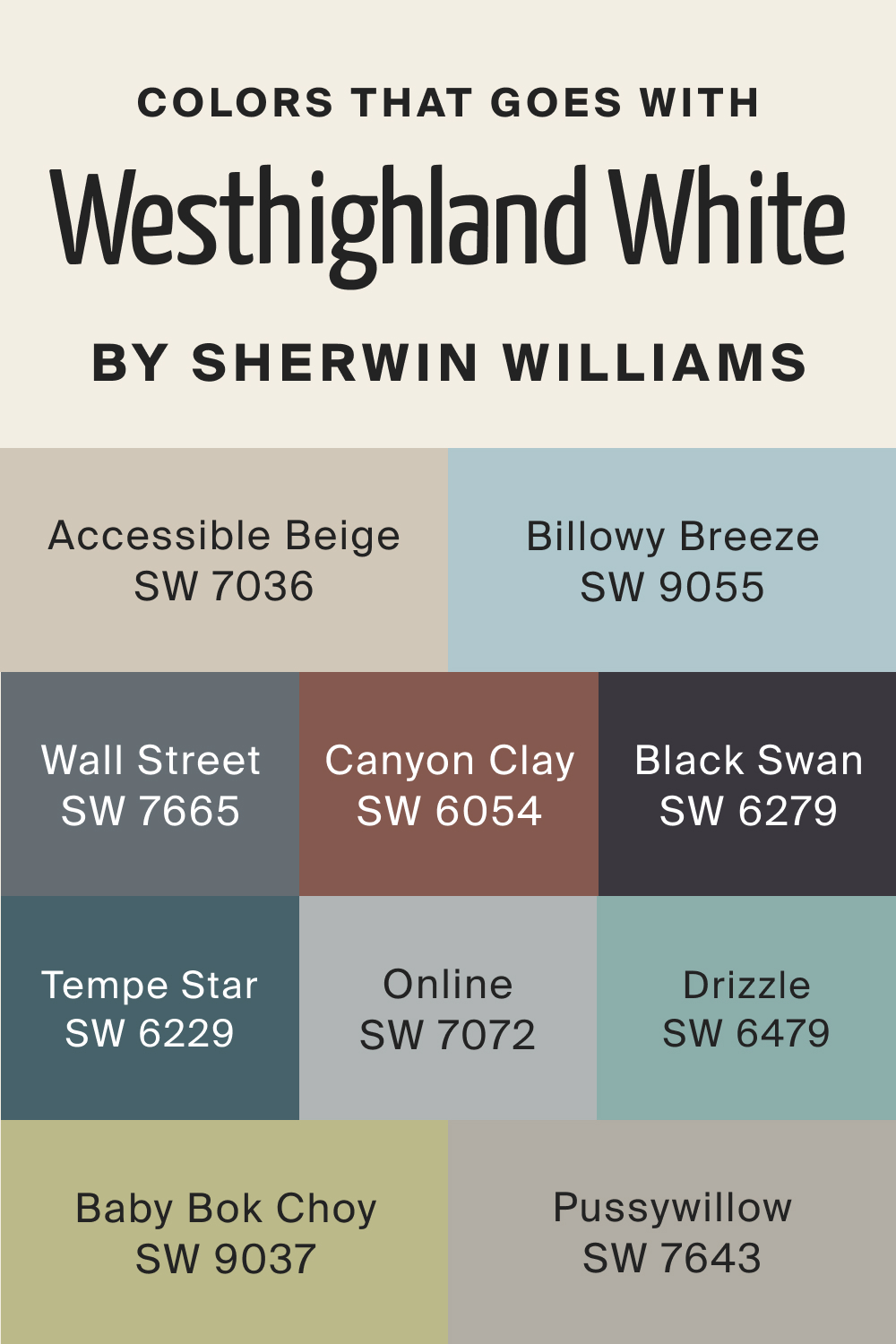 What Is the Best Trim Color to Use With Westhighland White SW 7566?
As you probably know, white is a universal trim color to use indoors and outdoors. However, when you have white on your walls already, it might seem impossible to select the optimal shade of the same color to paint over the trim!
If you have SW Westhighland White SW 7566 on your walls, we recommend you use BM Simply White (or similar whites) as a trim color since it creates a proper contrast with the color of the walls.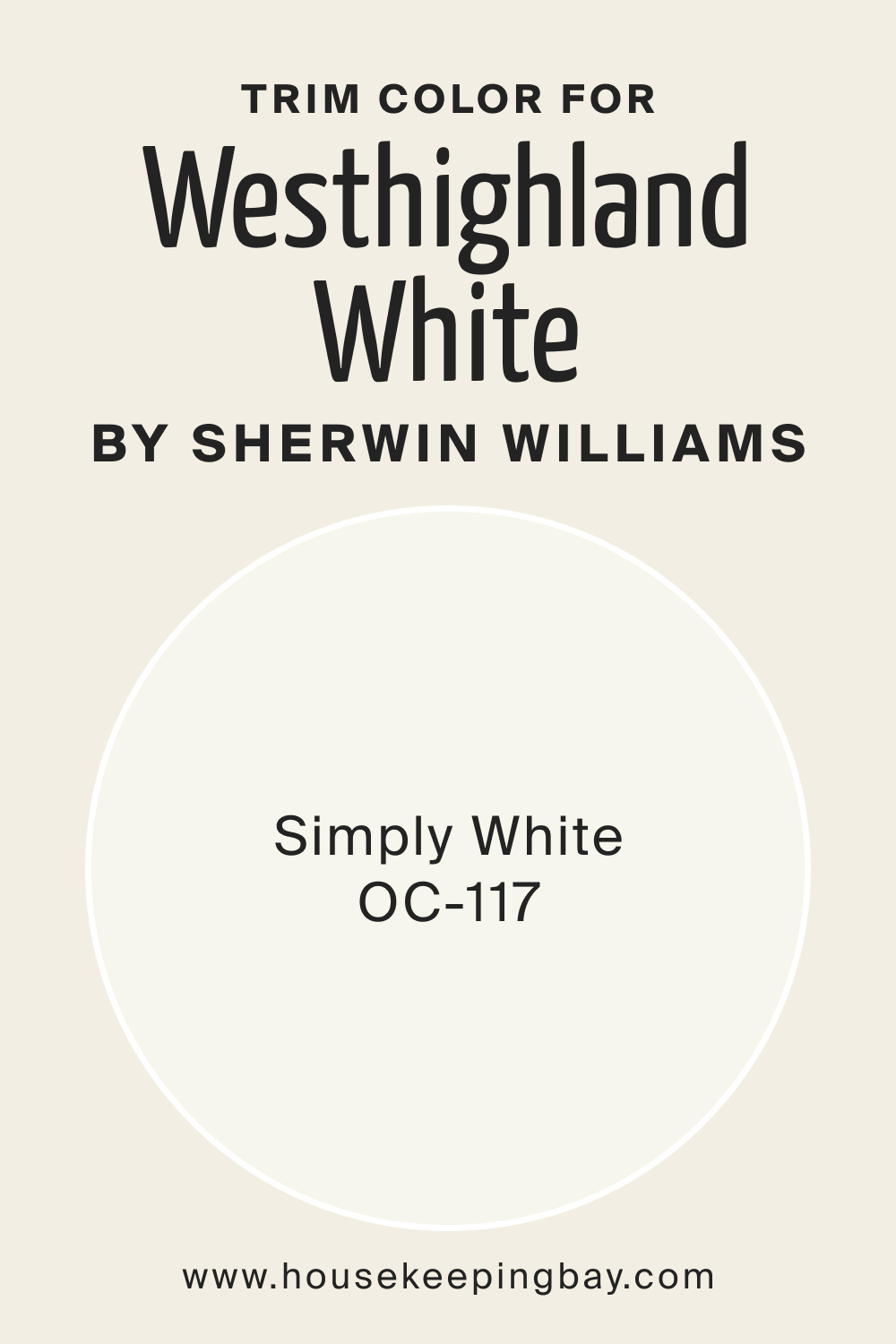 Similar Colors to Use Instead of SW Westhighland White
Should you need to find a substitute color to use instead of the paint you were initially going to exploit, it might be challenging to pick the most suitable alternatives. It's essential to consider the LRVs and undertones to select the color/colors that will work best as similar colors.
For SW Westhighland White, you'd better use one of the following whites since they are the closest matching colors:
Behr Flurries
Farrow&Ball Pointing
PPG Accolade
Valspar Wings of an Angel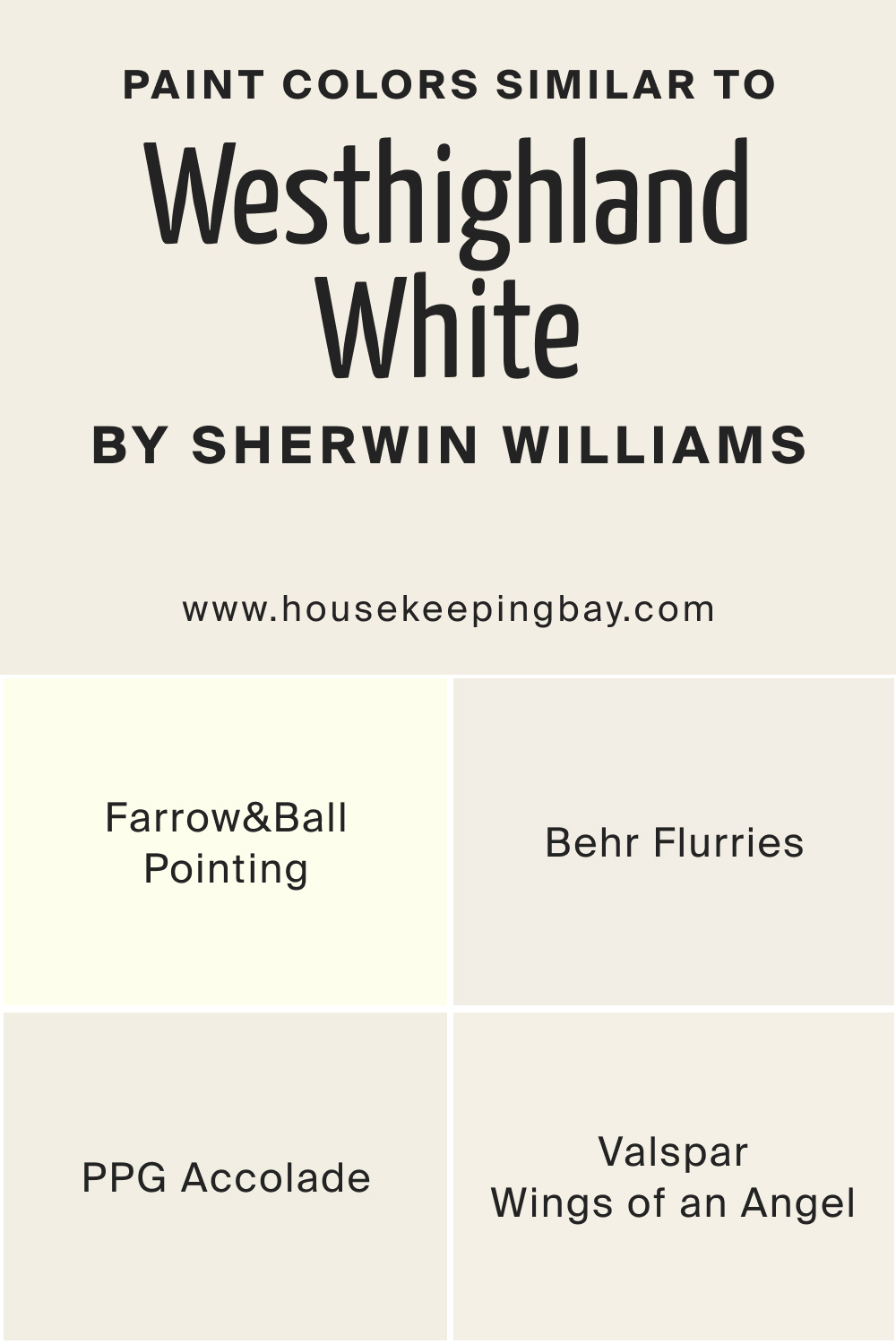 Comparing Westhighland White SW 7566 With Other Colors
To help you better understand the unique features of this soft and balanced off-white, we recommend you read how SW Westhighland White paint color differs from other whites. You will see how different undertones and LRVs can make very similar colors look pretty distinct on the walls.
Westhighland White vs Alabaster
SW Alabaster is a soft and warm white with subtle beige undertones and an LRV of 82. In terms of light reflectivity, it is pretty close to SW Westhighland White, but SW Alabaster reads less warm, revealing a more beige hue. SW Westhighland White, in its turn, reads much warmer with a prominent creamy tone.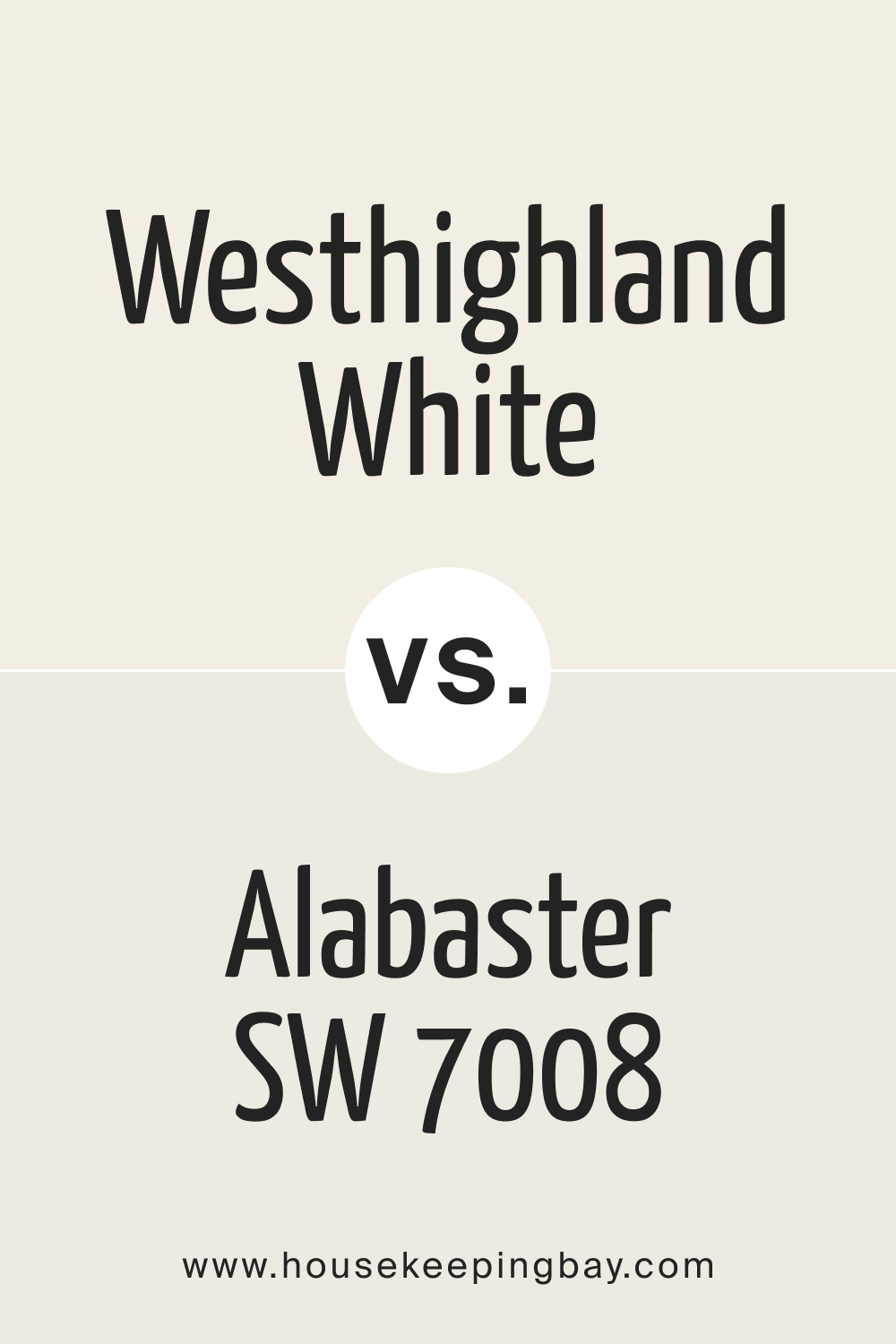 Westhighland White vs Greek Villa
SW Greek Villa has mild yellow-beige undertones that can seem almost beige at times. The LRV of this color is 84, which is two points less than the LRV of 86 of the Westhighland White color. These two don't look much contrasting, but if you take a closer look, you'll notice that SW Greek Villa looks more beige.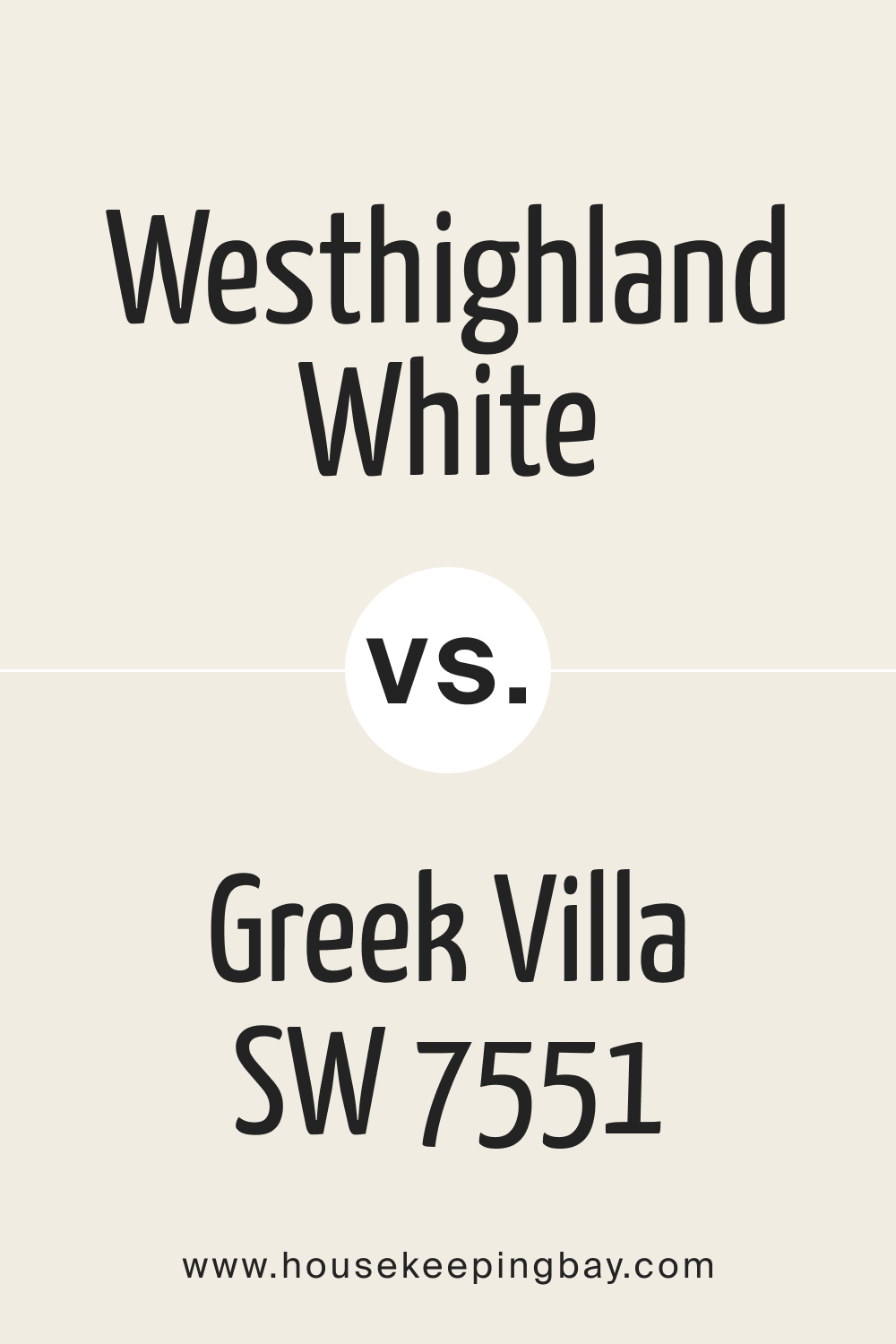 Westhighland White vs Shoji White
These colors look very lovely together, creating a nice and balanced contrast. SW Shoji White has a delicate beige undertone, unlike its counterpart with the prominent yellowish-creamy base. Also, the LRV of Shoji White is 74, which is why this color is less reflective than SW Westhighland White.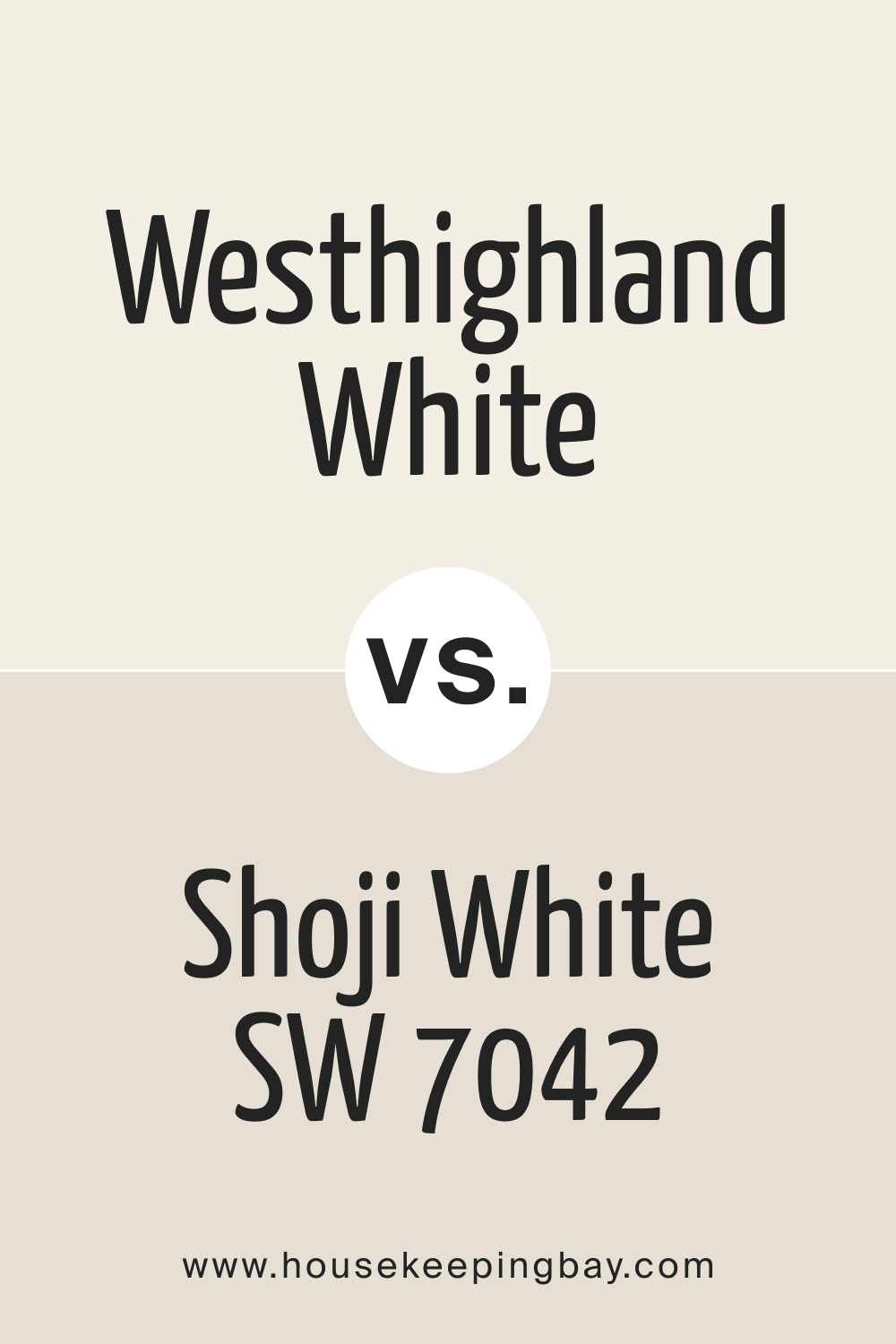 Westhighland White vs Pure White
These two can hardly be called well-working since SW Pure White reads noticeably grayer and a bit cooler compared to SW Westhighland White. Also, SW Westhighland White is brighter and more reflective due to the LRV of 86 (SW Pure White's LRV is 84).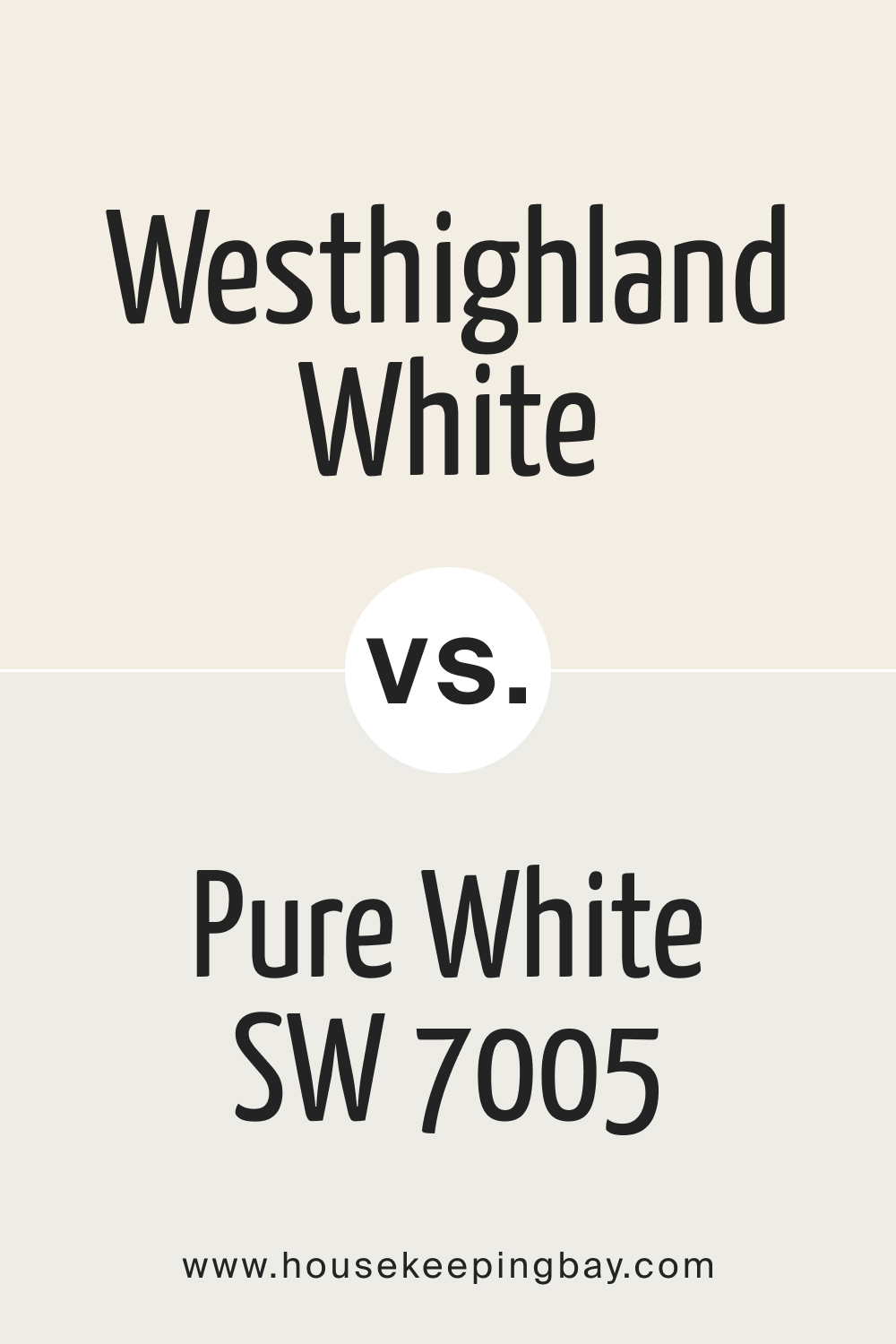 Westhighland White vs Creamy
SW Creamy can work as a darker substitute for the Westhighland White color thanks to its higher creaminess. Both have yellow undertones, but due to the LRV of 81, SW Creamy reads slightly darker, creating a nice and delicate contrast with the SW Westhighland White.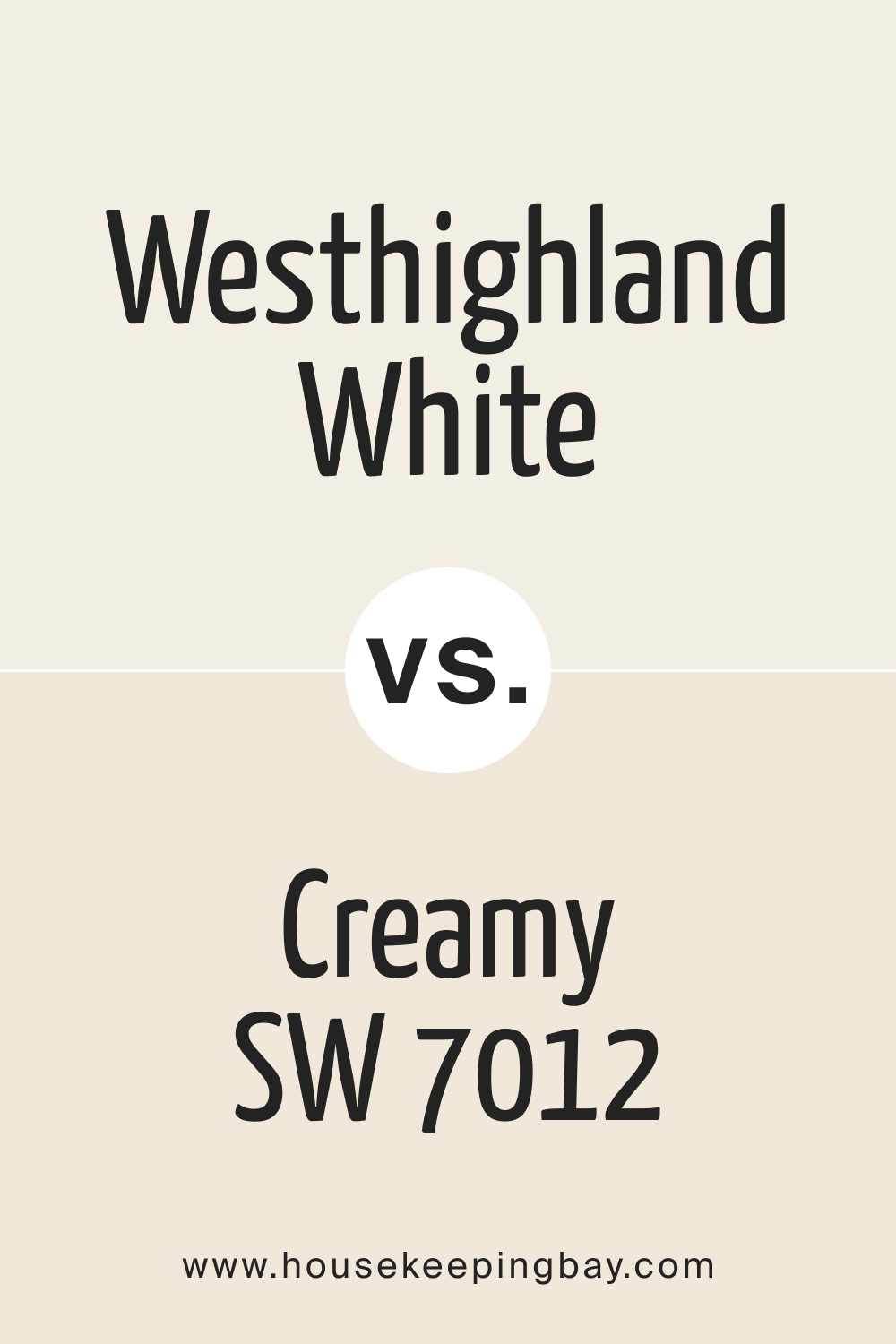 Westhighland White vs Dover White
SW Dover White has a subtle butterscotch undertone and an LRV of 82, which makes this white color a bit less reflective than SW Westhighland White, whose LRV is 86. But generally, these colors don't look very distinct unless you take a really close look at them.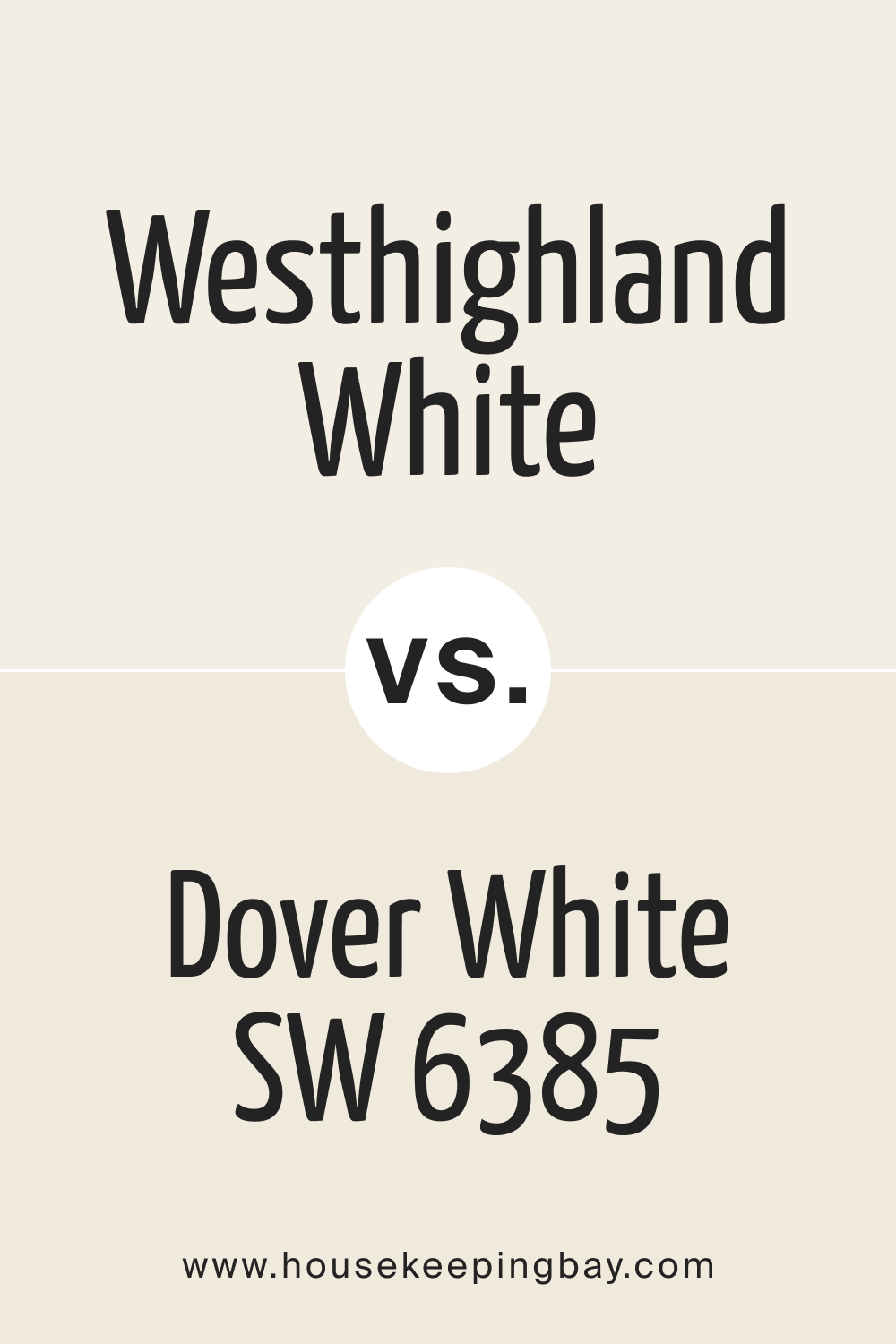 Where In Your Home Westhighland White SW 7566 Color Can Be Used?
SInce SW Westhighland White is a soft and warm-toned white with delicate yellowish undertones, you might think it's unsuitable for most rooms in your home. BEsides, people try to avoid warmer whites because they believe those will read butter-yellow, especially in warmer daylight!
However, SW Westhighland White is surprisingly versatile! Below, you can read how it works in different rooms to ensure this color is worth trying!
Westhighland White SW 7566 in the Living Room
Do you want to get a cozy and homey atmosphere in your living room without making it read too warm or yellow? Then SW Westhighland White is your color option to try! This off-white will add a hint of delicate warmth without turning the space way too "soft" or yellowish.
Also, this white will allow enough freshness and brightness due to its high light reflectivity! And since it works great with different textures and materials, you can easily incorporate it into almost any interior style or design.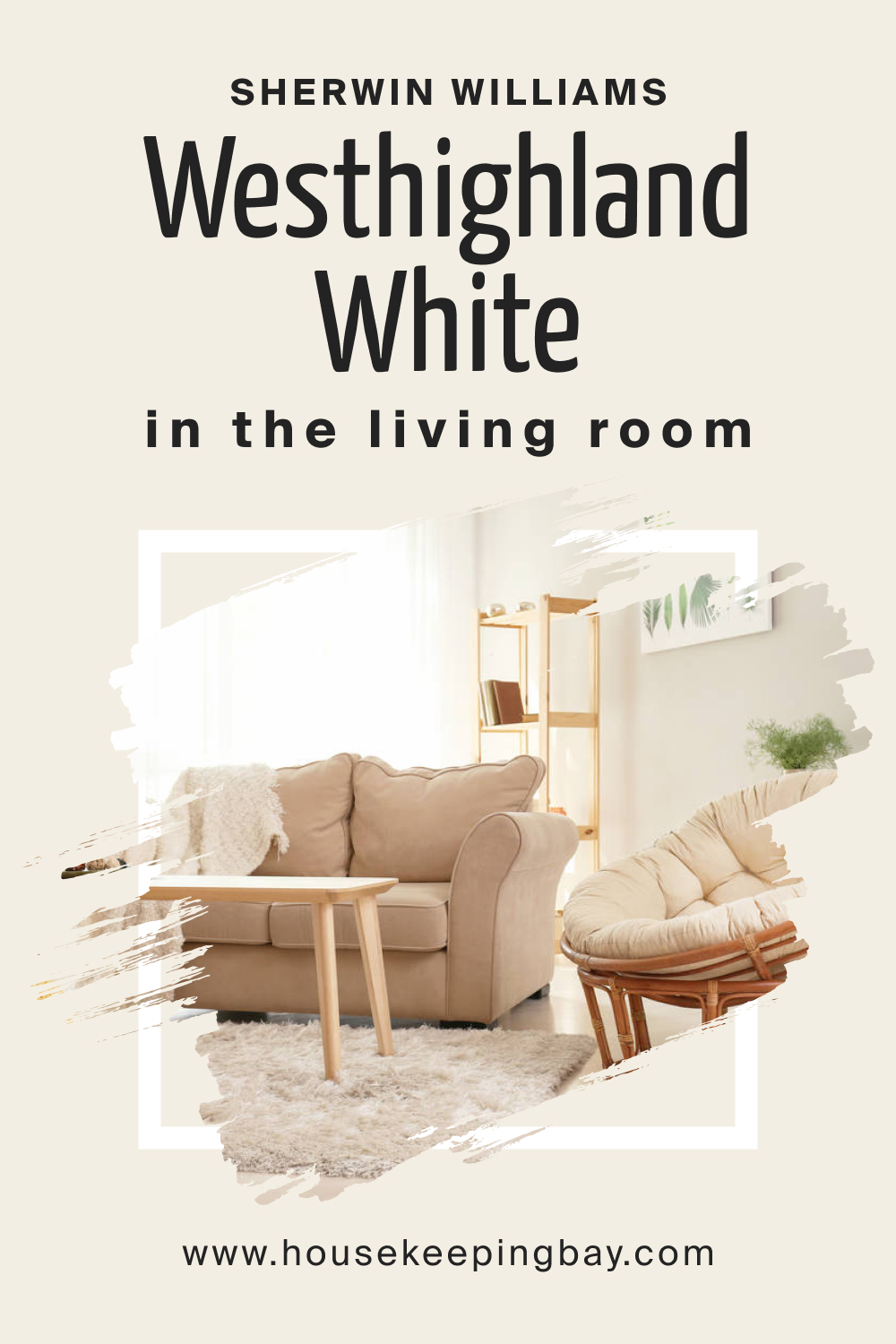 Westhighland White SW 7566 in a Bedroom
SW Westhighland White will also work well on your bedroom walls, but we would suggest you use enough brighter whites to make the room feel fresh and airy. Also, try to use this white moderately in a small bedroom or in a room with little or dim light. In this case, adding brighter whites can help you make the room feel more spacious.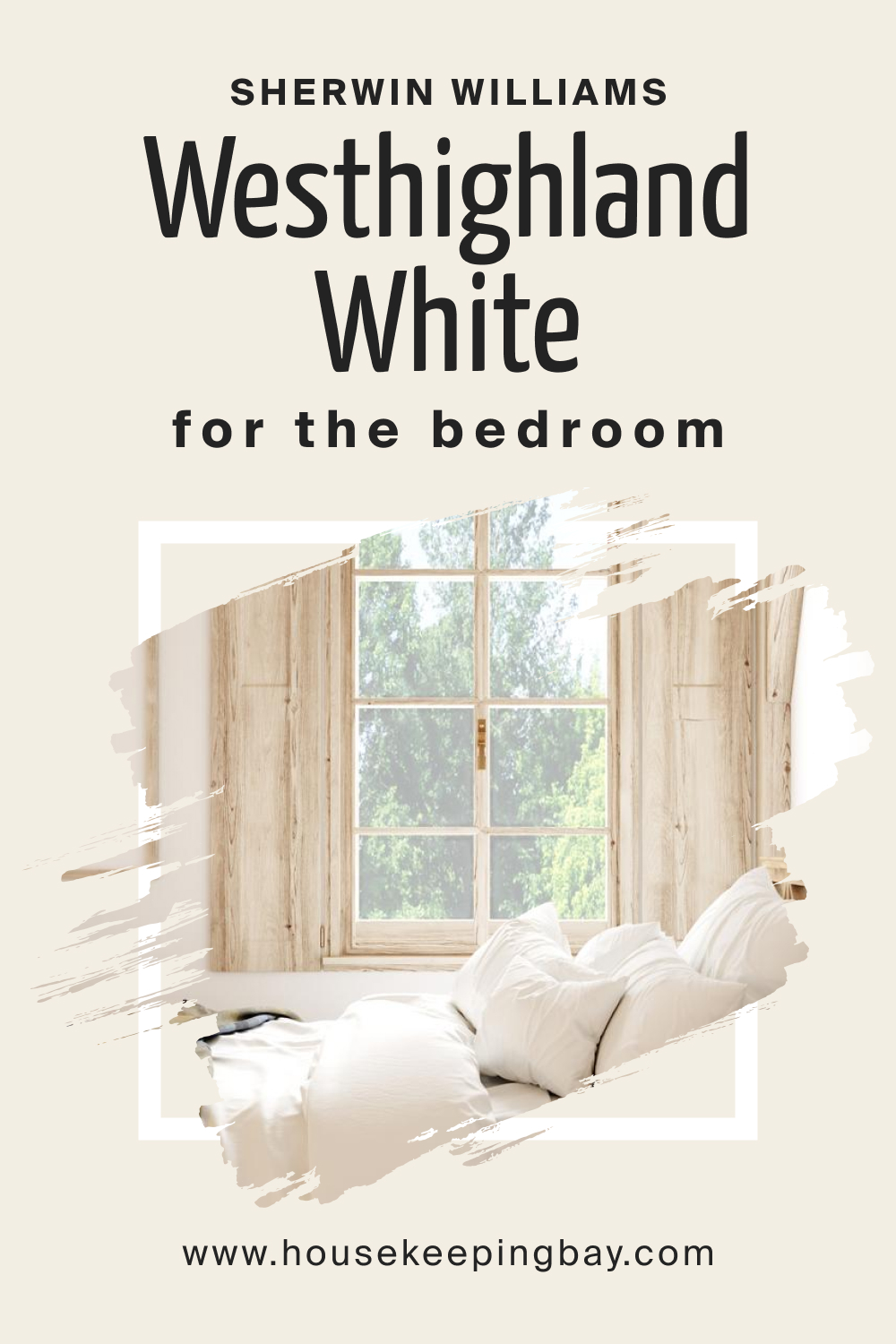 Westhighland White SW 7566 and Kitchen
In your kitchen, SW Westhighland White will read pretty bright if the room has enough daylight. In warm artificial lighting or in a room with little natural light, this off-white may seem somewhat warmer, revealing its yellow base more noticeably.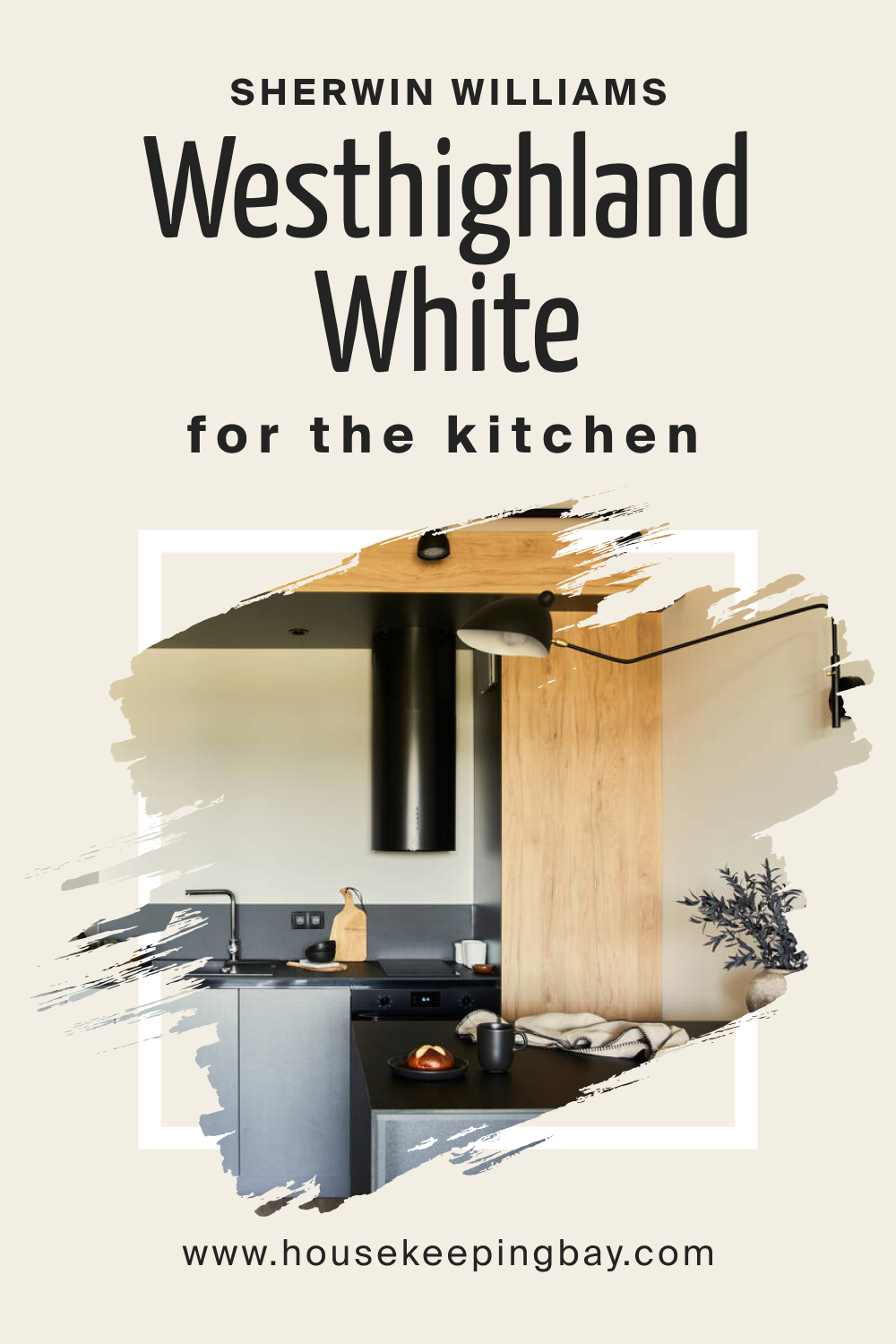 Westhighland White SW 7566 for the Bathroom
Since bathrooms are typically enclosed and have no windows, be ready so that SW Westhighland White may read much warmer and creamier on the walls! However, you can still fix this by using more brighter whites on the trim and ceiling.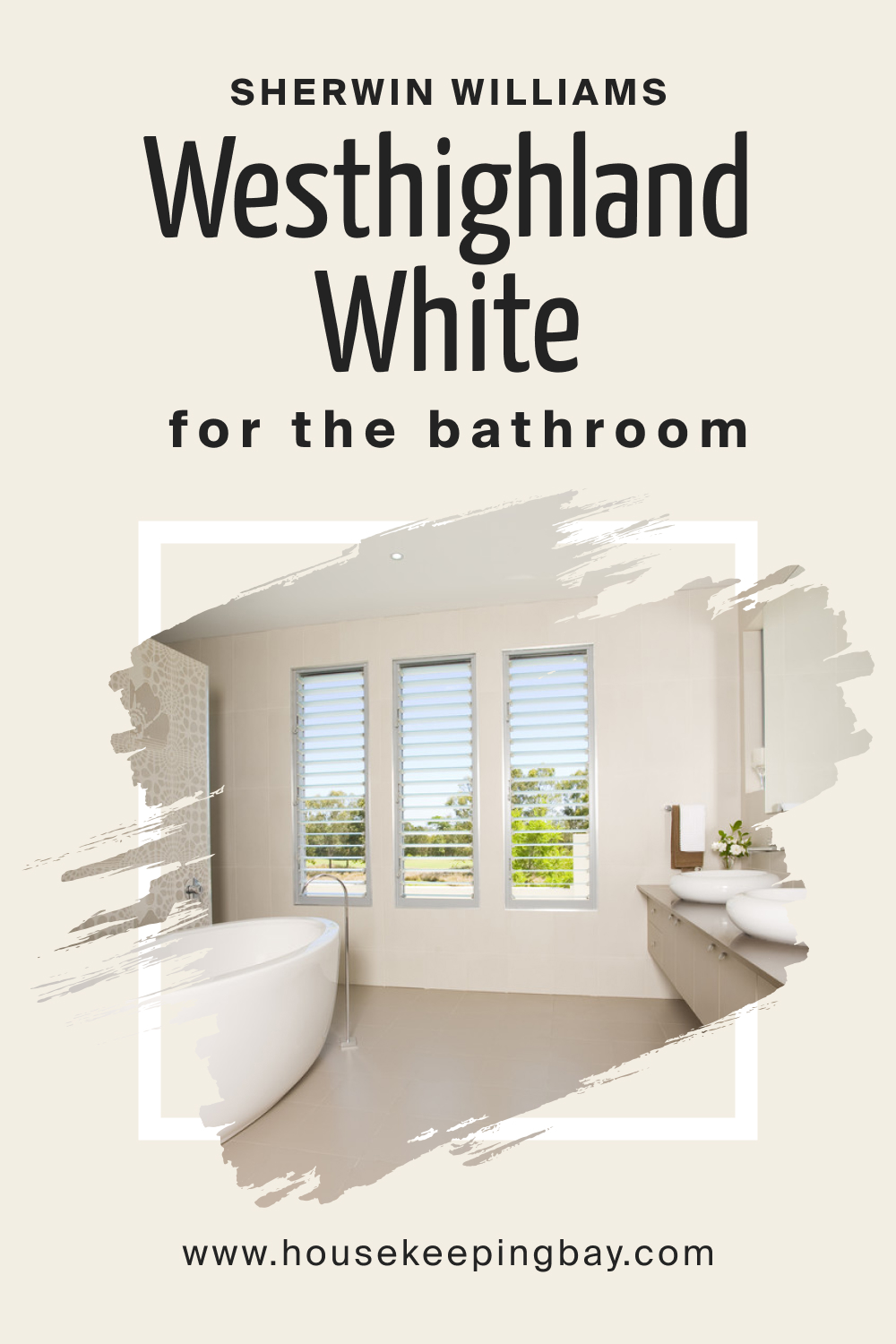 Westhighland White SW 7566 for the Exterior Use
On exterior walls, SW Westhighland White may read a bit creamy and reveal more of its yellow base if the lighting in your area is warm (e.g. you have many sunny days during the year). In less bright/warm lighting, this off-white will read more balanced, still keeping its soft and pleasantly warm appearance.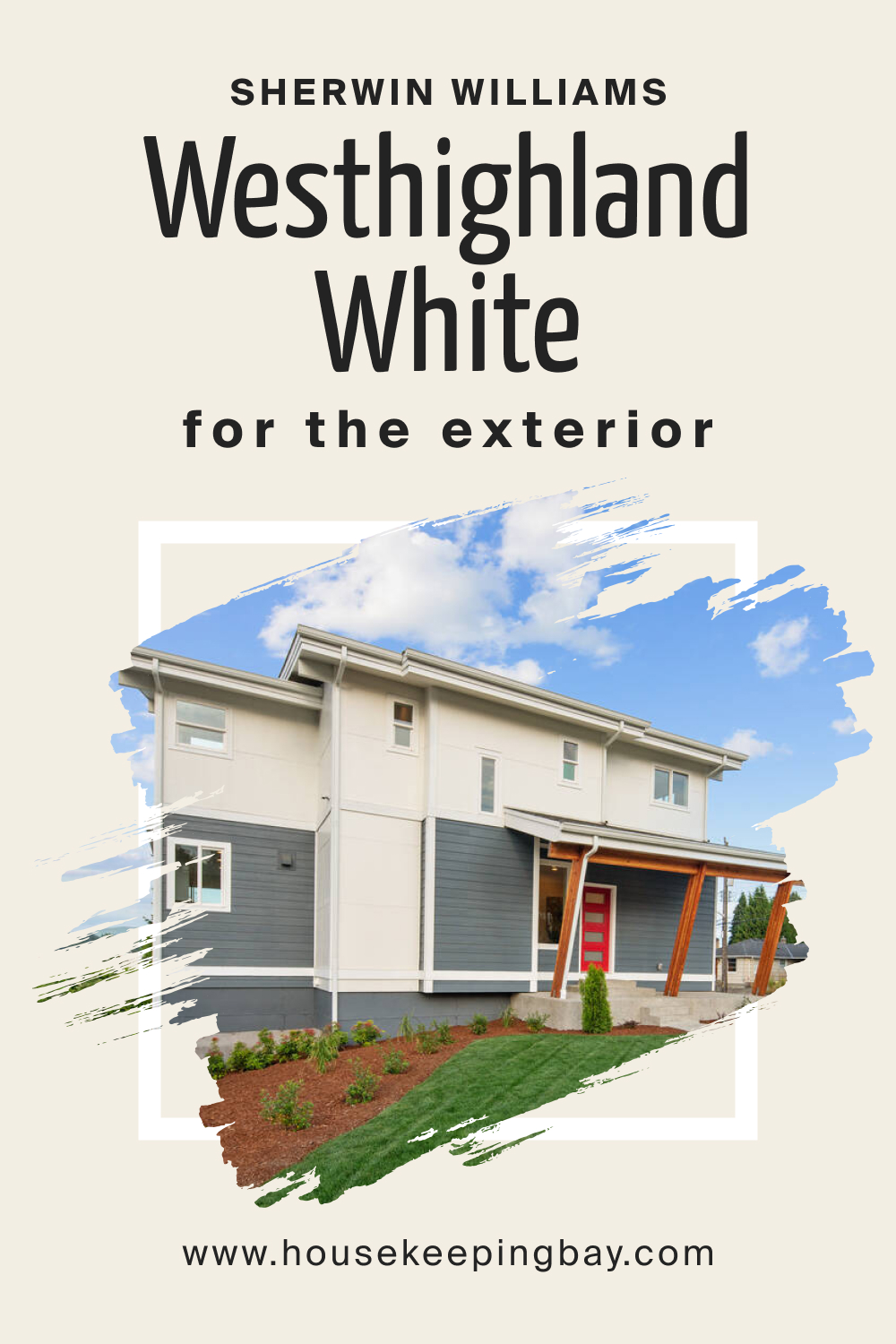 Well, this is what we wanted to tell you about one of the most beautiful whites from Sherwin-Williams! Now you know what kind of white SW Westhighland White is, how it works in different rooms, and how to coordinate it correctly.
With this information and other tips and life hacks we shared with you, using this creamy white won't be a challenge for you.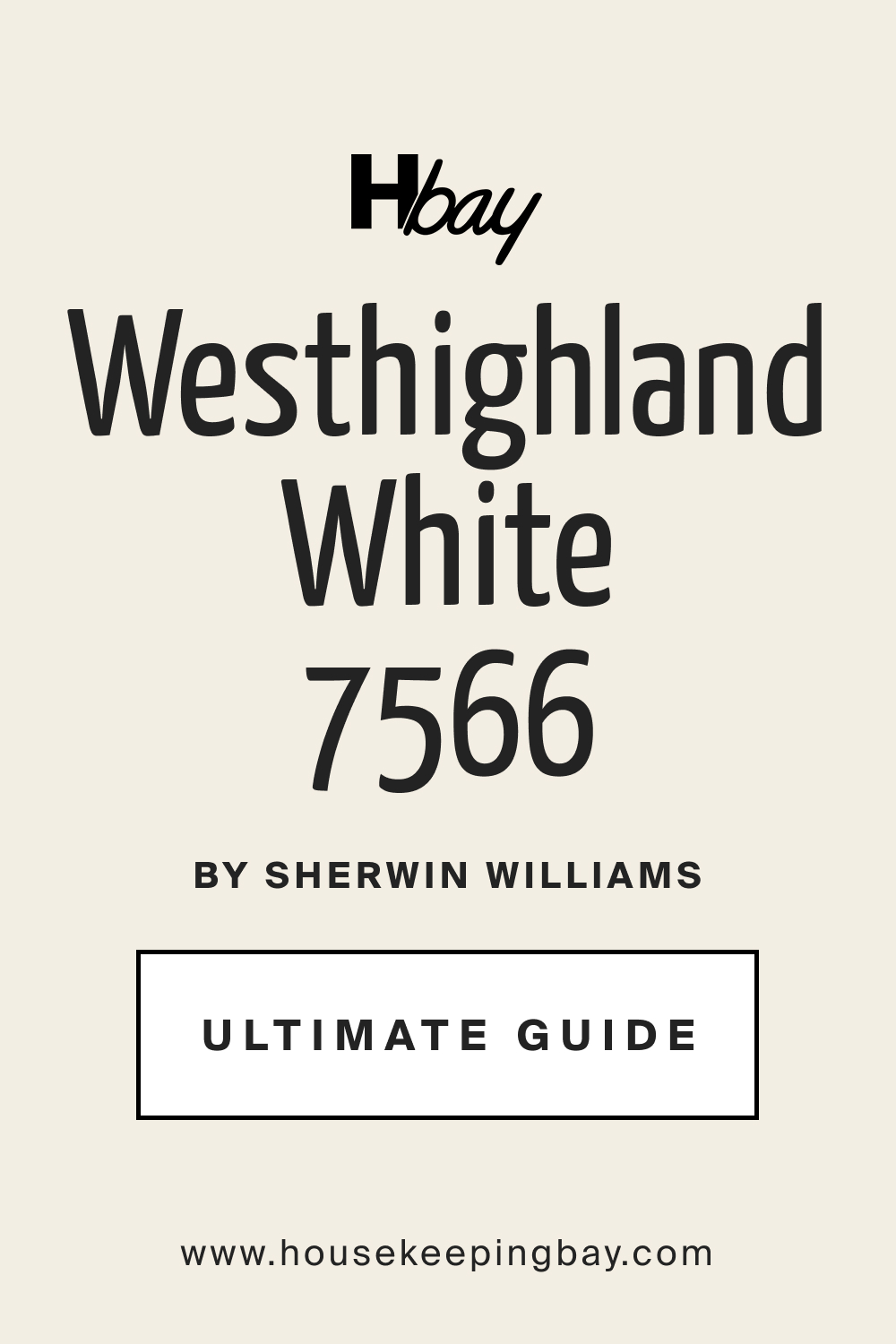 Frequently Asked Questions
⭐Is SW Westhighland White a popular color?
It's pretty common in homes, but we'd not call it a go-to white.
⭐Is this color suitable for a nursery?
Yes, thanks to its softness and creaminess, SW Westhighland White will work great in a nursery.
⭐Does SW Westhighland White work with black color?
Absolutely! Like any white, it pairs great with black.