If you prefer a welcoming vibe in your home, you might want to use creamy whites on your interior walls. This white hue adds a relaxing touch to any space where it is used, making it feel homey.
Today, we will tell you about the color called Downy by Sherwin-Williams. It's a soft and delicate white that reads slightly pinkish and absolutely lovely!
You will learn how this hue reacts to light and how to coordinate it correctly. Also, we will explain what colors it is best to pair this white with.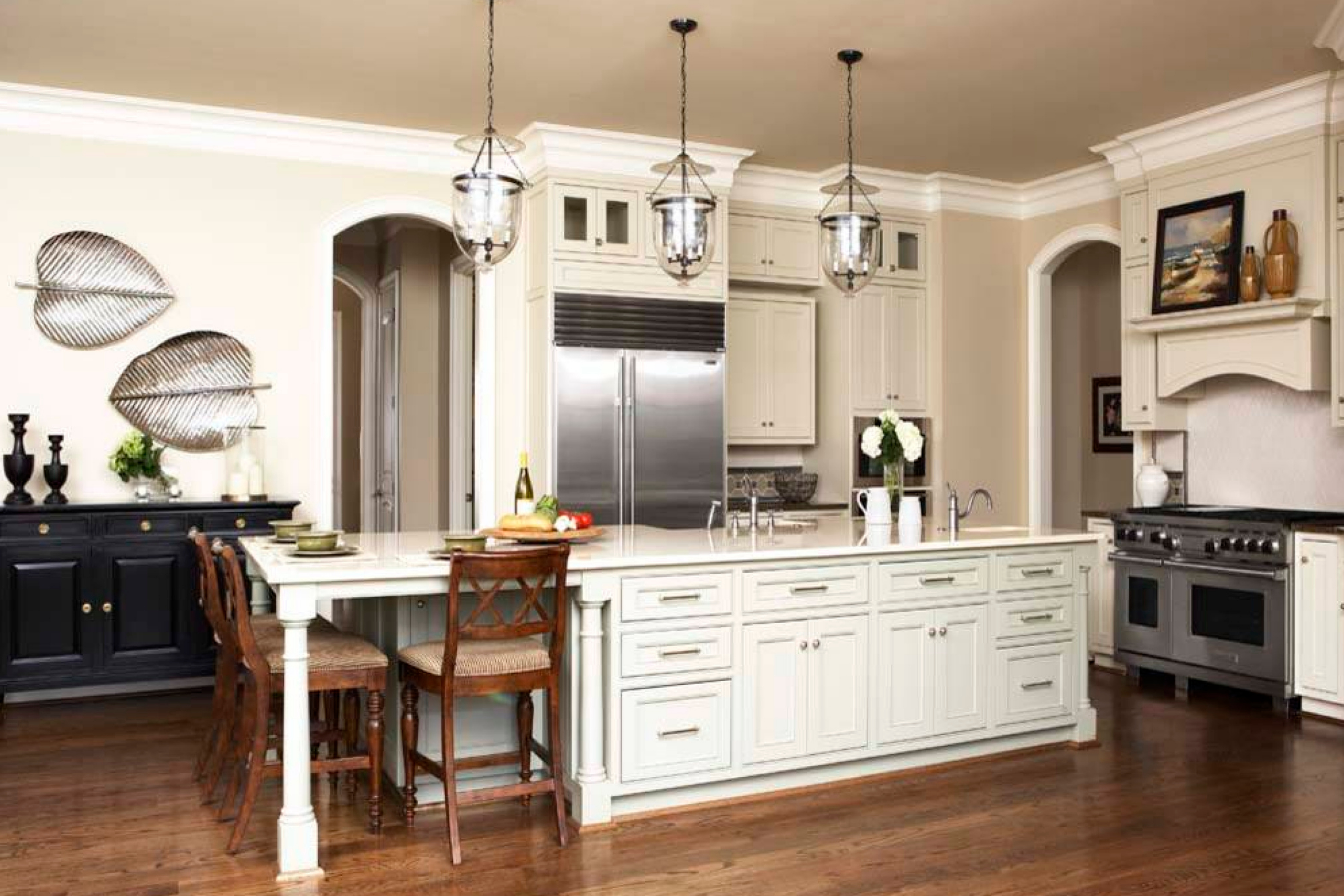 What Kind of Color Is SW Downy?
SW Downy is a bright white color, but it's not that crisp and cold white that resembles snow.  As Hextoral says, this white hue is delicate and soft, which is why it's perfect for creating a welcoming and cuddly atmosphere in the living space.
Despite its warmth, SW Downy doesn't read yellow, so you can use it in many rooms successfully. It will work nicely with other soft hues to create a relaxed and calm palette, or you can pair it with bolder and more contrasting colors.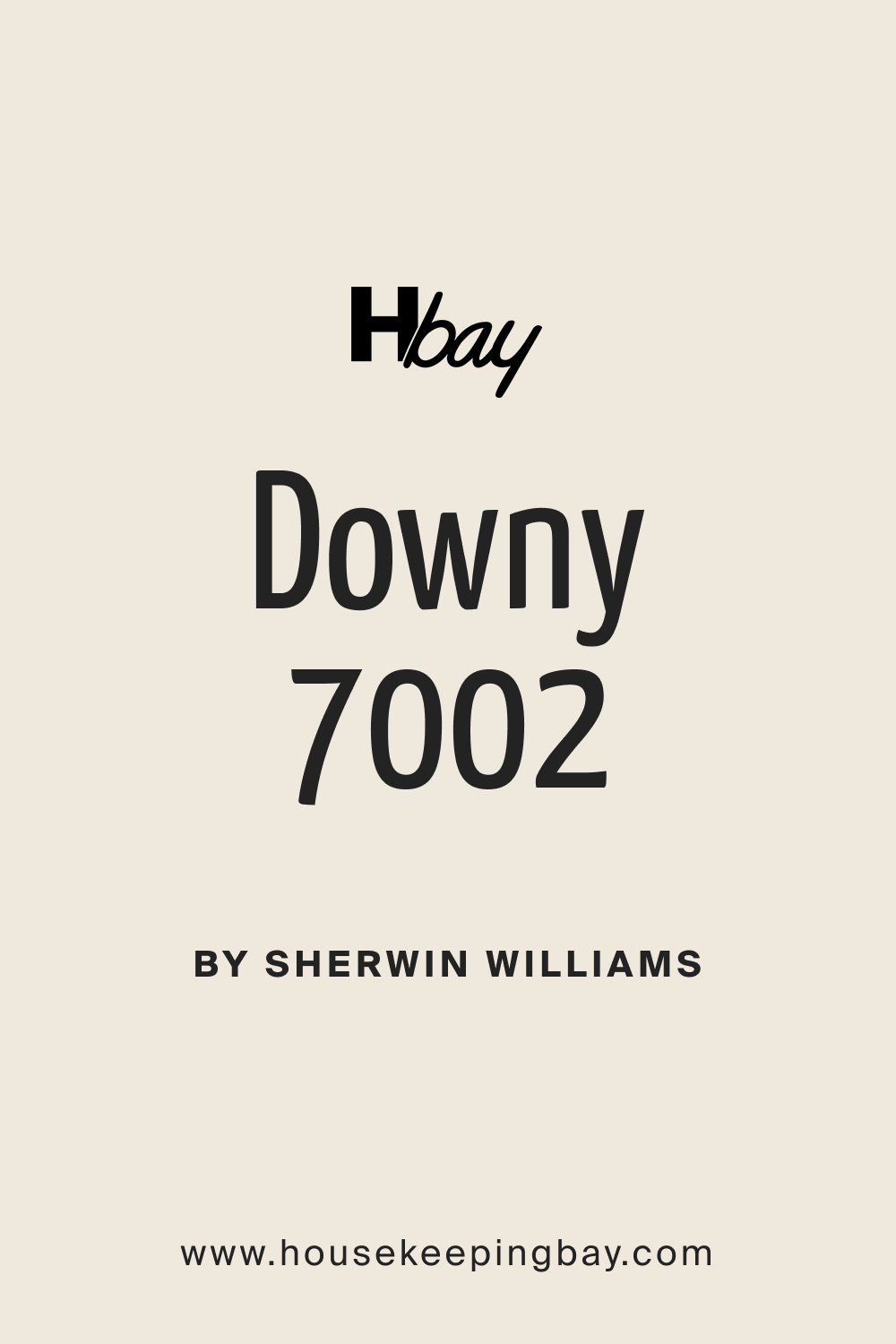 Is It a Warm or Cool Color?
SW Downy is definitely warm-toned. Just look at its soft and creamy appearance! But since its warmth is well-balanced, this white color can work well in many spaces of your home, bringing without showing a hint of yellowness on the walls. Also, thanks to its warm tone, SW Downy can work well for making a room feel brighter and, at the same time, avoid creating an "icy" feel.
What Undertones Does SW Downy Have?
Knowing paint color undertones is essential if you want to use the hue correctly. But there are colors that tend to read differently on a swatch and on the walls, so undertones must always be considered!
SW Downy has pink undertones that are pretty well seen if you look at how this white works on the wall. However, this is a very delicate and well-balanced pinkish tint. Don't worry, this white won't read blush!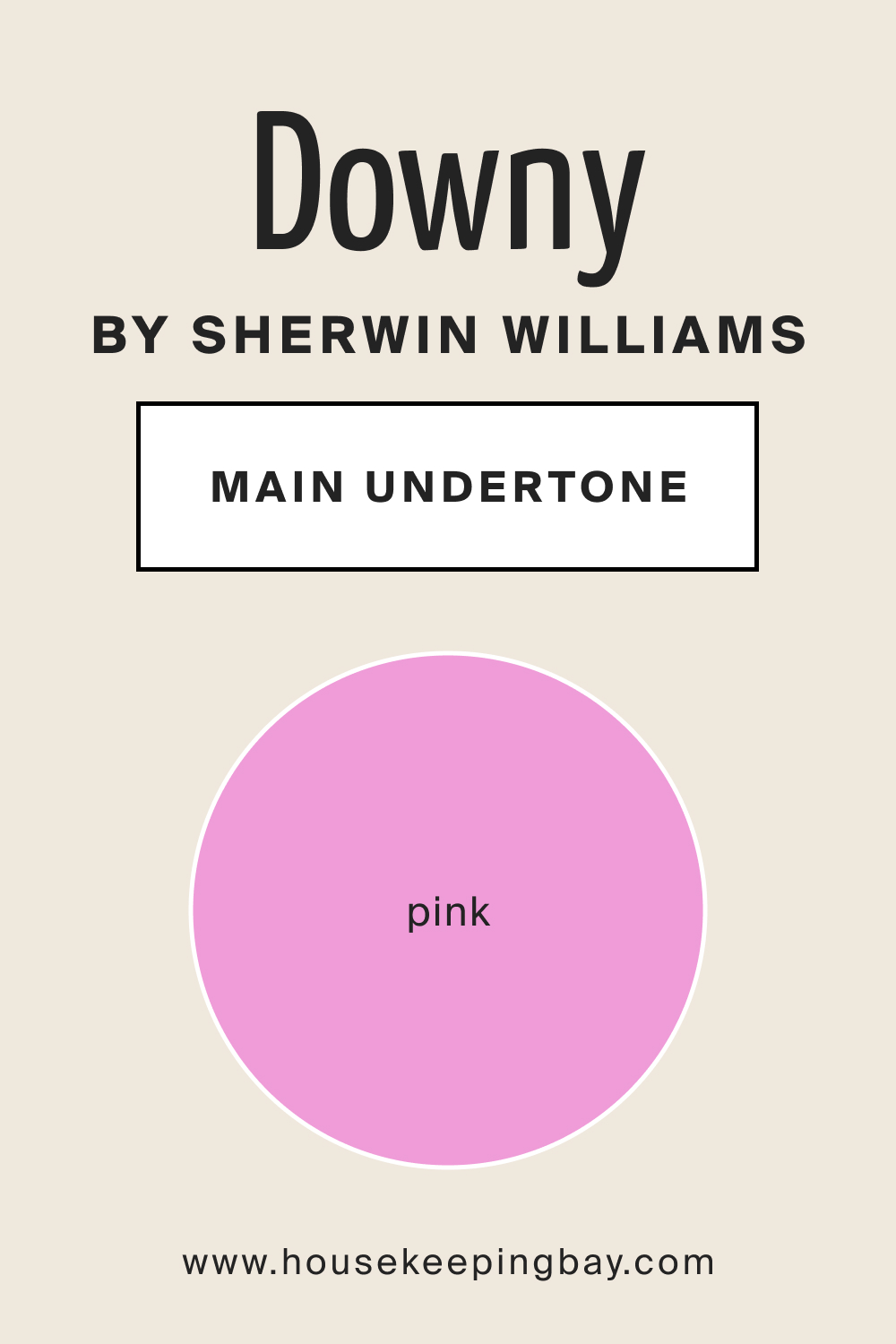 SW 7002 Downy Coordinating Colors
If you are aware of the color theory, picking the correct coordinating colors can be like a game for you! But if you are a newbie in colors, this may turn into a nightmare. Speaking of SW Downy, you may find it challenging a bit to select the best-coordinating colors that will work with this white. This is why below you can find a couple of paint colors that coordinate this soft and creamy white perfectly well!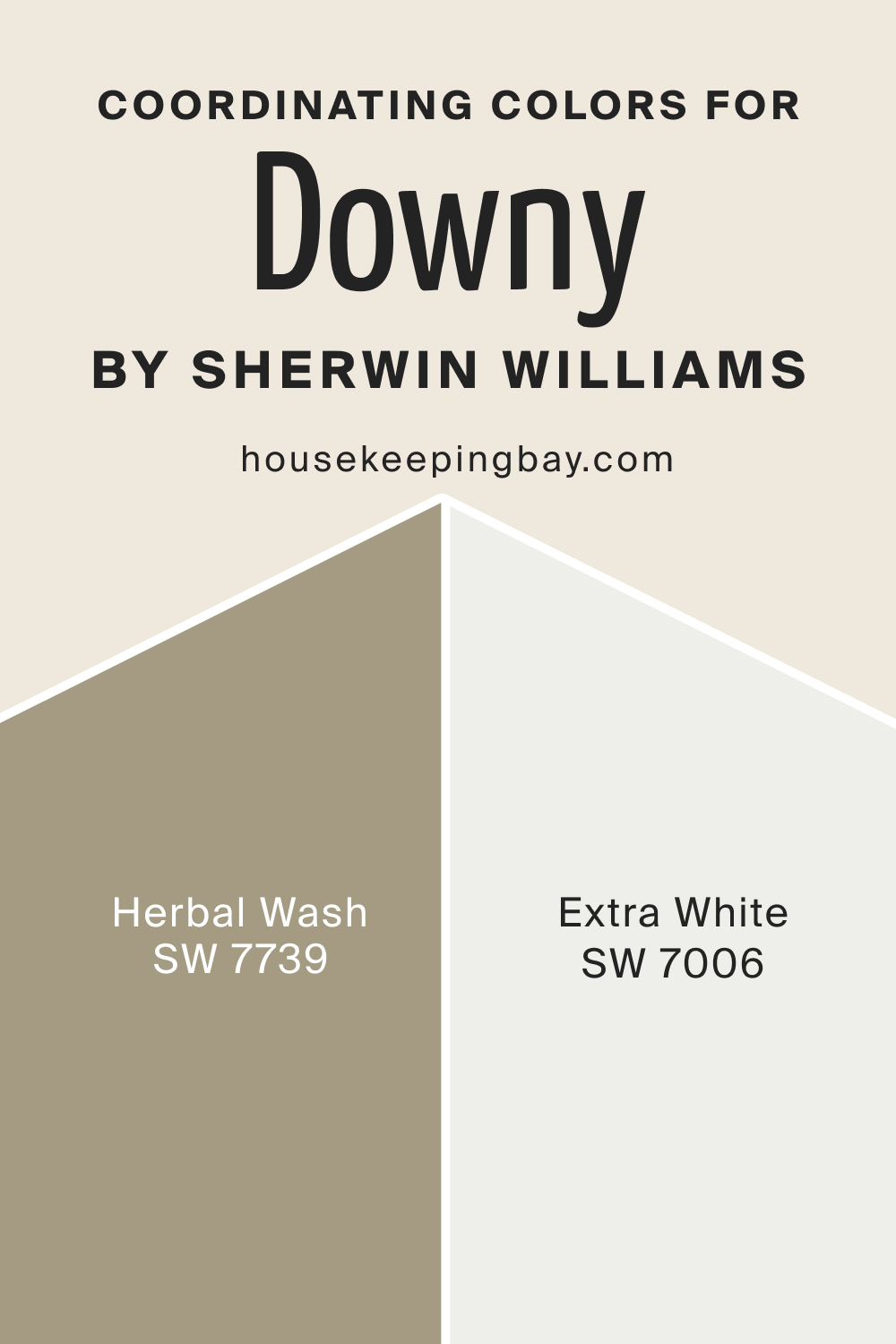 What LRV Does SW 7002 Downy Have?
LRV (Light Reflectance Value) is a measurement that shows the amount of light paint colors can reflect from a surface and absorb. LRV values range from 0 to 100, with 100 being pure white and 0 being absolute black. Respectively, the closer the LRV is to 100, the brighter and lighter the color, and vice versa.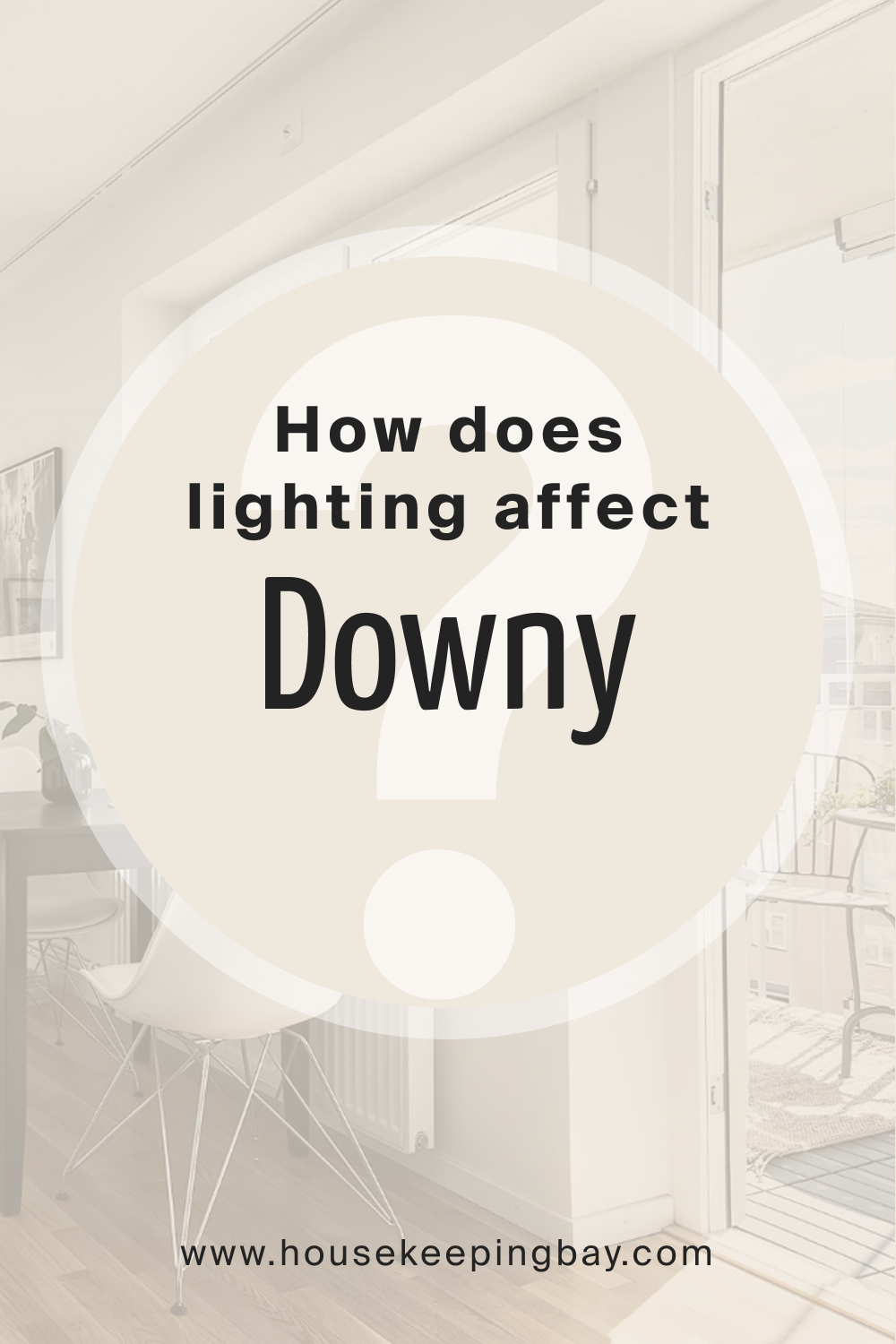 The light reflectivity value (LRV) of SW Downy is 81, which places this color on the higher end of the LRV scale. This is why SW Downy is a light and reflective paint color. Despite its warmth, this creamy white can make a room seem larger and brighter thanks to its high light reflectivity.
However, this high reflectivity makes SW Downy pretty dependable on the lighting conditions! In a different light, this hue may read a bit differently. For example, in a room with plenty of bright daylight, this white will read much brighter and can even seem washed out! Instead, in a room with dim light, it is more likely to display its warmth.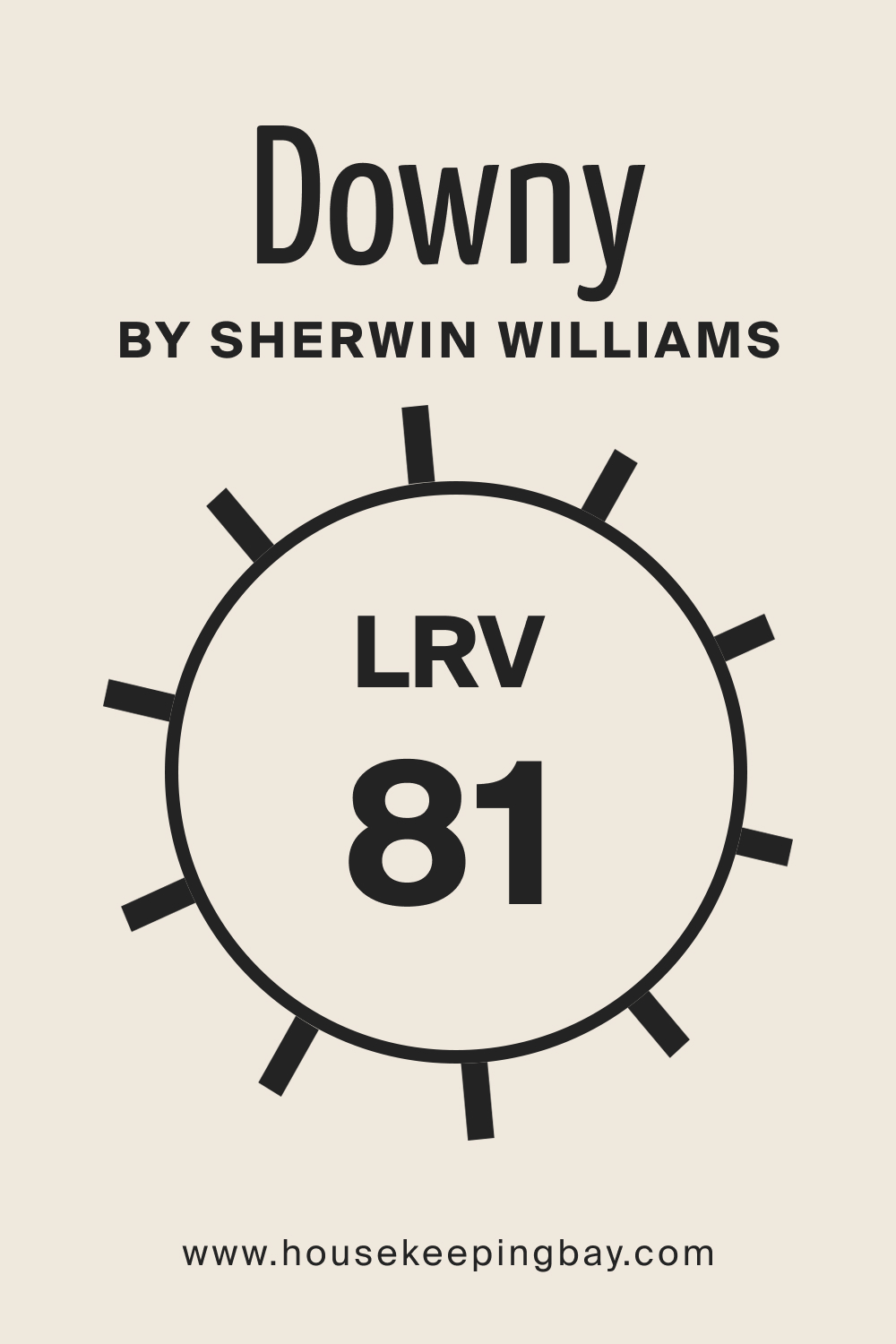 What is LRV? Read It Before You Choose Your Ideal Paint Color
What Is the Best Trim Color to Use With SW Downy?
With such warm whites, picking trim colors is not easy. Typically, it's recommended to stick with brighter and "whiter" whites that will create a visible and clear contrast with this warm hue on the walls. The only requirement is that trim whites should not read too cold! For SW Downy, for example, you might want to consider a cleaner white like SW White Snow.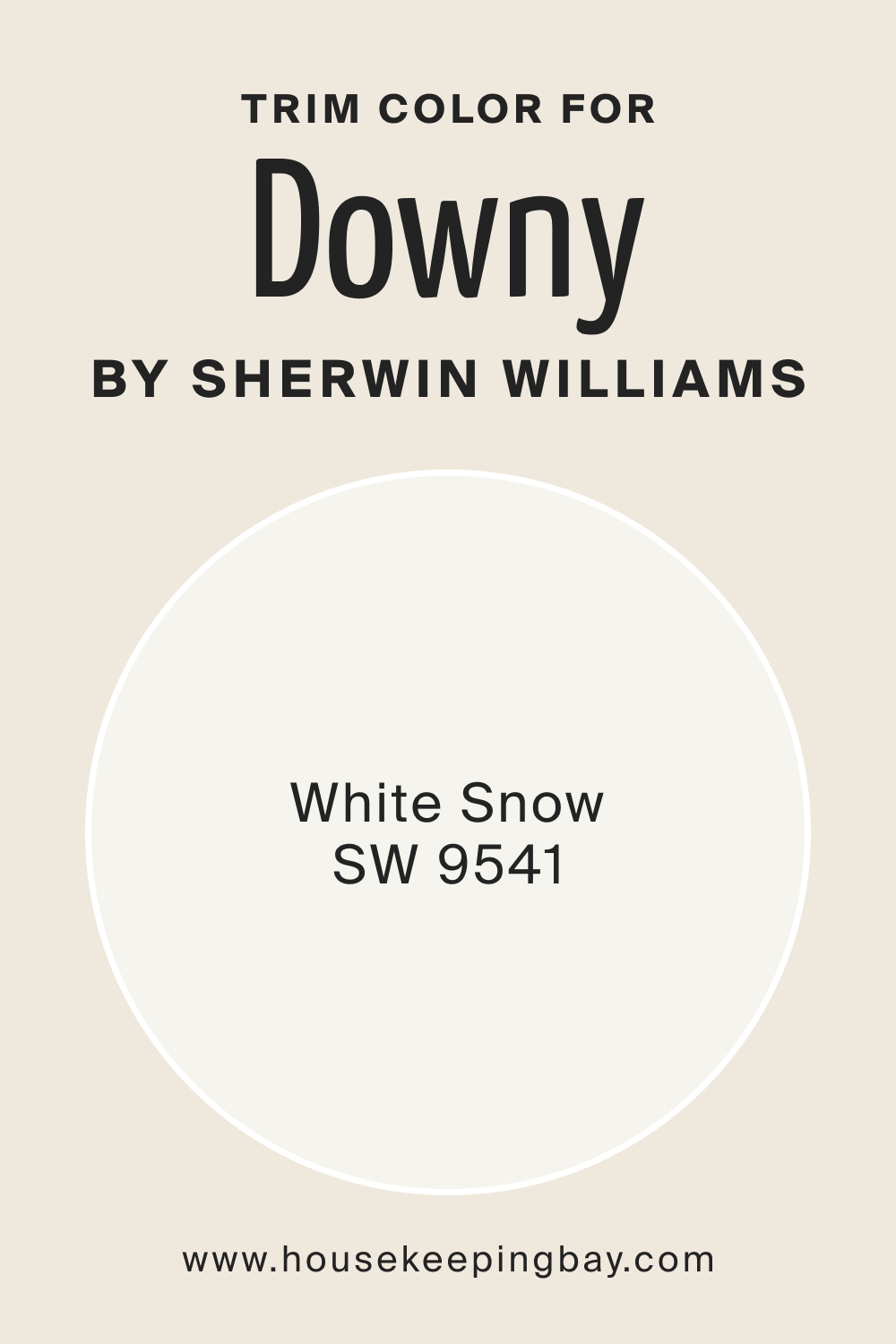 Similar Colors That Can Be Used Instead of SW Downy
Knowing similar colors can help you in case the color you choose doesn't work well in your home. But if the wall color you choose is SW Downy, picking the most suitable substitute white can become a great challenge for you!
This is why we prepared a short list of alternative white colors that will work instead of this soft and warm white with a slight creamy note:
Behr White Truffle
BM Stoneware
Farrow & Ball James White
PPG Sugar Soap
Valspar Pam's Lace
Of course, each of these substitute whites will vary slightly due to the distinct undertones and LRV values, but in general, they are the closest matches to be used instead of SW Downy.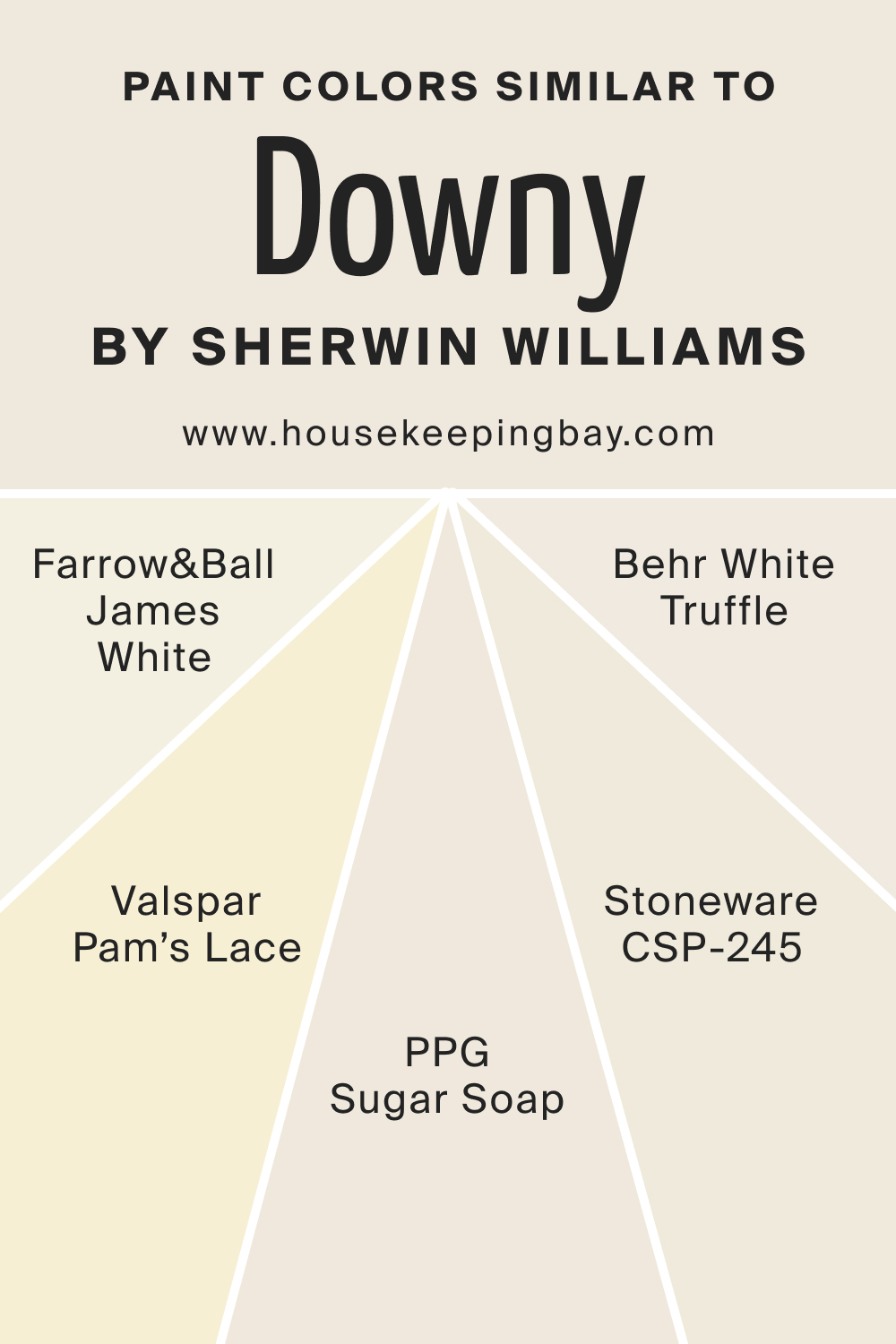 Colors That Go Well With SW Downy
SW Downy will work best with soft and muted colors like lighter greiges and beiges, as well as blush hues and off-whites. But if you want a more contrasting palette, you might want to consider black or charcoal gray hues. This creamy and soft white looks great in a black-and-cream color scheme too!
Also, since SW Downy has pink undertones, don't hesitate to pair this white with colors that also have that pinkish hue in them. Here are a few color suggestions for you to check out:
SW 9156 Gris Morado
SW 6993 Black of Night
SW 7014 Eider White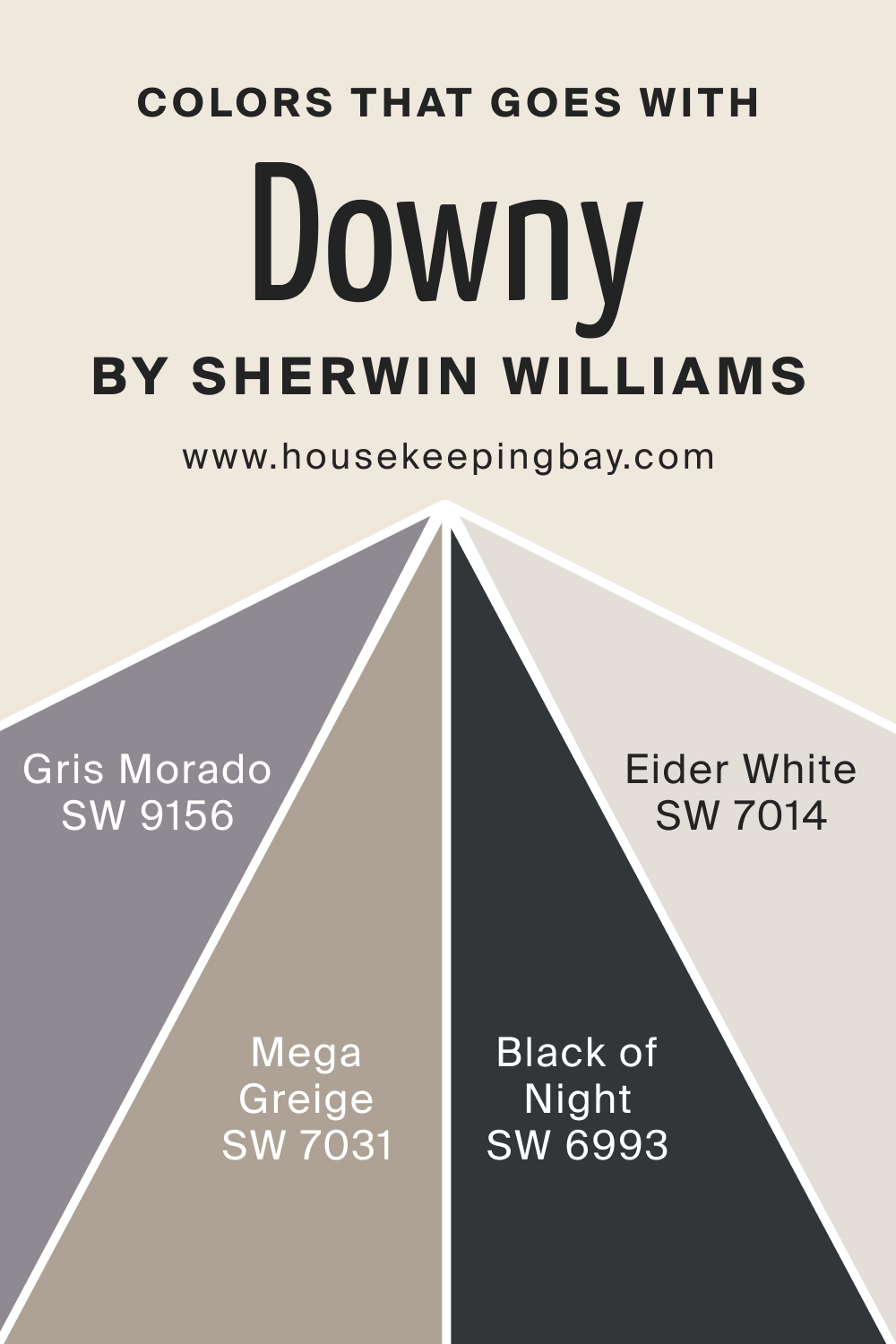 Where In Your Home This Color Can Be Used?
This white paint color is very versatile despite its warmth. SW Downy can make a lovely and soft statement in almost any room, but we still recommend you read how exactly this huw may read in different spaces.
Downy SW 7002 in the Living Room
This white is a nice color choice for your living room if you strive for a homey and relaxed atmosphere there. Paired with darker browns, brighter whites, and wood, SW Downy will turn your living room into a cozy oasis.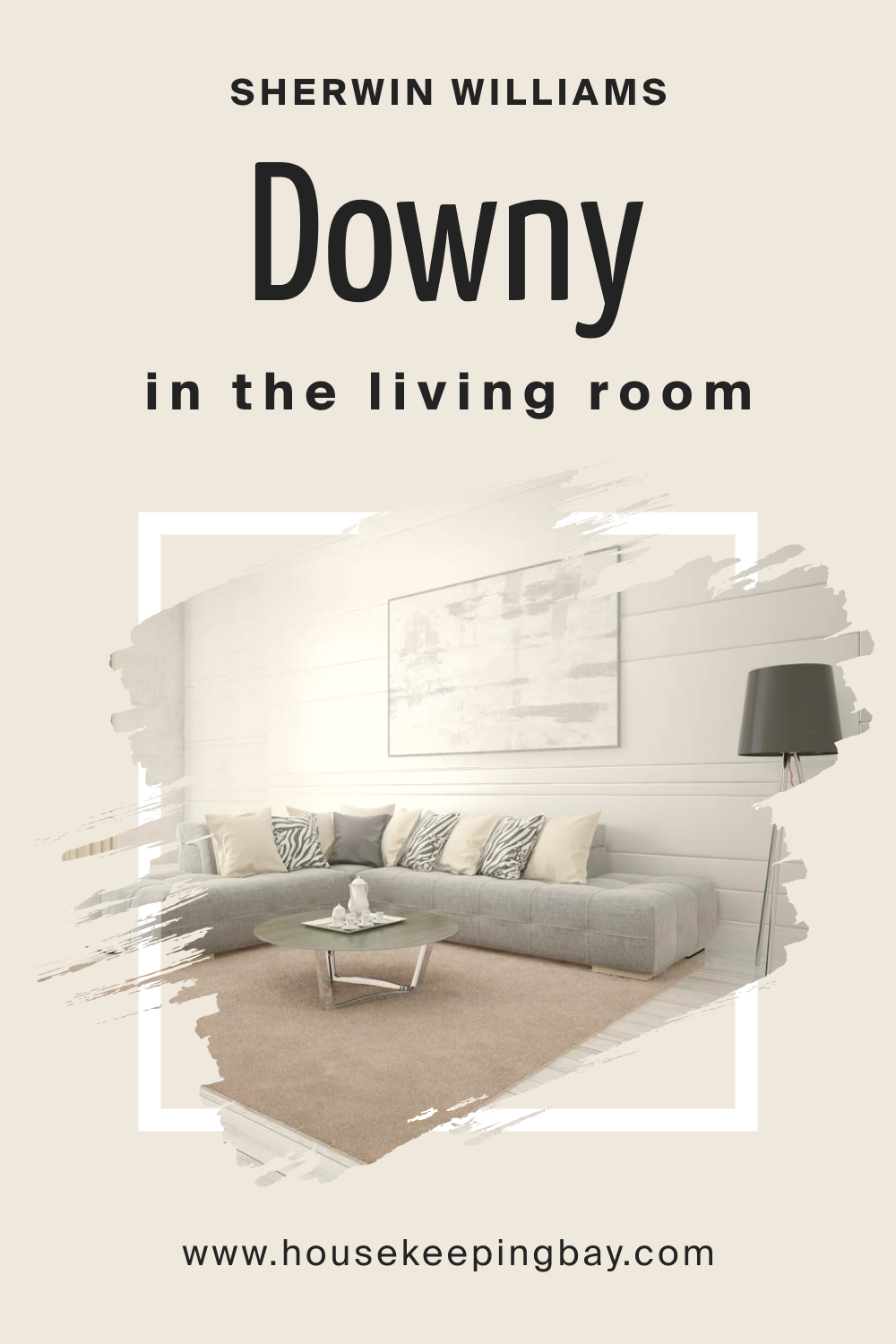 Downy SW 7002 in a Bedroom
You can use SW Downy on all the walls in your bedroom to make the space feel cozier. Note that in dim light, this white may read somewhat warmer, so you might want to pair it with brighter and whiter whites to add some lightness.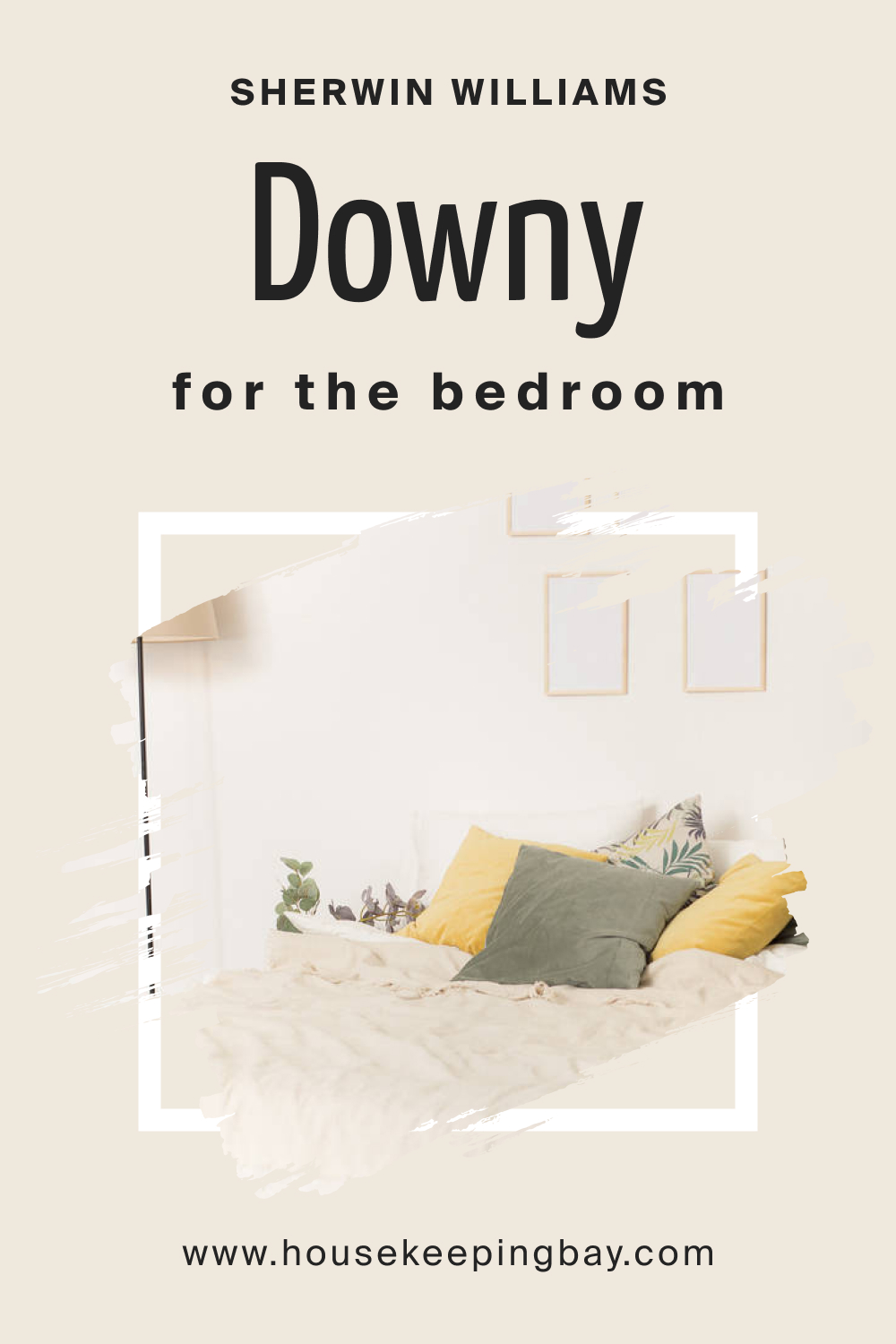 Downy SW 7002 and Bathroom
In bathrooms, we recommend you use this soft white on the vanity mostly. In this case, SW Downy will create a lovely and soft accent along with the white walls. On the walls, it may read too warm, especially if your bathroom is windowless.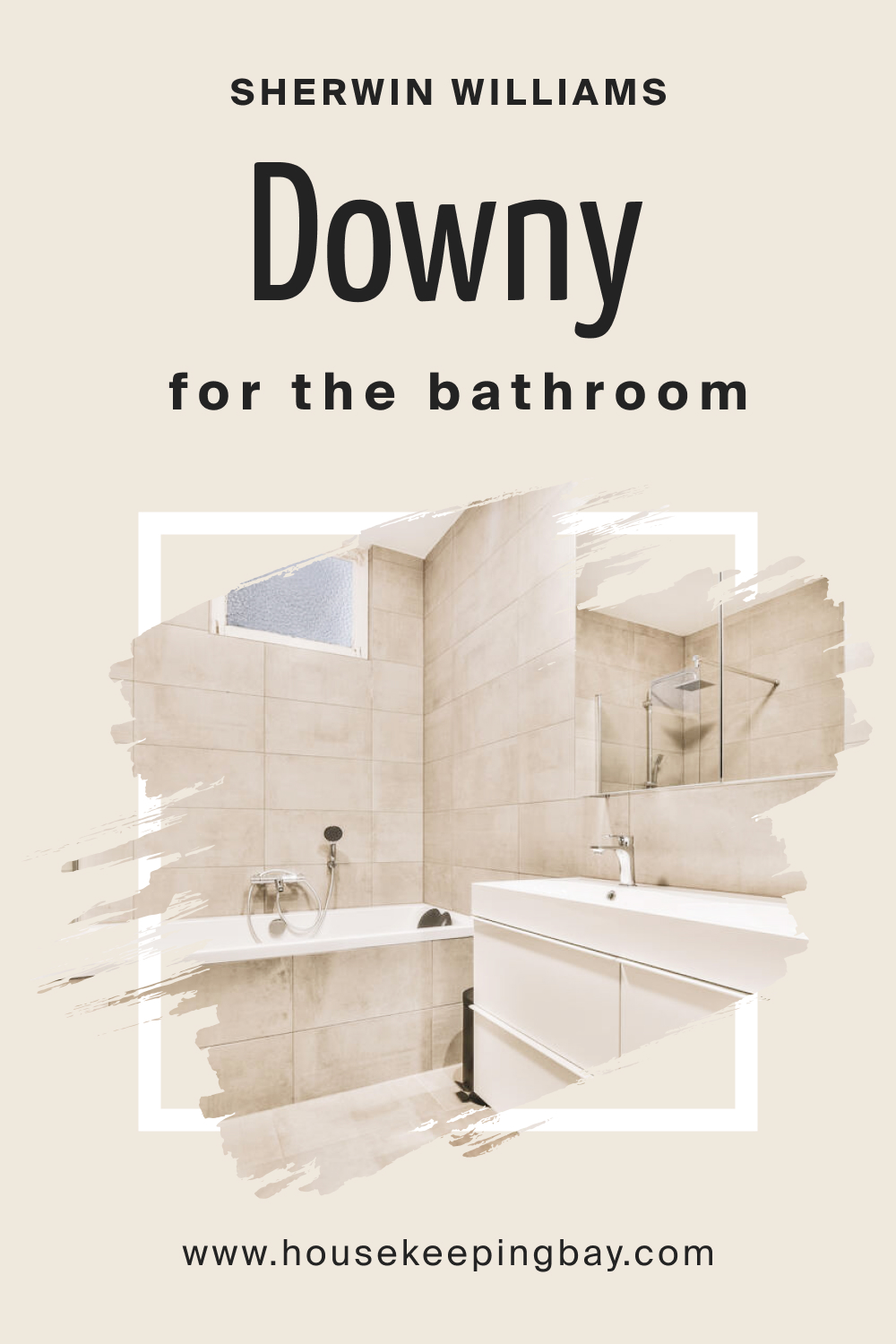 Downy SW 7002 in the Kitchen
It's a perfect color for kitchens! SW Downey works great with tiles, wood, and even stone/brick, so no matter what the style of your kitchen is, this white will fit right in. You can pair it with golden or brass accents through pull handlers and use pendant lights over the kitchen island.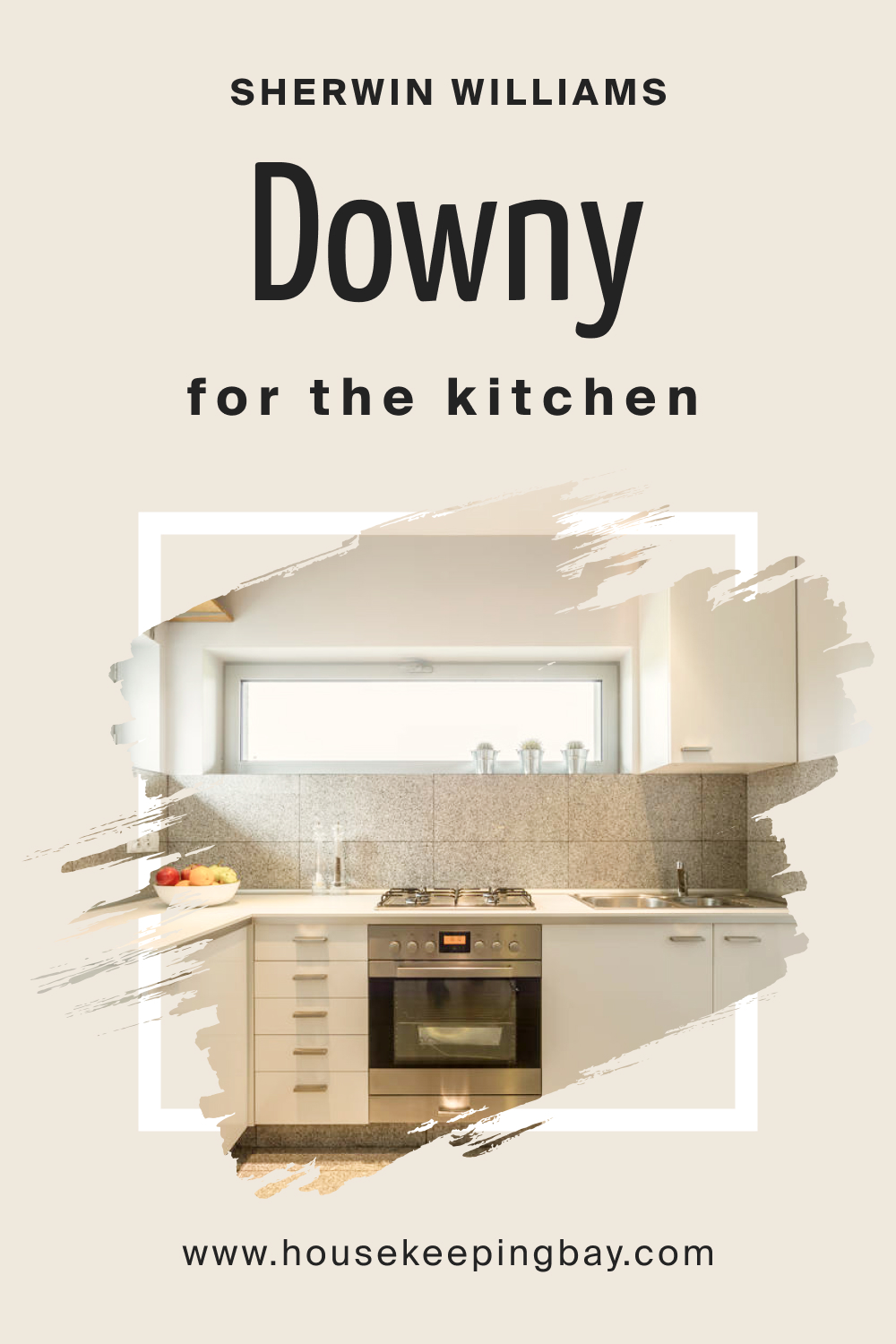 Downy SW 7002 for the Exterior Use
On exterior walls, SW Downy may read differently. In broad daylight, this color may look brighter and less warm. But on a cloudy day, be ready to see it reads warmer and creamier!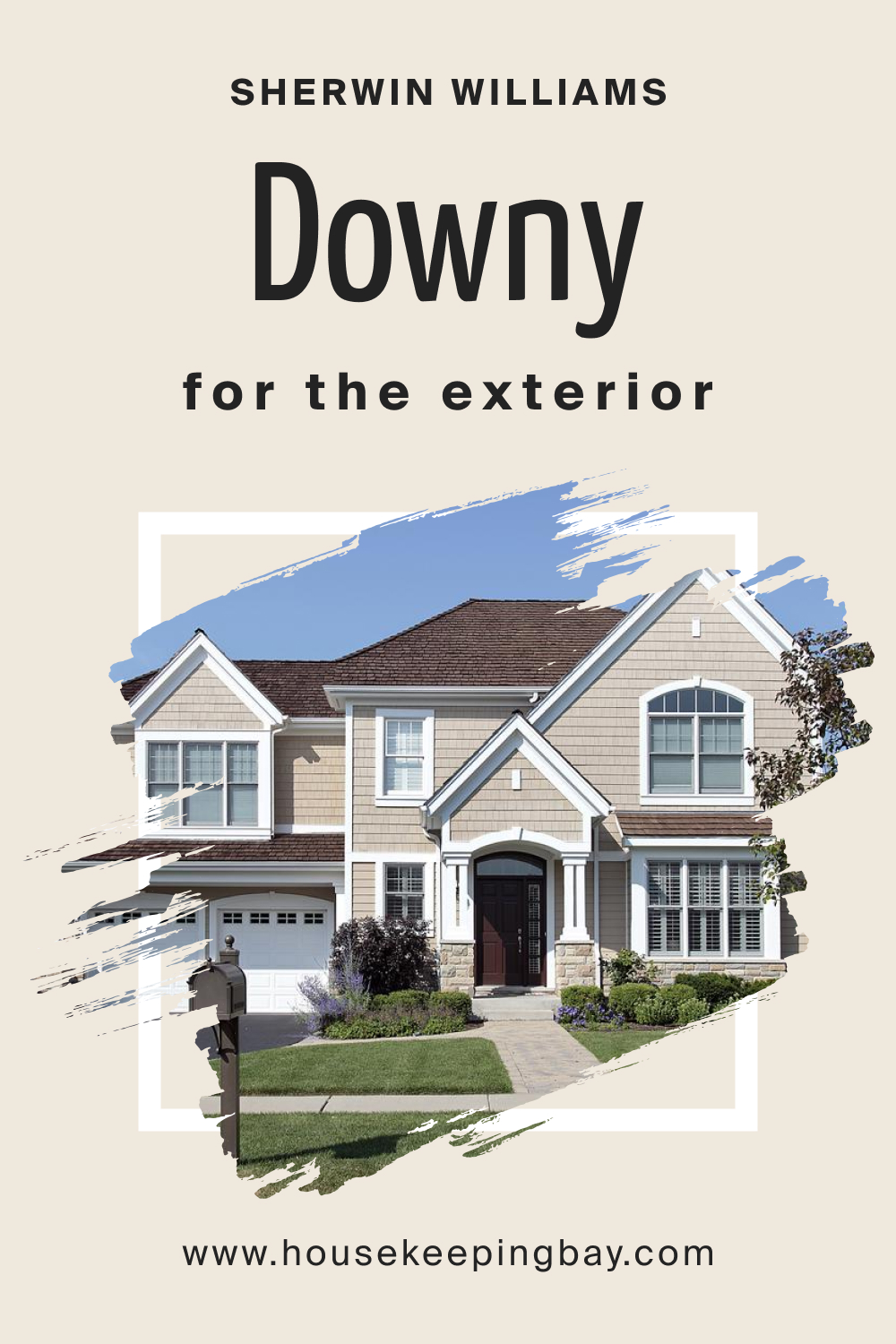 Comparing SW 7002 Downy With Other Colors
What is the best way to see what makes colors from the same hue family distinct? Of course, by comparing them! Below, we compare SW Downy and several similar whites that read soft and creamy. Check out how differently they can read!
Downy vs. SW 7008 Alabaster
Compared to SW Alabaster, SW Downy reads noticeably pinkish. In its turn, SW Alabaster shows its subtle beige undertones more prominently. But in general, both colors look nearly the same in terms of reflectivity.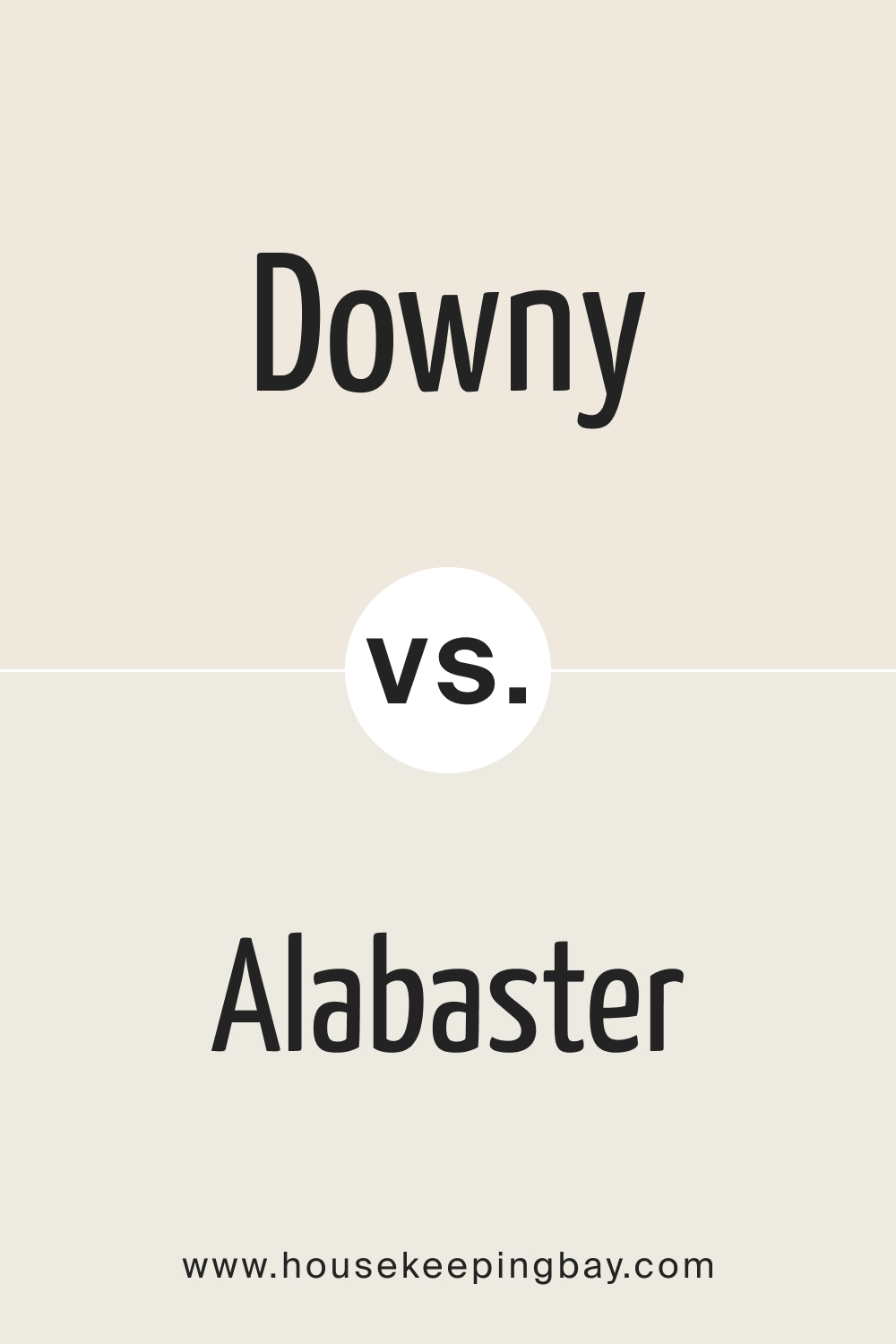 Downy vs. Worldly Gray SW 7043
These two create a lovely contrast thanks to the pronounced gray tint in SW Worldly Gray. Also, since both colors are soft and well-balanced in tone, the contrast between them looks eye-pleasing and nice.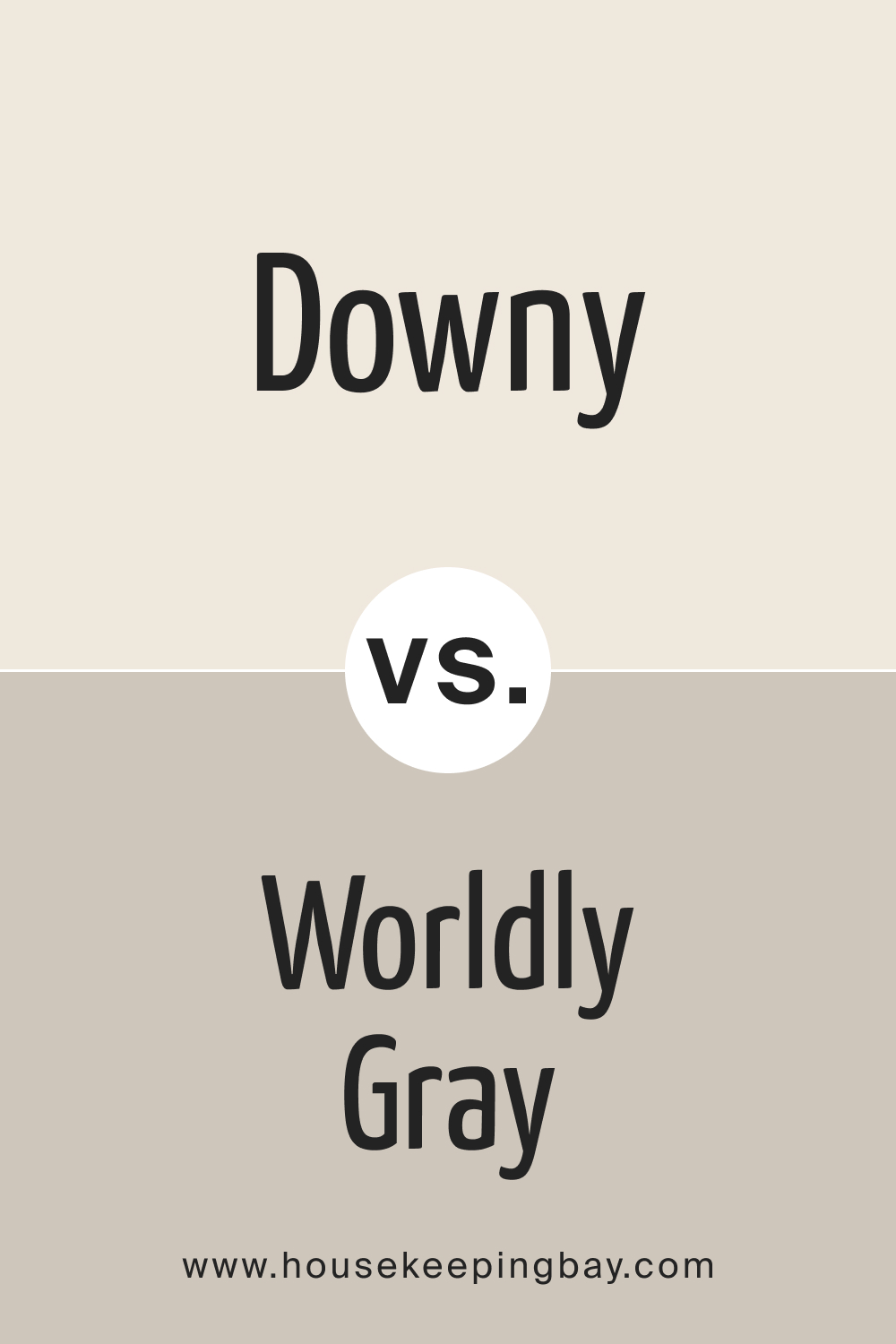 Downy vs. Repose Gray SW 7015
SW Repose Gray looks gray if you compare it with SW Downy. Although in terms of brightness, they are fairly close, SW Downy displays its pink tint rather noticeably here.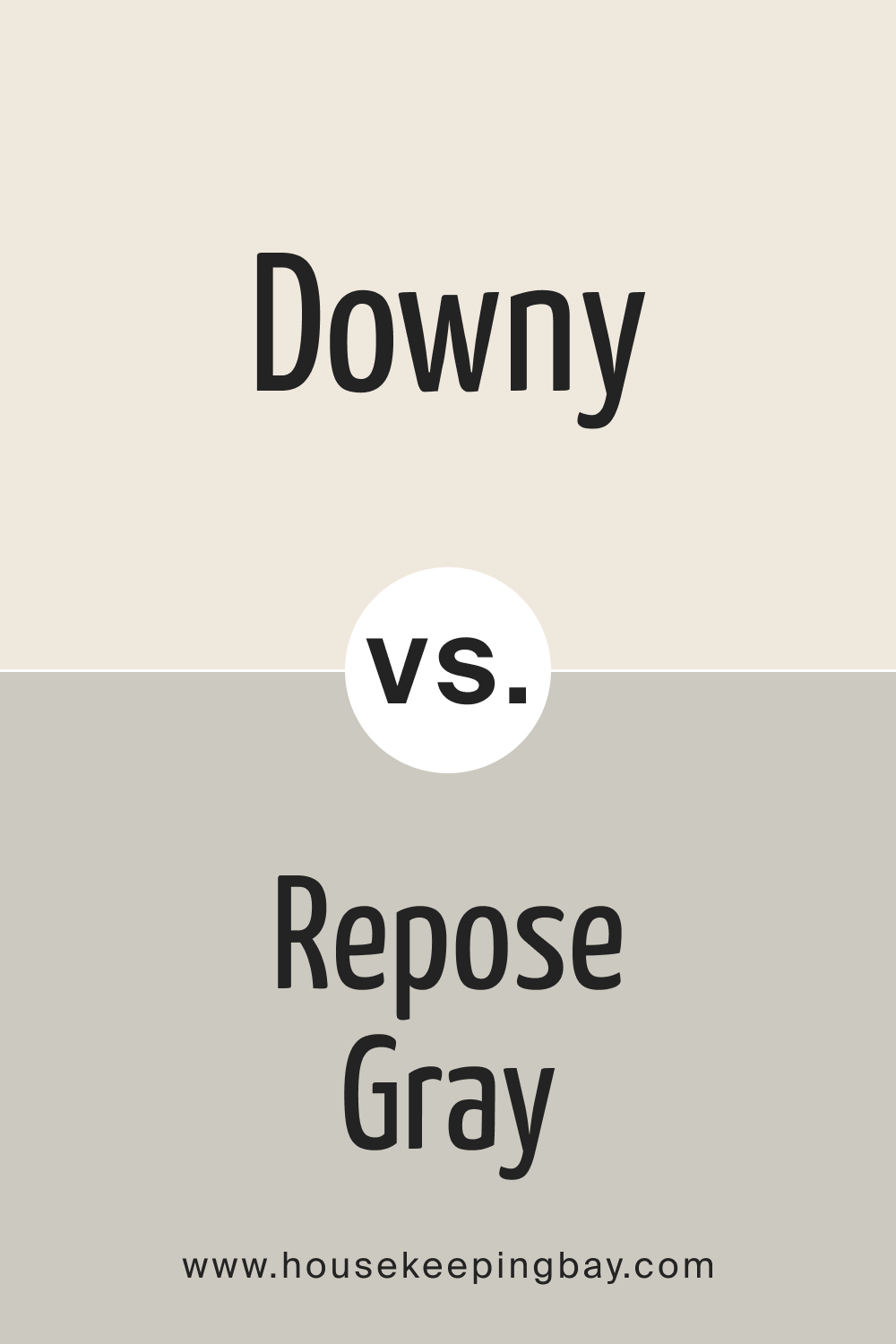 Downy vs. SW 7035 Aesthetic White
SW Aesthetic White shares a slight pink undertone with SW Downy, which relates them. But also, SW Aesthetic White has greige undertones that make it read kind of darker and more saturated with hue than SW Downy. Compared to SW Downy, SW Aesthetic White reads light greige, in fact.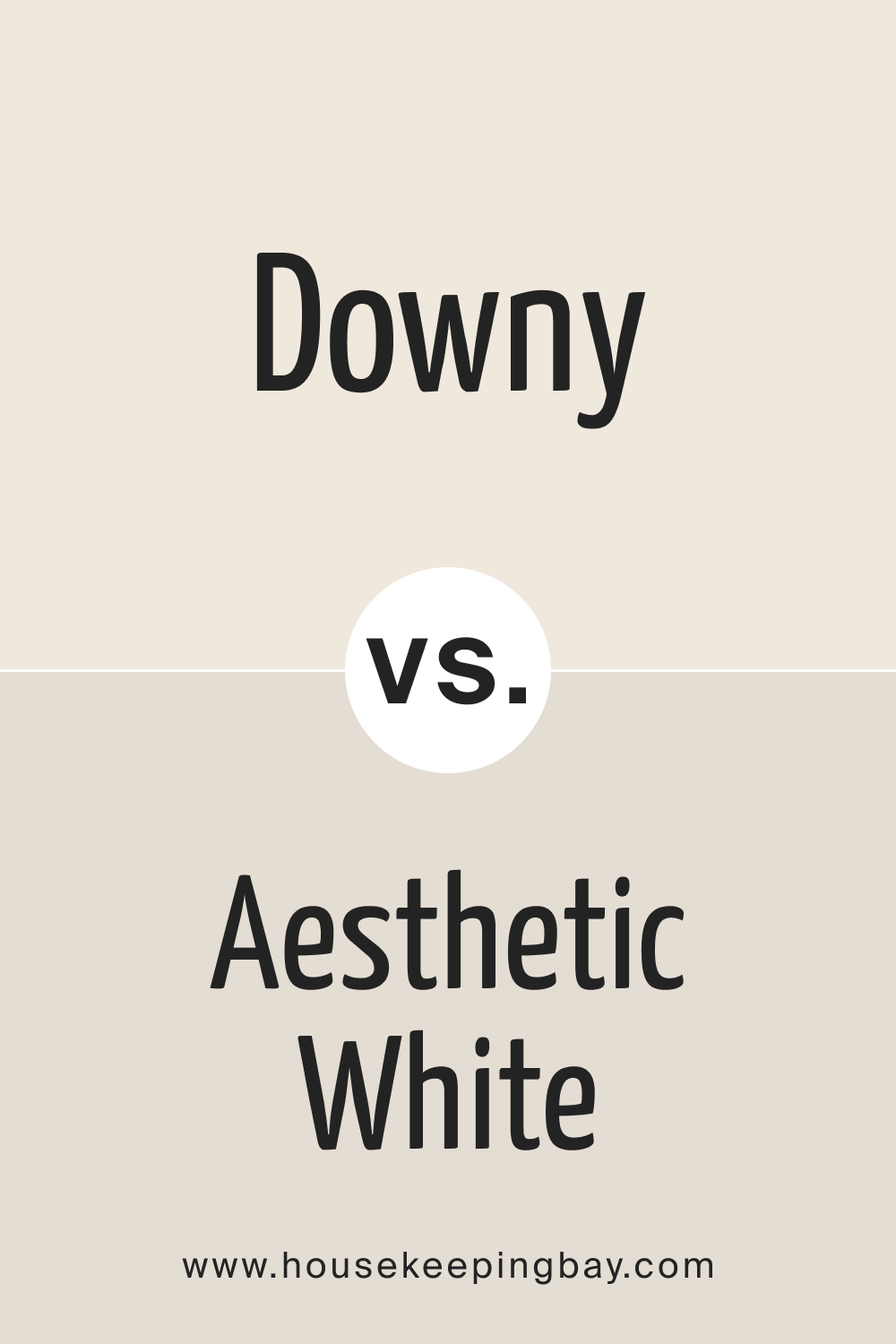 Downy vs. BM OC-17 White Dove 
Compared to SW Downy, BM White Dove displays its gray undertone more prominently. Also, due to the higher LRV of 81, BM White Dove reads brighter and lighter than its pinkish counterpart, whose LRV is 81.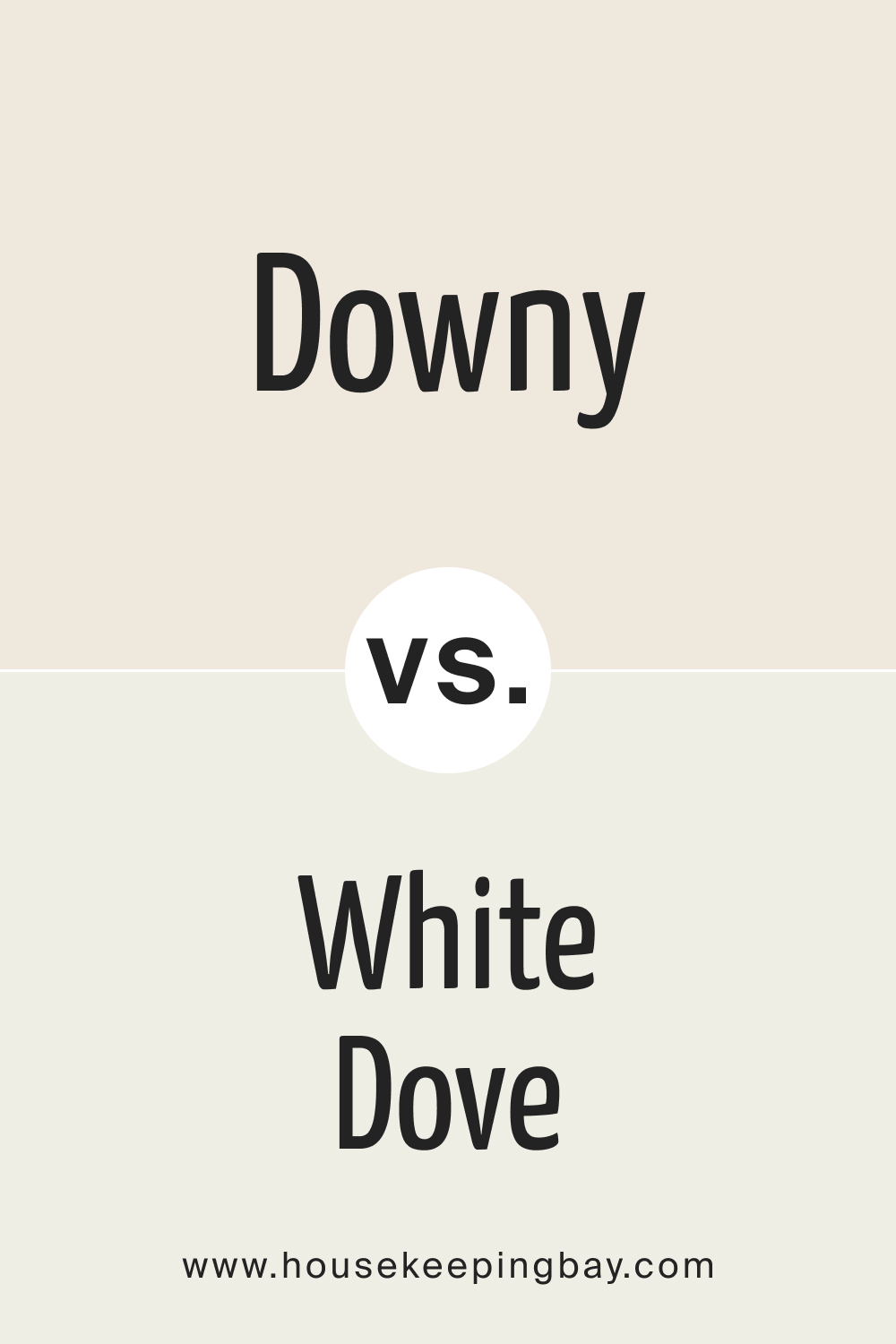 Downy vs. BM OC-23 Classic Gray 
BM Classic Gray has an LRV of 74, which already makes it darker than SW DOwny, whose LRV is 81. But their undertones are also different. BM Classic Gray has green and violet undertones, whilst SW Downy has pink.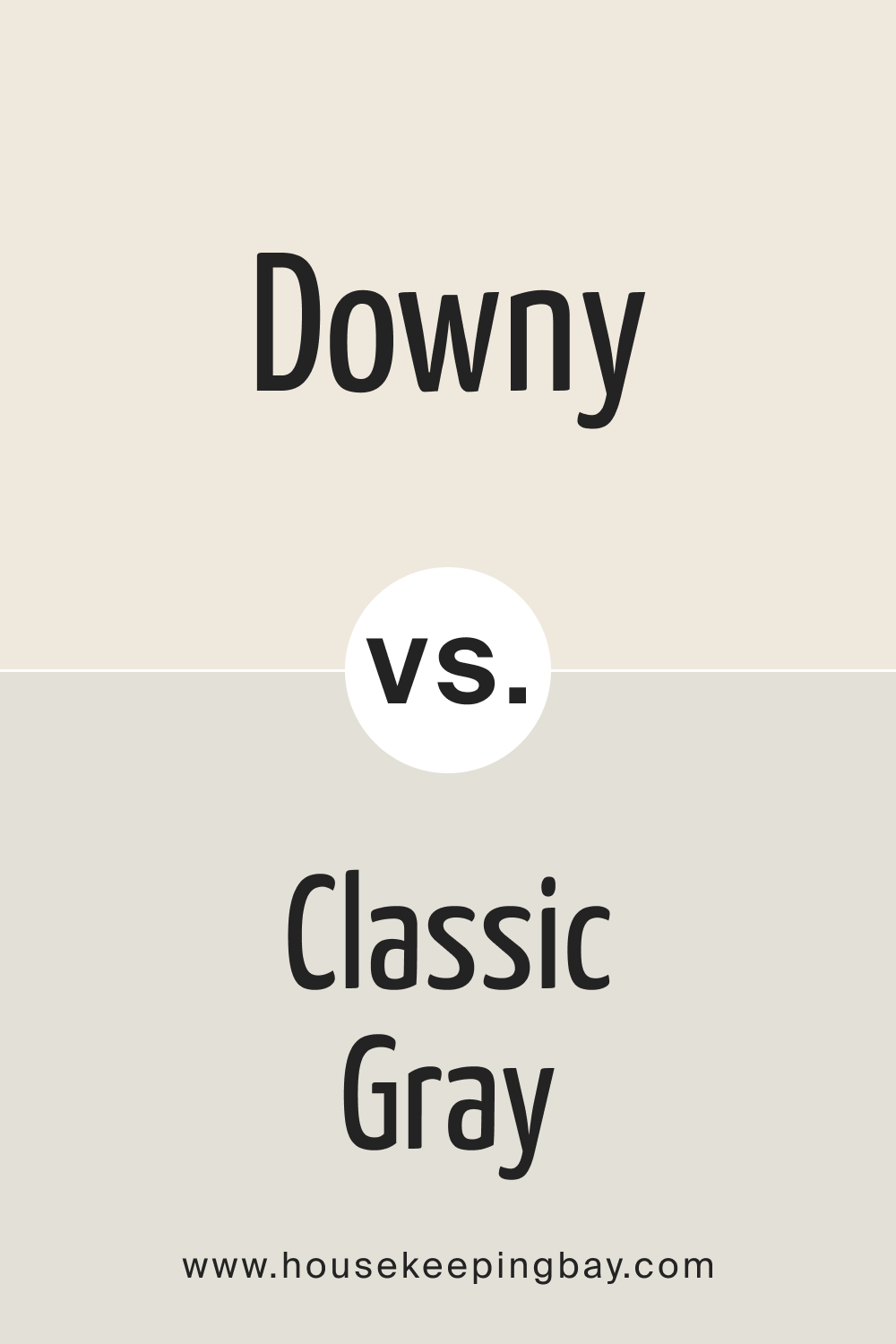 Now you have a better understanding of this white color. SW Downy might be a bit tricky color to use, but with the information you have now, using this soft and tender hue in your home will be easy for you. It's versatile and can work in many rooms.
Besides, this white color pairs nicely with many textures and materials. Thanks to such versatility, it will incorporate into most interior styles successfully.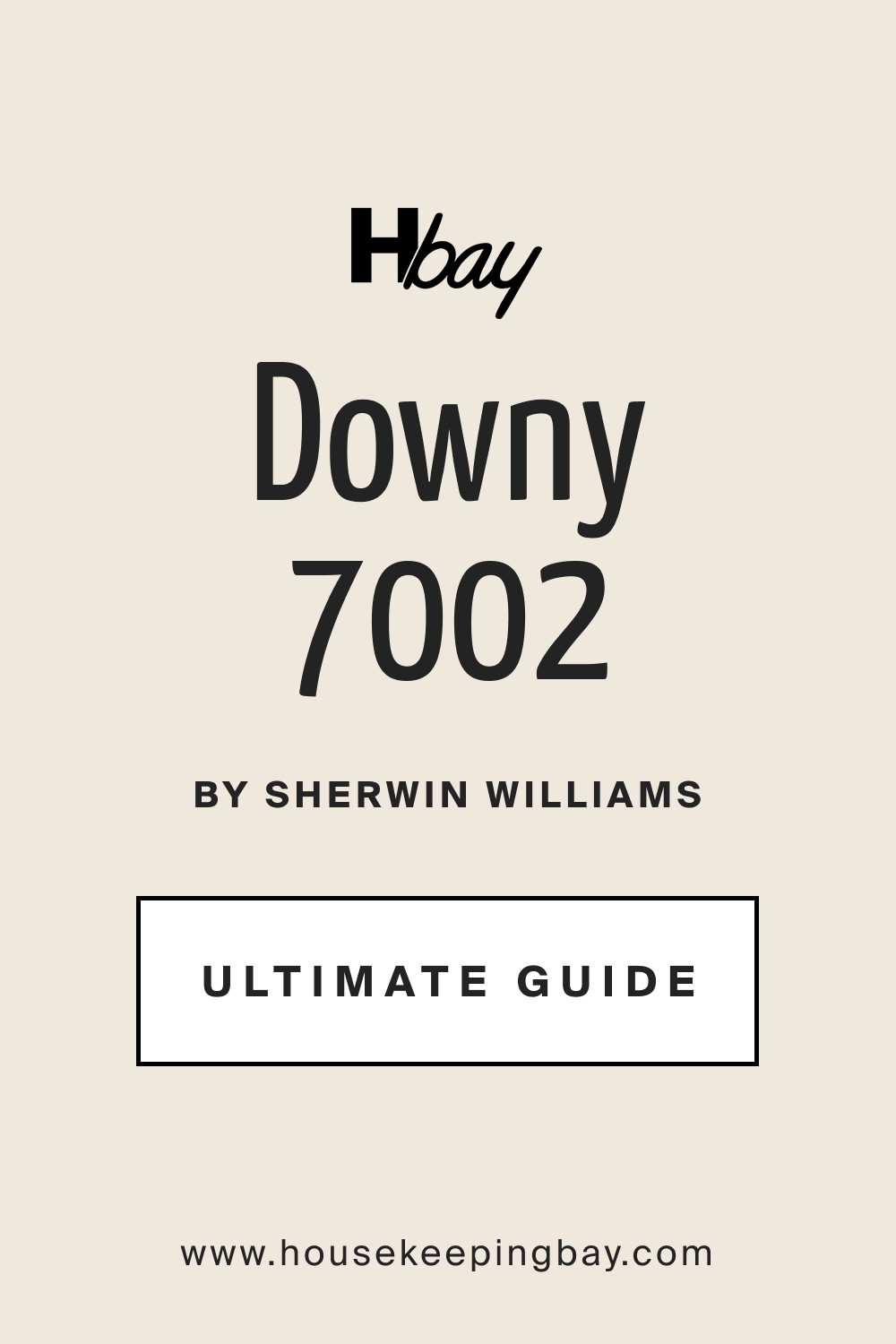 Frequently Asked Questions
⭐Can SW Downy read yellow?
It won't read yellow, but it can look creamier indeed.
⭐Does SW Downy have violet undertones?
No, it doesn't. This white has pinkish undertones.
⭐Will this white pair with deep purple hues?
If those hues are not too gloomy, then they might work with this color.