Everyone knows that today we have a crazy fashion for subtle and neutral paint colors to be used in our homes. All sorts of beiges and all shades of greiges have flooded our houses and apartments, often turning them into very similar ones.
So no wonder people start craving something new, something vivid, bright, or maybe a bit dark! For example, the paint color called Darkroom by Sherwin Williams brand.
As comes from the name of this paint, the color is dark. But we are going to introduce you to it much better today!
Be ready to dive into the depth of darkness with this magnificent paint color and learn where in your home it will work best of all, what you should consider when using it, and what other colors it might look great with.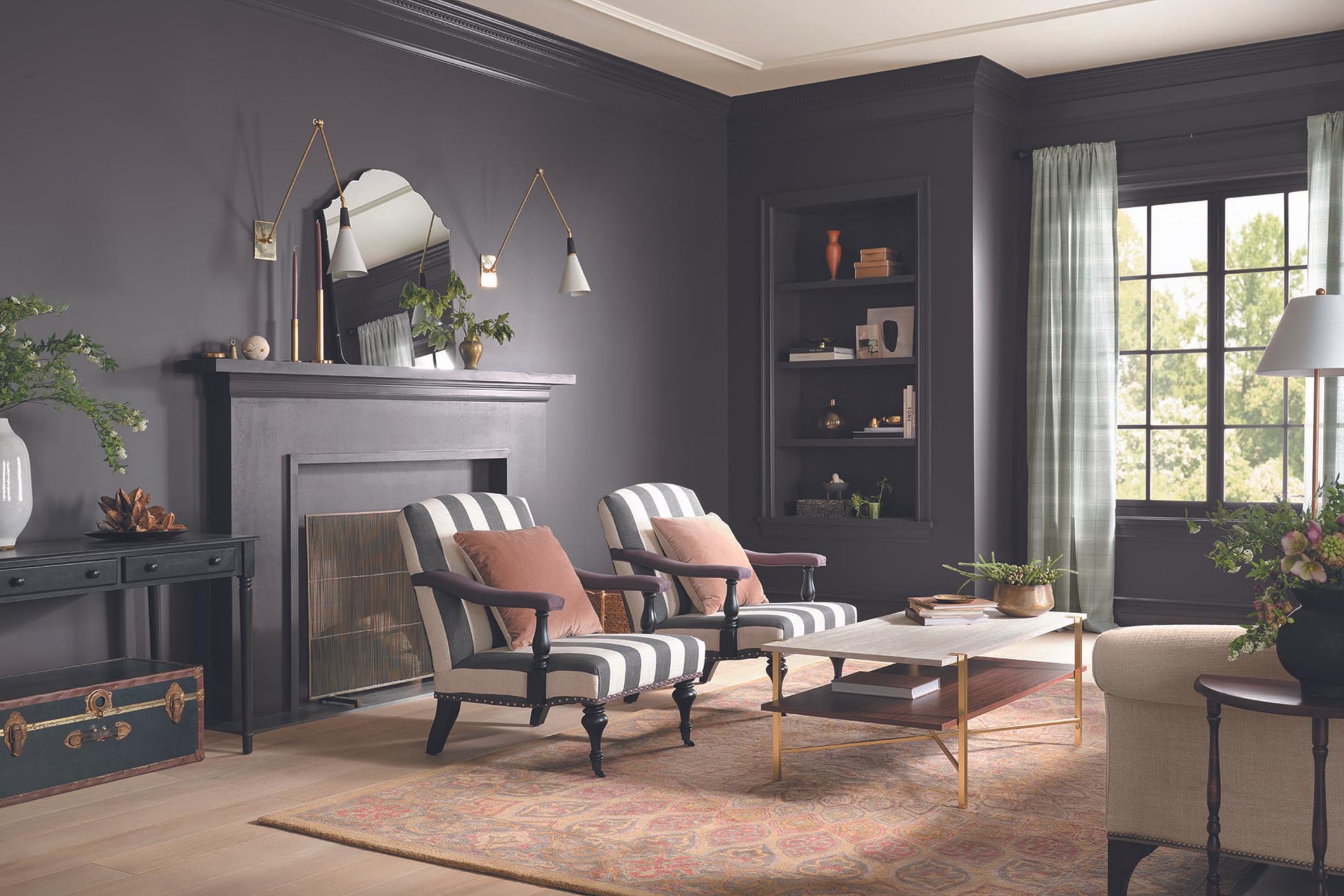 What Color Is SW Darkroom?
If you take a look at a sample of SW Darkroom, you might think it is a very deep and dark shade of brown or a slightly brownish shade of black. In both cases, you would be wrong. This color is…purple! That's right, it is purple.
To be precise, this color belongs to the brand's purple family of colors, but you can also see people consider it black with purple undertones, as Encycolorpedia says. So don't be confused with that.
Usually, you would not notice its purple side unless you apply the paint to the wall. In a can or even on a sample swatch, this color tends to read rather dark and if you don't have a sharp eye for colors and shades, it will be pretty hard for you to identify it. However, in a well-lit room with plenty of daylight, it will reveal its purple undertones after you apply it to the walls.
But it's the undertone of this paint that creates dimension, crafting a comfortable vibe and making your home feel both elegant and romantic. Besides, despite being quite dark, this alluring shade is classic and multipurpose being suitable for heritage interiors and modern retro style.
But since this color is rather tricky, we recommend you learn more about certain specifics of it. Like that, you will know for sure whether this color is what you need and also, you will be able to foretell how it will read on your walls or other surfaces, such as cabinets, etc.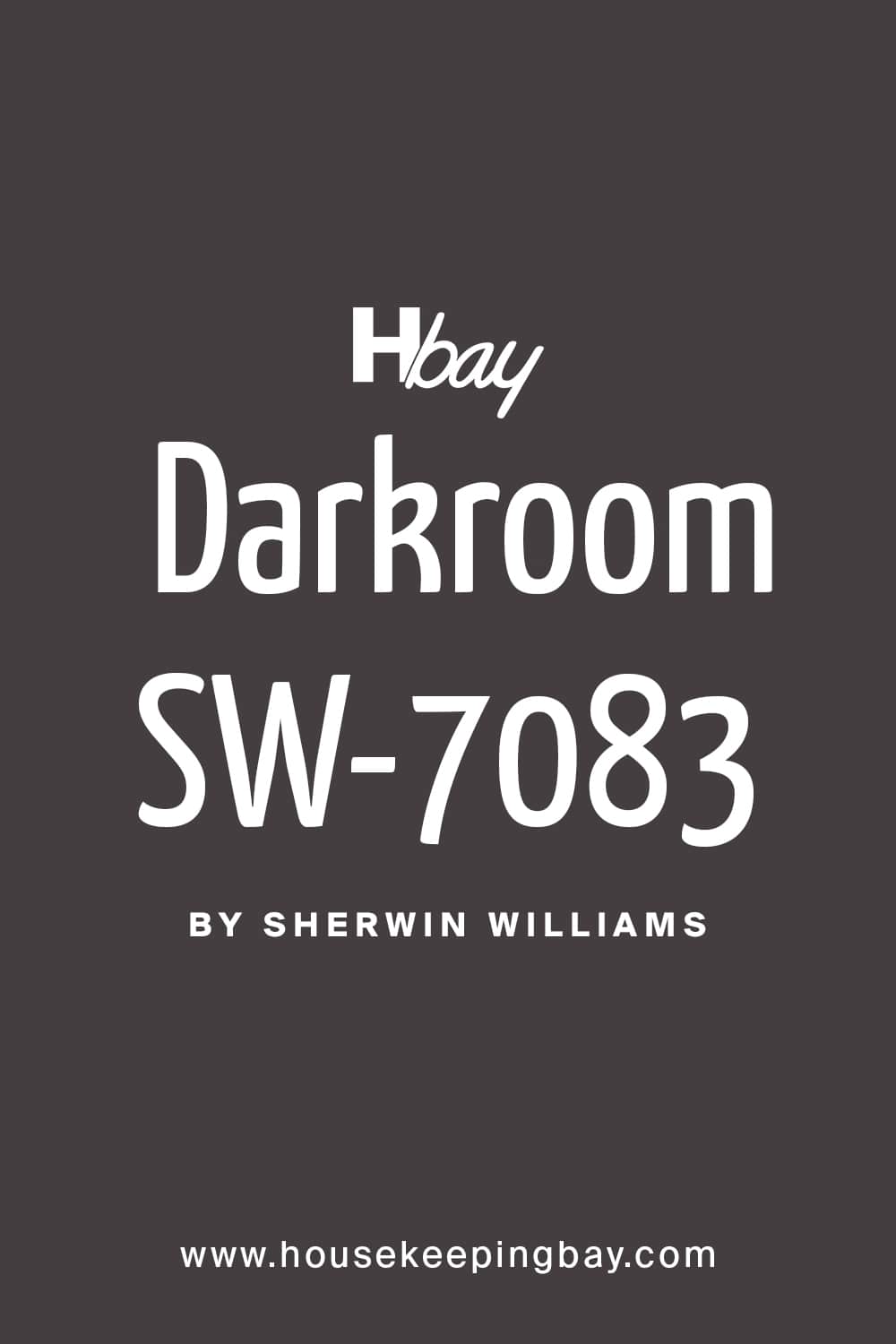 Undertones of Darkroom SW-7083
This is what you must take into consideration any time you are going to buy a can of paint! Undertones are what makes any paint color what it is, and being aware of them will help you a lot. Some paints have hidden undertones that show up only in certain types of light, whilst others can be seen with a naked eye.
Speaking of SW Darkroom, this rich paint color has purple undertones, as we already mentioned above. And this hint of purple hue is what makes this black color a bit tricky. Depending on how well a room is lit, the color may read more purple (and then you would think it is a deep chocolate-brown shade) or a deep black.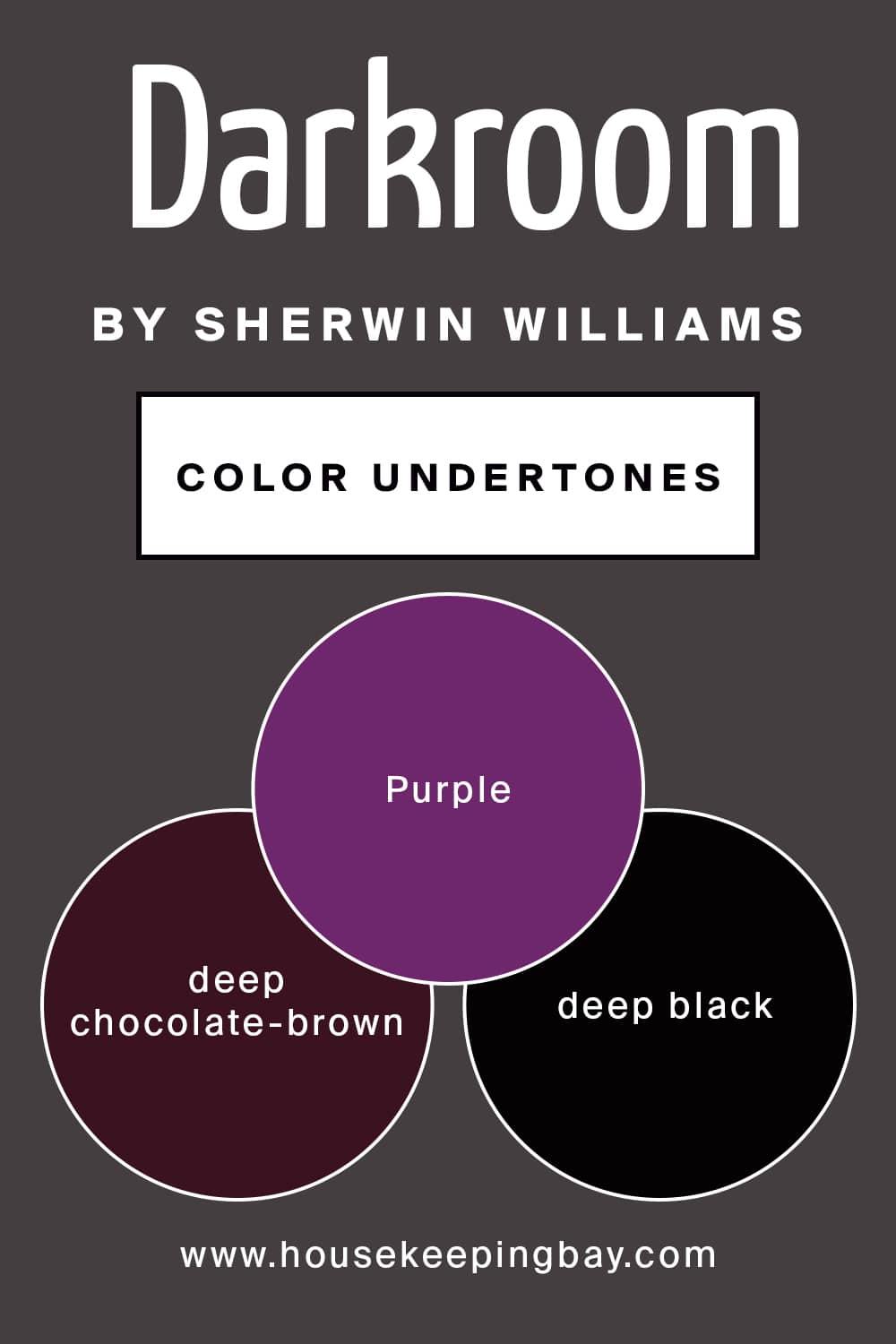 LRV Darkroom SW-7083
The LRV stands for the Light Reflectance Value, which shows how much light paint color is able to reflect. The higher the LRV of a paint color the more of light it is able to reflect when you apply it to the wall.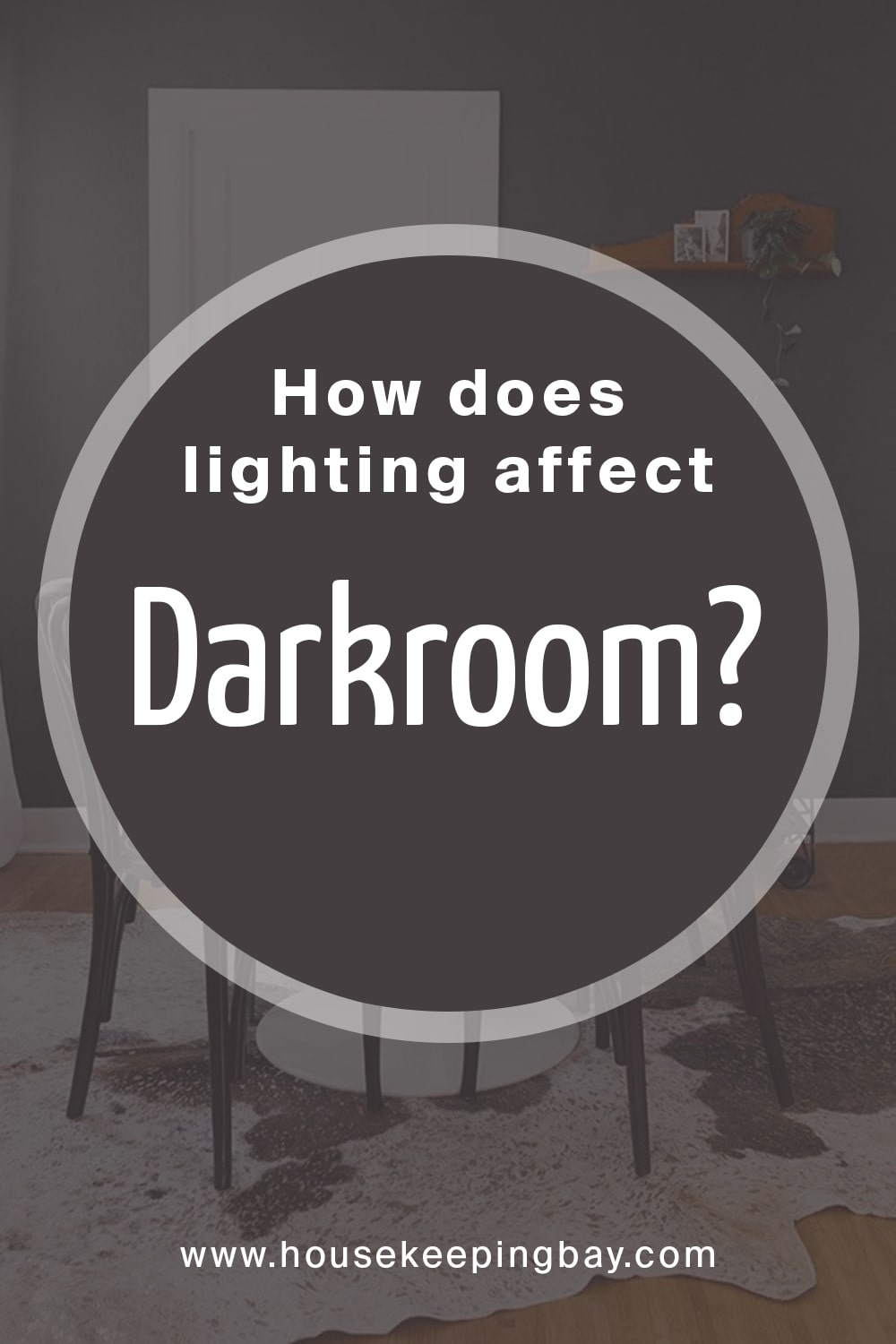 The LRV rate of SW Darkroom is approximately 5, which makes it rather dark. This is why this color will rather devour light than reflect it. Because of this, you should use this paint in rooms that are well-lit and have some other light-colored items, for example, pieces of furniture, carpets, curtains, etc. Like that, the darkness of this color will be less oppressive.
Now that you know what this color is and how this magnificent black with a purple undertone can read in your living space, we would like to guide you through more details of it. Read on to learn what other colors might work with SW Darkroom and where this color works best of all in your home.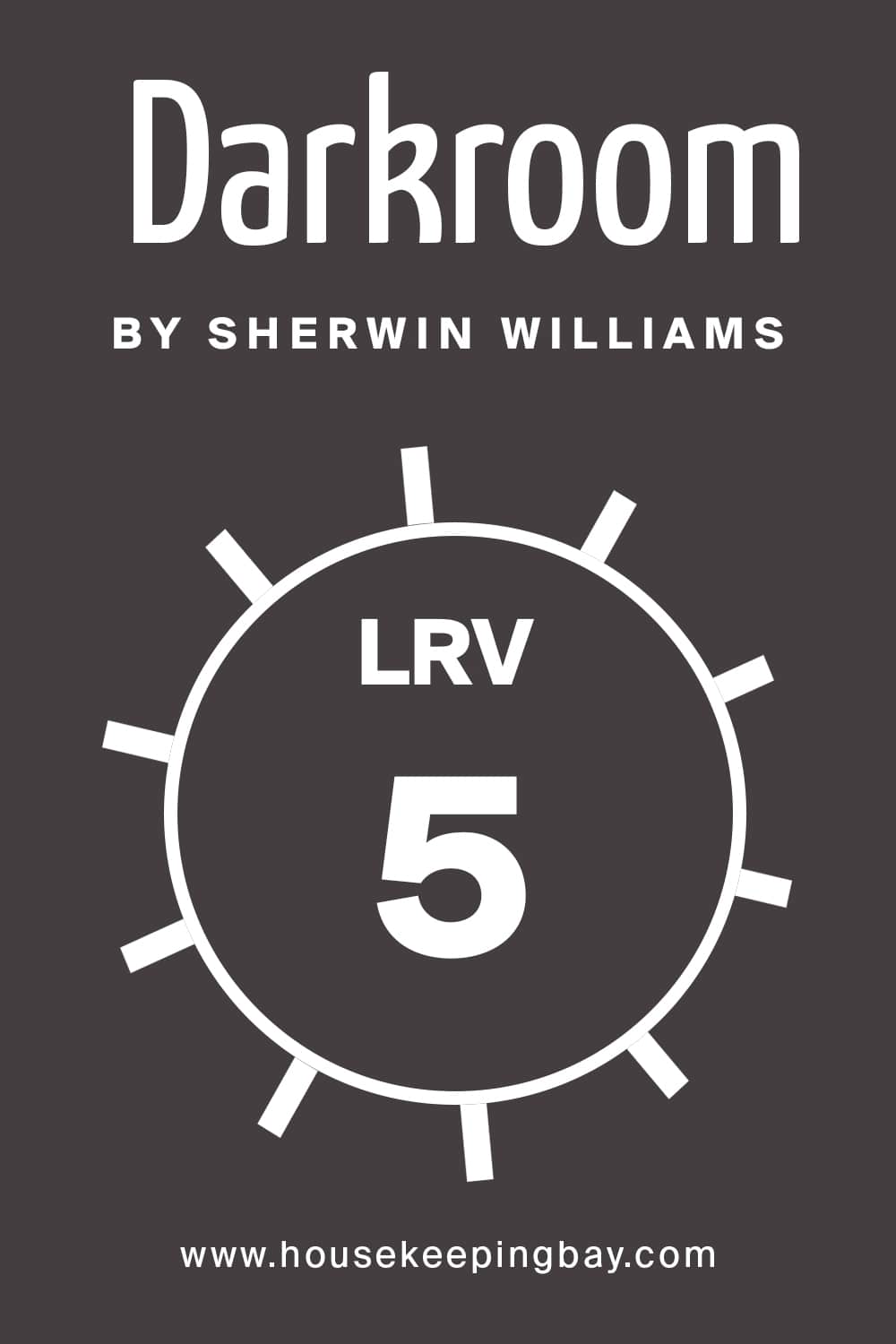 What is LRV? Read It Before You Choose Your Ideal Paint Color
What Colors Does SW Darkroom Go With?
It can be difficult for most of you to figure out what colors can be considered coordinating for the paint color on your walls. Especially if this color is SW Darkroom! This is why we suggest a few hints that will make this choice easier for you. So if you are looking for a suitable color (or colors) that will go with SW Darkroom well, opt for these ones:
SW-9157 Autumn Orchid
SW-7077 Original White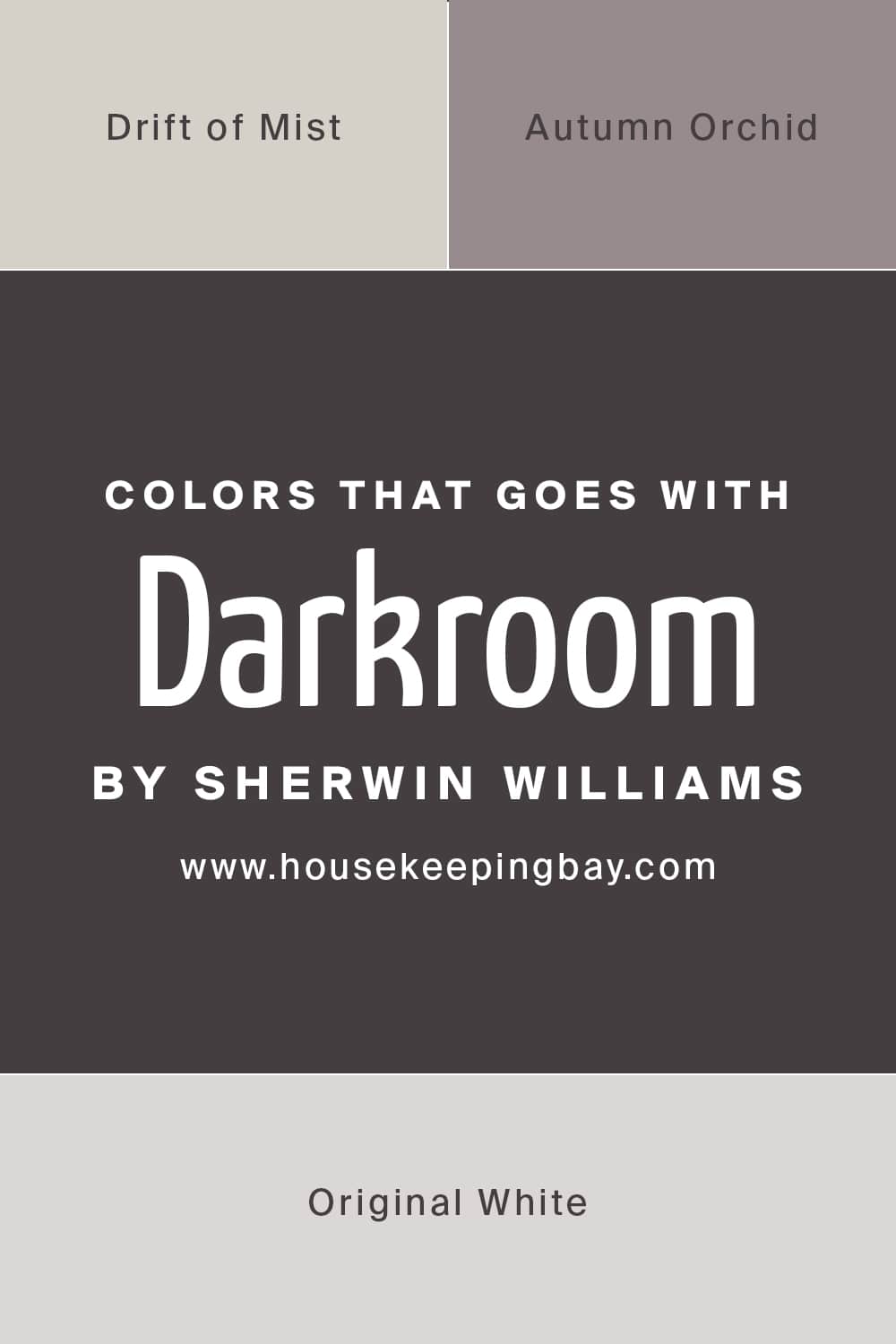 Best Trim Colors For SW Darkroom
As you probably know, white is the universal trim color that matches almost any other color and shade. However, it's not so simple with whites! You can't just grab any white and hope it will be an ideal trim color for your leading paint. You should consider how cool or warm the white is, as well as how cool or warm your basic color is.
So if your home walls are painted with SW Darkroom and you are looking for a suitable trim color to use it with, take the following shades of white into consideration:
BM Simply White
BM Chantilly Lace
BM Cloud White
SW Extra White
SW High Reflective White
And don't forget to take the rest of your color palette into consideration! Like that, you will create a harmonious color ensemble.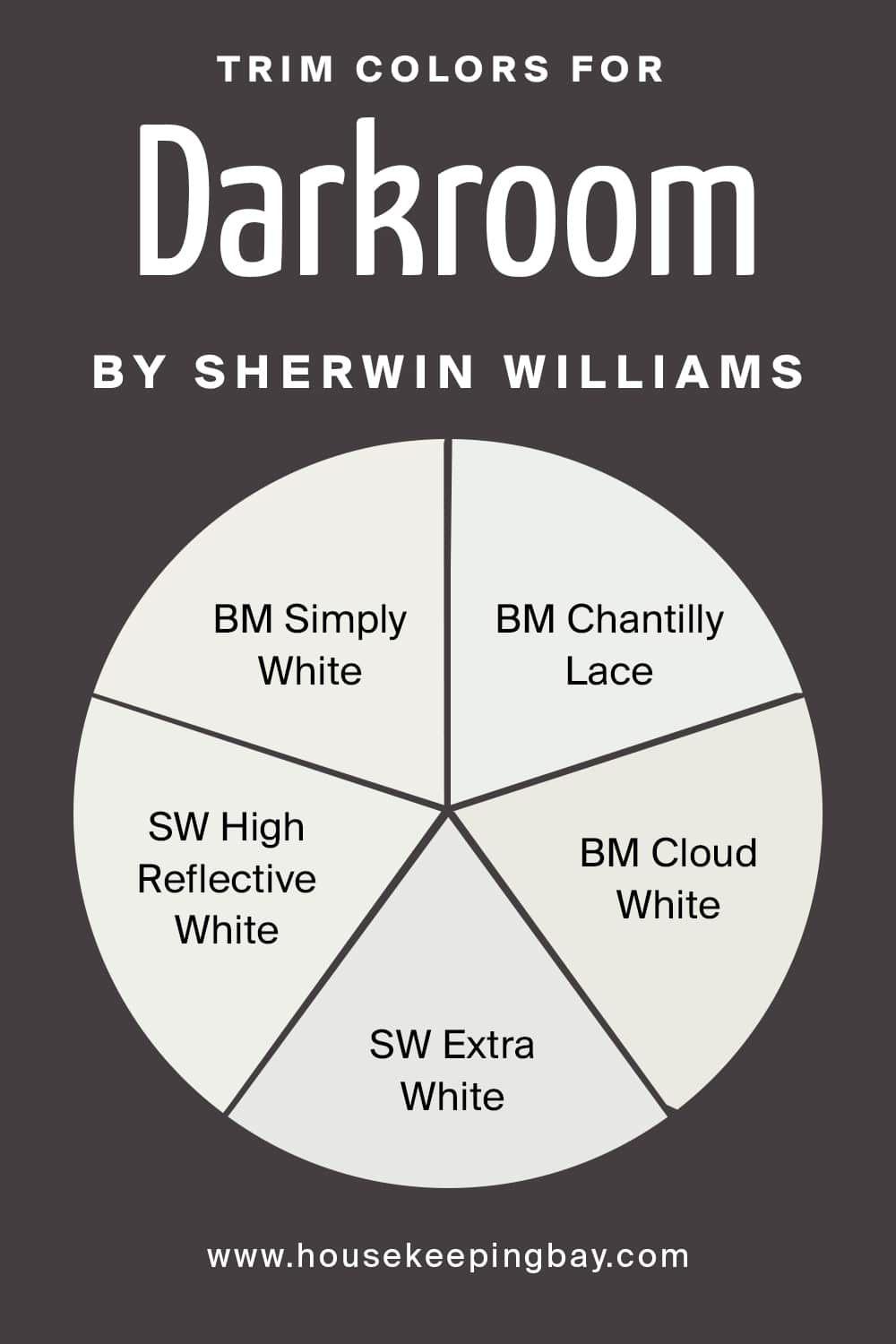 Sherwin Williams Darkroom SW-7083 Coordinating Colors
When you plan on how your room interior is going to look, you might want to consider coordinating colors as well. These colors are those that can create a balanced and harmonious color palette with the major color used on the walls. However, homeowners often find it difficult to figure out what colors can be used as coordinating ones.
If your main paint color on the walls is goign to be Sherwin Williams Darkroom SW-7083, you should know that these are the following coordinating colors to match with it:
SW-7616 Breezy
SW-6256 Serious Gray
SW-7075 Web Gray
They can be successfully used altogether in one space or you can select one or two of them (pr more) to use with Sherwin Williams Darkroom SW-7083.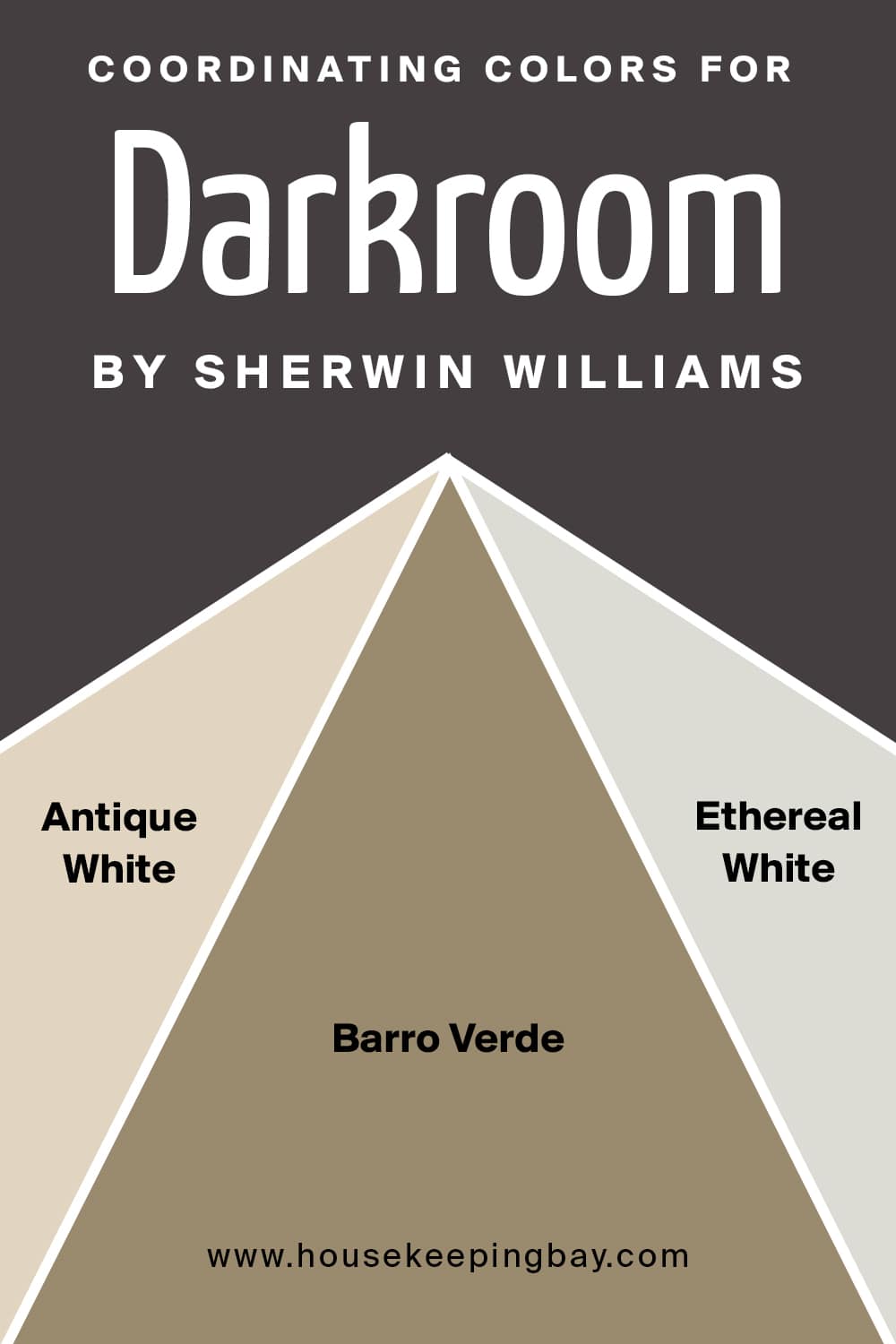 Where Darkroom SW-7083 Color Can Be Used In Your Home?
Despite being rather dark, SW Darkroom is a pretty multipurpose color, which can be used in many different rooms of your home, as well as on different surfaces. So if you haven't decided yet where exactly you want to see it, we have prepared a brief guide for you. With its help, you will be able to figure out where you want this color.
Darkroom SW-7083 in the Living Room
This rich black with purple undertone is a perfect match for your living room. It creates a classy vibe and makes the living space both elegant and cozy.
Another cool feature of this color is that it can be used for both classic-style interiors and modern interior designs. Combine it with white trims and wooden floors or furniture, and your living room will turn into a comfortable space to relax in.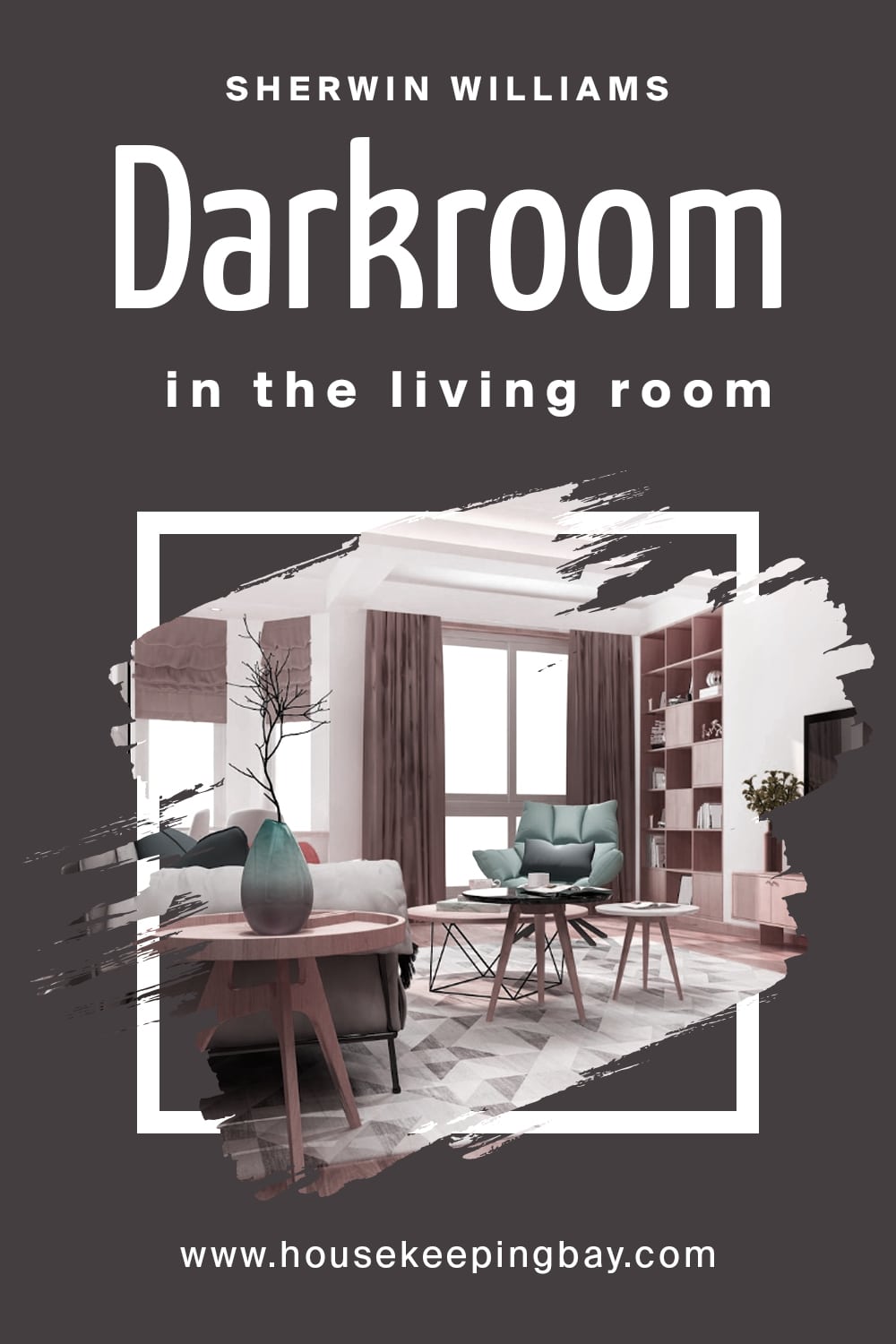 Darkroom SW-7083 in the Bedroom
Some of you may think this color is way too dark for a bedroom but in fact, it can be a win-win option for those who have bedrooms with too much light or way too spacious ones.
Since SW Darkroom tends to make the room visually smaller, it will create a cozy cocoon out of your sleeping space – exactly what you need for relaxing and sleeping well after a long day!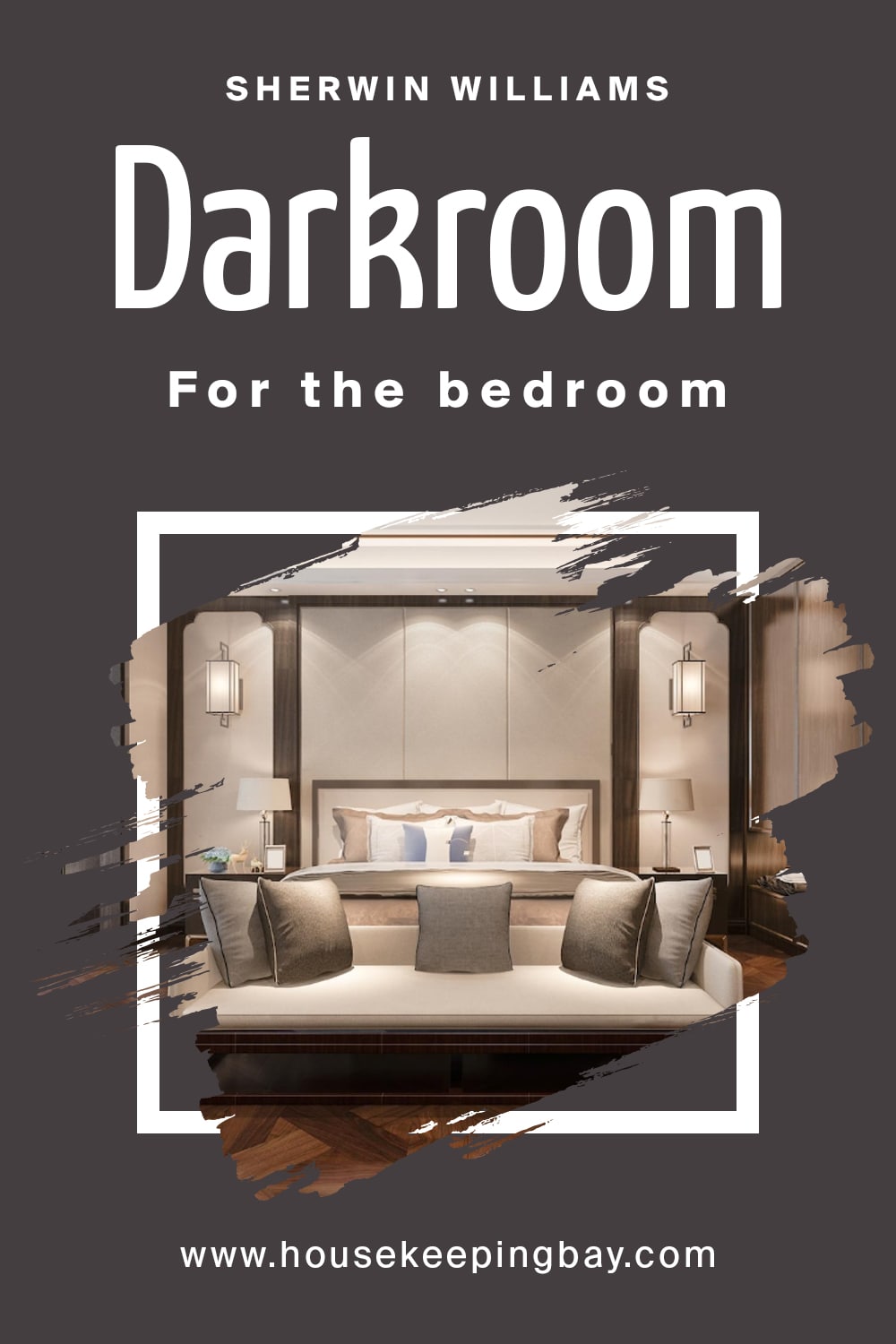 Darkroom SW-7083 in the Bathroom
As a color for bathroom walls, SW Darkroom is perhaps way too dark and gloomy indeed. However, you can incorporate it into your bathroom design by painting cabinets and/or drawers with it!
Besides, who said you can't paint an accent wall with this rich black?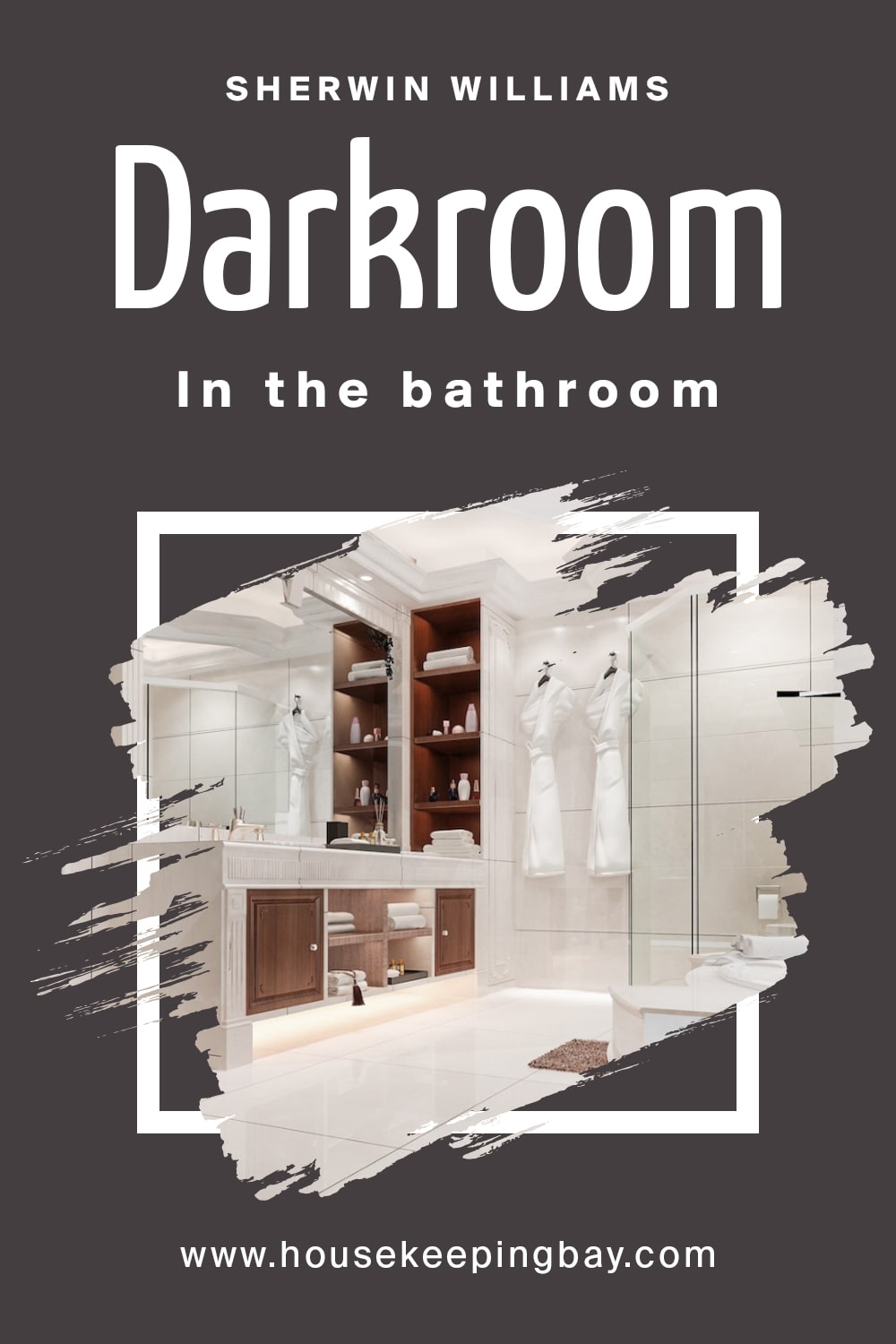 Darkroom SW-7083 in the Kitchen
In a kitchen, this color will look especially great if you apply it to the accent wall or paint a backsplash with it. In addition, it is a great color choice for drawers and/or kitchen cabinets. As an option, if you have a white kitchen and wooden furniture, you can paint your furniture this deep black! The effect will be amazing.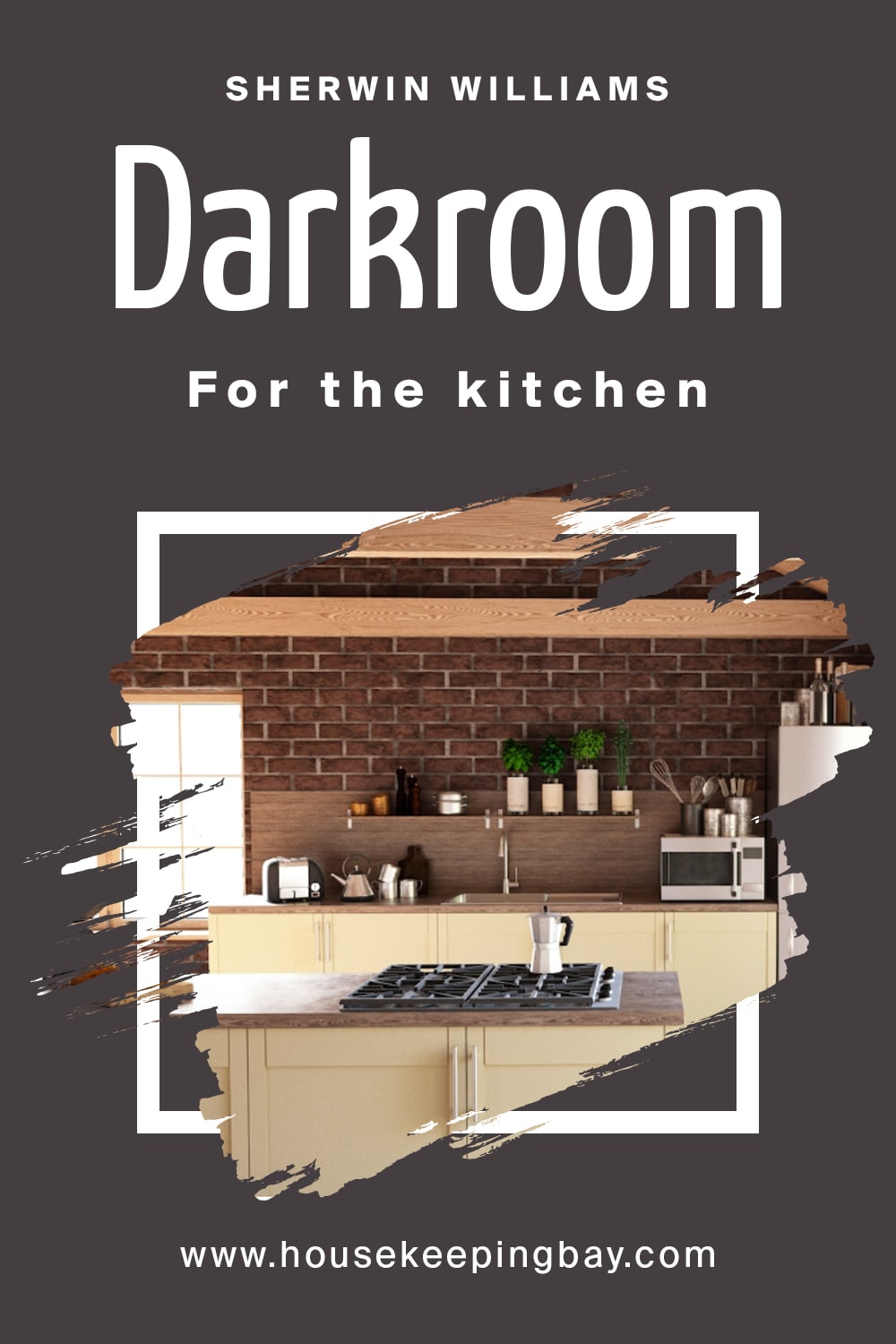 Darkroom SW-7083 for the Exterior Use
We would doubt your desire to paint an entire house with this dark color, however, it can be incorporated partially! For example, you can paint your front door with it or use it for painting your terrace wall. Anyway, you got the point: this color is good for making accents, especially on a white or very light background.
So now you know a lot more about this magnificent black. You are now aware of the way it reacts to light, you know in what rooms it will work best of all, and also, we told you what colors you can match it with. With all that in mind, it will be easy for you now to incorporate this rather complicated color into your interior without much effort.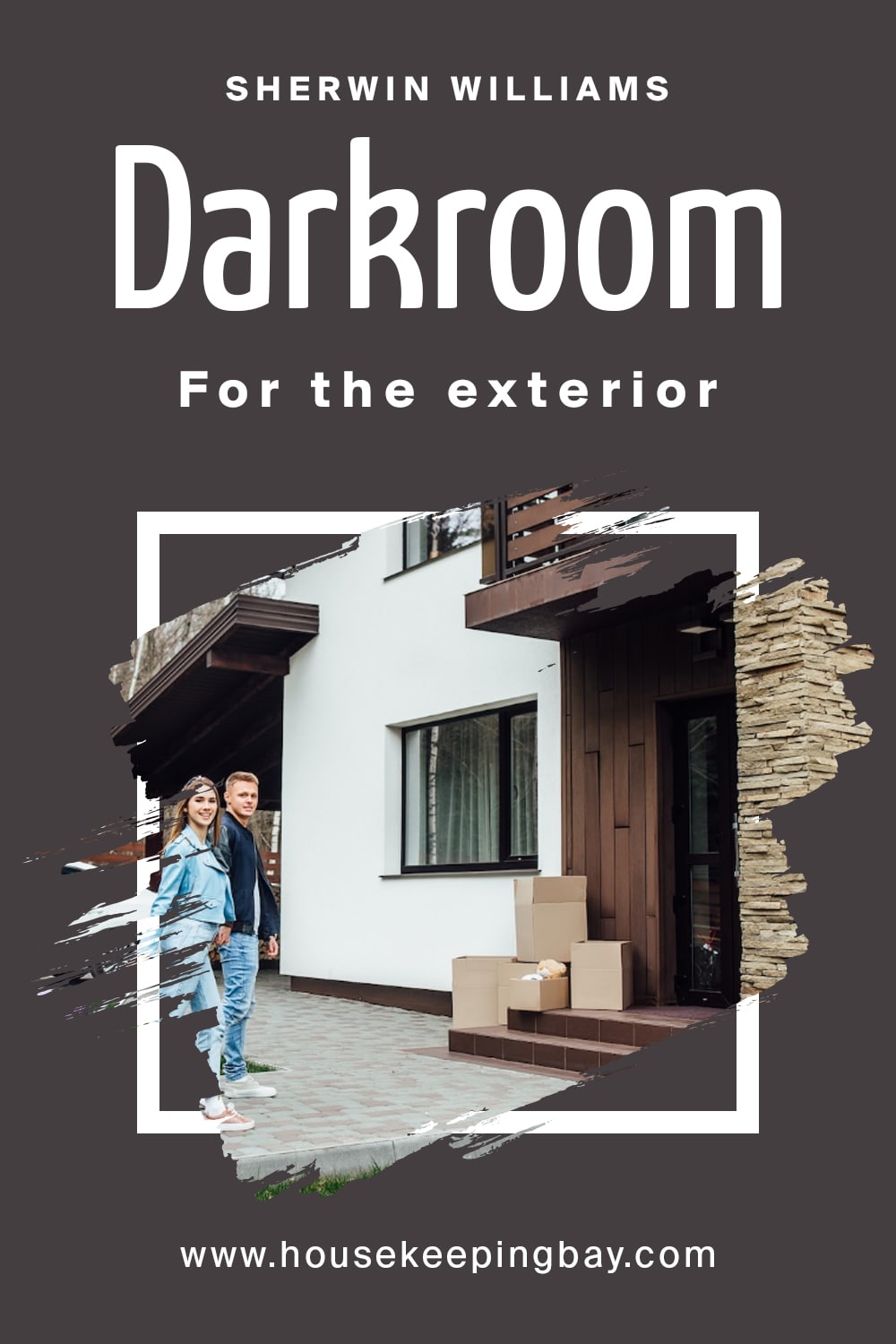 Comparing SW Darkroom to Other Colors
To be able to choose colors more effectively and harmoniously, you should be able to see the slightest distinctions between them. Of course, it might be difficult to do at first, so here is a brief guide for you on how to compare SW Darkroom and a few other colors that have certain similar characteristics.
Darkroom vs. Agreeable Gray
Both these colors have purple undertones, but Darkroom is much deeper and darker than Agreeable Gray. However, they can be successfully used together since both are warm-toned and both have a purple undertone, which makes these colors look harmonious.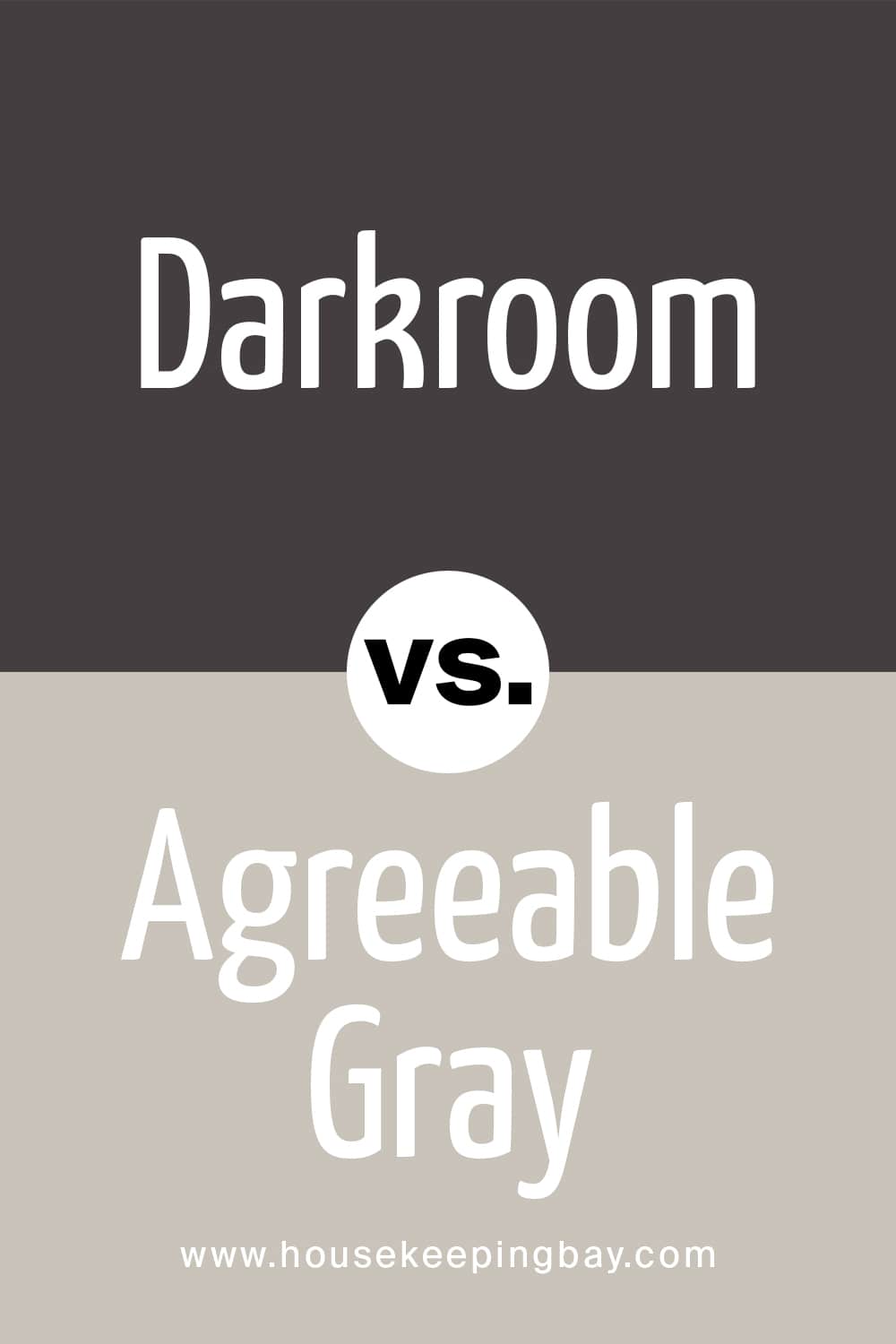 Darkroom vs. Edgecomb Gray
Edgecombe Gray is a warm-toned taupe neutral with very little pink undertones. When you pair it with SW Darkroom, they will look surprisingly nice and balanced together since Edgecomb Gray is much lighter and it creates and delicate and elegant contrast with a deep and rich Darkroom.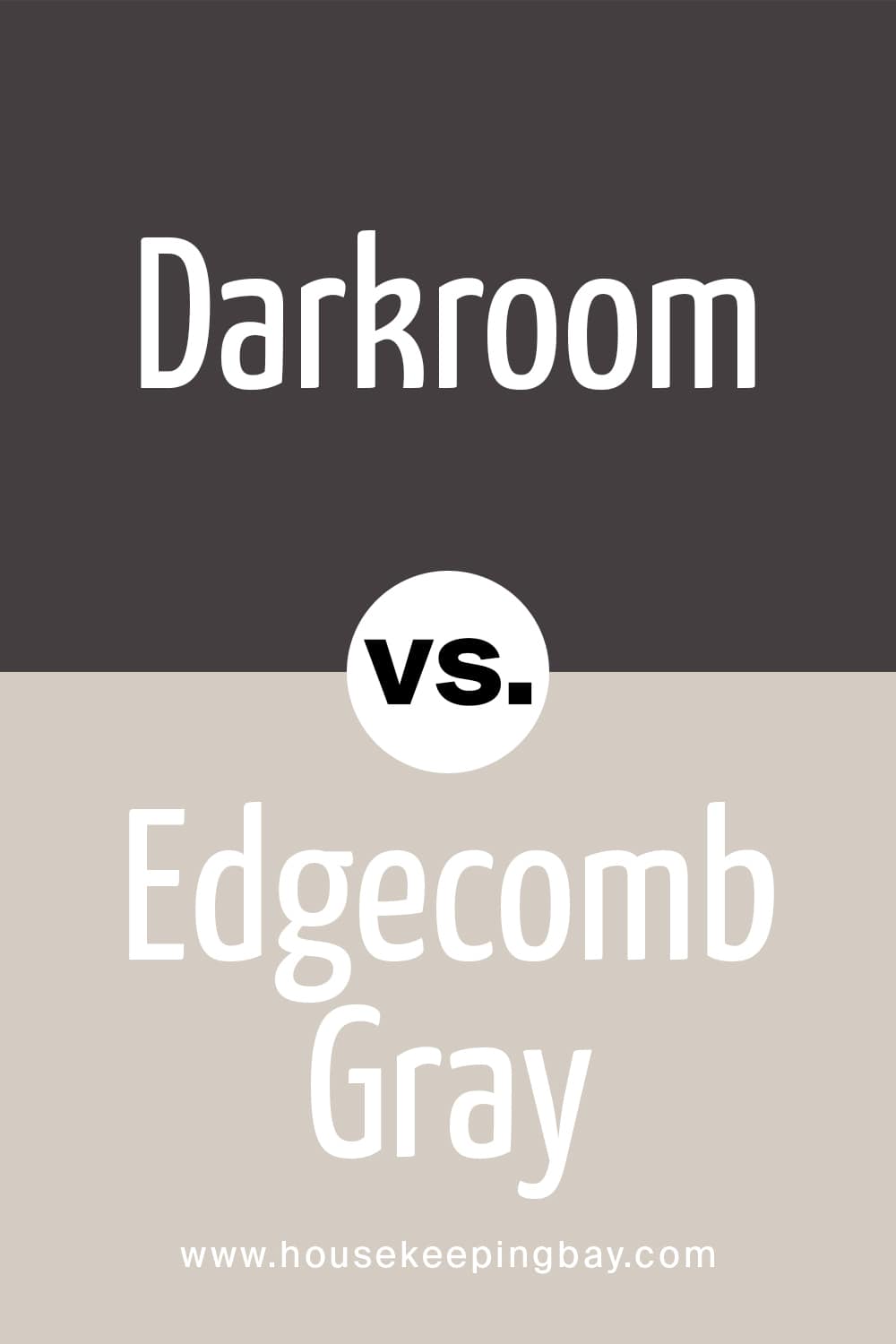 Darkroom vs Evergreen Fog
These colors can hardly be called a harmonious combo. Evergreen Fog has prominent (even though subtle) green undertones whilst Darkroom looks typical black beside it. This pair of colors may only work if you use very few accents of one of these colors along with another one.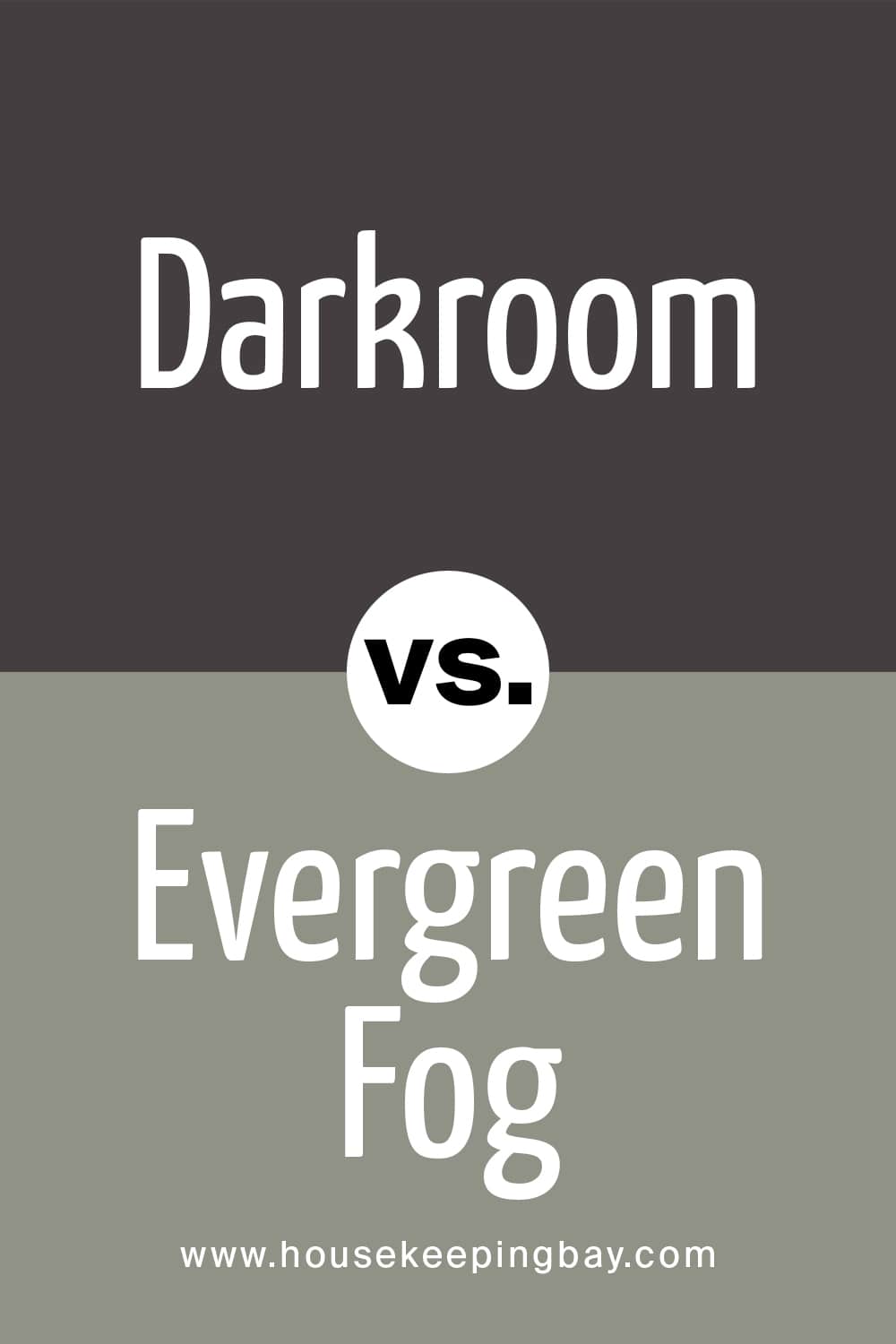 Well, now you know what SW Darkroom paint color is and how it should be used in your home to make it work. We told you about this color's undertones and LRV, you learned how it reacts to light and what trim colors it has. With all this and other information we shared, you will be able to make as much as possible out of this rich and elegant black with purple undertones.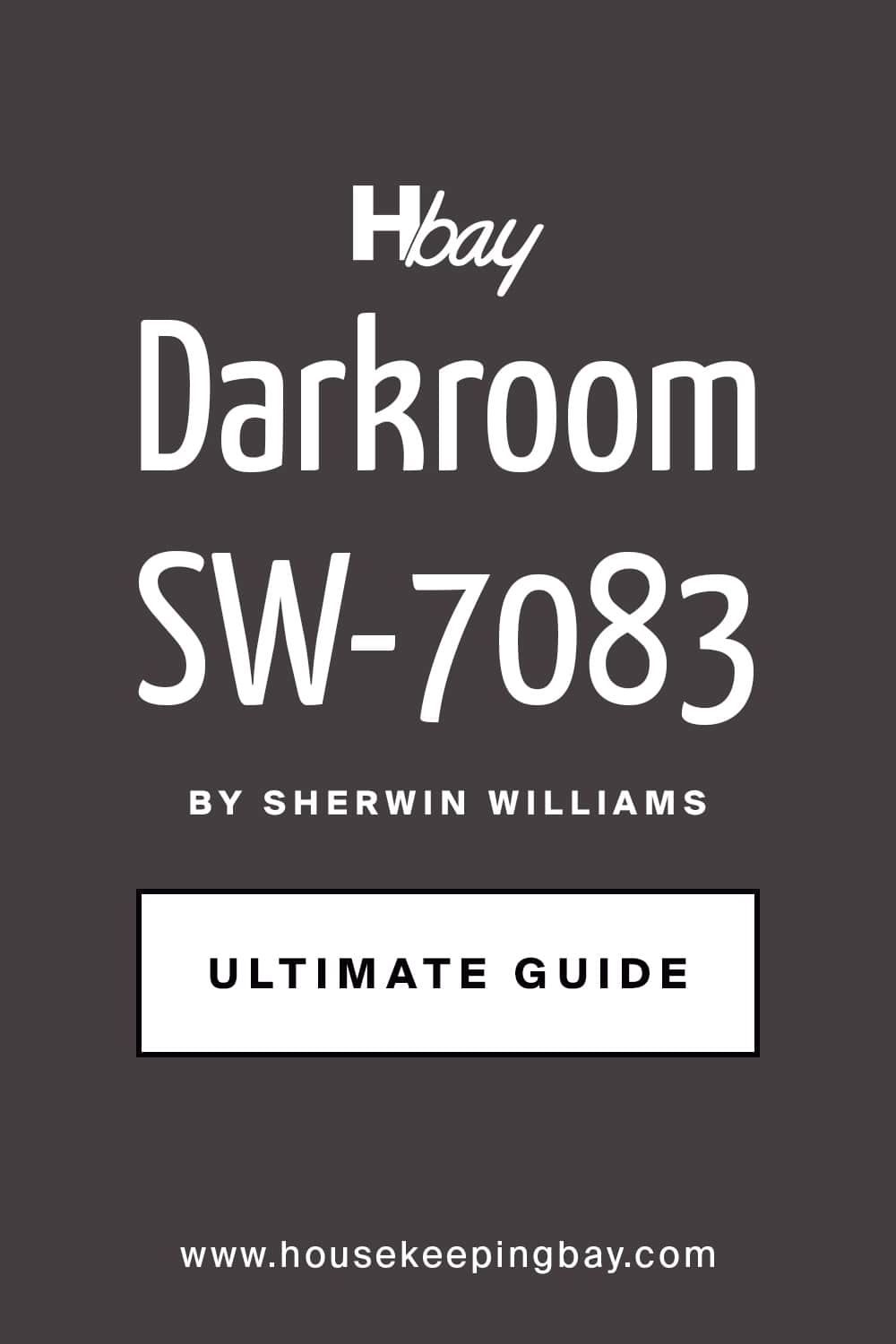 Frequently Asked Questions
⭐Can SW Darkroom work in a kitchen with brass hardware?
Absolutely. This black will also look great with gold color and finishes.
⭐What is a warmer color similar to SW Darkroom?
If you need a warmer color that's less deep and dark, try out SW Rockweed. It look a very deep brown (almost chocolate-brown).
⭐Will SW Darkroom work well with beiges?
Of course it will! Especially with lighter shades of beige colors.