In the expansive world of interior paint, colors are more than just aesthetic choices; they play a crucial role in defining the ambiance of a room. SW 7675 Sealskin by Sherwin-Williams is one such color that has captured the attention of many homeowners and interior decorators.
In this article, we dive deep into understanding Sealskin's hue, undertones, and how it interacts with other colors and lighting.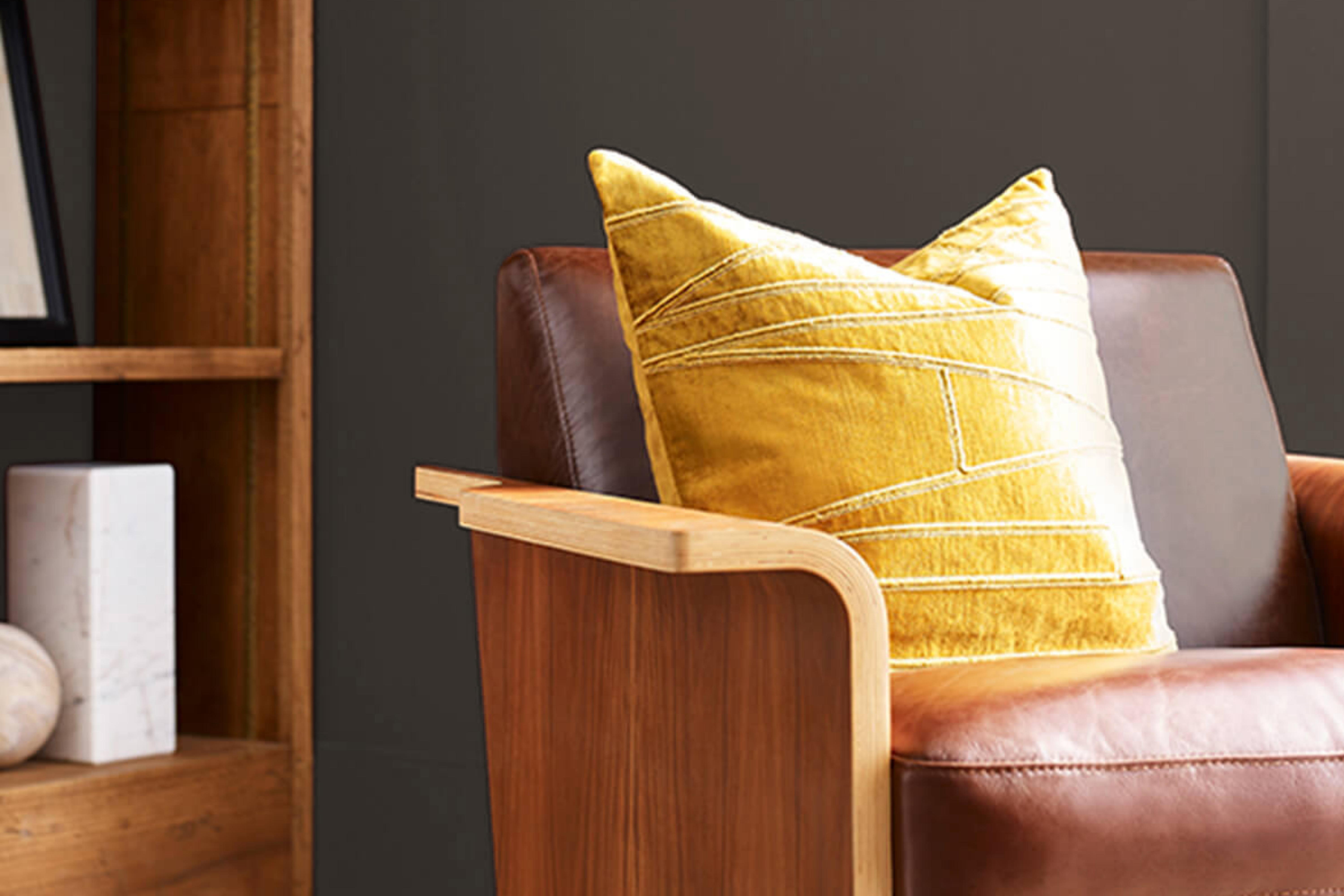 What Color Is SW 7675 Sealskin?
SW 7675 Sealskin is a rich, deep brown with a hint of gray. This shade conjures images of the velvety texture and dark tones of a seal's fur. The sophisticated earthiness of Sealskin makes it ideal for contemporary, modern, and rustic interiors.
When paired with natural wood or stone textures, it creates a seamless connection with nature. It also looks stunning against metallic accents, bringing out a luxurious feel in the décor.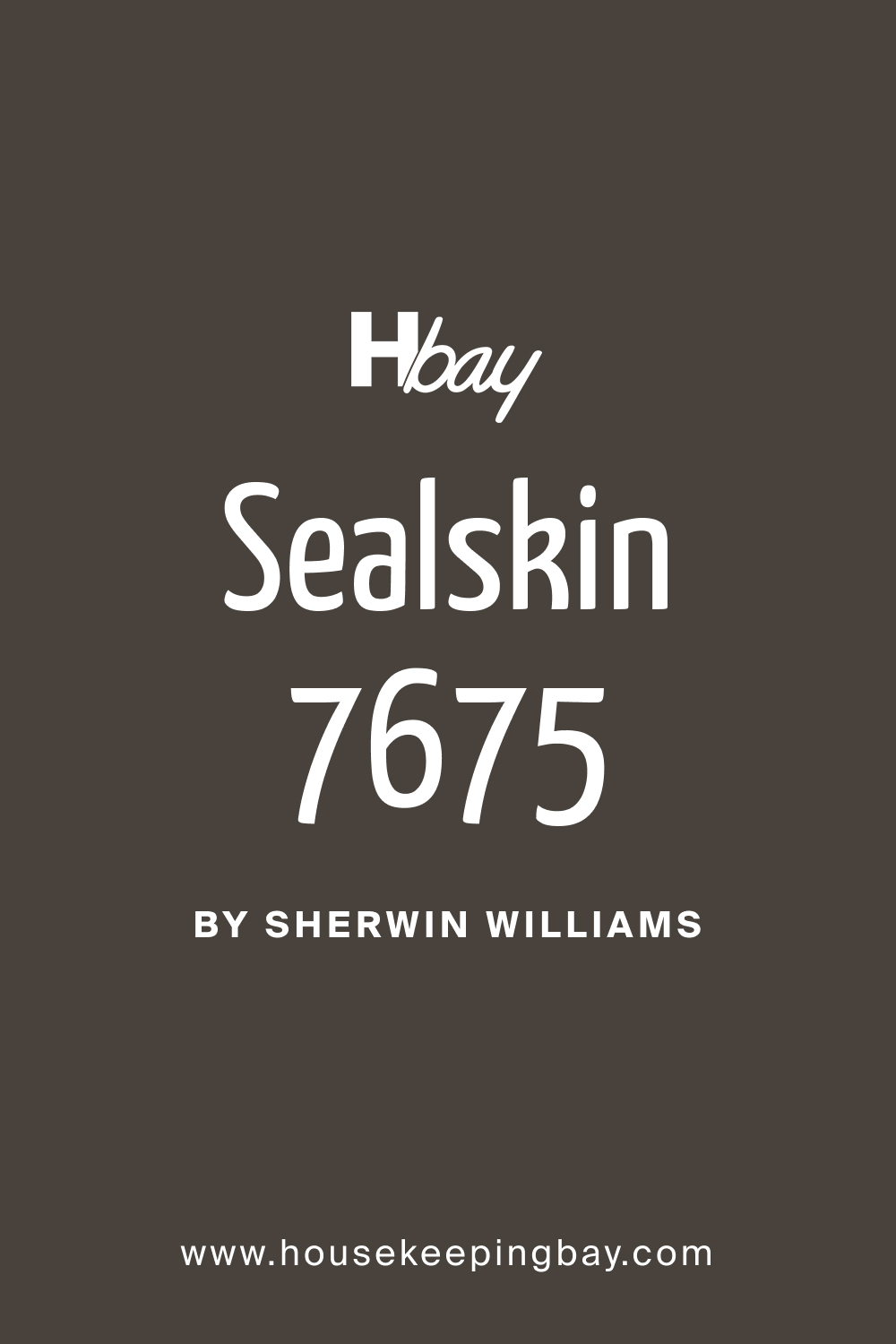 Is It a Warm Or Cool Color?
SW 7675 Sealskin leans more towards the warm spectrum but carries a certain cool undertone, making it a balanced neutral. This dual personality allows Sealskin to offer the coziness of warm shades while maintaining the calm of cooler tones. Such a trait ensures that homes with Sealskin exude a welcoming yet sophisticated ambiance.
Undertones of SW 7675 Sealskin
Like all colors, Sealskin's appearance is influenced by its undertones. With muted gray undertones, Sealskin offers depth and versatility. Undertones dictate how color interacts with other shades and the environment. For Sealskin, these grayish undertones make it an adaptable backdrop in interiors, allowing it to complement a wide array of furnishings and finishes.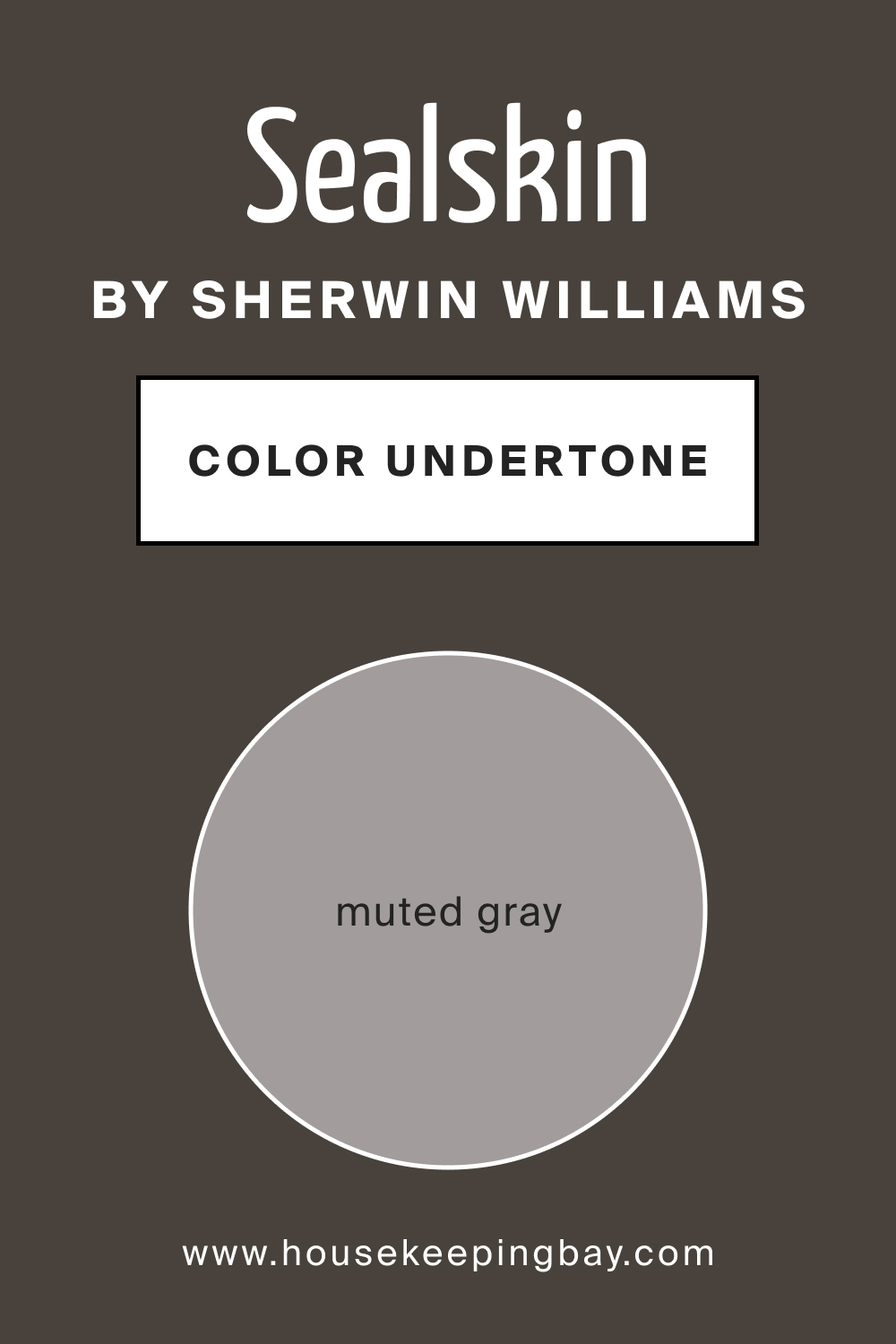 Coordinating Colors of SW 7675 Sealskin
Coordinating colors harmonize with the main shade, enhancing its beauty and creating a cohesive palette. For SW Sealskin, some notable coordinates include:
Further complementing SW Sealskin are SW 7010 White Duck, SW 7006 Extra White, and SW 7036 Accessible Beige. Each brings its unique charm when paired with Sealskin.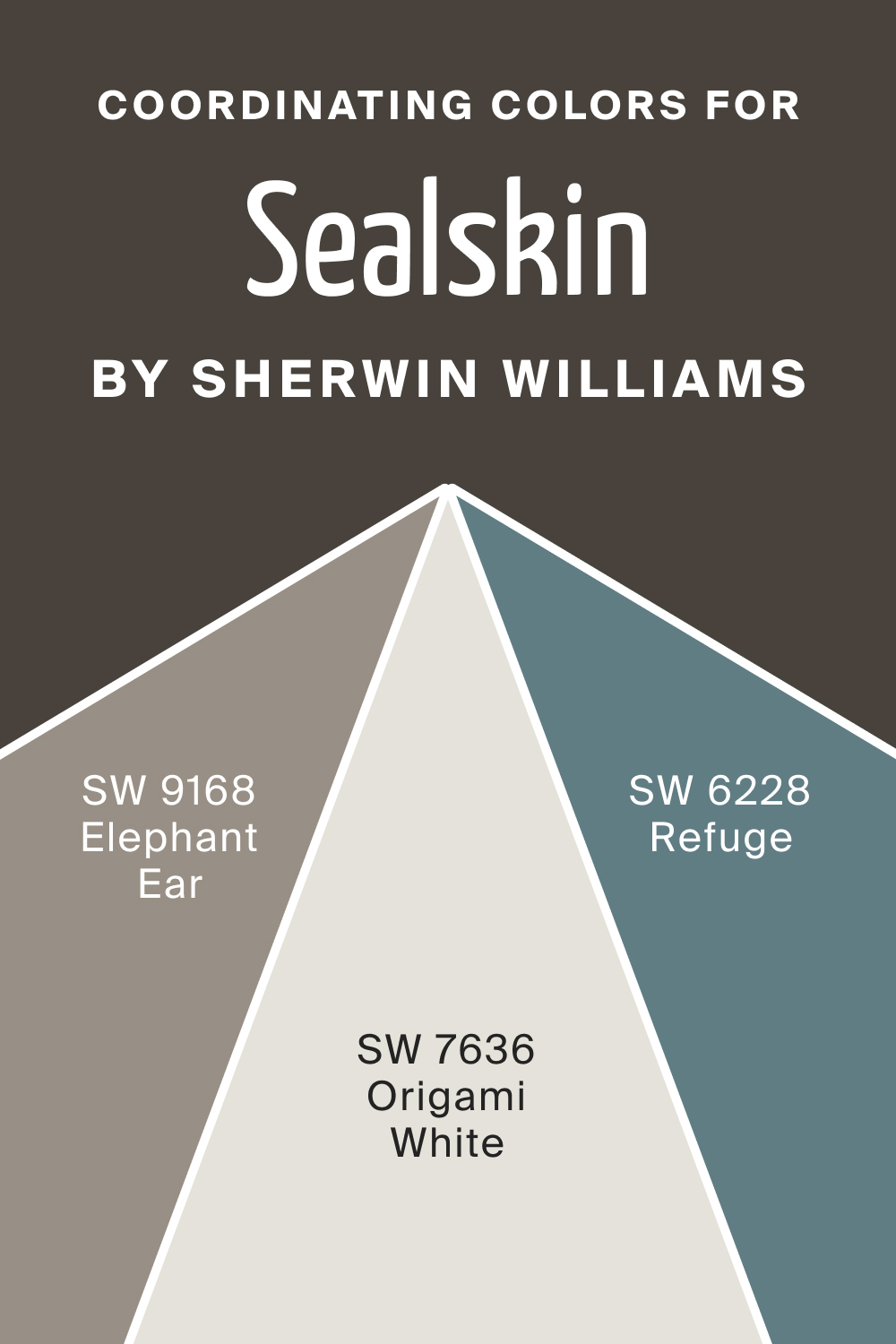 How Does Lighting Affect SW 7675 Sealskin?
Lighting plays a pivotal role in color perception. Under artificial lighting, Sealskin may appear darker and more intense, while natural sunlight might soften its depth. In north-facing rooms, Sealskin may manifest its cooler undertones, giving spaces a more serene feel.
South-facing rooms imbue Sealskin with warmth, highlighting its brown richness. East-facing rooms greet Sealskin with morning light, emphasizing its muted gray undertones. Conversely, in west-facing rooms, the evening glow intensifies Sealskin's richness.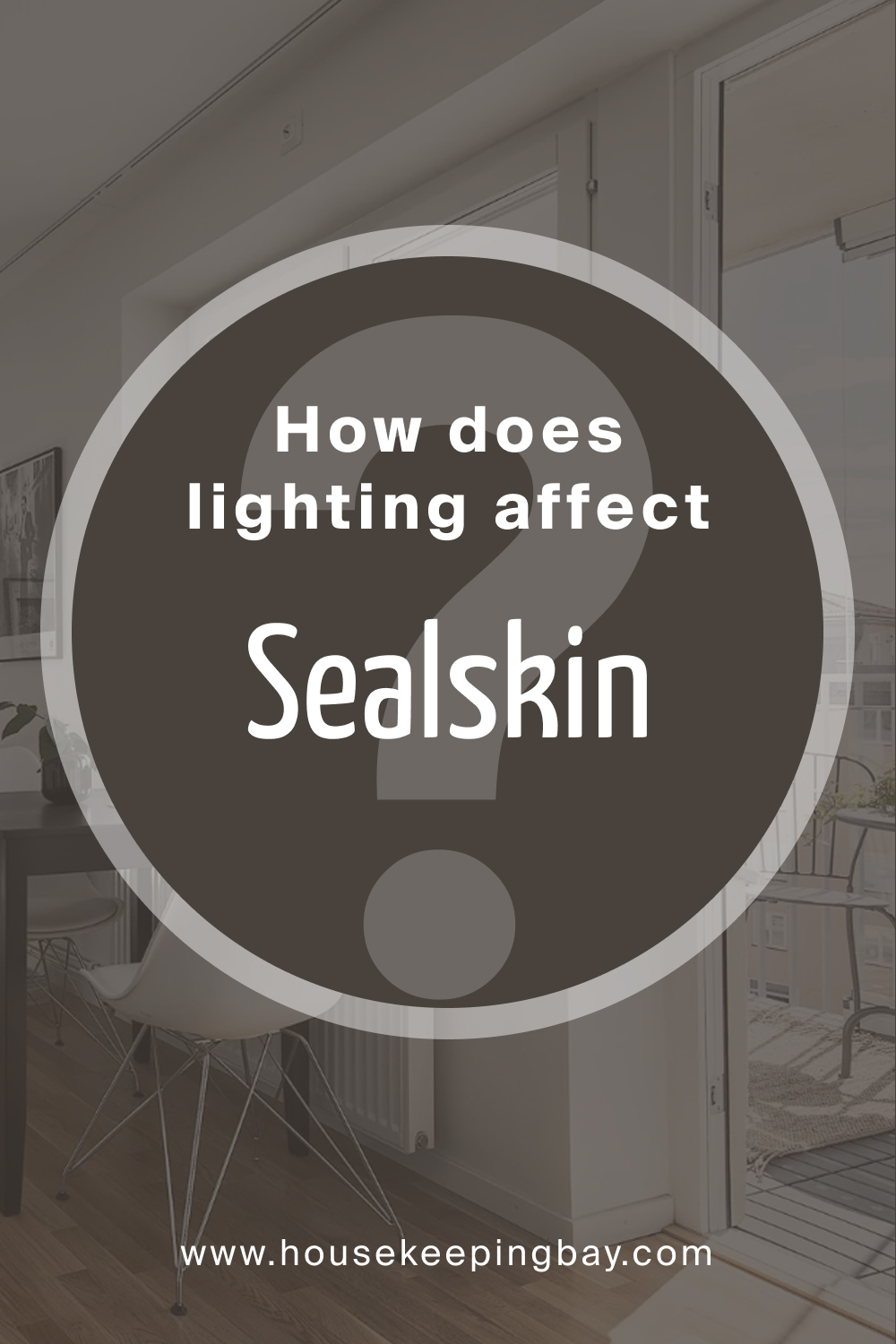 LRV of SW 7675 Sealskin
Light Reflectance Value (LRV) measures the percentage of light a color reflects. With an LRV of 6, Sealskin is on the lower end of the scale, meaning it absorbs more light, making spaces feel cozy and intimate. This low LRV allows Sealskin to anchor rooms, especially those with ample natural light or lighter furnishings.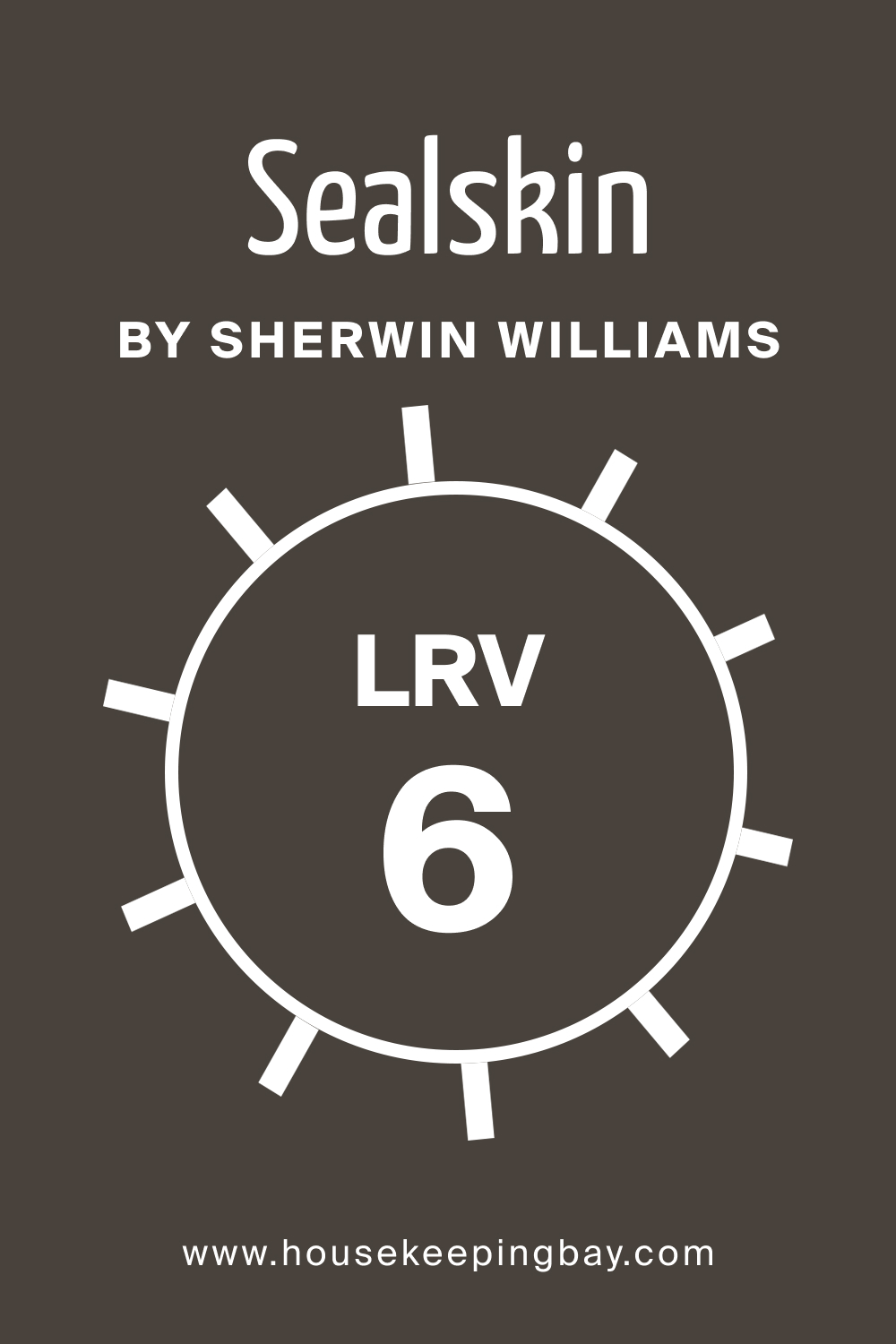 What is LRV? Read It Before You Choose Your Ideal Paint Color
Trim Colors of SW 7675 Sealskin
Trim colors, often lighter or contrasting shades, frame walls and accentuate the main wall color. With SW Sealskin, consider using trim shades like:
They provide crisp boundaries and elevate its elegance.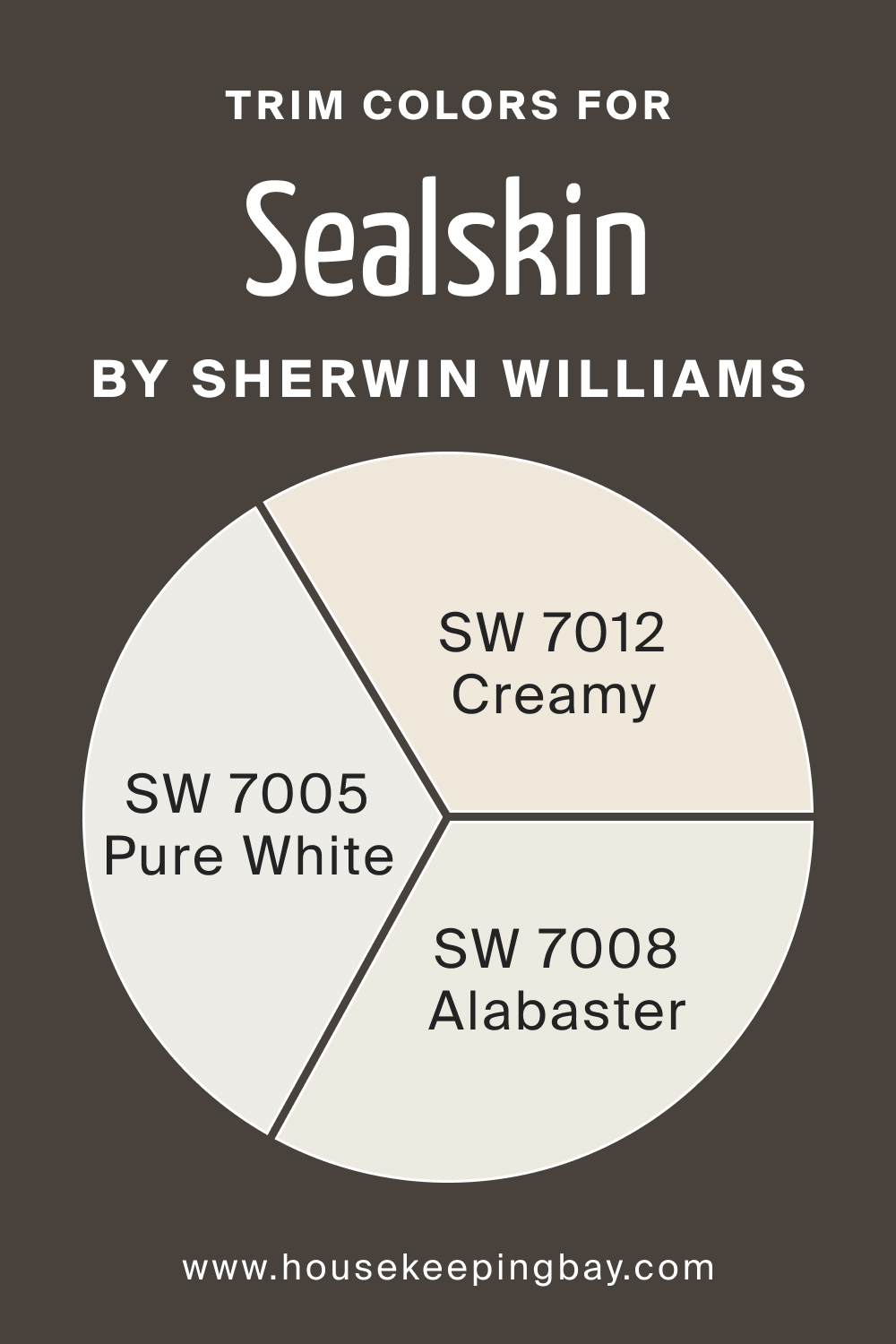 Colors Similar to SW 7675 Sealskin
Understanding similar colors offers options and alternatives. SW 7675 Sealskin shares its rich essence with: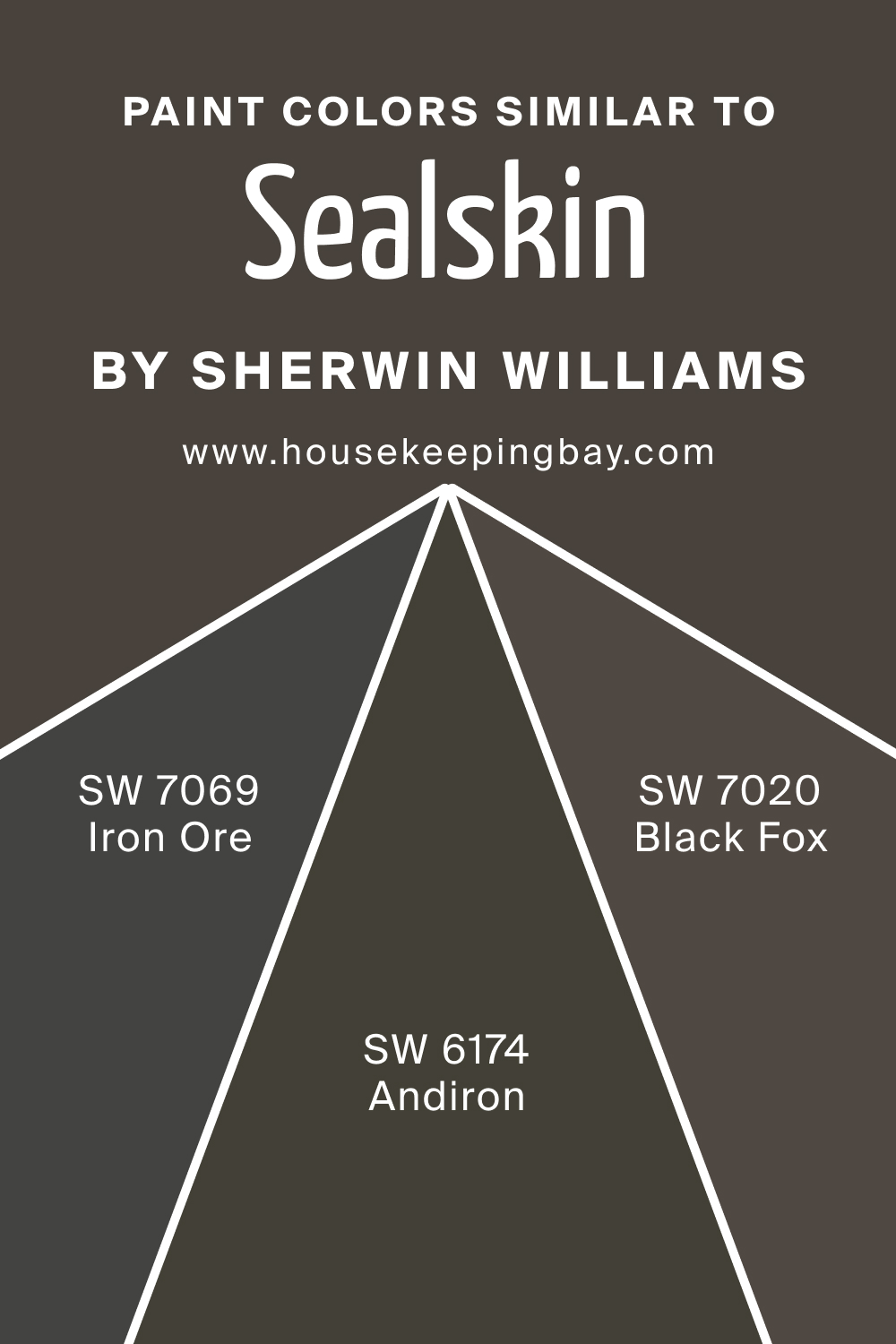 Colors That Go With SW 7675 Sealskin
Harmonious palettes create visually pleasing spaces. Alongside SW Sealskin, we recommend using shades like:
They are delightful companions for the Sealskin color by Sherwin-Williams. Additionally, opt for SW 6258 Tricorn Black, SW 7032 Warm Stone, and SW 6172 Hardware to offer a blend of contrast and harmony with SW Sealskin.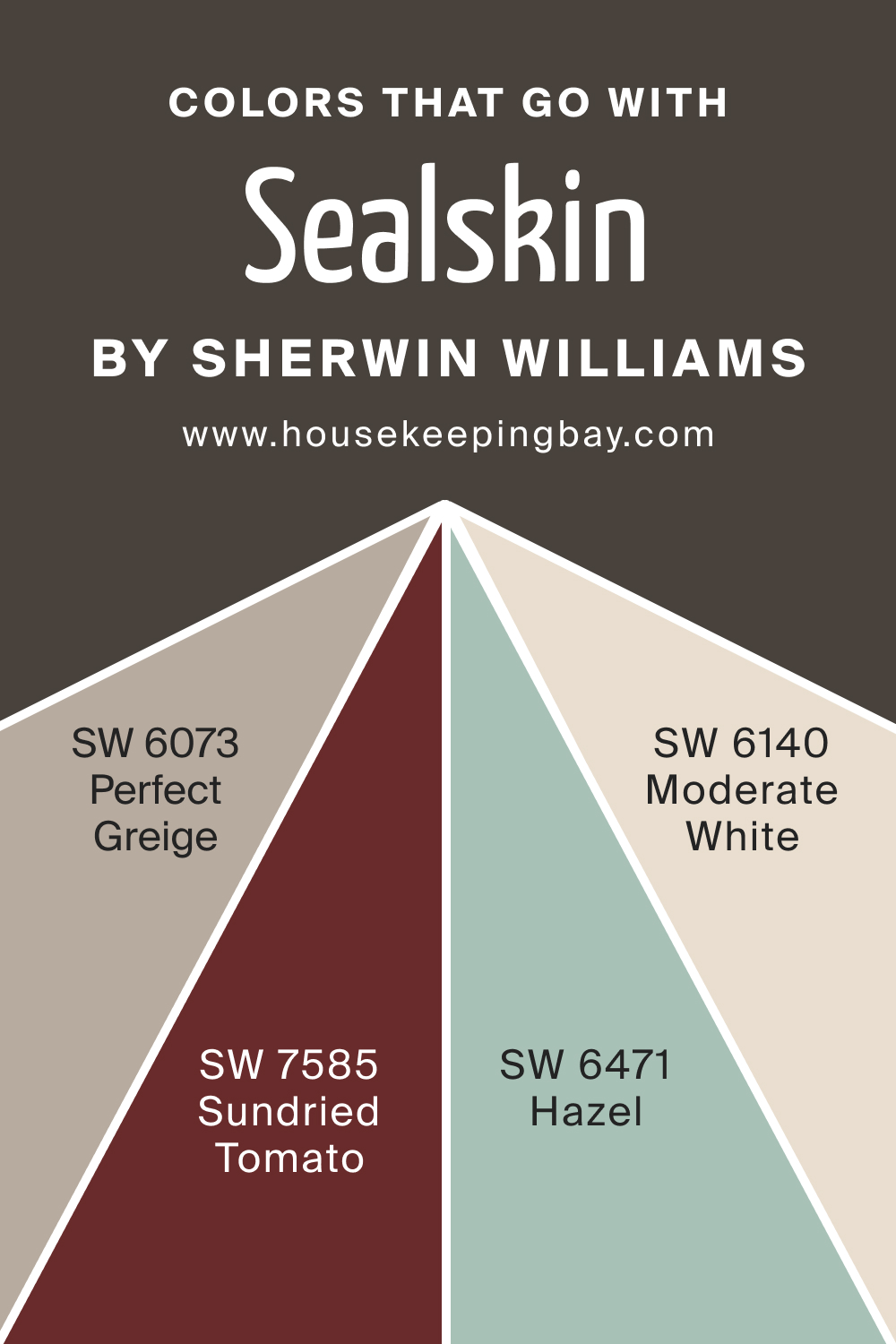 How to Use SW 7675 Sealskin In Your Home?
SW 7675 Sealskin's earthy depth offers versatility for numerous rooms—living rooms, bedrooms, bathrooms, and even exteriors. Its richness pairs beautifully with contemporary, modern, rustic, and industrial interior styles. In larger spaces, it anchors the design, while in smaller rooms, it exudes intimacy. Paired with the right décor and accents, Sealskin can transform any space into an elegant haven.
How to Use SW 7675 Sealskin in the Bedroom
In the sanctuary of sleep, Sealskin brings tranquility and warmth. It complements wooden bed frames, soft neutral linens, and metallic accents, offering a perfect backdrop for relaxation. For a modern touch, contrast it with lighter nightstands or soft pastel textiles, allowing the depth of Sealskin to cradle you into a serene slumber.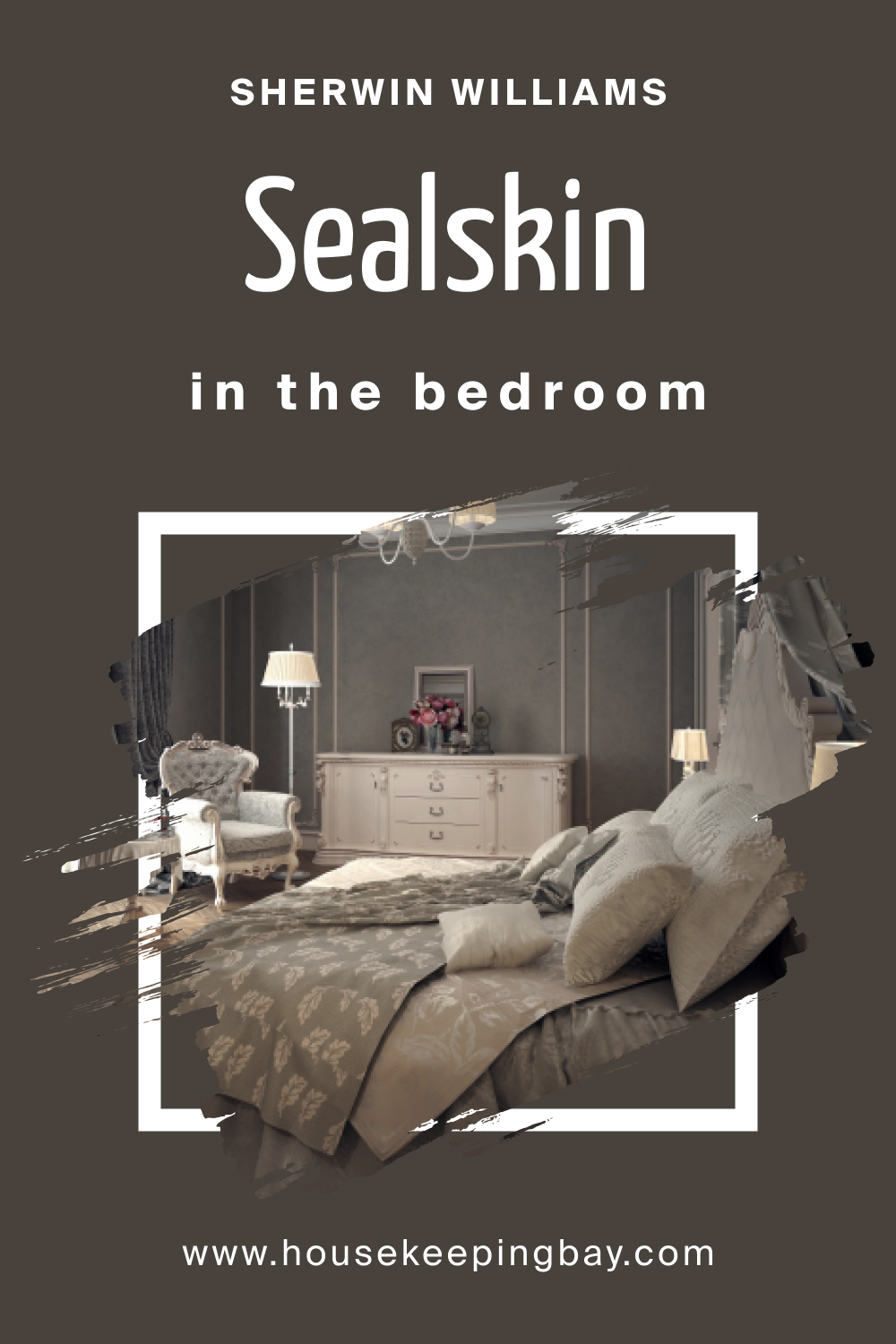 How to Use SW 7675 Sealskin in the Bathroom
SW Sealskin in bathrooms evokes a spa-like ambiance. With white fixtures and fittings, the color accentuates luxury. Gold or brass hardware elevates its opulence. Paired with soft lighting and natural stone tiles, Sealskin creates a rejuvenating space, transforming routine bath times into indulgent escapes.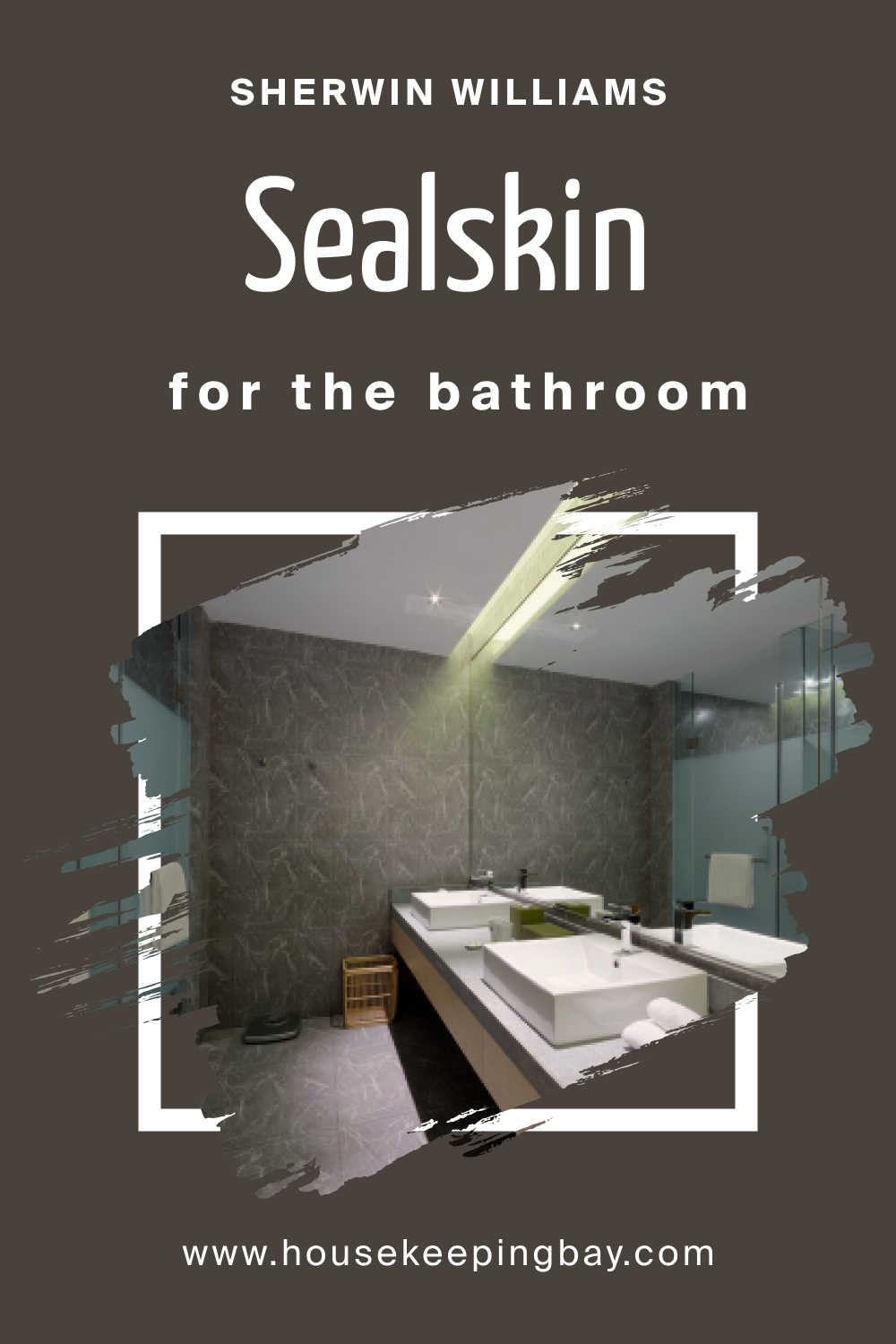 How to Use SW 7675 Sealskin in the Living Room
The living room, often the heart of the home, embraces Sealskin's sophistication. Against this hue, cream or beige sofas, rich textiles, and wooden or metallic accents create depth and interest. Artwork, rugs, or cushions in complementary colors can further enhance Sealskin's warmth, making gatherings more inviting.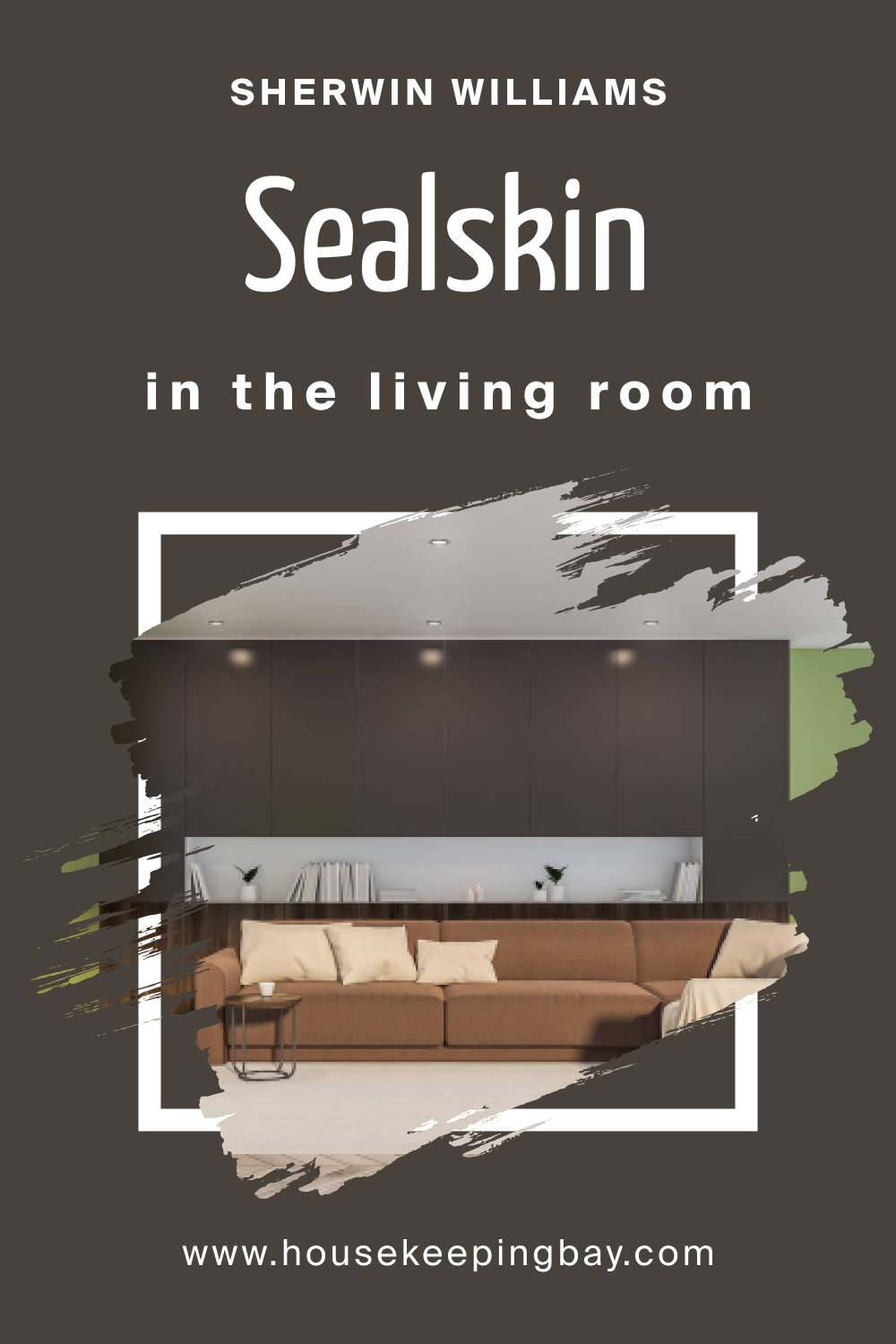 How to Use SW 7675 Sealskin for an Exterior
For homeowners seeking bold exteriors, Sealskin is a standout. It imparts timeless elegance to façades, especially when contrasted with lighter trim or stonework. This shade can also highlight architectural features, ensuring your home leaves a lasting impression on onlookers.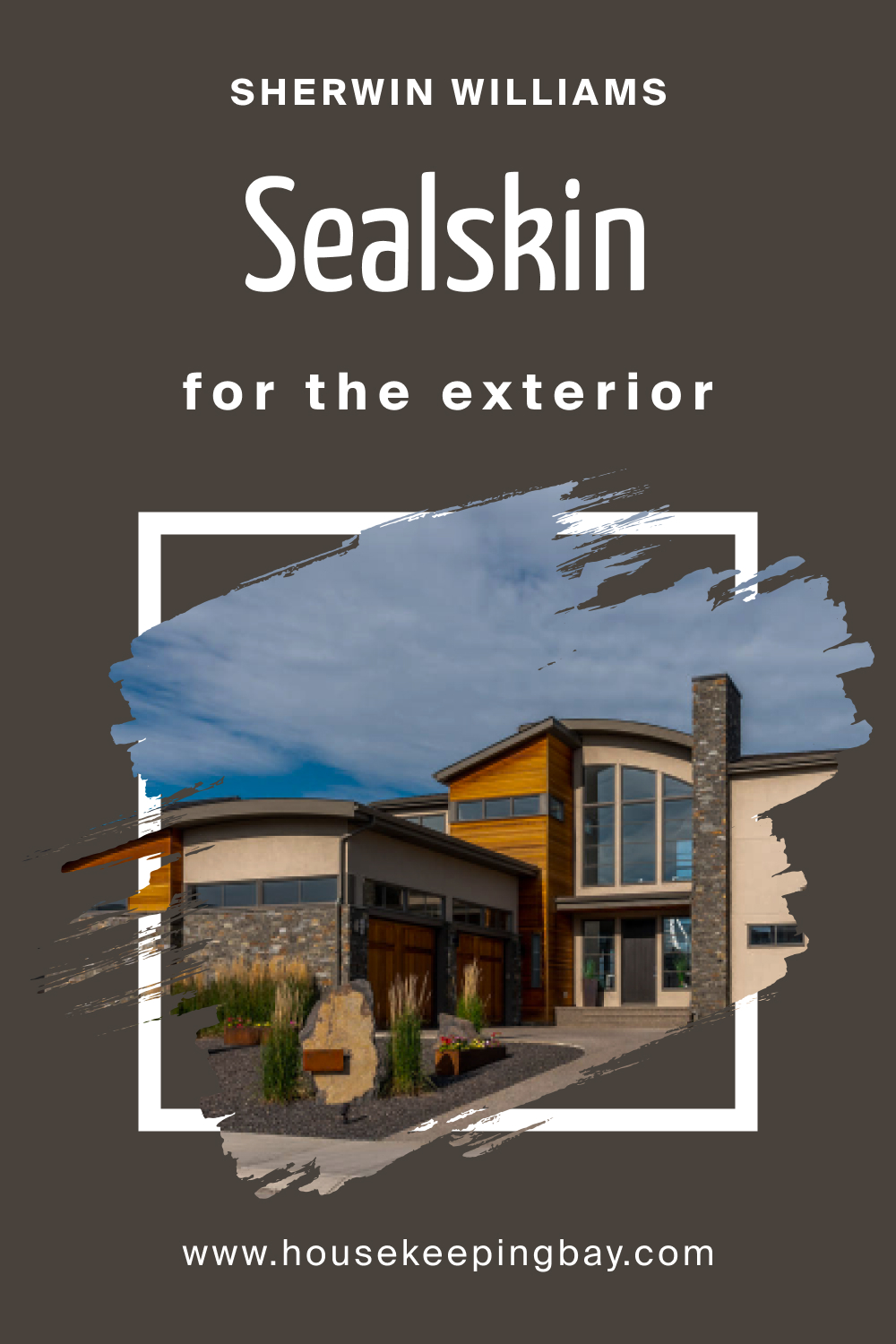 How to Use SW 7675 Sealskin in the Kitchen
In kitchens, Sealskin balances modernity and warmth. Whether on walls or islands, it contrasts beautifully with marble or granite countertops. With stainless steel appliances, the hue accentuates modern aesthetics, while with wooden elements, it taps into a rustic charm.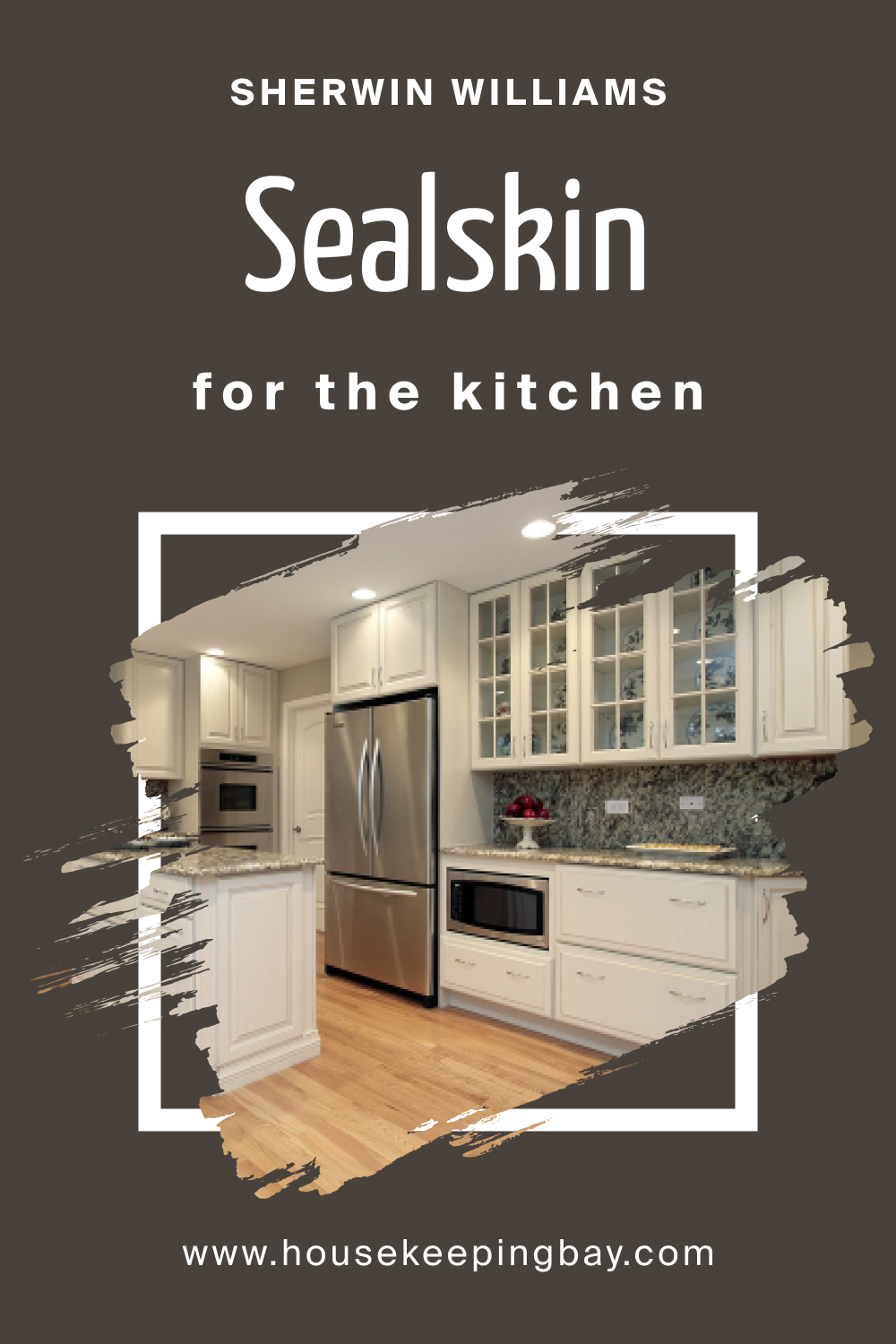 How to Use SW 7675 Sealskin for the Kitchen Cabinets
SW Sealskin cabinets can redefine a kitchen. Its depth contrasts brilliantly with light-colored walls, making the cabinetry the focal point. Paired with sleek handles or knobs, Sealskin cabinets showcase contemporary flair. If seeking a harmonized look, consider matching the cabinets with a Sealskin-toned island or select kitchen accents.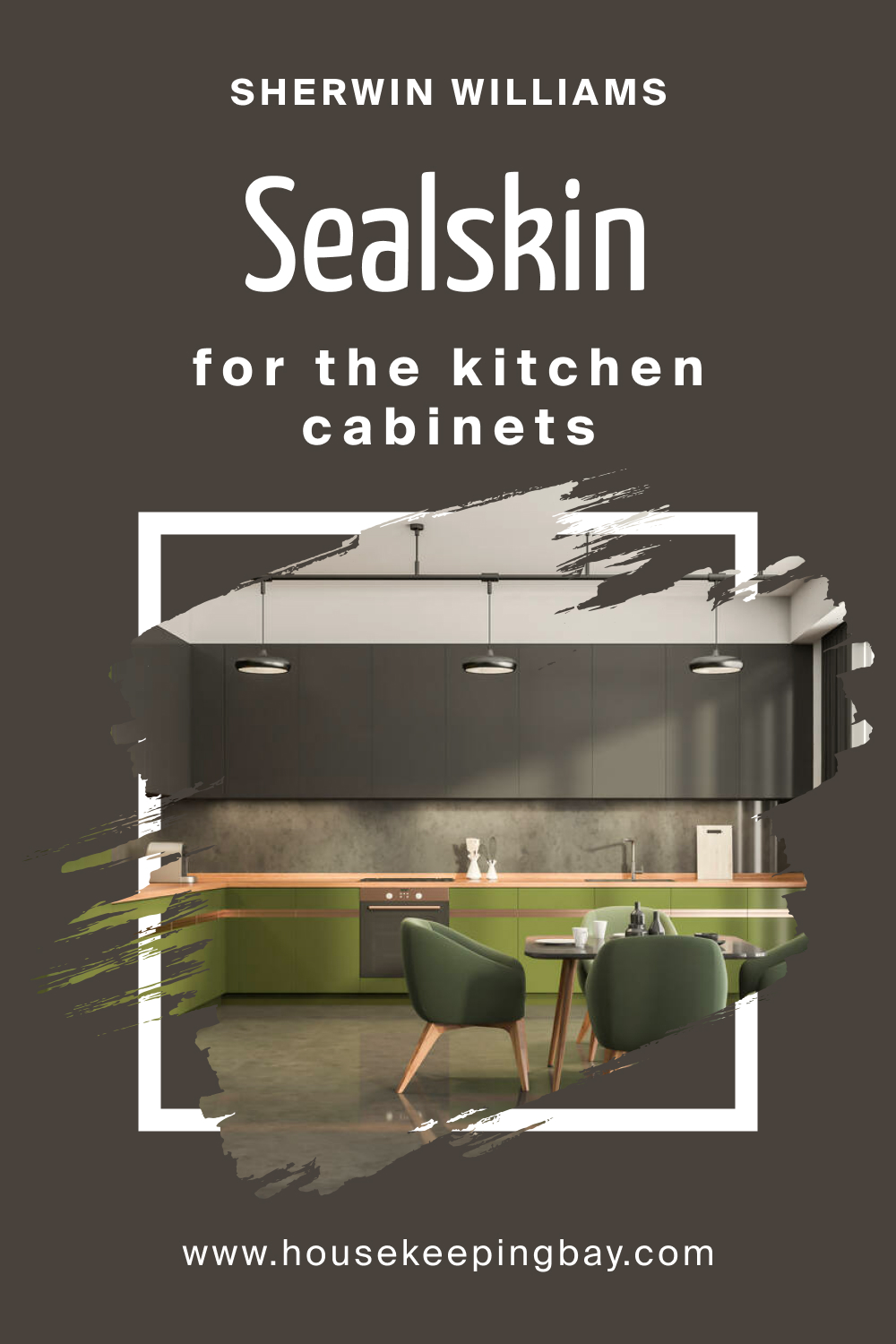 Comparing SW 7675 Sealskin With Other Colors
Comparing different paint colors is essential for discerning their unique nuances and undertones. This process helps homeowners and designers make informed decisions to achieve the desired mood or aesthetic in space. By contrasting colors, one can appreciate the depth, brightness, warmth, or coolness of each hue.
It also aids in understanding how different shades will work together within an interior palette, ensuring a harmonious result. Let's delve into how SW 7675 Sealskin compares with six other Sherwin-Williams colors.
SW 7675 Sealskin vs. SW 6258 Tricorn Black
SW Tricorn Black is a true, deep black, exuding strength and simplicity. In contrast, Sealskin has a softer, more muted presence with brownish undertones. While Tricorn Black is bold and unyielding, Sealskin provides a warmer, more welcoming feel, making it versatile in various settings.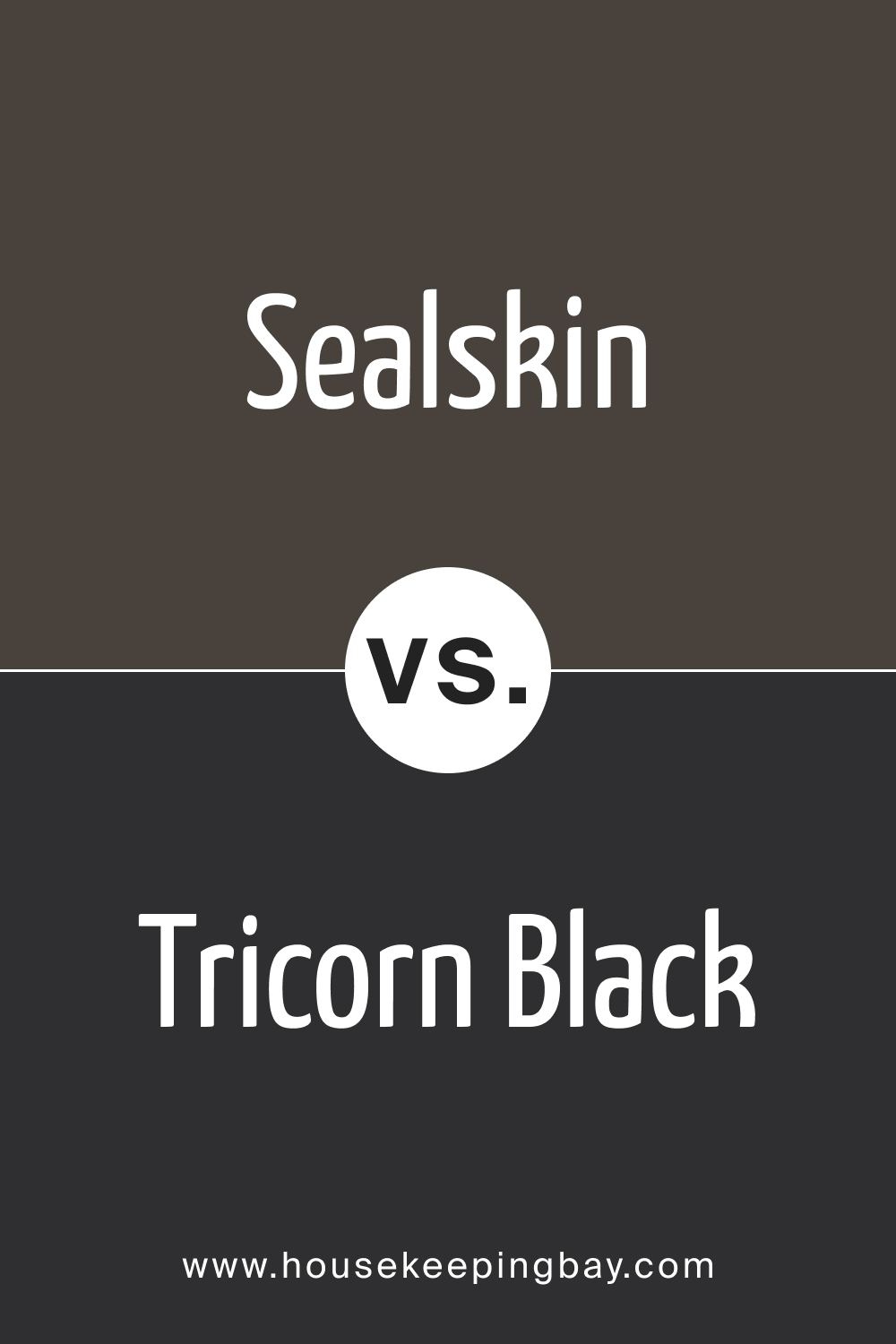 SW 7675 Sealskin vs. SW 6991 Black Magic
SW Black Magic leans more toward a charcoal shade, containing subtle hints of grey. Beside Sealskin, its cool undertones become apparent. Sealskin, with its inherent warmth, can create a cozier ambiance compared to the sleek and modern vibe Black Magic offers.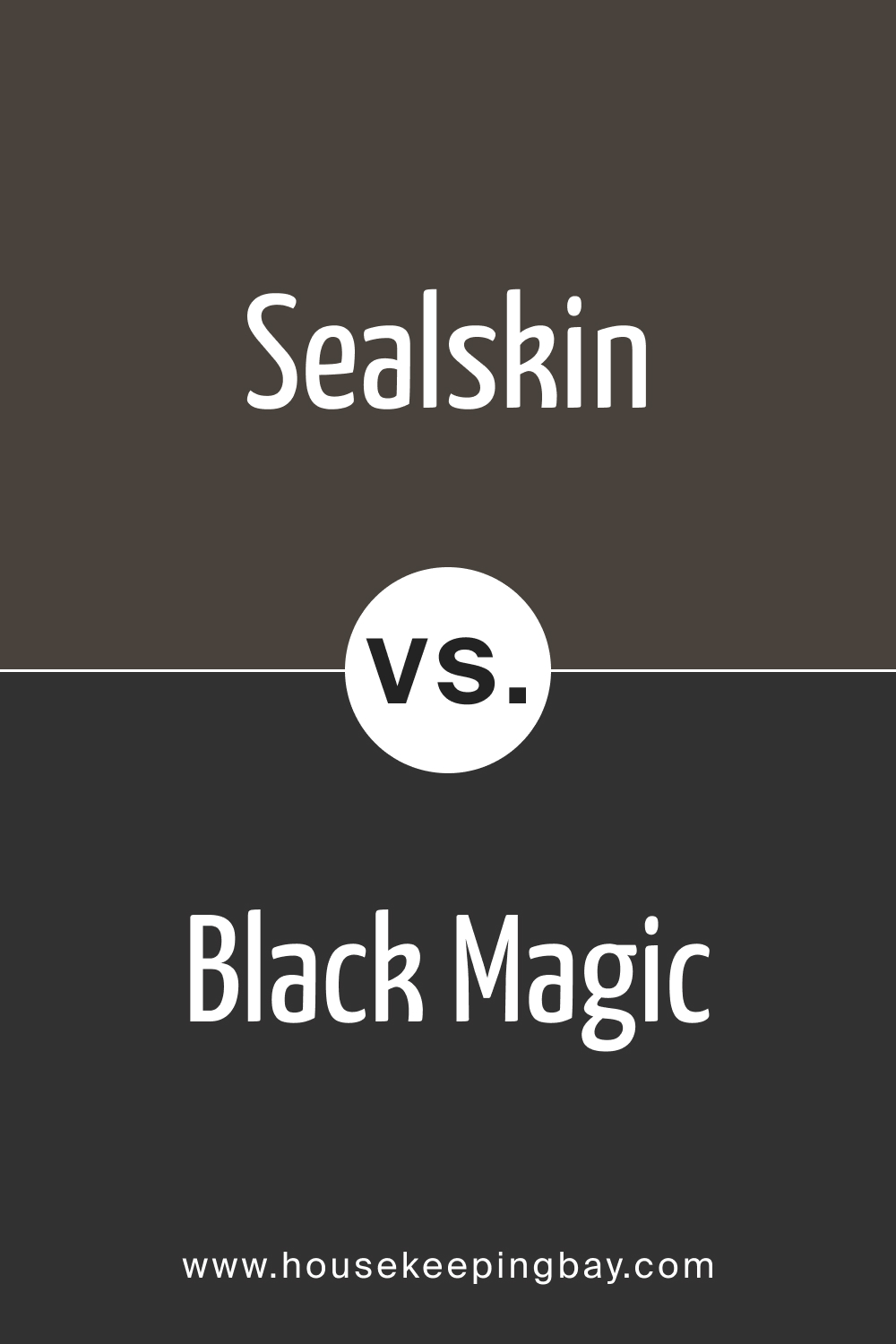 SW 7675 Sealskin vs. SW 6990 Caviar
SW Caviar is another deep black, but it carries a richness reminiscent of its namesake. Placed next to Sealskin, the latter shows its brown undertones more vividly. While both colors ooze luxury, Caviar feels more formal, and Sealskin feels more approachable.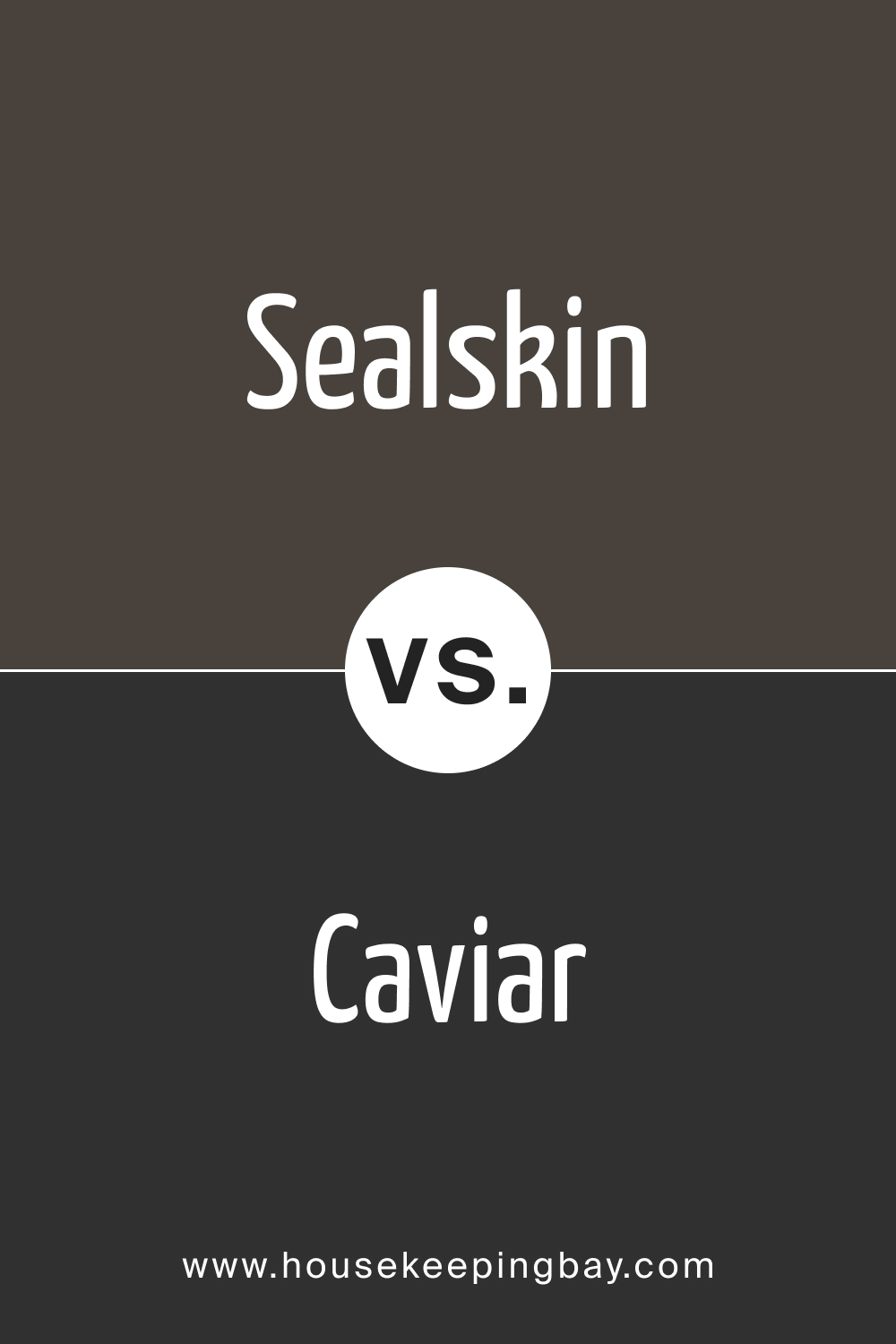 SW 7675 Sealskin vs. SW 6992 Inkwell
SW Inkwell, true to its name, resembles the deep blue-black of classic ink. Its subtle blue undertones offer a cooler feel than Sealskin. In comparison, SW Sealskin appears warmer and earthier, making it a better fit for spaces desiring a grounded ambiance.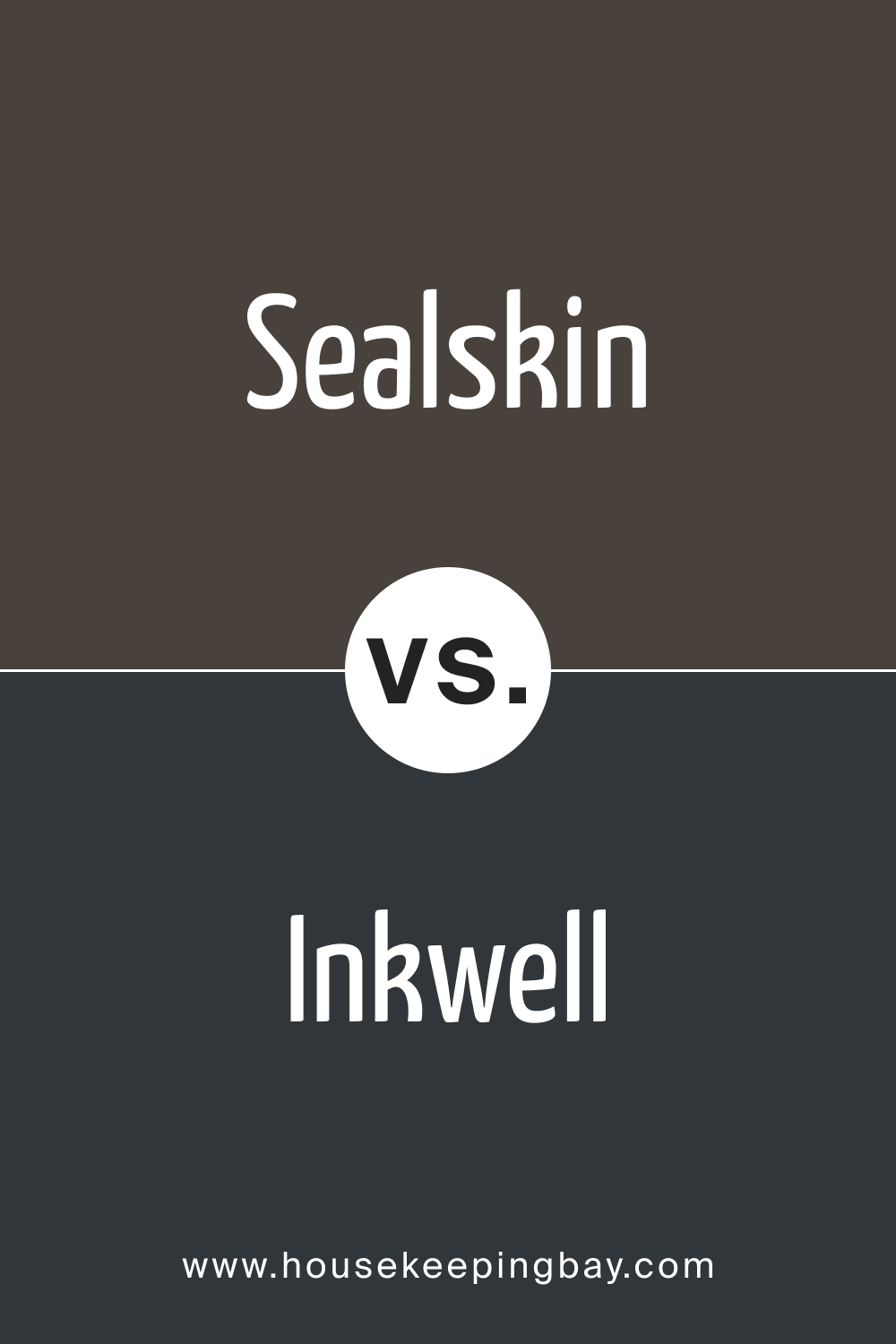 SW 7675 Sealskin vs. SW 7048 Urbane Bronze
SW Urbane Bronze carries a distinctly urban feel, blending grey and brown for a contemporary hue. When set against Sealskin, Urbane Bronze's greyish undertone shines. While both colors work well in modern designs, Sealskin tends to be more traditional, and Urbane Bronze leans towards the modern.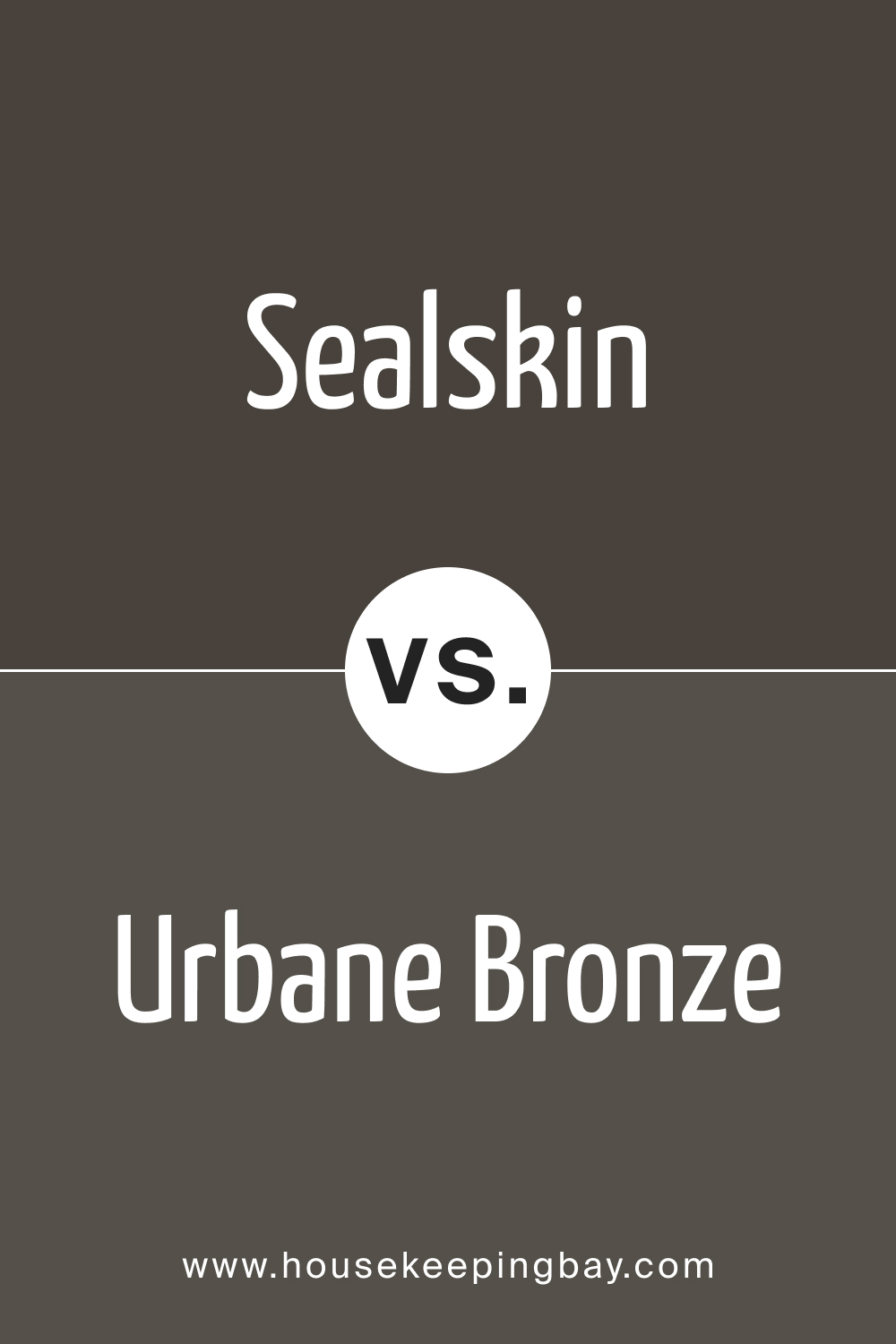 SW 7675 Sealskin vs. SW 0038 Library Pewter
SW Library Pewter is a sophisticated gray with a hint of green undertone. Next to Sealskin, Library Pewter feels lighter and cooler. Sealskin offers a rich, enveloping warmth, while Library Pewter exudes a calm, intellectual air, perfect for spaces like home libraries or studies.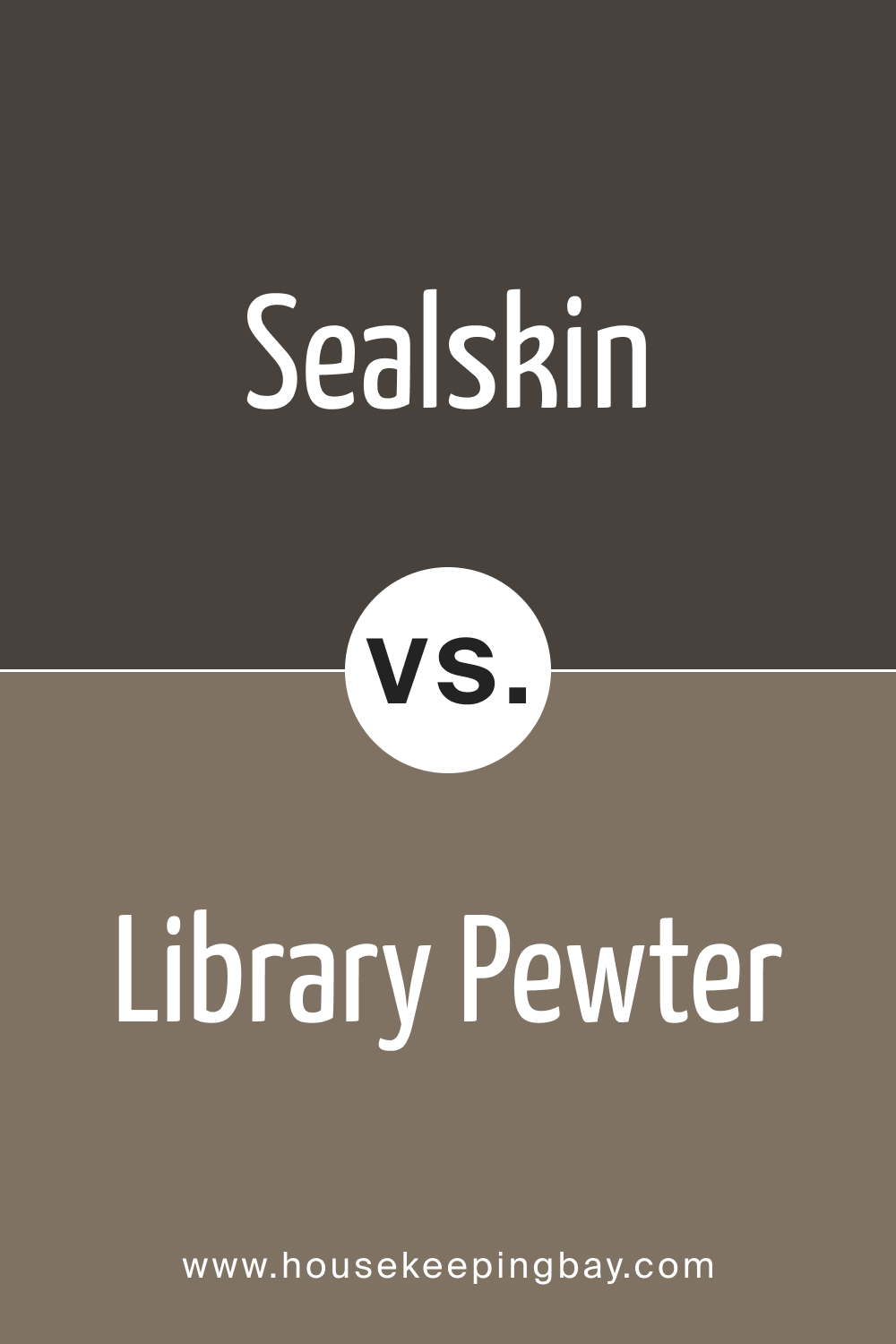 Conclusion
Choosing a paint color is more than just picking a shade from a swatch. It's about understanding the color's character, its interplay with light, its relationship with other colors, and its influence on our emotions. SW 7675 Sealskin by Sherwin-Williams is a testament to the profound impact color can have in a space.
Its depth, versatility, and elegance make it a treasure in the world of interior design. Whether you're redecorating a room or just seeking inspiration, Sealskin promises to offer a canvas rich in possibilities.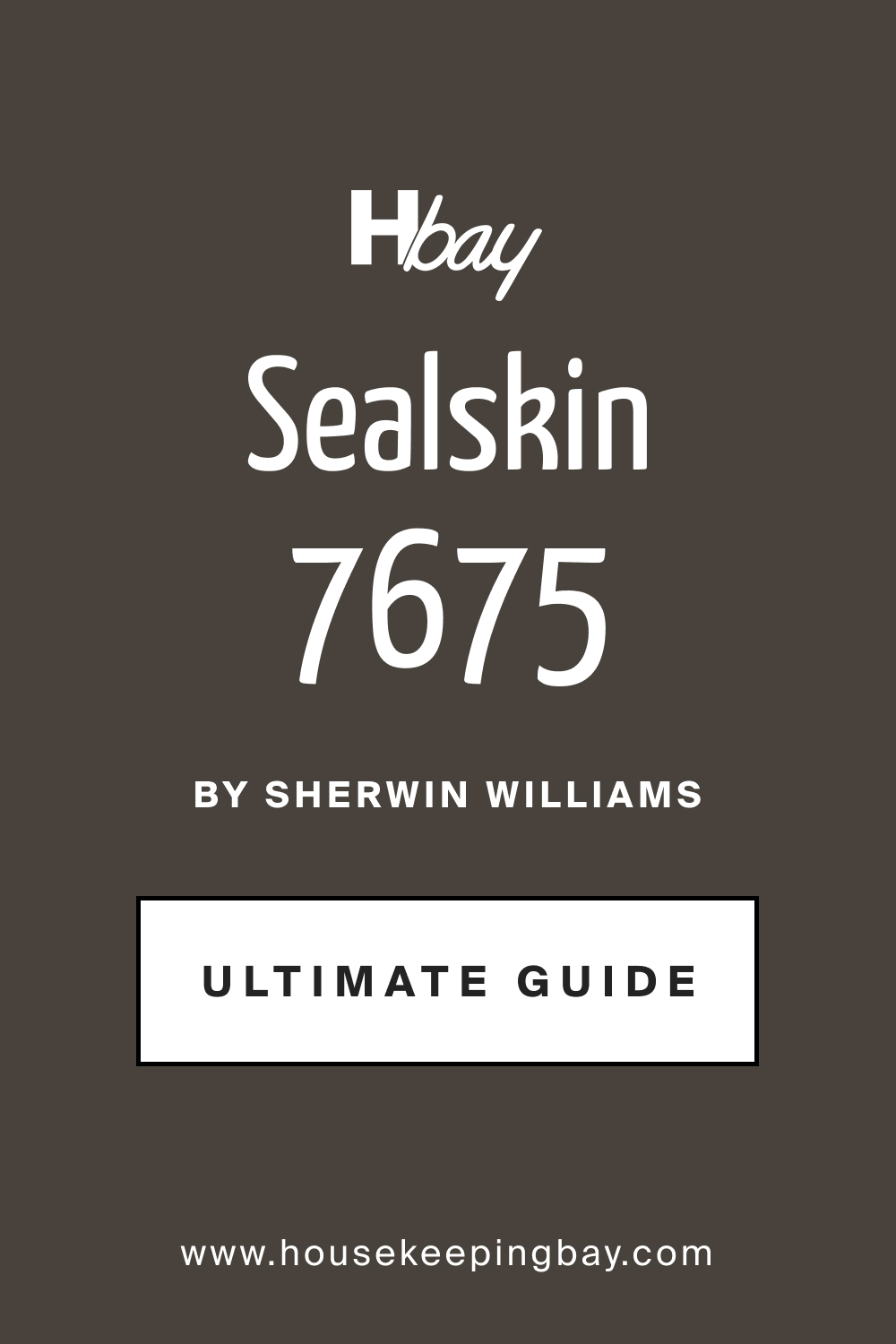 Frequently Asked Questions
⭐What undertones does SW 7675 Sealskin have?
SW 7675 Sealskin boasts rich, brown undertones, which lend it a warm, earthy vibe. This makes it stand out from the traditional blacks and grays that lean cooler.
⭐How does Sealskin compare to a true black paint color?
Sealskin is softer and warmer than a true black. Its brownish undertones make it a more versatile choice for rooms where a cozy, inviting feel is desired.
⭐Is Sealskin suitable for exteriors?
Absolutely! Sealskin's rich depth makes it an excellent choice for exteriors, especially when contrasted with lighter trim or stonework.
⭐How does lighting affect the appearance of Sealskin?
Lighting plays a significant role. In natural light, Sealskin's brown undertones become more prominent, while artificial light can emphasize its depth. The direction the room faces (north, south, east, or west) will also influence its appearance.
⭐What are some recommended trim colors for Sealskin?
Lighter shades of white, like SW 7636 Origami White, are excellent choices for trims, providing a beautiful contrast and highlighting Sealskin's richness.