When we are choosing what paint color to use in our homes, most of us prefer to stick to more neutral and universal colors. This is why greiges, light beige hues, and other similar colors are so popular.
These colors are simpler to integrate into any interior design and color scheme, so people usually have no complications with them.
And one of such versatile paint colors is Olympus White by Sherwin Williams. But even though this paint color is rather universal, it is still important to learn more about it and its specific features in order to make full use of it in your home.
In this article that we have prepared for you, we will explain what type of color the Olympus White is, what its undertones are, and what rooms it will look better in.
In addition, from this article, you are going to find out more about this paint's light reflectance value (also known as LRV) and what it means when using this color on your walls.
Finally, we will share a list of colors with you that can be used instead of the SW Olympus White paint.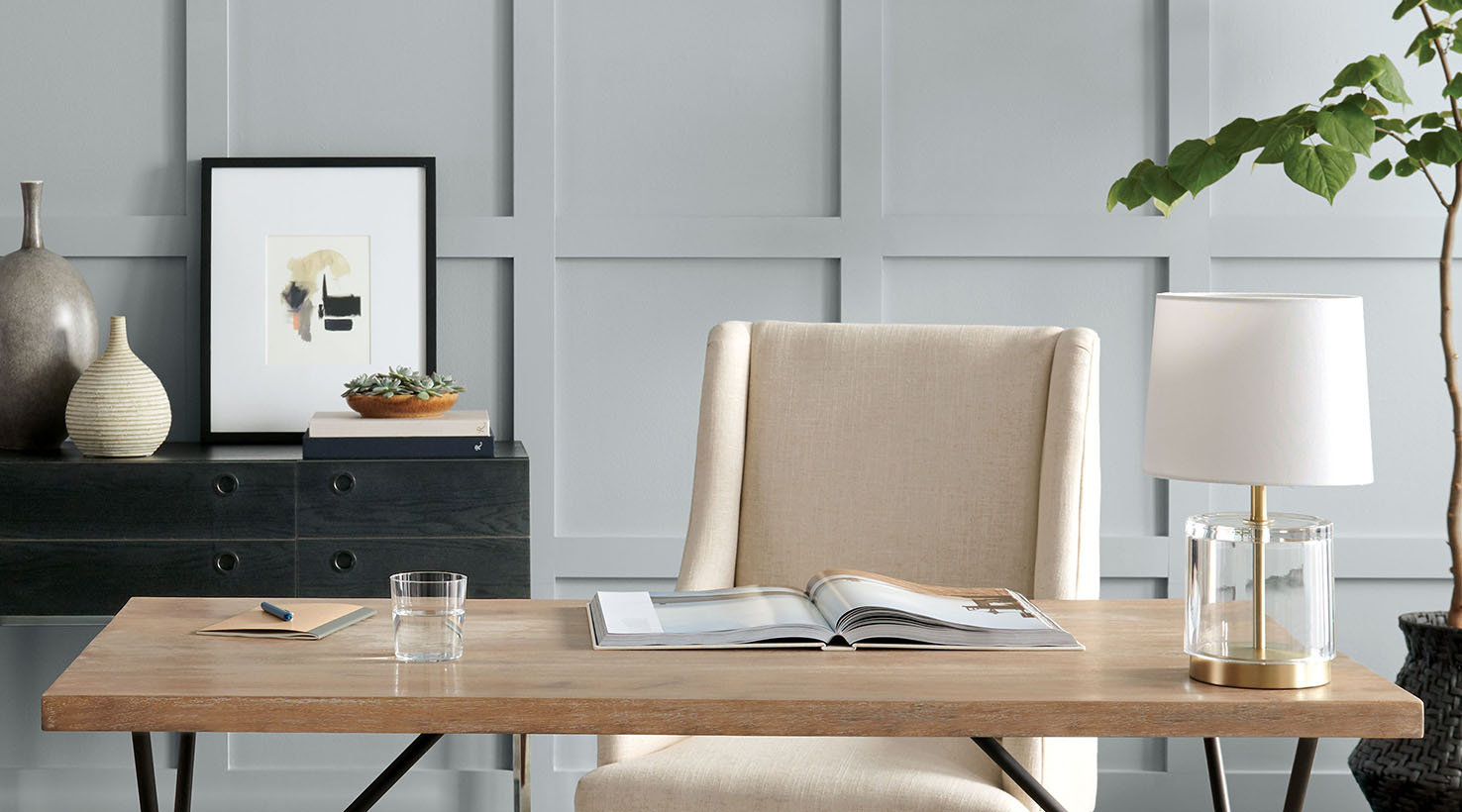 What Type Of Color Is Sherwin Williams Olympus White?
Sherwin Williams brand has plenty of beautiful paint colors and color palettes, both designed for interior and exterior use. This is why people usually choose this brand for buying paint for their home projects! The Olympus White paint color by Encycolorpedia is one of those that many homeowners truly admire.
As it comes from the name of this paint, it belongs to the white colors. But if we take a closer look at this color, we will see that it is a wonderful and sophisticated neutral. But unlike other neutrals, this particular tone possesses a slight spark of gray that makes it feel and look elegant and timeless.
Definitely, some of you might think that such a color would be way too boring when used in a home interior since it is neutral.
But Olympus White is surprisingly versatile! Its slight crispness and purity, when stained on walls, can absolutely do wonders! And in addition, you can play with it with the help of the lighting in a room.
One great feature of this paint color is that it can be used in different interior styles and combined with various colors and color schemes. Moreover, this neutral paint is great for both indoor and outdoor painting projects.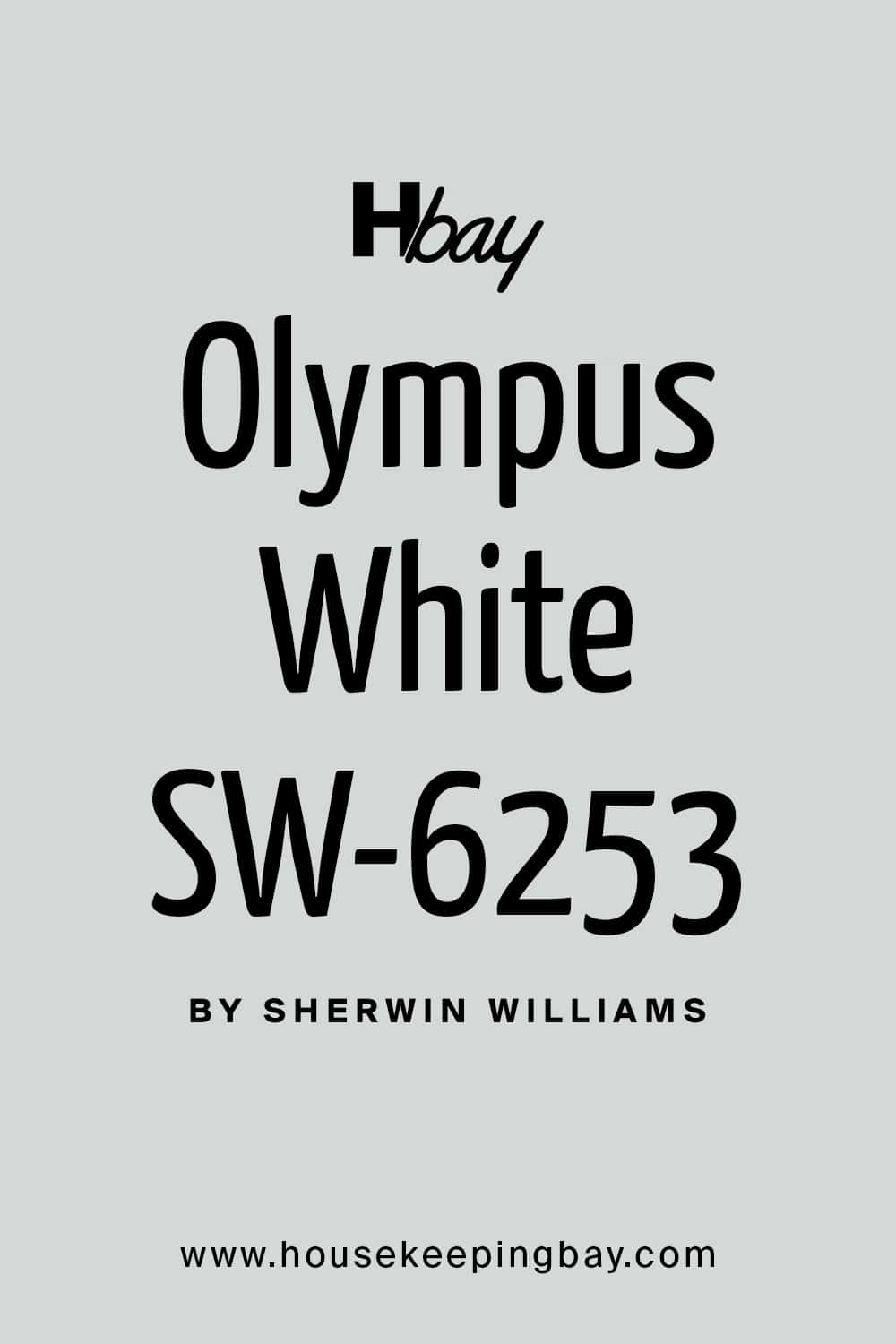 Undertones of Olympus White SW-6253
Unless you are an artist and you have a really sharp eye for the color shades and tones, you will hardly notice that the smooth and neutral Olympus White color by Sherwin Williams has slightly blue undertones.
However, this is how things are with this paint color. At the first sight, this neutral looks simply like an ordinary shade of pale and cool-toned gray. It seems to be light enough, however, without the depth that creates a strong impression darker grays have.
But upon a closer examination in certain types of lighting, this color will reveal those bluish undertones quite significantly.
This feature should be considered when choosing this color for your home. This nuance becomes especially important if you don't want to see the blue hue on your walls.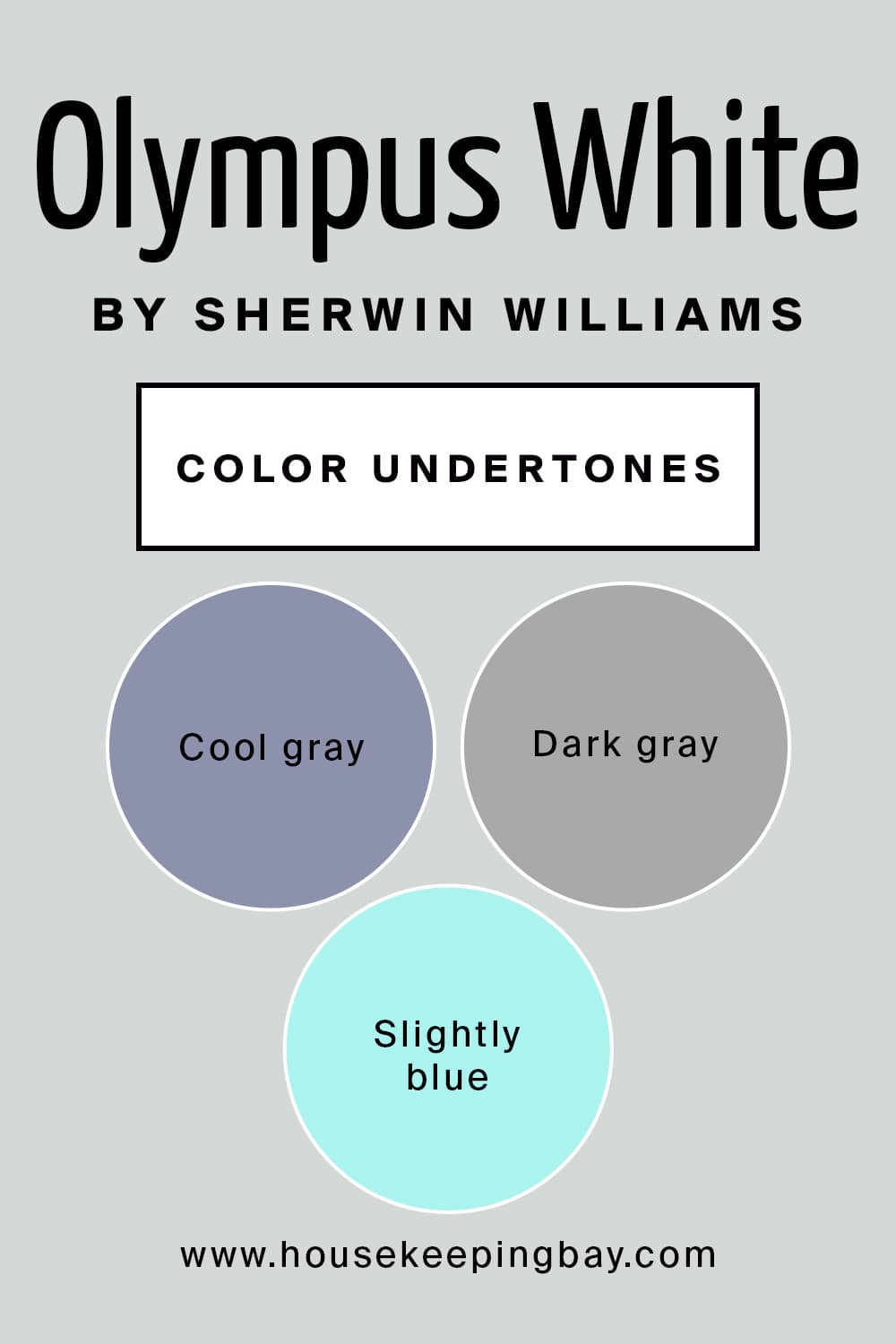 Coordinating Colors of Olympus White SW-6253
Choosing the correct coordinating colors is a must if you want your room or rooms to look harmonious. This could be a fun task, but not if you are not very knowledgeable in paint colors and their shades.
If you decide to use SW Olympus White on your walls, note that this color best suits the subtle cool blues, off-whites, and dark grays. It also pairs well with whites and blacks. For example, you can take the following options into consideration:
Let it Rain SW 9152
Extra White SW 7006
North Star SW 6246
In this case, you can use Olympus White and Extra White as neutrals, Let it Rain can be used as a base, and North Star can work as your accent color.
If you are looking for a monochrome color palette, we have a few color suggestions for this case as well:
Lazy Gray SW 6254
Dustblu SW 9161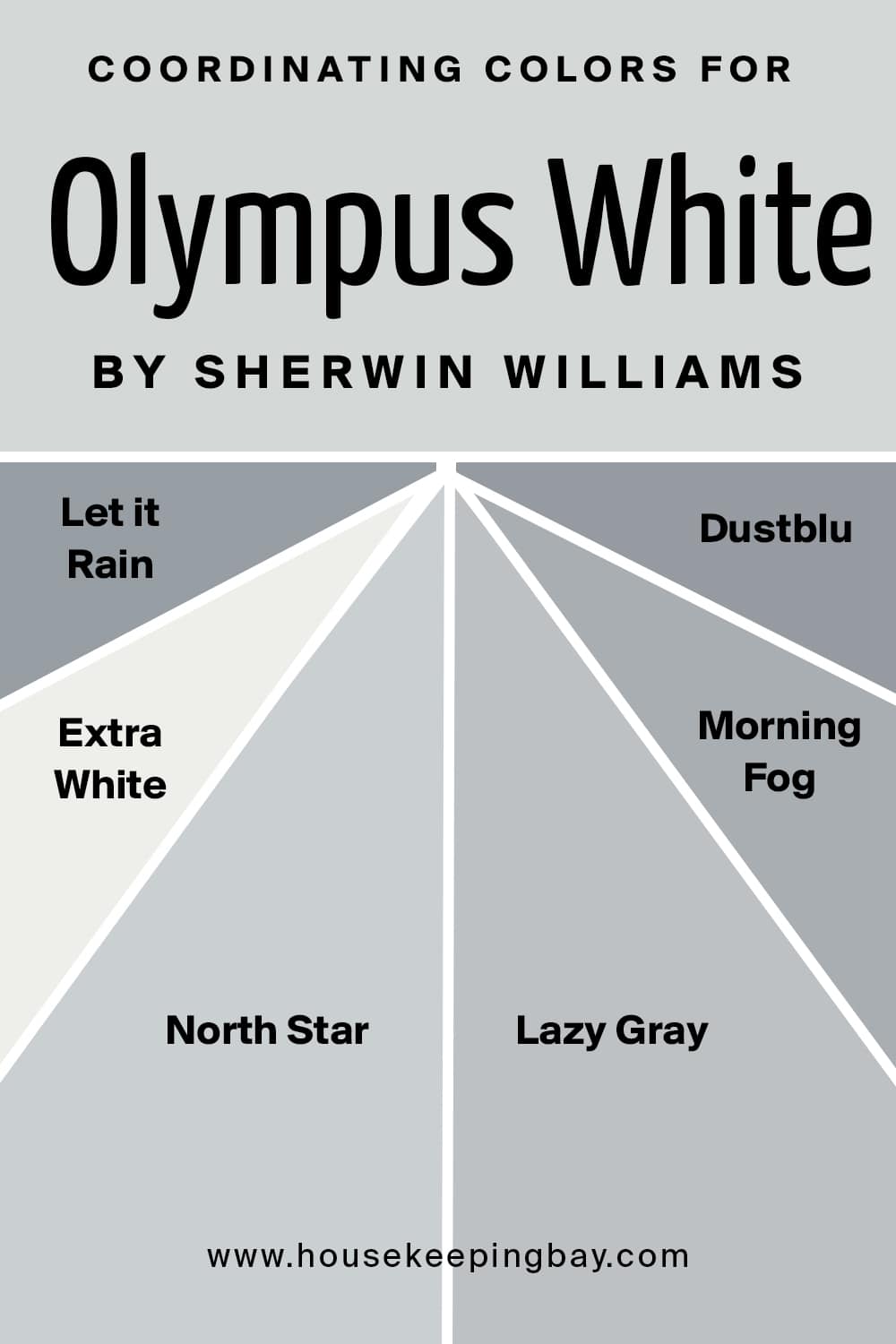 LRV of Olympus White SW-6253
LRV is the light reflectance value of paint color. It shows how much light the paint is able to reflect when it is applied to the wall. Like this, if the LRV is low, the paint is considered to be rather dark, and vice versa.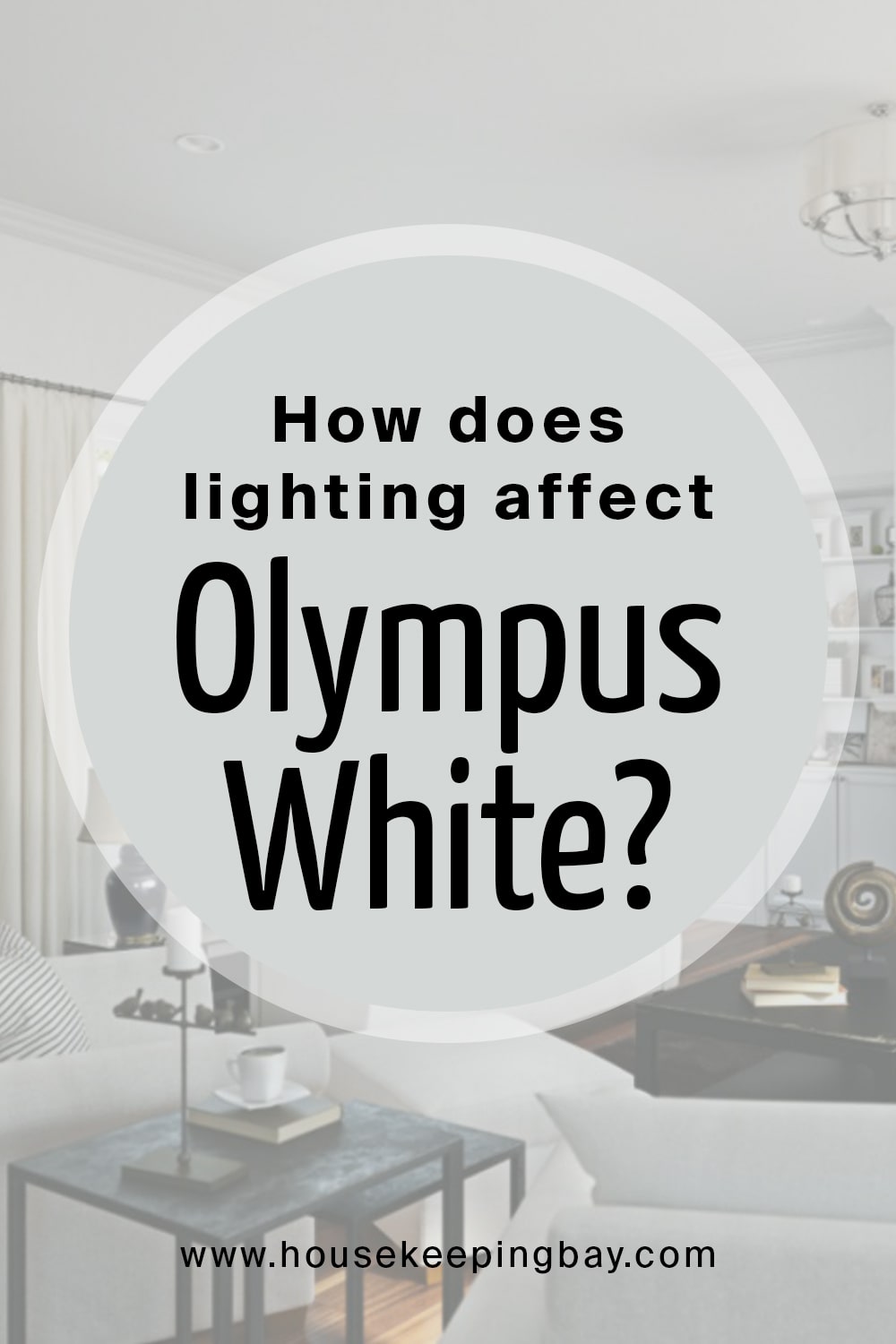 As for the SW Olympus White paint color, its LRV is 68 which means that this color is fairly light and is able to reflect the light well. In addition, since this color has blue undertones, it will tend to look lighter than it actually is.
This is why SW Olympus White is a great option for making a room look airier and more spacious, as well as for being used in small spaces.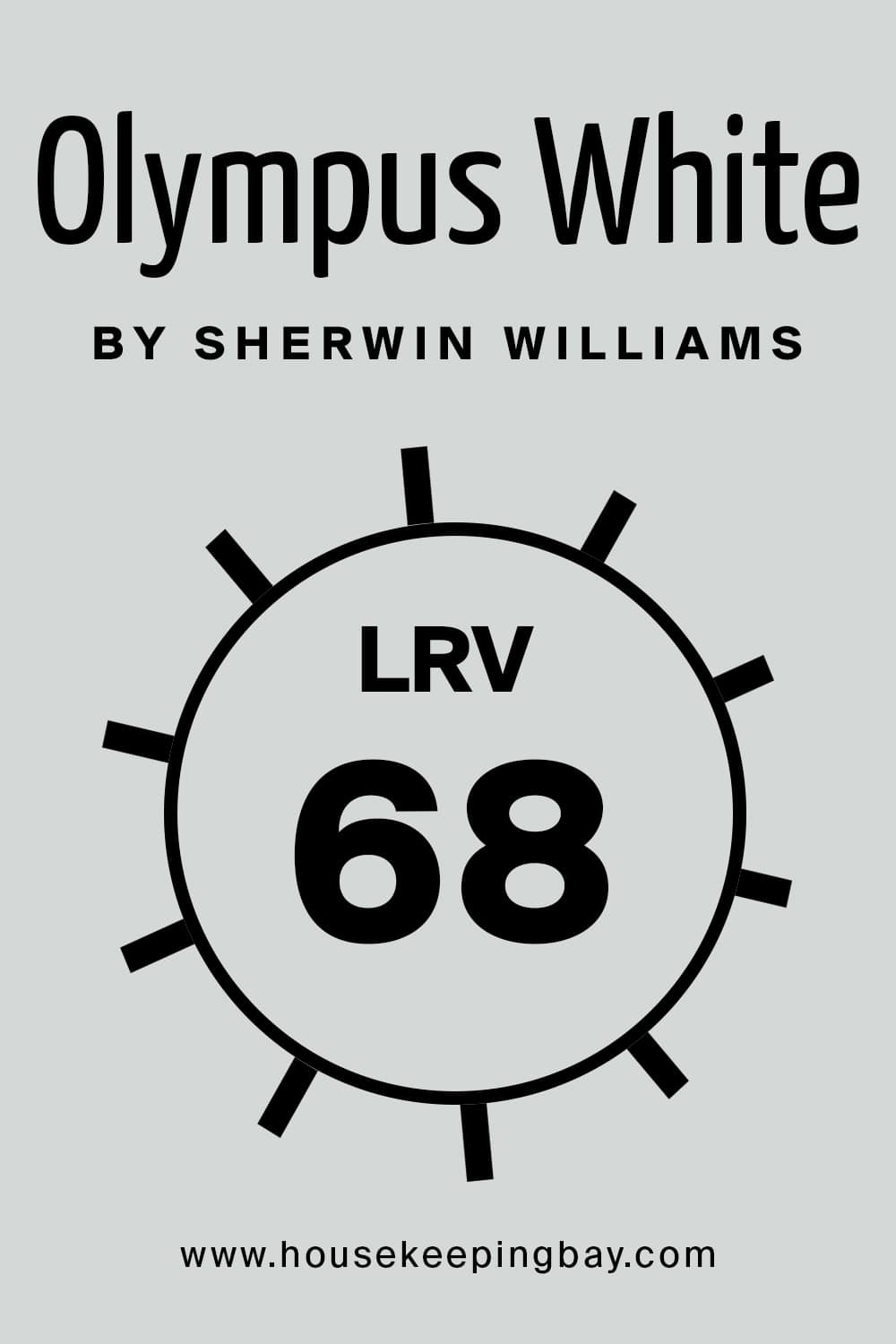 What is LRV? Read it Before You Choose Your Ideal Paint Color
The Best Trim Color To Use With SW Olympus White
There is a rule of thumb: if you are not sure what trim color to choose to match with your paint on the walls, stick to white. In any case, white is always going o be a win-win option. With SW Olympus White, this rule works the same way. For trim colors, use one of these:
SW High Reflectance White
These whites will help you bring the true hue of the SW Olympus White neutral paint color to life.
Paint Colors Similar to SW Olympus White
If for any reason you can't use exactly the paint color you initially wanted in your home, you can always opt for one of the similar colors instead. This is why it is good to know what other colors exist that can work as substitutes for the paint color you were going to apply first.
Of course, it is important to keep in mind that you will not be able to find an ideal match! There are no two totally the same colors. Nevertheless, we can suggest you a couple of alternative colors that are the most similar to the SW Olympus White:
SW-7071 Gray Screen
With an LRV of 66, Reflection is a perfect neutral with slight undertones in blue and gray! Although, in broad daylight, it appears to be more grayish than blue.
Speaking of Gray Screen color, its LRV is 59, which makes it a more grayish version of the mentioned two paints. It is comparatively darker and has deep blue undertones. Although light plays a major role in this color and your space could look cool white if used on the exterior walls!
Each of these alternative colors can be successfully paired with darker shades of gray, as well as with some shades of yellow (only not the brightest ones).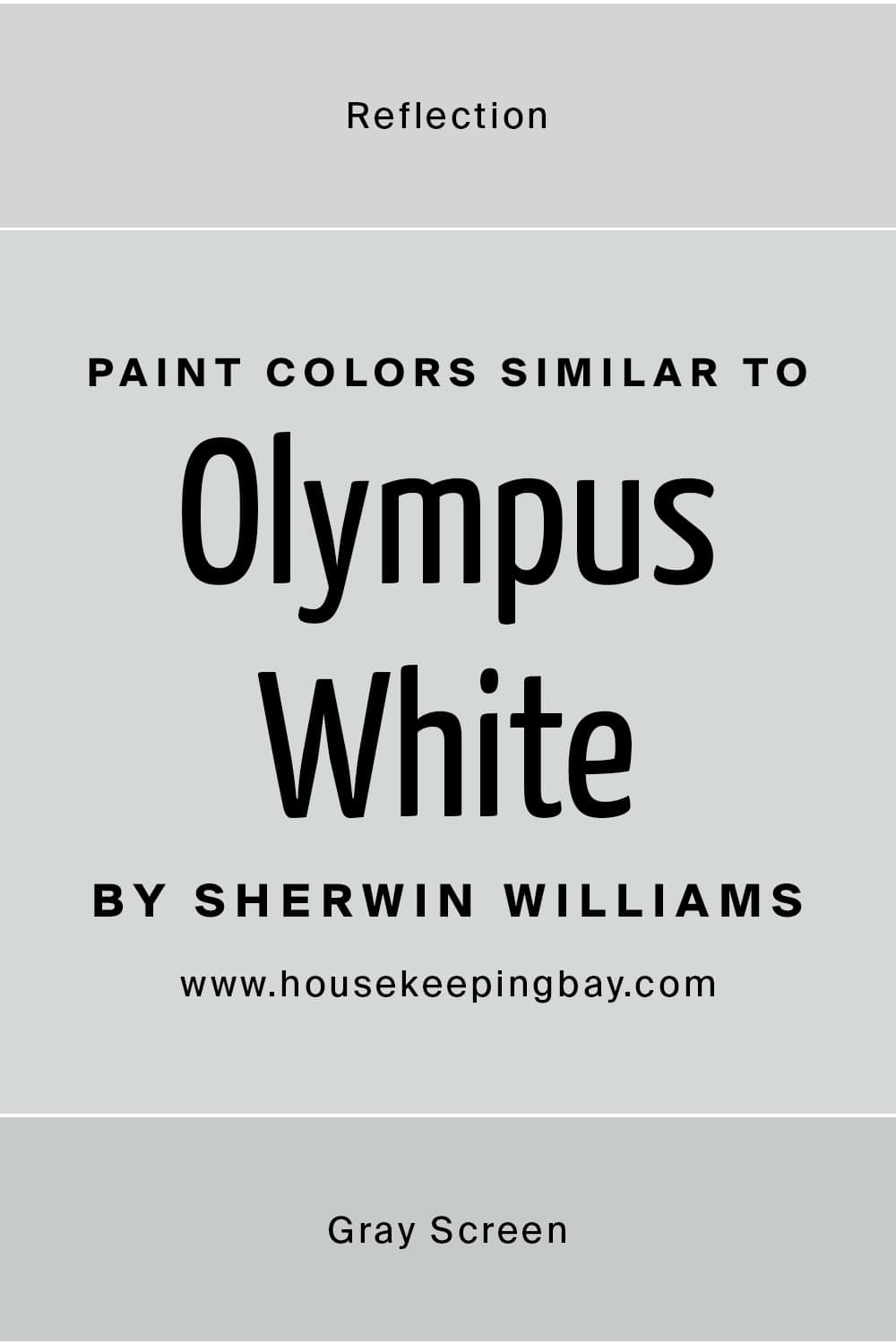 Where This Color Can Be Used In Your Home?
The one great feature of SW Olympus White color is that it is easy to incorporate into your interior. It can be easily used in almost any room and on nearly any surface. Moreover, this paint is even used as exterior paint.
Below, you can find out more about how this calming neutral paint with cool blue undertones will work in different rooms of your home.
SW Olympus White In a Living Room
This color can give your living room a very soothing and calming vibe. Especially if you pair this neutral with whites, wood elements, and natural textures.
However, in this case, we would also suggest you make use of some patterned decor elements like curtains or cushions to make the entire space look more vibrant.
Also, this color pairs well with off-whites and glossy black! You can use it on your moldings and window frames, and add black (or gray) as an accent color. By the way, this color looks great with granite surfaces, so if you have a stone fireplace, consider this fact!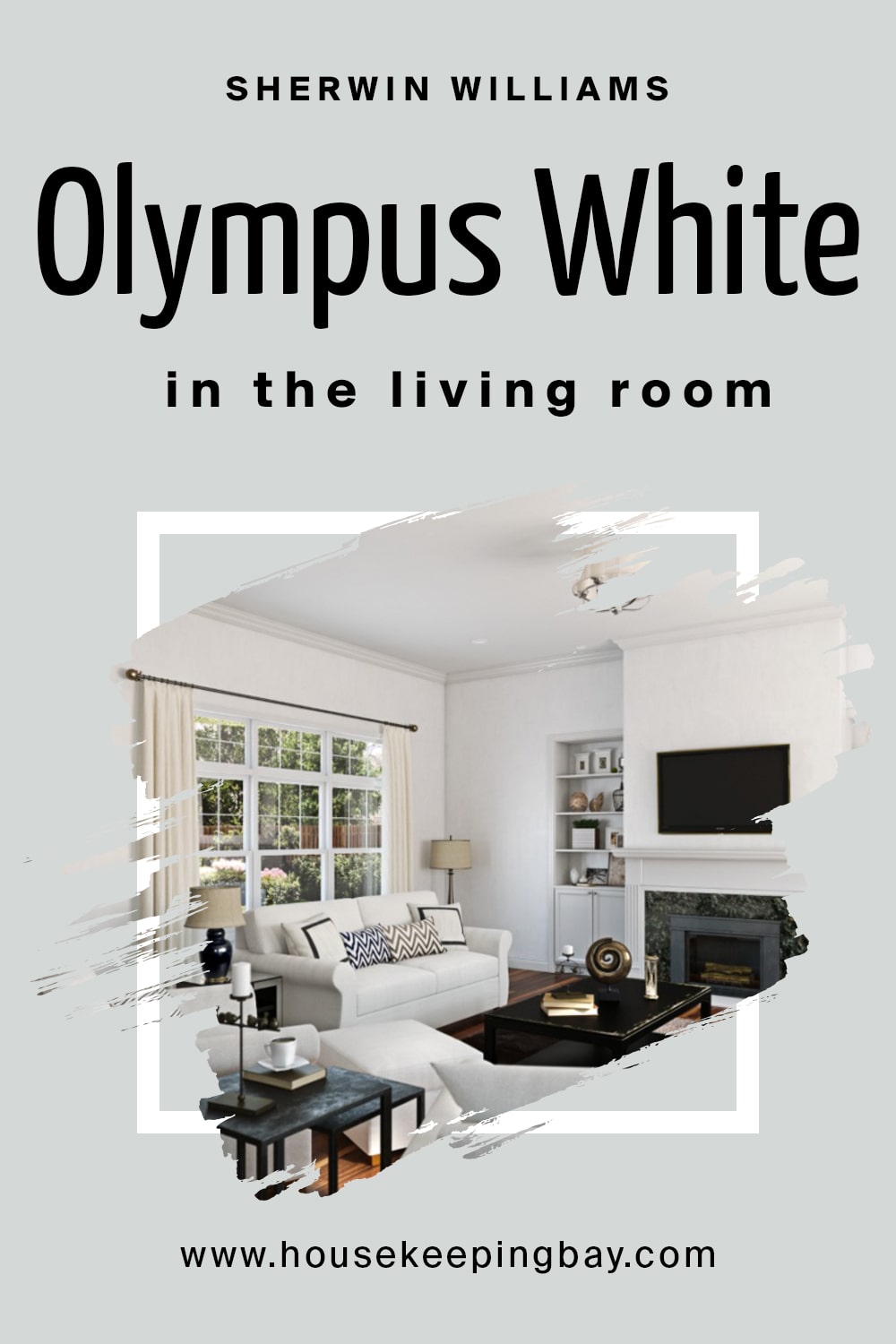 SW Reflection In a Bedroom
For a bedroom, this tranquil neutral would be one of the best options. Depending on the size of the room, you might want to paint only an accent wall or use this color on all four walls. If used on all of them, you can use a bright color accent (e.g. curtains or a carpet) to play the drama.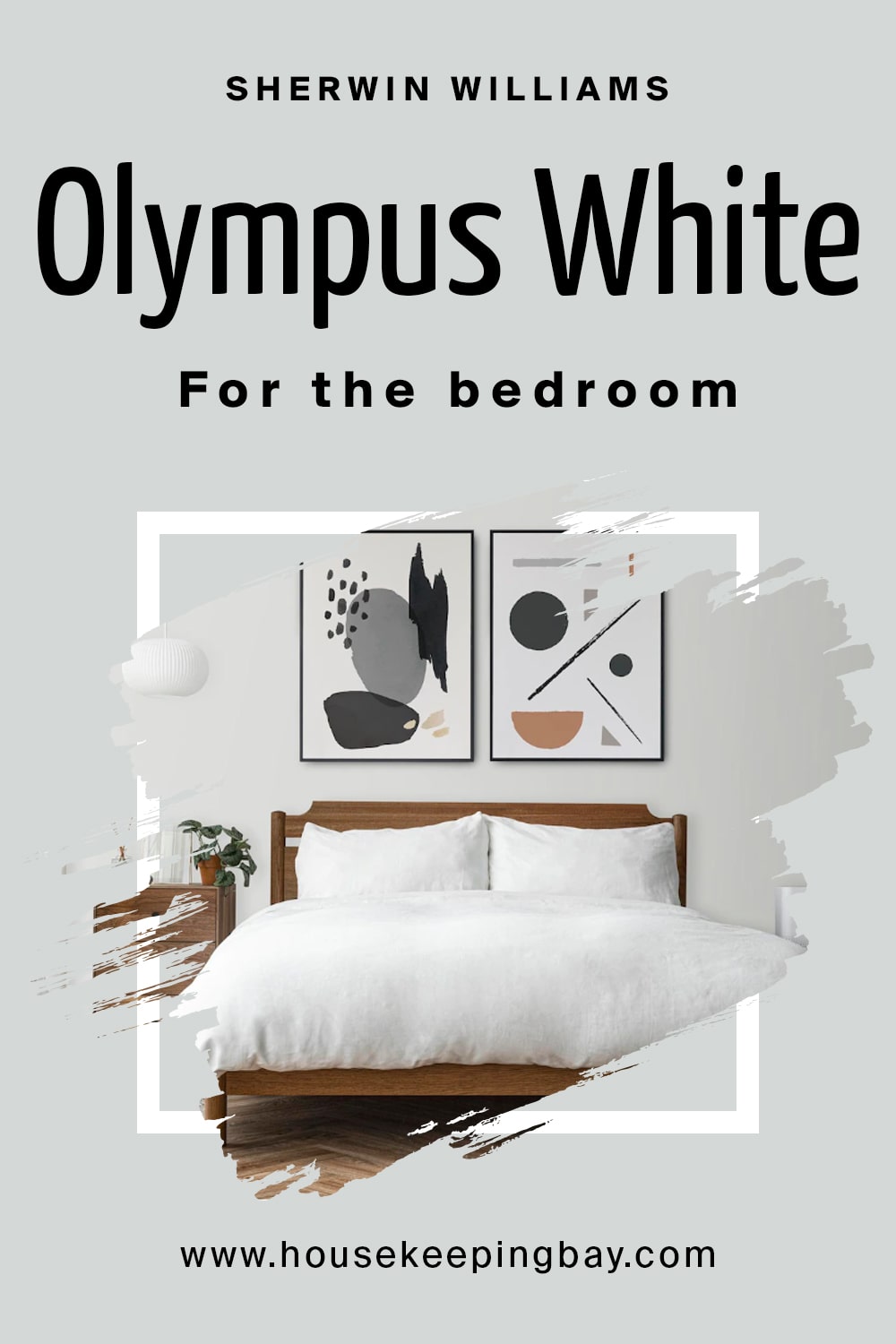 SW Reflection In a Kitchen And On Kitchen Cabinets
In case you decide to paint your kitchen walls with this neutral, you will get a perfectly clean and fresh look, especially when paired with lighter cabinets. However, white or midnight-blue cabinets will also look gorgeous with this neutral!
But for the best effect, consider using this color on your kitchen cabinets only, and paint the backdrop with a bolder shade of gray.
But of course, if you think that Reflection will work better on your backdrop, apply it there! This color will anyway look perfectly in place when paired with wooden furniture of darker colors, as well as brass or matte black handles, a white marble countertop, and glossy backsplash tiles.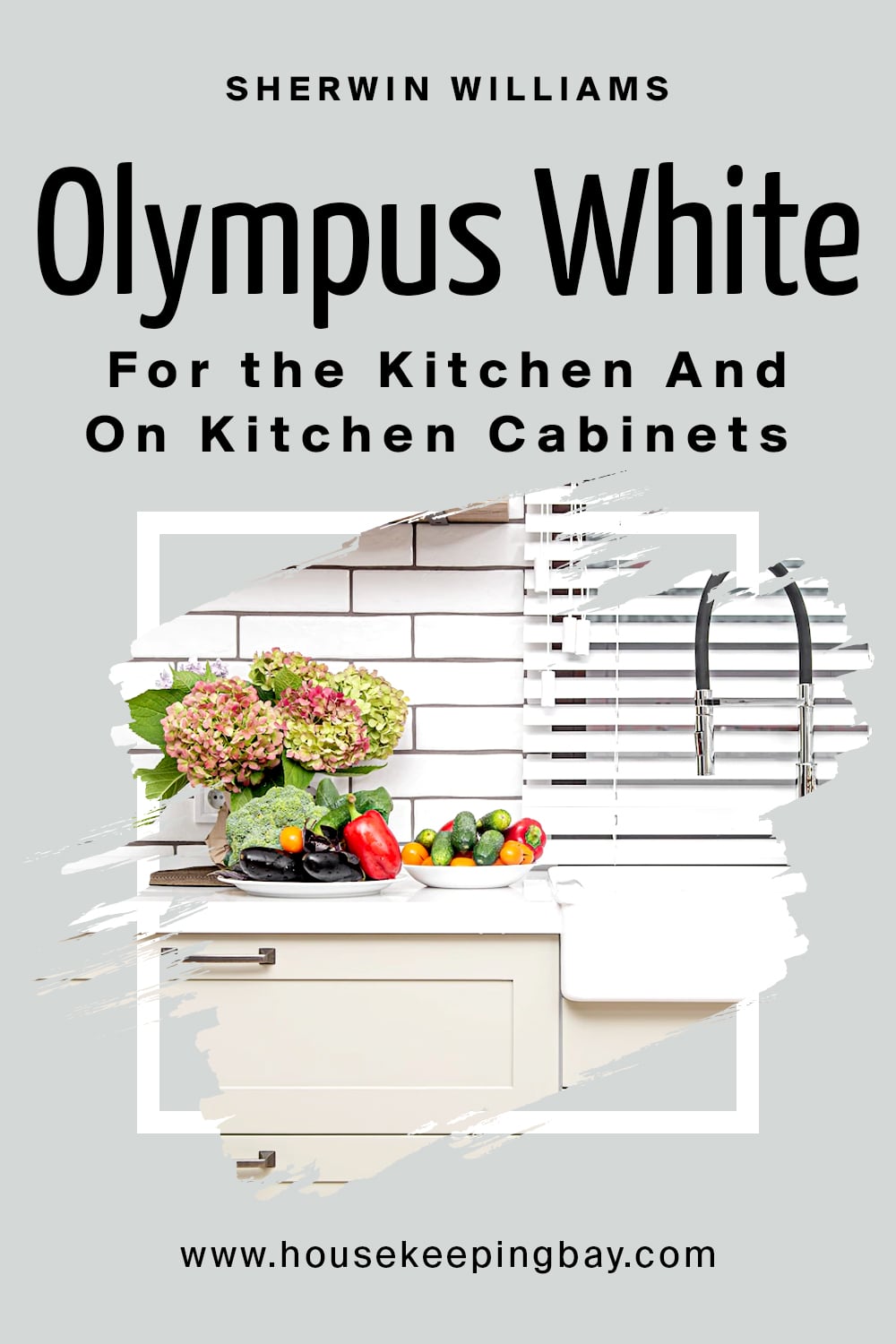 SW Olympus White in the Cabinets
SW Olympus White can be a nice color option for your cabinets. But before you paint them with it, check out the entire color palette of the room. This neutral is rather cool-toned, so you need to make sure the room has warmer color accents.
Otherwise, the entire space will look too chilly.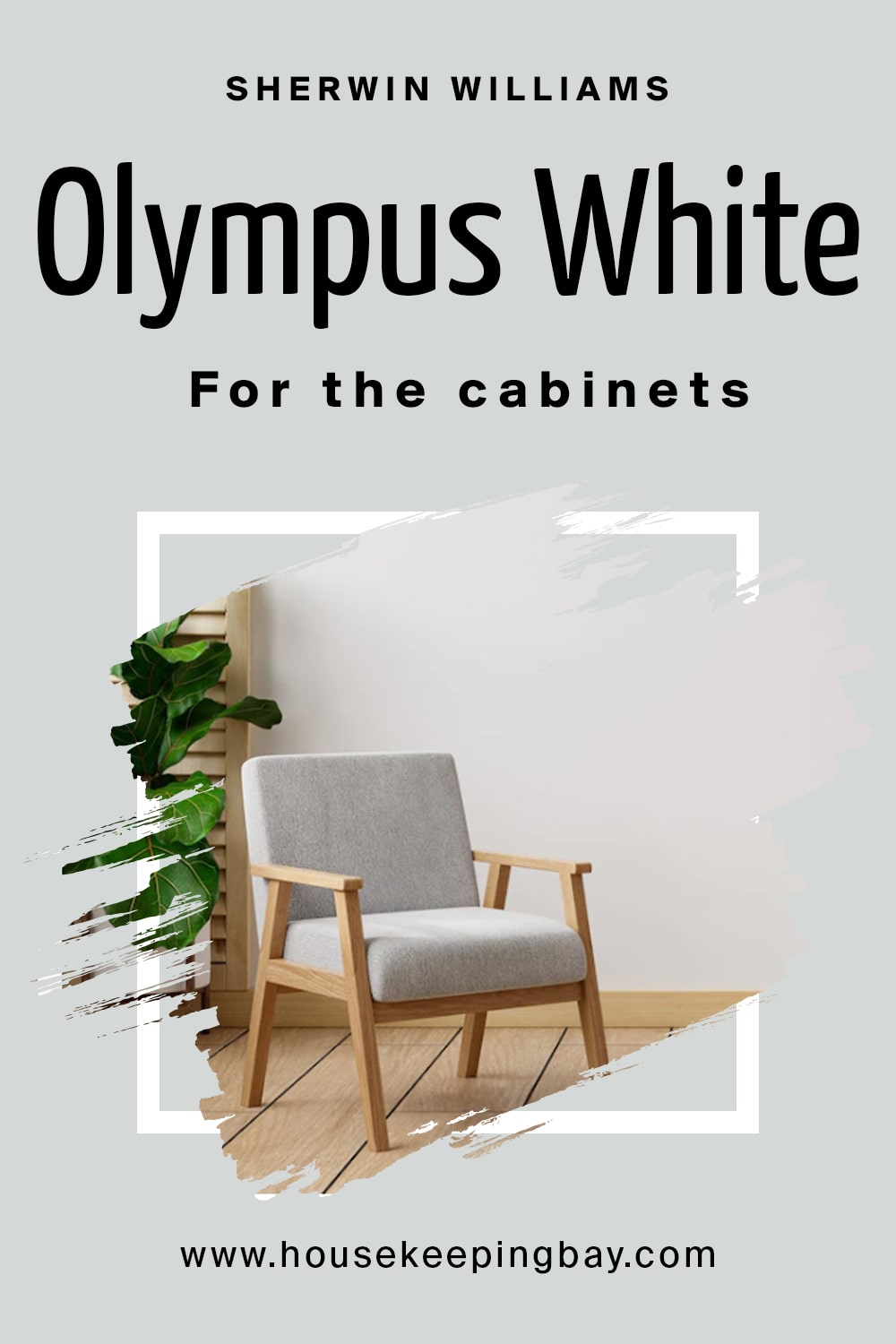 Exterior Use of a SW Olympus White
This neutral color is good not only for interior use. It will work great on your exterior walls as well. Besides, it will fit almost any house style. However, you should note that SW Olympus White will often look lighter than it is when used on the exterior walls.
With all these life hacks and tips in mind, you will be able to make use of this gorgeous paint and turn your home into a stylish and at the same time cozy masterpiece!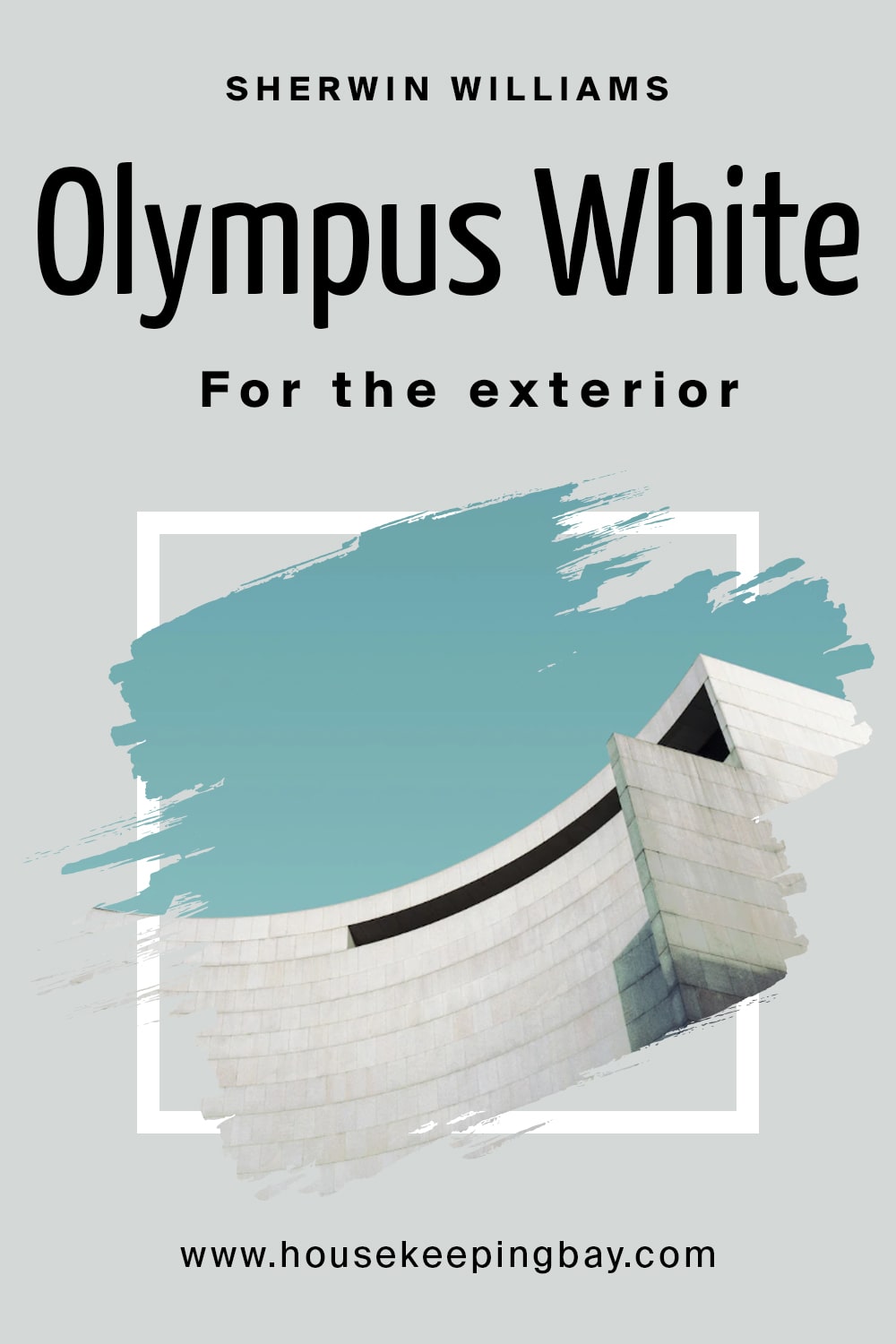 Paint Colors That SW Olympus White Goes With
Considering what hues your paint color goes with will help you with making the entire space look pleasing to your eyes. As for the SW Olympus White, this neutral can be paired with several colors. Below, you can check out which ones exactly will work better:
Extra White
Let It Rain
Lazy Gray
Perle Noir
Ice Cube
Serious Gray
Abalone Shell
But this list of colors is not all. Below, we are going to compare the Olympus White paint color to the most similar paints to see whether there is any visible difference between them.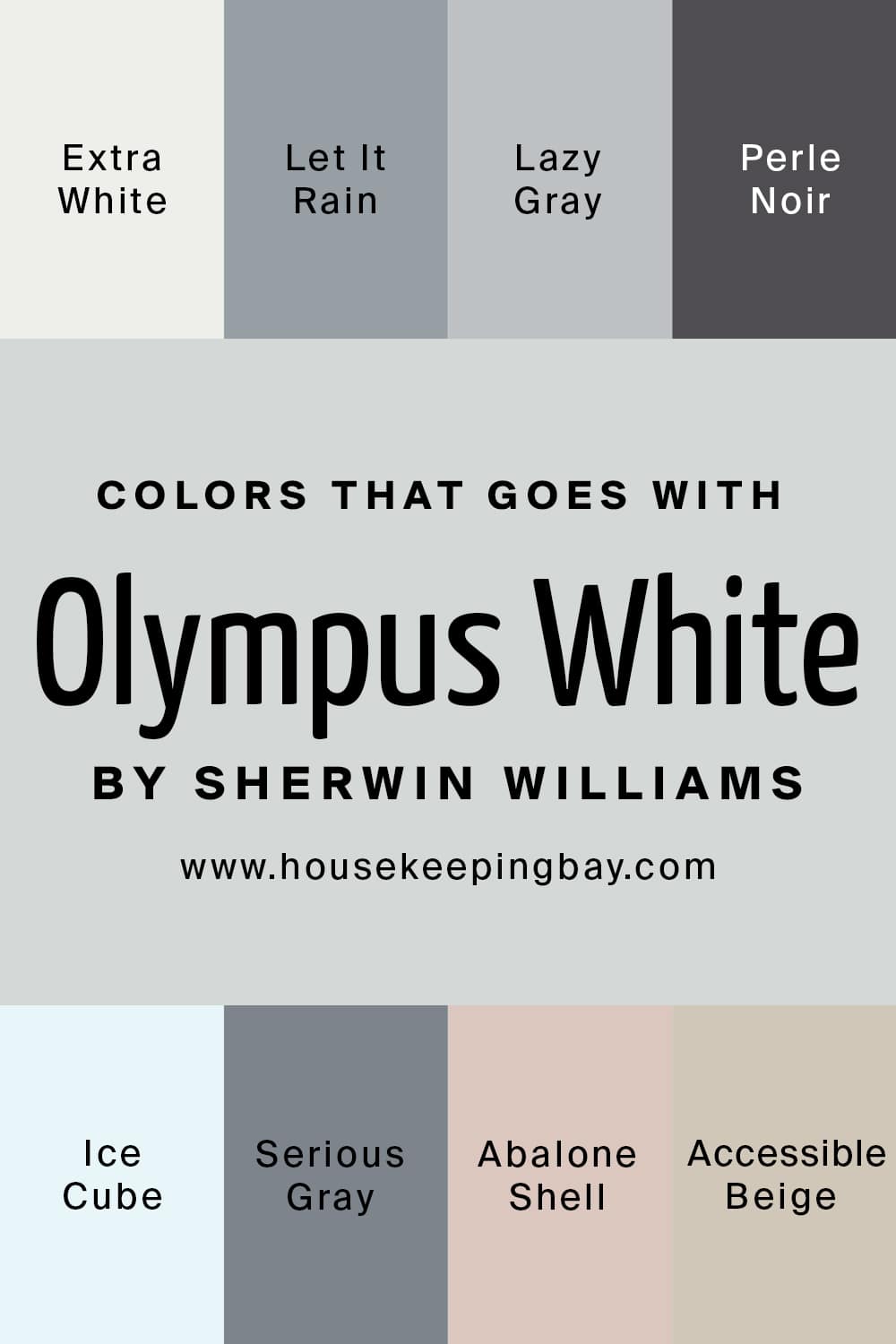 Olympus White vs Agreeable Gray
If we compare these two, we will see that they have a significant difference. Since SW Agreeable Gray has a lower LRV than Olympus White, sitting at a value of 60, it makes it a bit darker.
In addition, Agreeable Gray is a greige that leans toward the beige side, which makes it look warmer and more brown in comparison with Olympus White, which reads like light gray.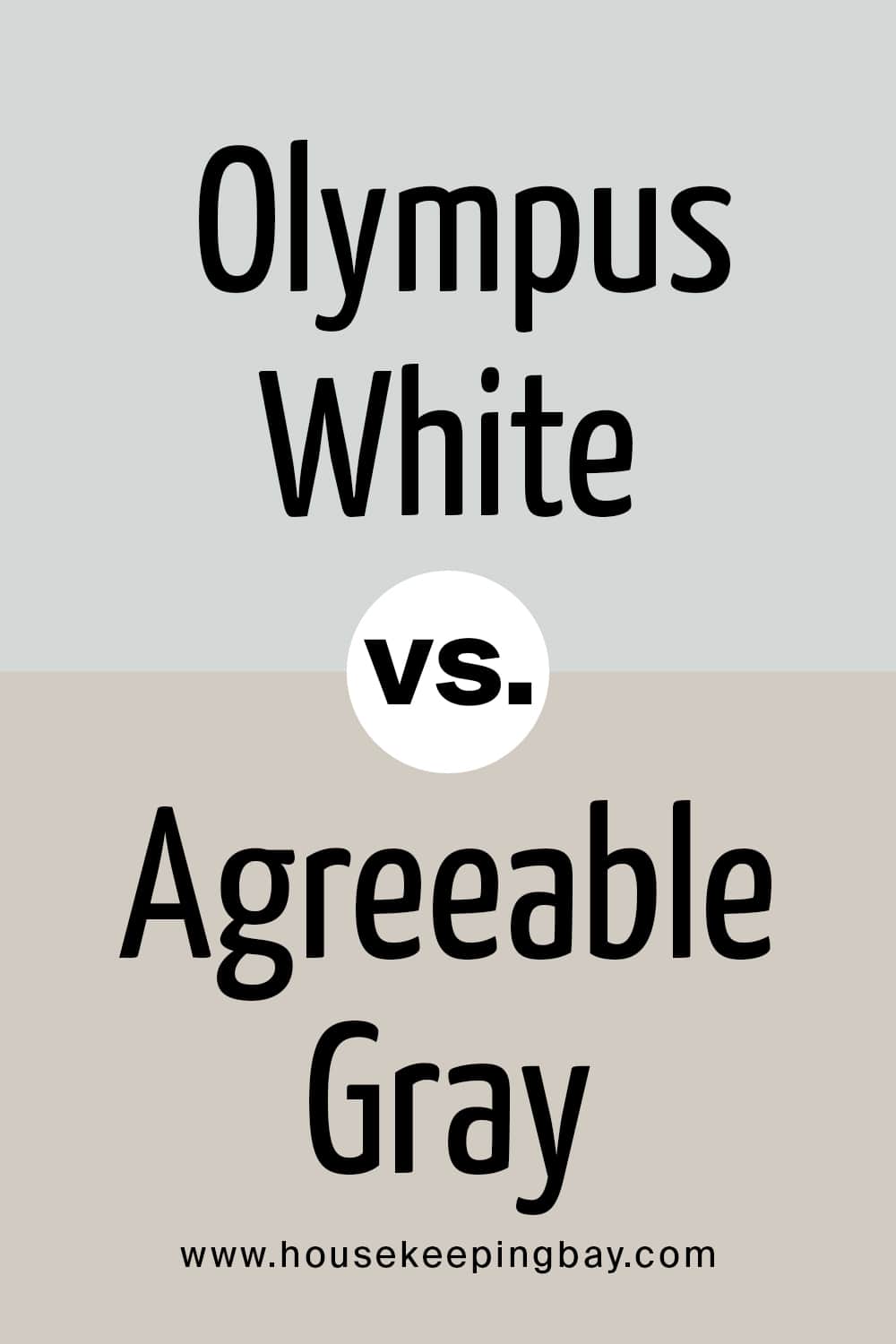 Olympus White vs Repose Gray
When comparing these two colors, we see that the SW Olympus White is very light in comparison with the Repose Gray. In addition, its blue undertones make it look rather cool-toned compared to the warm-toned Repose Gray that has greige undertones.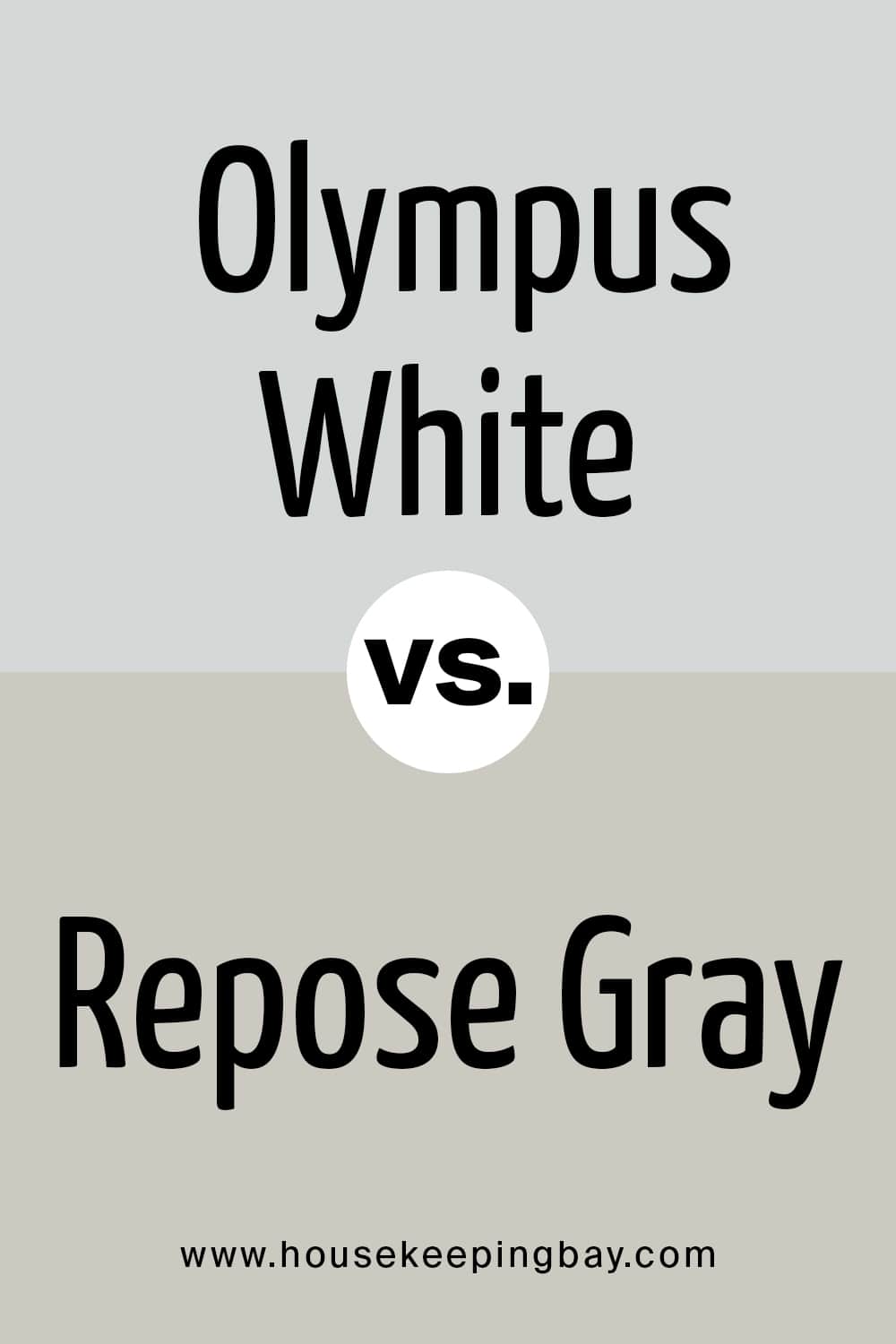 Olympus White vs Nebulous White
These two are both light colors, but Olympus White has more prominent blue undertones whilst Nebulous White reads warmer and a bit closer to very light greige hues. Blue undertones also make Olympus White look much cooler in terms of tones.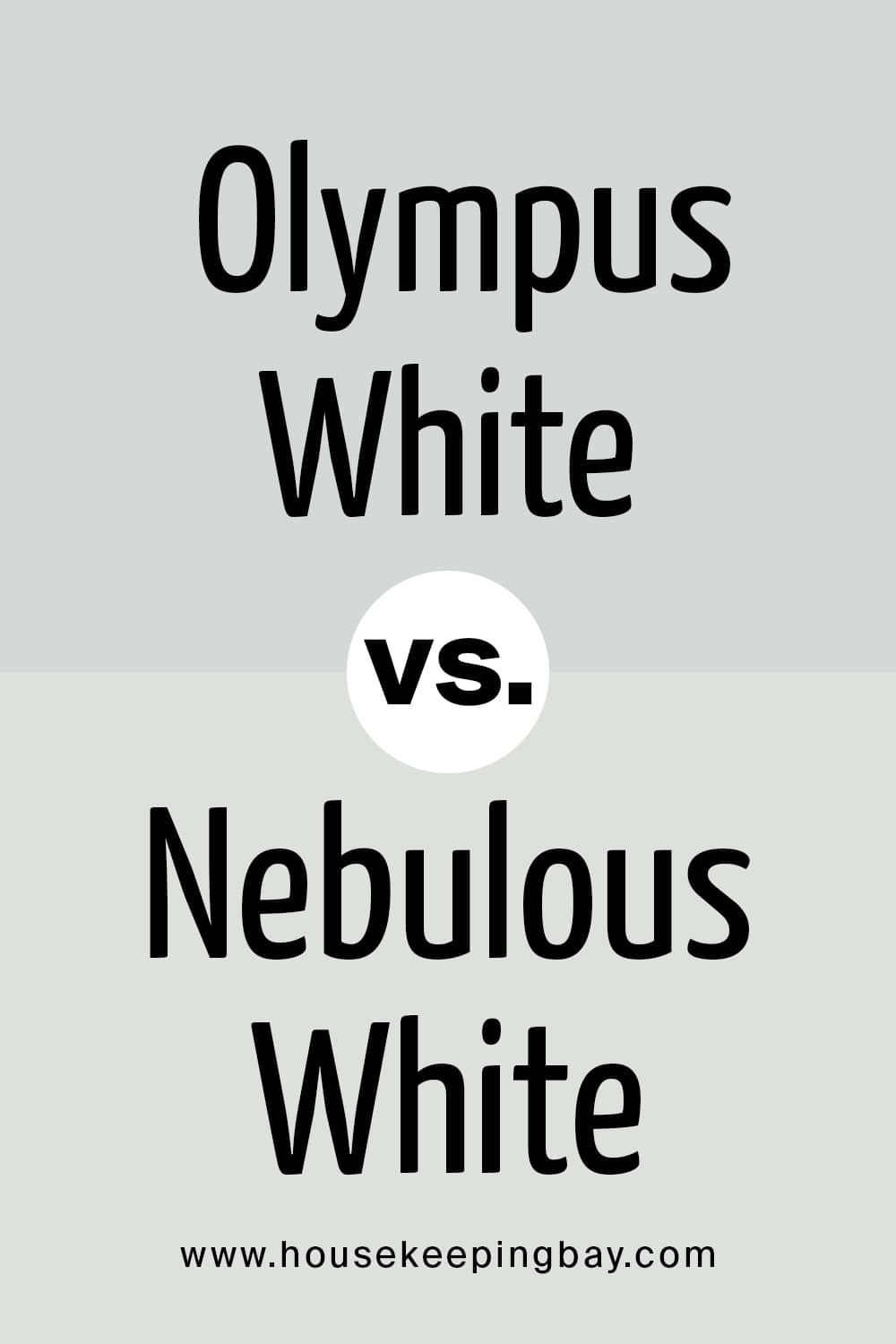 Well, you are now aware of all the nuances regarding the Olympus White paint color by Sherwin Williams. This color can successfully match quite many interior designs and fit in many color schemes.
This feature makes it a versatile option if you are looking for something universal. In addition, this paint color can be used both indoors and outdoors. It allows you to find way more areas and options for its use in your home.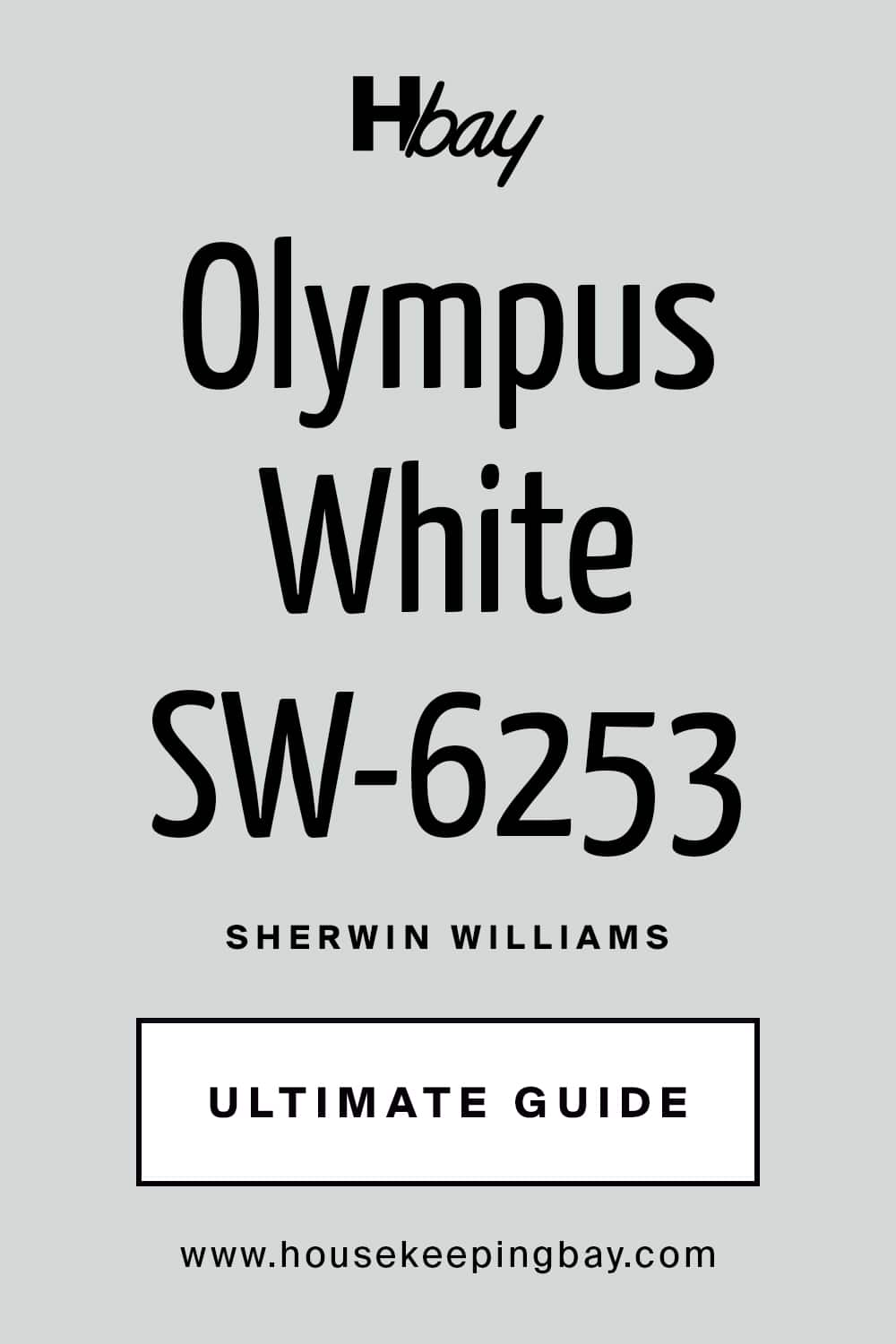 Frequently Asked Questions
⭐Can Olympus White be used with wooden furniture?
Yes, this color pairs well with wooden textures and objects, both light-colored and dark-colored.
⭐Is Olympus White a true white?
No, despite of its name, this color is considered neutral with blue undertones.
⭐Will Olympus White pair with pink colors?
Yes, it can be paired with some shades of pink. For better efefct, use samples before buying the paint.